Morimoto Street Food at Disney Springs
Morimoto Asia Street Food is a counter-service dining location at Disney Springs. Street Food is located on the side of Morimoto Asia in The Landing.
This dining location is a great place to enjoy a meal if you don't have a reservation and are in the mood for Asian cuisine.
Street Food has a walk-up area where you can order food. Additionally, there's a pleasant covered outdoor dining area.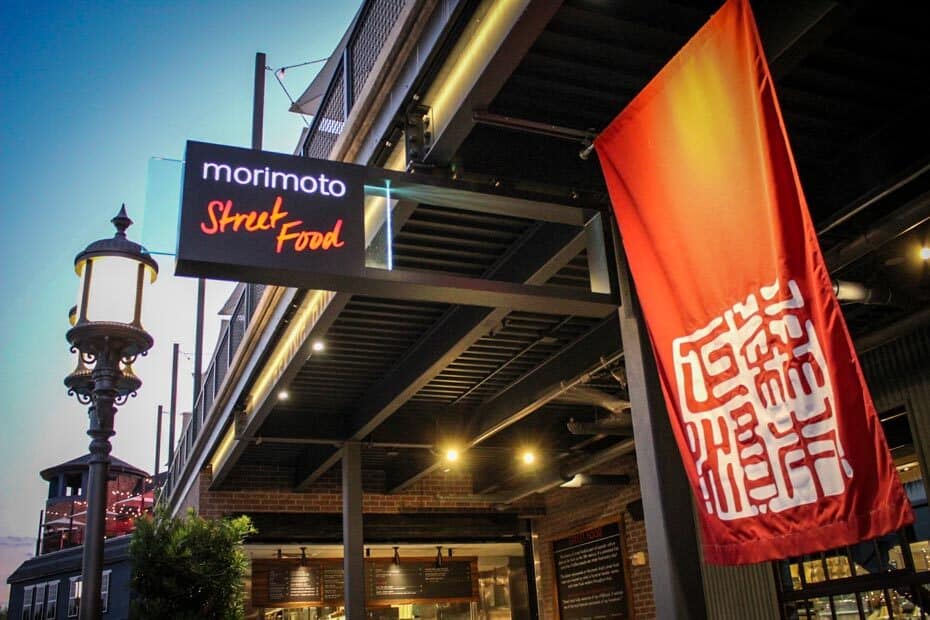 If you're interested in learning more about dining inside the restaurant, we have a separate review.
Related: Morimoto Asia Review at Disney Springs
Here are the details for dining at Street Food.
Disney Springs Restaurants
Morimoto Asia Street Food

Location:


The Landing

Type of Service:


Quick Service

Serves:


Lunch
Dinner

Type of Food:


Asian

Price Range:


$14.99 and Under

Disney Dining Plan


Unavailable

Annual Passholder Discount

10% off food and
non-alcoholic beverages

Tables in Wonderland

No
(Main Restaurant Does)

Menu


View Here
Morimoto Asia Street Food Review
When you visit Morimoto Street Food, the menu is usually posted outside. And then another menu is up over the service counter. There's a reason I'm telling you this.
From my experience, the most updated menu for Morimoto Street Food is at the counter. Sometimes I've made up my mind what I want. But when I get up to the counter to order, I find out the other menu wasn't up to date.
With all that being said, Street Food is delicious. The only thing I wouldn't recommend ordering here is sushi.
If you're looking for sushi, you should check out the Forbidden lounge, which is located on the second floor of the restaurant. Or read our article below.
Related: The Best Sushi at Disney World
Close to the counter I noticed a sign posted that shared the back story of street food. Apparently, street food dates back to the 14th century. Who knew?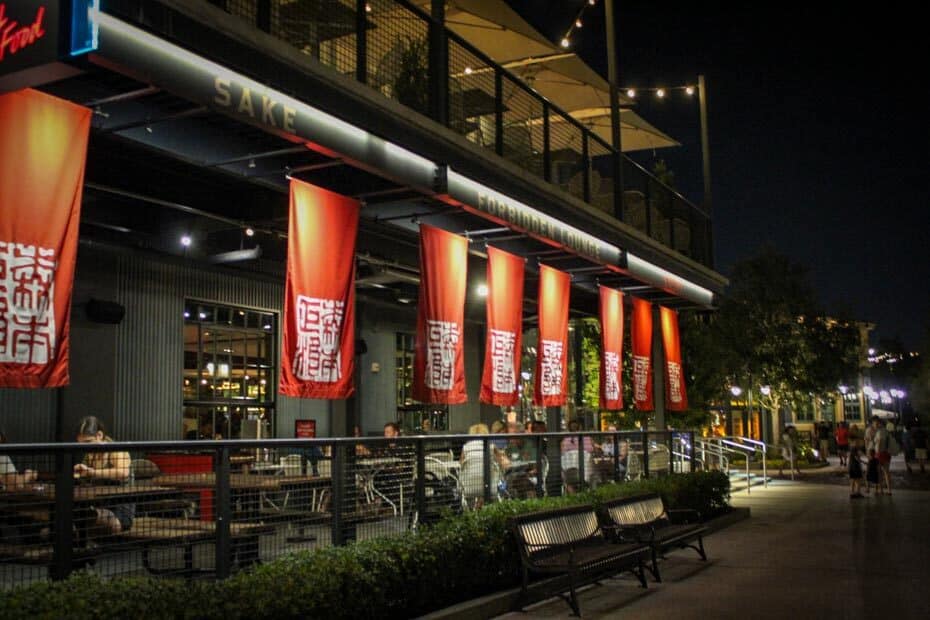 Things we've tried at Disney Springs Morimoto Street Food:
Morimoto Baby Ribs are the most popular item on the menu at Street Food. Each order actually comes with three pieces and makes for quite a scrumptious bite.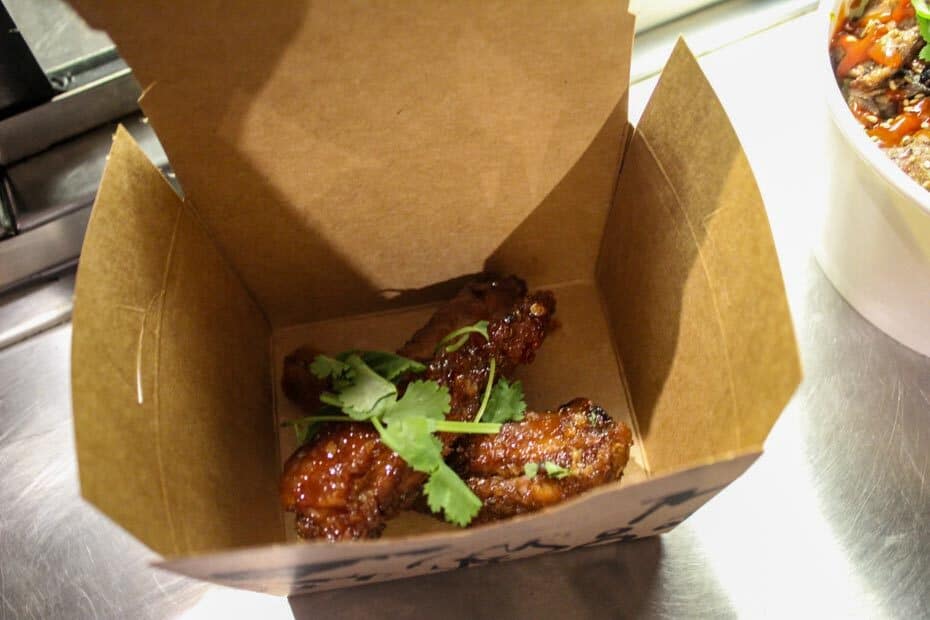 Below is a picture of the ginger chicken ramen dish. I haven't tried this one yet, but I've heard good things. These bowls might not look like it, but they are really large.
They are so large that they're difficult to finish due to the portion size.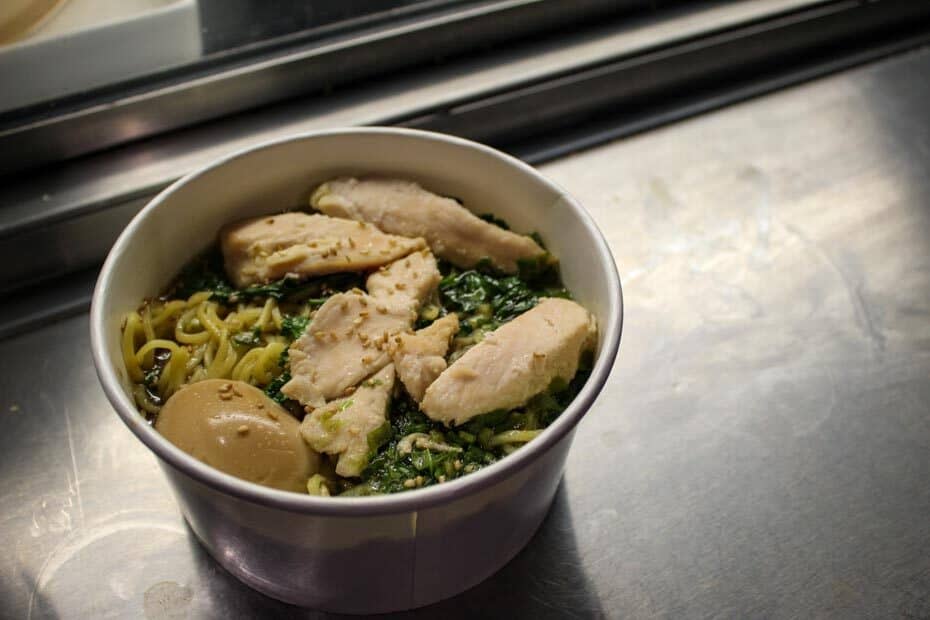 On my last visit, I had a spicy kimchi ramen with beef. This dish was delicious and I really enjoyed the meal. I remember taking these photos and thinking how difficult it was to portray the dish's size accurately.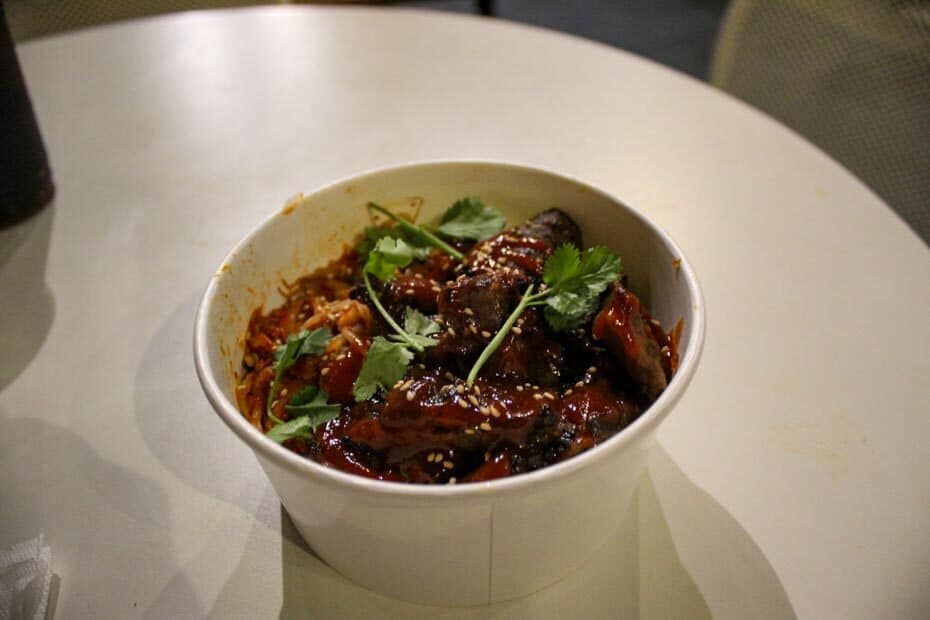 So I tried a few different angles, and I think this one gives you a better idea of the size.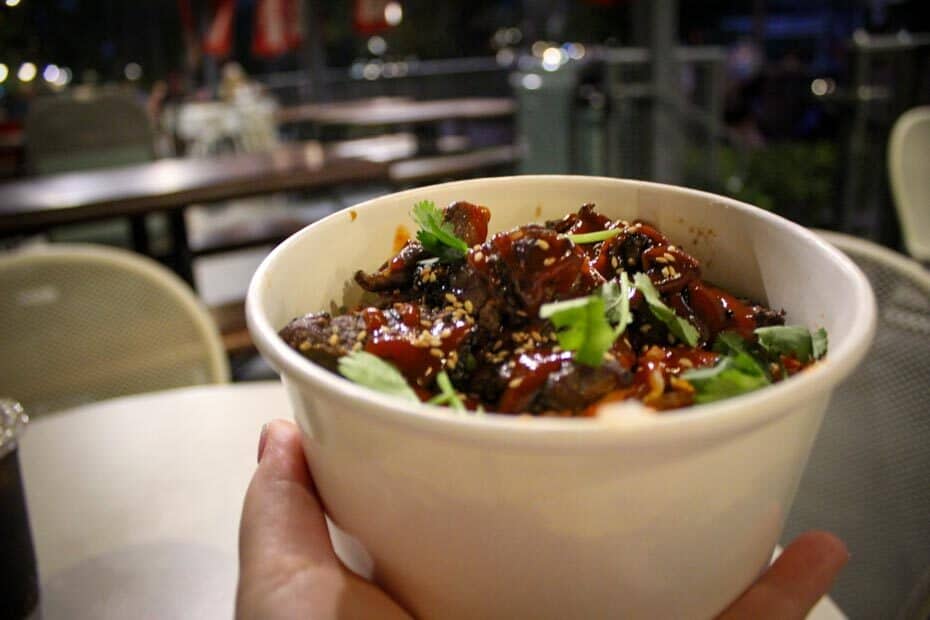 Morimoto Asia Street Food is one of my favorite quick services at Disney Springs. If you have any interest in dining here, give it a try.
With all of the choices at Disney Springs, it's usually simple to find something to fit everyone's mood. If you're traveling with a group, let everyone pick up whatever they are craving and then meet up at one of these outdoor dining areas.
I often notice guests doing this and think it's a great idea. For instance, on this visit, a few tables over a mom was dining with her daughters. One had picked up Street Food, and the others had brought something over from Cookes of Dublin.
Oh and they had brought dessert from Sprinkles. What a fun idea!
For more dining options at Disney Springs, check out our guide.
Related: The Best Restaurants at Disney Springs
Or you might enjoy the following
Additionally, you might be interested in browsing the complete list of Disney Dining Reviews or the guide to transportation at Disney Springs.
In the comments: Have you had a chance to dine at Morimoto Street Food? What did you have?