Dining Options at Disney's All-Star Movies
This article previews the dining options at Disney's All-Star Movies. We'll discuss the World Premiere Food Court and Silver Screens Spirits Pool Bar.
Since Disney's All-Star Movies is a value resort, things work a little differently when it comes to dining. For starters, the value resorts do not offer table-service restaurants.
All of the value resorts at Disney World have one counter-service dining location and one quick-service pool bar. So those two locations will be your only options at the resort.
Since we recently stayed at All-Star Movies, we spent some time exploring the resort and taking pictures of the options at the food court. Overall, we were impressed with the number of items available.
Additionally, we found the cast members were more than willing to assist customers, not only at the food court but across the entirety of the resort. Our stay was pleasant, with a few minor exceptions we'll get to in an upcoming resort review.
Related: Disney's All-Star Movies Resort Review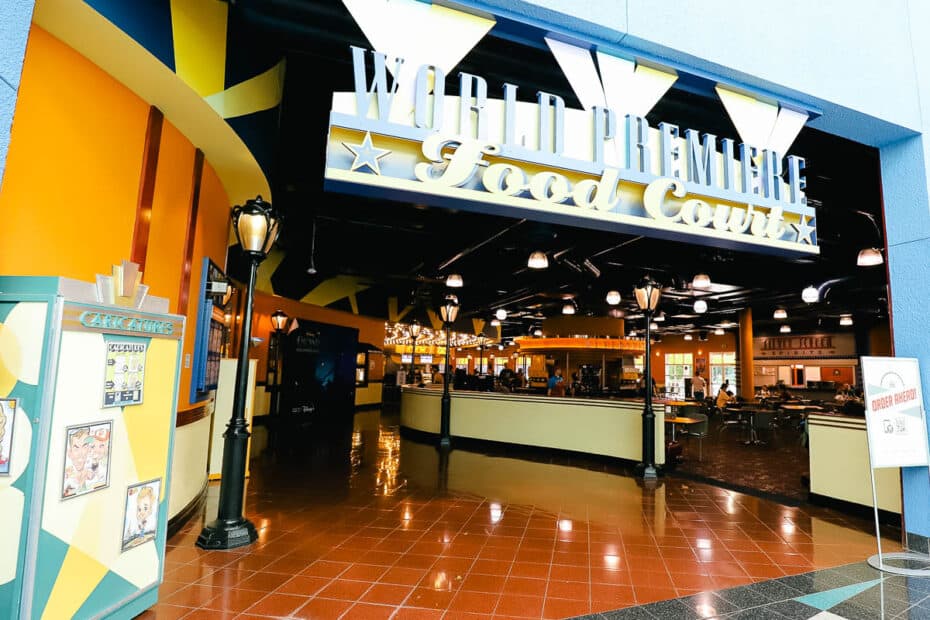 In the meantime, let's look at those dining options at the All-Star Movies.
World Premiere Food Court
World Premiere is the food court for Disney's All-Star Movies. This counter-service restaurant is located off Cinema Hall, the resort's main lobby.
World Premiere is open daily from 6:30 a.m. until 11:00 p.m. If you have a stay planned, you'll want to check the exact hours of operation for your specific dates.
You can locate the food court's hours and other essential resort details in the My Resort Hotel section of the My Disney Experience app. A link to this section will appear on the app's home screen beginning the first day of your stay through the remainder of your vacation.
All-Star Movies food court serves breakfast, lunch, and dinner. They accept mobile orders, or you can order from any of the windows and then check out at one of the registers.
You may remember in our All-Star Sports Dining Guide, I mentioned how to use mobile order on the way back from the parks in the late evening:
"But there is something to be said about being able to order a slice of pizza at 10:00 p.m. when you're on a bus from one of the theme parks back to the resort. As you disembark the bus, you'll waltz right in and pick up your order bypassing everyone else waiting in line."
You can do the same thing here at All-Star Movies. During our stay, we visited Magic Kingdom one evening and stayed reasonably late. I hoped to grab a snack if we returned to the resort before 11:00 p.m.
Since I was purchasing something pre-packaged, I didn't mobile order. But when we exited the bus at 10:50 p.m., the food court was packed. Several school groups had recently arrived for a competition, which meant a lot of hungry teenagers.
If I had been ordering a meal, there would have been a long wait. Thankfully, that wasn't the case. But it reminded me to mention the benefit of mobile ordering again.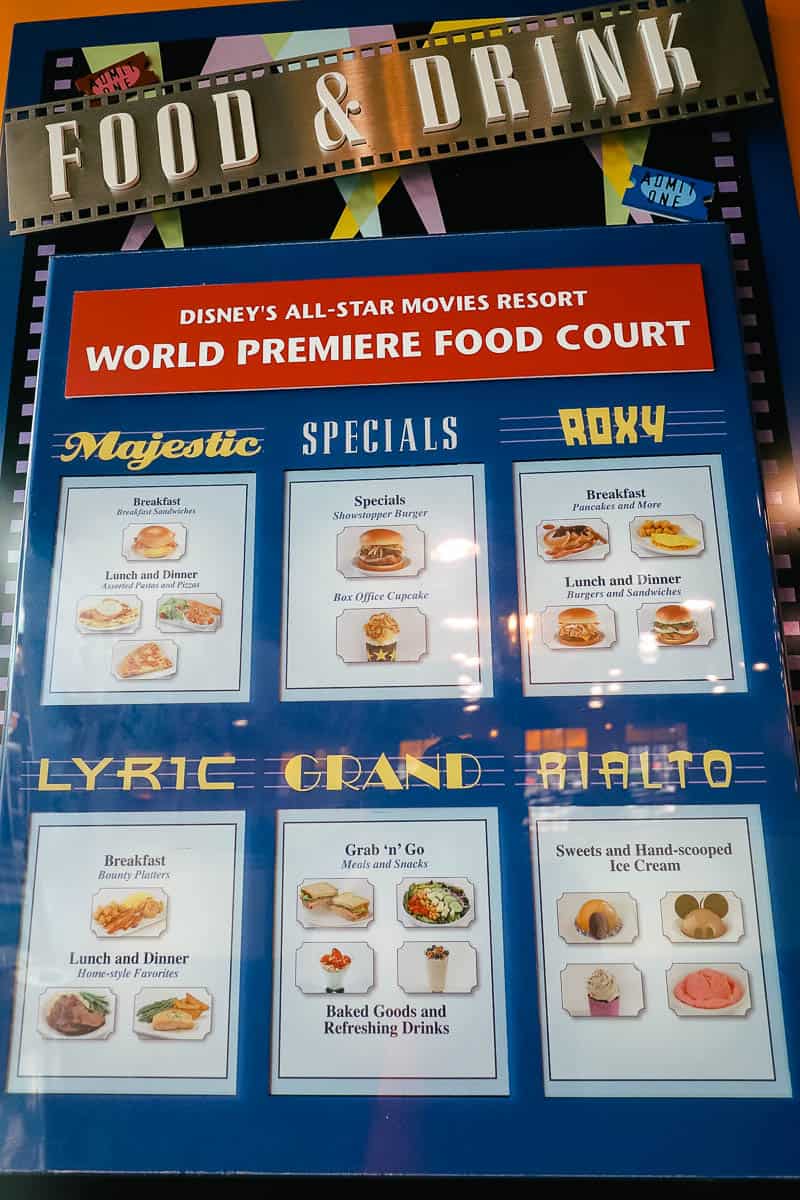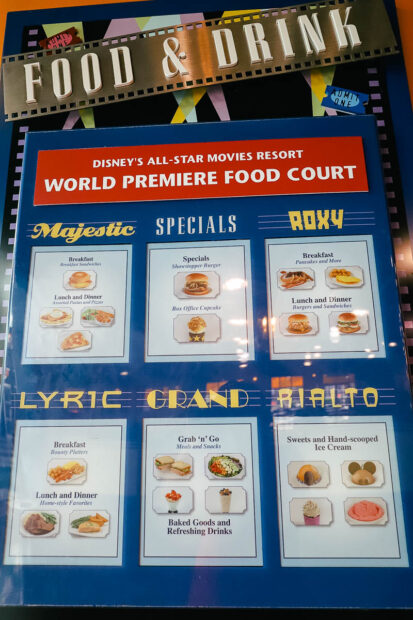 Breakfast Options at All-Star Movies
Regarding the menus, we'll look over the breakfast items first. Below, we have a few things:
Bacon, Egg, and Cheese Bagel Sandwich
Egg and Cheese Bagel Sandwich
Plant-based Mickey-shaped Vegetable and Cheese Frittata
Sides include bacon, sausage, and potato barrels.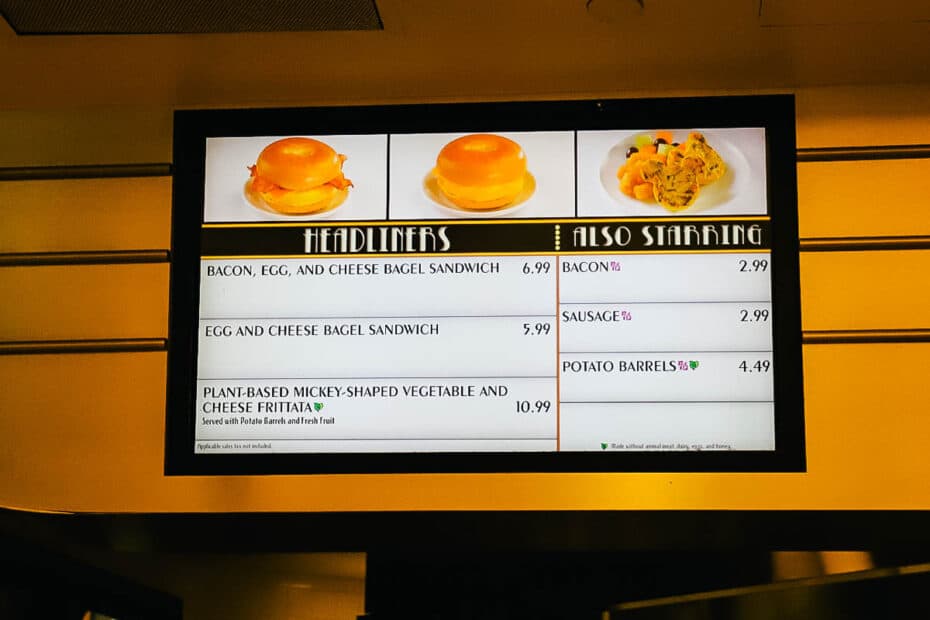 Another station has the following:
Waffle Bounty Platter
Mickey-shaped Waffles
Plant-based Character Waffles
Kid's Meals include:
Scrambled Eggs
Oatmeal with Dried Cranberries
Mickey-Shaped Waffles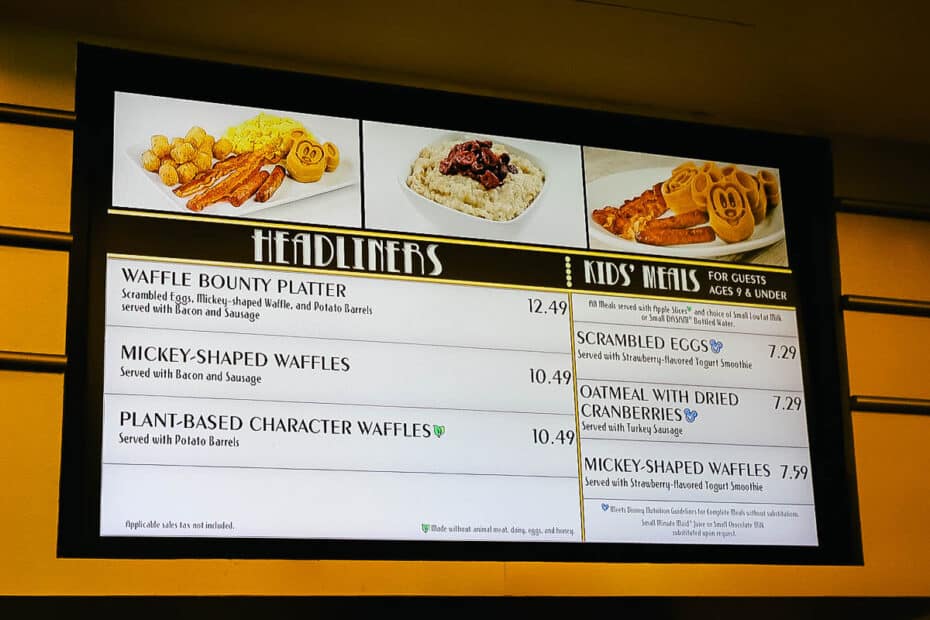 There are also a few regular sides like bacon, sausage, steel-cut oatmeal, and potato barrels.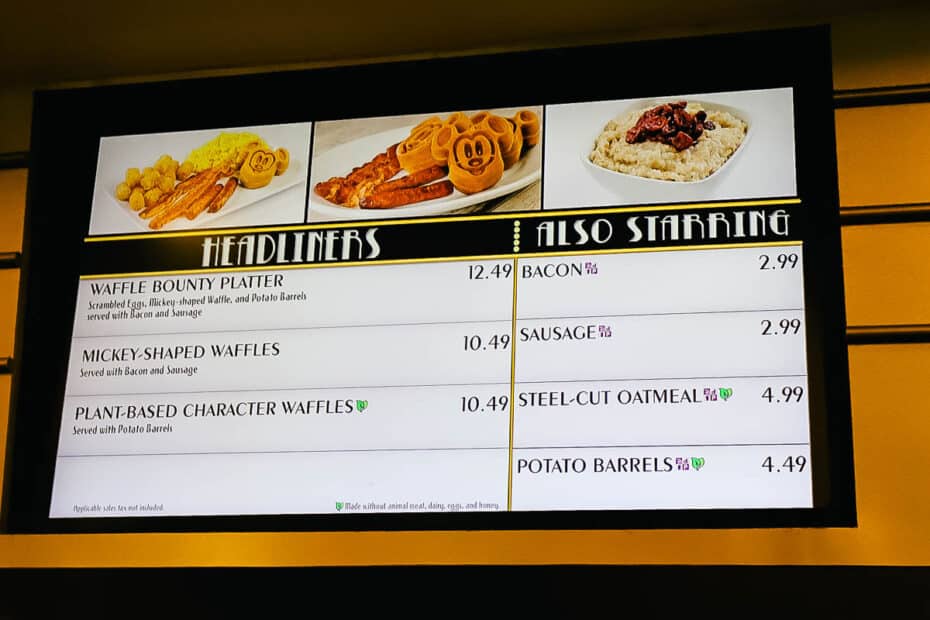 Next, we have vanilla pancakes with or without berry compote or a ham and cheese omelet.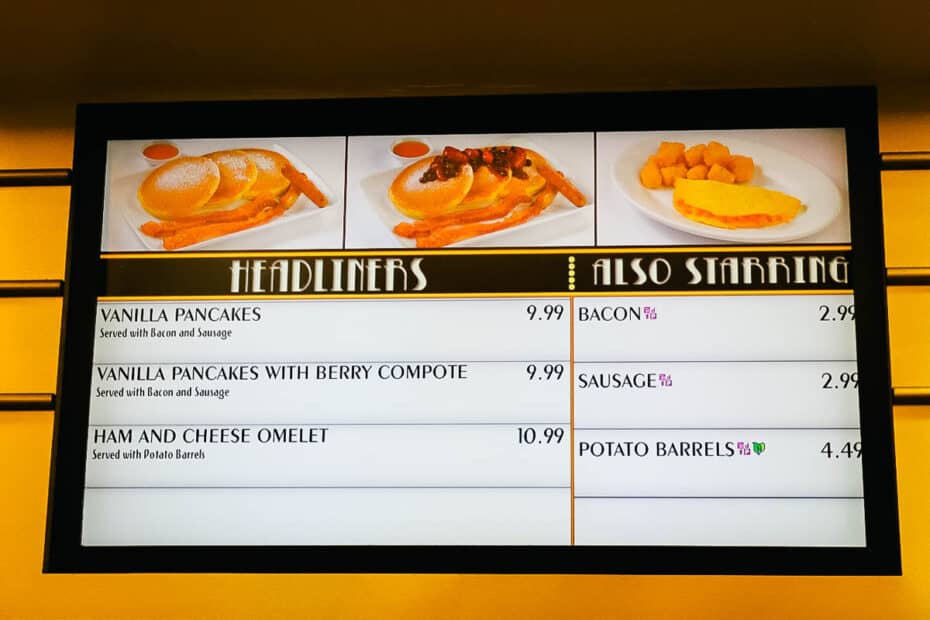 At the end of the food court, there's a station with pastries and specialty coffee. This station had croissants, coffee cake, and cinnamon rolls. During our stay, I had a cappuccino from this location. It was freshly prepared and of good quality.
You can preview the breakfast menu with prices here on Disney's site.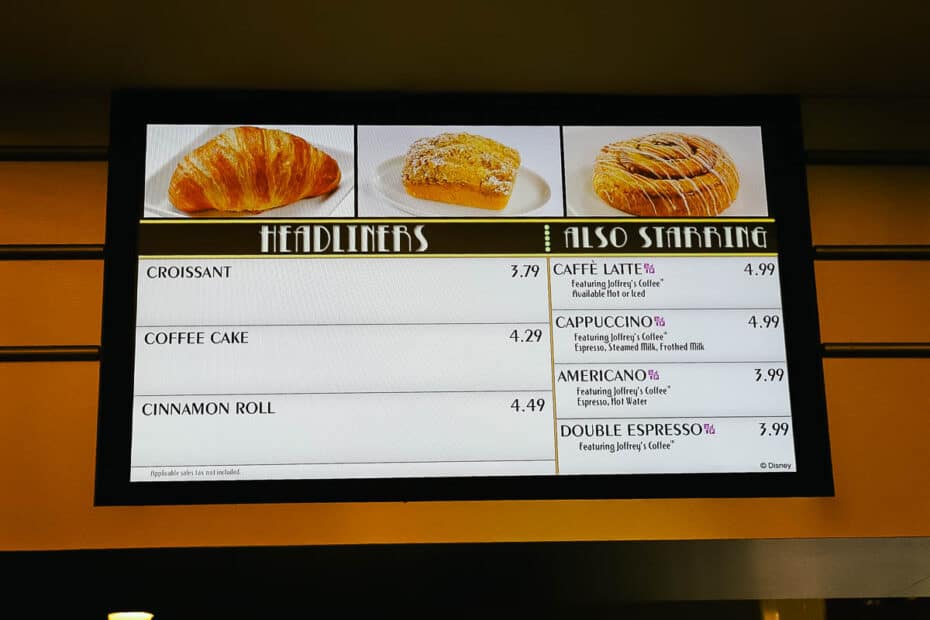 Lunch and Dinner Options at All-Star Movies
Moving on to lunch and dinner, we'll start with the Majestic station, which serves Italian food.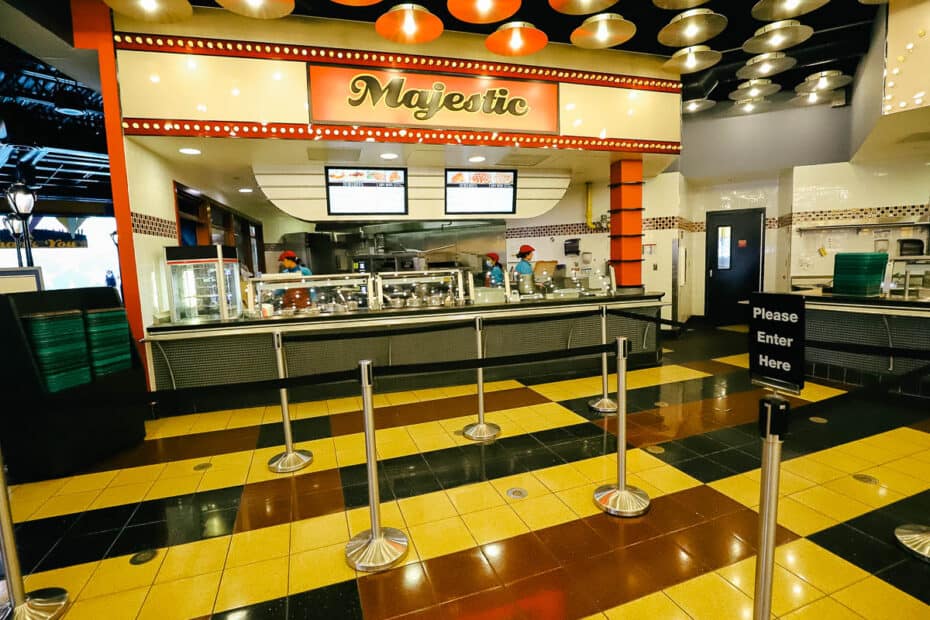 They had various slices of pizza, or you could order a whole one. Kids' meals include:
Chicken and Vegetables with Pasta
Macaroni and Cheese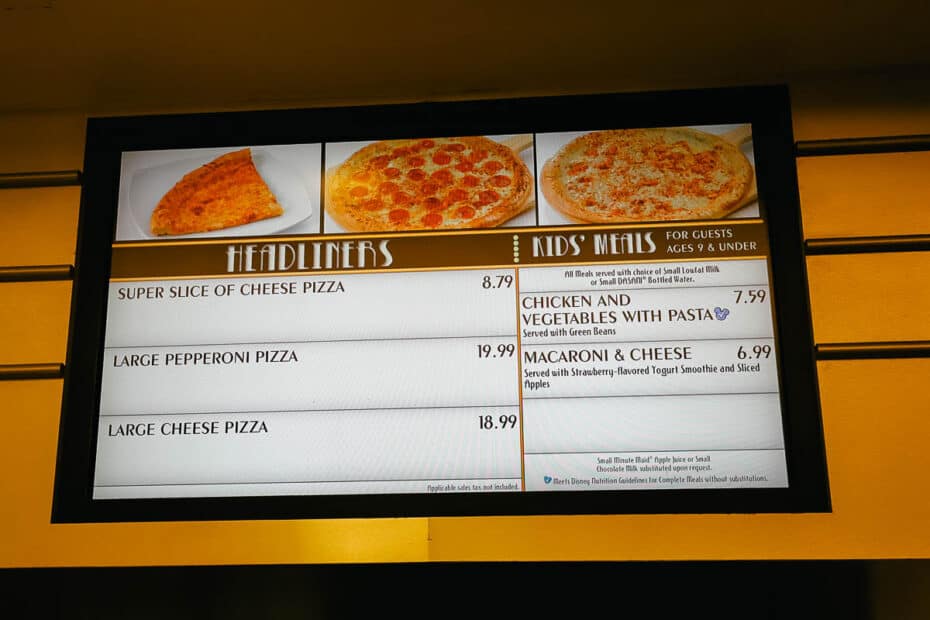 Here are a few of the items.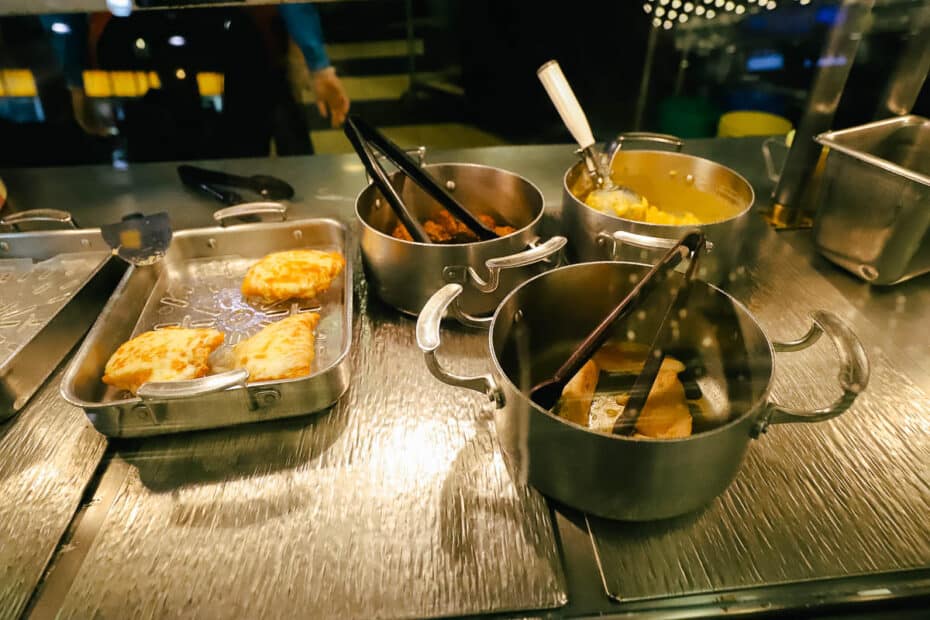 There's a display with pizza.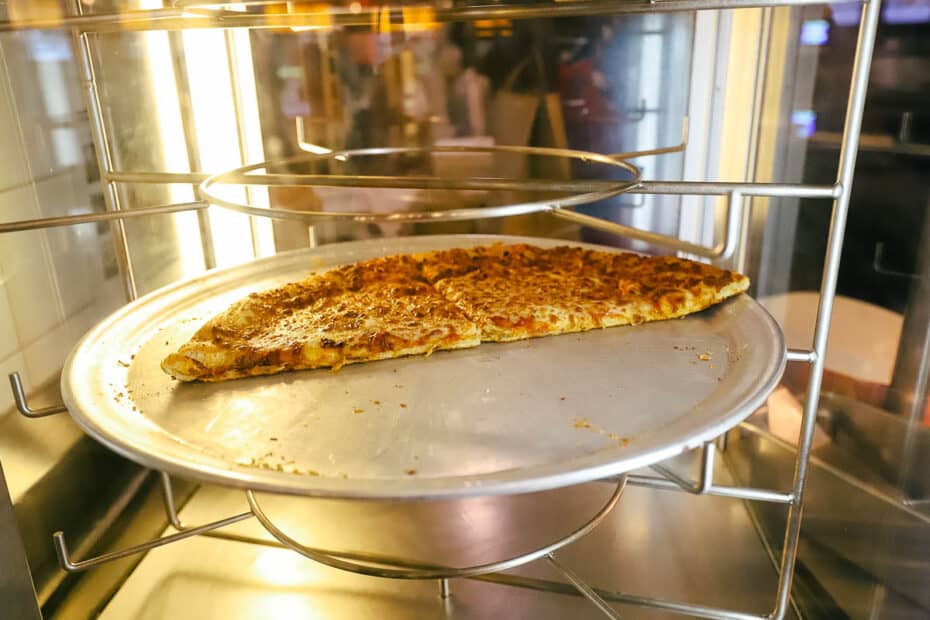 Other entrees include:
Chicken Parmesan Pasta
Penne Pasta with Meatballs
Baked Gnocchi Turkey Bolognese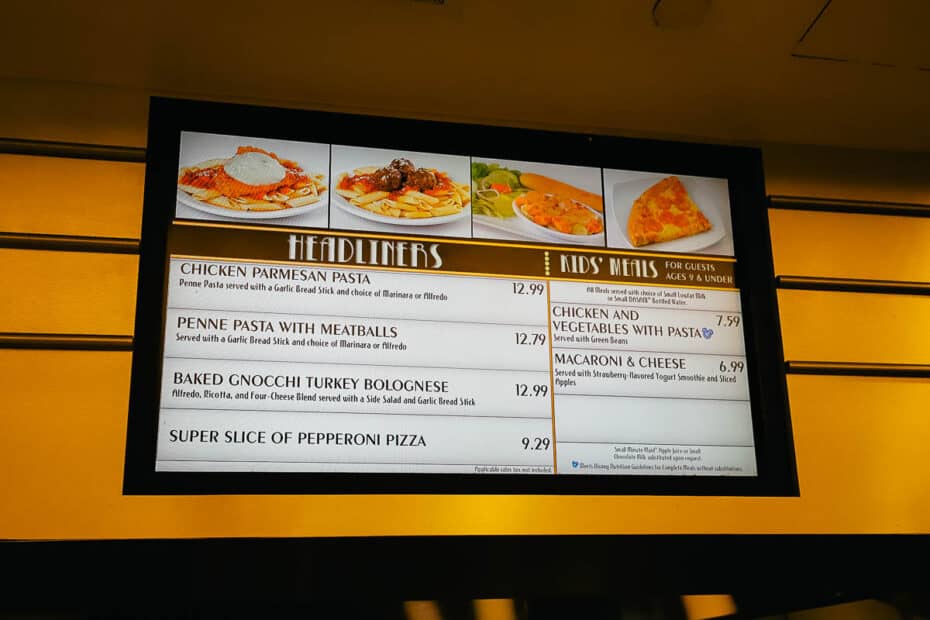 Here is the pasta with sauces.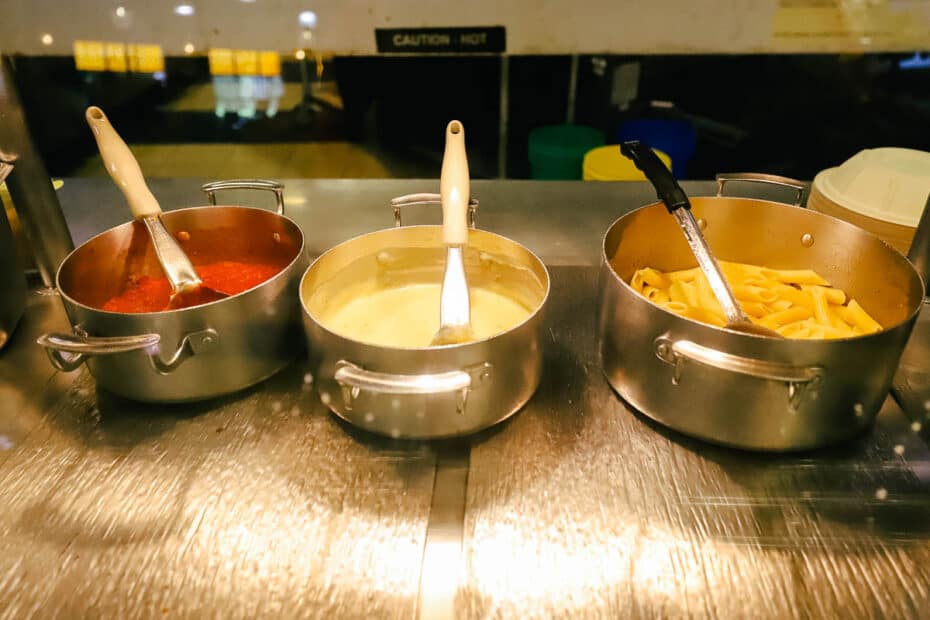 Lyric is the next station and where you'll find healthier options.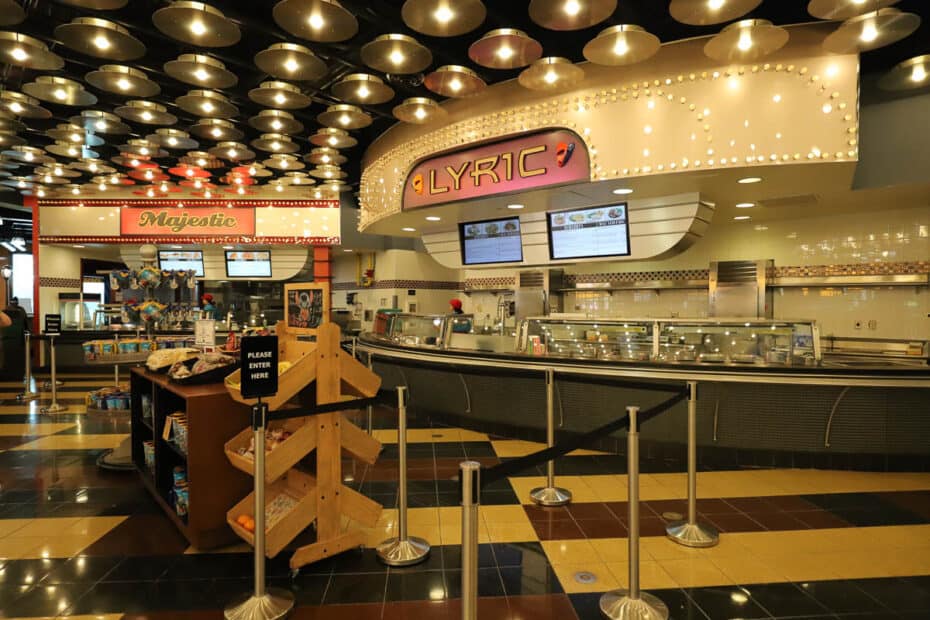 Their menu included:
Greek Plant-Based Tuna Salad
Greek Salad with Roasted Red Pepper Hummus
Sesame Chicken Stir-Fry
Side choices were green beans, mashed potatoes, and roasted potatoes.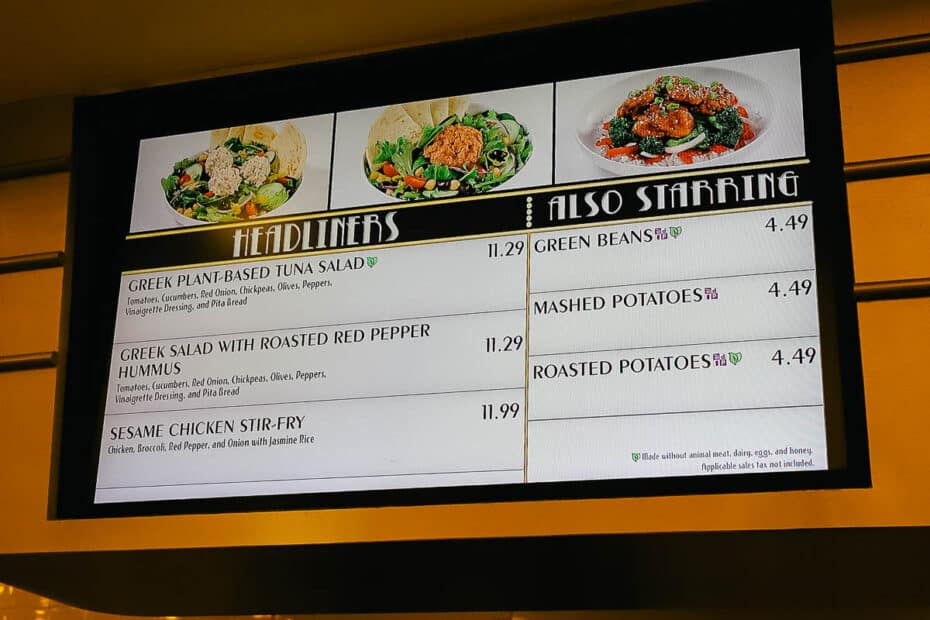 Here are a few of those sides.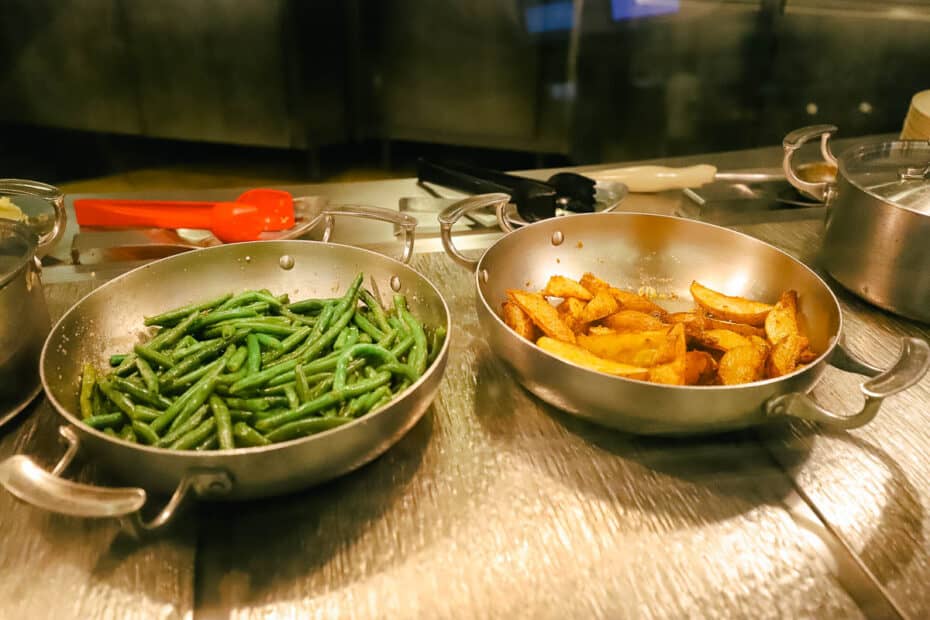 We also saw the following:
Walt Disney's Favorite Chili in a Bread Bowl
Roasted Buttermilk Chicken
Seared Salmon
Braised Beef
Most of these items are pre-cooked, and the cast member will prepare your plate.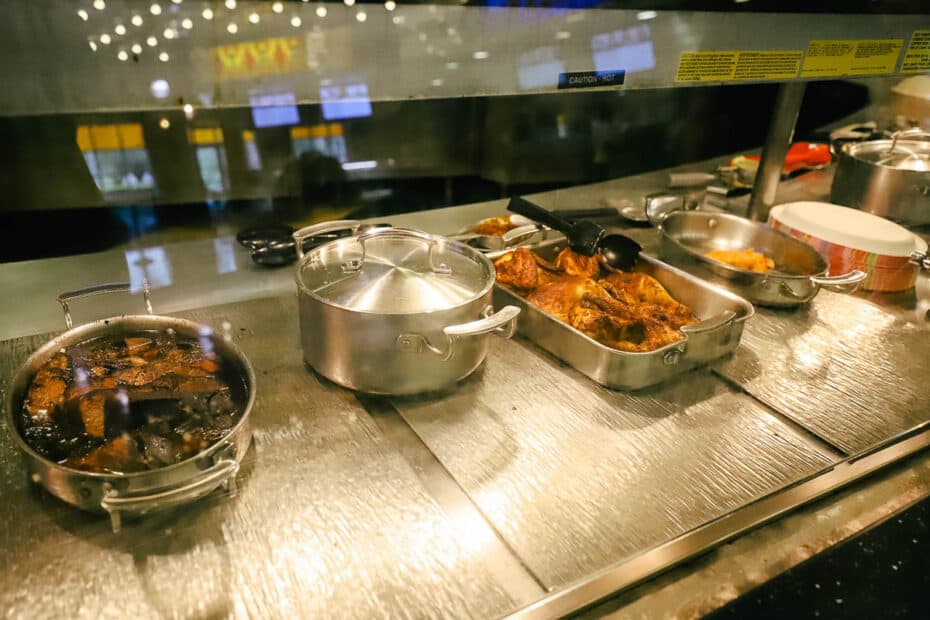 Roxy is the last formal station to get a hot meal.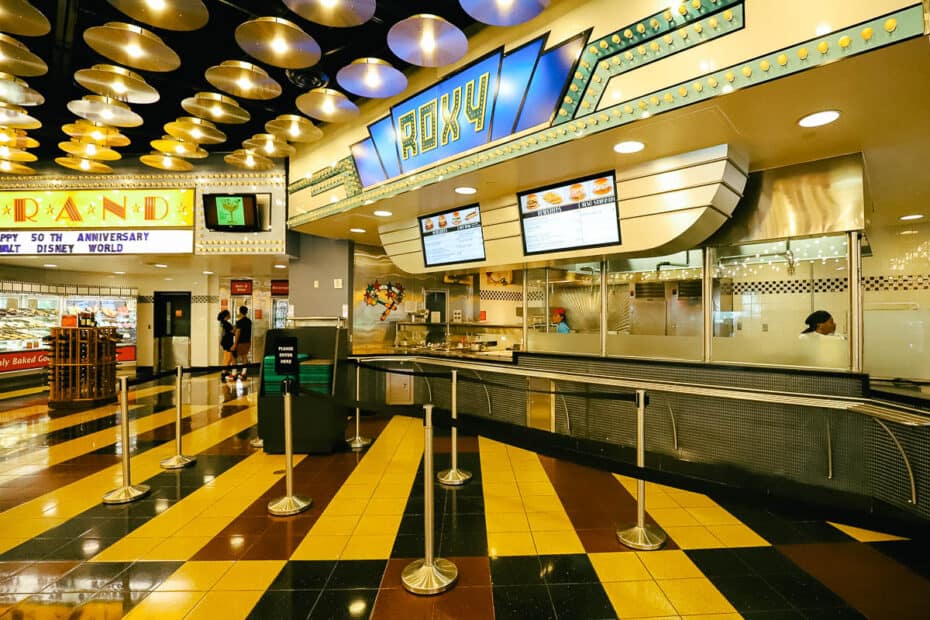 They have a traditional American menu that includes:
Bacon Cheddar Cheeseburger
Cheddar Cheeseburger
Grilled Chicken Sandwich
Walt's Chili-Cheese Foot-Long Hot Dog
Kid's meals include:
Turkey Sandwich
Cheeseburger
Chicken Strips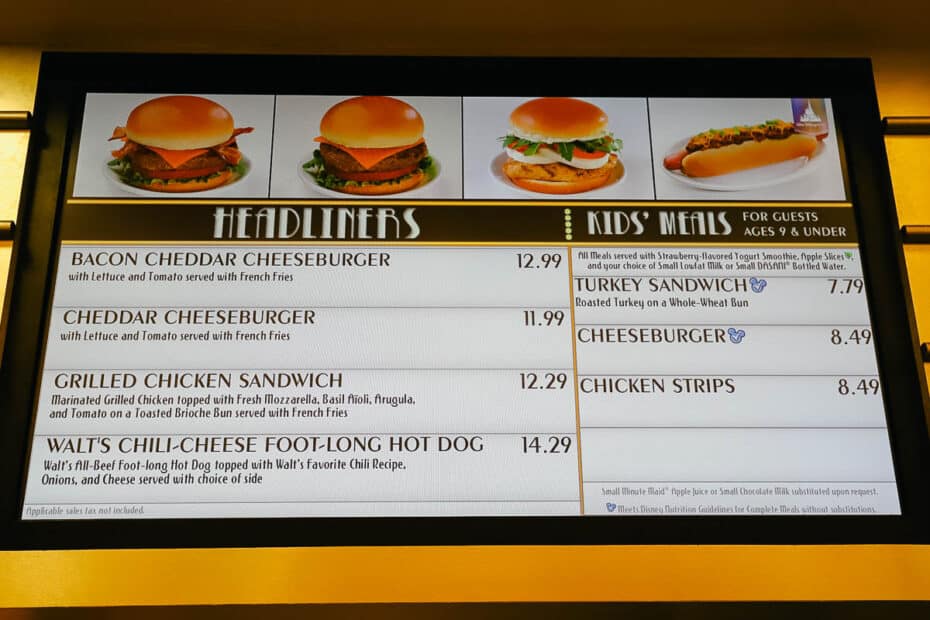 Other items included:
Showstopper Burger
Chicken Strips
Impossible Burger
Honey Barbecued Pork Sandwich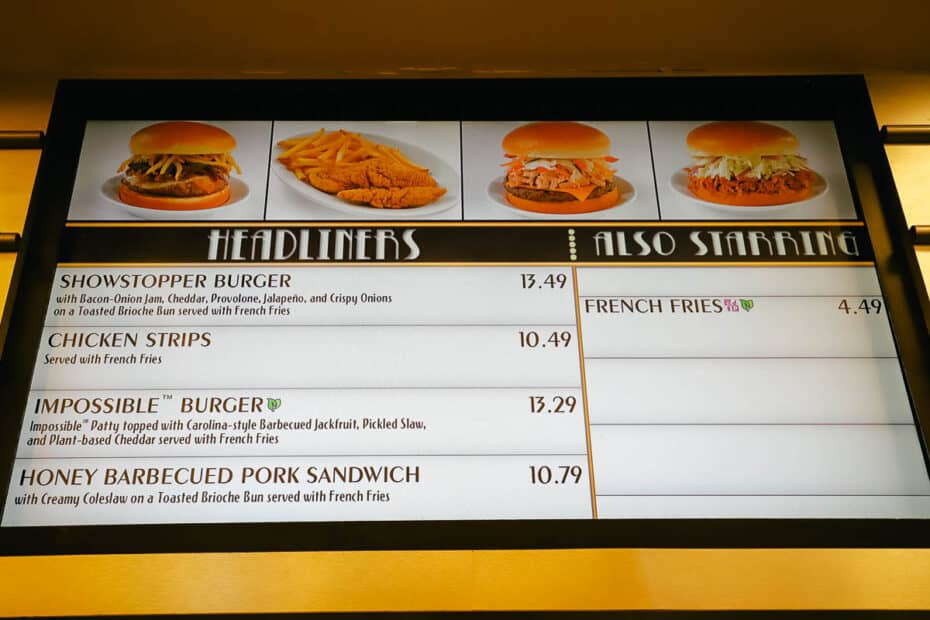 Lastly, specialty coffee is still available, along with a few other treats.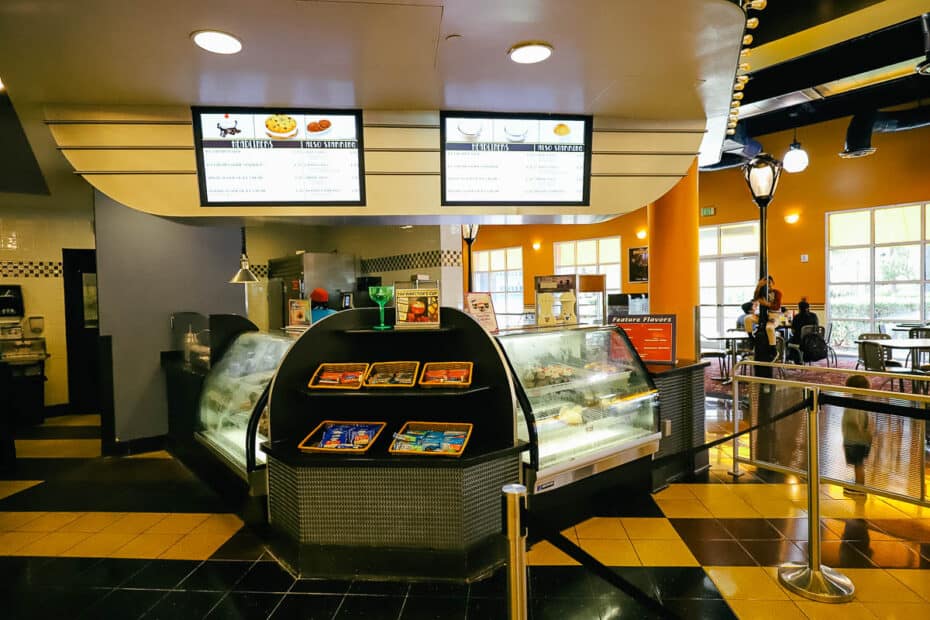 Those treats include:
Ice Cream Sundae
Ice Cream Cookie Sandwich
Scooped Ice Cream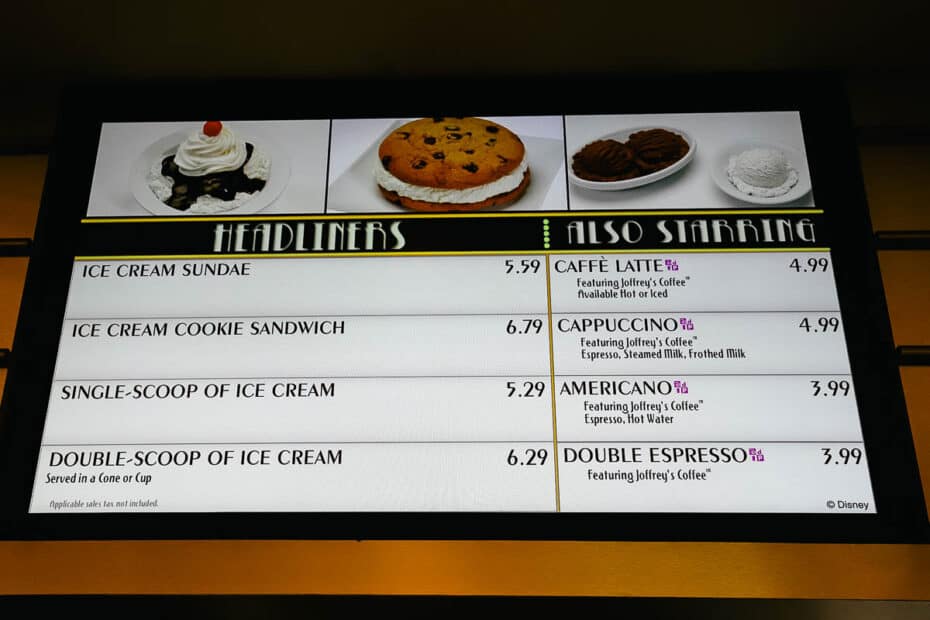 Feature flavors were vanilla, chocolate, strawberry, mint chocolate chip, cookies 'n cream, rainbow sherbet, and no-sugar-added vanilla.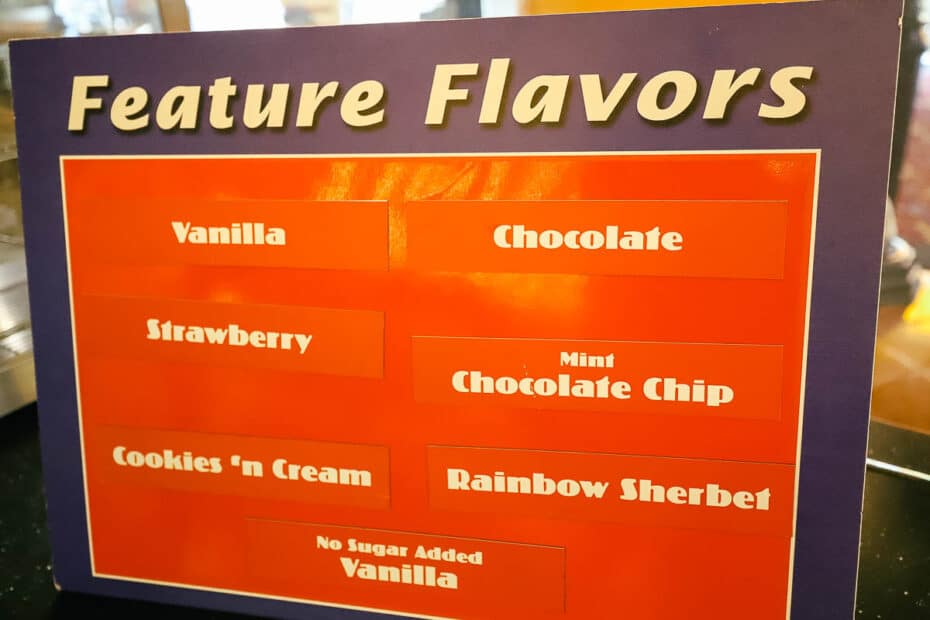 Pom-Pom cupcakes were a particular offering.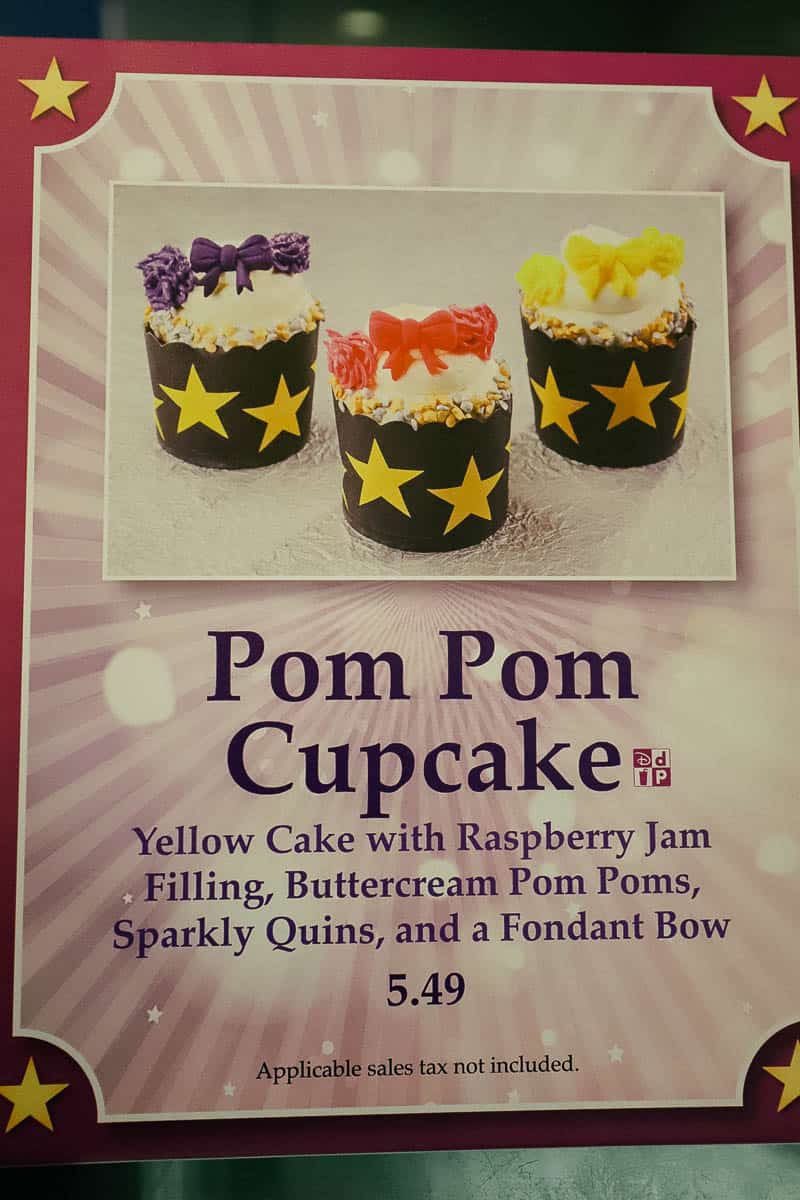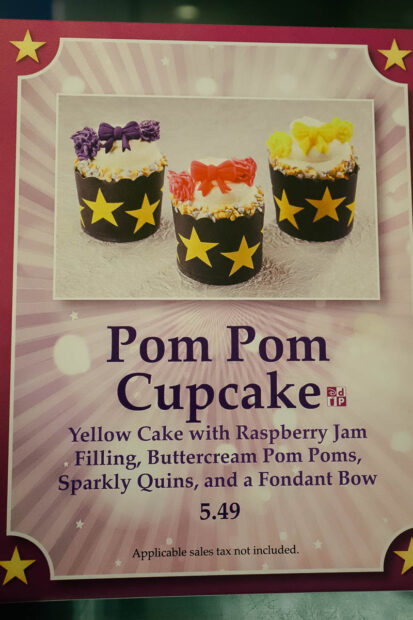 Here we have a few other treats in the dessert case. You can preview the entire lunch and dinner menu here on Disney's site.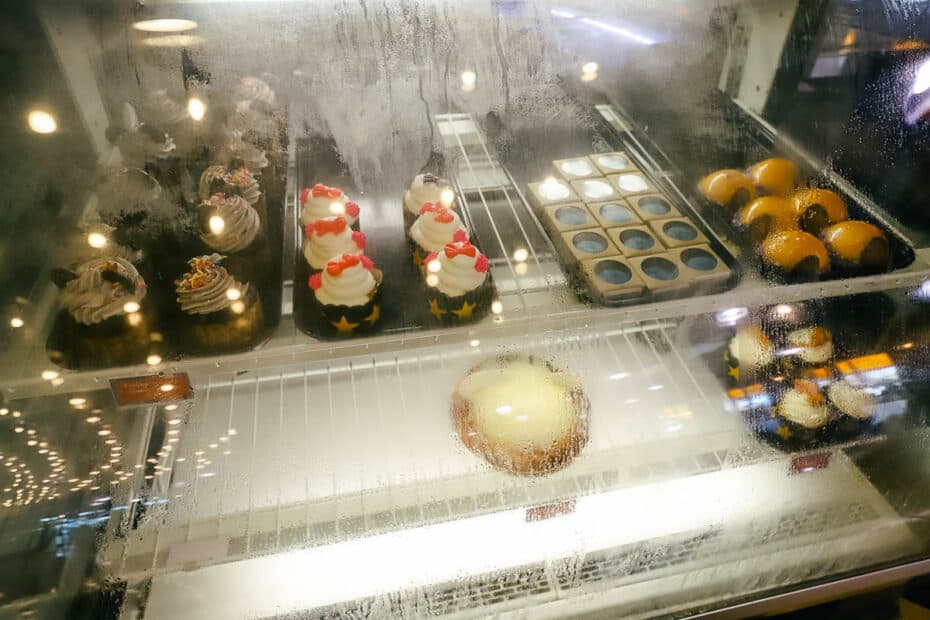 Grab and Go Items
Since the All-Star Movies food court is designed to look like a concession area at a movie theater, you'll notice one large grab-and-go area in the center.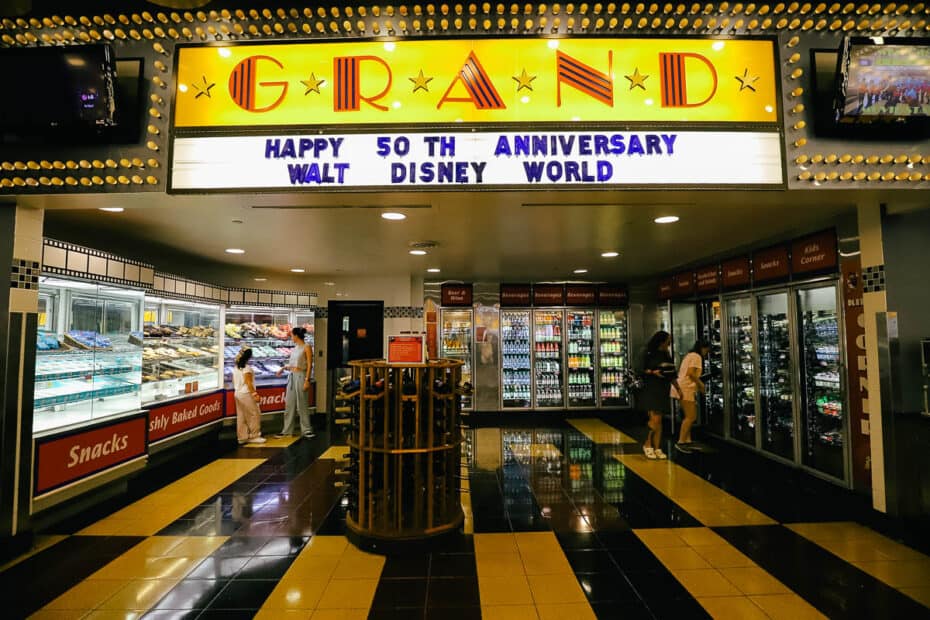 This section had a large display of wine.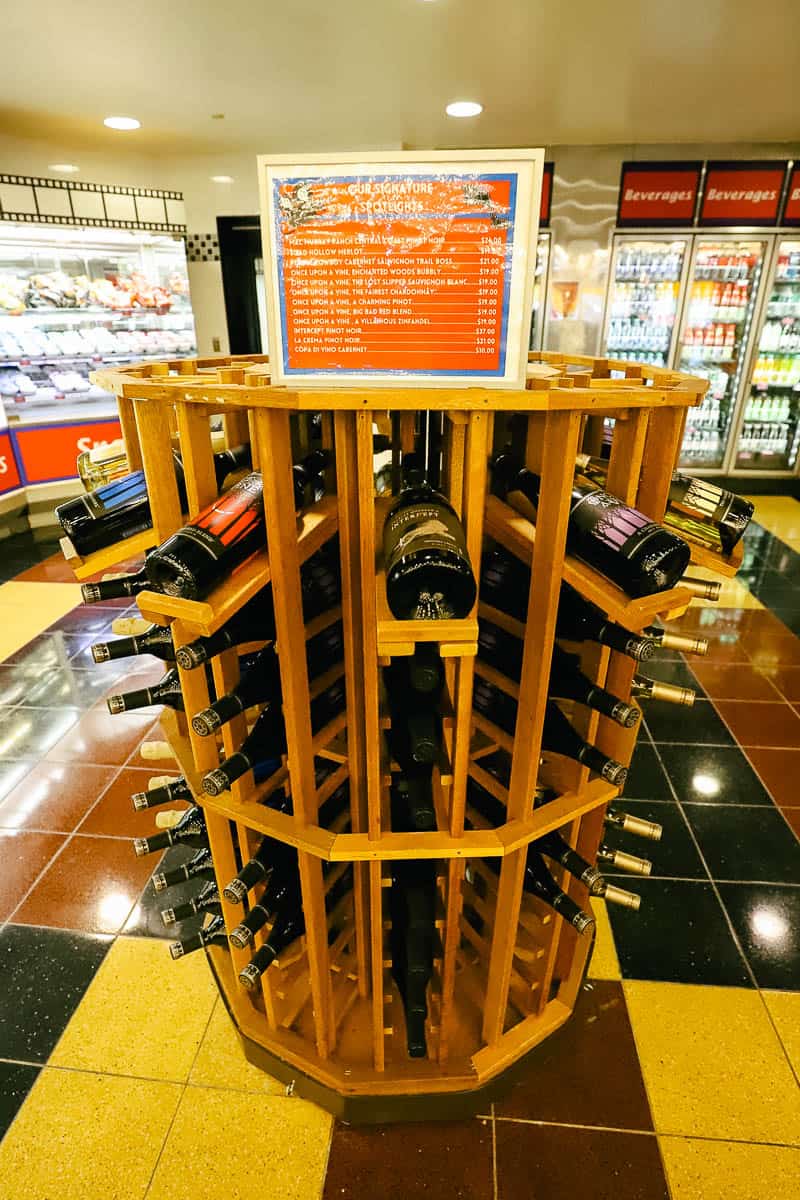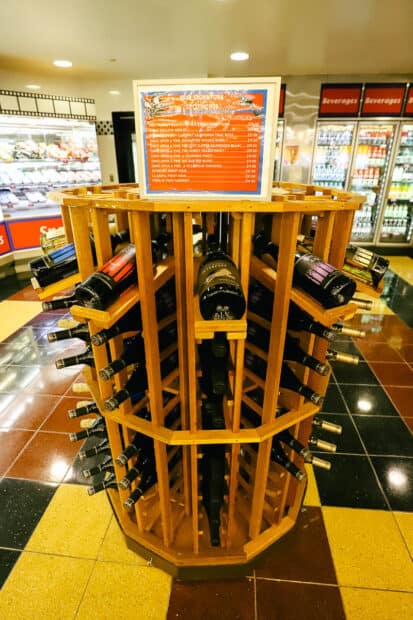 Here are the types with prices.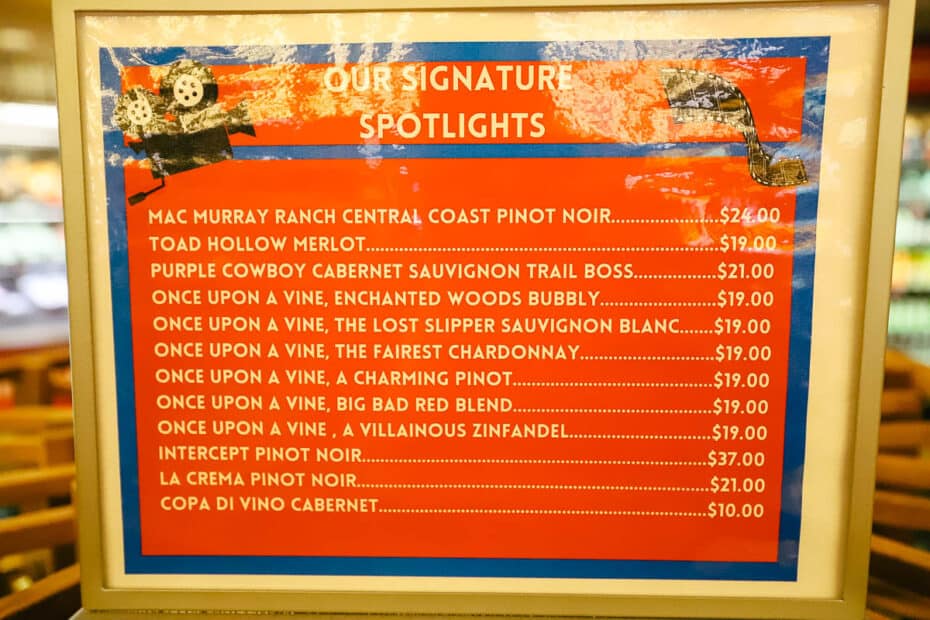 There were plenty of the Enjoy Life allergy-friendly items.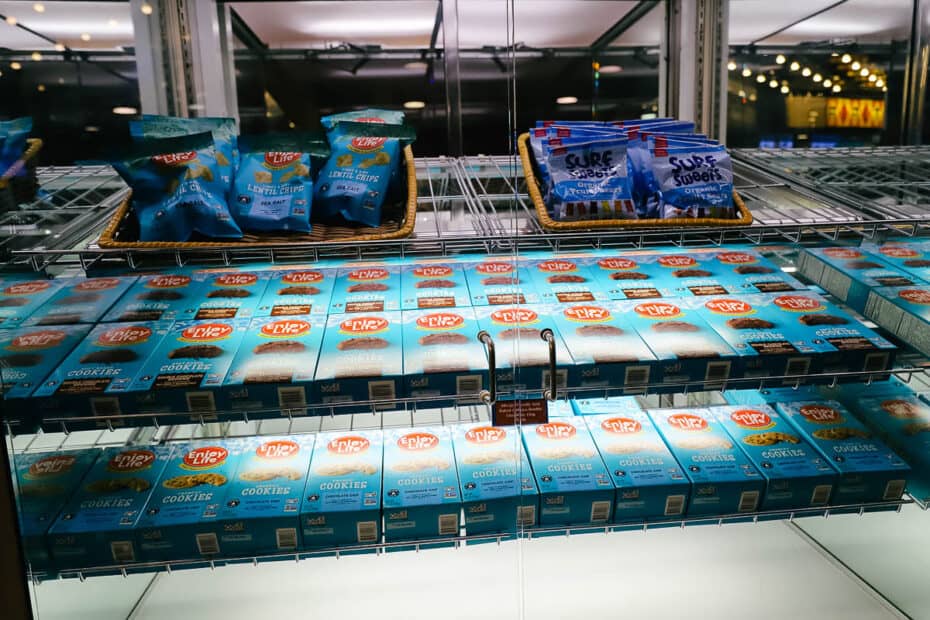 Here is the pastry case. This is where I picked up my late-night snack.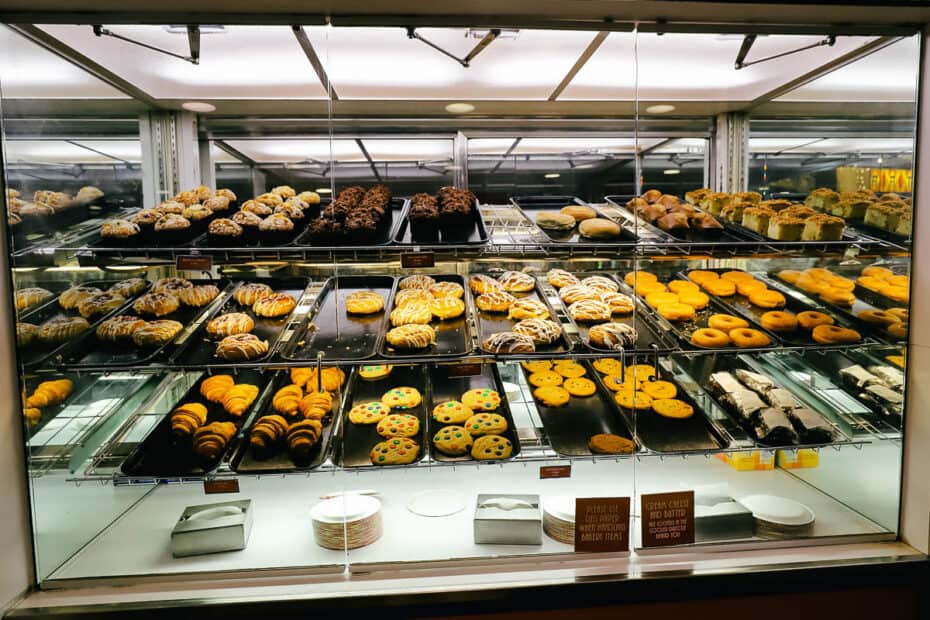 If you prefer a more basic breakfast, there are plenty of cereal selections.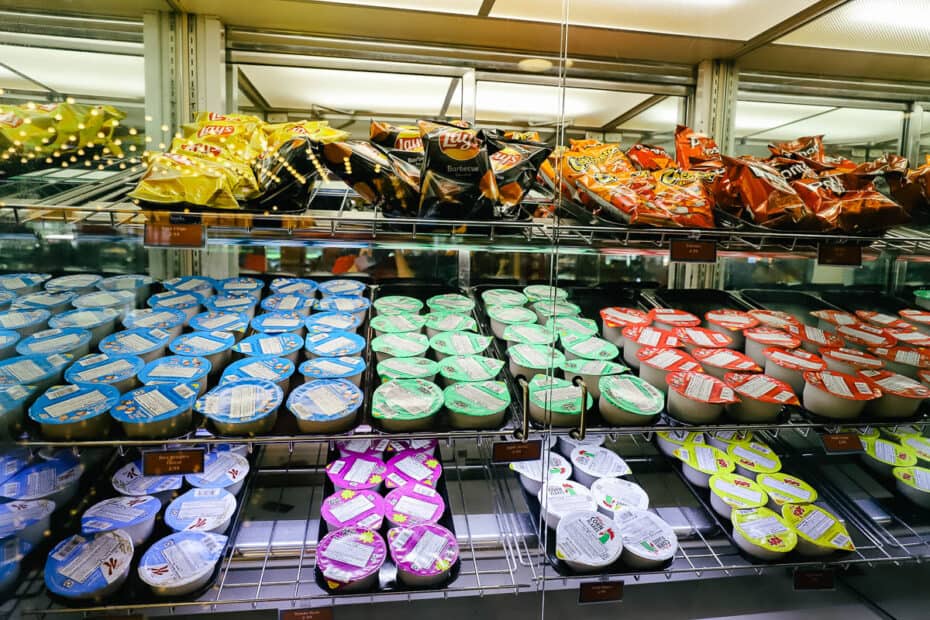 We see a separate cooler with beer and wine on the back wall.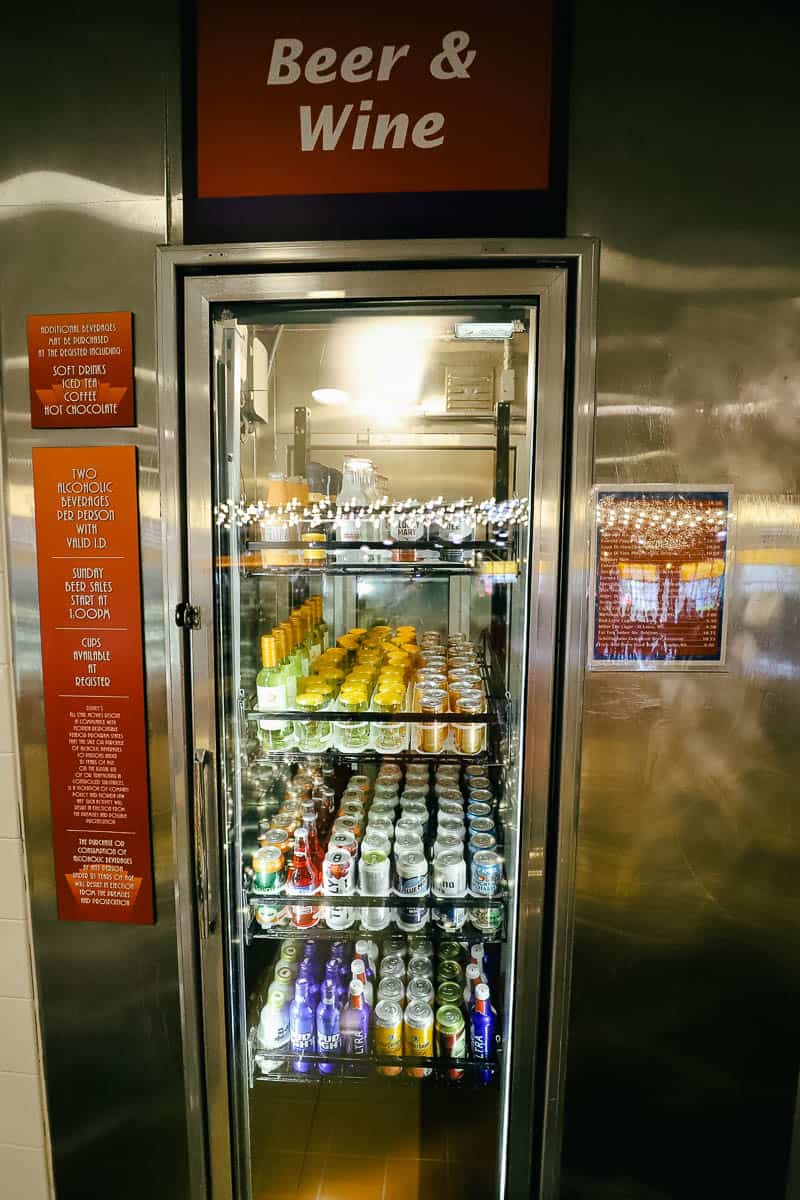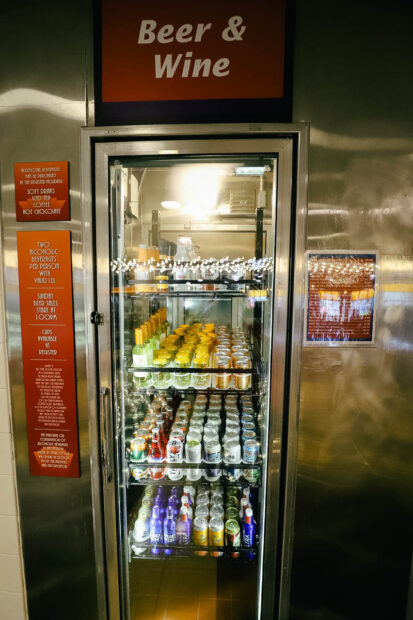 Here are some of the options with prices.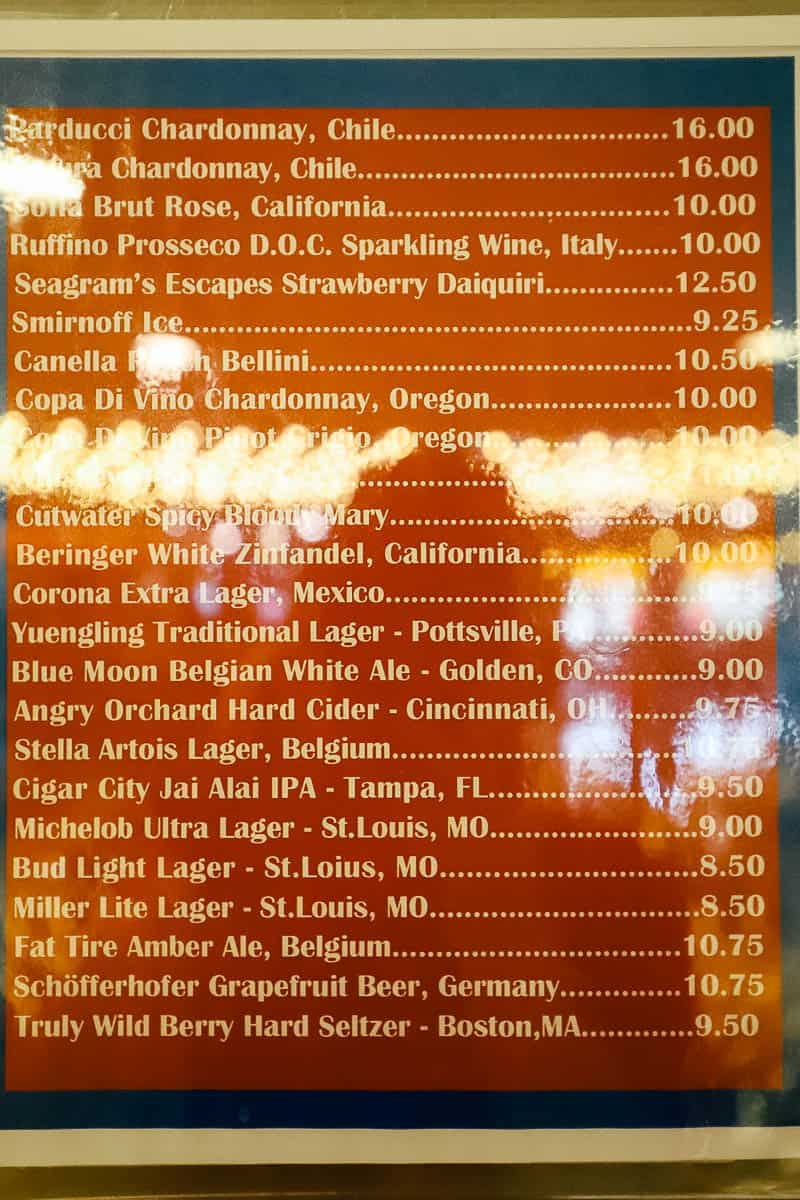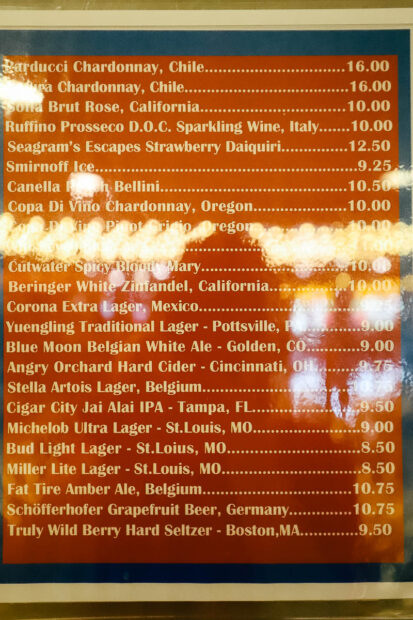 We have bottled water, soda, and juices.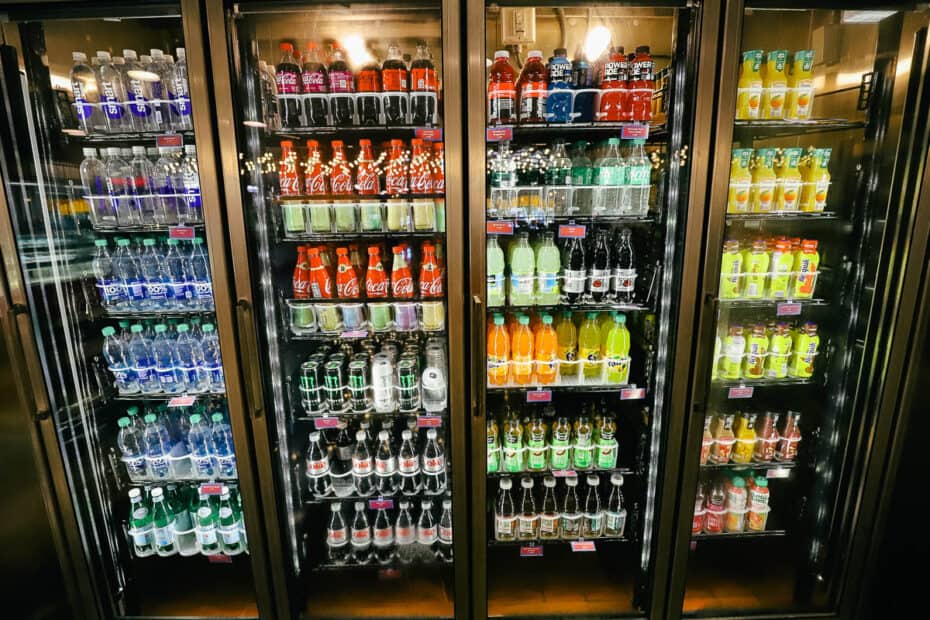 A large case on the opposite wall features pre-made items.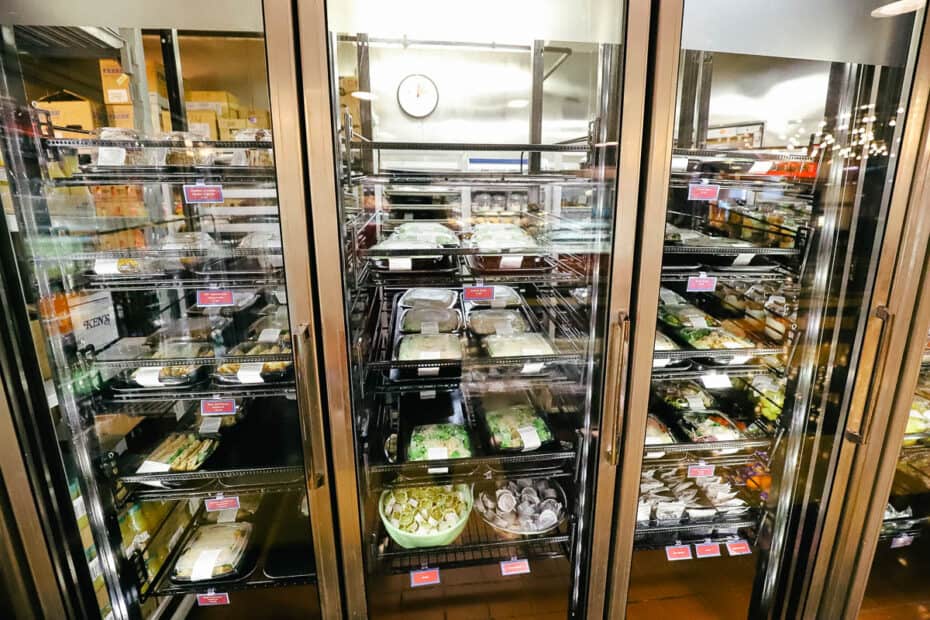 There were several kinds of sandwiches.
Here are a few salads.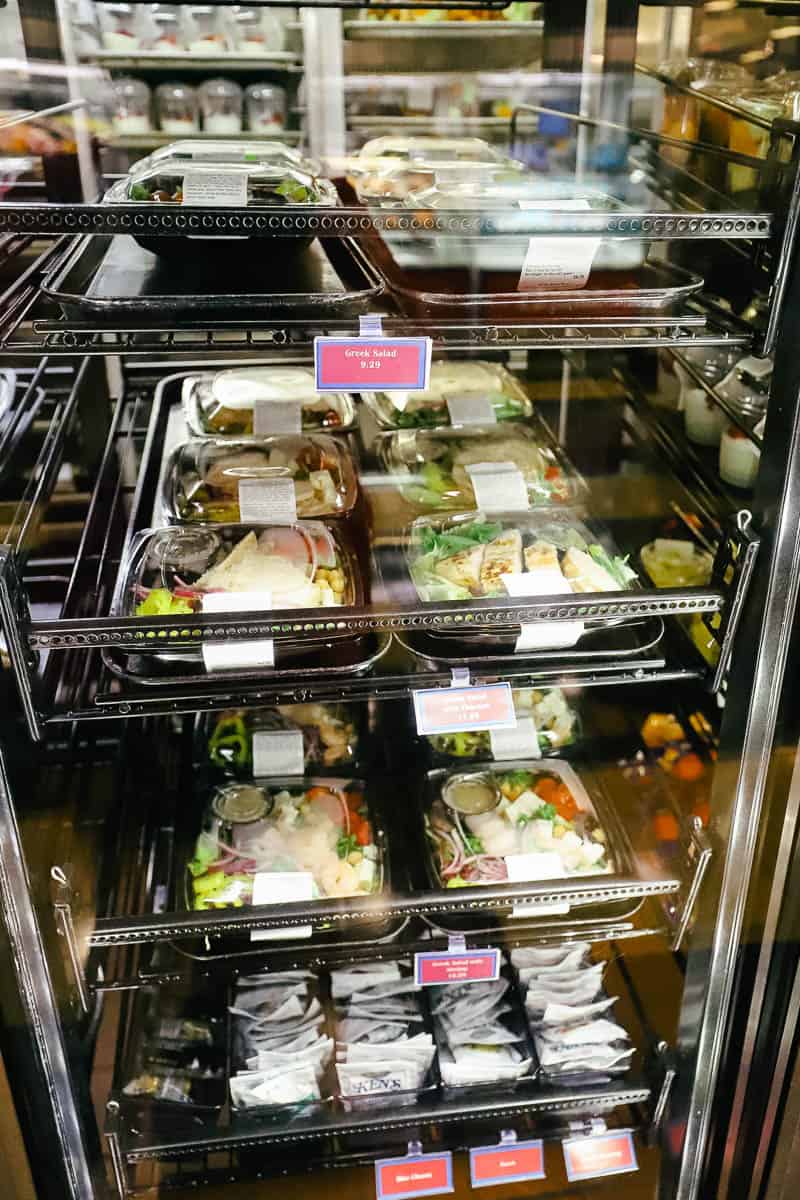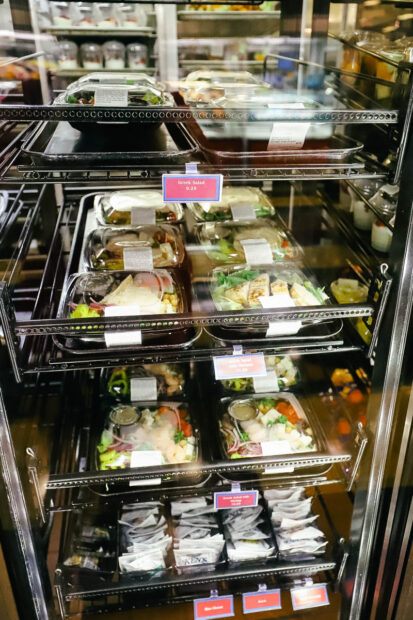 Fruit cups and parfaits were present.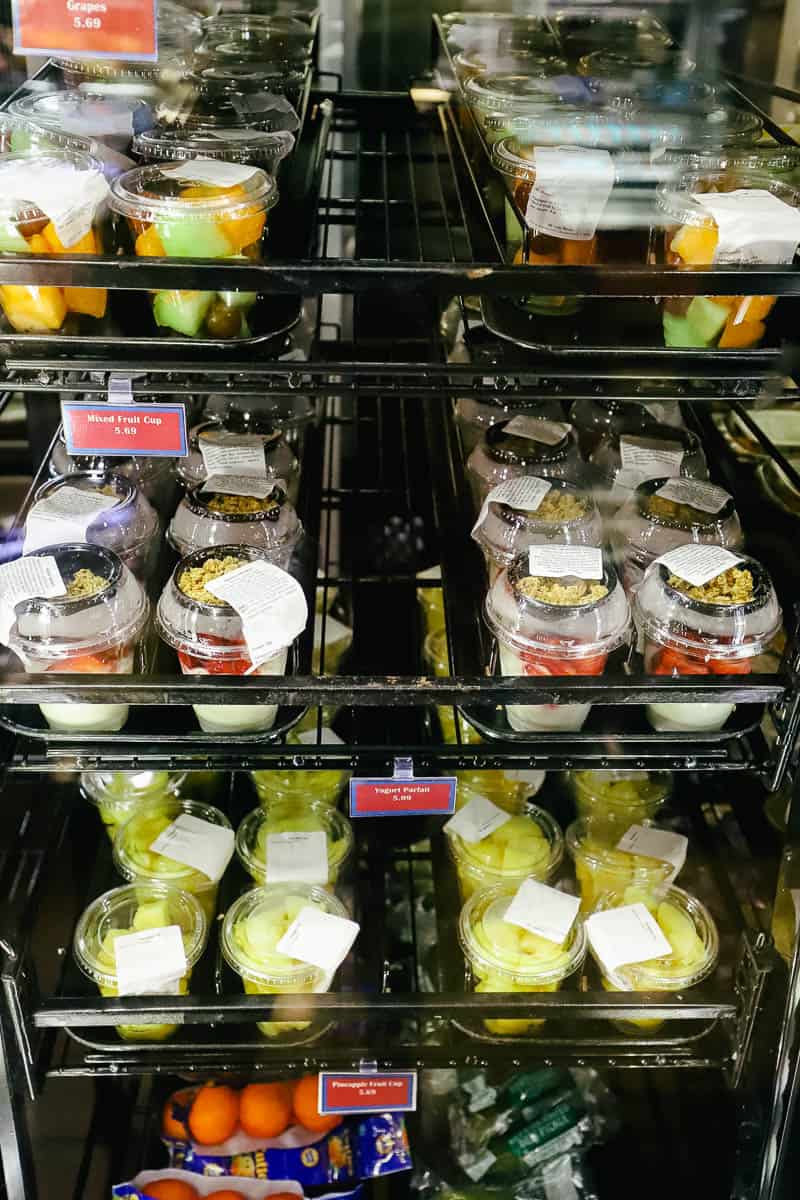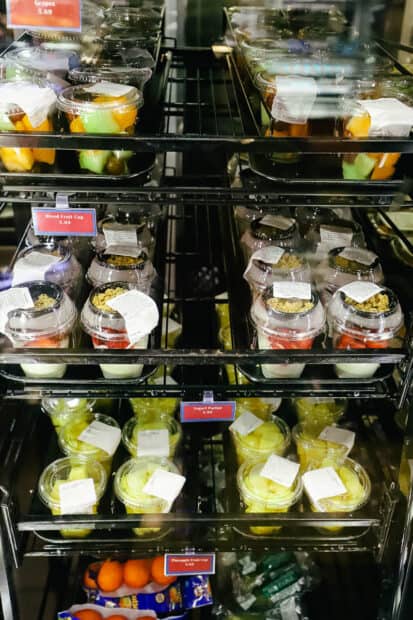 Since when did a cup of grapes cost so much?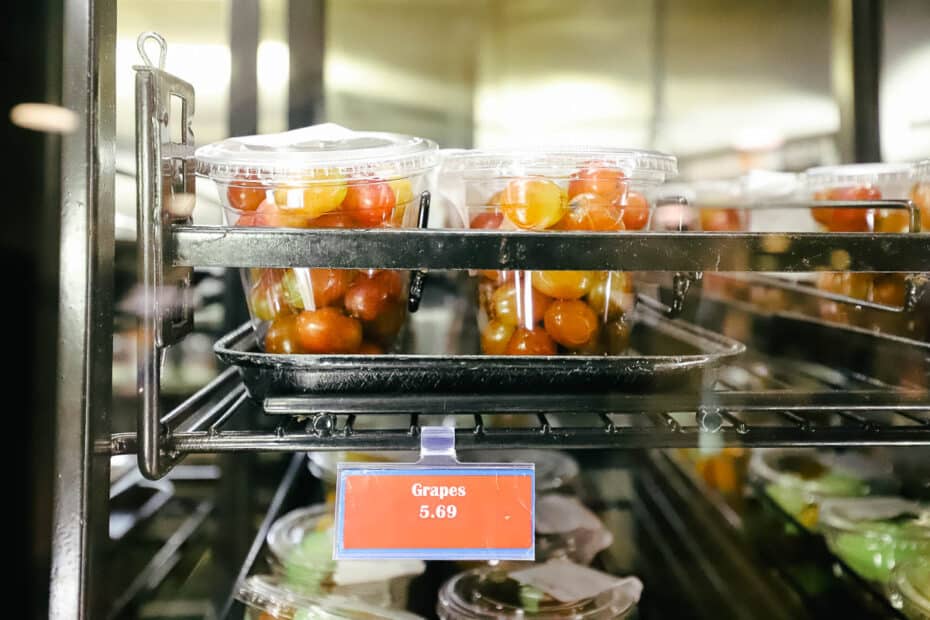 Other healthier items include veggies, hard-boiled eggs, yogurt, and hummus.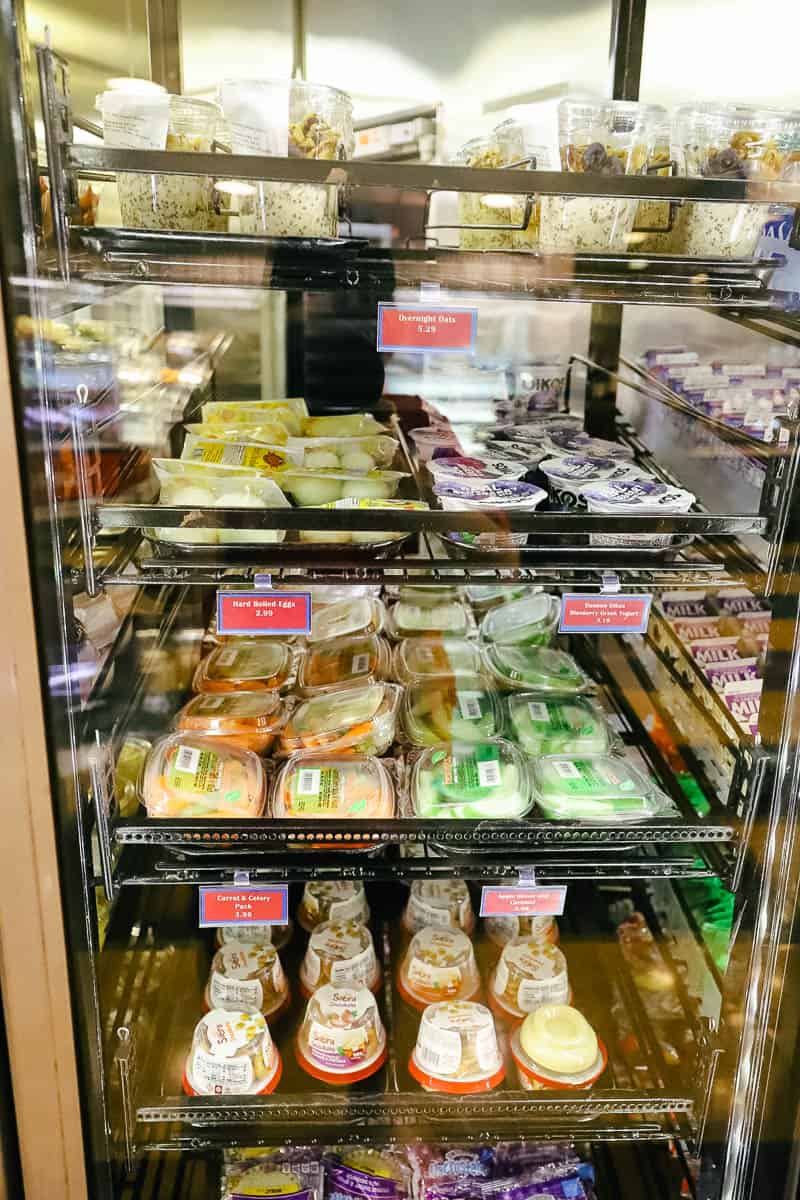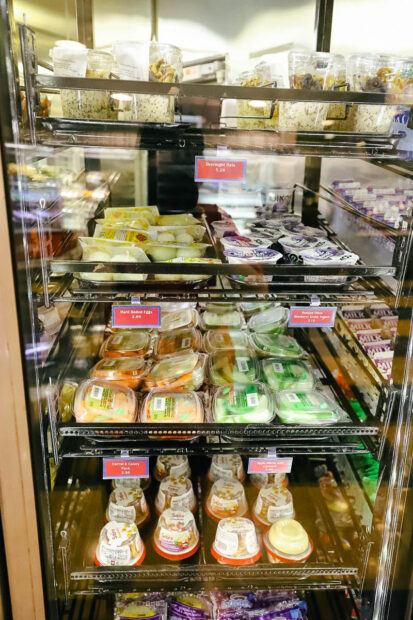 Here we have grab-and-go overnight oats.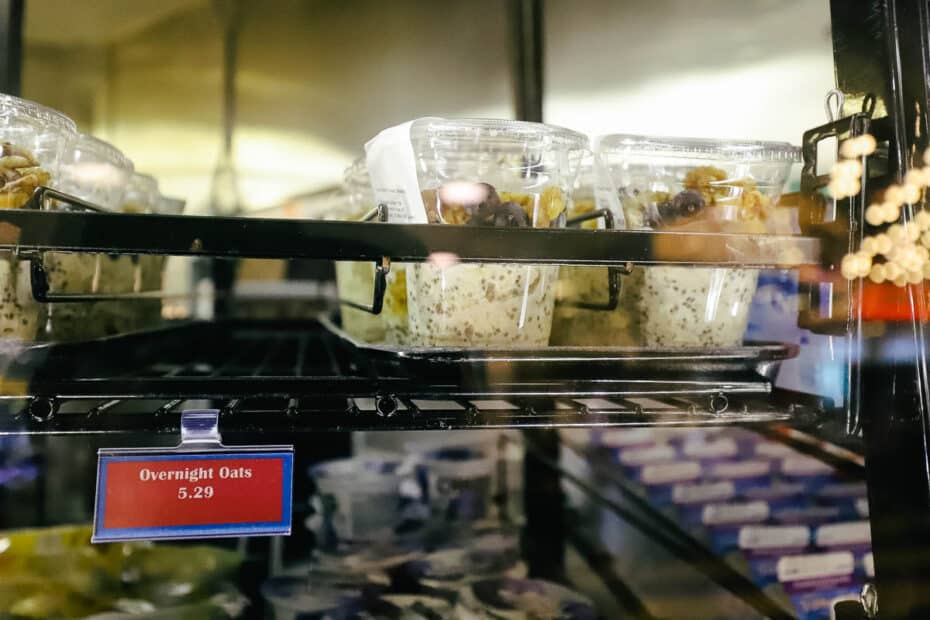 This is the kid's cooler. These items can usually count as one of the two sides that come with a kids' meal. However, if you don't necessarily want two sides, you can grab one of these items for later.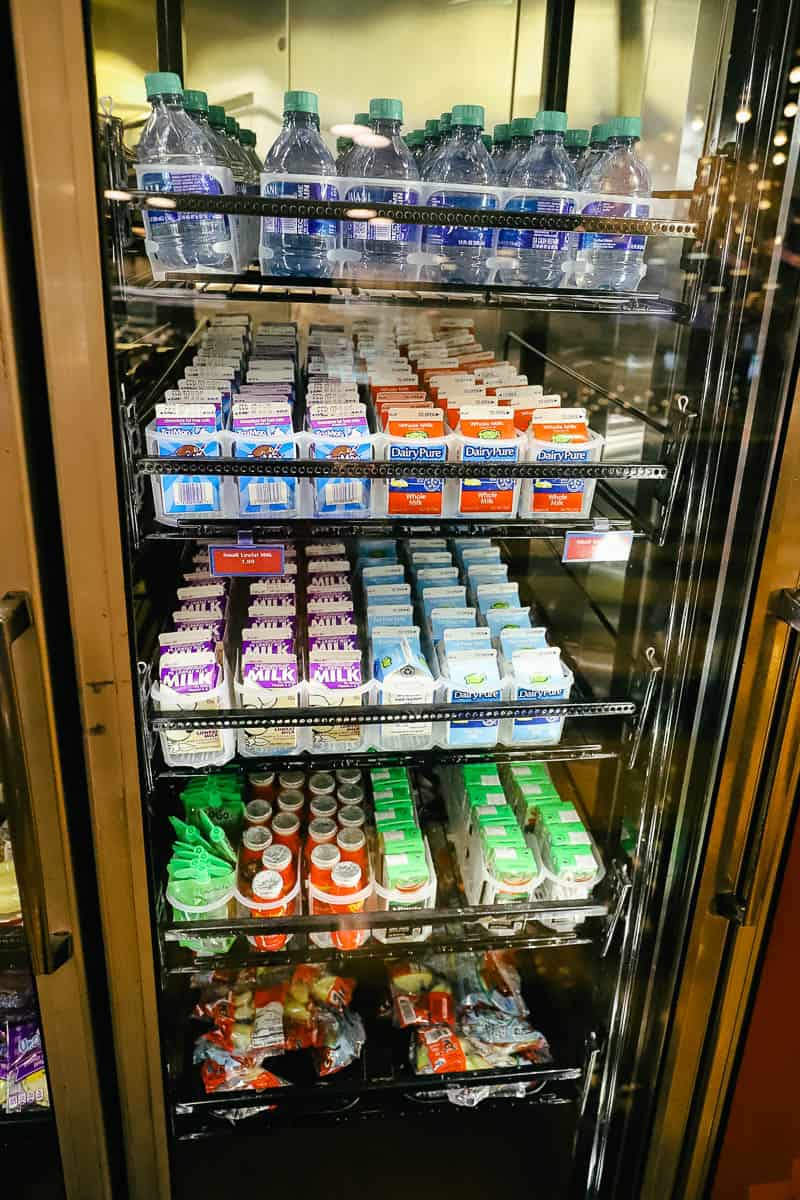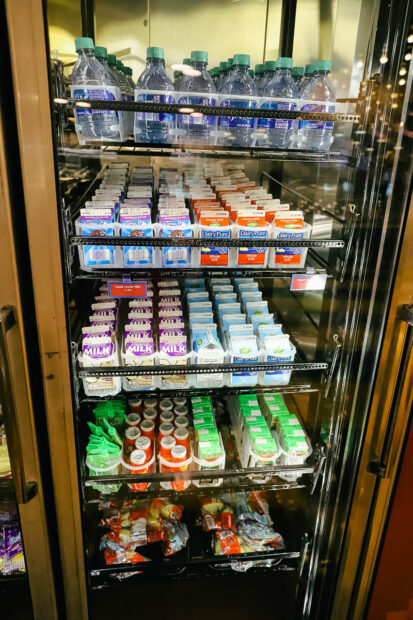 Several protein and breakfast bars were available.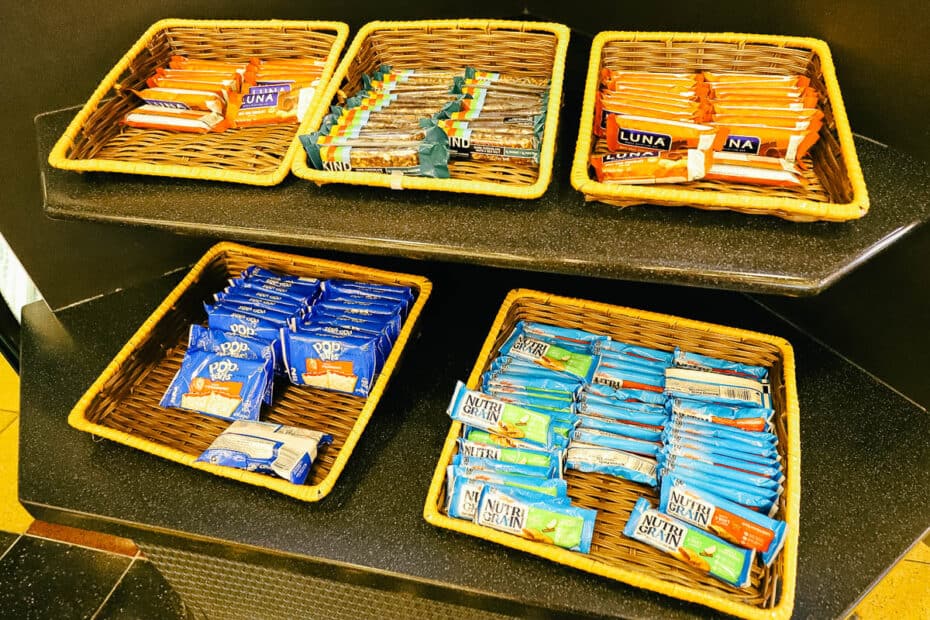 And we have plain crispy rice treats in the shape of Mickey.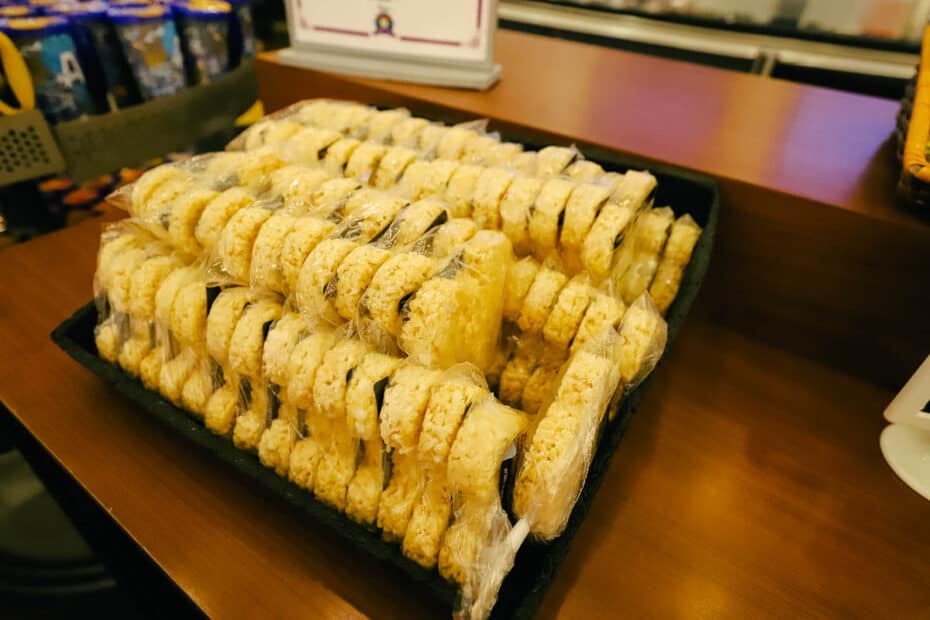 Near the registers, there's a case that contains novelty ice cream treats.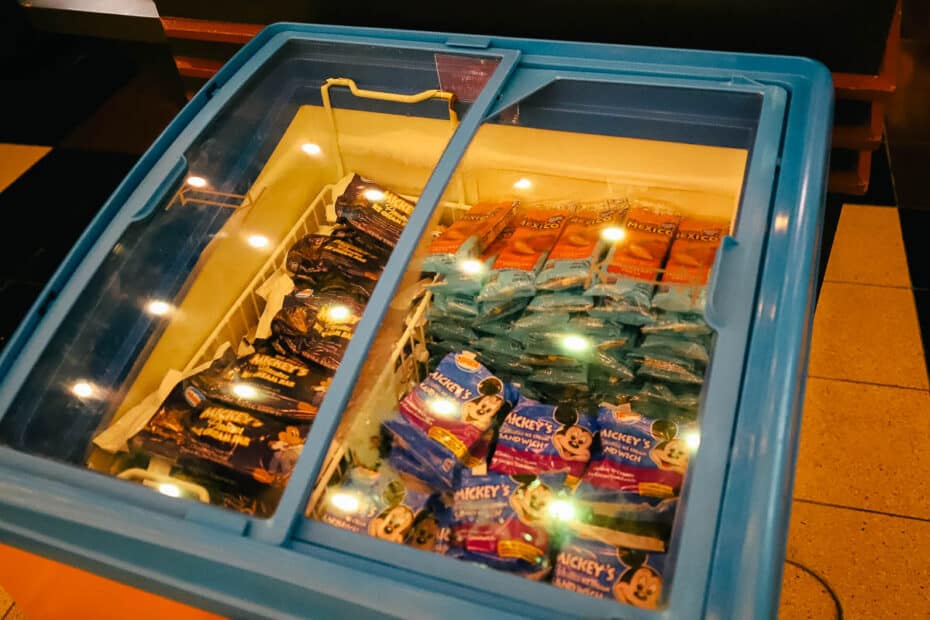 World Premiere has two entrances. If you're coming from the resort side, you can walk directly into the food court from the outdoor entrance. Or when you're coming back in the evening from the bus stop, you can enter from the lobby.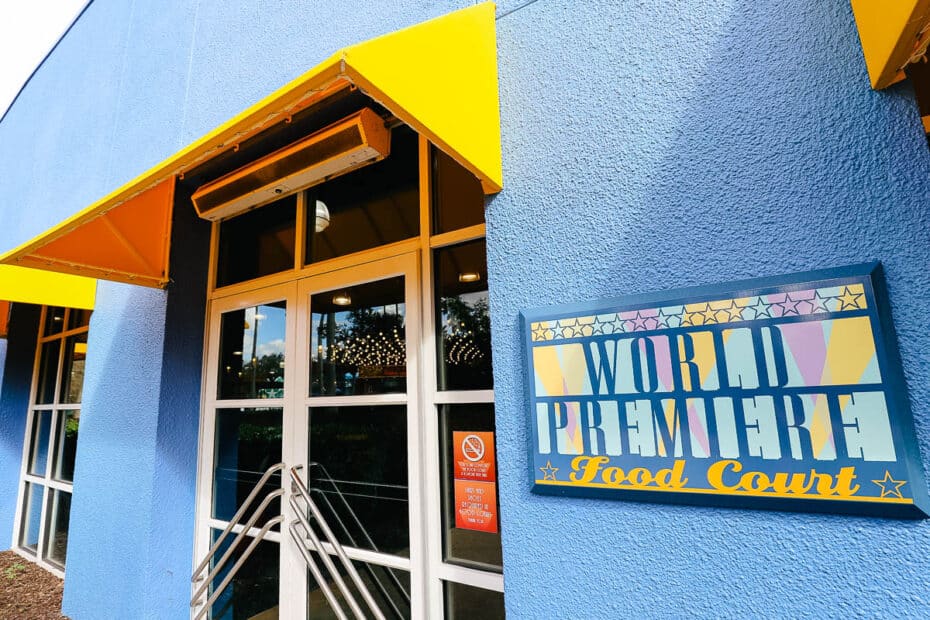 Since it's a movies-themed resort, you'll see a nod to filmmaking. Movie posters line the walls.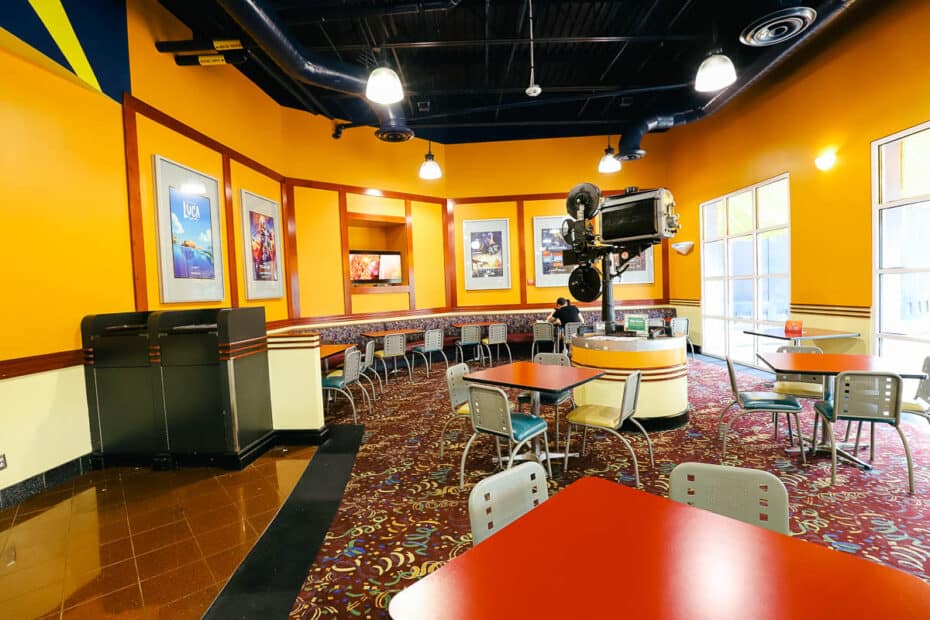 There are several stations with condiments. This one, closest to the station with specialty coffee and pastries, has a toaster oven.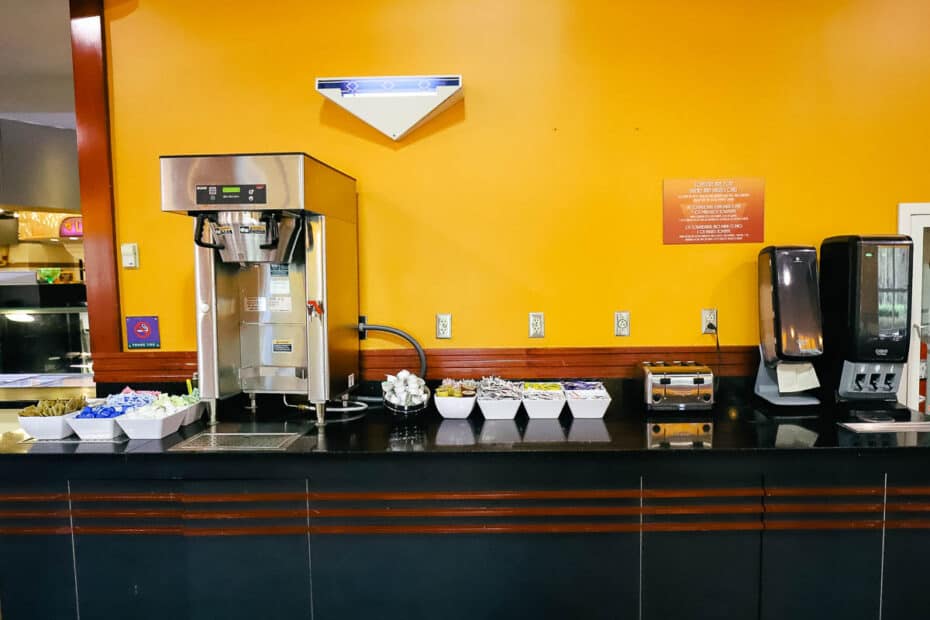 Here are a few of the condiments.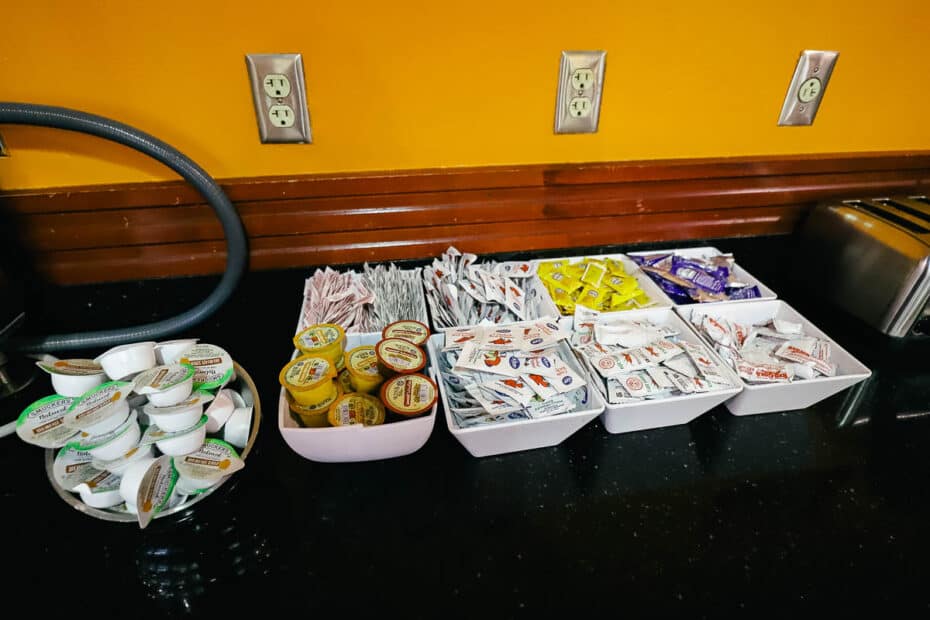 Like the other All-Stars, the theming is cute.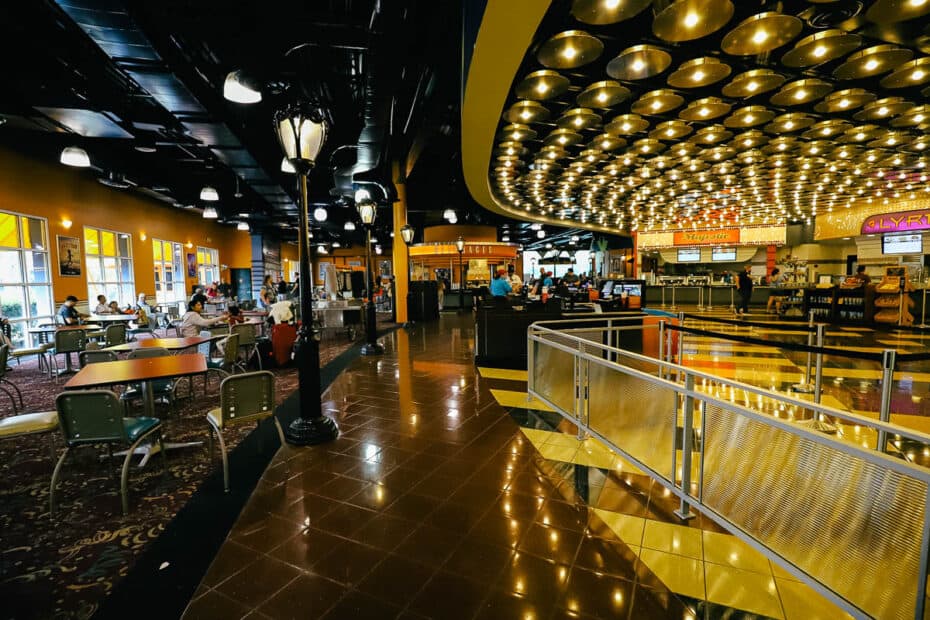 This is where you would pick up a refillable resort mug. They are currently $21.99 each and are good for the length of your stay. You can refill them at any resort counter service. (However, they are refillable at the theme parks.)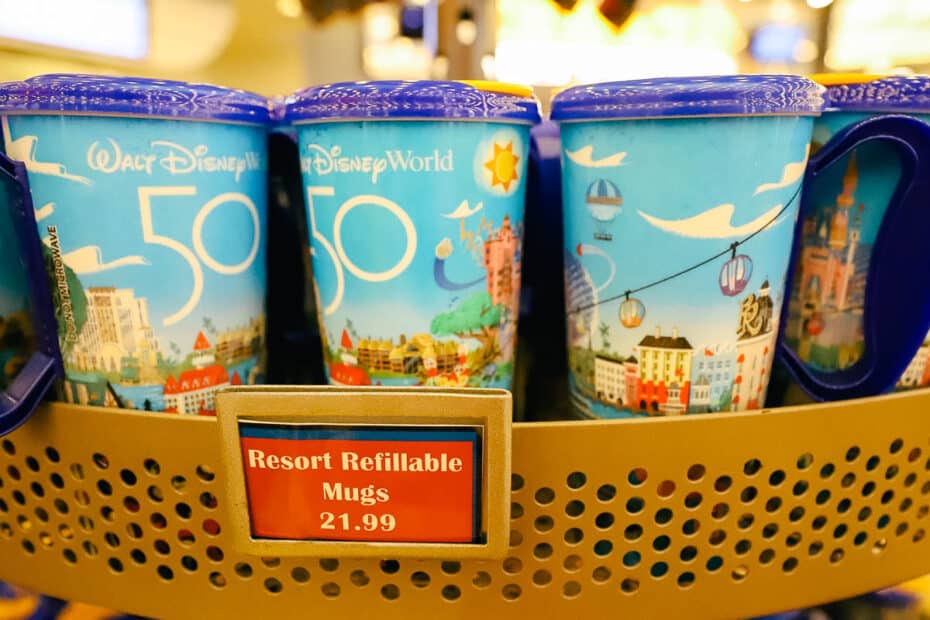 Here are the various soda options.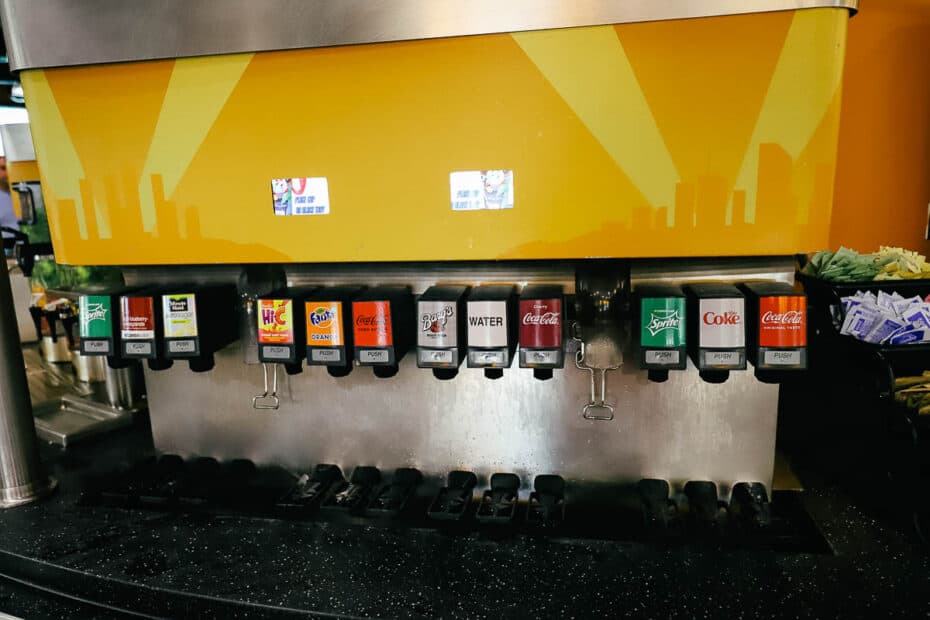 Joffrey's coffee is available.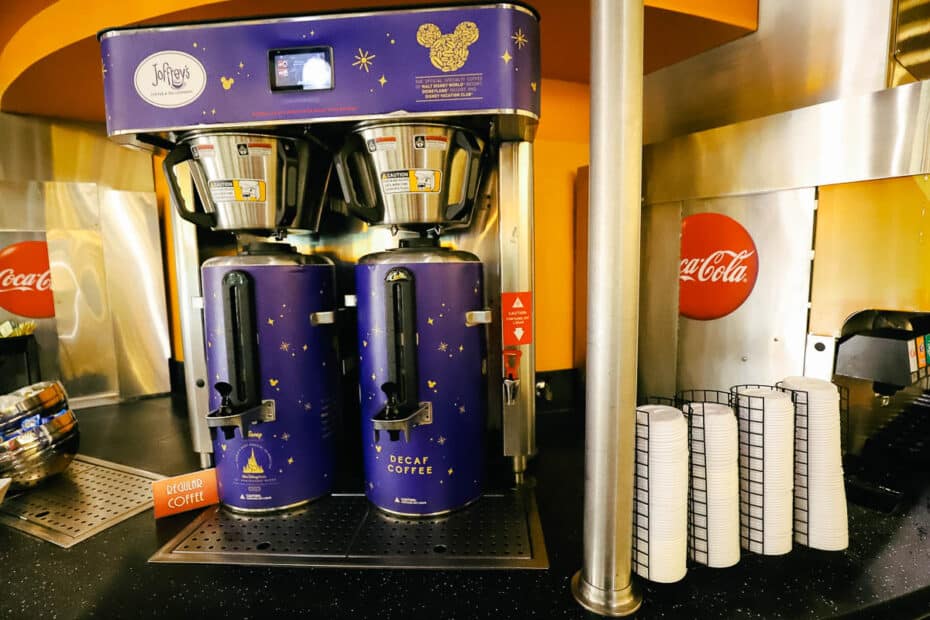 There are plenty of creamers, sweeteners, and tea bags.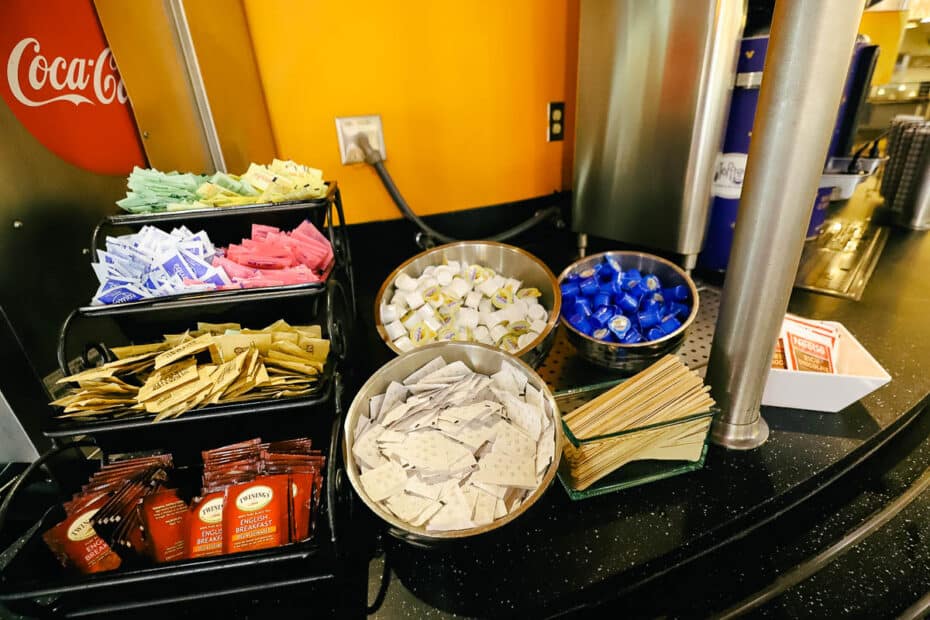 There's a Gold Peak tea machine.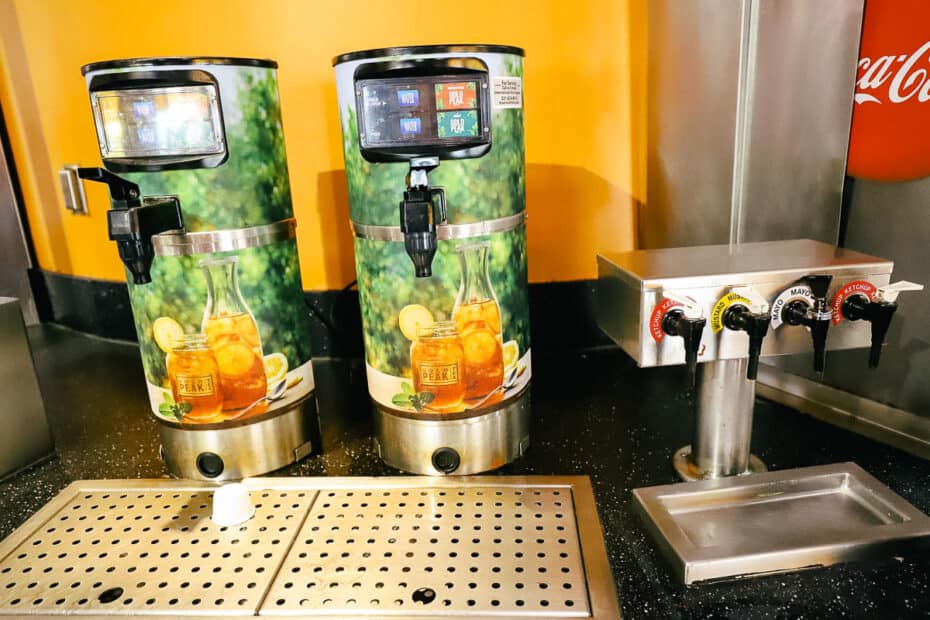 Lastly, there are two microwaves toward the back of the food court. So if you need a microwave, this is where you will find it.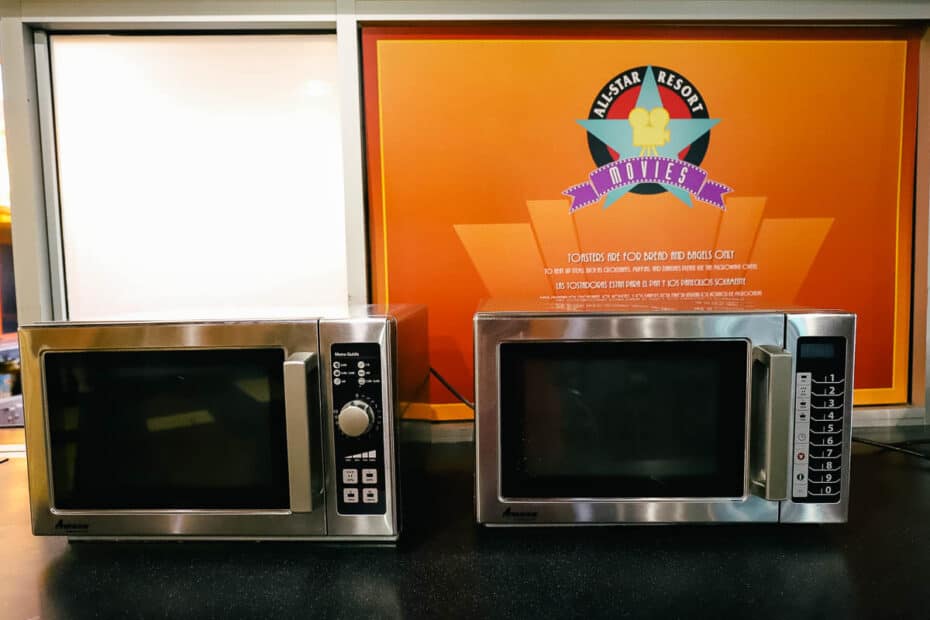 Silver Screens Spirits Pool Bar
In addition to the food court, All-Star Movies has one pool bar, the Silver Screens Spirits Pool Bar. It sits outside, directly between the food court and the feature pool.
Related: The Pools at All-Star Movies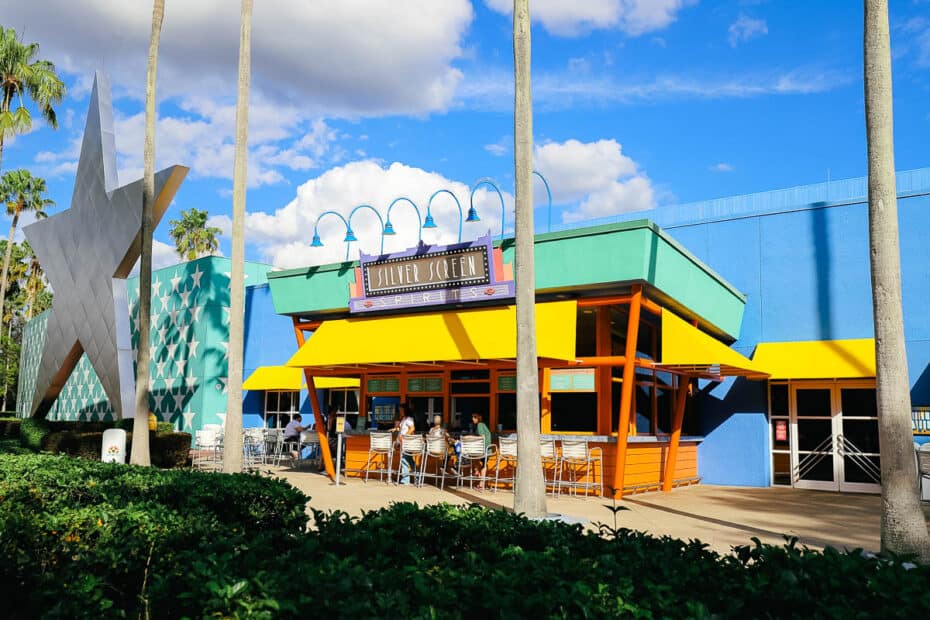 There is an additional window to Silver Screen inside the food court. So if you can't stand out in the hot sun, you can order something from inside.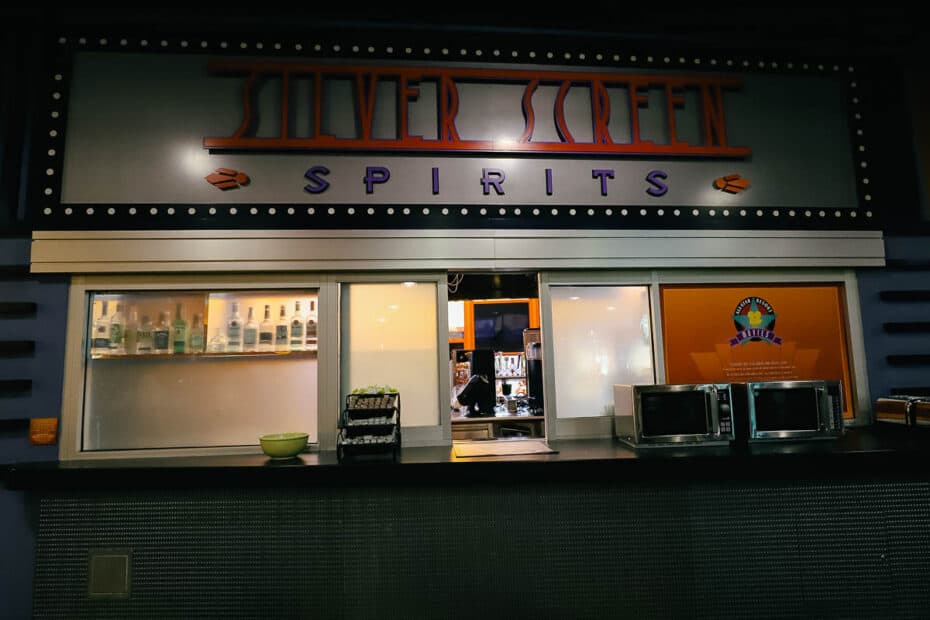 Menu items include:
Beer (Draft, Bottled, and Canned)
Sangria
Wine
Non-alcoholic Specialty Drinks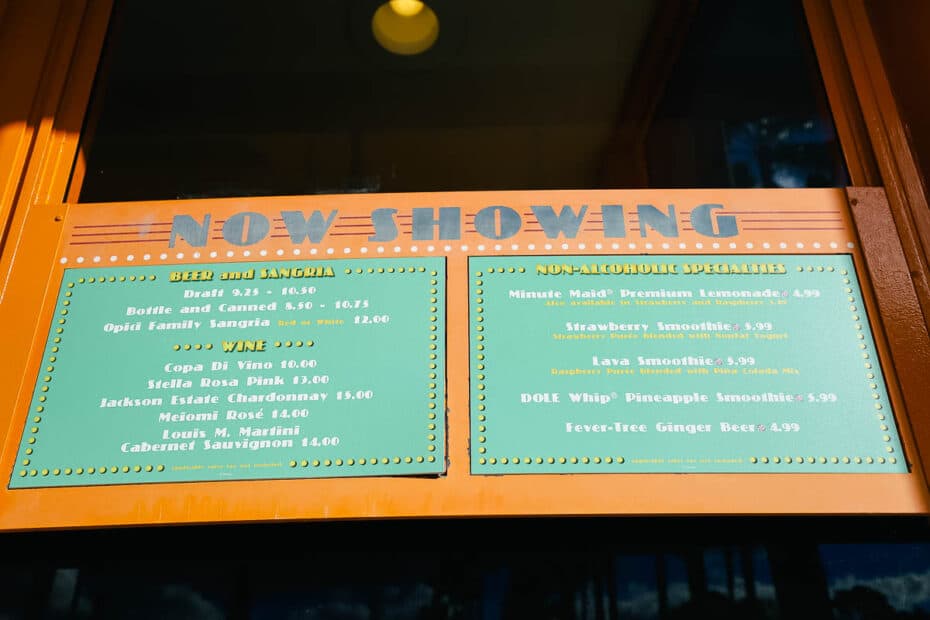 There's a separate menu with frozen and on the rocks cocktails.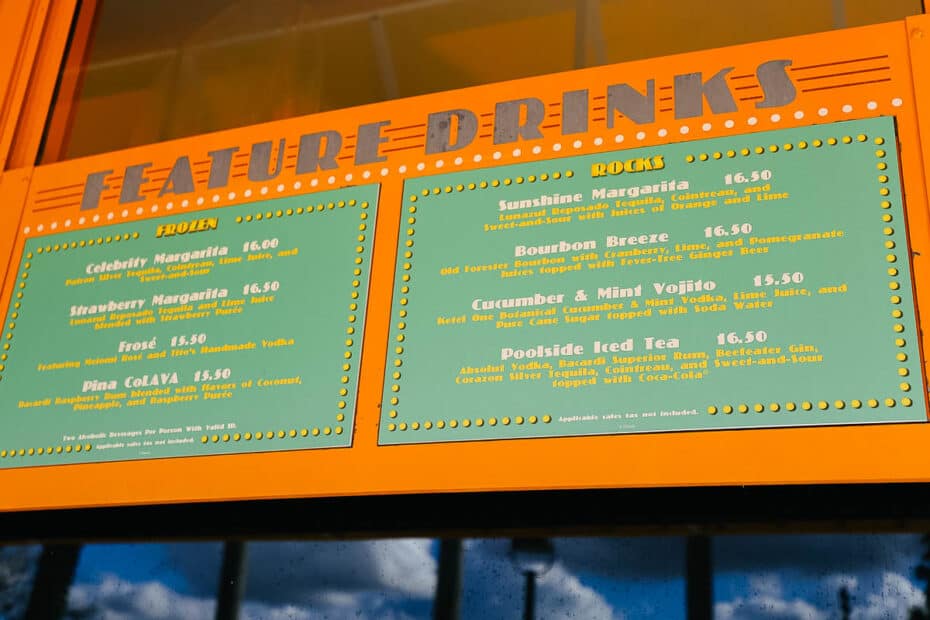 Ultimately, All-Star Movies has a fun food court with a variety of options. However, I don't think you would want to rely on these options for an entire week.
Like most of my hotel stays lately, I saw guests having food delivered to the resort during this trip. Additionally, there's a McDonald's that sits toward the front of the All-Stars Resorts.
We see guests walking to McDonald's all the time. However, since All-Star Movies is the last of the All-Stars, it's probably at least a half-mile walk.
While this was a short stay, we had several meals in the park and picked up fast food for breakfast. But, of course, we have a car, so it's convenient.
Usually, we eat in the hotels during our stay. But, for the most part, the value resorts all offer the same "value" or generic food. So I don't think ordering a burger with fries, or those cute Mickey-shaped waffles would help you decide on anything.
However, it is nice to know your options before your visit. Hopefully, this article provided that for you.
For more information, we have a guide that lists all our articles for this resort:
Or you might like the following:
In the Comments
What do you think of the dining options at Disney's All-Star Movies Resort? Do you wish there were more options?