Donald's Double Feature, the Gift Shop at All-Star Movies
Donald's Double feature, the gift shop at All-Star Movies Resort, is a great place to find all sorts of Disney souvenirs. You can find everything from clothes and hats to food and beverage items.
We'll take a photo tour of the gift shop at All-Star Movies in this article. That way, if you have an upcoming visit, you'll have a good idea of what kind of items the shop sells.
As with all the gift shop reviews, remember not every single item you see will be available on your trip. However, you'll be able to tell if this is a good place to pick up snacks, convenience items, or a souvenir.
Donald's Double feature is located off Cinema Hall at All-Star Movies Resort. There's an entrance to the store from Cinema Hall, and an additional entrance is located at the bus stop.
The gift shop is open daily from 7:30 a.m. until 11:00 p.m.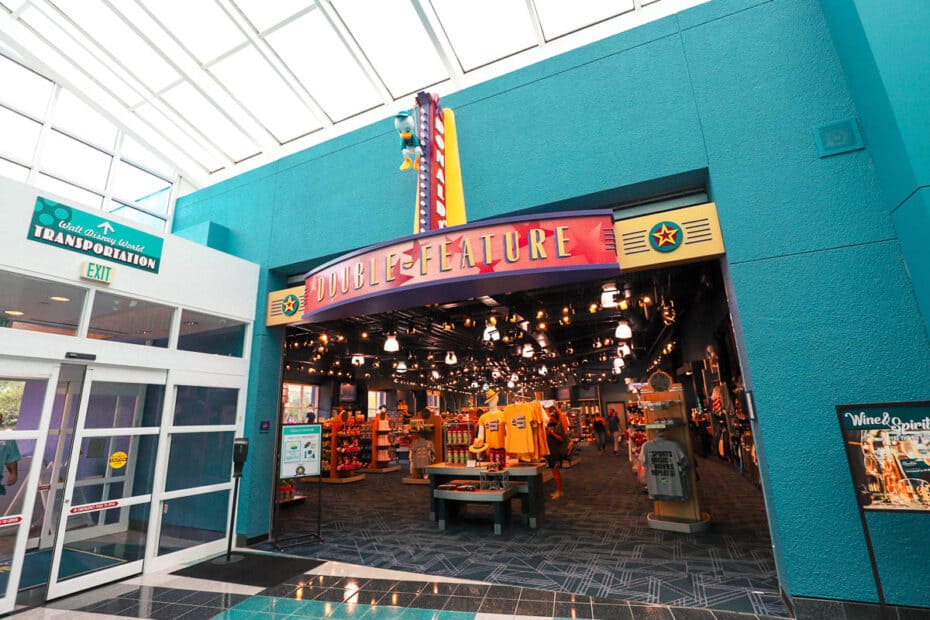 Inside, you'll find a variety of apparel and other Walt Disney World-branded merchandise.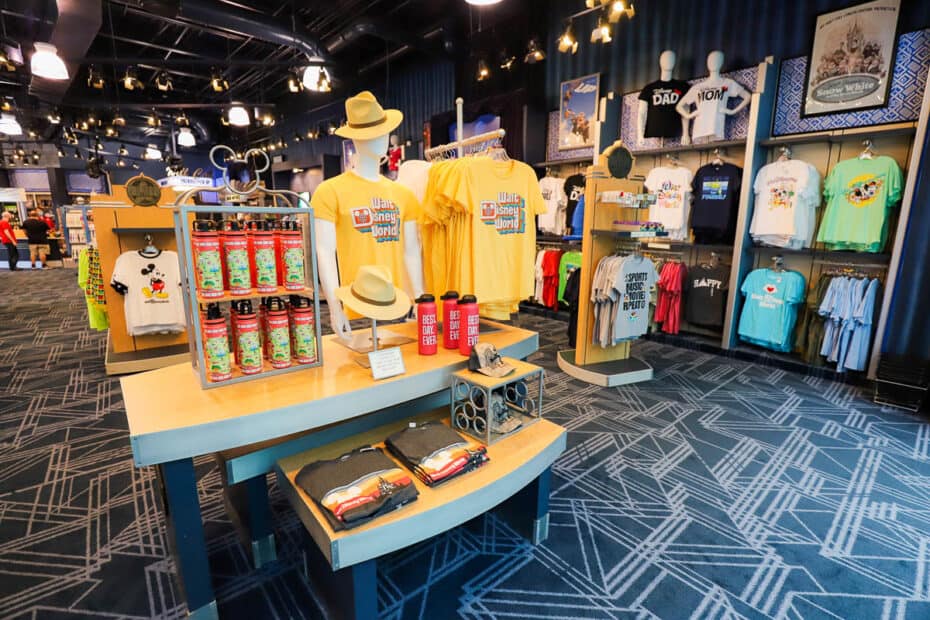 There are items for men, women, and children. If you're looking for a pair of Minnie Mouse Ears, I found they had a better selection than most of the gift shops at Disney World.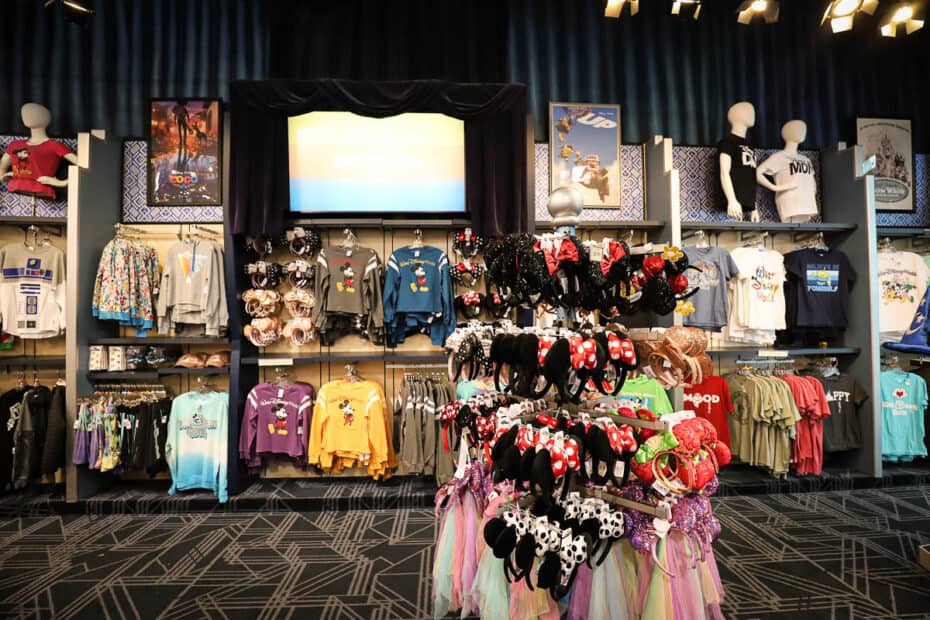 There are plenty of souvenir items. Here are a few journals, photo albums, and notebooks. I always need a new notebook.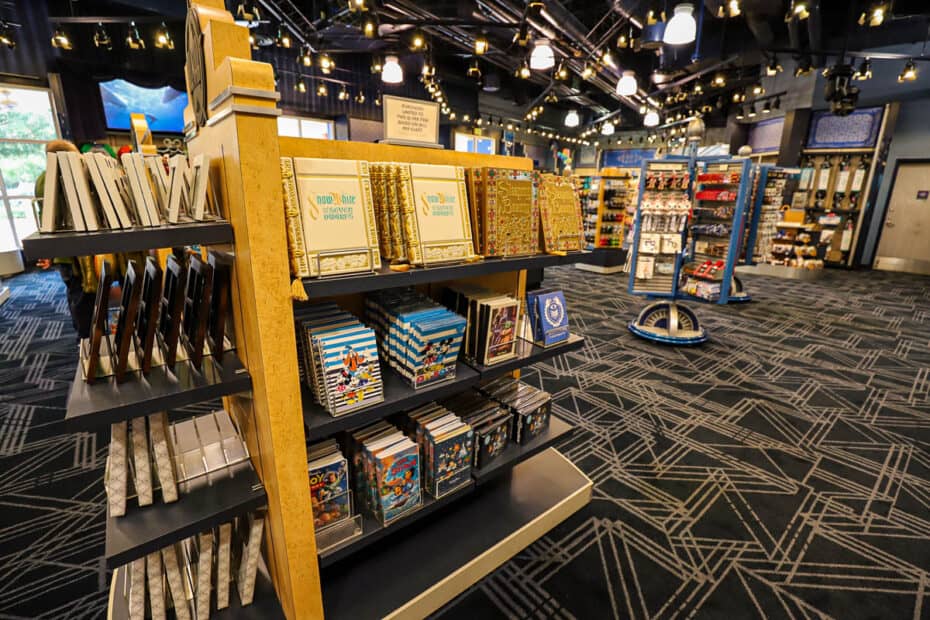 You might notice there's a decent selection of Stitch Loungefly by the register. I'm kicking myself in the rear end now.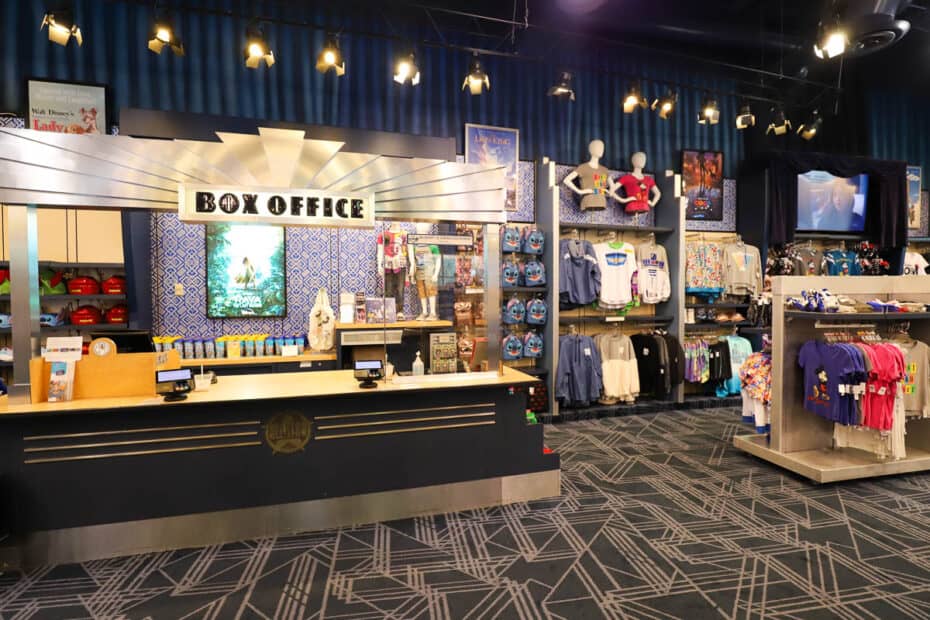 A few months ago, I looked all over Walt Disney World for this particular Loungefly. It had sold out online, and I knew that I had seen it somewhere. So I guess this was where.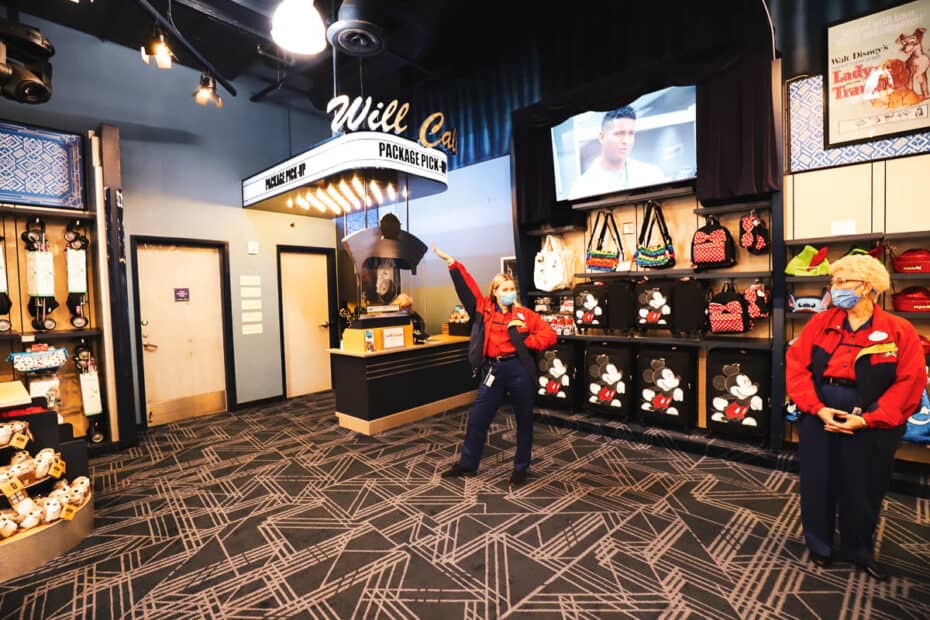 The back corner of Donald's Double Feature has a large selection of snacks, candy, and coffee, among other things.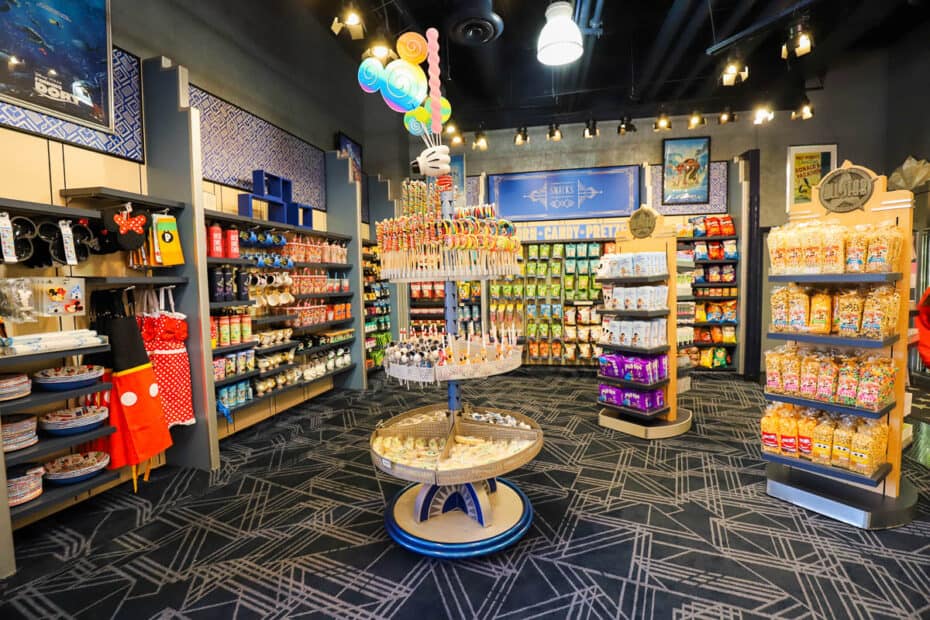 You should be able to find a mug or a tumbler. I don't know about you, but I enjoy my morning coffee in my favorite Disney mugs.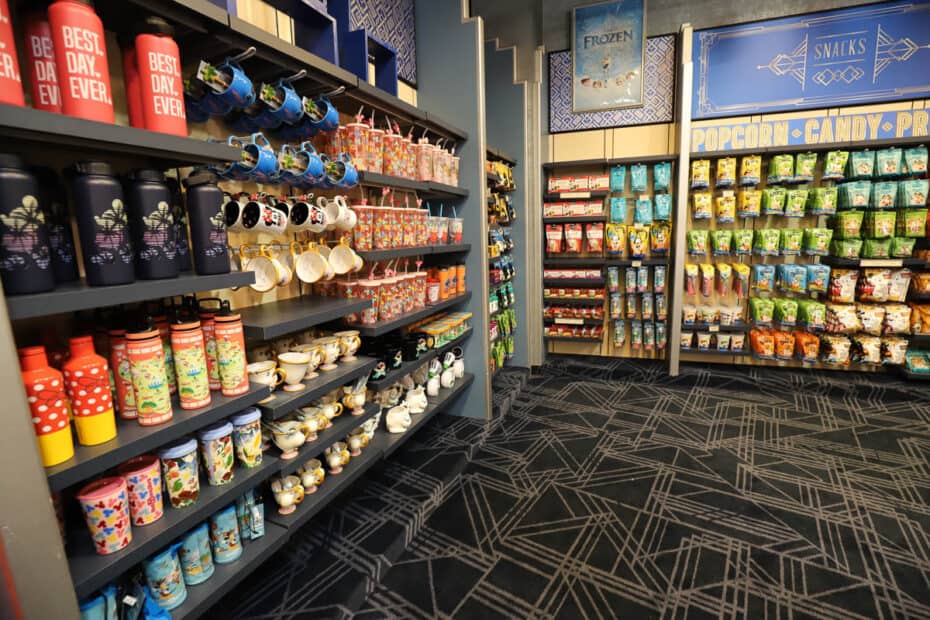 Those staying at All-Star Movies will be glad to know there's a decent selection of food items in the gift shop. Here we see a variety of donuts, pastries, chips, dip, bread, and peanut butter with jelly.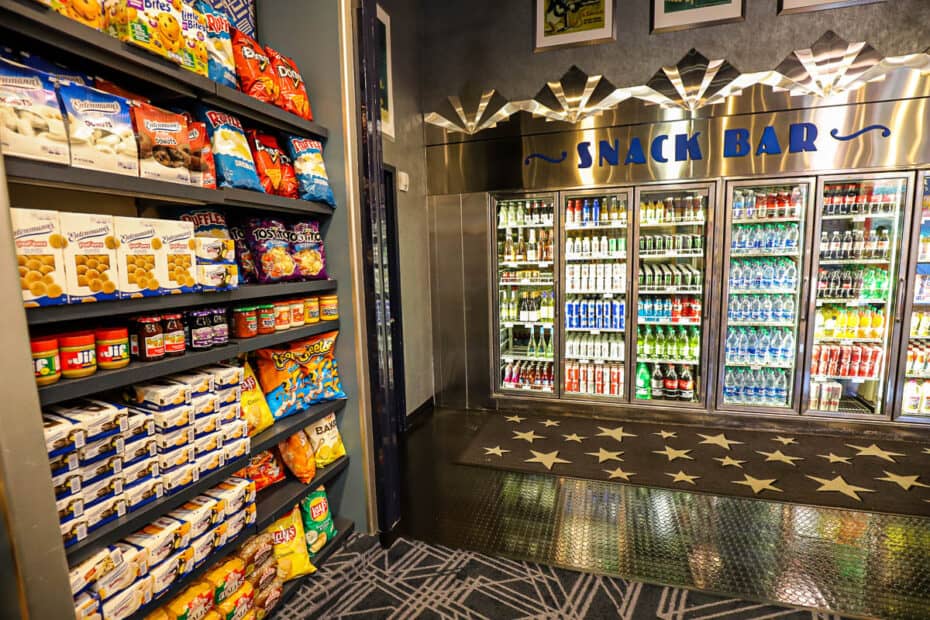 Beverages include soda, juice, milk, sports drinks, water, wine, champagne, and beer.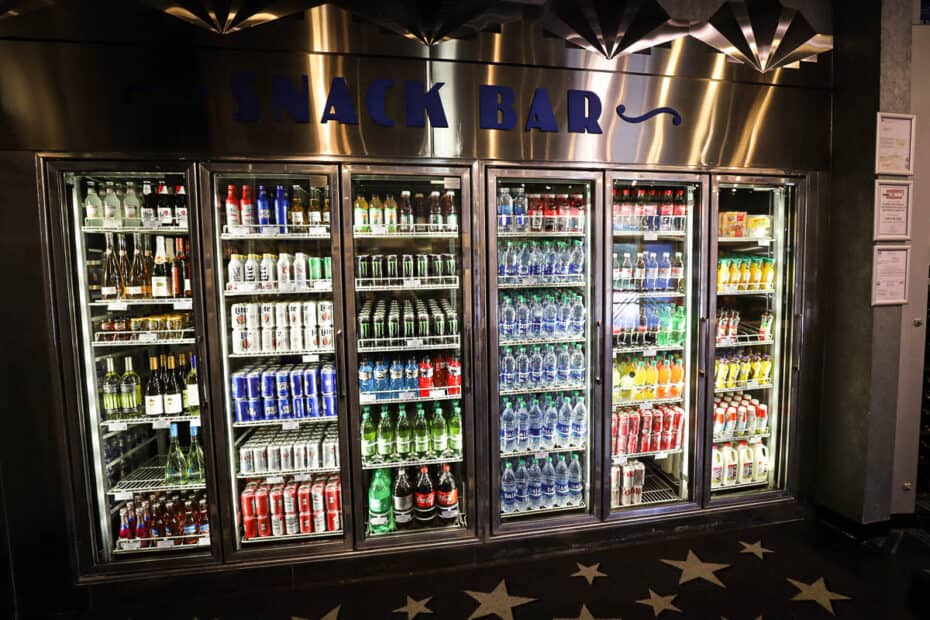 I think it's important to mention that the rooms at All-Star Movies have beverage coolers. So, I'm not sure how well they'll keep your milk cold. However, there are family suites at All-Star Movies with small refrigerators.
Below are a few convenience items you'll find in the gift shop. In addition, there are various over-the-counter medicines, health, and personal items.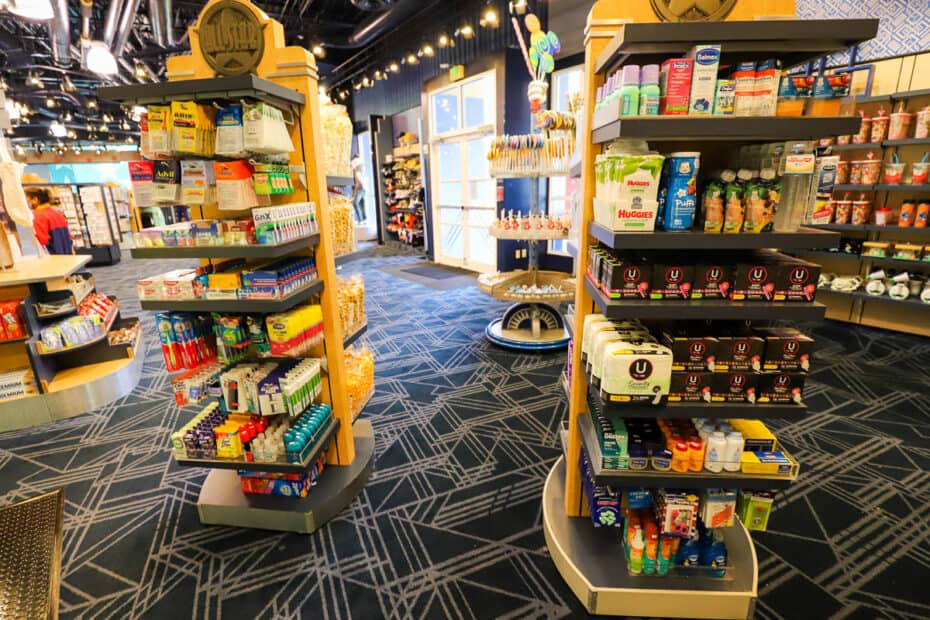 Tip–If you're ever in the parks and having an issue, stop in one of the First Aid Centers. There's been a few times in the past we've had to visit.
Once, we stopped for an allergic reaction and another time for a terrible headache. Both times they provided us with a dose of over-the-counter medicine, which was a lifesaver.
Toward the back of the store, there was a decent selection of wines. In addition, various liquors are available by the register.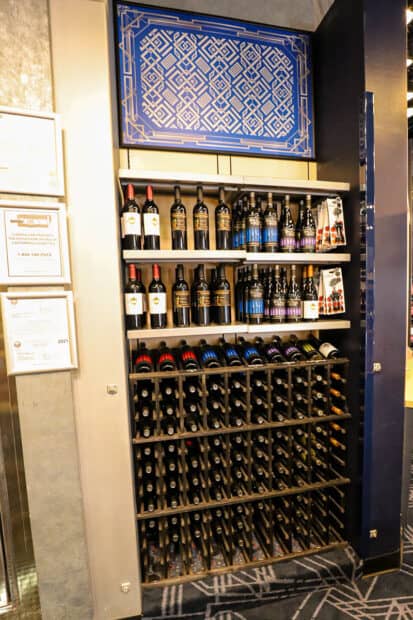 And you'll find plenty of swimwear, sunscreen, and other pool-related items. It's an expensive trip to the gift shop when you forget your swimsuit.
Related: The Pools at All-Star Movies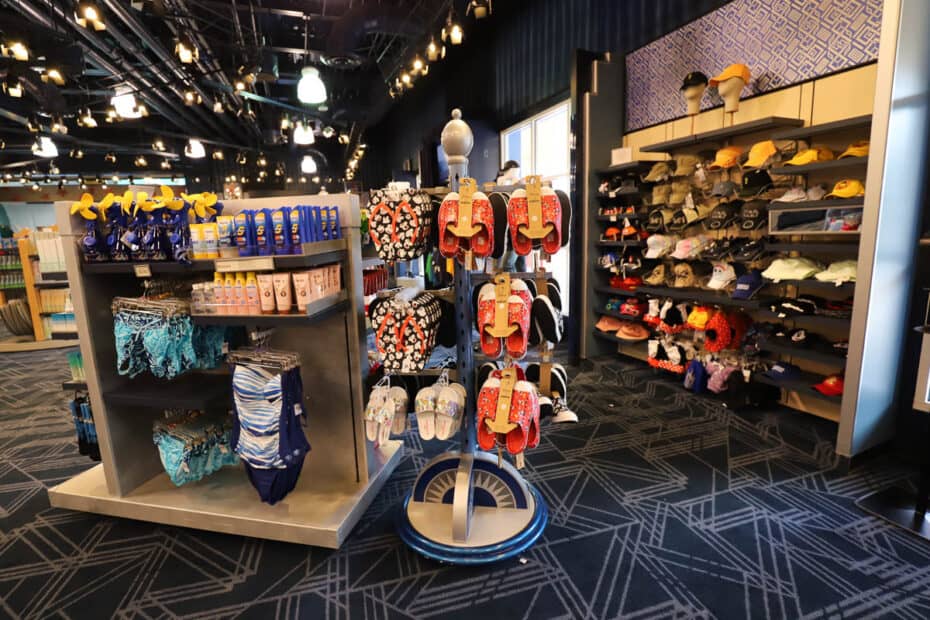 Lastly, the store had an excellent selection of toys, games, and other items geared toward children.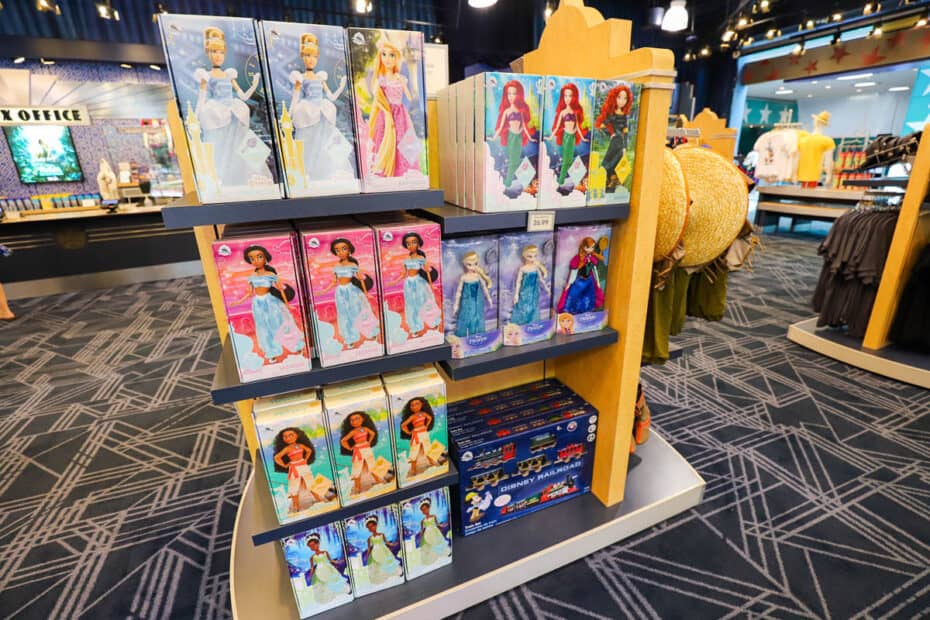 Overall, the gift shop at All-Star Movies is large and offers plenty to browse.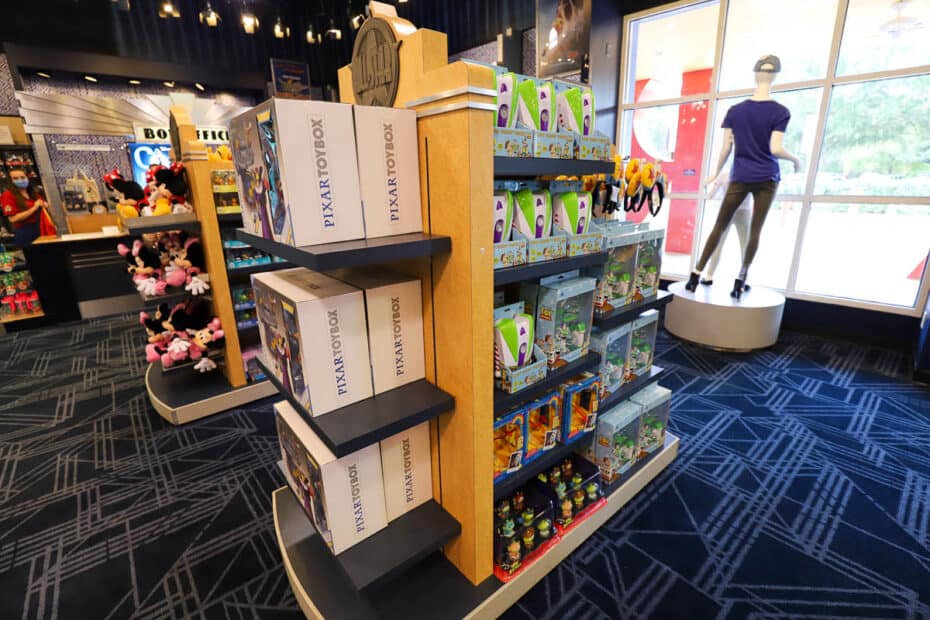 For more information, all of our articles for the resort are listed in our complete guide.
Or you might enjoy these individual articles:
Additionally, you might enjoy some of the following popular articles:
Hopefully, this article provided you with a good overview of the gift shop at All-Star Movies. Feel free to leave a comment below with your thoughts.