How to Use Disney Mobile Order Dining
Disney's mobile order service is a convenient option for ordering food and skipping the lines in the parks. Well, it's convenient when it works.
Like everything else, there are times when it doesn't work as adequately as any of us would like. However, mobile order has come in handy for us on several occasions. So, I really can't complain.
When the parks initially reopened, mobile ordering was a requirement. Since then, most of the strict rules have been relaxed.
So if you don't want to use mobile order, someone can always take your order at the location.
This article will go over the basics of mobile order at Disney World. I'll include a list of the steps for using mobile order with a few tips on how to best use the service to your advantage.
This article was updated on March 9, 2022.
What is Disney Mobile Order?
For a basic overview, mobile order is a service used via the My Disney Experience app that allows guests to order snacks and meals from their phones while on Disney property. This service will enable you to place an order, pick up your food, and bypass standing in line.
Mobile ordering at Disney doesn't mean you won't have to wait for your food, but it does give you the option to be more flexible in how you wait.
It is up to you how you decide to wait. So standing impatiently 10 feet away might not make a difference.
Disney Mobile Order Instructions
Here are the instructions.
Open the My Disney Experience app on your phone to access Disney Mobile Order. Make sure you have the app installed on your mobile device.
Hit the (+) symbol at the bottom of the screen. The bottom center of the My Disney Experience app has a (+) symbol to expand your options.
Select the "Order Food" option. Here you will begin the process of mobile ordering your meal.
Select a Restaurant.
The available restaurant options will be listed on this screen.
Select "Order Food" at the desired location. Begin to order your food.
Build your order by selecting items on the menu. Select items and make any customizations as needed.
After making selections press "View My Order."
Make sure your order is correct.
Then modify or make any special orders if needed. If it's not correct modify each item as needed.
Review your order summary.
Preview your order before submitting.
Add a payment method. If you already have resort charge information saved in the app, it will automatically show up.
Select "Purchase." Finalize your purchase.
You will then need to select "I'm Here, Prepare My Order" when you arrive close to the location. If you are already at the location, you need to go on and select this option.
After selecting, I'm here, prepare my order; you'll get a notification when your order is complete. Then you can walk to the indicated register at the location to pick up your food.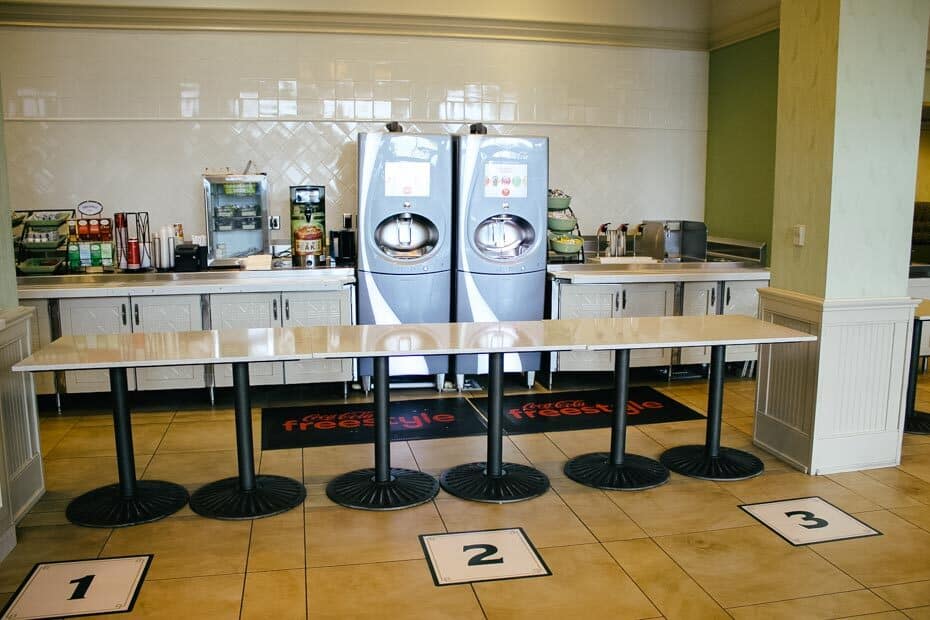 Mobile order is so much nicer than standing in a crowd with other guests. You don't have to wait while others decide what to order or if they are ordering enough food for an army when all you want is fries!
With that being said, you will still encounter lines during high crowd times to pick up your food. For instance, one afternoon at Animal Kingdom, I ordered lunch.
Unfortunately, the closest time out was 25 minutes. So that means I had to order and then select a time that was 25 minutes out.
The park was reasonably crowded on this day, and I had waited until after standard lunchtime to order. I hoped that I could order my food and get it quickly.
And that was not the case. Not only did I have to wait the 25 minutes, but it ended up taking longer. I was more than hungry by the time I received my food.
Related: Satu'li Canteen Review
Nearly all counter service dining locations accept mobile orders at Disney World. Let's go over a few tips for using the service efficiently.
Favorite Mobile Order Dining Tips
As mentioned above, Disney has added nearly all of its quick-service locations to mobile order service. And with so many resorts now participating in mobile order, you can use the service to your advantage.
Using Mobile Order at the Resorts
For instance, use mobile order on your way back to the resort. Think about it, it's after 9:00 p.m., and maybe you had a light dinner at 5:00 p.m. in the park.
You find that you're starving and would like a slice of pizza or something to enjoy when you get back to your room. But you don't want to deal with the crowds at the resort.
While you're on the bus, mobile order your food. Then when the bus pulls up at the resort to drop you off, select I'm here, prepare my order.
Your food should be ready by the time you get to the quick service or food court. So walk by, pick it up, and keep going to your room.
And if you're thinking, we might need drinks, snacks, or even a cupcake, guess what? All of the resort quick service options are listed in the mobile order menu.
Sometimes at Disney World, we like to do a little resort-hopping. Lately, that includes taking the Skyliner over to Disney's Riviera Resort.
Related: Disney Skyliner Resorts
And a visit to Disney's Riviera Resort always includes a meal. While on the Skyliner, we'll place a mobile order and have it prepared as soon as we exit.
By the time we walk over to Primo Piatto, our food is ready. If you're going for breakfast, don't miss the lemon-blueberry pancakes.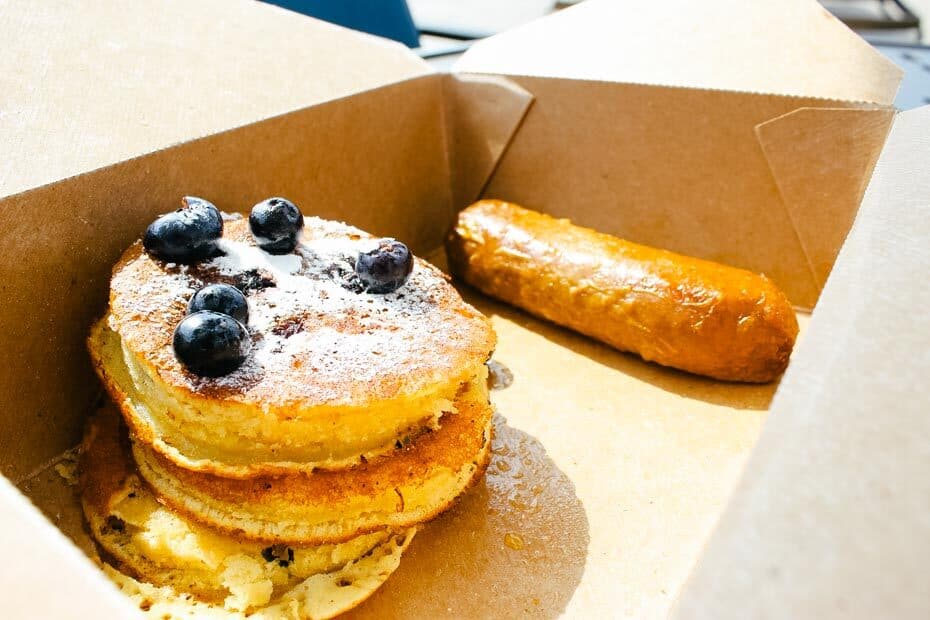 Use Mobile Ordering at Disney Springs
Some days you just want a good burger, and if you do, you probably want to check out D-Luxe Burger at Disney Springs. This is the tip that I've personally used the most.
I have left theme parks, resorts, and water parks and headed to Disney Springs to pick up a D-Luxe burger. Sometimes we stay and eat at the restaurant. However, I prefer to pick up food and take it back to our resort.
I've recently left the Animal Kingdom and took a bus over to Saratoga Springs. From there, I walked to D-Luxe burger.
I ordered a burger and their delicious onion rings. Then I went to the bus stop at Disney Springs and headed to our resort, Disney's Beach Club.
Related: Disney Springs Transportation
We had a nice dinner that evening out by the quiet pool.
Now, this did take some extra time, and it's not something I would recommend for everyone. You could be at the mercy of bus transportation, which sometimes is slower than most of us would like.
But on this particular day, I had some laundry to do by the pool, and this idea kind of helped kill two birds with one stone. So I encourage you to be a little creative with your mobile ordering ideas.
Final Thoughts on Mobile Ordering at Disney
Mobile Order offers a great way to maximize your time at Walt Disney World. As you probably already know, theme park touring time is precious to most guests.
Remember that mobile orders will require longer waits on busy days in the theme parks. However, it still beats standing in line for food.
For more information, we provide a number of Disney Dining Reviews here on the site.
Some of our favorite restaurant reviews include:
In the comments: What are your thoughts on using mobile order at Disney? Do you see how this service could be convenient?