Top 10 Quick Service Restaurants at the Disney World Resorts
Looking to find the best Disney World quick service restaurants at the resorts and hotels? With so many options, it can be overwhelming! Plus, there are definitely a few of these that you don't want to miss, especially if you are doing a little resort hopping during your vacation.
For instance, if you visit during Christmas, you might want to tour the Magic Kingdom Resorts to see all the decorations. While touring, you'll probably end up hungry and have no idea where to get a meal. Luckily, all of the Magic Kingdom hotels have quick service locations that make our best restaurant list.
But the reality is you don't know what you don't know. So unless you are out touring these resorts regularly, you are more than likely unfamiliar with your options. And that's what inspired me to put together this overview of the best quick service restaurants at the Disney World Resorts.
Likewise, I hope this article will inspire you to try something new on your next Disney vacation. Or maybe you'll even visit a resort that you've never been to, with the idea of picking up a meal at one of these spots.
Best Disney Resorts Quick Service Restaurants
Here is our list of best quick service restaurants at the Disney World Resorts. You can use the links below as a table of contents if you would like to skip to any of them. Or continue reading as we go over what makes each one worthy of the list.
#10 El Mercado de Coronado
We'll start with our #10 spot, which is one of the best food courts at Disney World. El Mercado de Coronado is located at Disney's Coronado Springs Resort and was formerly named Pepper Market.
While I'm not normally a fan of these mass dining venues, I can say they do a good job for the most part here at El Mercado.
You'll find a nice variety of different cuisine at each station. Additionally, the dessert case is full of scrumptious goodies. Have picky eaters? There is truly something for everyone here. There is a nice array of menu items from burgers and chicken fingers to nachos and even rotisserie items.
Additionally, there's a large, updated indoor dining area beyond the food court.
However, if the temperature is right, you'll find plenty of tables with chairs outside. In fact, a quick service meal out here might feel like fine dining by the time you're finished.
Coronado Springs is a lovely resort with a plethora of dining options. It's our top choice when it comes to the Disney moderate resorts, with Caribbean Beach coming in a close second.
Related: Coronado Springs Restaurant Guide
#9 Siestas Cantina
We aren't going far for our #9 choice, which is Siestas Cantina, at Coronado Springs. Siestas is a secondary counter service restaurant at the resort that doubles as a pool bar.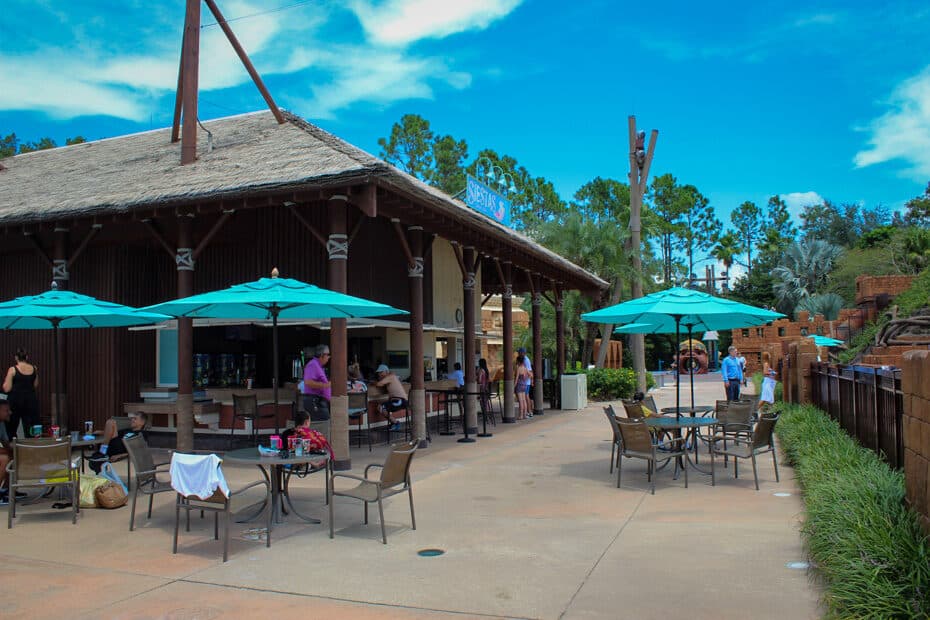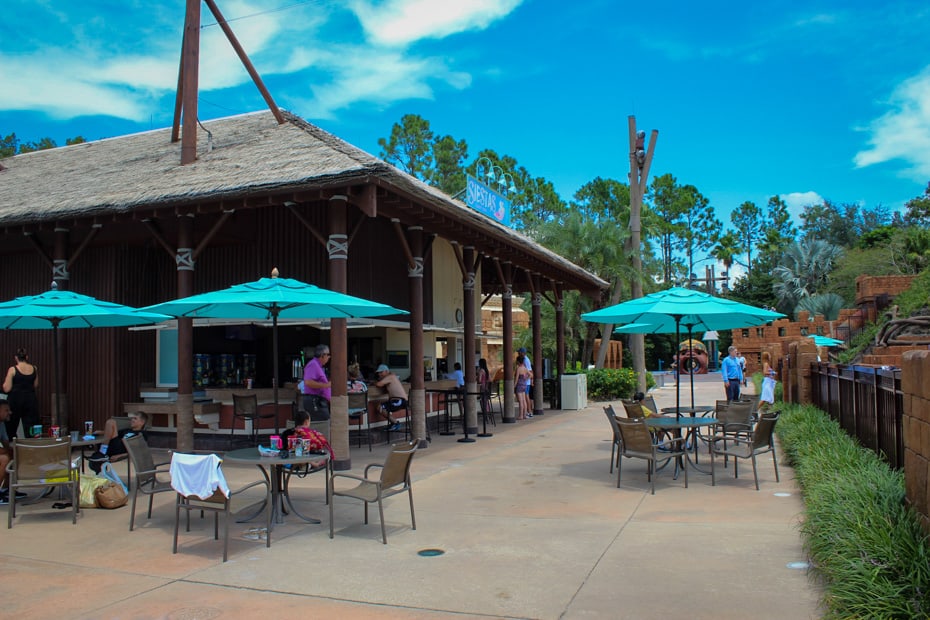 Siestas has their own kitchen with a full menu since they are located a little further out at The Dig Site. I've enjoyed the fish tacos here on several occasions. Additionally, I love that they have unique menu options that you won't find just anywhere else.
Plus, you can't beat having a meal out by the pool. So if you are staying at Coronado Springs for your vacation, don't miss the opportunity to pick up a meal at Siestas. There are several good reasons it makes this best resort quick service list.
#8 Sassagoula Floatworks & Food Factory
When I was drafting this piece, I went back and forth on whether or not to add this next quick service. The reason is that Port Orleans French Quarter is one of the Disney resorts that hasn't re-opened yet.
However, I've had a meal or two at Sassagoula Floatworks and Food Factory. Therefore I really couldn't leave it out.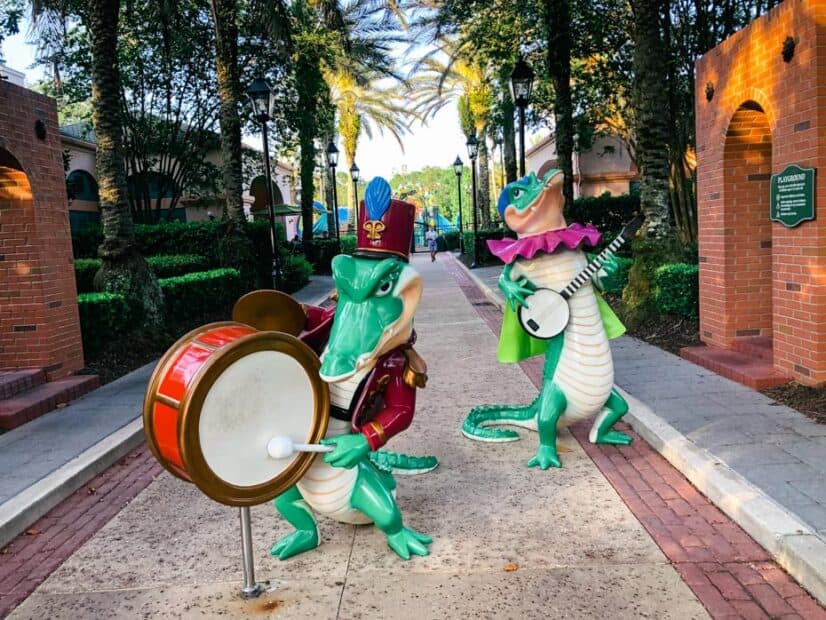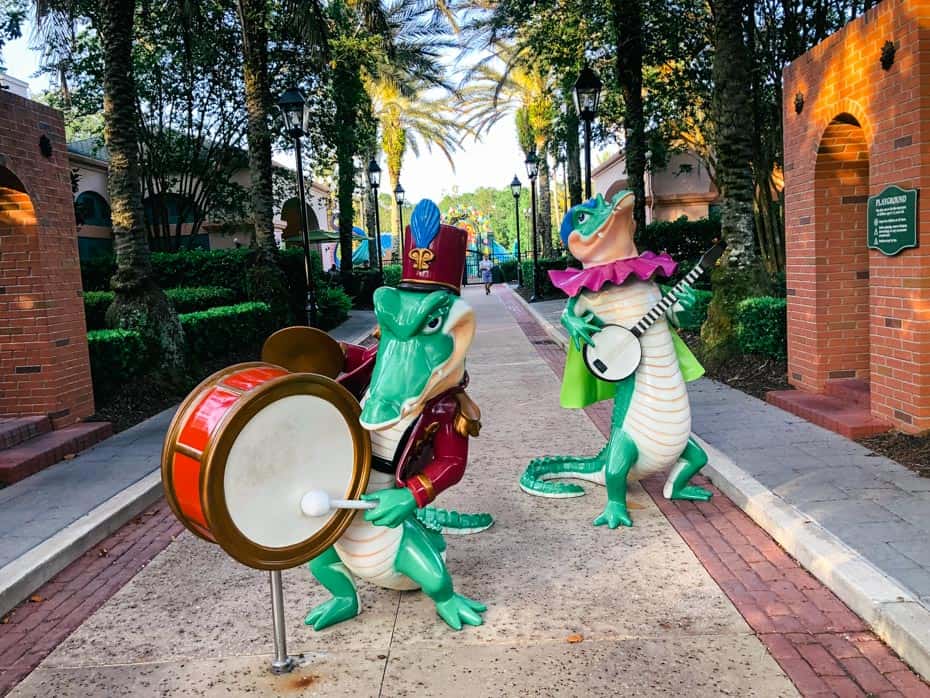 Below is the beignet cheeseburger that I enjoyed on my last visit to the resort. And it was knock-your-socks-off good! When this resort does re-open, I hope we'll see it back on the menu.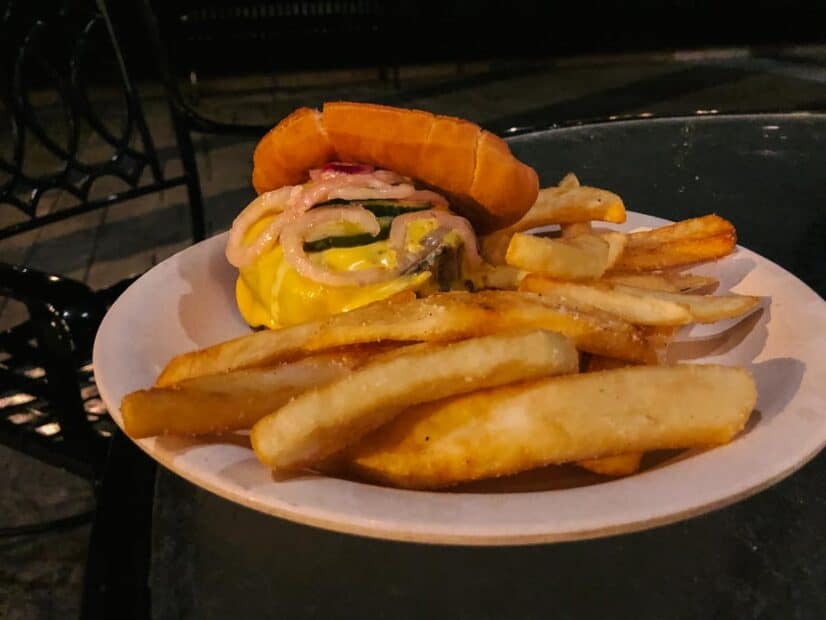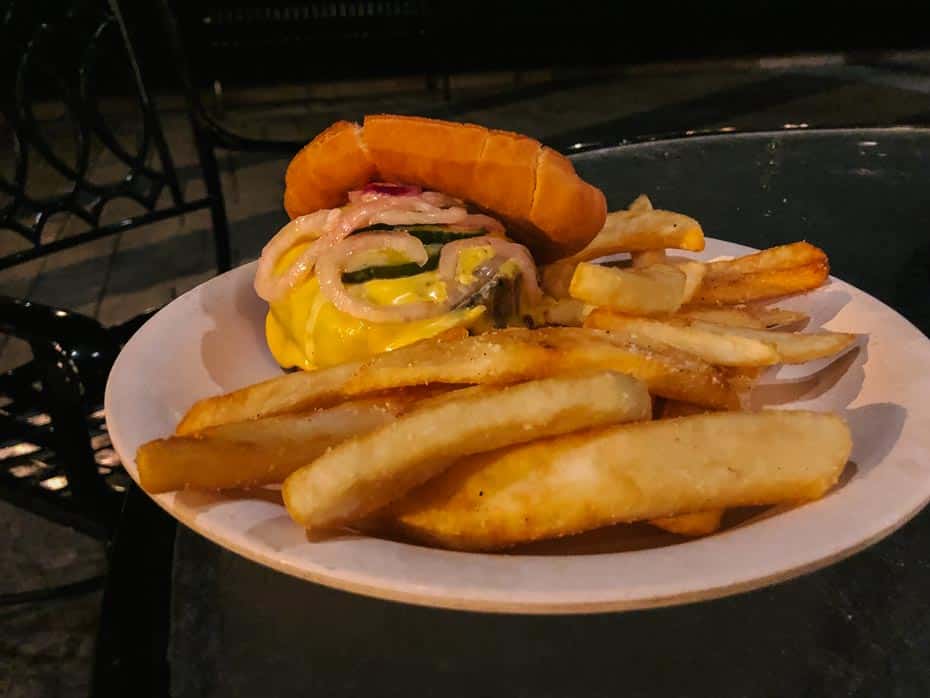 But even if it doesn't return, I can assure you there are plenty of other options that make a counter service meal here worth your time. Some of those offerings include a Po boy shrimp sandwich or a plant-based creole dish!
While you are at the resort, make sure to take a casual stroll along the waterway. You might even run into a horse-drawn carriage or two. And there's a water taxi to Disney Springs right out back if you'd like to make the trip over.
Related: Disney Springs Transportation Tips
#7 Roaring Fork
Rare is the day we spend a week on Disney property without a visit to the Wilderness Lodge. And while there are so many good dining options at the resort, sometimes you need something quick. If that's the case, Roaring Fork will do just fine.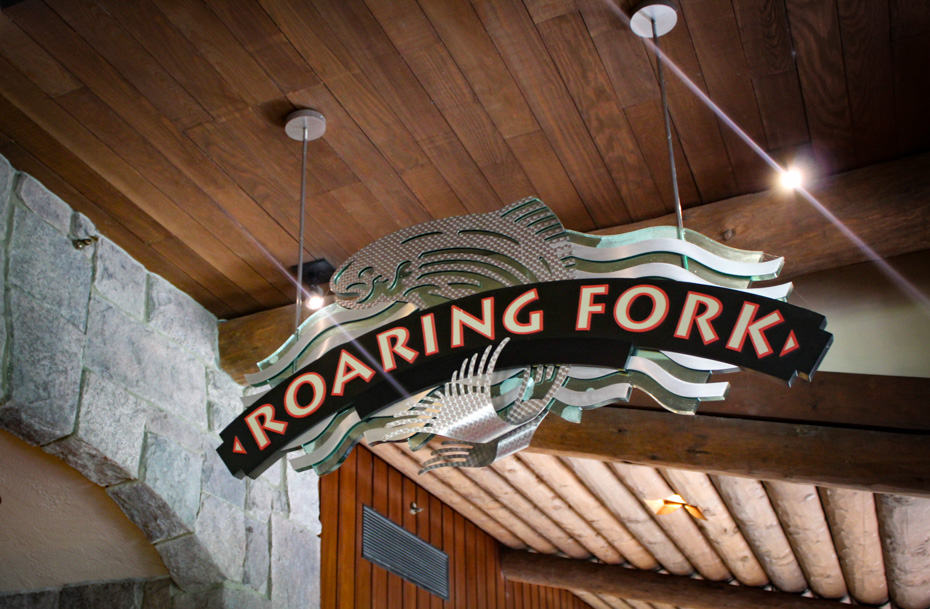 It's actually more than fine. Expect burgers, sandwiches, salads, and more when you order a meal here. Hopefully, the pastry and dessert cases will be fully stocked too! Below is one of those irresistible treats I pick up from time to time at Roaring Fork. The Magic Bar.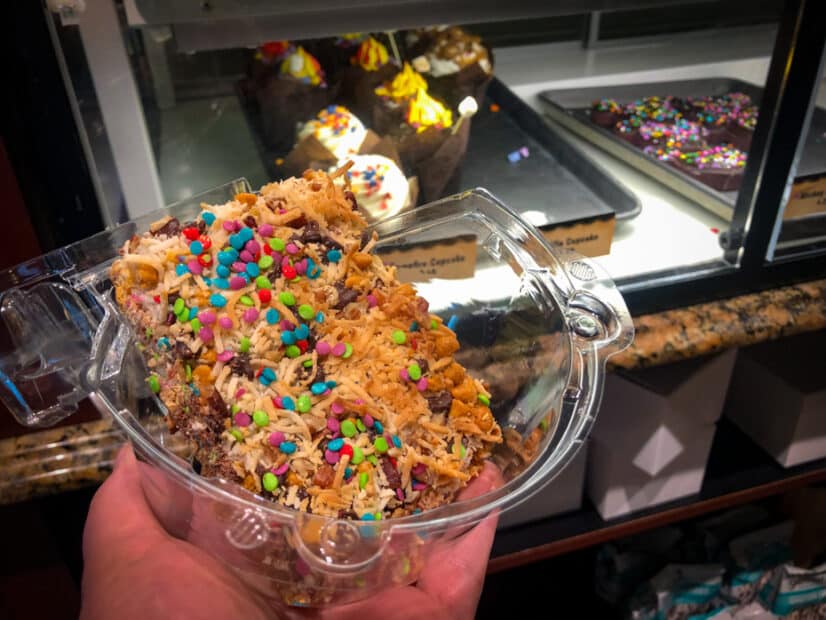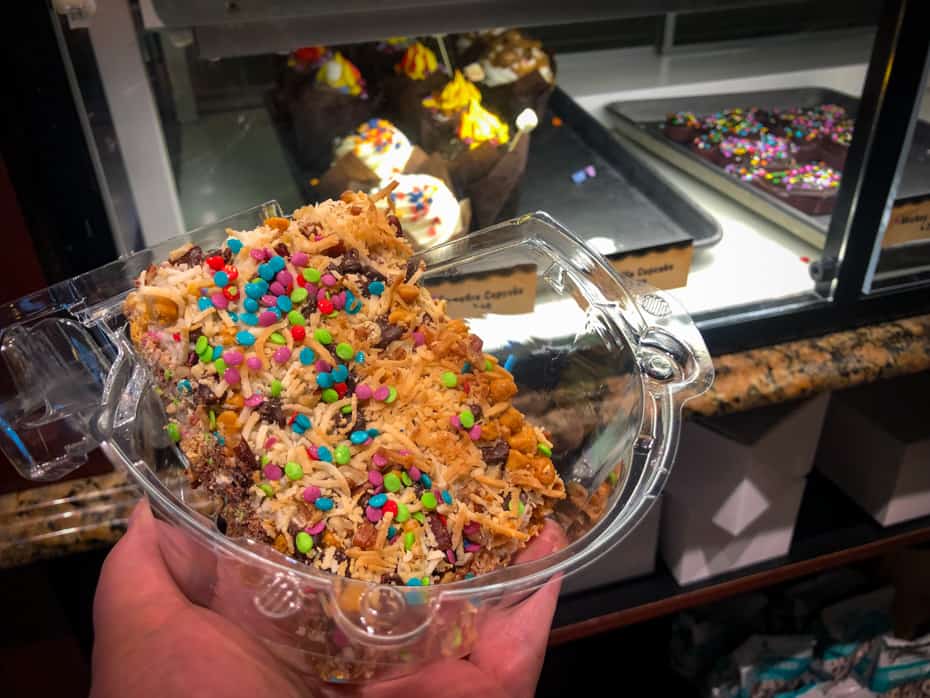 And make sure to check out whatever specialty cupcake they are offering here as well. The campfire cupcake in the background above is an excellent option.
If there's nothing on the menu at this quick-service that strikes your fancy, you can try Geyser Point Bar and Grill out behind the pool. It's not a counter service, and they take walk-ups. Plus, the dining experience is completely relaxed and pleasant with prices similar to counter service.
Related: Disney's Wilderness Lodge Restaurants Guide
Normally, Hurricane Hanna's would rank higher. Unfortunately, their menu has been stripped to the bare bones as of late. However, with the resort now fully operational, I expect this quick service to return to normal service in the coming months.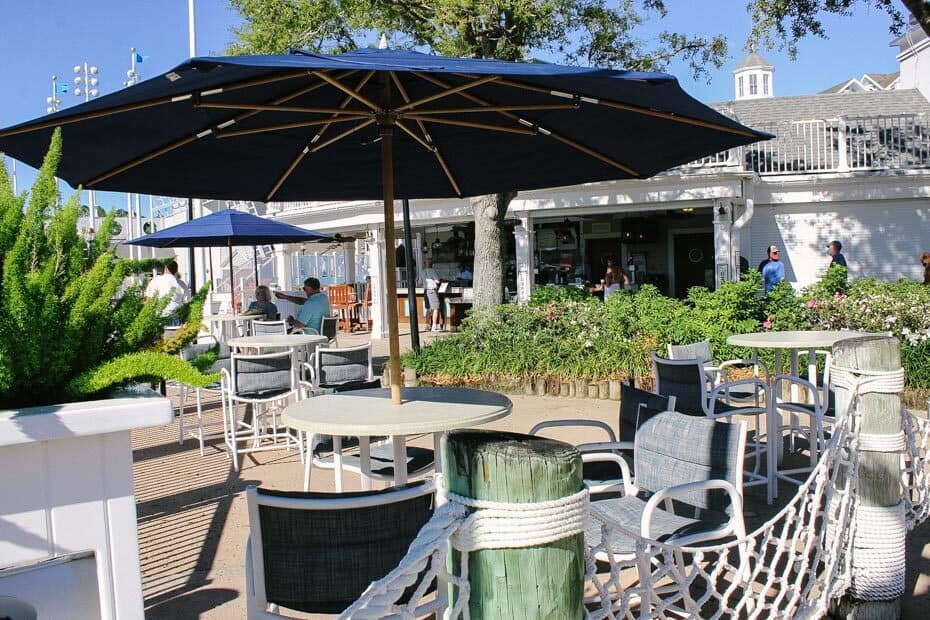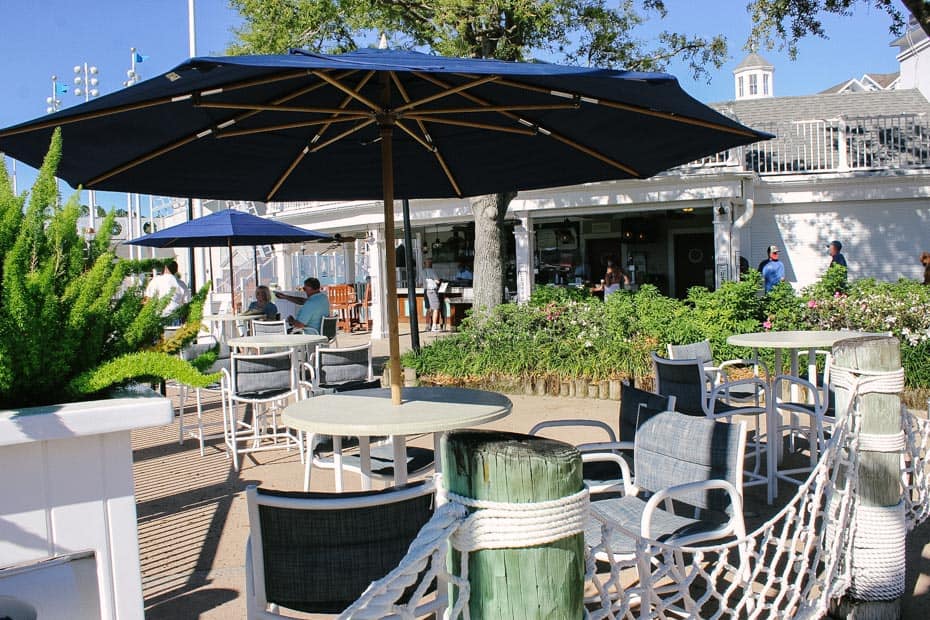 This picture was taken on a recent visit and depicts the grab-and-go items that were available.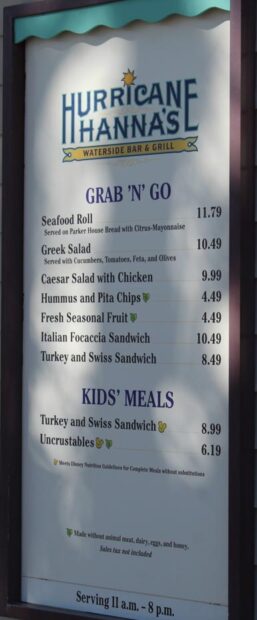 Normally you can expect Hurricane Hanna's to have chicken fingers, burgers, and other popular items. And don't forget to ask if there are any secret menu items available. You really never can tell at Disney!
While spending the day at the pool, your kids will probably want a shovel and pail to play in the sand. If so, make sure to order a kids' meal. They actually come in a pail that has a shovel attached. It's the perfect win-win for a meal and much-needed pool accessory.
As we jump the pirate ship from Hurricane Hanna's, we find ourselves back across the property at the Grand Floridian Resort (review). This time we're stopping in at Gasparilla Island Grill for our 5th best quick service at the Disney World Resorts.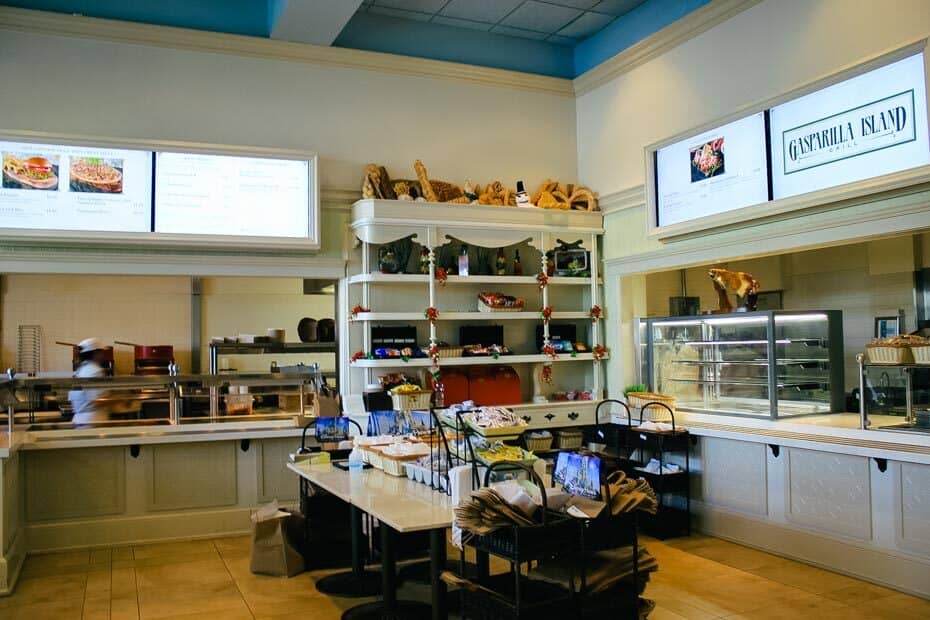 A few years ago, I wouldn't have even considered adding this to our list. But after their last remodel, the menu greatly improved, and we really enjoy eating here now.
Gasparilla has a wonderfully spacious indoor dining area. However, this is another one of those places you're going to want to dine outside when weather permits.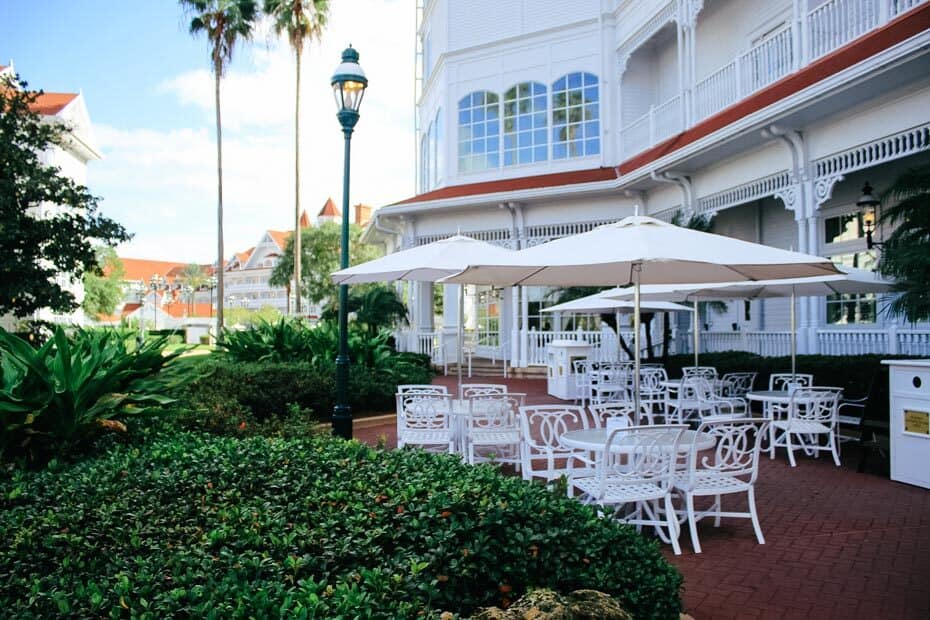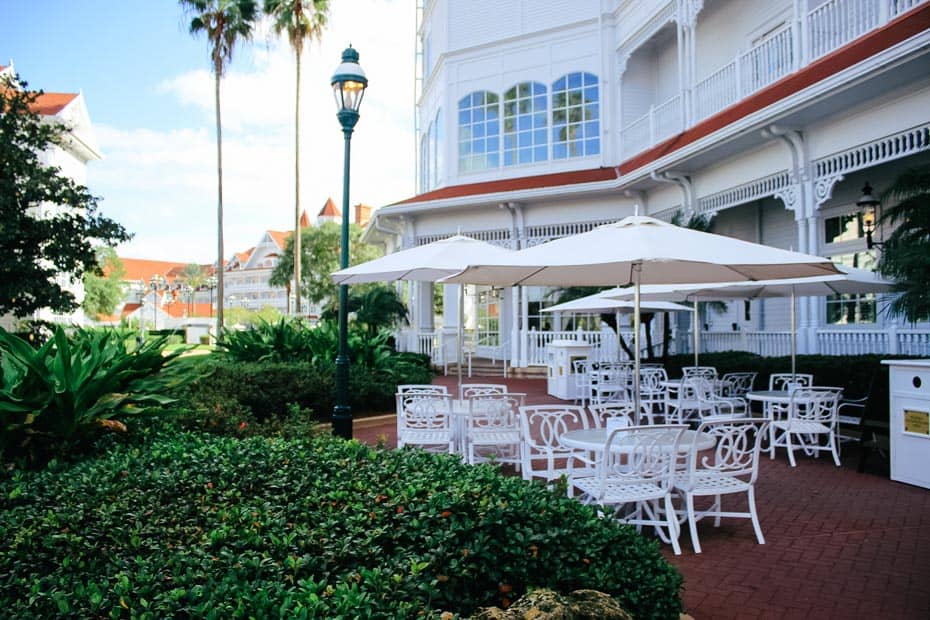 On my last visit, I went vegetarian with the sausage and peppers flatbread with house-baked chips (minus the sausage.) Lovers of anything to do with potatoes, make sure you pick up an order of these. They are simply delicious.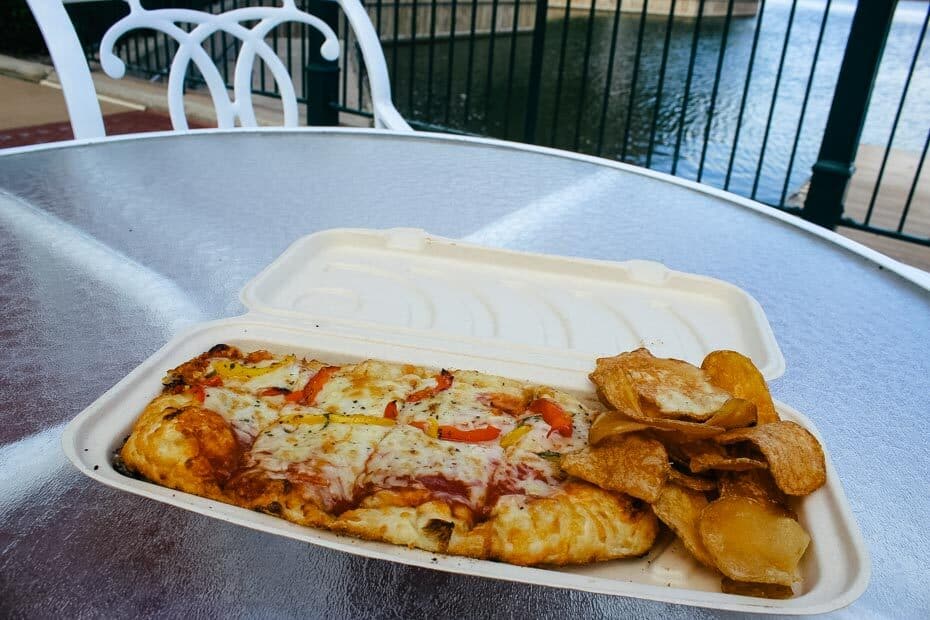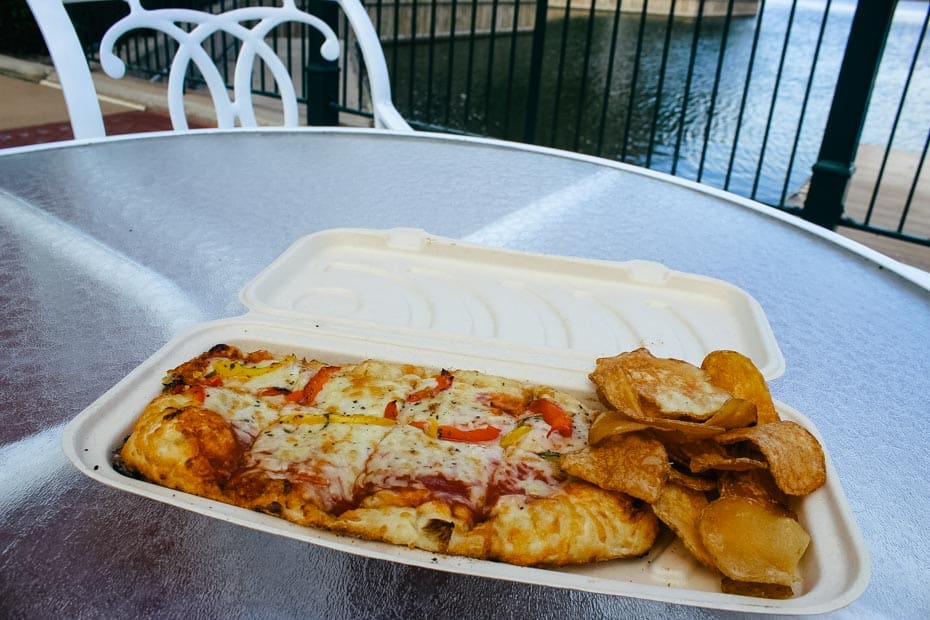 If you find yourself at Magic Kingdom on a crowded day and in need of a break, you can easily walk over to the Grand Floridian and enjoy a meal here. It will probably take about an hour to walk over, eat your meal, and then return. You can also take the resort monorail or a boat for those who don't care to walk.
Related: Grand Floridian Restaurant Guide
#4 Contempo Cafe
As we approach our top three best quick service restaurants at the resorts, we drop into Disney's Contemporary. Who doesn't want to enjoy a meal with the monorail gliding overhead while at Disney? And you don't even have to pay for a pricy character dining meal like Chef Mickey's to do so.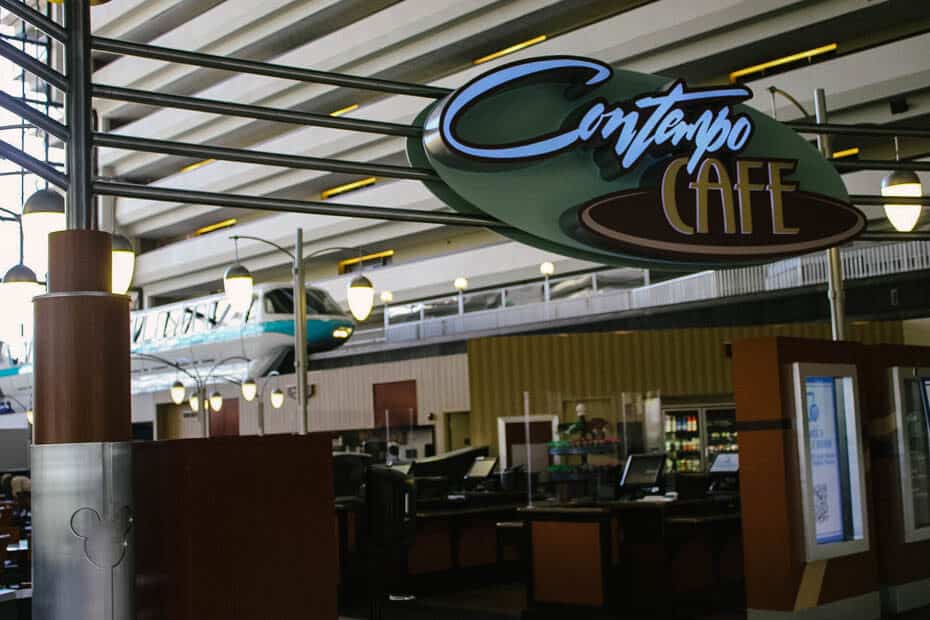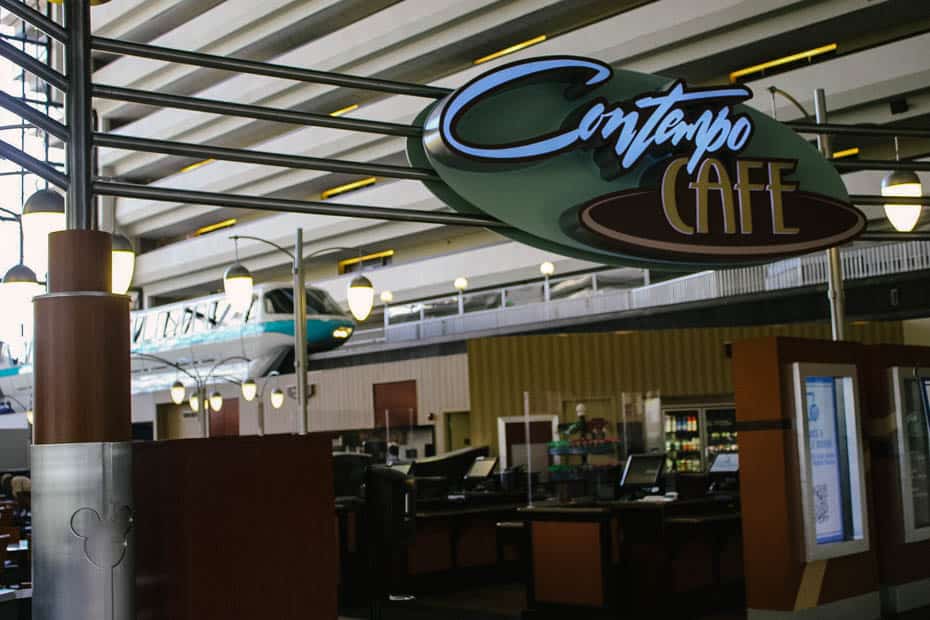 All you have to do is walk, boat, or monorail to the Contemporary and pick up a meal here. The resort and Express monorail continually run through the hotel, and it's fun for children and adults alike to experience a meal here.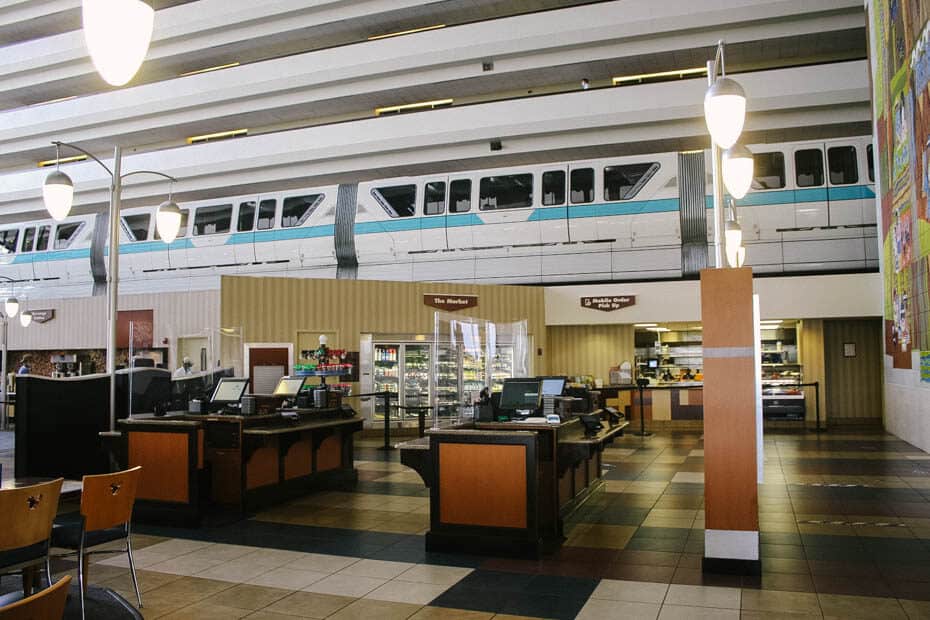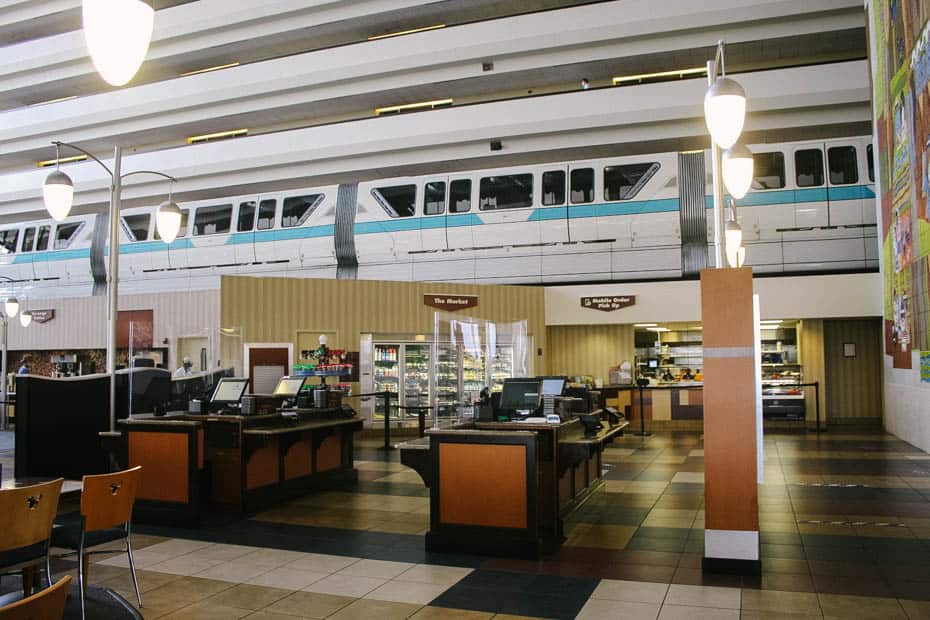 But the main reason we enjoy dining here is that we like the food! Don't forget to check out the dessert case as well. It's usually full of fun treats and themed cupcakes.
Related: Disney's Contemporary Restaurants
Moving on, I'll be the first to admit; these top three were definitely hard to decide upon. And I truly don't believe you can go wrong with any of the choices in this review, especially not these next three.
#3 Captain Cook's
If you are taking a trip to Walt Disney World, then you should take the time to visit the Polynesian at least once during your visit. That is unless you hate tropical paradises. If that's the case, maybe not.
Disney's Polynesian Village Resort has some of the best dining around, and that goes for their quick service restaurant, Capt. Cook's.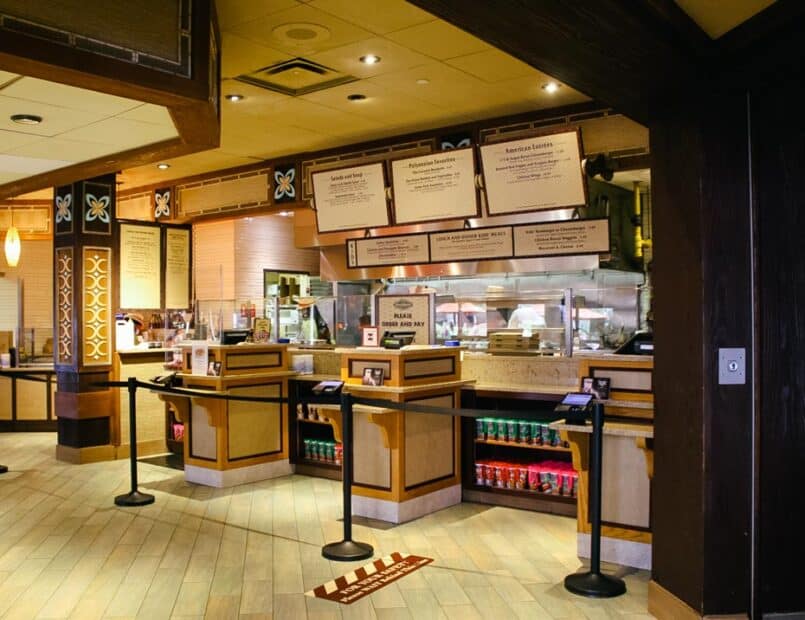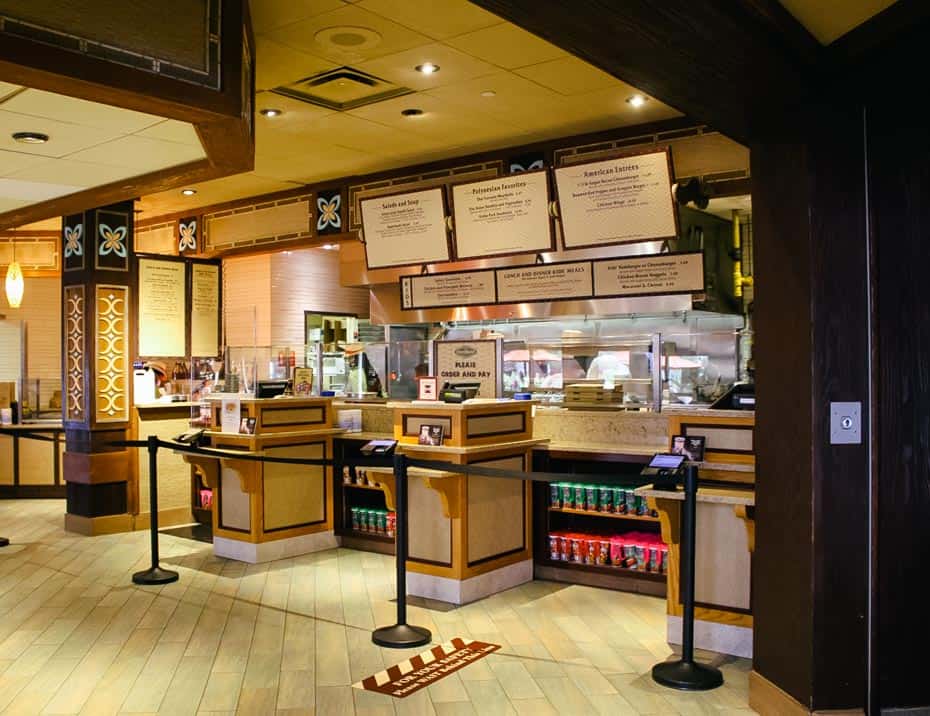 Some of their popular menu items include pulled pork nachos, and you can pick up Tonga Toast for breakfast! It's a great dining spot. Captain Cook's vibe is sure to put you in a relaxed mood. When it's raining, you'll definitely enjoy the cheerful dining room.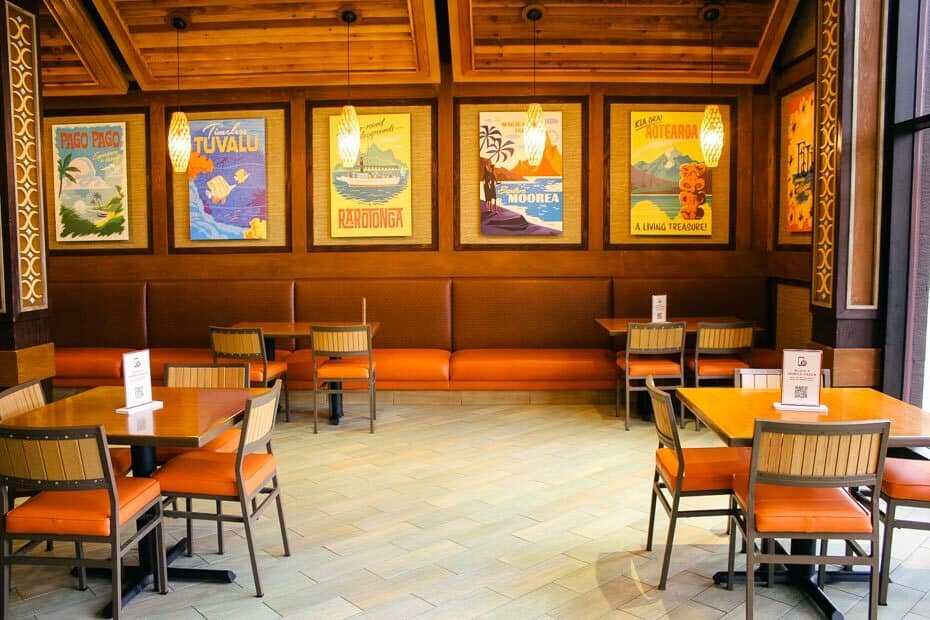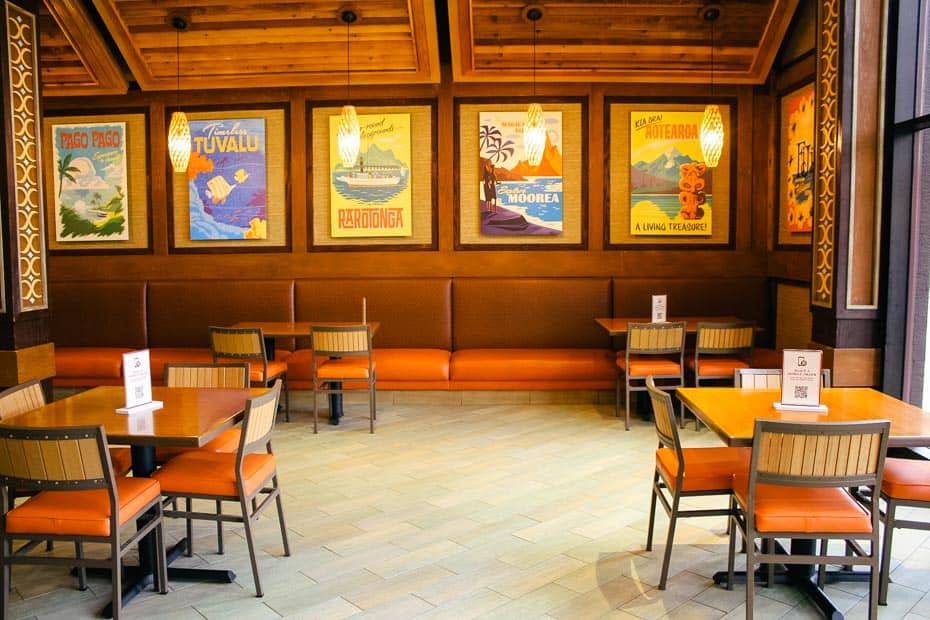 But out back on the Tiki Terrace is the best place to eat.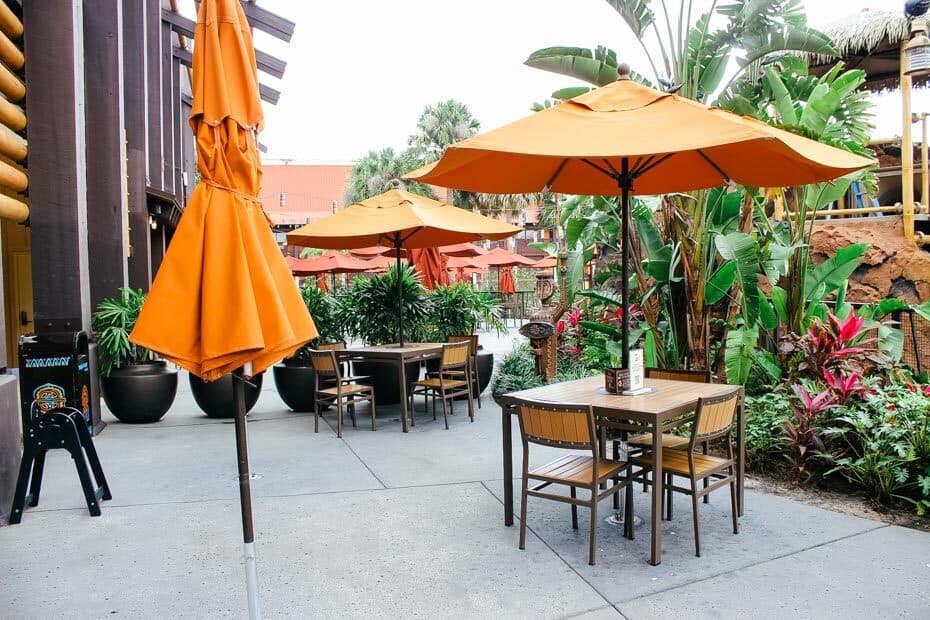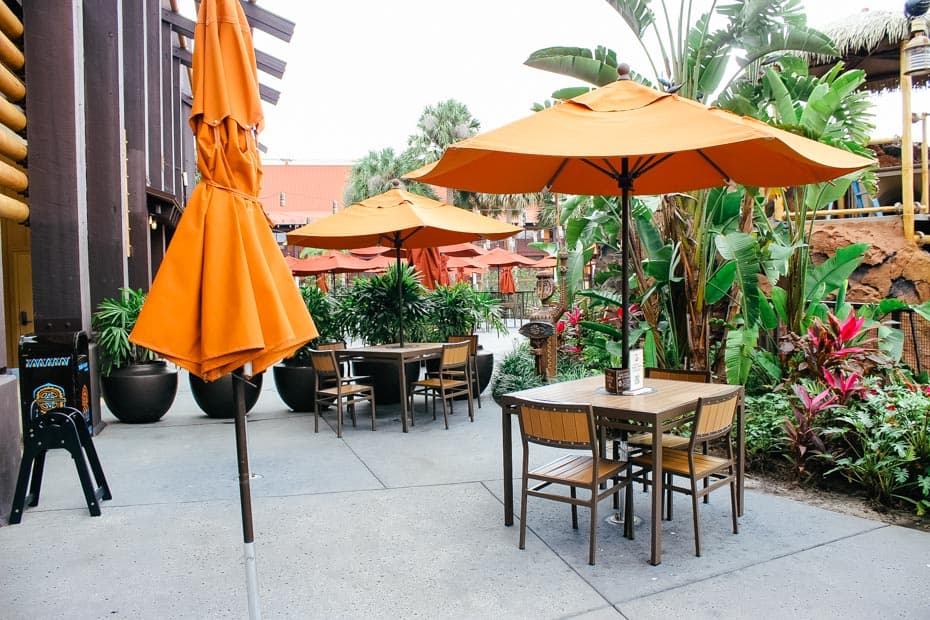 Bonus, if you dine here late in the evening, you can enjoy the Electric Water Pageant as it floats by the resort.
Related: Disney's Polynesian Restaurants and Dining Guide
#2 The Mara
Longtime readers of the website will be surprised to see me list The Mara as number two. Unfortunately, it has been dethroned due to the high quality of items at our number one choice. But don't fret. The Mara is still an excellent location to enjoy a resort counter service meal.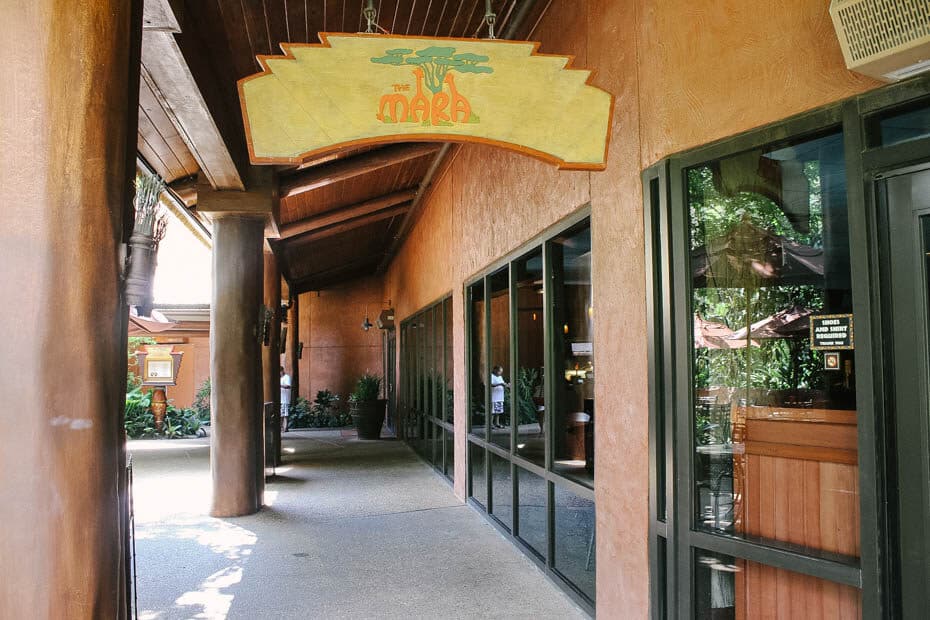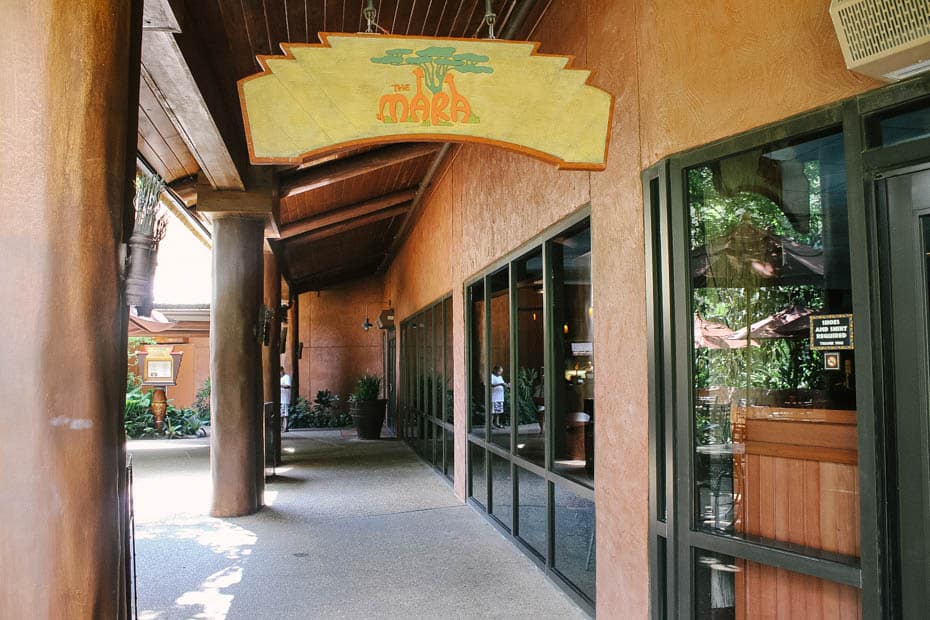 Located at Disney's Animal Kingdom Lodge, The Mara has some of the most unique quick service menu items around. Additionally, they have a really good sandwich menu and several items like a roasted half chicken with veggies. Plant-based diners might enjoy the Marrakesh Falafel platter.
The Mara has a large interior dining hall.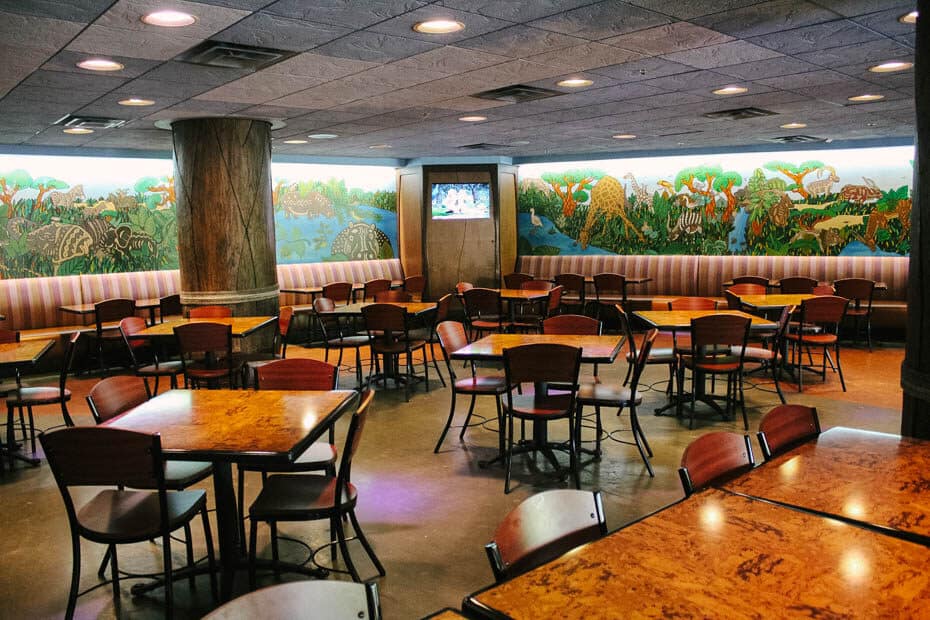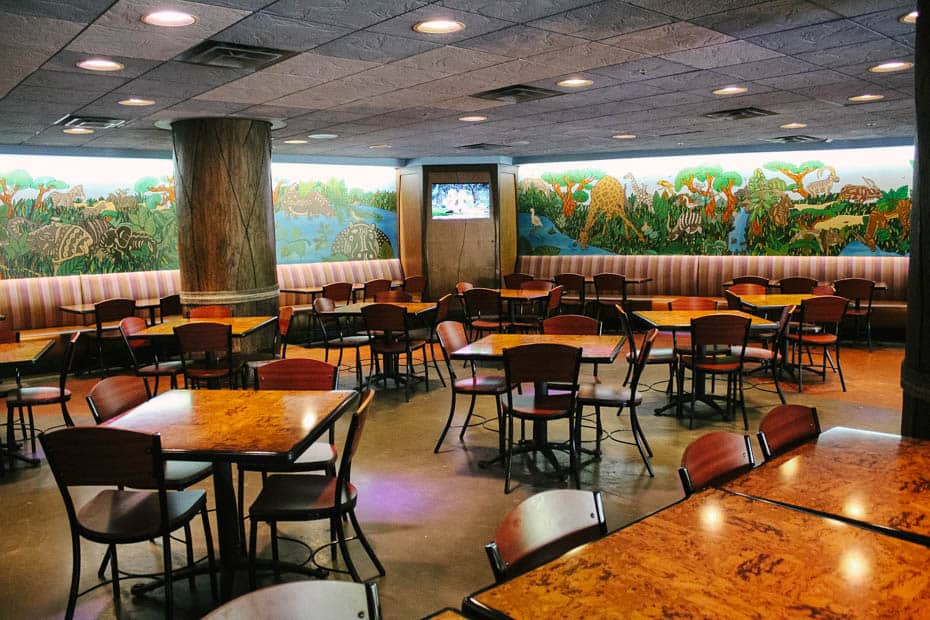 But this shaded area outside the restaurant is available as well.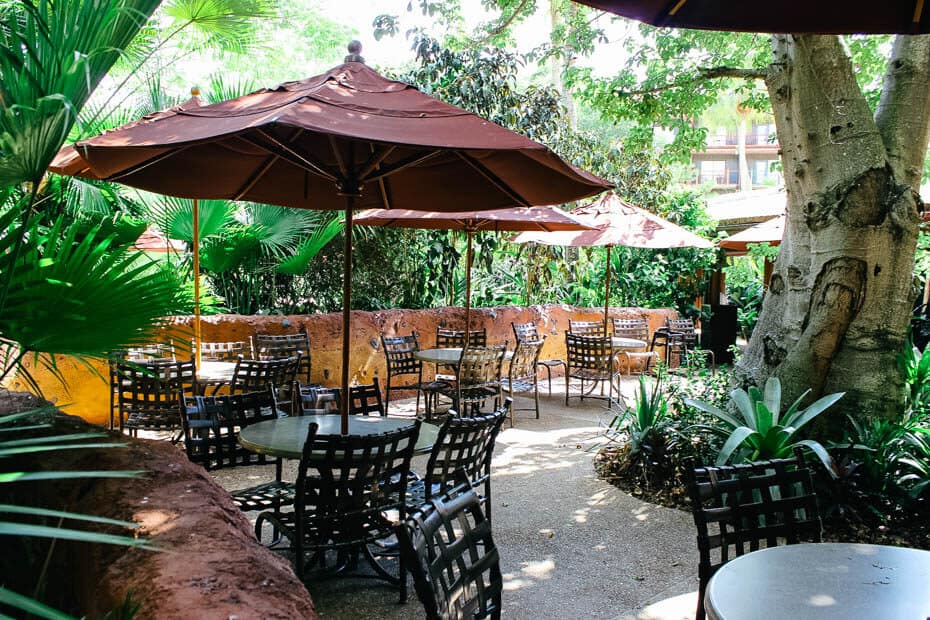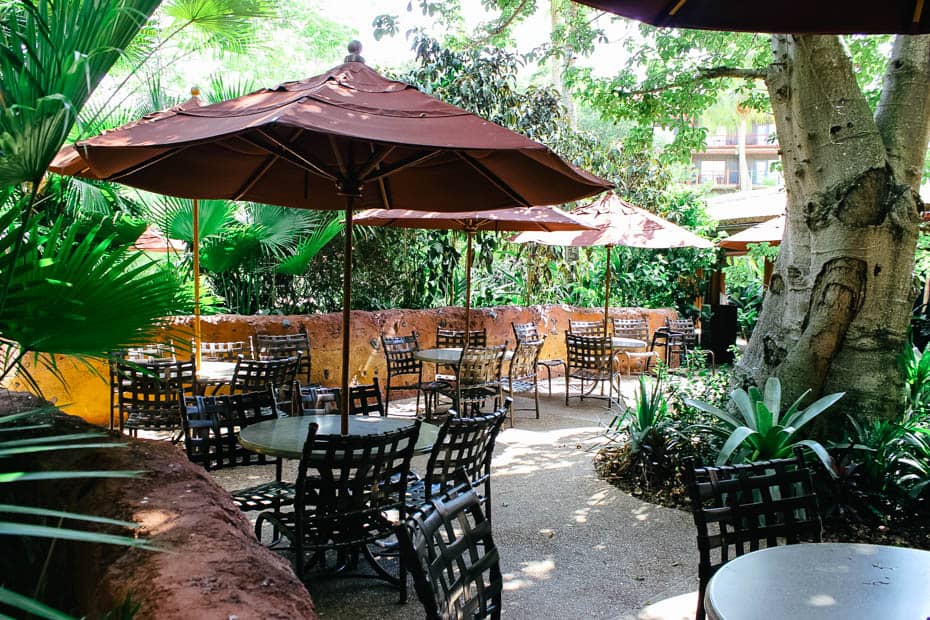 Make sure to pick up a couple of those infamous zebra domes here! They are quite the yummy treat.
Related: Animal Kingdom Lodge Restaurants
Finally! Our number one best quick service restaurant at the Disney World Resorts is Primo Piatto! Who knew when this resort opened its doors just shy of two years ago that we'd be blown away with this quick service?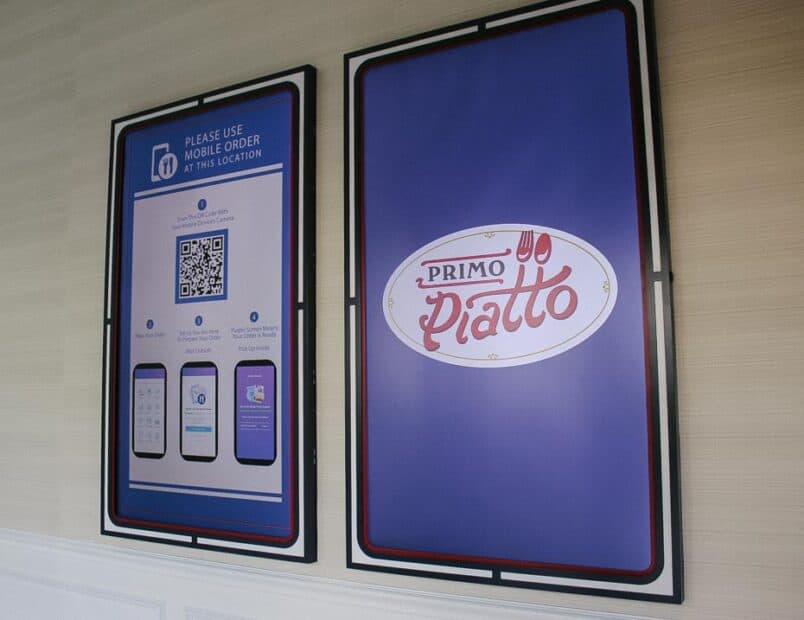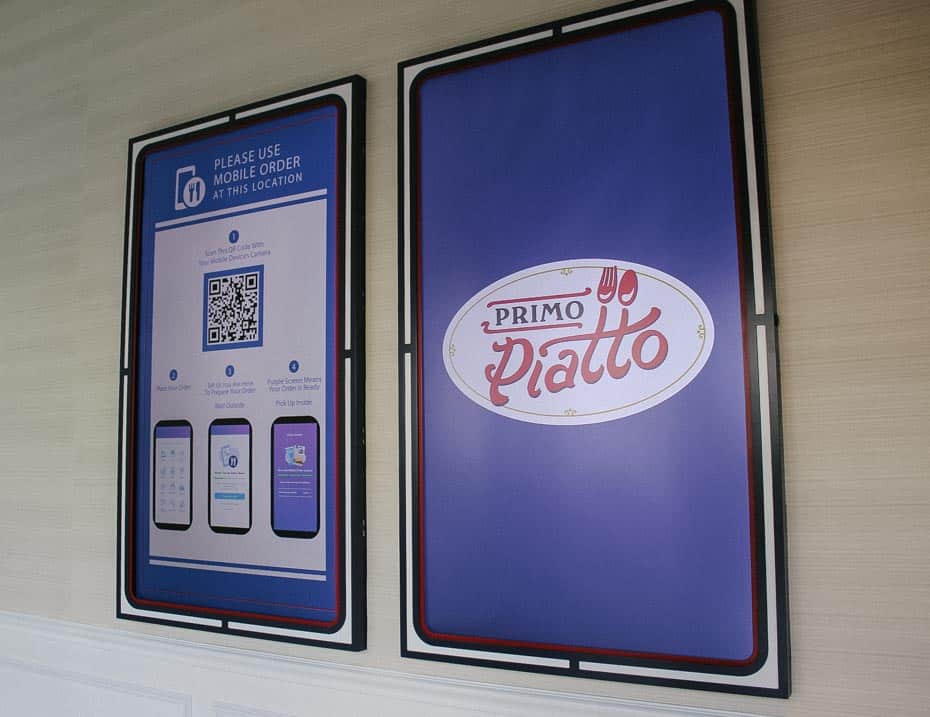 I'm here to tell you that Primo Piatto is good. By that I mean, the food at breakfast is good, the food at lunch is good, and the food at dinner is good. So I think you get the idea.
Below are the lemon pancakes that I ordered with a side of vegan sausage. You might have noticed the mention of several plant-based food offerings in this review. For those that would like to learn more, we do have a vegan food guide for Disney World that showcases all of the plant-based items we've tried to date.
As for the pancakes, I am looking forward to ordering them again on my next visit. You can probably tell how light and fluffy they were from the photo.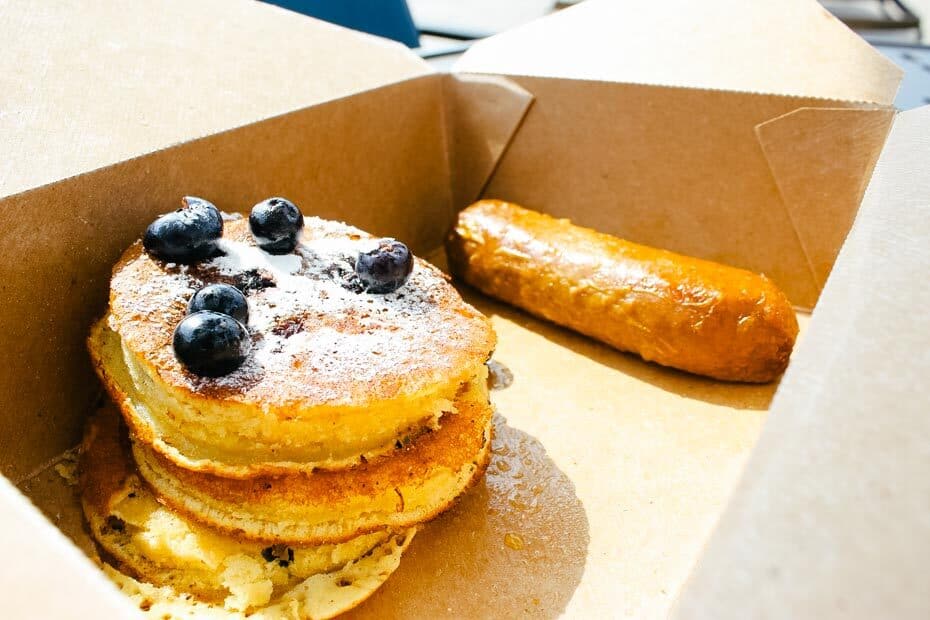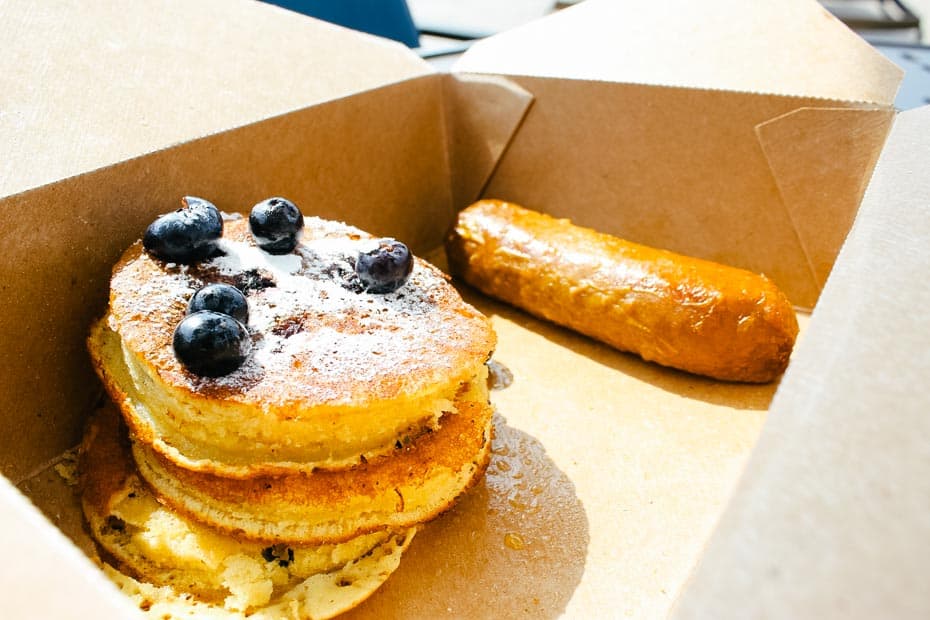 Primo Piatto has a spacious interior dining room, and they do a great job with mobile order. Often, if I'm headed to the resort via the Skyliner, I'll order my meal when I board the gondola. Then when I exit, I'll go on and place the "I'm Here, Prepare My Order. " It's usually ready by the time I get to the hotel.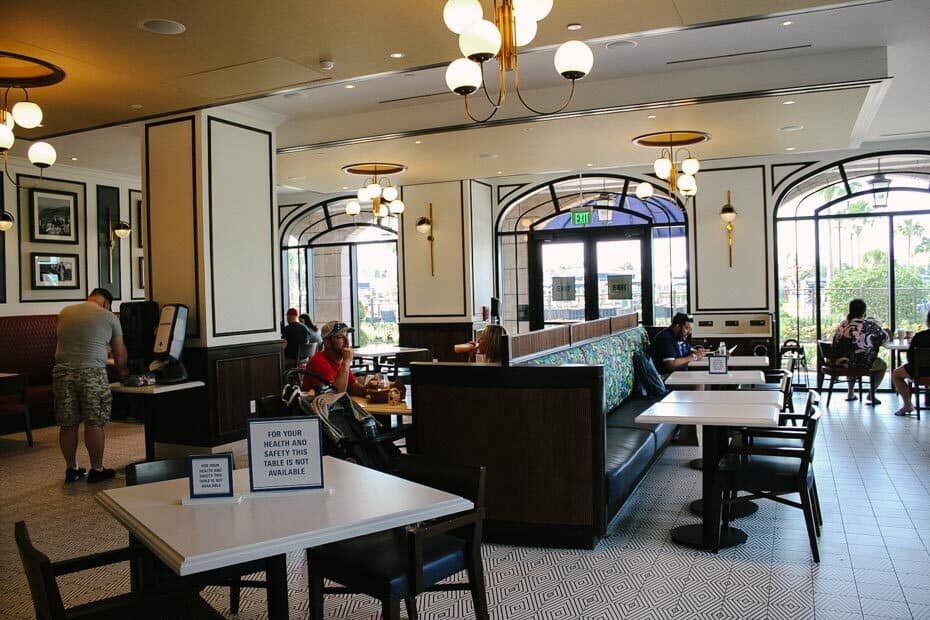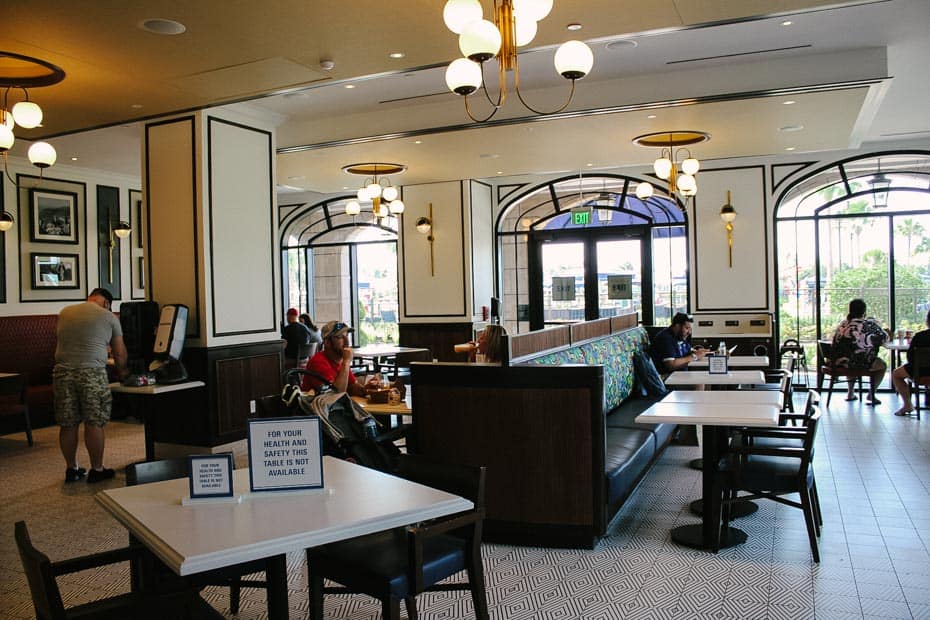 From my experience to date, all of our meals at Primo Piatto have felt like table-service quality. (Hint: If you want dessert, don't miss Le Petit Cafe on the lobby floor.)
Related: Disney's Riviera Restaurant Guide
And that wraps up our best resort quick service restaurants at Disney World. Make sure to keep these on your list of fast places to get a meal while you're out touring. All of these restaurants promise the opportunity to enjoy a delightful meal for a fraction of the price of a table service restaurant.
For other dining recommendations, you can browse the entire list of Disney Restaurant Reviews we have available on the site. Or you might enjoy the best restaurants at Disney Springs for our top options when planning a meal there.
Resorts Gal specializes in providing Disney World Resort Reviews and other resort-related information. We are growing and adding to our list of off-property options. For example, you might like to read more about our recent stay at Orange Lake Resort. And the best Marriott Hotels near Disney World include two extremely budget-friendly options.
Now that you've had a chance to read over the best resort quick service at Disney World, what do you think? Have you had a chance to try any of these? Leave a comment below and share your thoughts with us.