Tusker House Restaurant Breakfast Buffet Review (With Safari Donald and Friends)
In this article, we visit Tusker House at Disney's Animal Kingdom for a review of breakfast with Safari Donald and Friends.
When you visit Disney's Animal Kingdom, you expect it to go a little differently than the other theme parks. Your day will hopefully include things like taking a safari, seeing a Broadway-style show, participating in an animation experience, and seeing animals in their habitats.
So what better way to kick off your adventure than by enjoying a leisurely breakfast (with characters) at Tusker House Restaurant? On our last visit to Animal Kingdom, we did just that!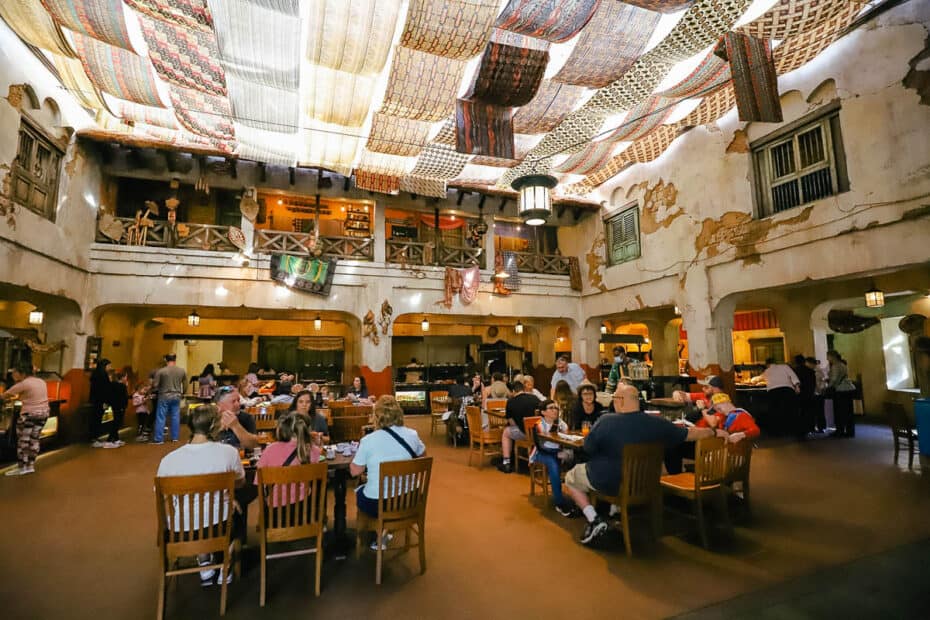 Tusker House Breakfast Review
Tusker House is located in the Africa section of the theme park. This restaurant serves a breakfast buffet daily between 8:00 a.m. and 10:30 a.m.
In addition, they serve lunch daily between 11:00 a.m. and 3:30 p.m. Dinner service is between 3:35 p.m. and 7:00 p.m.
For this Tusker House breakfast review, we made reservations at 8:50 a.m. on a Monday. This ended up working out okay, but I did make an oversight that could have been somewhat critical.
Since I'm not a morning person, I don't have a ton of experience arriving at the park first thing. So I didn't realize the park was opening at 9:00 a.m. and that we would have to face the rope drop crowd first thing.
Thankfully, we arrived at the park at 8:20 a.m. and quickly got through the turnstiles. However, there was a significant crowd.
Then we went down the left-hand path through the Oasis. Guests visiting from off-property are held on the right-hand path until the park opens.
We had to stop at the early admission checkpoint since it was approximately 8:40 a.m., and only resort guests could enter the park early. There I had to open the My Disney Experience app and show our reservation to the cast member.
We were then allowed to continue to our reservation. So we headed across the bridge from Discovery Island to Africa, arriving at Tusker House at approximately 8:51 a.m.
Therefore, it took about 30 minutes to get to our dining reservation after parking the car. So make sure to allow plenty of time to get there.
When taking a bus, in most instances, I try to allow a minimum of one hour to get from the resort to any theme park dining reservation. Don't forget you need valid admission to the theme park for dining reservations, and at the time of this review, you also need a theme park reservation.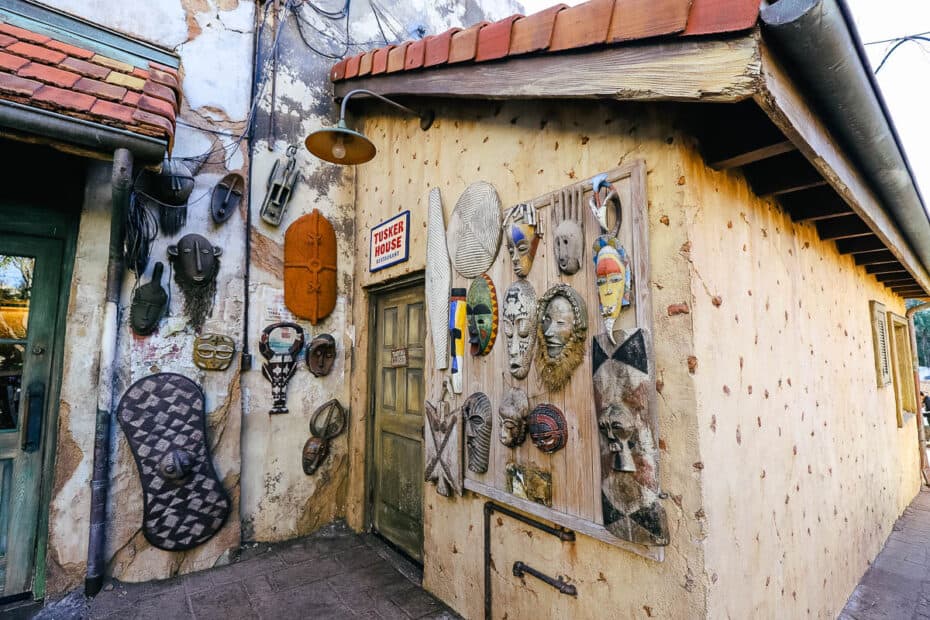 Tusker House isn't necessarily difficult to find, but you're not looking for an actual building. Crossing the bridge to Africa, you'll continue straight toward Kilimanjaro Safaris.
Dawa Bar will be on your immediate left. Tusker House Restaurant's entrance is in the center of Dawa Bar, as shown in the photo below.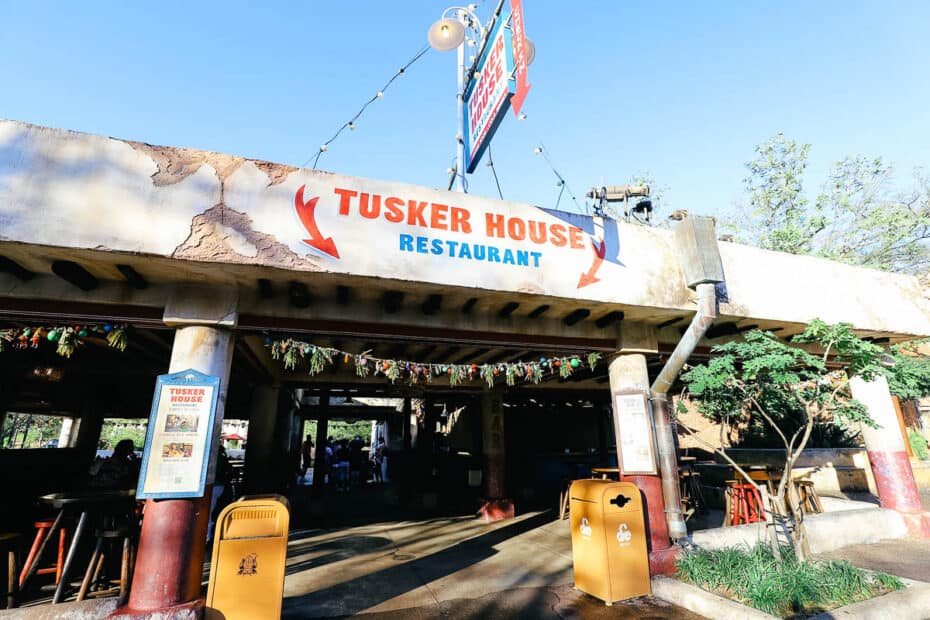 You'll walk between the two columns to the host stand ahead.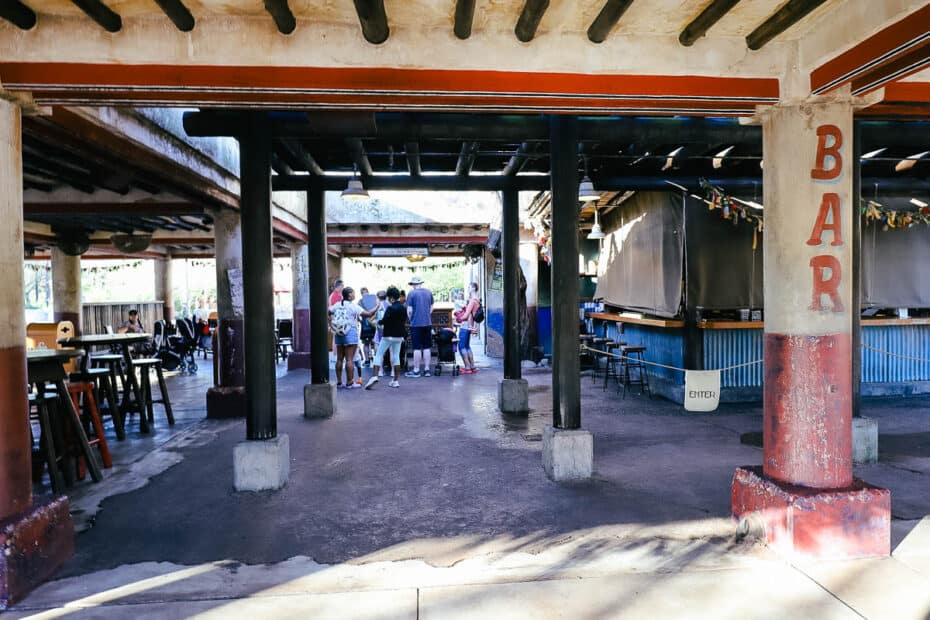 You can scan the QR code to check-in, or someone at the podium will assist you.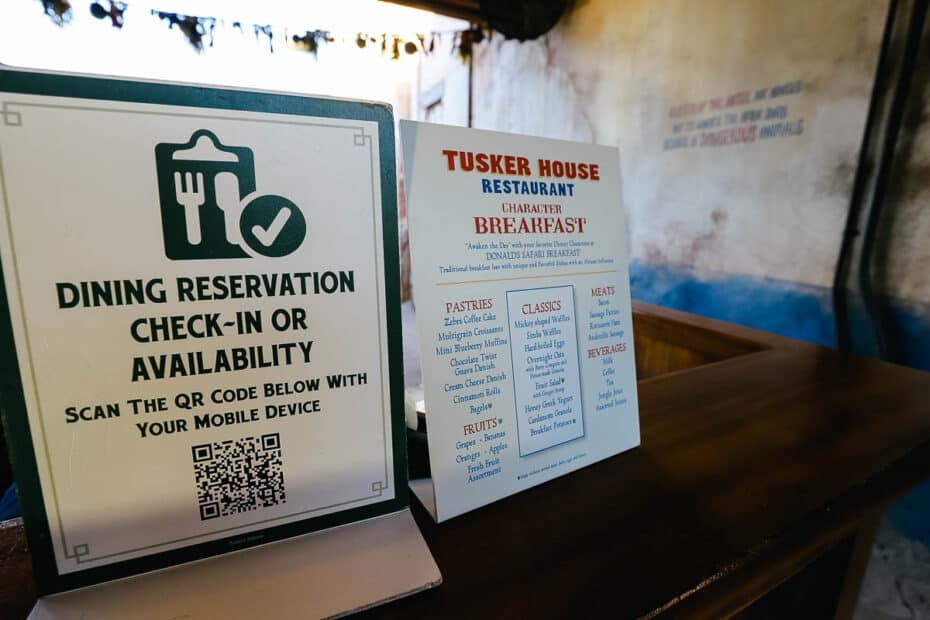 At the check-in area, there was a list of the buffet items at Donald's Safari Breakfast.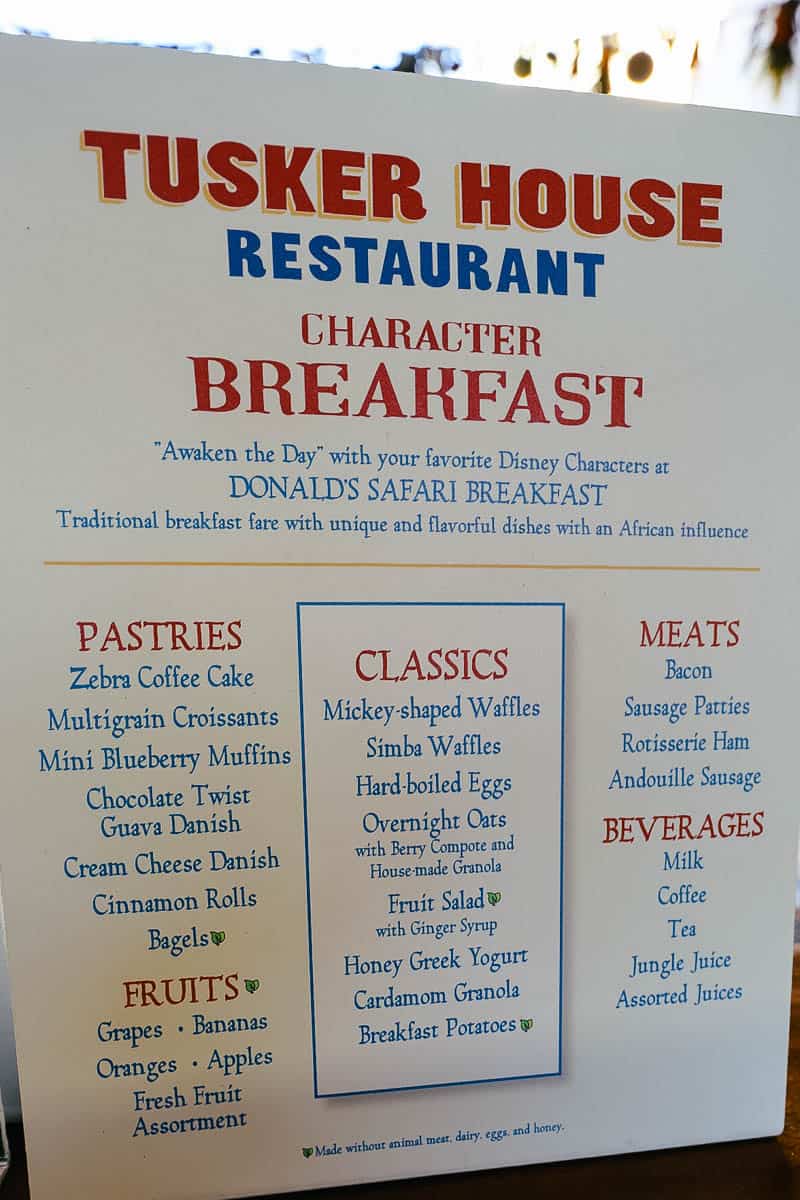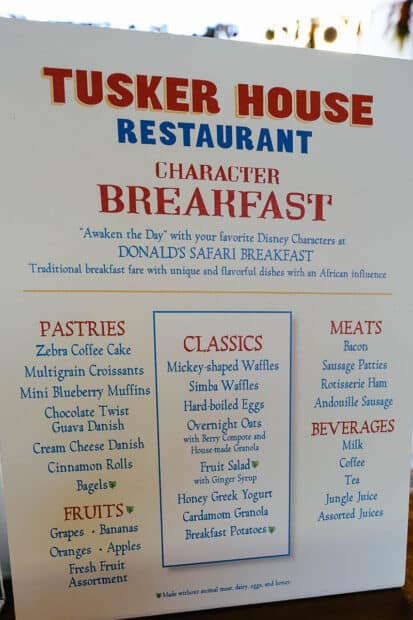 After checking in, we were told to wait in this outdoor area until we received a text notification that our table was ready.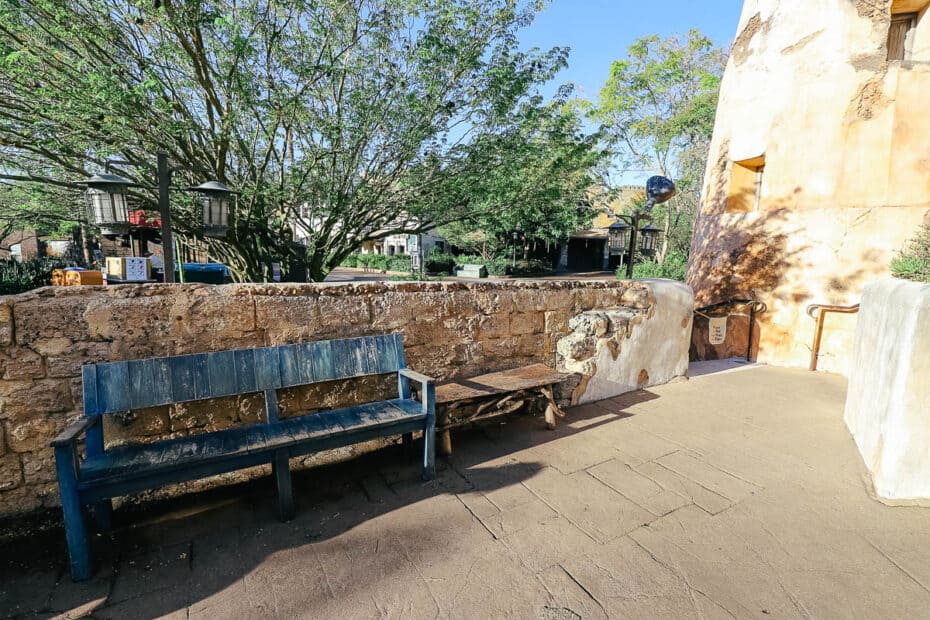 Within a few minutes, I received the text, and we continued to the doors in the far back of the picture below. Ample stroller parking is available in the restaurant's courtyard.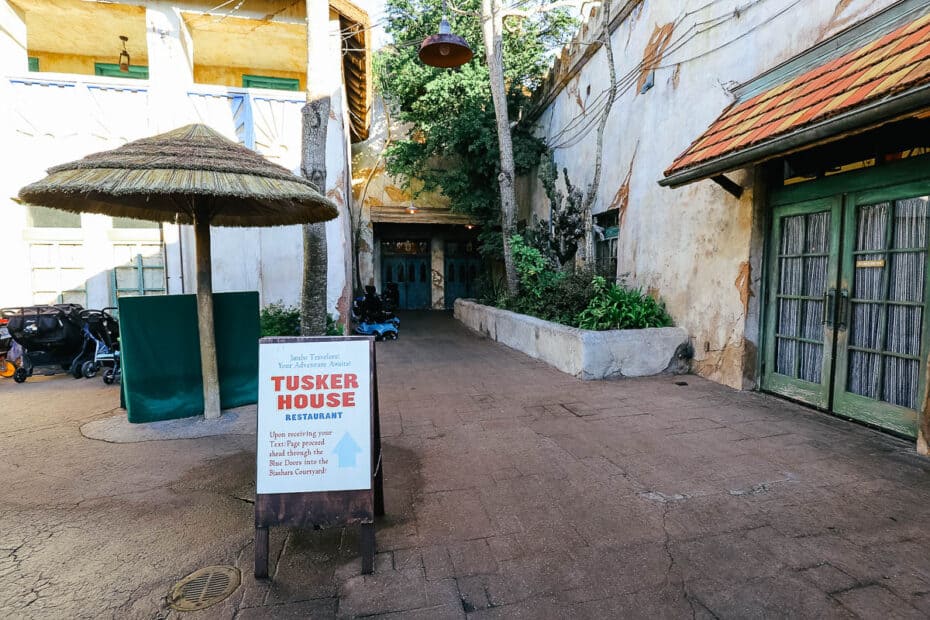 When you enter Tusker House Restaurant, you can't help but look up. Stunning African textiles make the space feel like you're in an open-air market.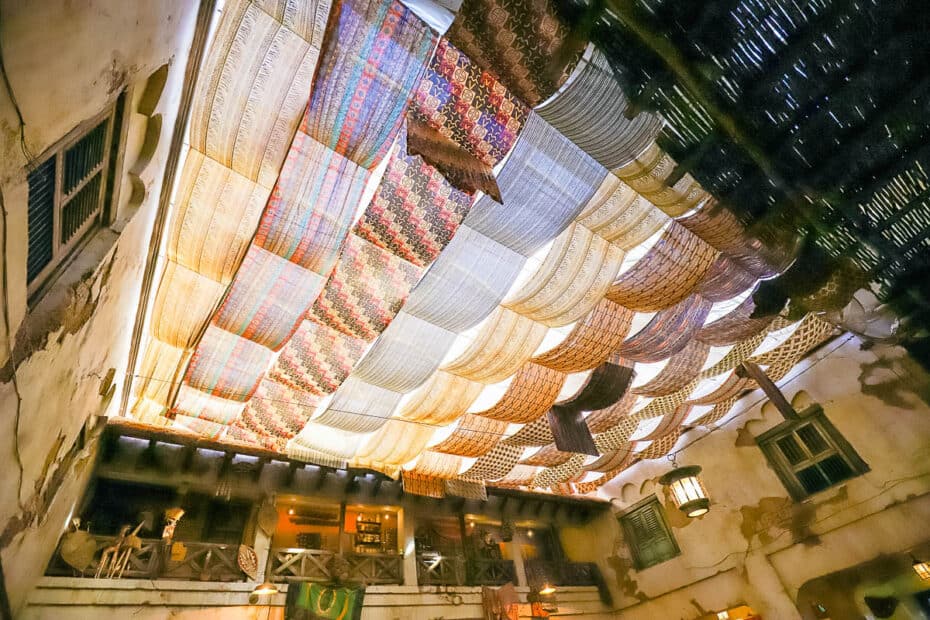 My immediate two impressions of Tusker House somewhat contradicted each other. First, I was taken aback by the authenticity of the restaurant. However, at the same time, I couldn't help but notice how loud it was inside.
Of course, the restaurant is almost always packed, and for good reason. After some retrospect, I decided that an African marketplace would likely be the same.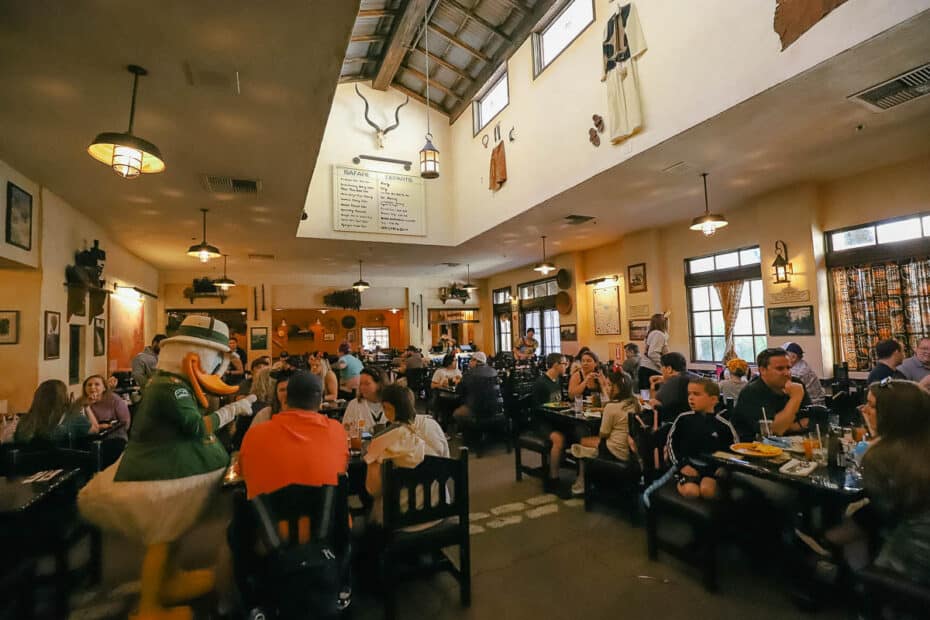 If you have time, you might take a moment to walk through the dining rooms.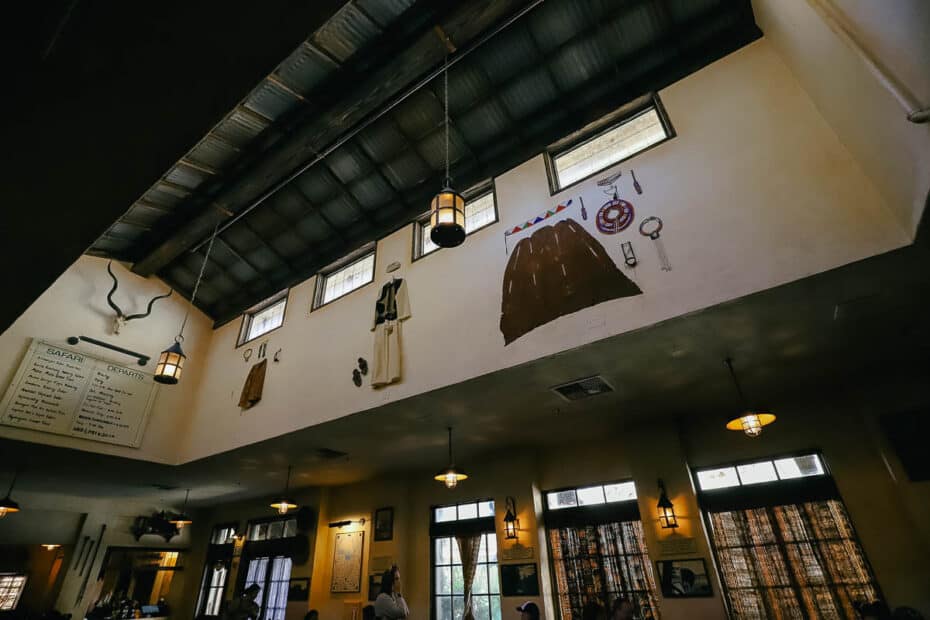 Tusker House has one large dining room in the center of the restaurant. Additionally, a handful of tables are in the same room as the buffet area.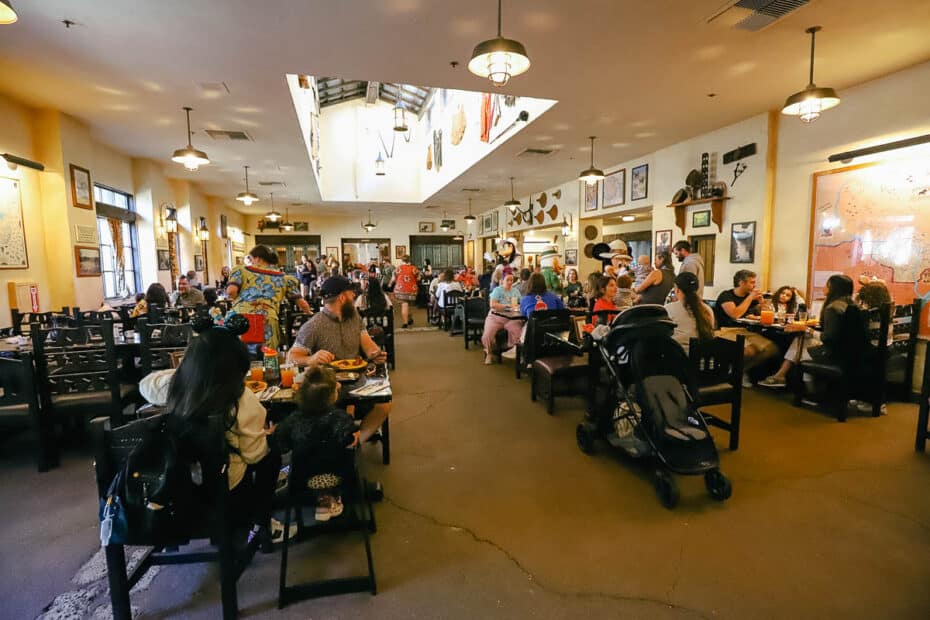 Then there are three to four smaller dining rooms scattered around the parameter. This room in the photo below wasn't being used during breakfast.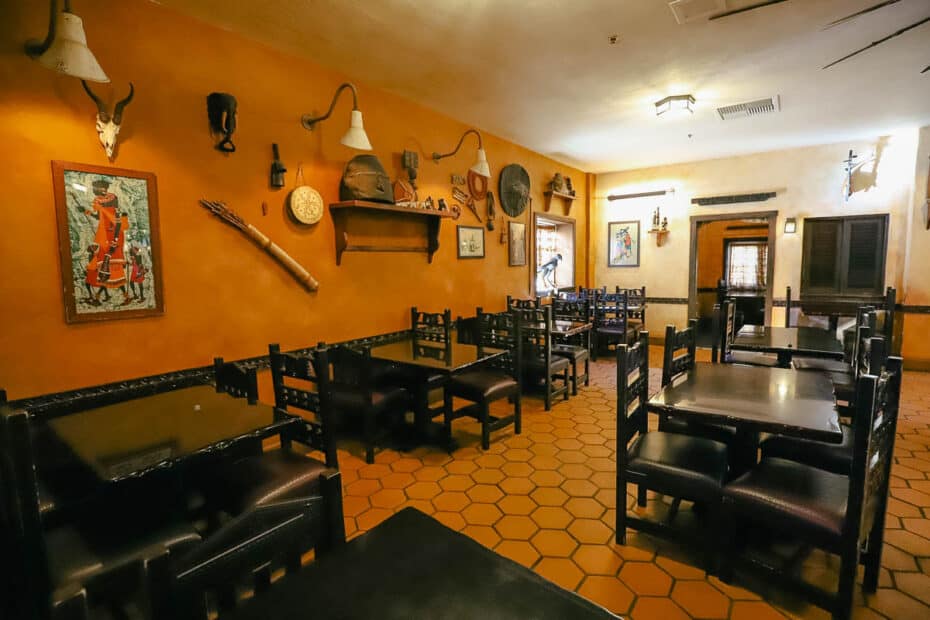 We were seated in one of the smaller dining rooms. Upon arrival, a server immediately greeted us and poured us a glass of POG juice or, as some call it, Jungle Juice.
POG juice is considered a staple at several Disney breakfast locations. It's a mixture of passion fruit juice, orange juice, and guava nectar.
Aside from the juice, standard beverages are complimentary with the buffet, so we ordered a soda and a coffee. In addition to the juice, several non-alcoholic drinks and specialty cocktails are available. You can preview the menu with prices here on Disney's site.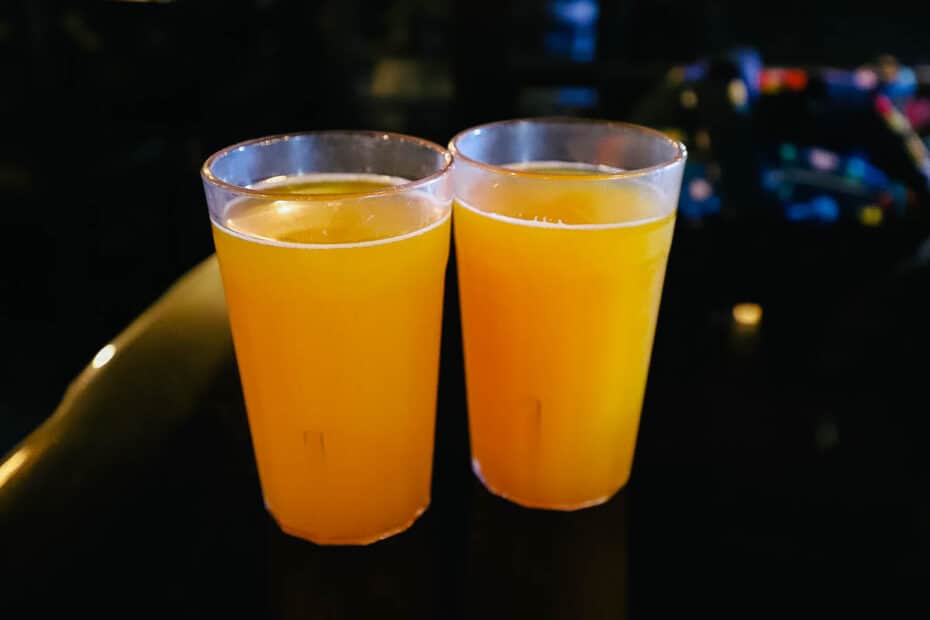 Breakfast Buffet at Tusker House
After being seated, we were told we could wait for the next character or visit the buffet. Donald and Daisy had left off in our dining room before their break.
However, there weren't any characters nearby, and there weren't many people at the buffet. For me, that meant it was a good time to try and take a few photos.
Below, we'll walk through the breakfast buffet at Tusker House Restaurant. We'll start with the carbs, which include a variety of bread and sweets.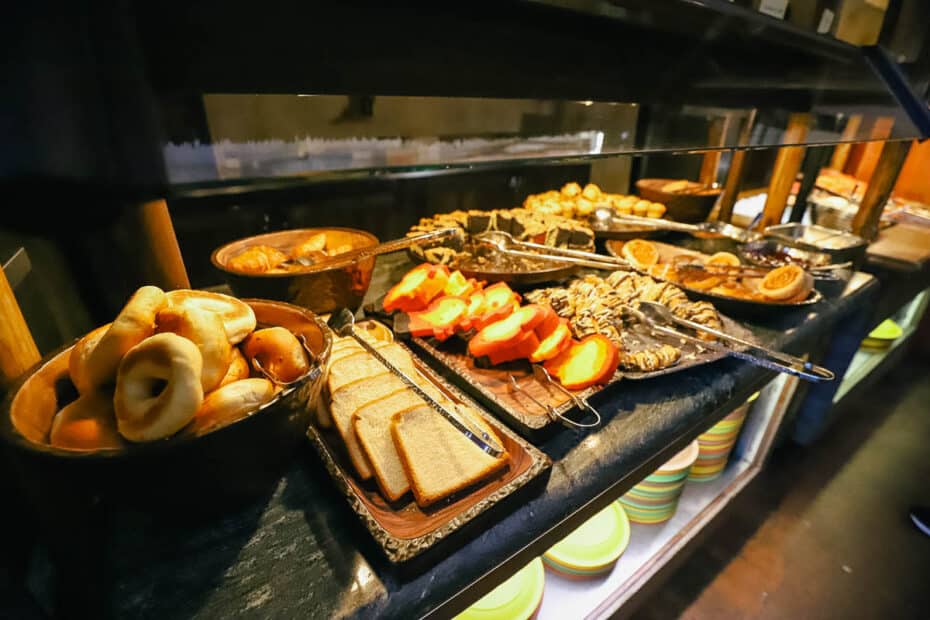 I thought this sliced Safari bread that looked like an African sunset was interesting. We tried a piece only to find out it was plain bread.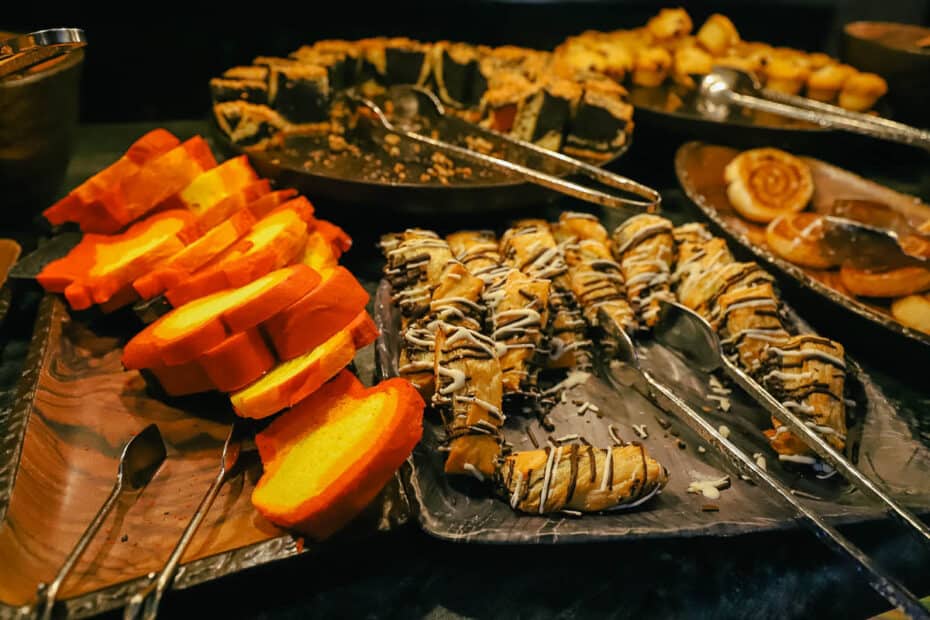 Here is the zebra coffee cake, which is one of the restaurant's signature items. If you're wondering how it tastes, it tastes like coffee cake. While it was delicious, there wasn't anything that made it stand out over other coffee cakes.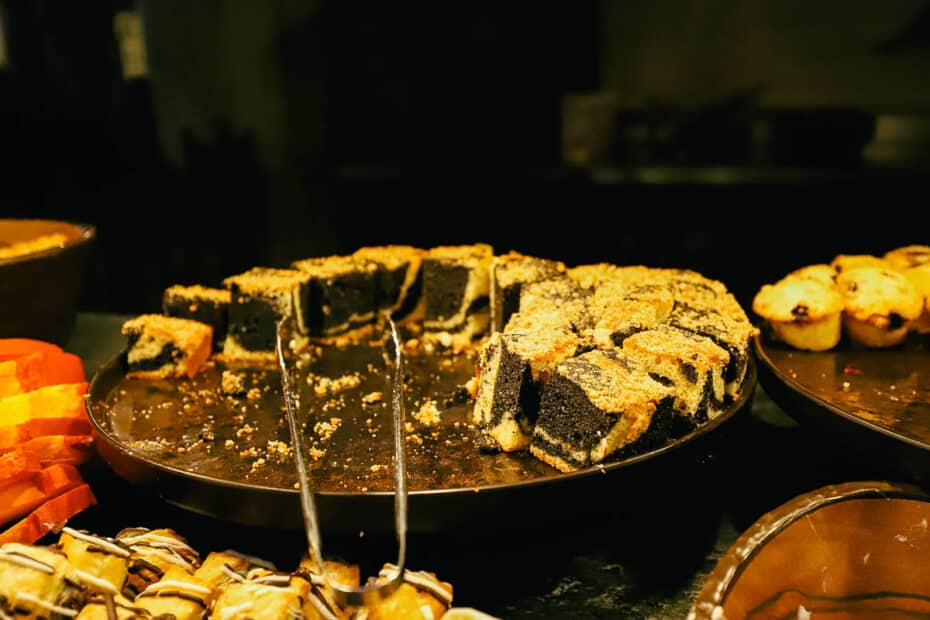 Other bread items included multigrain croissants, blueberry muffins, and cinnamon rolls.
There was a toaster nearby to heat some of the items. Additionally, strawberry preserves, chocolate-hazelnut spread, and whipped butter were available.
Past the bread and pastries, we see a spread of smoked salmon. One was plain smoked salmon, and the other option was house-seasoned beet and orange smoked salmon.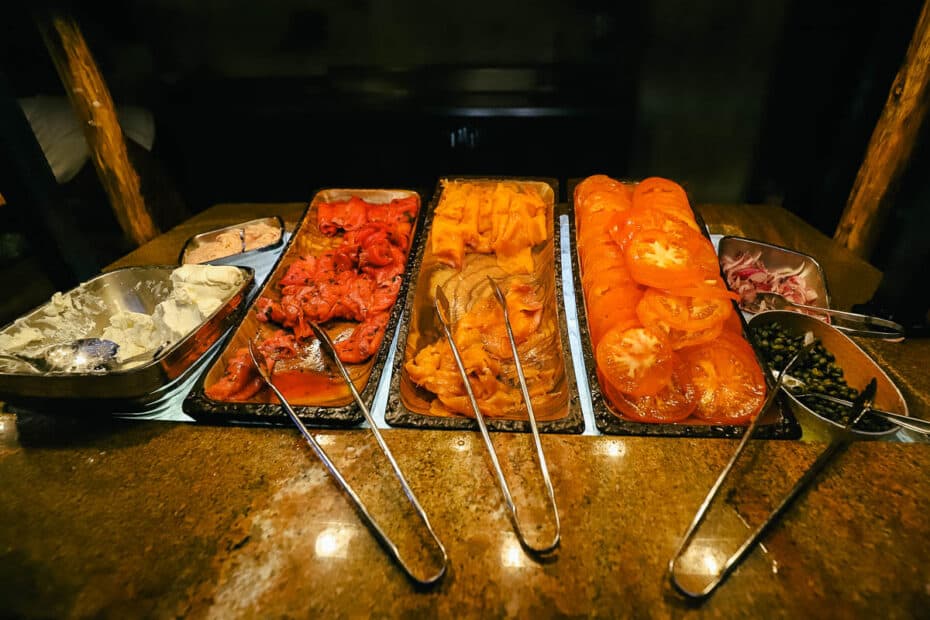 You'll want to try both if you love smoked salmon as much as I do.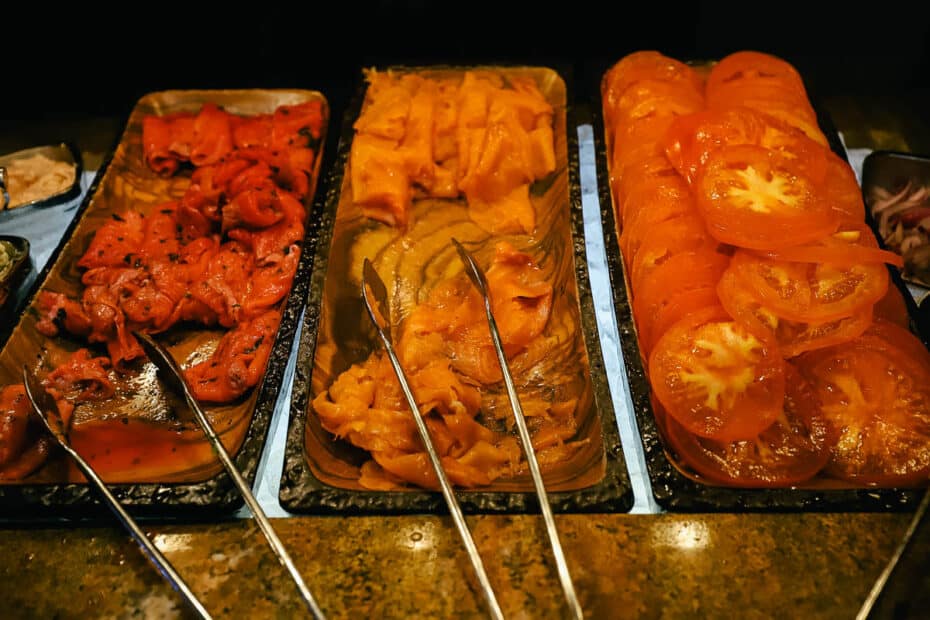 Moving on down the buffet, we have mass-produced hard-boiled eggs and overnight oats.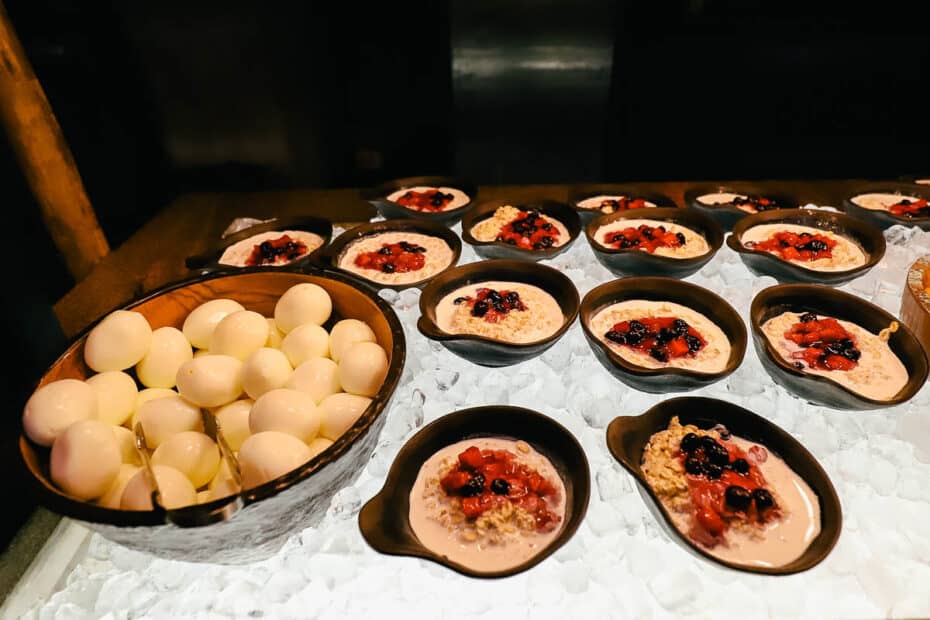 These looked good, and I just realized that we didn't try them.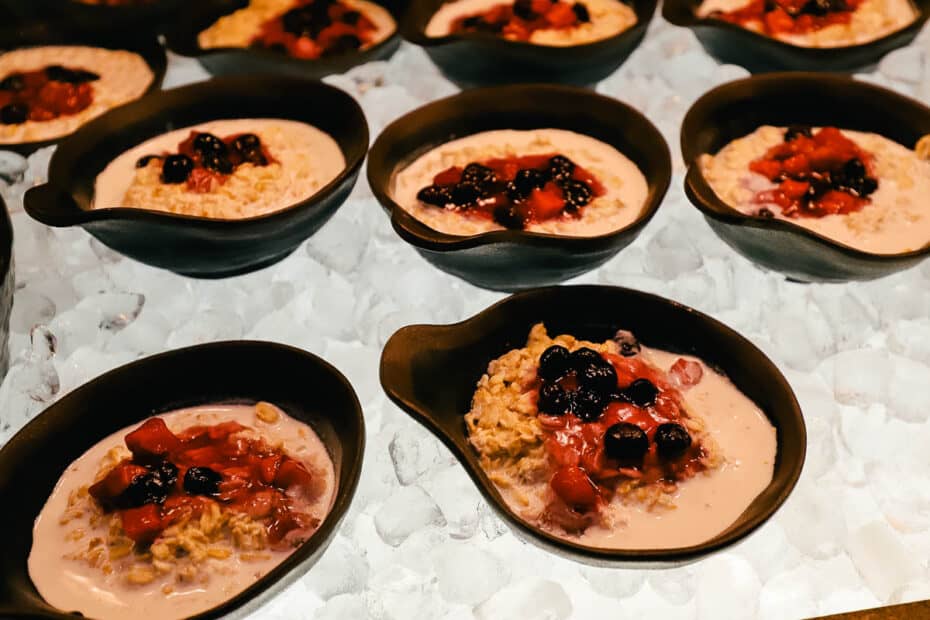 Additionally, there was a fruit salad with ginger syrup, honey yogurt sauce, and various toppings like housemade granola and berry compote.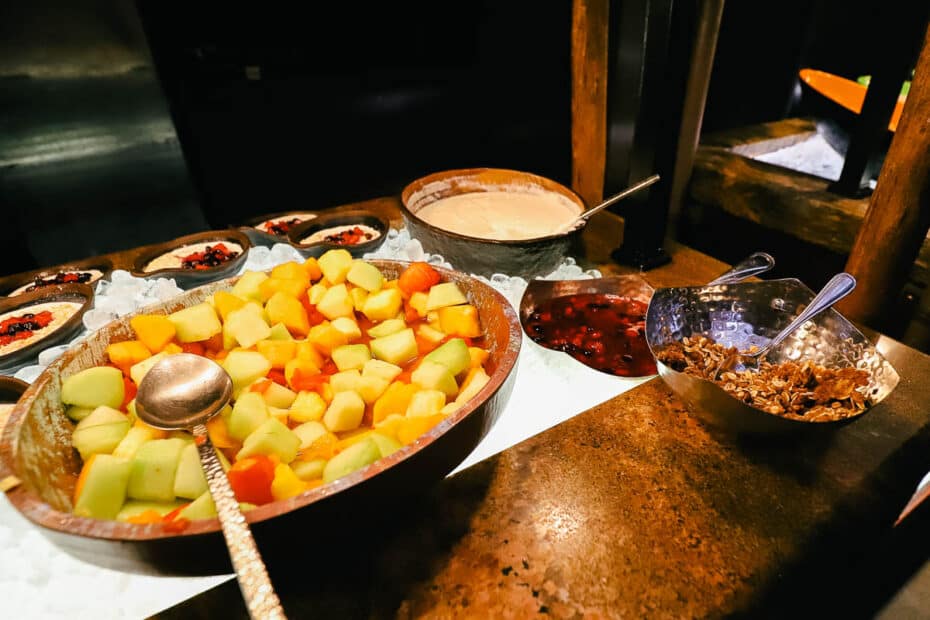 Here we have several African-inspired salads from left to right:
Carrot and Chick Pea Salad
Watermelon Feta Salad
Black Eye Pea Salad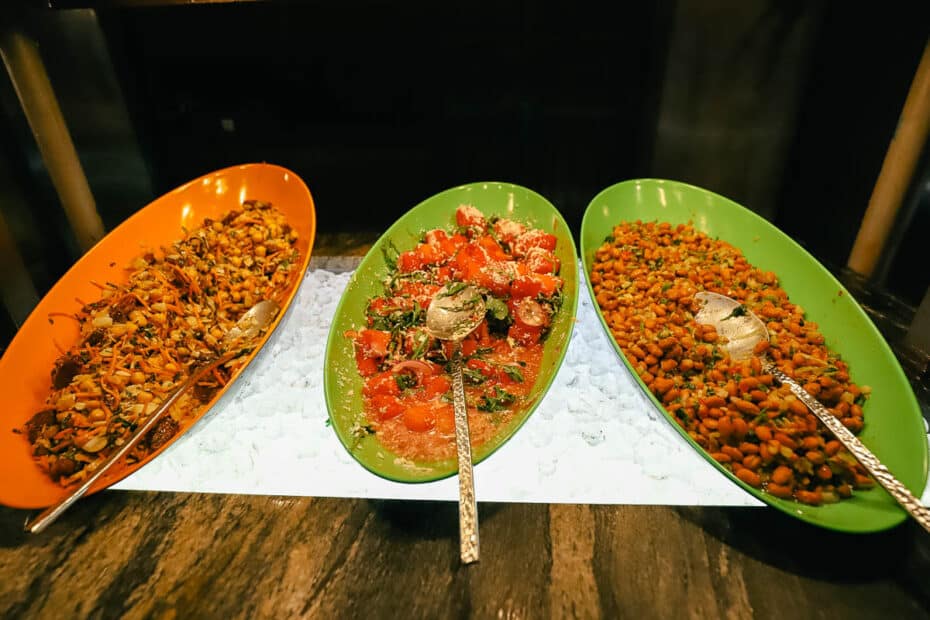 Two of the salads had labels with green leaf symbols indicating that those items were made without animal meat, dairy, eggs, and honey. For reference, a label sits above each item on the buffet to help identify it.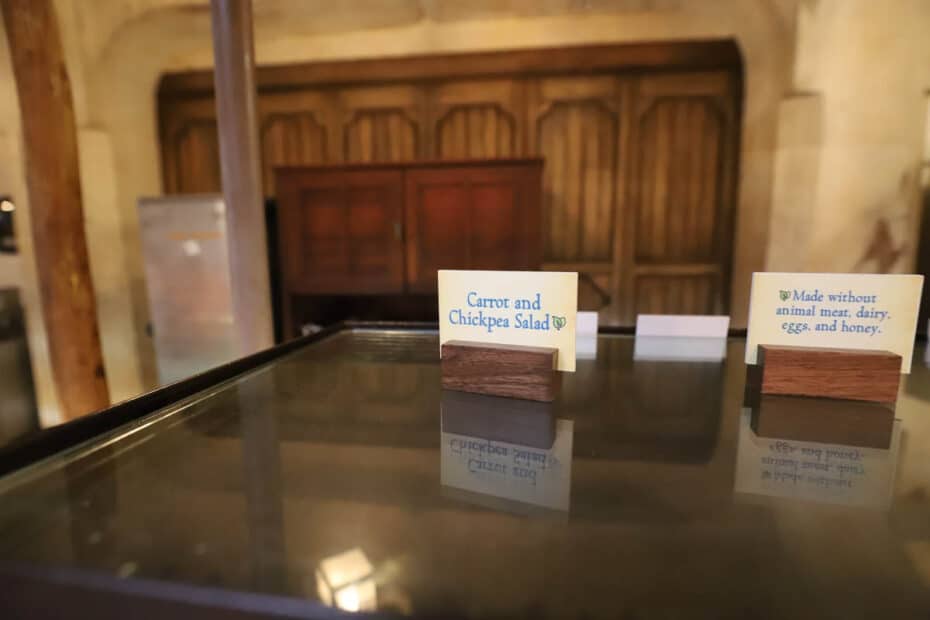 This next station sits lower to the ground because it's designed for children.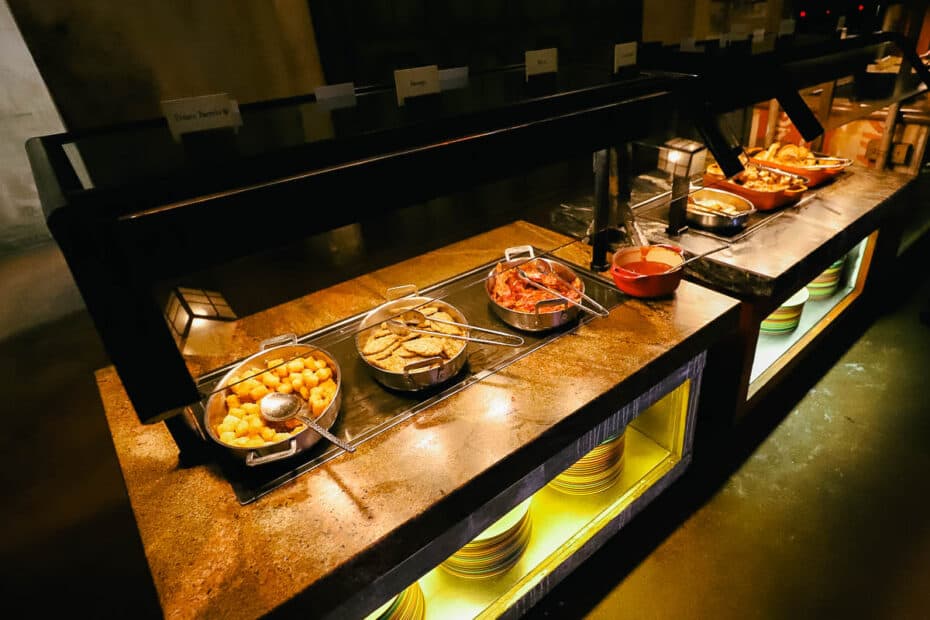 Of course, anyone can grab a bite from the children's area and vice versa. Below we see potato tots, sausage, and bacon.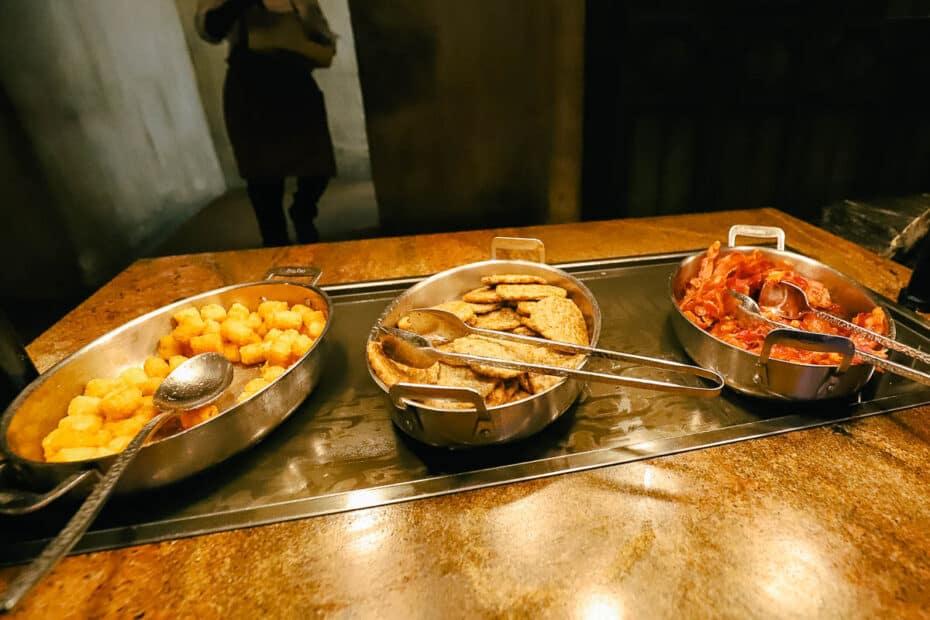 Next, there are pancakes, Mickey waffles, and Simba waffles.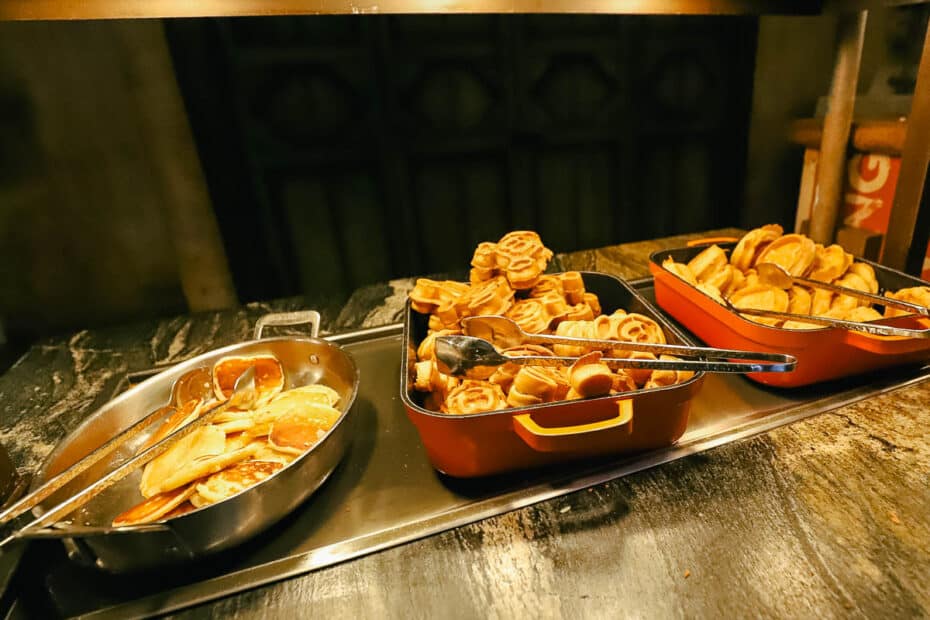 Another signature item is the Cape Malay chicken curry with Jasmine rice. While this isn't something I would necessarily consider breakfast food, it was yummy.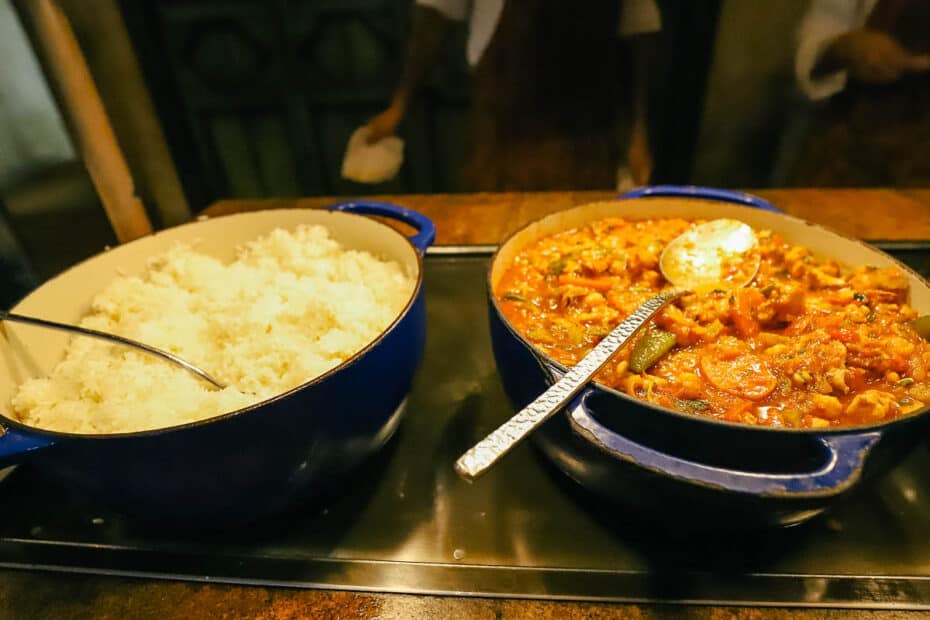 Next to the curry, we have the Malva bread pudding. If you're trying to limit your sweets, you'll want to save room for this tasty dish.
However, it pales in comparison to the outstanding bread pudding at Boma. Perhaps, that's because Tusker House's version didn't have a vanilla sauce on the side.
Related: Boma, Flavors of Africa Breakfast Review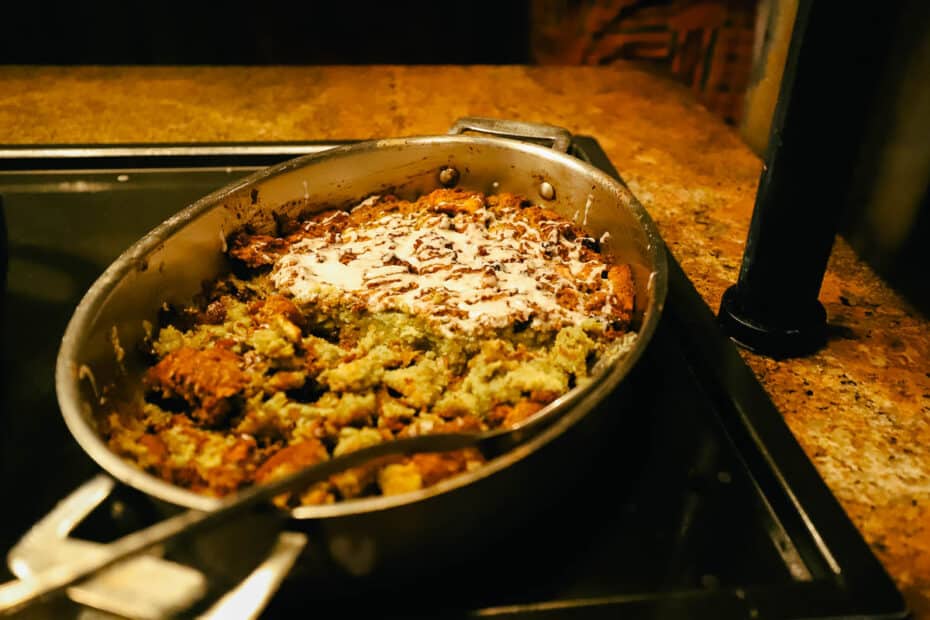 We still have a little way to go.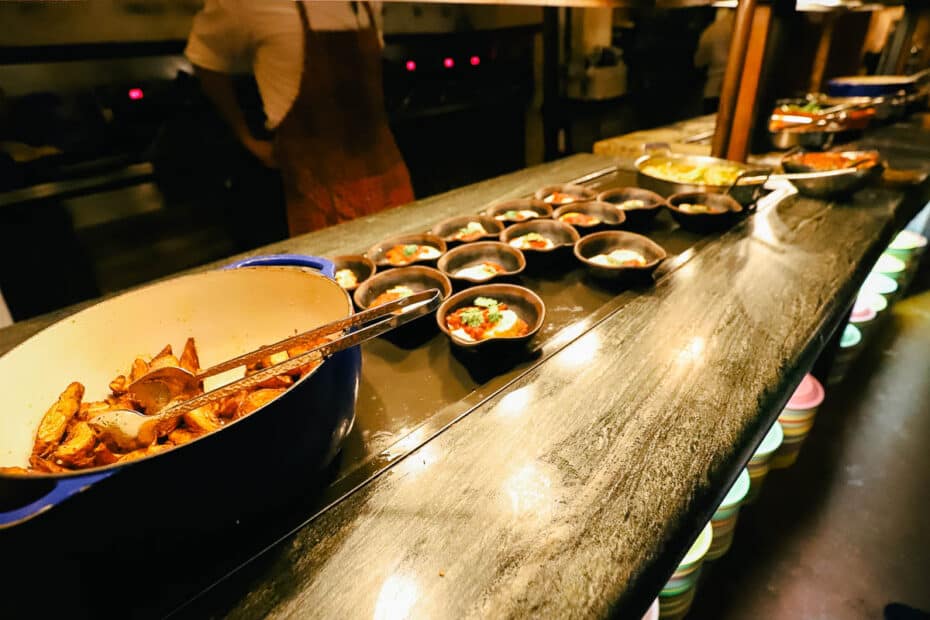 Here we have roasted potatoes.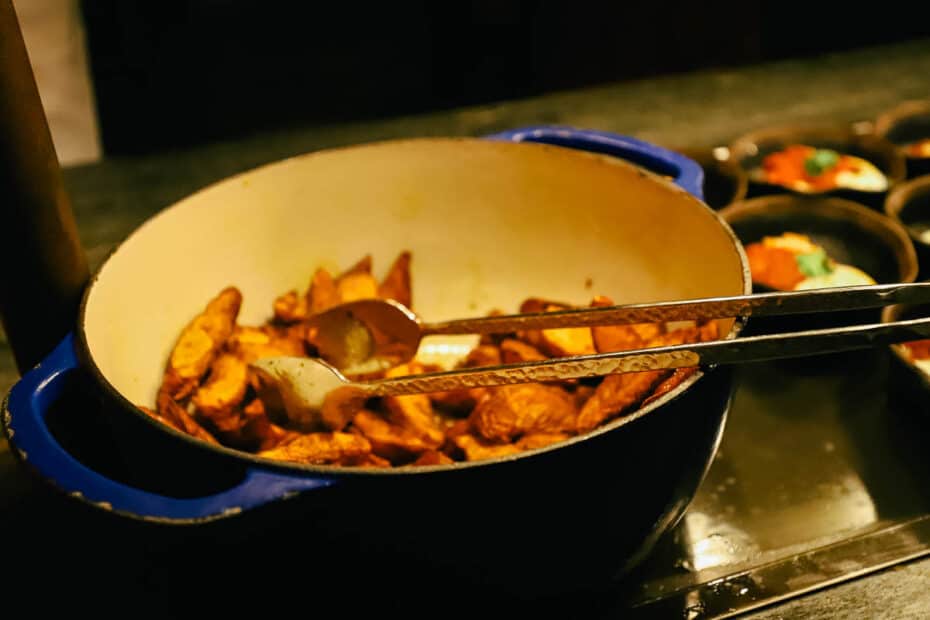 Unfortunately, I didn't get the name, but this is some sort of over-easy egg with toast. Maybe it's an egg curry?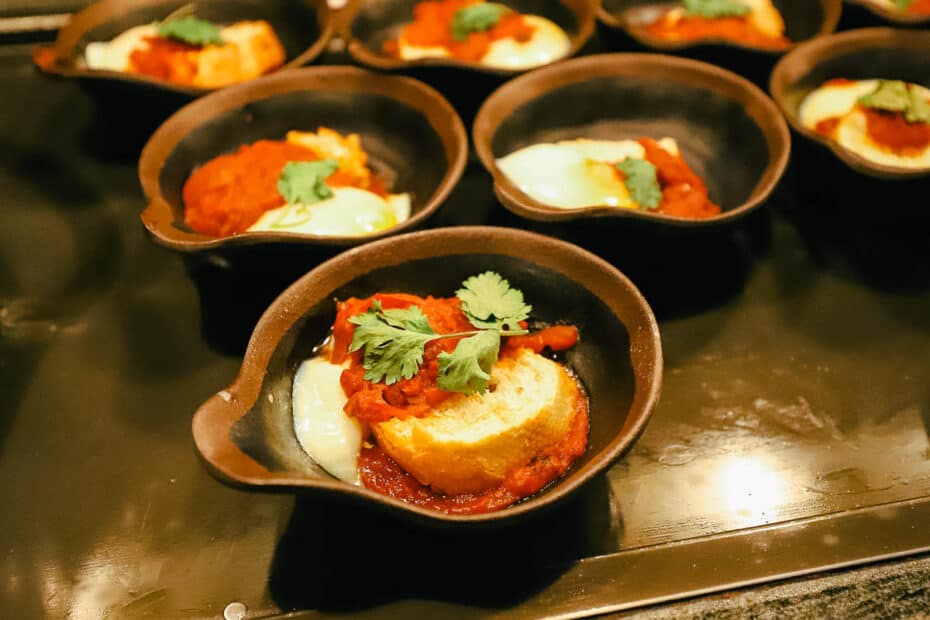 Below we have a vegetable frittata with pico de gallo.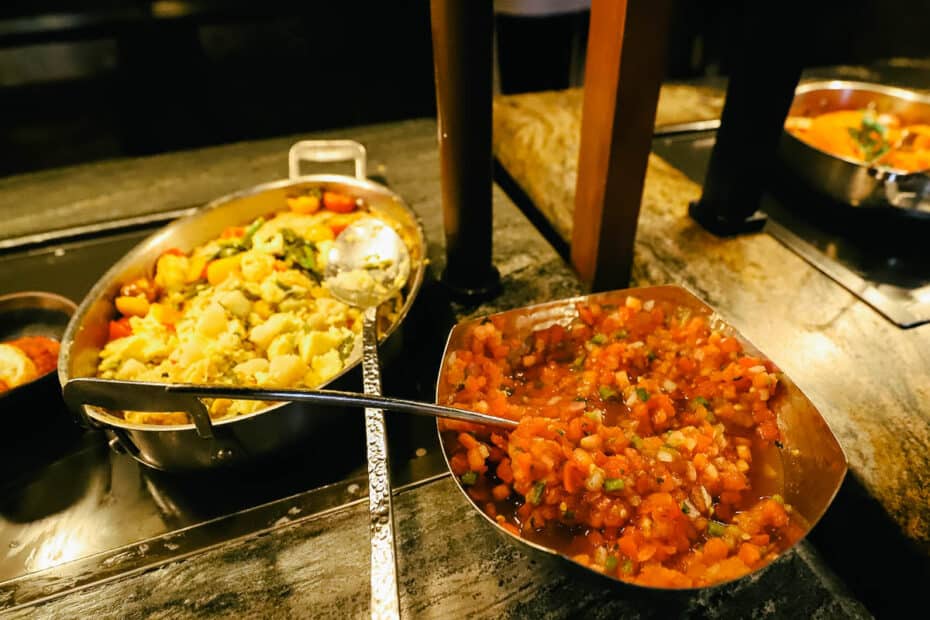 More African-inspired menu items from left to right:
Tandoori-spiced Roasted Tomatoes
Feisty Green Beans
Impossible Bobotie with Chakala
The Feisty green beans were spicy but wonderfully seasoned. We also enjoyed the plant-based version of the Bobotie dish. However, the turkey version at Boma reigns supreme.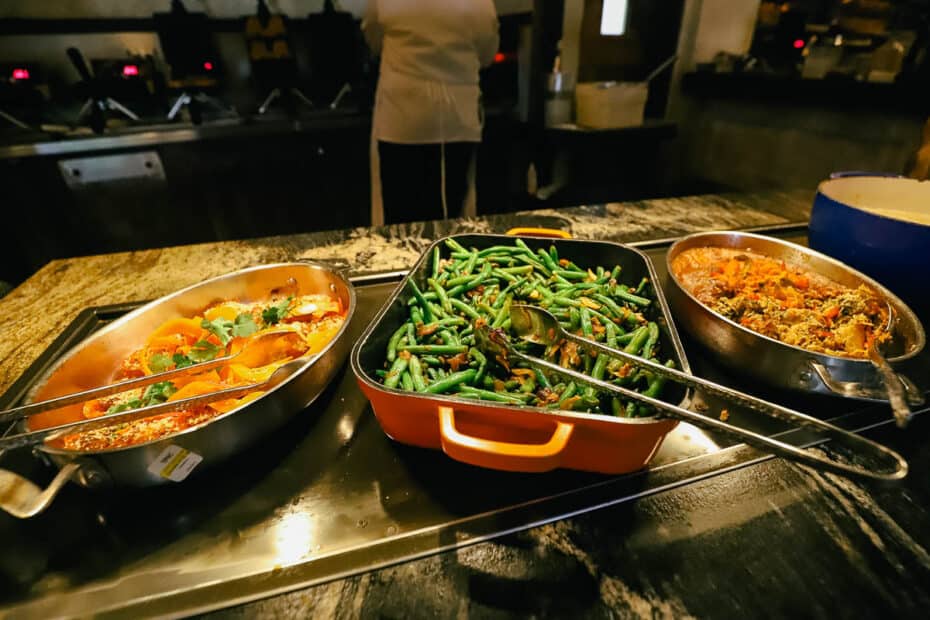 Those looking for more traditional breakfast items will appreciate the oatmeal with toppings.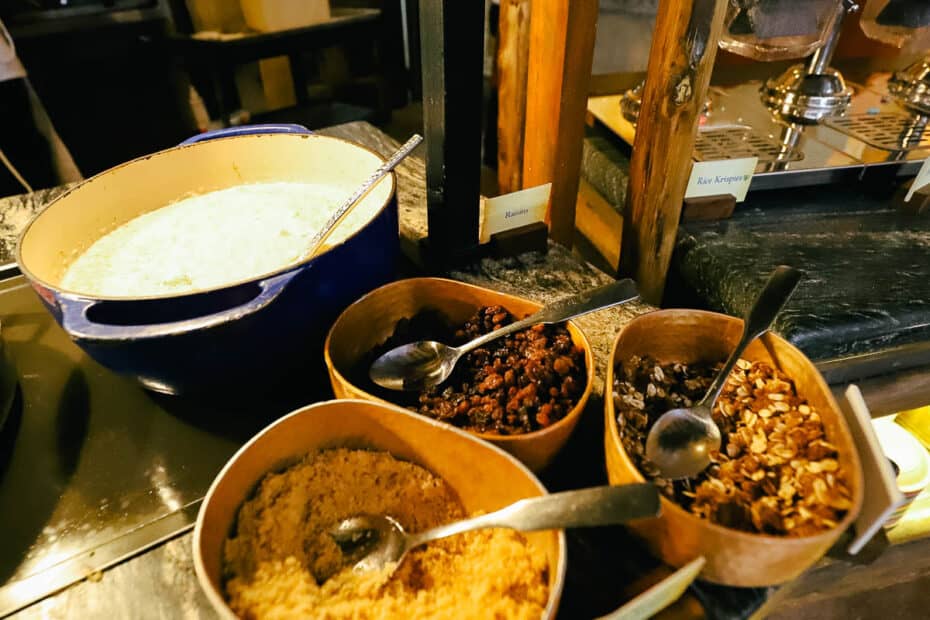 Before we get to the end of the buffet, we run into more Mickey Waffles. You can never have enough Mickey in your life.
Next to the waffles, we see a large dutch oven with Mealie Pap and Chakalaka. This dish is similar to grits. However, our version was much runnier.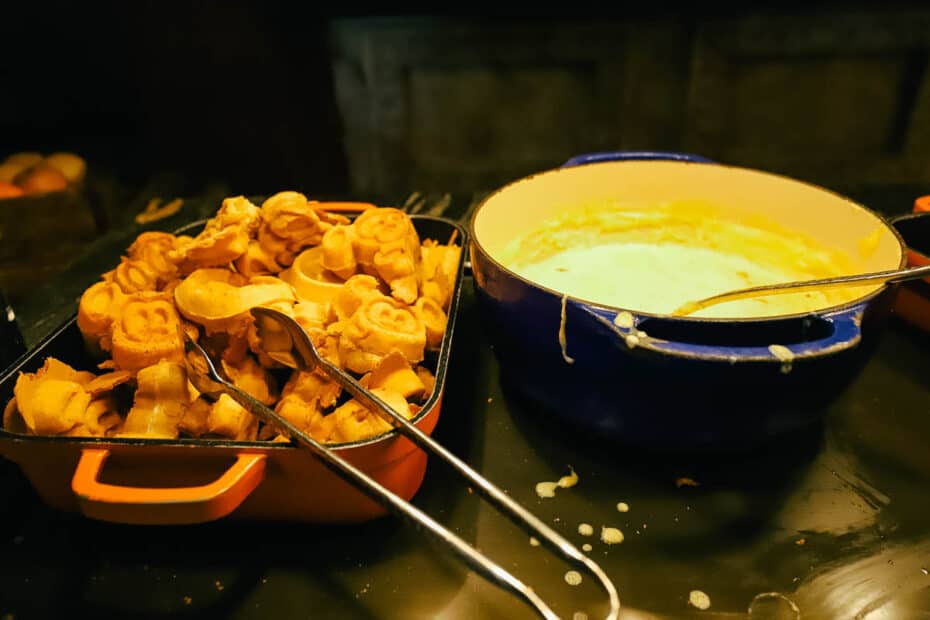 Back to the basics, we have bacon and scrambled eggs.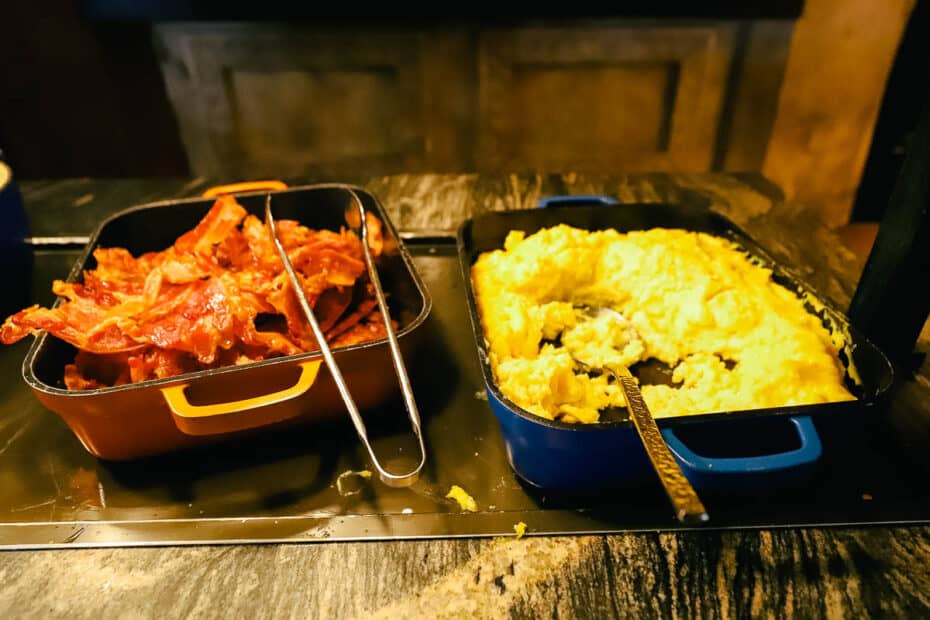 Here are a few more types of meat, including sausages and rotisserie ham.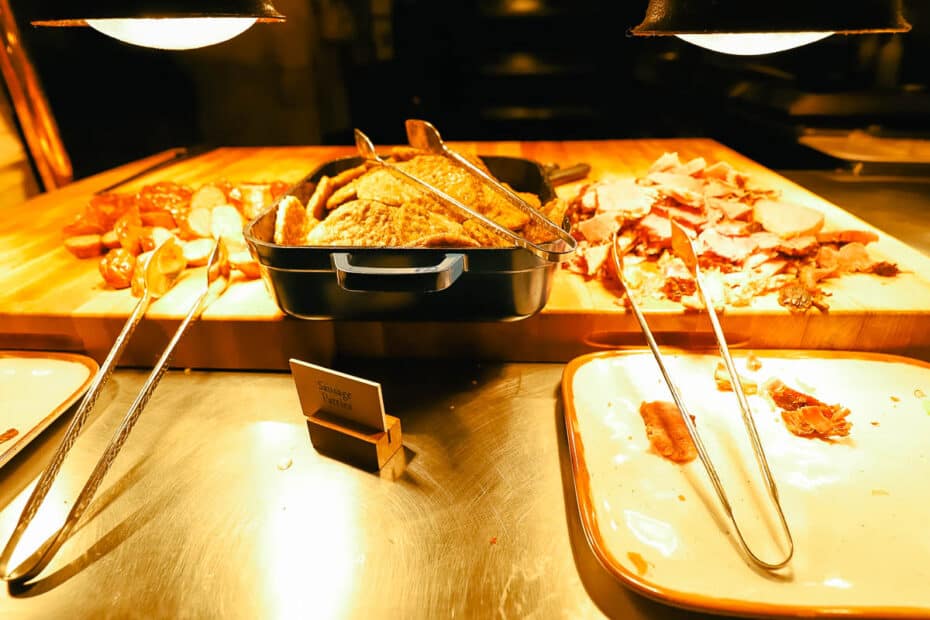 These Andouille sausages were a flavorful addition.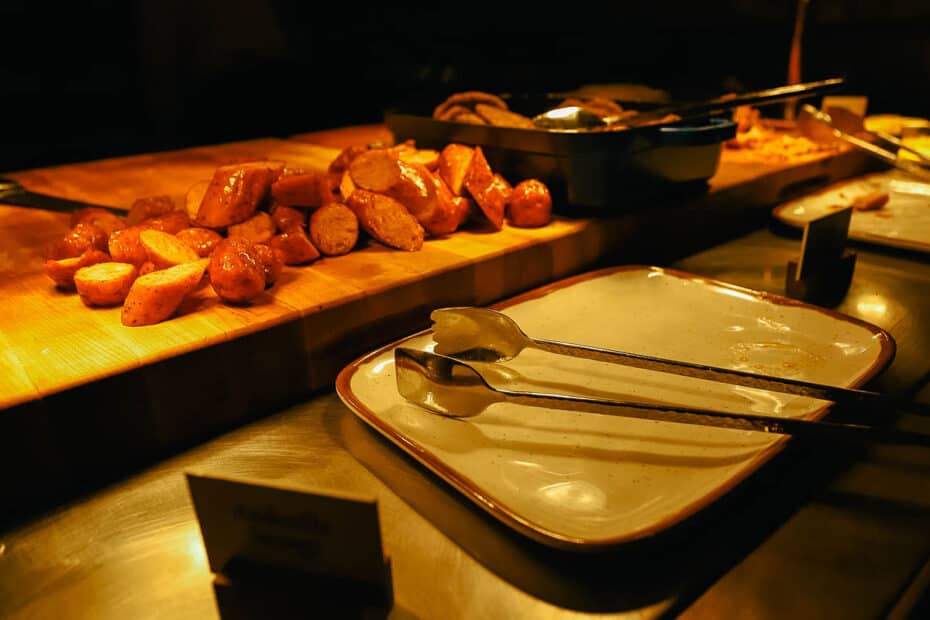 Don't miss this sweet and spicy mustard sauce.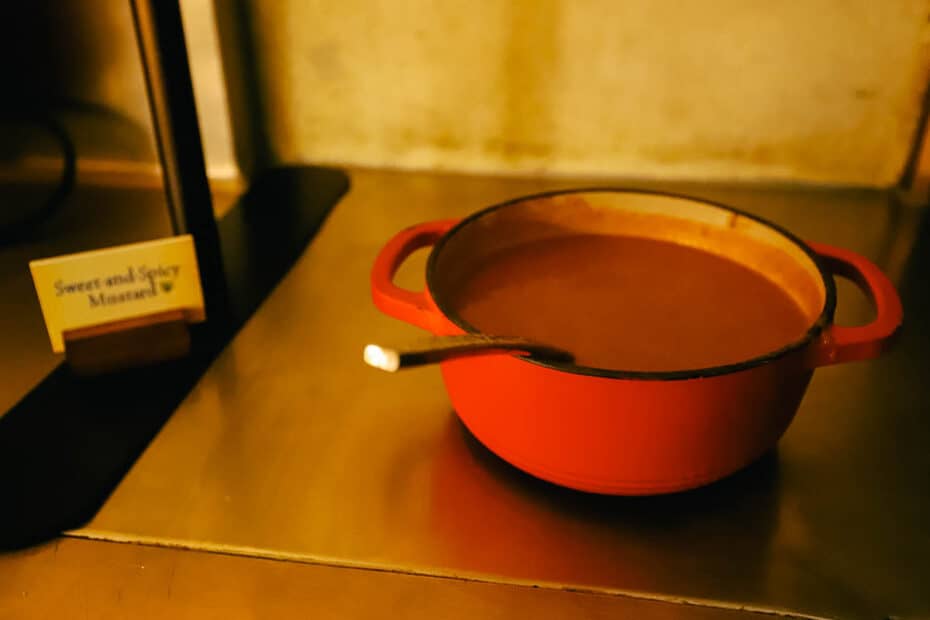 At the very end of the buffet, there were cheese omelets available. Additionally, there was the option for a build-your-own omelet. Fillings include ham, bacon, spinach, cheddar, tomato, and onion.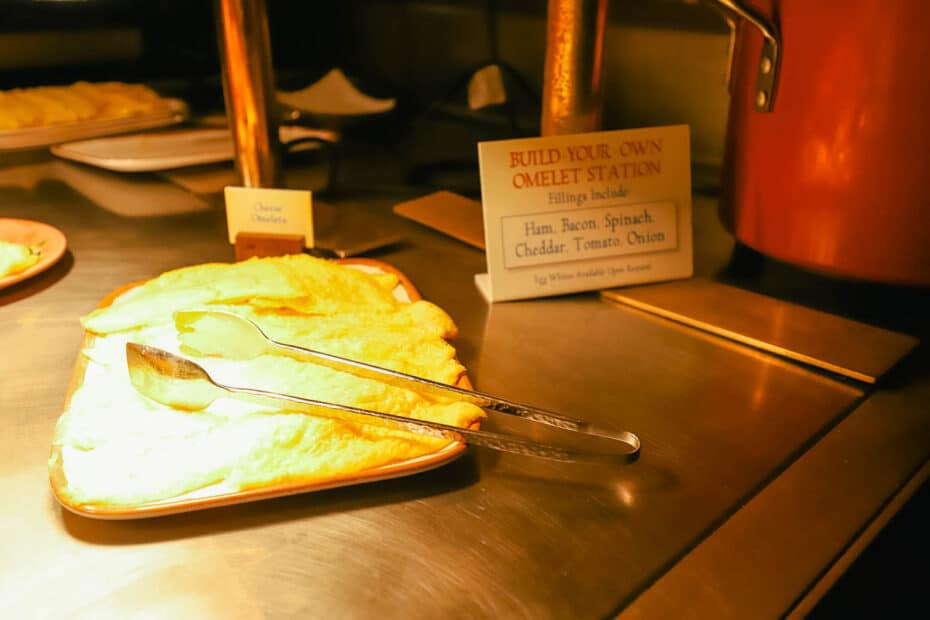 Children or picky eaters might opt for a bowl of cereal.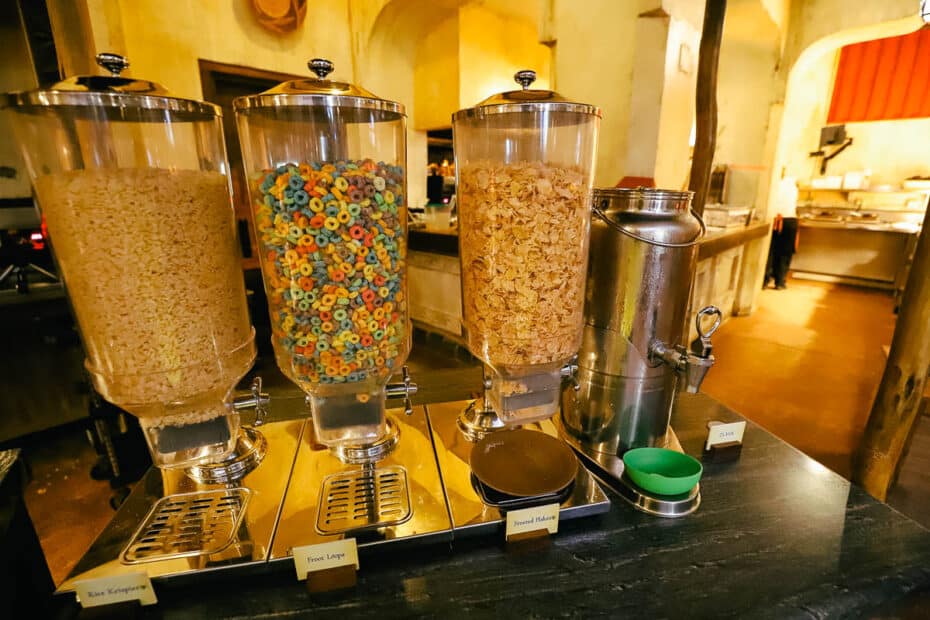 Also, there's a dispenser with syrup for the pancakes and waffles.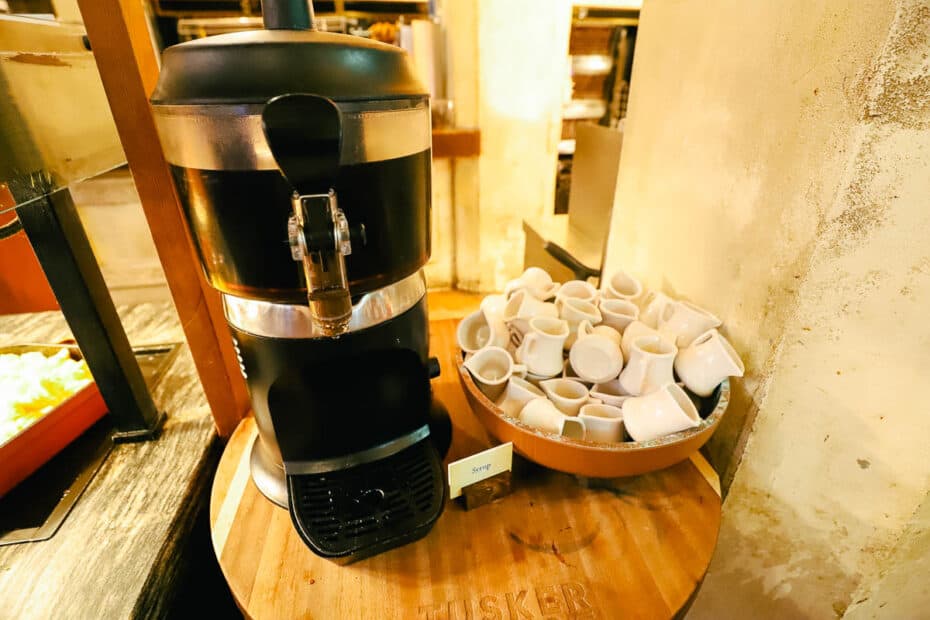 Lastly, there was a large fruit stand with oranges, grapes, bananas, and apples.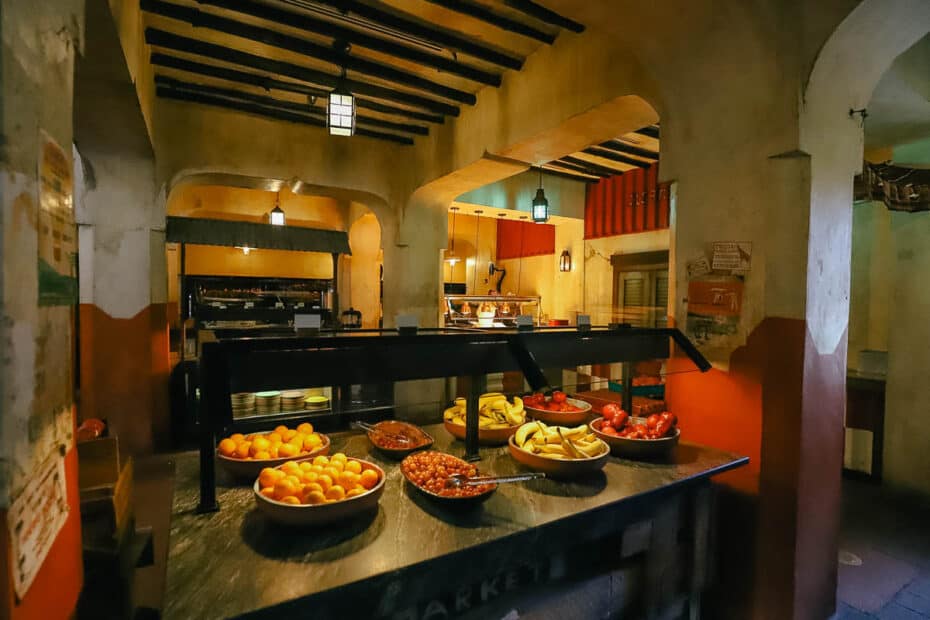 As far as the Tusker House breakfast menu goes, we were impressed with the number of items on the buffet. For a character dining experience, this was the largest amount of offerings we've seen in one setting.
Related: Best Disney Character Dining Restaurants
Characters at Tusker House Restaurant
So when we initially visited the buffet, we missed both Donald and Daisy Duck. I was a little fearful because when we had breakfast at The Crystal Palace a few months ago, our server had told us if we missed a character, it would take over an hour for them to get back to us.
Since Tusker House and Crystal Palace are two of the largest character restaurants at Walt Disney World, I wouldn't have been surprised if it had taken that long. But thankfully, all of the characters came back through within about 45 minutes.
A few minutes after we paid our check, Daisy came through. She was the last character we were waiting to see. Additionally, we ended up seeing Goofy twice!
Four characters meet (in safari suits) at Donald's Safari Breakfast:
Donald Duck
Daisy Duck
Goofy
Mickey Mouse
Here is Daisy Duck. She is always one to strike a pose.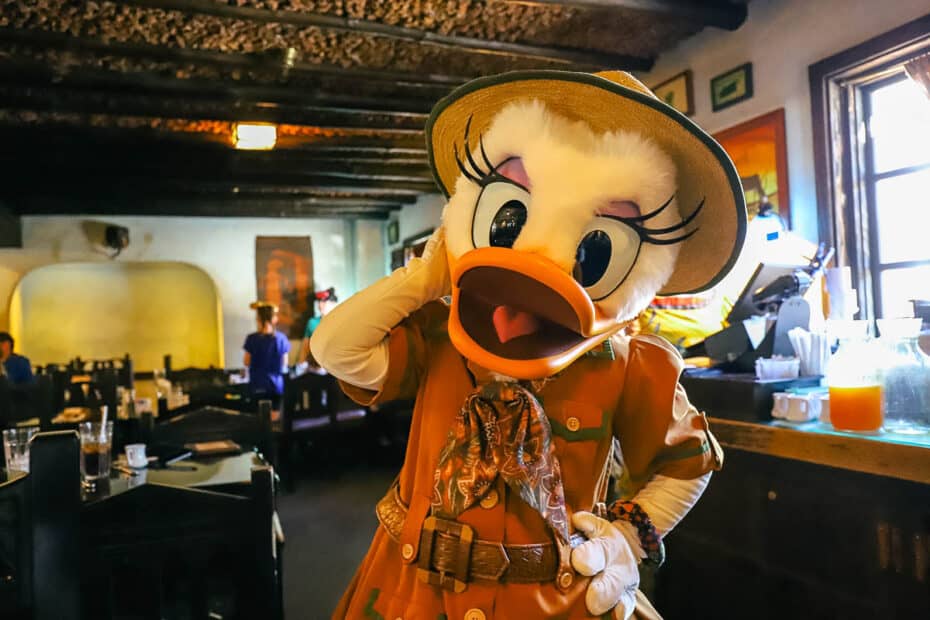 Mickey Mouse was looking as cute as ever with his safari gear.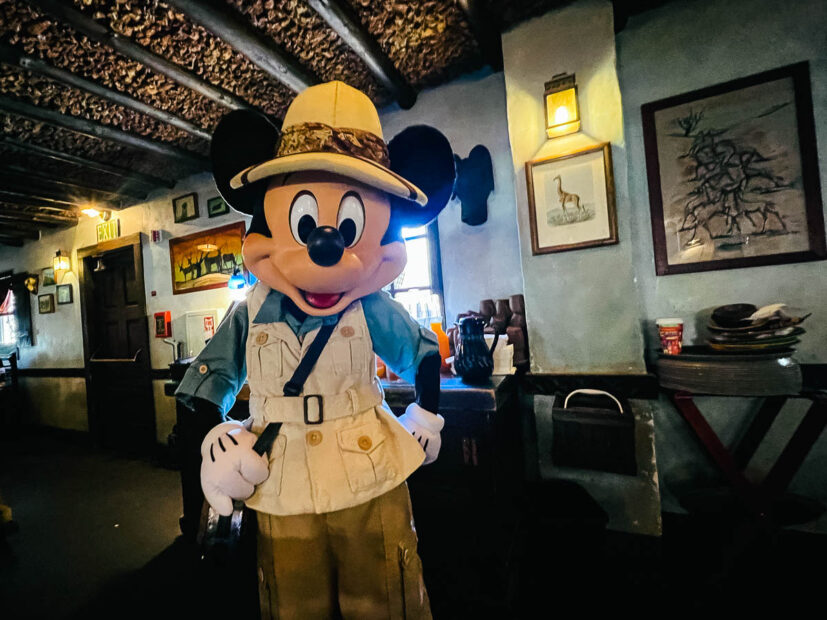 Goofy was excited to see everyone.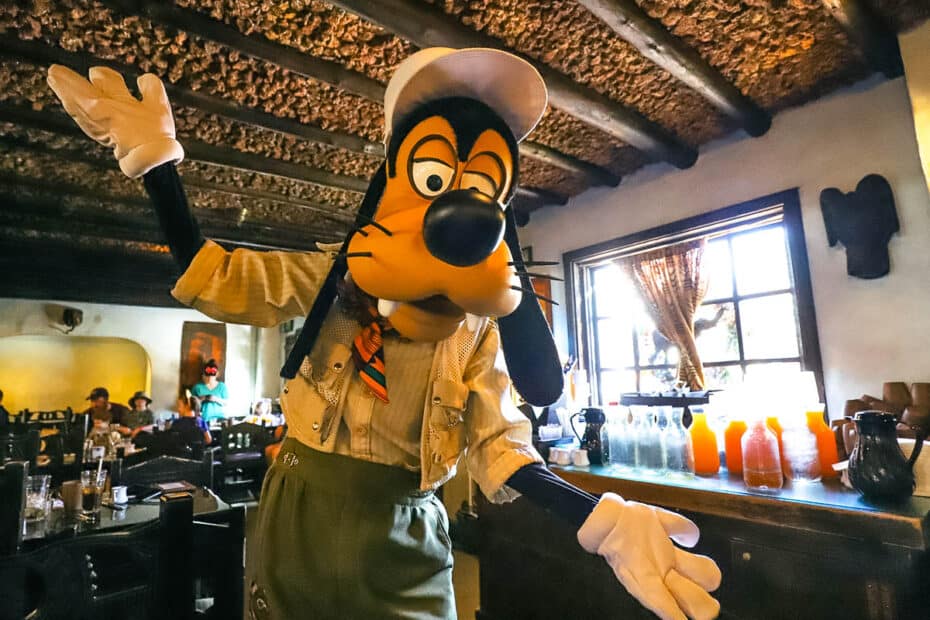 Lastly, we have our host, Donald Duck.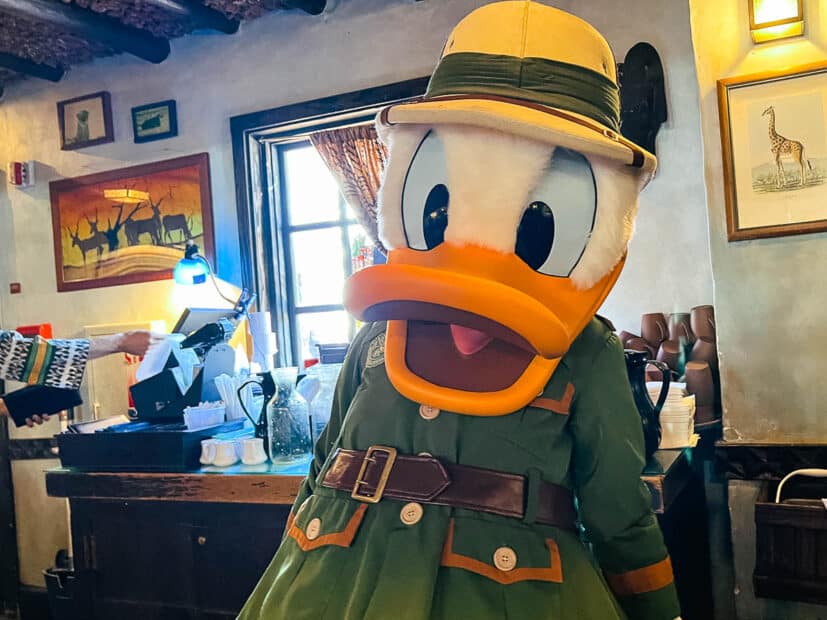 We were given an autograph card at the end of our meal.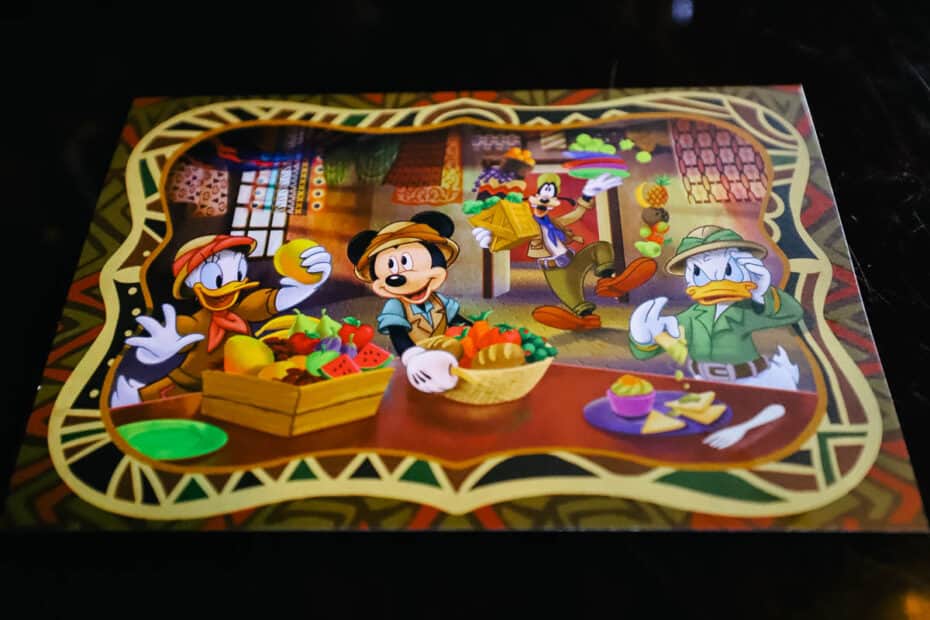 It had all of the character's autographs. However, if you bring an autograph book, characters sign autographs at the table.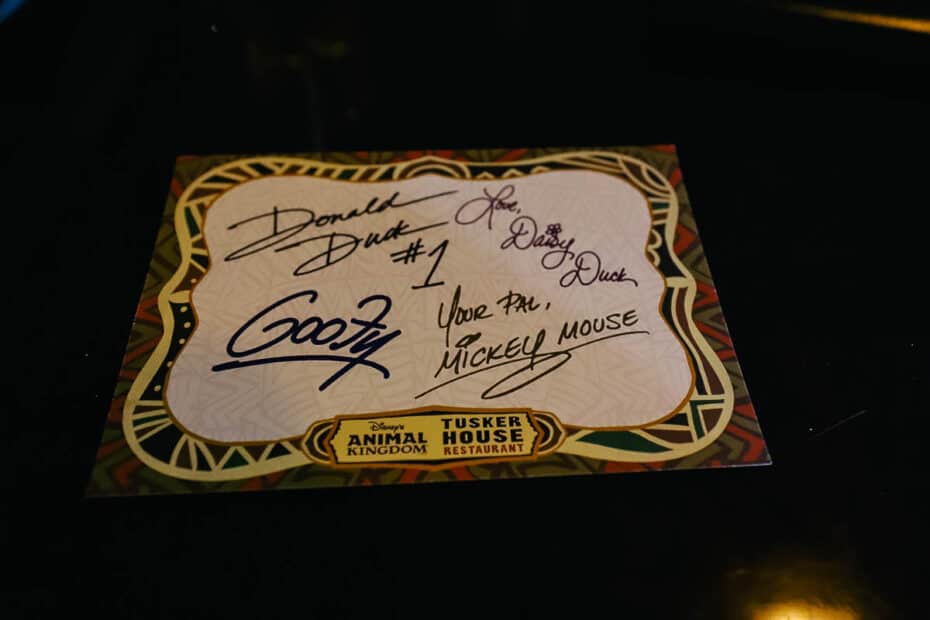 You'll want to have a camera or phone ready for photos. Additionally, autograph books should be turned to the page you want the character to sign with a pen handy.
Characters tend to pop up at the table before you know it. So be prepared.
One other thing! During our meal, there were two times when music came on over the audio system. At this point, the characters got together and danced around the room for a brief moment. After this, they take a break.
So if the characters are close to your table, they will return to the same area after their break. A character cast member will be in the area to ensure that each table gets a visit from all the characters.
Final Thoughts on Breakfast at Tusker House Restaurant
It's not too often that we visit a character meal that has good food and excellent character interaction. Take Chef Mickey, for example. Unfortunately, while the characters are great, the restaurant has a terrible reputation for offering mediocre food.
So dining at Tusker House for breakfast felt like a breath of fresh air. It was also an excellent way to start the morning at Disney's Animal Kingdom.
After our meal, we walked the Gorilla Falls Exploration Trail. Then we spent time leisurely touring the park.
So if you're not in a hurry to get to an attraction first thing in the morning, consider having breakfast at Tusker House. If attractions are a priority, you could always do a late breakfast, lunch, or dinner.
Whatever you decide, I hope you'll have the best time.
For more dining, you might enjoy our guide to the Best Character Breakfasts at Disney World. Or you might like these individual reviews:
You can also preview our entire list of Disney World Restaurant Reviews.
In the Comments
What are your thoughts on this review of breakfast at Tusker House Restaurant? Do you agree? Have you dined here before?