Boma Breakfast Review at Animal Kingdom Lodge
What is your favorite stop at Walt Disney World for breakfast, and why isn't it Boma? As far as buffets go, this one is exceptional. In this Boma breakfast review, we'll take a look at two different visits to the popular African-themed restaurant.
If you have visited Boma for breakfast before then, you already know what I mean when I say the buffet is exceptional. And not being a huge fan of buffets, in general, that is a large statement coming from me. But there are a few (75 to be exact) reasons I love Boma. Let me explain.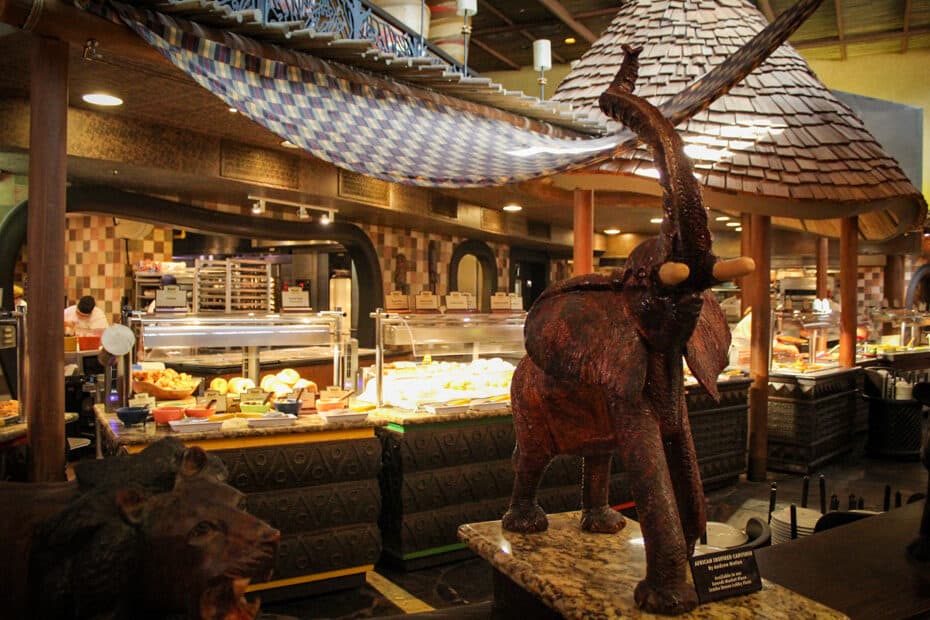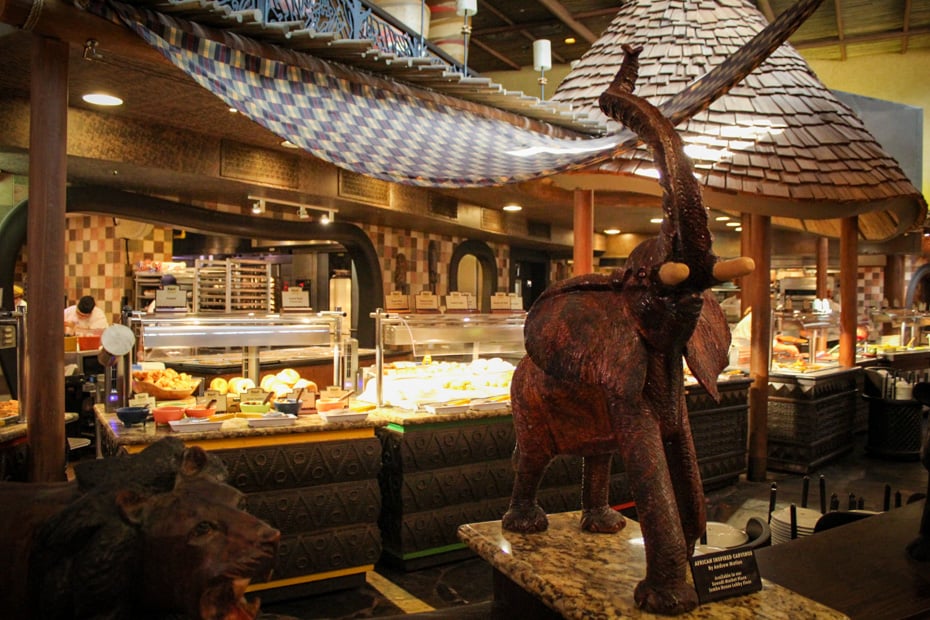 First of all, the breakfast buffet at Boma boasts around 75 items. There are a variety of items that are gluten-free and accommodate food allergies. If you have cross-contamination issues, a chef will come out and take your order personally and prepare it separately.
The buffet offers a large variety of meats, bread, vegetables, salads (for breakfast!), traditional breakfast items, specialty items, and more! If you stick around until the end, I've added a list of all the items available on the breakfast buffet from the Boma menu.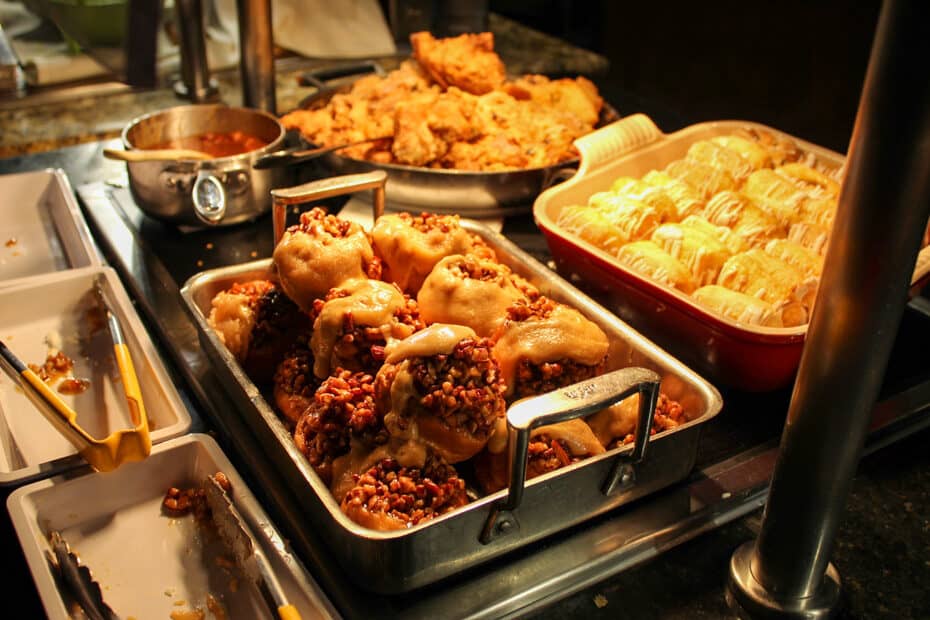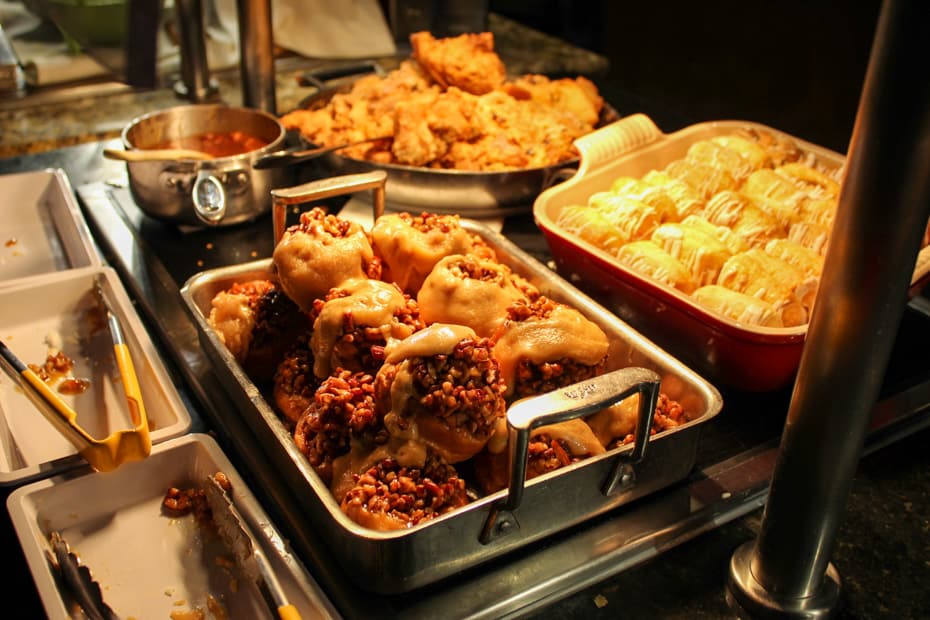 Boma Breakfast Review
Boma is located at Disney's Animal Kingdom Lodge. The resort is made up of two sections. The first section is Jambo House, the resort's main lodge, and where Boma is located. The second is Kidani Village, the resort's vacation club section. I have a full review here of the staying at the Lodge.
I am mentioning this because if you take a bus or drive over to Boma for breakfast, you need to know there are two buildings. Jambo House is where you'll want to either park or get off at the bus stop. Disney's buses will deliver to both resorts. The bus driver will play an announcement before arriving at each stop so guests can prepare to disembark.
After entering the lodge, you will head toward the right middle of the lobby area. There are elevators to your right and then this large staircase. You can take either down to the lower level.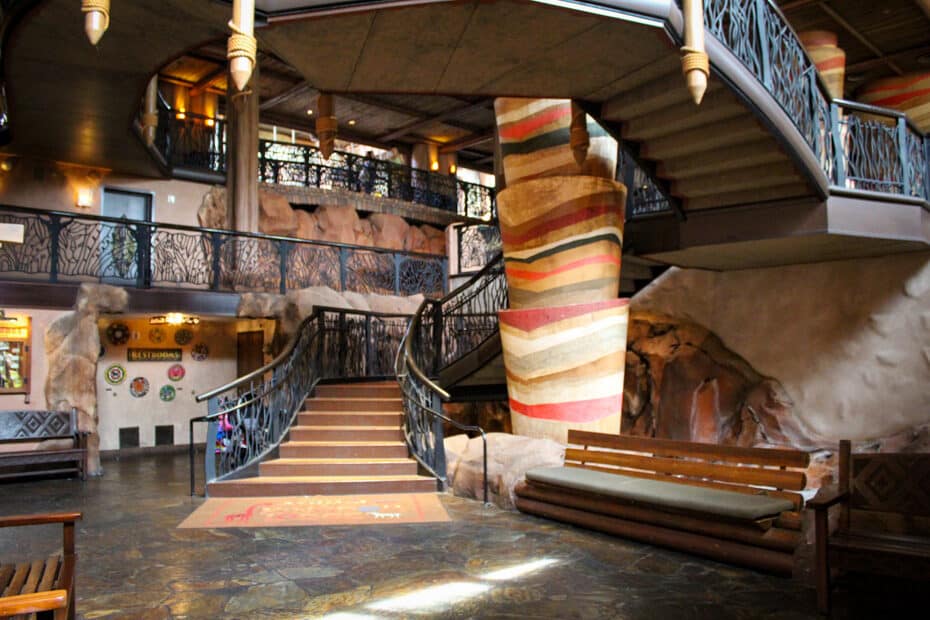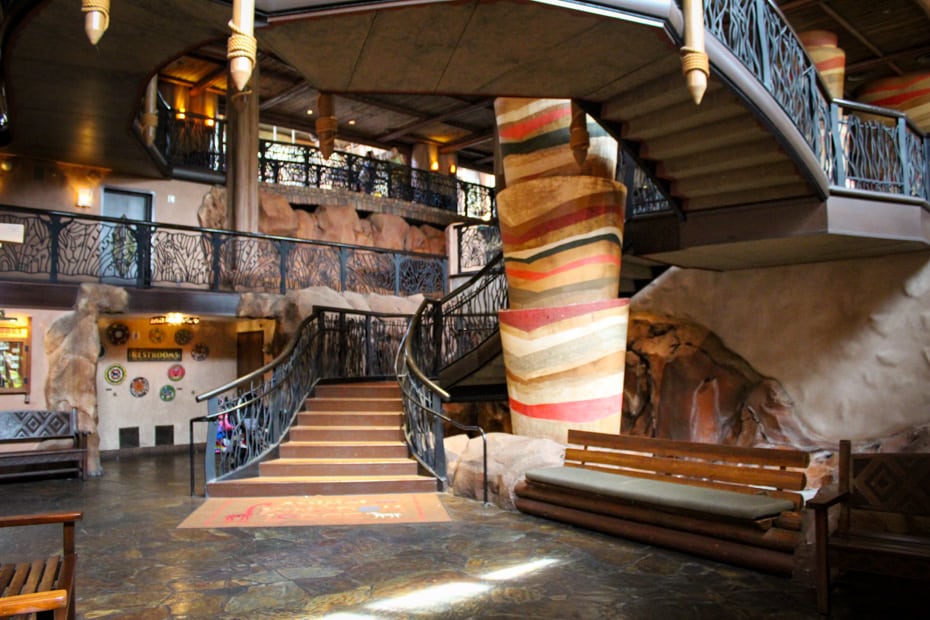 Boma is actually located where I'm standing taking the picture. Once you get down on the lower level, you can't miss it. This is also the area where you'll find the resort's signature dining restaurant location. (Check out every Disney Hotel Restaurant here.)
I have a full review of Jiko if you are considering a meal there. It's one of my top five signature dining choices at Disney.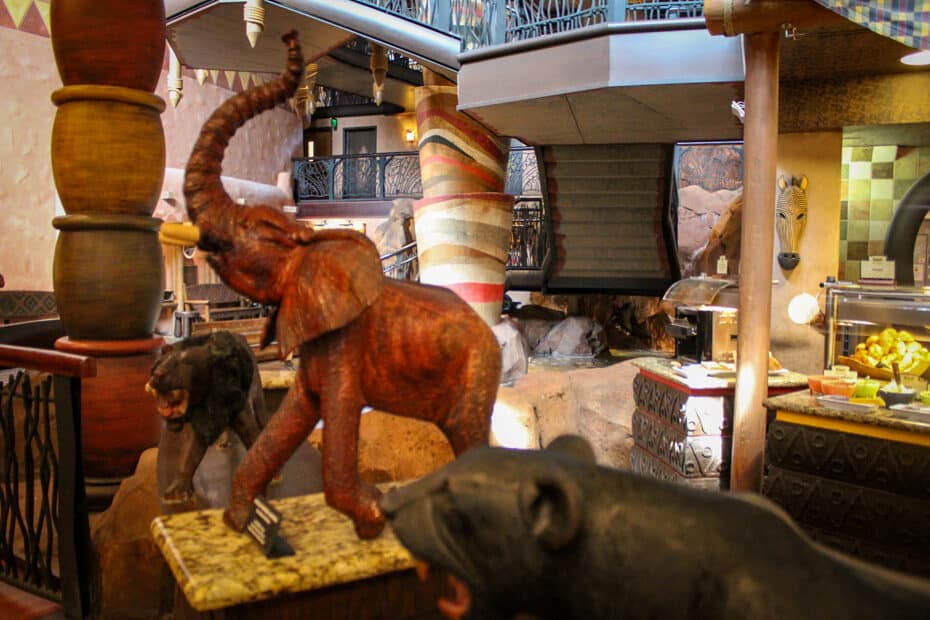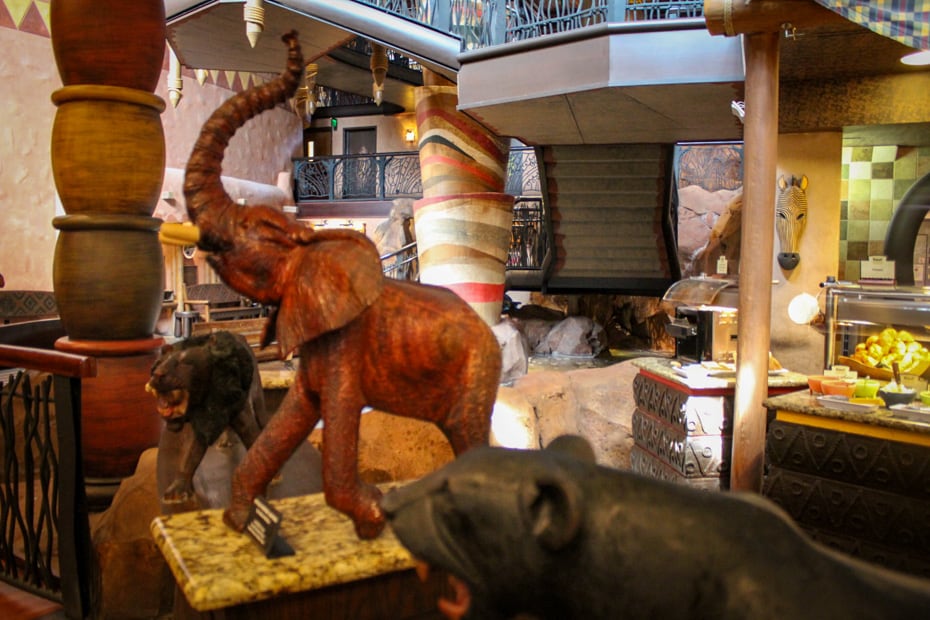 As for Boma, it is one of my top choices for breakfast at Disney. I find the value for the buffet much better here than some of the popular character dining locations that serve breakfast. For instance, our food at the 'Ohana character breakfast and the Akershus princess breakfast wasn't that great. While Boma doesn't offer characters, the food offerings more than make up for it.
Additionally, Boma offers a great atmosphere and place to have a more casual, laid back breakfast. Also, they do not serve lunch so there is no rush to leave or get last-minute items off the buffet if you have a late morning reservation.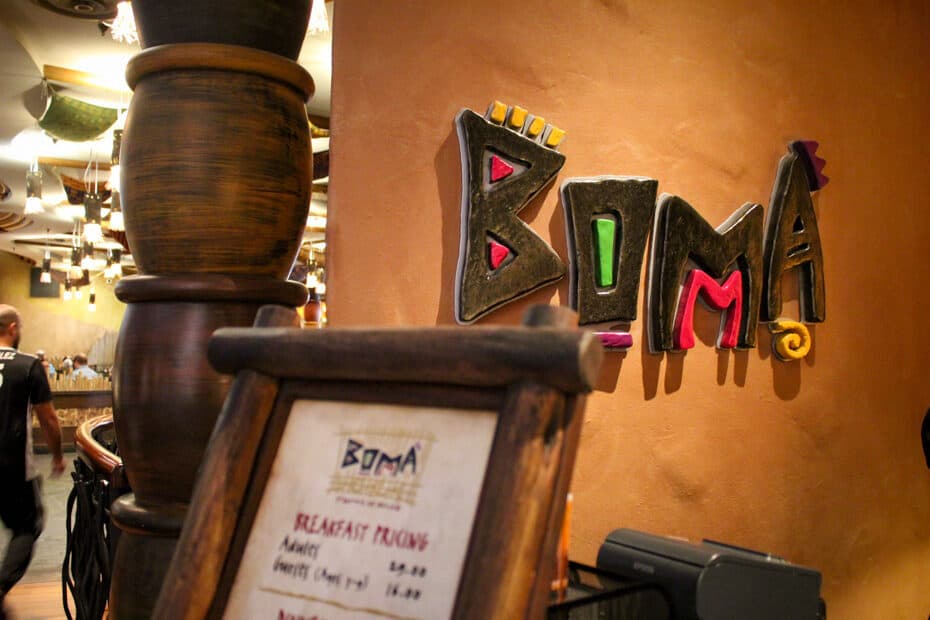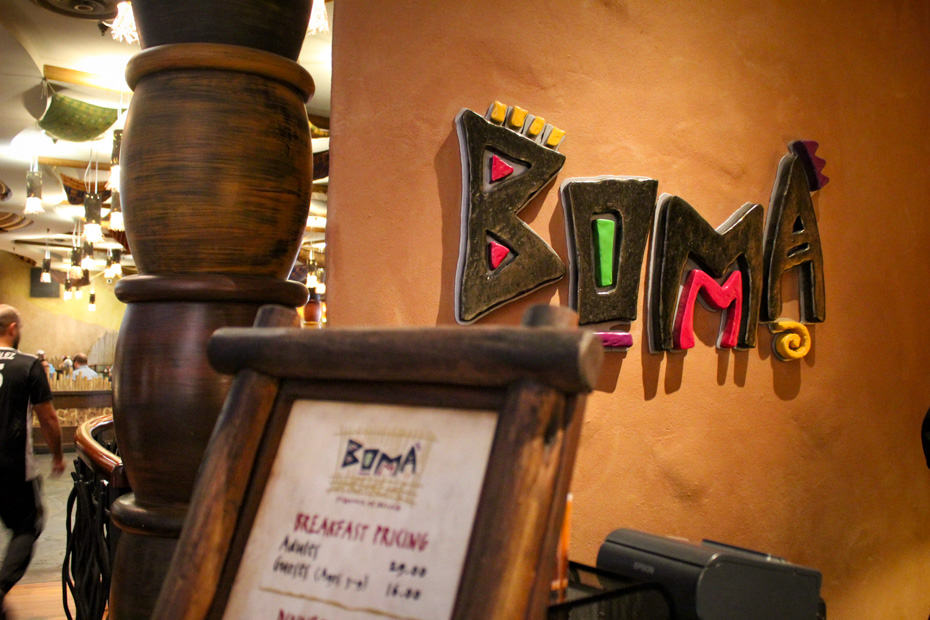 I mention this because we were told to fill up an extra plate of anything we wanted not long after arriving at The Wave for breakfast. This was when we had a 10:30 a.m. breakfast, and they were preparing for a special holiday buffet offering. I'm not sure how often this happens, but no one wants to feel rushed during a meal.
The Breakfast Buffet at Boma
With the breakfast buffet at Boma being so substantial in size, I have decided to break this review down into stations. Therefore, each section below represents a station that is offered on the buffet. I've also included pictures of the menu items you can expect to find.
We will start with the bread section. The main selection of these fabulous carbohydrates (not diet-friendly, I'm sure) is actually at the end of the buffet line. But sometimes, it's fun to enjoy a little sugary before savory, so here we are.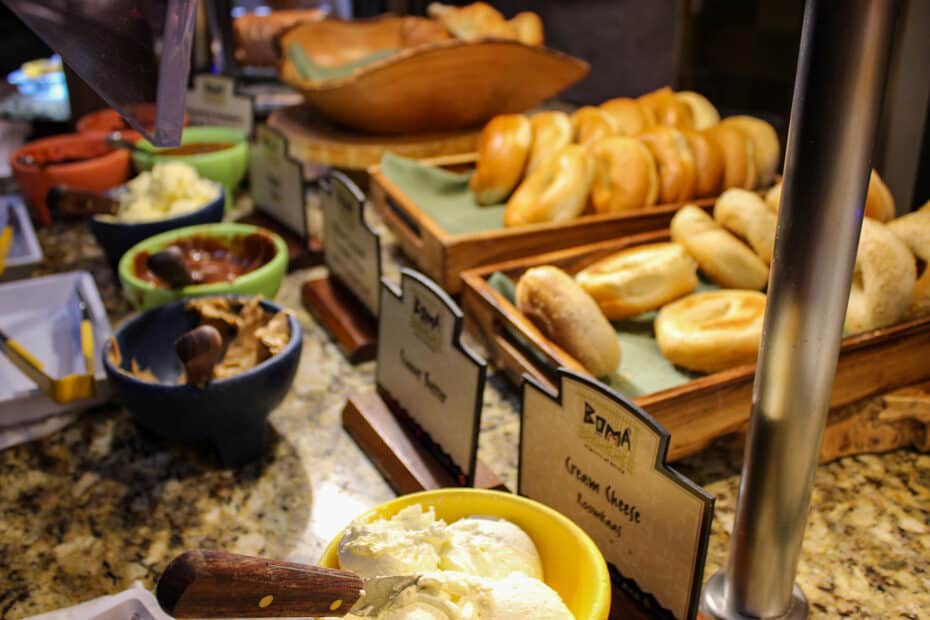 There are assorted bagels, wheat bread, white bread, croissants, and the likes.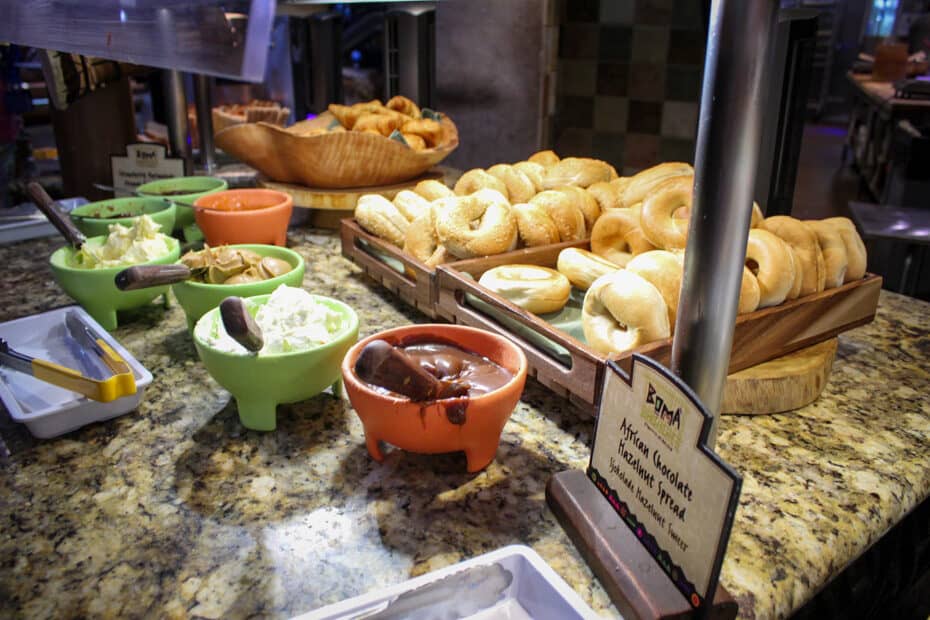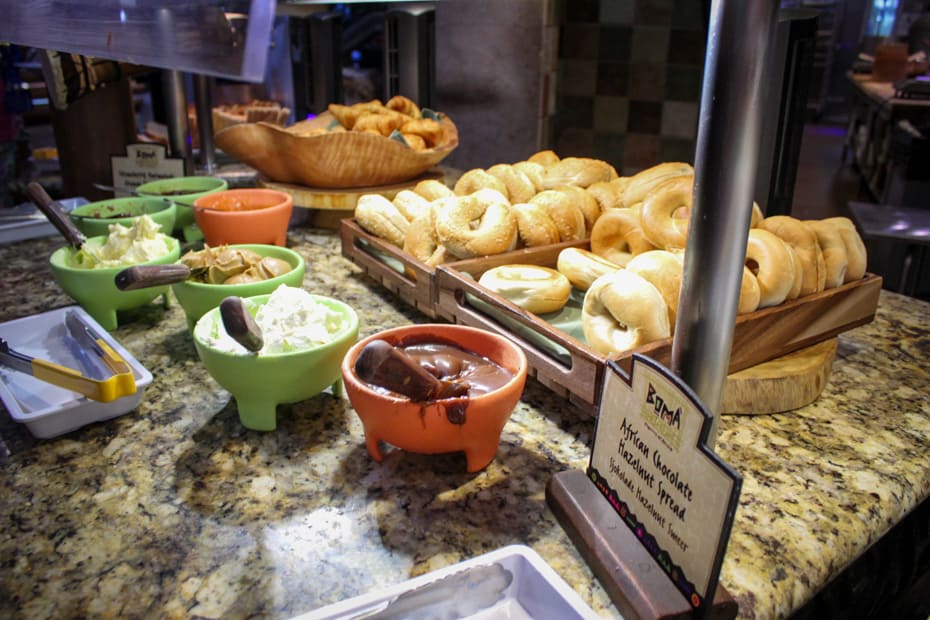 Above we have toppings for the bread including:
Cream Cheese
Peanut Butter
African Chocolate Hazelnut Spread
Butter
I got a bit of a laugh taking this photo because a few teenage girls were looking at the spreads. One of them kind of made a snarling expression and stated that they really like "Nutella" and couldn't believe they didn't have it. Never having been here before or having any real hazelnut spread experience, I was a bit aghast at her reaction to the zillion options available.
If she were my daughter, we would have a brand-name cereal swap-out experiment! You know the kind where you buy the same brand name and the generic name product? And then swap the plastic bags out to see if they notice the difference.
Several other toppings include these marmalades and jams.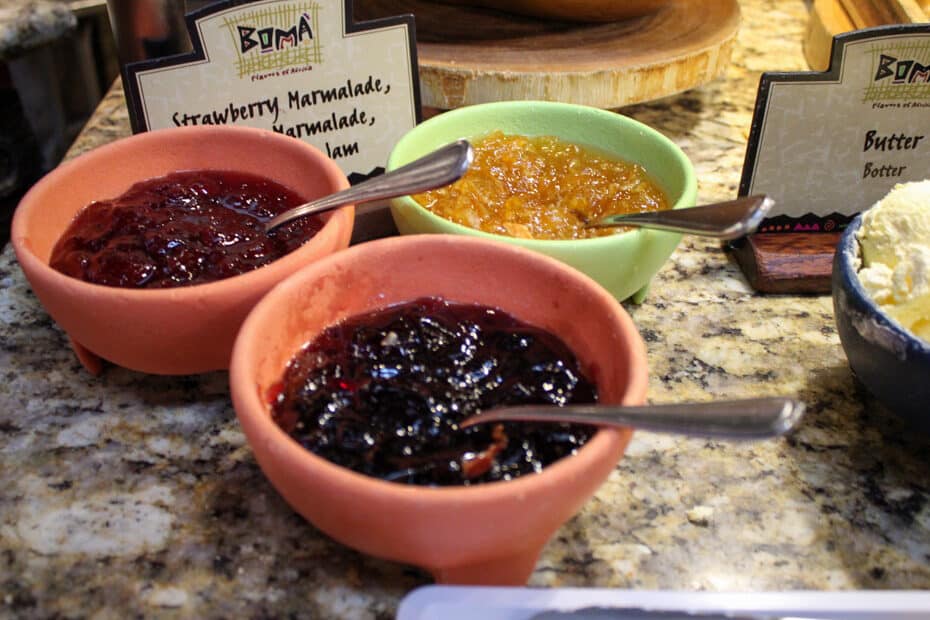 Muffins along with a variety of other pastries are available. Just in case you needed to have a little sugar with your sugar there is a vanilla sauce. I am remiss that I didn't try it now. A lot of these little items and sauces really add to the meal. Don't hesitate to try them.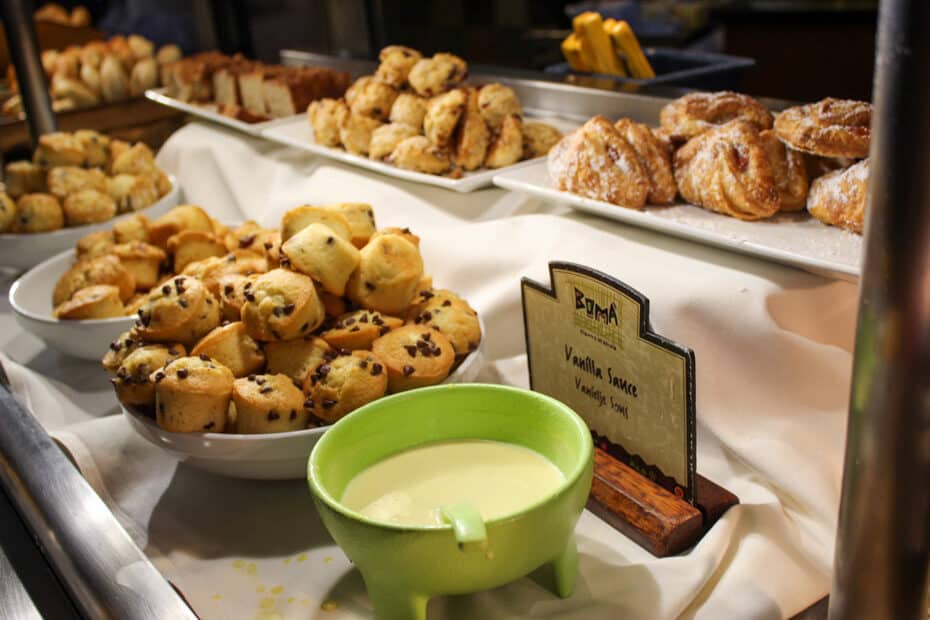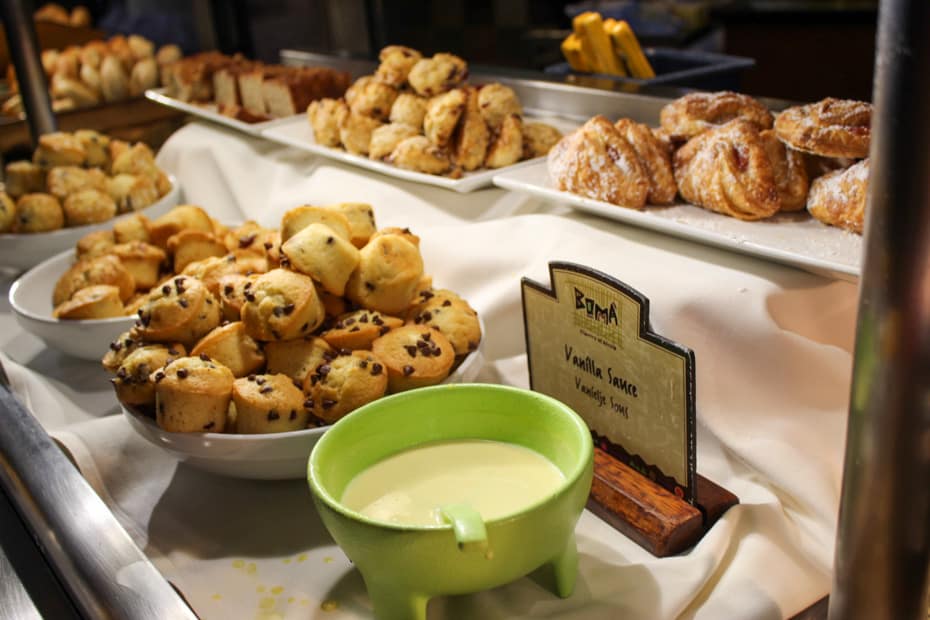 Sticky buns for days! They will probably stick with you for days if we are going to be honest. But calories on vacation don't count unless maybe you went on a 32-day vacation? I wouldn't know anything about that.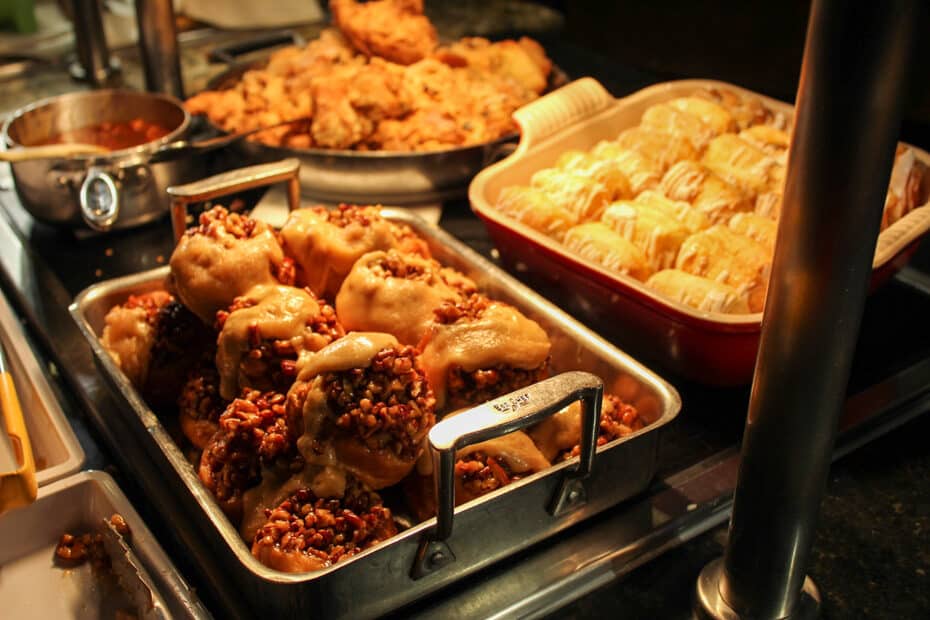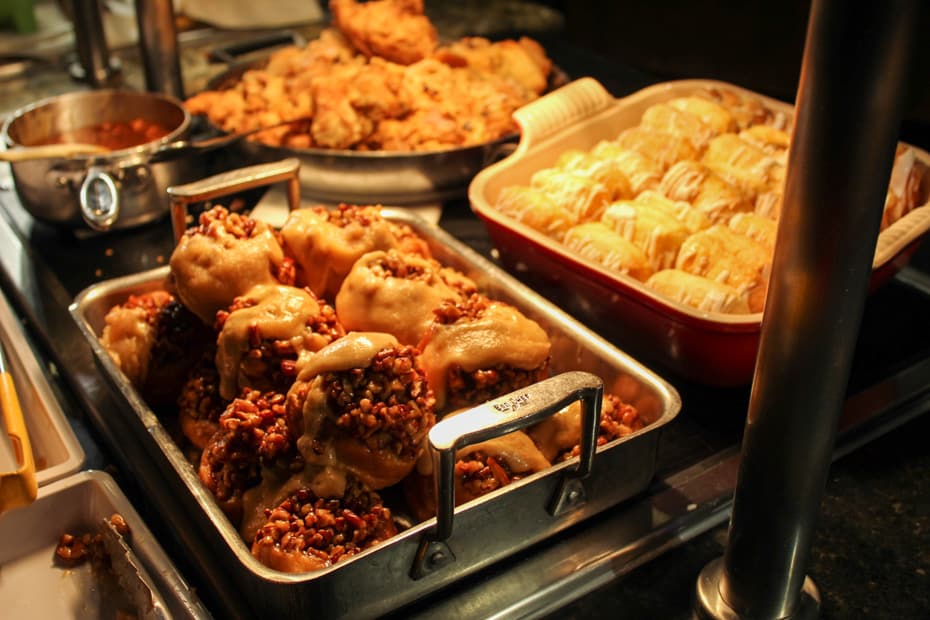 Donuts, regular and chocolate covered are available. I love chocolate covered donuts. At this point in the game, I was trying to behave and the sticky bun had won out. No worries, on a recent return visit, I finally tried the chocolate donut and it was just as good as it looks.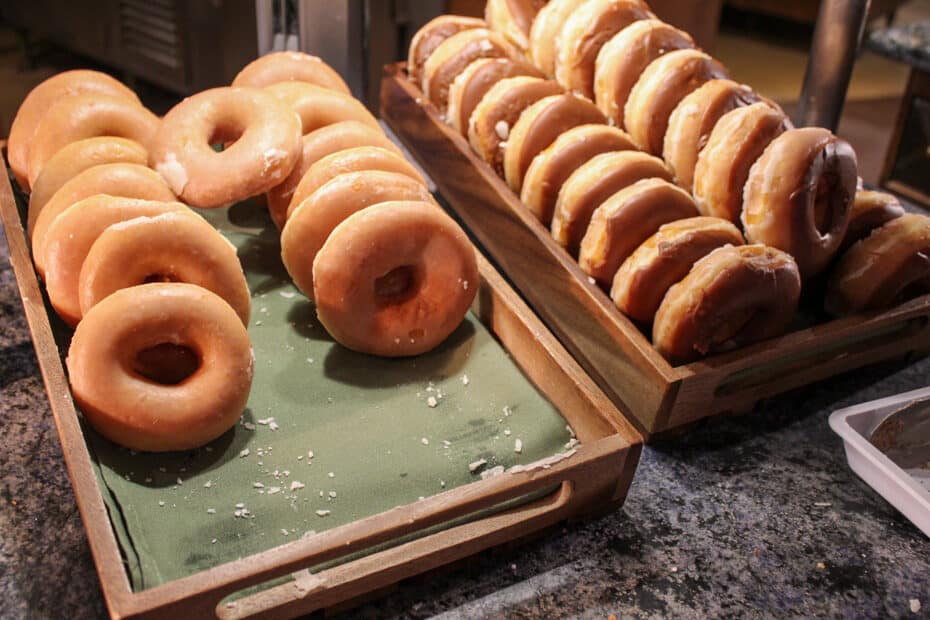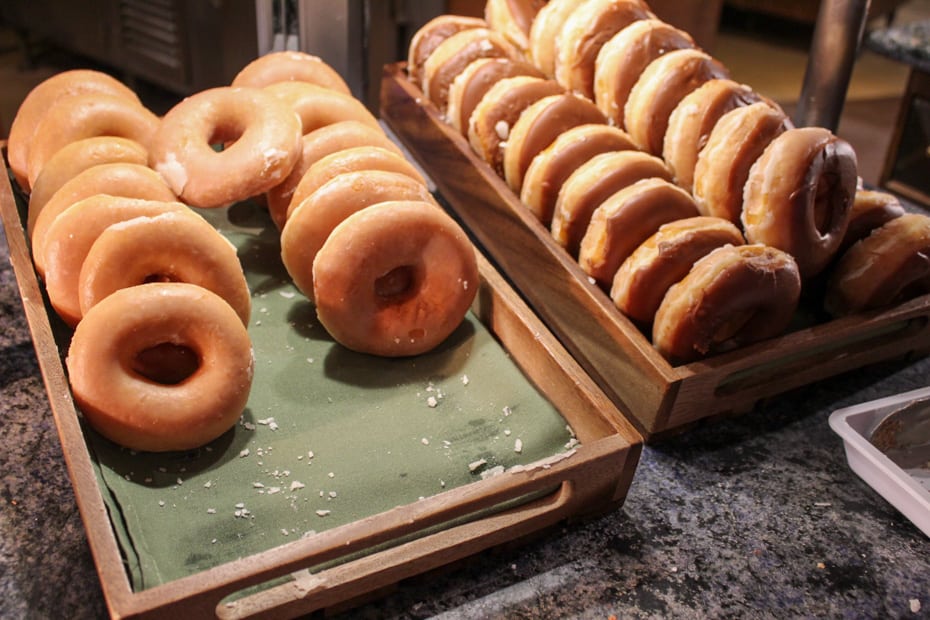 Boma is a four letter word for carbs!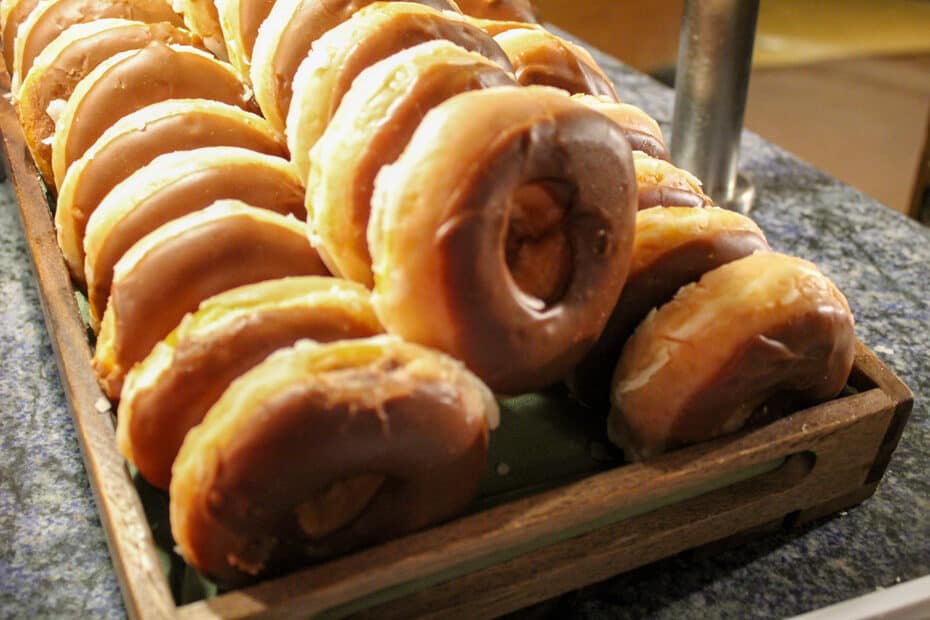 There is even a toaster at the very end if you like your bread to be on the warm or crispy side. If you are already starving, it only gets worse, as we continue down the course of this Boma breakfast review!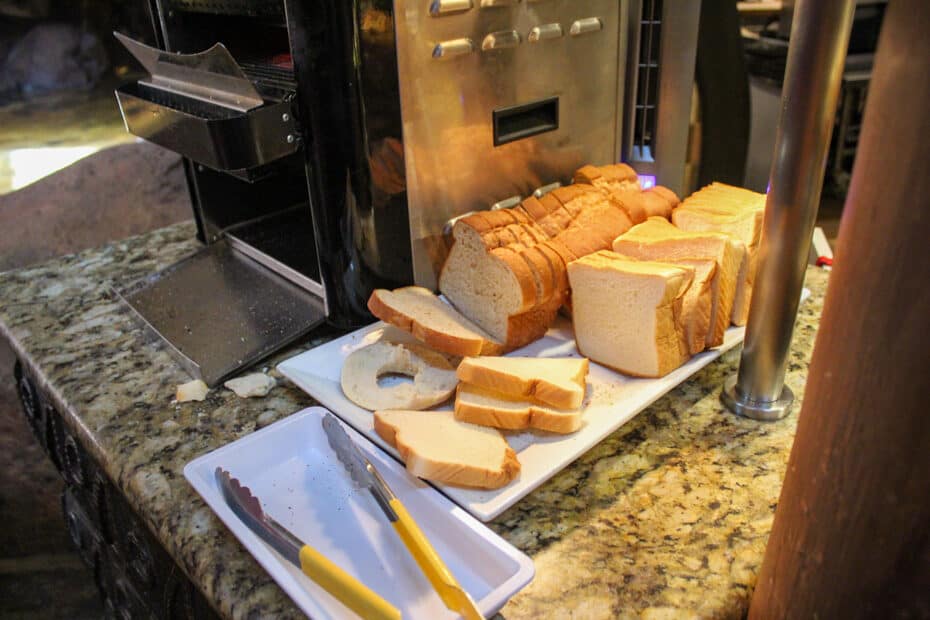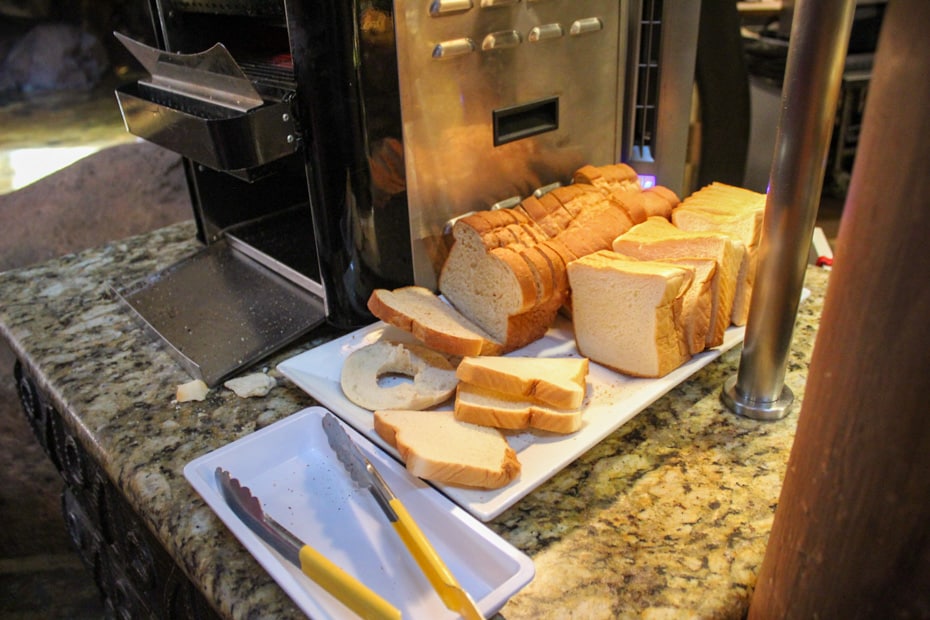 Our next stop, will take a look at the meat selections at Boma. They are spread out across several sections of the buffet. For the sake of this review, I have gone through and kind of put them together.
Boma has plenty of bacon and sausage.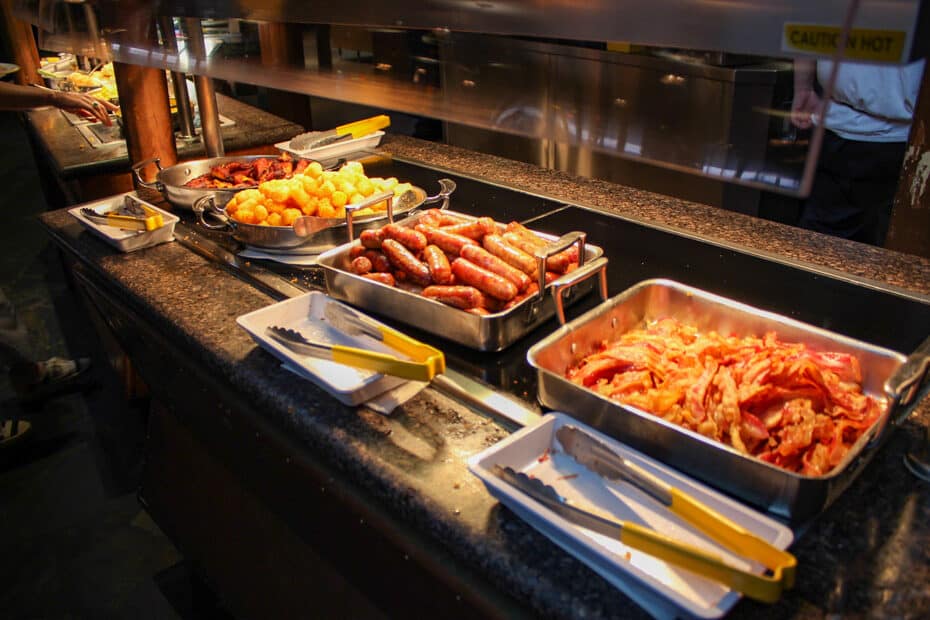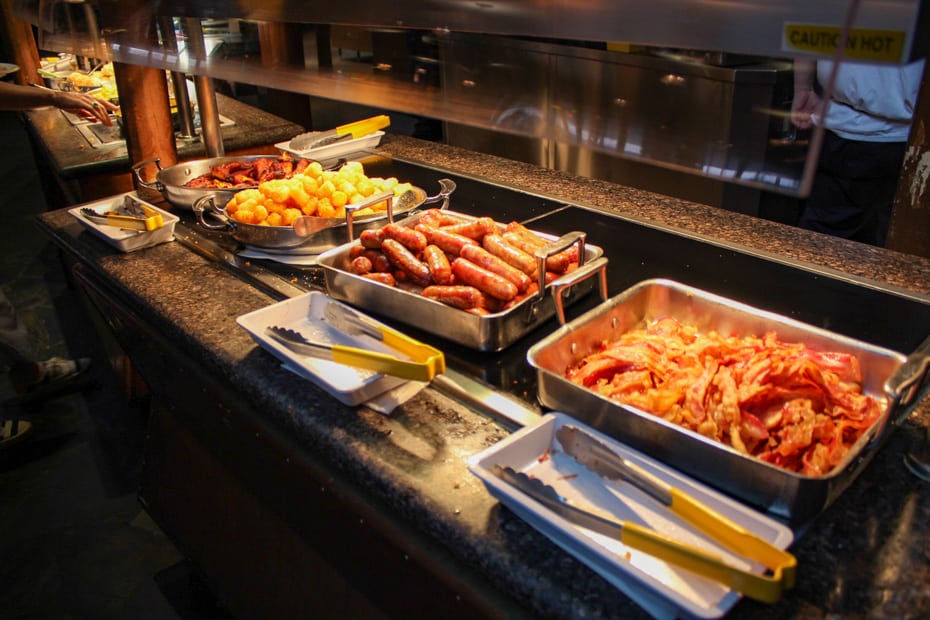 Here is a close up of that "oh so good" protein. No reason to feel guilty here, right?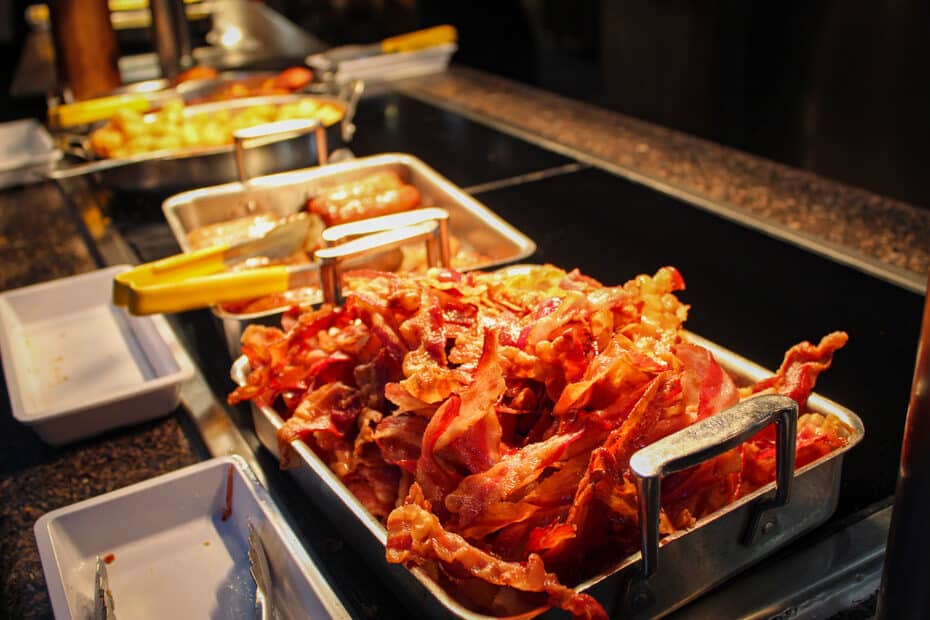 Potato options are roasted and tater tots as shown below.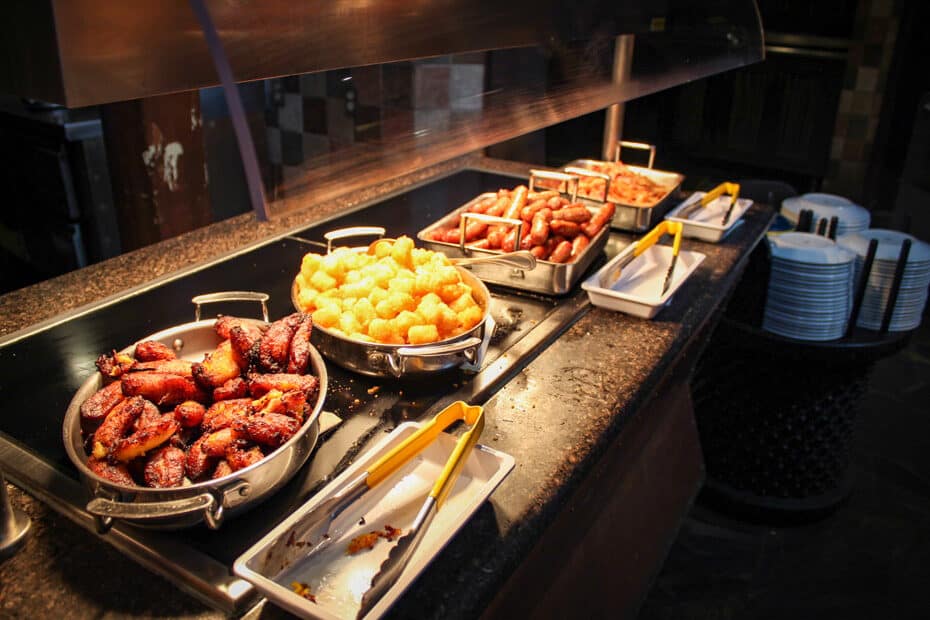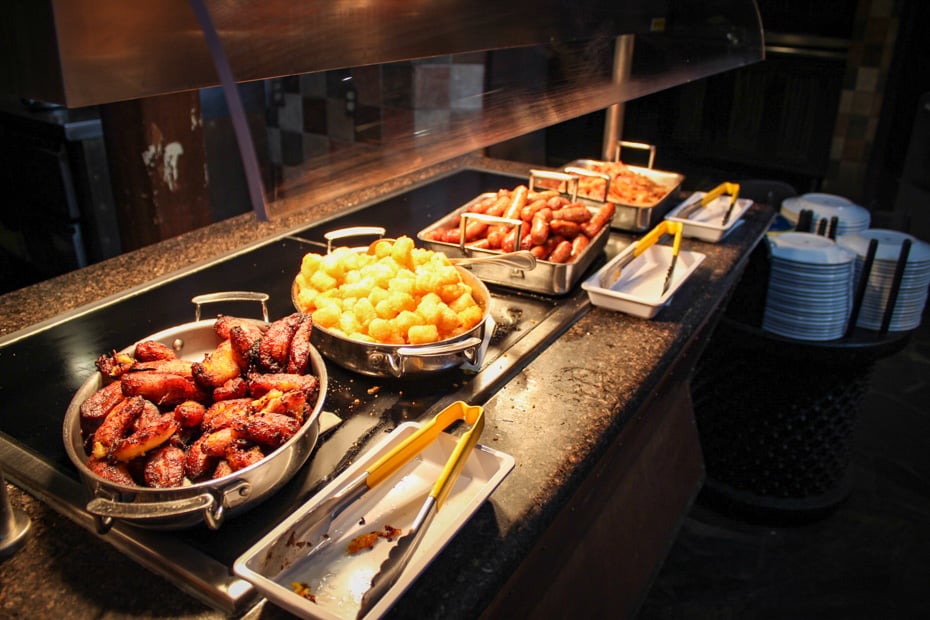 There is a carving station offering several different meats. This was the corned beef, and I can avow that you'll definitely want to try it.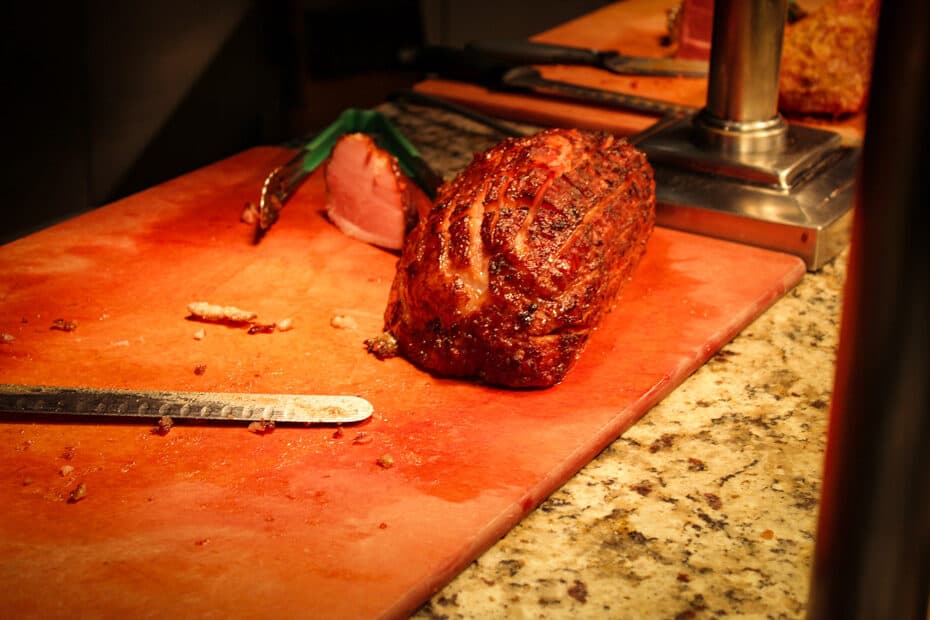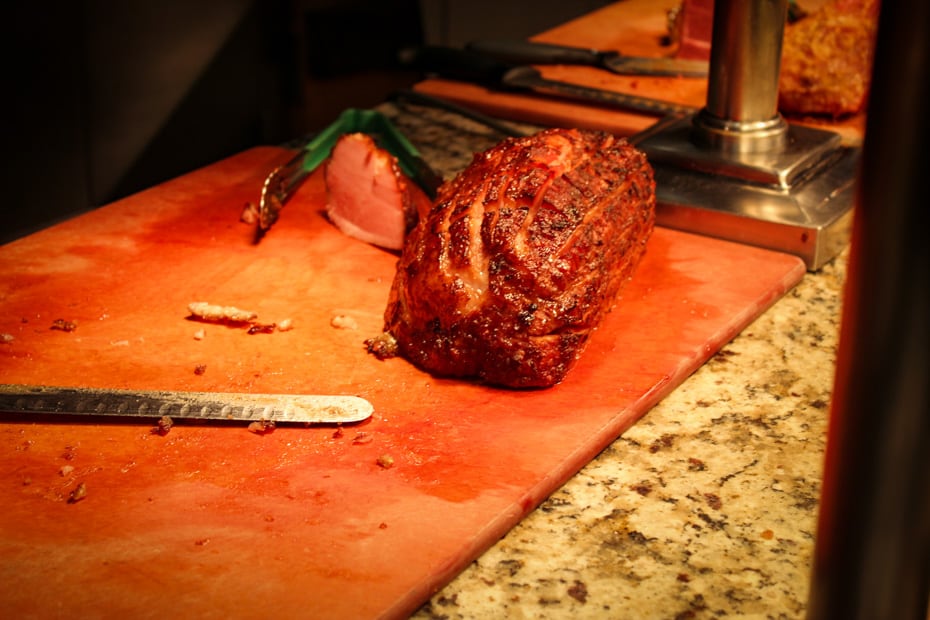 In fact, all of the meats at the hand carving station were delicious. On my breakfast guide, (I put a copy of it at the bottom of this review), this is listed as the rotisserie section. It includes all of the different items that are prepared here.
The ham was quite tasty as well.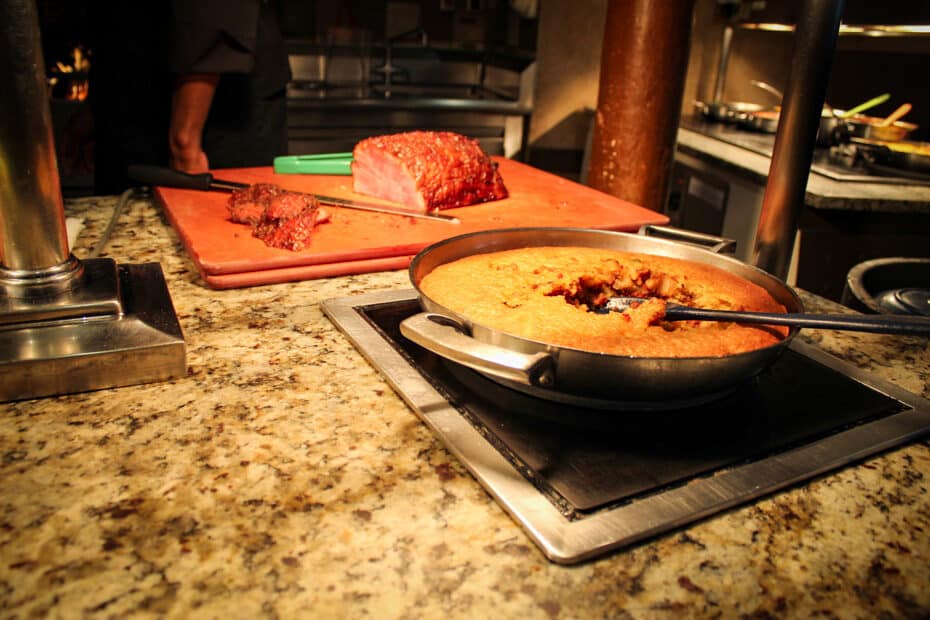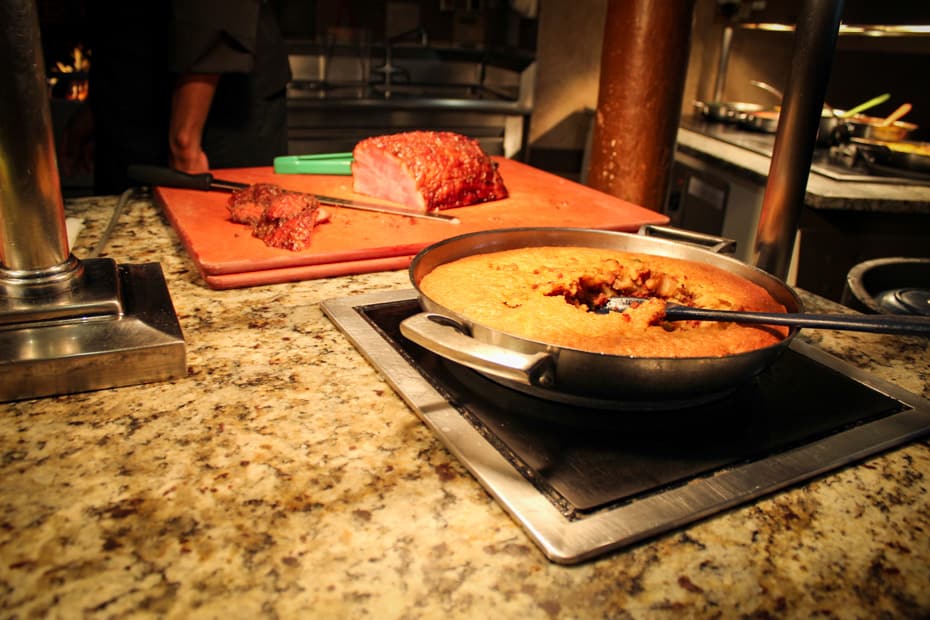 Along with that Boma mustard, which is a must-try! I think about that mustard sometimes. If you have had it, I'm sure you understand the sentiment.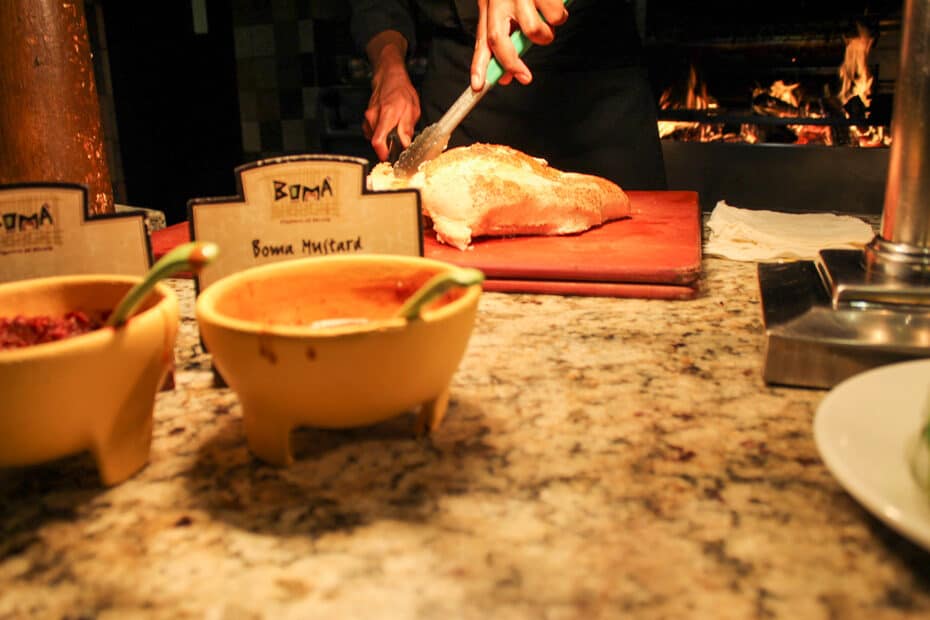 The Boma Buffet features various African cuisine. There are several specialty dishes like this corn beef hash on the buffet.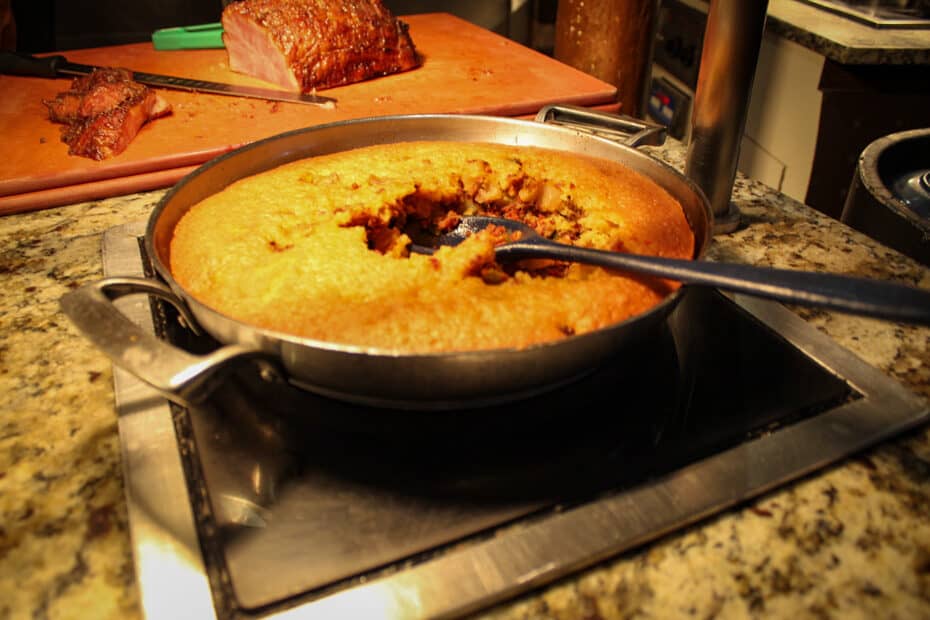 At first glance, I wasn't sure about this item. But it ended up being a favorite on my list! It almost reminds me of dressing or stuffing at Thanksgiving. It has a warm, seasonal taste that kind of makes you want to go back for seconds.
Below is the turkey bobotie. The bobotie dish reminds me of a breakfast casserole. I found it to be another good selection.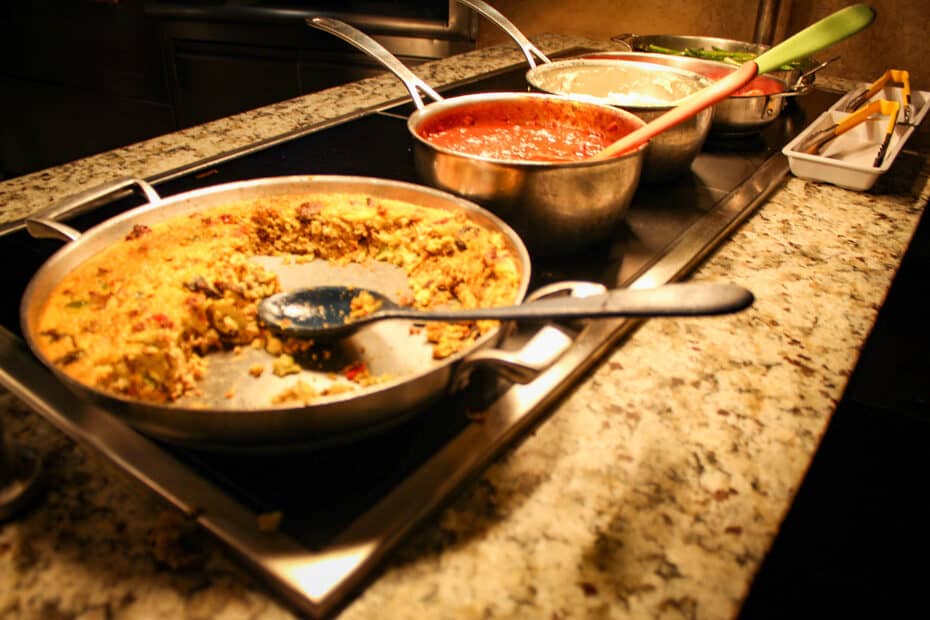 Next to the turkey bobotie is the chakalaka, a South African spicy tomato stew. And on further down we have the pap which is creamy white cornmeal. Here's an alternate view.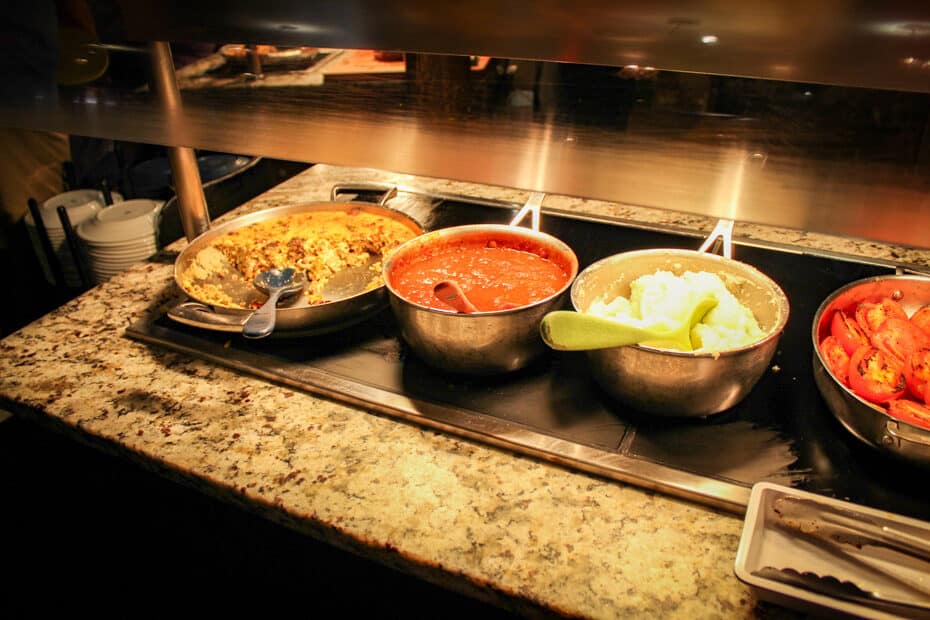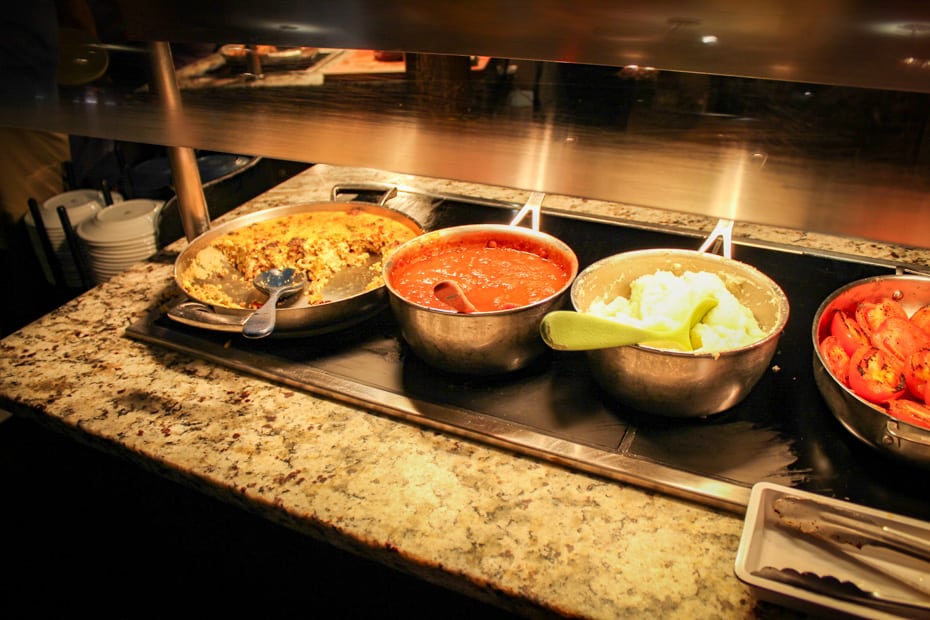 The Sambal sauce was delicious as well. The Sambal and Boma mustard are present in front of the carving station.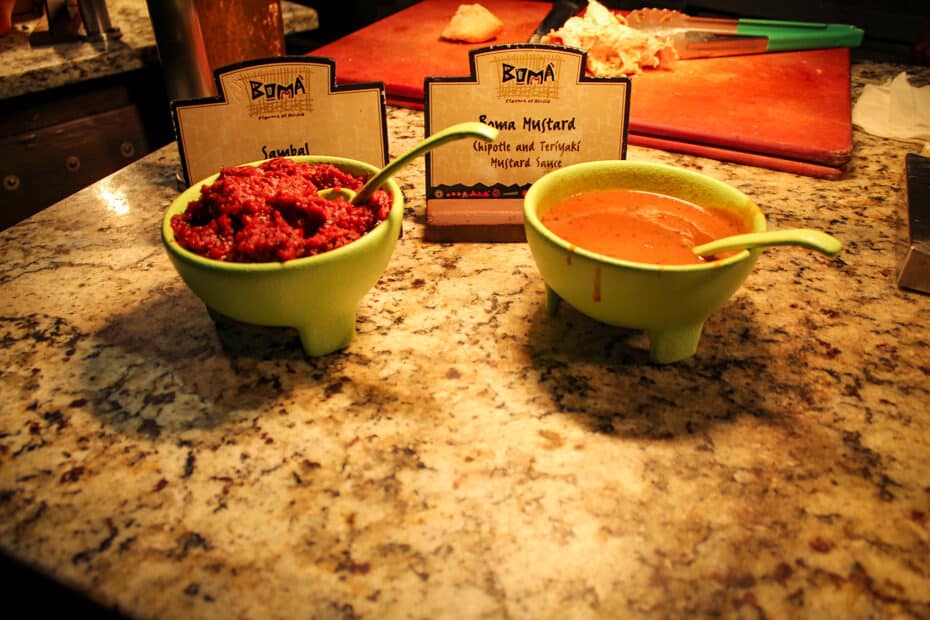 For those that might want something a little more simple, there is a selection of sliced meat, cheeses, smoked salmon and toppings.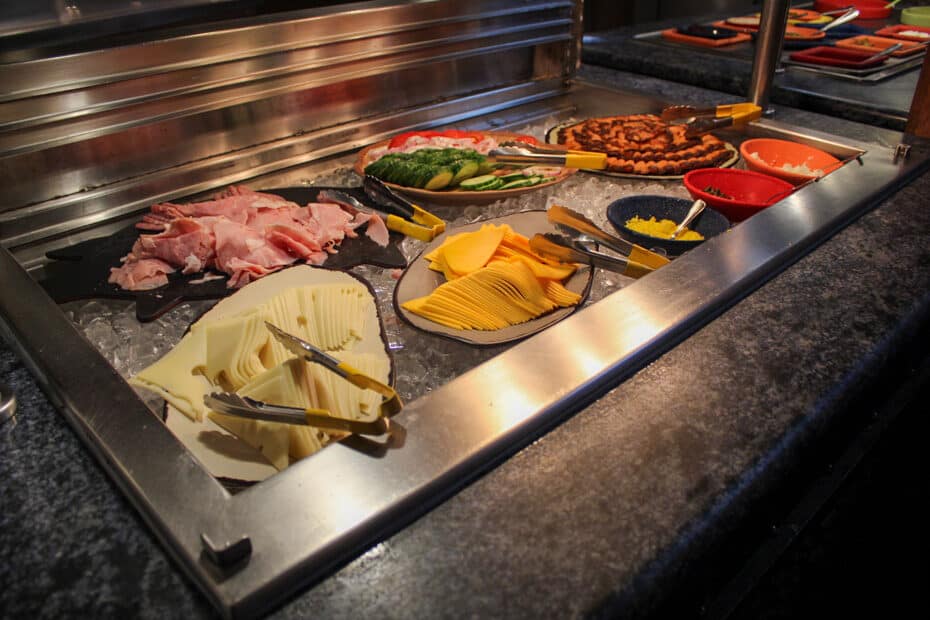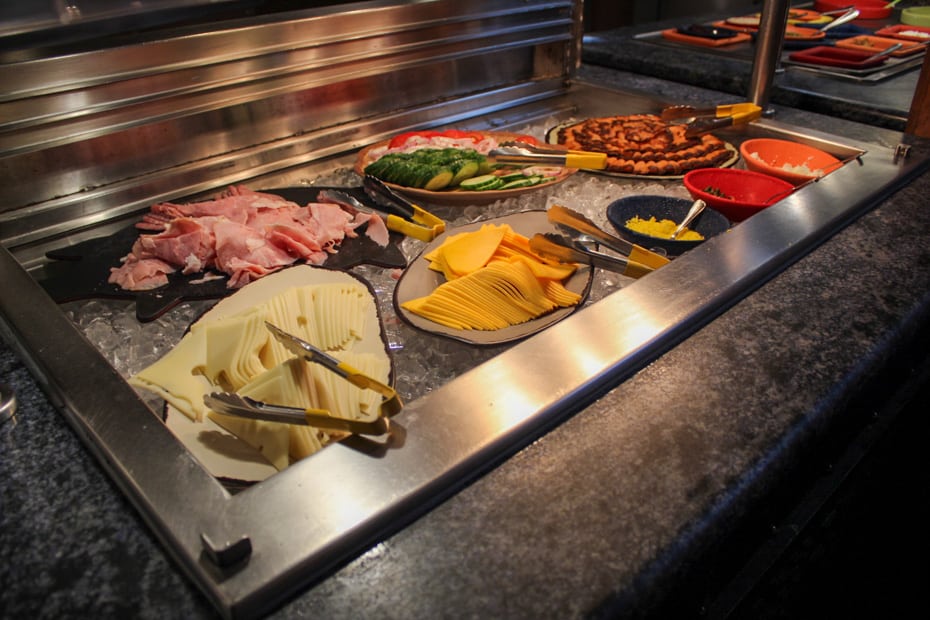 This is smoked pastrami salmon, cucumber, tomato, red onion, capers, egg whites, and egg yolks. All the toppings for bagels, among other things.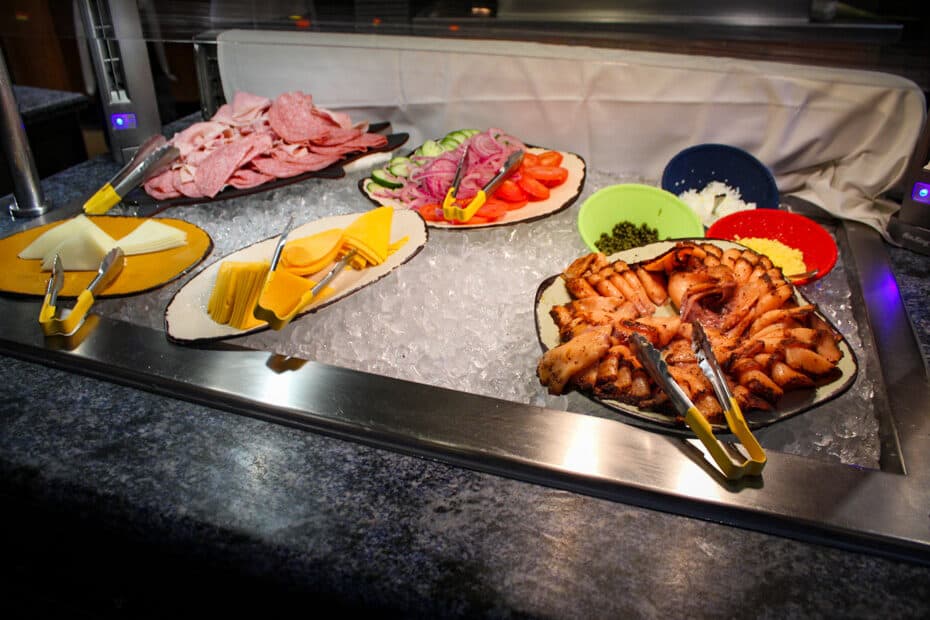 You can pair the salmon or other meats nicely with a bagel and cream cheese if you desire.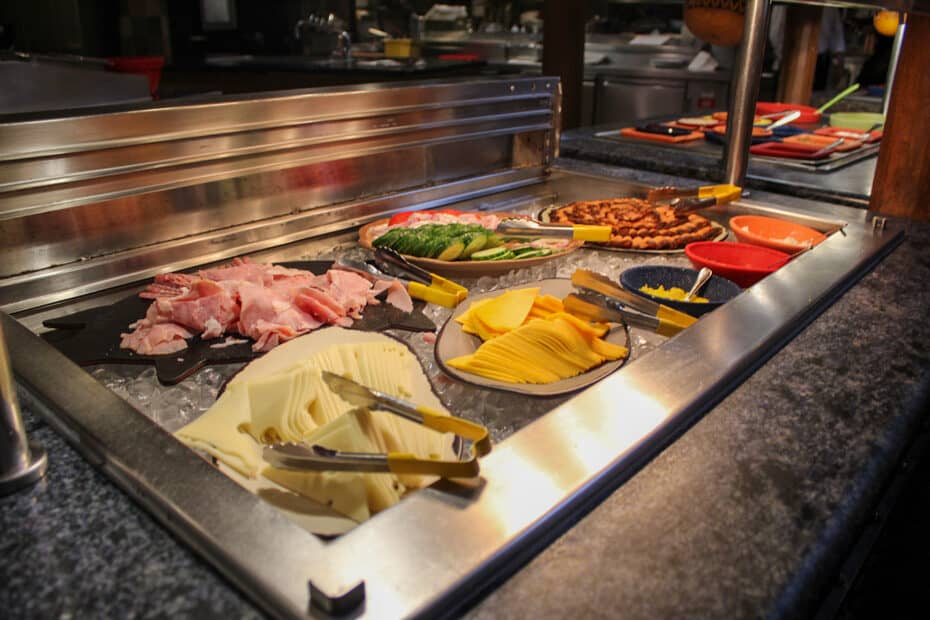 Continuing on we have a look at some very traditional items for the not so adventurous diners of the family. There are biscuits with sausage gravy.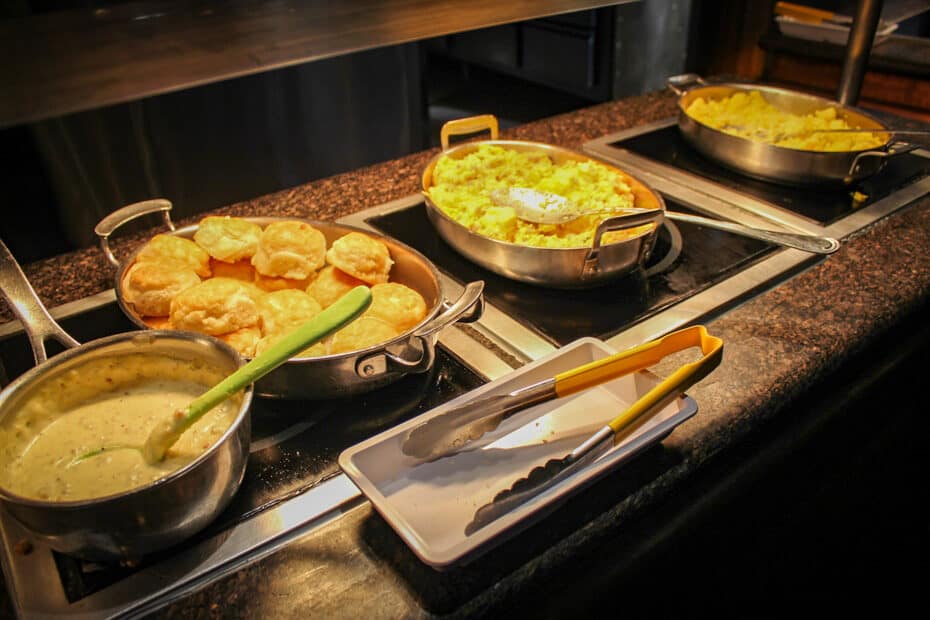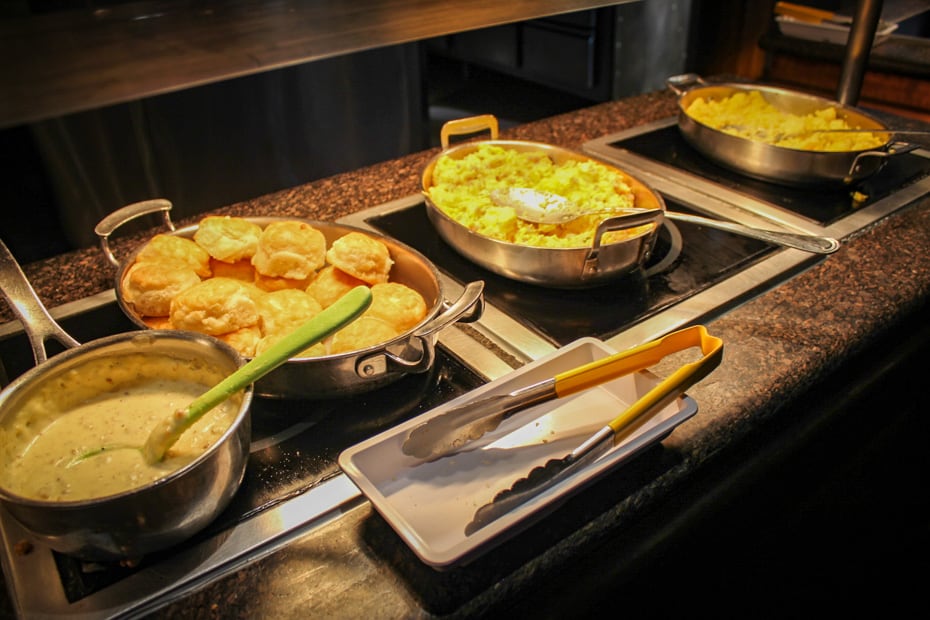 Eggs come prepared two ways on the buffet, scrambled plain and with goat cheese.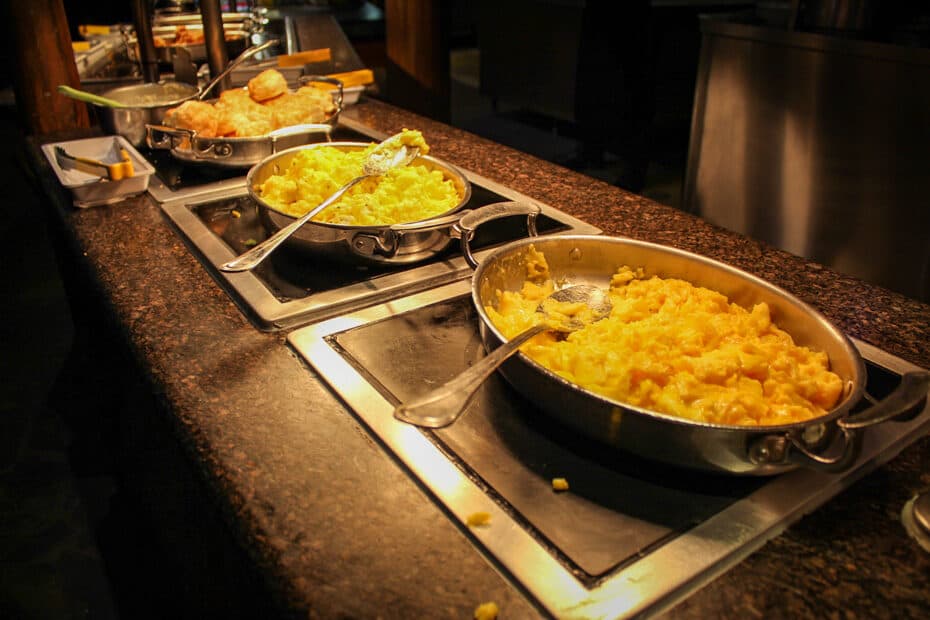 I went for the eggs with goat cheese and was quite pleased. The menu refers to "scrambled eggs of the day" so there might be a different option on the day of your visit.
There is an omelet station with a selection of ingredients for your choosing. Having the option to have a custom omelet was nice along with the number of choices provided. We have the following:
Cheeses-Swiss and Cheddar
Meats-Ham, Bacon and Sausage
Veggies-Spinach, Tomato, Jalapeno, Mushrooms, Onions, Red Pepper and Green Peppers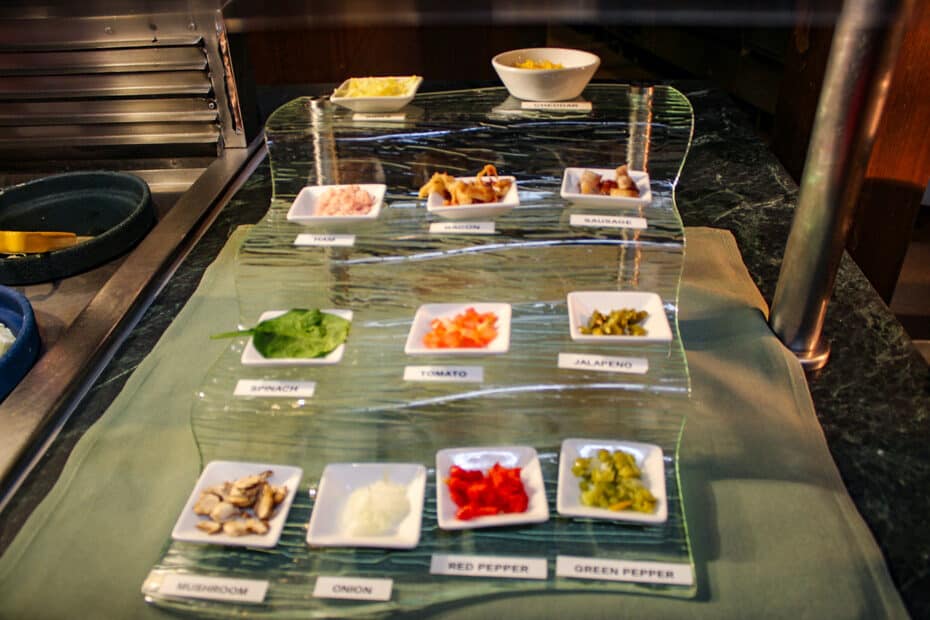 Children and adults alike will appreciate the fact that there are plenty of Mickey shaped waffles available.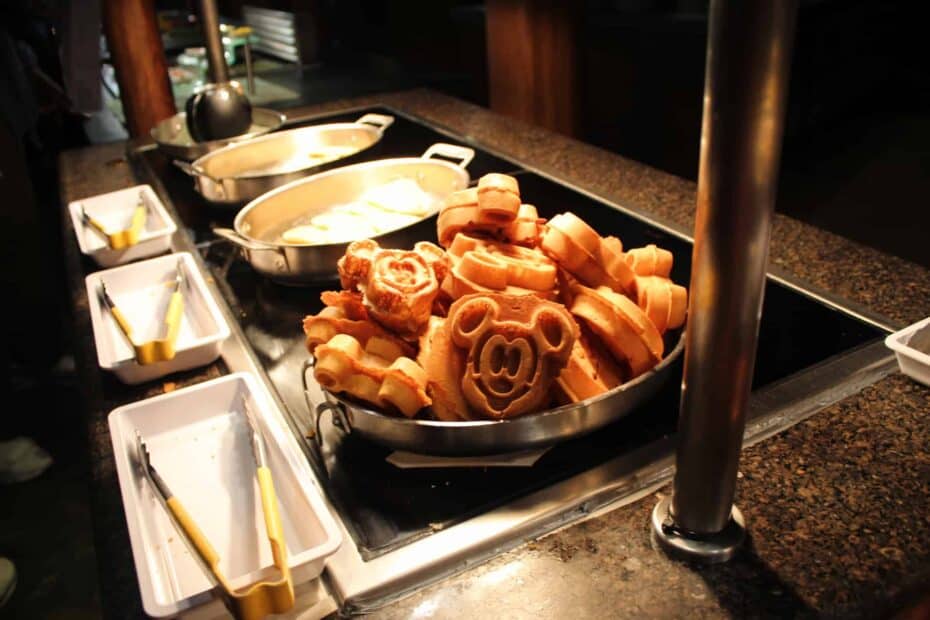 The Mickey waffles and pancakes are also good for those looking for more simple options. Those Mickey waffles are a favorite for almost any Disney fan.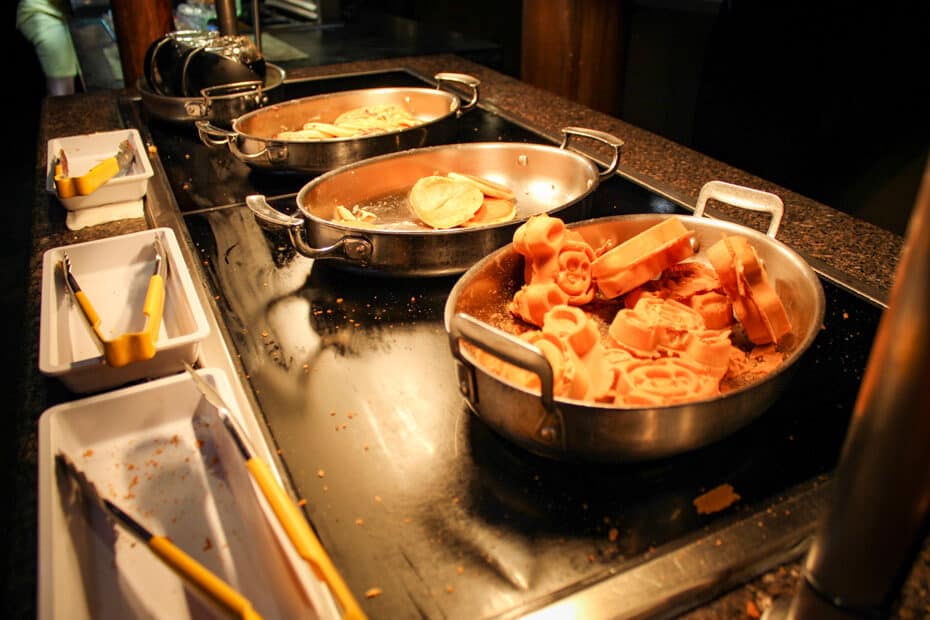 Anyone looking for their daily dose of probiotics can stop in at the yogurt case. There is greek and plain yogurt along with eight toppings.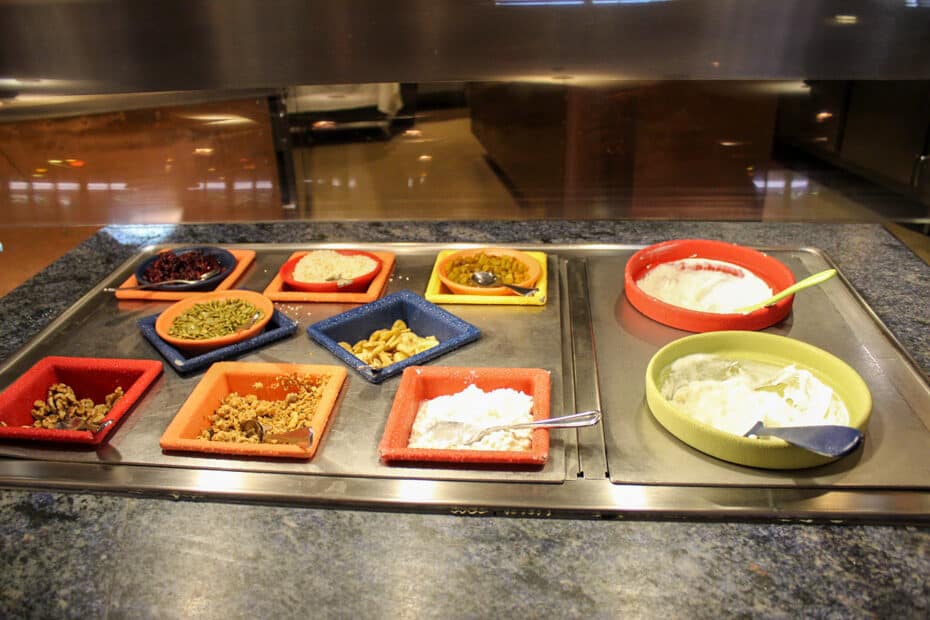 Here is a look at the toppings up close.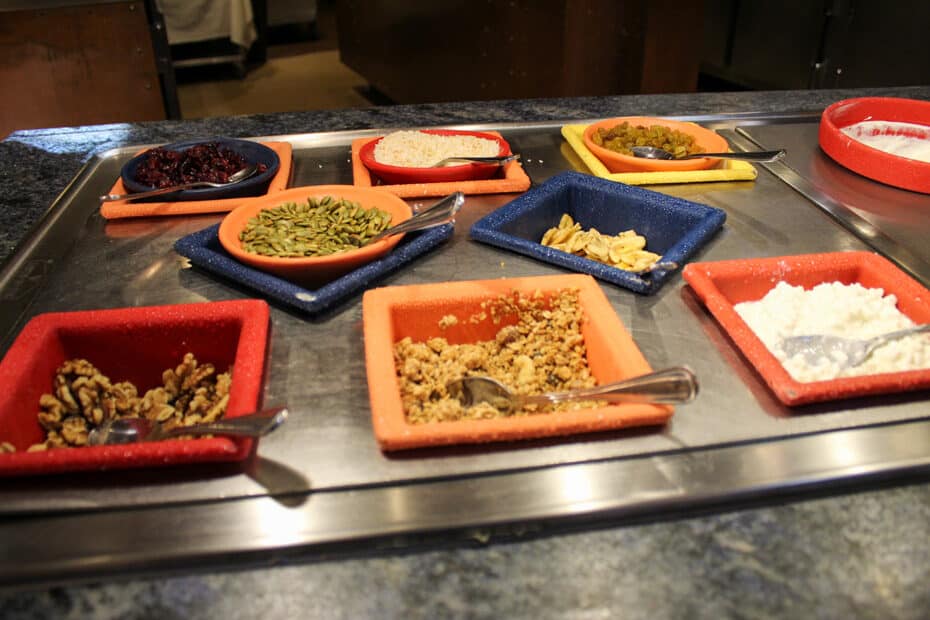 Another specialty item that Boma is known for is the watermelon rind salad. In my haste, I neglected to actually take a chance to try this one. I love watermelon and feel almost sure it would be an impressive dish.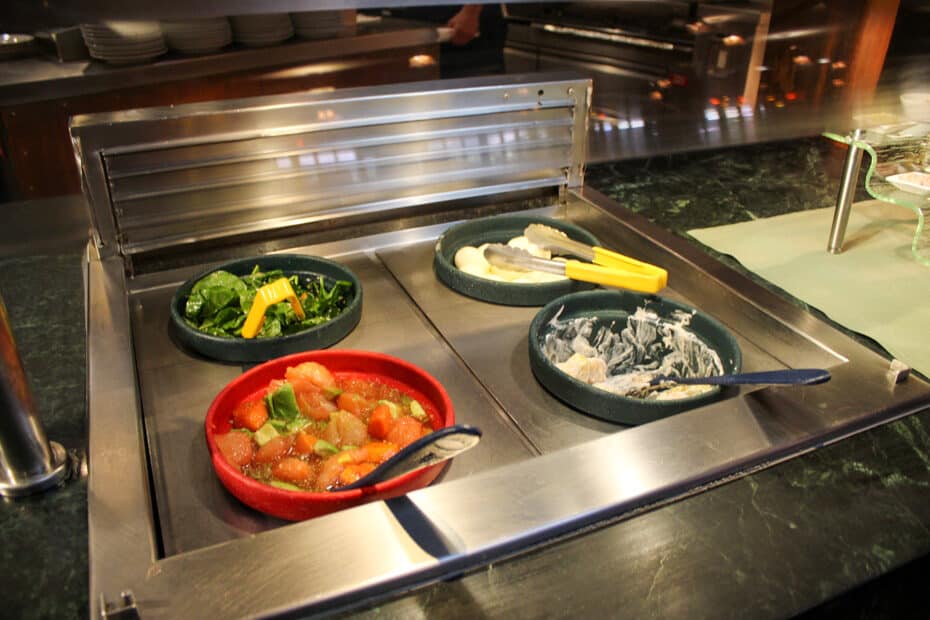 Around this area is where you will find fruits and apple sauce. There are melon, grapes, pineapple, and a daily seasonal fruit.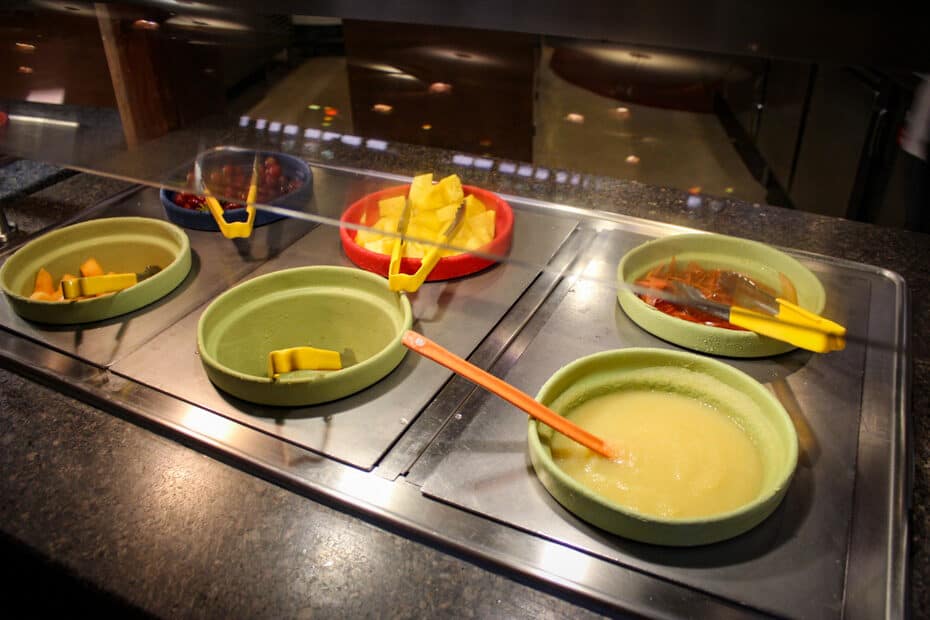 It is nice to see a wide range of items if you are looking to eat a somewhat healthier meal.
The vegetables are in the rotisserie section of the breakfast buffet. Below we find the grilled asparagus and oak-grilled Roma tomatoes. The asparagus has a nice, smoky flavor and it was an enjoyable item.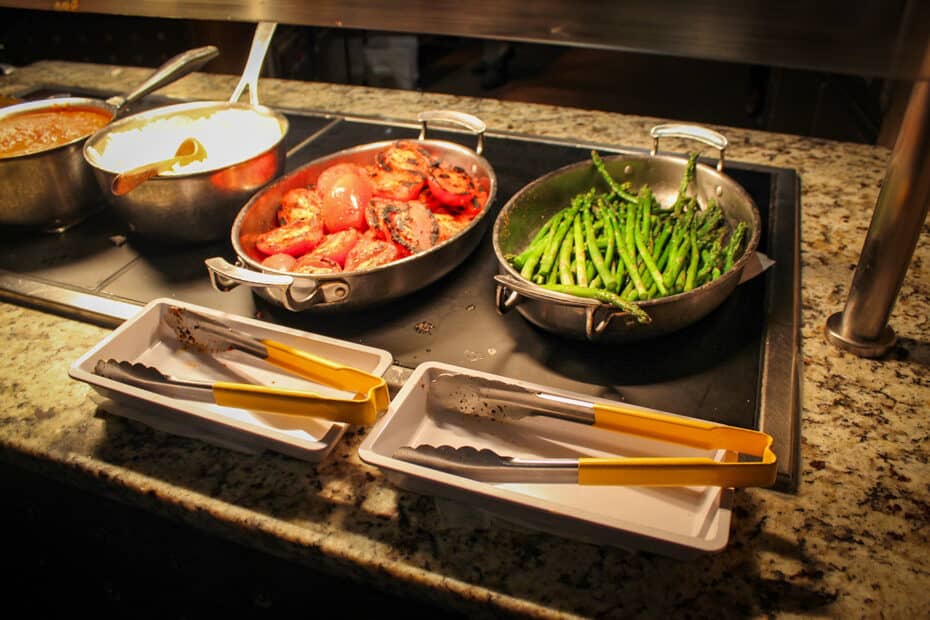 Up next you will find oatmeal, quinoa, and fried quinoa. Additionally, a few toppings for the oats and grains include brown sugar (because healthy dishes need unhealthy toppings), raisins, and cinnamon.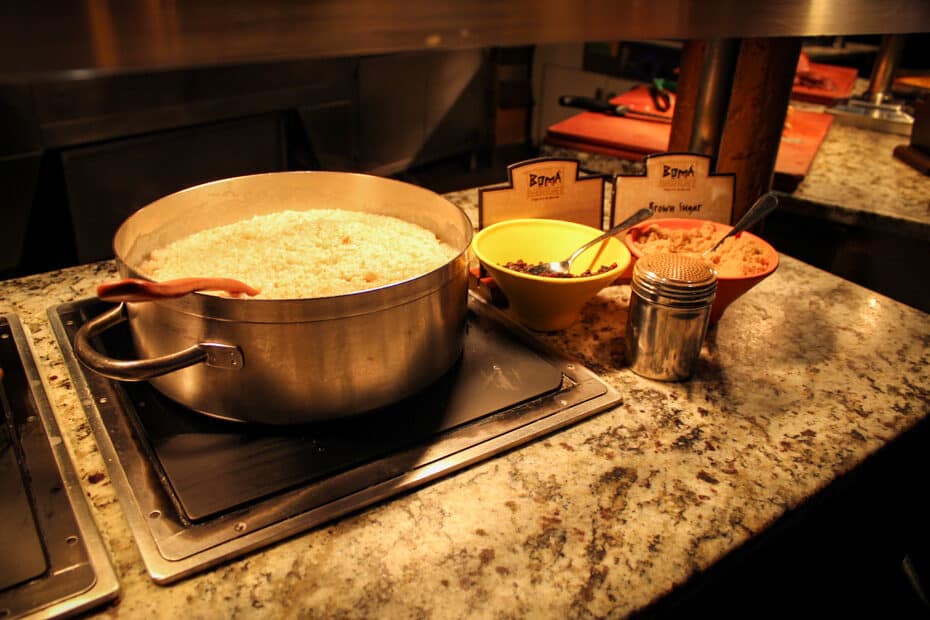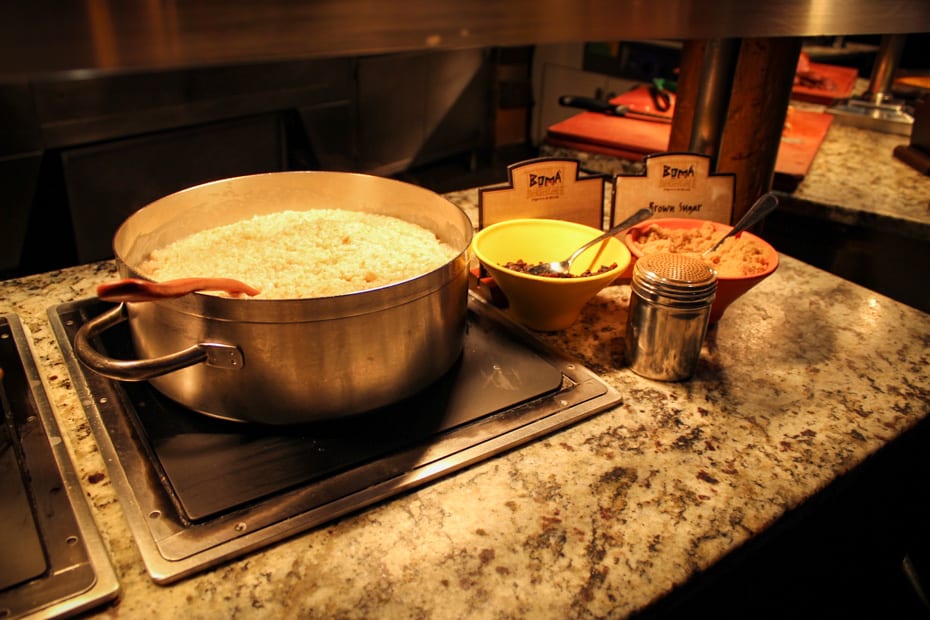 A closer view of the grains: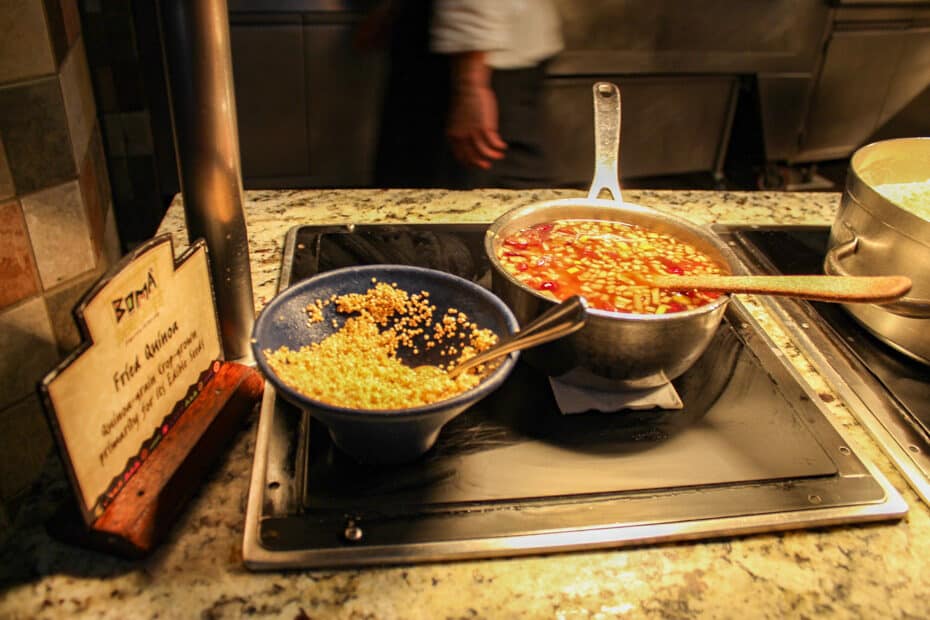 One of the nice things about breakfast at Boma is that beverages are included in the price. A cast member will bring you water upon arrival and then ask you what you care to drink. I was of the mind to have coffee (a morning staple for me) and soda becaus-caffeine.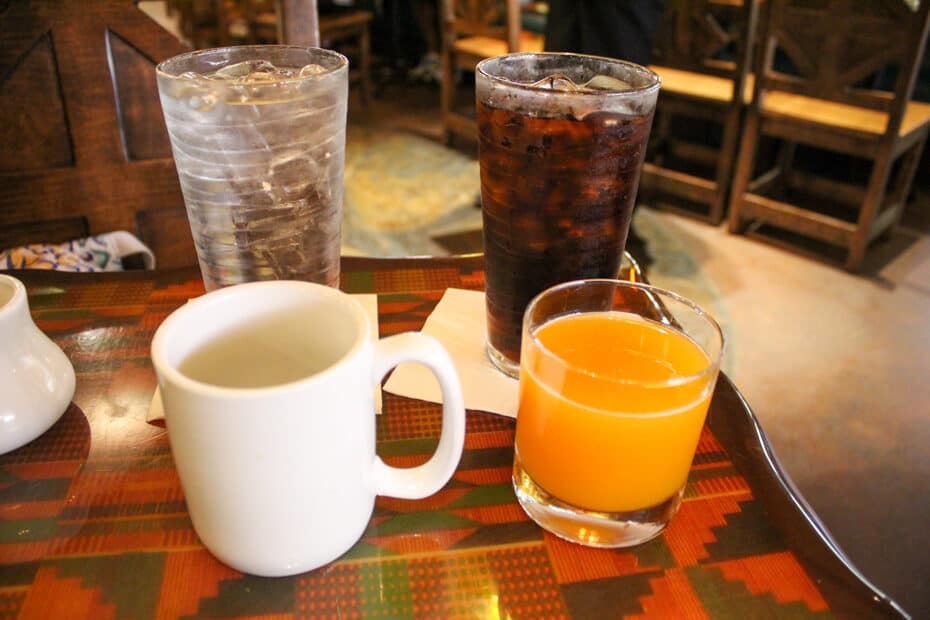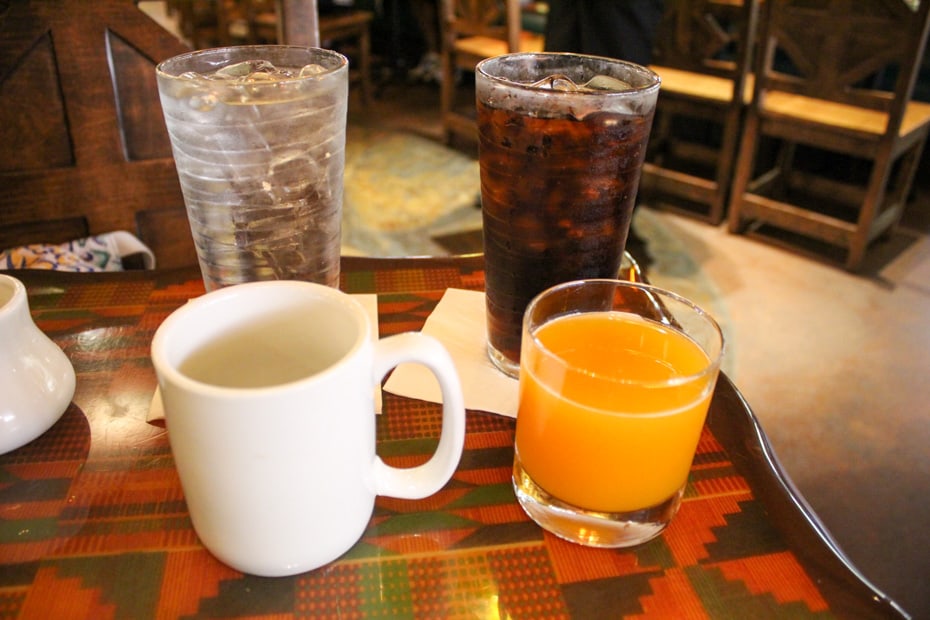 Since I was doing a review the server suggested I try the specialty drink at Boma which is Jungle Juice.
The Jungle Juice is a cross between an orange fruit juice and a punch. It is sweet but has a unique flavor. I don't partake in a lot of sweet drinks but I did enjoy this. If you have a large party they will bring a carafe to your table.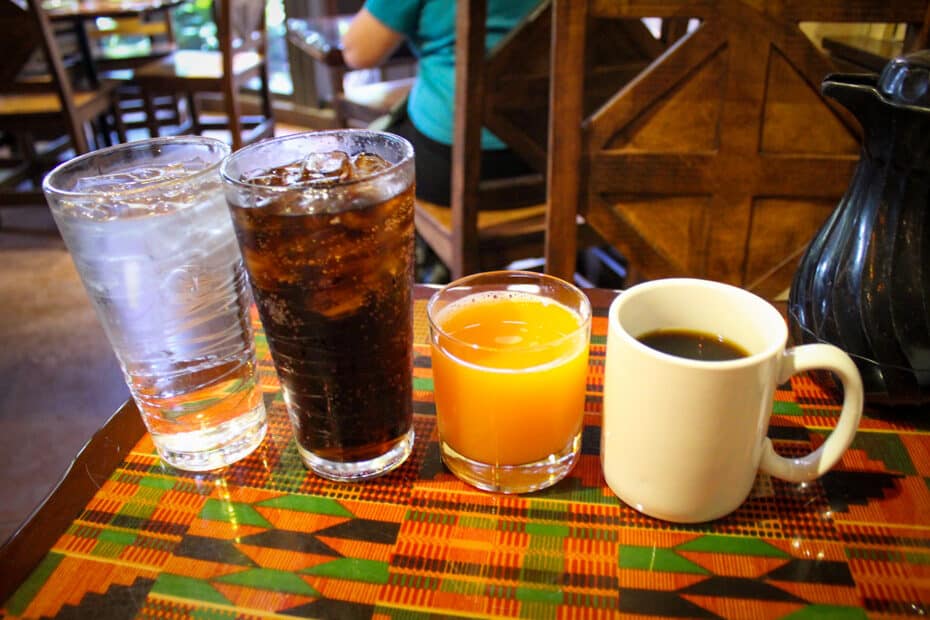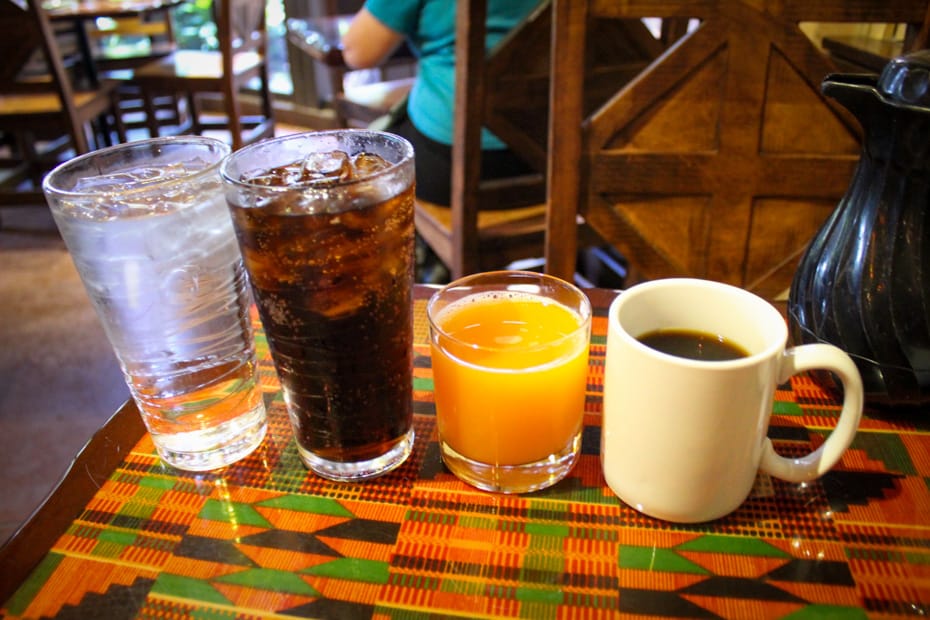 Final Thoughts on Breakfast at Boma
Breakfast at Boma for me is a hit! When I left the meal I was beyond full and I only made one trip to the buffet! I actually made three trips but the first and last stops were to make these pictures.
While I was in the process of making photos, I took notice that there were many people working behind the line, offering to help, and constantly refilling dishes.
The food was all very fresh and the restaurant quite busy. Below, I will add a list of the menu items that I was given on my visit. This might help you sort out what items are a must-try for you.
In offering a few final thoughts I will say the corn beef hash, mustard with carved meats and sticky buns were my top favorite items. That chocolate donut was good the second time around.
Buffet Menu Items – Boma Breakfast Review
Per the Boma menu:
Pod One-Cured Meats & Cheeses
Smoked Pastrami Salmon
Sliced Cheeses
Cucumber, Tomato, Red Onion, Caper, Egg Whites, Egg Yolks
Salami and Ham
Cold Station Pod Two-Fruits
Watermelon Rind Salad
Melons
Grapes
Pineapple
Apple Sauce
Seasonal Fruit
Cold Station Pod Three-Fruits
Greek Yogurt
Banana Yogurt
8 dry toppings
Cold Station Pod Four
African Fruit Fool Salad
Hard-Boiled Eggs
Avocado/Papaya/Grapefruit Salad
Spinach Quinoa Salad
Create your own Omelet
Hot Station Pod Five
Maple Syrup
Pancakes
Waffles
Hot Station Pod Six
Sausage Gravy
Biscuits
Scrambled Eggs of the Day
Scrambled Eggs
Hot Station Pod Seven
Fried Sweet Plantains
Fried Breakfast Potatoes
Sausage
Bacon
Rotisserie
Grilled Asparagus
Oak Grilled Roma Tomatoes
Chakalaka
Creamy Pap
Turkey Bobotie
Corn Beef Hash
Carved Turkey
Boma Mustard
Sambal
Brown Sugar
Raisins
Oatmeal
Quinoa
Fried Quinoa
Bakery Items
Wheat Bread
White Bread
Croissants
Whipped Butter
Peanut Butter
Jellies and Jams
Assorted Bagels
Whipped Cream Cheese
Chocolate Hazelnut Spread
Breakfast Muffins and Bread
Apple Pockets
Vanilla Sauce
Pecan Praline Sauce
Bread Pudding
Sticky Buns
Doughnuts
Allergy-Friendly Options Upon Request
Sweet Bread (Doughnuts and Muffins)
Allergy-Friendly Bread (Toast and Bagel)
Allergy-Friendly Waffles
If you are dining with food allergies at Boma, Gluten & Dairy Free at WDW have a list on their site here of common food allergens that are in each item.
Thanks for joining along on this Boma Breakfast Review! If you have tried breakfast at Boma let me know your favorite items below in the comments.
My other favorite place to have breakfast at Disney is over at the Yacht Club, check out the Breakfast at Ale and Compass Review. And we really love the Topolino's Terrace Character Breakfast. Then there's the full guide to the Animal Kingdom Lodge Restaurants if you would like to familiarize yourself with every choice available.
You might also like to browse all of the Disney Dining Reviews we have available.
And if you are planning a stay and haven't decided on a resort, make sure to check out our entire list of Walt Disney World Hotel Reviews here.
So, after reading all about the breakfast buffet at Boma, are you planning a reservation for your next visit? Let me know in the comments below.