Transportation Options at Disney's Boardwalk (Plus Tips)
It's no secret that Disney's Boardwalk is a popular destination. So popular that many guests visit the Boardwalk at some point during their vacation to check out the hype.
Meanwhile, guests staying at Disney's Boardwalk Inn will want to take advantage of its convenient location. If you've ever visited the site, you know we think highly of the entire Epcot Resorts Area.
In this article, we'll look at the transportation options available at Disney's Boardwalk. I'll discuss tips for getting to and from the theme parks, Disney Springs, and a few other popular destinations on Walt Disney World property.
Additionally, I'll provide a few tips based on my experience traveling to and from the Boardwalk. By the time we're finished, you'll have a good idea of where you can go and how to get there.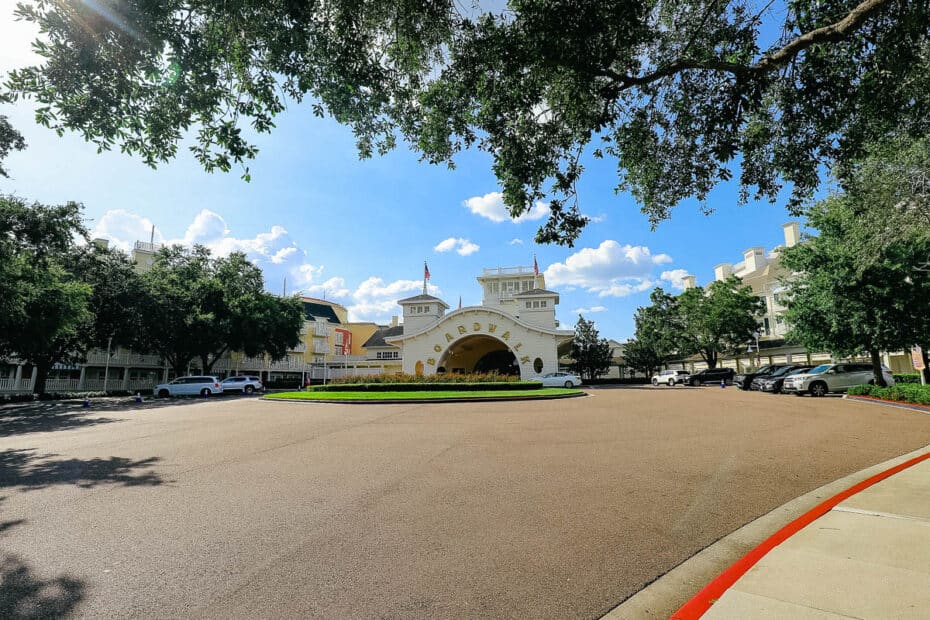 Boardwalk Transportation Options
When staying at Disney's Boardwalk Inn, you'll have immediate access to the following forms of transportation:
Walking
Friendship Boats
Disney's Bus Service
Skyliner (within walking distance)
You can use these forms of transportation to get to various venues across Walt Disney World property. Below, we'll start with Epcot, the closest theme park to Disney's Boardwalk Inn.
Then we'll look at how to get to Hollywood Studios. Both parks are within walking distance of Boardwalk. However, walking is not the only way to travel between them.
After that, we'll discuss how to get to Magic Kingdom, Animal Kingdom, Disney Springs, the water parks, and other popular destinations.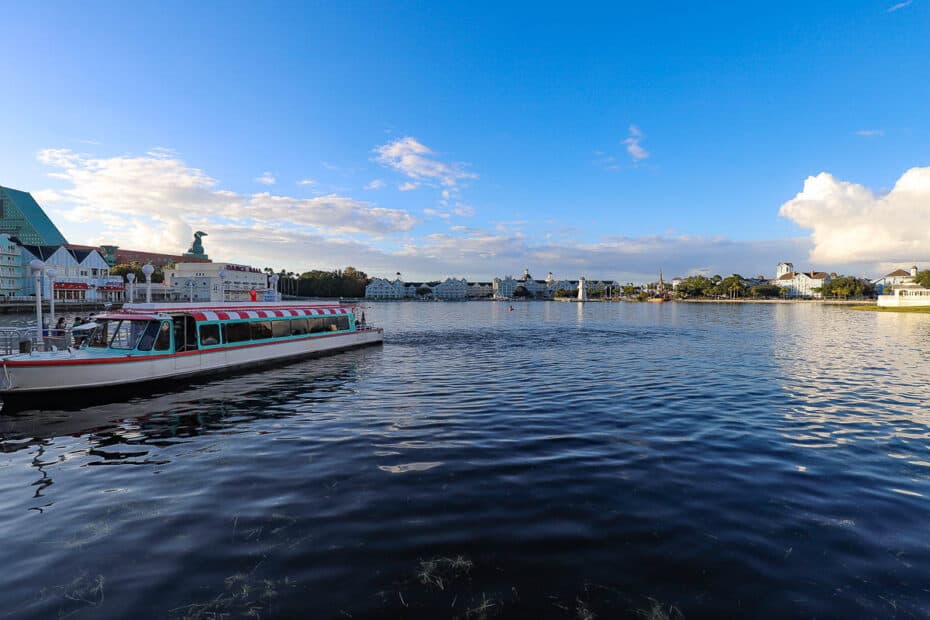 Traveling from Disney's Boardwalk to Epcot
Disney's Boardwalk is only a hop, skip, and a jump away from Epcot. Well, that or a boat ride.
While staying at Boardwalk, you can walk from the hotel to the Epcot International Gateway entrance. It's a simple walk that averages less than ten minutes.
I timed the walk on a recent visit to show you how long it takes. From the International Gateway to the Boardwalk's lobby, it was 0.34 miles, which took approximately eight minutes.
Had I not felt like walking, I could have taken a Friendship Boat from the International Gateway to the Boardwalk. Or vice-versa for traveling from the Boardwalk to Epcot.
When exiting Boardwalk's lobby, you'll travel down to the lower level of the hotel to walk out to the Boardwalk. You'll walk directly out to Promenade Pier.
For Epcot, you'll join the line on the right-hand side of the queue. Traveling toward Epcot, the Boardwalk is the last stop before arriving at Epcot's International Gateway.
Therefore, it only takes approximately three minutes to get to Epcot from the Boardwalk via the Friendship Boat. Of course, that doesn't include the time you wait for a boat to arrive.
In most instances, we prefer to walk this route. However, sometimes if I'm leaving the park and happen upon the tail end of a line loading the boat, I will hop aboard.
Related: Everything You Need to Know about Disney's Friendship Boat Service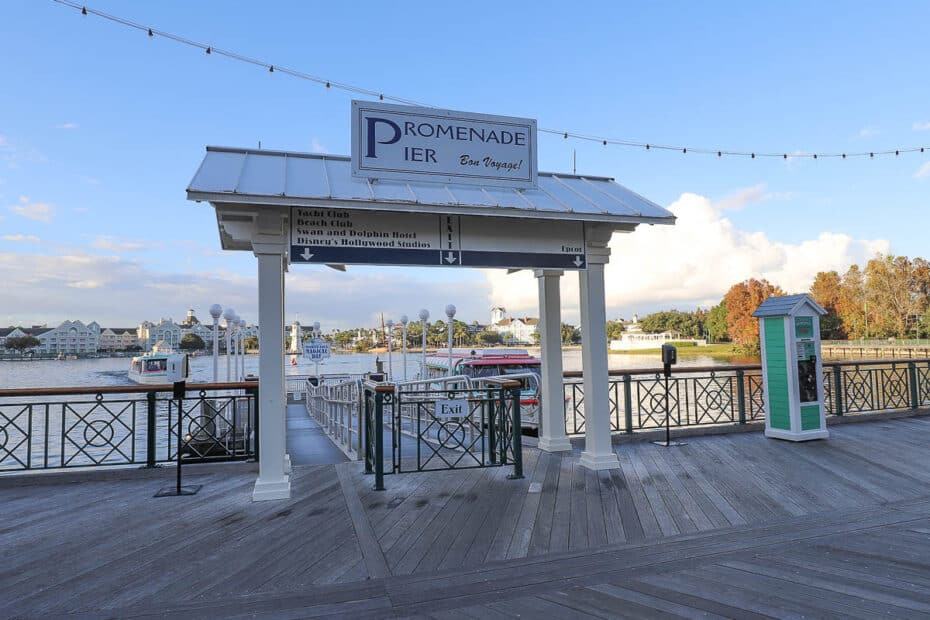 Boardwalk to Hollywood Studios
Like Epcot, you'll have the same options for traveling from the Boardwalk to and from Disney's Hollywood Studios. Those options are walking and the Friendship Boat service.
However, the walk to Hollywood Studios from the Boardwalk is a bit further. How far?
It's approximately 0.65 miles from Disney's Hollywood Studios to the large sign where you enter the Boardwalk. When I timed this distance, it took me 14 minutes.
Now I'm not speed-walking by any means, and I often pause here and there along the way to take a few photos. It's not uncommon for others to pass me. So you can probably shave a few minutes off that time if you pick up the pace a bit.
Most guests will elect to take the Friendship Boats back and forth to Hollywood Studios since it's a longer distance. However, you must make two additional stops before making it to Hollywood Studios.
Here's how the boat travels from Boardwalk to Disney's Hollywood Studios:
Boardwalk stops at Promenade Pier (coming from Epcot)
Stops at Disney's Beach and Yacht Club to load/unload
Stops at Swan and Dolphin Hotel to load/unload
Arrives at Disney's Hollywood Studios
When you're leaving Hollywood Studios, the boat travels in the opposite direction, making the same stops until it finally reaches Epcot. Typically, three Friendship Boats travel these routes across Cresent Lake during operating hours.
It takes the boats an average of 25-30 minutes to travel the entire distance between Hollywood Studios and Epcot. The distance between Disney's Boardwalk and Hollywood Studios averages 22 minutes.
Naturally, the stops to load and unload will vary along the way. On the way back from Hollywood Studios, the boat's captain will likely mention that if you're staying at Disney's Boardwalk, you might prefer to exit at Disney's Swan and Dolphin.
If you elect to exit at the Swan and Dolphin, you can walk across the bridge to the Boardwalk in less than five minutes. This will be your quickest option because you won't have to make the stop at Beach and Yacht Club before traveling to the Boardwalk.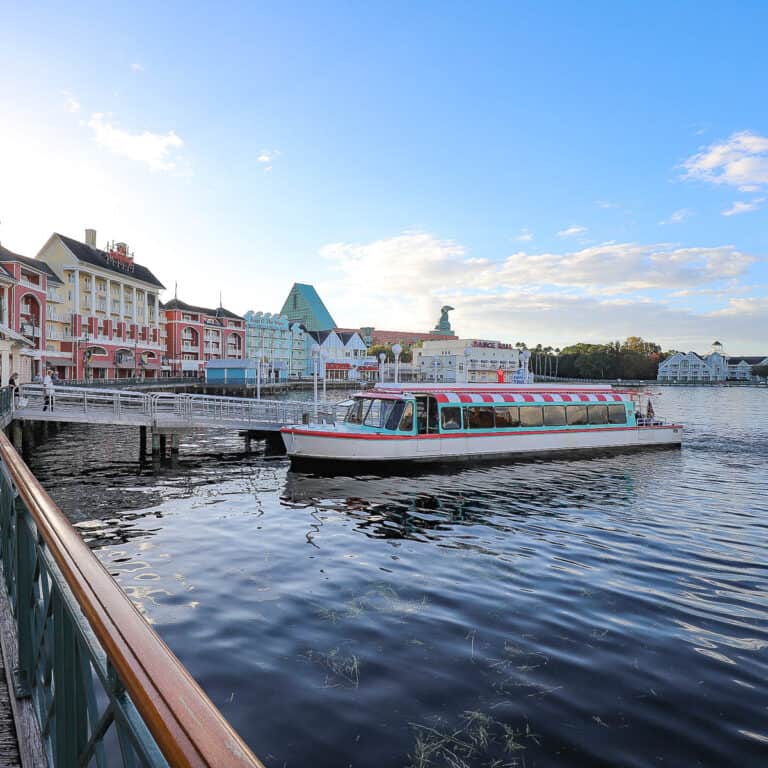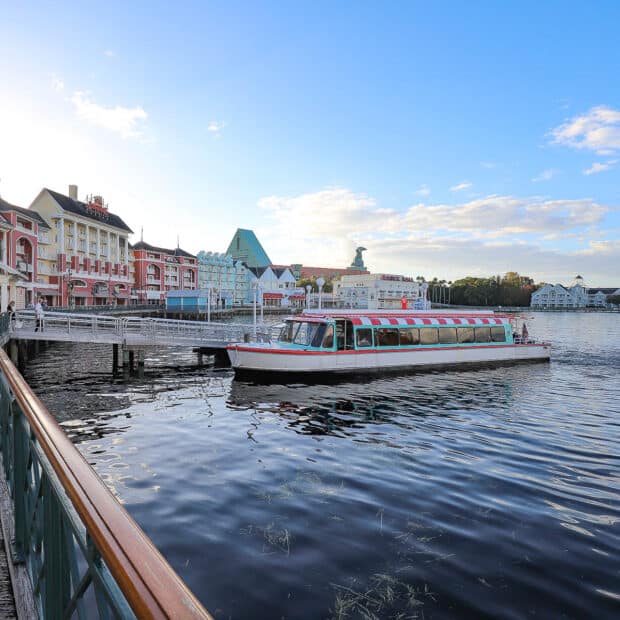 Boardwalk to Magic Kingdom
As for traveling from the Boardwalk to Magic Kingdom, you'll need to take Disney's bus service. When you exit the front entrance of the Boardwalk Inn's lobby, there's a walkway to the bus stop on the immediate left.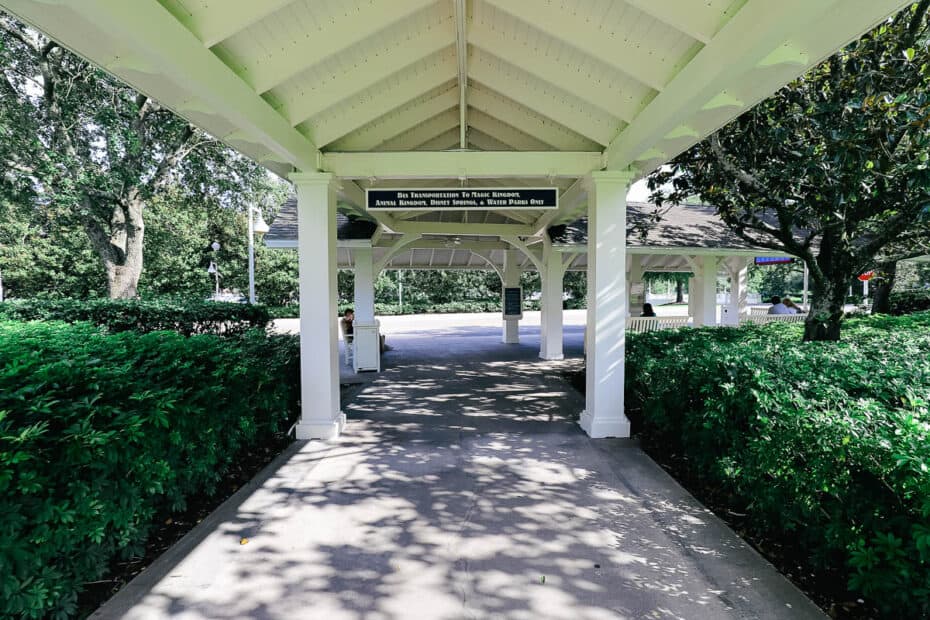 Several signs indicate that you're headed in the right direction.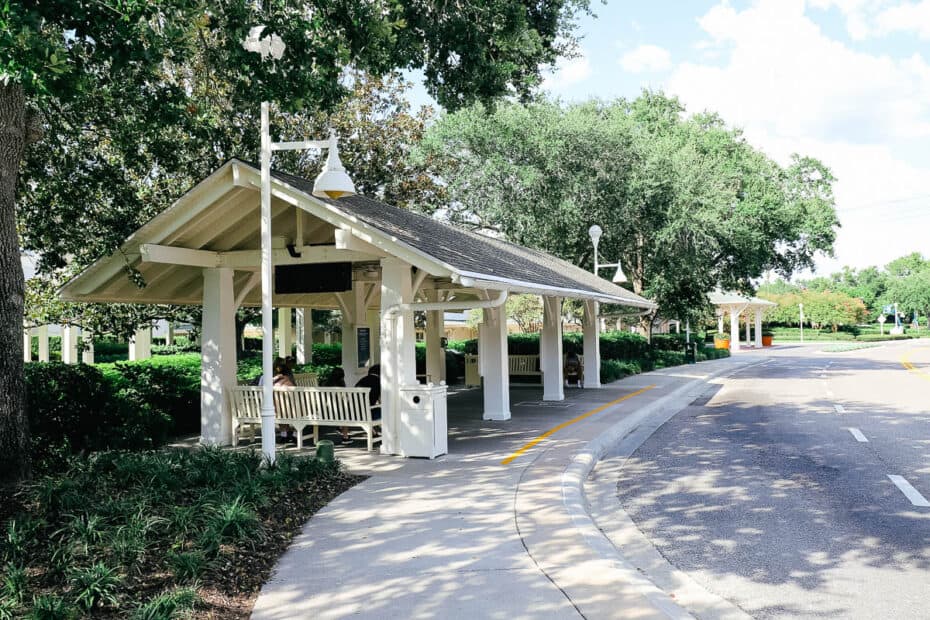 A digital sign estimates how long it will take for the next bus to arrive. However, these signs are only estimates and often fluctuate while you're waiting.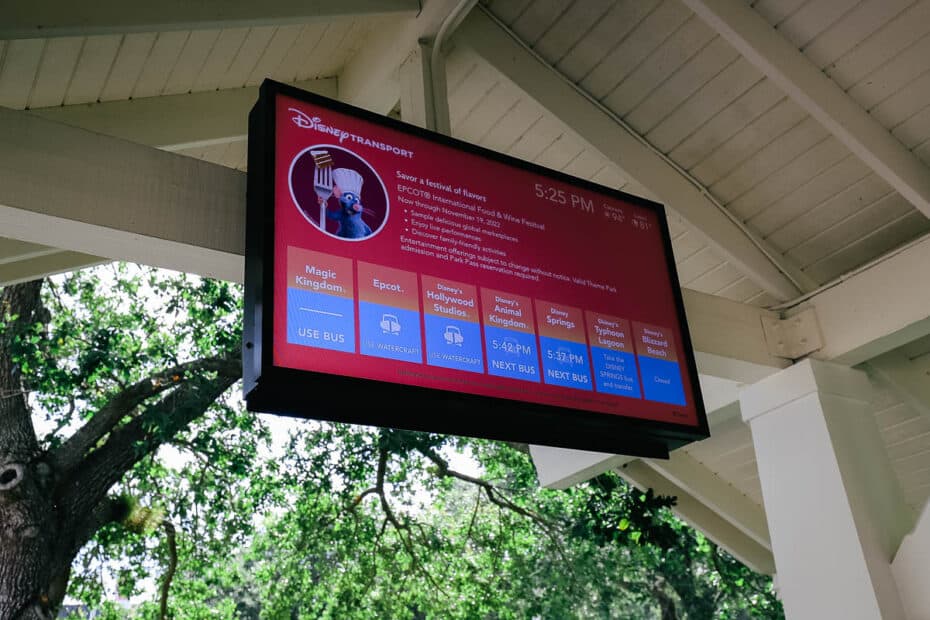 During a recent visit to the Boardwalk, I timed how long it took to travel between the resort to Magic Kingdom. Per my notes, I boarded a bus from Boardwalk Inn to Magic Kingdom at 5:31 p.m.
I arrived at Magic Kingdom at 5:44 p.m. So it took approximately 13 minutes to get from Disney's Boardwalk to Magic Kingdom.
Boardwalk to Animal Kingdom
You'll also need to take the resort bus service to get to Disney's Animal Kingdom from the Boardwalk. It takes approximately 10 minutes to travel to Animal Kingdom from the Boardwalk.
Boardwalk to Disney Springs
While Disney Springs isn't far from Disney's Boardwalk, you might run into more traffic than some of the other destinations. When you get near the venue, there's a separate lane for Disney's buses which helps.
Travel time between the Boardwalk to Disney Springs averages seven minutes. But again, it can take longer if you hit a decent amount of traffic signals or traffic.
Boardwalk to Disney's Water Parks
Those with plans to visit a water park will need to take a bus from Disney's Boardwalk.
For Typhoon Lagoon, you'll board a bus to Disney Springs. At Disney Springs, you'll take another bus across the street to the water park. You'll return to Boardwalk in the same manner.
When Blizzard Beach reopens, I'll provide an update when we see which route Disney decides to use. In the past, you would take a bus to Animal Kingdom. Then at Animal Kingdom, you would reboard a bus to Blizzard Beach.
Taking the Skyliner To and From Disney's Boardwalk
Since Disney's Skyliner opened a few years ago, guests often enjoy experiencing a gondola ride for leisurely purposes. If you're staying at the Boardwalk, there's no real need to take the Skyliner to a theme park. It would be out of the way.
But you might want to take a gondola ride to visit the resorts on the Skyliner. For instance, you might plan a character meal at Topolino's Terrace at Disney's Riviera.
So below, we'll discuss where to board the Skyliner and where it will take you.
A Skyliner station sits outside the International Gateway at Epcot and the entrance to Hollywood Studios. As we already discussed, you can walk or boat from the Boardwalk to either park. From there, you can board the Skyliner.
The Skyliner travels to and from these locations in this order:
International Gateway at Epcot (board or exit only)
Disney's Riviera (can exit here or continue to Caribbean Beach)
Disney's Caribbean Beach (all guests have to exit here and reboard)
From Disney's Caribbean Beach, you can board an individual line to the following:
Disney's Hollywood Studios
Pop Century or Art of Animation (same stop)
Back to Disney's Riviera (can exit here or continue to Epcot)
Once you board the Skyliner, a recording will play over the loudspeaker, indicating where you are headed and whether or not you'll need to exit. So while it might feel overwhelming, it's a fairly simple process.
Additionally, cast members are at each drop-down asking guests where they are headed. If you are supposed to get off, they'll let you know.
Related: Disney's Skyliner Resorts with Travel Times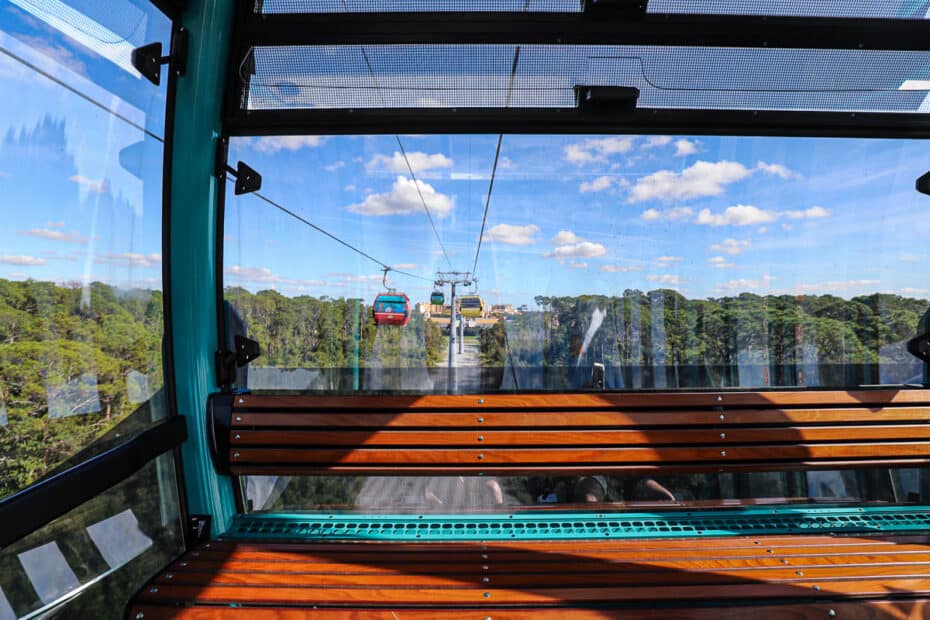 Disney's Boardwalk Transportation Tips
Those staying at Boardwalk Inn might have plans to travel to a few other resorts during their vacation. So I thought I would share a few tips on how to travel to specific hotels using the transportation offered by Disney.
For instance, you might decide to travel to one of the hotels on the monorail. Those hotels are Disney's Polynesian, Grand Floridian, and the Contemporary.
If I were going to one of these hotels, I would take a bus to Magic Kingdom. From Magic Kingdom, you have a couple of options:
After you take the bus from the Boardwalk to Magic Kingdom, you will have to walk through the security checkpoint at Magic Kingdom. From there, you'll have access to the resort boat service, resort monorail, and the walkways to Grand Floridian and the Contemporary.
*You do not have to enter Magic Kingdom to access these options.
For Disney's Wilderness Lodge, you'll want to take a bus from the Boardwalk to Magic Kingdom. Then you can take the resort's boat service to Wilderness Lodge.
Additionally, there's one other simple route for these resorts and a few others:
You can walk or boat to Hollywood Studios from the Boardwalk (during operating hours). Once you get to Studios, find the bus stop for the resort you are wanting to visit. Take that bus to the resort.
Use this tip to get to other resorts like Coronado Springs, Animal Kingdom, All-Stars, and the resorts near Disney Springs.
Or you could take a bus to Disney Springs and then boat to the Disney Springs Resorts. However, that will involve trekking across Disney Springs from Town Center to The Marketplace Boat Dock.
Related: How To Get to Disney Springs
Final Thoughts on Transportation at Disney's Boardwalk
Hopefully, this guide gave you an idea of how to get to and from Disney's Boardwalk Inn efficiently. I know how overwhelming it can be to figure out how to travel from one place to another.
When visiting, I try to remember that sometimes transportation options can be slow. If I'm traveling to another resort and have to use multiple forms of transportation, I give myself an hour to an hour and a half to get there.
While I don't recommend intentionally being late for dining reservations, it's typically not the end of the world if something deters you from arriving on time. If that happens, explain your circumstances to the cast member.
Generally, it's not an issue other than waiting until another table is available. However, if I am cutting it close, say I need to be somewhere in 15 minutes or less, I'll usually elect to pay out-of-pocket for a car service or Minnie Van.
For more information about staying at Disney's Boardwalk, we have a guide that lists every article we have available:
Or you might enjoy these individual articles:
Additionally, we have a full list of transportation options at Disney World and a list of our hotel transportation guides.
In the comments
Did this article help you figure out how to get to and from Disney's Boardwalk? Do you have a form of transportation you prefer?