Christmas Characters at Walt Disney World
We'll continue our tour of Christmas in the parks with a look at the different Christmas characters at Walt Disney World. As we head into the 2022 holiday season, it's important to note that most traditional character meets have returned.
So, for this article, we'll look at what Christmas characters we can find at traditional meet-and-greets in the four parks. Character locations in this article will be available to regular park guests.
In addition to Christmas characters, we also visited Mickey's Very Merry Christmas Party, an extra-ticketed event. There is a separate guide covering those character meets in their entirety.
Related: Characters at Mickey's Very Merry Christmas Party
Let's see what characters have a bit of holiday flair, shall we?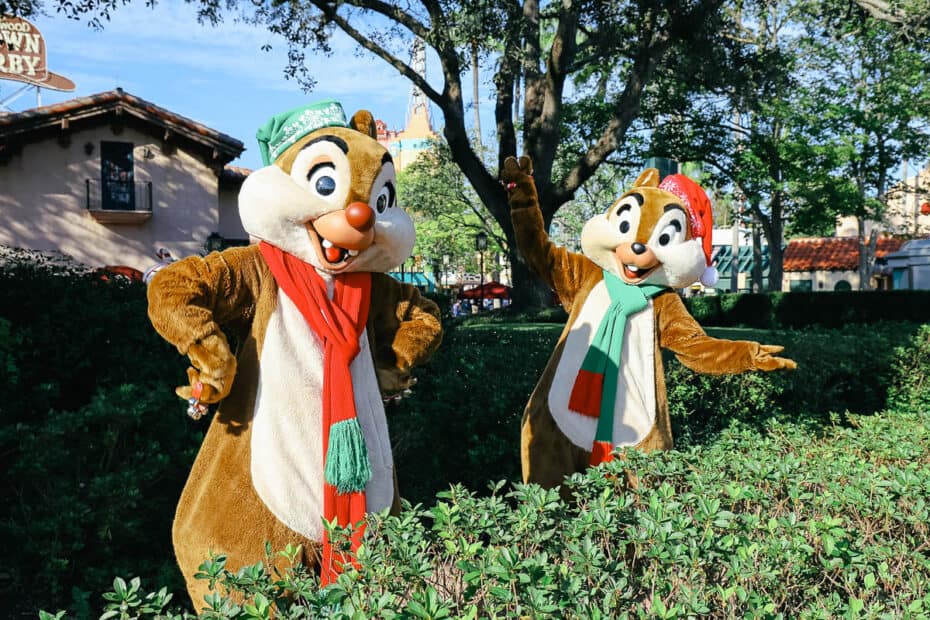 Disney World Christmas Characters
We'll start with a visit to Disney's Animal Kingdom, where we find Mickey and Minnie meeting in festive attire. Mickey and Minnie meet daily at Adventurer's Outpost at Disney's Animal Kingdom.
Here is their everyday look throughout the year.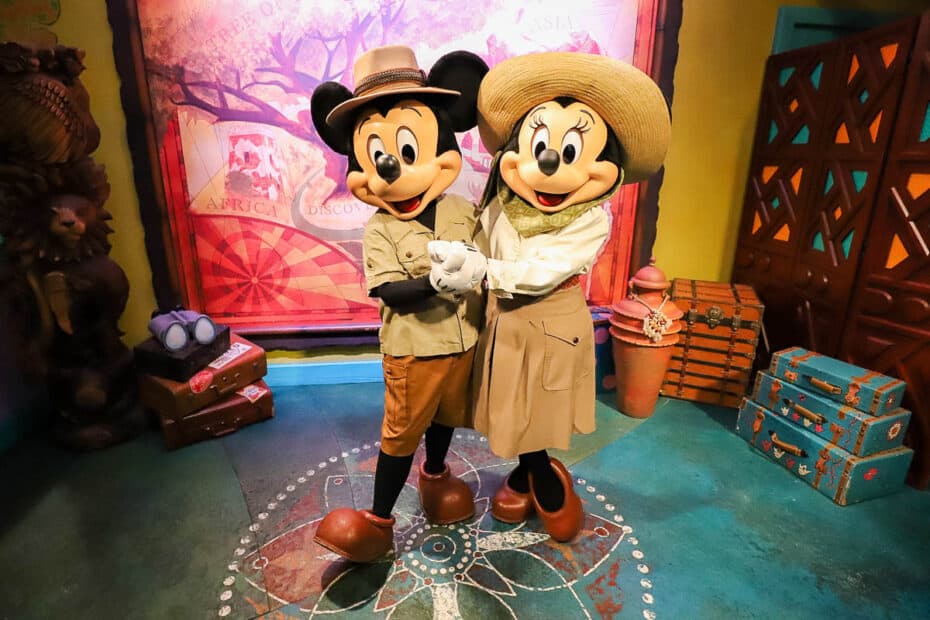 Below they are dressed in their Christmas best.
Related: Meet Mickey and Minnie at Disney's Animal Kingdom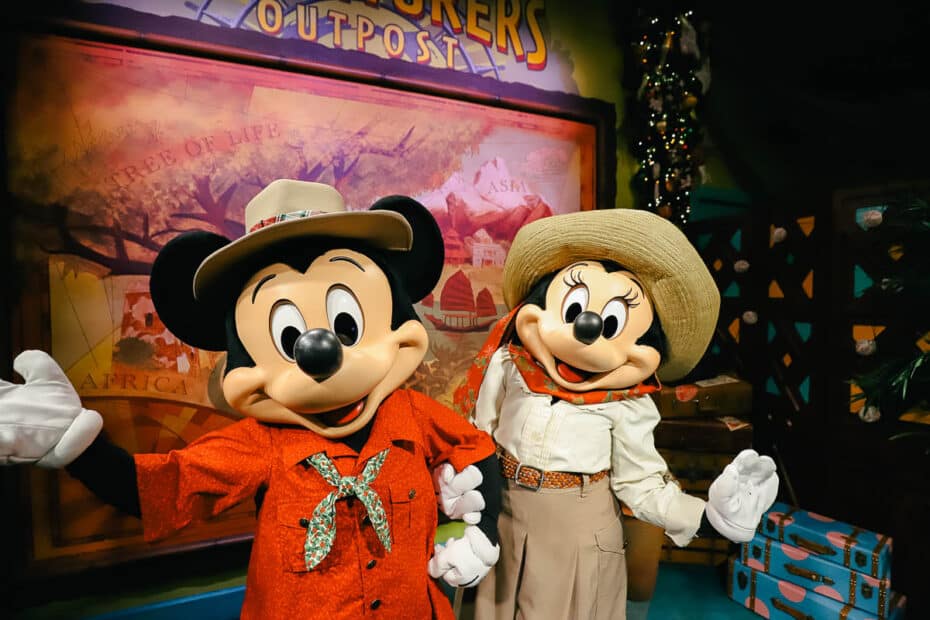 Next, we have Chip and Dale O'Saurus. I don't know who came up with the idea to put these two chipmunks in dinosaur suits. But it works!
Here are their regular suits.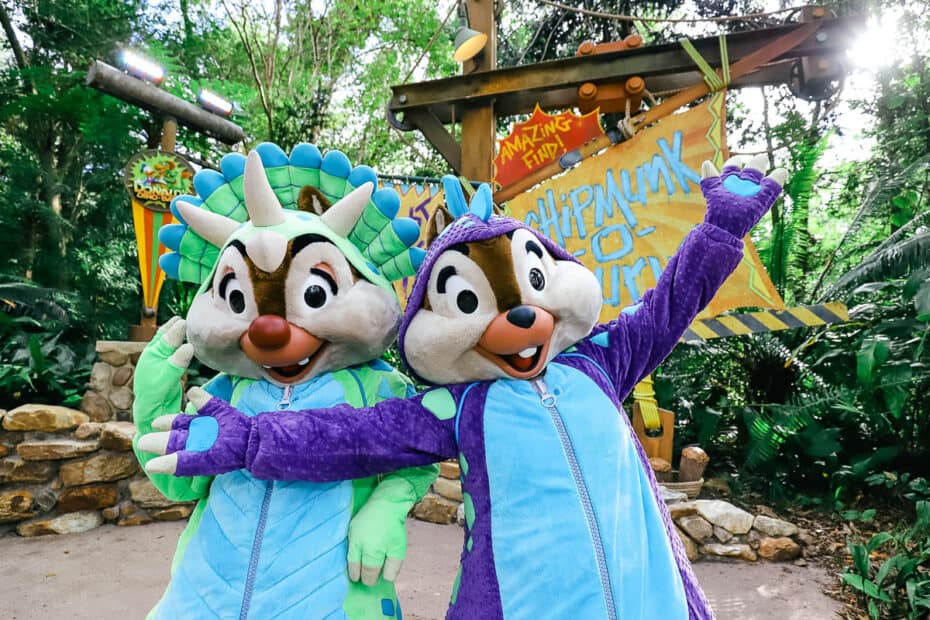 These characters are sporting antlers for Christmas and tangled up in Christmas lights. You can find this pair most days in Dinoland, U.S.A.
Related: Meet Chip and Dale at Animal Kingdom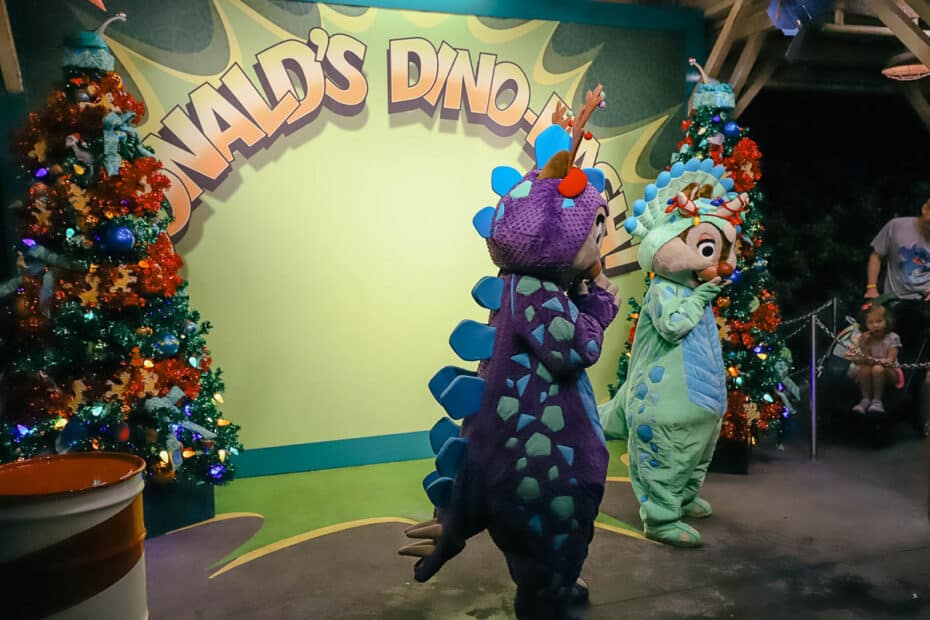 Donald Duck has a festive sash added to his prehistoric look. Be prepared to wait if you want to meet the number one duck. He tends to hold an exceptionally long line at this location.
Here is his traditional look.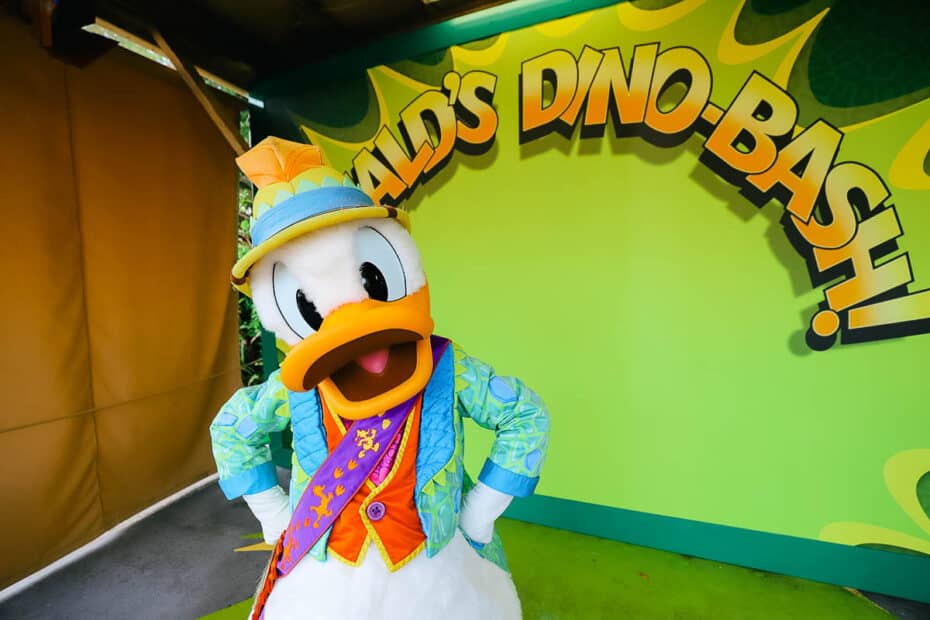 Below we have him in his holiday sash and festive ribbon around his hat.
Related: Meet Donald Duck at Dinoland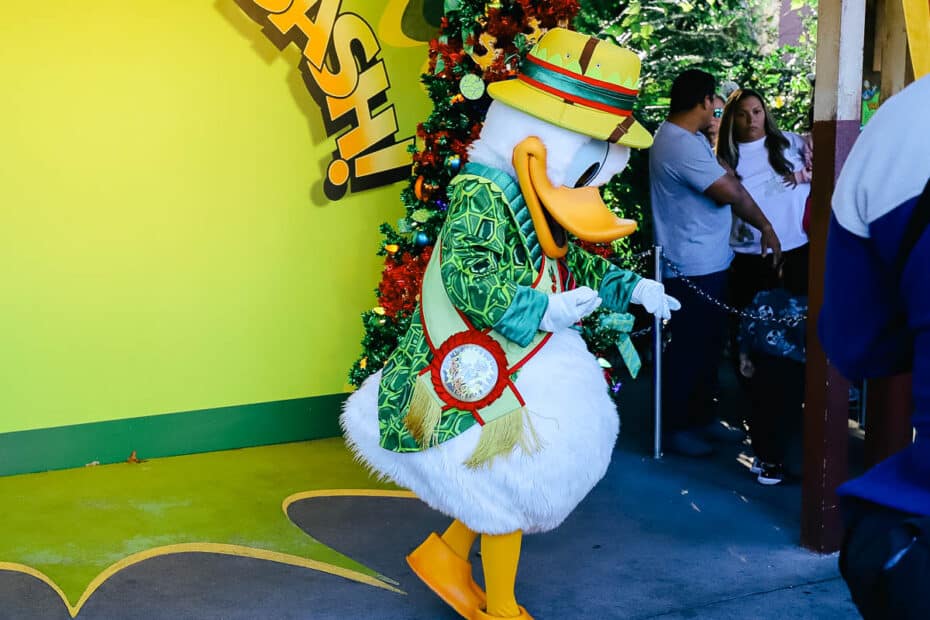 Unfortunately, I've yet to catch Daisy in her Christmas outfit at Disney's Animal Kingdom. However, her location, on the Cretaceous Trail, is decked to the nines.
Will you take a look at her holiday decor? It's almost as fabulous as Daisy herself.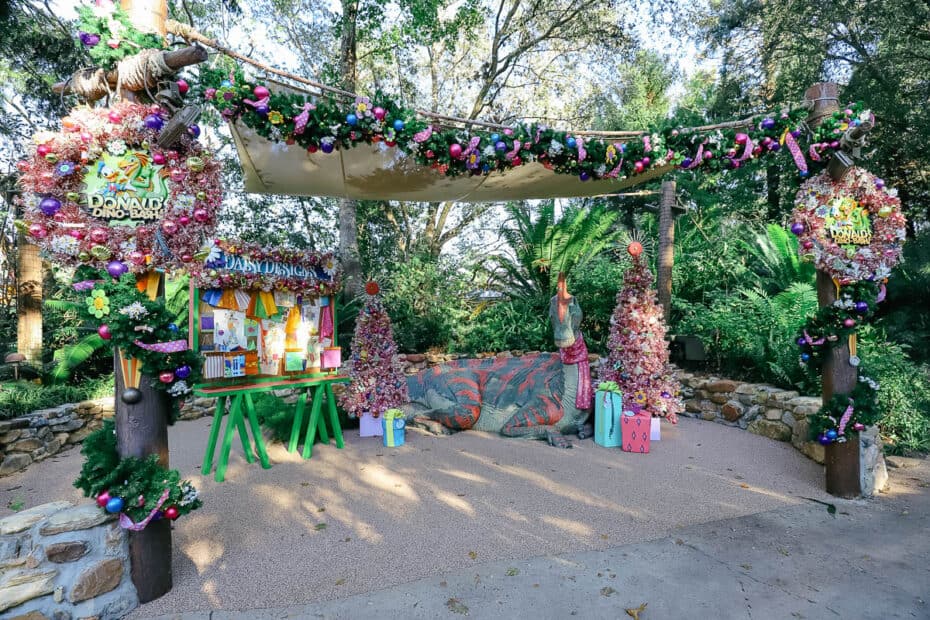 Daisy usually meets daily at Disney's Animal Kingdom. She must have been on vacation with the nephews during my last visit.
Here is her traditional look for this location.
Related: Meet Daisy Duck at Animal Kingdom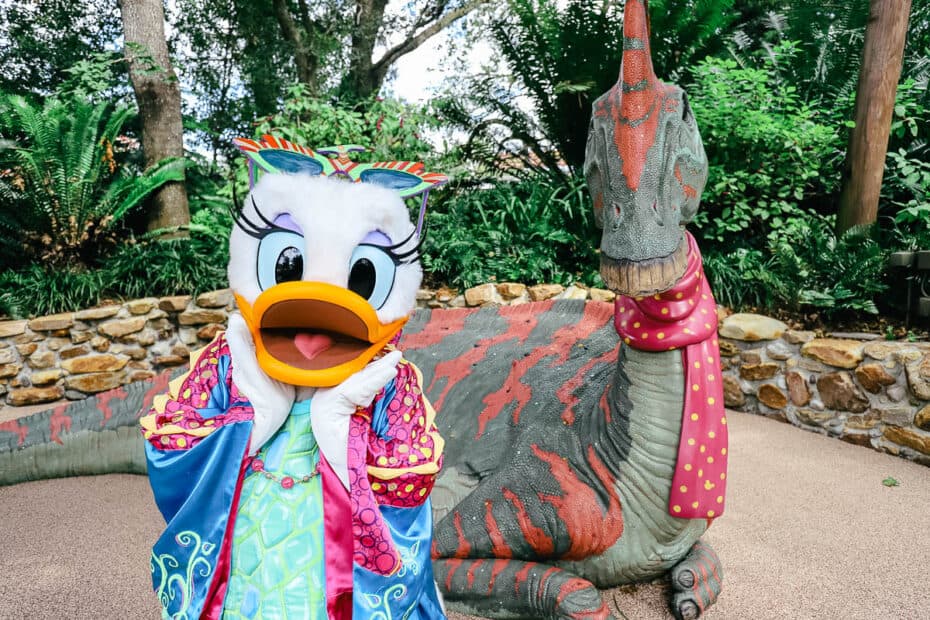 In addition to regular Christmas character meets, there are a few character cruises (flotillas) at Animal Kingdom with holiday trimmings.
For instance, Launchpad McQuack's float was decorated for Christmas. He's also wearing a candy-cane-striped scarf.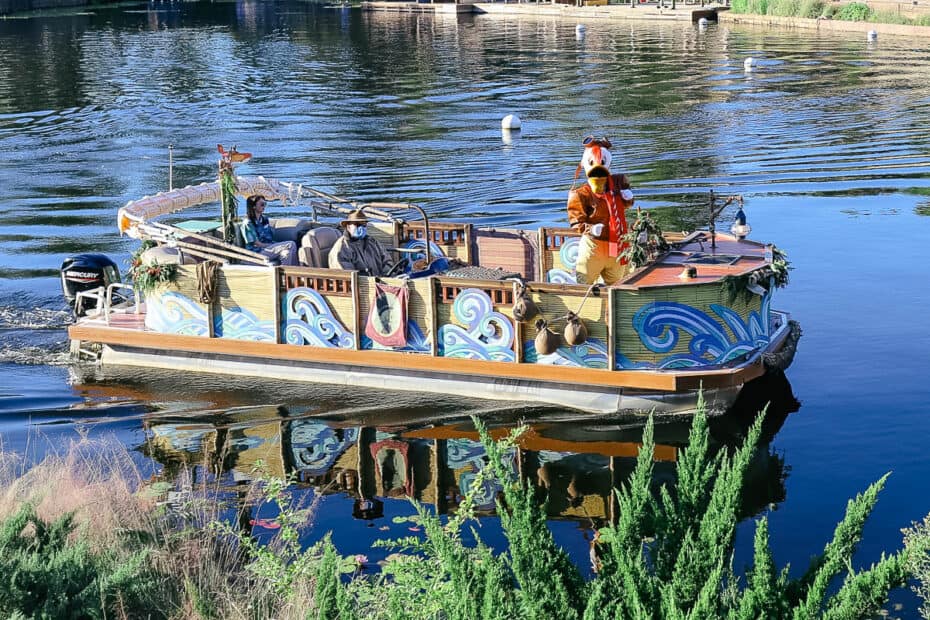 Santa Claus has a Santa Claus Flotilla available through December 24, 2022, at Disney's Animal Kingdom. These cruises are listed in the My Disney Experience app and can be seen in a variety of places throughout the park.
I like to grab a snack and find a spot at the outdoor theater that sits on the edge of the Discovery River Lagoon to see them. This afternoon, I sat down at approximately 3:55 p.m. and watched several cruises pass through the area.
It's a great place to take a break and enjoy entertainment without extra fuss.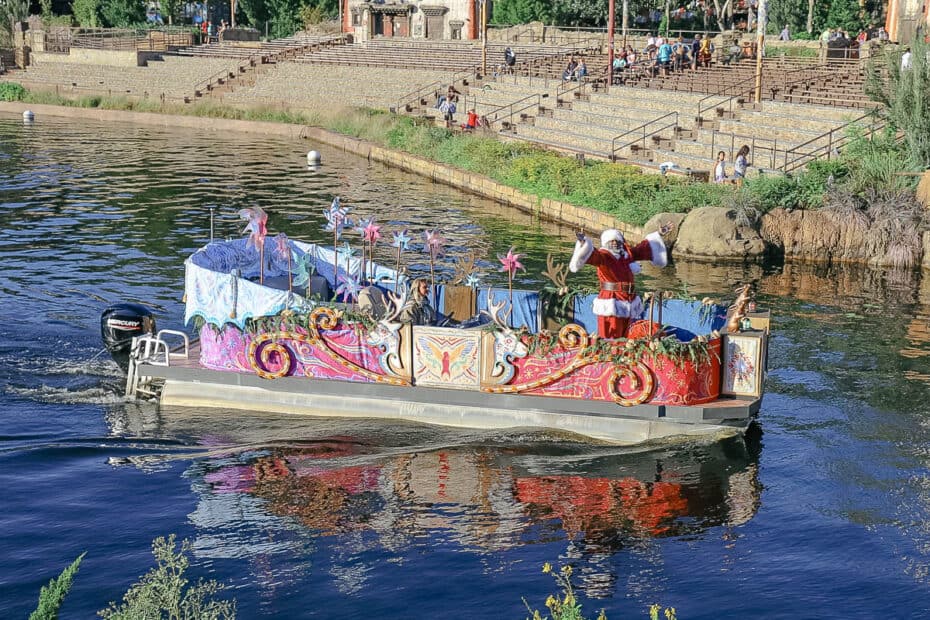 Moving on to Disney's Hollywood Studios, I saw Daisy on the edge of Hollywood Boulevard. She wasn't wearing a festive outfit, but her location sure was Christmas-y.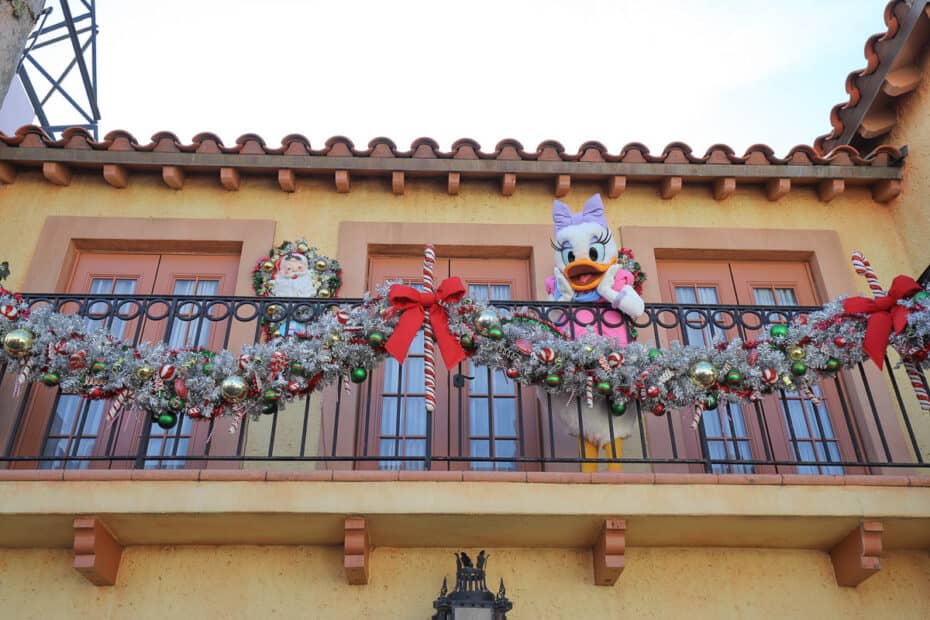 Chip and Dale have donned their holiday scarves and hats for another Christmas look. They meet in front of the Hollywood Brown Derby at Disney's Hollywood Studios.
This location is still considered a character sighting. While they are fun and simple to see, Chip and Dale do not give hugs or sign autographs at this location.
If you want to do a more traditional meet, you can find them most days at Magic Kingdom.
Related: Meet Chip and Dale at Walt Disney World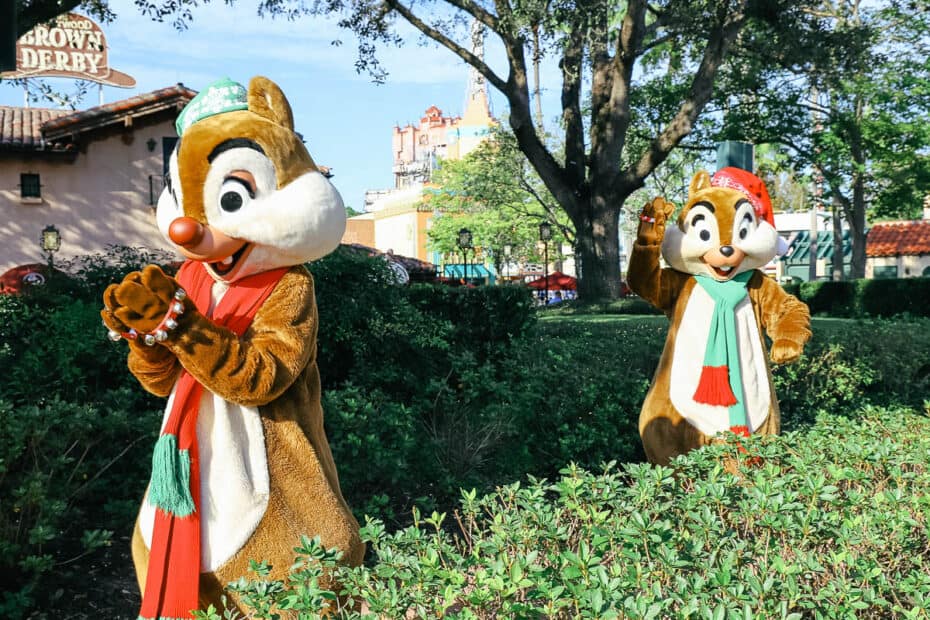 Only recently, we saw Woody and Jesse return to Disney's Hollywood Studios. Since then, they have added a few Christmas accessories to their looks.
Woody and Jesse meet together in their Christmas outfits in front of Toy Story Mania in Toy Story Land. Woody had a Christmas cane in his holster!
Related: Meet Jesse and Woody at Toy Story Land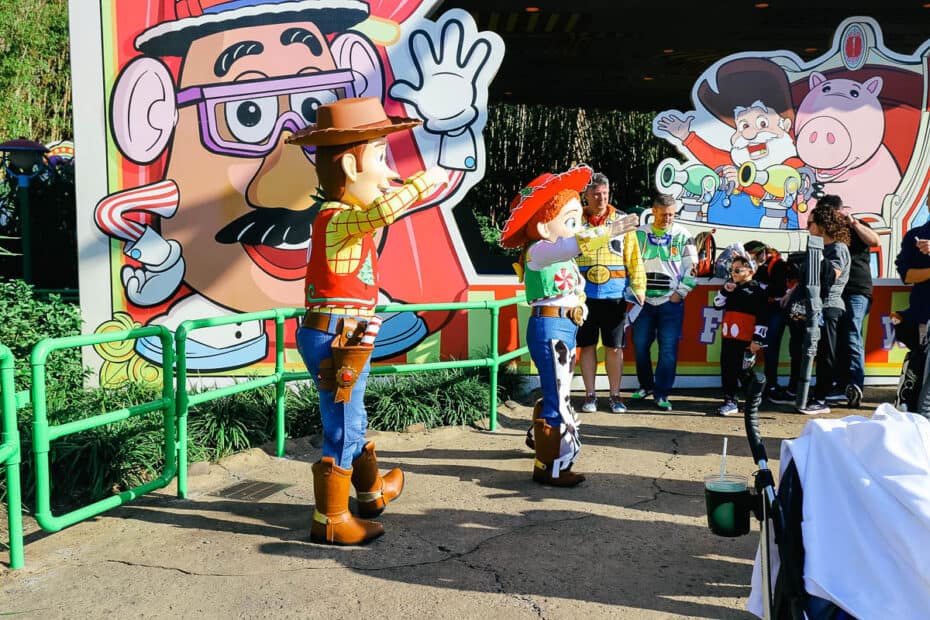 Buzz Lightyear is not far away. He meets guests in front of Slinky Dog Dash in Toy Story Land. That's a Santa hat he's wearing for this Christmas meet-and-greet.
Related: Meet Buzz Lightyear at Toy Story Land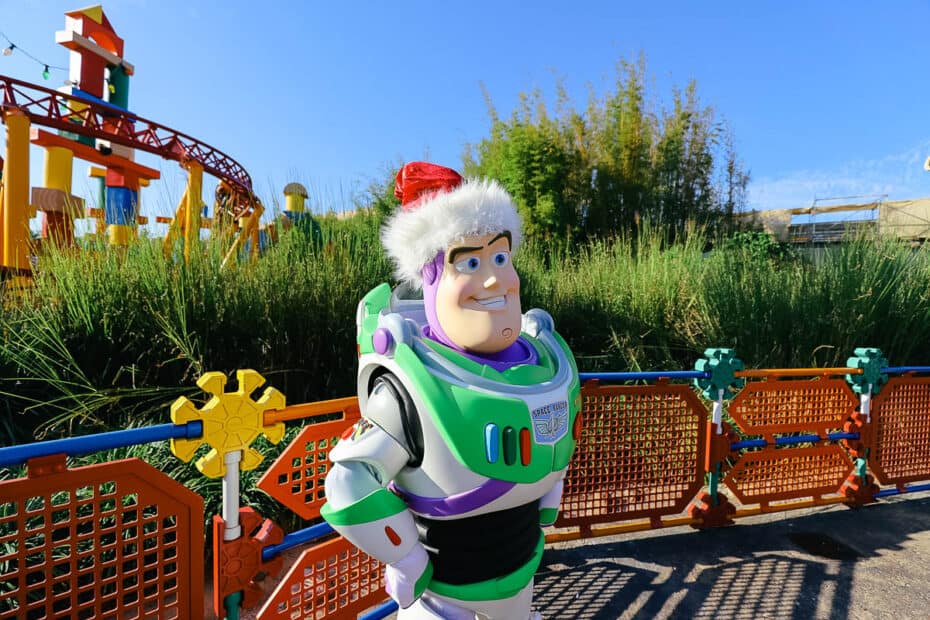 At Epcot, Winnie the Pooh meets in his Santa hat in the garden near the Imagination Pavilion. He's out off and on throughout most of the day and relatively easy to find.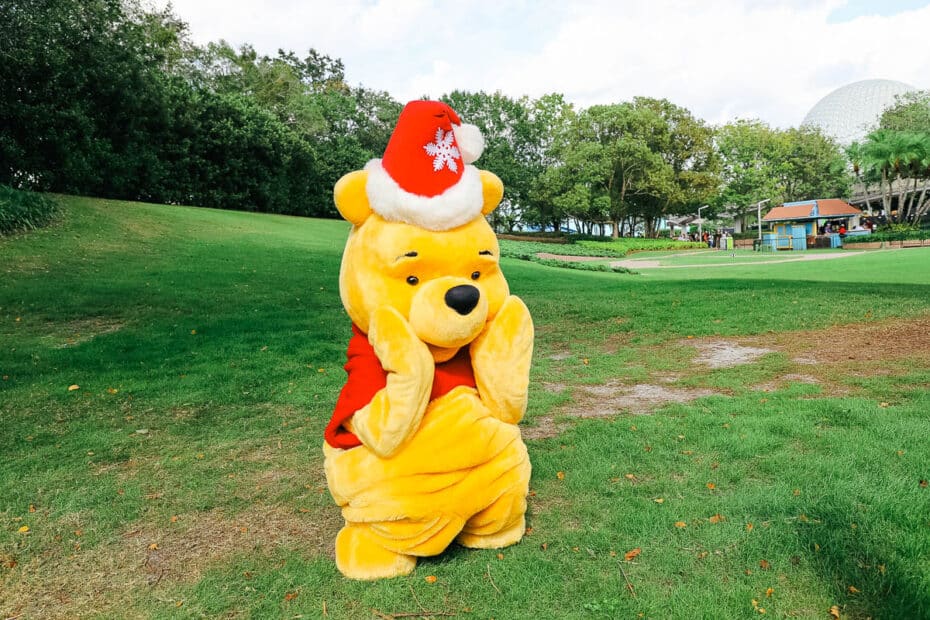 Additionally, Pluto is wearing his Christmas ear muffs at his meet-and-greet location at the gazebo near the World Showcase Plaza.
Related: Meet Pluto at Epcot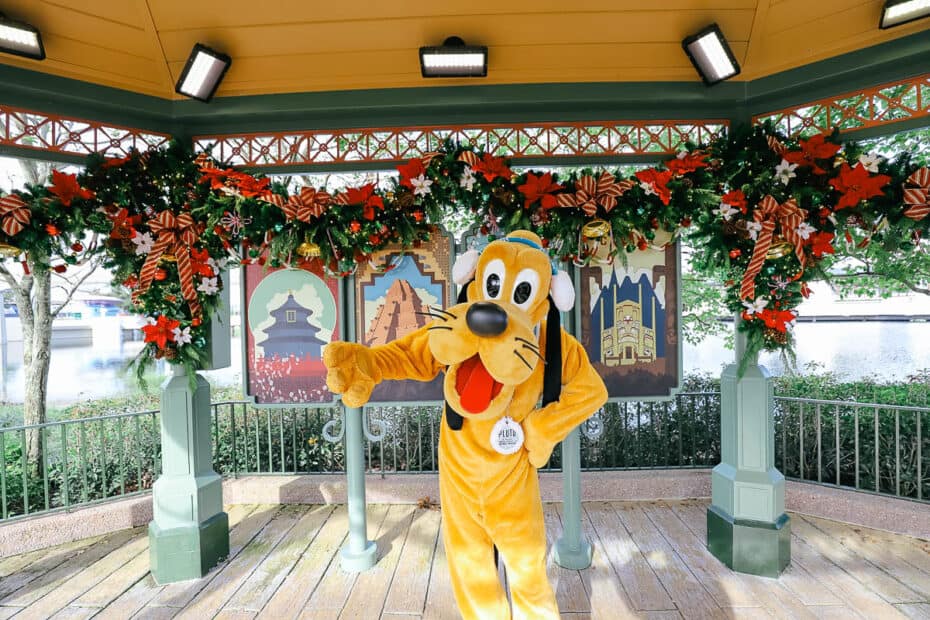 So far, I haven't seen any characters in Christmas costume meeting at Magic Kingdom. But I anticipate seeing a few more in the coming weeks.
When I do, I'll come back and update this article. In the meantime, you might enjoy browsing our entire list of character meets at Walt Disney World.
Additionally, we have a complete guide to character dining at Walt Disney World. That guide includes a list of every Disney character meal available.
My favorite choice for good food and classic characters is the Topolino's Terrace Character Breakfast at Disney's Riviera.
If you are visiting during Christmas, you might tour some popular Disney Resorts like Grand Floridian Resort and Disney's Beach Club.
These guides will help:
Good luck finding all the Disney World Christmas Characters!
In the comments
Are you hoping to meet characters in Christmas outfits at Walt Disney World this holiday season? Who do you hope to see?