Christmas Characters at Walt Disney World
We'll continue our tour of Christmas in the parks with a look at all the different Christmas characters at Walt Disney World. As you probably already know, this year is significantly different when it comes to meeting characters at Disney.
2022 Update: This article reflects holiday character sightings at Disney World for the previous two years. Hopefully, most standard character meets will have returned by the 2022 holiday season.
When I started this website a few years back, I knew I had to specialize in a few choice aspects of visiting Disney World to provide helpful, quality information. At the time, my number one must-do recommendation was to see the Festival of Fantasy Parade at Magic Kingdom.
Related: Festival of Fantasy Parade with Route
With that in mind, I decided to make characters one of my top three choices to cover here on the site. My other two priorities are resorts and dining.
And while I do provide a good amount of information on different Disney World topics, my goal is to cover those three topics to the fullest.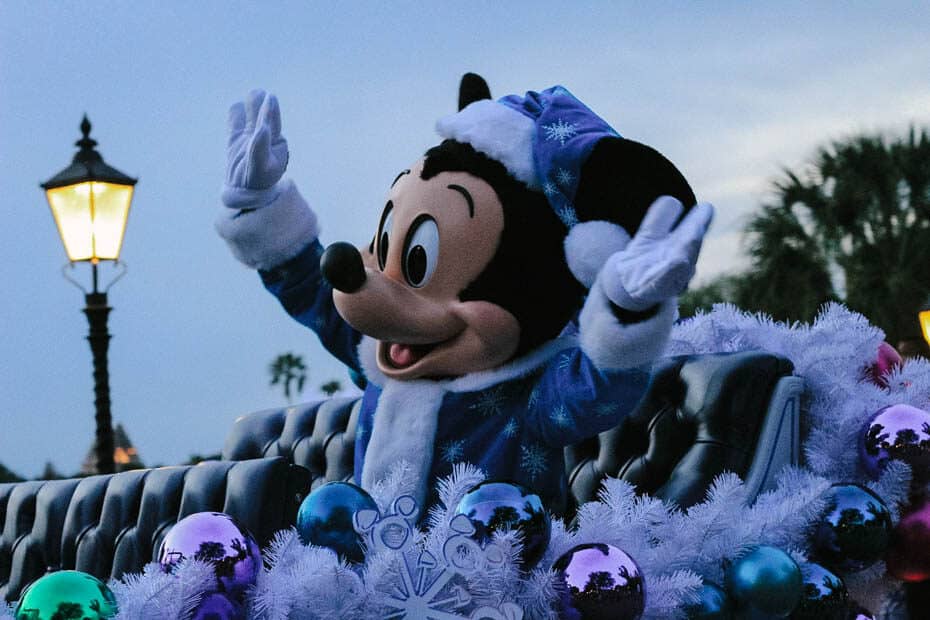 Unfortunately, we haven't had a ton of character coverage this year. When the parks re-opened, you might remember that we staked out the new character pop-ups in each park and the distanced meet and greets.
Relevant Character Articles for 2022:
During Christmastime, most of the characters sport festive holiday outfits. Therefore, I decided we could take an updated look at a few favorite Disney Christmas characters.
When things get back to normal, I'll update our main pages. For now, remember that these experiences are not on a public schedule. You'll want to be in the right places at certain points of the day to try and see them.
Disney World Christmas Characters
Over at Magic Kingdom park, the cavalcades run off and on from the morning until right at sunset. You might run into Disney Christmas characters, including Pluto, Donald, and Daisy Duck.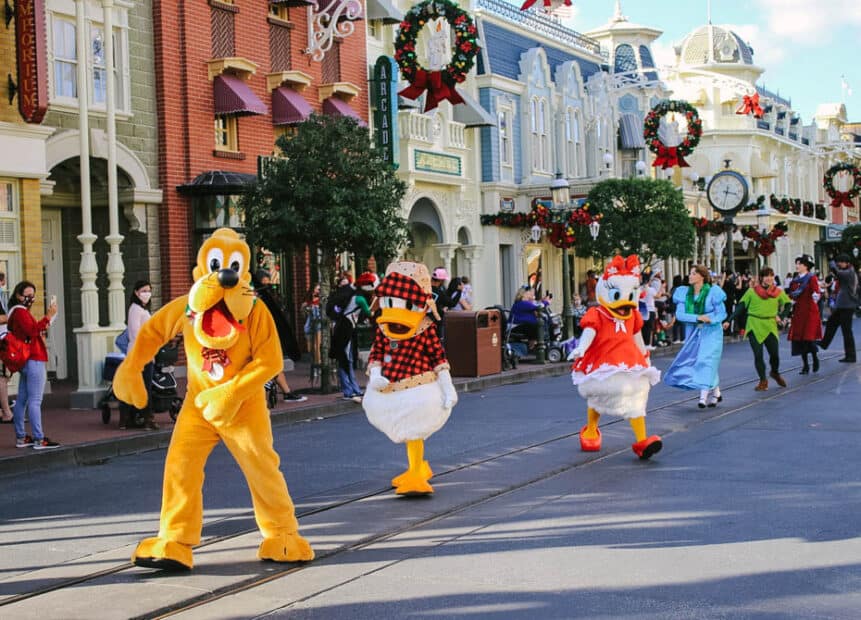 Below, Pluto is excited to see the end of the route.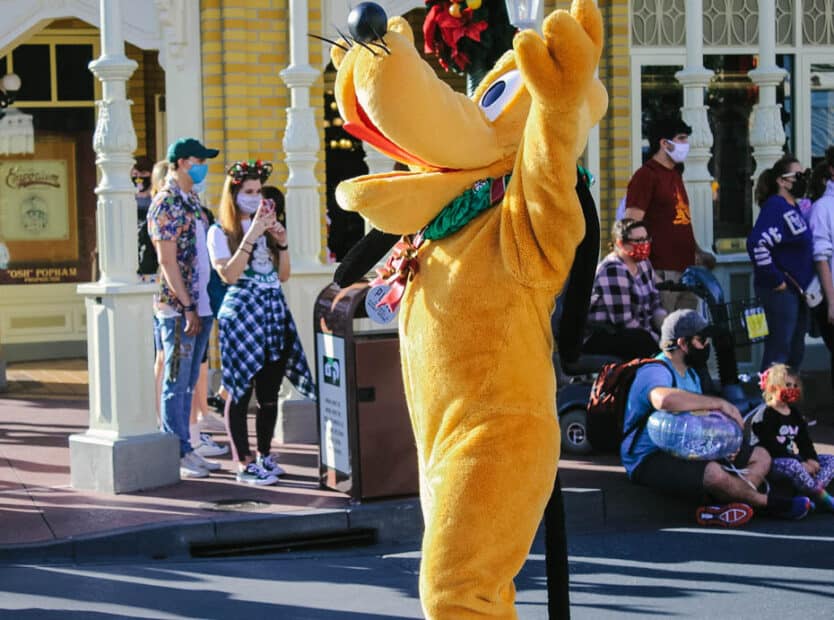 I'm not for sure what Donald was trying to do, but it looked like they had added a hint of rose gold to his Buffalo plaid. But, of course, that's what Disney has pretty much done with everything else, so why not?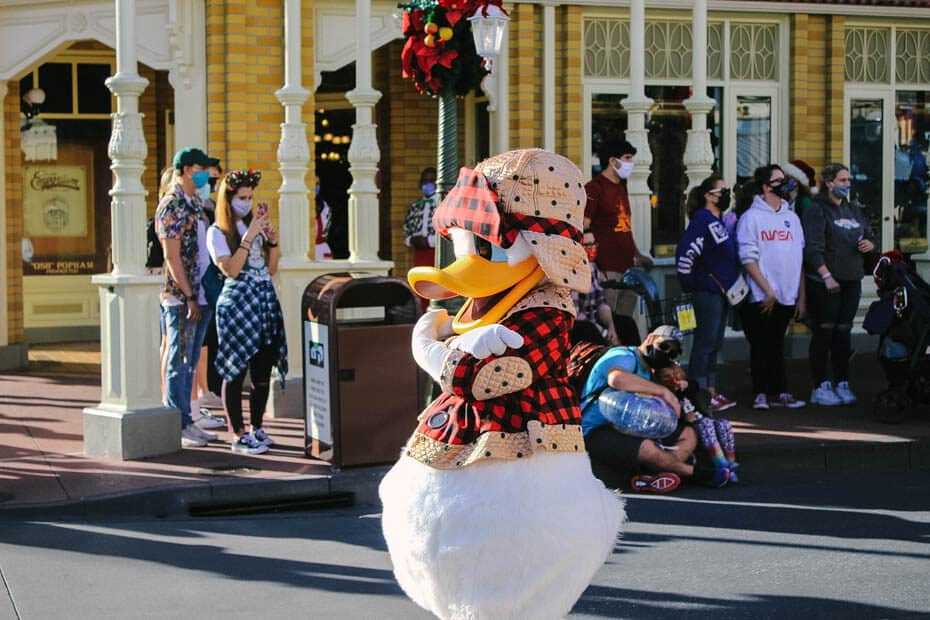 Wendy, Peter Pan, Mary Poppins, and Bert join in the fun.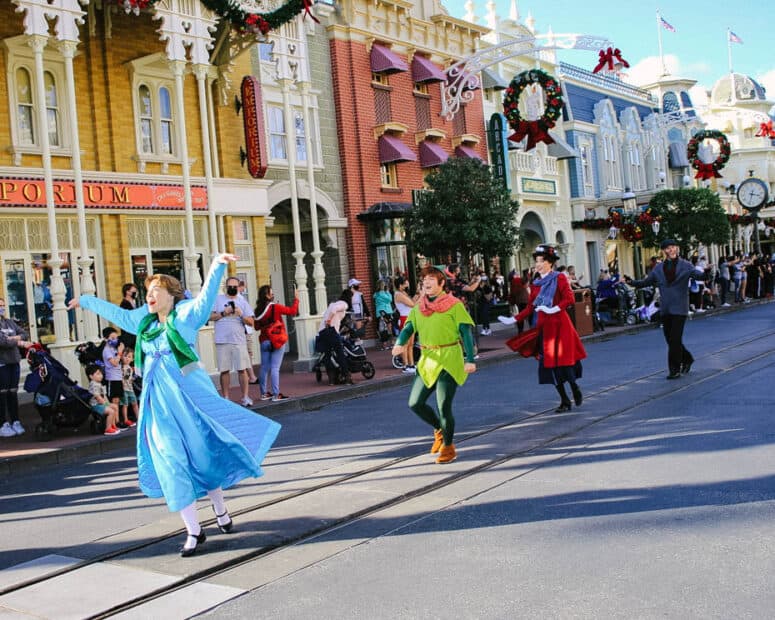 I have found that the best time to see several of these pop-up parades in a short amount of time is to hang out on Main Street for about an hour mid-afternoon.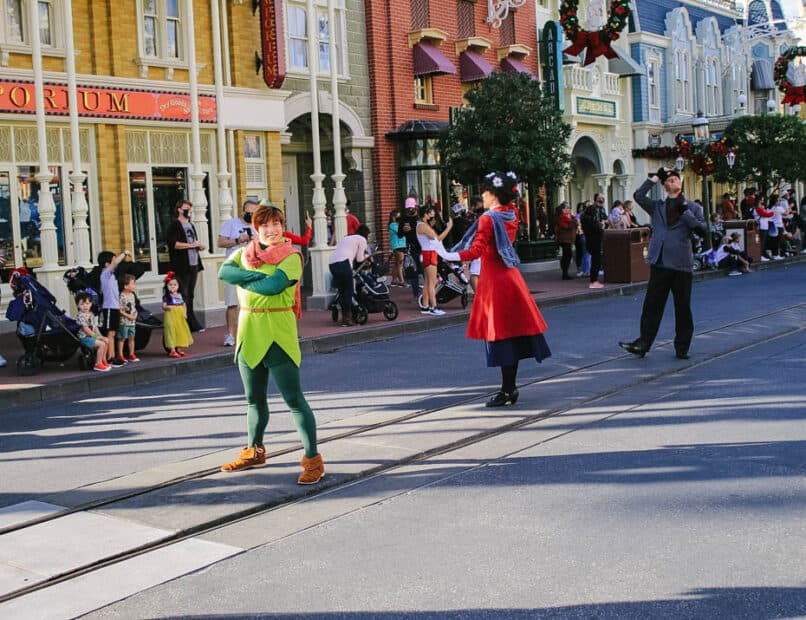 Again, there are no guarantees. But from my experiences, it seems like that's when most of these special characters come through.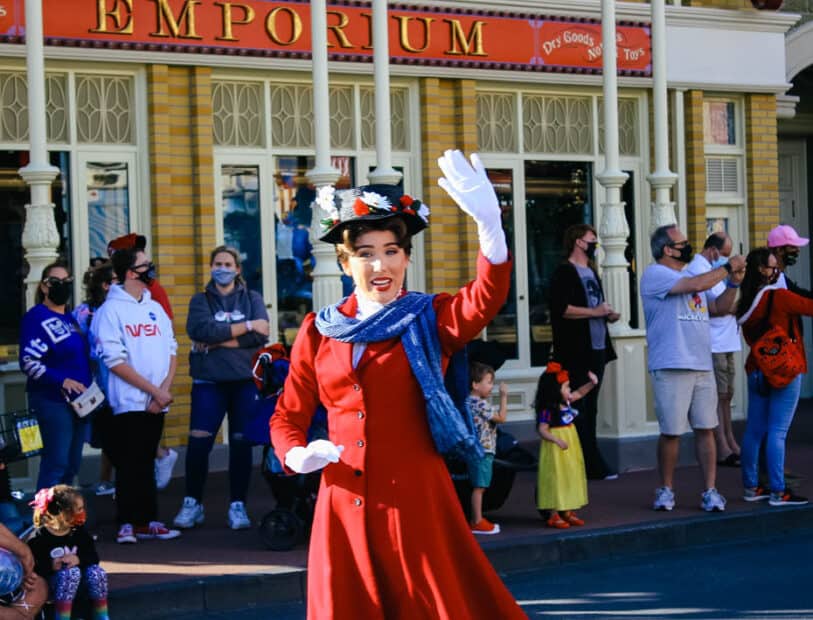 It is not often that you see Mary Poppins in her traveling costume or Bert in his chimney sweep wardrobe.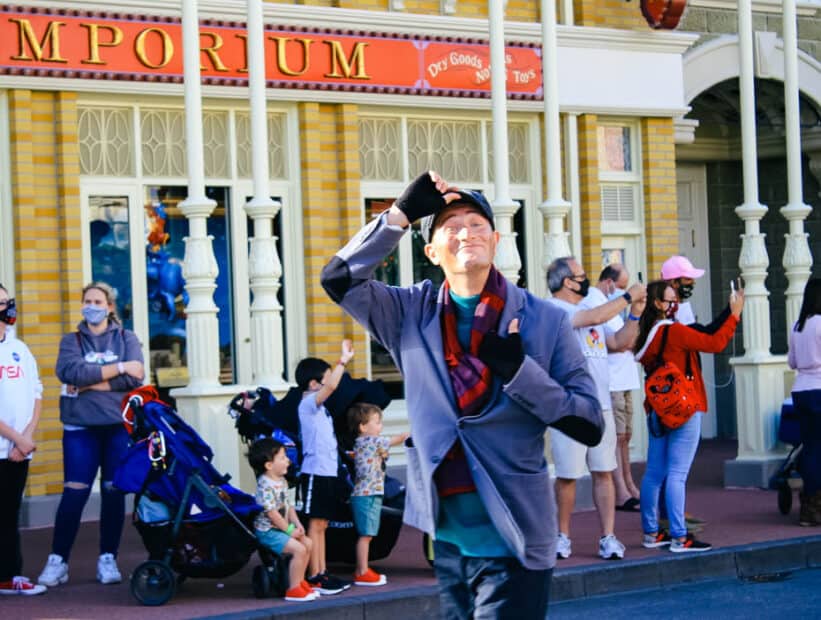 Not far behind, you'll see Mickey and Minnie Mouse on their Christmas tree float.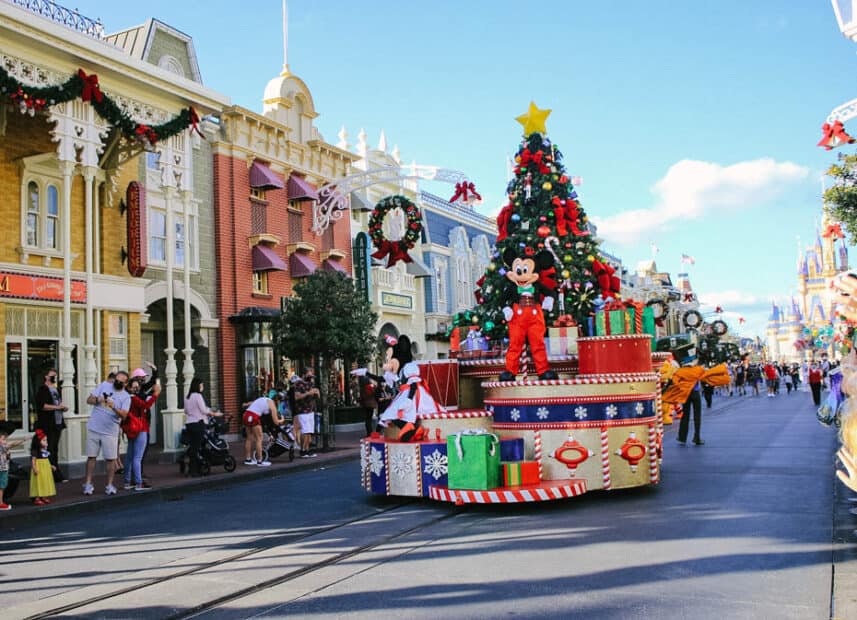 These kinds of interactions are so exciting for children to see. Make sure to stop for a moment if you see them coming. The time investment is minimal since they are pop-ups and only last a brief few moments.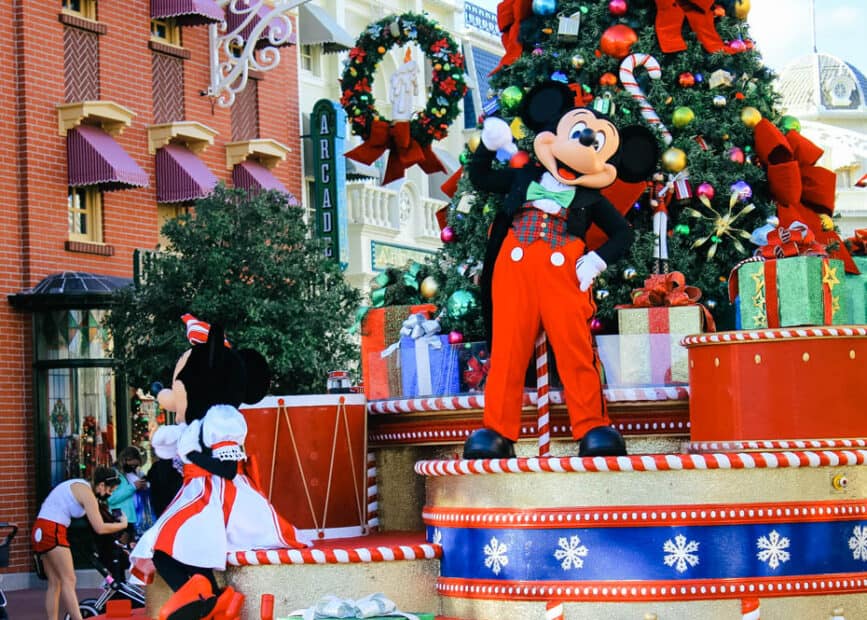 I sure hope we will continue to see more of these interactions in the future.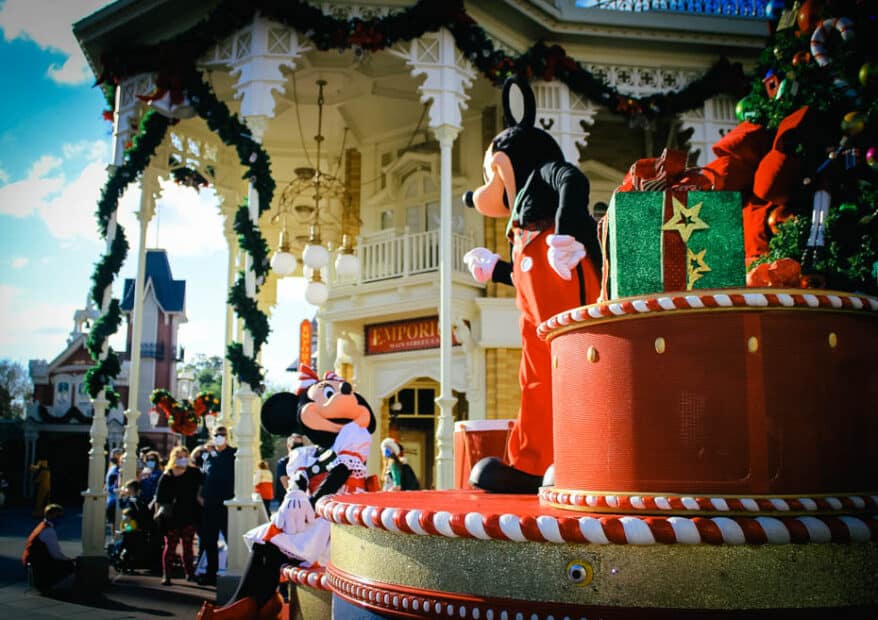 Behind this Mickey and Friends cavalcade, you'll see a few Fantasyland Friends.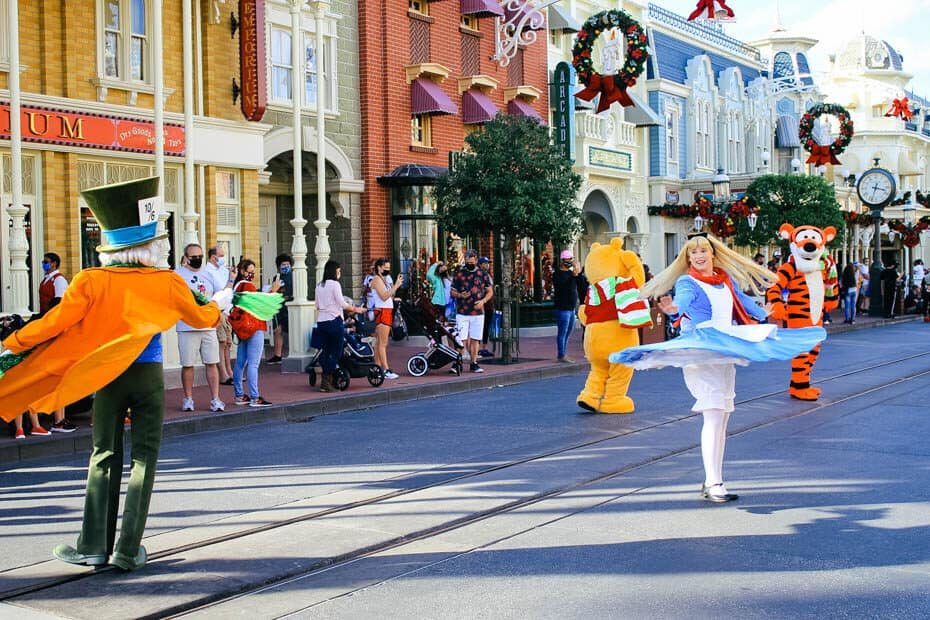 These Christmas characters do change out from time to time. But lately, I've seen Mad Hatter, Alice, Winnie the Pooh, and Tigger.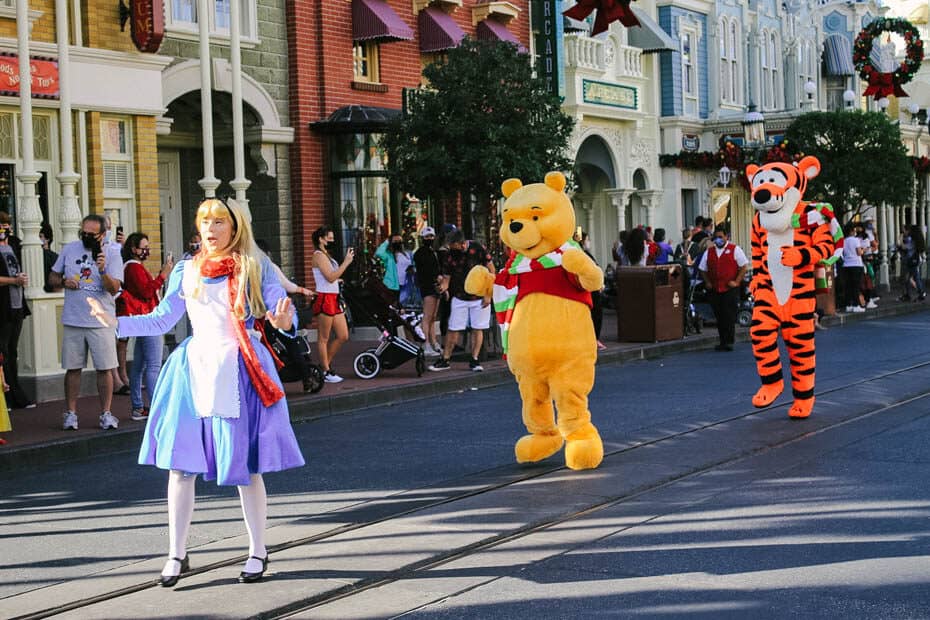 Winnie the Pooh sports a winter scarf.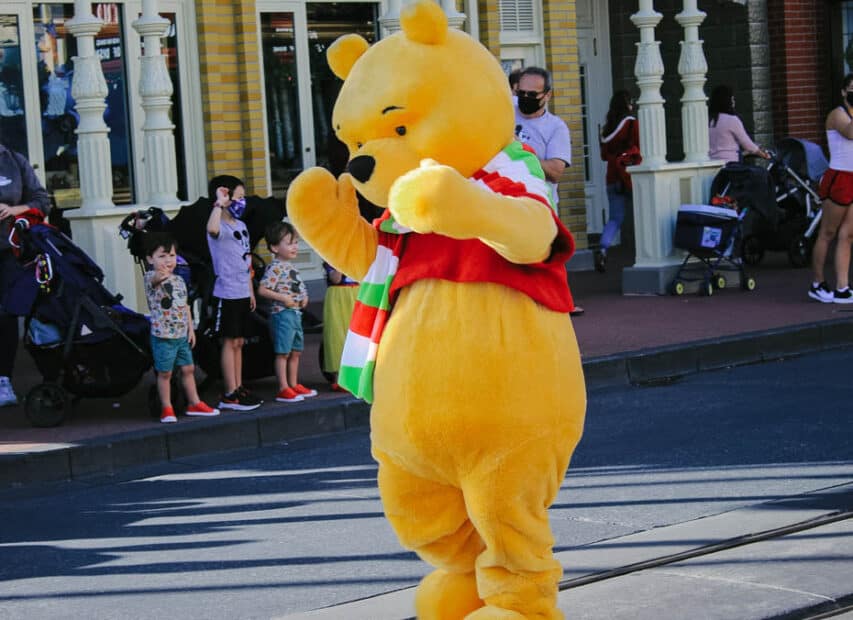 Tigger is wearing one as well. And no, your eyes are not deceiving you.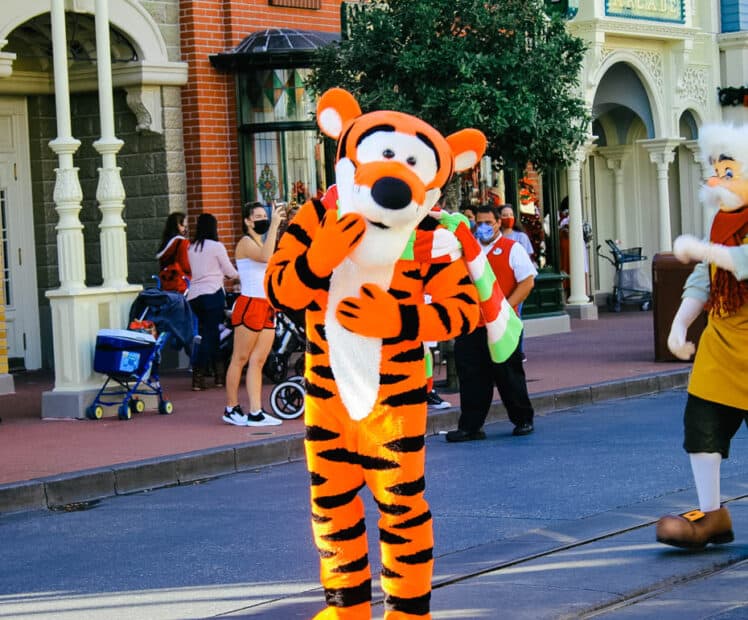 Geppetto isn't far behind. He, too, is glad to see the end of the parade route.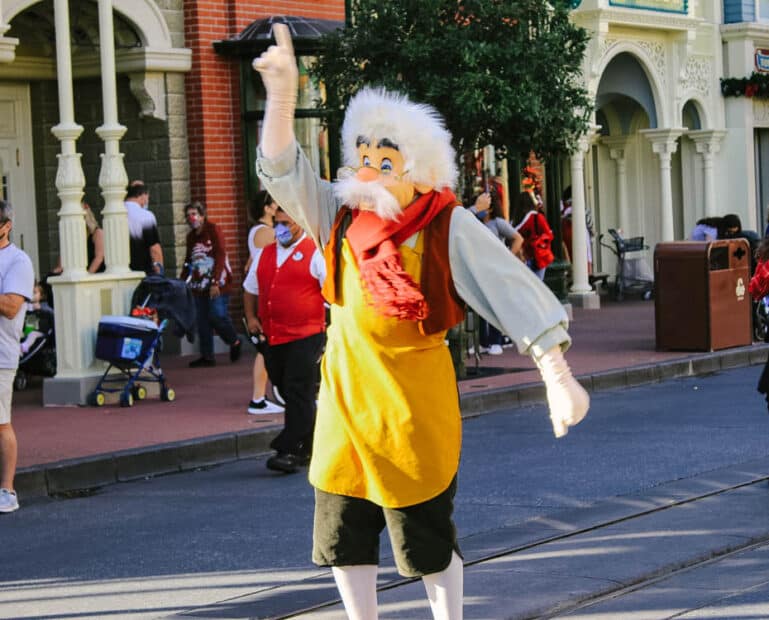 Another Disney Christmas character group you might run into during the day is the one welcoming Santa Claus.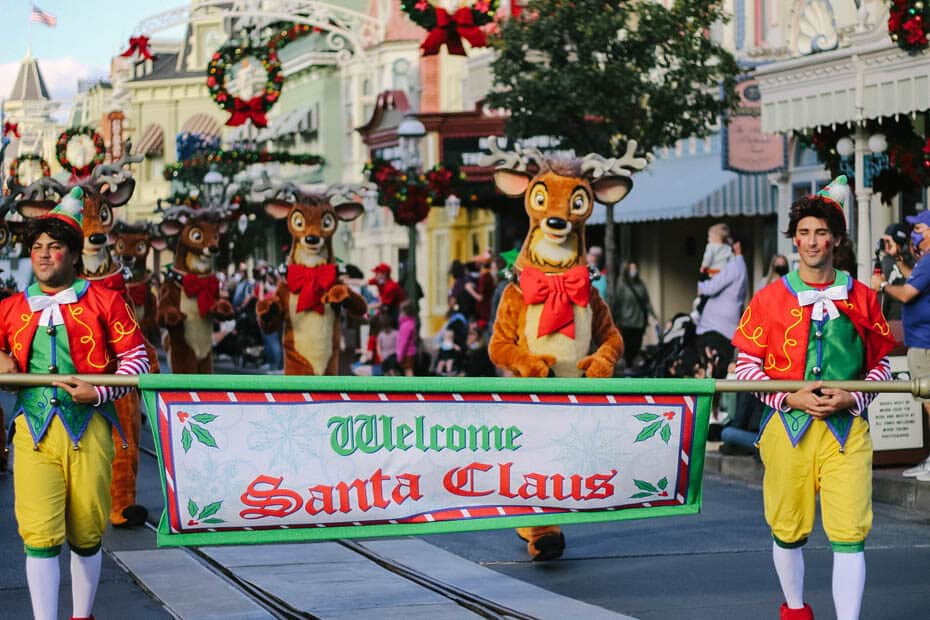 There are a few elves and all of his reindeer.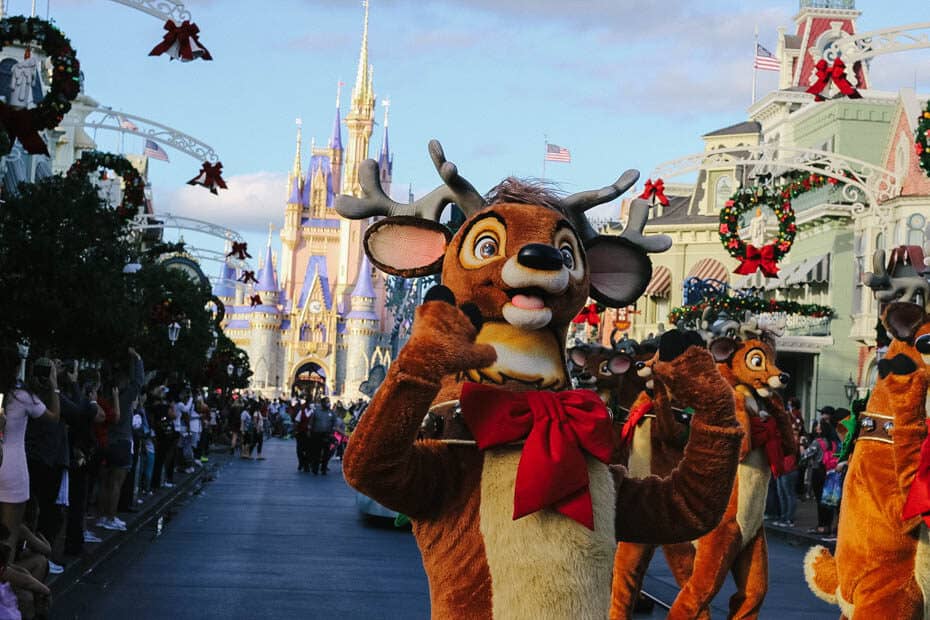 Santa rounds everything out. Make sure to check out my in-depth review on where to see Santa at Disney World this year if this interests you.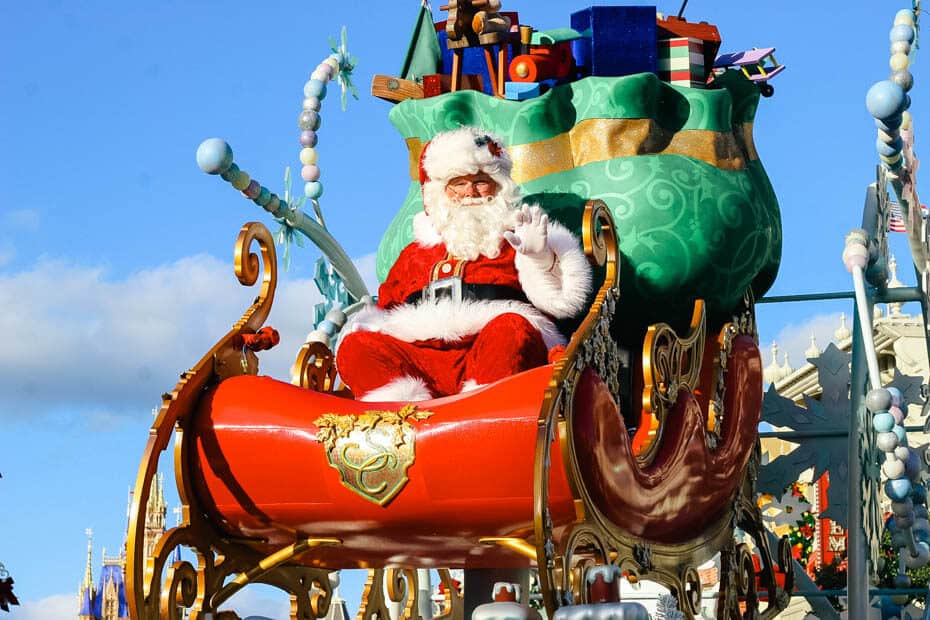 Each park does offer a distanced Santa sighting opportunity.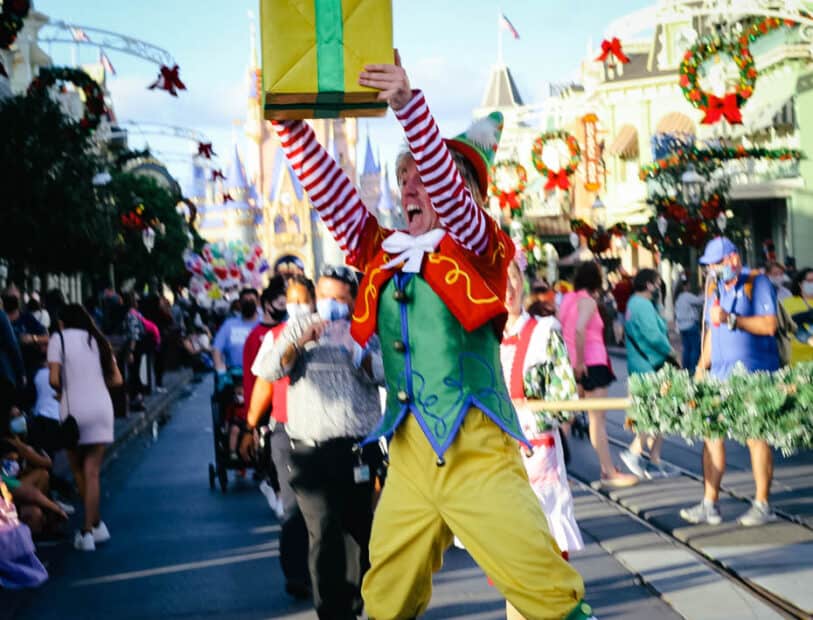 The princess cavalcade still comes through with a few Christmas touches during the day.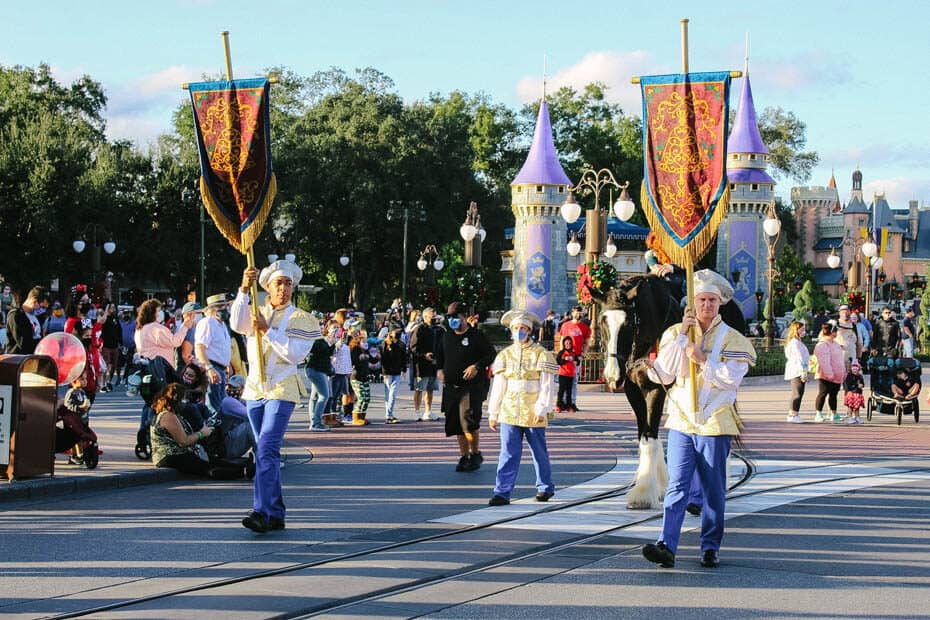 Merida is wearing a hooded cape.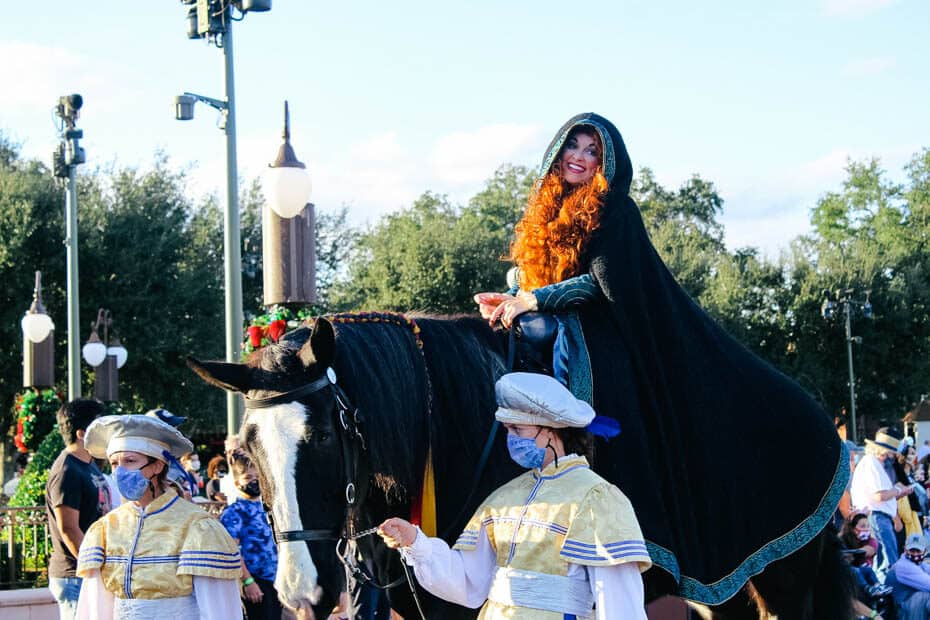 Belle is in her holiday dress. The only time you can see her in this special red velvet dress is at Christmas.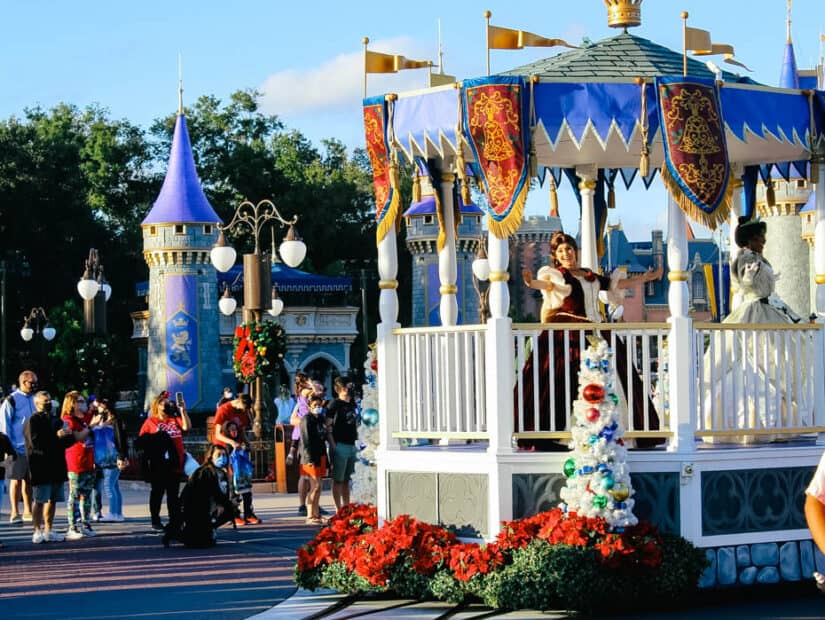 The princess float has a touch of winter white garland and decorations. In addition, a small sign has been added to the front expressing Happy Holidays.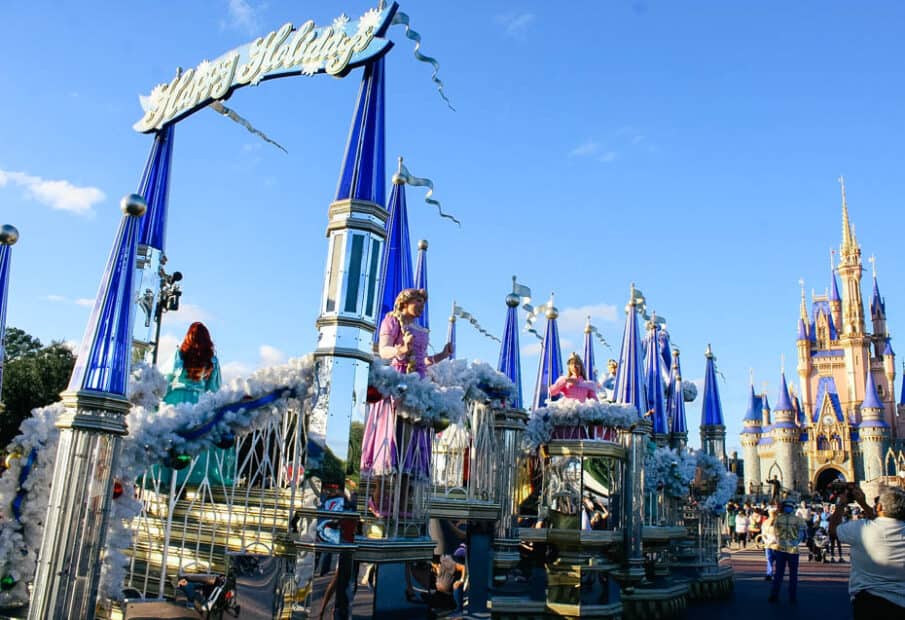 There's Ariel in her long-sleeve land dress.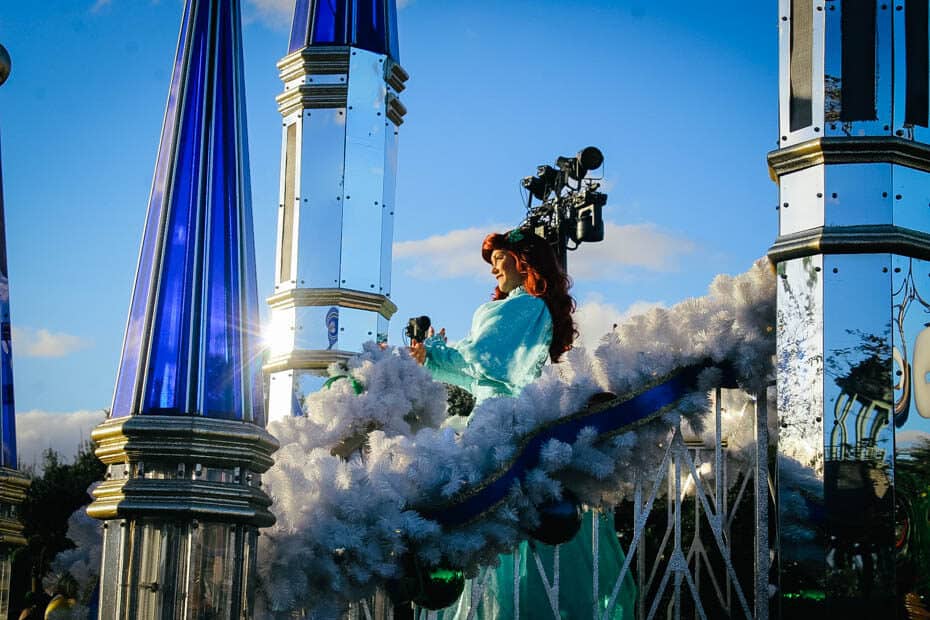 And Rapunzel waves to guests from above.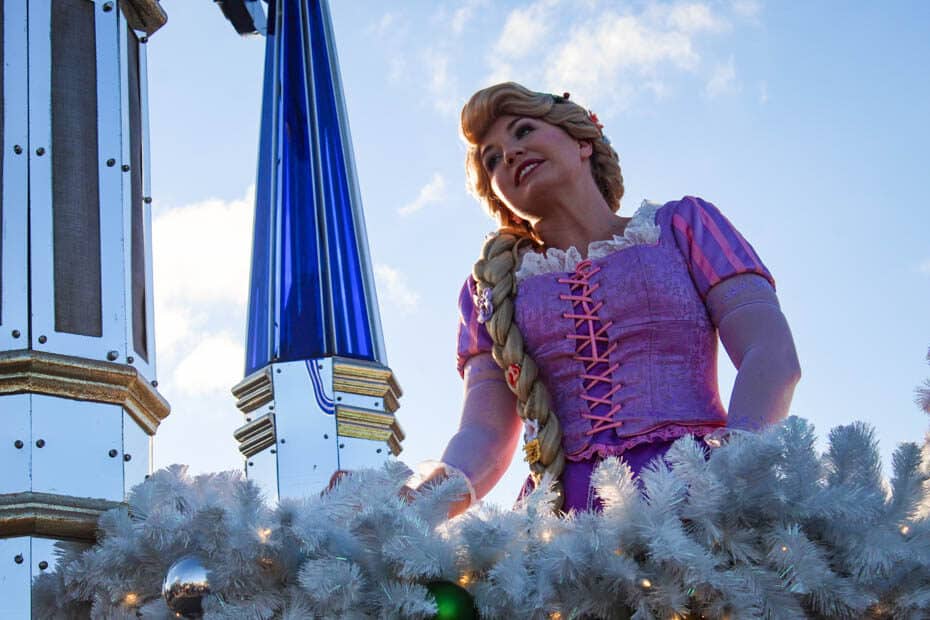 The Fairy Godmother is perched high atop the float.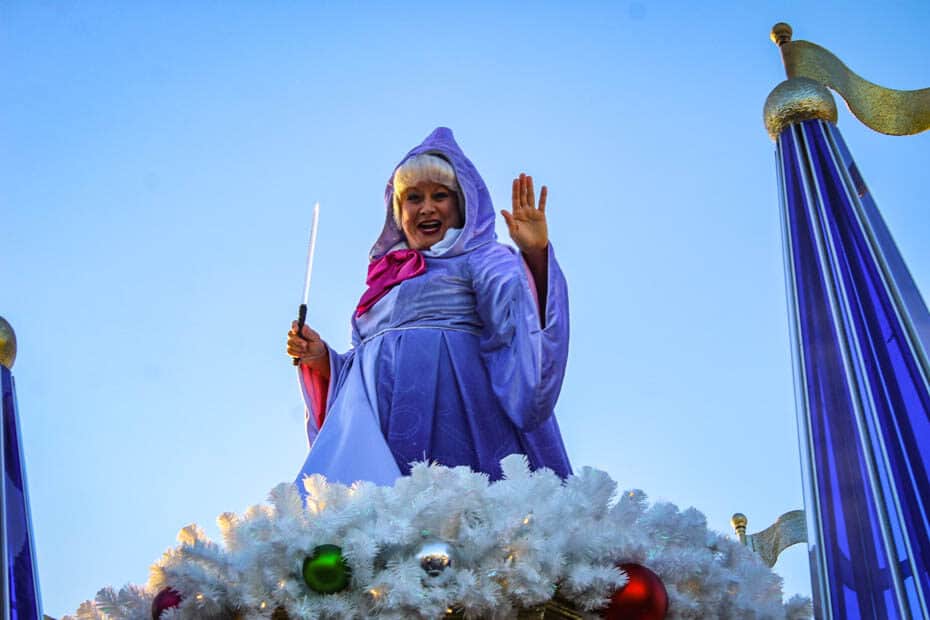 This float always looks so pretty as it heads down Main Street.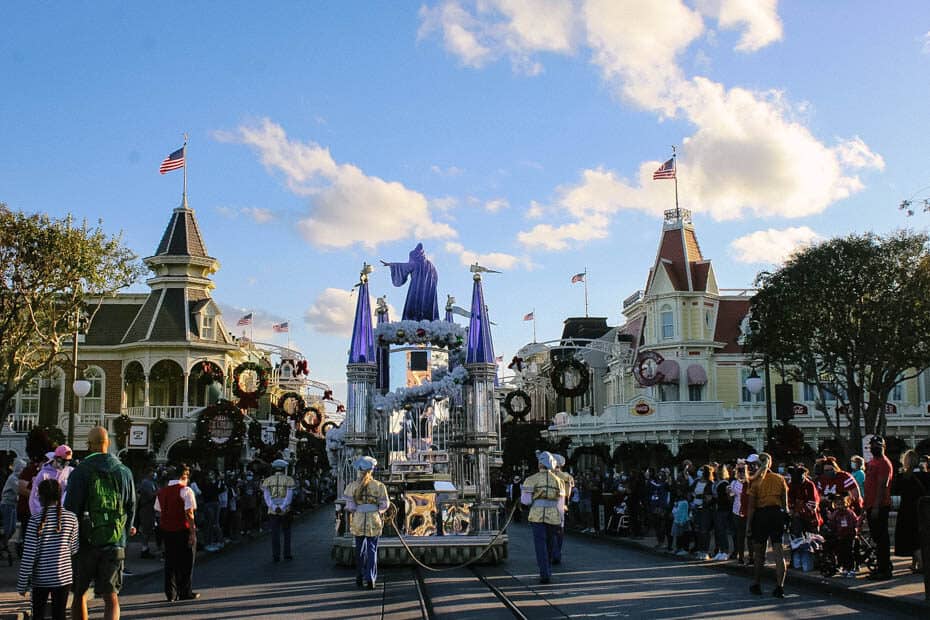 Perhaps, the most jovial of the different Disney Christmas characters is the Goofy and Friends group.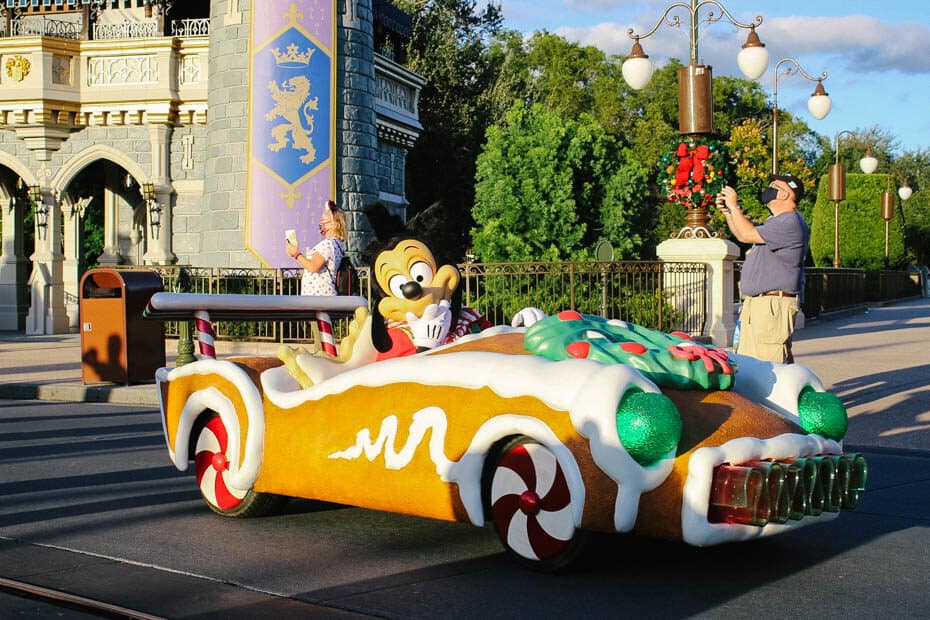 Max, Goofy's teenage son, looks to have received a car for Christmas. Look, no hands!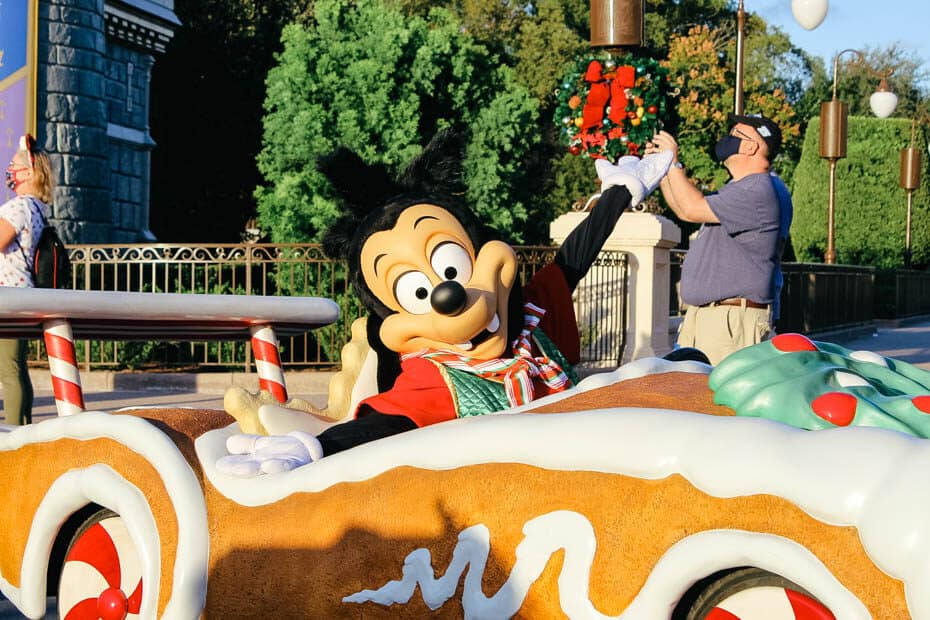 Goofy is not far behind, signaling to Max to cut it out.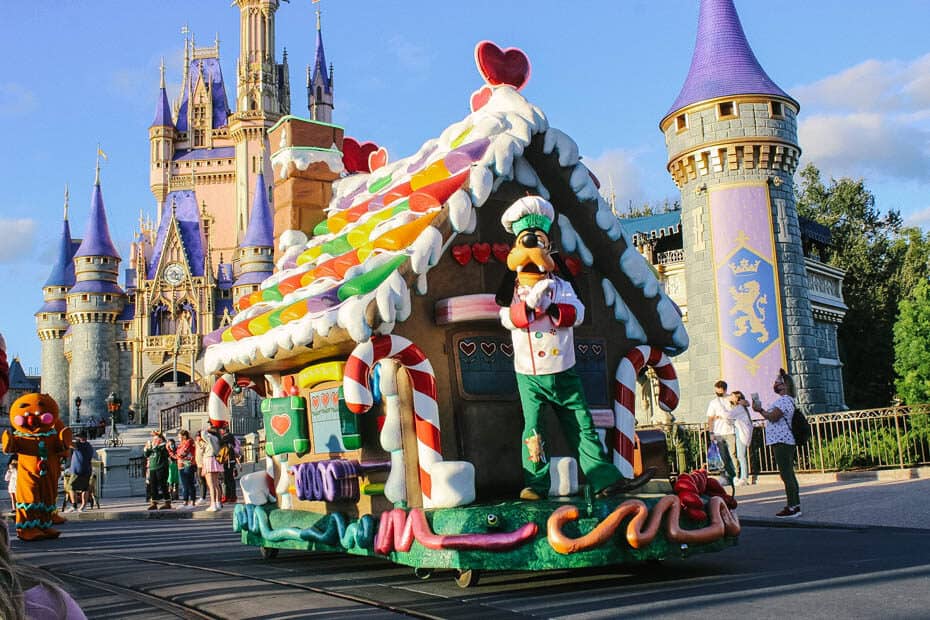 Before he properly poses for photos.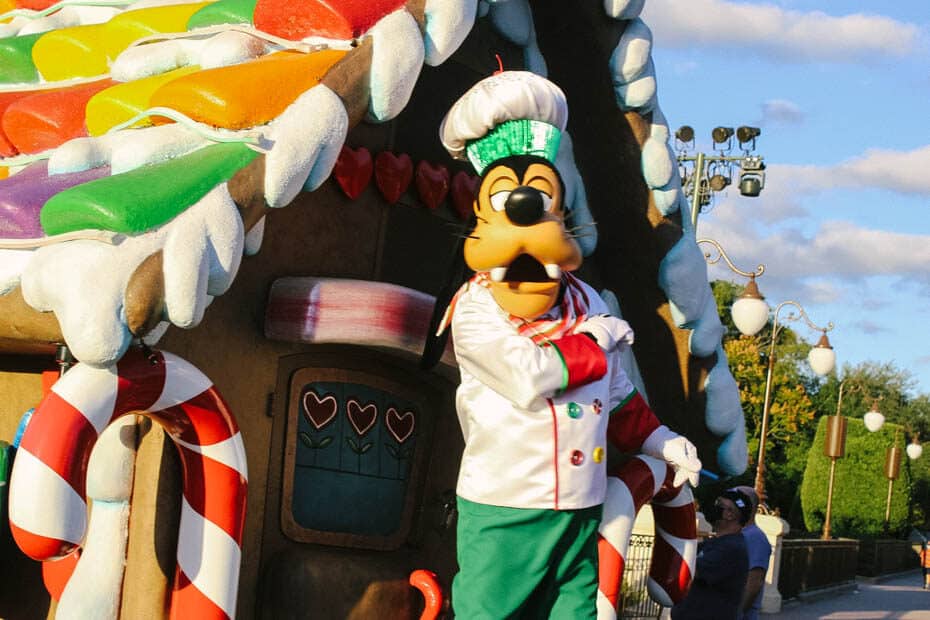 There will be real, live gingerbread men.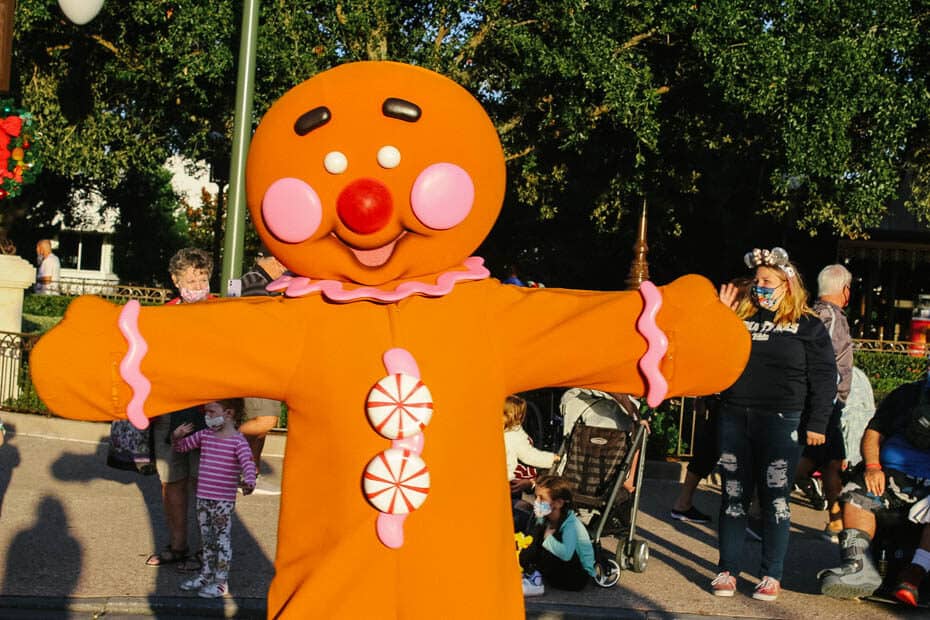 And the main event, Clarabelle Cow, is not far behind. She is the one making the gingerbread men.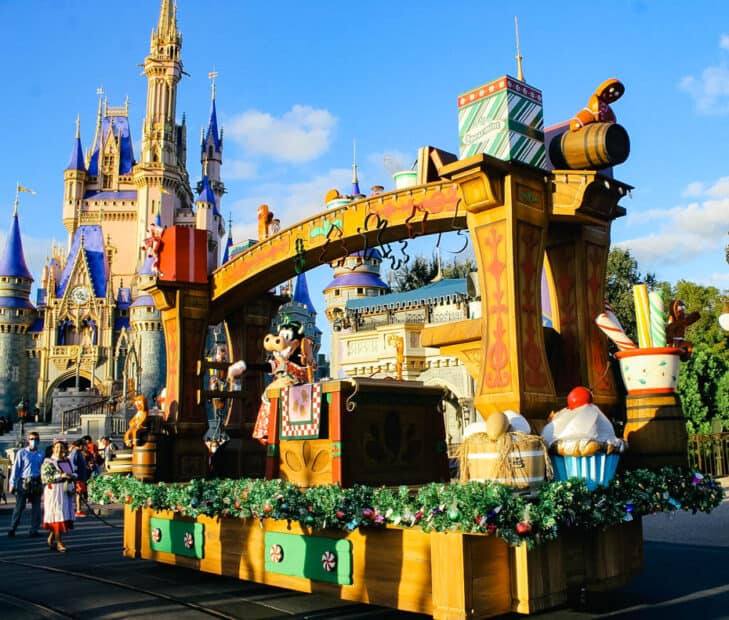 Make sure to look closely at this moving element on her float as it passes.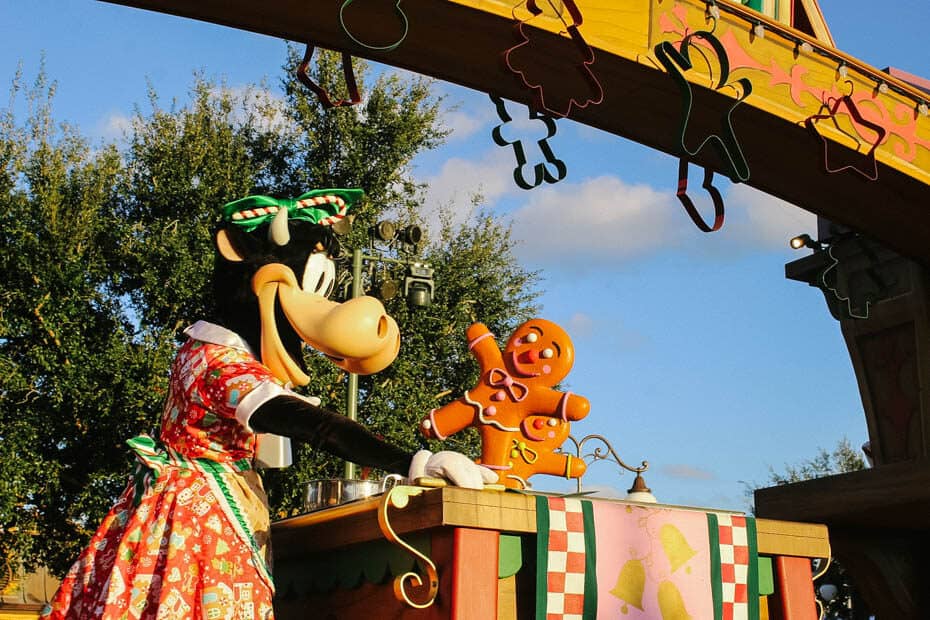 Eeyore waves hello from the side porch of The Crystal Palace at different times during the day.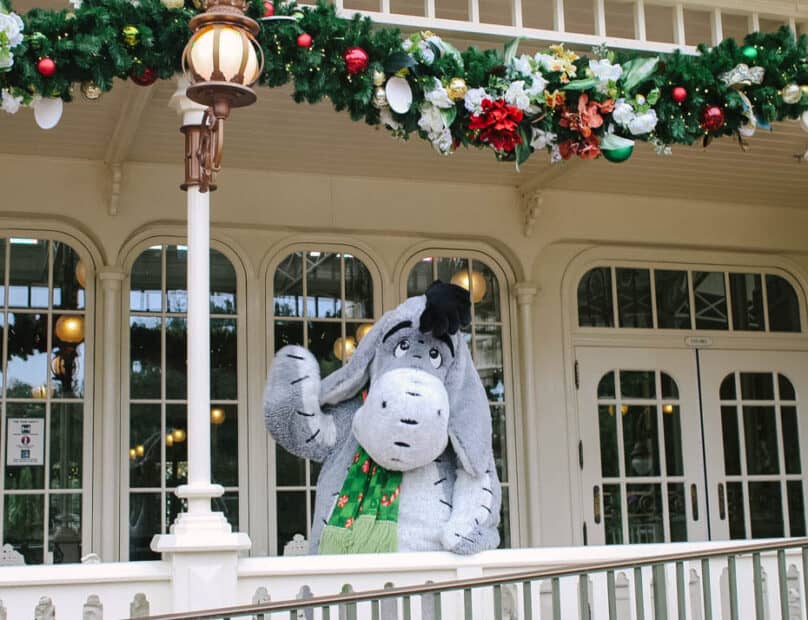 Rabbit is usually out in the area as well.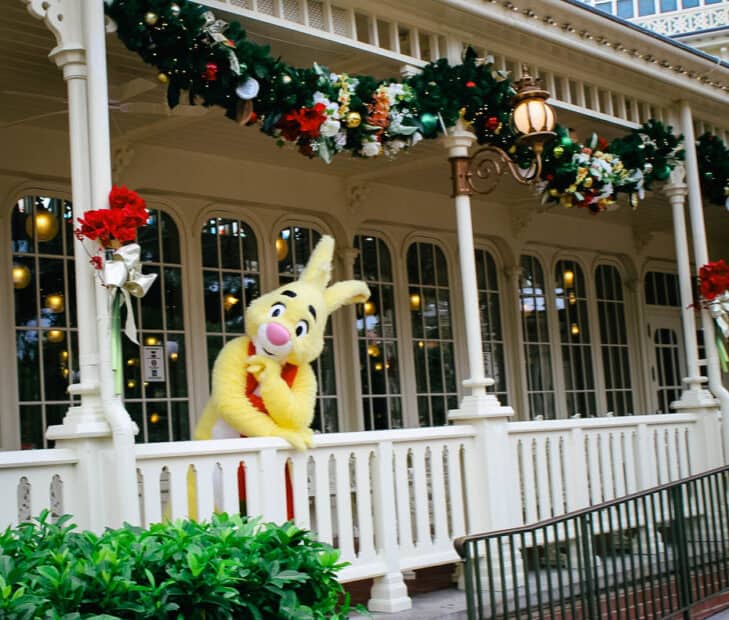 Over in Frontierland, you might run into Chip and Dale. You will have to look up to see them.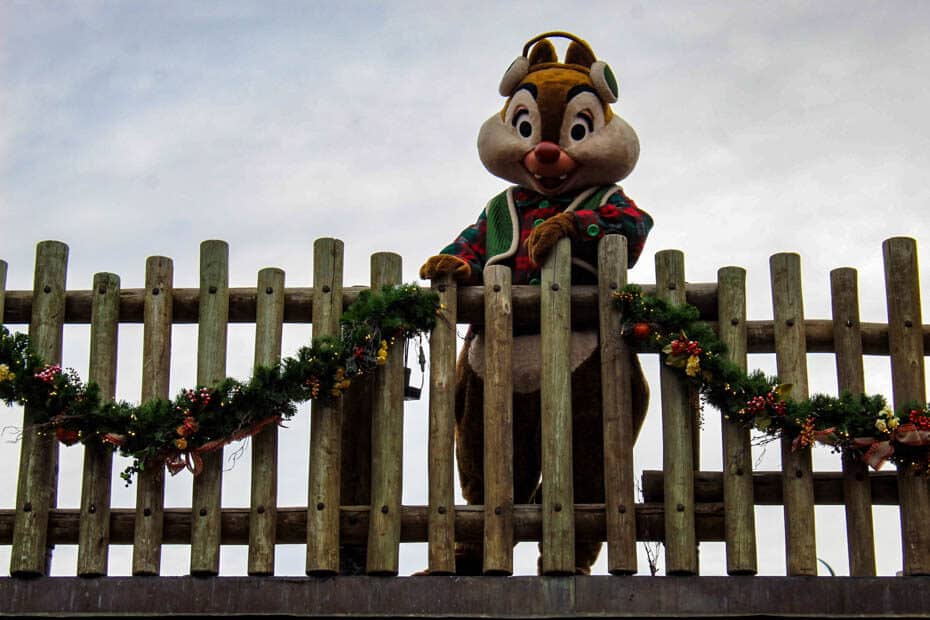 They were floating down the Rivers of America on a raft, but the river is currently drained. So, for the time being, they are hanging out above some of the shops.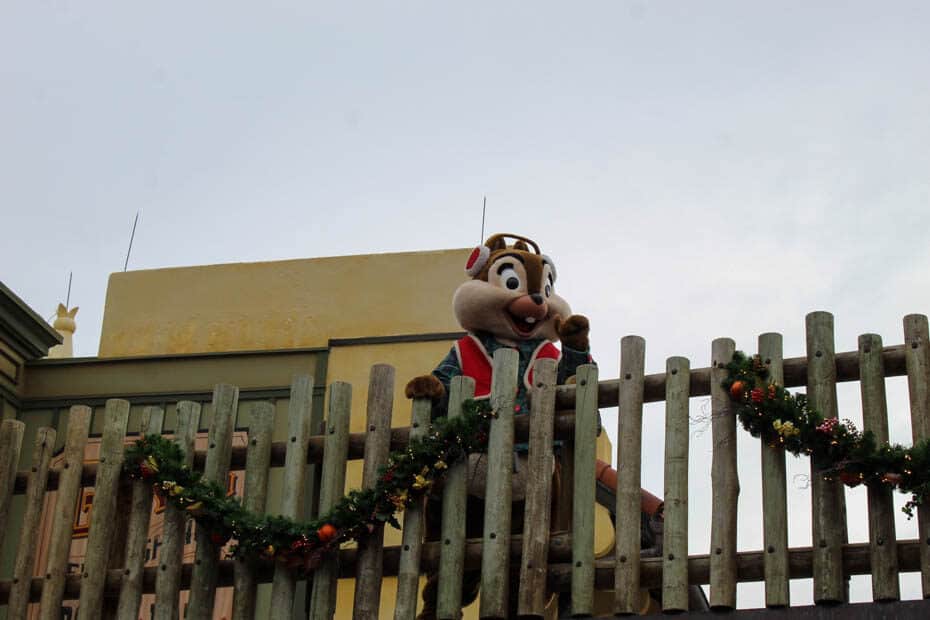 Stitch is meeting in his Santa suit over on the Tomorrowland Dance Party stage from time to time. Unfortunately, I haven't run into him yet for an updated photo.
Additionally, I've seen a few sightings of Jiminy Cricket in Fantasyland on social media. As the Christmas holidays approach, don't be surprised if more character pop-ups are added throughout the parks.
You'll also see characters waving from the balcony of the Main Street Train Station at various times throughout the day. I nearly always run into them waving goodbye when leaving the park close to closing time.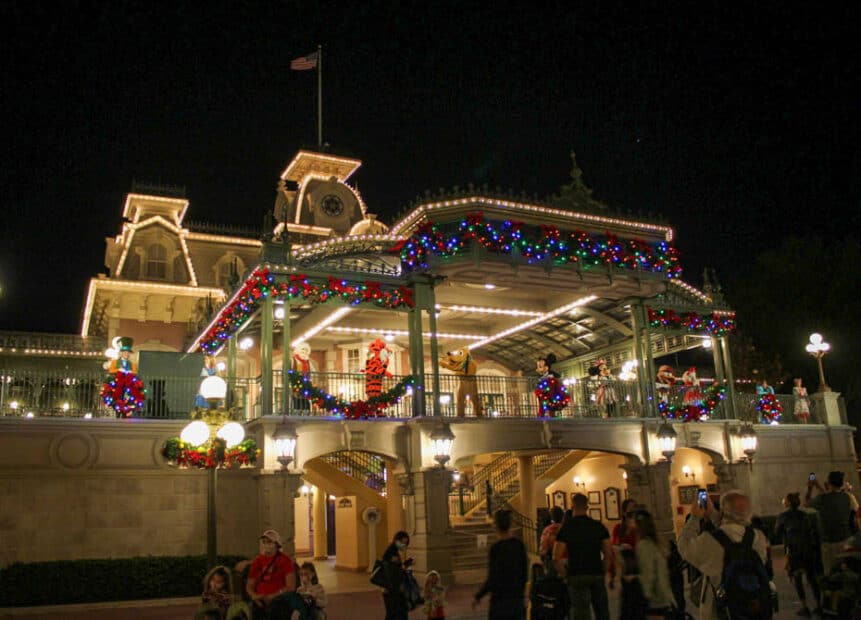 It's usually just the same Disney Christmas characters that were in the earlier cavalcades. Remember, the cavalcades generally end at sunset before the castle projections begin.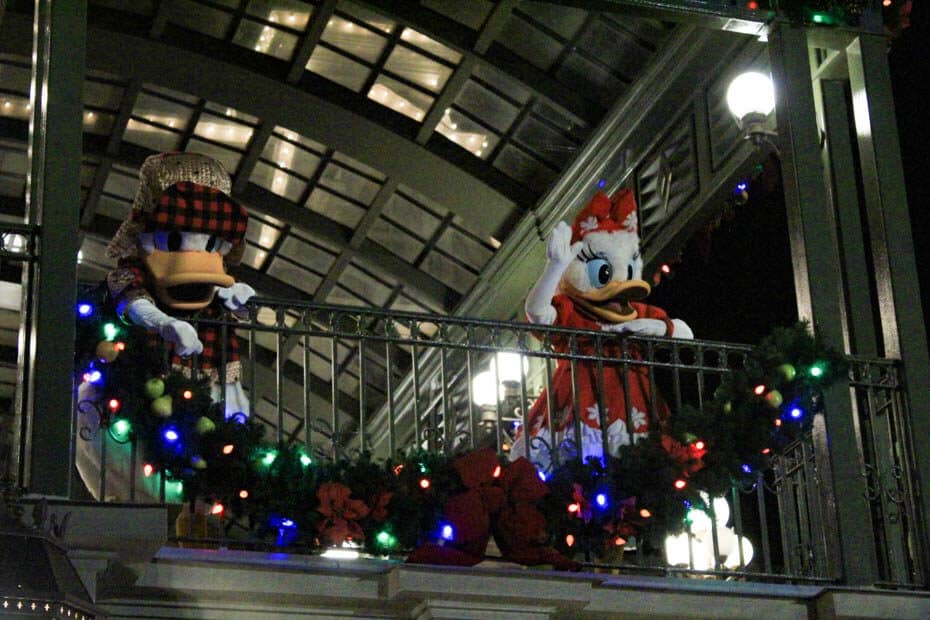 It's always fun to wave good evening to Mickey and Minnie Mouse!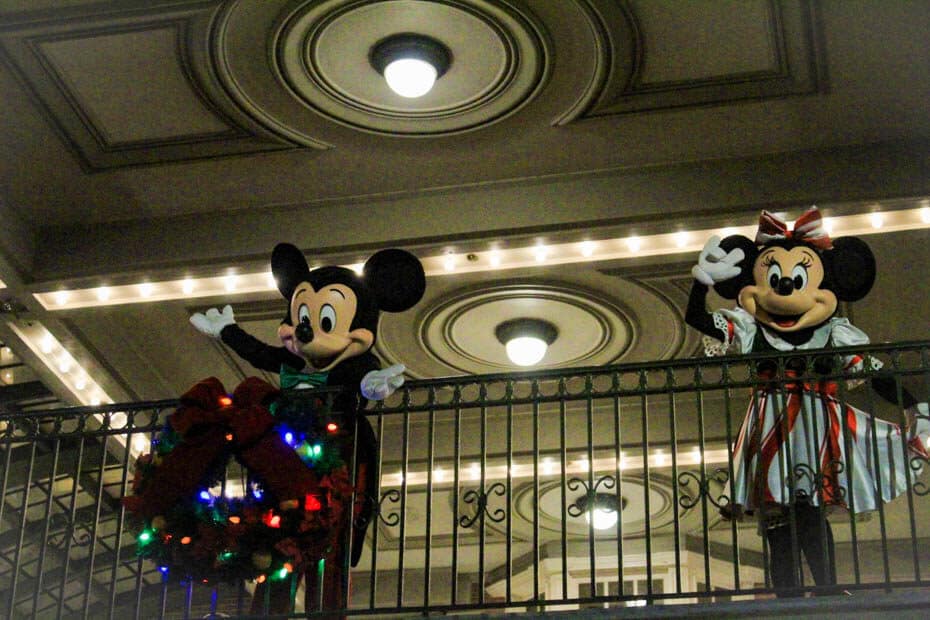 Disney Christmas Characters at Animal Kingdom
Moving on to Animal Kingdom, the same character cruises continue. However, they call them festive flotillas since they carry Disney Christmas characters.
I've run into holiday Safari Mickey and Minnie with Pluto.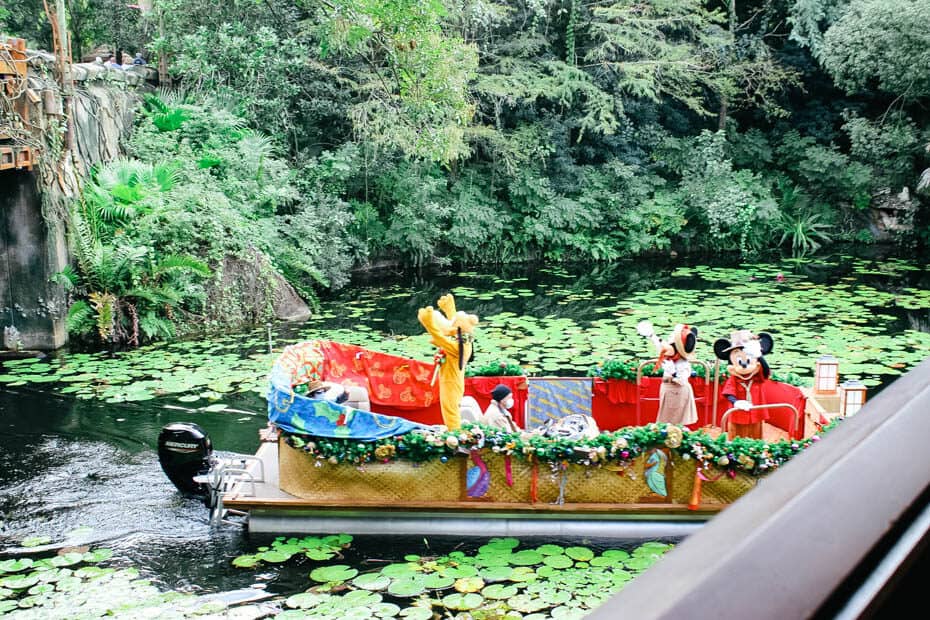 Even the Discovery Island Drummers float is dressed up for the holidays.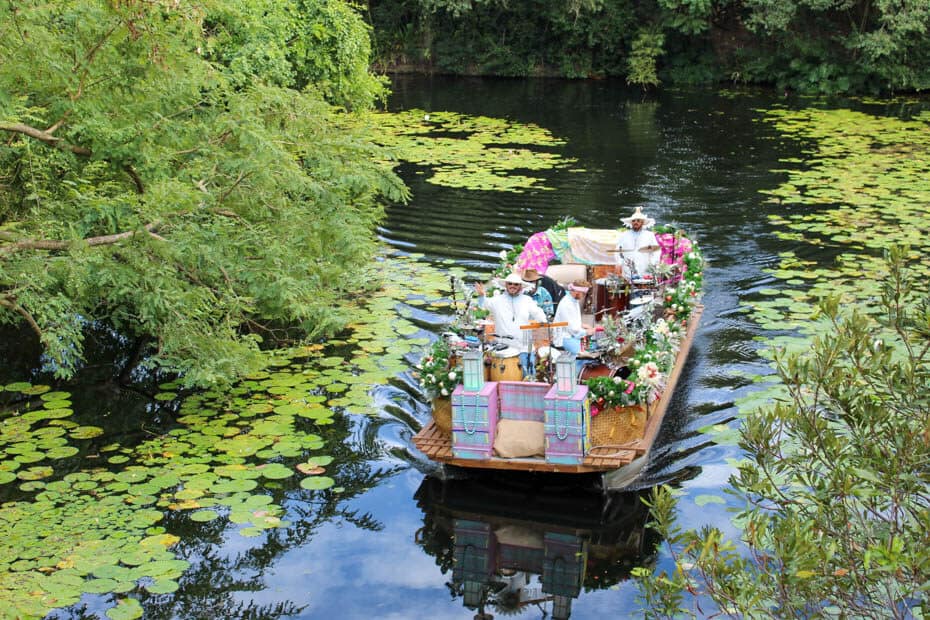 Chip and Dale are sporting dinosaur costumes with added Christmas elements.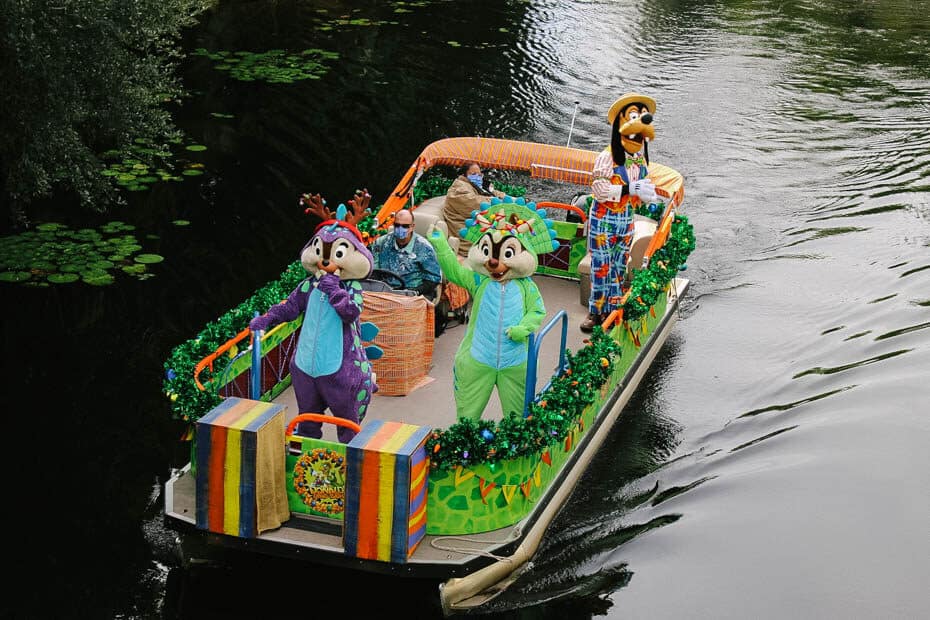 I'm not sure what Goofy has going on, but he usually wears this outfit in Christmas parades.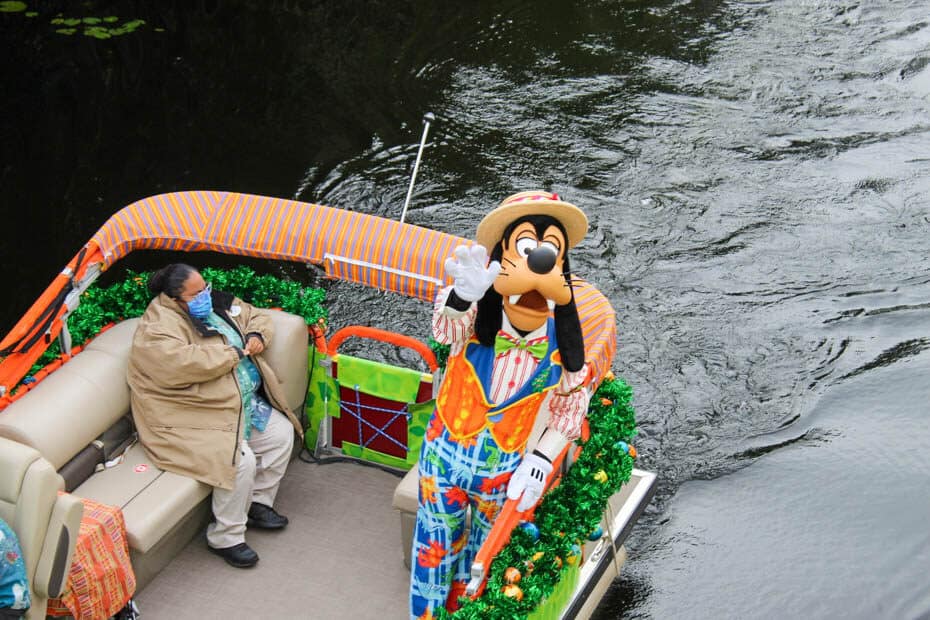 Rafiki was just Rafiki. Sometimes, Timon is with him on this float.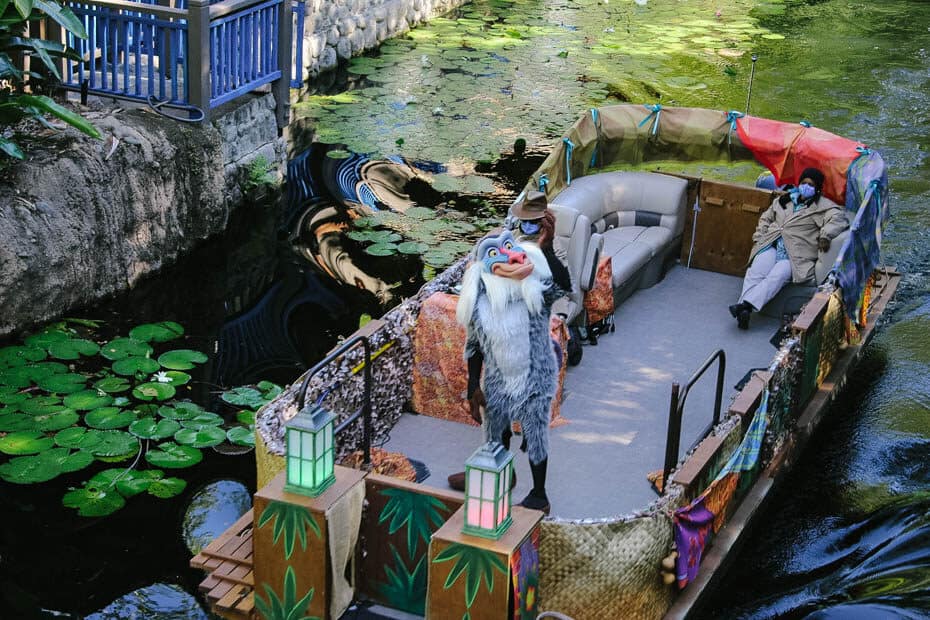 Santa has his own festive flotilla as well.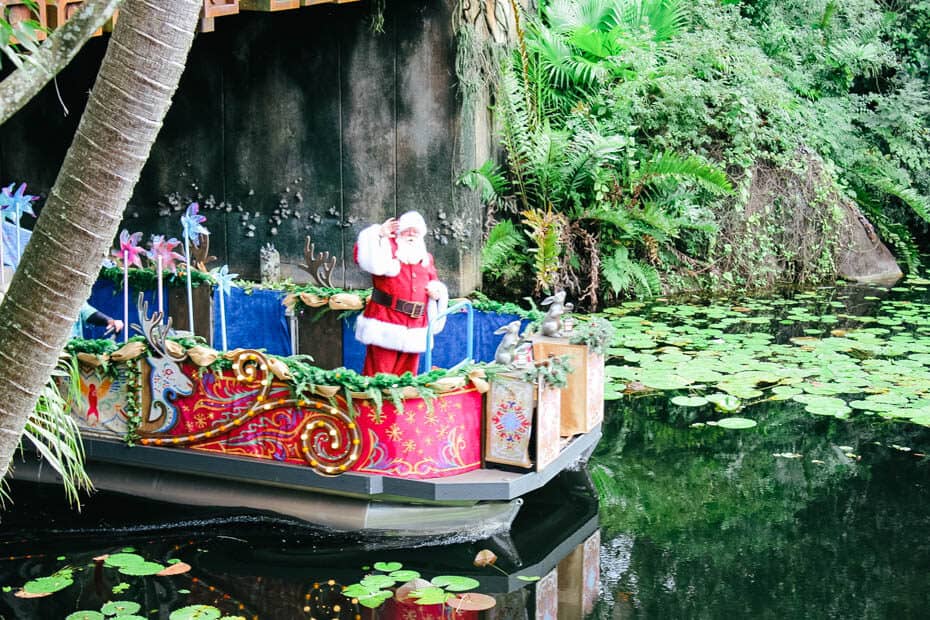 The Duck family had Donald, Daisy, and Launchpad McQuack dressed as Christmas characters on a cruise.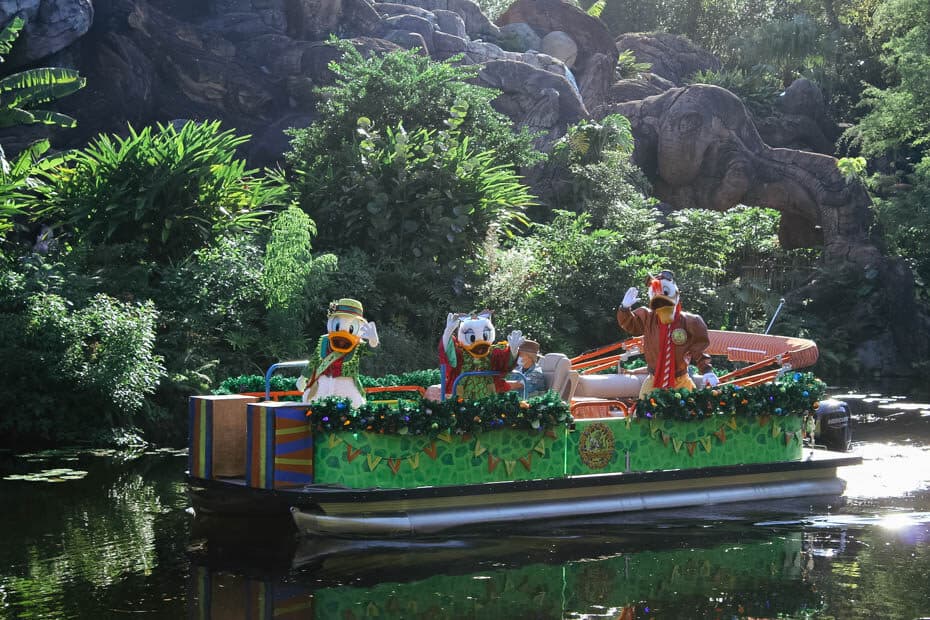 Pocahontas and Meeko were out on this day as well.
I've been impressed with the number of Disney characters out for Christmas at Animal Kingdom and Magic Kingdom. Both parks are probably your best bet for seeing a good amount of characters while visiting.
Disney Christmas Characters at Epcot
Epcot also has some incredibly unique character promenades. These groupings circle the World Showcase.
So if you are outside in the area touring, they will be easy to see. But if you aren't in the World Showcase or inside one of the pavilions, you might not know they are coming by.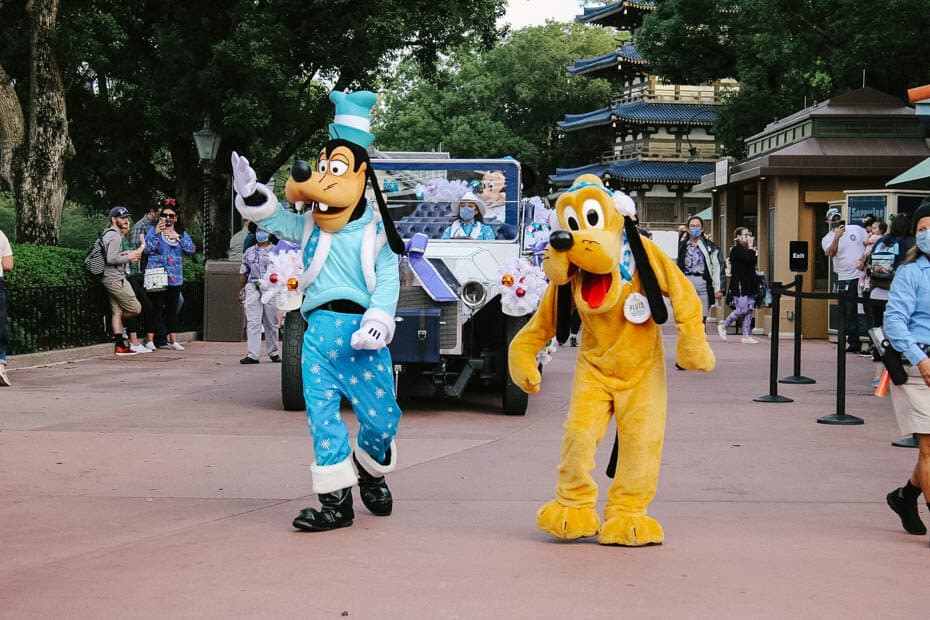 That is the same for all the parks, but I found these to be a little less frequent at Epcot and Hollywood Studios. Another thing I wanted to point out is that there will likely be more of these on busier days than less crowded days.
Therefore, if you are at Epcot on a busy Saturday, you might end up seeing more character promenades than you would on a slower Tuesday. With the theme park reservation system in place, Disney knows how many guests visit each park in advance and can plan accordingly.
Anyway, Mickey and Mickey's car is decked out for the holidays, and they are both wearing blue Christmas outfits with snowflakes.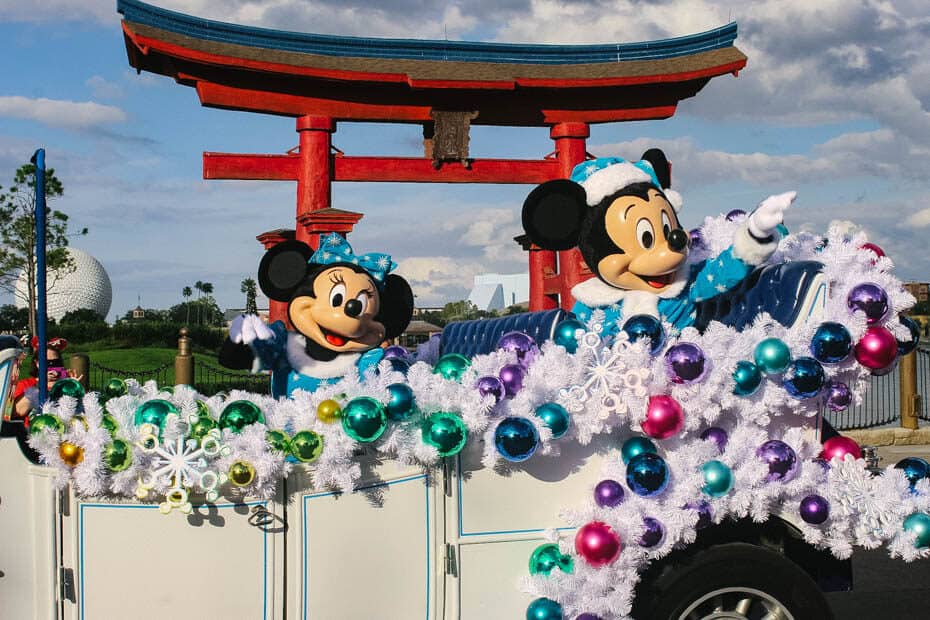 Santa comes through on his promenade. This is the one you don't want to miss. Horses pull his carriage.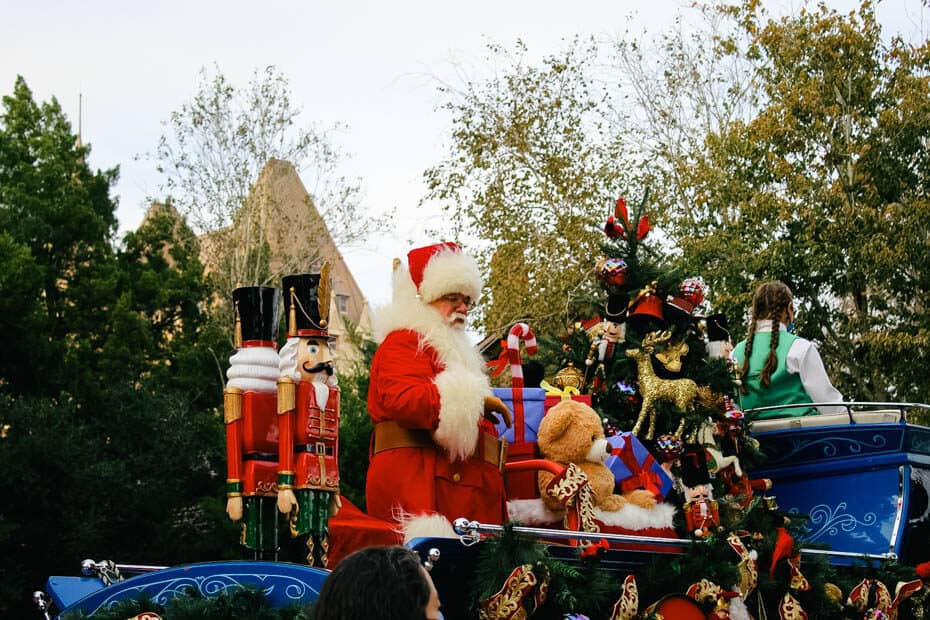 There's also one other promenade featuring Anna and Elsa from Frozen that comes through during the day.
The garden next to the Imagination Pavilion is the perfect spot to find Winnie the Pooh or Joy from Inside Out greeting guests.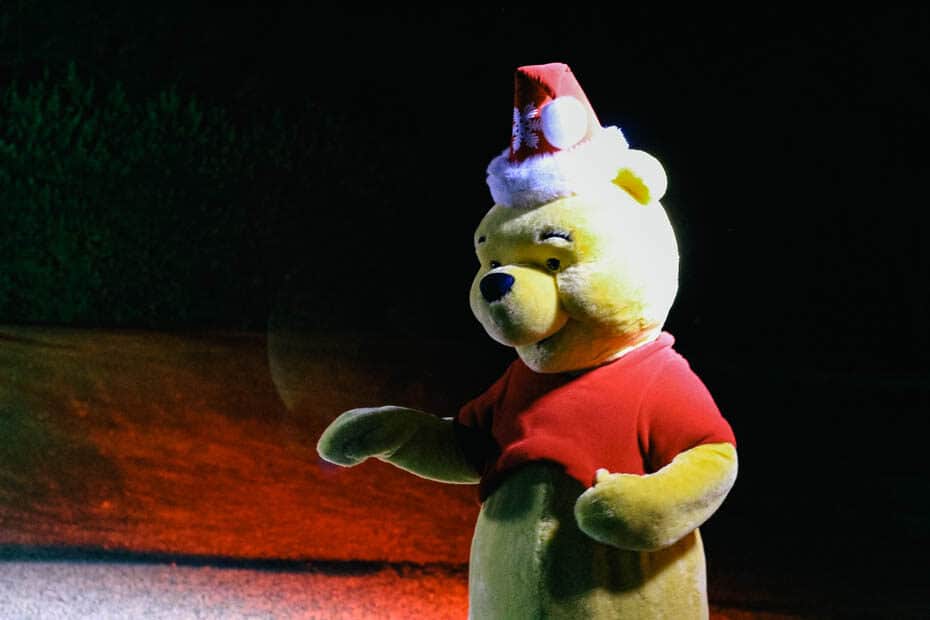 I caught up with Pooh well after dark. The red and green Christmas lighting was a cute touch to the distanced greeting.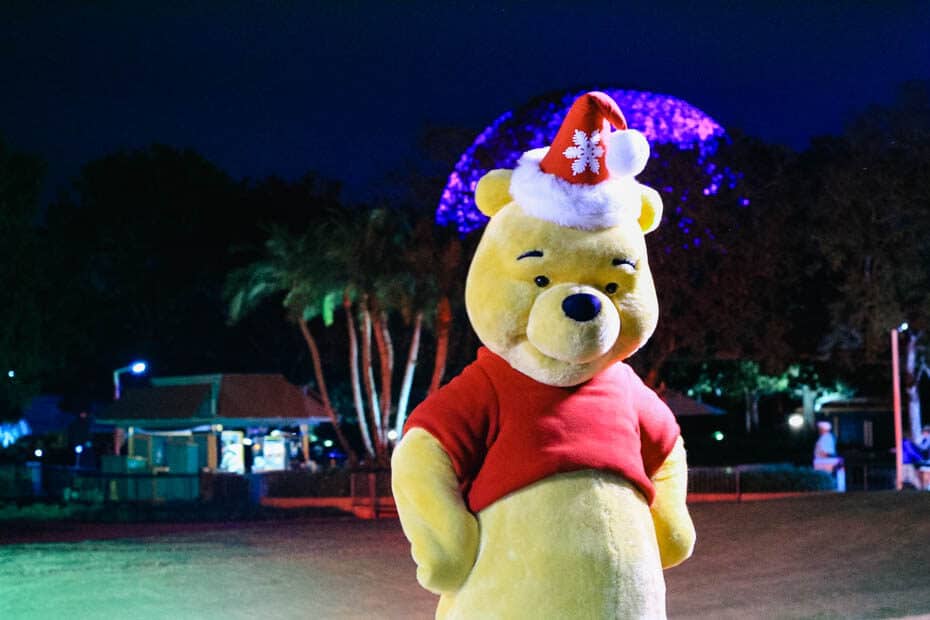 Additionally, be on the lookout for Alice or Mary Poppins in the back of the United Kingdom Pavilion in the gazebo.
Disney Christmas Characters at Hollywood Studios
Lastly, we'll take a quick look at the Disney characters out for Christmas at Hollywood Studios. These come in the form of motorcades down Hollywood Boulevard.
The Pixar Pals group is where you might see a few Toy Story favorites.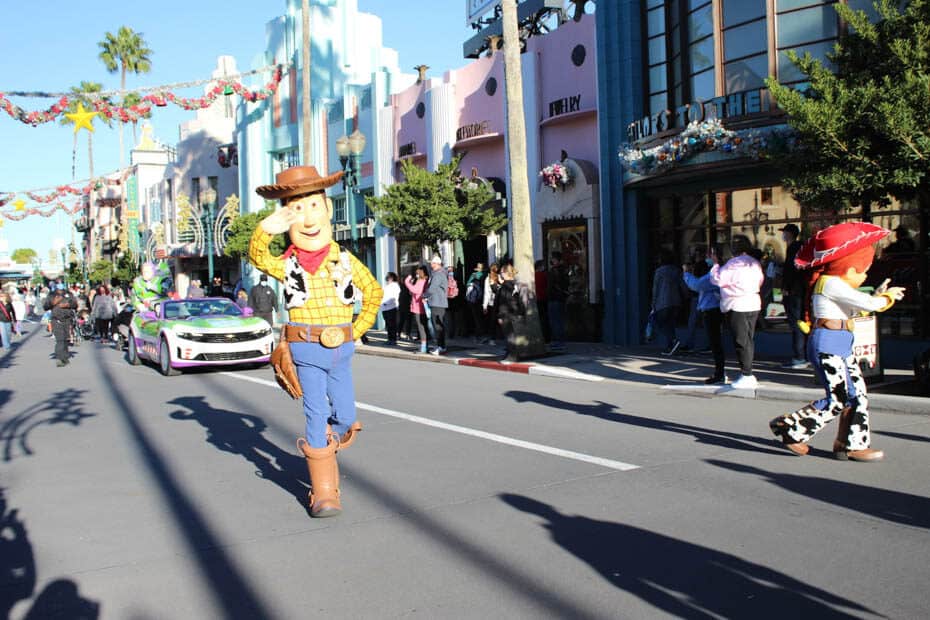 Like Woody.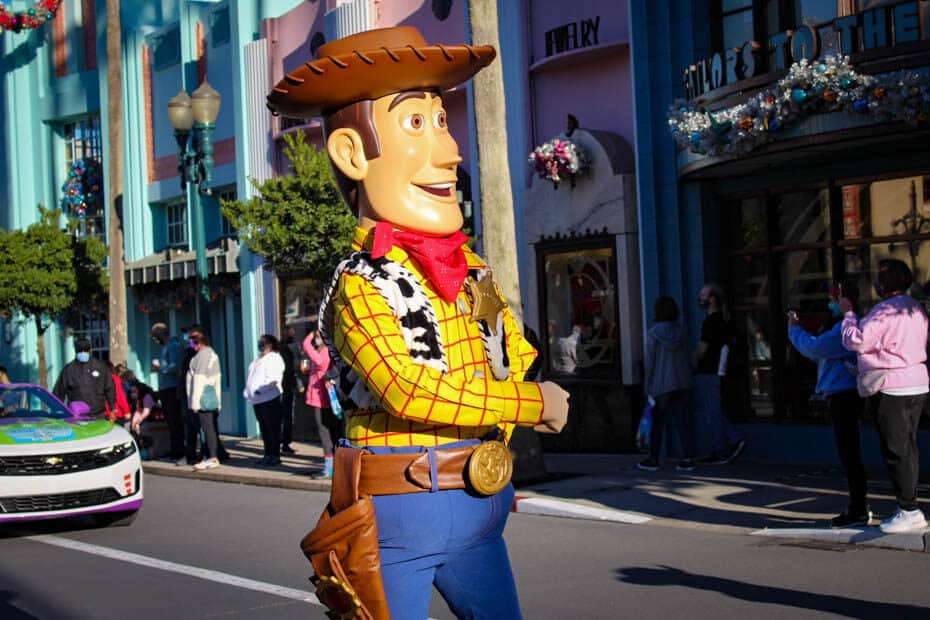 The tiny green army men will be playing the drums.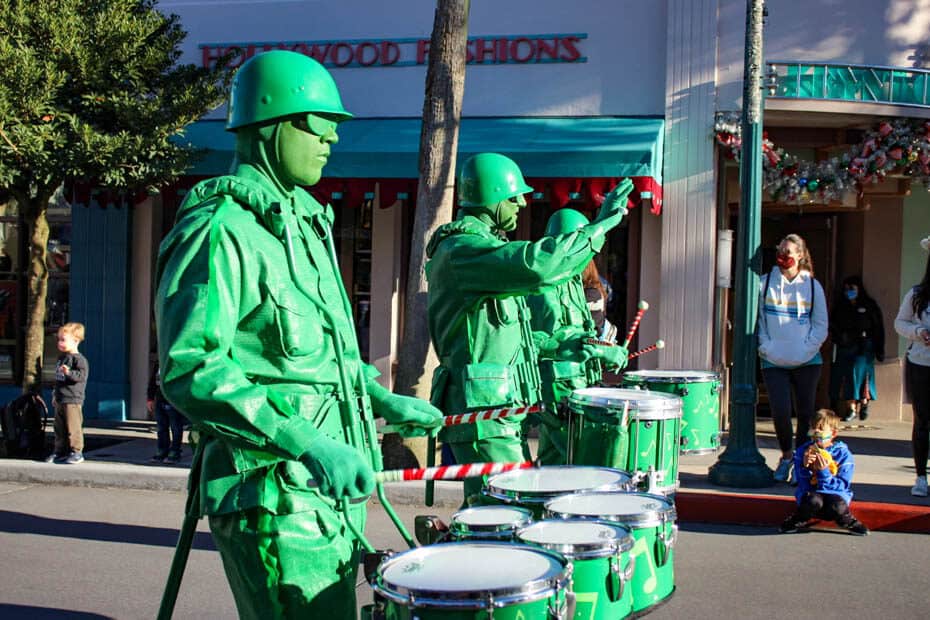 Buzz Lightyear is riding in his own convertible.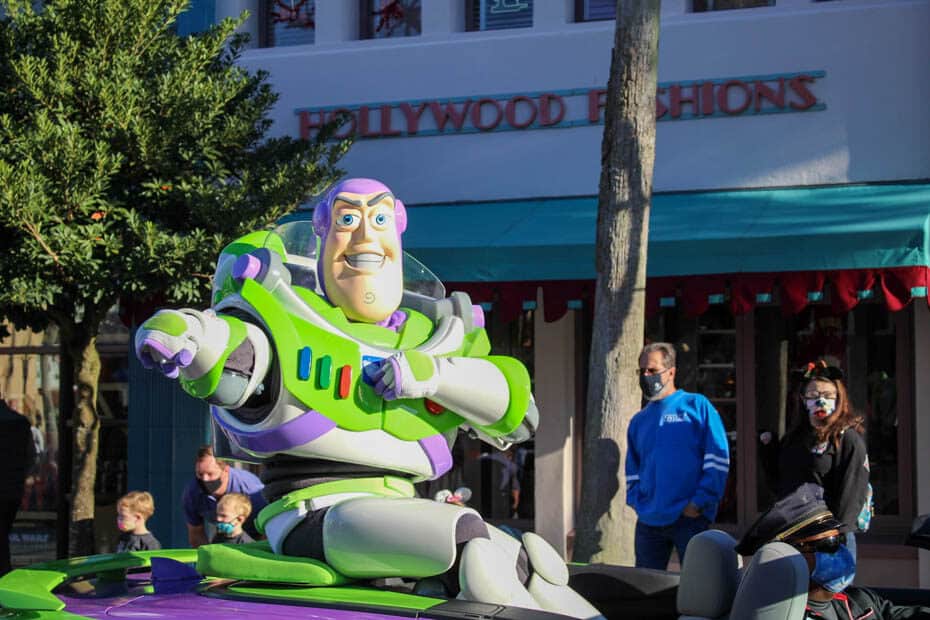 You might see Sully from Monsters, Inc.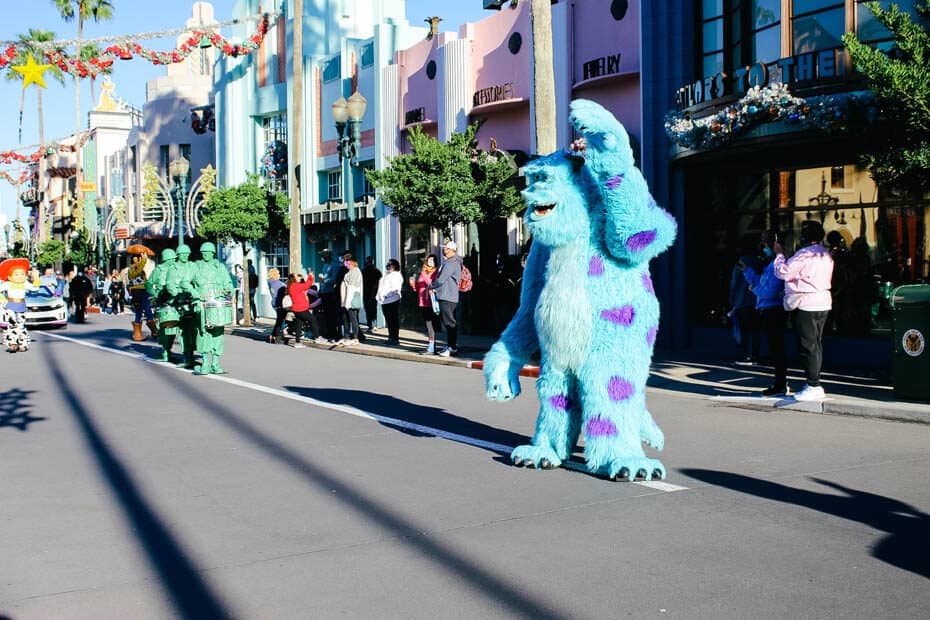 It's always a treat when the Incredibles are out greeting guests.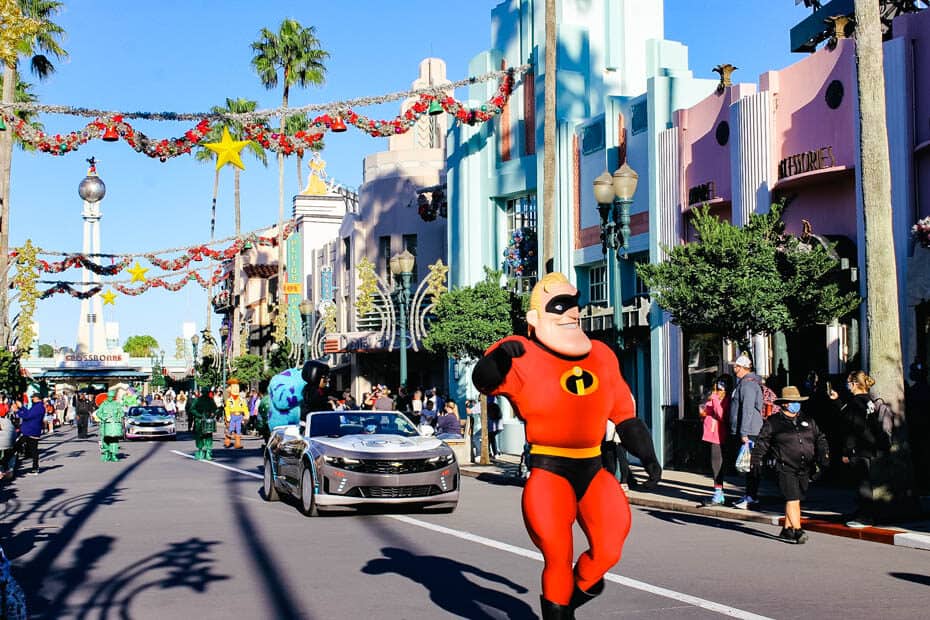 Especially Elasti-Girl.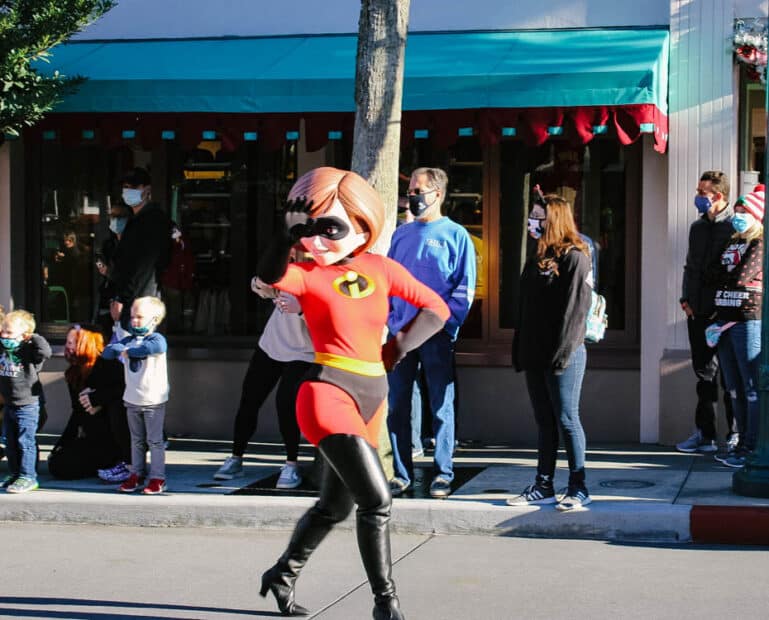 Edna Mode is as fabulous as ever. She was the first character review I ever did here on the site. Her character meet was endearing. Not only that, but it opened my eyes to how much the character meets mean to different guests.
Because of that start, I've met some wonderful guests while waiting in line to meet the characters. And many of their stories have inspired me in ways that I'll never forget. Needless to say, Edna Mode holds a very special place in my heart.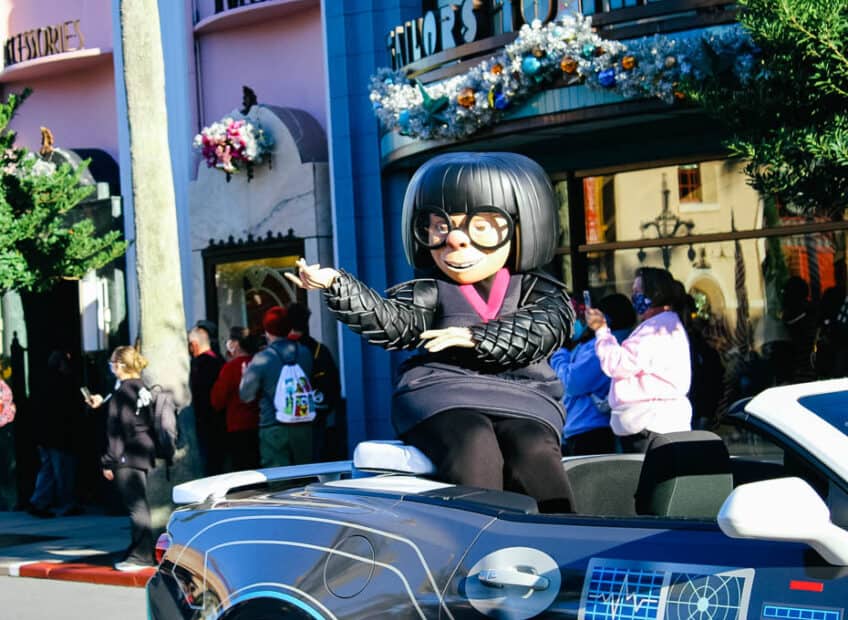 Additionally, you'll find Santa cruising down the Boulevard with a few cheerful elves.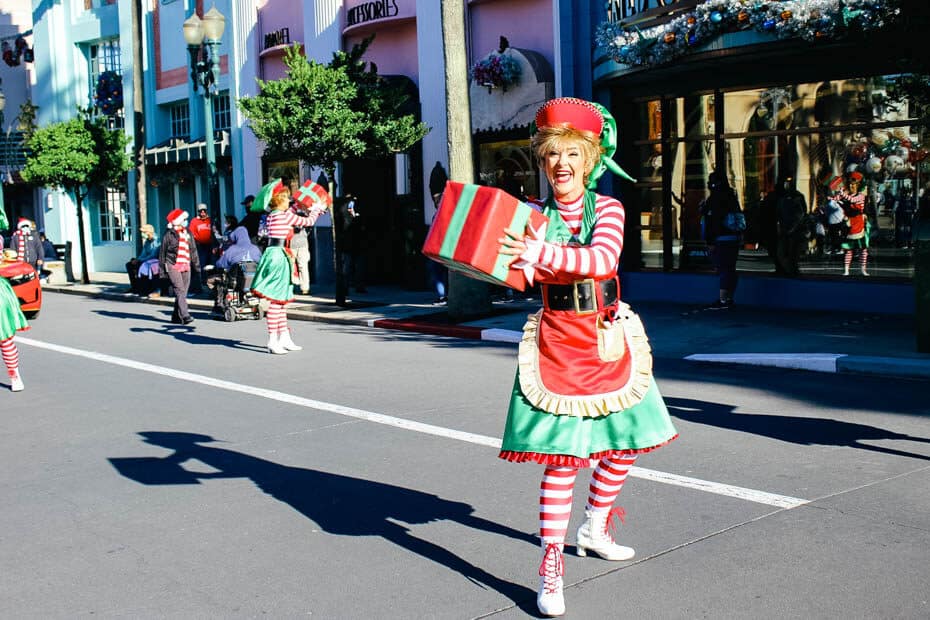 Oh, Santa.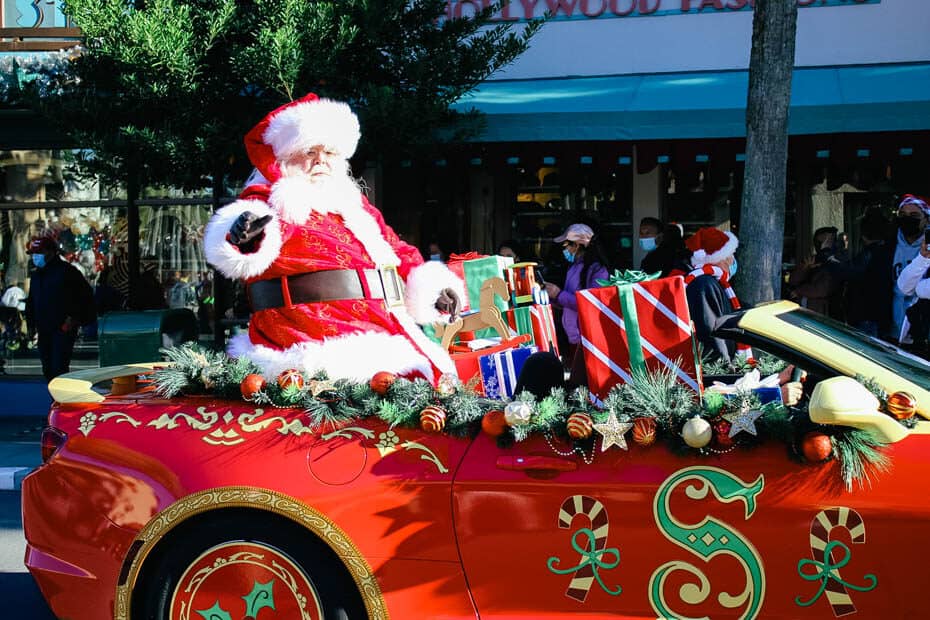 This concludes our look at the different Disney Christmas characters in the park. I hope you will be able to find all of the characters you are looking to see on your holiday!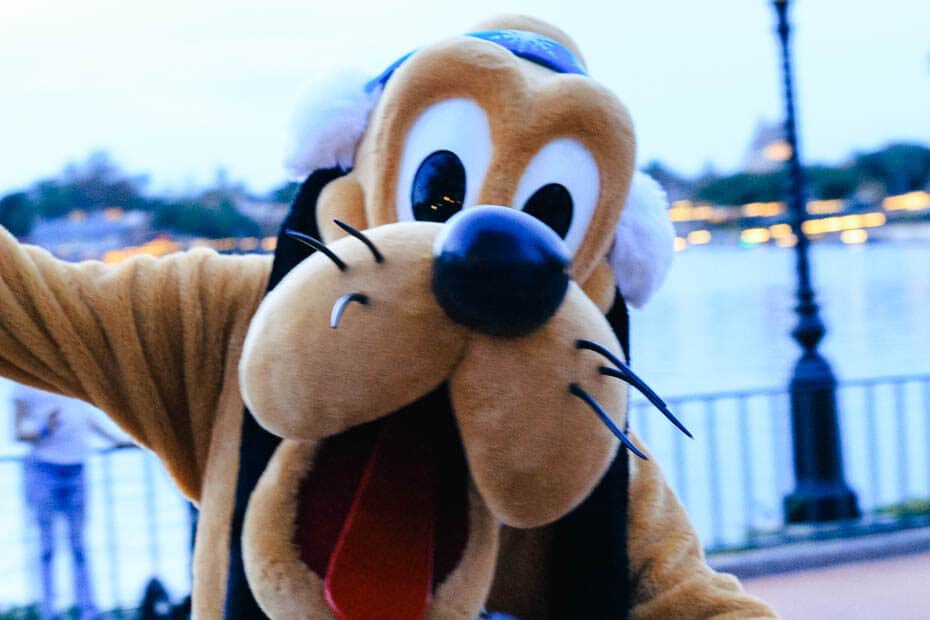 Merry Christmas!
Make sure to check out all the reviews of the different character meets at Walt Disney World.
And I also have a complete guide to Disney World character dining. That guide includes a list of every Disney character meal available. My top recommendation is Topolino's Character Breakfast at the Riviera.
If you are visiting during Christmas, make sure to tour some popular Disney resorts like Grand Floridian Resort and Disney's Beach Club.
These guides will help:
Good luck finding all the Disney World Christmas Characters!