Disney's Grand Floridian Gingerbread House (The Traditional Version Returns in 2023)
When it comes to Christmas, Disney's Grand Floridian's Gingerbread House is a time-honored tradition. The magnificent structure is erected each year in the resort's lobby. Built from scratch, Disney chefs and a construction team assemble the house piece by piece as resort guests diligently check on the progress.
Within a few days, the work is complete. Like any other new construction, a touch of landscaping is added to the final product. Soon after, the Grand Floridian gingerbread house opens to the public. Cast members will take shifts inside the house, selling holiday treats between now and January 1, 2024.
If you're visiting Walt Disney World during the holiday season, a visit to the Grand Floridian is something we consider a requirement. This year, the Grand Floridian's gingerbread house returned to its original style with red accents. For the last two years, the gingerbread house was accented with decor representing Disney's 50th anniversary.
Below, we'll preview photos and a video of the 2023 Gingerbread House at Disney's Grand Floridian. If you don't have the opportunity to visit Walt Disney World over the holidays, I hope you'll enjoy the photos and the rest of our upcoming holiday resort coverage.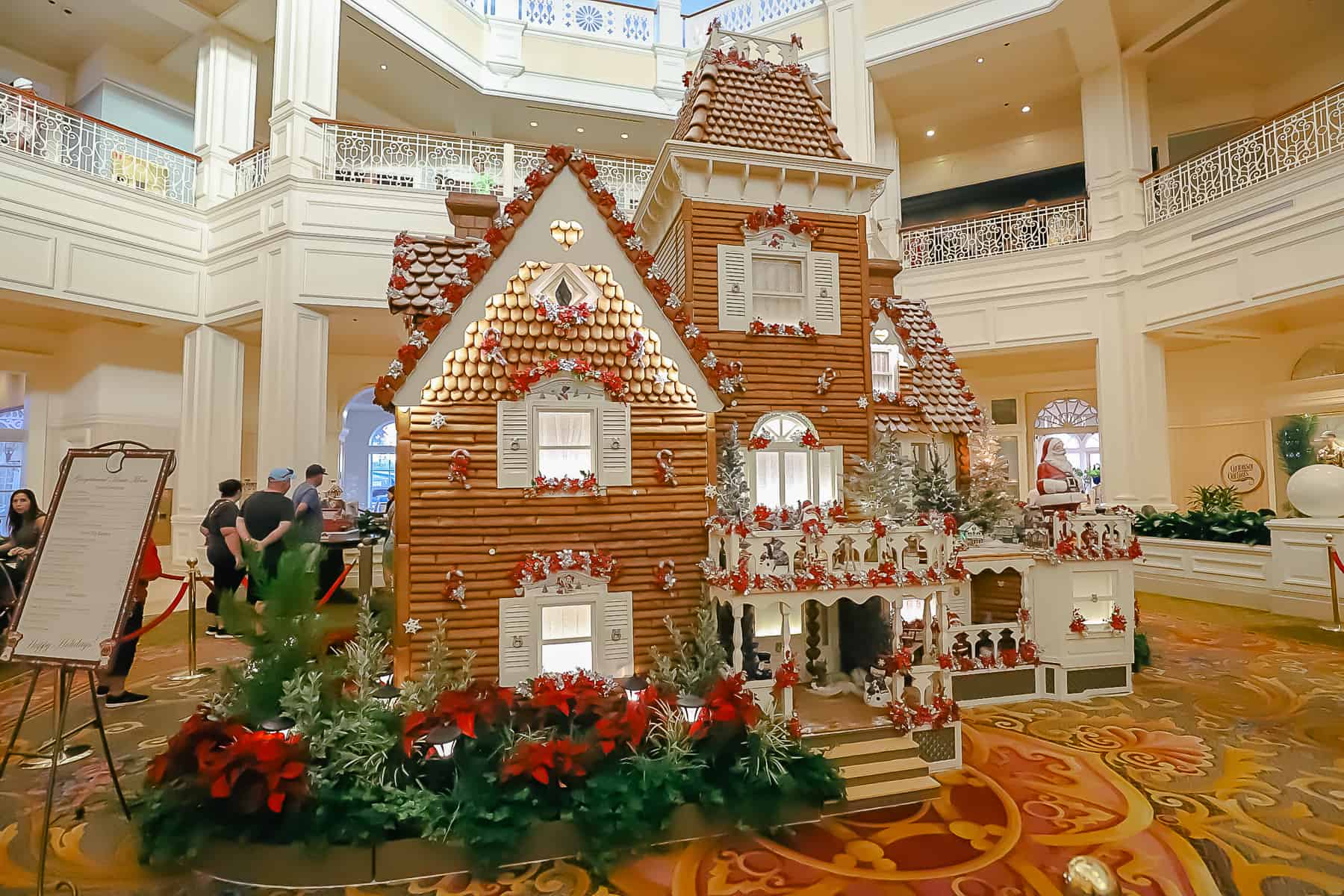 You'll enter the resort's second-floor lobby if you arrive at Disney's Grand Floridian via the monorail. Looking down, you'll be able to see the gingerbread house. It sits toward the back of the lower-level lobby.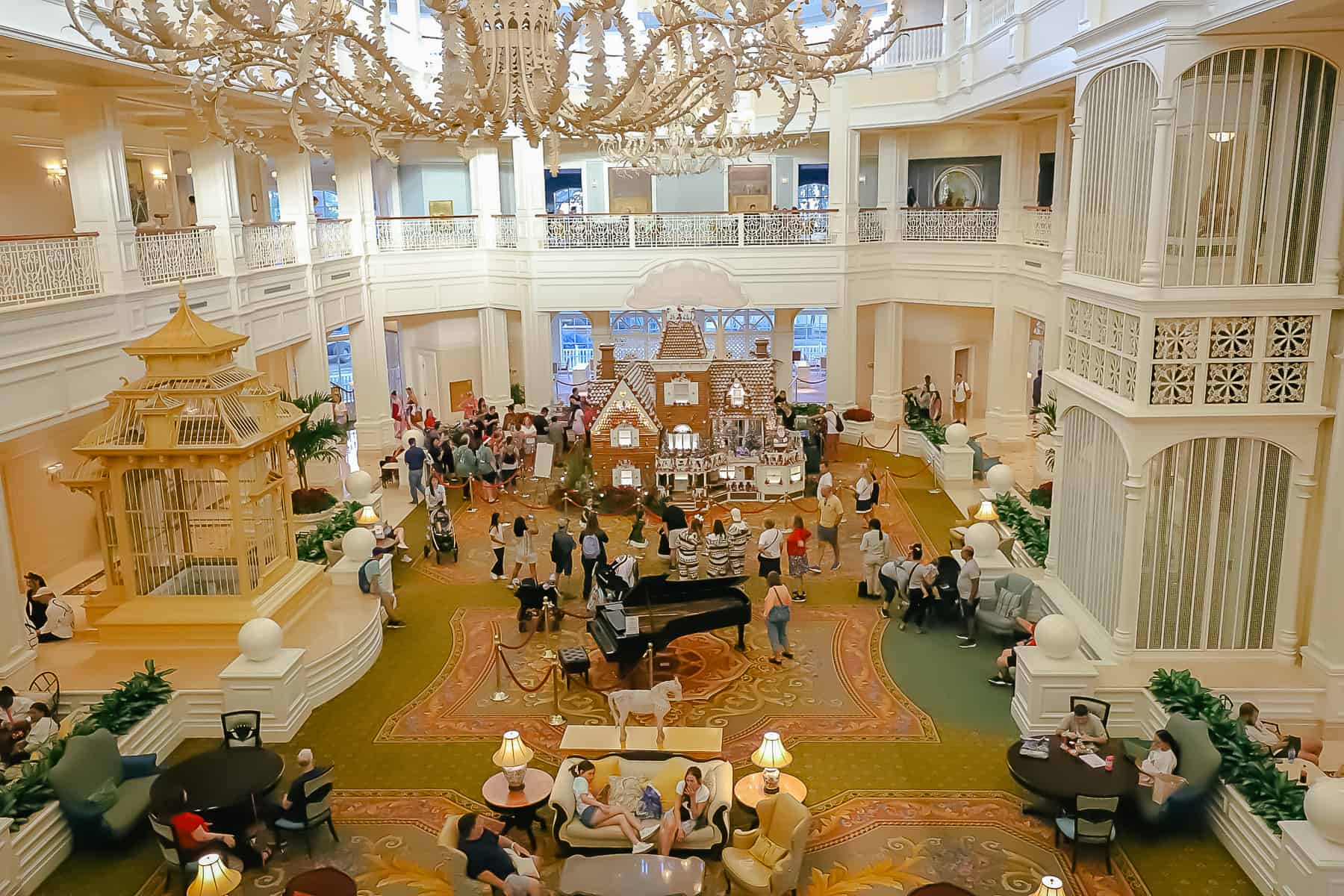 We first walked around the upper level to take a few photos from the unique point of view.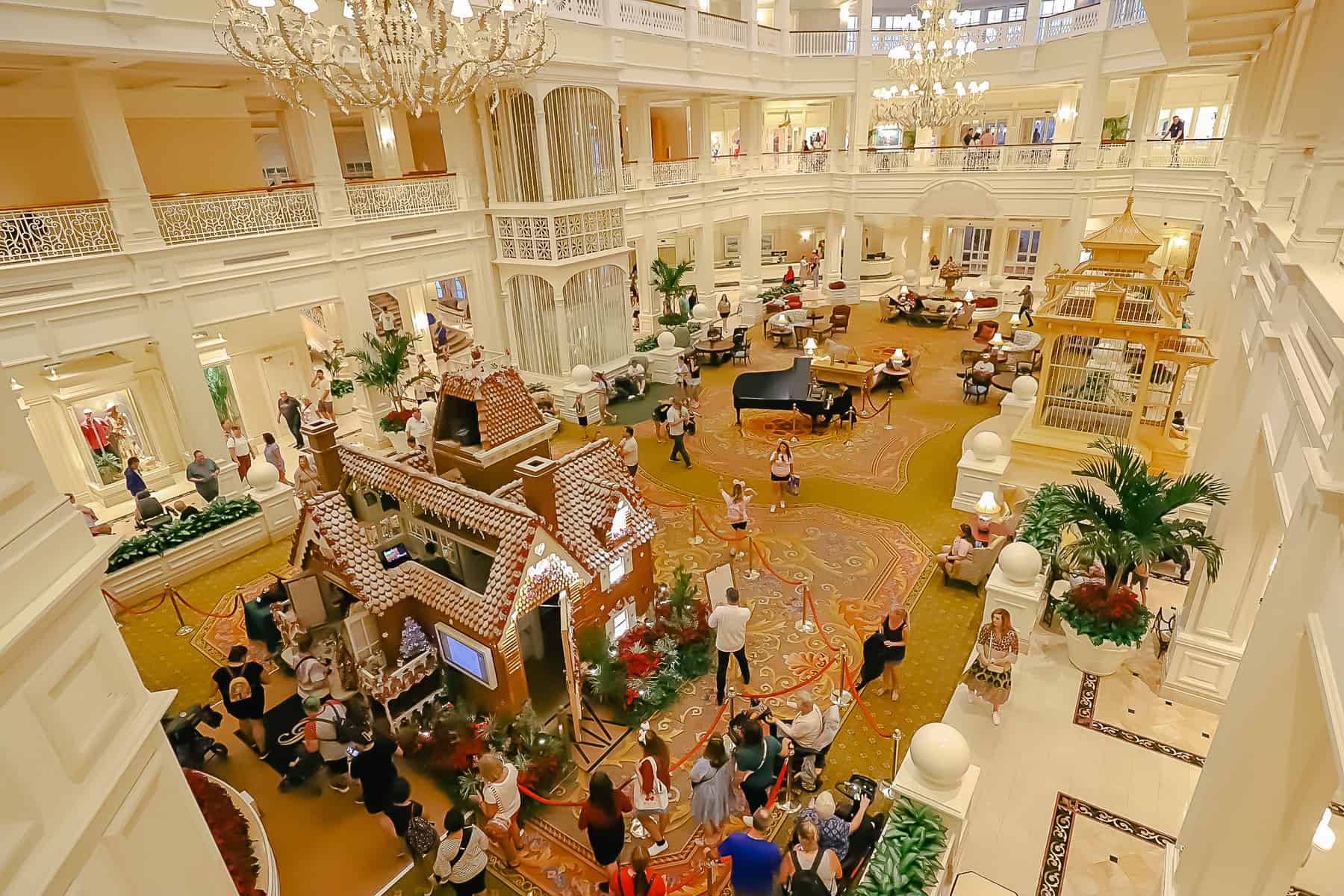 Grand Floridian's gingerbread house is not only a display. It has a window where guests can walk up and purchase select holiday treats. Below, you can see guests waiting in line to buy something.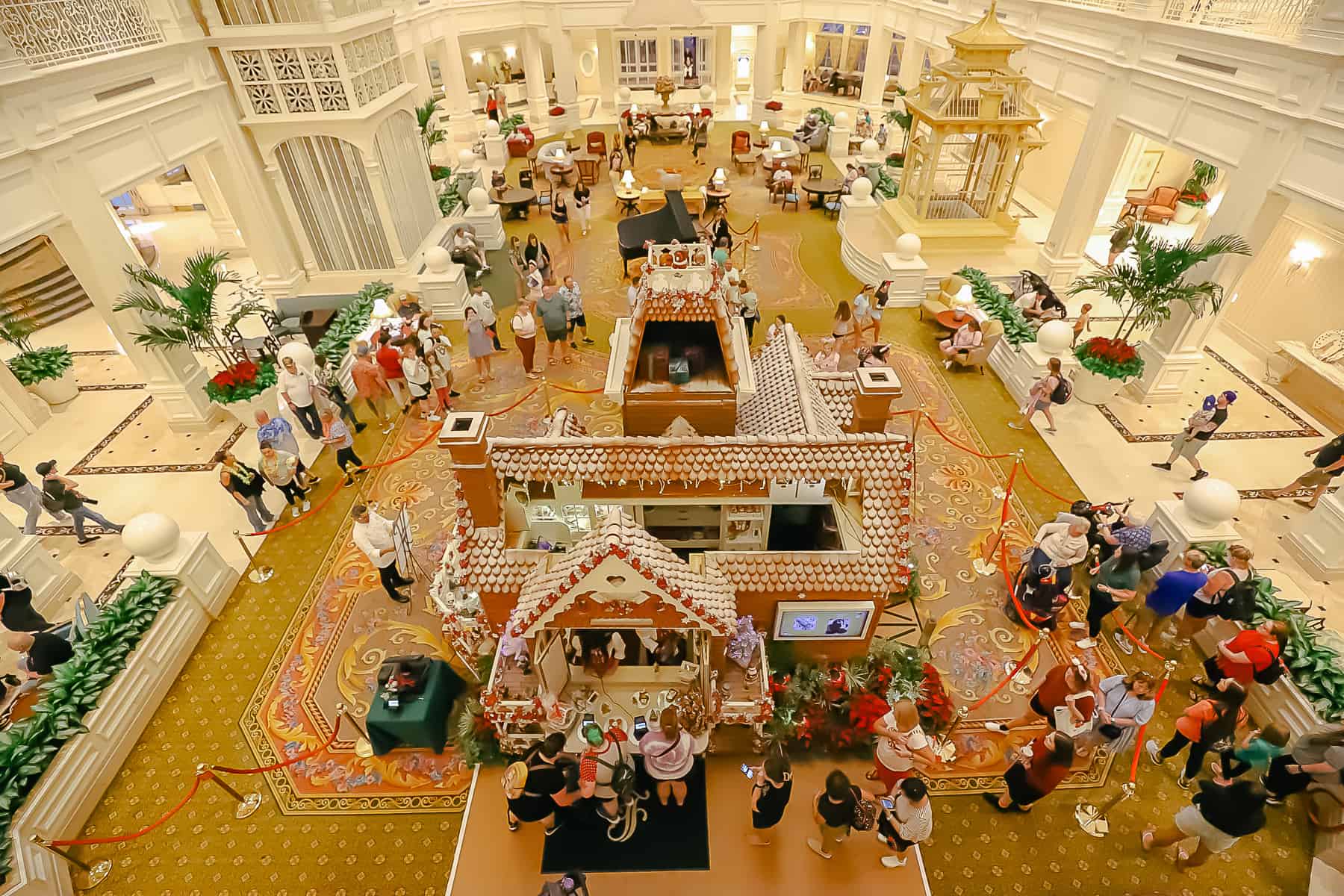 Inside, the gingerbread house is stocked with everything from cupcakes to gingerbread shingles. We'll preview some of the items further along.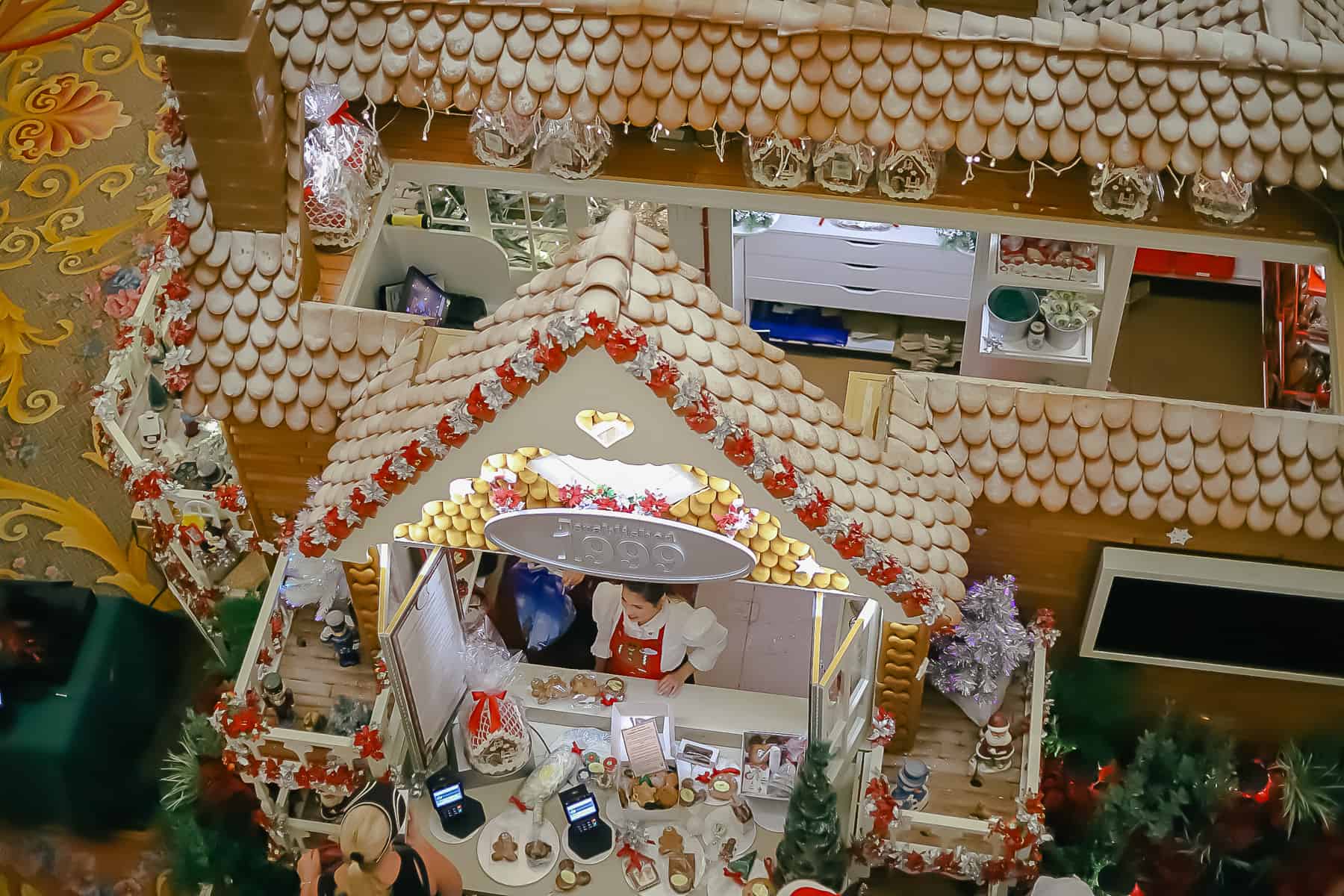 A medallion above the shop's window says, "Established 1999."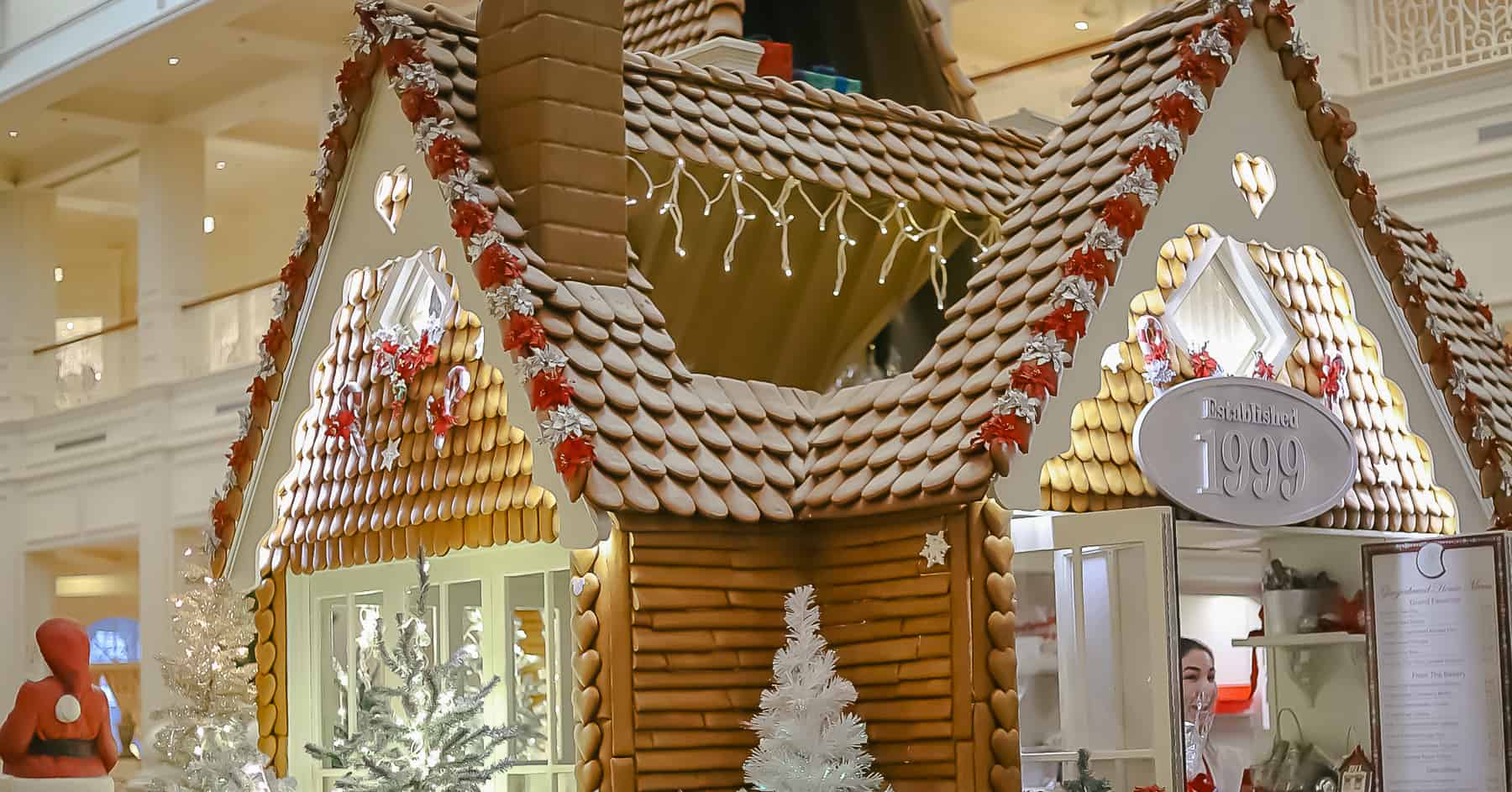 As we make our way down to the lower level, some of the more intimate details of the gingerbread house come into view.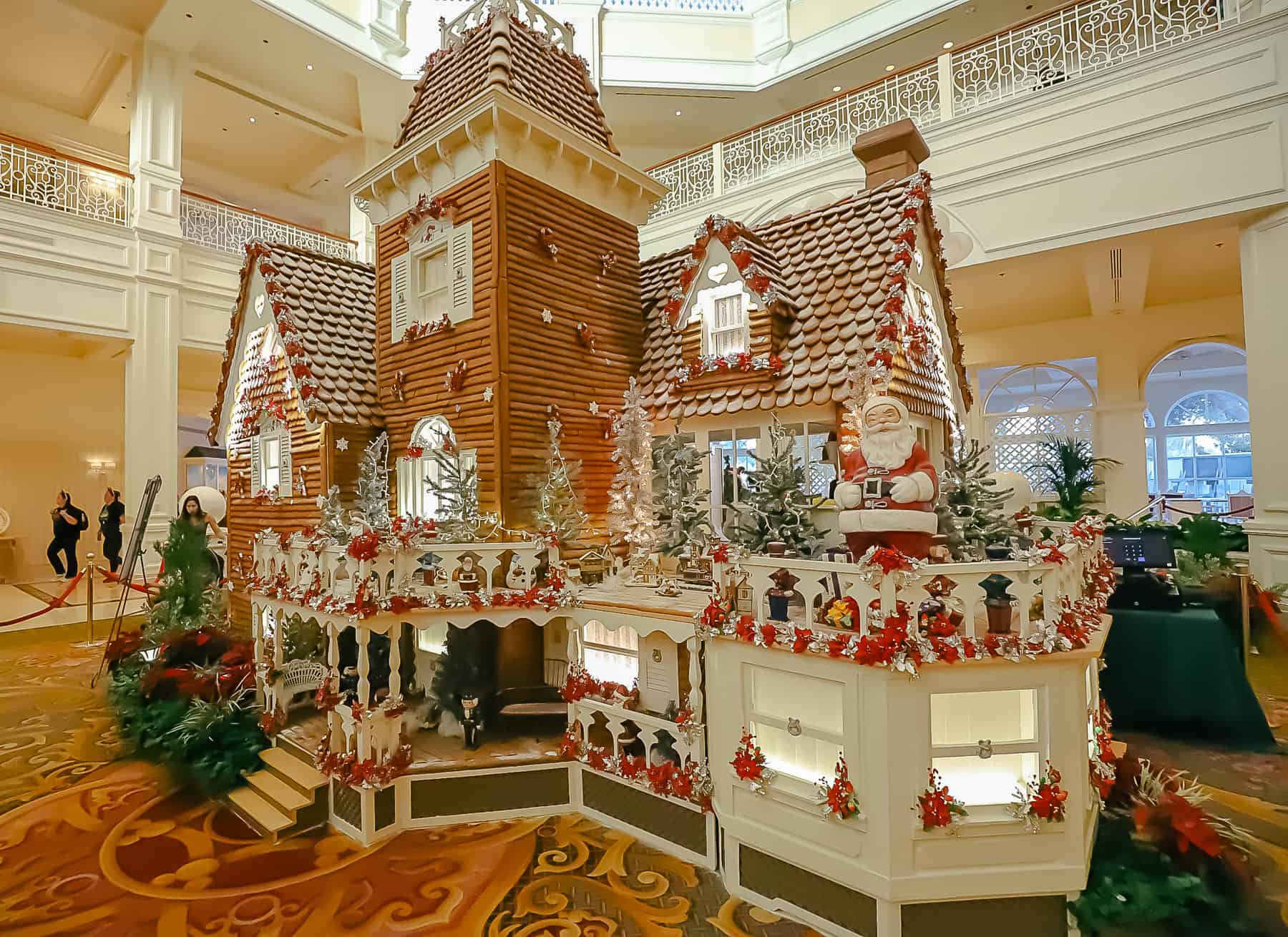 This 85 lb Santa Claus is made of chocolate!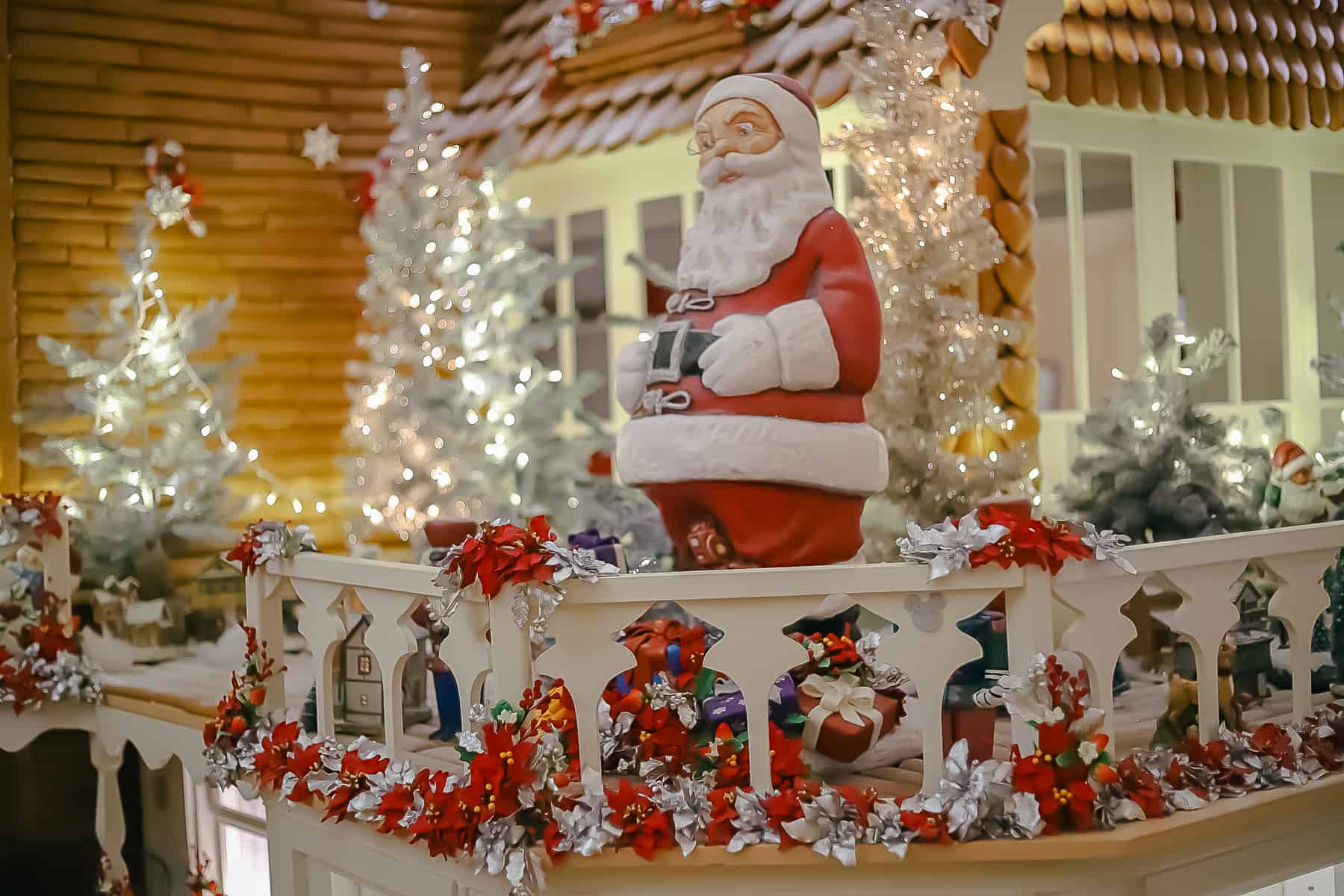 The Victorian gingerbread house features several porches decorated with snowmen, nutcrackers, more miniature Santa's, and other festive figurines.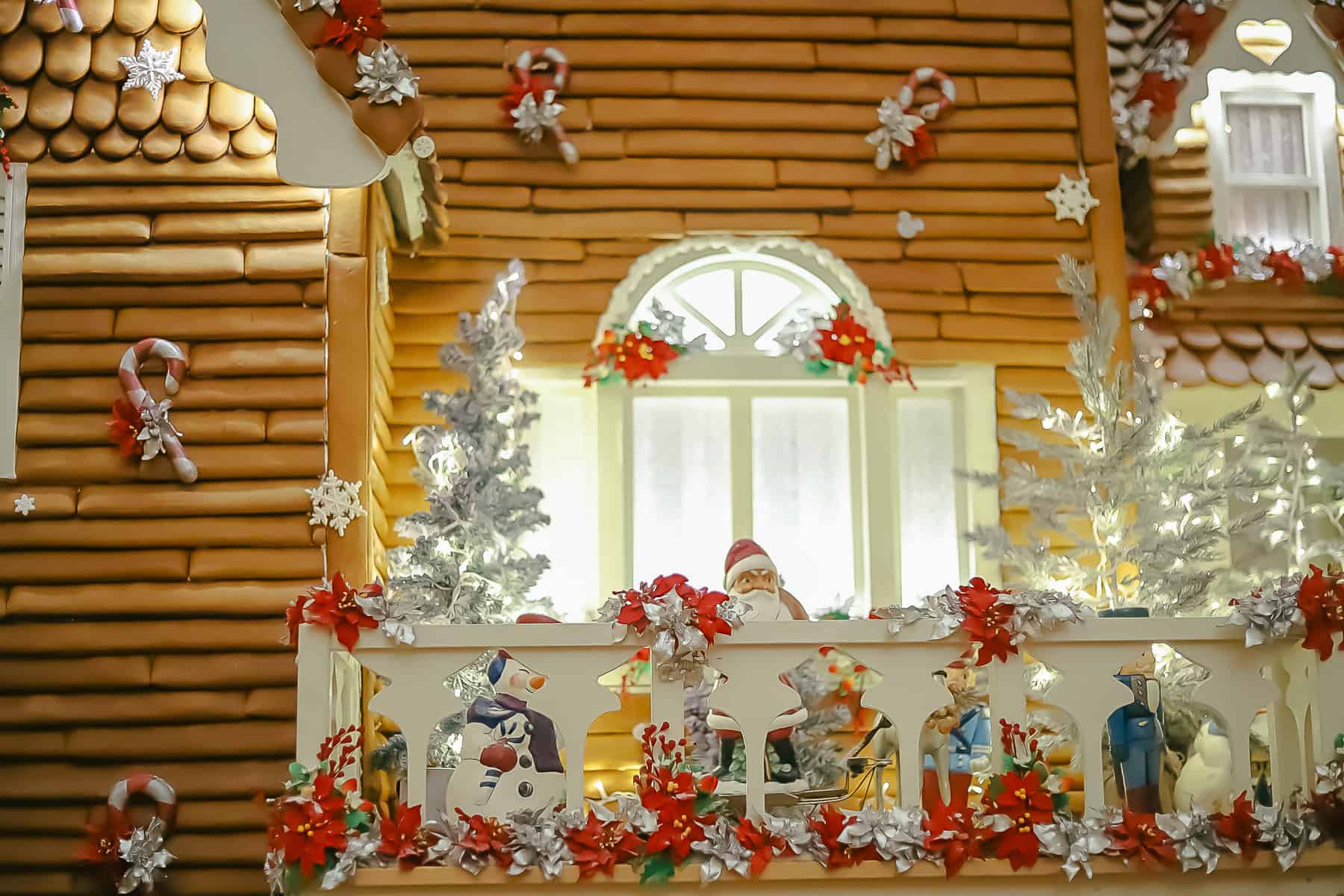 This porch features a darling miniature Christmas village. The attention to detail is unparalleled.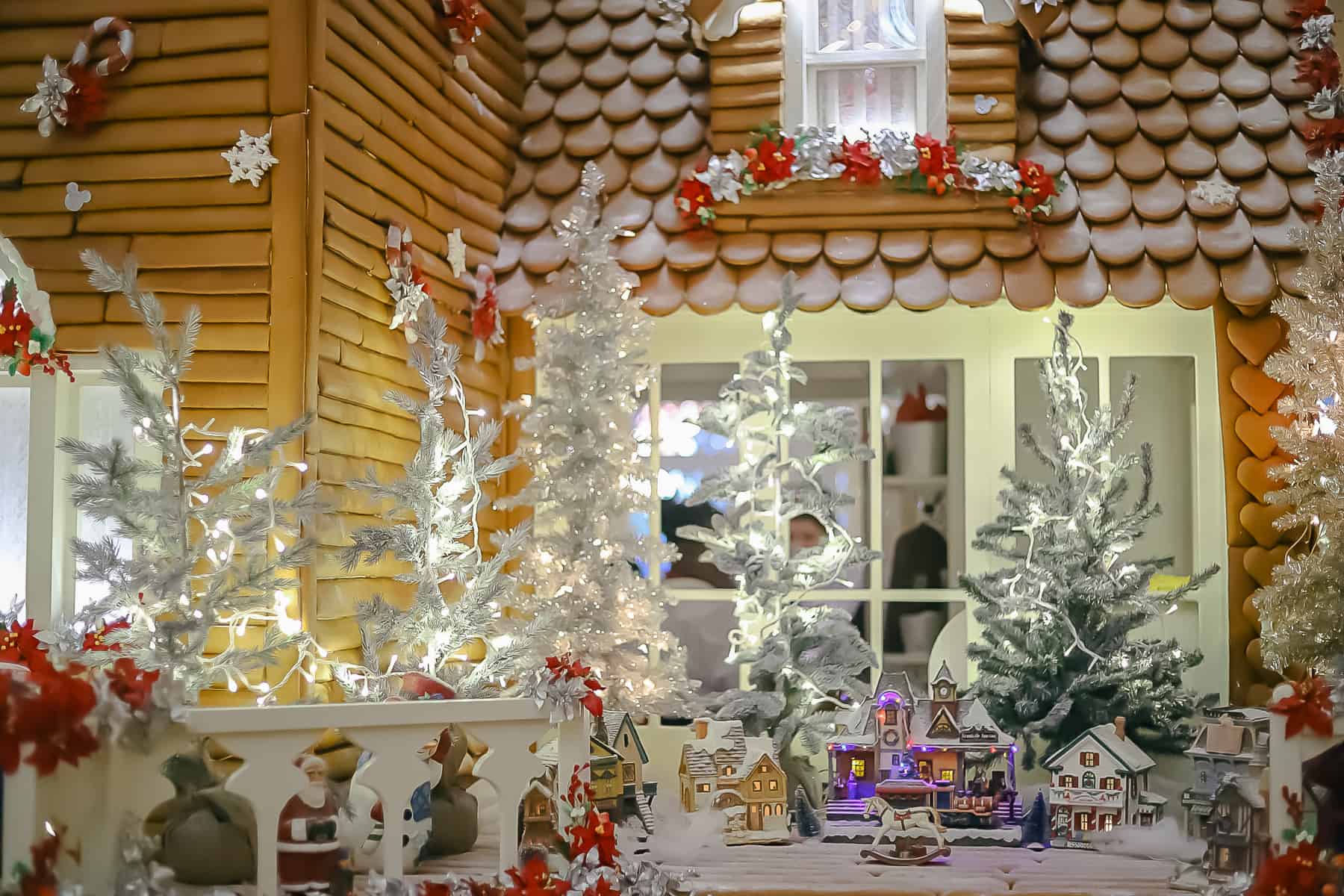 Each window has a transom above it that features classic Disney characters. First, we have Tiana from The Princess and the Frog.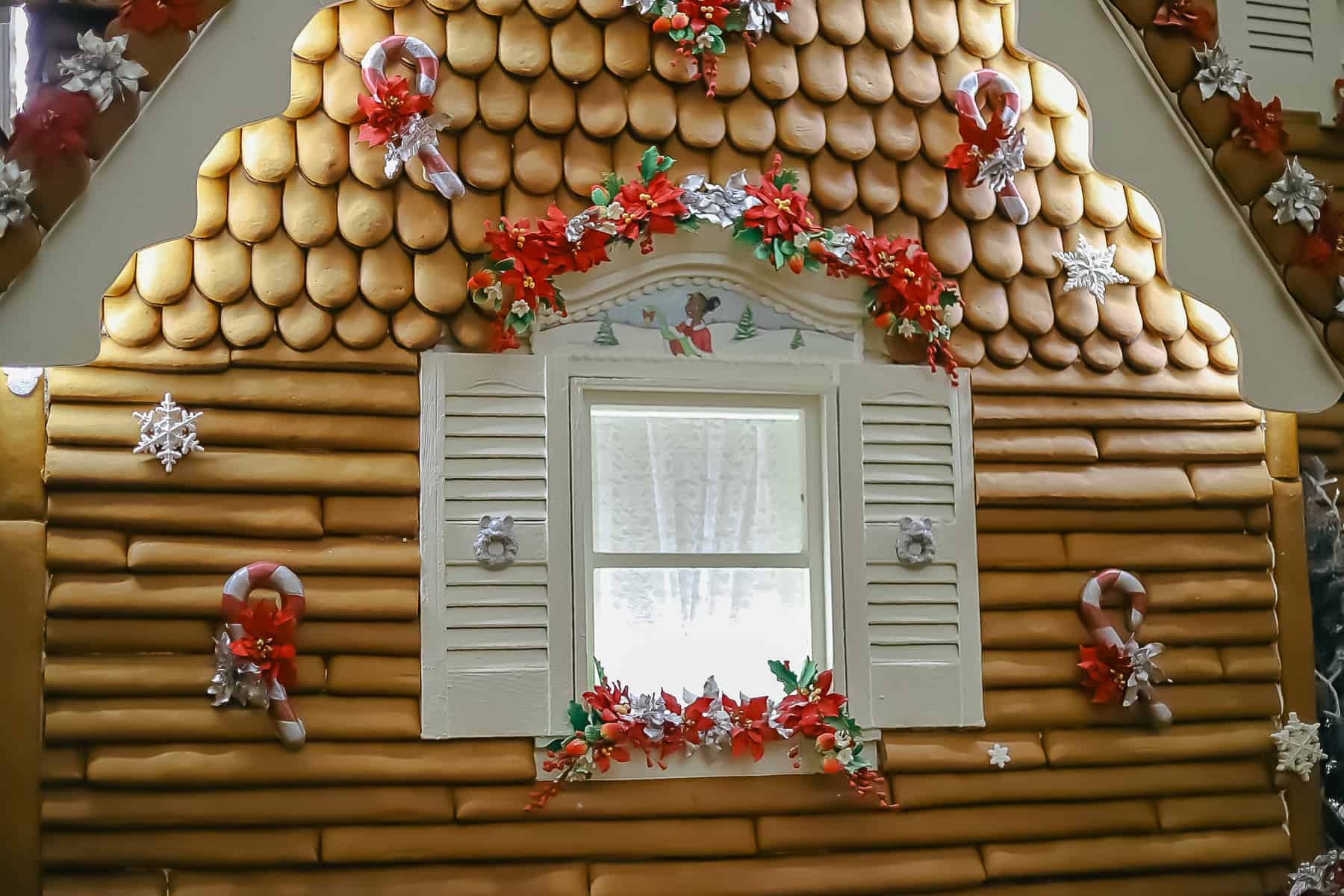 Next, we have Winnie the Pooh with Eeyore, Tigger, and Piglet. This one made me smile.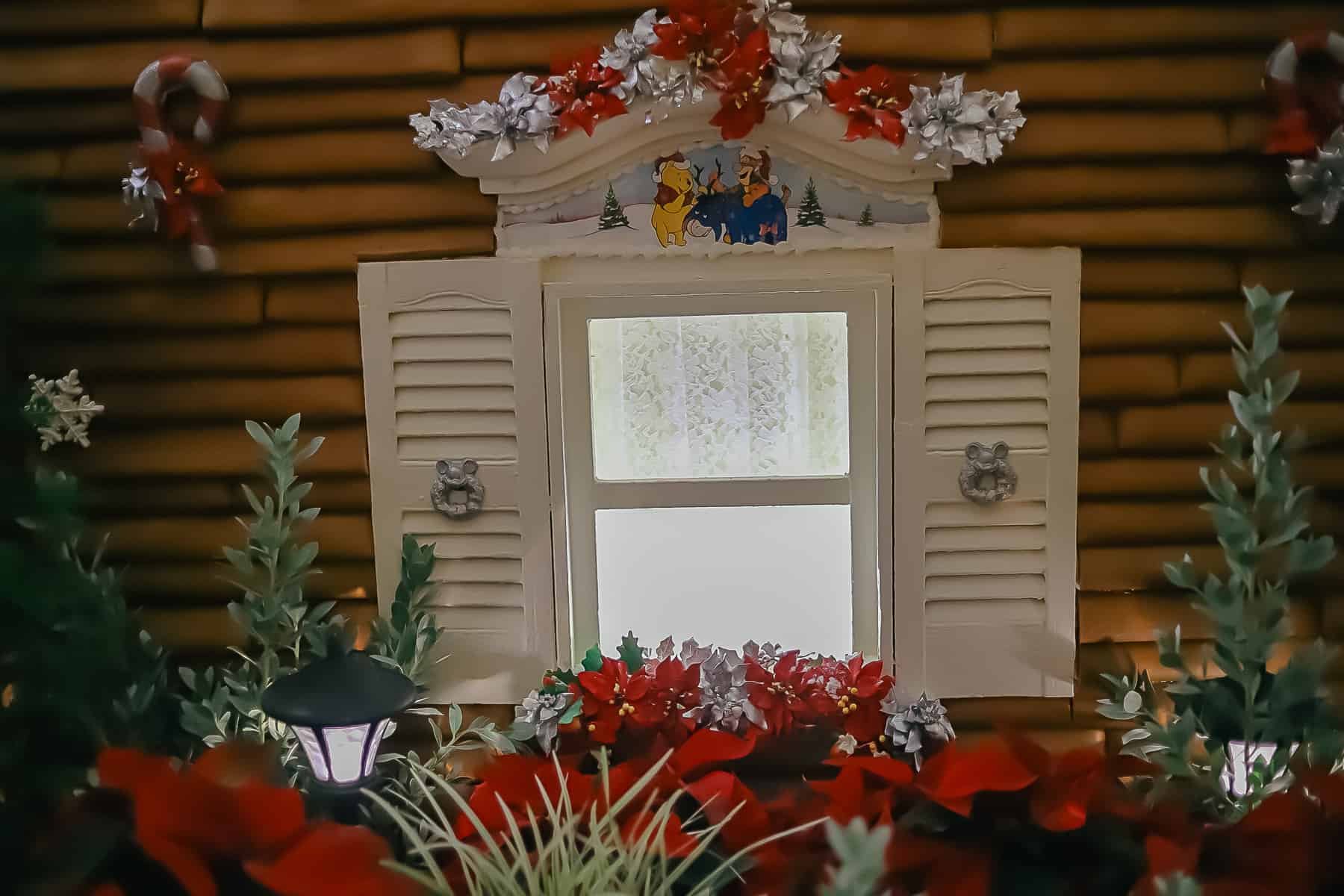 Snow White is featured in a snowy scene.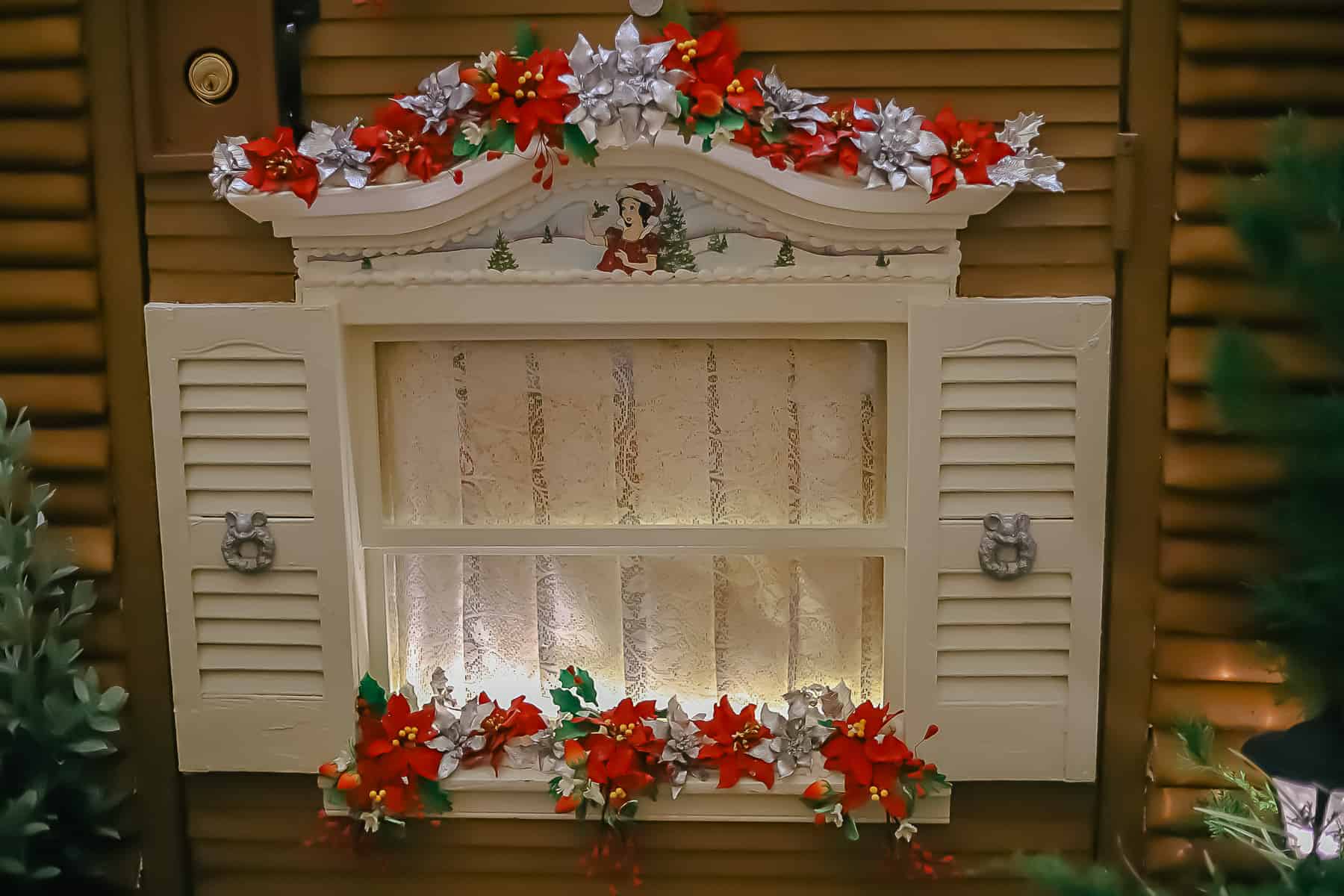 Rapunzel is wearing her winter cape.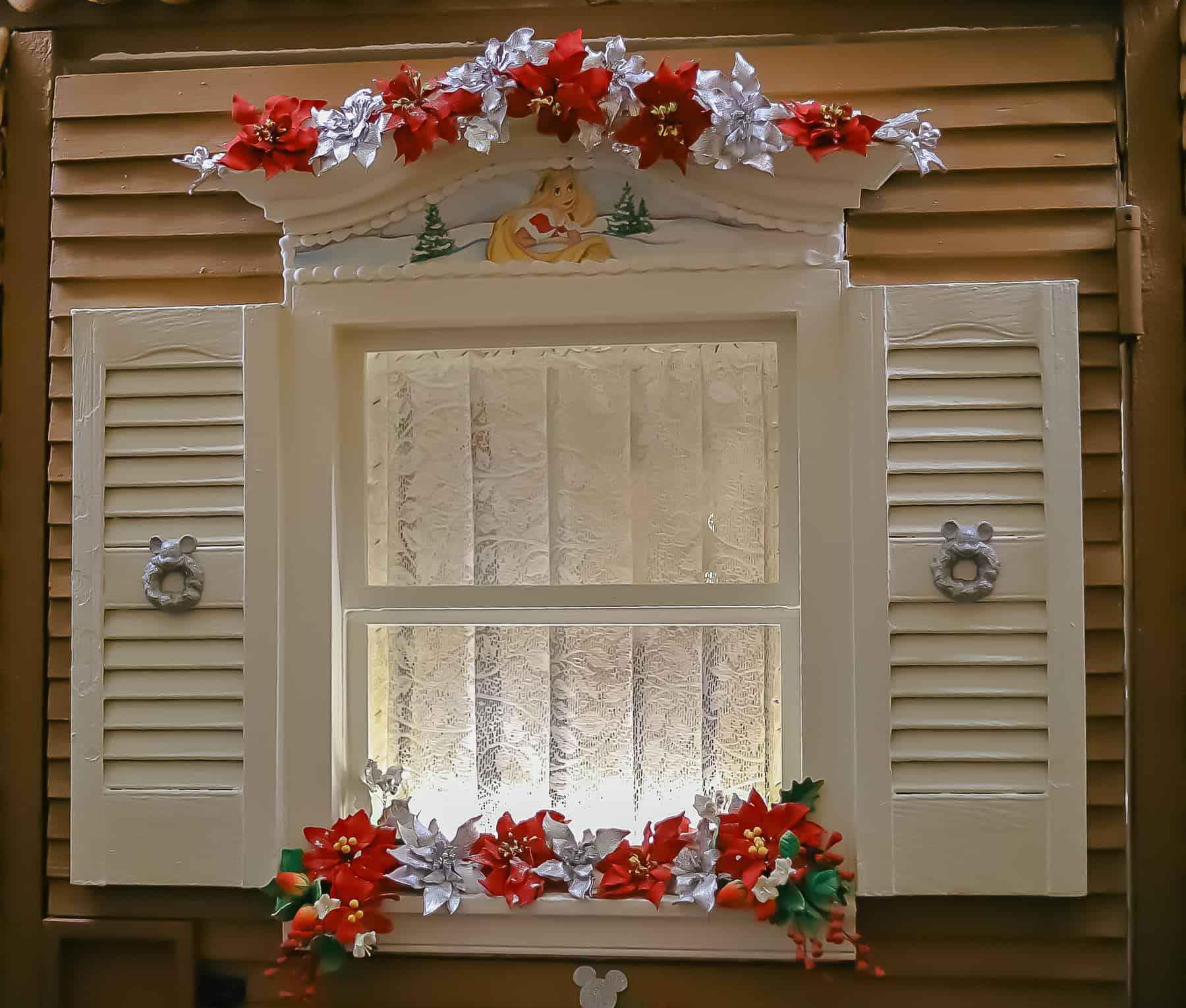 Minnie Mouse is giving Mickey a big smooch on the cheek.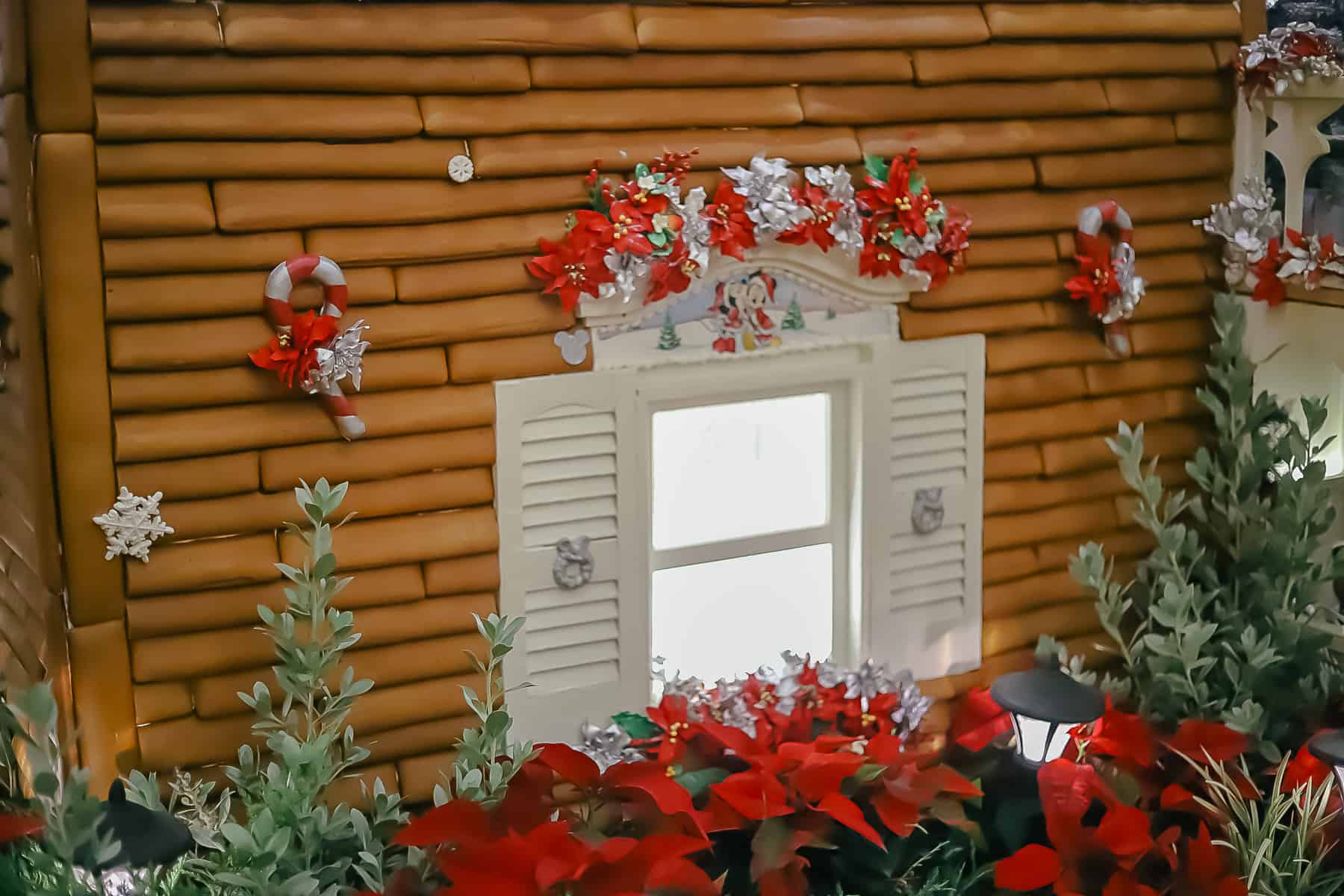 Ariel sits above the sole second-story window sill.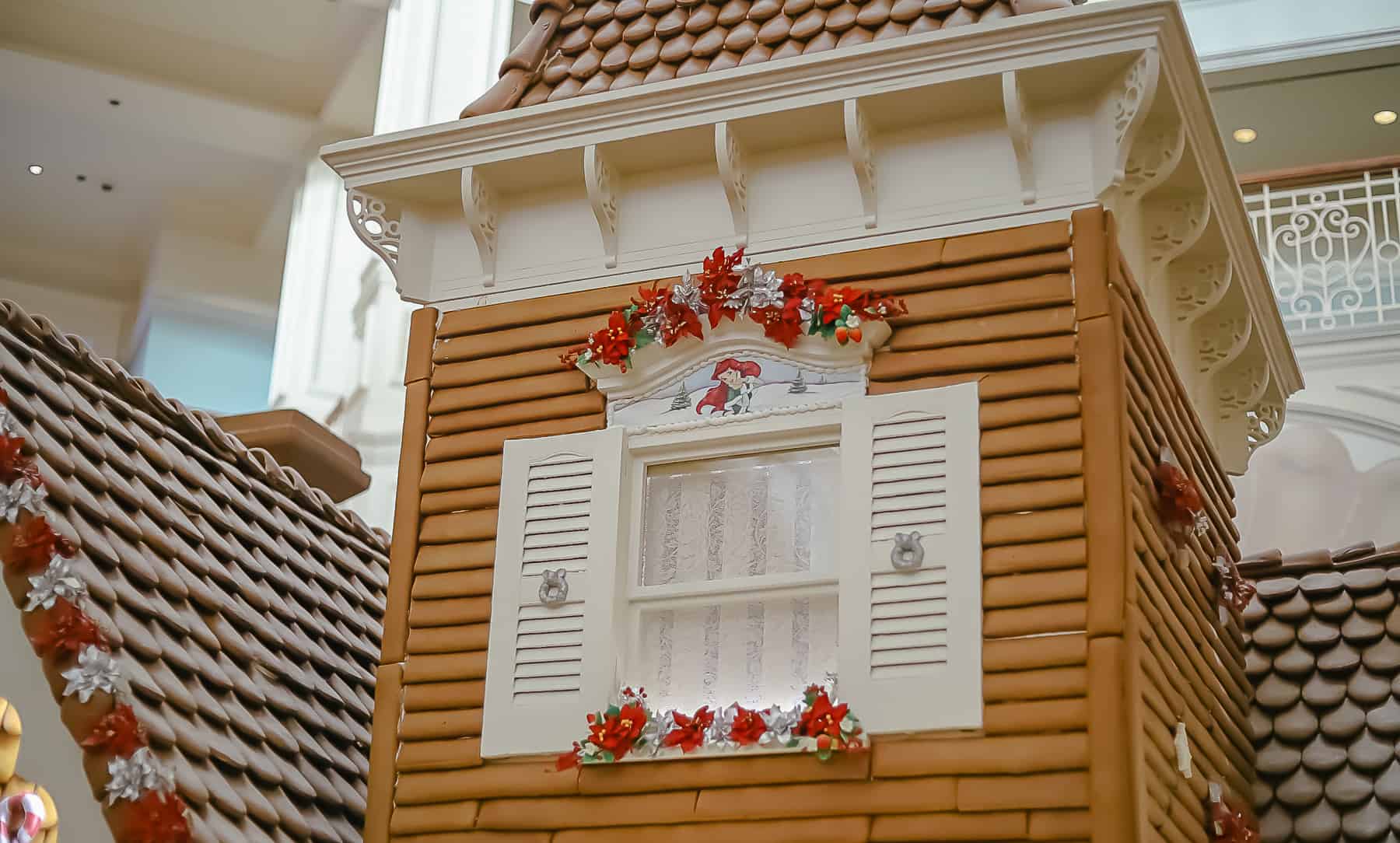 Here are a few more photos of the decorative details.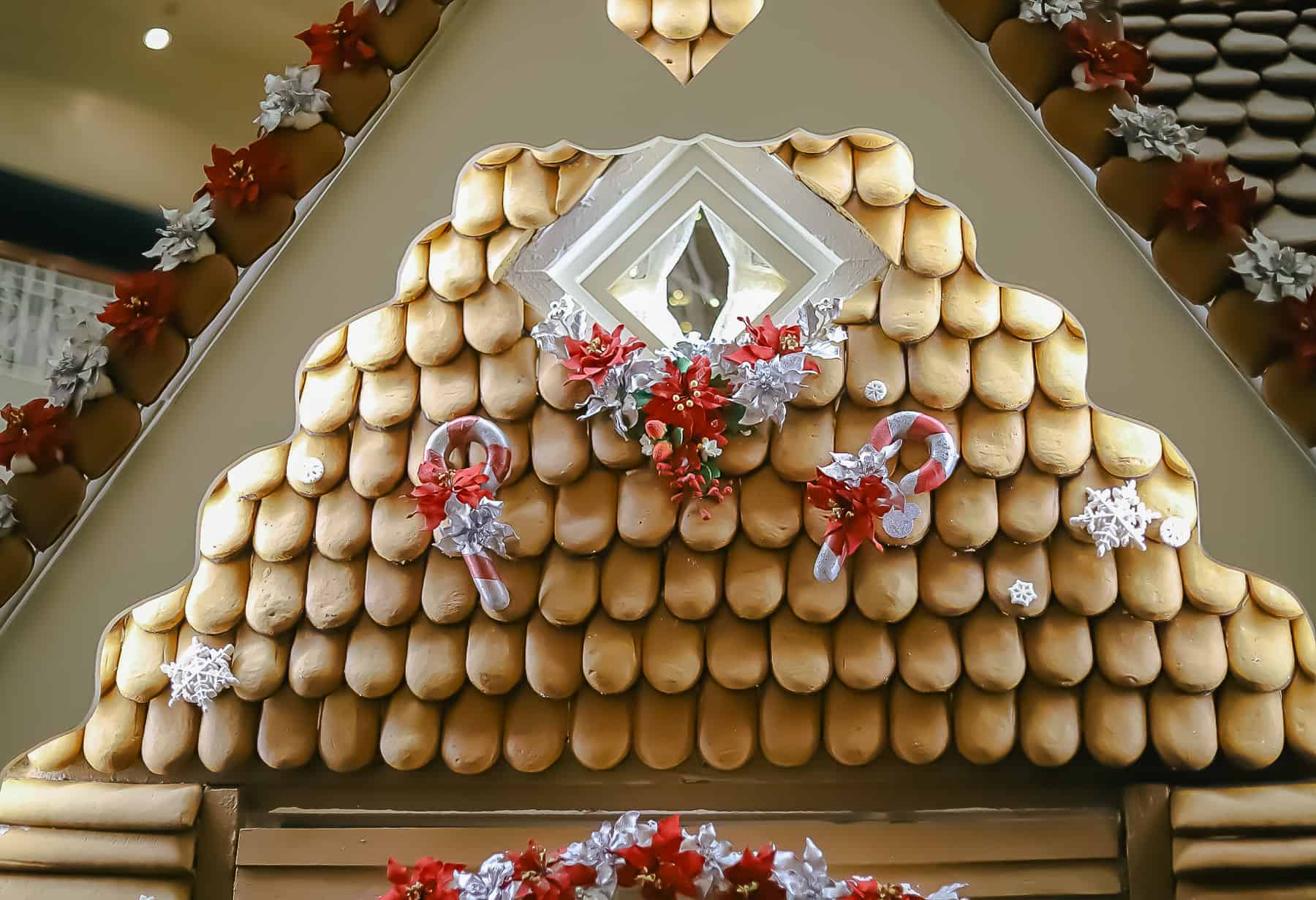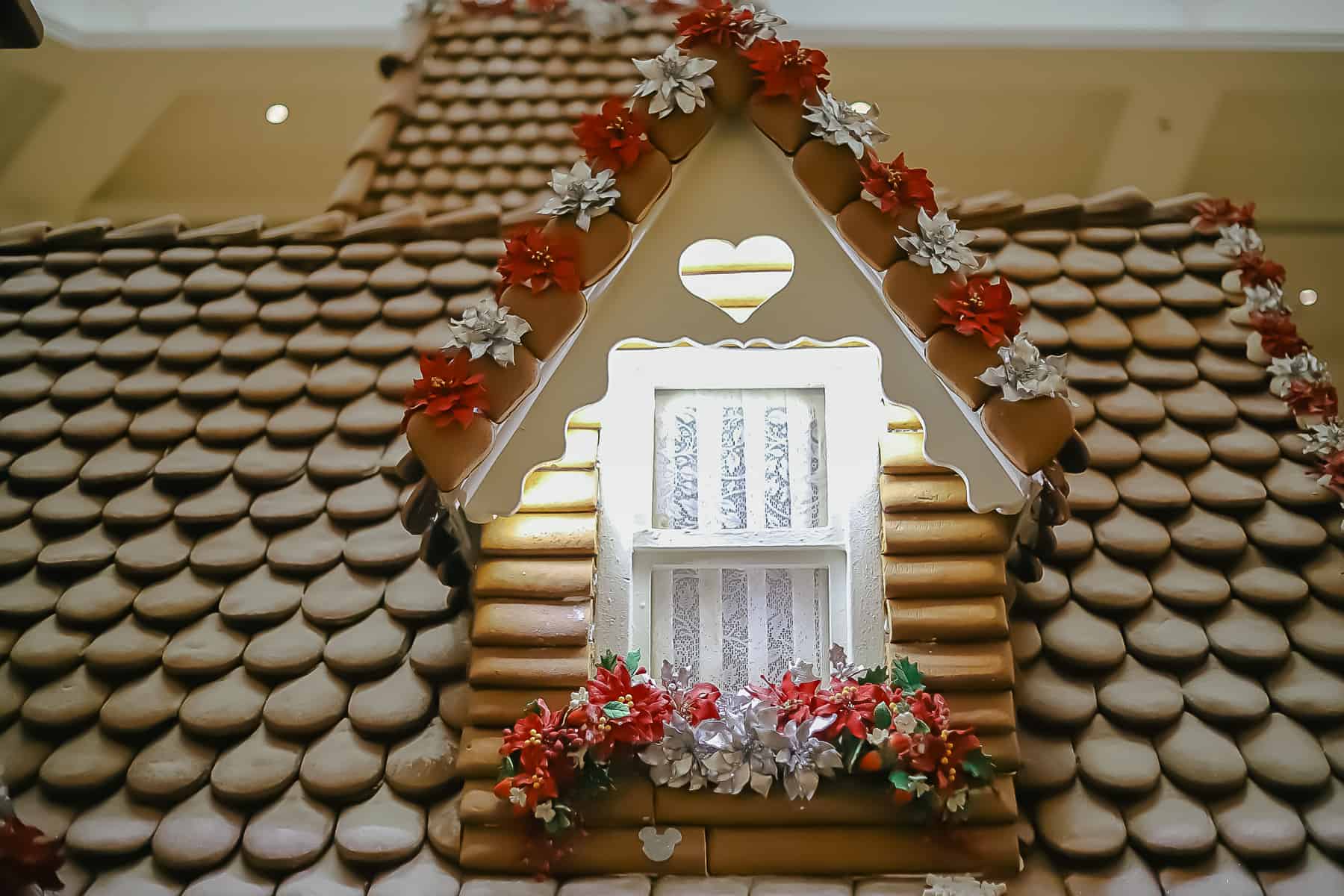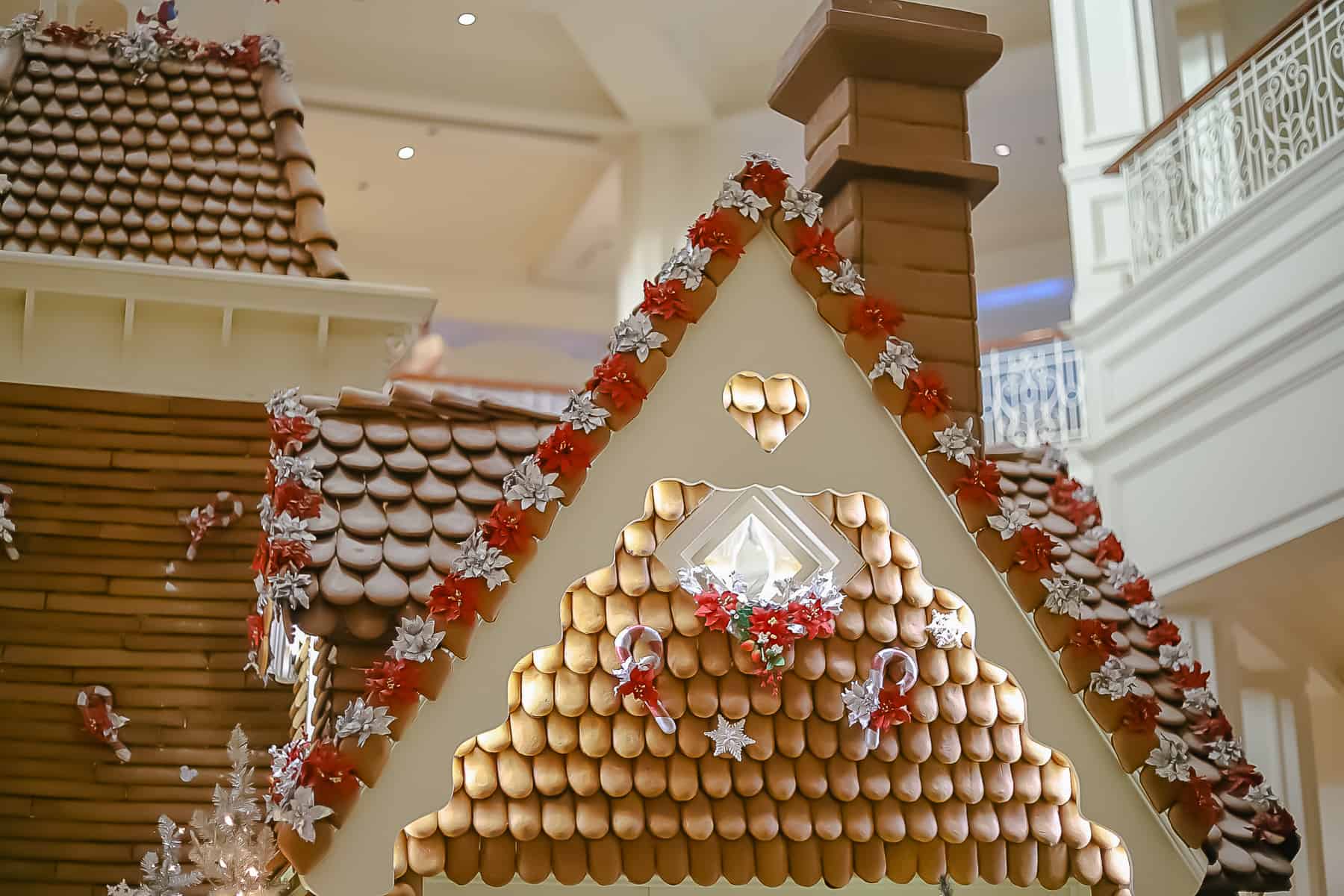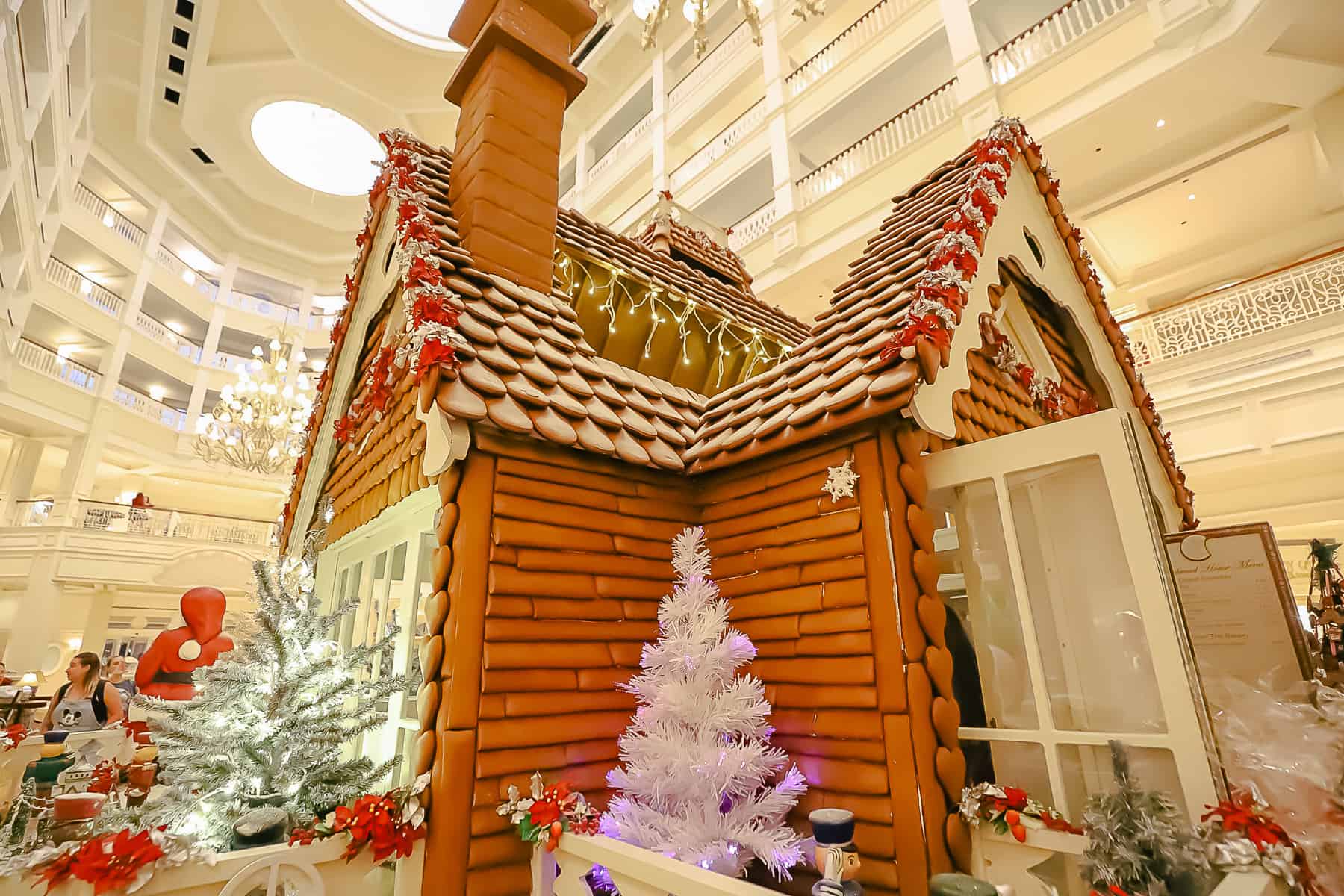 A cardboard cutout displays the ingredients that went into making the gingerbread house. Over 10,000 pieces of gingerbread were used in the process!
Here is a list of the ingredients:
1000 lbs of honey
140 pints of egg whites
600 lbs of powdered sugar
700 lbs of chocolate
800 lbs of flour
35 lbs of spices
Tons of Creativity
Disney Magic
Pixie Dust (One Heaping Teaspoon, in my opinion)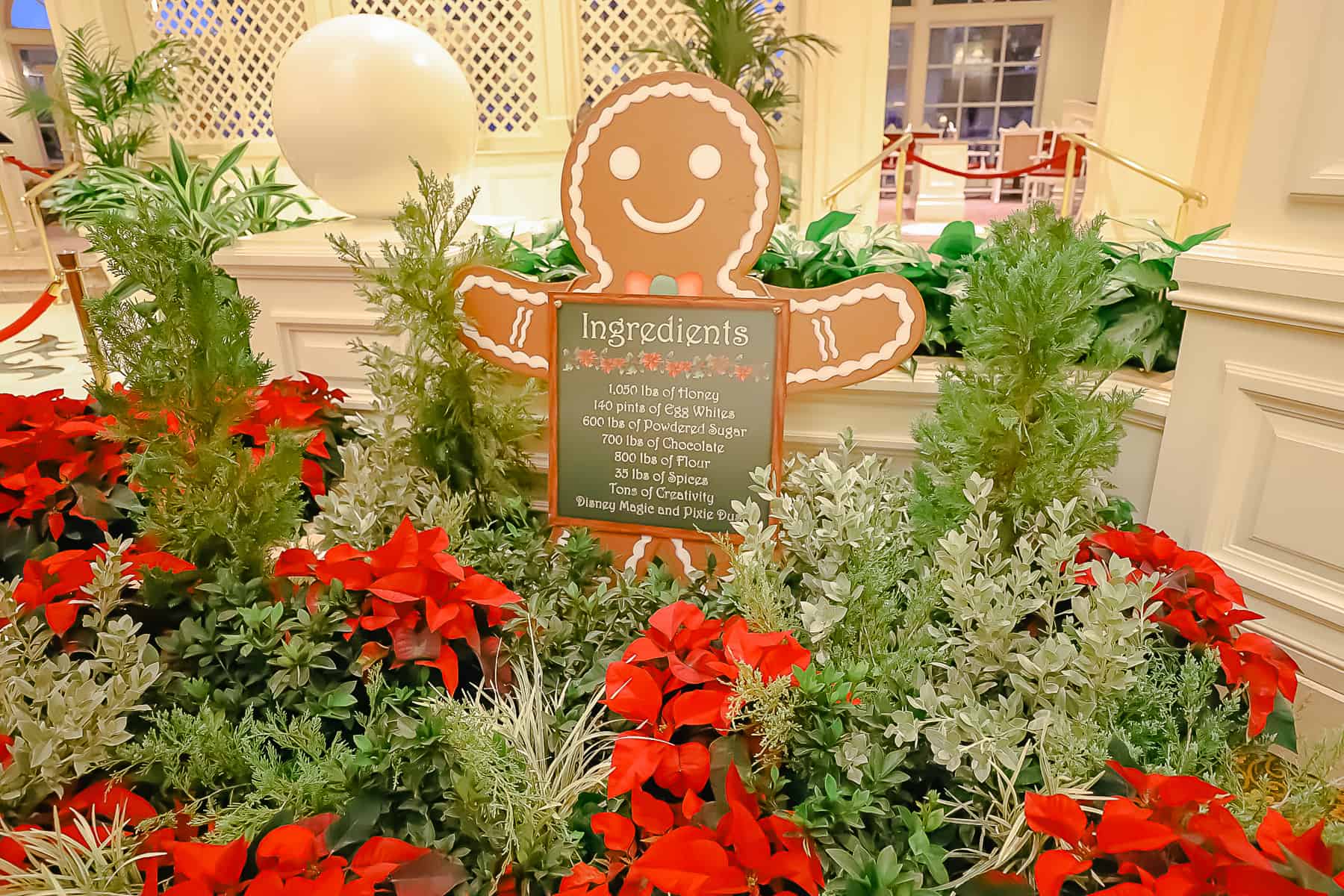 Toward the back of the display, a QR code links to Disney's TikTok video about how the gingerbread house is repurposed to help bees pollinate. At the end of the season, the house is dismantled. The pieces are then taken to a field on Disney property, where they will attract bees. Later, the frame is collected, cleaned, and stored away for next year's house.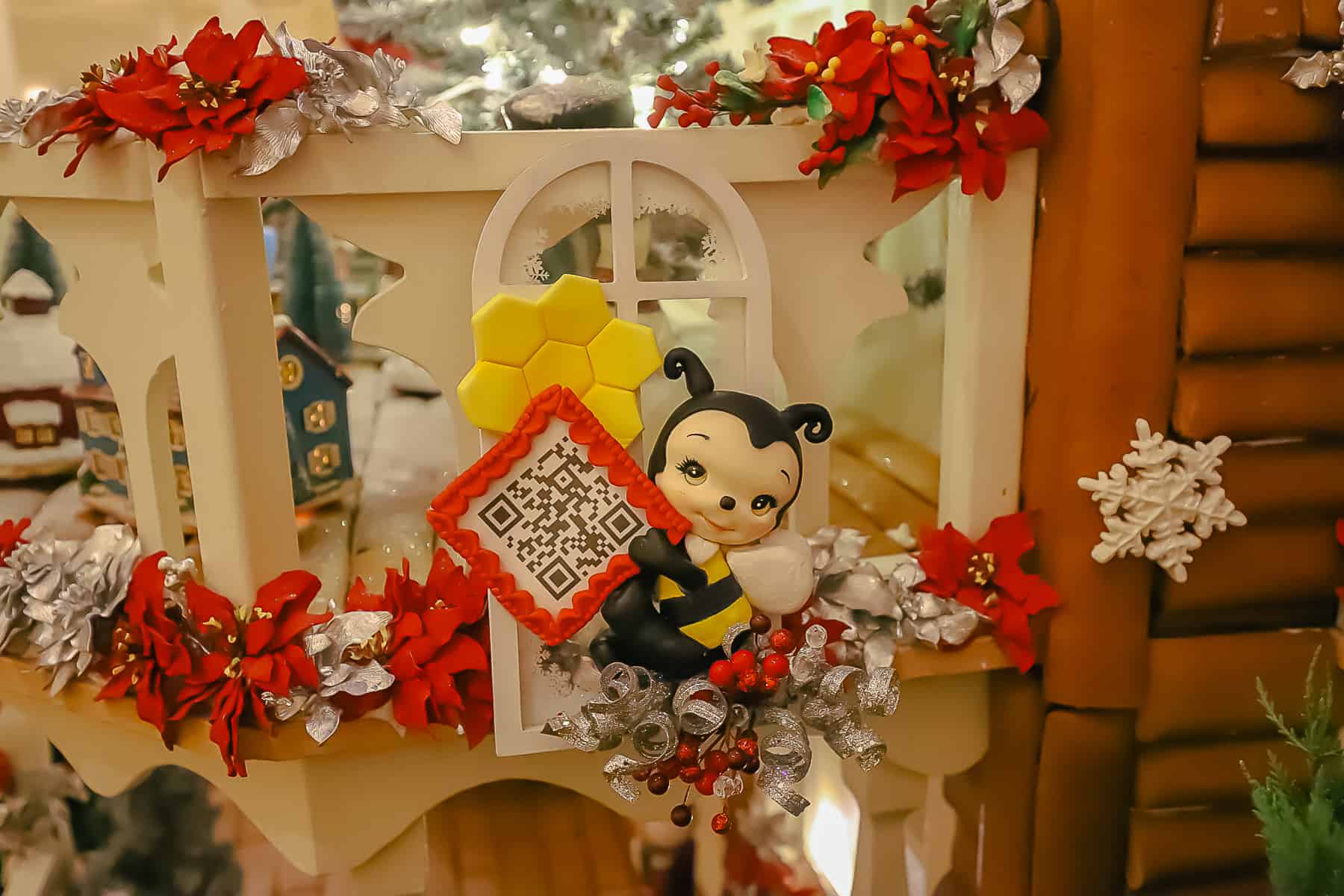 Video of the 2023 Grand Floridian Gingerbread House
Here is a short video clip of this year's gingerbread house.
2023 Grand Floridian Gingerbread House Menu
Those with a sweet tooth will find plenty of options for treats at this year's gingerbread display.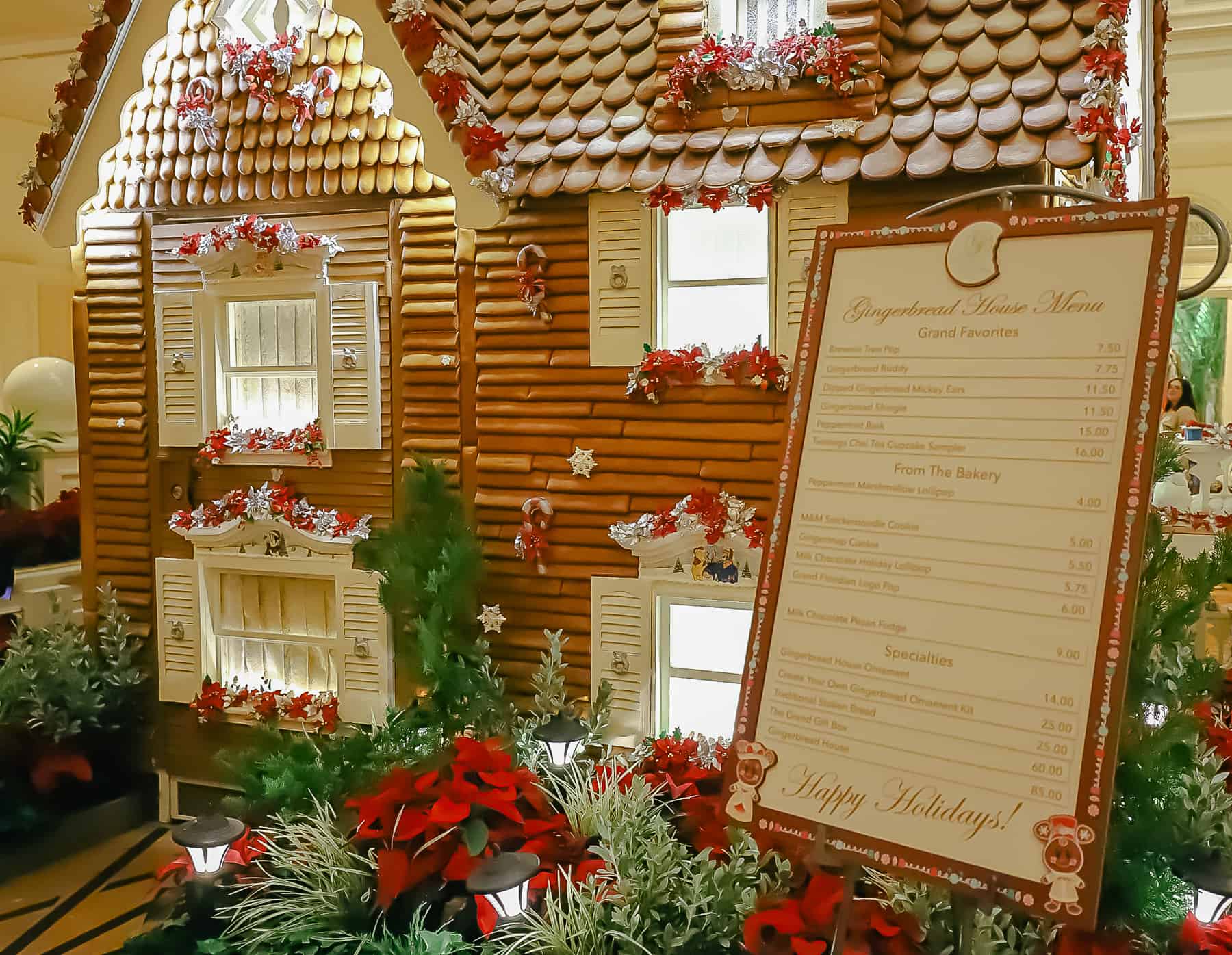 The menu includes the following:
Grand Favorites:
Milk Chocolate Holiday Lollipops
Grand Floridian Logo Pop
Gingerbread Buddy
Gingerbread Shingle
Peppermint Bark
From the Bakery:
Peppermint Marshmallow Lollipop
Gingerbread Cranberry Muffin (new)
M&M Snickerdoodle Cookie
Gingersnap Cookie
Brownie Tree Pop
Peppermint Chocolate Chip Bar
Milk Chocolate Pecan Fudge
Twinings Chai Tea Cupcake Sampler (new)
Austrian Stollen Bread with Marzipan
Gingerbread Mickey Ears
Gingerbread House Ornament
Create Your Own Gingerbread Ornament Kit
Signature Gingerbread House
*The Grand Floridian's gingerbread house is open daily from 9:00 a.m. until 9:30 p.m.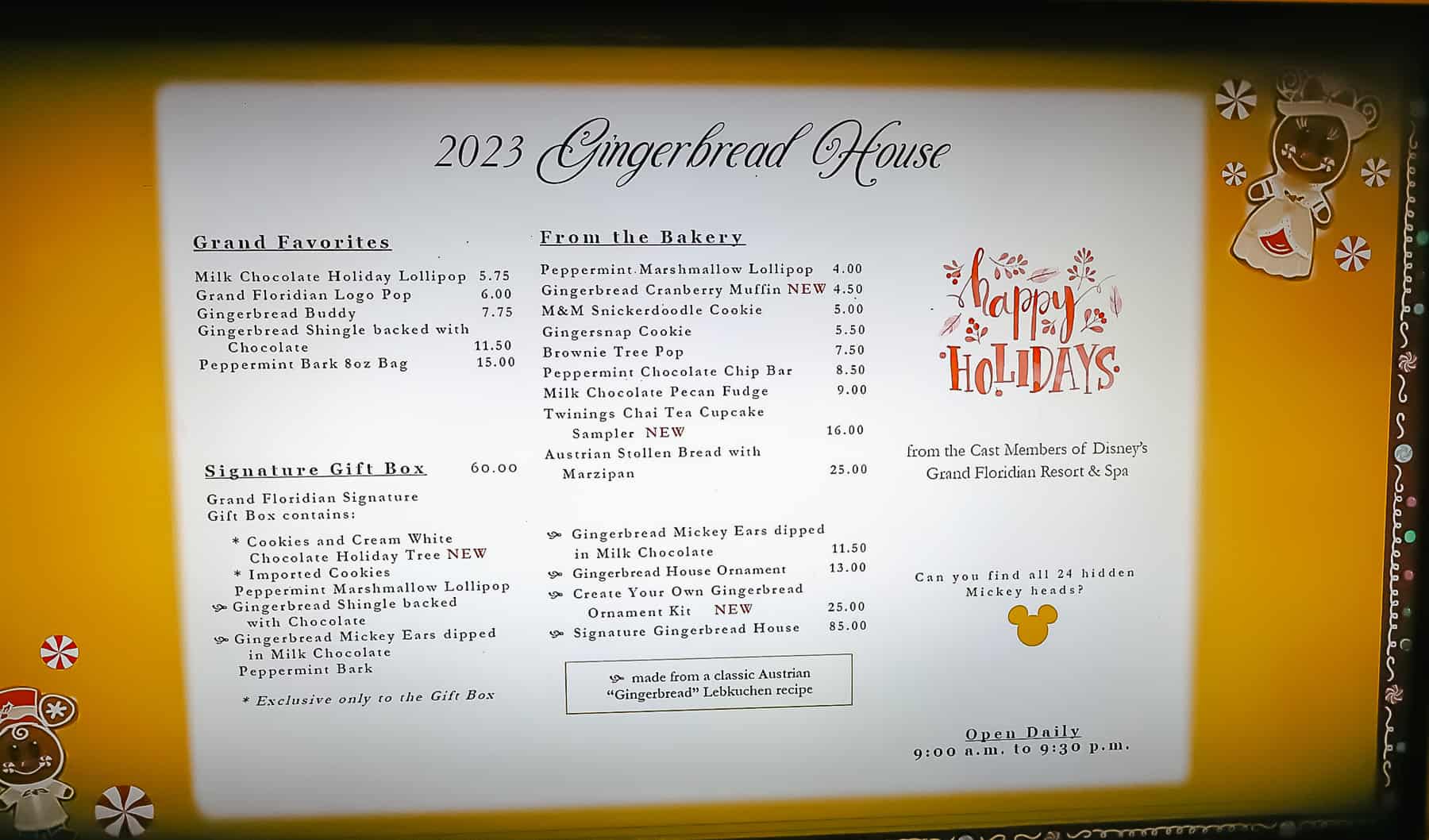 A display is set up on the first and second floors, offering a preview of the treats.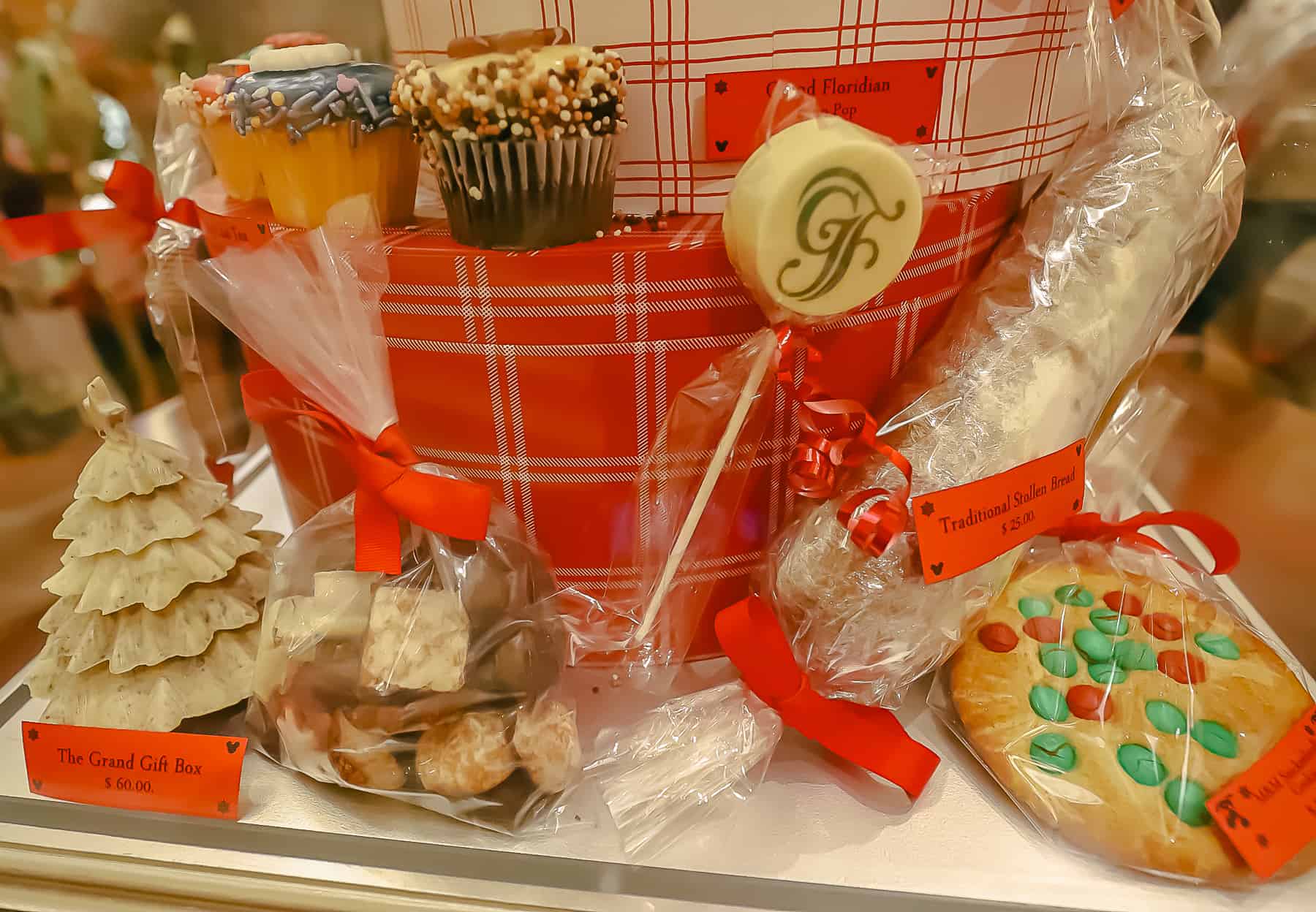 Here are a few of the items.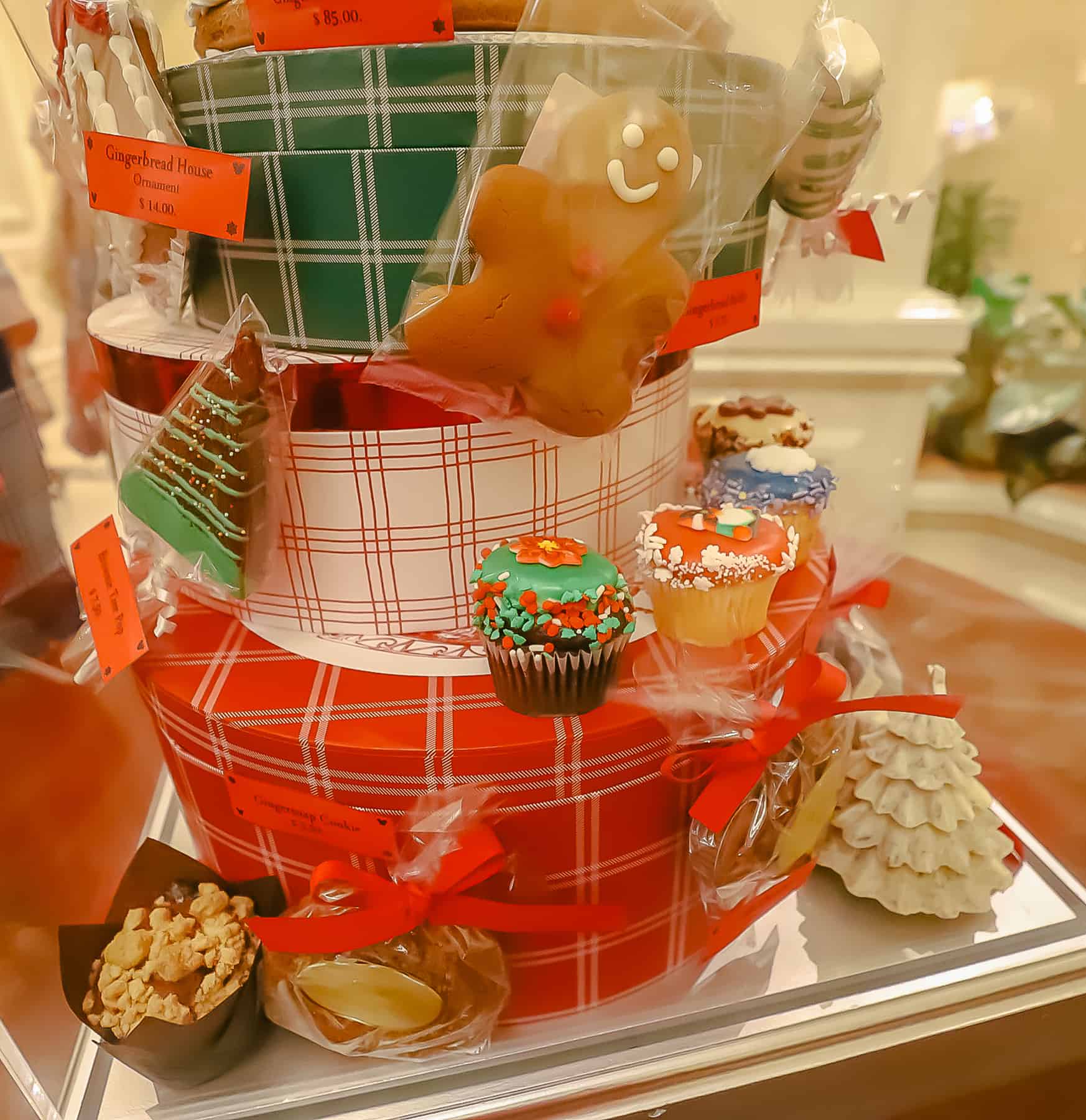 This is the brownie tree pop.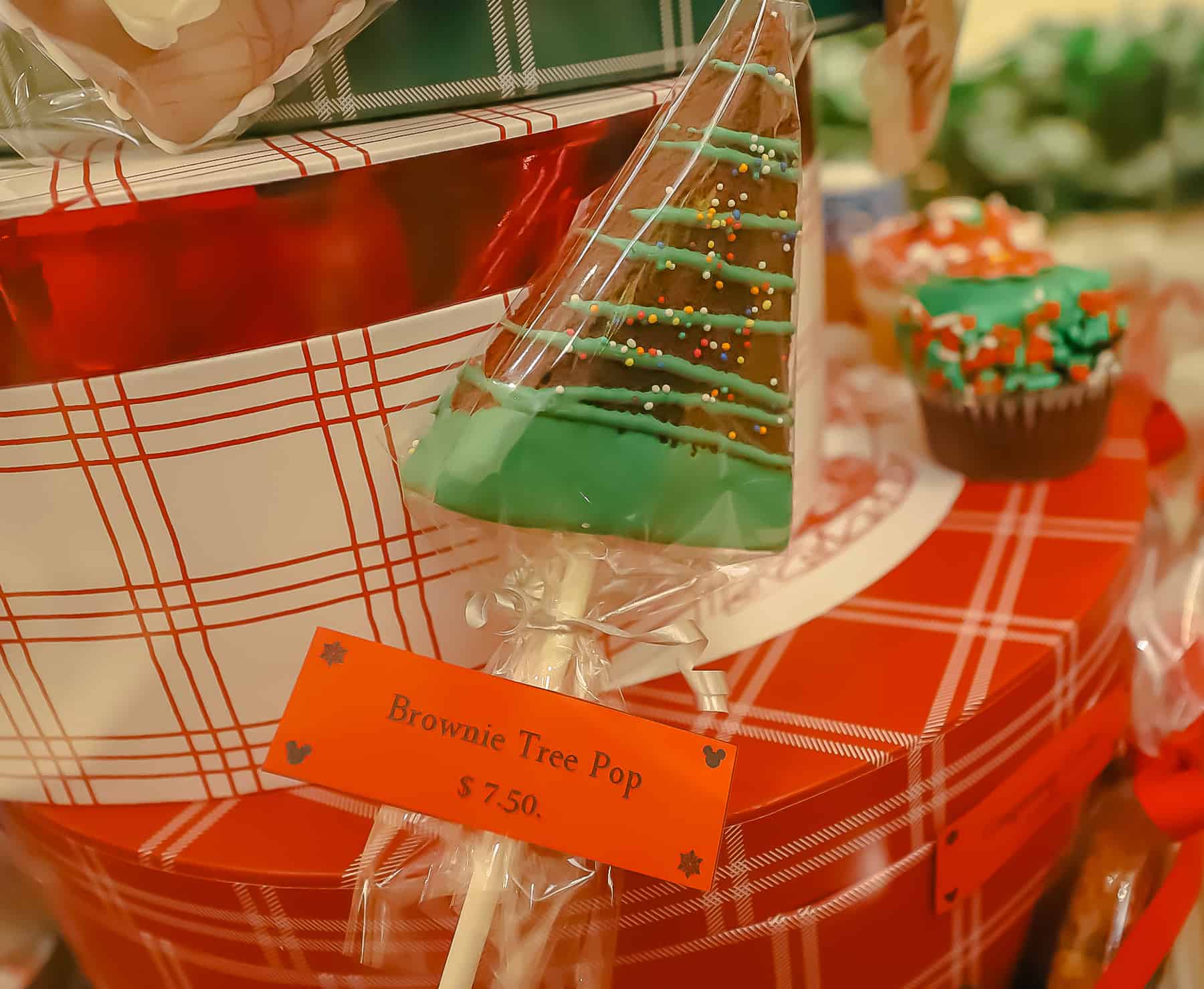 Gingerbread shingles are always popular. They have a chocolate back.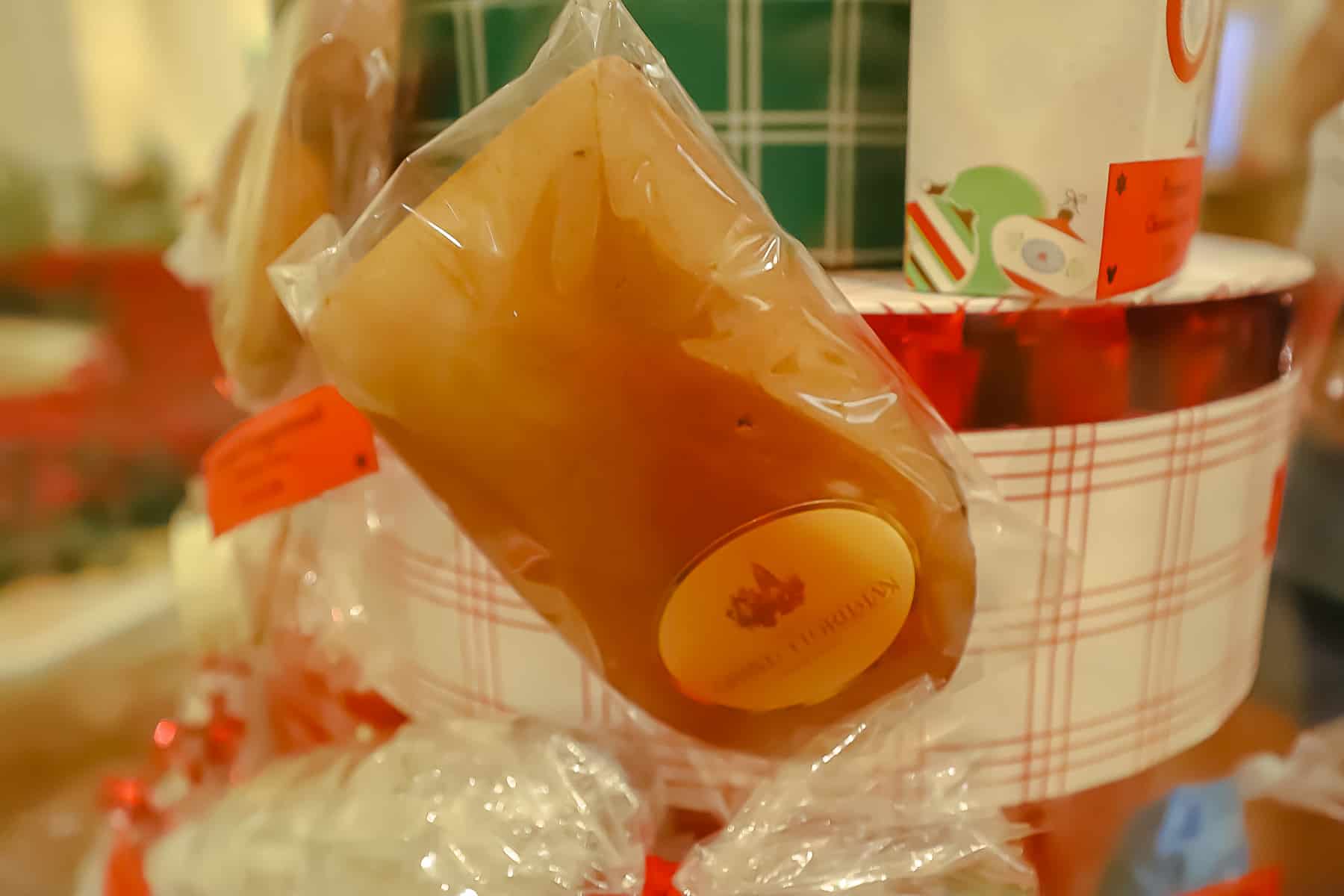 This gingerbread house ornament is sweet.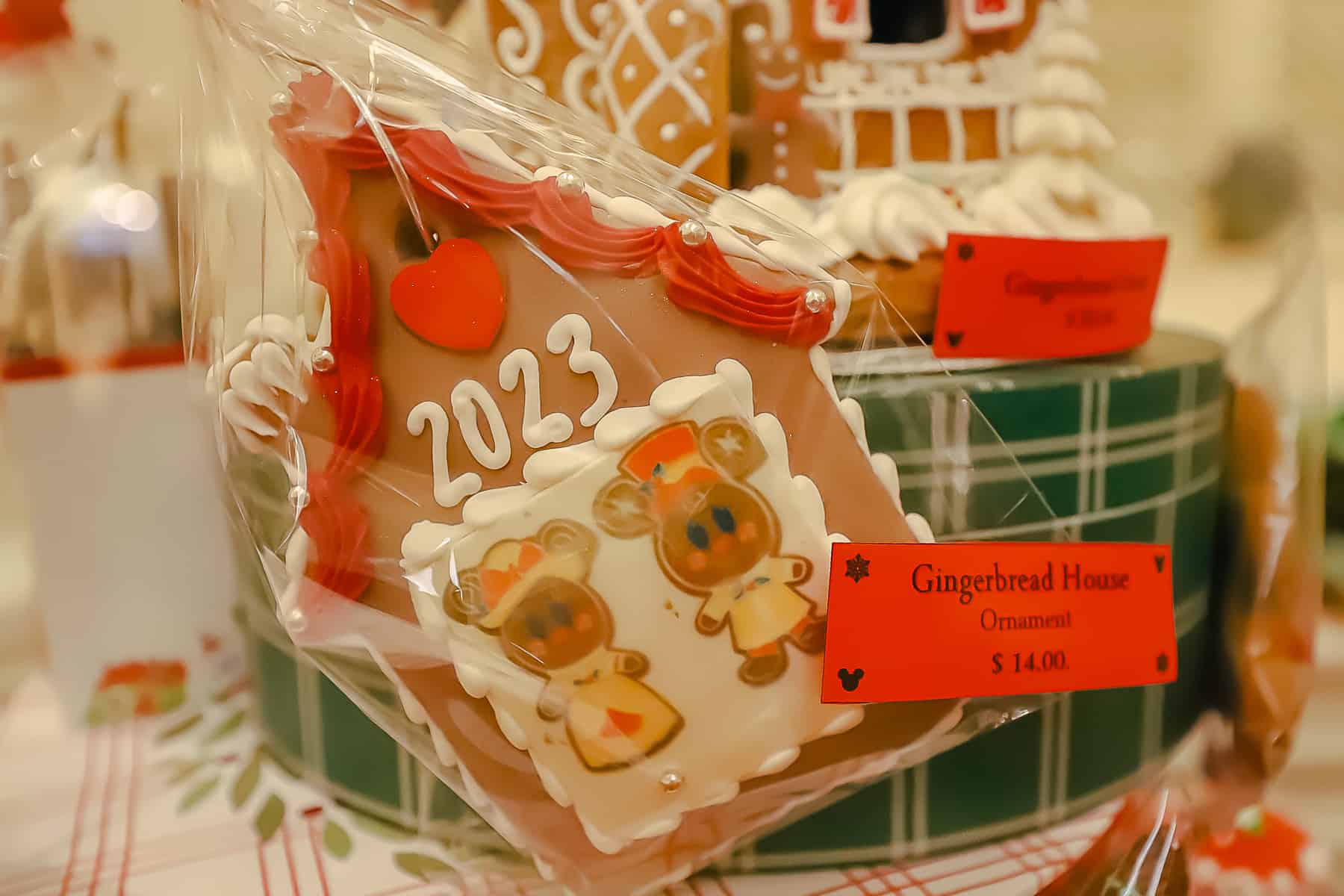 Here is a Snickerdoodle cookie and the gingerbread cranberry muffin.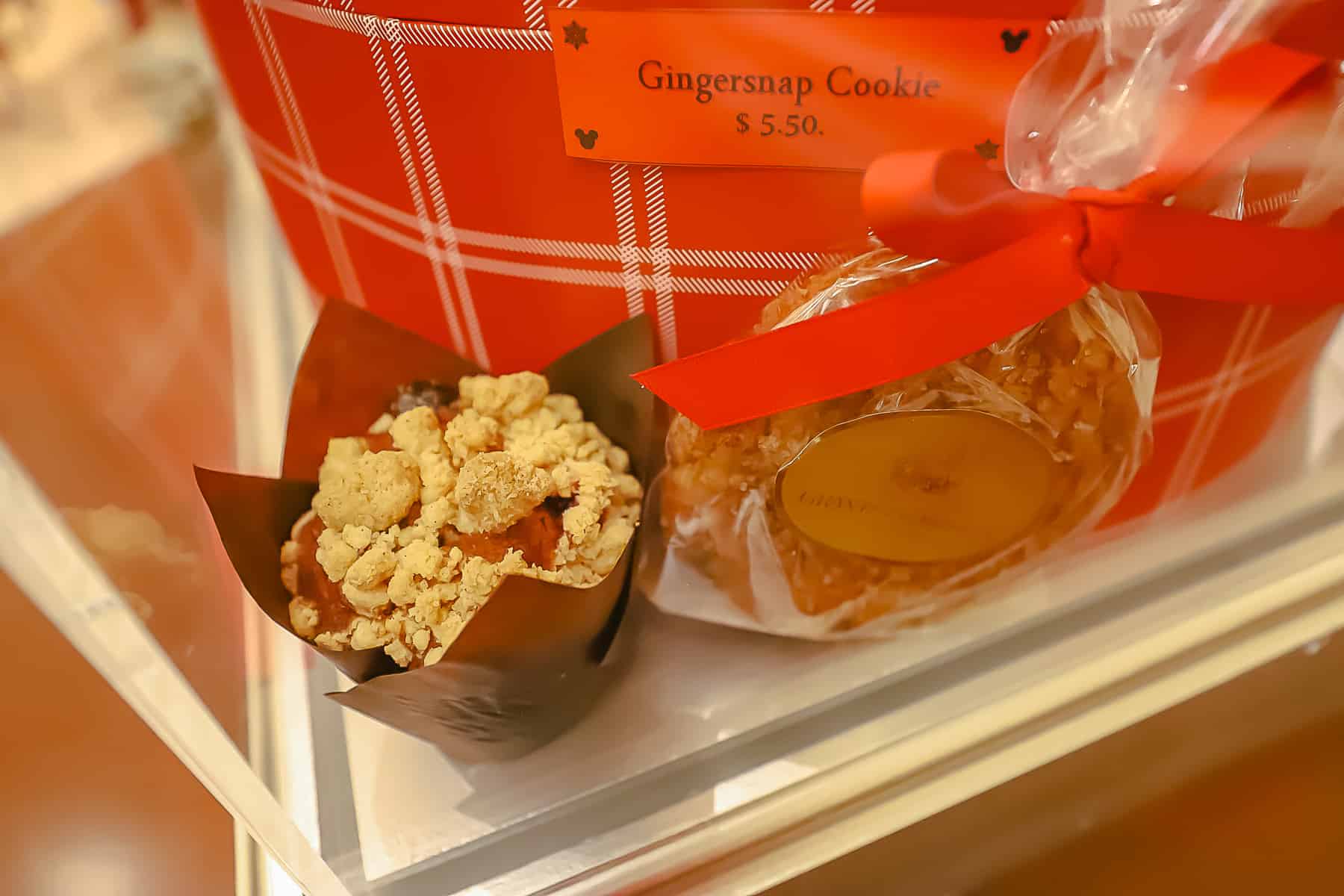 This milk chocolate lollipop looks too good to eat!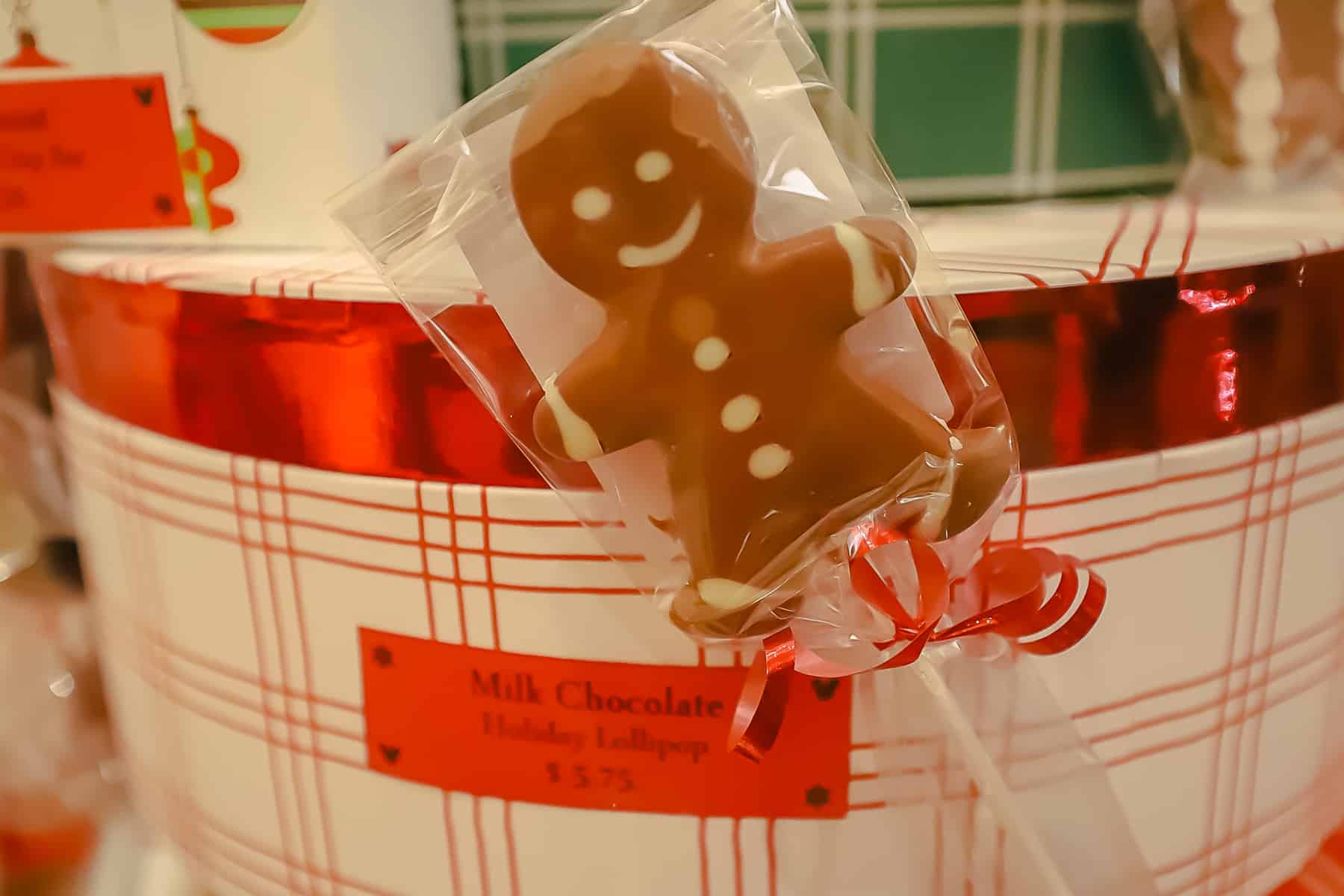 You might enjoy the create-your-own gingerbread ornament kit for those who love arts, crafts, and food.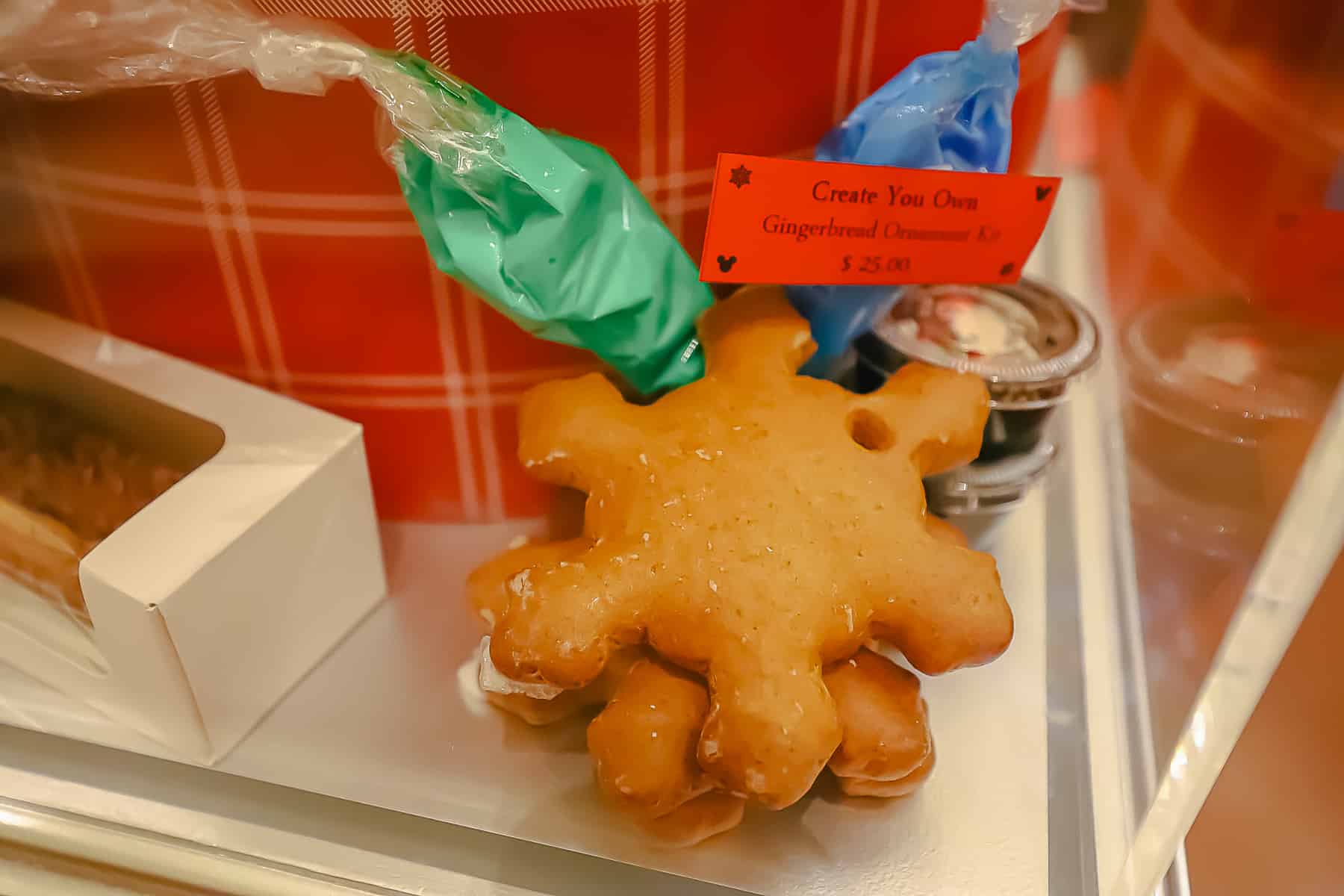 Anything Mickey-shaped looks good.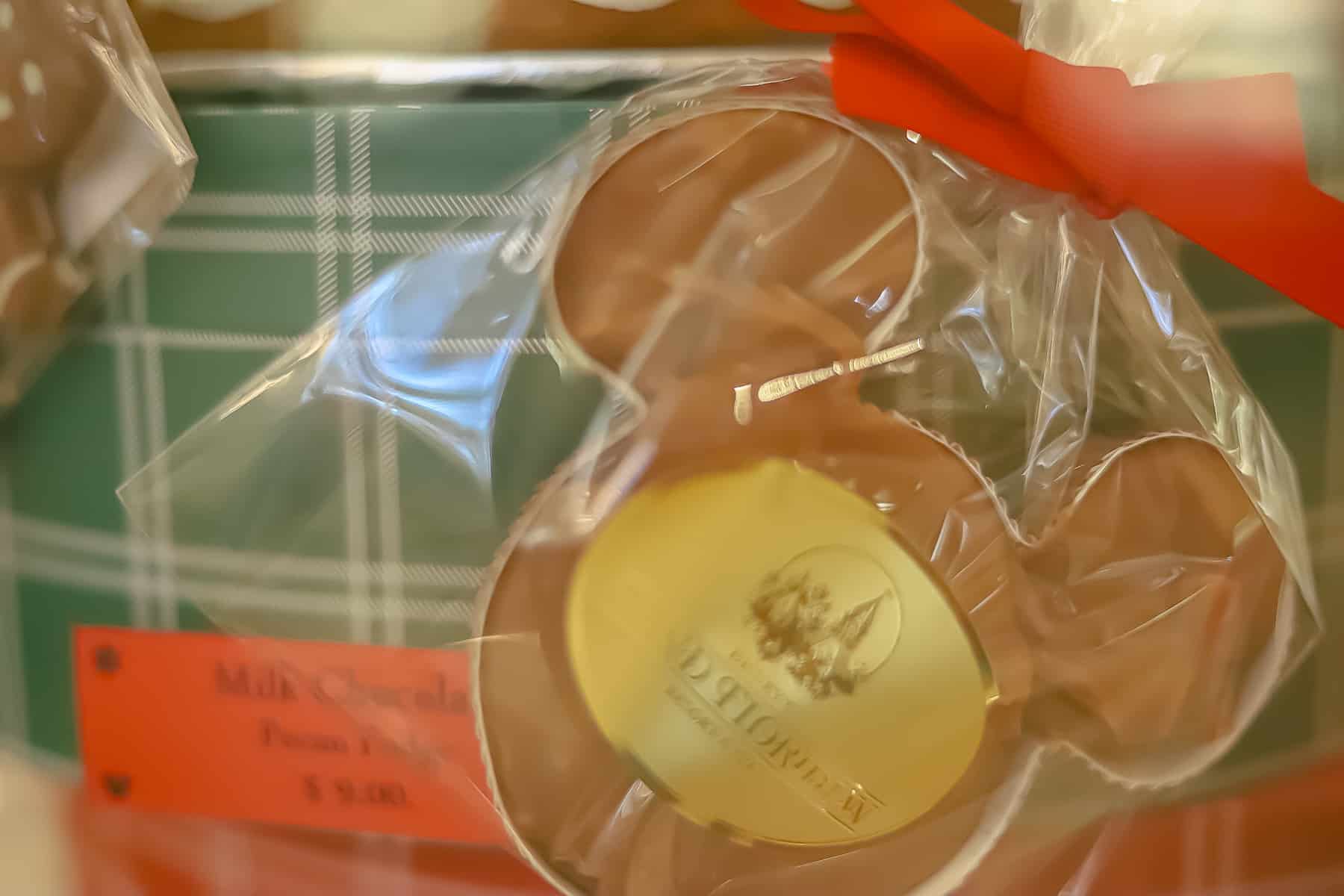 We saw several guests with the cupcake sampler. It's probably the most shareable treat.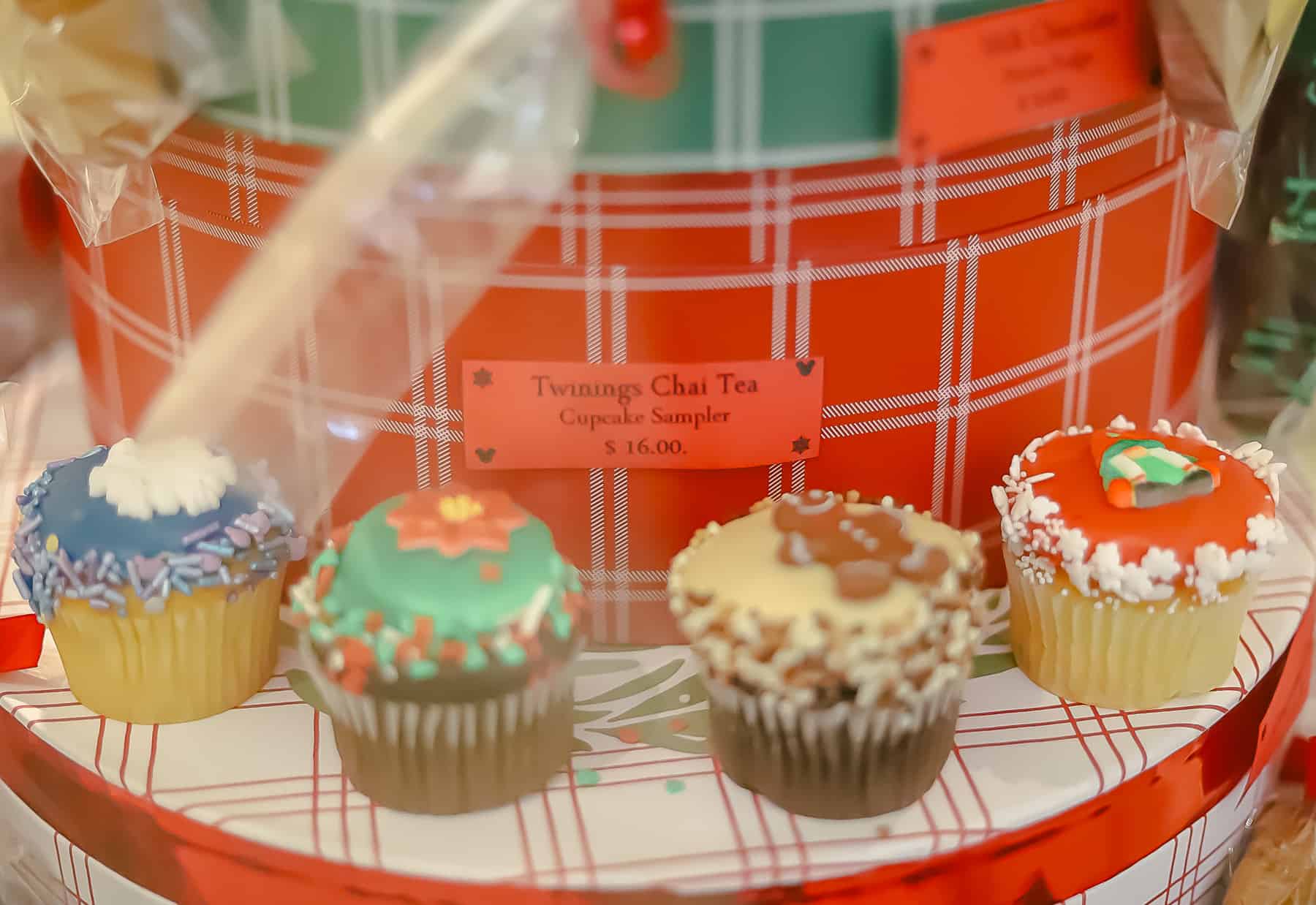 I'm not sure if this is peppermint bark or what.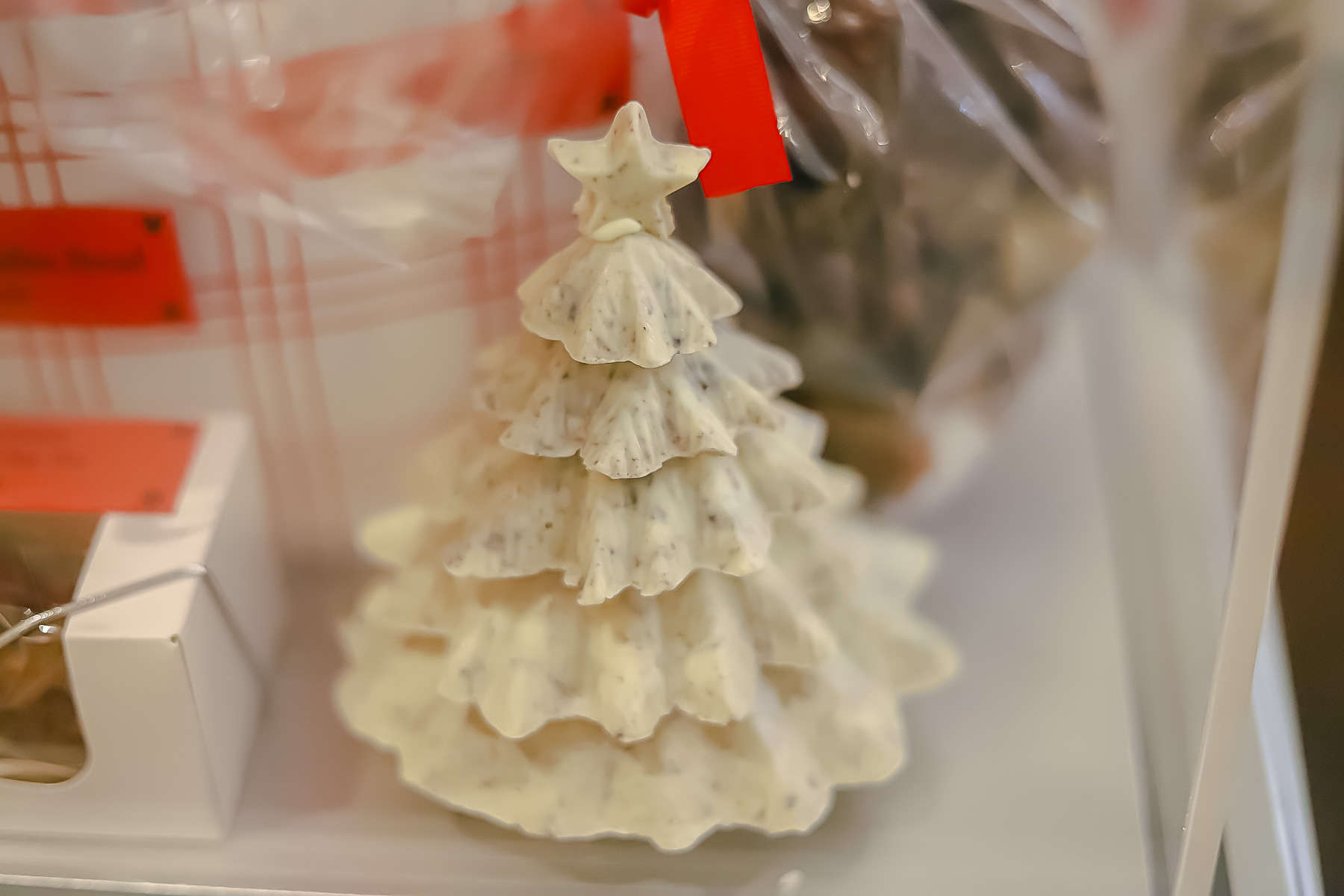 Here is the Stollen bread, chocolate bar treat, and the M&M cookie. The Stollen bread is made from a classic Austrian gingerbread recipe.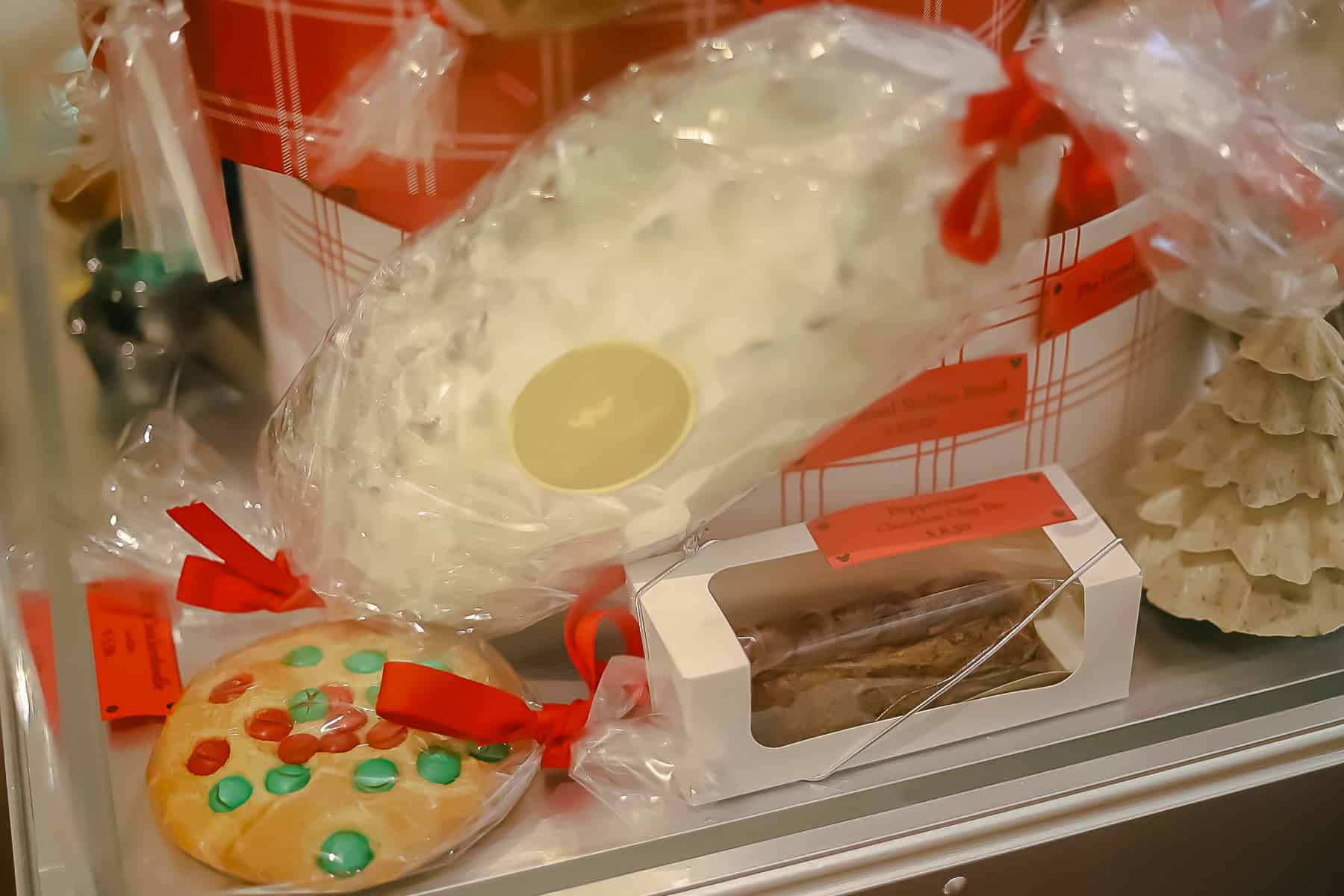 Here's a closer look at the peppermint chocolate chip bar.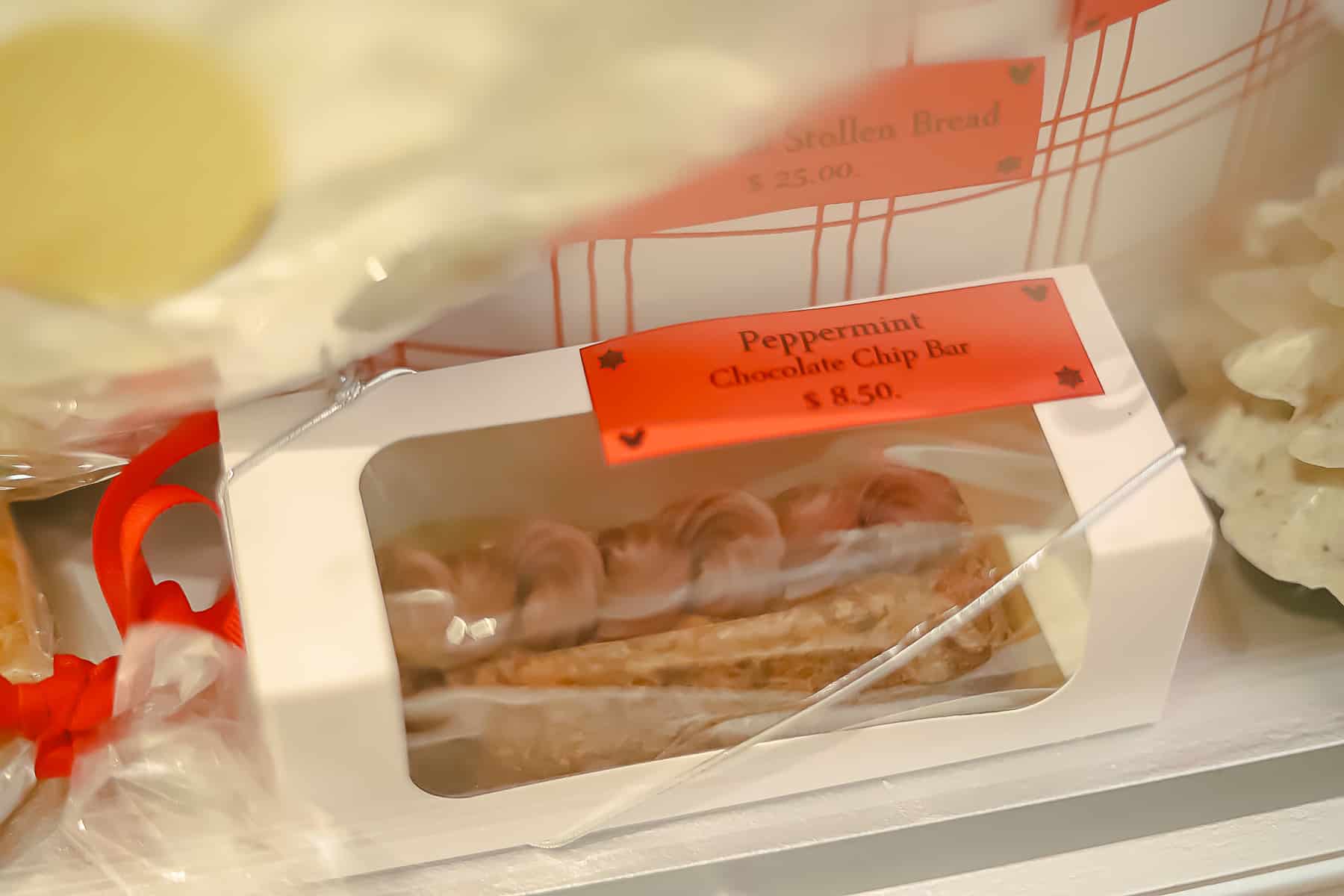 If you want a special treat to take home, the signature gingerbread house is $85.00. It has the Grand Floridian's logo on one side.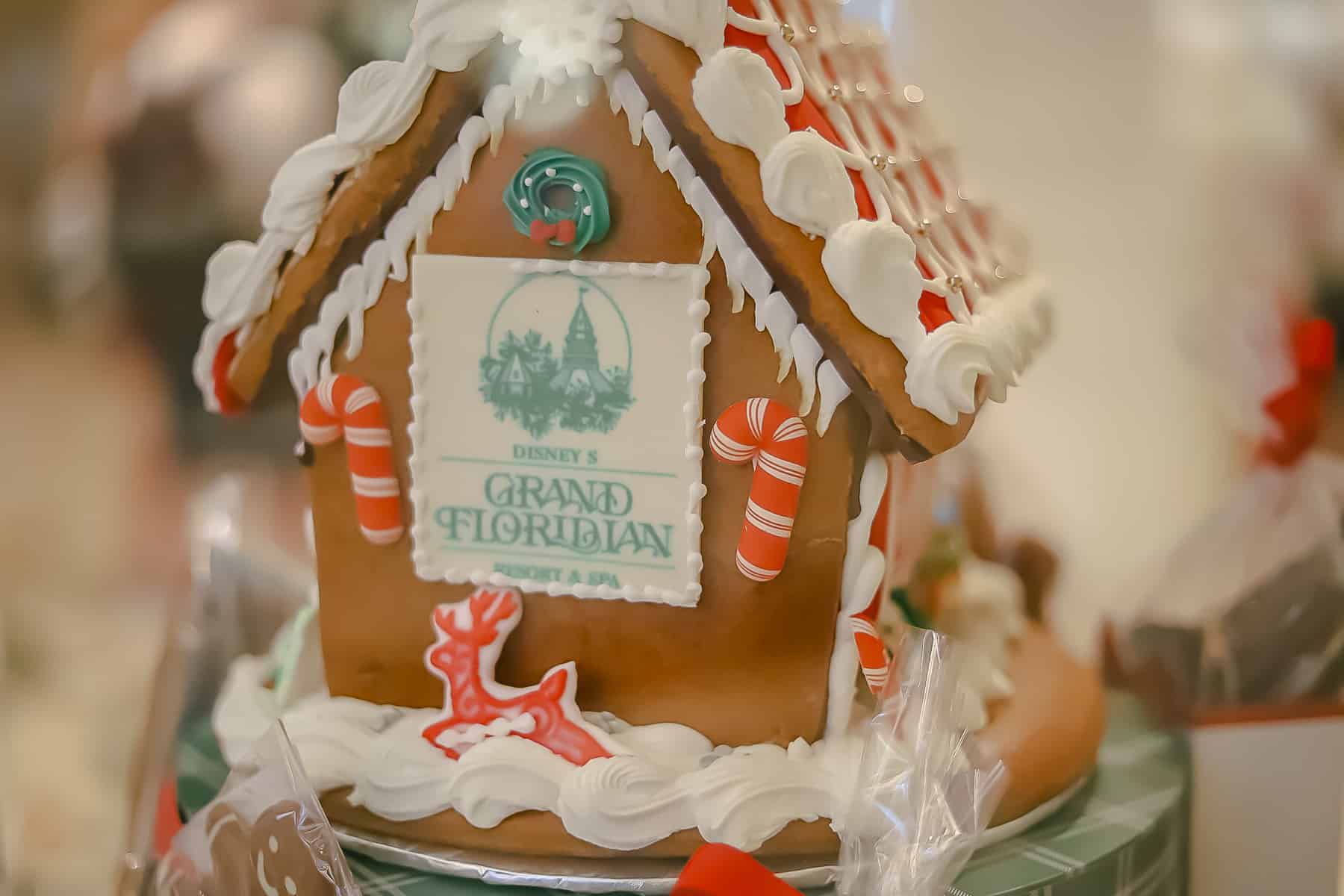 It would make a charming centerpiece in your holiday spread.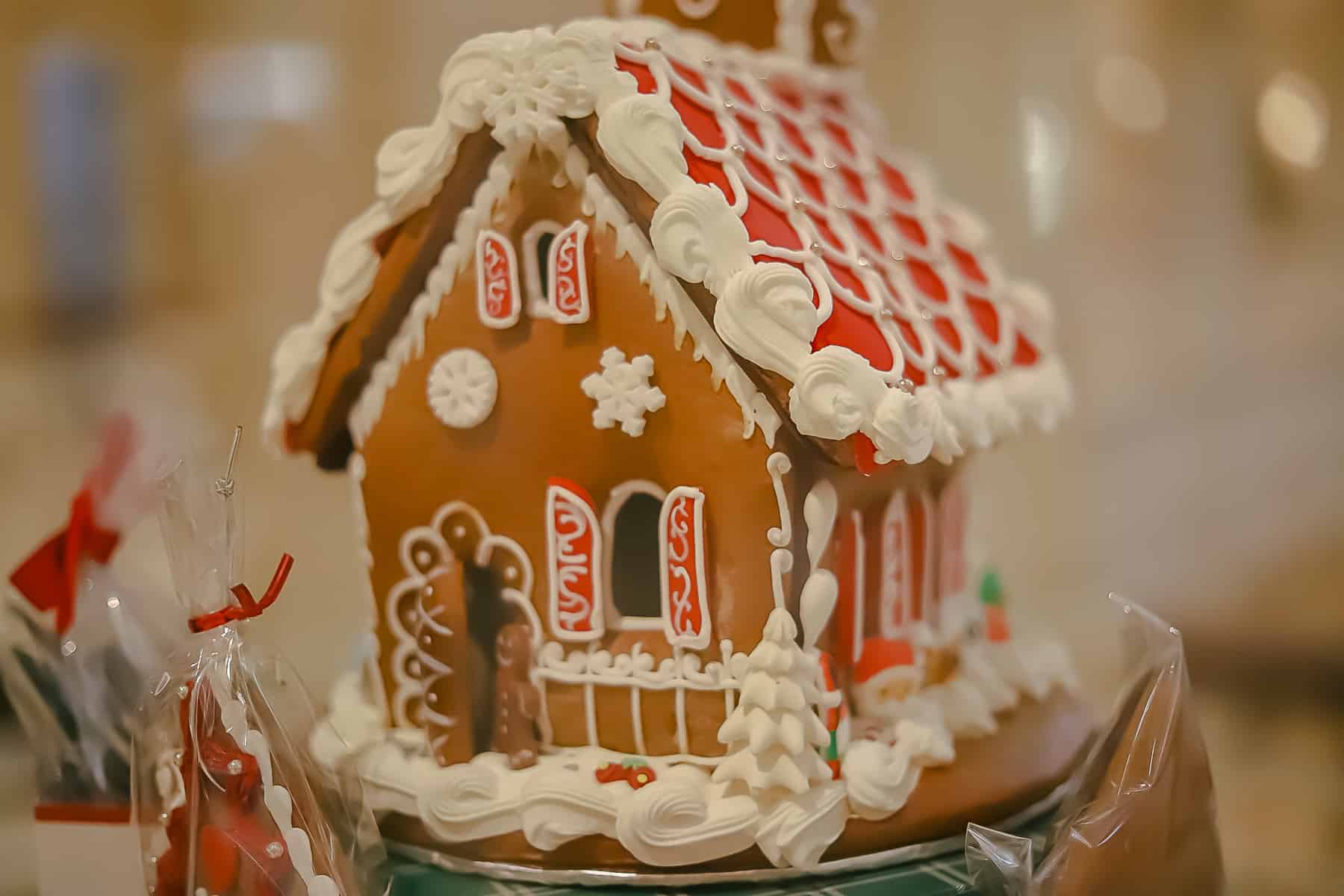 For those who collect pins, you might enjoy a few of this year's limited editions.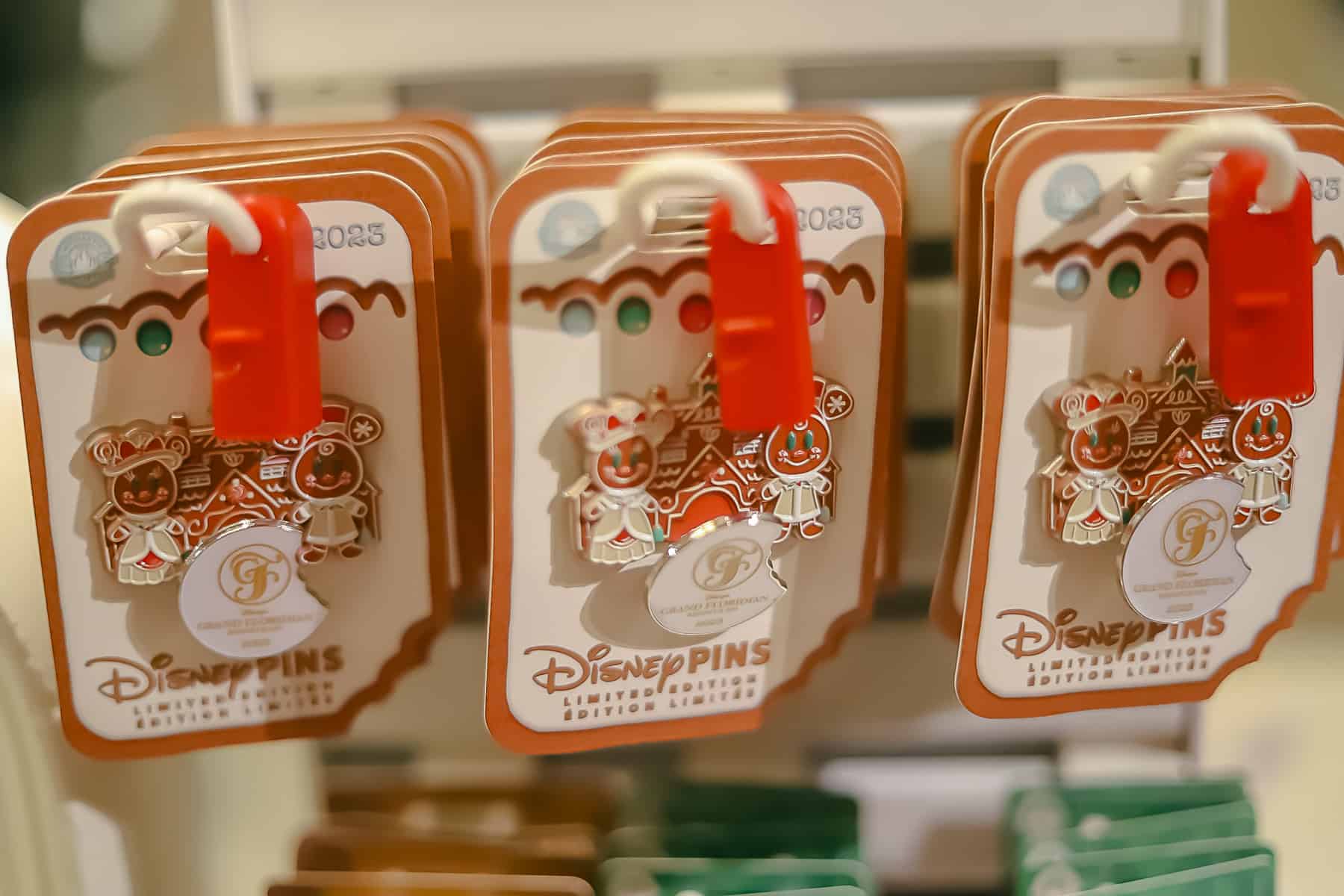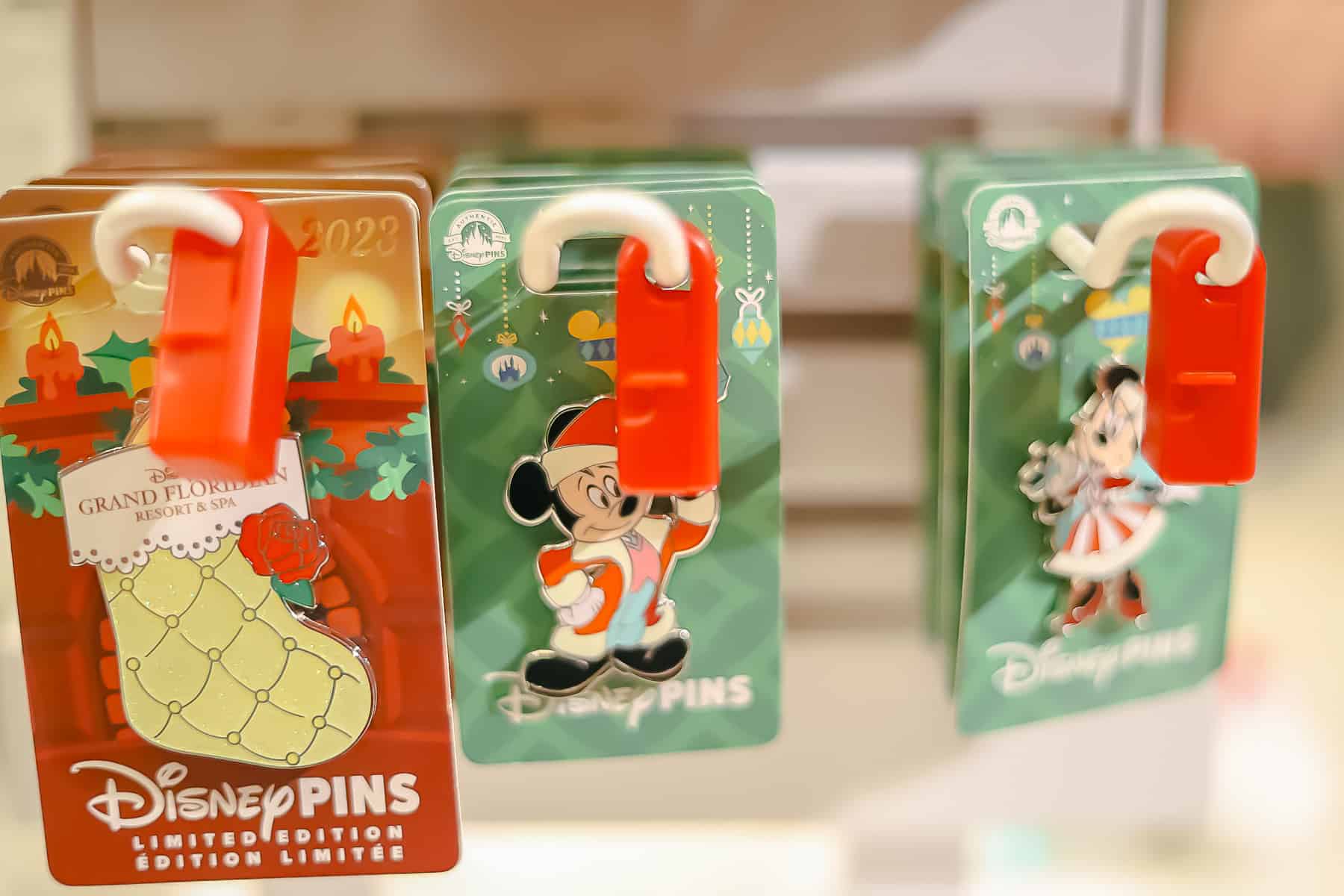 We'll return to Disney's Grand Floridian to preview the holiday decorations in the coming weeks. Additionally, we have a lot of other stops to make for gingerbread displays and holiday decor between now and Christmas!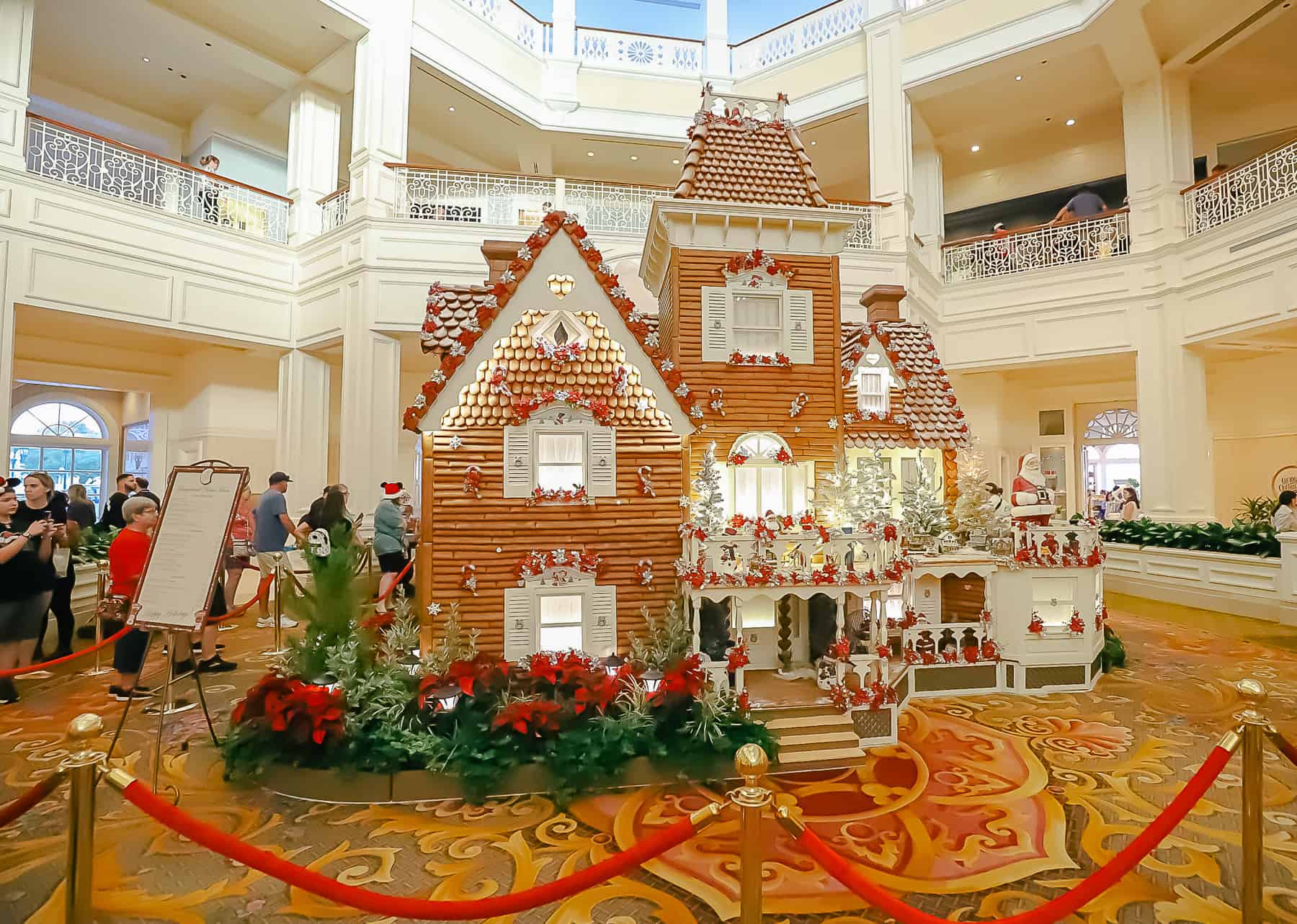 So far, we've been to Mickey's Very Merry Christmas Party to meet characters. We also have plans to attend the new Jollywood Nights at Hollywood Studios. Then we're back to the resorts for more Christmas!
What do you think of the 2023 Gingerbread House at Disney's Grand Floridian? Will you have the opportunity to visit over the holidays? Share your thoughts and opinions in the comments section. We love to hear what you think!