Epcot Characters List & Guide
Meeting characters at Epcot is a lot of fun. However, some characters are a little more difficult to locate or time right than some other Disney Parks. Therefore, those planning to spend a day at Epcot meeting characters will want to plan ahead.
At Epcot, there are a variety of characters in the various countries around the World Showcase. And when construction is wrapped up in former Future World, new character meets will likely be available.
In this review, we will look at the locations and timings of the Epcot character meets. Additionally, some of these character experiences are covered in more detail in individual reviews on the site. I'll provide links to those if you would like more information on a specific character.
2022 Update: At the time of this update, some character meets have returned to the Epcot. For the most current meets, please check our Disney World Characters Guide. We will update this review when more character meets return to Epcot. Unfortunately, at this time, it is still not feasible to do so.
For the most up-to-date information for seeing characters at Disney, check out these temporary reviews:
Or you might enjoy learning more about the character meets in other parks with these reviews:
Or you can continue reading to familiarize yourself with the former regular Epcot Characters. Unfortunately, however, Epcot has a double whammy of sorts since some of the below meeting locations have been completely demolished.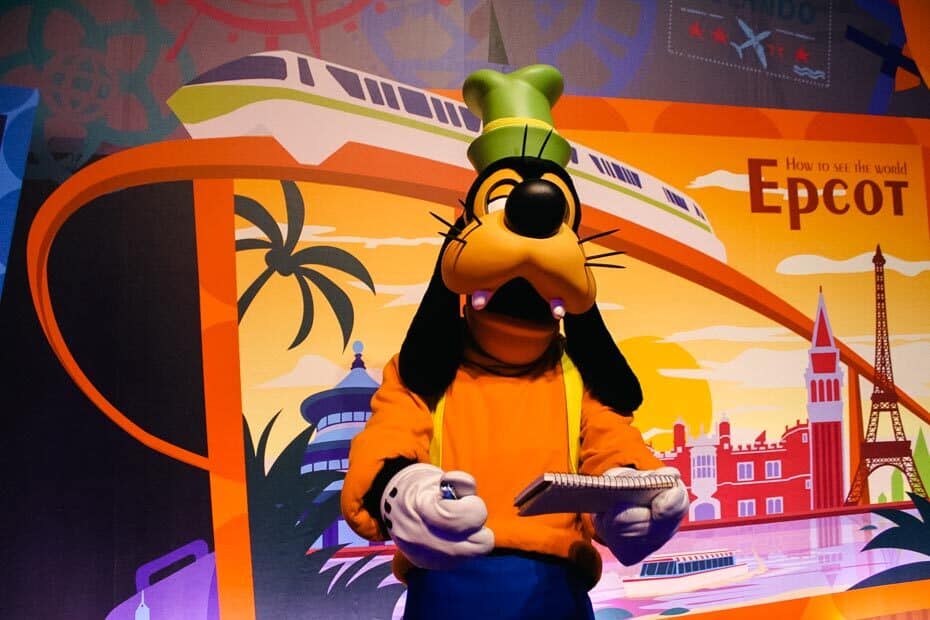 Reminder, don't forget to bring your autograph book along when you visit. Many of the Epcot characters do sign autographs.
Epcot Characters
Epcot is divided into two parts, a construction zone and the World Showcase. The construction zone is at the main entrance of the park. It joins the World Showcase at the plaza area. The plaza is where you decide to go left or right when embarking on a journey to visit the countries in the World Showcase.
The World Showcase doesn't open until daily at 11:00 a.m., so most characters won't meet here until that time. However, there is always an exception. Anna and Elsa do meet daily in Norway Pavilion from park open to close.
Usually, classic characters at Epcot meet at the Epcot Character Spot. However, it's been demolished. Before the pandemic, those character meets had been relocated:
Mickey Mouse–new area within the Disney & Pixar Short Film Festival.
Minnie Mouse–now meeting at the World Showcase Gazebo where Daisy Duck was meeting,
Joy–has a new set up inside the Imagination Pavilion, Image Works area. She is not meeting with Sadness at this time.
With so much construction at Epcot, I wouldn't be surprised if we didn't see these character meets return until everything is completed. For instance, this building below is no longer there.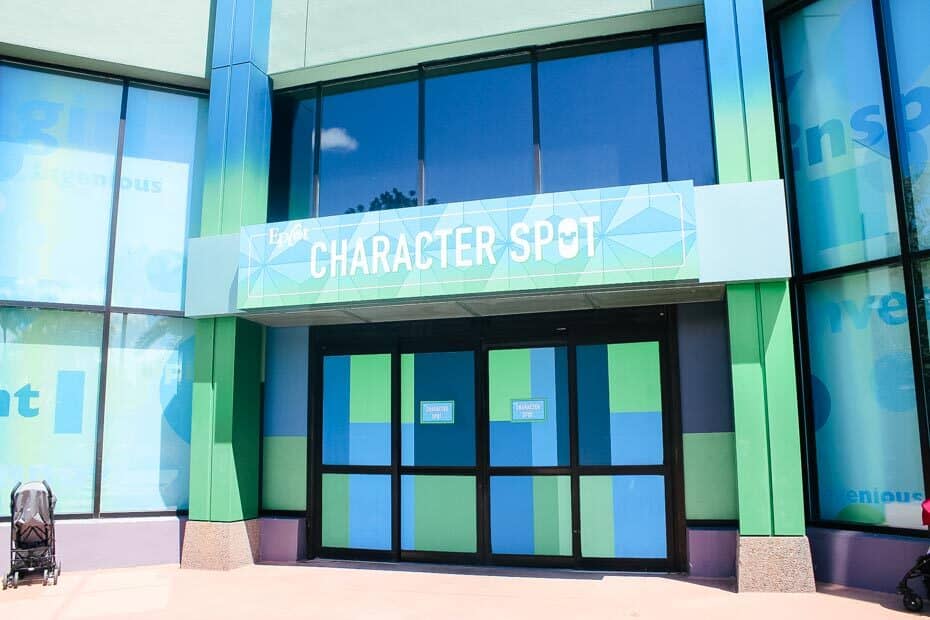 Mickey Mouse
Mickey Mouse is the first character in the lineup at this meet and greet. He is there to greet guests as they enter the area.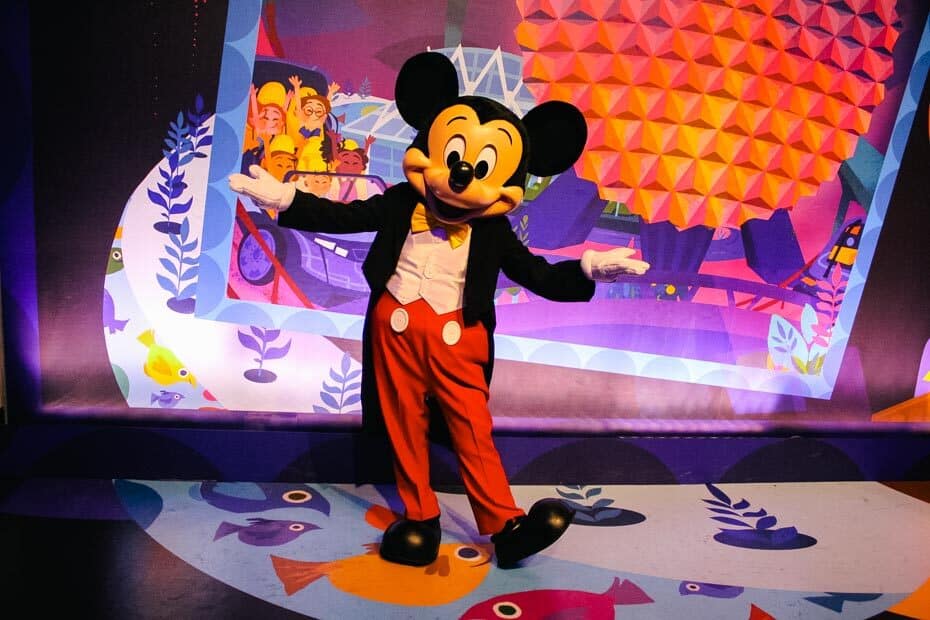 Minnie Mouse
Minnie Mouse is typically down toward the end of the line at this meet. She will bid you farewell before exiting the meet area.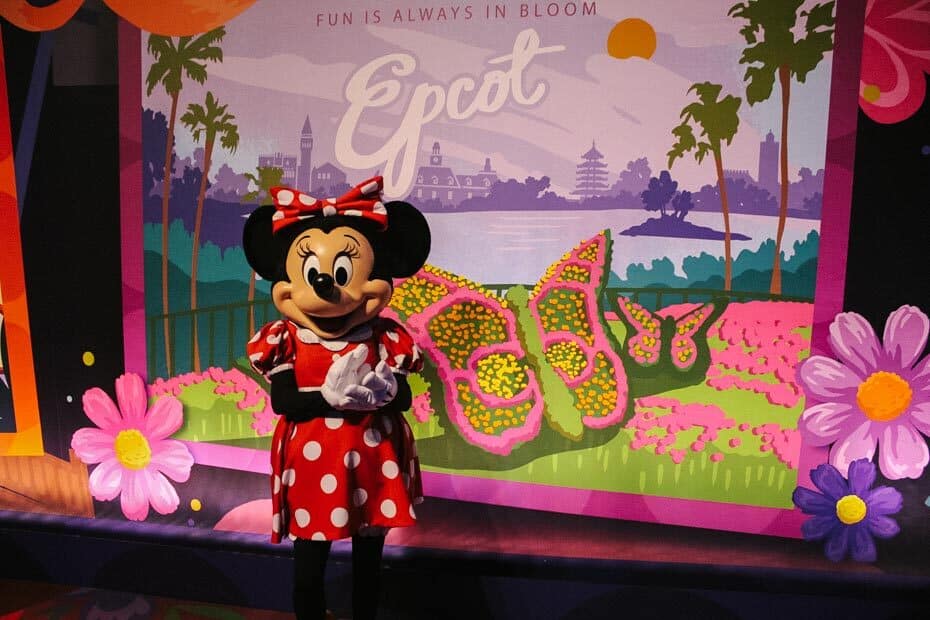 Goofy
Goofy is in the middle of the two previous characters. I always figure he's placed here so they both can keep an eye on him. You never know with Goofy!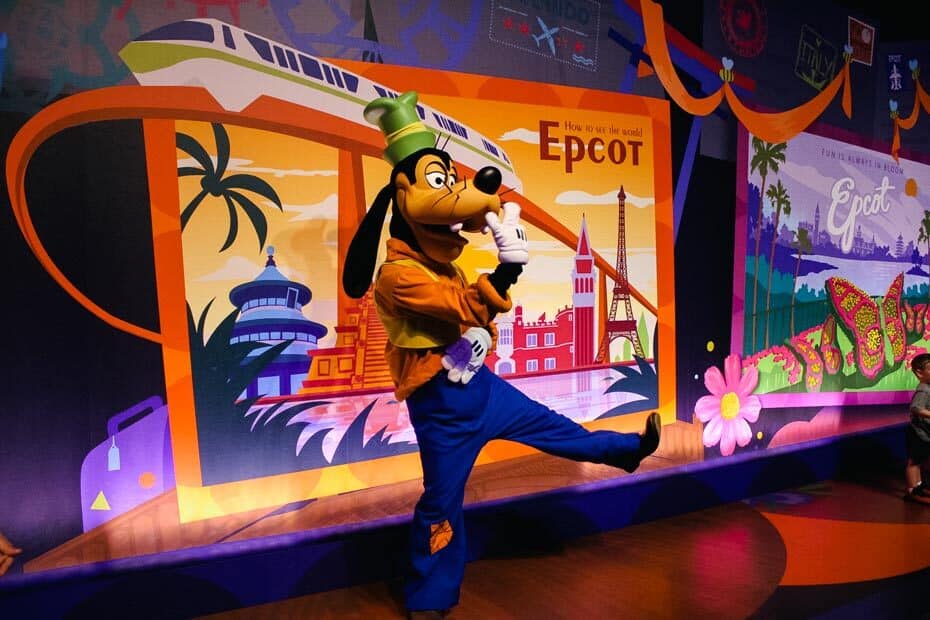 If you would like to learn about the full scope of this meet and get an idea of what wait times might be on your visit, we discussed that in our updated Meet Mickey and Friends at the Epcot Character Spot.
Ralph & Vanellope von Schweetz Character Meet
Any fans of Wreck-It Ralph or Ralph Breaks the Internet will want to make sure to stop in the Image Works Lab to meet these two characters! They are a lot of fun and typically meet until 7 p.m. on the average park day.
Ralph & Vanellope are very popular characters at Epcot.
Related: Meet Ralph and Vanellope at Epcot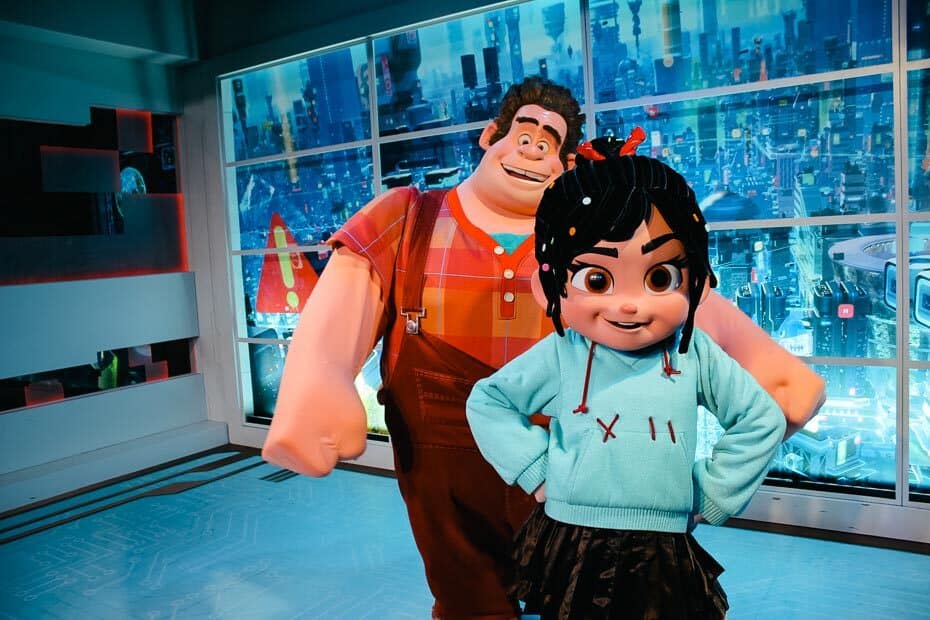 Epcot is the only location to meet this duo at Walt Disney World.
Over in Future World, the Epcot Character Spot provides another opportunity to meet Joy and Sadness from Inside Out at Headquarters. Next door, you will find Baymax from Big Hero 6 in Hiro's Workshop. These characters typically meet from the park open until the park closes during the day.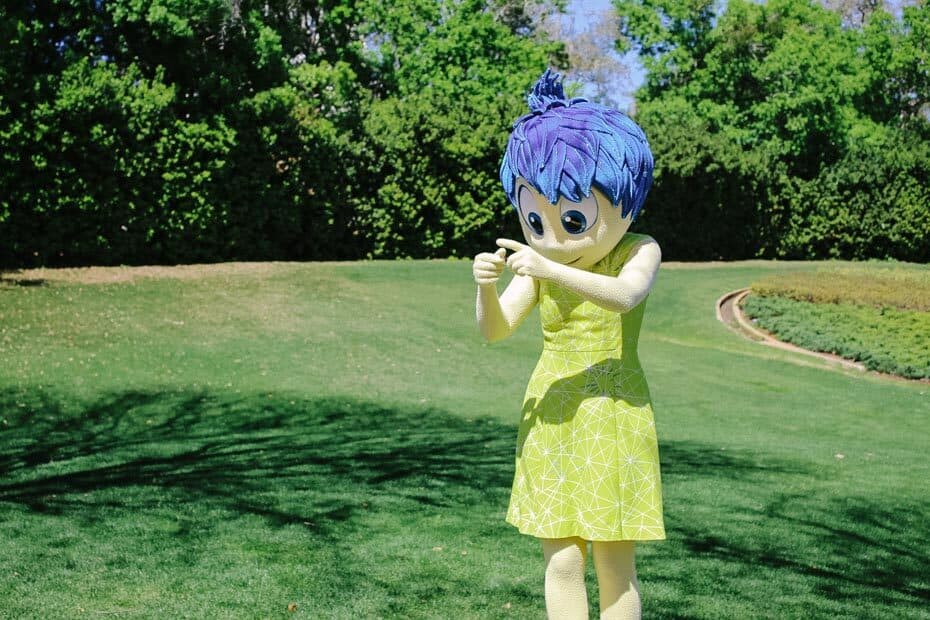 Baymax, Joy, and Sadness do not meet in the other theme parks at Disney World.
Pluto
Pluto meets to the far right of Spaceship Earth as you enter the park. Below is a picture of the backdrop where you can find him meeting guests. This character meet is outside, and Pluto comes and goes at different times.
If Pluto is important to you, make sure to check the daily time guide or My Disney Experience app on the day of your visit for specific meet times. For example, if you were to visit in the afternoon and he doesn't appear in the app, that means his meet has more than likely ended for the day.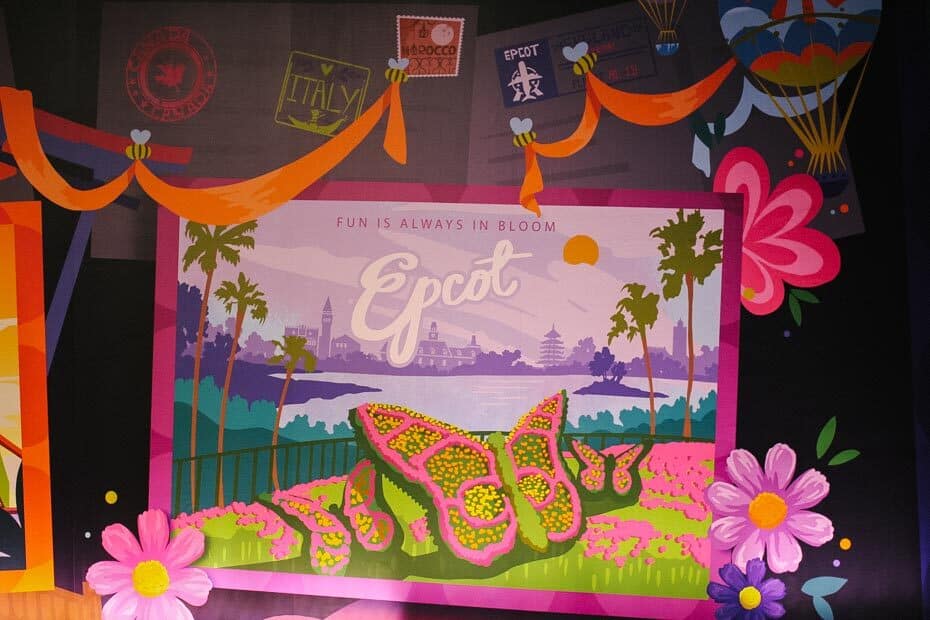 Additionally, Pluto is one of the daily characters at Hollywood Studios. He meets with the Disney Junior Characters.
For guests who have a Disney Visa credit card, you are entitled to a special character meet in Epcot. This is a surprise meet, and there are no guarantees as to which character might be visiting.
Minnie Mouse and Pluto were there on my last visit. This review covers the specifics for anyone wanting to learn more about the Disney Visa program at Walt Disney World.
Related: Disney Visa Character Meet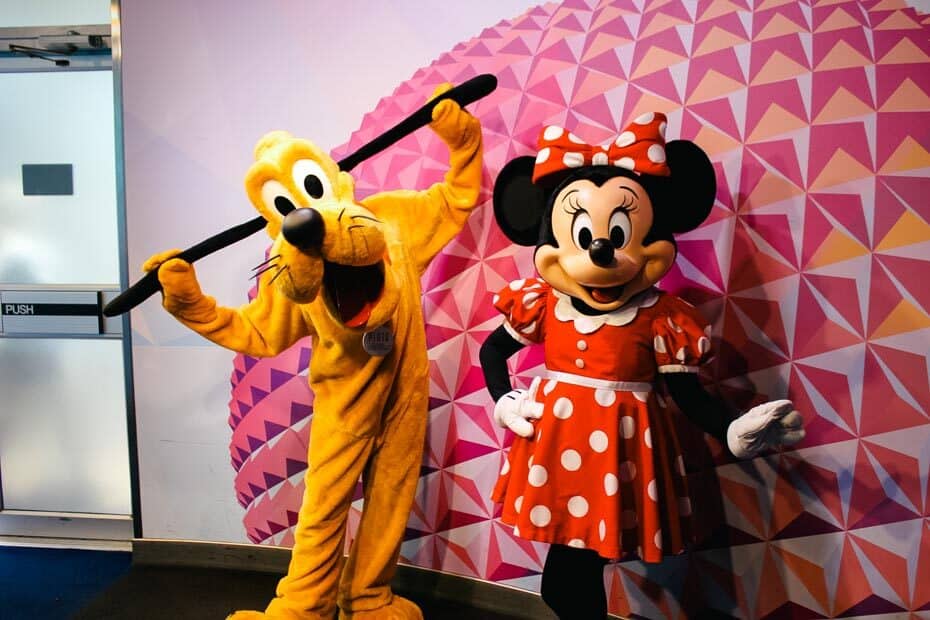 World Showcase Epcot Characters
Moving on to the World Showcase, except for the Frozen sisters, you'll find a few country-related characters. These meets are often extremely popular. I have found through my visits that often, the lines get cut close to the start time of the next character appearance due to guests lining up 10-15 minutes early.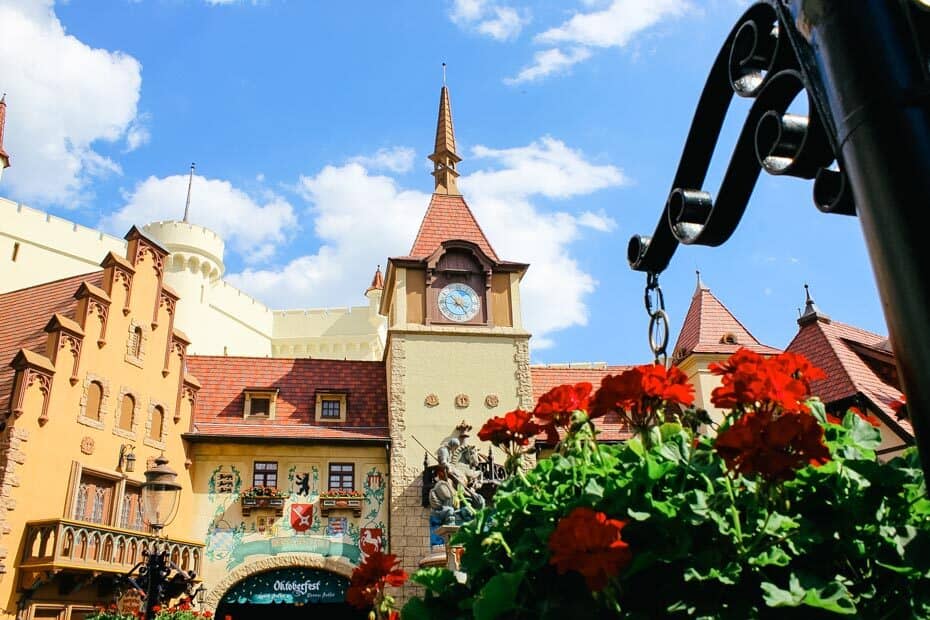 Daisy Duck
Daisy Duck meets across from the World Showcase Plaza and Disney Traders store. This is where Duffy used to meet at Epcot, but unfortunately, he doesn't have a home here anymore. Daisy has actually been meeting here for the last several years, but I would never leave out an opportunity to mention Mickey's beloved teddy bear.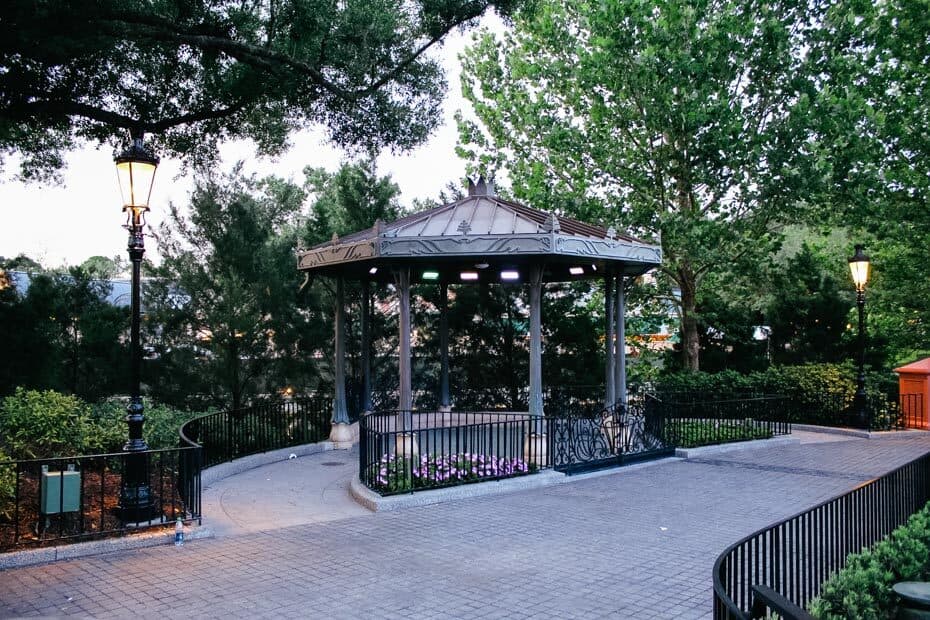 Donald Duck in Mexico
The Mexico pavilion is home to the Donald Duck character meet. You will find this meet past the pyramid while walking toward Norway.
Here is a look at the meet area. You might see a line forming here as you walk by, and if you do it will be for this popular character meet. This meet features Donald Duck as one of The Three Caballero's meeting guests as he takes a break from his concert tour.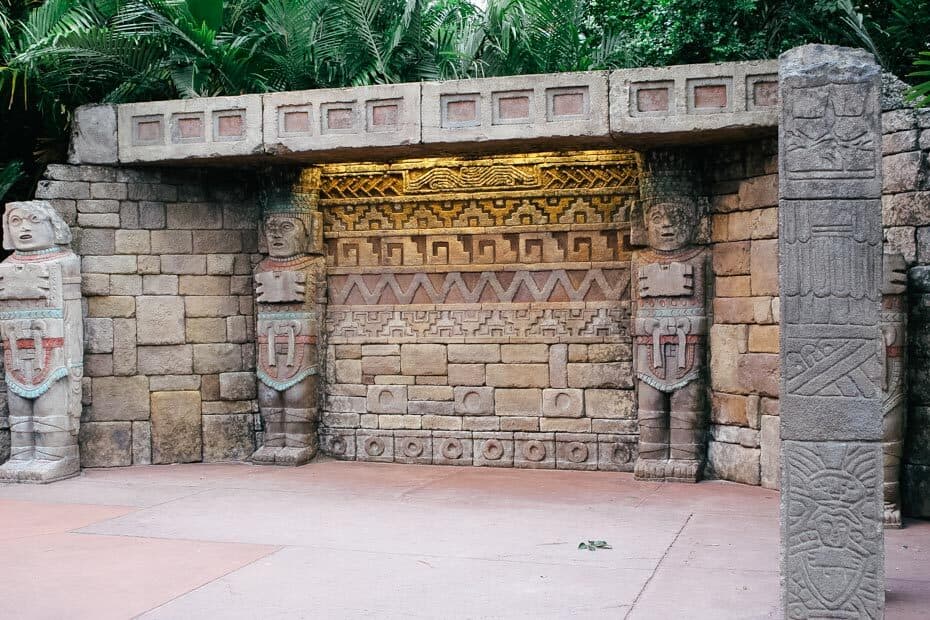 This sign is typically posted somewhere around the Mexico pyramid. It provides a look at the times Donald Duck is meeting each day. This is an outdoor character meet and Donald will take breaks about every 15 minutes during these times. If you are in line and the character meet appears to end in front of you, hang tight, he will be back within 5 minutes.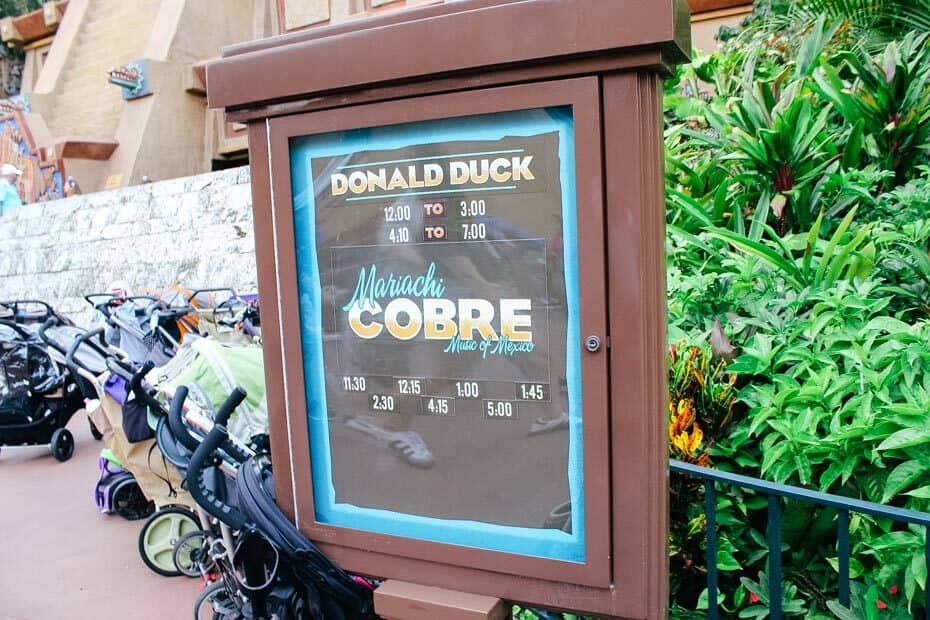 Donald and Daisy sometimes can be found at a Hollywood Studios character meet just inside the park entrance during the day.
Anna and Elsa in Norway
Our next country past Mexico in the World Showcase is Norway. Norway is home to all things Frozen at Epcot.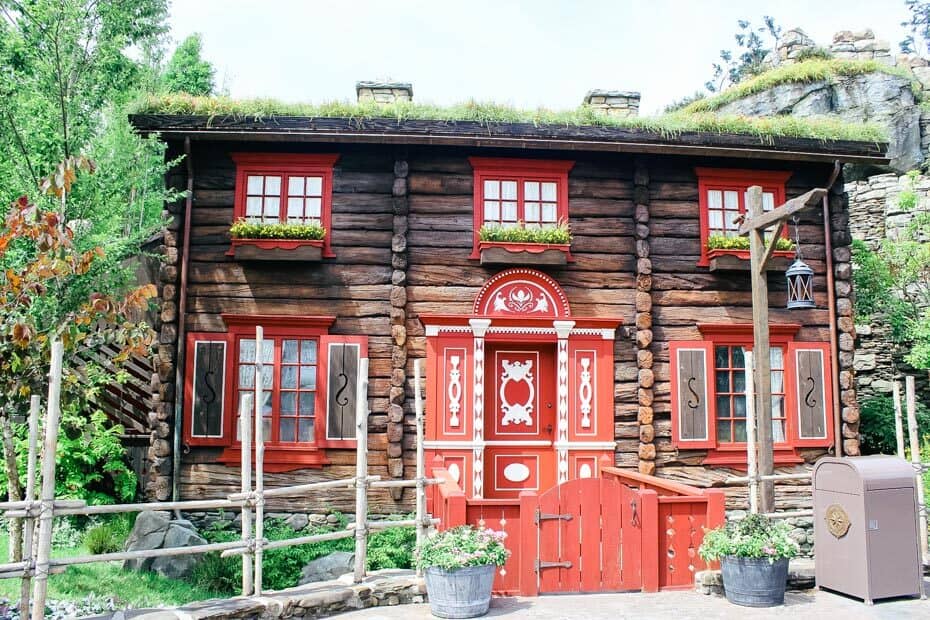 Anna and Elsa meet daily in their summer home, the Royal Sommerhus. However, it does have a posted wait time, so you'll know what you are getting into before you decide to visit. The Royal Sommerhus is a cute cottage and is decorated nicely throughout the inside.
Once inside, you'll run into Anna first.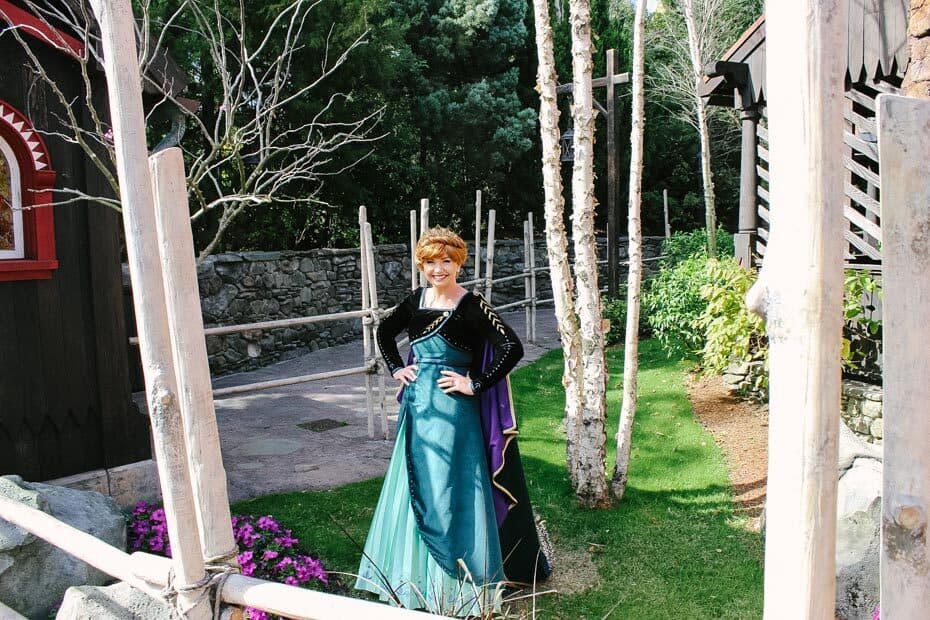 And then meet Elsa. This is another experience like the Epcot Character Spot with Mickey and Friends, where you get to meet more than one character at one time. Since Frozen 2 came out, Anna and Elsa are also wearing new outfits to match the new movie.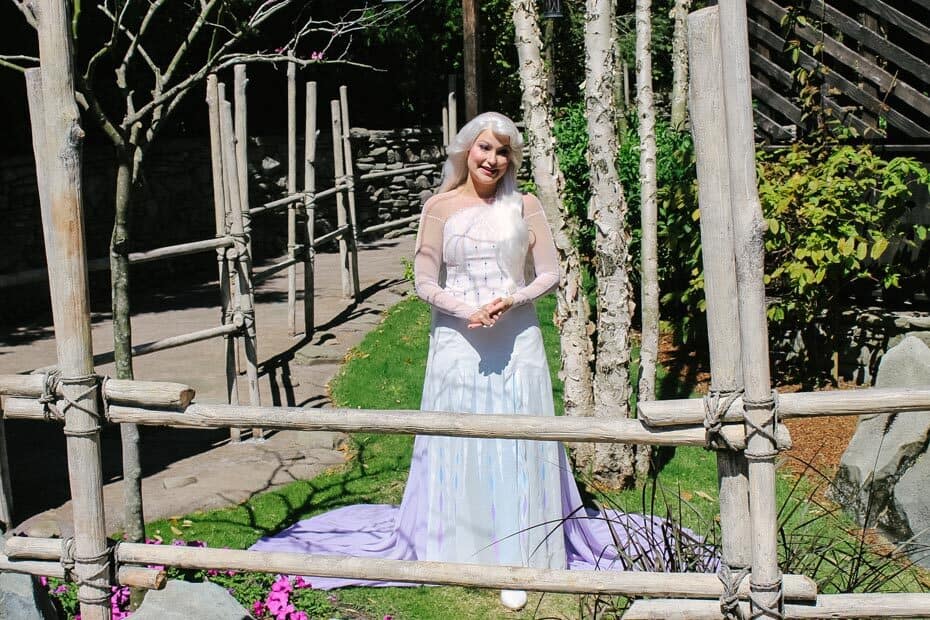 Mulan in China
The China Pavilion is next along this path of the World Showcase. Mulan can be found here in the gardens entertaining guests most days. This meet also tends to hold a very long line and will often be cut off fairly quickly.
As you can see, Mulan's meet is outside. A new Mulan movie recently came out, and it will be interesting to see if she eventually gets a wardrobe change here.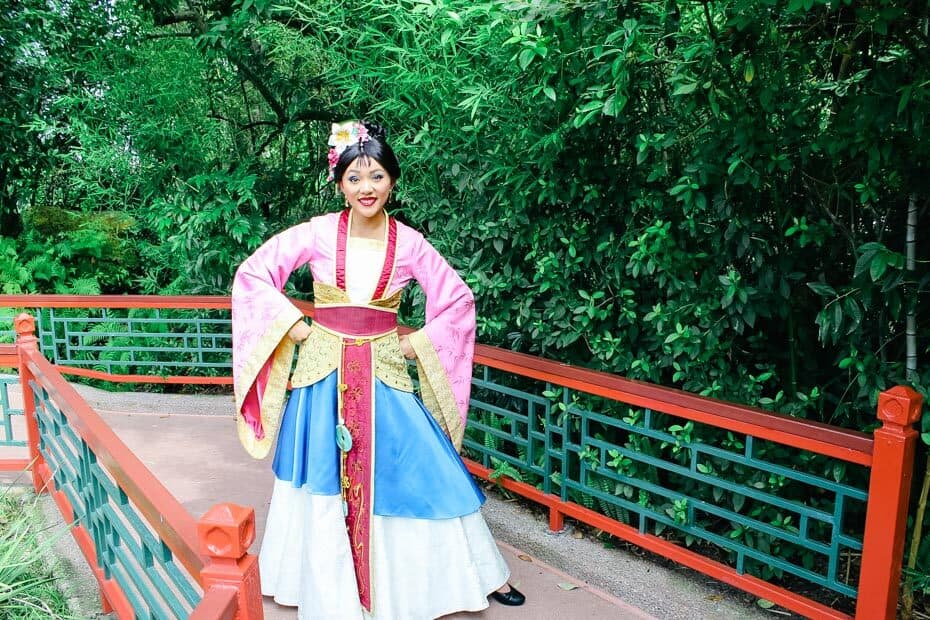 This is the only place to meet Mulan at this time in Walt Disney World.
Snow White in Germany
The Germany Pavilion is the perfect place to meet the star of Walt Disney's original feature film, Snow White. She meets here at the Wishing Well at various increments throughout the day.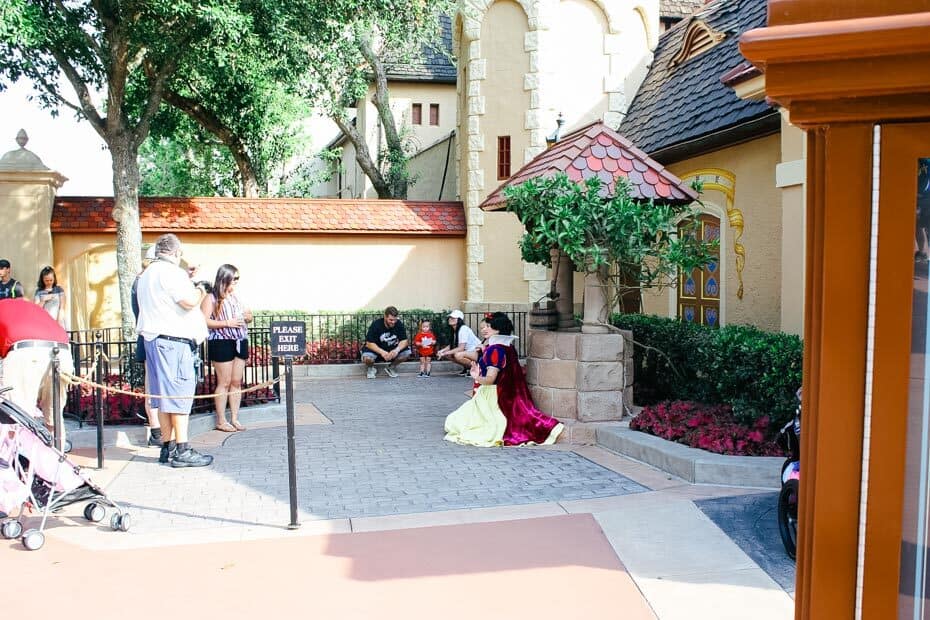 It's a lovely photo opportunity, and as with all the outdoor characters, the meet is canceled in the event of inclement weather. Try to get here a few minutes before Snow White's meet time to ensure a spot in line. Snow White is also a Magic Kingdom character located in the Town Square area of the park.
Related: Meet Snow White in Disney World
Princess Jasmine in Morocco
While I've neglected to take an accurate picture, Princess Jasmine meets in the Morocco pavilion of Epcot. She meets toward the back of the pavilion, typically in the afternoon to early evening. Princess Jasmine also meets at Magic Kingdom alongside Aladdin if you prefer to meet the duo together.
Related: Meet Jasmine from Aladdin at Disney
Belle in France
The France pavilion at Epcot often provides the opportunity to meet two different characters. Belle can be found from time to time down by the water's edge visiting with guests.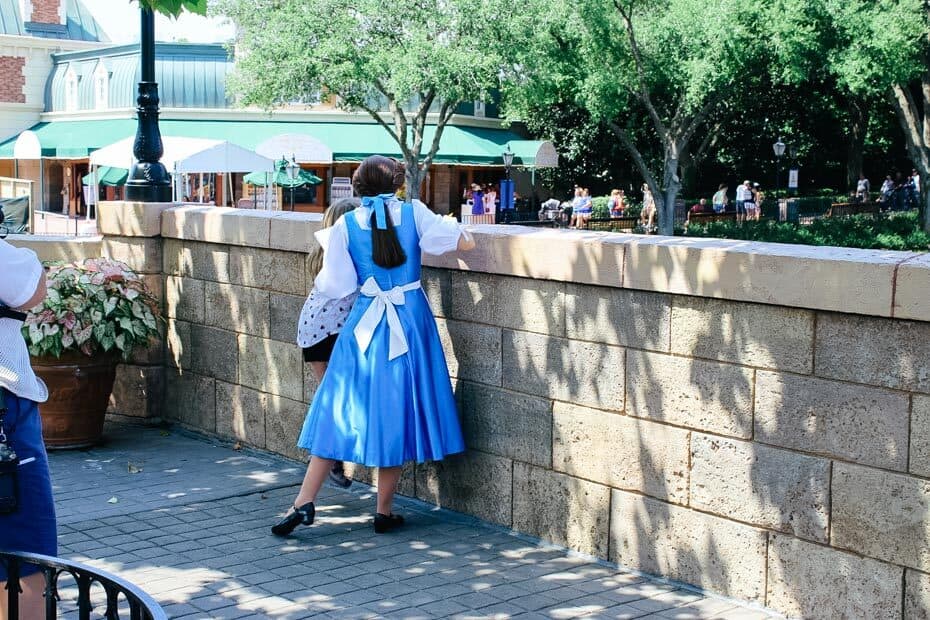 This is Belle in her village dress. You might also find her meeting in her yellow ballroom gown and wearing her holiday gown on an extraordinary occasion.
Related: Meet Belle from Beauty and the Beast at Epcot
Aurora in France
Sometimes Aurora rotates out with Belle during the day in France. She can be found in this gazebo located on the far right side of the pavilion.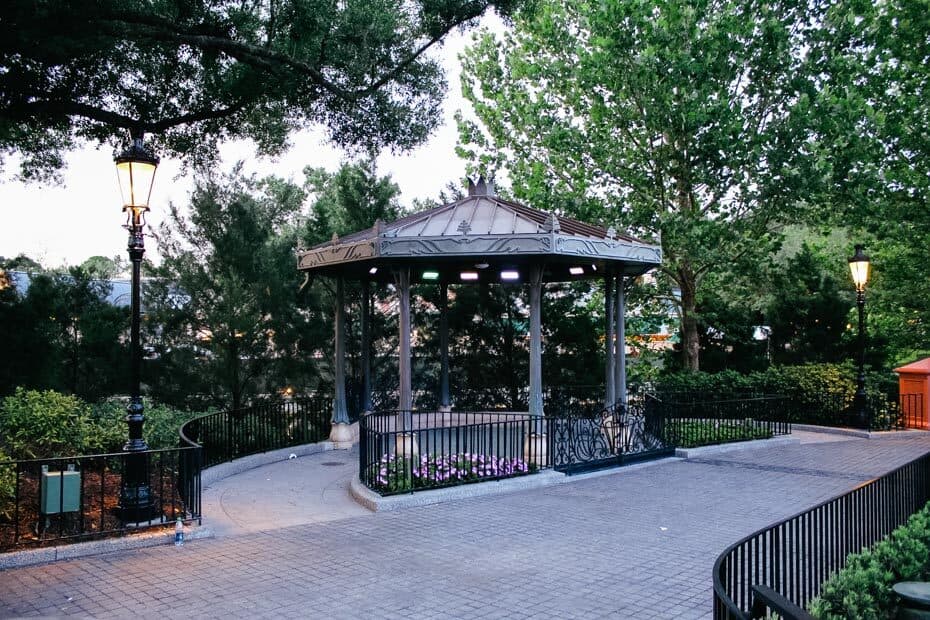 The only other place to meet Belle and Aurora in Epcot is at the Akershus Princess Character Dining in Norway. Belle can also be found in Magic Kingdom at Enchanted Tales with Belle, but this is not a formal character meet. France is the only place to meet Aurora within an actual character meet in the theme parks.
Related: Meet Aurora at Disney World
Other Epcot Characters in the World Showcase
The United Kingdom pavilion has three different character meets throughout most days.
Alice can be found easily when walking by the pavilion. She meets at varying times between 11:00 and 6:00 p.m. on most days.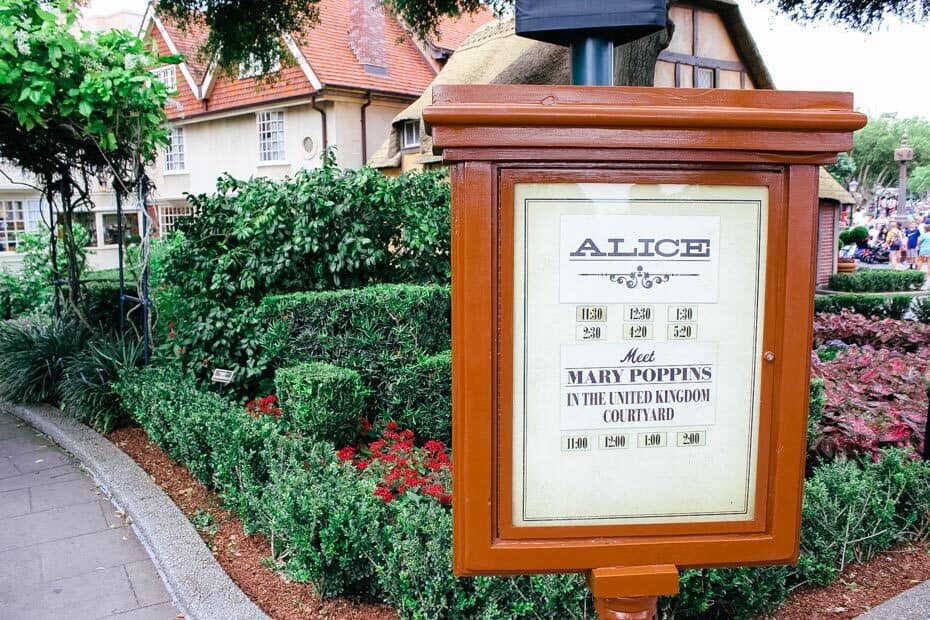 If she is out you will see her standing here in front of her cottage. This one makes for a really nice photo. The only other place to meet Alice is at Magic Kingdom around Mad Tea Party.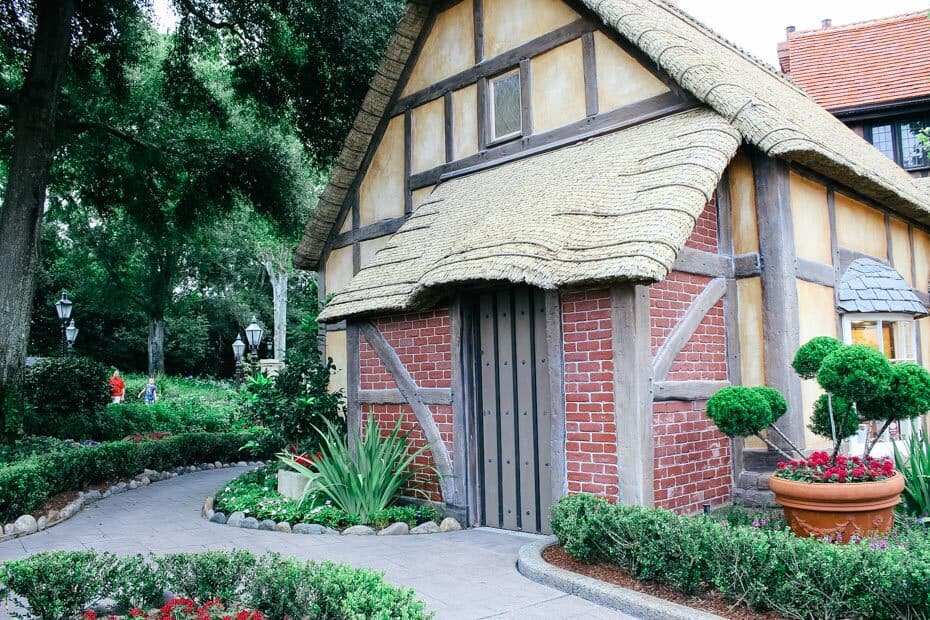 Mary Poppins will be out a few times of the day as well, and she meets in this gazebo toward the back of the pavilions. You will not find Mary Poppins out as much as Alice, so you might find her a little more difficult to meet. She meets at Magic Kingdom most days around Liberty Square.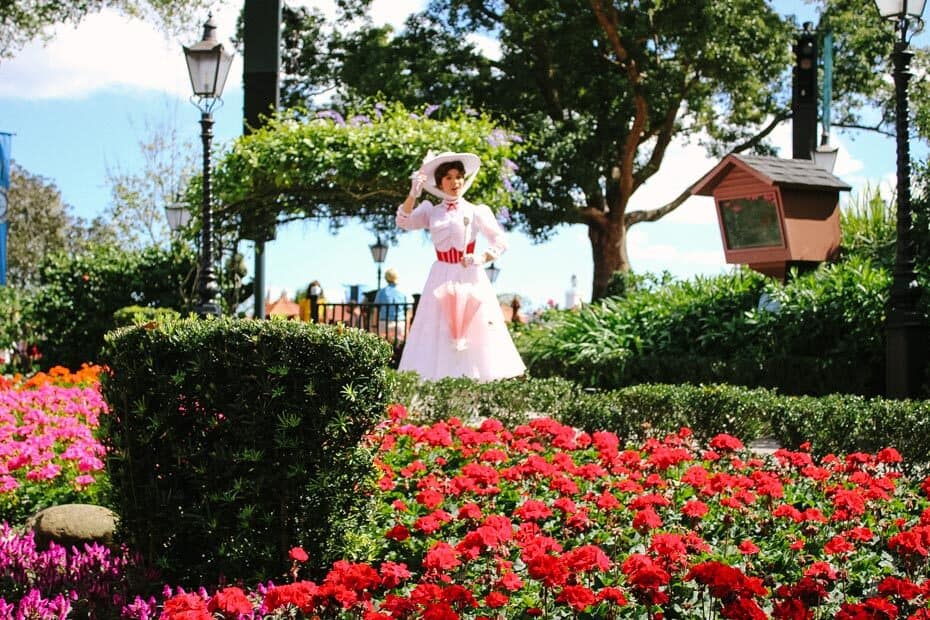 I have a full meet Mary Poppins at Disney World post if you would like to learn more.
The newest meet to the pavilion is Winnie the Pooh. He can be found in Christopher Robin's room toward the back of "The Toy Soldier" in the United Kingdom.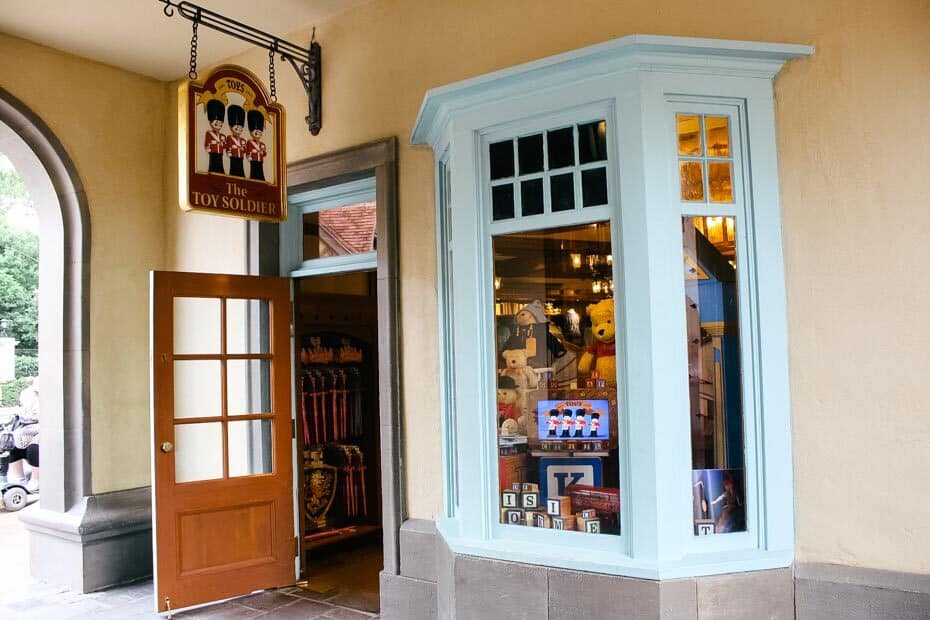 Make sure to check the times guide on your visit for this one as well, Winnie the Pooh also meets at varying times. Winnie the Pooh has a character meet with Tigger next door to his attraction at Magic Kingdom.
As one can see, there is quite an opportunity to meet several characters at Epcot. Meeting characters is an integral part of planning a Disney vacation for many guests.
Due to the variety of schedules and characters within each park, this can sometimes be difficult. I would recommend making a list of important characters in the notes section of your phone and what times they usually meet.
Additionally, while planning your Epcot day, the Disney Day Calendar is a good place to reference any closures or refurbishments. You can check your dates here if you like.
The park is currently undergoing a massive refurbishment, and it will be common to run into some closures due to construction going into 2022.
For those with interest in meeting more characters at Walt Disney World, try these reviews:
Leave a comment and let me know your favorite character at Epcot!