Guide: Disney World's Pandora, World of Avatar
Pandora, the World of Avatar is the land at Disney's Animal Kingdom in Walt Disney World themed after James Cameron's Avatar film. The themed land opened several years back and offers guests a unique opportunity to visit an alien planet and fly on a banshee.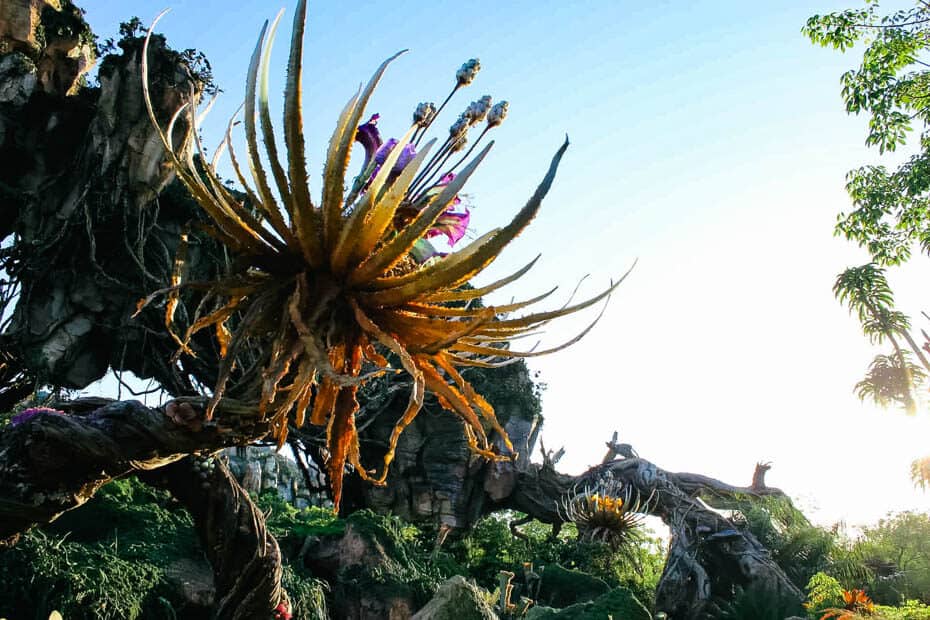 And if action isn't your thing, you might prefer to enjoy a peaceful boat ride through a river of bioluminescence, Na'vi River Journey.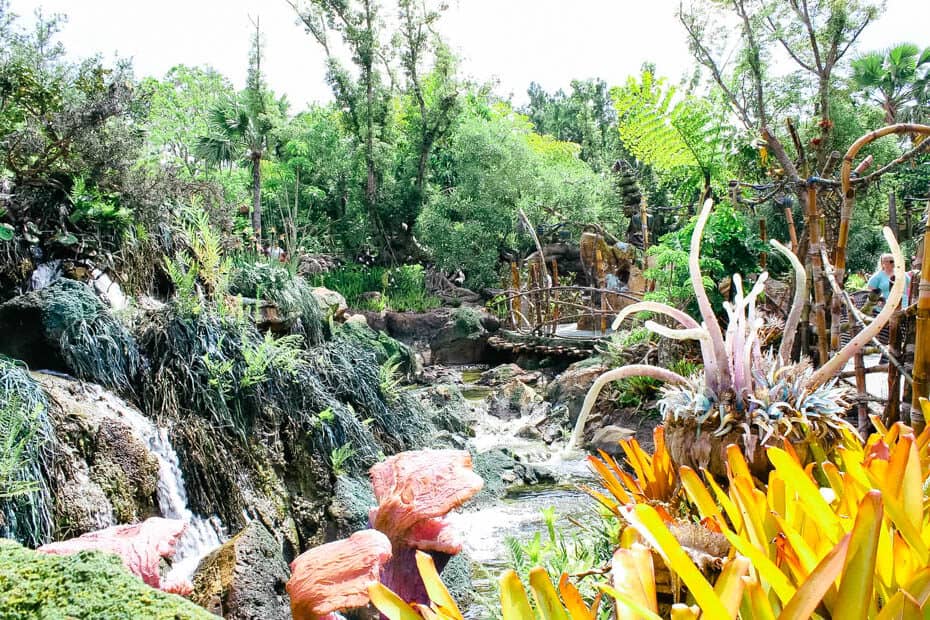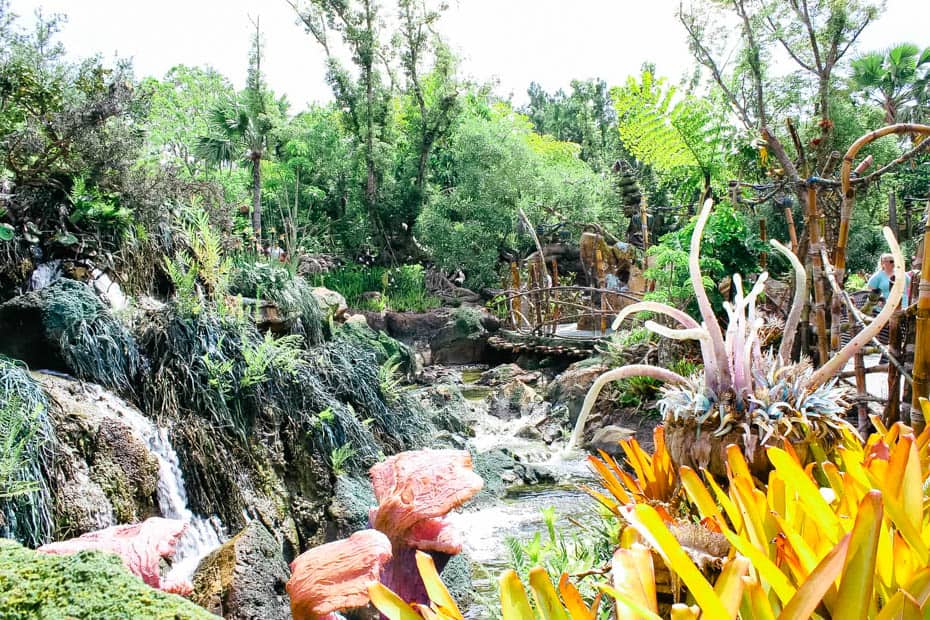 Regardless of your reason for visiting Pandora, World of Avatar, one thing is sure. You can prepare yourself to be blown away by the beauty. After all, it is breathtaking, as you can probably tell from a few of these pictures.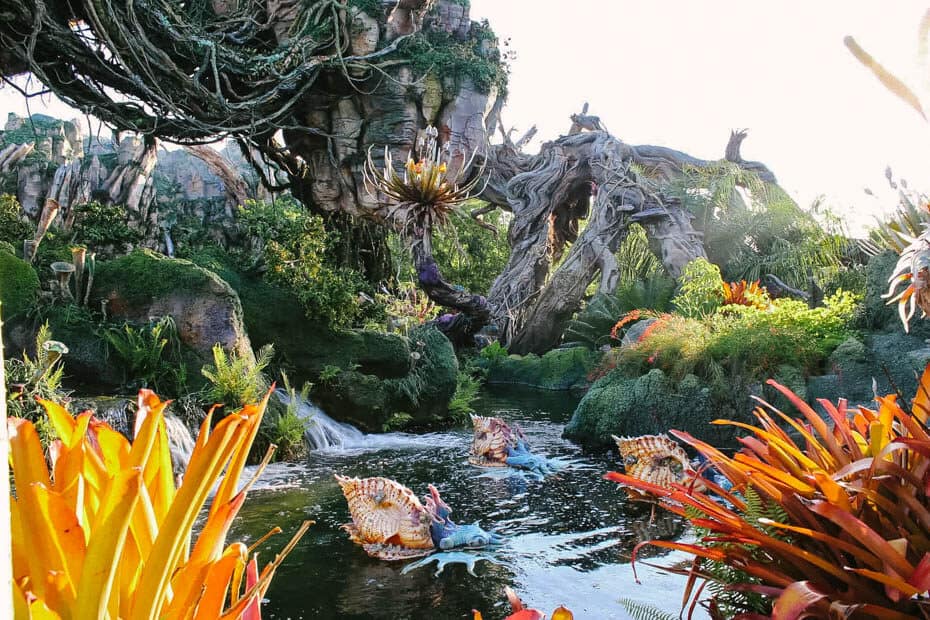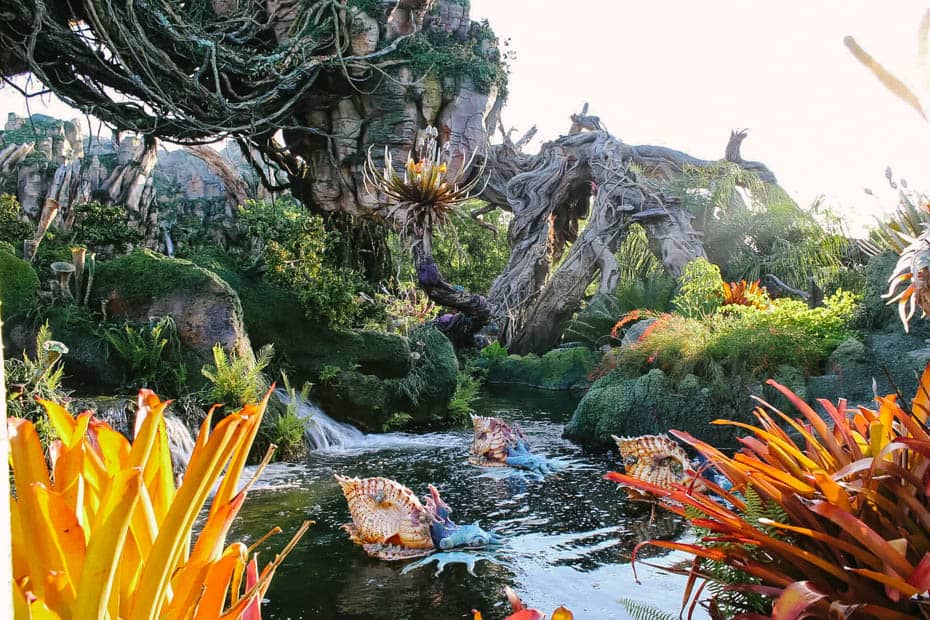 This review will cover visiting Pandora, World of Avatar, at Disney World in detail. We will discuss the attractions, layout, dining, and touring information. This guide will also provide some advice, tips, and a look at touring Pandora in the evening versus daytime.
As you enter Animal Kingdom park, you'll take a left at the Tree of Life to access Pandora, World of Avatar. This is also the direction you would usually take if you were headed toward Africa.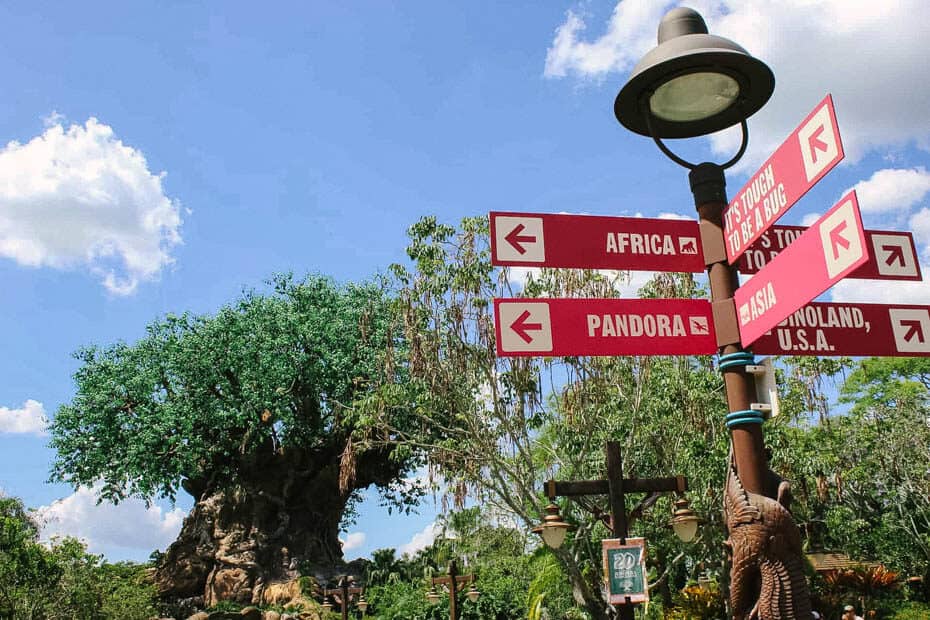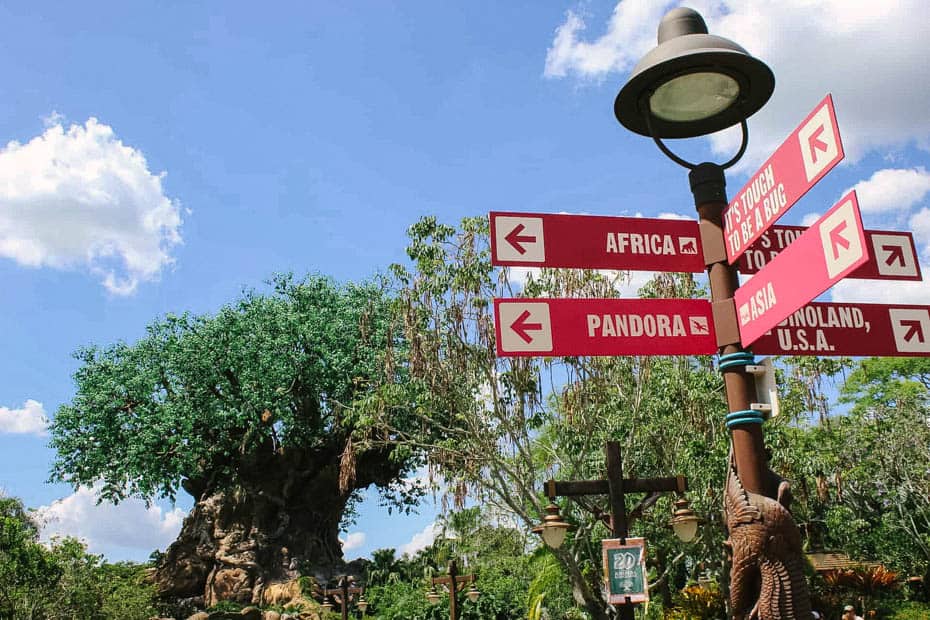 Before you reach Pizzafari, you will take a sharp left and head toward Tiffins restaurant and Nomad Lounge. Below is the view from the bridge you will cross before entering the Valley of Mo'ara, which is also Pandora, World of Avatar.
Related: Nomad Lounge Review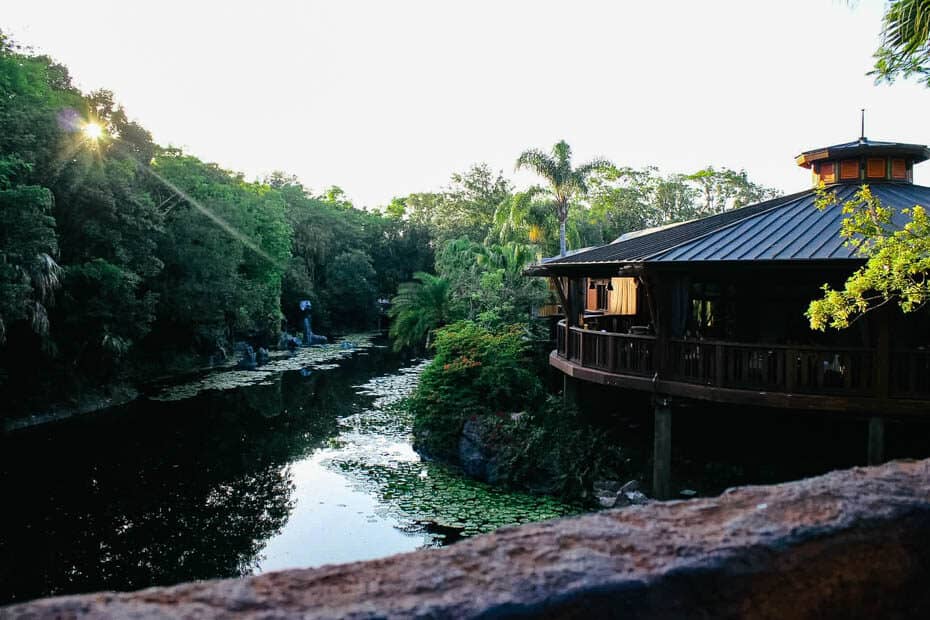 Below is a picture of the bridge from the exterior deck of Nomad Lounge.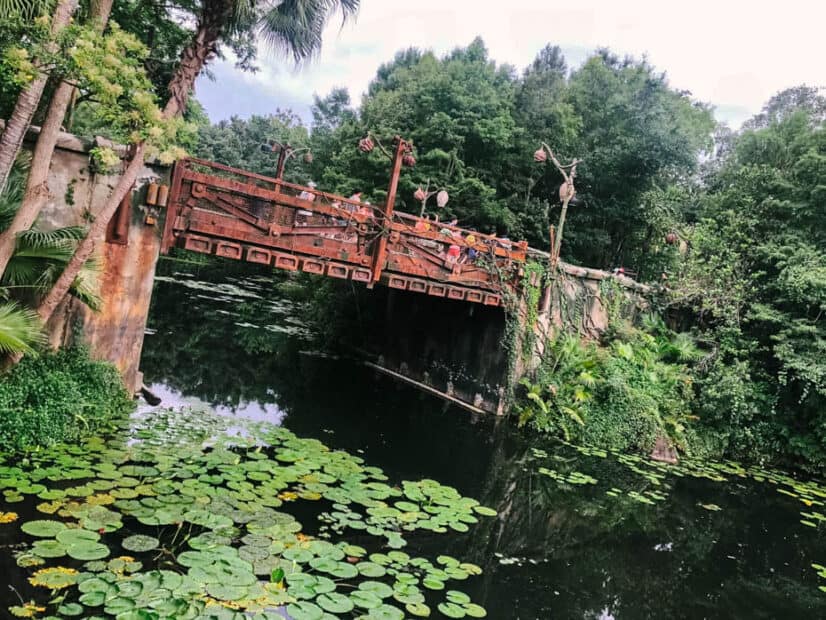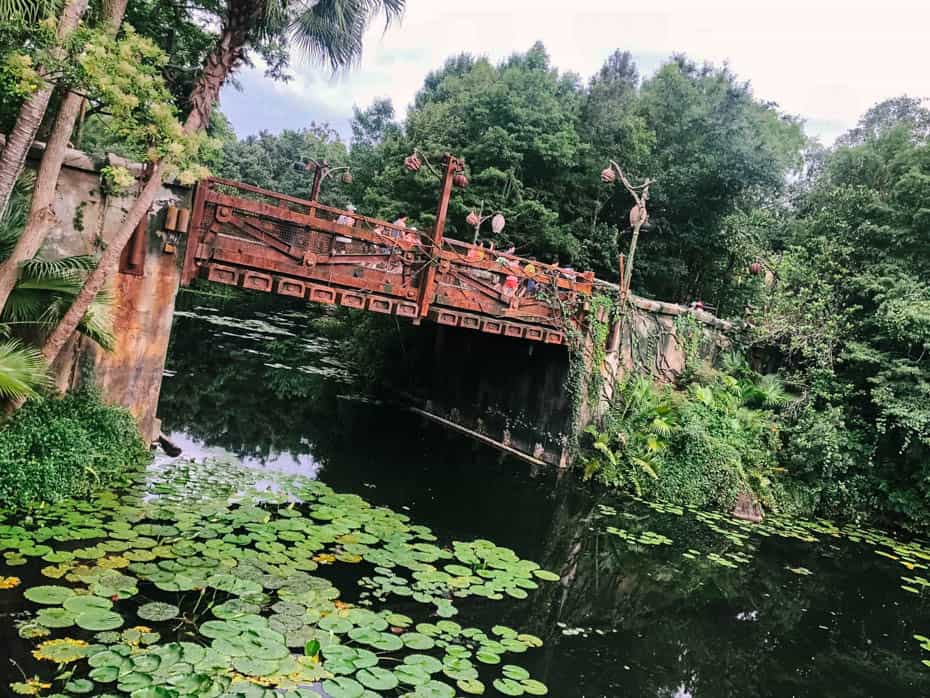 When you exit Pandora, you will more than likely want to be aware of the "back way." Taking this separate entrance or exit is typically quite pleasant, and you will wind up in the outskirts of Africa.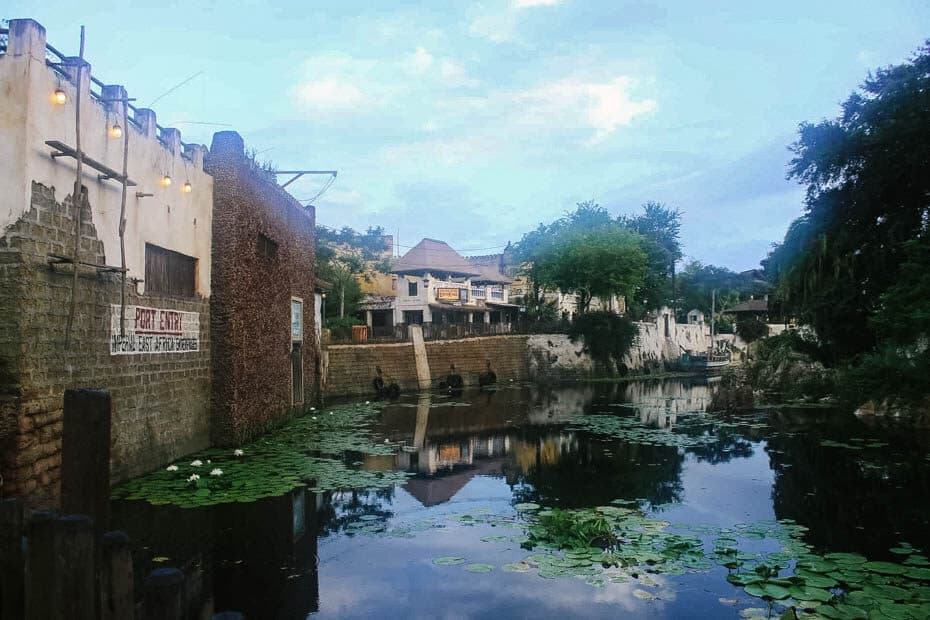 This picture below is from Africa, looking at the bridge you will cross under when you exit the land.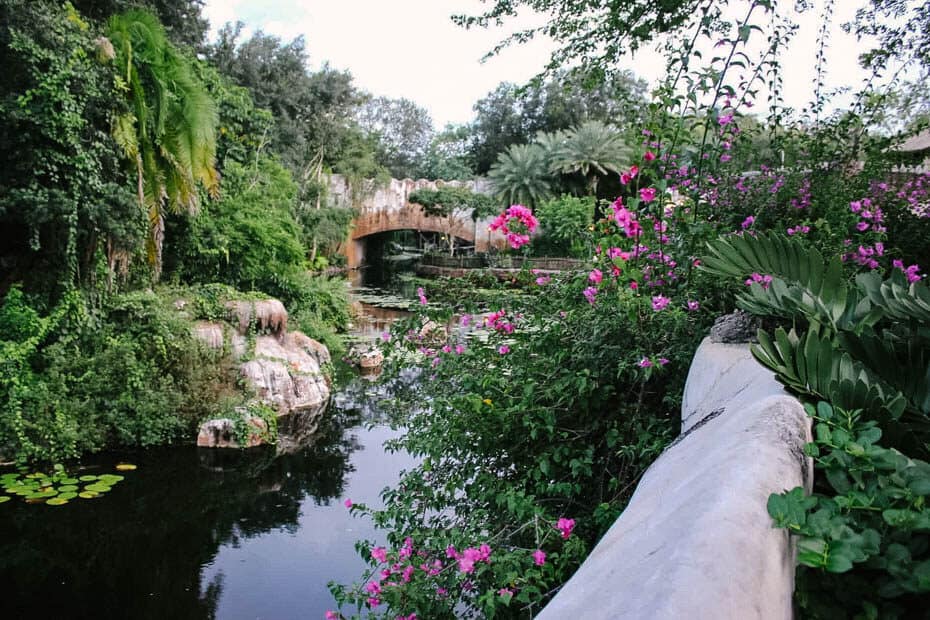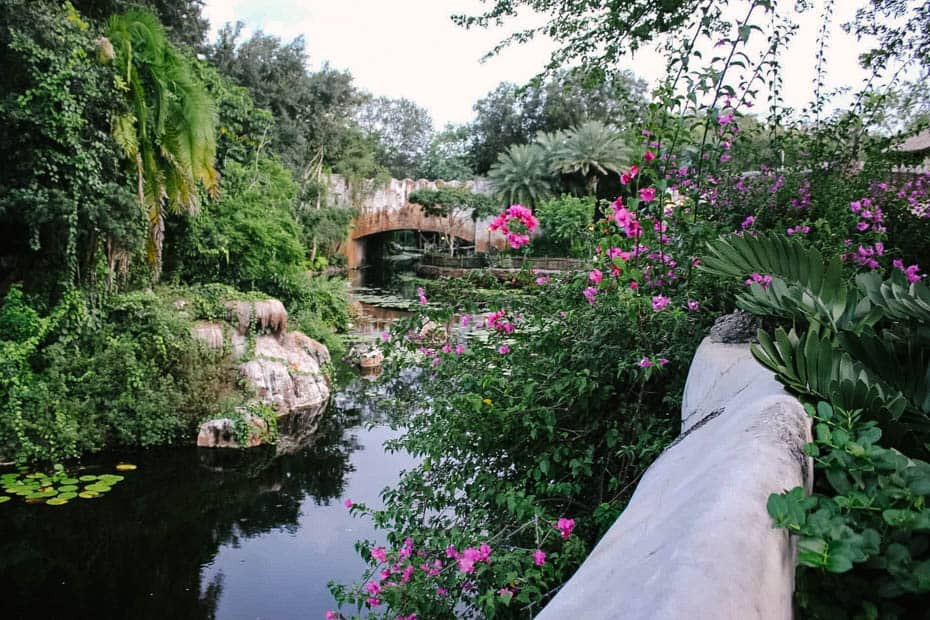 When deciding which route to take, I recommend using the main entrance and exit when:
You are entering Pandora from the park entrance or Dinoland.
You are exiting Pandora to head toward the park exit, Dinoland, etc.
Use the back exit when:
Exiting Africa or the surrounding area to enter Pandora.
You are leaving Pandora to visit The Lion King, Kilimanjaro Safaris, Africa, etc.
If you are in the center of the park or towards Asia, you could go either way. Depending on the time of day, the back entrance on the Africa side will probably be the quickest. The only time this area seems to be polluted is when The Lion King show exits, and there is more than a usual number of guests in that area.
Pandora, World of Avatar Attractions
Pandora is home to one of the most popular attractions in all of Walt Disney World. Flight of Passage opened with the new land several years back and has proven to be one of the most sought-after attractions in Disney park history.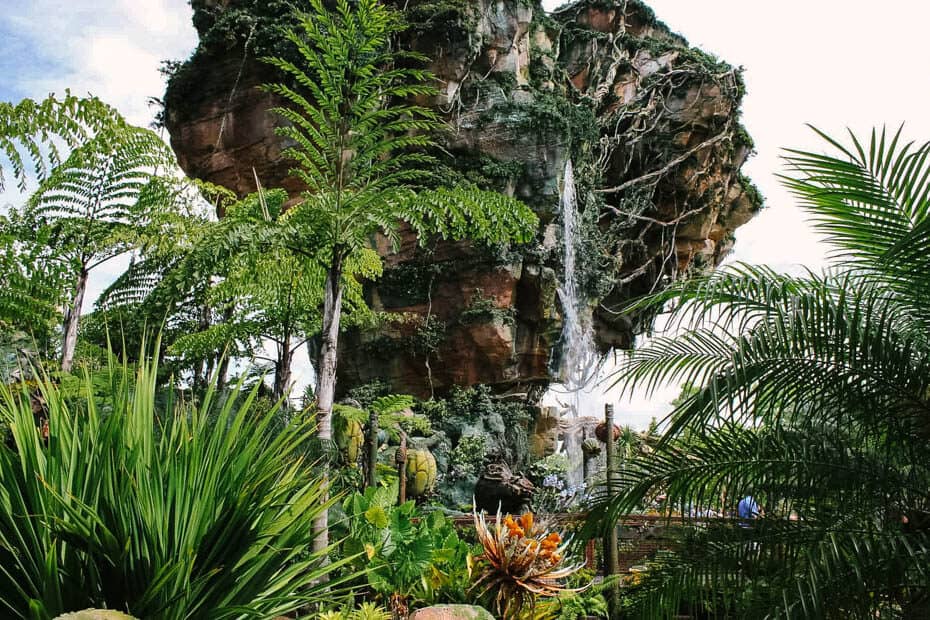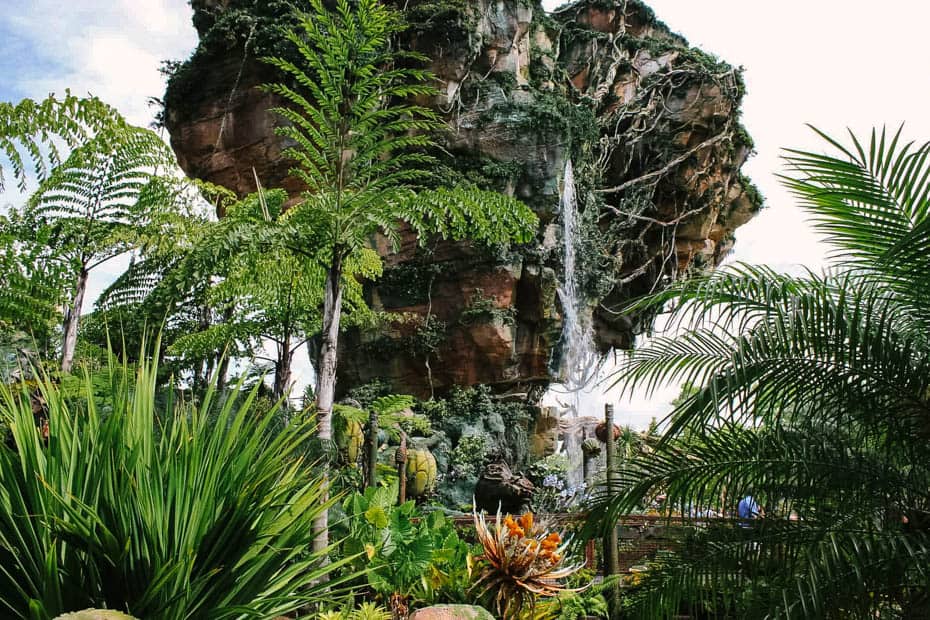 Na'vi River Journey is the other attraction located within Pandora. Unfortunately, this ride has become more of a secondary attraction at Animal Kingdom. While it's a beautiful ride, it is more of something compared to "it's a small world" or a similar slow-moving boat journey.
If you are visiting Pandora, the World of Avatar, for the first time, then Flight of Passage is truly a ride experience that you don't want to miss. Some of these pictures are from when the attraction first opened. It's a good reminder that you will only see this part of the queue if you elect to wait in the standby line.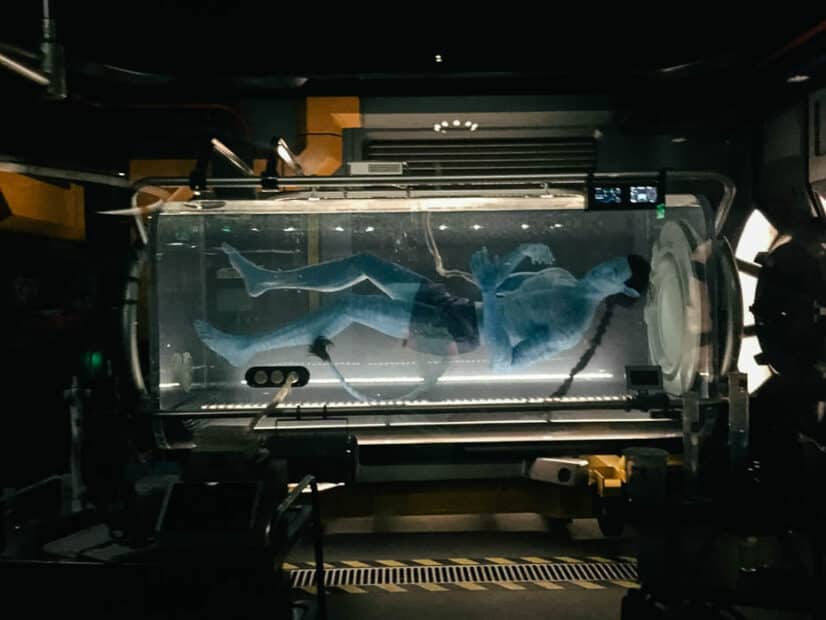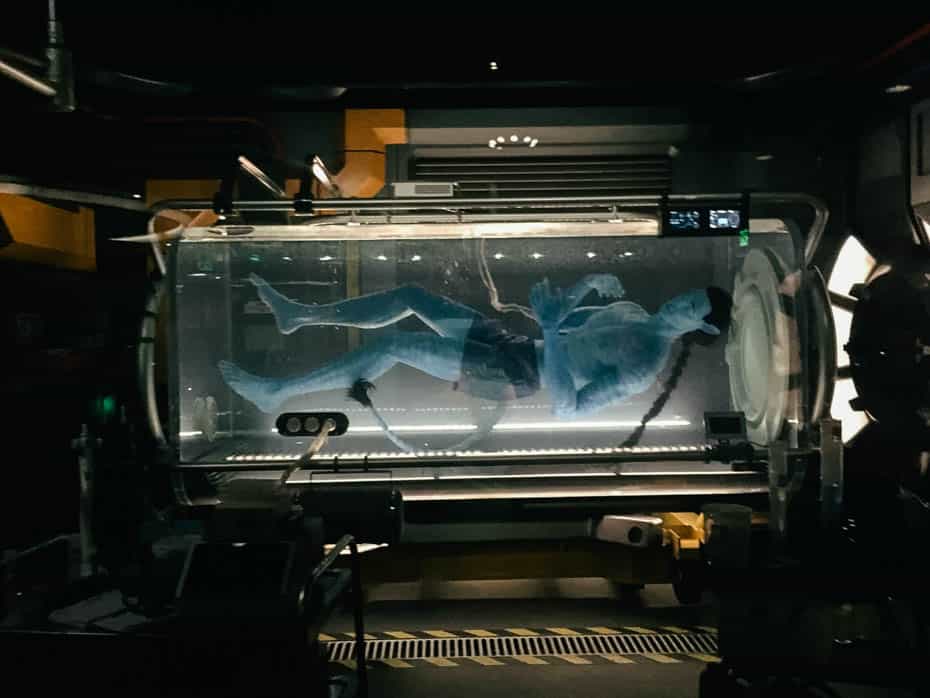 With that being said, waits can be anywhere from non-existent the first few moments (yes, moments) of the morning to two to three-hour waits in the busiest hours of the day.
Granted, on a typical day, you are probably looking at something more like a 90-minute wait. Unless you reserve a lightning lane to bypass the standby line.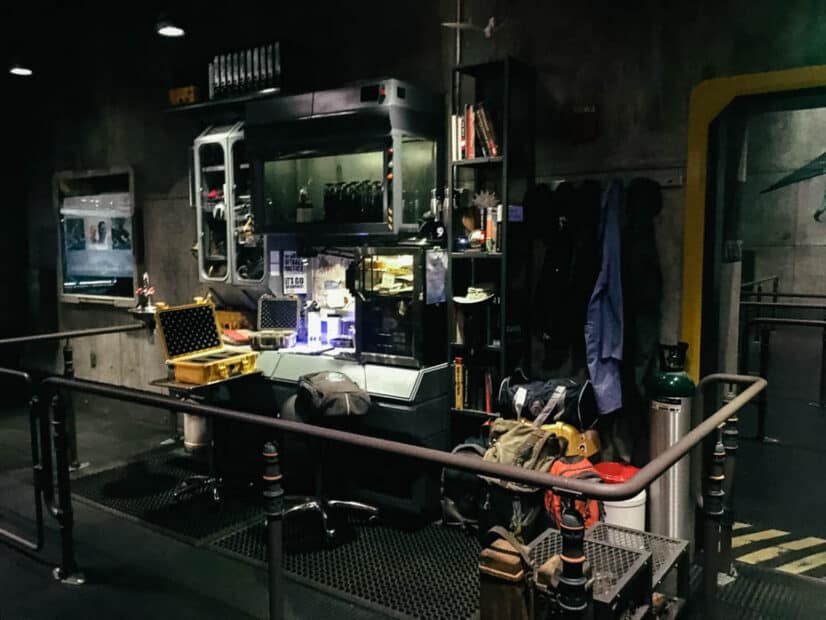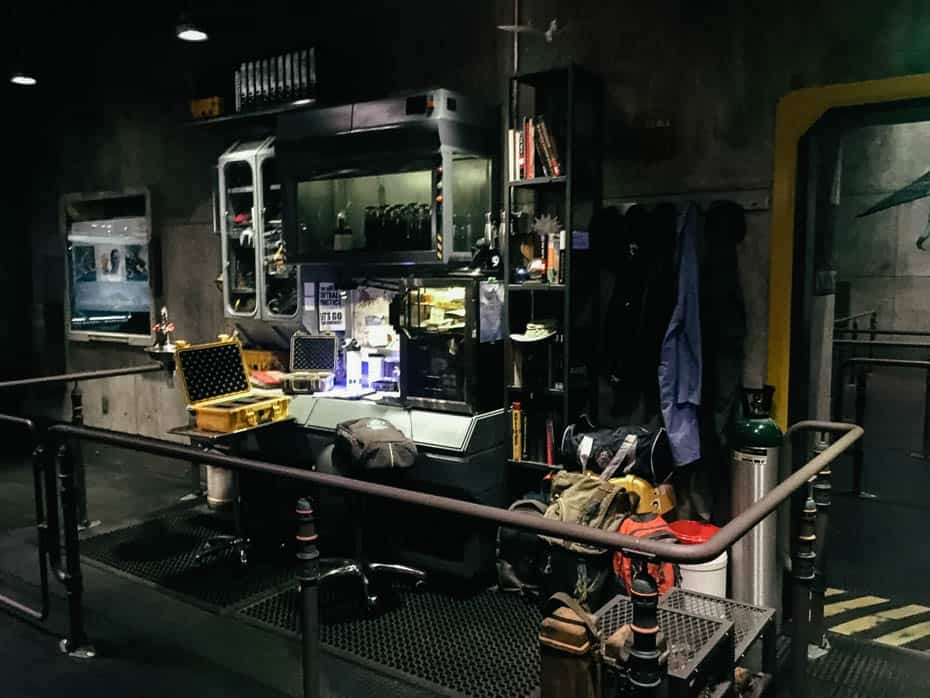 The queue has some neat features. And I think it's worth riding in standby at least once to have your picture made standing in front of the Avatar. When Pandora first opened, my family, watched the movie in preparation for the big day.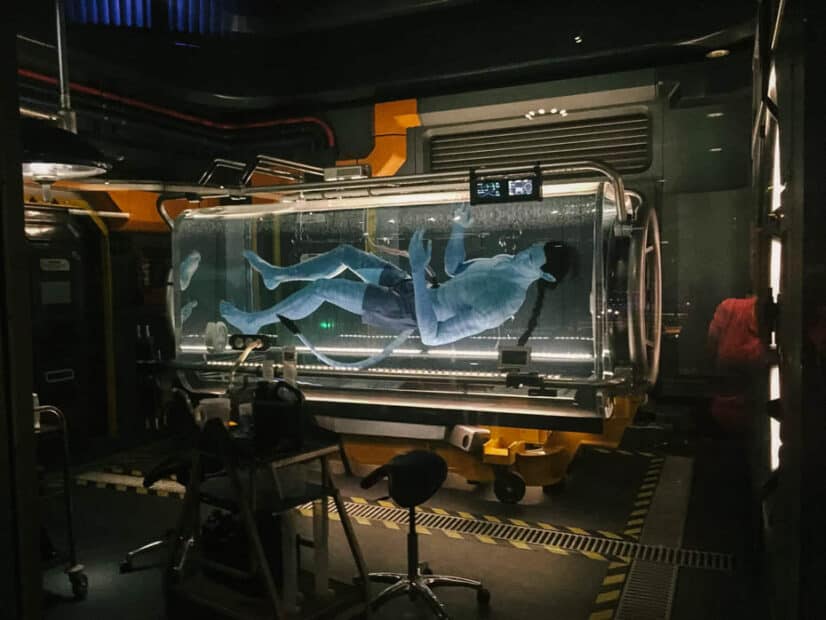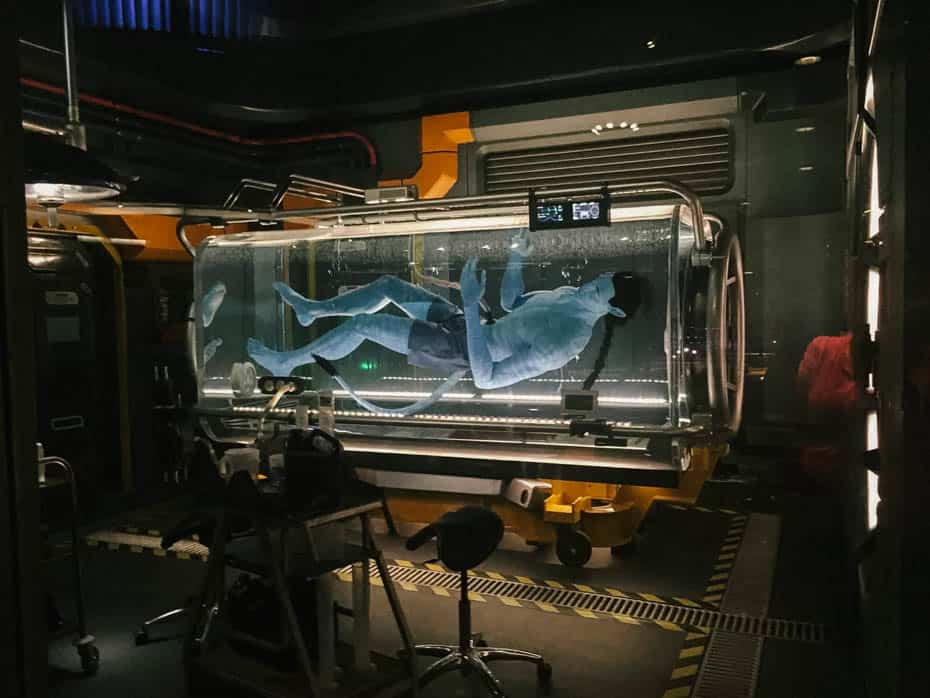 I don't have a lot of commentary about the movie, other than it's long. And it doesn't affect my love for this land at Animal Kingdom either way.
Anyway, when you get into the central portion of the queue before boarding your Flight of Passage, you'll run into this guy, Dr. Stevens. He also coined the phrase that Disney fans know as "Uh Fly."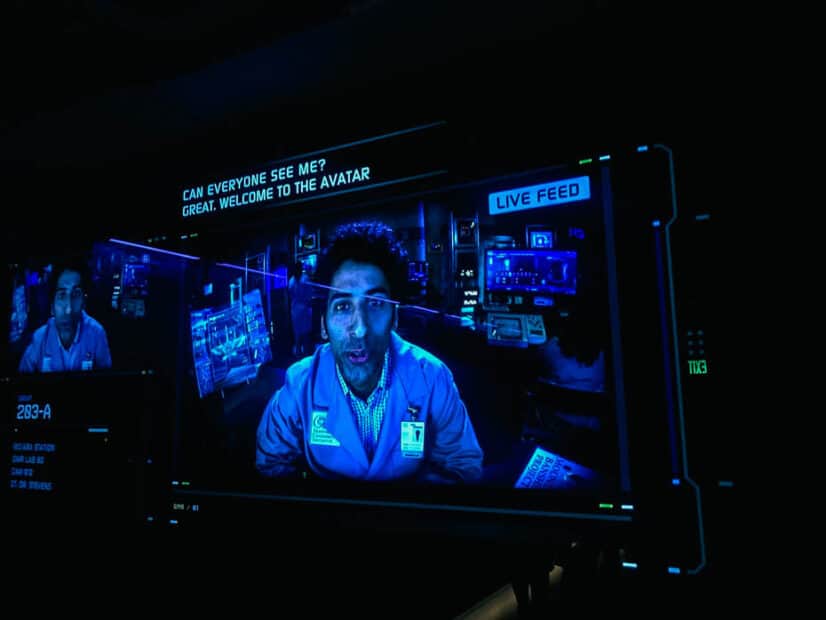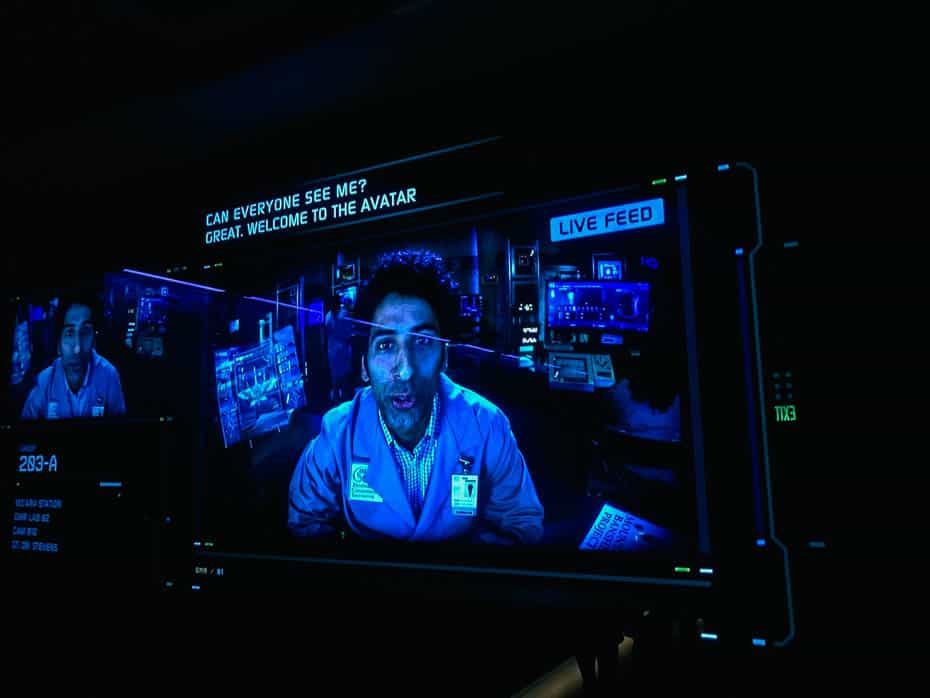 He'll have you stand on a circle and move around. This is a great place to practice all those dance moves you've been waiting to bust out on vacation.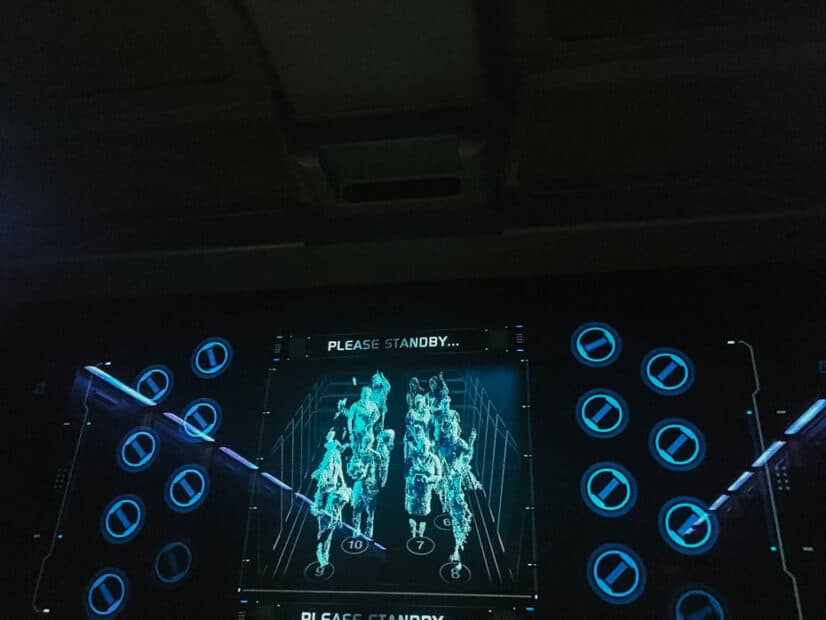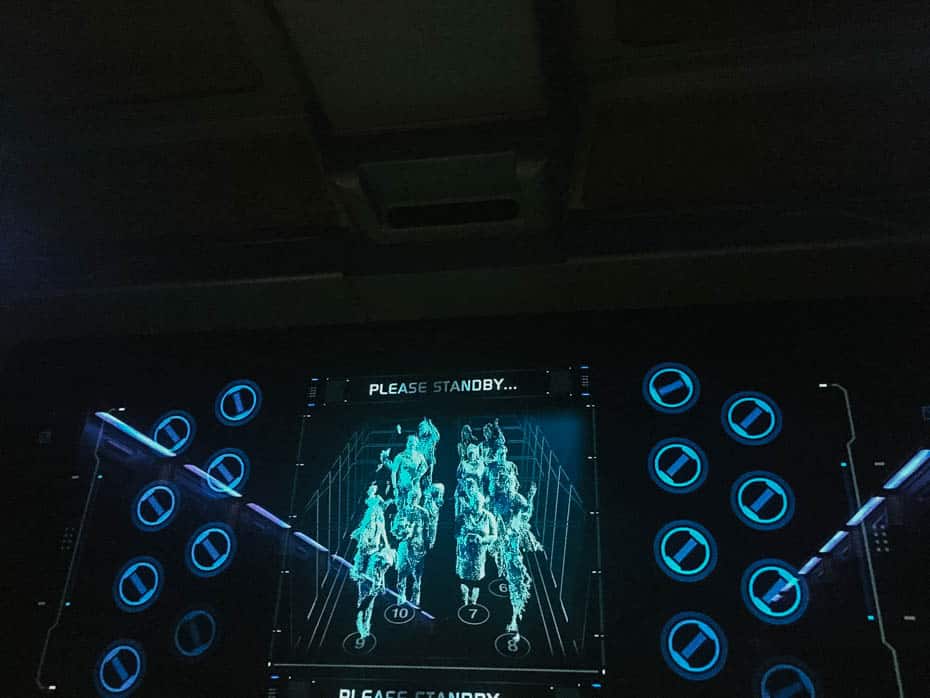 After that, you'll visit a second chamber where you'll be greeted by none other than Dr. Ogden as she explains a little more about the Na' vi people and banshees.
Before you know it, you'll be on a banshee and taking off on your Flight of Passage!
A few reminders:
Disney Height Requirement for Flight of Passage: 44″ or taller
It is a thrill ride.
It does use 3D technology with glasses.
If you have a fear of heights it might not be the best ride for you.
As far as heights go you will get the "real feel" of riding on a banshee (large Na' vi spirit animal with wings). This is a feeling you get that might be somewhat similar to Soarin' but also more intense. It's all very nicely done though and the ride is extremely smooth.
I will say I have found myself comforting quite a few younger children prior to the ride start. It can be intimidating when you initially are locked into your seat and you have no idea where, how, or what you are actually going to ride. Make sure to prepare your party that a screen will open in front of you for a virtual-like experience.
And then enjoy it! It is quite the ride that will be brought up in conversation long after your Disney vacation is over.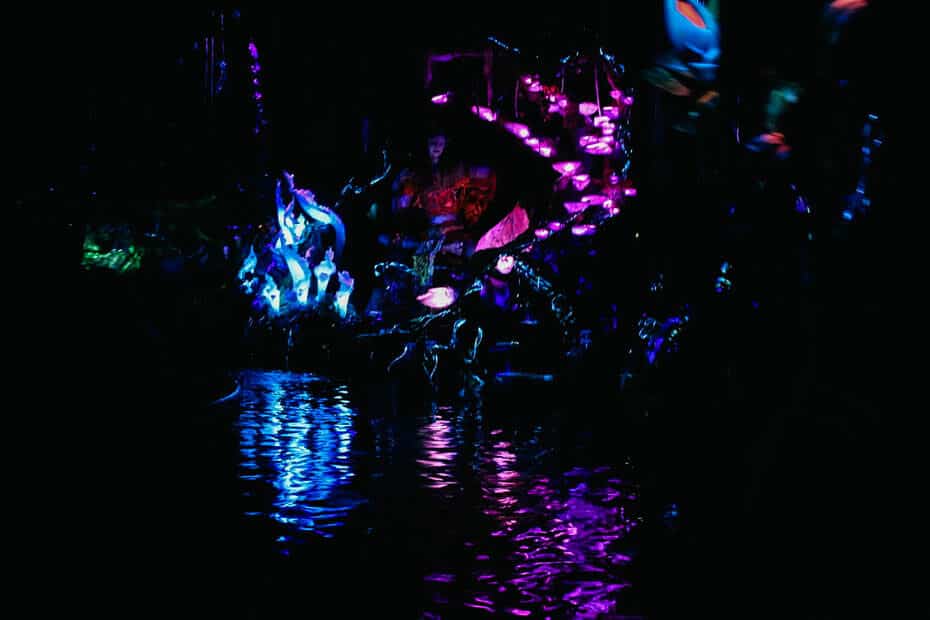 Our little boat ride Na' vi River Journey is completely opposite from Flight of Passage in every way. Except that the ride exudes chillness that you find in one of the scenes from the Flight of Passage attraction.
And these days it's good to have all the chillness you can get. The world is so busy and it feels like life is passing you by quicker than you could possibly ever keep up with it.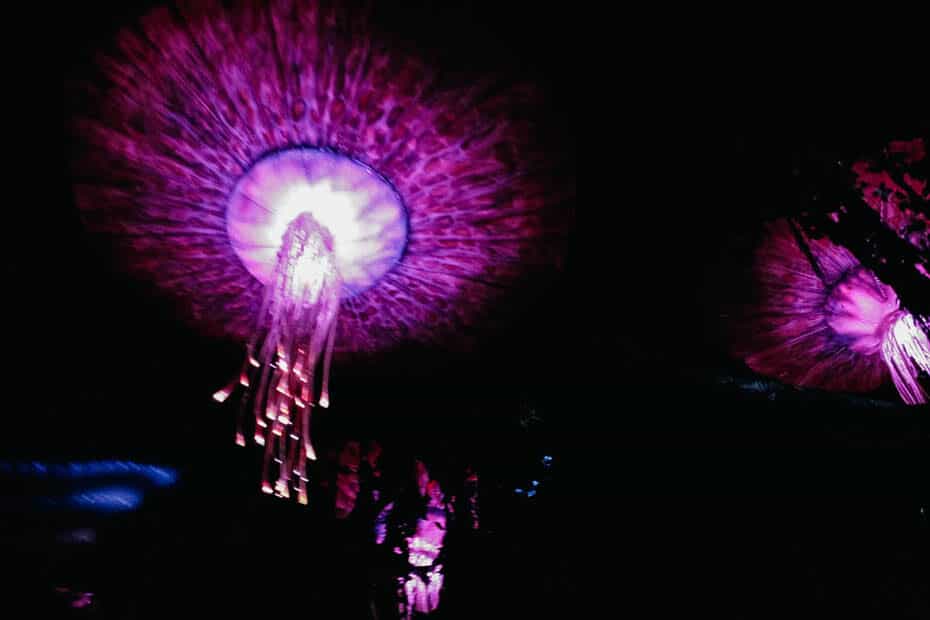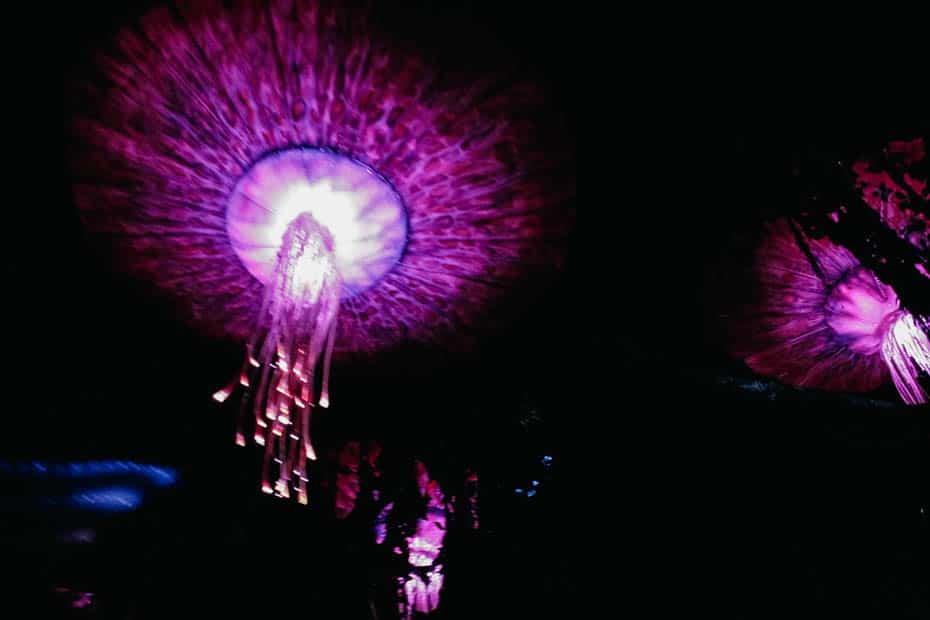 Or you might be that person that has no concept of time whatsoever and have found yourself floating down Na'vi River Journey all your life.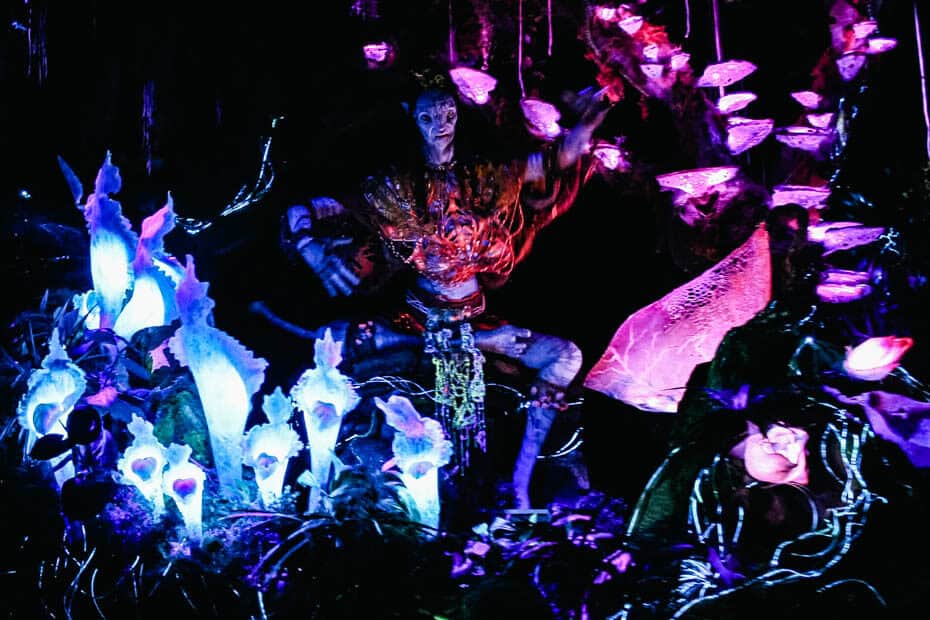 Either way, you will enter the queue, eventually board a boat and float through this attraction. Na'vi River Journey is visually stunning in a bioluminescent kind of way.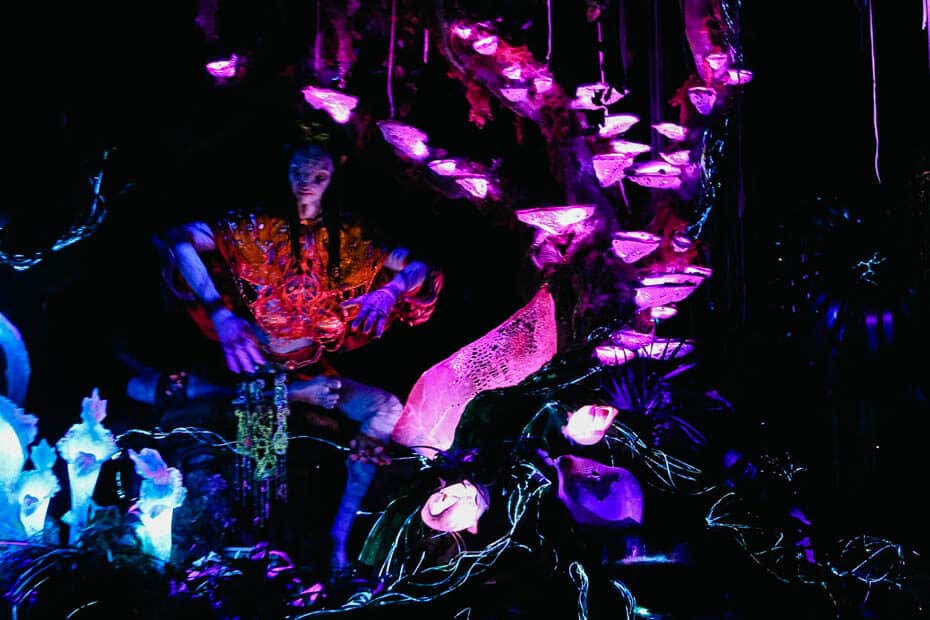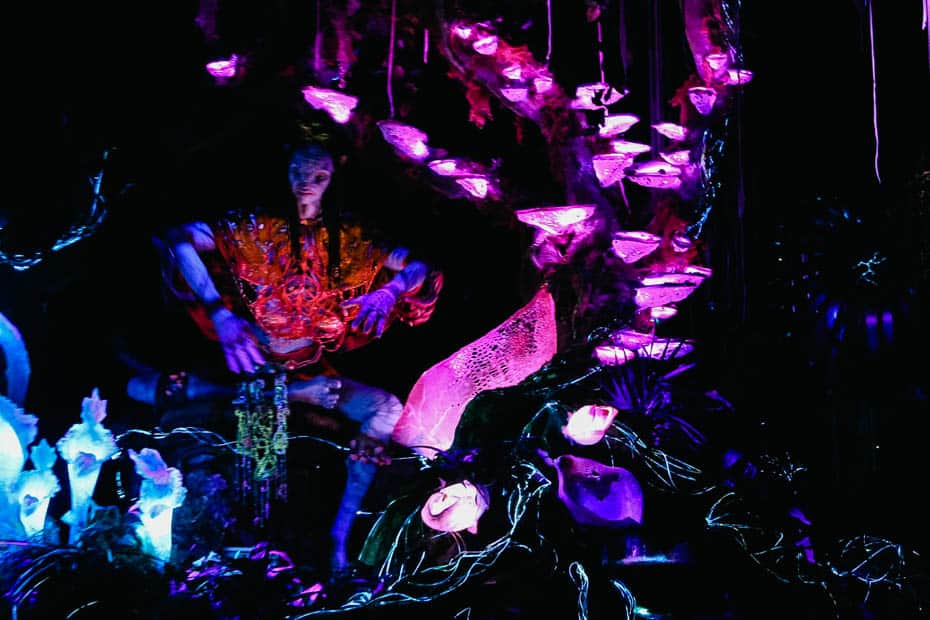 At the end of the ride, you will run into a member of the Na'vi people. Excuse me, the Na' vi Shaman of Songs. Think Woodstock meets Papa Smurf, except taller? Sorry, just a bit of Na'vi River humor.
A few reminders about the Na'vi River Journey:
No Height Requirements
You might be seated on a row of a boat with another party.
This makes for an excellent 4th, 5th or more FastPass+. (when available)
Tips for Touring Pandora at Disney World
So far, we have discussed a little about using FastPass+ at Pandora. Let's take a little more detailed look at the best use of your FastPass+ here.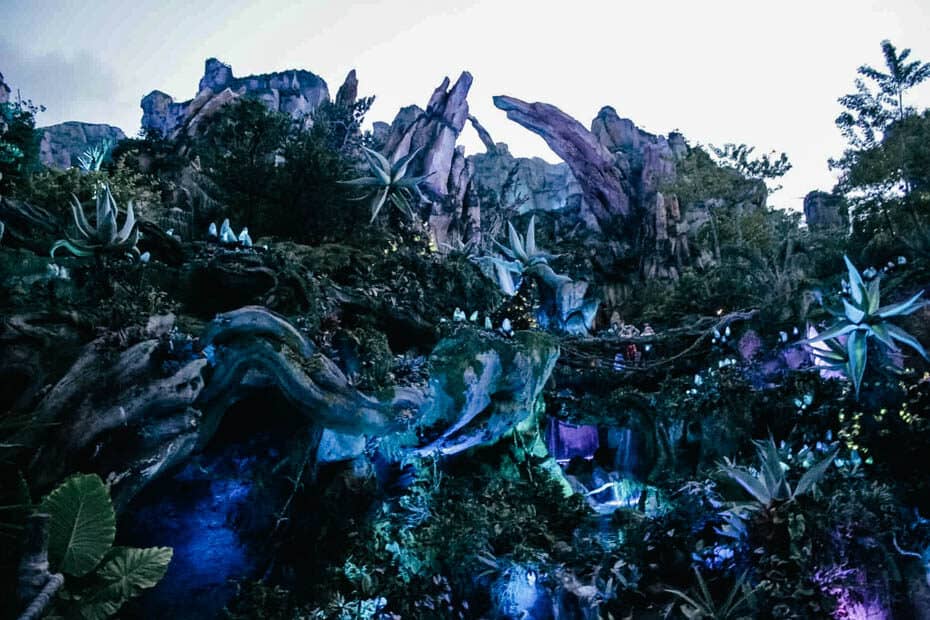 Currently, the top tier attractions at Animal Kingdom are:
Flight of Passage
Na'vi River Journey
All other attractions fall into the second selection or lower FastPass+ tier. This makes it extremely difficult to get Flight of Passage. And a warning here, Na' vi River Journey tends to almost always be available.
When the time comes to book your FastPass+ selections Flight of Passage should be at the top of your list if your family desires to ride it. Now I mentioned above that you miss the queue experience if you ride Flight of Passage with FastPass+. The ride is so unique that you probably will want to ride it two to three times at the minimum on your vacation. So do your best to reserve this FastPass+ for minimal wait time on one of your rides.
As far as Na' vi River Journey goes it's not anywhere near as popular as other attractions in the park-like Kilimanjaro Safaris and Expedition Everest. When I'm planning our FastPass+ plans in advance we personally like to book Flight of Passage, Kilimanjaro Safaris and Expedition Everest.
When we finish those out in the park we try to select additional Flights of Passage, Na' vi River, Safaris, Dinosaur, and then anything else that appeals to us. We can typically ride Expedition Everest easily in the single rider line and usually do it immediately before or after our FastPass+ for that attraction.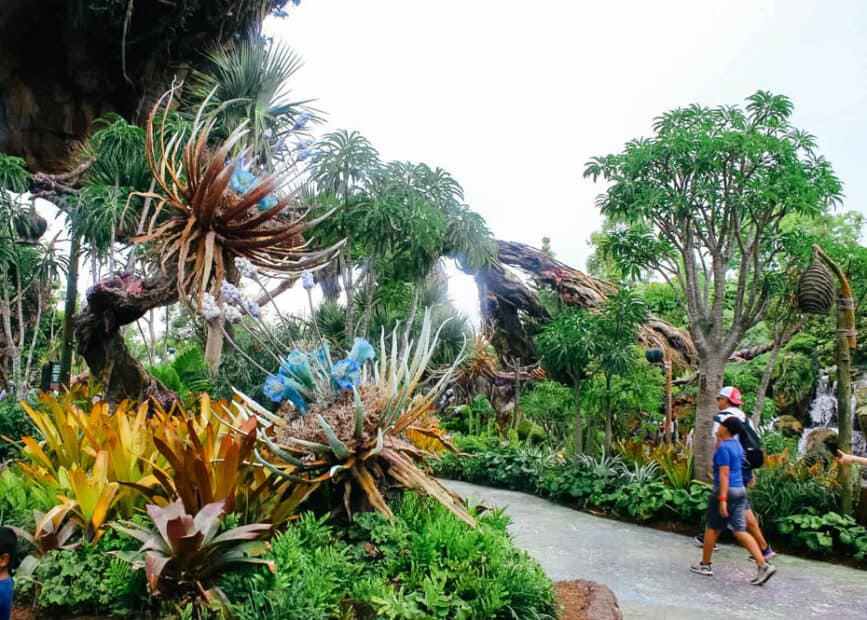 Na'vi River Journey is something you might like to reserve an additional FastPass+ for closer to the end of the day. It is good to time it with visiting Pandora again in the evening hours.
As with most desirable rides, it's typically ideal to get in line for a ride like Flight of Passage about 10 minutes or so prior to park close. You can actually wait up until the very last minute but at that point, you are just standing outside the queue waiting to enter. However, I've had good luck riding Na'vi River Journey at around 8:15-8:30 p.m. in standby and still making it over to Flight of Passage for one last ride before close.
The other best time to ride Flight of Passage would be first thing in the morning if you are an early bird. Rarely is that the case for me.
Pandora, World of Avatar Dining Options
The Valley of Mo'ara offers one counter service style restaurant and a walk-up stand offering more snack-like items. Satu'li Canteen provides a full menu with the popular bowl-style items and is also a great place to pick up a kids' meal.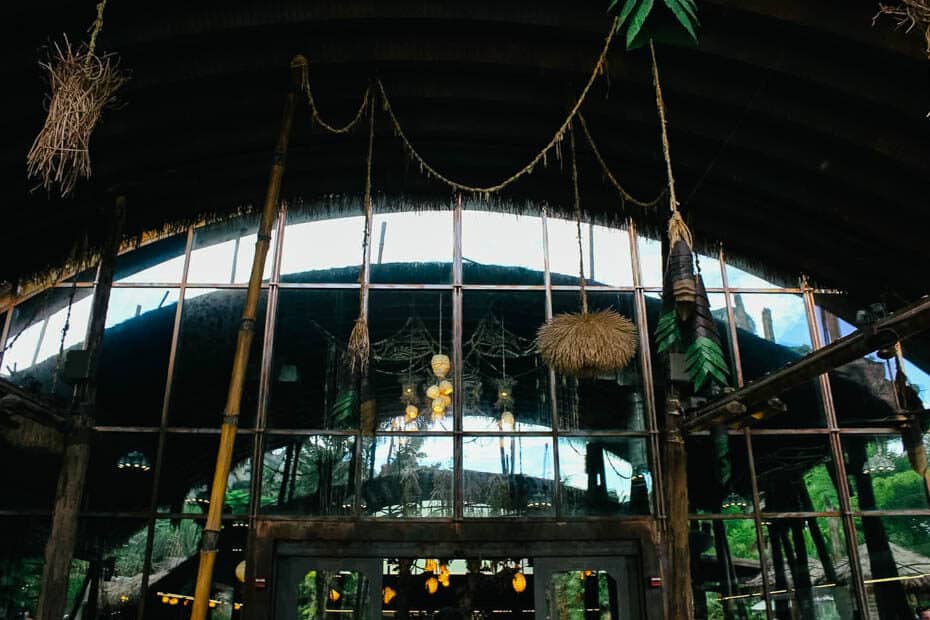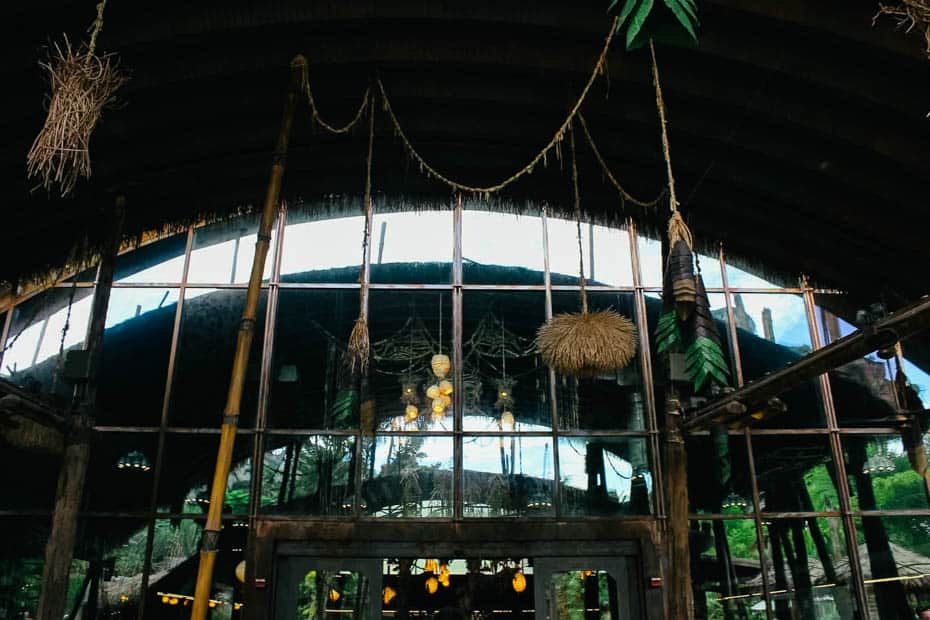 Toward the back of the Valley of Mo'ara, you will find Satu'li Canteen. It's kind of across the way from the entrance to Flight of Passage.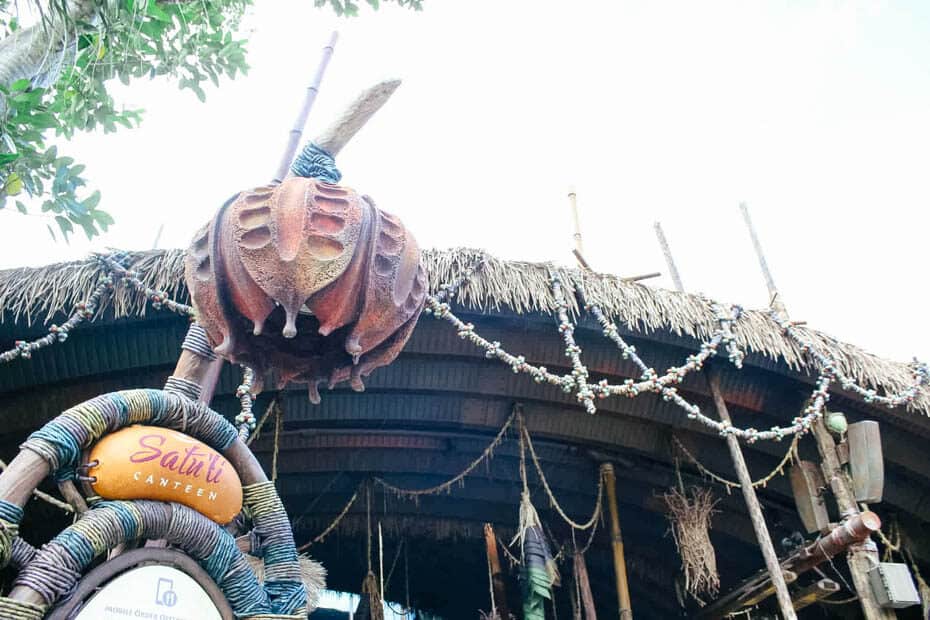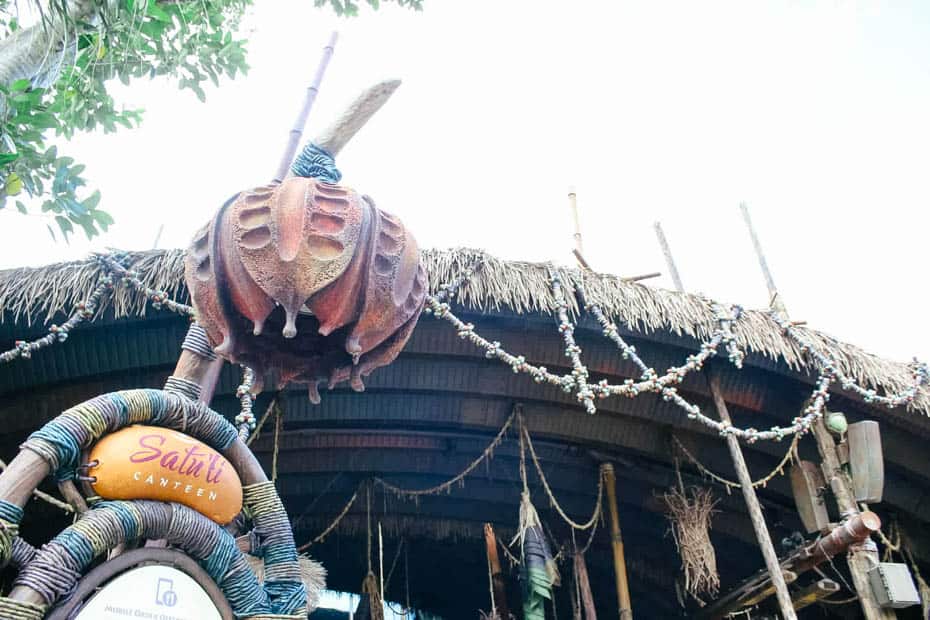 They have build-your-own-bowl-style offerings.
On one visit, I went with a shrimp bowl and noodles. You get to choose a base, protein, and sauce for the bowl options.
I had my sauce put on the side for this order. This came in at around $17 and I felt like it was reasonable for the meal in comparison to most prices on property.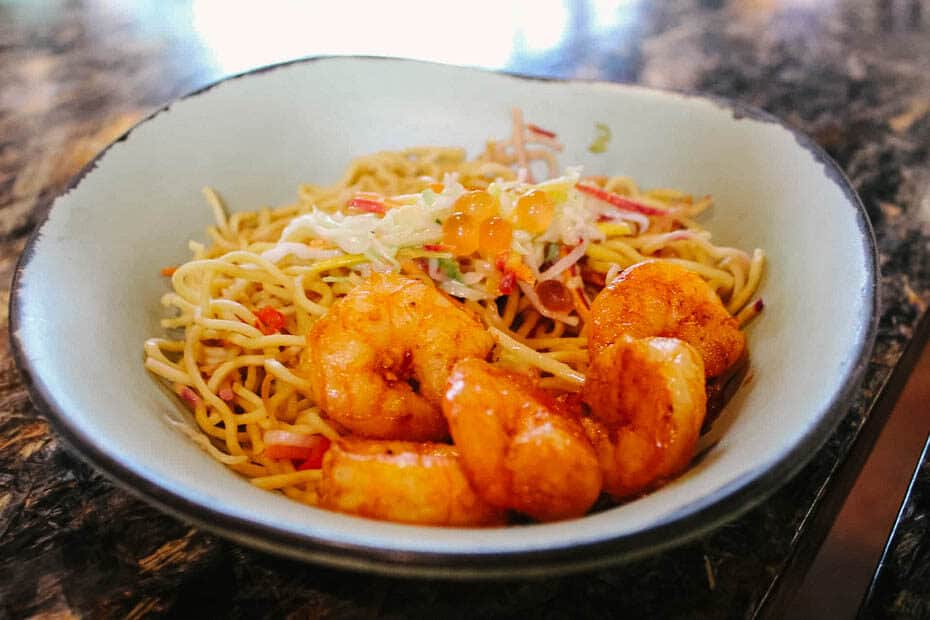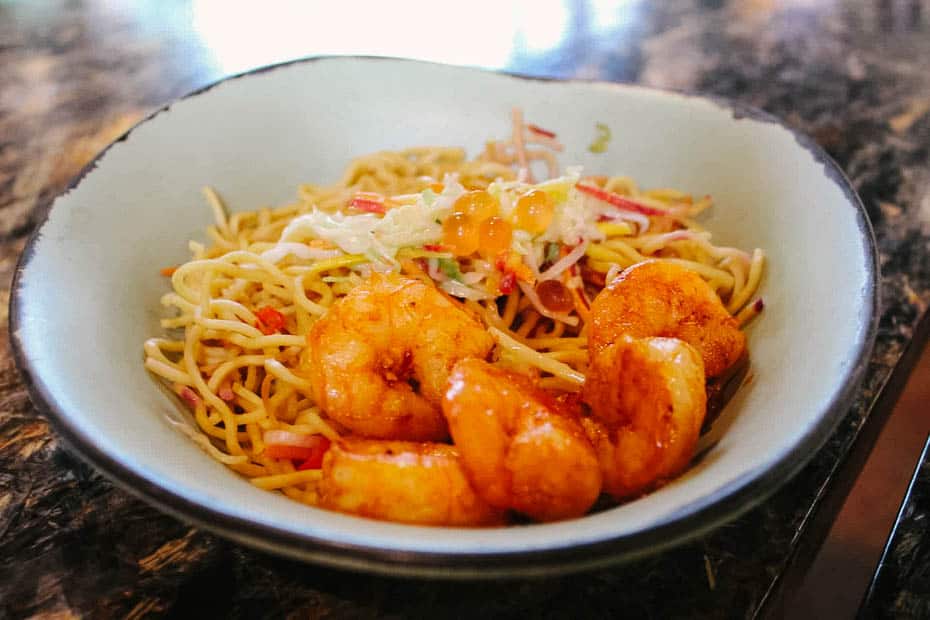 The ability to choose from different items and be a little more health-conscious is also nice at this location. You could just as easily make this a salad with crispy fried tofu. Or order a bean base with steak or grilled chicken.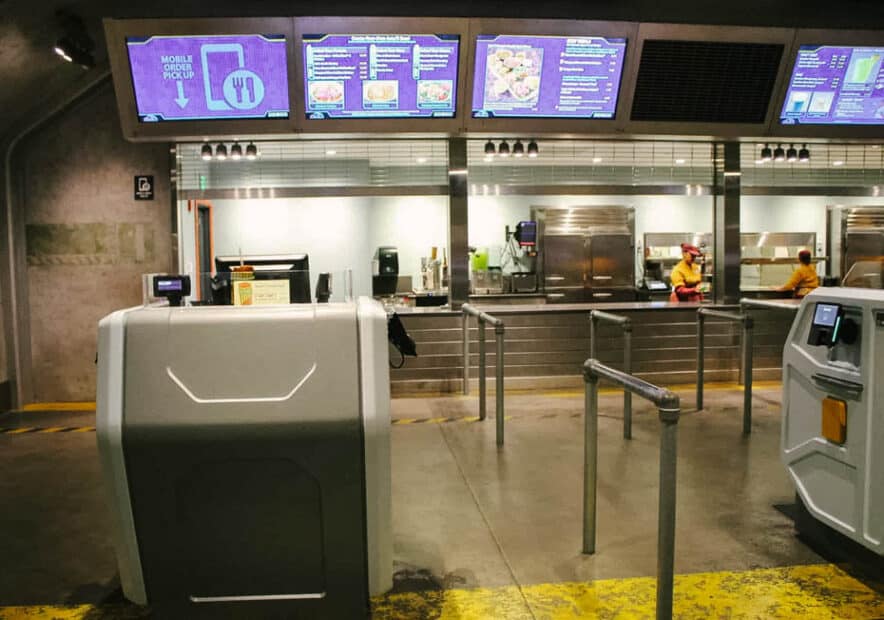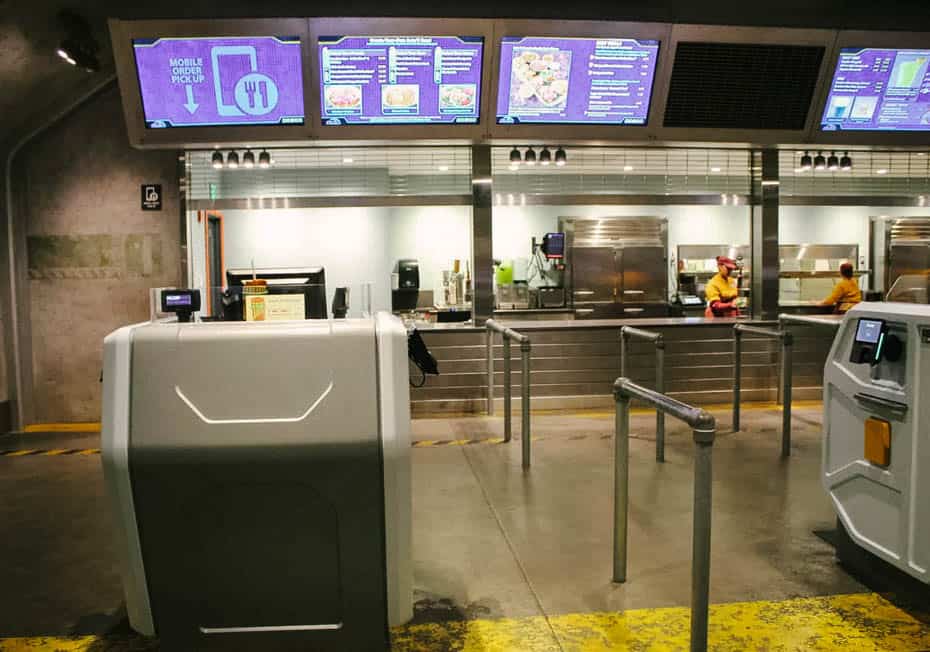 It's your standard line where you order at the register and pick-up behind you at the window. This is also a good place to know how you are paying for your meal in advance or what kind of dining plan your family purchased. Or you can just stand around and ponder what to do while hangry mobs, I mean families, get to the point where they can't take another second of standing in line.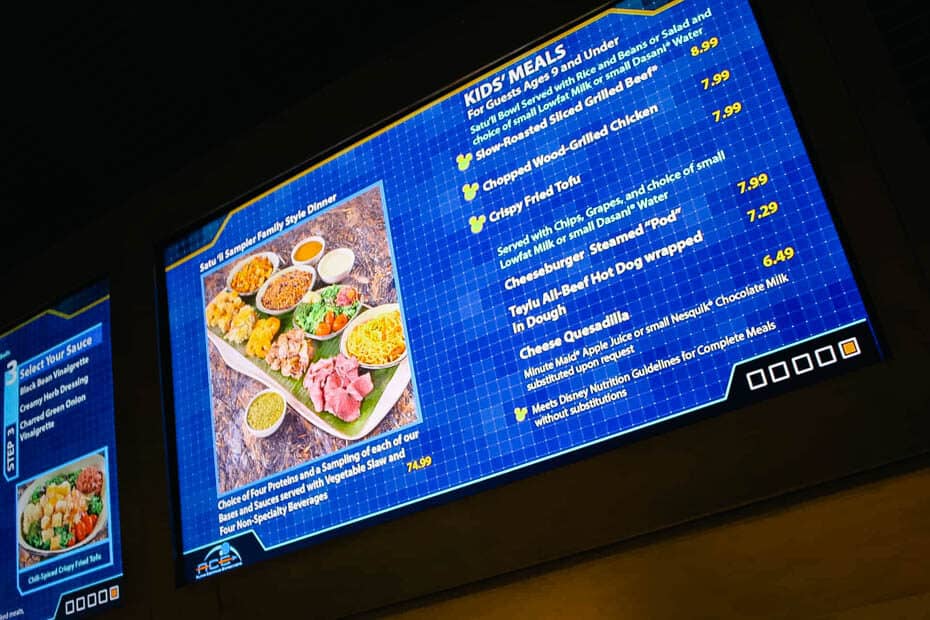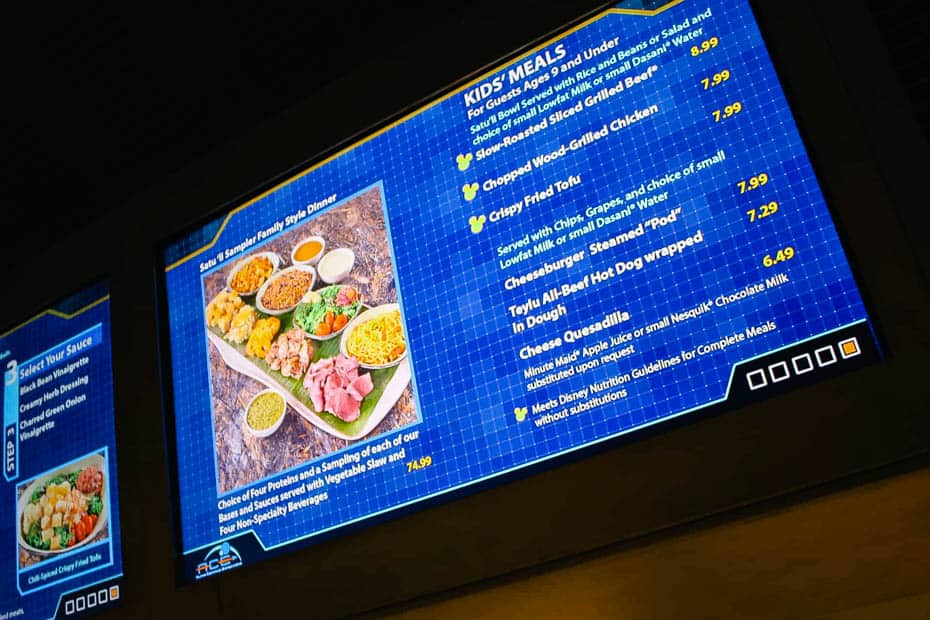 Anyways, they even have this massive family platter that was coming in at $74.99 on my last visit to Sa'tuli. It might be a good option if you have a larger family.
After picking up your food you can choose whether or not to dine inside.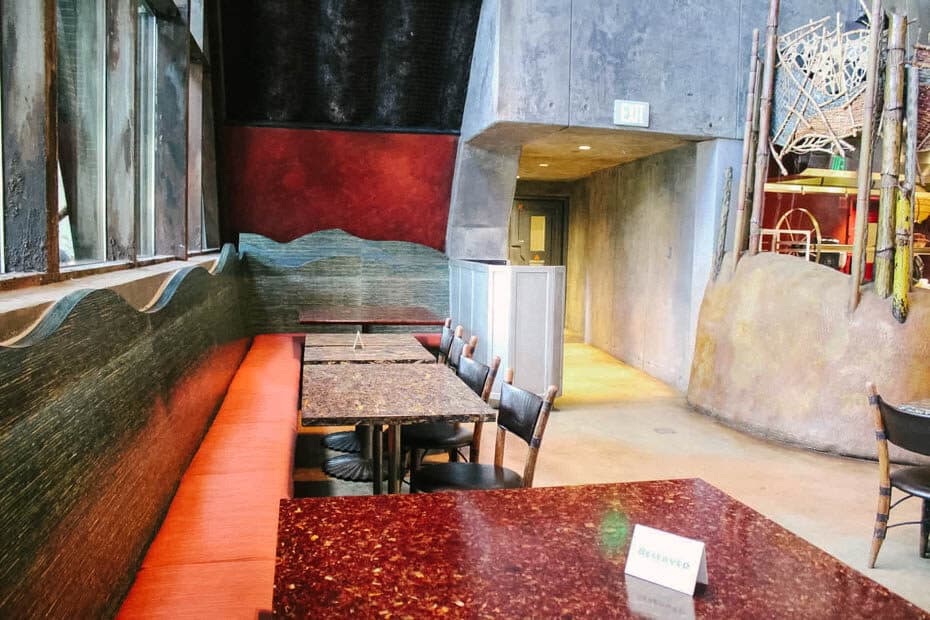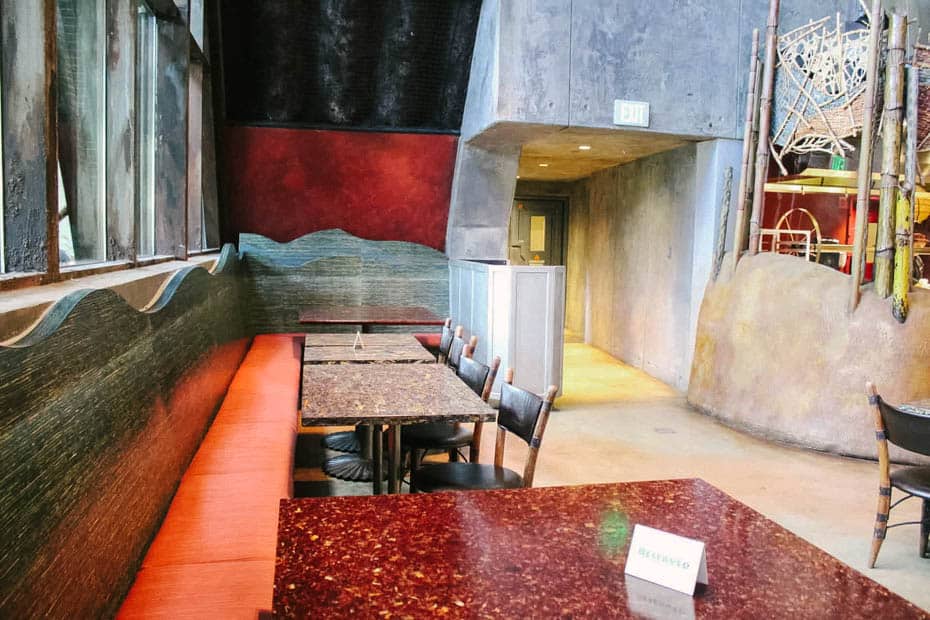 If the weather is nice you might opt for the outside seating area. I have a full review of Satu'li Canteen if you would like to learn more about dining here.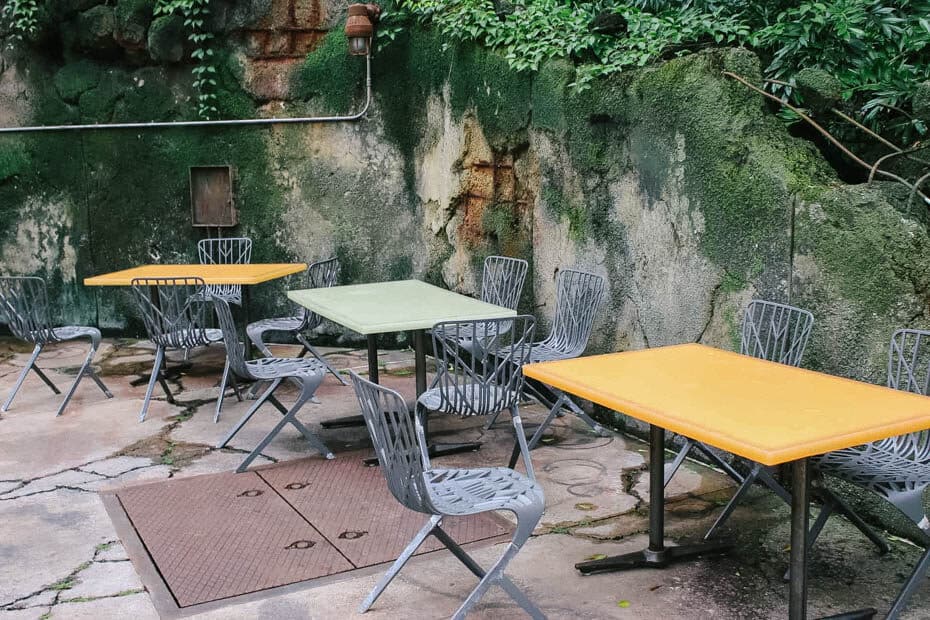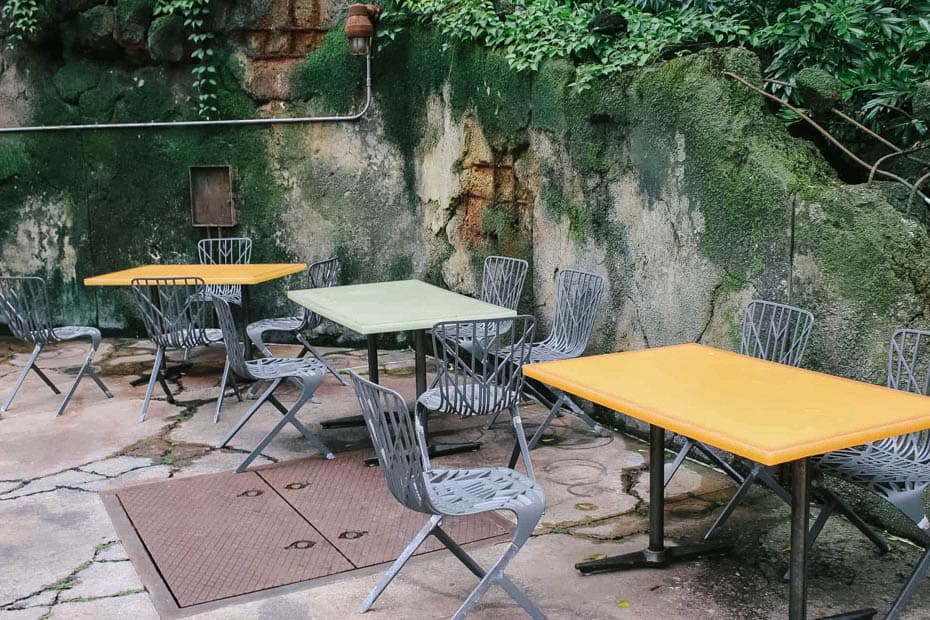 In the same area of Flights of Passage and Satu'li Canteen, there is a snack stand of sorts called Pongu Pongu.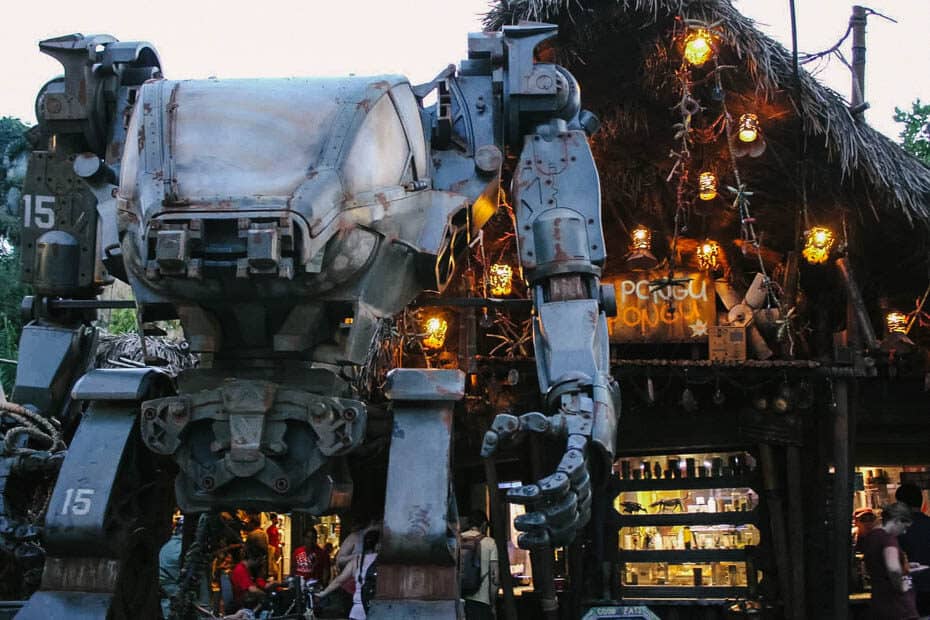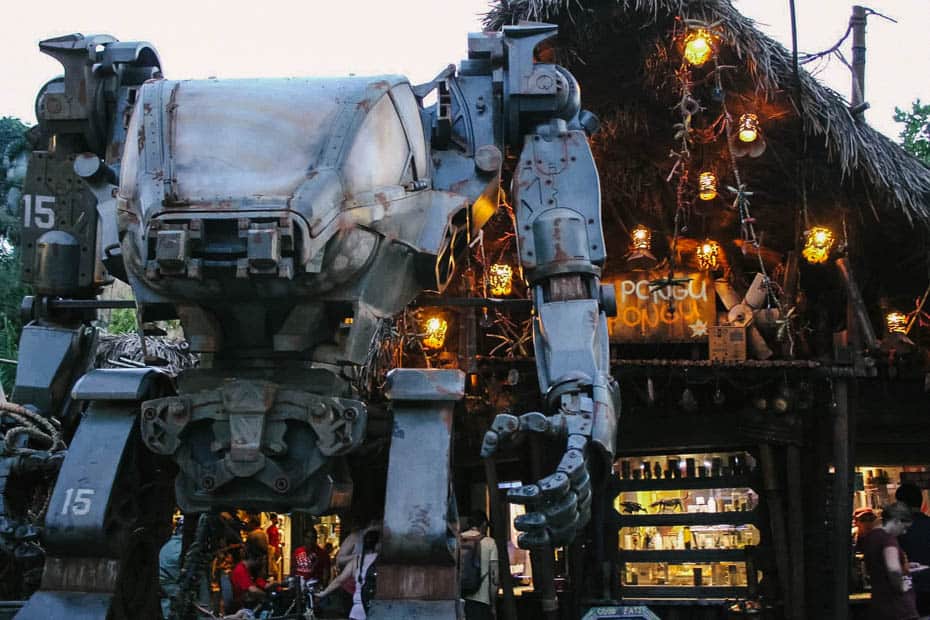 Pongu Pongu does offer a few breakfast items like a sausage biscuit and French toast sticks. For lunch and dinner, you will find a pretzel item and the popular Pongu Lumpia. That's Na' vi for pineapple cream cheese spring roll. It's a good treat and something a bit different.
This is also a place to pick up a beverage including a Mo'ara Margarita if desired.
Visiting Pandora World of Avatar at Night
One good turn always deserves another so if you visit Pandora in the daytime you really must return in the evening. I think this has become the case with most of the new lands that have opened within Disney in the past few years.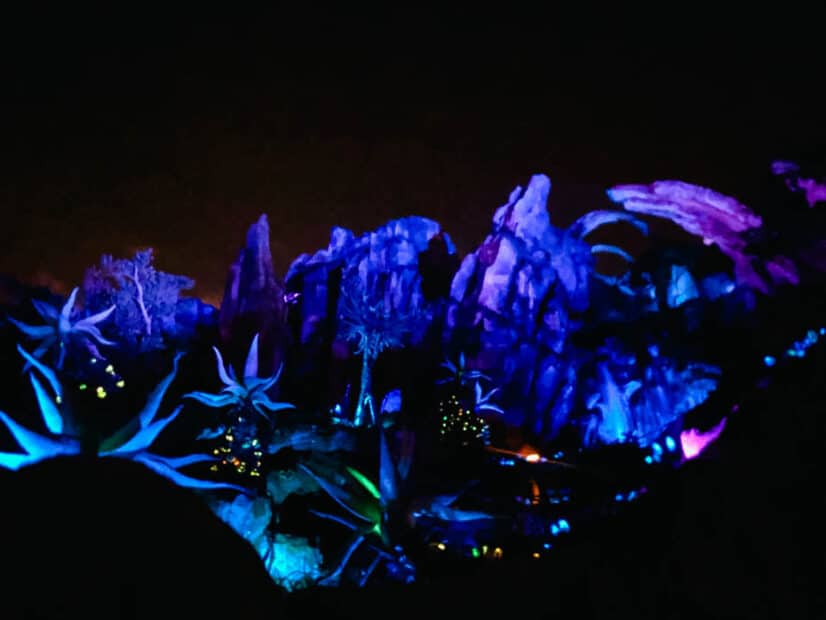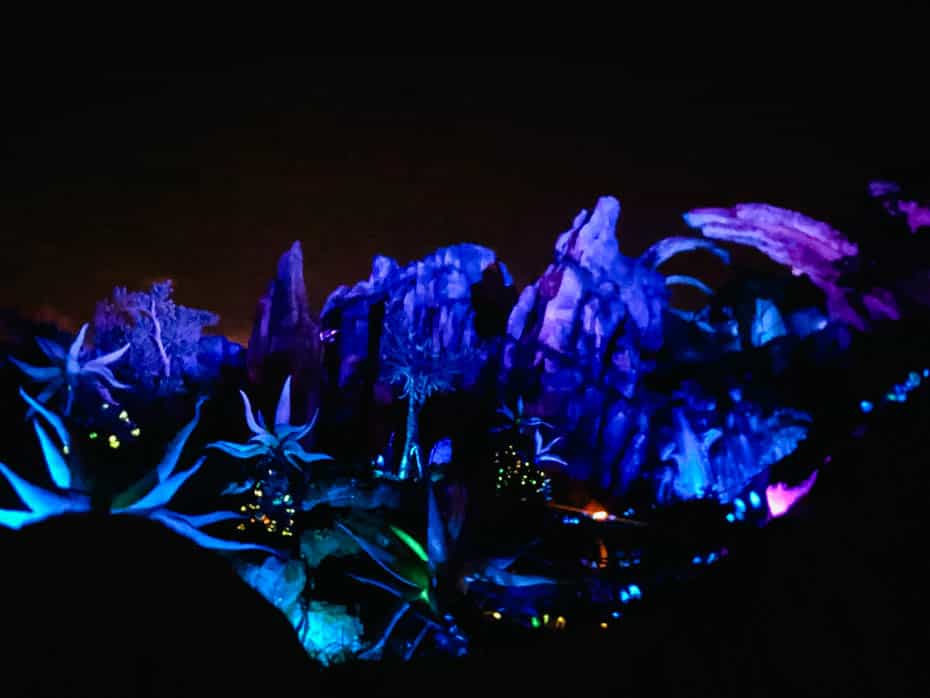 The land is covered in bioluminescence and glows in a way that is much prettier in person than in pictures.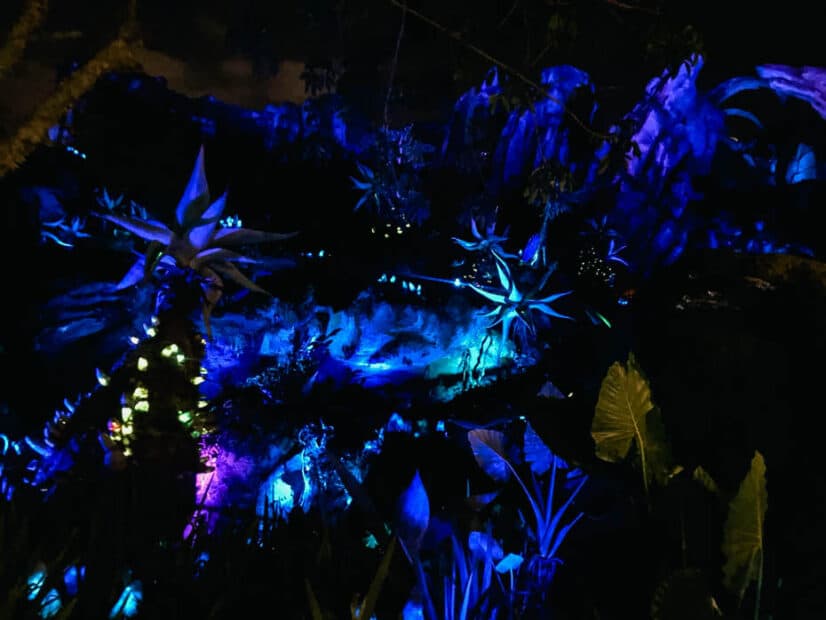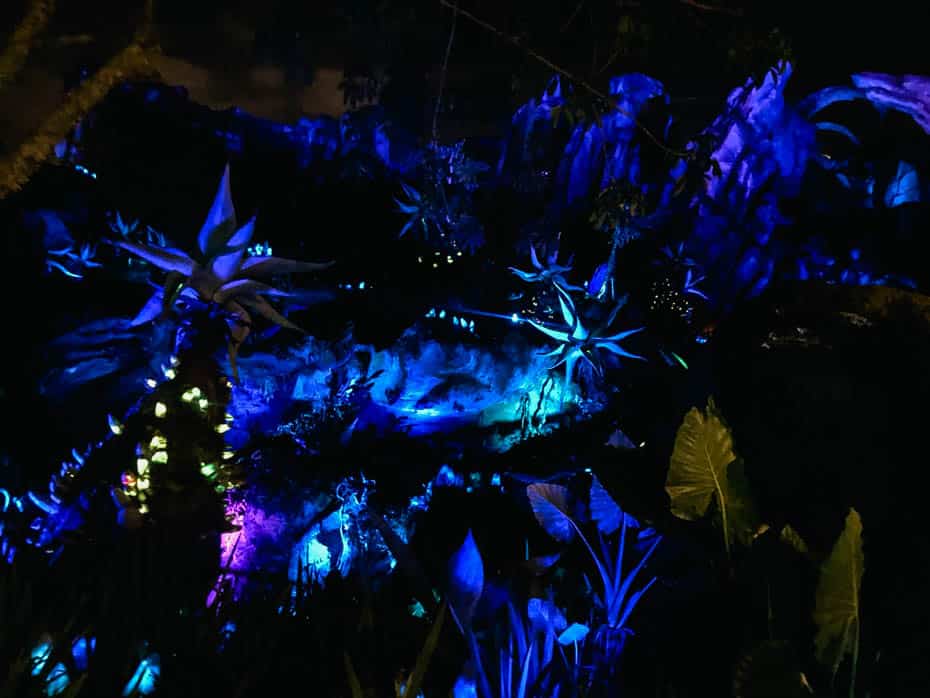 Well, my pictures. I'm not great at the whole nighttime photo thing.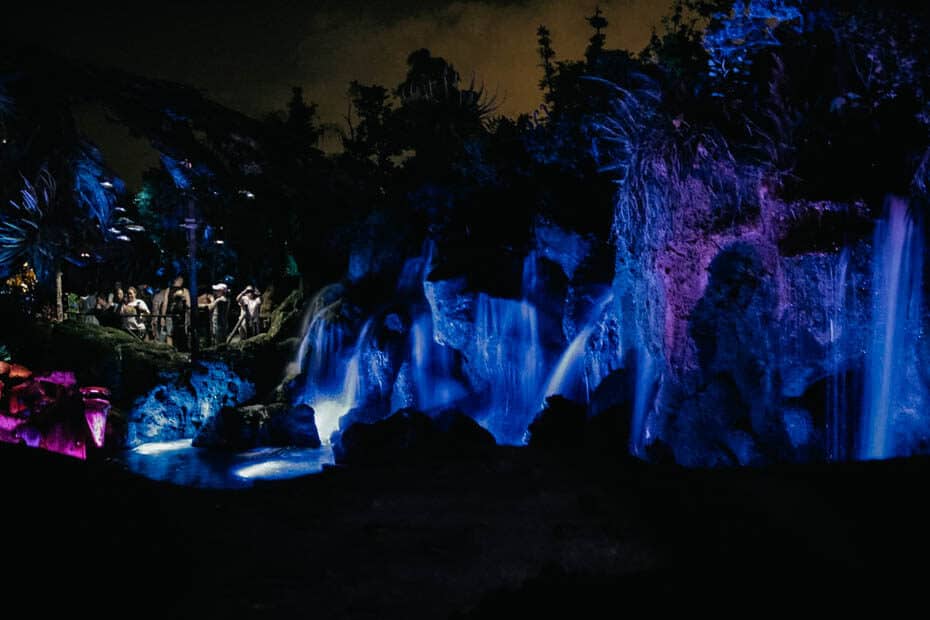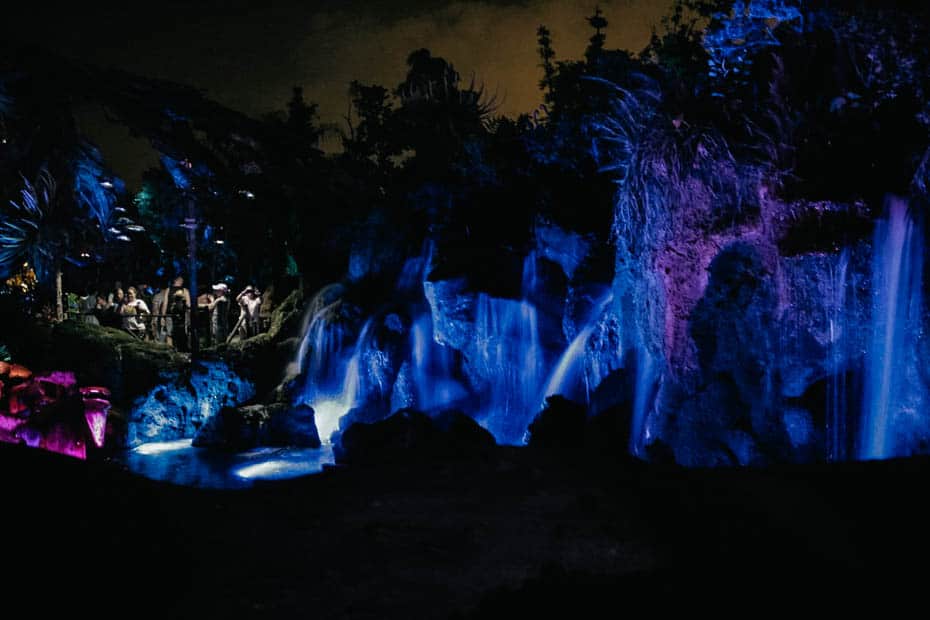 But Pandora is just as beautiful in the evening as in the daytime.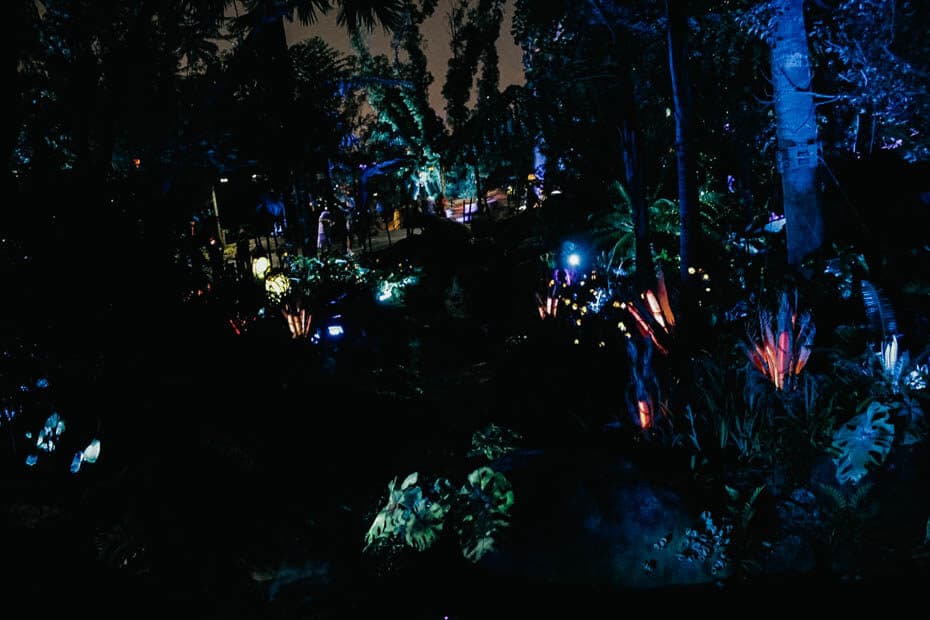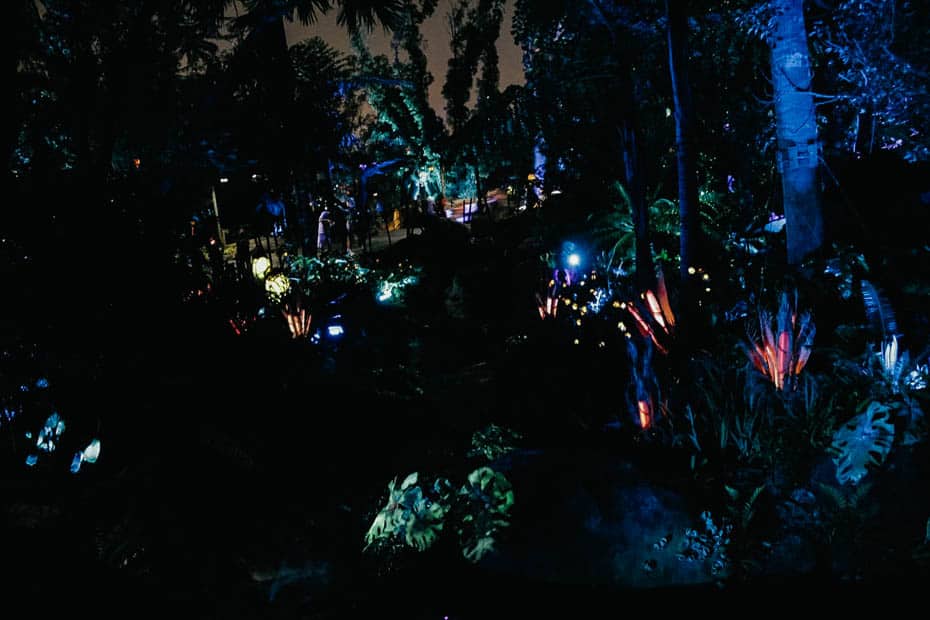 The faux florals glow and the floating mountains do a nice job of transporting you to the look and feel of another planet.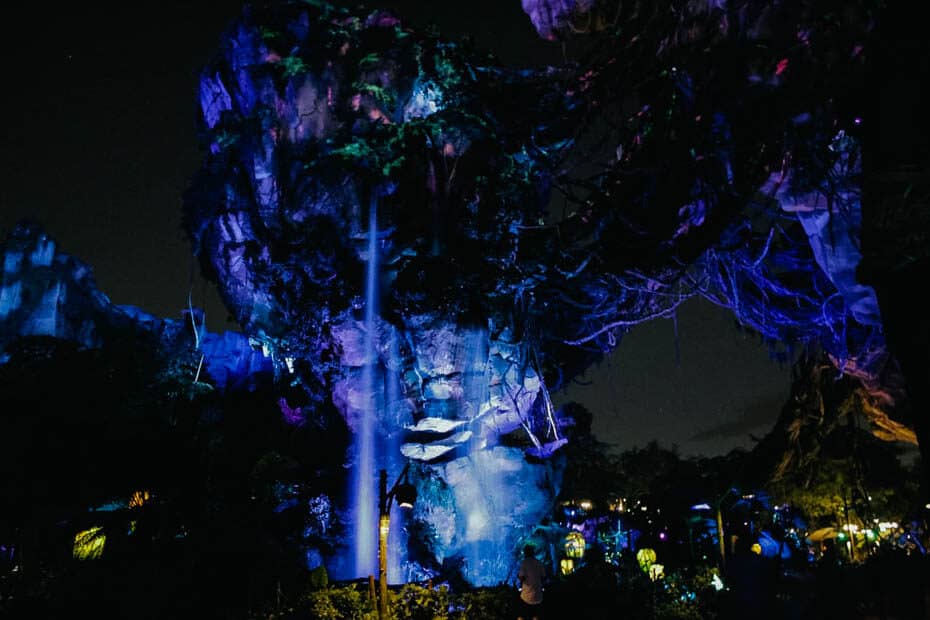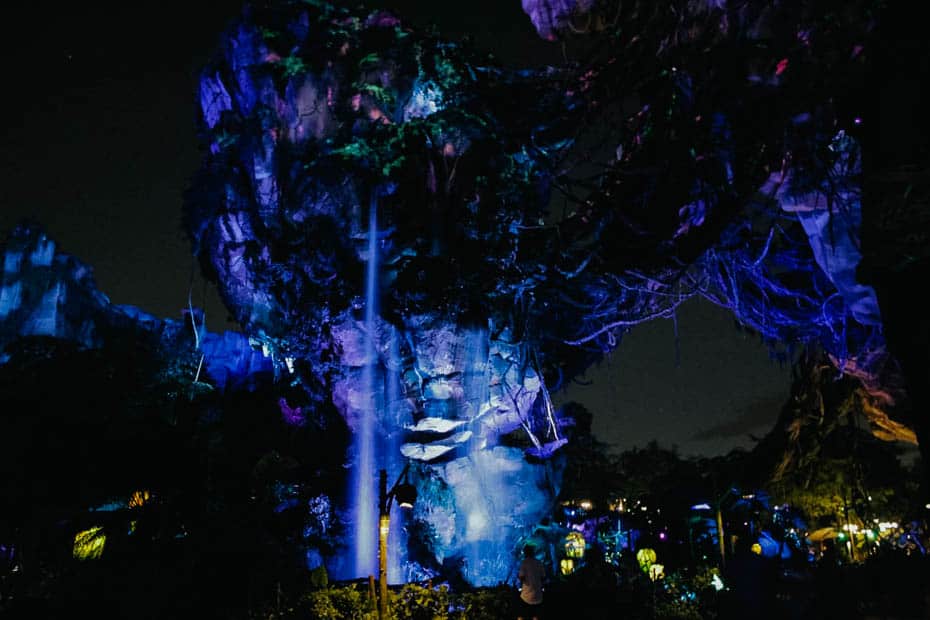 I love all the waterfalls and the effect they give to the area.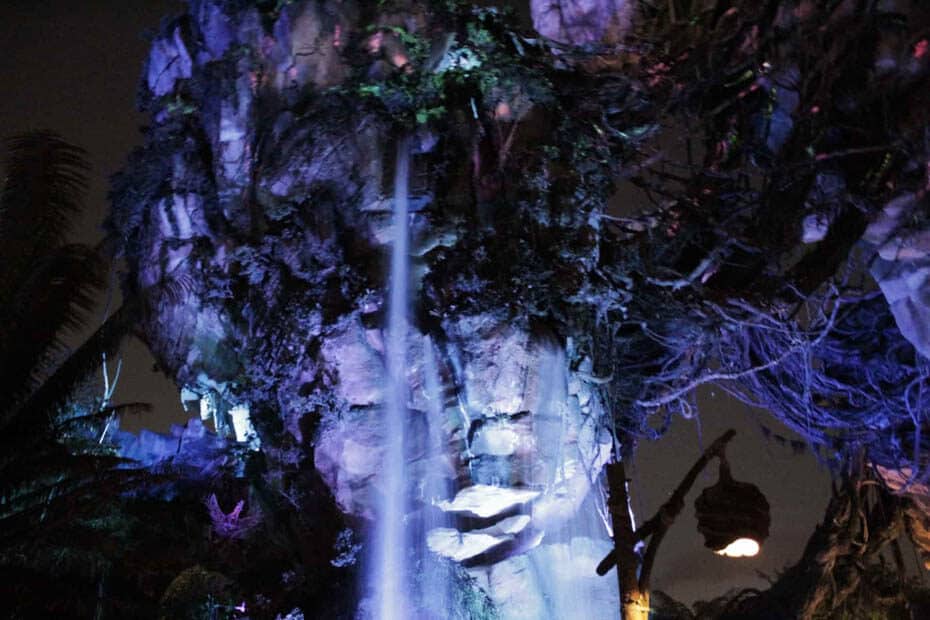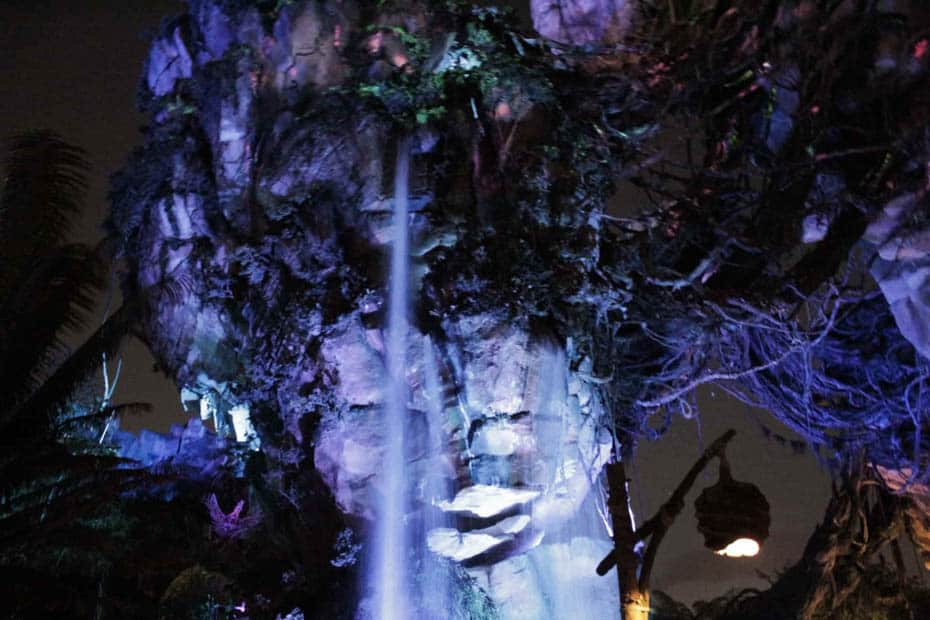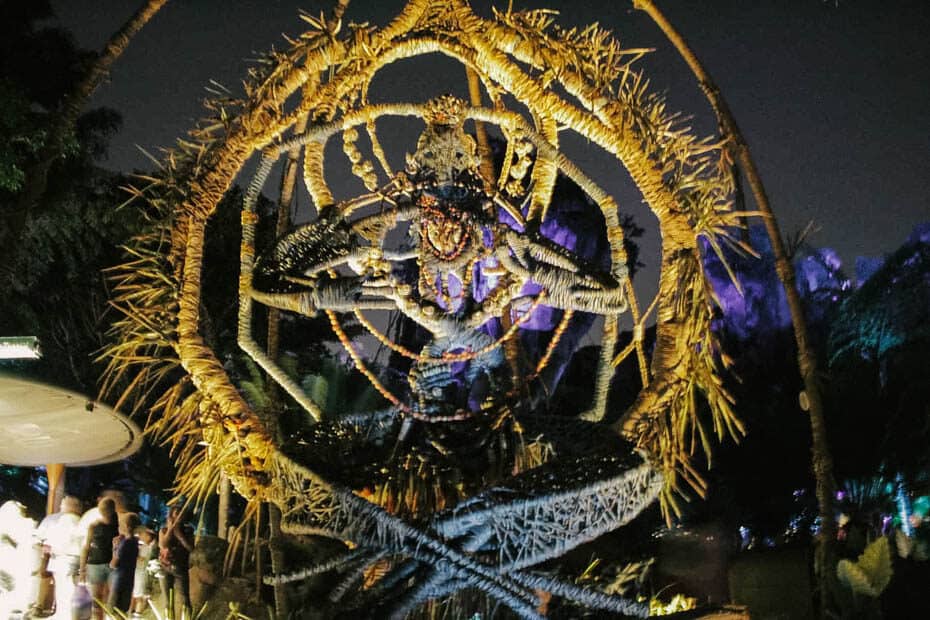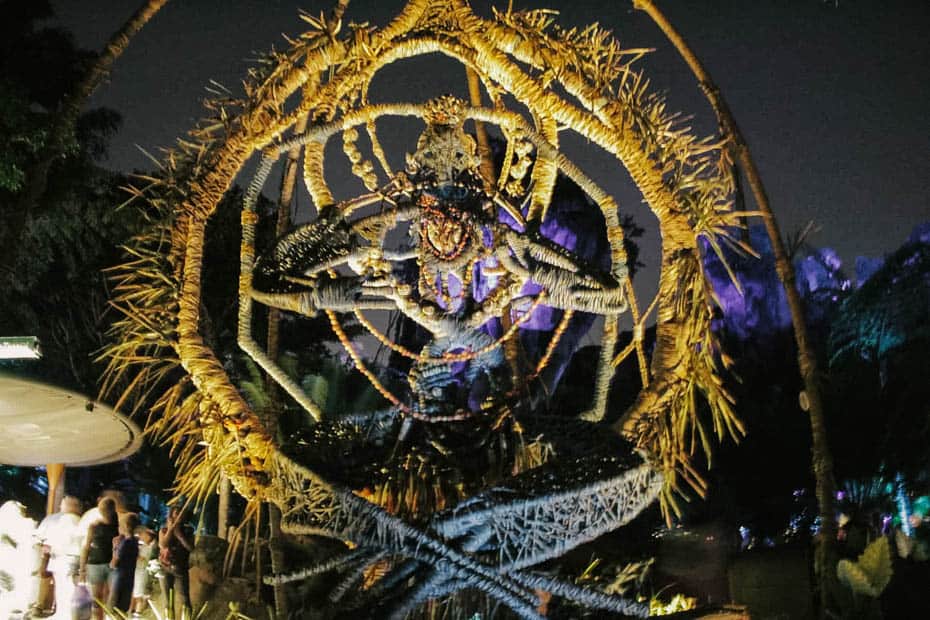 You might even run into a drum ceremony at some time during your visit.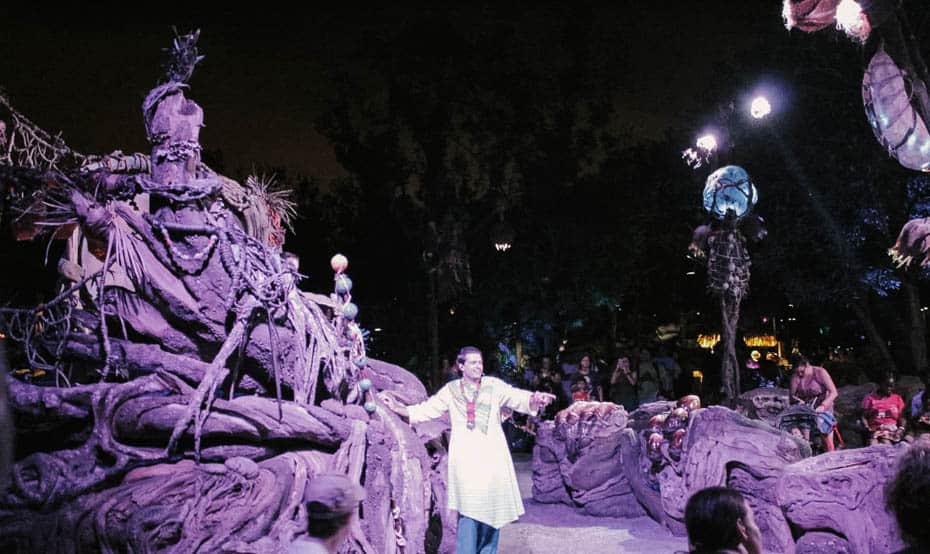 Pandora, World of Avatar at Animal Kingdom Photo's
It's easier to show you the land in some instances than tell you about it.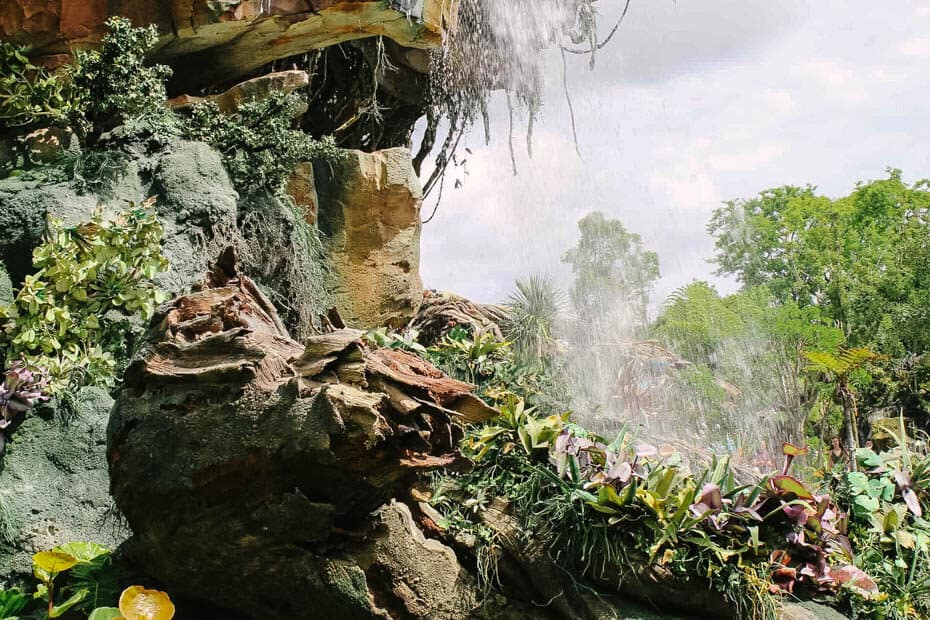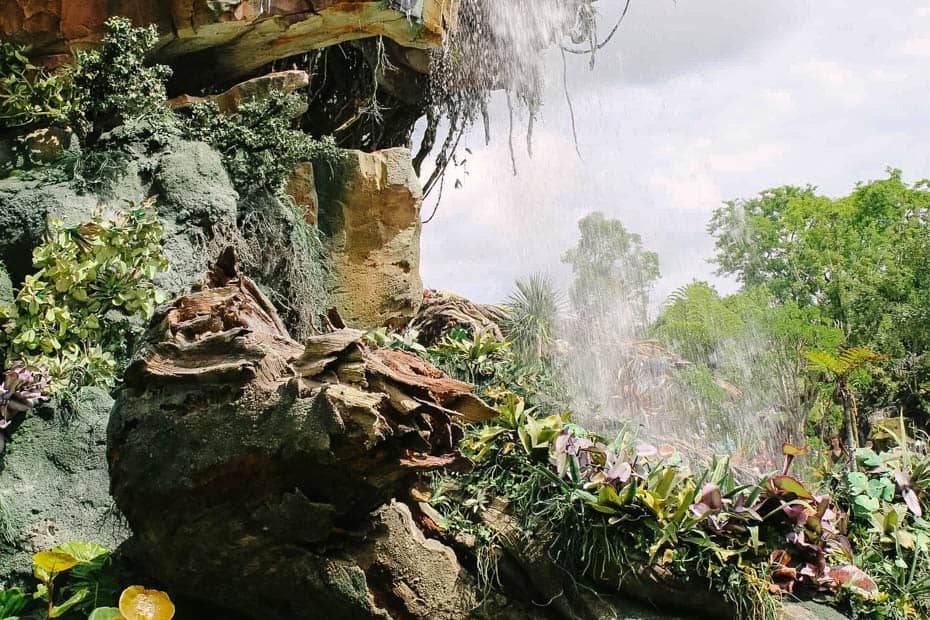 There are so many picturesque spots.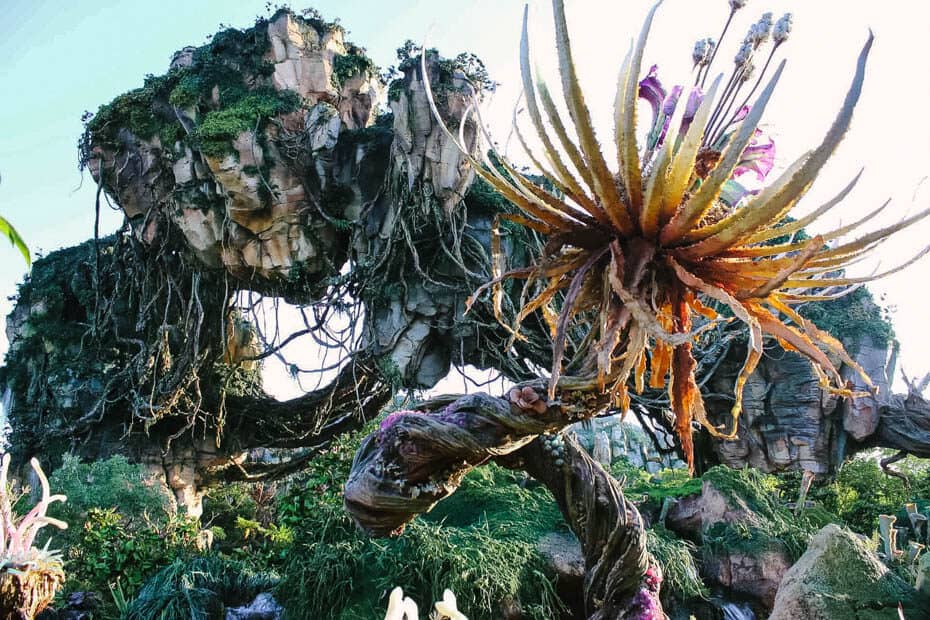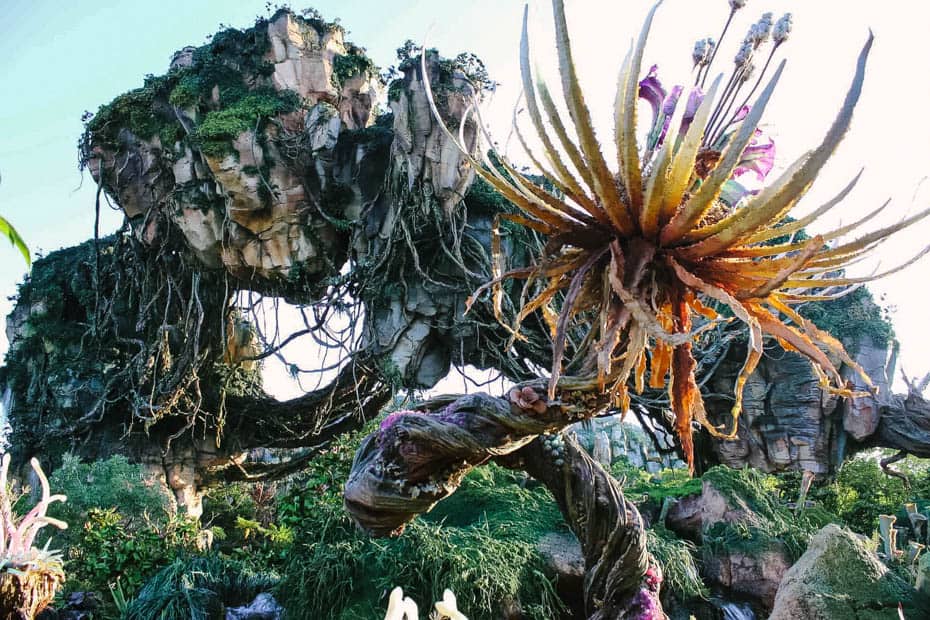 You'll want to set aside some time to walk through the trails and see everything.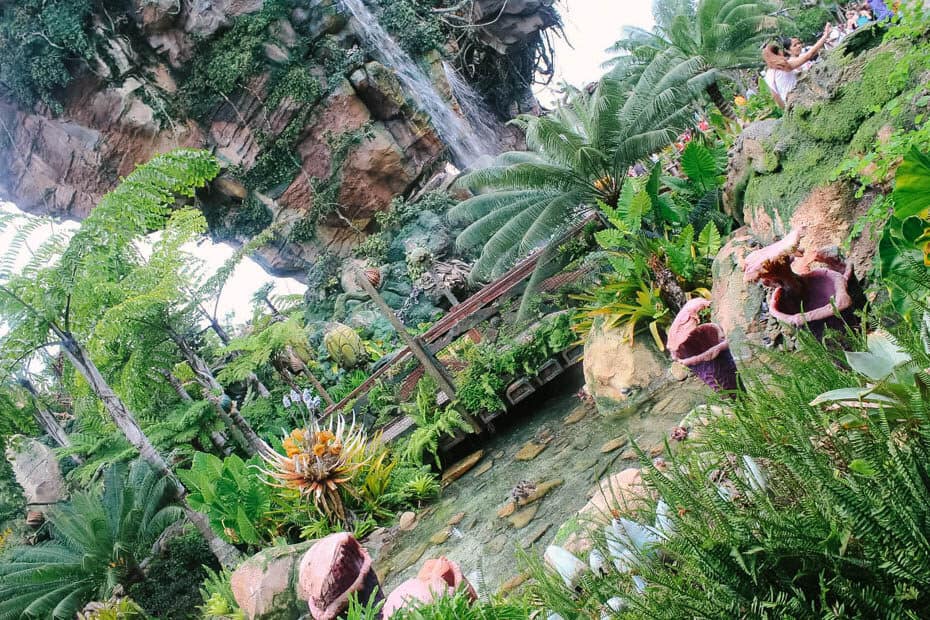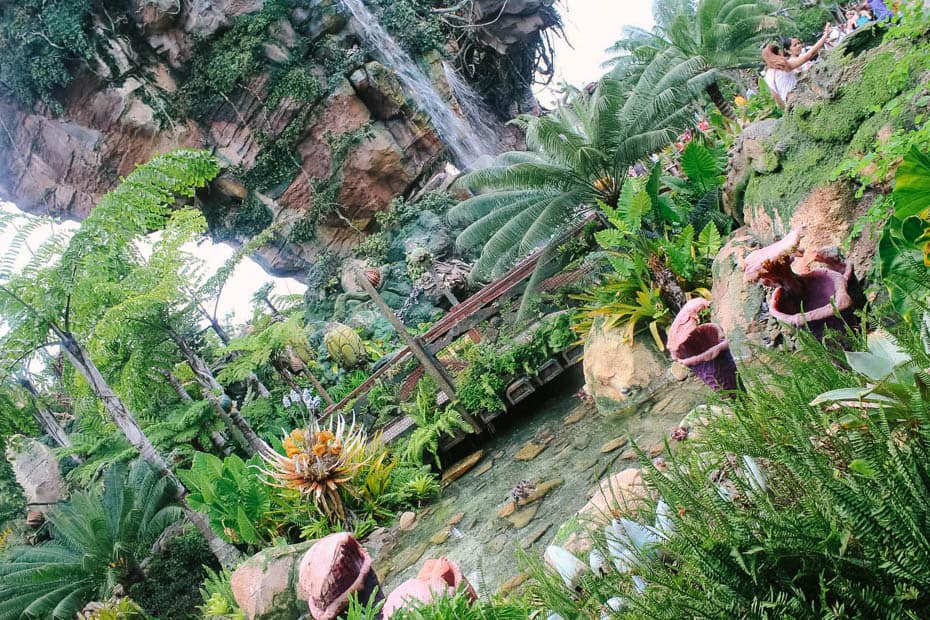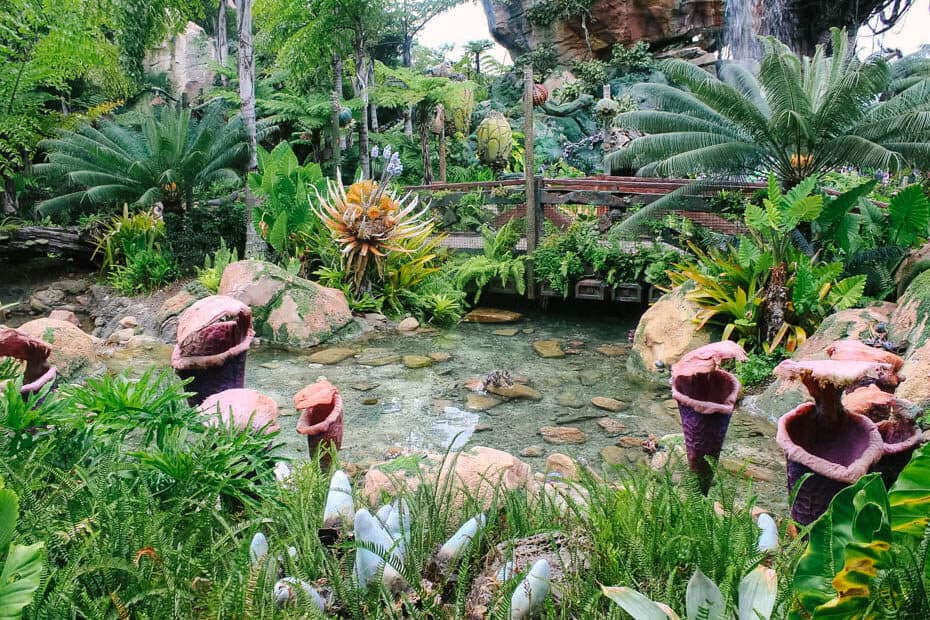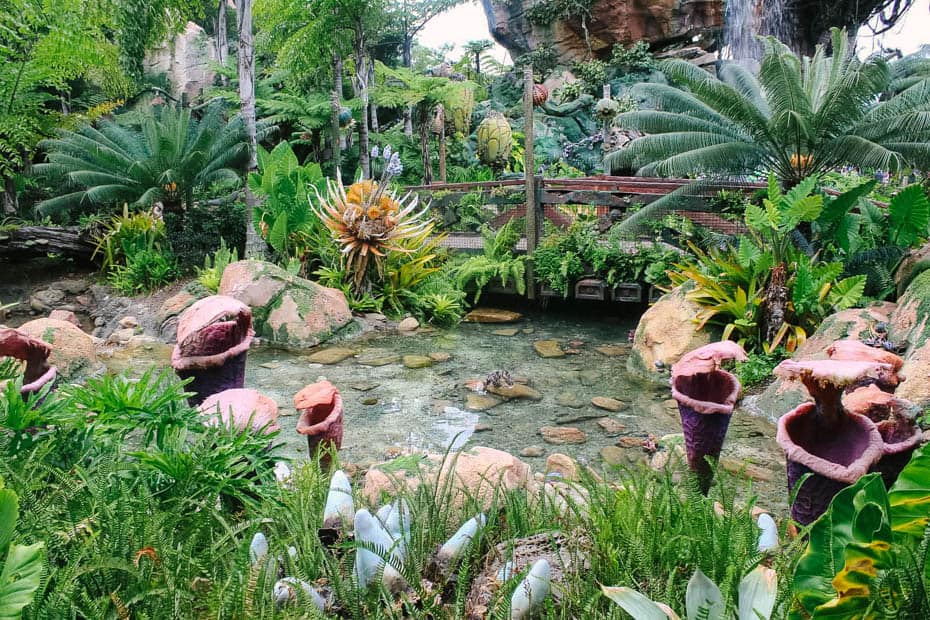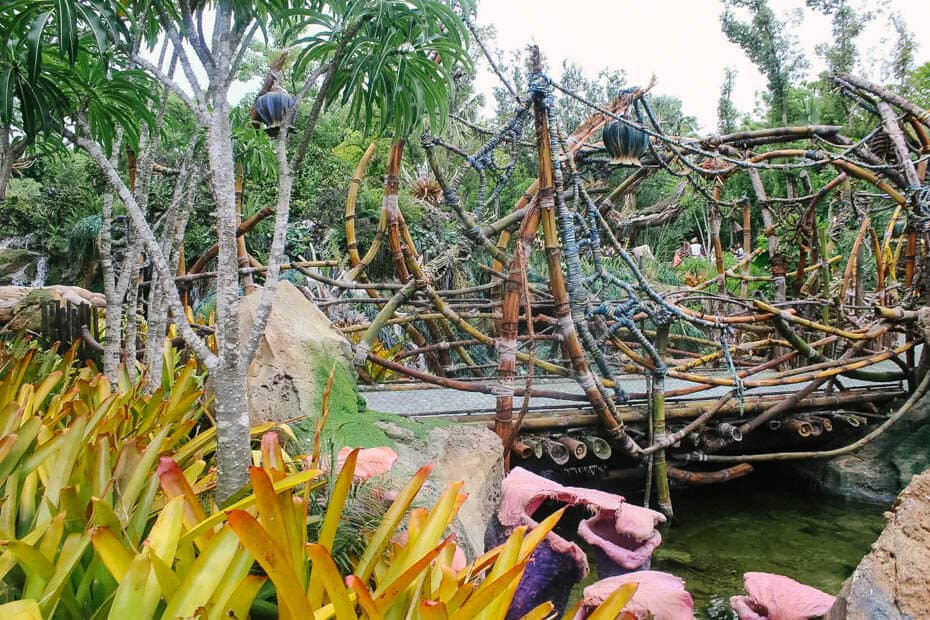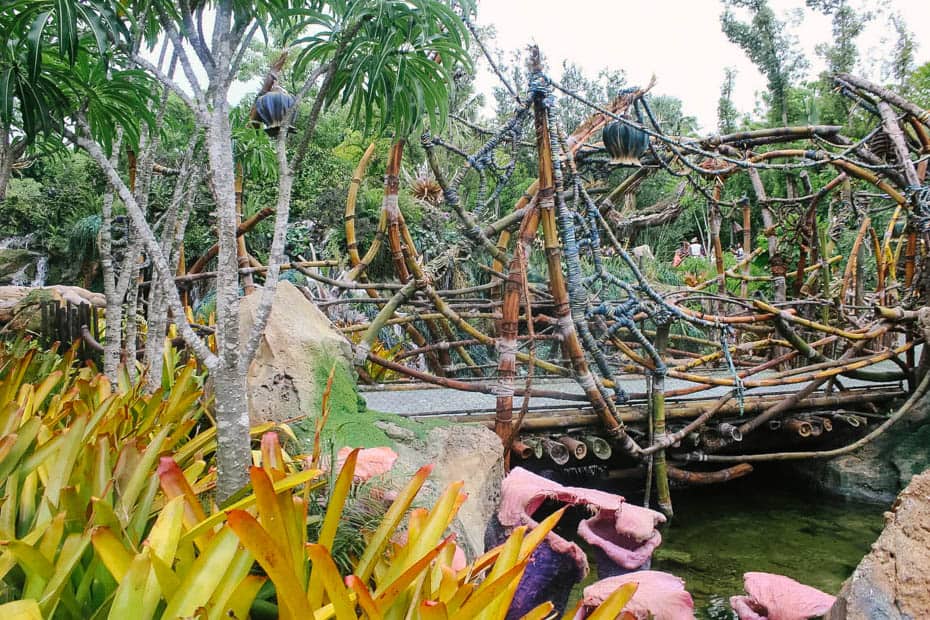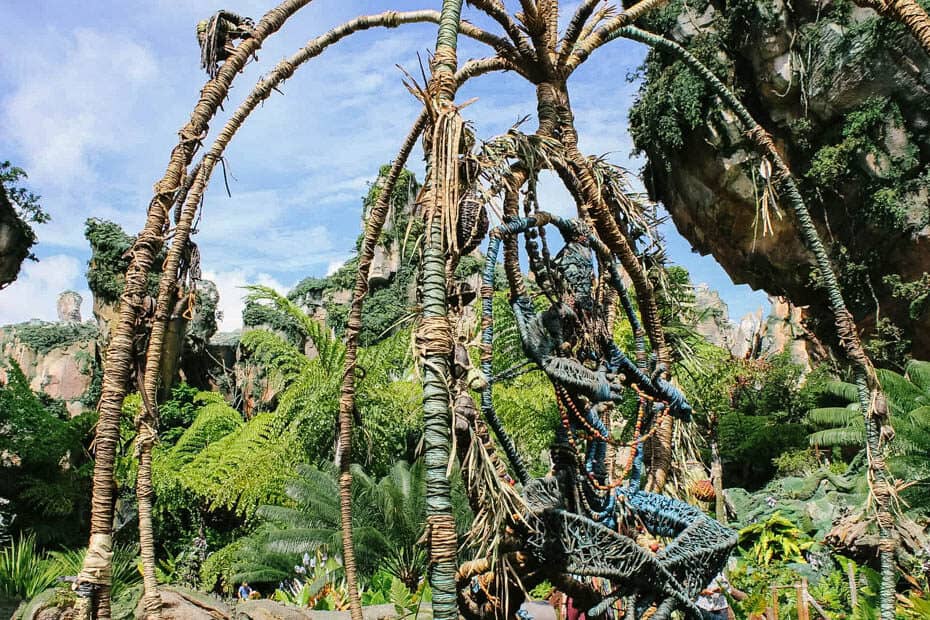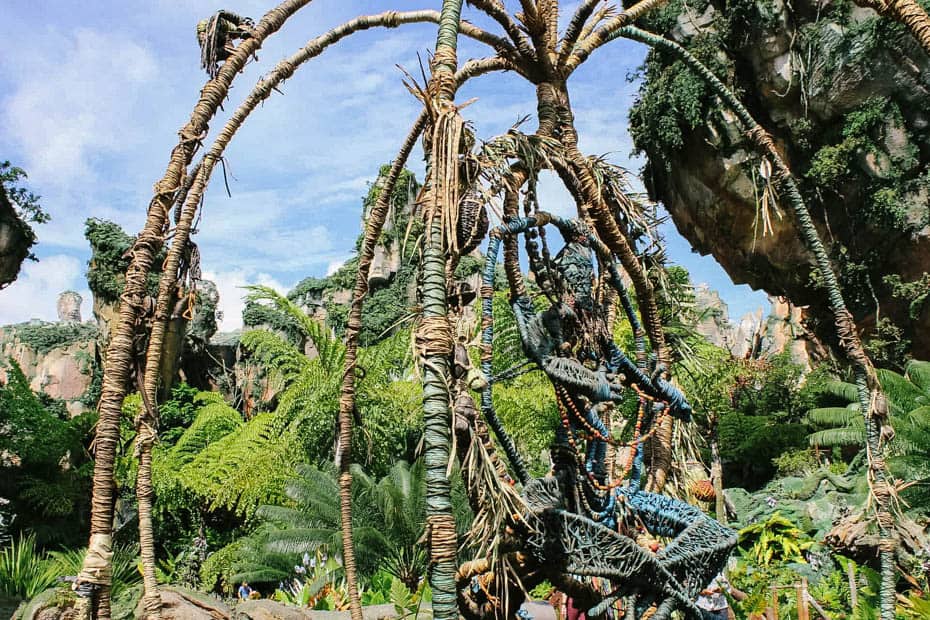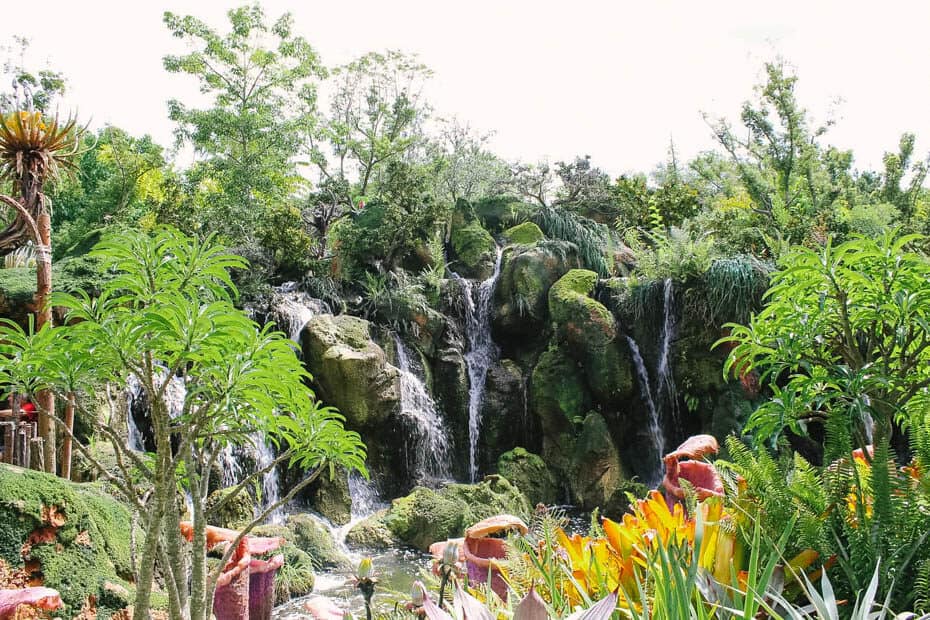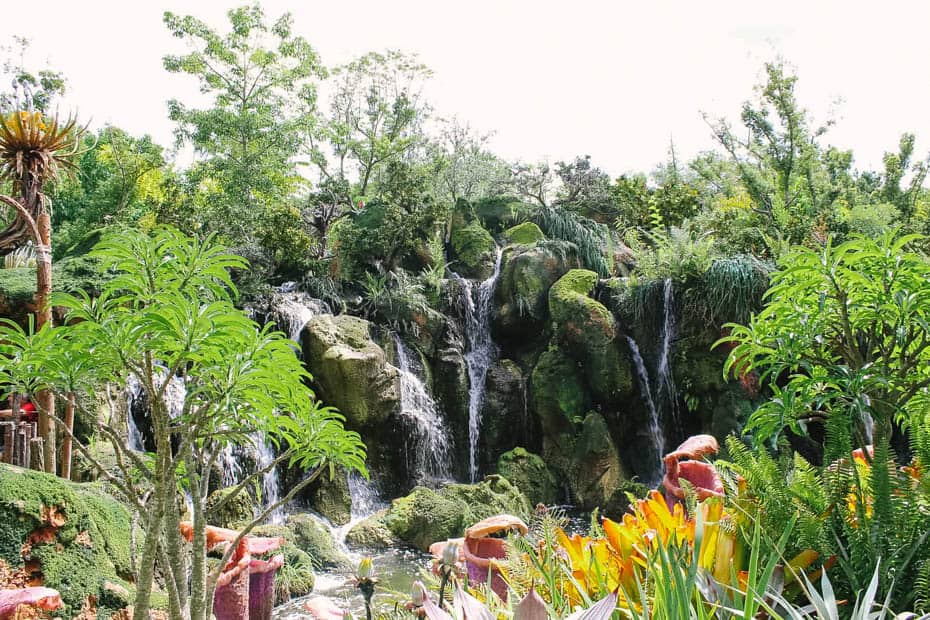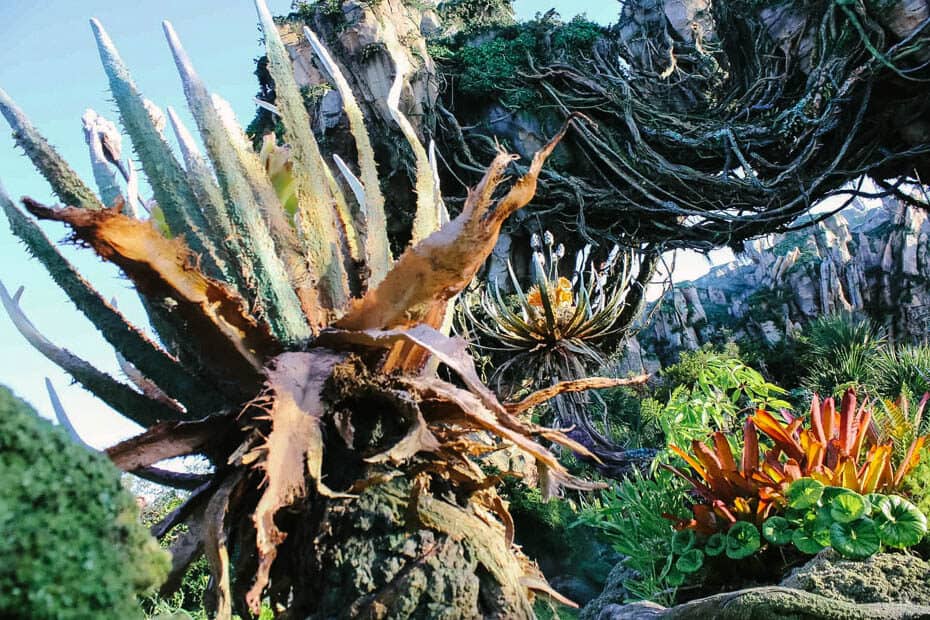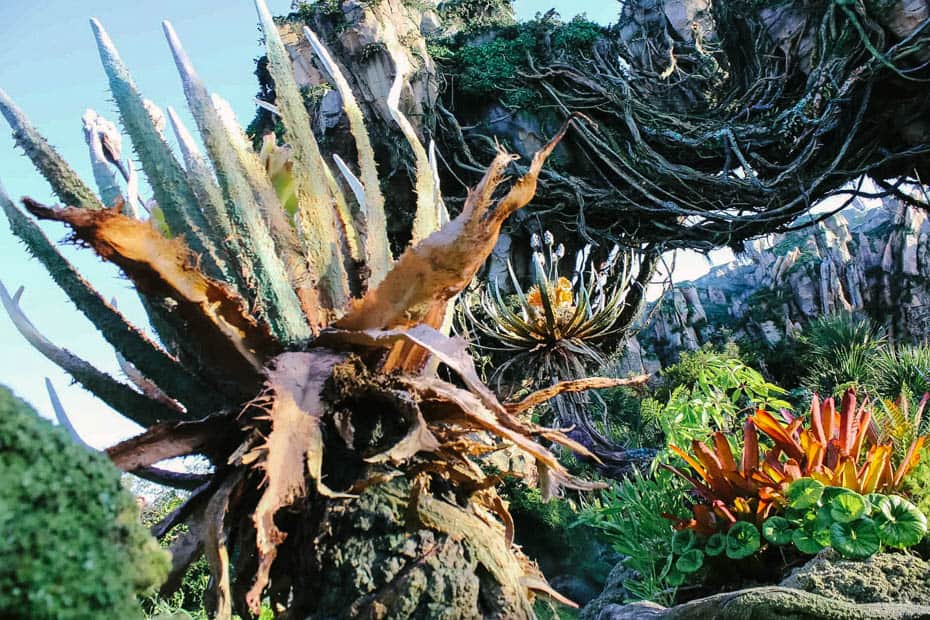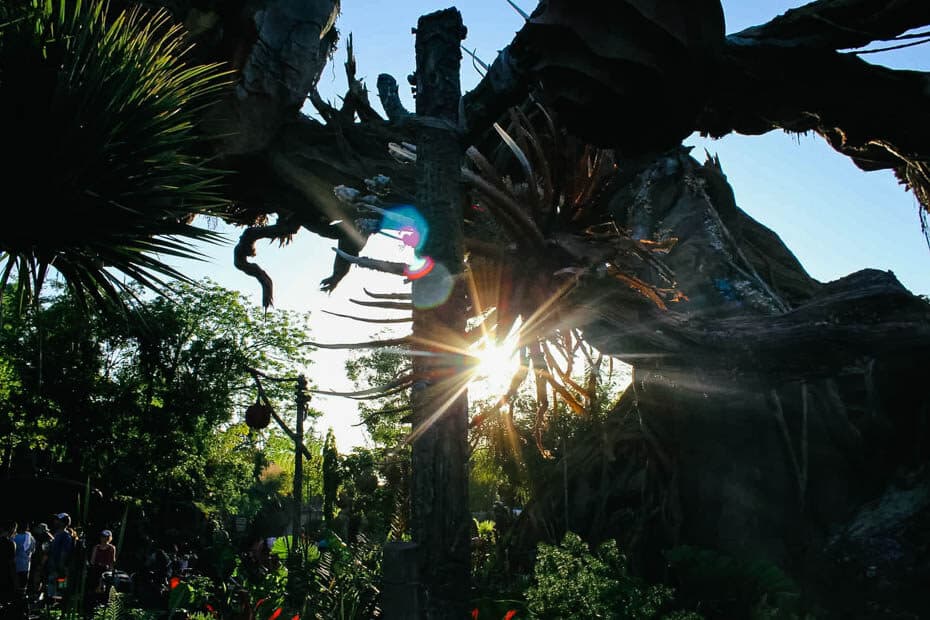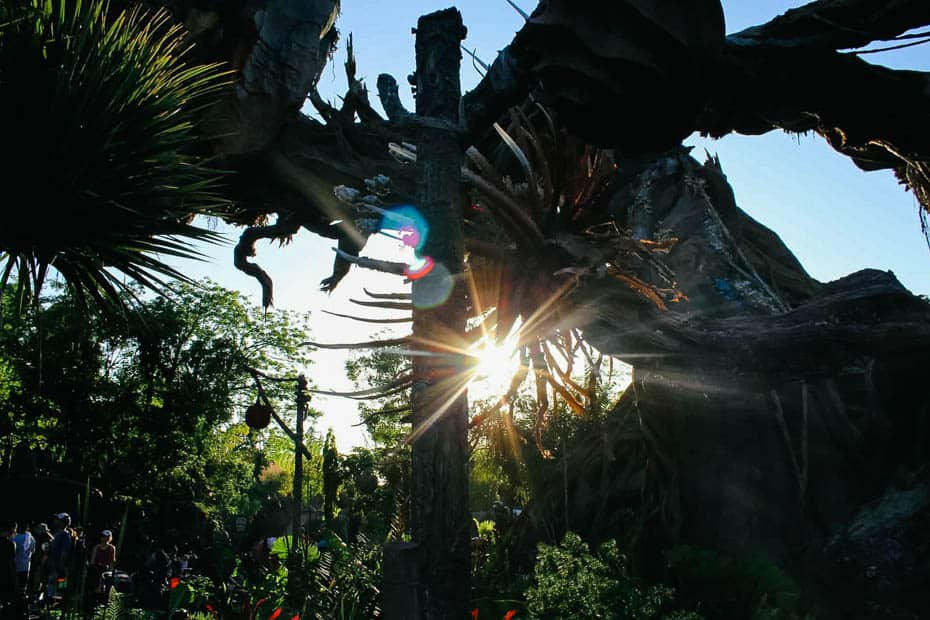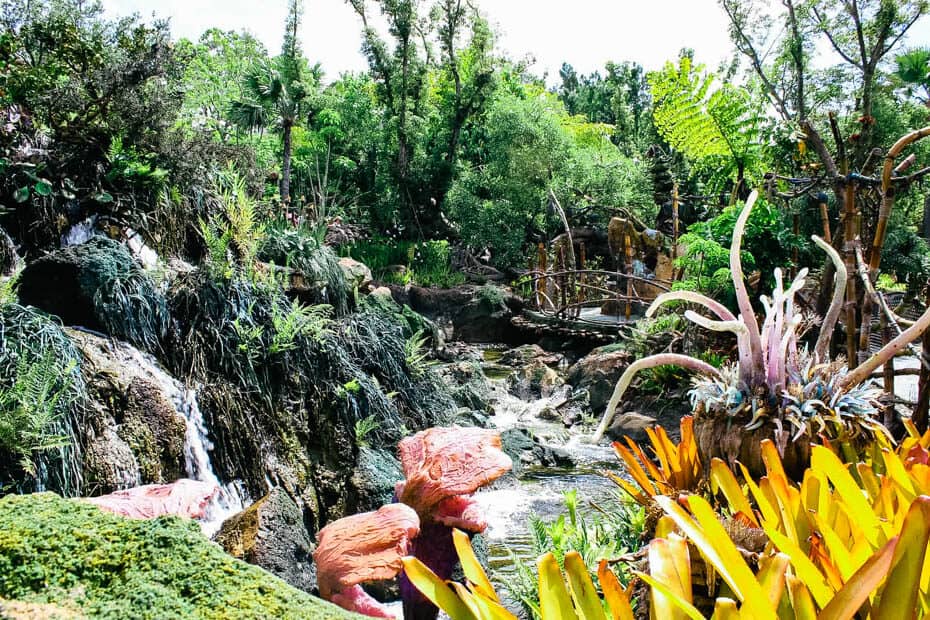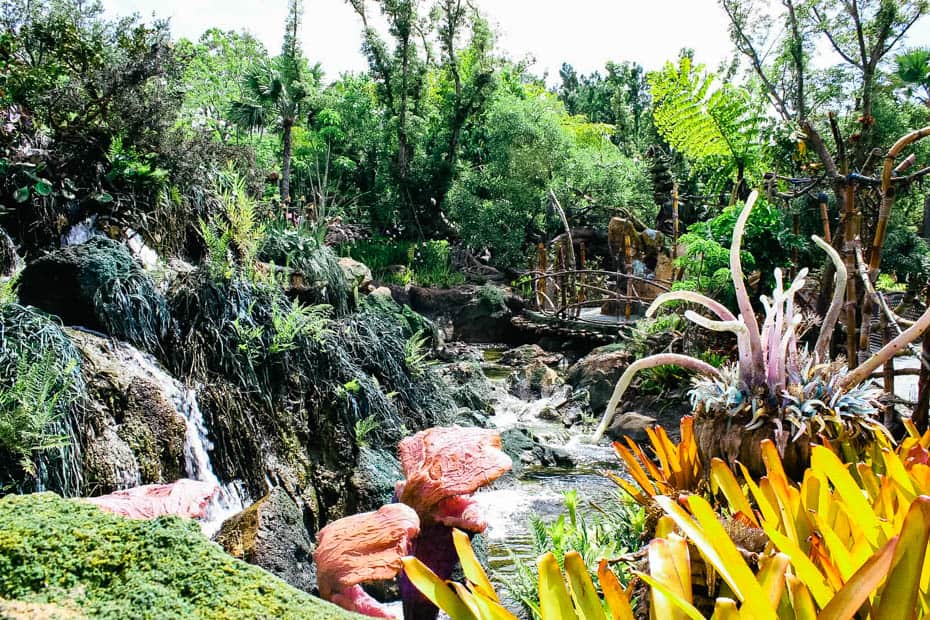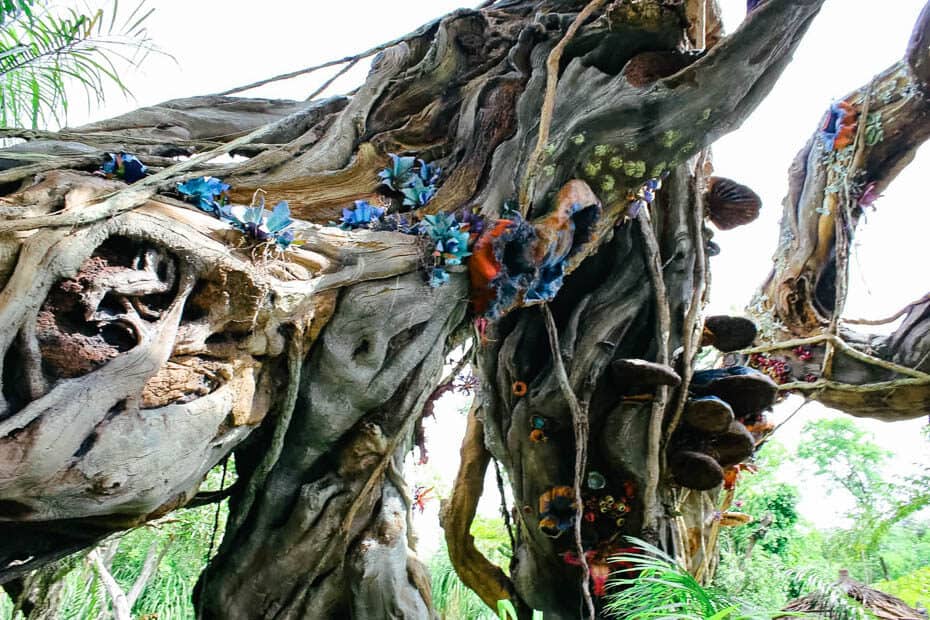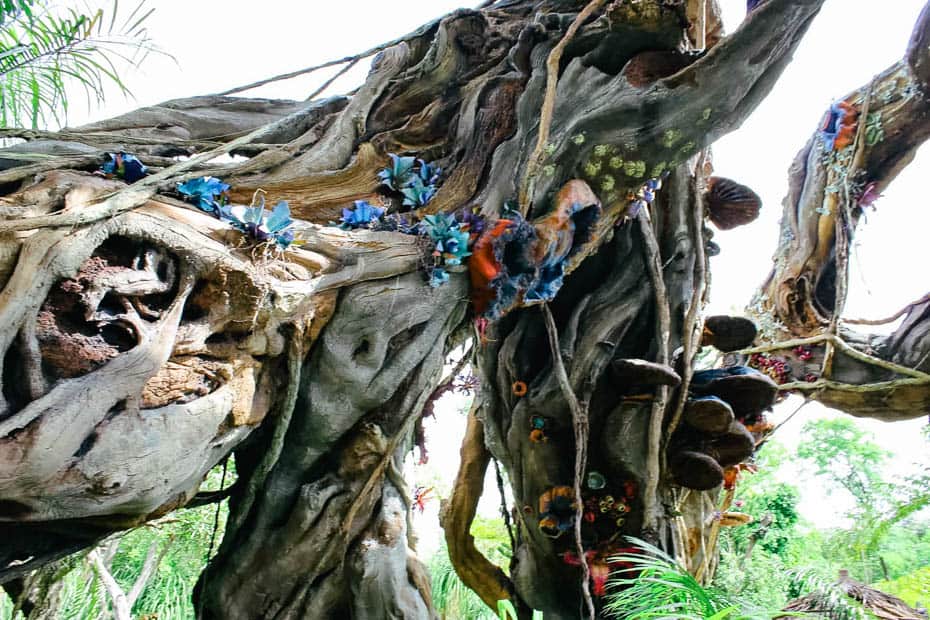 Final Thoughts on Pandora at Disney World
Pandora the World of Avatar at Disney's Animal Kingdom is a truly immersive experience. The work that was completed here to bring this land to life is awe-inspiring.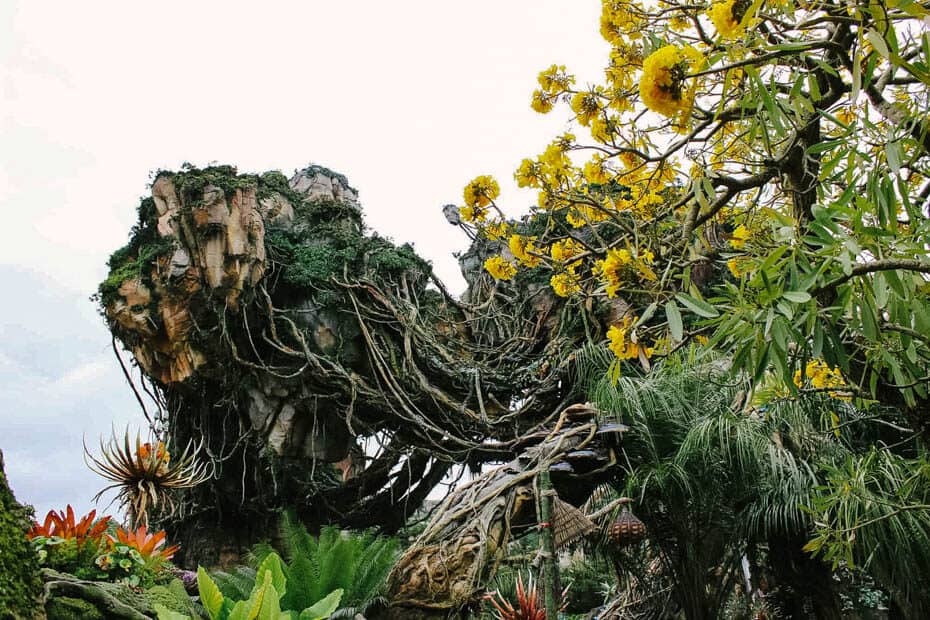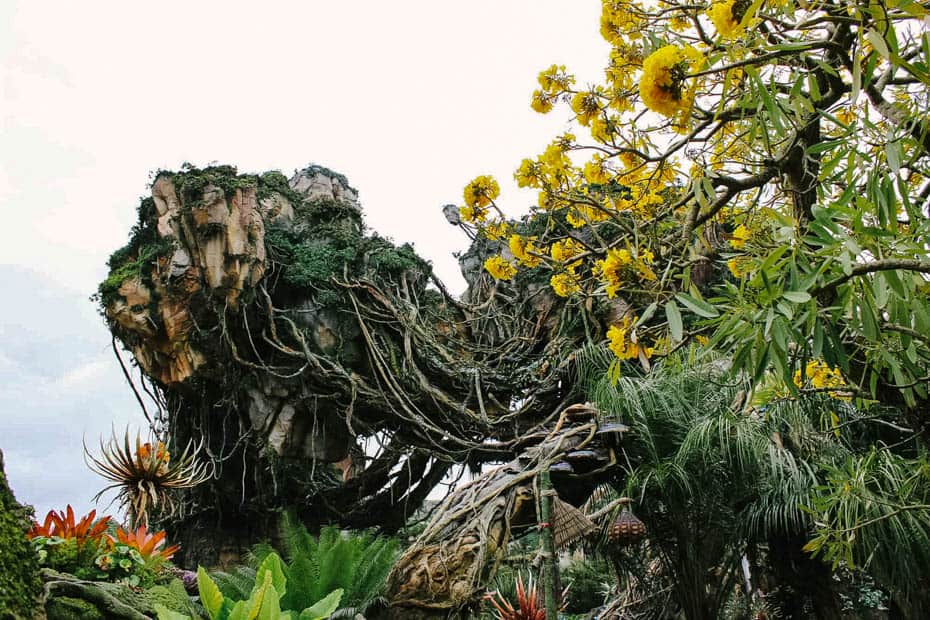 It's really like nothing you have ever seen.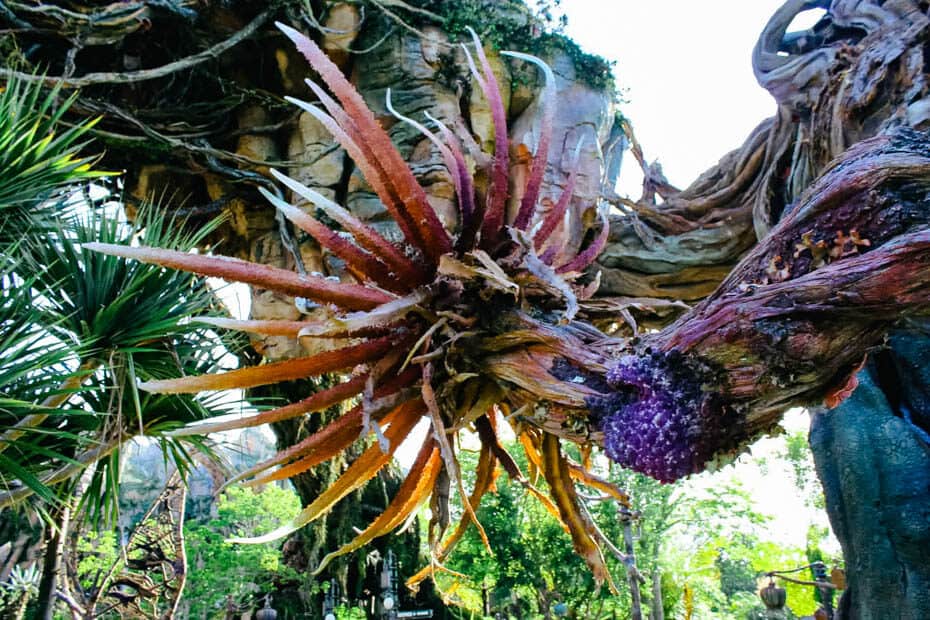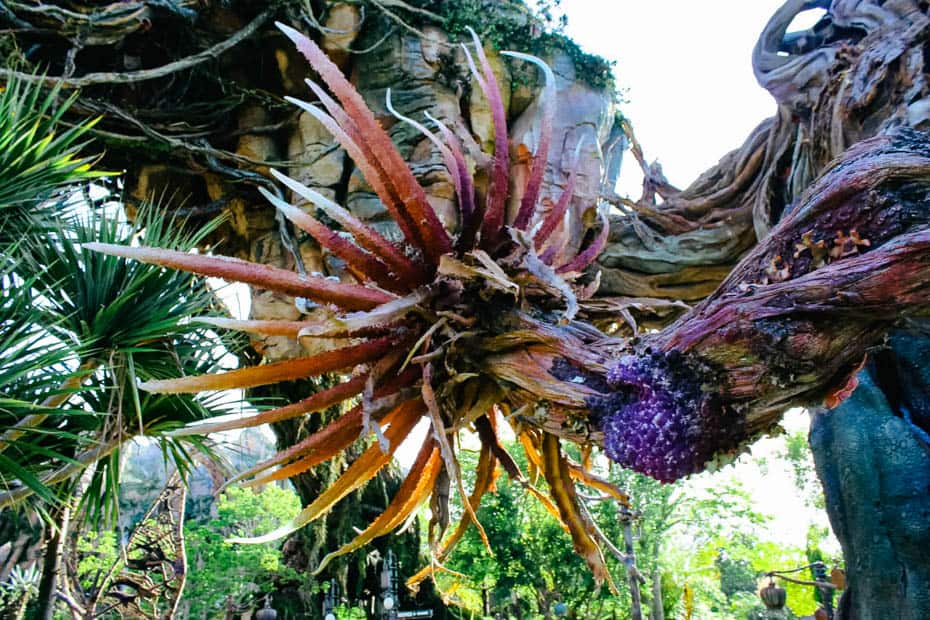 There have been many days that I come here for a break and just try to take in the surroundings. That's one of the things that makes Animal Kingdom so special for visitors. It's a park that promotes a relaxing undertone.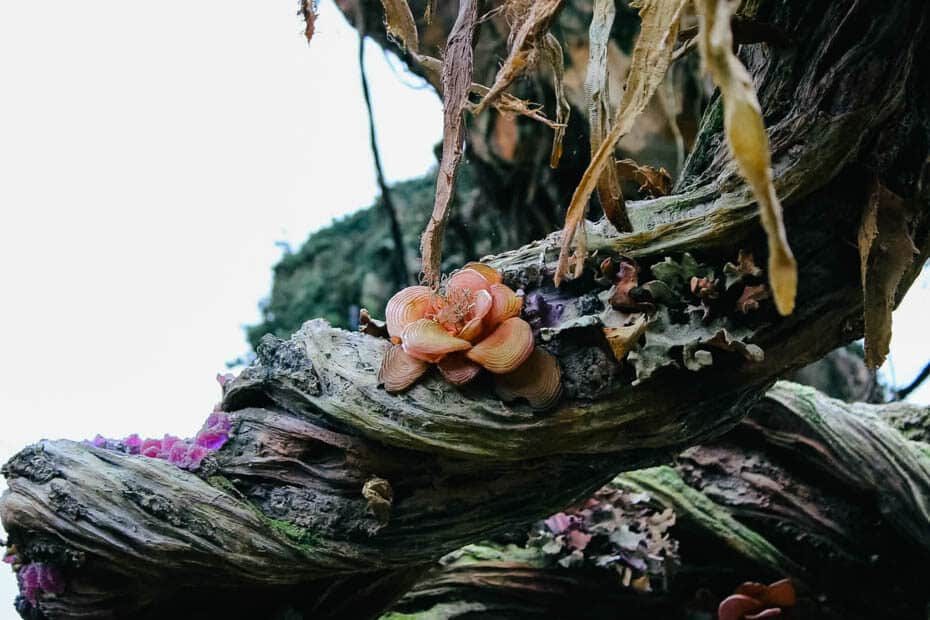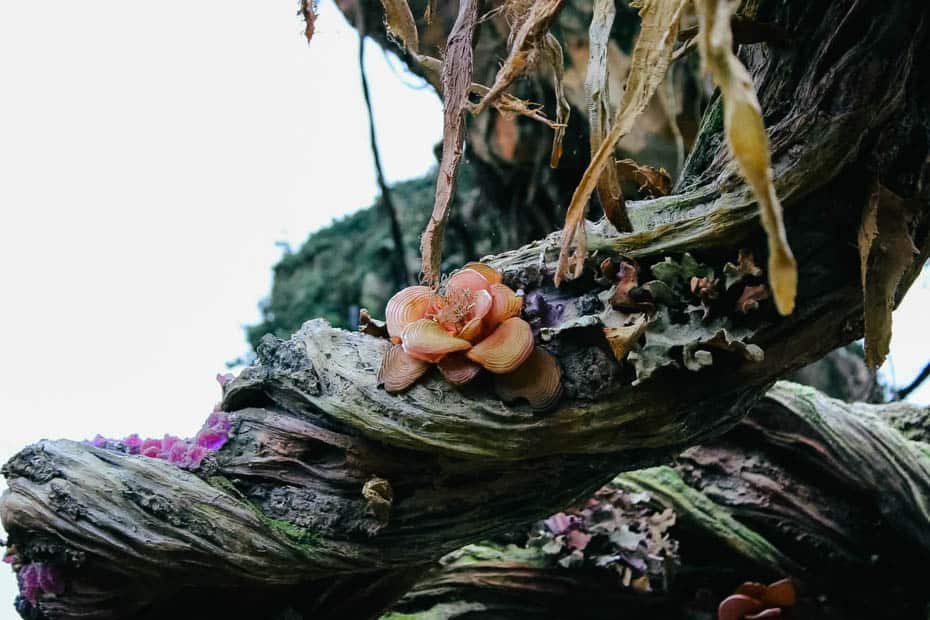 You might also enjoy these other Animal Kingdom reviews:
For those of you who haven't made up your mind where to stay on your next Disney vacation, check out our list of Walt Disney World Hotel Reviews here.
Related:
I hope you'll enjoy your time in Pandora, World of Avatar. Leave a comment below with what you are looking forward to seeing when you visit!