Satu'li Canteen Review at Animal Kingdom
Satu'li Canteen is a counter servicing dining location in Disney's Animal Kingdom theme park. This dining location opened a few years back with the rest of Pandora, World of Avatar. Hence, the alien name.
You'll find Satu'li Canteen in the back corner or Pandora near the entrance to Flight of Passage.
When you visit Disney, there are always places that you look forward to dining at more than others. Anyone who has visited Satu'li Canteen before can tell you this popular quick service is one of them. The food is plain ole good.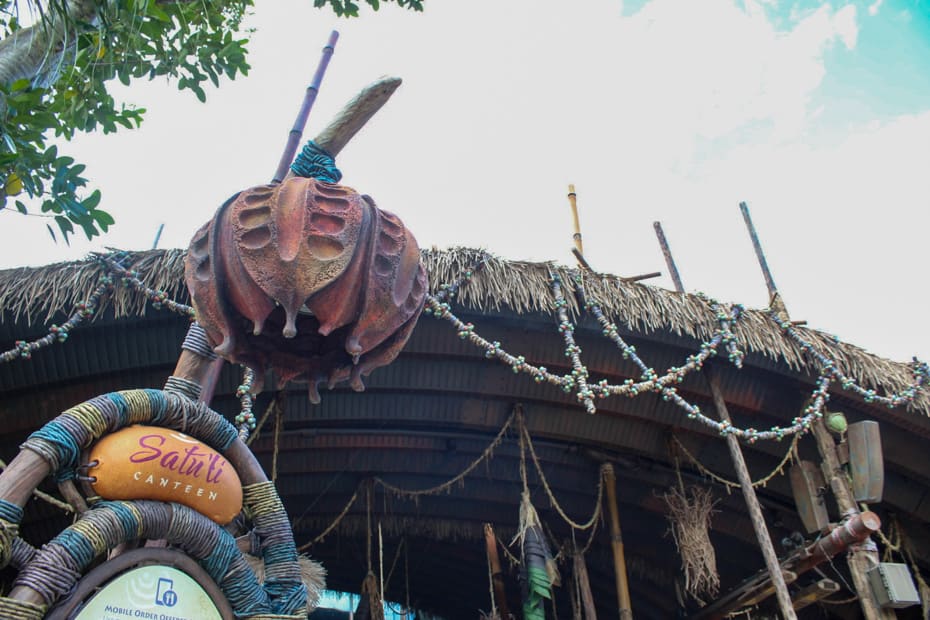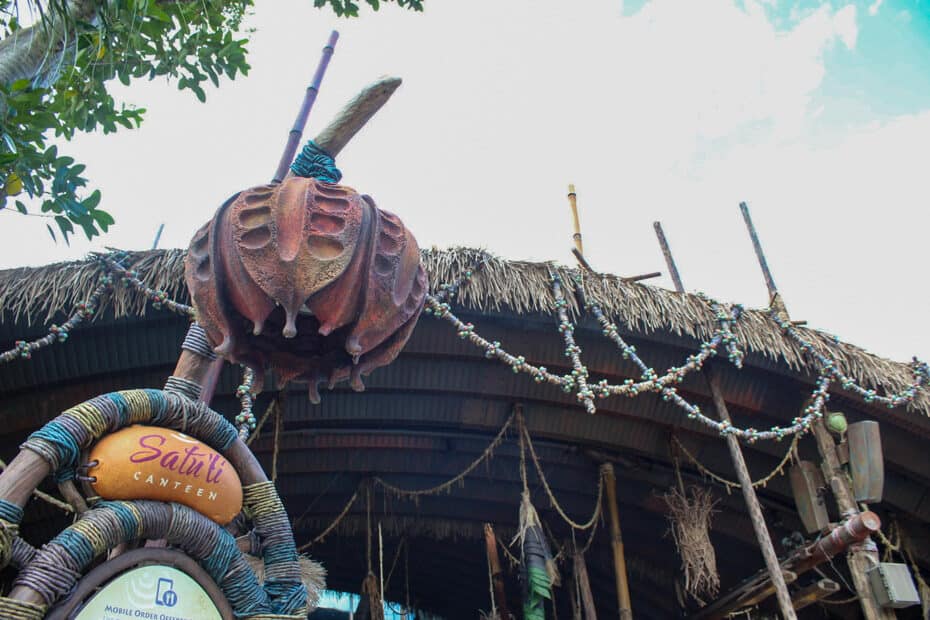 Not only that, most of the menu items trend toward the healthier side. And then there's the kids' meal with cheeseburger pods. Those might not be the healthiest option. But don't be surprised if you see a lot of adults eating them on your visit.
Anyway, in this Satu'li Canteen review I want to share with you a few of the meals we've had here. We'll also take a look at the menu so you can get an idea of what you might want to try on your next visit.
Additionally, I've returned in 2021 to update this review to add in a few new Satu'li Canteen menu items we've tried.
Below, is the menu that was posted outside the restaurant on a recent visit. There are a few things I want to point out here.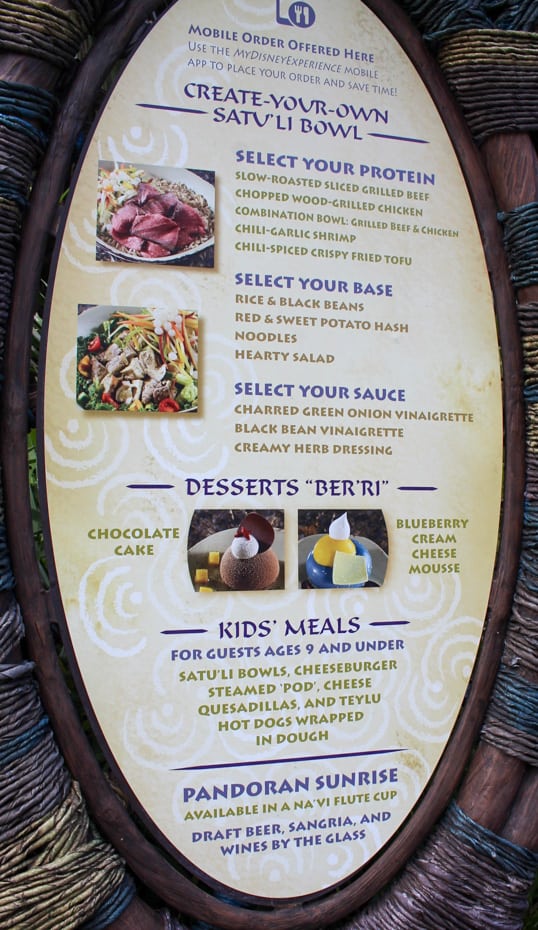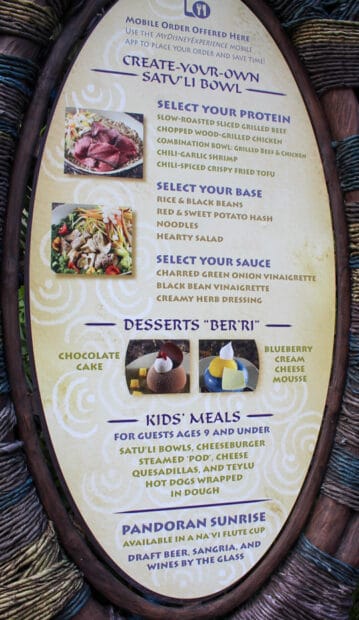 First, you might notice the "Disney mobile order dining is offered here" at the top of the sign. Mobile order is now the preferred ordering method at Disney for counter service. There are many benefits to the process, including saving a little extra time not standing in line for food.
If you elect to eat at Satu'li Canteen (or another quick service) on a day where the park is somewhat busy, I suggest ordering food a minimum of 30 minutes in advance of your normal mealtime. On my last visit, I waited until closer to 2:00 p.m. thinking I could eat within a few moments of ordering. Instead, I ended up waiting a full 25 minutes for my meal.
Granted, that's not always the case. The mobile app will provide you with an anticipated wait time prior to placing your order.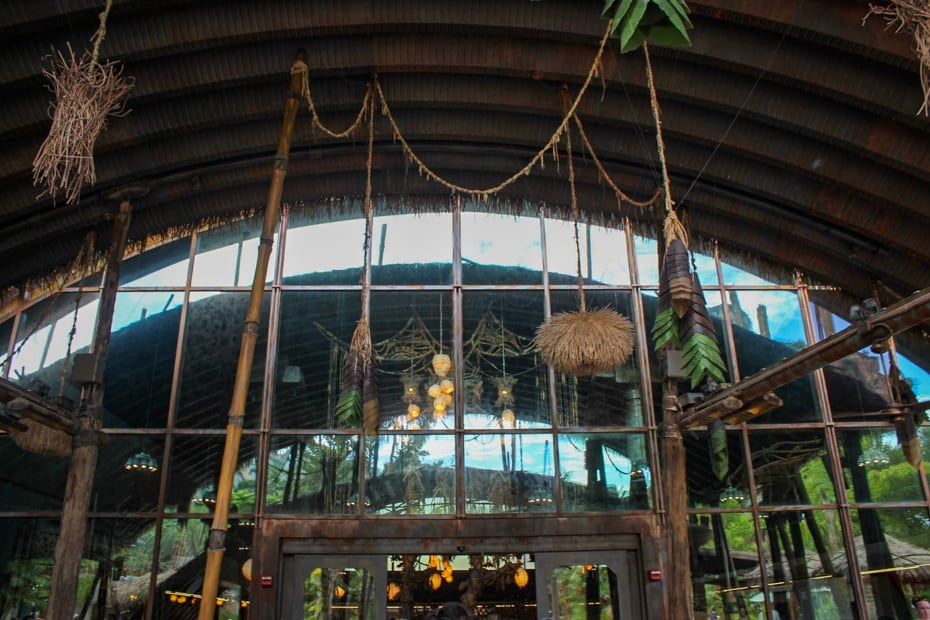 The other thing I wanted to mention is that right away, you probably saw the "Create Your Own Satu'li Bowl" right underneath the mobile order disclaimer on the menu.
Think of the food items at Satu'li Canteen as similar to a Chipotle restaurant. Except for the fact that the bowls are all prepared backstage and delivered to your table.
You can review the Satu'li Canteen menu here on Disney's site if you like. Or you can check it in the mobile order section of the My Disney Experience app. The app will give you the most up-to-date selection. Here is a photo I took of the Satu'li Canteen menu.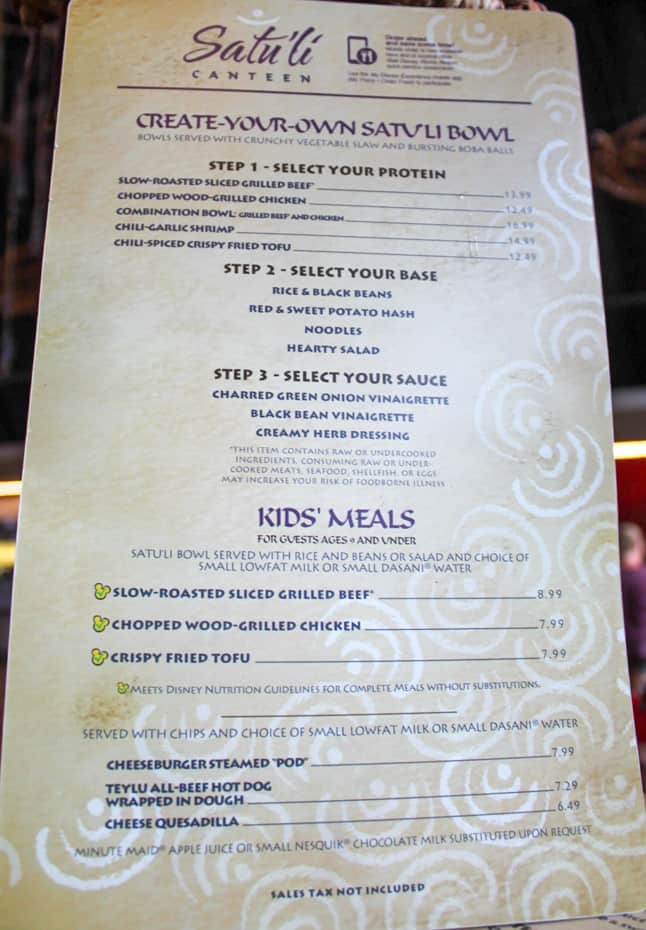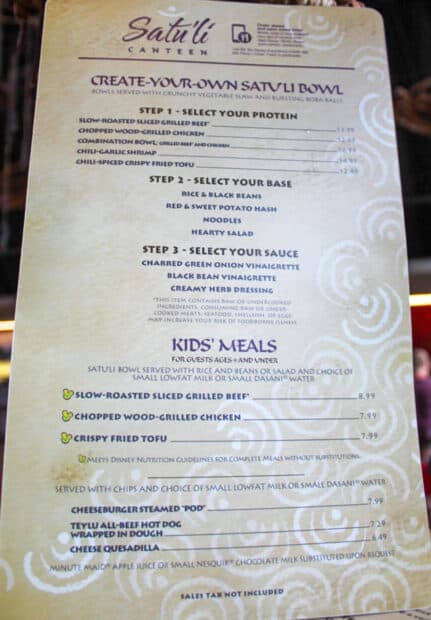 Some of you will be interested in learning that Satu'li Canteen offers an allergy-friendly menu. We have found this to be a great spot at Animal Kingdom when dining with food allergies. Below is a preview of that Satu'li Canteen allergy-friendly menu available at the restaurant.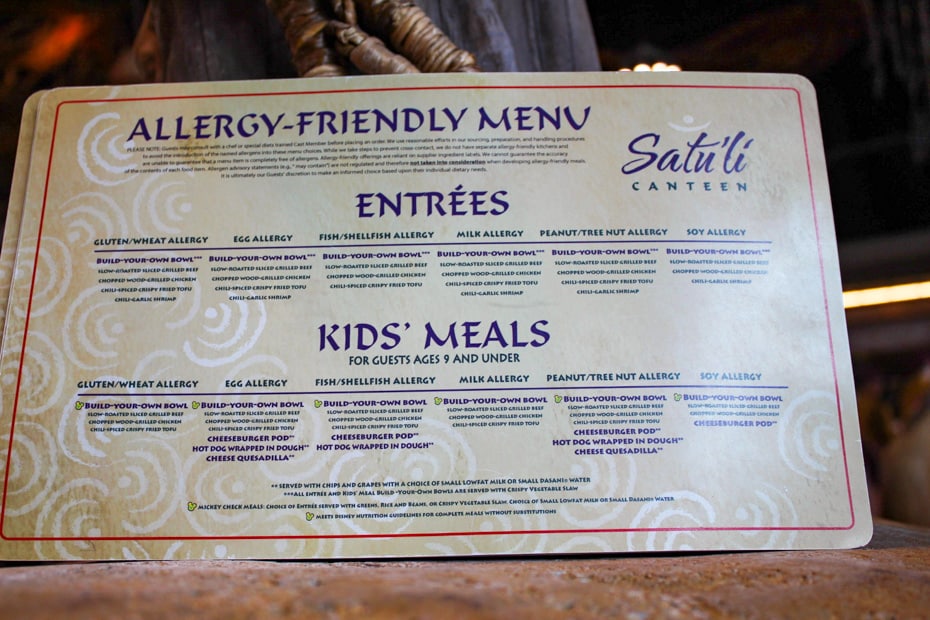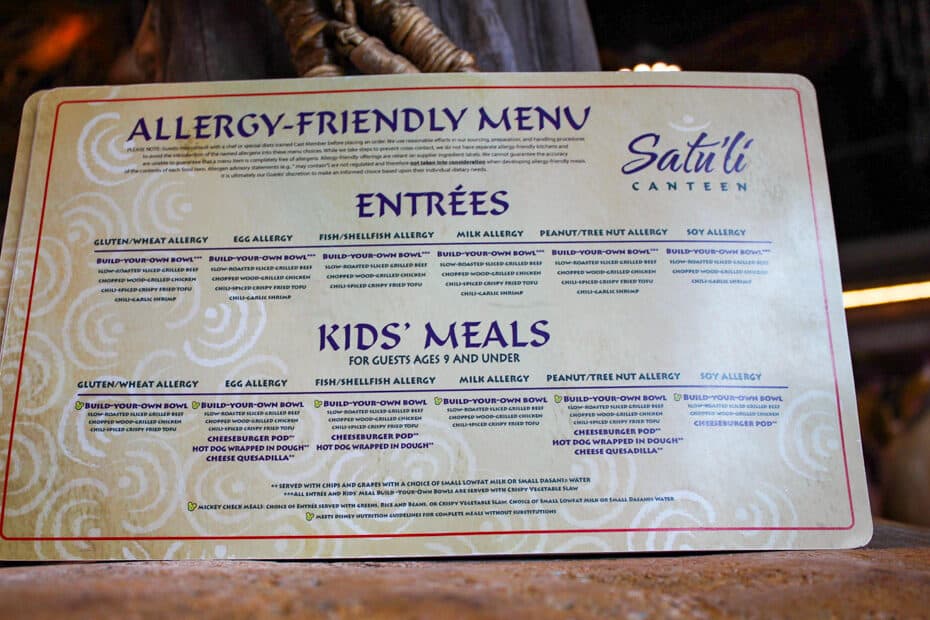 You can see that the menu offers all the different options underneath each major food allergen. When dining with food allergies, you will want to request to talk with someone knowledgeable about your order instead of using the mobile order service here. In this case, you will alert someone at the entrance and bypass the ordering process.
When you walk inside Satu'li Canteen, there's a long walkway to the ordering area. You might notice a few of Pandora's finest crustacean shells on display.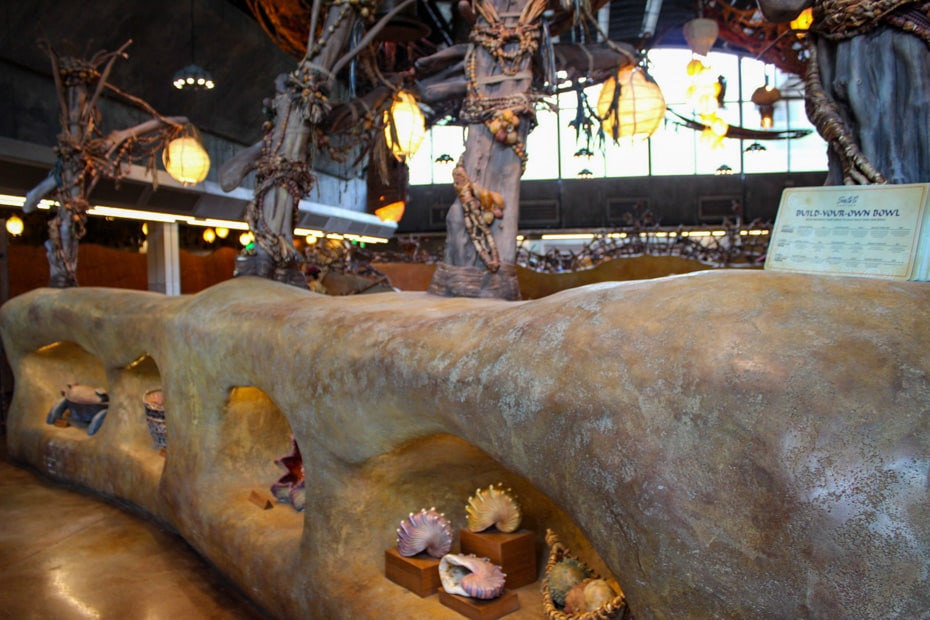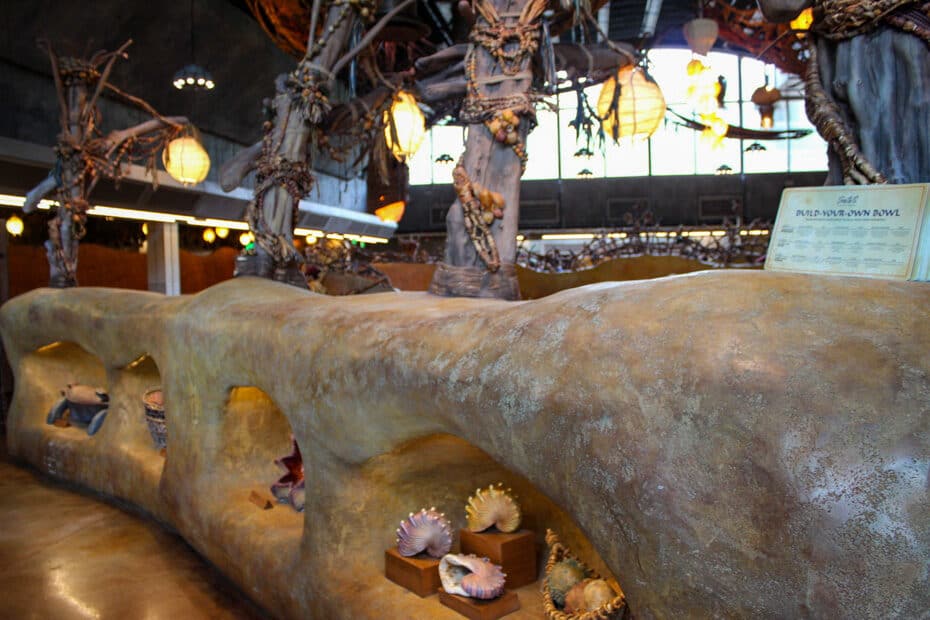 Here is where you would normally stand in line, preview the menu, and then place your order. However, these days you just check-in when you get the alert that your order is ready.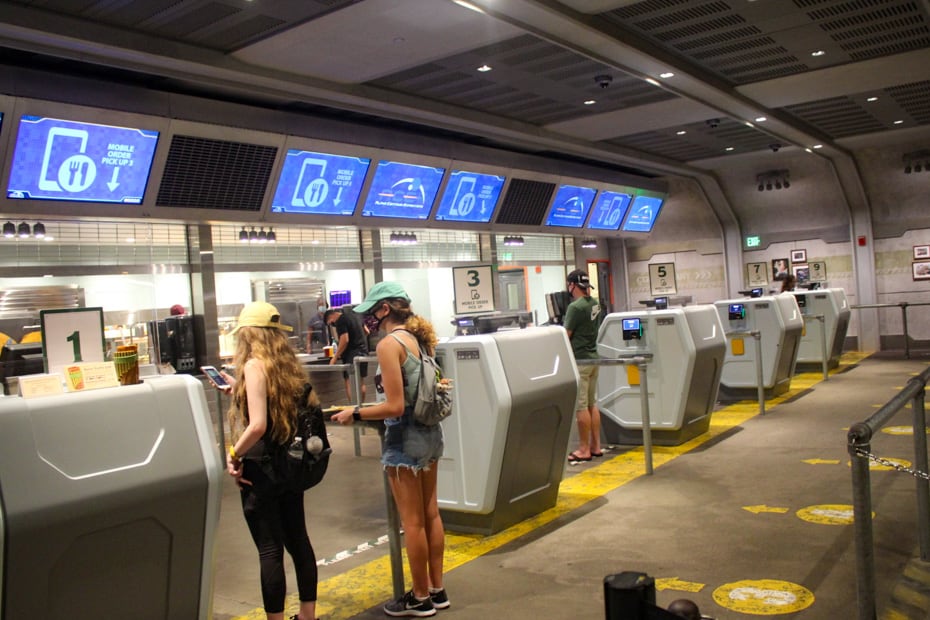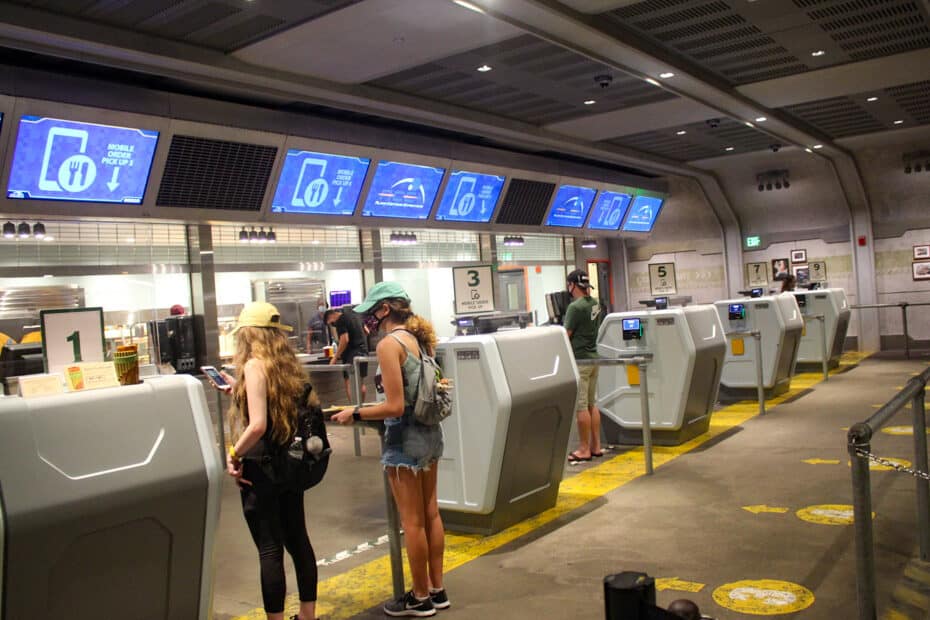 The food is usually available for pick up in this area. But if for some reason it isn't, the cast member will give you a number to place on your table. When it is ready someone will bring it to you.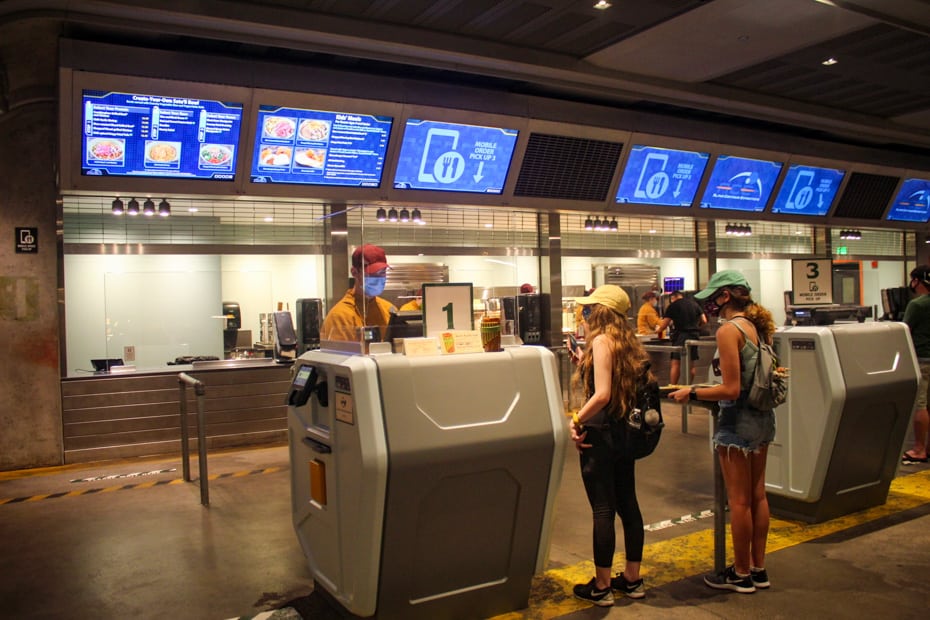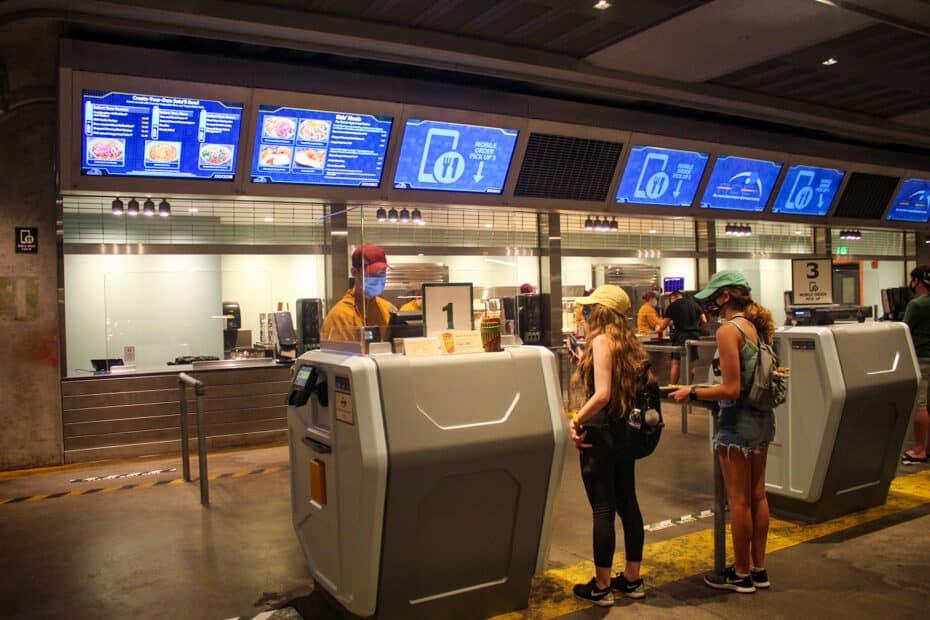 Here is a look at the overhead menu in Satu'li Canteen.
Make sure to look up when you enter the large dining room. There is some really ornate decor inside.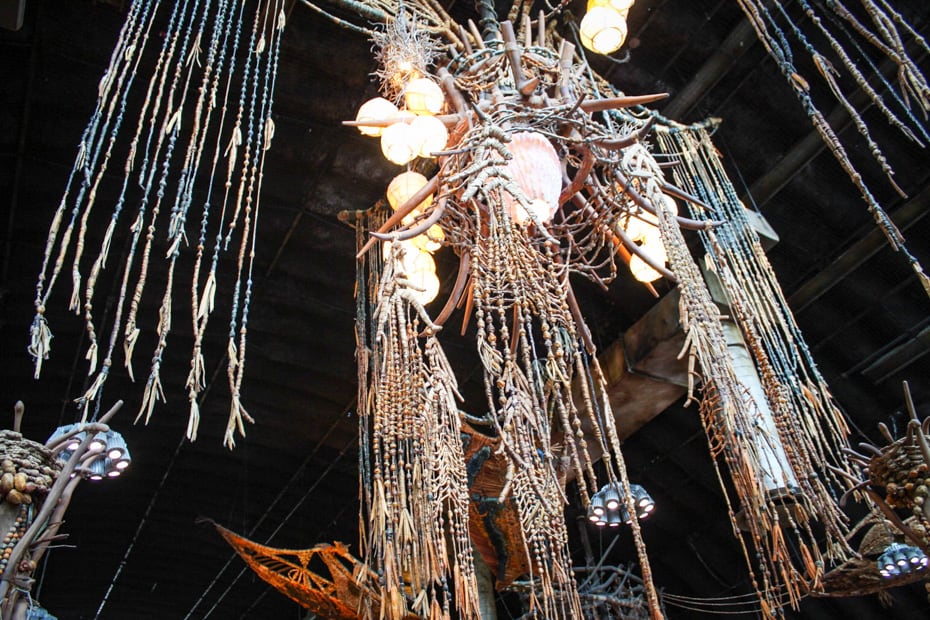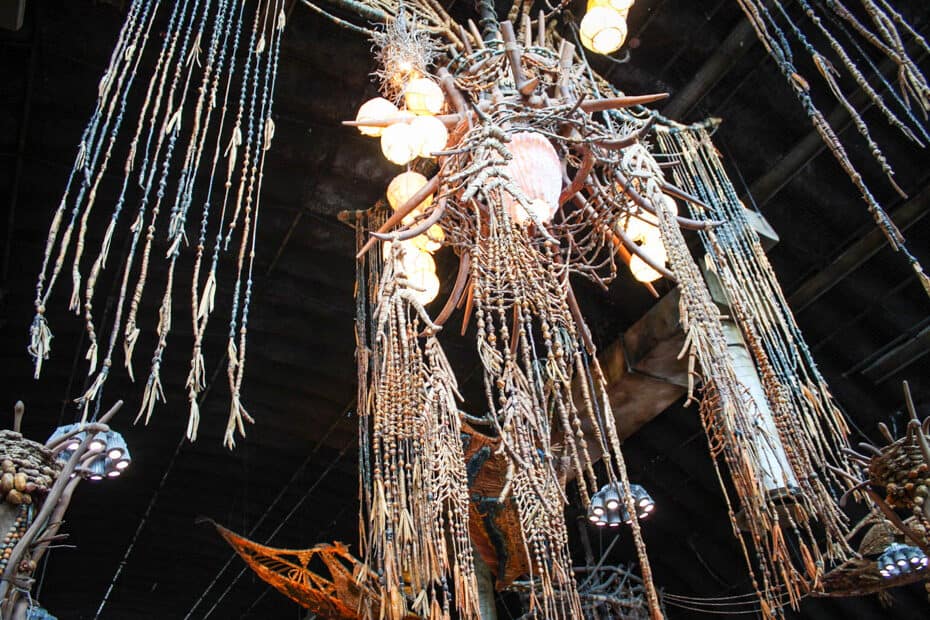 Guests can elect to eat either inside or outside at Satu'li Canteen.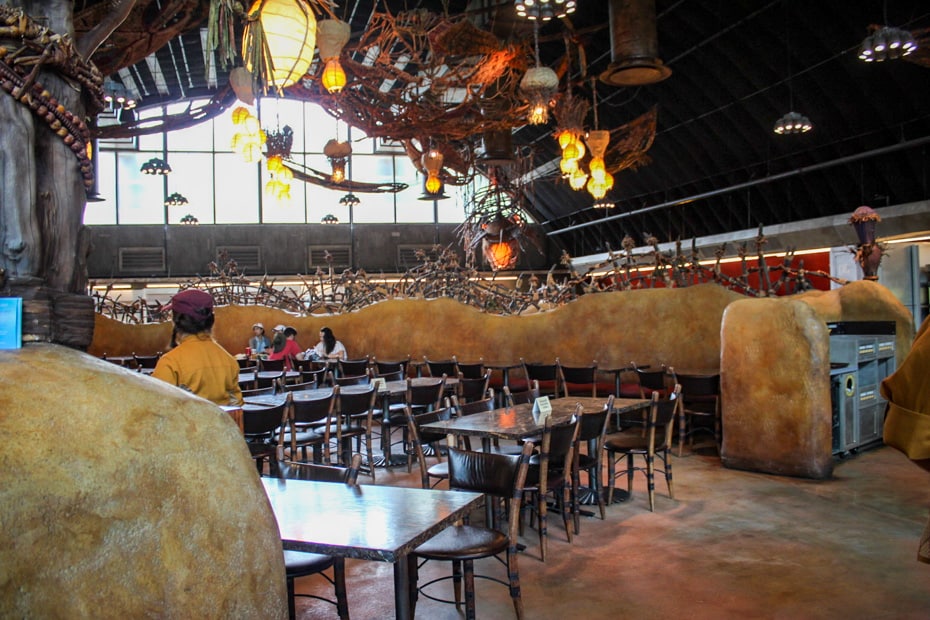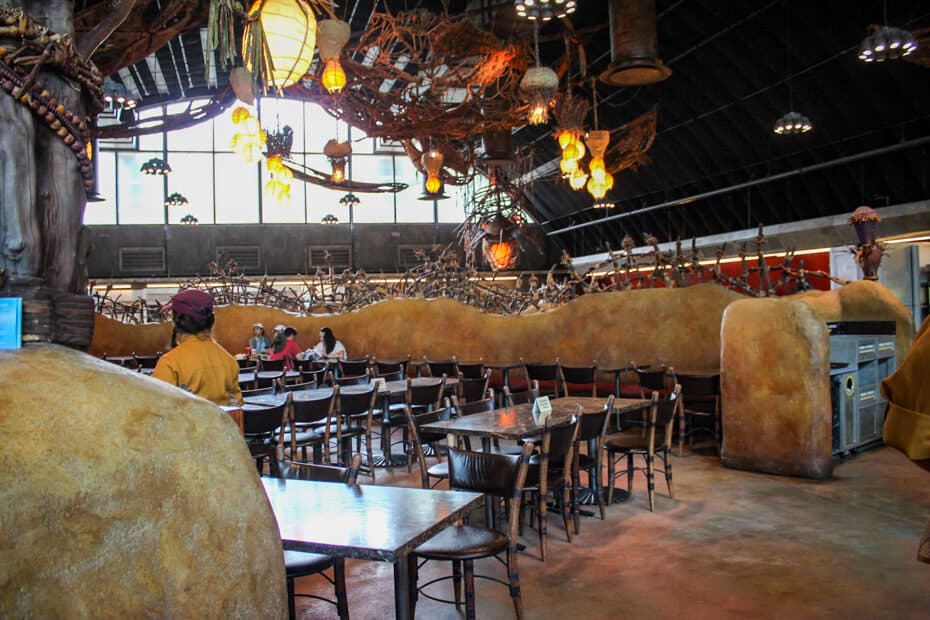 There are a variety of partial booths with tables on the opposite side. Some areas tend to feel a little more private than others.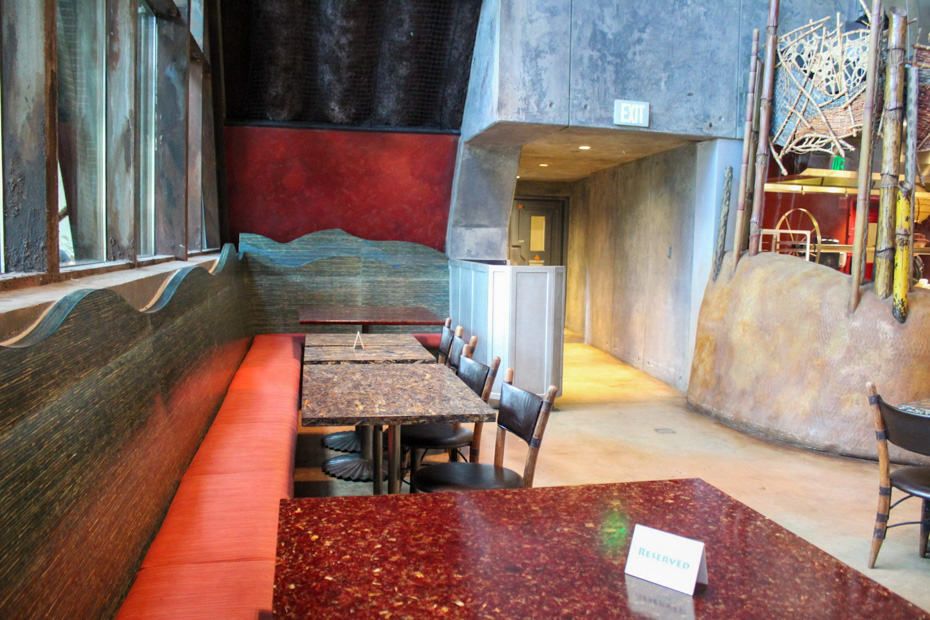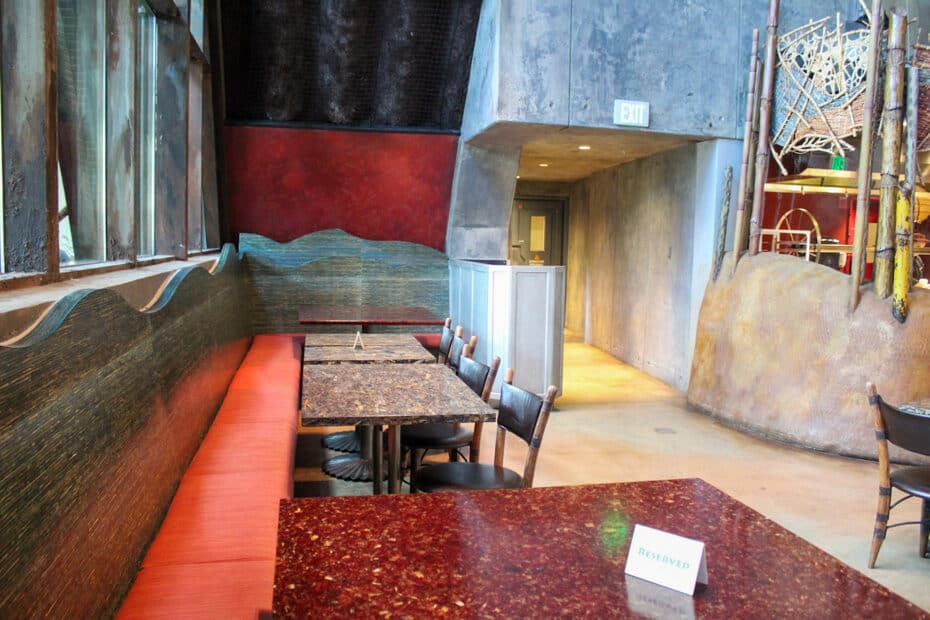 Additionally, you'll find plenty of places to eat outside.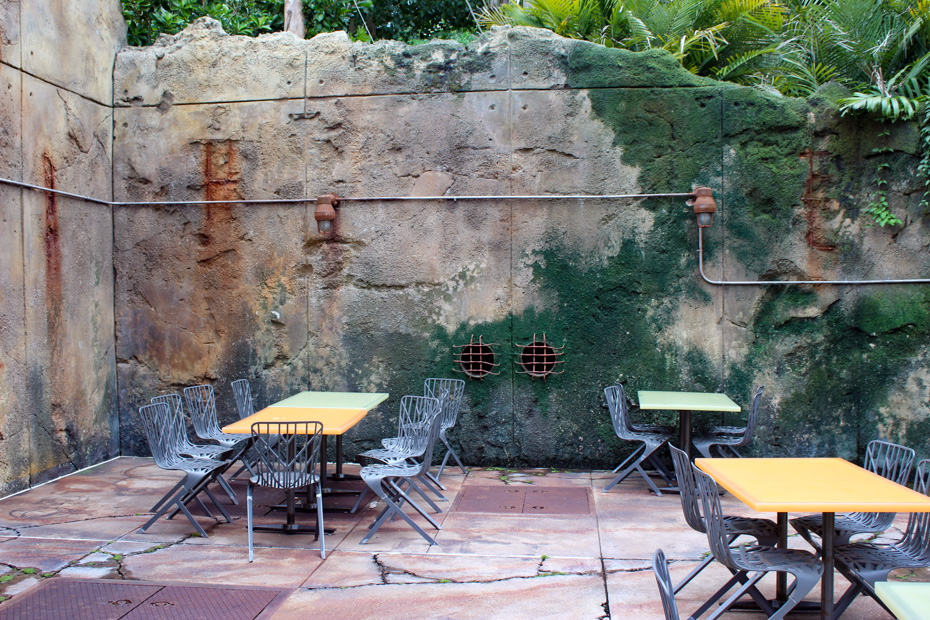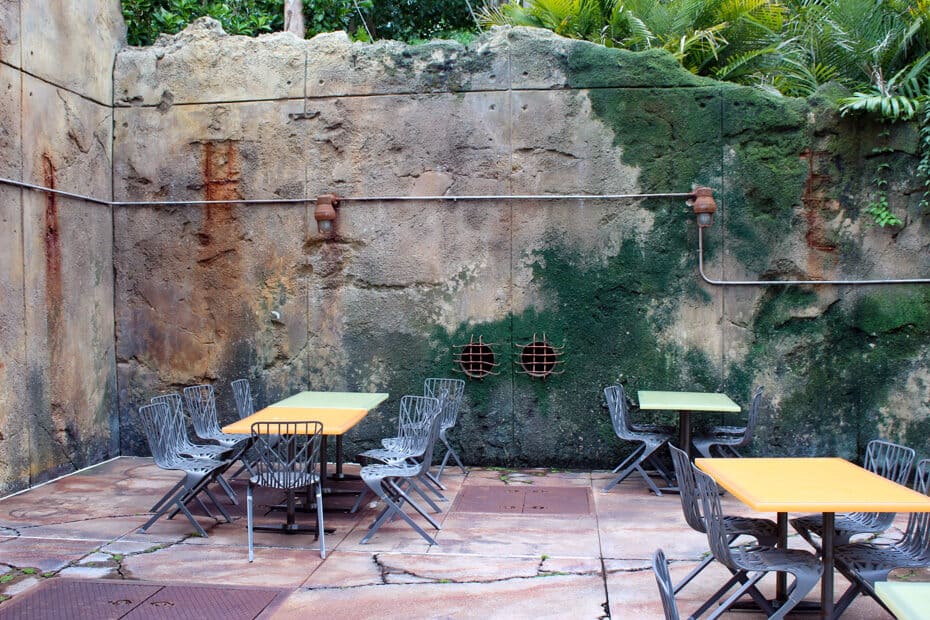 This area is usually pretty private. When the weather is nice, I prefer to eat out here. There's not a lot of shade, though, so keep that in mind.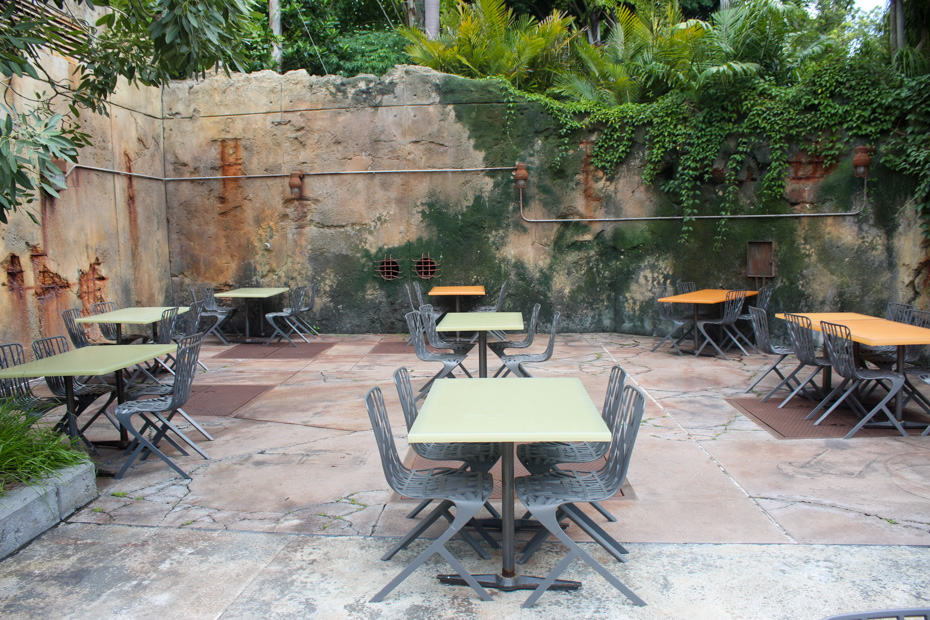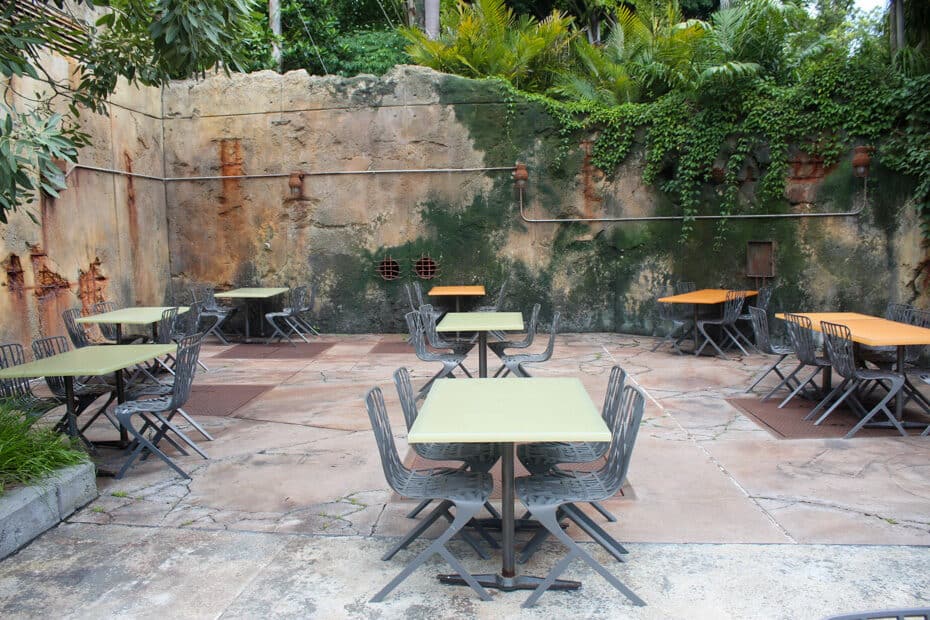 Now, as for what to order at Satu'li Canteen? The chili garlic shrimp bowl below is the first item that I ever tried at Satu'li Canteen. This bowl was ordered with a base of noodles, and I chose the charred green onion vinaigrette.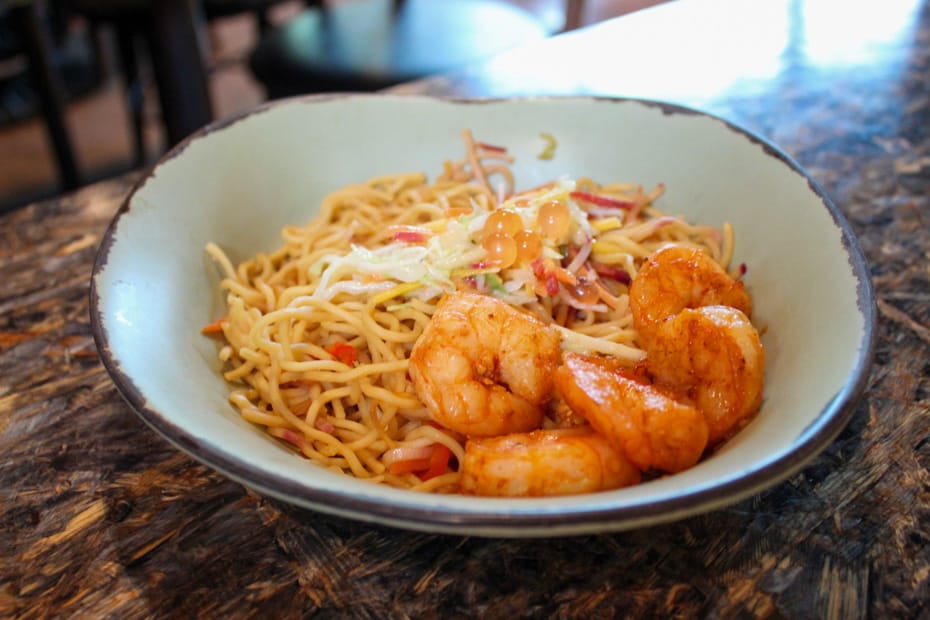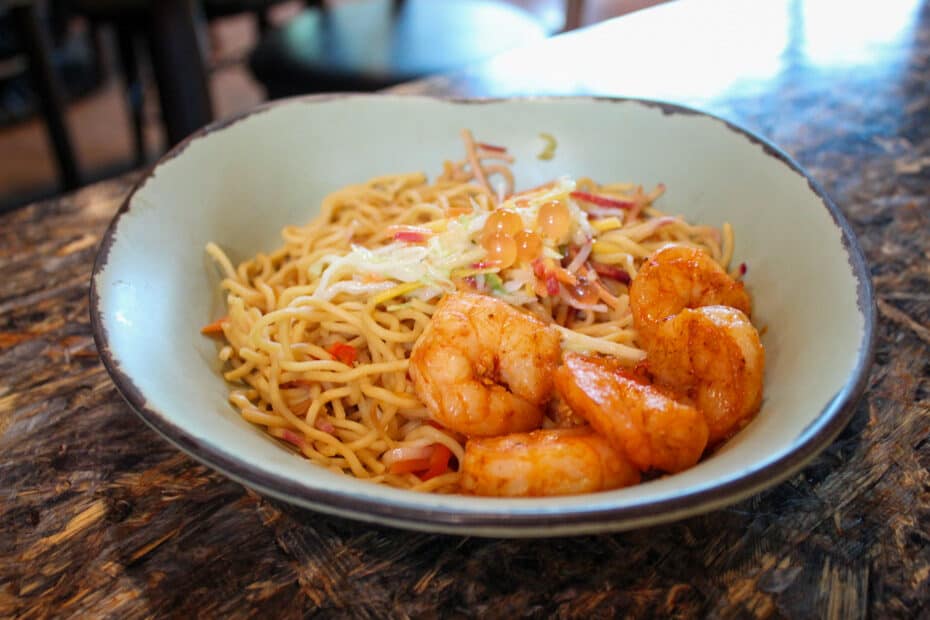 When you order a bowl from Satu'li Canteen, you do get a few choices as to how you would like to have it put together. The first options are the base. For the base you can get the following:
Hearty Salad
Rice and Black Beans
Noodles
Red and Sweet Potato Hash
Then you get to add your protein, which might be any of these items:
And finally you can top the bowl off with a sauce:
Creamy Herb Dressing
Charred Green Onion Vinaigrette
Black Bean Vinaigrette
Here's a closer look at mine. I always order the vinaigrette on the side because I never know for sure if it will all work together. And I'm also not the type of person to drown any food in a sauce.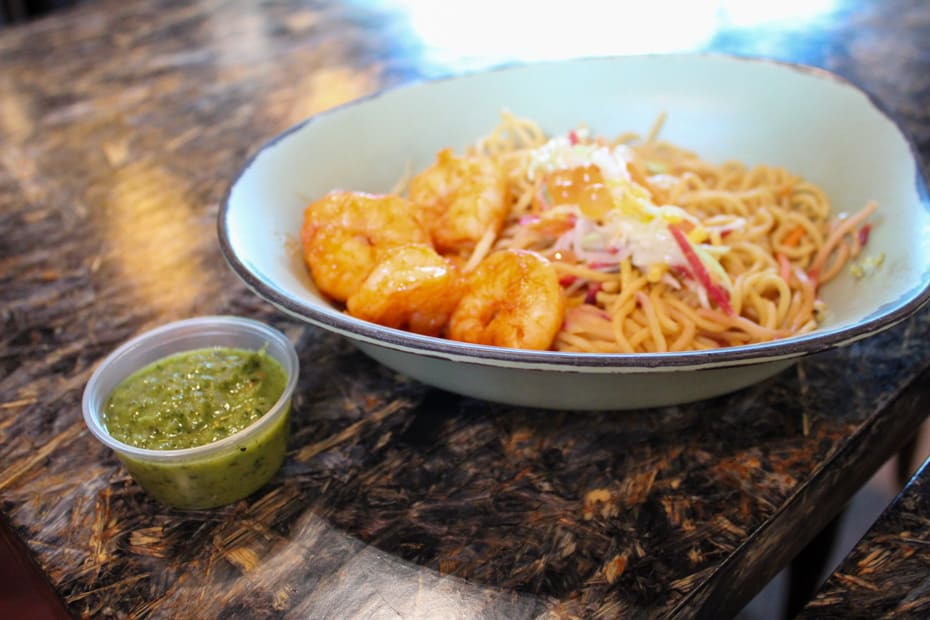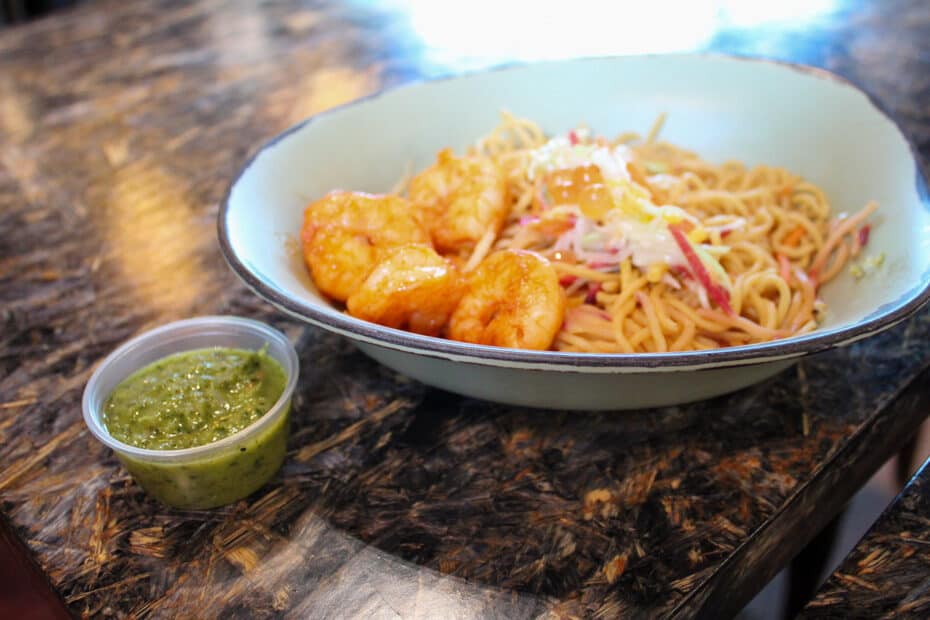 The shrimp bowl turned out really nicely. I was also impressed with the quality, given it's a theme park counter service meal.
On another visit, I went with a salad bowl. For this bowl, I ordered the hearty salad base, slow grilled roast beef, and creamy herb dressing.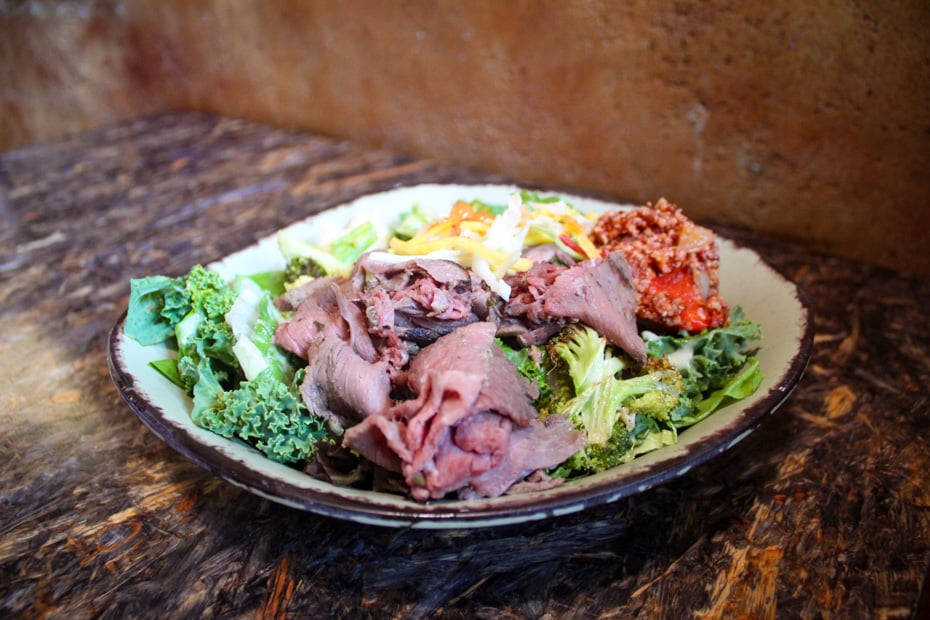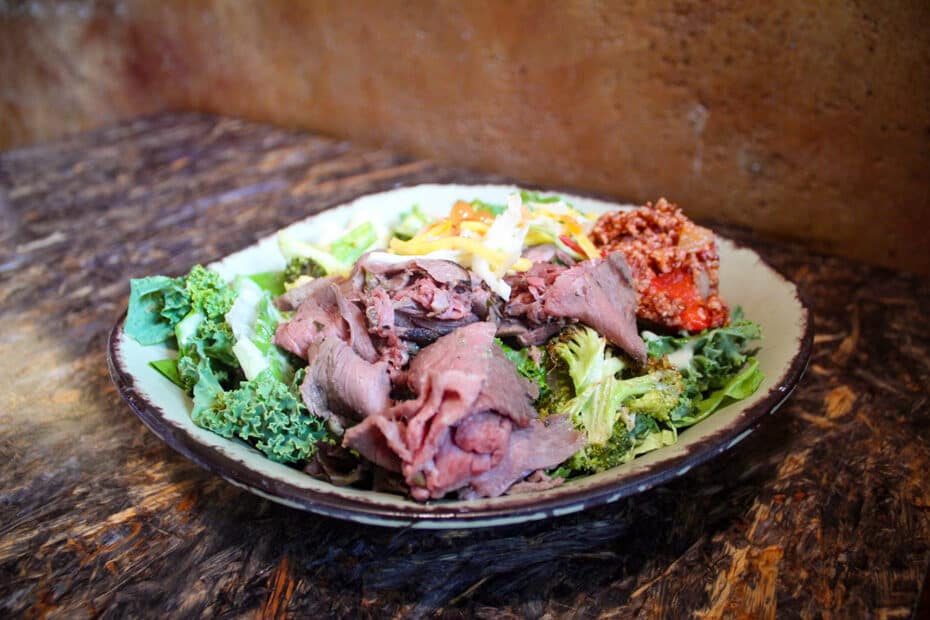 This is my favorite thing I've tried to date at Satu'li Canteen. The meal was huge and there was no way I could finish it.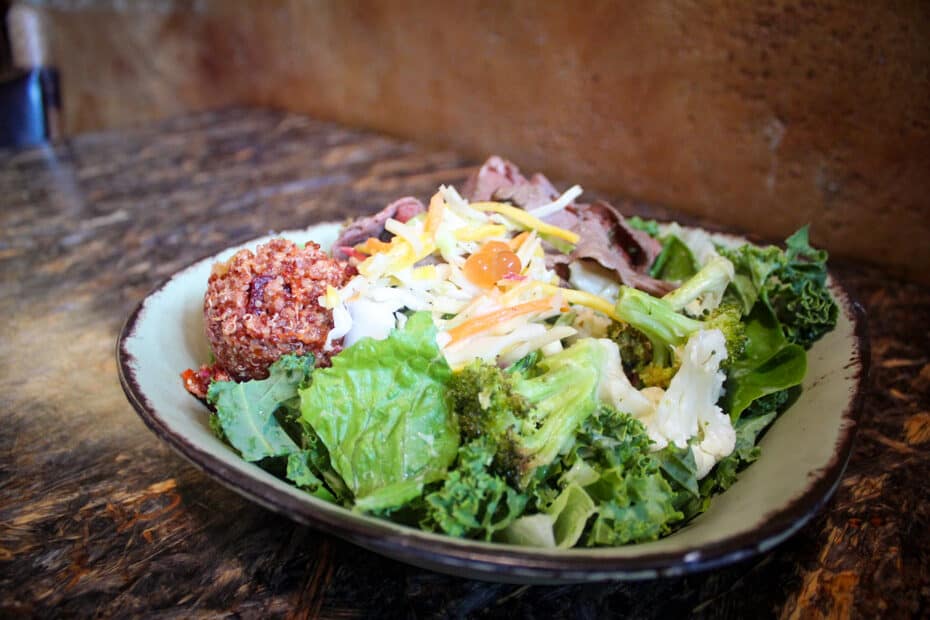 All of the bowls are topped with boba balls. Those are the little orange balls on top. Don't be hesitant to try them. Disney is the only place I've ever had boba balls, and I've yet to find one I didn't like. The first time I ever tried them was in the limitless mimosas at the California Grill brunch. Now that meal is an experience.
As for my salad bowl, it also had this quinoa concoction with red pepper spice. These are the kind of items that make me want to try a plant-based diet. It was so tasty, and there were little chunks of fruit inside the mix that added a surprising bite of flavor.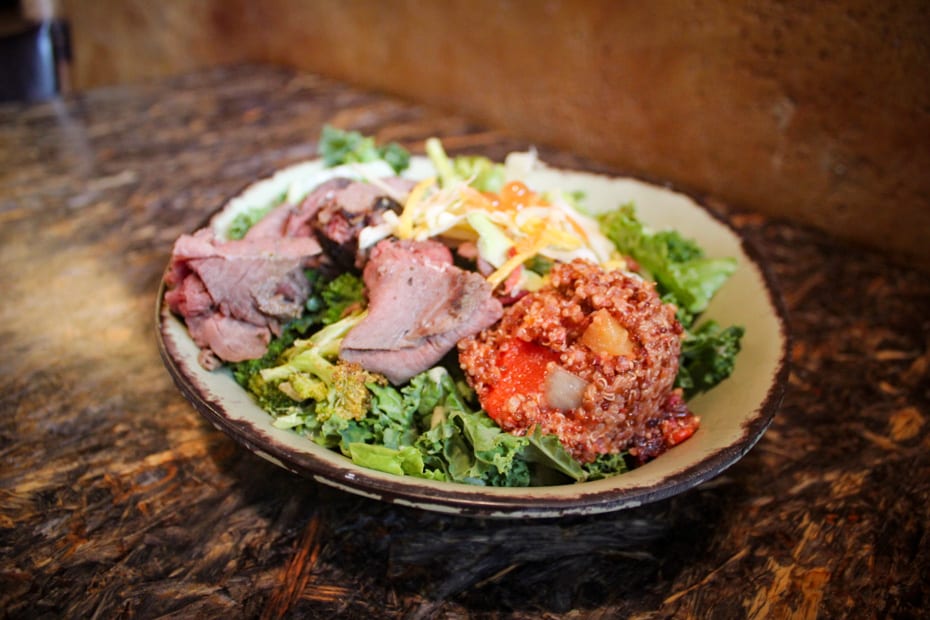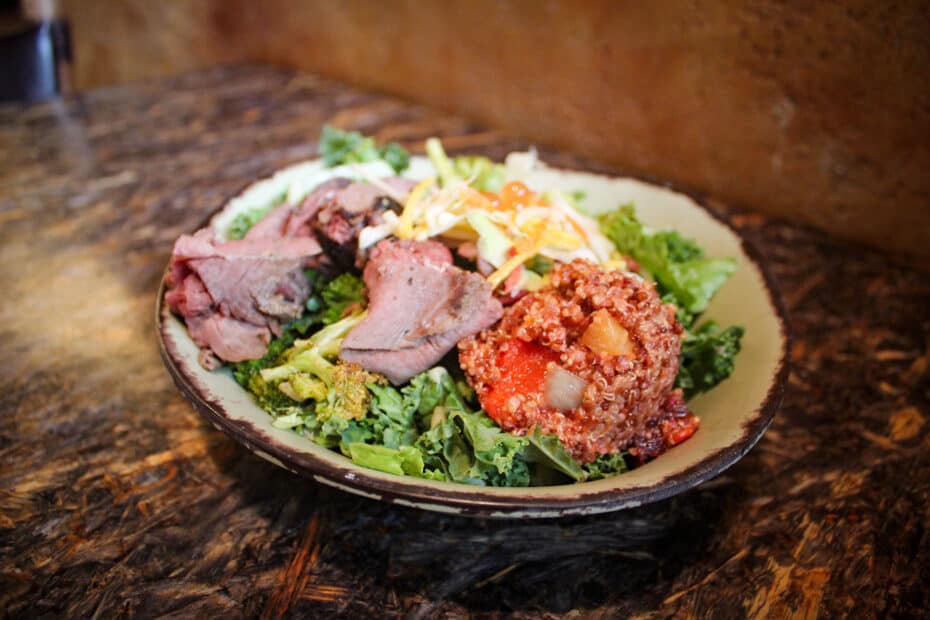 My next item to share with you is another beef bowl. This one was prepared for food allergies. It included plain white rice, vegetable slaw mixture, and slow-roasted beef.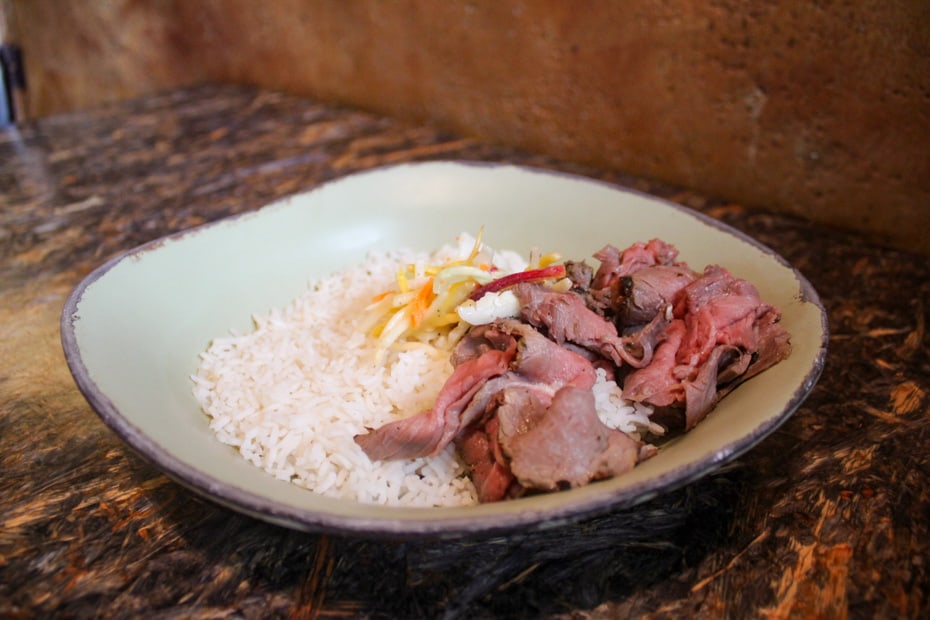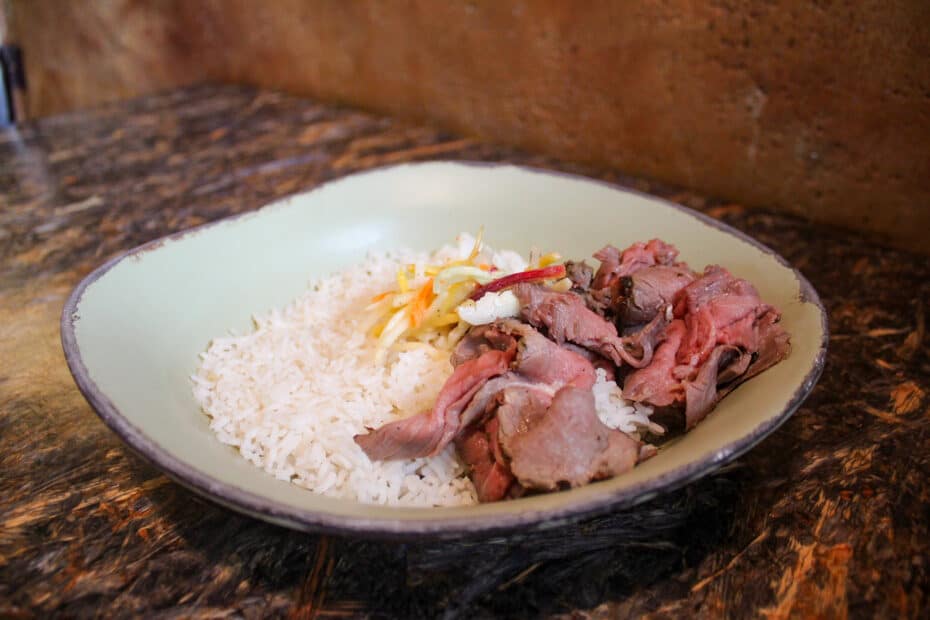 This bowl was actually a good deal larger than it appears in the picture. Not only was it good, but I felt so much better about my son eating this than the alternative. The alternative is usually allergy-friendly chicken nuggets with fries.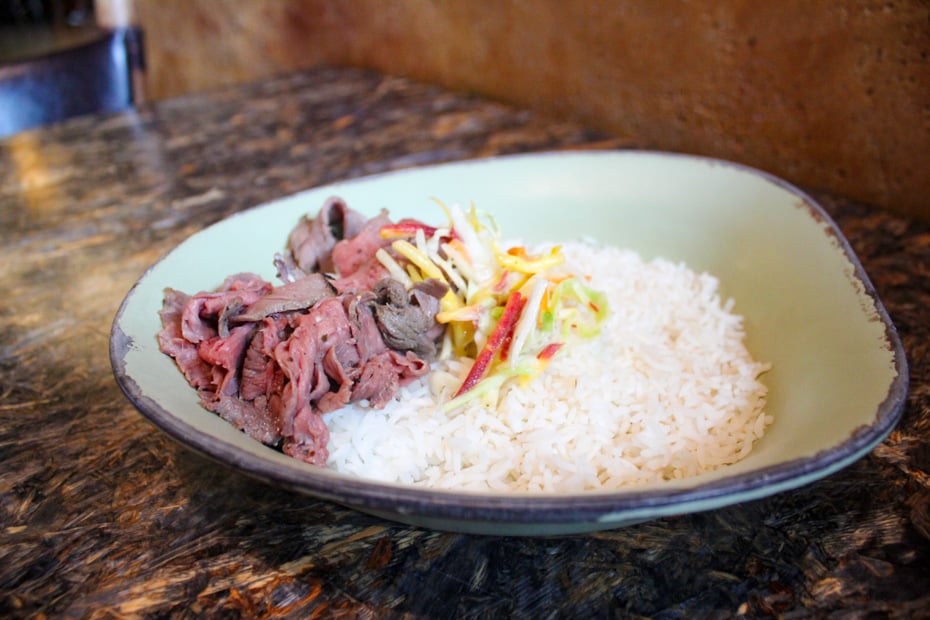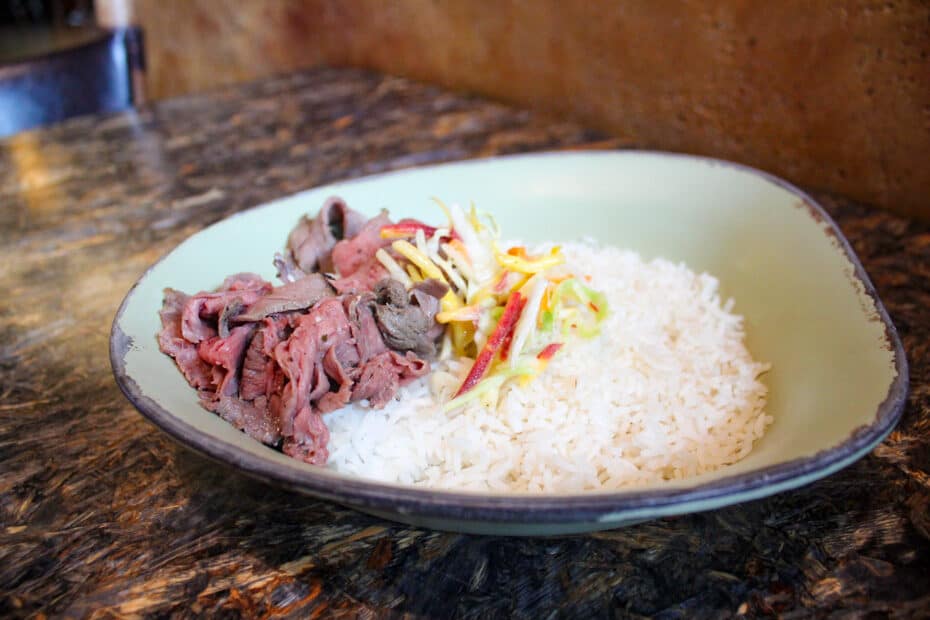 I've come back in to update this review with a look at the plant-based protein option. This is the Satu'li Canteen chili-spiced tofu bowl that I ordered with noodles and veggies.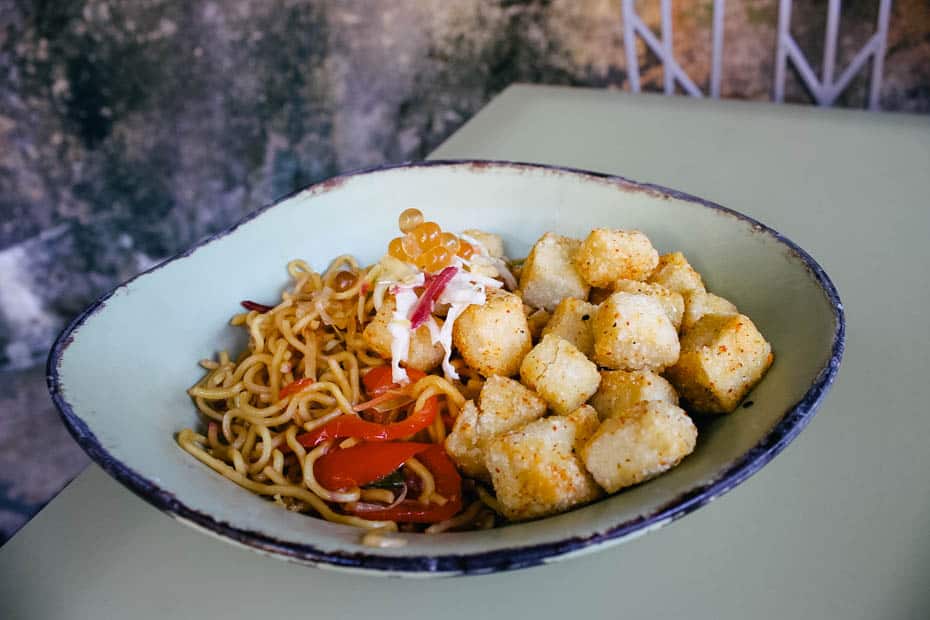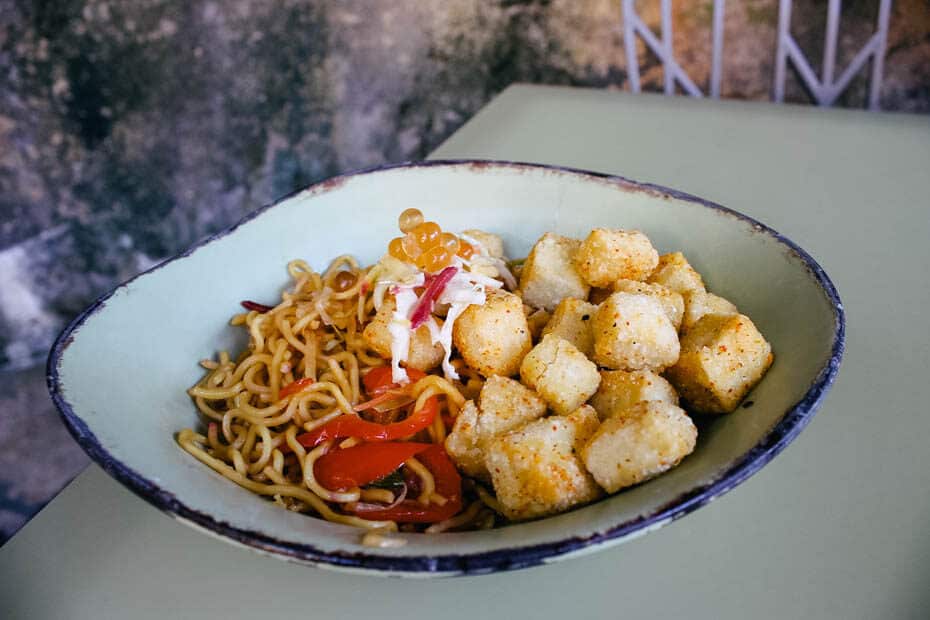 When I tried this meal, I had challenged myself to try eating vegetarian for an entire week while I was staying on Disney property. The result? I haven't eaten meat since, and the strange thing is I haven't missed it.
As for the tofu, I really loved it. Like many other things I've tried lately, I found it full of flavor. Additionally, I loved the fact that it wasn't another plant-based burger option. Don't get me wrong, I enjoy those as well. But I don't want to order one for every single meal while on vacation.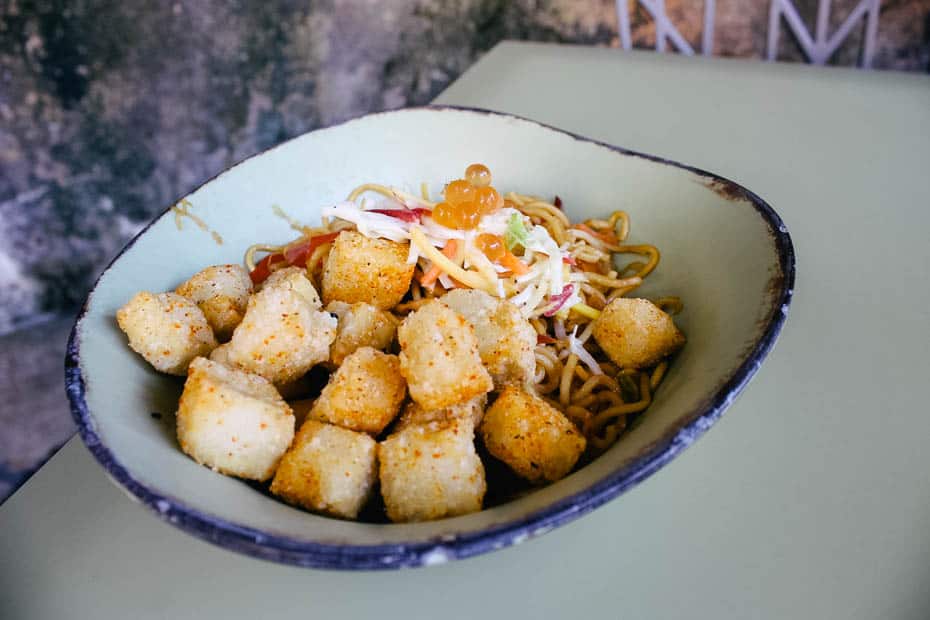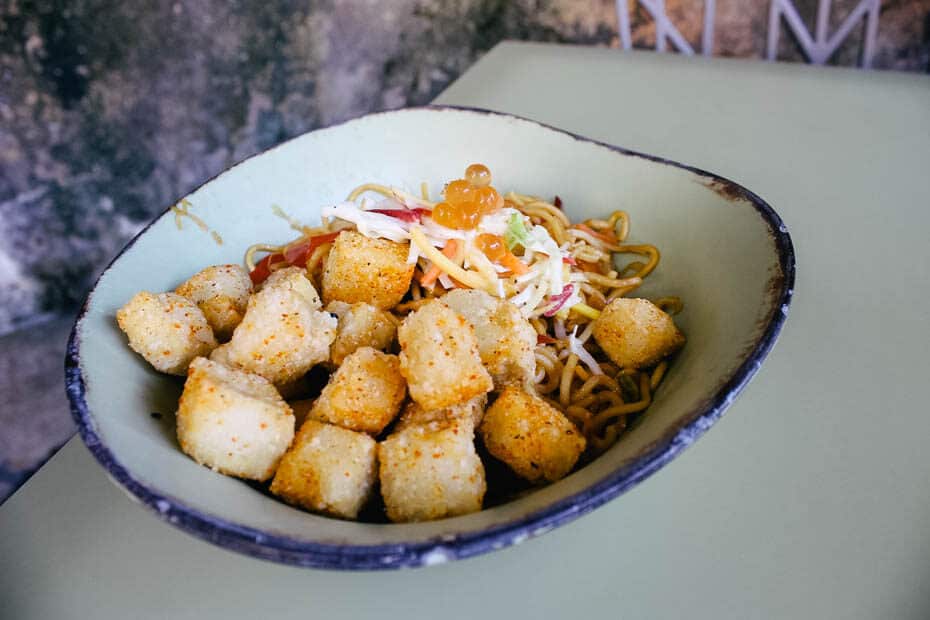 Since then, I've enjoyed many plant-based meals at Disney. If you are interested in learning more, I have a Disney World vegan food list here.
Lastly, I finally got around trying the popular cheeseburger pods that everyone seems to rave about. My take–I love, love, love the chips that came on the side. They have some sort of seasoning on them and were among the best crunchy items I've had in a while. The kid's meal also comes with a mandarin orange which is a nice add-on.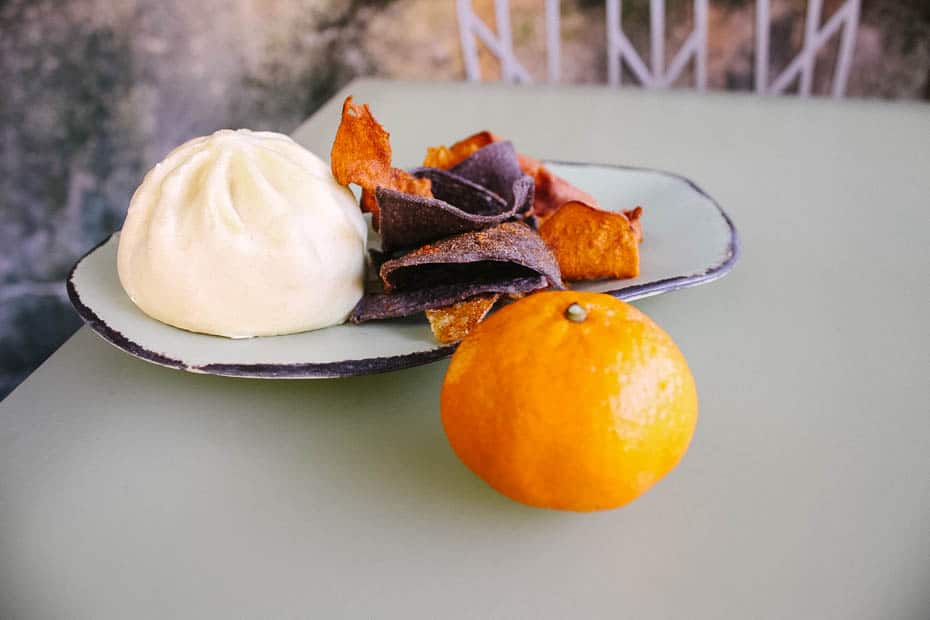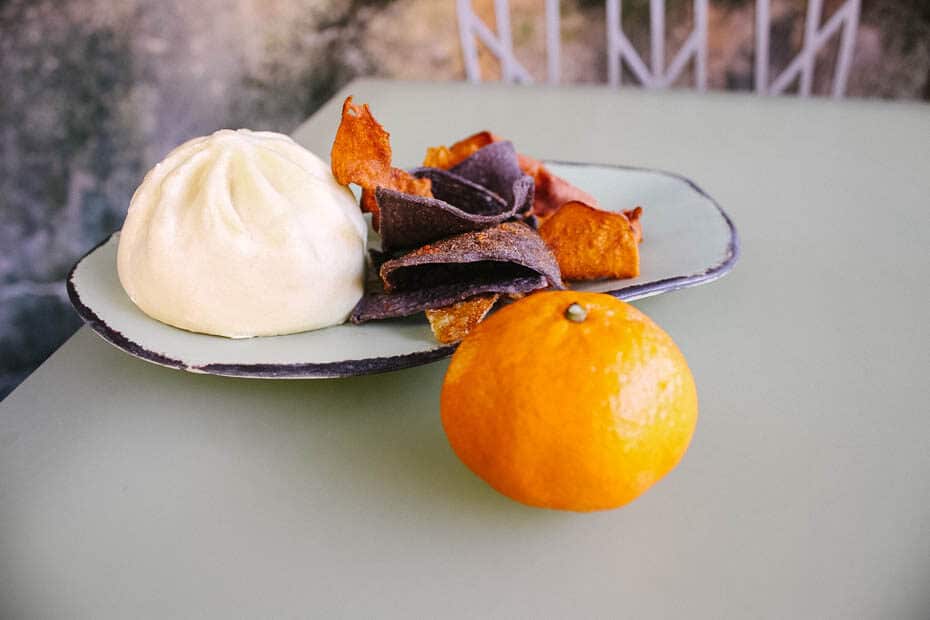 I don't know if it was because I had quit eating meat this week or not. (This was the last bite I had.) But I felt the cheeseburger pods were mediocre.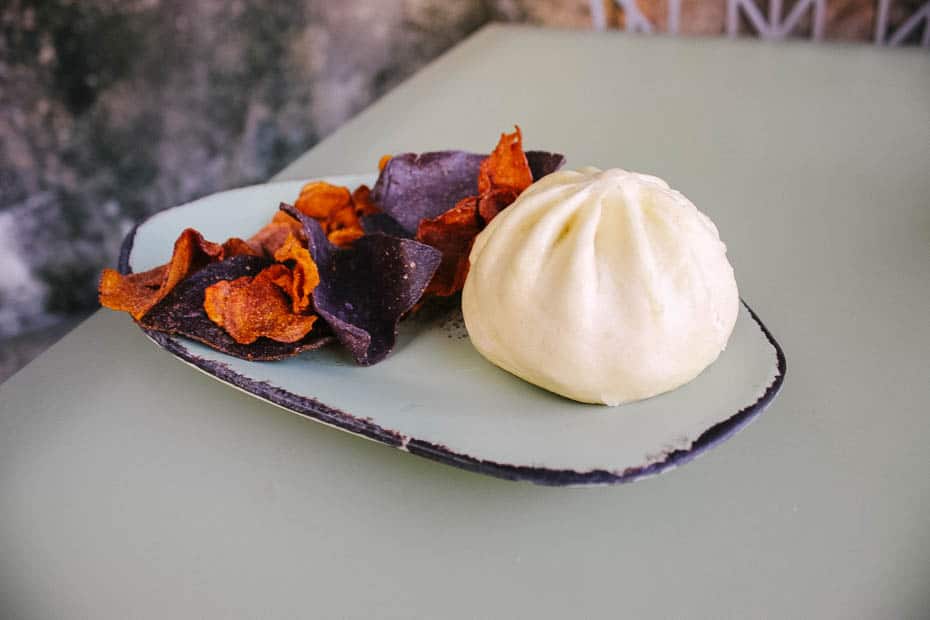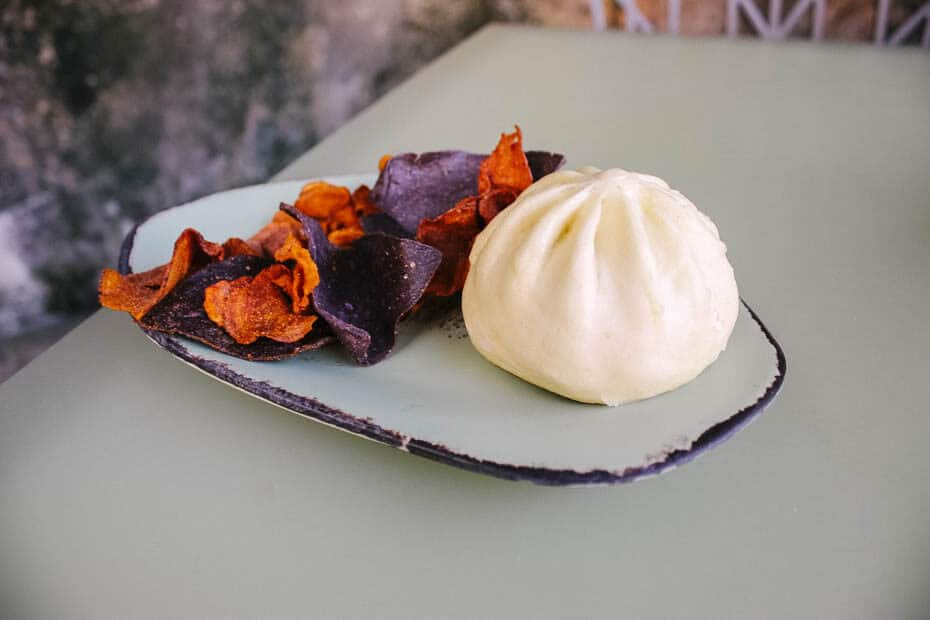 It tasted like taco meat stuffed inside a bao bun. I totally get the appeal and can see how people enjoy them, especially children. They just didn't seem like the yummy, comfort food to me as most people describe them. I cut mine open so you could preview the inside.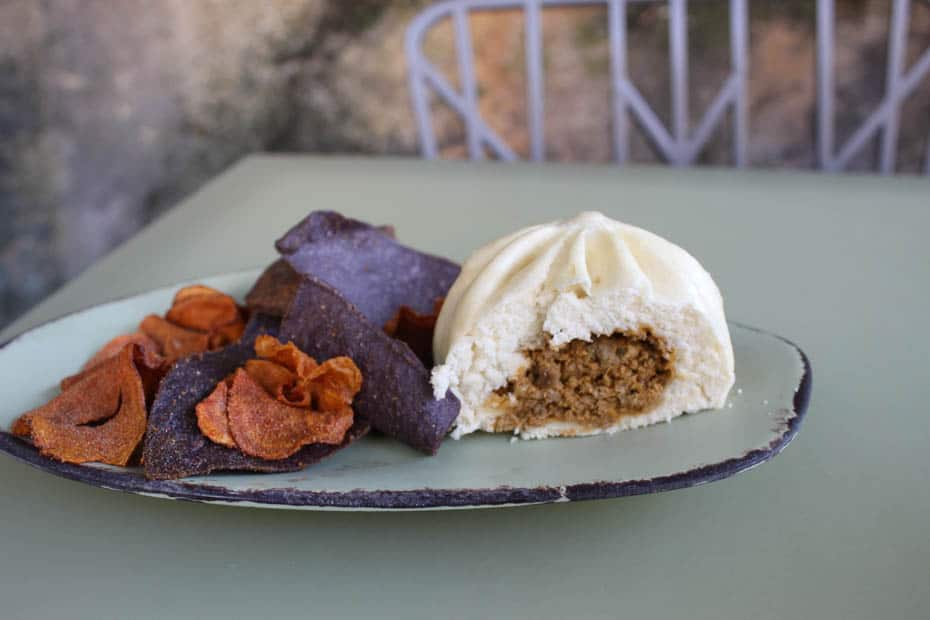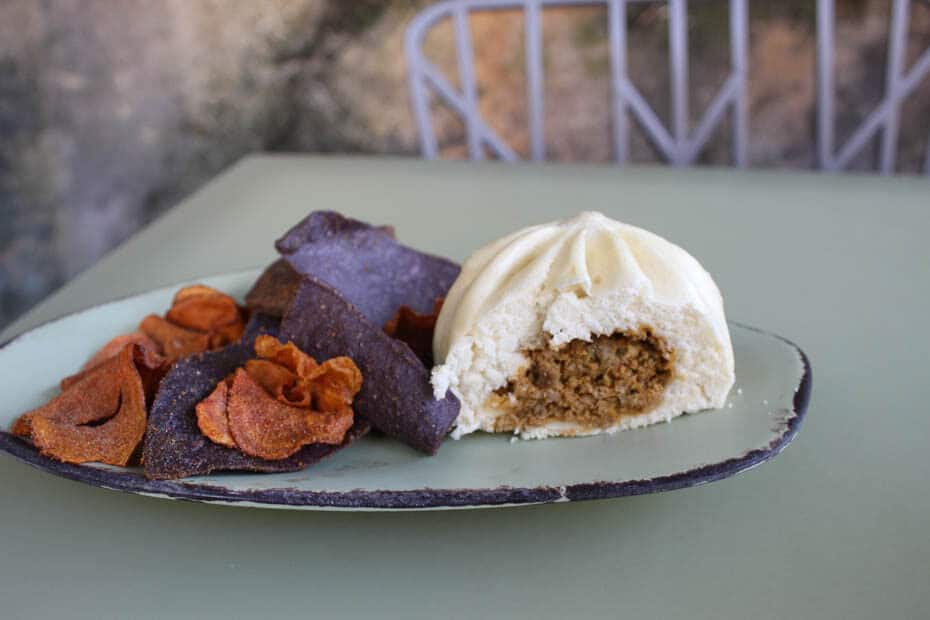 The chips, though, were a home run. I will definitely be ordering them again.
Normally, our go-to table service restaurant is Disney's Yak and Yeti when we visit the Animal Kingdom. However, Satu'li Canteen makes for a somewhat less expensive option than going to a table service restaurant.
Now we do love Yak and Yeti and feel that the restaurant also offers a lot of value. But there's always going to be a significant difference in pricing between the counter and table service dining options.
I don't know about you, but I'm not always willing to fork out $50 plus dollars for every meal we have at Disney. And that's just when there are two of us.
When I'm by myself, I nearly always go to Satu'li Canteen. Or you'll find me lounging on the deck at Nomad Lounge (review).
Satu'li Canteen is an excellent choice when it comes to picking a dining location at Disney's Animal Kingdom. I am more than happy to add it to my list of Disney Restaurant reviews.
If you are looking for a good, quality meal, make sure to give it a try. I don't think you'll be disappointed.
In the meantime, you might be interested in a few other dining reviews. These are some favorites:
Via Napoli at Epcot, Pizza and More!
Review of Skipper Canteen at Magic Kingdom
Brown Derby Review at Hollywood Studios
Breakfast at Whispering Canyon Cafe
Make sure to leave me a comment below with your thoughts on Satu'li Canteen if you've visited before. If not, let me know what you're looking forward to trying.
P.S.–Satu'li Canteen is also the place where you pick up the blue cheesecake! It is an alien planet's restaurant, after all!