The Animation Experience at Disney's Animal Kingdom
In this review, we visit The Animation Experience at Conservation Station for an updated drawing class.
Did you know that you can probably draw better than you think? Sometimes it takes visiting a class like The Animation Experience at Disney's Animal Kingdom to learn you have more skills than you realized.
When The Animation Experience at Conservation Station debuted, it was a huge hit. However, that is no surprise to any of us who visited the former Animation Academy at Disney's Hollywood Studios.
Sadly, that experience closed a while ago in preparation for the addition of Toy Story Land and Galaxy Edge at Hollywood Studios. So when The Animation Experience at Conservation Station was announced for Disney's Animal Kingdom, it was a welcome change.
Since time miraculously seems to fly, it's been over two years since the drawing class opened. Therefore, I felt like it was time for an update.
At this point, some of you might be wondering, what exactly is The Animation Experience? In a nutshell, it's a 25-minute drawing class held multiple times daily.
But really, it's so much more. You'll sit in a class-like environment and take instruction from an artist on how to draw a Disney character.
Since this experience is held at Disney's Animal Kingdom, those characters are usually animals from favorite animated classics. Additionally, the instructors are excellent, providing simple instructions to help you create your own masterpiece.
Here is my very own masterpiece from my first animation class. I know it's a little lop-sided, but it's not too bad for someone with few artistic skills. Right?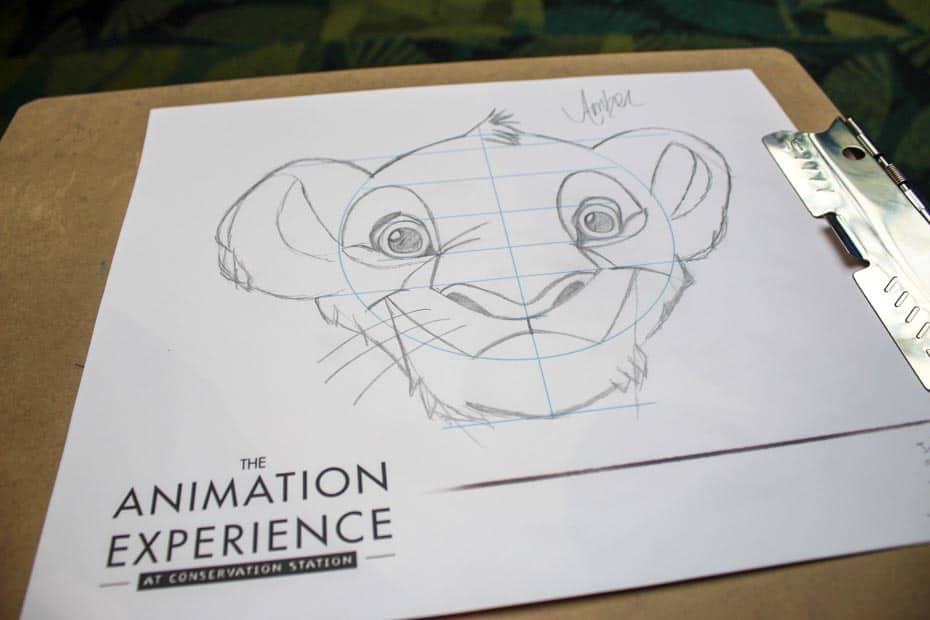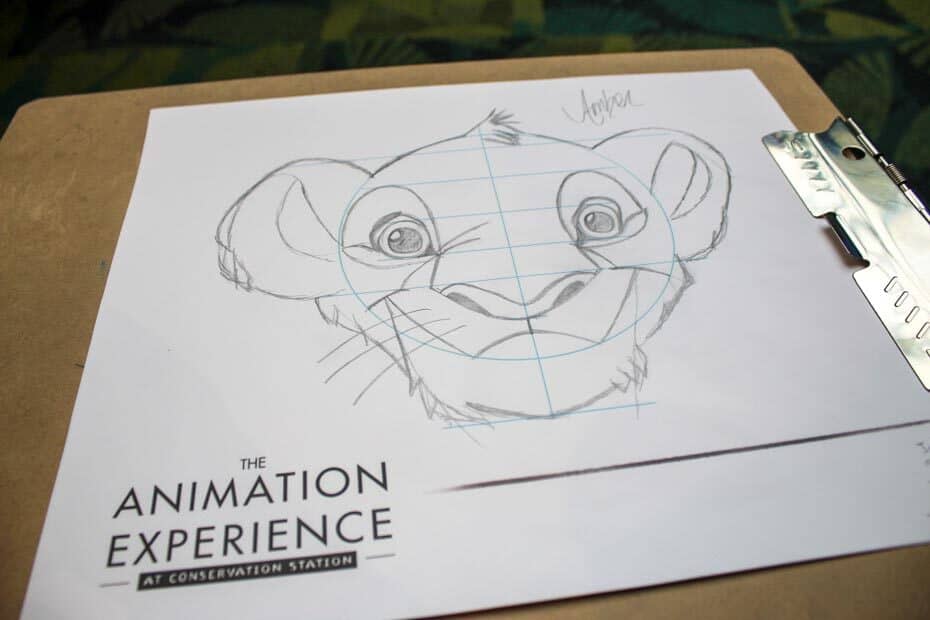 Before we look at our latest experience, let's review a few details for The Animation Experience at Conservation Station.
| | |
| --- | --- |
| The Animation Experience | Animal Kingdom |
| Location: | Conservation Station at Rafiki's Planet Watch |
| Disney Height Requirement: | None |
| Genie+ Eligible | Yes |
| Ride Type: | Class Room Environment |
| Rider Switch: | No |
| Good For: | Everyone |
| Scary Factor: | None |
| Must-Do List: | Medium Priority |
| Perfect For: | Anyone who has an interest in art. |
| Special Mention: | You get to keep your drawing. It might turn out better than expected. |
Animation Experience at Animal Kingdom
The Animation Experience at Conservation Station requires going a little out of the way to access. Honestly, I find the names of the different areas downright confusing to explain.
First, you'll start in Harambe in the area behind Kilimanjaro Safaris. There you'll see a large sign that says Rafiki's Planet Watch.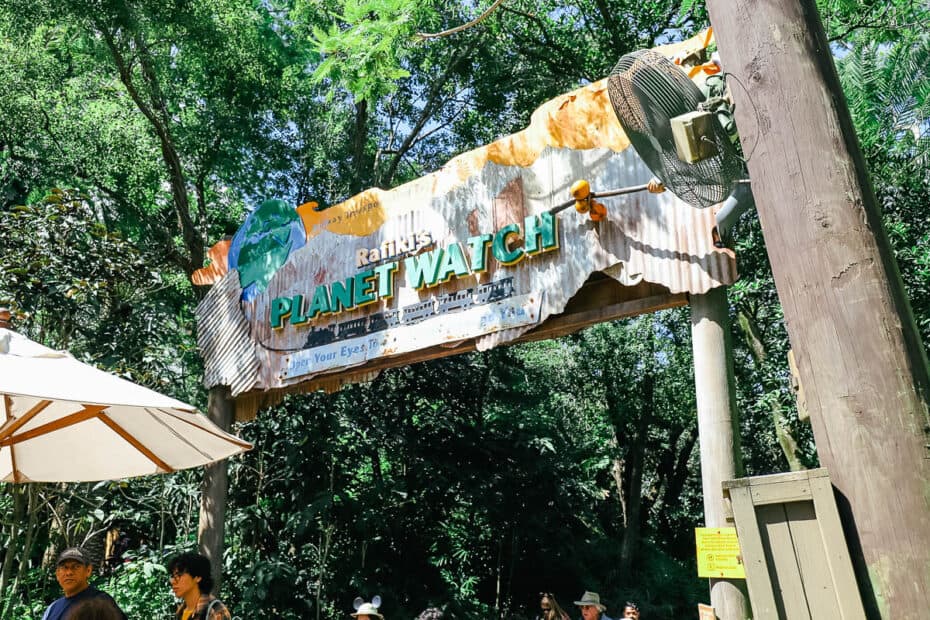 The Animation Experience is located inside Conservation Station at Rafiki's Planet Watch. You'll walk down the path and take the next train to the area.
Animal Kingdom's Wildlife Express Train runs every 5-10 minutes. So there shouldn't be a long wait for the next train to arrive.
When you get to Rafiki's Planet Watch, you'll walk down a pathway to Conservation Station. You'll see the first entrance, which only leads to the restrooms. However, it is important to know where the restrooms are since this area is isolated from the rest of the park.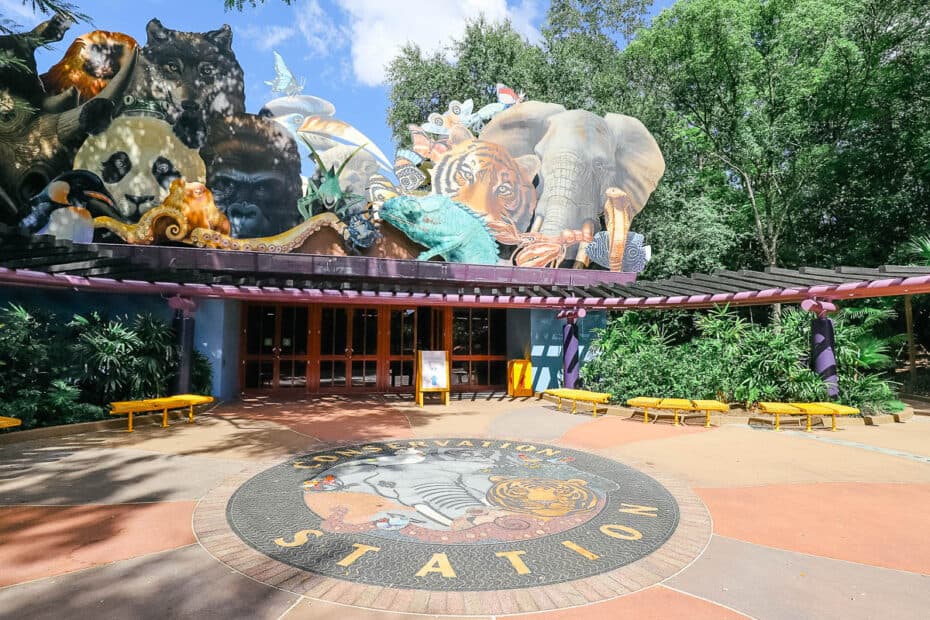 You'll walk past this entrance and the Affection Section petting zoo until you see another entrance. At this secondary entrance, you'll immediately run into the waiting area for the Animation Experience.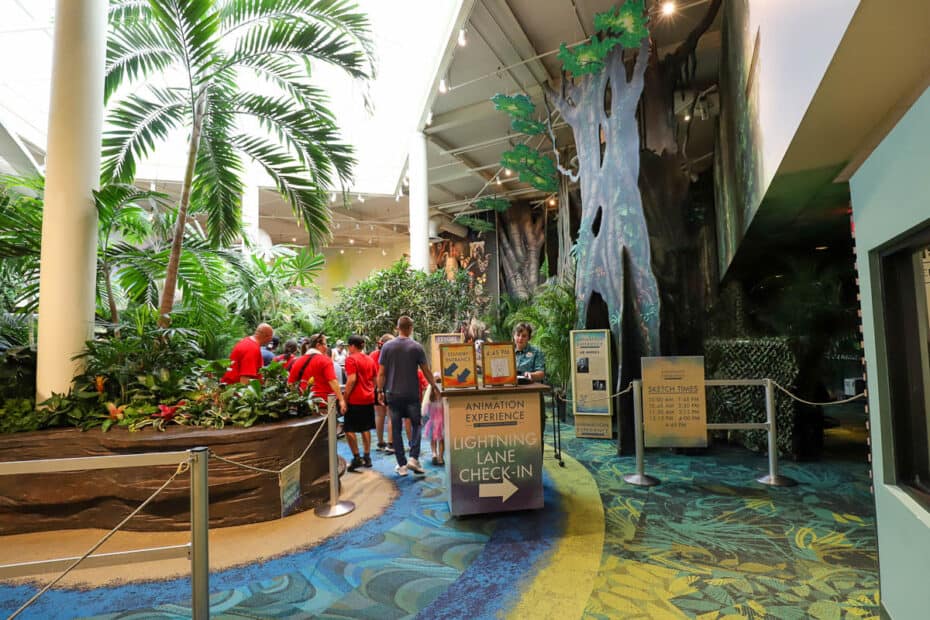 Times for each class are posted in several locations. You can also check the My Disney Experience app on the day of your visit for the exact times.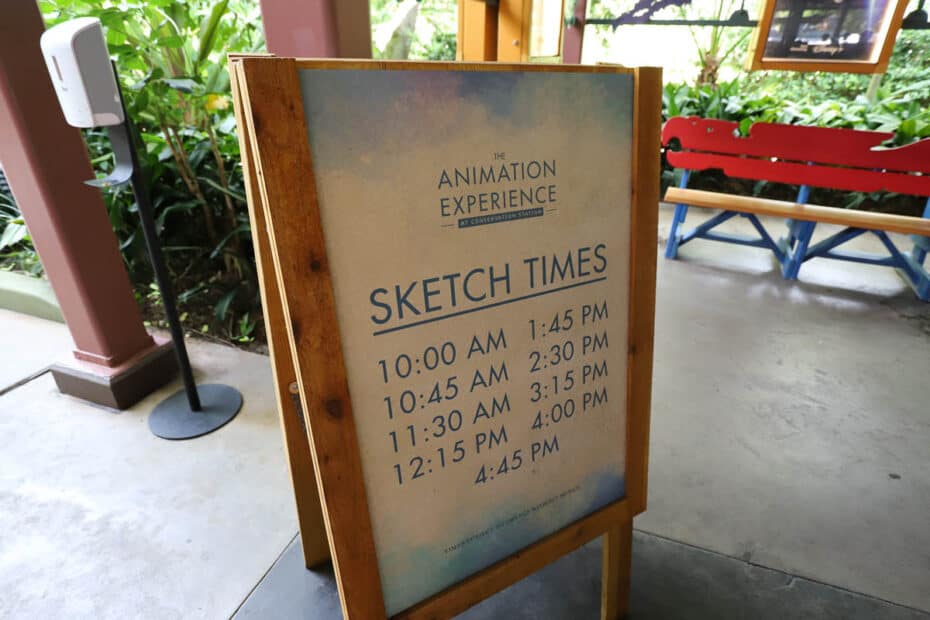 Most will want to plan The Animation Experience into their day. For instance, if you head up to Rafiki's Planet Watch at 2:25 p.m., you won't get there in time to make the 2:30 p.m. class.
So you would have to wait until the class at 3:15 p.m. That means you would have nearly 45 minutes to wait for the next class.
Unless your children love the petting zoo, there isn't much more to do in the area. Also, there are no food vendors here, which means there's no option to pick up a snack other than a few bottled drinks in the small gift shop.
Additionally, Rafiki's Planet Watch closes earlier than the rest of the park. If you wait until the last class, you'll be on the last train back to Harambe.
After the class, the instructor encourages everyone to head back to the train. From my experience, you won't leave the area until every guest has boarded the train.
While this isn't a terrible wait, there will always be guests lagging behind. And the train won't leave until they get the all-clear.
When you check in for The Animation Experience, there are two sides. One side is for standby, and the other is for Lightning Lane.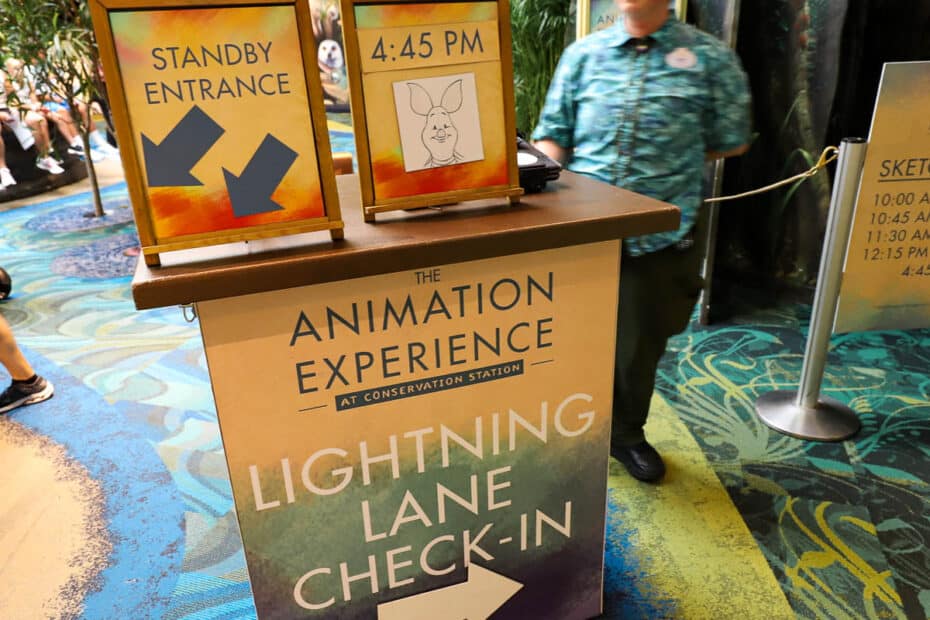 This visit was on a Sunday afternoon, and I took the train up for the final class at 4:45 p.m. Crowds were mild that day, but our class was still nearly completely full.
I chose to wait in the standby area. A few guests used Lightning Lane, so they were the first to be seated. Since they were seated first, they ended up in the front row near the artist.
I also received seating in the front row but wasn't near the artist. Thankfully, multiple screens show the artist and their instruction in front of each area.
So seating isn't necessarily a big deal. Here is an example of the setup from where I was seated.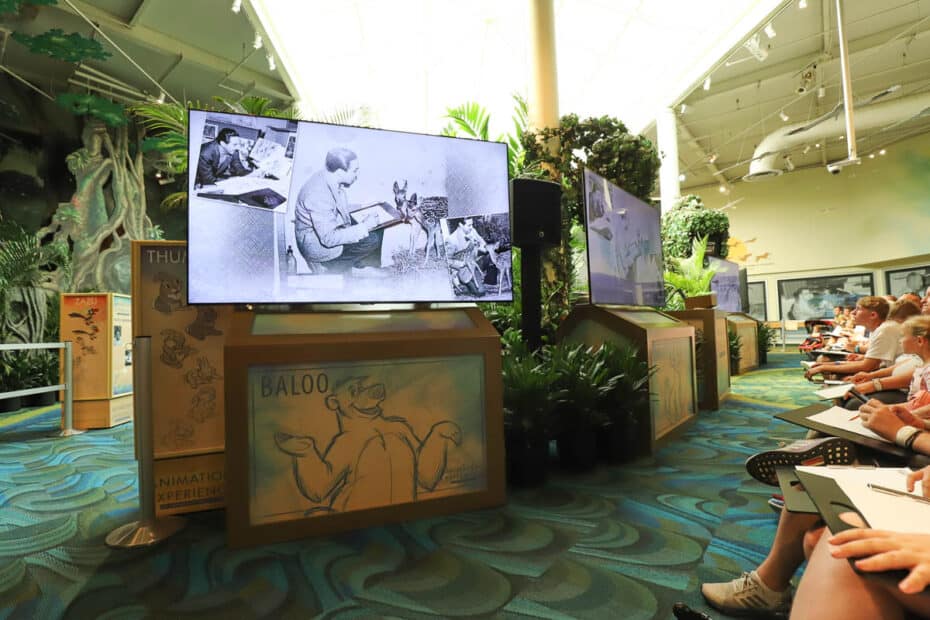 Should you use a Lightning Lane for The Animation Experience? That is debatable.
My best answer is if this experience is important to you and you're visiting during higher crowd times, it's a safe bet to secure one. At the very least, you'll have guaranteed seating over guests waiting in the standby area.
Before you're seated, there are stacks of paper and pencils. You'll want to pick up one of each.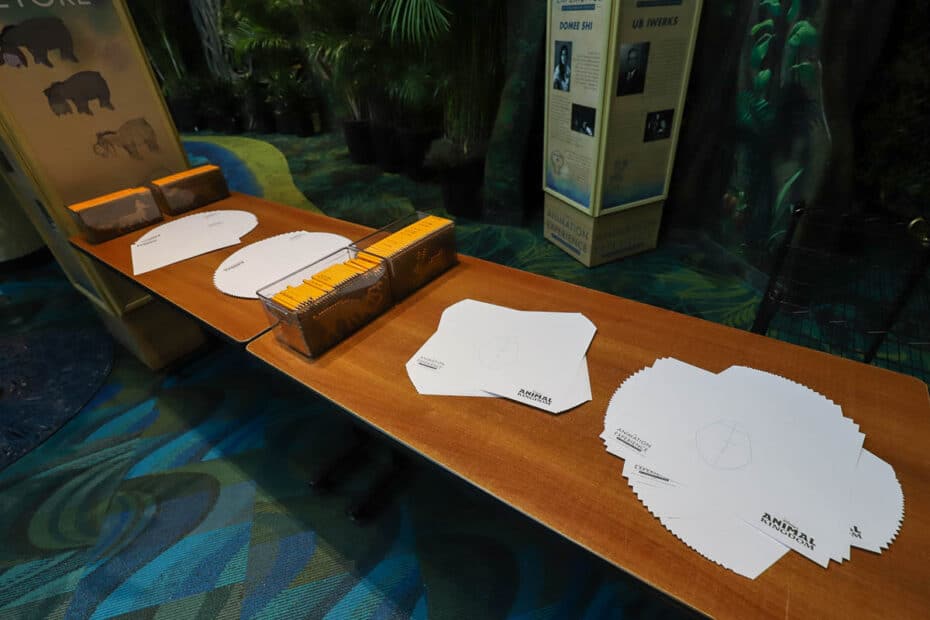 Clipboards are placed in each seat. So when you get to your seat, you'll attach the paper.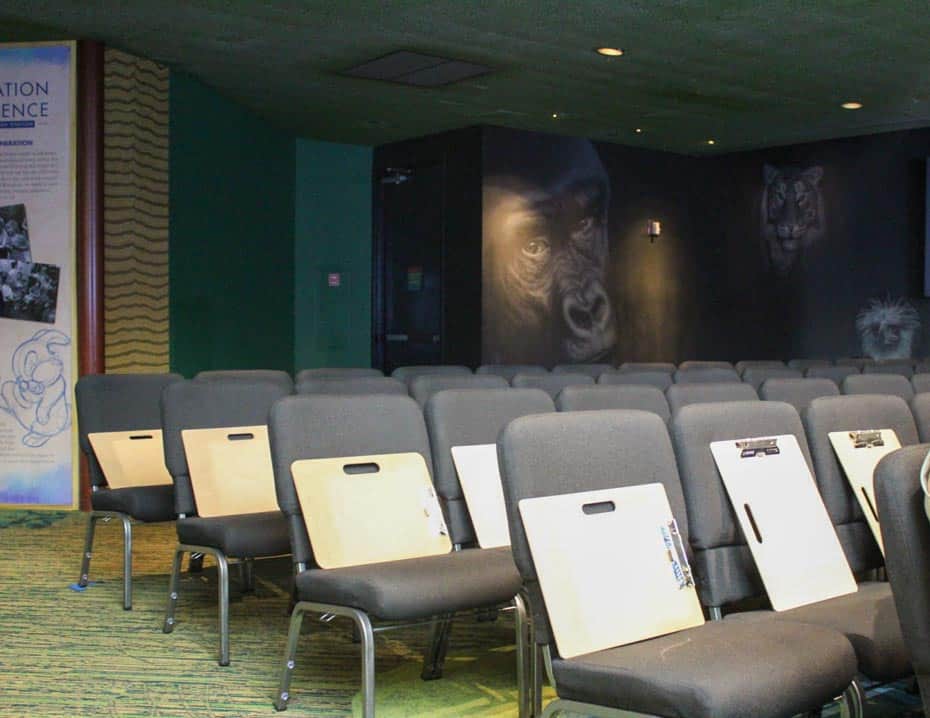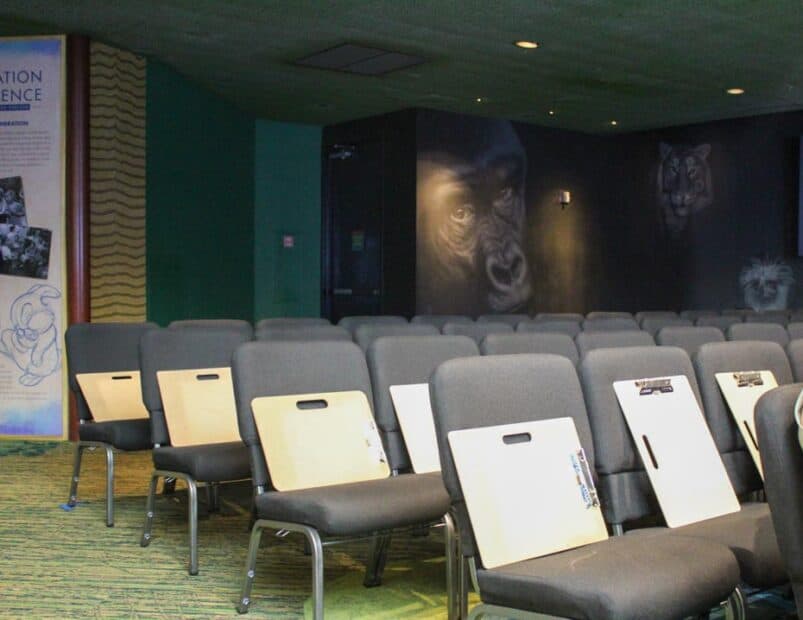 Note that the overall shape of the drawing is already on the paper. This will help you get started.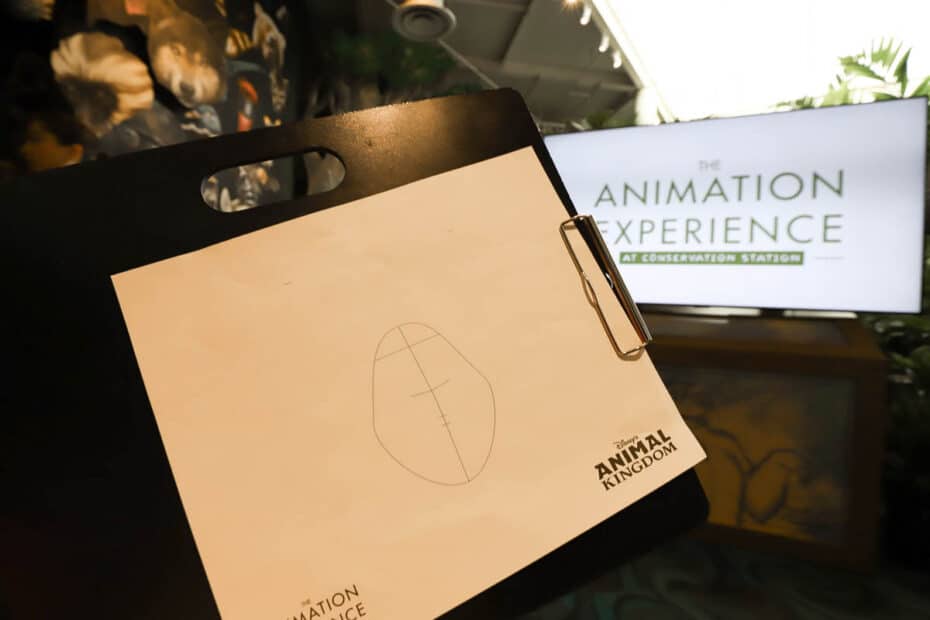 It usually doesn't take long to get everyone seated.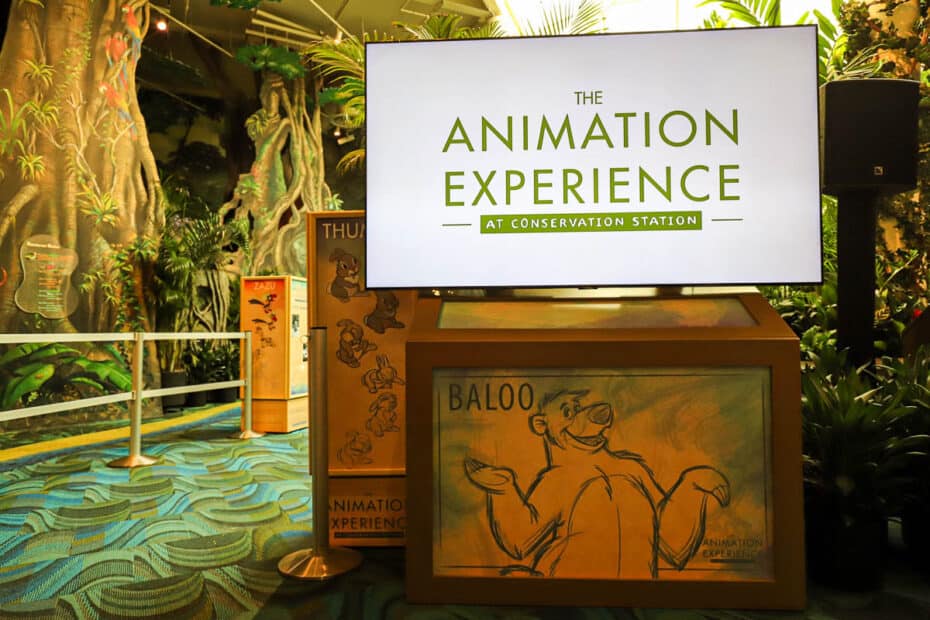 Then the Animator comes up and introduces themself to the audience. They tell the story of how Walt Disney got involved with animation.
Below is an example of how Walt and his artists studied real deer in order to create the animated film Bambi.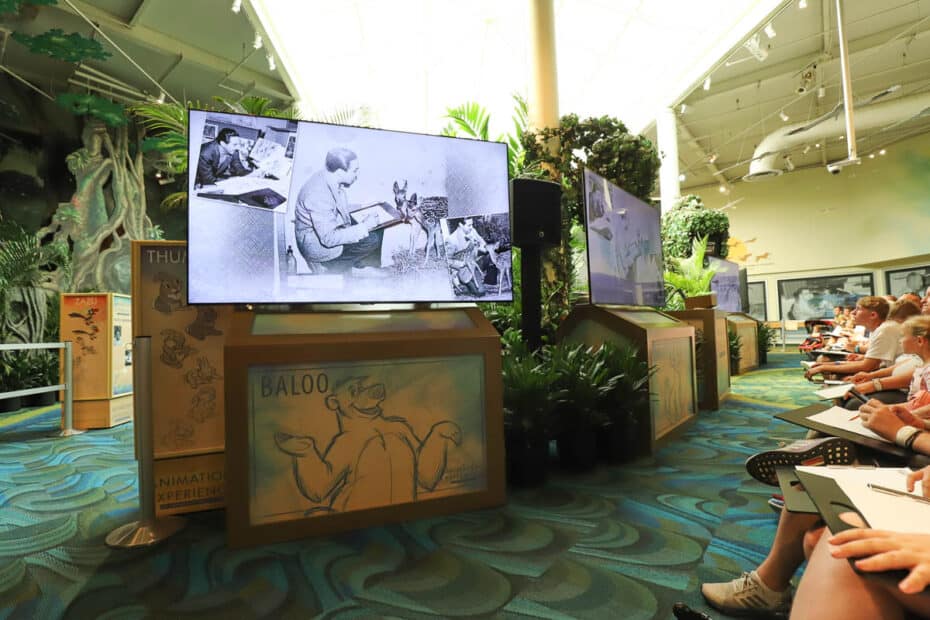 As always, Disney does a good job of tying in information about conservation and their work to help.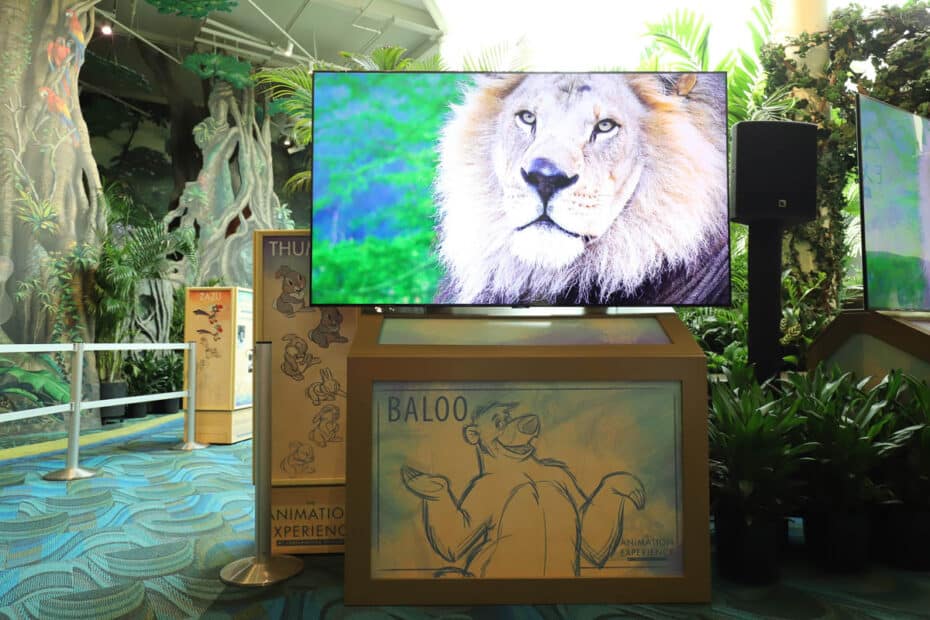 Then the narration changes to the character you'll be working on for that class. For this class, we drew Piglet.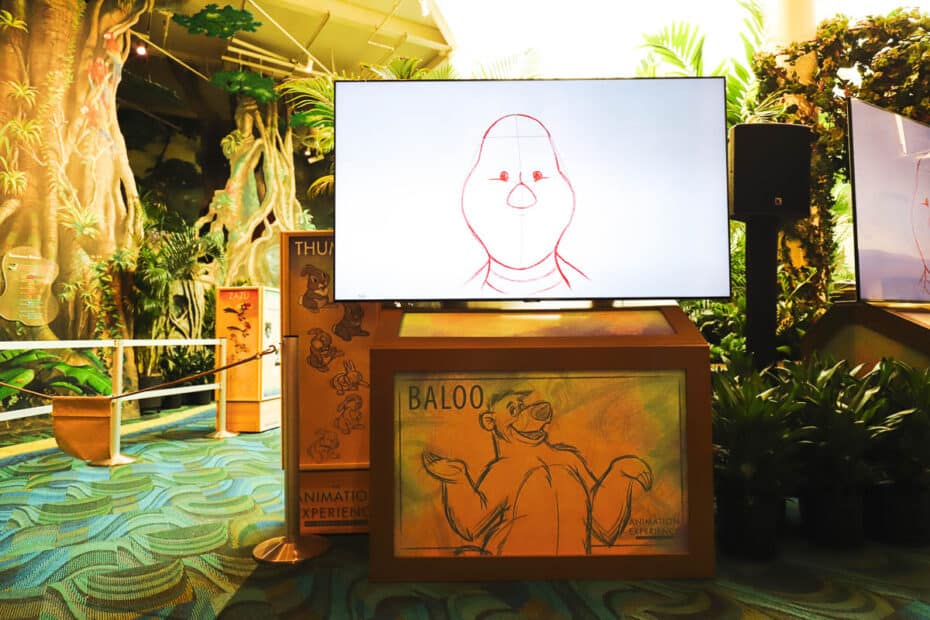 When I arrived at the Animation Experience, I wasn't hopeful for any character.
However, I was a little surprised that we were drawing Piglet. Piglet's character didn't necessarily seem to fit the theme of the Animal Kingdom.
Boy, was I wrong. As someone who adores Winnie the Pooh, this was one of my favorite classes.
Our Animator was not only an excellent instructor, but she knew all about A.A. Milne, the author of the Winnie the Pooh books.
She provided this incredible backstory about the character and tied it back to animation and pigs. So as she drew and provided tips for sketching, she somehow managed to provide this unexpected edutainment.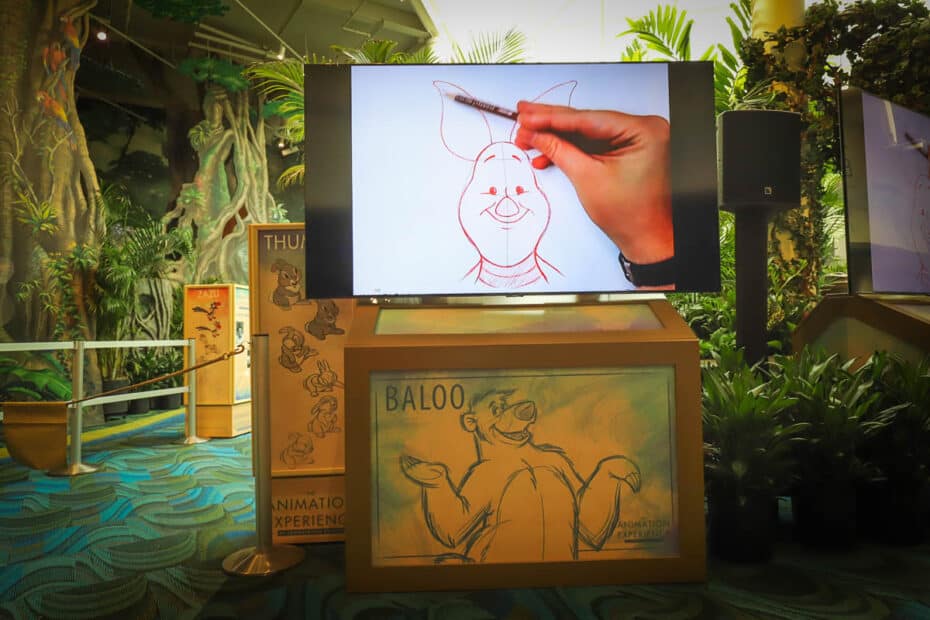 Here's how my Piglet turned out.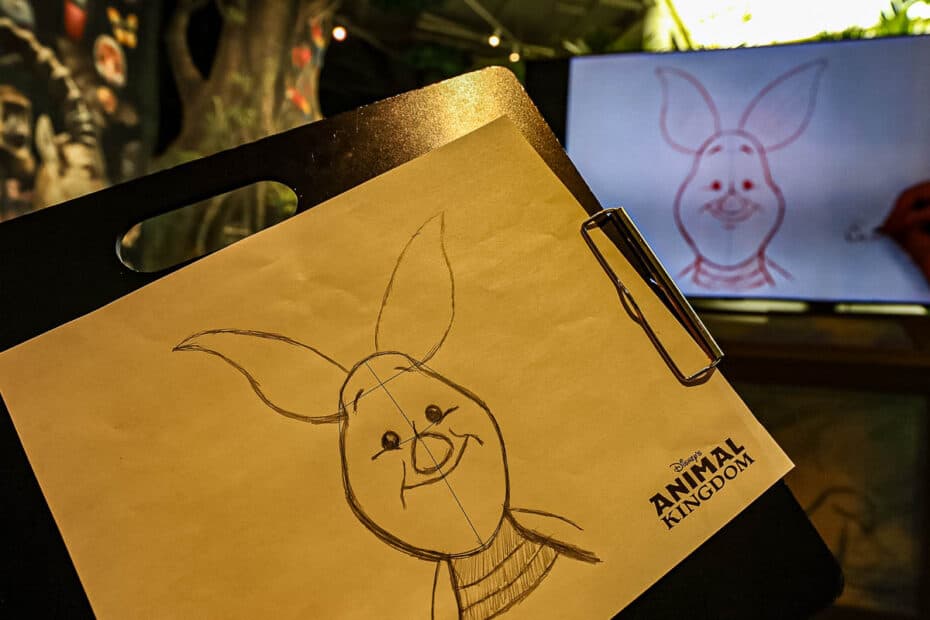 Initially, the drawings included characters like Simba, Timon, and Pumba. Then a few Disney villains were added to the mix, like Scar from The Lion King.
On another visit, we learned about conservation and elephants.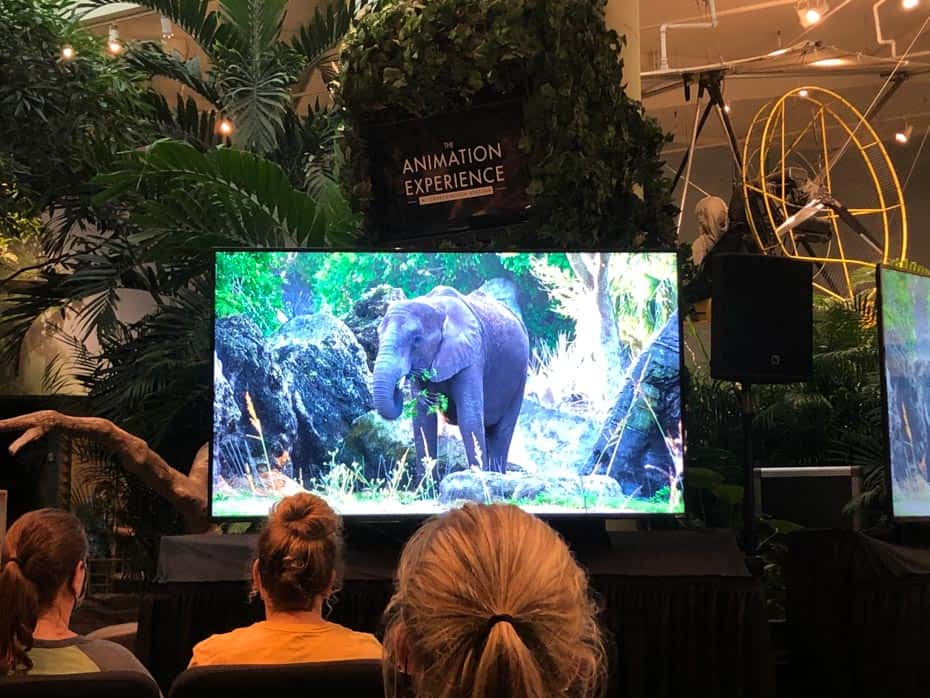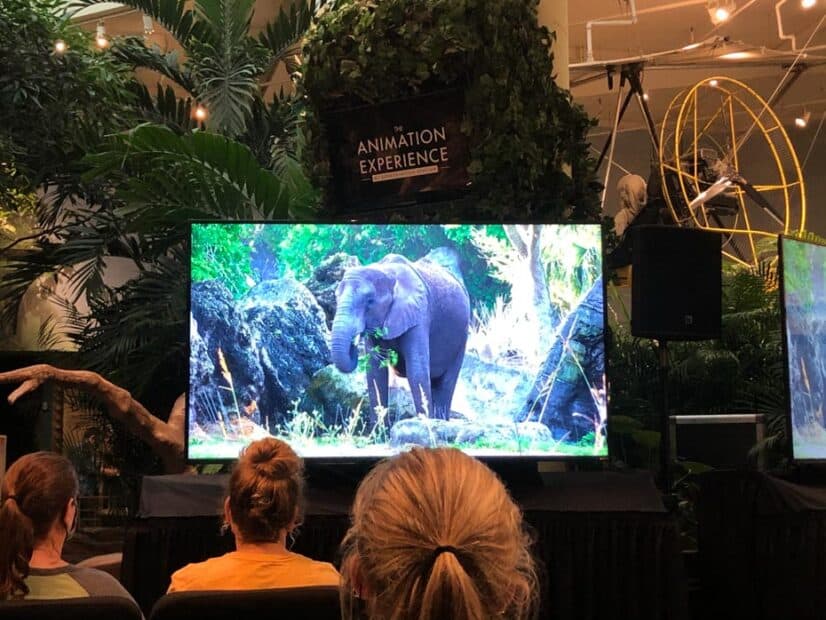 You can only imagine what character we ended up drawing.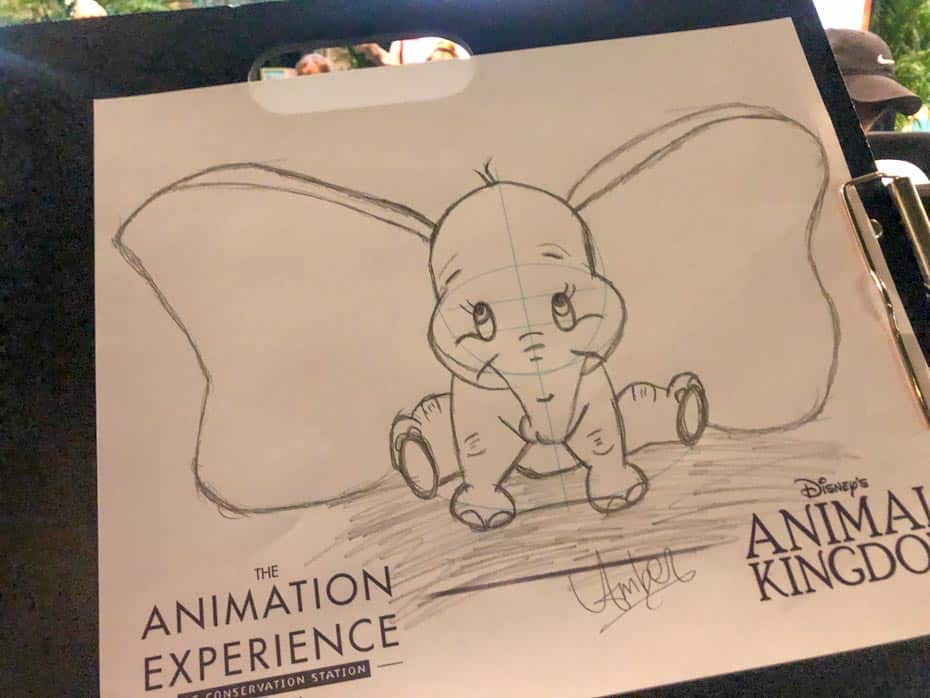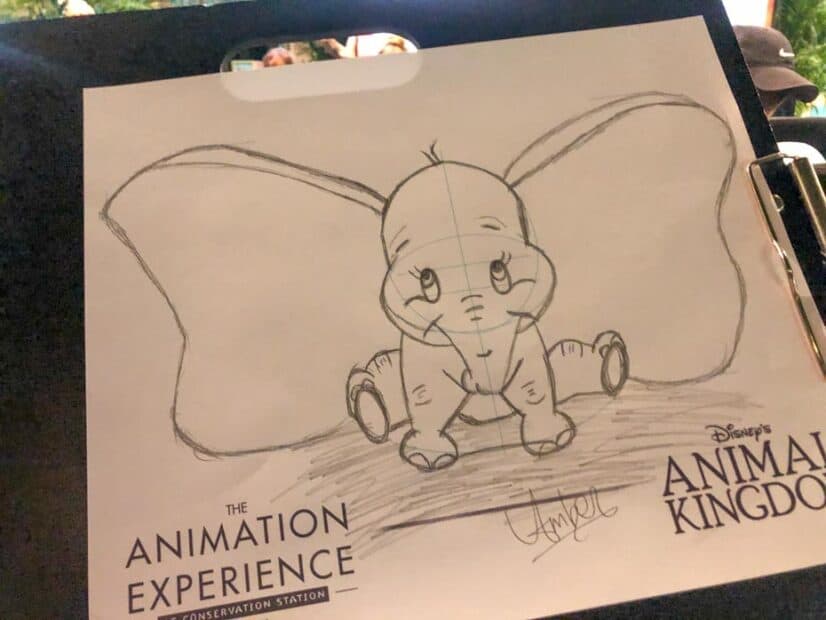 As you can see below, some of us have a little more imagination than others.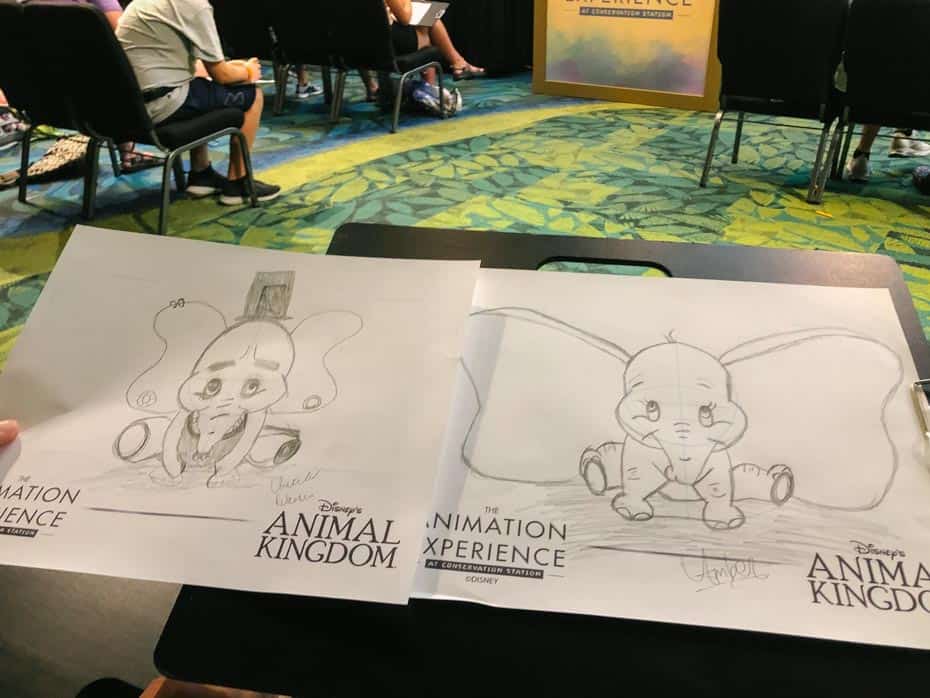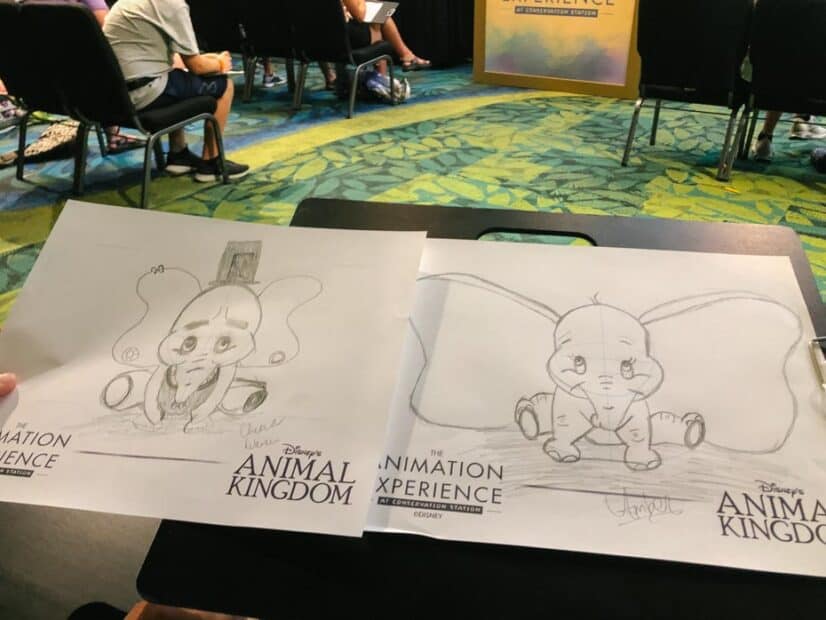 Overall, The Animation Experience at Conservation Station is a must-do for our family. It's one of the things that makes me love Disney's Animal Kingdom so much.
Sometimes this kind of experience will open your eyes to new hobbies or talents that your children could greatly benefit from exploring. We live in a very busy world, and sometimes it takes a vacation to see these kinds of things loud and clear.
So if you are in the area, stop in for a drawing. If it doesn't turn out great, you will still have a souvenir or a fun laugh.
For more attractions at Disney's Animal Kingdom, you might enjoy a few of our other favorites:
You might also enjoy browsing some of our reviews of Disney World Hotels. Here are a few of our favorite options near Animal Kingdom:
Or you might like to preview our guide to the Disney Deluxe Resorts.
In the comments:
Have you ever visited The Animation Experience at Conservation Station? Who would you love to draw?
Planning a Walt Disney World or other Disney Destination vacation?
Our friends and travel partner, Firefly Travels, excels at doing Disney differently. You can fill out a plan your trip form on their website, and someone will reach out shortly to discuss the specifics.