TriceraTop Spin at Animal Kingdom
TriceraTop Spin is a spinner style attraction in the Dinoland U.S.A. portion of Animal Kingdom in Walt Disney World. This attraction is similar to rides like Dumbo and Magic Carpets over at the Magic Kingdom. While there's not too much that can be said about a ride like TriceraTop Spin, we'll still cover all the important, need-to-know details down below.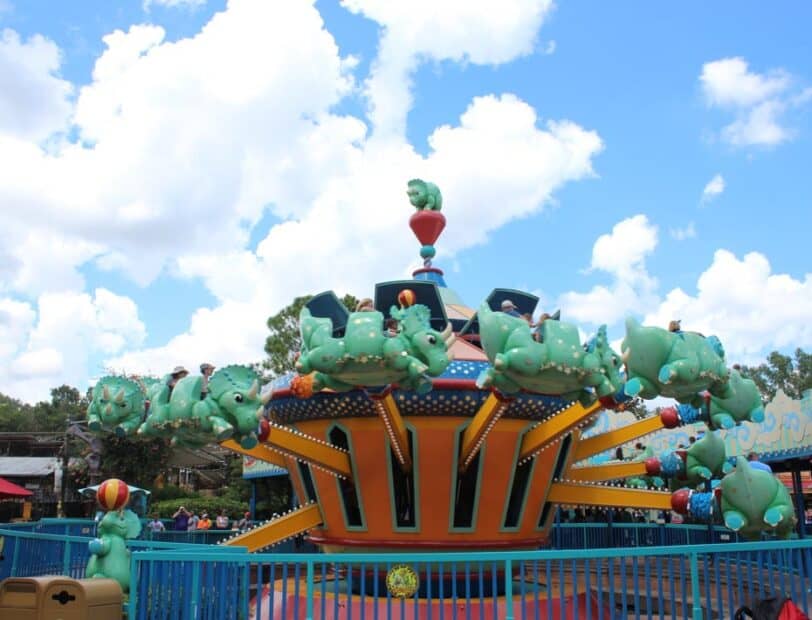 "Fly high on a friendly dinosaur above Dinoland U.S.A."
Here are a few need to know details to experience the spinner.
| | |
| --- | --- |
| Tricera Top Spin | Animal Kingdom |
| Location: | Dinoland U.S.A |
| Disney Height Requirement: | None |
| FastPass: | No |
| Ride Type: | Spinner |
| Seats Per Vehicle: | 2 per row, 4 total |
| Rider Switch at Disney: | None |
| Extra Magic Hours: | Mornings |
| Good For: | Children |
| Scary Factor: | Low |
| Must-Do List: | Low Priority |
| Perfect For: | All Ages |
| Special Mention: | Great views from the attraction. |
TriceraTop Spin Ride
Nearly all children will want to take a spin on TriceraTop Spin, and that goes for big kids like me too. A little side note, before we came Resorts Gal, this site's original name actually came from my love for spinning. In fact, the Magic Carpets spinner was my son's first attraction that he ever rode on his first visit at age three.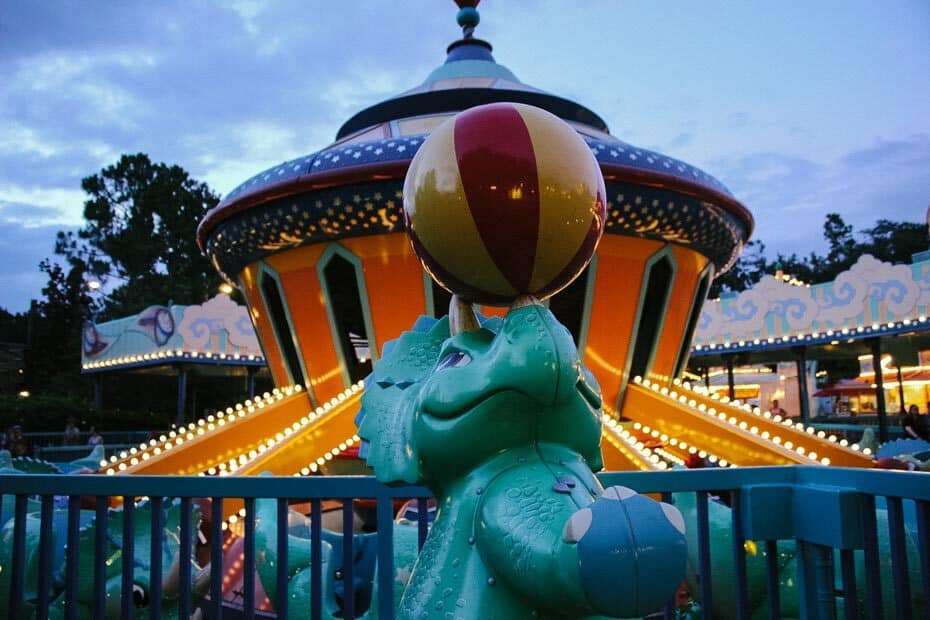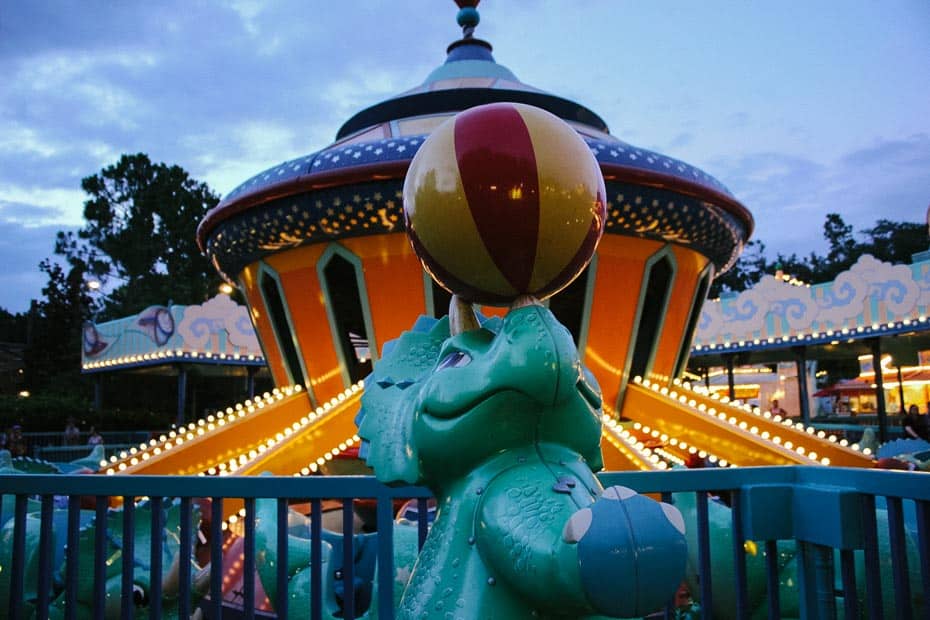 Anyways, Tricera Top Spin is in the heart of Dinoland, U.S.A at Animal Kingdom. This area of the park is themed to look like a carnival or one of those stops on a road trip where your kids keep seeing the billboards for way far in advance. You know where they keep whining that they want to stop, and there's probably a million reasons why you shouldn't.
Yeah, that's Dinoland at the Animal Kingdom, except it's intentionally themed to give off this vibe. And it does have a bit of charm. If you like faux dinosaurs.
Tricera Top Spin doesn't offer FastPass, but the waits are usually fairly low even when wait times are high everywhere else. Each ride vehicle is in the shape of Trixie the triceratop. In the center, she is standing on the top spinning it.
As for the seats, it's two per row and four per dino. The back seat offers a joystick type leverage that allows you to adjust going up or down. The front seat offers a mechanism that will allow you to tilt the vehicle forward or backward.
There's a larger range of motion in the backseat, so most children will want to ride there. The front seat doesn't offer much difference in the tilt.
One of the fun things I always notice is that there's usually a loud, glaring pop song playing in the background in this area of the park. I always wonder what will be playing during my spin. Trust me, you can't help but notice it.
As always, a reminder that these types of attractions are the most fun for the appropriate age groups. When you get older, it's not always easy to see that these are the bright and shiny things that children love.
If you are specifically looking for child-friendly attractions at Disney's Animal Kingdom try these reviews:
Planning a Disney vacation? You might like to check out our entire list of Walt Disney World Resort Reviews here. Or visit these specific reviews:
And for dining, you might want to browse our full list of Disney Restaurant Reviews. I have an updated 2021 Disney World Character Dining Guide and list of the Best Restaurants at Disney Springs.
Enjoy your spin on Tricera Top Spin!