Animal Kingdom's Wildlife Express Train
In this review, we take the Wildlife Express Train at Disney's Animal Kingdom to Rafiki's Planet Watch. Find out what we'll see along the way.
At Disney's Animal Kingdom, there's a certain area of the park that requires you to take a train ride to get to it. That area is Rafiki's Planet Watch, and the train is called the Wildlife Express Train.
Animal Kingdom's Wildlife Express Train operates daily between 9:30 a.m. and 4:30 p.m. You can check the exact hours of operation for the day of your visit here on Disney's site.
Sometimes, those hours may vary slightly when the park is open later. However, the train and the area it travels to always cease operation before dark.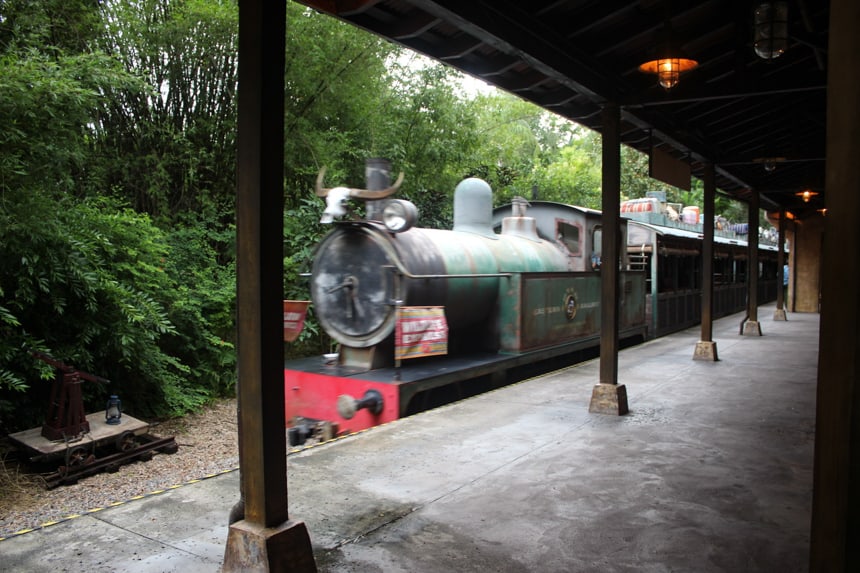 Below we have a few quick details for the Wildlife Express Train.
Wildlife Express Train
Animal Kingdom

Location:

Harambe and Rafiki's Planet Watch

Disney Height Requirement:

None

Ride Type:

Slow-Moving Train

Seats Per Vehicle:

Two Rows of Benches per Car

Rider Switch at Disney:

None

Good For:

Anyone

Scary Factor:

None

Must-Do List:

Low Priority

Perfect For:

All Ages

Special Mention:

The train faces out and often offers a
small backstage view of animals.
Wildlife Express Train
Rafiki's Planet Watch is a separate area of the park offering a few hands-on attractions during the day. While it's worth the train ride, you can easily miss the entrance if you're unfamiliar with your surroundings.
Toward the back of Harambe, behind Gorilla Falls Exploration Trail and Kilimanjaro Safaris, there's a sign that says "Railway Transportation to Rafiki's Planet Watch." You'll want to walk underneath the sign and down the pathway to the train station.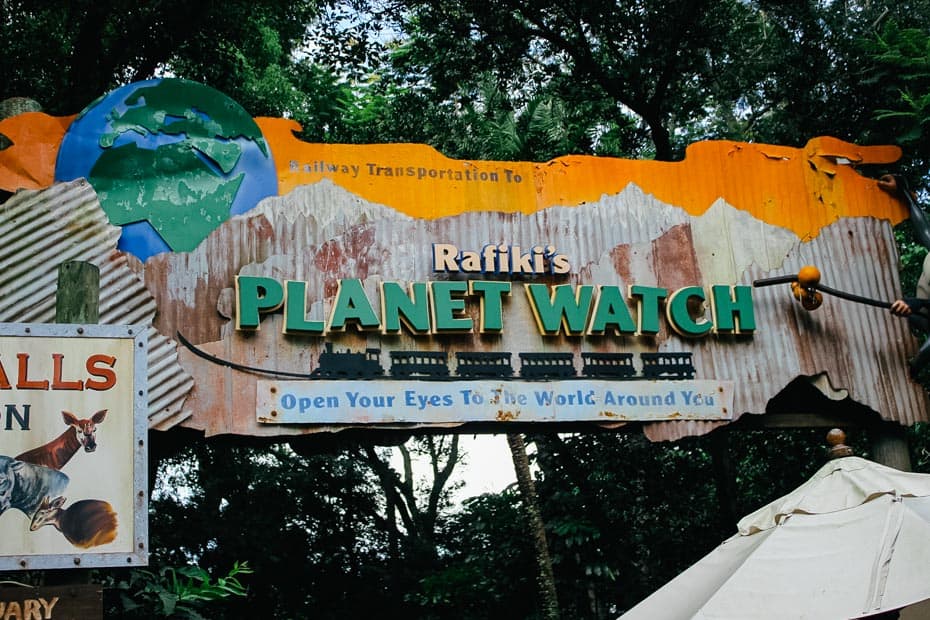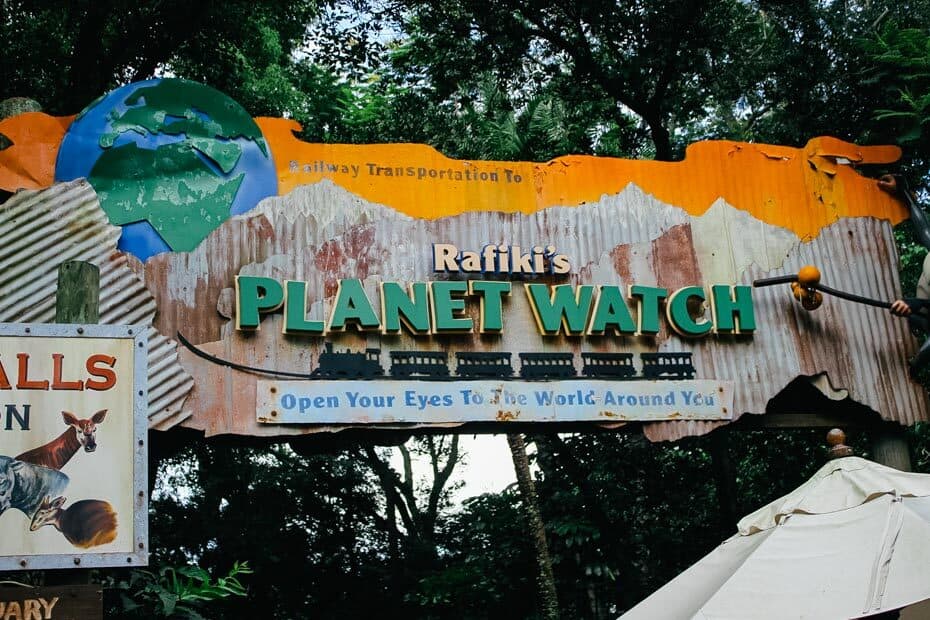 Animal Kingdom's Wildlife Express train runs approximately every 10 minutes. While you wait, you'll stand underneath a large covered pavilion.
So it's not the worst place to be if it starts raining. However, you might get a little wet while boarding the train.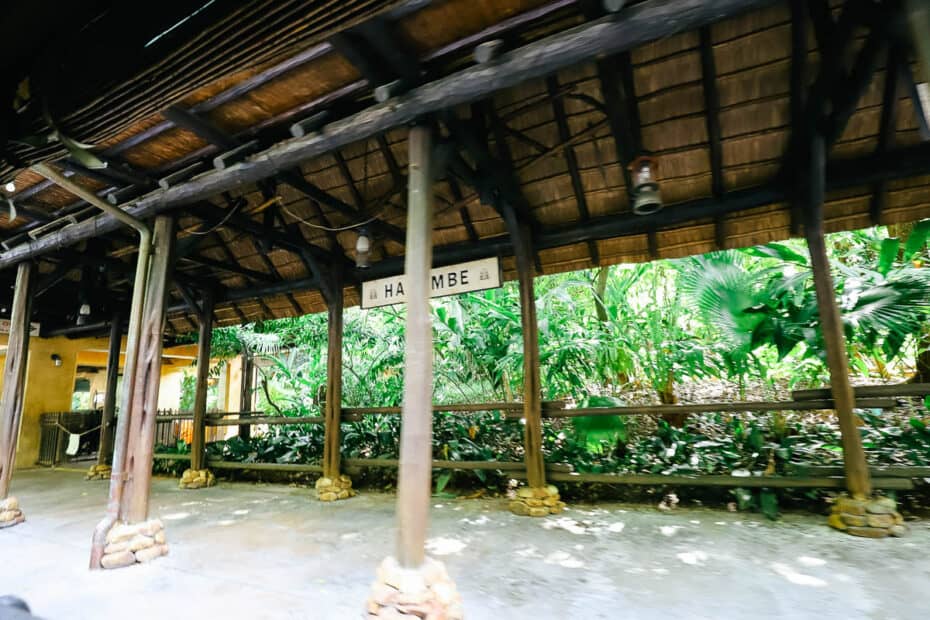 When the train arrives, returning guests disembark. Then you'll be allowed to board.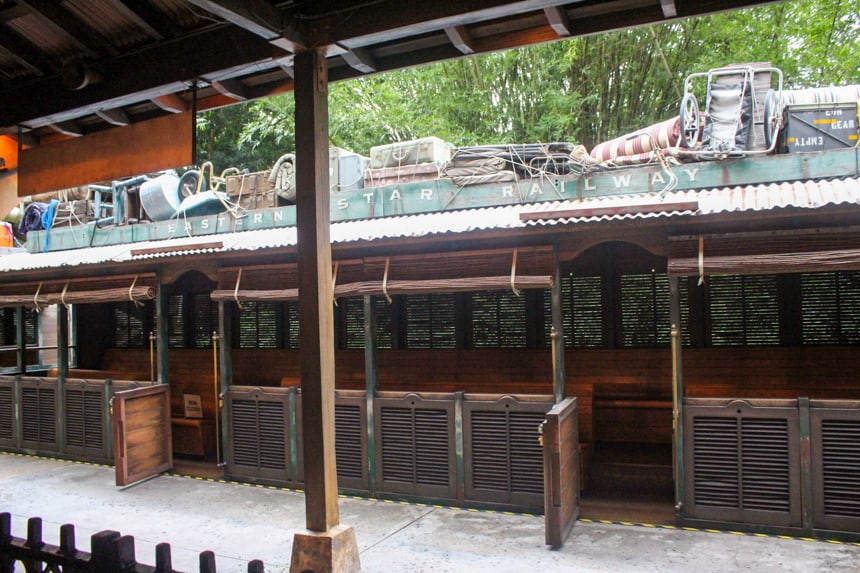 It's a 1.2-mile-long journey to Rafiki's Planet. It takes the train approximately 7 minutes to reach the destination.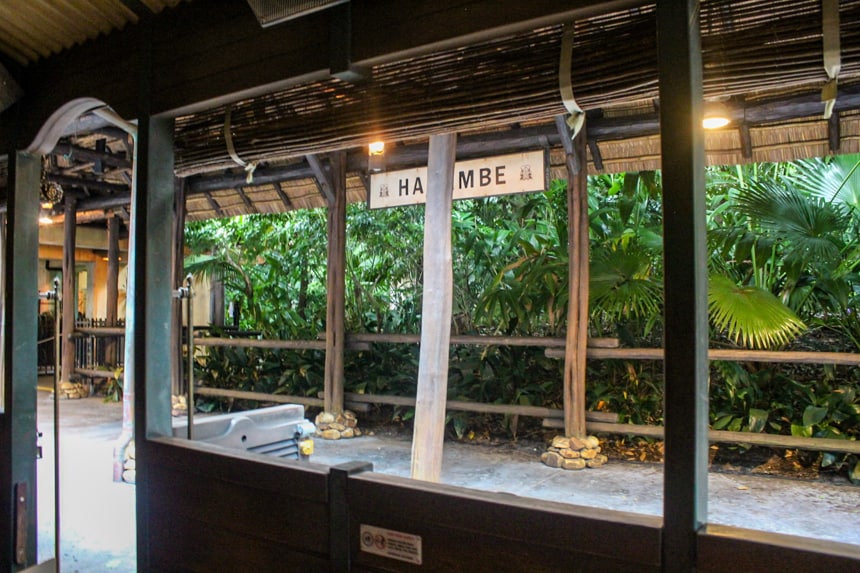 For those only wanting to take a train ride, you'll stay on at Rafiki's. After the train reloads, you'll continue full circle back to Harambe.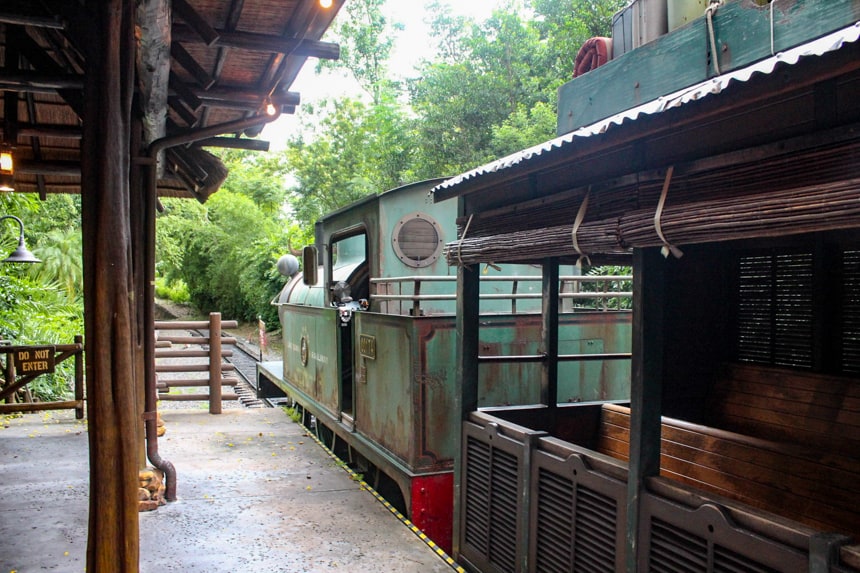 One of the perks of taking the Wildlife Express Train is seeing some of the backstage areas of Disney's Animal Kingdom. Like most behind-the-scenes glimpses of Disney, the view won't be as pretty as what you see in public areas. But it's still interesting to see these areas.
For instance, you'll pass where the White Rhinos and African Elephants are housed. These are the same elephants you might see on Kilimanjaro Safaris and the Caring for Giants tour.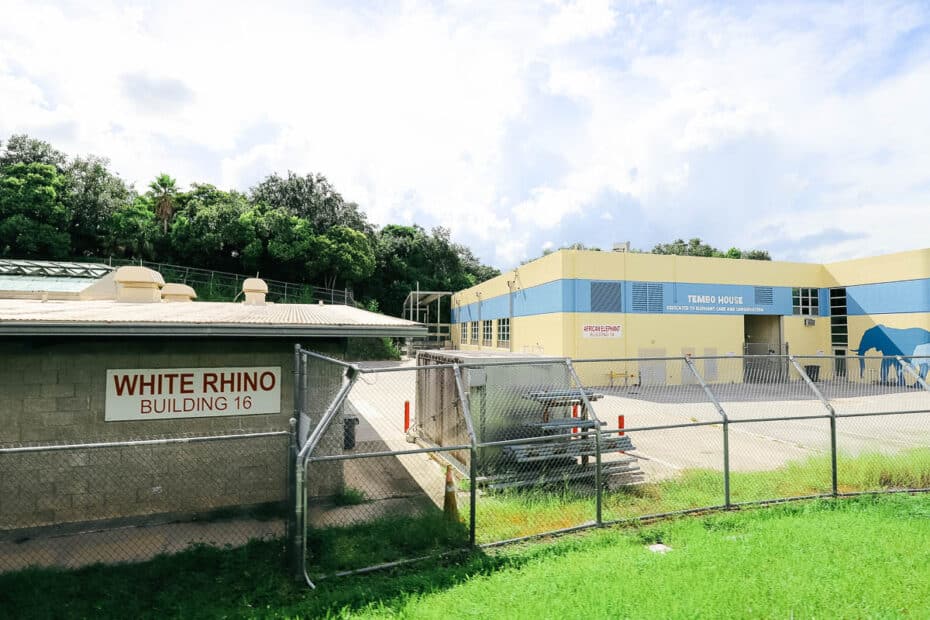 Toward the back of this photo is the Cheetah building. Like the cheetahs on the safari, their building is difficult to see.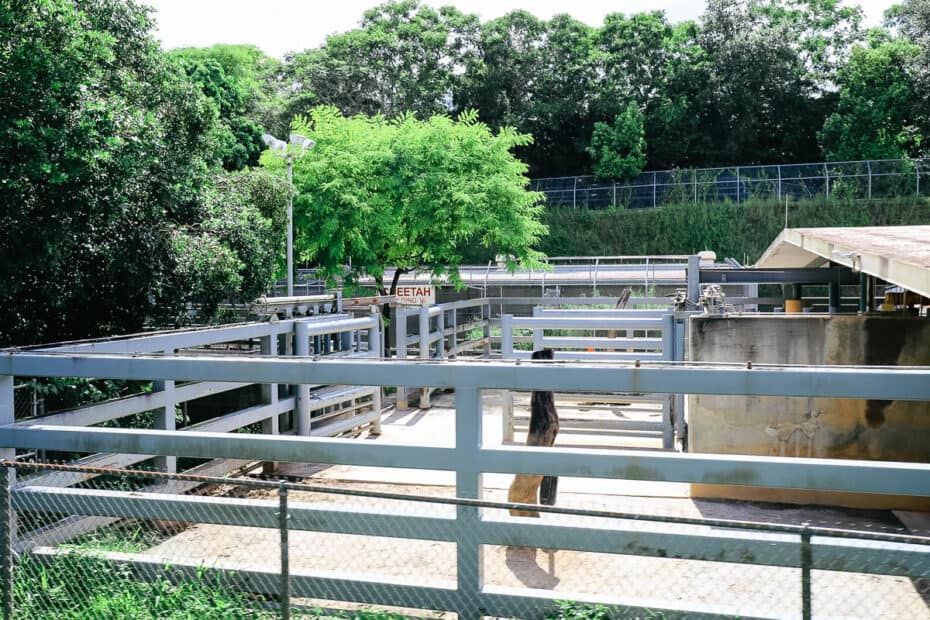 It has been my experience that there are almost always a few ostriches out running the fence line.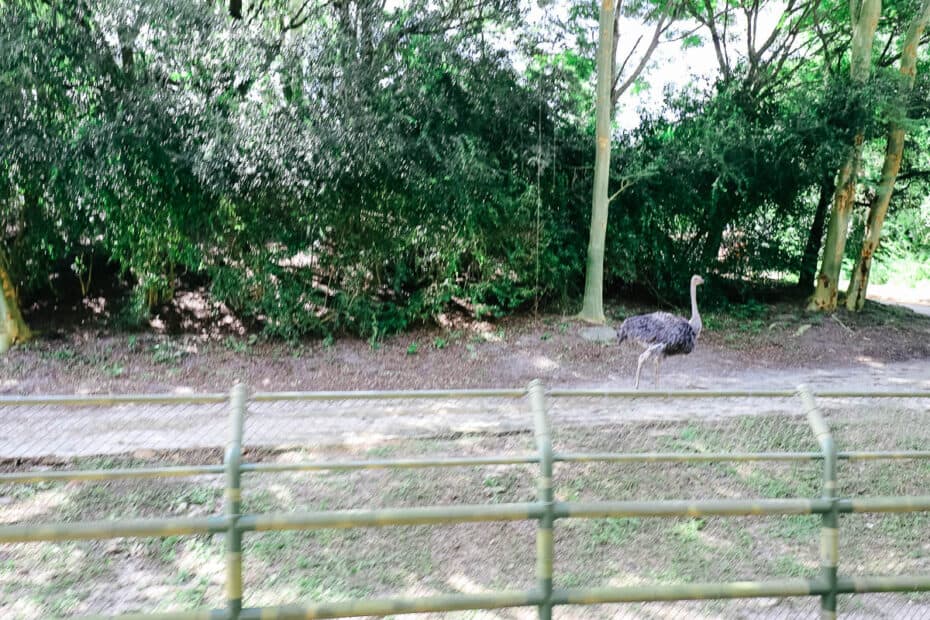 Before you reach the destination, you'll pass by a few of Disney's latest advertisements. On my last visit, they were promoting a National Geographic television series.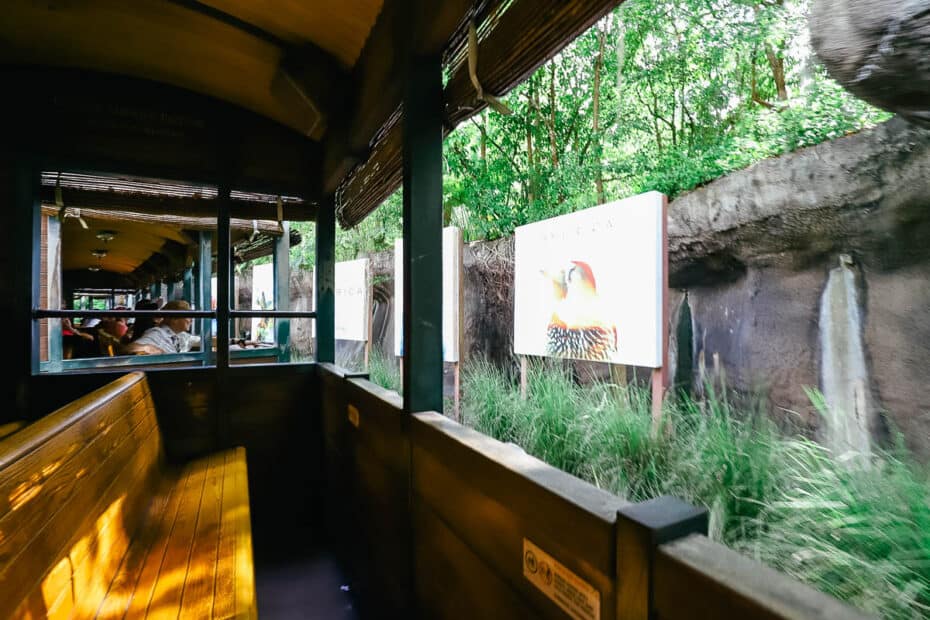 Of course, Disney acquired National Geographic a few years back in the 21st Century Fox deal. So now there's merchandise and whatnot for the company in the theme parks.
Once you reach Rafiki's Planet Watch, you can walk down to Conservation Station. We have separate reviews that cover the area:
That Animation class alone is worth the visit.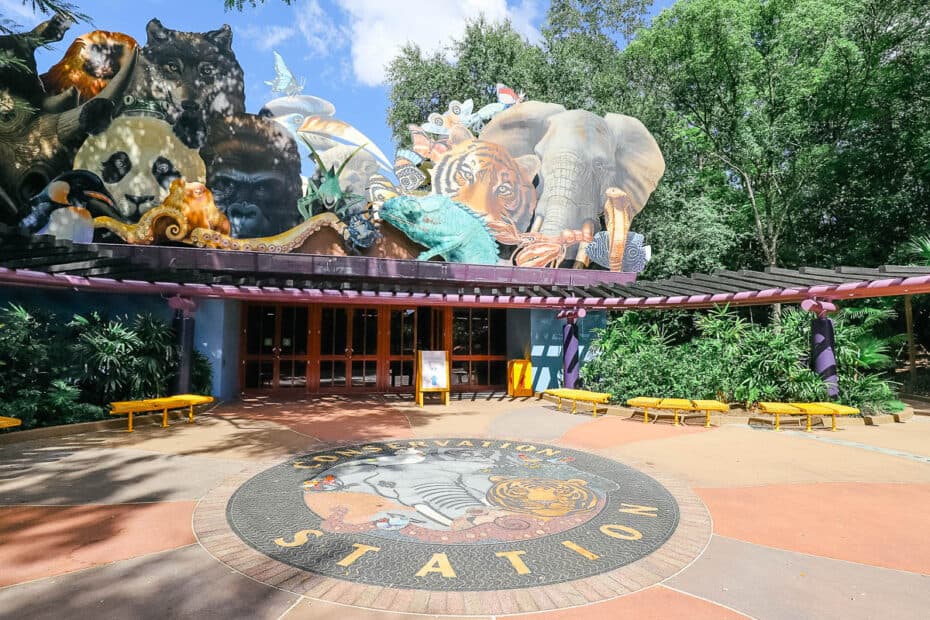 While the walkway from the train station to Conservation Station is not terribly long, it is longer than you would probably expect.
I'm mentioning this because if it started raining, you could get soaked returning to the train station. I always try to keep a lightweight rain jacket, umbrella, and a disposable poncho in my backpack.
Rain is common at Disney World, especially during the afternoons. I would be willing to bet that most of my afternoon visits to Rafiki's over the years resulted in a rain shower.
Unfortunately, when you return to Harambe, you won't see any of the backstage areas.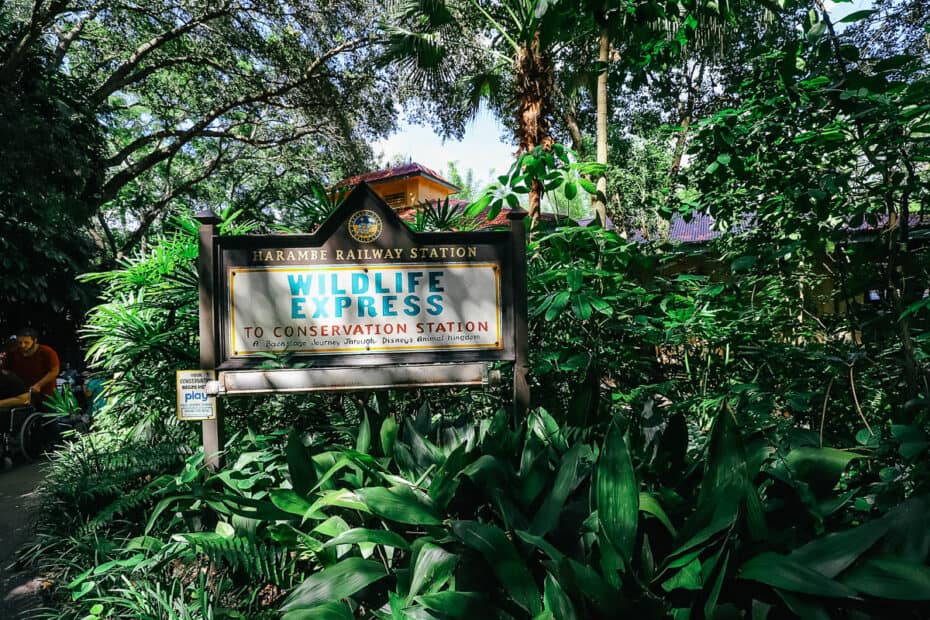 Usually, the day's last train returns to Harambe by 5:30 p.m. If you're in that last group, you'll have to wait until everyone left in the area boards the train.
Overall, the Wildlife Express Train is a fun experience, especially if you're in need of a break. However, I do prefer to tour the area while I'm there.
Either way, I hope you'll enjoy the train ride. For more laid-back attractions at Disney's Animal Kingdom, you might enjoy the following:
For those planning a stay at the Walt Disney World Resort, you might also enjoy our list of Disney World Hotel Reviews. Some of the options near Disney's Animal Kingdom include:
For dining, we also have a list of Disney Restaurant Reviews. Our most popular dining guides include:
In the Comments:
Have you ever taken the Wildlife Express Train at Disney's Animal Kingdom? Does your group enjoy this type of attraction?