Christmas at Disney's Hollywood Studios
Christmas at Disney's Hollywood Studios is perfect! From the vintage decorations to the holiday tunes playing in the background, the spirit of Christmas is all around.
In fact, you might want to turn on a few Christmas tunes or your favorite classic movie soundtrack in the background! Because we're headed on a walkthrough of everything Christmas at Disney's Hollywood Studios.
The photos below are all from the charming theme park during the holiday season.
We'll start with a look inside the entrance to the park on Hollywood Boulevard. The garland strands hang high above the street. Each strand has one gold star in the center which is a nice nod to the underlying movie theme of the park.
Red and green bells adorn each side. Talk about Christmas colors!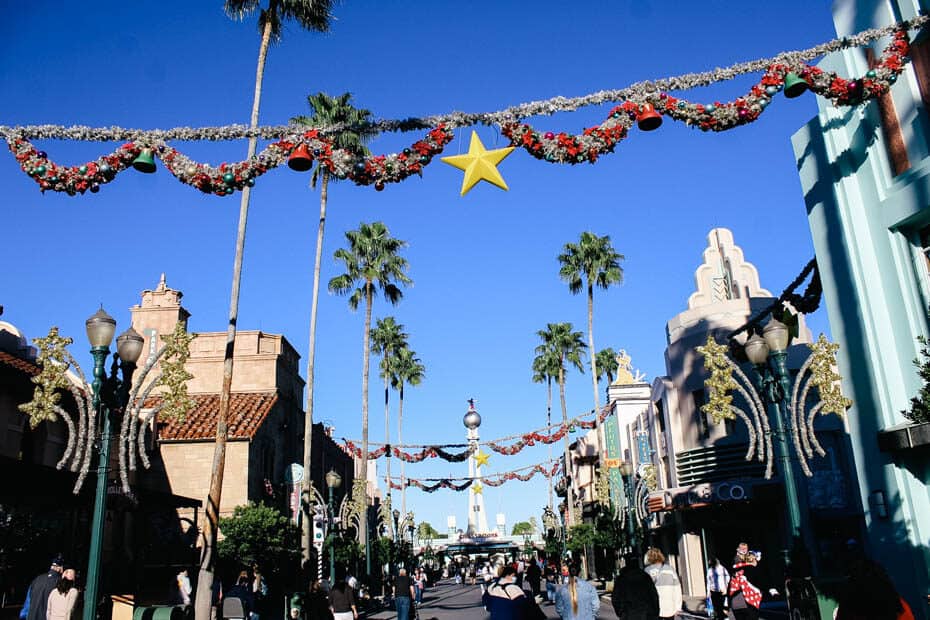 The stars make for a nice effect as you look in either direction down the boulevard.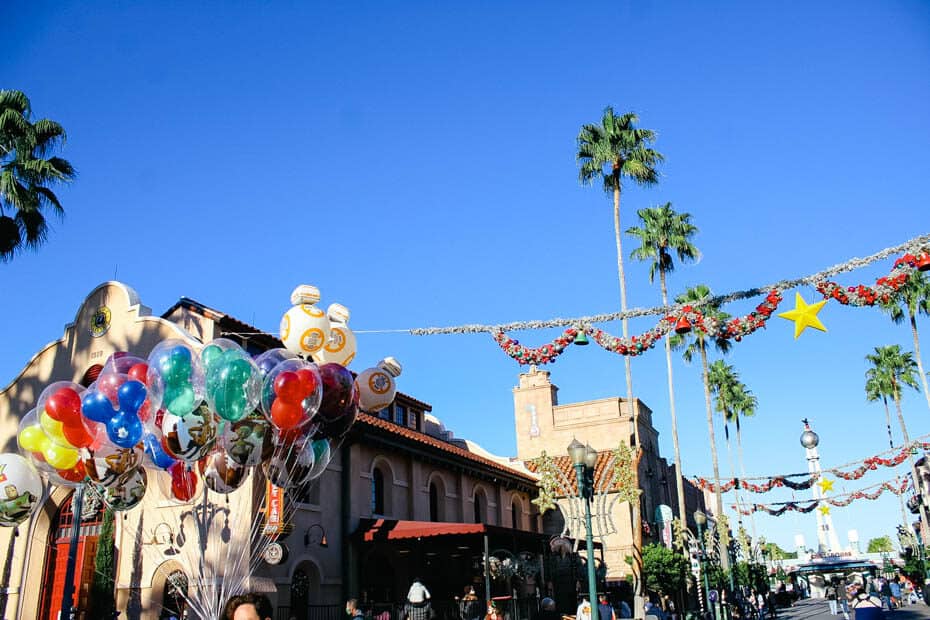 Temperatures have been varying lately as they often do during the milder Orlando months. You'll want to bundle up in the morning and evening when colder weather is forecasted. Think layers when it comes to clothing.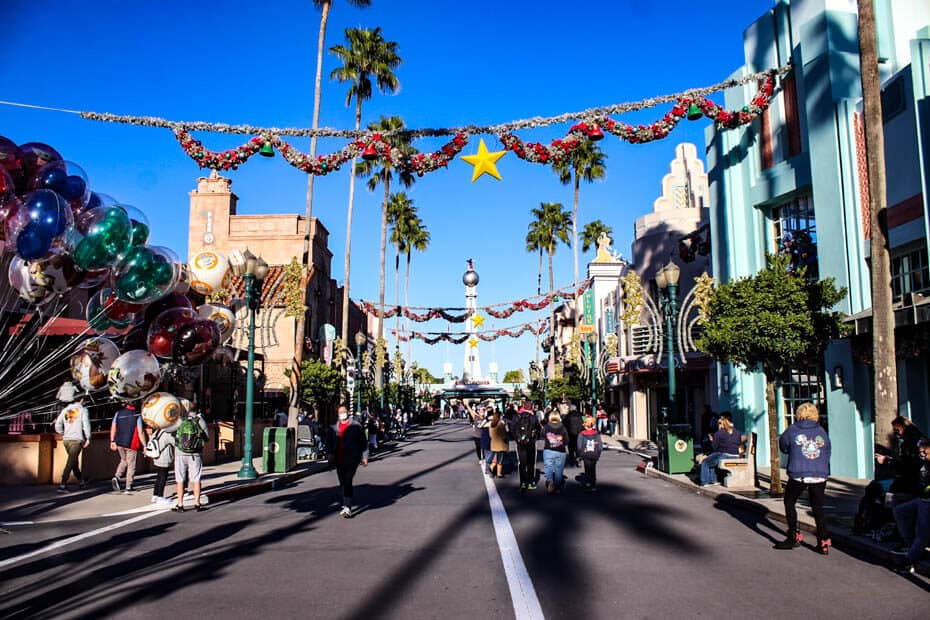 But on those sunny Florida days, you can expect to be able to comfortably eat outside by lunchtime. Which makes those chilly morning temperatures hard to complain about.
Sets of tinsel stars seem to climb out of the light poles.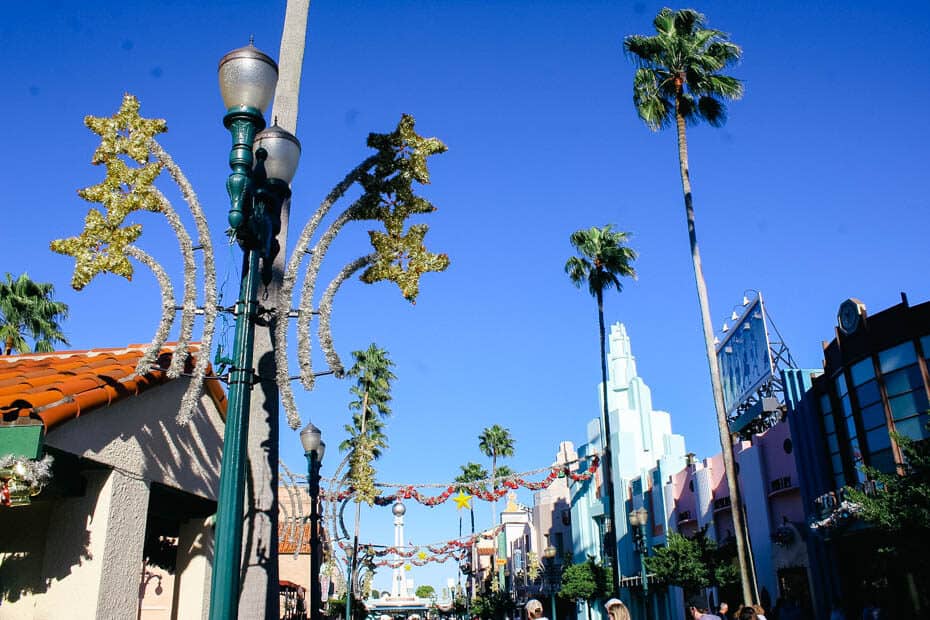 You can expect to see a variety of tinsel fittingly representing this faux Tinseltown.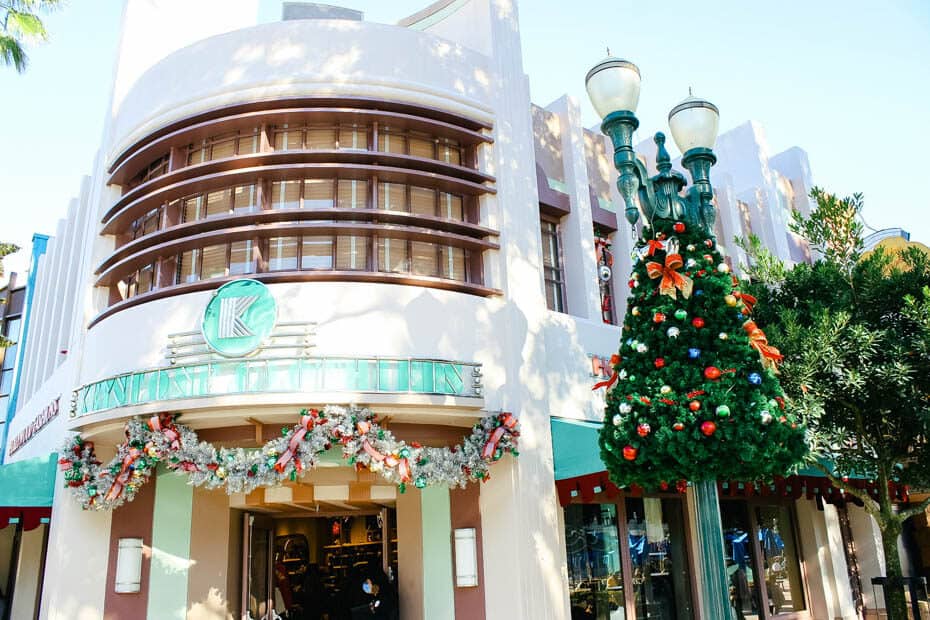 When I was walking around observing the decorations I couldn't help but smile. I kept noticing all the different colors and styles used for Christmas in Hollywood Studios.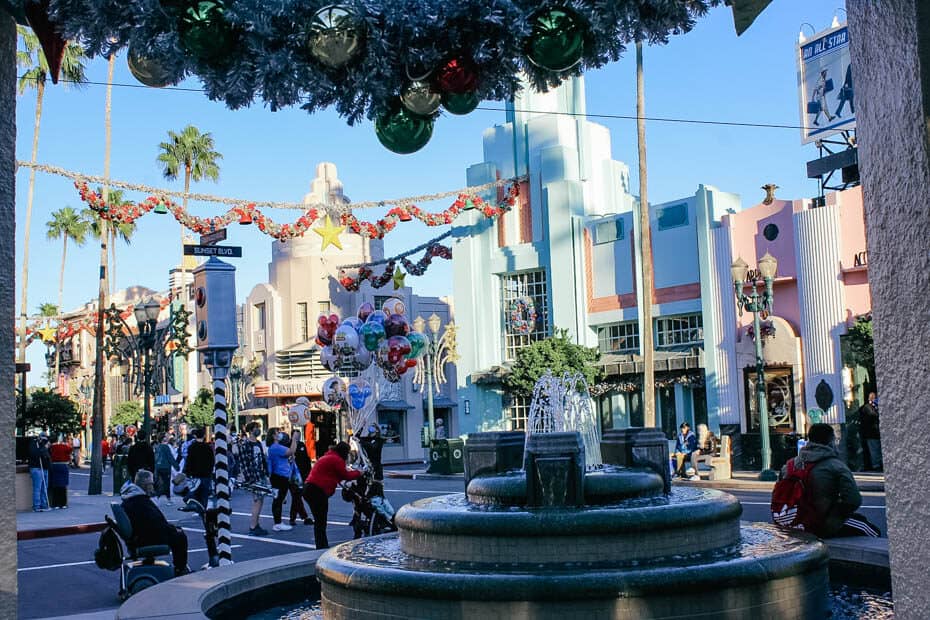 On first glance, nothing really matches are goes together.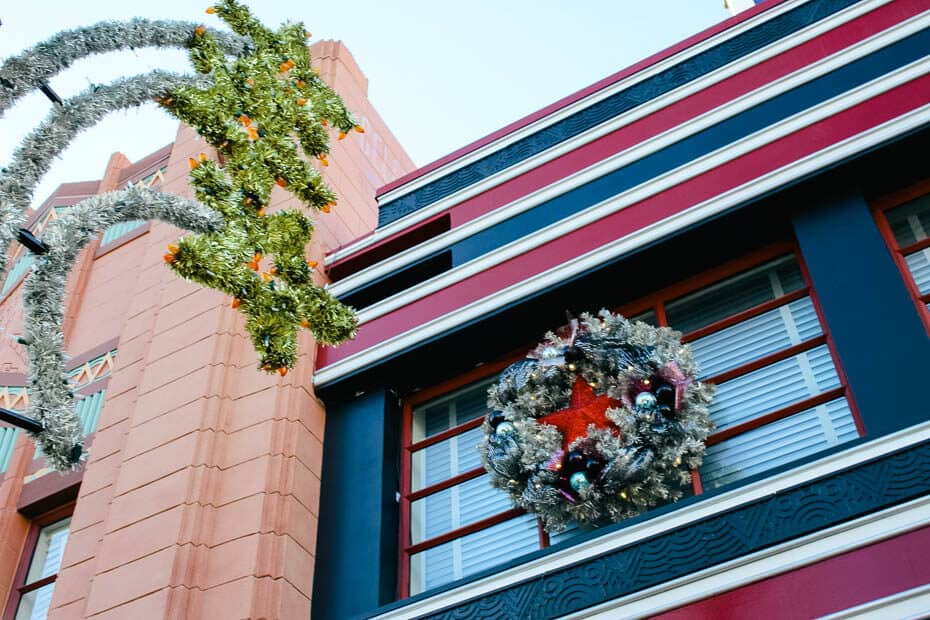 Somehow, that seems to be the thing that makes it all work.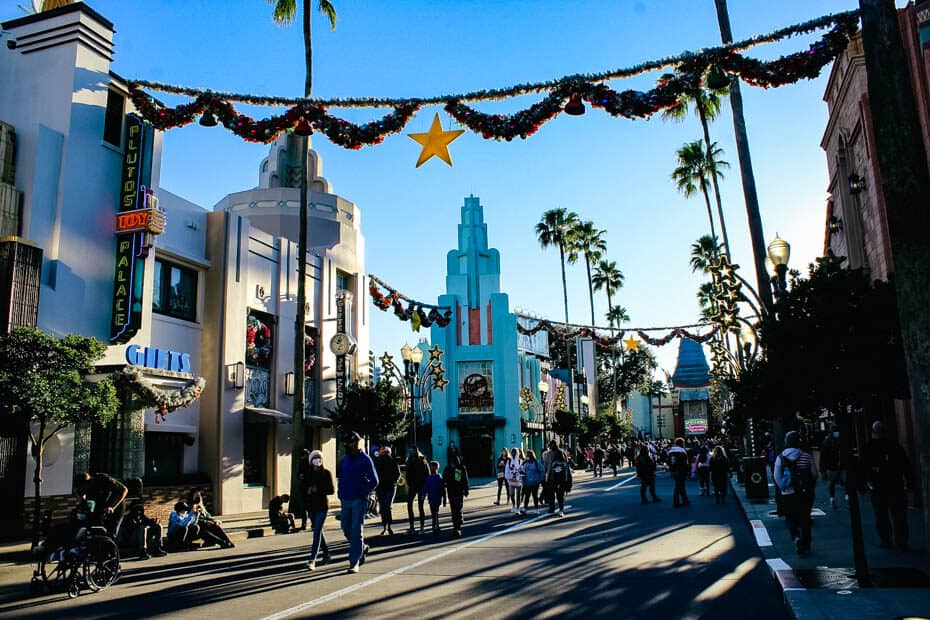 It was blue skies for days on this visit.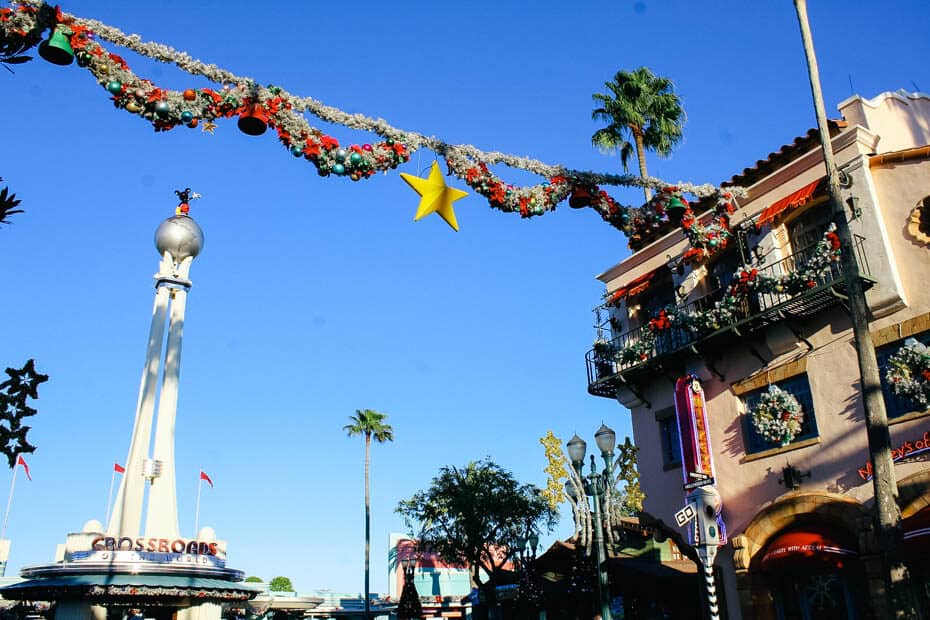 I couldn't help but take advantage of the beautiful lighting.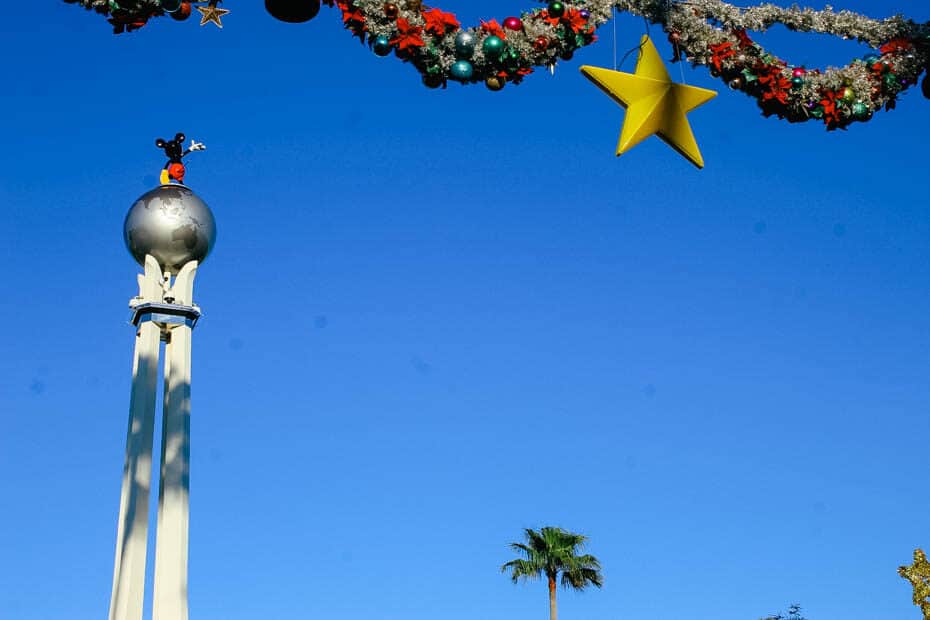 Over at the 5 and Dime, the Minnie Christmas balls are modeled to look like dancers displayed in the window.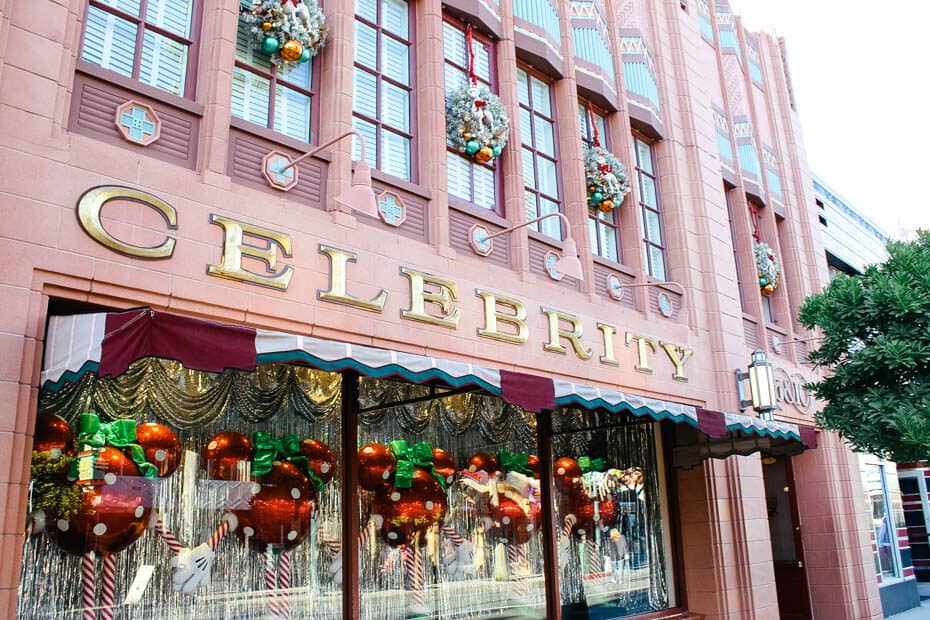 And across the street, Pluto is wagging his tail at the Christmas decor a little more excitedly than usual. He sits atop Pluto's Palace in case you haven't ever noticed him before.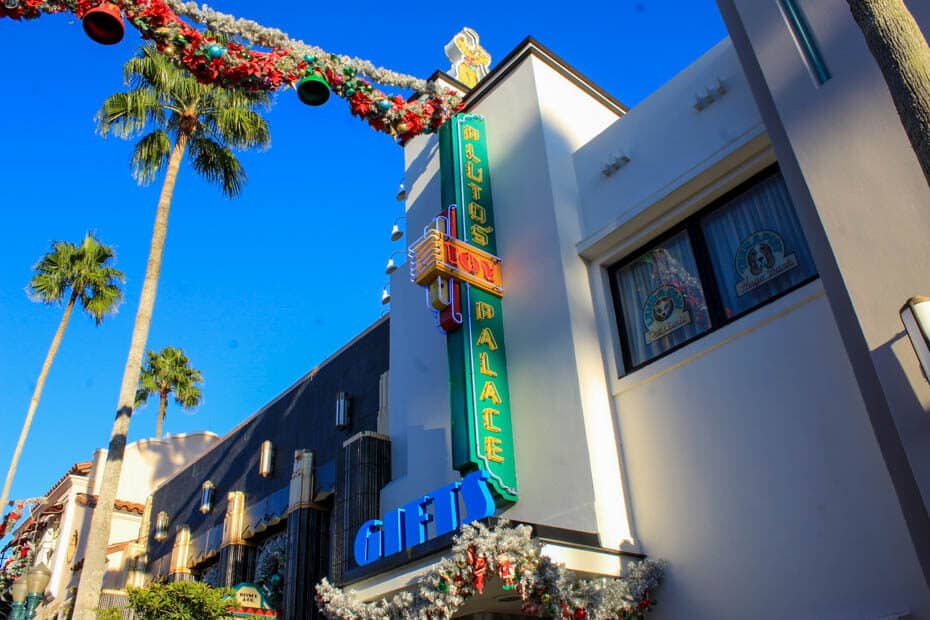 He's a little extra at night when he glows.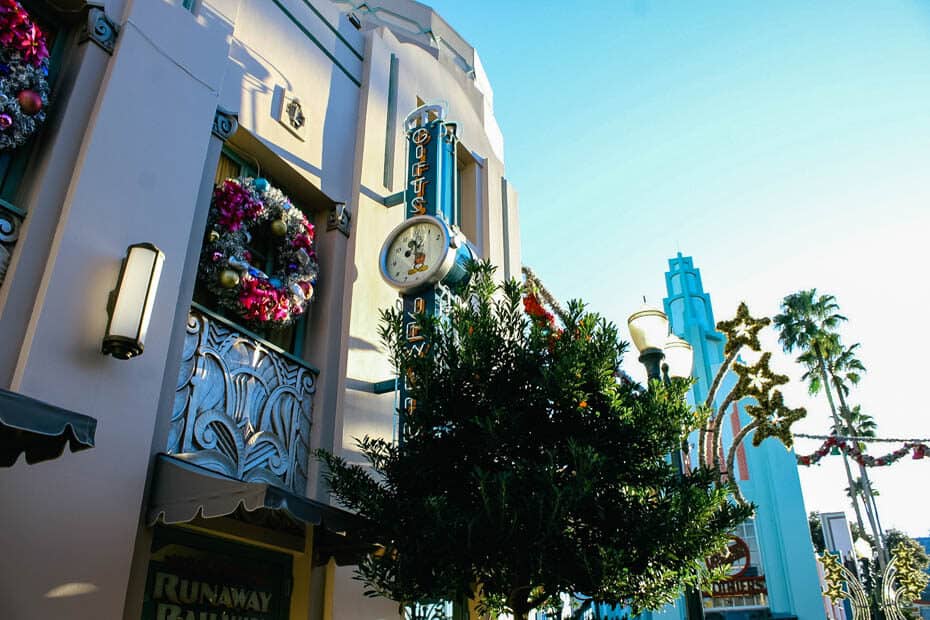 If you hang a left about three-quarters of the way down Hollywood Boulevard you'll run into these vintage poodles.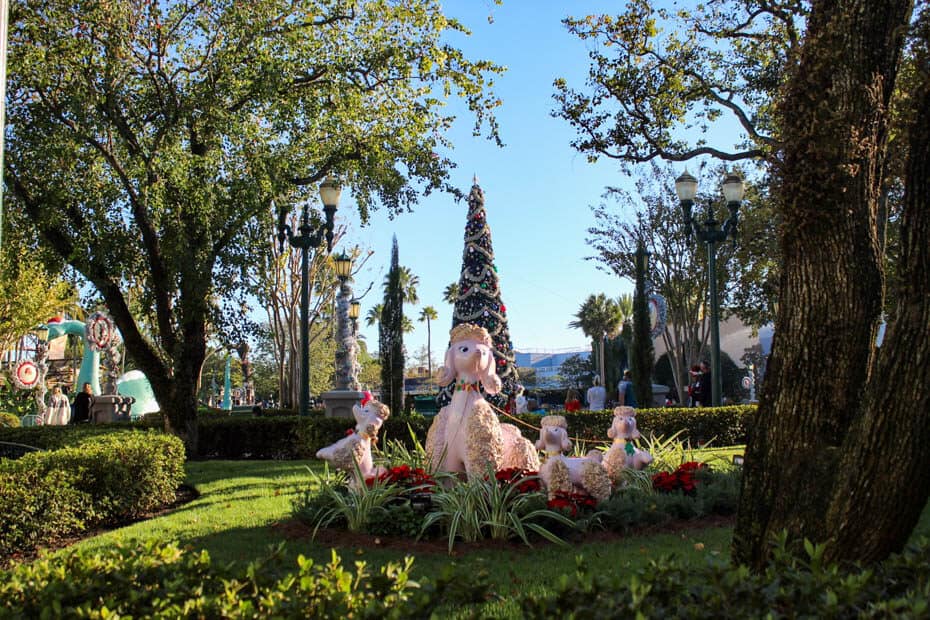 I think her expression is kind of a, "Hmph." But maybe she's just a worn-out mom doing the best she can.
Like many of the moms visiting the Disney parks, she's probably just wanting to take her children on a nice vacation. You know, to the kind of place where everyone can have a good time.
I even encountered a sweet, single mom crying in front of her children a few days ago. Someone had been rude to her in the park and she lost it.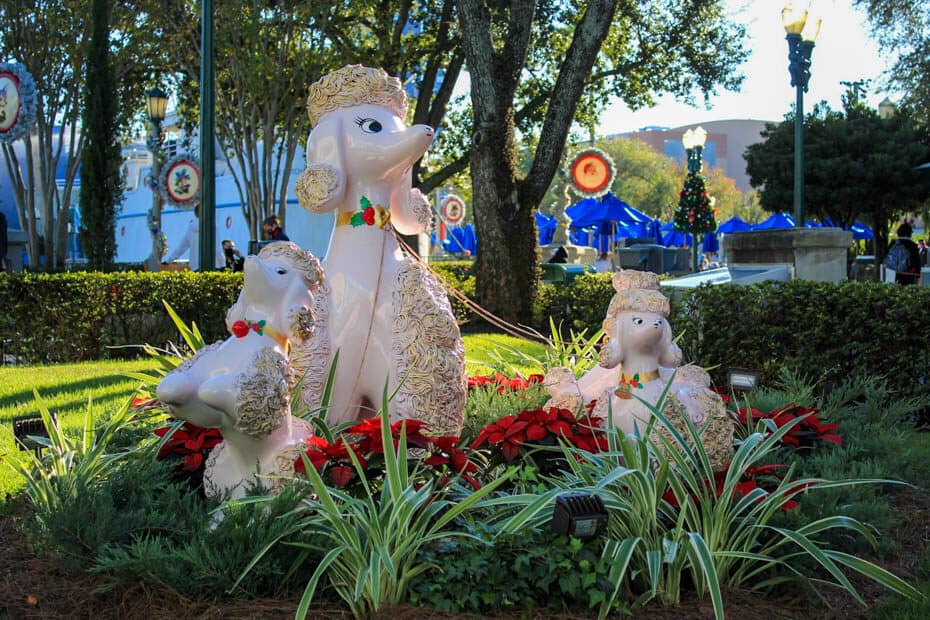 I have a feeling that most of us are just doing the best we can with what we have. There's no need for anyone to harshly address strangers or better yet, mistreat our loved ones.
Over at Echo Lake you'll find that the holiday decorations have reached Gertie the dinosaurs home.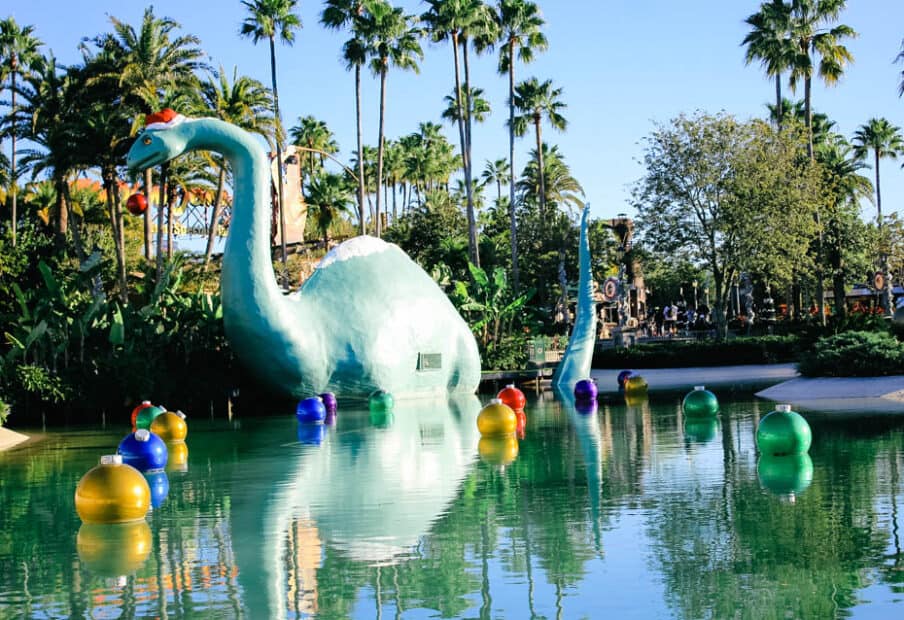 She even has a Santa hat!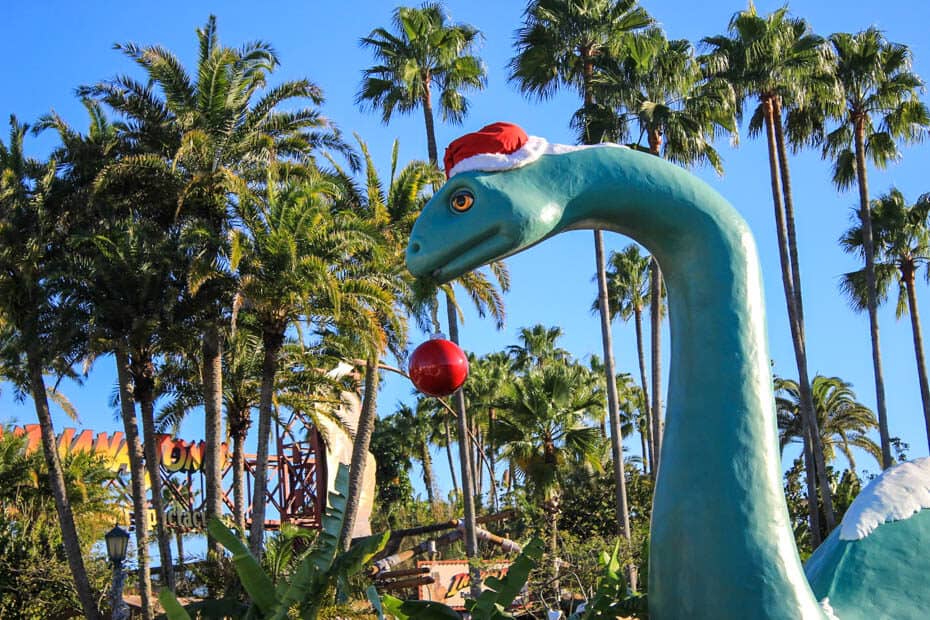 All around Echo Lake, there are tons of vibrant primary colors. The lake itself is full of bright balls adding a festive pop.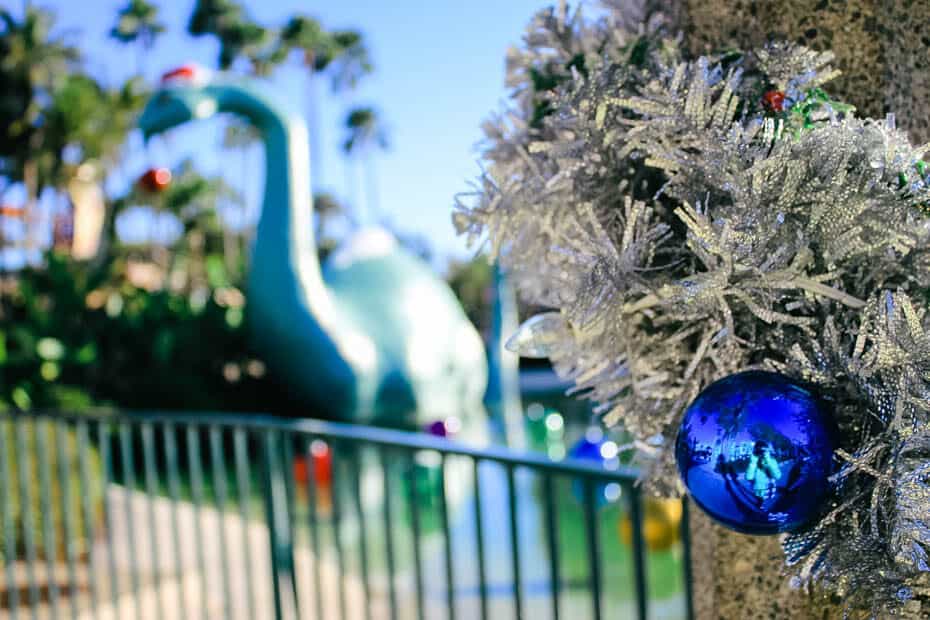 All of the light poles around Echo Lake continue with the tinsel wrapping and Christmas favorites are featured on each one.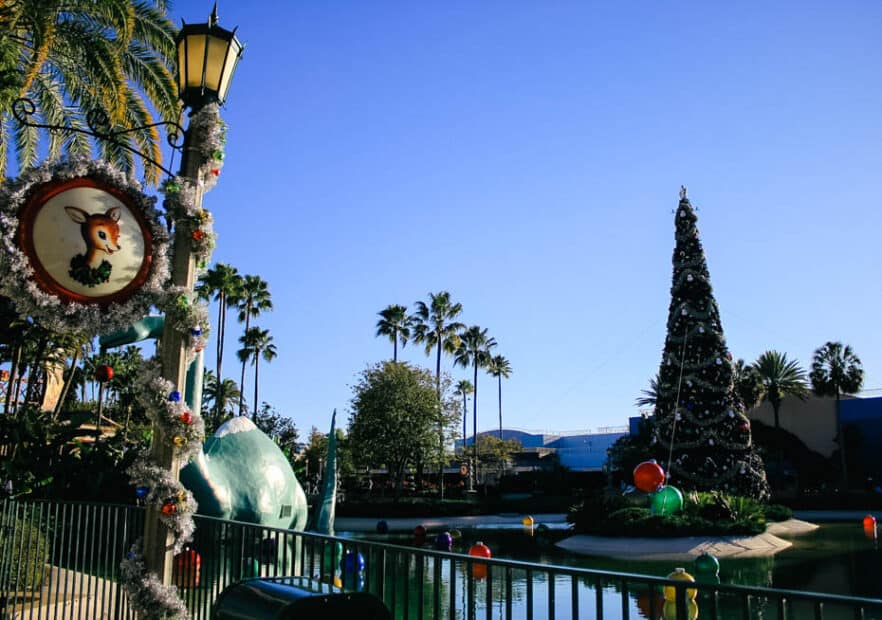 For instance, the one below has a reindeer. And if you happen to be driving around Disney property, make sure to watch out for them. Actual deer, I mean. Not Santa's.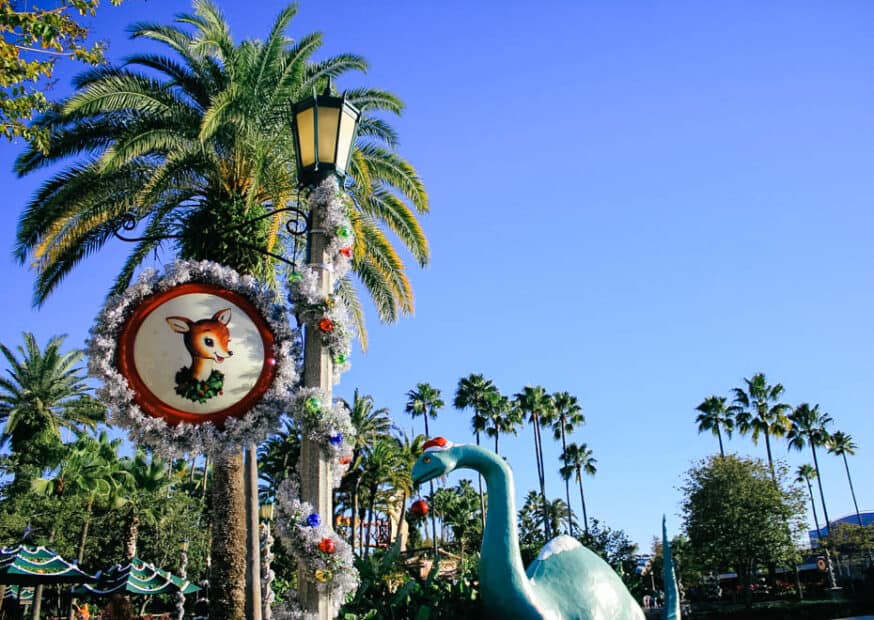 While you are over at Echo Lake you might notice a change of music in the background. That's probably one of the Christmas motorcades coming through Hollywood Studios.
This one featured Woody and his pal Buzz Lightyear leading the Pixar bunch.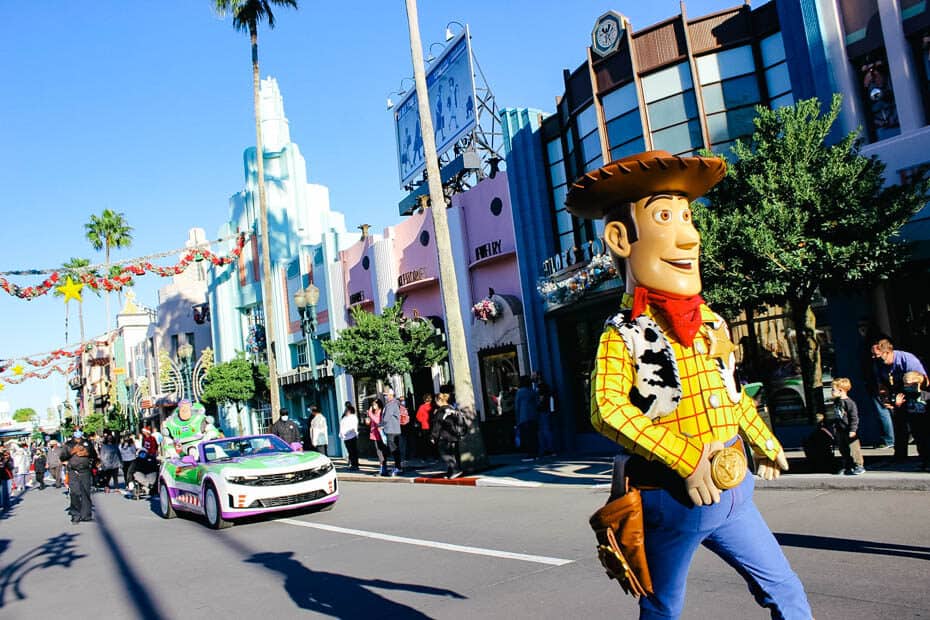 The little green army men have candy cane striped drum sticks.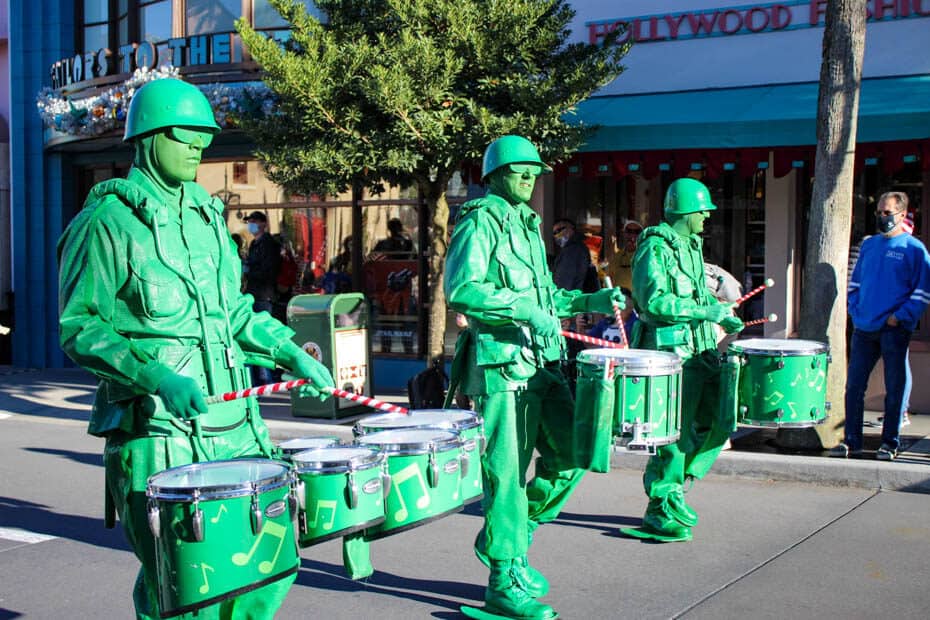 And the ever-fabulous Edna Mode is usually present!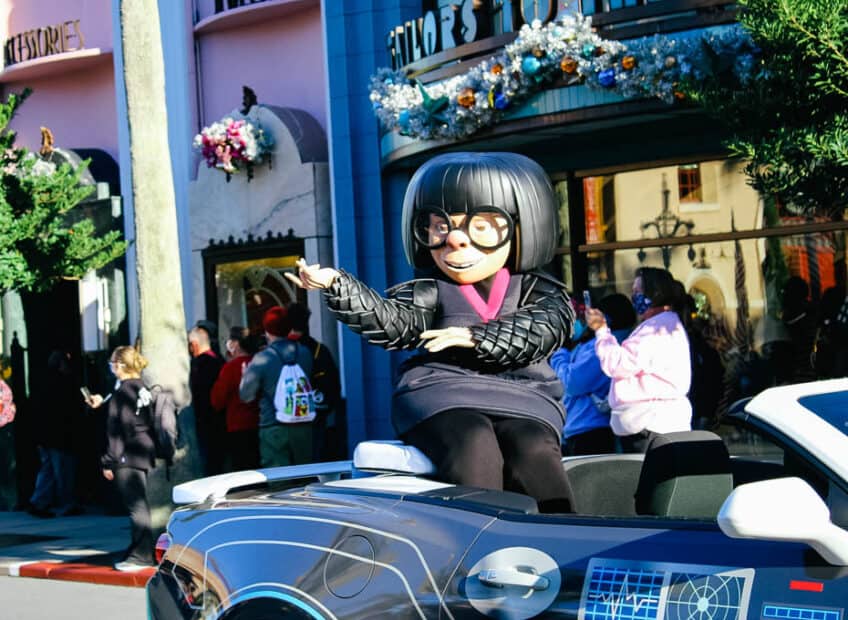 A few of the Incredibles might be out and about.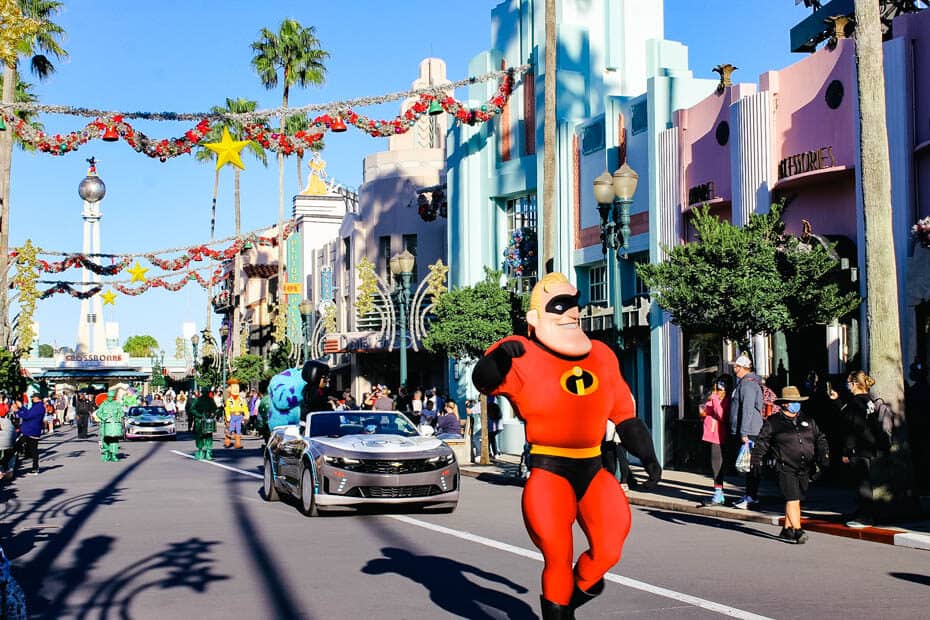 Santa appears in a pop-up parade throughout the day. There are a few holiday dancers performing.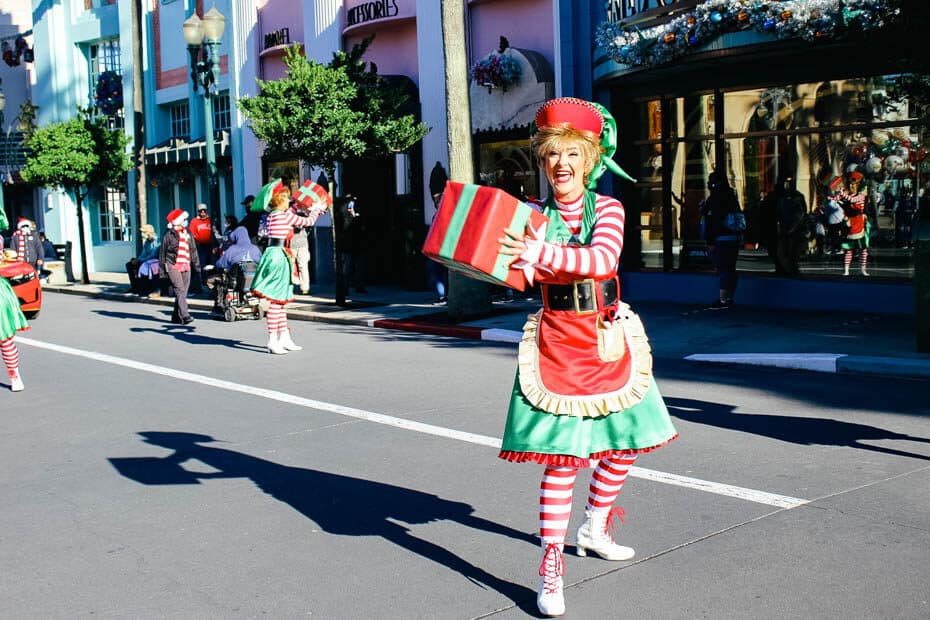 And Santa is not far behind. His car is decked out with a large S on the door panel with garland and cutesy rim covers.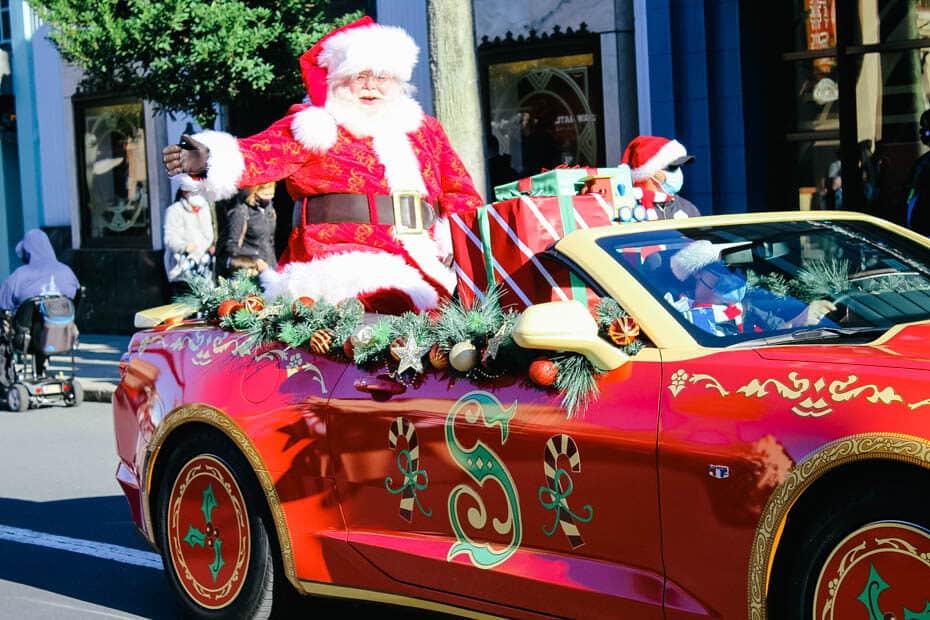 Over toward Animation Courtyard, there are a few more vintage girls positioned in front of the Brown Derby. They are carrying a bell, bag, and basket. However, I'm not sure I understand the significance.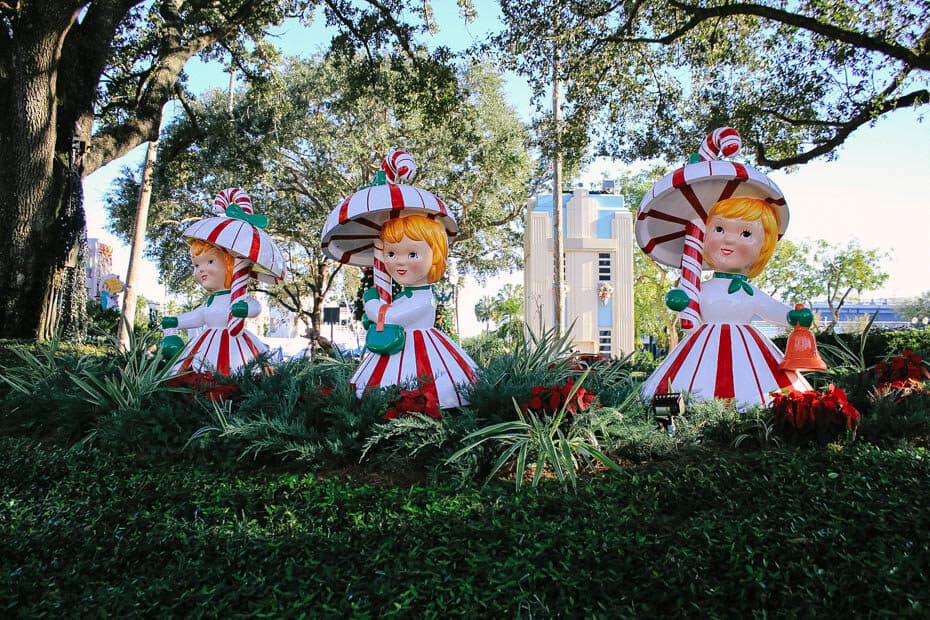 Additionally, Sunset Boulevard is decked out for Christmas as well.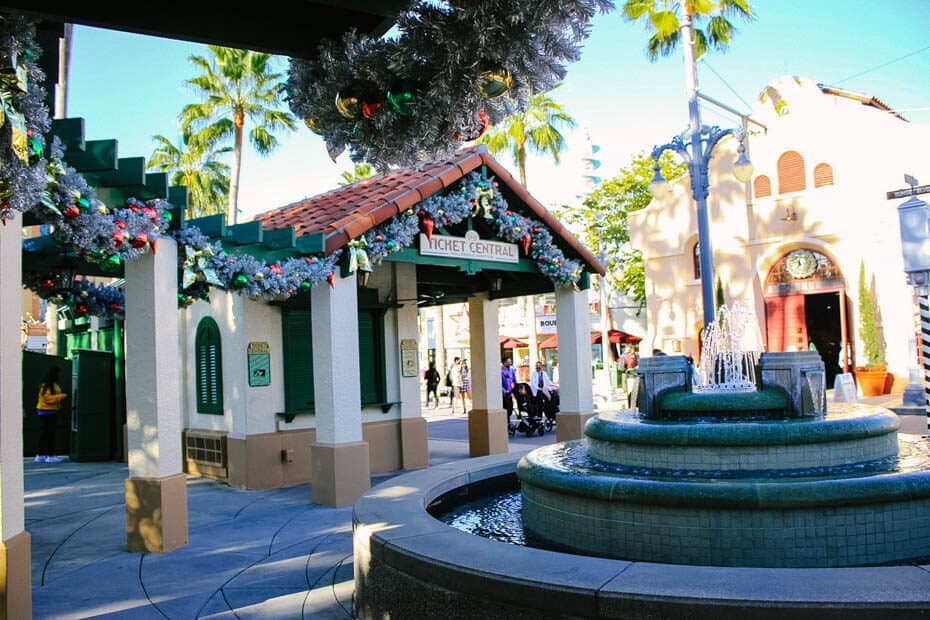 Below on the Beverly Sunset corner, you'll notice the art deco style with flattering Christmas decorations.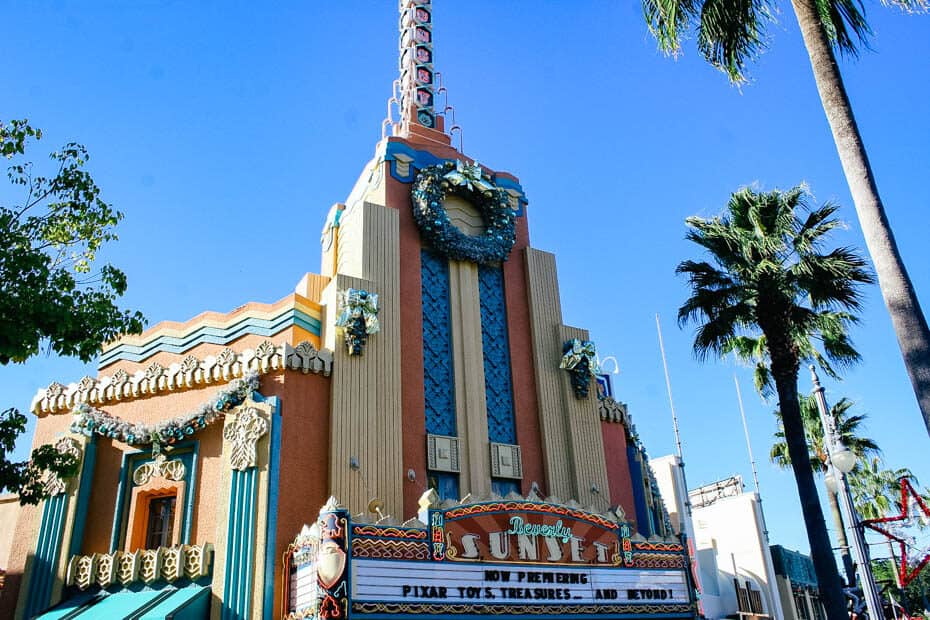 Tinsel stars line the entire street. I enjoy trying to match them up in photos to their surroundings.
This very last one hangs just before the entrance to the Hollywood Tower Hotel.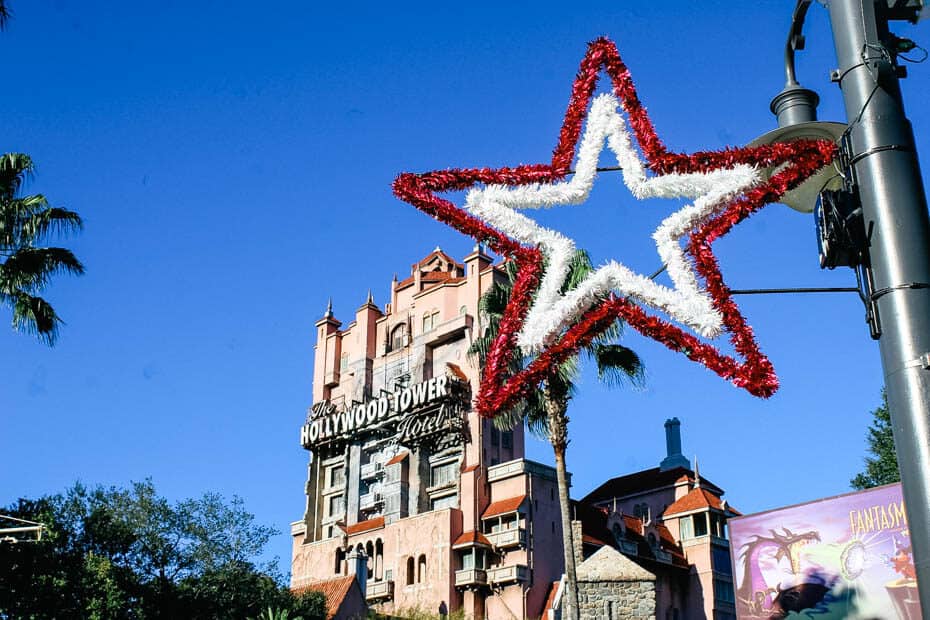 Sunset Boulevard is stunning during the day with the stars, palm trees and poinsettias.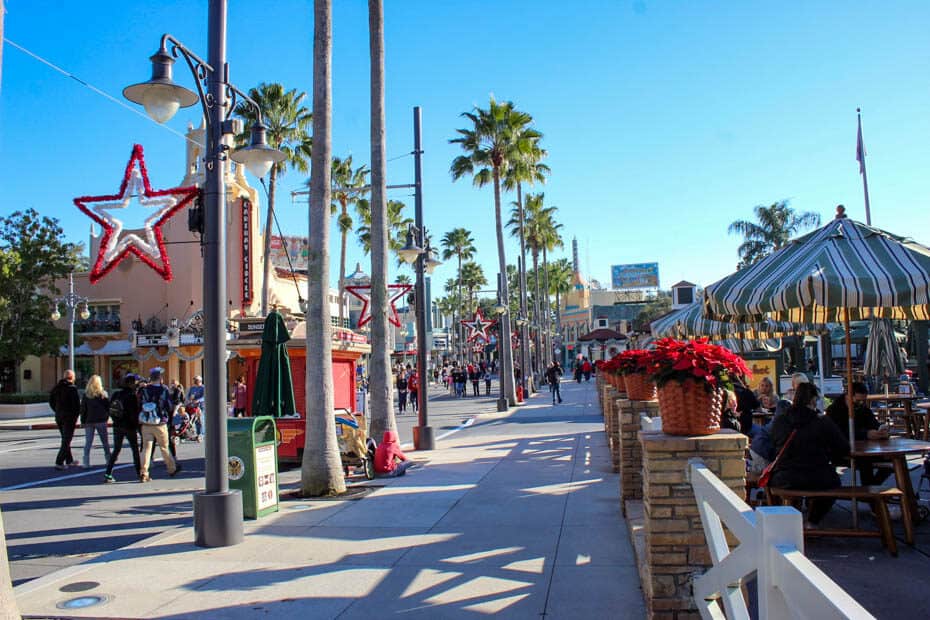 Normally, the park is home to the best Santa meet and greet inside Once Upon a Time. Hopefully, that will be able to return next year.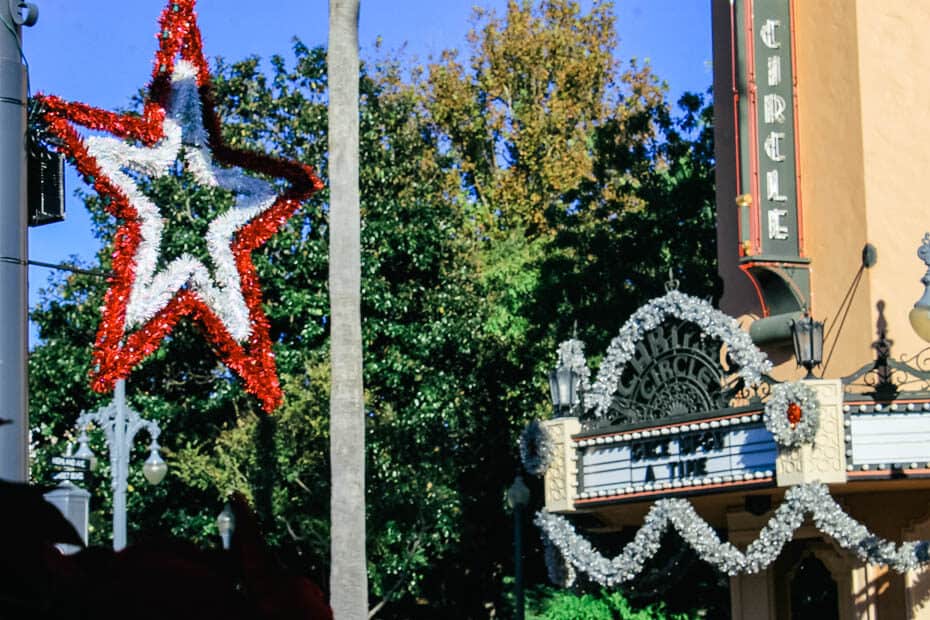 Below is one of my favorite sets of Christmas decorations at Hollywood Studios.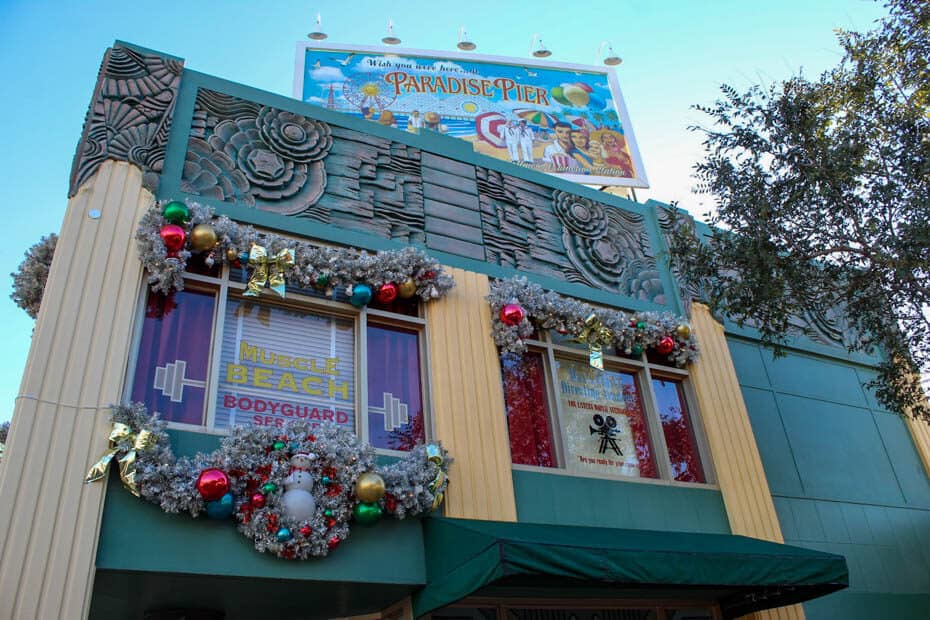 Check out the little snowman in the silvery wreath. Isn't he the cutest thing ever?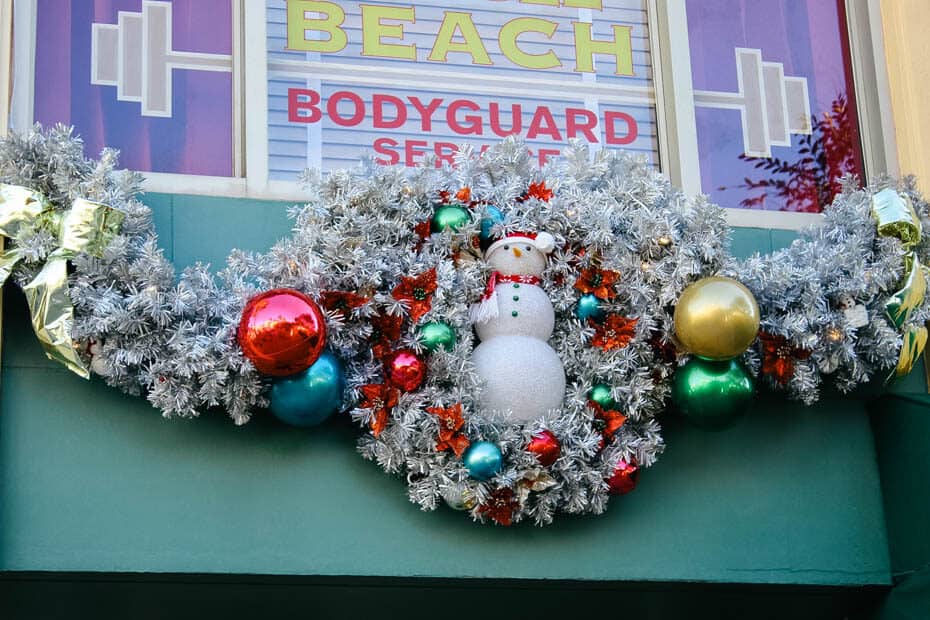 As the sun sets, an even brighter mood falls on Hollywood Studios at Christmas.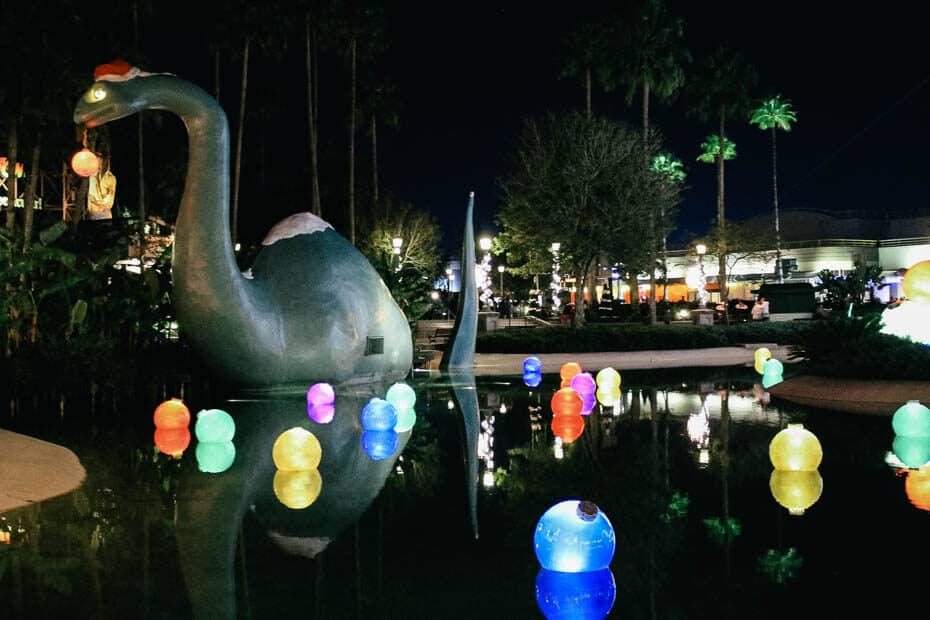 Echo Lake becomes even more enchanting with its radiating bulbs on the water.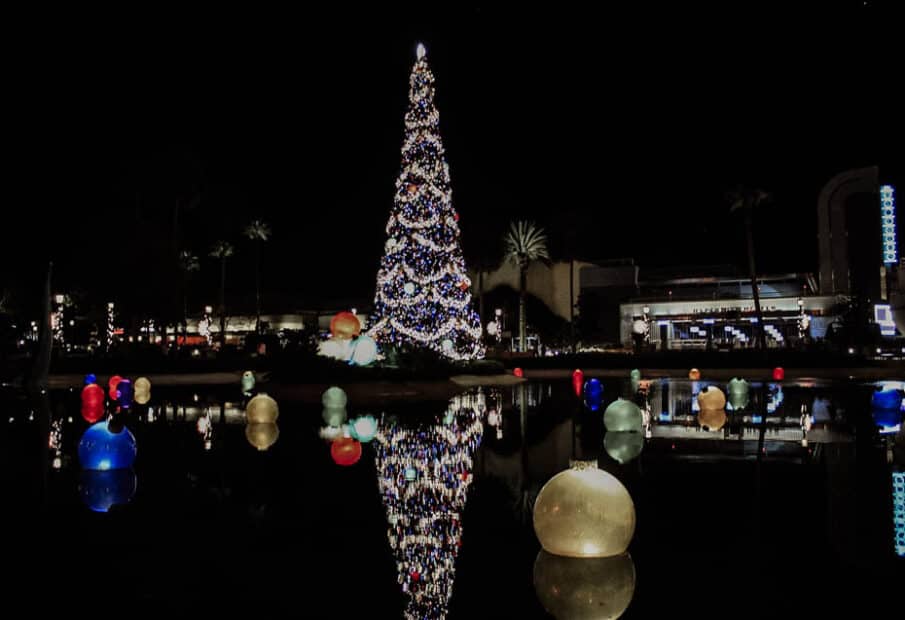 Those light pole signs even light up.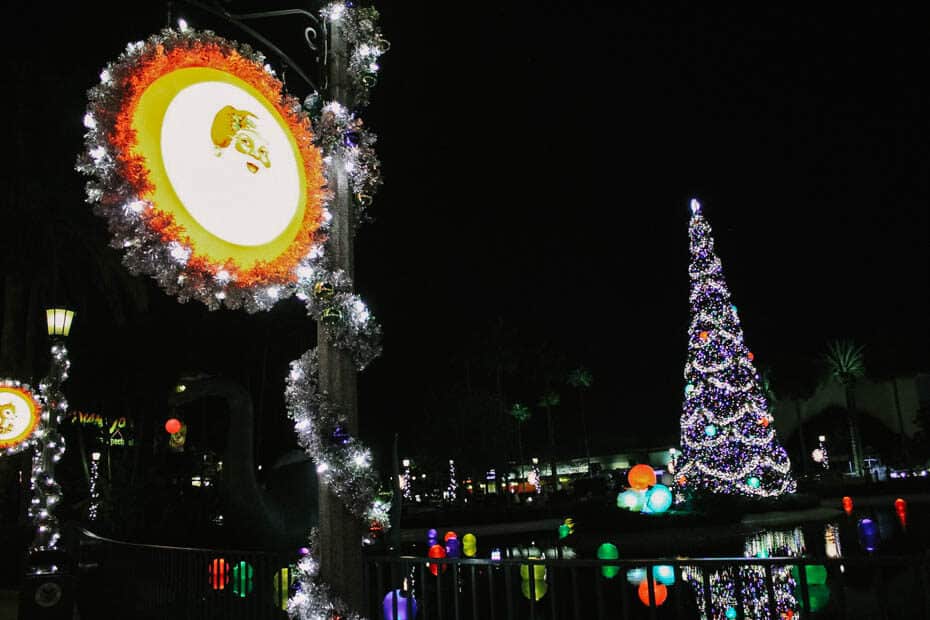 And the calm waters of the lake offer the perfect surface for reflections.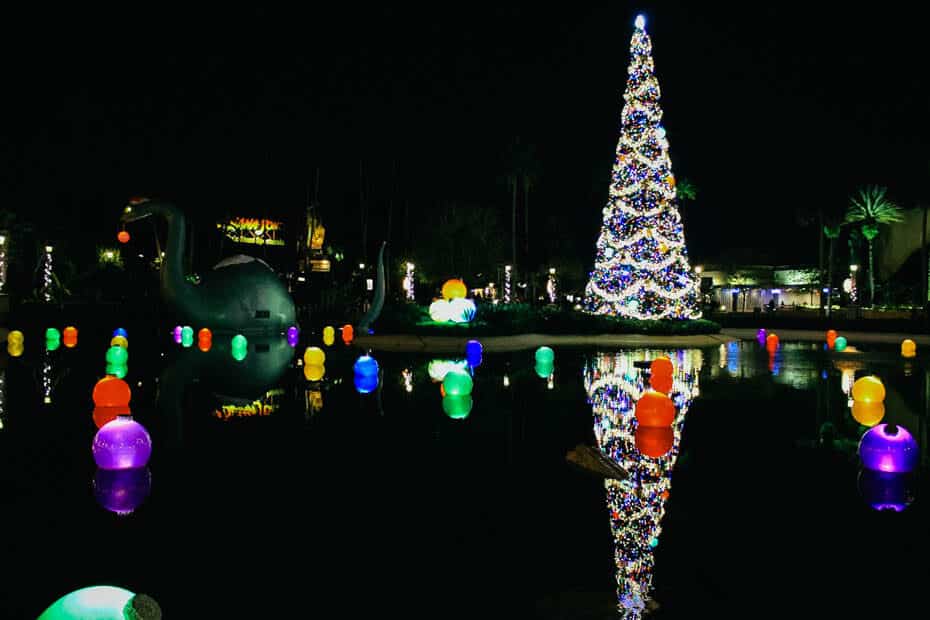 These little bells tend to make me blush.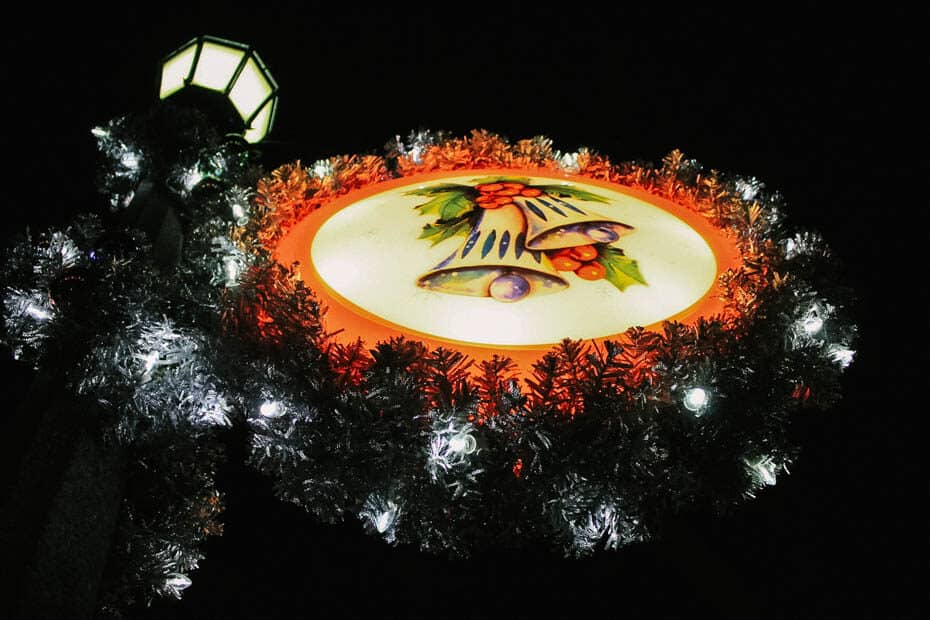 Everything is so pretty no matter which way you turn.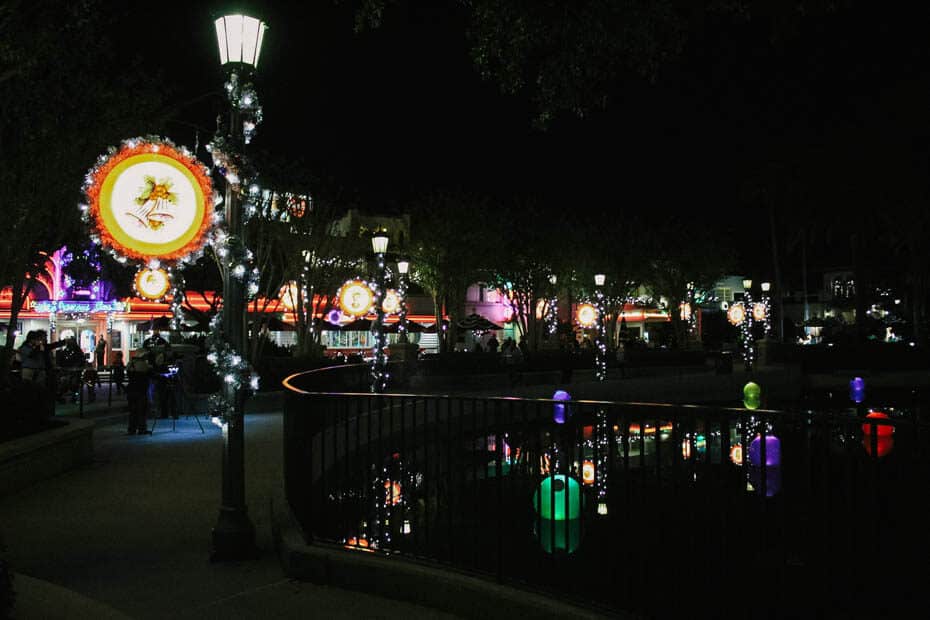 All of the lights complement the neon signage.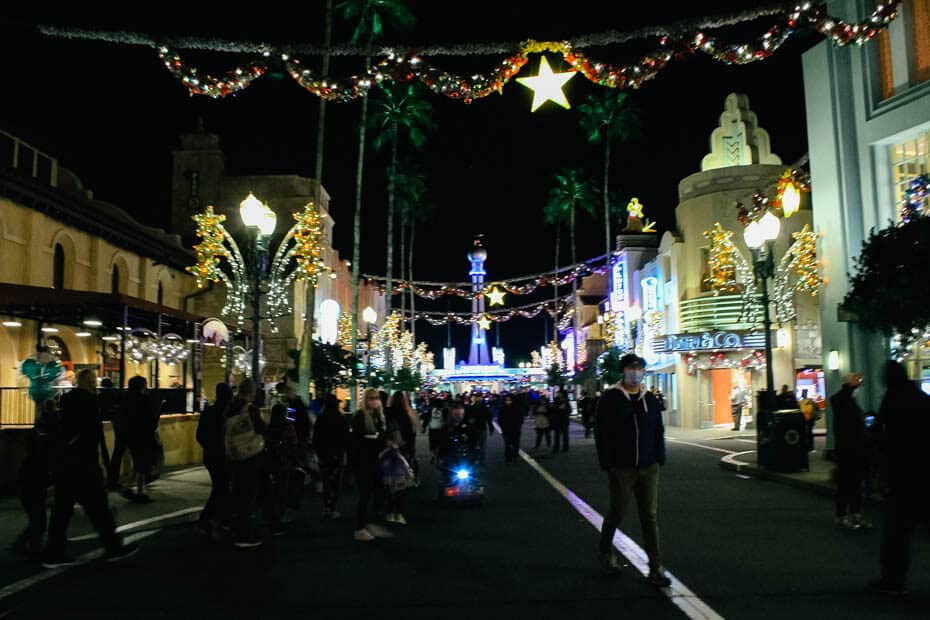 The Tower of Terror transitions to a holiday icon with a variety of different projections.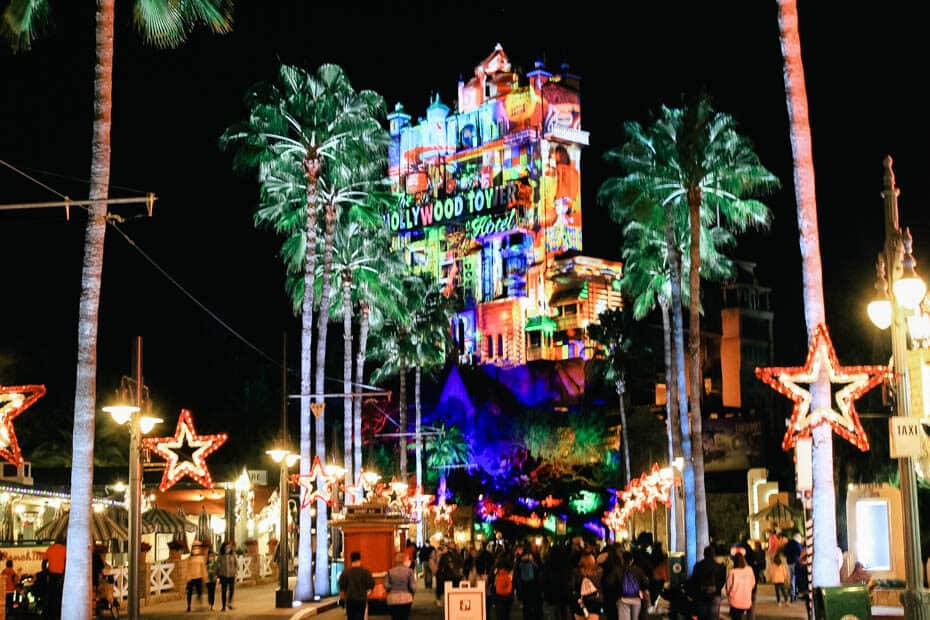 It's definitely interesting to see how quickly the entire look can change.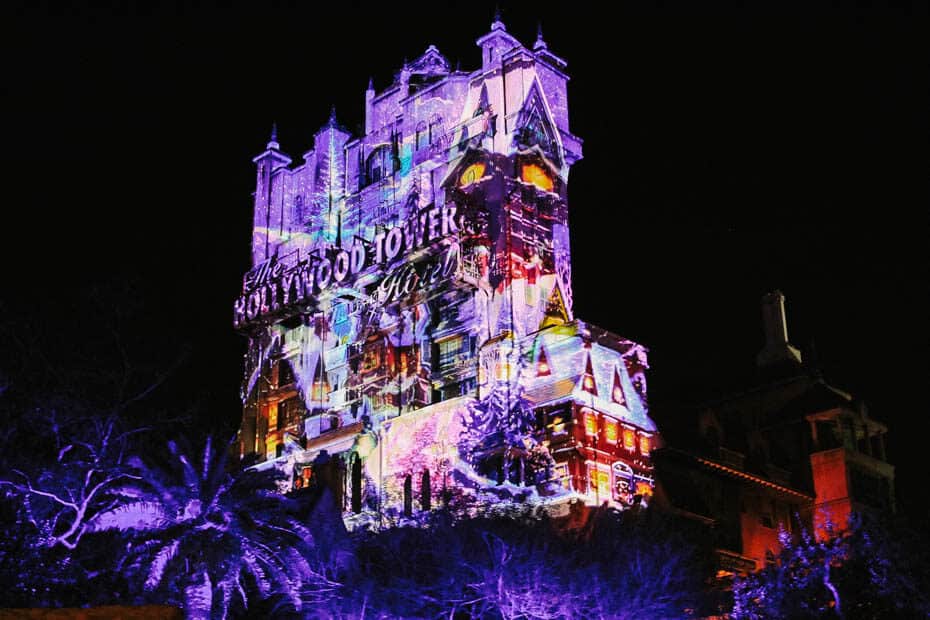 There's even a scene featuring gingerbread and all things Muppets.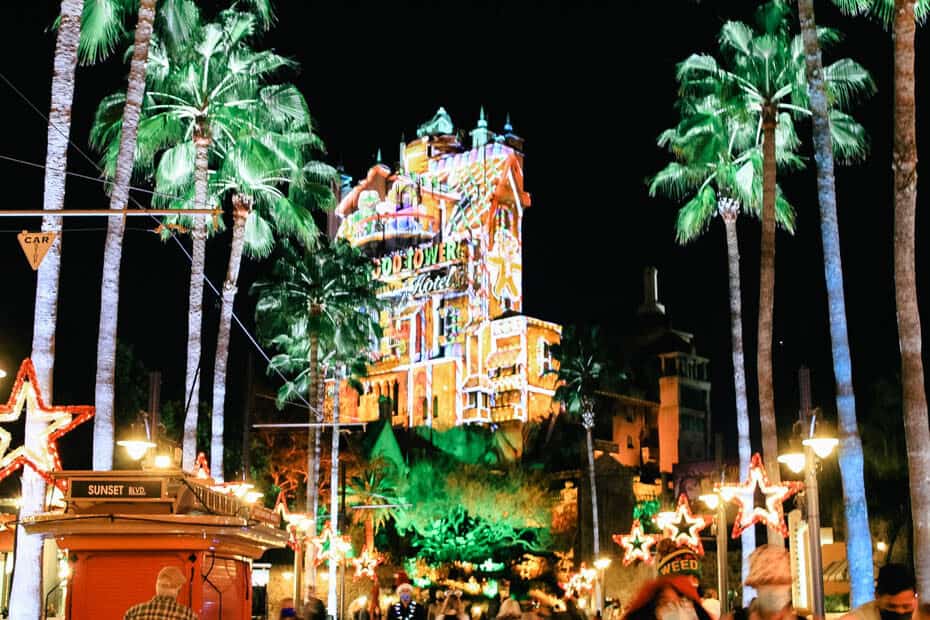 Those stars on Sunset even take on a twinkling look in the evening as stars should.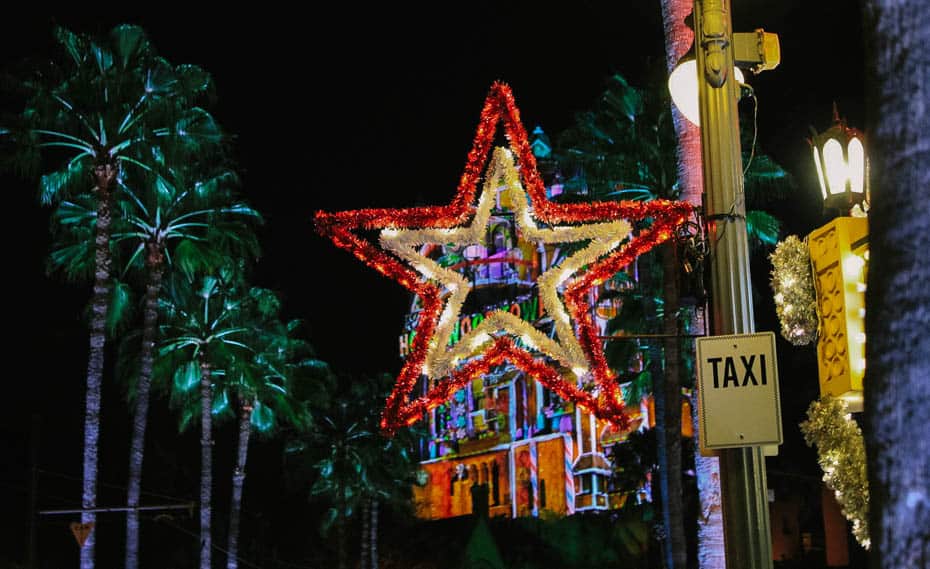 Palm trees go perfectly with Christmas in Florida, don't you think?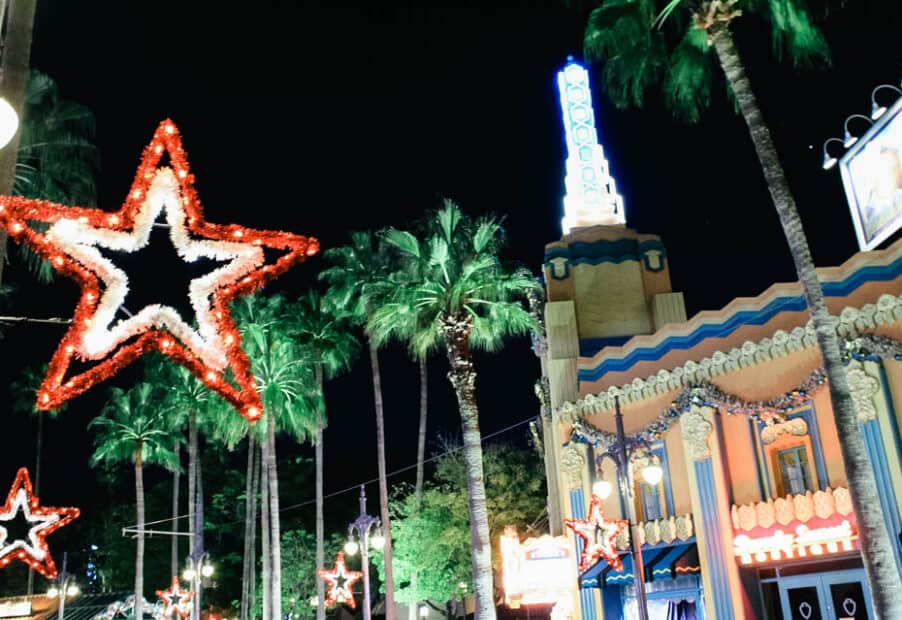 If you do get to visit this year, I recommend walking over in front of the Brown Derby after dark. All of the landscaping in the area has been completely saturated with golden lights.
Related: Hollywood Brown Derby Review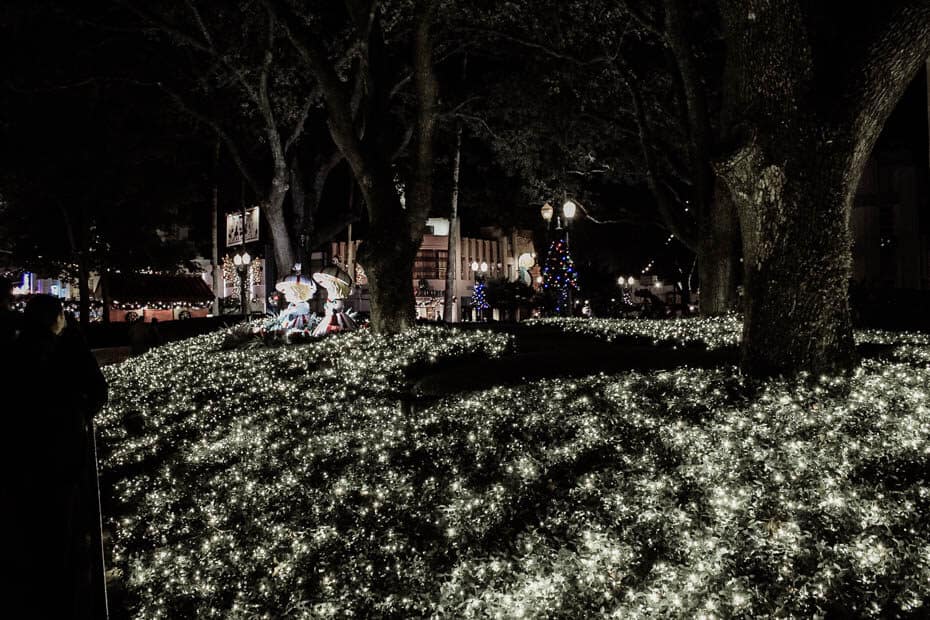 It seems to be the place where everyone stops and admires the neat effect they provide.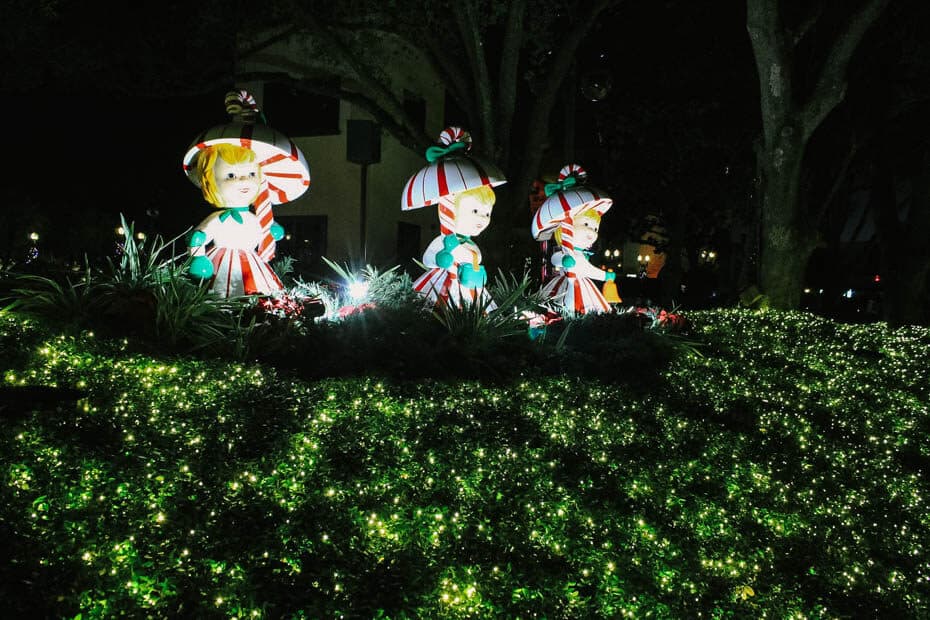 Just around the corner, you'll also find this trio of vintage boys with a teacup and sugar cubes. A cup of hot tea is especially nice on those cooler evenings.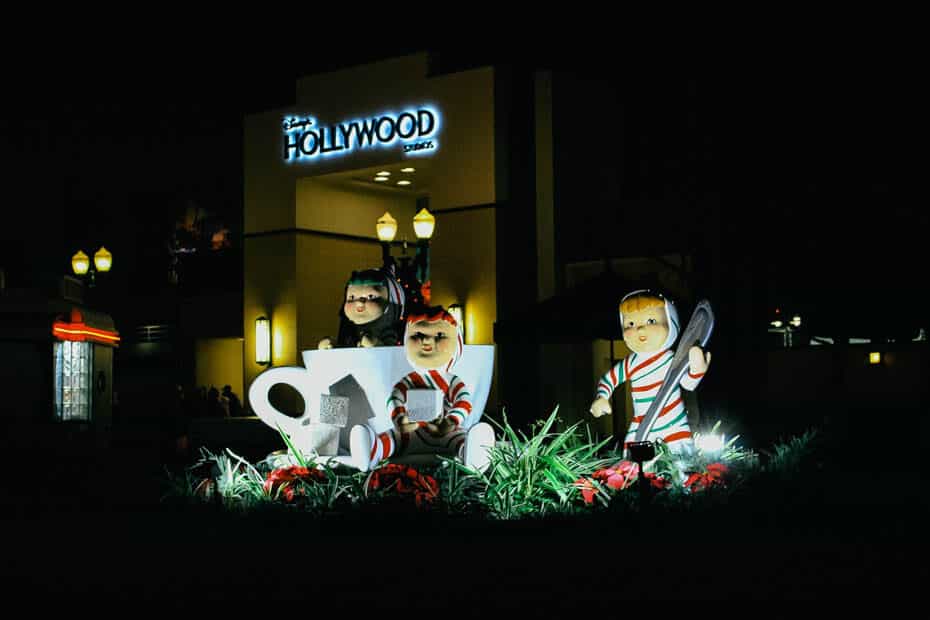 This wraps up our look at the Christmas decorations at Disney's Hollywood Studios. I know it isn't the Osborne Lights, but you do have the opportunity to ride Rise of the Resistance and the Millennium Falcon Ride now.
And the decorations added to the park in more recent years have all been nicely done.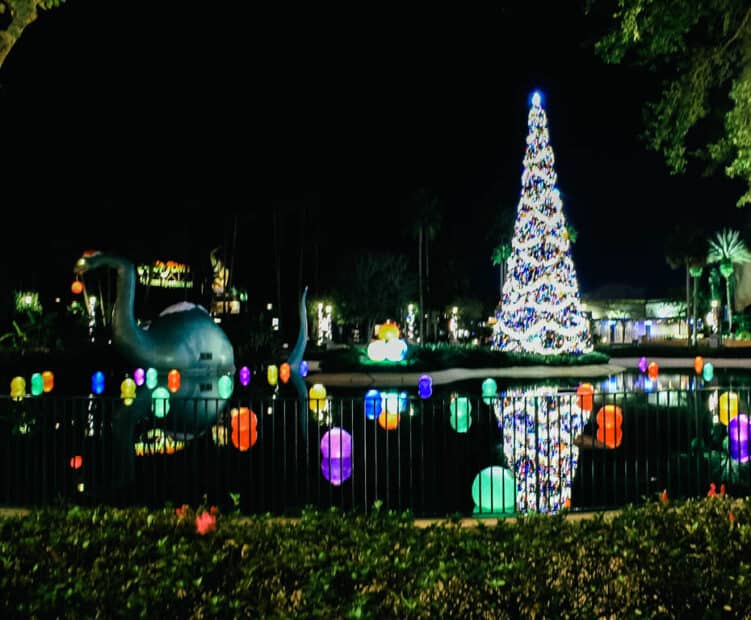 I hope that you enjoyed our walk around Hollywood Studios at Christmas. We'll take a look at the other parks and resorts in the coming days and weeks.
Thanks for reading and Merry Christmas!
Here are a few of our favorite rides at Hollywood Studios:
Additionally, you might enjoy checking out our list of Walt Disney World Resorts. We provide tons of tips for planning a stay here, including our list of the best-off site hotels near Disney World.
Have you visited Hollywood Studios during Christmas before? What is your favorite thing here?