What You Should Know to Celebrate Christmas at Disney's Hollywood Studios (in 2022)
From a sensational A Capella group to holiday projections on the Tower of Terror, there are a few things you'll want to know when it comes to celebrating Christmas at Disney's Hollywood Studios.
Since the holiday season is in full swing at Disney's Hollywood Studios, I thought we'd take a virtual walk through the park. Along the way, we'll look at a few holiday entertainment offerings and characters you won't want to miss during your visit.
Then we'll preview the Christmas decorations in the park. As always, the vintage vibe of Christmas is alive and well at Hollywood Studios.
So summon your favorite holiday memories of years past because we're off to Disney's Hollywood Studios for a dose of nostalgia–Christmas style.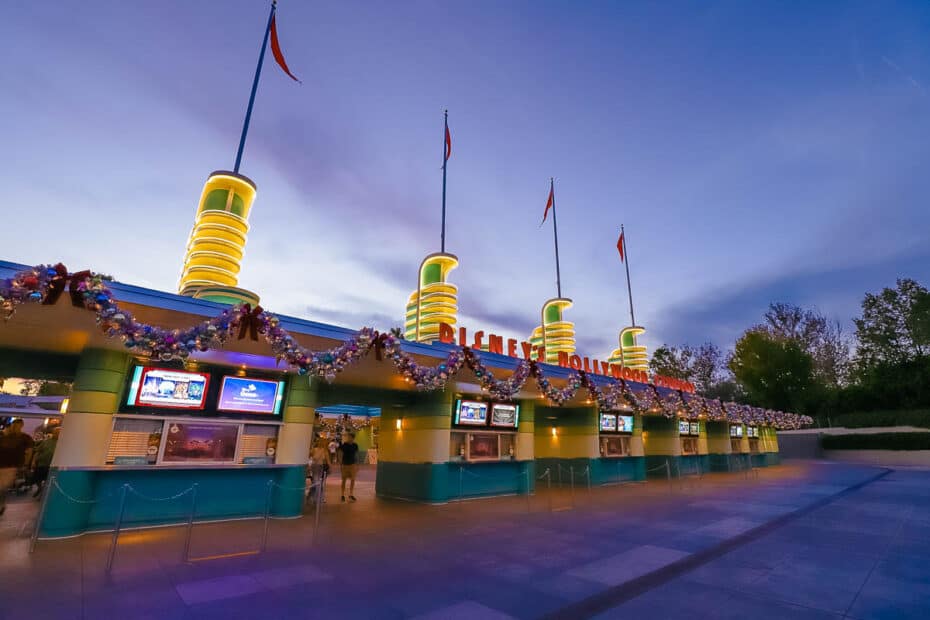 Christmas Offerings at Hollywood Studios in 2022
For those of you visiting Disney's Hollywood Studios over the Christmas season, there are several entertainment offerings you might want to plan:
Sleigh A Capella Group
Santa Claus Merry Motorcade
Sunset Seasons Greetings
Christmas Characters
Christmas Decorations at Hollywood Studios
Below, we'll go over each of these items. Then we'll preview a few photos of the holiday decorations at Disney's Hollywood Studios.
Sleigh at Disney's Hollywood Studios
Sleigh is the name of an A Capella group performing at Disney's Hollywood Studios throughout the holiday season. Daily performances for this musical number are listed in the My Disney Experience app.
Since Sleigh performs on Center Stage in front of Mickey and Minnie's Runaway Railway, you'll likely run into them at some point during your day.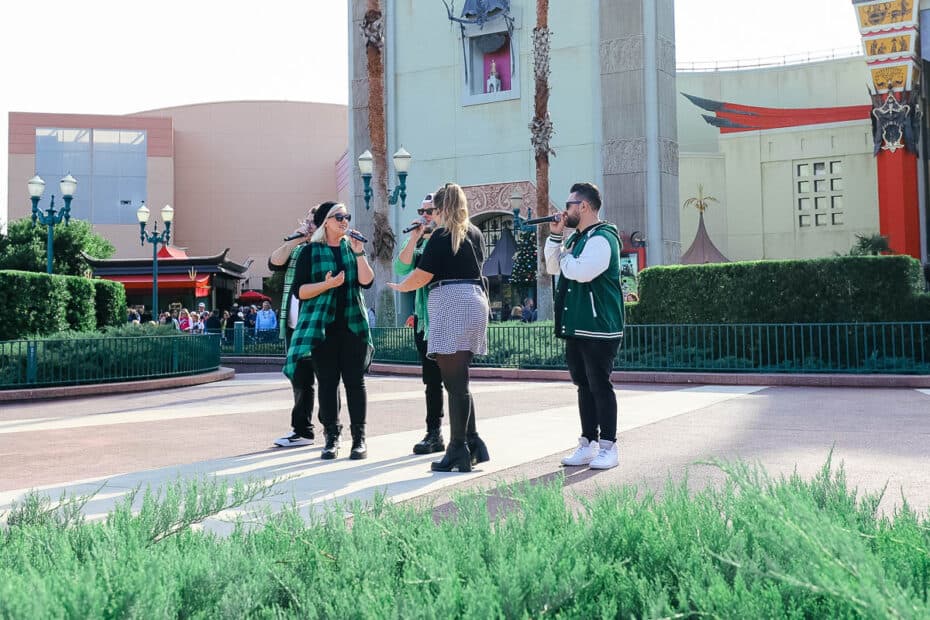 I took some time to see them on my last visit to Hollywood Studios and was impressed. They are worth taking a few minutes out of your day to see and certainly add to the park's holiday cheer.
Here is a video of their performance:
Sunset Seasons Greetings
Sunset Seasons Greetings returns this year to Hollywood Studios. After dark, you can see the Tower of Terror in a new light as seasonal projections are displayed on the building's facade.
Projections happen continuously throughout the night, making this a fantastic holiday offering that requires little effort to see. Who knew the Tower of Terror looked so good in gingerbread?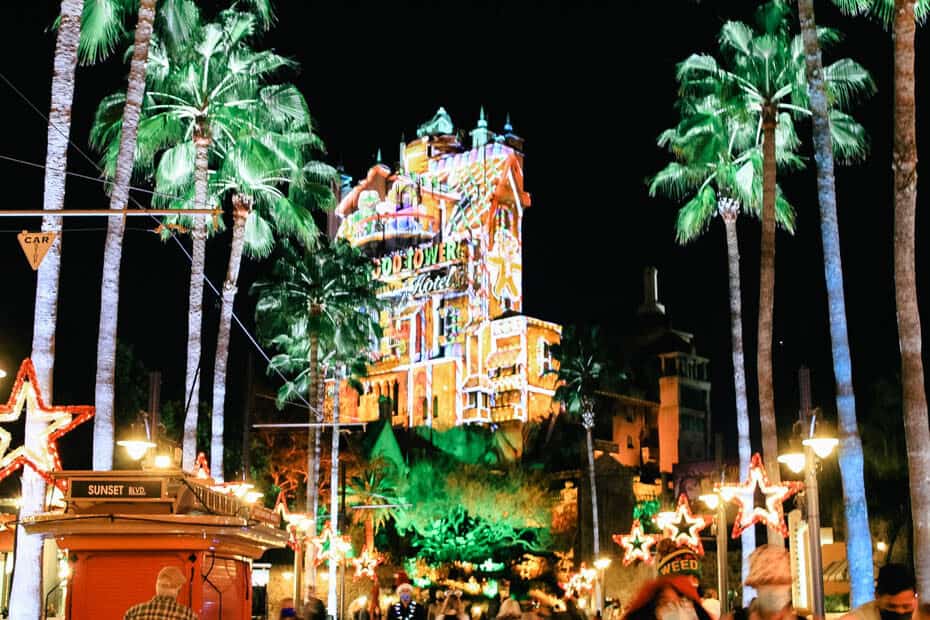 Merry Motorcade
Santa Claus's Merry Motorcade is available now through Christmas. This fun-loving motorcade runs several times throughout the day at Disney's Hollywood Studios.
Expect to see Santa's helpers, Pluto, reindeer, and Santa Claus! This motorcade takes less than a minute to see and is worth stopping for if you run into it while touring.
Related: Santa's Merry Motorcade at Hollywood Studios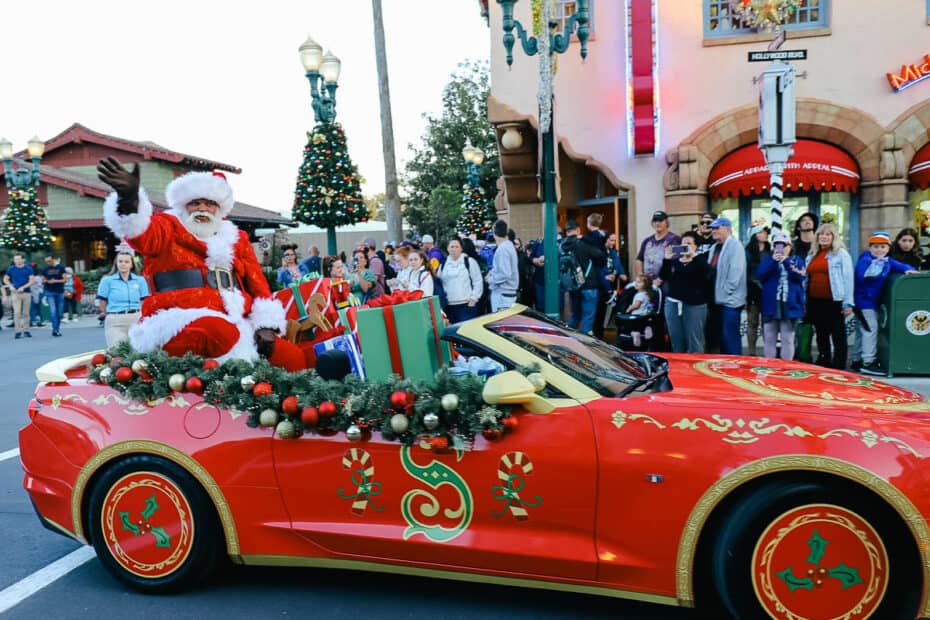 Characters
In addition to the seasonal entertainment, some character meet-and-greets will have a festive flair. For instance, Chip and Dale greet guests in front of the Hollywood Brown Derby off and on throughout the day.
Speaking of the Brown Derby, it's an excellent signature dining location for lunch or dinner. While a higher-end option, the restaurant is classy, and the food offerings are superb.
Related: Disney's Hollywood Brown Derby Review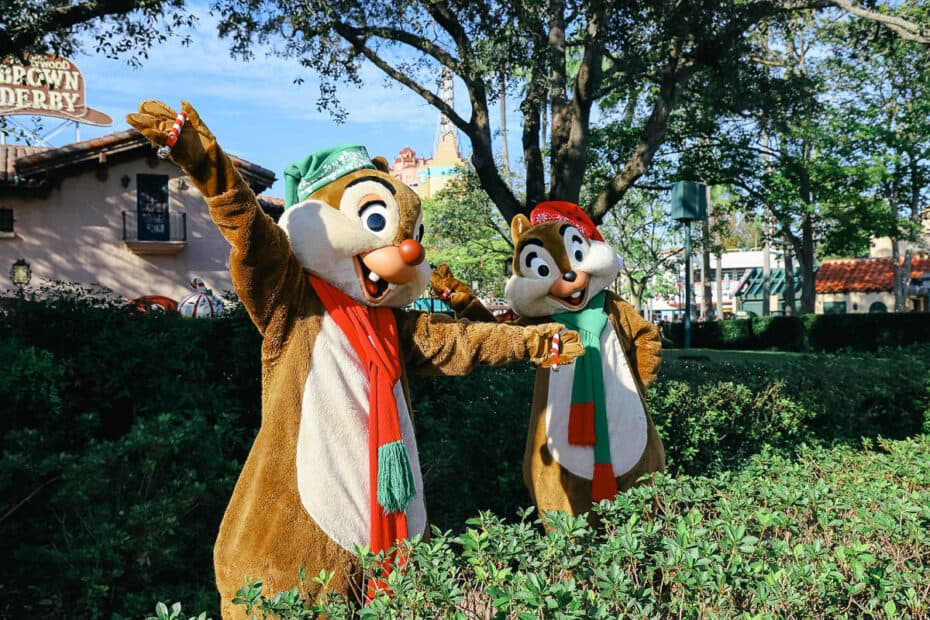 Buzz Lightyear meets in his Santa hat at Hollywood Studios over the holidays. Woody and Jesse are also nearby, with festive additions to their regular wardrobe.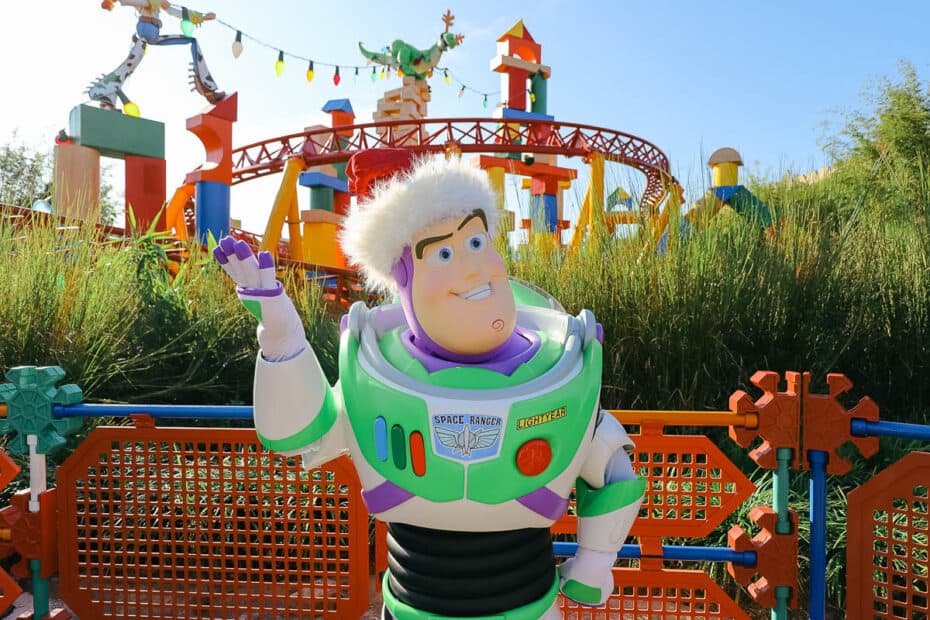 If you want to meet unique characters in holiday attire, you might consider attending Mickey's Very Merry Christmas Party. We have a separate guide covering the special holiday characters that meet at the party.
Related: Characters at Mickey's Very Merry Christmas Party
Christmas at Hollywood Studios
On top of the holiday entertainment at Hollywood Studios, the real star of the park is its Christmas decor.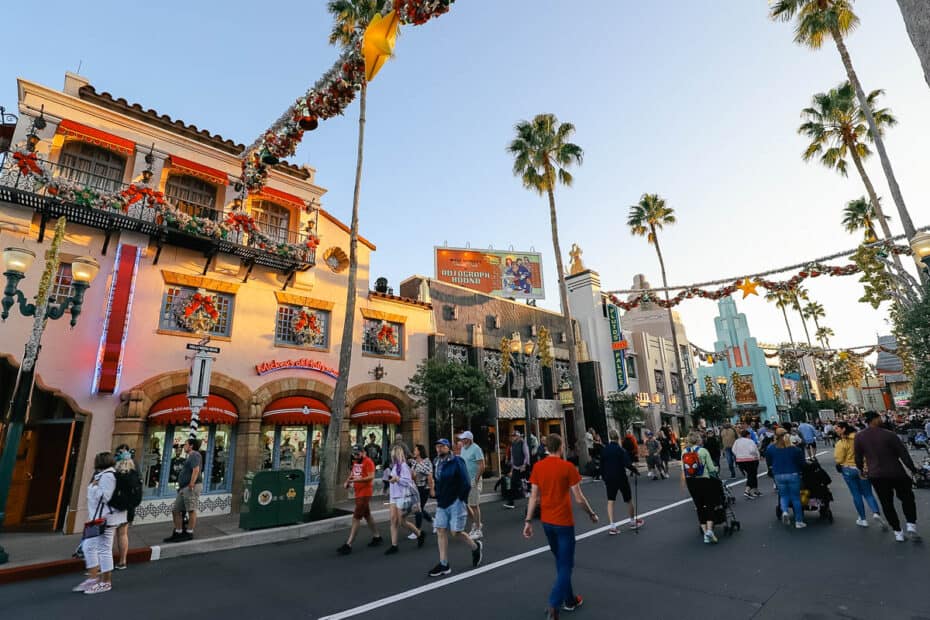 Literally, there are stars everywhere.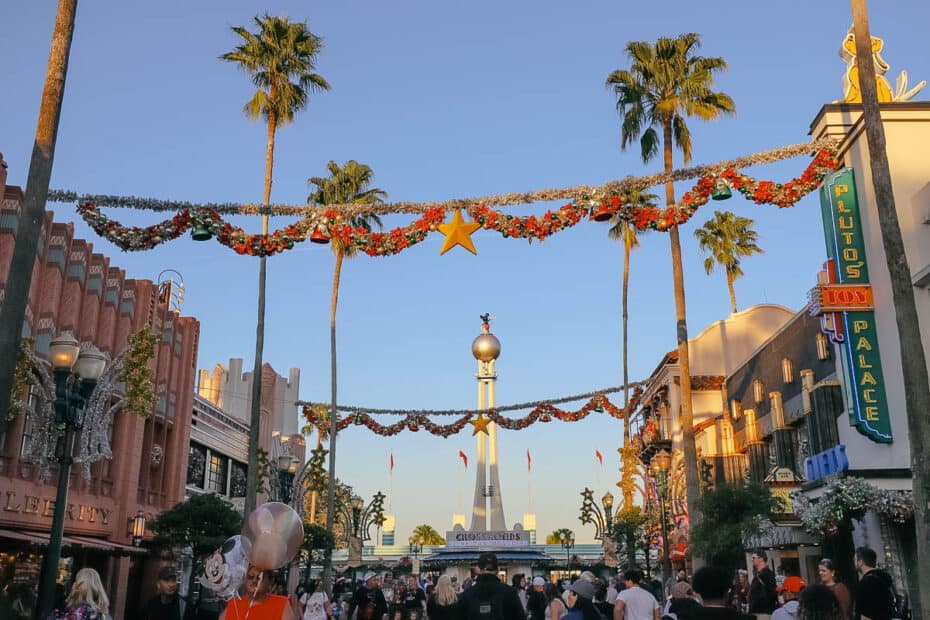 I don't know about you, but I've always been delighted to visit Disney's Hollywood Studios. From the handsome facades, illuminated signage, and background music reminiscent of times past, the park is charming. It's even more so over the holidays.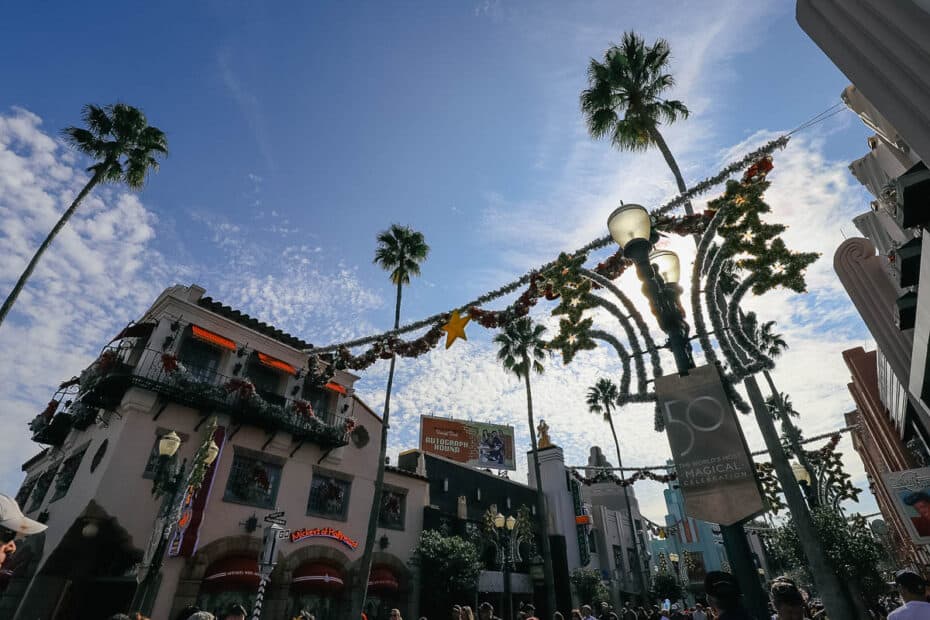 Each building has a unique decor to match its look.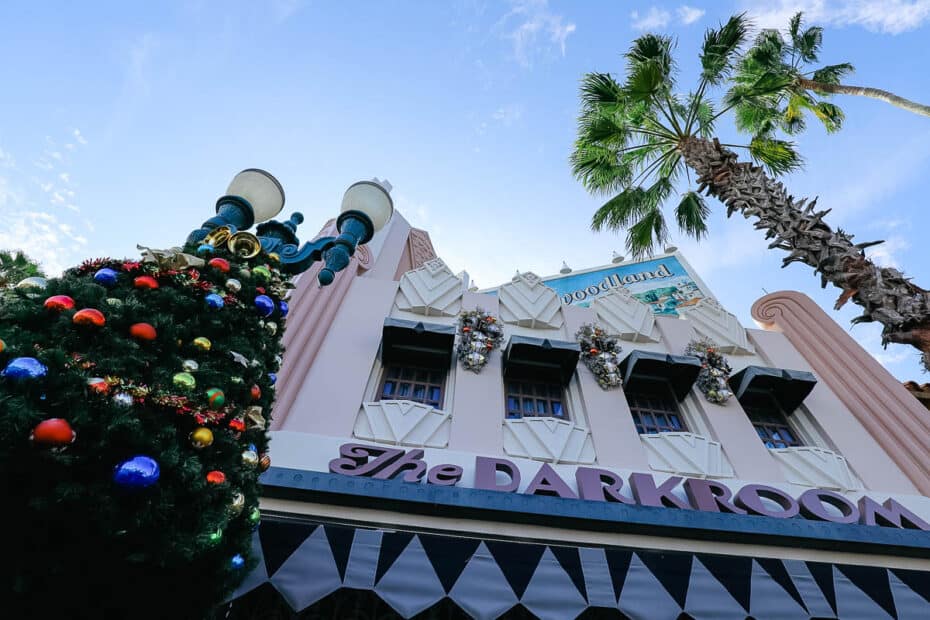 Here is a vintage Santa over The Darkroom. Appropriately, the garland over the entrance contains film and cameras.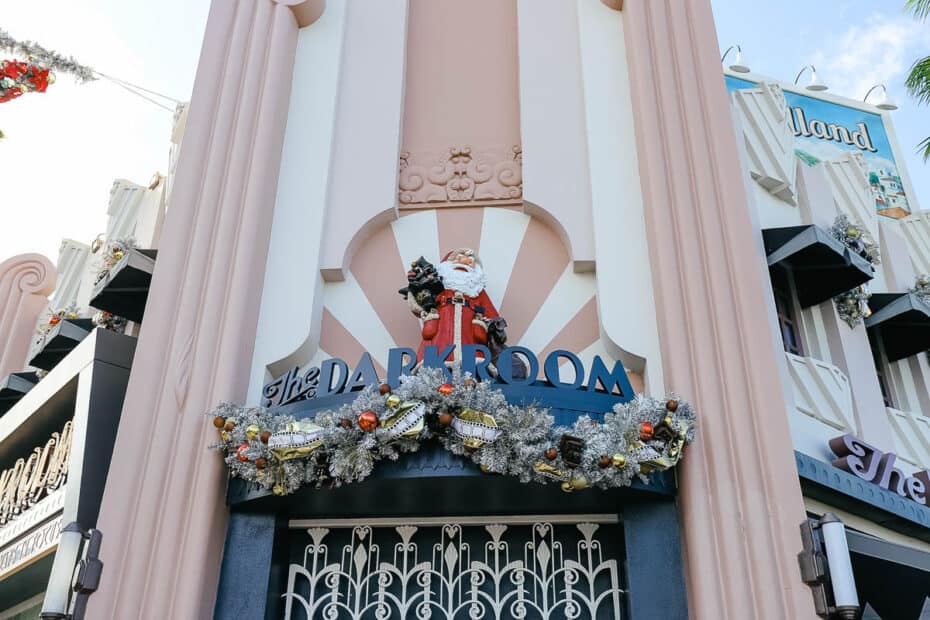 Celebrity 5 & 10 has a fun window display.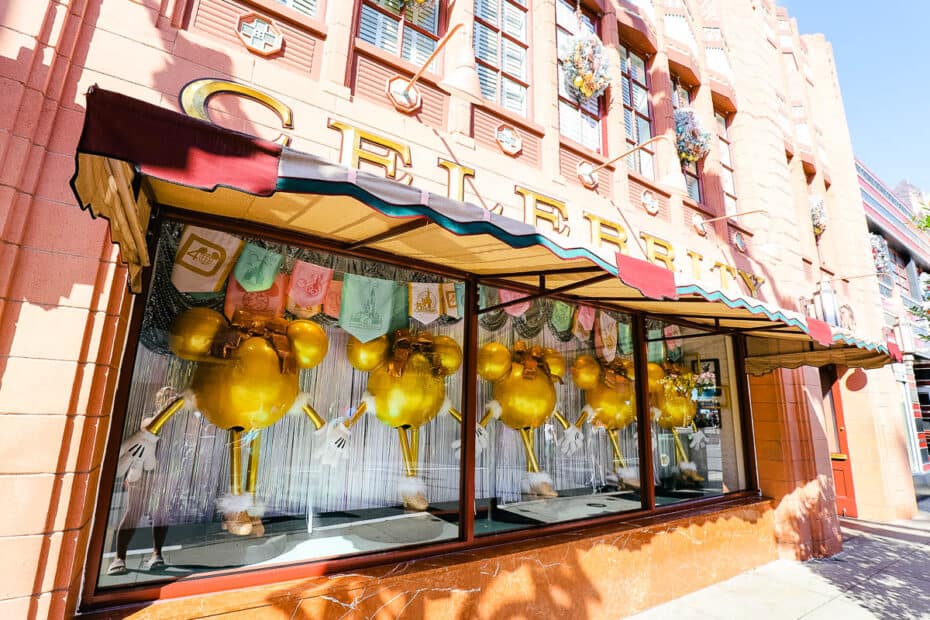 Here's a closer look.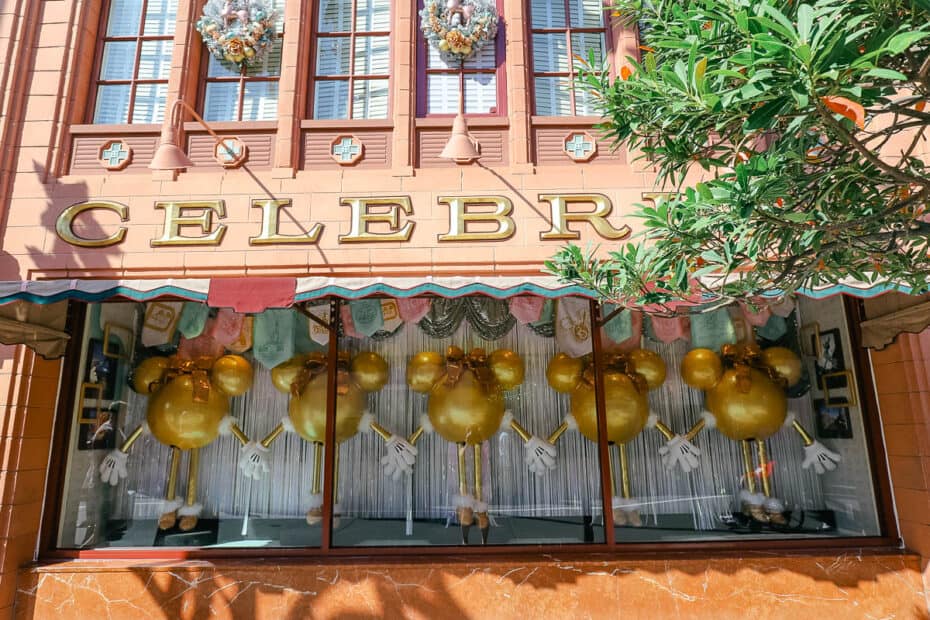 Poinsettias surround the statue paying tribute to filmmakers at the end of Hollywood Boulevard.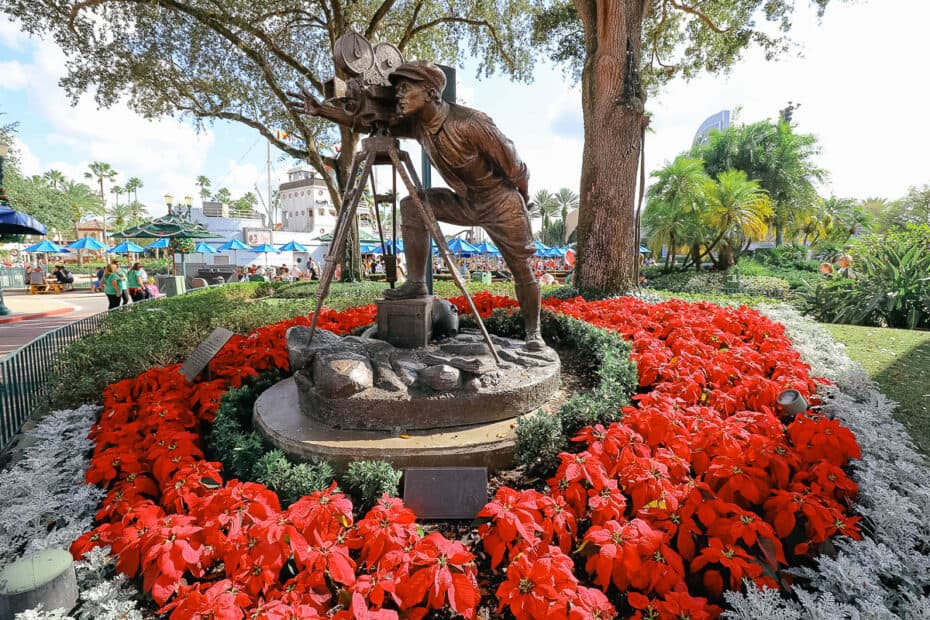 Each specific area features different decorations. Nothing matches, yet it all works so well as a whole.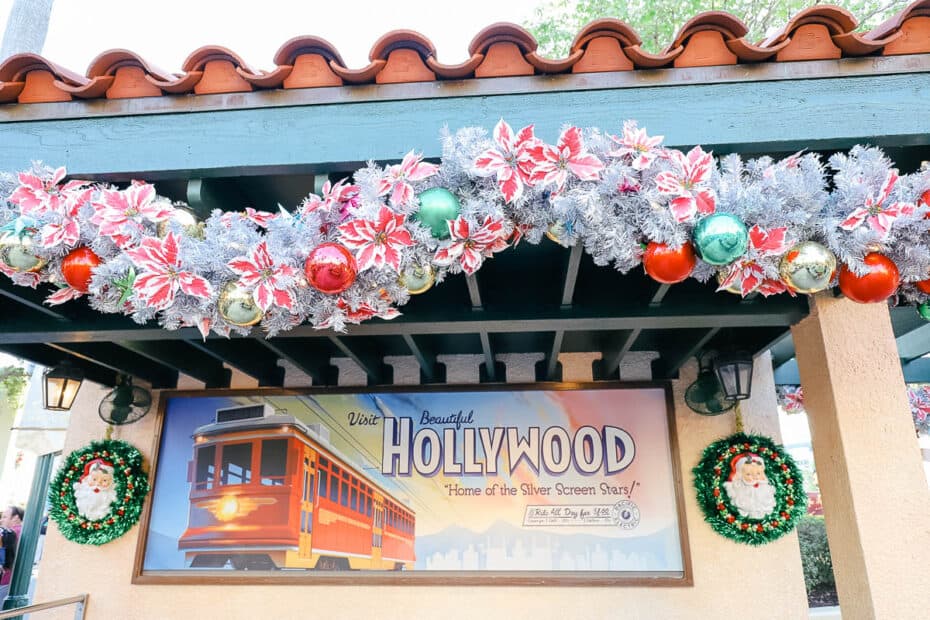 Fans of vintage decor will be smitten with some of the pieces.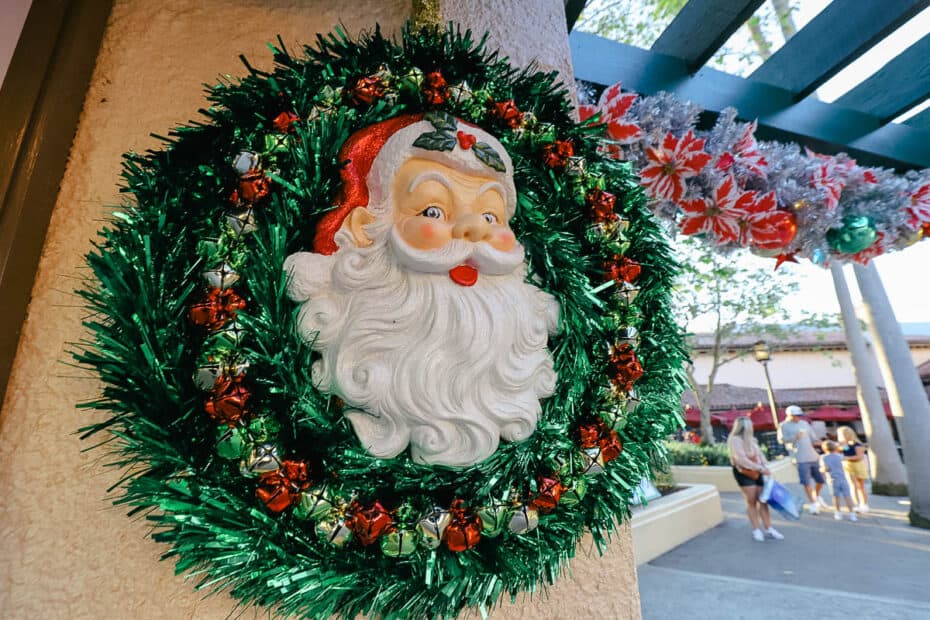 This trio sits almost directly in front of the Brown Derby. Tiny twinkling lights in the landscaping illuminate them in the evening.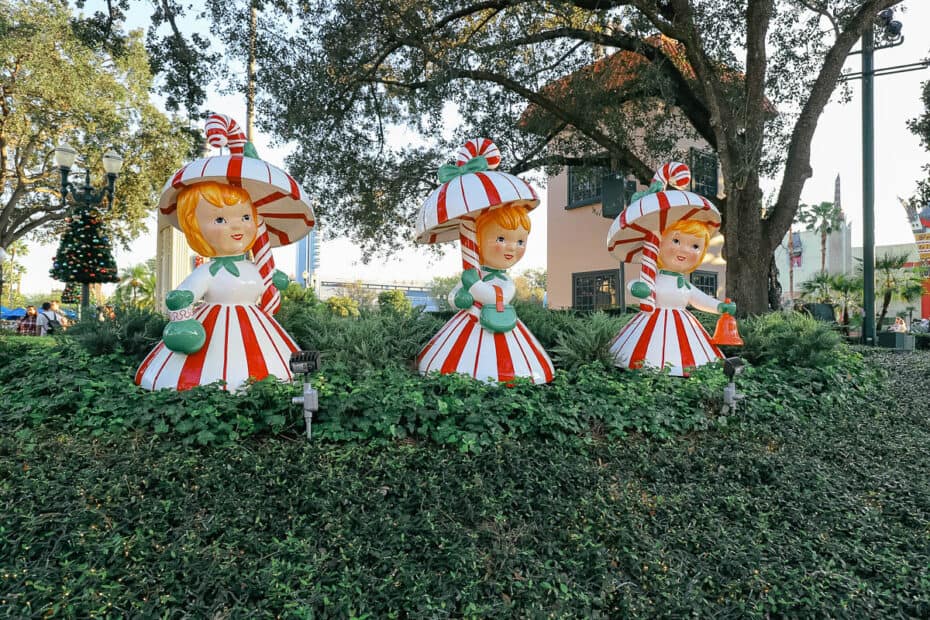 As we make our way down Sunset, each building is draped in garland.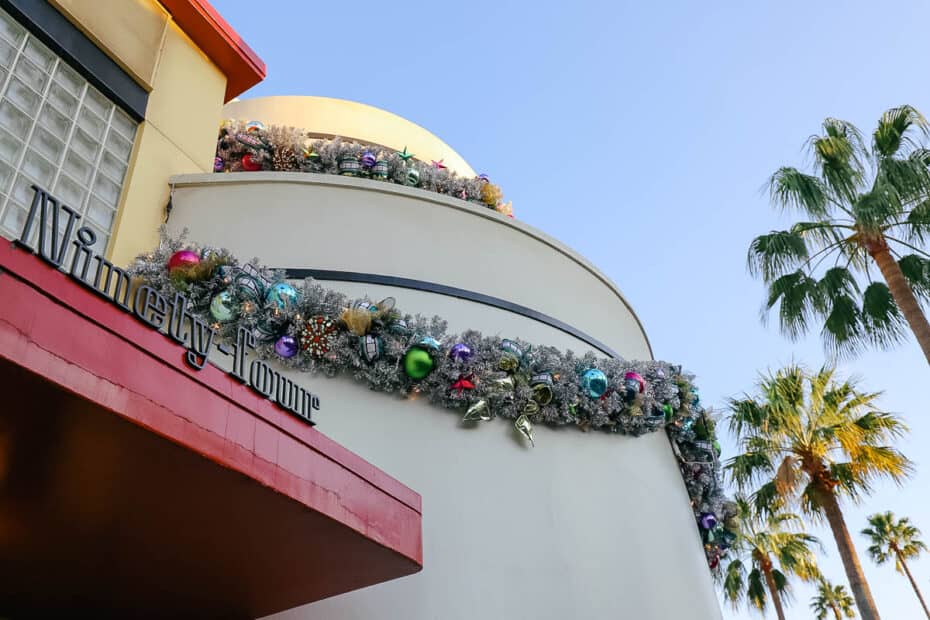 Here are a few more photos on Sunset: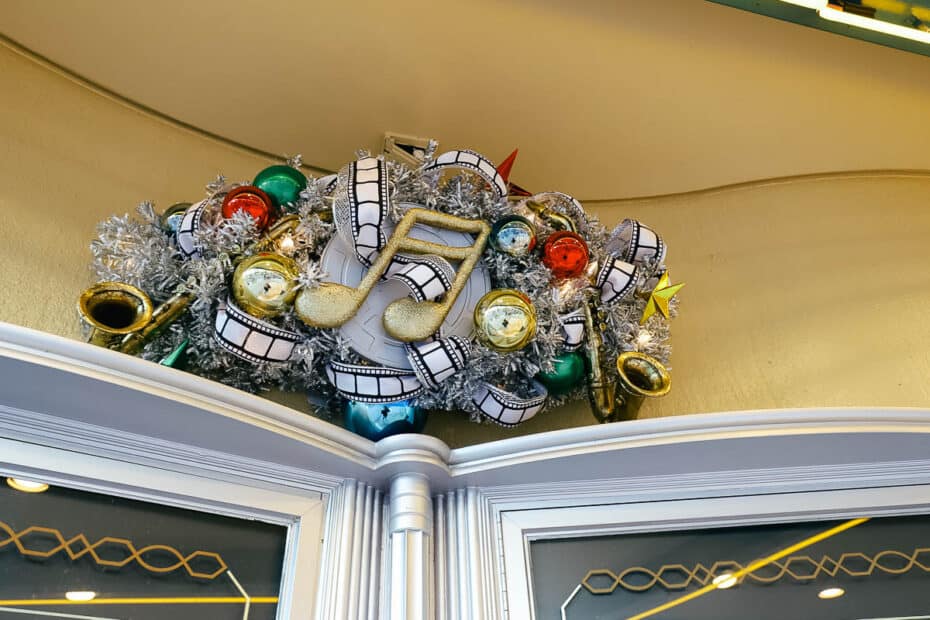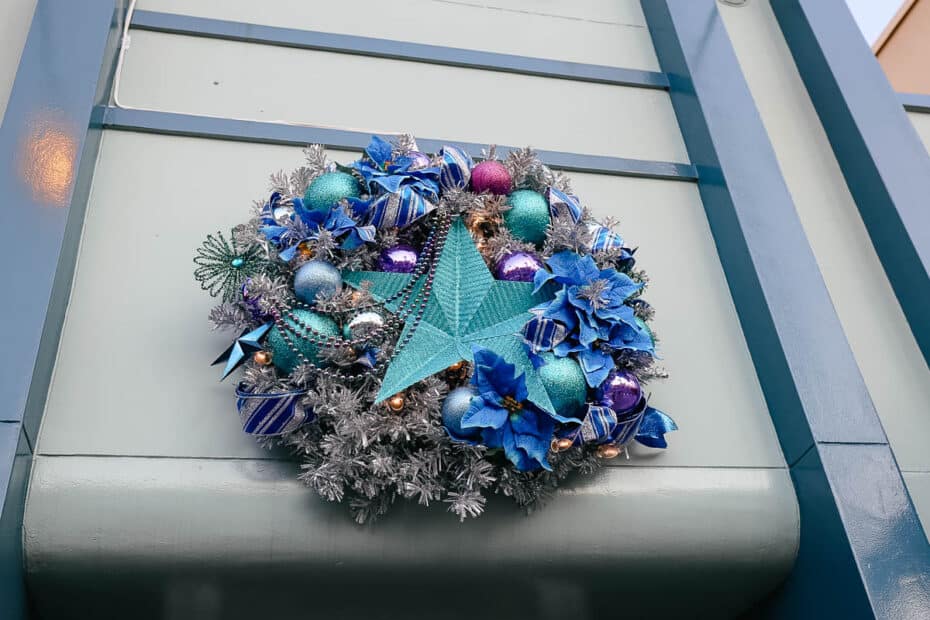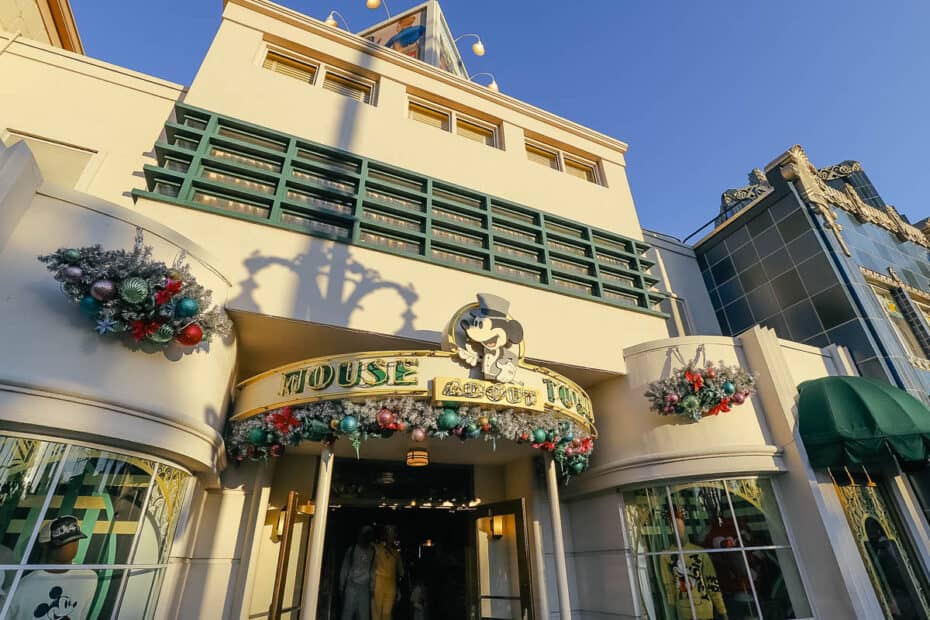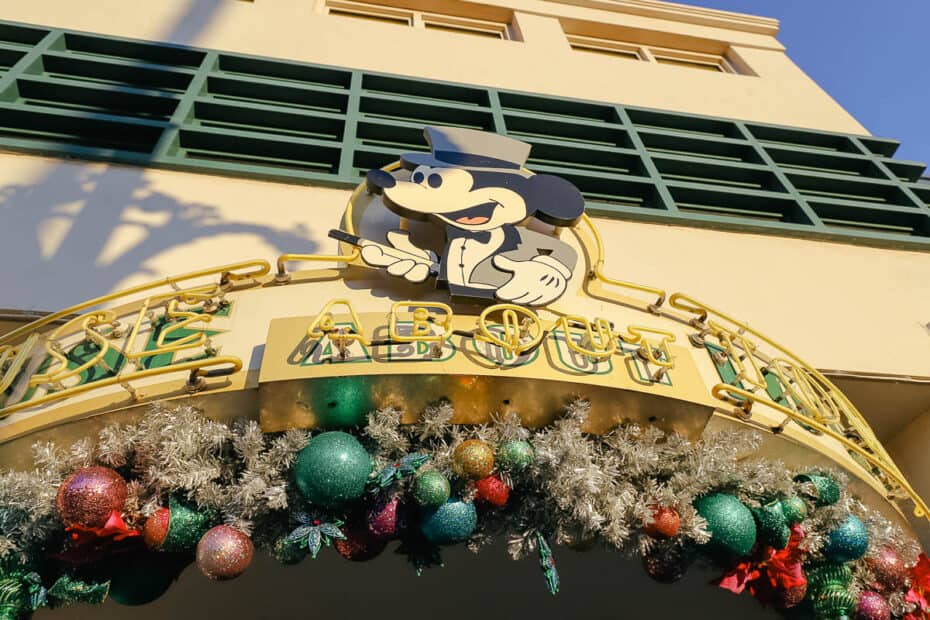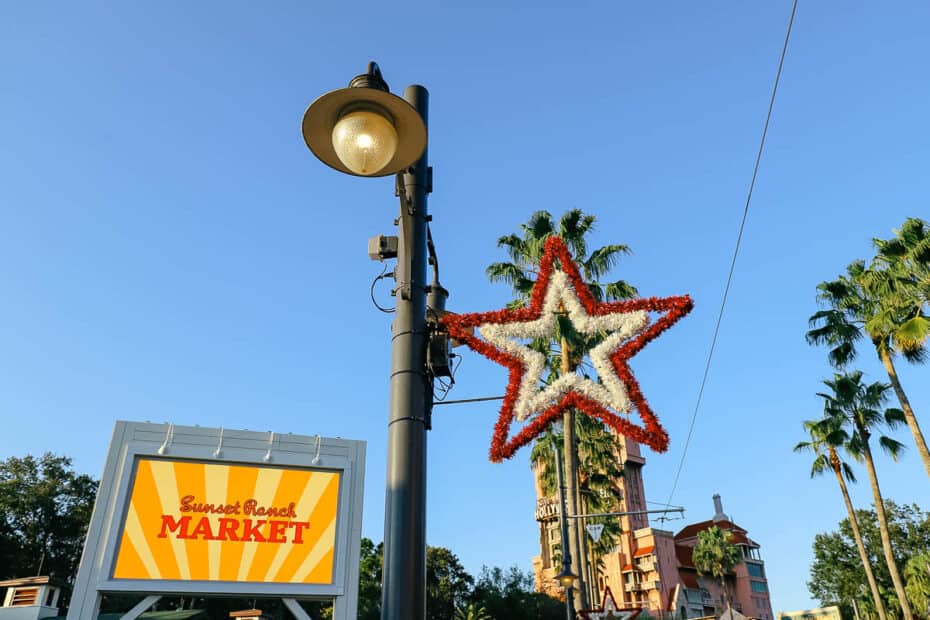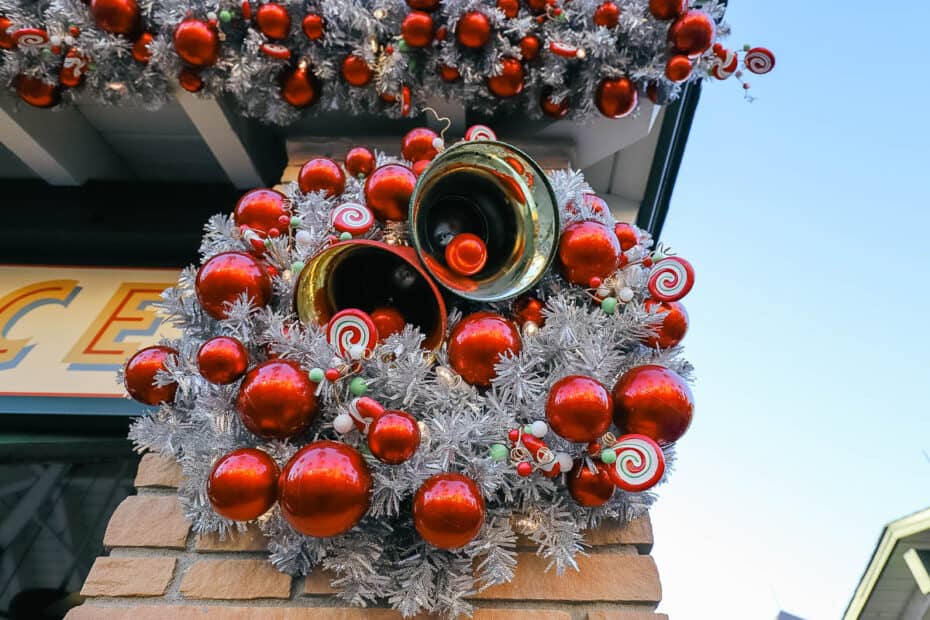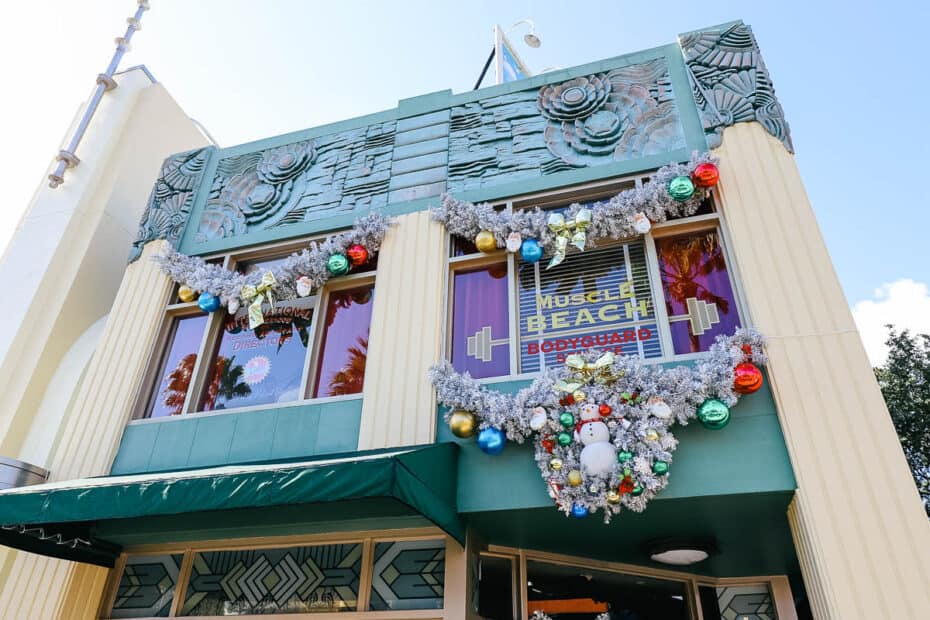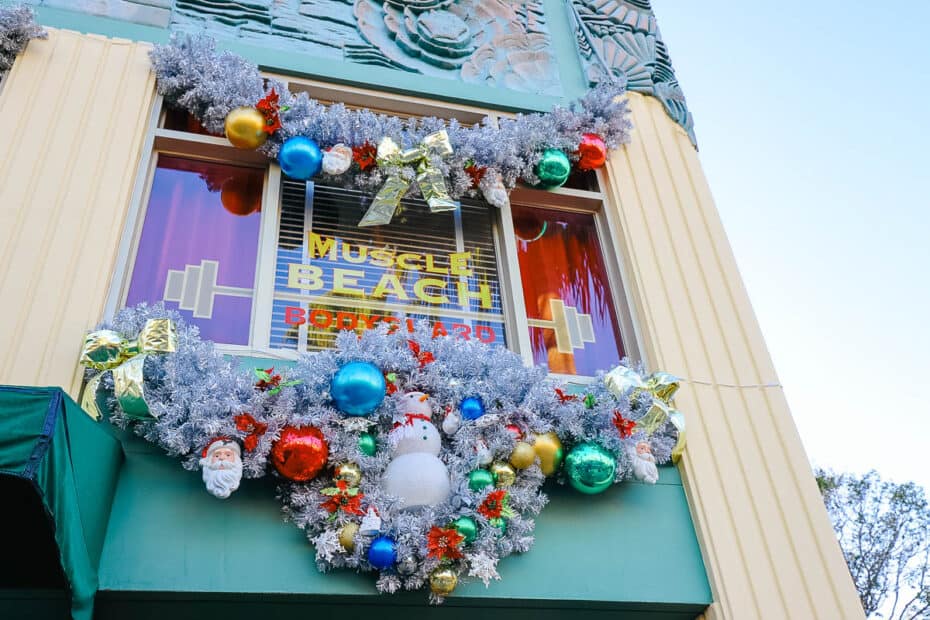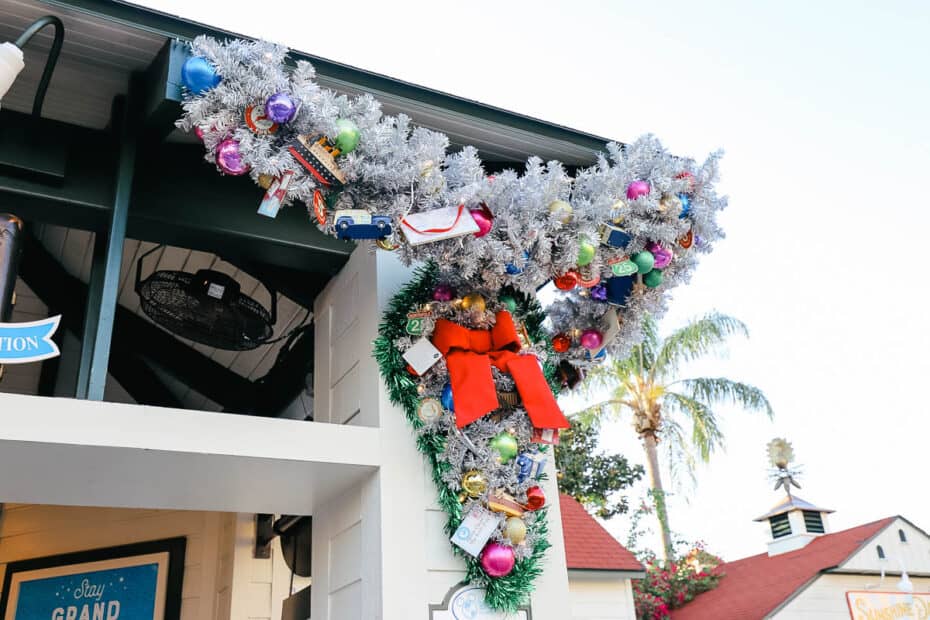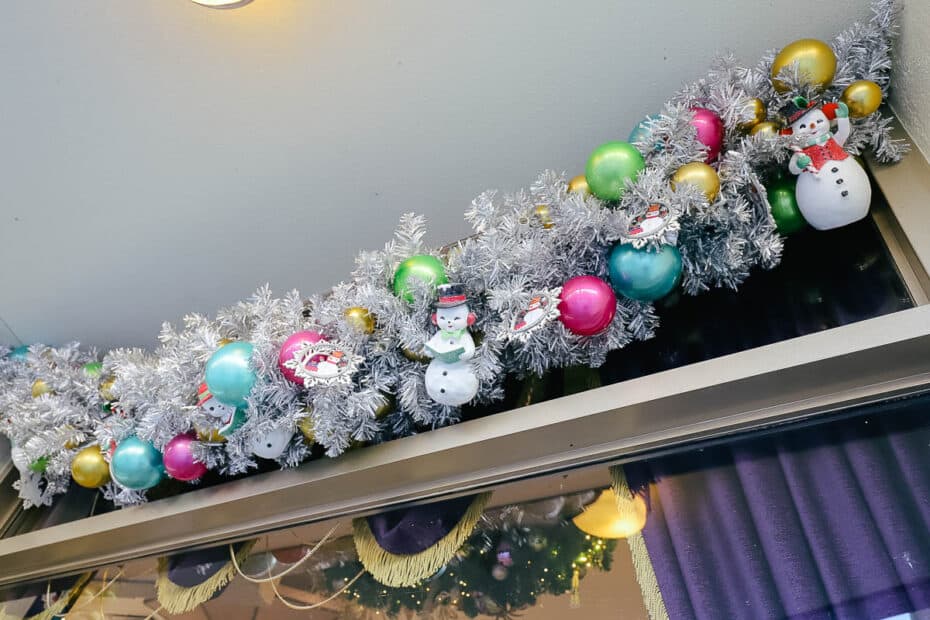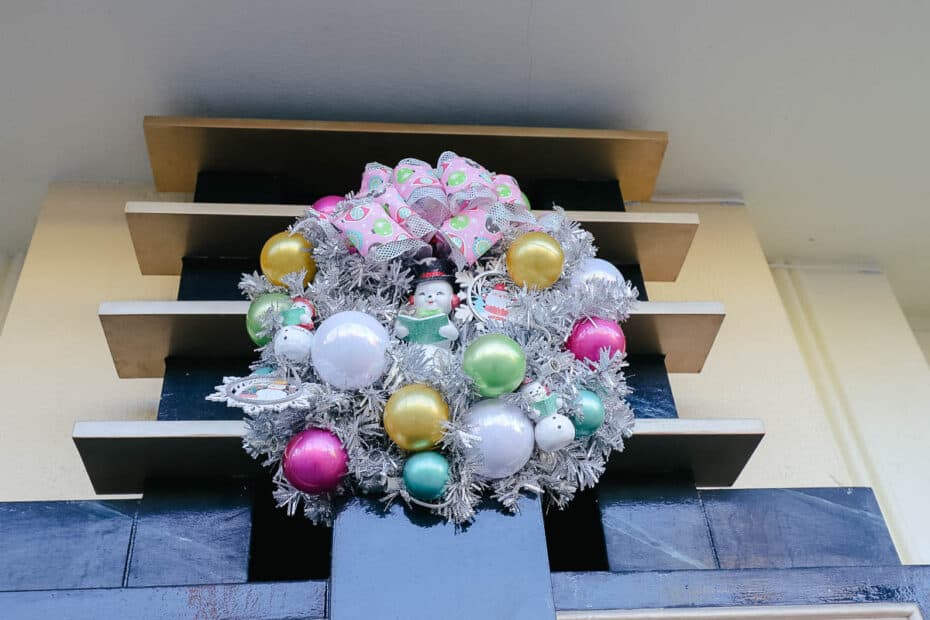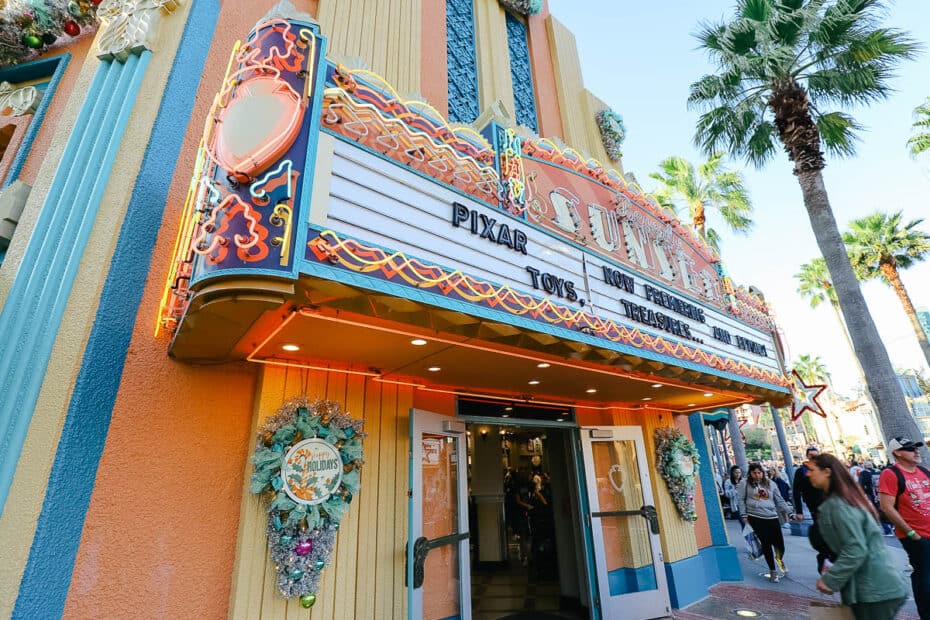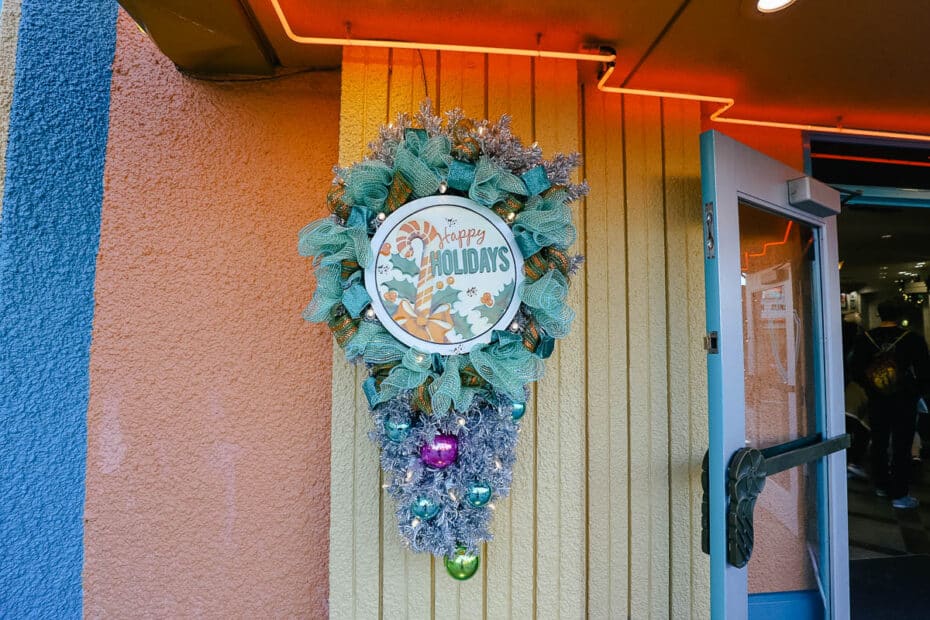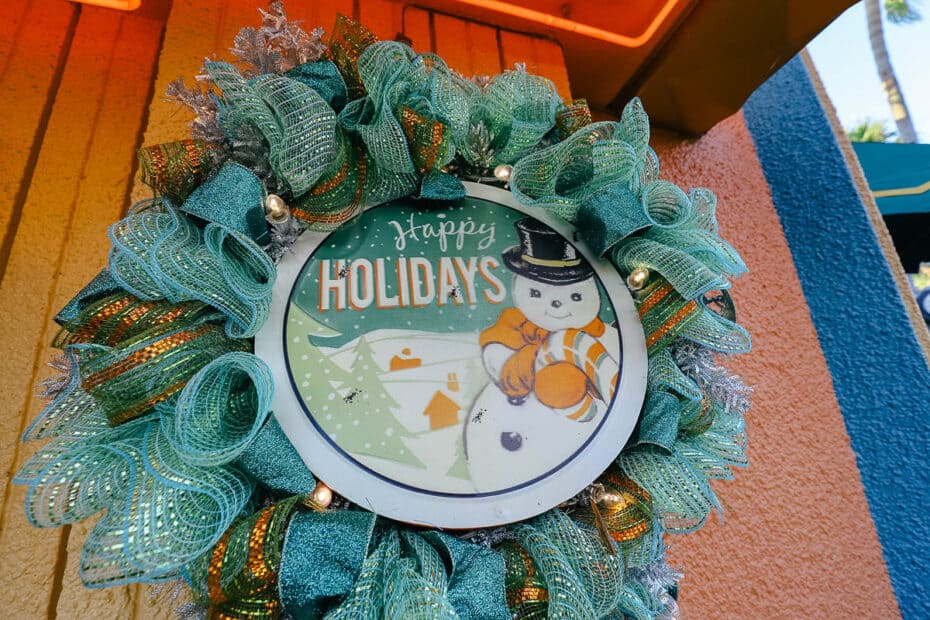 When you visit Disney's Hollywood Studios over the Christmas holidays, you'll want to take a stroll around Echo Lake. Preferably during the daytime and then again in the evening.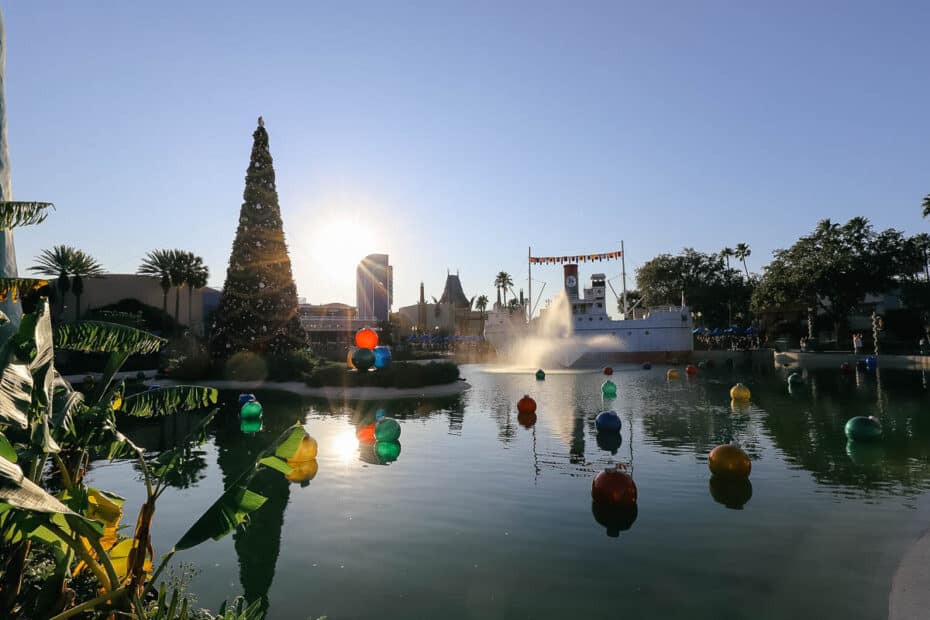 Lightpoles are wrapped in tinsel. Each one has a darling old-fashioned sign with a symbol of Christmas.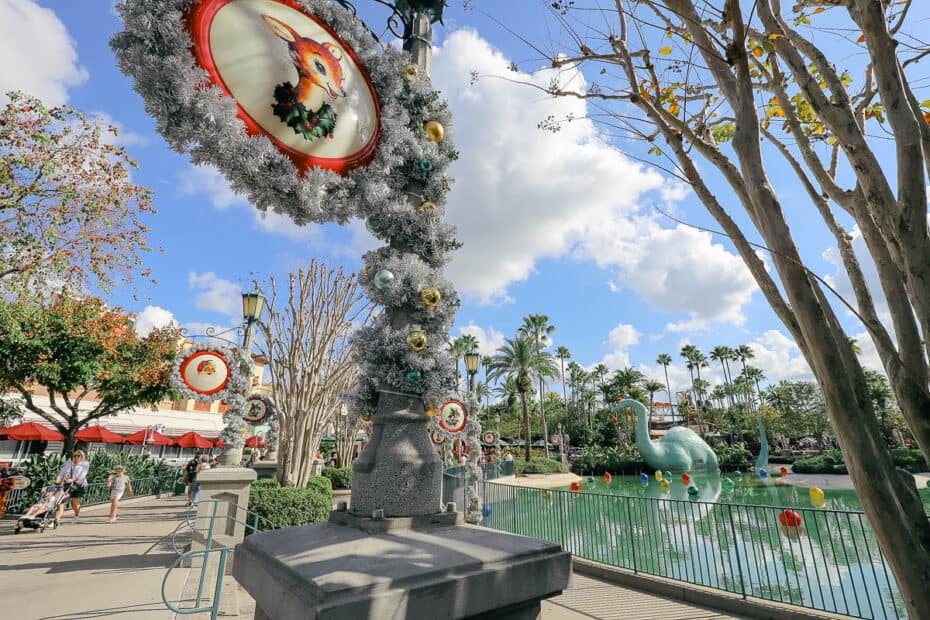 Hollywood Studios' Christmas tree sits in the middle of the lake.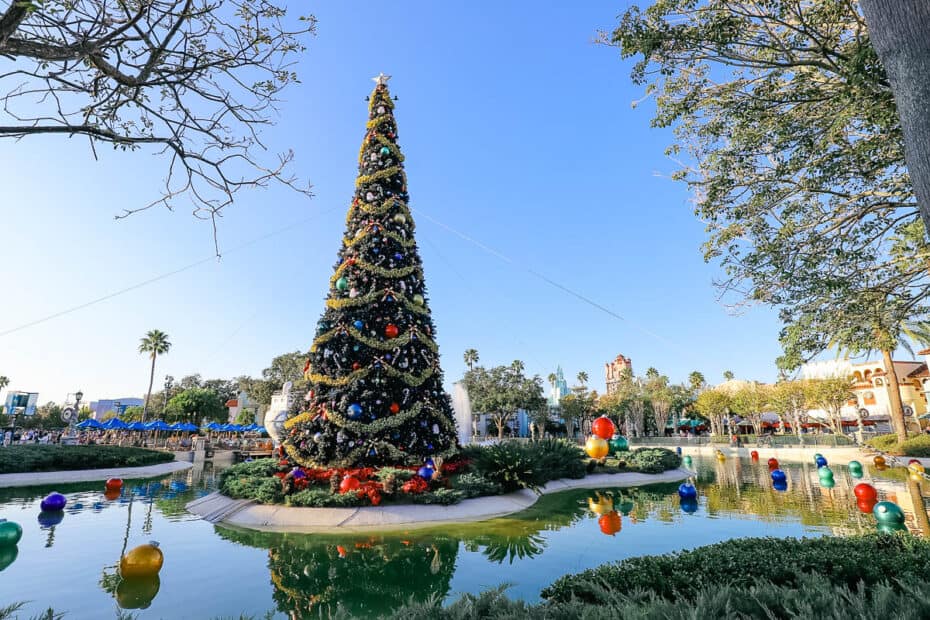 There are a variety of shots you can take from different points around the lake. In the one below, I was trying to include Mickey. He sits in the distance at the front of the park on top of the globe.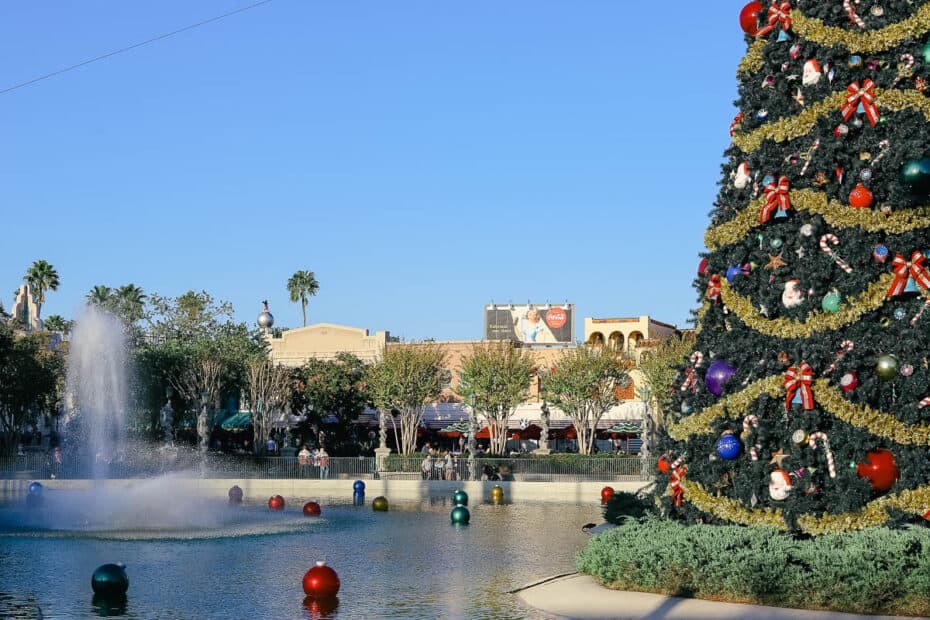 You can't beat sunset hour, either. It's gorgeous around the lake.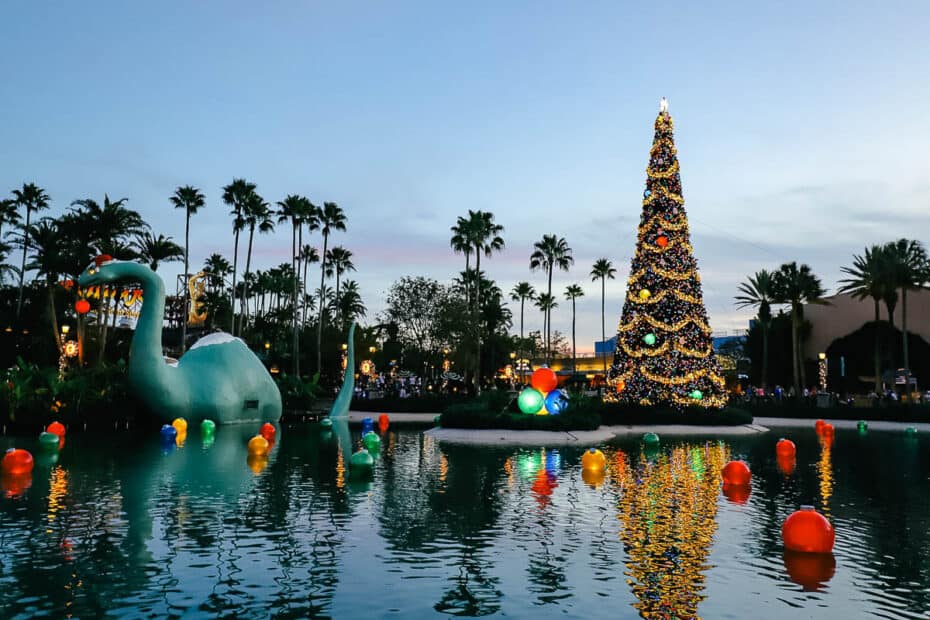 There are plenty of benches, and the area is relatively quiet since there isn't much going on nearby.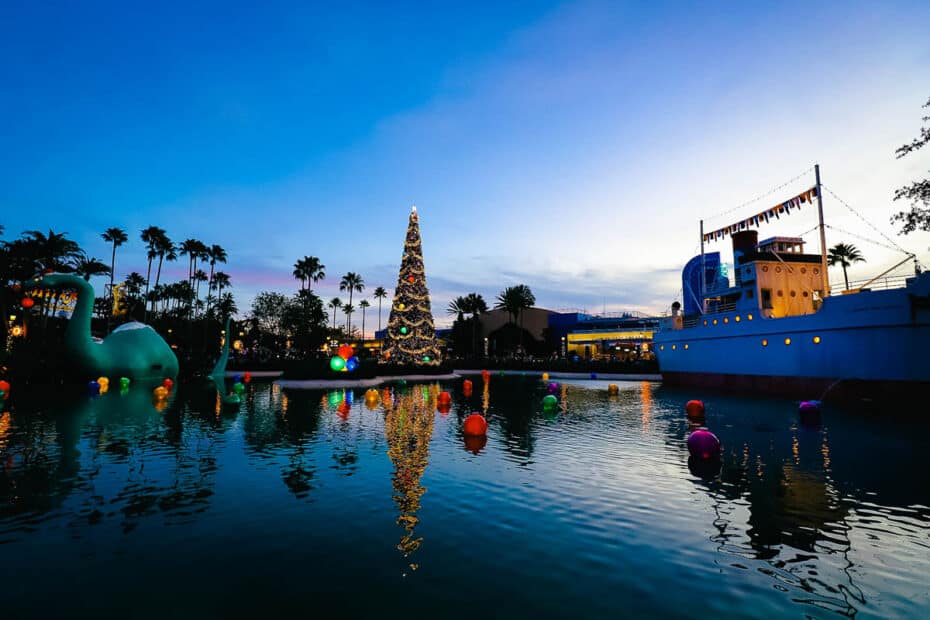 As night falls, Echo Lake takes on an entirely different look.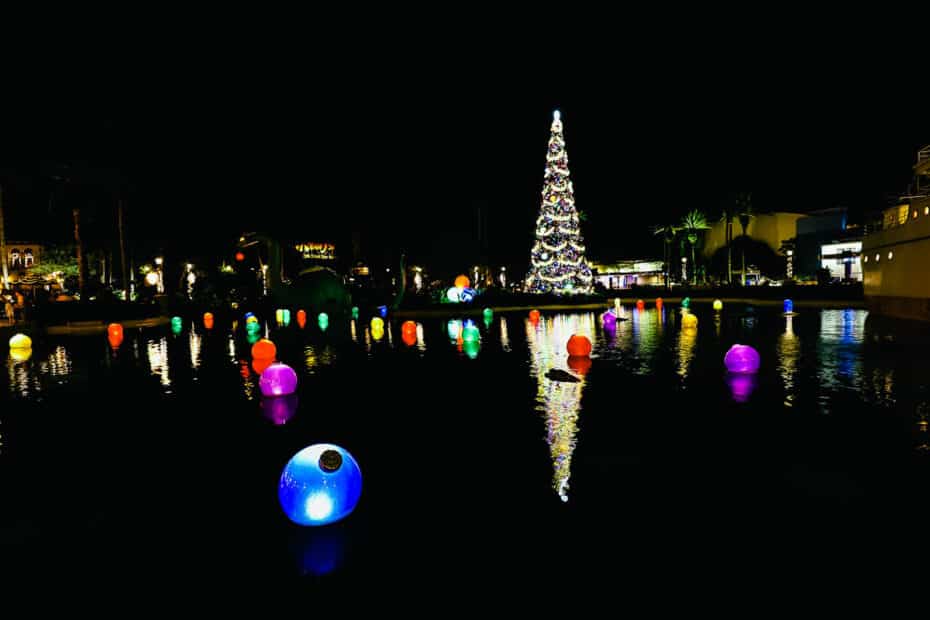 Some of the shops surrounding the lake have decorations installed.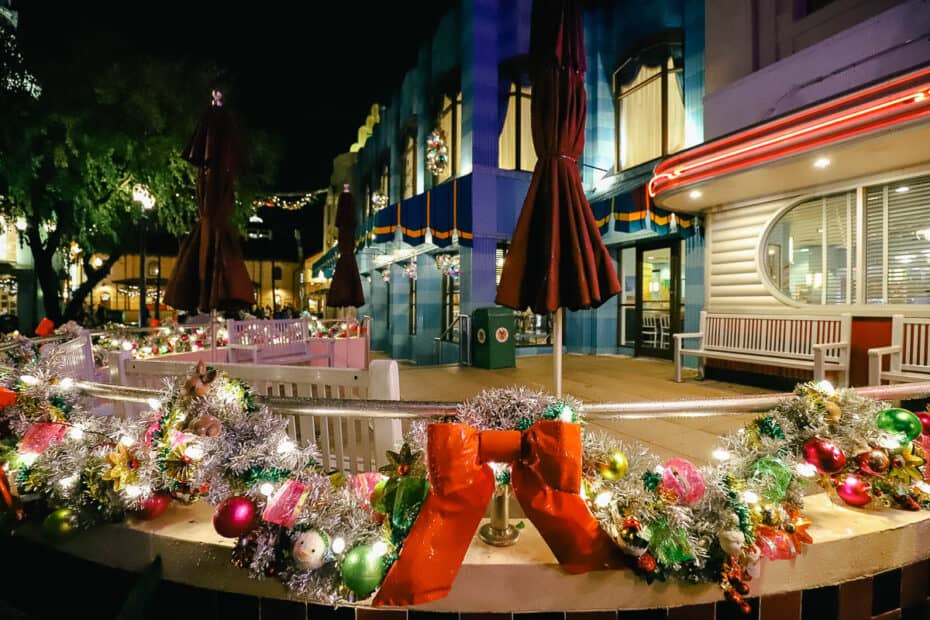 I thought these were beautiful.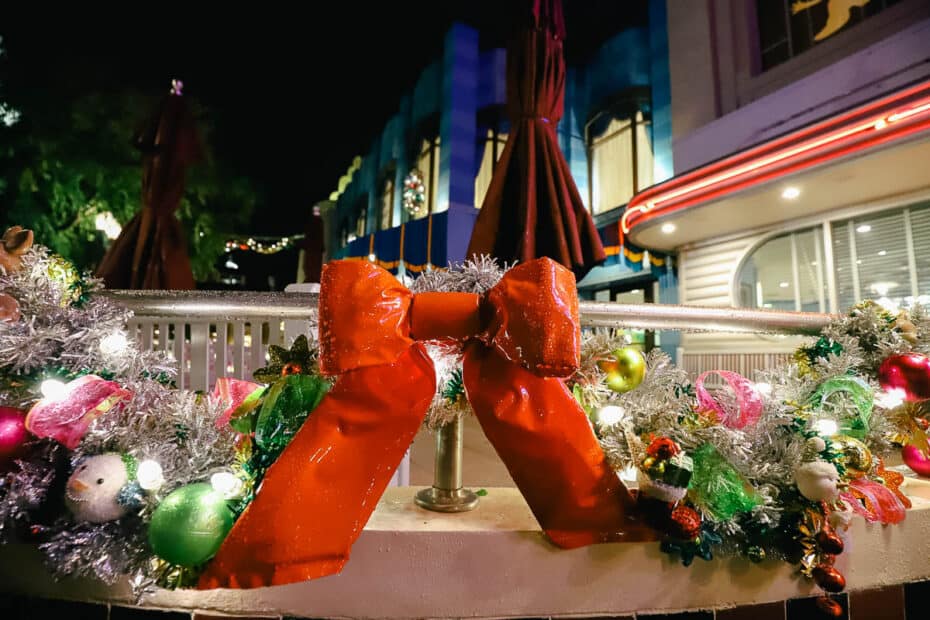 But this one was my favorite in the area.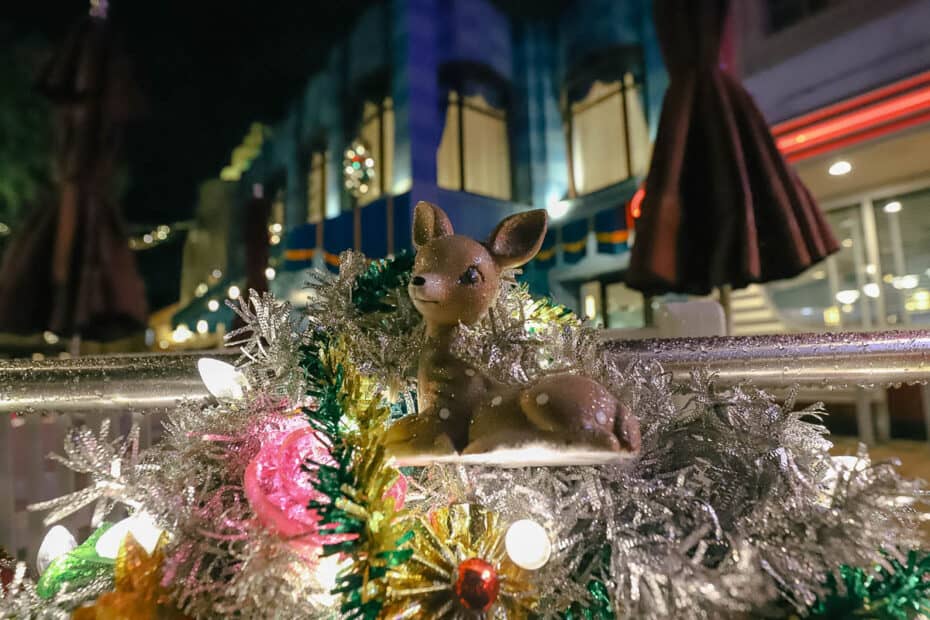 Lastly, a set of vintage poodles sits in front of Echo Lake.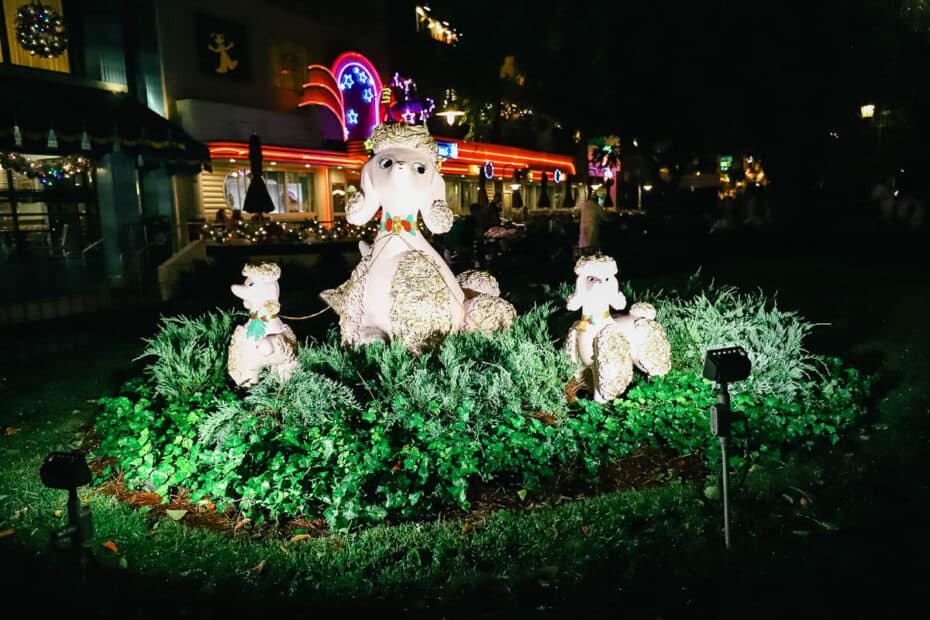 Regarding other holiday decorations at Disney's Hollywood Studios, you'll see a slight nod toward Christmas in Toy Story Land. However, Christmas is not much of a thing on Batuu, which we all know as Galaxy's Edge.
For more Christmas at Walt Disney World, you might enjoy the following articles:
In the Comments
What do you think about Christmas at Disney's Hollywood Studios? Do you enjoy the decorations used throughout the park? Will you get to visit for the 2022 holiday season?