Top 10 Disney World Resorts at Christmas
This article discusses the best Walt Disney World Resorts to visit during the Christmas holidays.
If you have the opportunity to visit the Walt Disney World Resort during the holiday season, you'll want to prioritize seeing some of the resorts. Since the Christmas decor is so over the top, you're in for a real treat.
While all the resorts are dressed to the nines for the holidays, a few resorts stand out a little more than others. These will be the ones you don't want to miss!
Below, we'll preview the best Disney World Resorts at Christmas. We've ranked the resorts in order of what we deem the top ten. So you can decide which resorts are a must-see during your vacation.
This article was updated on December 5, 2022.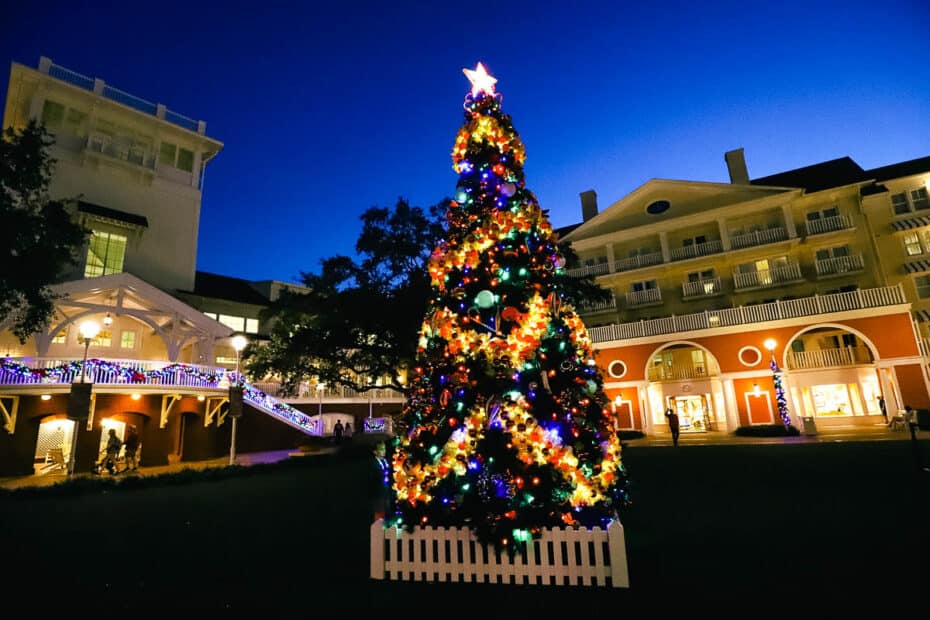 Best Disney World Resorts at Christmas
It's important to know that every resort at Disney World is decorated for Christmas. However, some have more subtle decor than others.
At the same time, other resorts will have elaborate decorations, requiring more time to see everything in detail. For most of these, I tend to plan a meal at the resort during the same time I'm visiting.
Usually, decorations go up at Disney's Resorts immediately after Halloween. All the decorations should be entirely in place before Thanksgiving.
After the holidays, you can expect decorations to remain in place until at least New Year's Day. Then, gingerbread structures are dissembled the following week, florals change, and trees disappear.
Below, we'll review our top picks for the best Disney Resorts at Christmas.
#10 Disney's Caribbean Beach Resort
Disney's Caribbean Beach Resort is the first to make the list of best Disney Resorts at Christmas. We spent a week at Caribbean Beach between Thanksgiving and Christmas a while back and found the decor at the resort charming.
Related: Caribbean Beach Resort Review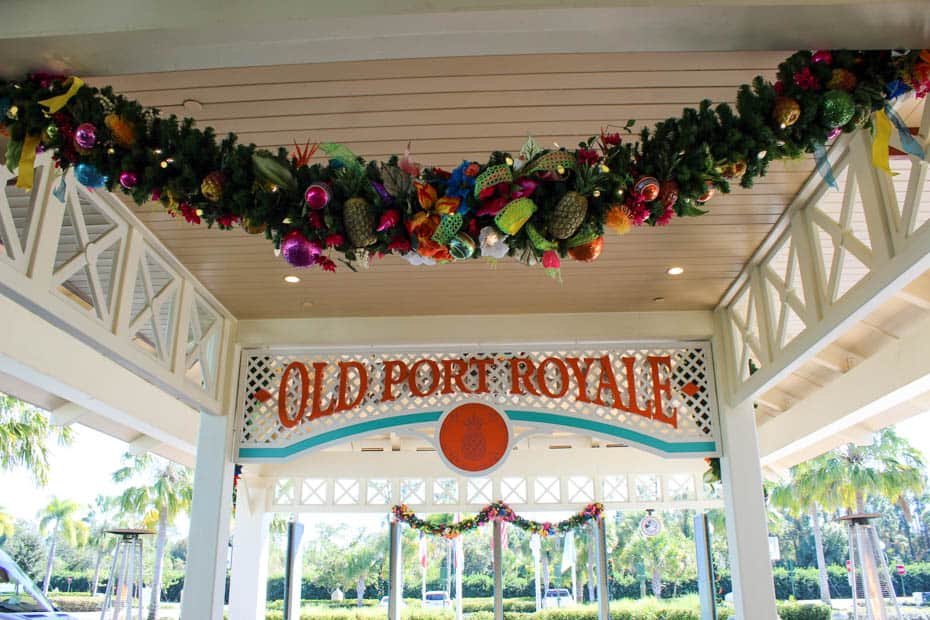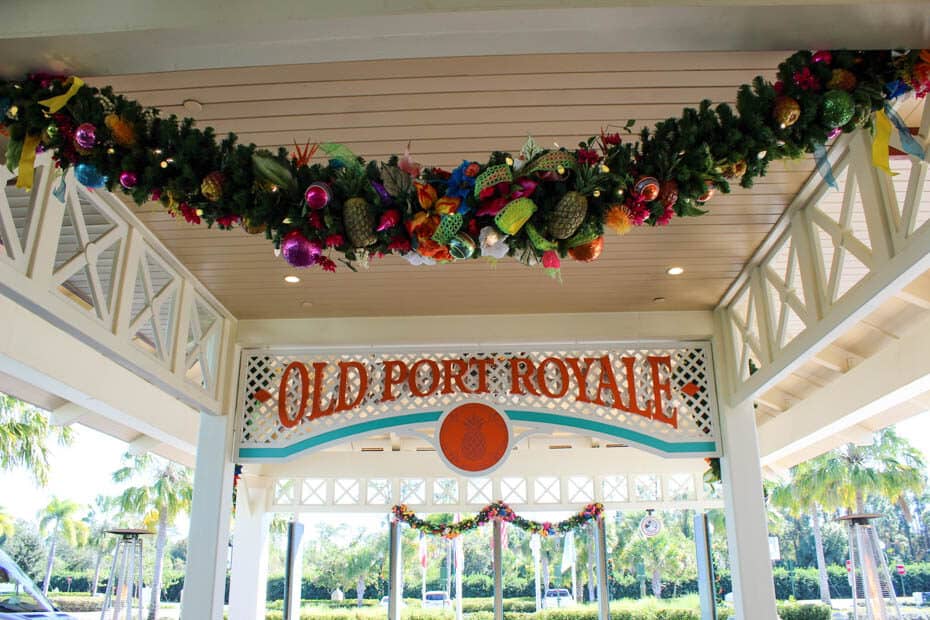 All the colors were vibrant and genuinely reflected the Caribbean theme of the resort. There were even pineapples and conch shells mixed in with the decor. I immediately fell in love with the pleasant holiday vibe.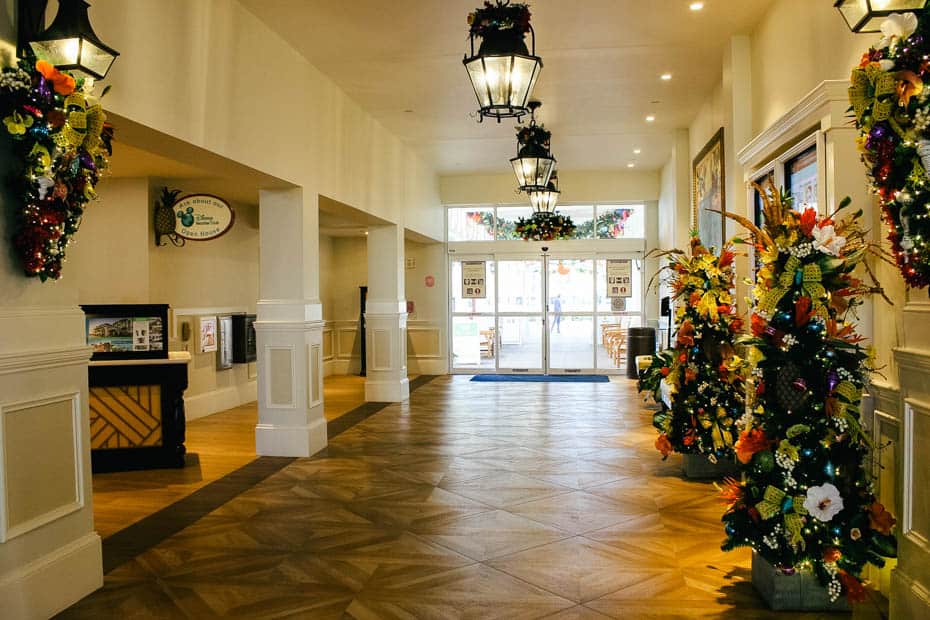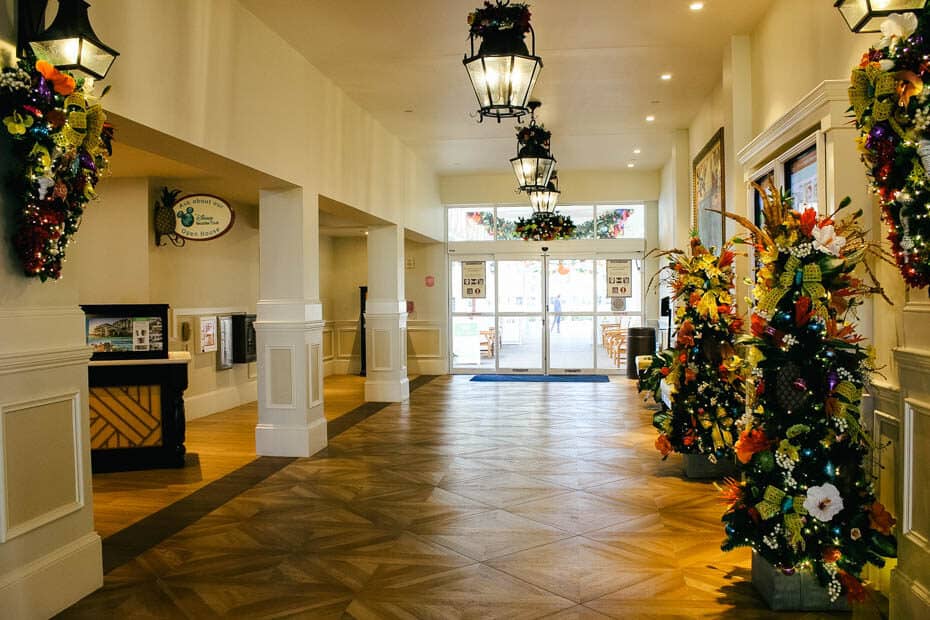 Caribbean Beach is an excellent choice if you are considering a moderate resort for your Christmas vacation. In addition, the resort is home to the central Skyliner station.
So if you're out seeing the Christmas decorations at the various resorts, you can incorporate a ride on one of the gondolas to get here. For example, you could easily hop on the Skyliner from Hollywood Studios or Epcot to visit Disney's Caribbean Beach.
After that, you could stop at Disney's Riviera Resort, which happens to be next on our list of best Christmas resorts at Disney.
Related: Disney Skyliner Resorts Guide
#9 Disney's Riviera Resort
Disney's Riviera is probably not as decorated as much for Christmas as you or I would like. However, I find the resort's decorations stunning nonetheless.
Related: Disney's Riviera Resort Review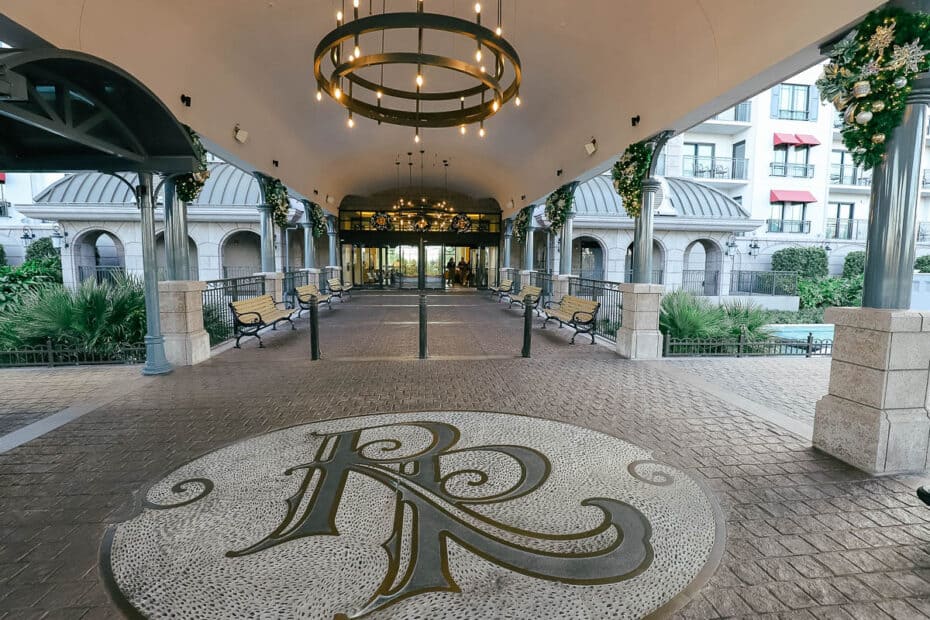 When you arrive at the resort, you're greeted by three large holiday wreaths over the front entrance.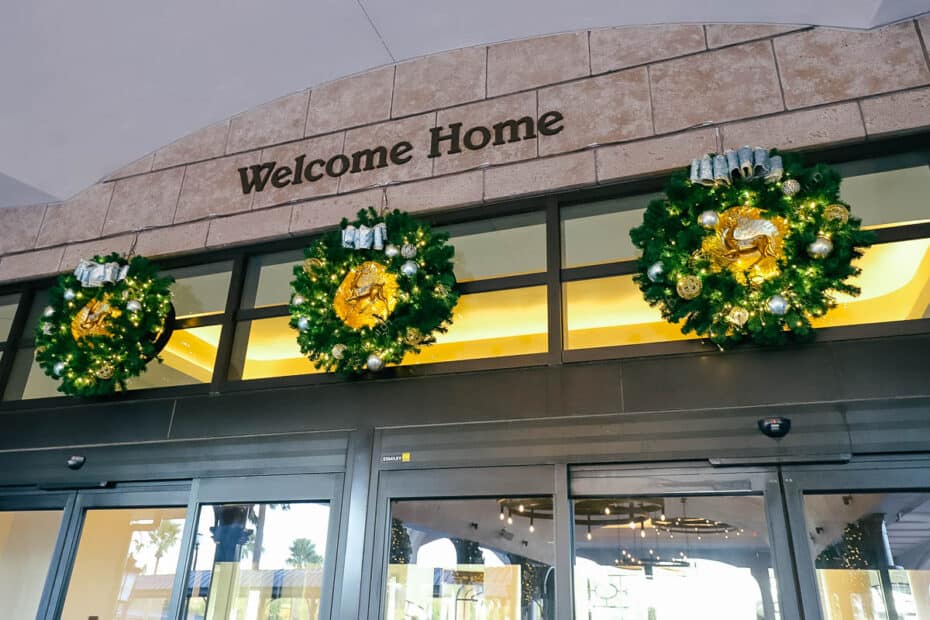 Inside, the resort's simple yet pretty tree sits in the lobby.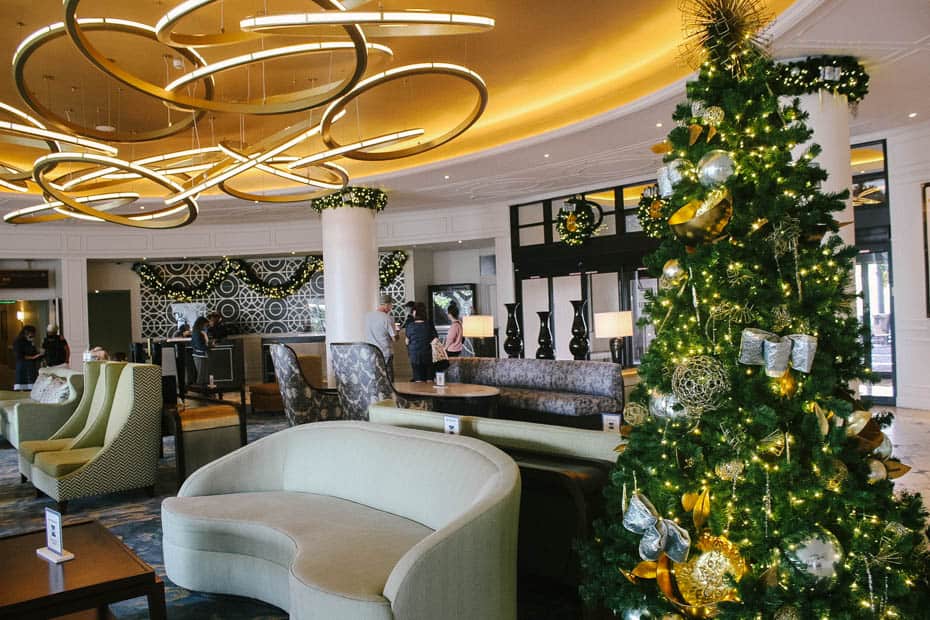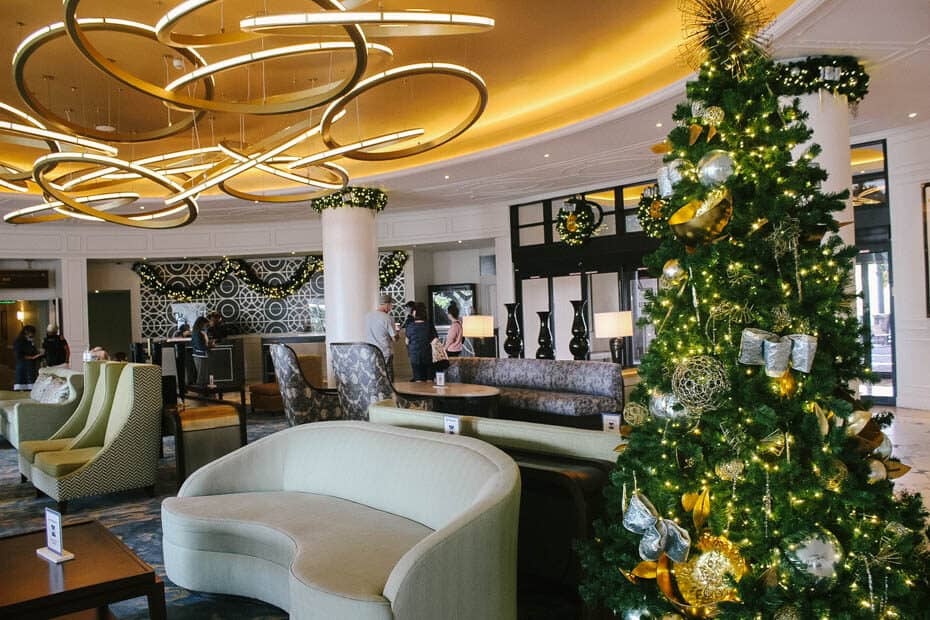 It has beautiful ornaments.
Everything is silver and gold with a hint of blue mixed in here and there.
While the decorations probably don't warrant a trip to the Riviera, the dining options do. So plan a little time to ride the Skyliner over, have a meal, and see the hotel while you are out resort-hopping.
Related: Riviera Resort Restaurant List
And don't miss picking up a treat at Le Petit Cafe. This bakery is located right off the lobby. They usually have delicious gingerbread cookies for the holidays!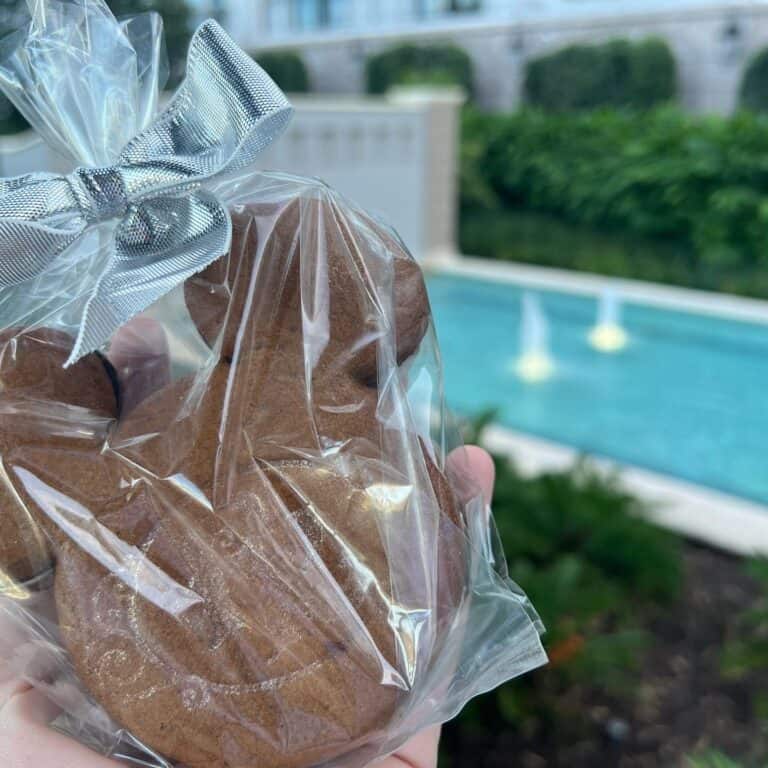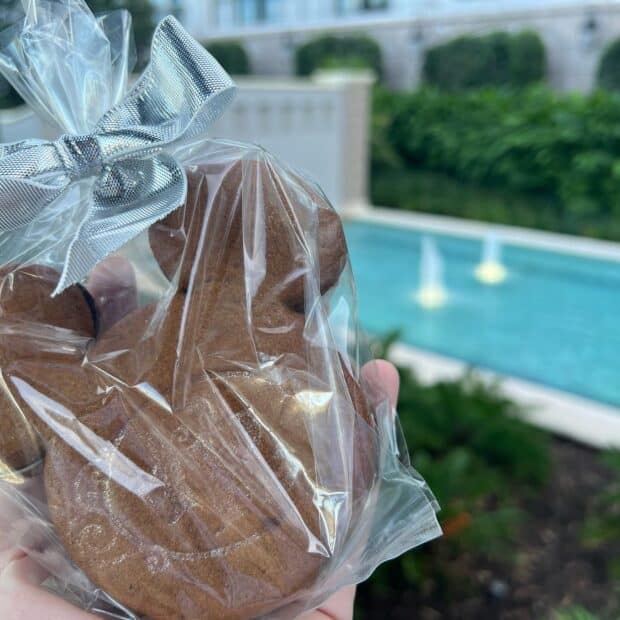 Additionally, in 2022, Le Petit Cafe has a chocolate peppermint mousse. I can assure you if it's anything like the other treats I've had here, it's delish.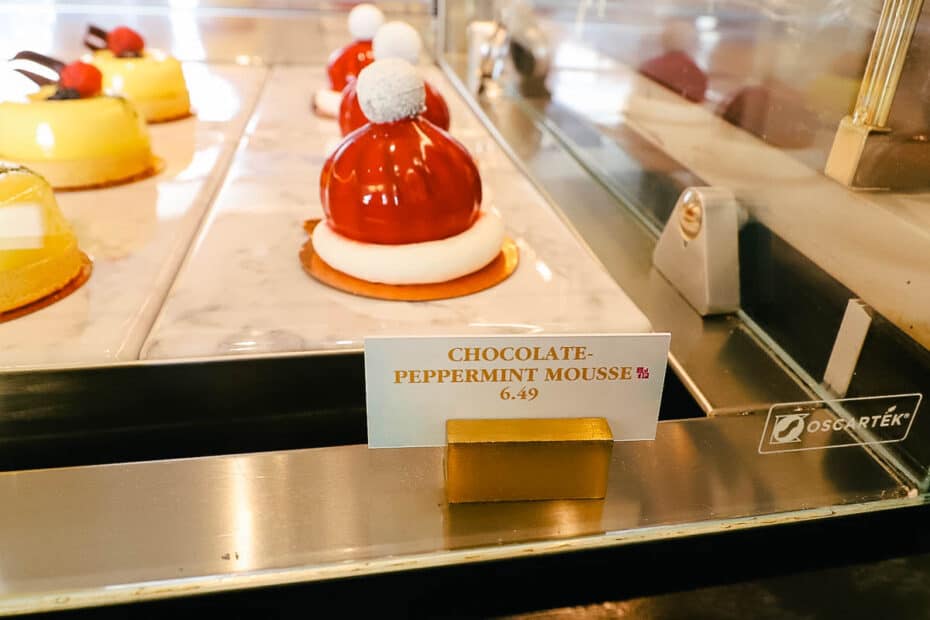 During your visit, you might also enjoy taking the elevator up to the rooftop terrace lounge at Topolino's. We recently had a late dinner at Shula's Steakhouse.
So beforehand, we did a mini-Christmas tour of the Skyliner Resorts with a stop for drinks at Topolino's. Then we returned to Shula's for a formal dinner.
#8 Disney's Contemporary Resort
For our number eight choice, I went with Disney's Contemporary Resort. Part of me wanted to rank this one higher. However, there will be more to see at some other resorts during Christmas.
Disney's Contemporary has an outstanding tree in front of the resort. It is prettiest at night when it is all aglow.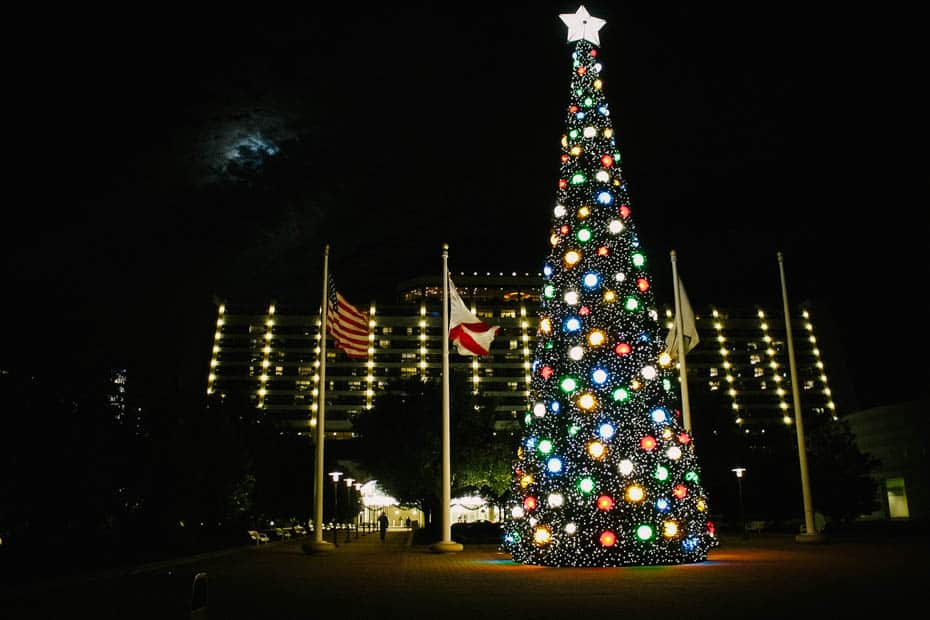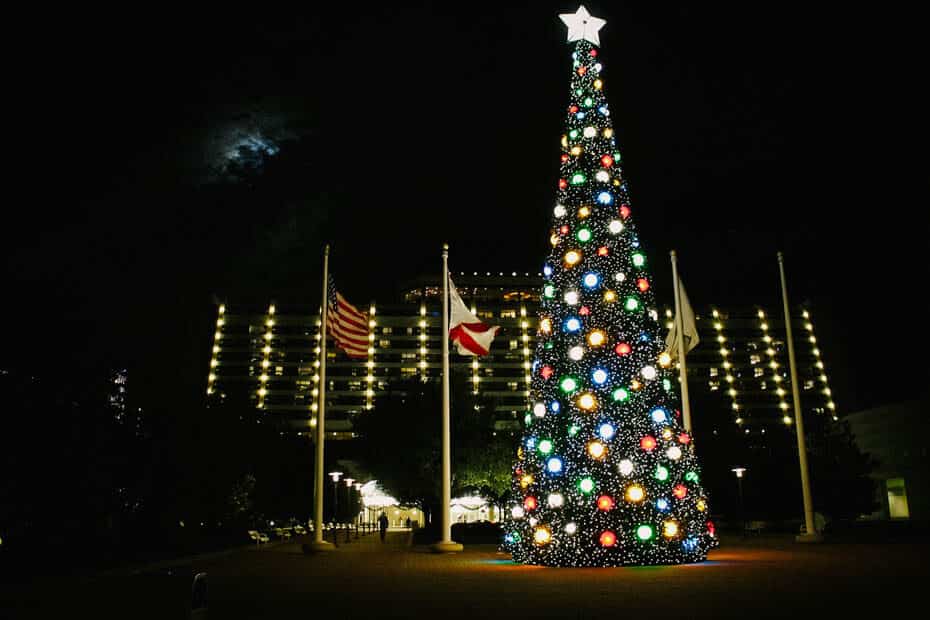 I enjoy taking the time to walk out and see it up close. Additionally, you can see it reasonably well from the monorail to Magic Kingdom.
Related: Disney World Monorail Guide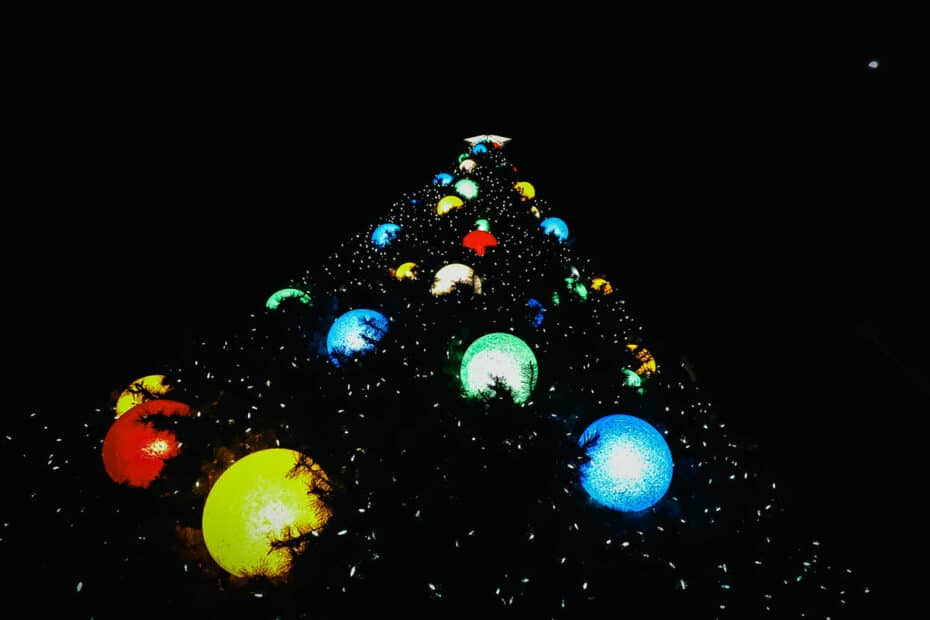 In front of the tree, there's a beautiful hidden Mickey in the landscaping. It sits a few flower beds back. At night, it's a little more difficult to see.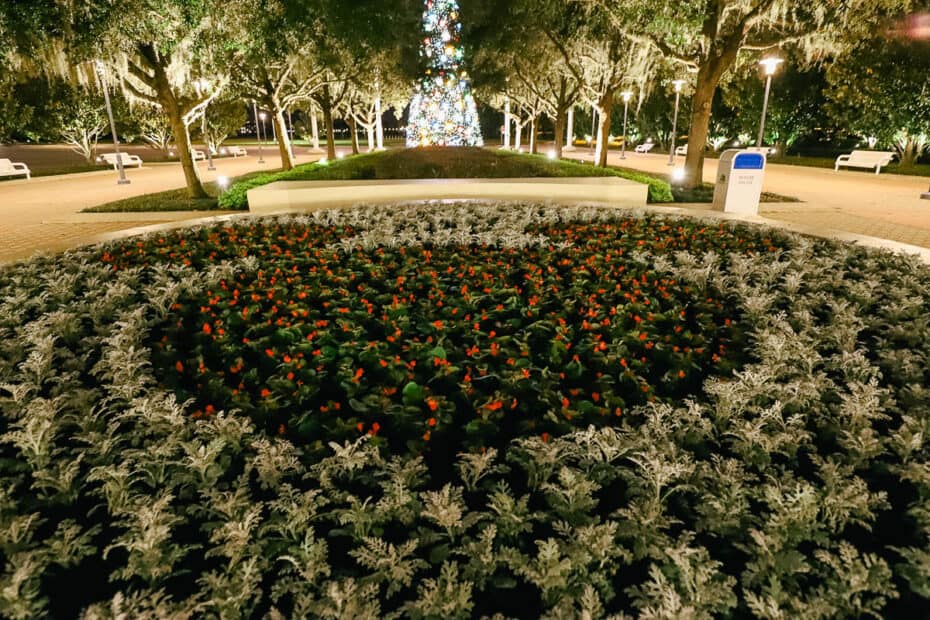 We also see the return of the gingerbread castle to the Contemporary in 2022. This gingerbread creation is located on the Grand Concourse or the resort's fourth floor.
This year's display celebrates the 50th-anniversary of Walt Disney World.
Related: Disney's Contemporary Gingerbread Castle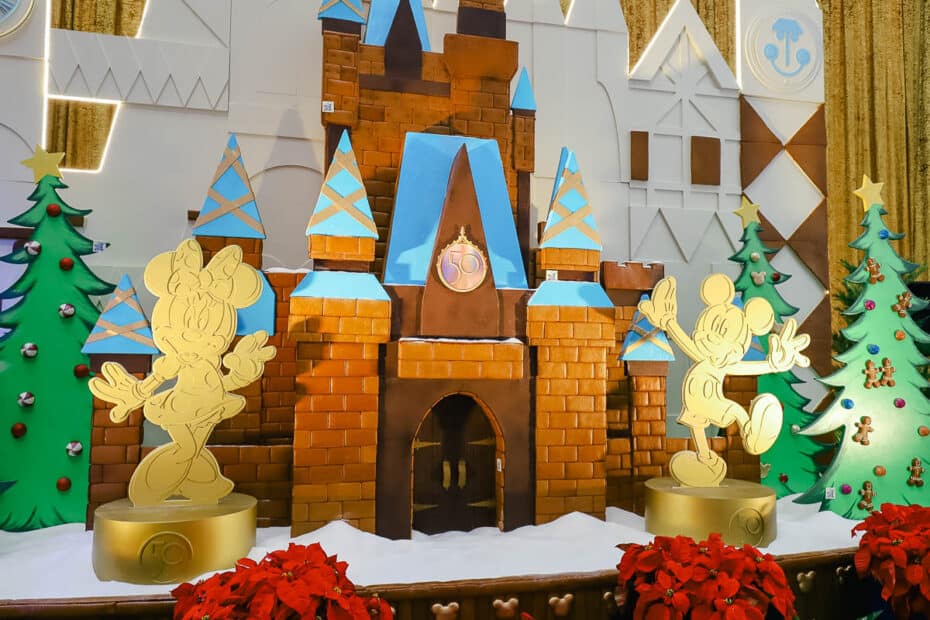 While at the Contemporary, you might enjoy planning a meal at one of their many restaurants. One of our favorites is the California Grill.
Of course, you'll need to have advanced reservations. However, if not, you might find a spot at the bar or lounge area.
Related: California Grill 50th Anniversary Dinner Review
You could easily have an early dinner at California Grill. Then you could tour the Magic Kingdom Resorts to see their Christmas decorations. Afterward, you can return to the restaurant for the nightly fireworks viewing.
Related: Disney's Contemporary Resort Dining Guide
#7 Disney's Swan and Dolphin Resort
Next, we find ourselves in the Epcot Resorts area for our number seven choice, Disney's Swan and Dolphin. Swan and Dolphin typically have elaborate Christmas decorations and festivities.
Related: Disney's Swan and Dolphin Review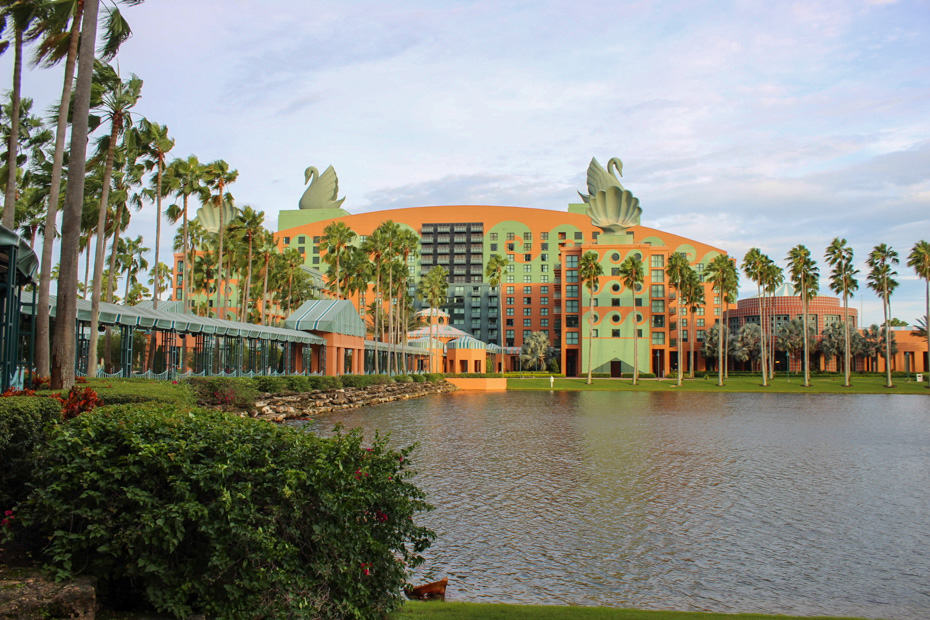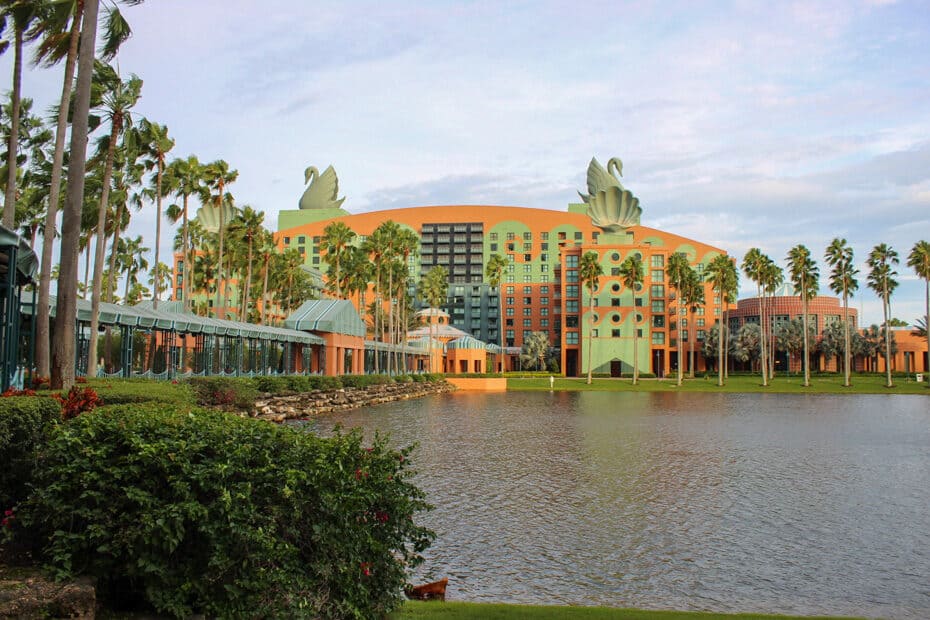 They even have a website called Santa's Favorite Resort, dedicated to their Christmas activities.
Often, Santa and Mrs. Claus are available at the Swan and Dolphin. If interested, you'll want to check the exact dates they meet during the holiday season.
Related: Where to Meet Santa at Disney World
Their story goes along the lines: they've worked hard all year and are taking a little pre-Christmas vacation. So expect to find both of them in festive resort wear!
Additionally, Disney's Swan and Dolphin has a lengthy list of restaurants. Finally, if you enjoy fine dining, there are several options, including Shula's Steakhouse.
Related: Restaurants at Swan and Dolphin
#6 Disney's Polynesian Village Resort
A Hawaiian Christmas sounds kind of dreamy, doesn't it? That's precisely the kind of Christmas decorations you'll find at Disney's Polynesian. Dreamy…and Hawaiian.
Related: Disney's Polynesian Resort Review
While you are visiting the Polynesian Resort, make sure to plan a meal or make time to pick up a Dole Whip. Often as Christmas Day grows near, you'll find fun festive characters in the lobby or carolers singing the merriest of tunes.
Typically, signage in the lobby indicates what you might run into during your visit. Check out our dining guide for a list of restaurants to enjoy during your visit.
Related: Disney's Polynesian Restaurant Guide
#5 Disney's Animal Kingdom Lodge
We stop at Disney's Animal Kingdom Lodge at our halfway point for a brief preview of the Christmas decor. Jamb House, the resort's main lobby, will be completely decked out with the most beautiful tree on display.
It is worth the trip to see the tree and the decorations.
Related: Christmas at Disney's Animal Kingdom Lodge
Additionally, we see a new holiday element at Animal Kingdom Lodge in 2022, a gingerbread display. Animal Kingdom Lodge's gingerbread features a giraffe and zebra!
Related: Ginger-affe and Debra the Zebra Gingerbread
If you plan to visit Disney's Animal Kingdom Lodge, you might also enjoy making a dinner reservation. It's one of my favorite places to enjoy a meal, whether at The Mara, the resort's quick service, or one of the outstanding table service restaurants.
Related: Restaurants at Animal Kingdom Lodge
#4 Disney's Boardwalk Inn
Disney's Boardwalk always wins me over with its decorations at Christmas. This resort embodies the American spirit and pulls off the look perfectly at Christmas.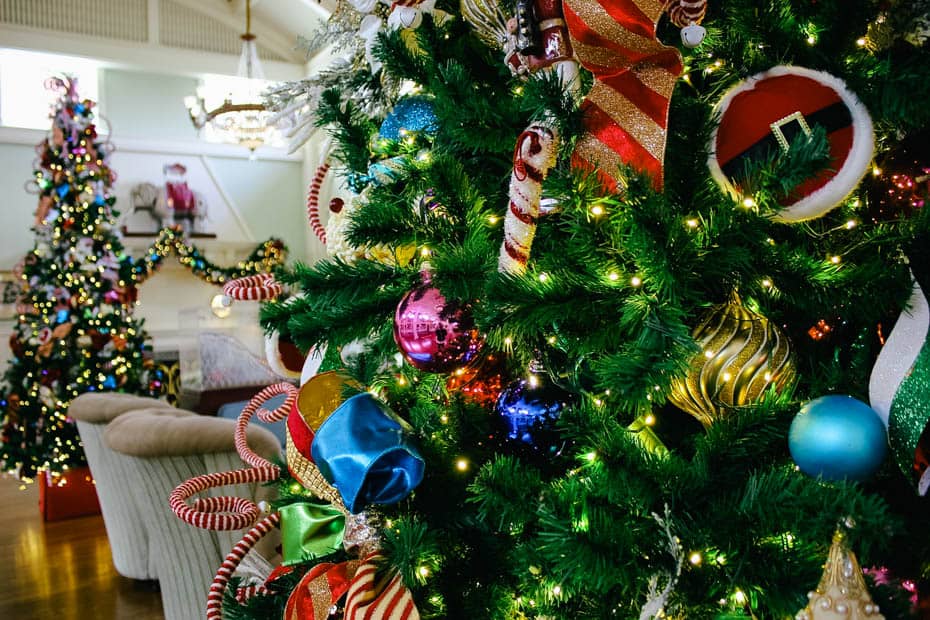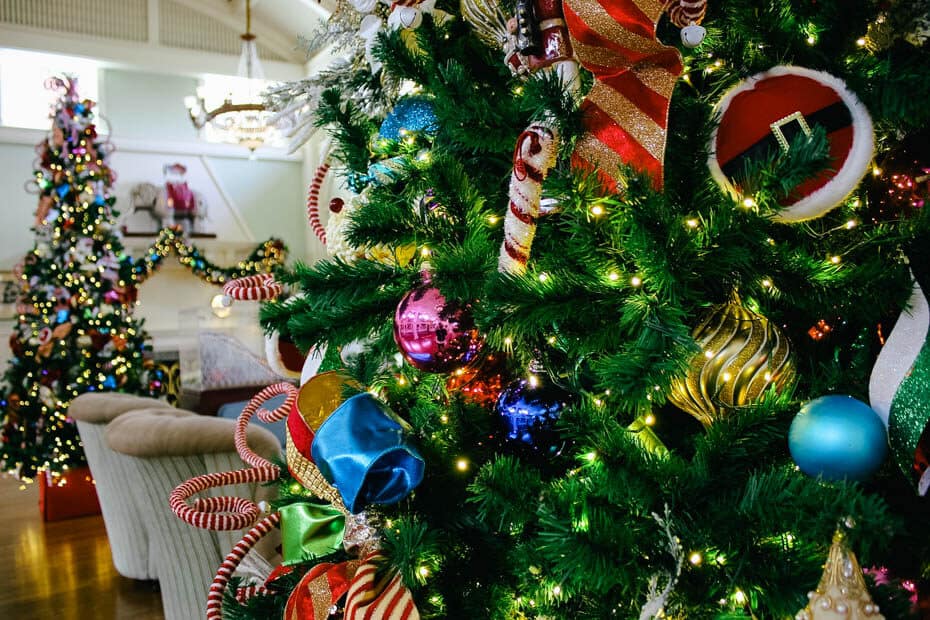 There's an eclectic mix from florals to candy canes that somehow all works well together.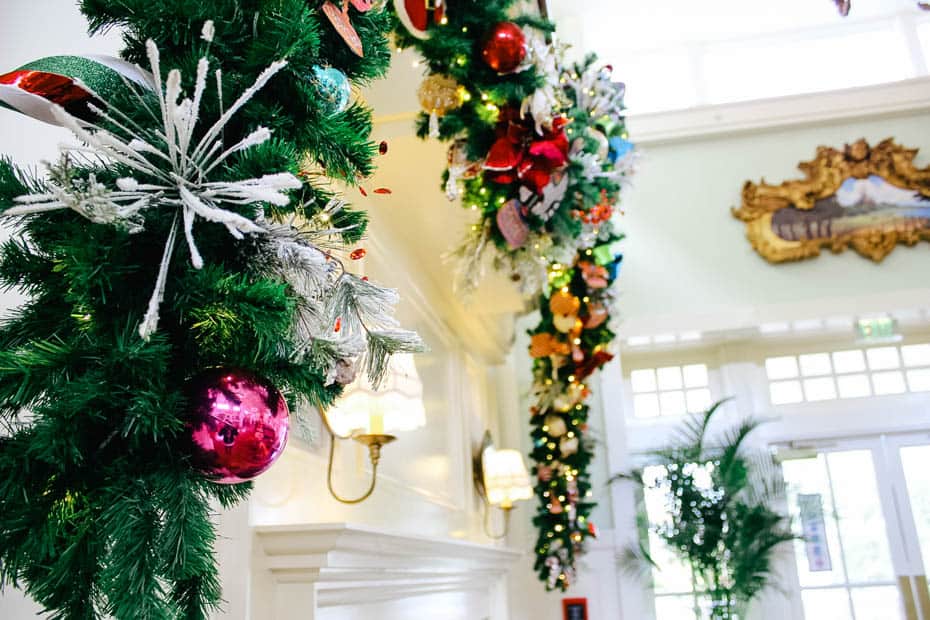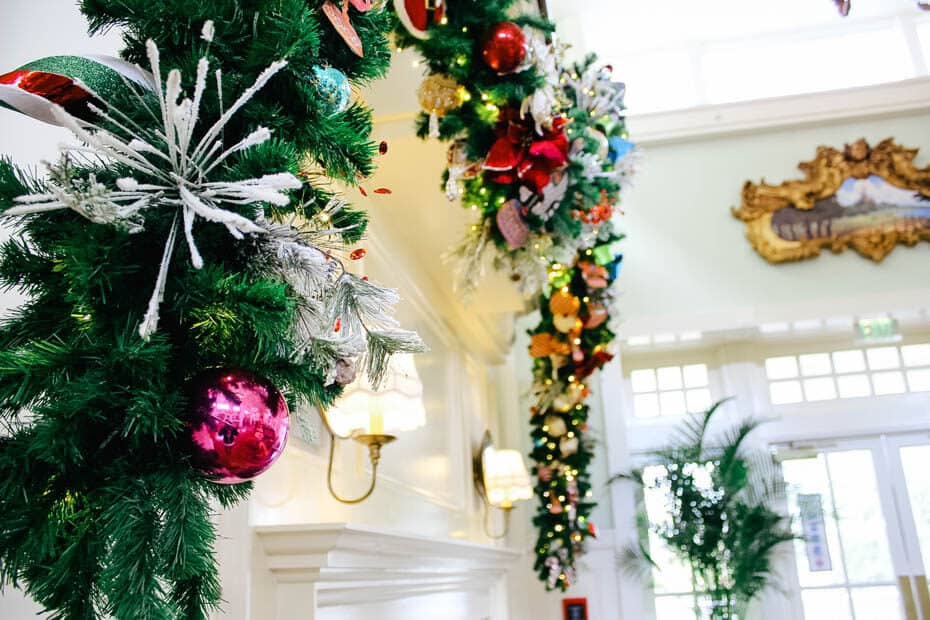 Outside, a traditional tree sits out on the main lawn. It lights up at night.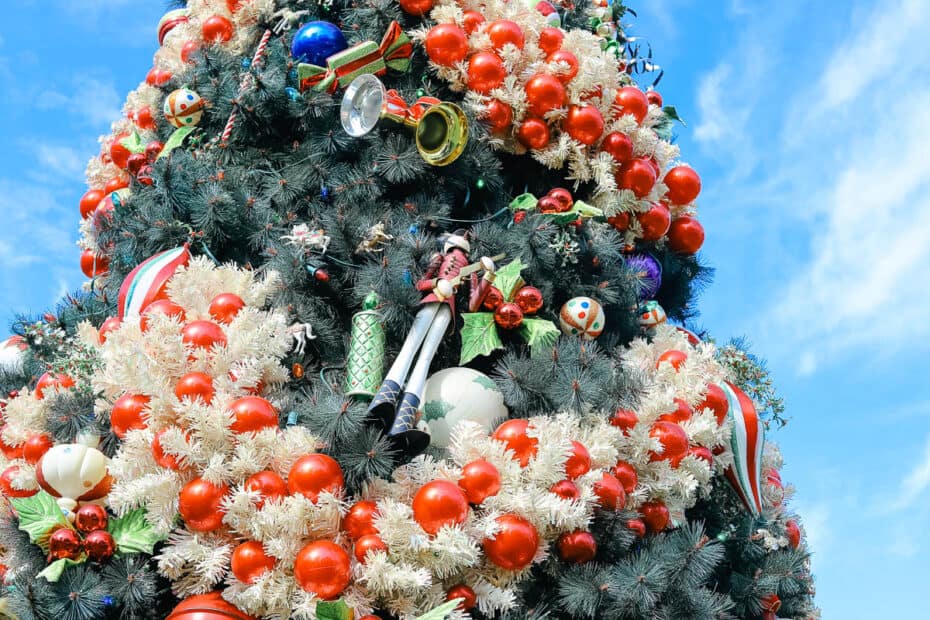 We also see the return of Boardwalk's gingerbread display in 2022. This year's display features a replica of the new Boardwalk Deli.
Related: Boardwalk Deli Review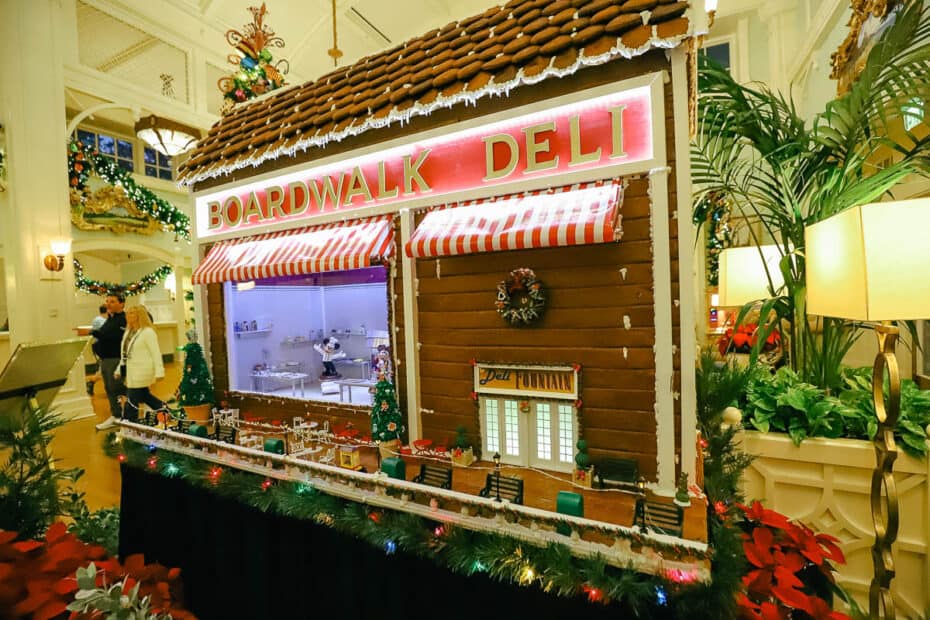 Mickey and Minnie Mouse are busy working inside the deli.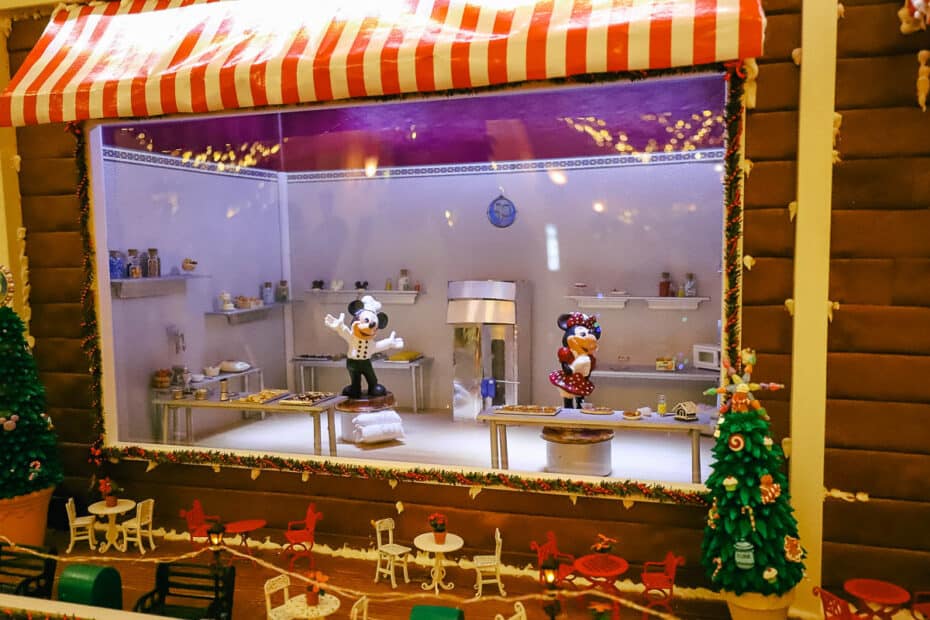 Speaking of characters, most resorts have special Christmas characters greeting guests in the lobbies in the evenings. Character meets at the resorts usually begin a few days before Christmas.
From my experience, a PhotoPass photographer is usually present to take holiday photos. For example, Mickey Mouse is in his Christmas pajamas from a few years back.
You do not have to be a resort guest to have your picture made. Just get in line and wait for your turn.
Related: Christmas at Boardwalk Inn
#3 Disney's Wilderness Lodge
Most of you will want to visit Disney's Wilderness Lodge for their Christmas decorations. Sure, the resort is stunning on a regular day. But at Christmas, it's like, "there's something there that wasn't there before."
Related: Disney's Wilderness Lodge Review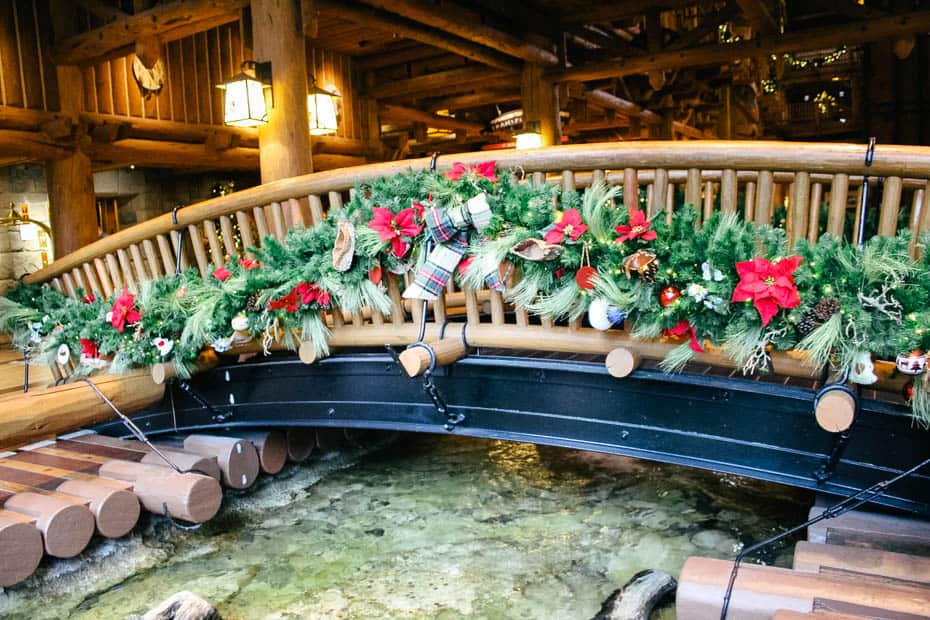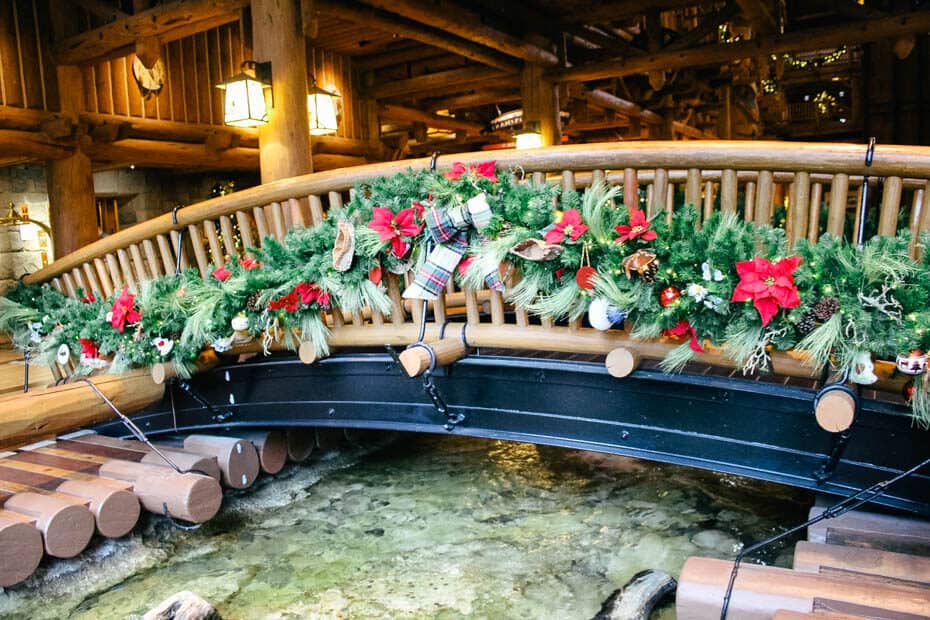 And the tree is gorgeous. So make sure to walk up close and look at it while visiting.
Additionally, you might like to take the stairs or elevator up a few floors to find a nice sitting spot. Each floor has balconies with fireplaces, rocking chairs, leather sofas, and more.
These little spots at the Lodge are my favorite hiding spots when I need to get away. In addition, there are plenty of fantastic dining options to enjoy a meal here while you are out touring.
Hint, Geyser Point Bar and Grill is a favorite for many!
Related: Disney's Wilderness Lodge at Christmas
#2 Disney's Beach Club Resort (and Yacht Club)
I'll be the first to admit that I went back and forth between our number one and two options for the best resorts at Disney during Christmas. However, for the sake of this review and their connection, Disney's Beach and Yacht Club are both coming in second place.
Over at the Yacht Club, you'll find an attractive tree adorned with sailboats and yachts.
Everything is so well done here.
An elaborate train station with a Christmas village is set up in the lobby.
Yacht Club's Christmas village is intricate with a multitude of scenes. You could spend a good hour observing it and still not notice every little detail.
Related: Train Set and Christmas Village at Disney's Yacht Club
As you can see, it's pretty significant and takes up an entire corner of the lobby.
Over at the Beach Club, there are plenty of shell-inspired ornaments with colors of seafoam and corals in the mix.
But the gingerbread carousel horse is the absolute beauty in the lobby's center. This elaborate piece of art is made by Disney chefs and features character-inspired horses each year.
For instance, this year's gingerbread carousel features Disney Princesses.
Related: Beach Club's 2022 Gingerbread Carousel Features Disney Princesses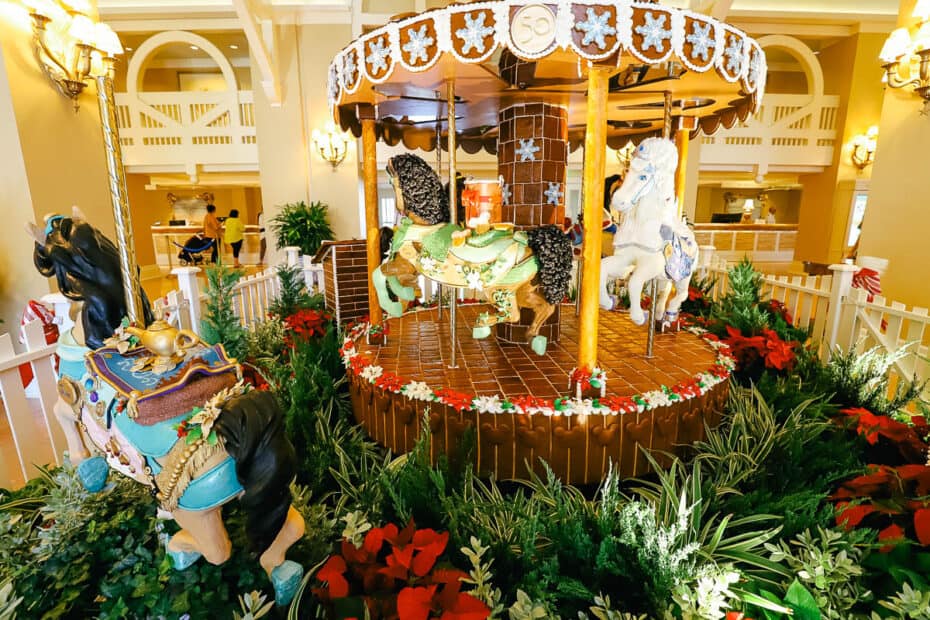 It is as beautiful as ever.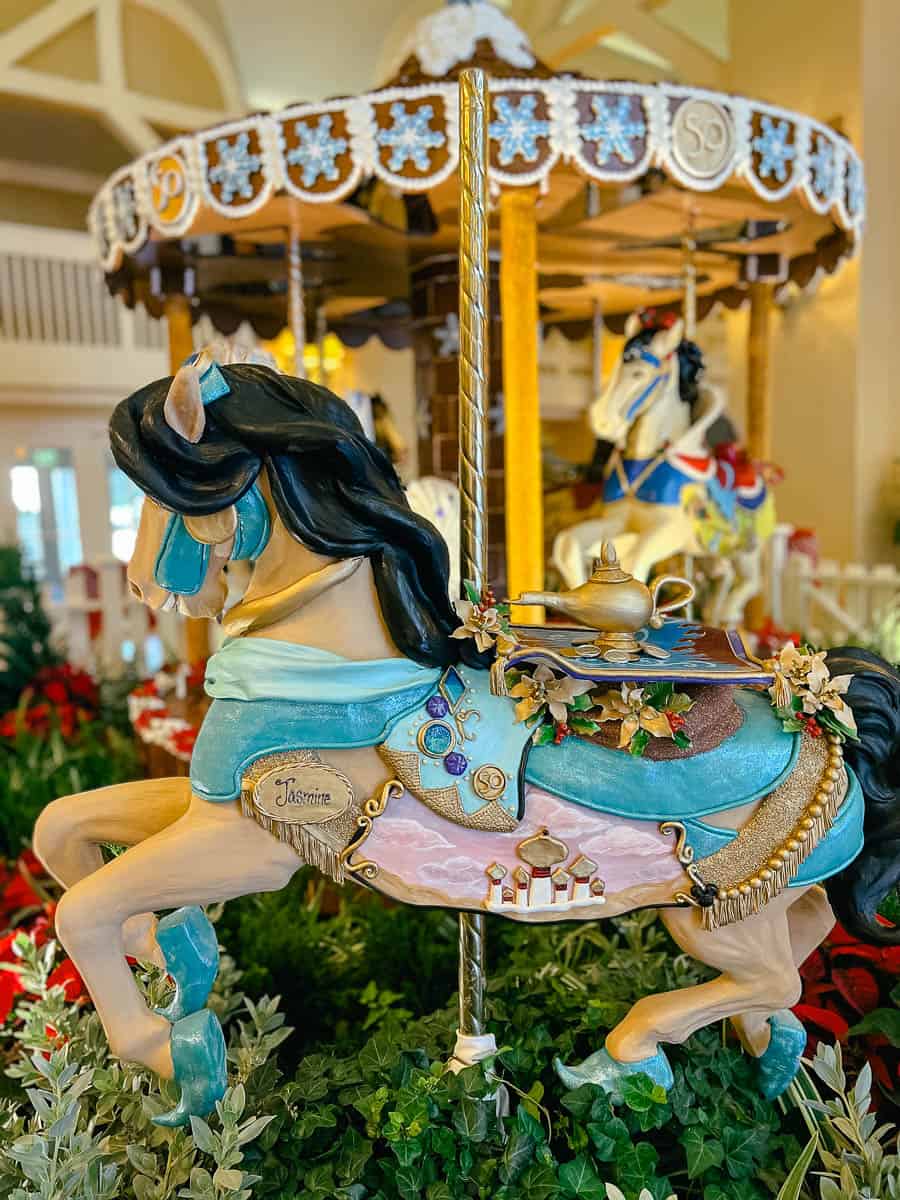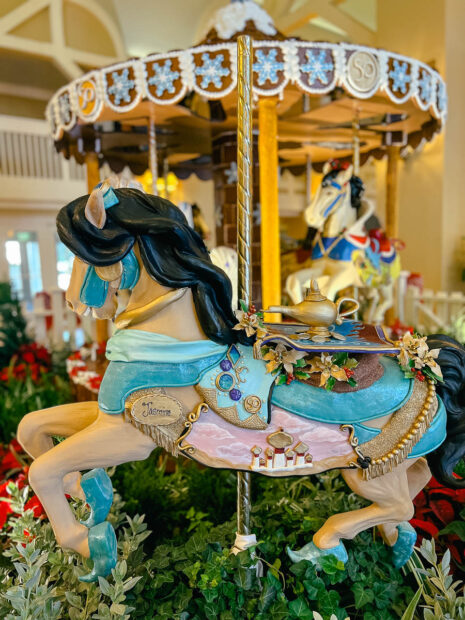 On one side of the display, there's a recipe that lists the ingredients used to make the carousel.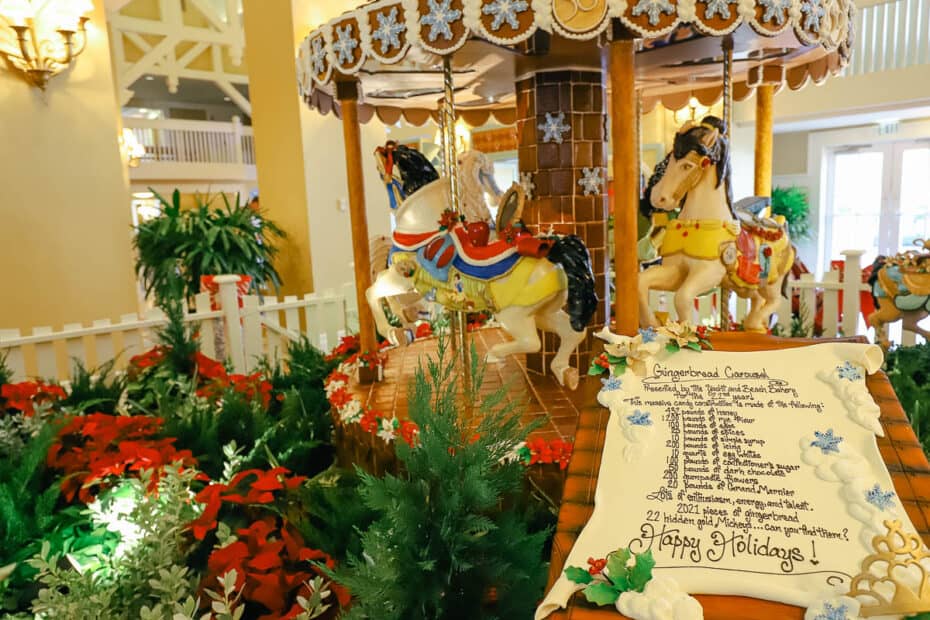 Last year, we saw a gingerbread display featuring The Little Mermaid.
Related: The Little Mermaid Gingerbread Carousel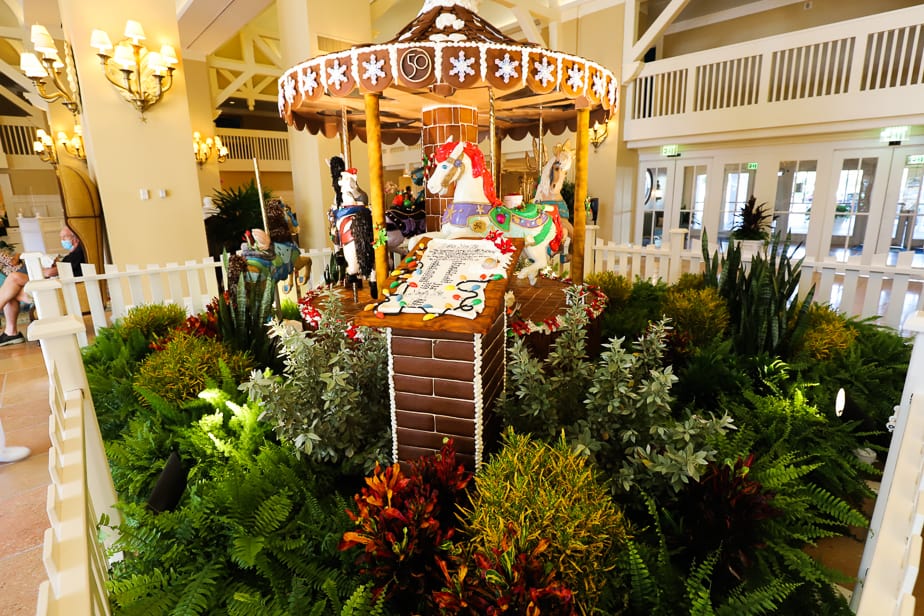 Another year, there was a Lilo and Stitch-themed gingerbread carousel.
I had difficulty ranking this resort between the elaborate train station at Yacht Club and the gingerbread carousel at Beach Club. But, with that said, there's something about our number one choice that screams Christmas a little more.
Related Articles:
#1 Disney's Grand Floridian Resort
It is no surprise that Disney's Grand Floridian comes in as our best Disney World Resort at Christmas. Disney's Grand Floridian tends to be many things, including the most expensive resort at Disney.
Maybe it's the Victorian decor woven into the boughs that adorn the entrance?
Related: Grand Floridian Resort Review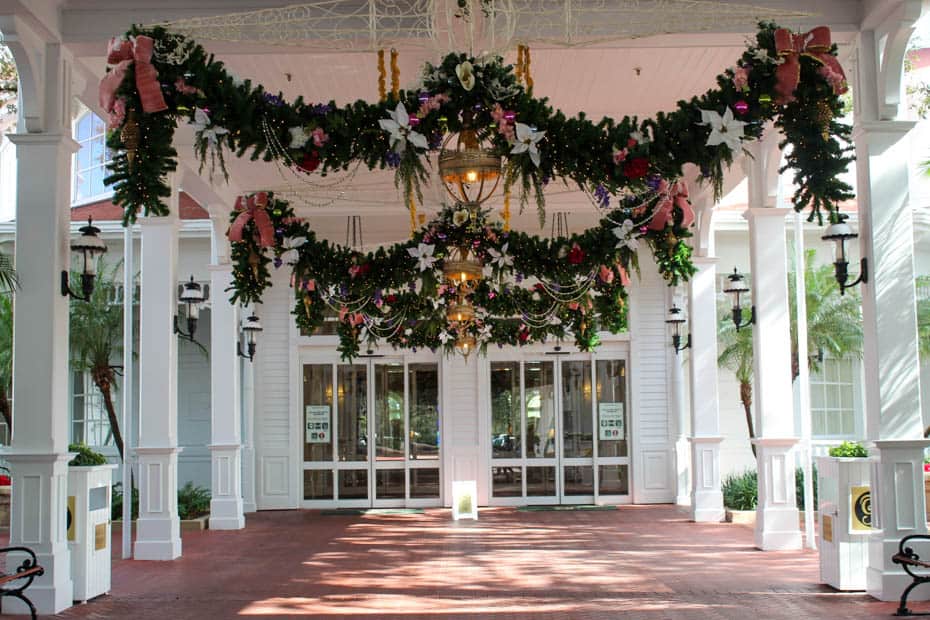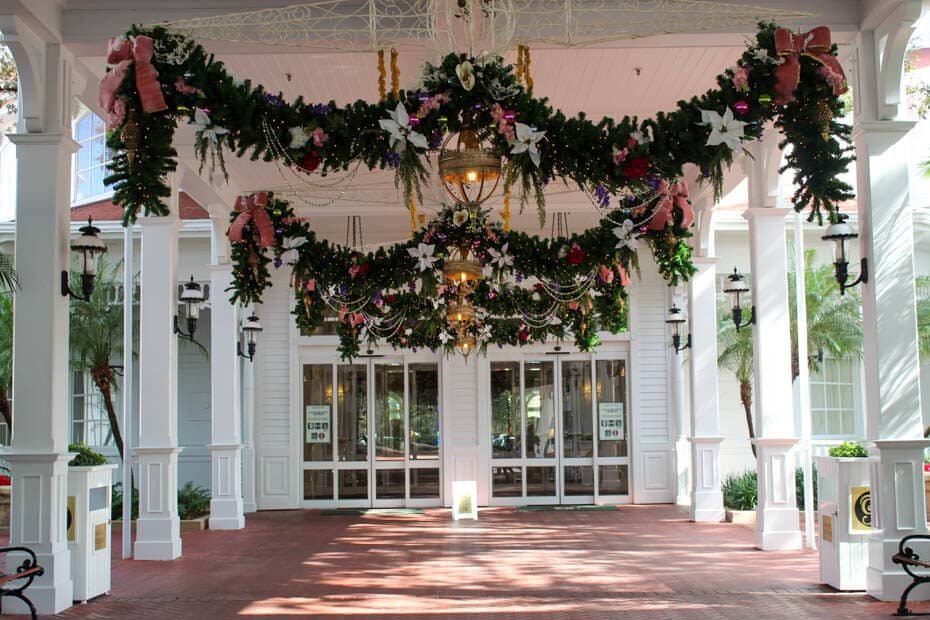 Or the bright pops of Poinsettias all over the Grand Floridian at Christmas?
Perhaps, it's that breathtaking feeling you get when you enter the hotel and see the lobby in all its Christmas glory.
It's tough to pinpoint, but there's something extra special about this resort at Christmas.
Additionally, the Grand Floridian has a massive gingerbread house that Disney chefs construct in the lobby at Christmas.
Related: Gingerbread House at Disney's Grand Floridian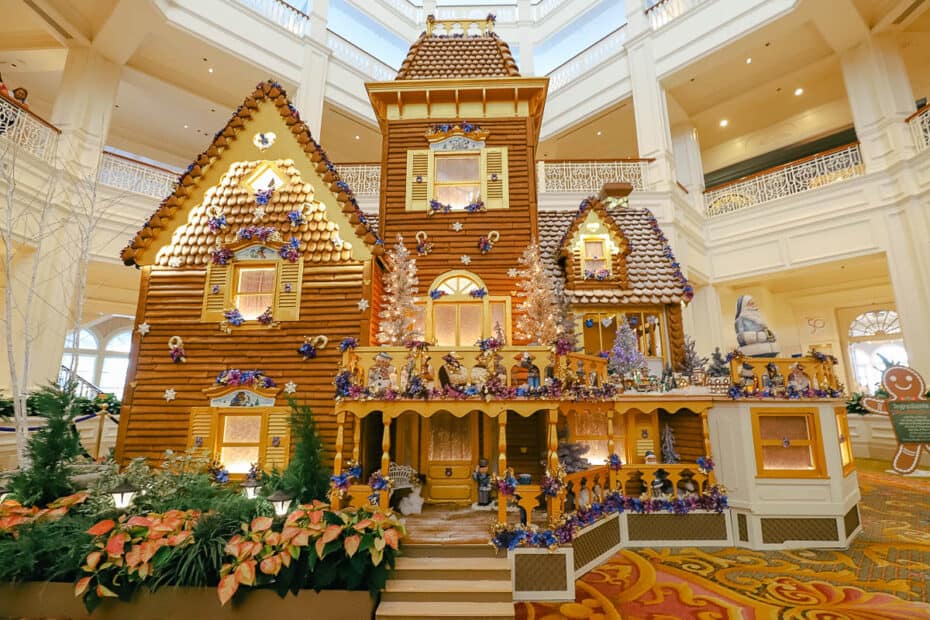 Not only that, guests can buy gingerbread shingles and other treats from a shop set up on the backside of the house!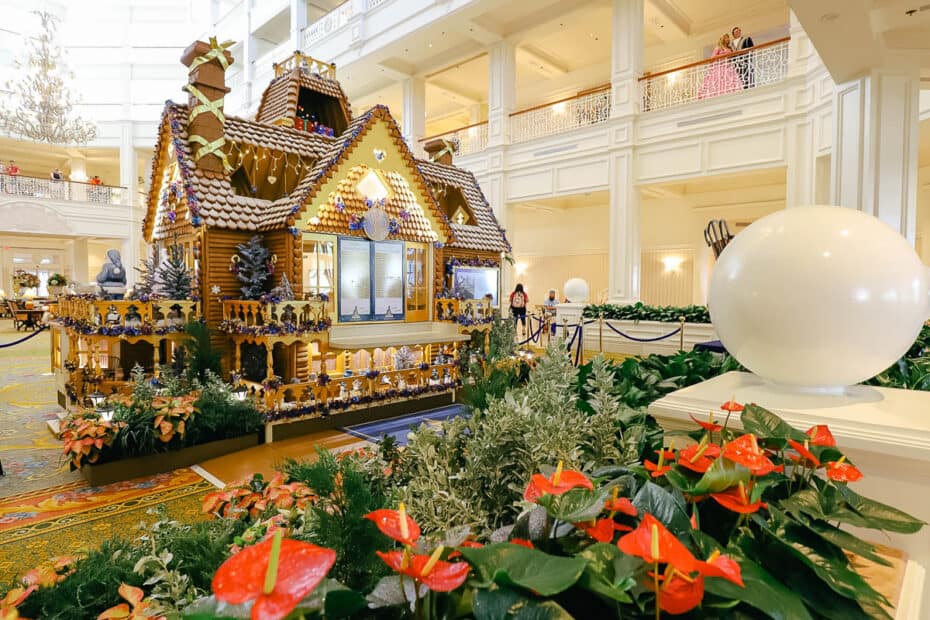 The Grand Floridian would be it if you had to choose only one resort at Christmas to get a full dose of the holiday spirit.
Make sure to plan a meal here during your visit. Then, you can look at all the decor before or after your meal. Better yet, both!
Related: Restaurants at the Grand Floridian
Final Thoughts on Christmas at the Disney World Resorts
Disney's Resorts genuinely come to life in a new way during the Christmas season. There is much extra to see and do, from themed Christmas trees to impressive displays.
And we haven't even gotten into all the special events available in the parks and at Disney Springs.
For those of you wanting to tour the resorts at Christmas, I have two suggestions:
The first is to make plans to see the hotels around dining reservations. For example, you might plan a late-morning brunch at Grand Floridian Cafe and tour the resort before or after your meal.
Related: Disney's Grand Floridian Cafe Review
Afterward, hop on the monorail and take the time to see the other resorts in the area.
This would look something like this:
Have breakfast at Grand Floridian Cafe.
See the Grand Floridian Christmas decorations.
Monorail to the Contemporary.
Monorail to the Polynesian.
Monorail back to Magic Kingdom and take a boat to Wilderness Lodge.
Have lunch at Geyser Point and see Christmas decor.
You can do the same plan with the Epcot Resorts Area and Animal Kingdom Lodge.
That would look something like this:
Have breakfast at Ale and Compass at Disney's Yacht Club.
Tour Yacht and Beach Club Christmas decor.
Walk or Boat to Boardwalk Inn.
Walk or Boat to Swan and Dolphin.
Boat to Hollywood Studios.
You could take a bus from Hollywood Studios to Animal Kingdom Lodge and have a late lunch there. Or you could hop on the Skyliner and visit Caribbean Beach and Disney's Riviera Resort.
That evening, you might head back to the Contemporary and make your way through the monorail resorts. I'd try to end this day with dinner at one of the nicer restaurants and watch fireworks from a viewing area outside the parks.
Related: Disney World Signature Dining
You can plan something like this on an evening when Magic Kingdom closes early for Mickey's Very Merry Christmas Party. Of course, you'll want to plan this on a day when you're not attending the party.
Anyway, these are just a few suggestions. You can write down your must-dos and map out whichever works best for your group.
Additionally, you might enjoy these other articles for planning your next vacation. Here are a few of our most popular ones:
In the comments
Now that we've ranked our top Disney World Resorts at Christmas, what do you think? o you agree or disagree? Is this your first time visiting at Christmas? If so, what are you looking most forward to seeing?