Ronto Wraps & Ronto Roasters at Galaxy's Edge
Ronto Wraps are one of the most popular food items at Ronto Roasters. The Star Wars-themed quick service is located at Galaxy's Edge in Hollywood Studios. If you haven't visited Galaxy's Edge yet, you might be wondering what exactly is a Ronto Wrap?
Ronto Wraps consist of a large sausage wrapped in a pita-like bread with slaw and a peppercorn sauce. There's also this unexpected pork element. And I'm not talking about the sausage. We'll get to that shortly.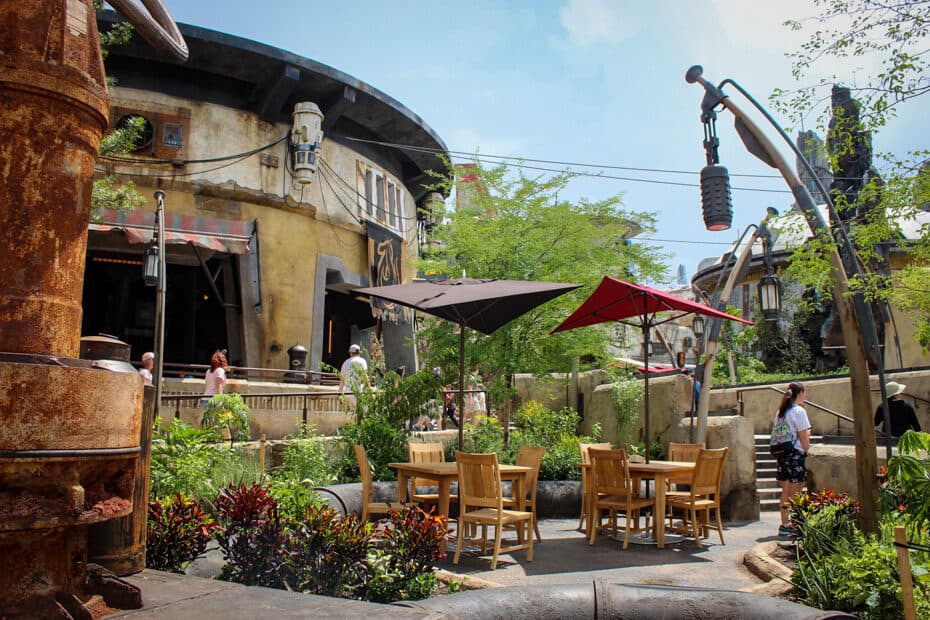 Anyone planning to have a meal at Galaxy's Edge needs to know their dining options. First, there's Oga's Cantina where you can pick up a variety of Star Wars-themed drinks and a few snack items.
And then there's Docking Bay 7, the large counter service dining area for Galaxy's Edge.
If you are looking to try the blue or green milk, you can pick that up at Milk Stand. We have a mini-review of Milk Stand in our Star Wars: Galaxy's Edge Review.
Lastly, there's the subject of this review, Ronto Roasters. And Ronto Roasters is where you get that delectable Ronto Wrap among other things.
Ronto Roasters Menu
Here's a preview of the lunch and dinner menu at Ronto Roasters. Note there is also a version of the Ronto Wrap served on the breakfast menu. Additionally, an overnight oats dish is available for breakfast.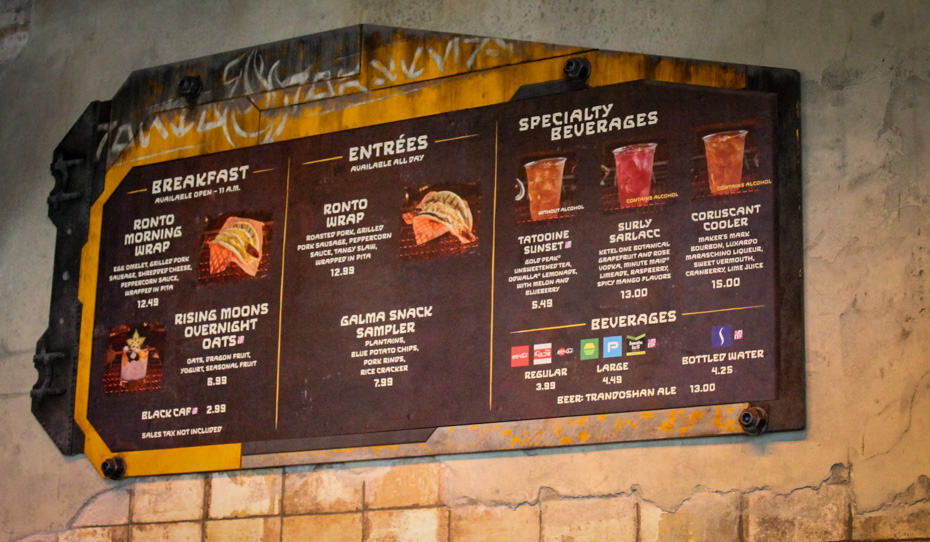 When Ronto Roasters first opened, the quick service offered this special jerky snack option. But since the parks have reopened this year, I noticed it has been removed from the menu and the case is now gone.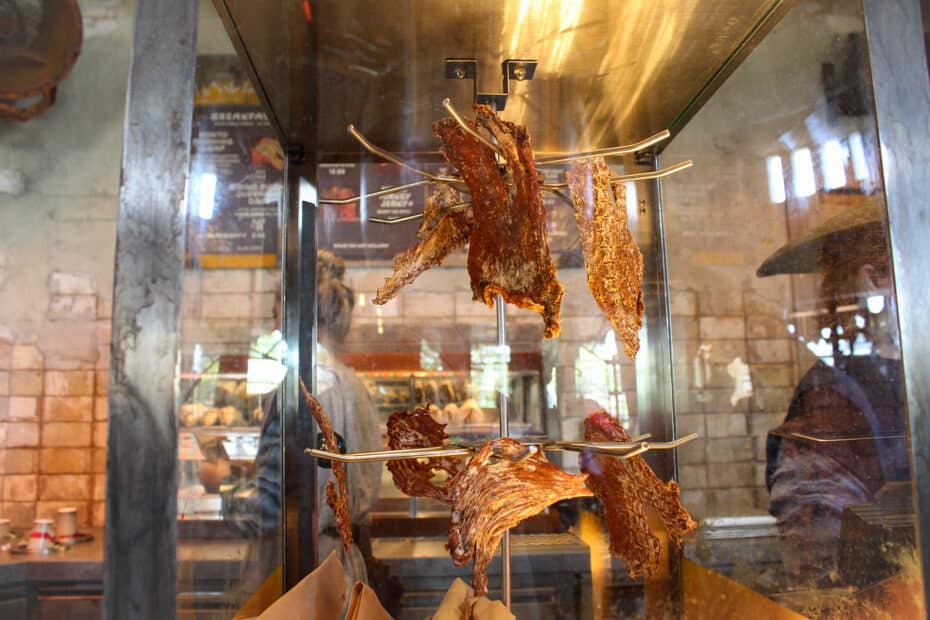 The new snack option is the Galma Snack Sampler. I've been hesitant to try it because it sounds similar to the one disappointing snack option at Oga's.
Ronto Roasters also offers three different alcoholic beverages.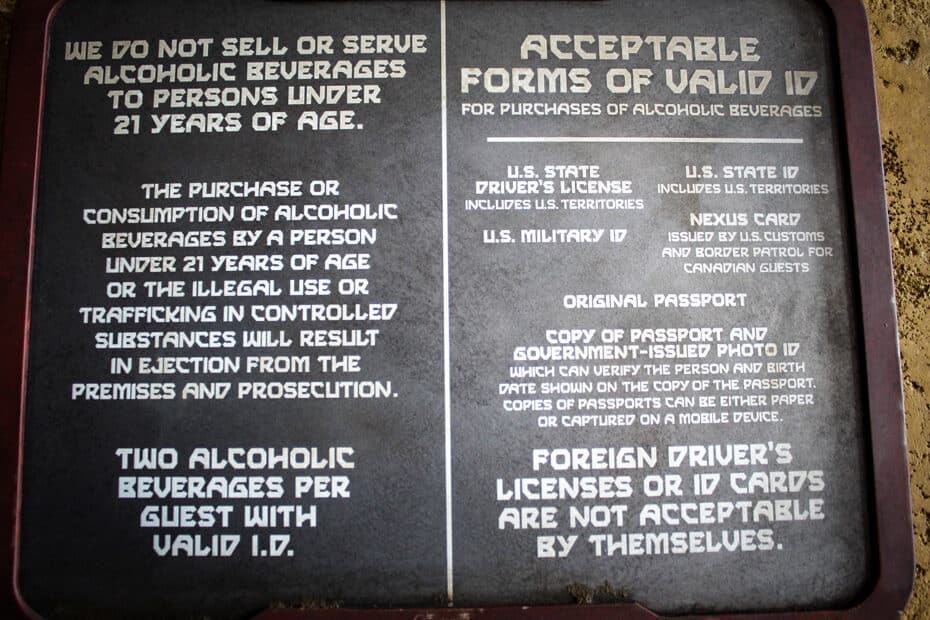 They are as follows:
Coruscant Cooler
Trandoshan Ale
Surly Sarlacc
Ronto Roasters is located toward the very back of The Market in Galaxy's Edge.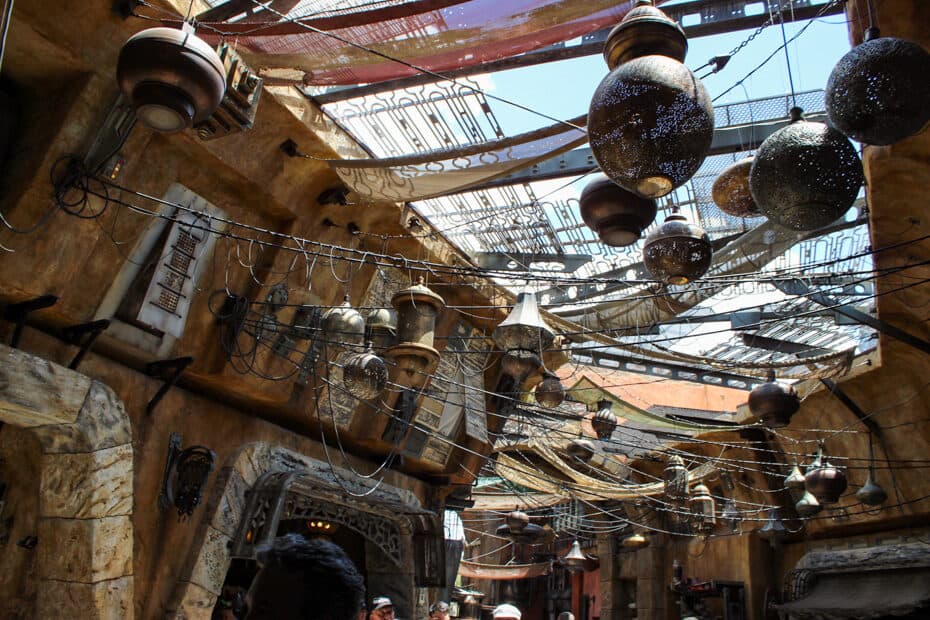 Or you can walk around the outside of The Market toward Dok-Ondar's Den of Antiquities and enter on the opposite side. The center of Ronto Roaster contains a large roaster. It's kind of like entering into a factory. There are even sound effects that enhance the experience.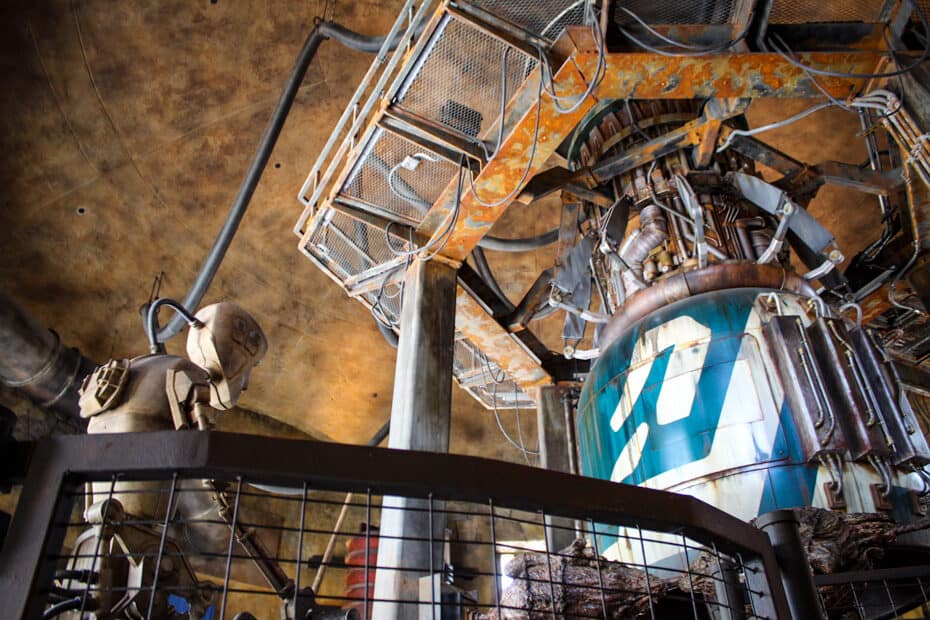 One lone droid works away at the roaster.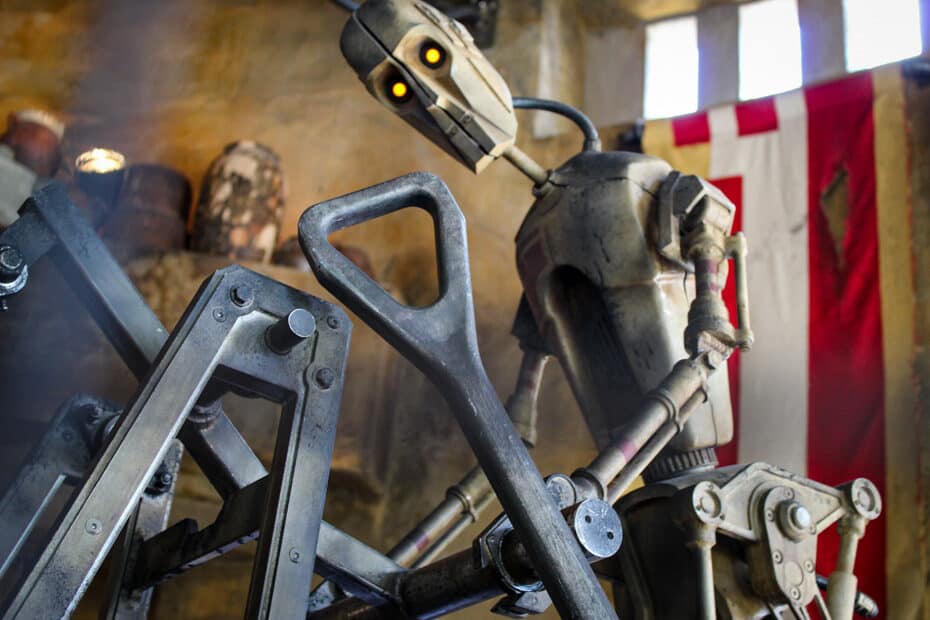 The droid is constantly working to keep the roaster running and keep the whole operation afloat.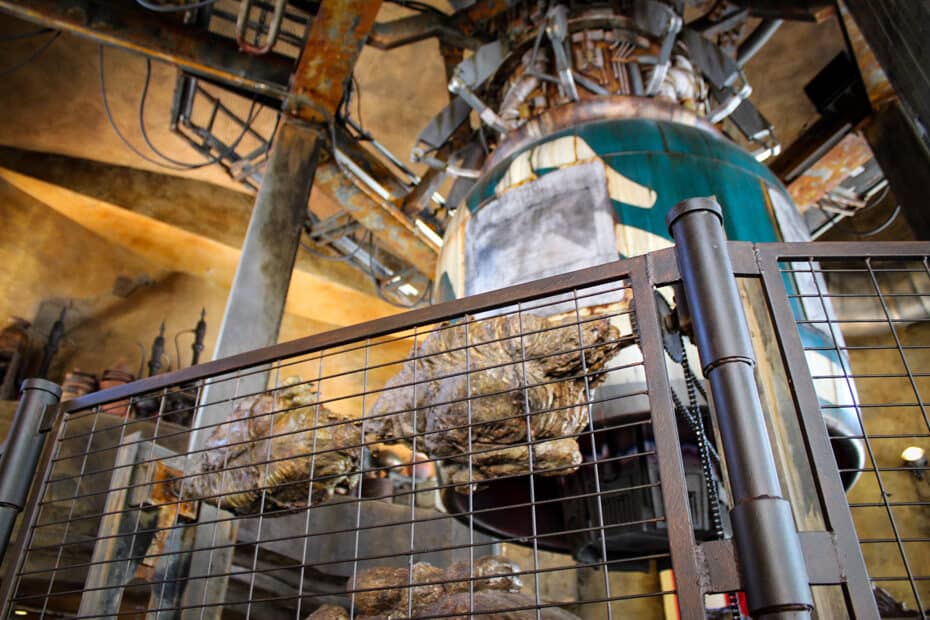 He looks to be lonely, but who knows what his life is like after work?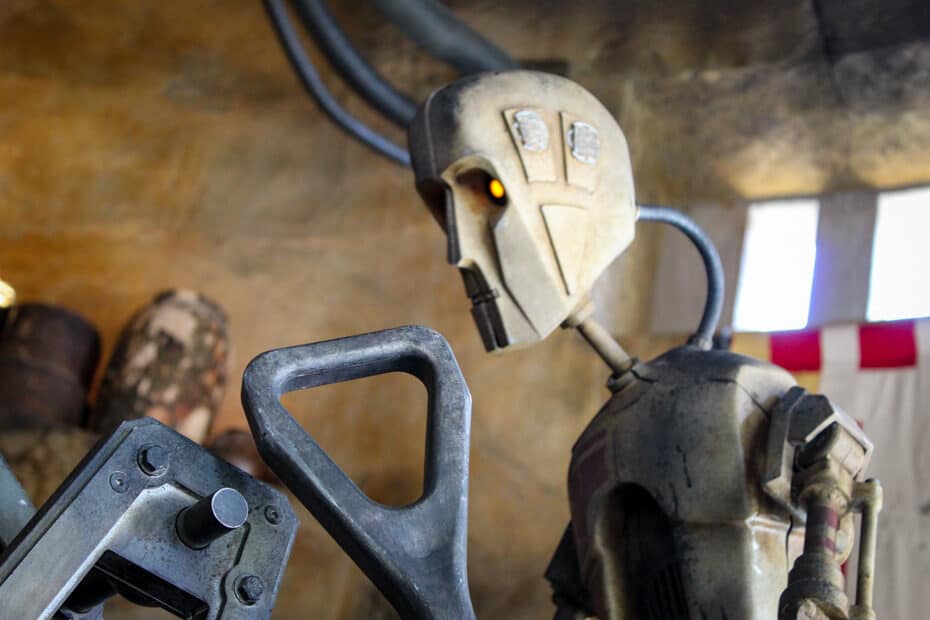 Anyways, Ronto Roasters is not a particularly large spot. But the theming is fun, like the rest of Galaxy's Edge. Make sure to look up! There are so many interesting things to see like these creatures hanging from the ceiling.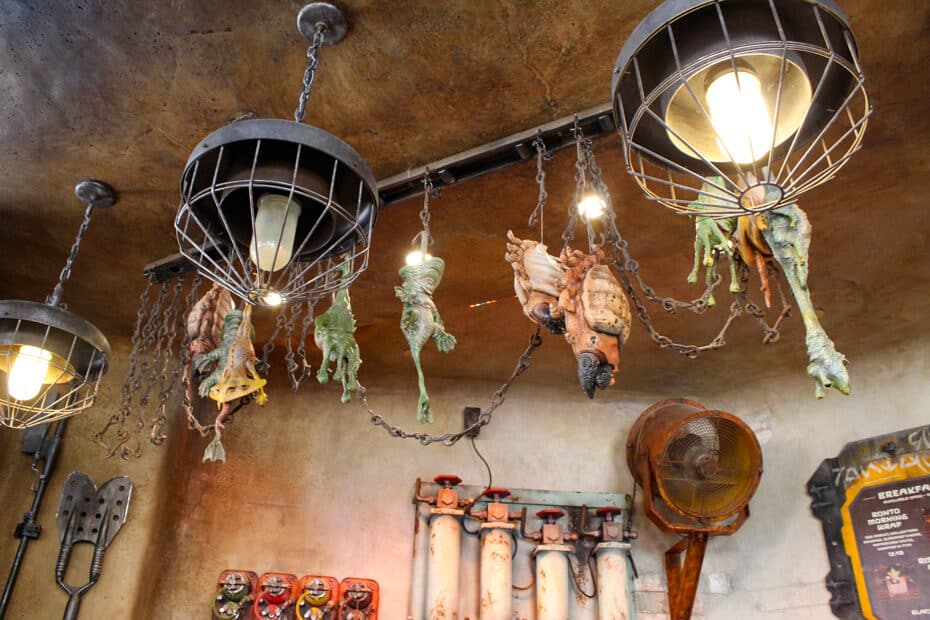 Ronto Wraps
Now the moment you've all been waiting for…the main event…sausage and Star Wars…Ronto Wraps.
As mentioned toward the beginning, Ronto Wraps come in a pita-style bread. There is a layer of thick-sliced pork, then the actual pork sausage that's kind of an andouille flavor, and the whole affair is topped with slaw.
When Galaxy's Edge first opened I kept hearing good things about Ronto Wraps. But after reviewing the menu item I wasn't sure if I wanted to try it. The reasoning was because I don't care for slaw. So I asked a cast member if I could have mine prepared without slaw, and they obliged.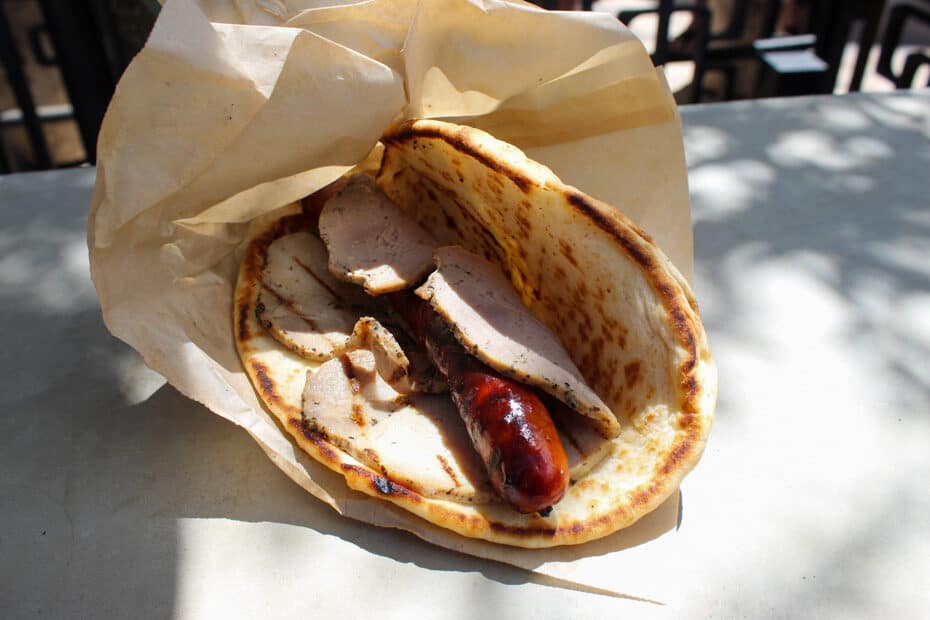 Therefore, this is an option if you don't care for slaw as well. However, since then I have actually had several Ronto Wraps prepared as they come. And I have to tell you, they are one of my favorite meals at Hollywood Studios.
My reasoning for not liking slaw is the mayonnaise-based sauce. Since my son has food allergies, we consulted the chef one day to see if they could prepare one for his food allergies. Turns out, it's a peppercorn sauce that doesn't contain any of the normal slaw ingredients. Even my son, who's allergic to nearly everything, was able to eat it the way it comes.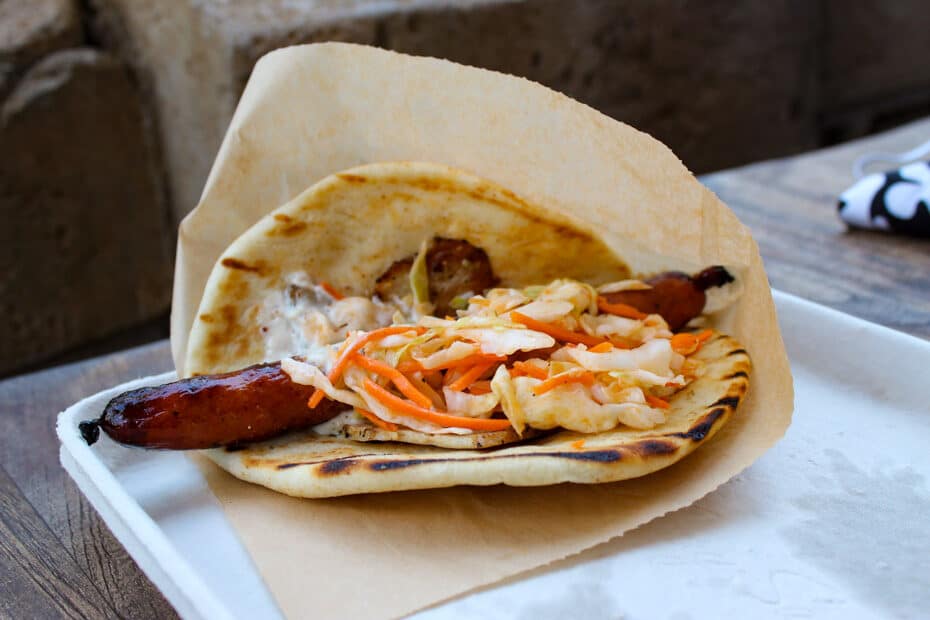 And that lead me to try one prepared normally as well. Suffice it to say, we love Ronto Wraps.
In fact, we love them so much that we've even come up with our own recipe to make them at home. We just use pita bread, cabbage, and carrot blend for slaw, sauce, and sausage. The Ronto Wrap at Disney does have an extra layer of pork, but we don't make the effort to add that in at home.
As far as dining space inside Ronto Roasters, there's only a handful of seats. Typically, cast in the area will direct you around the corner to the outdoor seating area at Docking Bay 7. If you get there and that area is full, you can go through the double doors and eat inside Docking Bay 7.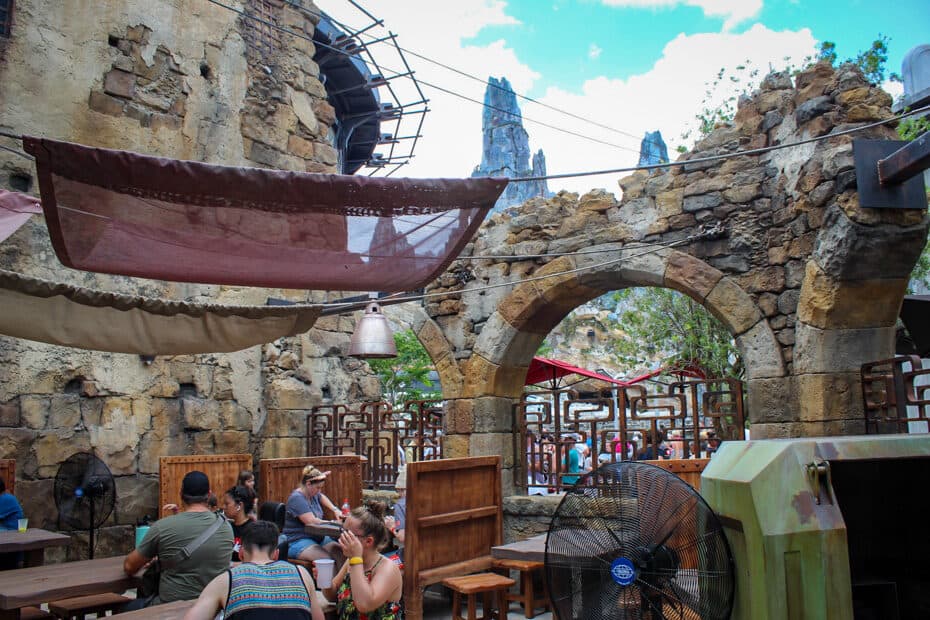 But dining outside here is really nice when temperatures are comfortable.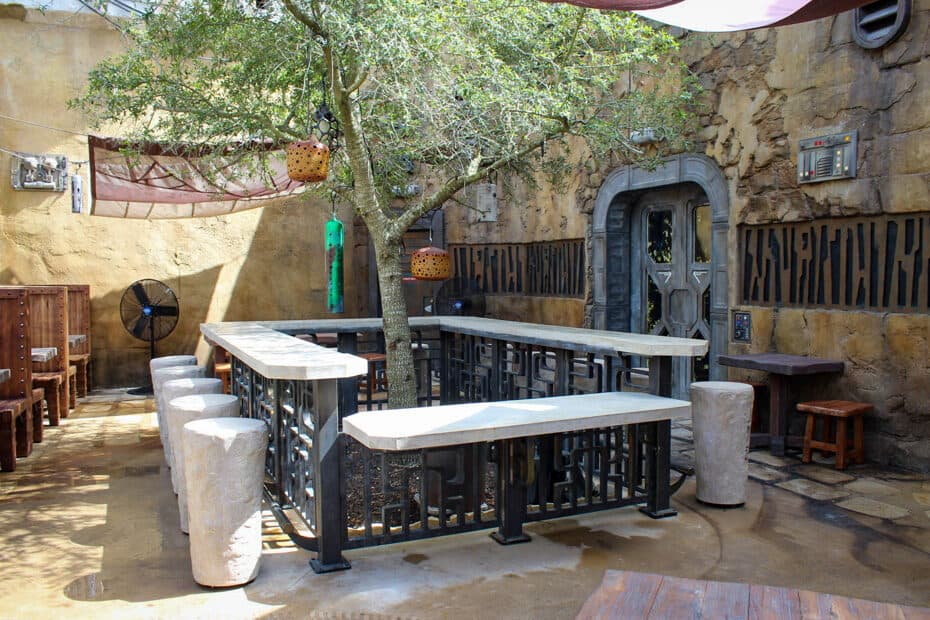 Ronto Wraps are also an easy handheld item to eat if you prefer to keep moving. They don't come with a side, but at less than $15 you can't beat the price for this tasty and extremely filling theme park food.
This is also a really good option for breakfast. Especially if you are in the park early trying to get on Rise of the Resistance at the park open.
Well, that's a wrap on the Ronto Wrap review! If you have had a Ronto Wrap let me know your spin on it in the comments below.
For more information or Hollywood Studios rides make sure to check out these reviews:
Planning a Disney vacation? You might enjoy staying at one of the Skyliner Resorts near Hollywood Studios. They include these reviews:
Have you had the chance to have a Ronto Wrap yet? What are your thoughts? I'm always looking forward to my next Star Wars-themed sausage!