Roundup Rodeo BBQ Review (A Fun But Expensive Meal for Toy Story Fans)
Below we provide a Roundup Rodeo BBQ review, the new Toy Story-themed restaurant at Disney's Hollywood Studios.
As much as I hate to admit it, I didn't have many expectations for Roundup Rodeo BBQ. When the restaurant was first announced, my initial thought was–another barbecue restaurant?
Seriously, have we already forgotten Pizza Planet? Even my hairdresser still complains about the loss of the arcade-themed restaurant that sold cheap pizza. Sure, you can get the same kind of pizza at PizzeRizzo, but not the same experience.
Our sons loved that place. And we boy moms love these kinds of memories of our children, don't we?
When Roundup Rodeo BBQ opened, like many of you, I saw photos and videos circulating on social media. My first impression was that it looked like Disney had cleared out the Toy Story Mania queue and added a bunch of tables and chairs.
But still, I love Toy Story, and I'm often wrong when it comes to first impressions. So when Kristen invited me to join her family for lunch at Roundup Rodeo BBQ, I was excited to have the opportunity to dine there.
But did Roundup Rodeo BBQ exceed my bleak expectations? That's what we're going to find out!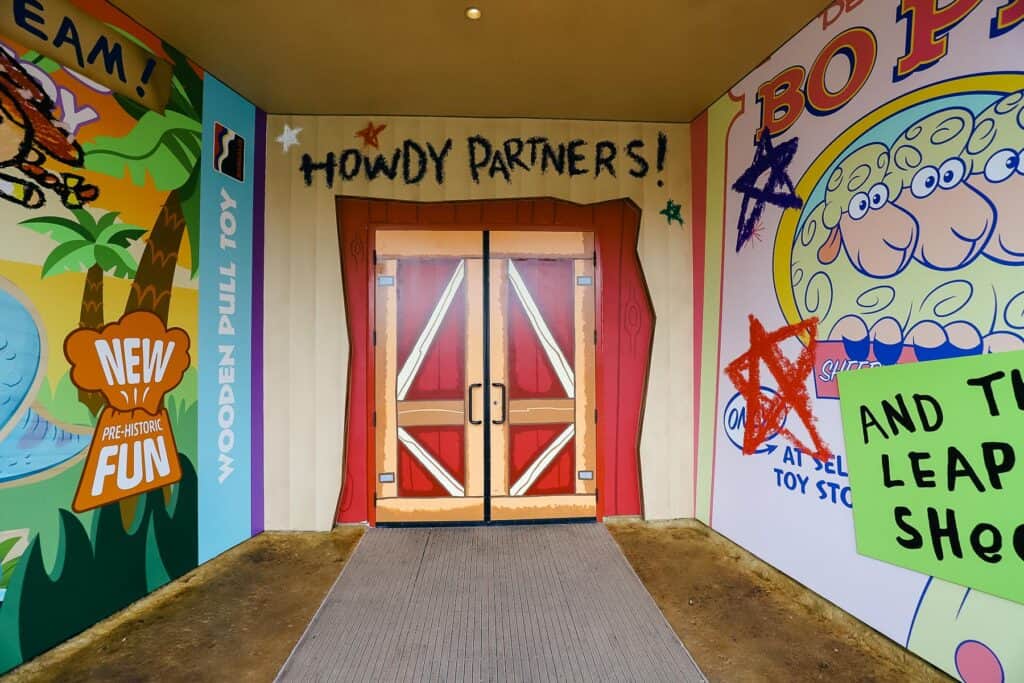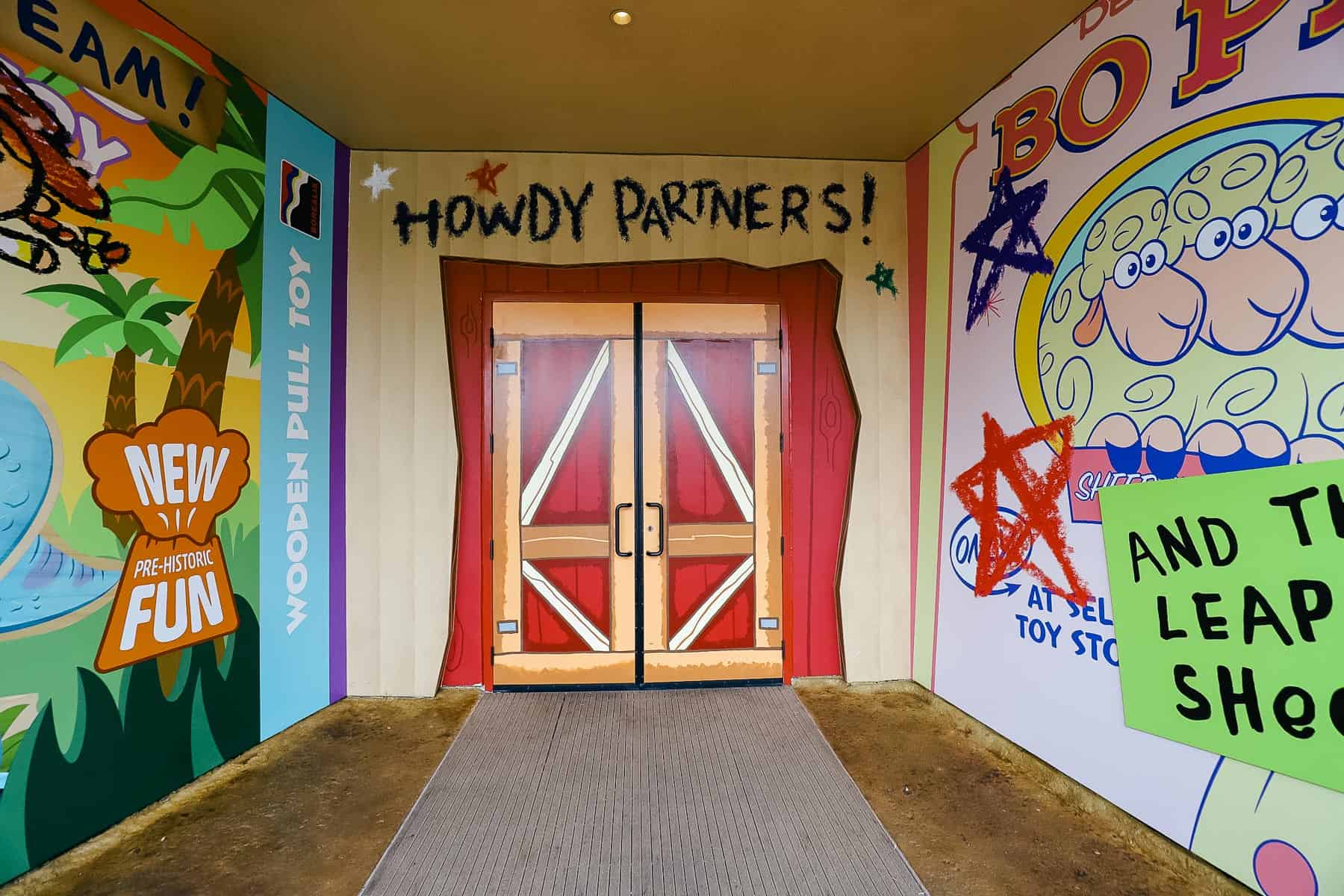 Check-in
Roundup Rodeo BBQ is a table-service restaurant immediately past the main entrance to Toy Story Land. In the picture below, you can see a tall statue of Woody at the land's entrance. This is where guests first step foot into Andy's Backyard.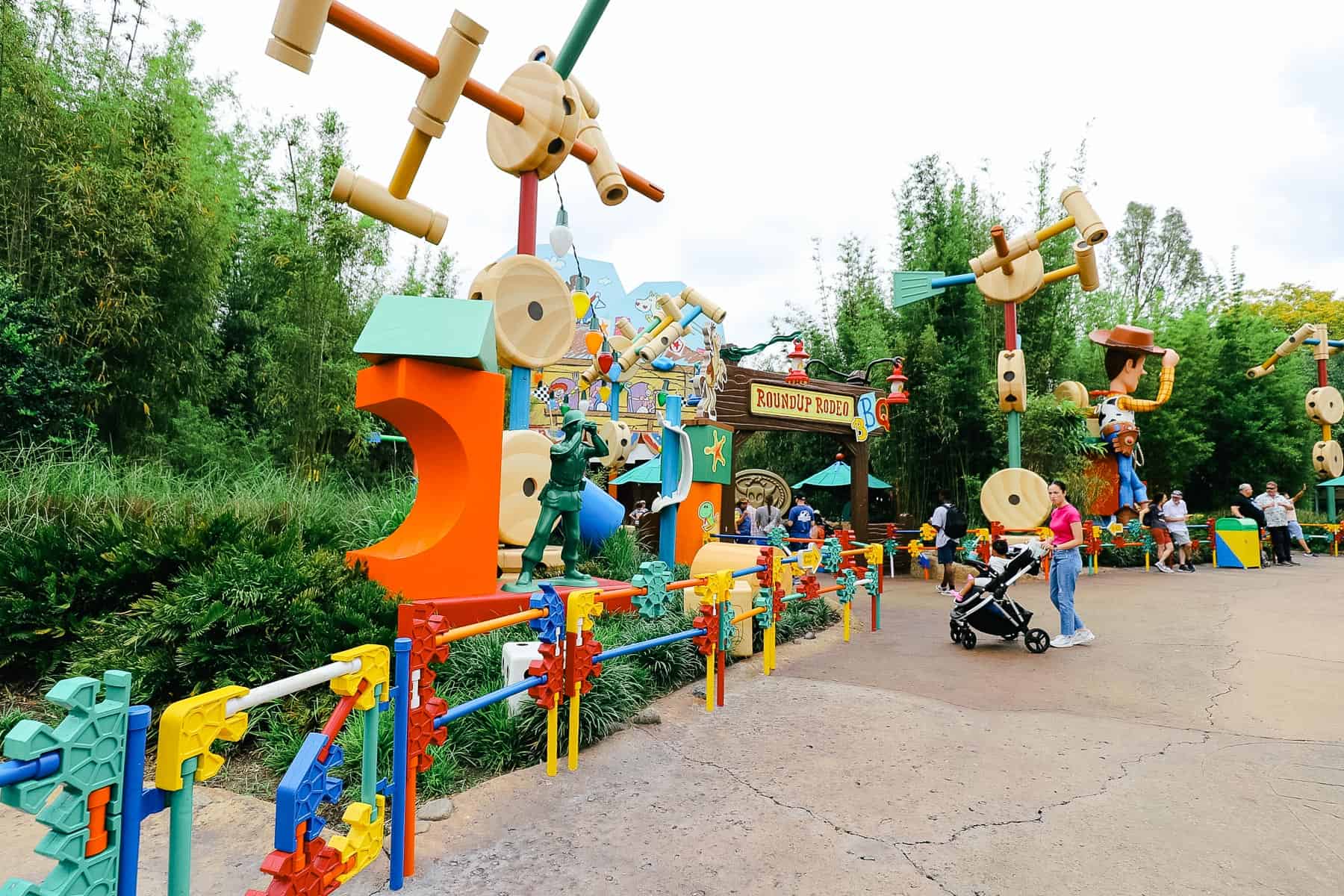 When we arrived at Roundup Rodeo, Kristen checked us in on the My Disney Experience app. She immediately received a text notification confirming our arrival.
We waited approximately ten minutes before receiving another text that our table was ready. Soon afterward, a cast member greeted us and gave us the low down on the experience.
She told us that we were all honorary toys when we entered Andy's room (the restaurant). She said that we would be asked to participate several times throughout the meal and to pay attention to cues in the music and lighting.
She then escorted us to our table, where a server almost immediately greeted us.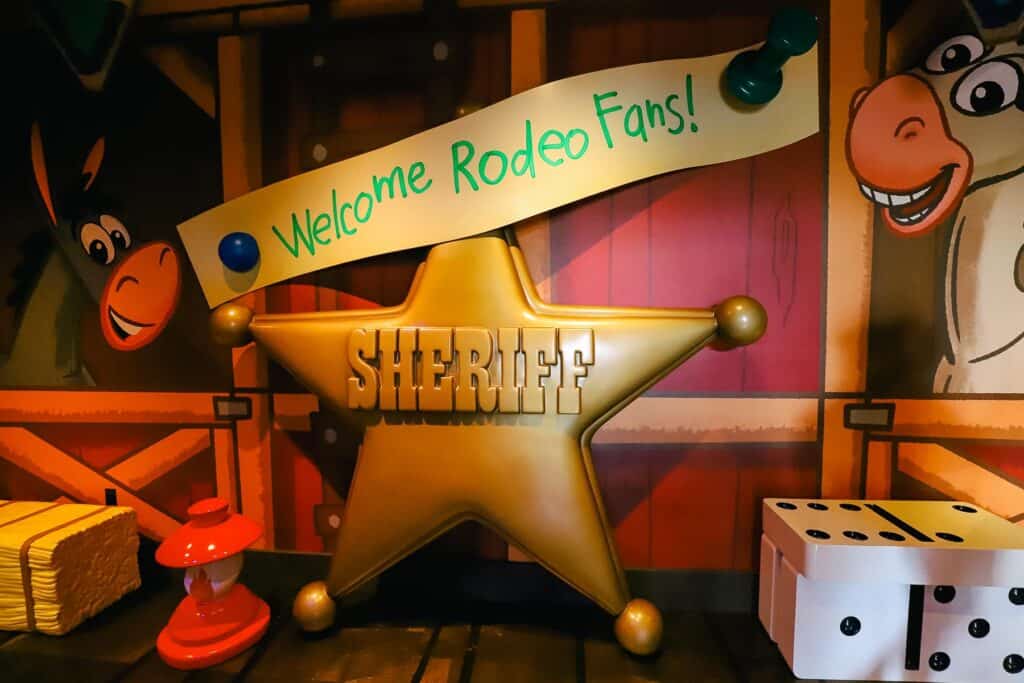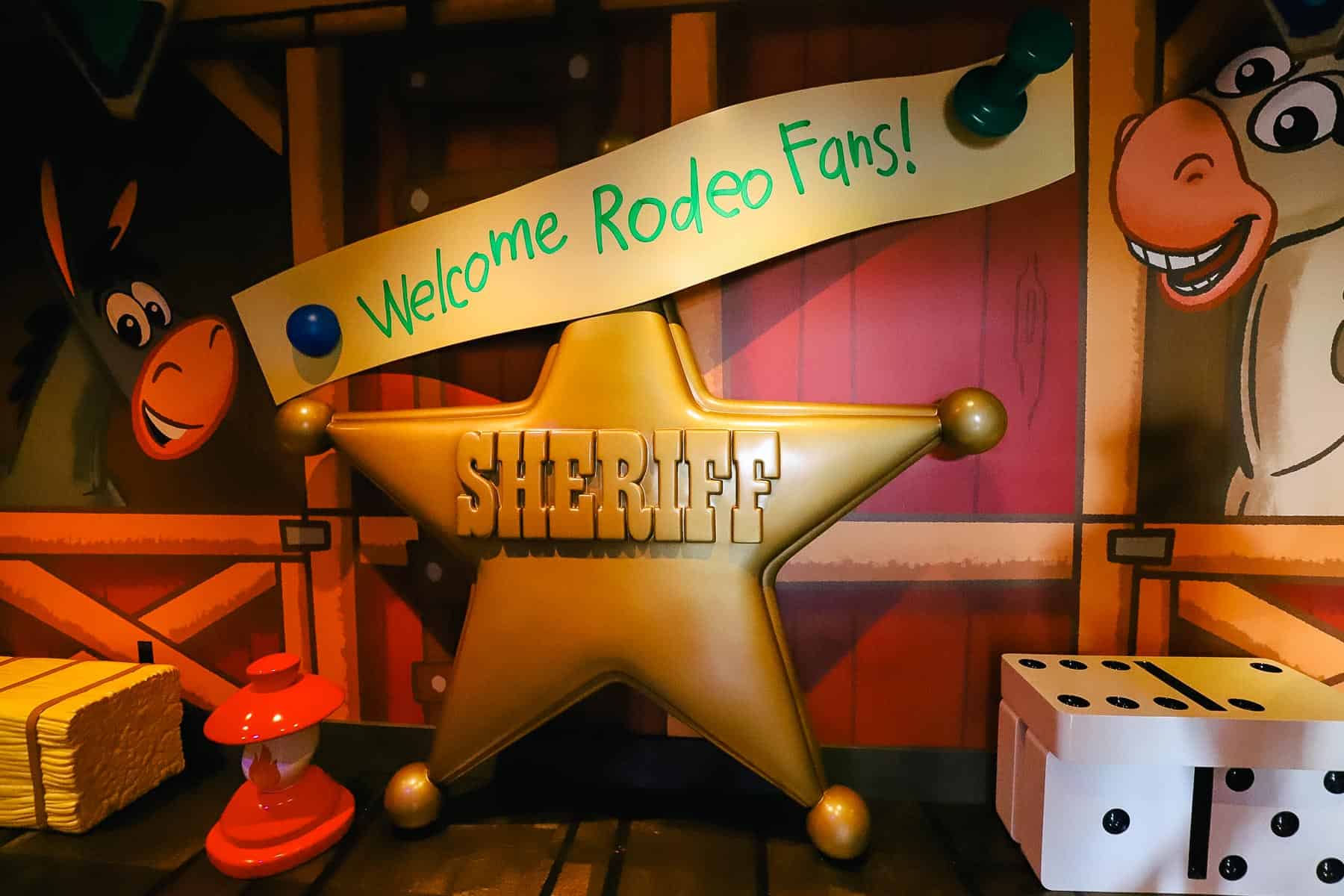 How the Meal Works
Roundup Rodeo BBQ is a family-style meal that costs $45.00 per adult and $25.00 for children ages 3-9 years old. Soda, water, iced tea, and children's drinks are included in the price. (Specialty drinks are an extra charge.)
Since this meal is considered all-you-care-to-eat, you can enjoy as many of the selections as you want. However, our server asked that we finish our initial choices before making extra requests.
He told us that, in most cases, guests didn't realize how much food would be brought to the table. Often, when they see the enormous initial servings, there's no need for anything extra.
So he asked us to pick out four sides, and in the meantime, he would bring out a few things to get us started. Little did we know what we were getting into!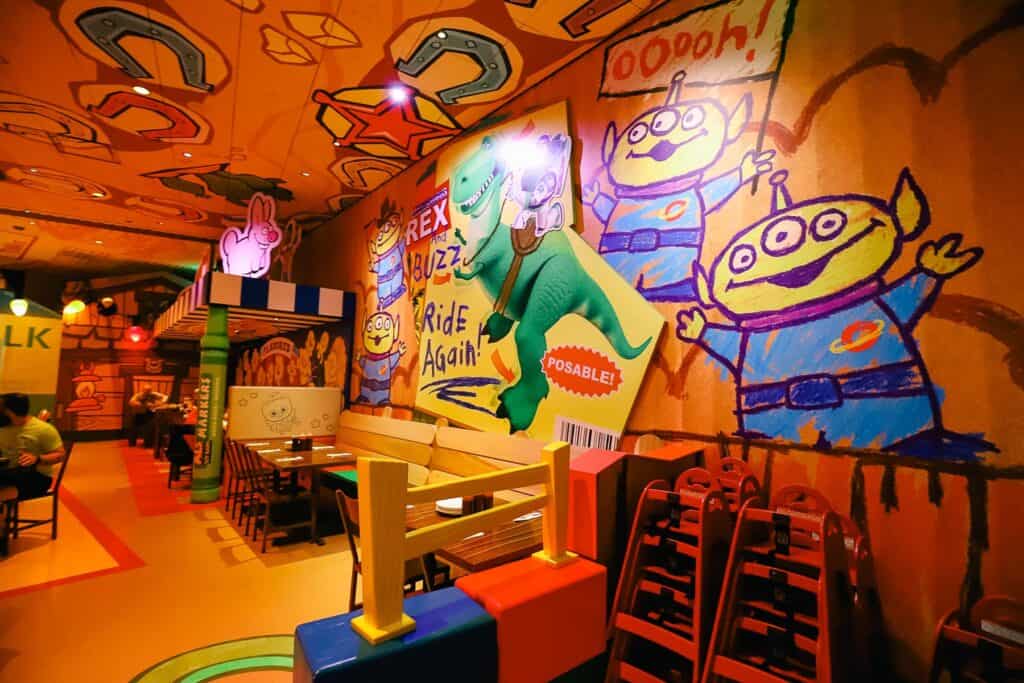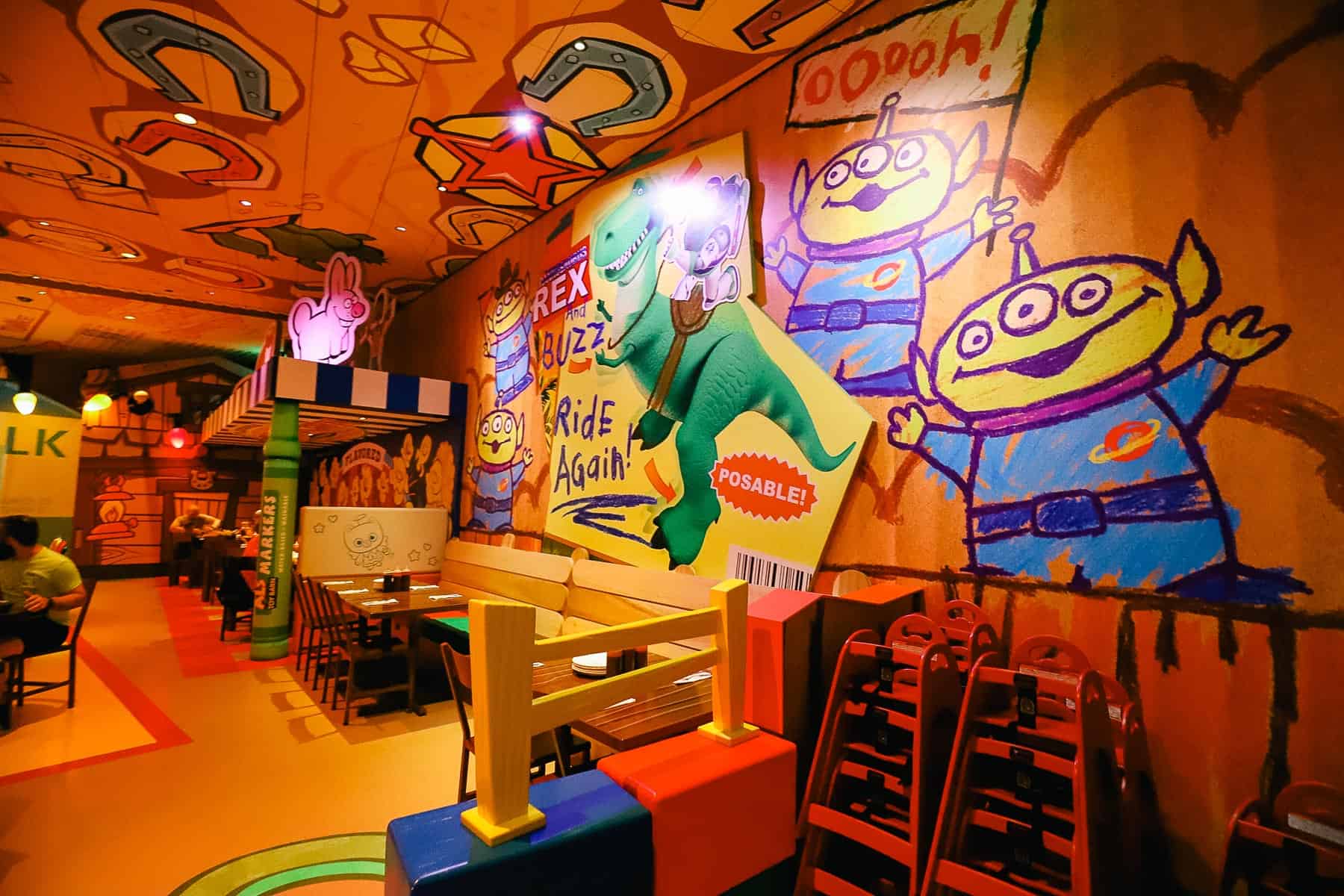 The Theming
Before we get to the meat of the matter, I wanted to take you on a tour of the restaurant. Since we had one of the first reservation times available, the restaurant had yet to fill up.
So it was an ideal time to walk around and take a few photos. I soon realized I was totally wrong about the overall interior look and feel of Roundup Rodeo BBQ.
While it resembles the Toy Story Mania queue, the restaurant was much larger than I expected. So naturally, the size of the interior helps it pull off the scaled feel of being a toy in Andy's bedroom.
Bo Peep and her sheep sit in the center of the dining room toward the back of the restaurant.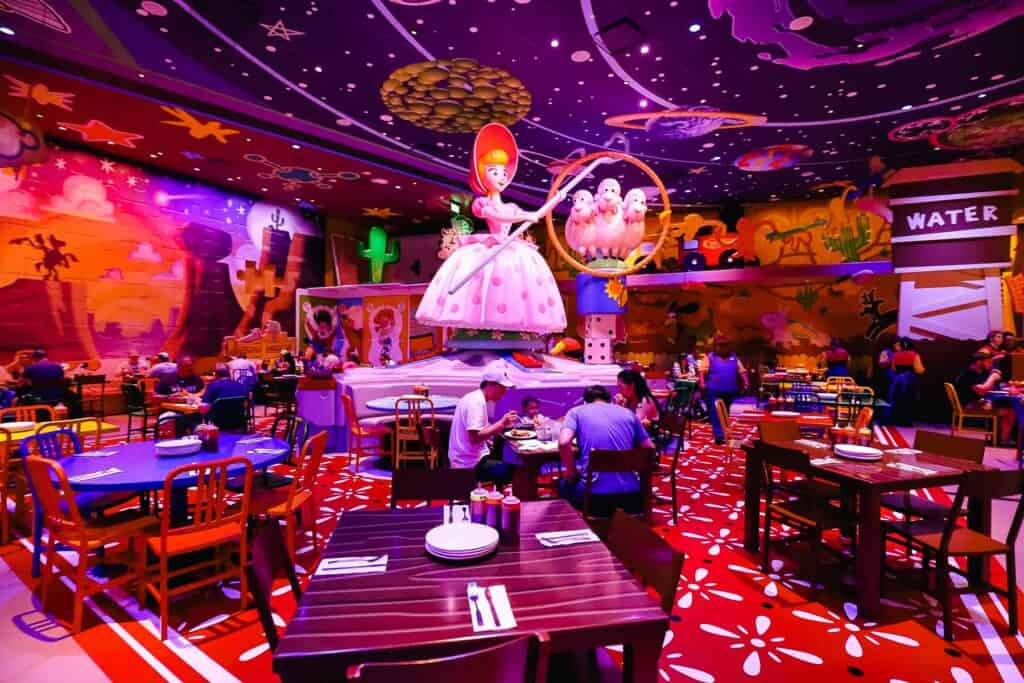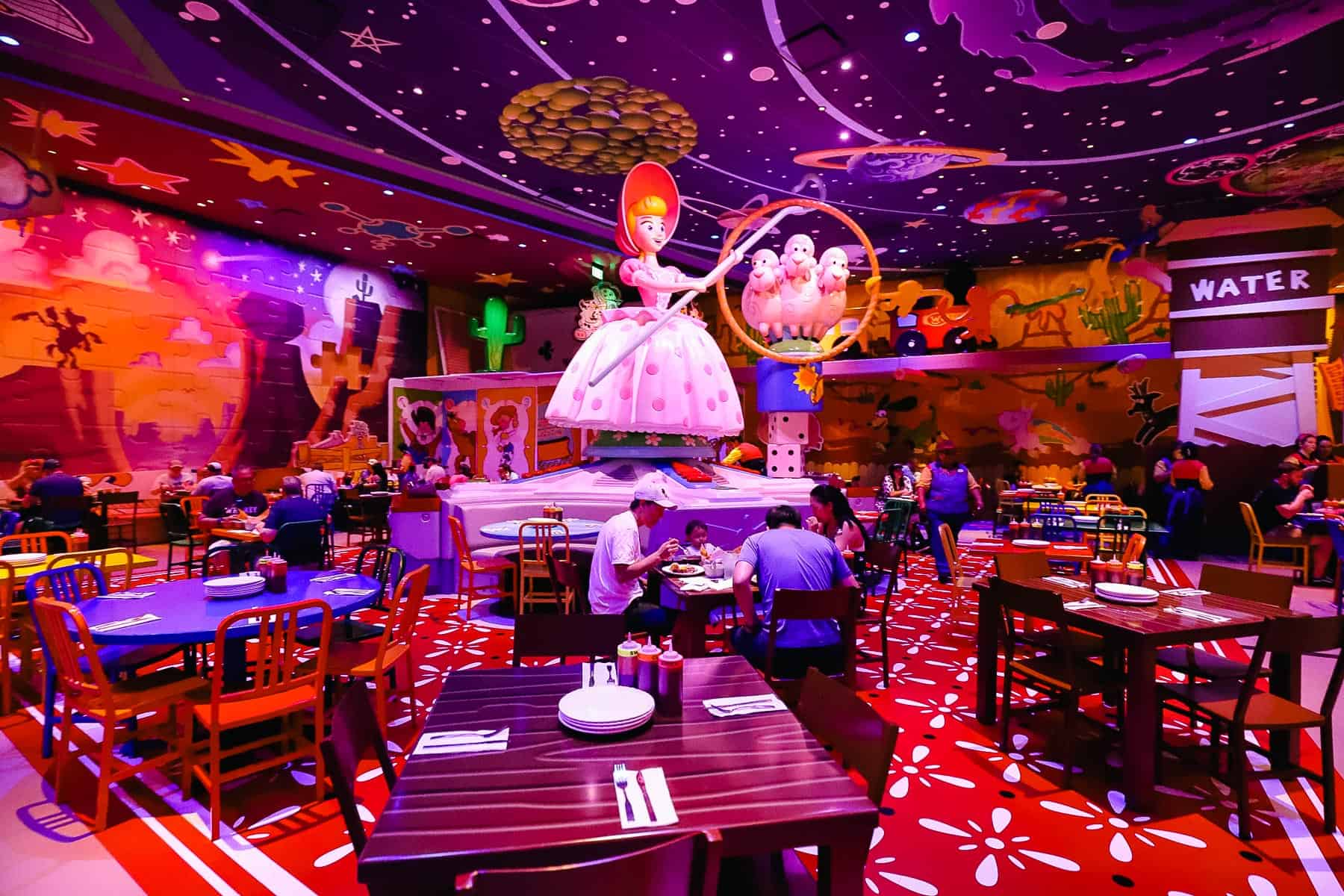 We'll start with a few of the seating arrangements. Most of the dining room consists of tables and chairs. However, banquette seating is provided around the parameter of the room.
Many of these styles feature traditional bench seating with a regular table and stand-alone chairs on the opposite side. Toward the center of the room, there's a mix of tables and chairs, including two-tops, four-tops, and six-tops.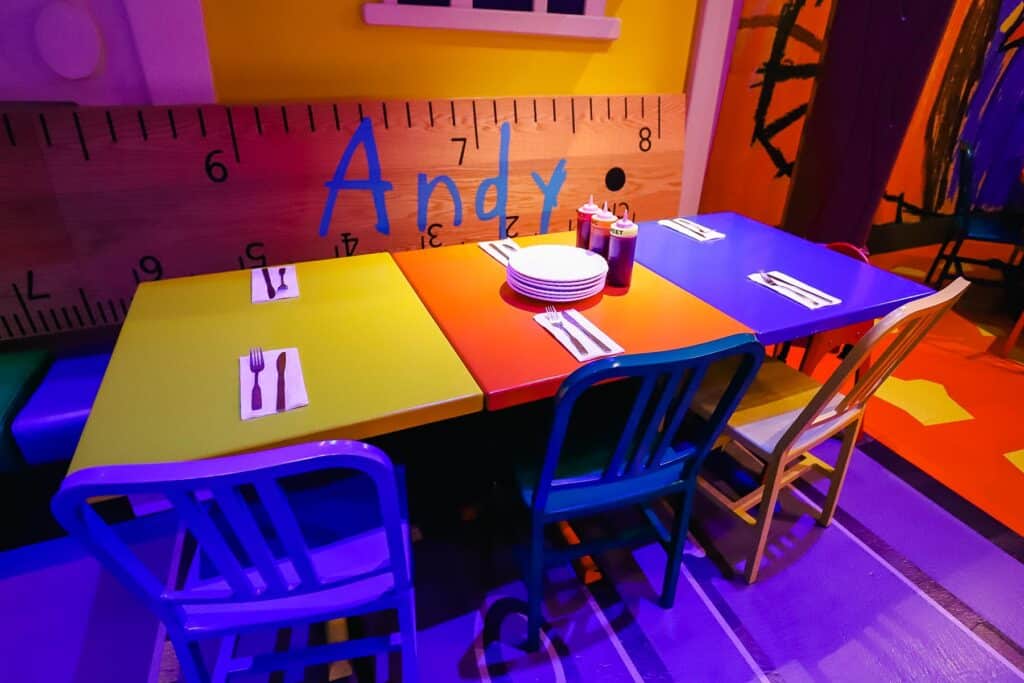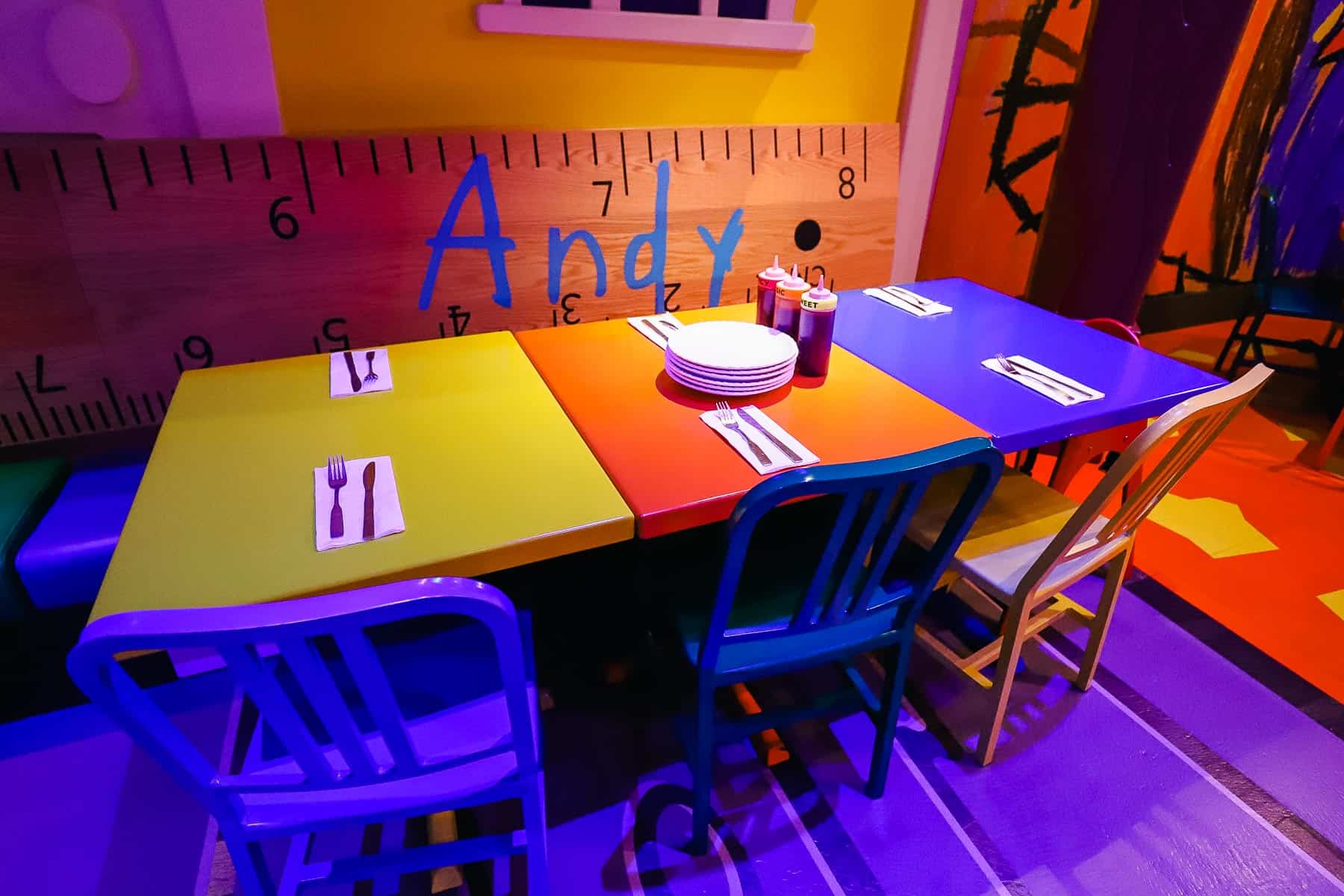 Each table had a set of glass dishes that looked like paper picnic plates! We all noticed the plates and thought they were a fun element. Additionally, three bbq sauces were available-spicy, classic, and sweet.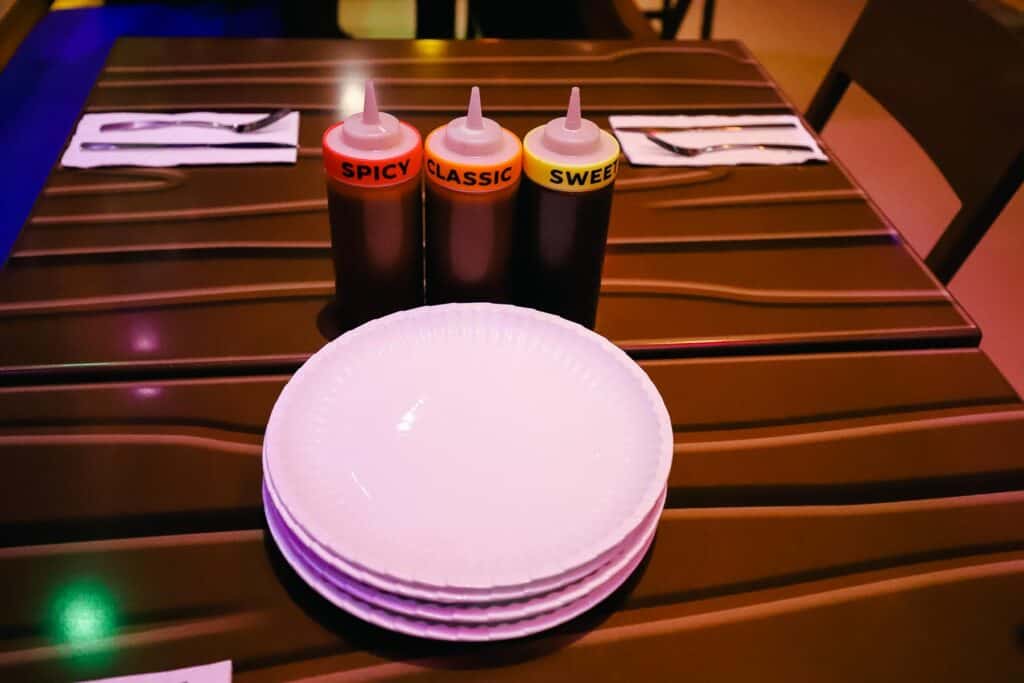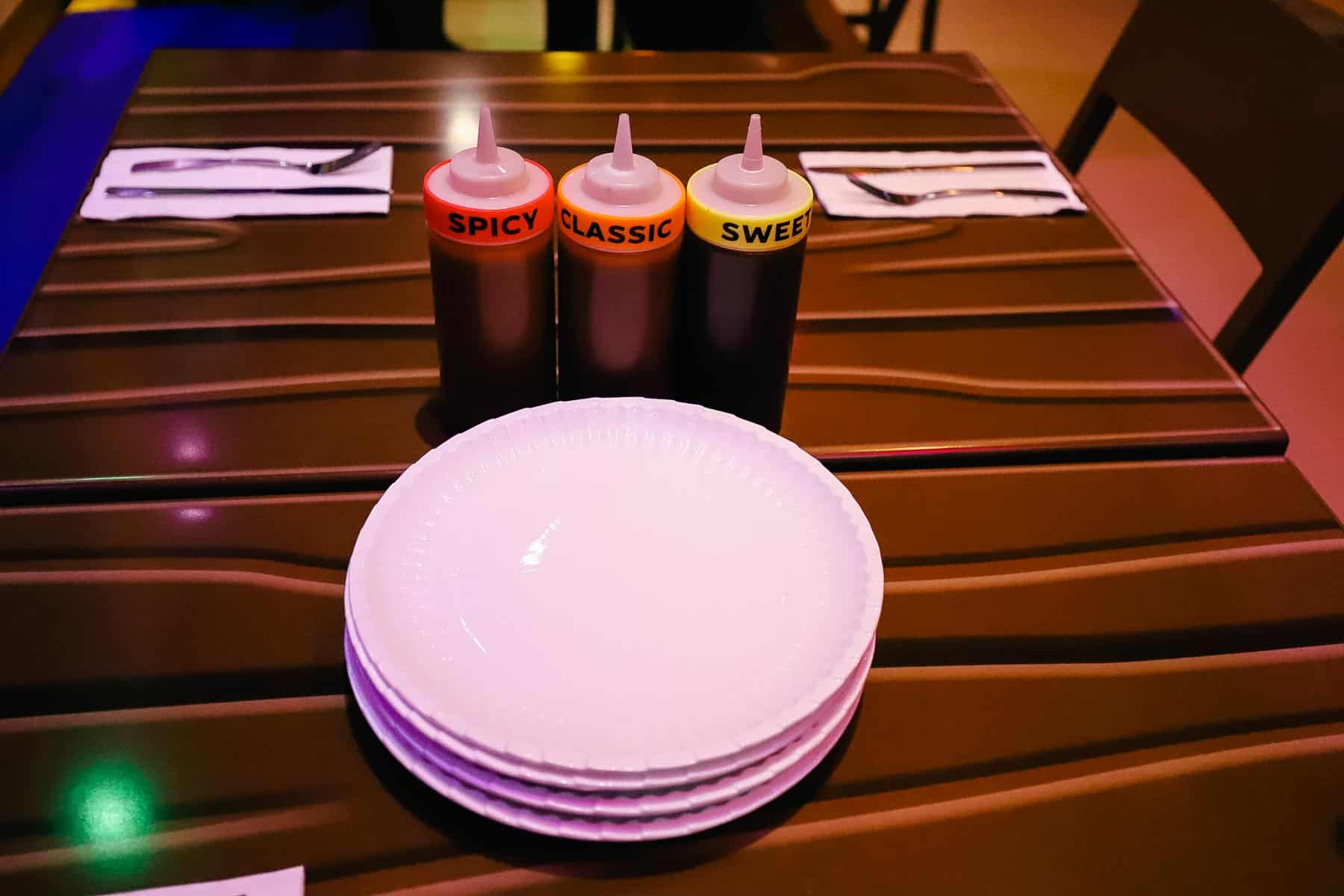 Here are a few photos of the restaurant: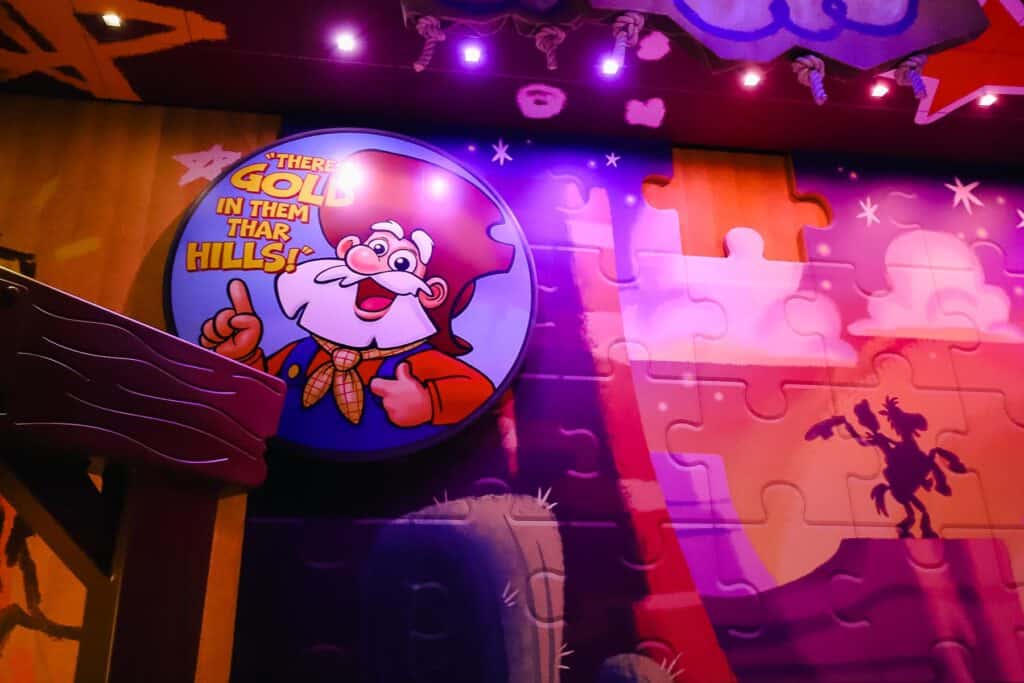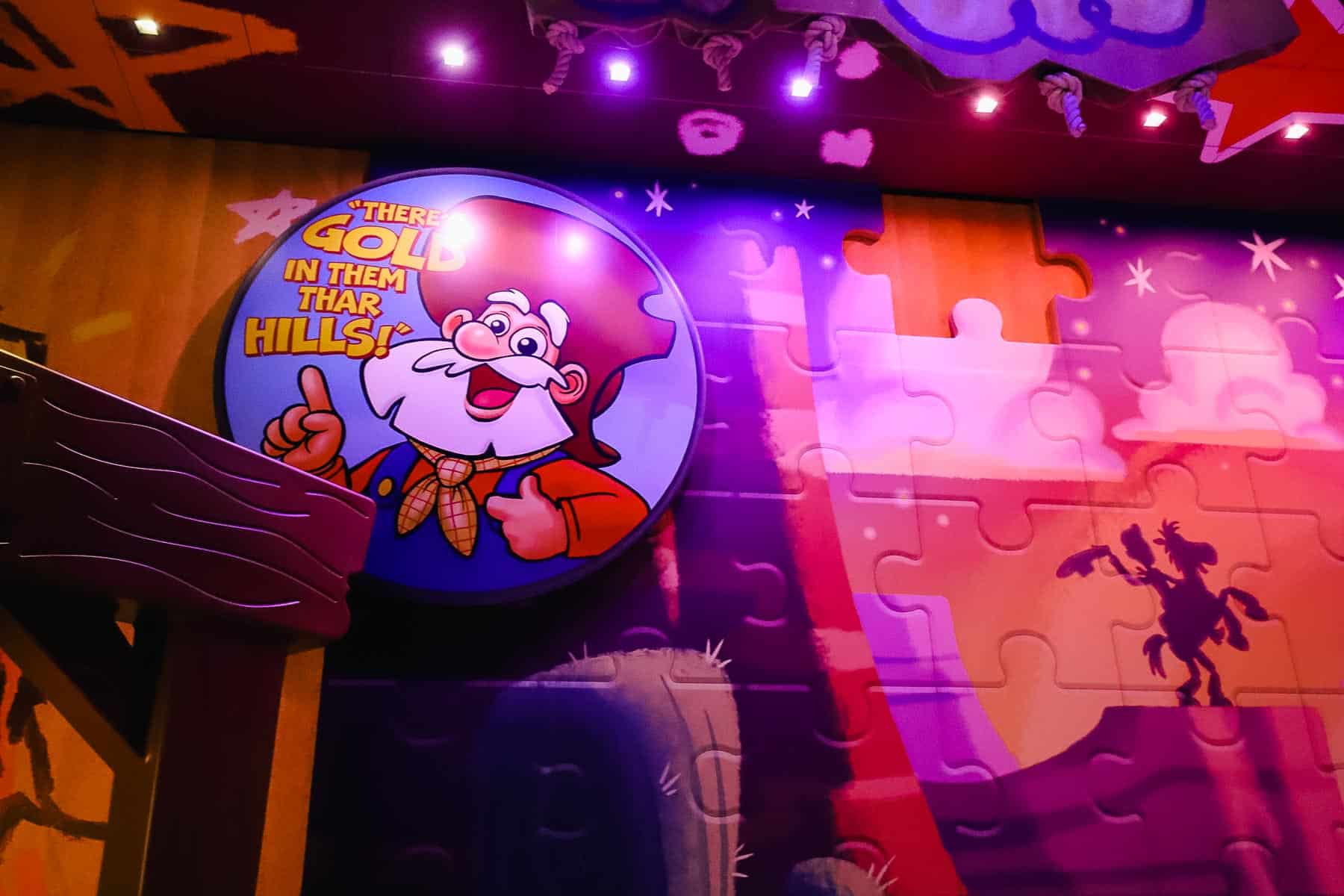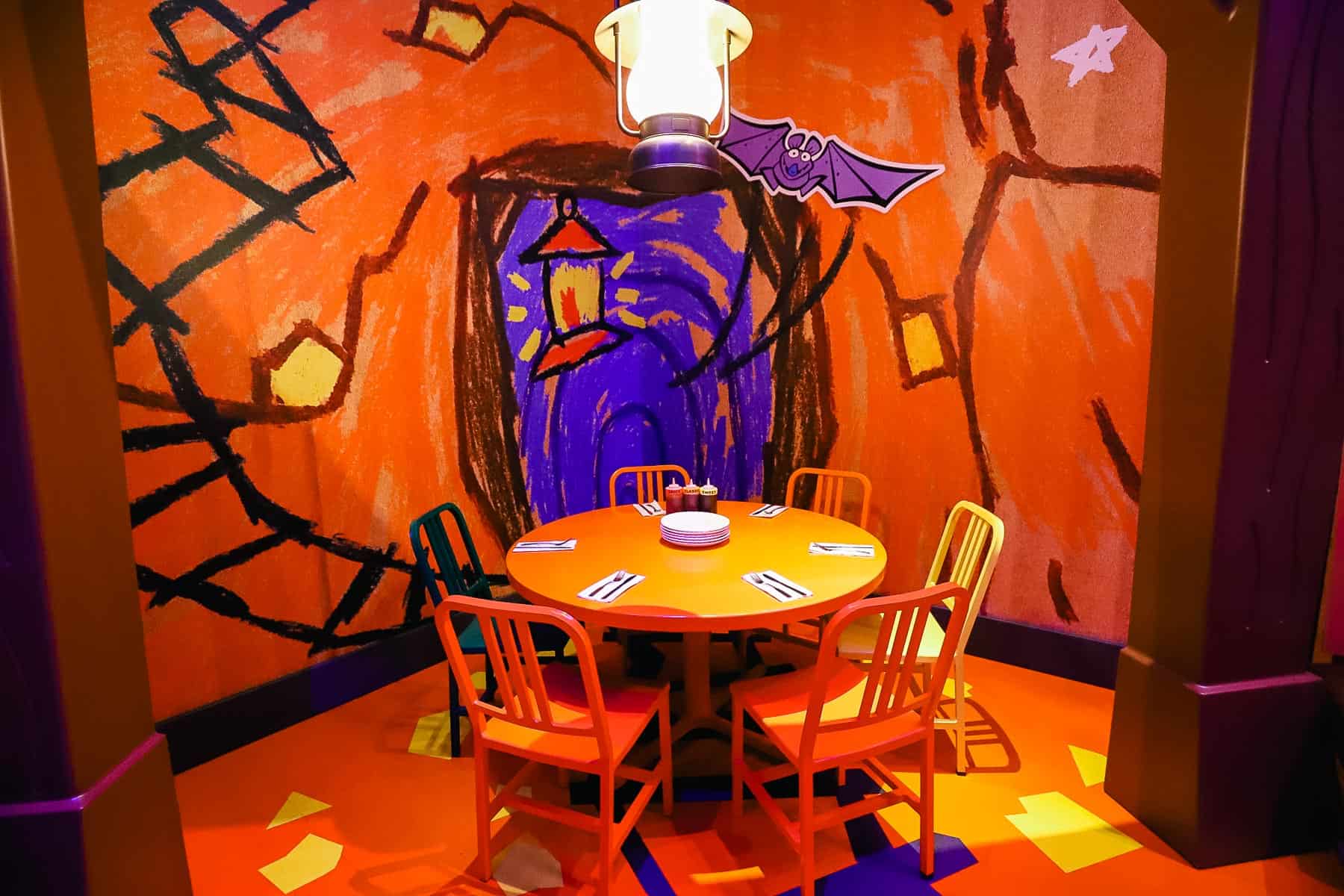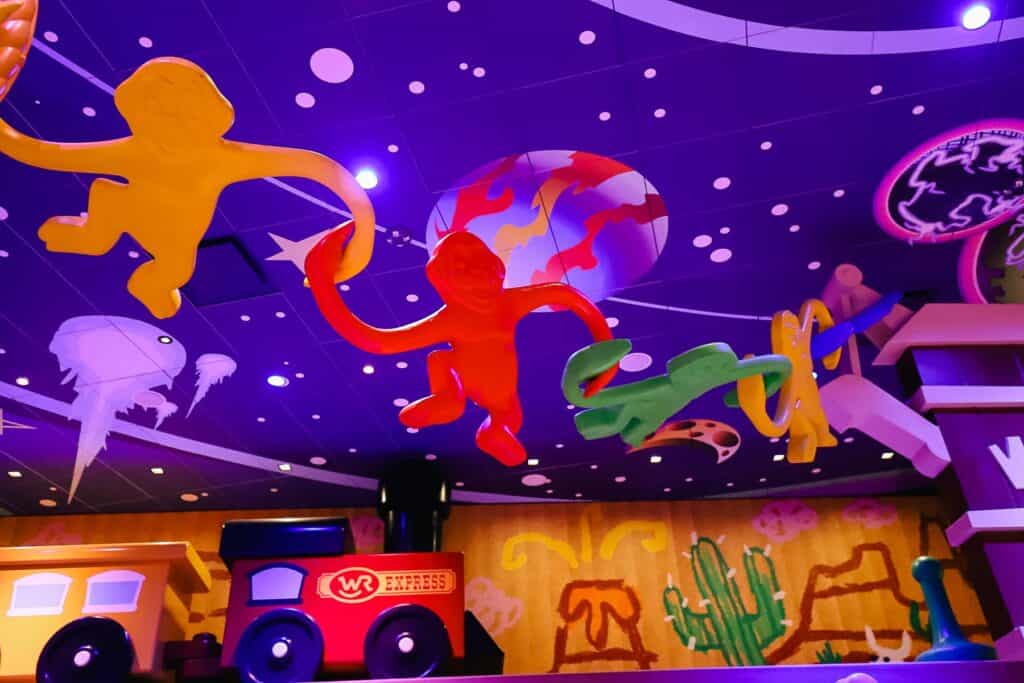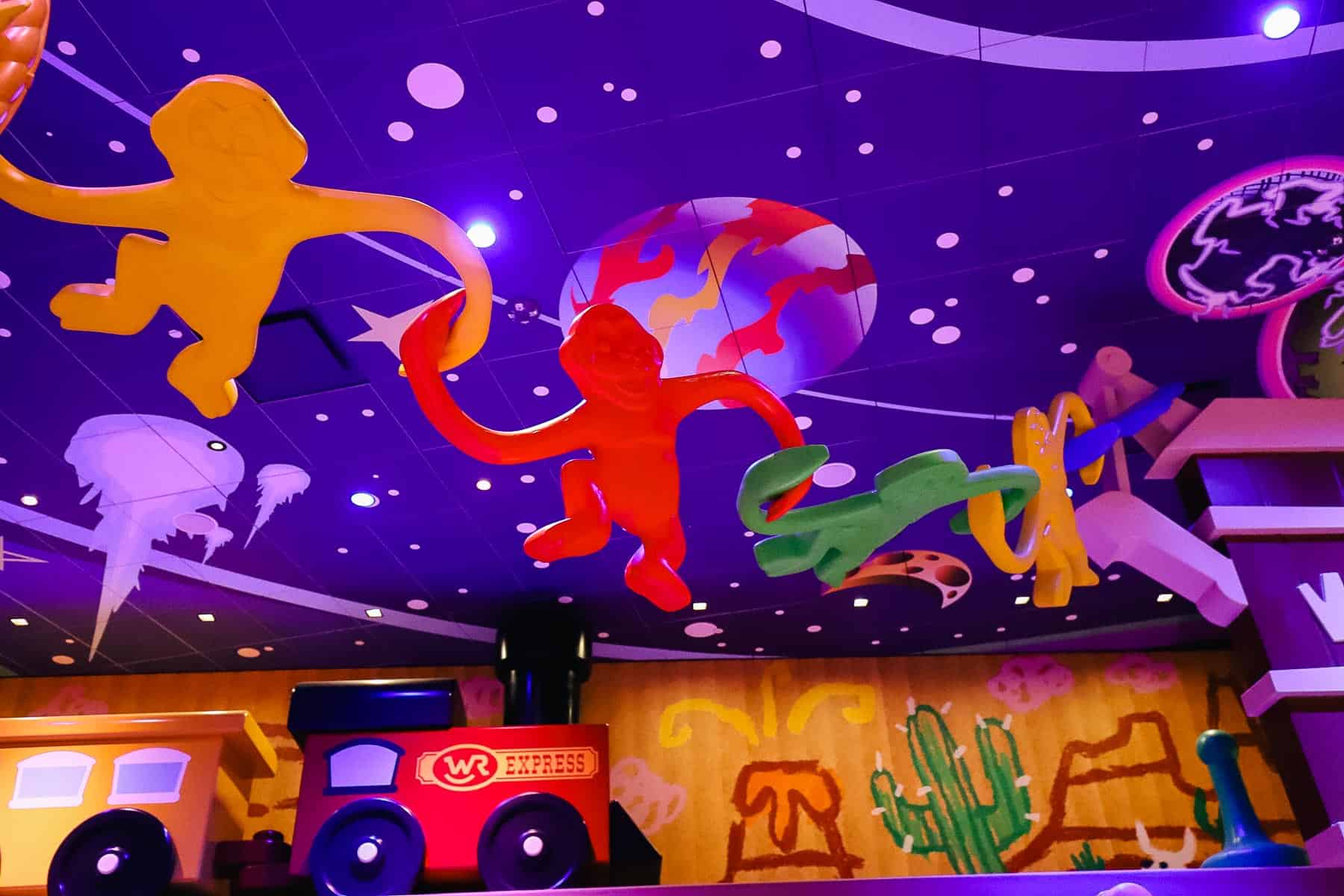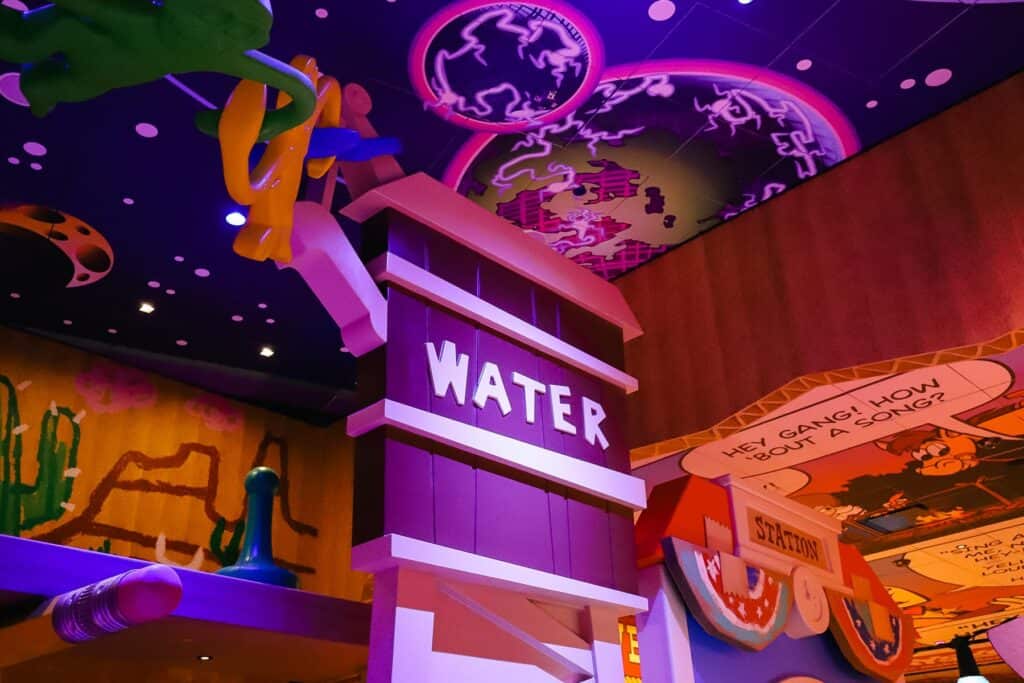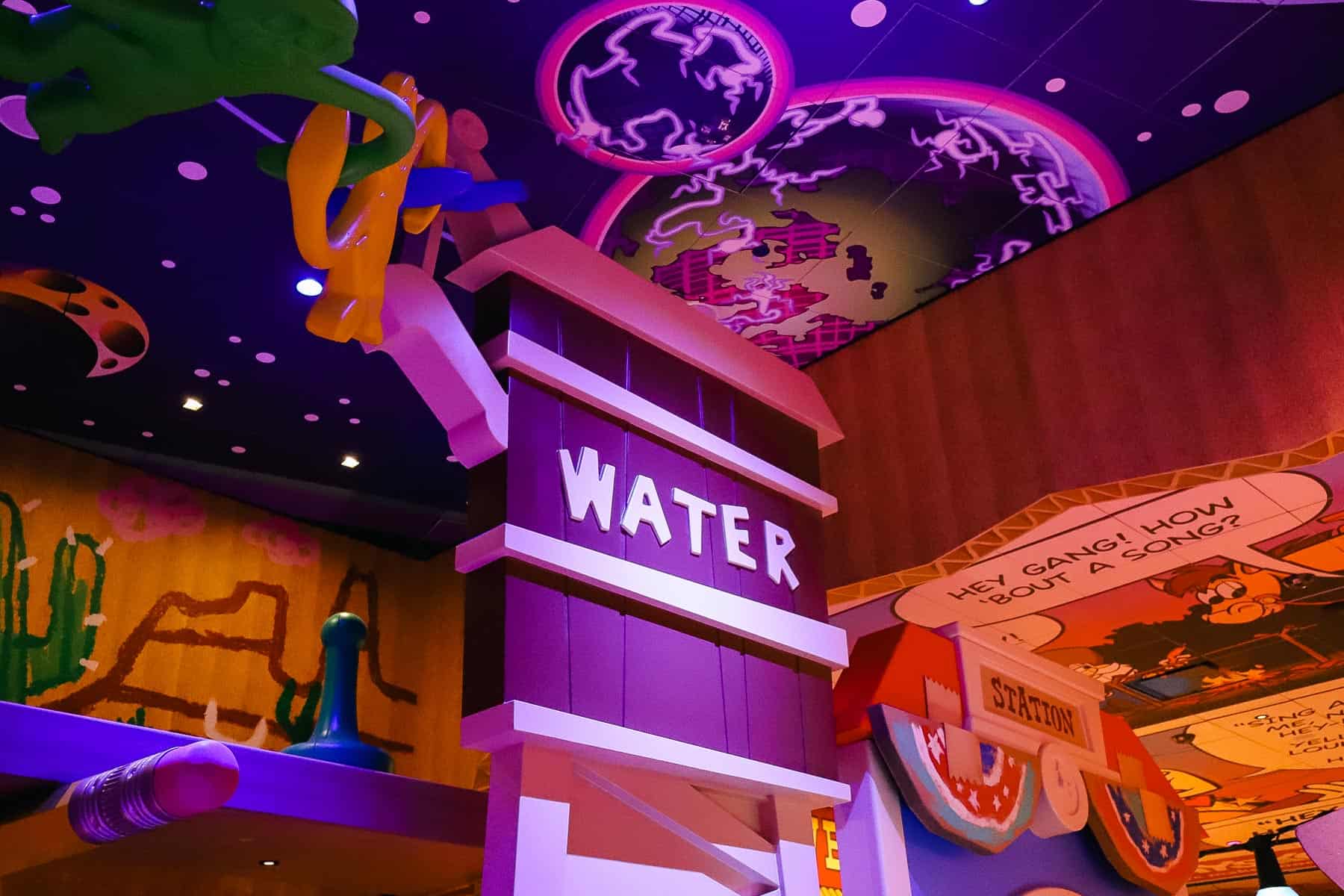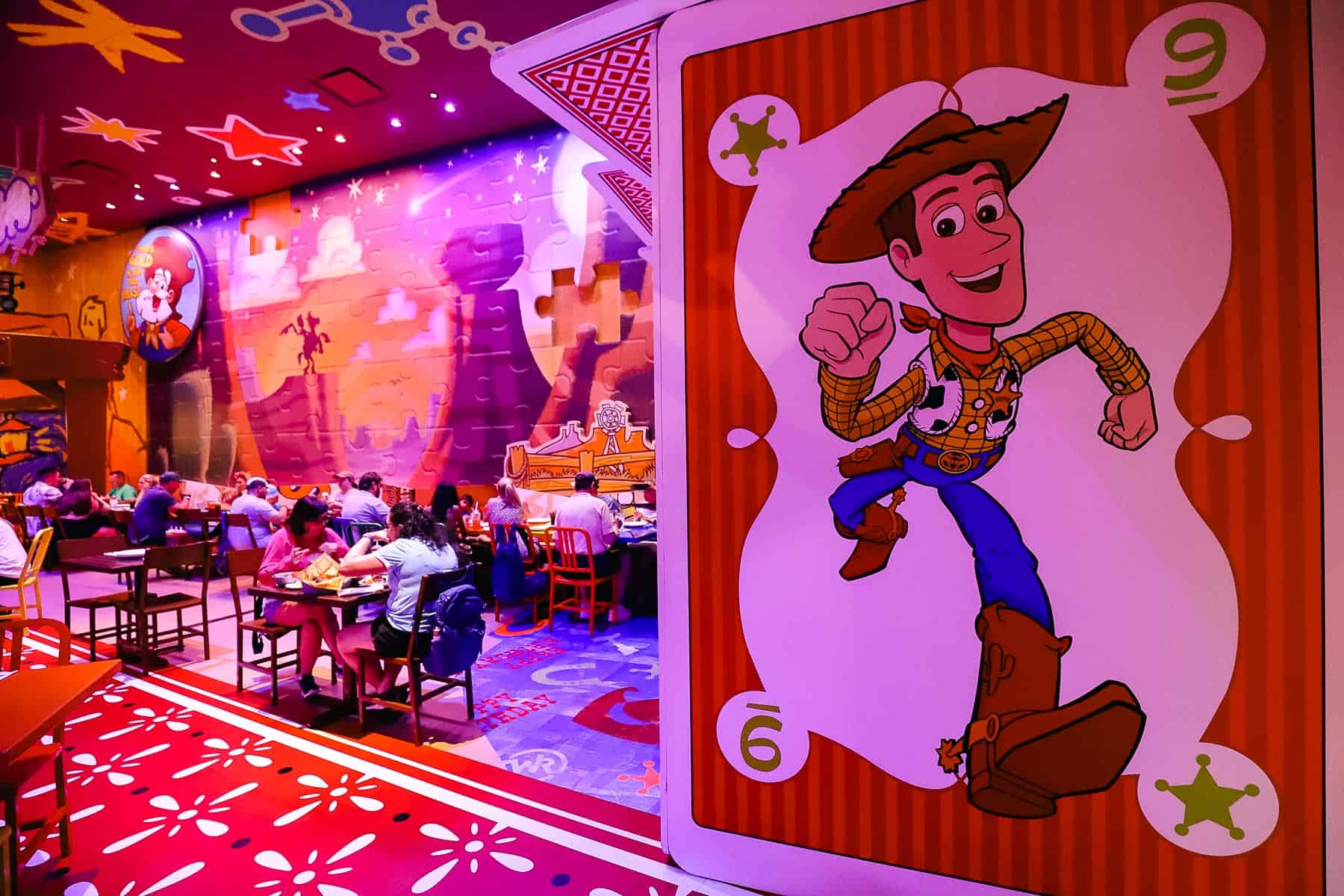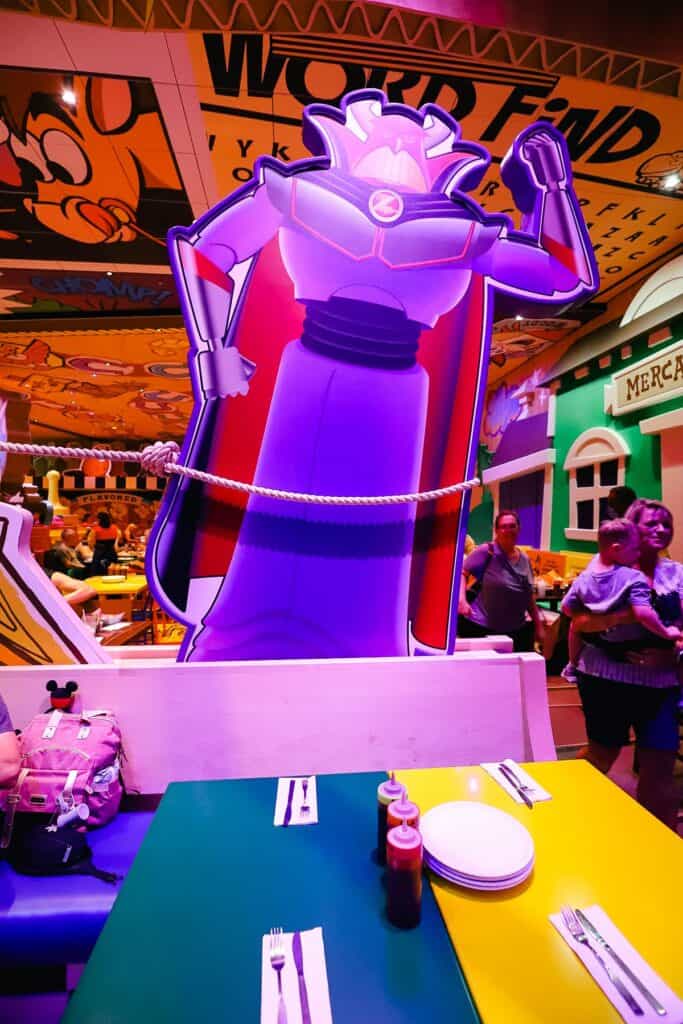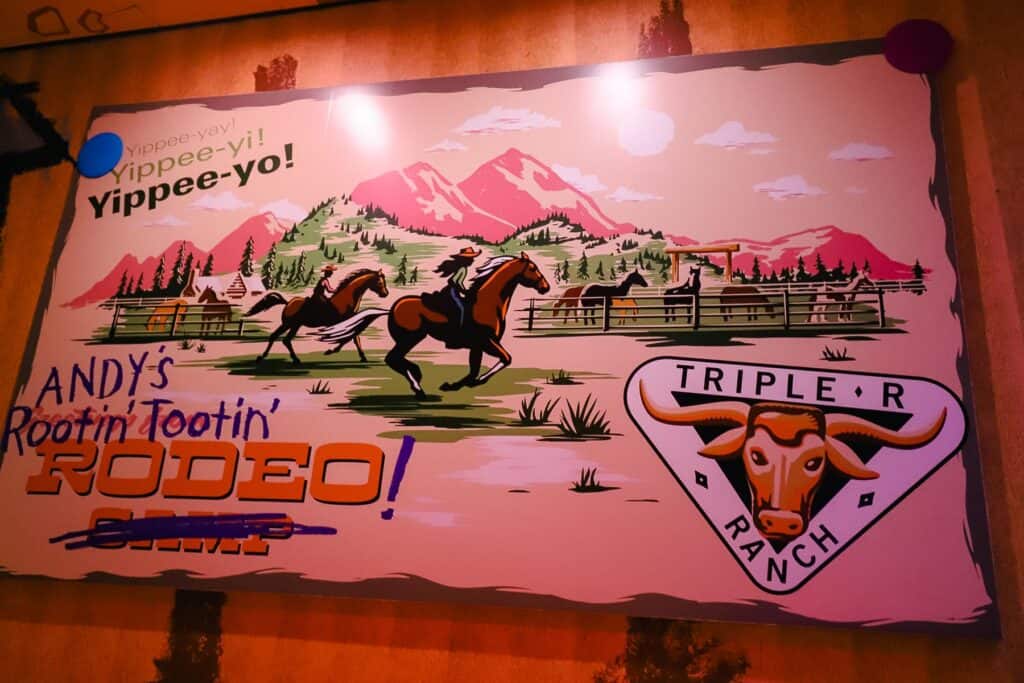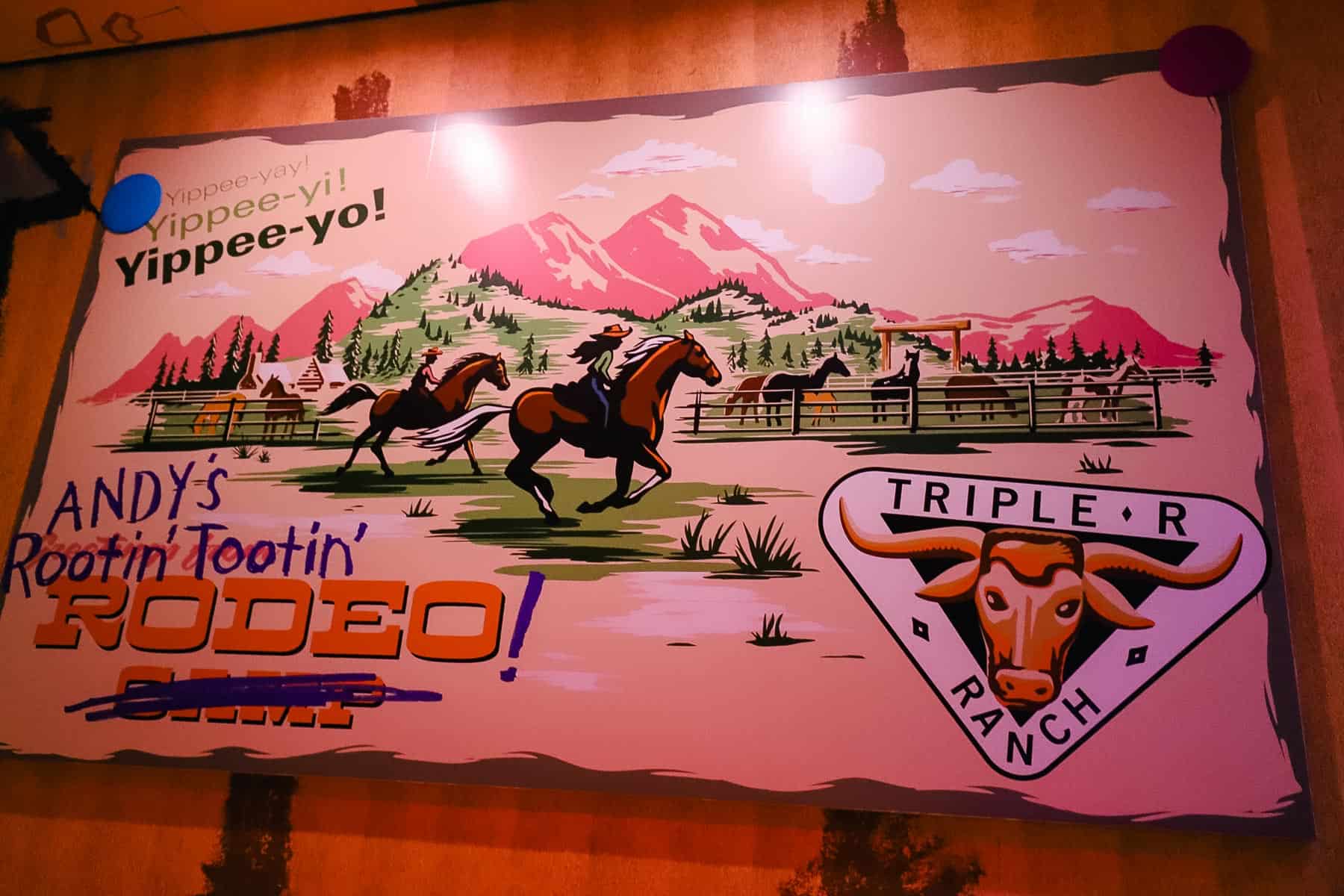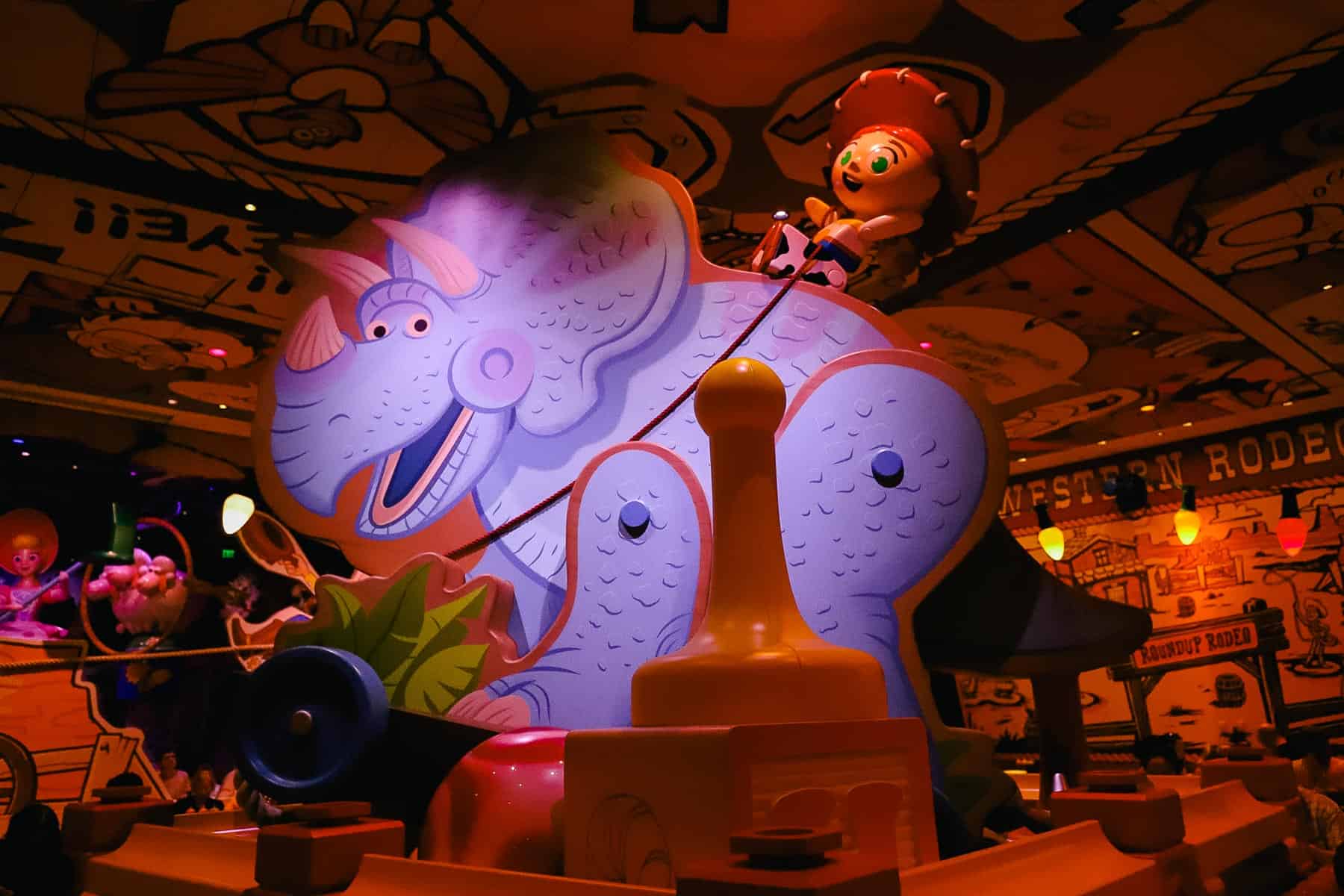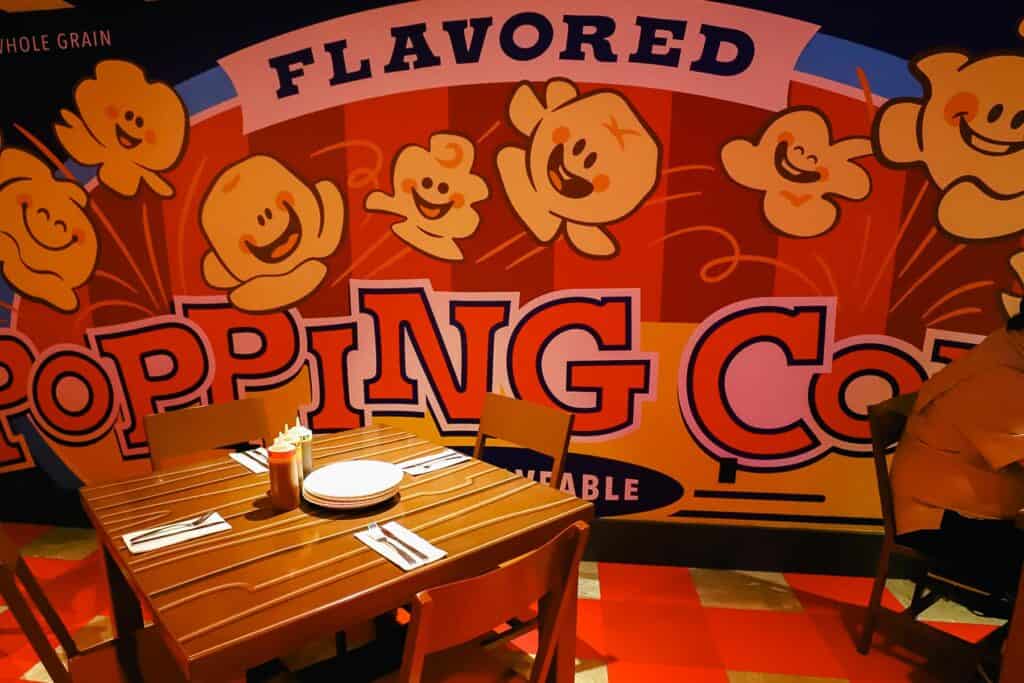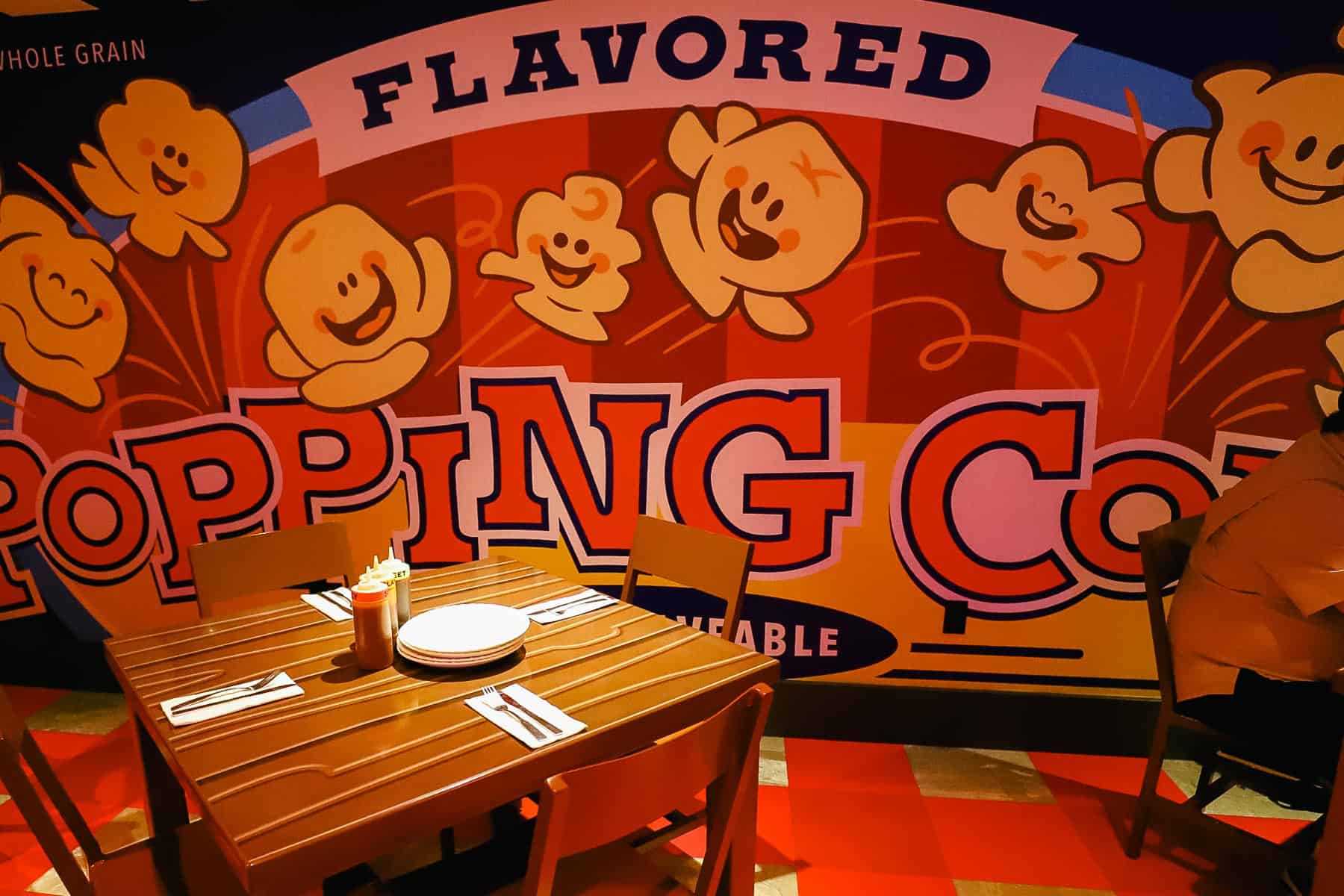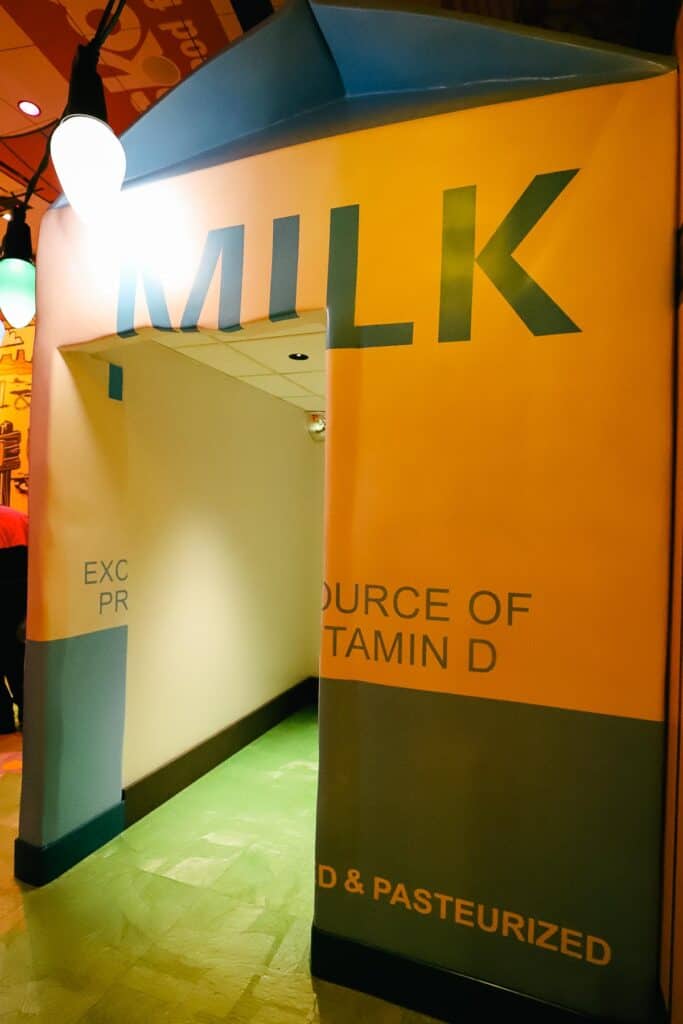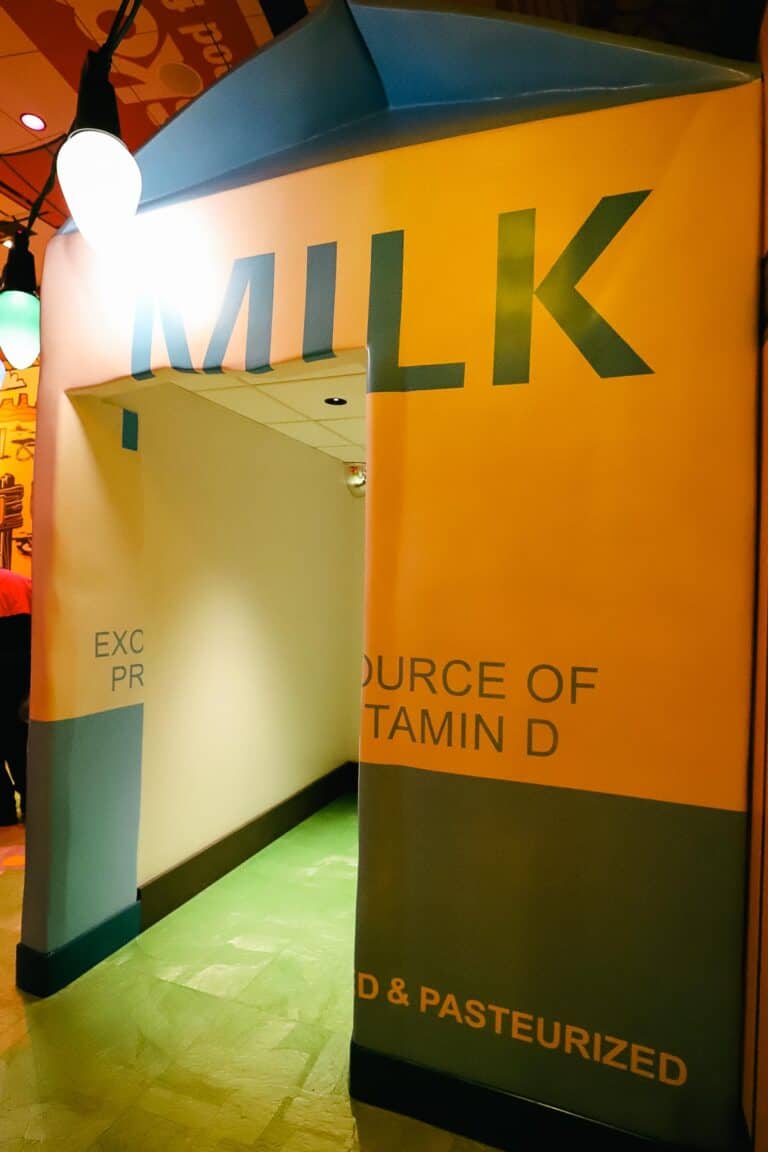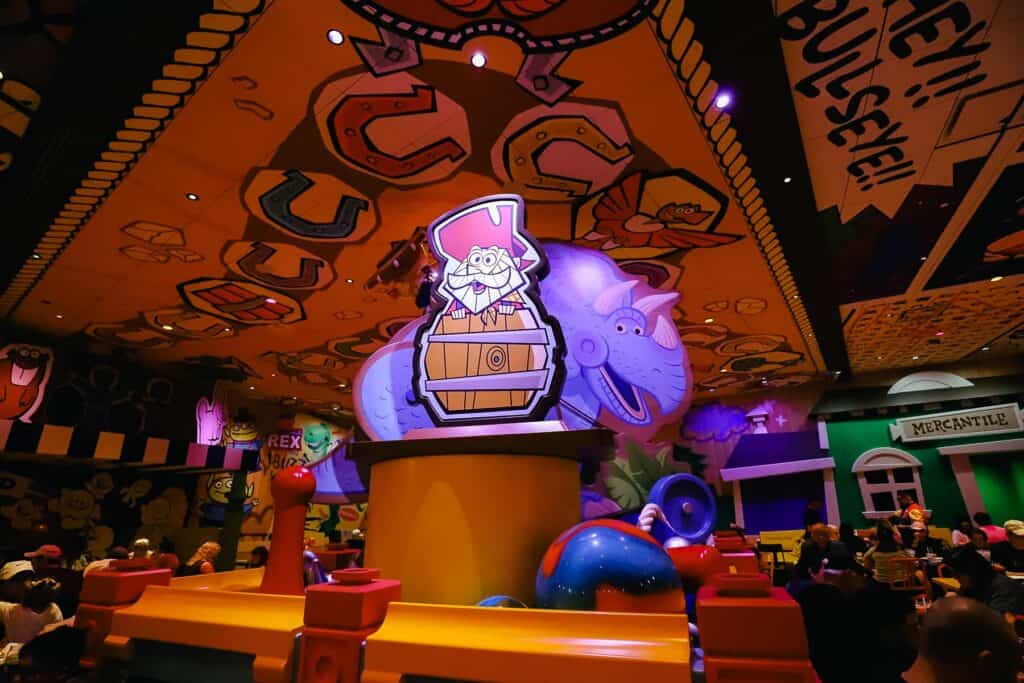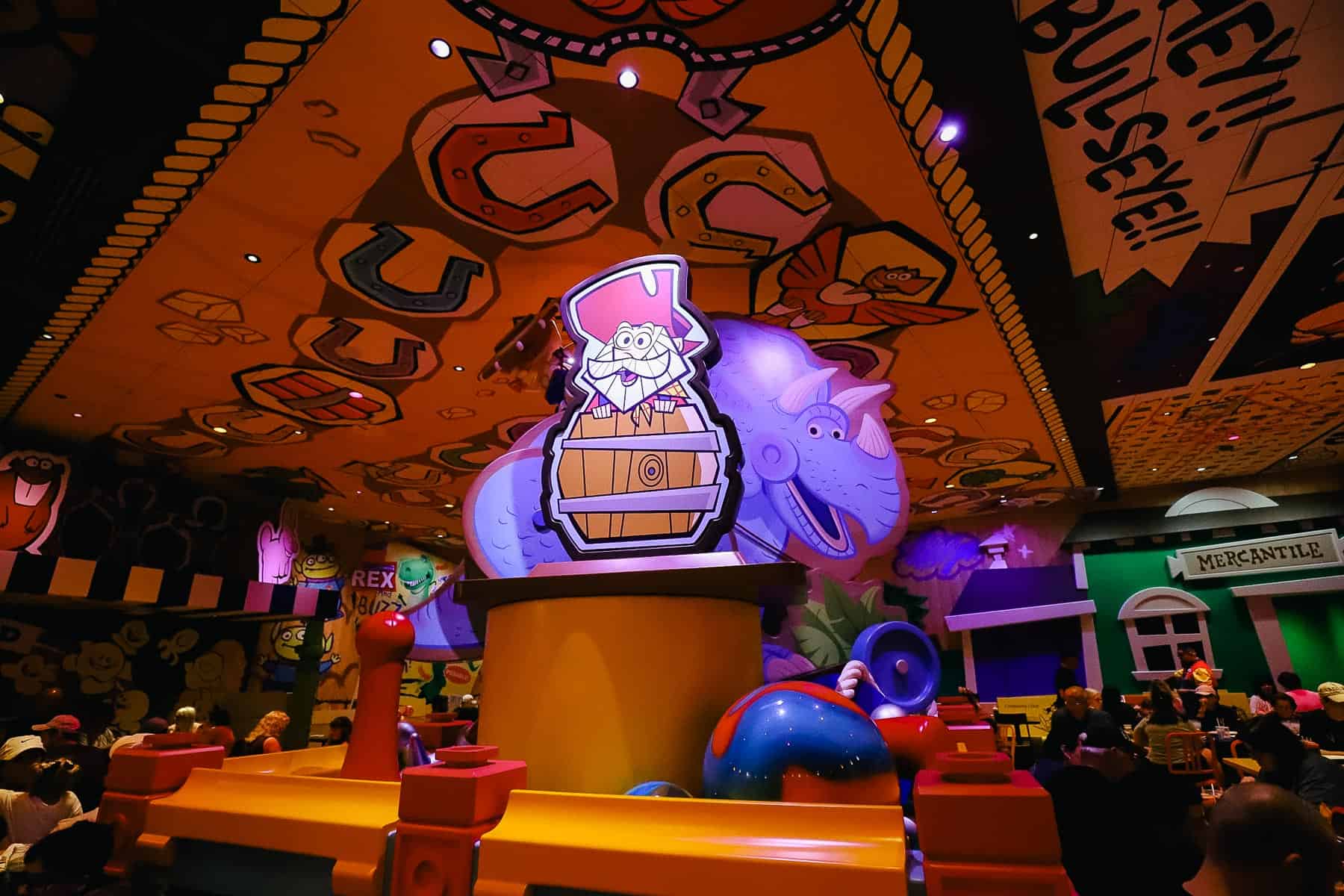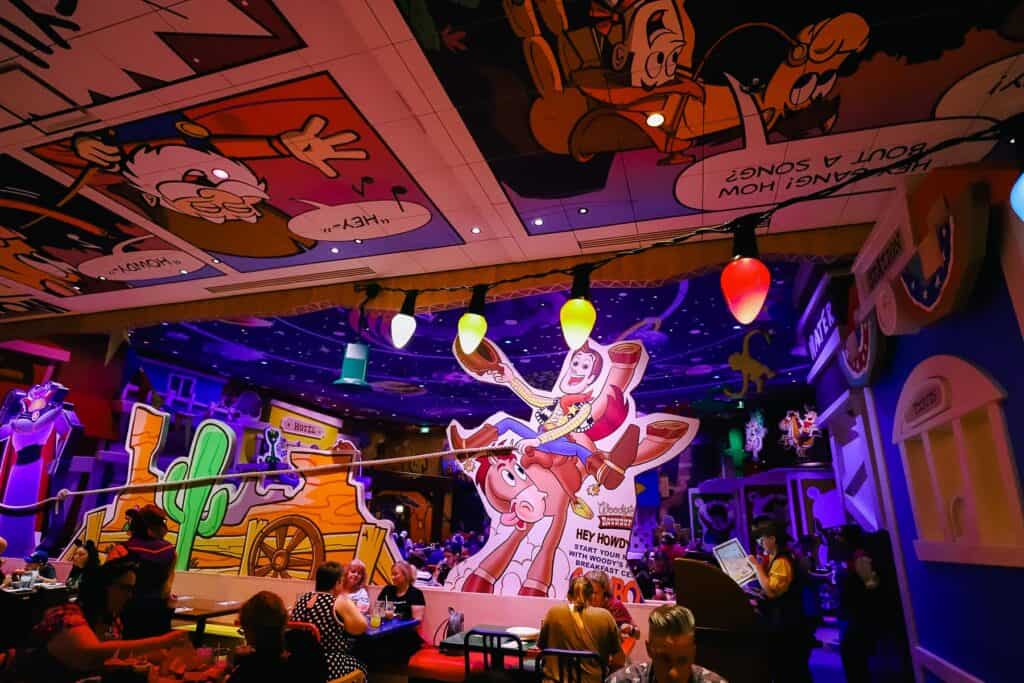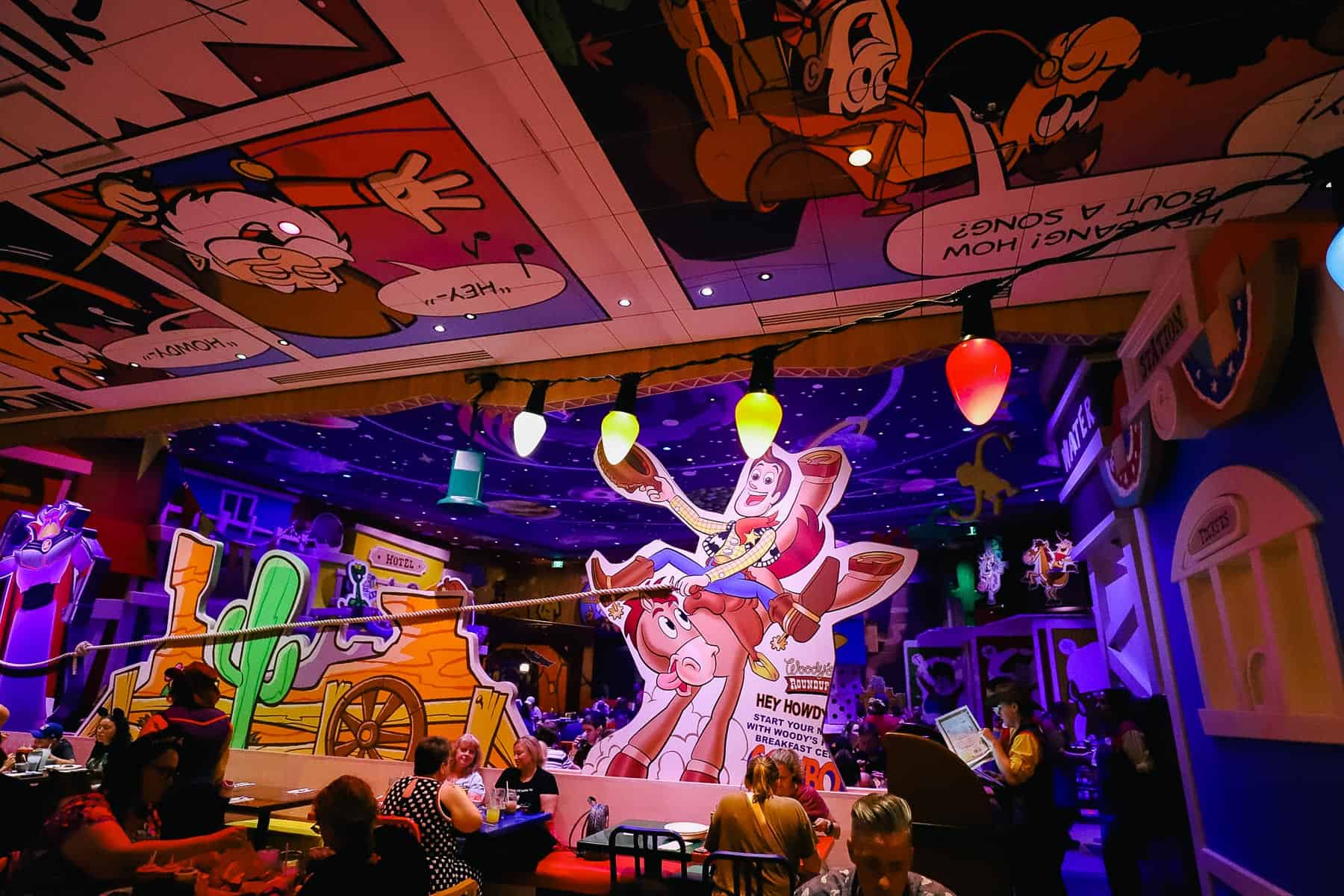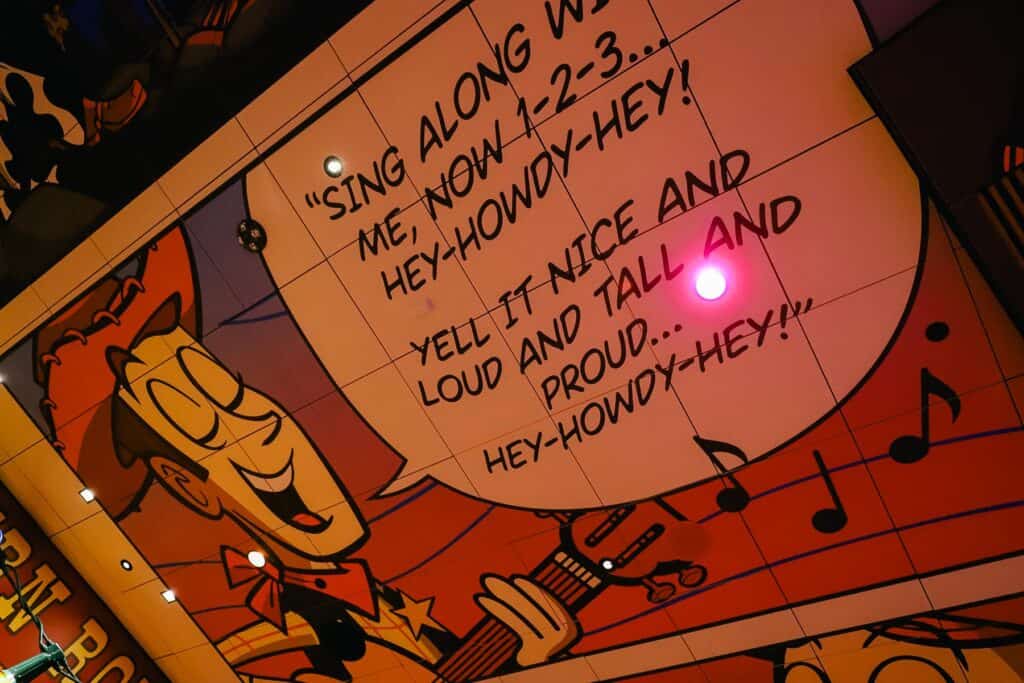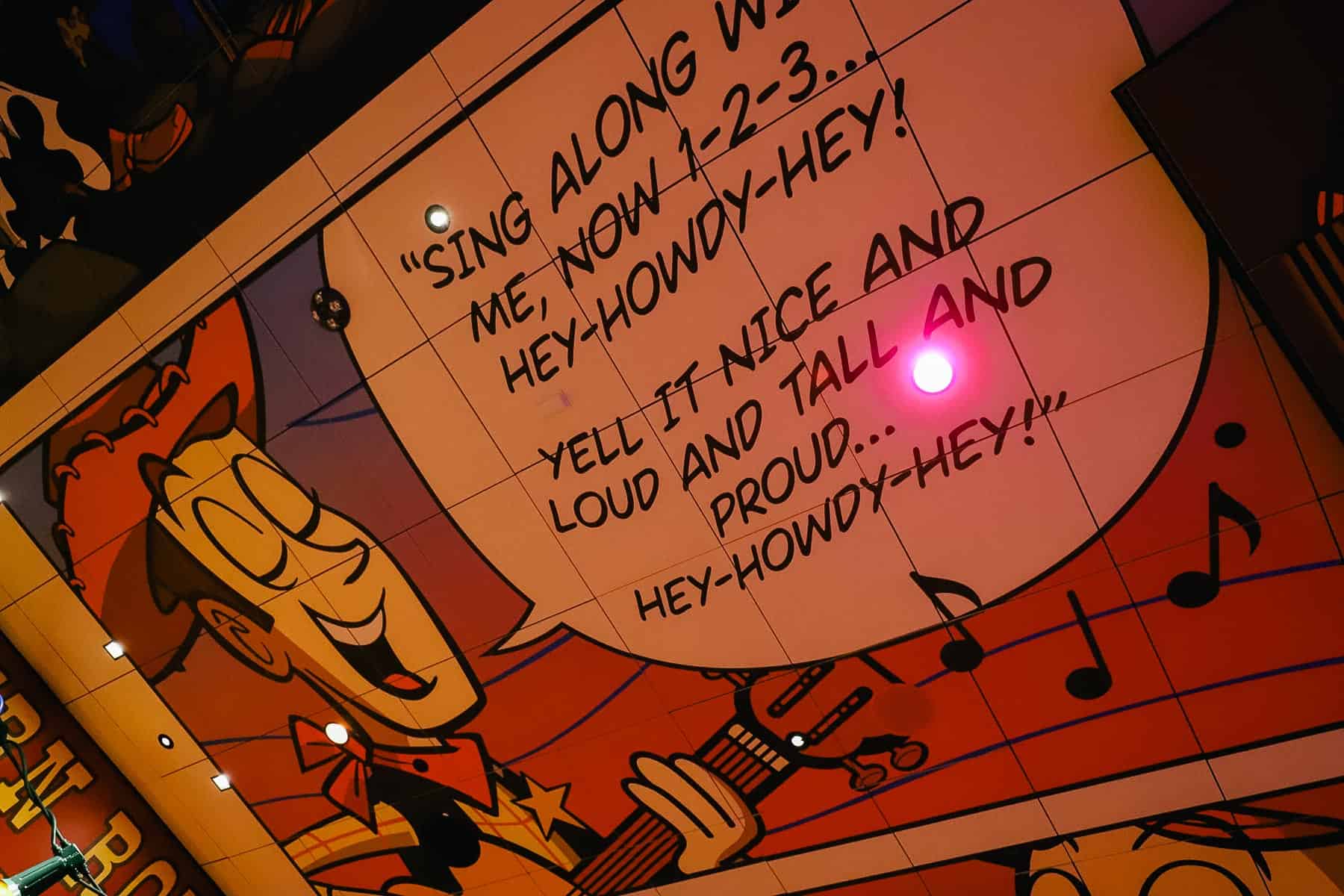 For Starters
By the time I returned from taking photos, I was surprised to see that we still hadn't received any food. However, as soon as I sat down, the server brought our first item.
The Prospector's Homemade Cheddar Biscuits with Sweet Pepper Jelly
These biscuits were good, but I don't think any of us thought they were anything to write home about. However, we thought the sweet pepper jelly was an interesting choice and were surprised to find it agreeable.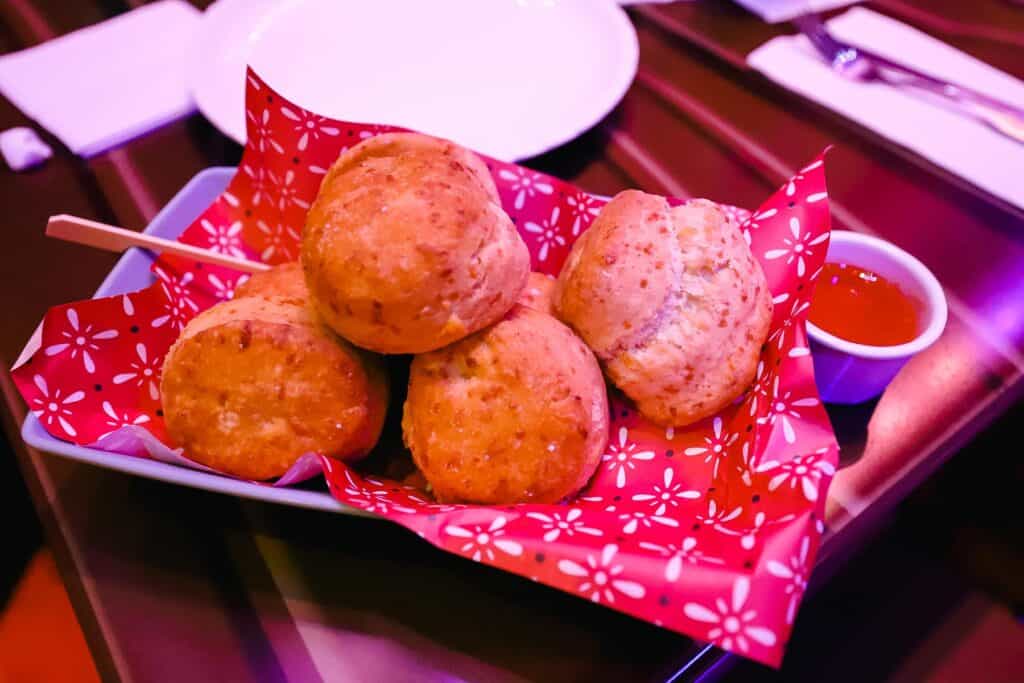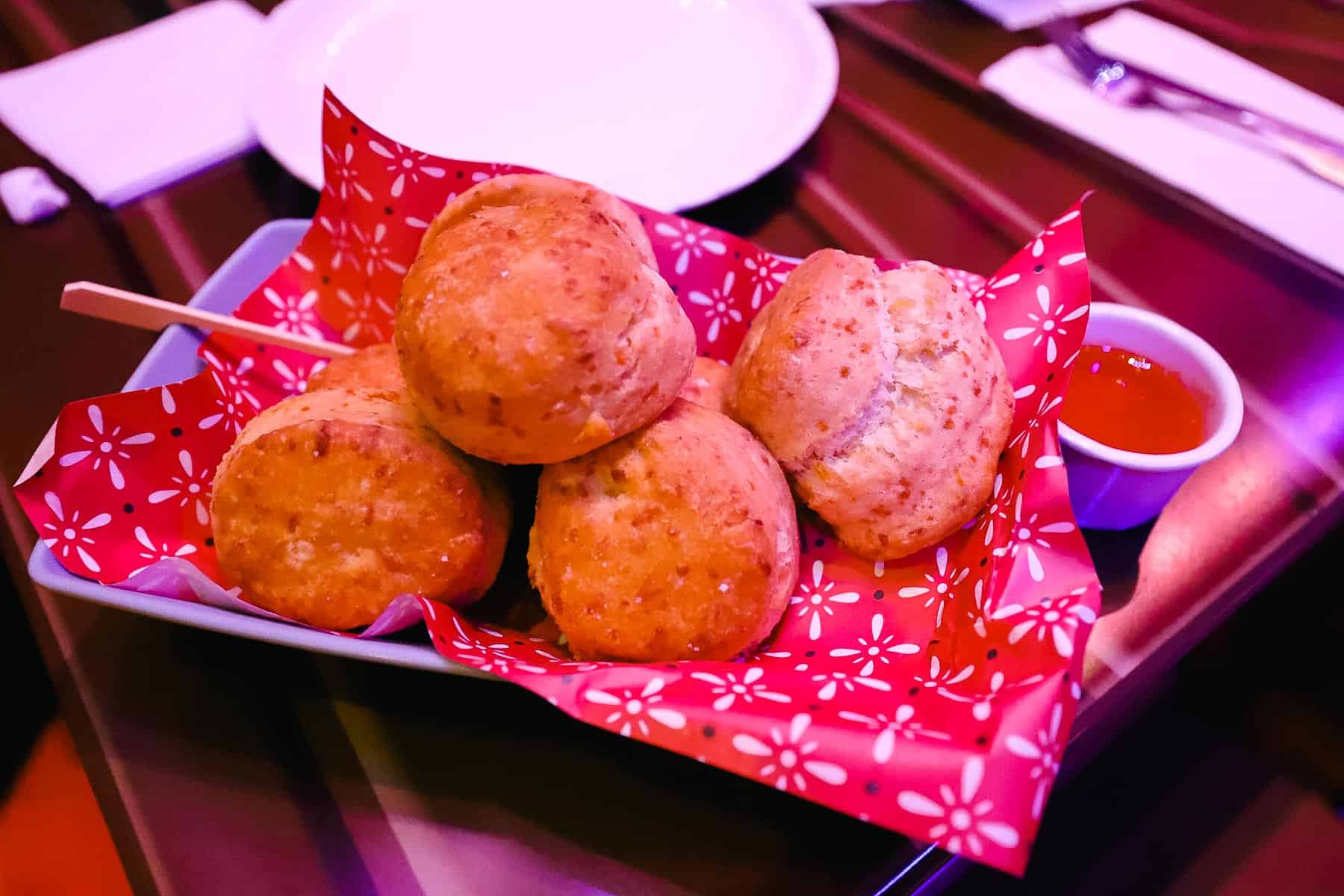 Soon after, more food arrived. These three items are referred to as "Get a Wiggle on your Greens!"
So the bread service and initial three starters are all included. However, these are not the same as the side items we selected to accompany the barbecue.
Rootin' Tootin Tomato Salad
Unfortunately, I'll leave this one up for you to decide. Tomatoes and cucumbers are not my thing. But other guests in our group enjoyed this dish.
This dish combines cucumbers, pickled red onion, and white balsamic vinaigrette per the menu.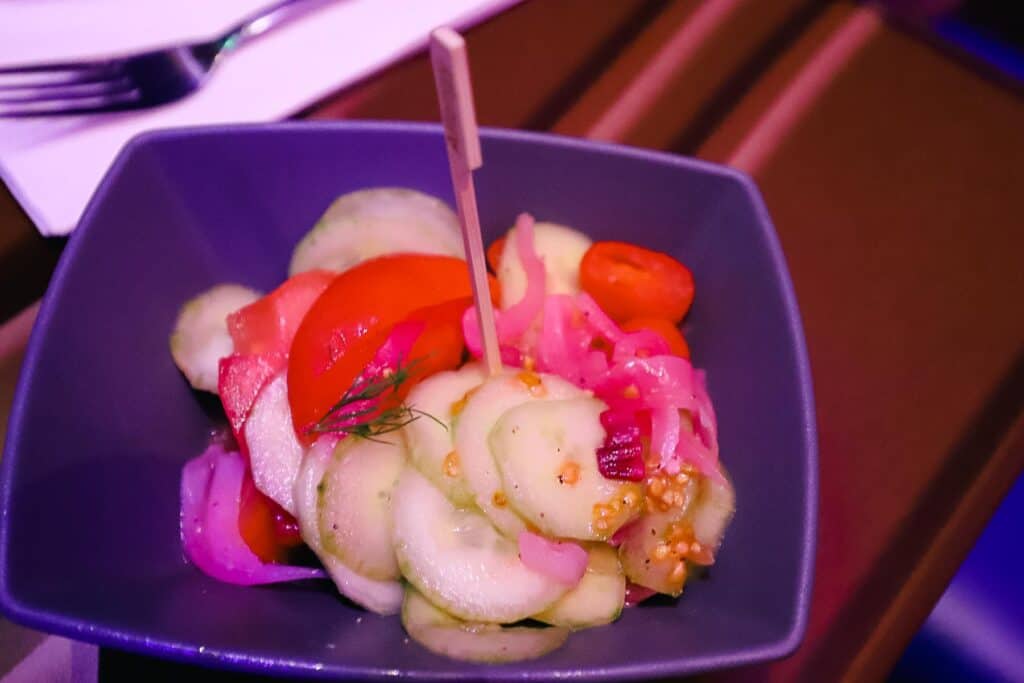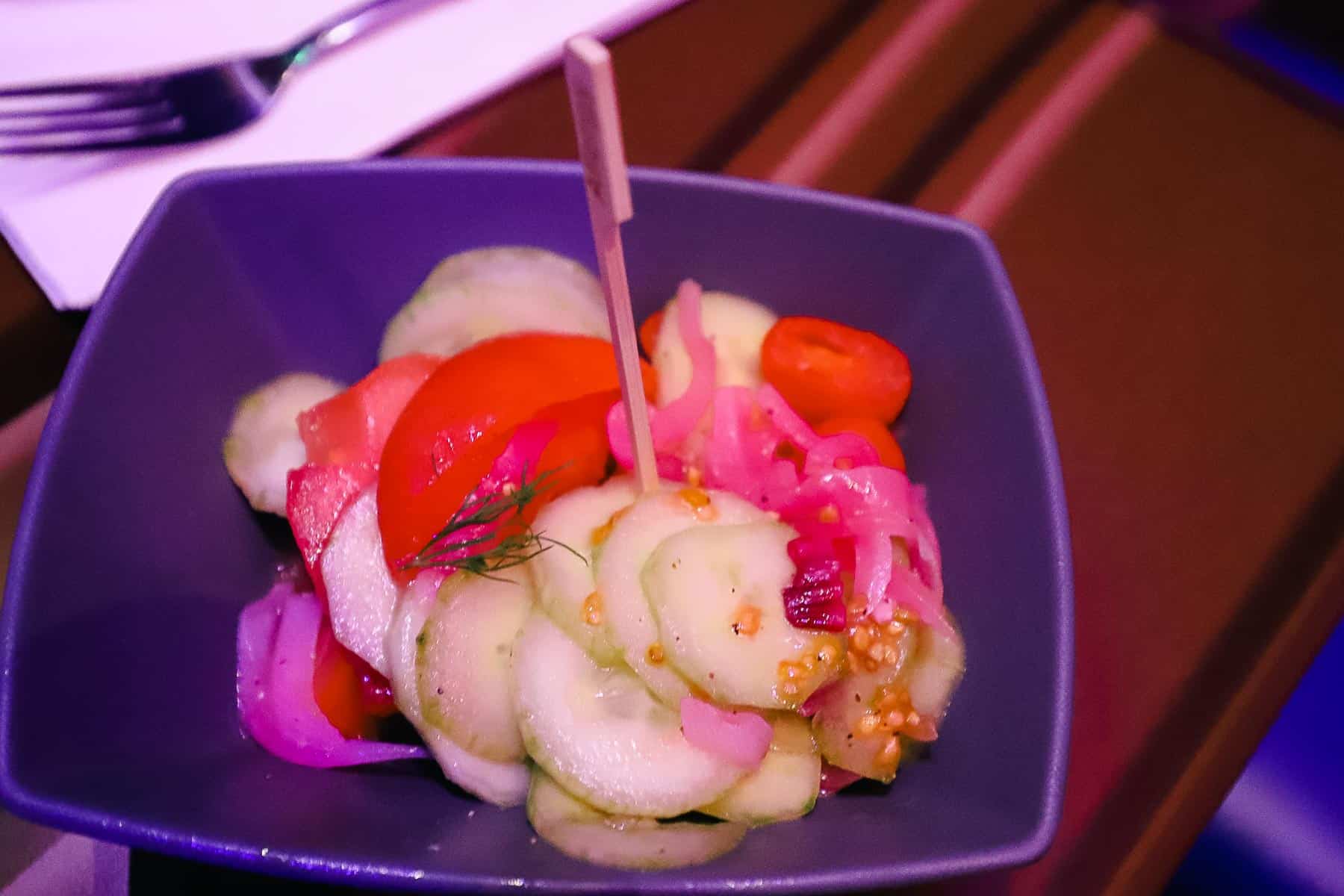 Rex's Romaine and Kale Salad
This salad was delicious, and it was an excellent starter. Per the menu, it's a mixture of kale, pumpkin seeds, apples, cranberries, and Green Goddess dressing.
However, when you see what's yet to come, you might agree it's difficult to conceive where you will put all this food.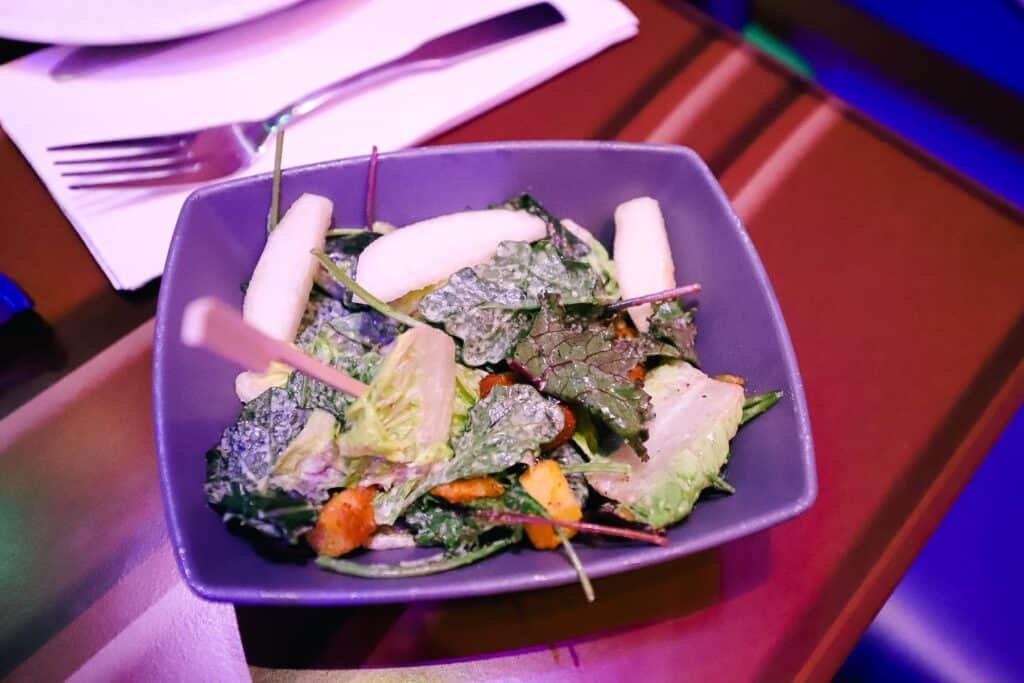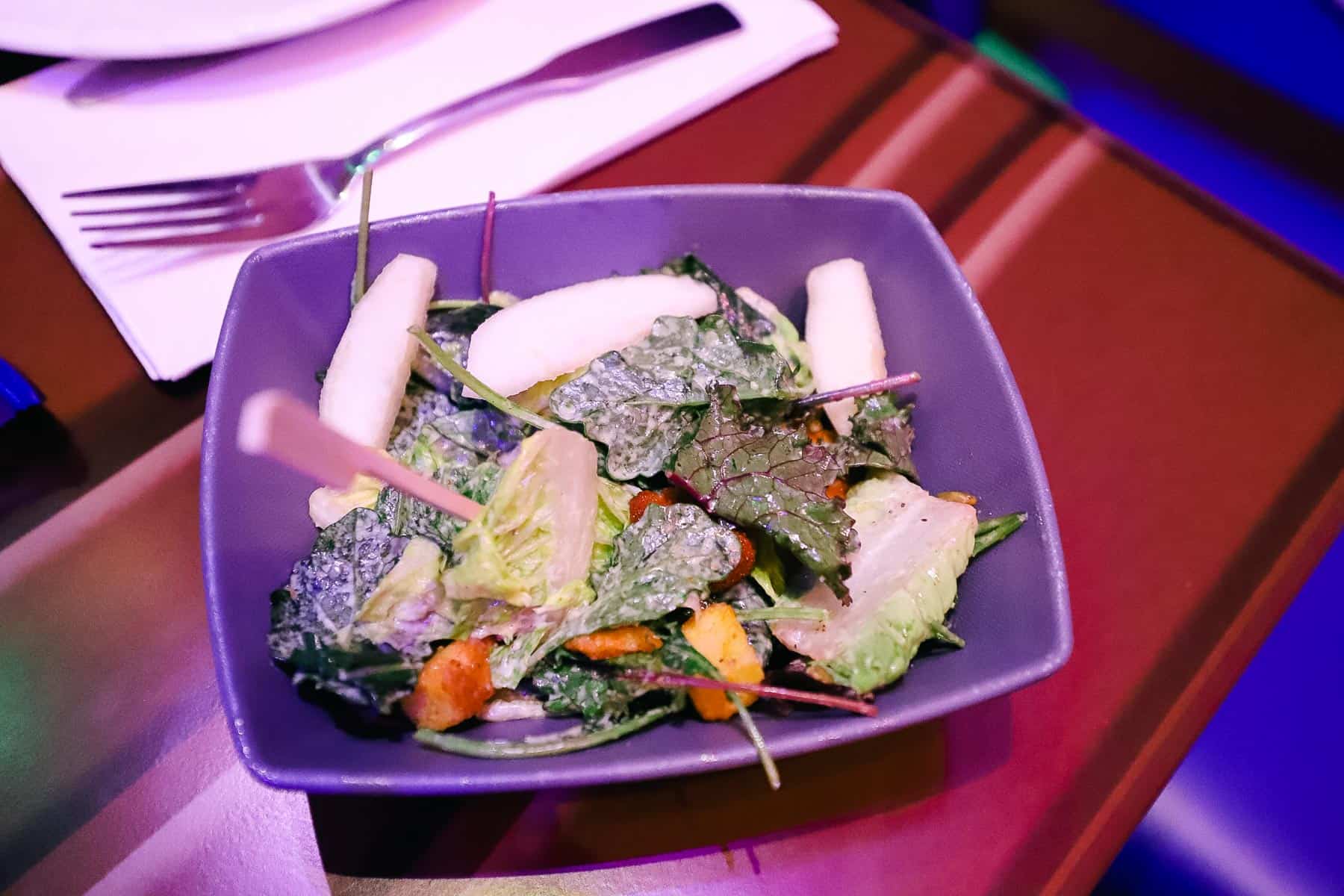 Wheezy's Watermelon Salad
Lastly, we had watermelon salad. Per the menu, this is watermelon with fresh-torn mint leaves.
Unfortunately, this is the point where I realized how wasteful this meal would end up being. As someone who regularly seeks out watermelon for a snack in the park and purchases it for my home, I know it is somewhat expensive.
Since there were six of us, we received two servings of every dish. The same dishes were repeatedly dropped off at each end of our table, which was convenient.
However, none of us wanted to start our meal with watermelon. This would have made an excellent dessert at the end of the meal. Unfortunately, our almost full servings of watermelon were removed long before we reached that point in the meal.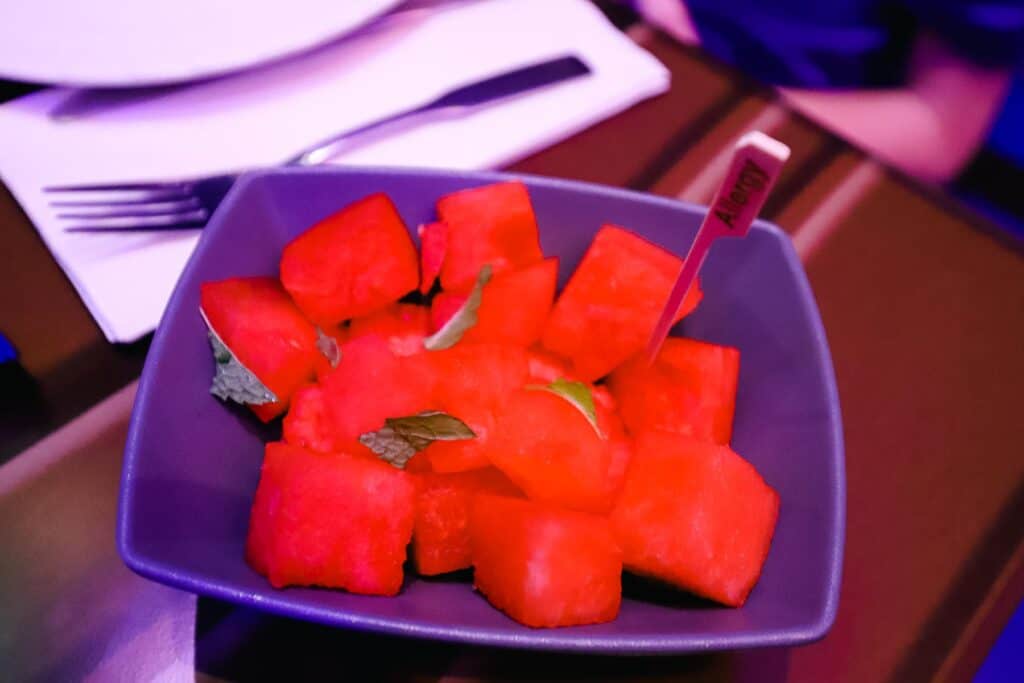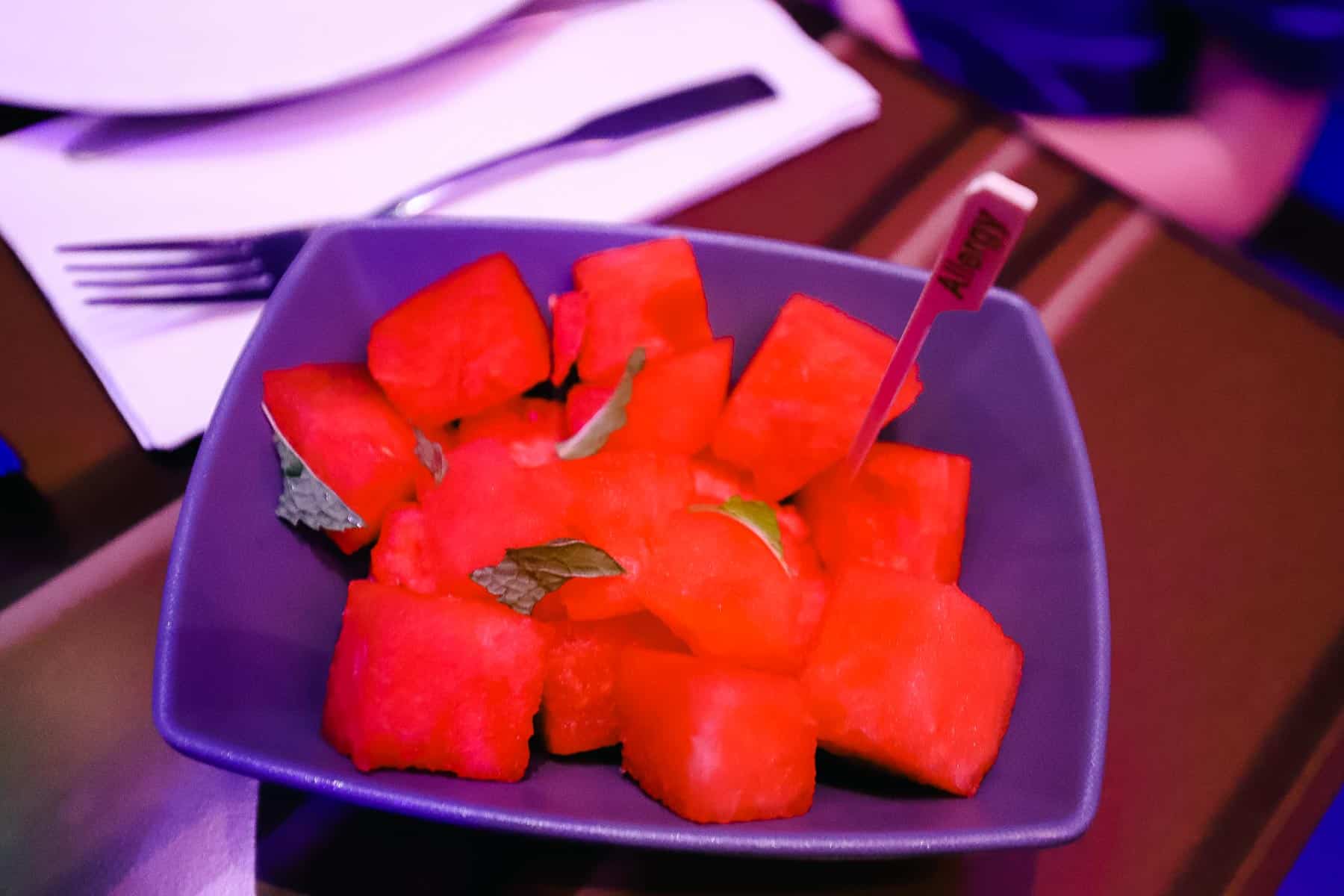 The Sides
Not long after diving into our starter course, other items began to appear. First, sides were dropped off on each end of the table. There were a total of eight side items, and we had been asked to select four upfront. Here's what we chose.
Mean Old Potato Salad
This was one item that I didn't get around to trying. It is a mayonnaise-based potato salad. So if you don't care for the white stuff, you might elect to get another side.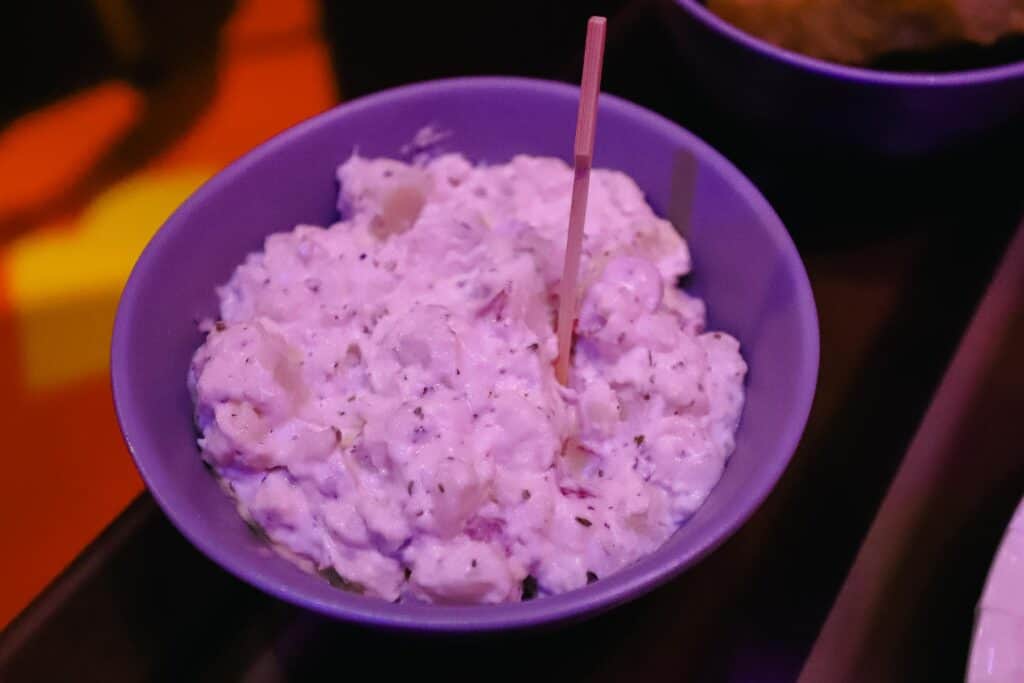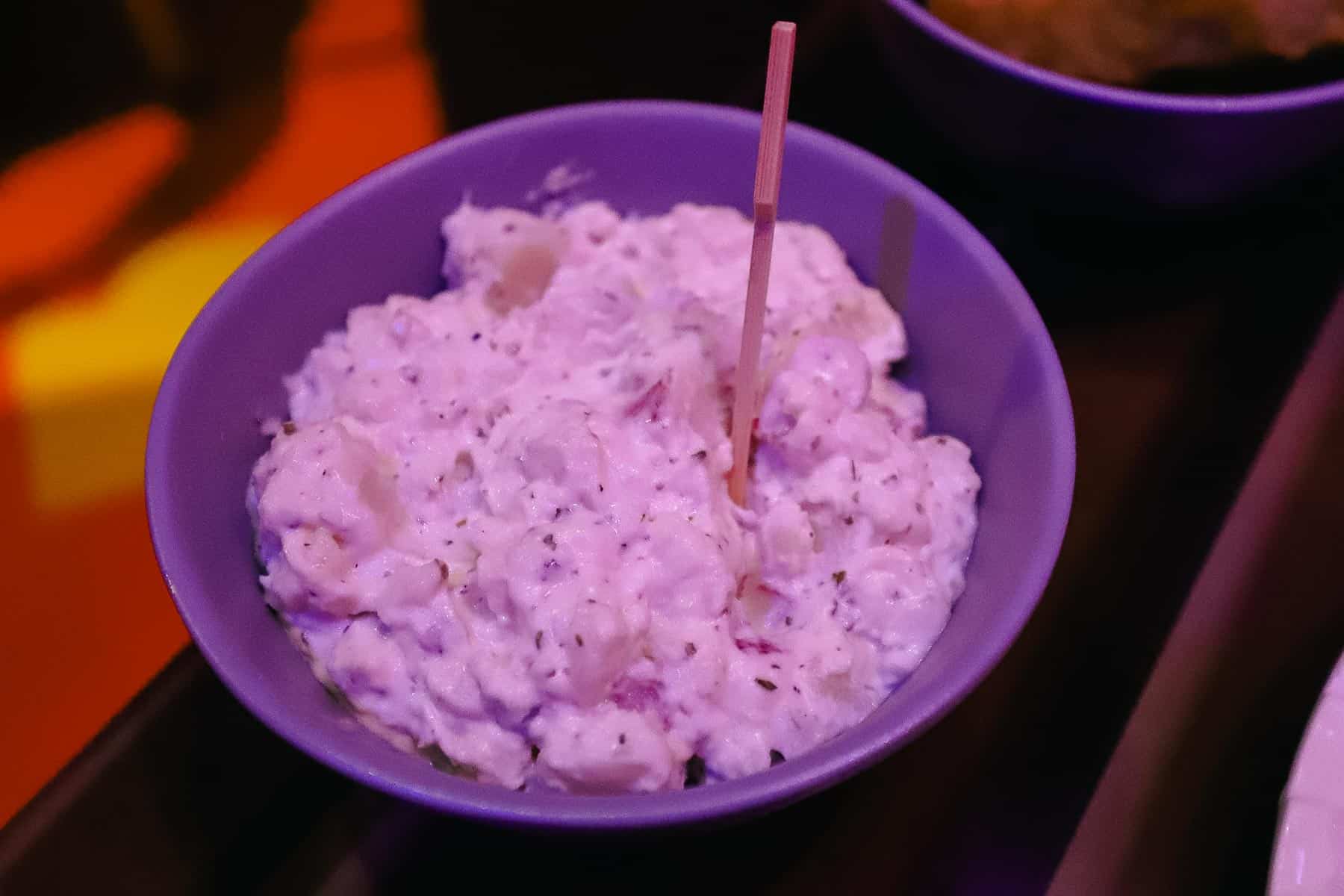 Force Field Fried Pickles
One of our favorite items of the entire meal was the fried pickles. These were long spear pickles deep-fried in a crunchy batter.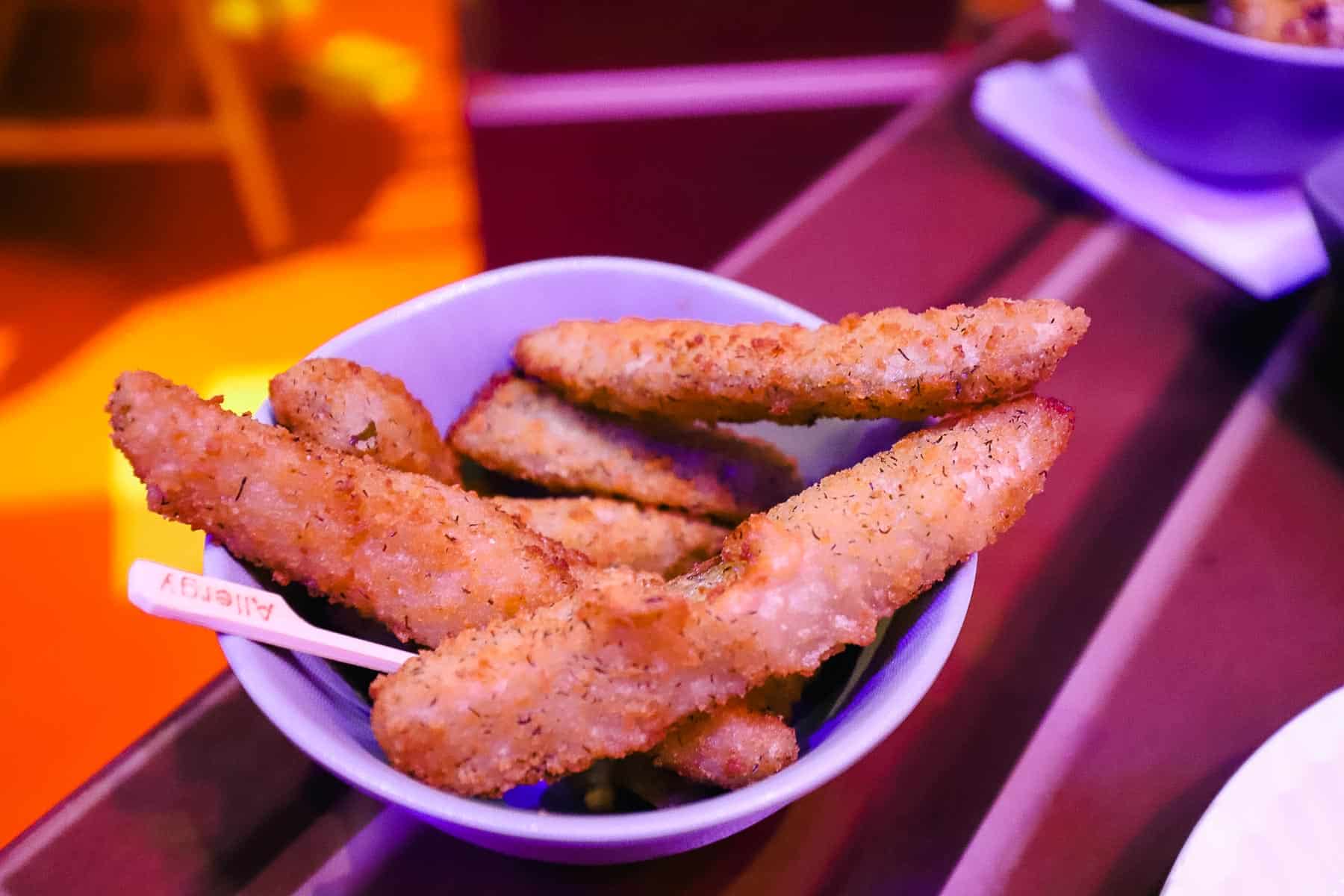 Slinky Doooooooooog's Mac & Cheese
We also had to go with Slinky Dog's mac-and-cheese side. This corkscrew pasta was intended to mimic Slinky–which was another fun idea.
With that said, we enjoyed the dish but didn't think it was anything other than average.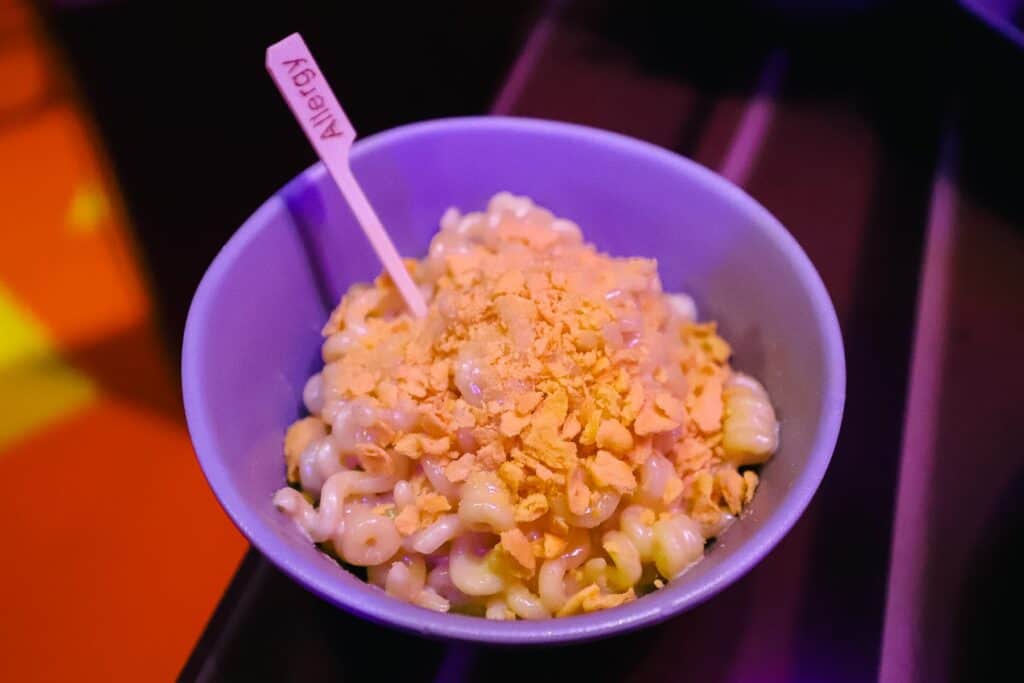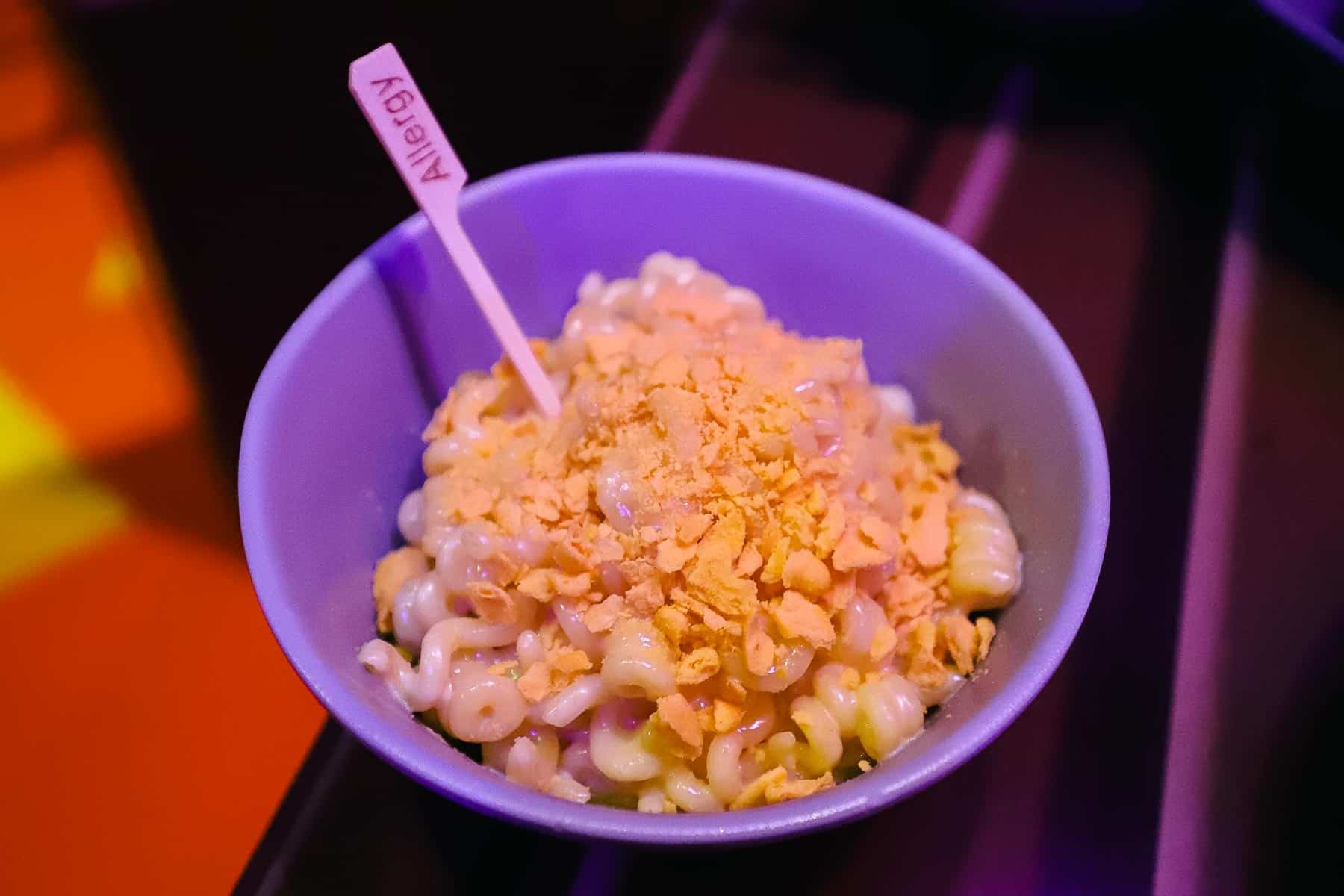 Cowpoke Corn on the Cob
Our last side was the Cowpoke corn on the cob. This item is similar to grilled street corn. Our corn was perfectly seared and topped with a buttery cheese mixture that added just the right kick of spiciness.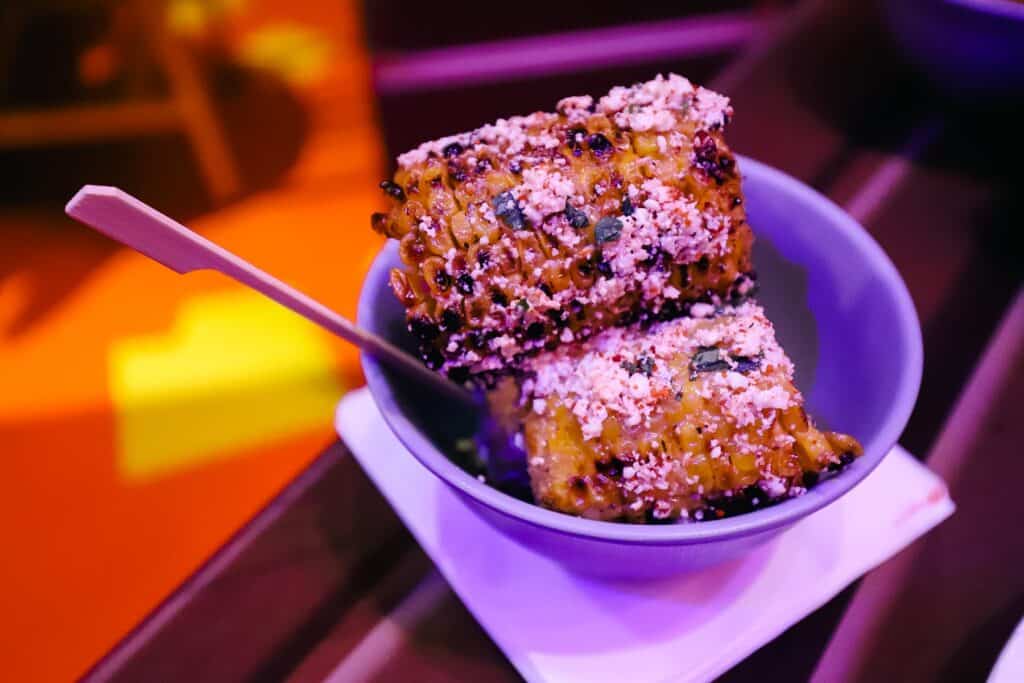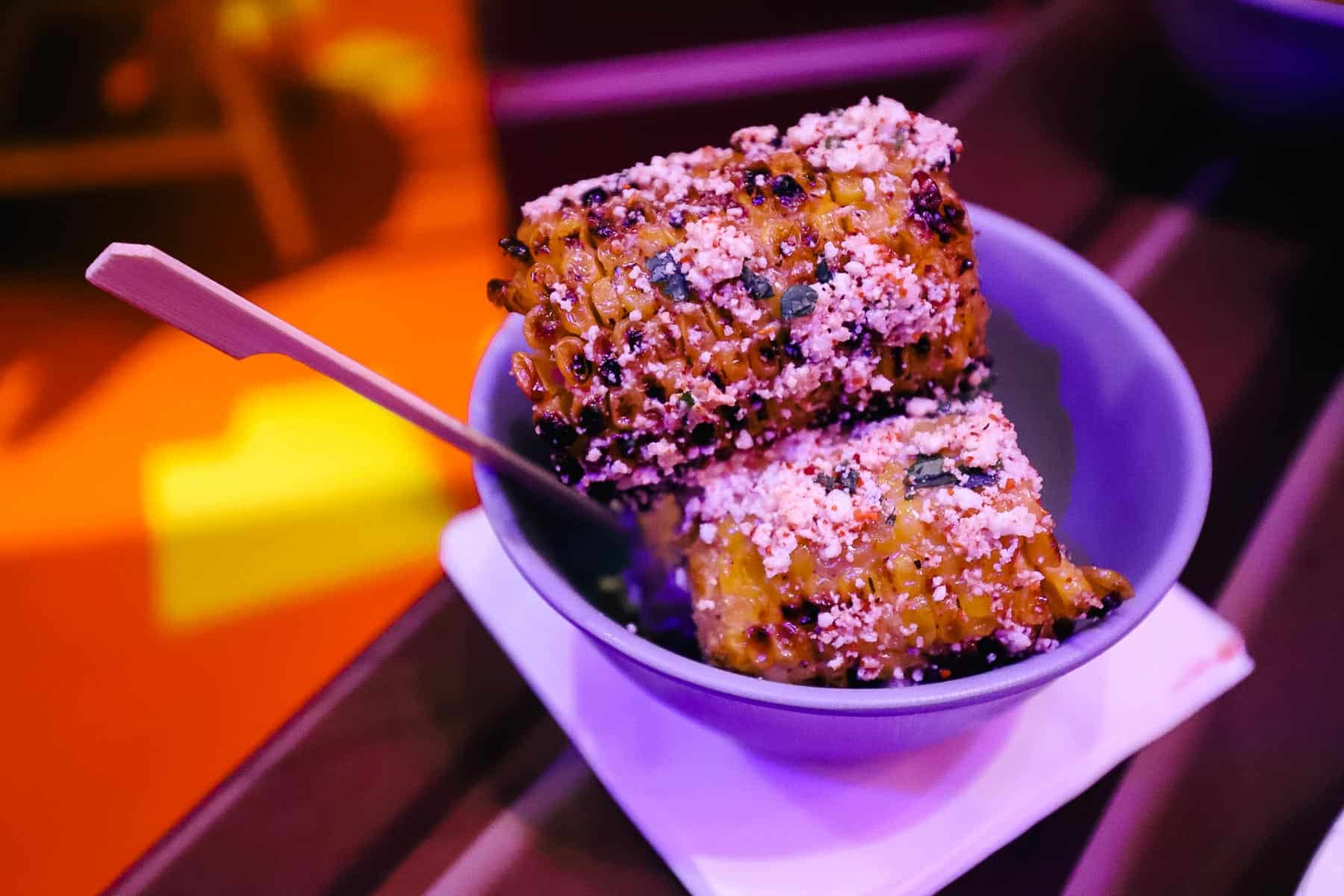 Since these sides were more than enough, we didn't try the other options. Here is a list of those other sides available at Roundup Rodeo BBQ.
The Claw! Veggie Slaw
Campfire-roasted Vegetables
Buckin' Baked Beans
The Married Spuds (loaded potato barrels)
The Meat
Now it's time to round up some chow and check out the barbecue selections. When our meat platters (x2) were plunked down in the center of the table, we all had a look of–Whoa, we can't eat all that!
Now if you're one of those people who spend five hours at the all-you-can-eat buffet offered on the weekends at your neighborhood steakhouse, this will probably be right up your alley. But as guests who had upcoming Lightning Lanes and other plans for our day, all of this food was a bit much.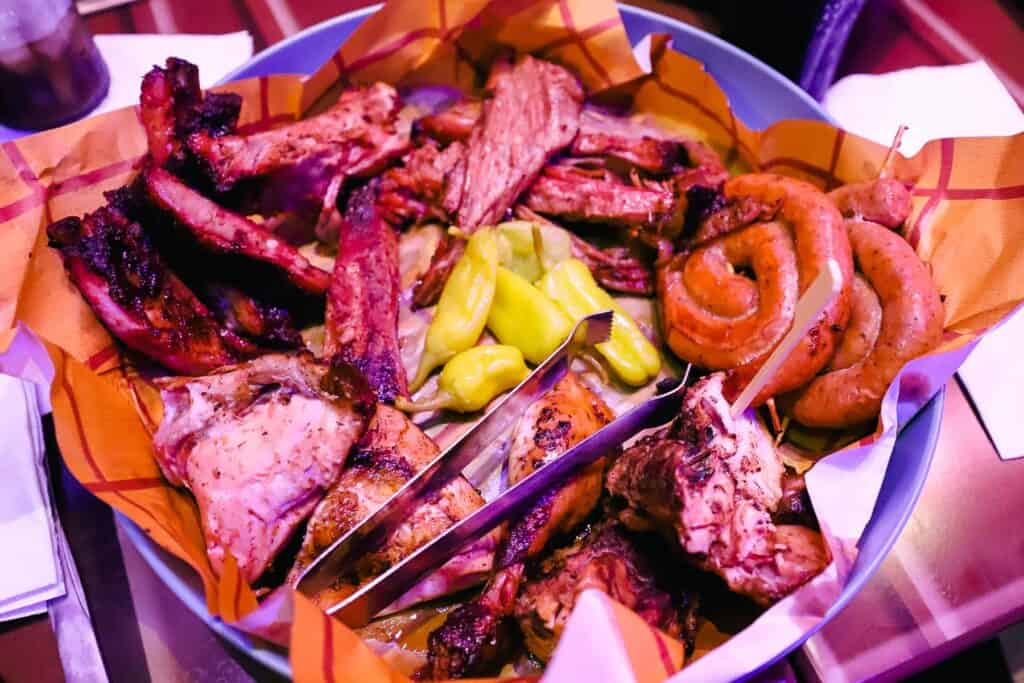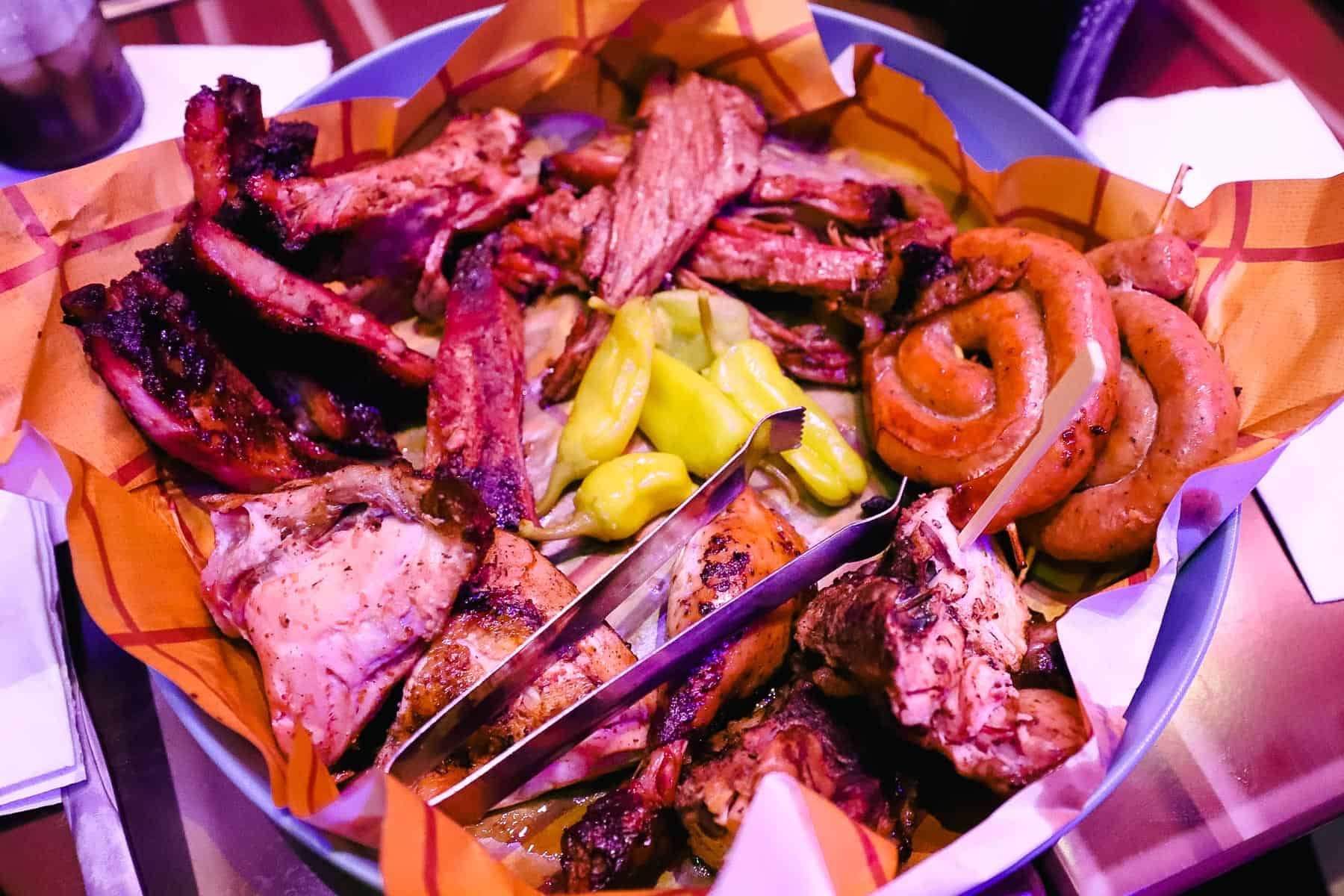 Here's what comes with the platter:
Evil Dr. Smoked Ribs
Buttercup's Beef Brisket
There's a Sausage in my Boot (Fire-grilled Pork Sausage)
BBQ Chicken
As far as the platter, we had no issues with anything we received. Our favorite items among us were the beef brisket and the grilled sausage.
Personally, I was surprised to find that I enjoyed the sausage more than anything else we tried. Well, except for those fried pickles.
The ribs were pretty basic in the overall scheme of things, and our chicken turned out well. However, BBQ chicken is one of those things that can vary greatly. So don't be surprised if you end up with an order that's a little more dry than you prefer.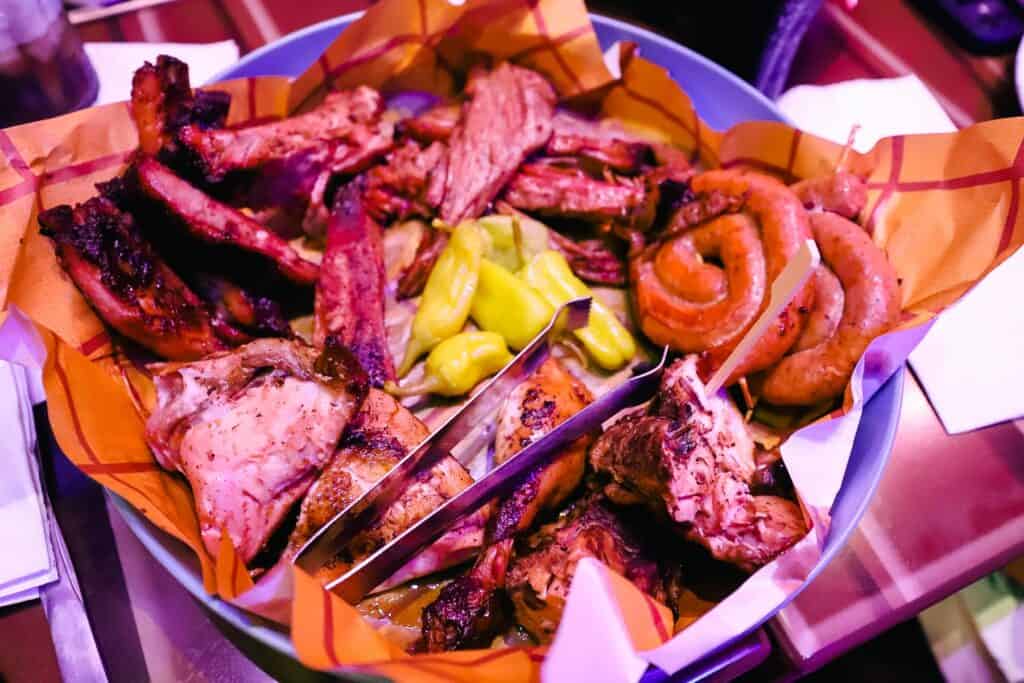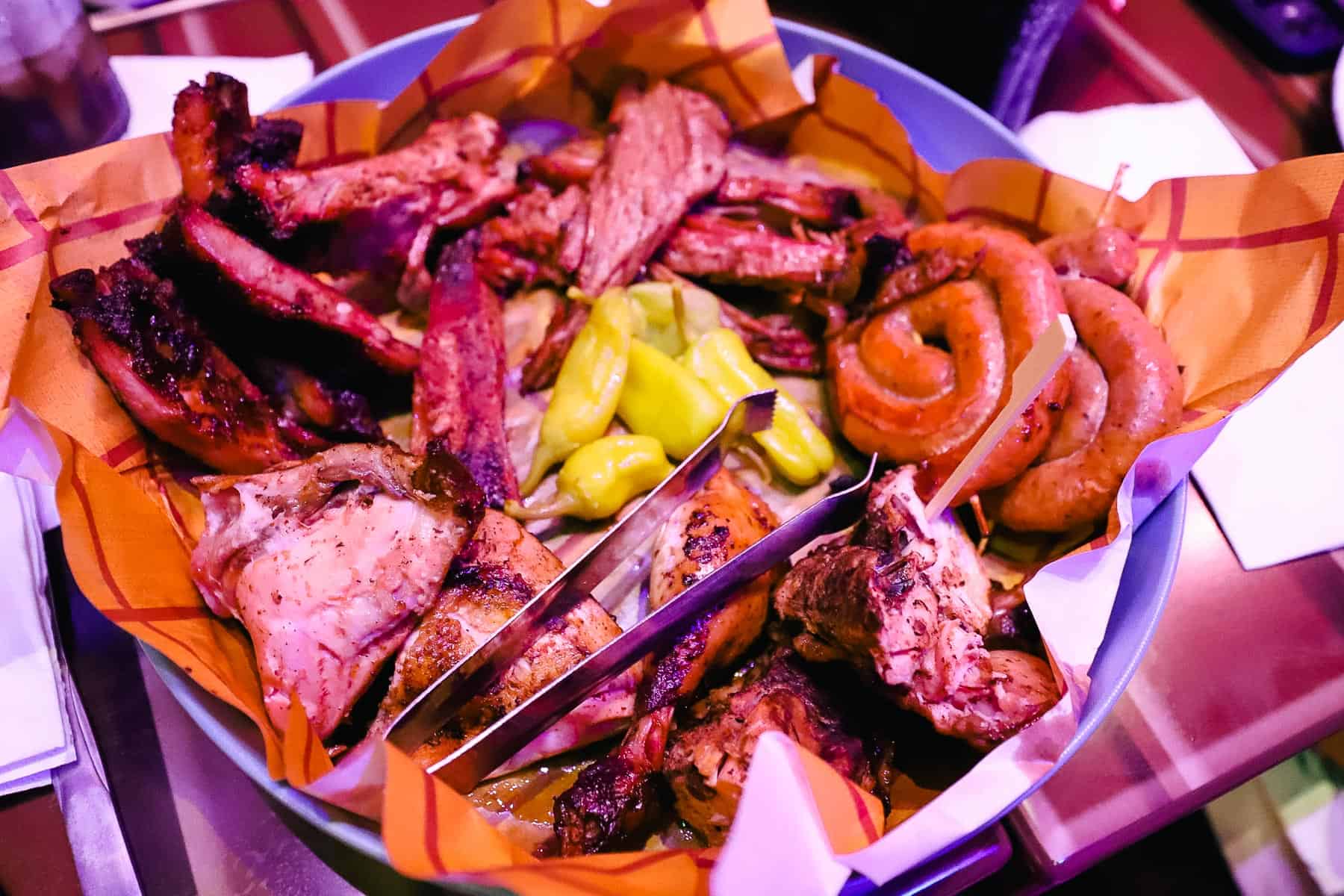 Additionally, plant-based diners are served Trixie's Plant-Based Trio, which includes the following:
Combat Carloflower (cauliflower) with Harissa Drizzle and Walnut Gremolata
Scrumptious Bratwurst
Rip Roarin' Rib Chop
You may notice that all of our items had a toothpick, indicating they were allergy-friendly. One of our diners had a tree-nut allergy, so everything was prepared to avoid his specific allergies.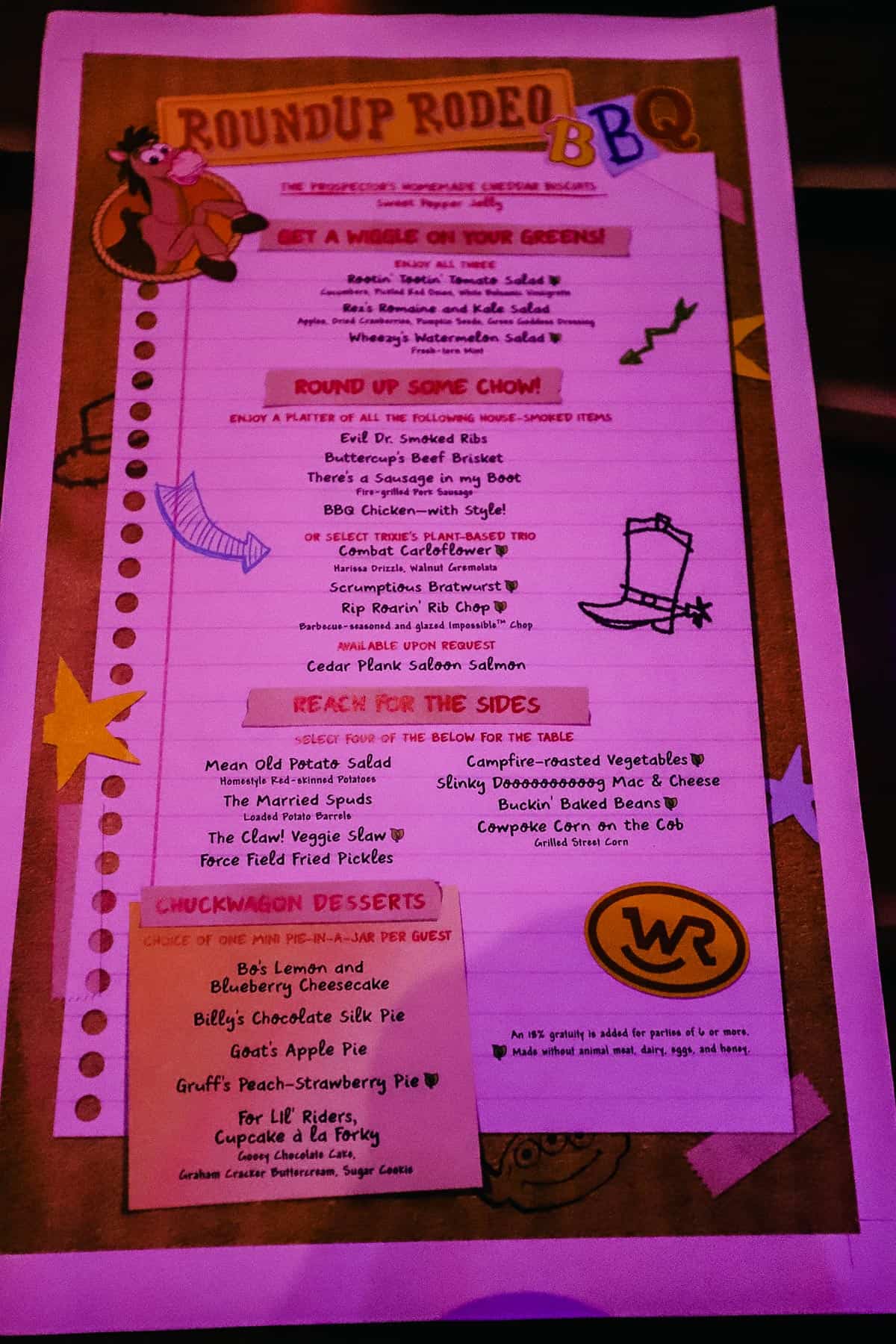 At the beginning of the meal, I noticed the menu listed cedar-plank salmon as available upon request. So I asked the server if we could request this upfront, and he said he would place an order for us.
Unfortunately, we ended up receiving three planks of salmon. As you can probably tell from the photo, the plank and glaze had caught on fire, and the salmon was overcooked.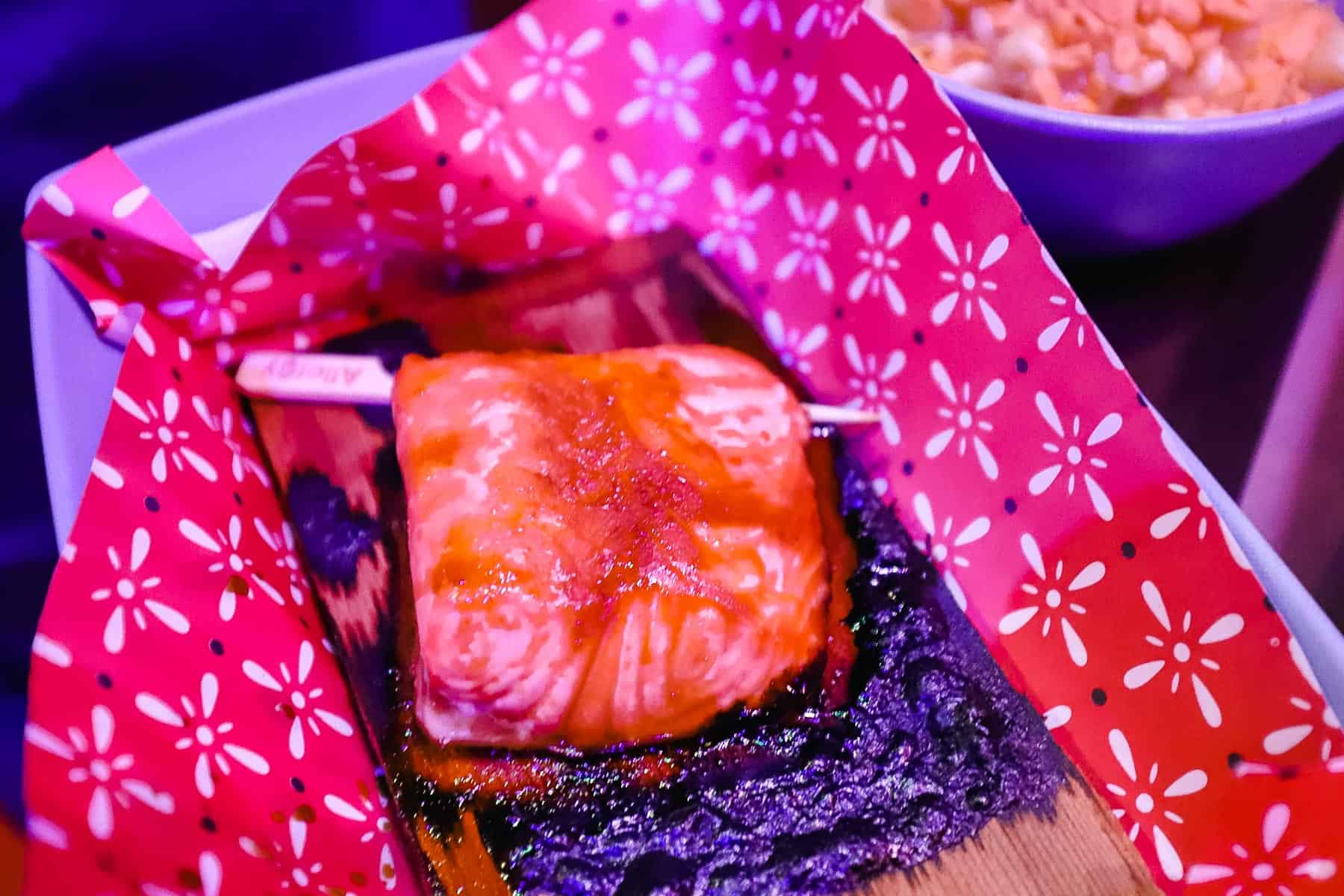 I can't say I wouldn't recommend the salmon because I hope this was a random issue where ours wasn't cooked properly. However, the server didn't mention it, and I was surprised he brought it to us in the first place.
Looking back, it was like he was trying to warn us the whole time that we were about to waste a ton of food. It was obvious that he had already witnessed a plethora of families leave behind mountains of food piles–probably enough to feed the following two sets of diners that sat at the same table.
But that's not the diner's fault, and to be fair, it's not his fault either. So it wasn't surprising, to say the least, that the theme continued into dessert. Well, almost.
The Desserts
This one photo of Forky sums up my thoughts on dessert. It was trash and not the way to end what had become such a fun meal.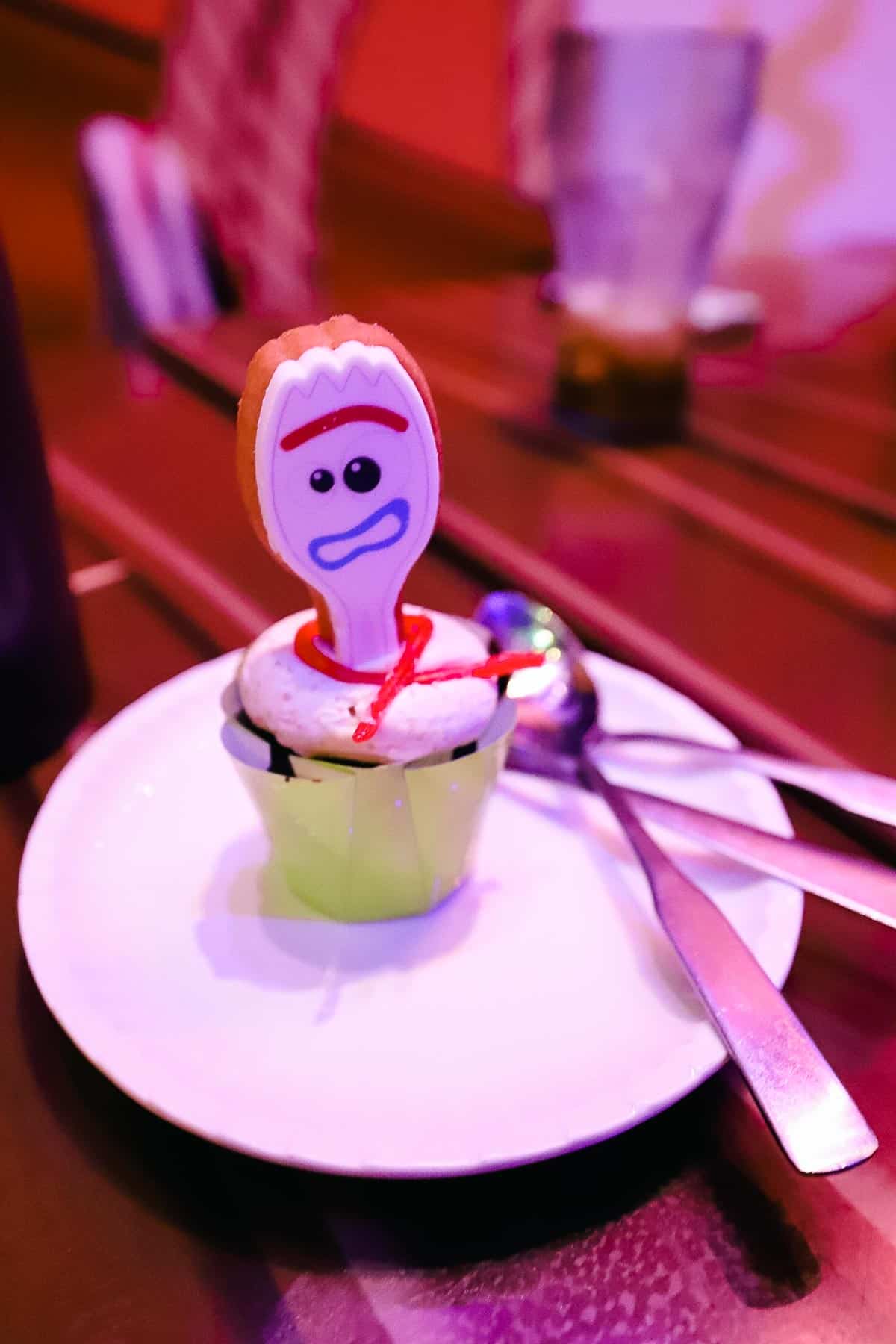 As our server began to clear the leftovers, he mentioned he would do dessert a little differently. He said he would bring one of each dessert to the table and let us all try them.
Then, if we wanted more, he would happily bring them. (AKA–He knew we wouldn't want anymore.)
For many of us, a meal like this is kind of fun. We peruse the menu beforehand and don't we always look forward to dessert?
Sometimes our entire meal might be spent wrestling between which of the two chocolate desserts we should pick. One sounds sweet and luscious, while the other looks completely decadent.
Our choices were:
Bo's Lemon and Blueberry Cheesecake
Billy's Chocolate Silk Pie
Goat's Apple Pie
Gruff's Peach-Strawberry Pie
Cupcake à la Forky
We all had an idea of what we wanted when we were told we would try them first and then decide. In hindsight, this was probably the right thing to do. After a few of us sampled the mini pie-in-a-jar style desserts, we decided we didn't want anything.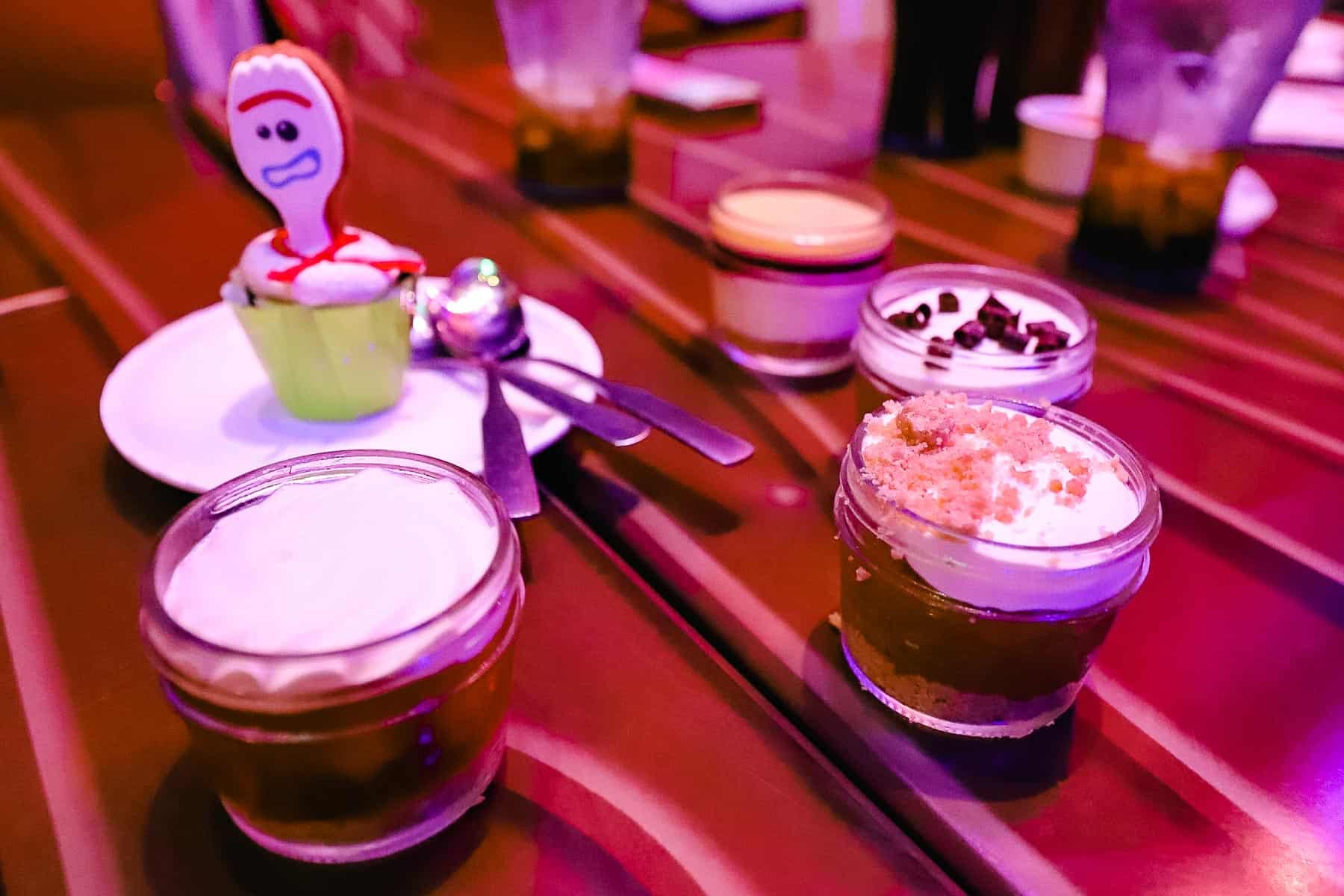 This was when I wished we still had watermelon at the table. Of course, I would never have ordered more of anything at that point. But the pie jars were generic.
Additionally, the Forky cupcake was strange. It had an iced sugar cookie Forky in the middle. As for the cupcake, it was a chocolate cake topped with buttercream. The cake part tasted stale.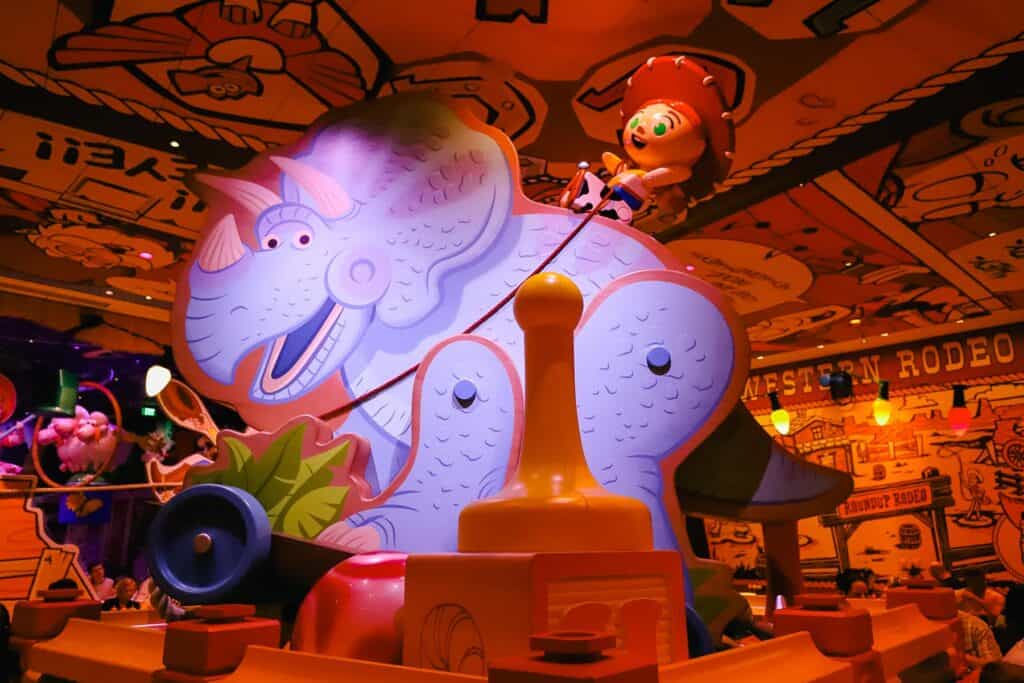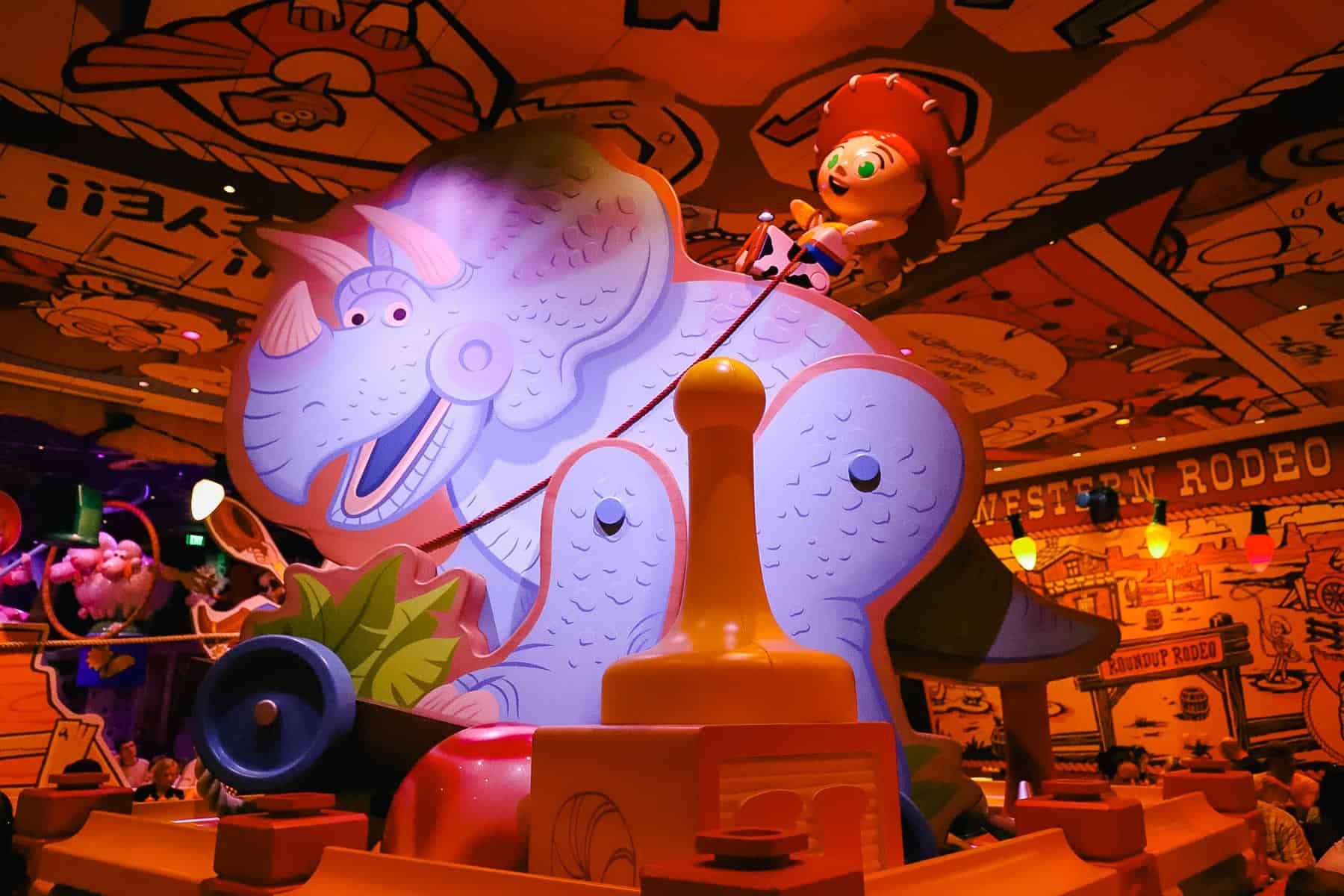 What Was Fun
Since our dessert was mediocre, it feels like this review might leave that same bad taste in your mouth. And I would hate for that to happen because we had a wonderful time.
Is Roundup Rodeo BBQ a place you'll dine every time you visit Walt Disney World? Probably, not. For me, it's a place I would revisit if something changed or if I had other friends and family visit who enjoy Toy Story.
But the crazy antics every fifteen minutes or so kept us laughing and waiting for more throughout the experience. For instance, sometimes you'll overhear Andy and his mom talking. Soon one of the toys will yell, "Andy's Coming!"
At this time, everyone in the restaurant freezes. You'll hear the door to the bedroom creak open and Andy's footsteps as he approaches.
Within a few seconds, he yells, "Found it," and races out of the room. Everyone can then resume normal behavior.
These things added a lot of heart and a uniqueness that you won't get just anywhere.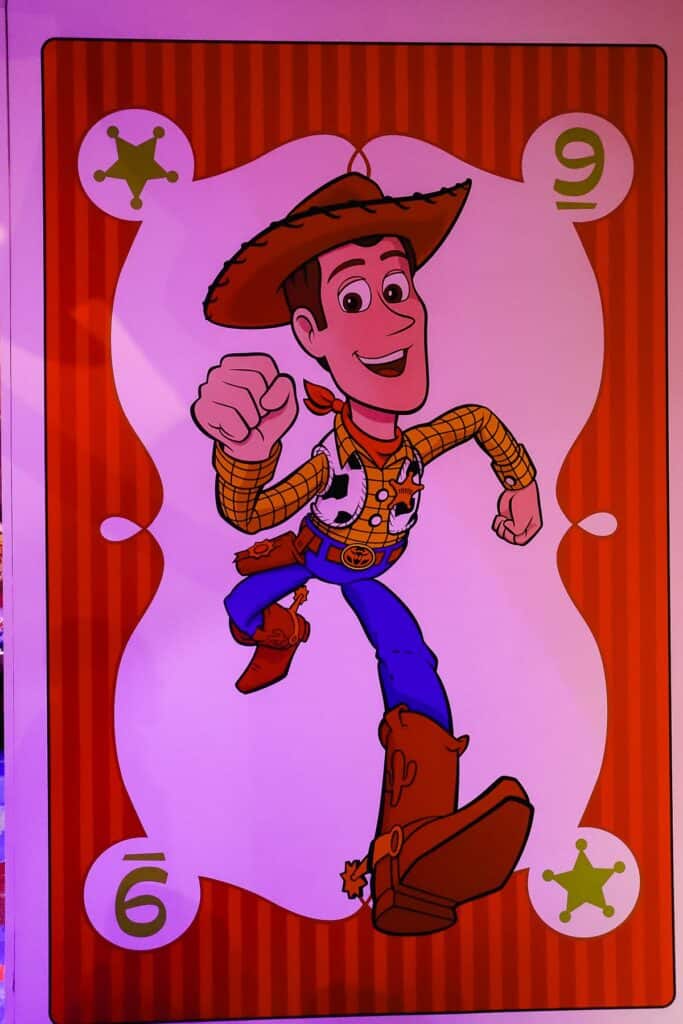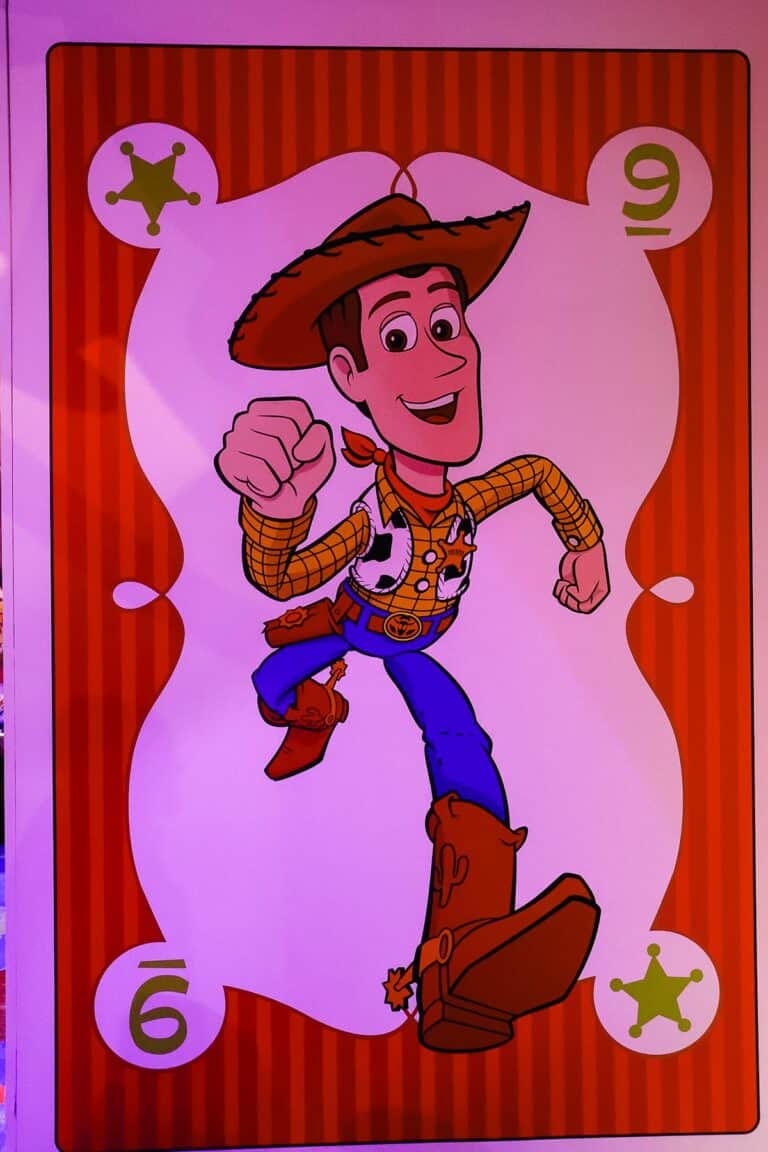 The Negatives
As you have already learned, we weren't crazy about dessert, and the massive amount of leftovers is an issue that should concern us all. I don't know about where you live, but if you drive five minutes off Walt Disney World property, you'll soon encounter a tremendous amount of people who are barely surviving.
Unfortunately, that isn't a problem we can solve here on the blog or while on vacation. But it's not one to be forgotten, either.
My other issue with Roundup Rodeo BBQ is the price. I don't think it was expensive for the amount of food we received. But I would have rather received less food and paid an agreeable price for the reduction of waste.
A small combination plate with my personal choice of two sides would have been great. That meal would have been even better if we had a small starter and dessert at the end.
Lastly, why is this not character dining? This is the one thing that baffles me. I cannot think of a better location to incorporate characters.
They could have two surprise Toy Story characters walk through the restaurant every half hour. This would drive more traffic and bring in repeat guests who wanted an opportunity to see characters.
Woody, Jessie, and Buzz literally meet outside the restaurant. Bo Peep also formerly met in the area.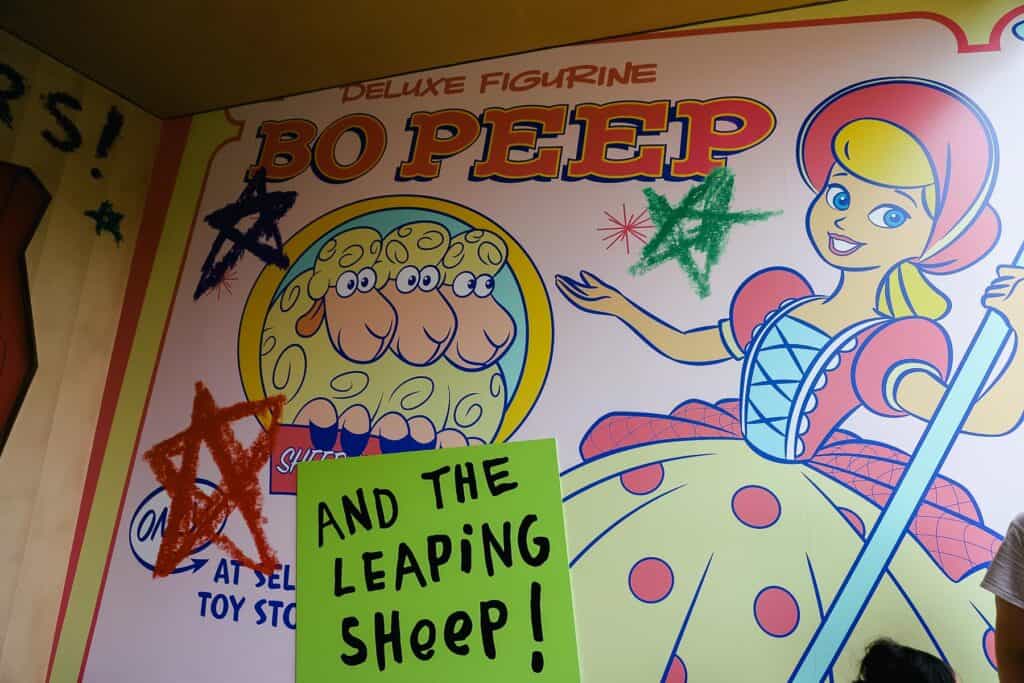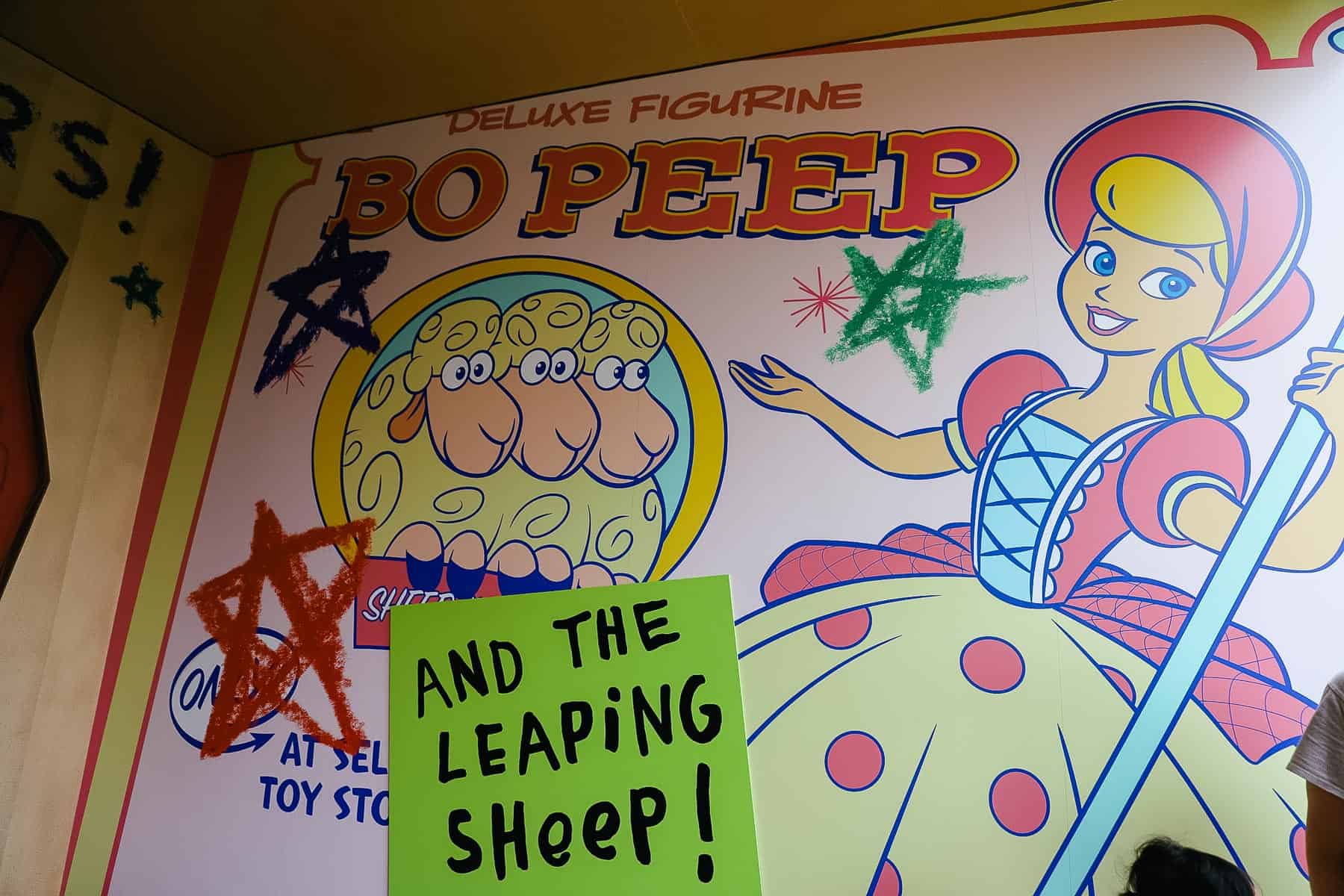 Final Thoughts
Despite a few negatives, we were impressed with this dining experience. For many of us (boy moms or not), Toy Story will always have a special place in our hearts.
If you're planning an upcoming vacation and love Toy Story, it's well worth seeking a reservation. Sure, it might be a one-and-done meal, but at least you'll know. Or you might love it and look forward to returning in the future.
Let's face it, Hollywood Studios isn't necessarily known for having stellar dining options. Of course, there's always the Hollywood Brown Derby, but that's in a class all to its own.
For more Disney Restaurant Reviews, you might enjoy the following:
In the Comments
What did you think of this review of Roundup Rodeo BBQ? Will you plan a meal here? Have you tried it yet? What did you think?