Disney's Hollywood Brown Derby Lounge Review (A Few New Menu Items)
In this article, we visit Disney's Hollywood Brown Derby Lounge to try a few new menu items.
Sometimes you need a meal that's not a quick service but not a full-on table service restaurant either. The kind of meal where you want good food without all the fuss.
There's only one place at Hollywood Studios where I know where to get that experience- Disney's Hollywood Brown Derby Lounge. It's the outdoor lounge for the Brown Derby restaurant, which is the park's signature dining location.
Now we love the Brown Derby. It's included in our list of the top signature dining restaurants at Disney World. But eating there usually requires a reservation, and I had no plans even to visit Hollywood Studios this afternoon, let alone dine there.
But after the 2:00 p.m. park hop, I found myself at Hollywood Studios. Unfortunately, I wasn't in the mood for a Ronto-Wrap, my usual grab-and-go meal. So I decided to see if I could get a seat on the outdoor patio at the Brown Derby Lounge.
As fate would have it, the long line near the entrance was a line for the bar, and plenty of seats were available. So I didn't have to wait.
Then my server brought the menu for the lounge and the Hollywood Brown Derby Restaurant. I was delighted to see a few new menu options since we had last dined at the restaurant back in the Fall.
Related: Disney's Hollywood Brown Derby Restaurant Review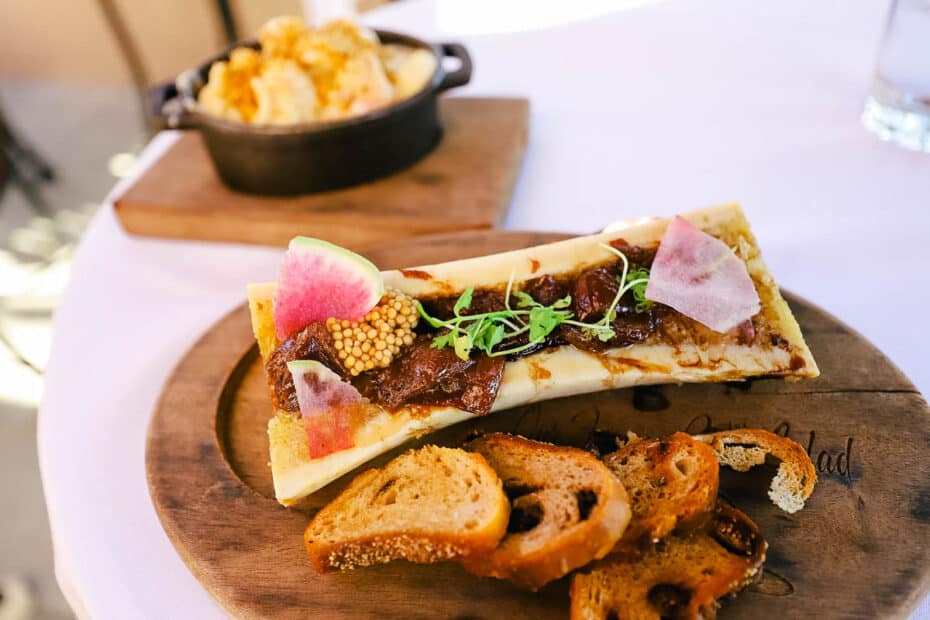 So after perusing the menu and consulting the server, I decided to go with one appetizer and another item listed as an enhancement. This was an excellent idea and a great way to try two items instead of ordering a full entree.
Per my server's recommendation, I went with the roasted bone marrow. The menu describes the dish as "Braised Beef, Pickled Mustard Seeds, Fig Bread Crostini."
At first, I was hesitant because my experience with bone marrow is limited. What I've tried has always tasted great, but there's never been much sustenance.
Thankfully, this bone marrow came with a nice amount of crostini and was topped with braised beef and a few petite onions. The watermelon radish was also a nice touch.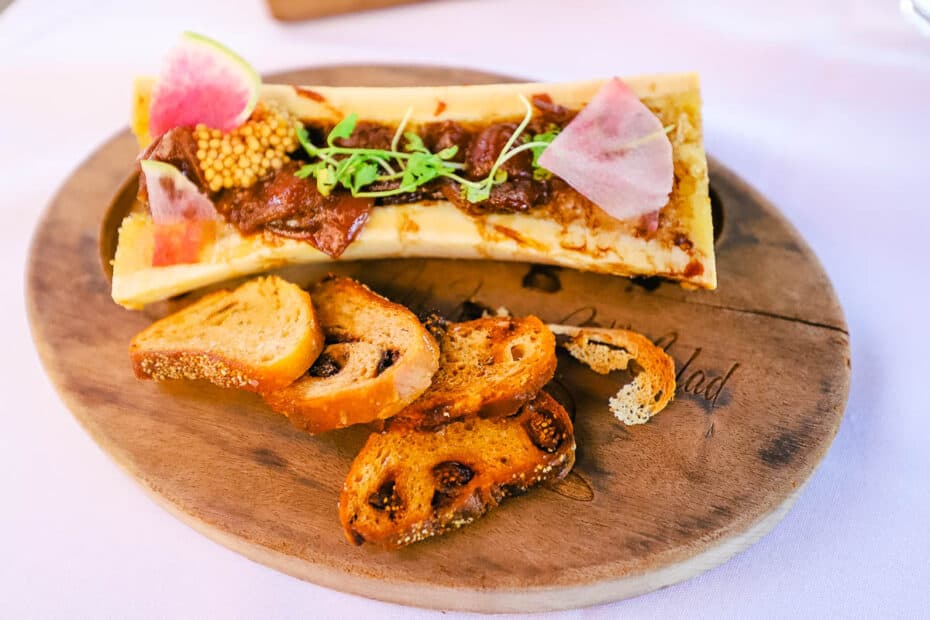 If you ordered this as a shareable appetizer, it would work. However, you would want to each order something else because it wouldn't go a long way. Nevertheless, it was delicious.
But what was the most surprising was the shrimp macaroni and cheese, described as "Herbed Breadcrumbs, Smoked Gouda Sauce." I don't know if I got the luck of the draw or what. But my mac and cheese had at least eight quality pieces of shrimp.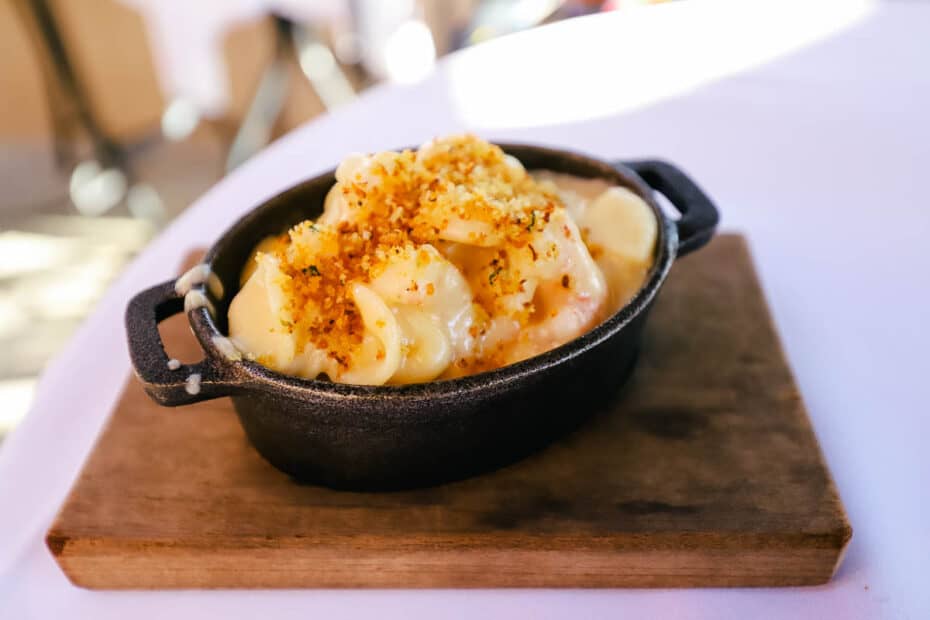 This was the perfect comfort food dish, and I enjoyed every single bite. As the day went on, there were several times when I caught myself thinking, wow, lunch was really good today.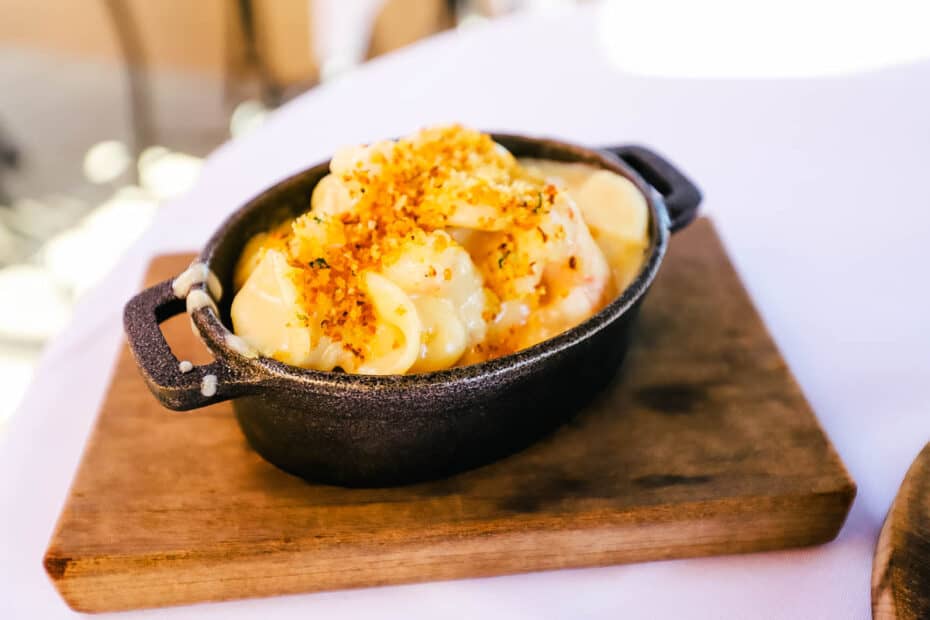 And I think that's how most meals at Walt Disney World should make you feel. This meal was by far better than most quick-service burgers and chicken nuggets.
However, given the quality, it was more expensive. But for approximately $40.00 for this meal and a soda, I was happy with my choice.
A pleasant breeze was also blowing, and the temperature was in the low 80s. So it was one of those perfect afternoons for a late al fresco lunch.
If you're ever at Hollywood Studios and looking for a similar experience, give the Brown Derby Lounge a try. It's hard to go wrong here.
For more lounge reviews, you might enjoy the following:
Or you can preview our entire list of Disney Restaurant Reviews.
In the Comments
What do you think about this review of the Brown Derby Lounge? Does either of these items look appealing?