Toy Story Mania Ride Review
Toy Story Mania is a classic attraction at Hollywood Studios in Walt Disney World. If you have visited in the past, you have probably already experienced this classic attraction.
The Toy Story Mania ride features 4D screens and a gentle spin. It also offers the opportunity to shoot at an interactive moving target.
Additionally, Toy Story Mania has no height requirement. This review will cover the need-to-know details for the ride, along with a few other details.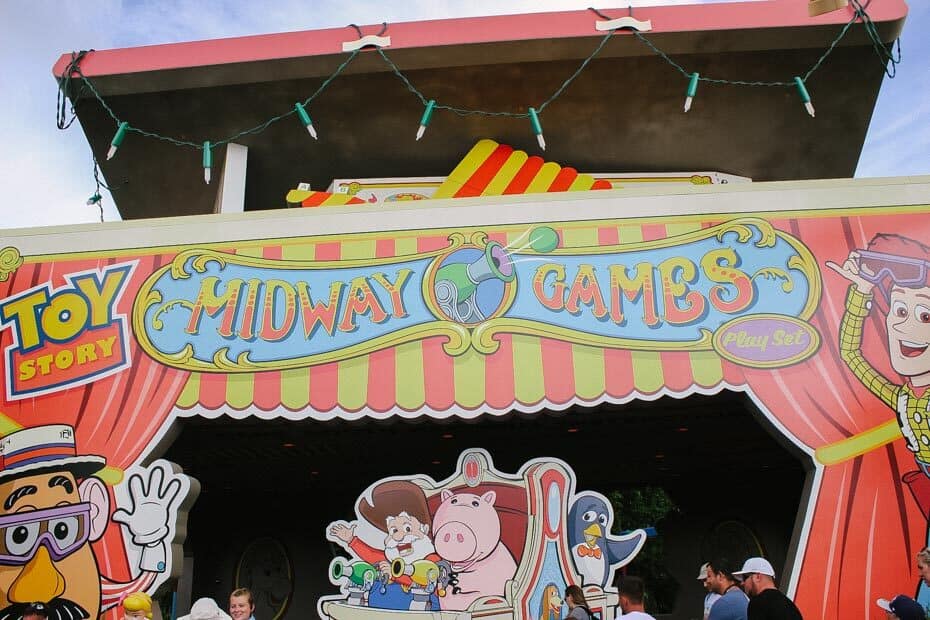 Below is a quick reference chart to easily reference details that might be important to your group.
Toy Story Mania
Hollywood Studios Attractions

Location:

Toy Story Land

Disney Height Requirement:

Any Height

Disney Genie+ Eligible:

Yes

Ride Type:

Shooting at Targets, Scoring

Seats Per Vehicle:

4 in a car, 2 per side

Rider Switch at Disney World:

None

Good For:

Everyone

Scare Factor:

None

Must-Do List:

High Priority

Perfect For:

Toy Story Fans

Special Mention:

Check out this article for tips on
achieving a high score.
Toy Story Mania Ride Review
Toy Story Mania re-opened with a new ride entrance when Toy Story Land opened a few years ago. The former attraction's entrance was located in Pixar Place. Unfortunately, that area closed to become a backstage portion of the park.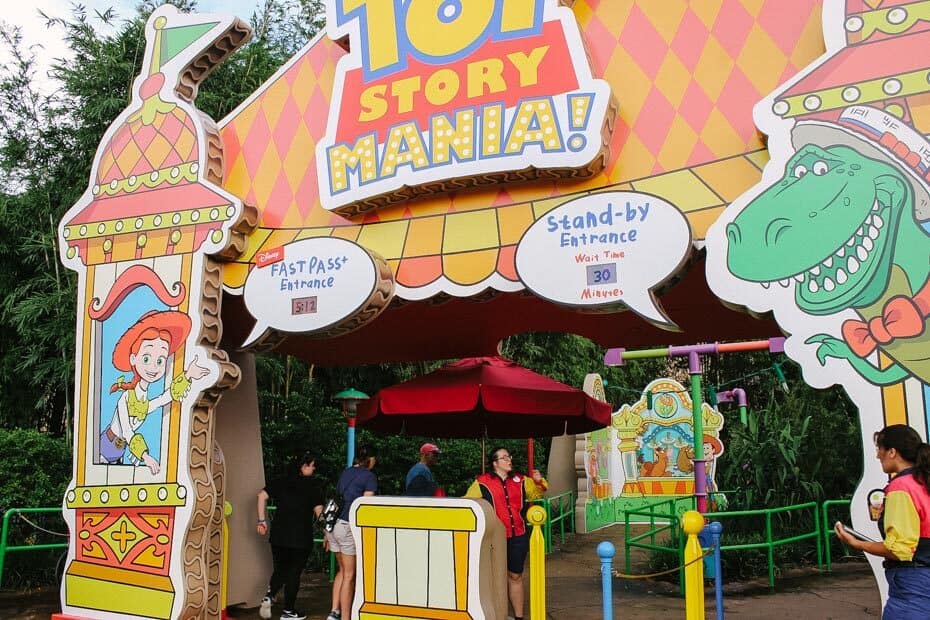 Toy Story Mania has always been a popular ride and meets to long wait times throughout the day.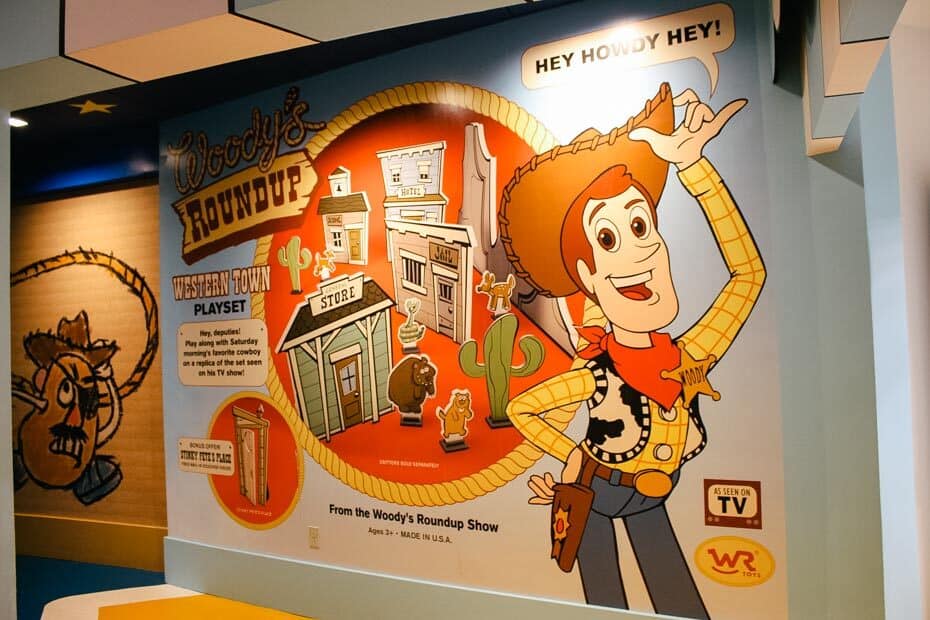 I recommend riding in the early mornings or later evenings for less-than-average wait times. The majority of the queue is indoors, making it a nice place to escape in the event of rain. However, if it's still raining after you exit, there are no other attractions with shelter in the nearby area.
The best time to ride Toy Story Mania is usually after 8:00 p.m. The line tends to clear out significantly as people prepare for evening entertainment.
When you get close to the ride load area, you'll pick up a pair of 3D glasses to wear for this attraction. They enable you to see the dimensional elements projected on each gaming screen. Toy Story Mania has five different game screens:
Hamm & Eggs
Rex & Trixie's Dino Darts
Green Army Men Shoot Camp
Buzz Lightyear's Flying Tossers
Woody's Rootin' Tootin' Shootin' Gallery
During each game, you'll have the opportunity to beat your opponent and other riders in the car. Potentially, you might reach the highest score of the hour, day, or month. Those items are displayed toward the end when you are waiting to unload.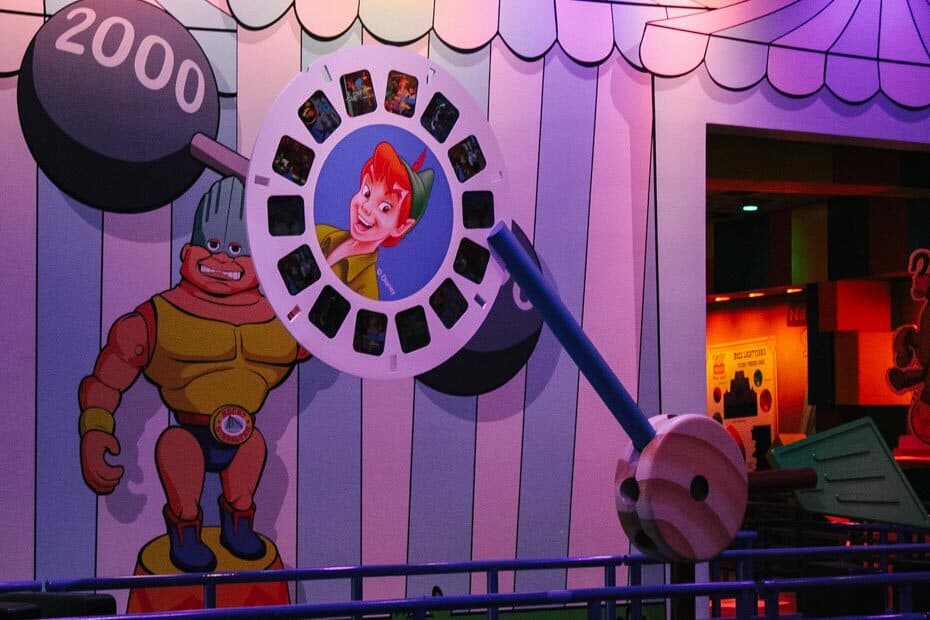 Toy Story Mania is a highly competitive game. Therefore, I always recommend looking up a few tips so you can show off your skills and kick your teenager's rear end.
Imagine the look on their face now. The whole trip will be worth it! You'll have bragging rights for months, possibly years to come.
You might also like to view the complete list of attractions at Hollywood Studios or check out these individual attraction reviews:
If you are planning on spending several days at Hollywood Studios or Epcot on your next Walt Disney World vacation, you might consider staying at one of the Skyliner Resorts. Those include:
Or you can browse our entire list of Disney World Resort Reviews. Some of our favorites include planning a split stay and the best off-site hotels near Disney World.
Do you have plans to experience Toy Story Mania on your next visit to Hollywood Studios? Leave a comment and share your thoughts below.