How to Master a Split Stay at Walt Disney World (The Complete Guide)
Have you ever thought about planning a split stay for your Disney World vacation? Or does it already sound like I'm speaking a foreign language?
If you are wondering what a split stay is, you've come to the right place. A split stay at Disney World is when you spend the first portion of your vacation at a specific resort.
After that, you then transfer to a second resort for the remainder of your trip.
Sound crazy? You might be surprised to find that split stays are actually not so far-fetched. Many guests plan these types of vacations for a variety of reasons.
This article will discuss all the ins and outs of split stays at Disney World. We'll look at a few logistics you'll want to consider when making our plans, and I'll share a few tips to help you make the most of your split stay.
This article was updated on April 14, 2022.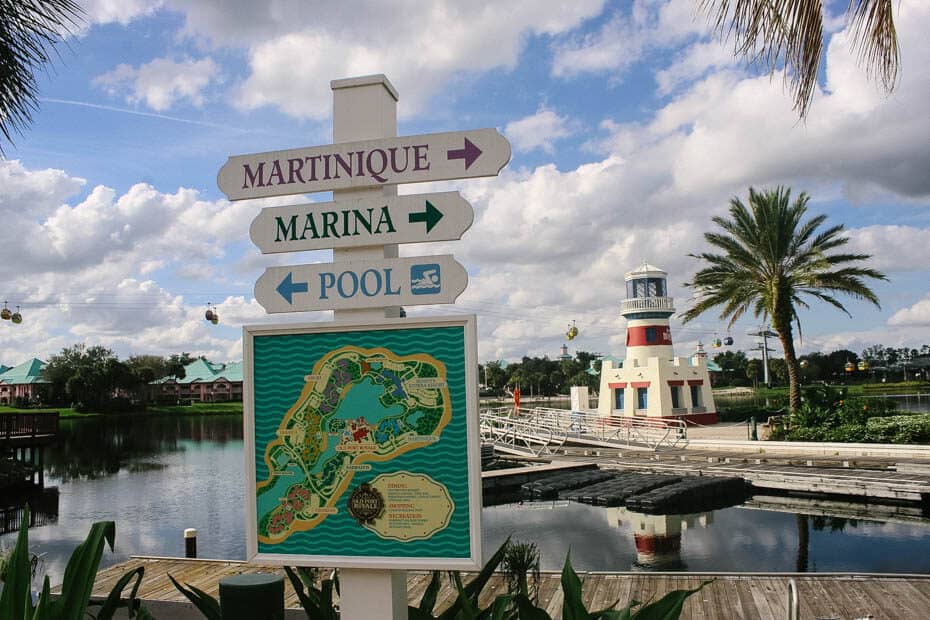 Disney World Split Stays
There are plenty of reasons you might want to plan a split stay at Disney World. For starters, a split stay can help balance your vacation budget.
Anyone sifting through all of our Disney World Hotel reviews knows that it's a tough decision trying to decide on a resort.
Often, you'll find a resort and know it's the perfect fit for your family, only to experience sticker shock by the expensive price tag. After that initial sticker shock wears off, you probably realize a full week here doesn't fit your vacation budget.
This is where a split stay can help balance your budget. Combining part of your stay at a higher-priced resort with the other portion at a more budget-friendly hotel will help reduce the overall cost.
For instance, you might travel to Disney World from one Sunday through the next Sunday. In this case, you will more than likely be better off reserving the higher-priced resort toward the beginning of your trip.
Then reserve the cheaper resort room toward the end of your trip.
Rates at the Disney hotels are typically lower on Sundays through Wednesdays and increase on Thursdays through Saturdays. An experienced Disney travel agent will be able to help you plan these dates to meet your budget best.
The next reason you might plan a split stay is due to the lack of room availability at your desired resort. When checking rates, a travel agent might come back and say your resort is only available for the last four days of your 8-day trip.
If you have your heart set on staying at a specific resort, you are going to want to plan a split stay in this instance. That way you'll still get to spend time at your desired resort.
Another reason you might plan a split stay is solely due to location. As they say in real estate, location is the number one factor.
And other than budget, location is my top reason for selecting a Disney World Resort.
The location of your resort can save you so much time, especially if you are planning a split stay. For example, you might plan a few days at Disney's Animal Kingdom Lodge and have your days scheduled for the Animal Kingdom theme park during your stay.
(Don't forget to take advantage of the many different Animal Kingdom restaurants during your stay. And don't sleep on Sanaa either!)
After the initial 3-4 days at the Lodge, you might elect to move over to either the Epcot Resorts Area or one of the Magic Kingdom Resorts. Then you can plan theme park days and dining reservations around that hotel's location.
While there are many reasons you might decide to plan a split stay at Disney World, these are some of the top ones. Now let's take a closer look at the different types before we go over how they work in detail.
Types of Split Stays at Disney World
There are three main types of split stays at Disney World. They are as follows:
Off-Site to On-Site
On-Site to Off-Site
On-Site to On-Site
So while these are all fairly easy to comprehend, I'll give you a quick overview. The first option, off-site to on-site, is probably the most common for people driving into the Orlando area.
In fact, we do this nearly every time we have a week's stay planned on property.
Most guests will want to take full advantage of their resort on check-in day. Personally, I never want to pay for a full night when we are coming into town late in the evening.
So if you're driving down to central Florida, you're probably looking at a full day or longer in your car. That probably means arriving at 5:00 p.m. or later.
Under these circumstances, I recommend adding an extra day to your trip and spending the first night at an off-property hotel.
Related: The Best Off-Site Hotels near Disney World
My favorite budget-friendly resort for this scenario sits practically on Disney property. It's the Springhill Suites Marriott located at Flamingo Crossings. You can read more about it in the Best Marriott Hotels Near Disney review.
When we spend the initial night off-property, we like to make things as simple as possible. First, we pack a small, separate suitcase with all of our essential items and a change of clothes for the next day.
Then we leave the rest of our luggage in the car overnight. In the hotter months, we usually bring everything in with a bell cart. However, we only unpack the separate suitcase for that one evening.
As for the next day, Disney will usually allow you to check in to your room earlier based on availability. So the next morning, you can enjoy breakfast and pick up any items you might need for the week at a local grocery store.
Then you can head over to your Disney hotel. (When you do online check-in, make sure to add an anticipated early arrival time.)
If your room isn't ready, check your luggage with bell services and spend the day at the resort, Disney Springs, or even head on out to the parks if you like. Disney will send you a room-ready text when your room becomes available.
After returning, you will need to call from your room to have bell services deliver your luggage. So make sure to do that as soon as you get back to your room. It can take up to an hour during busier times.
Tip: If you decide to make this initial day a resort day where you spend time at the pool, you'll want to pack a separate back with your swimsuits. That way if your room isn't ready, you'll have quick access to anything you might need for the pool.
Another type of split stay is when you visit an on-property hotel first and then move off-property for the remainder of your trip. This is fairly common for people who might want to participate in some of the other activities Orlando has to offer.
I definitely recommend mindful packing and unpacking between the resorts of your choice for this type of trip. You'll more than likely want to break up your trip in the middle with a full resort day to relax and get caught up on laundry.
Doing laundry while on vacation also means you don't have to bring near as much with you. Take it from me; the lesser the luggage, the better.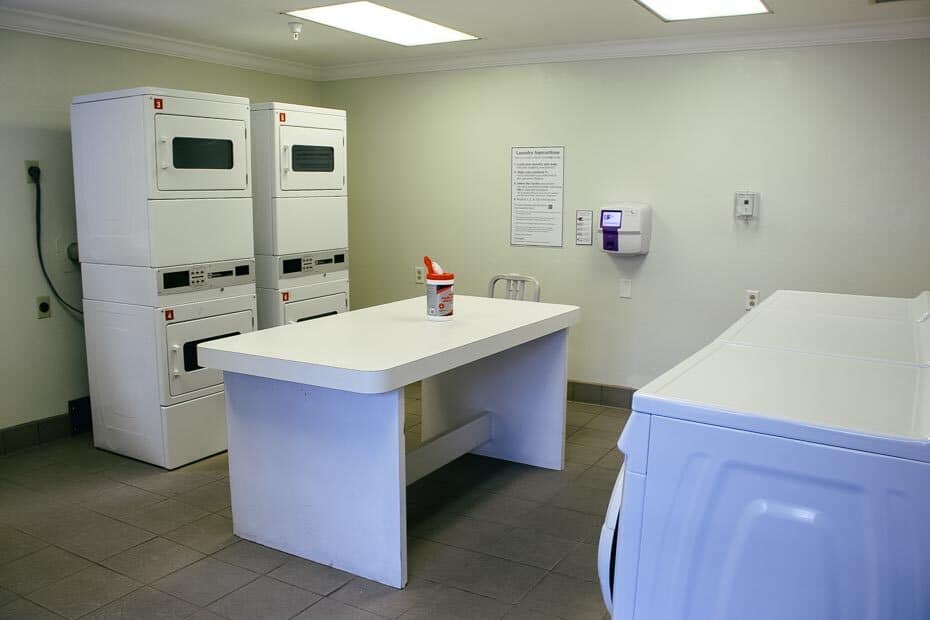 The last type of split stay is the one we are most focused on, and that's moving from one Disney World Resort to the next. Thankfully, Disney does a good job of making this kind of stay simple.
It's so much fun to enjoy the offerings around and nearby the resorts where you are staying. Changing that up mid-vacation, can often make your stay feel longer.
It's always nice to have that feeling that you're getting the most out of your vacation.
Here's how it all works.
How Does a Split Stay Work?
When booking a split stay, it's basically the same as having two different resort reservations. However, your travel agent will note on your reservation that this is part of a continued stay. Therefore, the transition between resorts should be seamless.
Related: Benefits of Using a Travel Agent for Disney
On the morning of your first checkout day, you'll need to have bell services pick up your luggage from your room. Let them know that you are transferring to another resort, and they will take care of the rest.
Make sure to have bell services note if you have any items that need to be refrigerated, and they will take care of those for you as well.
You can continue with your day as planned. When you check into your new resort, you'll need to call bell services from your room, and they will bring your luggage.
It's really that simple. You can expect your luggage to be available at some point in the afternoon. If you have any medications you'll need during the day, you'll probably want to keep those with you.
One other thing I wanted to mention is the Disney dining plan. Unfortunately, the dining plan hasn't returned to date.
But when it was previously available, it expired at midnight on the last day of your stay.
Therefore on a split stay, if you opted to add dining plans to each stay, they would expire on the final night of each individual stay.
So make sure to use all of your credits per stay because any extra credits wouldn't roll over from one stay to the next. I'll come back and update you eventually when the dining plan returns.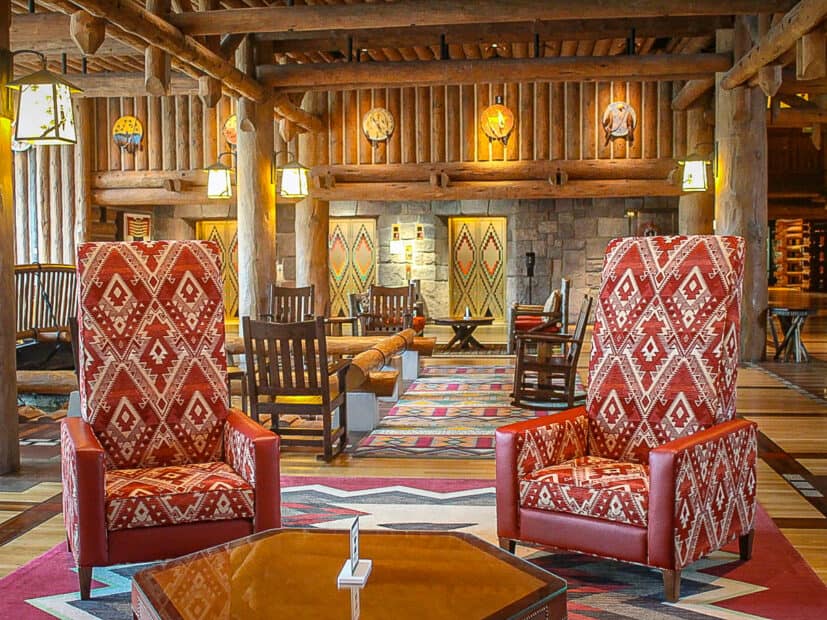 Best Practices for a Split Stay
Since we've pretty thoroughly gone over what a split stay entails, I wanted to share with you a few best practices. These tips come from experience and will help in planning.
First, you want to be patient, especially if this is your first time planning a split stay. The theme parks aren't going anywhere.
And it's okay if you are running a little late for that dining reservation in the process of changing resorts. Most cast members will understand and work to accommodate guests' needs.
Secondly, let Disney handle your luggage. They do a good job at it, and it's usually not worth the extra hassle or expense to try and move it yourself. (In the past, I have moved my luggage and can vouch it's really a headache.)
Next, I truly recommend spending a minimum of eight nights at Disney to pull off a good split stay. For an eight-night stay, I like to spend the first three nights at the initial resort and then move over to the next hotel for the remaining five nights.
Naturally, it's ideal to stay at the nicer resort last to kind of build-up to that expectation. However, as we mentioned earlier, this might not be the most budget-friendly option considering how your travel dates fall.
I have found that planning a split stay this way really works the best and makes the vacation feel longer.
For instance, one of our favorite split stays was at Christmas, when we spent the first three nights at Kidani Village portion of Animal Kingdom Lodge. After that, we moved over to the club level at Disney's Beach Club for the next five nights.
Related: Kidani Village Resort Review
This brings us to my next point, plan everything around your location. During our stay at Animal Kingdom Lodge, we spent time at Animal Kingdom and Magic Kingdom park.
While we were there, we dined at The Mara several times and took advantage of the resort's pool and pool bar.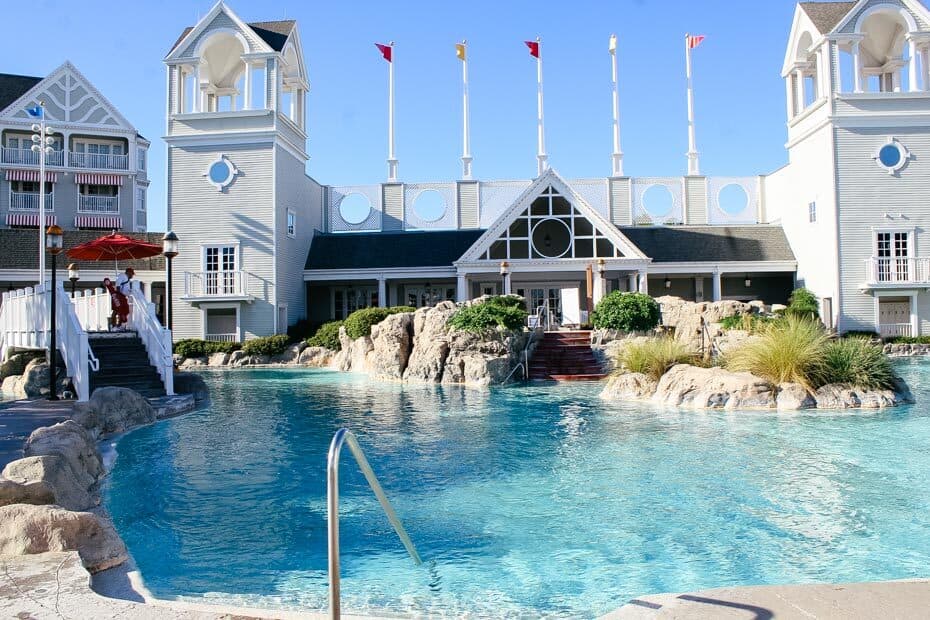 After moving over to the Beach Club, we enjoyed meals like breakfast at Ale and Compass and Via Napoli at Epcot for pizza. During our stay at the Beach Club, we also spent a good deal of time at Stormalong Bay.
Related: The Best Pools at Disney World
Additionally, most of our park time was spent at Epcot and Hollywood Studios since we were within walking distance to both parks from the Beach Club. We didn't return to Animal Kingdom after our move, but we did spend more time at Magic Kingdom.
This particular split stay was during Christmas, so we had the advantage of getting to see the Christmas decorations at the resorts.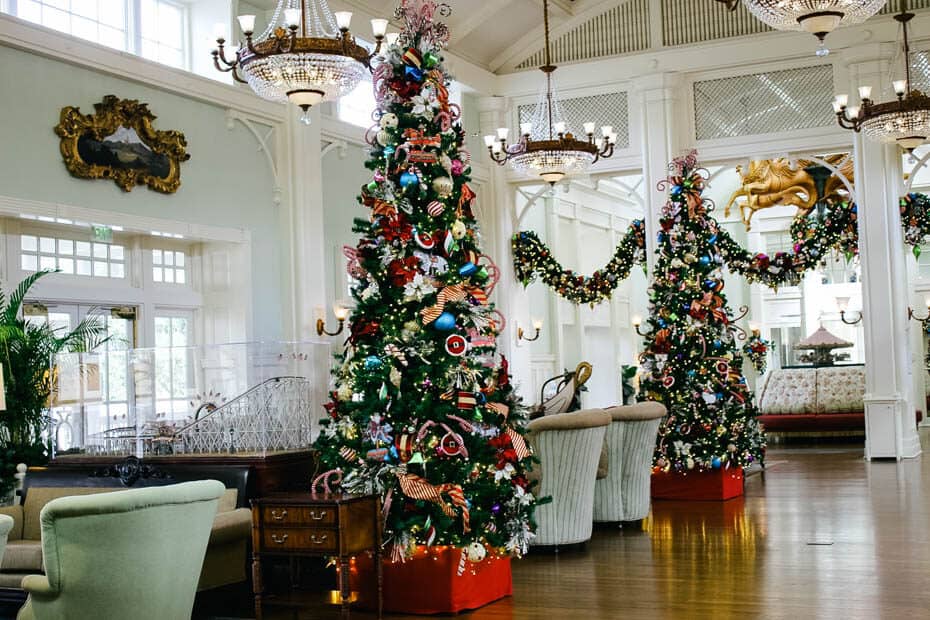 Another time that makes sense for planning a split stay is when you have plans to attend one of the Halloween or Christmas parties at Magic Kingdom. In this instance, you'll probably want to stay at one of monorail resorts near Magic Kingdom like Disney's Polynesian, the Grand Floridian, or the Contemporary.
If you need to leave the party for a break for some reason, it will be extremely convenient with your room being nearby. Additionally, at the end of a very long, late-night seasonal party, you'll be thankful to be for the proximity to your room.
For example, you might spend an entire week at a value or moderate resort and then wrap things up with a night or two at the Polynesian scheduled around your party night.
Related: Disney's Polynesian Resort Review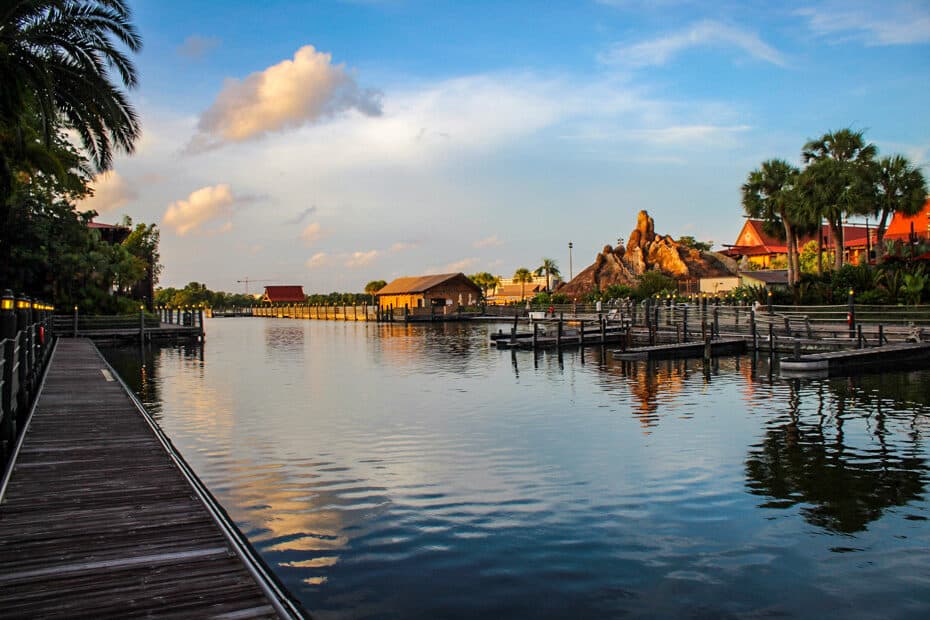 Final Thoughts on Disney World Split Stays
As you can see, split stays at Disney World do have their advantages. And even though they do require a little extra planning, they always feel less restrictive in the execution. Well, after you conquer that initial move anyway.
But I think that any seasoned visitor can see the positives of changing things up mid-vacation. If this is a first or rare visit, I wouldn't recommend trying to tackle moving.
That is unless you are staying for a longer than average time, like 10 nights or more. For a longer trip, you have a little more time and room for error.
For those of you planning a Walt Disney World vacation, we highly recommend using a travel agent. You can check with our friends at Firefly Travels, and they will be happy to help you begin the process.
If you aren't for sure where to stay, you might enjoy some of these resort reviews:
Additionally, some of our most popular articles include these fun merchandise lines:
Now that you've read over all of the nuts and bolts for planning a split stay, what do you think? Does the idea of this kind of trip still sound like it would take the same amount of effort as mastering a foreign language?
If so, leave any questions or concerns below in the comments. I'll be happy to answer them based on my experience.