Casey Jr. Splash 'N' Soak Station
The Casey Jr. Splash 'N' Soak Station is the perfect stop for children to play on a hot summer's day at Walt Disney World's Magic Kingdom.
This play area is located in the heart of Storybook Circus and provides an experience similar to a splash pad. The setup is circus-themed like the rest of the land around it.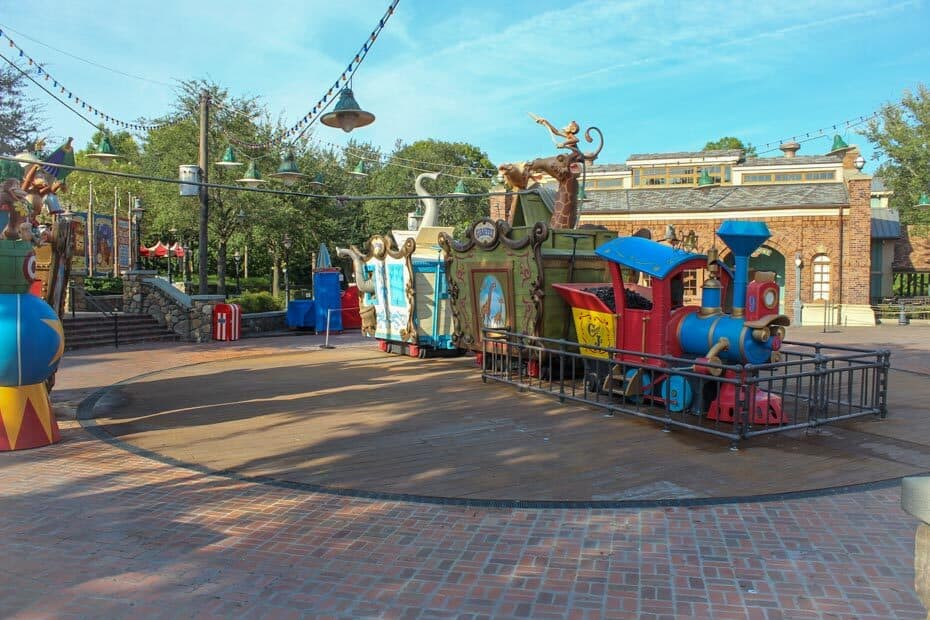 Here are the need-to-know details for Casey Jr Splash and Soak:
| | |
| --- | --- |
| Casey Jr. Splash 'N' Soak Station | Magic Kingdom |
| Location: | Storybook Circus |
| Disney World Height Requirement: | None |
| Disney Genie+ Eligible | NA |
| Ride Type: | Water Play Area |
| Seats Per Vehicle: | N/A |
| Disney Rider Switch: | N/A |
| Good For: | Kids play, and parents rest. |
| Scare Factor: | None |
| Must-Do List: | Low |
| Perfect For: | All Ages |
| Special Mention: | Bring an extra pair of clothes. |
Casey Jr. Splash 'N' Soak Station
I can't say that I've participated in this splash pad-type area at Magic Kingdom. But often, on the hotter days of the year, there are quite a few younger guests out enjoying Casey Jr.'s Splash and Soak station.
A few need to know items for Casey Jr. Splash 'n' Soak:
This area is in direct sunlight.
There are short walls around the play area where parents can sit.
If your child would enjoy playing in this area, make sure to bring an easy change of clothes for them.
There are restrooms immediately behind the splash play area.
Naturally, this kind of area will close in the event of inclement weather.
As far as my opinion goes, I would prefer to visit the indoor play area next door at Dumbo, The Flying Elephant.
The more you carry with you on a day to Magic Kingdom, the heavier it gets as the day wears on, especially wet clothes.
With that being said, many locals and annual passholders sometimes visit for a few hours and let their kids enjoy these types of attractions. And you are more than welcome to do that also.
Make sure to visit the complete list of Magic Kingdom rides. Each one has a similar review that includes all the details you'll need to know.
Or you might like to check out the specific attractions in the immediate area:
Resorts Gal specializes in Disney World Resorts, Characters, and Dining. Our complete Disney World Resort Reviews list is the perfect place to begin planning your next stay.
We have a complete list of our Disney restaurant reviews for dining reservations. Usually, we recommend planning at least one Disney World character dining meal and a Disney signature dining reservation.
If you plan to meet characters in the parks, I keep an updated list of Disney World Characters. That review links to every meet available in each of the four parks.
Lastly, our most popular reviews include the best restaurants at Disney Springs, and I keep a timeline of the different Disney Loungefly mini-backpacks.
I hope you are your little one will enjoy Casey Jr Splash!