Experiencing TRON Lightcycle / Run at Magic Kingdom
TRON Lightcycle / Run opened on April 4, 2023, at Magic Kingdom in Walt Disney World. This new roller-coaster attraction features rapid acceleration that sends you wheeling underneath an outdoor canopy. You'll then dart through an opening as you race with the rest of the team to complete each energy gate on the grid.
All guests (Users) who race on the grid are part of Team Blue. Teammates are the other Users riding on the same cycle.
Below we'll discuss our entire experience riding Tron at Magic Kingdom. We were able to experience the attraction before it officially opened during early ride previews for annual passholders.
Additionally, we secured a nighttime slot. Moving forward, I imagine that anytime after dark will be a coveted time to ride Tron, given the uniqueness of the canopy and how it lights up in the evening.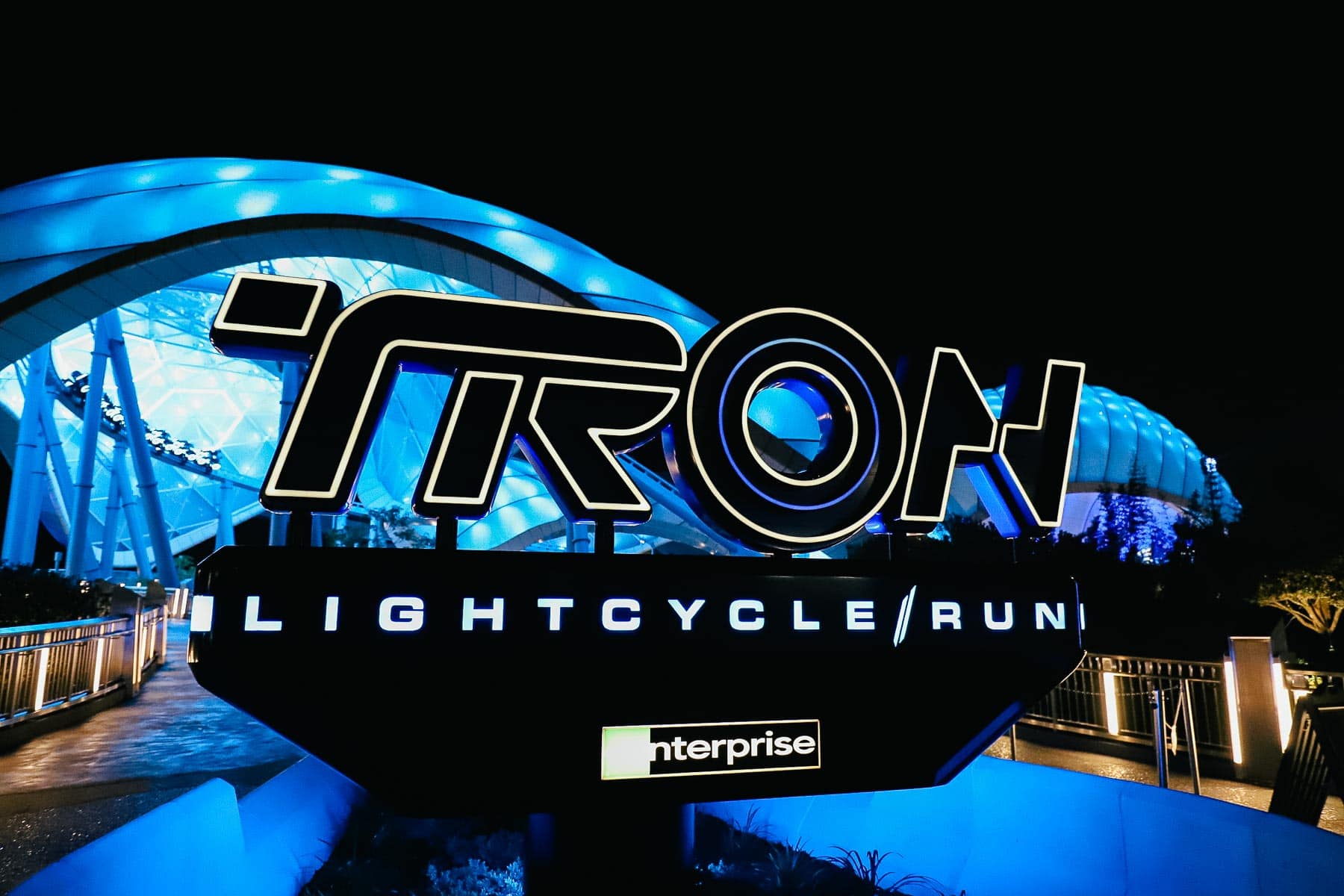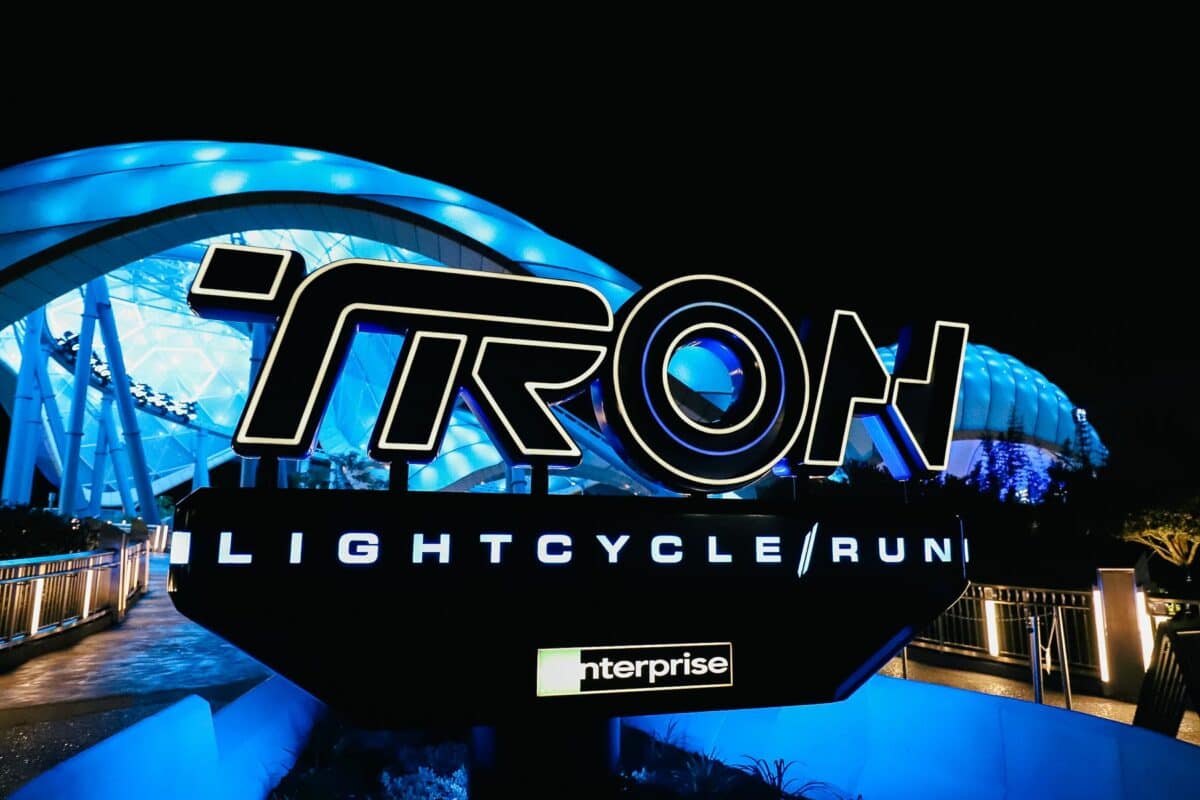 Here are a few essential details for experiencing TRON Lightcycle / Run at Disney's Magic Kingdom.
Tron Lightcycle Run
Magic Kingdom
Location:
Tomorrowland
Height Requirement:
48″
Disney Genie+ Eligible
Individual Lightning Lane Purchase
Ride Type:
Thrill, High-Speed,
Roller Coaster
Disney Rider Switch:
Yes
Good For:
Thrill-Seekers
Scare Factor:
Medium
Must-Do List:
High Priority
Special Mention:
Must secure a virtual queue or purchase a
Lightning Lane to ride this attraction.
TRON Lightcycle / Run at Magic Kingdom
TRON Lightcycle Run is located in Tomorrowland and sits to the immediate left of Space Mountain. The attraction has a sizeable canopy that glows in varying sequences of blue, white, and orange after nightfall.
Tron's queue sits on an elevated platform. It's almost like a second story to Tomorrowland. However, given the gradual walk-up to the queue area, you might not necessarily notice.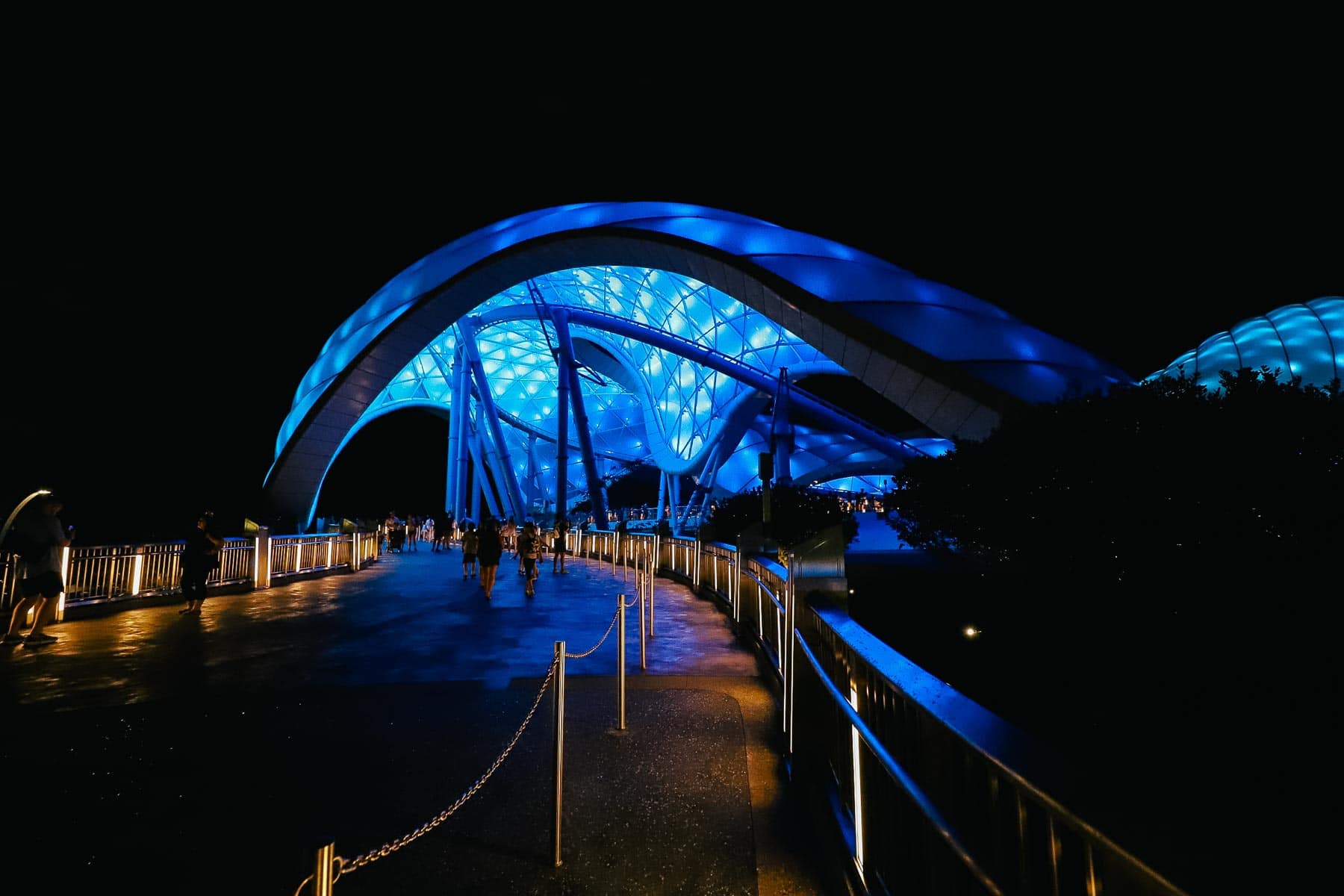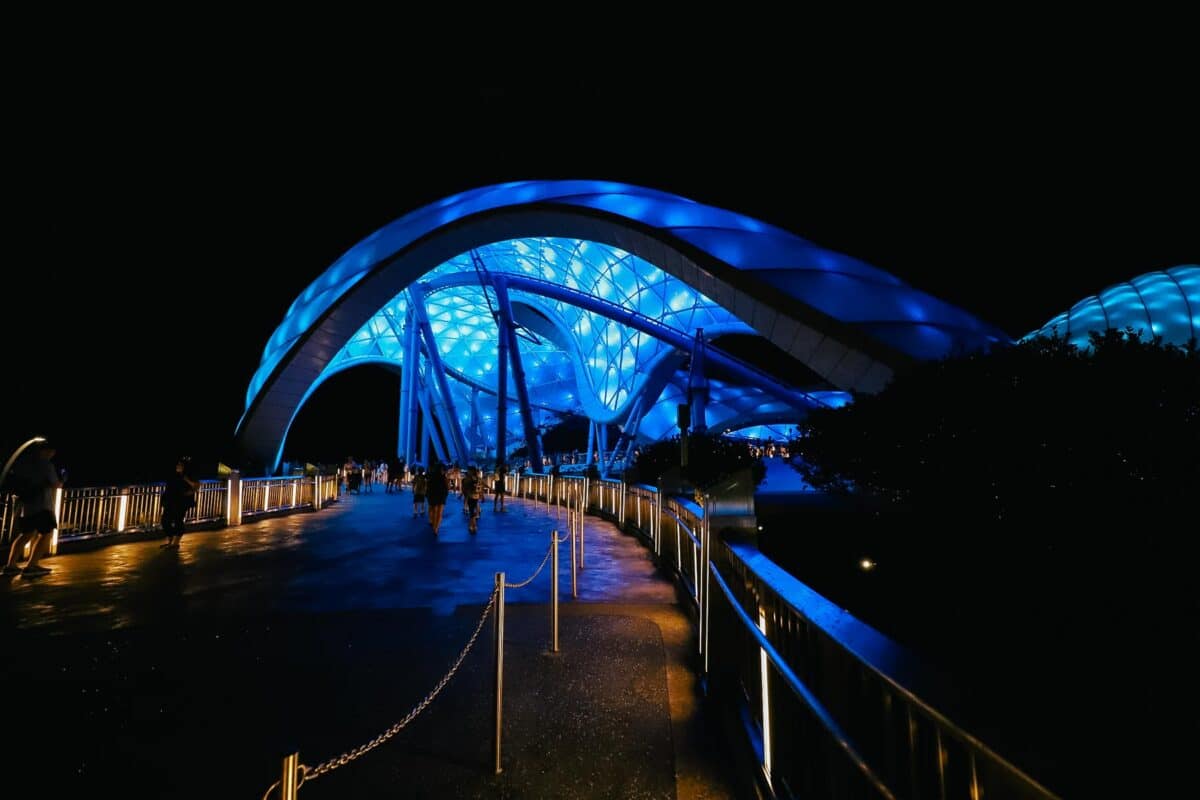 Guests riding via the virtual standby queue will join the line to the right. In addition, there is a separate queue for guests with accessibility issues.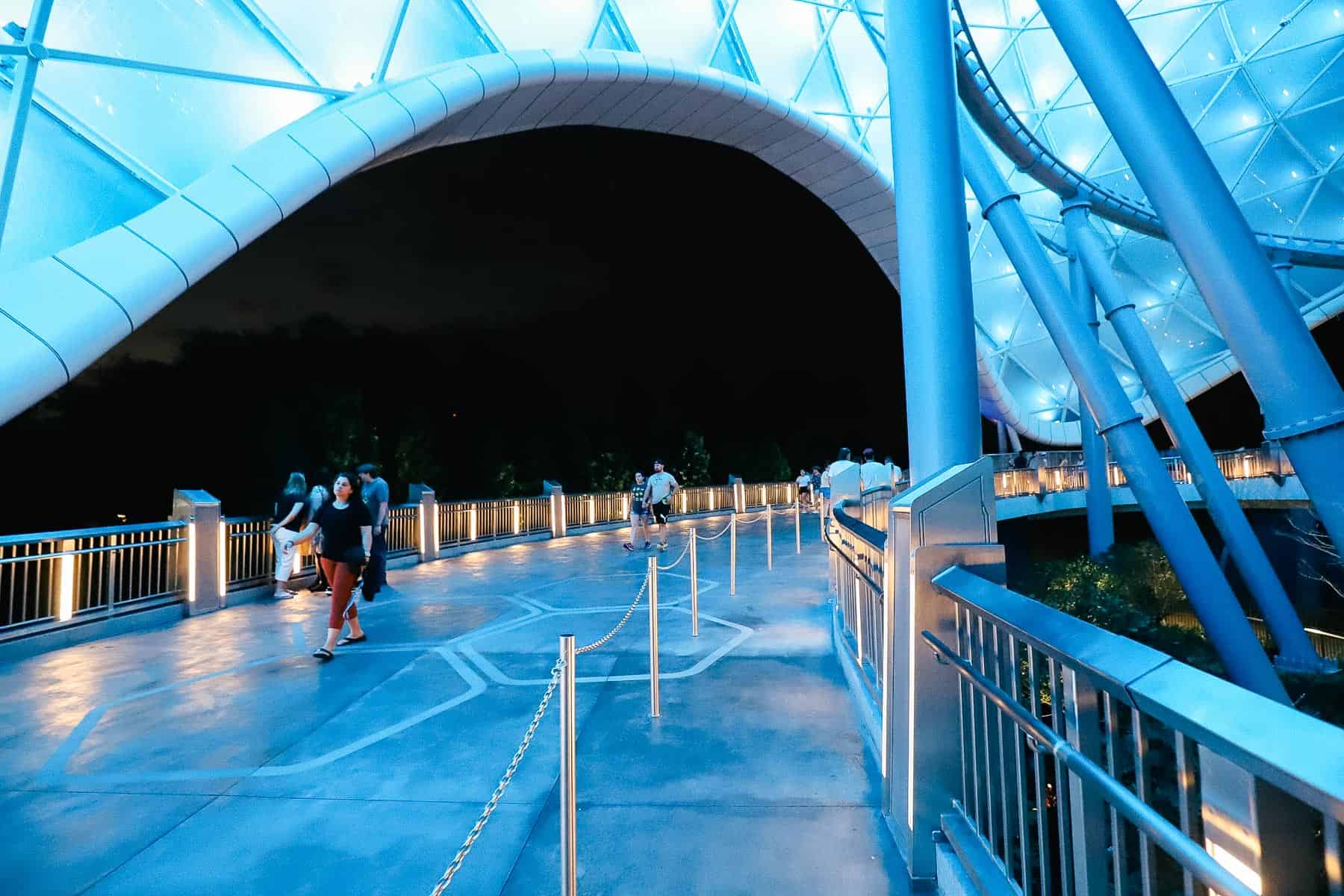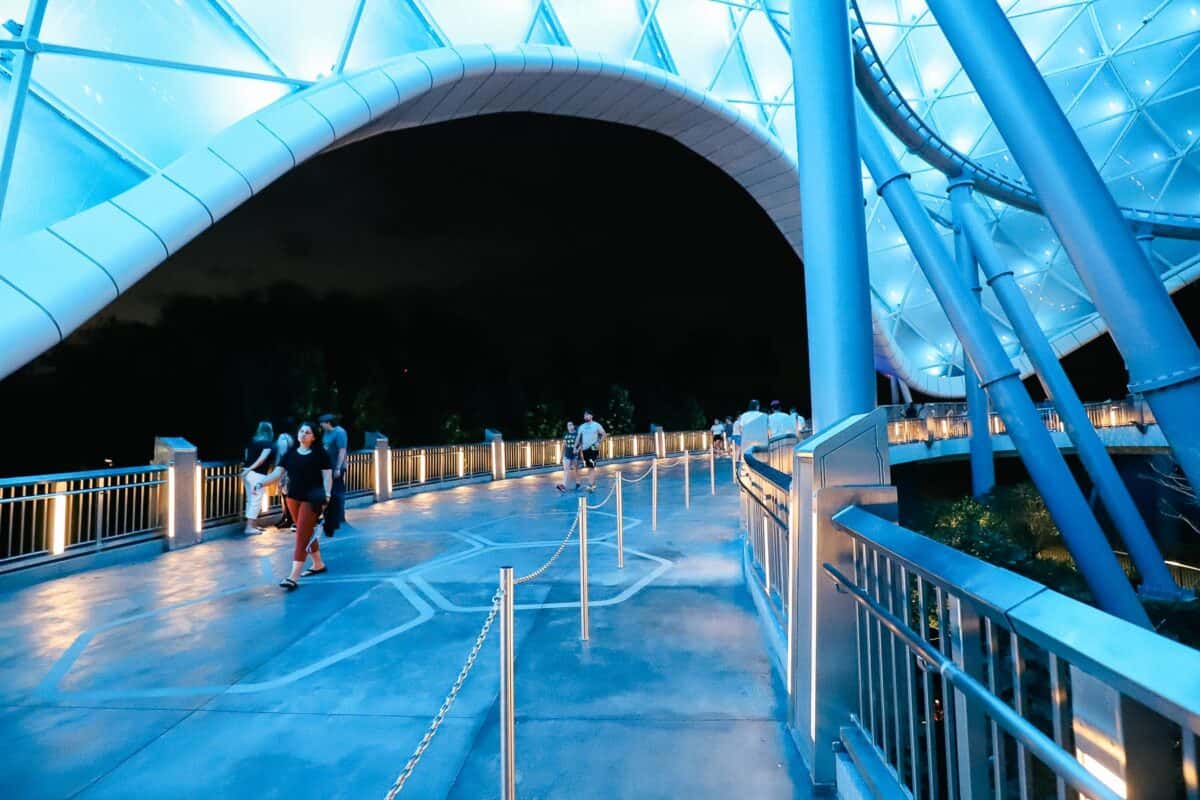 Soon you'll see guests racing overhead.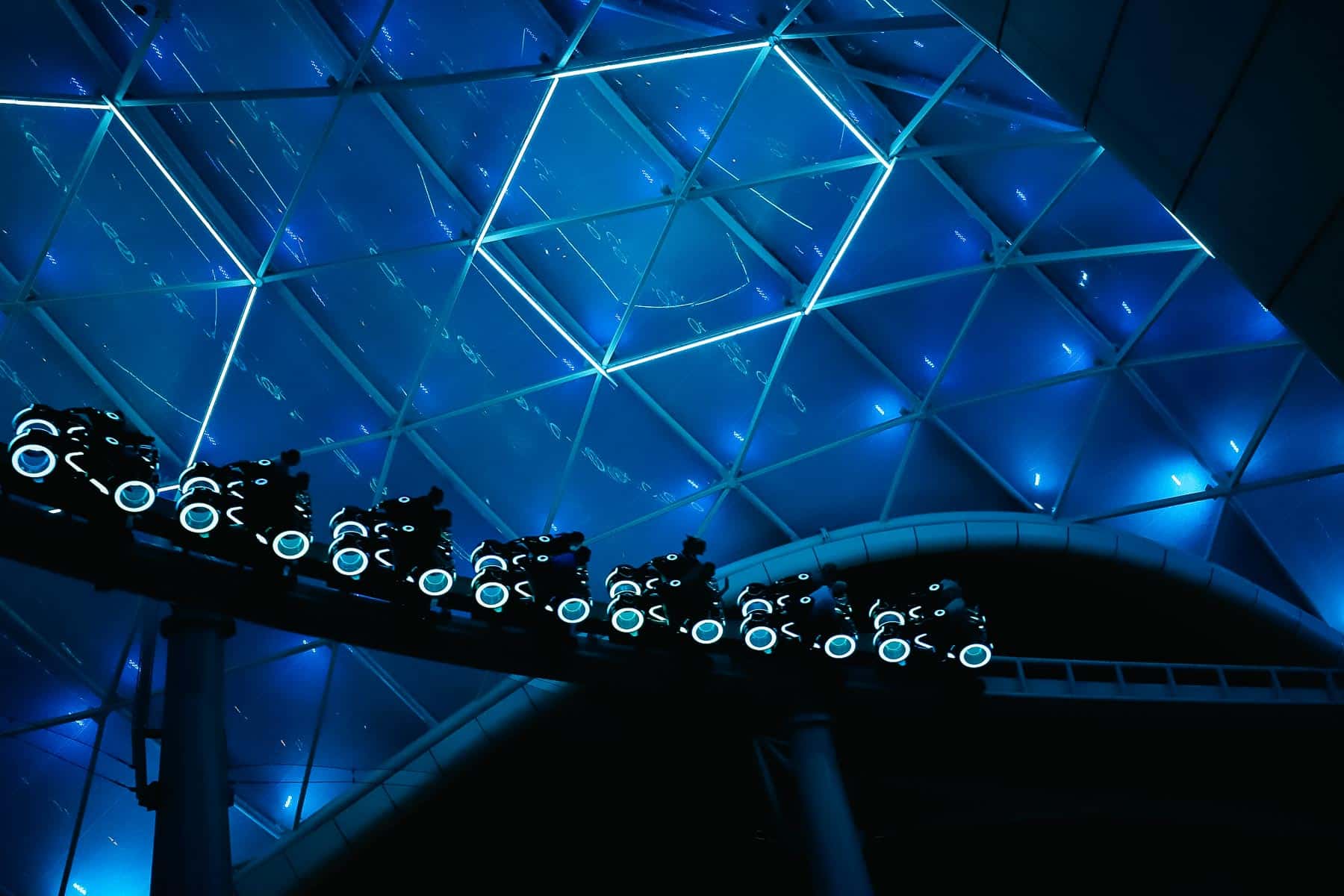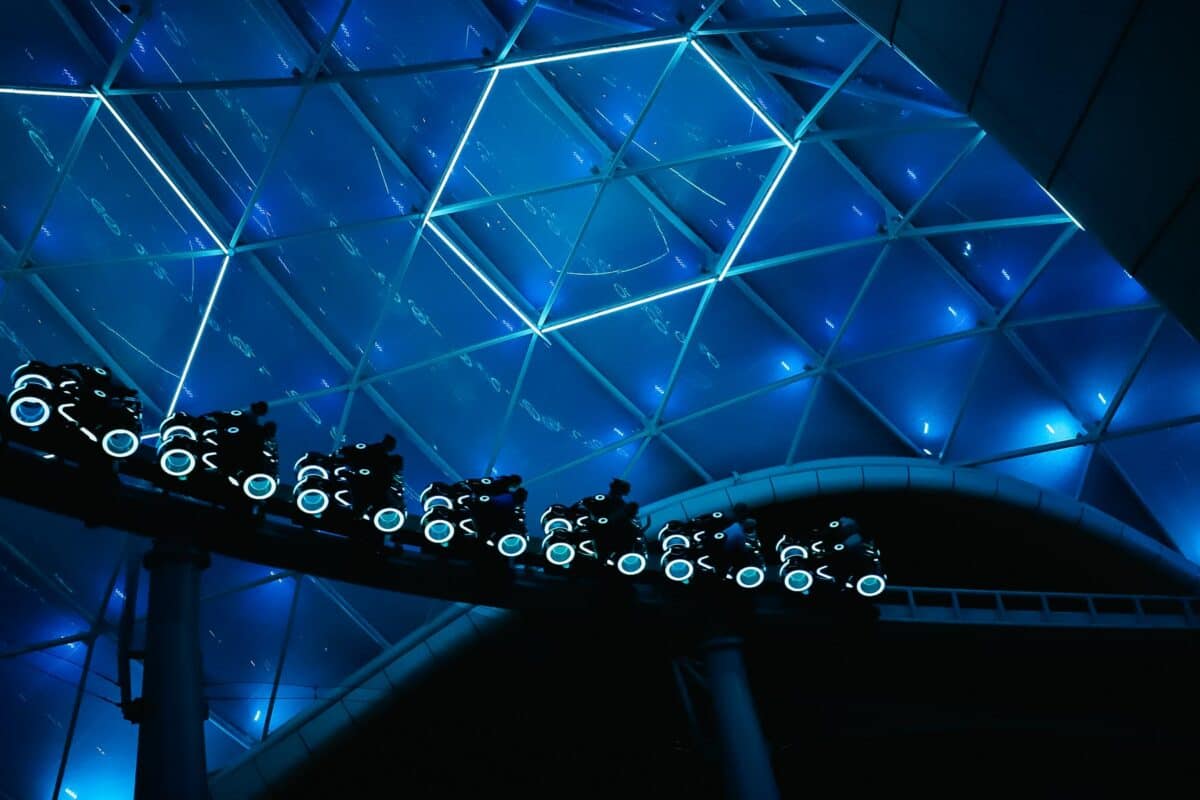 A formal entrance to the queue is ahead of you.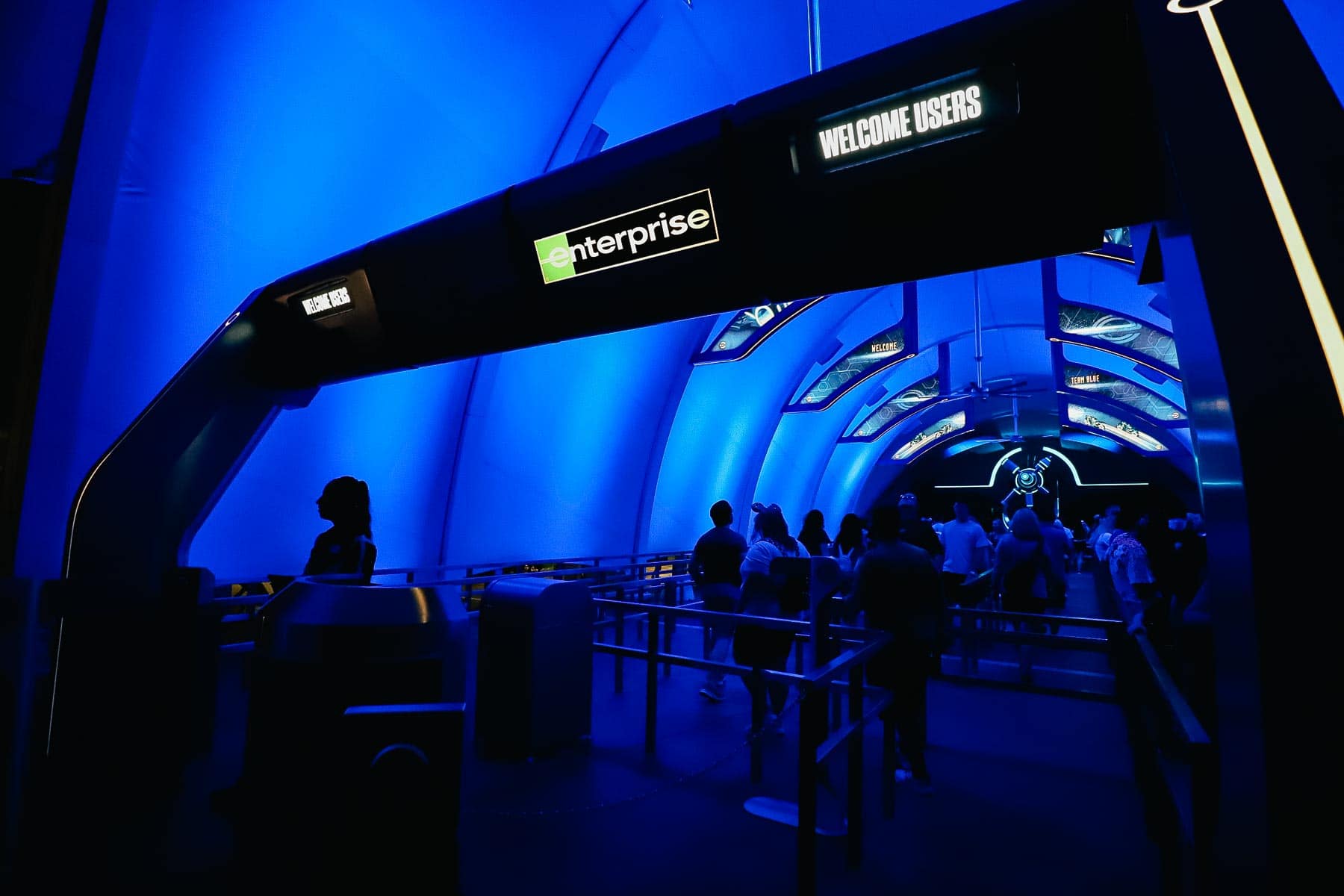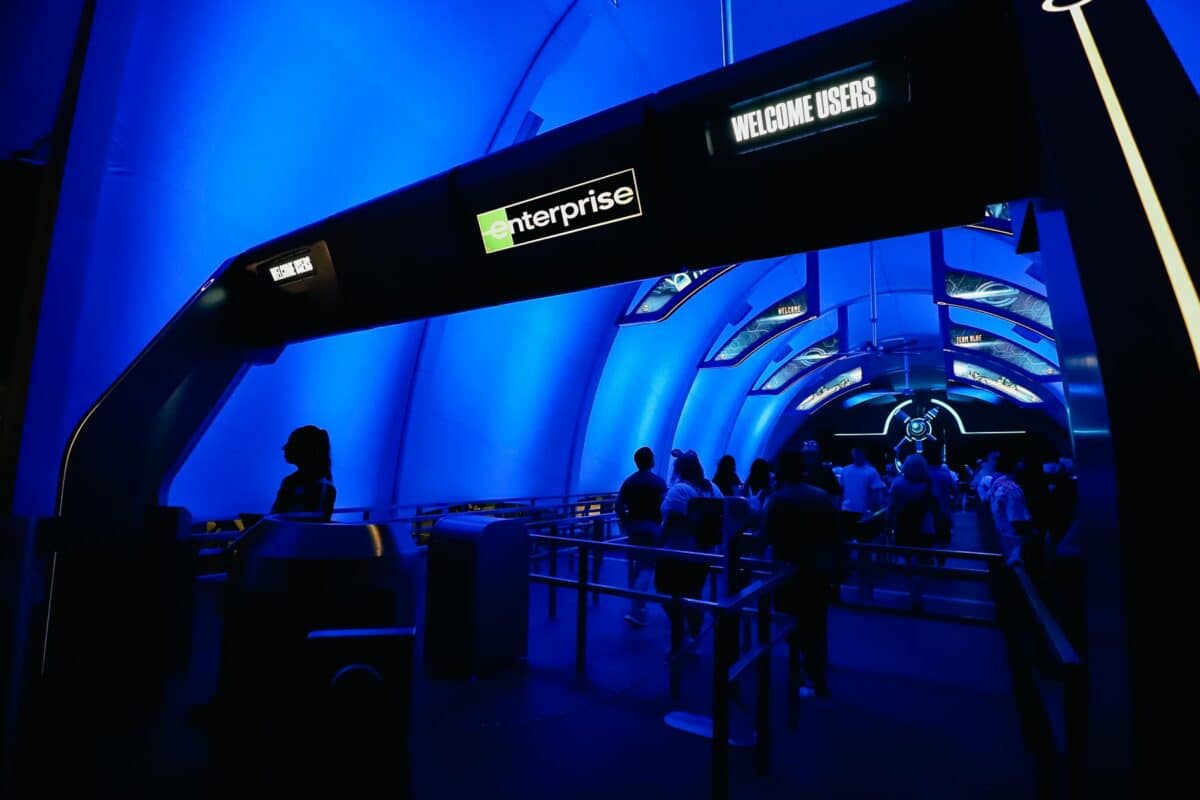 You'll likely notice a sign with a few warnings as you enter. Tron has a 48″ height requirement. Per Disney's policy on all attractions–guests under the age of seven must be accompanied by someone 14 years or older.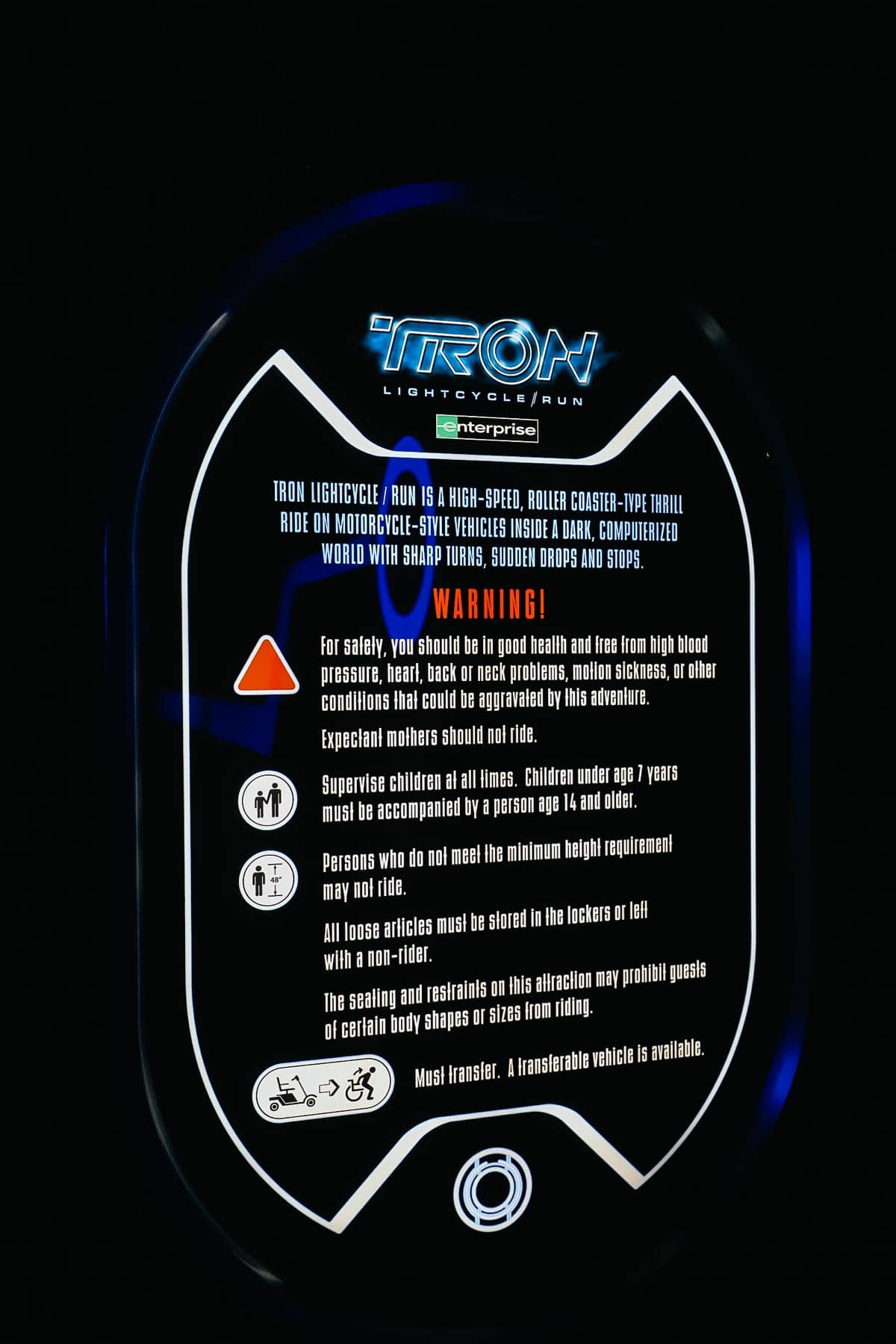 All loose items must be stored in a locker or with a non-rider. Guests in a wheelchair or ECV must transfer to a ride vehicle.
Per Disney.com:
A transferable vehicle is available, which provides a bench seat with a lap bar.
The seating and restraints on this attraction may prohibit guests of certain body shapes or sizes from riding.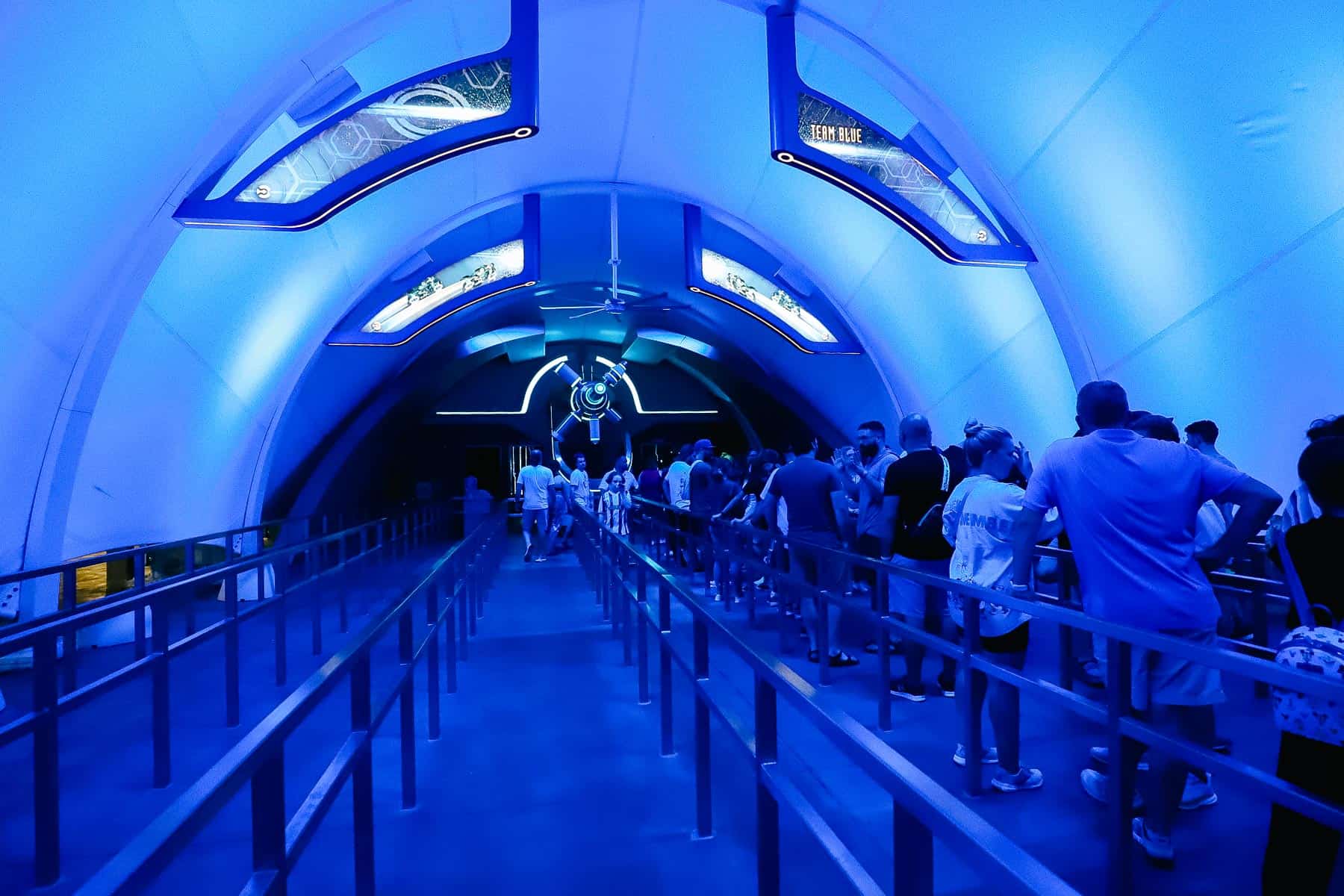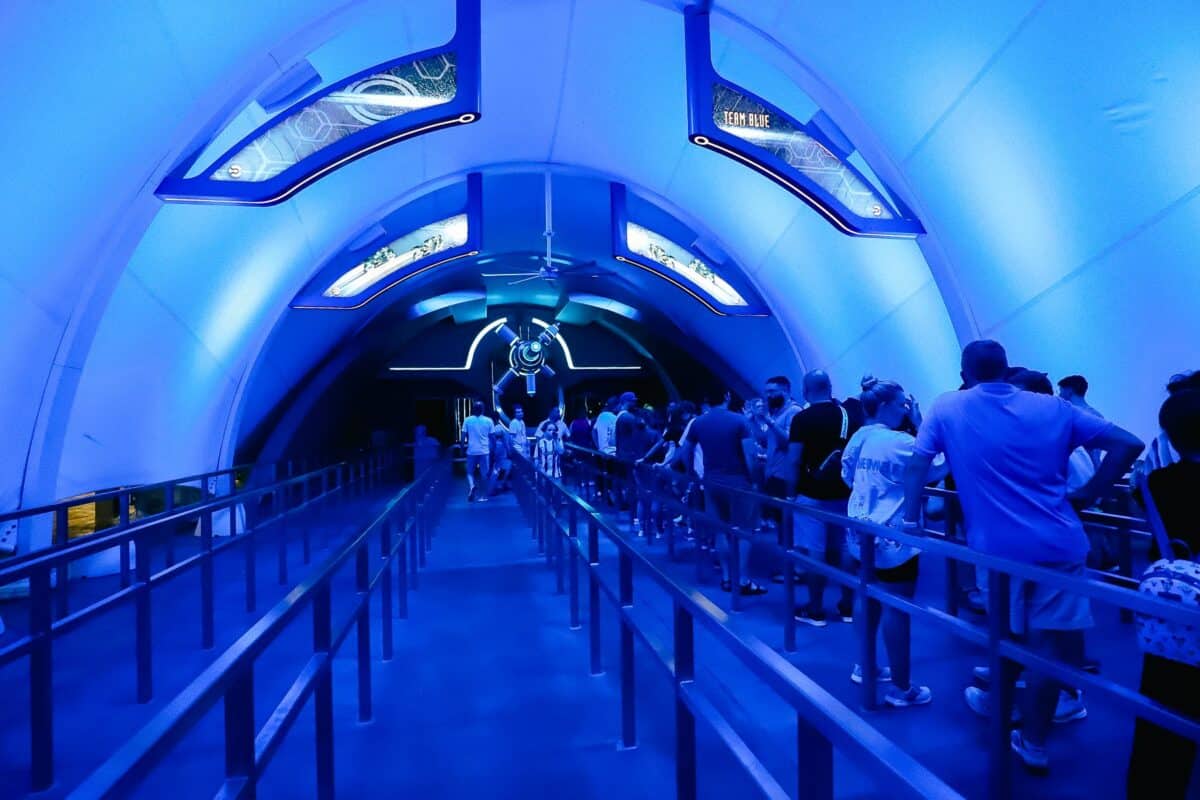 I'm unsure what this element is in the photo below, but I tried to take as many photos as possible.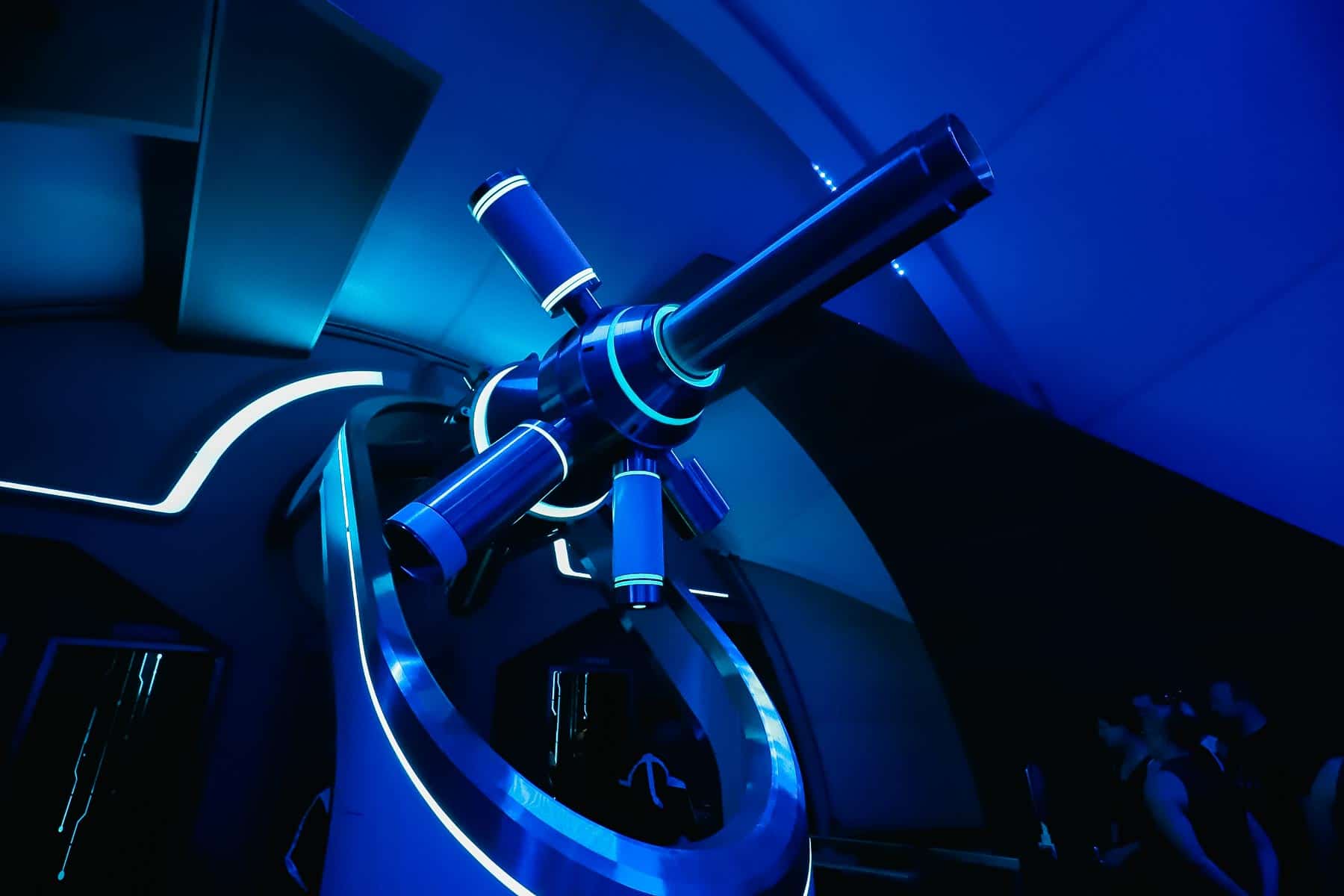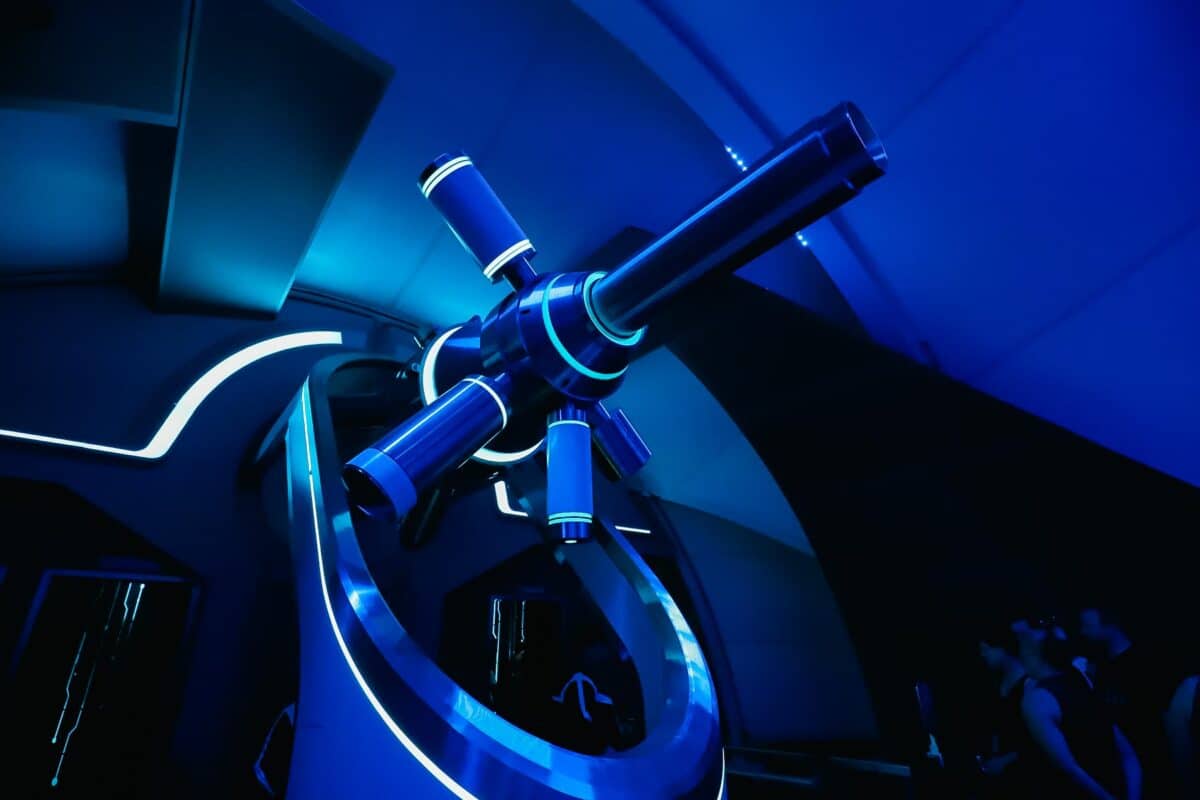 After making it through the outdoor portion of the queue, you'll enter this hallway. It's pretty cramped, but you'll only be in the area momentarily.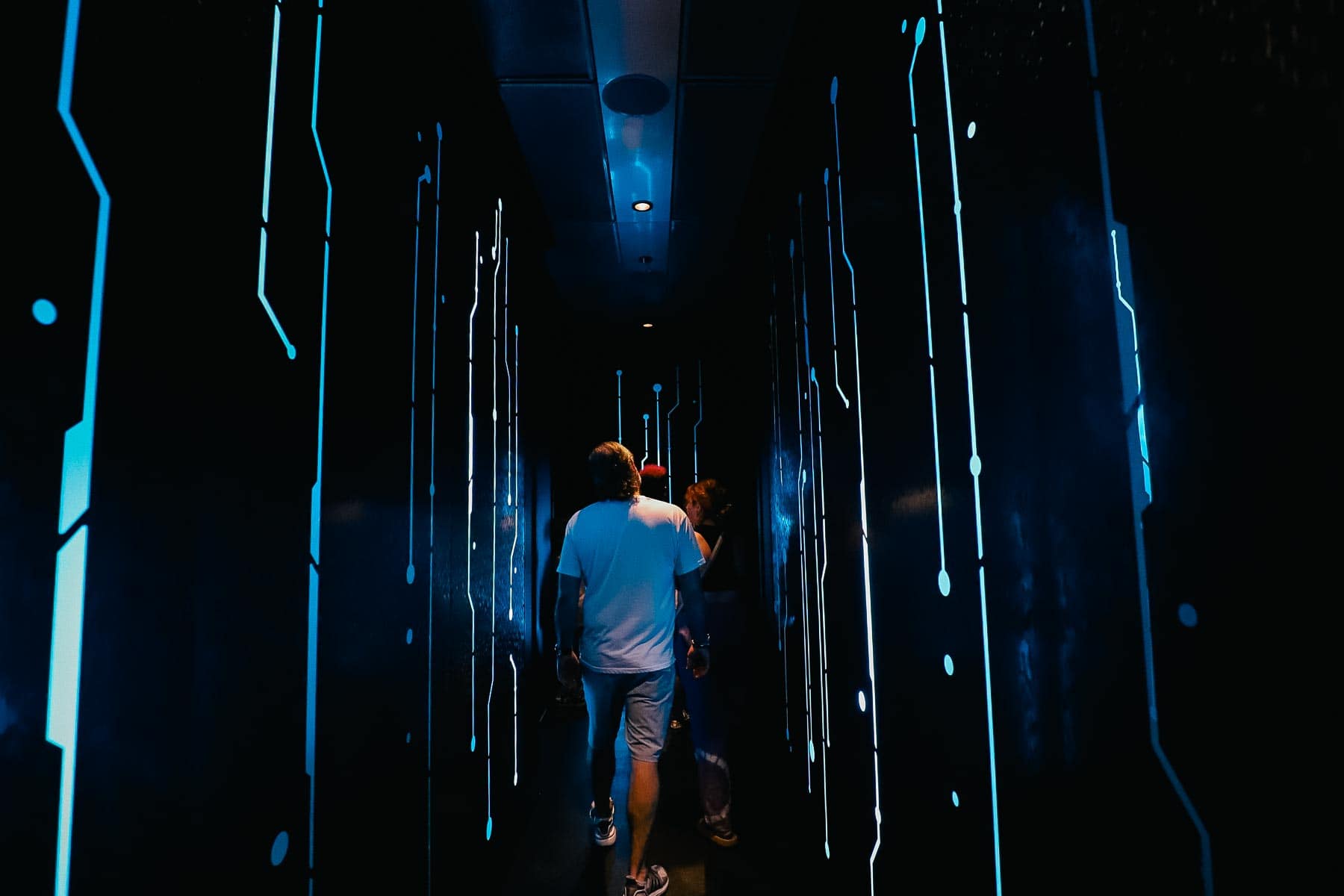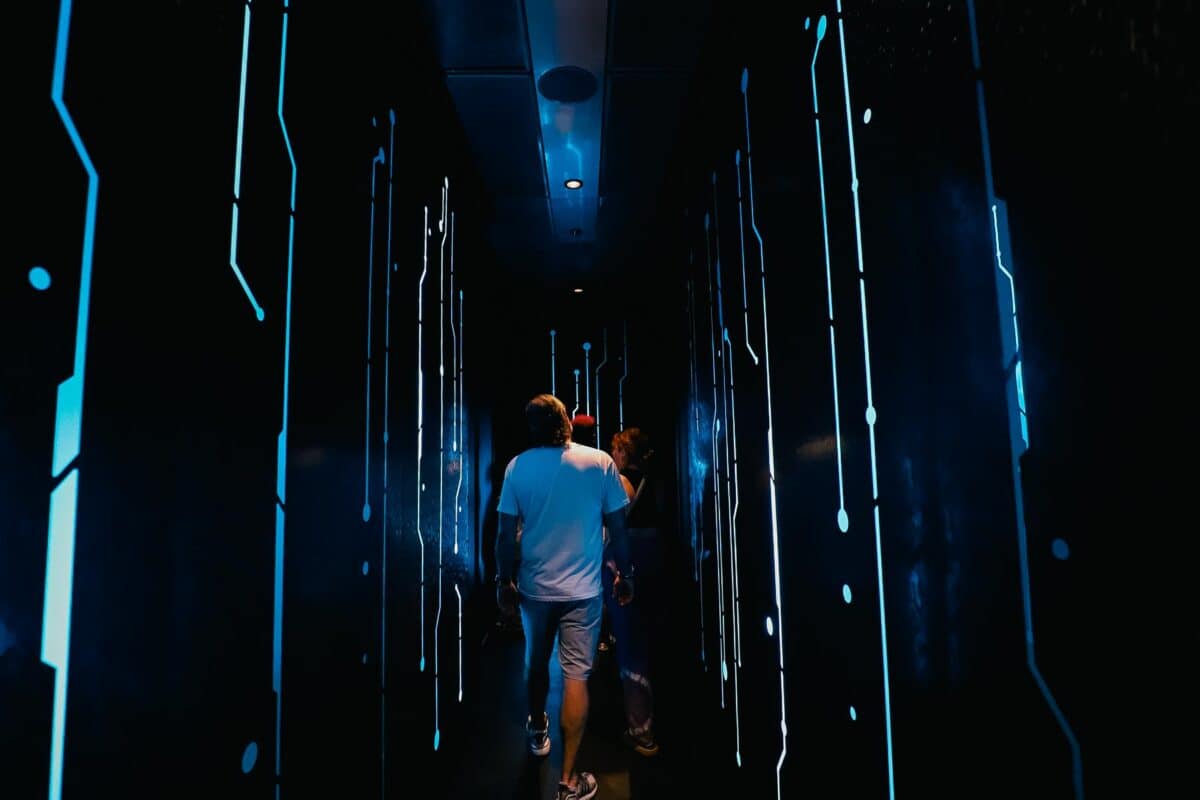 Another room opens ahead. You and the other guests waiting in the hall will enter the room and find a space to stand. This is the area that is considered the "reveal." Looking back, I wish I had realized this because I grabbed a spot toward the back of the room out of the way.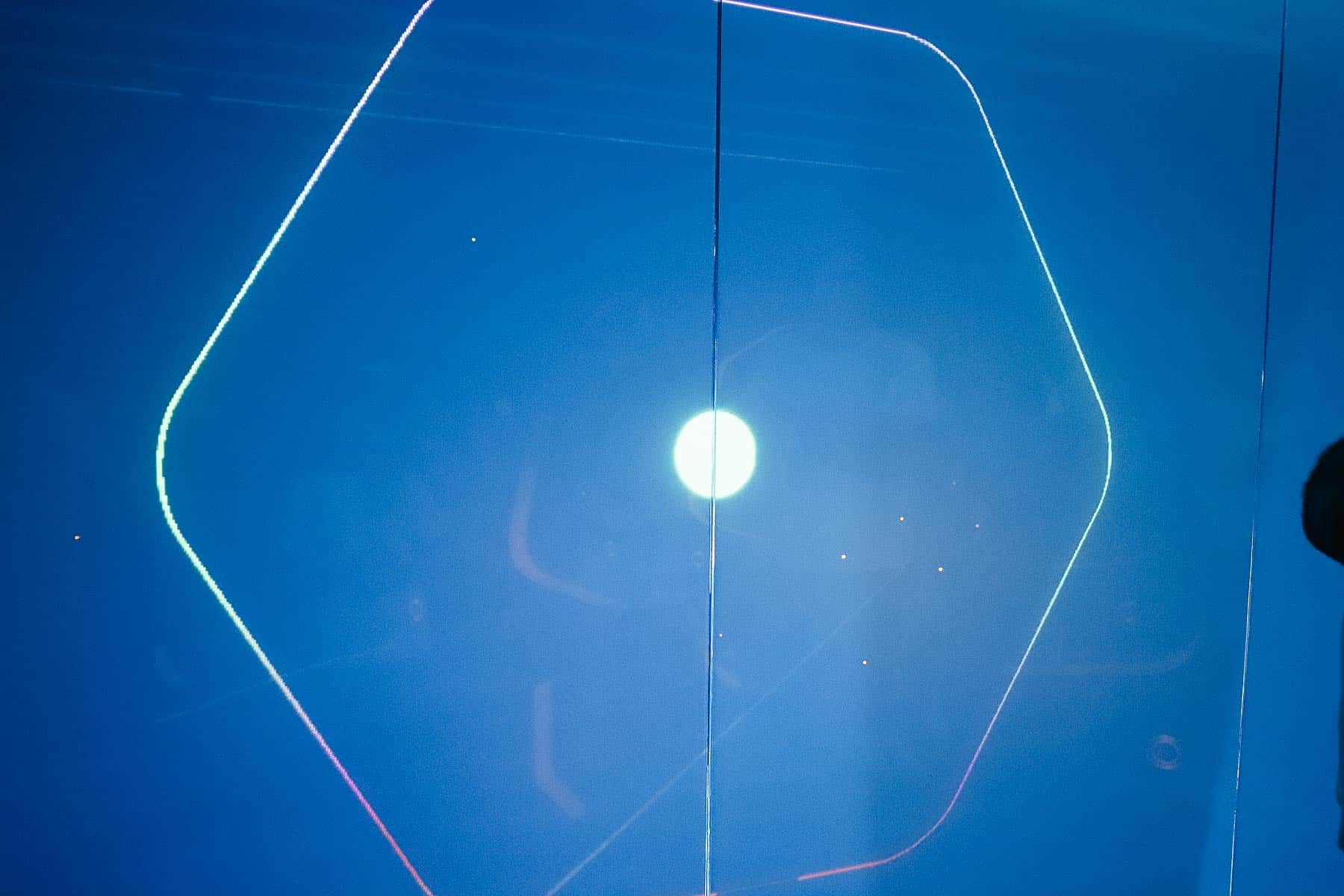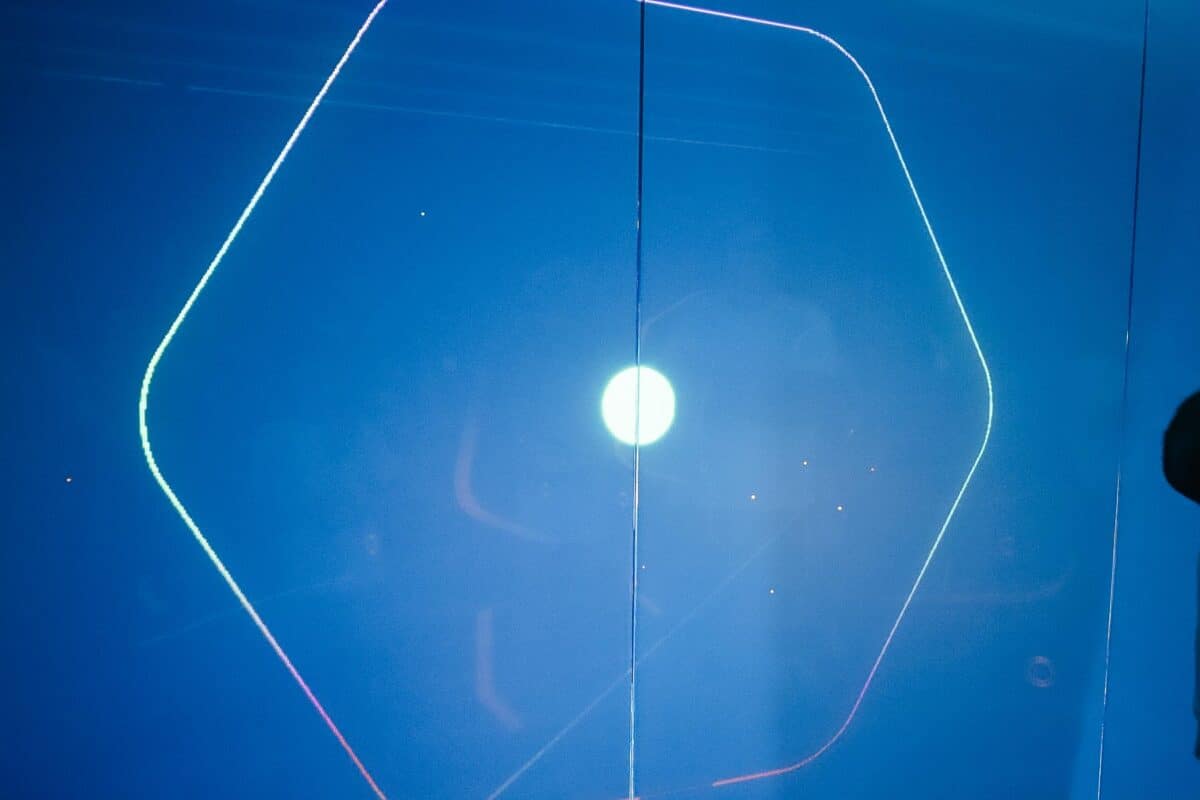 So when the screen changed to reveal the attraction, it was surprising and impressive. Thankfully, you're not terribly spoiled by the photo. You have to be there to get the full effect, which happens quickly.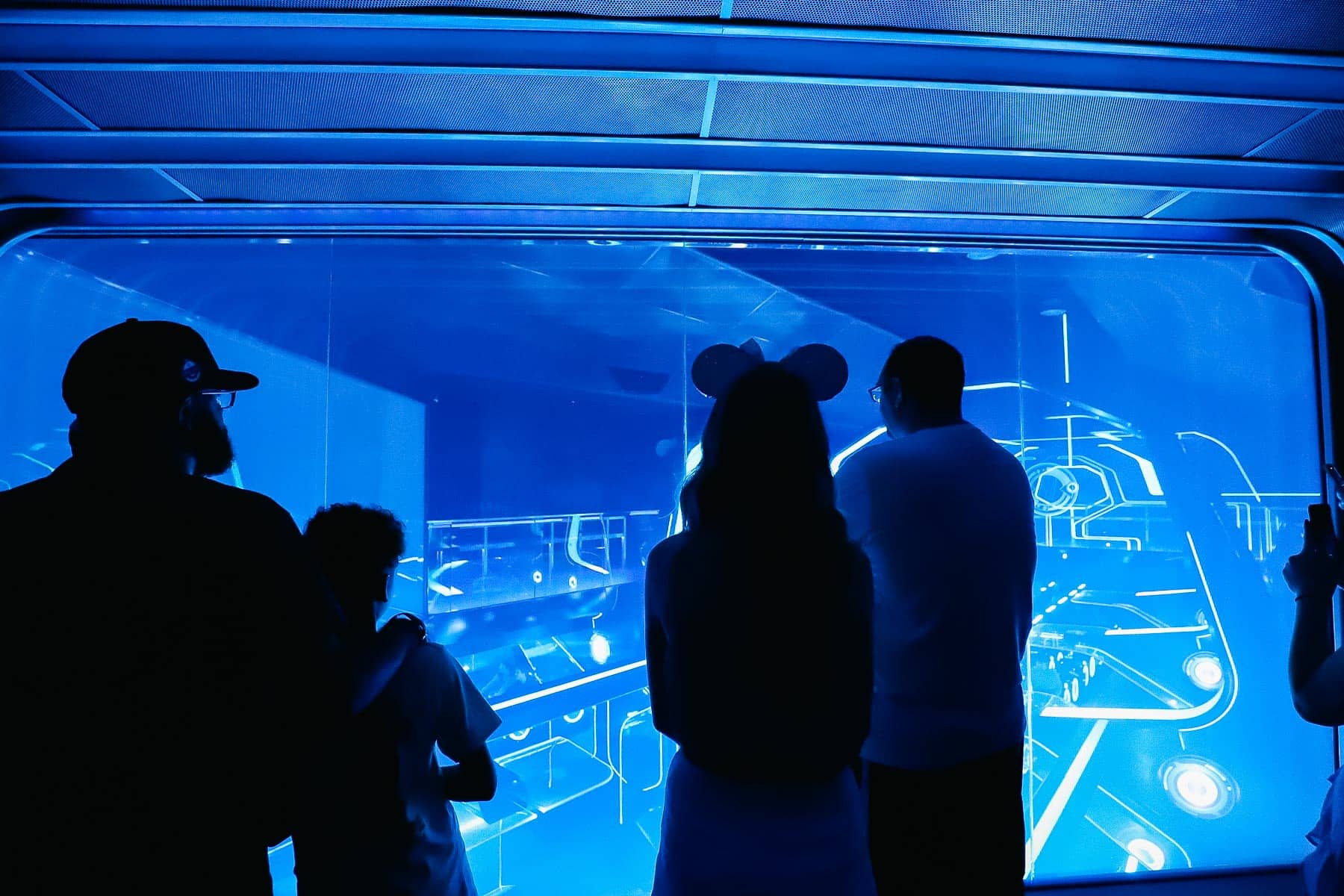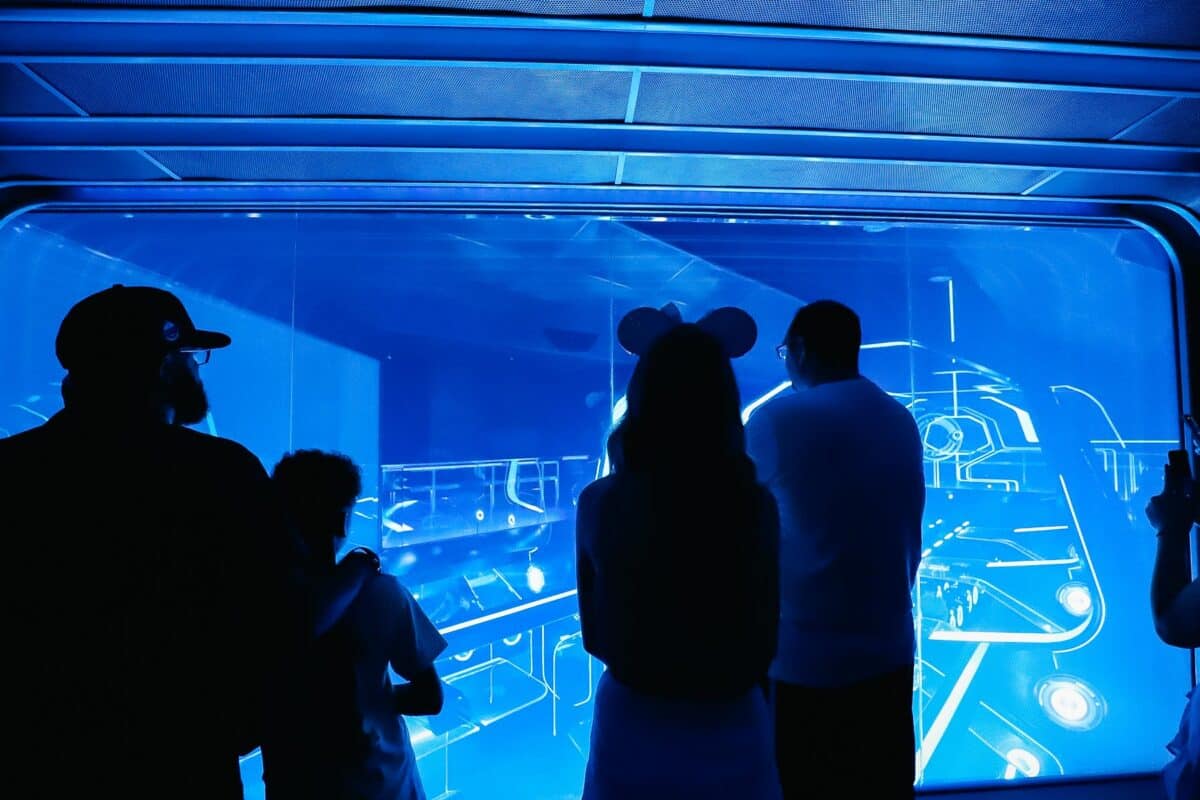 After the reveal, you'll exit via another door. Here is the room after we emptied it.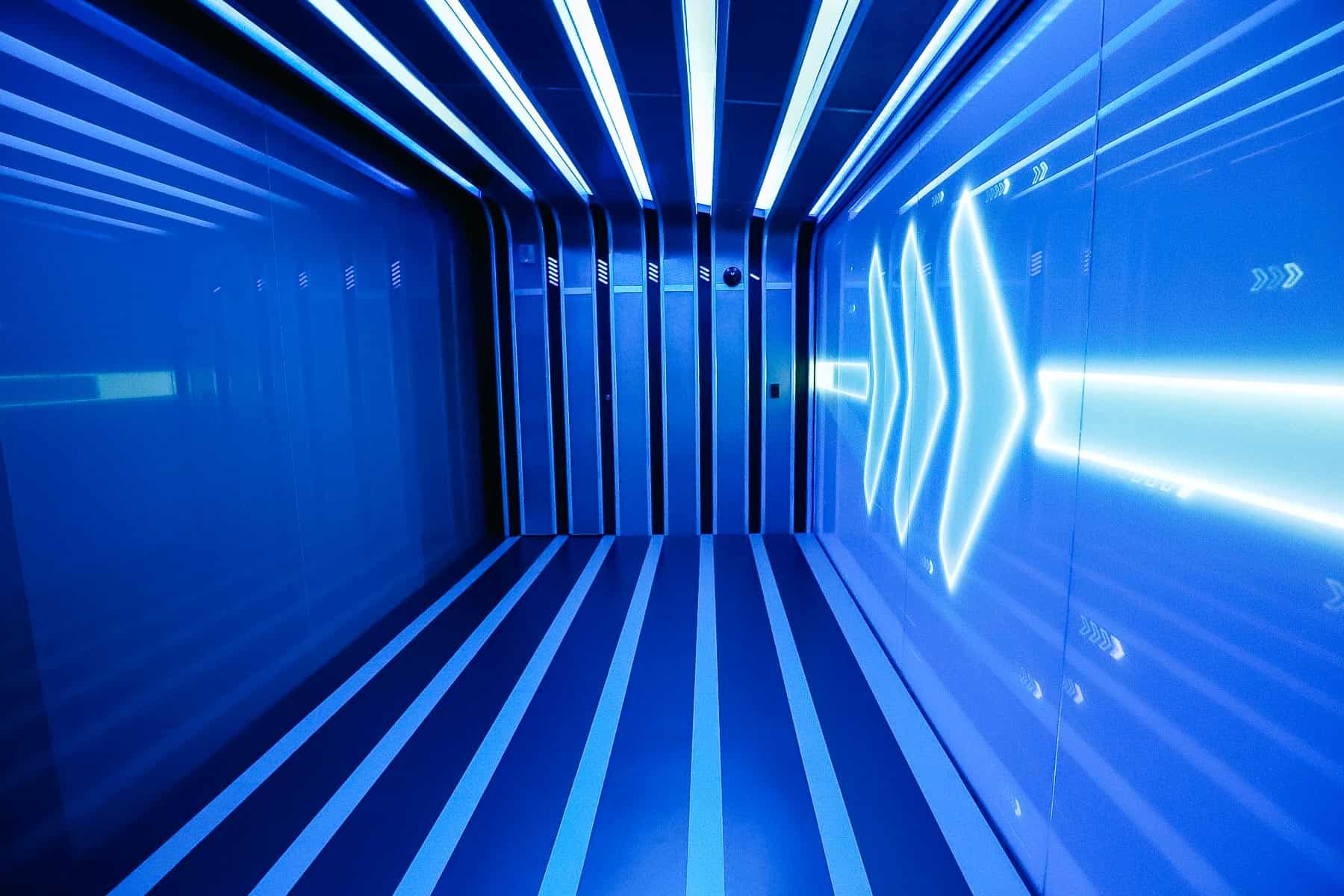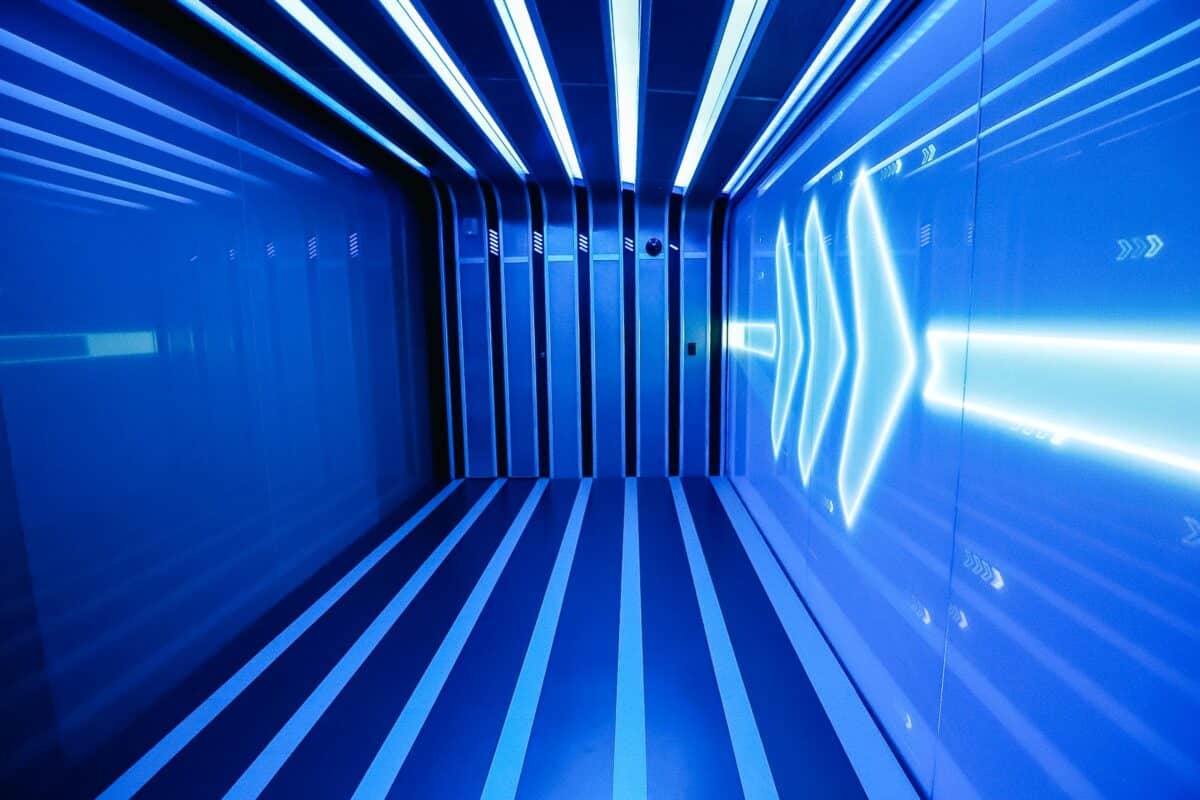 Then you are where the bikes are about to enter the grid.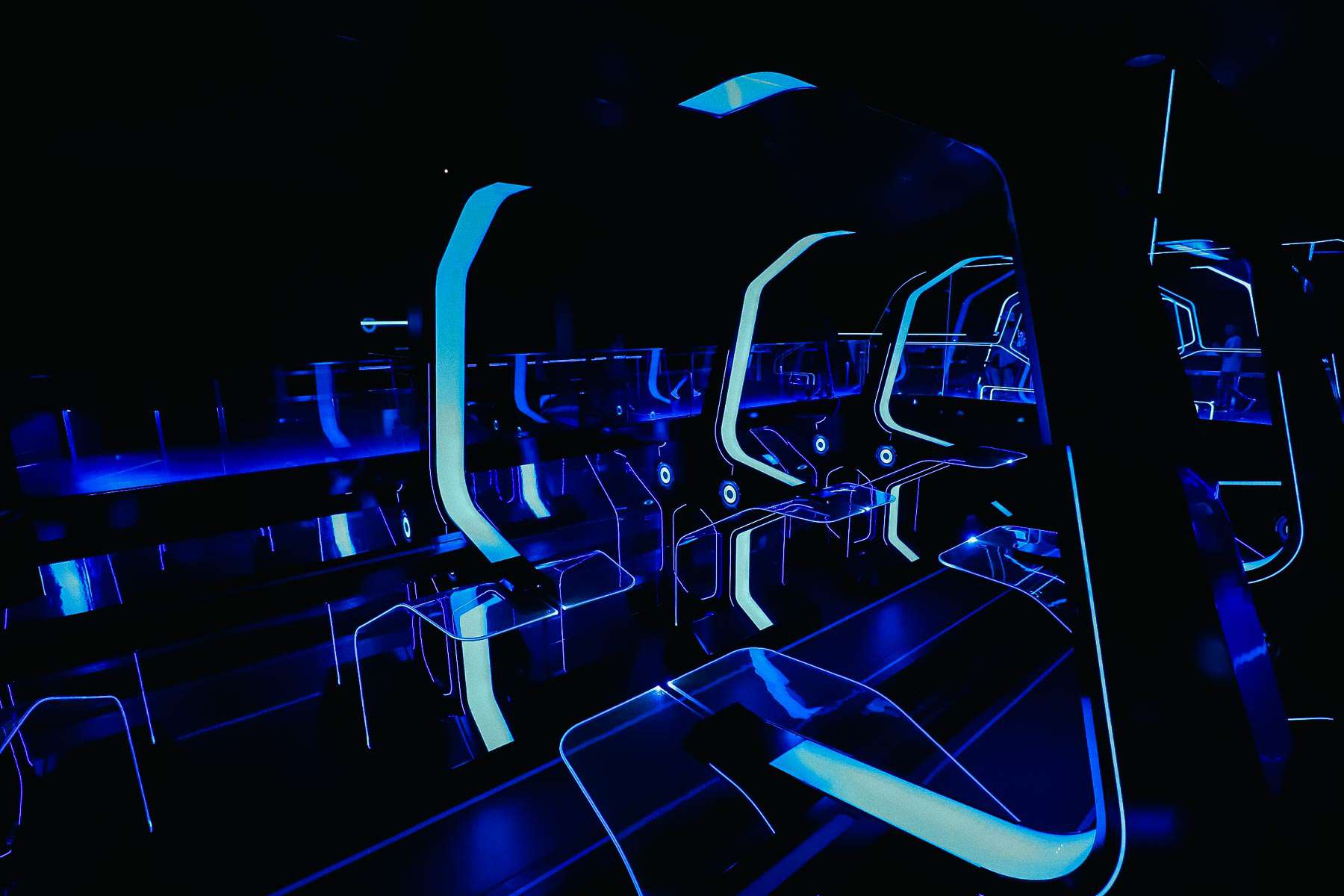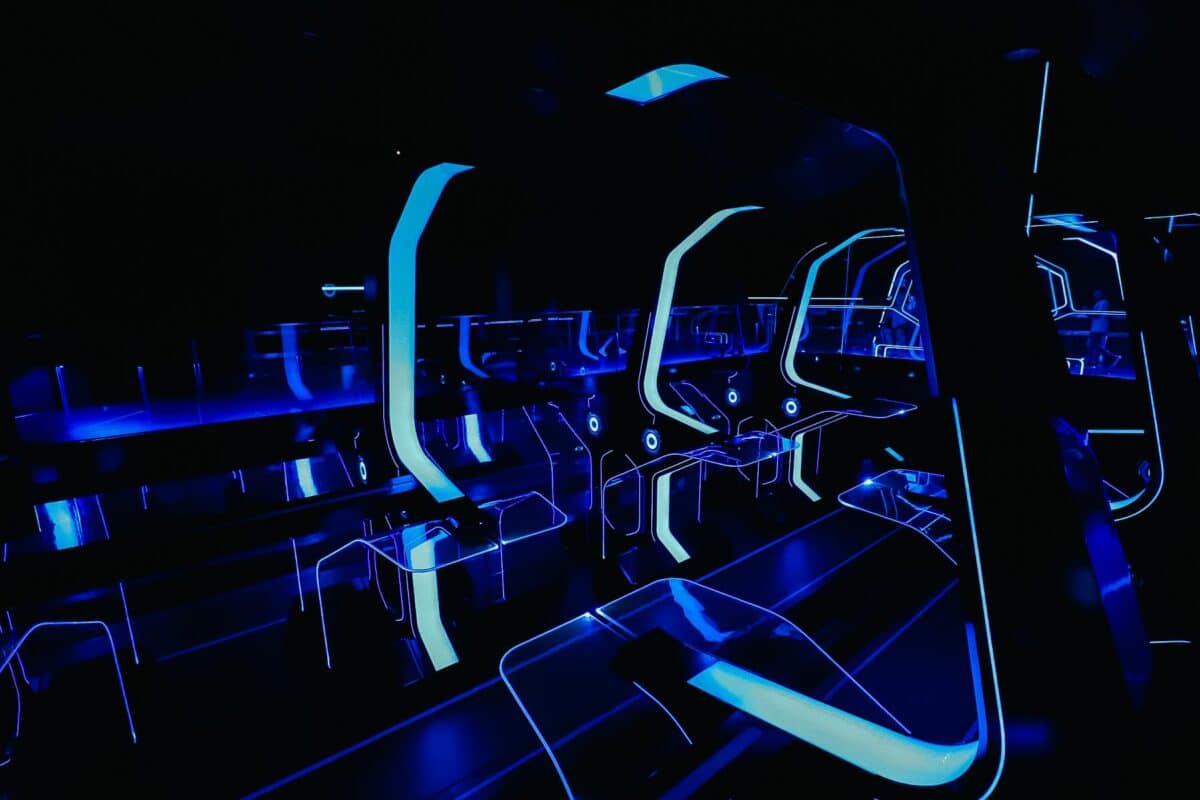 Of course, these photos don't do it justice. But it feels like you've stepped into a digital realm or a computerized world, as Disney calls it.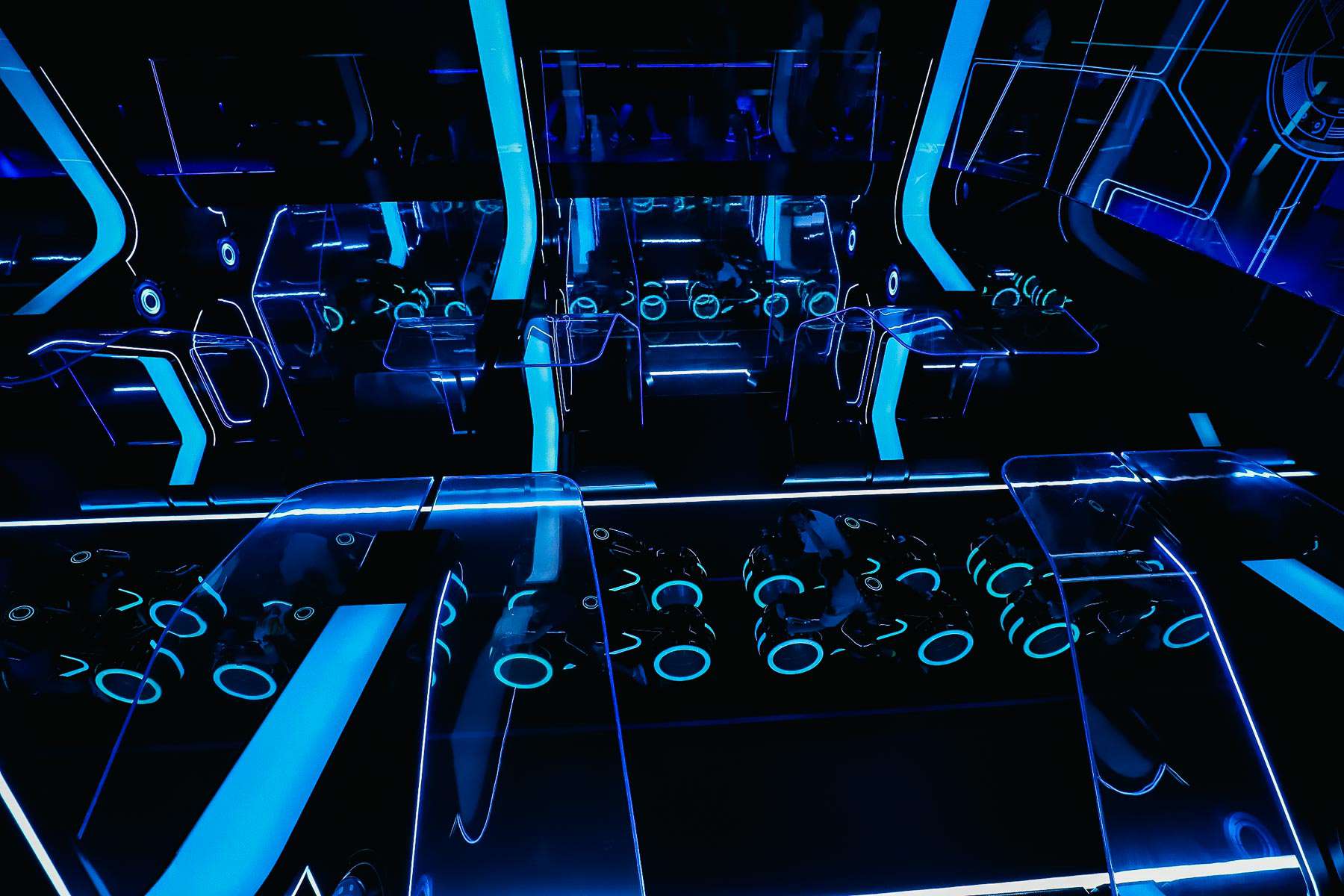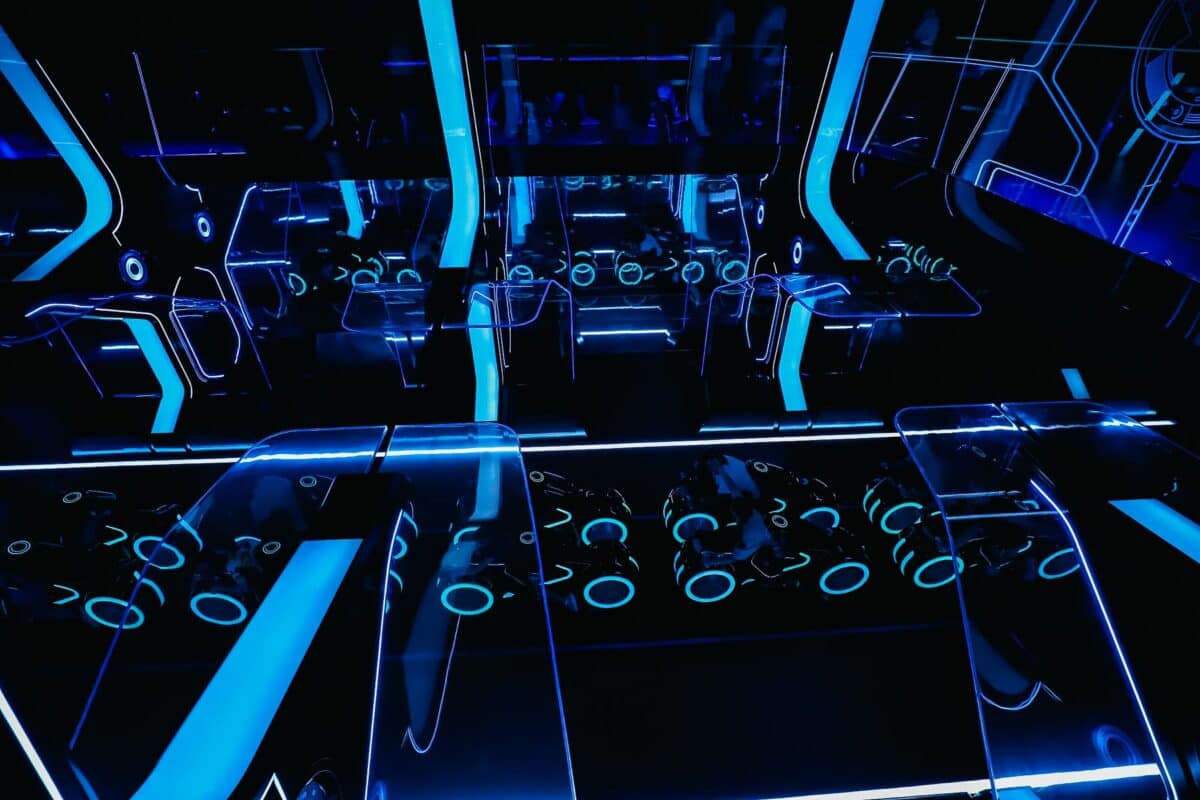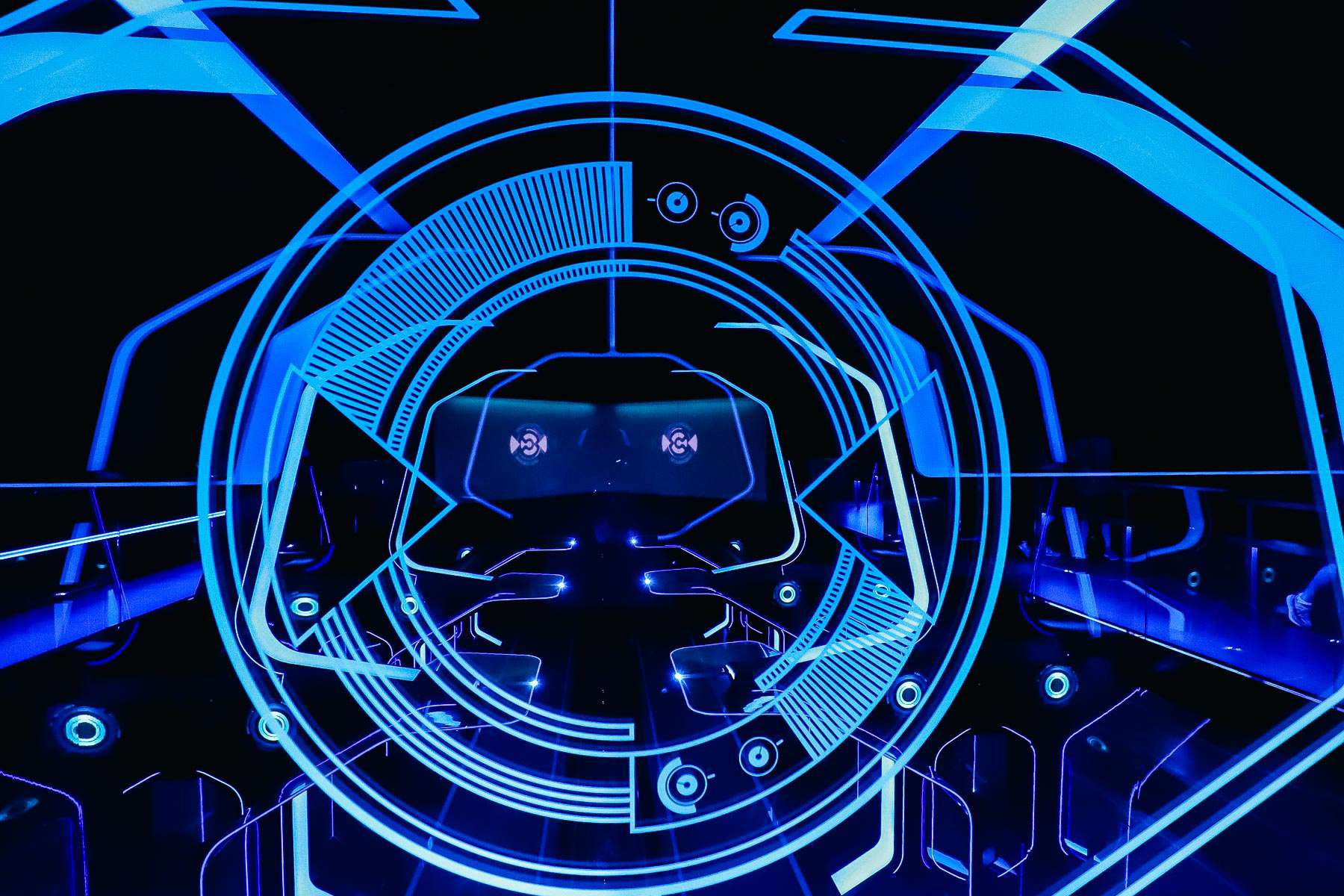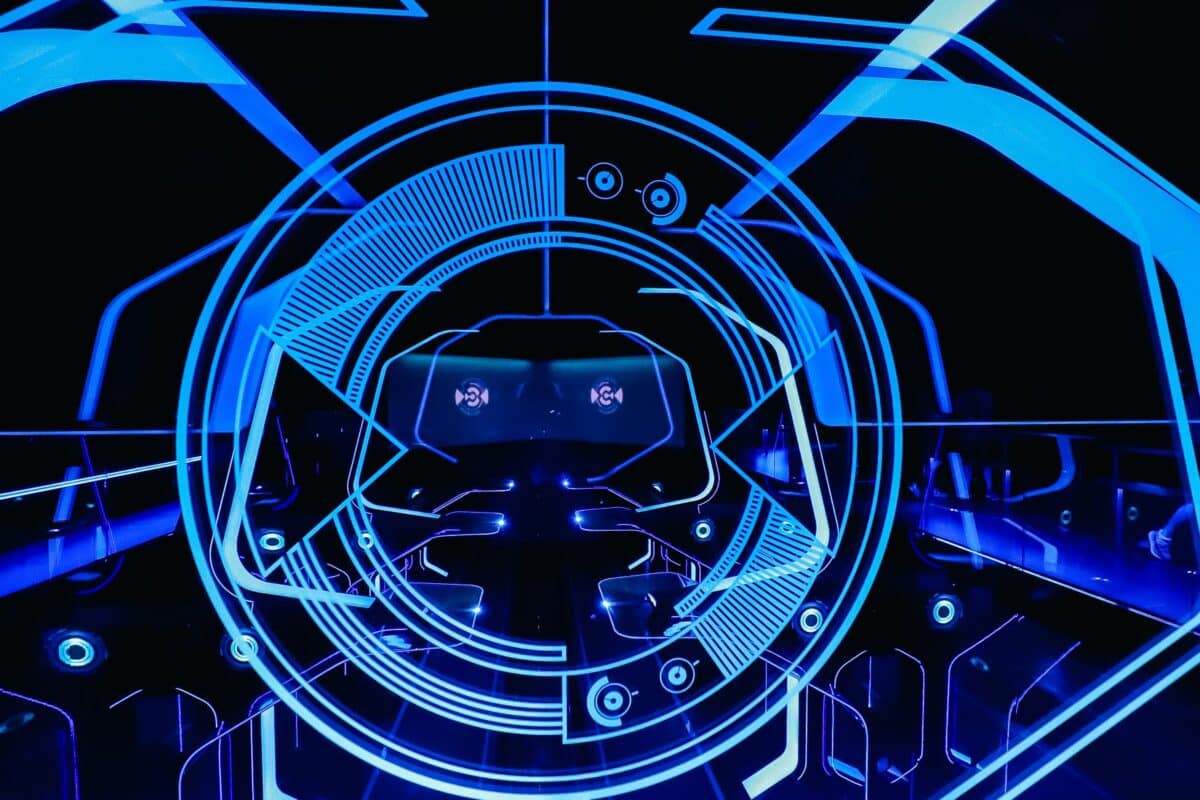 Unless you're in a hurry, I recommend taking your time as you walk through this space. Ahead, you'll join another queue. However, you're not far from the loading area at this point.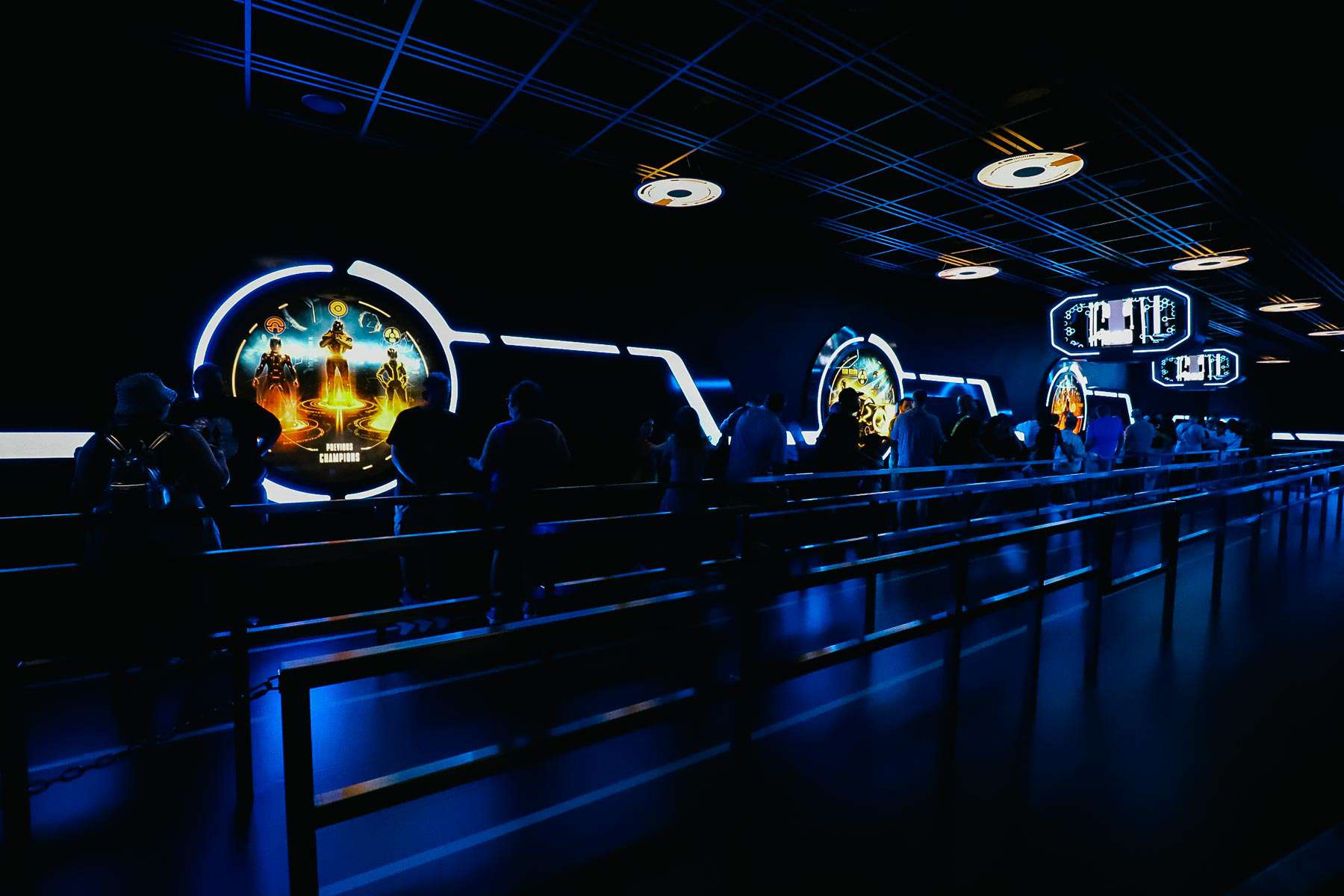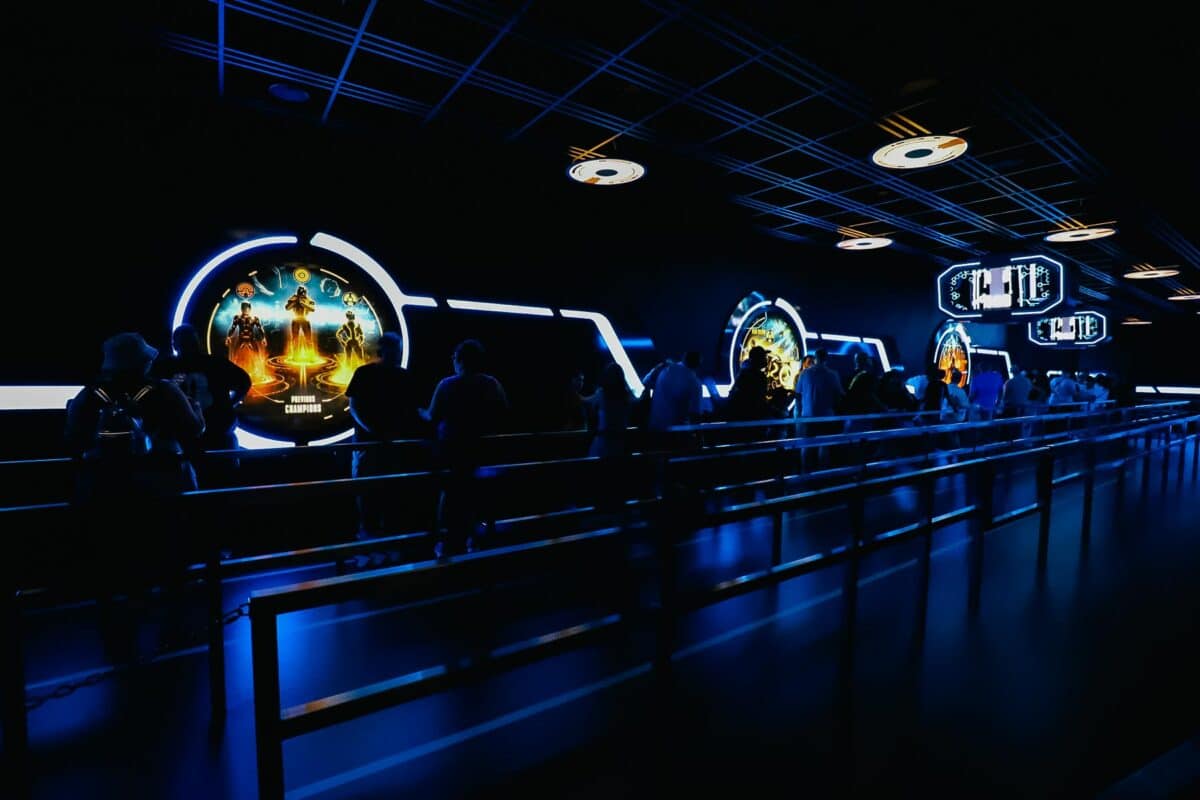 This next room, the Hall of Opponents, contains several discs with users who have beat the grid. Below are a few previous champions.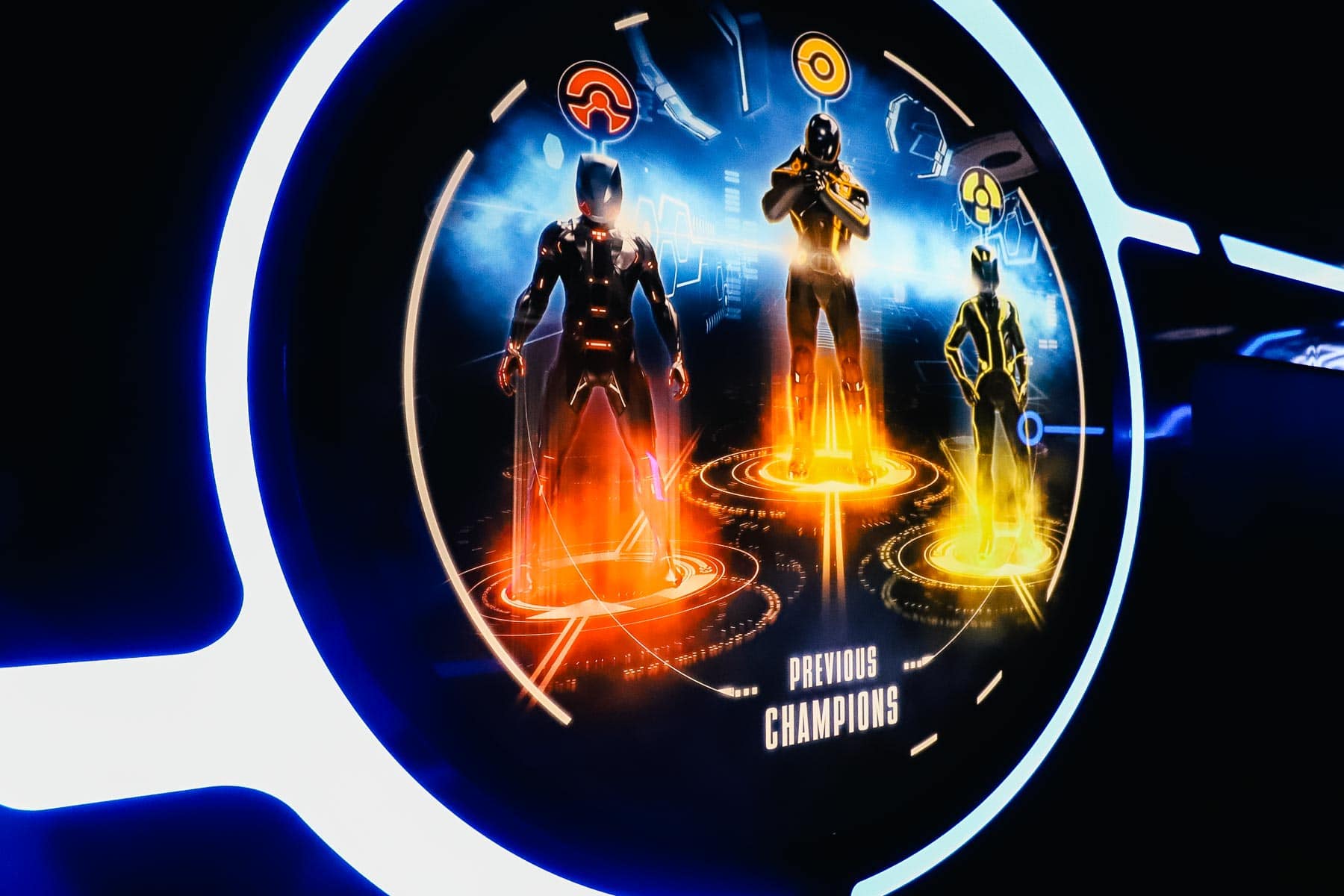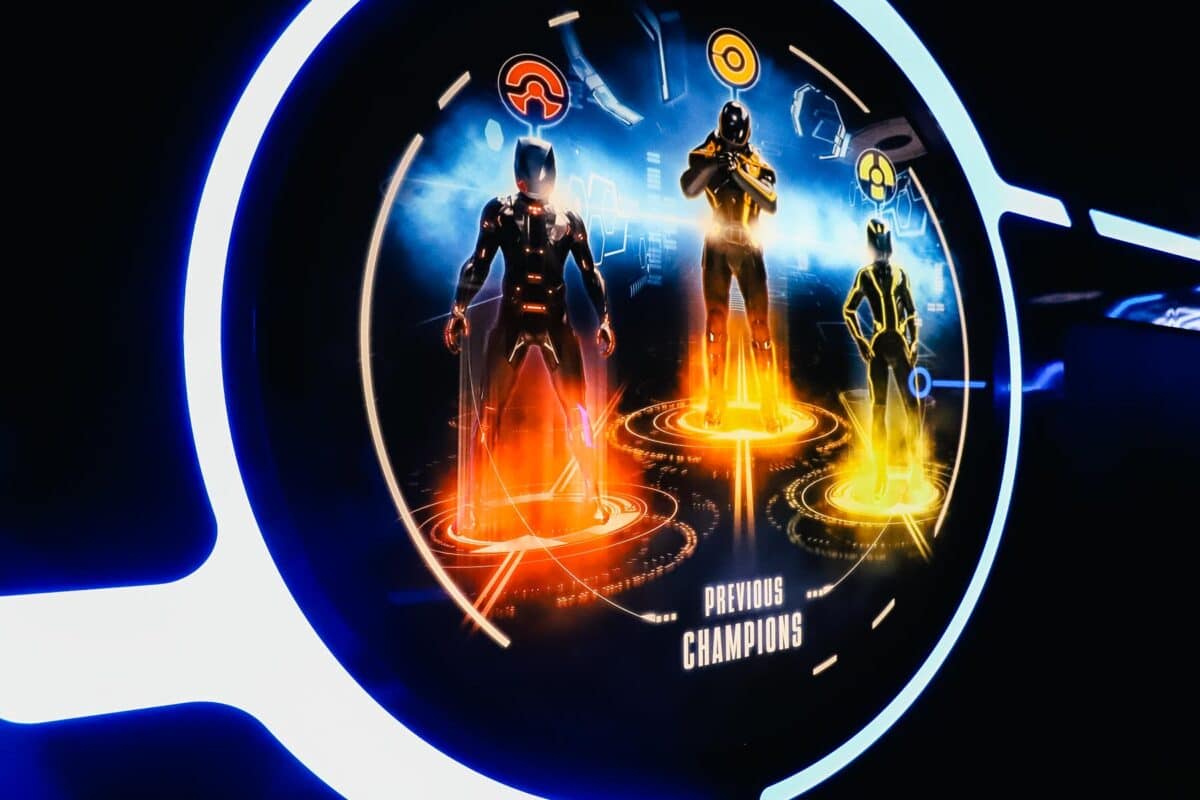 Team Yellow's motto is "Live to race."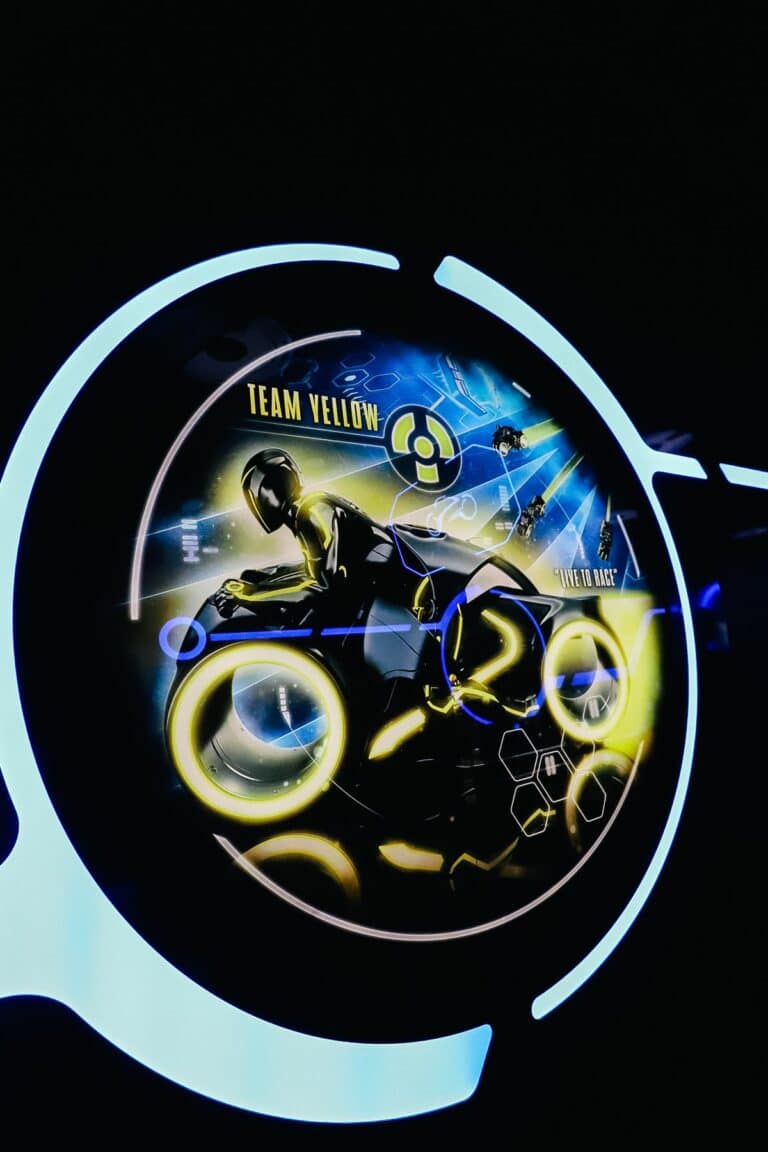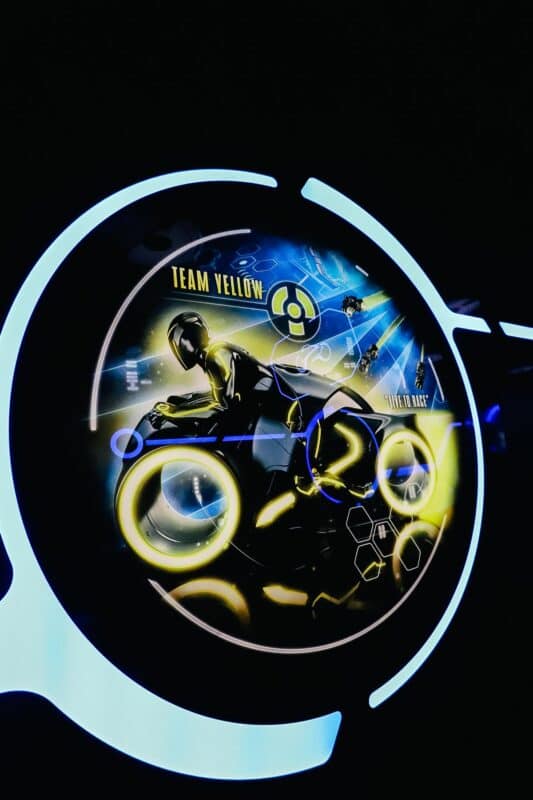 Team Red puts "Speed first."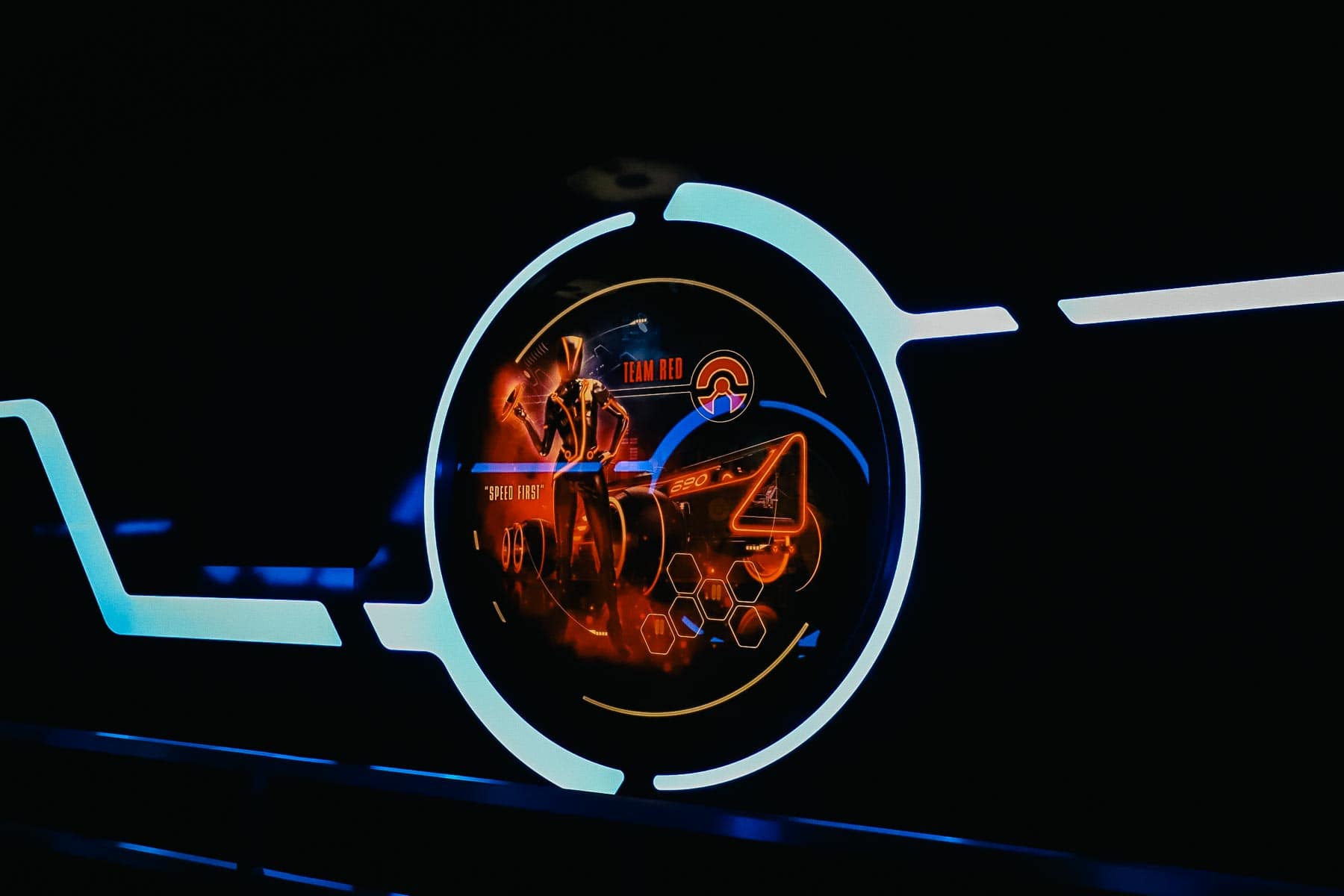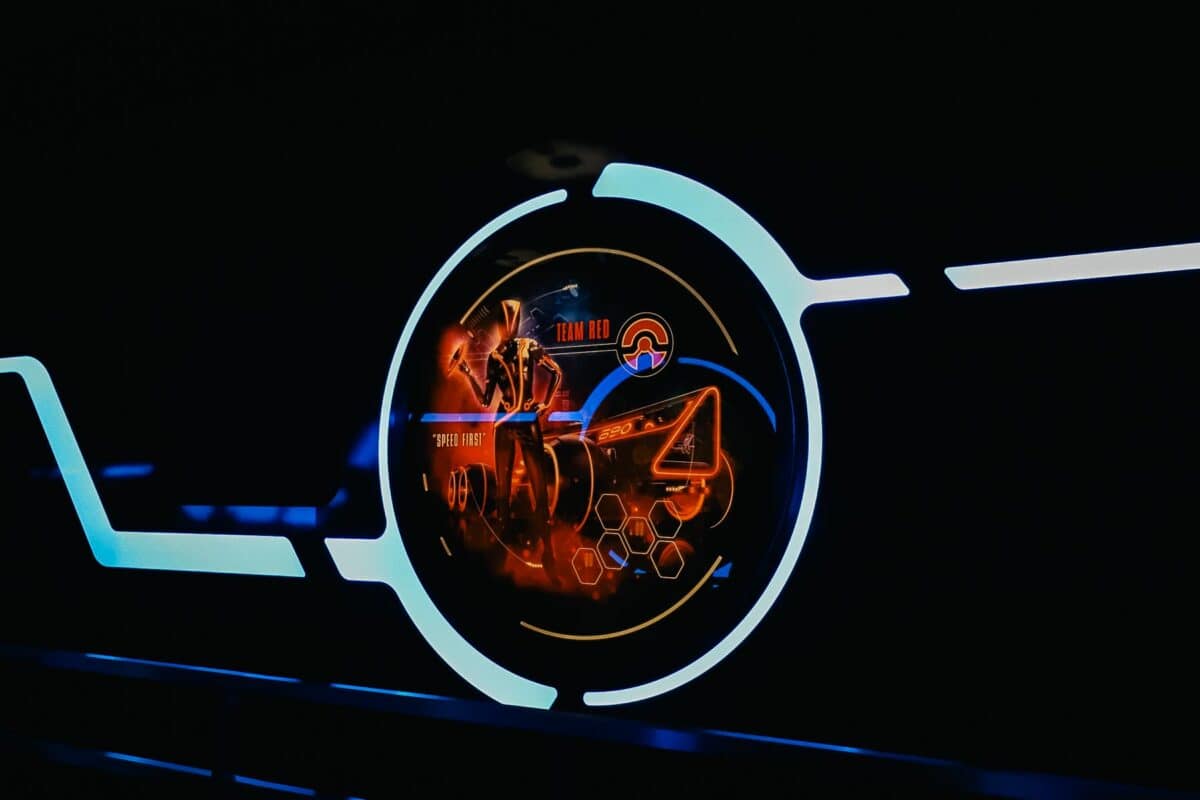 Team Orange will "Battle to the end."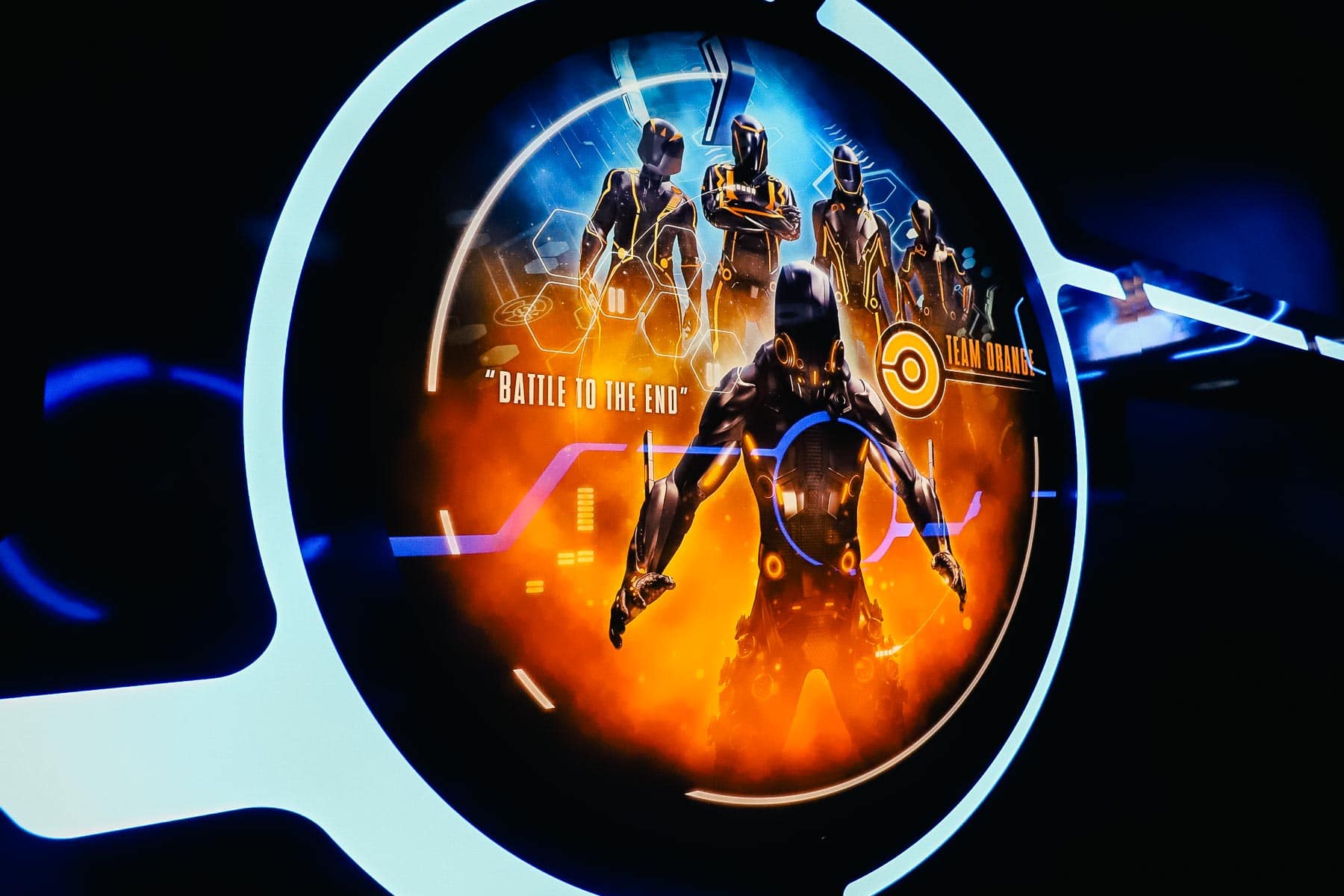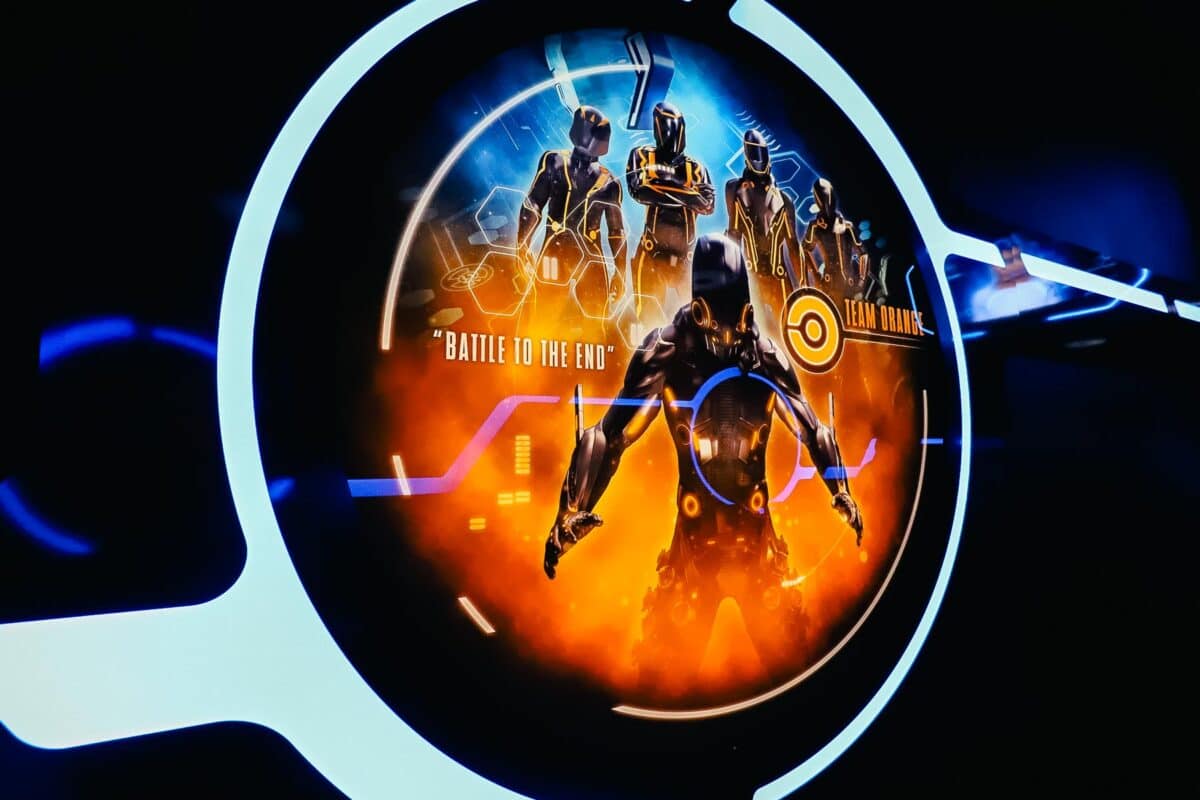 Overhead, there are a few screens with a lightcycle.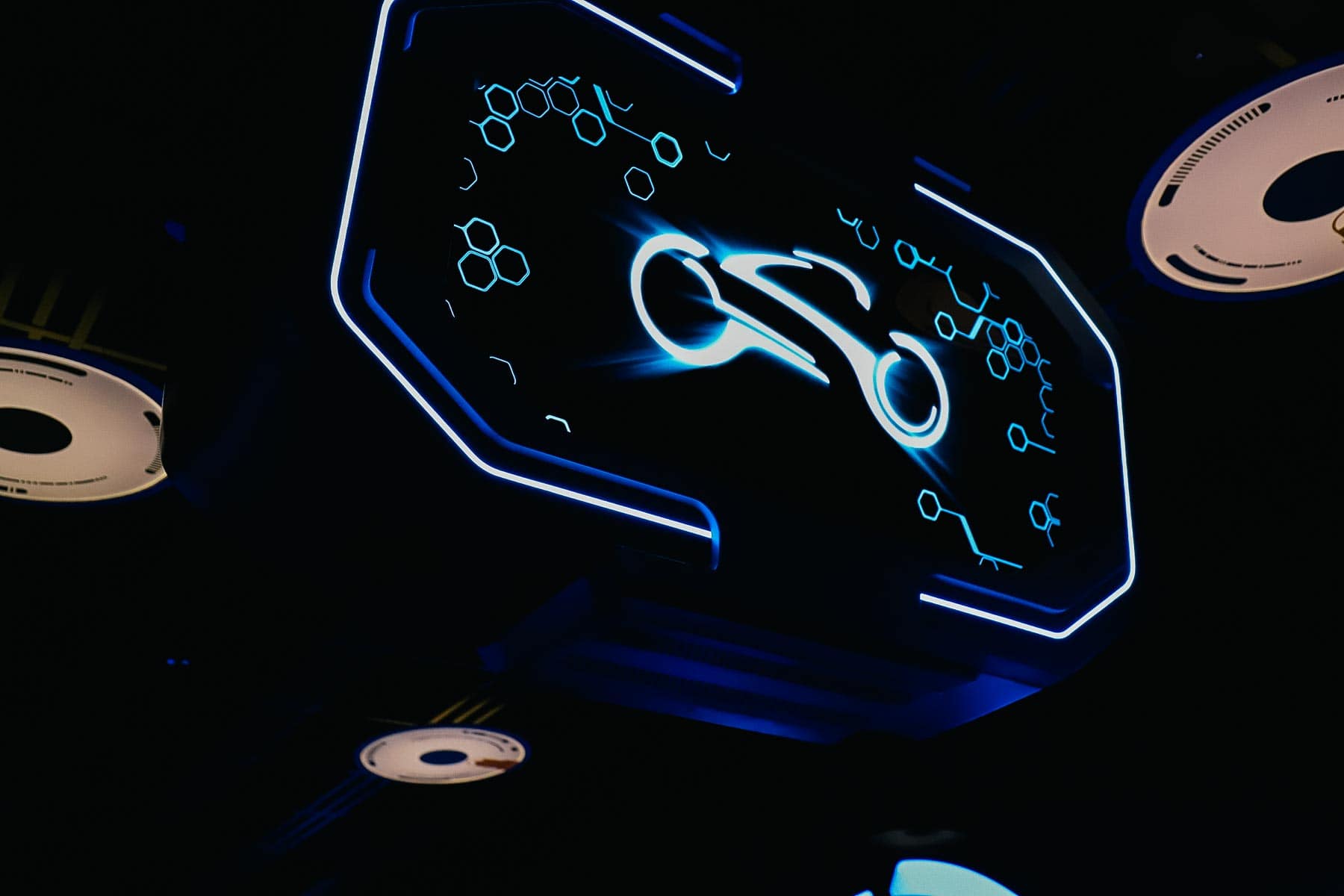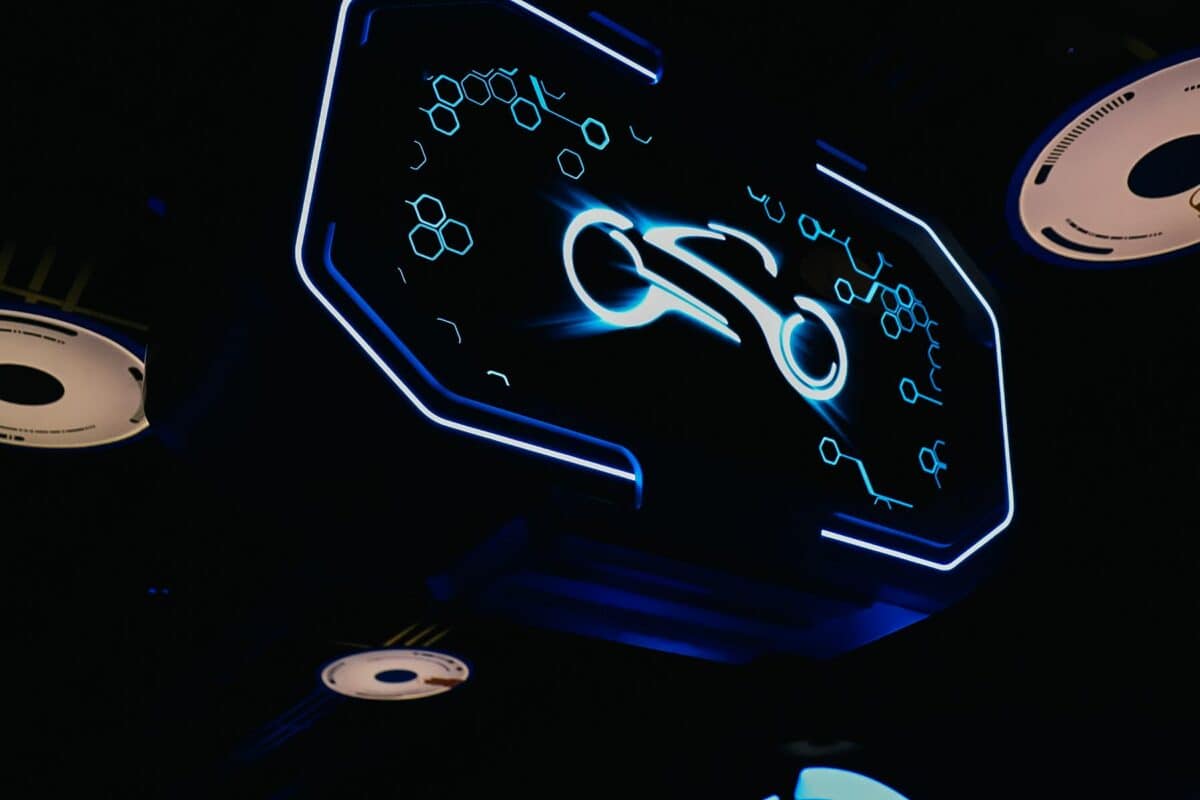 From time to time, a representative of team blue comes on to provide a few reminders.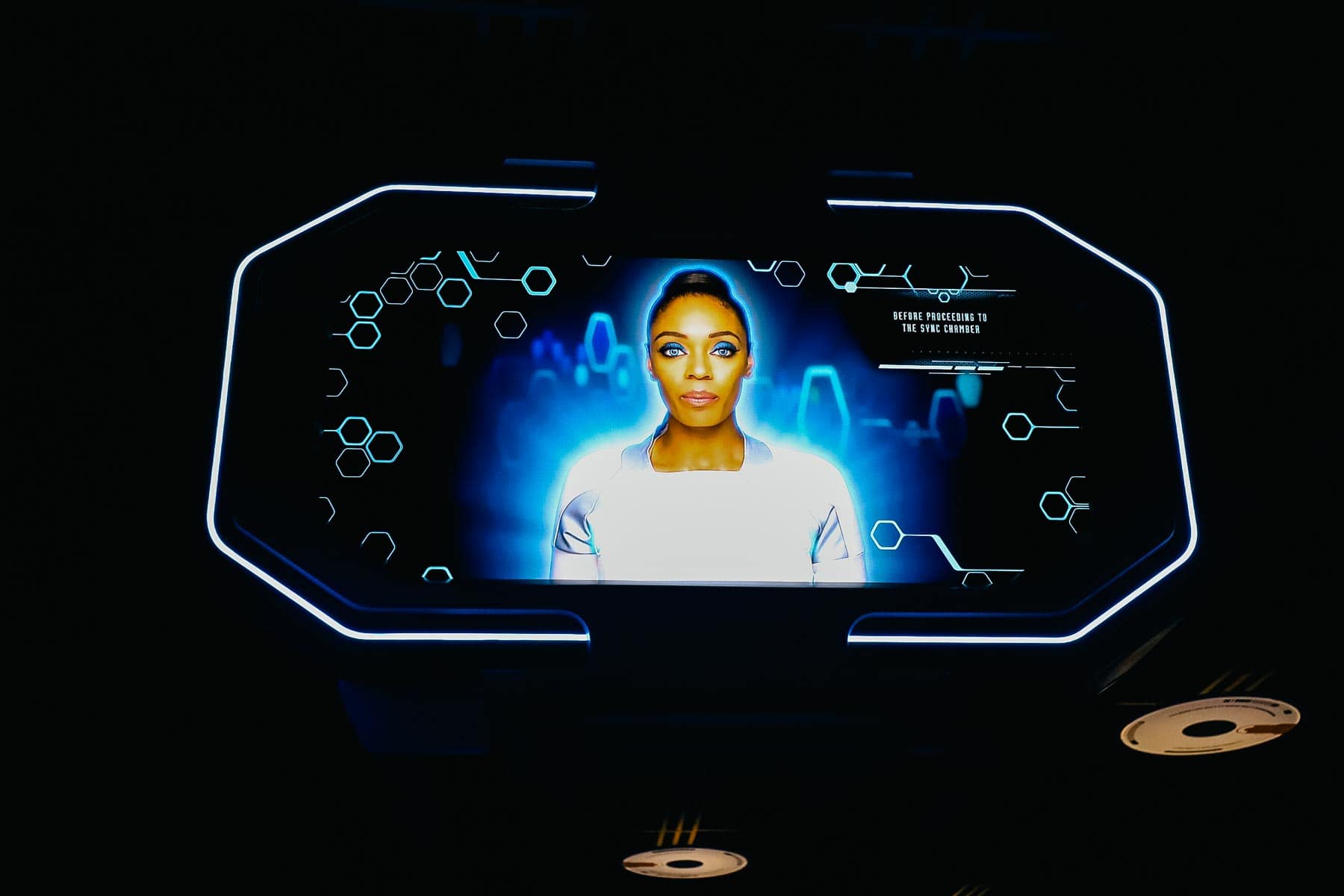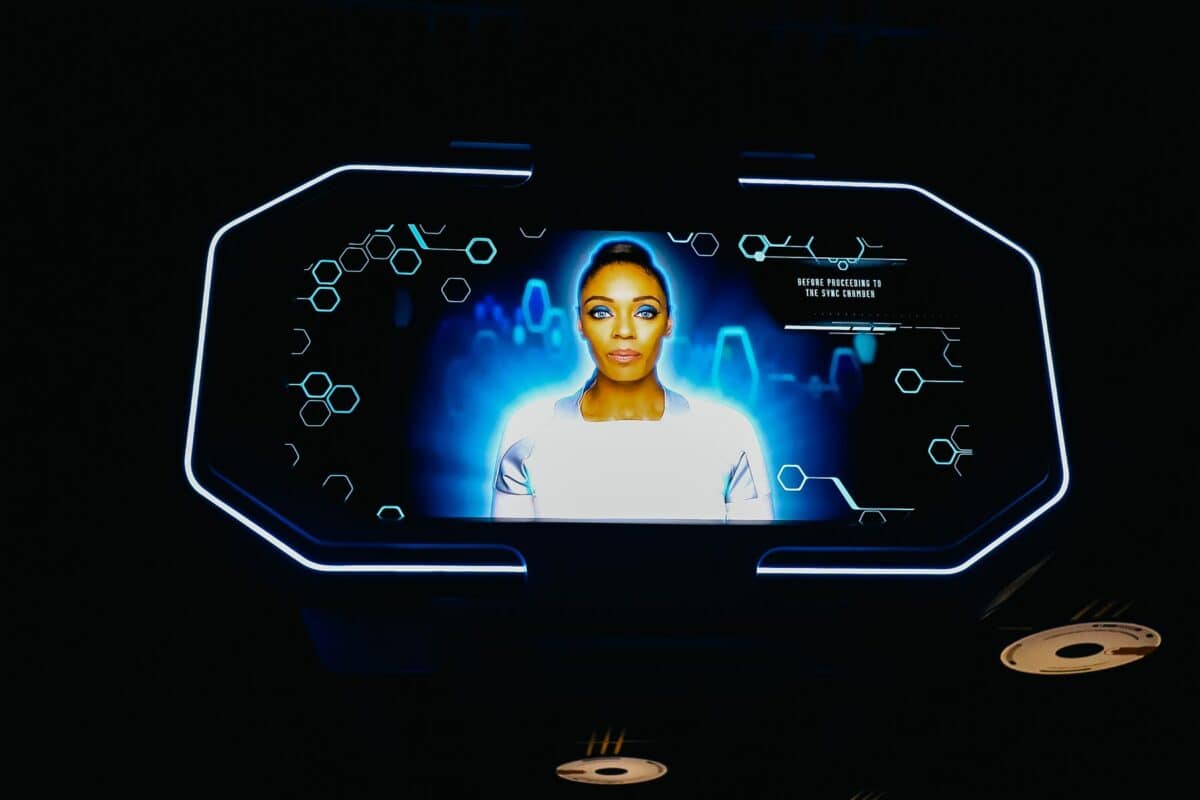 Thankfully, we are all on Team Blue, where "Winning is our destiny."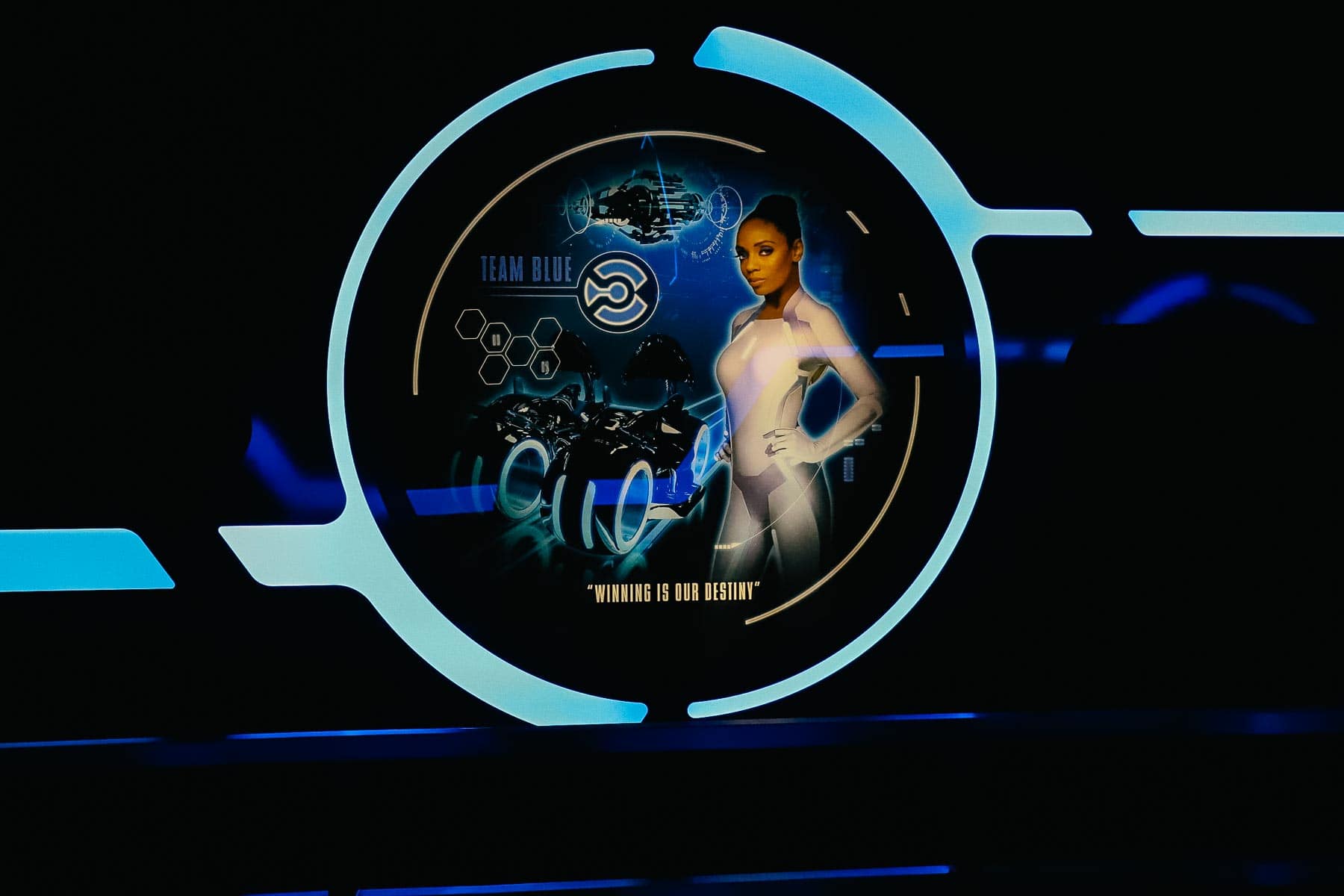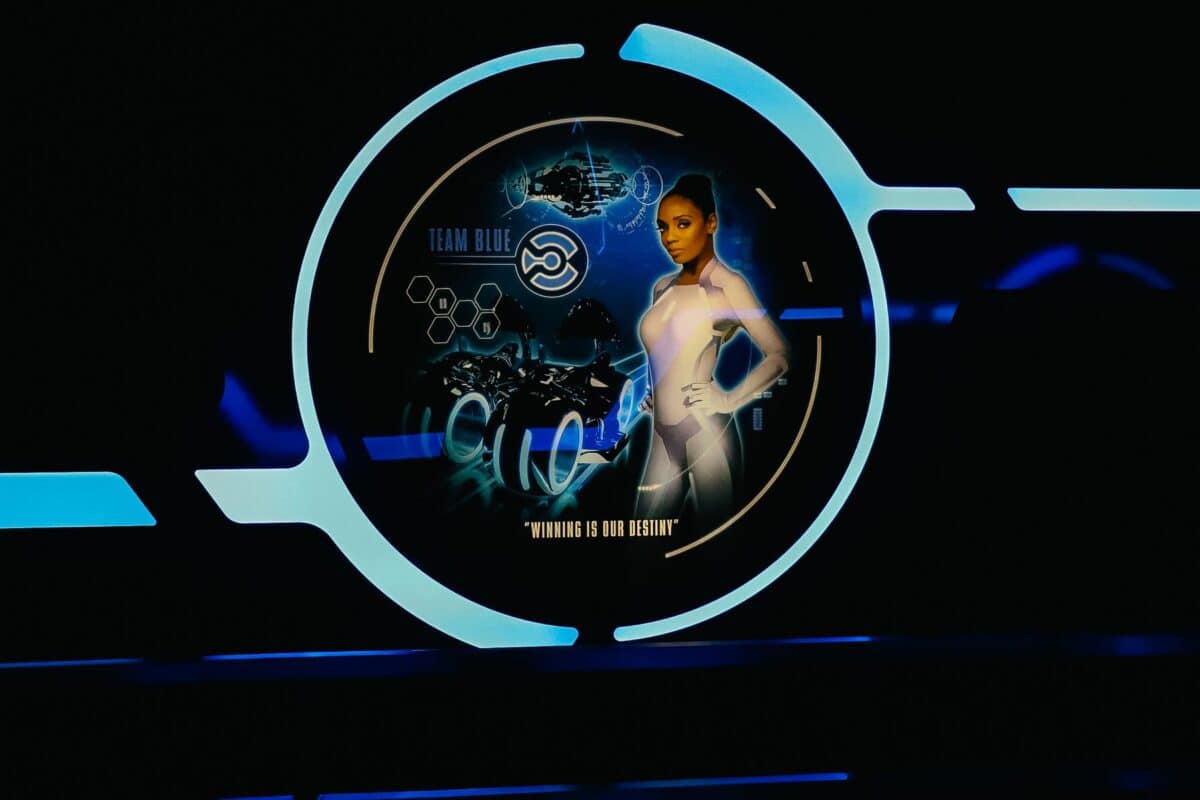 You'll then reach the locker area. Disney has installed double-sided lockers before you reach the attraction's boarding area. A little further down, we have a video that shows clips from the queue and the locker area.
There are several series of lockers. We were assigned the 600 section. So when it was our turn, we walked to the 600s and selected a locker with a glowing number.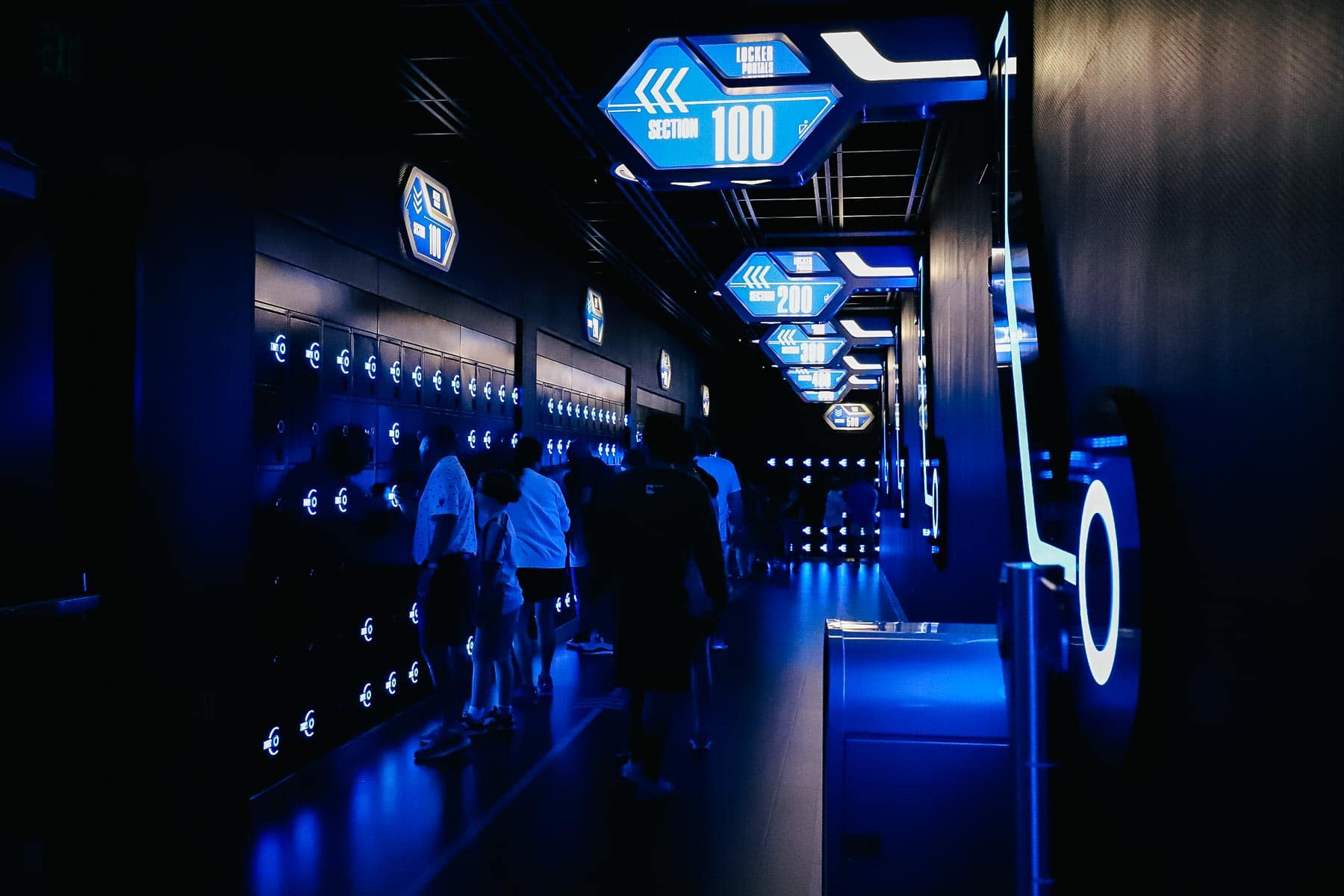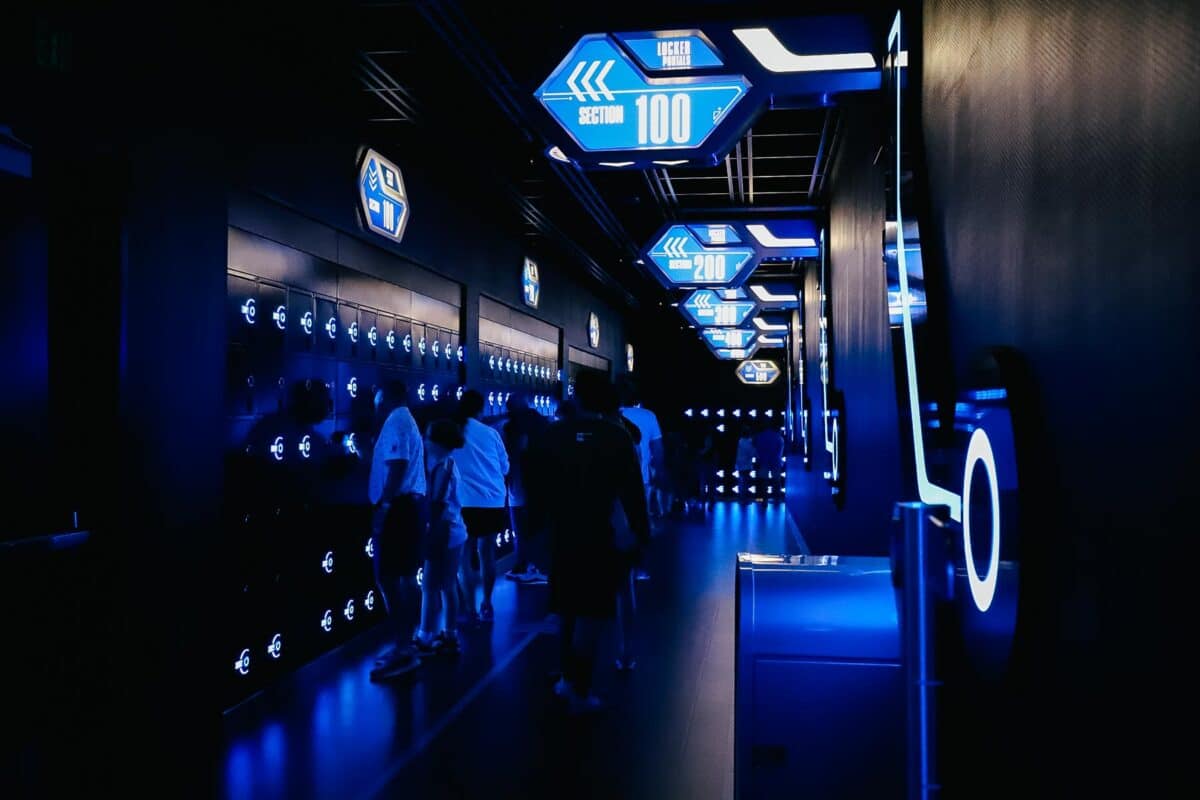 Then we scanned our MagicBand to open the locker and store our items. We had a standard-size backpack and a regular camera with a medium size lens. Both fit comfortably inside the locker.
If you don't have a magic band, you can scan your ticket or ask a cast member in the area to assist. There were several cast members helping guests figure out their items.
When you exit the ride, you'll enter an unloading area where the lockers await. However, since they are double-sided lockers, this is not the same area where you stored your items. So it might not be very clear.
The locker number is lit up on this side, indicating it's waiting for you. You'll then scan your band or ticket to retrieve your items.
Between each set of lockers, there's a reader where you can scan your band. It then provides your locker number. So if you forget your locker number in all the excitement, it's not a big deal.
Now back to the ride. After storing our items in lockers, we entered the loading area.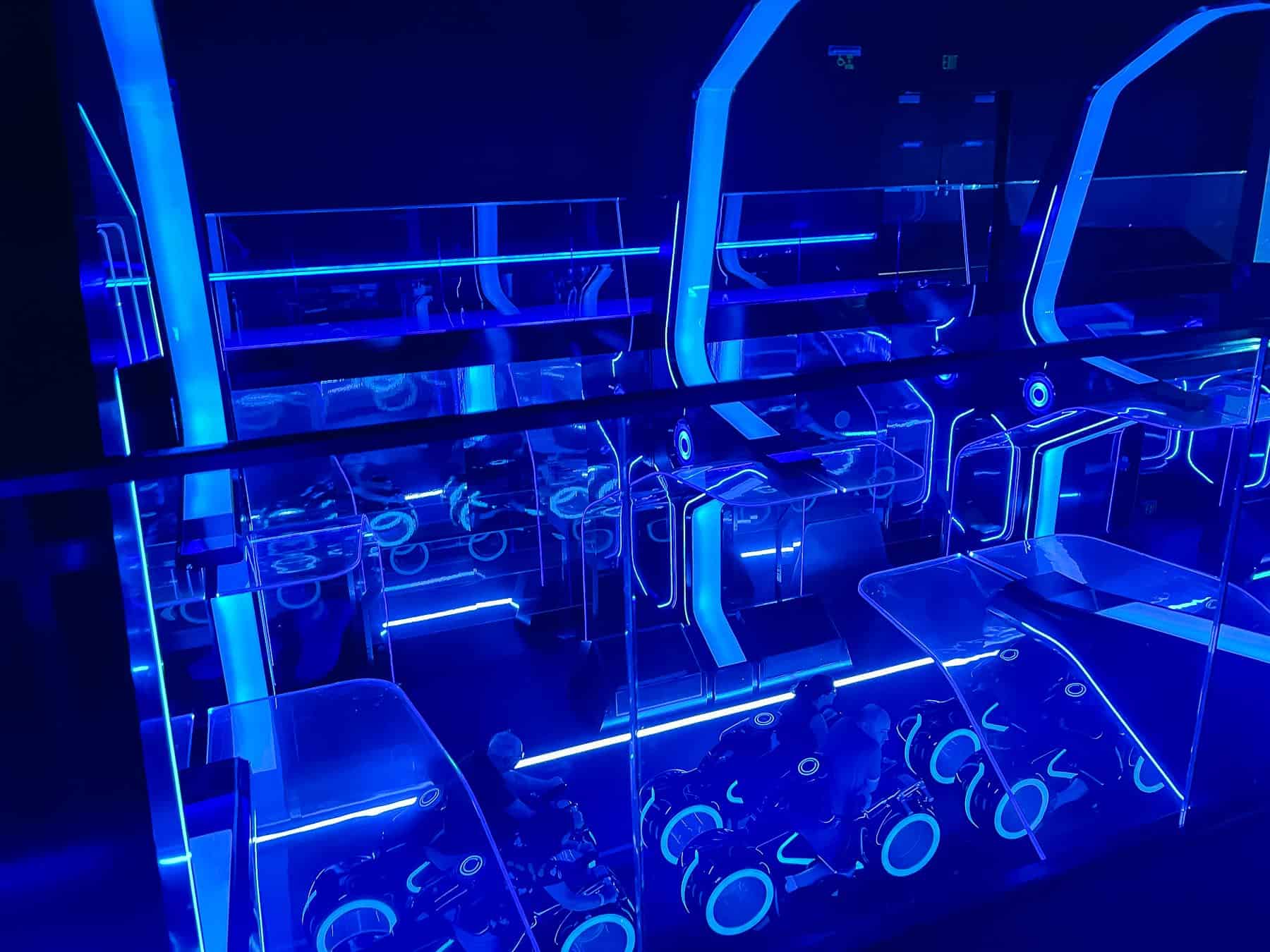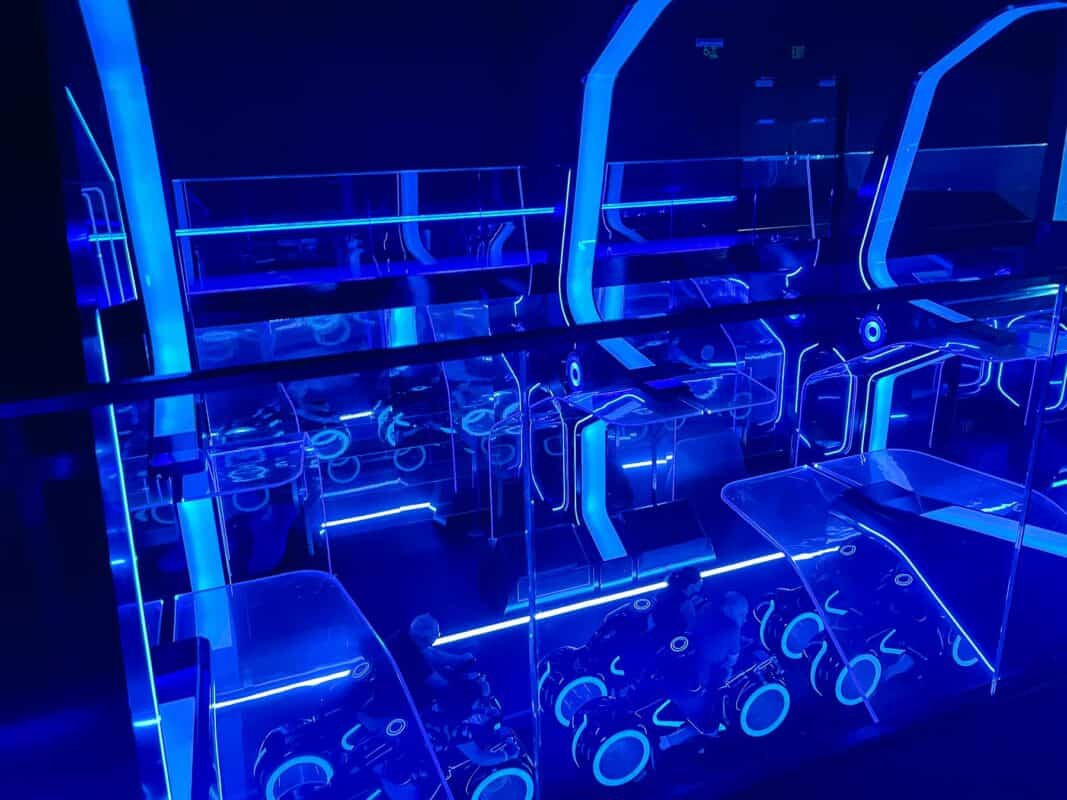 This is where the lightcycles pull up to the gate for riders to board.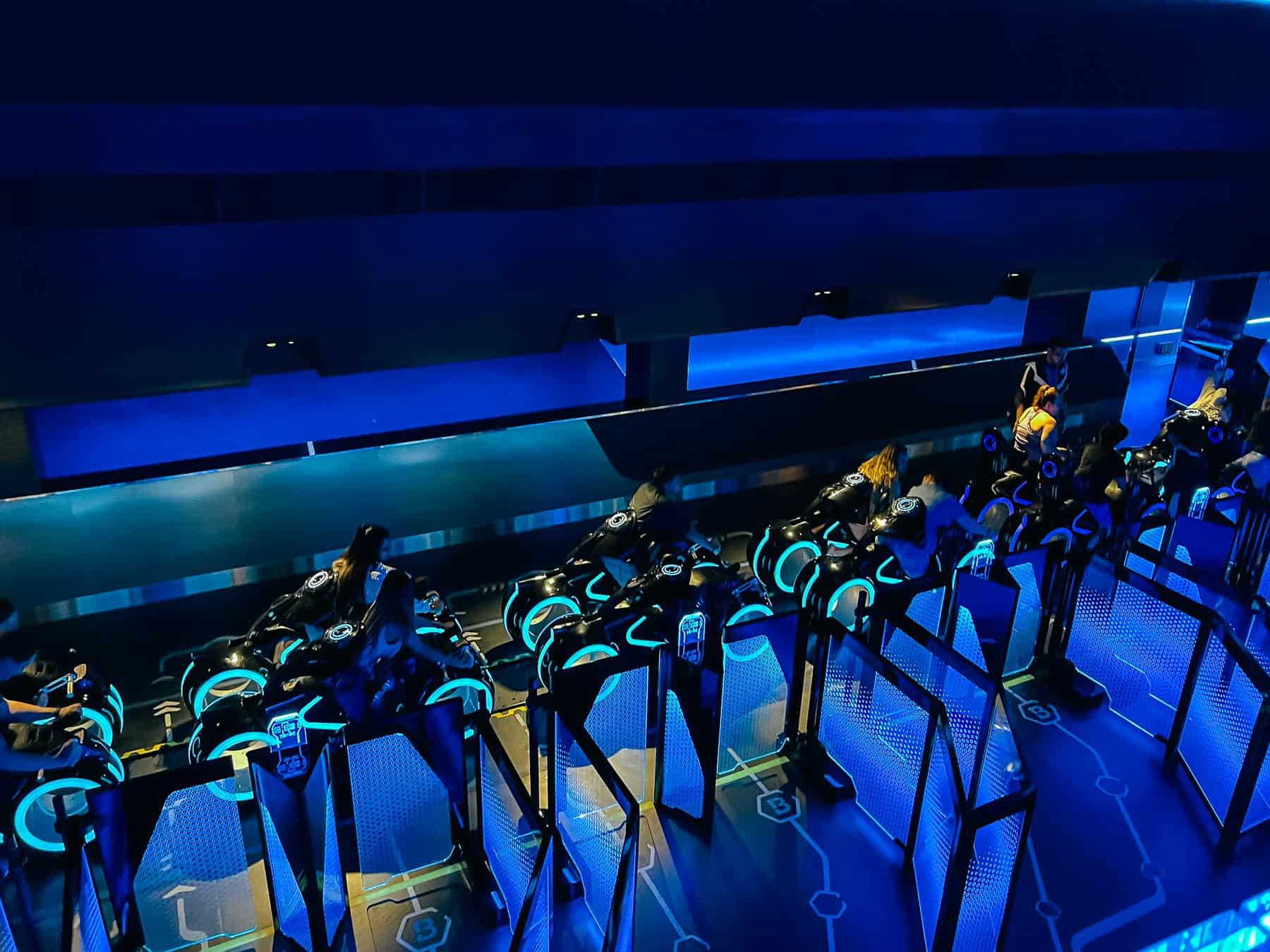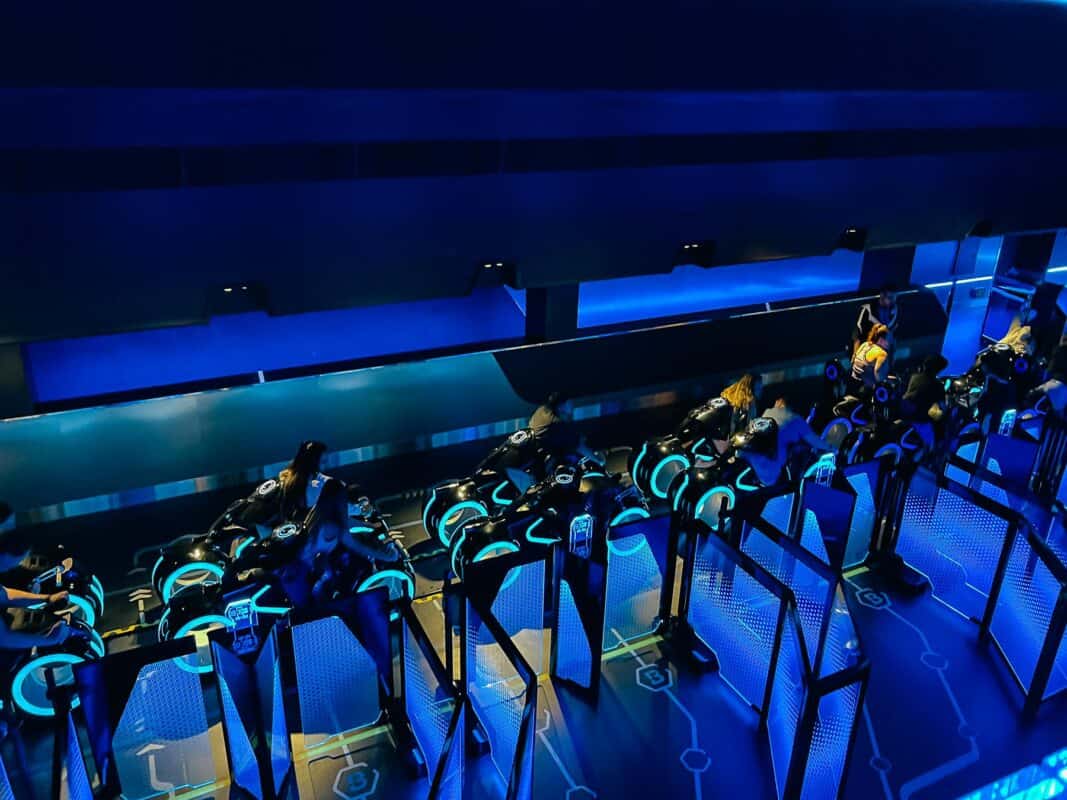 We were assigned position two.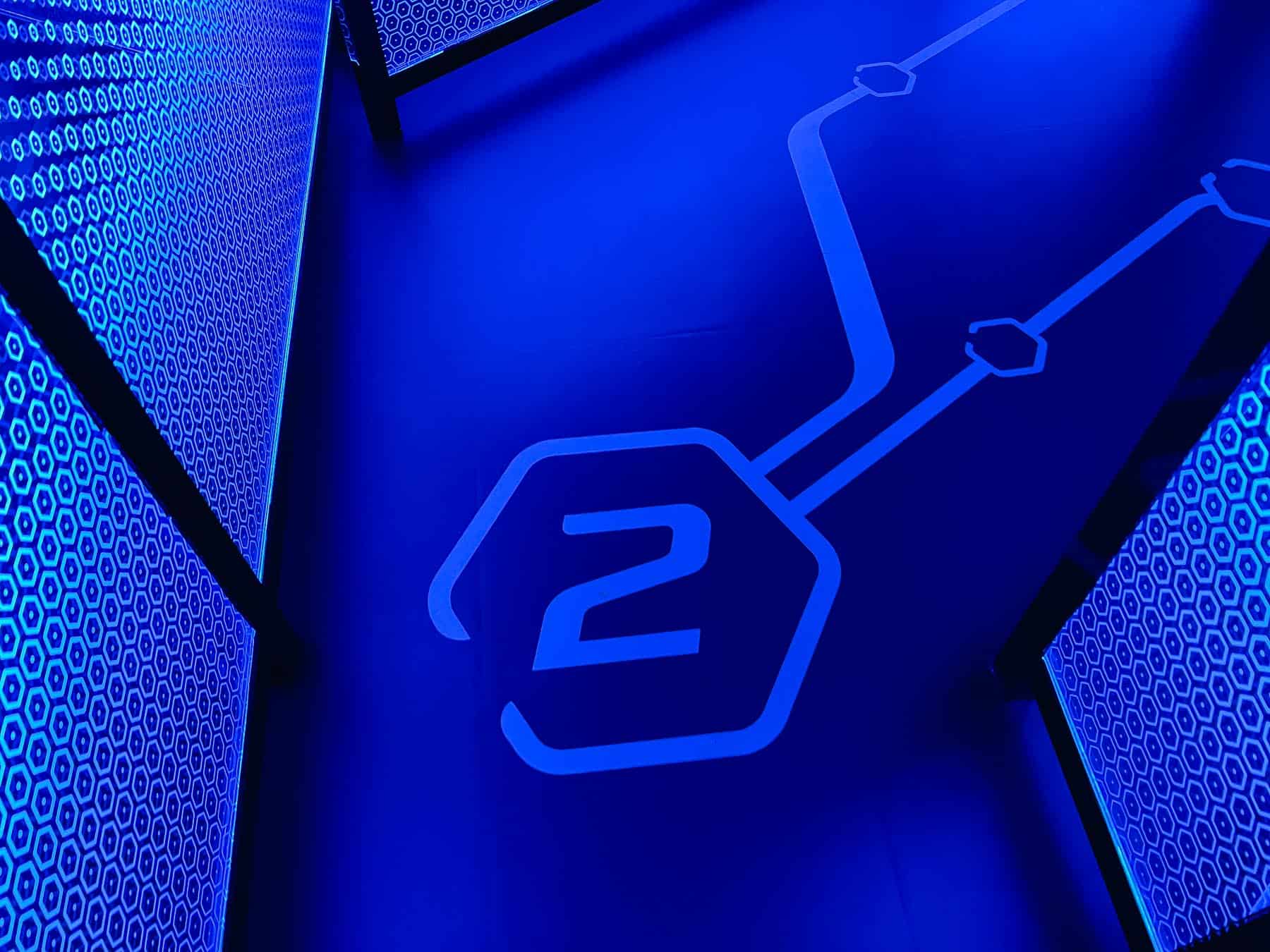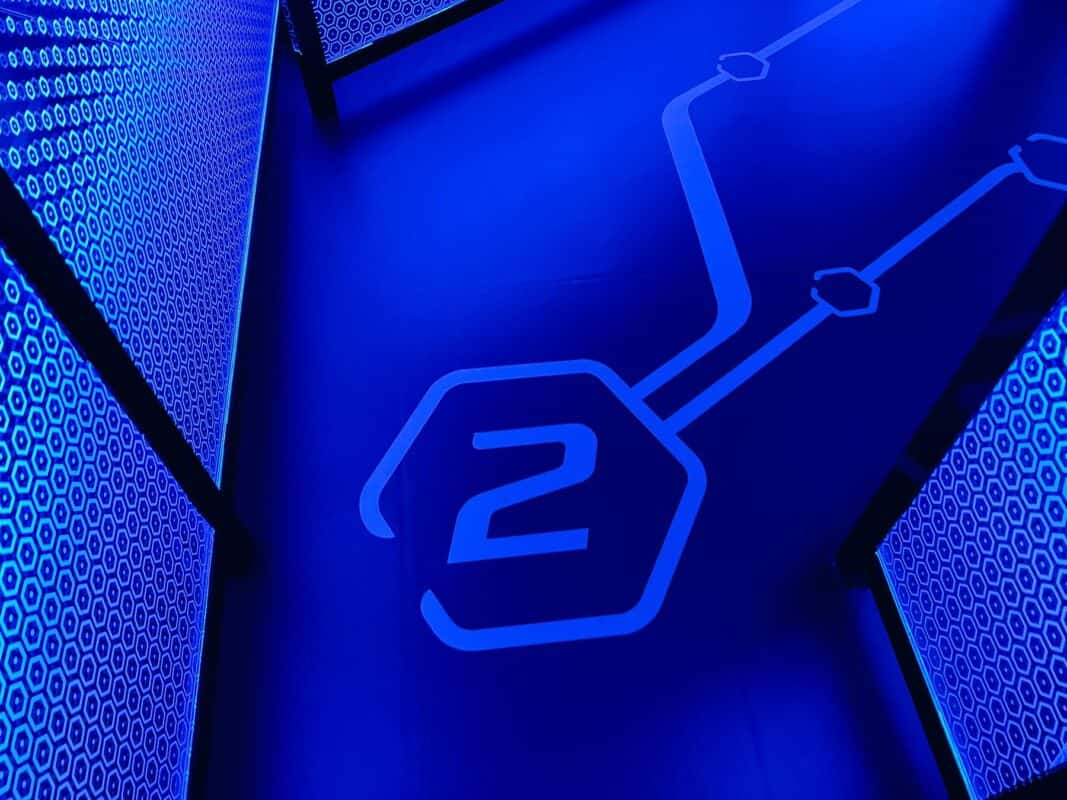 Each position has an A or a B option. These indicate which side of the bike you'll board.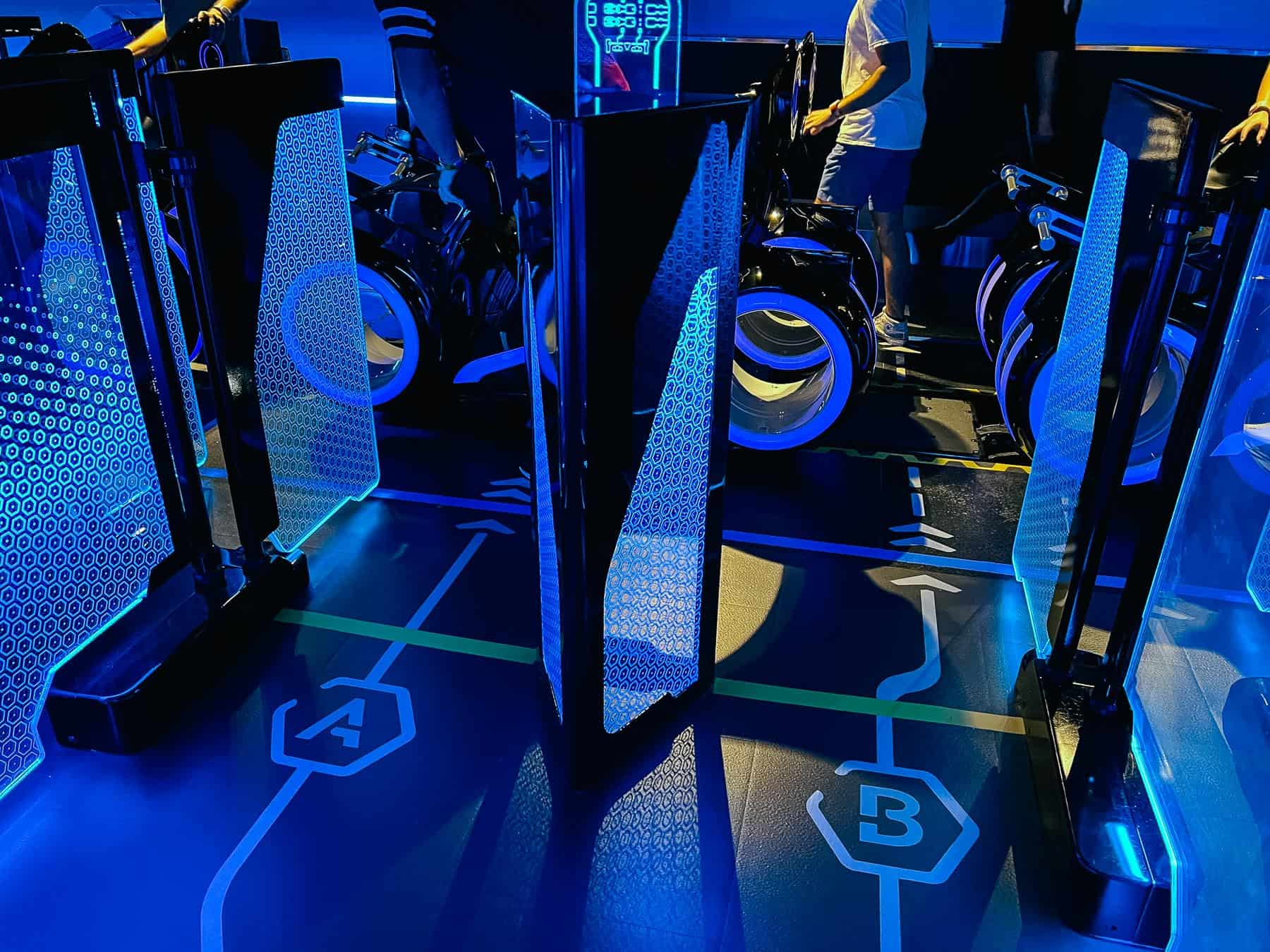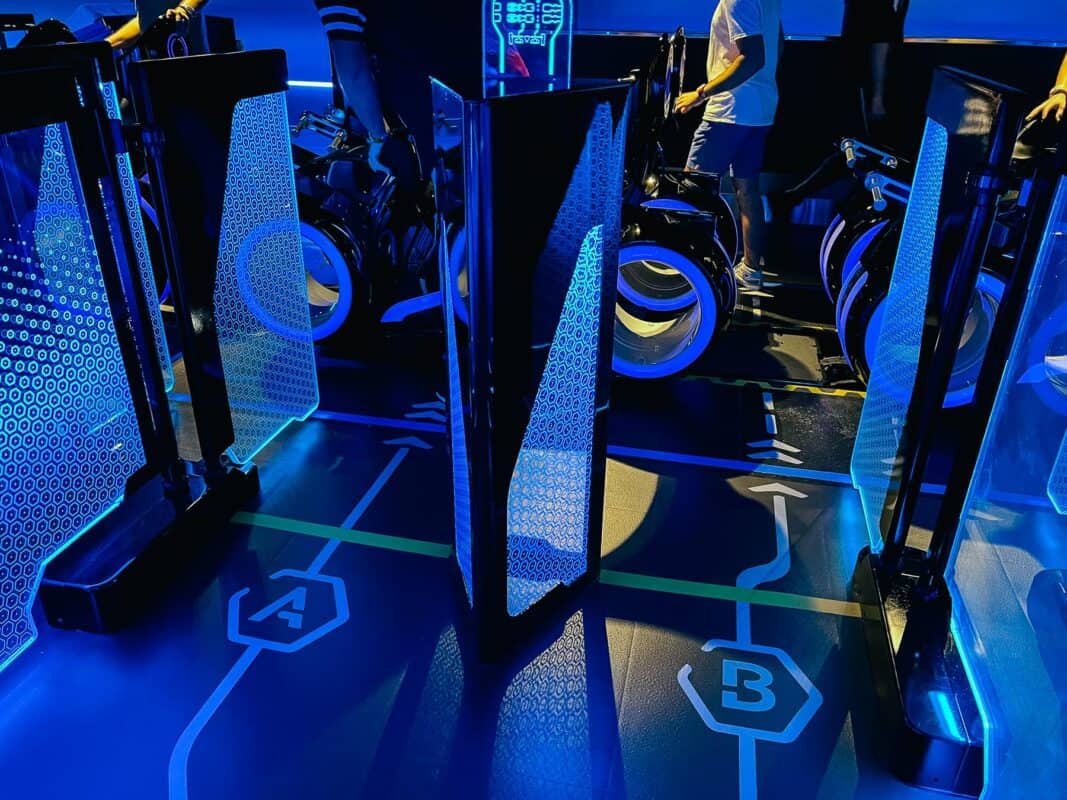 There is a sign that shows the loading procedure. Guests in row B will walk behind the cycles and board on the opposite side.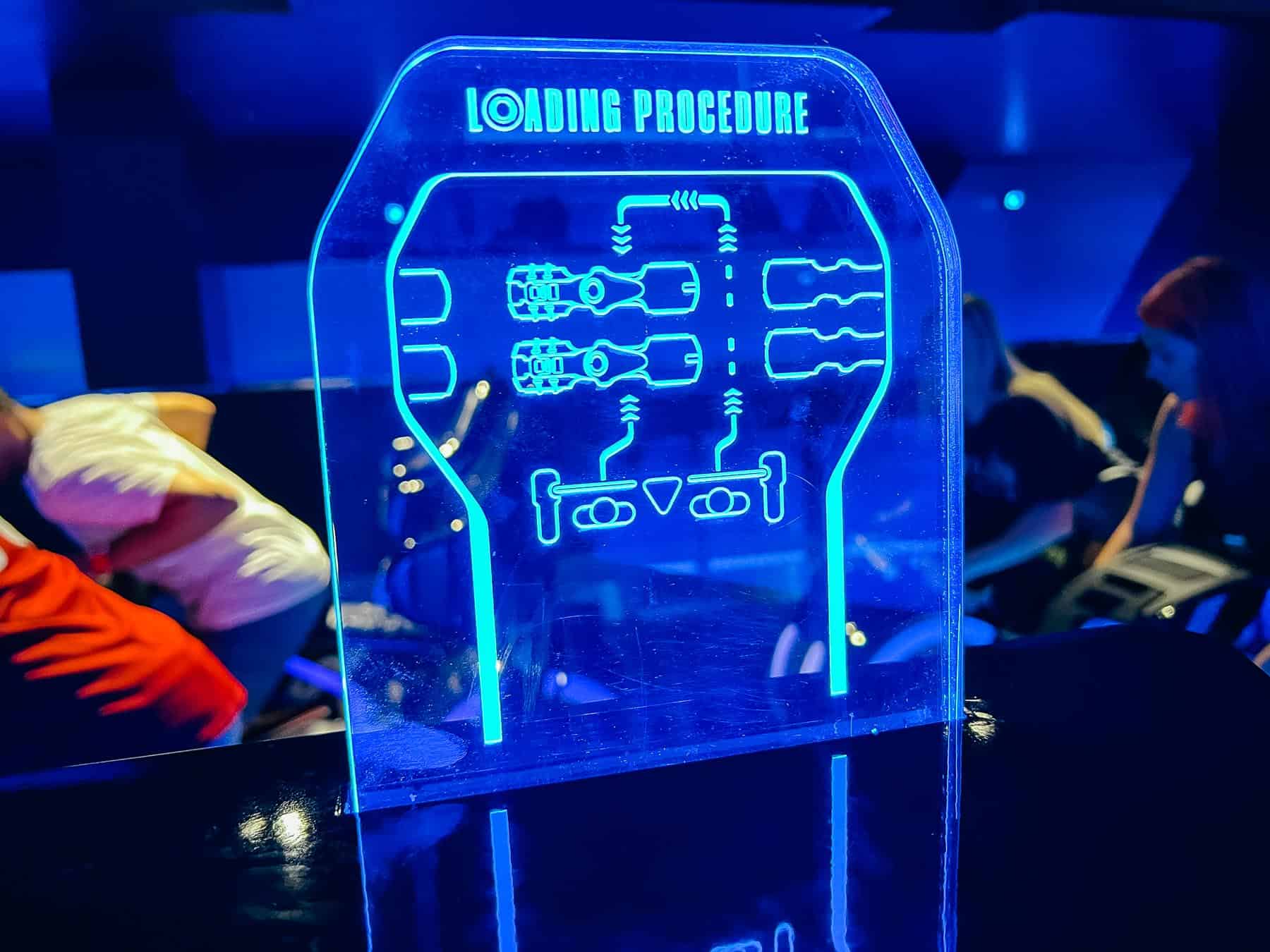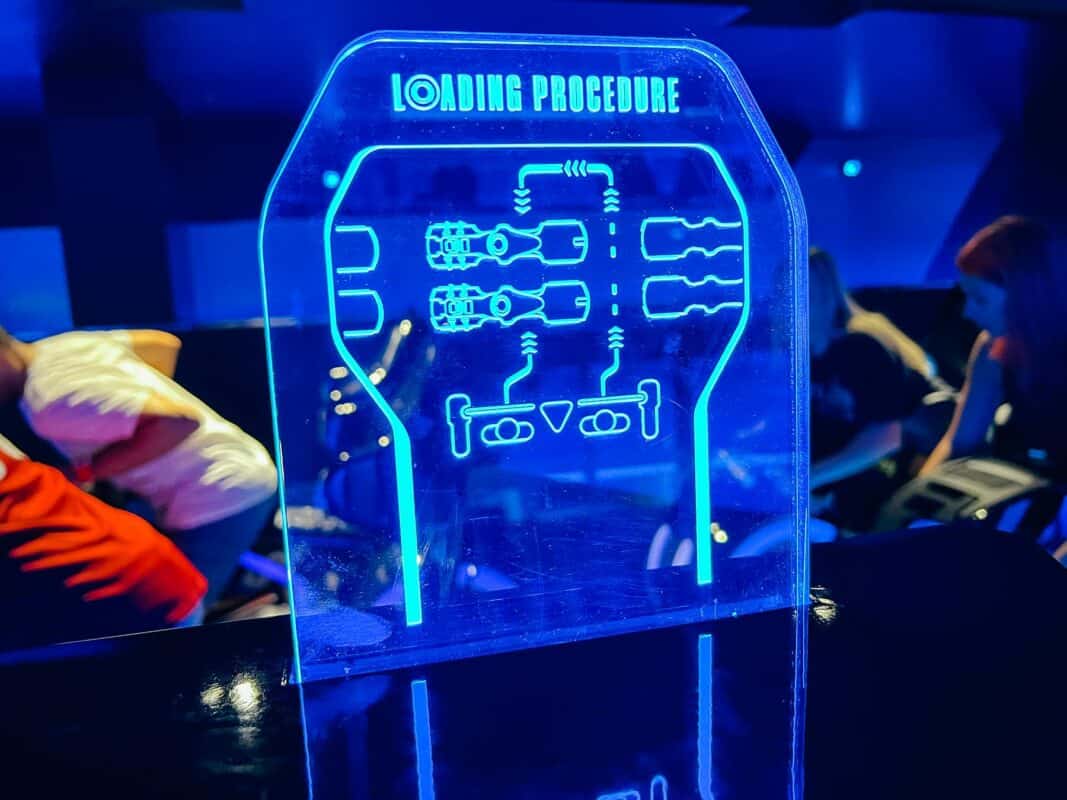 Here is a photo of the walkway across for guests in row B. It's pretty self-explanatory once you're there. But you don't know what you don't know beforehand.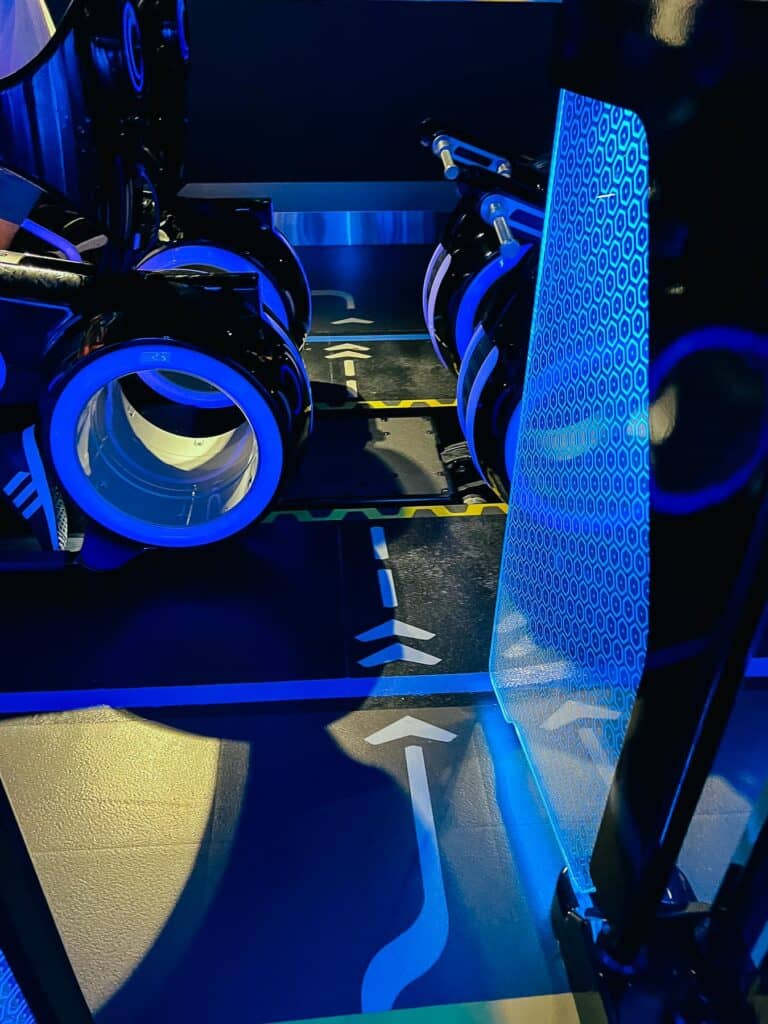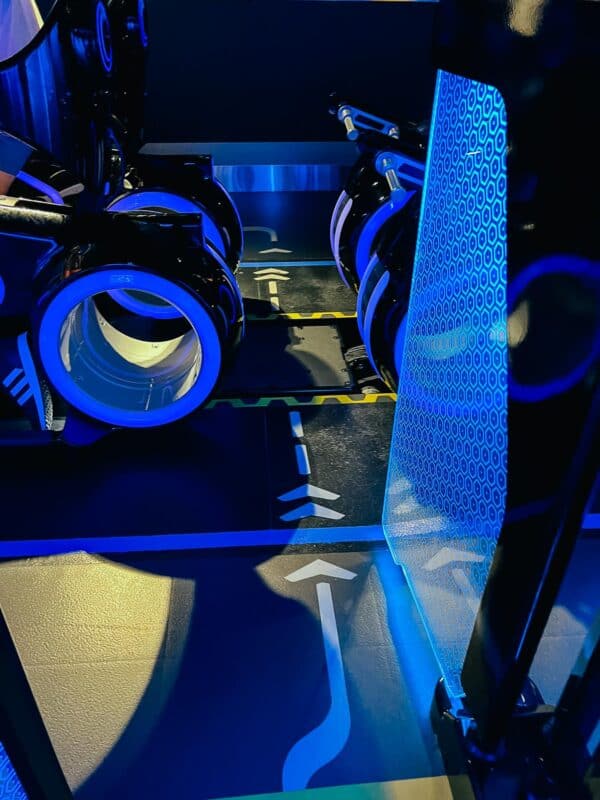 At this point, I stored my phone. A small compartment toward the front of the cycle allows enough room for a phone.
After we rode, I took photos of the test cycles outside the accessibility entrance. Basically, you'll board this like a motorcycle. Once aboard, you'll lean forward, grab the handles, and push them forward. This lowers the back piece and secures it.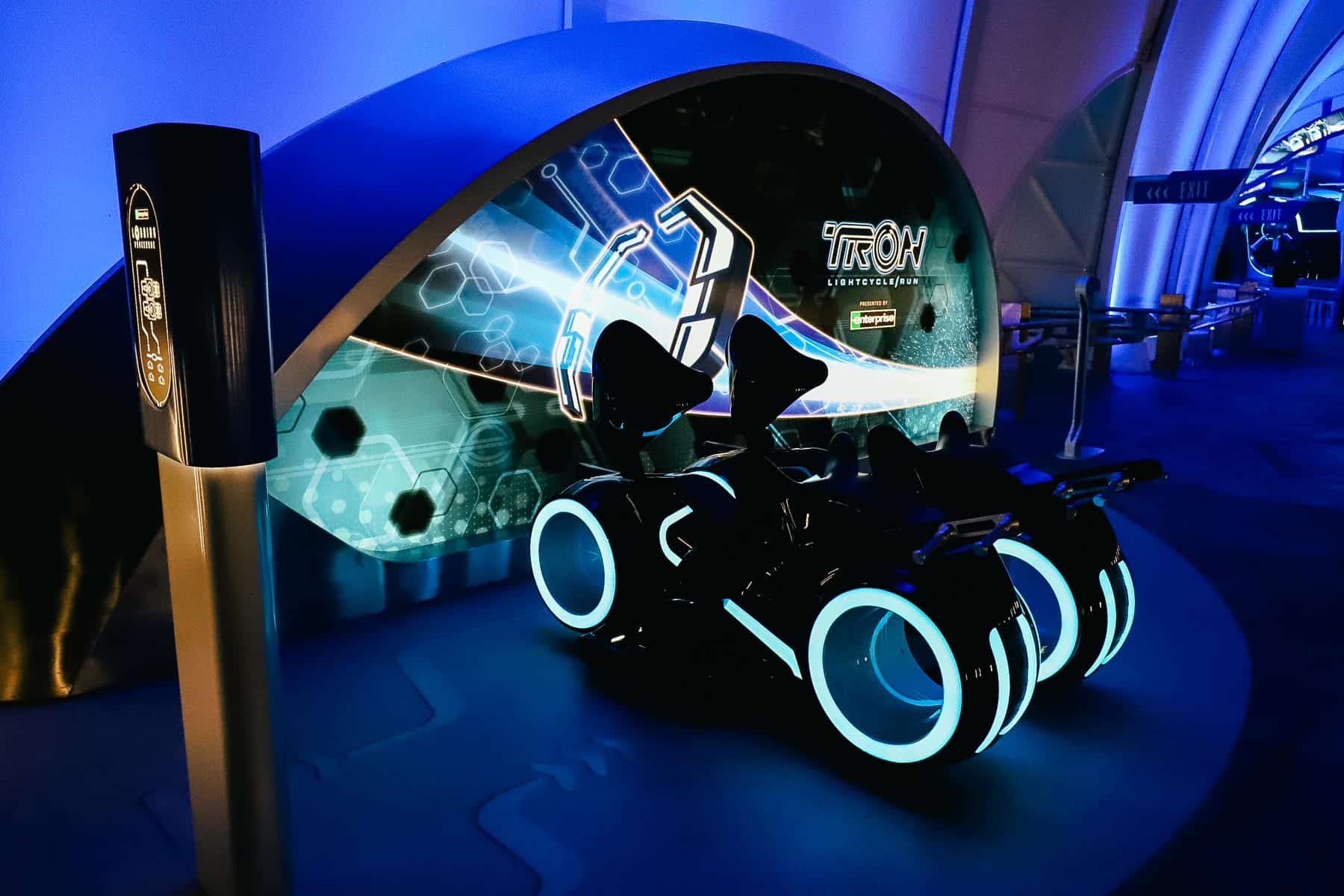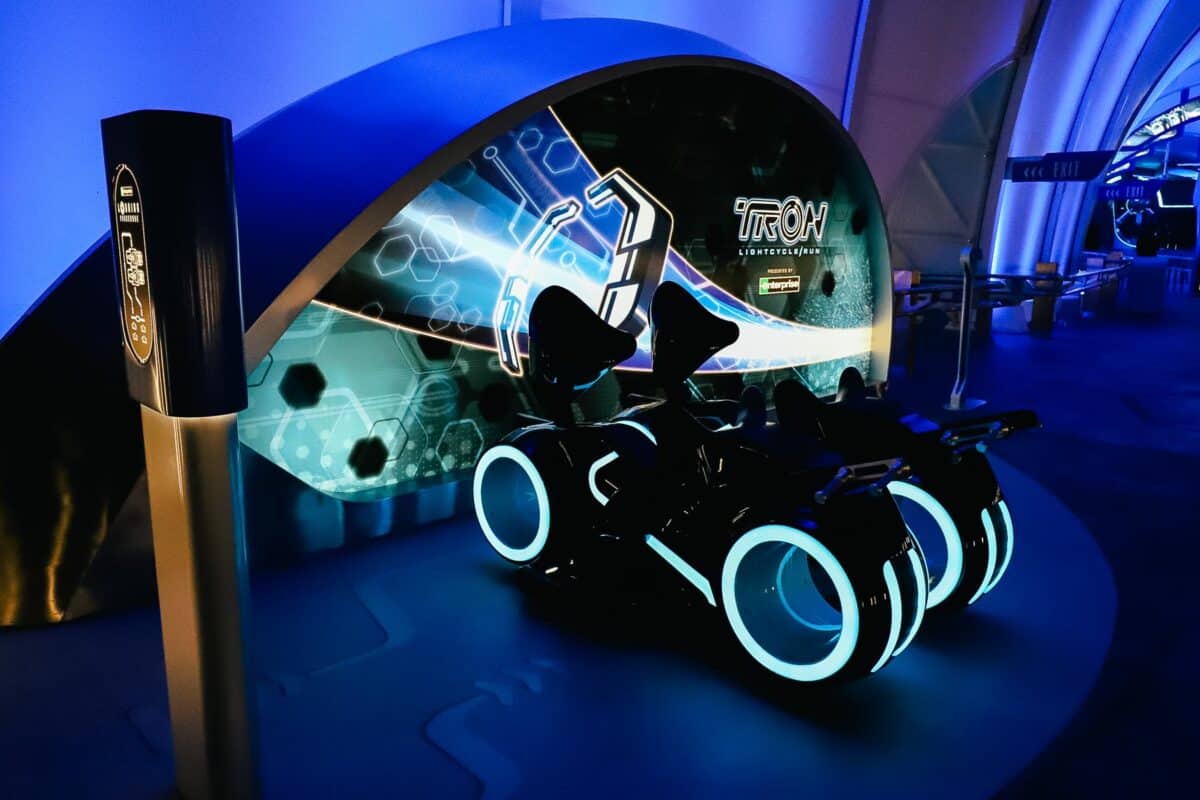 Thankfully, I didn't have any concerns about being able to ride TRON. But there was a time when I might not have fit.
As someone with a reasonable bust line, one thing did surprise me. Between leaning forward and the back piece securing you, I felt like it almost created a corset-like situation.
Don't get me wrong. It was not anywhere near that tight. But everything does get pushed up. So you might consider adjusting your shirt if you hope for a decent on-ride photo.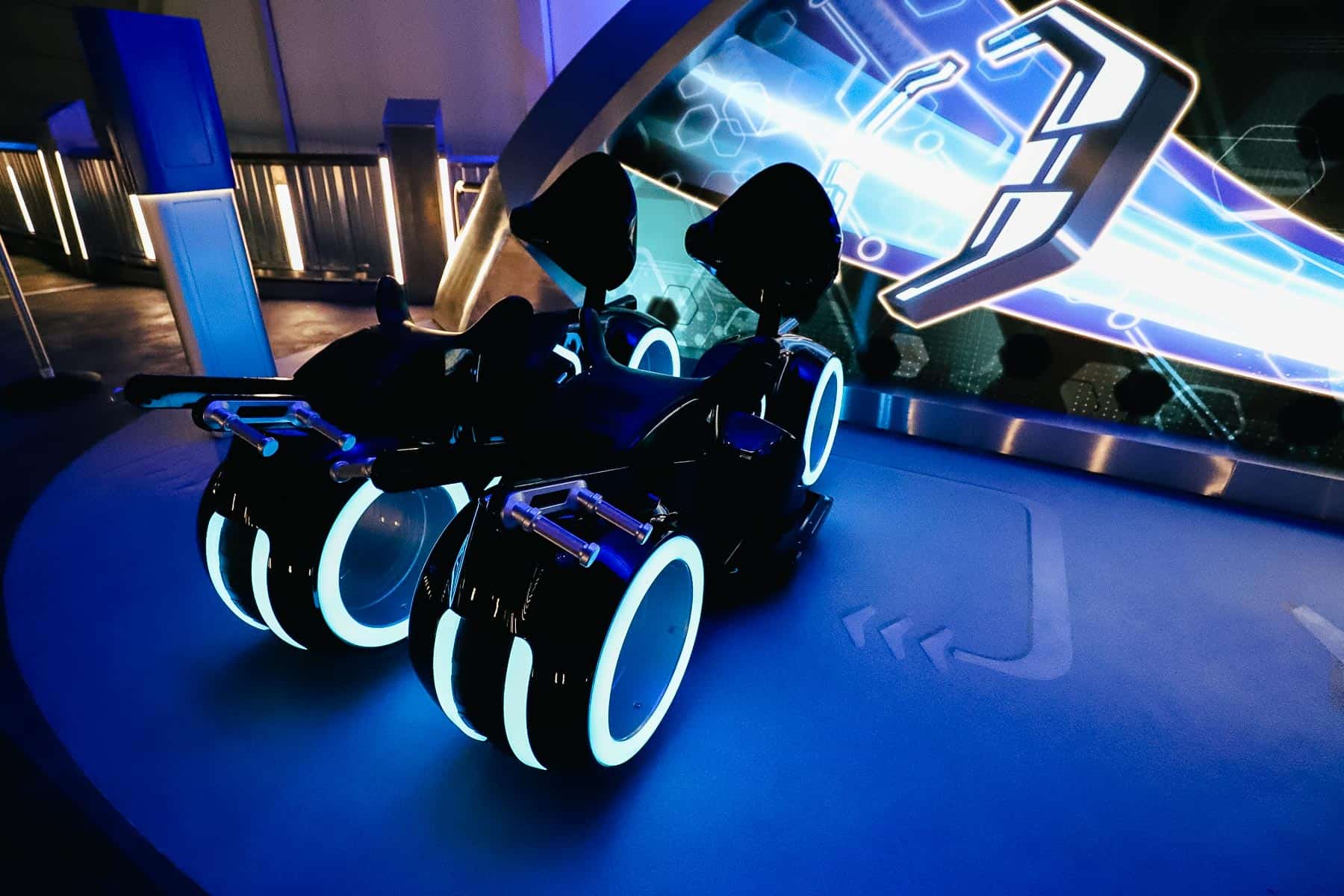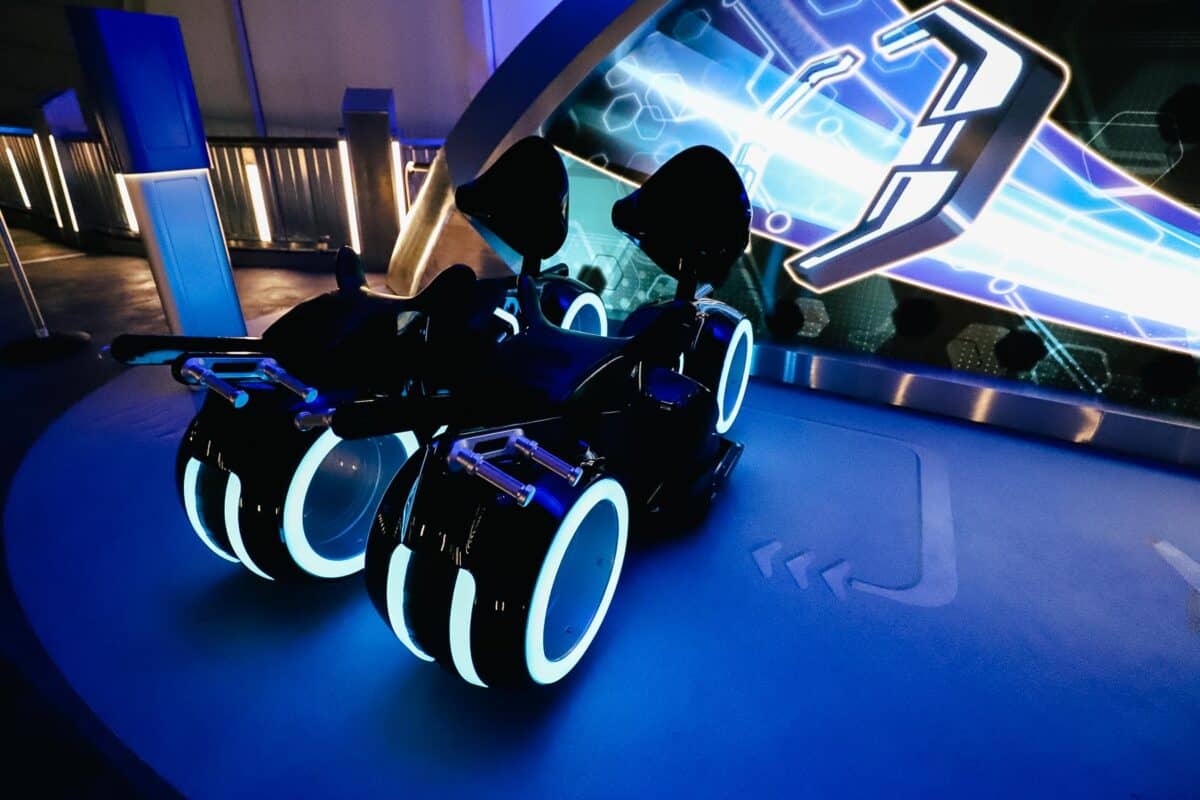 TRON Lightcycle / Run Video
Here are a few clips of the queue, lockers, and canopy. Unfortunately, to film on TRON, you must wear some sort of harness since no loose items are allowed.
After exiting the queue, you'll walk through the Enterprise Team Green post-show area.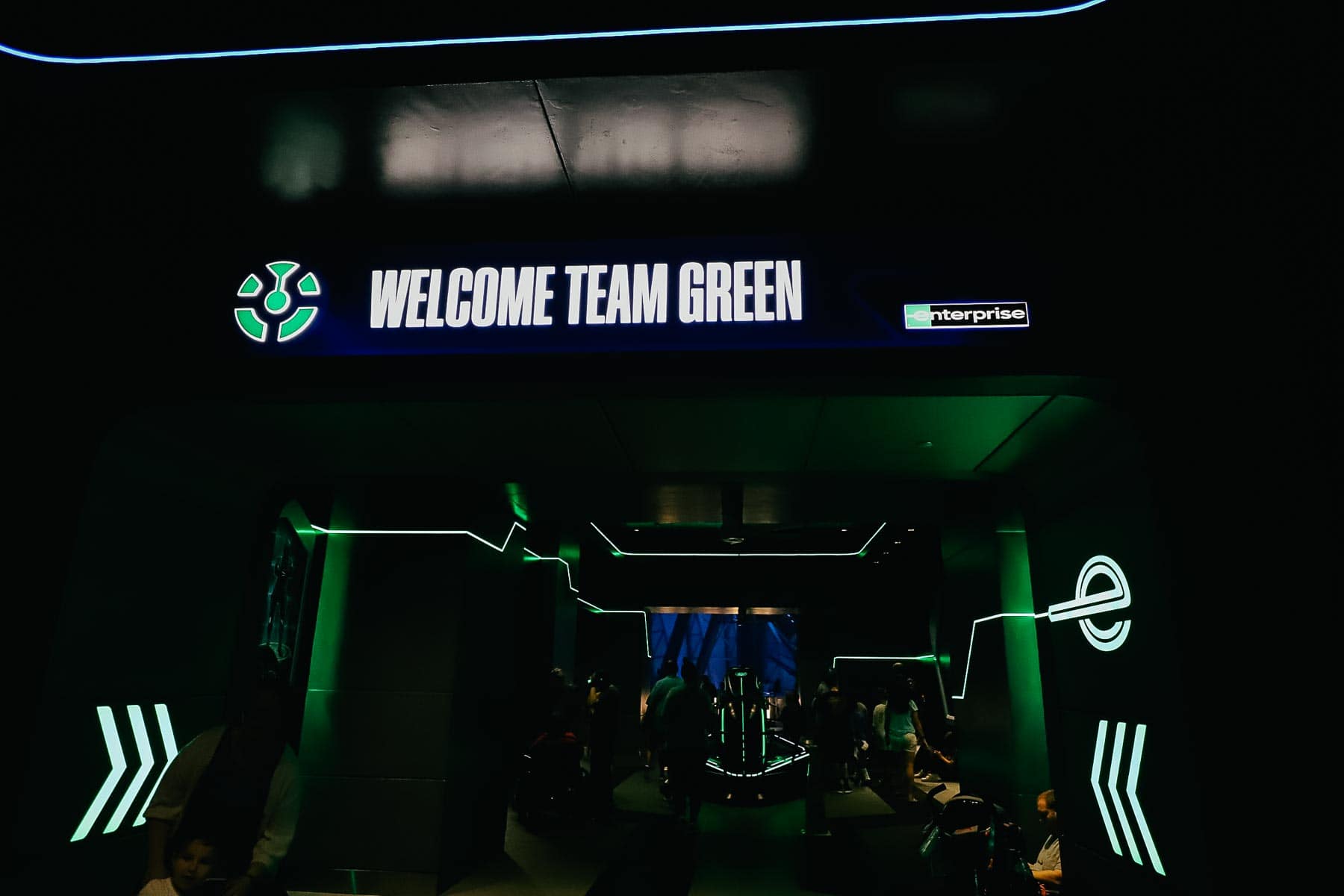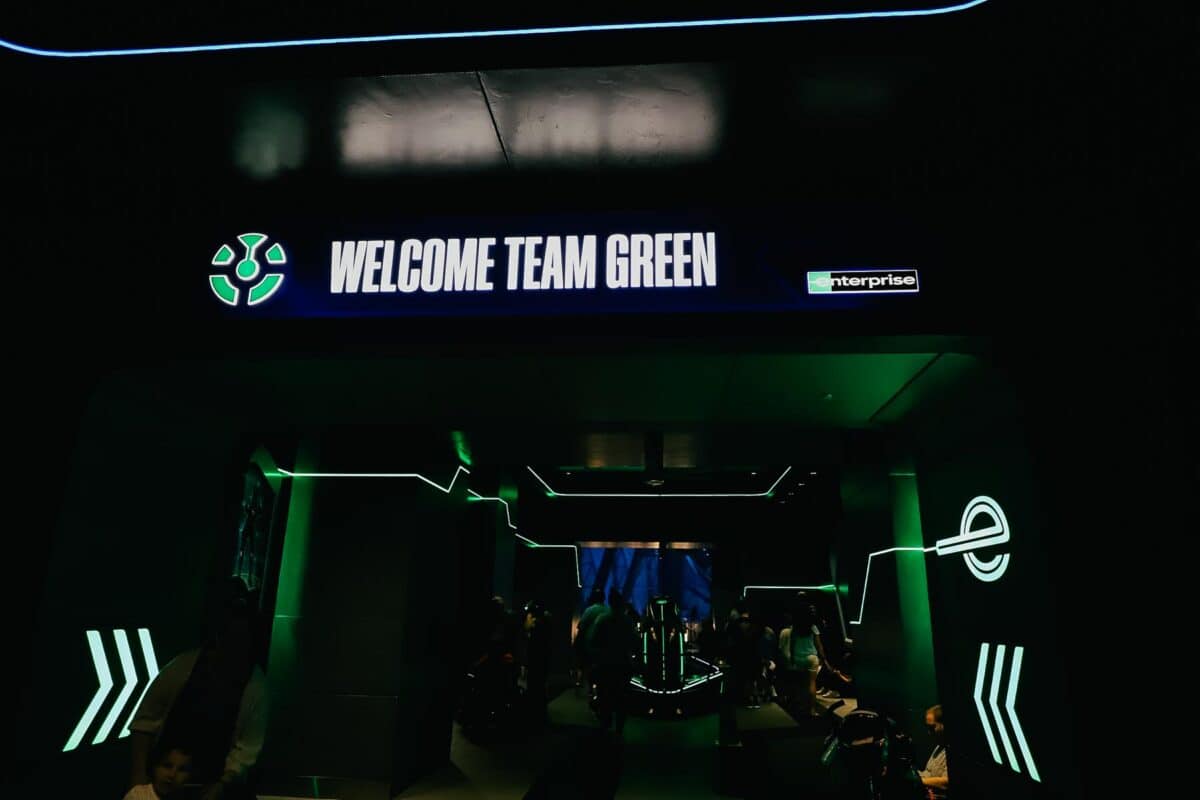 There's a display featuring what Disney calls a "one-of-a-kind, powerful, and state-of-the-art Lightcycle."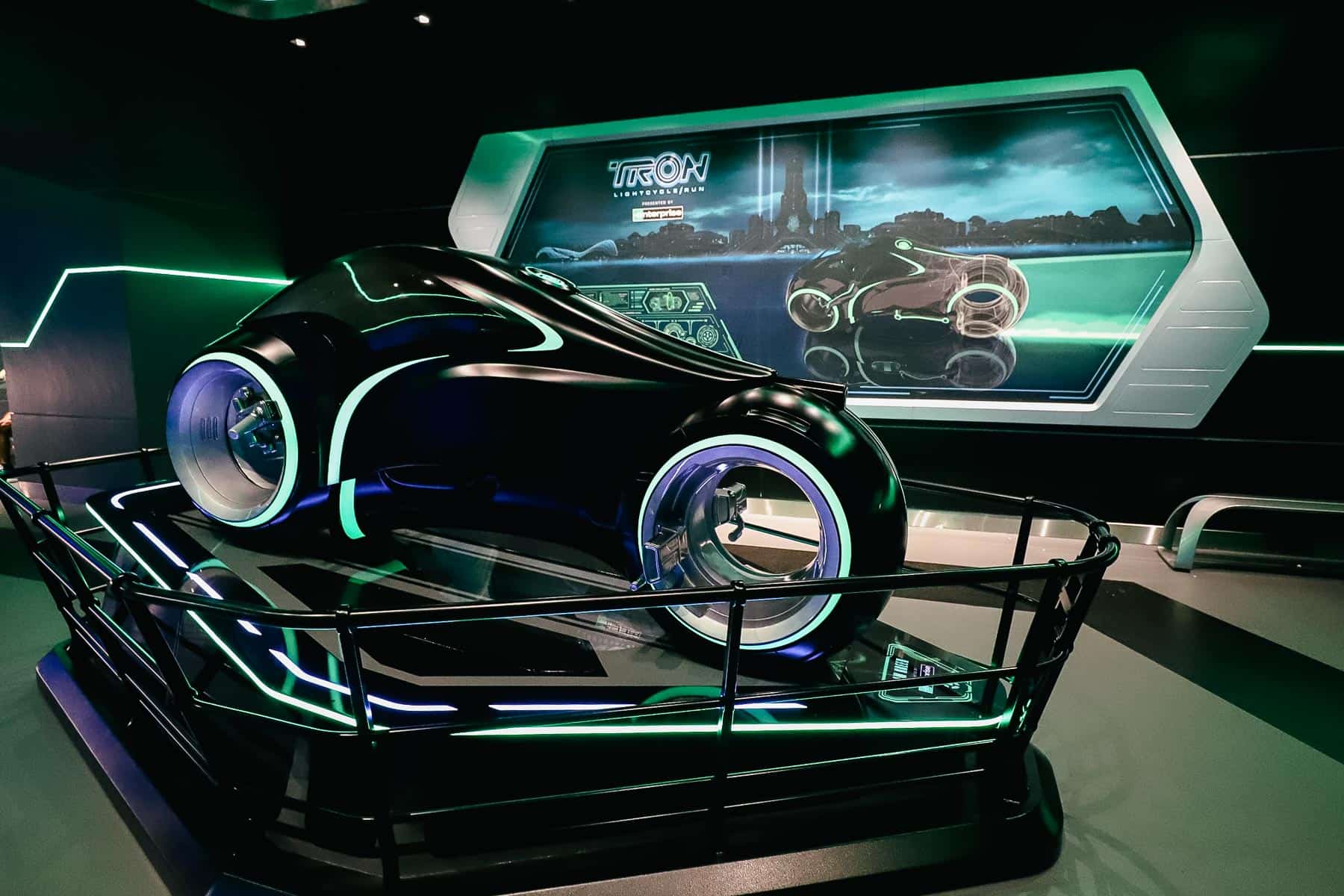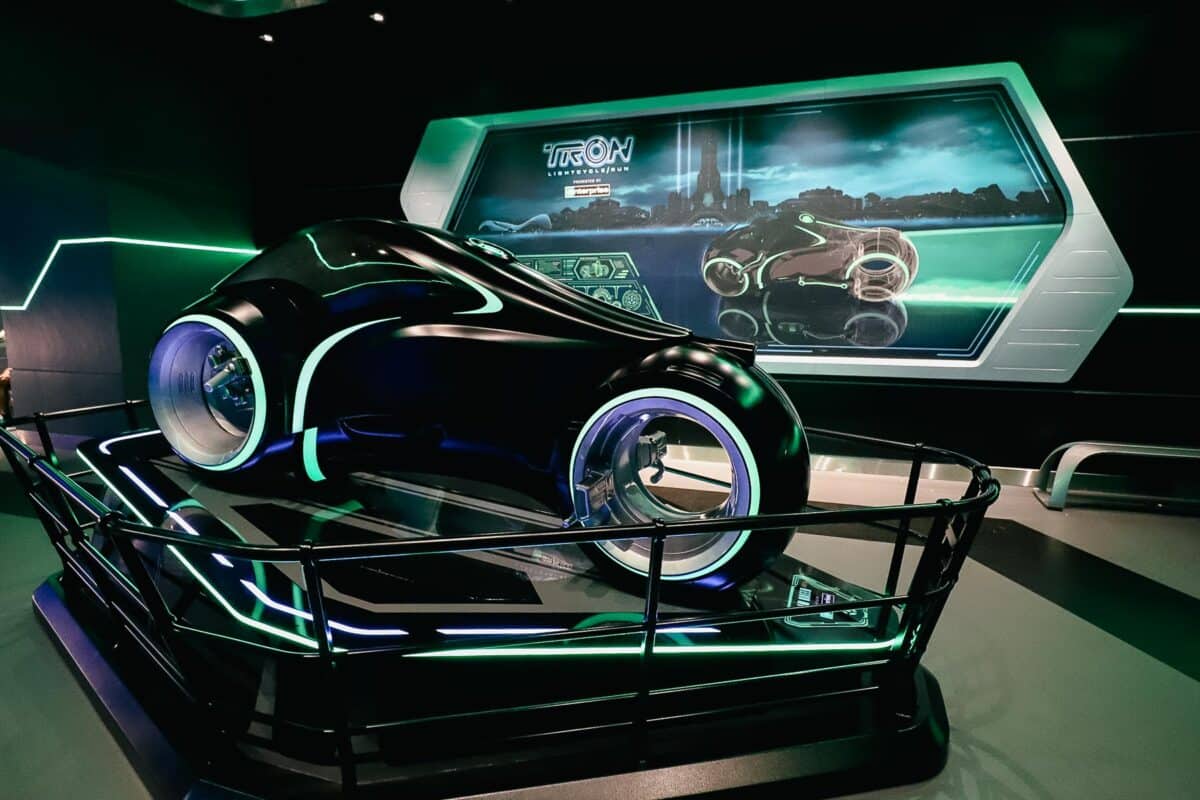 Here are a few more photos.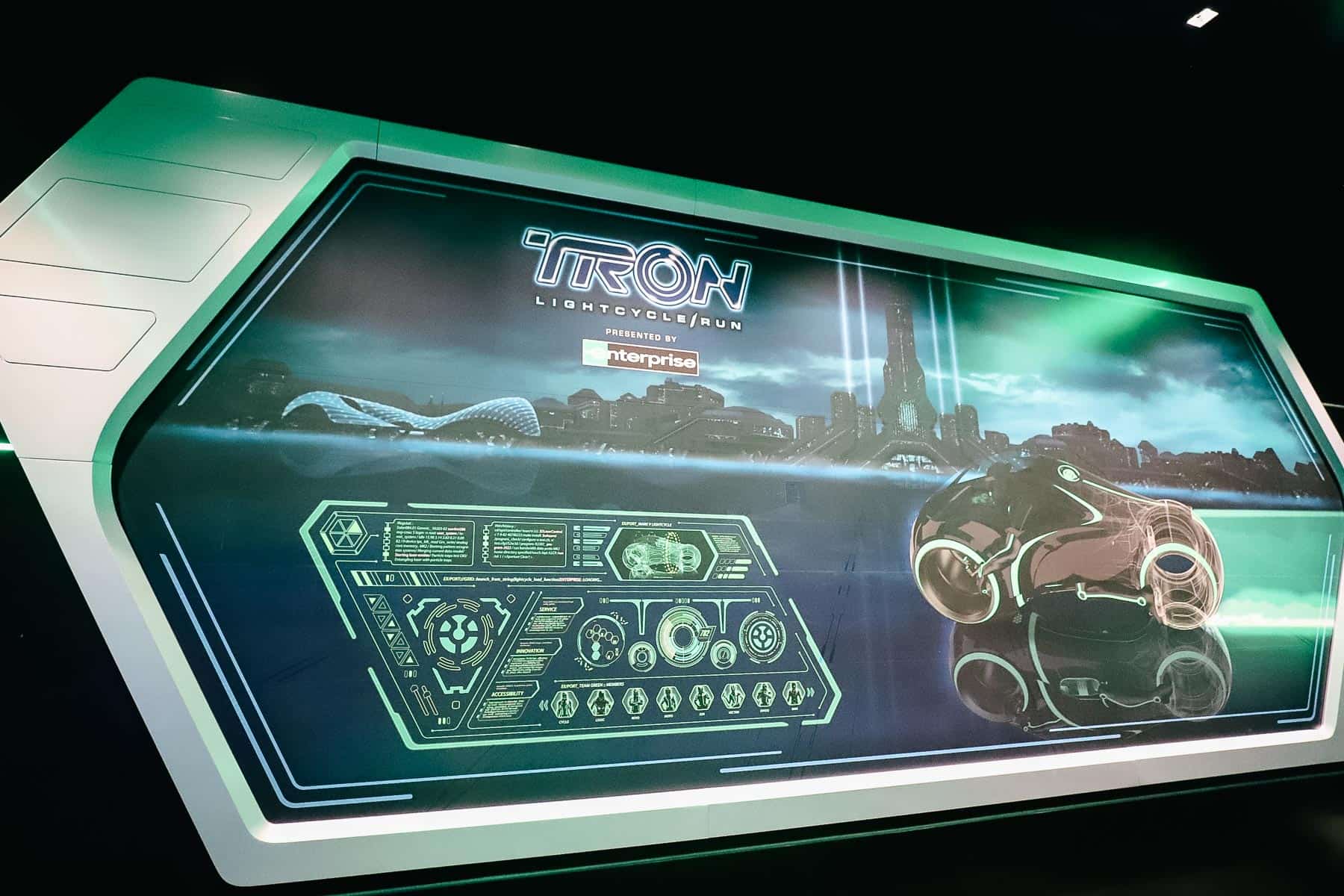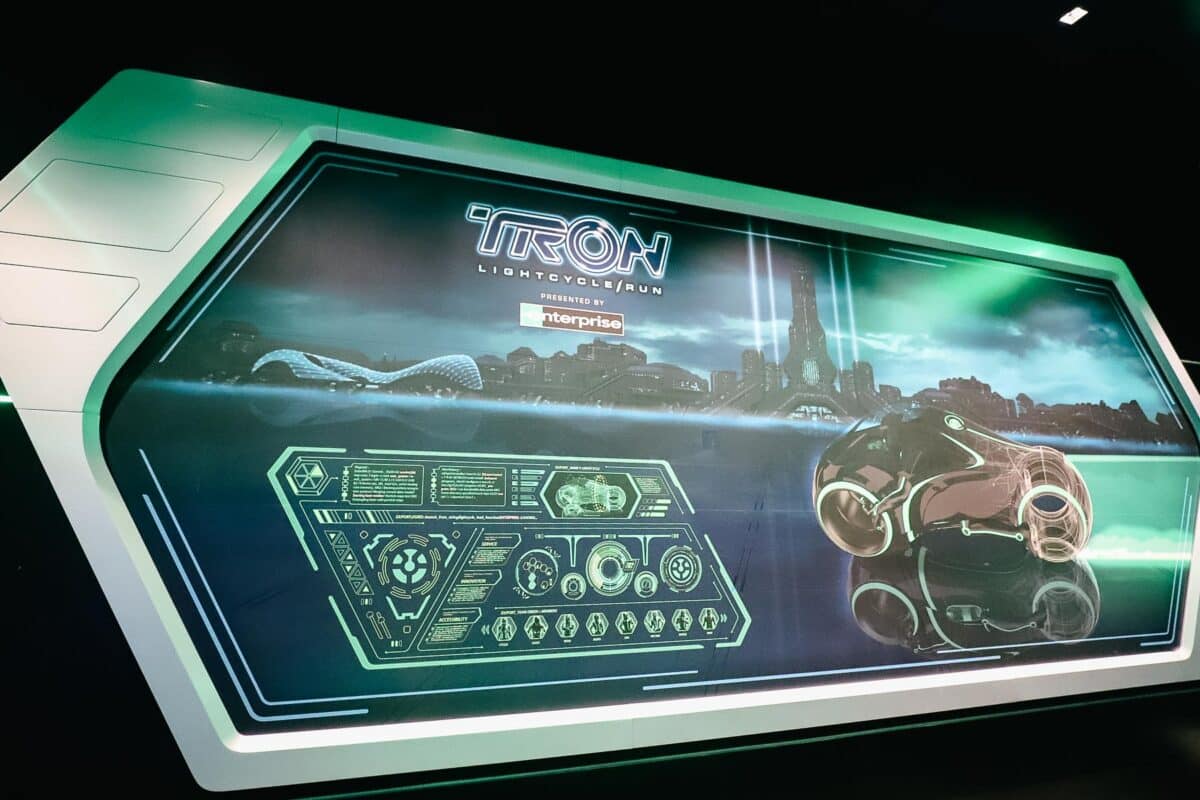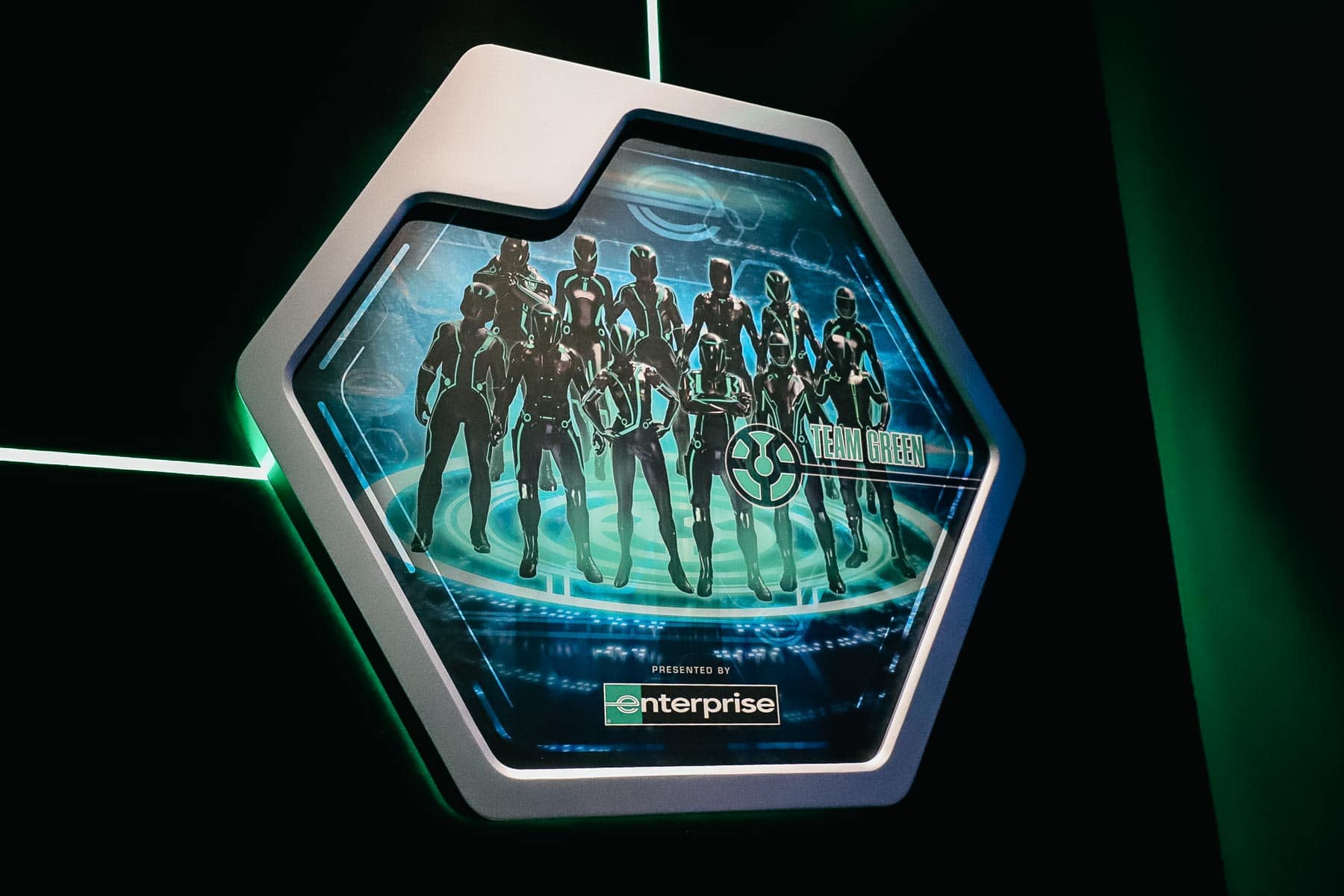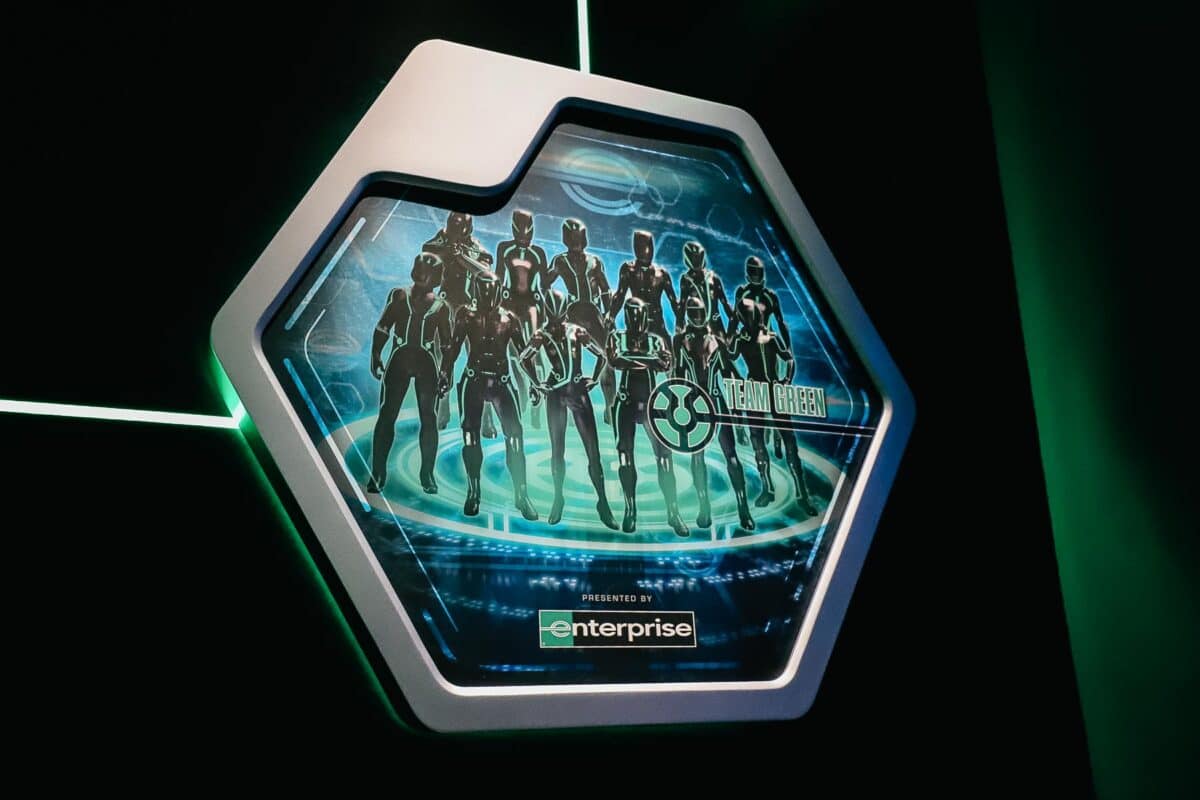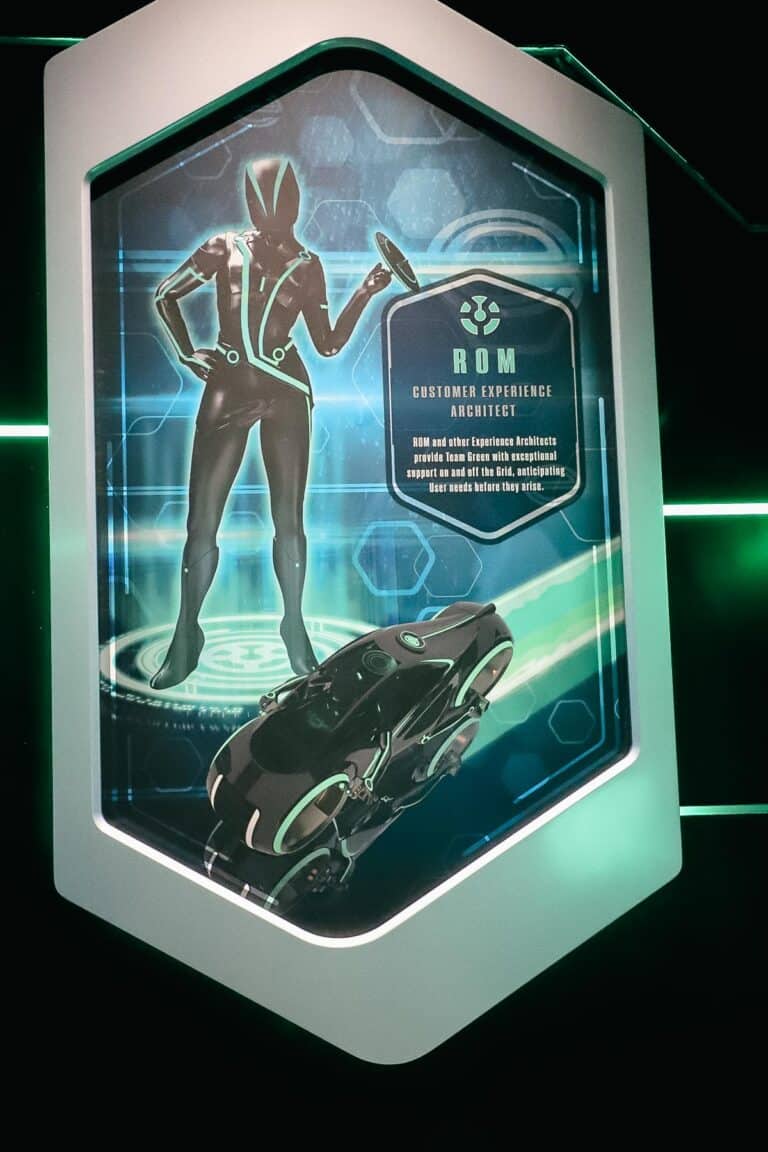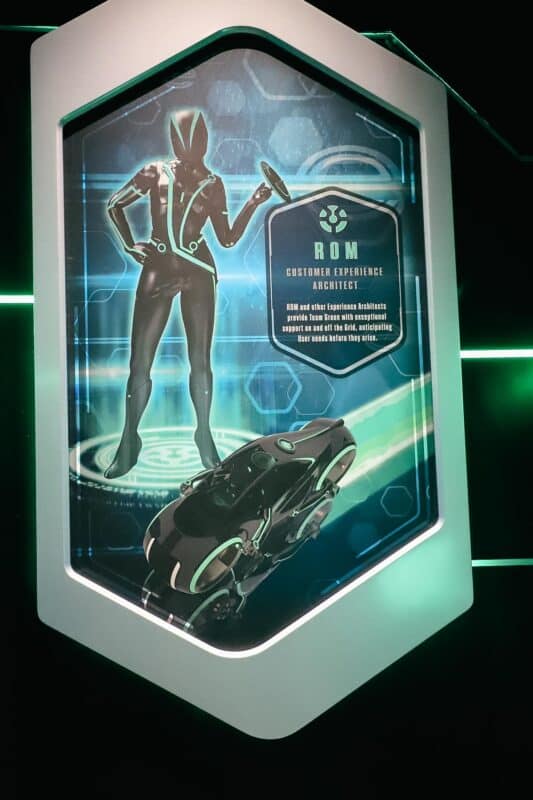 After you walk through the post-show area, you're back outside under the canopy. If you look up when you exit, you can see where the track goes back inside. For me, this transition was one of the most incredible features.
It looks like you're racing into a tiny black hole. However, it happens fast.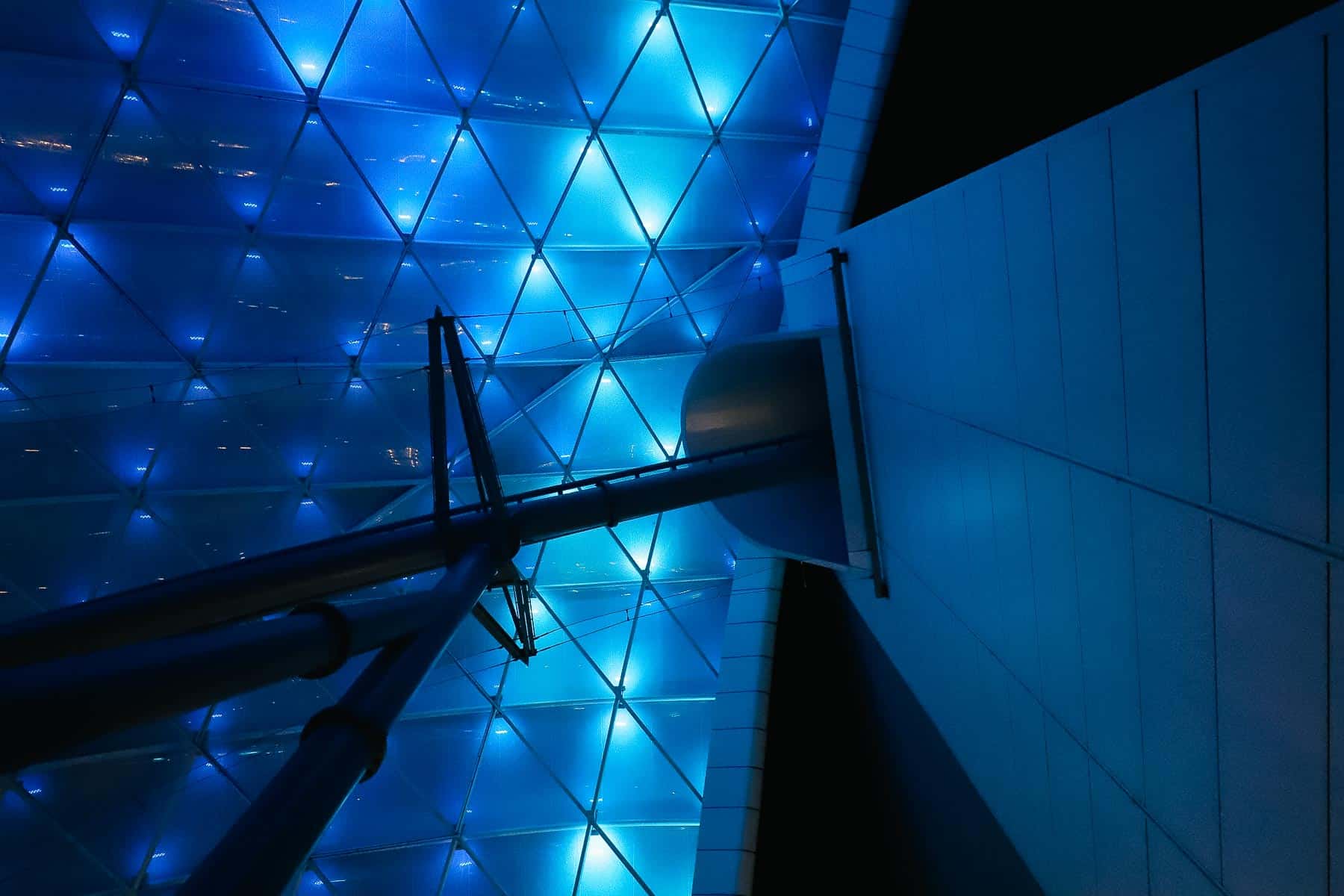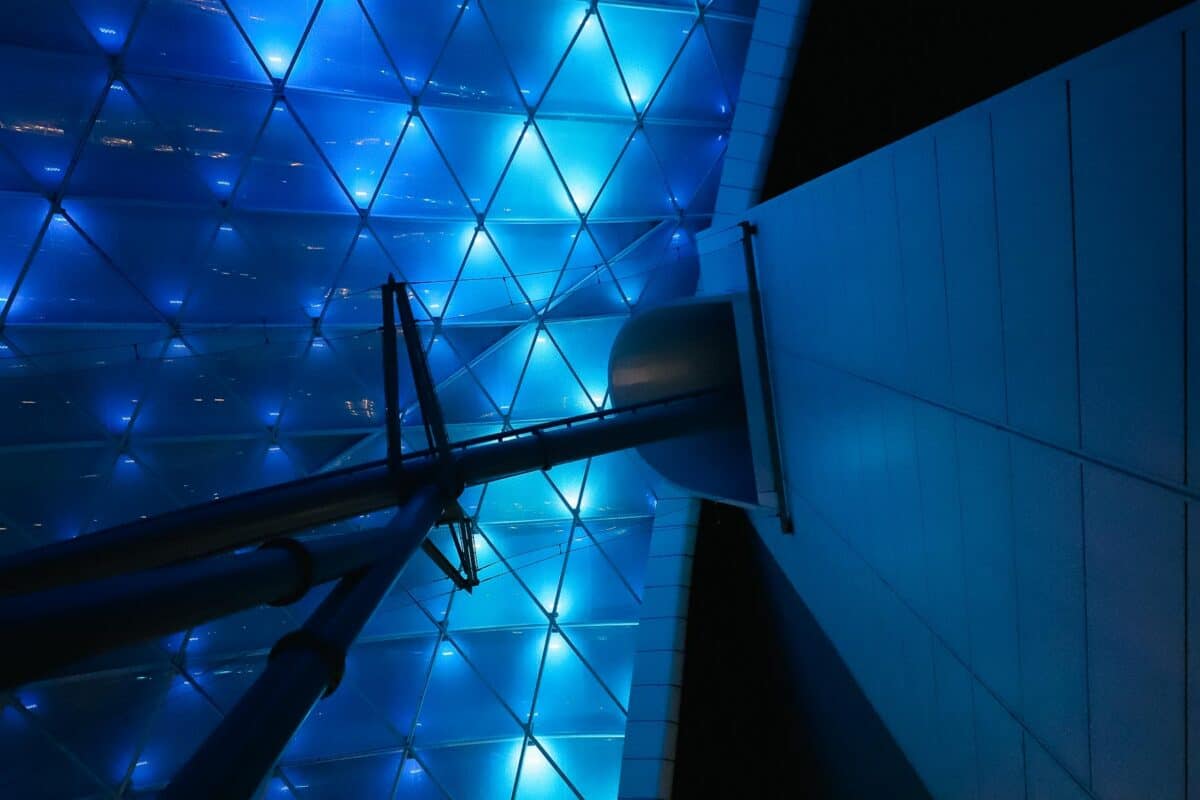 A set of restrooms are available down on the right.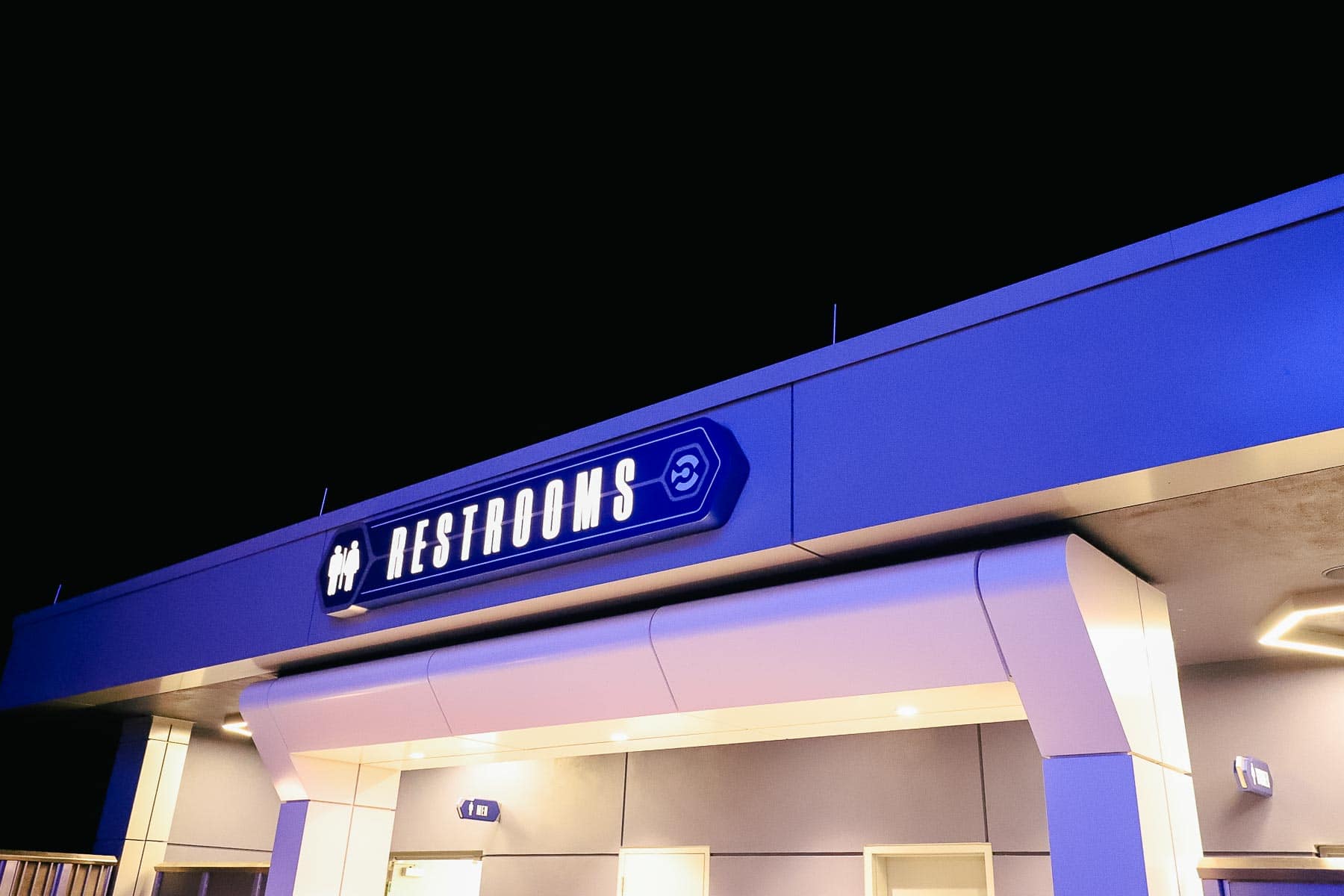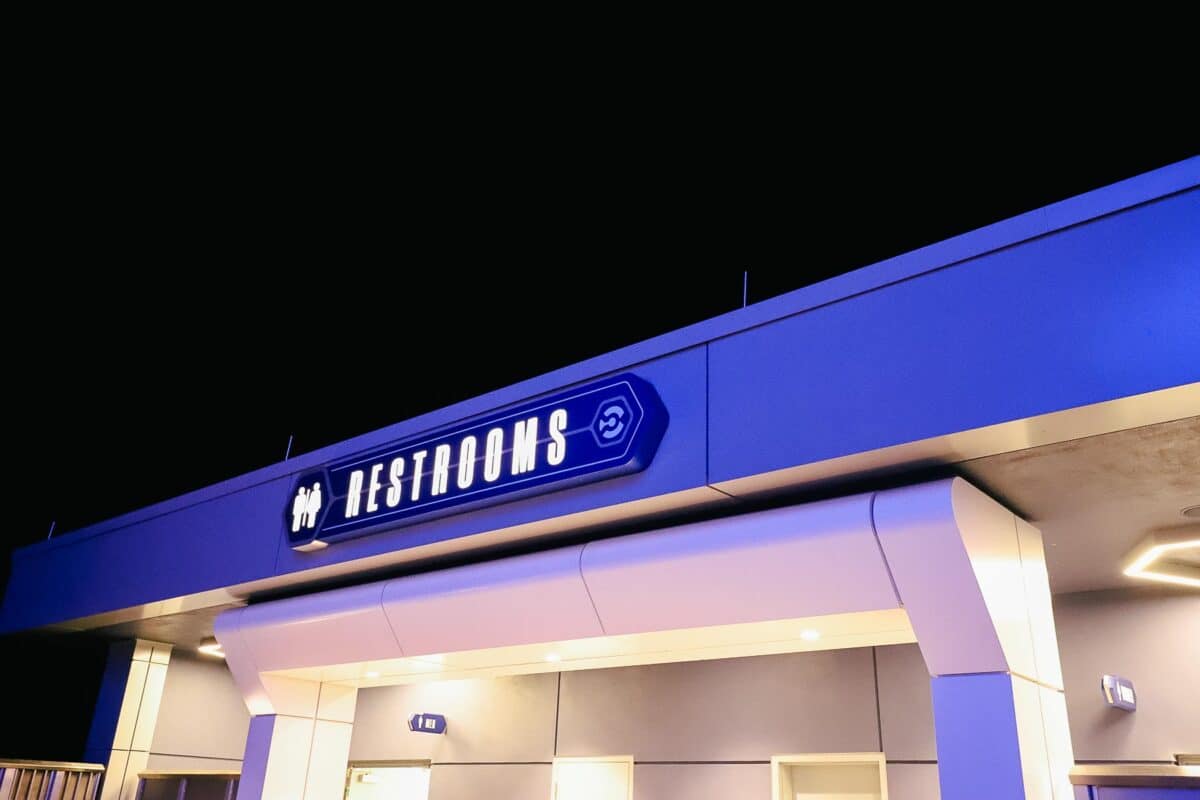 We walked around the canopy for some time, watching the different displays and enjoying the weather.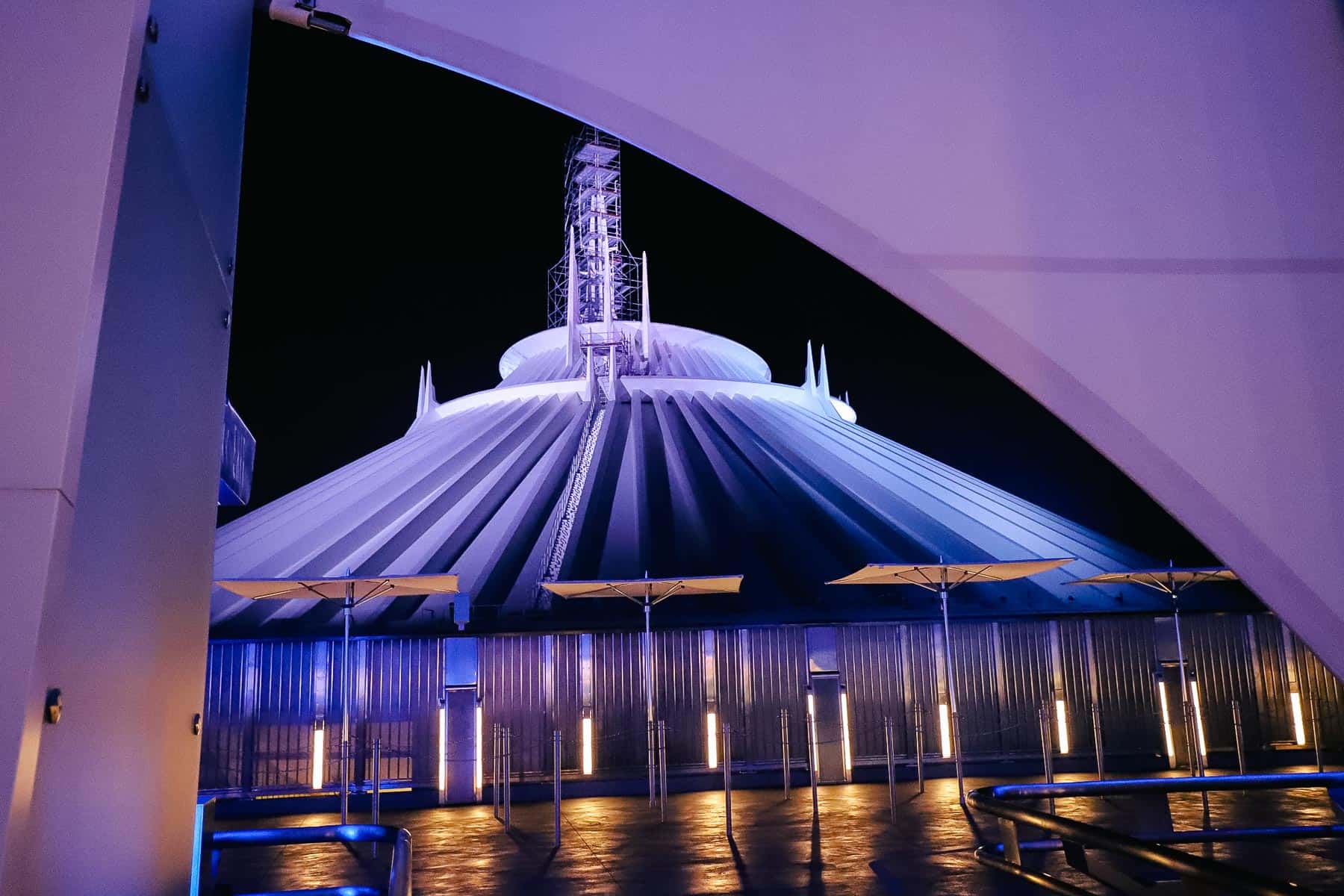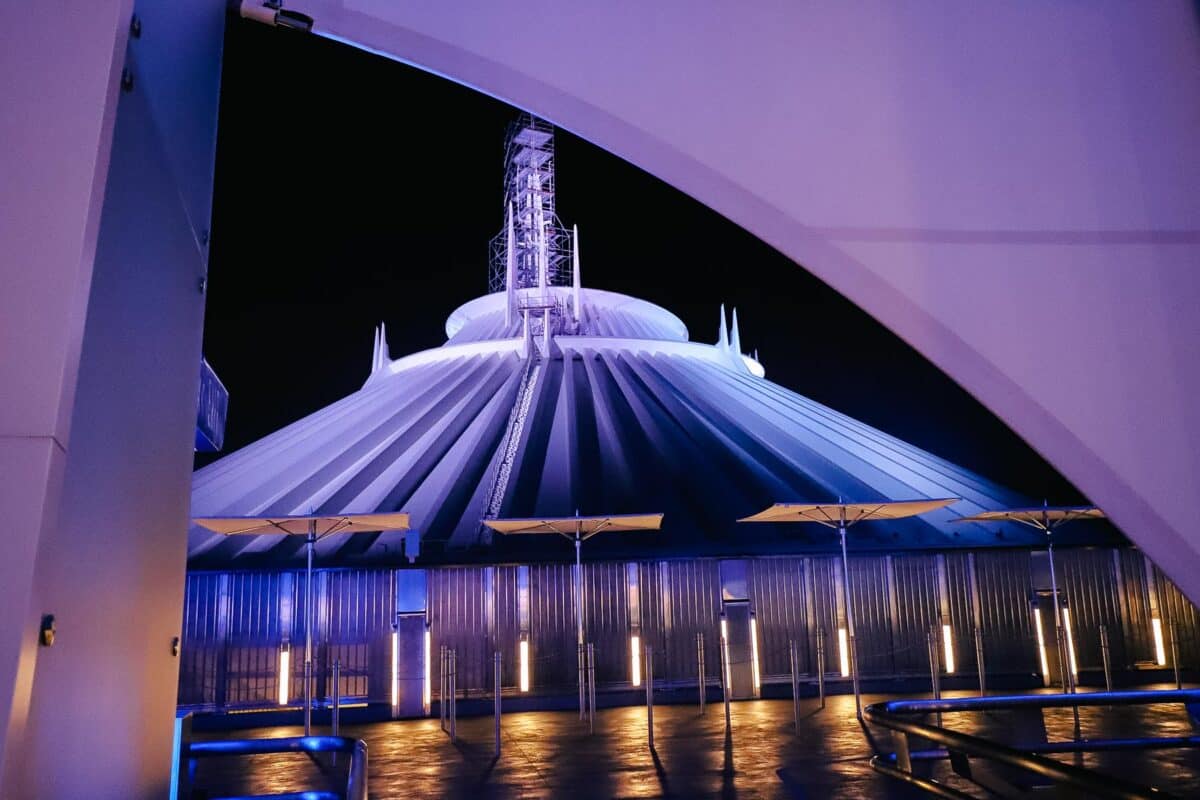 I never timed it, but it seemed like the cycle would change to orange every 5-10 minutes. There's a change in the music, and the display transitions from blue to orange.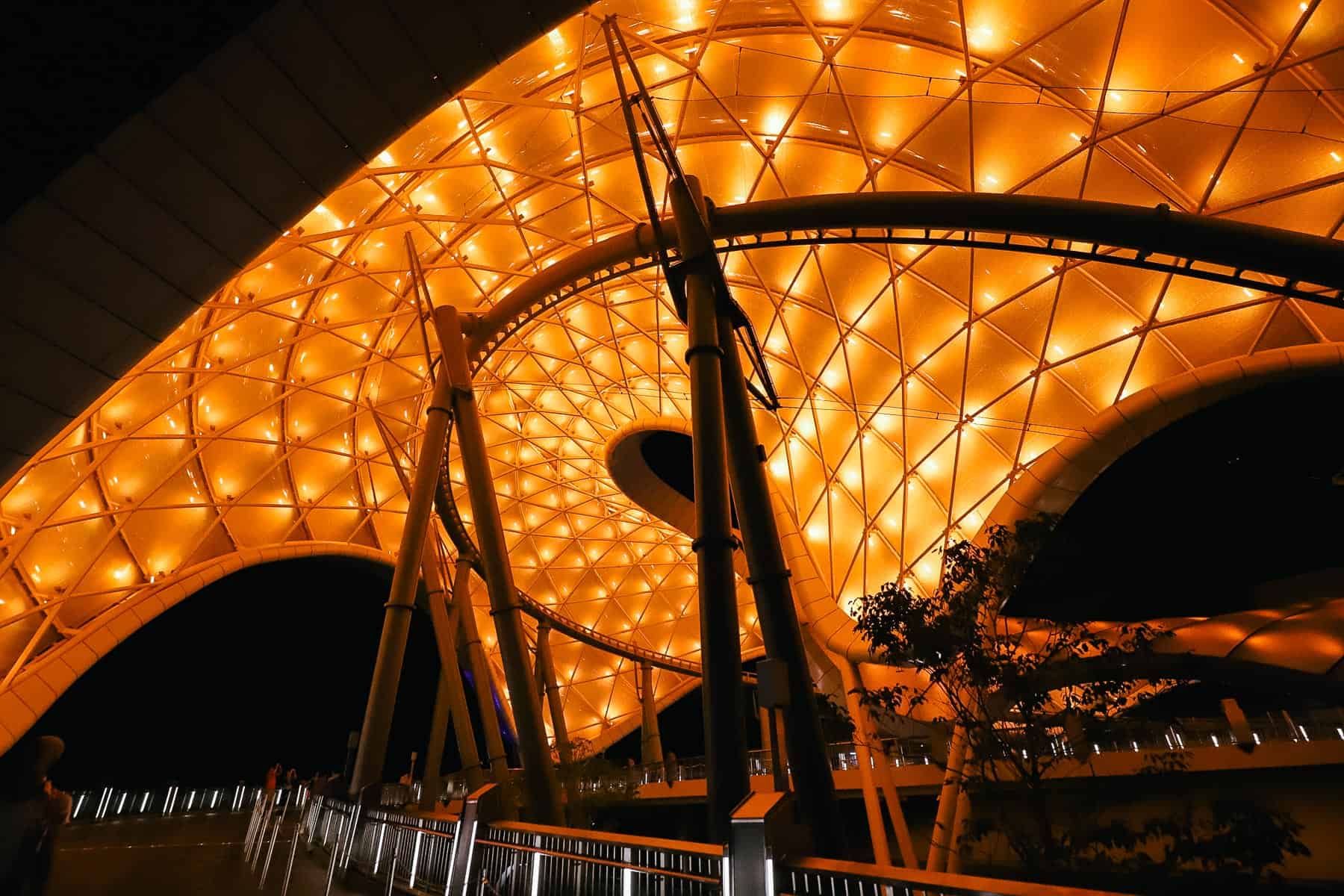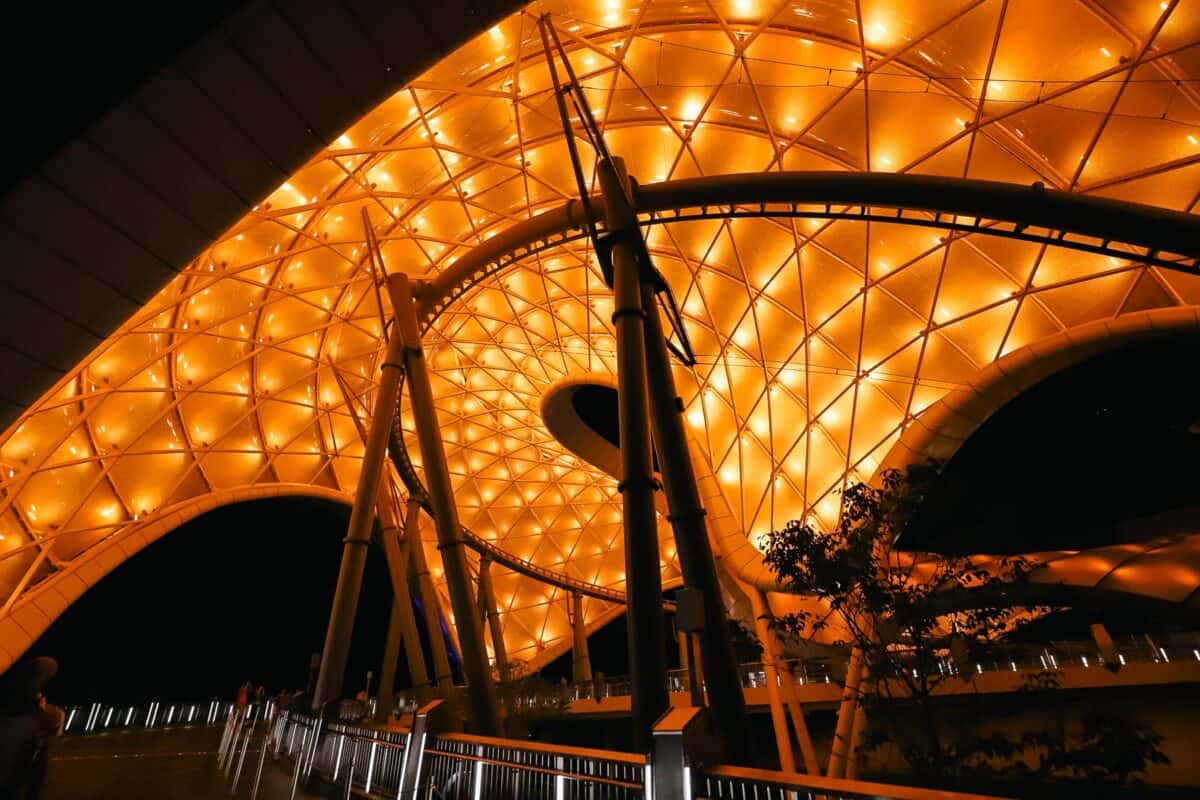 It's a beautiful area.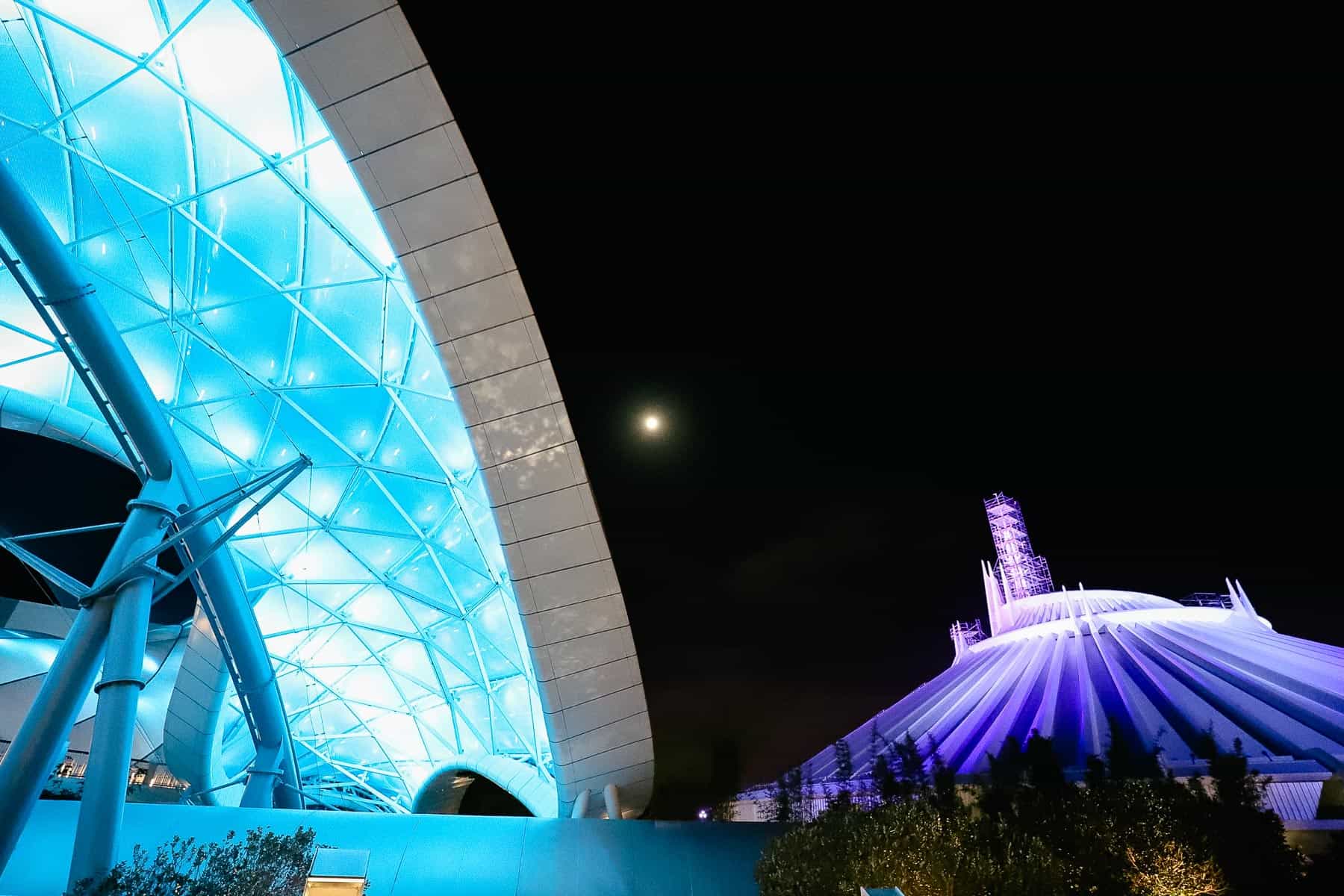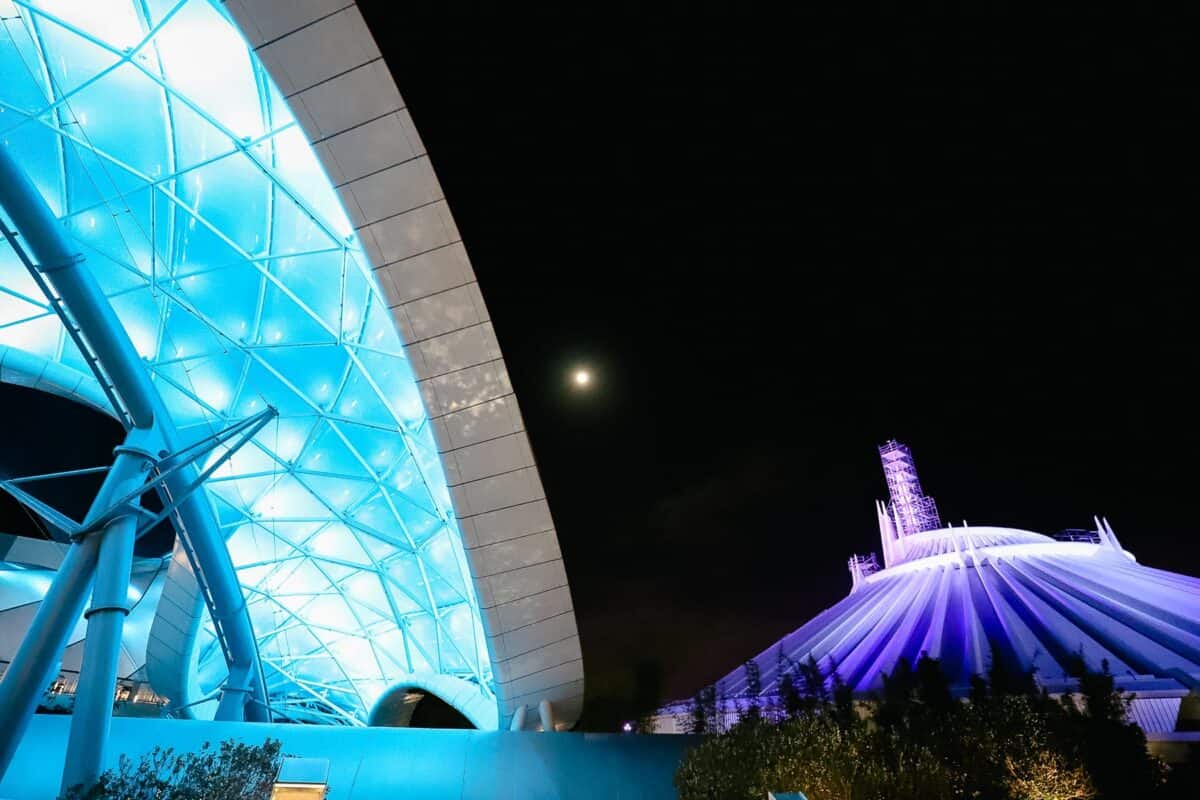 Once you walk back down the walkway, it's easier to see the elevation. This path below is the walkway that connects Tomorrowland and Storybook Circus.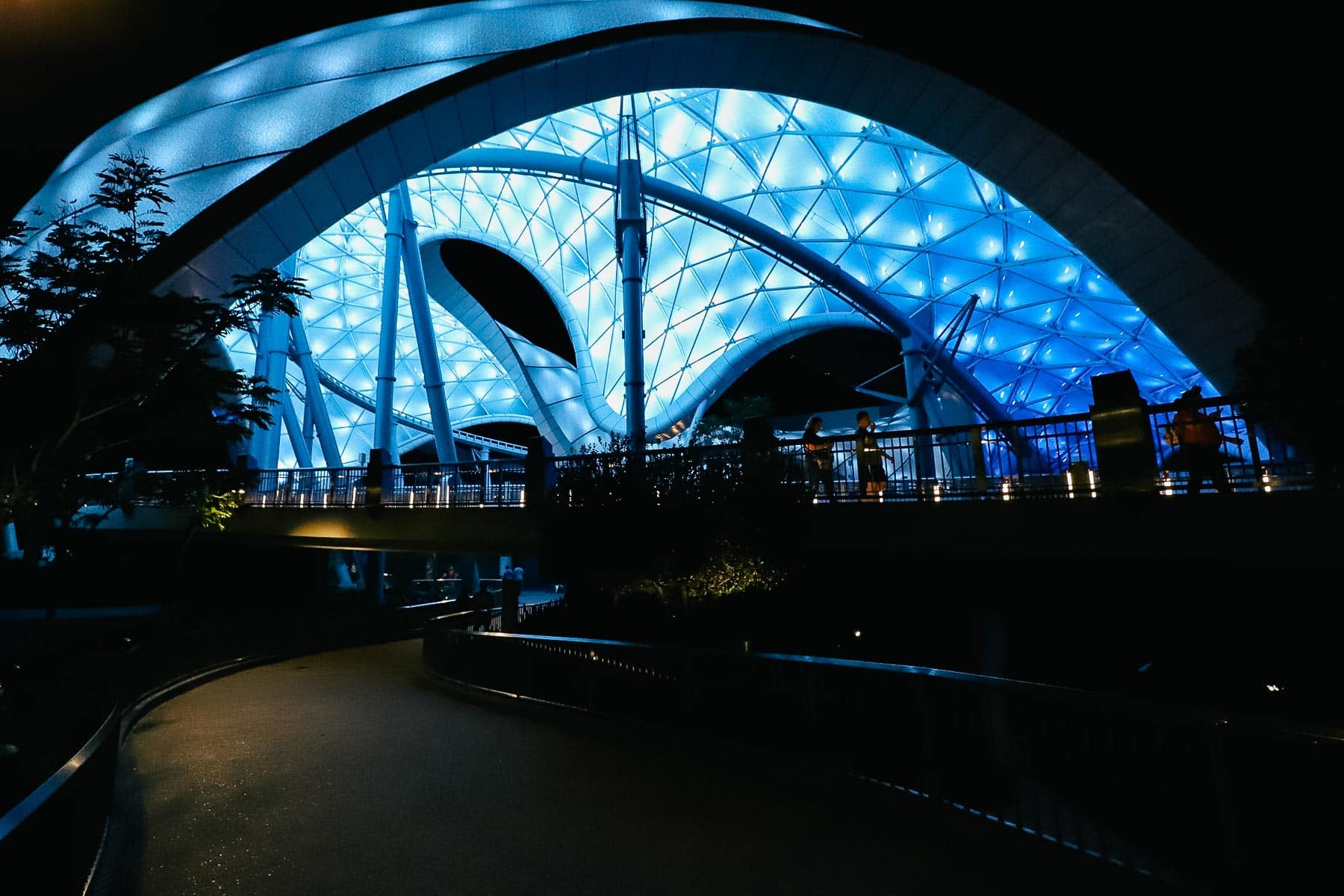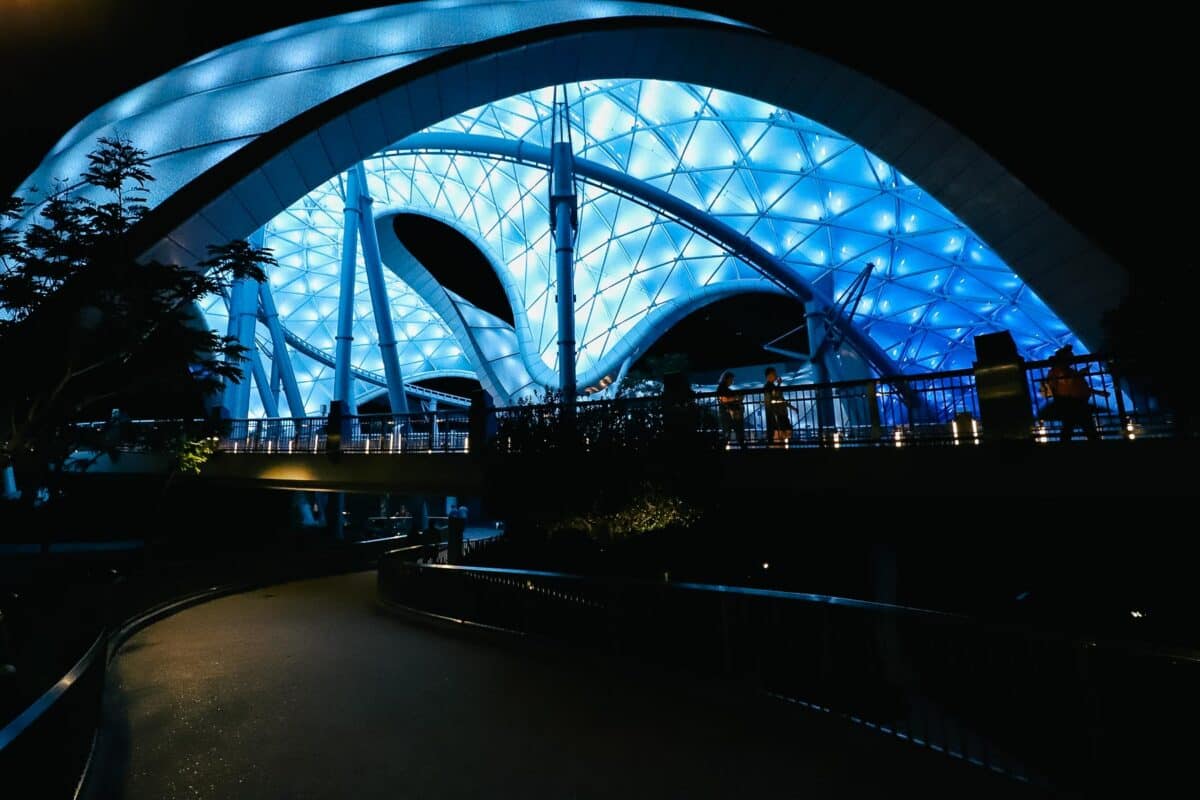 So as you exit, you'll walk back under the canopy again. This time you'll notice a few trees above you.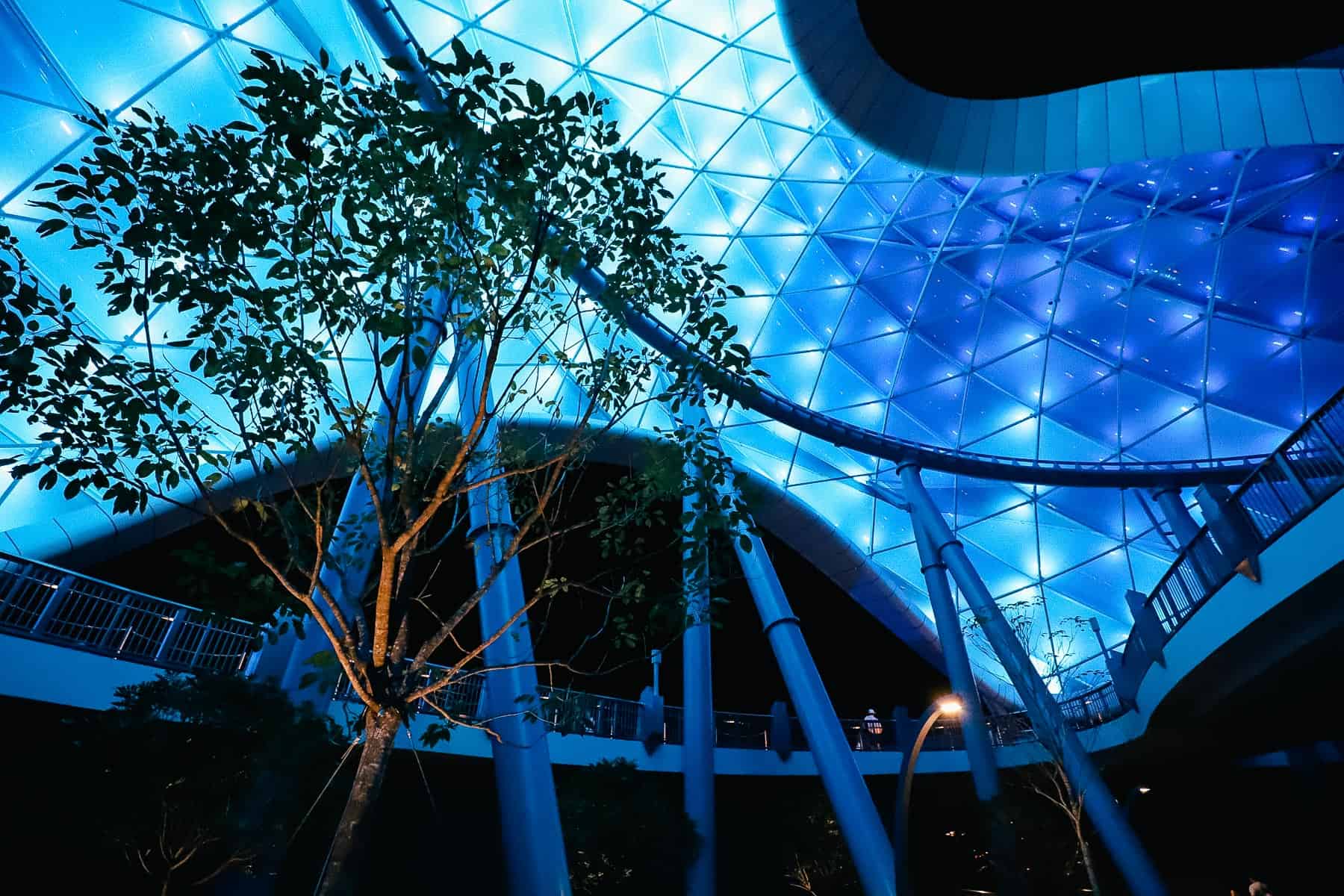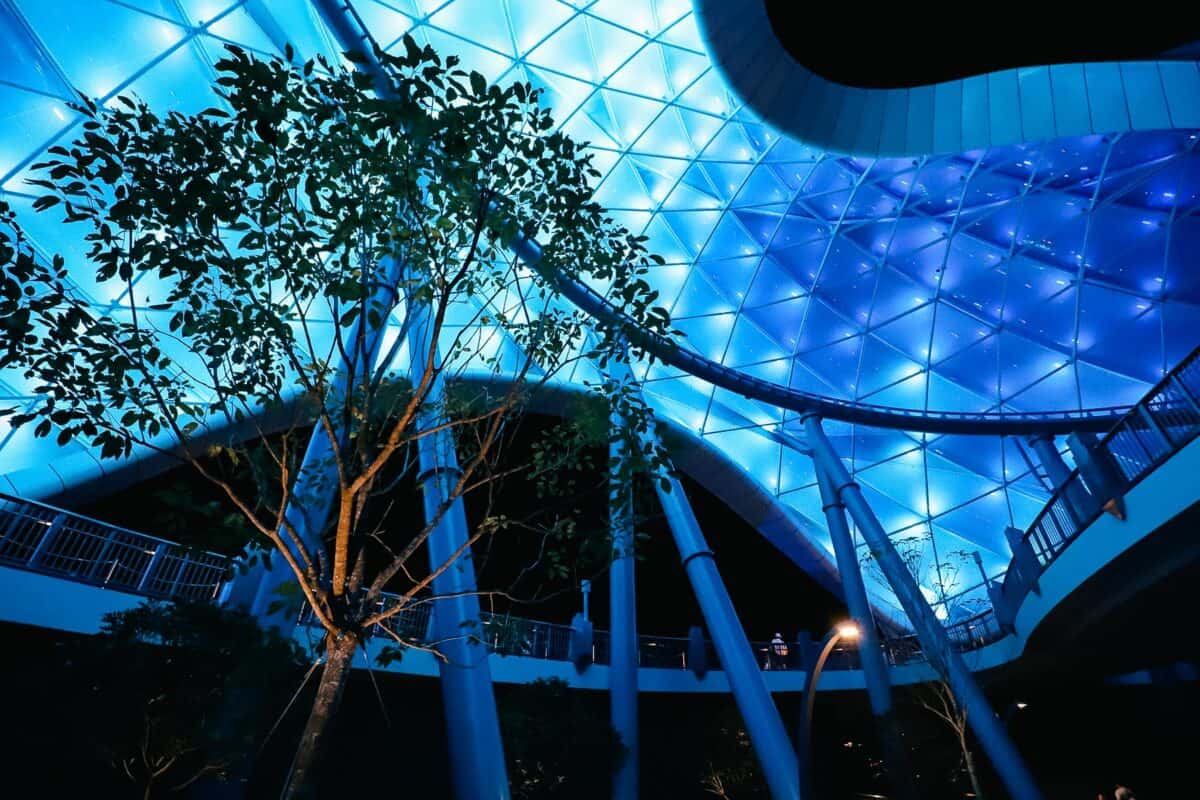 A new Tomorrowland sign sits outside the entrance.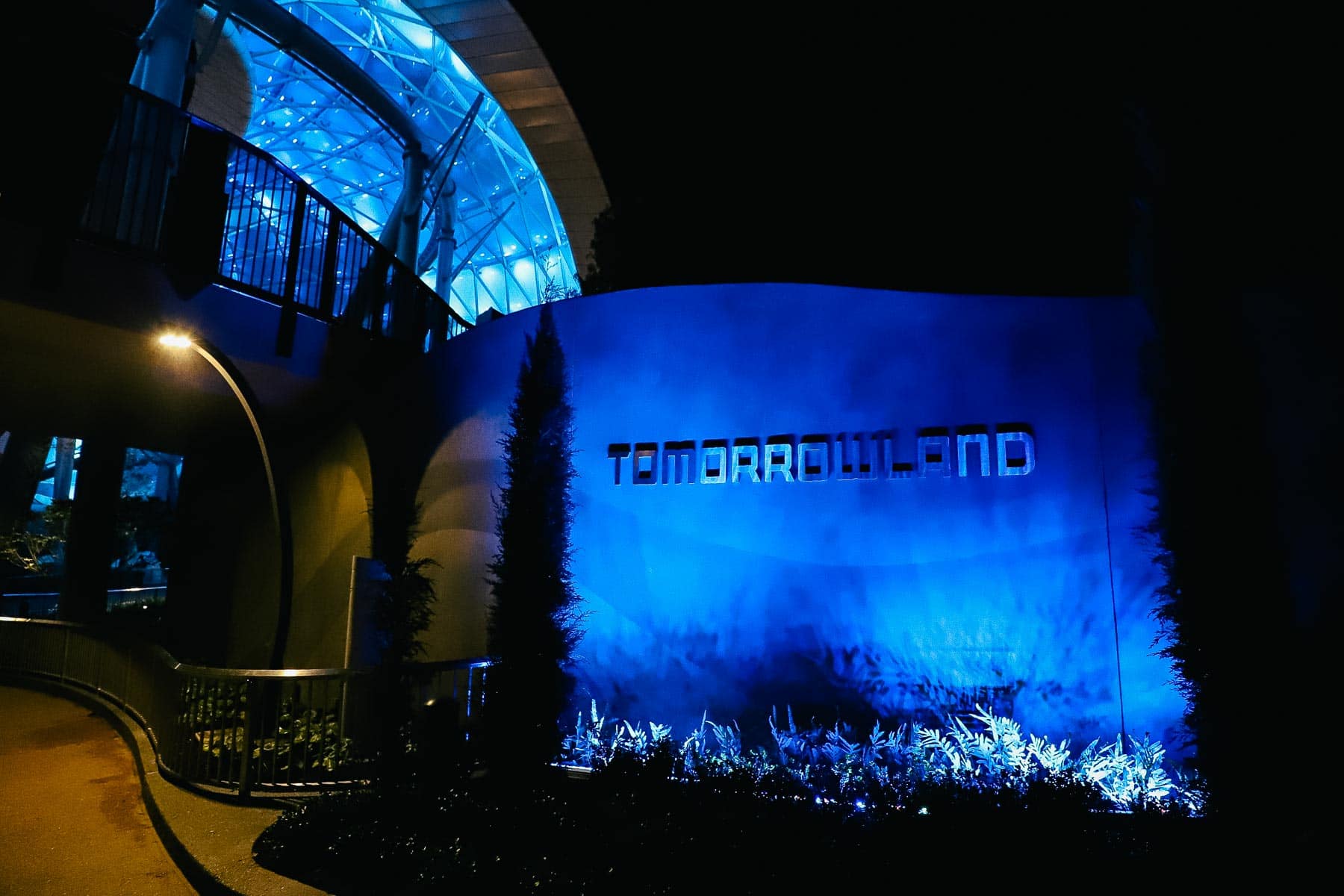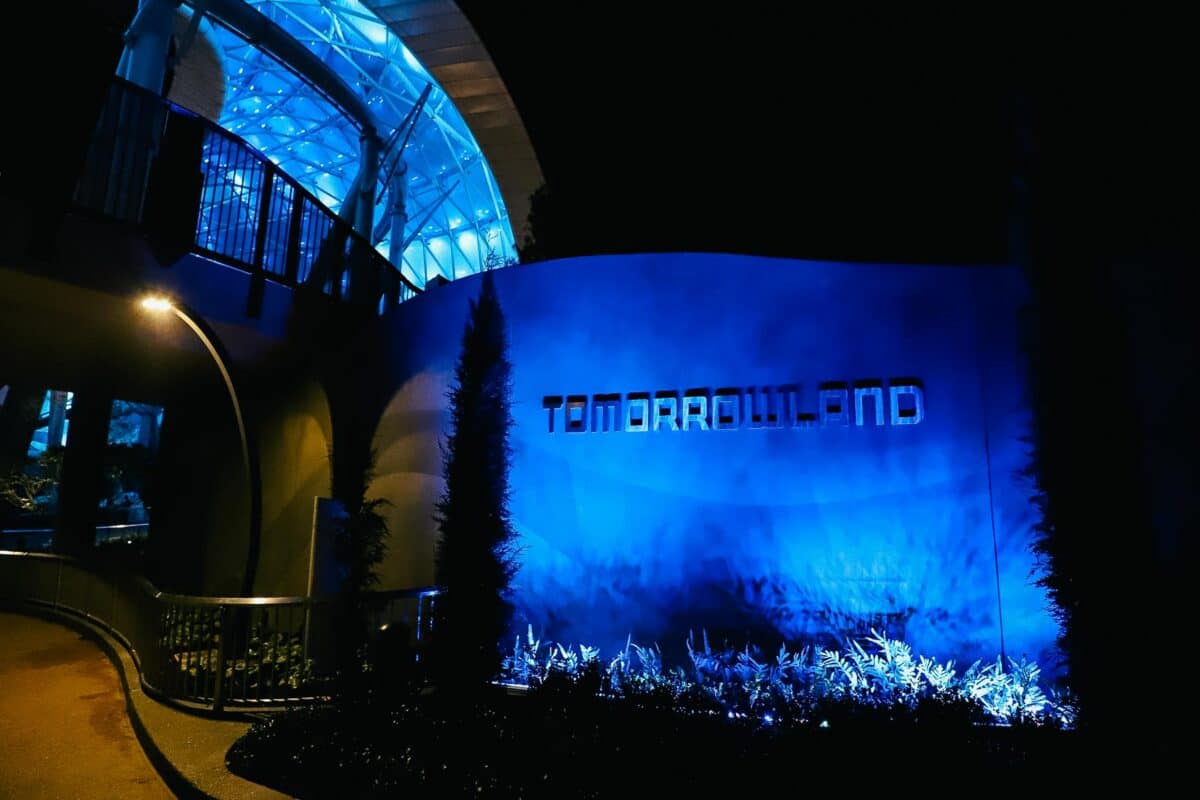 One other note about TRON Lightcycle Run. Many guests ahead of us joined the accessibility queue solely because they didn't want to ride the cycle-style version.
Someone in line with us said they were bringing a parent back to ride it and would wait to ride an accessible vehicle. He said his mom would feel more comfortable riding it that way.
When we reached the loading area, we saw two guests board the cycle and call for a cast member to release them. These guests went and joined another location to wait for an accessible vehicle.
So if you are uncomfortable with the cycle style, you might prefer to wait in the accessibility line. However, every load does not have an accessible vehicle attached. Below is a photo of a load passing with regular seats at the back.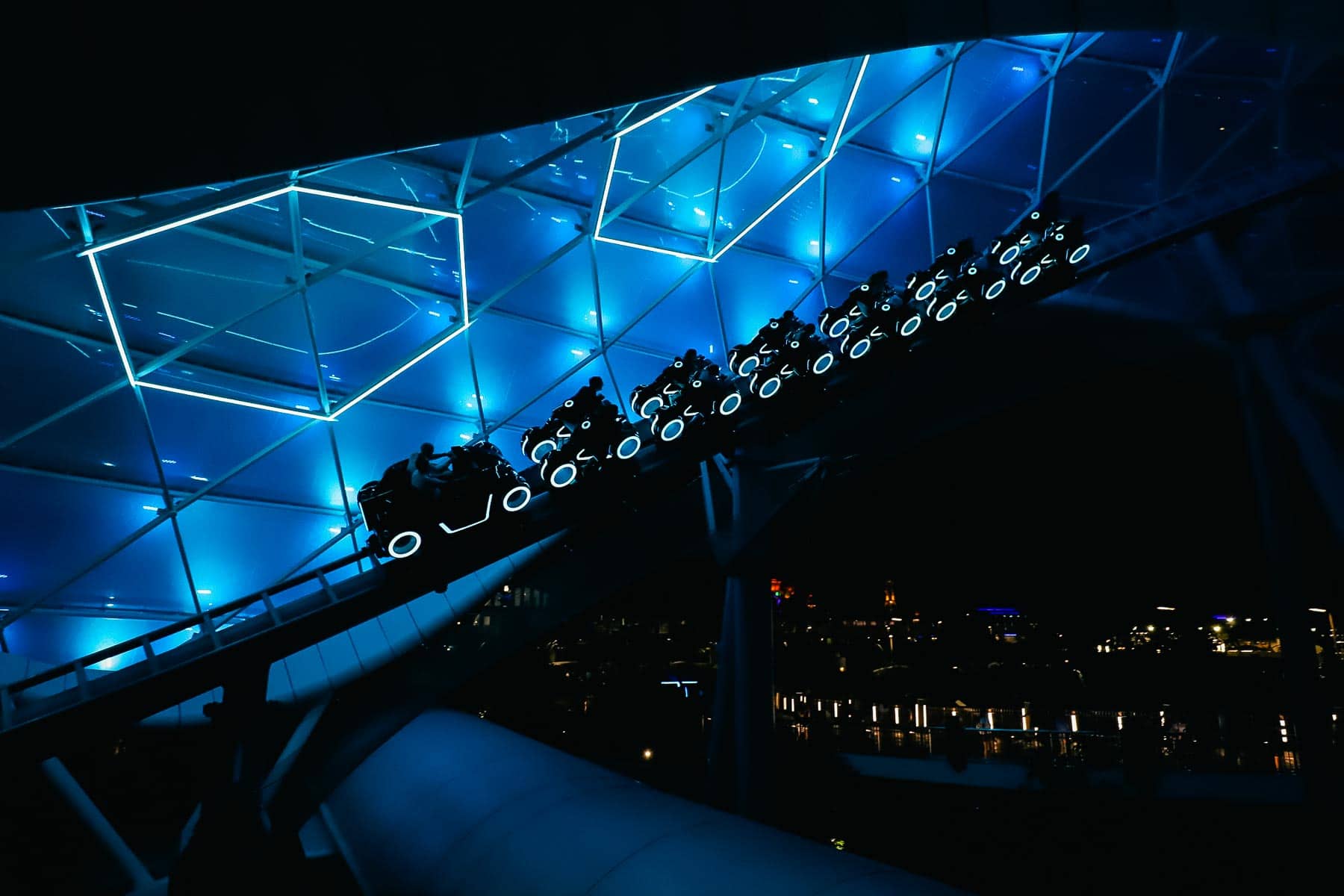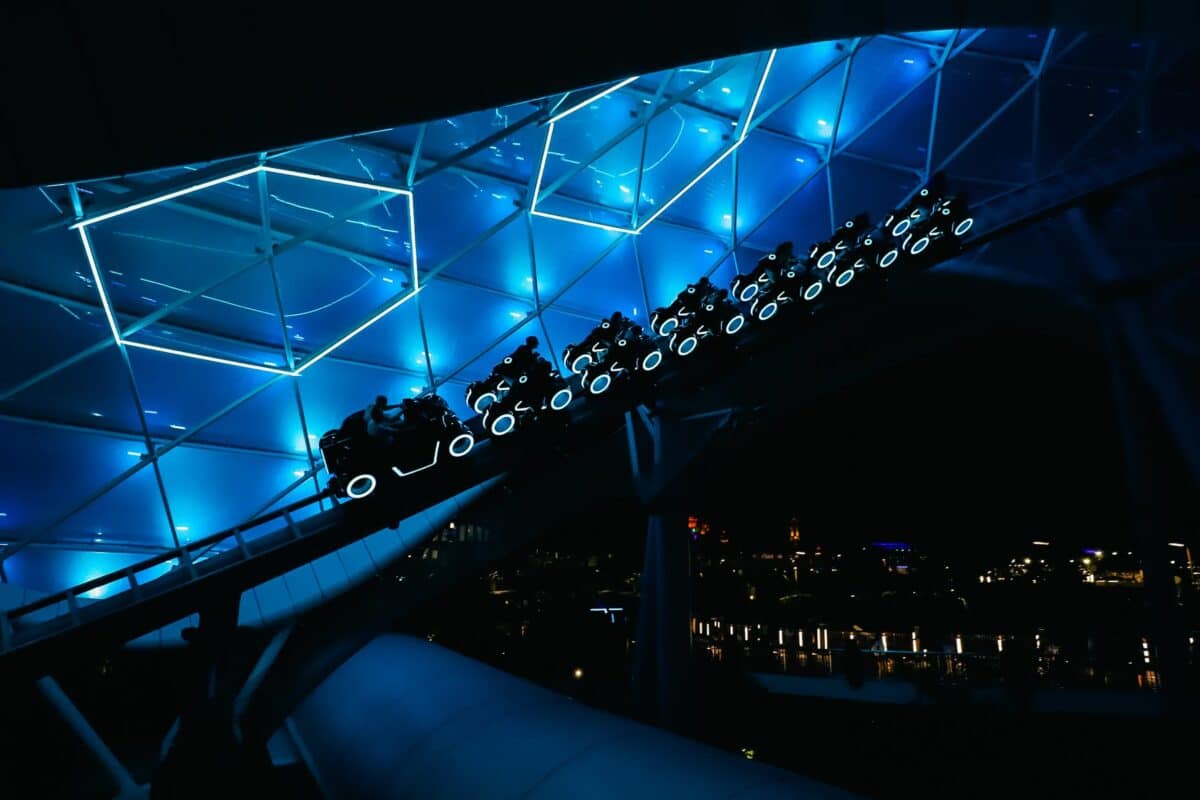 Virtual Queue for TRON Lightcycle / Run
Lastly, to ride TRON Lightcyle / Run, you must obtain a virtual queue or purchase an individual Lightning Lane. Both of these options will be limited. The most up-to-date instructions for obtaining a virtual queue are available on Disney's site.
Final Thoughts
Overall, Tron is a fun addition to Magic Kingdom. You've probably heard many complaints about it being too short already. It is short, however thrilling.
Going into the ride, knowing it was short, I felt that it exceeded my expectations. My fellow rider couldn't say enough good things about the ride.
Was it as good as Guardians of the Galaxy: Cosmic Rewind blow your mind good? No, but we can't all be Cosmic Rewind, can we?
If you've never experienced TRON Lightcycle / Run and enjoy thrill rides or high speeds, you'll want to take the time to ride this attraction on your next visit.
For more Magic Kingdom attractions, you might want to try the following:
Related: Magic Kingdom Ride List
In the Comments
So what do you think? Are you excited to ride TRON Lightcycle Run at Magic Kingdom? Tell us what you think!