The Single Parents Guide to Taking on Walt Disney World
Single parents often say they would love to take their family on a trip to Walt Disney World but don't know how or where to start. As a single parent who has visited the Disney Parks numerous time with my child, I understand.
It's hard to be the sole person in your family responsible for making ALL the decisions–much less tackle a vacation to one of the largest destinations in the world!
Given my experience, I felt it was time to put together a guide to help single parents prepare for a Walt Disney World vacation. Below, I've compiled all of our best tips and advice in one place so you can easily find what you need when making your reservations.
We hope every parent who wants to go on vacation with their kids can do so! Even if it's just you and the kids!
Here are the essential items I believe you'll need to consider when planning. We'll cover these items in more detail further down.
Budget
How will you get there?
Off-Site or On-Site
Arrival Tips
Meals
Safety
Maneuvering the Parks
Rides
First Aid
Souvenirs
Taking Breaks at the Resort
This article was updated on January 10, 2023.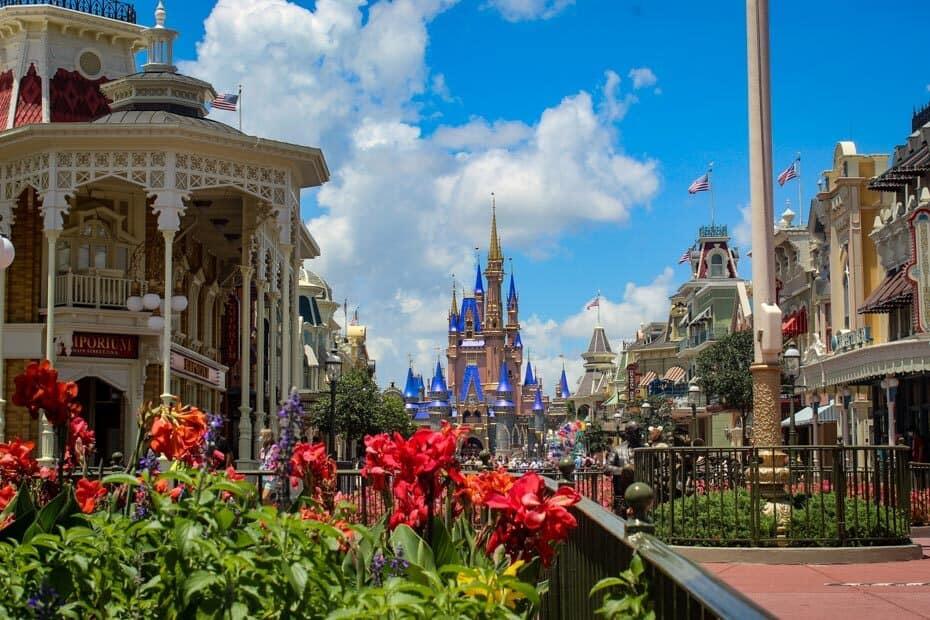 Tips for Single Parents at Disney World
Typically the most significant issue most single parents face when visiting Disney World is the cost. Let's be honest. A Disney World vacation can get expensive with airfare, food, tickets, and lodging. 
Budget
That's where budgeting comes in. First, you'll want to list all the overhead expenses and compare the costs. Then, at some point, you might need to examine whether or not it's cheaper to stay off-site or on-site. You might even consider driving over flying.
Then there's the cost of food. Eating out three times a day for seven days in a row can get expensive, no matter how many are in your group.
Lastly, you'll want to consider the cost of extra items like tips for housekeeping, souvenirs, or things you might want to add to your trip. (Example: Seasonal Parties, Dessert Parties, Fireworks Cruises)
If you're already overwhelmed, I get it. But don't worry. These things are manageable if you set a strict budget and stick to it. We'll go over each one in more detail with some practical advice.
In the meantime, you'll want to find a dedicated place to write down your anticipated expenses. I recommend keeping a notebook or a spreadsheet where everything is in one place and easy to locate. Then, as you plan, you can adjust your budget as needed.
As for your overall budget for a Disney trip, I wouldn't set one immediately. Instead, I would start collecting the numbers before I did anything else. Then base your entire budget on reasonable numbers.
If you start with, "I have $2000 to take my three children to Disney World for seven days next October." Then you might not ever get past the initial planning process. So figure out what the trip's cost will look like first, and then plan when and how you can meet that goal.
How will you get there?
This is a big one. Whether you drive or fly will depend on overall expense. Do you have airline miles benefits as a frequent flyer or from a credit card? Can these be applied to your trip?
For those looking at driving, how far is the distance? Will you have to add an extra day because the drive is so long? How often will you fill up with gas, and what's the cost?
Another thing to consider when driving is wear and tear on your car. Does your car need new tires, brakes, or maintenance before embarking on your trip?
Maybe you should rent a car? What do those costs look like in comparison to flying?
When flying, pack the kid's carry-on backpack with necessities and a blanket or a light jacket in case it's cold on the plane. Also, don't forget to bring essentials like medicine in your carry-on bag.
Upon arrival at the airport, you'll need to have a plan to get to your resort. Make sure to arrange transportation or car rental to take you to the resort.
Unfortunately, Disney no longer provides its Magical Express transportation service to and from the airport.
However, Mears is offering a new service called Mears Connect. You'll want to check the prices here for travel to and from the airport.
Other options include renting a car or having another form of transportation arranged. Having these things in place before your trip will make traveling as a single parent much simpler.
If you're feeling nervous or overwhelmed, list the steps on your mobile device. For instance, arrive at the airport, check baggage, go through security, find the gate, arrive at the destination, meet transportation, collect luggage, and head to the hotel.
While I know these things sound simple enough, a written reminder is nice to have handy if you don't practice them often.
For those who plan to drive, I have a few pieces of advice. First, have your car serviced, your oil changed, and your tires rotated and balanced before your trip. Second, it's also a good idea to plan what to do in an emergency.
Don't forget to pack plenty of snacks with a cooler and drinks for your trip. We have been stuck in standstill traffic several times during our travels. One time we sat on the interstate for about three hours. Thankfully, we had a cooler with plenty to eat and cold water to get us by.
Should you stay off-site or on-site?
This is a tough one. For those who have never visited or aren't familiar with Disney, I always recommend staying on-site if it's within your budget. When you stay at a Disney Resort hotel, you have the convenience of everything being in one place.
Even if you have to take a bus to a park or Disney Springs, you won't have to worry about getting lost or taking the wrong exit. The entire vacation is set up for success. When you stay in the Disney bubble, you'll feel like you've left the real world behind for a week.
However, in most instances, it is more expensive to stay at a Disney Resort. Therefore, you'll want to consider staying at one of Disney's value resorts if you are on a tight budget.
The other option is staying off-site. Staying off Disney property has its list of advantages and a few disadvantages.
Not only are most off-site resorts cheaper, but you can also find a hotel that comes with a kitchenette. In addition, having the ability to cook meals at your condo can save a considerable amount versus eating out for every meal.
Related: The Best Off-Site Hotels Near Disney World
Another thing to consider when staying off-site is the cost of parking at Disney World. As a guest of a Walt Disney World Resort, you won't have to pay to park at the resort or theme parks. This is a huge advantage.
However, guests from an off-property resort will incur a daily parking fee at the theme parks.
As a single parent, parking and resort fees are often things that can come as a surprise after planning. So make sure to be aware of any "extra" charges that your resort might add to your bill after the fact.
Additionally, I highly recommend using a travel agent when planning a trip to Disney World. You might want to read a separate article that shares the benefits of using a travel agent for Disney World.
Arrival Tips
After arriving at your hotel, it's a great idea to unpack and organize your items. This will save you time and effort in the long run.
I suggest laying out pajamas for the evenings you'll be coming back from the parks late. Then laying out clothes for the next day, every night before bed. The last thing you want is a worn-out child having a meltdown at 7:00 am because they can't find the right pair of socks!
After unpacking, it's a good idea to familiarize yourself with nearby dining options at your resort. And if you ordered groceries in advance, have them delivered to your room. Several grocery services in the area do these types of things.
If you stay off-site and plan to cook, have the grocery store and nearby dining options mapped out and saved in your GPS before your trip. Prepare a grocery list in advance of the things you'll need.
When we stay off-site, we usually check into the room, unpack, and then head straight out for groceries. We'll order pizza before heading into the grocery store and then pick it up on our way back to the resort. That way, we have a quick meal and things to prepare during the week.
Meals
While we're on the topic of groceries, I wanted to give you a few tips for saving money on meals. As you probably already know, the price of food can add up if you're not careful.
For instance, one of my best tips is to order a kids' meal at counter service locations. Often the kids' meals are sizeable and come with plenty of side items.
Make sure you are aware of your options for sides. Most kids' meals at Disney come with two sides and a drink. The sides can be double fries if you like. Or there is usually a separate refrigerated area with additional options that count as side items.
Related: The Top 10 Disney Resort Quick Service Restaurants
Additionally, some families have found that splitting an adult meal between your group works just as well as ordering a kid's meal. So you might try both, depending on your group size, to see what works best.
Now for table service restaurants, an adult cannot order a kids' meal. However, ordering an entree is usually not required, either.
Here's where I like to mix things up by ordering soup and a salad. Or maybe an appetizer and a dessert instead of an entree. Take all the time you need to peruse the menu and pick the option(s) that will work best for you as a single parent.
Safety
As a single parent, I know safety is a huge concern when traveling alone with your children. But, while anything can happen anywhere, I have always felt more confident about my family's safety at Disney than at any other destination.
Since the theme parks are so large and crowded, it can be easy to separate from one another. Talk with your children about what to do in the event they were to get lost. Make sure to point out cast members in uniforms in the parks so they can quickly identify who can help them.  
And remember, there is safety in numbers. So stick together and get your children on board before the trip. Make sure they know that taking this trip depends on their behavior.
Maneuvering the Parks
As far as the Disney Parks go, you are in for an amazingly fun adventure. There are many attractions, things to see, performances, characters, and treats! You can expect to have a wonderful time.
However, there are a few situations you'll want to have a plan for in advance. One of those items is restroom breaks. How will you handle them? If you are a mom/son or dad/daughter, decide on these things in advance. Then discuss how they will be dealt with your child before the trip.
I cannot stress enough the importance of making sure children know these things ahead of time. So often, I've run into these types of situations when traveling with my son, nieces, and nephews.
Children are often rebellious when it comes to doing something out of the norm. Often those moments can lead to horrible behavior that leaves everyone in a bad mood.
Another item is nap time. While this applies to most children, single parents need to consider nap time and bedtime habits even more. 
If your child falls asleep, as a single parent, will you be able to carry them or have a stroller on hand? When you leave to go back to the room, you'll have to fold the stroller up on the bus. Will they be easy to wake so they can walk themselves back to the room from the bus?
For those who stay late into the evening, you'll want to consider whether or not your child will fall asleep on the bus back to the hotel? Or In the car on the way back to an off-property resort. 
And how will you handle it if you have to park or walk a good distance from your hotel room? There won't be anyone to drop you off outside the entrance while they park or help carry a child back to the room.
My solution as a single parent was always to keep my child awake and talking the best I could until we got back to the room. However, that didn't always happen. And there was a time or two when it was a bit of an ordeal to wake him. Don't get me wrong. We always figured things out.
Rides
When traveling to Walt Disney World as a single parent, you might be concerned about what rides will work for your party. Research the rides in advance and keep a list of all the attractions that will work for your family.
You'll want to consider height restrictions and how ride vehicles are set up. We have all the rides for each park available on these pages:
First Aid
While we're talking about the parks, I wanted to mention that it's a good idea to familiarize yourself with the First Aid stations in each park. You'll probably never need to visit one. However, in the event of a medical need, they do come in handy.
Need a bandaid? First Aid has them. Have a headache? Just walk in, and they'll provide you with something to help. Allergy issues? Benadryl is always on hand.
I visited the parks for years and years without ever stepping foot in a First Aid Center. And then, one afternoon, my son needed Benadryl. We had it within a moment of walking in the door. Since then, I've been back several times for Tylenol and band-aids.
Souvenirs
Back to that budget, you'll want to consider things like souvenirs. Your children are going to want things they see in the parks. That's a given. Honestly, you are going to see things that you would like to purchase for yourself, probably.
Thankfully, there are many options for saving money on souvenirs. For example, you can purchase glow sticks at a Dollar Store in advance. These come in handy after dark when all the light-up toys come out.
Pack them in your backpack and when children ask for a light-up toy, break out your surprises. They'll likely be excited to have something "new" and quickly forget about that $20 glow necklace they'll only use on vacation.
Another idea is to give your child a budget at the beginning of your trip. When my son was younger, his grandparents often gifted him a $50 or $100 gift card before leaving on vacation.
That was his money to spend however he chose. Of course, once it was gone, it was gone. But it eliminated a lot of unnecessary browsing and asking for things out of our budget. Disney gift cards can be purchased at most groceries or superstores.
These are just a few suggestions for handling souvenirs. Again, the main thing is to think about these things in advance and know how you'll handle them.
And if there isn't room for any souvenirs, that's fine too.
Taking Breaks at the Resorts
This wouldn't be a true Resorts Gal article if I didn't remind you to take a break at your resort. Whether staying at a Disney Resort or even off-site, your hotel should have something to offer recreation-wise.
Sometimes a full day at the pool mid-week is just what you need to feel like you are really on vacation. Don't be surprised if your children don't want to leave the pool. It happens.
You'll be all the better for the time spent relaxing. The last thing you need is to wear yourself out in the parks and come back home exhausted.
Most people that visit Disney World like to return time and time again. You can always come back in the future, and hey, then, you'll be a pro at this whole single-parent takes on Disney thing!
Browse our entire list of Disney World Resort Reviews.
Final Thoughts on Single Parents at Disney World
In this article, we have explored the ins and outs of taking on Walt Disney World for single parents. We hope you found it to be a helpful resource in your planning process!
Walt Disney World is a magical place for kids and adults alike. It's no secret that it can be an overwhelming experience. But with the right tools, you'll have as much fun at Disney as the next person!
We hope this guide will help make simplify your trip as a single parent to Walt Disney World.
Happy travels!
Want to browse more planning articles? Consider these:
In the Comments
Do you have any other questions about taking on Walt Disney World as a single parent? Tips of your own? Leave them below in the comments.