Deluxe Studio at Disney's Animal Kingdom Lodge (Jambo House)
Staying in a deluxe studio at Disney's Animal Kingdom Lodge provides a few upgrades and amenities that you won't find in standard guest rooms. Deluxe studios rooms are only available at Disney Vacation Club Resorts. At Animal Kingdom Lodge, there are two separate Disney Vacation Clubs, Jambo House and Kidani Village.
For the sake of this review, we'll preview the deluxe studio room at Jambo House. This portion of the DVC Resort is located in the main lodge. Jambo House is divided up into a variety of different room categories including these deluxe studios.
For reference, Kidani Village is a separate building on the property. At Kidani, all the rooms are deluxe villas, there are no regular guest rooms.
Additionally, when it comes to choosing rooms at the Animal Kingdom Lodge, the choices get complicated. Is staying in a standard room going to be enough? Is it worth the cost to upgrade to a savanna view room or a deluxe studio?
This is one of the few resorts where we actually recommend upgrading, at least to a savanna view room. It's a surreal feeling to be able to wake up to animals in your backyard every morning. And you probably don't want to end your vacation wishing you had spent the extra money for a room upgrade.
However, if you have a park-packed schedule that will leave little time to enjoy the room view during your stay, you still might want to consider the deluxe studio.
Regardless, a stay at Disney's Animal Kingdom Lodge is one of the most relaxing places to spend your vacation. There's a reason it tops our list of best deluxe resorts at Disney World.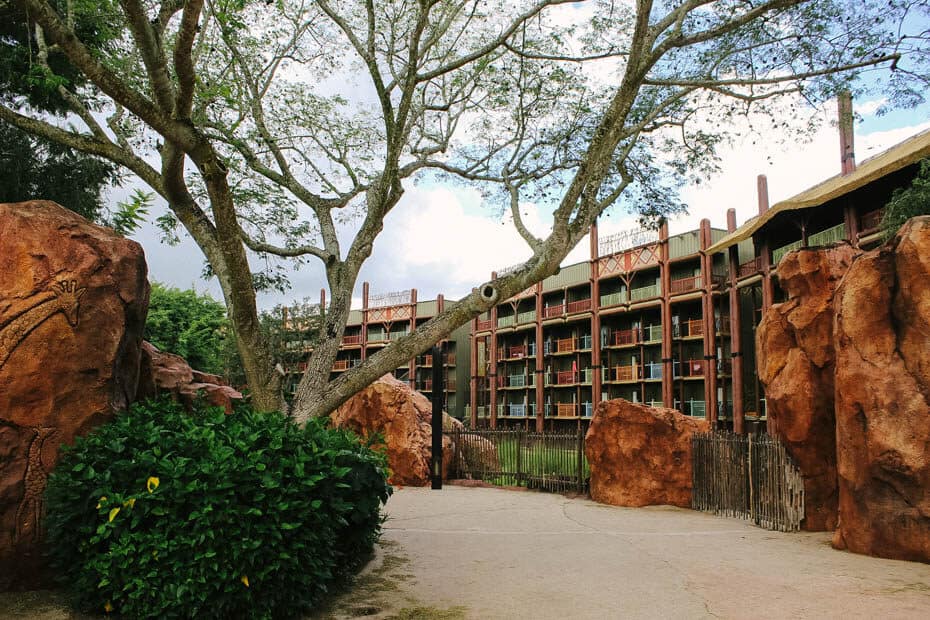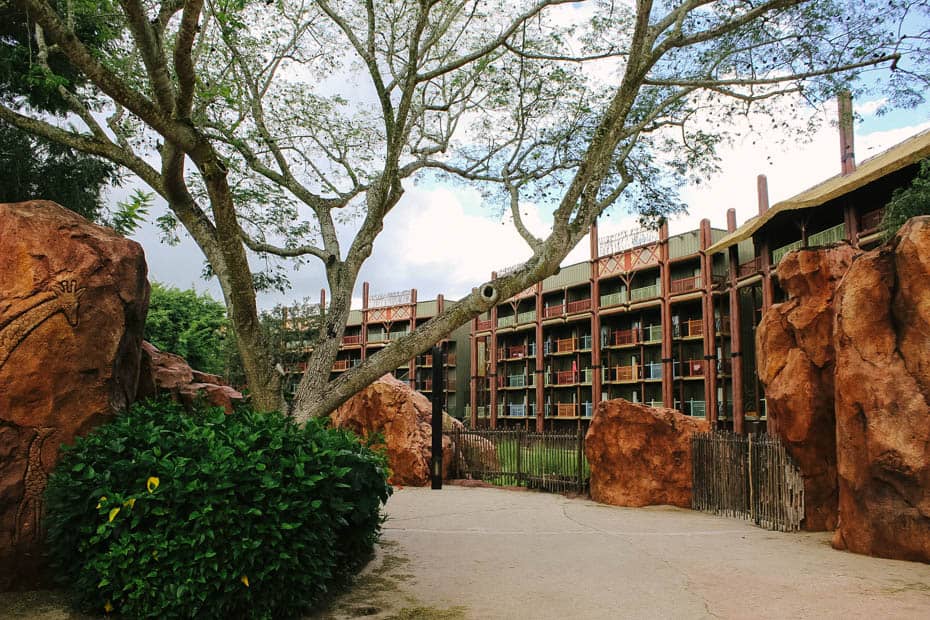 Deluxe Studio at Jambo House
The deluxe studios at Jambo house have several different view choices. They are as follows:
Savanna View
Pool View
Standard View
We are going to take a look at a pool view room along with some positives and a few negatives regarding the view. For reference, the main difference between the Disney World Villa Resort rooms and standard guest rooms is the amenities offered.
At the minimum, a deluxe studio will have a small kitchenette. Villa rooms generally come in the following room types:
Deluxe Studio
1 Bedroom
2 Bedroom
3 Bedroom Grand Villa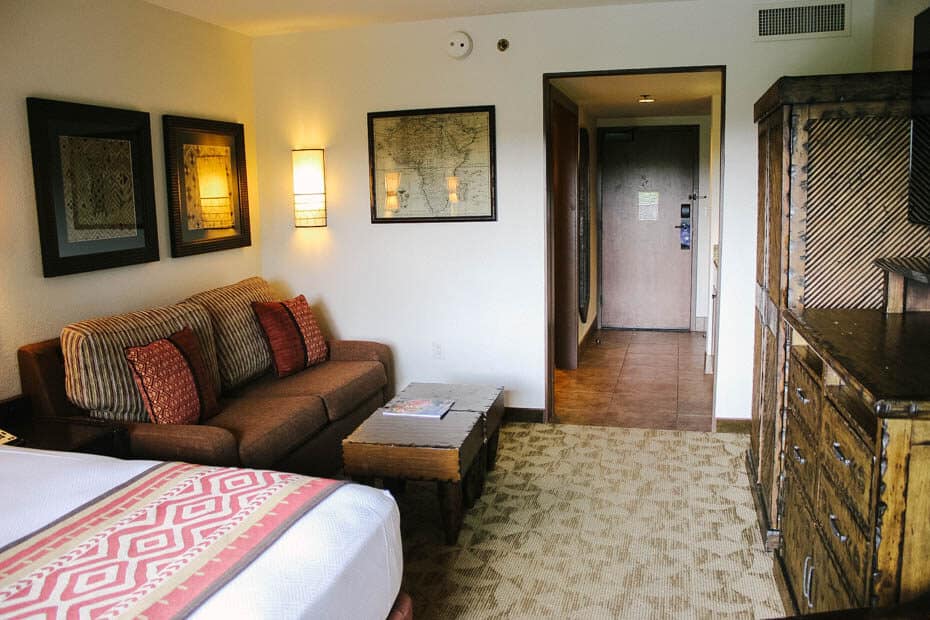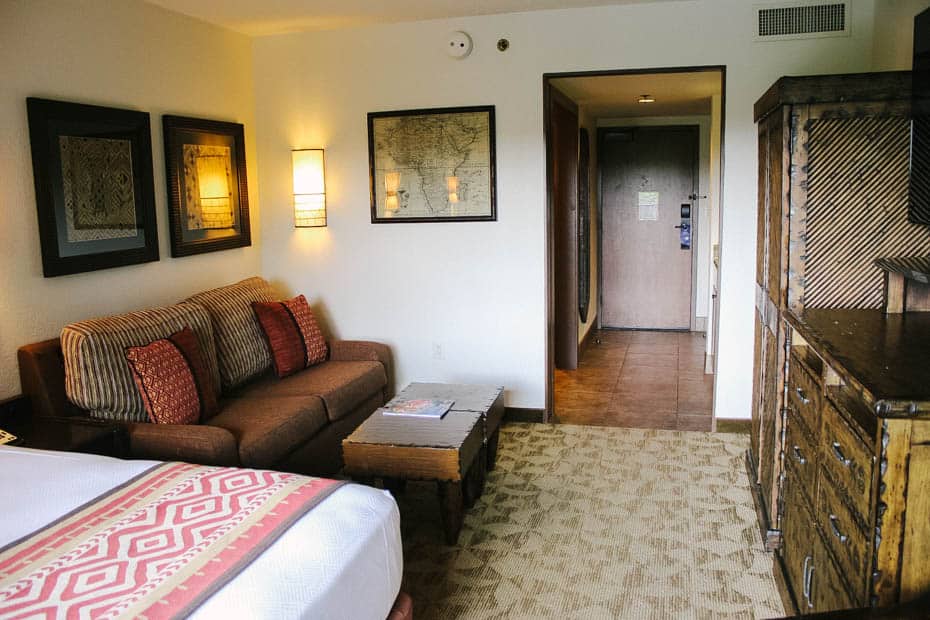 Our Animal Kingdom Lodge deluxe studio came with a queen-size bed and a sleeper sofa with a queen bed. Two tables make up a coffee table in front of the sofa. Both roll out of the way to have space for the sleeper.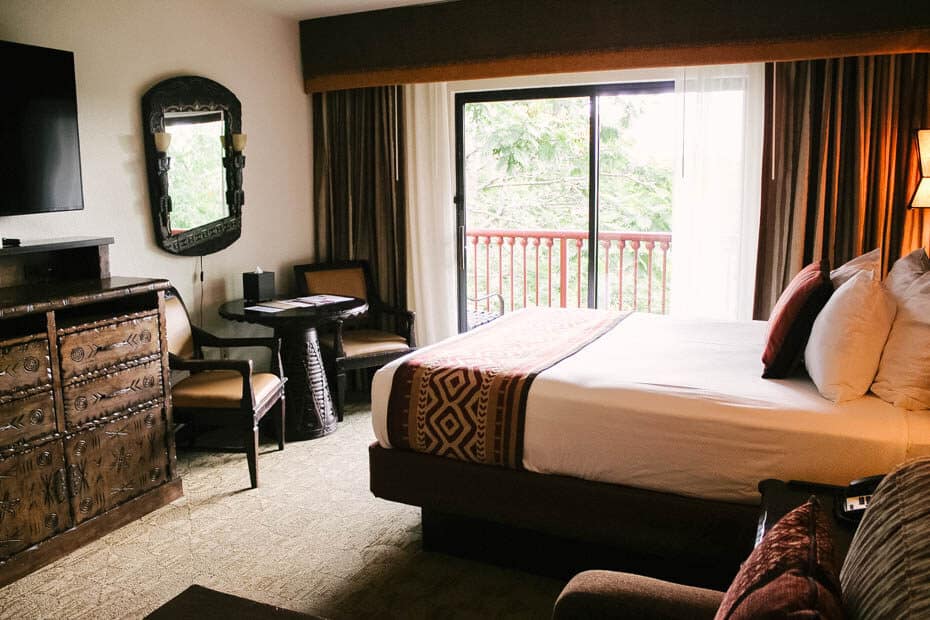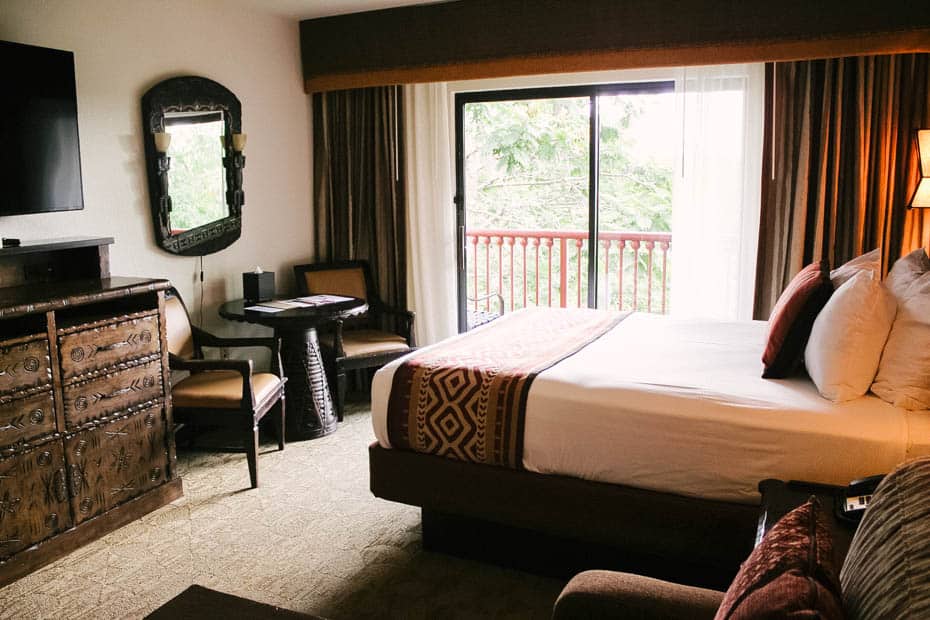 Additionally, there's an armoire that provides storage, along with a dresser that houses several charging ports at the top.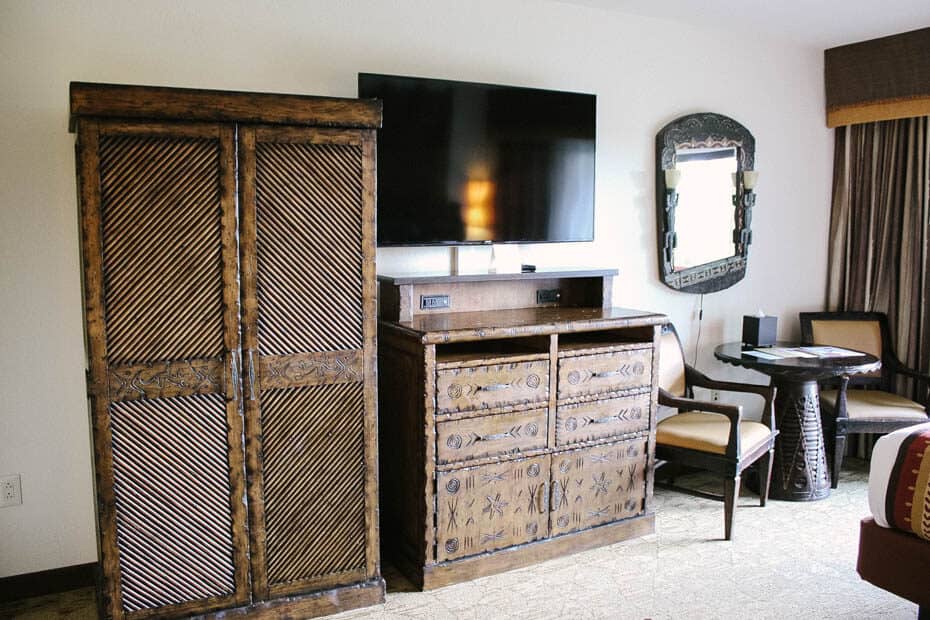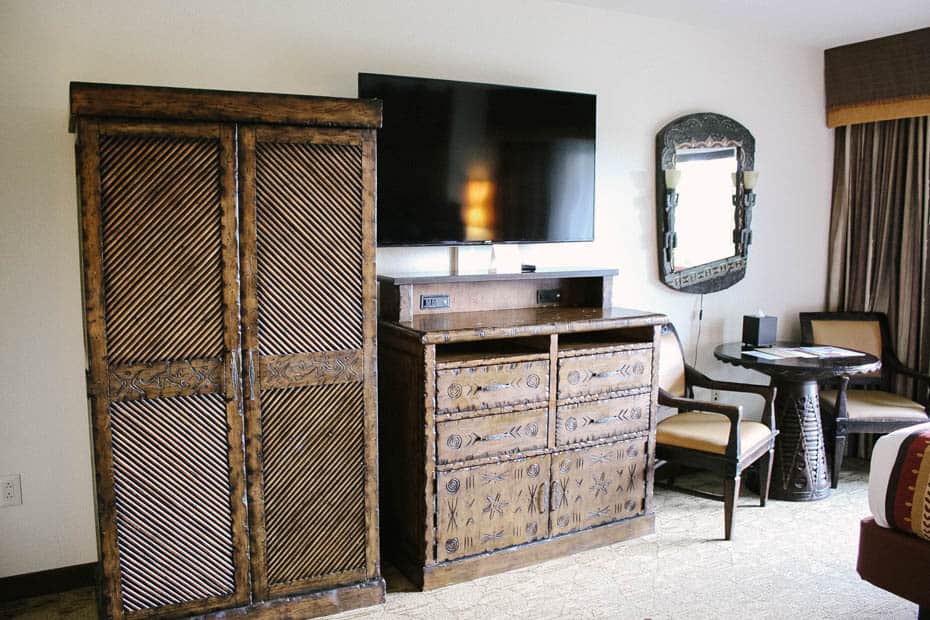 In the corner, you will find a table with two chairs.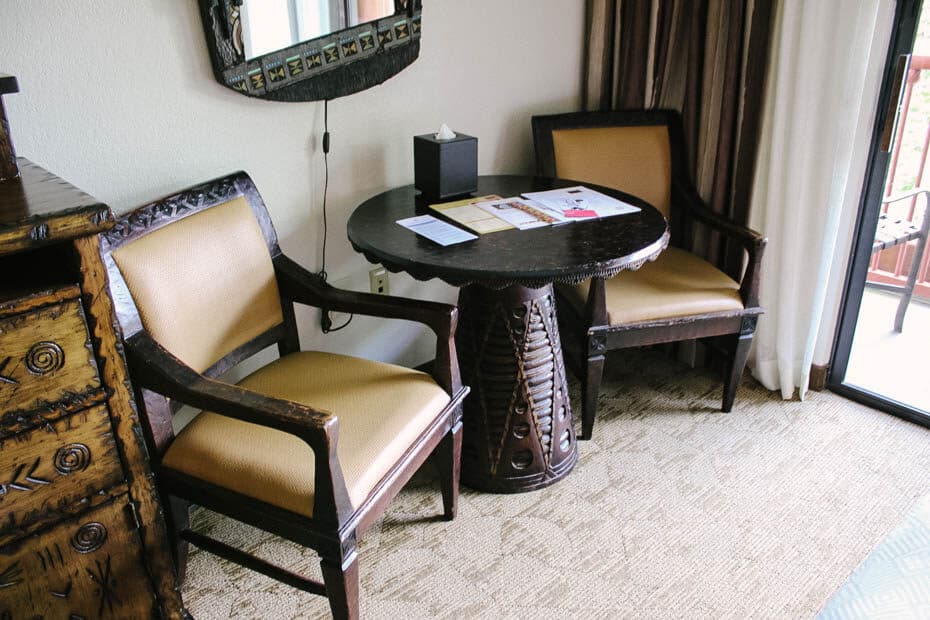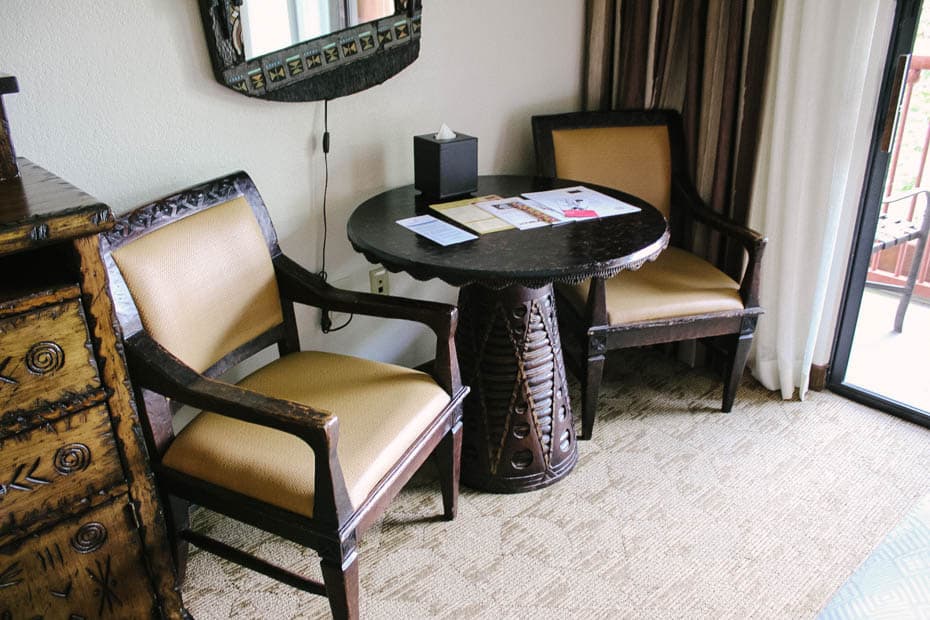 At the time of this stay, this studio had yet to be updated with the newer flooring.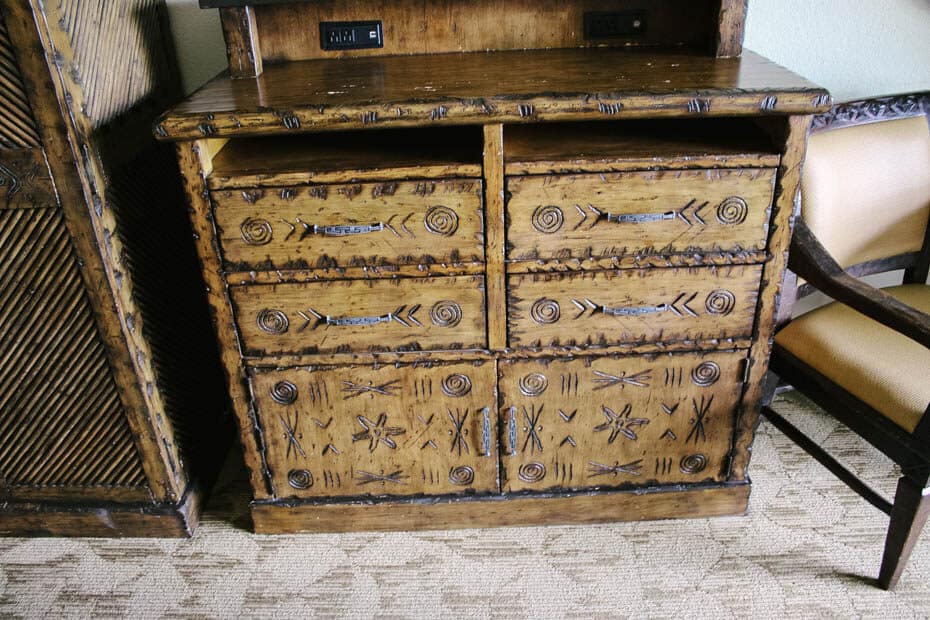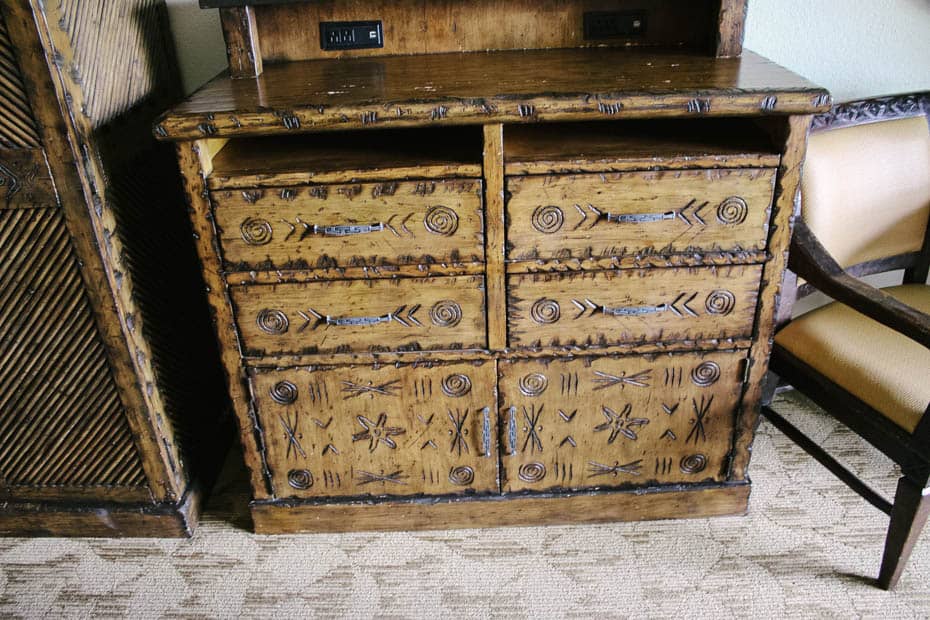 The deluxe studio rooms at Animal Kingdom Lodge all have a balcony. Every room I've stayed at, including standard view, has had one. (Balconies are a great place to apply sunscreen in the morning before heading out to the parks.)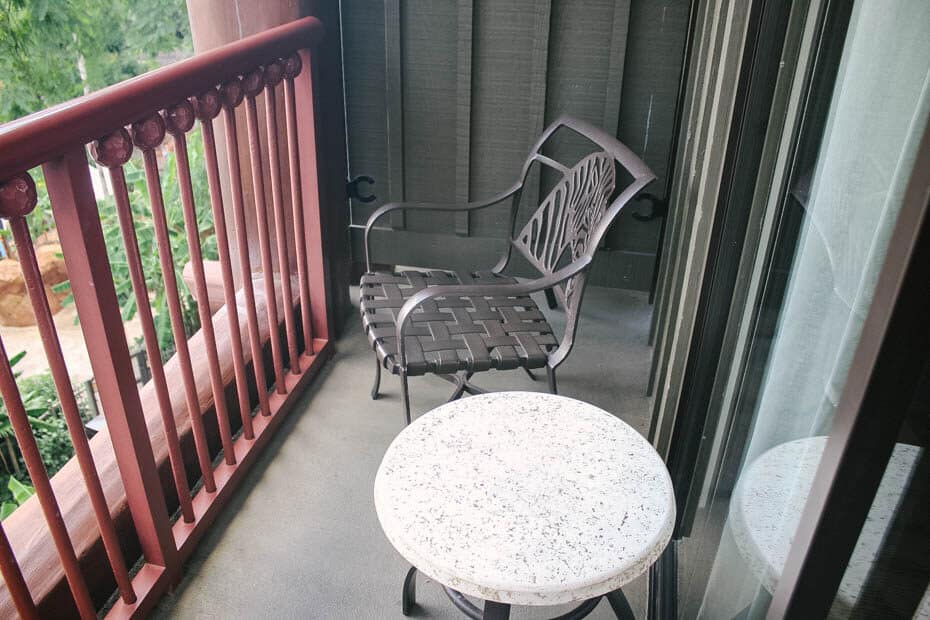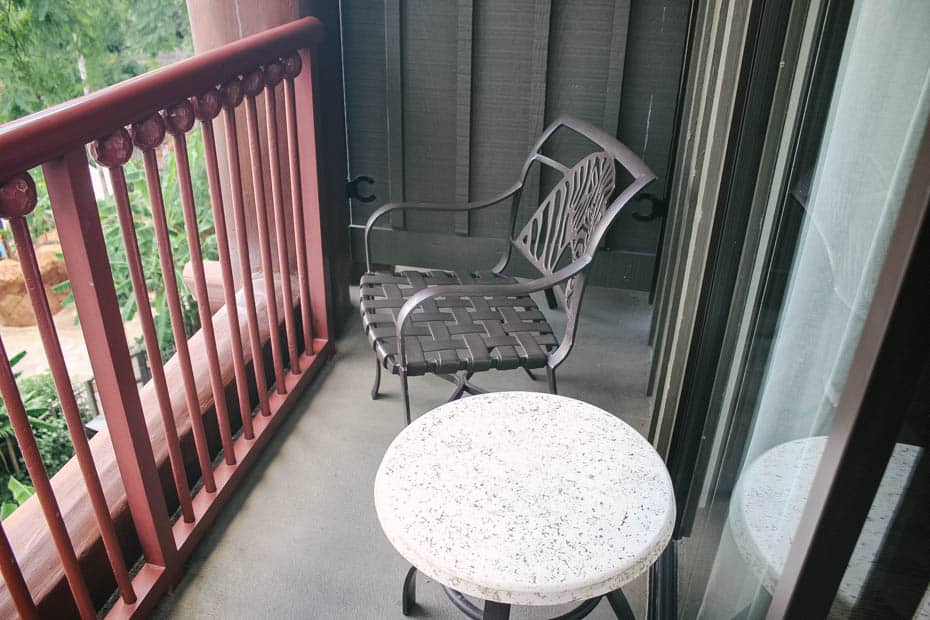 Here is the view of the feature pool from my balcony. I am a pool person, so I did enjoy this view. There might be a bit of a drawback here for some, though.
Related: Our Recommendations for Best Pools at Disney World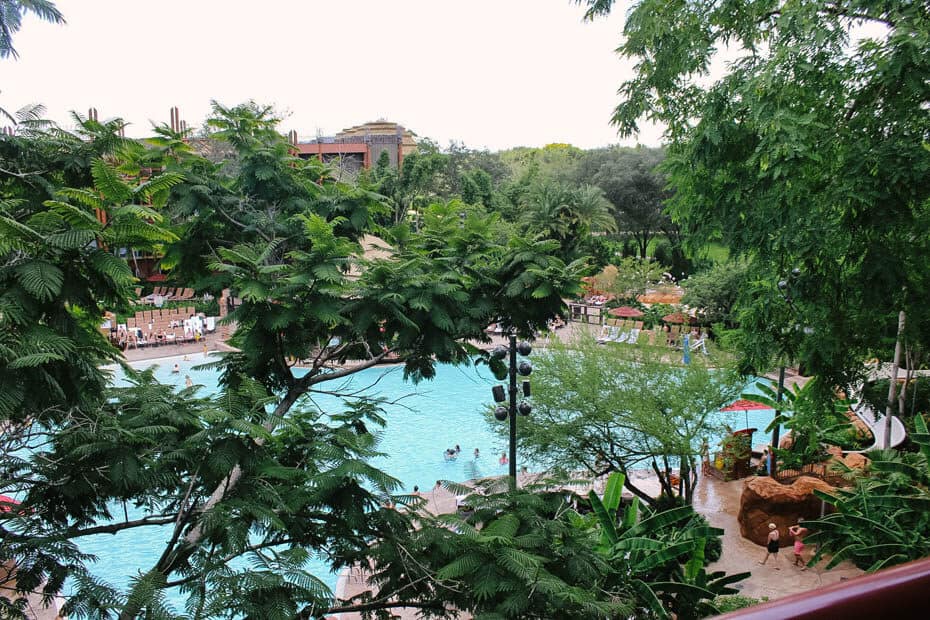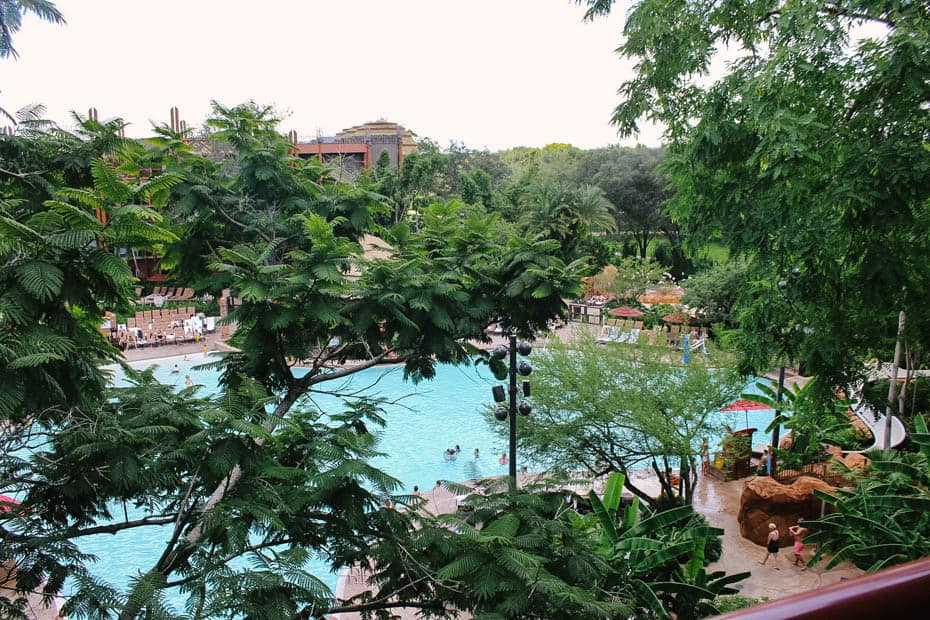 During the day, there are quite a few poolside activities for guests. Usually, they are playing loud music, Disney trivia, and an event coordinator is on a microphone. Those looking for midday peace or naptime might not want to consider this upgrade.
There was also a partial Arusha Savanna view. If you look closely below, you can see the flamingos behind the pool area. Occasionally, I could catch a glimpse of a giraffe in the evening.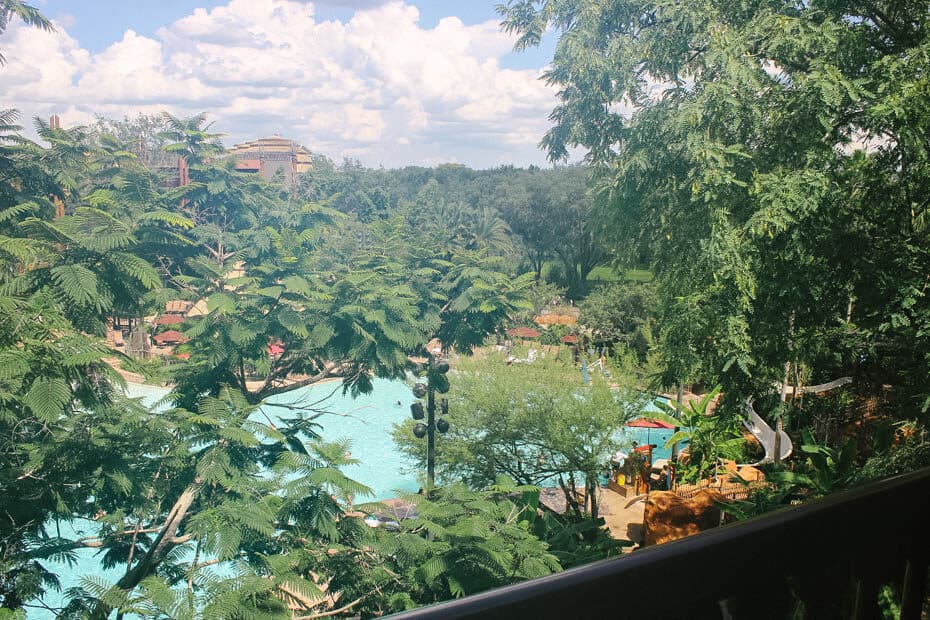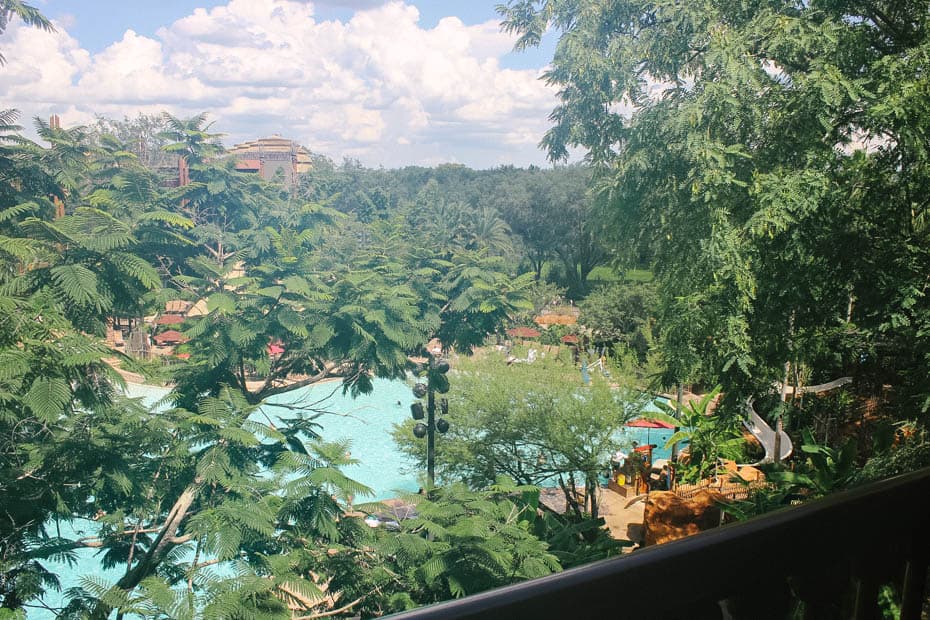 Back inside, you'll see that a deluxe studio has a small kitchenette. There is a cupboard on top with a few mugs, glasses, and plates. Below that is a microwave, sink, and coffee maker.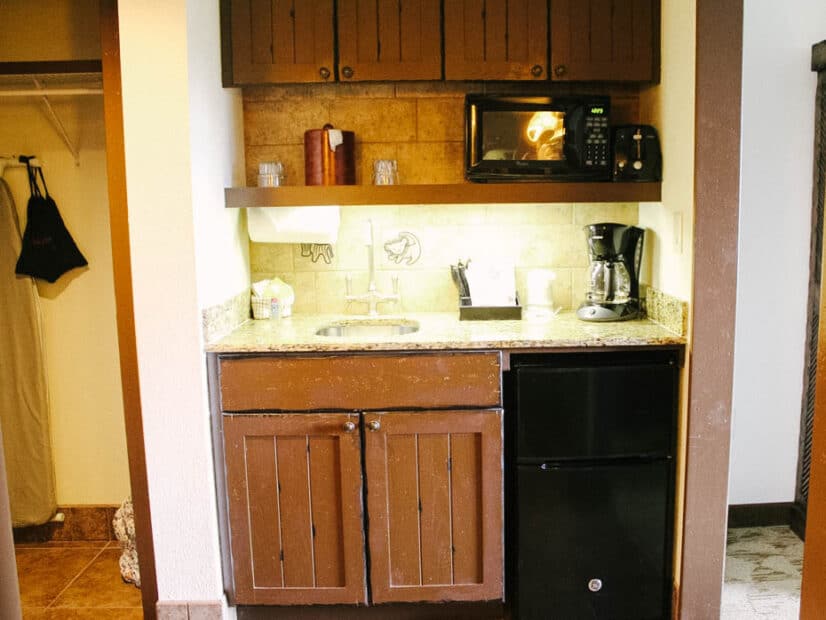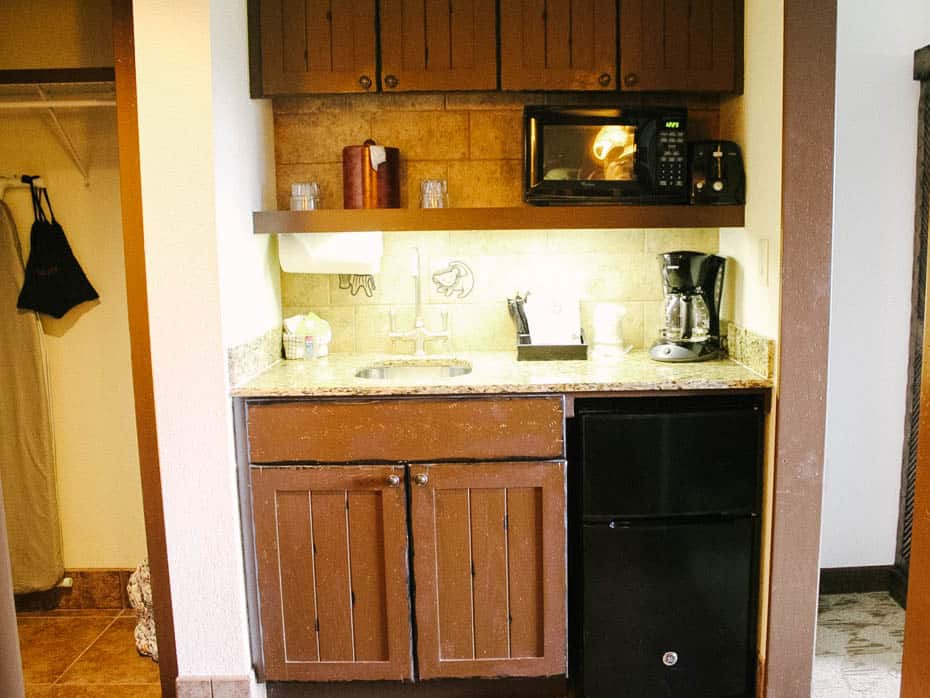 The bottom cabinets had a nice place to tuck away recycle and trash as well. To the right is a larger than a standard refrigerator with a separate freezer area.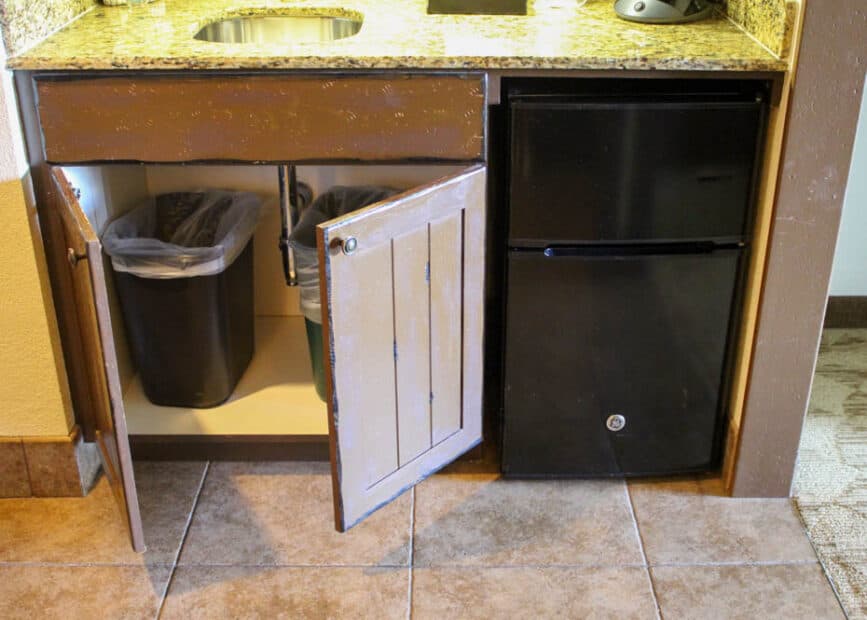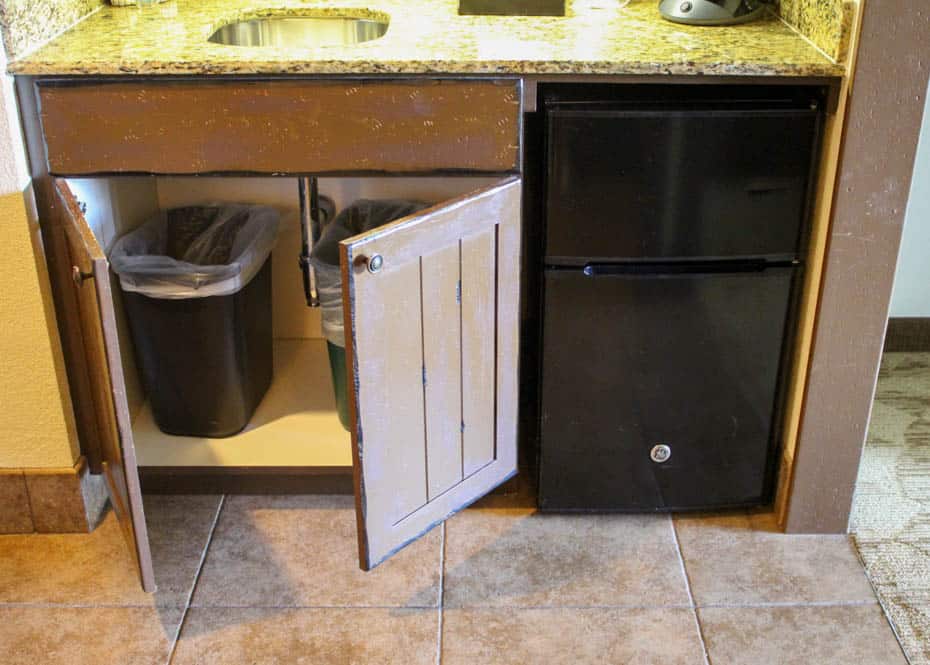 The coffee makers are standard in the villas, so bring along your preferred coffee if you like. However, Joffrey's coffee is complimentary.
Our deluxe studio kitchenette had a nice prep area. You'll find a sink, sponge, towel, and dish soap. If you purchase a refillable mug, this is a nice place to clean them up.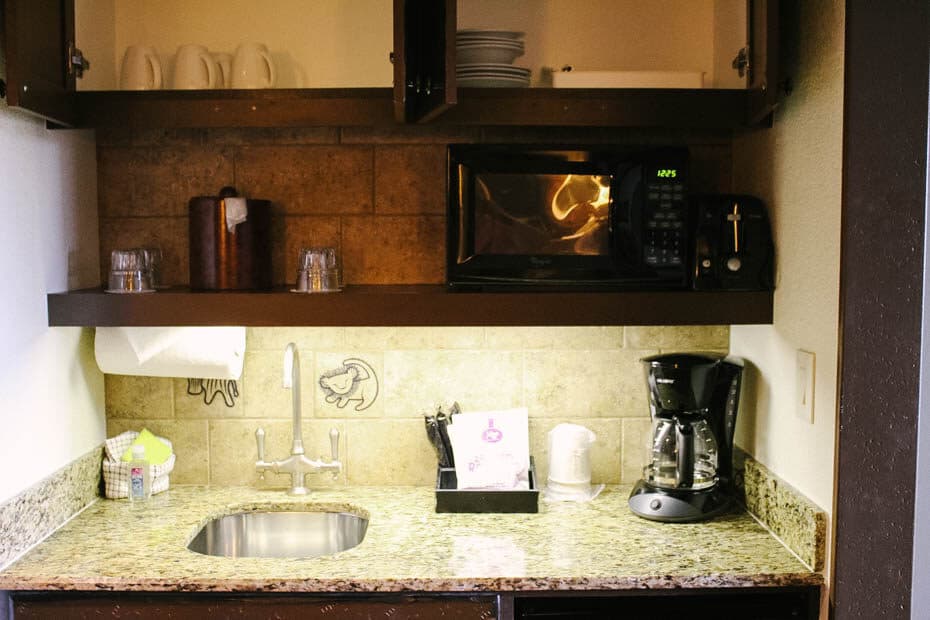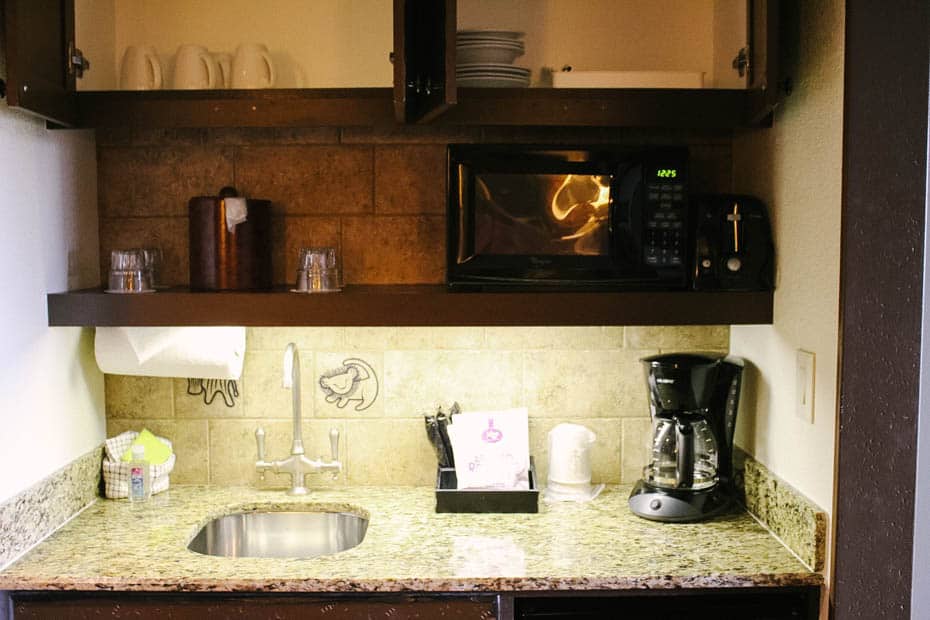 I took a picture of the fridge inside and wanted to note that a studio's fridge holds more than a standard one does.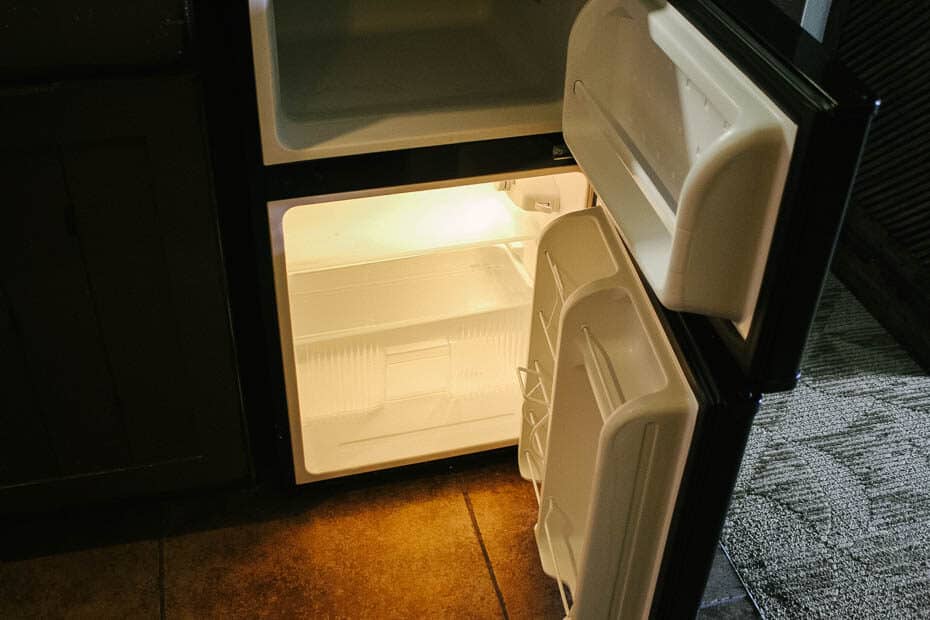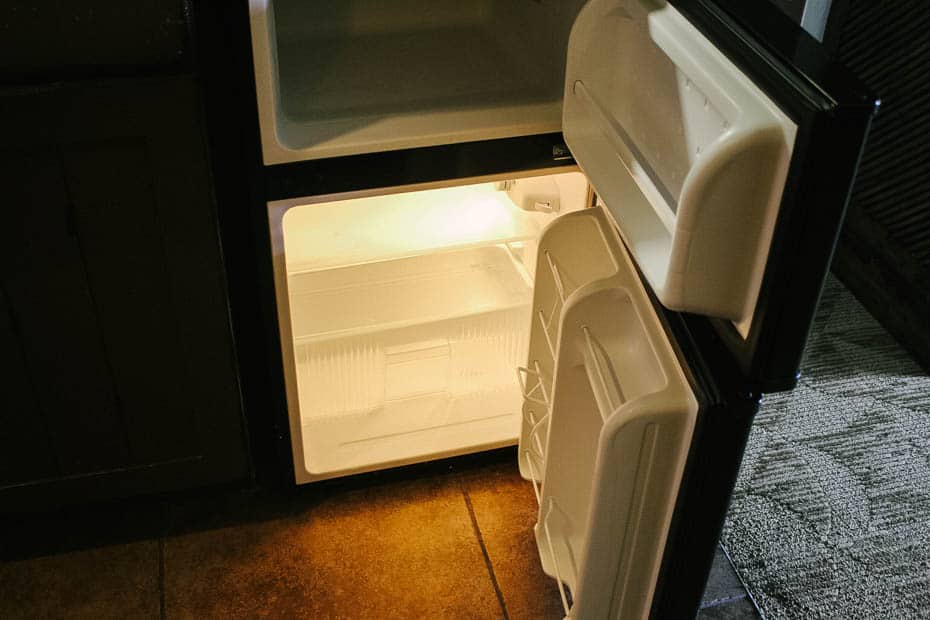 The foyer closet provides even more storage space. It is also where you will find the iron, ironing board, and hairdryer.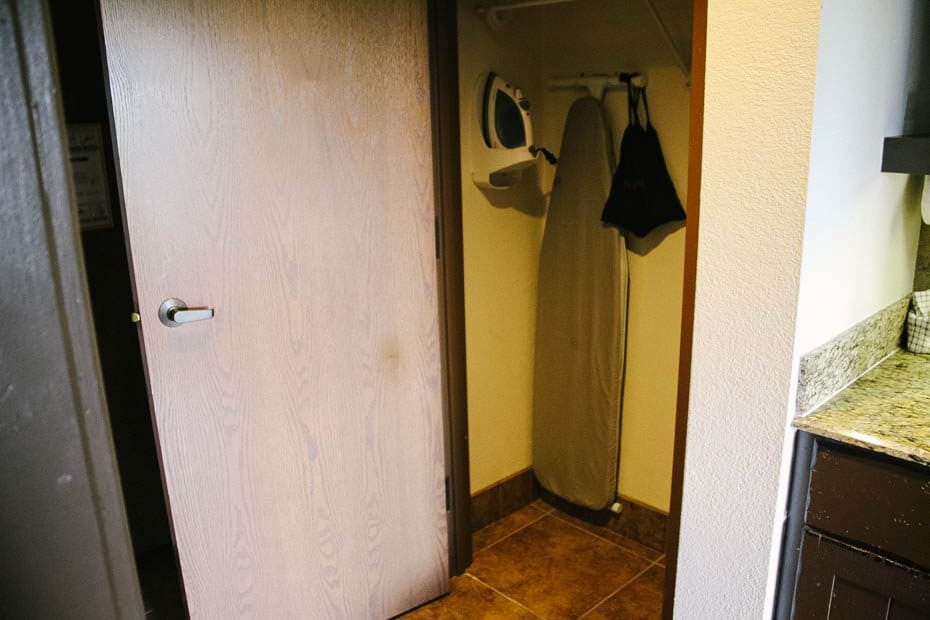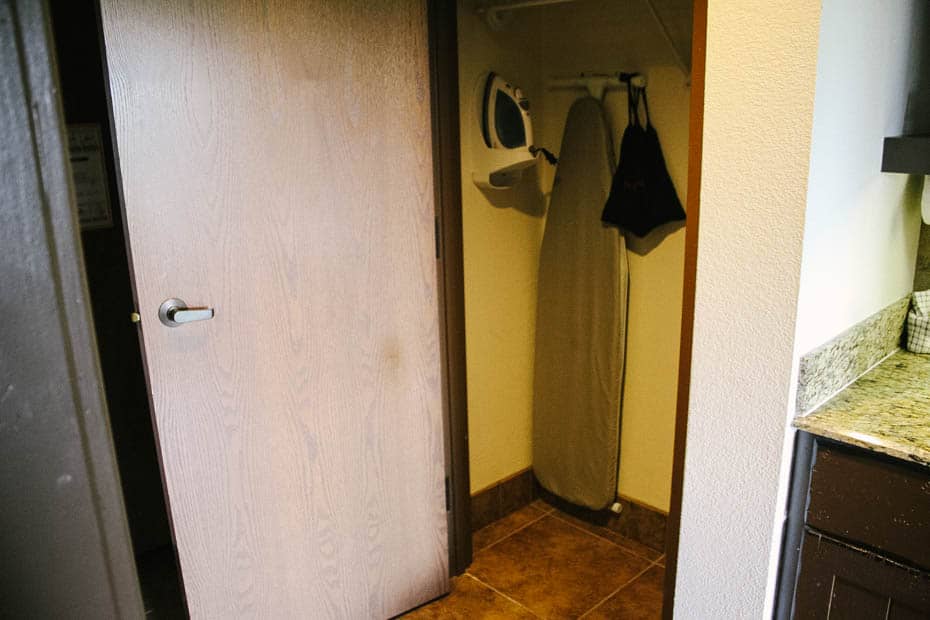 There is a guest bath with a separate vanity area. This one came with a shower and tub combination.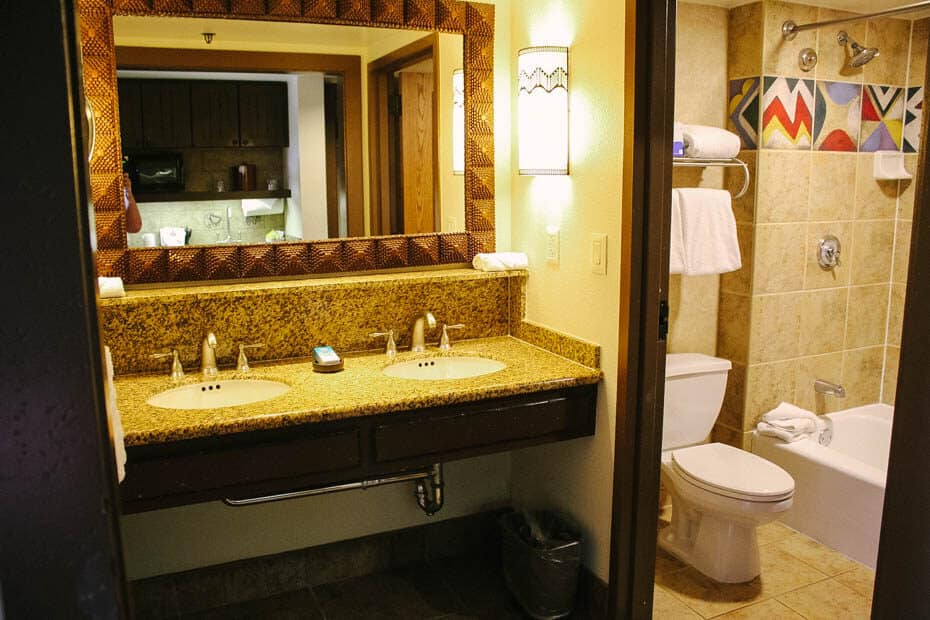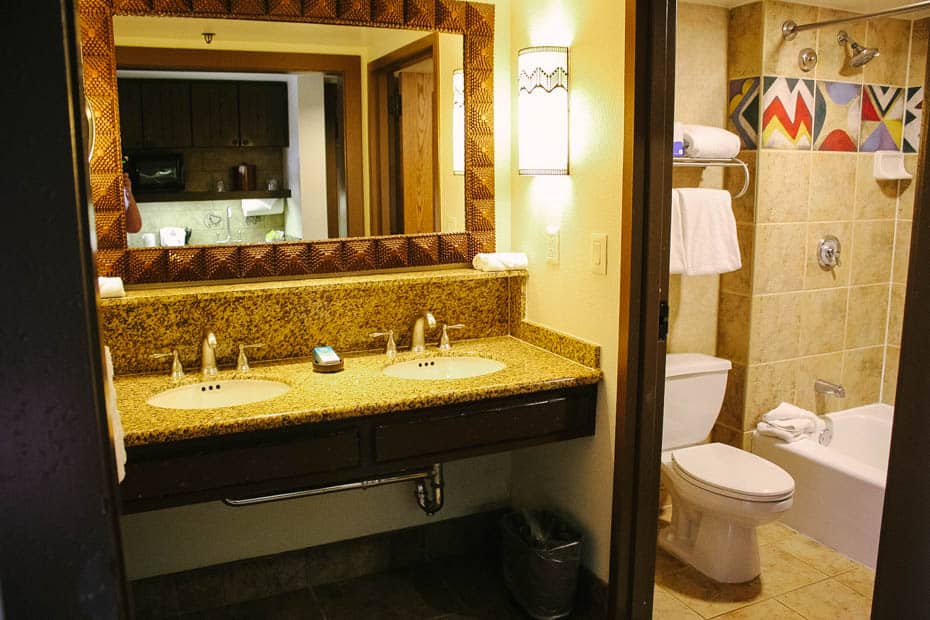 I like that they have added a ledge to place personal items over the vanity area.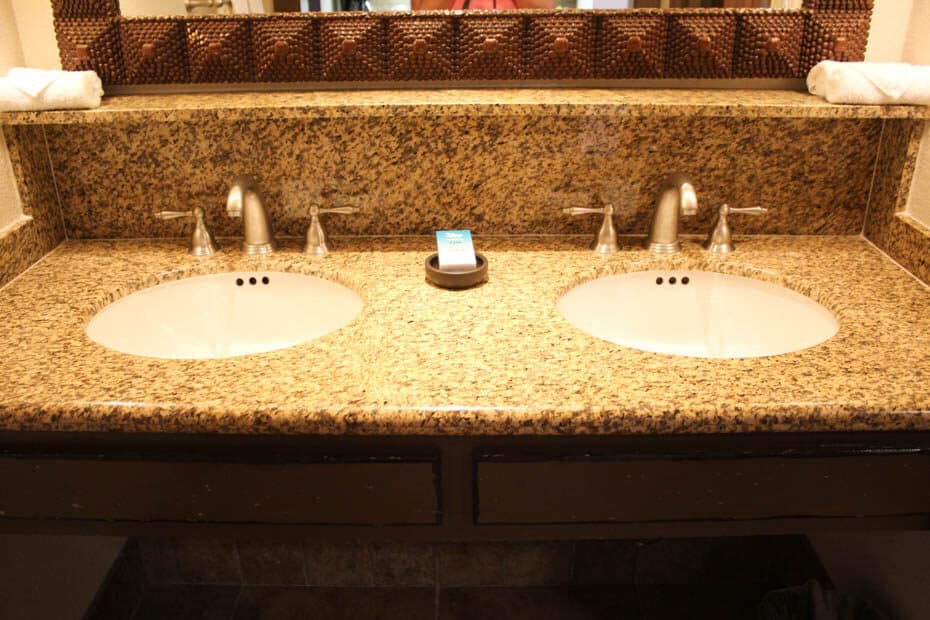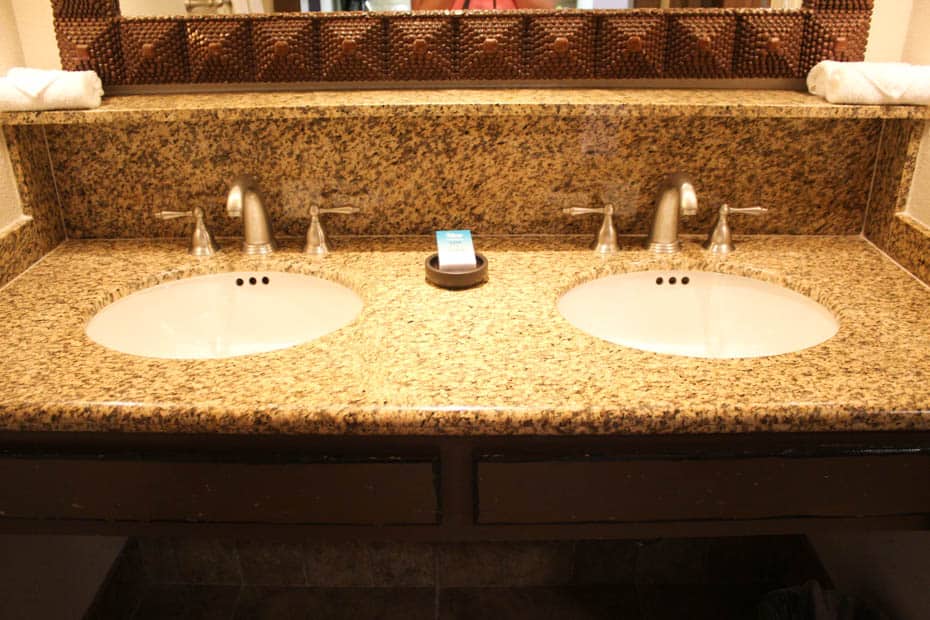 The bath surround is tile and has a plastic shower curtain. That was a bit of a complaint. I didn't feel like this curtain was dirty, but I don't care for shower curtains, in general. Personally, I think a solid surface is more guest-friendly.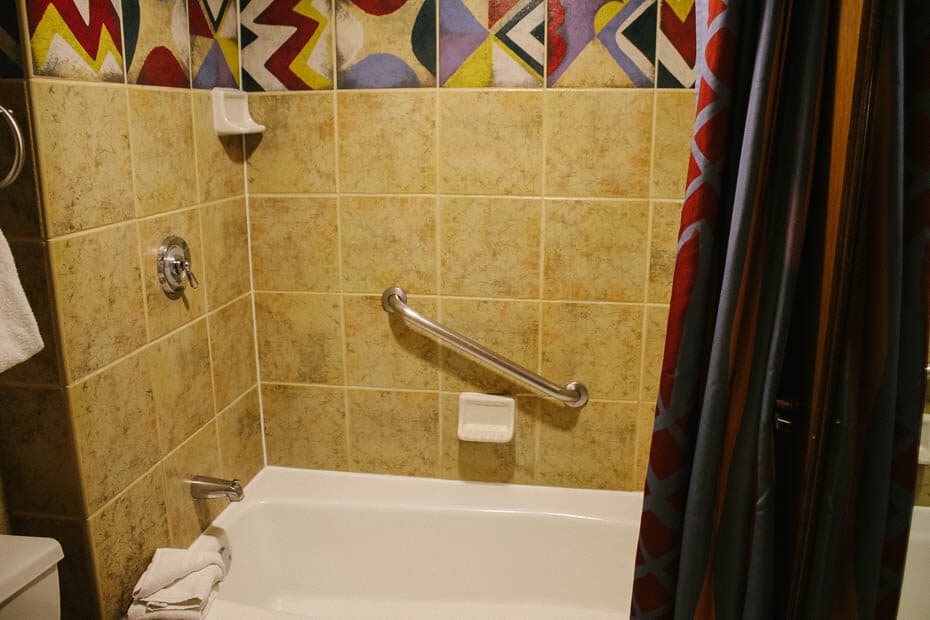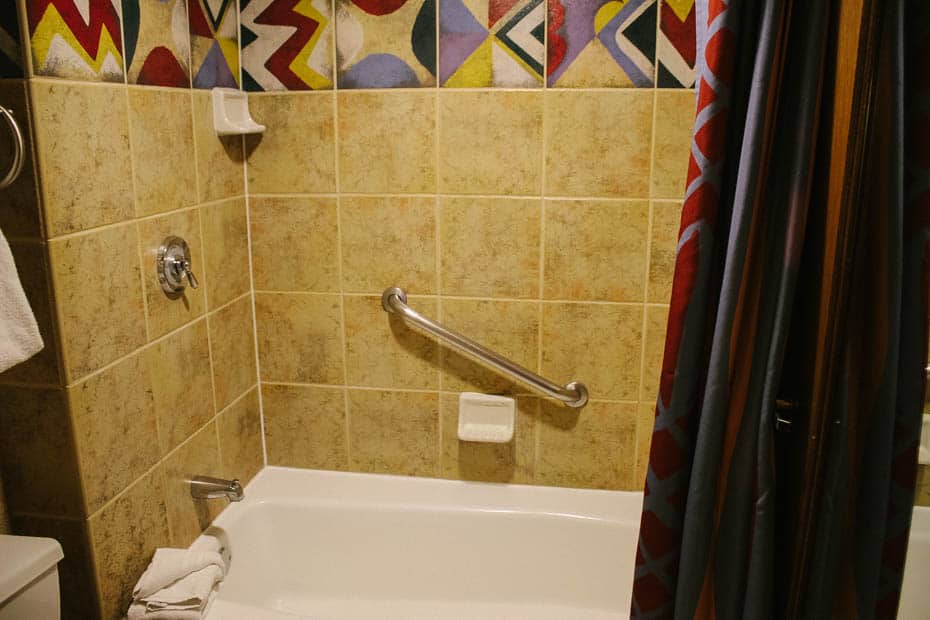 My main issue with the deluxe studio was the pull-out sofa bed. You will find these in most of the studios across the Walt Disney World Resort. For a few days, they are probably fine, but I don't think they are suitable for a longer stay.
If you are leaning toward a villa resort, you might want to check out the review of Disney's Riviera Resort which has a deluxe studio. That room had a traditional bed that pulled down out of the wall. This is much preferred over the sofa bed.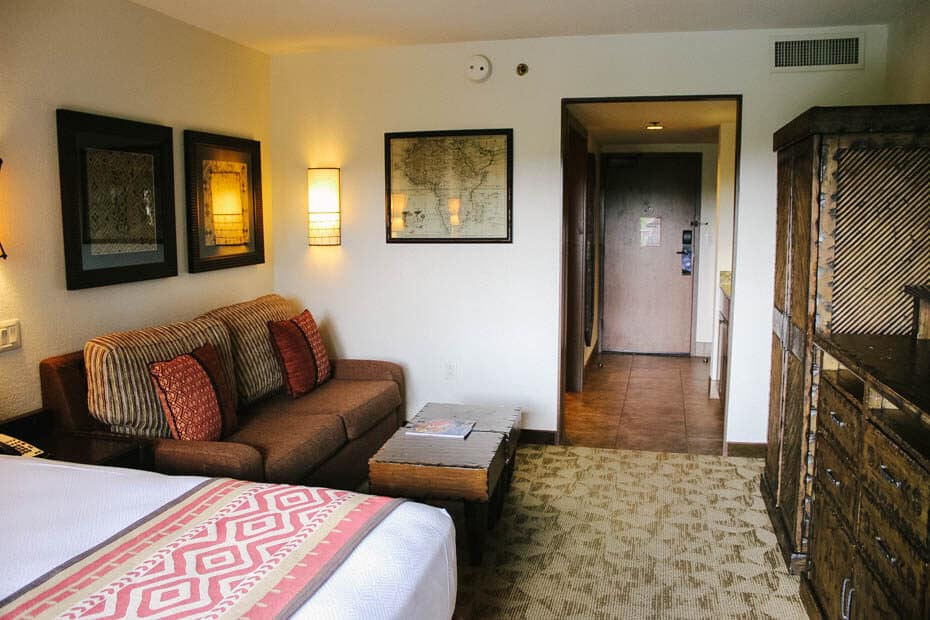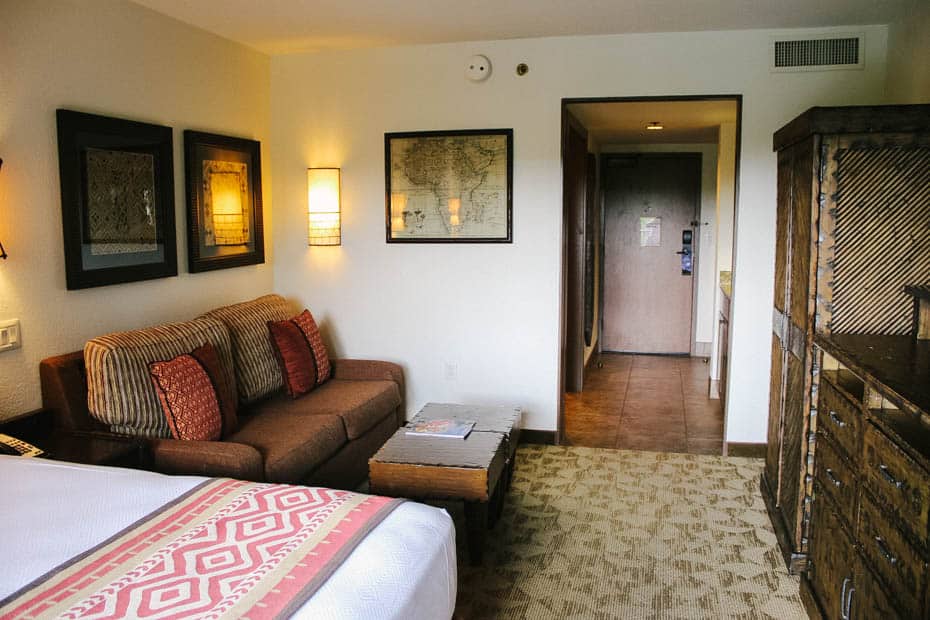 For a three to four-night stay, the sofa bed is probably not a big deal. Anything longer, though, I probably wouldn't reserve this room if the couch bed will be in use.
If you are looking at deluxe studio villas for comparison, you might want to check out these reviews of the Grand Floridian Villas and Disney's Boardwalk Villas. And we've stayed at the Copper Creek Villas as well.
Additionally, there's a review of Bay Lake Tower, which is connected to Disney's Contemporary Resort. That room is within walking distance to Magic Kingdom and is part of the Magic Kingdom Resorts Area. (But we're really not a fan of the layout.)
Final Thoughts on the Jambo House Deluxe Studio
For those considering a stay here, I wanted to add a few thoughts on selecting which room that works best for you. This is not something I do for every resort, but I think it's appropriate given so many choices.
First and foremost, I suggest looking at accommodations that are within your budget. For a party of one or two, I would reserve a deluxe studio room with a savanna view.
Additionally, it's nice to have the extra amenities that come with this room like the kitchenette area. These amenities might help relieve some of the expenses of meals during your stay.
And it's a plus to have the ability to prepare small meals in the room. Especially when those meals include breakfast or bringing back leftovers to the room. It's nice to be able to reheat them in the microwave. Just keep that sofa bed in mind if you have a larger family.
All in all, if any of the savanna view rooms fall into your budget, I would make that the top priority. There are not many places you can stay that provide these types of views.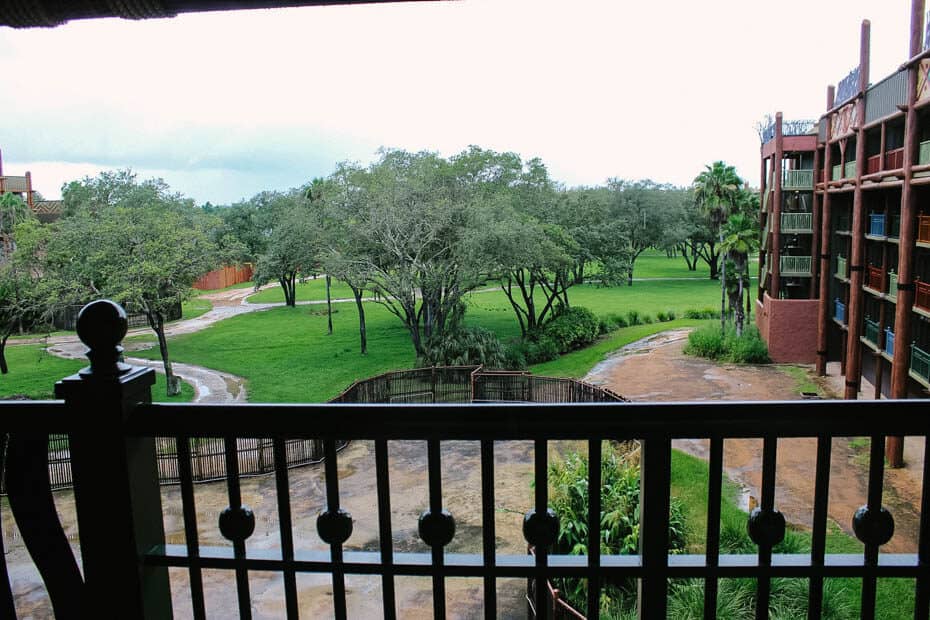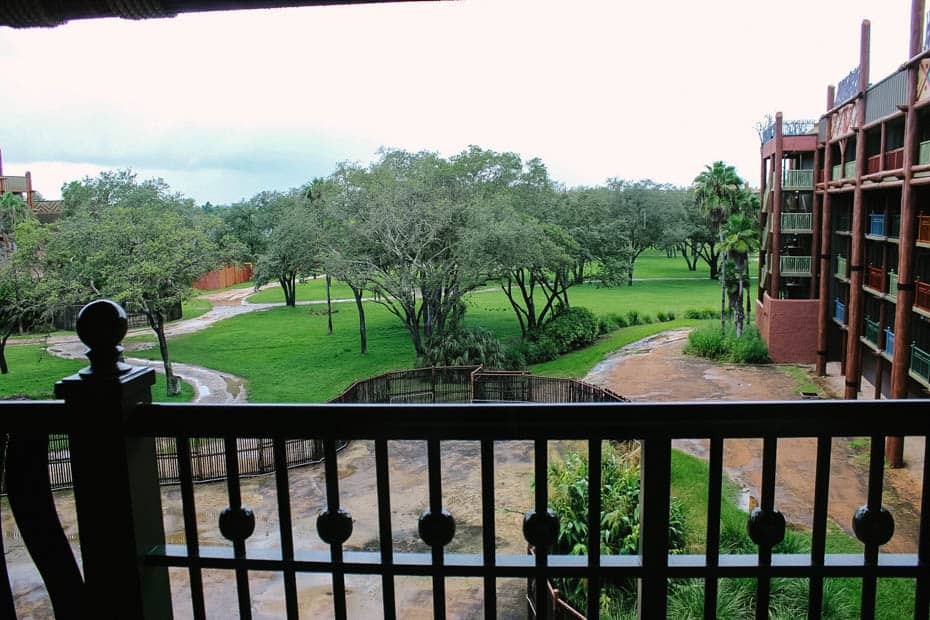 With that being said, for those who are budget conscientious, don't let reserving a standard view keep you from staying here. Disney's Animal Kingdom Lodge offers a large number of places around the property for guests to sit and take in the views of the savanna.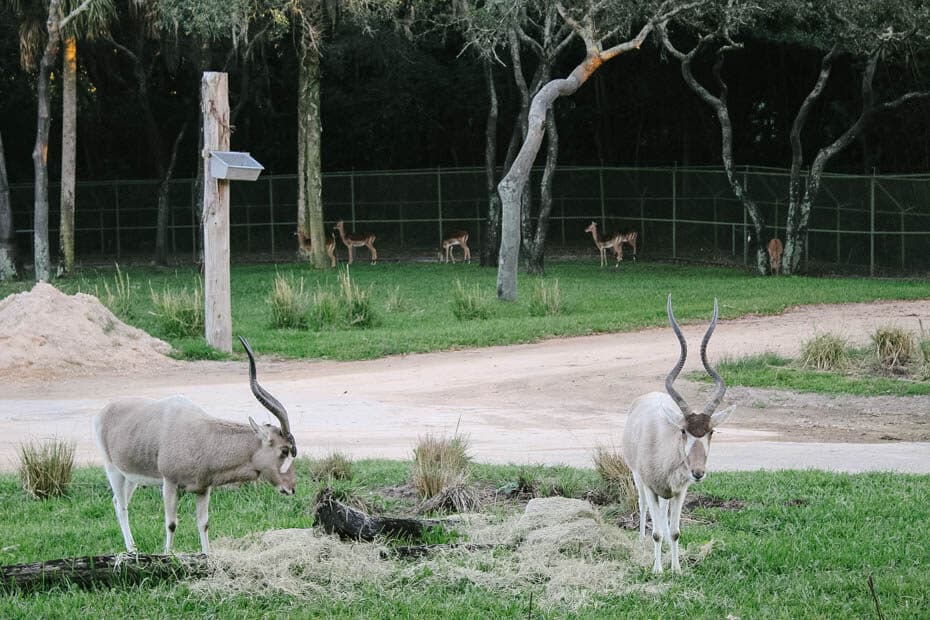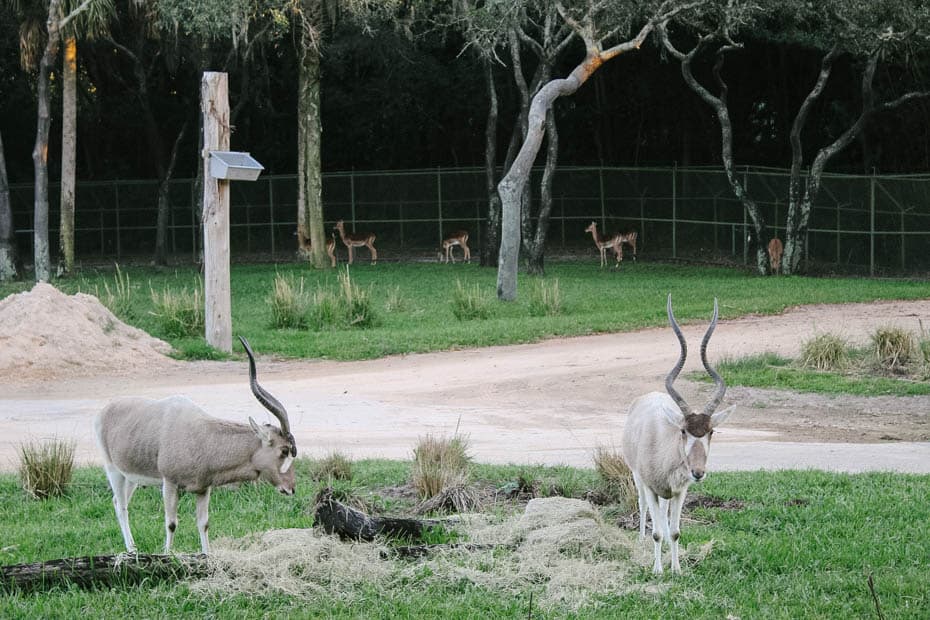 You can read the full resort review here if you would like to learn more. And we have an additional restaurant guide for Animal Kingdom Lodge.
Make sure to visit our full list of Walt Disney World Resort reviews if you are trying to pick out a hotel for your next vacation.
If you are ready to reserve your next room, check with our friends at Firefly Travels. You can fill out their contact form here and someone will be in touch with you shortly.
Make sure to leave me a comment below with your thoughts. Have you stayed at a deluxe studio at Animal Kingdom Lodge before? Is this one of the room types you are considering, and if so, why?