2023 Mardi Gras Parade at Disney's Port Orleans Resorts (Photos and Video)
Did you know that Walt Disney World hosts a golf cart parade each year for Mardi Gras? The parade is held on Fat Tuesday and runs between Disney's Port Orleans Riverside and French Quarter Resorts.
Cast members from different divisions form teams to see who can create the best golf cart design. Like most parades, a new theme is chosen each year.
The theme of the 2023 Mardi Gras Parade was Walt Disney World Resorts! Below we'll preview a few photos and a video of the parade.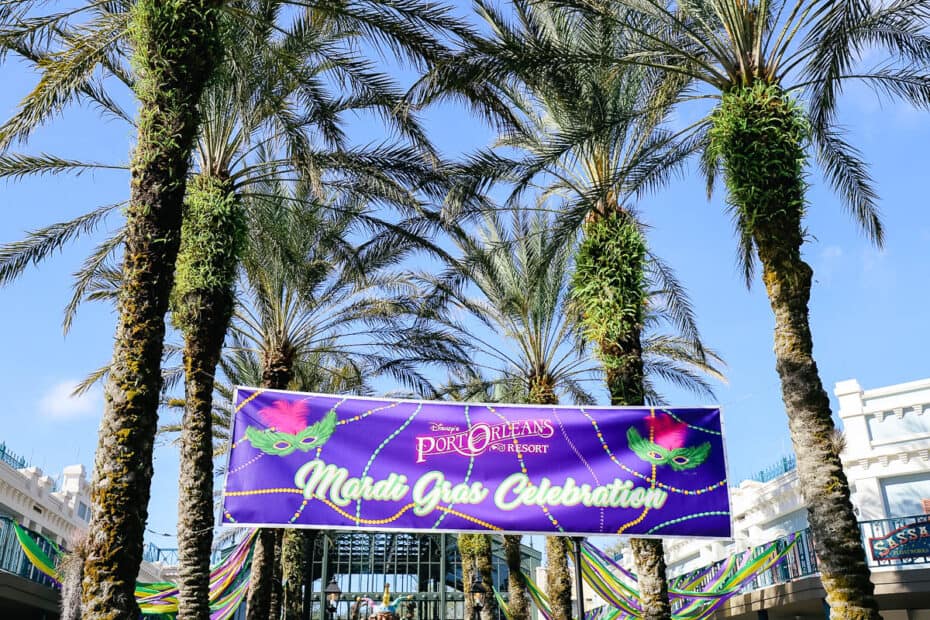 When we arrived at Port Orleans French Quarter this morning, the lobby and courtyard were bustling with guests. A few decorations had been installed to celebrate the big day.
Below is a sign that lists the events. They include:
Port Orleans Mardi Gras Pargo Parade (10:00 a.m. — 11:00 a.m.)
Mardi Gras Courtyard Crafts (12:00 p.m. — 4:00 p.m.)
Mardi Gras Party (5:00 p.m. — 10:00 p.m.)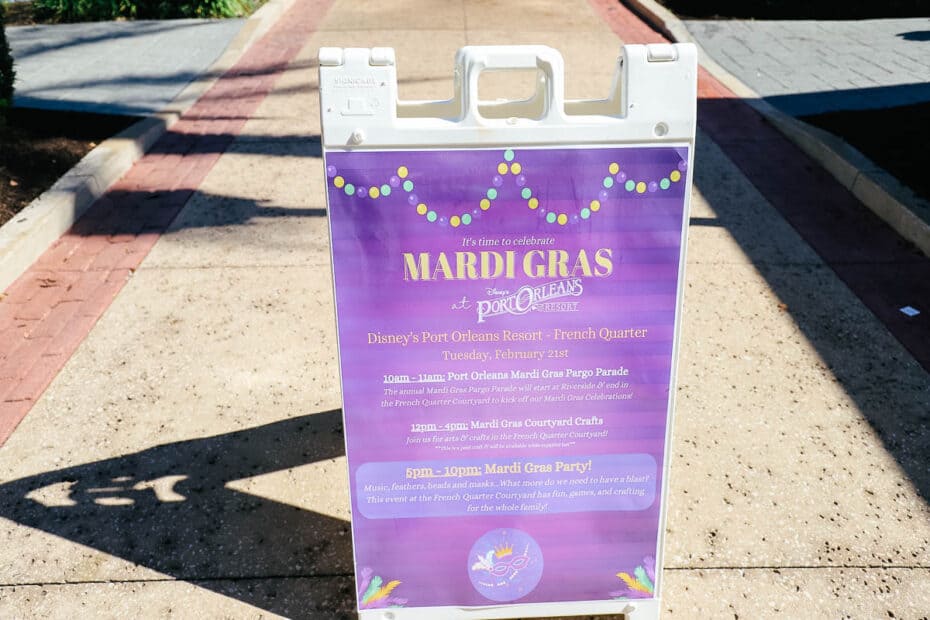 Another sign shows the Mardi Gras parade route. At 10:00 a.m., the parade stepped off at the far side of Disney's Port Orleans Riverside. It then made its way along the water until it passed most of the French Quarter.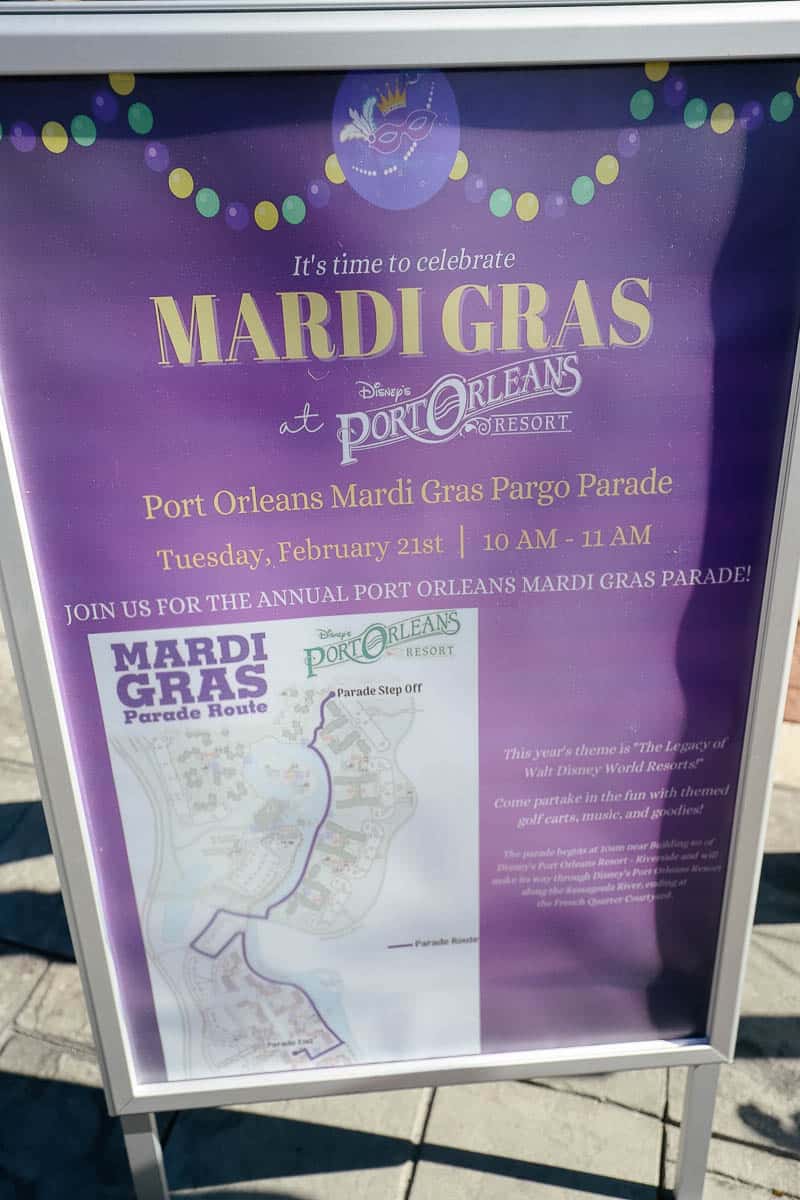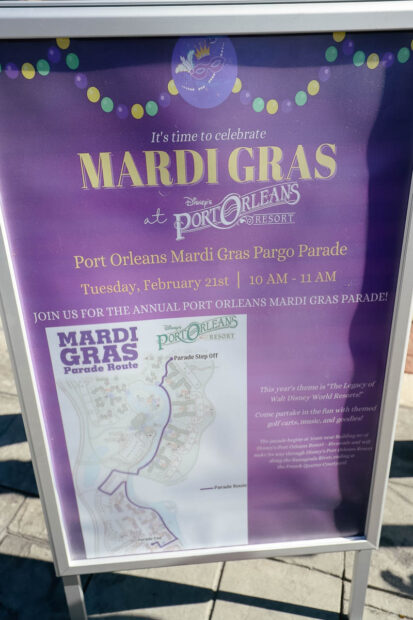 After that, the parade turns back and ends between the French Quarter's pool and lobby area. Below is a photo of where guests were waiting at the parade's end.
Since this was our first time seeing the parade, we didn't realize that the parade came to a screeching halt at this location. Thankfully, someone told us, and we were able to move before the parade arrived.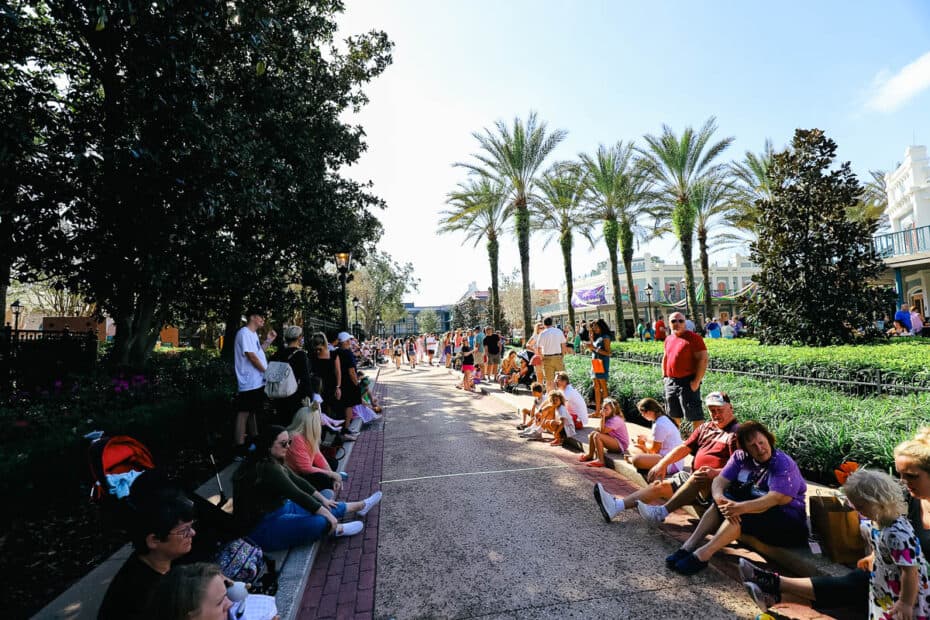 Video: 2023 Mardi Gras Parade at Disney's Port Orleans Resorts
Here is a video of this year's parade.
First Place Float (Disney's Wilderness Lodge)
Three floats received awards at the end of the parade. When the parade concluded, cast members walked around with QR codes asking guests to vote.
While all the floats were fantastic, there was no question that the float for Disney's Wilderness Lodge was the best. It was a work of art.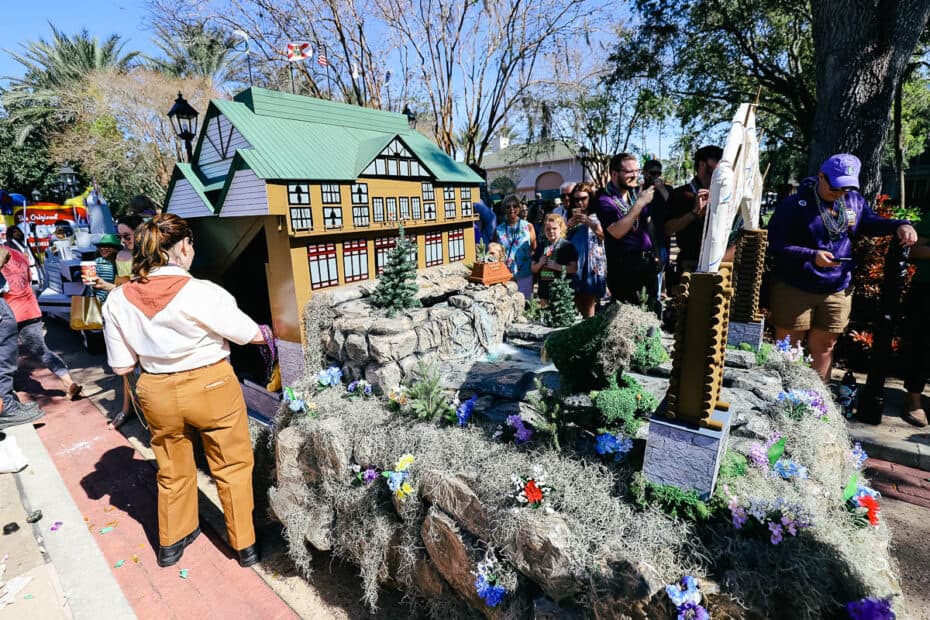 On the back of the float was a replica of Geyser Falls with actual flowing water.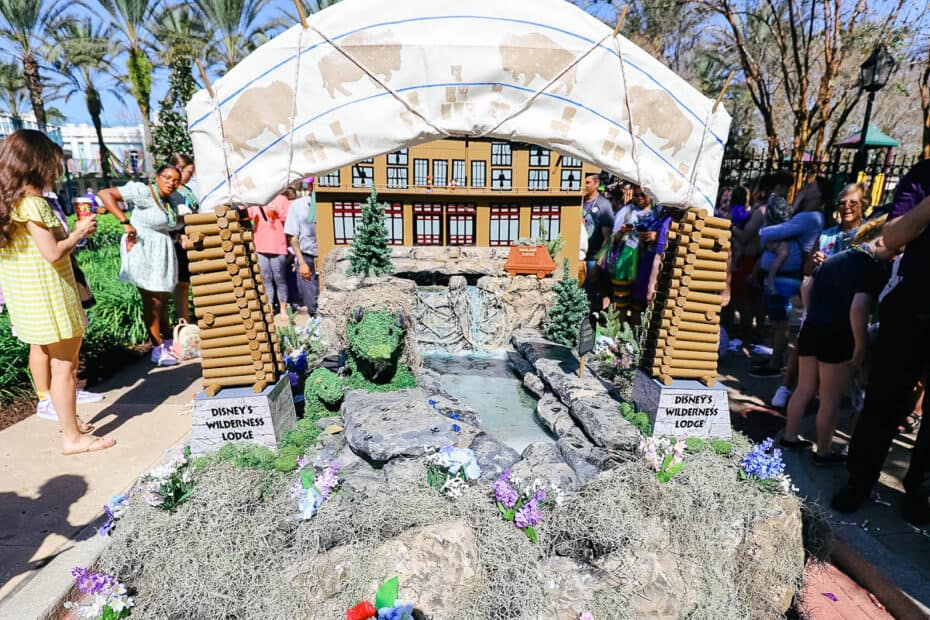 And check out this side of the float. It has a mini-replica of the Wilderness Lodge's lobby.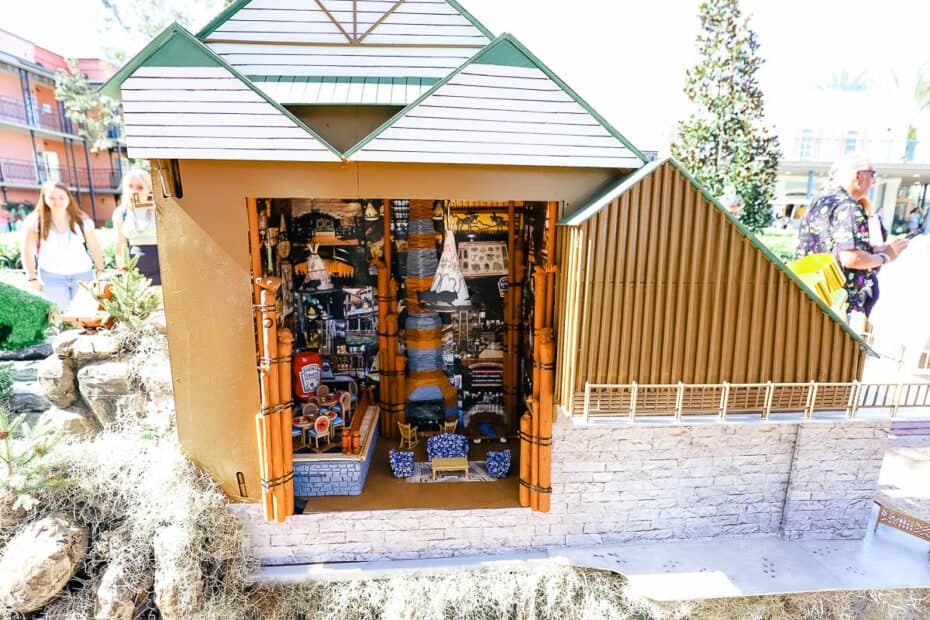 Looking closely, you can see the raised area for Whispering Canyon Cafe and the big ketchup bottle!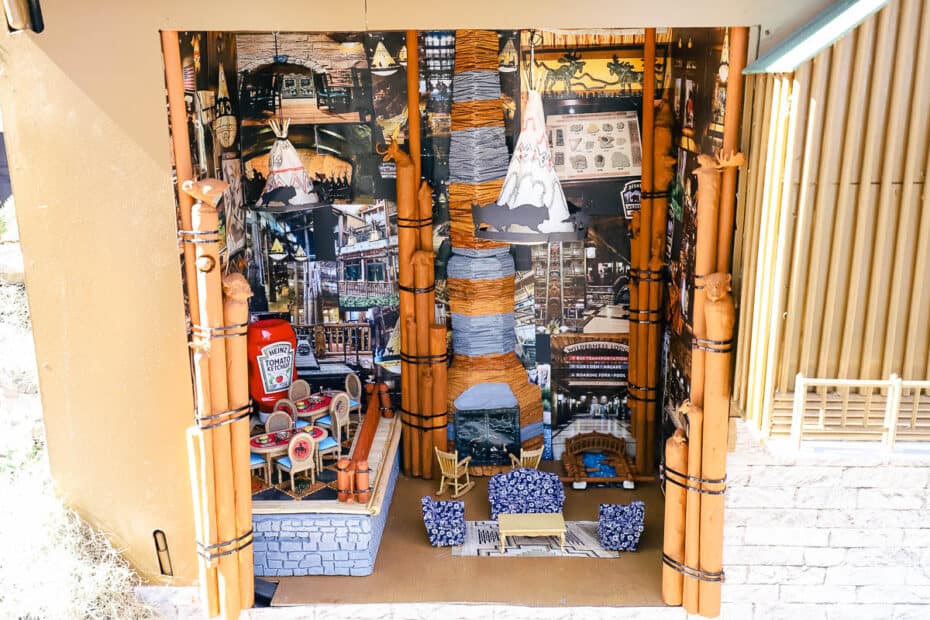 Second Place
Next was a float representing Disney's Caribbean Beach Resort. This one was pirate-themed, and their costumes only added to it.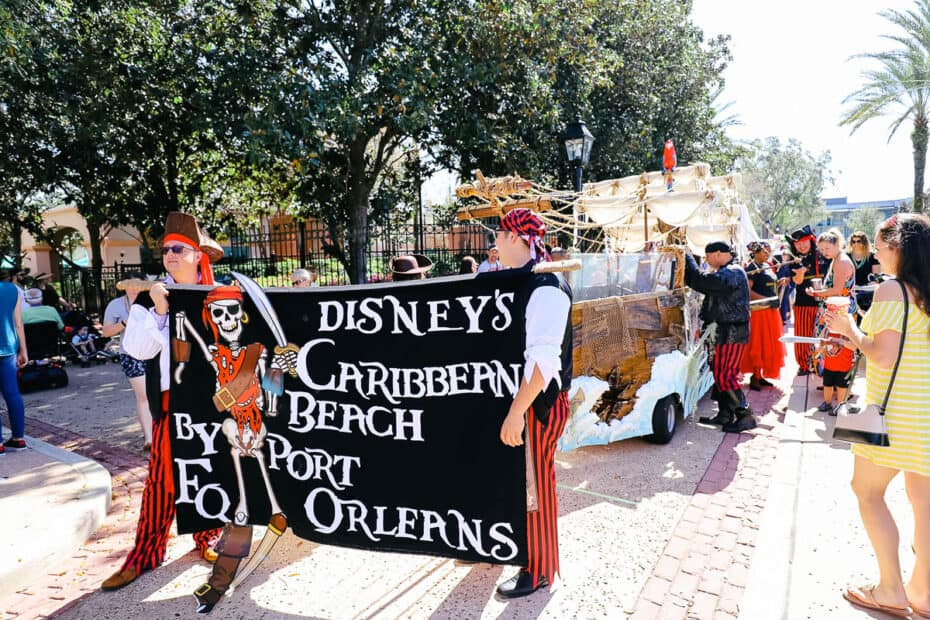 Here's a closer look. Can you believe that a golf cart is in there?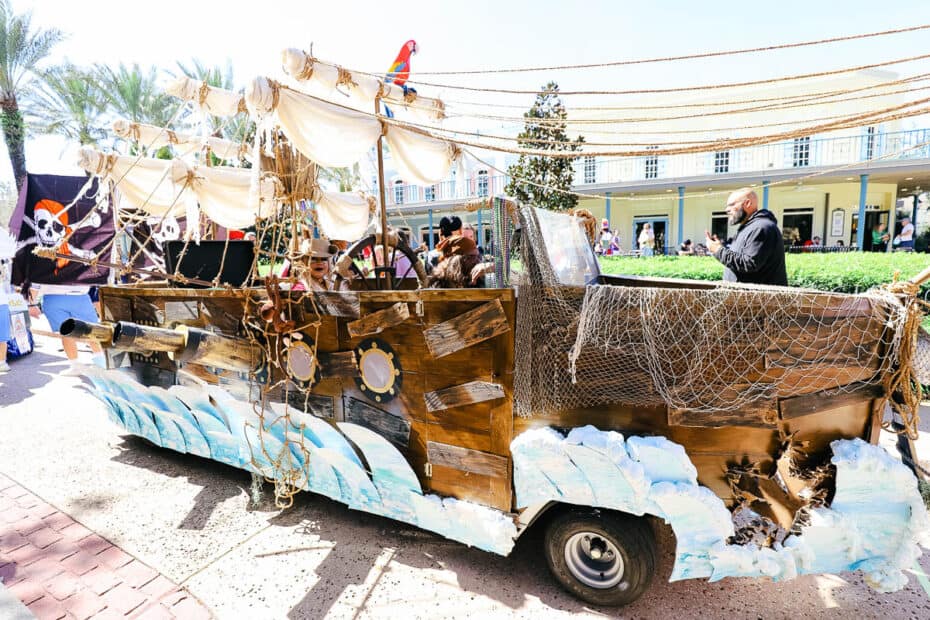 Third Place Float
Disney's Polynesian Resort came in third place with its tiki hut top!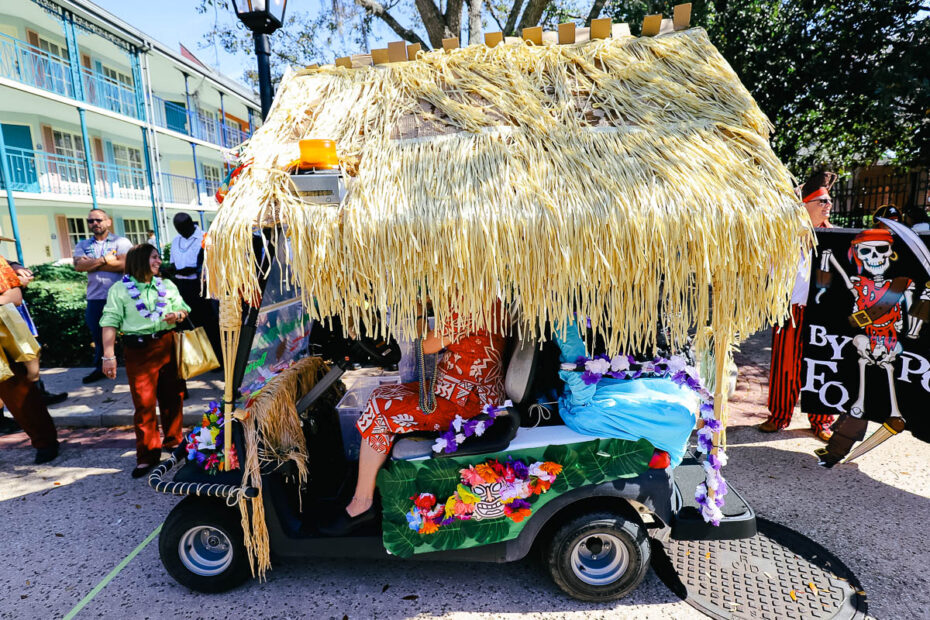 The back of this float had an erupting volcano.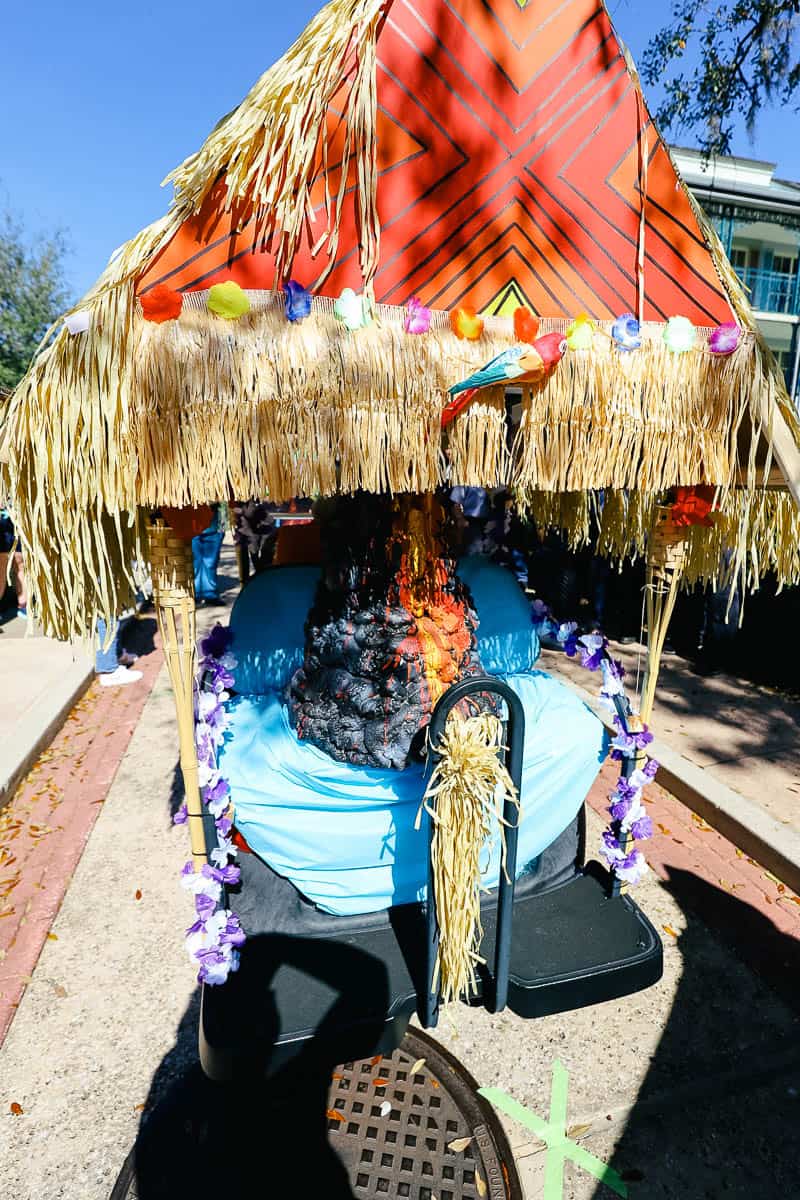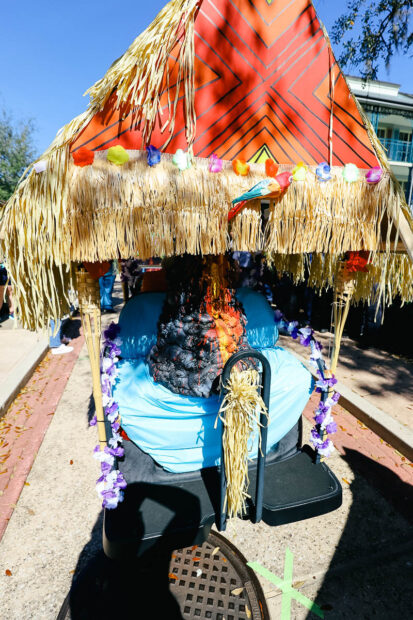 Other Floats in Disney's Mardi Gras Parade
In addition to the top three, there were a few other floats. The one below represents the Star Wars Galactic Cruiser.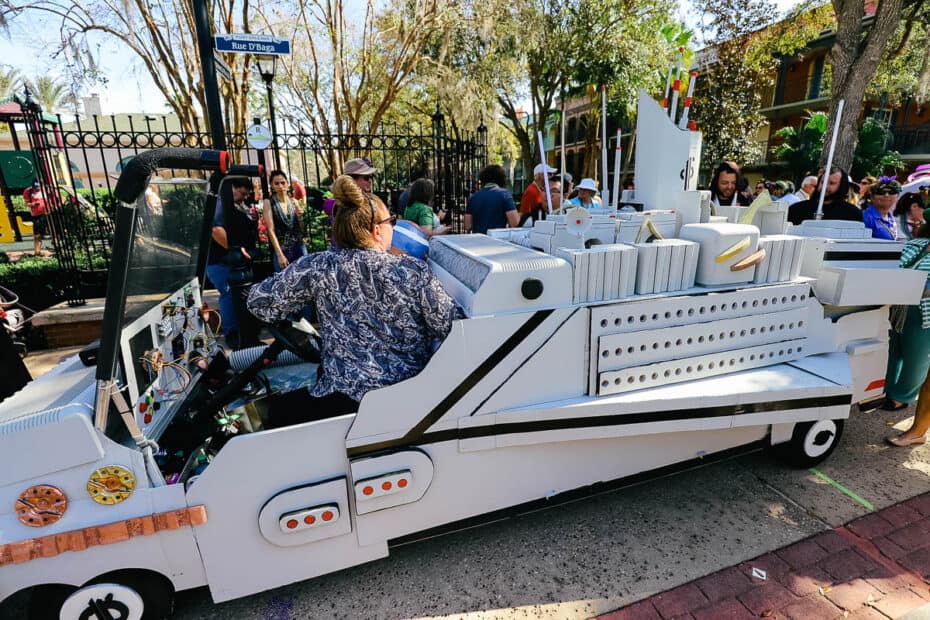 Here is a float for Disney's Pop Century. It was fitting and adorable.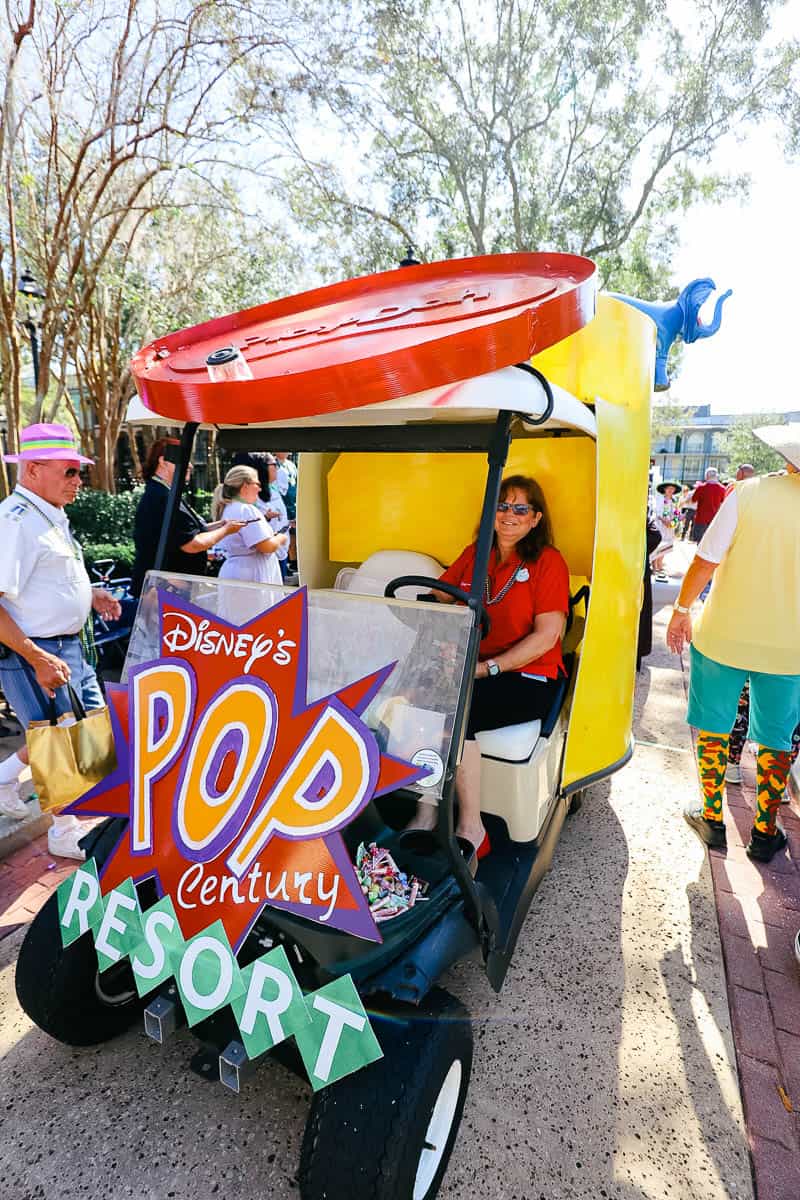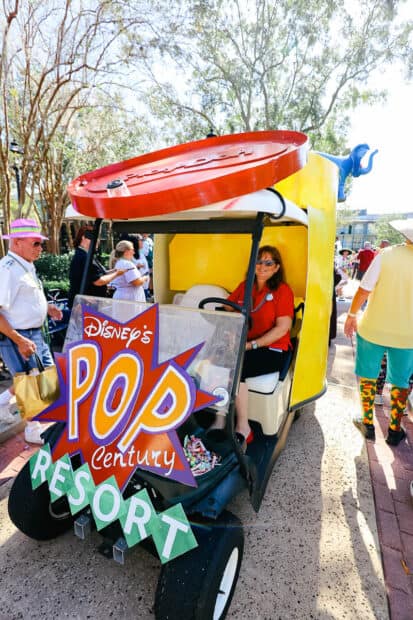 Next, a golf cart is decorated to represent Disney's Animal Kingdom Lodge.
It had a giant paper mache elephant at the back.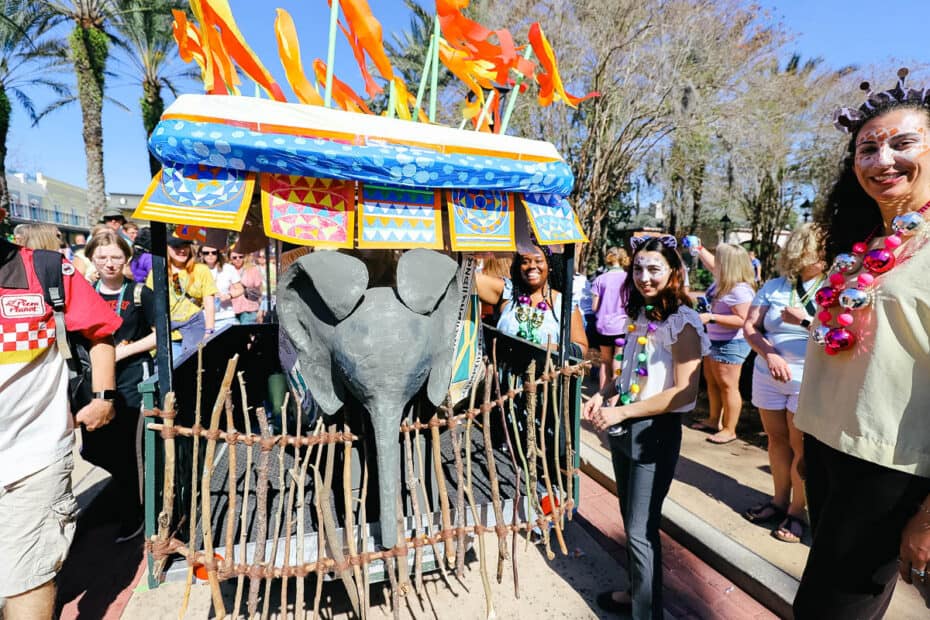 Another favorite is this charming float featuring Disney's Boardwalk Inn.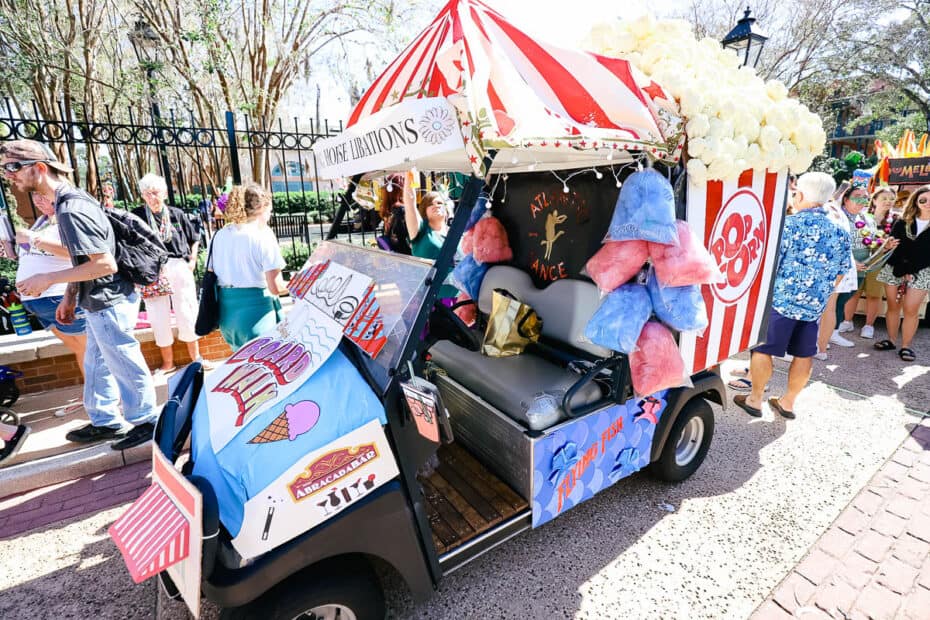 Next, we have Louis representing Port Orleans Riverside Resort.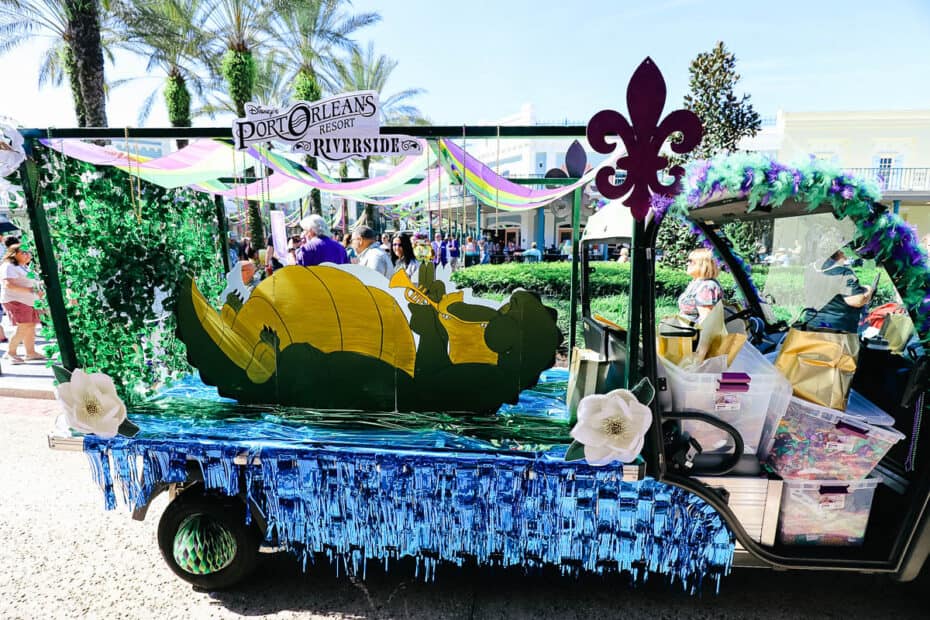 This float was simple yet well done.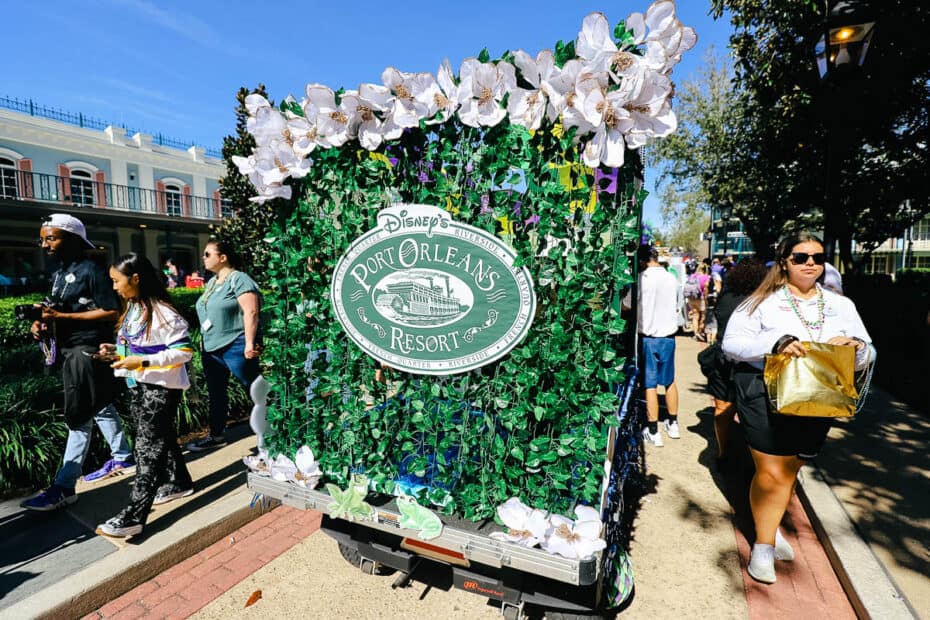 Lastly, we have a float representing Disney's Beach and Yacht Club.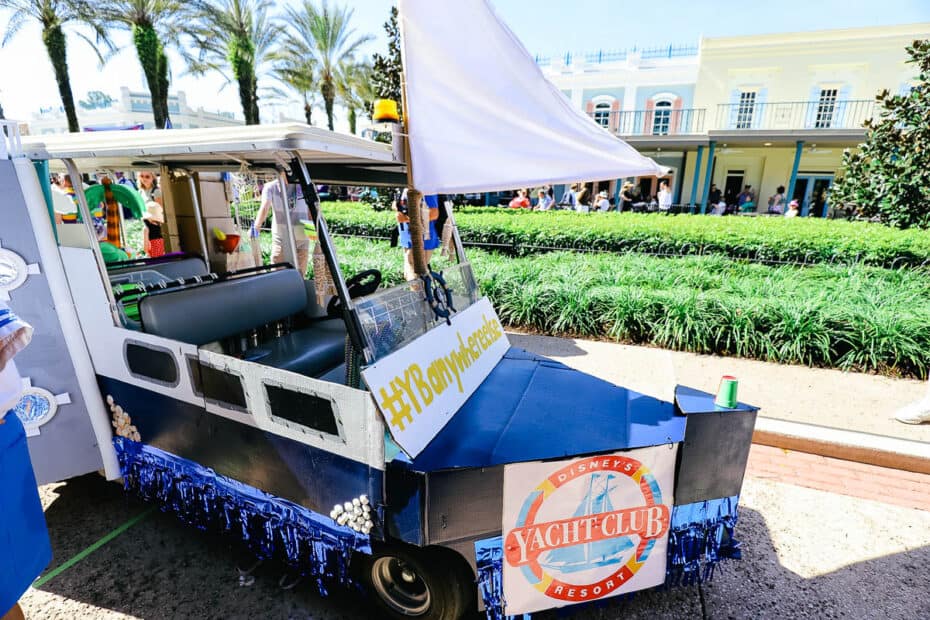 It had a beach scene on the back of the cart and a lighthouse on the side.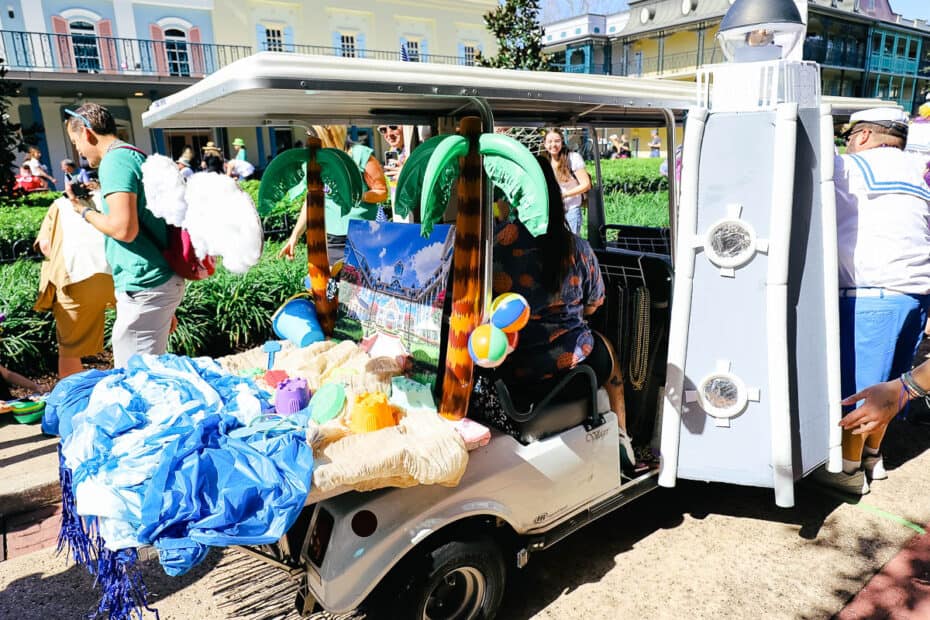 A live band kicked off the parade and then played a few songs at the end of the route.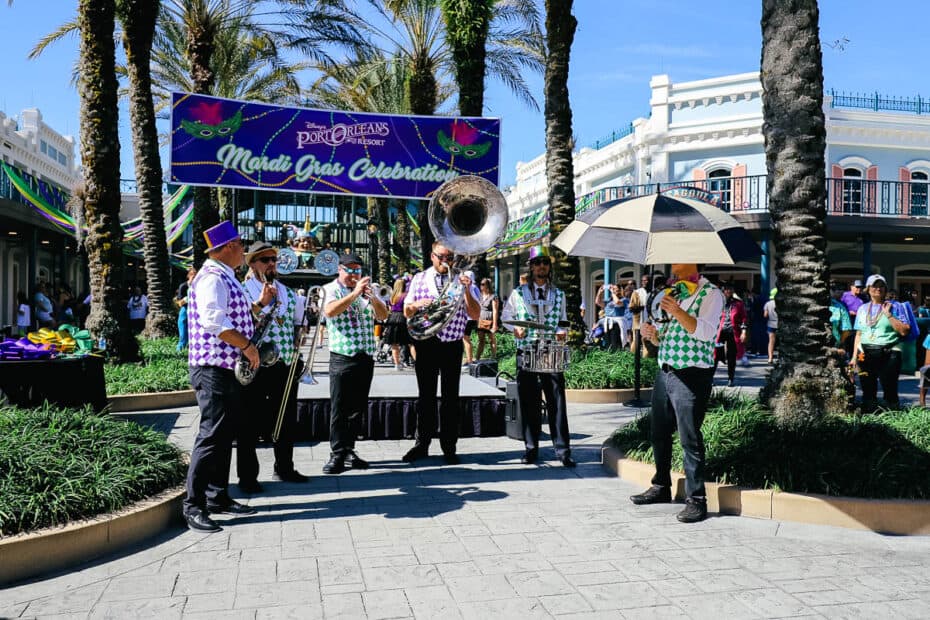 Overall, the parade and festivities were a fun way to celebrate a not-so-traditional holiday at Walt Disney World.
For more information, we have resort guides for each of these resorts:
In the Comments
Have you ever had the opportunity to see the Mardi Gras Pargo Parade at Disney's Port Orleans Resorts? Would you take the time to do this kind of event during your vacation?
Planning a Walt Disney World or other Disney Destination vacation?
Our friends and travel partner, Firefly Travels, excels at doing Disney differently. You can fill out a plan your trip form on their website, and someone will reach out shortly to discuss the specifics.