Gasparilla Island Grill Review
Gasparilla Island Grill is Disney's Grand Floridian Resort's counter service dining location. The restaurant is a little off the beaten path as it sits toward the resort's far corner. You'll find it tucked neatly behind the marina, next to the arcade.
With that being said, the location might become a little more obvious to resort guests since the walkway to Magic Kingdom recently opened. Most will walk directly past the counter service when accessing the new path.
In this Gasparilla Island Grill review, we'll take a look at the restaurant in full detail. I've had the pleasure of having several meals at Gasparilla's over the years. And to be frank, a few years back, I wouldn't have said it was a pleasure.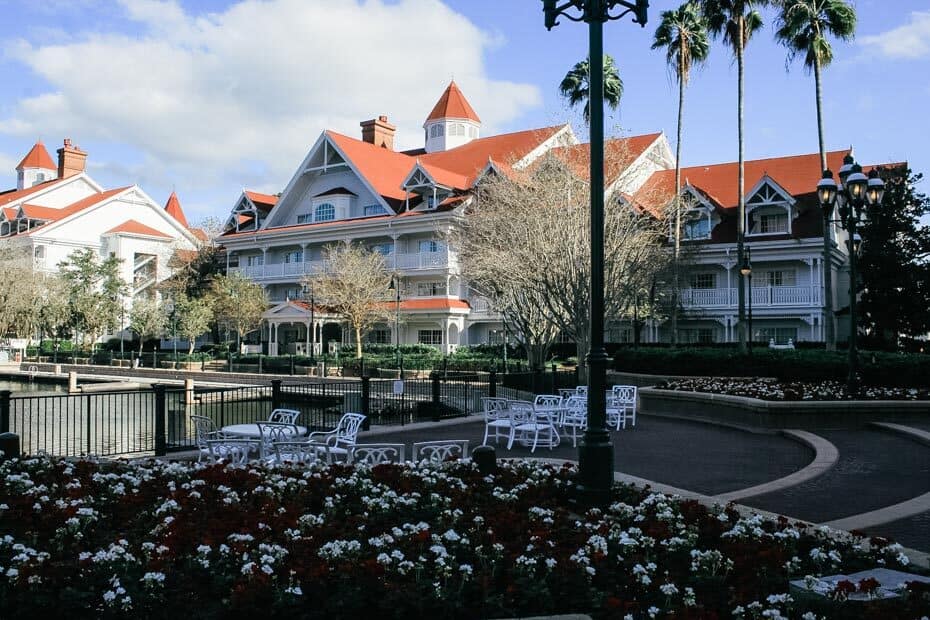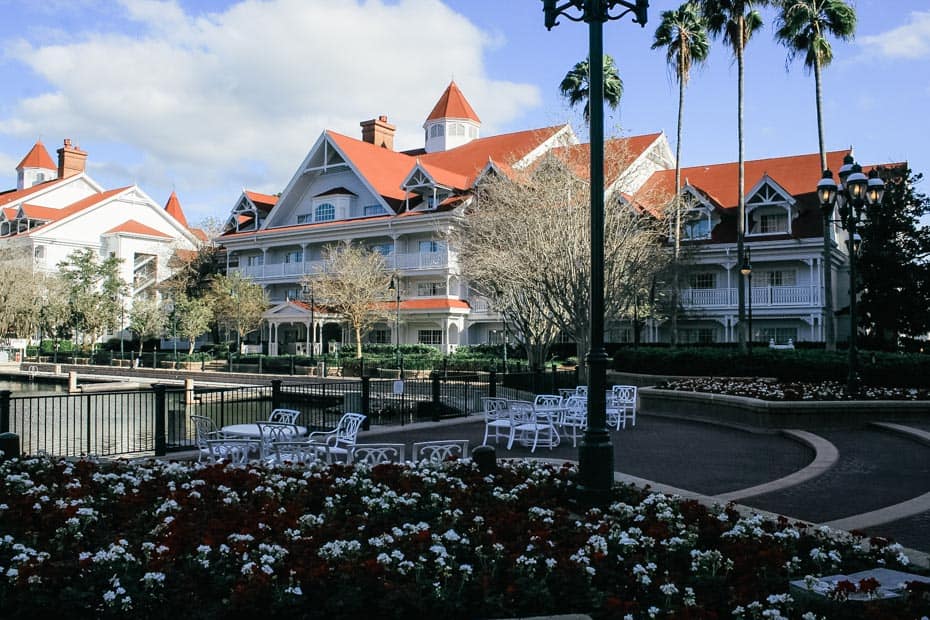 Things can change. As for a meal at Gasparilla Island Grill, I would have to say that the venue has changed for the better.
The last two meals I've had here have been quite enjoyable. Excellent? No, but I would rarely say that about any counter service unless we're talking Satu'li Canteen or similar.
Additionally, there's a time and a place for this kind of dining at Disney World. For example, guests staying at the resort might enjoy accessing Gasparilla for an early morning breakfast before heading over to Magic Kingdom. Or it could be the last stop of the night after a busy day in the Disney theme parks.
Better yet, you might even schedule a full resort day while staying at the Grand Floridian. Part of that day could include having a leisurely al fresco lunch here at this counter service location before spending the afternoon at the pool.
As a Resorts Gal, I encourage you to schedule these kinds of days during your vacation. You'll be all the better for it.
Usually, guests can walk in, review the menu, browse the bakery items, and then place an order. However, during this time, mobile order dining at Disney is the preferred method for ordering food.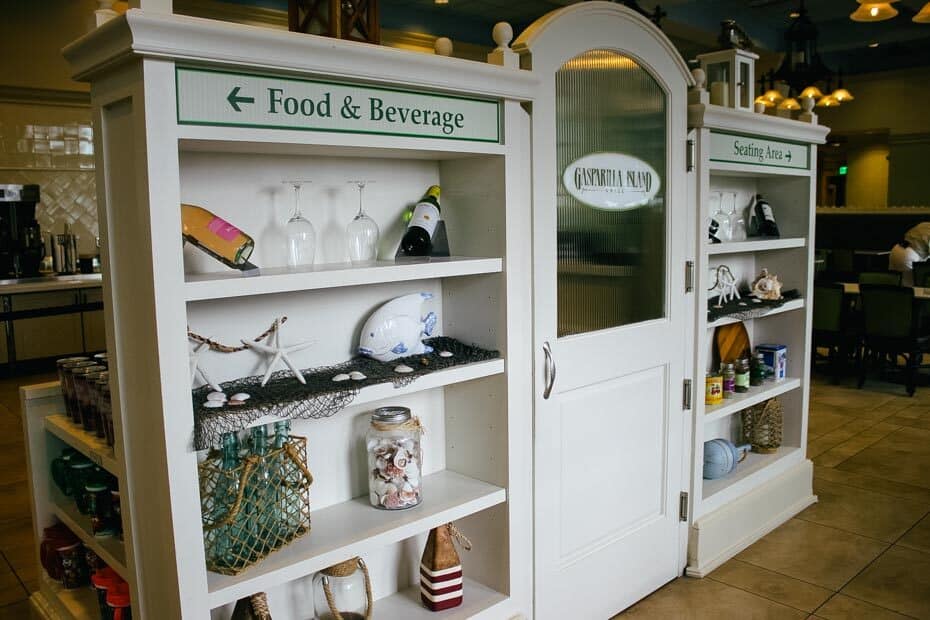 Therefore, guests will need to place their order on the My Disney Experience app before arriving at the dining location. Inside, you'll find the setup pretty much the same, except there are tables with marked-off numbers to pick up your food.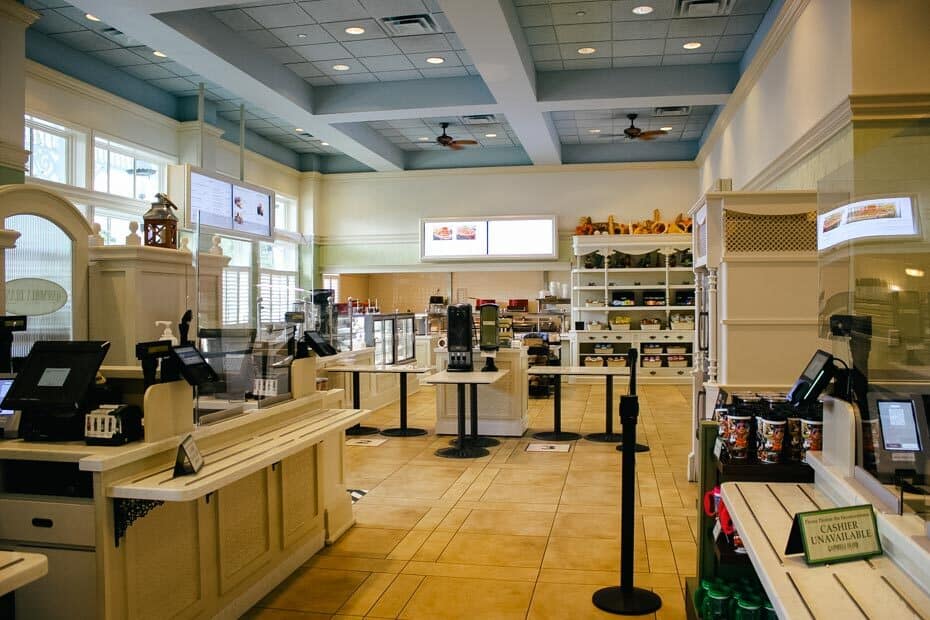 Since you've already ordered and paid on the app, you'll be given a number for your specific order.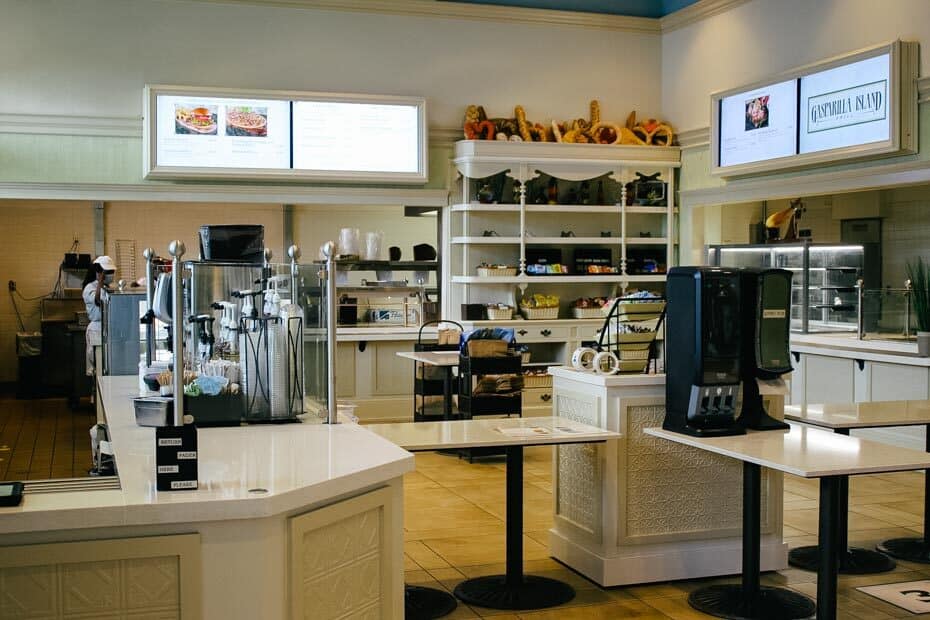 All of the available items (including pastries and cupcakes) will be on Gasparilla Island Grill's menu in My Disney Experience.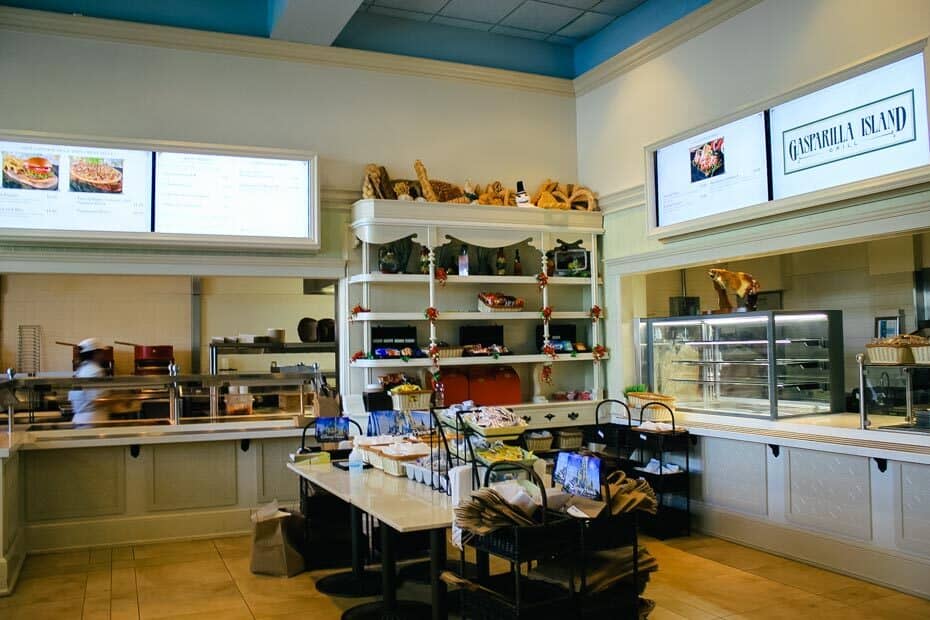 Even the items you would normally pick up separately from the cooler should be available in the app.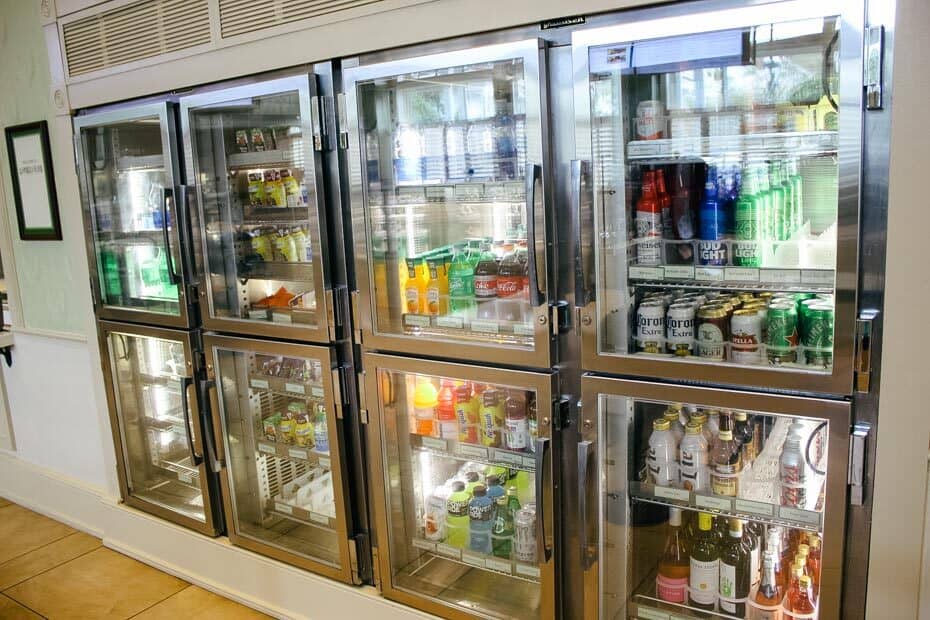 If you order a fountain drink or coffee, a dedicated cast member will assist in filling those beverages. As you can see below, a few tables are lined up to keep guests from using what would normally be a large, shared area. This helps cuts down on cross-contamination. (These things have thankfully returned to normal.)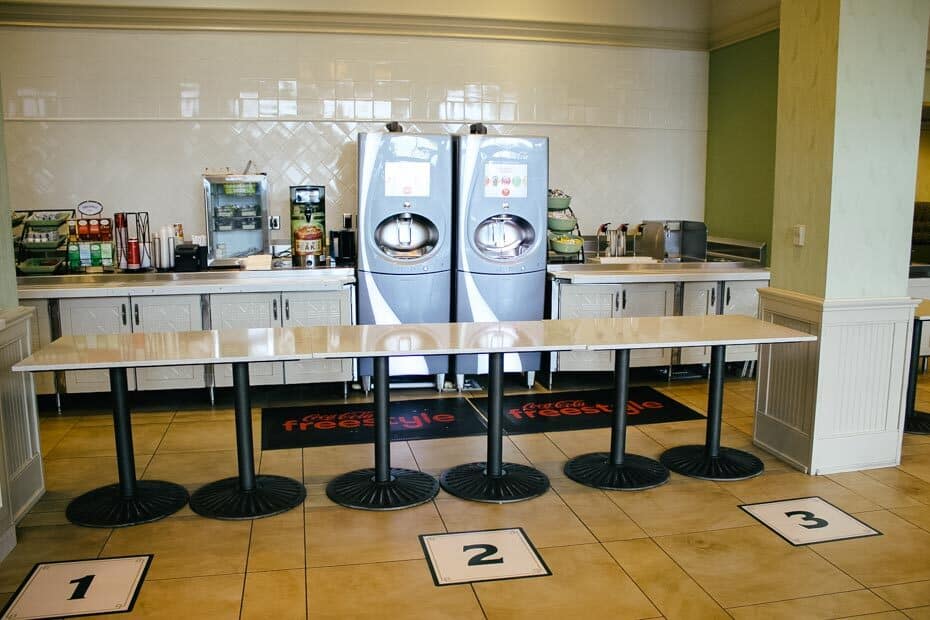 One of the things I like most about Gasparilla Island Grill is the interior dining room.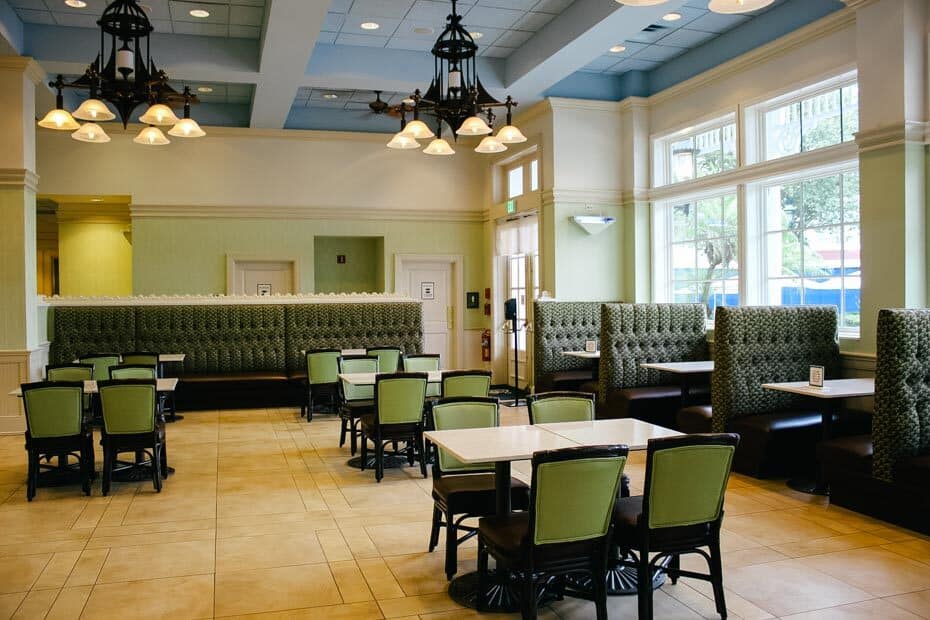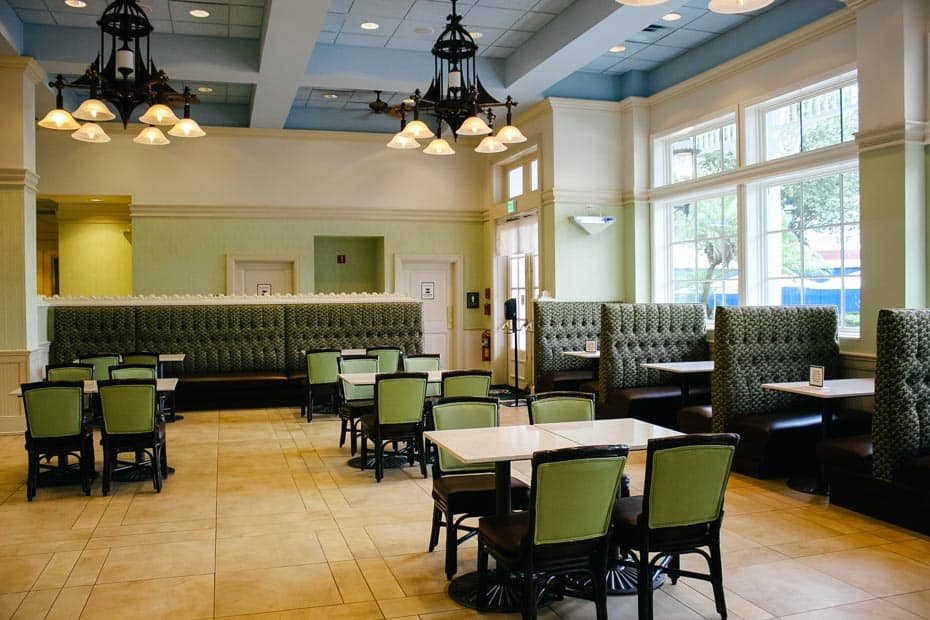 And even better the exterior dining area.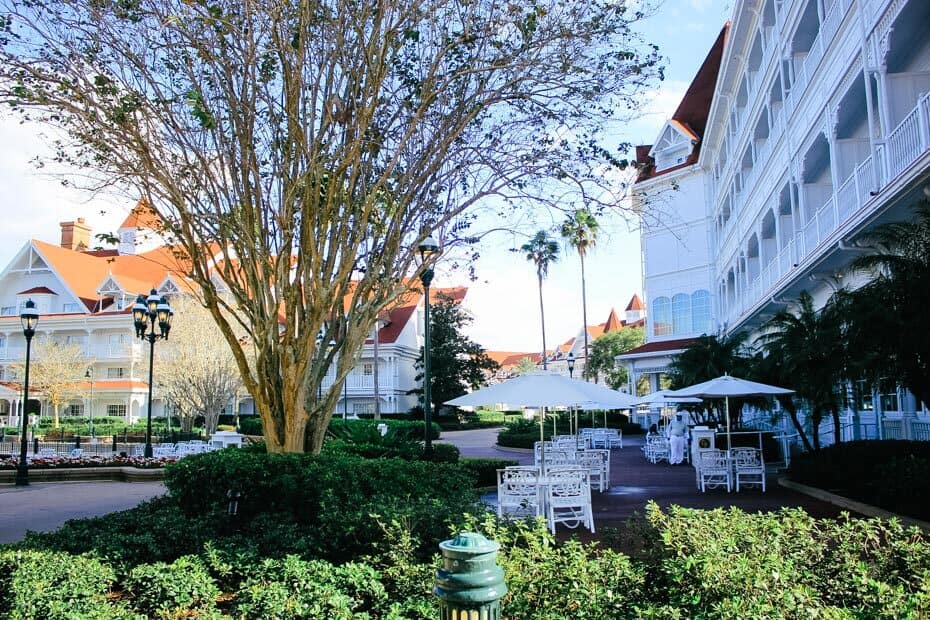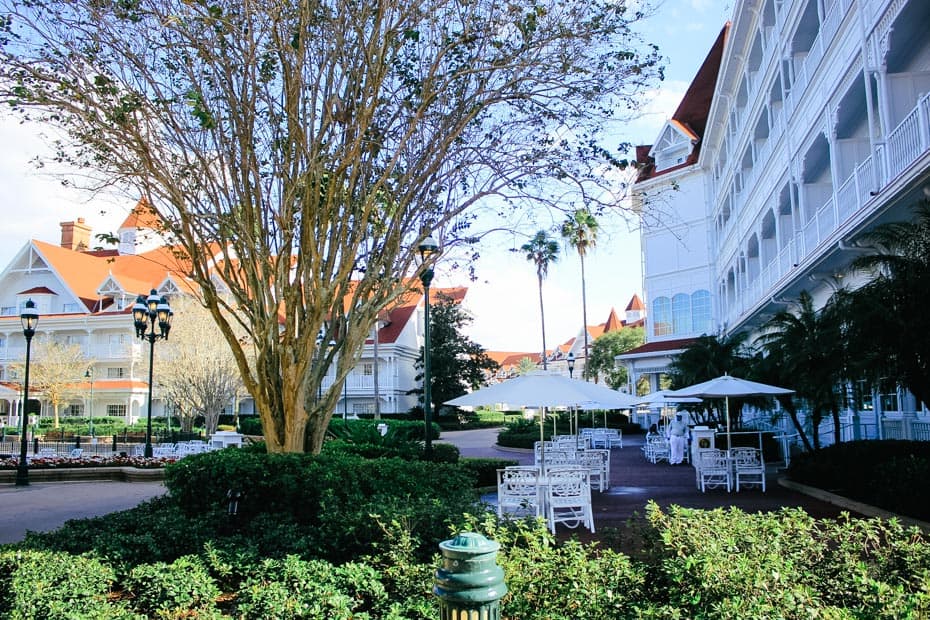 When the weather is warm I prefer to grab a table as close to the water as possible.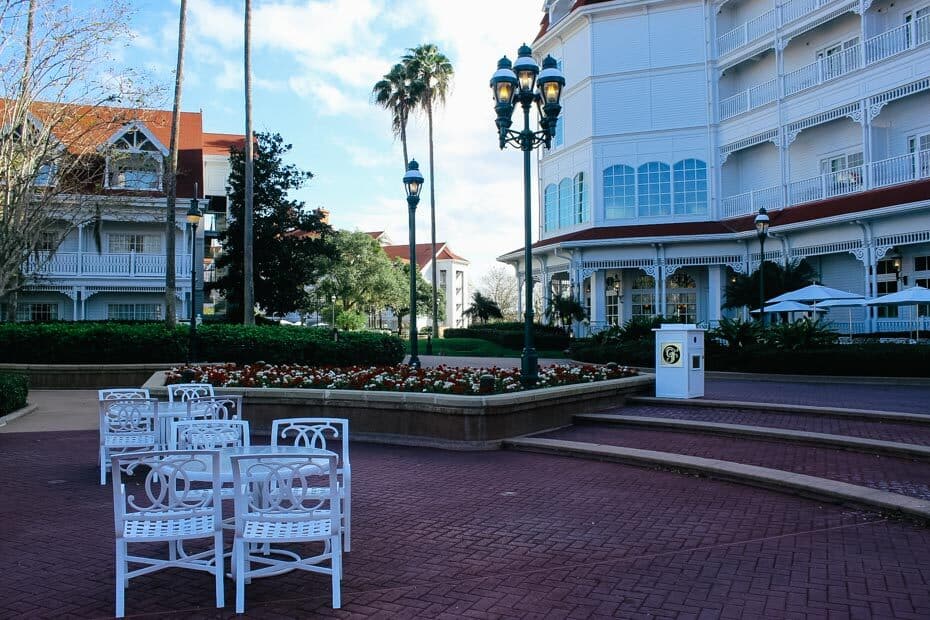 There's something special about getting to enjoy these views while having a bite to eat from a reasonably priced Disney quick service.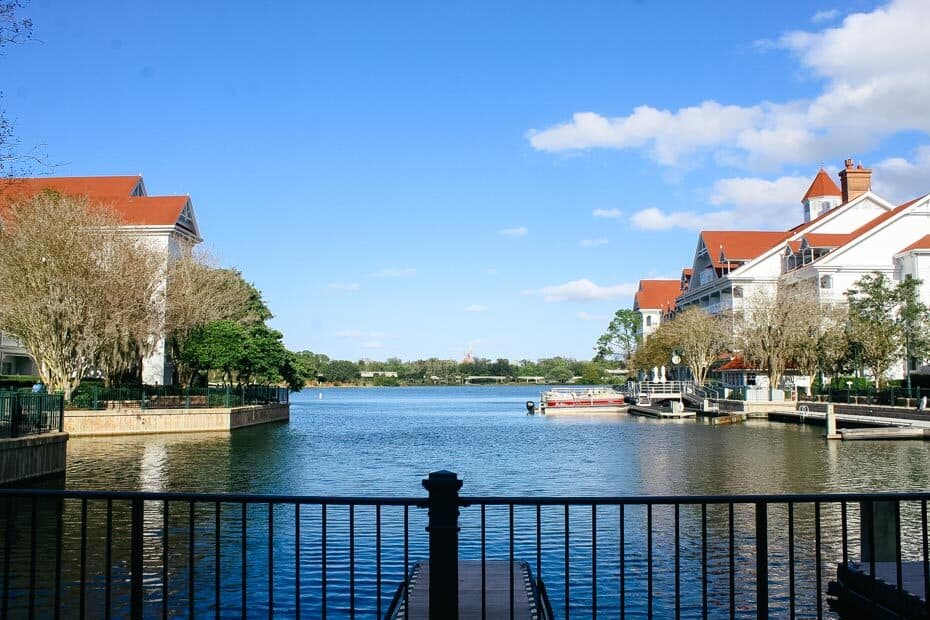 On the day of this visit, I had spent more time at the Grand Floridian than initially planned. My idea was to take the new walkway and have lunch at Magic Kingdom. However, I found myself too famished to make the 10-minute walk over and in need of a vegetarian menu item.
As with most fast dining locations at Disney, my only option at Gasparilla Island Grill appeared to be an Impossible Burger. And as much as I do like them, my limit is pretty much one per week.
After reviewing the menu, I realized I could order the four cheese, sausage, and pepper pizza, then request the sausage to be left off. This was all done from the main lobby, where I was taking photographs when I placed my order.
When I finished up, I hit the "I'm here, prepare my order" button and headed on over to pick it up. Below is how my entree turned out, and I was quite pleased with it.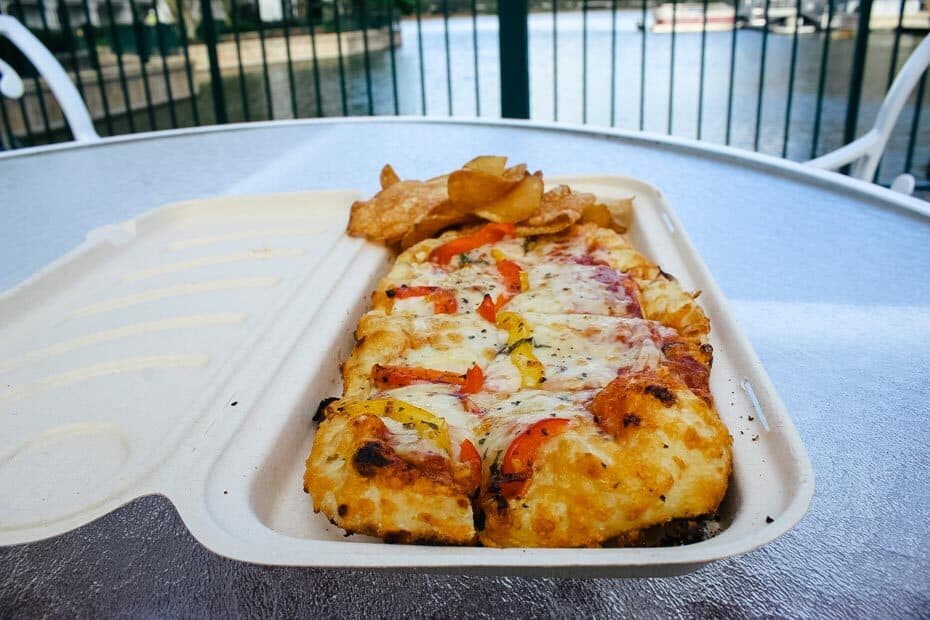 While this is not a true plant-based menu item, it is meatless and works well with those eating a vegetarian diet. The crust was soft and warm. I also really enjoyed the flavor of the peppers. And there were house-made chips which is one of my favorite sides at Disney.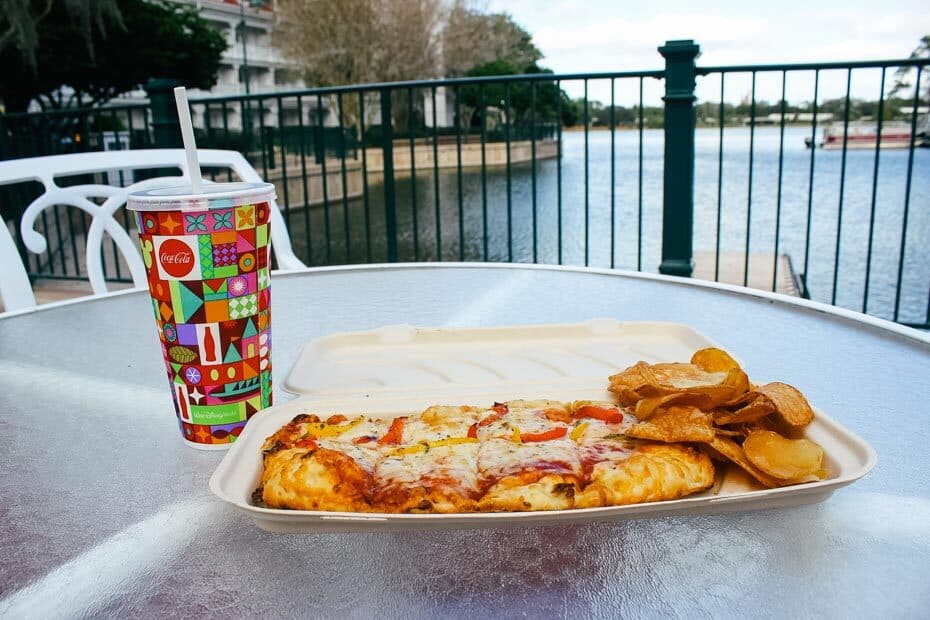 I have to warn you, they are really addictive and not so easy to find at Disney these days. Gasparilla Island Grill is the first place I've run into them in a while.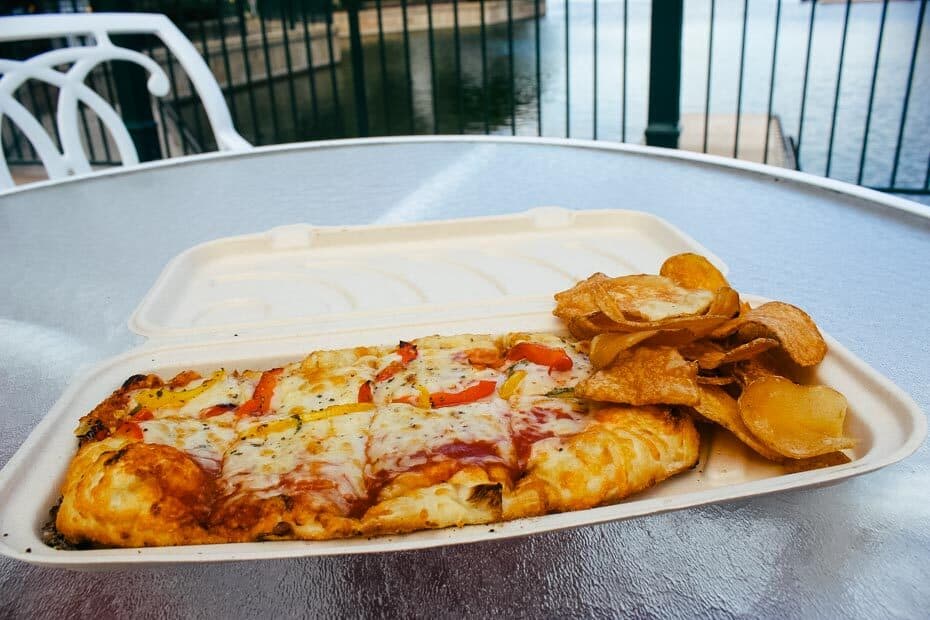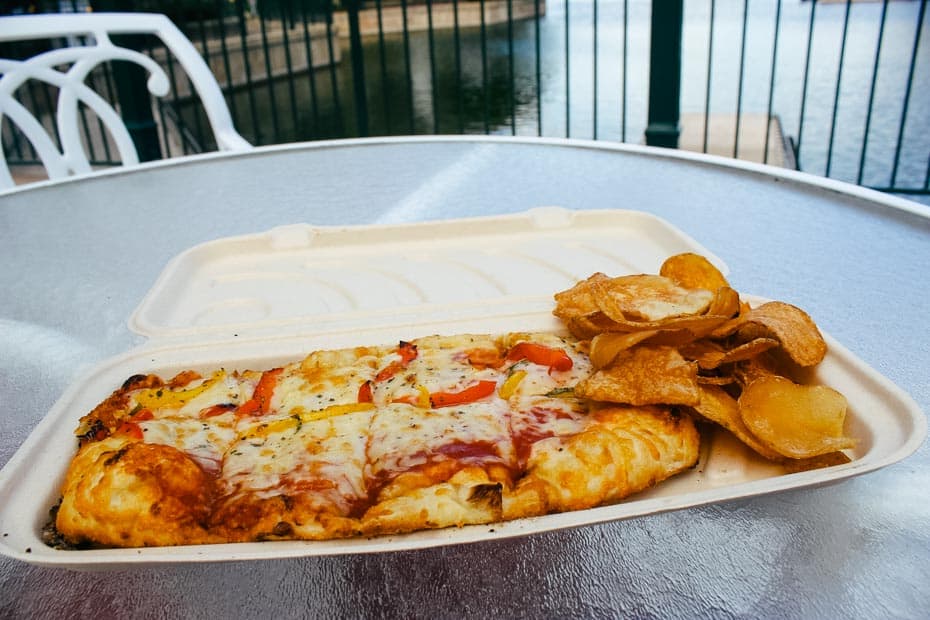 Back during the re-opening of the parks last summer, I stayed as a guest of the Grand Floridian for a few days. At that time, I wasn't eating a special diet, so I picked up the Artisan burger with an order of fries for lunch.
This burger is blended with brisket meat and served on a brioche bun with bacon and cheddar cheese. It was a huge burger, and the brioche bun was a nice touch.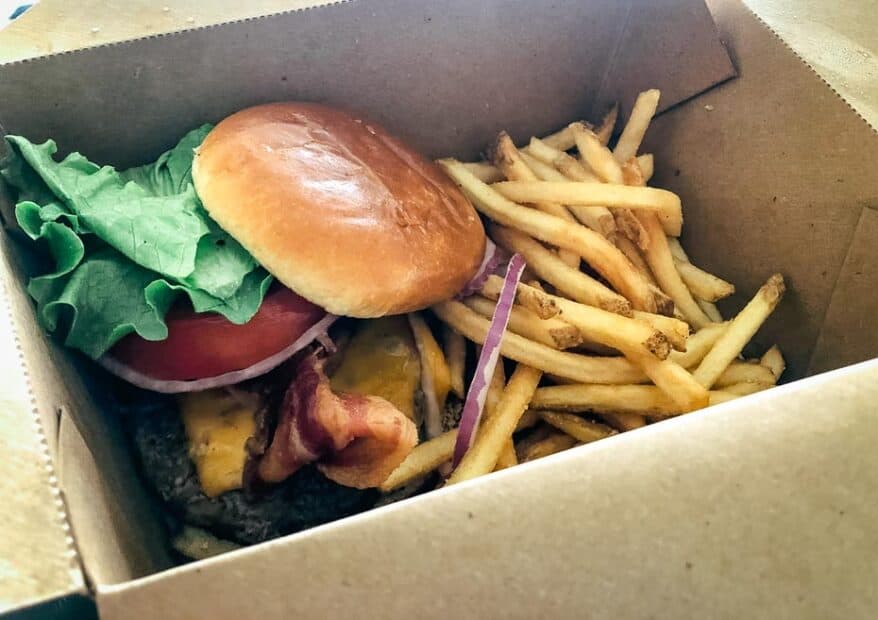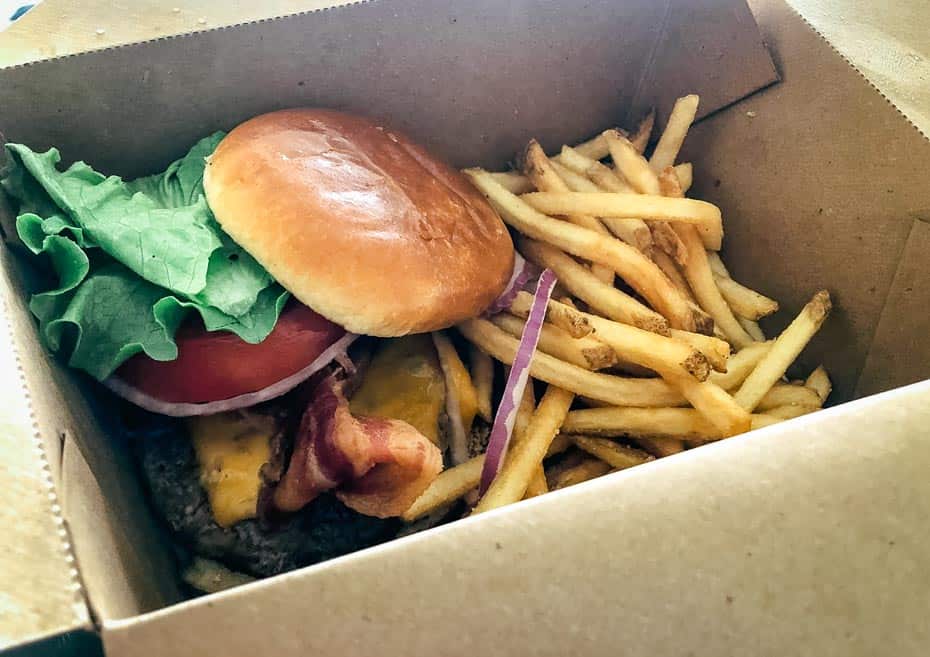 While not pictured, Gasparilla Island Grill is a good place to pick up an order of allergy-friendly chicken nuggets. They will prepare them in adult or children's size. When ordering with food allergies, you will need to visit the restaurant to place your order.
For those unable to use the My Disney Experience app to order food, a cast member will provide a menu and take your order. If you would like to look over the menu, you can do that here on Disney's site.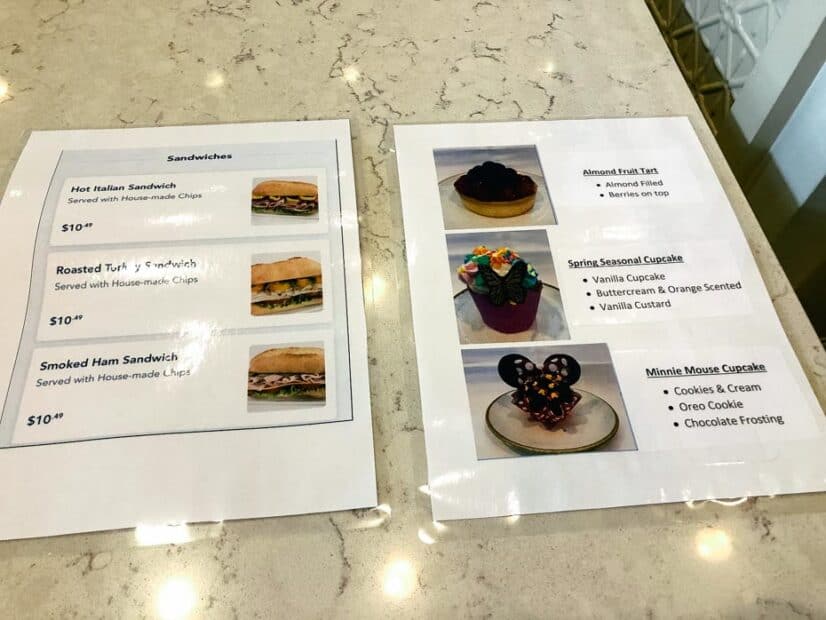 Thankfully, Gasparilla Island Grill's menu has greatly improved over the last few years. The restaurant also offers not only a nice interior dining room but a great space to dine outside.
Whether you are staying at the resort as a guest or just visiting for the day, it's a nice stop for a reasonably priced meal. And the Grand Floridian is always one of the most pleasant resorts to visit.
If you are curious about what other dining recommendations I have in the Magic Kingdom Resorts area, there are a few. You might be interested in checking out these entire resort dining guides:
As for my favorite restaurant at the Grand Floridian, make sure to check out the Grand Floridian Cafe review. It's the perfect place for brunch, lunch, and dinner!
Disney dining is one of the things I specialize in covering here on the site. For those who are interested in browsing other offerings, I have a complete list of Disney restaurant reviews. And there is a special section on Disney World Character Dining and my top recommendations for Disney signature dining.
For the full list of reviews for the resort, try here.
I hope you enjoyed this Gasparilla Island Grill Review. It wasn't somewhere I expected to have such an enjoyable visit and I'm glad the location has seen improvement.
Please leave a comment below and let me know your thoughts on Gasparilla Island Grill. Have you tried anything to eat here? Are you planning an upcoming stay?