Gasparilla Island Grill Review
Gasparilla Island Grill is the counter service dining location at Disney's Grand Floridian Resort. The restaurant is a little off the beaten path. You'll find it tucked neatly behind the marina, next to the arcade.
With that being said, the location has become a little more obvious to resort guests since the walkway to Magic Kingdom opened last year. Most will walk directly past Gasparilla Island Grill when coming to and from the park.
In this Gasparilla Island Grill review, we'll take a look at the restaurant in full detail. I've had the pleasure of having several meals here over the years. And to be frank, a few years back, I wouldn't have said it was a pleasure.
This article was updated on December 25, 2021, to provide new menu items and photos of the restaurant.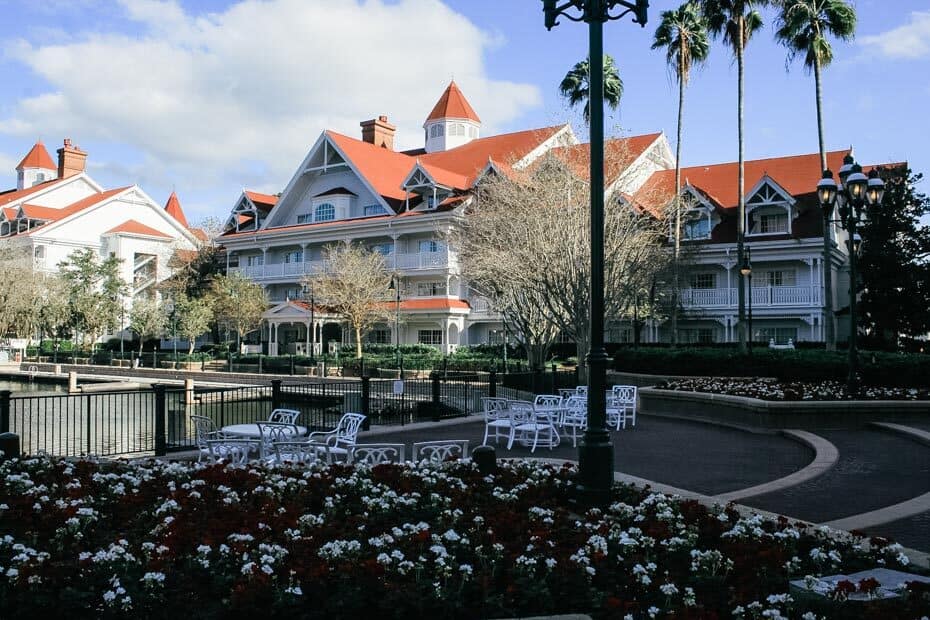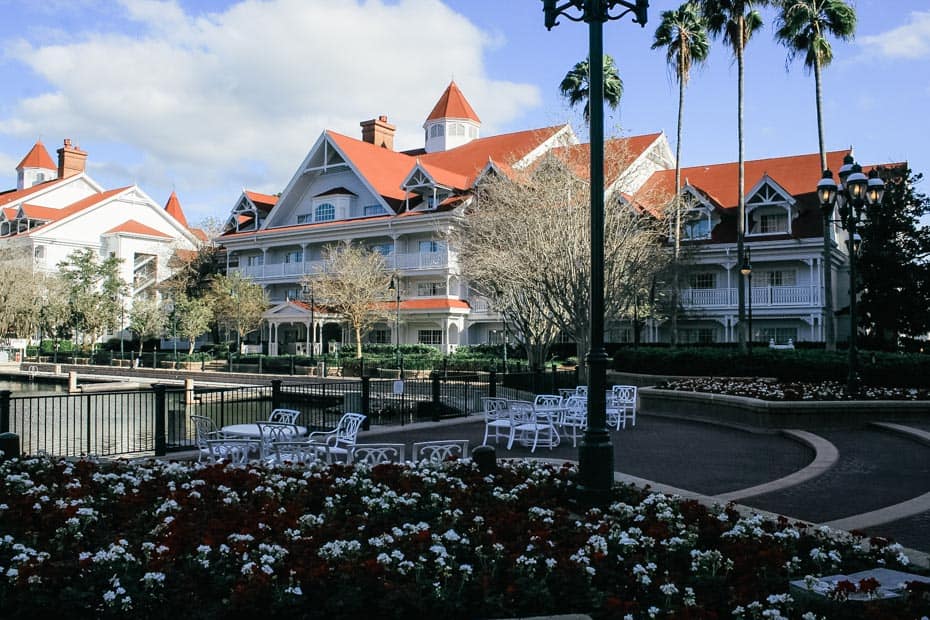 Thankfully, things can change. As for a meal at Gasparilla Island Grill, I would have to say that the venue has changed for the better.
The last two meals I've had here have been enjoyable. Excellent? No, but I would rarely say that about any counter service unless we're talking Satu'li Canteen or Primo Piatto over at Disney's Riviera.
Additionally, there's a time and a place for this kind of dining at Disney World. For example, guests staying at the resort might enjoy visiting Gasparilla Island Grill for an early morning breakfast before heading over to Magic Kingdom. Or it could be the last stop of the night after a busy day in the Disney theme parks.
Better yet, you might even schedule a full resort day while staying at the Grand Floridian. Part of that day could include having a leisurely alfresco lunch here. You could follow it up by spending the afternoon at the pool.
Guests of the resort can visit Gasparilla Island Grill to place their order. Or you can mobile order your meal and then walk over to pick it up. Naturally, mobile order is Disney's preferred method. However, restrictions at most places have been lifted, and you can get someone at the restaurant to take your order.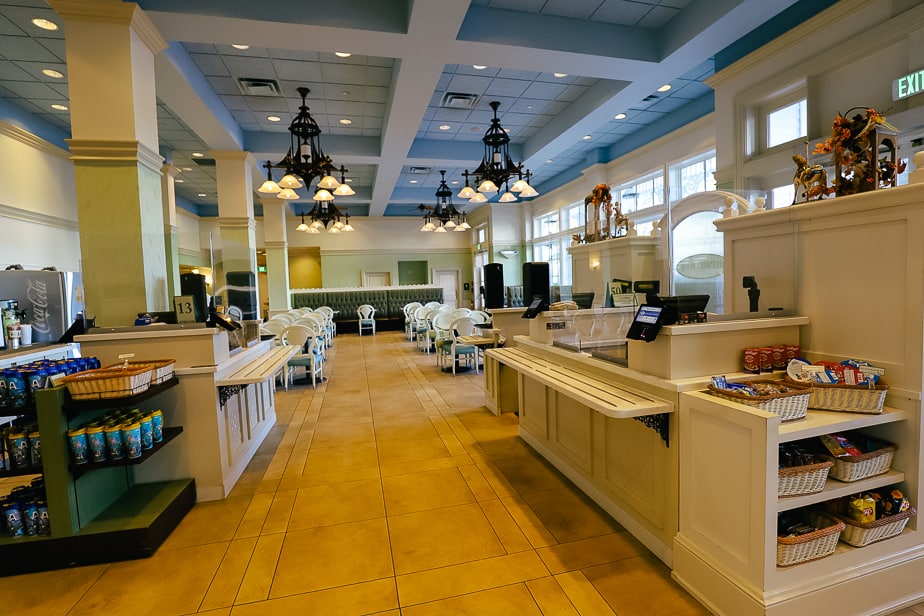 Inside, you'll find the setup pretty much the same, except there are tables with marked-off numbers to pick up your food if you mobile-ordered.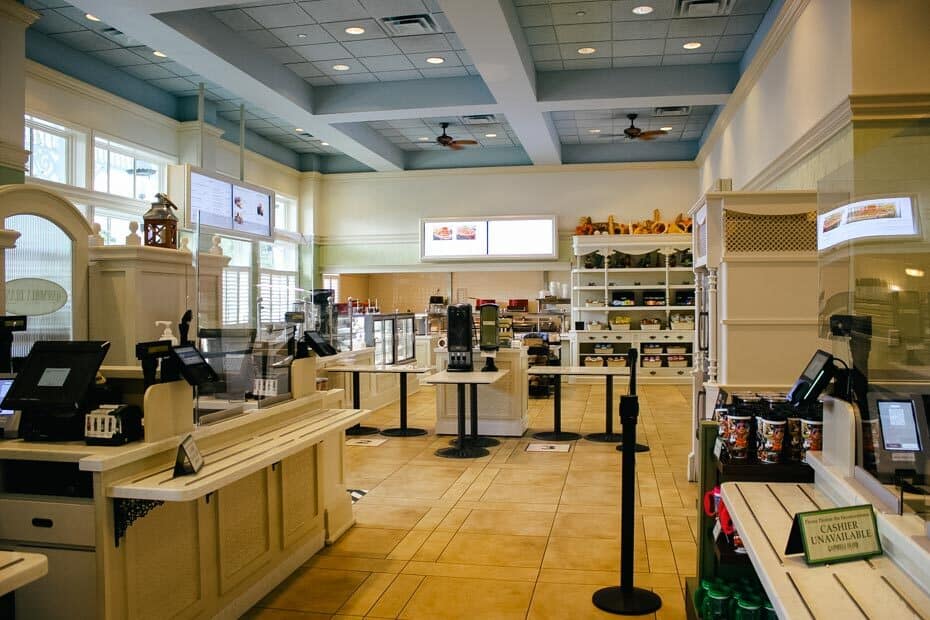 All of the available items (including pastries and cupcakes) are listed on Gasparilla Island Grill's menu in My Disney Experience.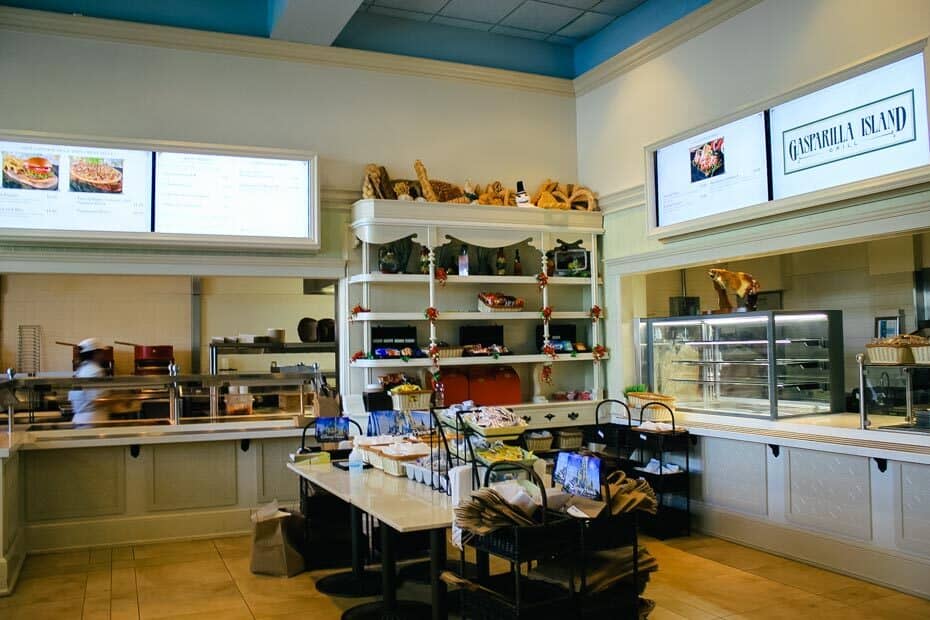 Even the items you would normally pick up separately from the cooler should be available in the app. Below is an updated photo of the different beverage items they have on hand.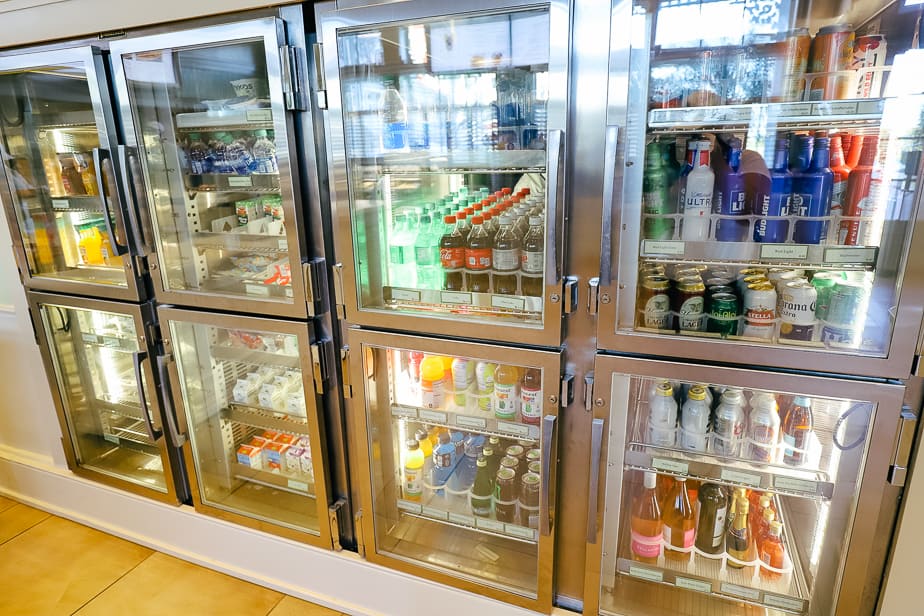 You can also pick up a variety of beverages in Sandy Cove Gifts and Sundries. That shop is located right off the main level of the Grand Floridian's lobby.
One of the things I like most about Gasparilla Island Grill is the interior dining room.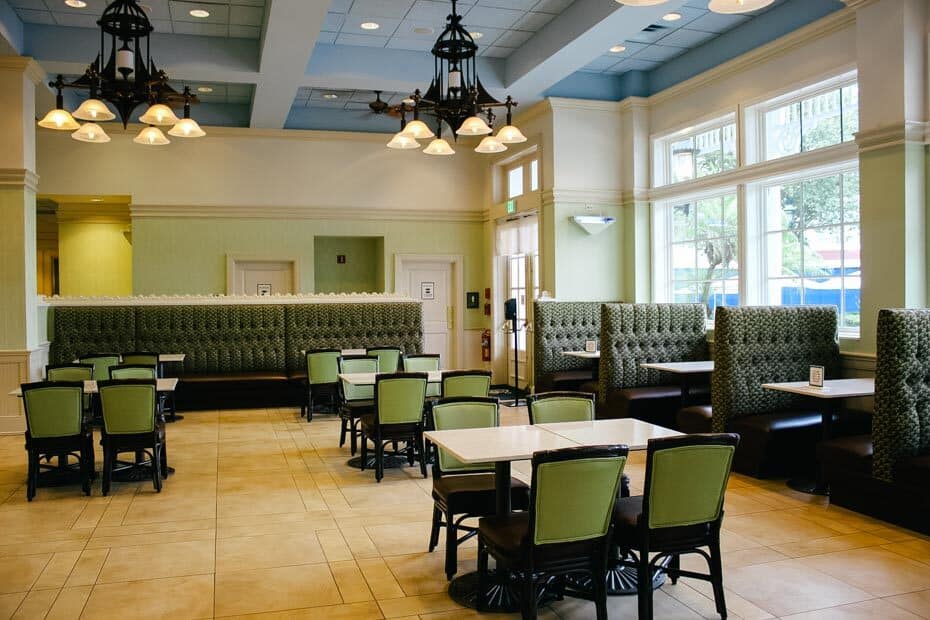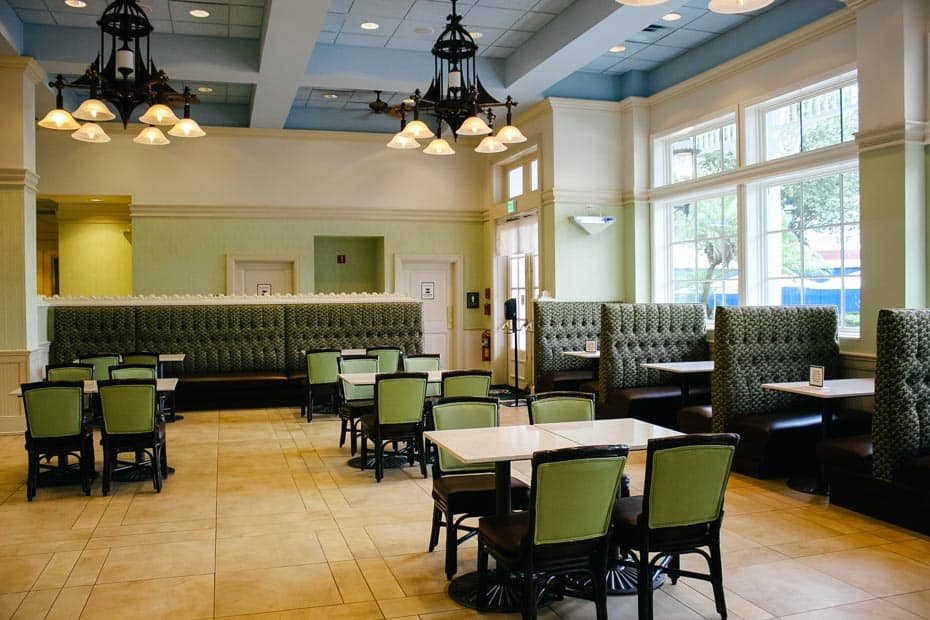 And even better the exterior dining area.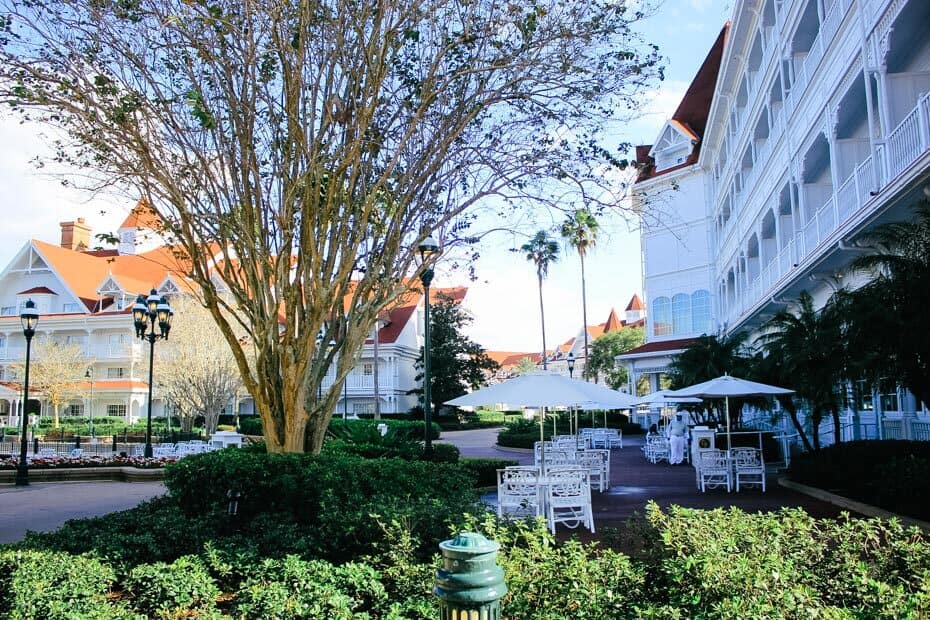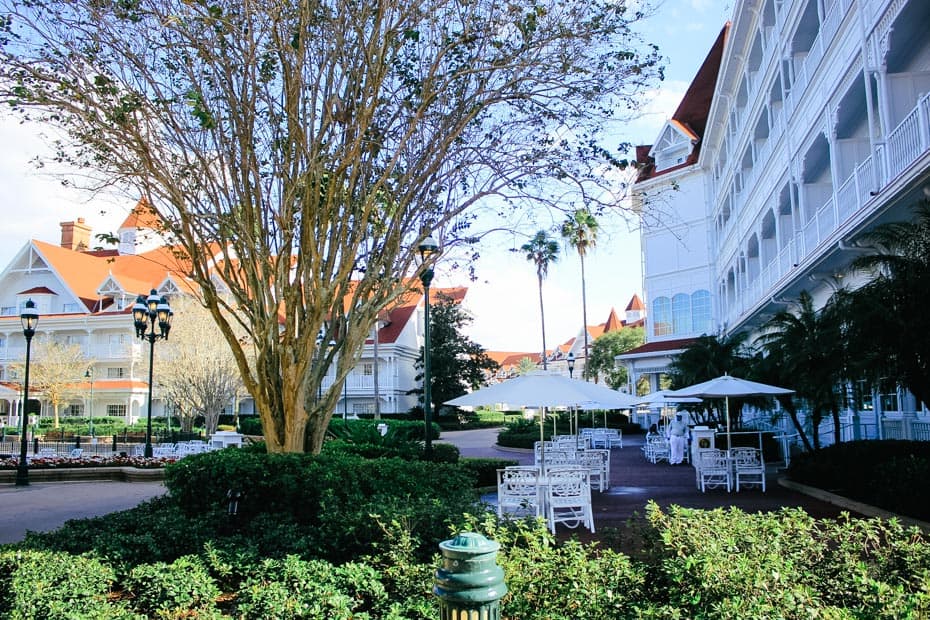 When the weather is warm I prefer to grab a table as close to the water as possible.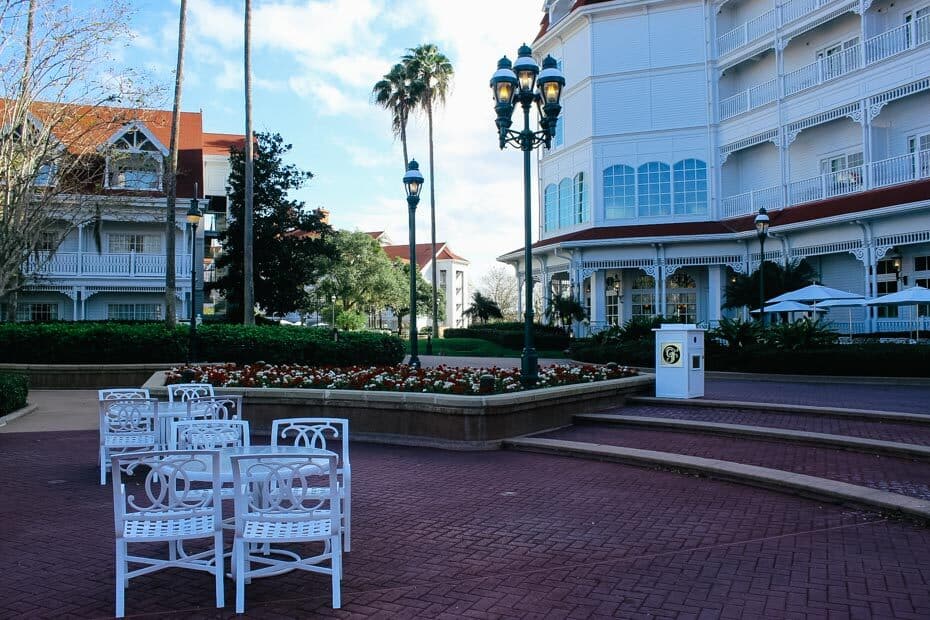 There's something special about getting to enjoy these views while having a bite to eat from a reasonably priced Disney quick service.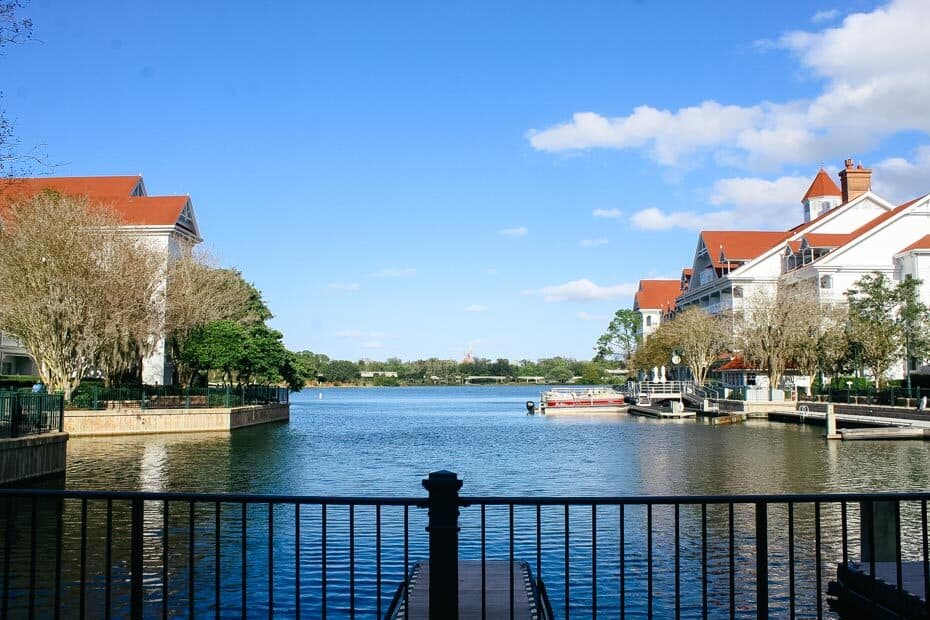 On the day of this visit, I had spent more time at the Grand Floridian than initially planned. I had been taking pictures of all the Christmas decorations at the resort. You can view that post here.
My idea was to to walk over to Magic Kingdom and enjoy a late lunch there. However, I found myself too famished to make the 10-minute walk over. And at the time, I was looking for something vegetarian.
As with most fast dining locations at Disney, my only vegetarian option at Gasparilla Island Grill appeared to be an Impossible Burger. And as much as I do like them, my limit is pretty much one per week.
After reviewing the menu, I realized I could order the four cheese, sausage, and pepper pizza, then request that the sausage be left off. This was all done from the main lobby, where I was taking photographs when I placed my order.
When I finished up, I hit the "I'm here, prepare my order" button and headed on over to pick it up. Below is how my entree turned out, and I was quite pleased with it.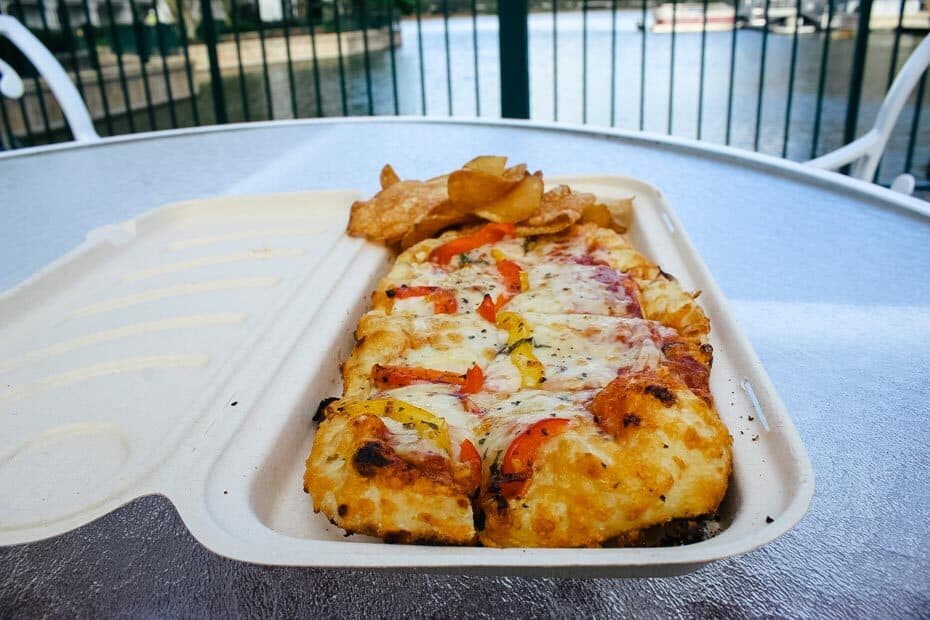 While this is not a true plant-based menu item, it is meatless and works well with those eating a vegetarian diet. The crust was soft and warm. I also really enjoyed the flavor of the peppers. And there were house-made chips which is one of my favorite sides at Disney.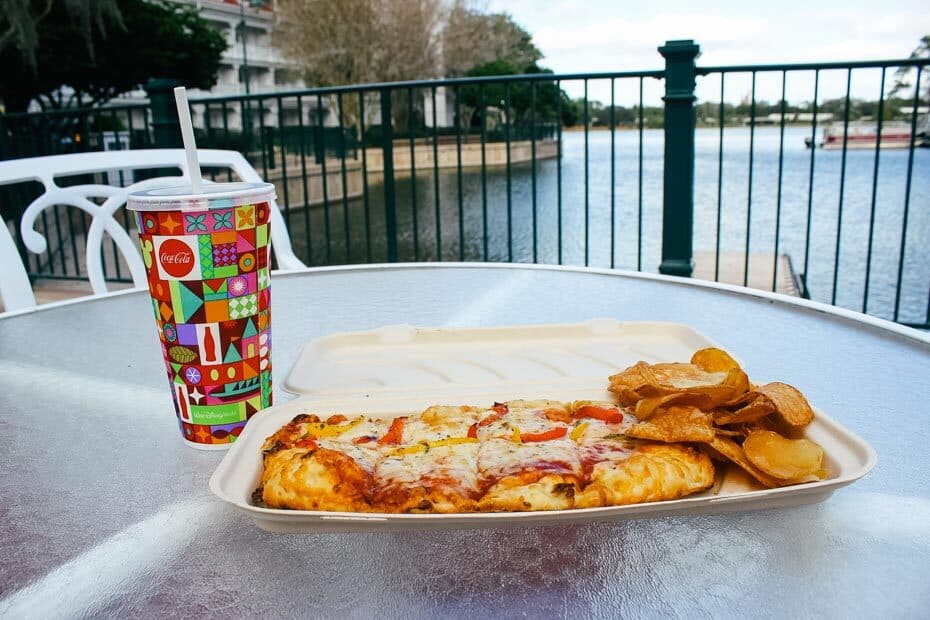 I have to warn you, the chips are really addictive and not so easy to find at Disney these days. Gasparilla Island Grill is the first place I've run into them in a while.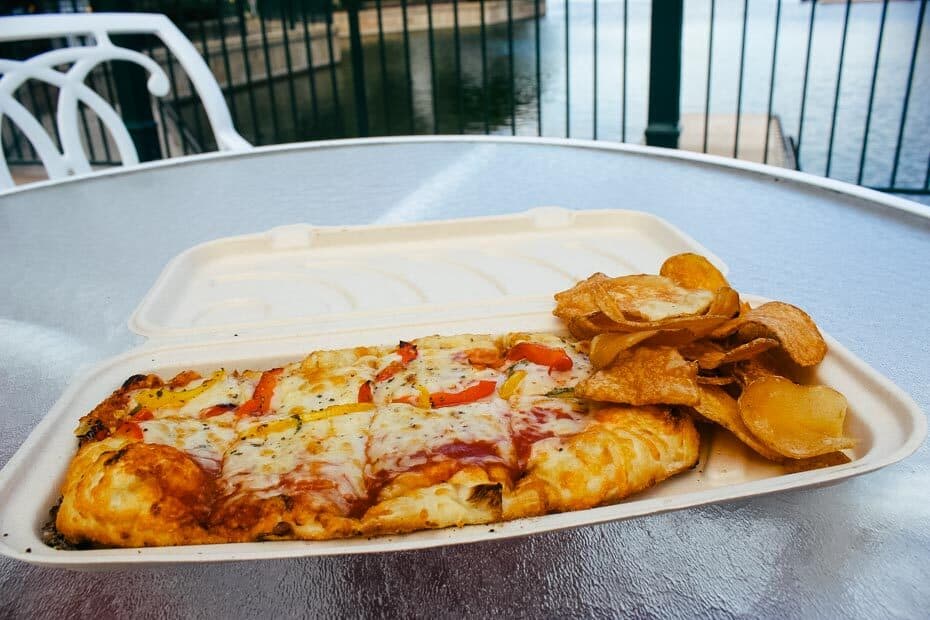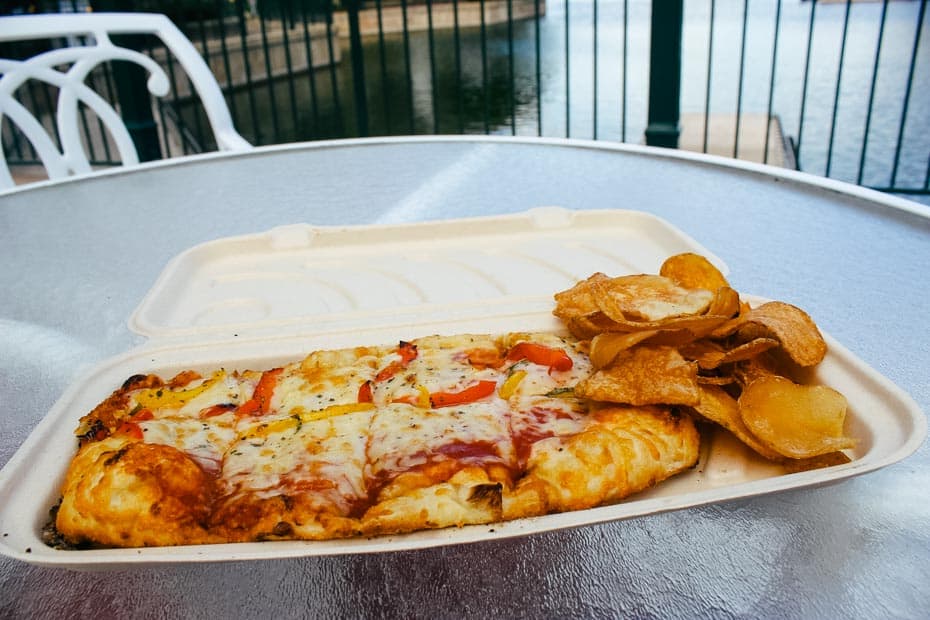 Back during the re-opening of the parks, I stayed as a guest of the Grand Floridian Villas for a few days. At that time, I wasn't eating a special diet, so I picked up the Artisan burger with an order of fries for lunch.
This burger is blended with brisket meat and served on a brioche bun with bacon and cheddar cheese. It was a huge burger, and the brioche bun was a nice touch.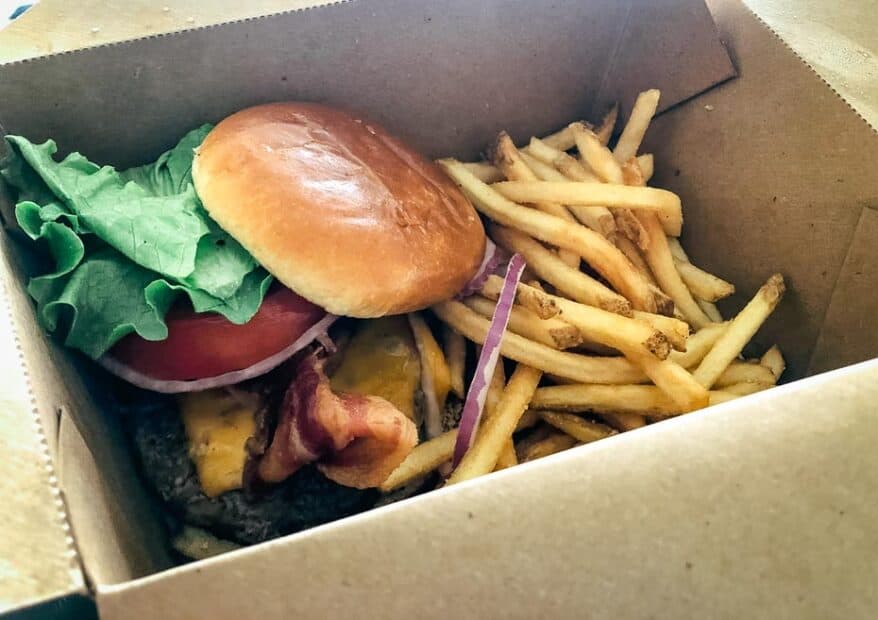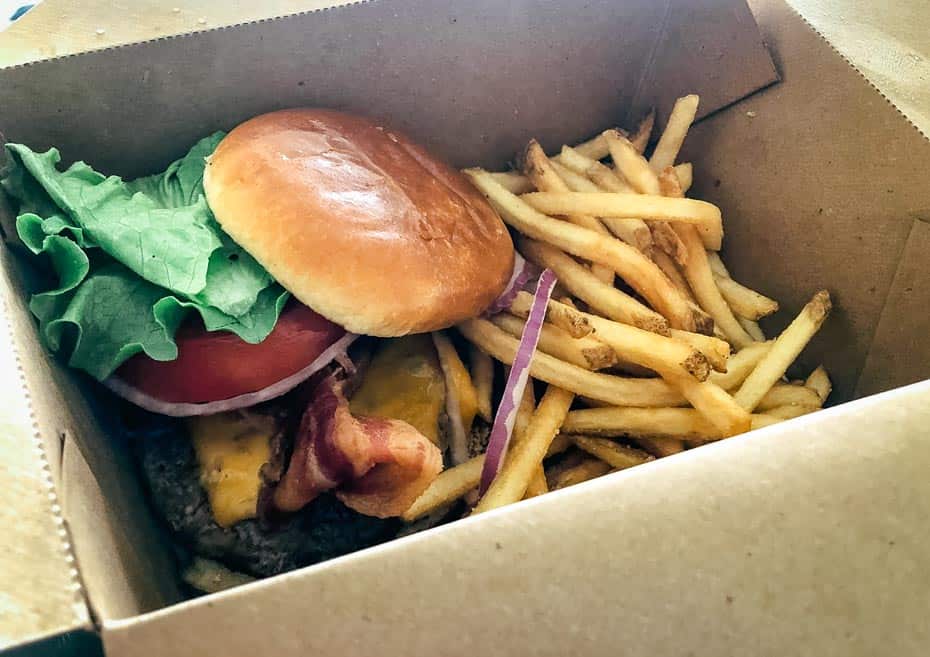 While not pictured, Gasparilla Island Grill is a good place to pick up an order of allergy-friendly chicken nuggets. They will prepare them in adult or children's size. When ordering with food allergies, you will need to visit the restaurant to place your order.
I've returned to Gasparilla in late 2021 to check out a newer sandwich they had on the menu. Below is a picture of the menu that was posted inside the restaurant.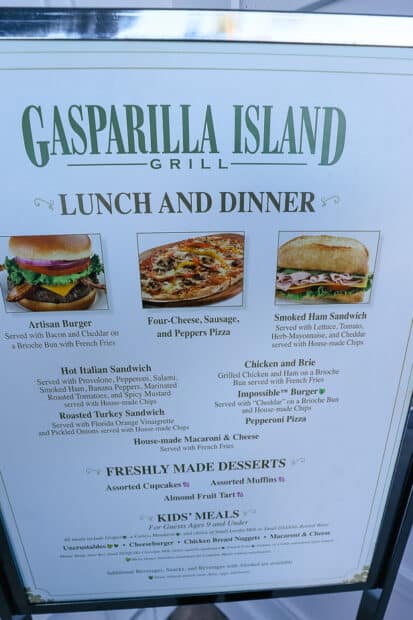 On this visit, I had the Chicken and Brie sandwich. It's described on the menu as grilled chicken and ham on a brioche bun served with French Fries. Unfortunately, it wasn't that great. And I was surprised because it looked really good.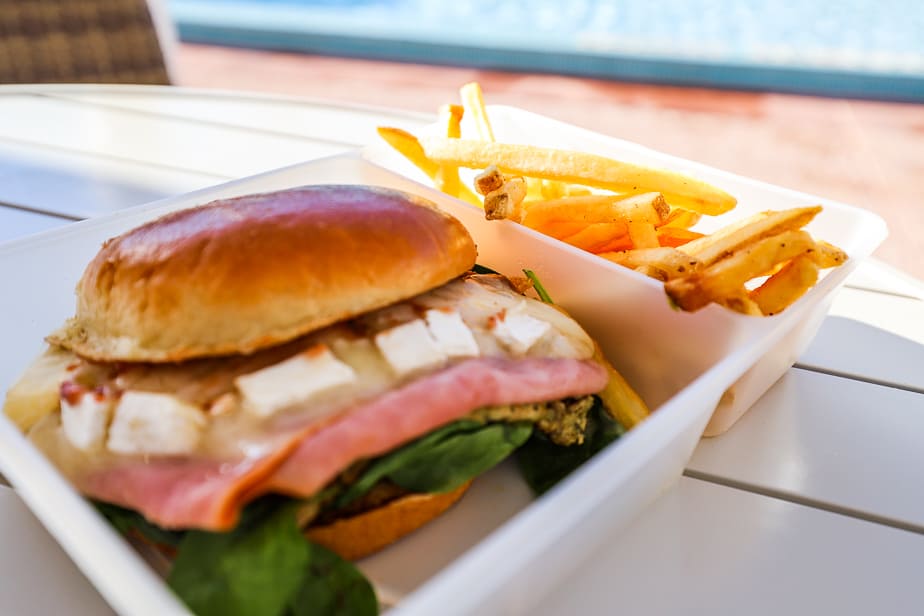 However, the sandwich came with raspberry mustard that clashed with the entire profile. And the Brie cheese didn't work with it either.
My other issue with this dish is the tray. Disney has started incorporating these plastic trays into their counter service meals. You still get the cardboard box, but in addition to the box your food is sitting in this tray.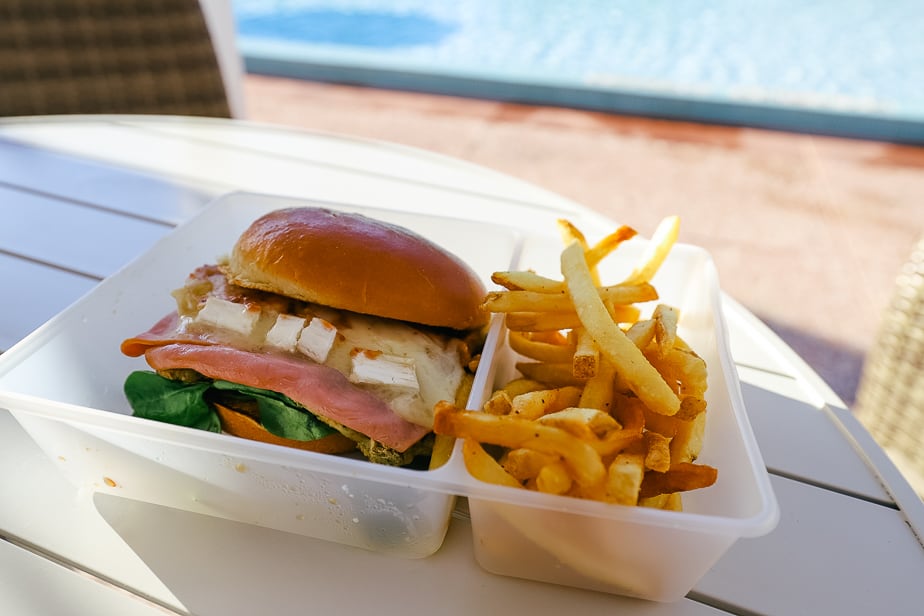 While you might not think that's a big deal, look again. There probably wasn't even enough fries in my tray to fill a small order of fries at McDonalds. Talk about cheap! I assume these trays are used to measure the portion of fries Disney is serving guests.
The whole thing has been bothering me. First, we all know these plastic trays cost something. Do they cost more than a few more shavings off of a potato?
Secondly, when I order something like this at Disney, I'm usually starving. I've probably been walking all over Disney and have burnt some major calories, which means I will usually eat a little more than I do on average. I'm not the only one right?
I could have ordered a kids' meals and received a double order of fries (they come with two sides) and had more food to eat for considerably less cost.
And lastly, Disney is a company that I usually admire for their sustainability efforts. There is nothing sustainable about adding a plastic tray to a dish that didn't need anything extra in the first place. And if we can have these, why can't we have plastic straws?
Anyway, rant over.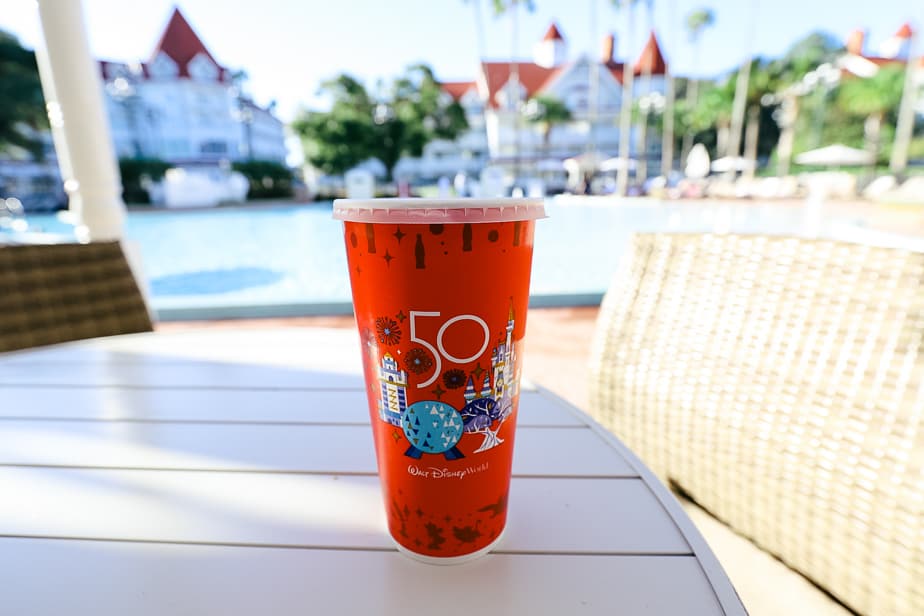 Back inside Gasparilla Island Grill, I took a few photos of the refrigerated cases. There were a few sandwiches and a variety of treats.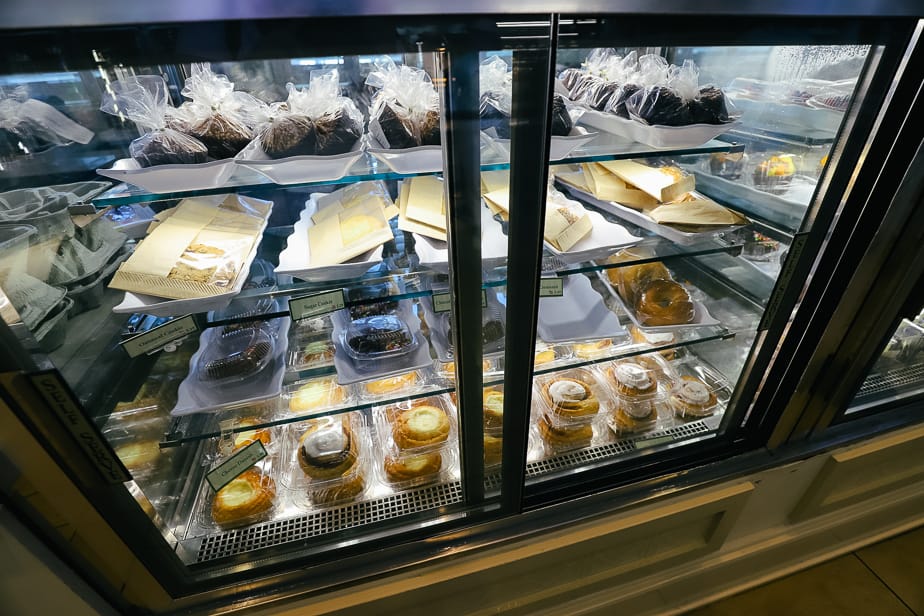 You should be able to find seasonal desserts, cupcakes, and special treats made specifically for Disney World's 50th anniversary.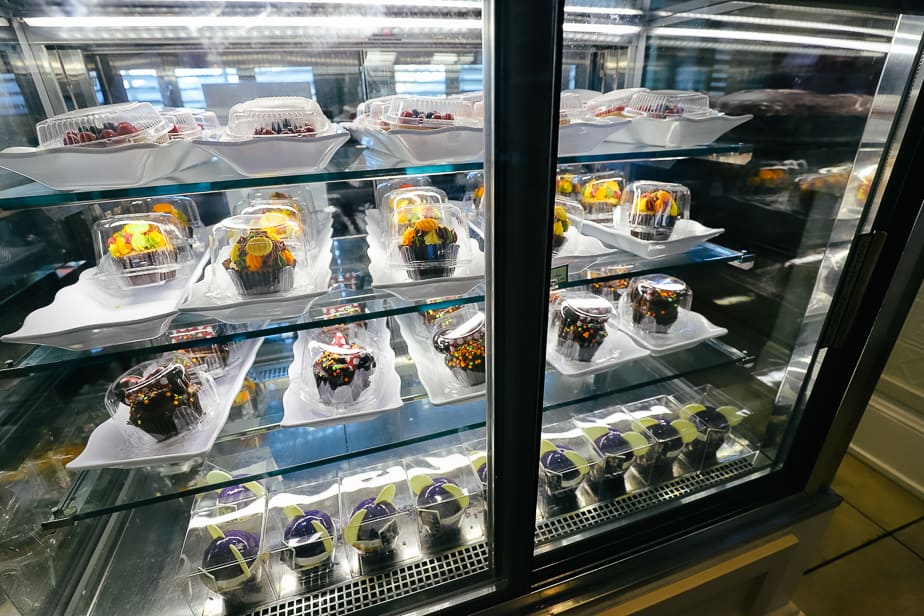 Whether you are staying at the resort as a guest or just visiting for the day, Gasparilla Island Grill a nice stop for a reasonably priced meal. Well, maybe not the chicken sandwich. And the Grand Floridian is always one of the most pleasant resorts to visit.
If you are curious about other dining options in the Magic Kingdom Resorts area, you might like to browse these entire resort dining guides:
As for my favorite restaurant at the Grand Floridian, make sure to check out the Grand Floridian Cafe review. It's the perfect place for brunch, lunch, and dinner! We even include it on our list of the best breakfasts at Disney World.
Disney dining is one of our specialties here on the site, especially dining at the resorts. Some of our recommended dining guides include:
Or you can preview our list of Disney Restaurant Reviews.
Additionally, our full list of articles related to the Grand Floridian Resort and Spa is available here.
Hopefully, you enjoyed this Gasparilla Island Grill Review and were able to get an idea of what the counter service offers. Leave a comment below and let me know your thoughts on this location.