Gasparilla Island Grill Review
This article provides a review of Gasparilla Island Grill, the counter service restaurant at Disney's Grand Floridian Resort and Spa.
Whether staying at Disney's Grand Floridian or visiting as a day guest, you might decide to enjoy a meal at the resort. However, most of the resort's restaurants require reservations.
Thankfully, all of the resorts have a counter-service or quick-service restaurant. At Disney's Grand Floridian, that restaurant is Gasparilla Island Grill.
You'll find Gasparilla between the lobby and the pathway to Magic Kingdom. It's tucked neatly behind the marina and sits adjacent to the resort's arcade.
In this Gasparilla Island Grill review, we visit the restaurant to preview a few items on the menu. Additionally, we'll look at other available items so you'll know what to expect on your visit.
This article was updated on April 9, 2023, to provide new menu items and photos of items available in the restaurant.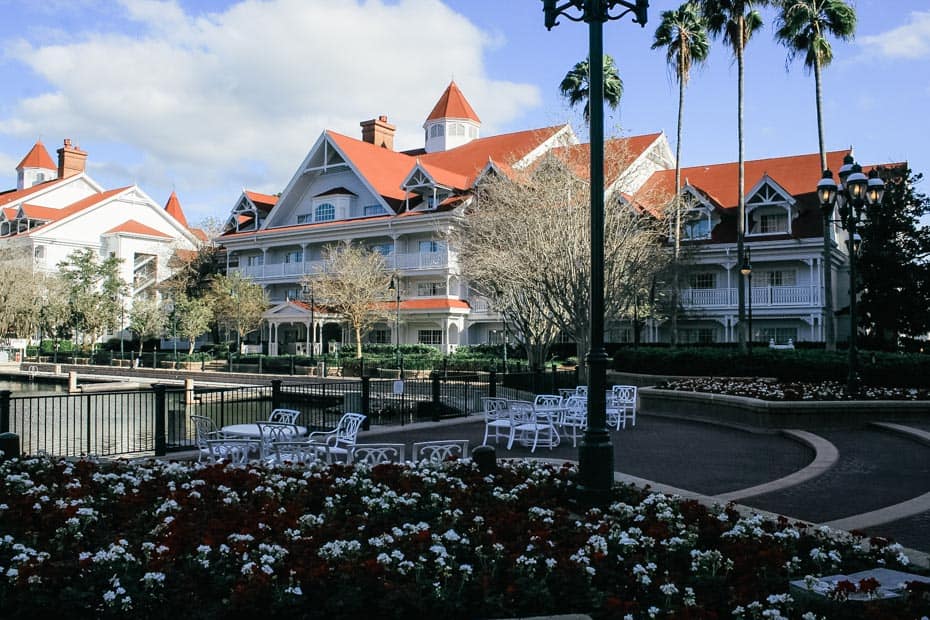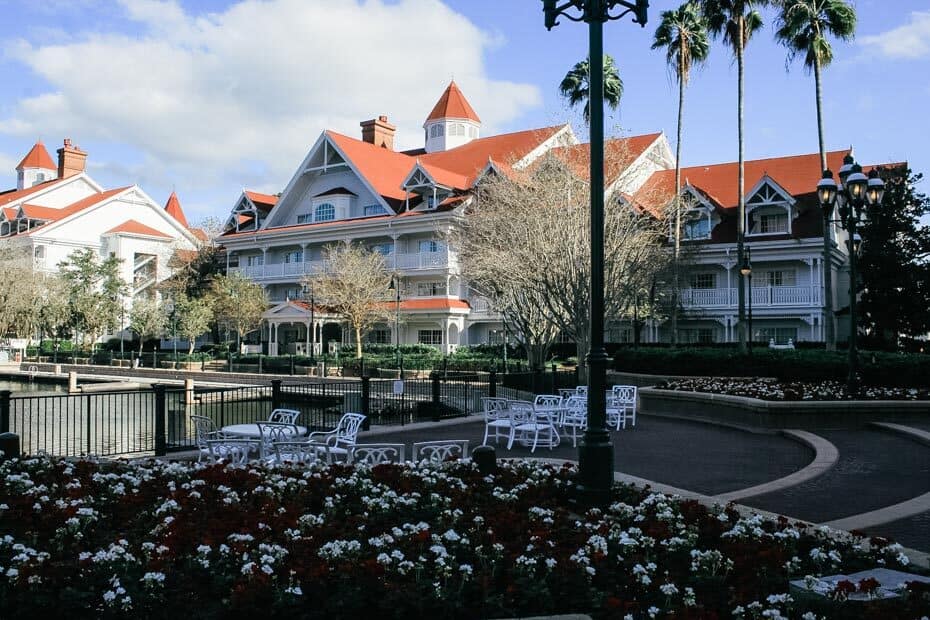 Gasparilla Island Grill is usually open daily between 6:00 a.m. and 12:00 a.m. The restaurant serves breakfast, lunch, and dinner. Additionally, they have various snack items and a late-night menu.
We recently visited the resort to check out the construction progress. While taking photos, I noticed that Gasparilla Island Grill had quite the crowd.
So I decided to step inside and see if anything had changed since my last visit around the holidays. I was surprised to see they had an entirely new menu.
Here's what was available: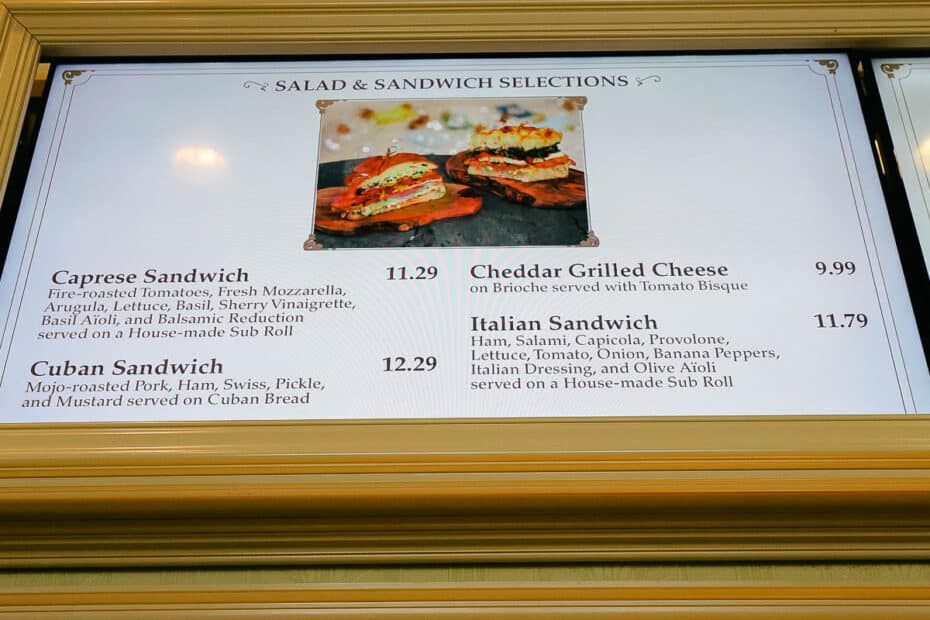 Sandwich Selections:
Caprese Sandwich
Cuban Sandwich
Cheddar Grilled Cheese with Tomato Bisque
Italian Sandwich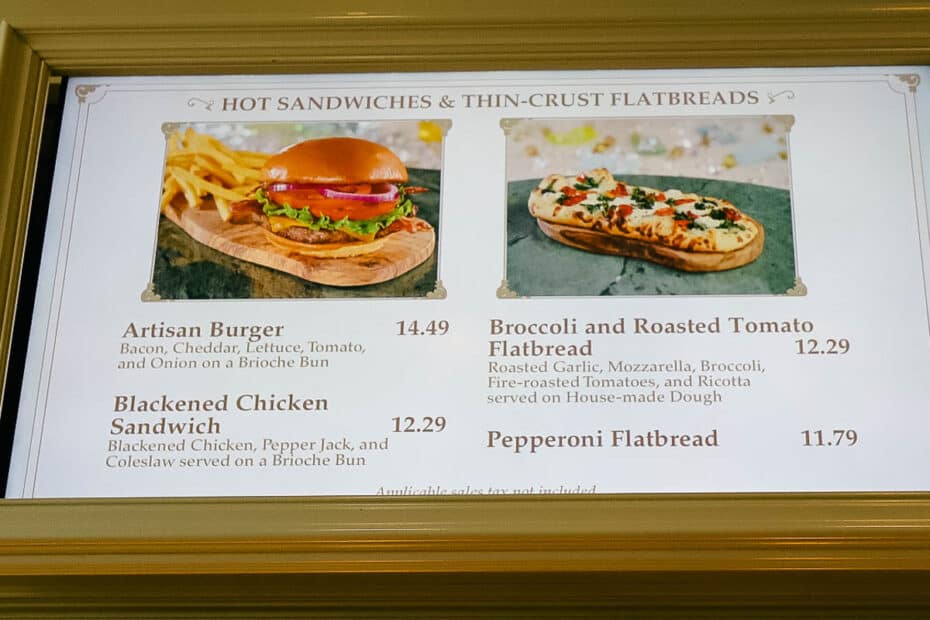 Hot Sandwiches and Thin Crust Flatbreads:
Artisan Burger
Blackened Chicken Sandwich
Broccoli and Roasted Tomato Flatbread
Pepperoni or Cheese Flatbread Pizza
Kids' Meals:
Cheeseburger
Turkey Wrap Meal
Chicken Wrap
Chicken Nuggets
PB&J Uncrustable
Macaroni and Cheese
You can preview the entire lunch and dinner menu here on Disney's site.
For breakfast, the menu includes:
Breakfast Platter
Egg White Wrap
Mickey-shaped Waffles
Croissant Egg Sandwich
Acai Bowl
Oatmeal
You can preview the entire breakfast menu for Gasparilla Island Grill here.
It appeared that portions of the Caprese and Italian sandwiches were premade. Therefore, when someone orders either of these sandwiches, I assume they start with this base and then add the rest of the ingredients.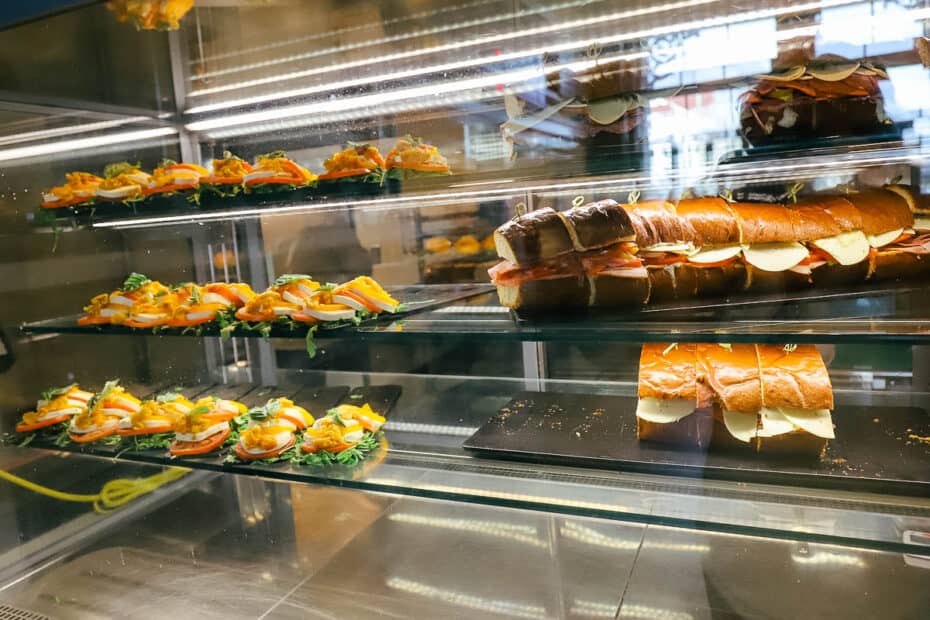 While I'm not a fan of premade sandwiches. These looked reasonable. For instance, the items for the Caprese sandwich hadn't been added to the bread. So the bread wasn't sitting there getting soggy.
Seasonal desserts include:
Minnie Mouse Cupcake
Almond Cheesecake
Banana Chocolate Chip Muffin
Coconut Pot de Creme
Mickey Brownie
50th Anniversary Cupcake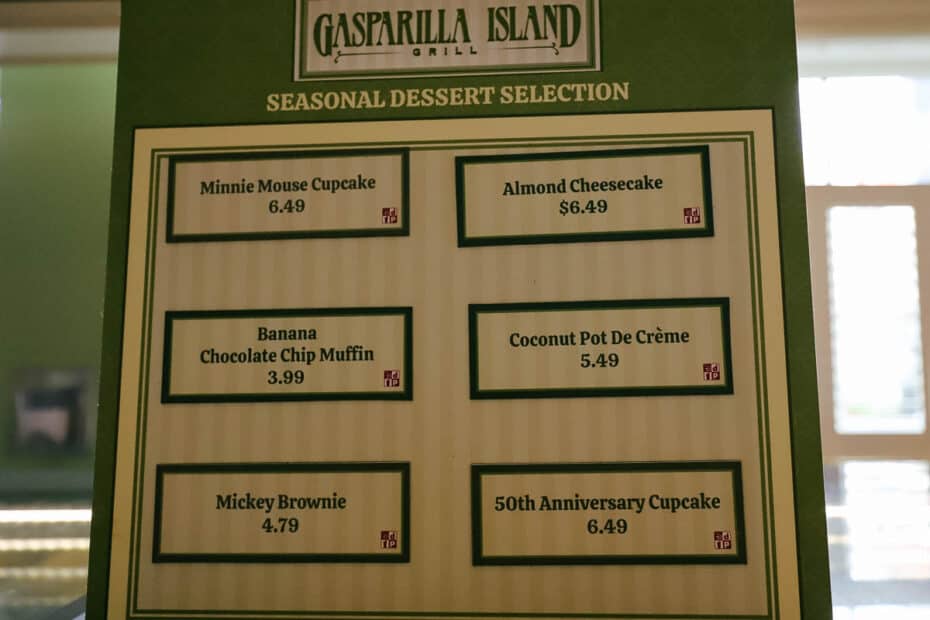 Most of these items were displayed in a case.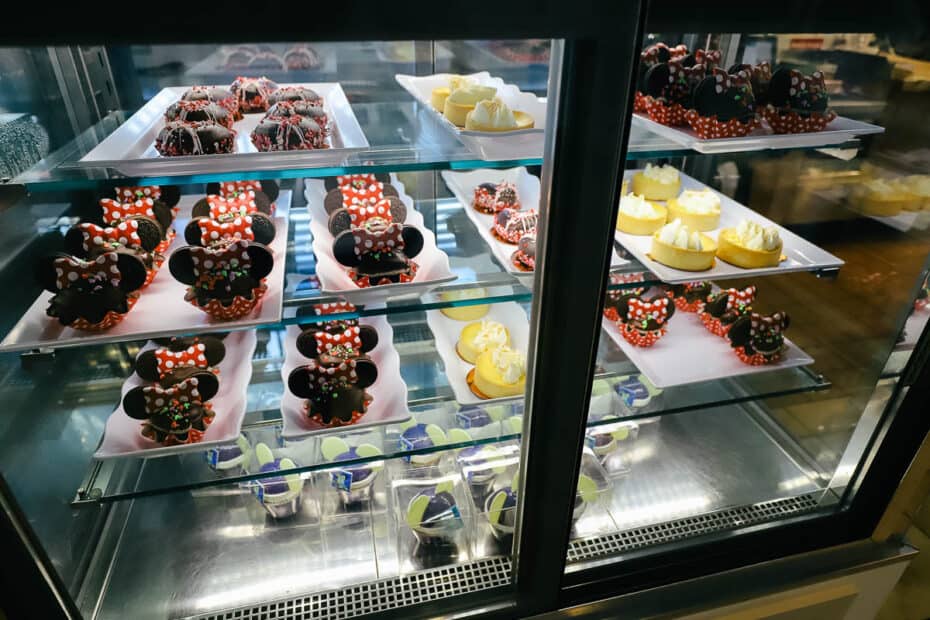 Additionally, there were a few other pastries and several specialty coffee items.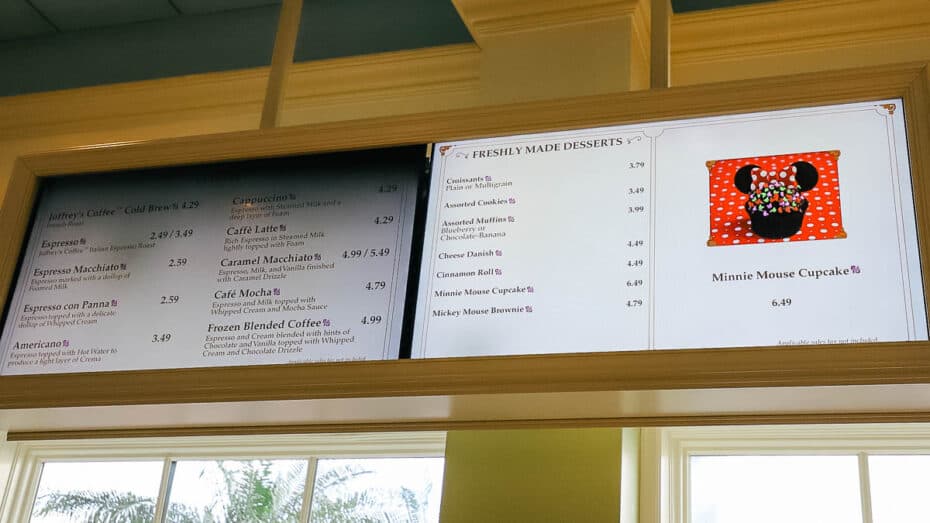 Here are the other pastries that were available.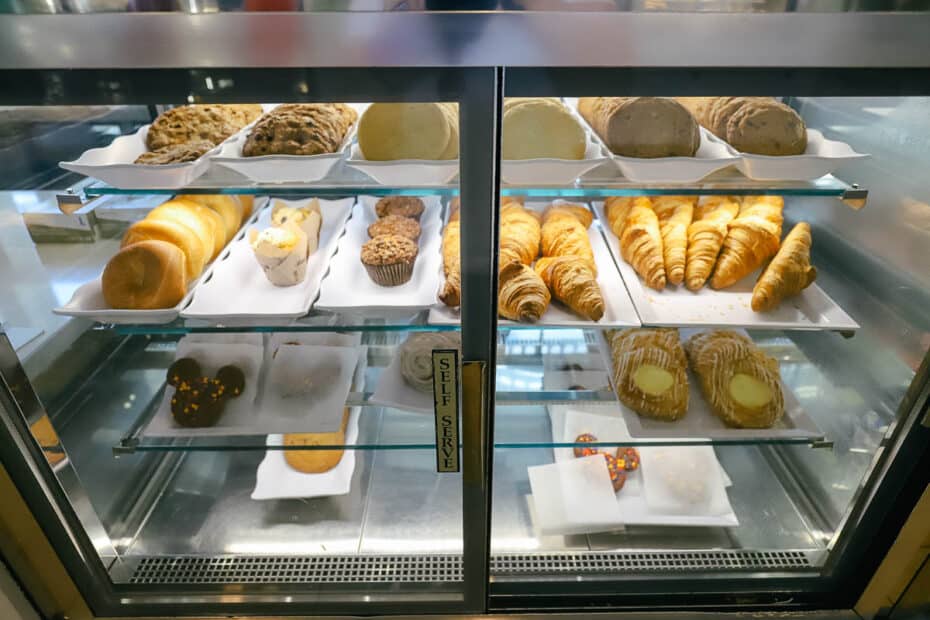 Gasparilla takes mobile orders, or you can order at the register. After ordering, the cast member at the register will ask if you want your meal to go or if you would like to eat at the restaurant.
Those who are eating at the restaurant will have the option of eating outside or inside. Then they'll give you a number, and someone will bring your meal to the table.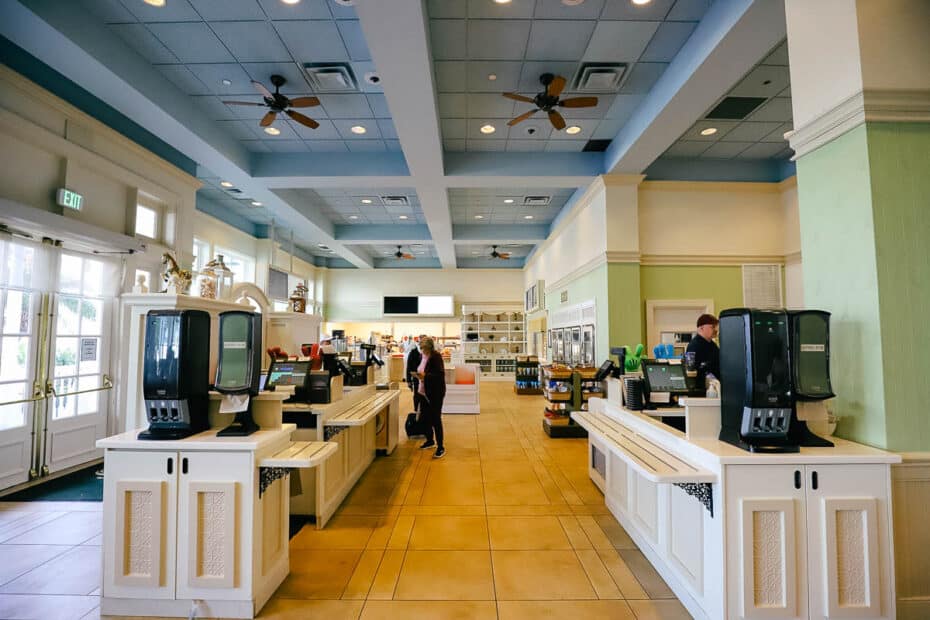 If you decide to mobile order, all of the restaurant's items are listed in the My Disney Experience app. For example, you can add a pastry item to your mobile order. Even the things you would normally pick up separately from the cooler should be available in the app.
Here are photos of all the items that were present on this visit.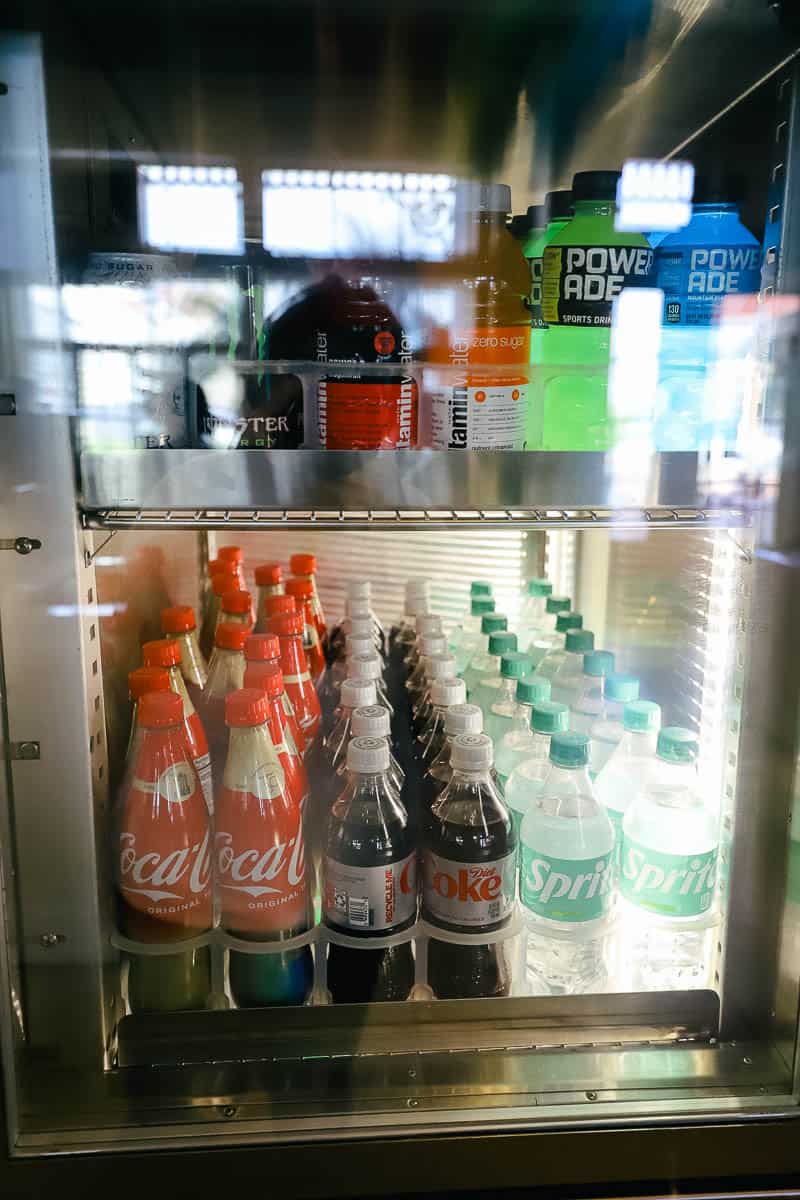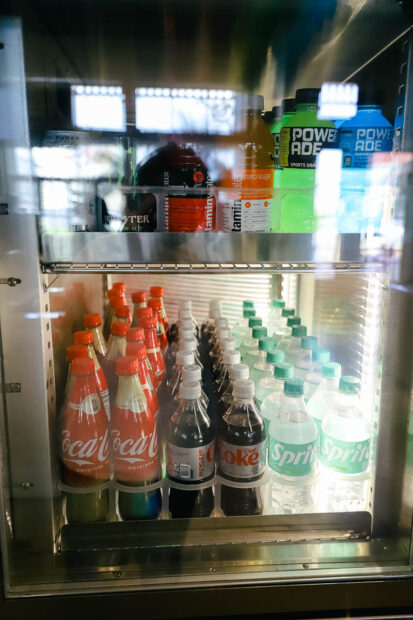 Smart Water and Dasani made up the bottled water selections.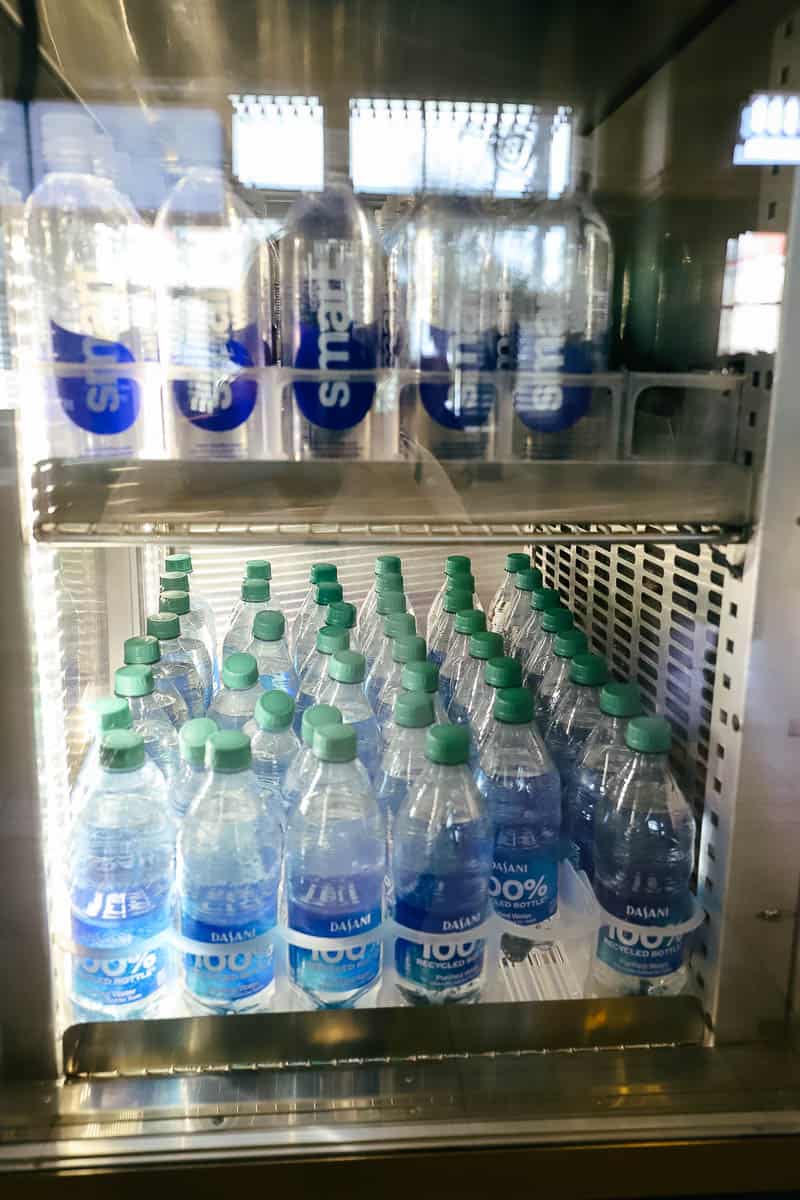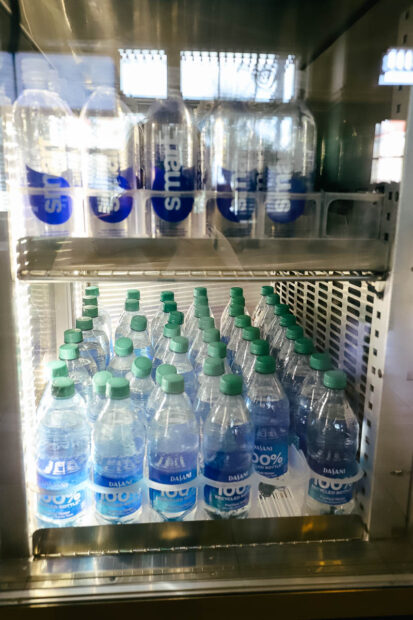 There were a few kinds of milk, including Silk Soy Milk and Nesquick. Below the milk, there were a few juice options.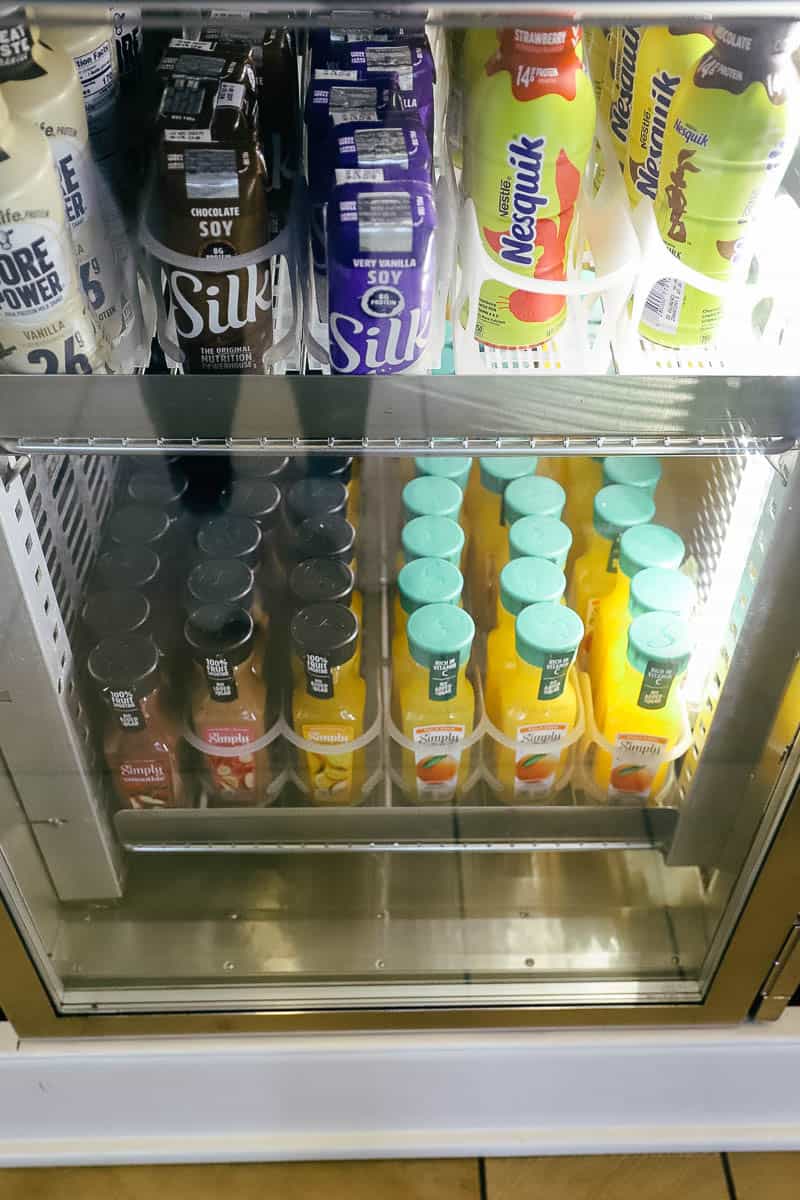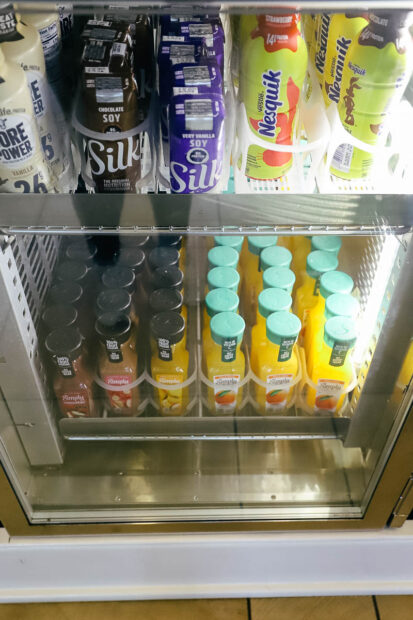 This case had a variety of beers.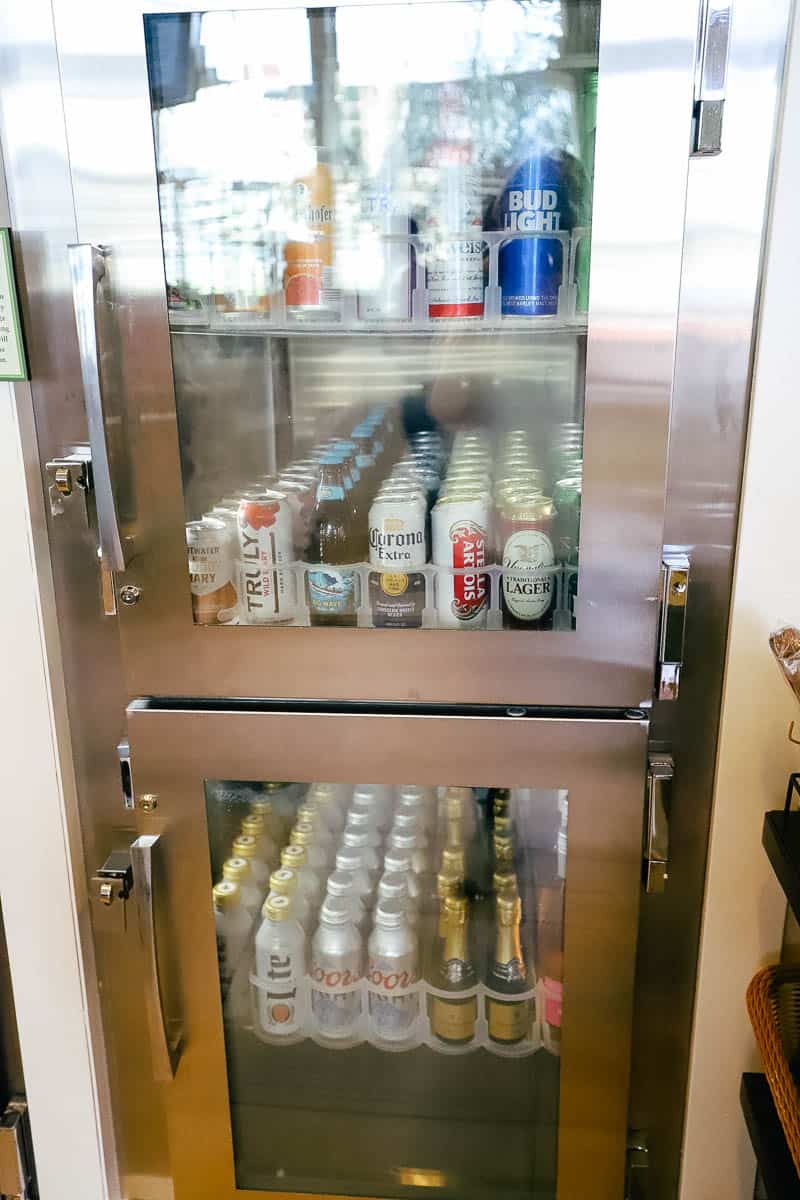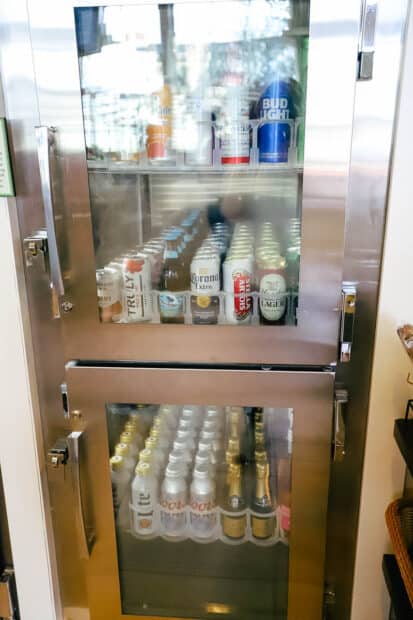 Several grab-and-go salads were in the case.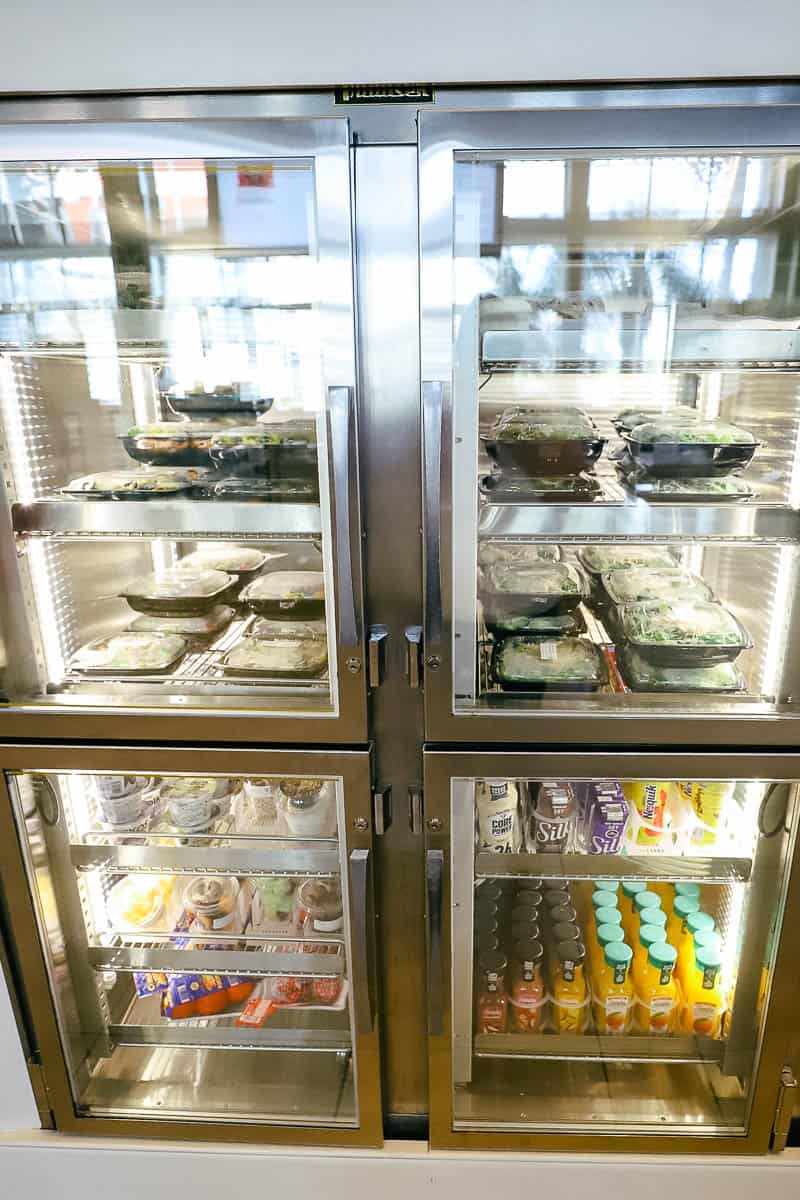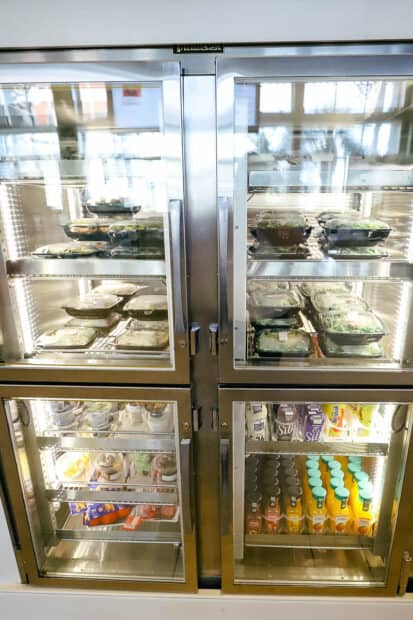 Salad options were Caesar Salad, Greek Salad, and a traditional option.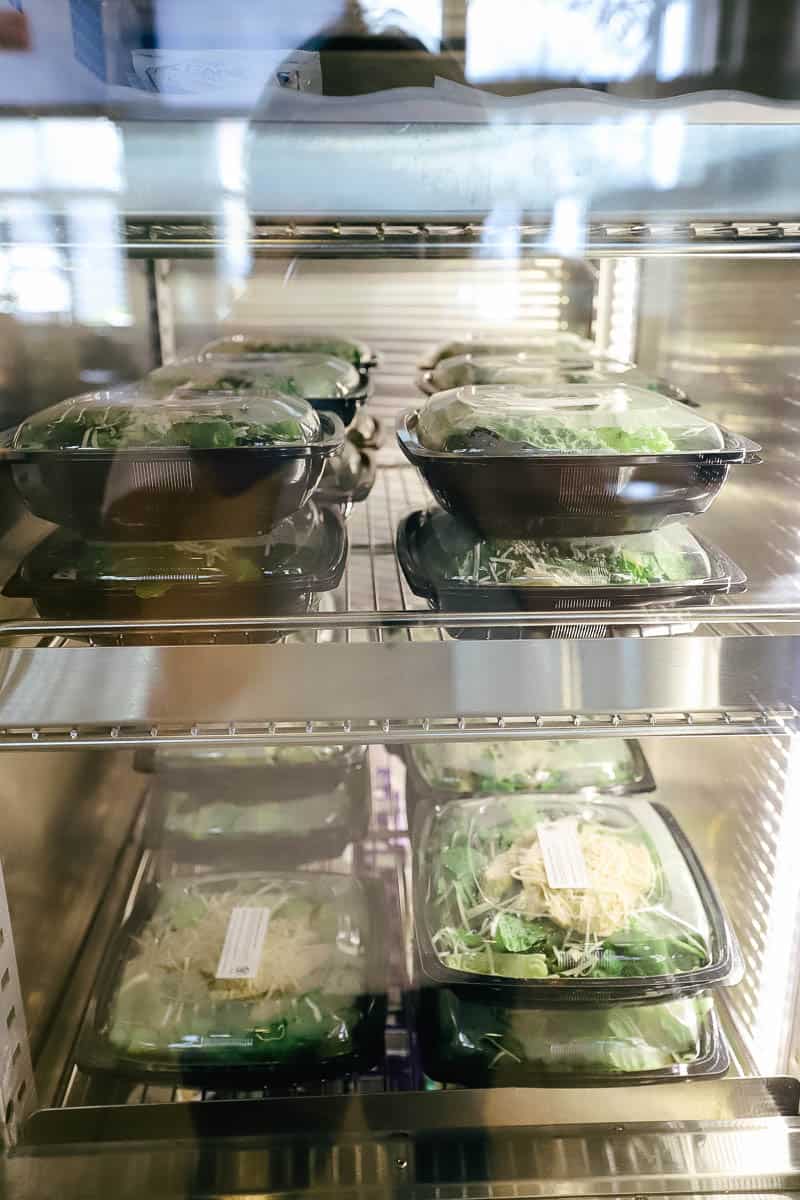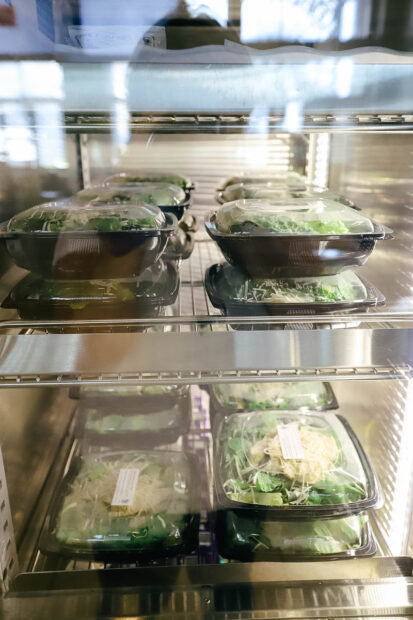 There were several flavors of yogurt and fresh fruit options.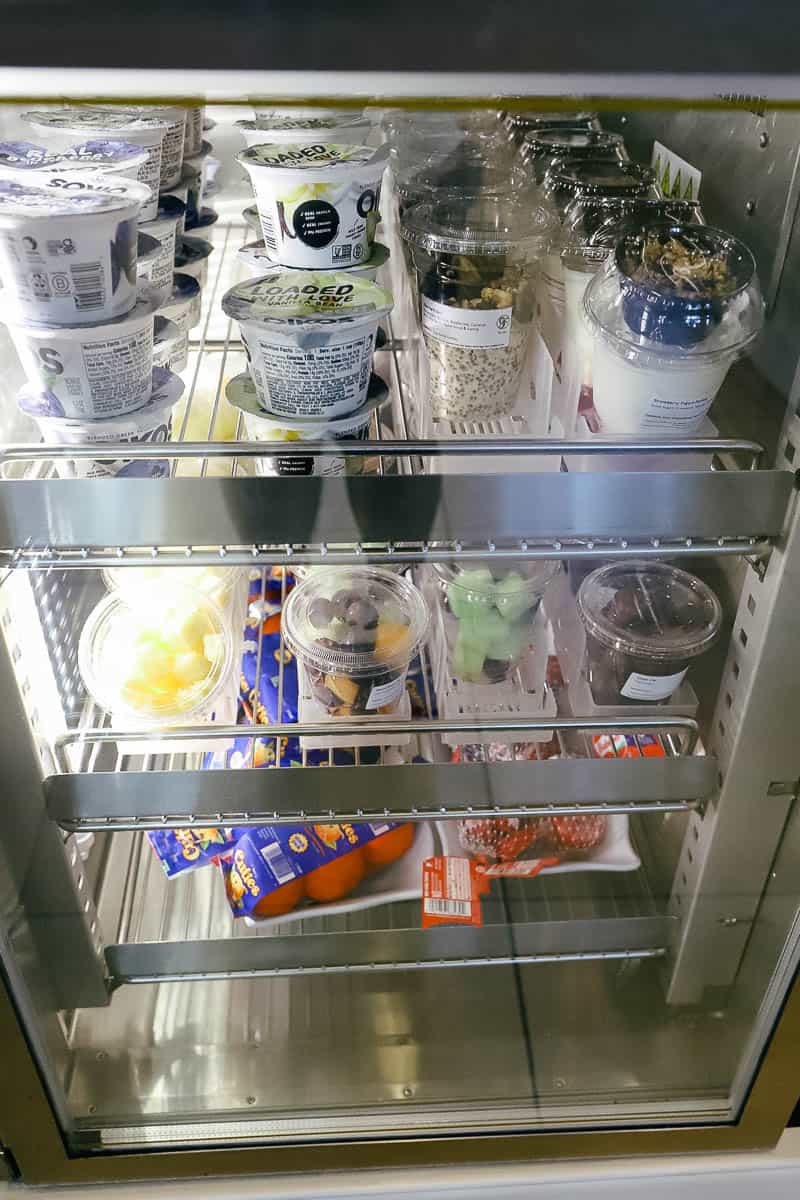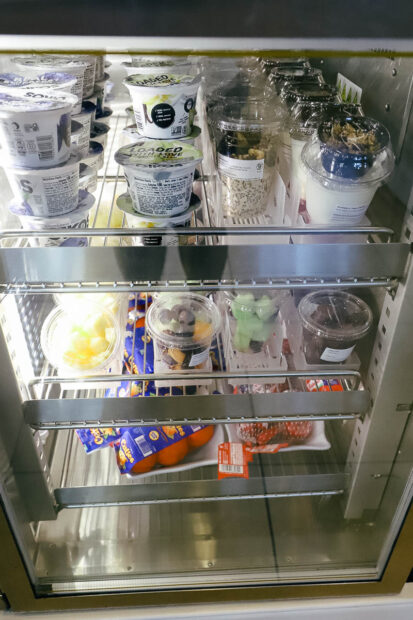 This is the kid's case. Most kids' meals come with two sides. These are a few side items, not including the Uncrustables. They are an entree.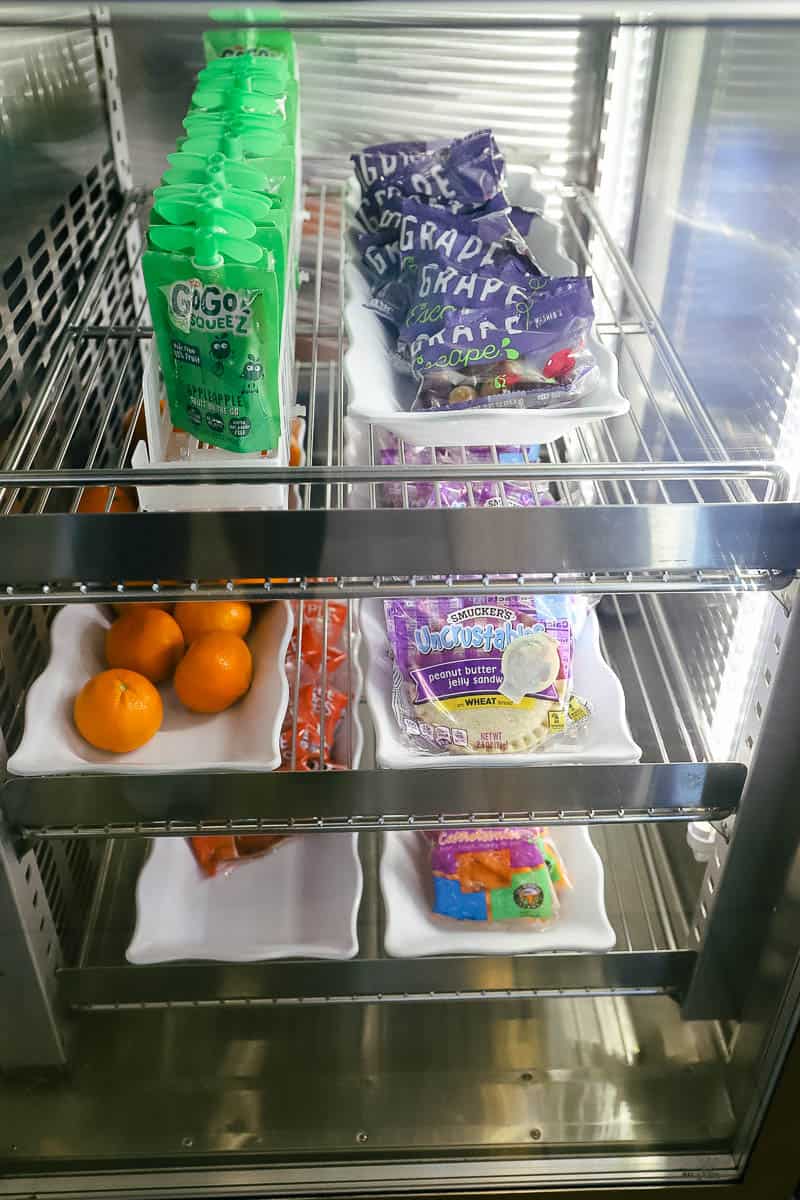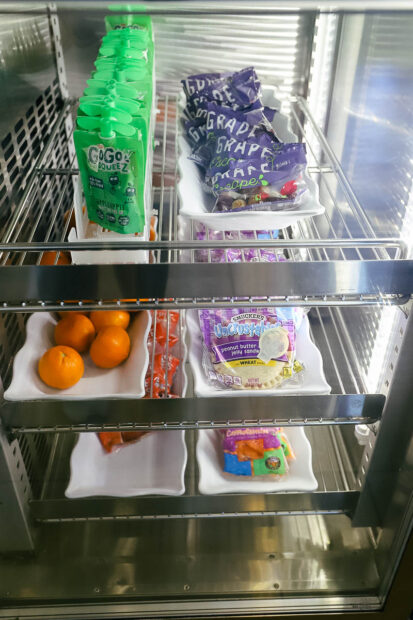 There were several pantry-style baskets with various snacks.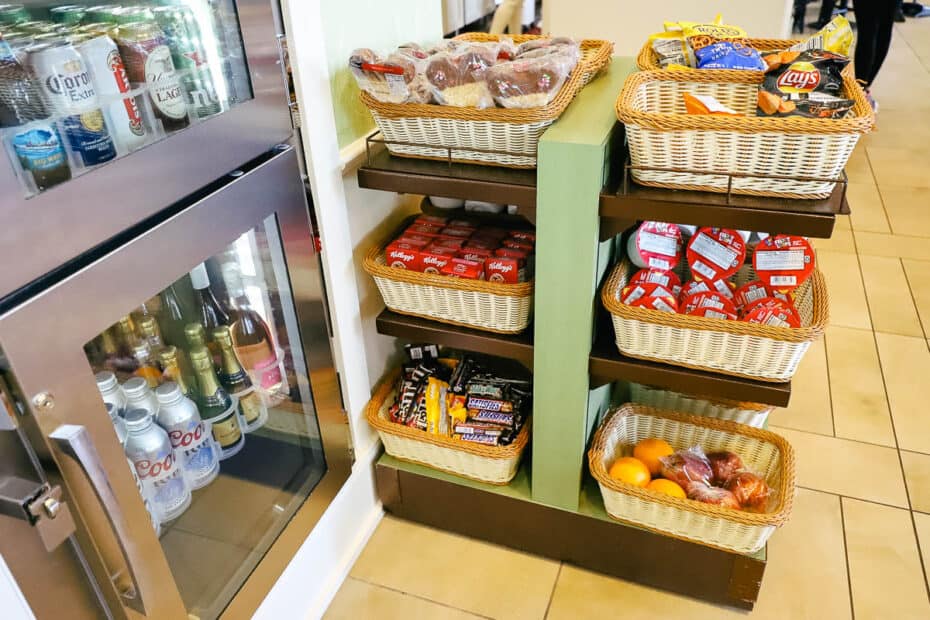 Here we see chips, pretzels, cereal, and candy.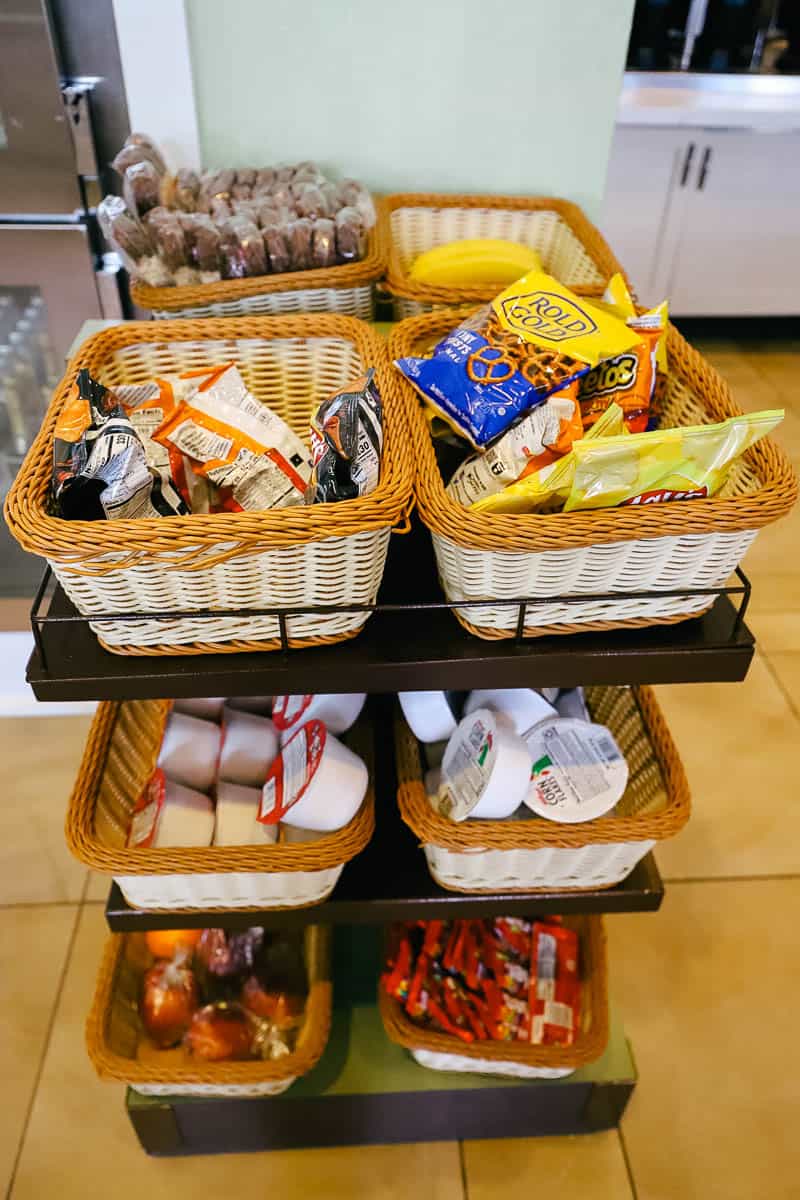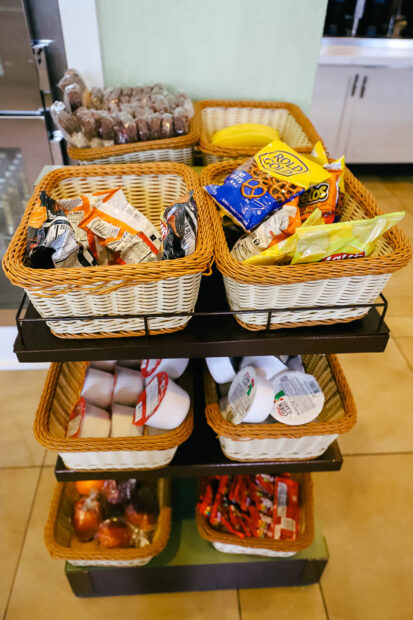 Near the register were two cases with frozen novelties like Mickey ice cream bars, sandwiches, and popsicles.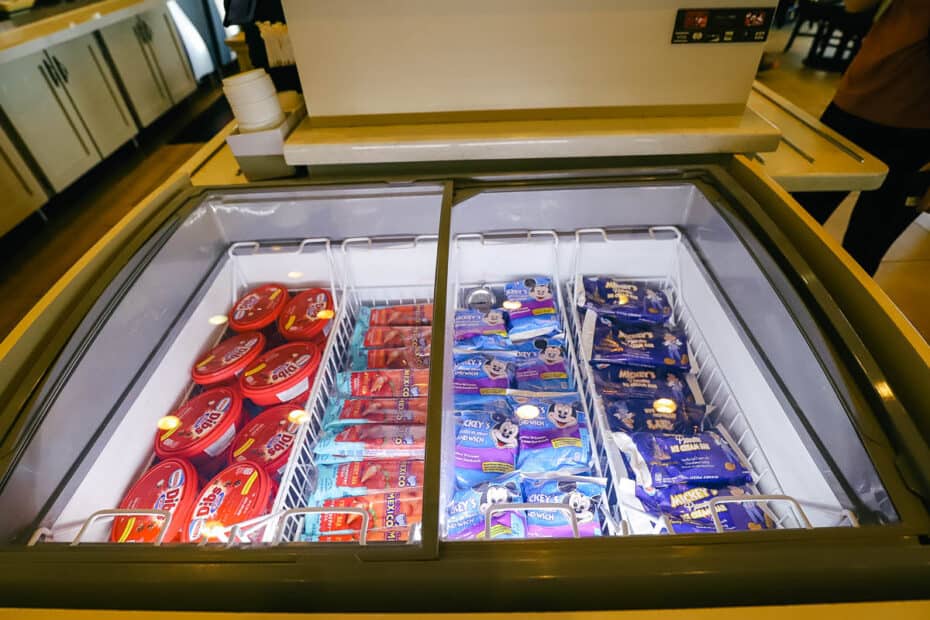 Here is a look at the condiment and beverage station.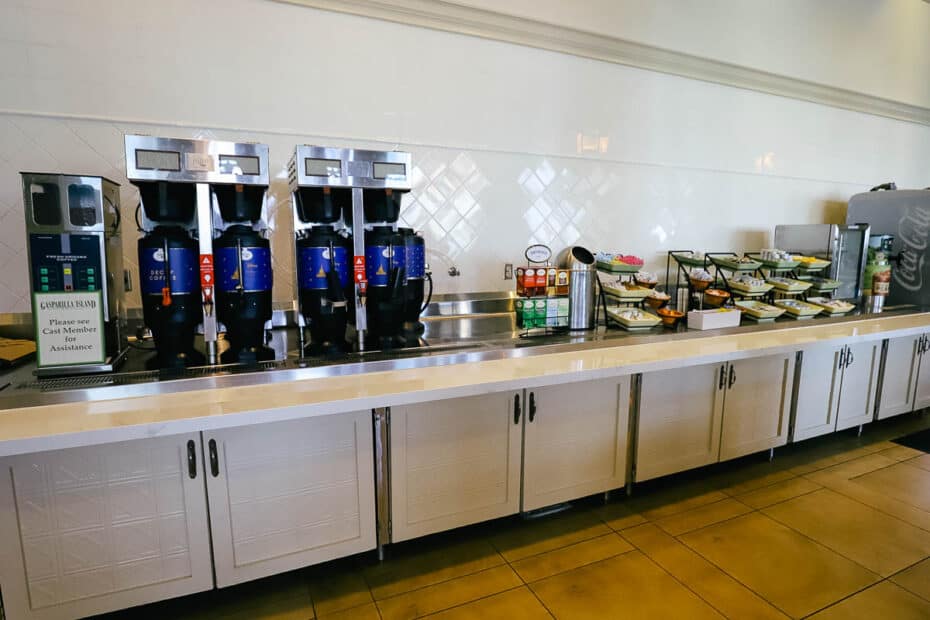 Rapid Refill mugs are available at Gasparilla Island Grill. You can use them for tea, coffee, water, or soda. Currently, they cost $21.99 and are refillable for the length of your stay.
Joffrey's is the brand of choice of coffee at the Walt Disney World Resorts.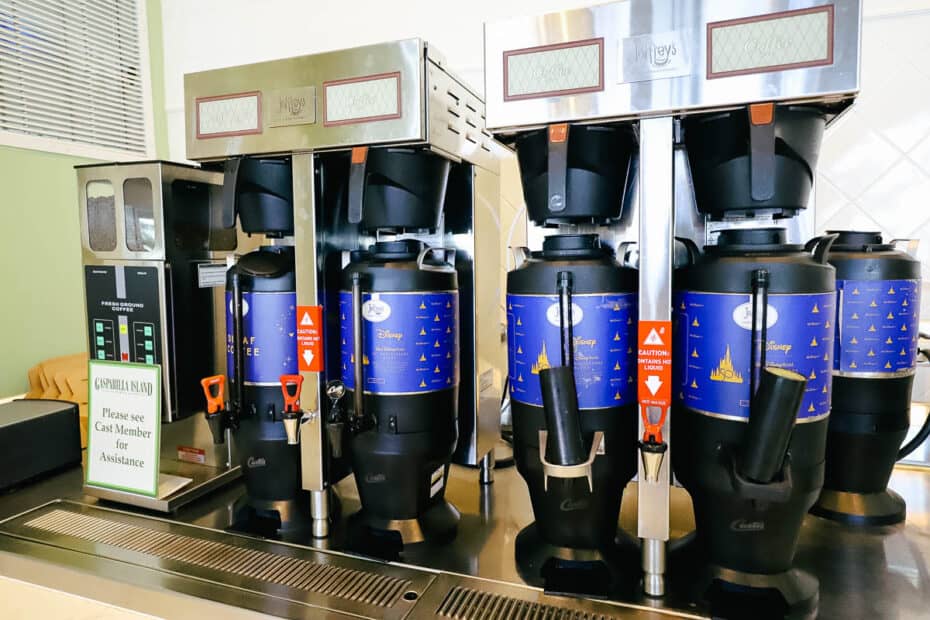 Twinings tea bags are available.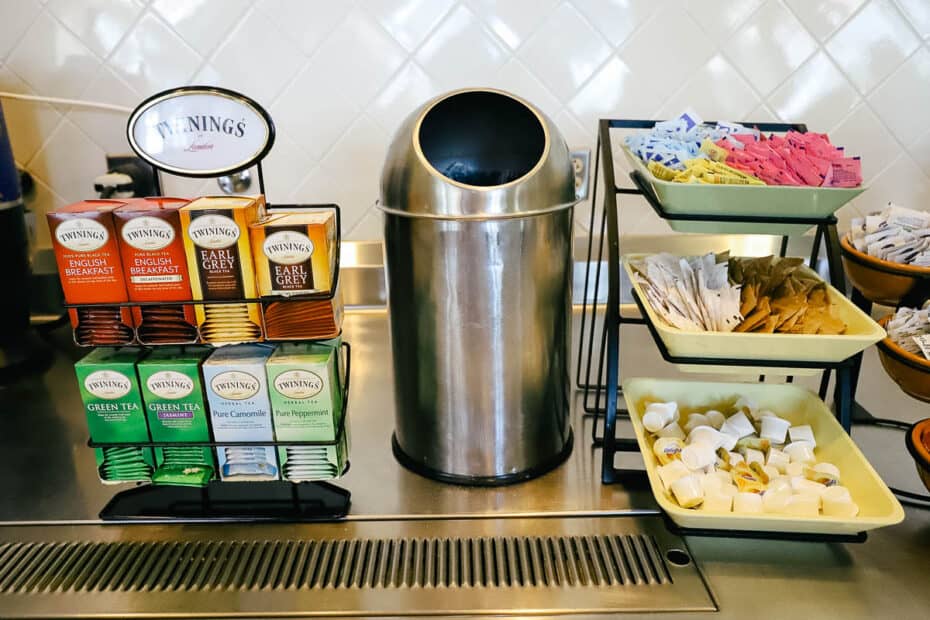 Here are the condiments.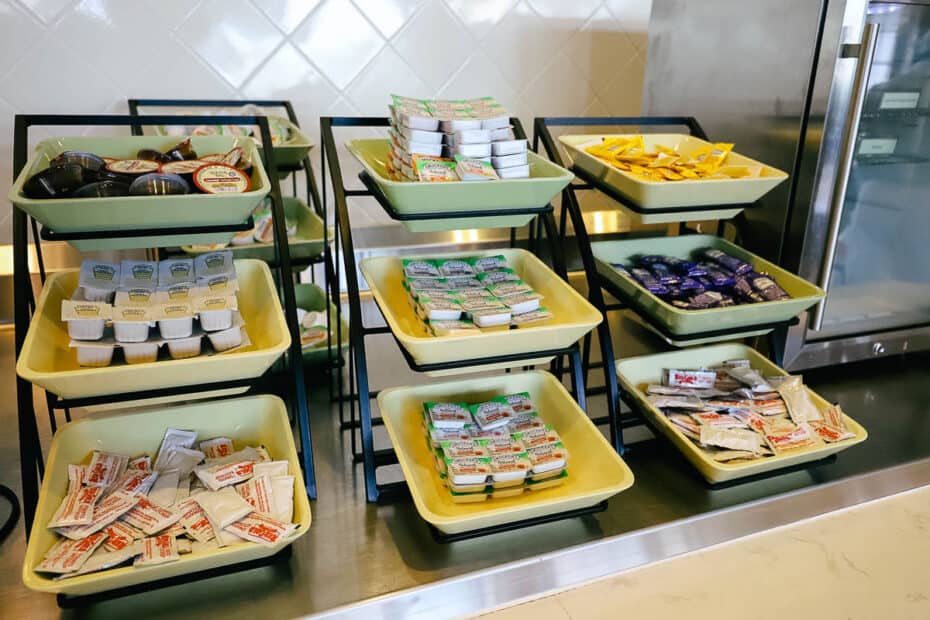 A few items were in a mini-fridge, like cream cheese and butter. That is a Gold Peak Tea machine to the right of the fridge.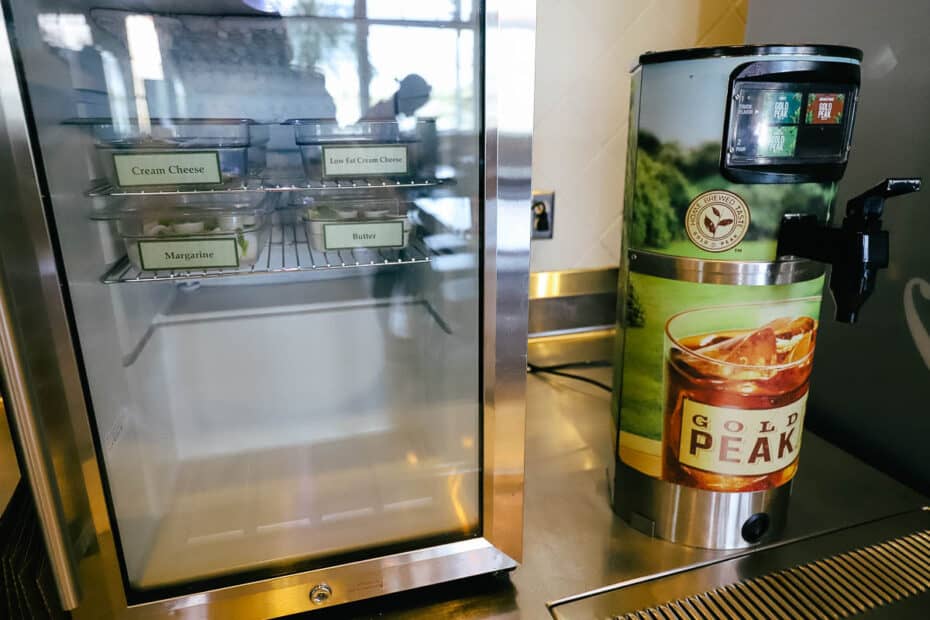 Two Freestyle soda machines are available. Someone recently showed me how they ran water through the machine for a few seconds to rinse it before they selected their beverage. It helps by not mixing your desired flavor with the previous flavor.
You just select water and let it run through. So if you've ever had a weird-tasting drink from a machine like this, you might want to try it.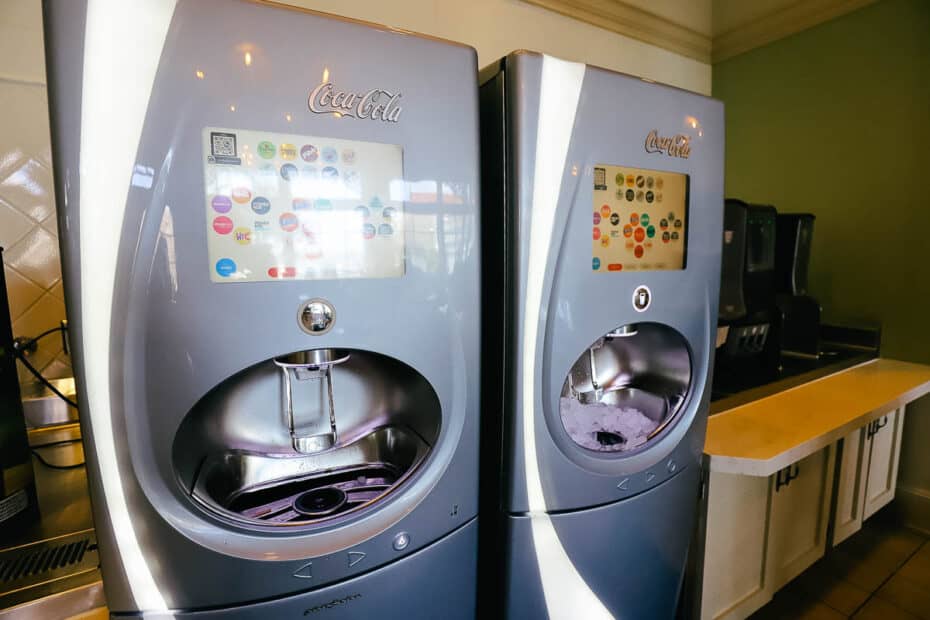 Toward the back of the restaurant, a microwave and toaster are available. So if you need a microwave at some point during your trip, this is where to find it.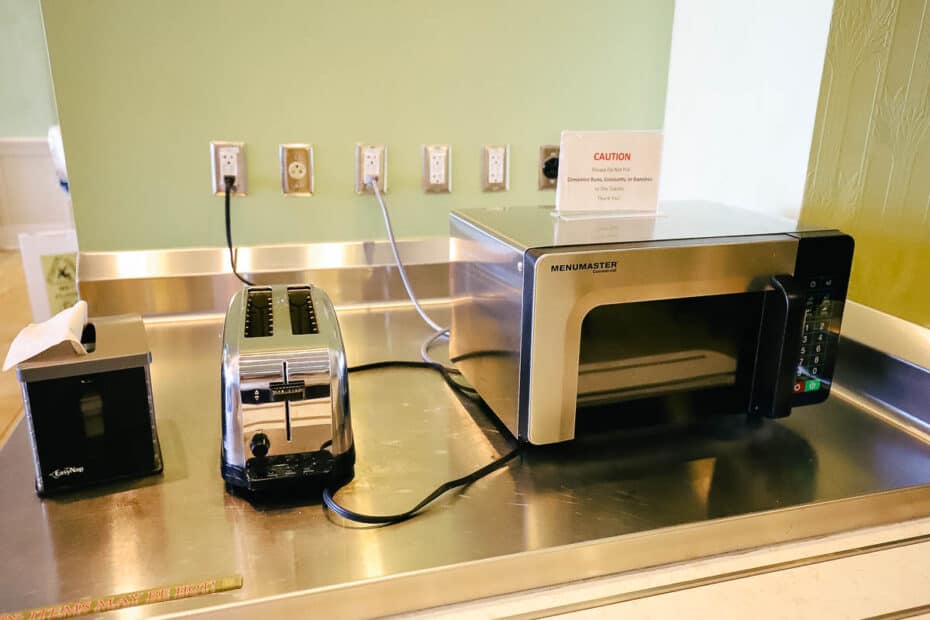 On this visit, I ordered a Cuban sandwich. Per the menu, it's described as Mojo-roasted Pork, Ham, Swiss, Pickle, and Mustard on Cuban Bread served with a choice of Side.
When I ordered this sandwich, I asked if it was premade and whether or not I could have it custom-made if desired. The cast member said yes and went over the ingredients.
I ended up having it the way it came, and it was a delicious option. The sandwich came with a choice of fries or house-made potatoes. If you've ever had Disney's house-made chips, you know they are the only way to go.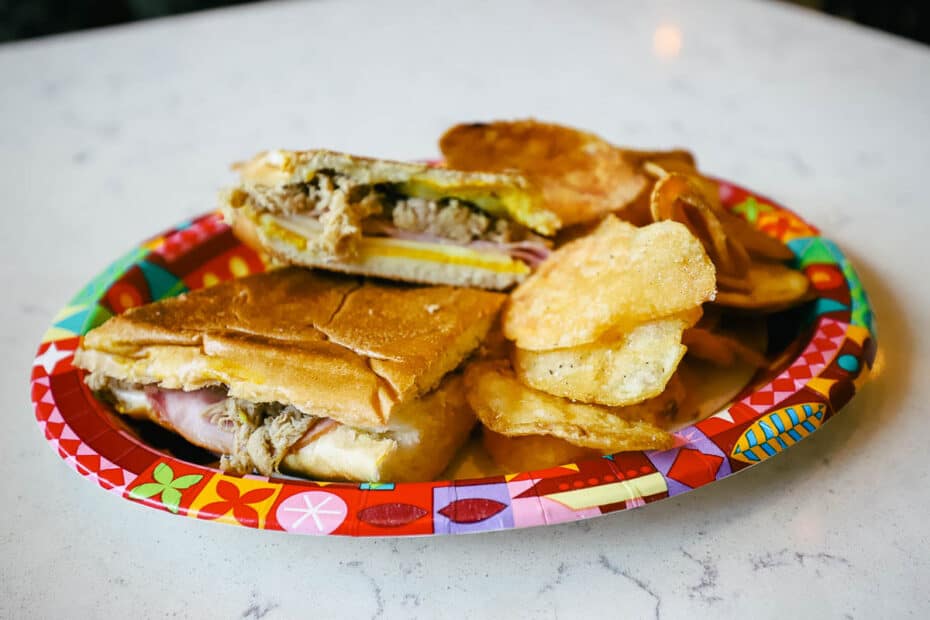 Since then, I tried the grilled cheese sandwich. This menu item comes with a side of tomato soup, but they substituted fries at my request.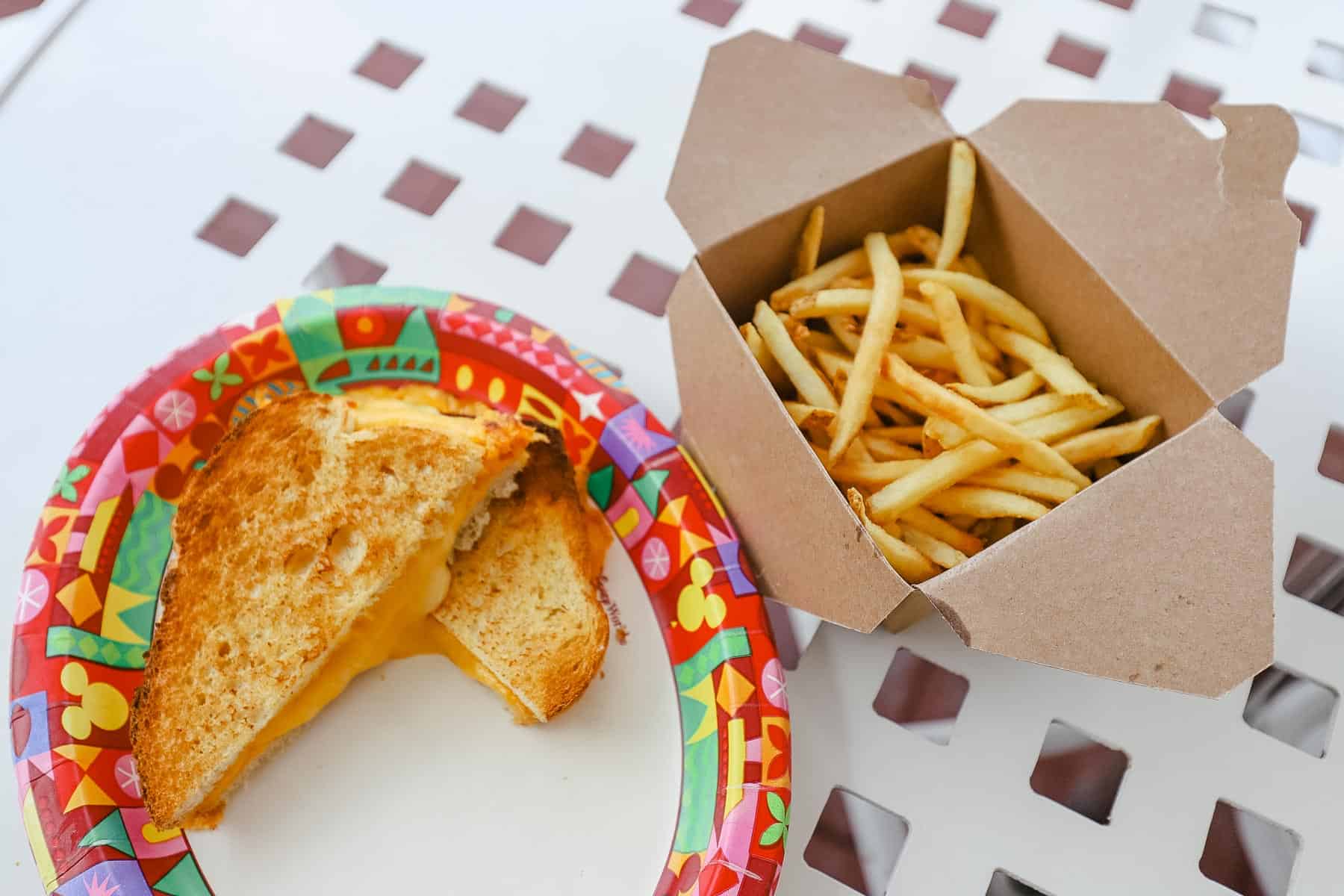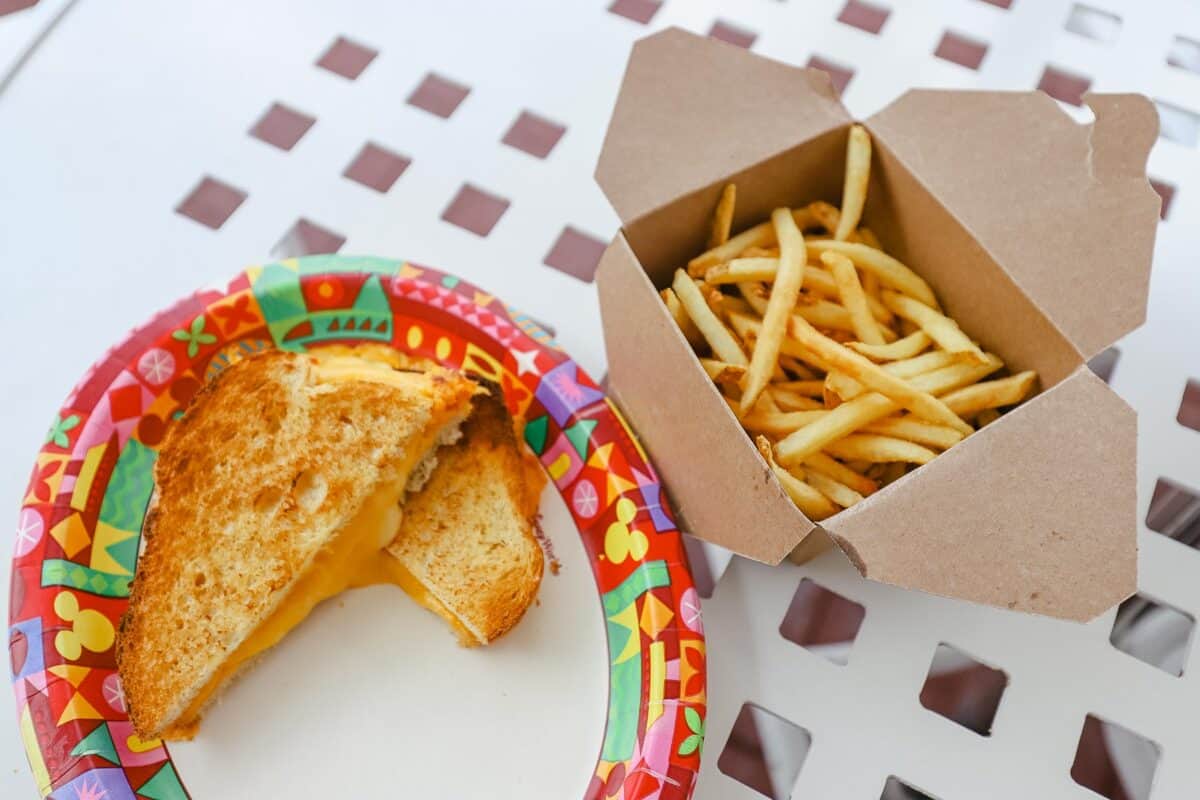 It was a good grilled cheese served on Brioche. My only complaint was that some of the edges were hardened with cheese. But overall, it had that pleasant melty-cheese factor.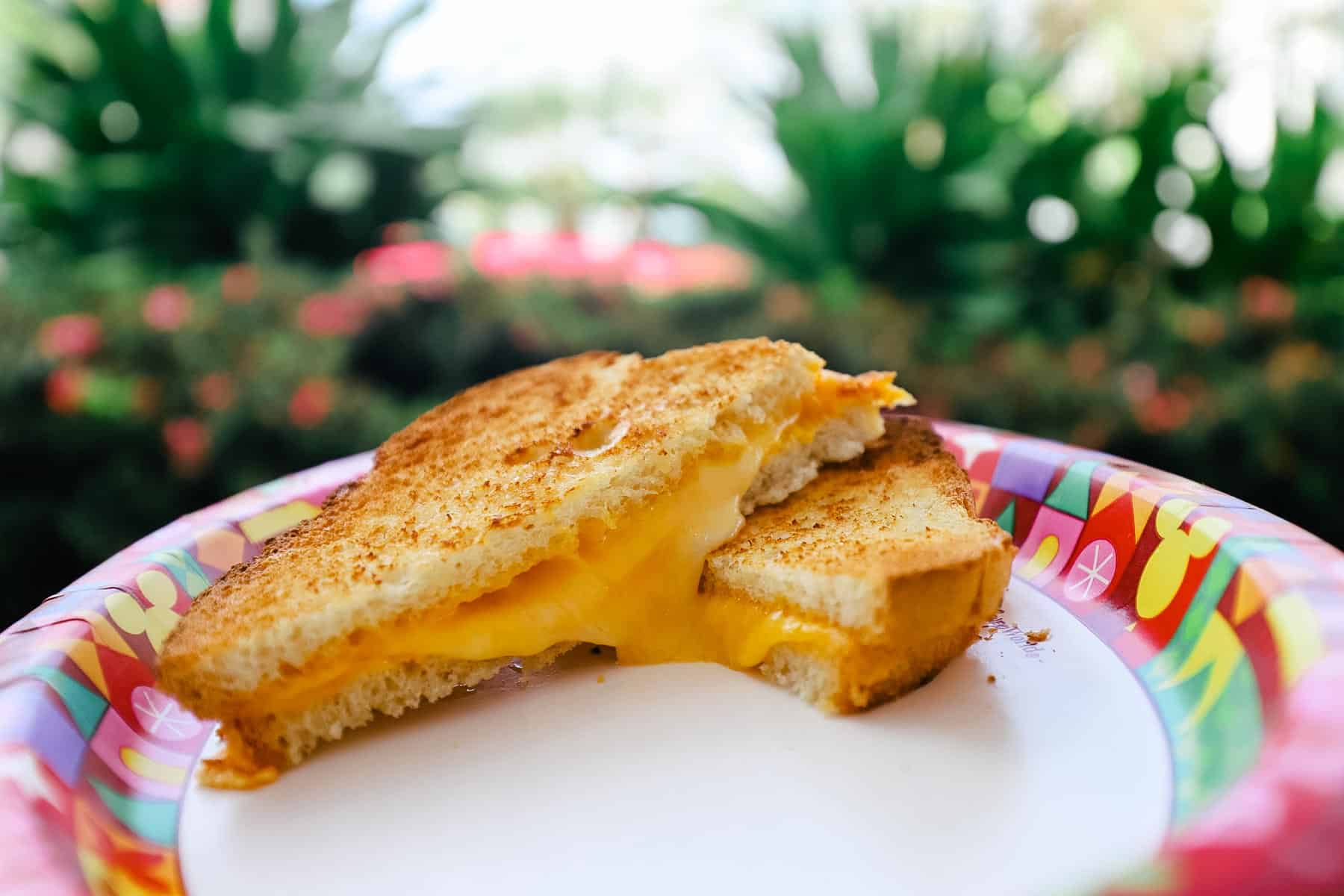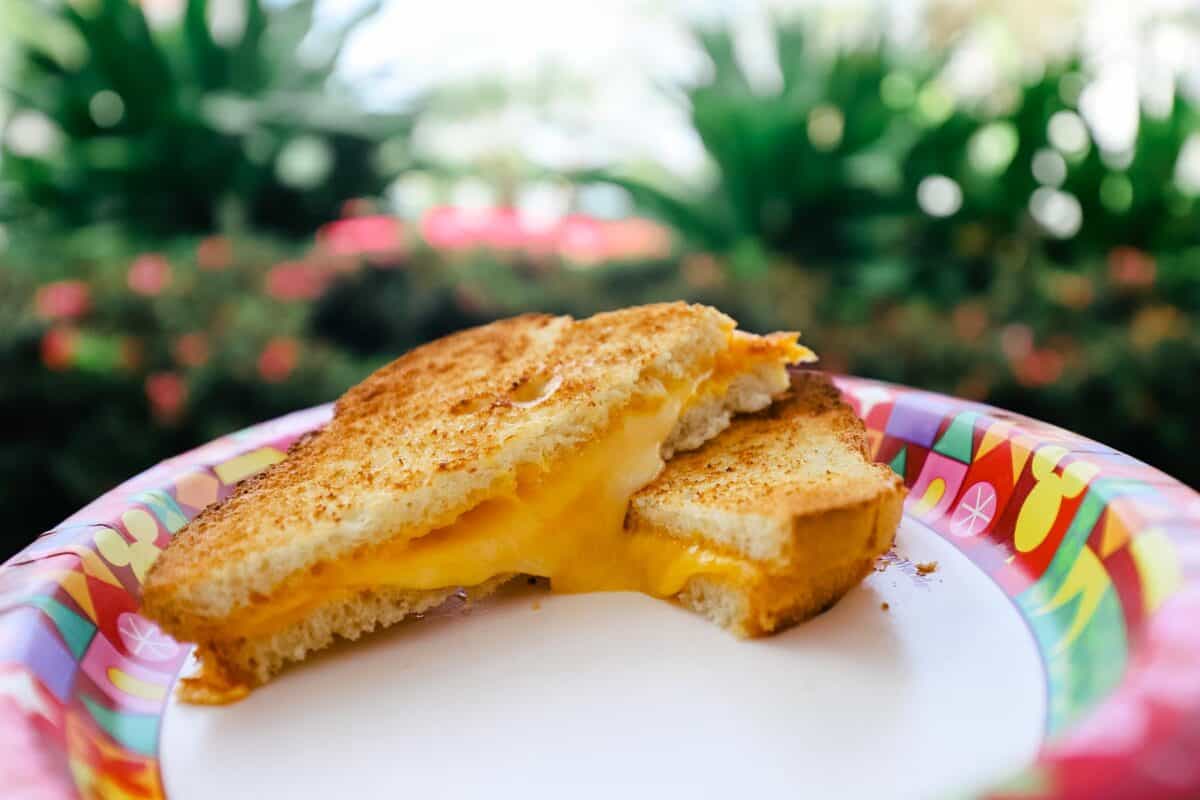 On a previous visit, I had one of the flatbreads with a side of those tasty chips. Gasparilla's flatbreads are pretty good.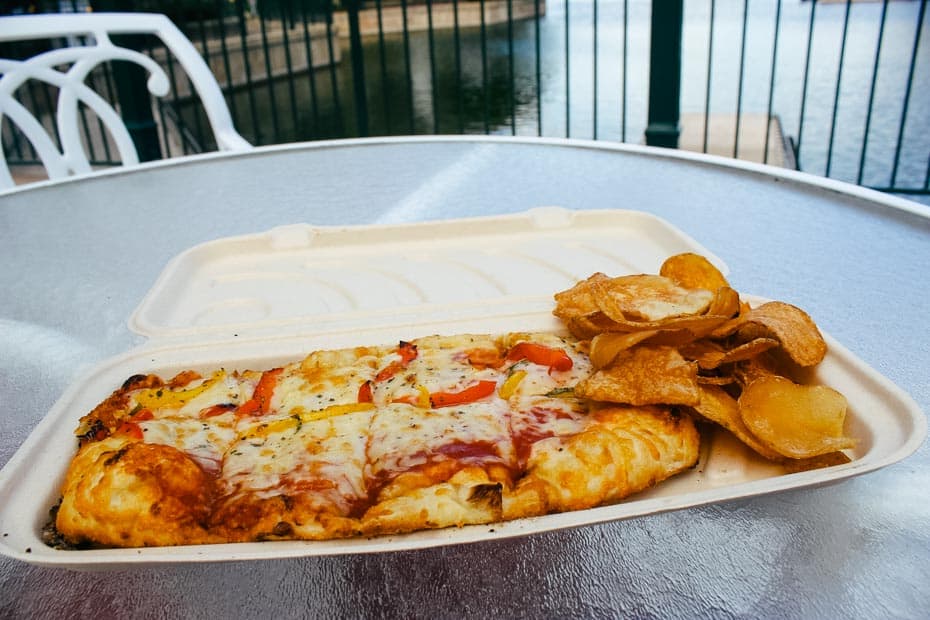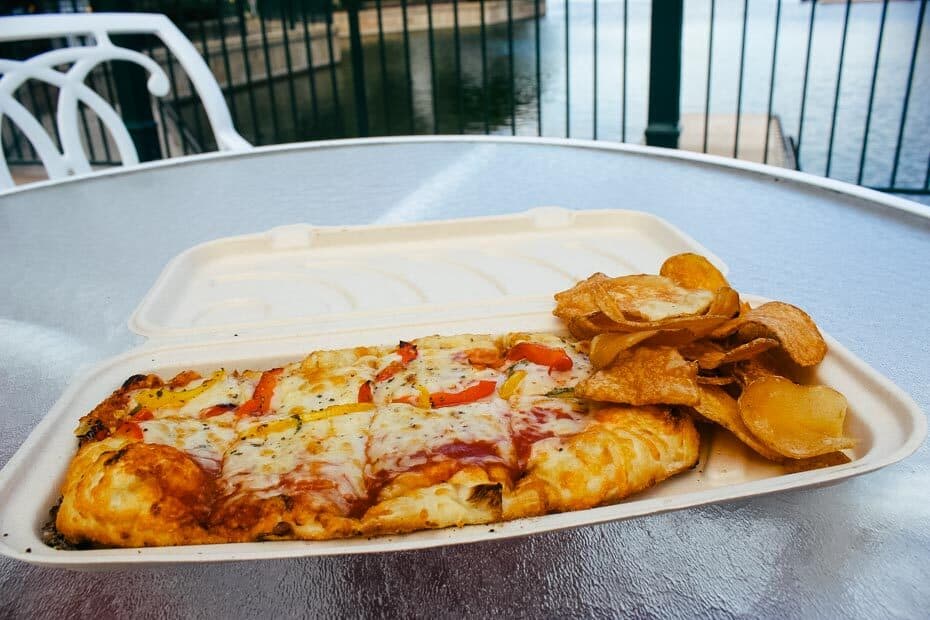 Last year, I stopped in and had the Chicken and Brie sandwich. This was similar to a Cordon Bleu-style chicken, topped with raspberry mustard. Unfortunately, it wasn't that great. But it looks like it's been replaced with a new blackened chicken sandwich.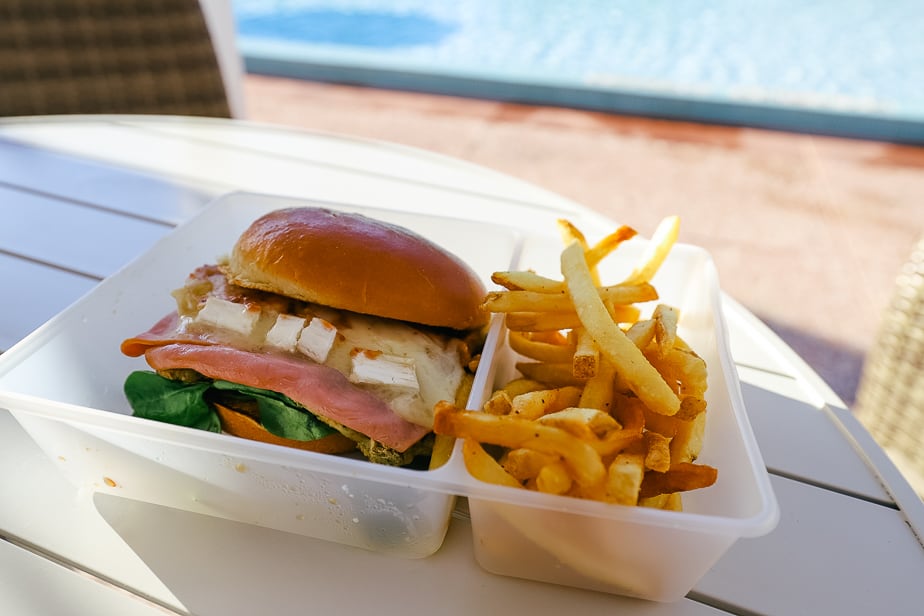 Lastly, we have the Artisan Burger. Per the menu, Grilled Signature-blend Burger with Brisket and Chuck topped with Bacon, Cheddar Cheese, Lettuce, Tomato, and Onion on a Toasted Brioche Bun served with French Fries.
This is an excellent option if you're in the mood for a burger. Over the years, I've often ordered this staple at Gasparilla Island Grill. While it is just a burger, it's of good quality. Plus, sometimes, after a few days of adventurous eating, you want something simple.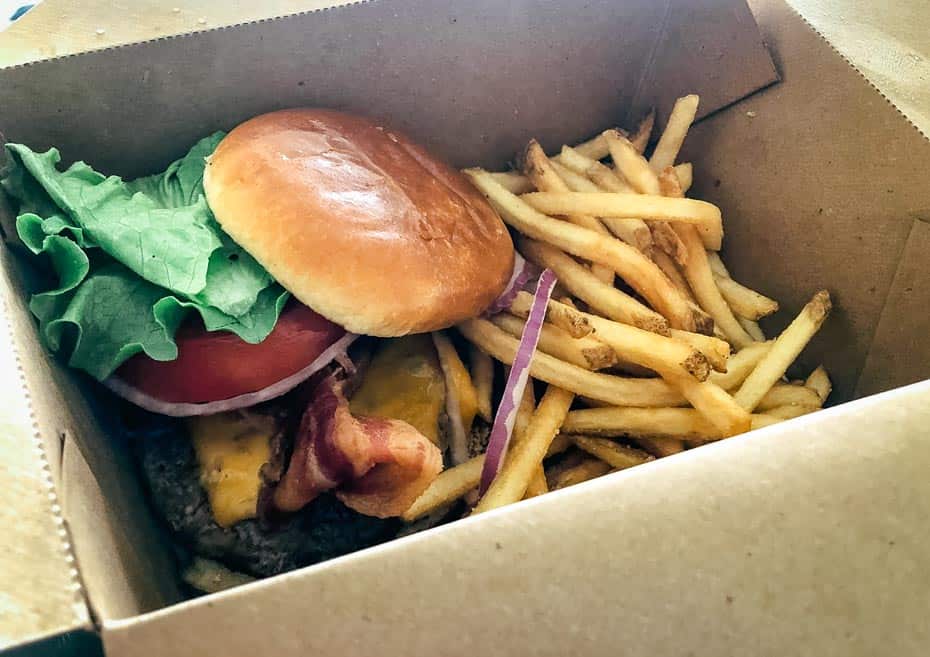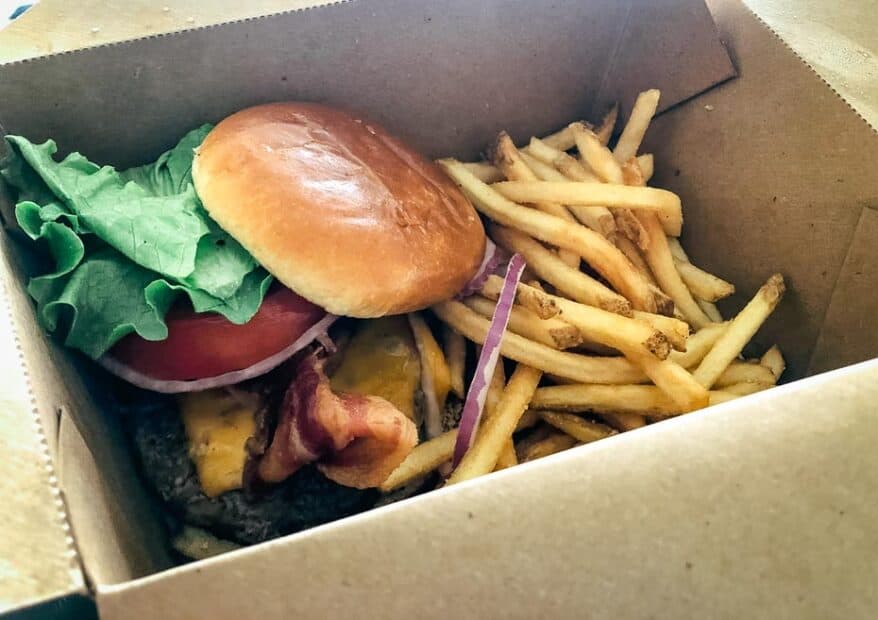 Gasparilla Island Grill has a large dining room.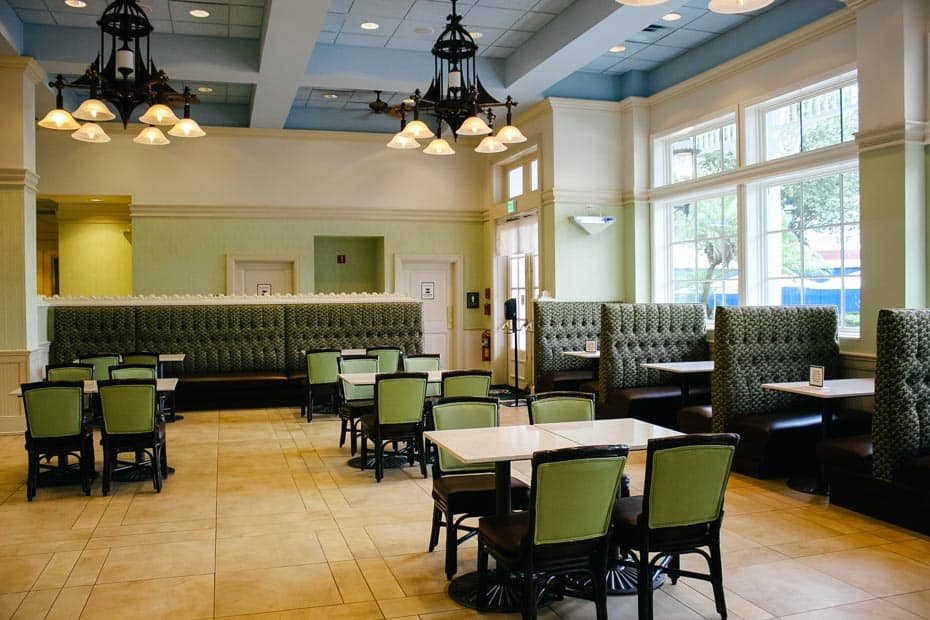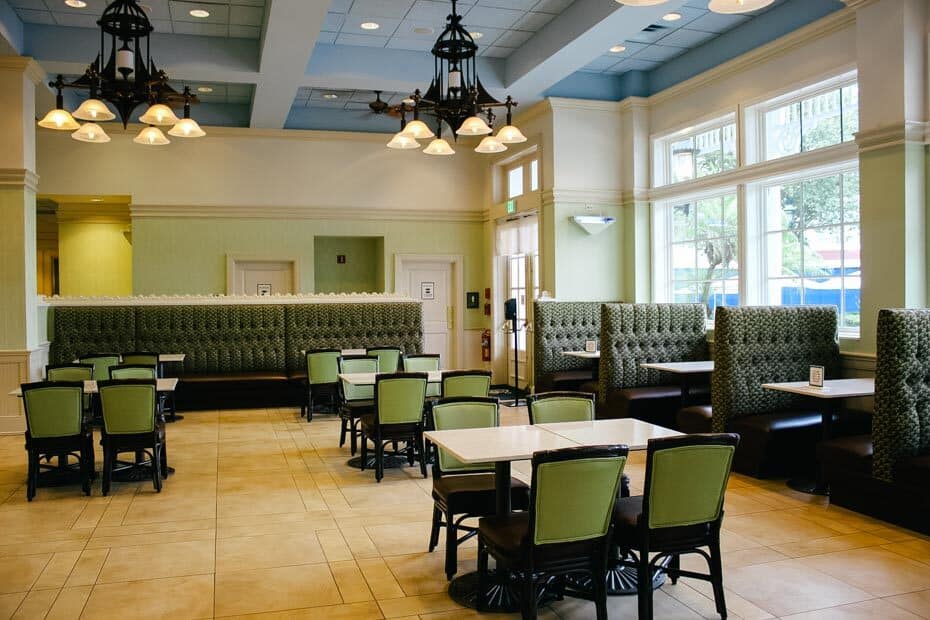 There are plenty of places to find a seat.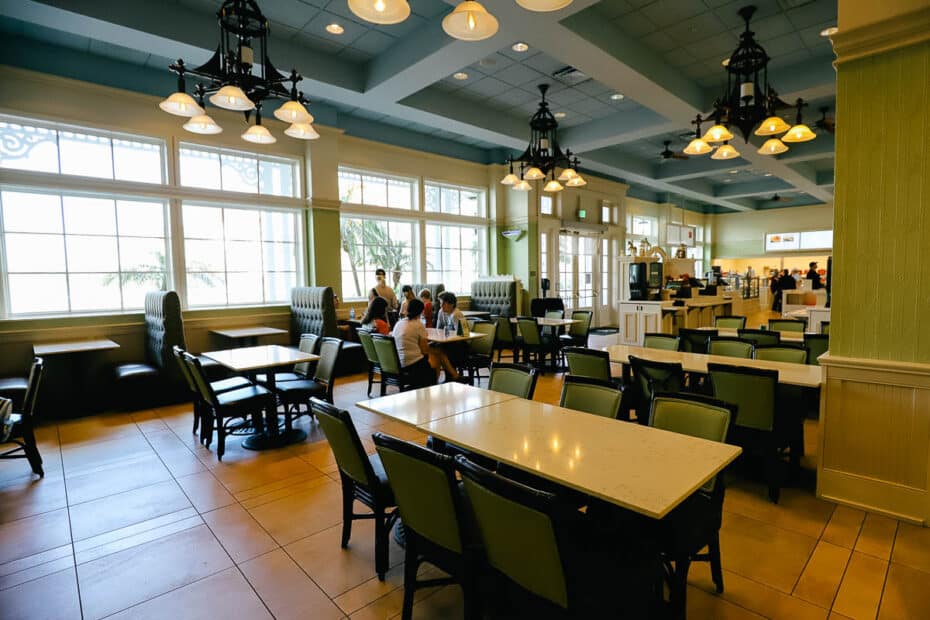 If it's crowded, look toward the back of the restaurant. There's another seating area that you might overlook at first glance.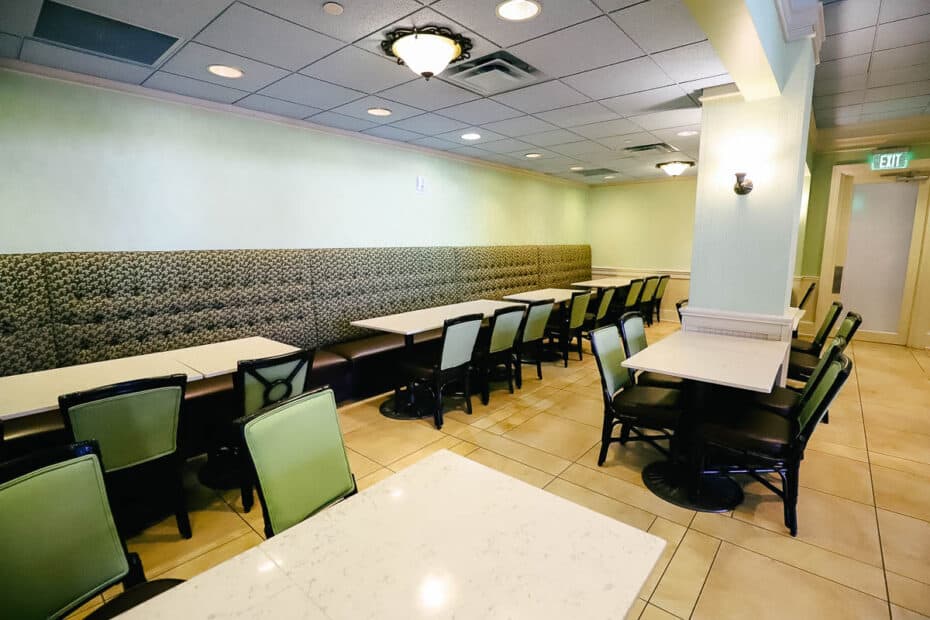 But the best seats are on the outdoor patio. However, these tables and chairs are coveted. Snagging a seat out here might be problematic if you're visiting during a popular mealtime.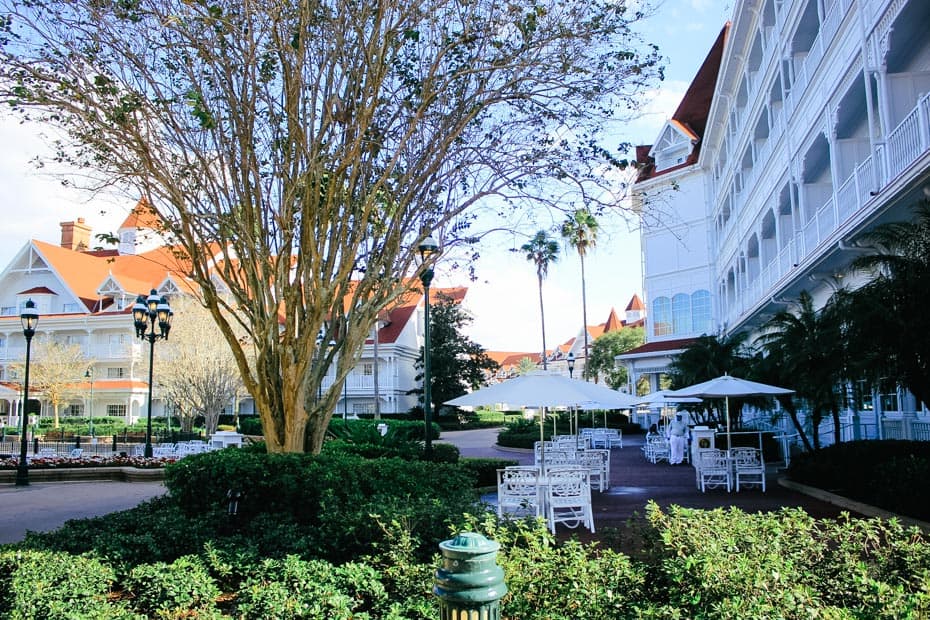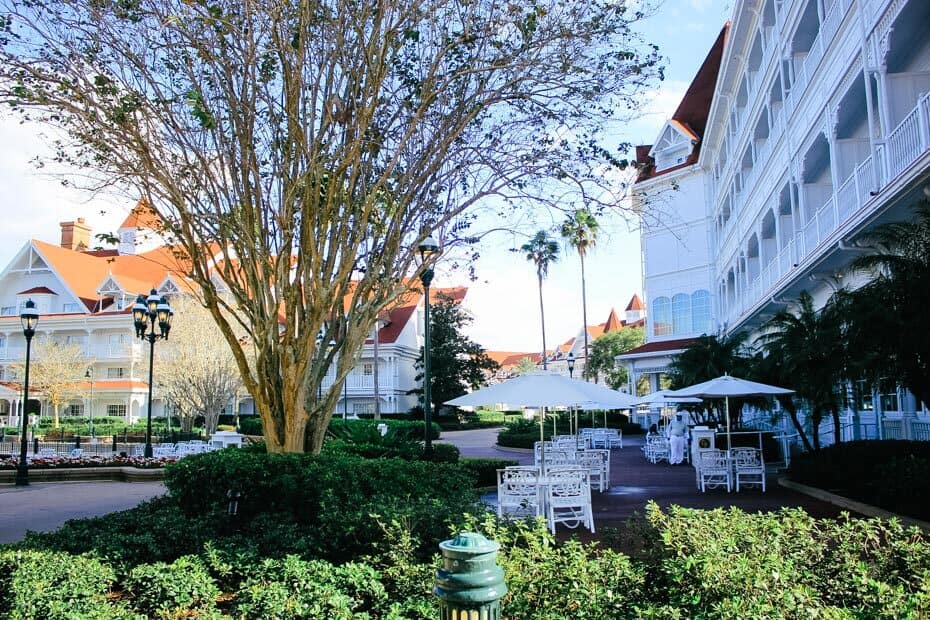 But if you can, the view is worth it. You can even see Cinderella Castle in the distance across Seven Seas Lagoon.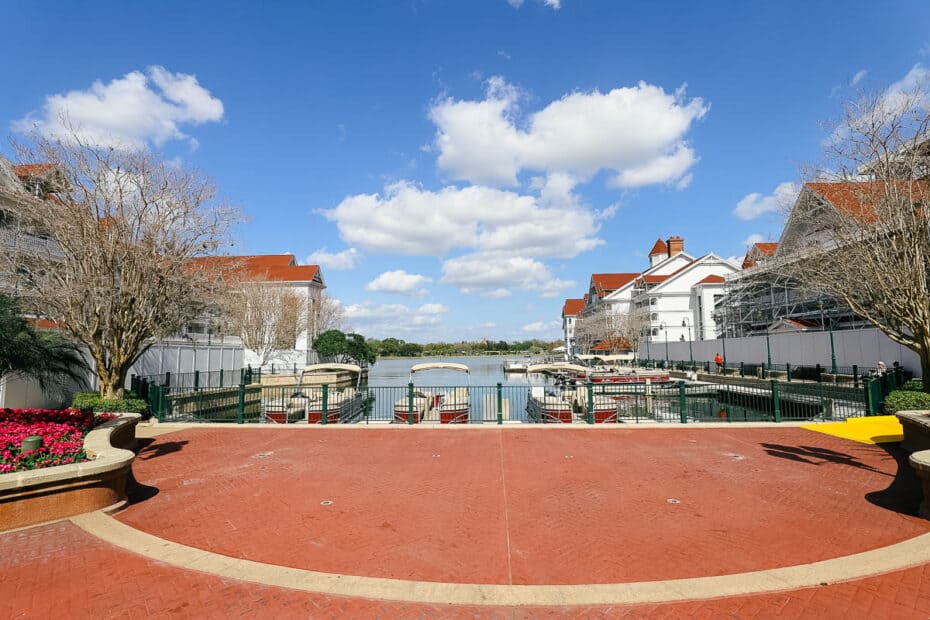 Whether you are staying at the resort as a guest or visiting for the day, Gasparilla Island Grill has become an excellent option for counter-service dining. And that says a lot, given my experiences here in the past.
A few years ago, I would have said the food options were not worthy of the resort. But, thankfully, things have improved. Also, I felt the crowd at the restaurant on a Sunday at 2:00 p.m. reflected that.
If you are curious about other dining options in the Magic Kingdom Resorts area, you might like to browse these entire resort dining guides:
For more information about the resort, we have a complete guide:
As for the best restaurant at the Grand Floridian, make sure to check our Grand Floridian Cafe Review. We also have a separate Grand Floridian Cafe Breakfast Review.
It's the perfect place for brunch, lunch, and dinner! We even include it on our list of the best breakfasts at Disney World.
Disney dining is one of our specialties here on the site, especially dining at the resorts. Some of our recommended dining guides include:
Or you can preview our list of Disney Restaurant Reviews.
In the Comments
Hopefully, you enjoyed this Gasparilla Island Grill Review and got an idea of what the counter service has to offer. Leave a comment below and share your thoughts on this location.