Bar Riva Review at Disney's Riviera Resort
This article provides a review of Bar Riva at Disney's Riviera Resort. We'll preview the menu, a few entrees, and tips for visiting.
Bar Riva has become a favorite hidden gem when it comes to dining at Walt Disney World. When visiting Epcot or Hollywood Studios, anyone can catch a lift on the Skyliner and be at Bar Riva within 10-15 minutes.
Bar Riva is the primary lounge and pool bar at Disney's Riviera Resort. It sits adjacent to Primo Piatto, the resort's counter service. Additionally, the lounge is across the walkway from the Riviera Pool.
Whether you're staying at Disney's Riviera Resort or not, this is a charming spot to enjoy a beverage, lunch, or dinner during your vacation. Some of the best meals I've ever had at Walt Disney World have come from lounges, and this location is no exception.
Since the Riviera was modeled after a true French Riviera Resort, Bar Riva has a unique layout. Its entire front is open to the elements. If you were to dine here on a cooler evening, space heaters keep the place warm and comfortable.
This article was updated on February 17, 2023.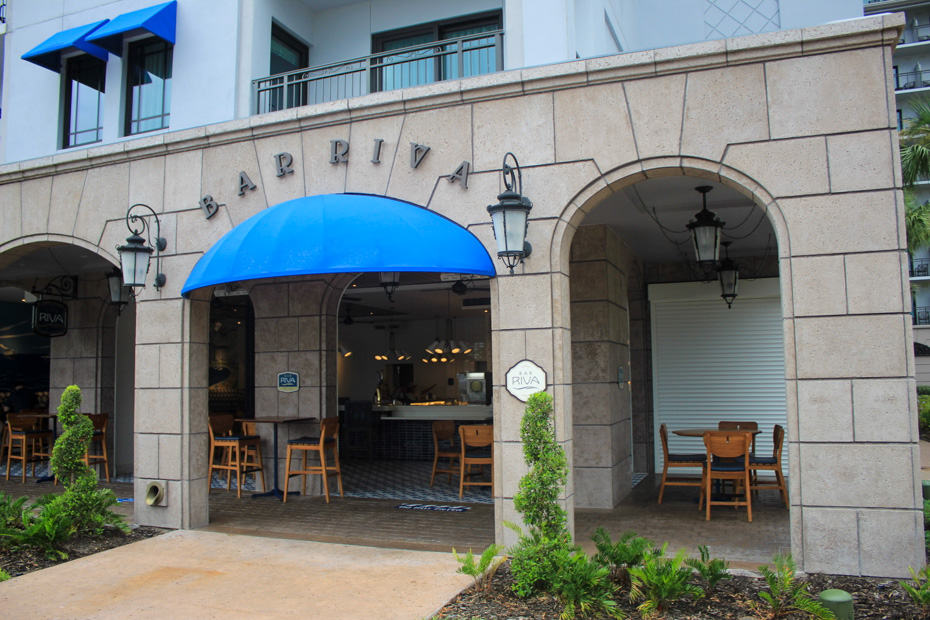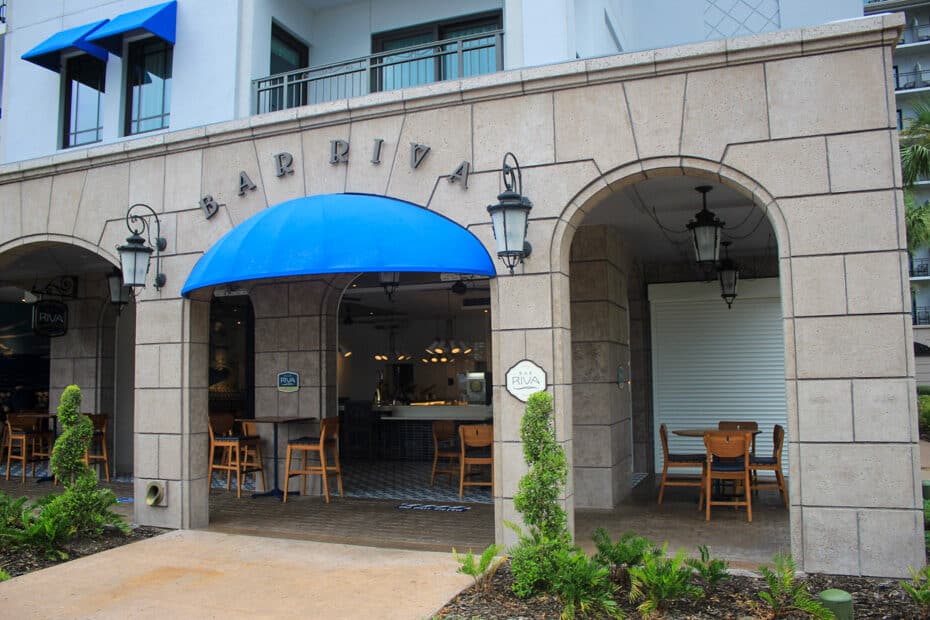 A glance inside will probably have you wondering what's not to love. It's an exceptionally stunning space. Blue tiles invite you in and provide a contrast to the stark white accents. A suspended wood ceiling hangs overhead.
At the bar, plush bar seats are available. There's also a lower, counter-height bar that can accommodate guests in a wheelchair.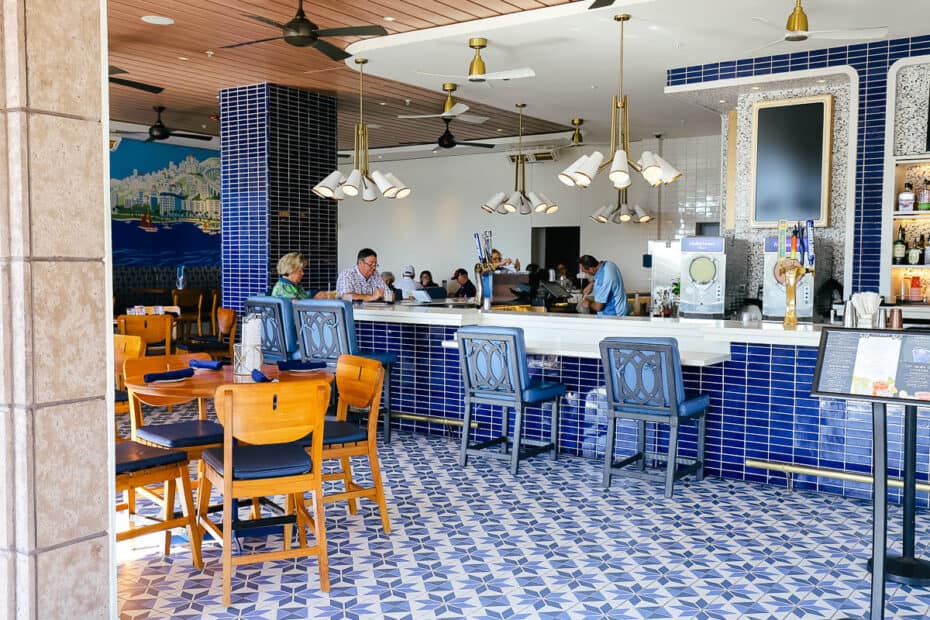 There's additional seating around the parameter of the lounge. A long banquette takes up the entire far side of the wall. This wall also has a mural of the French Riviera with a familiar ship in the background.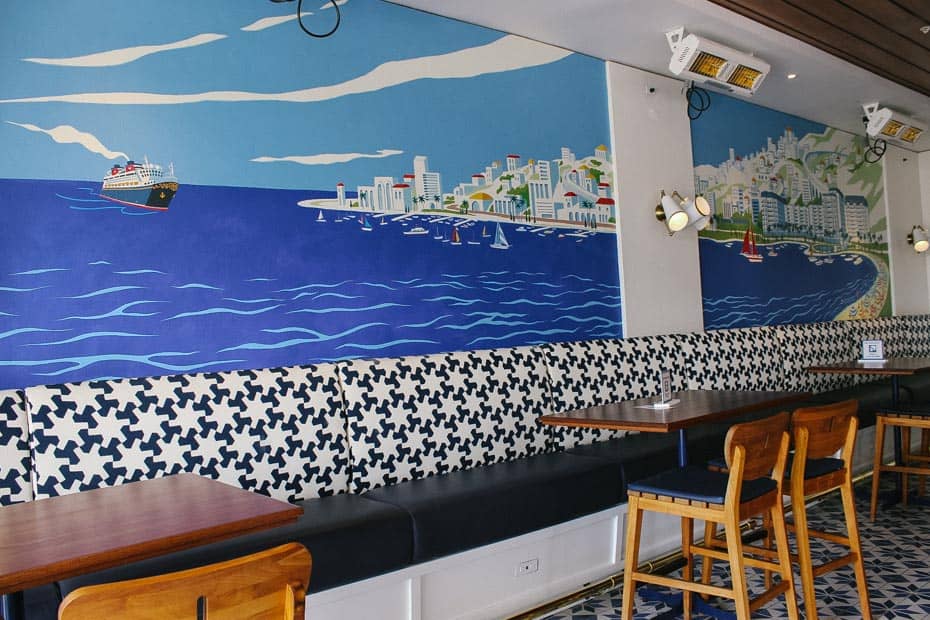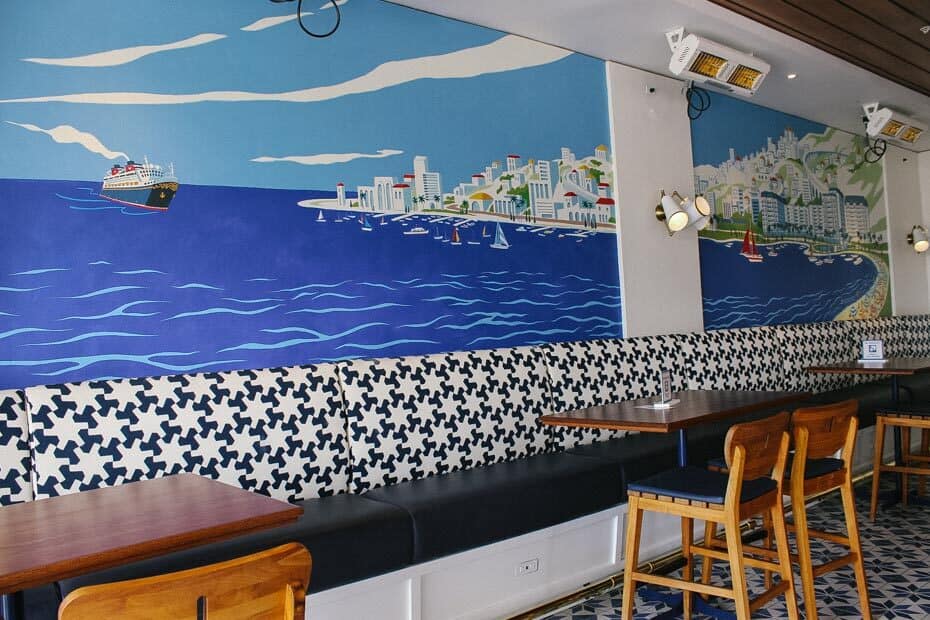 Bar Riva is open daily from 11:00 a.m. until 10:00 p.m. However, sometimes hours can fluctuate, so you'll want to check the exact hour on the day of your visit. You can do so by selecting dining in the My Disney Experience app. Underneath the parks, you'll want to select "filter more" for location and then find Disney's Riviera Resort.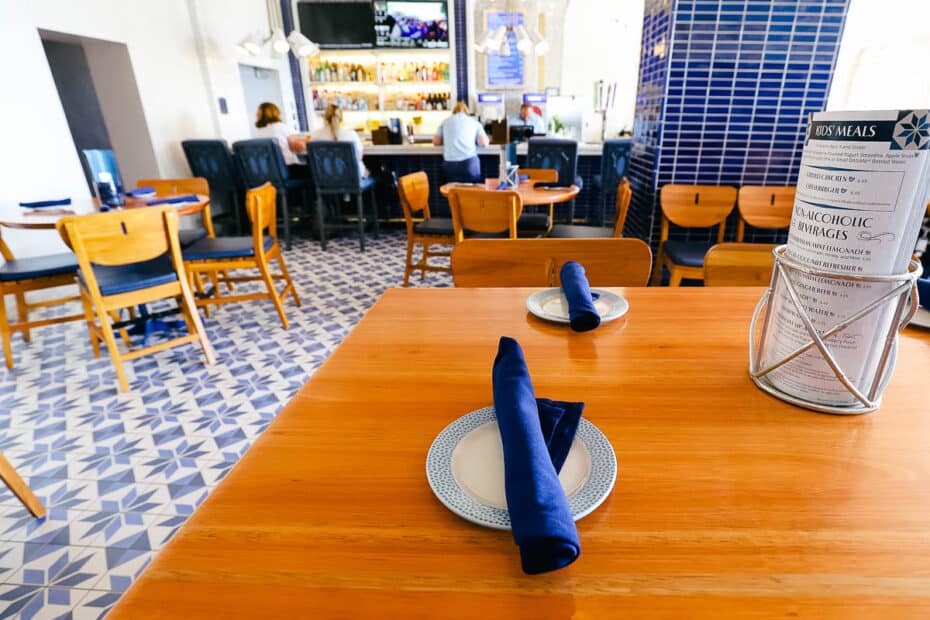 You can expect to find a variety of freshly prepared salads, sandwiches, and a few bar favorites. They have an impressive menu considering it's a lounge.
You can preview the entire menu with cocktails and prices here on Disney's site.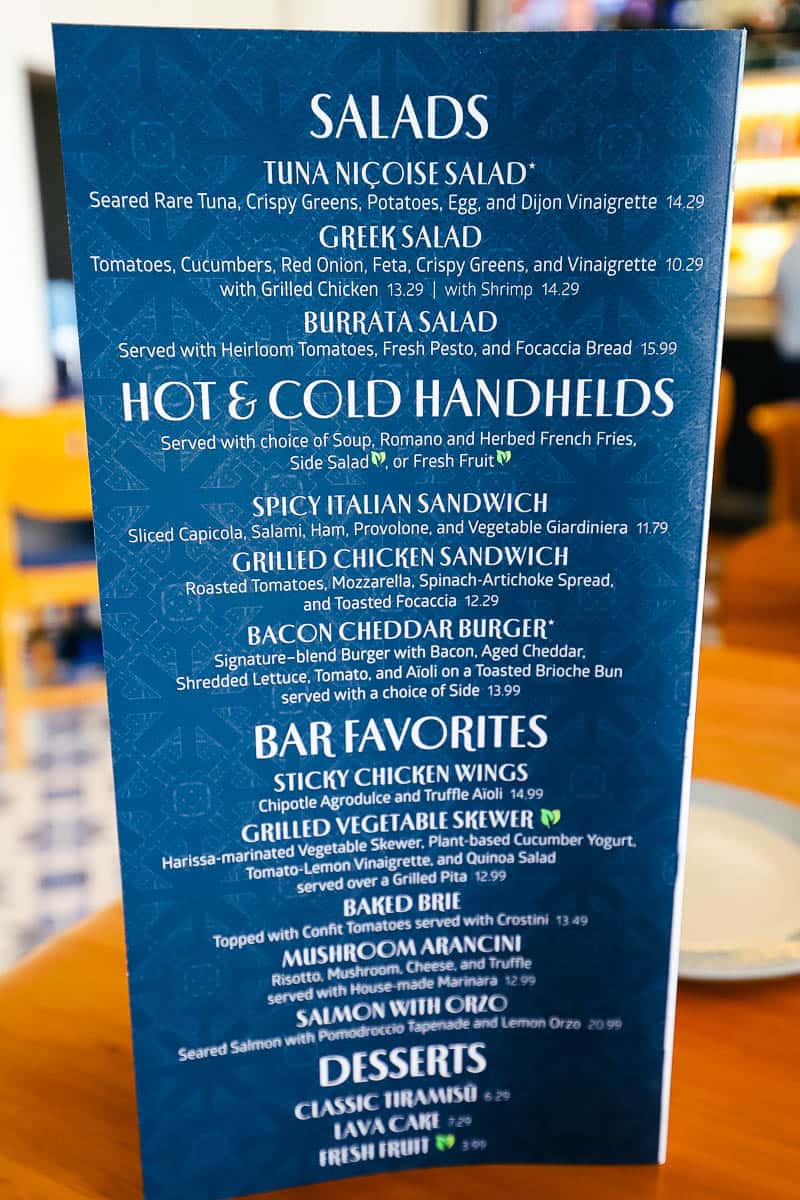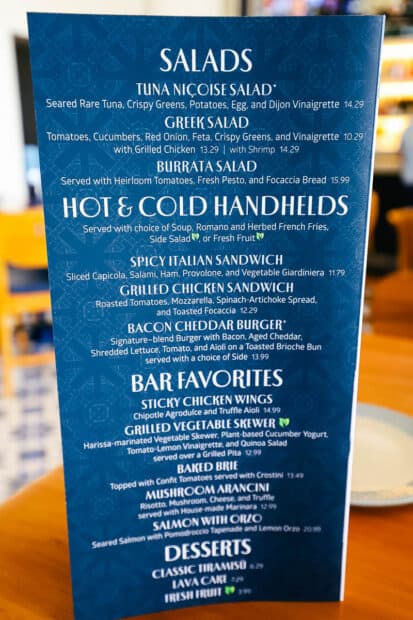 On this visit, I left Epcot and took the Skyliner to Disney's Riviera to have lunch at Bar Riva. It was a fairly busy day in the park, and I was hoping to have a healthier meal instead of my usual kids' meal at one of the park's counter services.
After perusing the menu, I quickly decided on the salmon with orzo. Per the menu, "Seared Salmon with Pomodroccio Tapenade and Lemon Orzo."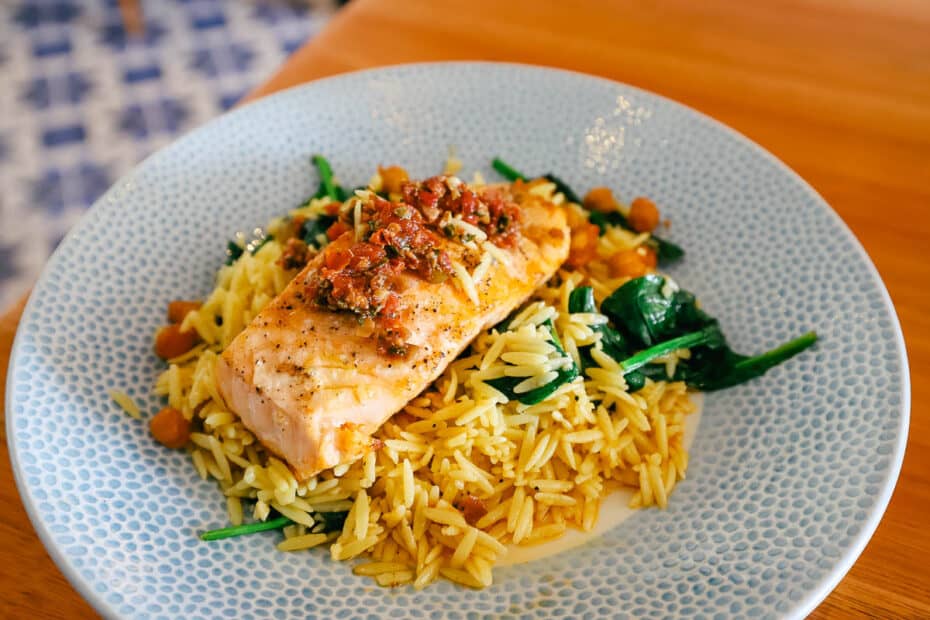 I was more than pleased with my decision. This was a large portion, and the orzo had a zesty lemon flavor that kept you returning to it.
Not only that, but the salmon was a perfect size. You can tell it was a nice meaty filet. I cook a good deal of salmon and prefer a nice hearty piece that won't quickly get overcooked.
I would 10/10 recommend this dish.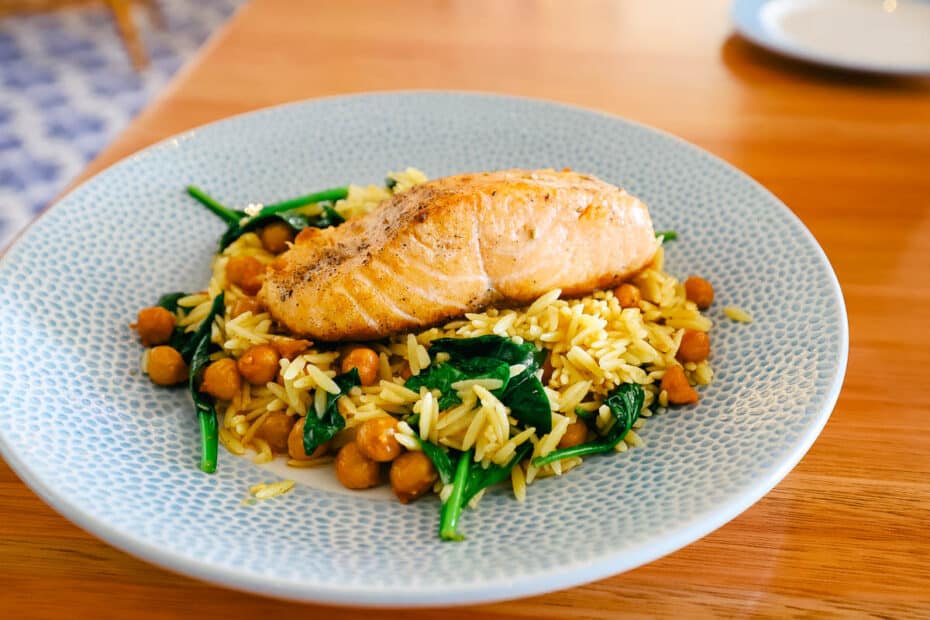 During this meal, a table nearby ordered the Tuna Nicoise Salad. It also looked like a tasty dish, so I saved it to memory for a future visit.
My salmon and diet soda cost approximately $32.00 with tax and tip. So I felt like I had a delicious meal that was casual and didn't require a reservation.
On my last visit to Bar Riva, it was scorching hot outside. So, I ordered the hibiscus coconut refresher.
The refresher is a mix of hibiscus, coconut, honey, and strawberry with soda water poured over the top. It comes with a strawberry garnish.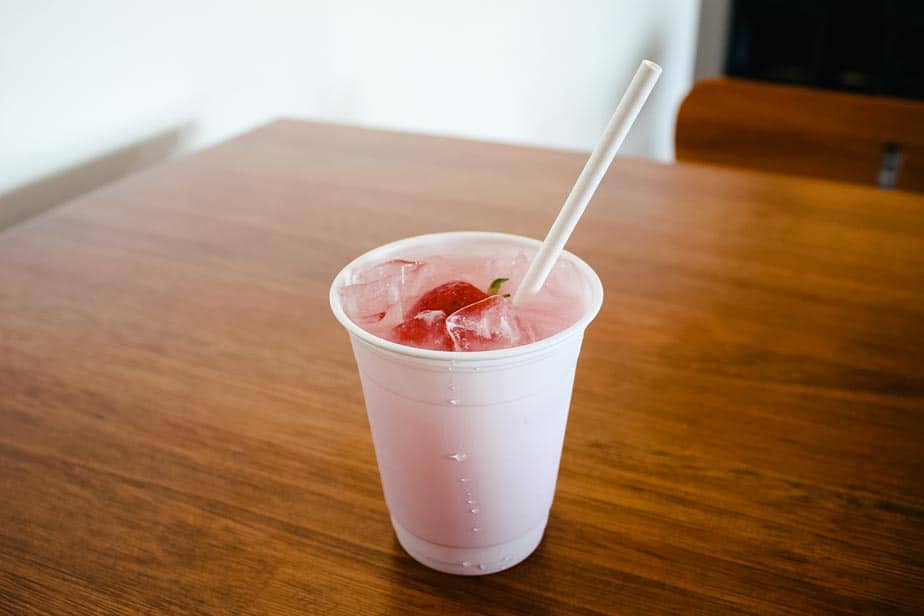 In addition to the refresher, I ordered the Greek salad with shrimp. My salad was packed with olives, cucumber, artichokes, red onion, and chickpeas.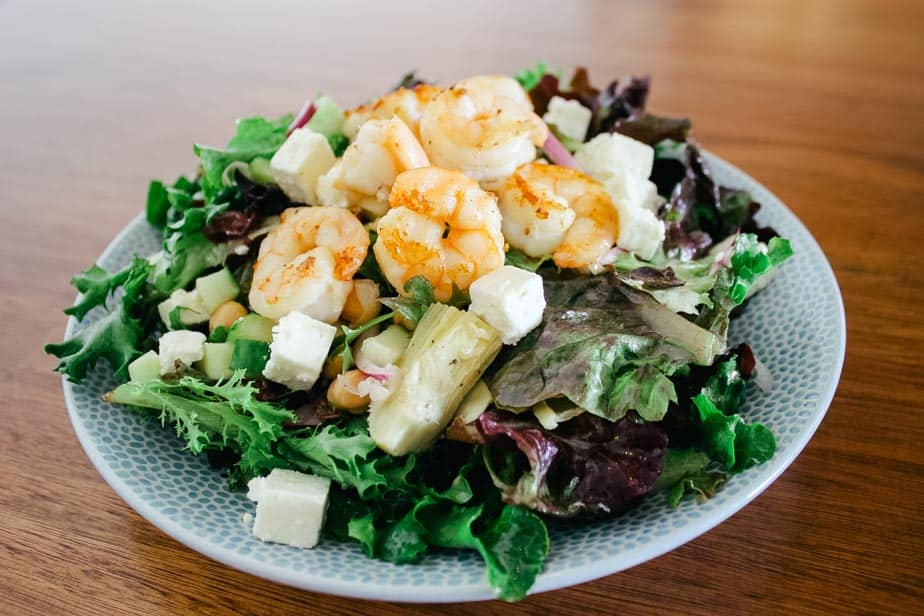 It's kind of hard to tell from the picture, but I was surprised at how many shrimp were included in the salad. While I didn't count them, I imagine there were at least 10-12 shrimp buried in my salad.
Like other things we've tried at Bar Riva, the Greek salad is hearty and filling.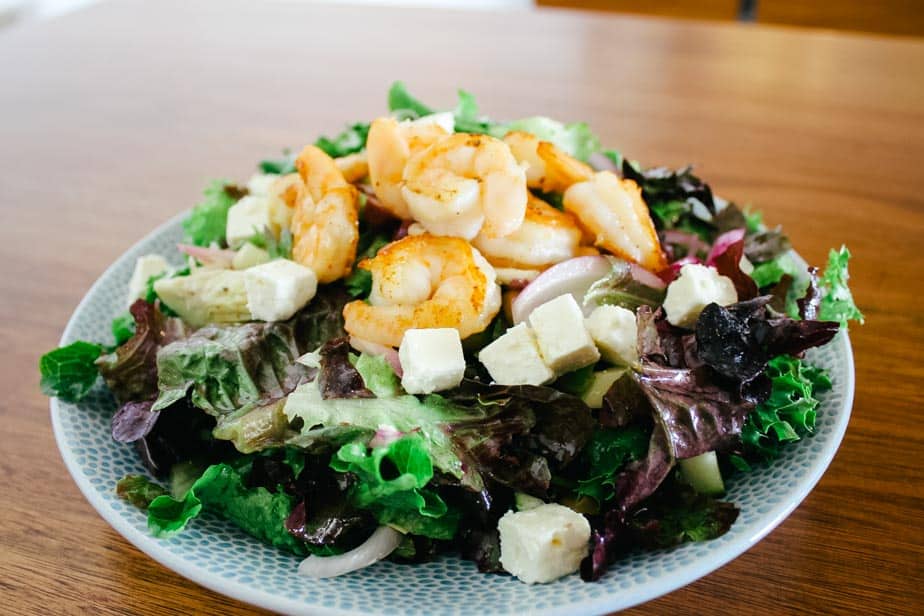 At the time, this meal cost approximately $22.00 with tax and tip. It felt like an excellent value. I had a refreshing drink and a healthy meal. Plus, the atmosphere was delightful.
Overall, I can't say enough good things about Bar Riva and Disney's Riviera Resort. While the resort offers that high-end feeling, it also has a seaside charm that keeps things casual.
For more information on the resort, we have a complete guide:
Some of our individual articles for the resort include:
For more lounges that we love–try these:
In the Comments
Have you had a chance to visit Bar Riva yet? Do you take advantage of dining at the lounges on your vacation? Leave a comment and share your thoughts below.