Bar Riva Review at Disney's Riviera Resort
Bar Riva serves as the primary lounge and pool bar for Disney's Riviera Resort. The lounge is located on the ground level across the walkway from the Riviera Pool.
This article will provide a review of Bar Riva. I think you'll find that this charming spot is the perfect place to enjoy a beverage or even an entire meal during your vacation.
Some of the best meals I've ever had at Walt Disney World have come from lounges. And Bar Riva is no exception.
Bar Riva has a pretty cool setup. The entire front of the lounge is open to the elements. If you were to dine here on a cooler evening, space heaters would provide extra warmth.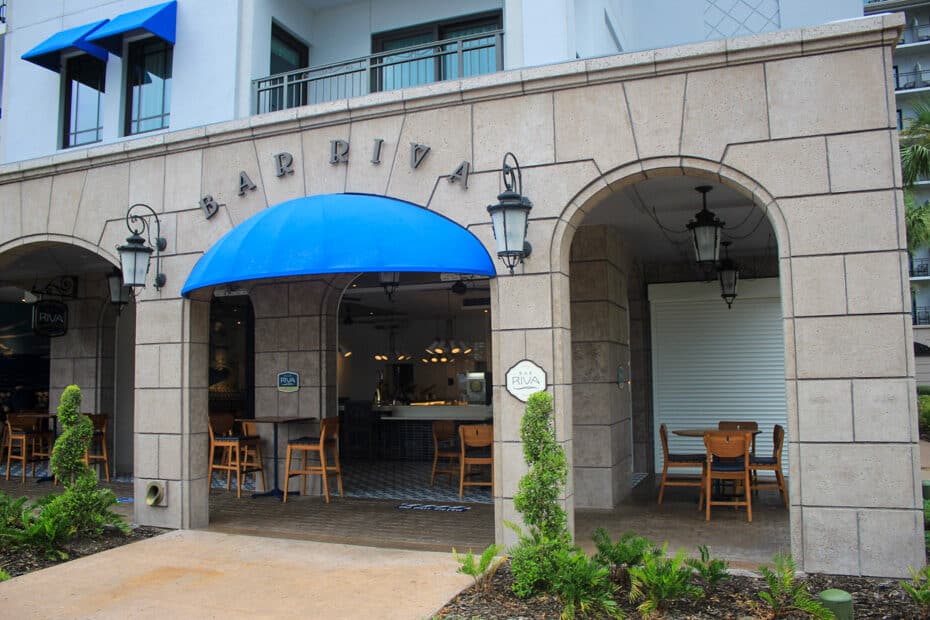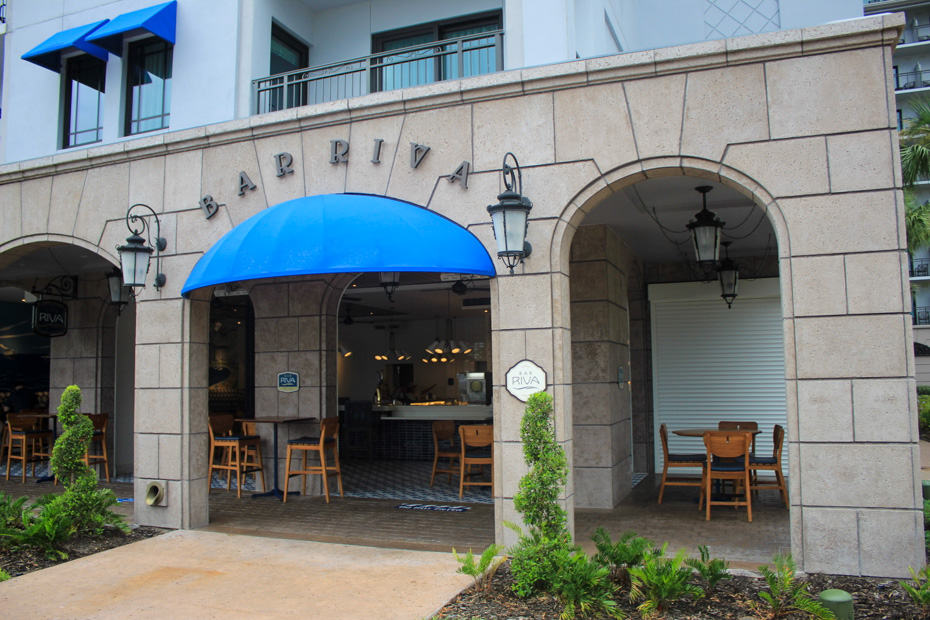 Like most everything else at Disney's Riviera Resort, I love Bar Riva. A glance inside will probably have you wondering what's not to love.
Related: Disney's Riviera Restaurants List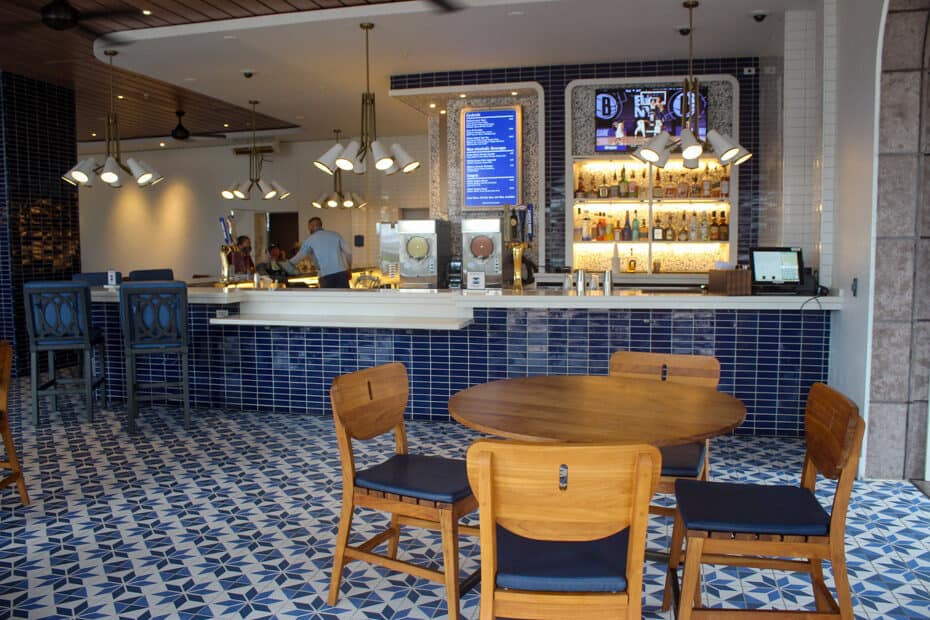 The lounge is exceptionally welcoming, with stunning blue tile and a suspended wood ceiling. There's plenty of room at the bar.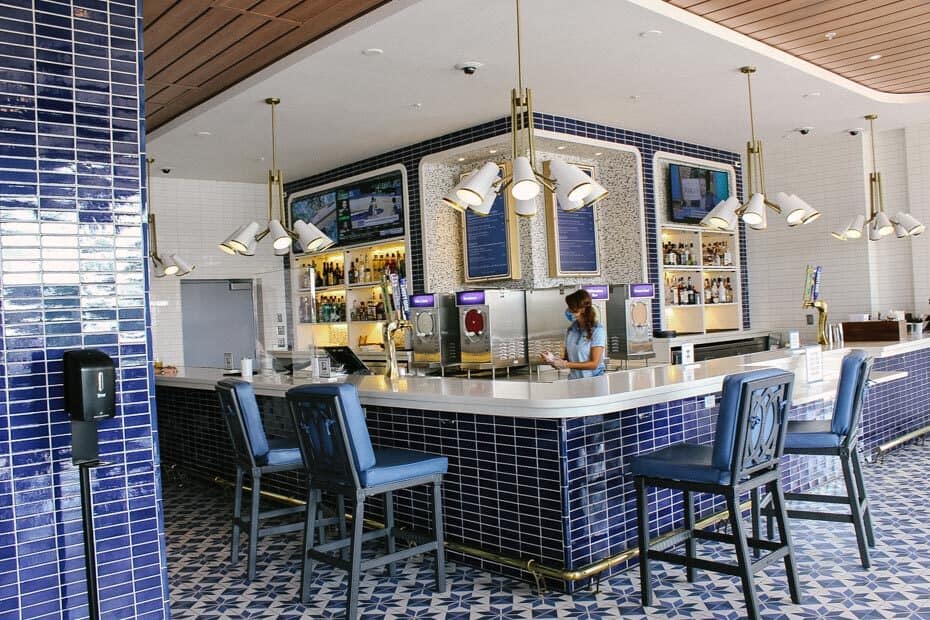 Additionally, you'll find seating around the parameter of the lounge space. The banquette and stools are all counter-height. A few standard tables with chairs are scattered around the room.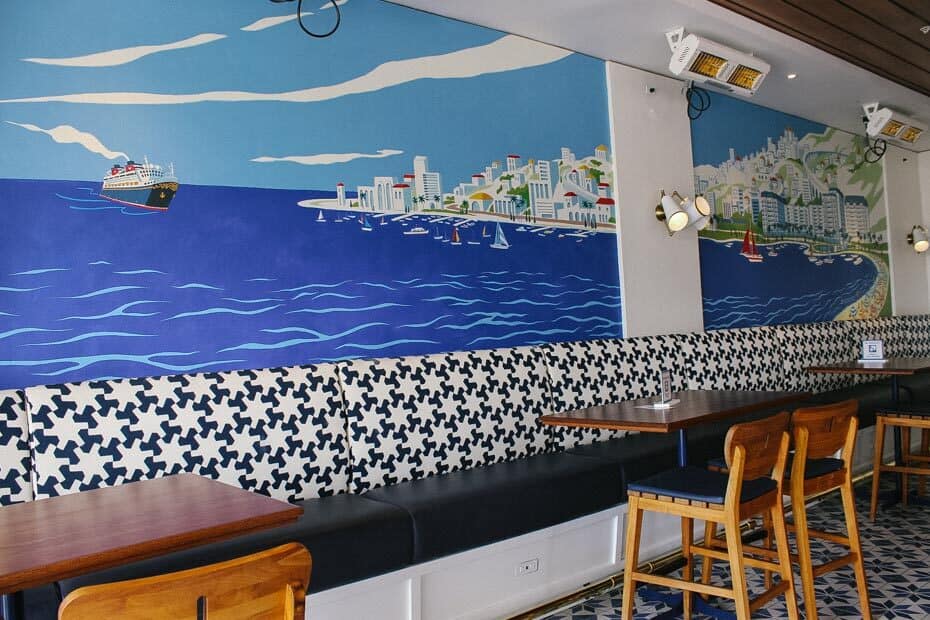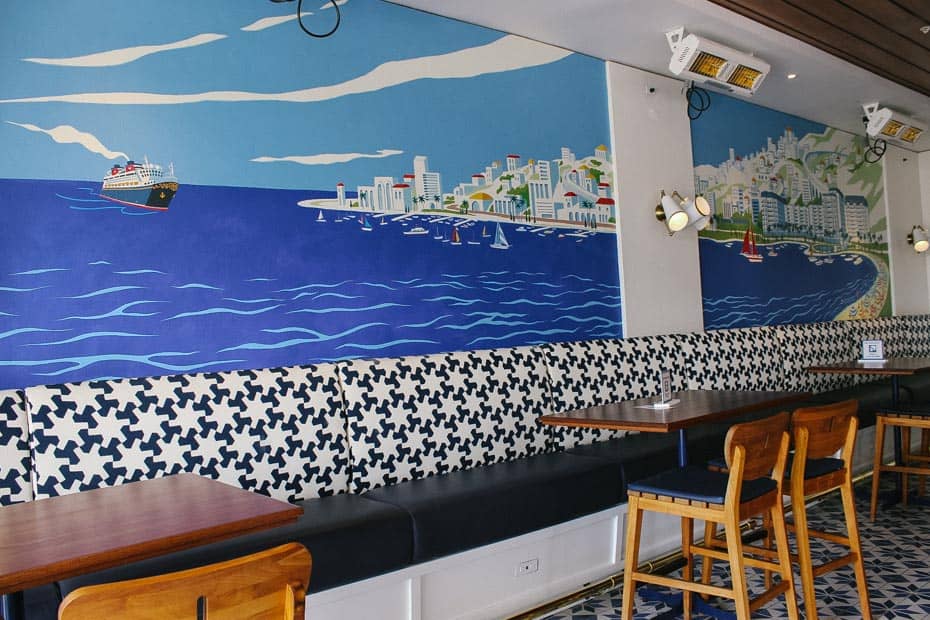 The only thing I'm not crazy about is that Bar Riva serves as the pool bar for the resort. A line forms at the bar from people waiting to take a drink back to the pool during busier times.
If I'm using the pool at the Riviera, I don't want to have to get up, leave the pool area, and then walk over here to order something. With so many guests having a meal, it seems awkward and not well thought out to have this double as the pool bar.
Maybe it would work better if they had added a separate window.
Anyway, a few weeks back, I had a reasonably busy Saturday scheduled. So I knew I wanted to start my day off with a healthy and straightforward meal option.
I drove over to the Riviera with Bar Riva in mind. Unfortunately, the security guy didn't allow me to park.
This happens occasionally, and since I didn't have a confirmed dining reservation, I really couldn't argue.
So I ended up going to Disney Springs and parking. Parking at Disney Springs worked fine because I had plans to end my day at Saratoga Springs.
So I knew I could easily walk from Saratoga to Disney Springs and retrieve my car at the end of the day. These tips are included in the Disney Springs transportation guide.
When I got to Disney Springs, I walked over to the bus stop and took the next bus back to the Riviera Resort. It was a scorching day, and thankfully I was in no hurry to get anywhere.
Bar Riva was pretty empty when I got down to the lower level. So I secured a seat back in the corner to myself—a server brought by the QR code for the menu. You can preview the menu here.
Because of the hot weather, I wanted something refreshing. Therefore, I ordered the hibiscus coconut refresher.
The refresher was a mix of hibiscus, coconut, honey, and strawberry with soda water poured over the top. It even came with a strawberry garnish.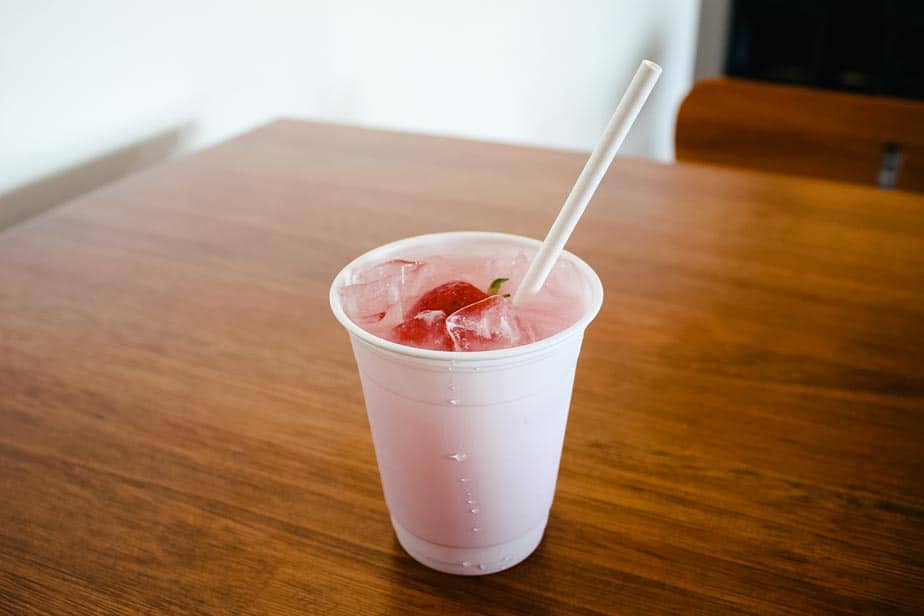 Lately, I've been looking for more refreshing drink options at Disney without them being a full-on fountain drink. So far, this has been one of my favorites. You might remember I also really enjoy the Skipper Sipper at Trader Sam's Tiki Terrace.
In addition to my refresher, I ordered this impressive Greek salad with shrimp. My salad was packed with olives, cucumber, artichokes, red onion, and chickpeas.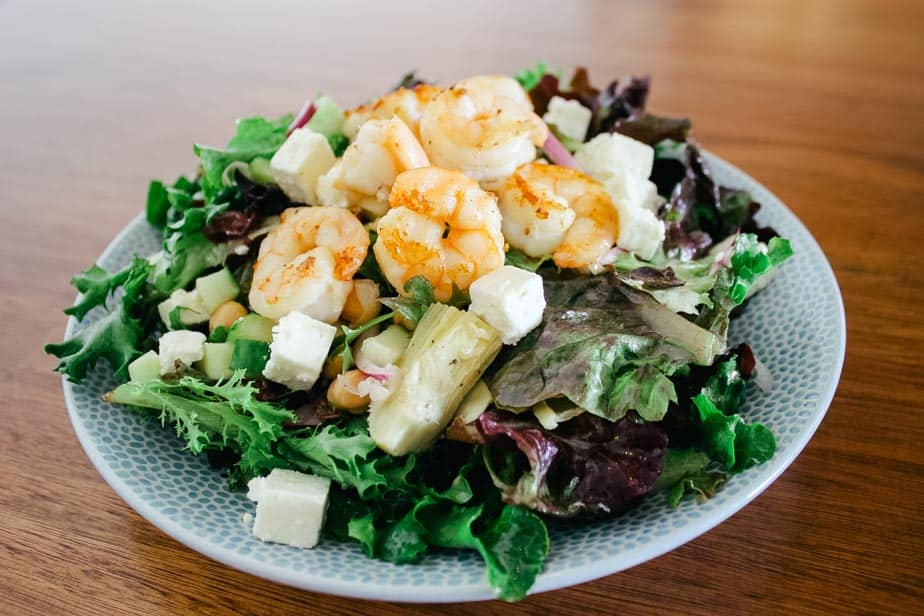 It's kind of hard to tell from the picture, but I was surprised at how many shrimp were included in the salad. While I didn't count them, I bet there were at least 10-12 shrimp buried within my salad.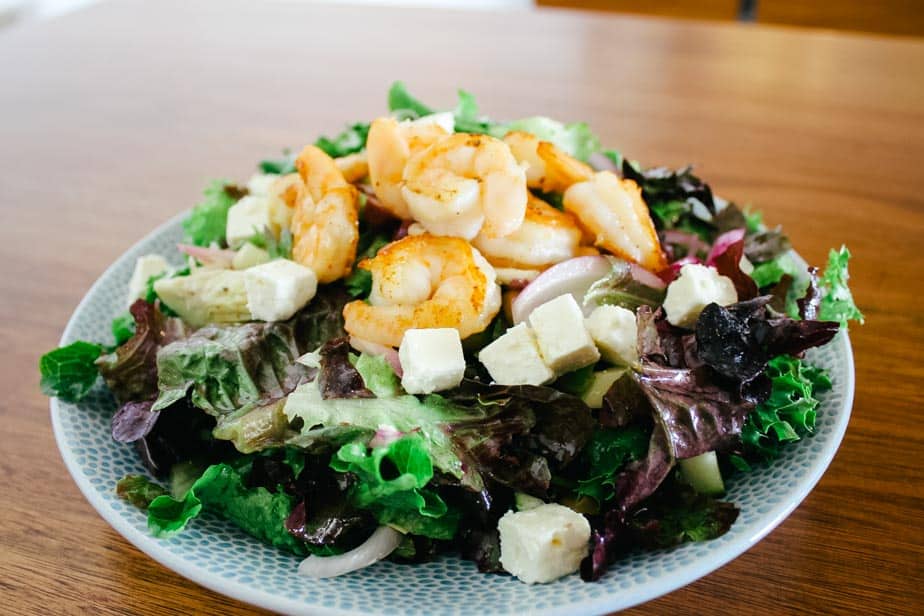 I don't know if the size of this salad is the norm at Bar Riva or not. But I know I will be back to try a few other items in the future.
This meal ended up costing me approximately $22.00 with tax and tip. And I felt like it was an excellent value. I had a refreshing drink, a healthy meal, and the atmosphere was delightful.
If you are looking to learn more about Disney's Riviera, all of our reviews about the resort are here. They include a full review of a stay at the Riviera.
Related: Disney's Riviera Resort Review
And don't miss our review of breakfast with characters at Topolino's Terrace. It's my most recommended character meal at Disney World.
Lastly, don't forget to save room for dessert upstairs at Le Petit Cafe! Enjoying a treat here is a very memorable experience.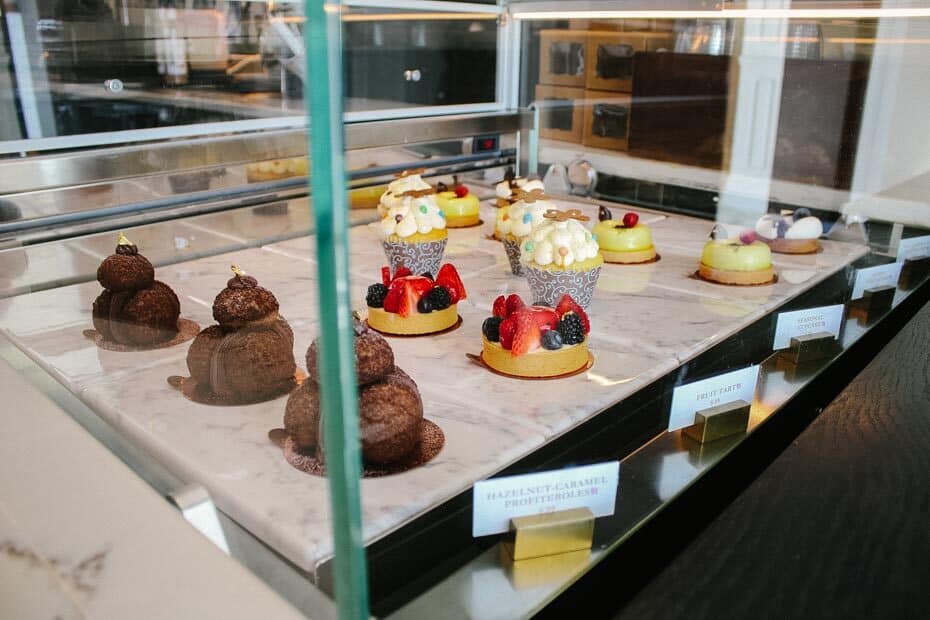 And Primo Piatto is an excellent counter service location at the Riviera. It's located next door to Bar Riva.
Related: Primo Piatto Review
Have you had a chance to visit Bar Riva yet? Do you take advantage of dining at the lounges on your vacation? Leave a comment and share your thoughts below.