Room Tour: Disney's Boardwalk Inn Standard Room with King Bed (Newly Refurbished)
This article previews a newly refurbished standard guest room at Disney's Boardwalk Inn with a king-size bed and individual sleeper sofa. Below we'll look at the room's amenities and take a video tour toward the end.
Disney's Boardwalk Inn is undergoing a multi-year refurbishment, including a significant overhaul of the resort rooms. Since most rooms on the Inn side are complete, guests with future stays should receive a freshly renovated room. After the Inn side is finished, rooms on the villa side are expected to be refurbished.
A few weeks beforehand, we decided to stay on Disney property for the 4th of July holiday. So when I was looking for rooms to match our dates, Disney's Boardwalk came up with a reasonable price.
I'll have an updated review of our visit soon. But for this article, I wanted to go over the room's details. This was our first stay at the resort since the new rooms debuted, and I think we can all agree–they were long overdue.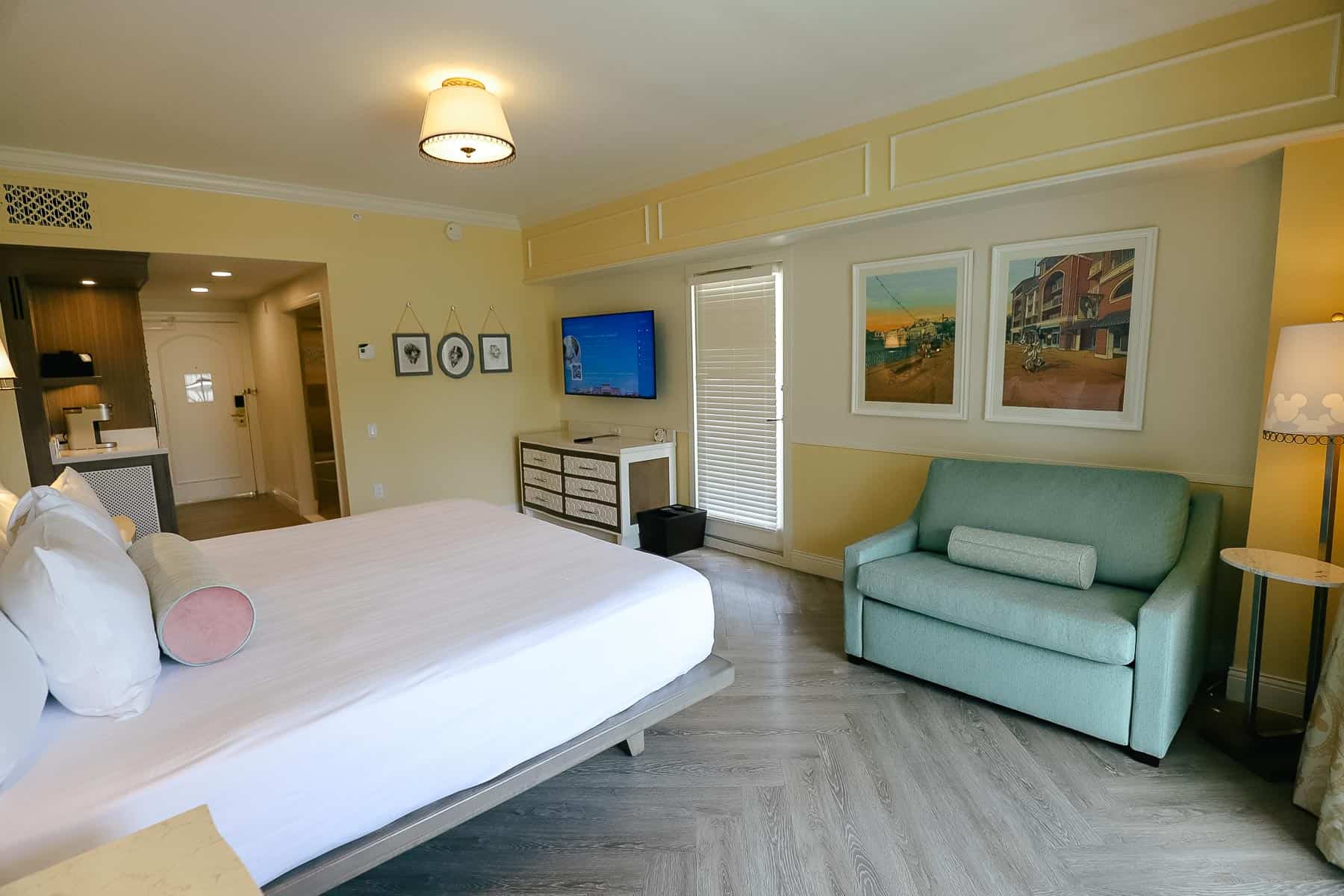 When we received our room assignment, I immediately noticed it was off the resort's 2nd floor. So we were close to the lobby, Belle Vue Lounge, and Carousel Coffee. Our room was at the end of the first hallway across from the lounge.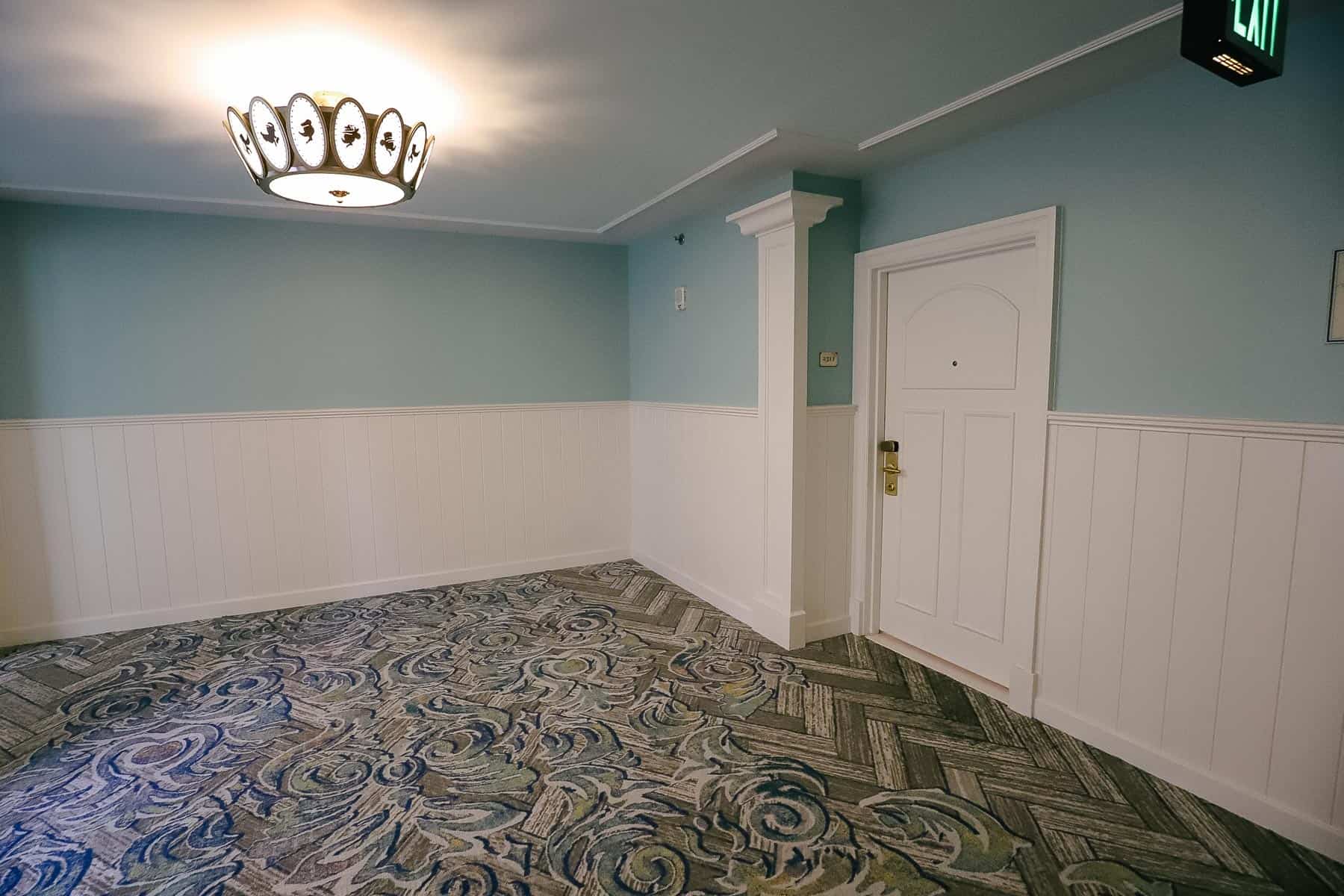 When I opened the door, I was delighted that we had received a corner room with two balconies. Unfortunately, the two balconies ended up being overrated. While I loved the room, we encountered an issue with light streaming in at night. We'll get to that.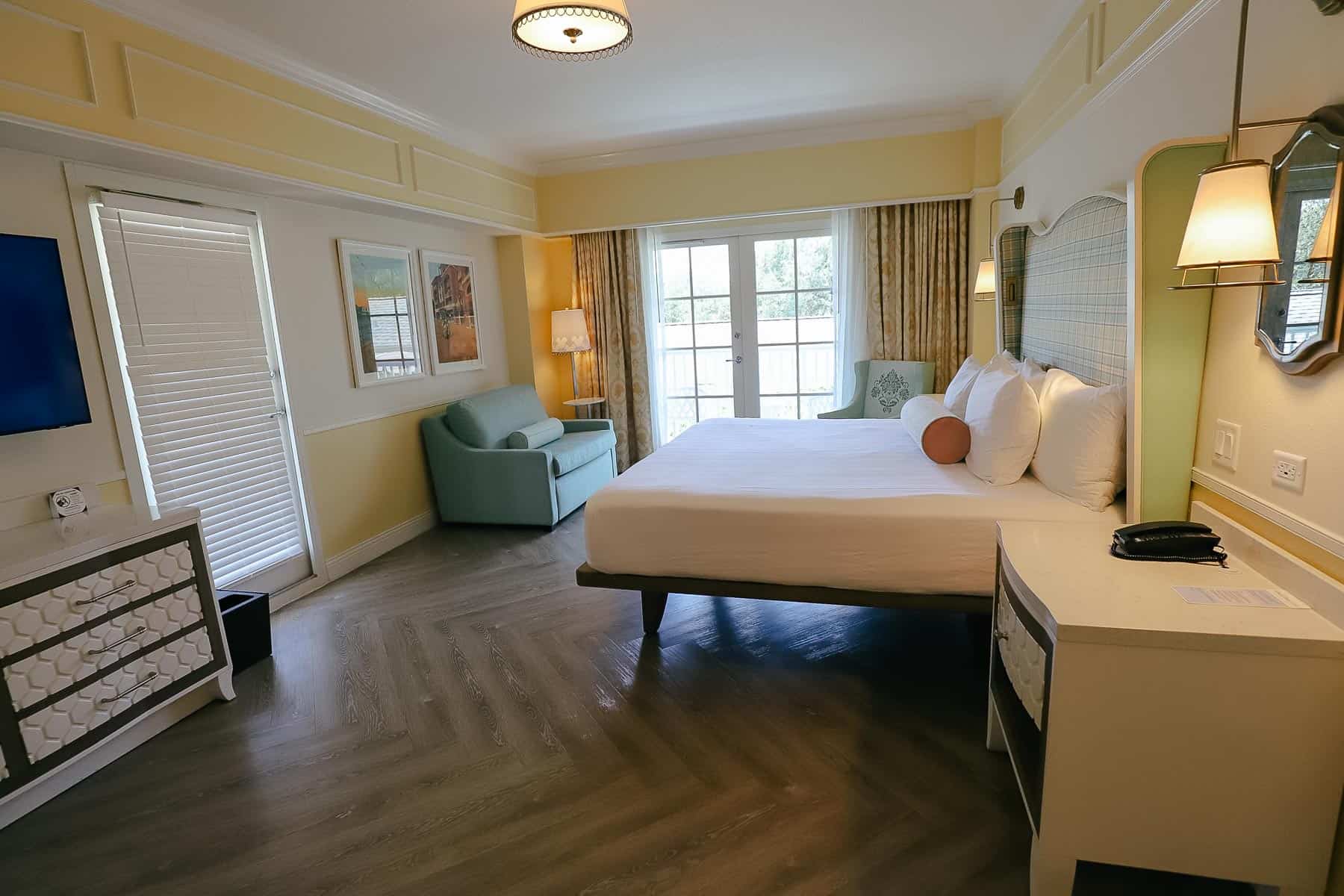 When reserving this room, I booked a standard view guest room, which means you will receive one of the following rooms:
One king-size bed and one-day bed
Two queen beds
One king bed
Two queen beds and one day bed
I rarely get a king-size bed at any of the resorts at Walt Disney World. So this was a surprise, but it worked out fine. If you have a party of five, you should receive two queen-size beds and one day bed. That is the only set-up for a standard room that sleeps up to five guests.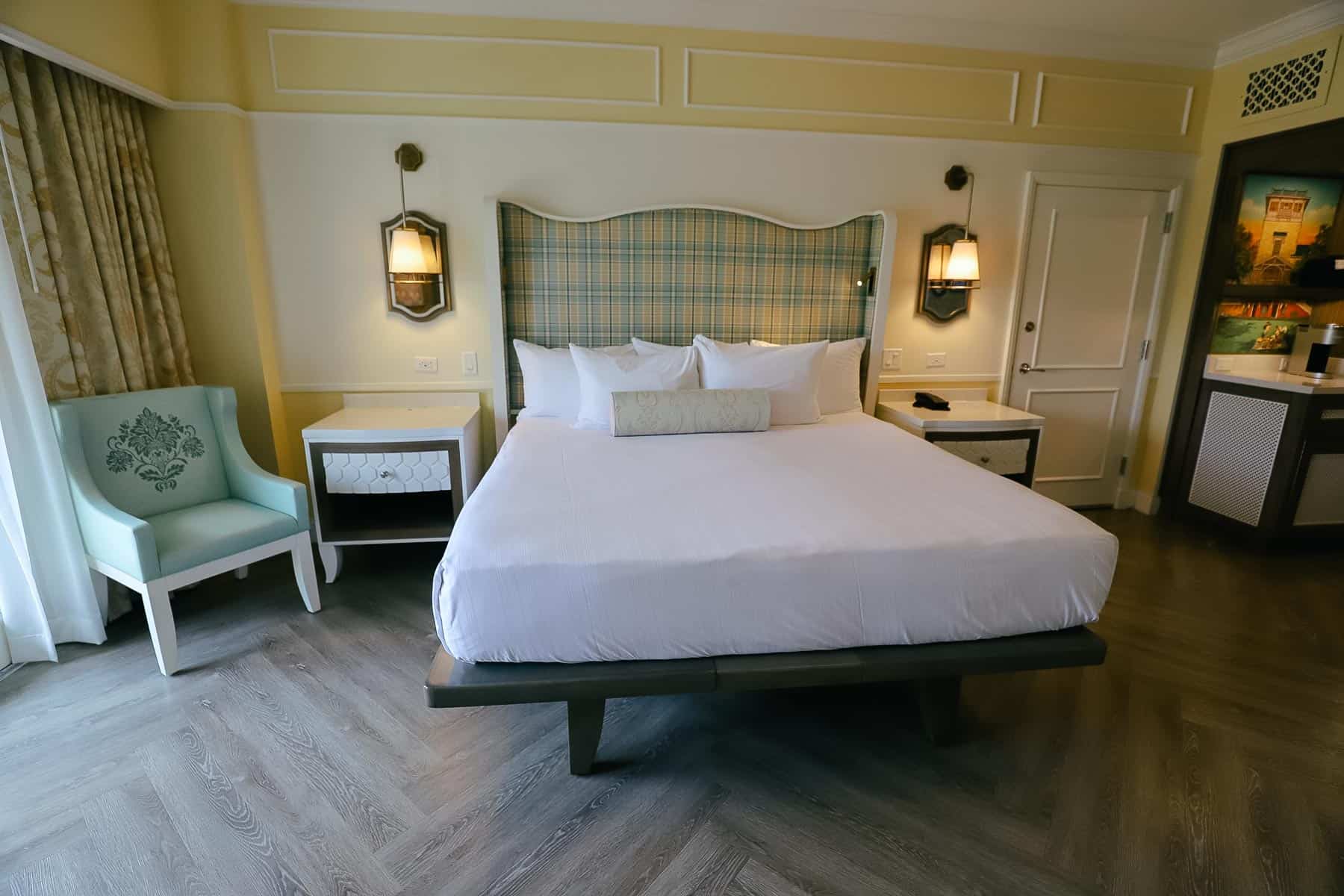 You'll also want to note that this room looks extra spacious because it is larger than most. Corner rooms are few and far between. Of course, so are rooms with two balconies.
A dresser and television sat on the far side of the room. Nothing felt centered in the room since the extra balcony intruded into the wall space.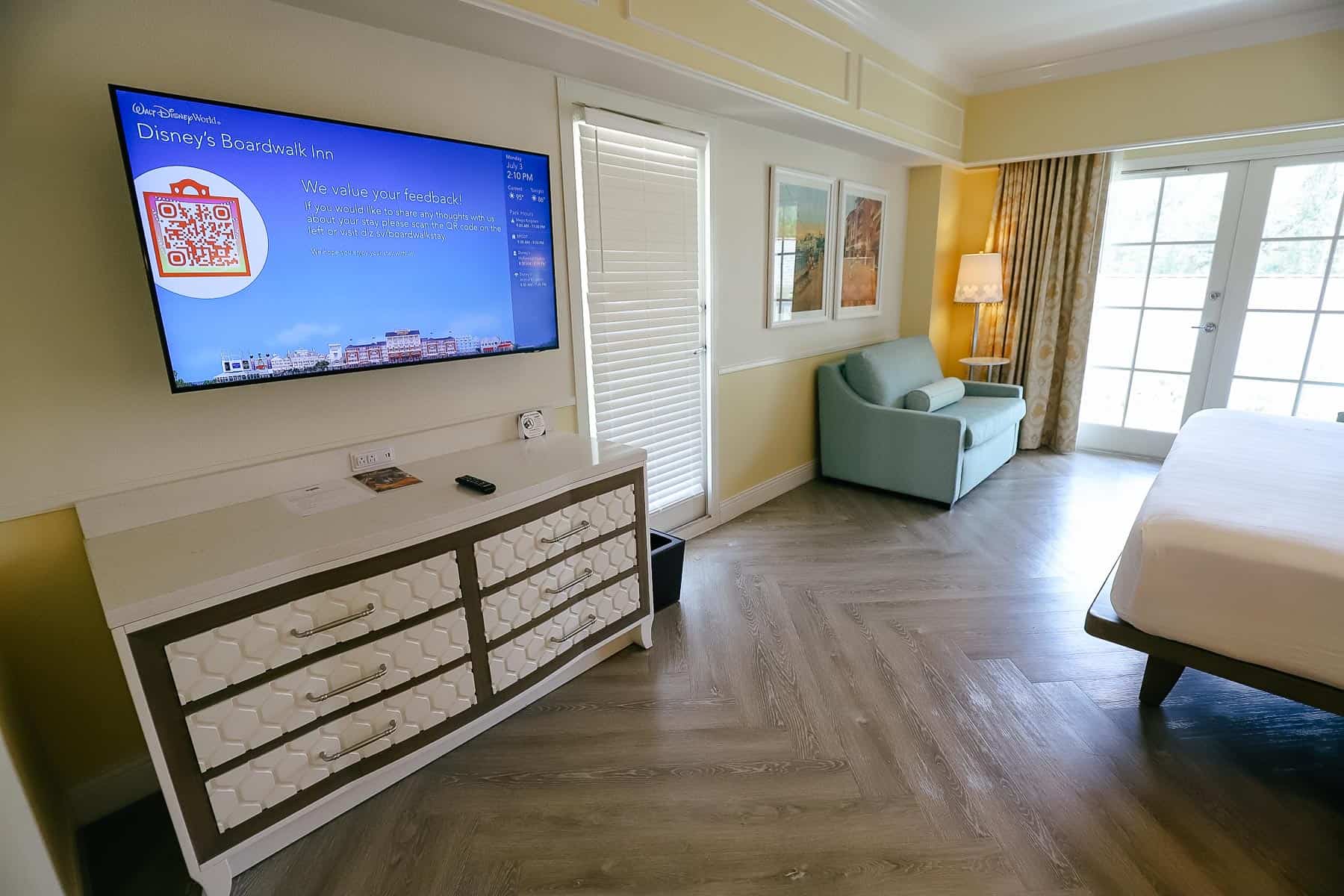 The dresser provided plenty of space to store clothes and personal belongings. Several outlets and USB ports were available on top of the dresser.
Often, people complain that touches of Disney have been lost over the years. So I think most will enjoy the artwork in the new rooms at Disney's Boardwalk Inn.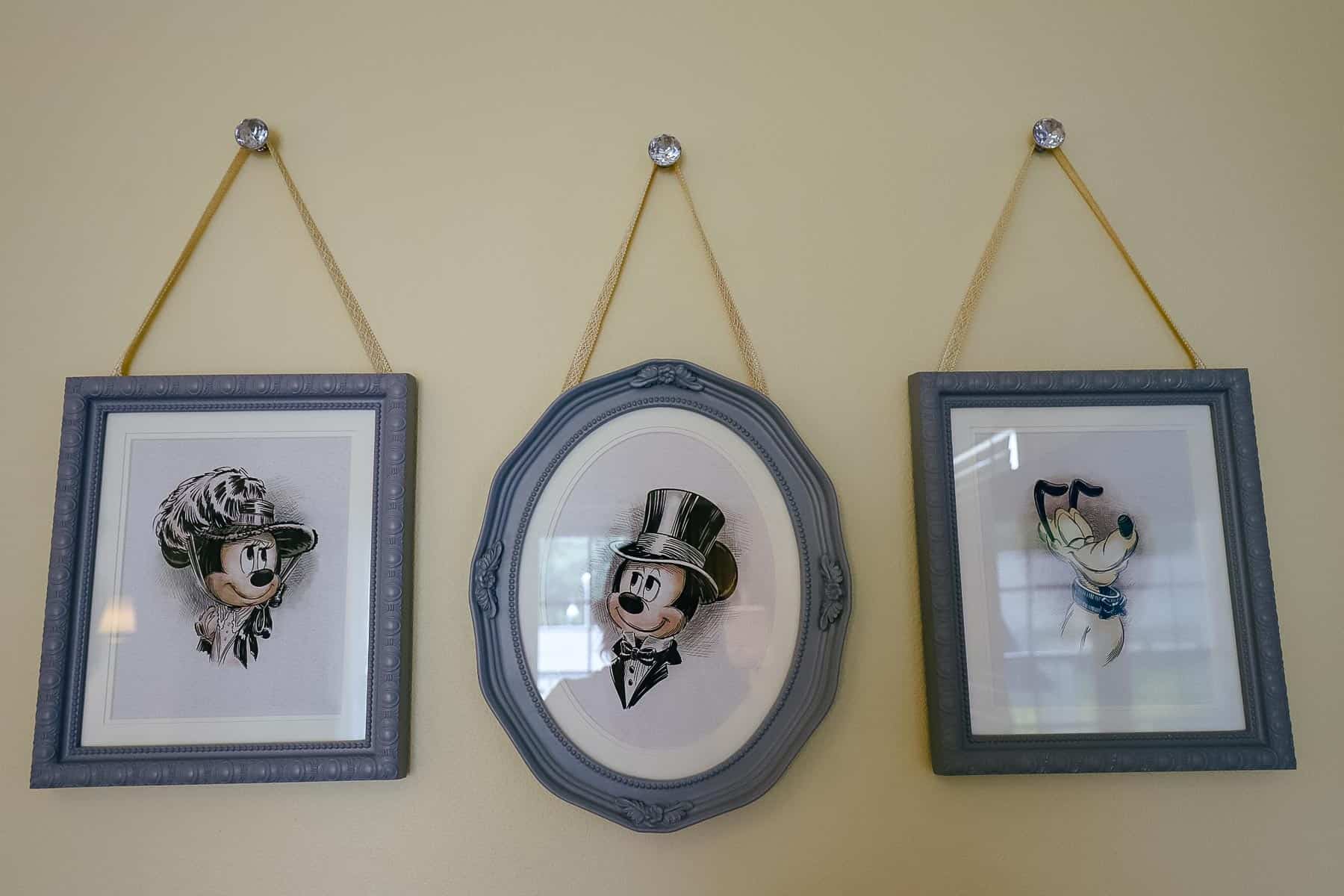 These pieces are charming.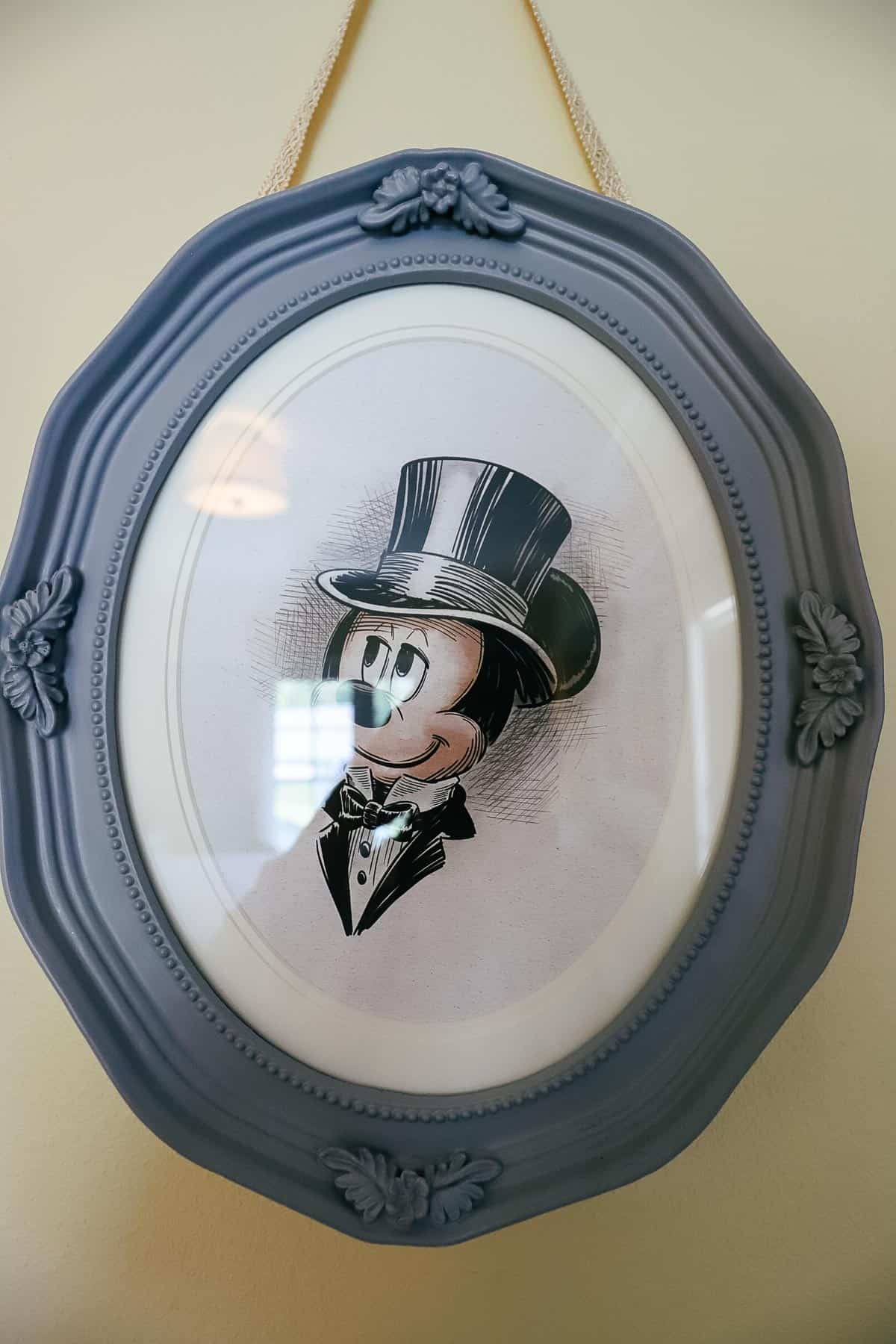 A sofa with a single sleeper sat in one corner of the room.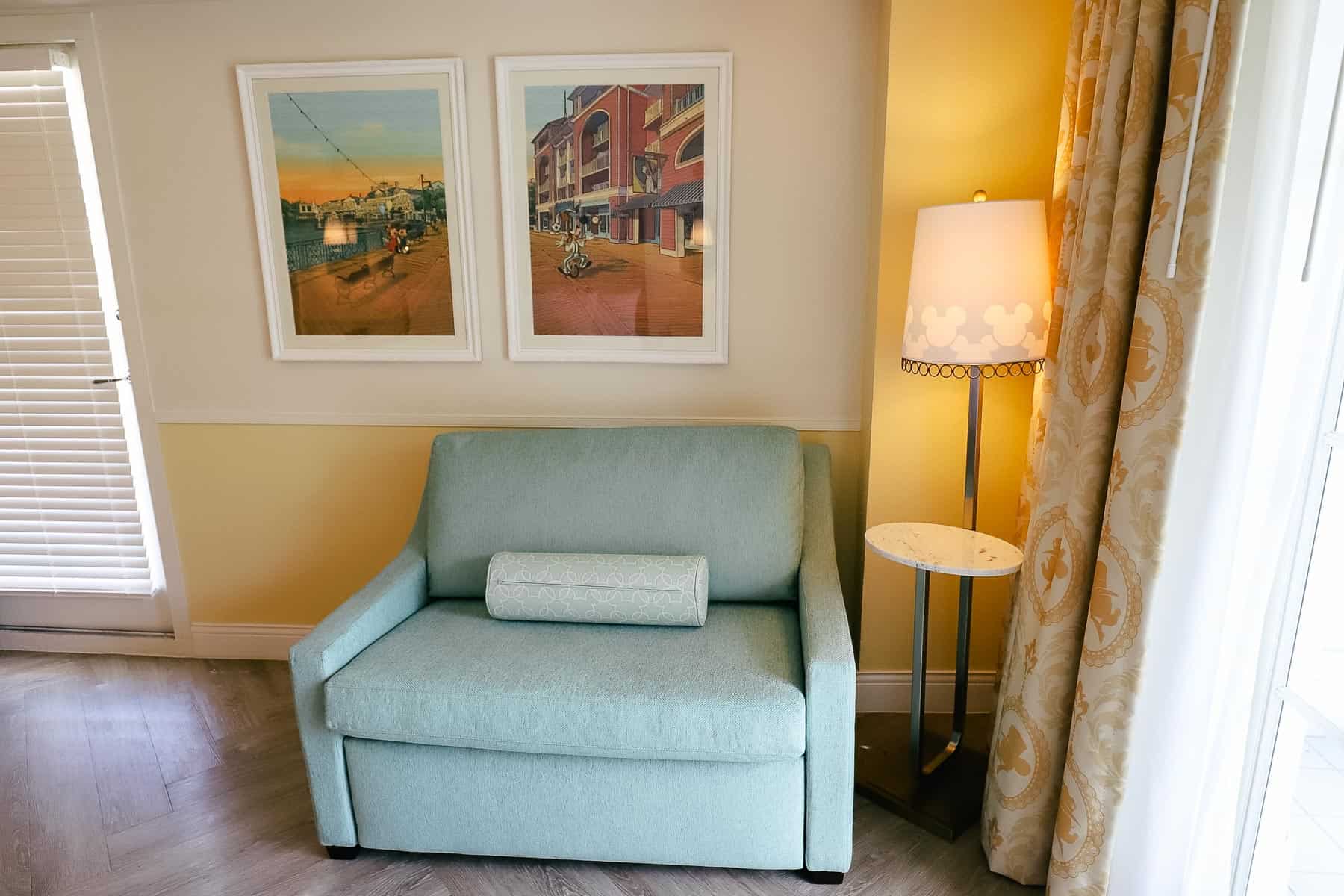 We pulled it out to take a photo, but it bumped into the bed. You would have to turn it sideways or on an angle to use it if needed. I felt the corner room's layout was odder than most.
You can also tell from this photo that the television doesn't work well for anyone sitting on the couch or the chair on this side of the room. It might have pulled away from the wall, but I didn't think to check it.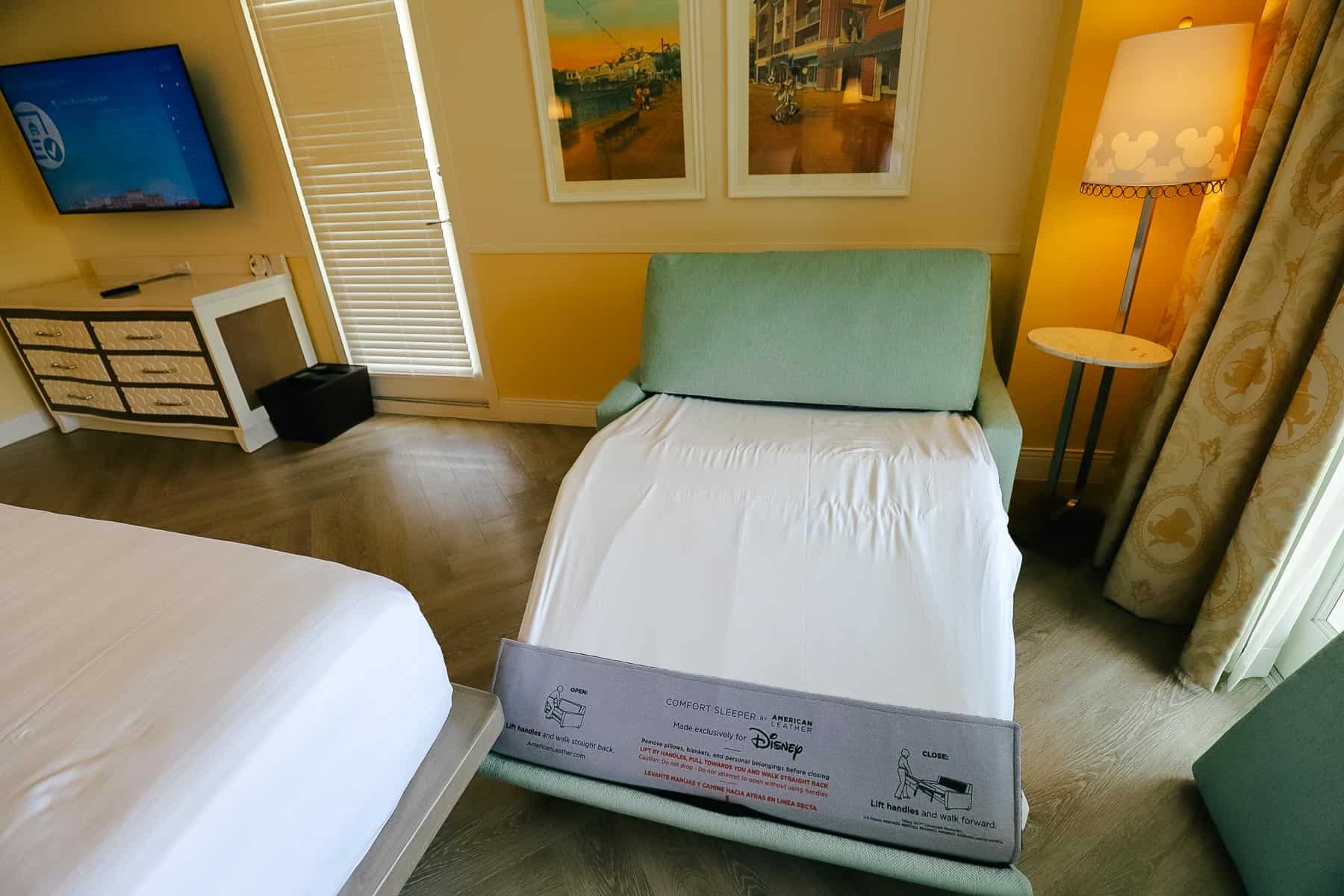 A comfortable chair sits on the side of the bed. You might also notice the nightstand provides extra storage and ample outlets above it.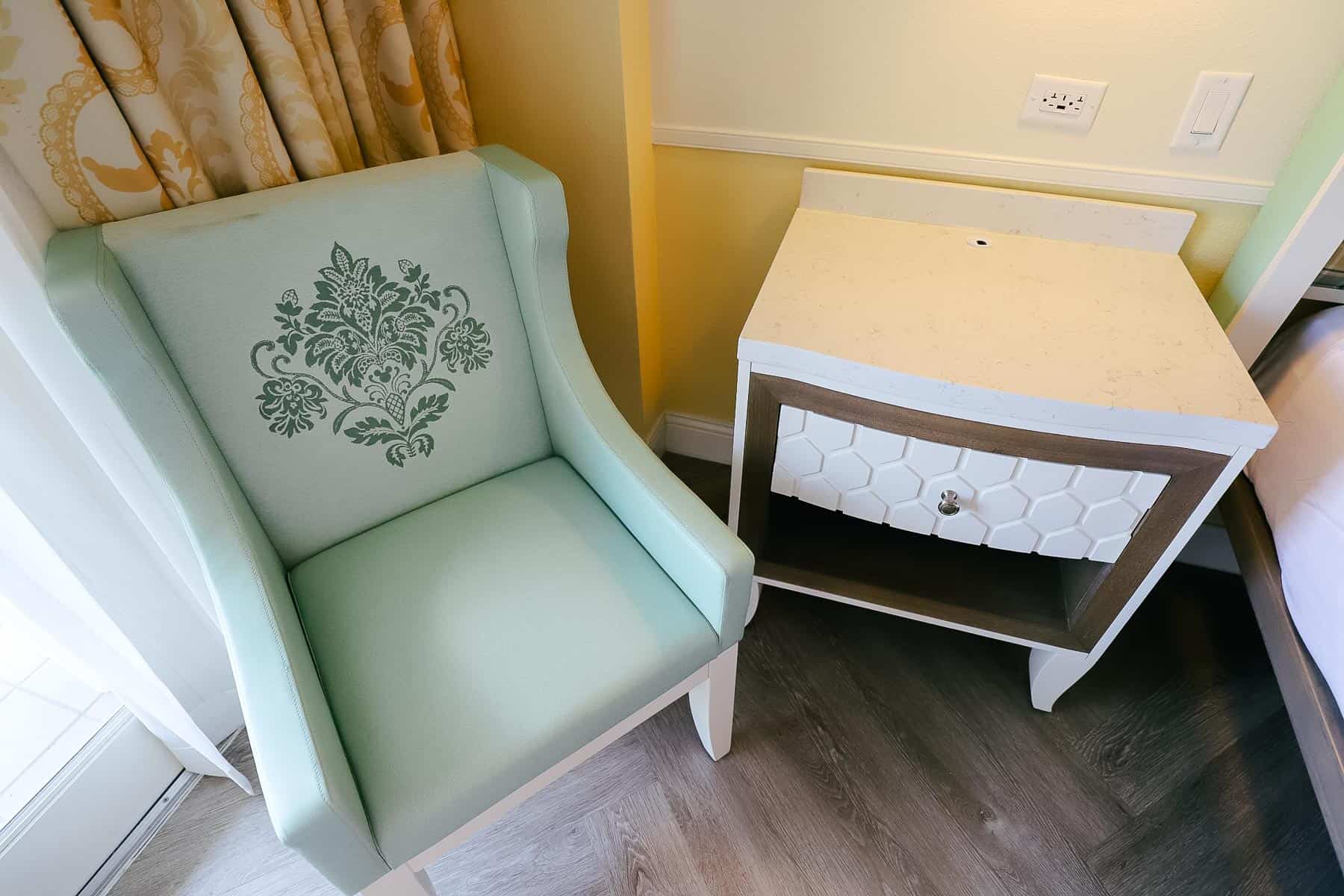 Here are a few more pieces of art found in the room. They feature Mickey, Minnie, and Goofy in various scenes on Disney's Boardwalk.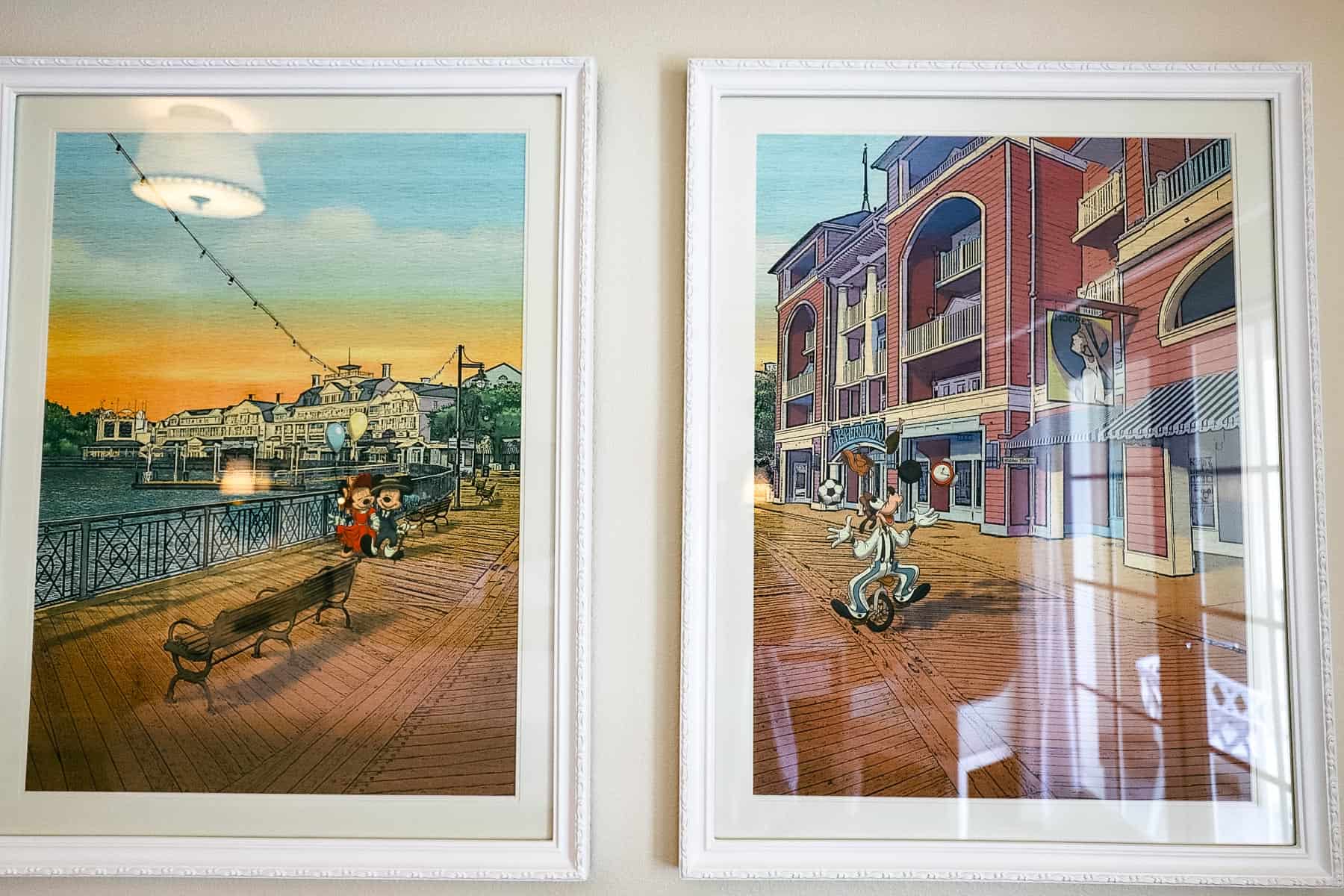 A table lamp features hidden Mickey's. Donald, Pluto, Mickey, and Minnie are all featured in silhouettes on the room's curtains.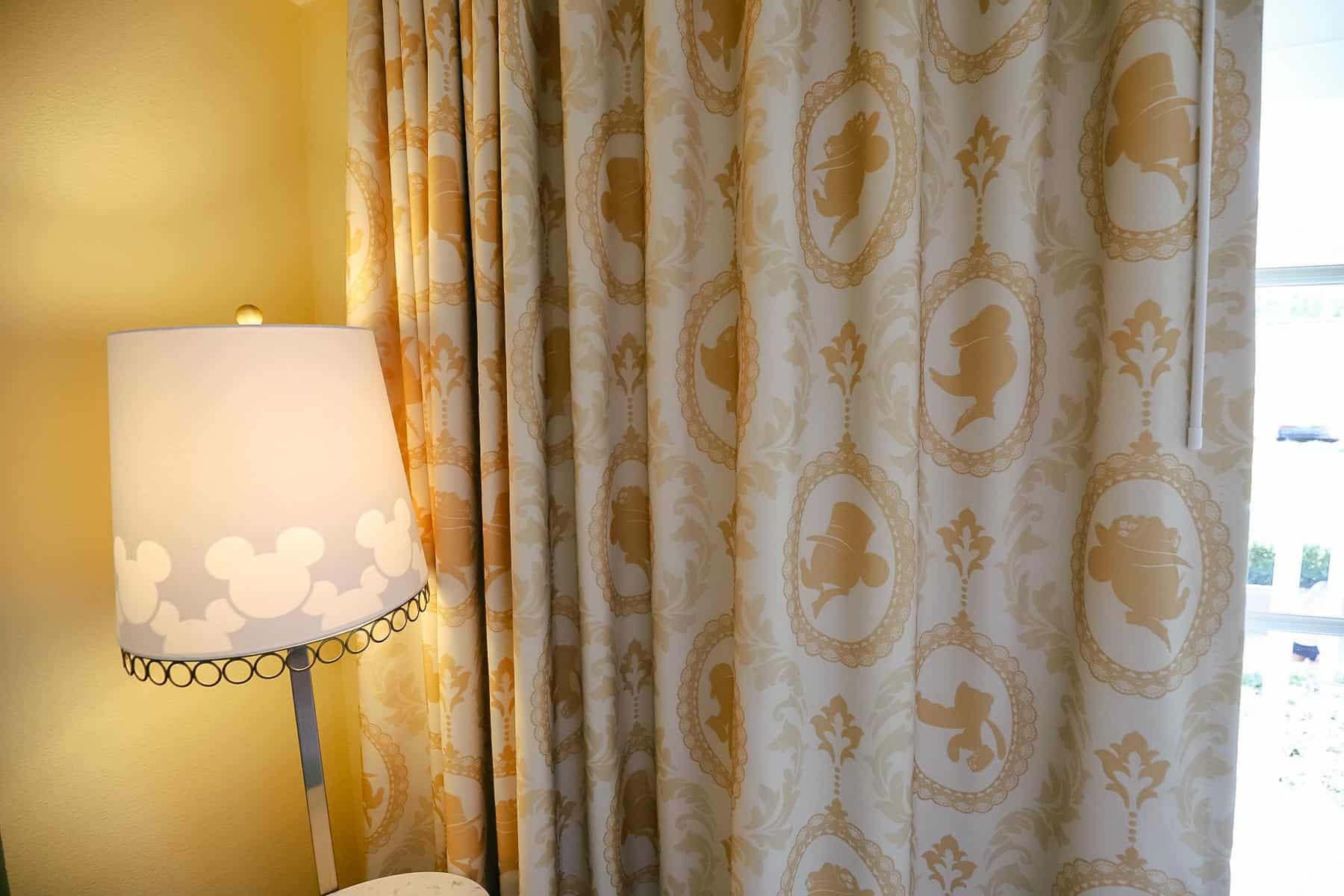 The bed had a soft headboard you could prop up against if you were reading or watching television.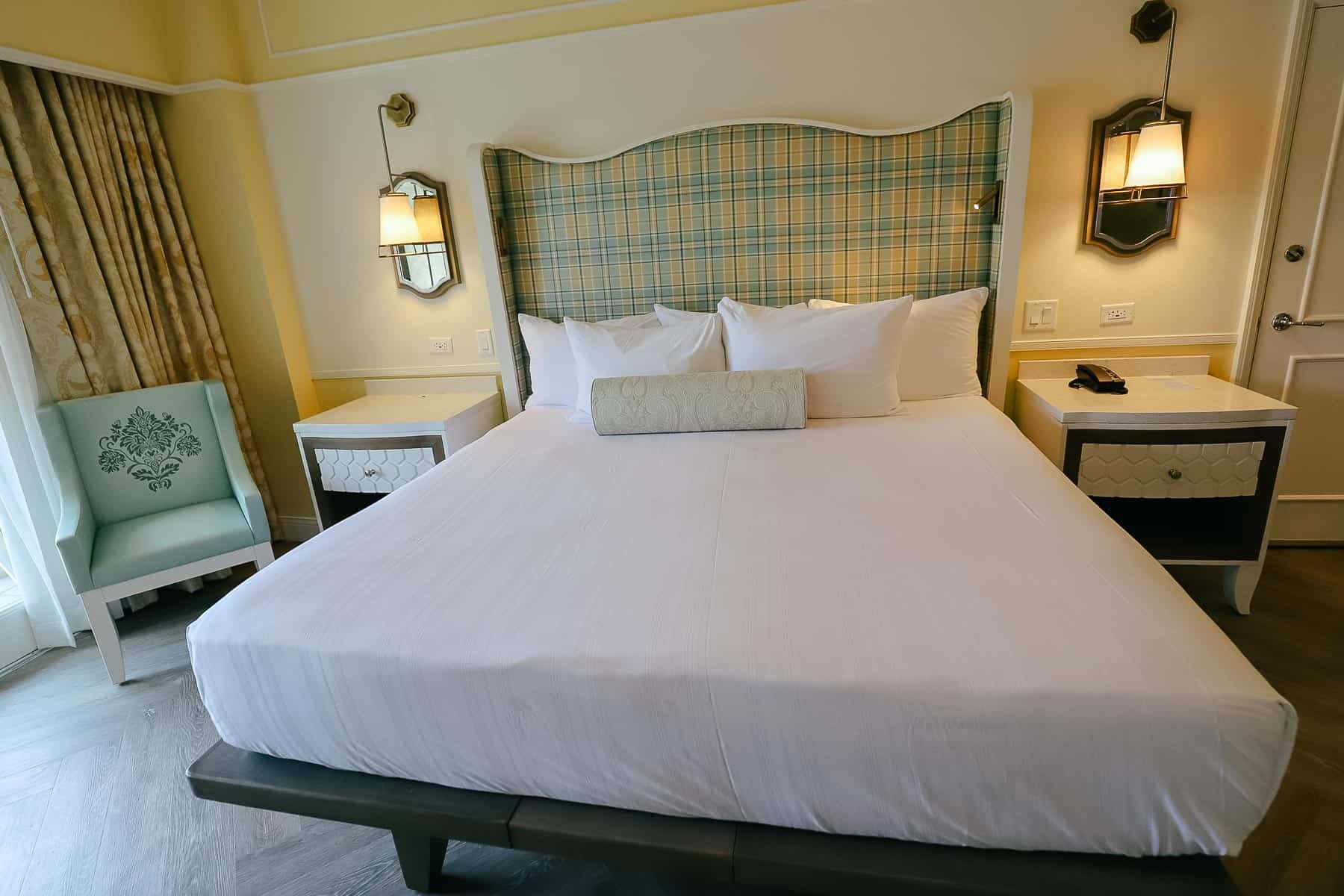 Pin lights are installed on each side of the bed.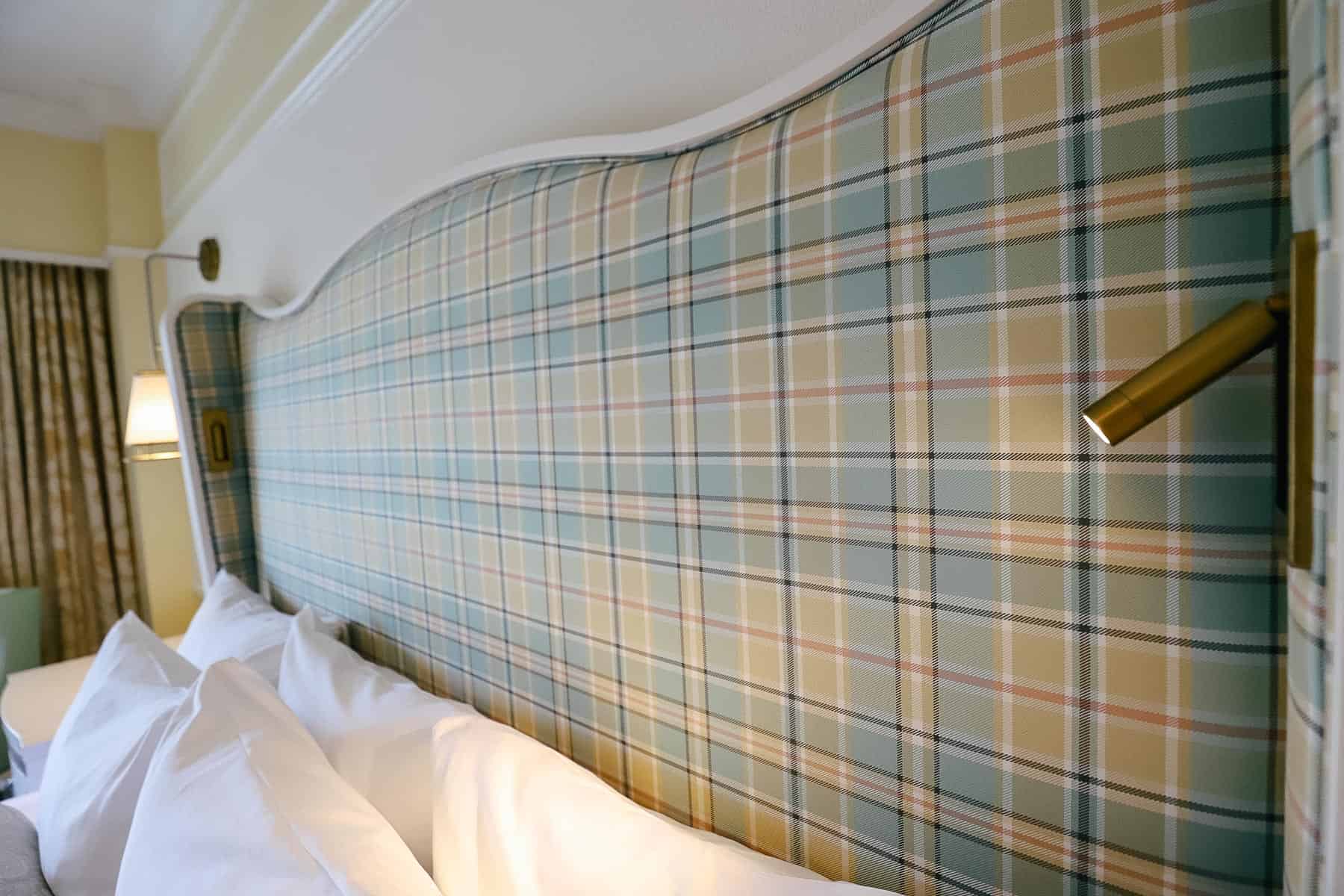 The room's foyer consisted of closet space and a few other amenities.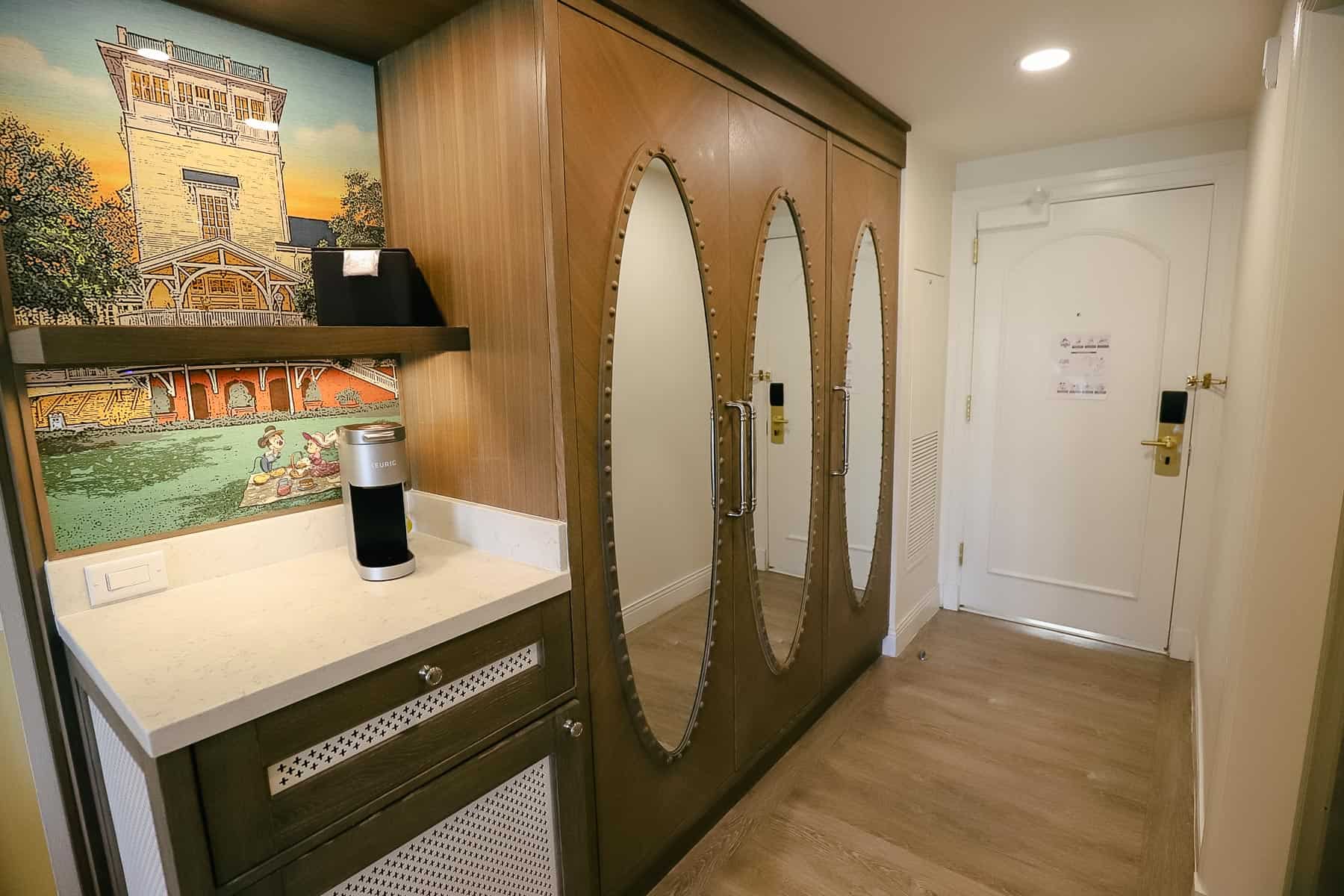 This area contains more artwork featuring Mickey, Minnie, and Pluto.
Mickey and Minnie Mouse are enjoying a picnic. A Keurig coffee maker is available.
Here are the accompaniments. They were tucked away in a drawer underneath the coffee maker.
Below the counter, a door opens to reveal the room's beverage cooler. This is the same beverage cooler we see in all of the standard hotel rooms at Disney World.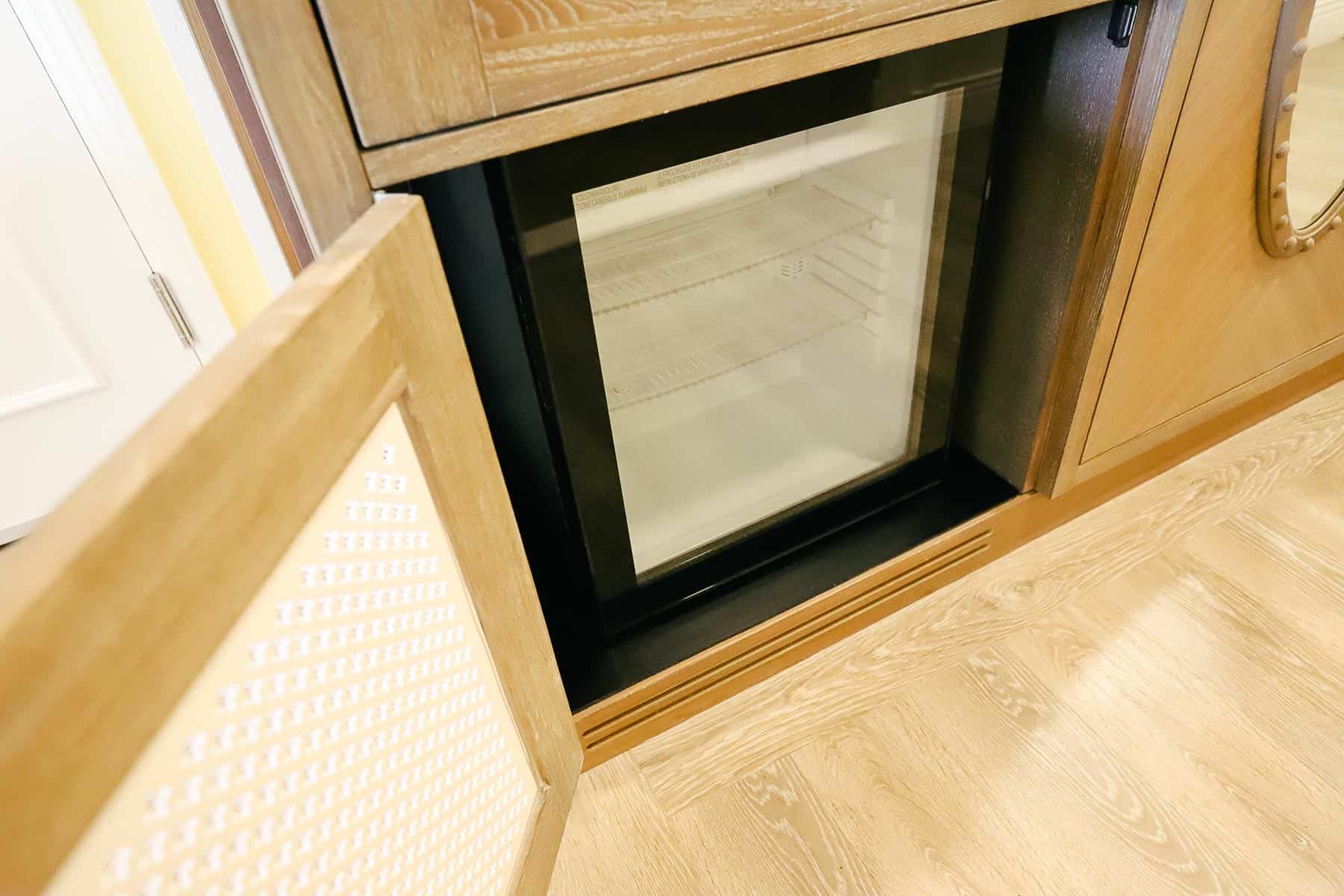 The other cabinets have shelves and closet space. Our room had a steamer, hair dryer, and an in-room safe.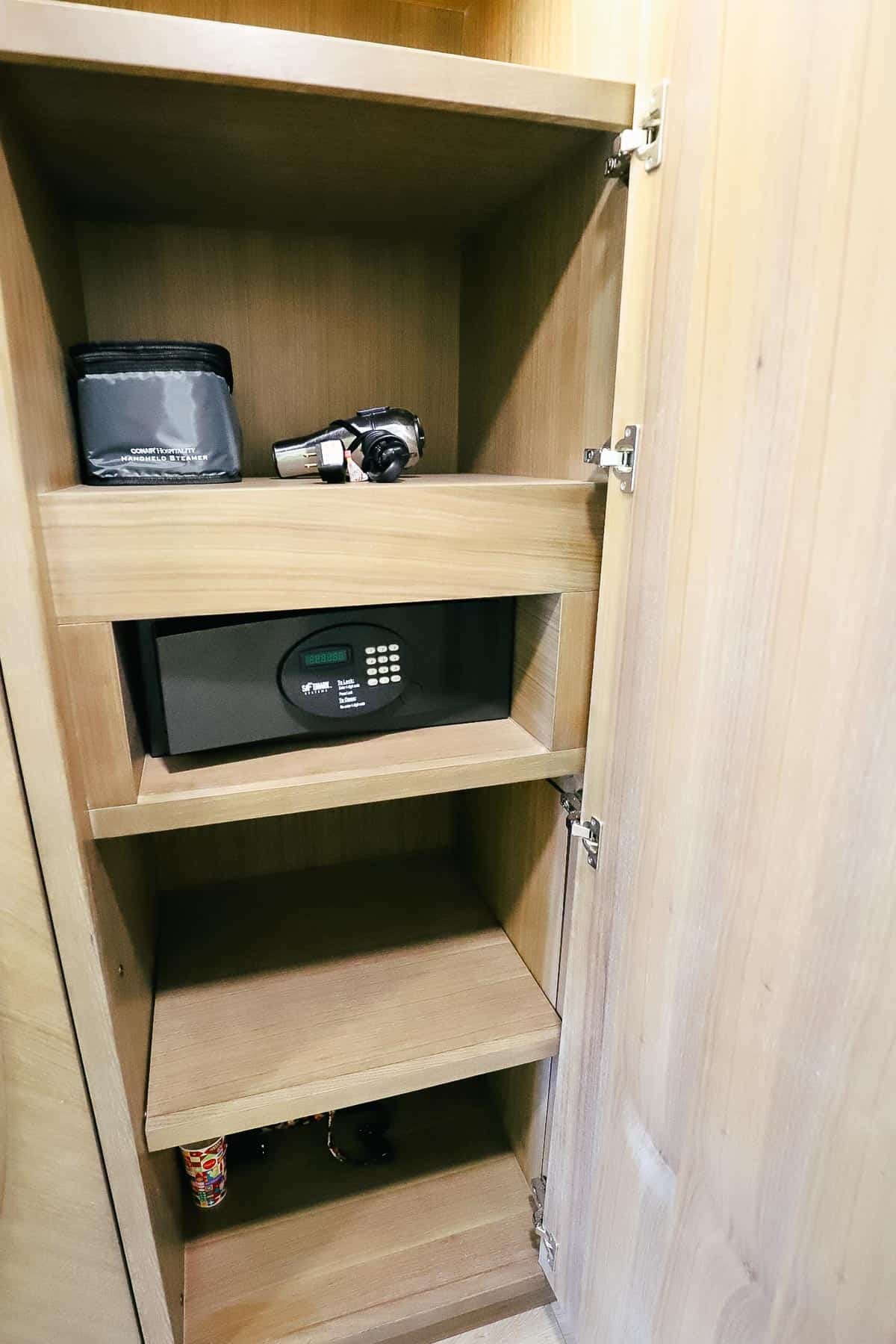 Most newer deluxe resorts have handheld steamers instead of an iron and ironing board.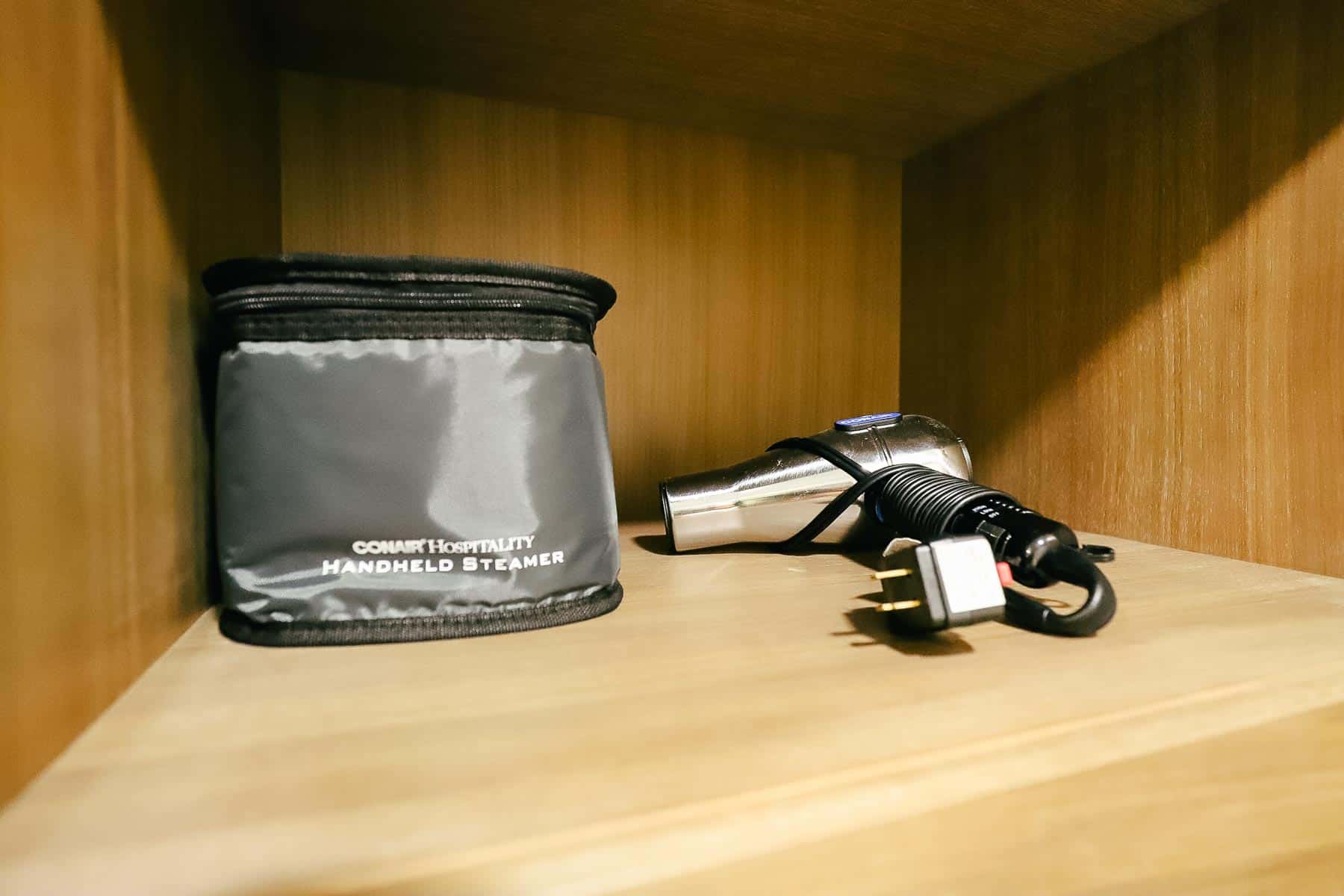 The closet space seemed ample. An extra pillow and blanket were available. If you need more, call housekeeping, and they will bring extras. That luggage rack also came in handy.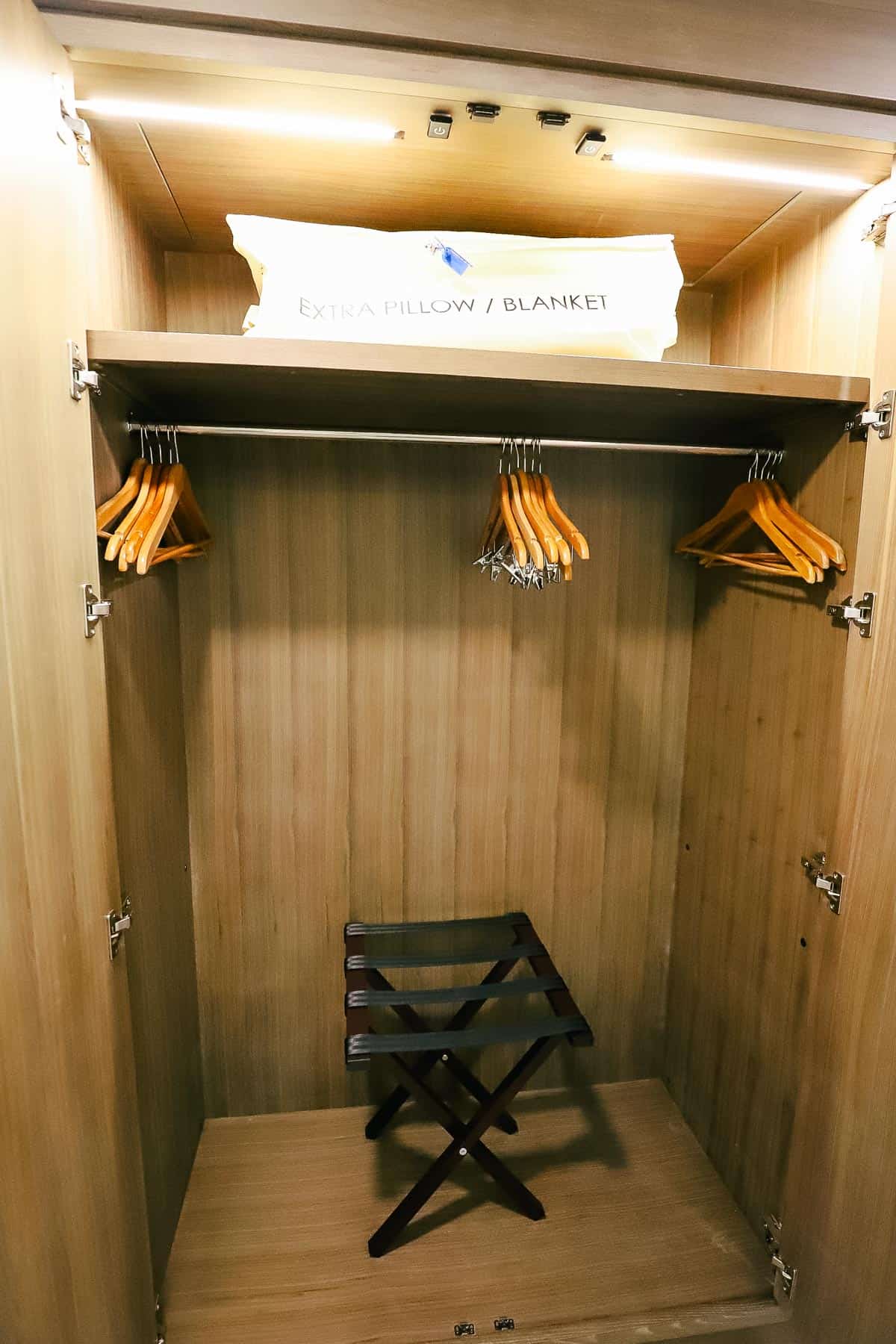 Here is a photo of the guest bath. Most of the Boardwalk's standard rooms will have an identical layout. The vanity area is open to the bedroom and has a separate water closet. This makes it easier for multiple people to get ready simultaneously.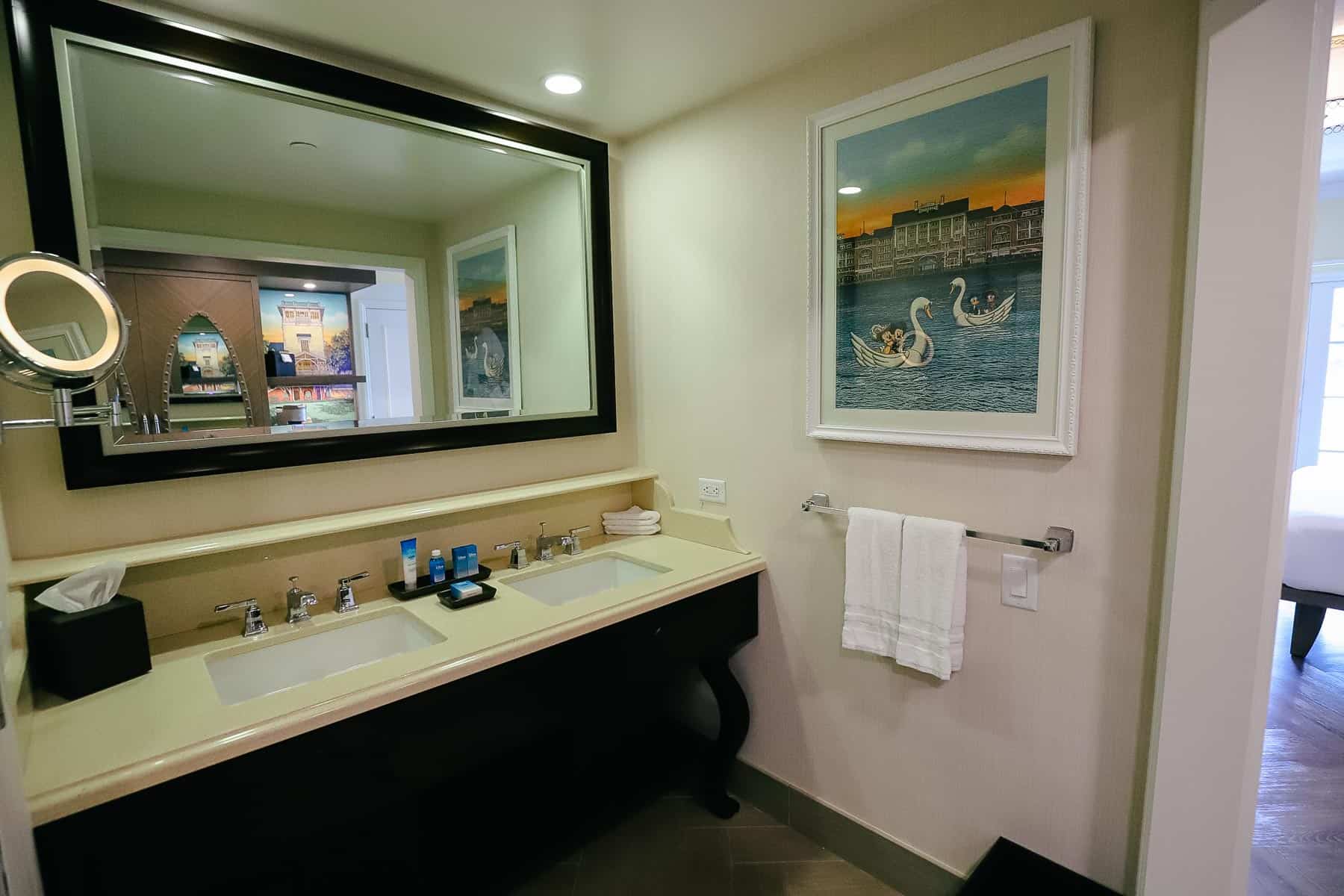 Here is a close-up of the artwork hanging in the bath area.
The vanity features two sinks and a decent amount of counter space. One of my favorite features is the ledge above the sink area. This is a wonderful space to leave personal items and keeps them out of the way of housekeeping.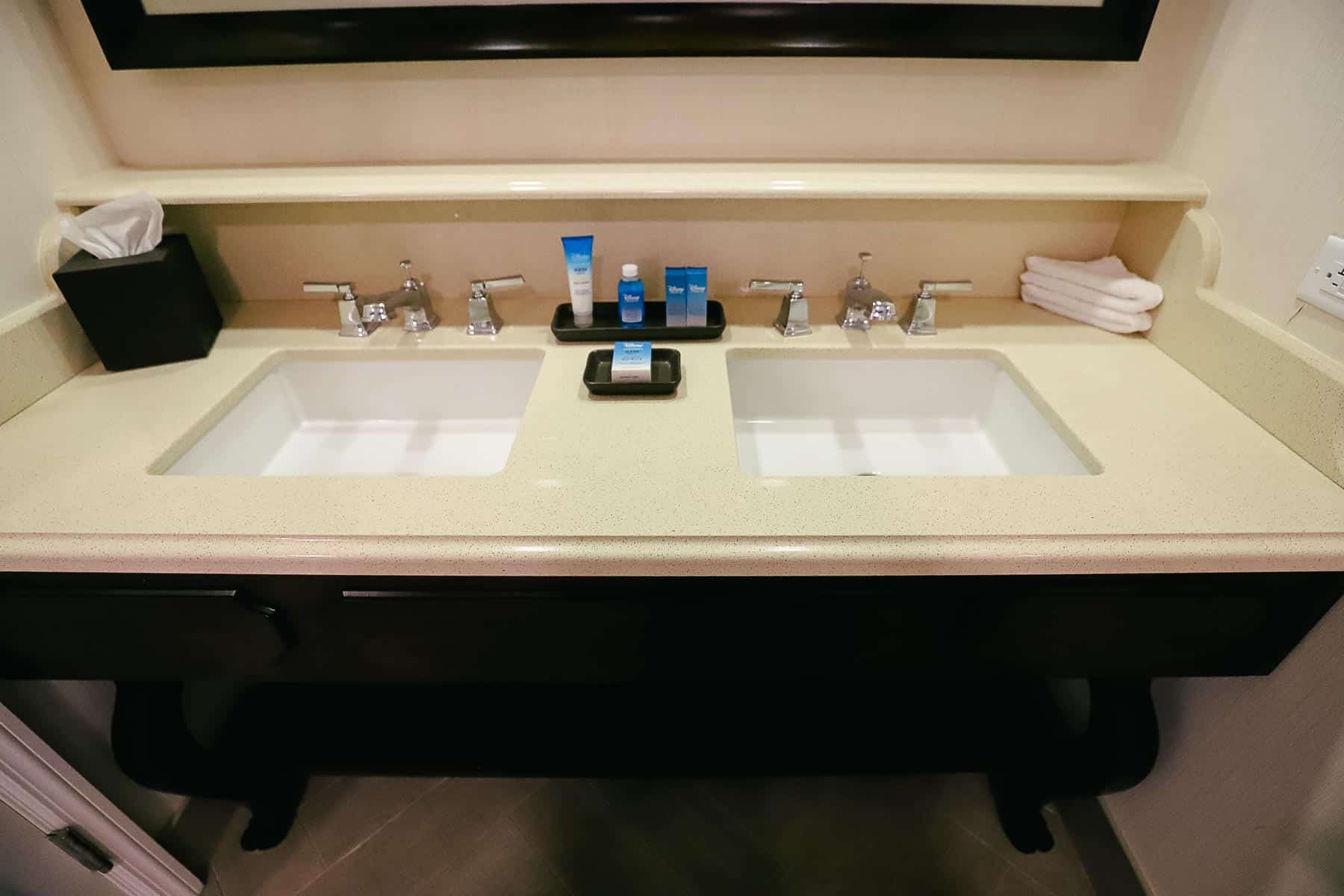 Toiletries included soap, lotion, mouthwash, a shower cap, and a small kit with Q-tips.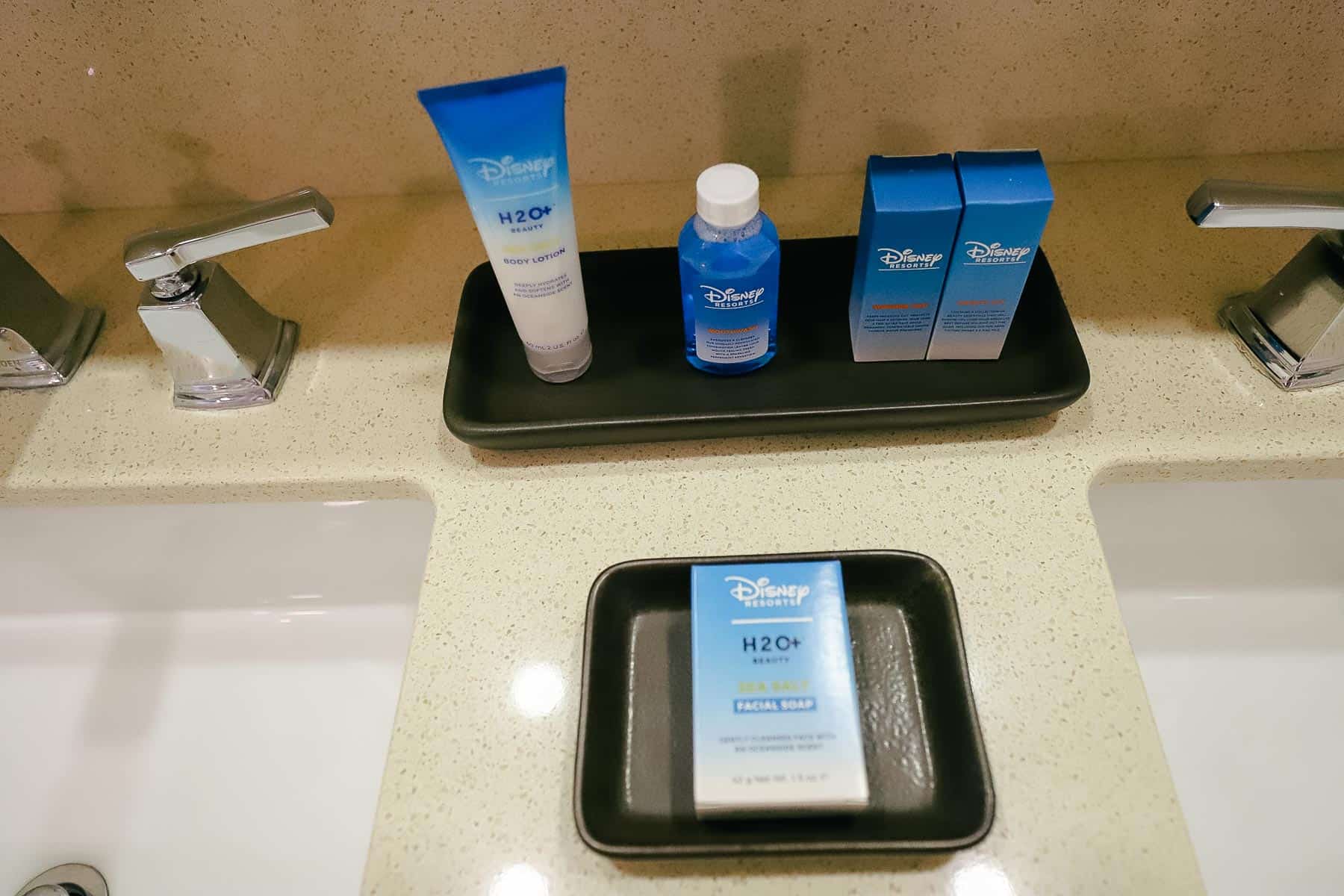 A make-up mirror is secured to the wall.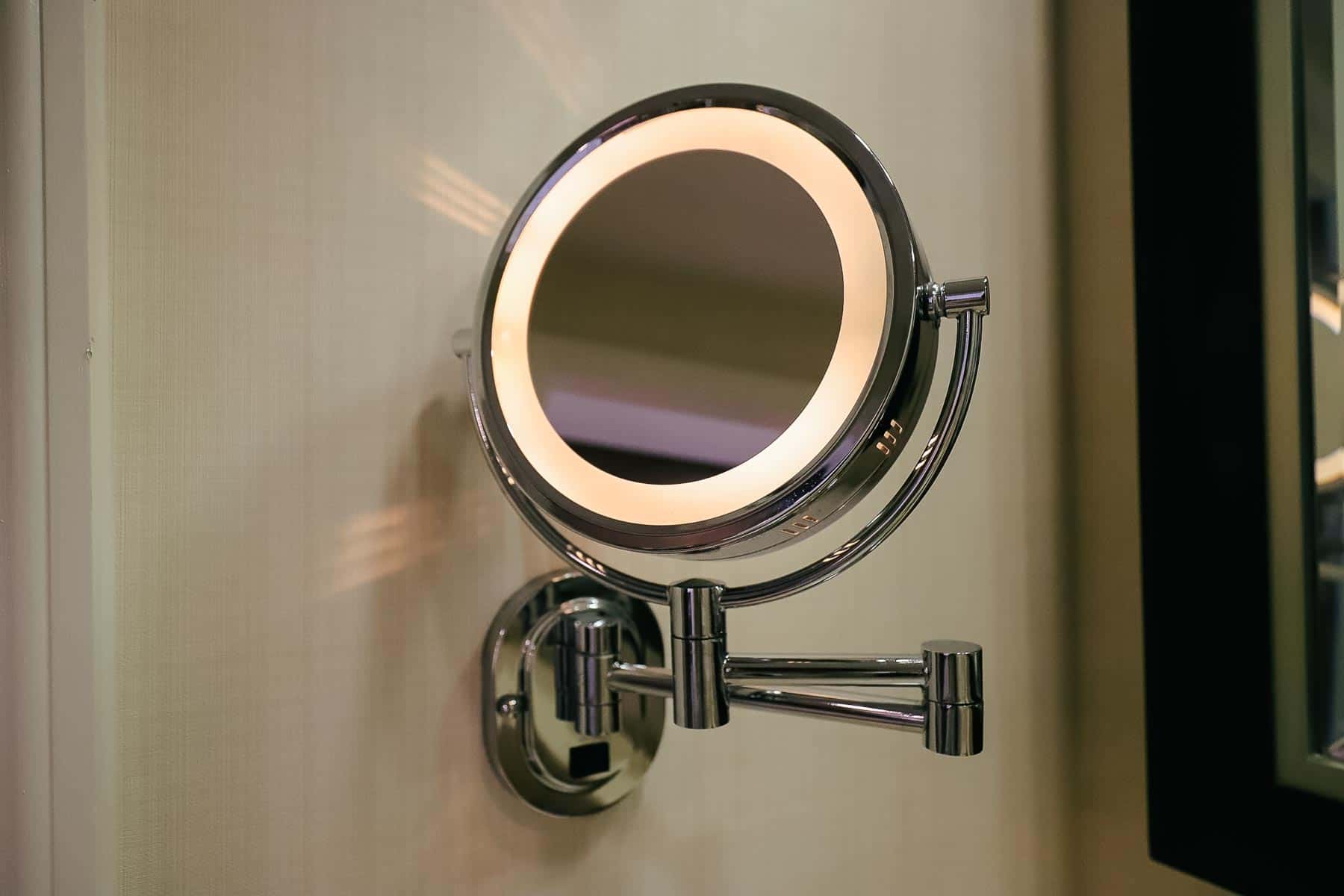 Our bath had a tub with a shower combination. I appreciated the glass shower doors.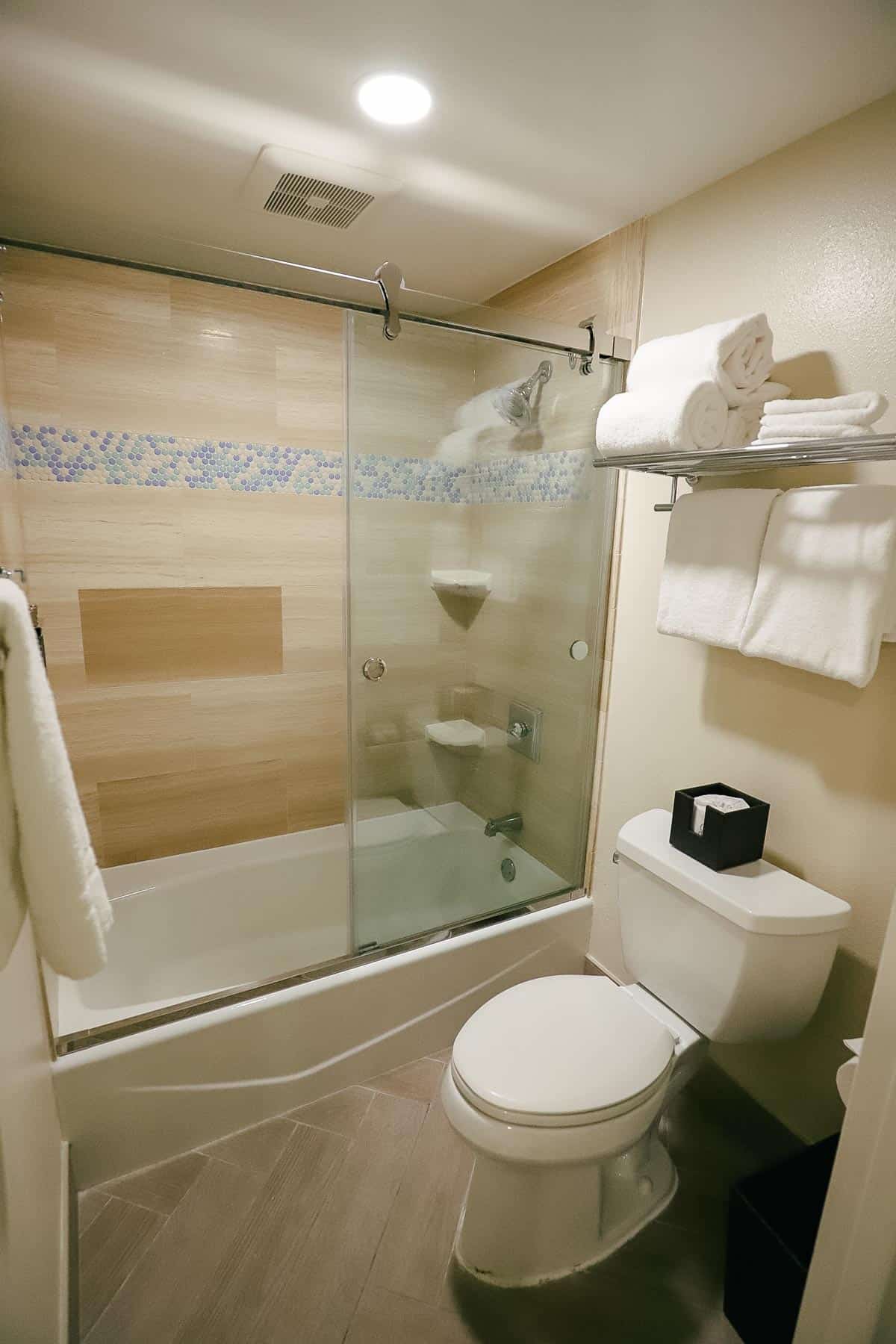 Here is another look.
The water pressure in the shower was excellent. Additionally, several ledges were available to store personal items.
It's come to my attention that some of you might not know that most hotels have a curtain line to hang wet items. In the picture below, you might notice what looks like a small keyhole to the right of the showerhead. On the opposite side of a shower, a clothesline pulls out, and you attach it to the area shown. You can use it to hang items like wet swimsuits.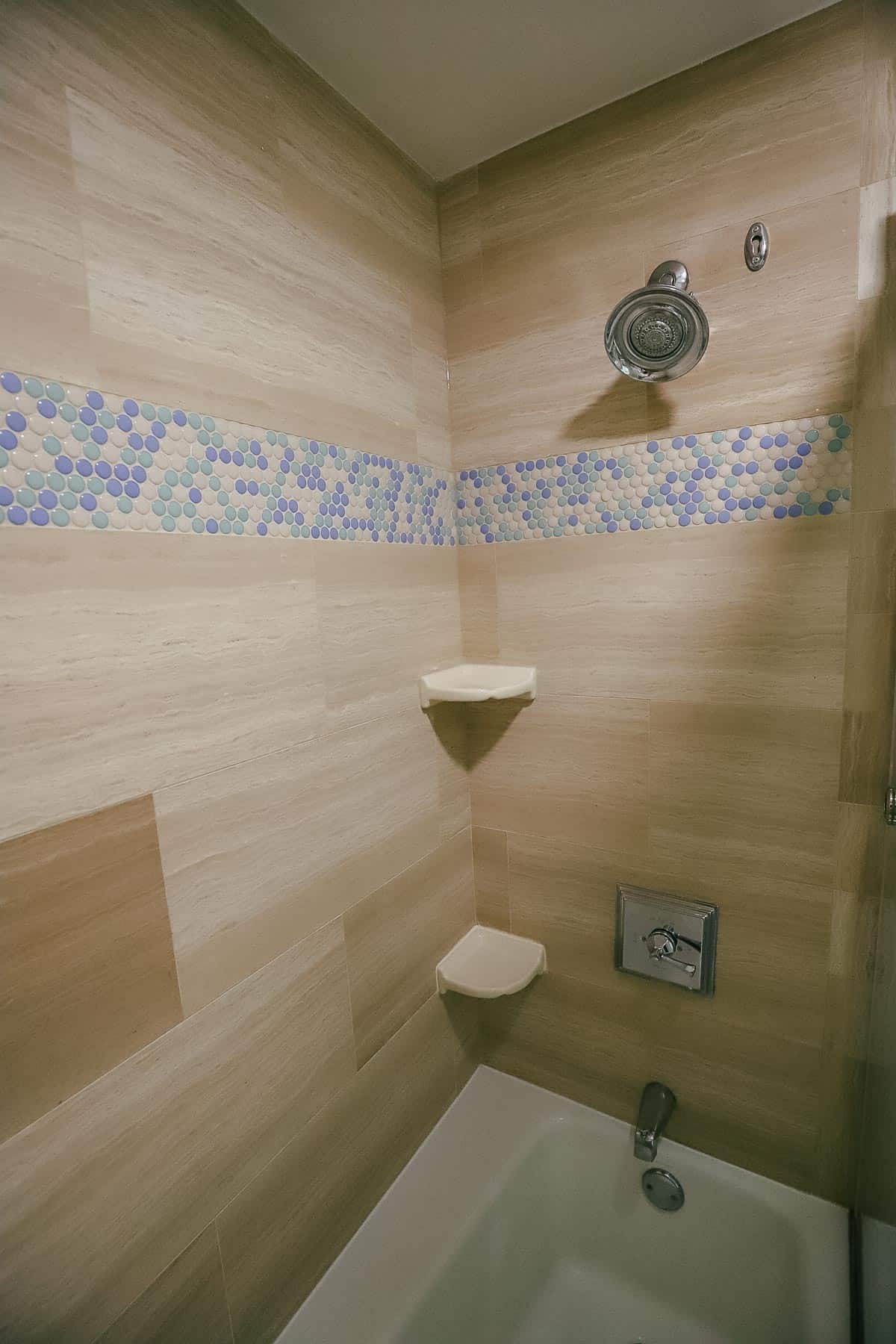 Body wash, shampoo, and conditioner are available in large pumps inside the shower area. These built-in toiletries are so convenient.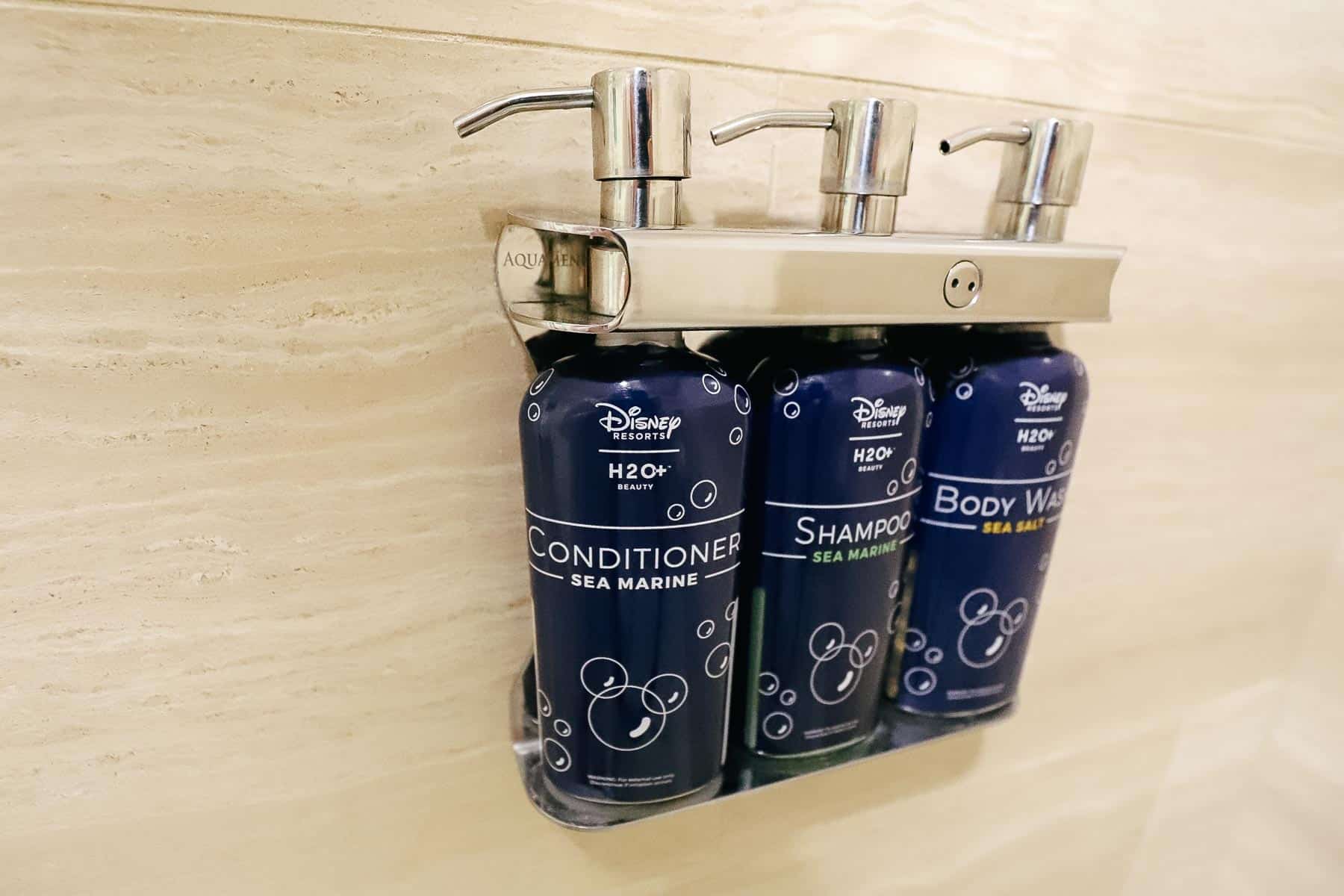 Below is a photo of our main balcony. This balcony was not an issue because it had heavy curtains that blocked the light when we were sleeping. Or should I say, trying to sleep?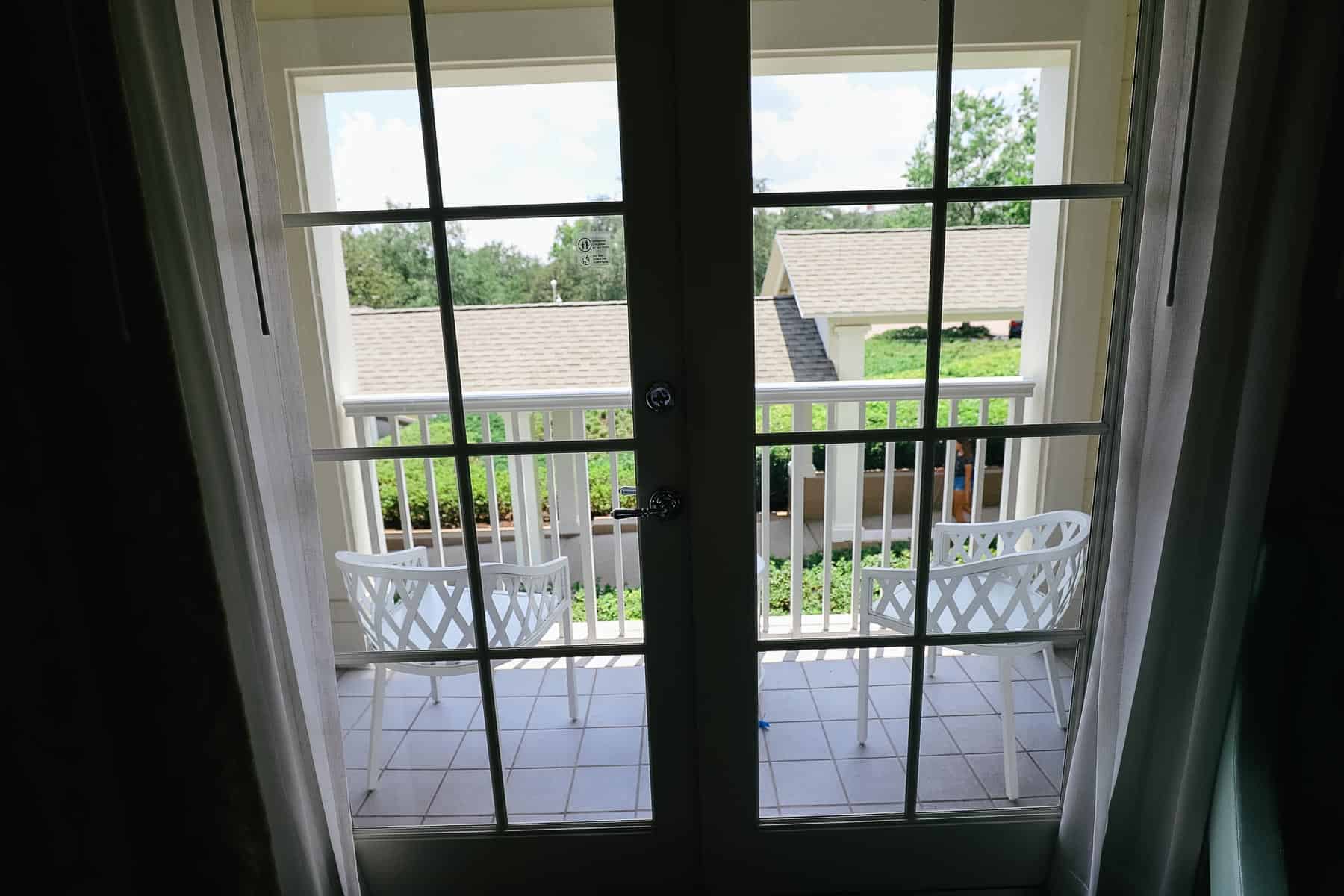 It was a nice size balcony that had a view of the walkway to the bus stop. At times, there was a good bit of foot traffic. While it wasn't necessarily a nuisance, it wasn't private.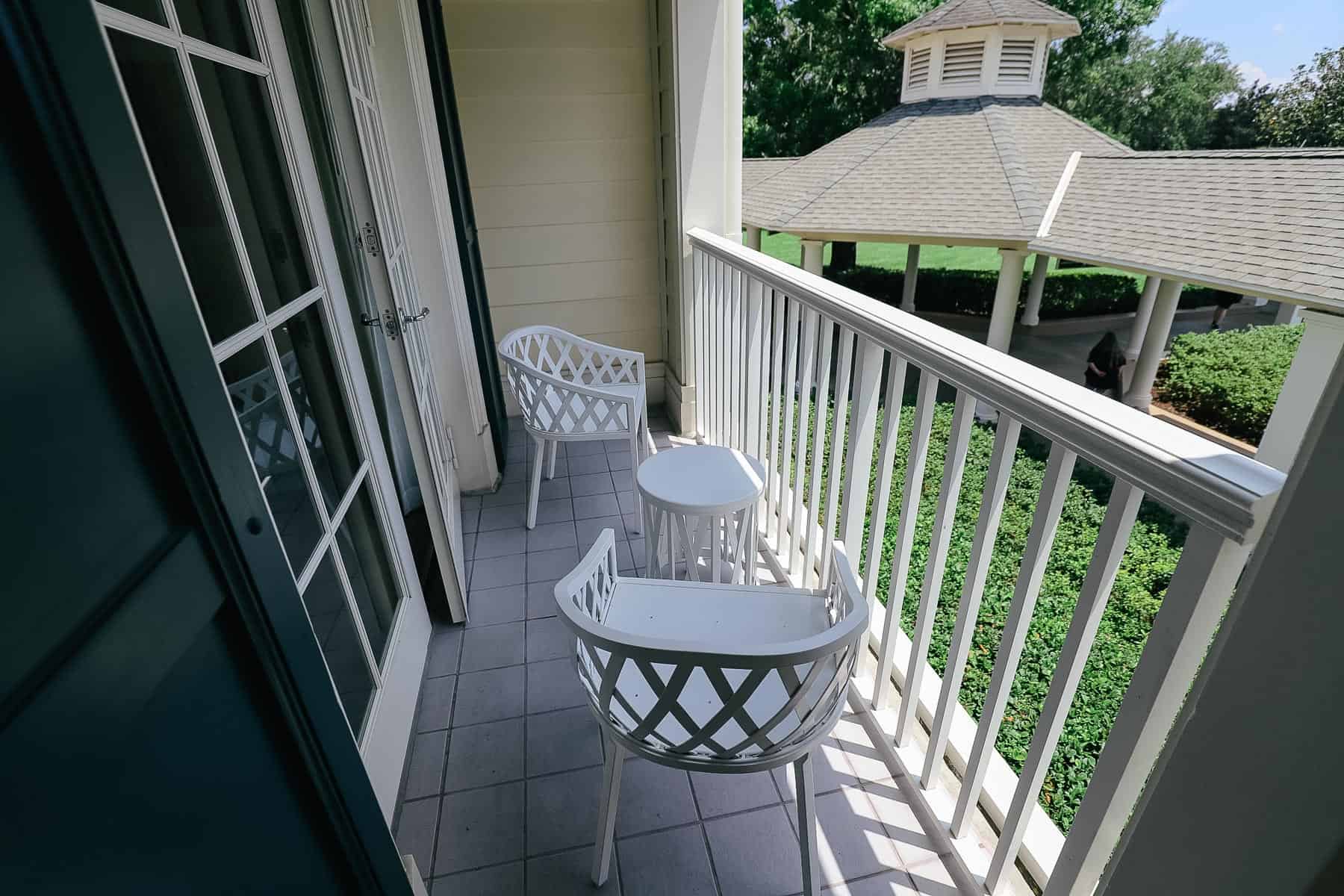 Here is our other balcony, which faces the walkway and convention center. A flood light was on at night next door at the convention center. So it caused a ton of light to come through the sides and cracks in the blinds.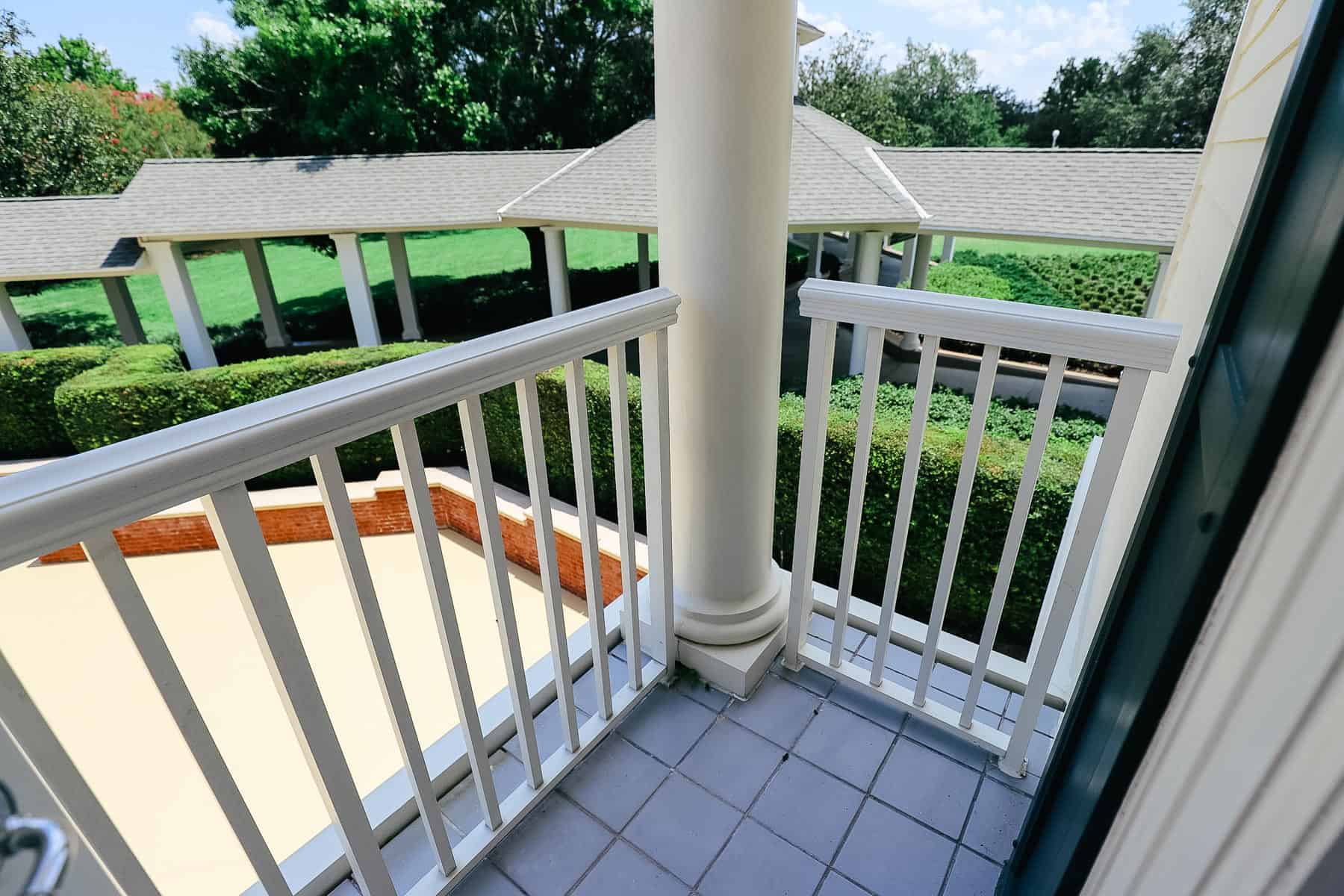 Also, a sizable gap under the main door allowed light to stream in at night. So when it was time for lights out, it wasn't dark. I had to stick towels under the main door, and there wasn't a good solution for the balcony door.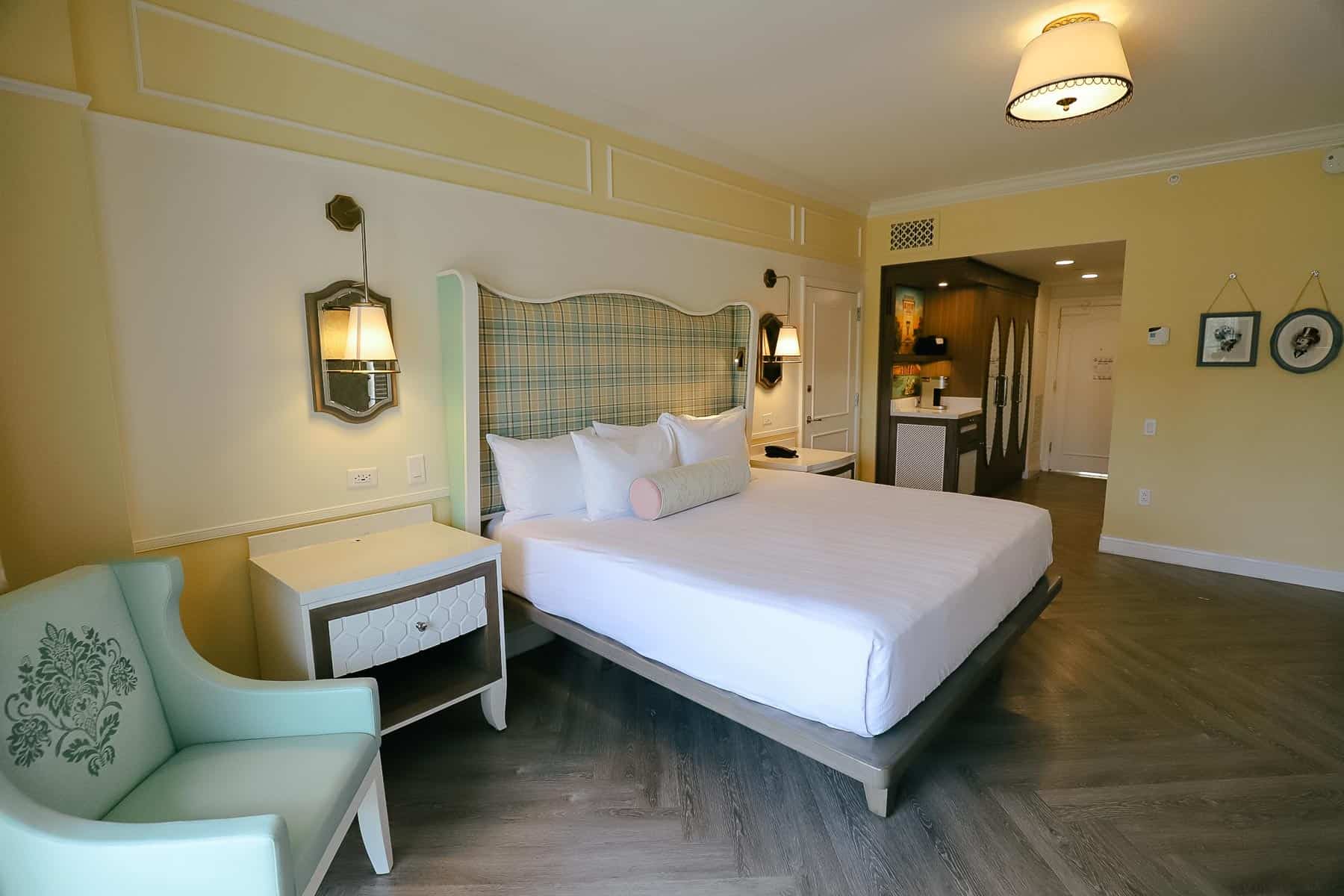 Boardwalk Room Tour Video (King-Size)
Here is a video tour of the room.
Final Thoughts
Overall, we love the new rooms at Disney's Boardwalk. Our room was efficient, quiet, and comfortable. Unfortunately, the corner room (though more spacious) and extra balcony caused a bit of an issue with allowing extra light to filter in at night time.
If we received this room again, I would request to be moved or ask someone to bring something to cover the side door. Of course, going into this stay, we had no idea it would be an issue. After unpacking, it's no fun to move. For some, a little extra light might not be an issue.
If we had been assigned a standard room that wasn't a corner unit, we likely wouldn't have had any issues. We'll eventually return to the resort and see if we can try another room. But in the meantime, we have several more hotels to visit between now and the end of the year.
As for our stay, you'll want to check back for our upcoming review. I love Disney's Boardwalk but left with many mixed feelings about the resort.
For more details, our articles for the resort are listed in a resort guide:
In the Comments
What did you think of this tour of the new rooms at Disney's Boardwalk? Will you plan a stay here?