Disney's Boardwalk Villas with Deluxe Studio Review
Disney's Boardwalk Villas are part of the Disney Vacation Club Resort at Walt Disney World. For those that aren't familiar, a DVC resort is usually part of a larger hotel at Disney World. In this case, the Boardwalk Villas are part of Disney's Boardwalk Inn.
For the sake of this review, we will look specifically at a Disney Boardwalk Villas deluxe studio room. Additionally, I'll add a few advantages to staying at Disney's Boardwalk and why you might want to consider staying in a villa over a standard guest room.
The Boardwalk Villas have several things going for them. Staying at the hotel, in general, has one huge factor that shouldn't be overlooked. And that's the location. Like they say in real estate, location, location, location. The same goes for Disney World.
Disney's Boardwalk Villas are within walking distance to Disney's Hollywood Studios and Epcot. Being able to walk out one of the resort's side entrances and straight onto the walkway to the theme park is a huge advantage. You don't have to worry about waiting on Disney transportation, which leaves you in control of your arrival.
Additionally, Epcot sits on the opposite side of the Boardwalk Resort hotel. When you stay in the Epcot Resort Area, you'll have convenient access to shopping and dining at every hotel.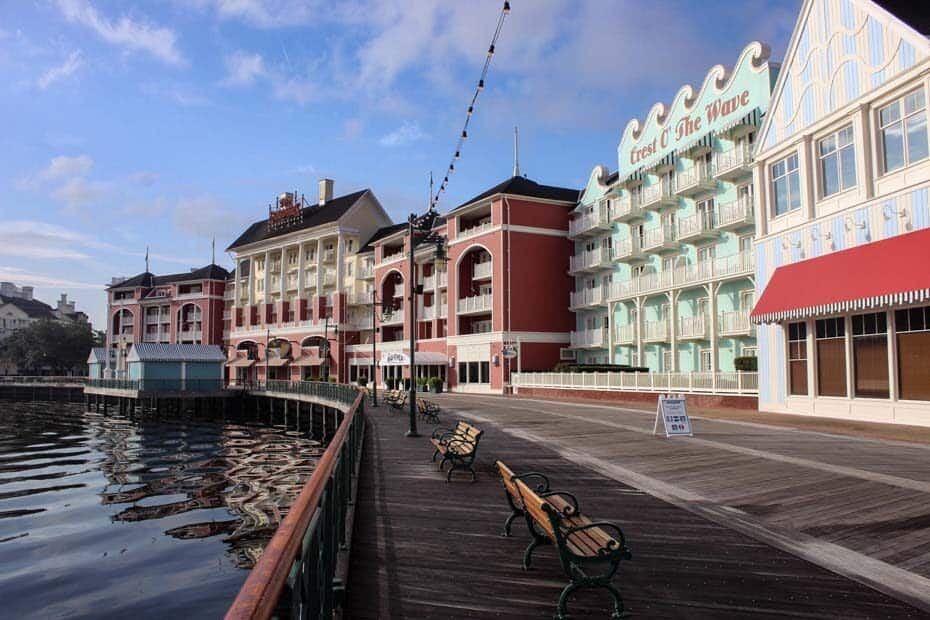 Boardwalk Villas
Since it's a Disney Vacation Club Resort, a stay in Disney's Boardwalk Villas will be slightly different from a regular room at the resort. That's because all of the villas have upgrades.
The main difference is the type of rooms offered in the villas portion of the resort. A villa will have, at the minimum, a kitchenette, a larger bathroom, and usually sleeps up to 5 guests. These are not items you'll find in a regular resort room at Disney World.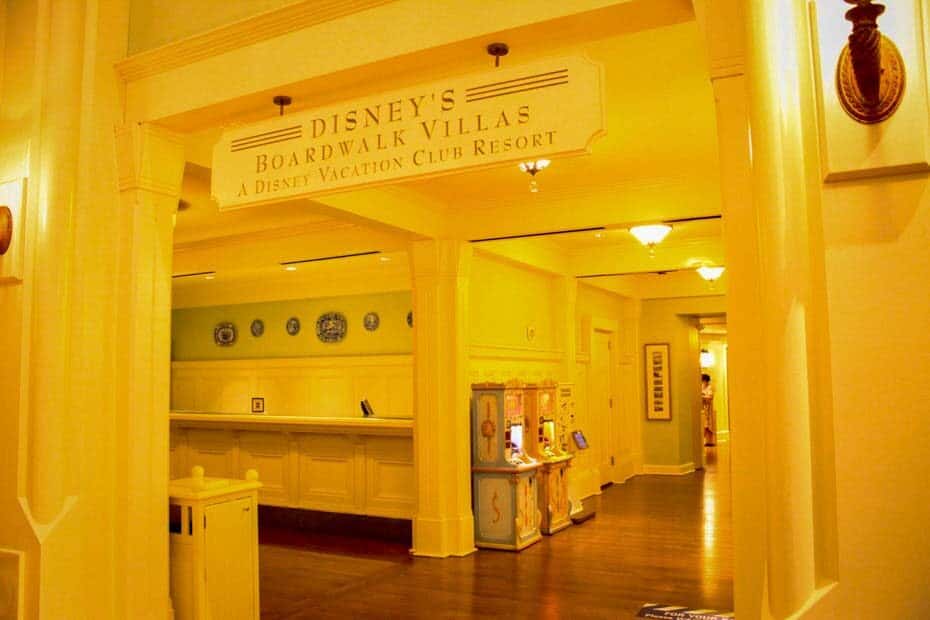 Normally, these rooms are rented to members of the Disney Vacation Club on a point system. While members are generally given first availability, Disney rents the villa rooms to regular guests as well.
As far as Boardwalk goes, the hotel falls into the deluxe Disney World Resort classification. This category means that you will be within close proximity to at least one Disney park. You'll also find the overall amenities at the hotel to be elevated in comparison to a moderate or value resort.
Related: Preview All of the Disney World Resorts
Let's take a closer look at the specific differences you'll find at the Boardwalk Villas.
Boardwalk Villas Deluxe Studio
Below is a picture of our deluxe studio at Disney's Boardwalk Villas. The villas have recently been refurbished. I thought the subtle color palette was refreshing and calming. The sage wall color and the pops of red and pink undertones help make the room feel spacious.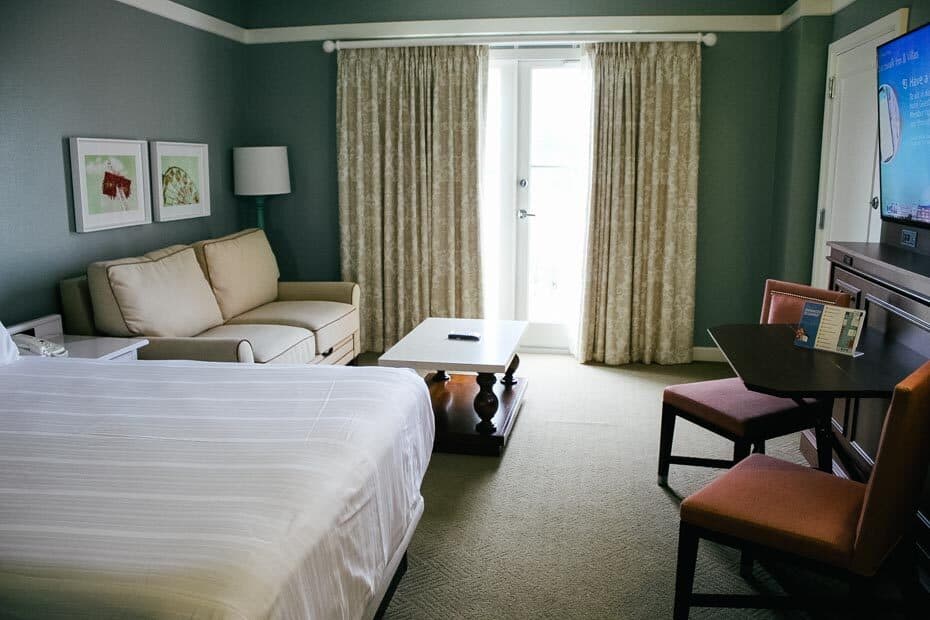 Most of the studio rooms have a queen-size bed with a queen-size sleeper sofa. This was similar to the setup in our studio room at the Grand Floridian Villas.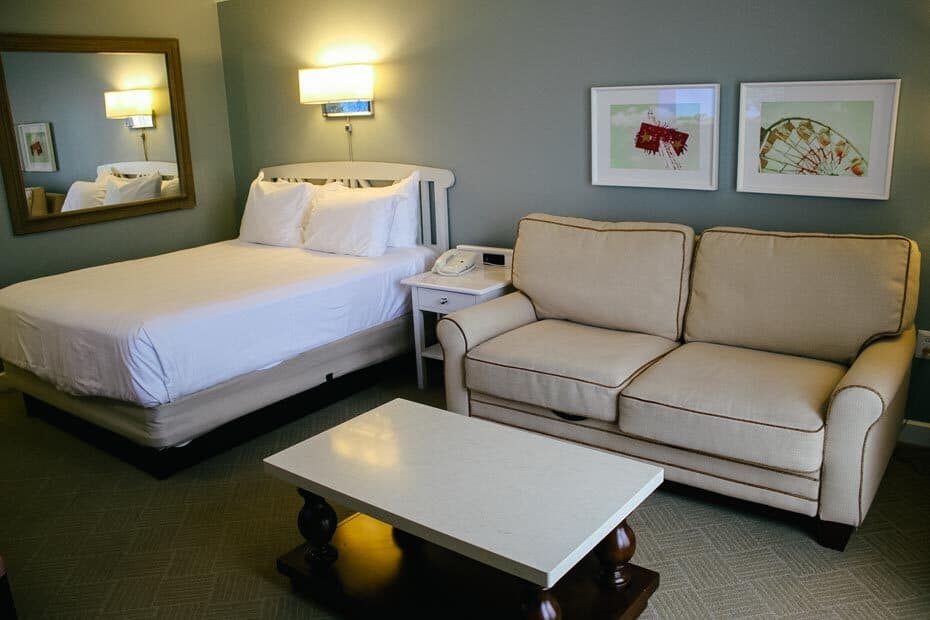 After our stay in a deluxe studio at Disney's Riviera Resort, I have to admit I prefer the pull-down Murphy bed over the sofa bed. The sofa beds are not very comfortable for a lengthy stay.
Related: Disney's Riviera Resort Review
A king bed is only available in a one-bedroom villa, two-bedroom villa, or three-bedroom grand villa.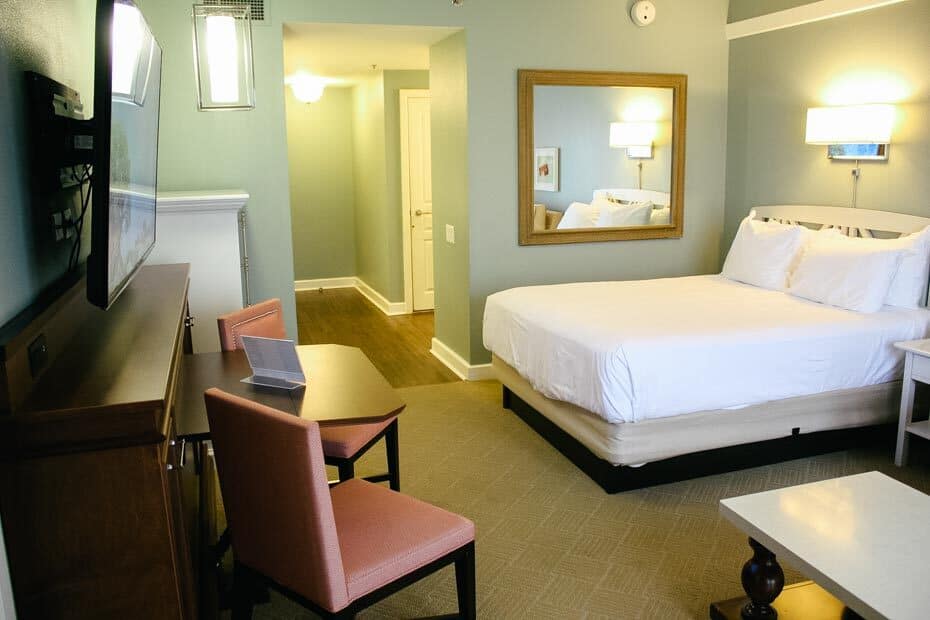 I thought the convertible table with chairs was a nice room amenity.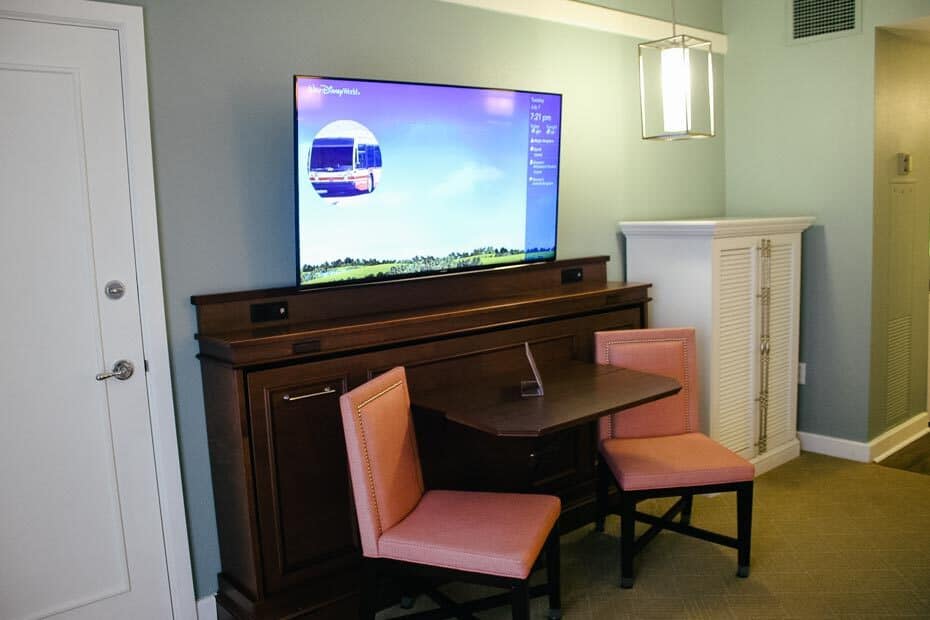 The table folds down making this area the perfect place to enjoy a meal.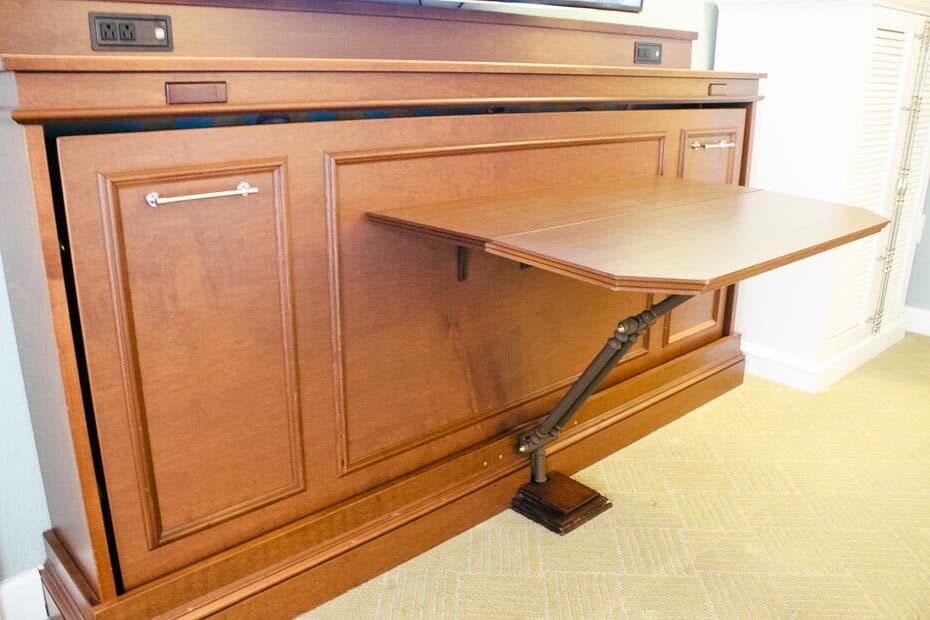 And a trundle bed opens up revealing a single trundle bed. These beds are usually recommended for children ages 12 and younger.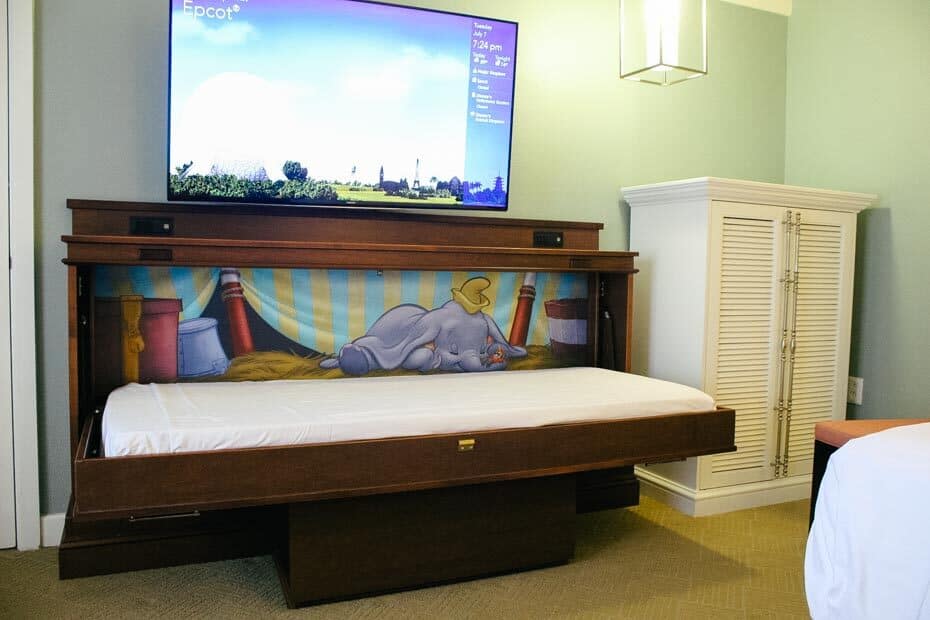 Dumbo and Timothy Mouse are snoozing on the artwork inside the panel of the trundle bed.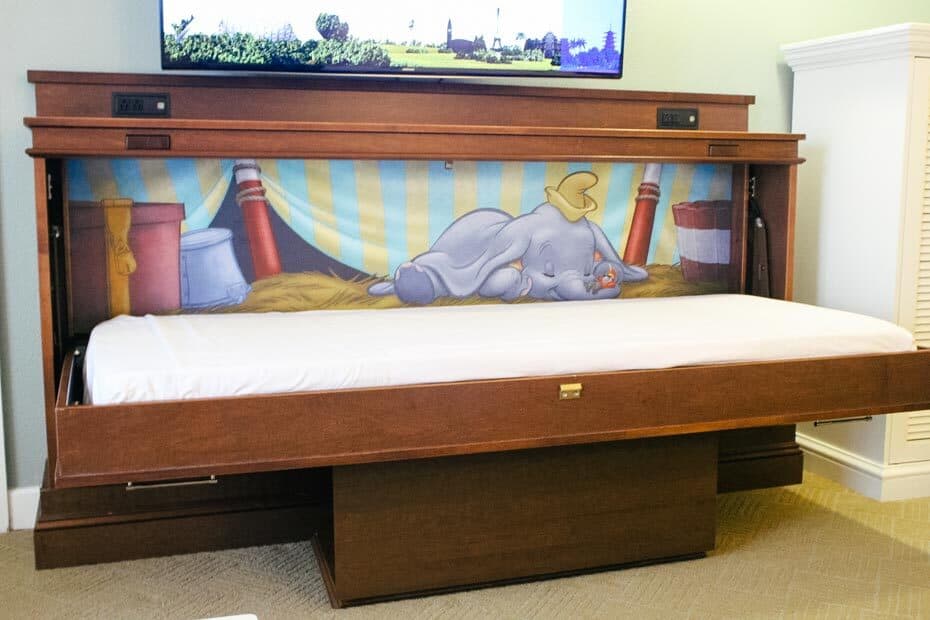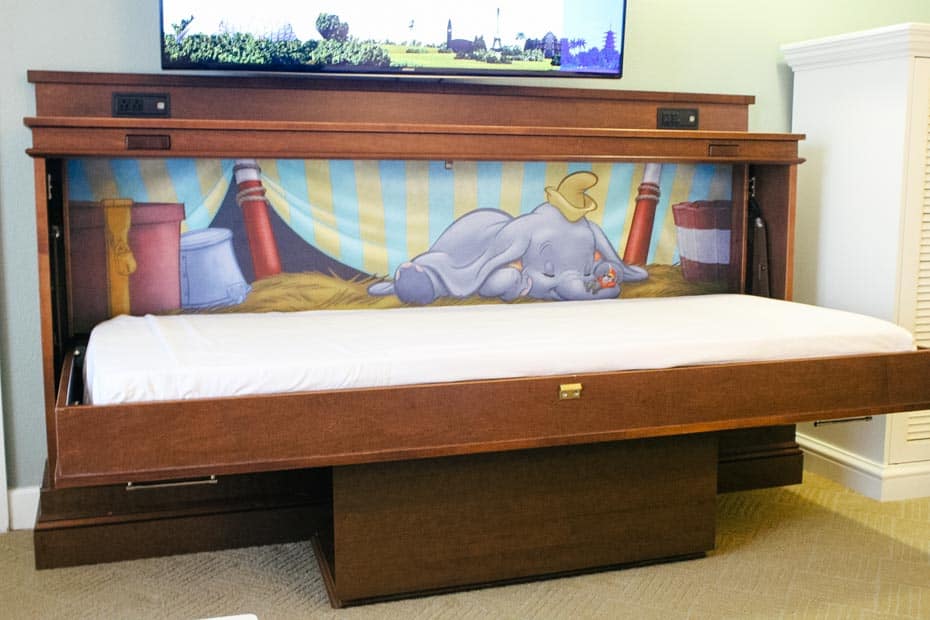 Here is a view of our room with the queen bed, sofa bed, and trundle in use. The coffee table easily rolls out of the way and I was able to stack the sofa cushions on top.
There was still plenty of walking space in the area, and the balcony was still accessible.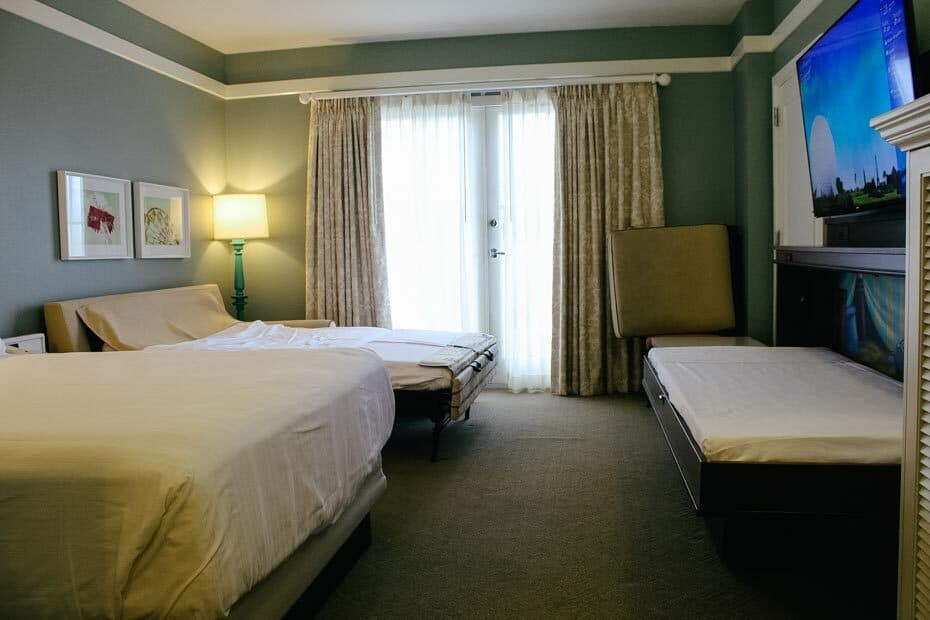 A large armoire sits in the corner with adequate storage space inside. The drawers were deep and I liked the fact that there wasn't a lot of hidden storage in the room. I'm always afraid I'll tuck something away and forget it when we leave.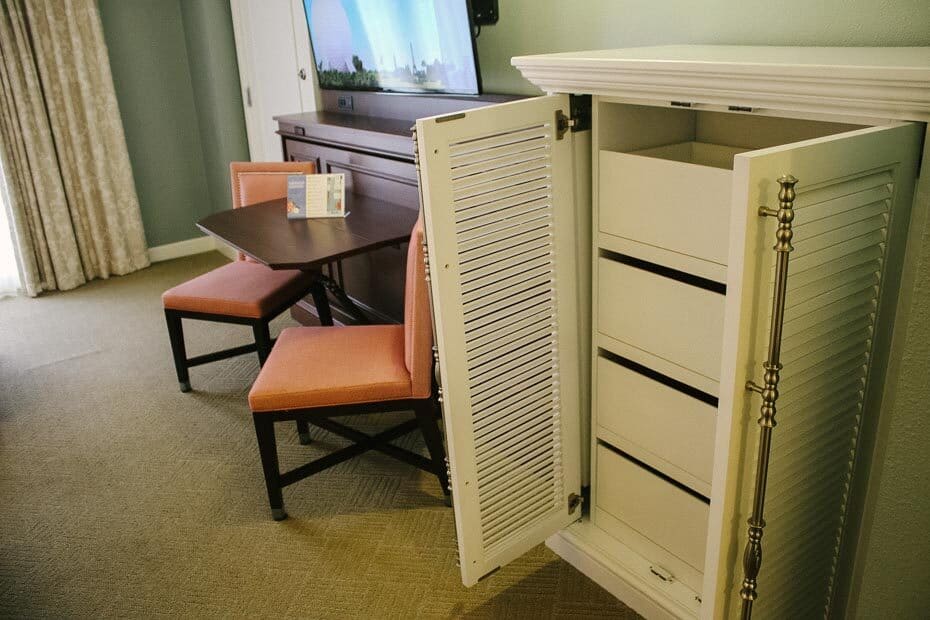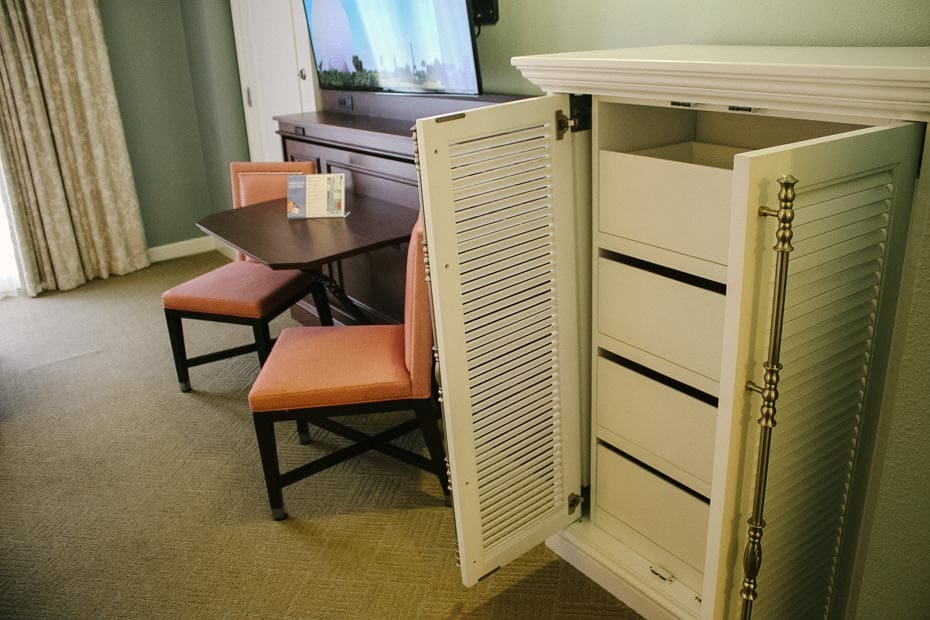 A majority of the Boardwalk Villas rooms have balconies. It can be a roll of the dice when it comes to room views. We had a standard view room which ended up being a garden view. It was fun to watch the Disney Skyliner pass by our room in the distance.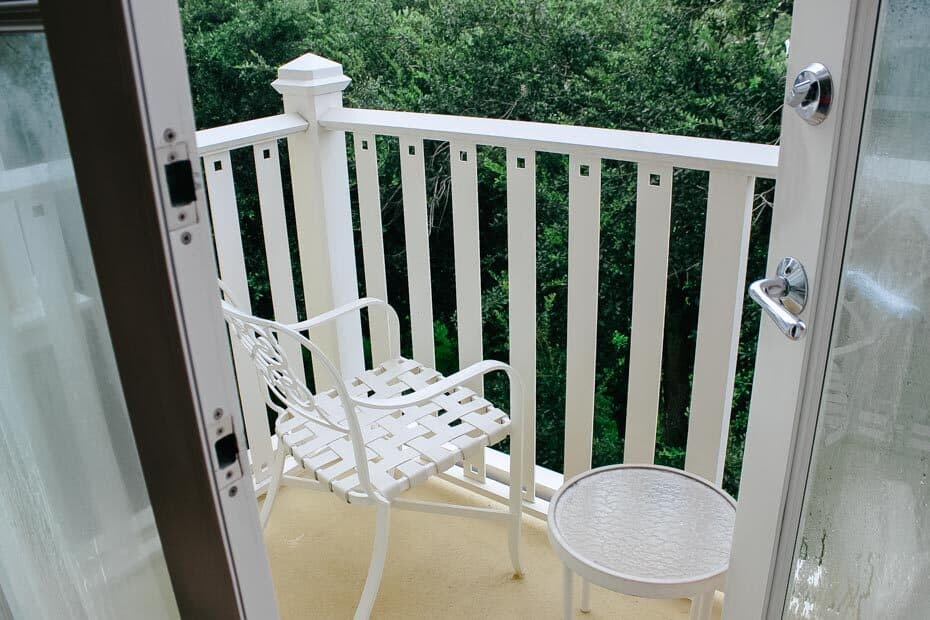 If you plan to spend a good amount of time in your room, you might consider upgrading to a Boardwalk view.
Moving on the guest bath was open with the vanity area separate from the water closet. That's always a plus when multiple people are getting ready.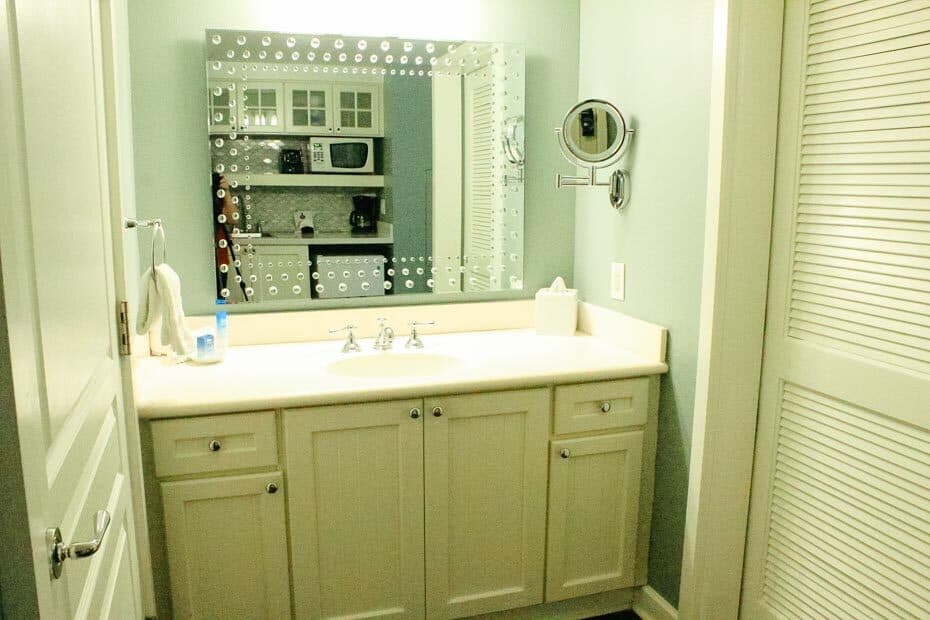 There was plenty of counter space, storage underneath the vanity, and my favorite item, the built-in makeup mirror.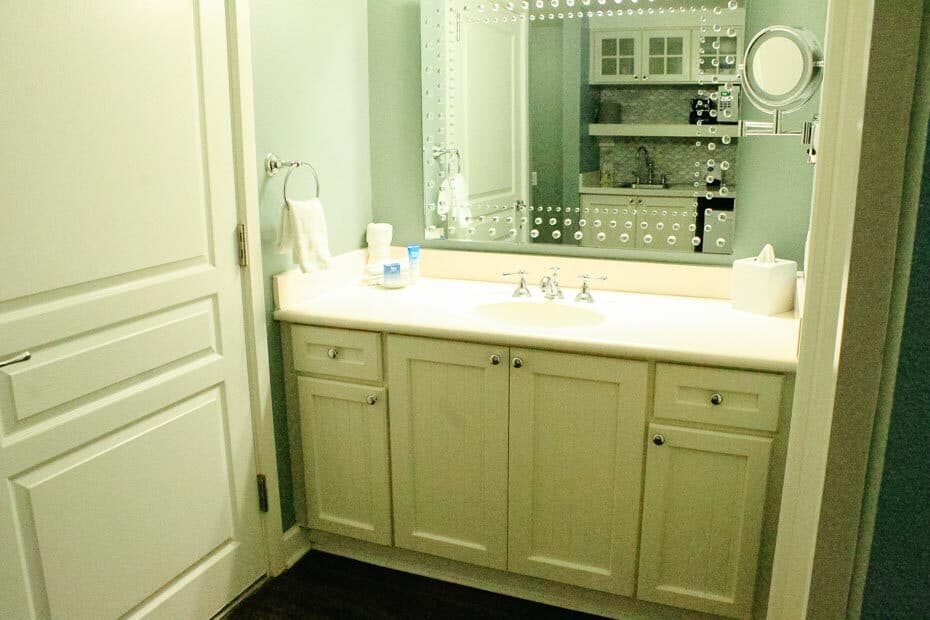 To the immediate right of the vanity area is a full-size closet providing additional storage. Inside you'll find an in-room safe, extra pillows and blankets, a luggage rack, and an iron with an ironing board.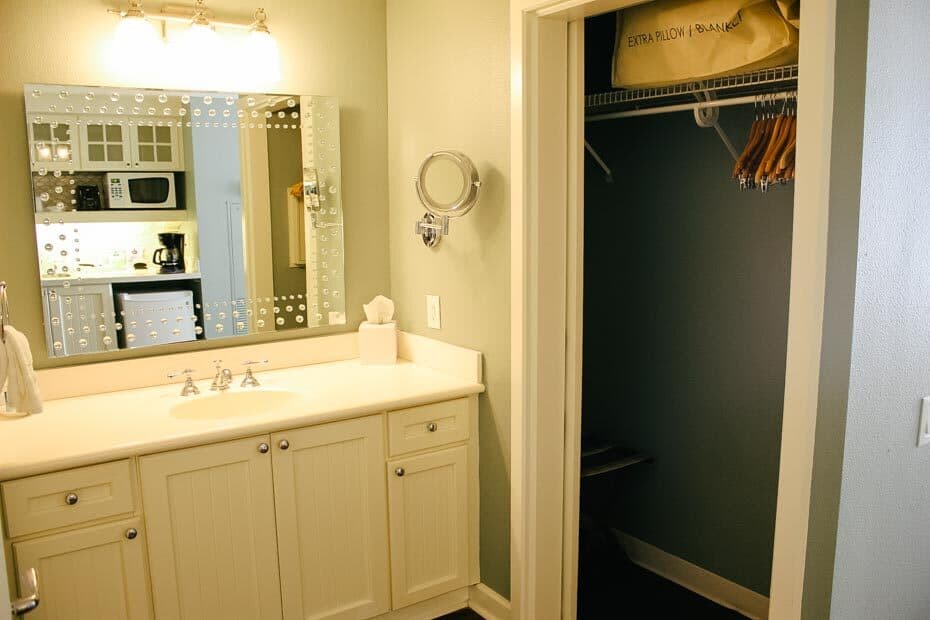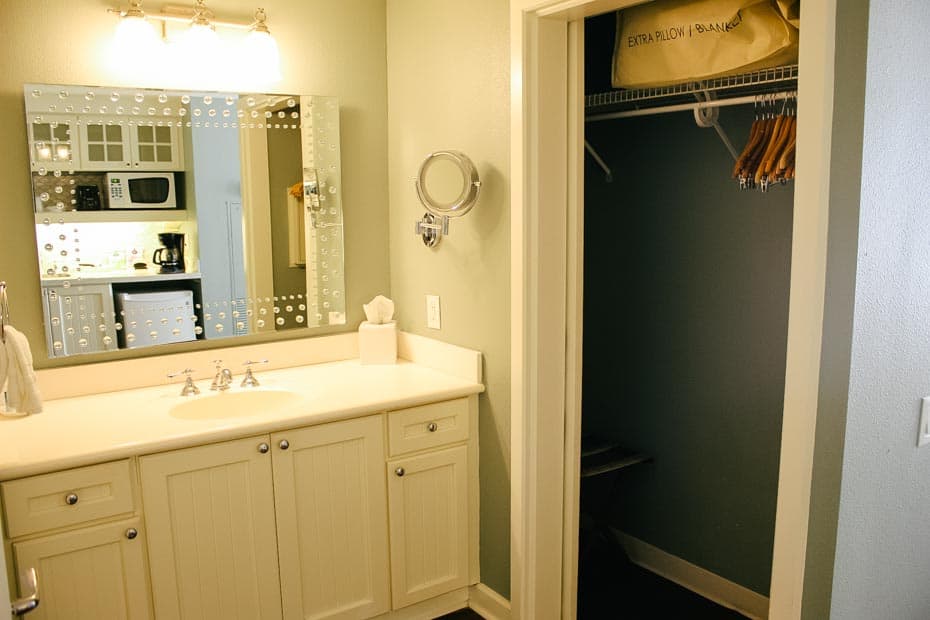 The actual bath has a standard shower with a tub combination. The baths are probably the largest item that varies greatly between the different villa resorts. For example, our Copper Creek villa studio had a walk-in shower instead of a standard bath.
The kitchenette is tucked in the hallway between the foyer and the main living space.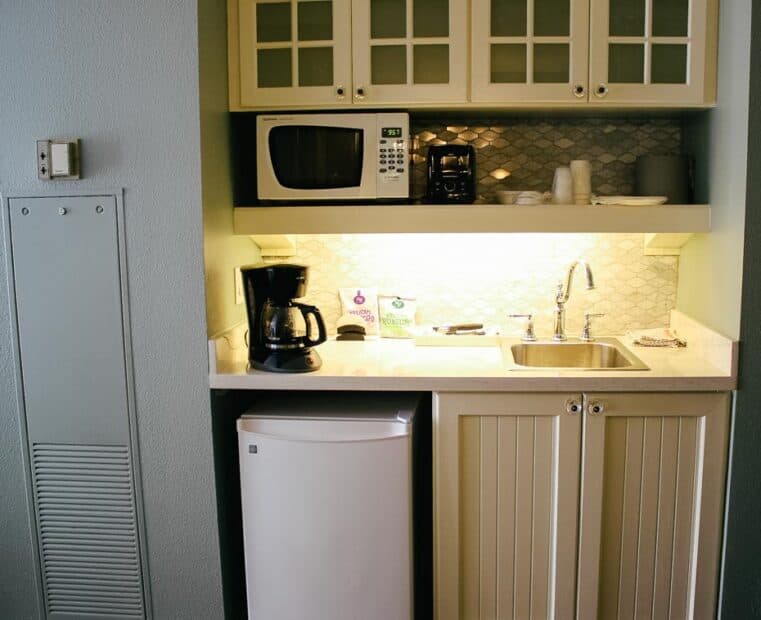 The design of the kitchenette is practical given the smaller space. While it's not a fully equipped kitchen, the area is very efficient.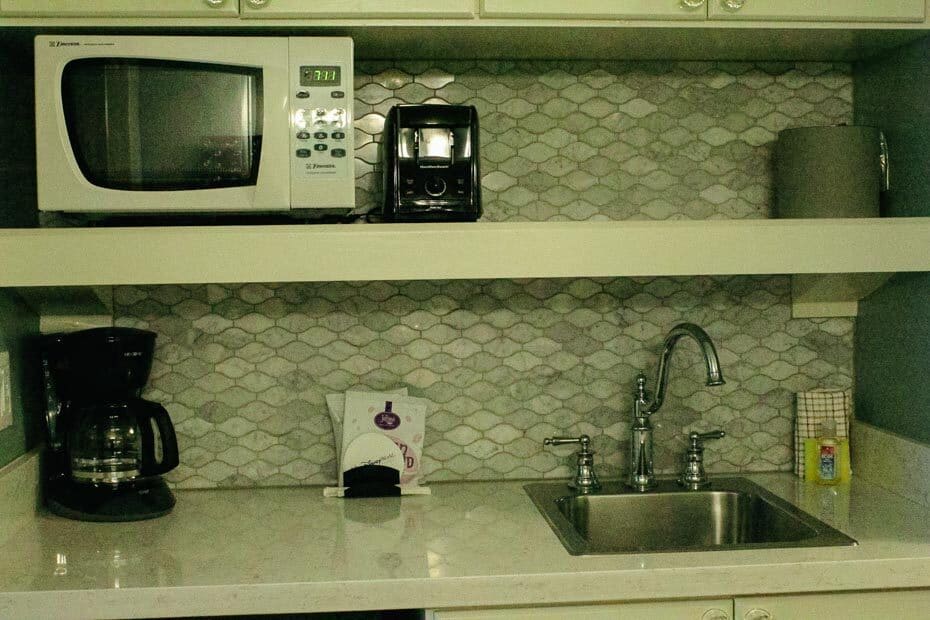 It's nice to have a separate sink area in your room.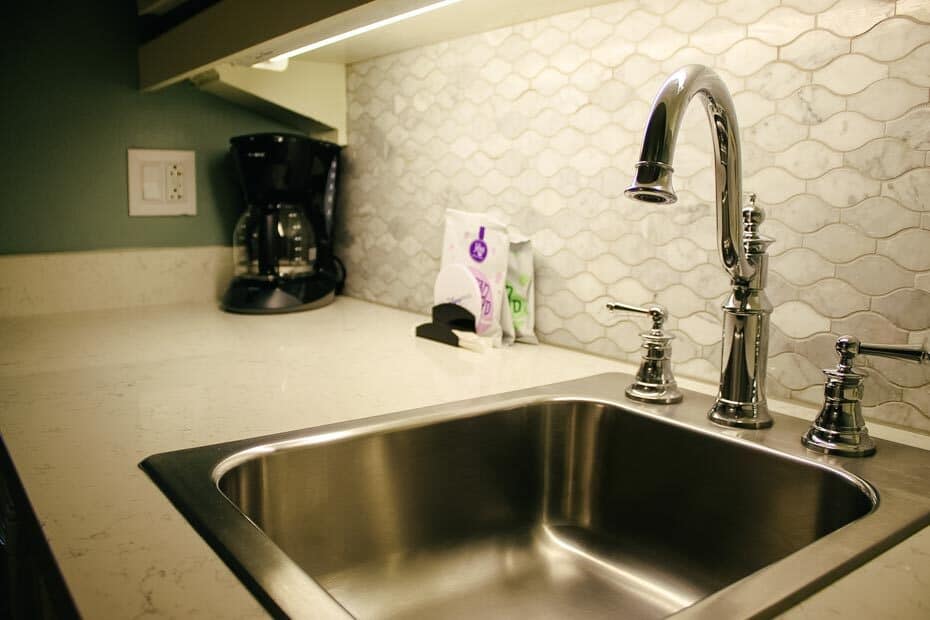 Our room had a standard coffee maker.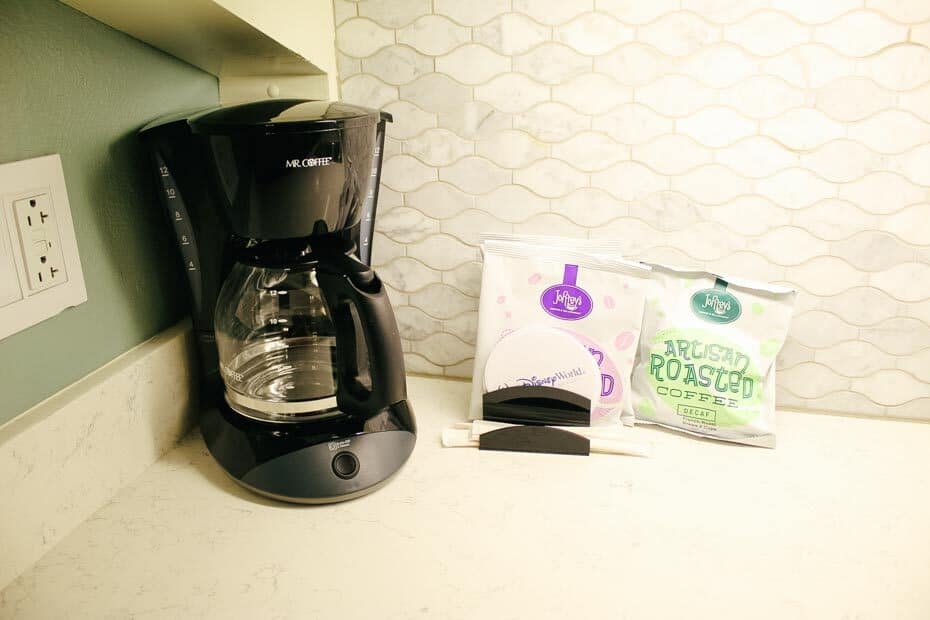 Complimentary coffee and accompaniments are provided. There was a roll of paper towels, dish liquid, and a kitchen towel.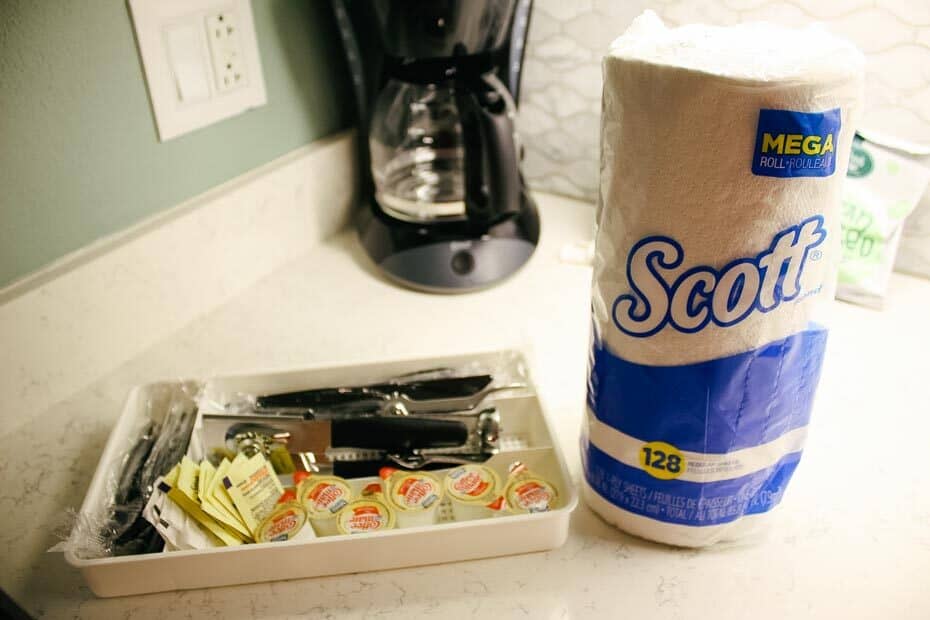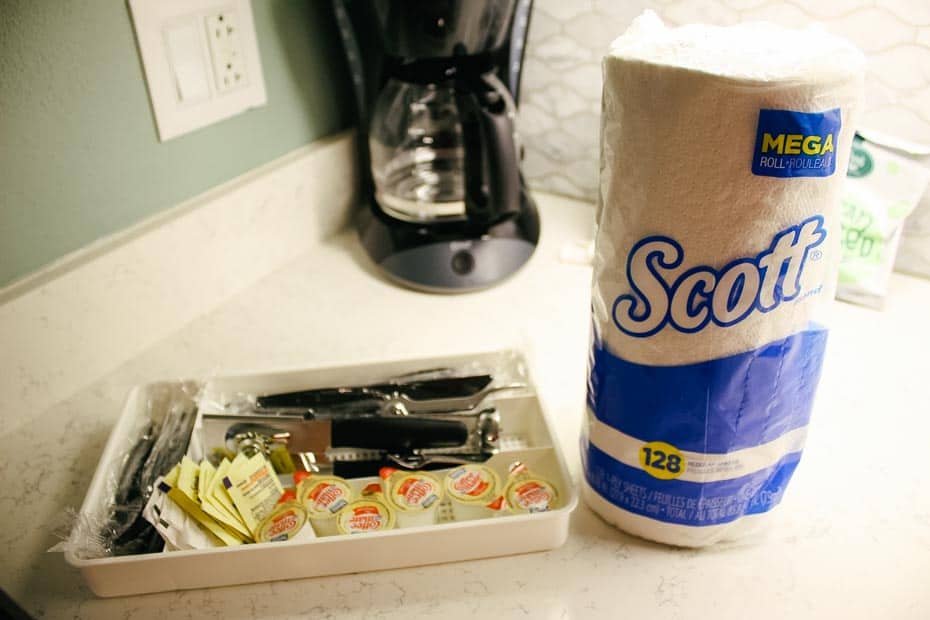 On the shelf above sits a microwave and toaster oven. I've always assumed that most people staying in these types of rooms prepare breakfast here to save money. And potentially a few other meals as well.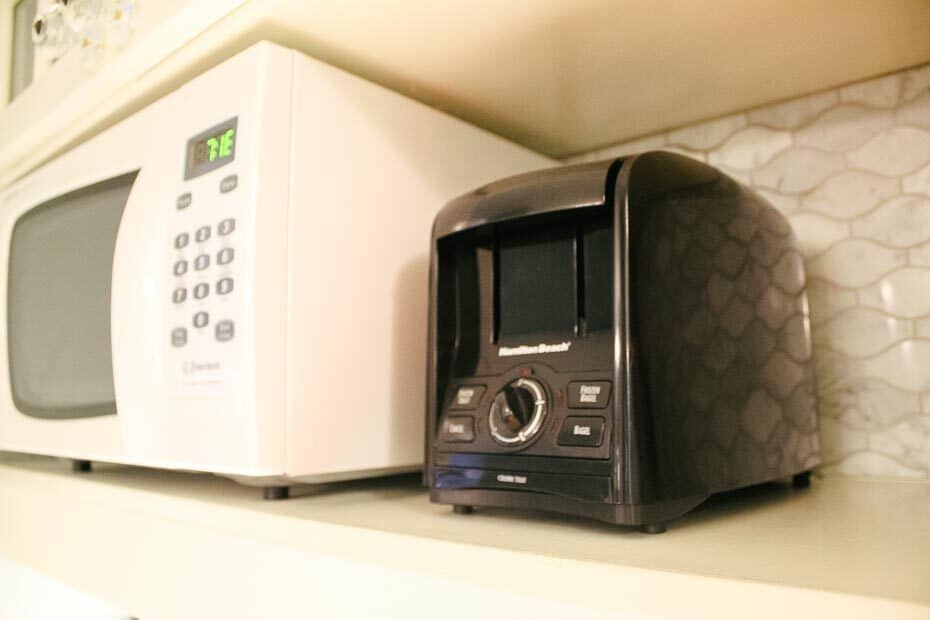 Underneath the counter is a decent size refrigerator. These are a little larger than what you would find in a standard hotel room. The top of the refrigerator has a freezer shelf.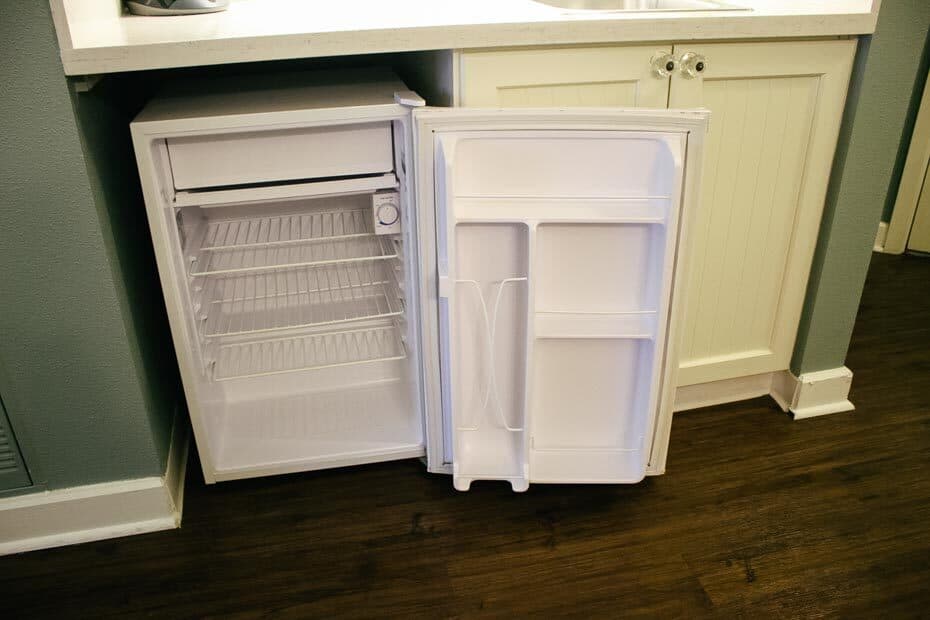 Normally, these rooms have ceramic dishes. You can use the sink to wash them and reuse them as needed over the course of your trip.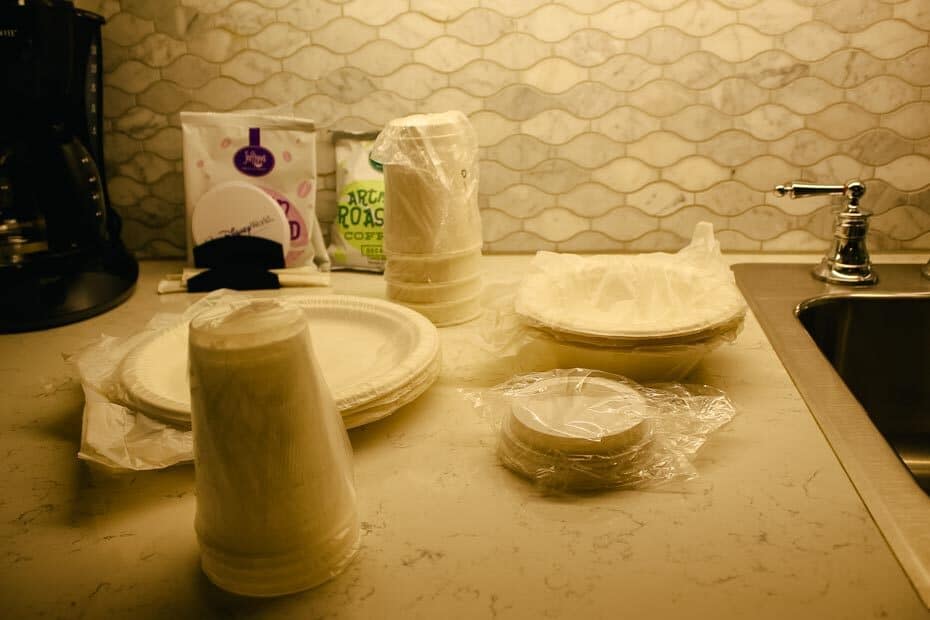 Below the sink is an area for the garbage and recycles bin. Having the ability to store these items out of the way is another thing I like about the room.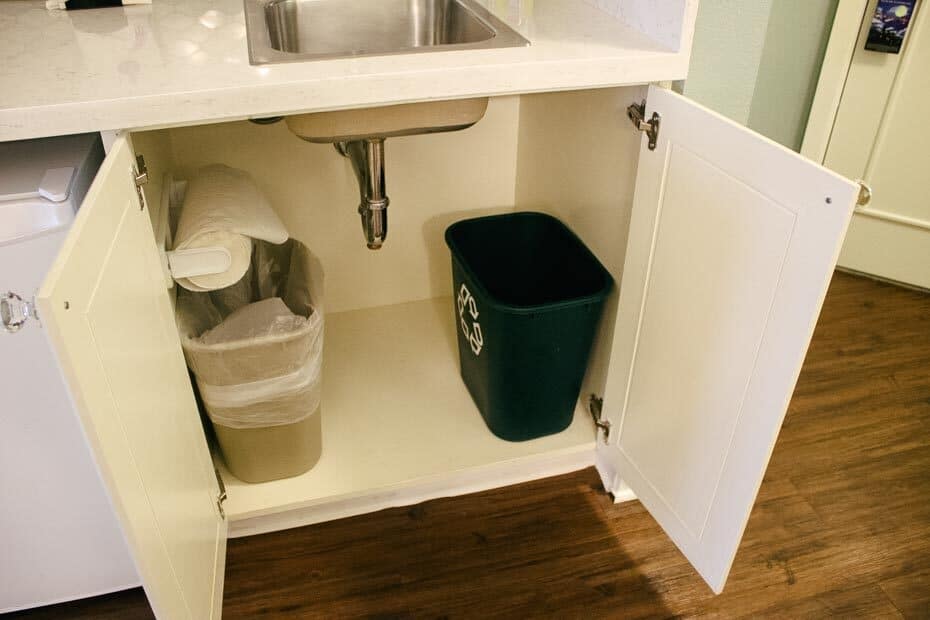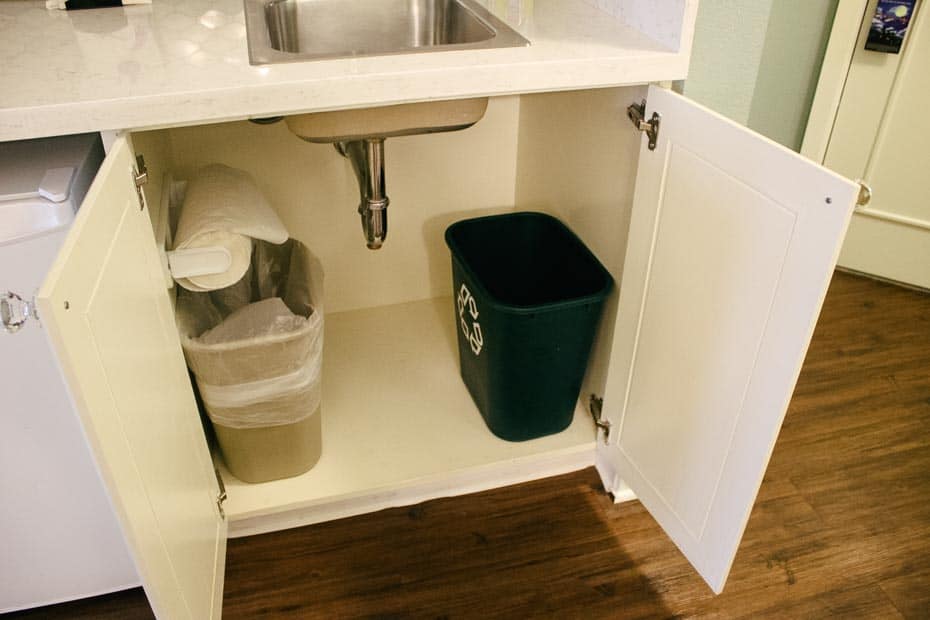 Overall, I thought the room elements were well thought out. And I wouldn't hesitate to reserve this room type again in the future.
While I don't want to delve deep into covering the entire hotel in this post, I do want to mention a few of the resort's amenities.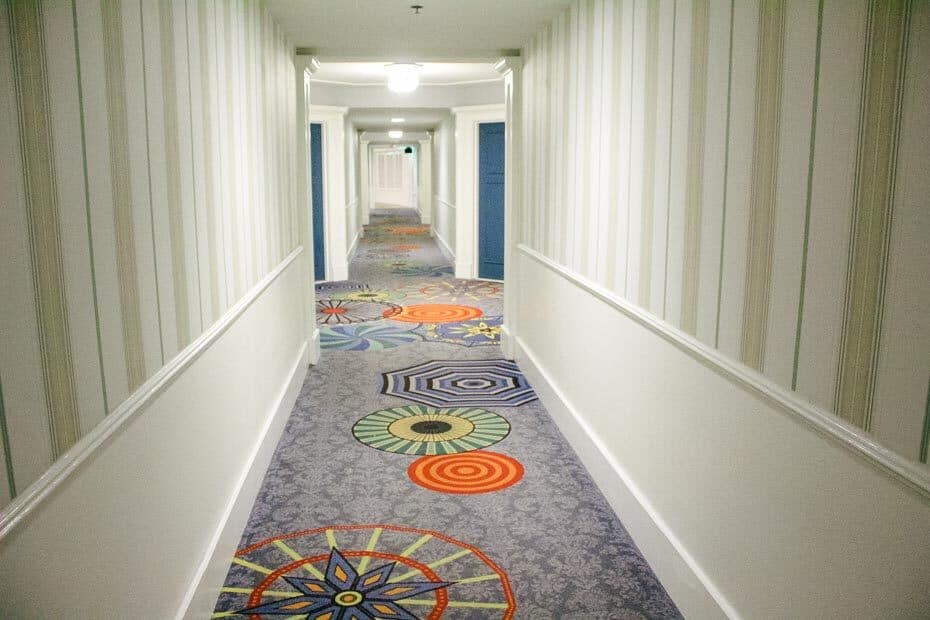 Below is a picture of the elevator lobbies. All the colors used in the resort are bright and charming. But I especially like the villas portion of the Boardwalk.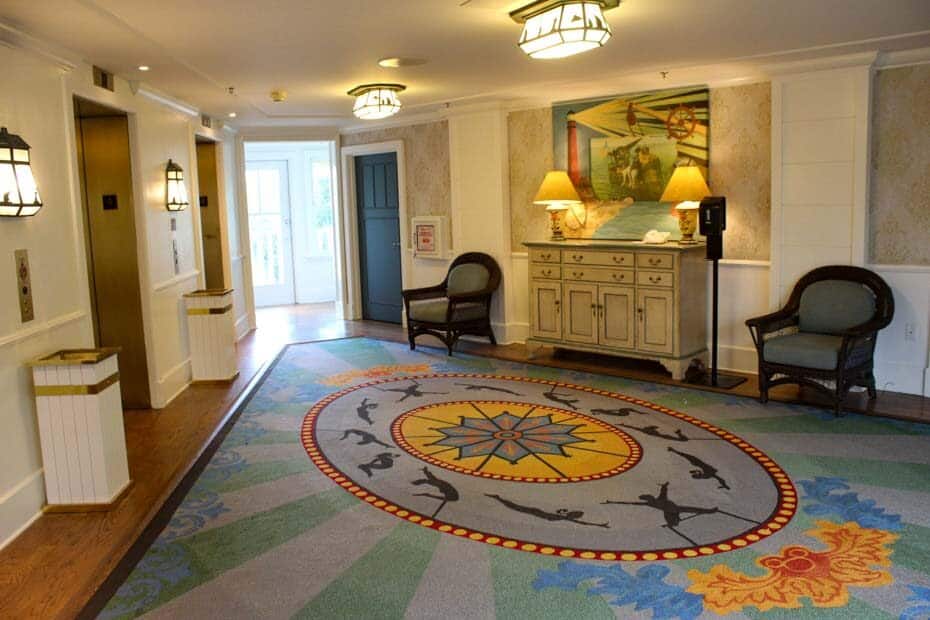 Here's a look at the updated Luna Park pool, which is the resort's feature pool.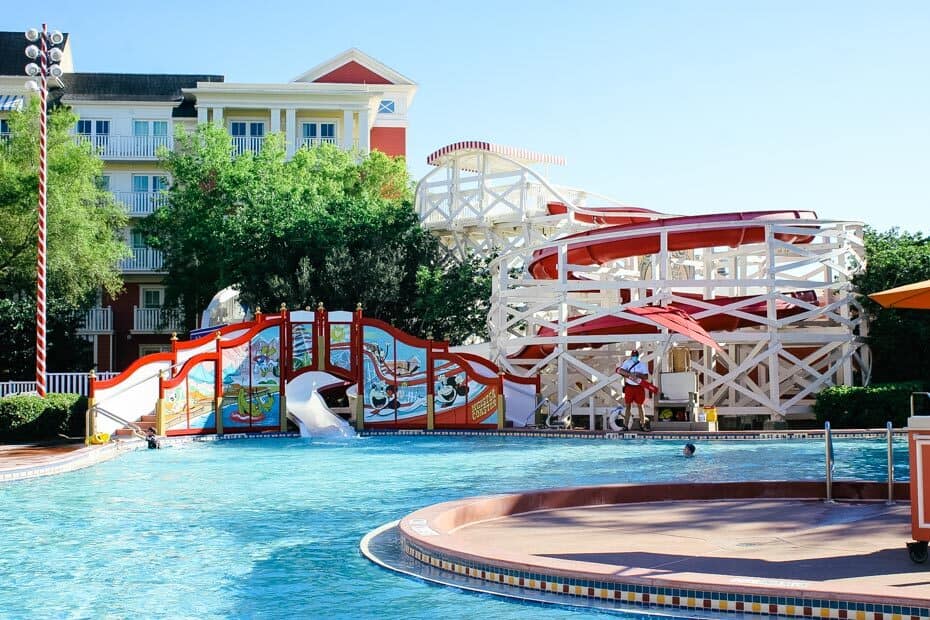 There is a separate kiddie pool available in this area and a playground. If you are a pool person you might prefer a stay at Disney's Beach Club to use their Stormalong Bay pool area. They have the nicest pool on property and it's shared with Disney's Yacht Club
Related: Best Pools at Disney World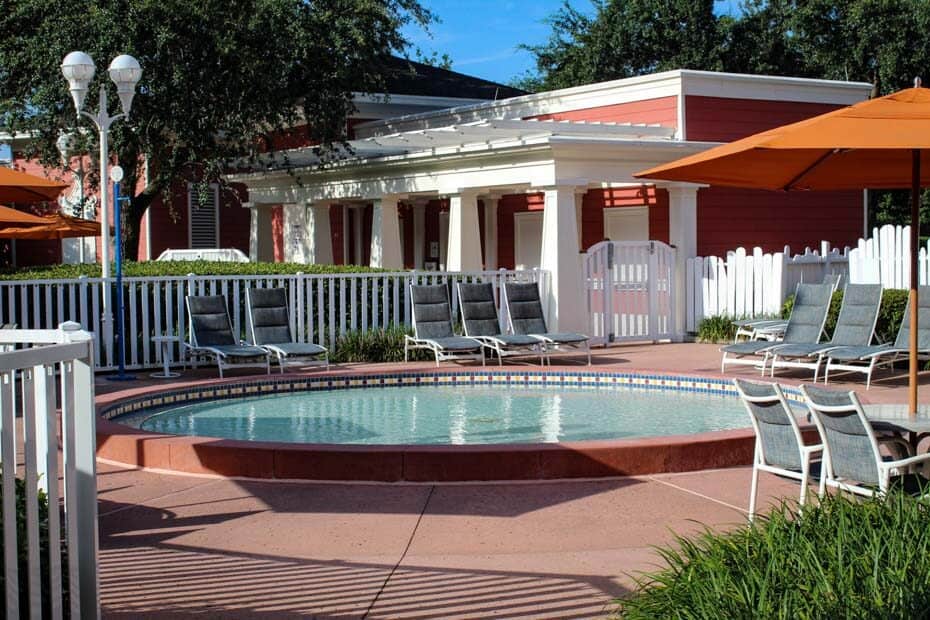 Back at the Boardwalk Villas, there is a separate quiet pool next to Community Hall. DVC members are privy to some of the things at Community Hall.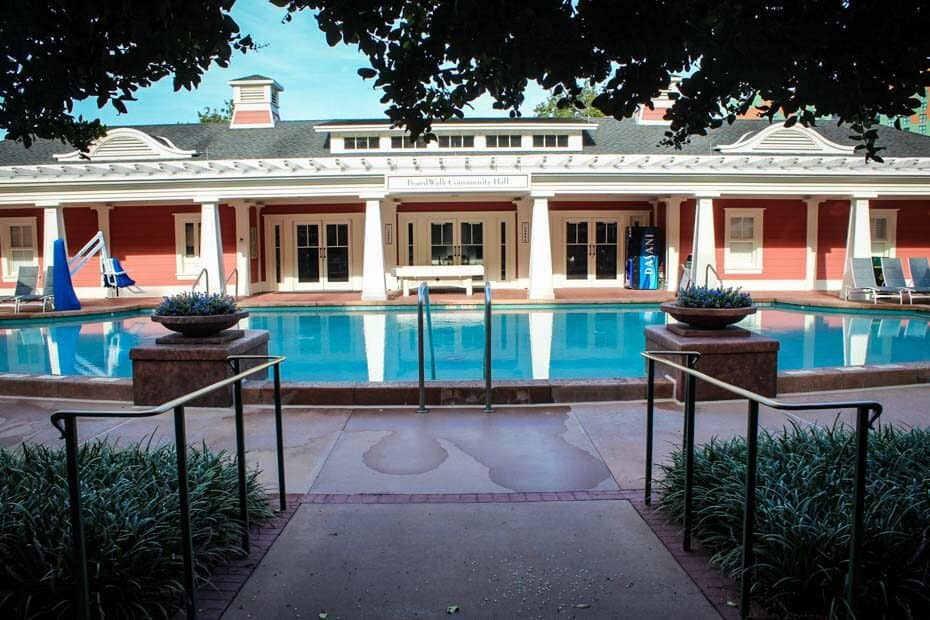 All of the villas resorts offer a separate grill area for their guests.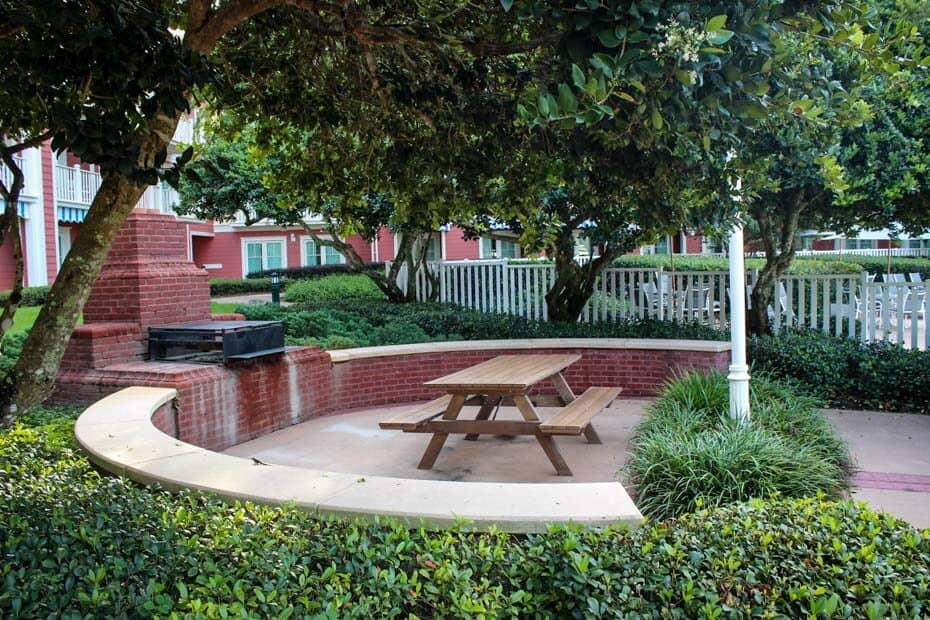 And there's Muscles and Bustles gym for anyone looking to maintain a workout schedule on vacation.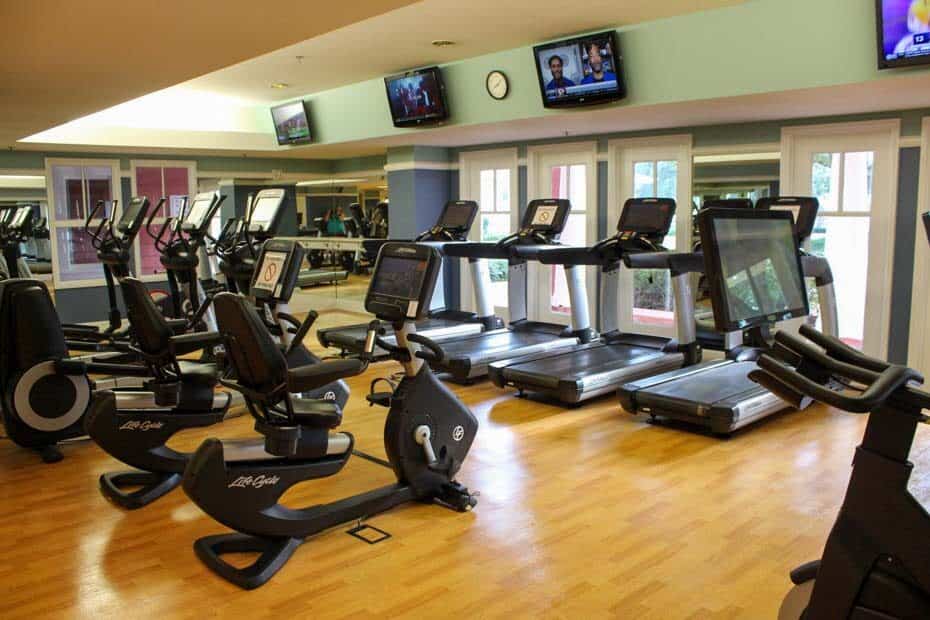 The resort is home to several dining venues and provides easy access to dining at the surrounding resorts. If you enjoy Disney signature dining, you are in luck. Some of the choices include Flying Fish, Yachtsman Steakhouse, and Shula's Steakhouse.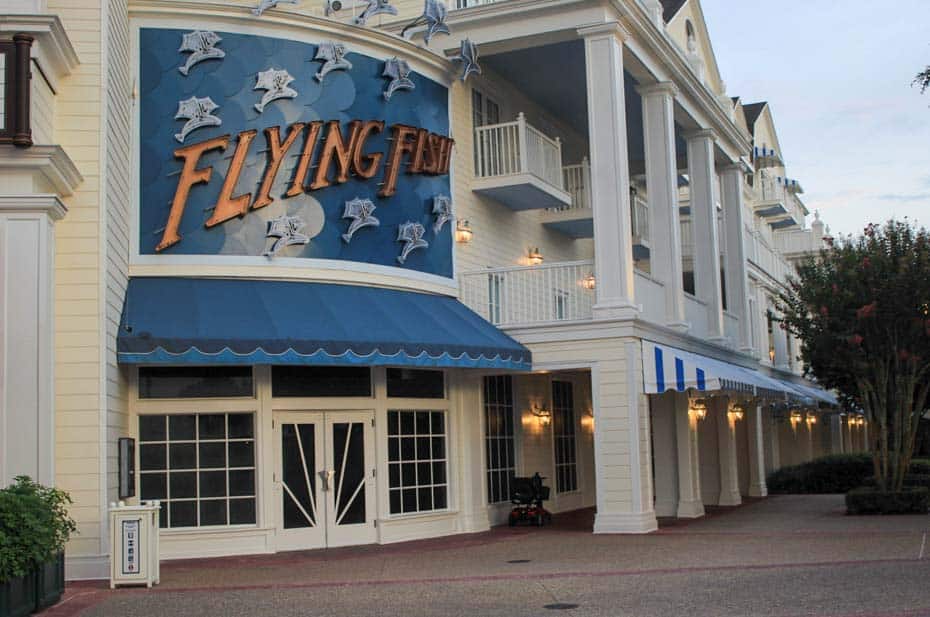 Boardwalk Bakery is the quick-service dining location for the resort. The Boardwalk is home to a pizza window, and there's a stand that sells fast food-type items. Table service options include Big River Grille, Trattoria al Forno, and the ESPN Bar and Grill. There's a lounge called Abracadabar.
Related: Boardwalk Restaurants Guide
With the addition of the Skyliner, guests can use it during operating hours to visit Disney's Caribbean Beach Resort or Riviera. If you decide to visit the Riviera, I recommend eating at Primo Piatto, an elevated counter service dining option.
Boardwalk provides bus transportation to Magic Kingdom, Animal Kingdom, Disney Springs, and the water parks. Additionally, you can take the Friendship Boats to any surrounding resort, Epcot, or Disney's Hollywood Studios.
Make sure to check out the entire review of Disney's Boardwalk Inn to learn specifics about the resort.
Final Thoughts on Disney's Boardwalk Villas
As you can see, a stay at the Boardwalk Villas has quite a lot to offer. It also sure doesn't hurt to be able to take in these kinds of views on your walk home from Disney's Hollywood Studios or Epcot. I highly recommend trying out a stay here if it meets your budget.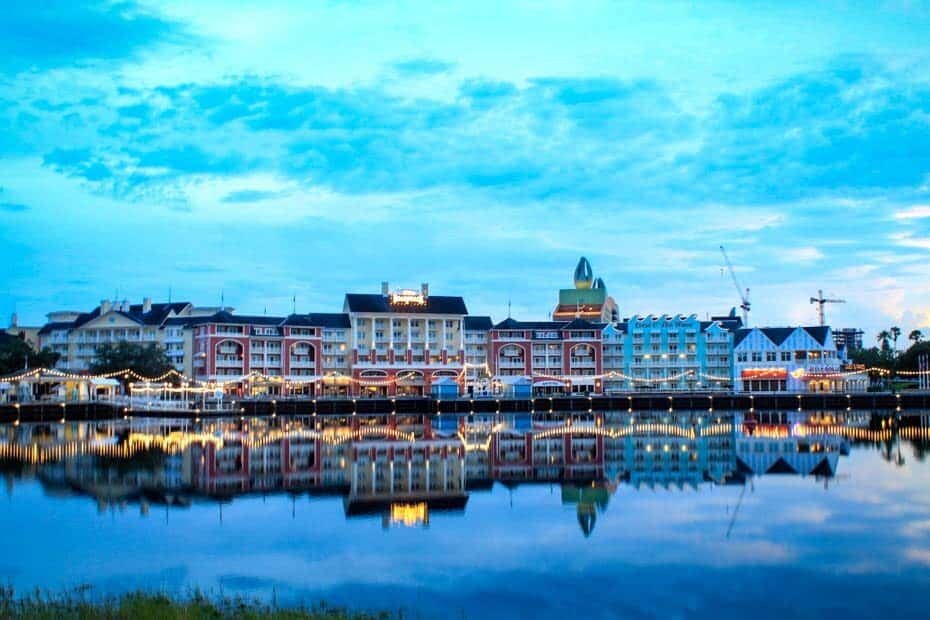 This part of Disney World is a place that resonates home for me. It's not uncommon to find me taking leisurely walks around Crescent Lake.
Make sure to use a travel agent when making reservations to get the best rates available. I recommend and personally use Firefly Travels. They would be happy to provide you with planning information. You can contact them here for a quote.
Visit the entire list of Disney World Resort Reviews here, or you might enjoy these individual articles:
Additionally, for those planning a Disney vacation, some of our more popular posts include our Disney World Character Dining Guide and Best Restaurants at Disney Springs list. You might also enjoy browsing all of our Disney Restaurant Reviews we've completed to date.
I hope this review provided you with enough information to decide whether or not a deluxe studio villa at the Boardwalk Villas was right for your next vacation. Leave a comment below and let me know what you think.