Disney's Boardwalk Villas Review
Disney's Boardwalk Villas is one of the Disney Vacation Club Resorts at Walt Disney World. They are also part of Disney's Boardwalk Inn. Therefore, Disney's Boardwalk has one side, which is a regular hotel, and the opposite side is made up of villas.
This Boardwalk Villas review will look specifically at the villa portion of the hotel. We have a separate review of staying at Disney's Boardwalk Inn.
Below, we'll preview a deluxe studio and discuss the other room types available on the villa side of the resort. We'll also compare the differences between the villas and the rest of Disney's Boardwalk Resort.
A note on Disney Vacation Club Resorts (DVC)–Disney's Deluxe Villa Resorts operate differently from regular resorts. Disney's Vacation Club members have a first-come, first-serve choice of rooms when reservations open. However, Disney also makes these studios and villas available for regular guests to rent. So you do not have to be a DVC member to rent one of these units. You can rent these units through Disney, a travel agent, or an online DVC resale site.
*Check-in for all villa resorts is at 4:00 p.m., and check-out is at 11:00 a.m.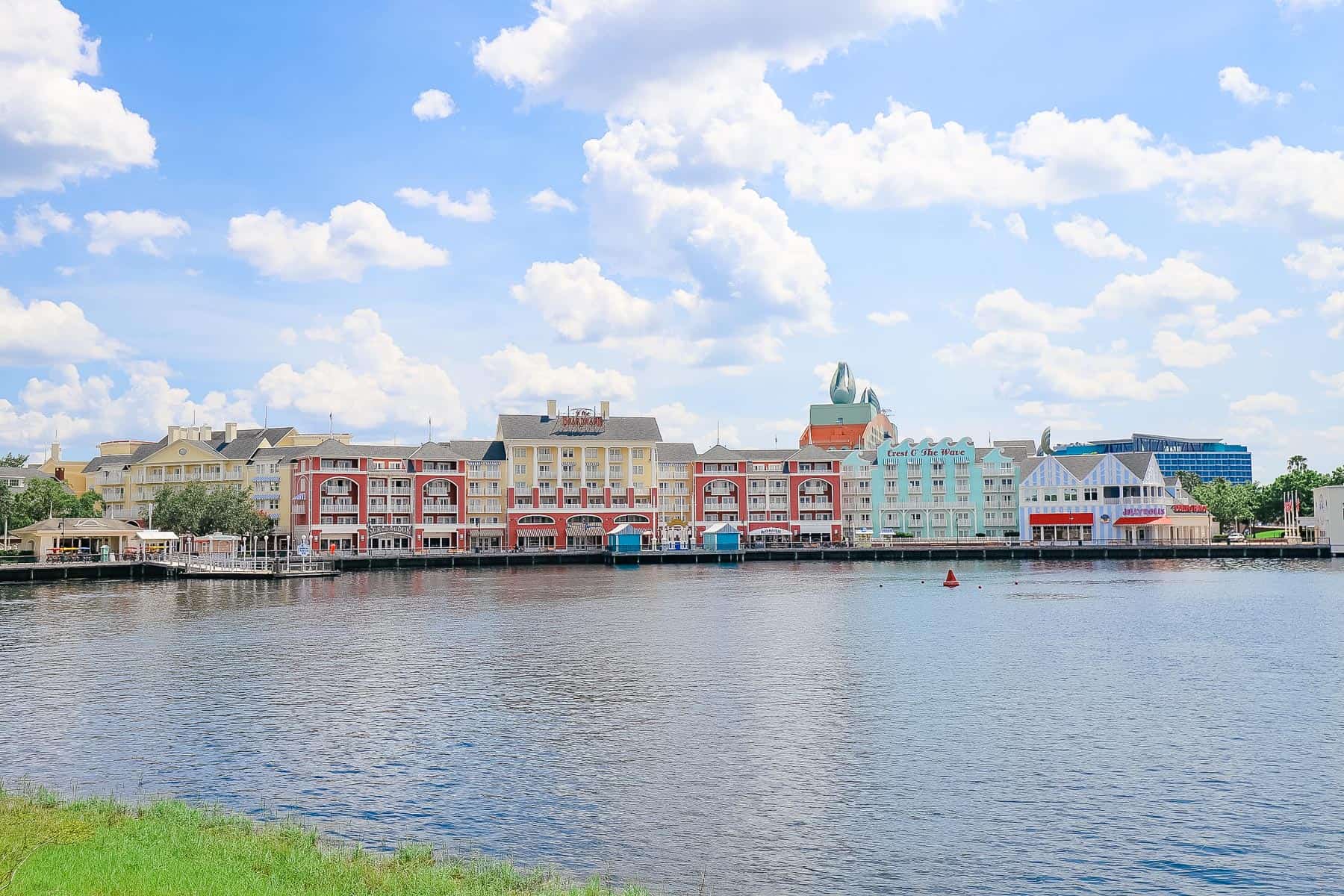 Disney's Boardwalk Villas
Disney's Boardwalk Villas has a lot of positives, but one factor stands out among the crowd, its location. Like they say in real estate, location, location, location! The same goes for your Disney World Hotel.
Disney's Boardwalk Villas are within walking distance of Disney's Hollywood Studios and Epcot. It's a huge advantage to be able to leave your hotel room and walk directly to a theme park.
You don't have to worry about waiting on a bus or other forms of transportation. Instead, you can walk to the park, which leaves you in control of your arrival.
Additionally, the Boardwalk Villas make up part of the Epcot Resorts Area. Therefore, you'll have convenient access to shopping and dining at the surrounding hotels when staying in this area. Those hotels include Disney's Yacht and Beach Club Resorts and the Swan and Dolphin Hotels.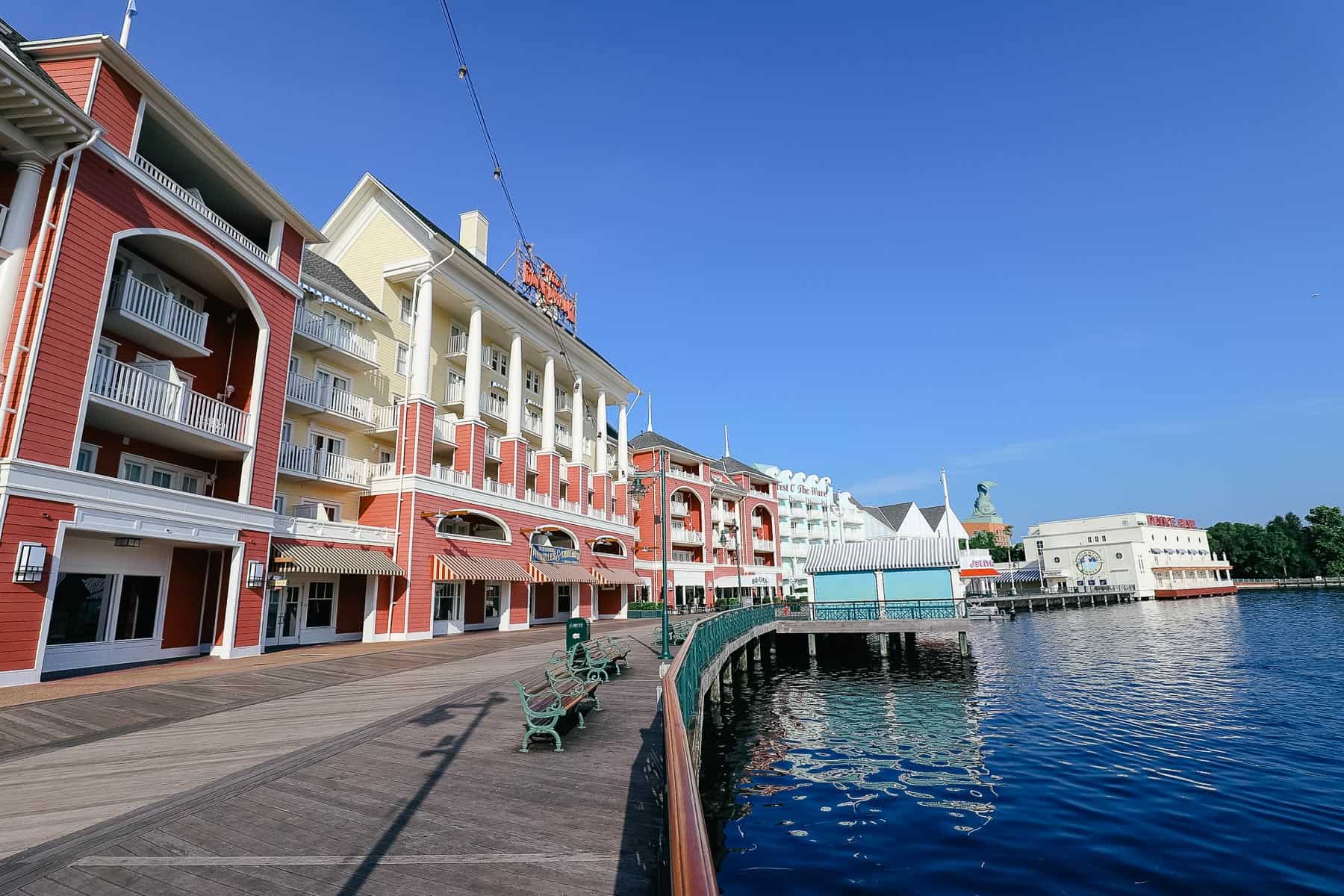 Boardwalk Villas Room Types
Disney World's Villa Resorts offer unique room types and amenities compared to standard guest rooms. You can expect many of the same conveniences you would find at home.
For instance, a deluxe studio has a kitchenette and a larger bathroom. Boardwalk's deluxe studios sleep up to five guests. In comparison, regular guest rooms do not have a kitchenette, and many only accommodate up to four guests.
Boardwalk Villas has the following room types:
Deluxe Studio (one queen bed, a double-size sleeper sofa, single pull-down bed)
One-Bedroom Villa (king bed in the master bedroom, queen sleeper sofa)
Two-Bedroom Lock-Off Villa (king bed, queen bed, double sleeper sofa, single pull-down bed, queen sleeper sofa)
Three-Bedroom Grand Villa (king bed, four queen beds, sleeper sofa, single pull-out sleeper chair)
The two-bedroom lock-off villa combines a deluxe studio and a one-bedroom villa. This unit has a door that locks between the rooms, similar to connecting hotel rooms. That way, if the resort needs more one-bedroom or deluxe studios, they can rent them separately.
Boardwalk Villas one-bedroom sleeps up to four guests. The two-bedroom sleeps up to nine guests, and the grand villa sleeps up to twelve guests.
All one-bedroom and larger villas have a full kitchen and a washer and dryer in the unit. As you can probably imagine, these amenities are so nice to have, especially if you or someone in your group might spend ample time in the room.
Additionally, the following room views are considered upgrades:
Garden or Pool View
Boardwalk View
Disney's Boardwalk is one of the few resorts where I recommend considering a view upgrade. However, I would only upgrade if I planned to spend a decent amount of time in the room.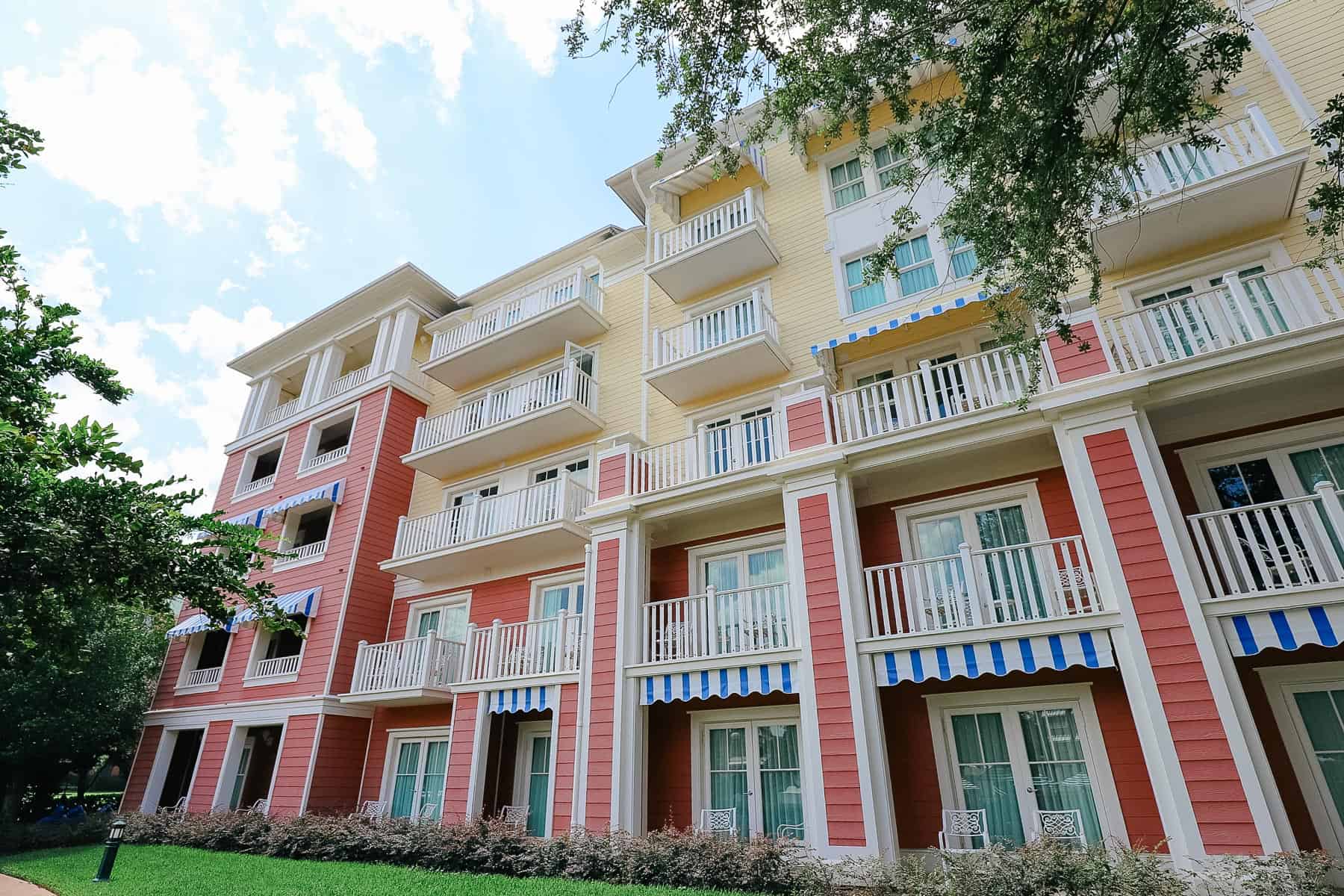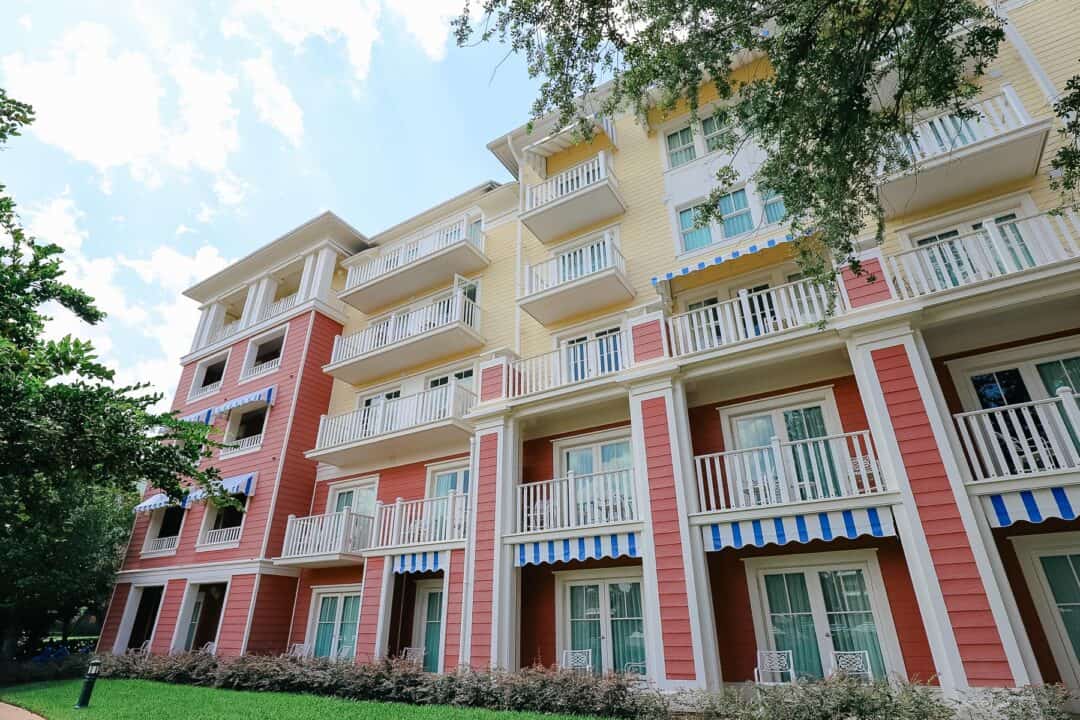 Boardwalk Villas Deluxe Studio
Below, we'll preview a deluxe studio at Disney's Boardwalk Villas. However, you'll want to note that the Boardwalk Villas will soon undergo refurbishment. So new rooms will debut in the future.
We have an updated room tour of a standard guest room at the Boardwalk. However, we have no indication that the new rooms on the villa's side of the resort will look similar. These photos are from our last stay.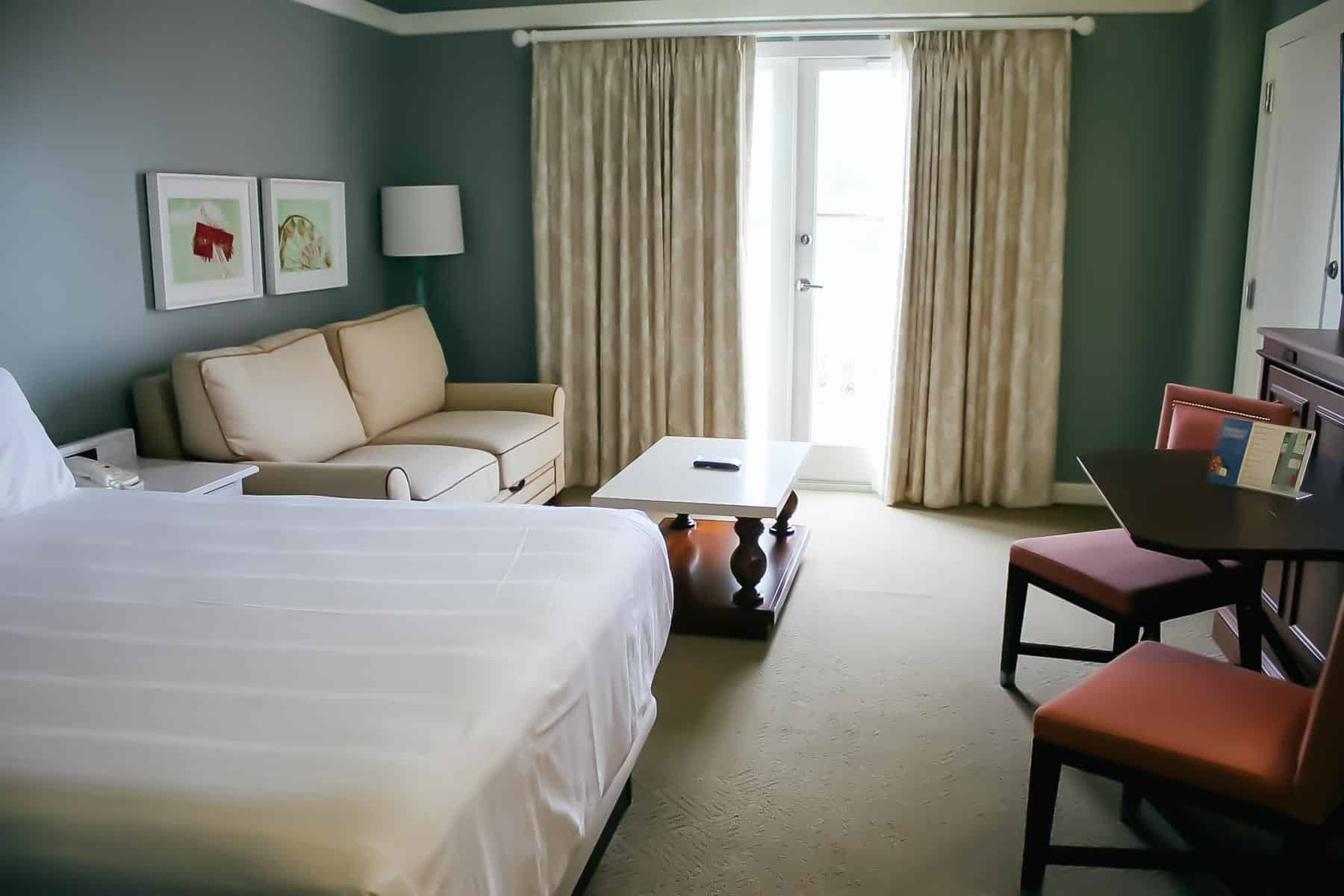 While the deluxe studio has no formal living room, the queen-size sleeper sofa provides a sitting area when the bed isn't in use. We hope to see the sleeper sofa replaced by a Murphy bed or another queen-size bed during the remodel.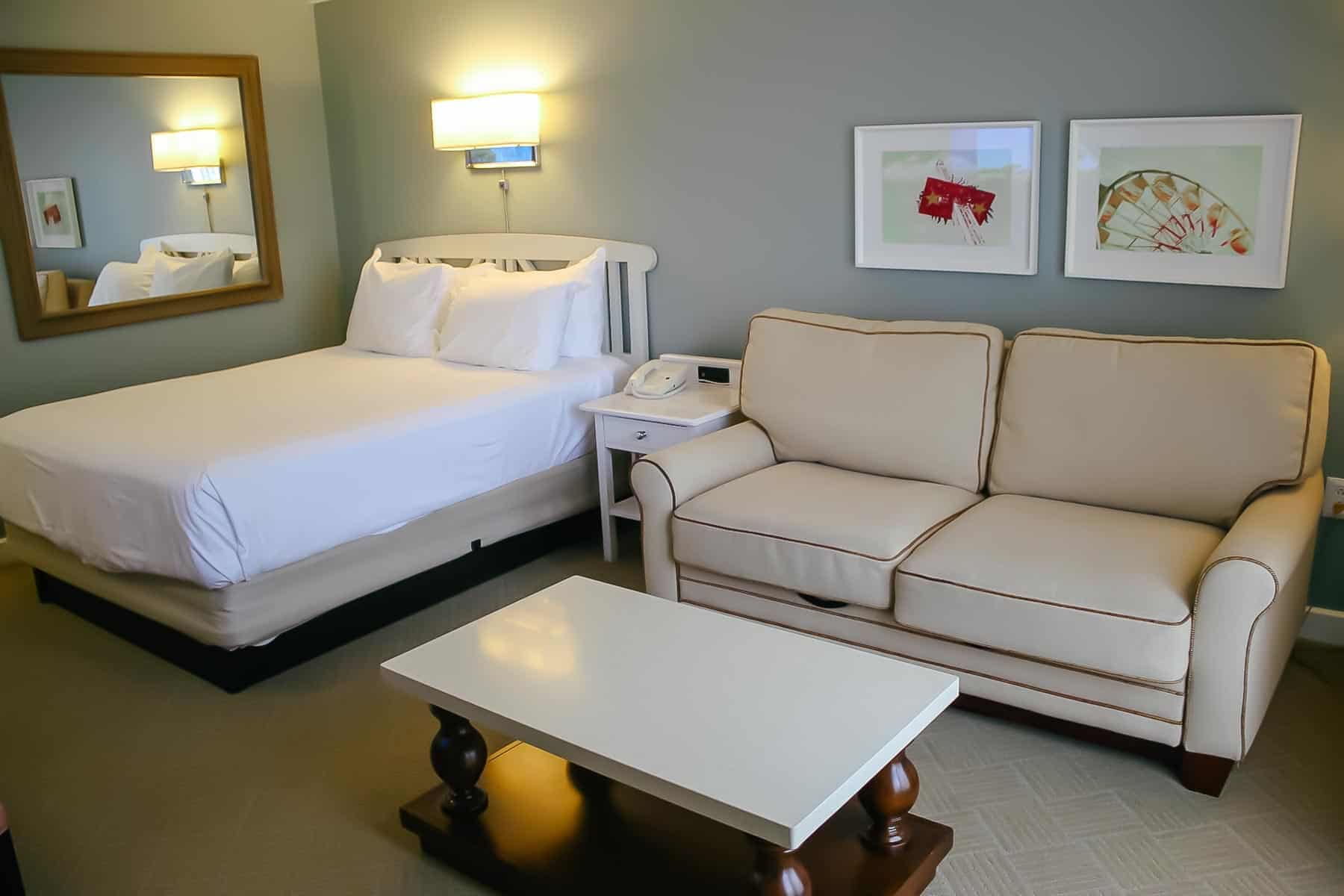 Unfortunately, the sofa beds are not very comfortable for a lengthy stay. A small table and chairs sit directly underneath the television.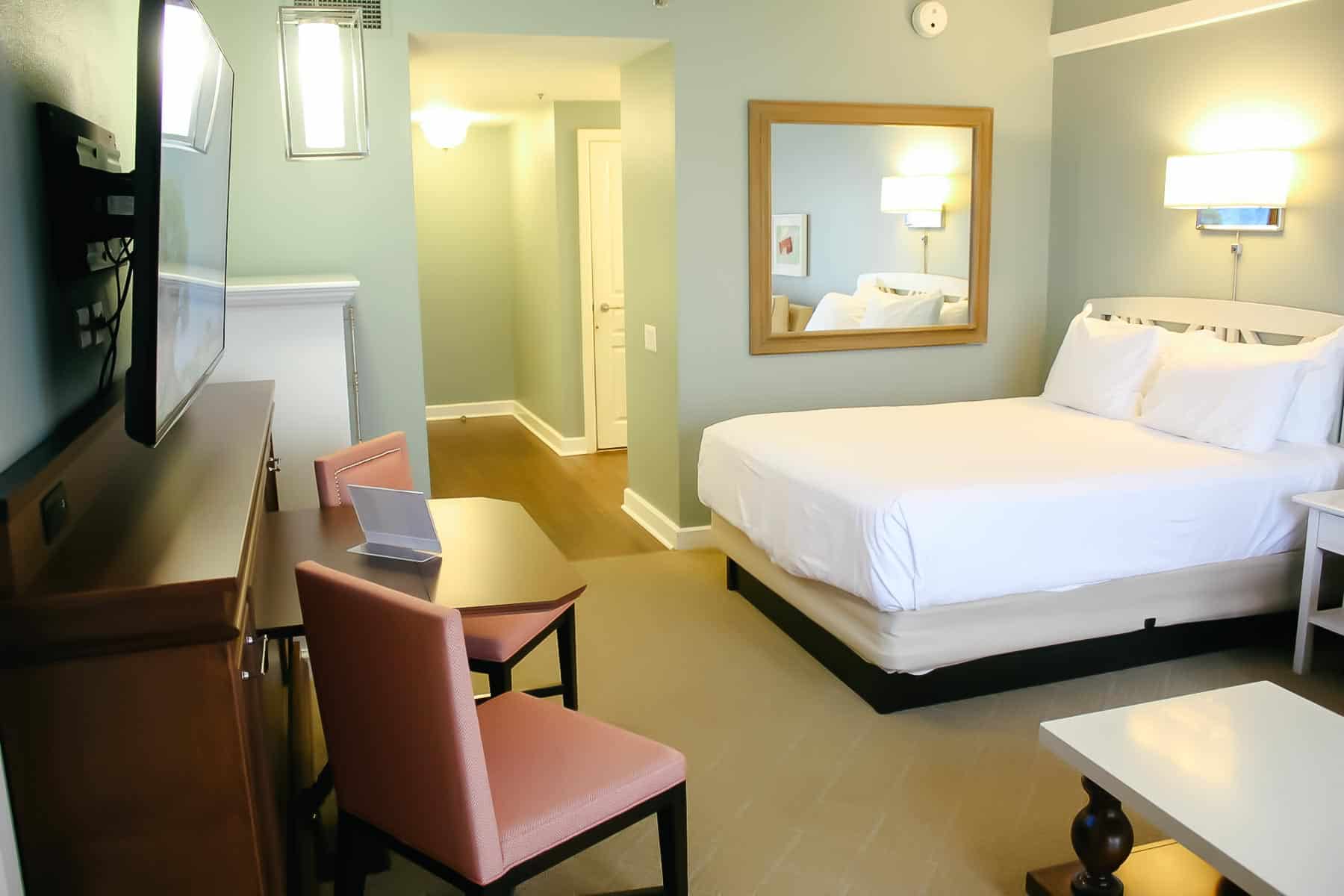 Having a place to enjoy a meal in your room is nice.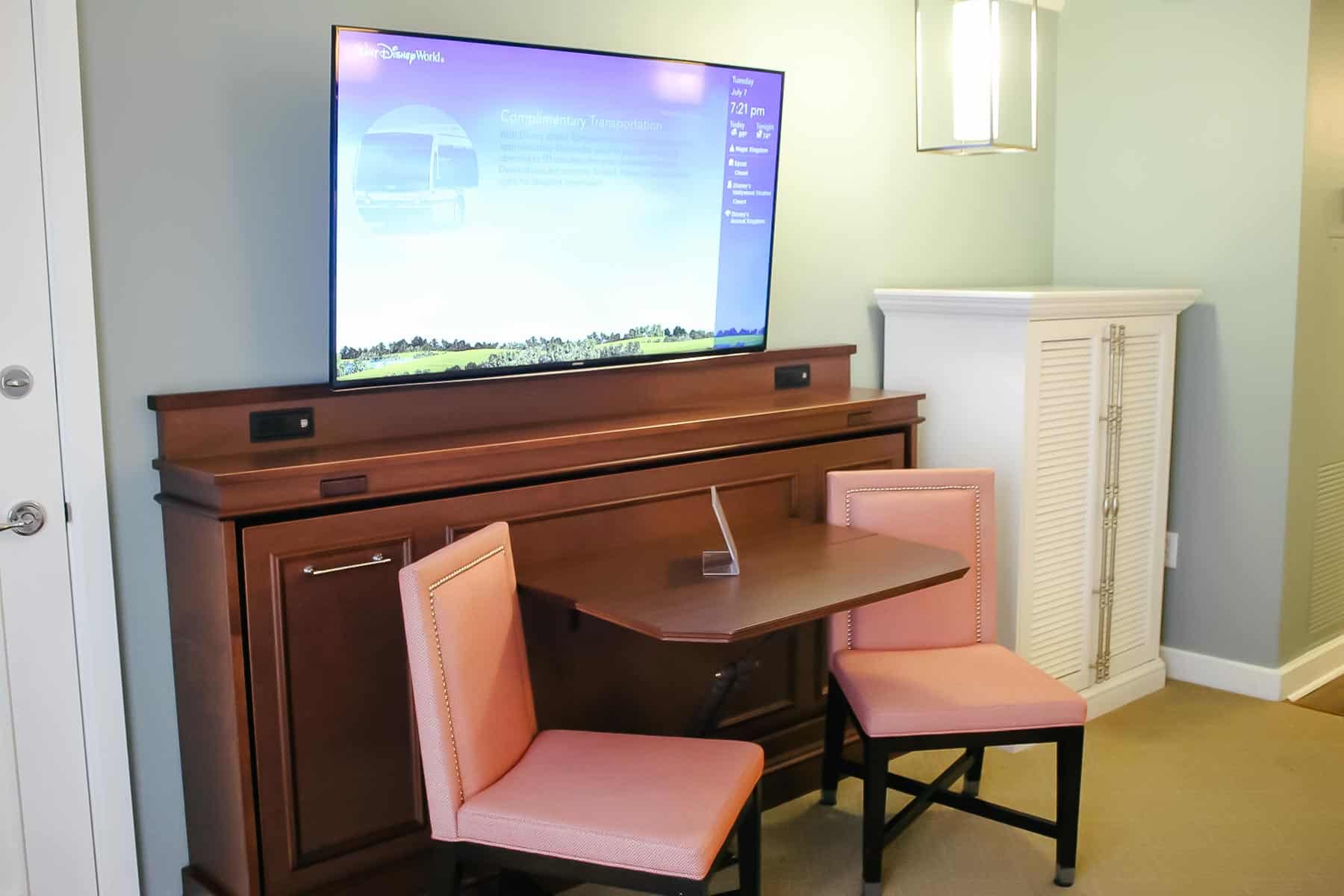 Several outlets and USB ports sit on the ledge above the table area.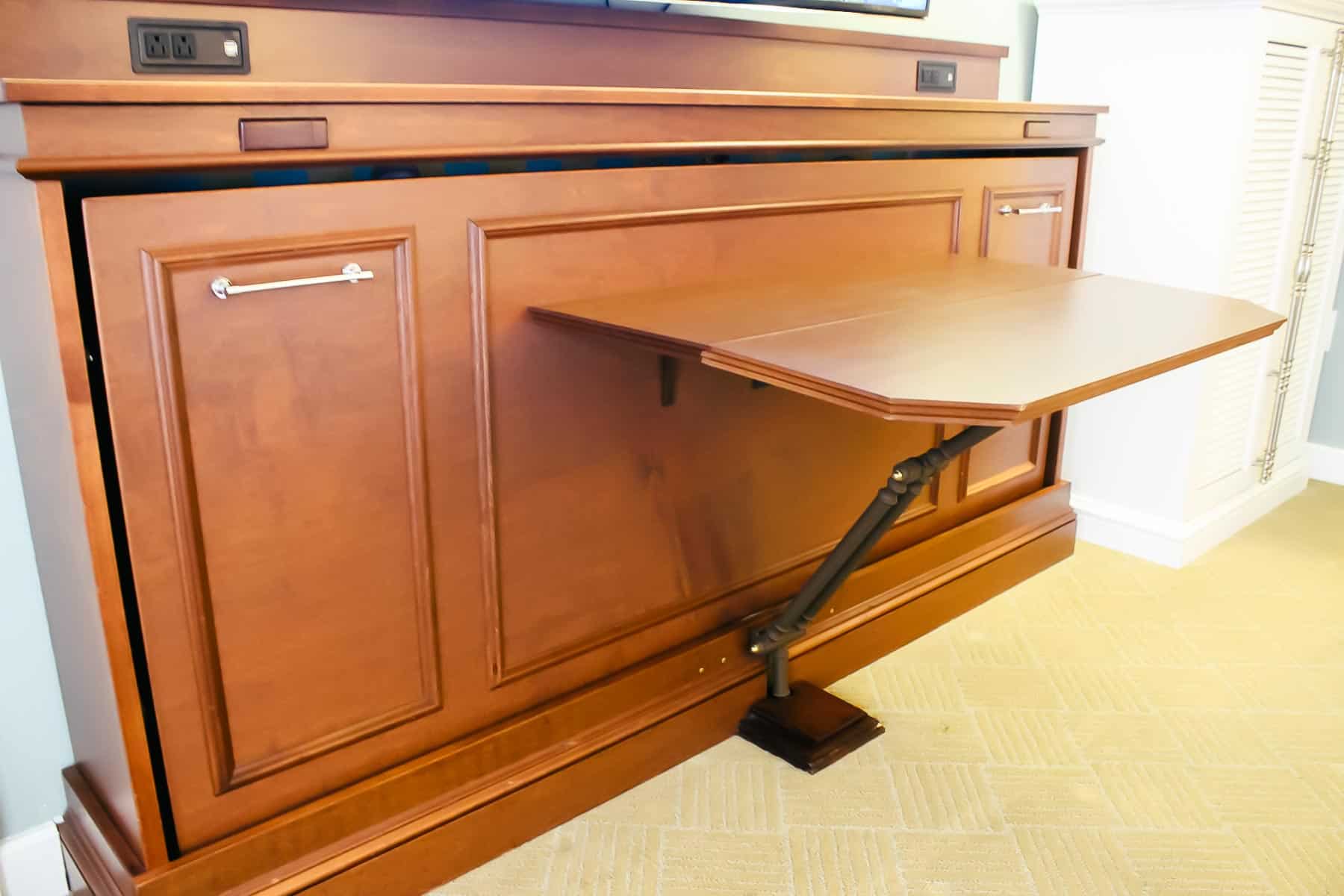 If you fold the table, the entire panel lowers to reveal a single trundle bed. These beds are typically recommended for children ages 12 and younger. Dumbo and Timothy Mouse are snoozing on the artwork inside the panel.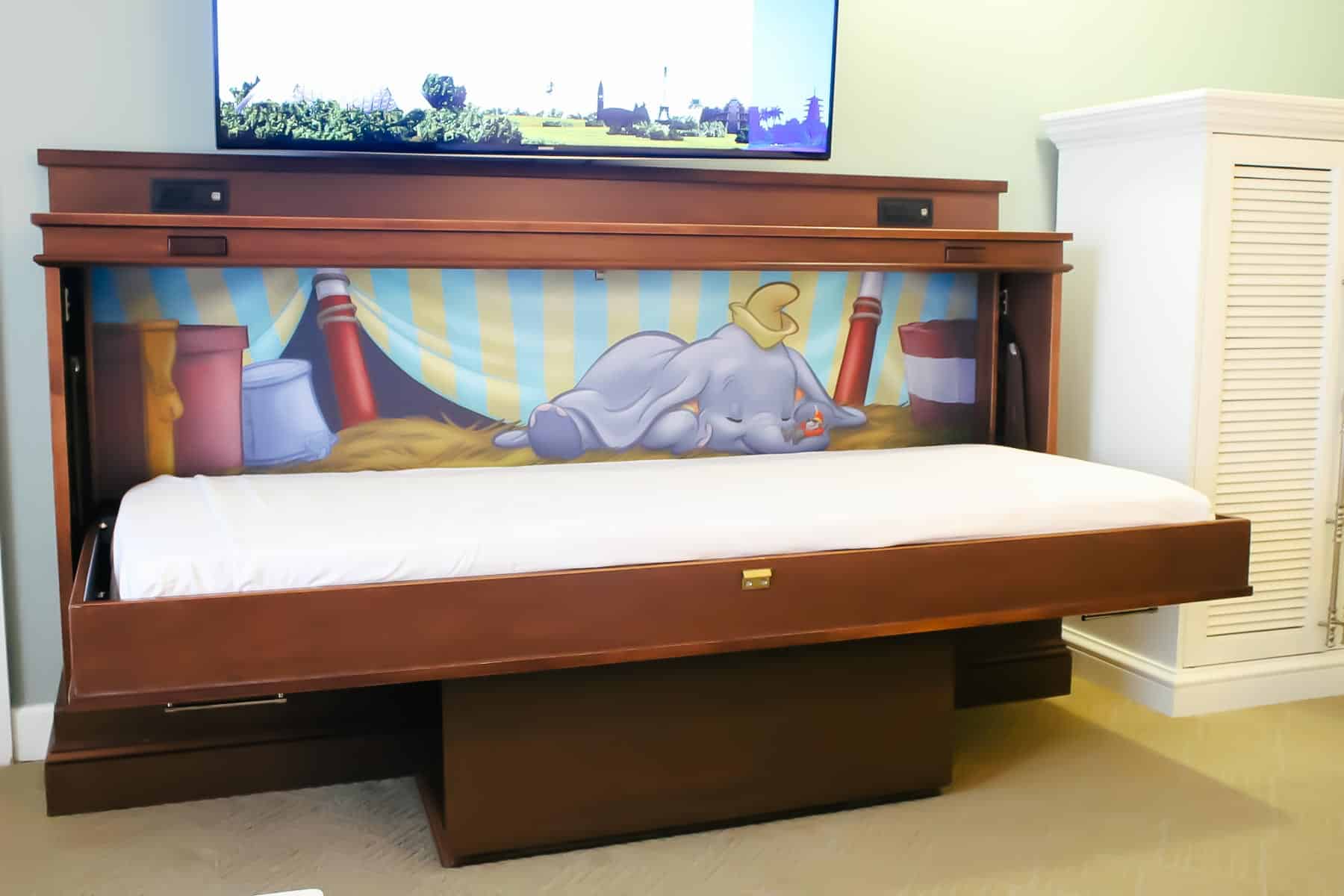 Here is a view of the room with each bed folded down. We rolled the coffee table out of the way, and I stacked the sofa cushions on top.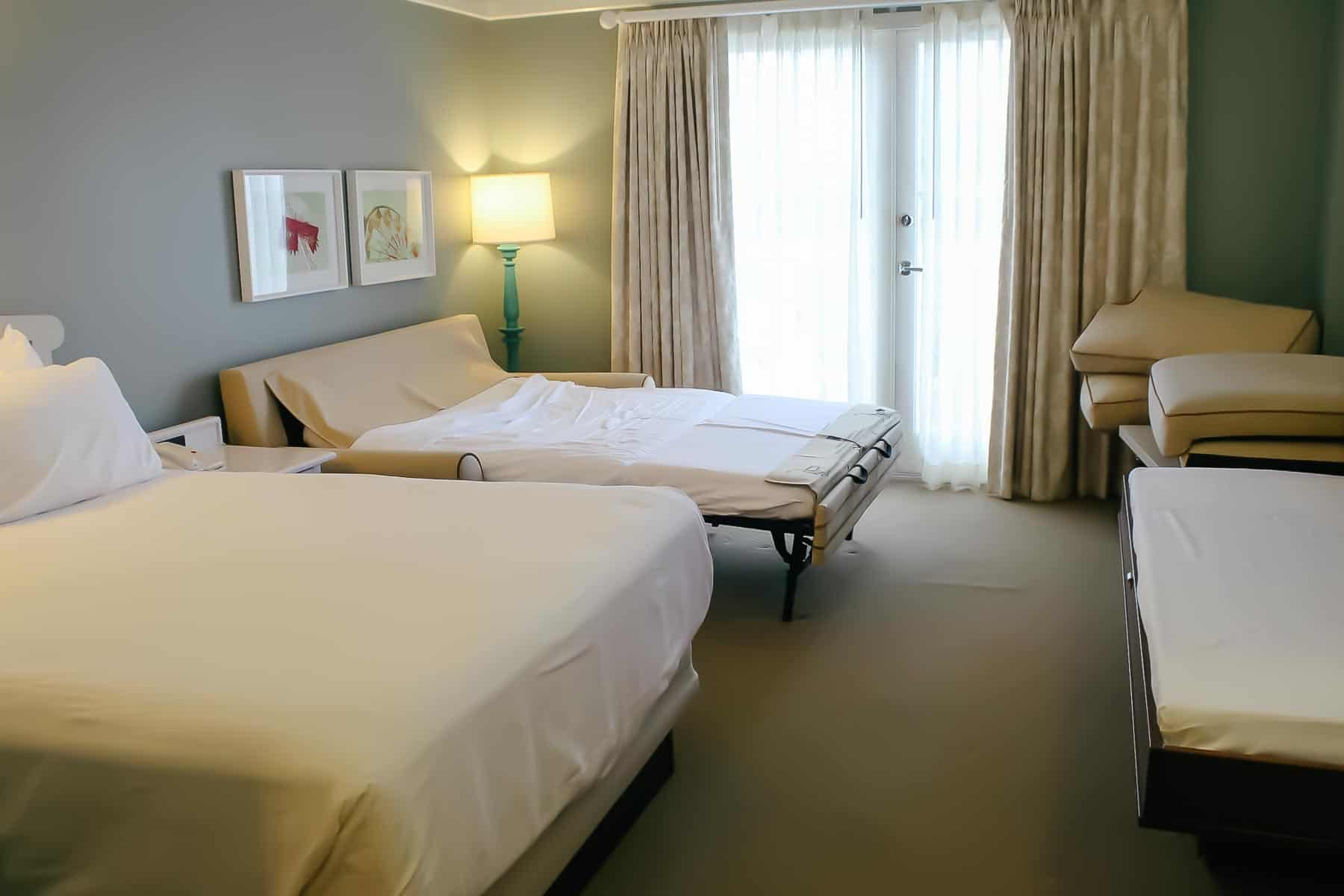 A large armoire sits in the corner with adequate storage space inside. The drawers were deep, and I liked that there wasn't a lot of hidden storage in the room. I'm always afraid I'll tuck something away and forget it when we leave.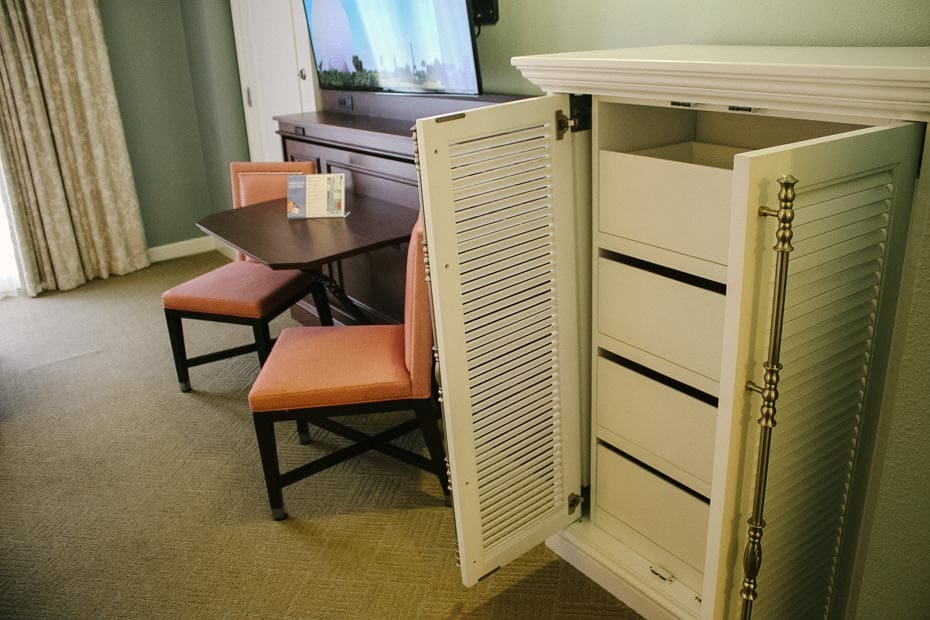 A majority of the Boardwalk Villas have balconies. We had a standard view room which ended up being a garden view. It was fun to watch the Disney Skyliner pass by in the distance. (Ground-level units have a patio.)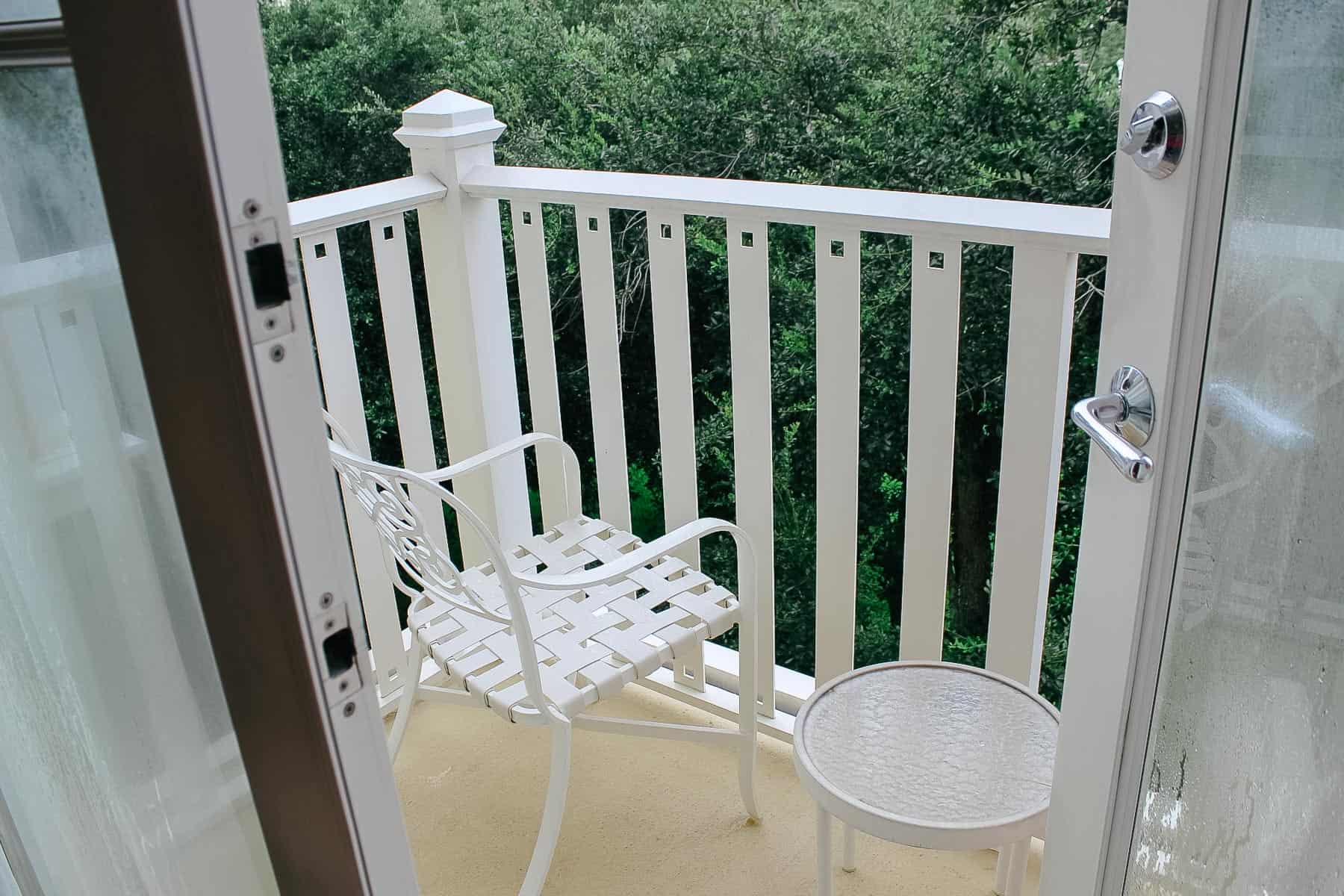 Moving on, the guest bath is a nice size. In addition, the vanity area is separate from the water closet. That's always a plus when multiple people are getting ready.
The bath had a tub with a shower combination.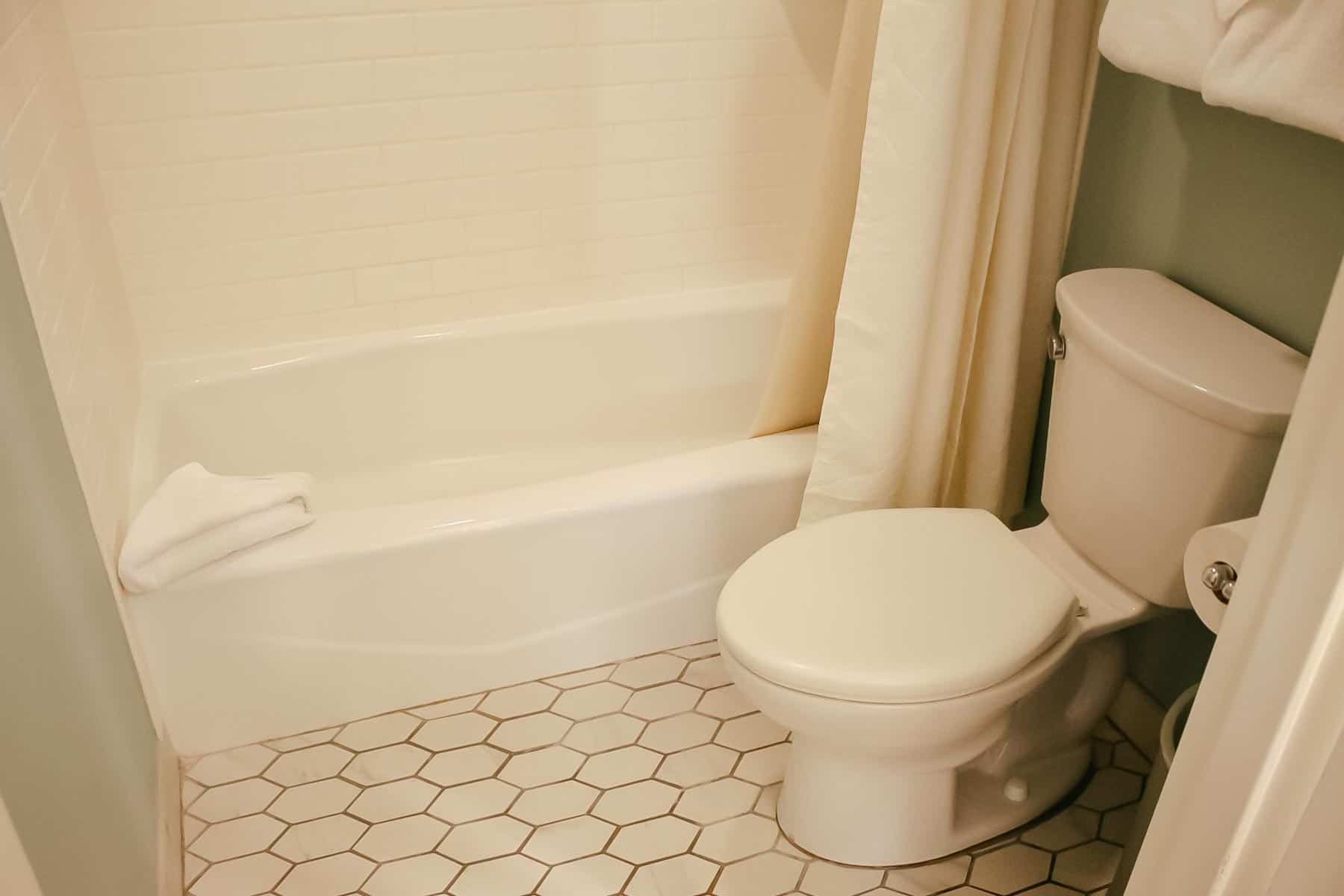 To the immediate right of the vanity area is a full-size closet providing additional storage. You'll find an in-room safe, extra pillows and blankets, a luggage rack, and an iron with an ironing board.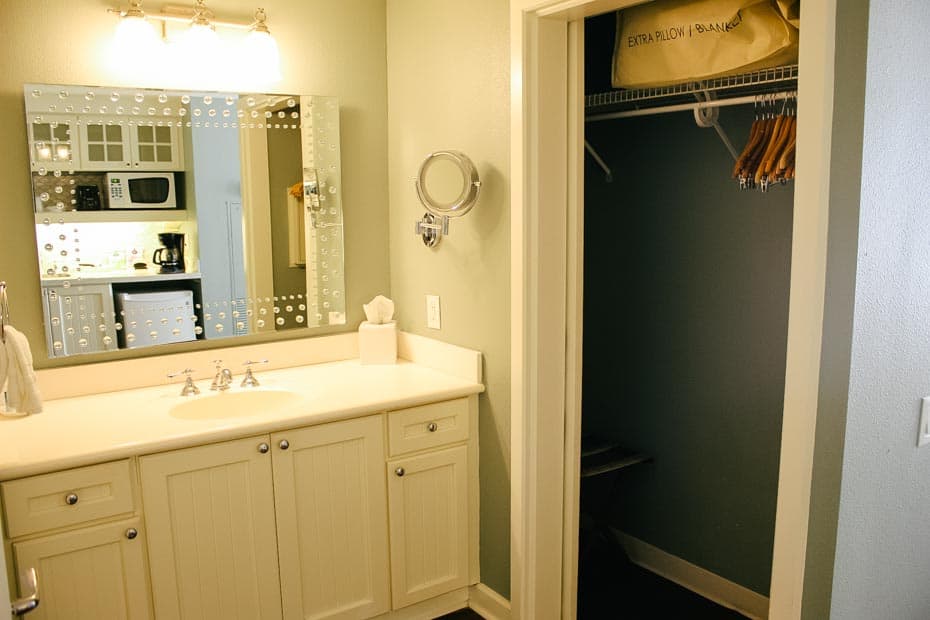 Many new construction deluxe studios have a split bath where one side of the bathroom has a tub and shower combination. Meanwhile, the other side of the bath has a walk-in shower and a vanity area. We've seen this setup at the new deluxe studios at the Polynesian, the Grand Floridian deluxe studios, and Disney's Riviera's deluxe studios.
A kitchenette is tucked in the hallway between the foyer and the main living space.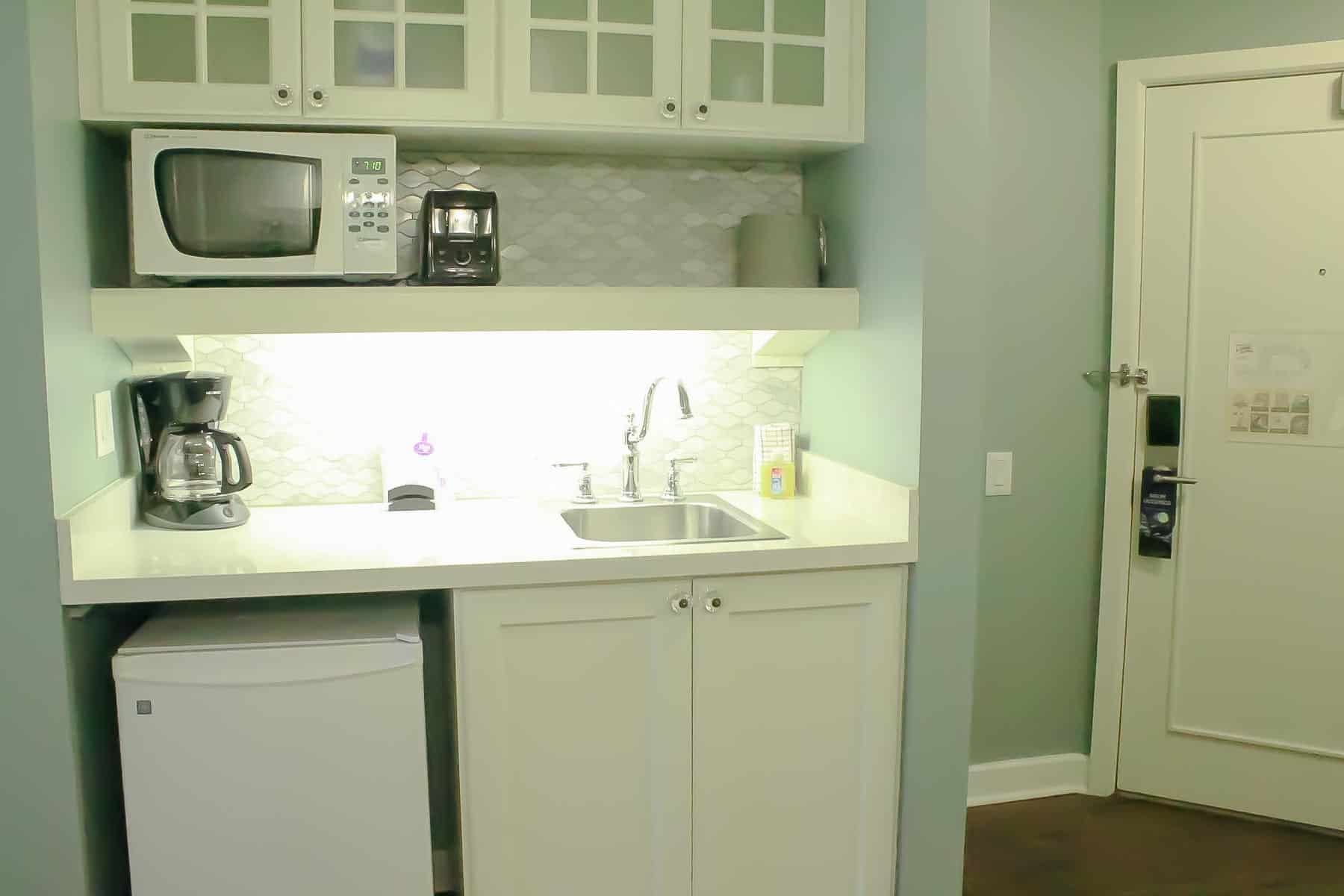 The design of the kitchenette is practical, given the smaller space. While it's not a fully equipped kitchen, the area is efficient.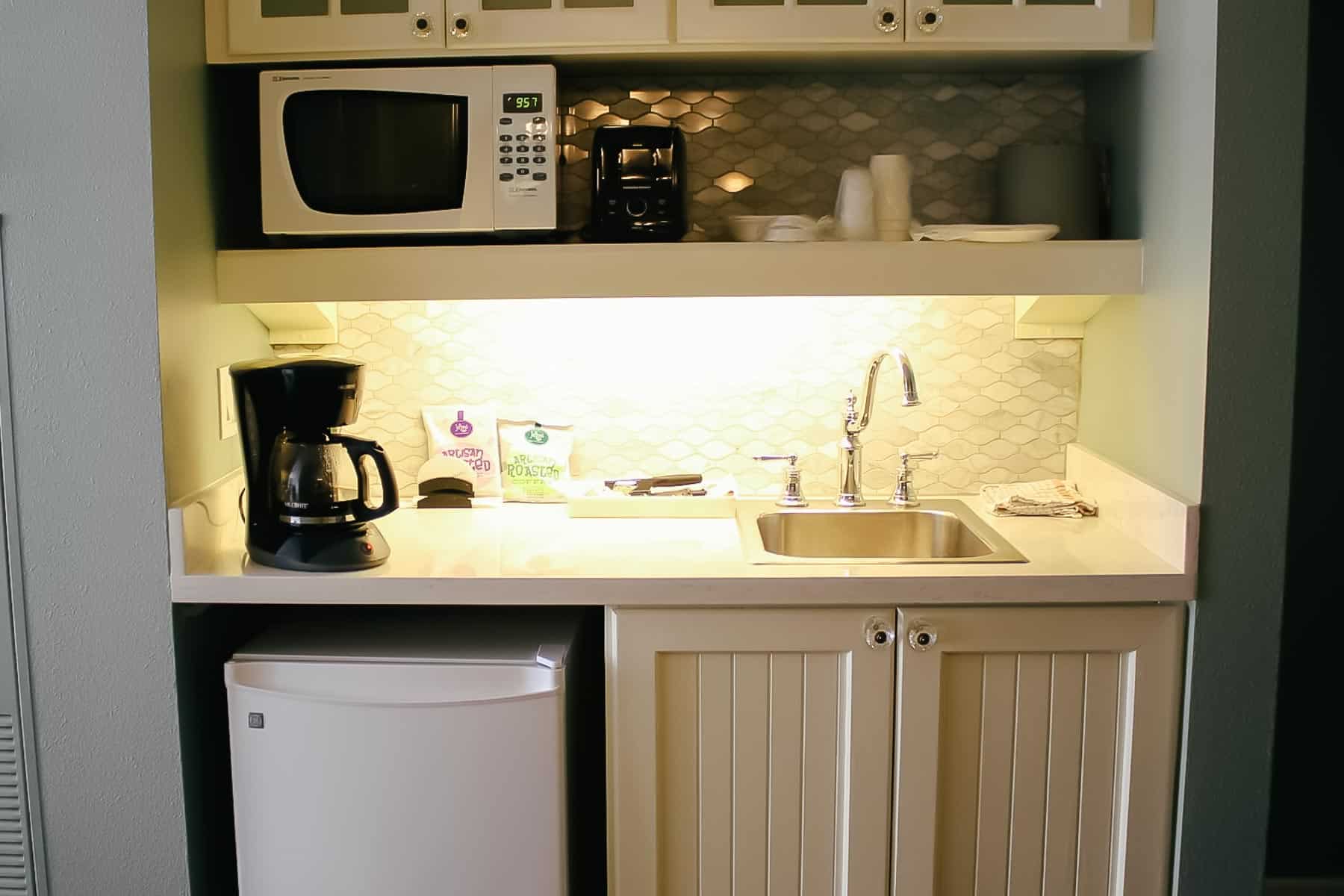 It's nice to have a sink and counter space in your room.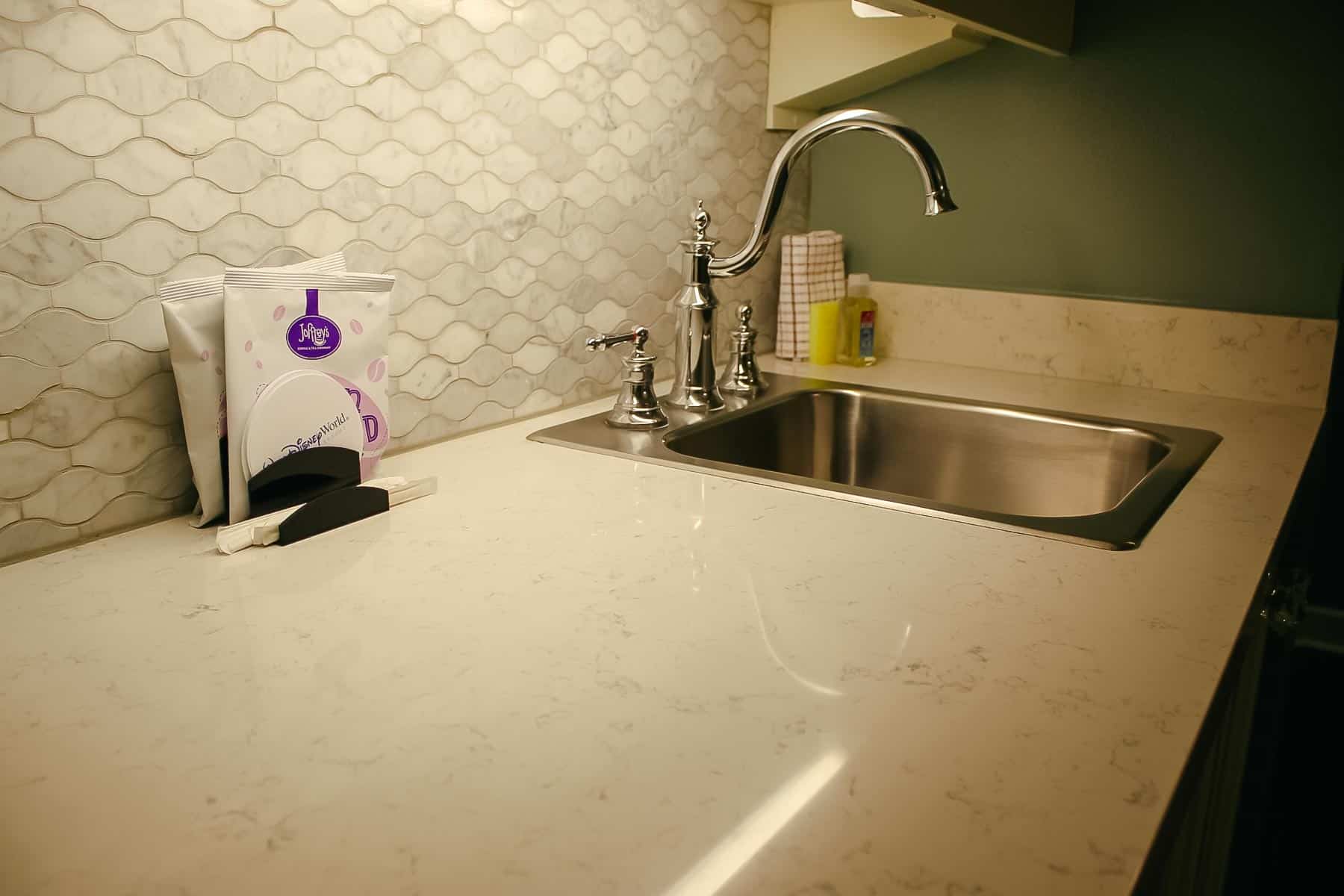 Each room has a standard coffee maker.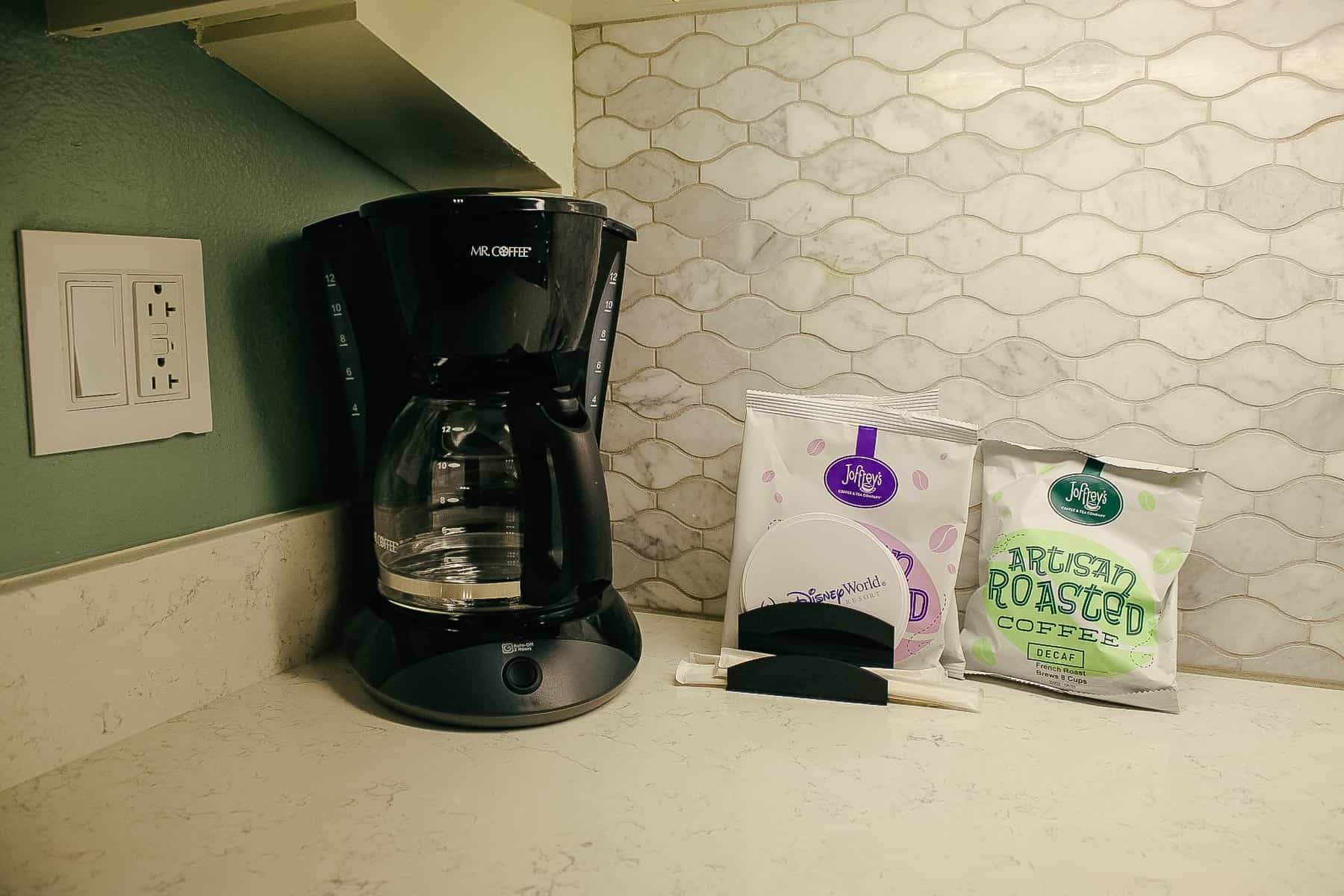 Complimentary coffee and accompaniments are provided, along with a roll of paper towels, dish liquid, and a kitchen towel.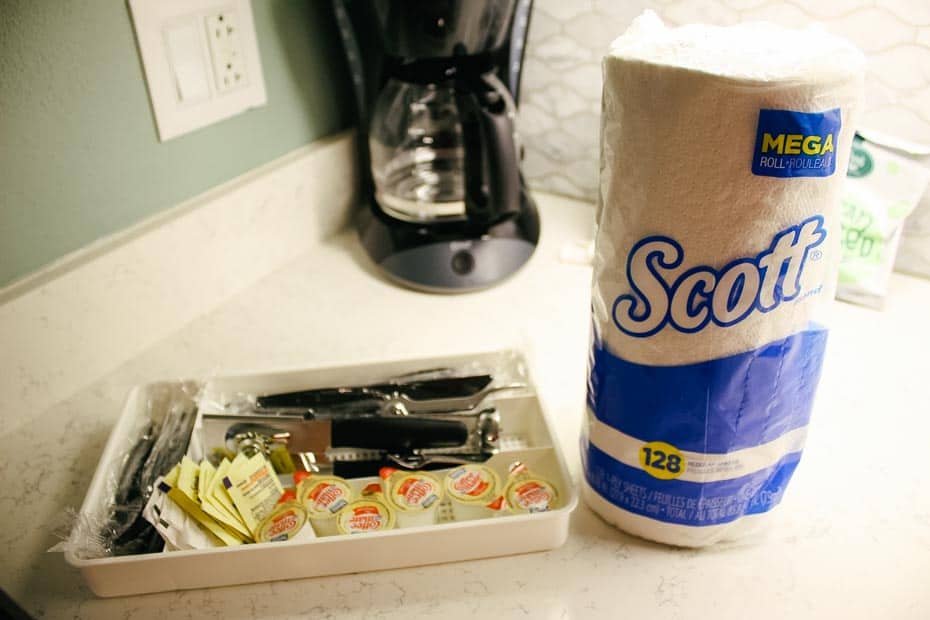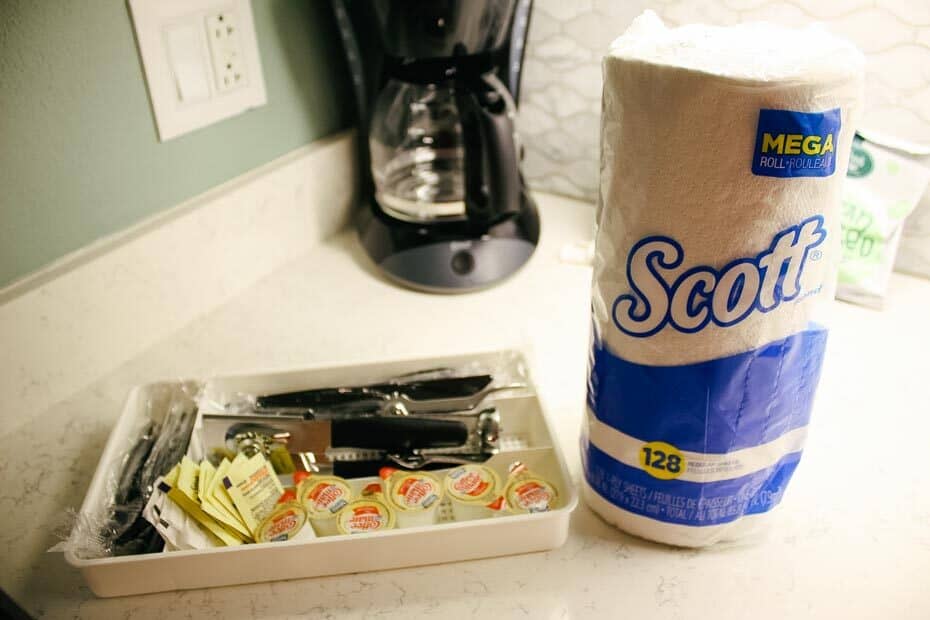 A microwave and toaster oven sits on a shelf above the counter.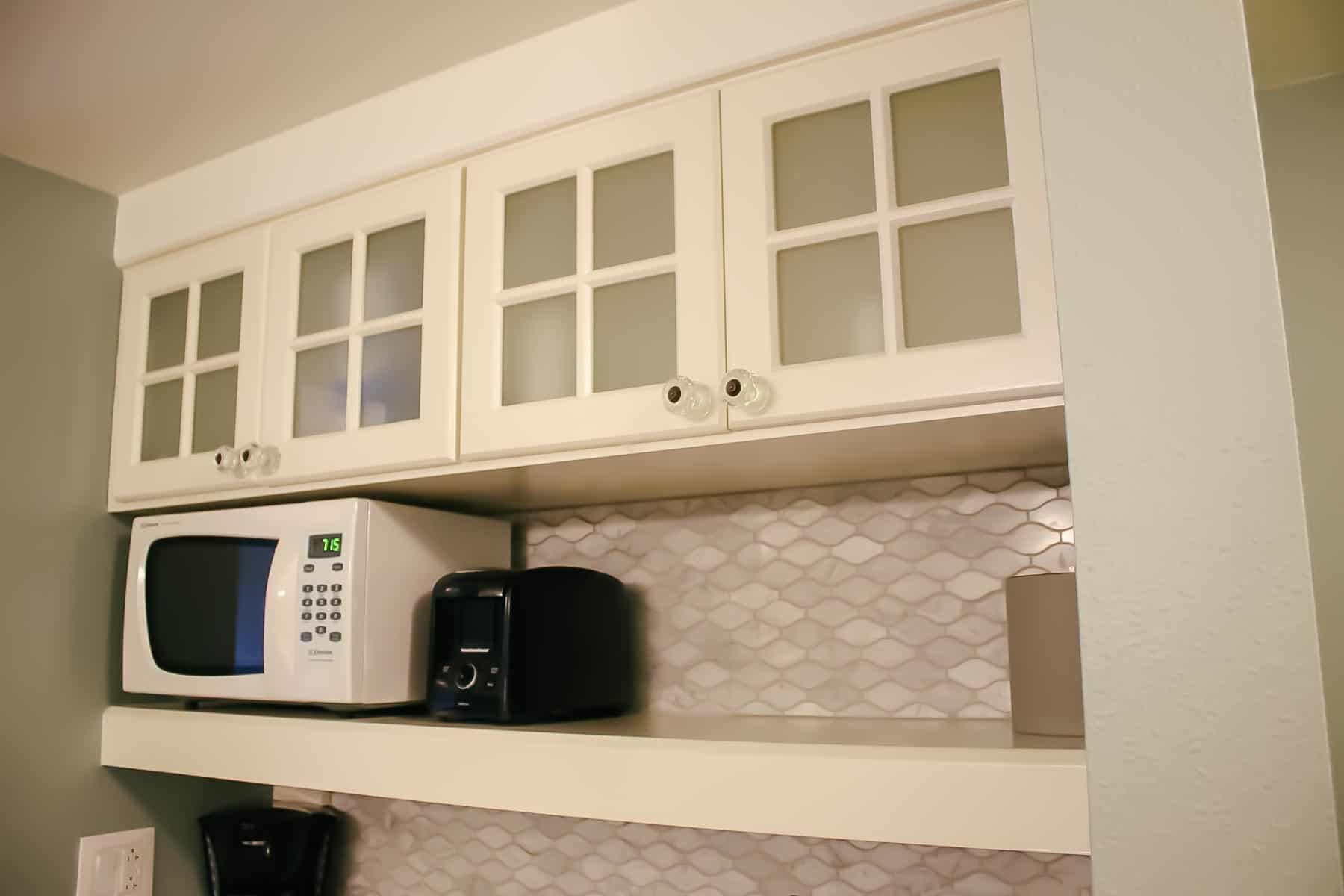 Underneath the counter is a decent size refrigerator. These are a little larger than you would find in a standard hotel room. The top of the fridge has a freezer shelf.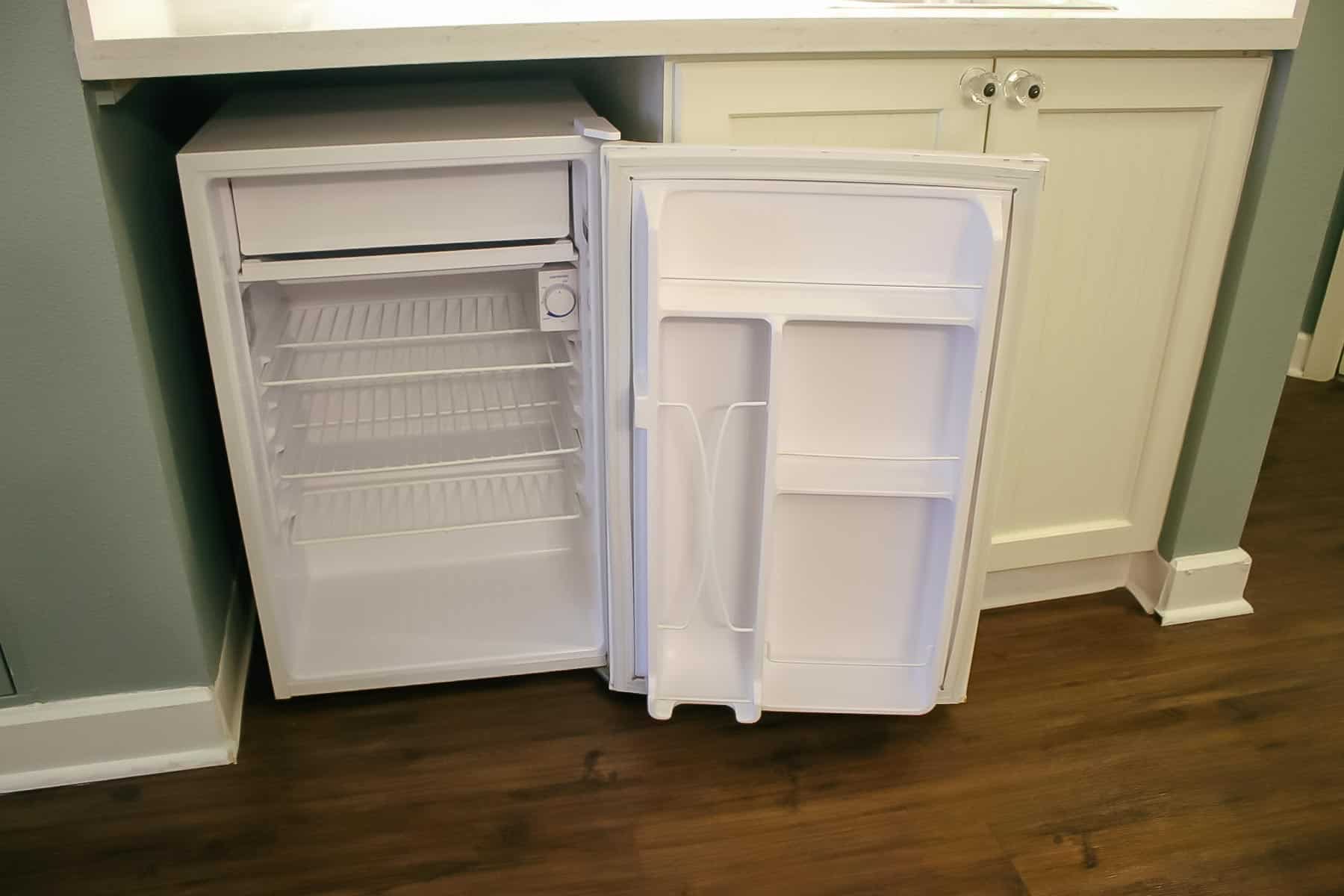 Below the sink is an area for the garbage and recycling bin. Having the ability to store these items out of the way is another thing I like about the room.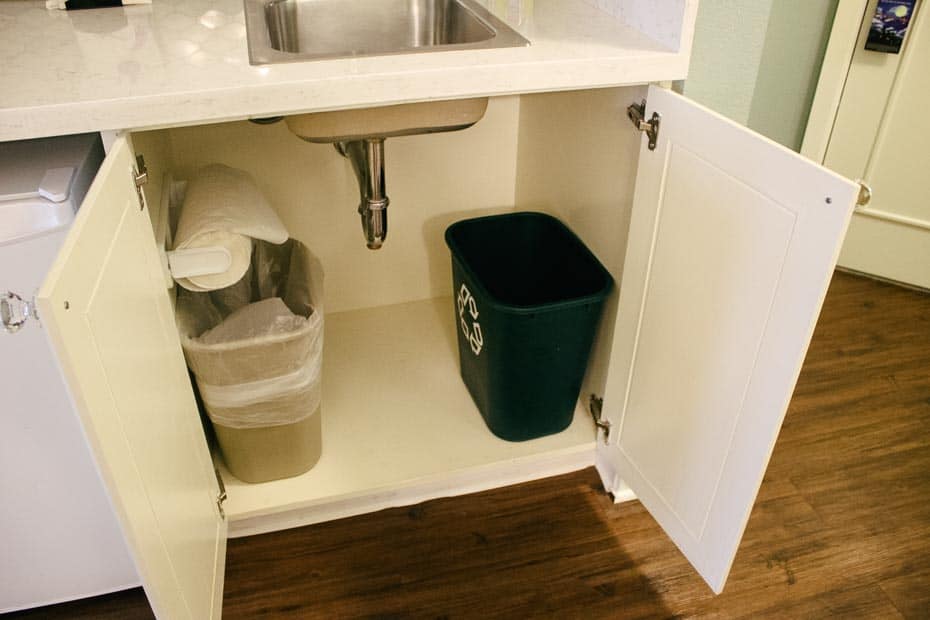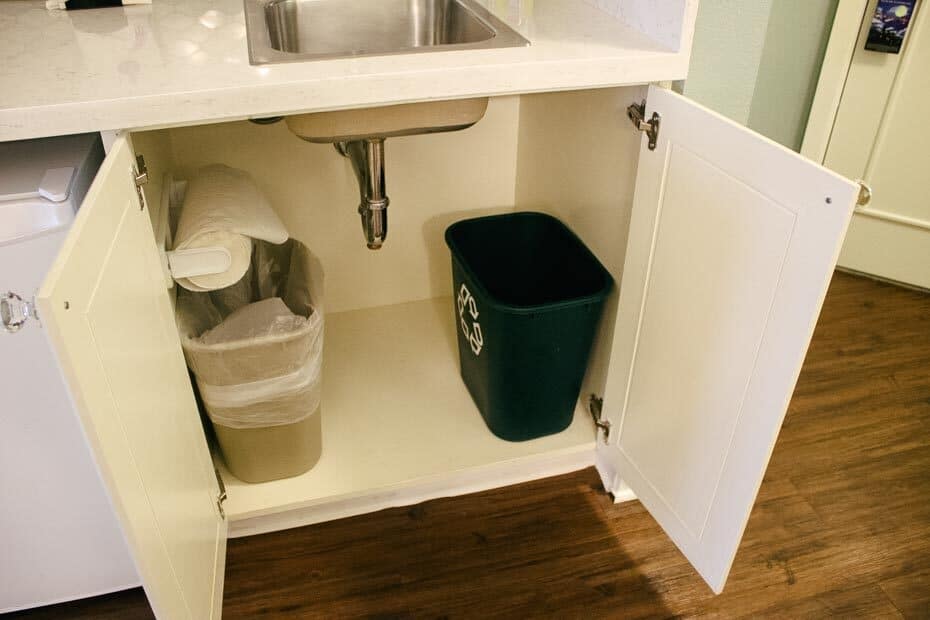 Boardwalk Villas Amenities
Guests staying at the Boardwalk Villas will have access to the resort's amenities. We'll briefly go over those amenities. For starters, Disney's Boardwalk has three pool areas.
Here is the resort's feature pool, the Luna Park Pool. It has a water slide that's designed to look like a wooden roller coaster.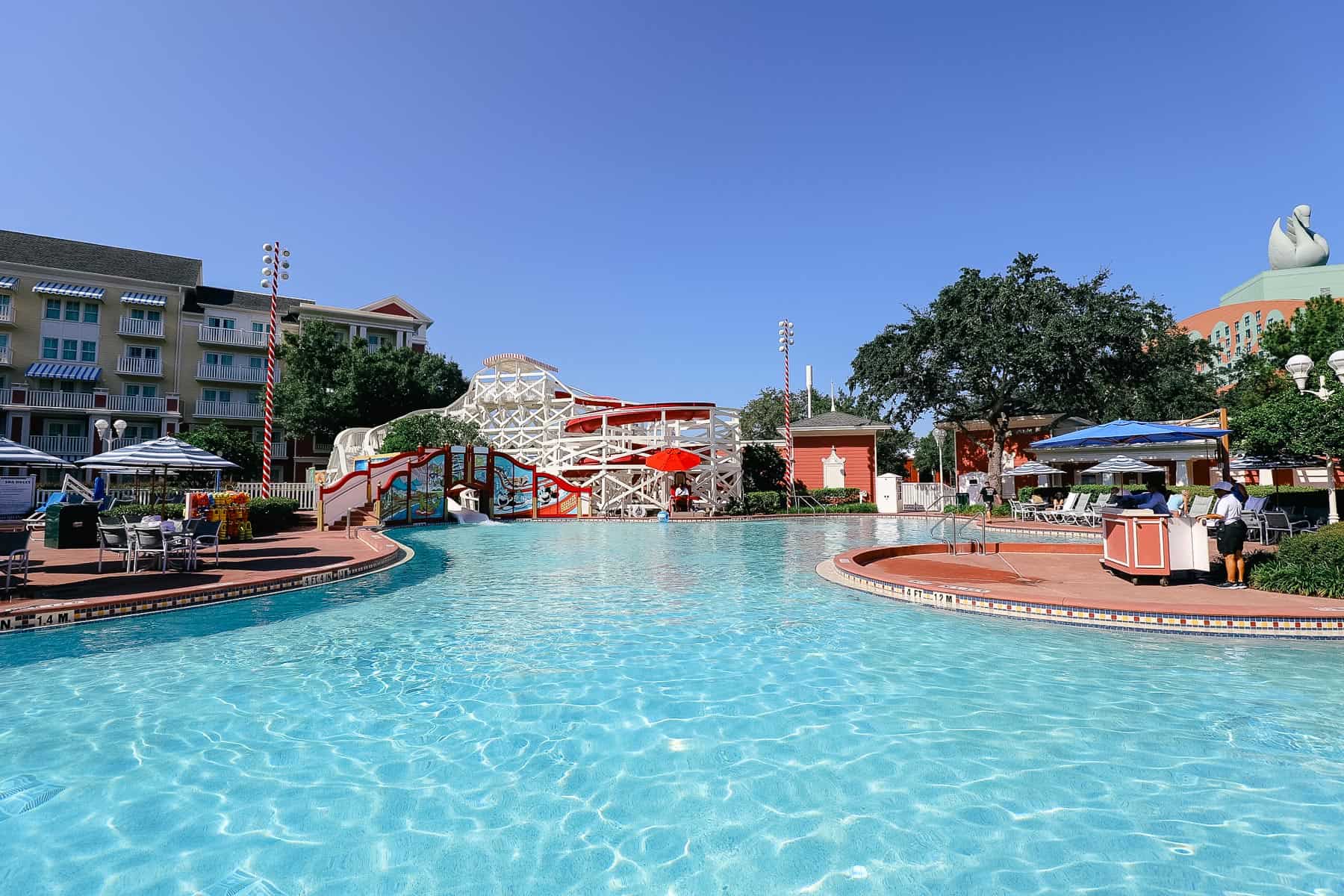 This pool area has a separate kiddie pool with a playground on the far side.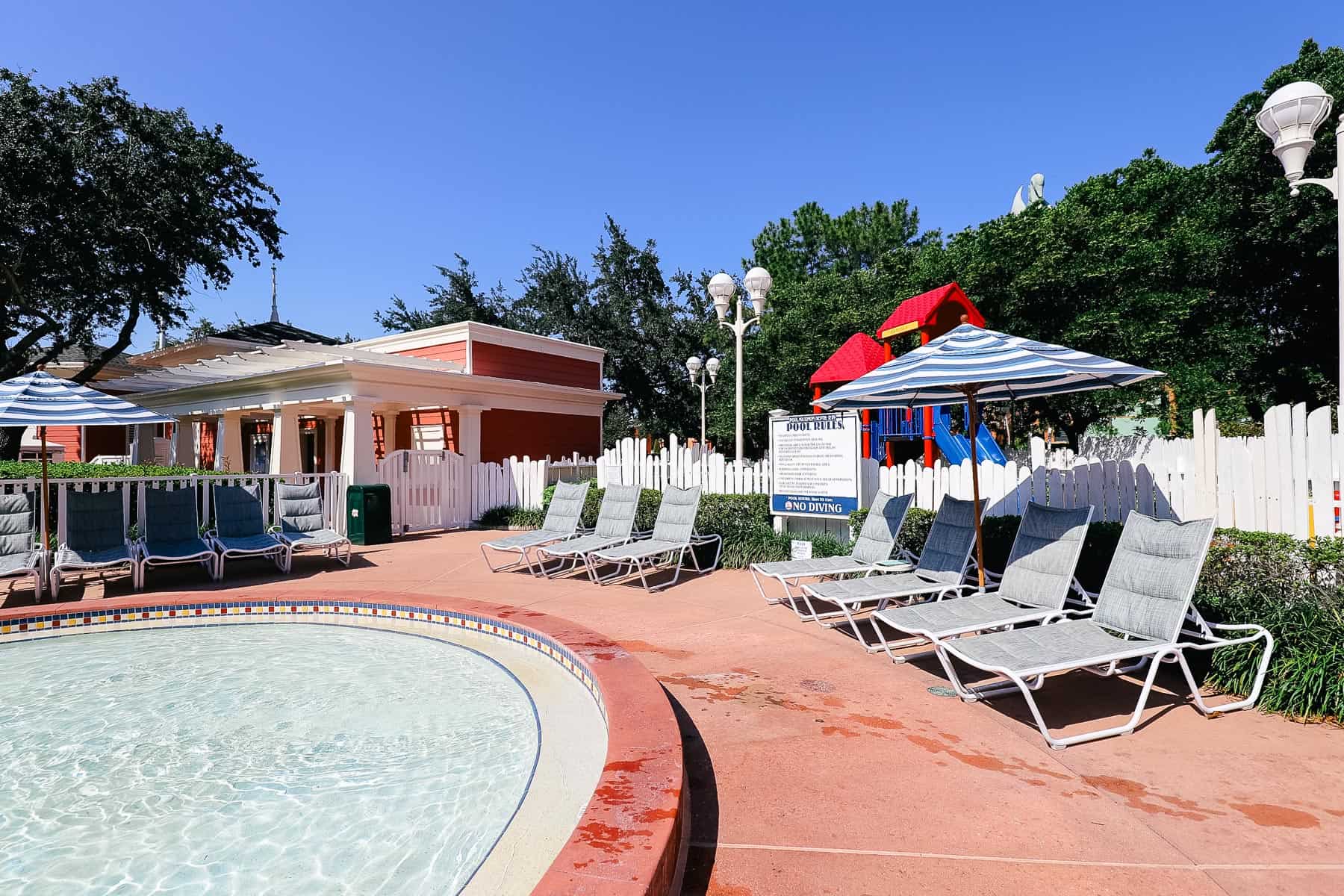 Additionally, the pool has a hot tub, and a poolside bar called Leaping Horse Libations.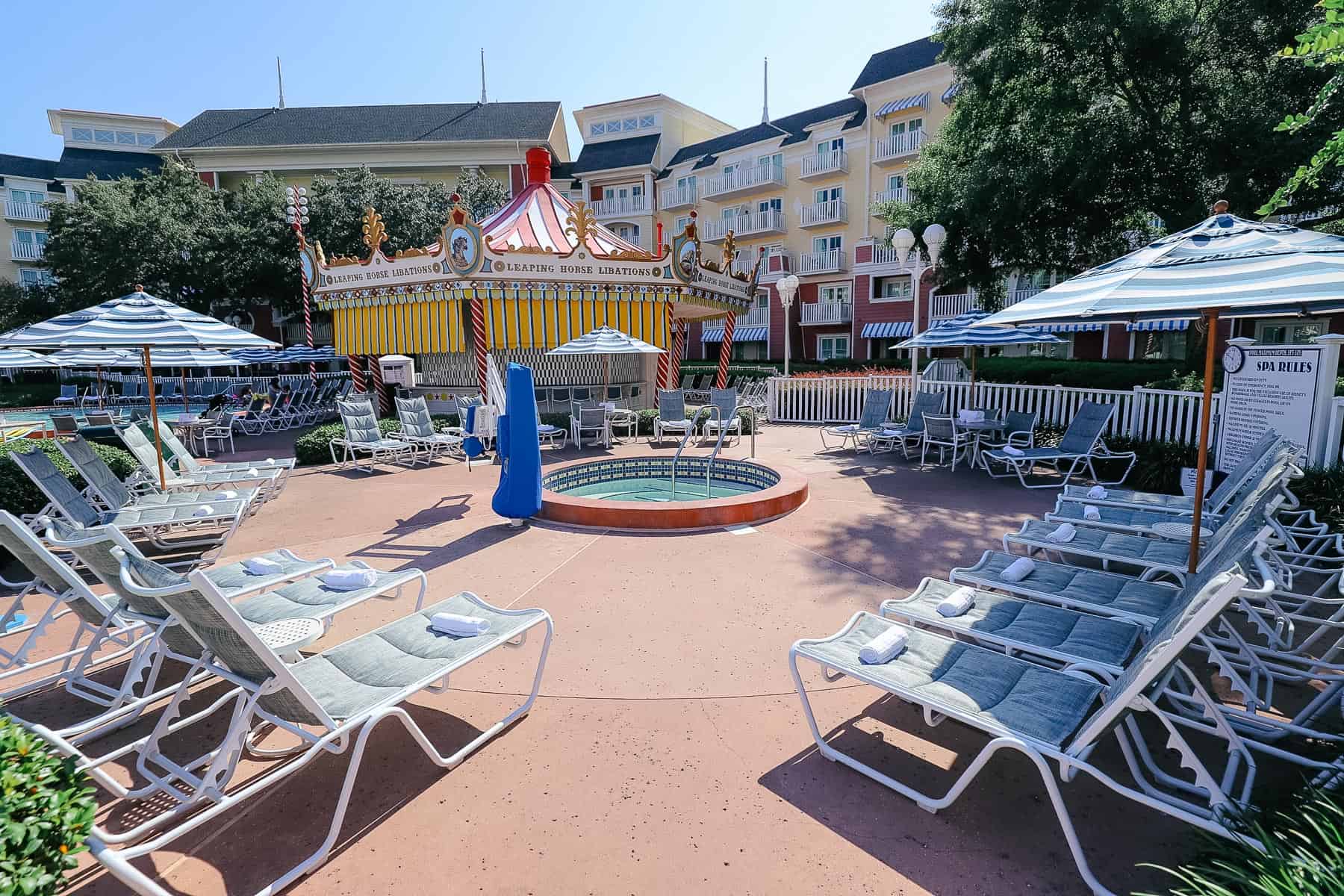 On the villa's side of the resort, you'll find Community Hall. This area is home to one of the resort's quiet pools.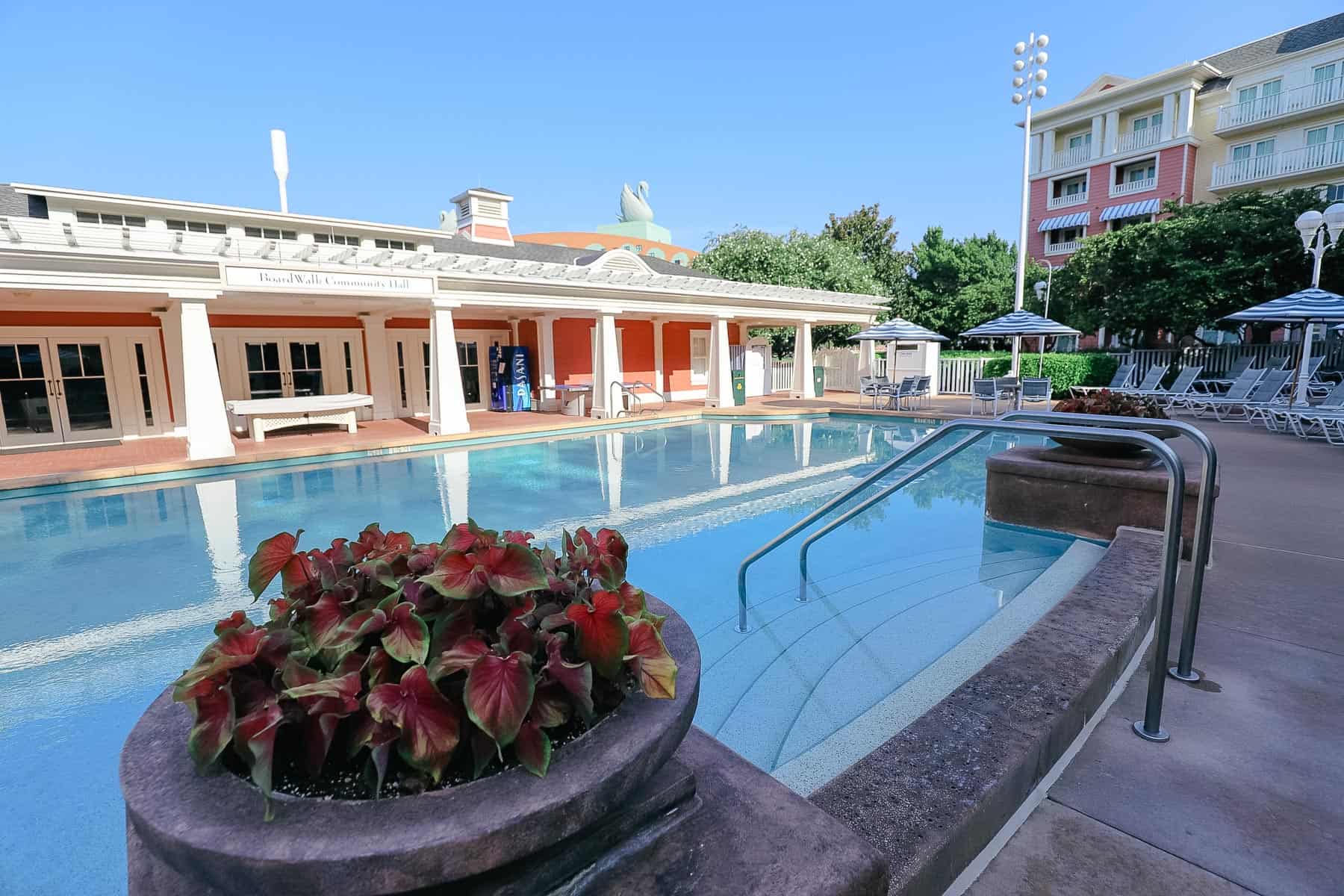 It also has a whirlpool spa.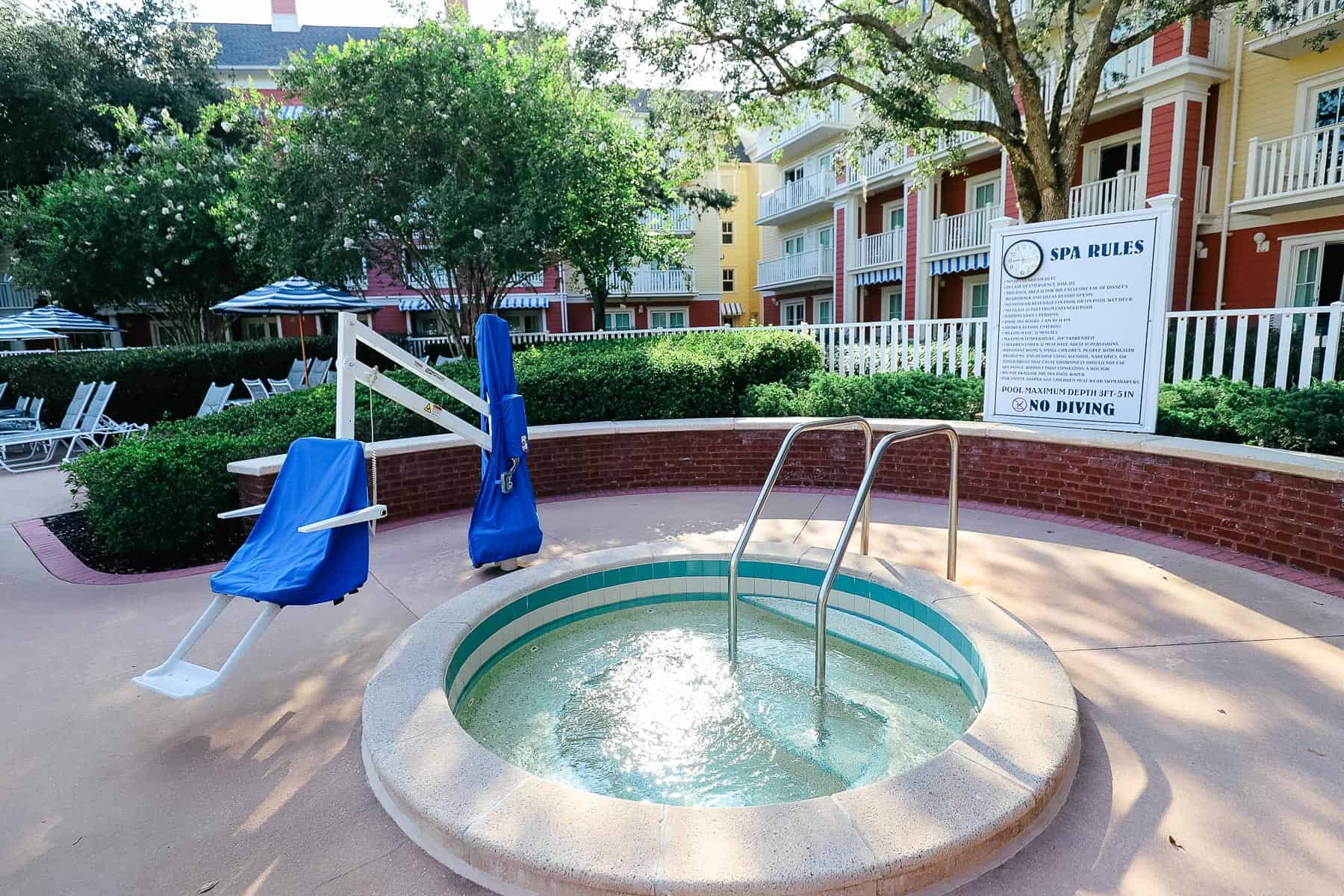 This is where you'll find the grilling area for the Boardwalk Villas.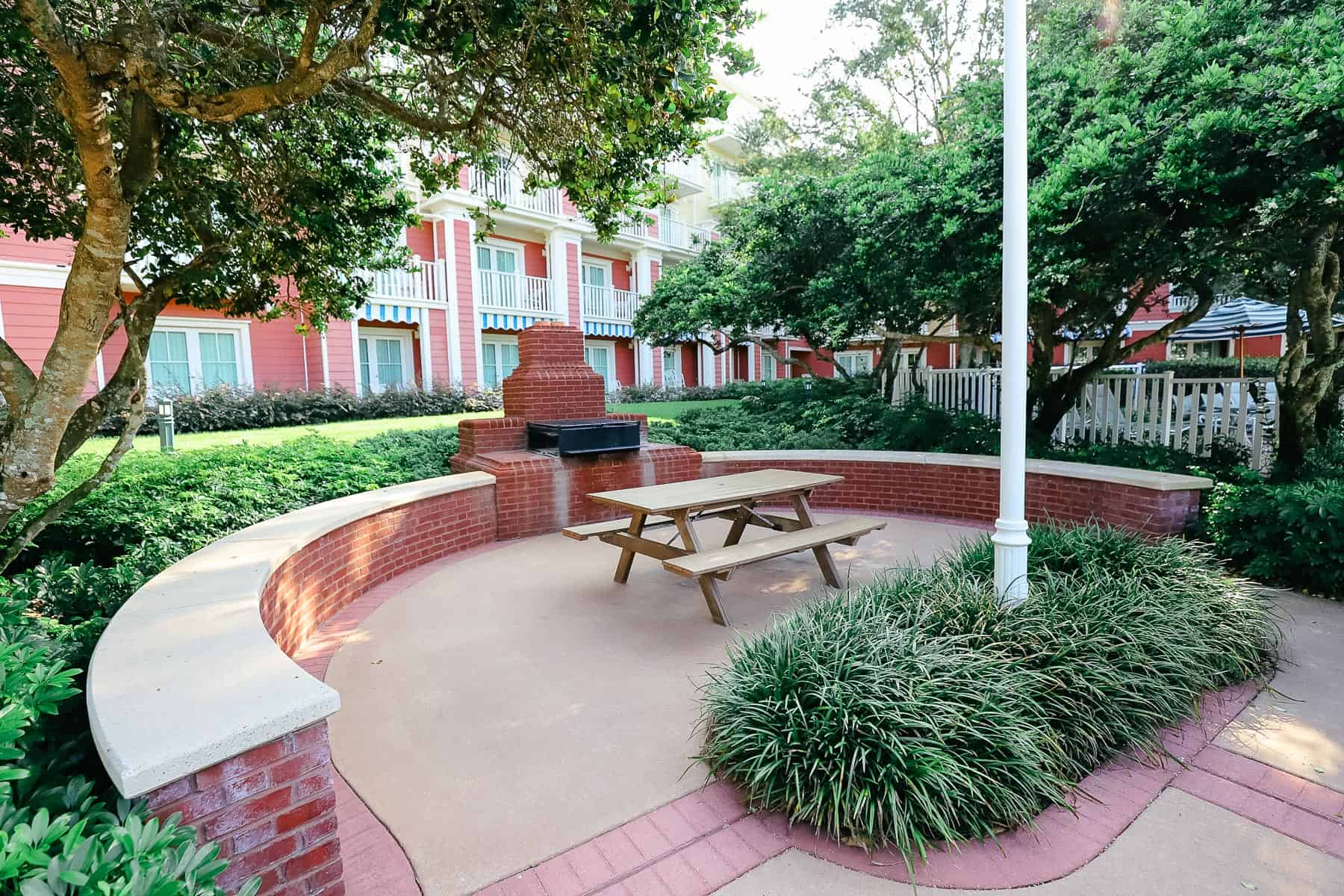 A third quiet pool sits on the opposite side of the resort.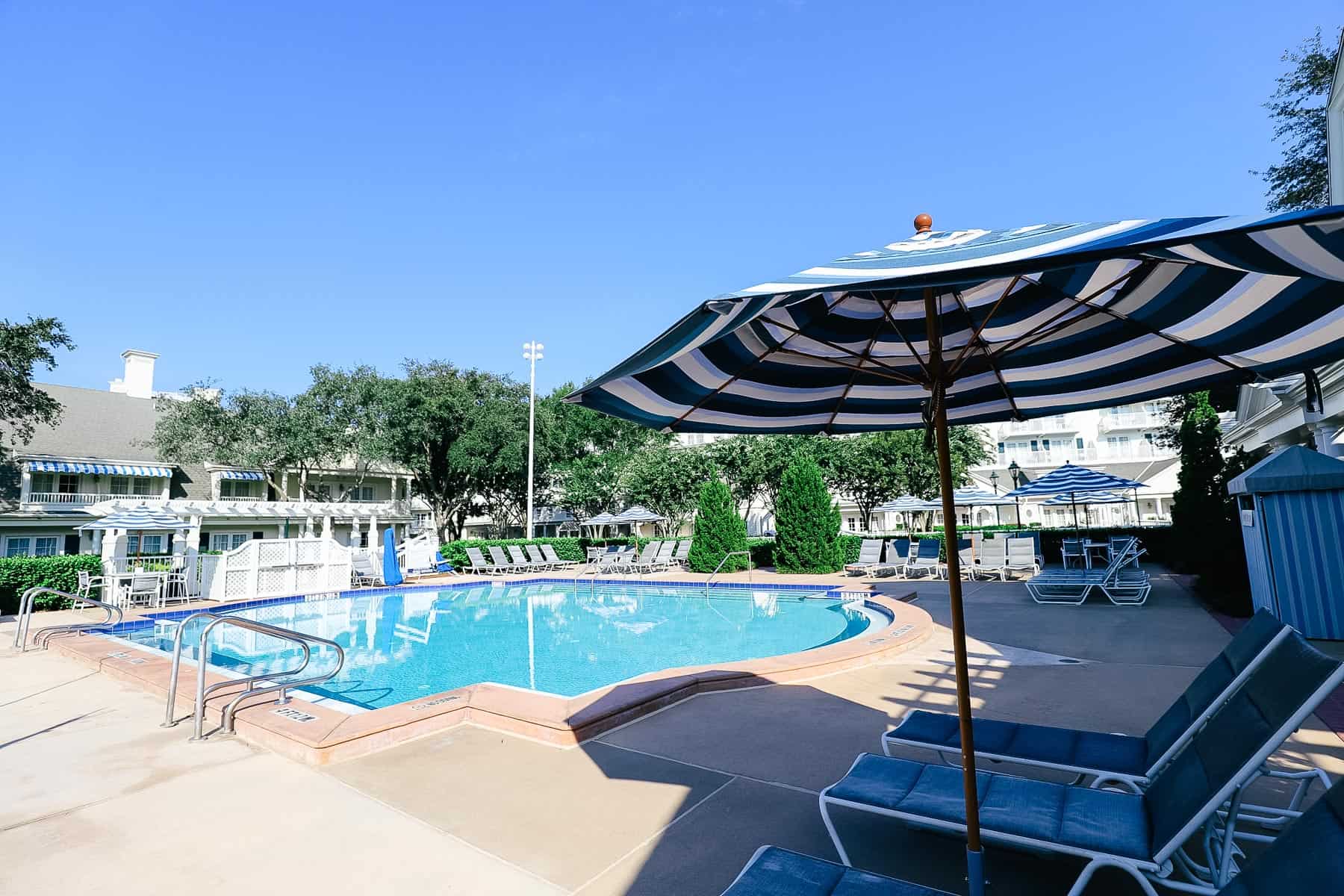 Muscles and Bustles is the fitness center at Disney's Boardwalk. It's located near the Luna Park Pool.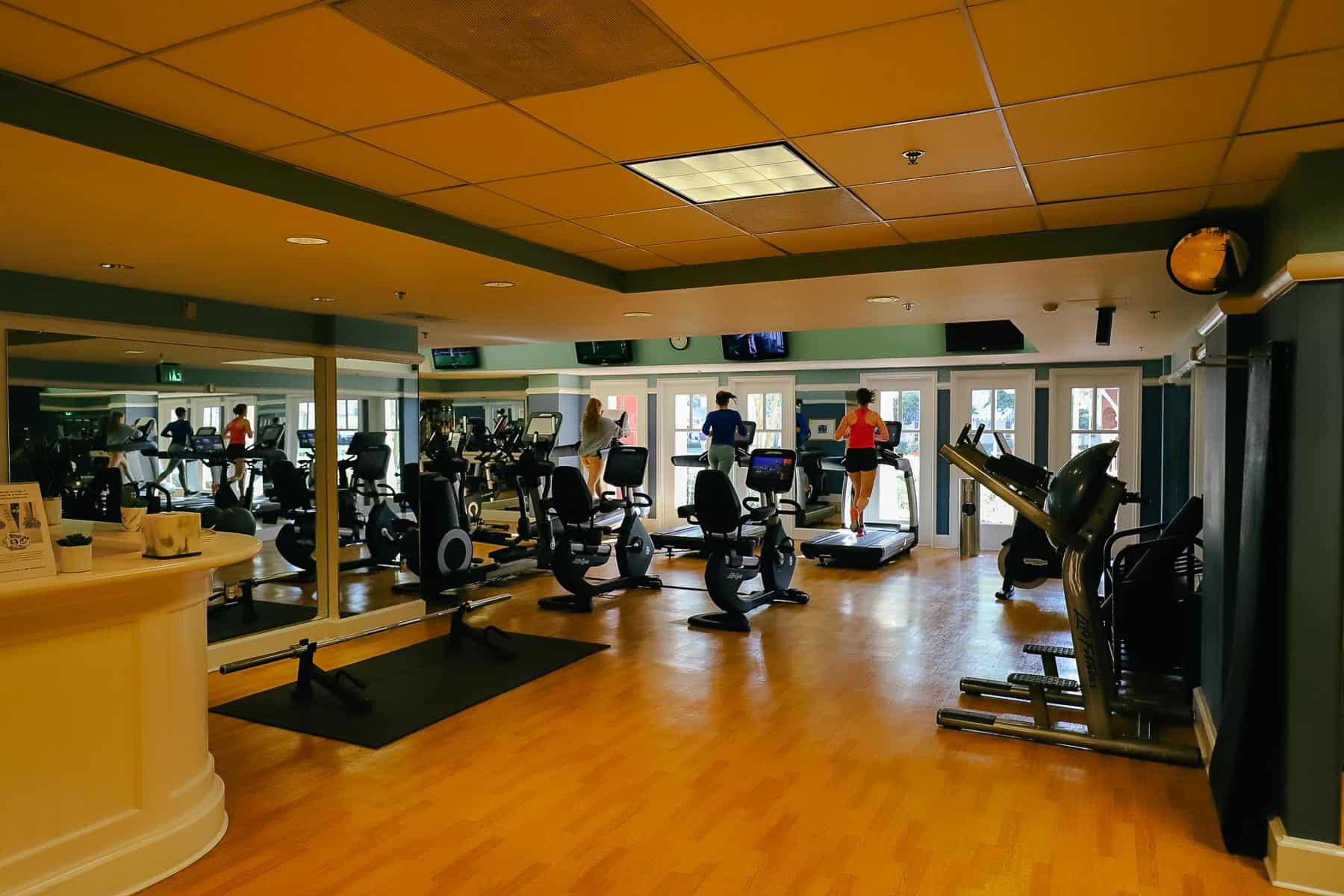 An arcade sits next to the gym.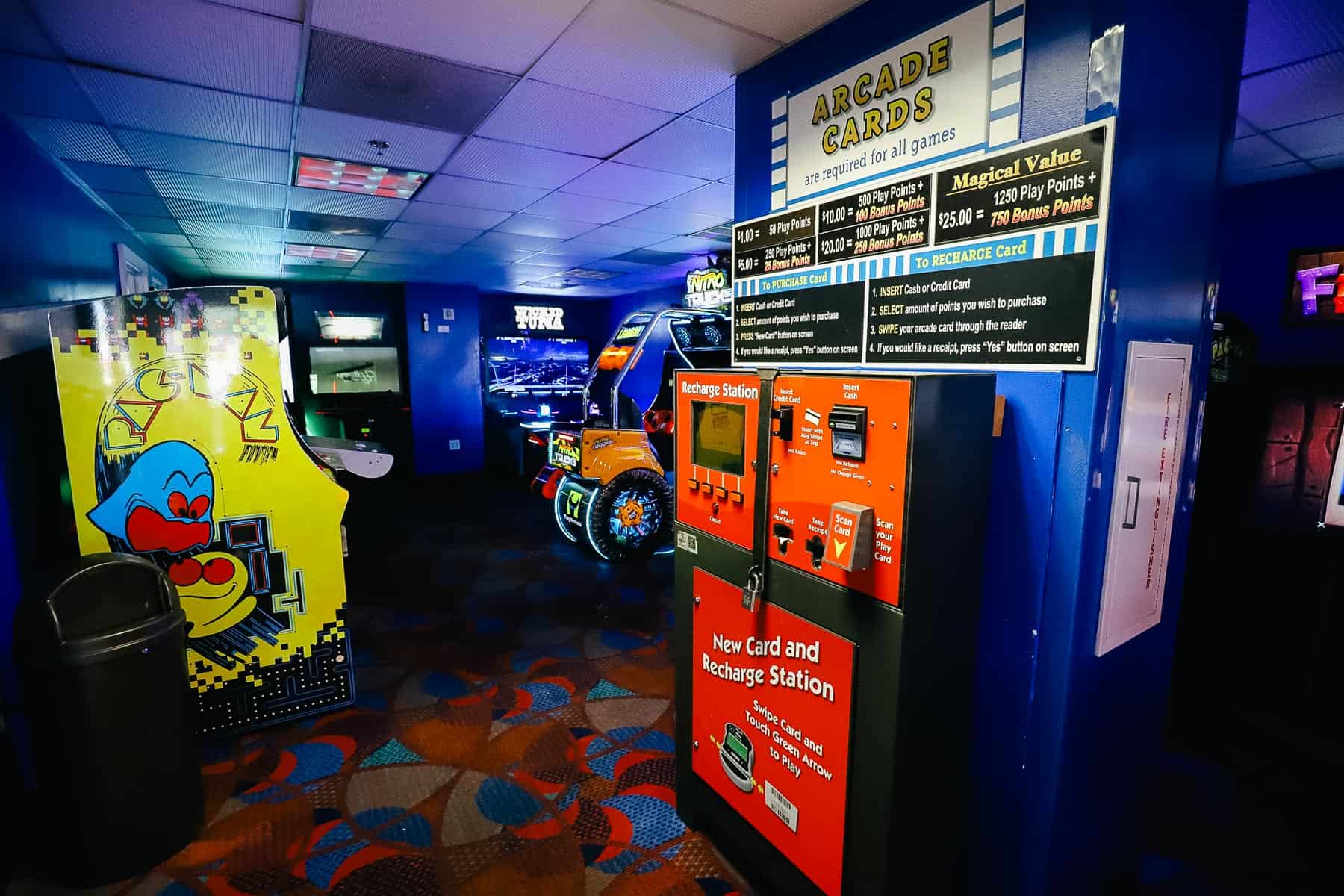 As far as dining goes, the Boardwalk has several restaurants. Quick service locations include the Boardwalk Deli, Pizza Window, Leaping Horse Libations, Boardwalk Ice Cream, and Carousel Coffee.
Additionally, the Boardwalk has several excellent table-service restaurants. You'll find Big River Grille and Brewing Works, Trattoria al Forno, and Flying Fish along the Boardwalk.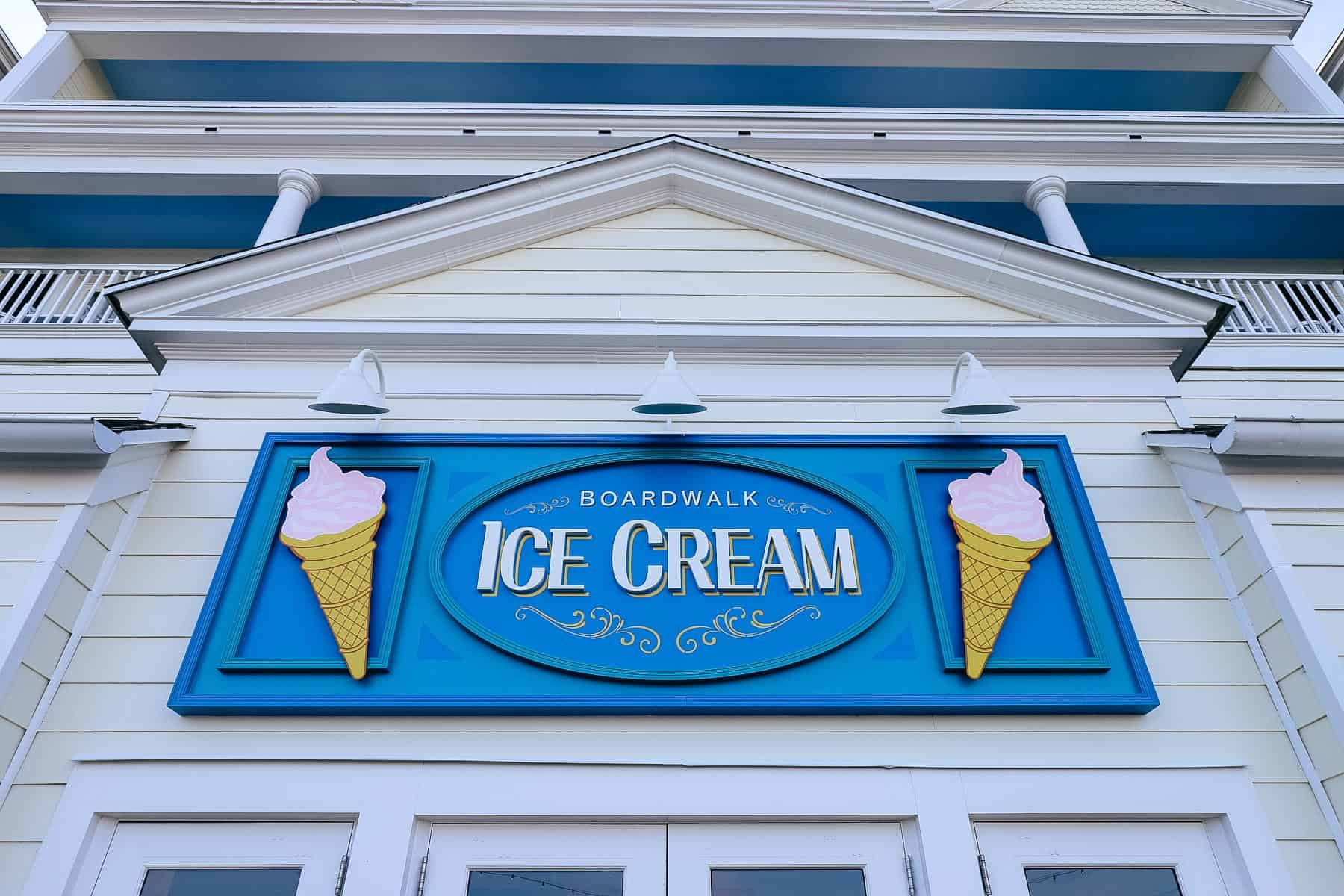 The Boardwalk Deli, formerly the Boardwalk Bakery, opened a while back. This is the resort's primary counter-service restaurant. They serve sandwiches, salads, desserts, and pastries. We have a separate review of the Boardwalk Deli that details what you can expect.
Carousel Coffee recently opened off the resort's lobby. They serve coffee and various pastries. Pizza Window is on the Boardwalk. You can purchase a slice of pizza at this location.
Disney's Boardwalk is also home to two lounges: Abracadabar and Belle Vue Lounge. These venues serve cocktails, wine, and beer.
If you want to learn more information about the dining options, we have a complete guide to Disney's Boardwalk Restaurants. It includes a detailed look at the pros and cons of dining in the area and several items we've tried.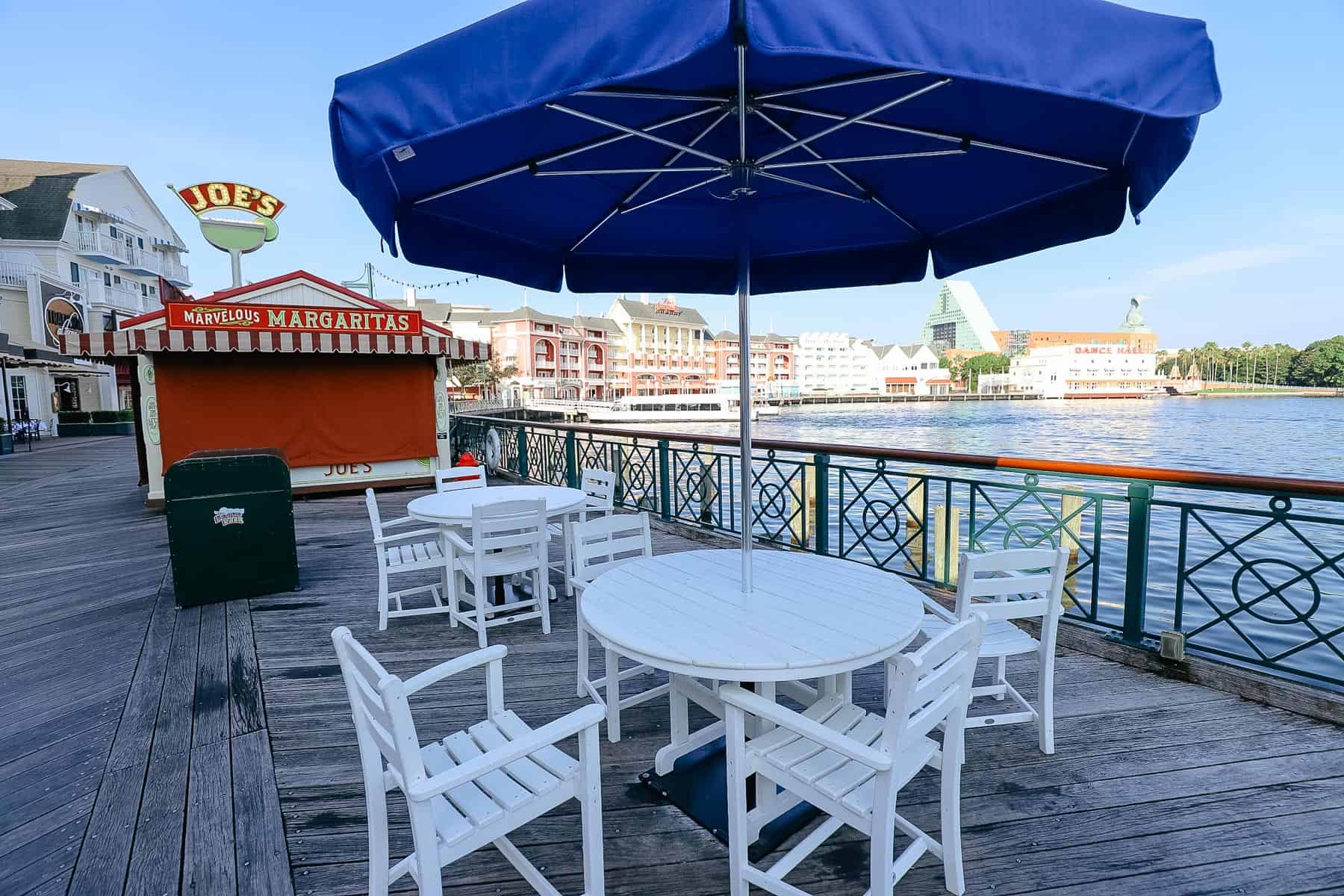 Disney's Boardwalk Inn provides bus transportation to the following locations:
Magic Kingdom
Animal Kingdom
Disney Springs
Blizzard Beach
Typhoon Lagoon
*In most cases, you'll have to take a transfer bus to the water parks. Signage at the bus stop will indicate which bus to take.
Additionally, the resort's Friendship Boat Service will take you to the following locations if you prefer not to walk:
Epcot
Disney's Hollywood Studios
Disney's Beach Club Resort
Disney's Yacht Club Resort
Disney's Swan and Dolphin Hotel
We have an overview of transportation options at Disney's Boardwalk if you want more details on getting to other locations from the resort.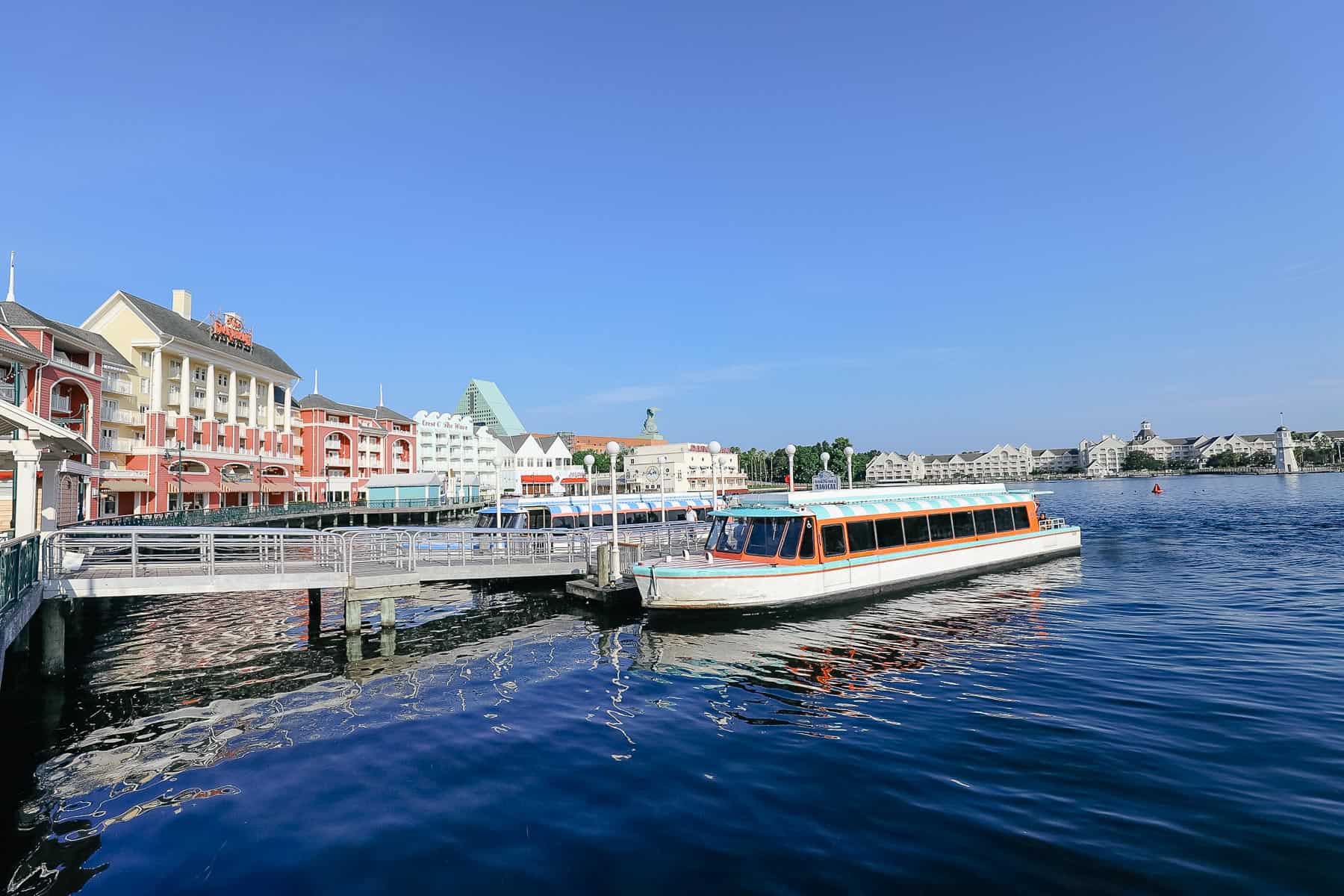 Final Thoughts on Disney's Boardwalk Villas
We love staying at Disney's Boardwalk Villas primarily due to its location. Being on the Boardwalk is another fun aspect. Entertainment is available most evenings, and often the Boardwalk tends to come alive at night.
Of course, being able to walk to Disney's Hollywood Studios or Epcot is the best. We have left the parks so many times, and I can't tell you how nice it is to be able to walk back. The wide-open walkway allows you to decompress on the way back to the room.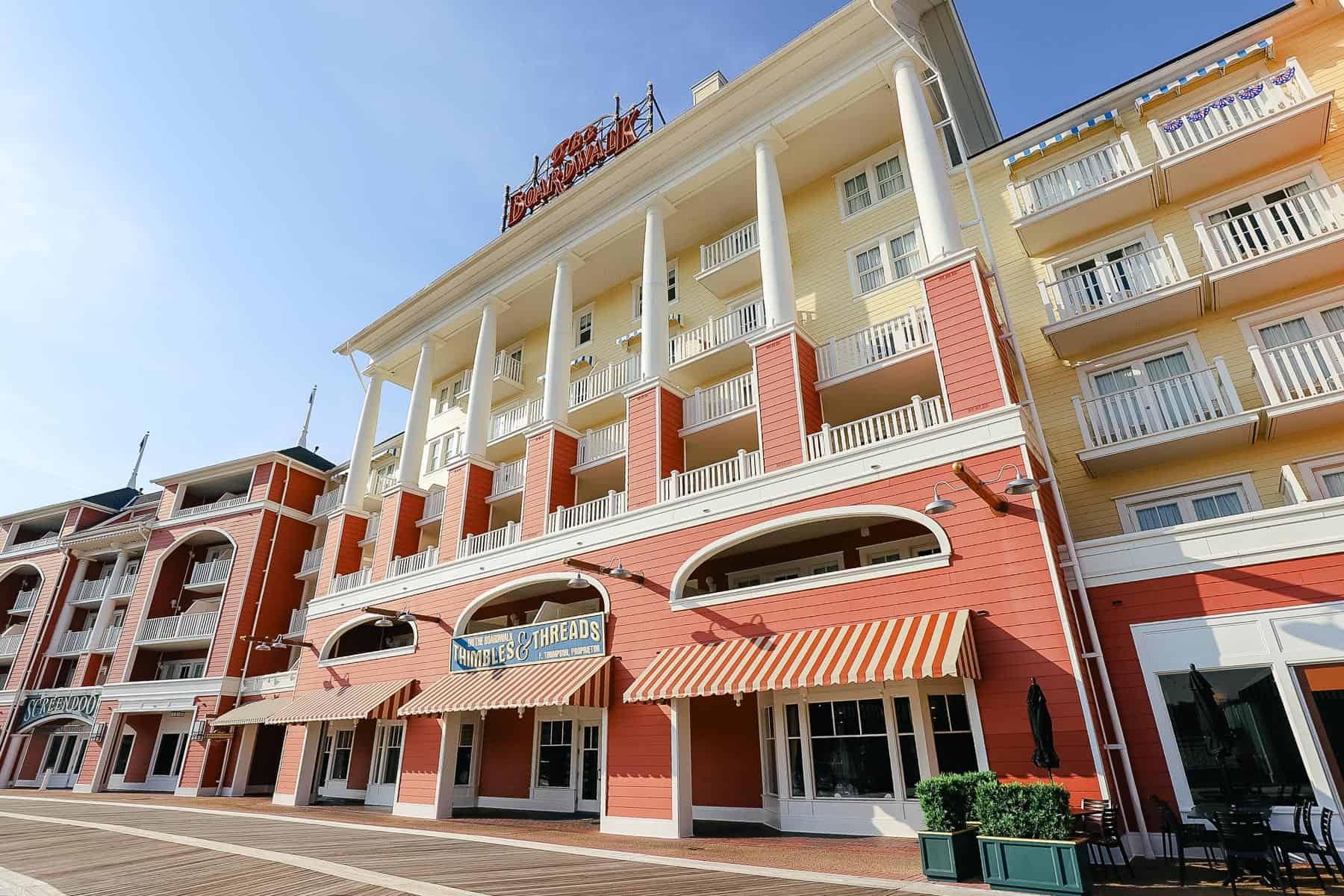 If you're considering a stay at Disney's Boardwalk Villas, here are some things to think about:
Which type of villa would work best for my travel party and budget?
Will we save money on meal costs by preparing food in the room? Or do we prefer not to cook on vacation?
Will we take advantage of an upgraded room view of the Boardwalk and other amenities?
Another perk is that guests of Disney's Deluxe and Deluxe Villa are privy to extended hours twice a week in the parks. You can preview the extended-hour schedule on Disney's site. If you stay at the Boardwalk or another villa resort–make sure to plan these special times into your schedule.
Additionally, all Disney World Resort Hotel guests can enter the parks 30 minutes each morning before the scheduled opening time. You can read more about the benefits of staying at a Disney World Hotel.
All of our articles related to the resort are available in our guide:
Or you might enjoy browsing our entire list of Disney World Resort Reviews.
In the Comments
Hopefully, this review of the Boardwalk Villas gave you the information needed to decide whether or not a stay here was suitable for your next vacation. What are your thoughts on the Boardwalk Villas?