Disney's Boardwalk Deli Review (Reasonable Counter Service Options at the Boardwalk)
We had lunch at the new Boardwalk Deli….and we liked it. Those are words I didn't necessarily anticipate writing at the beginning of this review of Disney's Boardwalk Deli.
Readers of the site know that my largest complaint about Walt Disney World is the lack of decent counter service offerings at most of the hotels. That sentiment holds especially true for Disney's Boardwalk Inn.
Often, I've compared the pre-made sandwiches at the former Boardwalk Bakery to what you might receive at a gas station. While I love staying at Disney's Boardwalk Inn, this issue has been my biggest deterrent.
Thankfully, for the time being, things have changed. Have they changed drastically? Probably not.
But we can at least order a freshly prepared sandwich to our liking for lunch or dinner. And for most items, we won't have to wonder how long it's been sitting in the case.
Oh, and there's dessert too. Don't worry. We tried a few things and hope to continue seeing this tremendous variety for a long time.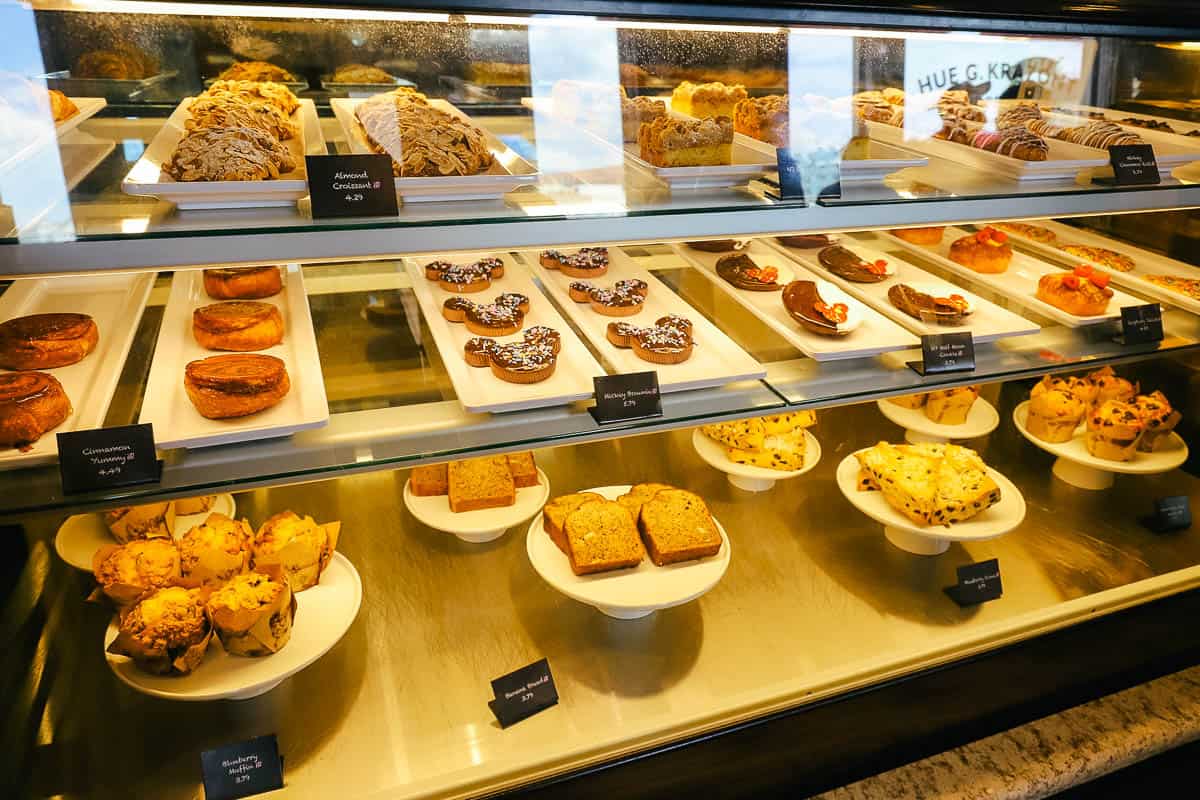 Disney's Boardwalk Deli Review
We previously discussed several changes coming to Disney's Boardwalk over the next year. One of those changes was the Boardwalk Bakery transitioning to the Boardwalk Deli.
If you've ever visited the primary counter service location at Disney's Boardwalk, you're not going to see many significant differences. Of course, the signage over the sandwich shop now reads "deli" instead of "bakery."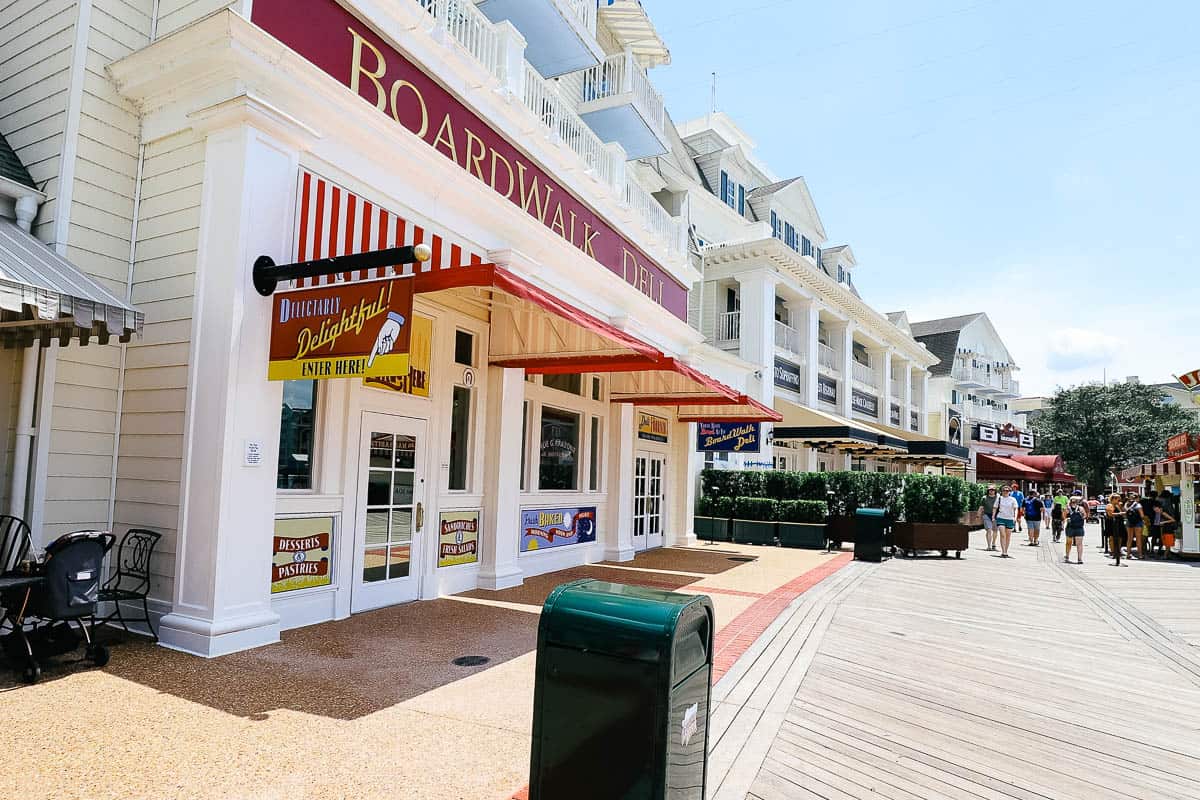 I'm pretty sure the window already read Hue G. Krazont proprietor. However, the signage below the deli's window appears new.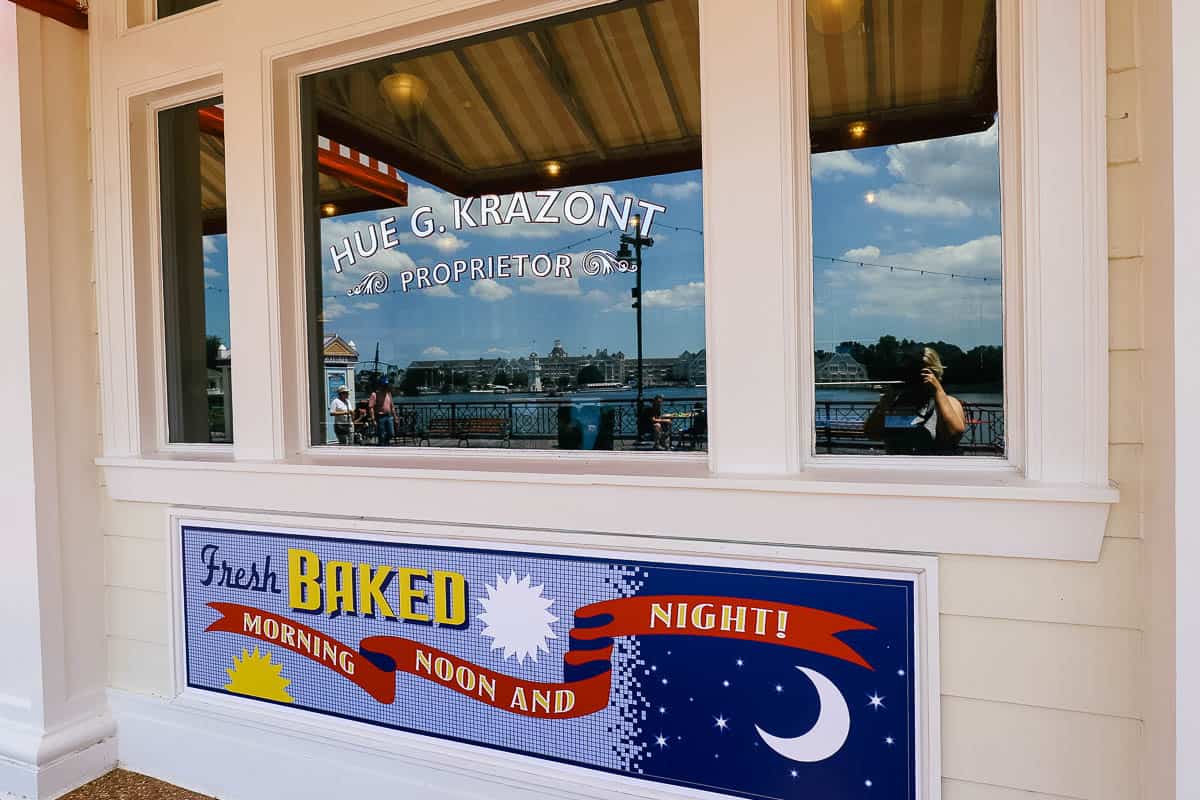 Get it? Huge Croissant.
Where the word bakery once appeared, it now reads deli. Additionally, you can visit the quick service restaurant for refills if you purchase a rapid refill mug.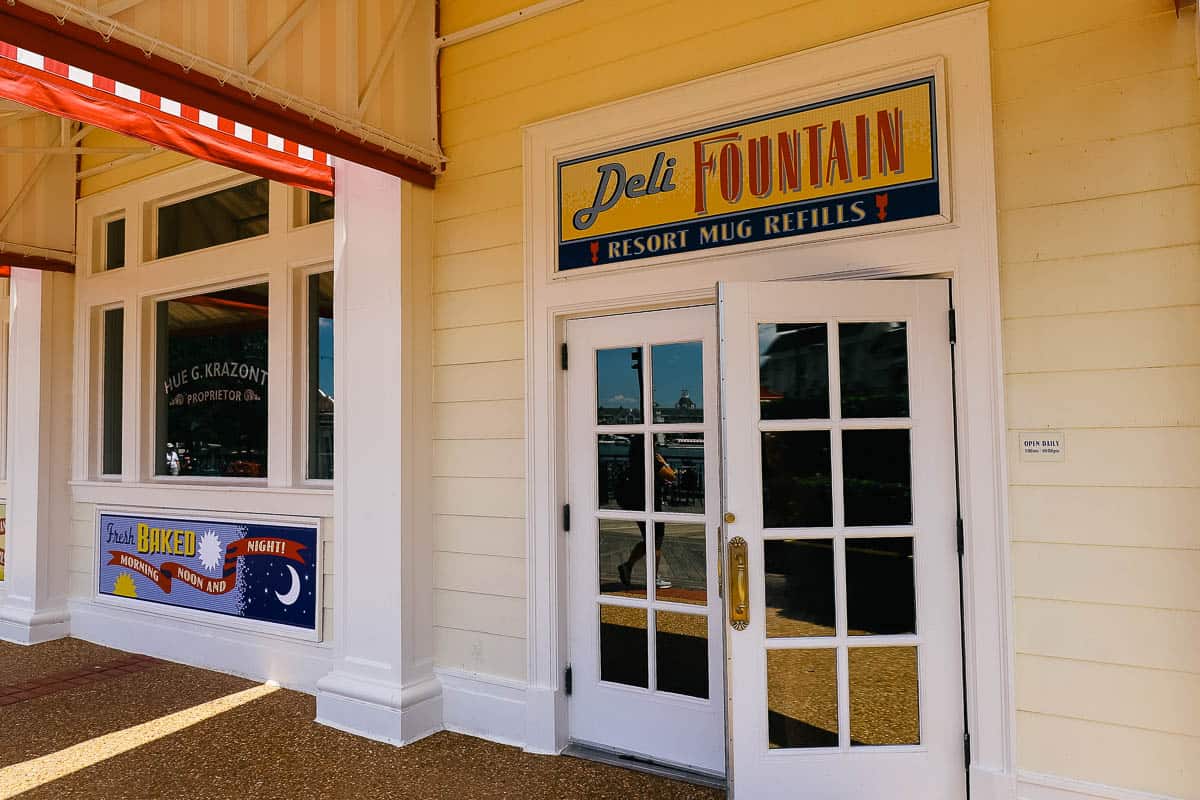 As far as the Boardwalk Deli's lunch and dinner menu goes, we see several new and one returning sandwich.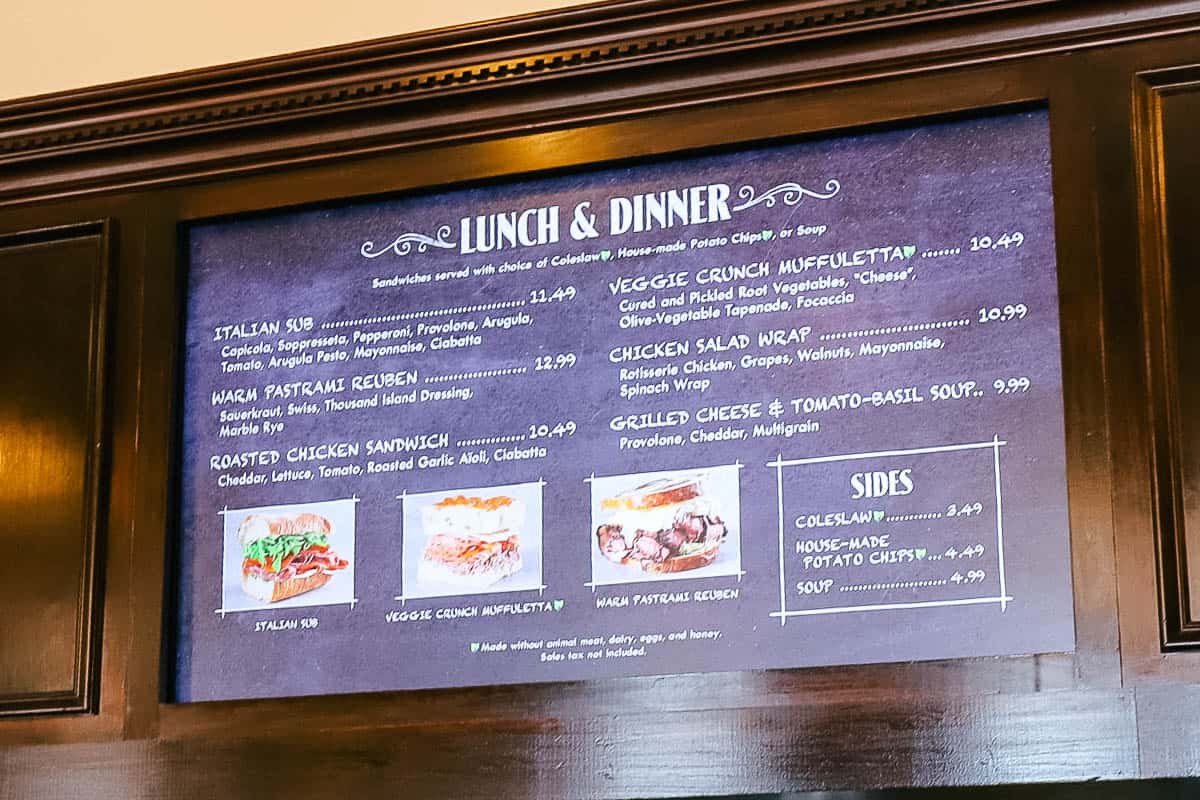 Those sandwiches are:
Italian Sub ($11.49)
Warm Pastrami Reuben ($12.99)
Roasted Chicken Sandwich ($10.49)
Veggie Crunch Muffuletta ($10.49)
Chicken Salad Wrap ($10.99)
Grilled Cheese and Tomato Soup ($9.99)
Fortunately, the grilled cheese sandwich remains. Previously, it was the only made-to-order item on the menu.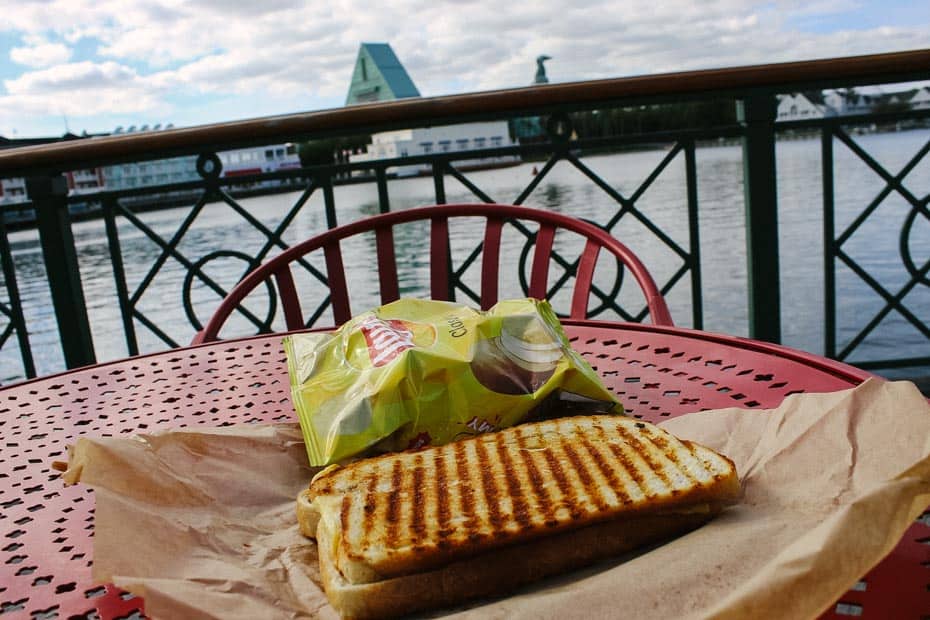 All of the sandwiches come with a side. Choices for sides are housemade potato chips, coleslaw, and soup. The soup is usually tomato.
We'll briefly preview the sandwiches displayed in the case. First, here is the Pastrami Reuben that is served warm. Expect sauerkraut, Swiss Cheese, and Thousand Island dressing on marble rye bread.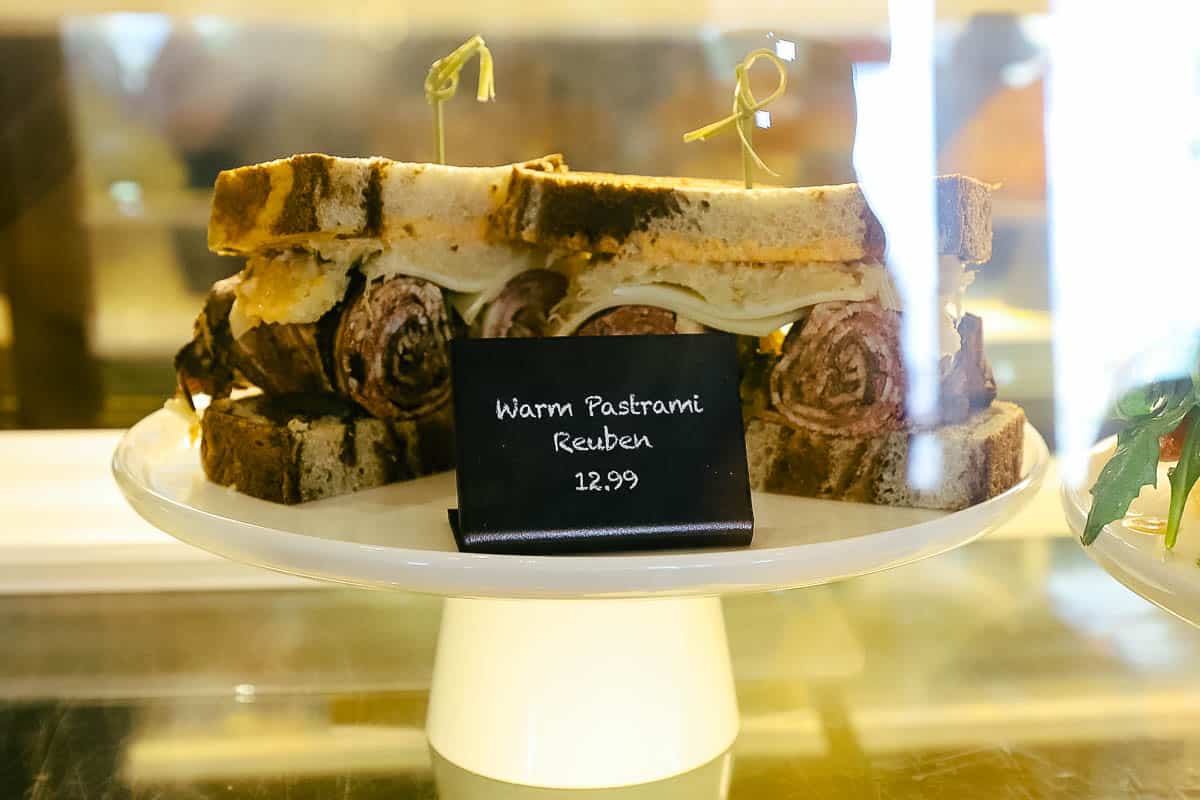 And here we have the Italian Sub. It comes with Capicola, Soppressata, Pepperoni, Provolone Cheese, Arugula, tomato, Arugula Pesto, and mayonnaise on a Ciabatta bun.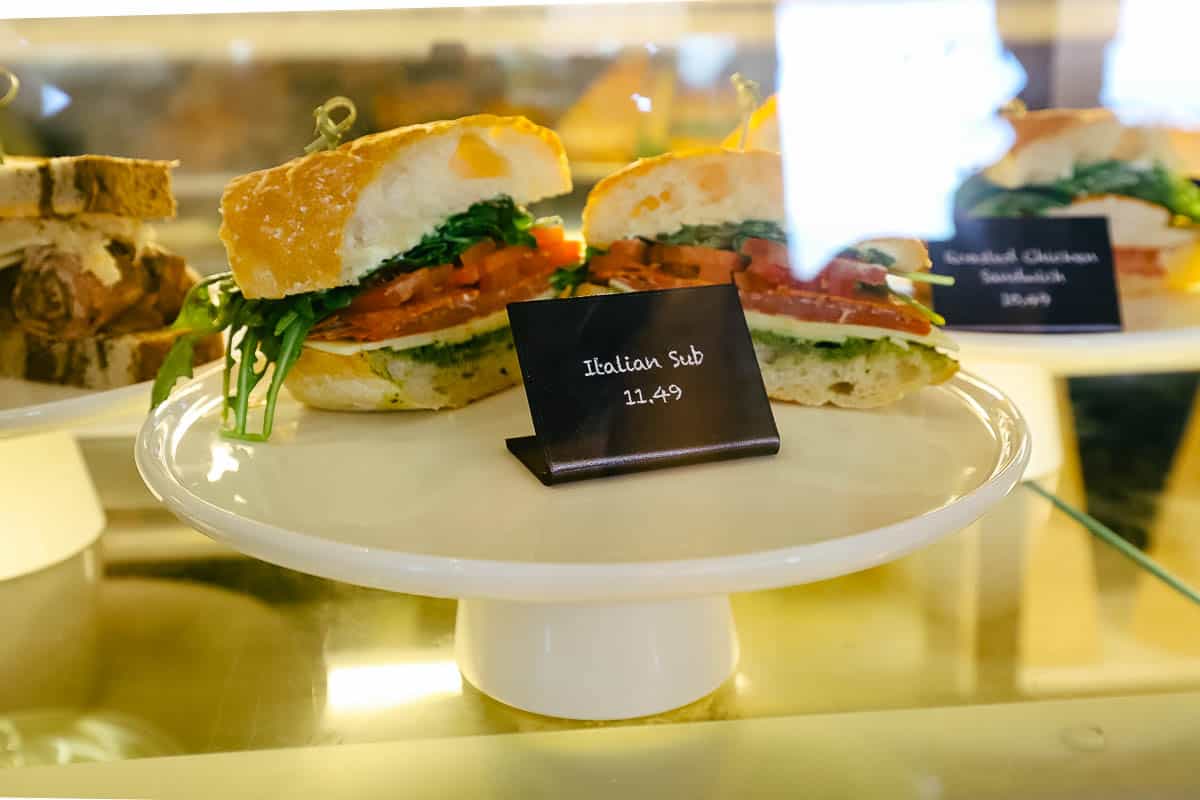 The chicken salad wrap is a mix of rotisserie chicken, grapes, walnuts, and mayonnaise. It comes in a spinach wrap.
Kristen ordered the wrap and asked if she could get it without walnuts. We were told that the chicken salad was pre-made and that ordering it without nuts was not an option.
This led me to ask if the wrap was pre-made. But a cast member indicated that the chicken salad mixture was added to a fresh wrap when ordered.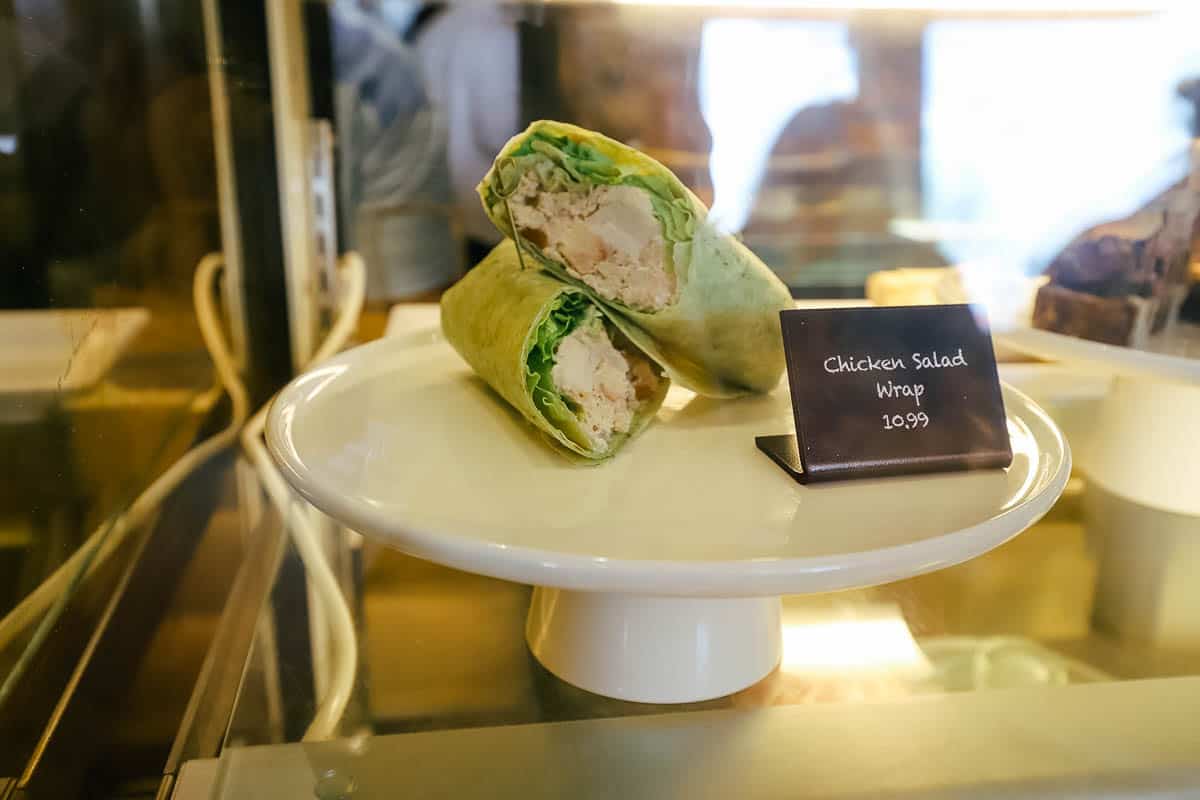 Additionally, I noticed that the bagel with smoked salmon was sold premade out of the case.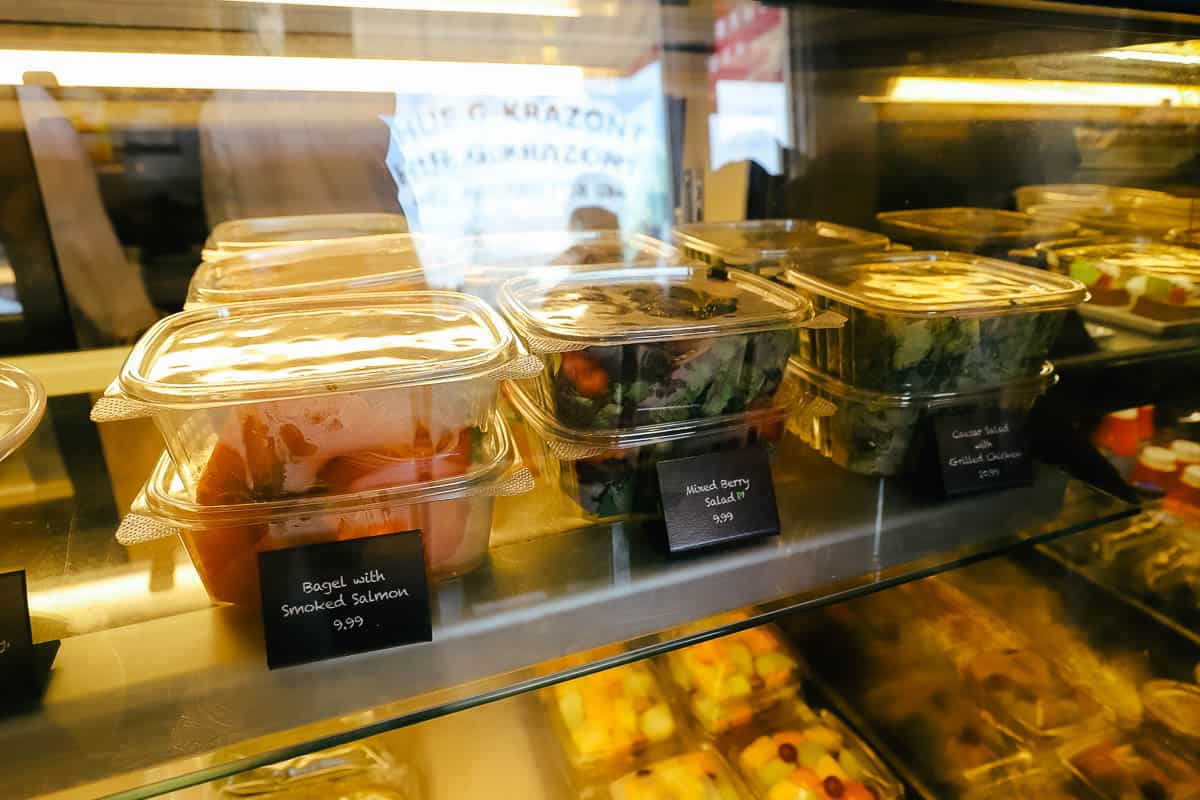 A mixed berry salad and Caesar salad with grilled chicken returns. I've ordered the mixed berry salad in the past and found it a decent option.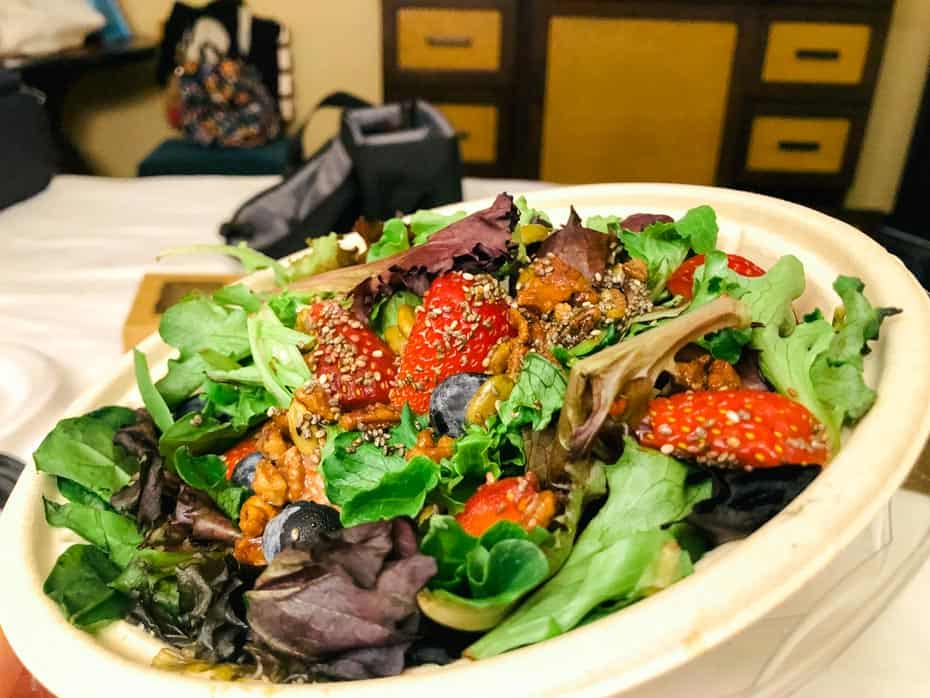 Here are a few more items in the refrigerated case. That's a kid's ham and cheese sandwich meal in the bottom left-hand corner of the photo. (Another item that's not freshly prepared.)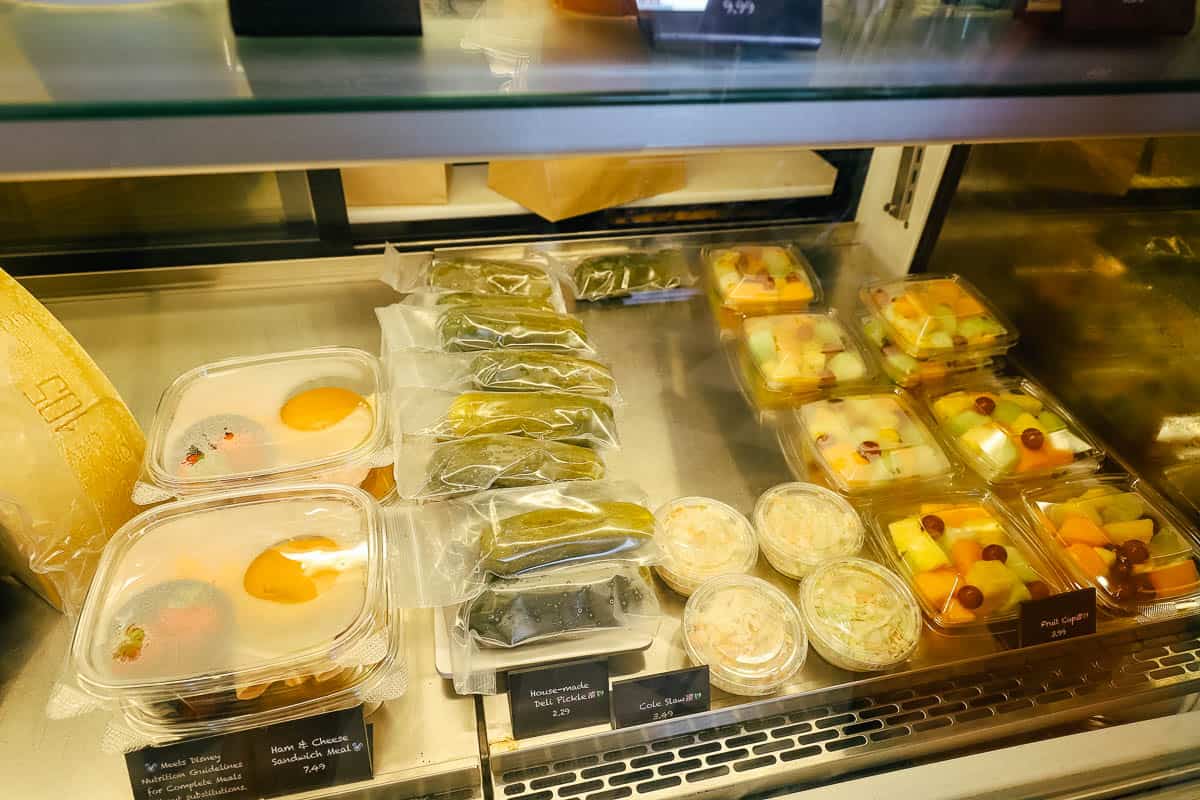 Other options include housemade pickles, slaw, and cut fruit.
But what impressed me the most was this large case of bakery items. Watch out, Le Petit Cafe, there's a new bakery, I mean deli, in town.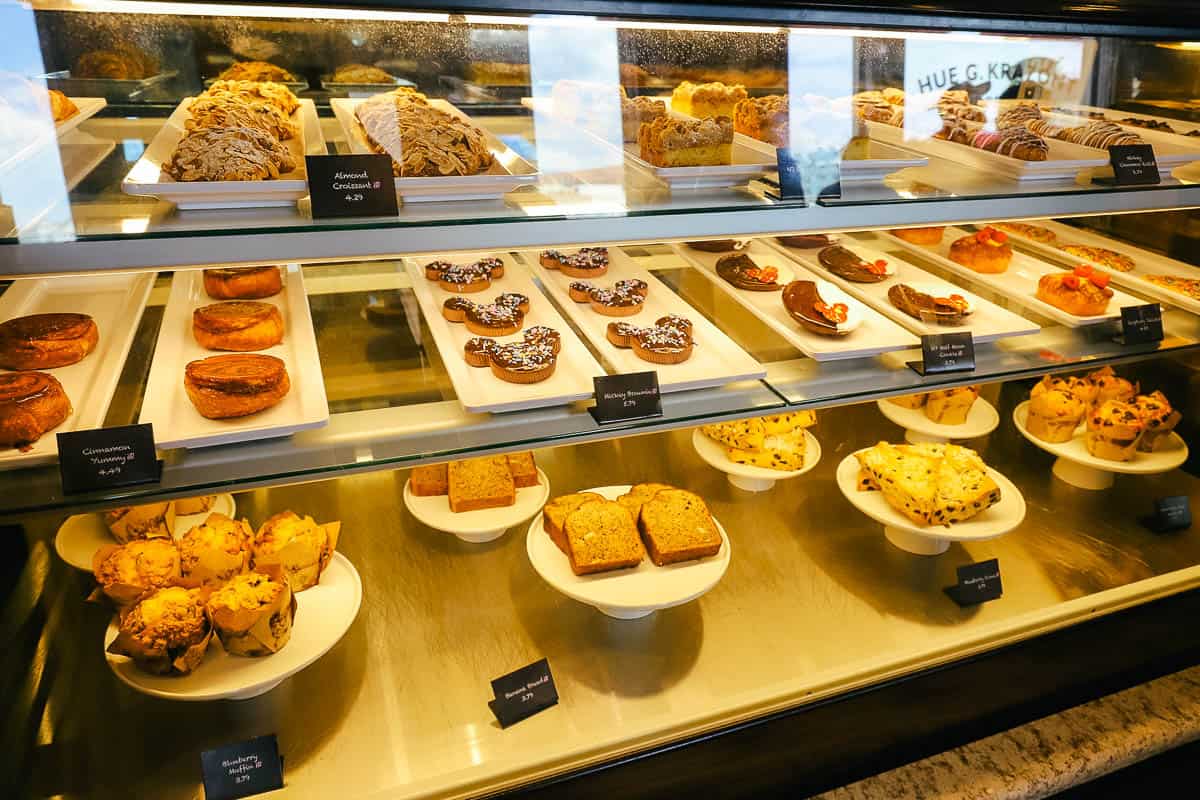 Mickey brownies with sprinkles were available.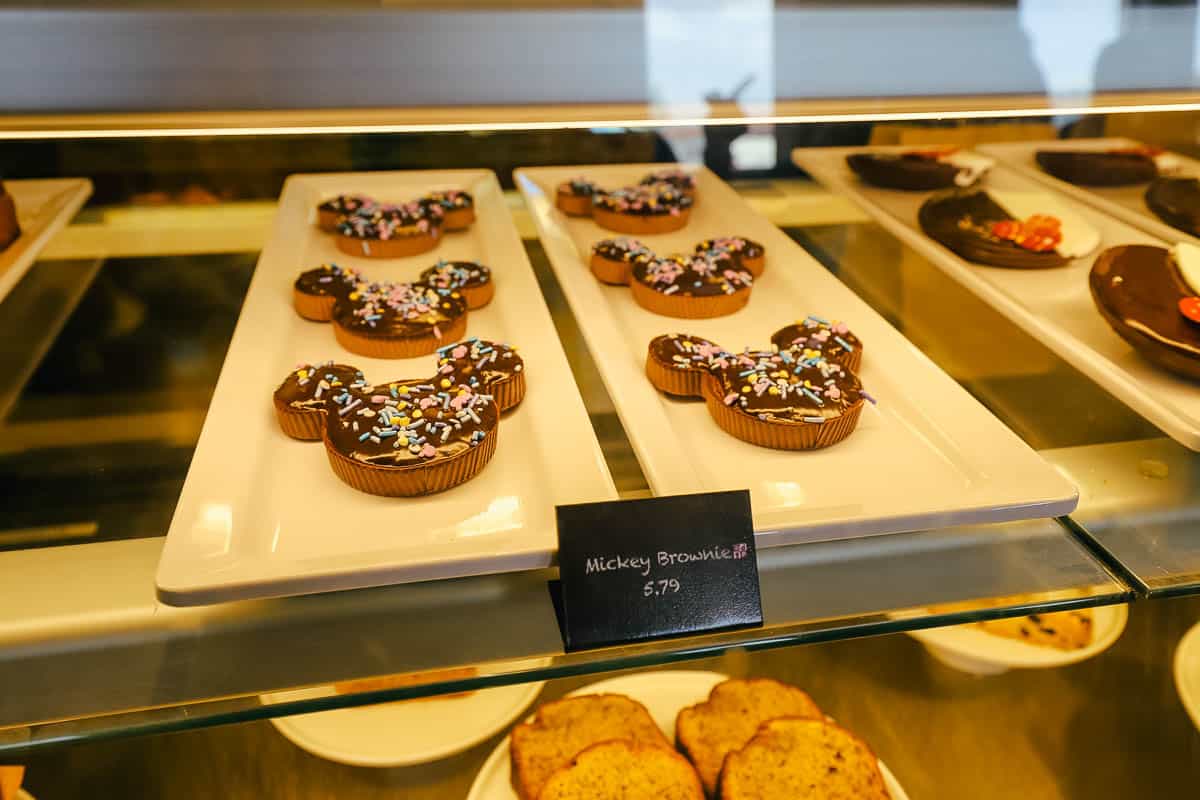 NJ Crumb Cake, that's for New Jersey, I assume.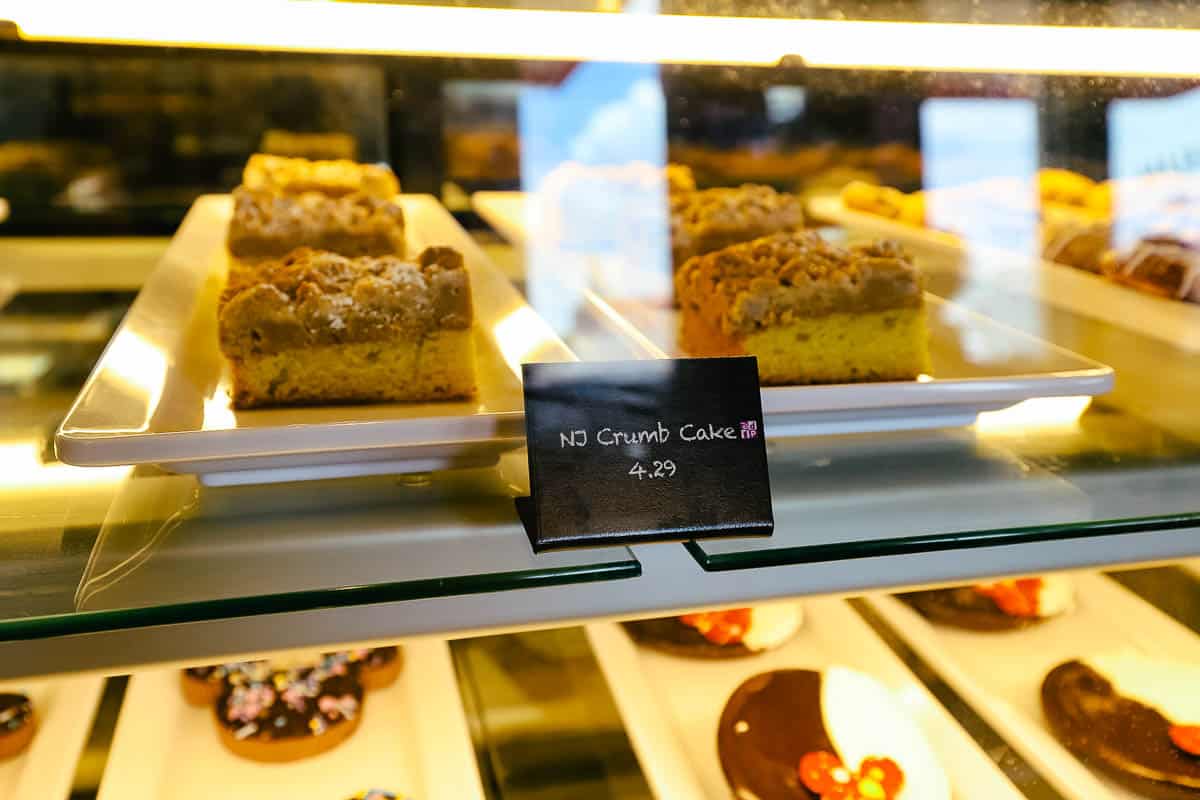 Here are the almond croissants.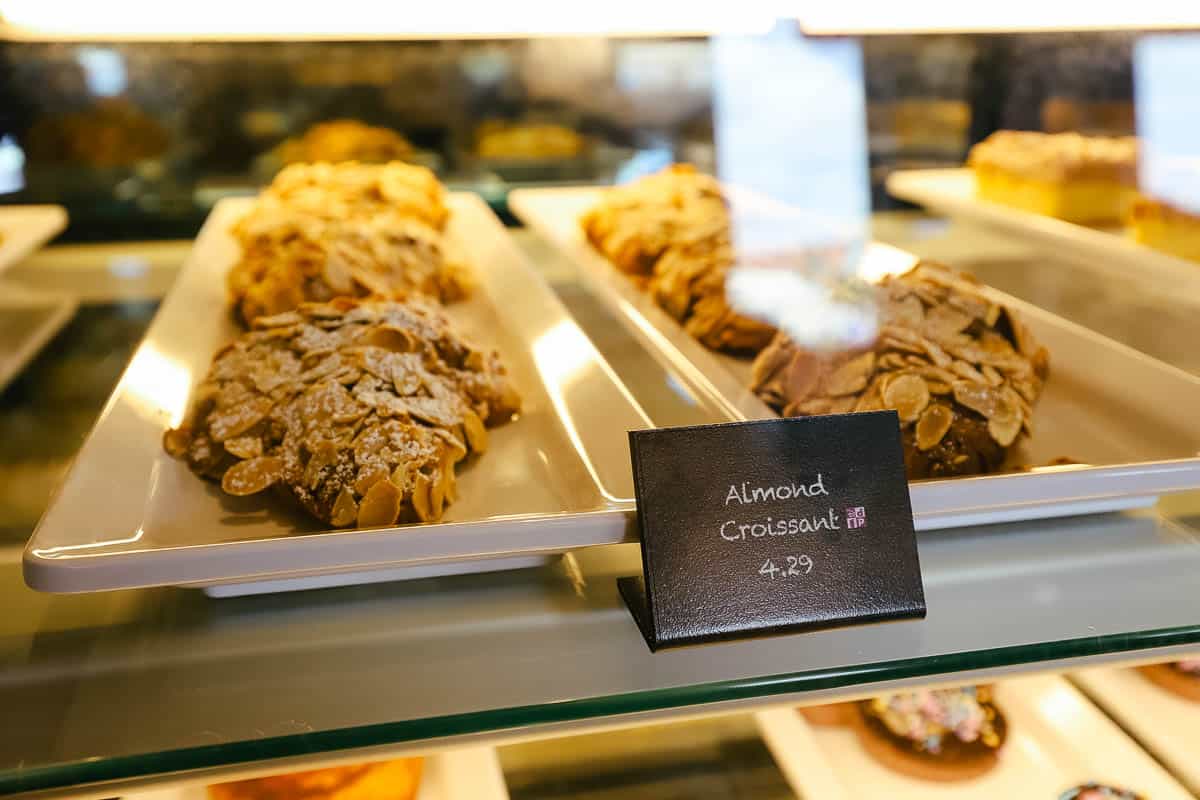 Cinnamon Yummy? It looks like a cinnamon roll turned sticky bun to me. But whatever it is, visually, it's mouth-watering.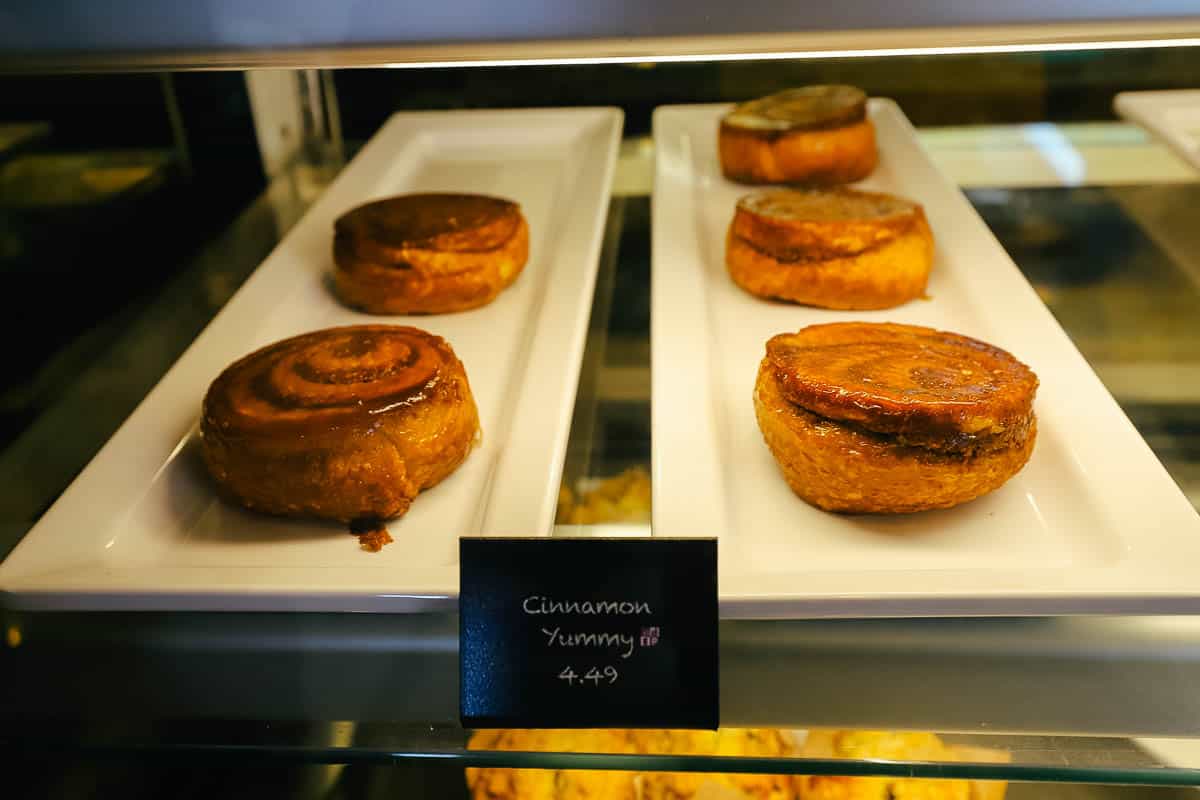 These blueberry scones are supposed to be one of the specialty items. Undoubtedly, the Boardwalk Deli is trying to refine us in preparation for The Cake Bake Shop opening in 2023.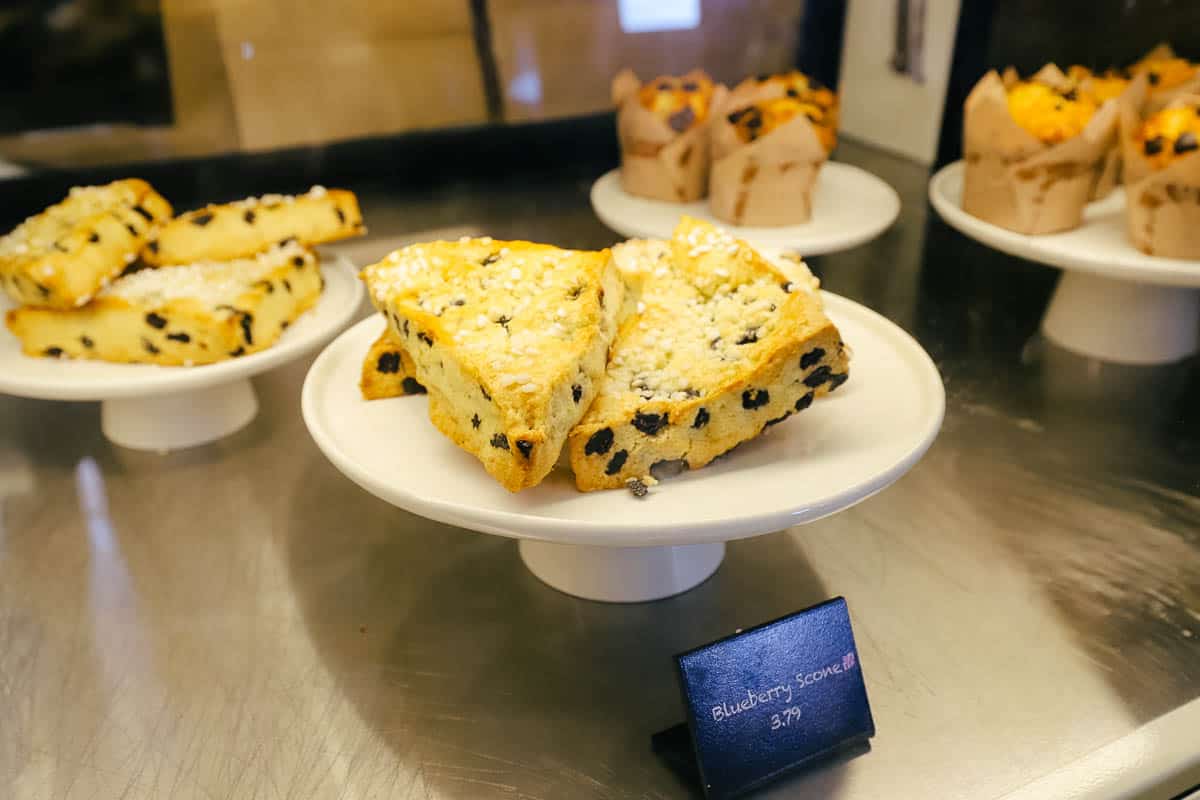 NY Half Moon Cookie? Is that a thing in New York?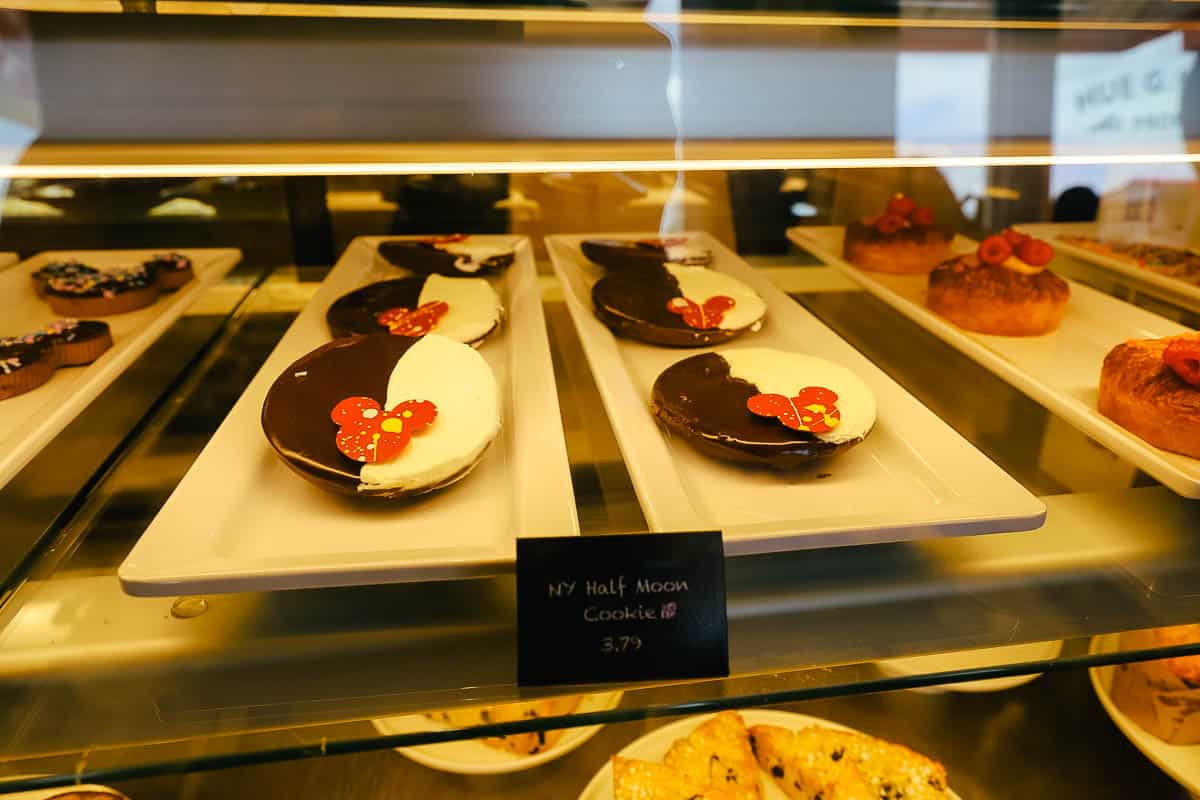 Curiosity got the best of me, and I had to Google it. In a nutshell, an architect from upstate New York opened a bakery in 1925, invented this cookie, and became famous for them.
You can still order them online today. Next time I go to the Boardwalk Deli, I'll have to try one.
Here we have a raspberry danish and a sugar cookie. The sugar cookie with sprinkles is an excellent option for children.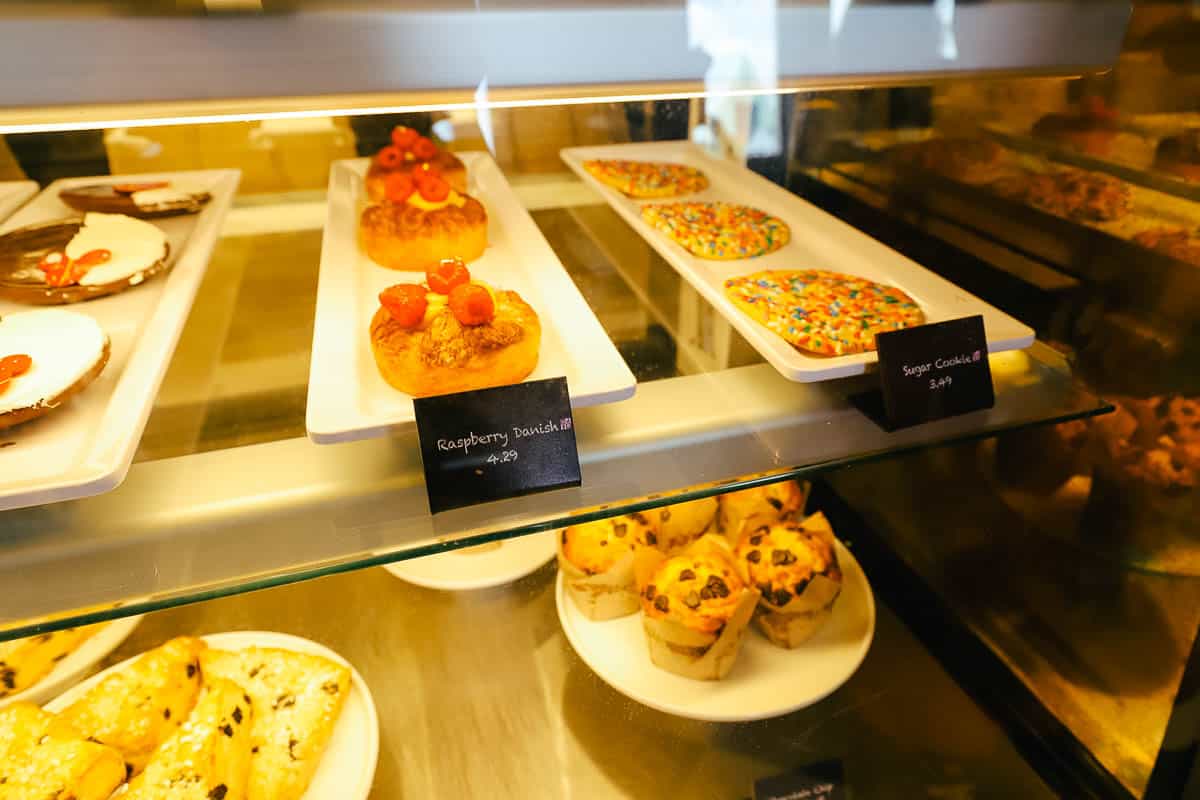 In addition to the pastry case, there is a separate refrigerated case with other treats. Choices include a cookies n' cream cupcake, a cannoli, a chocolate-dipped cream puff, a key lime pie, and a brownie cheesecake.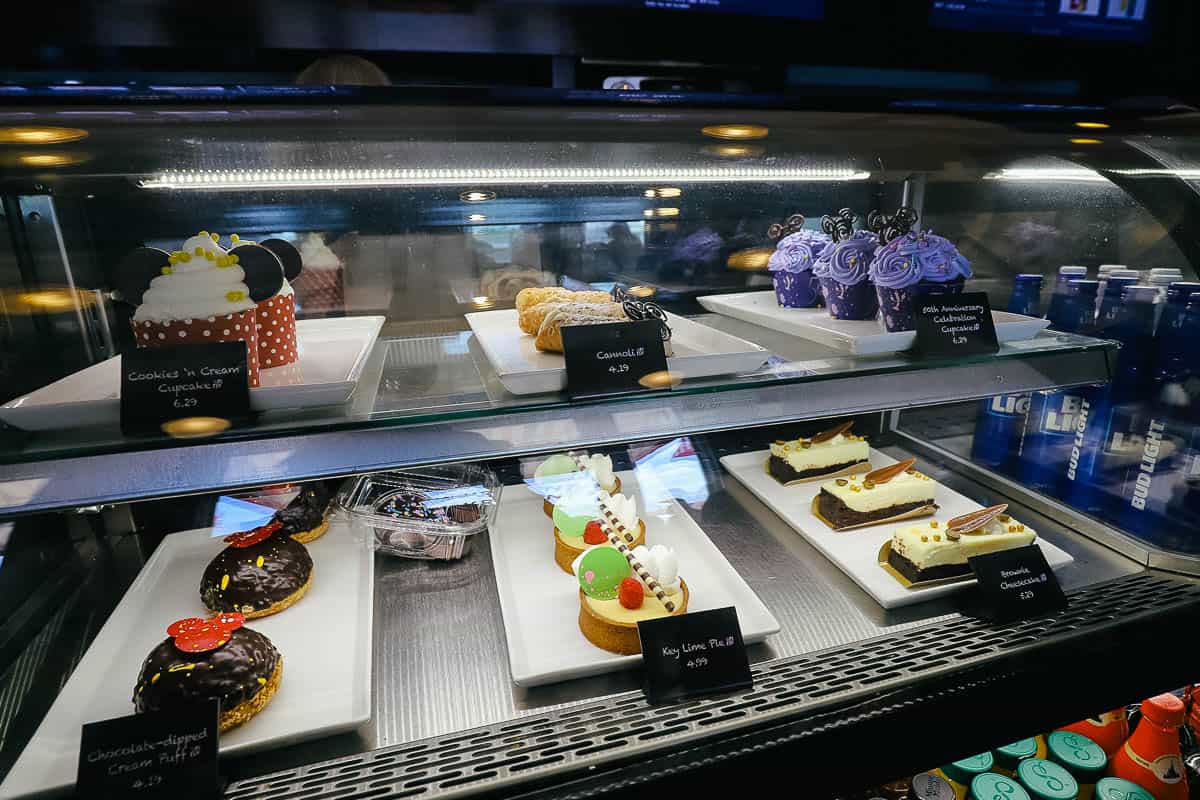 Since it was hotter than blue blazes, we decided to take our lunch items inside near Belle Vue Lounge. Given my poor photography skills, especially in lower light conditions, we stopped on the Boardwalk to take a few photos of our purchases.
Like the former bakery, the Boardwalk Deli doesn't offer any seating. You enter on one side, head through the line, and exit on the opposite side.
Tables with chairs are scattered on the Boardwalk. But when the sun is shining brightly, it's not the most pleasant place to eat since there's no shade.
Here is the chicken salad wrap.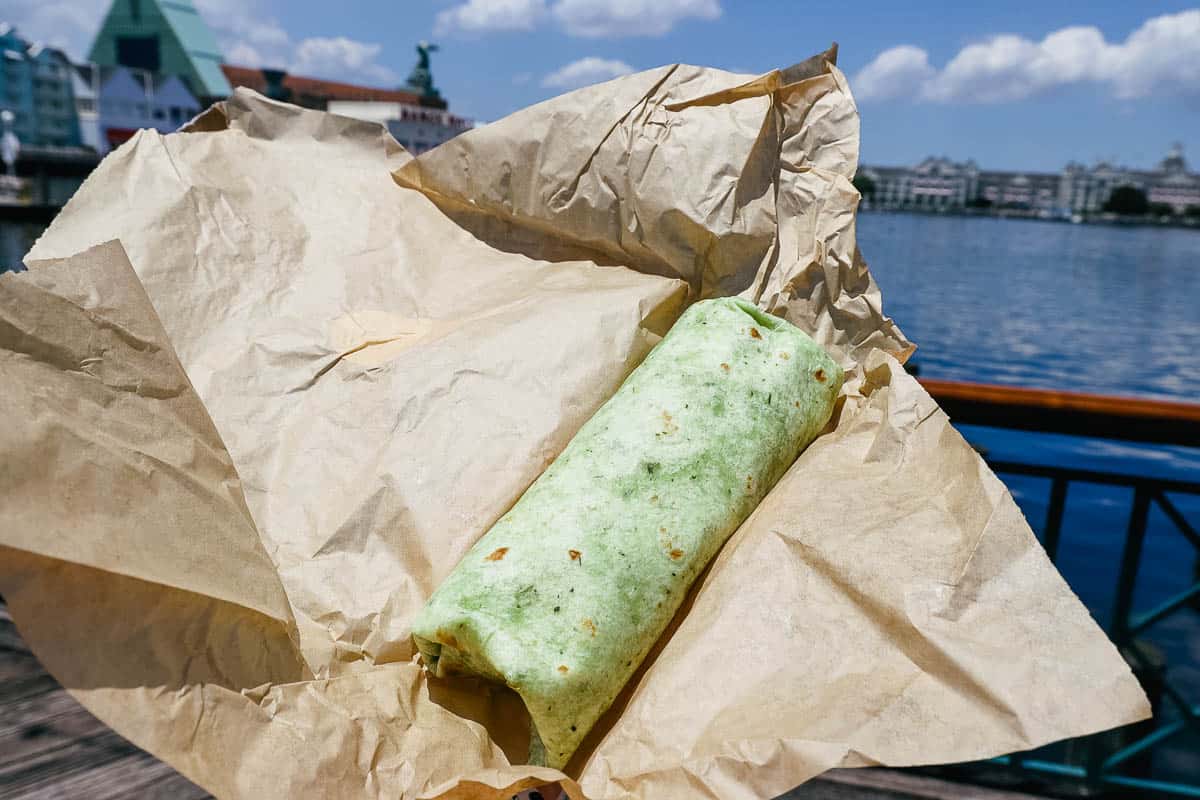 We cut it in half to give you an idea of what to expect.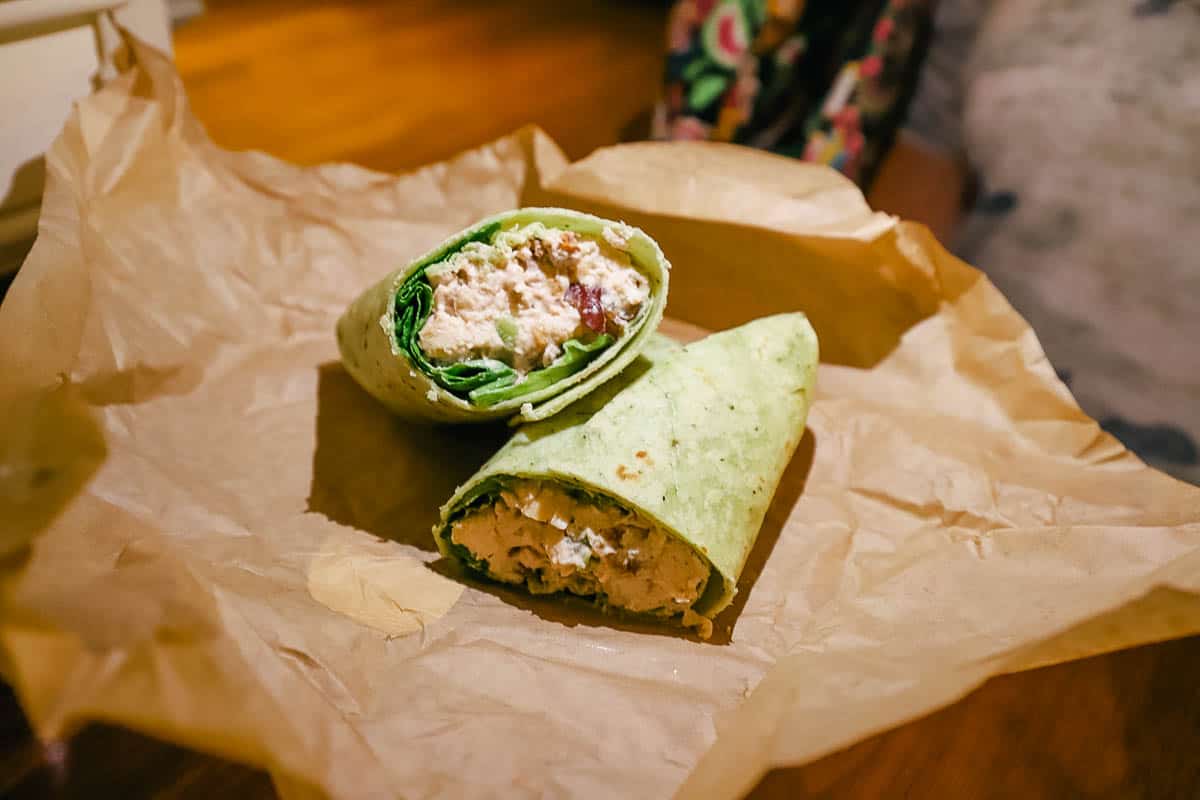 Kristen said it was a light, refreshing option. But neither of us thought there was anything out of the ordinary about it.
My sandwich of choice was the warm Pastrami Reuben. It came with a fair amount of Thousand Island dressing.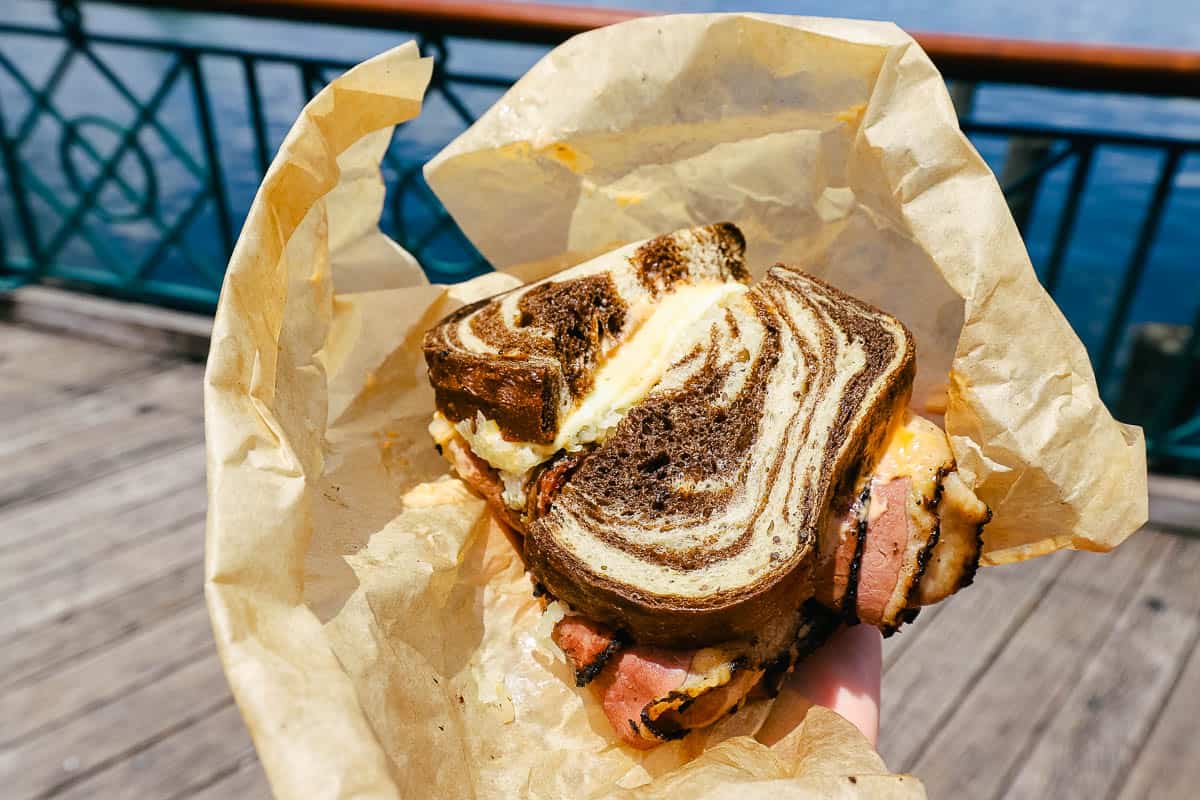 Before we headed to the deli, I checked to see if I could customize the sandwiches in advance. According to the mobile app, my only option was to add a side. Unfortunately, I found the lack of not being able to customize this sandwich disheartening.
When I got to the deli, I asked if ordering it with the dressing on the side was an option. I was told yes, but you can see that my sandwich came smothered in dressing.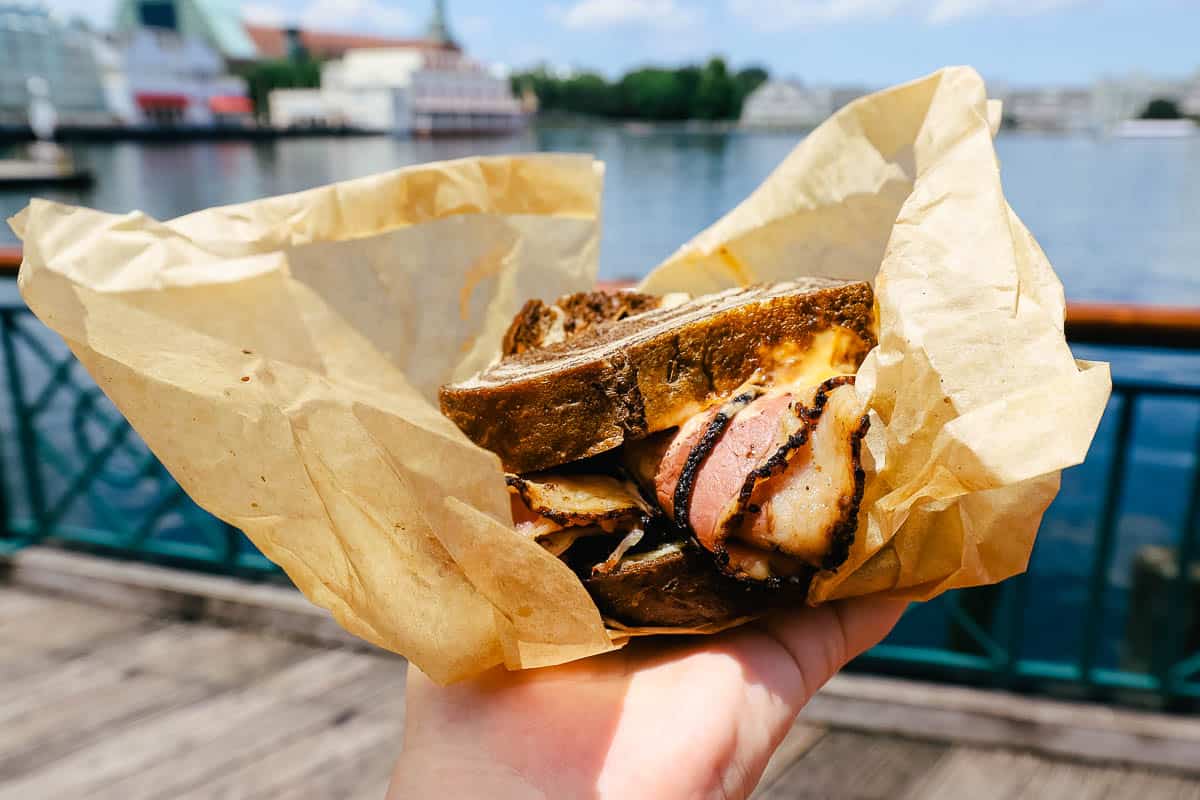 Since this was opening day, and we had waited a decent amount of time for our food, I didn't press the issue. Eventually, I'll get back over that way to test if I can customize another sandwich.
However, my sandwich was served warm and tasted fresh. Dare I say, exceptional. We both thought it was the star of the meal.
In addition, I think we all know it's hard to go wrong with housemade chips at Disney World. But I was happy to see this as an option.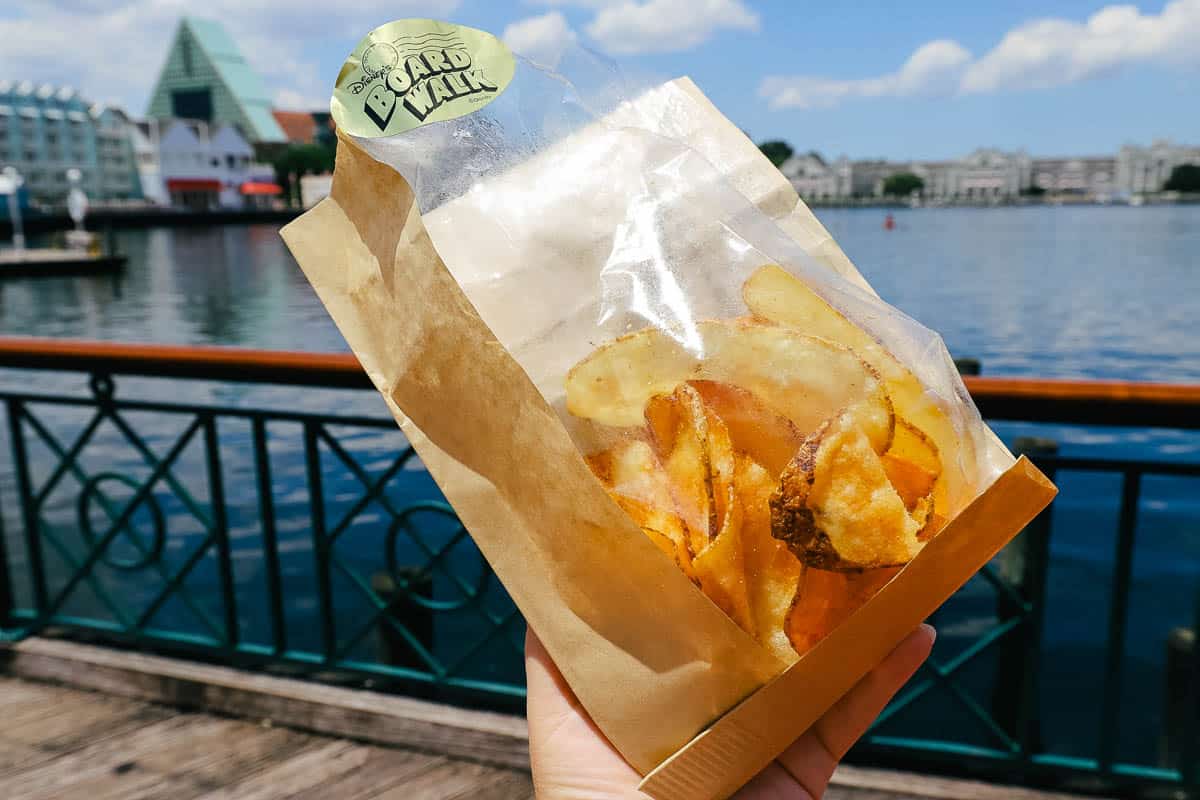 And the housemade pickle tasted like a pickle. It was huge, so make sure you have someone to share it with. We both enjoyed several bites but couldn't finish it.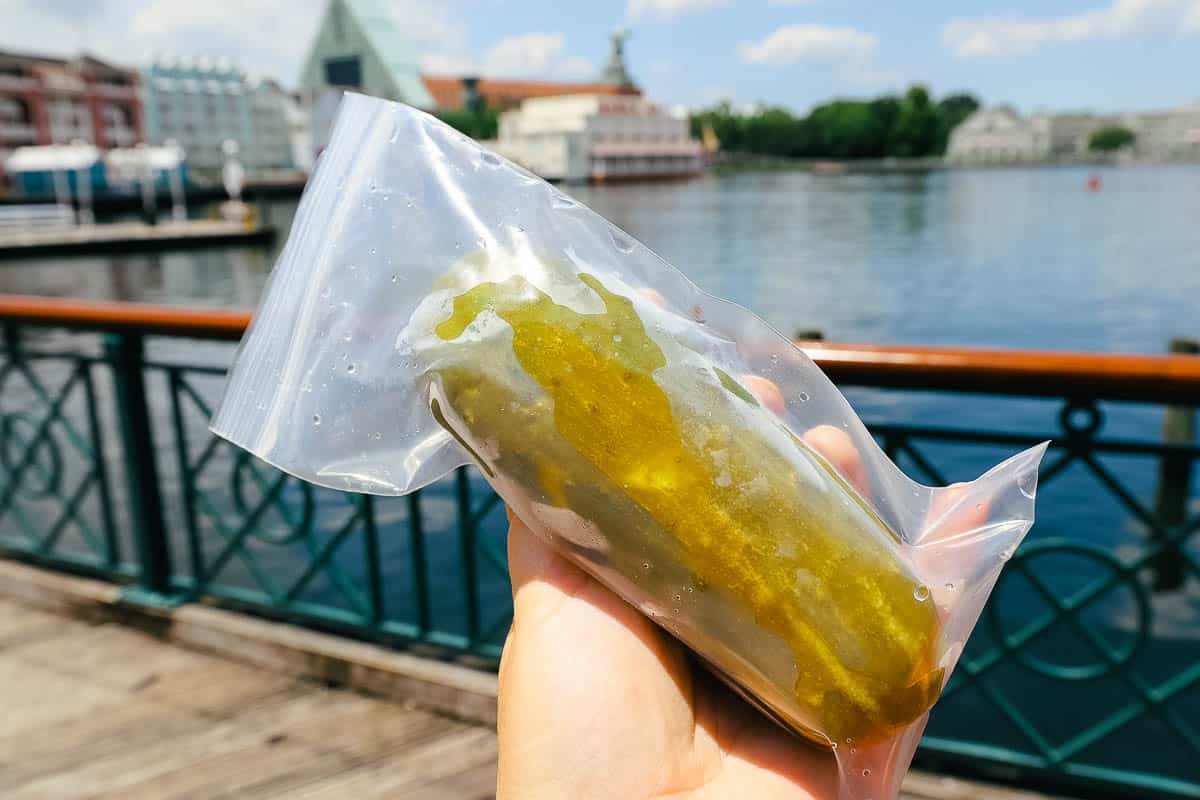 Kristen's son ordered the chocolate chip muffin. His expert opinion was that the muffin was just okay because it had dark-chocolate chips instead of milk-chocolate chips.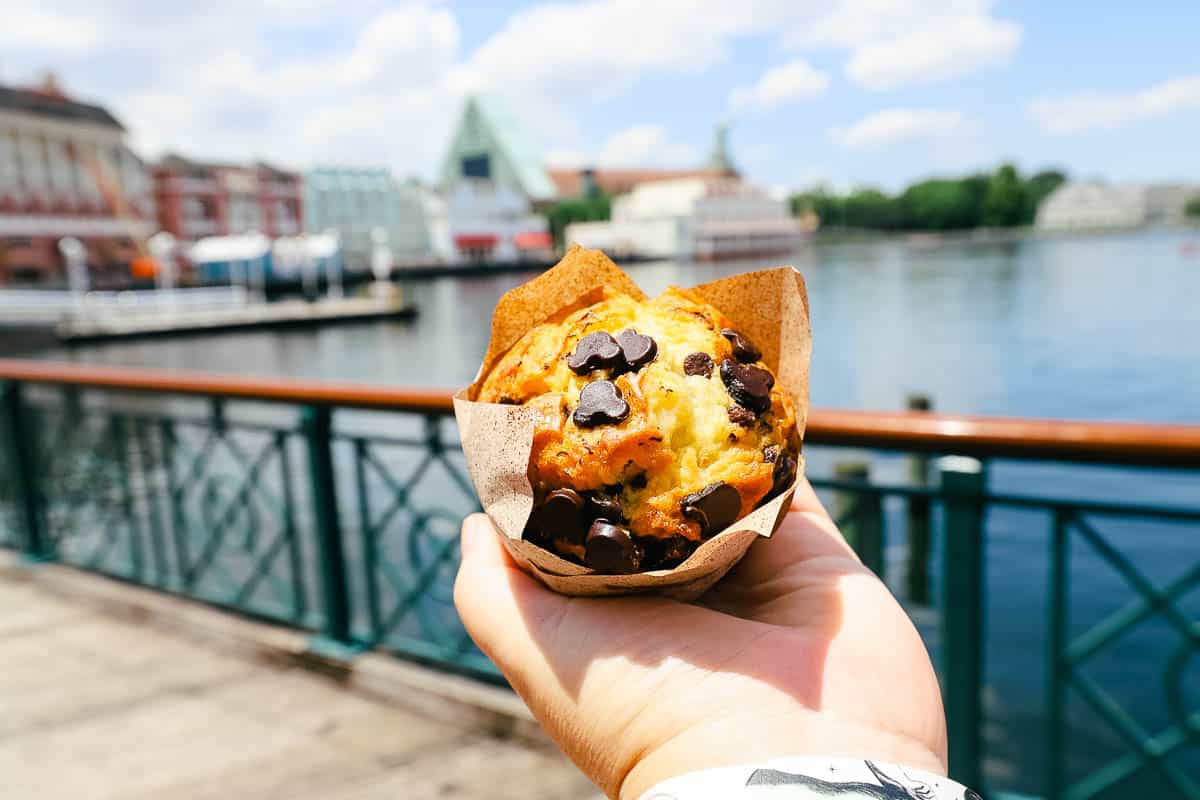 I tried a bite and concur with his take. The muffin, similar to the pickle, was simply a muffin.
It may come as a surprise to you or not, but I had never tried a cannoli. So to remedy that, I ordered one.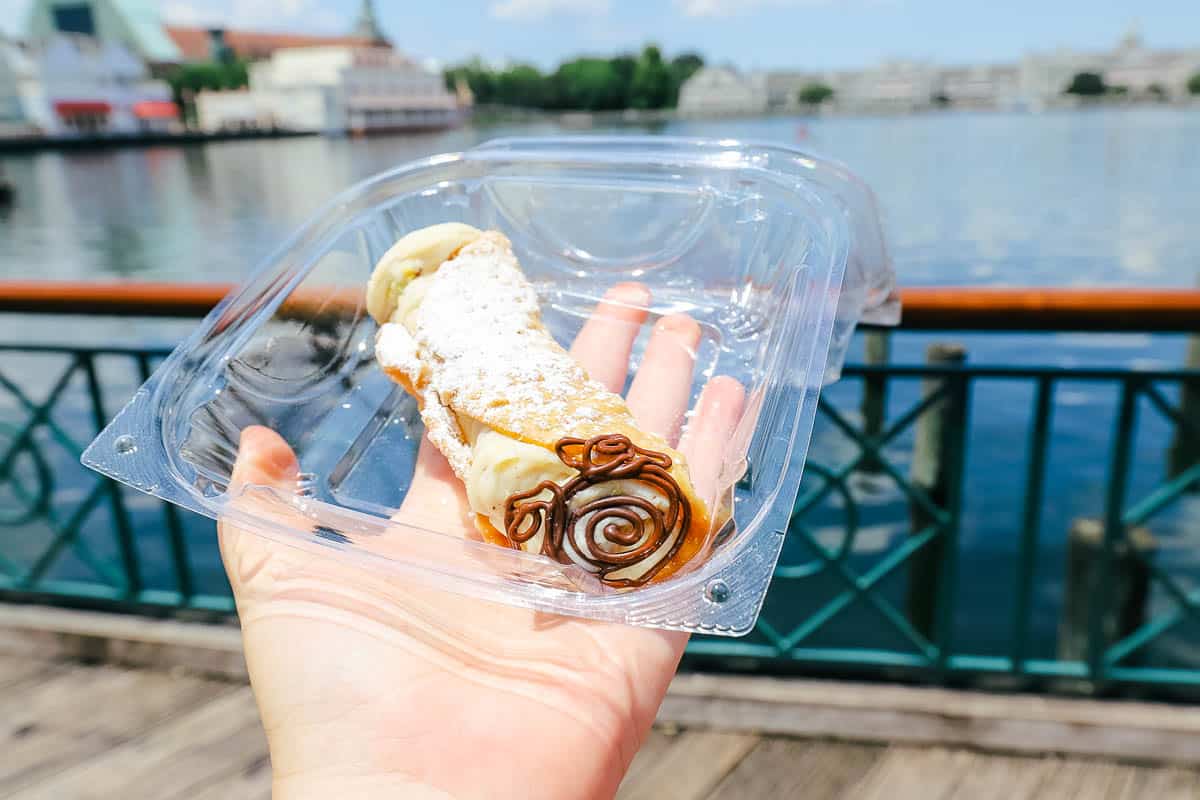 Traditionally, a cannoli contains a mixture of ricotta cheese and sugar inside a crispy rolled crust. We both thought the dessert was rather tasty. However, I don't know if I would consider ordering it again with so many options.
With that said, Kristen and I split the key lime pie. We devoured it and found it to be a reasonably gush-worthy dessert.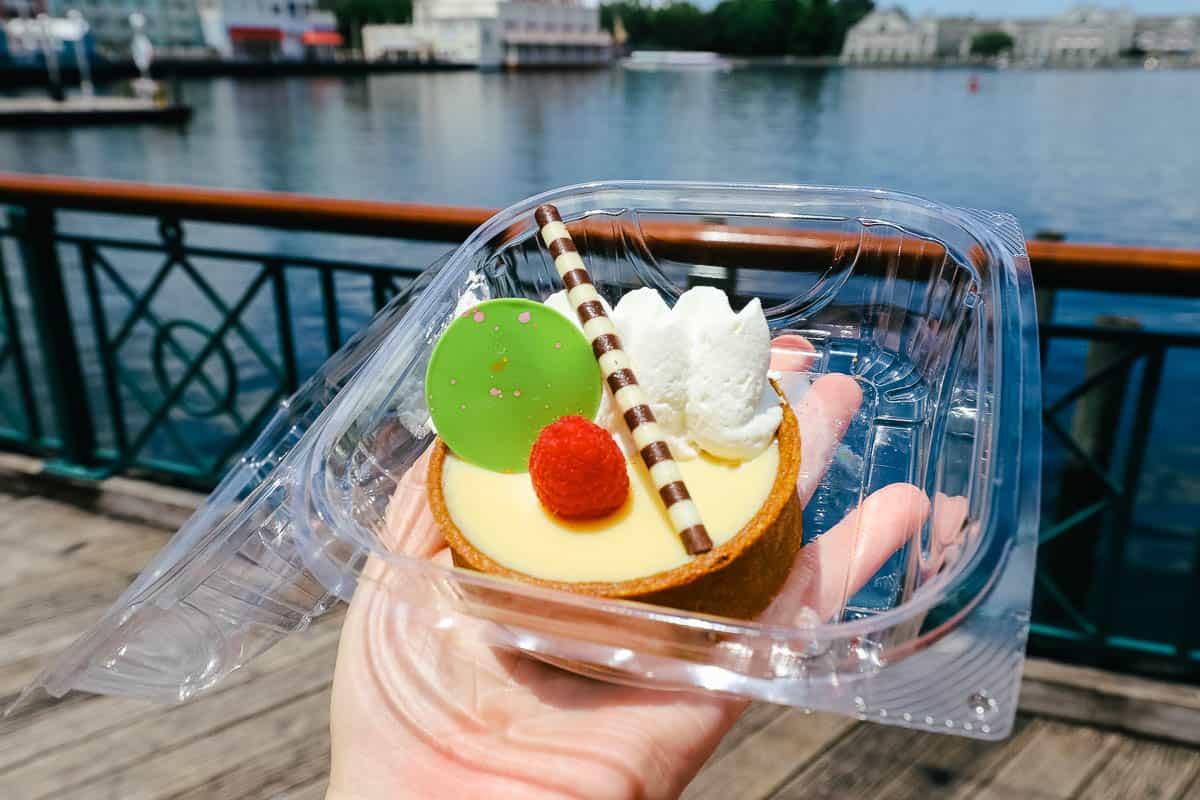 So much so that I would happily enjoy this dessert again in the future. But I think on my next visit, I'll check out those New York half-moon cookies, or maybe that cinnamon yummy.
Since the Boardwalk Deli opened, I returned for lunch one afternoon and ordered an Italian sandwich. I can gladly confirm this sandwich was freshly prepared because I ordered it custom-made.
However, I was not able to submit a custom order on the My Disney Experience app as you can at some restaurants. So I had to order it at the counter to have it made the way I desired.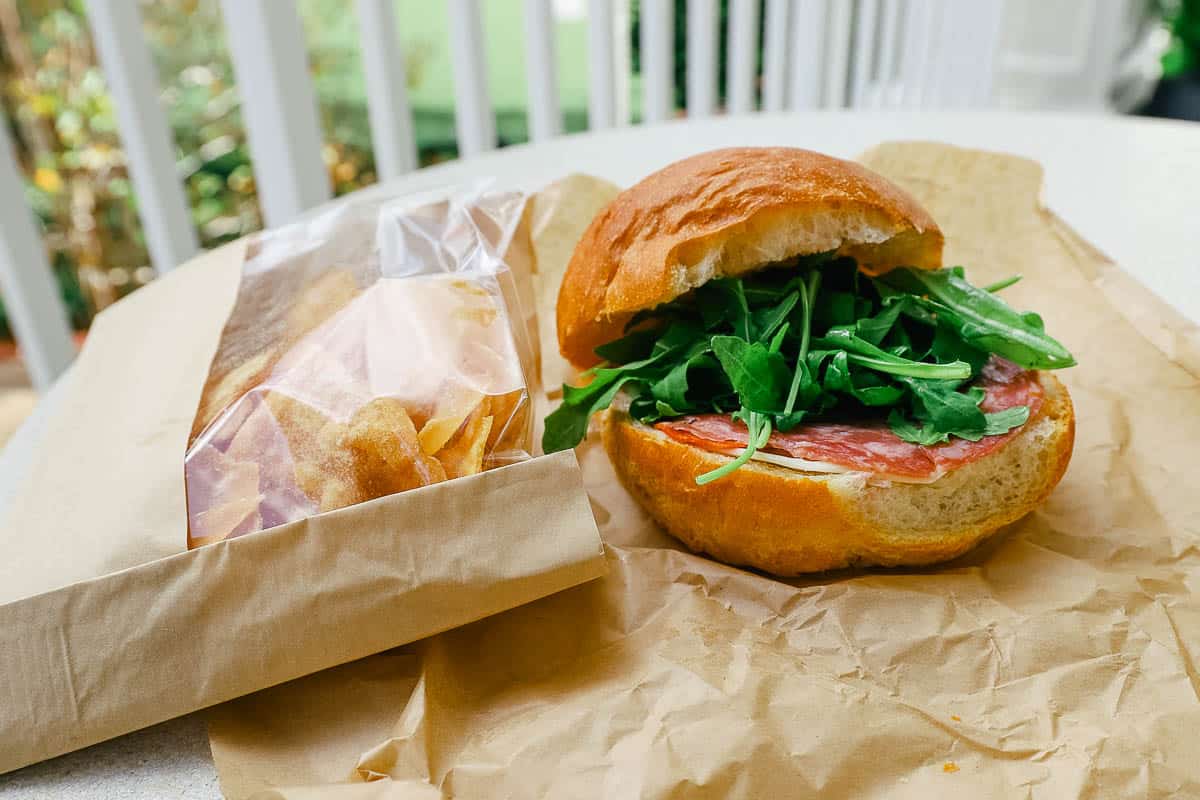 Thankfully, there are plenty of options at the new Boardwalk Deli. One thing's for sure. I can see myself planning a future trip to Disney's Boardwalk, where I enjoy a sandwich from the deli. Or maybe I'll pick up a dessert to take back to my room in the evening.
Knowing I can order a freshly prepared counter-service meal without entering a theme park is nice.
For more information about Disney's Boardwalk, we have a complete guide:
Or you might enjoy these individual articles:
In the Comments:
What are your thoughts about the new Boardwalk Deli? Did you see anything on the menu that looks appealing? Was this review helpful?