The Best Disney Value Resorts (With Rankings)
Disney's Value Resorts are some of the cutest themed hotels on Walt Disney World property. However, they often get a bad wrap because they fall into the "cheapest" category.
In this review, we'll take a look at the values as a whole. Then we'll rank them in order of the best Disney value resort to stay at and why.
Staying at a value resort is by no means the end of the world. Even though for some of us, it might feel like it. Similar to life, when it comes to Disney, there's a time and place for everything.
As for when to stay in a Disney value resort? I think there are two seasons of life when it makes the most sense.
The first is when your children (or possibly grandchildren) are 10 and under. In this instance, the trip is typically centered around them. They aren't going to be aware that you took them to a value resort. Your children will actually feel like you took them on a real Disney vacation.
I can only imagine they'll have fond memories of the hotel you stayed at for years to come. You know, the one that was themed like a Cars hotel where you got to stay in Radiator Springs? Or where the giant Toy Story characters were right outside your room?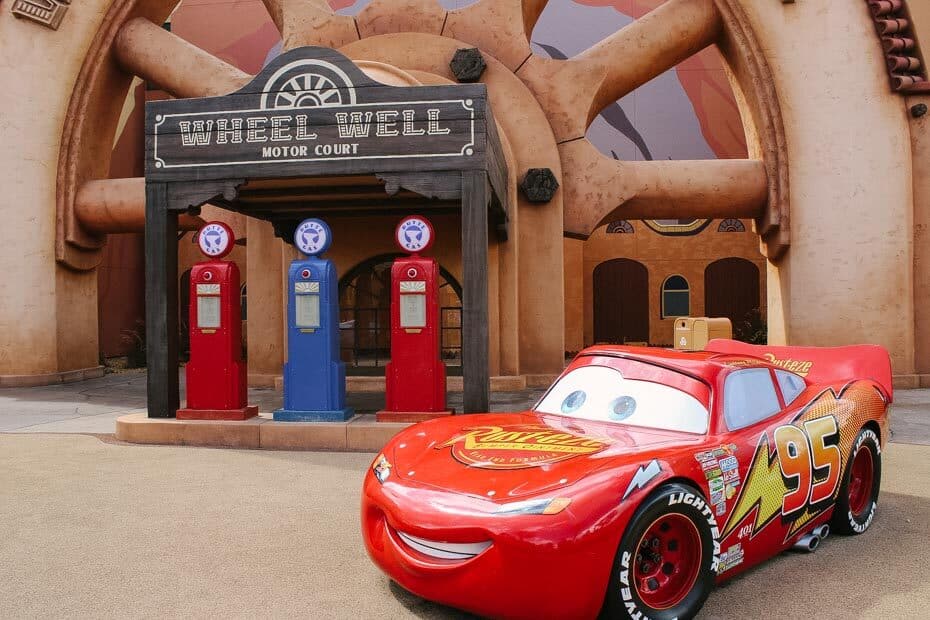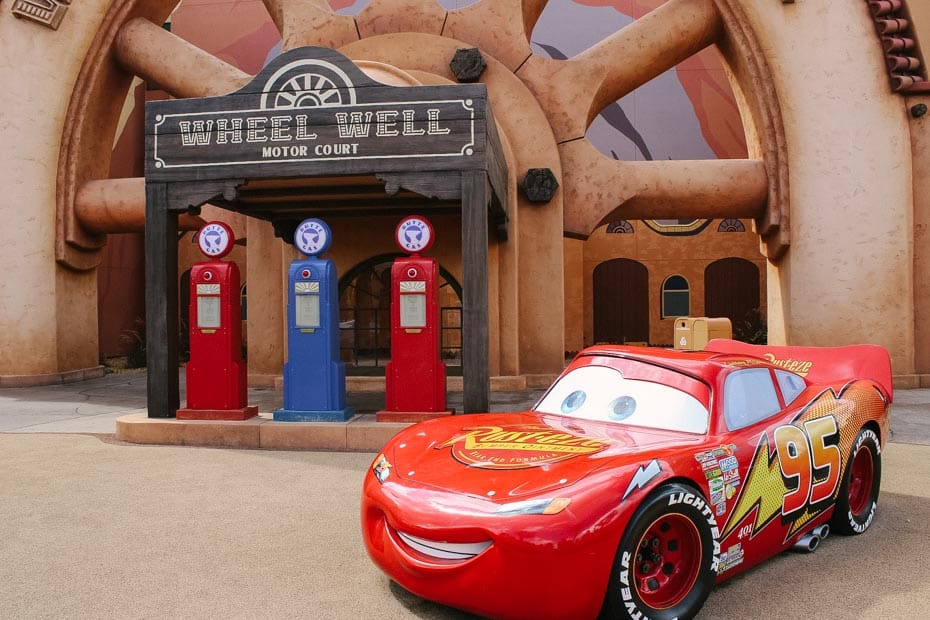 The second season of life for a Disney World value resort is when your budget allows. This is something I want to be open with you about.
I have many years of experience traveling to the Walt Disney World Resort. If you are a first-time visitor or only visit the parks once every few years, I feel strongly that you should stay at a Disney resort hotel.
The caveat, staying at Disney is expensive, especially if you decide to stay at a Disney deluxe resort or villa. And sometimes, even a stay at a Disney moderate resort can be costly.
Now you might hop over to my list of Disney deluxe resorts, read it, and think, "Wow, deluxe is what we prefer." Yes, I do too.
But that has nothing to do with your budget or personal finances. I wish there had been a time where I had read a blog that told me how completely okay it was to stay at a Disney value hotel.
There have been times in my life where I went into unnecessary debt to stay at a Disney hotel that I could not afford. I used to cringe at the times when necessity required that I stay at a value resort.
My bargain, a trip to Disney was better than no trip at all. The truth? I had no business even thinking about planning a Disney vacation in the first place.
Silly me, I felt like I had a reputation to uphold. What if someone asked me where we were staying? Did I really want to have to take a bus to every single park I visited?
Worse, what if our room was in the back forty (that's a far-away place), and it was a 10-mile trek in the Florida heat to get back to our room every evening? Seriously, were a few more steps going to kill me? Probably not, but all that theme park food might!
Values only have quick-service dining. What would we eat? As if I could afford Disney signature dining. Can you imagine the horror? Right.
The reality? Some of the best times I've had on vacation have been at an All-Star Resort. And while our first trip to Disney's Pop Century Resort wasn't ideal (because of magic band problems), we've been back many times since. We wouldn't have returned if we hadn't liked it.
Don't get me wrong. This review isn't about me and my problems. Suppose you can even call them that. It's about you. (And I know this doesn't apply to all of you.)
I imagine if you are reading this, then you are probably wondering why or why not you should stay at one of Disney's value resorts. You might have even read some of those bulk travel site reviews where a resort has 3 stars, and you immediately begin to read the negative takes.
I'm talking about the ones people wrote who were probably not too level-headed at the time. Maybe not ever.
Or you might have read that 5-star review that claimed "how cute" the resort was, and why did it matter because you never spent any time in the room while you were at Disney anyway? Bet those always make you feel better about your hotel choice, right?
Let's take a closer look and see what we can find out about a Disney value that's a little more substantial.
Disney Value Resorts
Disney's value resorts offer an opportunity to stay on Disney property at a more reasonable rate than a moderate resort or deluxe.
Here they are:
Music (All-Stars)
Sports (All-Stars)
For starters, every Disney value resort has larger-than-life, true Disney theming. These are the resorts where you will actually feel like you stayed at Disney on your vacation.
For example, Disney's Art of Animation Resort is compromised of four different sections featuring animated classics. Here is a picture of Ursula towering over The Little Mermaid section.
Disney's Art of Animation celebrates the history of animation. Fans of The Little Mermaid, Finding Nemo, Cars, or The Lion King will adore the outdoor theming here.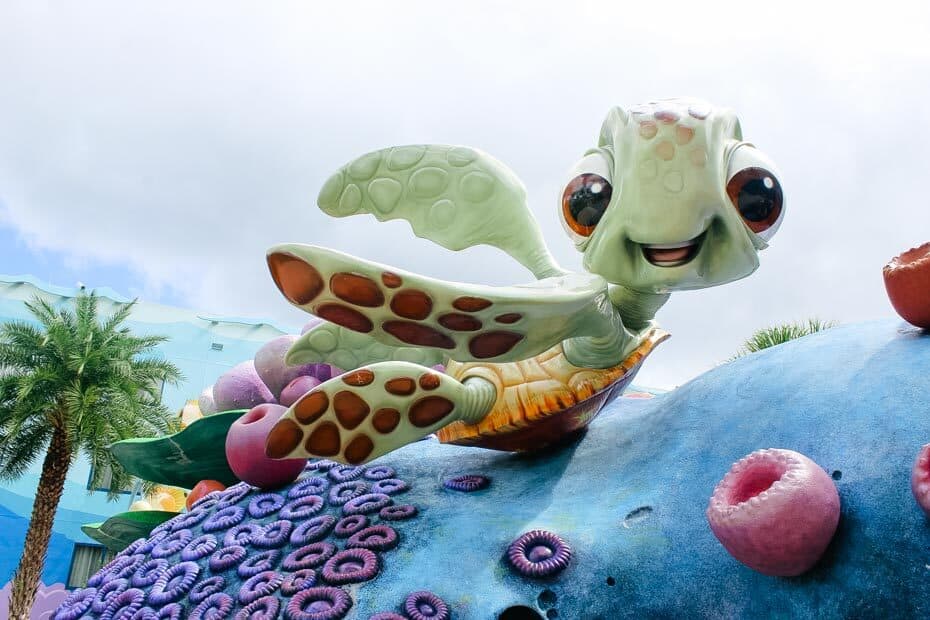 This is also where you'll find the popular family suites. Family suites have more than one sleeping space, two baths, and a small kitchen area. The suites are ideal for larger families or those who might desire to prepare some meals at the resort. However, they are not value-priced.
In fact, the Little Mermaid section of the resort is the only area that offers guests standard room accommodations. Therefore, if you are browsing prices and see some that don't fall in line with the value pricing, it's probably a family suite.
Art of Animation and Pop Century sit adjacent to each other and share a bridge between them. The Disney Skyliner station is located on the bridge. Guests staying at Art of Animation or Pop Century Resort have access to the Skyliner. The Skyliner travels to Disney's Hollywood Studios or Epcot from these resorts.
After boarding a gondola from the value resort, you'll travel to Disney's Caribbean Beach Resort, which is a moderate resort hotel. There you'll exit and re-board a new gondola from Caribbean Beach to either Disney park.
Moving on to Disney's Pop Century Resort, you'll find fun theming that represents past decades. You'll run into a variety of fun characters like Mr. and Mrs. Potato Head. These two are located outside the 90s wing.
Pop Century is also home to fun characters from Roger Rabbit, Lady and the Tramp, and The Jungle Book. This Disney World hotel has some of the most convenient rooms around. I love how the rooms have a table and chairs that convert to a bed by simply pulling it out of the wall. Even though these rooms are smaller, you'll find a functional layout that works well.
Our last set of Disney value resorts is the All-Stars. This trio sits next door to each other and is considered part of Disney's Animal Kingdom resort area. That park will be the closest in proximity to the resort.
At the All-Star Resorts, you'll find every classic Disney character you can imagine. You'll run into Mickey Mouse and the gang playing traditional sports at the All-Star Sports. Football fans will want to check out the football-themed section of the resort!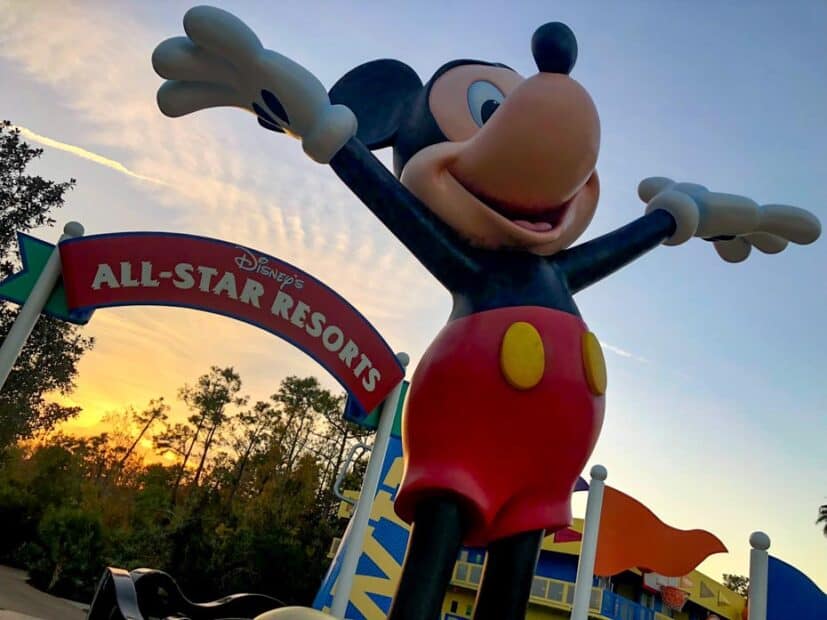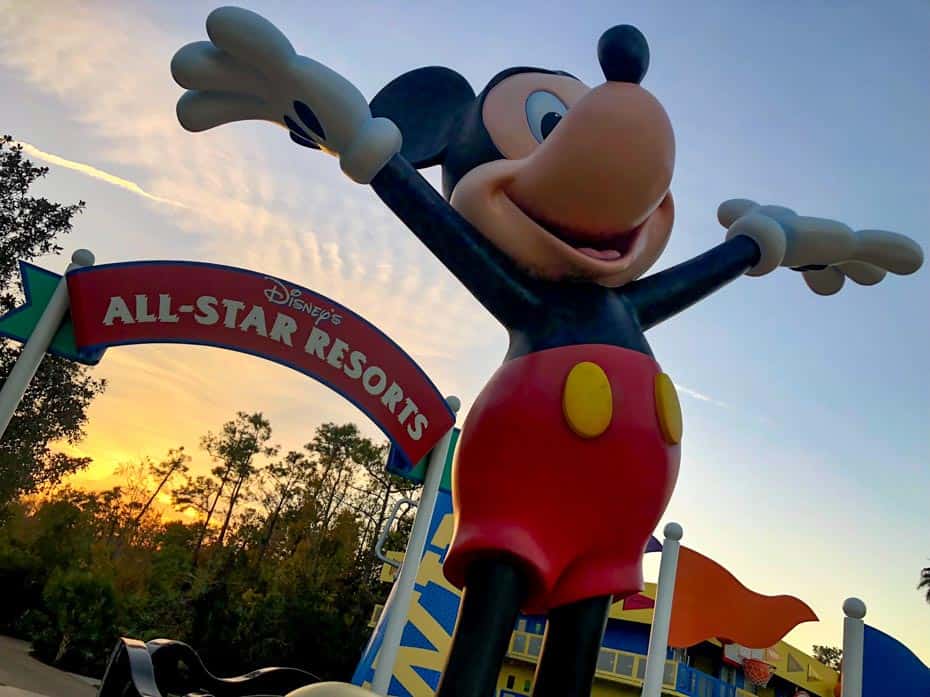 Some of our favorite characters from 101 Dalmatians guard the grounds of All-Star Movies. Movies is where the main pool featuring Sorcerer Mickey from the Disney classic Fantasia is located.
And I can't tell you how much I love the theme of Music. At All Stars Music, each section has a different type of music represented.
You might be assigned a room at the Rock Inn, Country Fair, Jazz Inn, Broadway Hotel, or Calypso. Another perk at All-Stars Music is the buses. They are one of my favorites because they play really great music!
Since we've covered a basic overview of each value resort, I wanted to discuss the key features that make these resorts fall into this category. They are:
For example, the value resorts used only to offer one form of transportation. That changed when the Disney Skyliner service was added to Pop Century and Art of Animation. However, the All-Stars still only offer bus transportation.
A value resort has one feature pool and multiple quiet pools. The quiet pools are scattered out, making them more accessible to guests who might be further away from the feature pool.
Additionally, value resorts do not have water slides at their pools. While this might sound like a small detail, the other category of resorts at Disney all have water slides.
You will find a laundry room at each of the value resort's pools. I recommend planning some pool time mid-vacation. It's a great time to get a little rest and catch up on the laundry while you relax by the pool.
When it comes to dining options at the value resorts, each hotel has a quick-service food court. In addition, all of the feature pools have a pool bar. Unfortunately, the values do not offer table service dining. Thankfully, the food courts tend to be open long hours and provide a decent variety of food options.
Lastly, all of the value resorts have exterior room access. The resorts are divided into sections of large buildings. Each building has exterior staircases and elevators. There are no interior hallways.
This does give the values more of a motel feeling. However, moderates have the same layout. The only exception being the Gran Destino Tower (review) portion of Coronado Springs.
What is the Best Disney Value Resort?
After considering all of the different pros and cons of the value resorts, I wanted to offer my opinion of the best Disney Value Resorts. We'll start with our number one option and work our way down from there.
I do want to mention that I feel any of the value resorts will work for any vacation. Sometimes the best option might be to go with which one has the lowest price when planning a budget-friendly trip.
If you want my personal preference, Disney's Pop Century is the best Disney World value resort.
The main reason I prefer Pop is because of the rooms. But the All-Stars have recently refurbished their rooms in almost identical design, so keep that in mind.
The addition of the Skyliner at Pop Century still gives the resort an edge over the All-Stars. But if it came down to price and budget, I would pick wherever had the best price.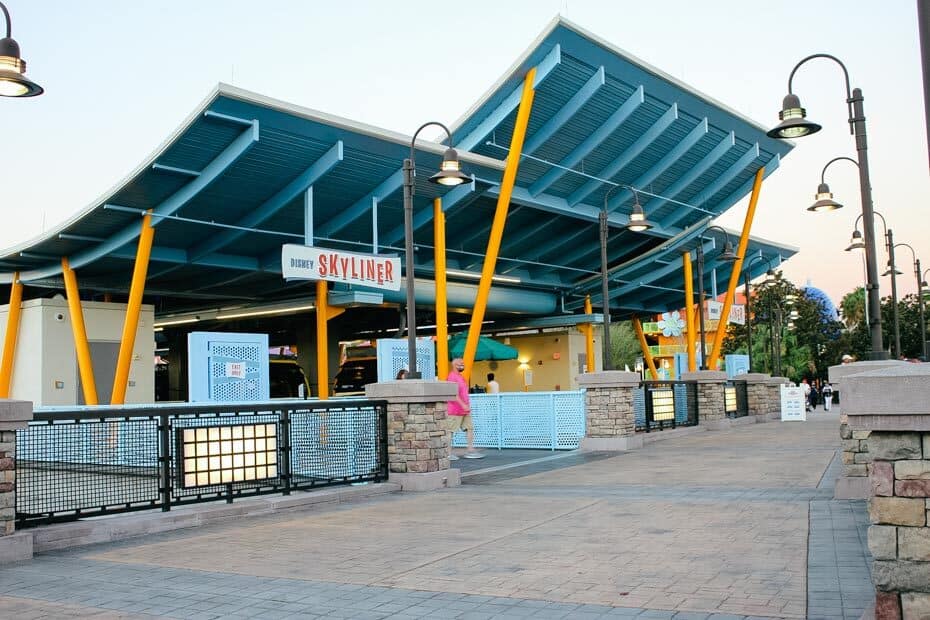 While I love the Art of Animation's exterior grounds, I do not care for The Little Mermaid Rooms. And that's the reason Pop beats this one out.
The Little Mermaid rooms are small, not functional, and extremely dark. You will get that under the sea feeling when you stay here, especially in the bathroom.
See what I mean?
Now, if you can swing one of the larger family suites, I would definitely go that route. However, those rooms are more for convenience than budget.
#3 Any of the All Stars
It's really hard to discern between the best Disney value resorts when it comes to the All Stars. All three hotels are practically identical in layout, they just feature different theming. They even sit next door to each other. Pick one that best suits your family's idea of fun.
We love Music, and always tend to choose it because of all the musical references. But if you are die hard sports fans, definitely check out the Sports hotel. And the movies are great too. You might even get a bus driver that plays a little movie trivia on the way back and forth to the resort.
The main thing you'll want to consider with these values is that the bus lines can be really long during busier times of the year. Personally, I like to have my vehicle to avoid these kinds of things, but that is not feasible for everyone. It's best to be aware that long bus lines at Disney, in general, do happen. Remember to have a little extra patience.
Planning a Disney vacation? Make sure to check with an authorized Disney travel agent. I personally use and recommend Firefly Travels. You can contact them here.
If you would like to learn more about staying at Disney, check out my full list of Walt Disney World Resort Reviews. You might also enjoy browsing our Disney restaurant reviews. It includes some of our favorite restaurants and every meal we've had to date at Disney.
Those planning a visit to Disney Springs will not want to miss our best restaurants at Disney Springs overview. And the Blizzard Beach Rides guide will help you plan the perfect day at a water park!
Each Disney resort has its own charm and things that make it desirable, even Disney's value resorts. I hope you will enjoy your stay, whatever you decide.
Have you had a chance to stay at any of these hotels? What do you consider to be the best value resort at Disney? Let me know in the comments.