The Best Disney Value Resorts (With Rankings)
Disney's value resorts are some of the cutest themed hotels on Walt Disney World property. However, they often get a bad wrap because they are the cheapest.
This article will go over the value resorts at Disney World in great detail. Additionally, I'll rank them in order of the best Disney value resorts to our least favorite.
As you have probably figured out, a value resort won't offer as many amenities as one of the moderate or deluxe resorts.
However, the values provide the opportunity to stay on Disney property at a significantly lower price than the higher category resorts.
This article was updated on March 4, 2022.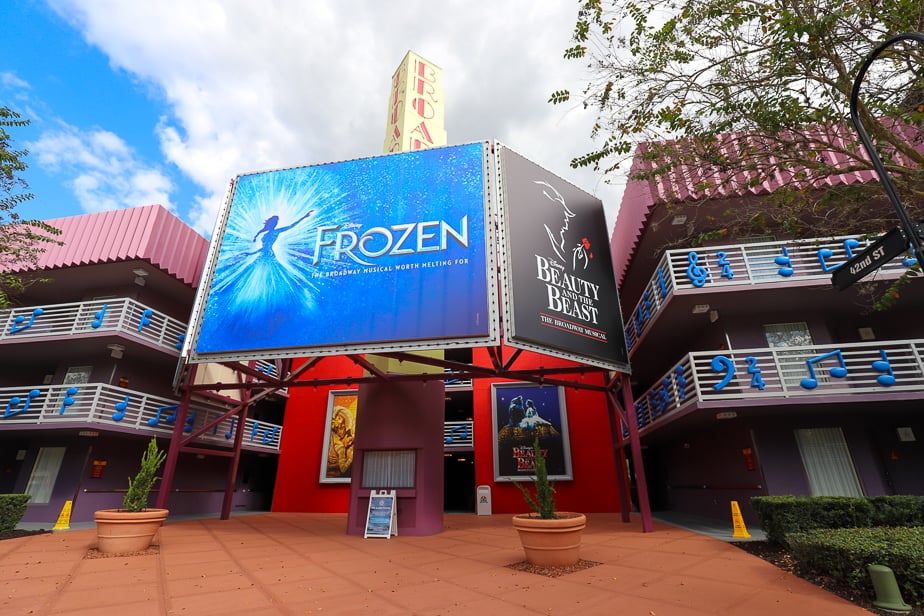 Similar to life, there's a time and place for everything when it comes to a Disney World vacation.
As for when to stay at a Disney value resort? There are two seasons of life when it makes the most sense.
The first is when your children (or possibly grandchildren) are around the ages of eight and younger. In this instance, the trip is typically centered around them.
They probably aren't going to be aware that you took them to a value resort. But they will feel like they went on a real Disney World vacation.
Your children will likely have fond memories of the hotel for years to come. You know, the one themed like a Cars hotel where you got to stay in Radiator Springs?
Related: The Cars Section of Art of Animation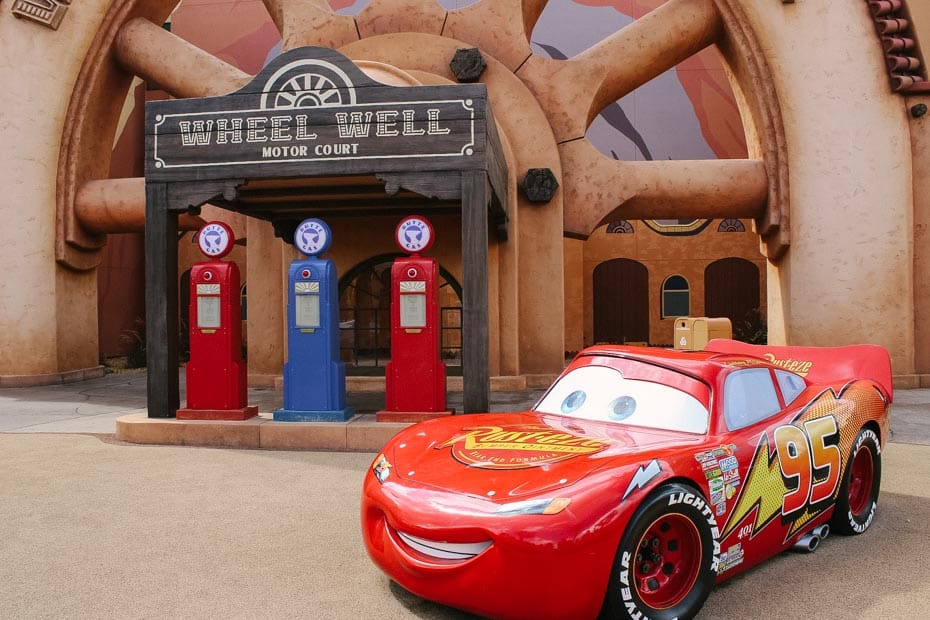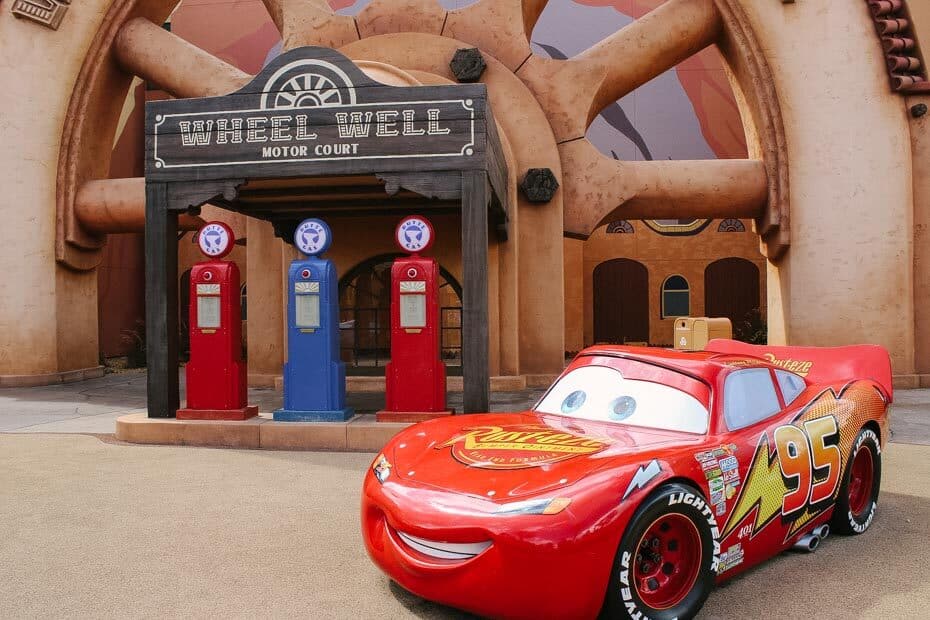 Or where the giant Toy Story characters were right outside your room?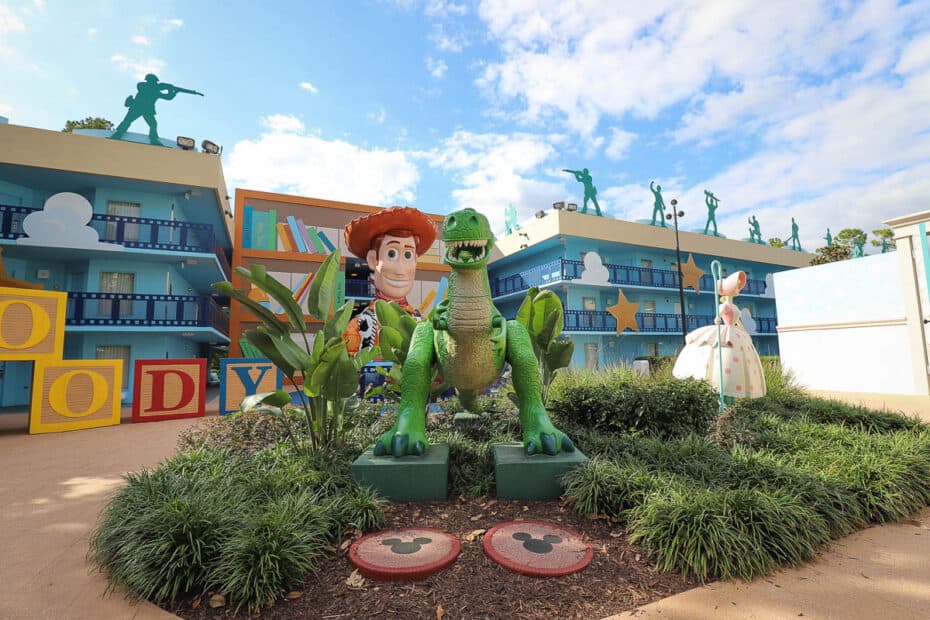 The second season of life for a Disney World value resort is when it fits your budget.
I wish there had been a time when I had read a blog that told me how completely okay it was to stay at a Disney value hotel or even off-property.
There have been times in my life when I went into unnecessary debt because I wanted to stay at a deluxe resort. I used to cringe when necessity required I stay at a value resort.
Planning our trip, thoughts of what if our room was in the back forty (that's a far-away place), and it was a 10-mile trek in the Florida heat to get back to our room every evening?
Seriously, were a few more steps going to kill me? Probably not, but all that theme park food might!
Or I would think to myself, values only have quick-service dining. What would we eat? As if I could afford Disney signature dining for every meal. Can you imagine the horror?
The reality? Some of the best times I've had on vacation have been at an All-Star Resort.
And while our first trip to Disney's Pop Century wasn't ideal (because of magic band problems), we've been back many times since. Of course, we wouldn't have returned if we hadn't enjoyed our trip.
Disney Value Resorts
Below you'll find a list of every moderate resort at Walt Disney World.
For a list of the other category resorts, you can refer to these articles:
What to Expect at a Disney Value Resort
Every value resort has larger-than-life, true Disney-theming. These are the resorts where you will actually feel like you stayed at Disney on your vacation.
For example, Disney's Art of Animation is comprised of four different sections featuring animated classics. Here is a picture of Ursula towering over The Little Mermaid section.
At Disney's Pop Century Resort, you'll find fun theming that represents decades past. You'll run into a variety of endearing characters like Mr. and Mrs. Potato Head. These two are located outside the 90s wing.  
At the All-Star Resorts, you'll find classic characters like Mickey Mouse and the gang. These value resorts sit next door to each other on one large property in the Animal Kingdom Resorts area.
Each All-Star Resort is themed to a particular subject. For instance, at All-Star Music, the different sections of the resort represent a specific type of music.
Here we have a look at the Rock Inn.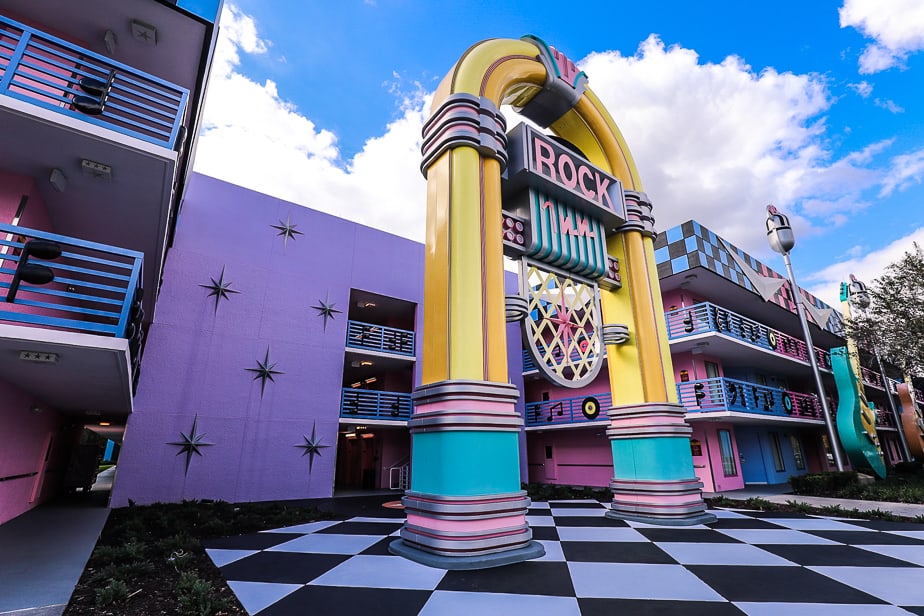 When children see these gigantic structures, they are elated. Everything is so large, and it feels like you're so tiny in comparison.
Aside from each resort having specific theming, the value resorts have a few other amenities.
Value Resort Benefits
Guests staying at one of Disney's value resorts will have access to early theme park benefits in 2022. Early theme park benefits allow guests to enter the theme parks 30 minutes before park opening time.
This benefit is available daily at every theme park. Therefore if you're staying at a value resort, you'll have early access to the parks.
While this might not sound like a huge benefit, you'll likely have time to ride a headliner attraction in the park first thing if you plan well. And you could have time to get in line for a second attraction before off-property guests can enter the park.
Related: Disney Hotels with Early Theme Park Entry
Value Resort Pricing
Unfortunately, while value resorts are the cheapest, they still command higher than average prices because of their location.
At the time of this update in 2022, a standard room rate with no discounts runs between $145.00–$264.00 per night.
Of course, those are the extremes. For instance, $264.00 per night is during the Christmas holidays. And that $145 rate comes in during the end of August when temperatures are extreme.
The average room rate will cost around $180.00 per night. So you're easily looking at over $1000.00 for your resort room for an entire week. And that doesn't include theme park tickets, travel expenses, or dining.
Related: Disney World Resort Benefits
Value Resort Pools
All of the value resorts at Disney offer a feature pool. In addition to that feature pool, the All-Star Resorts each have one quiet pool.
Both Pop Century and Art of Animation Resorts have one feature pool. However, each of these resorts offers two additional quiet or leisure pools.
Unlike the moderate and deluxe resorts, Disney's value resorts do not offer a water slide.
However, you'll find the same poolside activities and Movies Under the Stars available at every resort.
Additionally, each value resort's pool will have a laundry room nearby. I recommend planning some pool time mid-vacation. It's a great time to get a little rest and catch up on the laundry while you relax by the pool.
Dining at the Value Resorts
Unfortunately, dining is somewhat limited at the value resorts.
Each value has one large food court that serves as the resort's counter service dining location. Additionally, all of the values offer one pool bar.
Value resorts do not offer signature dining or have any character dining locations.
Related: Character Restaurants at Disney World
The food courts at the values do offer multiple stations with various cuisines. In addition, they all accept mobile order.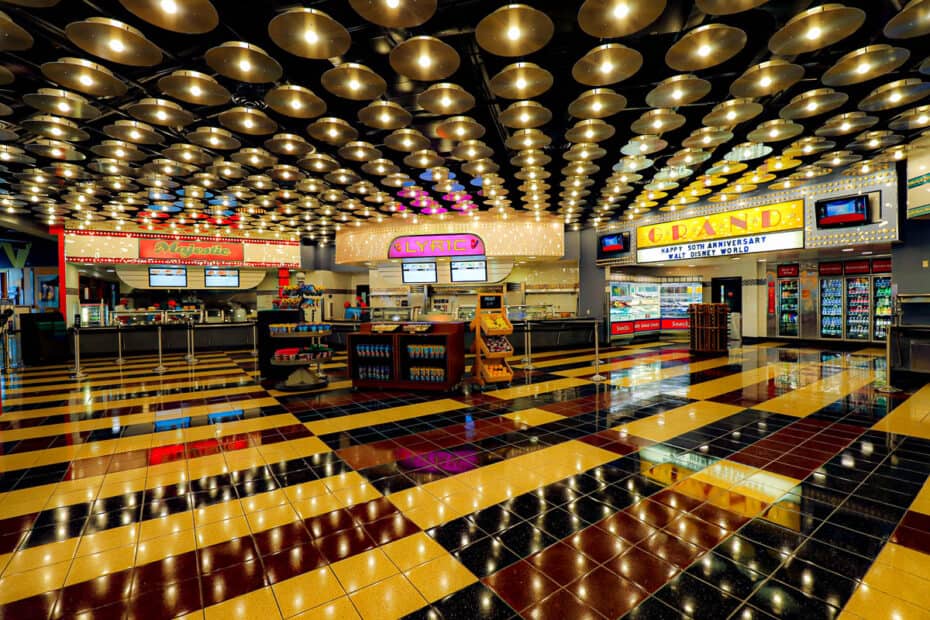 Additionally, Pop Century and Art of Animation are only a short Skyliner ride away from Caribbean Beach and Disney's Riviera Resorts. Since these resorts are nearby, you can easily take the Skyliner over for a meal.
Try these related articles to learn all your options:
Accommodations
Value resorts offer basic room accommodations. This category will provide the smallest rooms square footage wise at Disney World.
Each value will have a guest bath that offers a vanity with a sink. Most rooms have a tub with a shower combination.
Additionally, each value resort is spread out into buildings in separate sections. For instance, All-Star Movies has the following sections:
Love Bug
Fantasia
Mighty Ducks
Toy Story
101 Dalmatians
All of the value resorts only offer one bus stop at the front of the resort. Therefore, if your room assignment is at the back of the resort, you could have a decent walk back and forth each day.
To ensure you get a room assignment close to the front of the resort, preferred room location upgrades are available.
All of the value resorts will have exterior room access. By this, I mean there aren't any interior hallways.
However, there is one exception. All of the family suites at Art of Animation are set up like hotels with interior room access. These rooms are more like condos and cost as much as some of the Disney World Villa Resorts.
Thankfully, all of the value resorts have elevators. Each building will have an elevator in the center of the building.
Transportation at the Values
Transportation is another aspect to consider when choosing a Disney value resort. In the past, value resorts only offered bus transportation.
However, the options have changed tremendously for two value resorts with the new Disney Skyliner gondola system. Those resorts are Disney's Pop Century and Art of Animation.
Related: Disney Skyliner Resorts
If you are staying at either of these resorts, you'll have the advantage of traveling via the Skyliner to the Caribbean Beach Resort. From there, you'll board another Skyliner to either Epcot or Disney's Hollywood Studios.
Additionally, all of the value resorts offer bus transportation. Buses travel from the All-Star Resorts to the following:
Magic Kindom
Epcot
Hollywood Studios
Animal Kingdom
Blizzard Beach
Typhoon Lagoon
Disney Springs
Make sure to check out our transportation tips for Disney Springs. It will likely save you a few steps.
Related: Disney Springs Transportation Guide
Best Disney Value Resorts Ranked
After considering the different pros and cons of the value resorts, I wanted to offer my opinion of the best Disney Value Resorts. So we'll start with our number one option and work our way down from there.
I do want to mention that I feel any of the value resorts will work for any vacation. Sometimes the best option is to go with which one has the lowest price if you're planning a budget-friendly trip.
#1 Disney's Pop Century Resort
Disney's Pop Century Resort comes in as our top choice for the best value resort at Disney World. And there are definitely a few reasons why this resort stands out from the crowd.
For starters, Pop Century is our preference because of the rooms. We love the layout of the rooms and find them efficient. They are minimal in the overall design.
With that being said, the All-Star Resorts recently refurbished their rooms in almost identical design. So you'll get the same room layout at the All-Stars.
Secondly, the addition of the Skyliner gives Pop Century a definite advantage over the All-Stars. Sure, you might pay a little more for this "value plus" resort, but that extra is usually worth it.
Third, Pop Century is fun, and the walk around Hourglass Lake is gorgeous. With Art of Animation being sitting across the lake, you can easily walk over and explore.
And as mentioned above, being able to take the Skyliner to the neighboring resorts for dining is a huge win. At the All-Stars, you're pretty isolated to the food courts unless you take a bus to a theme park or Disney Springs.
Related: Disney's Pop Century Resort Review
#2 Disney's Art of Animation
If it weren't for the rooms at Disney's Art of Animation, there isn't any doubt the resort would come in as my top choice for Disney value resort.
However, the value category rooms aren't great.
The Little Mermaid rooms are small, not functional, and extremely dark. You will get that under the sea feeling when you stay here, especially in the bathroom.
See what I mean?
With that being said, a small party will likely do fine staying here. The resort features larger-than-life characters spread out all over the grounds. And that's the best part!
I love to come over for the afternoon or early evening and take photos of character statues!
Additionally, Disney's Art of Animation is primarily made up of family suites, which costs considerably more than a value category room.
The only resort section that offers standard rooms is The Little Mermaid. The Cars, Finding Nemo, and The Lion King section are strictly family suites.
Now, if you can swing one of the larger family suites, I would go that route. However, those rooms are designed for convenience, not a budget.
#3 Disney's All-Star Music
It's tough to discern between the best Disney value resorts when it comes to the All-Stars. All three hotels are practically identical in layout.
Since they are all located next to each other, there isn't any difference in the location. The only real difference is the theming.
So I recommend picking the one that best suits your family's idea of fun.
We love All-Star Music and always tend to choose it because of all the musical references. But if you are die-hard sports fans, you might enjoy All-Star Sports.
Here is a look at the Country Fair section of the resort, which sits toward the back. Other sections of All-Star Music include Calypso (preferred rooms), Jazz Inn, Rock Inn, and Broadway.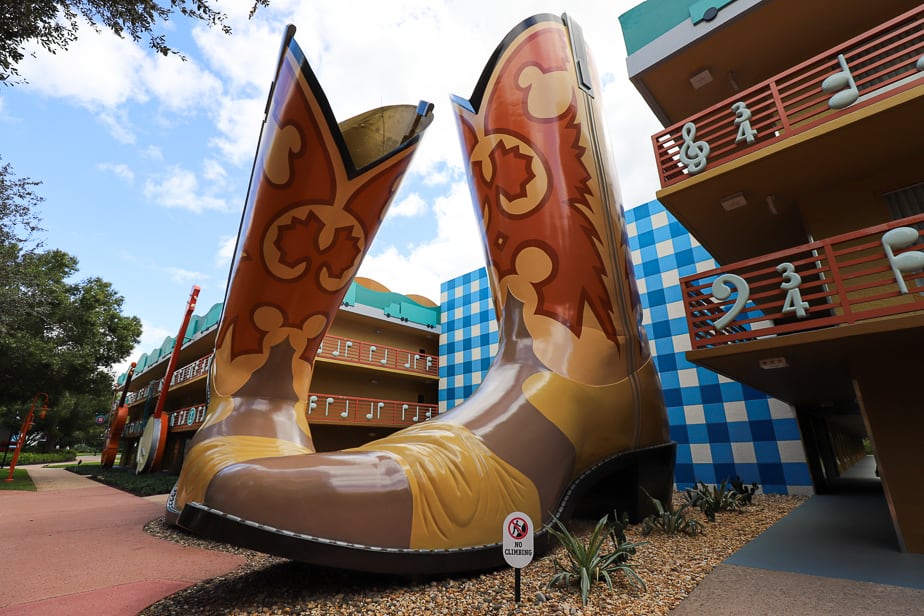 And while it might sound silly, I think that All-Star Music has the best buses! Each day they play a different kind of music. Sometimes a classic song comes on, and everyone begins to sing along.
Related: Disney's All-Star Music Review
#4 Disney's All-Star Sports
Disney's All-Star Sports is scheduled to reopen on March 31, 2022.
All-Star Sports is the perfect value resort for those who consider themselves a bit of an athlete. You'll find Mickey, Donald, and the rest of the gang playing various sports throughout the grounds of the resort.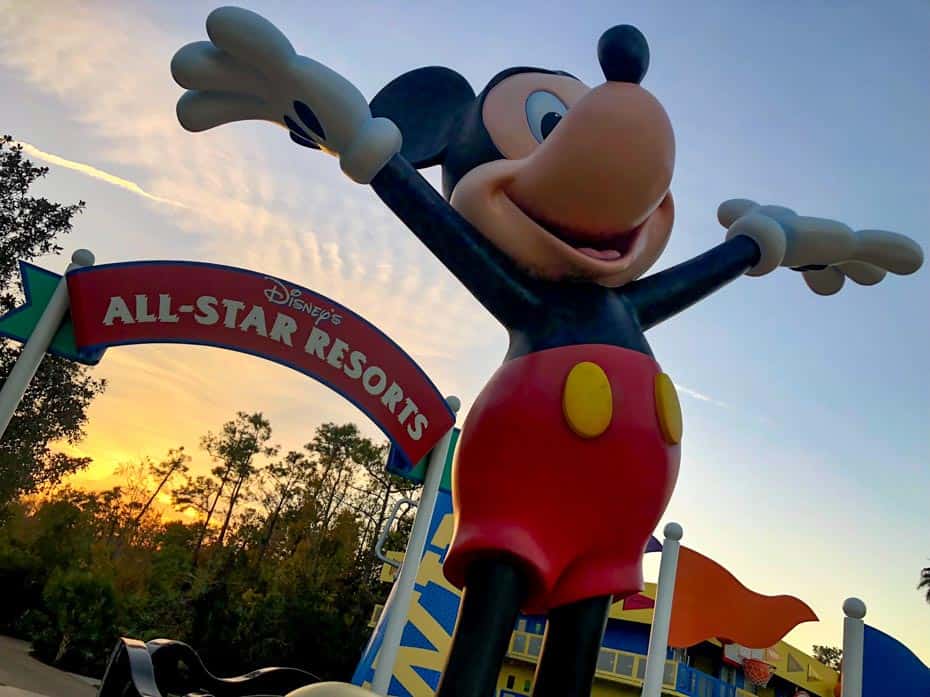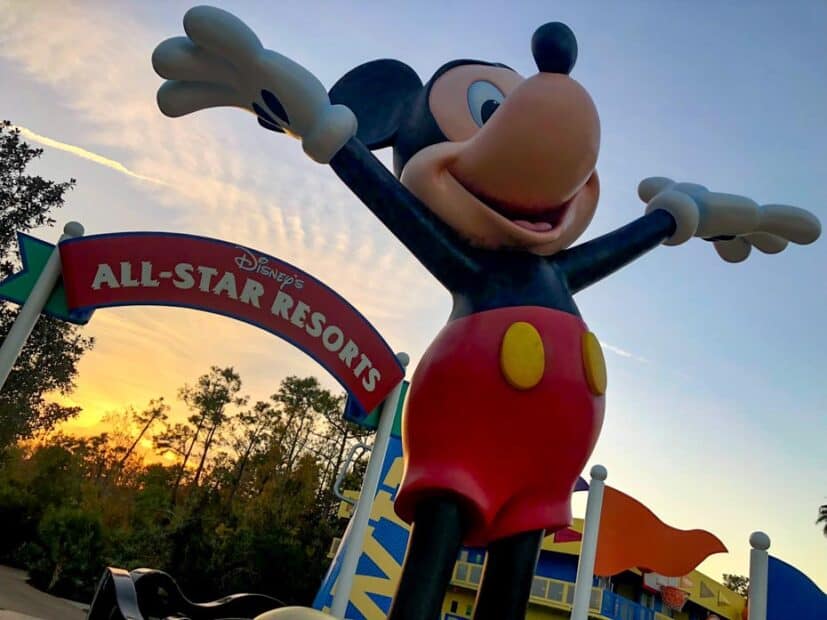 The only drawback here is that sometimes this resort hosts large school groups traveling to Disney for various competitions. Of course, that could happen at any of the All-Stars, but this one tends to be the most popular resort for these groups.
We've stayed at the resort during one of these times. The main issue we encountered was crowding. It wasn't the end of the world, but the lines for food and the buses were more than usual.
#5 Disney's All-Star Movies
I'm not for sure how All-Star Movies comes in last? It's worthy of being the top pick for All-Star Resorts.
But for whatever reason, I'm not as fond of the Movies Resort as much as the other resorts.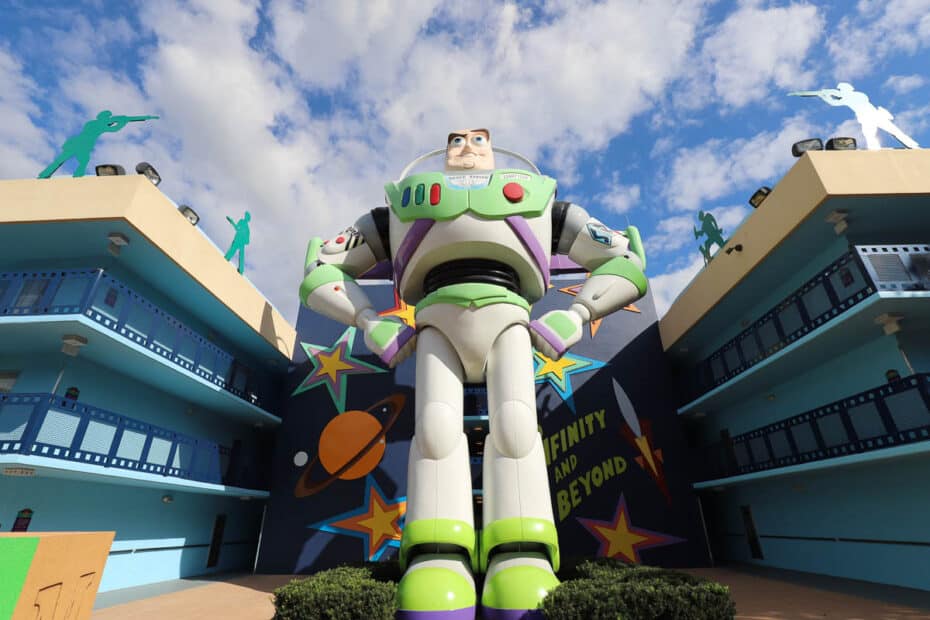 Again, that's strictly a matter of preference. At the Movies, you'll find sections based on different Disney movies.
All of the sections are adorable, and it might be fun to watch the different movies featured at the resort before your trip.
That way, if you get in a specific wing, everyone will be familiar with the different movie references.
Additionally, the bus drivers offer a little movie trivia on the All-Stars Movie buses. Trivia is a fun way to enjoy your bus ride to and from the parks.
Final Thoughts on Disney's Value Resorts
Before we wrap things up, I wanted to reiterate the key factors that distinguish a value from the other resort types.
The All-Star value resorts only offer bus transportation.
The value plus resorts offer bus and Skyliner transportation.
Value resorts do not have a waterslide.
Each value resort has a laundry room near the pool.
Value resorts have one large food court and one pool bar.
The value resorts standard rooms all have exterior room access.
Overall, Disney World's value resorts offer the hopes of a fun, family-friendly Walt Disney World vacation.
If you would like to learn more about staying at Disney World, we have a complete list of Disney World Resort Reviews.
Additionally, if you're at the point where you need a value-price hotel but want more amenities, try these off-property articles:
You might also enjoy browsing our Disney restaurant reviews. It includes some of our favorite restaurants and every meal we've had to date at Disney.
Those planning a visit to Disney Springs will not want to miss our list of the best restaurants at Disney Springs.
Each Disney Resort has its own charm and things that make it desirable, even Disney's value resorts. I hope you will enjoy your stay, whatever you decide.
In the comments: Have you had the opportunity to stay at any of these Disney value resorts? Do you agree or disagree with our choices for best values?