Disney World Villas Resorts
The Disney World Villas Resorts are an upgraded resort category at Walt Disney World in Orlando, Florida. Most of these Disney Vacation Club Resorts are located within a larger Disney deluxe resort hotel. However, a few of them are dedicated DVC resorts that I will specify further below.
The Disney Vacation Club is commonly referred to as DVC. It is a timeshare membership where the members use points to reserve rooms. However, Disney rents these room types to regular guests.
In this review, we'll take a look at each Disney World Villa resort and the reasons you might want to consider a stay at one. These rooms are available to regular guests, and an authorized Disney travel agent can help you reserve them.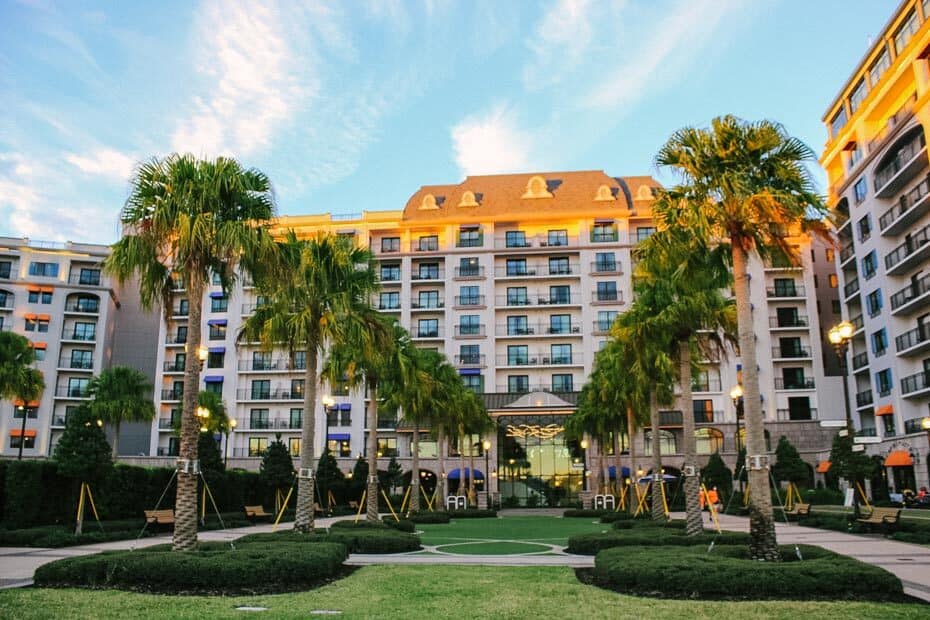 Disney World Villas Resorts
Before we get into our overview of the villa resorts at Disney World, I put together a list of every Disney World Villas Resort available by location. If you are looking for more specific resort information, the highlighted resorts link to additional information where available.
Polynesian Villas and Bungalows
Boulder Ridge Villas (Disney's Wilderness Lodge)
Beach Club Villas at Disney
Animal Kingdom Resorts Area
Disney Springs Resort Area
Old Key West Resort
Disney's Saratoga Springs Resort
Each Disney World Villa Resort offers a variety of different room types that differ from standard hotel room accommodations. The most popular of these room types are the deluxe studio villas.
Deluxe studio villas usually consist of a queen-size bed, a queen-size sofa sleeper, and often a small pull-down trundle bed. The main difference you'll find in a deluxe studio room from a regular one is the kitchenette.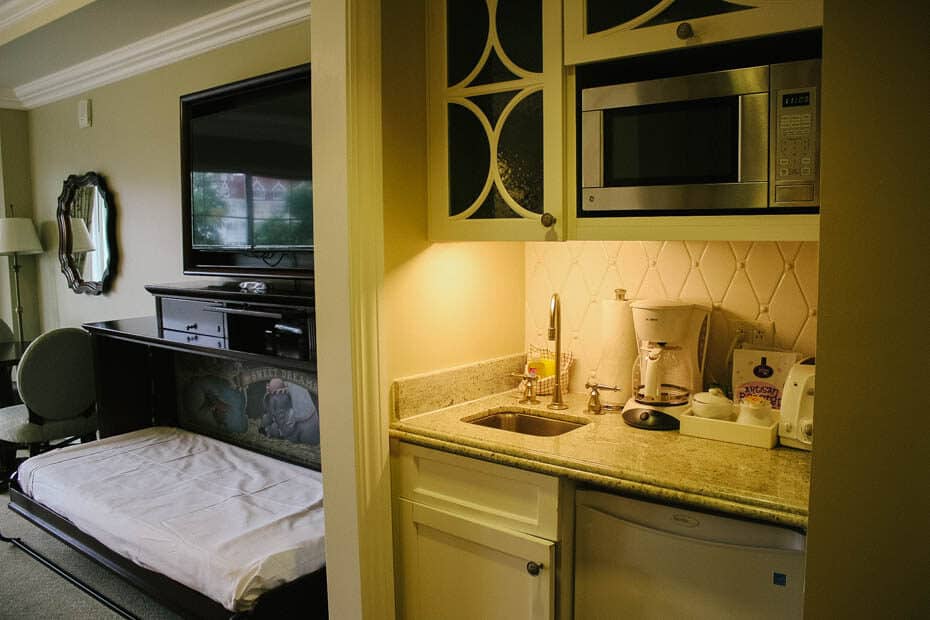 A kitchenette will have a mini-fridge, microwave, full-size coffee maker, and various dishes with flatware. While a standard Disney hotel room does have a mini-fridge, the refrigerators in the villa rooms are larger and provide more storage for cold items. Additionally, they have a top freezer shelf for smaller items.
Other DVC villa rooms that might be available include one and two bedrooms that range from standard to upgraded views. And then there's the infamous grand villa that has three bedrooms, three full baths, a dining area, and a full kitchen with an island. The sky is pretty much the limit when we get into the grand villa category.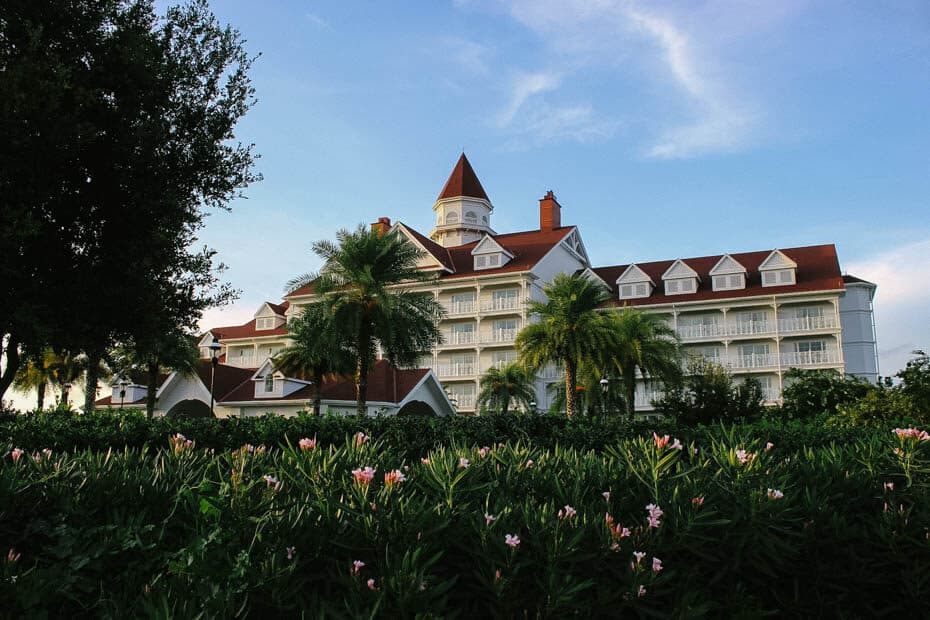 As far as dining options, transportation, and other guest amenities, those will depend on which resort you wind up choosing. For instance, if you stay at a Grand Floridian Villas, you'll have the same amenities as anyone else staying at the Grand Floridian Resort.
So let's take a look at each Disney World Villa resort to see which one might work best for your family. We'll start with the resorts within walking distance to Magic Kingdom. Our first stop is at Disney's Polynesian Village Resort.
Some people like to save the best for last, but in this case, we'll do the opposite. That's because Disney's Polynesian Villas is home to the Bora Bora Bungalows. The bungalows make up part of the villa portion of the resort.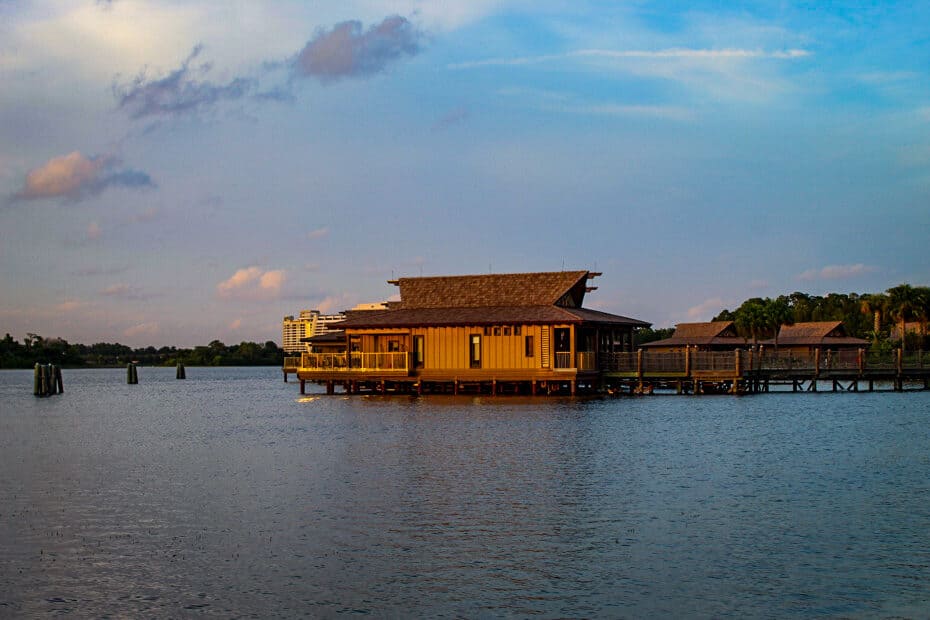 The Poly is a tropical resort, and all of the rooms are currently under refurbishment. The DVC rooms are currently scheduled to undergo a soft refurbishment. More than likely, touches of Moana will be added to the rooms like the rest of the hotel.
As for those bungalows, they actually set over the water on Seven Seas Lagoon. Each one contains two bedrooms, a full kitchen, and a separate washer and dryer. Naturally, they all offer a theme park view of Magic Kingdom.
There is a full Polynesian Resort Review here if you would like to know more about staying at this tropical oasis.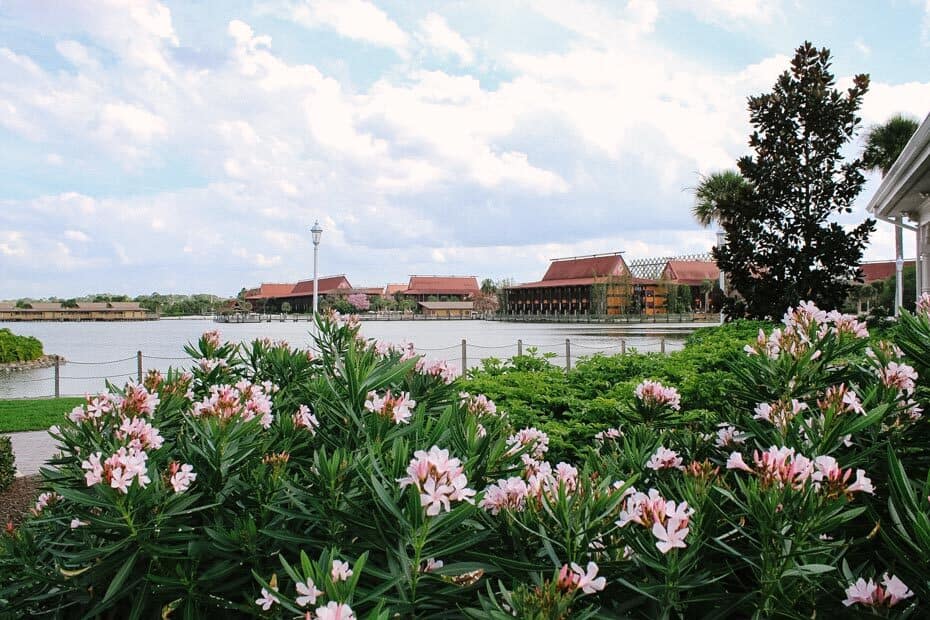 Next door at Disney's Grand Floridian Resort, you'll find the Grand Floridian Villas. A few months back, we stayed at a villa here for the first time. To date, this has been one of my top choices for the best Disney Villa resorts. We really enjoyed our room and the split setup of the bath.
Additionally, I thought the TV in the bathroom mirror was a fun feature.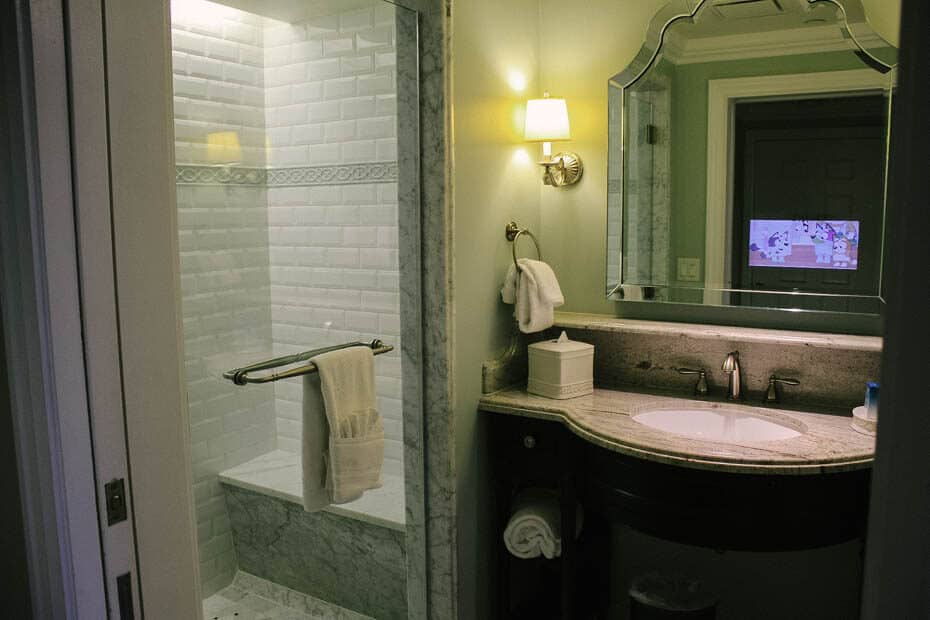 But what sold me on our stay here was this amazing monorail view. I enjoyed savoring my cup of coffee here every morning of our stay. And I think you probably would too. Who can complain about a room with a view of the monorail? Sounds like a dream come true.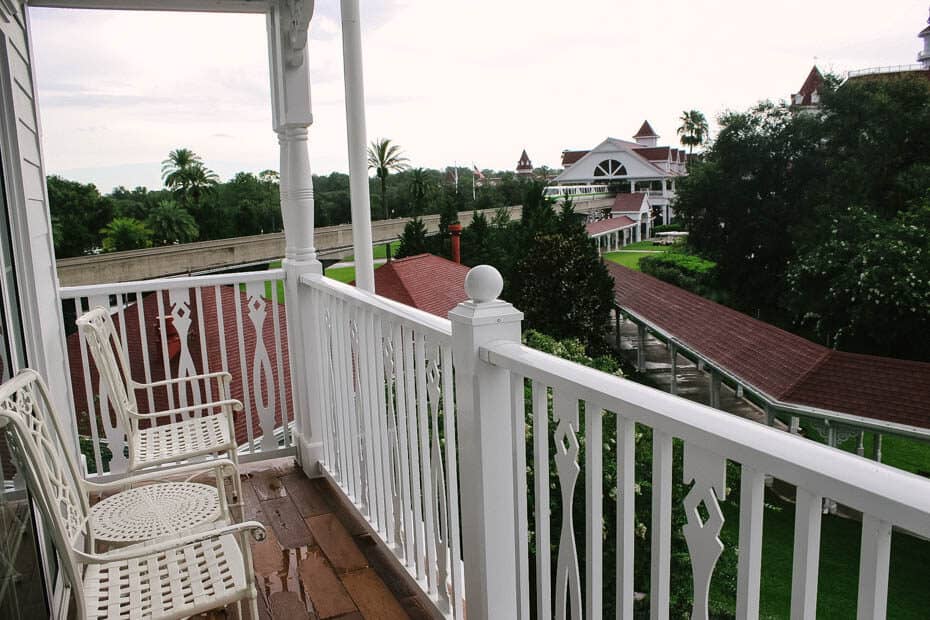 You can read more about our stay at the Grand Floridian Villas if you would like, or check out the entire resort review with other room types here.
From the Grand Floridian, we hop aboard the Disney World monorail for our next stop at Bay Lake Tower. Disney's Bay Lake Tower is a separate Disney Vacation Club Resort that is connected to the Contemporary by a bridge. Guests can exit the monorail at the Contemporary and walk directly across the bridge to this DVC resort.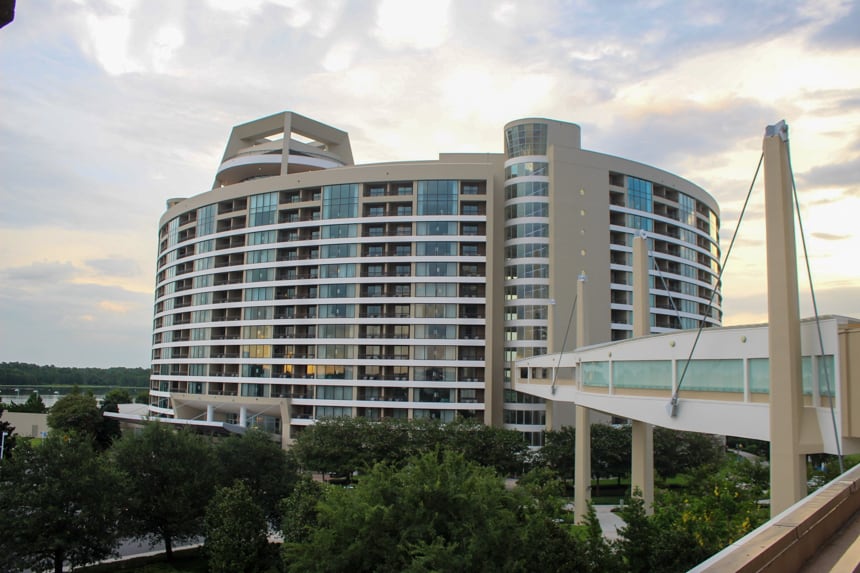 As much as I love the Contemporary, I'm not crazy about the deluxe studio villas next door at Bay Lake Tower. They kind of have an odd layout with the kitchenette built into a tiny space similar to a walk-in closet.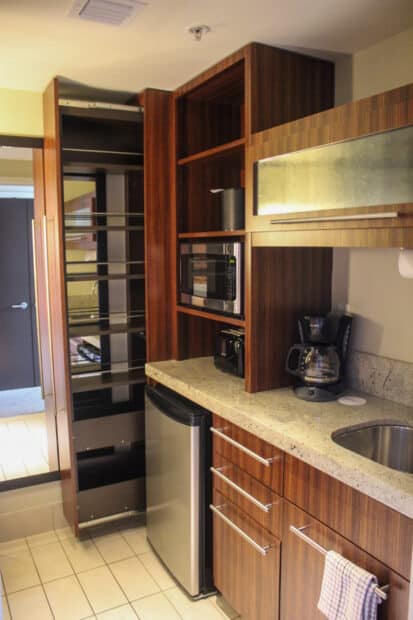 My main issue with the awkward layout is that it cuts into the guest bath. And I guarantee if you ask a Disney Vacation Club member about the rooms here, you'll get an "I love it" or an "I hate it" when it comes to these rooms.
Consider a one-bedroom or larger villa when planning a stay here. If you would like to see all of the room photos, I have a full Bay Lake Tower Review here.
Across Bay Lake, we make our way to Disney's Wilderness Lodge, which is home to two different Disney World Villa Resorts. The first of those is Boulder Ridge Villas which is the oldest. Boulder Ridge is located in a separate wing of the resort with its own lobby.
Copper Creek Villas is one of the newer vacation club properties at the Walt Disney World Resort. Similar to the bungalows at the Poly, this DVC resort has cabins available for rent. The cabins at Copper Creek are waterfront with two bedrooms, a kitchen, and a porch with its own private hot tub.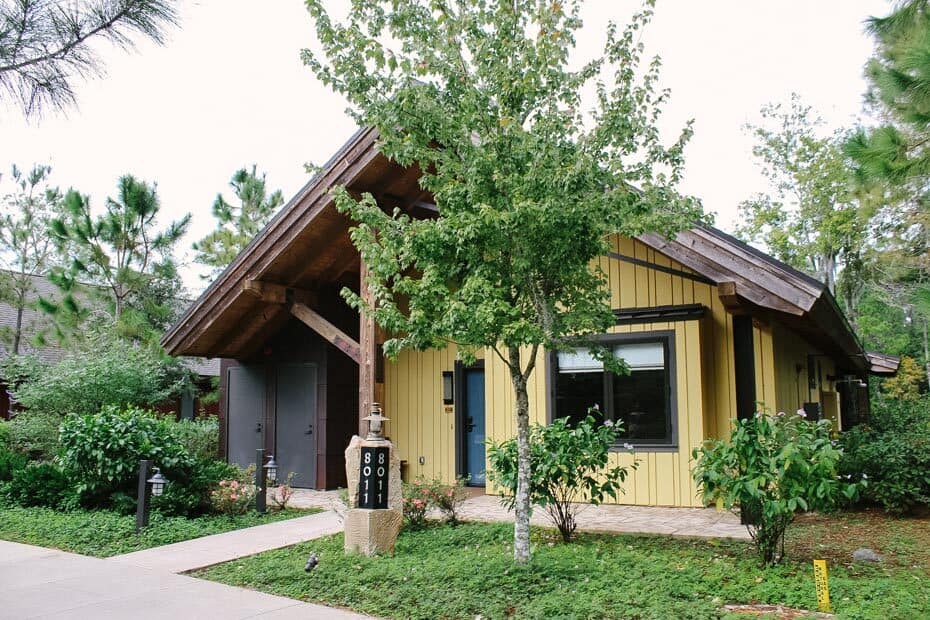 Here is a look at the deluxe studio at Copper Creek. We have had the opportunity to stay here on two different occasions, and I can't imagine a more relaxing place to stay.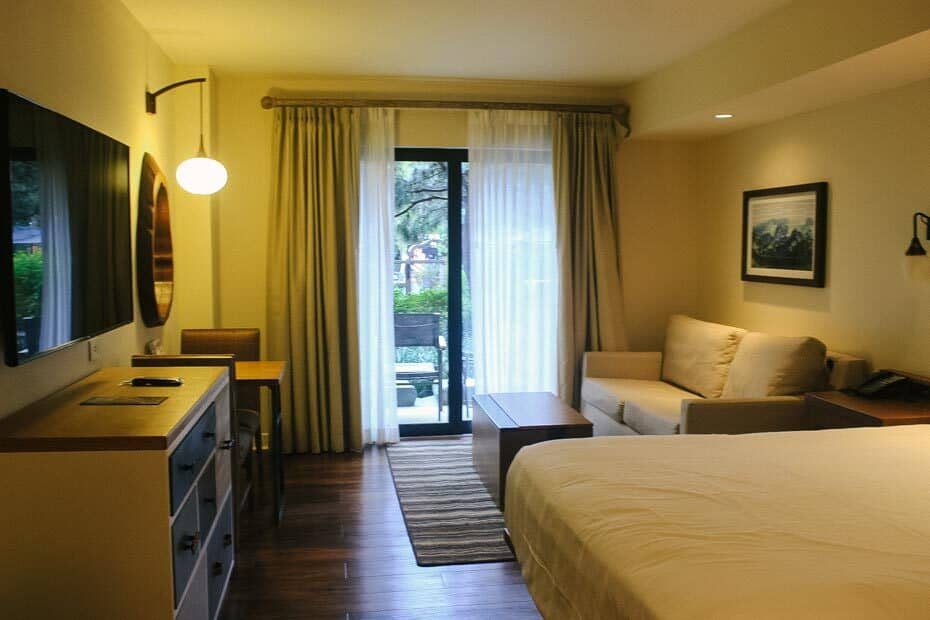 If you would like to view more photos of our room, you can do so here. Or you might like to learn more about this Disney Resort hotel in our Wilderness Lodge review.
Moving on to the Epcot Resorts Area, we'll take a look at Disney's newest dedicated DVC Resort, Disney's Riviera. By dedicated, I mean this resort was specifically designed for the vacation club. All of the rooms here fall into a studio or higher category. There are no standard hotel rooms at this resort.
At the Riviera, you can expect a blend of French and Italian influences with a Mediterranean flair. This resort hotel is stunning and definitely provides a luxurious feel that you won't find just anywhere. (The food is good here too!)
One of the perks about staying at the Riviera is that it has its own Skyliner station which travels to the neighboring theme parks. You can board a gondola to travel directly to Epcot or transfer at Caribbean Beach to head to Disney's Hollywood Studios.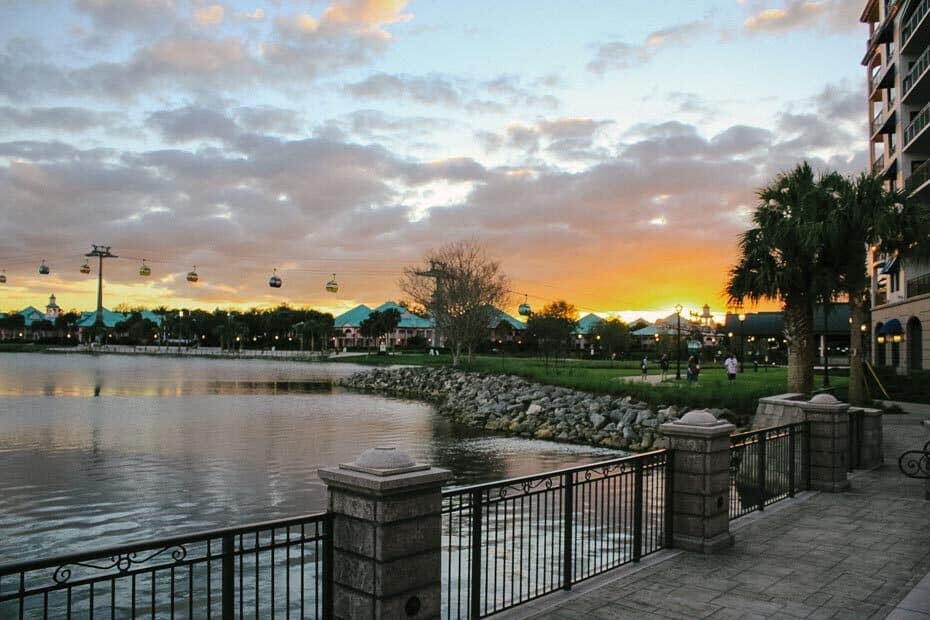 Similar to Grand Floridian Villas, Riviera is my other top recommendation for the best Disney World Villas resort. Below is a photo of the deluxe studio room we had not long after the hotel opened. You might notice that the second bed actually is a Murphy bed that pulls down from the wall. And that's a trundle bed in the left-hand corner that will sleep, one small child.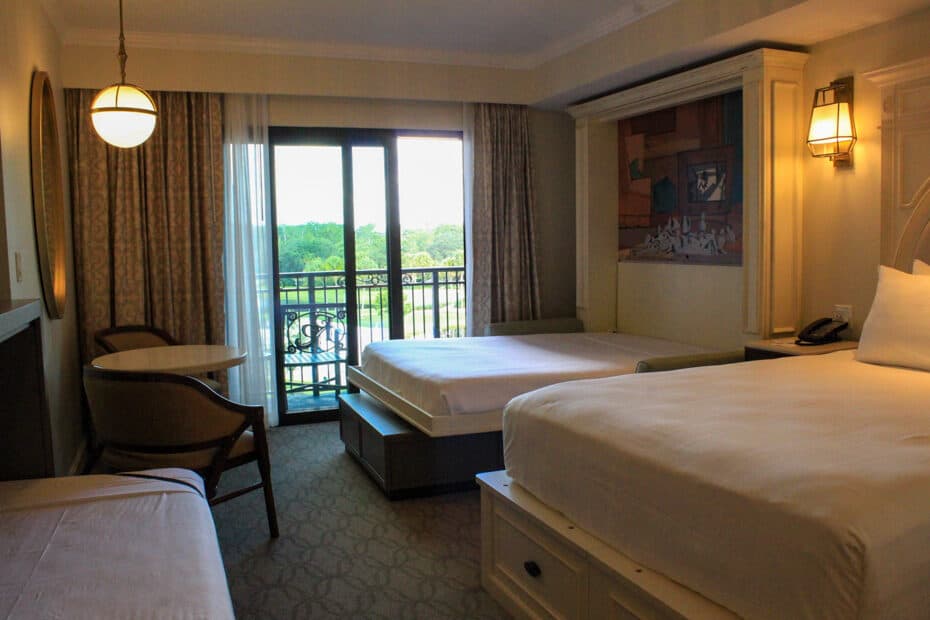 When the Murphy bed isn't in use you can store it in the wall. A convertible sofa takes its place in upright form. If you would like to learn more about this resort try the full review here.
Sitting on Crescent Lake, there are two other options, the Beach Club Villas and the Villas at Disney's Boardwalk. If you've spent any time on this website, you know that I highly recommend Disney's Beach Club, mainly due to its Stormalong Bay pool area. The villa's building here has its own private pool, but I think most will enjoy spending their pool time in the feature pool area.
Related: Best Swimming Pools at Walt Disney World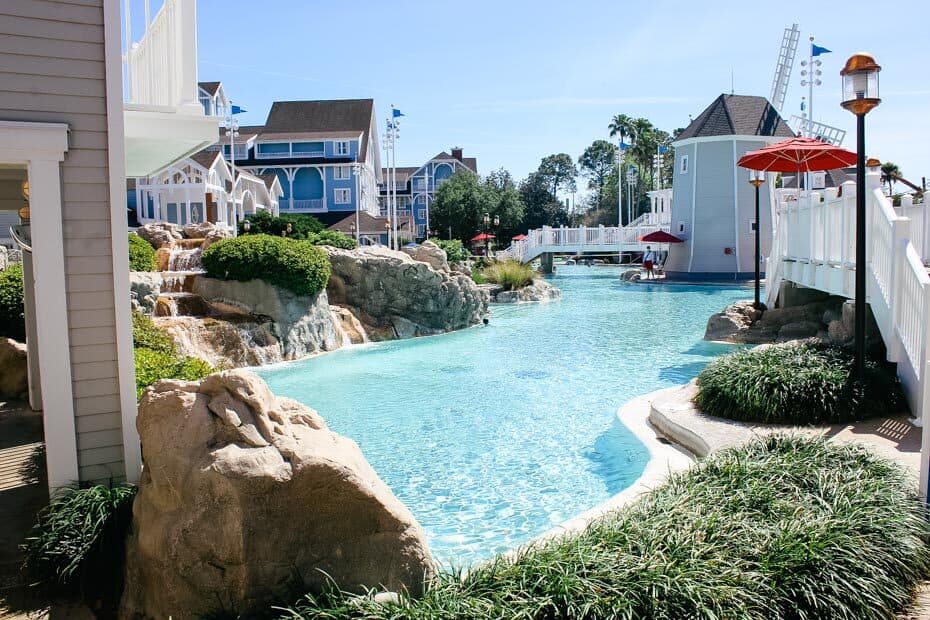 The Boardwalk Villas sit directly across Crescent Lake from Beach Club. A stay at either of these resorts provides the opportunity to walk to Epcot and Disney's Hollywood Studios. You can't beat being able to walk to these theme parks. It's so convenient.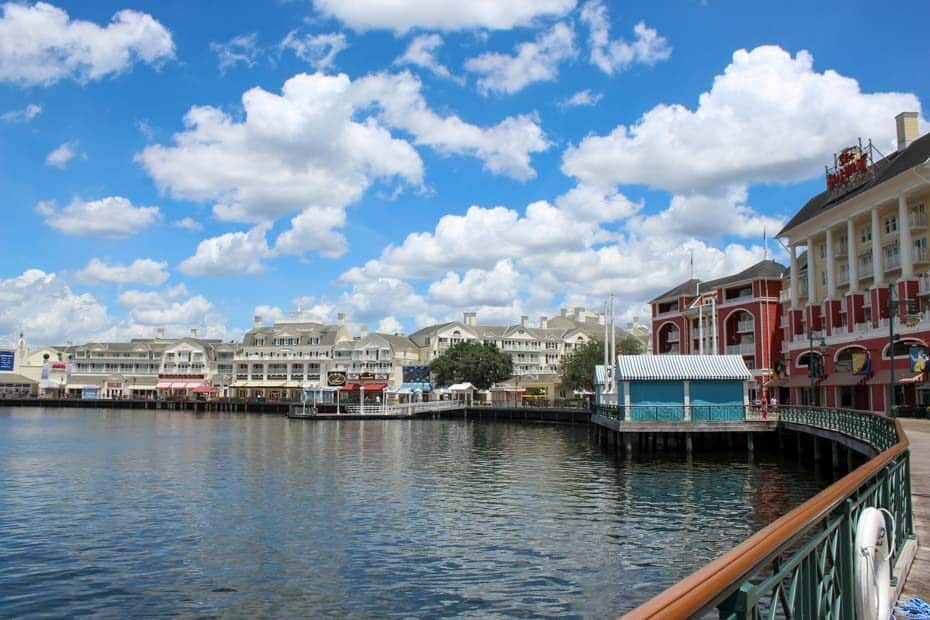 There is a full Boardwalk Villas Review here that details our stay with lots of photos. Below is a picture of the updated deluxe studio room. You might find a little better rate on rooms here, and if you do, give it a try. The area is stunning.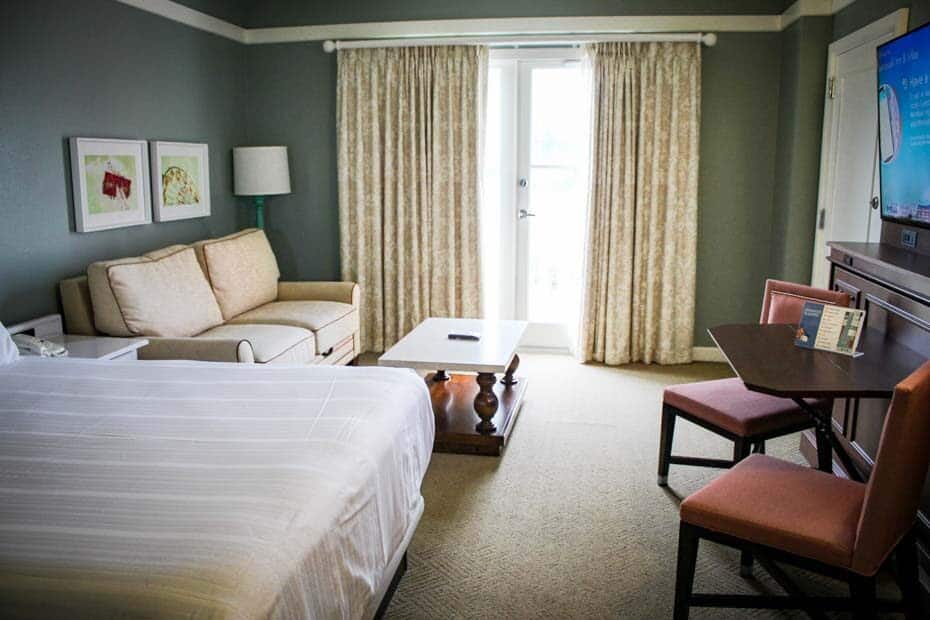 We'll stop in at Disney's Animal Kingdom Lodge next. For those that aren't familiar, the Animal Kingdom Lodge has two hotels on its property. The first is Jambo House, which is the main lodge. Jambo House is a standard Walt Disney World Resort. However, it does have a villa section. I have many pictures of all the different room types, including the studio villa room at Jambo House.
Related: Disney's Animal Kingdom Lodge Review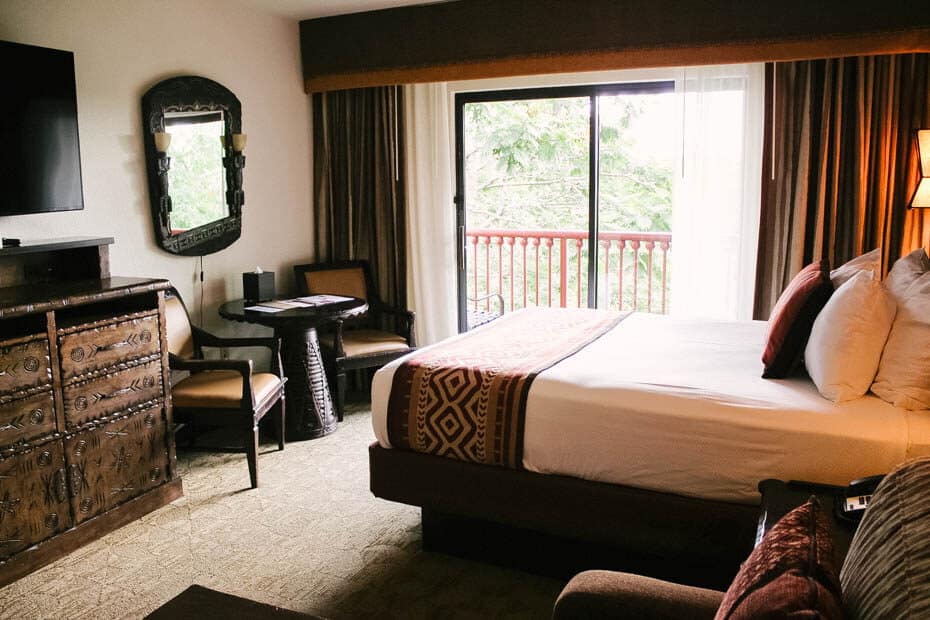 Kidani Village is the second hotel at the Lodge and is another dedicated Disney Vacation Club Resort. The Animal Kingdom Lodge actually tops our list of deluxe Disney resorts. It offers a unique experience that you are unlikely to find anywhere else. And while I do love the Beach Club for their pool, I can't help but tell you how special a stay at Animal Kingdom Lodge truly is, especially if you like animals.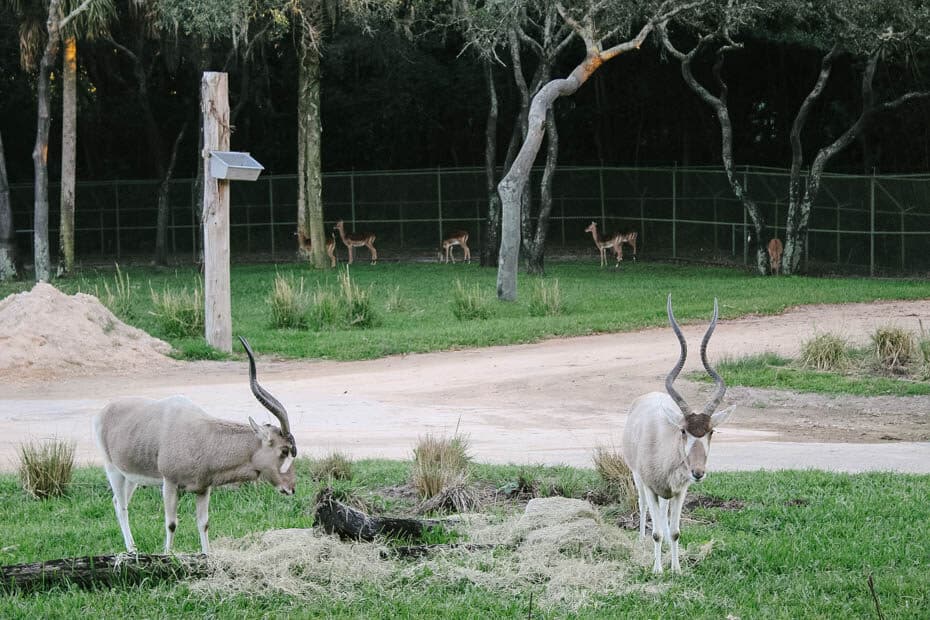 Last but not least, there are two dedicated villa resorts in the Disney Springs area. While I've visited both of these resorts numerous times, I haven't had the opportunity to stay at either yet. What I can tell you, from my experience, is that Saratoga Springs is a beautiful resort.
And if you enjoy some of the shopping or restaurants at Disney Springs, it's wonderful to be able to walk over. The property fashioned after a day at the races, think New York Saratoga Springs, sits directly across the waterway from the venue.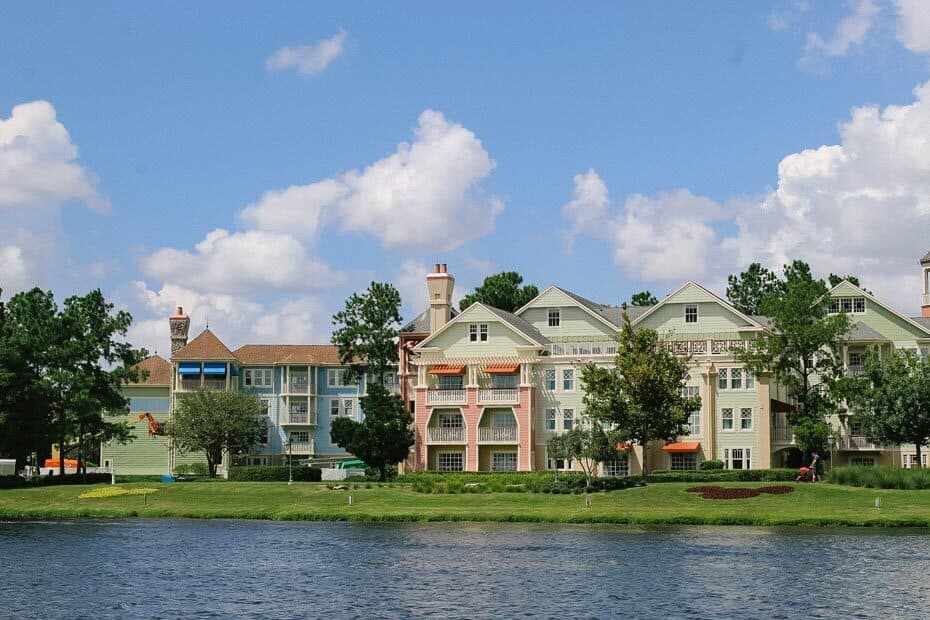 Additionally, Saratoga is undergoing a refurbishment, and the new rooms are supposed to be pretty spiffy. I'm looking forward to trying them out. Hopefully, sooner than later.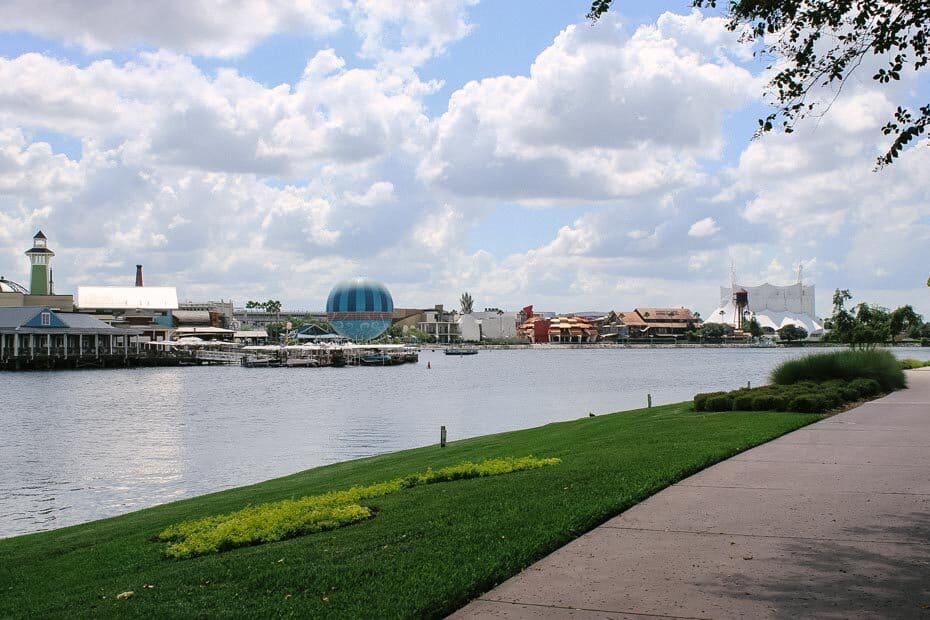 As for Old Key West, it sits on the waterway adjacent to Saratoga Springs. This resort mimics the look and feel of the Florida Keys. It's a pretty resort with a restaurant that's somewhat of a hidden gem, Olivia's Cafe. You might want to plan a casual meal there during your vacation if you stay nearby.
Wrapping up our look at the Walt Disney World Villas Resorts, I wanted to add that the rooms here generally cost more. However, staying on Disney property is the single, largest amenity that guests receive no matter what type of room they book. Anything else is an upgrade. And the villa rooms are definitely an upgrade.
When considering the price difference, you might like to weigh the value of preparing some meals in your room. For example, if you can do breakfast in your room each morning, it might make up for the price difference. First, however, you'll need to account for the cost of picking up groceries or having them delivered.
If you're still uncertain, you might want to consider all of the Disney Resort Reviews. That list provides an overview of every hotel on Disney property. In addition, there are different categories of resorts like the moderates and the values that we didn't discuss in this article. Or you might enjoy learning how to do a split stay at Disney World.
Make sure to check with our preferred travel agent, Firefly Travels. They will work hard to make sure your Disney vacation is a success, dining reservations secured, and all kinds of other details.
No matter which route you end up going, I hope you'll have a good time on your Disney vacation! Thanks for reading along today about the Disney World Villas!