Gingerbread House at Disney's Boardwalk Inn (2022 Display)
Continuing our tour of gingerbread displays, we're off to Disney's Boardwalk Inn to visit another charming gingerbread house. Believe it or not, the gingerbread display at Disney's Boardwalk Inn is a condensed replica of the Boardwalk Deli and the surrounding area.
If you love gingerbread displays, you'll adore this one. The attention to detail given to this work of art is almost unrivaled.
Of course, all the gingerbread displays at Walt Disney World are extraordinary. However, this one stands out a tad more since it's modeled after the Boardwalk.
Let's look closer.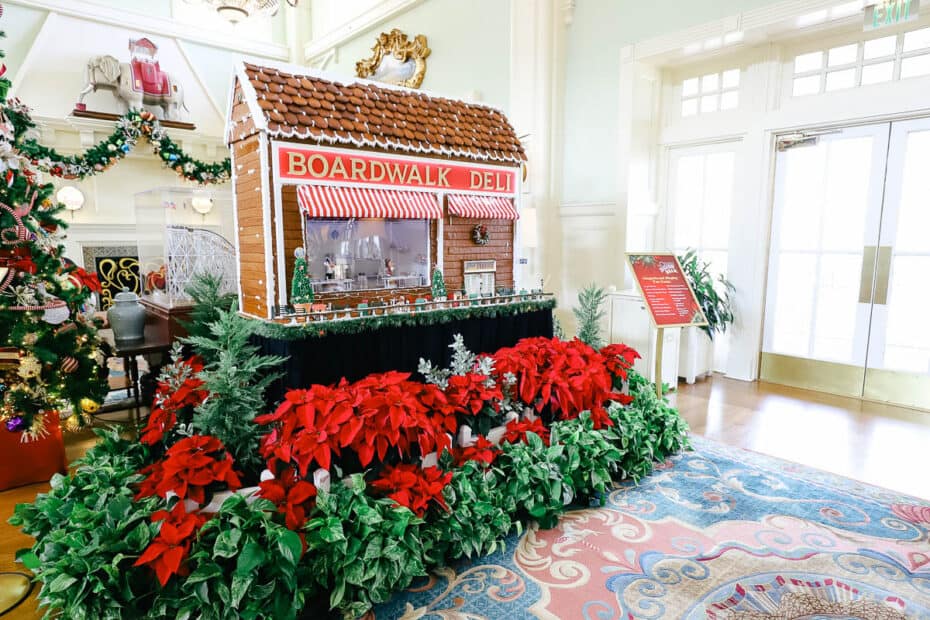 Boardwalk's gingerbread display sits in the center of the resort's lobby. A sign above the awning says "Boardwalk Deli." You may remember the Boardwalk Deli replaced the Boardwalk Bakery earlier this year.
Related: Boardwalk Deli Review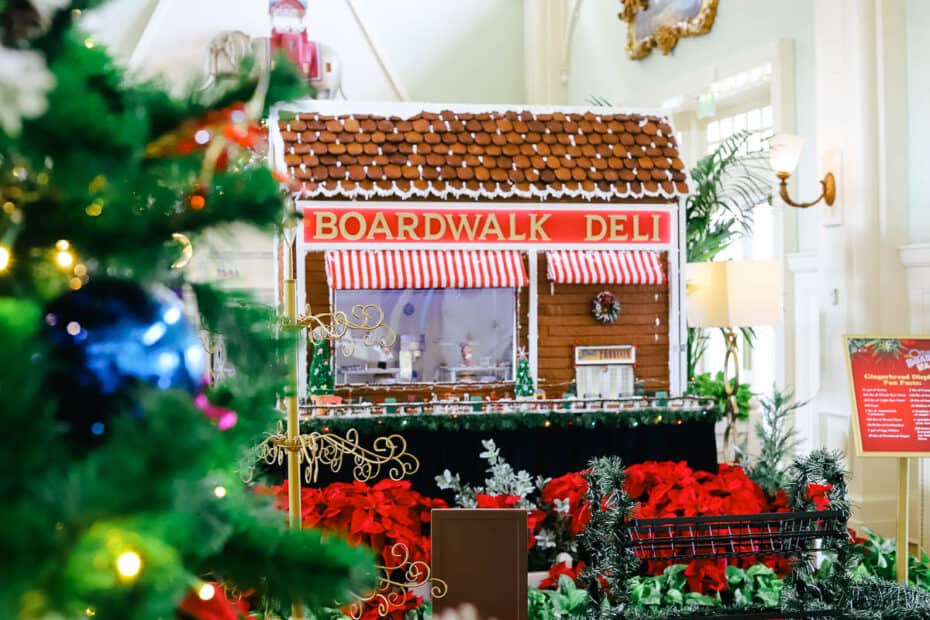 An ongoing renovation of the resort will bring newly appointed rooms, restaurants, and other offerings to the Boardwalk in the coming year.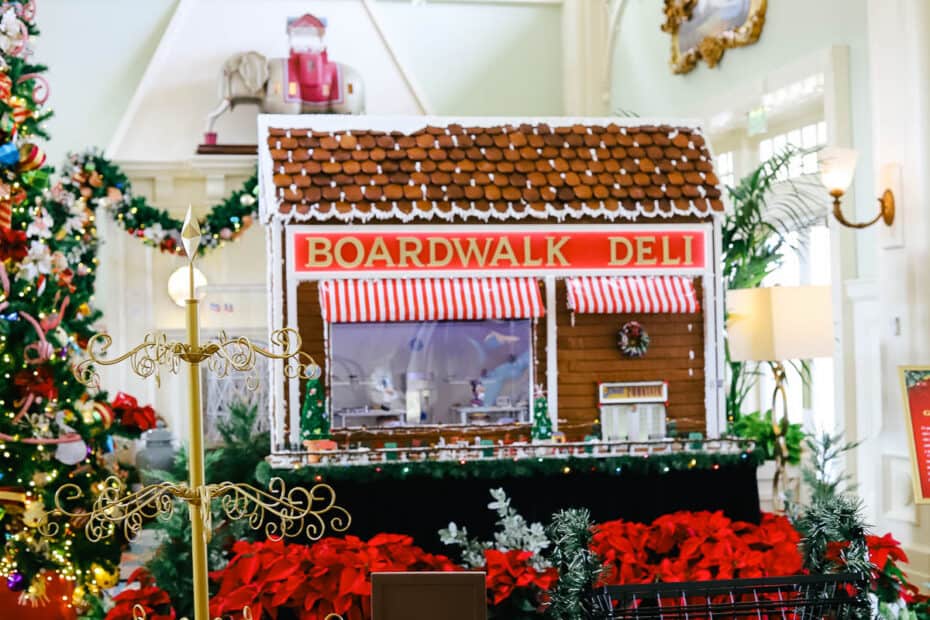 Along the faux boardwalk, there are benches, tables with chairs, strung lights, and even a few tiny trash cans. These are the same adorable touches you'll find outside.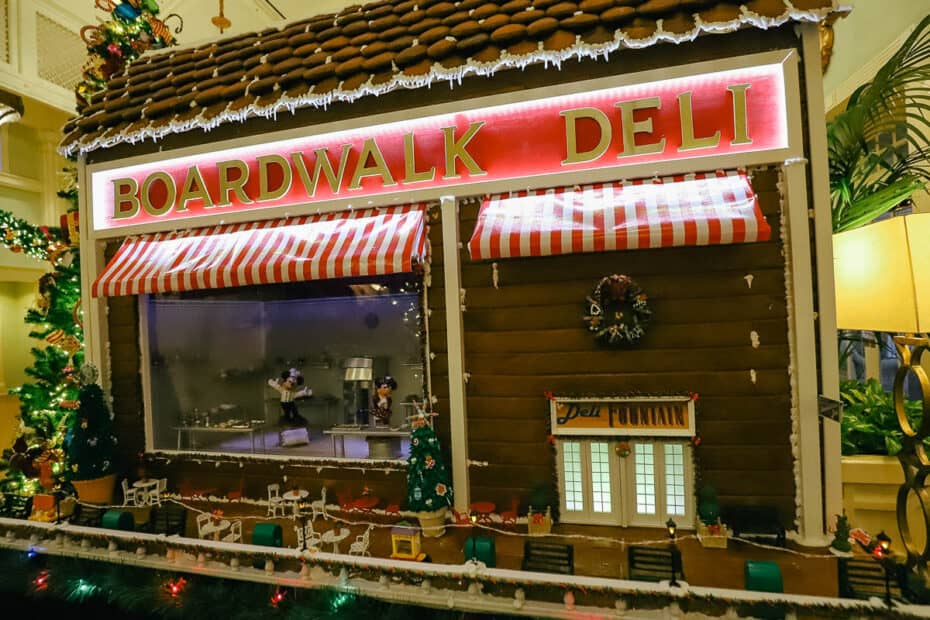 Inside the bakery's window, you'll see Chef Mickey and Minnie Mouse preparing pastries for their guests.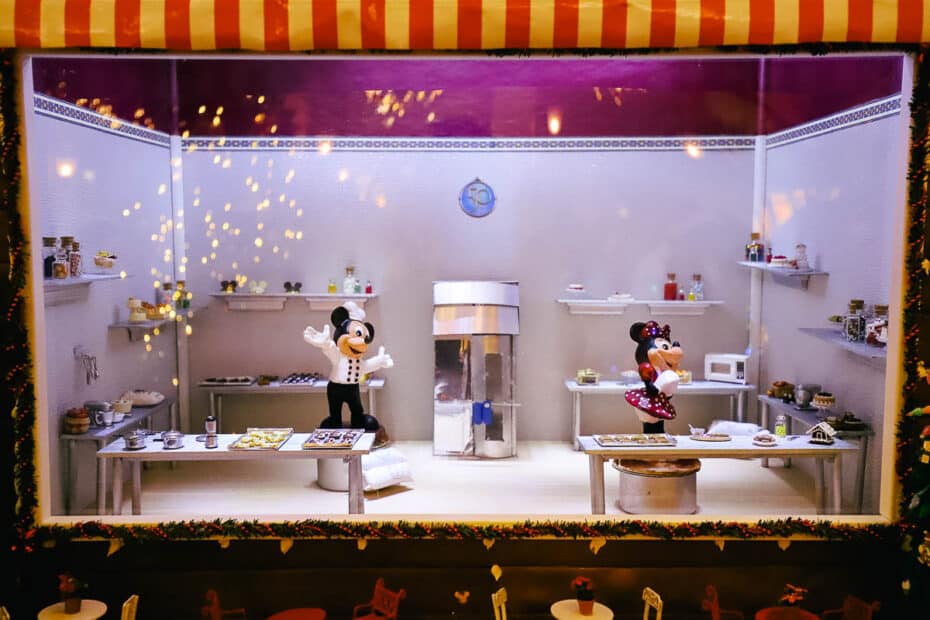 My favorite portion of the display was the tiny Christmas tree made with drop stars from icing. Ornaments featuring both Mickey and Minnie adorn it.
A 50th-anniversary medallion rests at the top of the tree. I appreciated the subtle nod to the anniversary.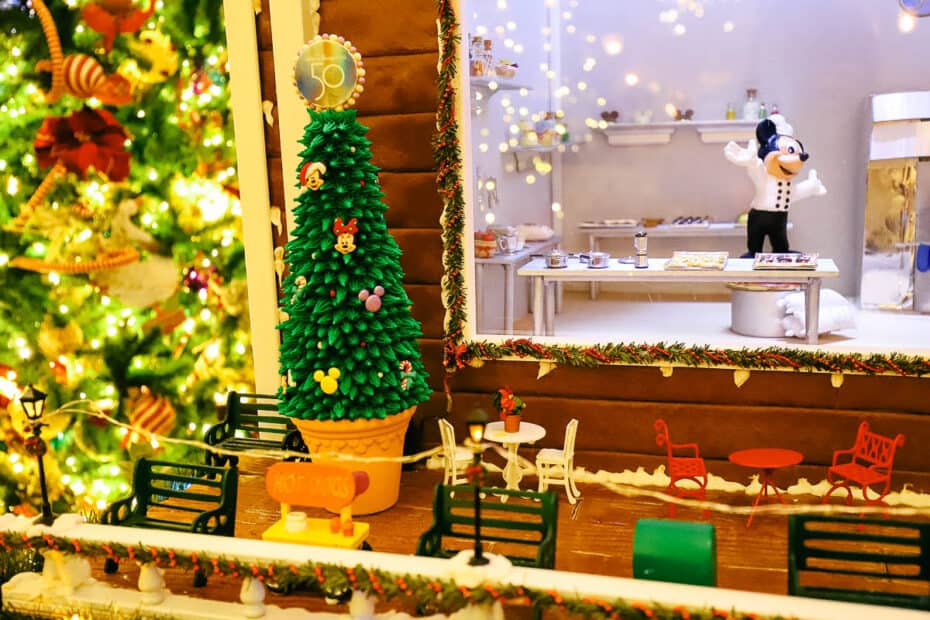 Here are a few of those tiny details.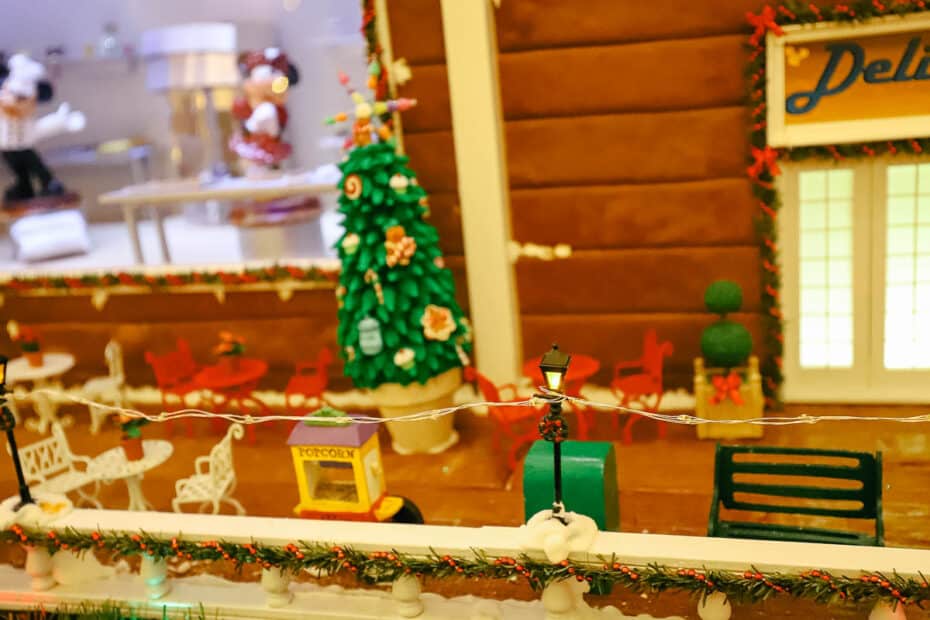 Next to the display, there's a list of fun facts and ingredients included. For example, Boardwalk's gingerbread house has 26 hidden Mickeys. Can you find them?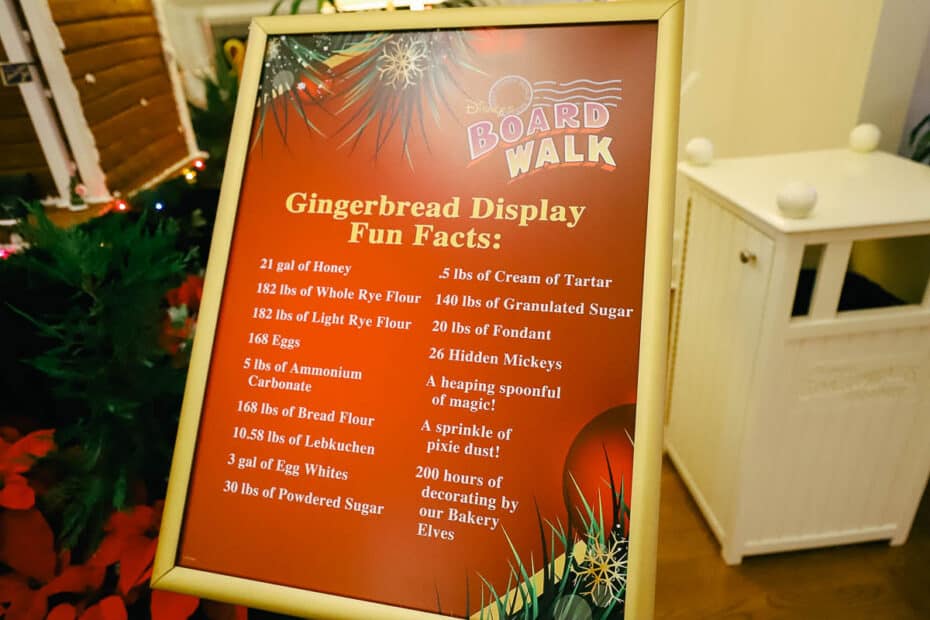 Pins are available commemorating this year's gingerbread display.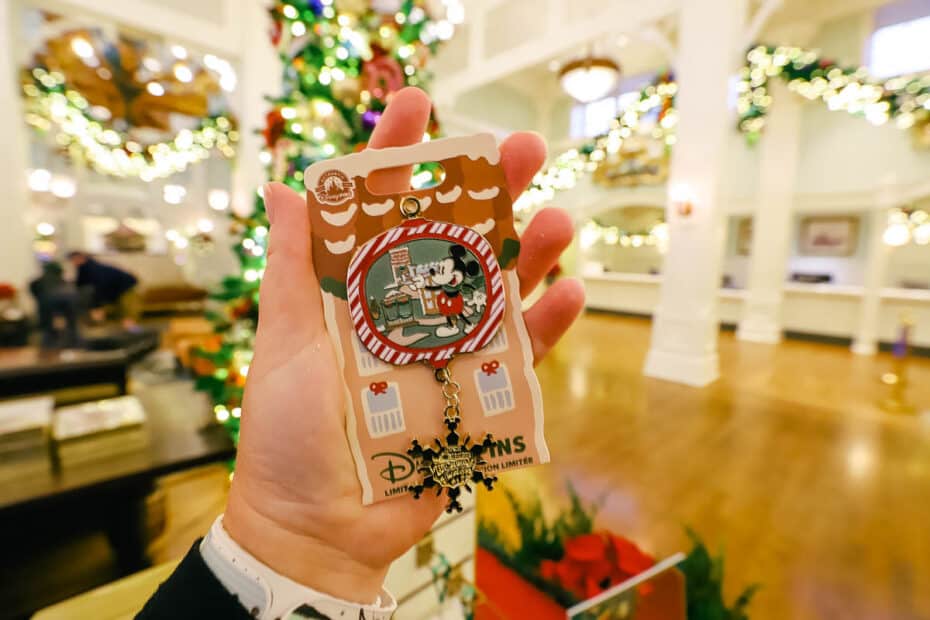 Additionally, there's an ornament available that features a gingerbread house with the resort's logo. We've also seen resort ornaments at the following displays this year:
We have one more resort gingerbread display to visit next week at Disney's Animal Kingdom Lodge. Hopefully, we'll get to it before the Thanksgiving holiday.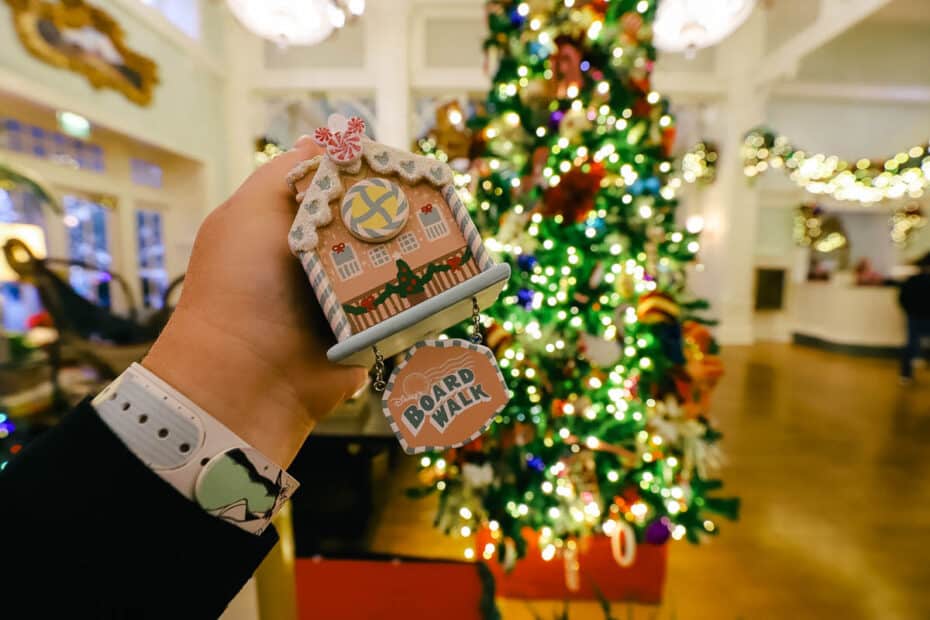 In addition to the festive holiday display, treats are available. Here are a few Mickey-shaped cookies.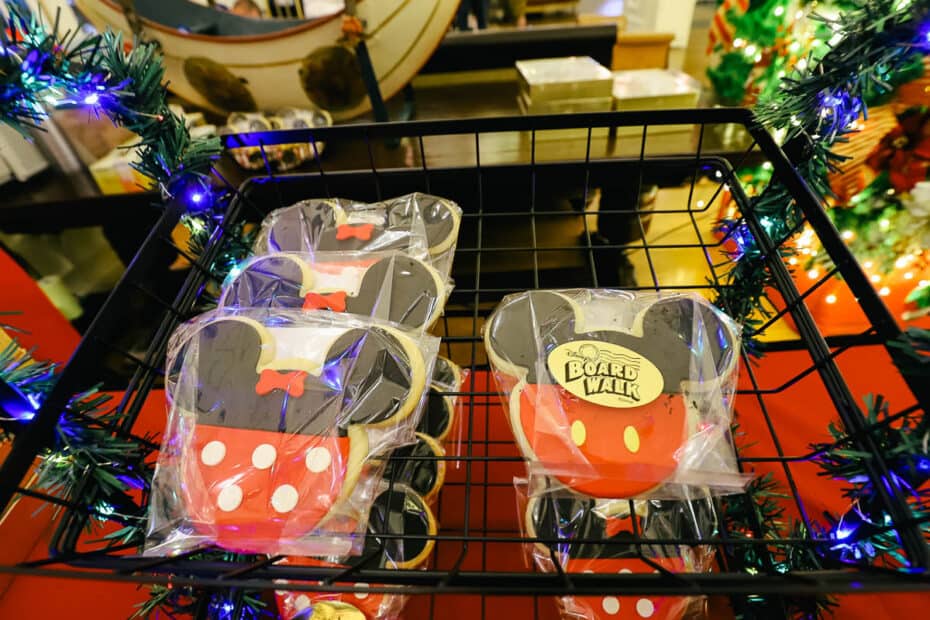 Christmas snack mix includes peppermint bark, caramel corn, and pretzels.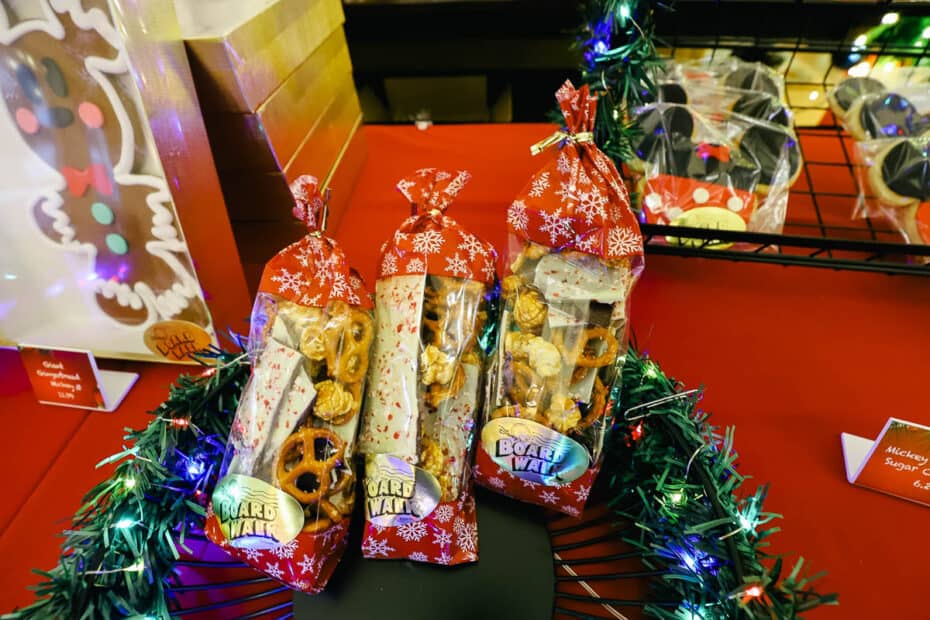 I thought these homemade marshmallows looked divine.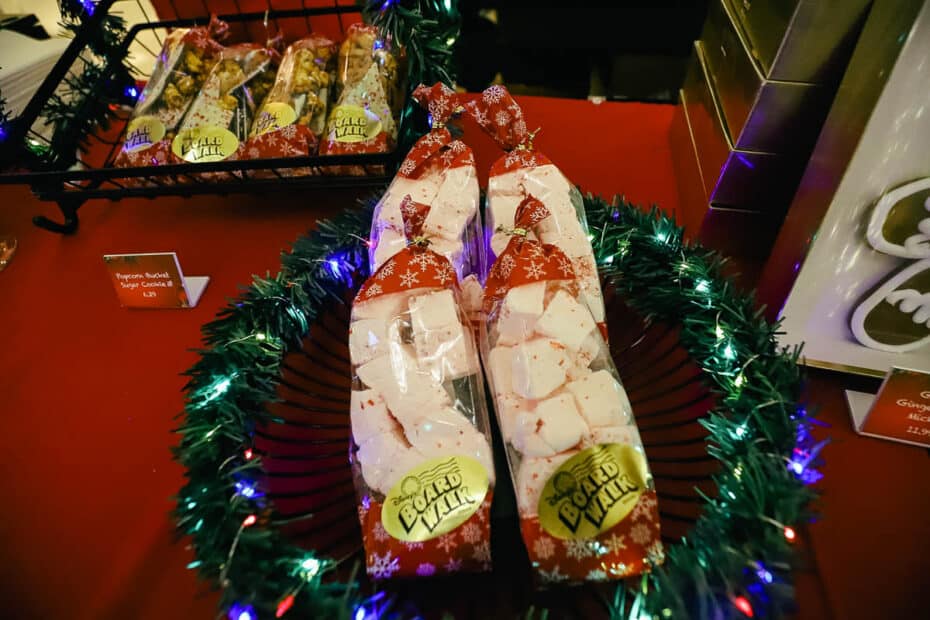 If you prefer a little caramel corn with your cookie, it's an option too. Isn't it cute how this one is designed to look like a popcorn bucket with a touch of Mickey?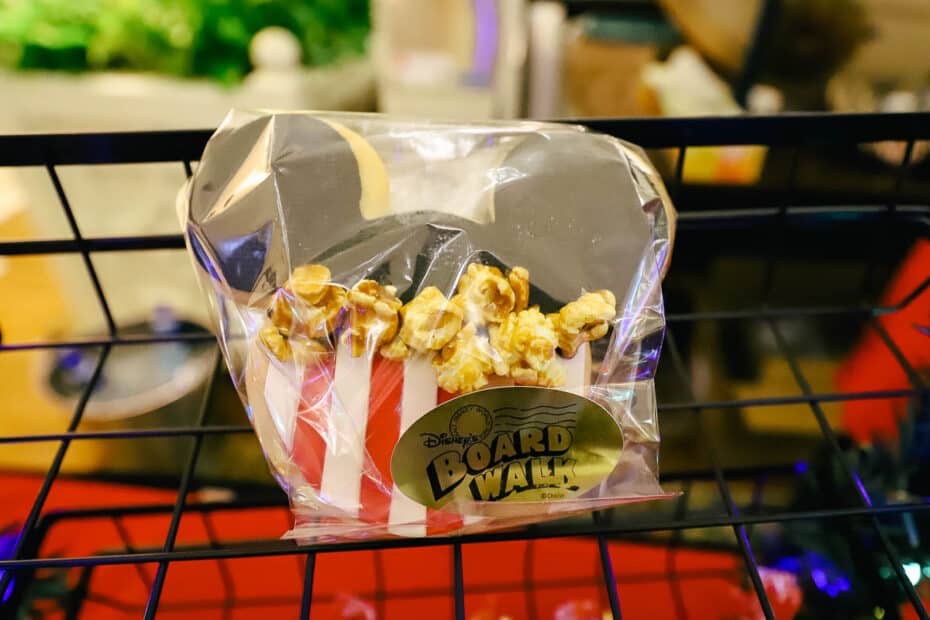 For those who prefer an adult beverage, a gingerbread frost is available.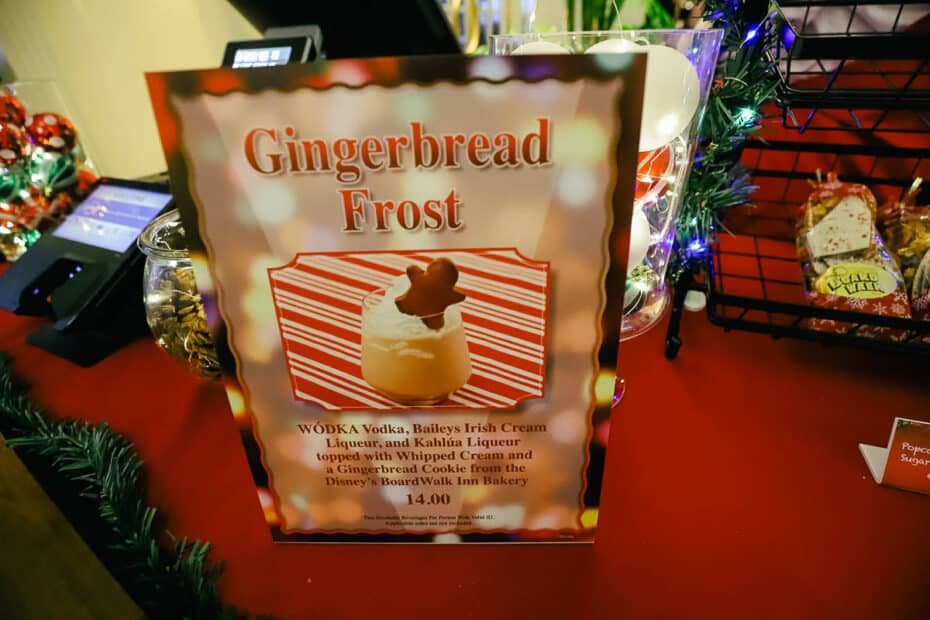 Overall, the entire holiday display at Disney's Boardwalk is striking. We'll look at updated photos of the resort this holiday season in the coming weeks.
Related: Disney's Boardwalk at Christmas
Here is a video of the display:
For more information about this resort, all of our articles are listed in our guide:
You might also enjoy the following:
In the Comments
Are you visiting Walt Disney World during this holiday season? Do you have plans to see the gingerbread display at Disney's Boardwalk?