Gran Destino Tower Review at Disney World
Disney's Gran Destino Tower is a Walt Disney World Resort located in Lake Buena Vista, Florida. The tower hotel sits on the same property as Disney's Coronado Springs Resort.
This Gran Destino Tower review will go over a visit to the resort. We'll look around the inside, stay in a standard room with a water view, preview dining options, and discuss transportation.
Gran Destino Tower opened a few years back and is the newest addition to Coronado Springs. Inside you'll find Spanish Nouveau theming along with fine architecture and details.
The interior offers bright bursts of color and a modern design. However, I can see how it's not something for everyone.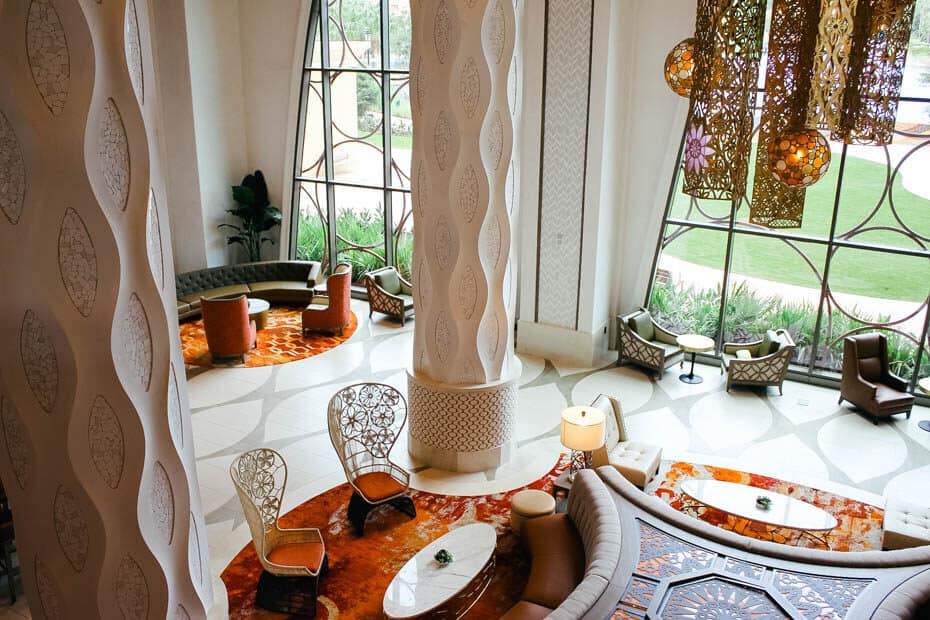 If you haven't had the chance to visit this resort yet, you might be in for a bit of a surprise.
Going into this stay, I didn't have any expectations. Having stayed many a time at Coronado Springs in the past, I already could have told you I consider it the best moderate resort.
Related: The Best Moderate Resorts at Disney World
But from the moment I first entered Gran Destino Tower, I was floored. It would not have been like anything I expected had I had any expectations.
Let's take a closer look.
This Gran Destino Tower Review was updated on April 2, 2022.
Disney's Gran Destino Tower Review
Gran Destino Tower has a central location on Buena Vista Drive. The hotel is part of the Animal Kingdom Resorts area.
Therefore, it's incredibly close to Animal Kingdom park. The tower is also within walking distance of Blizzard Beach water park.
It sits less than a quarter-mile diagonally across the street from the water park. Unfortunately, there's not a designated walking path between the two.
Gran Destino Tower is located at the front entrance of Disney's Coronado Springs. There is a parking lot directly in front of the hotel for guests staying in the tower.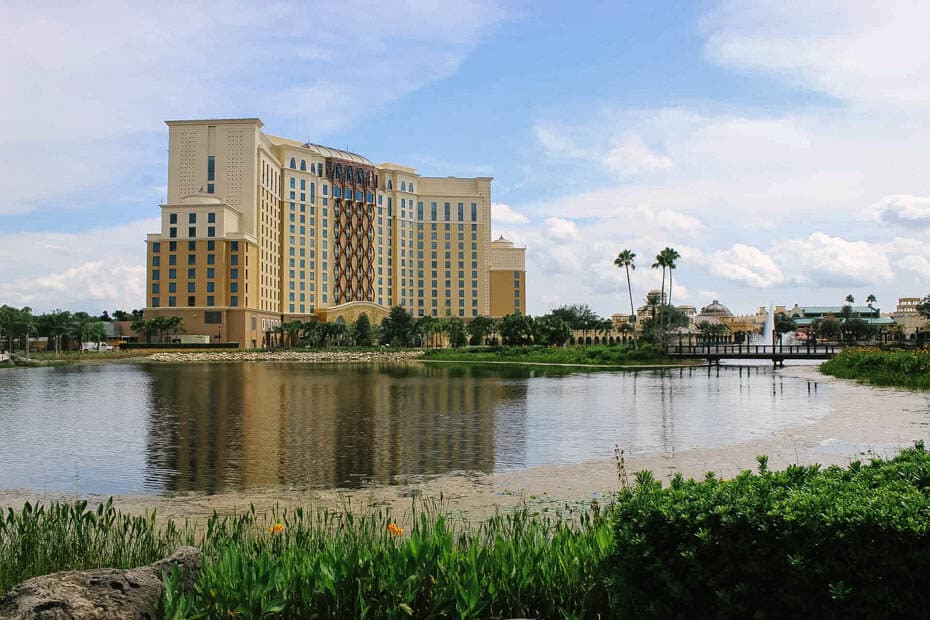 While Gran Destino is considered a moderate resort, a few nuances set it apart from all the other resorts in its category. For starters, the hotel offers interior room access.
The other moderate resorts (even Coronado Springs) are all made up of villages with exterior room access. Because of this you'll have to walk outside across the resort to access your room.
Additionally, Gran Destino has a concierge floor. However, rooms on that level are an expensive upgrade.
But you'll have access to a lounge where you can enjoy a continental breakfast and other beverages and offerings throughout the day. We have a review of the club level at Disney's Beach Club if you would like to learn more.
Related: Club Level at Disney's Beach Club
When I stayed at Gran Destino initially, I planned for the tower to become a section in the entire resort review. Instead, however, I found the hotel to be a destination within itself.
And with so many amenities to cover, this stand-alone option warranted a full resort review. So for more information on Coronado Springs as a whole, we have a separate review available.
Related: Disney's Coronado Springs Resort Review
Gran Destino Tower Rooms
We will start with a look at a standard room at Disney's Gran Destino. During this stay, I went from a deluxe resort to a moderate.
After leaving Gran Destino, I ended up at a value resort. Then due to a hurricane threat, I ended up back at Animal Kingdom Lodge.
Related: Disney's Animal Kingdom Lodge Review
I wouldn't recommend doing this kind of split stay on your trip. I was very out of place and stressed, partly due to a hurricane threat, and I blamed some on another Disney blogger.
Anyway, here is a look at the standard guest room at Gran Destino Tower.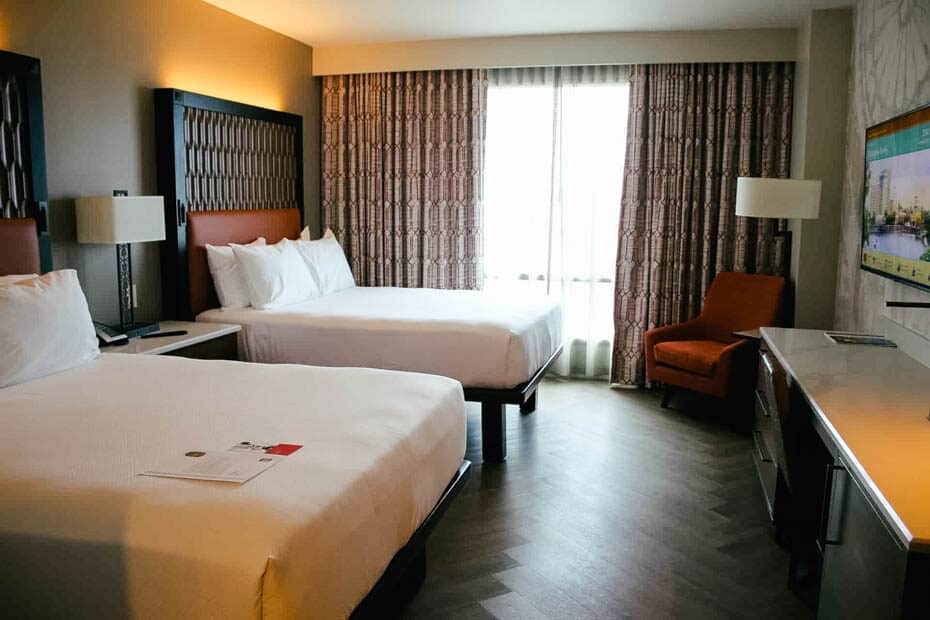 The room was clean and modern. What more could you ask for in a hotel?
I remember thinking I appreciated the simpleness of the room after walking through those vibrant hallways to get to it. It's pretty bright. I'll share a few extra photos toward the end of this review.
A standard guest room at Gran Destino Tower has two queen-size beds.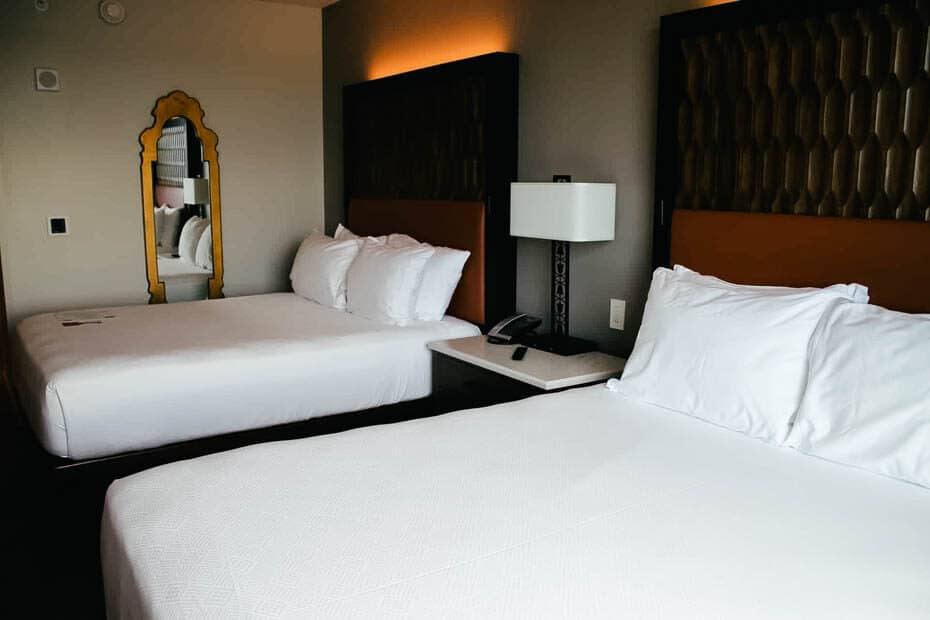 On the opposite wall, there is a long counter that serves multi-purposes. You can use this space as a tabletop or workstation. I found there was plenty of room to blog and appreciated the space.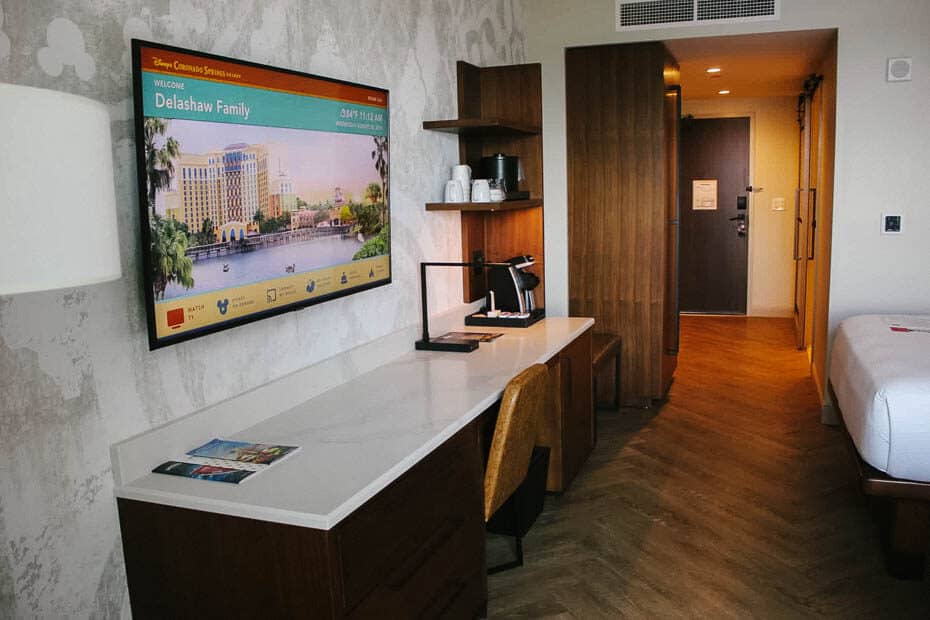 But perhaps the best part of the room was the view. The curtains were kept open the entire stay.
I'm sure you would do the same. Who can resist a room with such a beautiful view?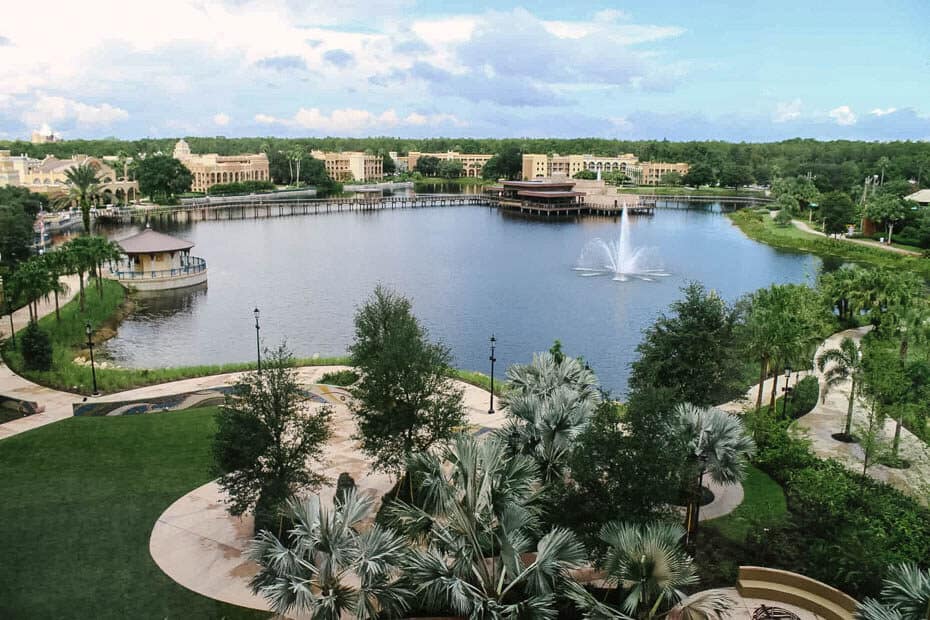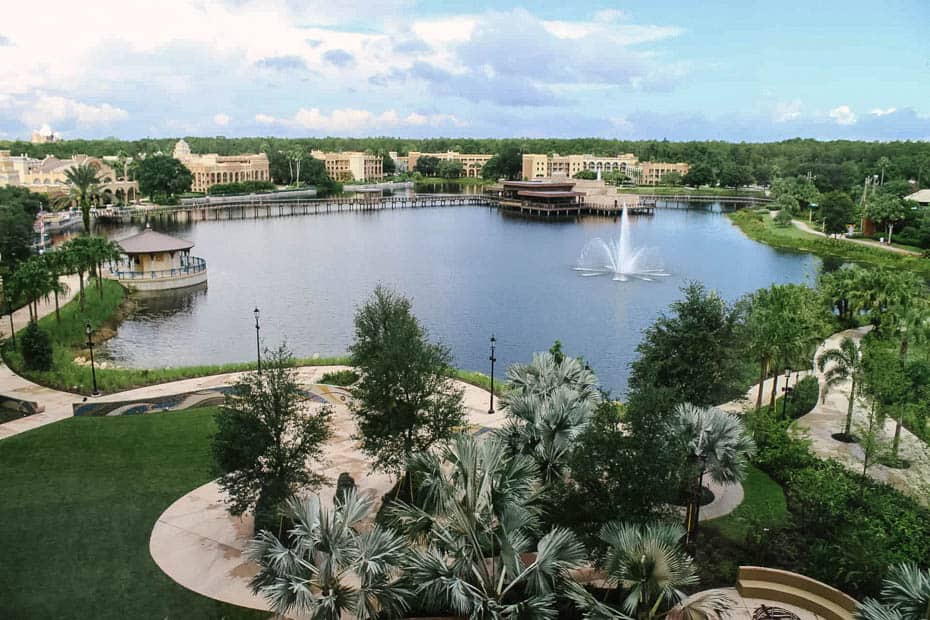 Speaking of staying around the resort, I hope that's one of the things I pass on to you. The Walt Disney World Resorts are quite a destination within themselves.
I highly recommend planning what they call a resort day on your trip. You are paying to stay here, so you might as well enjoy a little relaxation on your vacation.
Below you can see Expedition Everest in the background. You might even see the green faux leaves from the Tree of Life as they stand out a bit to the right of Everest.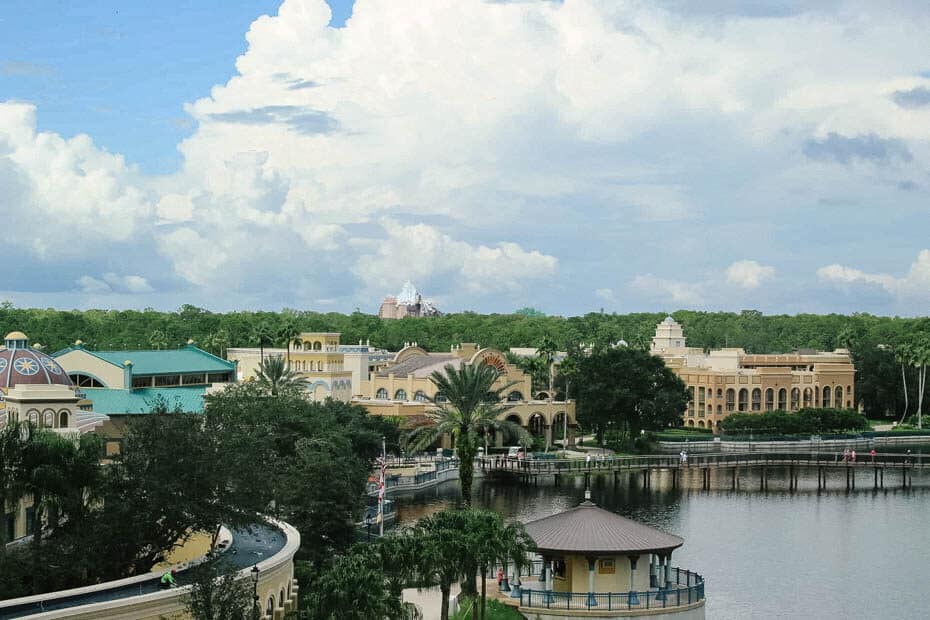 Back inside the room, we'll look at the guest bath. There was a vanity with double sinks. A ledge sits above the sink area, providing a nice place to store personal items.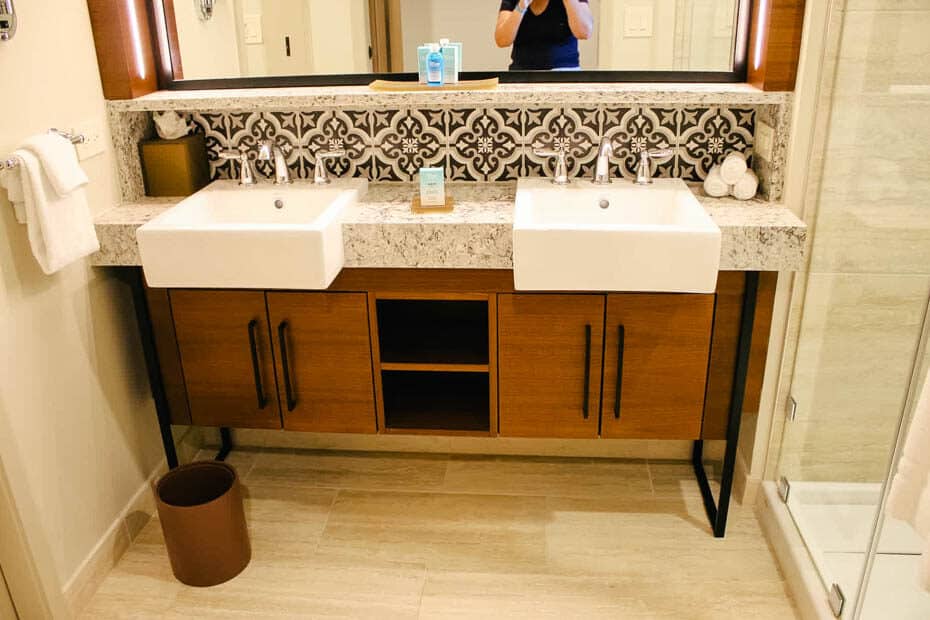 The water closet is separate to the left with its own door. However, even though you can close the pocket door, you can't have two people getting ready in privacy in this area.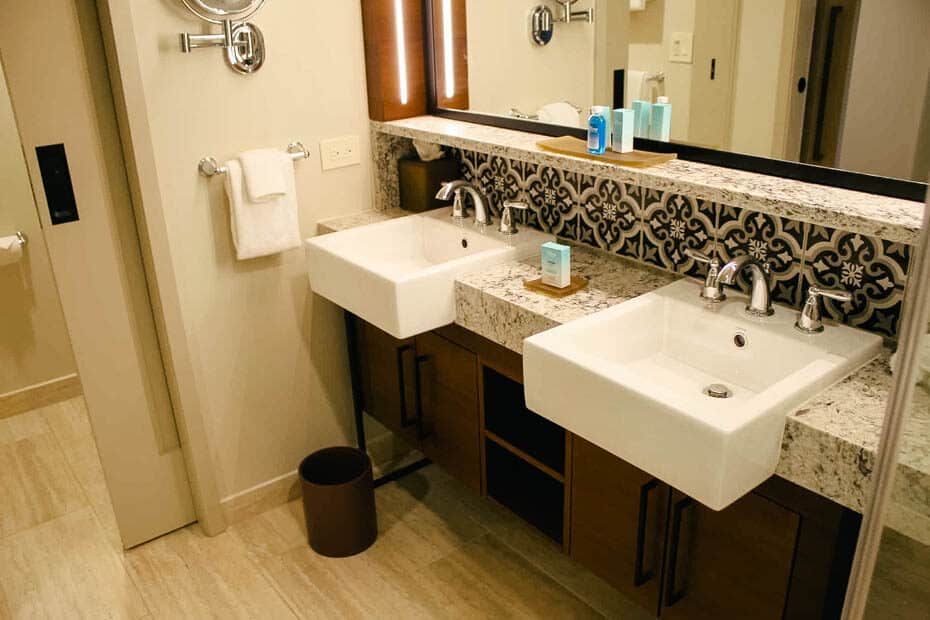 The walk-in shower is very modern. I favor this layout over a traditional shower with a tub combination.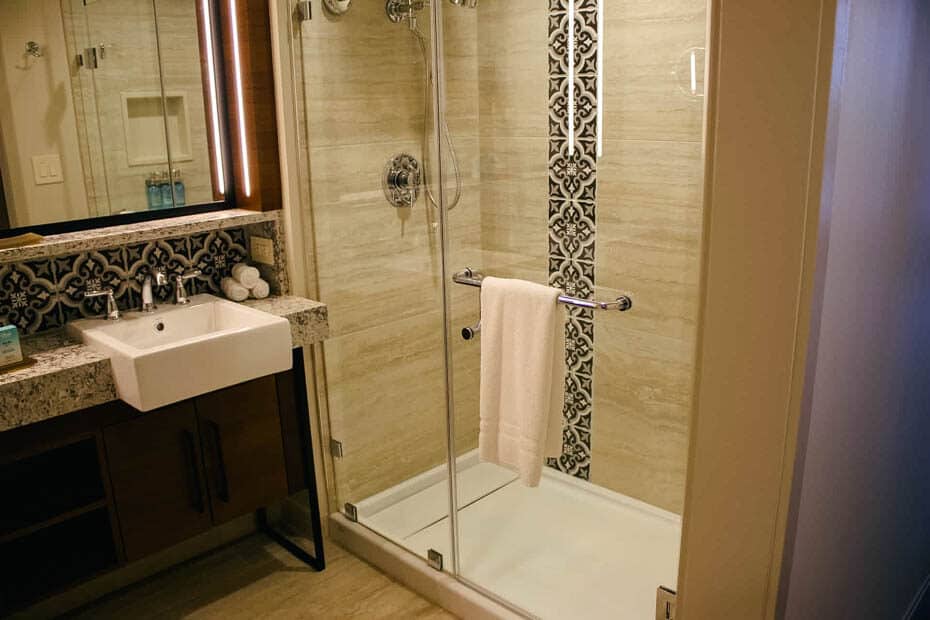 There's a rain-style shower head with a detachable head like we saw at Pop Century.
Related: Disney's Pop Century Review
The tile work in the shower was a nice touch.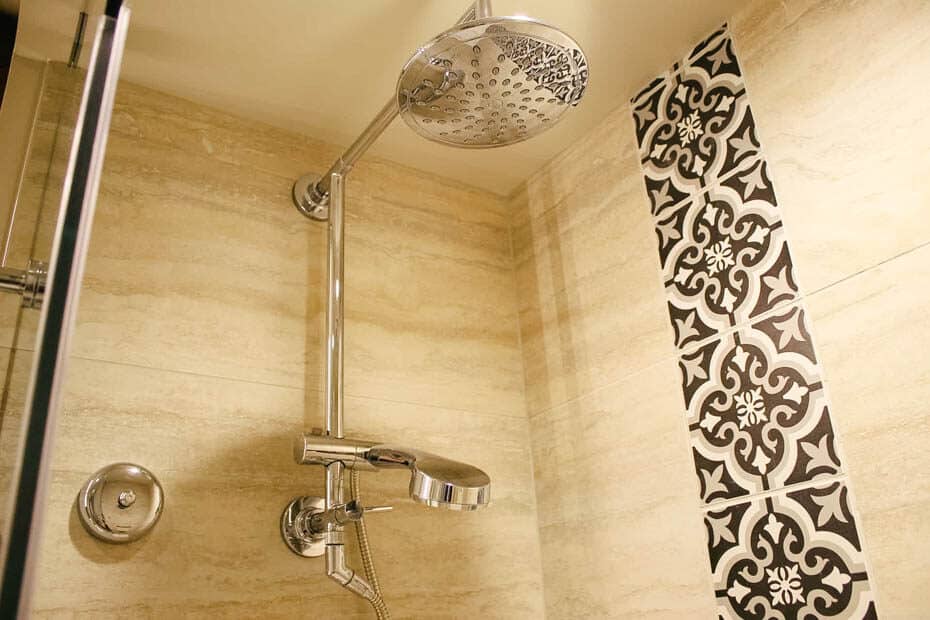 Here's a better look at the water closet. I did think that the towel placement in this room was a little odd. There's not much space in the main bath area to hang bath towels.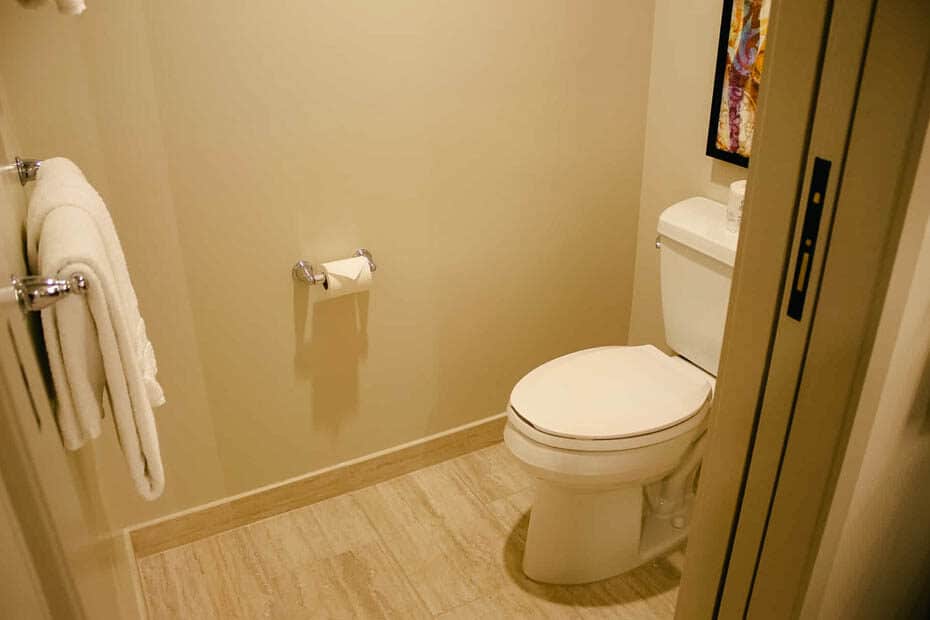 But the pocket doors are an excellent space-saver.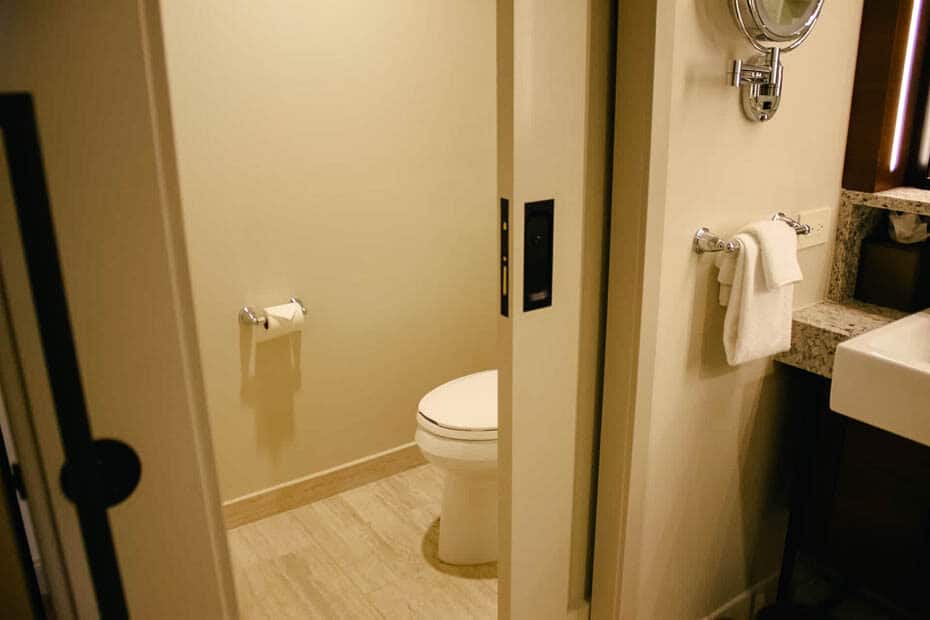 Below is a picture of the large barn-style door that slides over the entire bathroom area for privacy. I think this layout works well for a smaller party.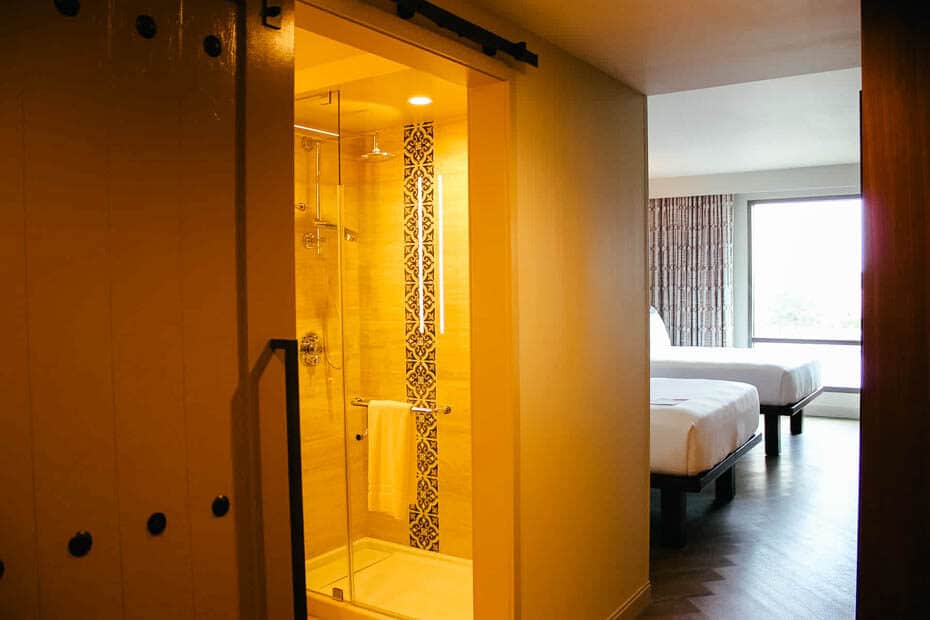 But a family of four might enjoy a better layout in another section of Coronado Spring. I enjoy the Cabanas section if you decide to go that route. However, the Casitas section has preferred rooms.
These barn doors seem to be more of a trendy item. Unfortunately, I feel they will probably be on the way out long before they get their wear.
Don't get me wrong. I'm not complaining about the doors. But the bathroom layout and misuse of space make it seem like Gran Destino Tower wasn't designed with the average family in mind.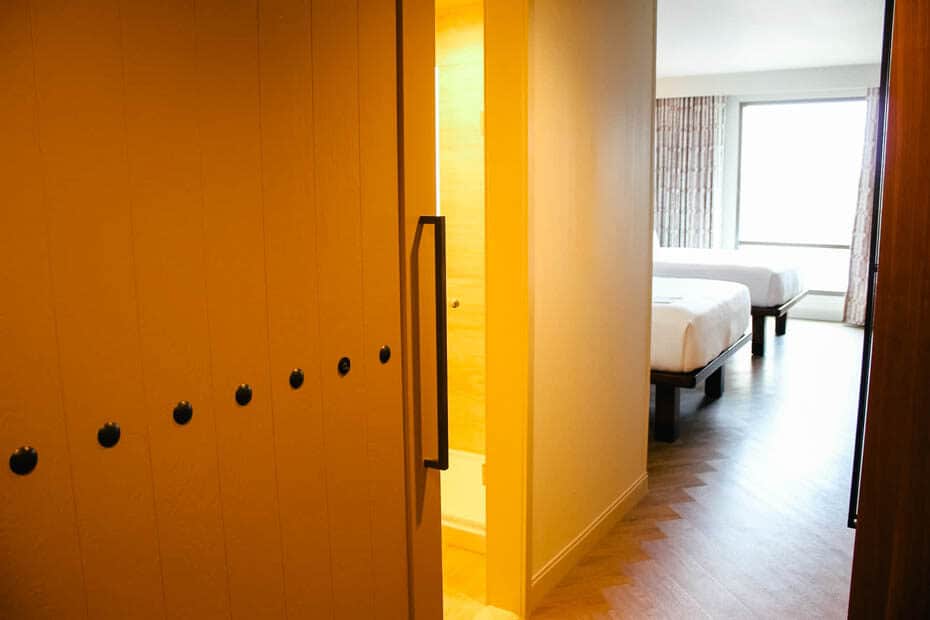 I guess that's a fair statement because Coronado Springs has a convention center. So from time to time, the crowd here is a mix of guests in town on business.
Below, the standard Disney H20 products are secured to the shower wall.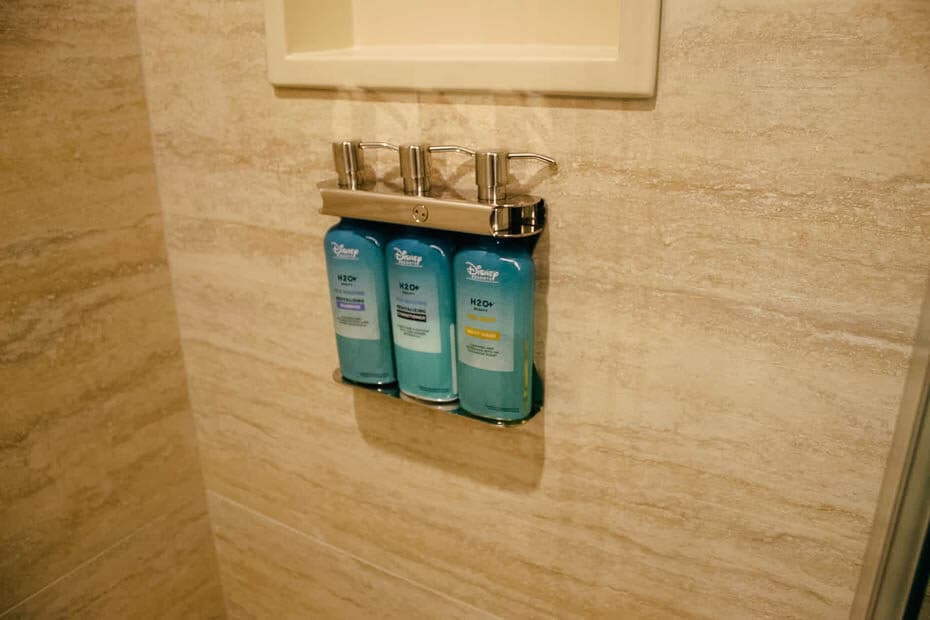 There were a few toiletries on the counter.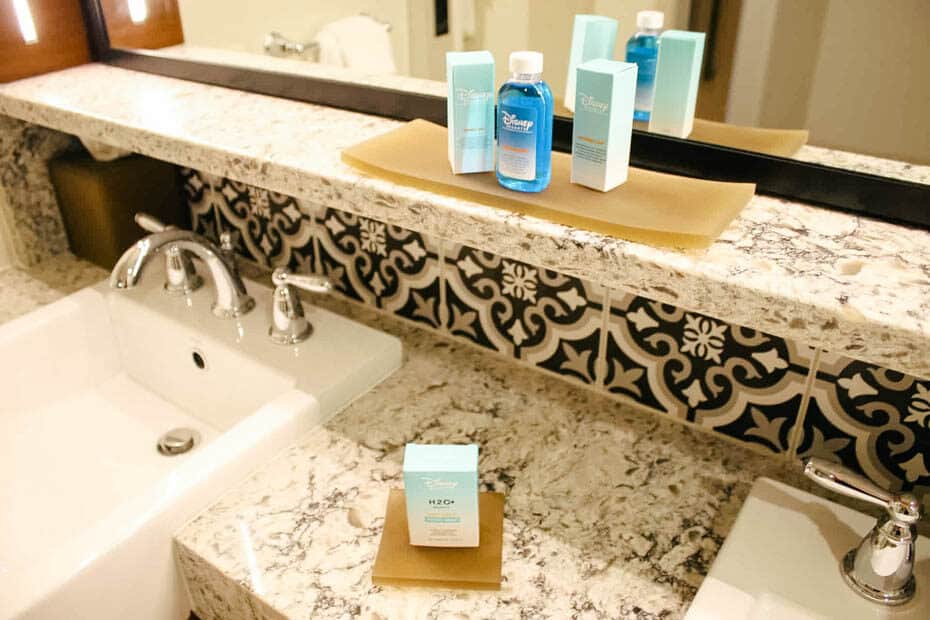 The cabinets underneath the vanity provide a decent storage area. It's a nice touch that you can store things out of sight if you desire.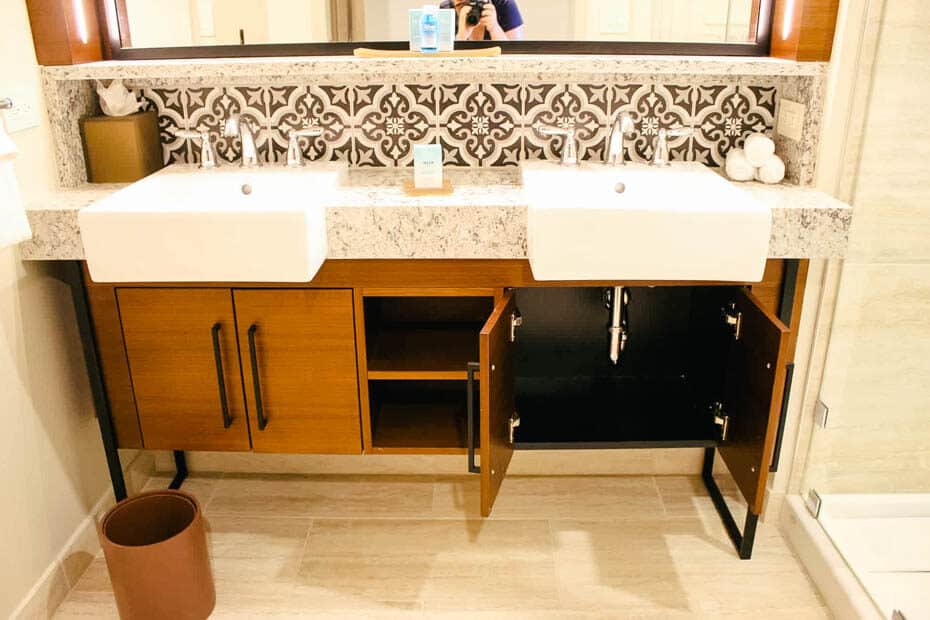 Just don't forget them.
A makeup mirror hangs on the wall.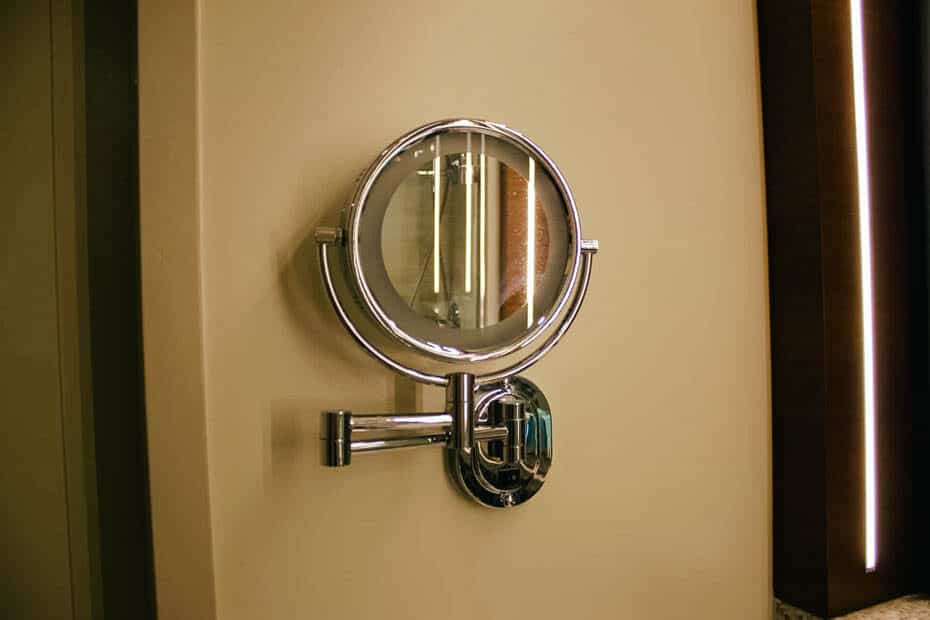 The room had a chair with a nightstand in the corner. It's a great place to start or finish that book you carry with you everywhere.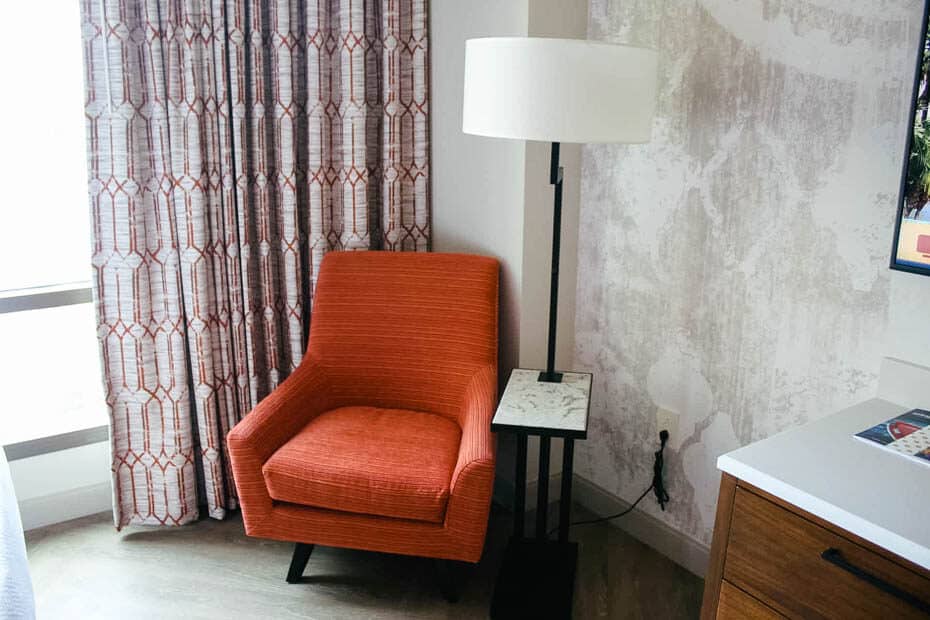 I like to take advantage of the in-room coffee maker and appreciate having regular mugs and to-go coffee cups. Just don't forget to bring some bottled water with you.
Sometimes I wonder if people use the water out of the sinks in the bathroom? I probably wonder too much, though.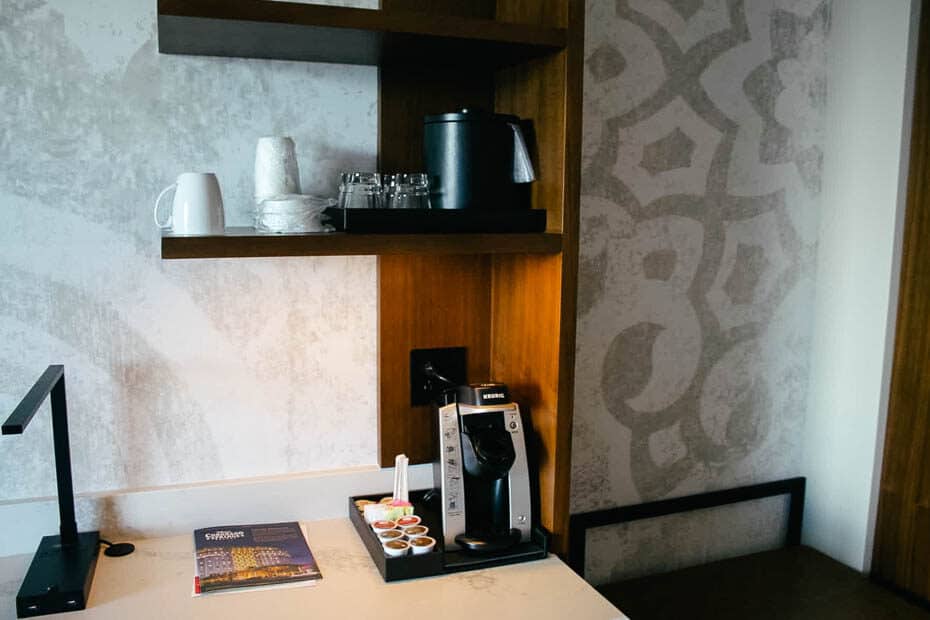 Most of the resorts now offer Keurig-style coffee machines or similar. They have Joffrey's coffee pods along with the accompaniments.
Resorts used to have a bottle or two of complimentary water, but that's another trend of the past. I'm sure it has something to do with conservation and plastic. Right?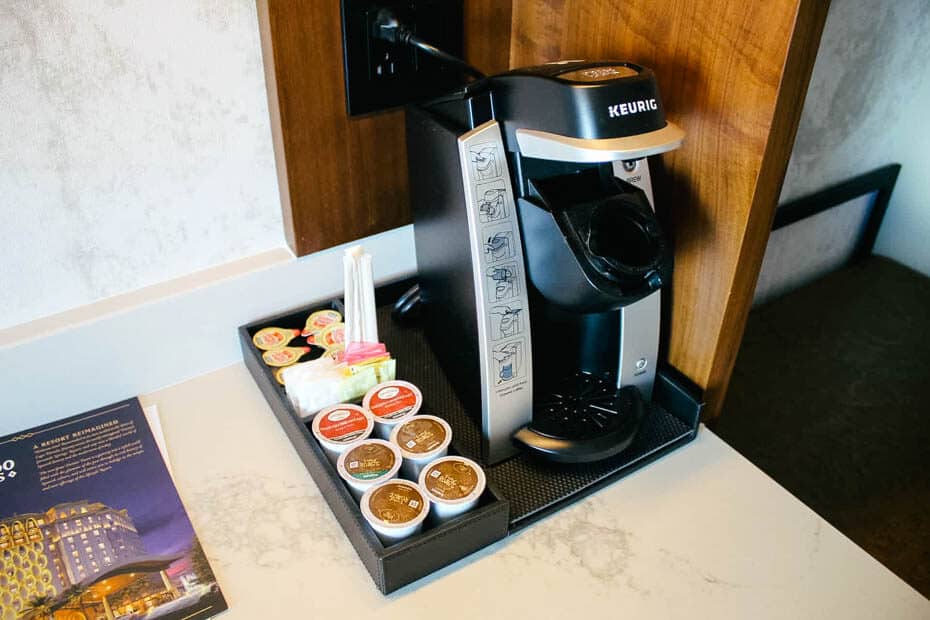 The shelves provide a good place to keep these items out of the way.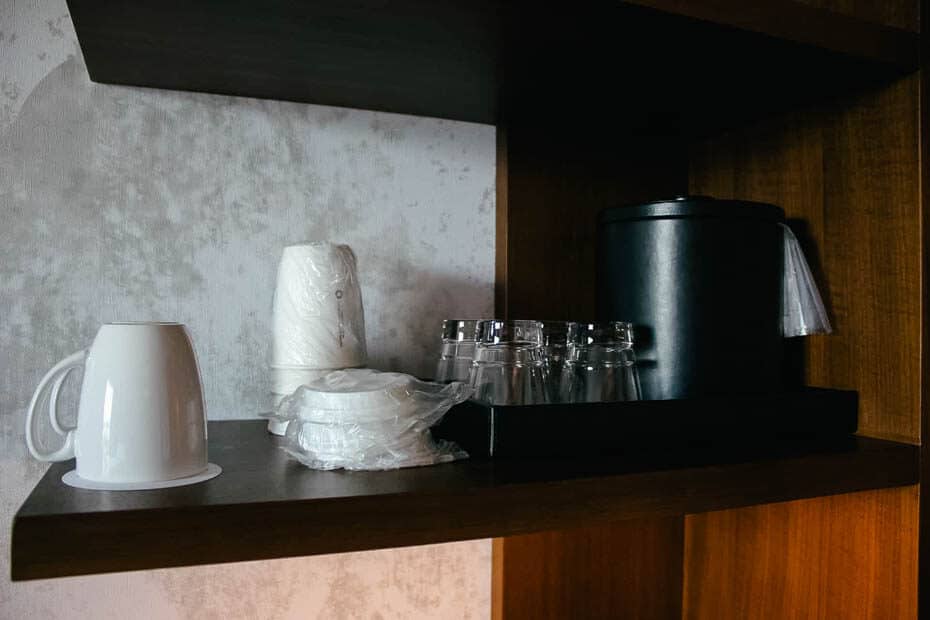 In addition, I appreciated the extra lighting here. This lamp was a bit odd but didn't take up much space. Furthermore, it provided a good reading light and additional charging ports in the base.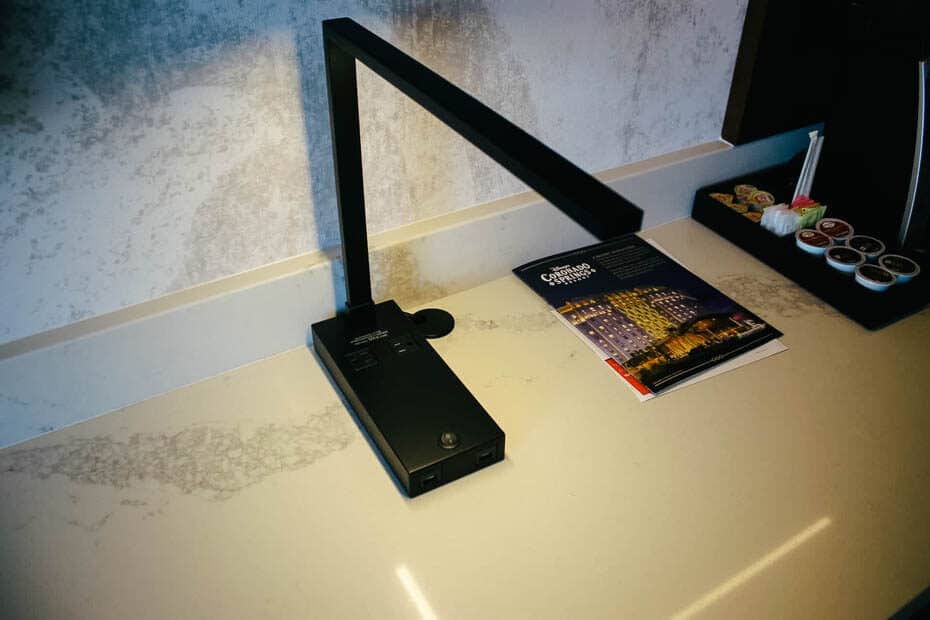 Here is a closer look at the desk area.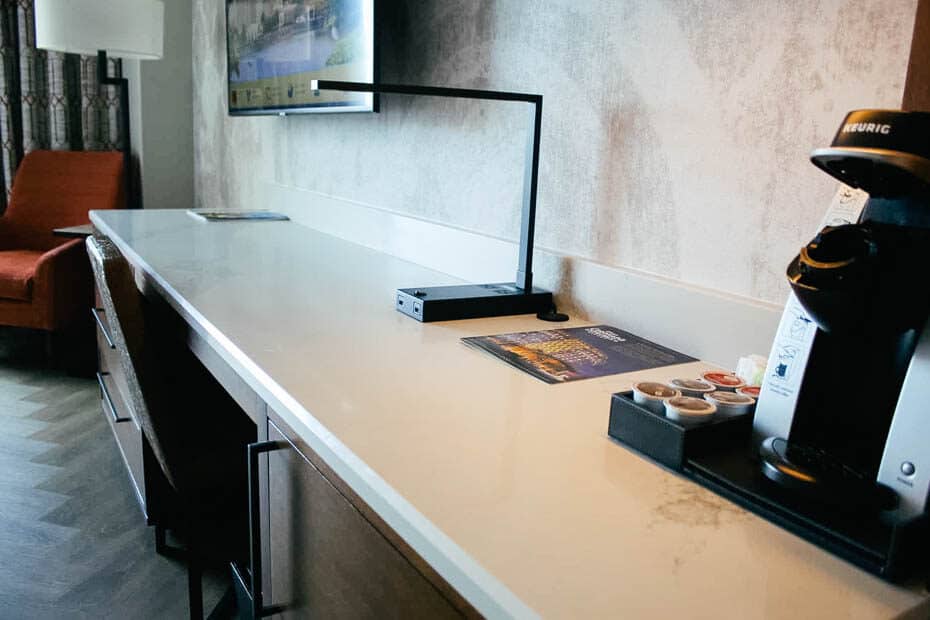 The foyer is more oversized than it should be, in my opinion. But there is a decent place to put up a luggage rack if needed.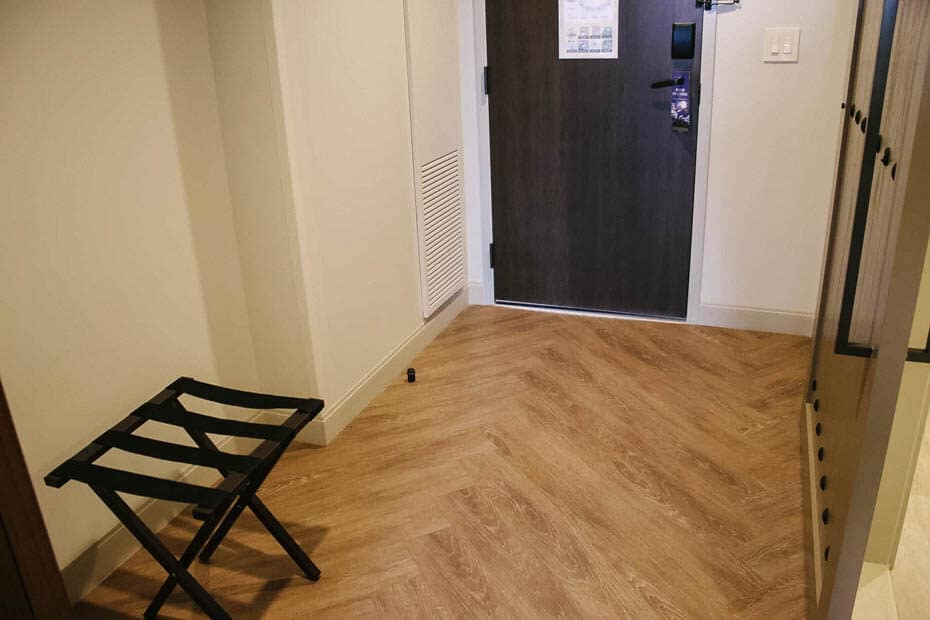 A bench provided a spot for removing shoes and sliding them underneath.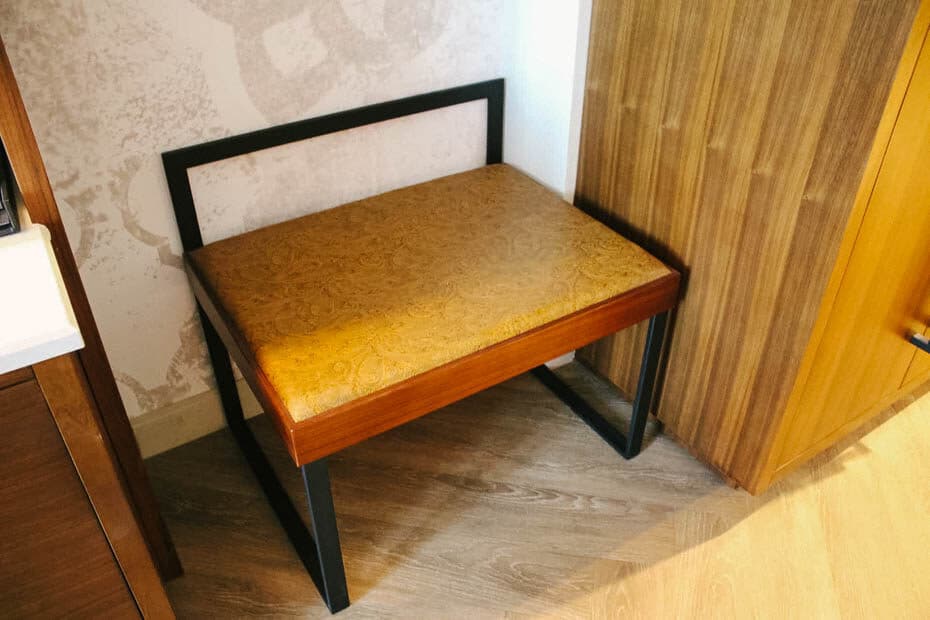 The room fridge is considered a beverage cooler. Therefore, they do not get as cold as an actual refrigerator.
But they do provide a decent place to keep a few drinks chilled. And the see-through doors are a nice touch.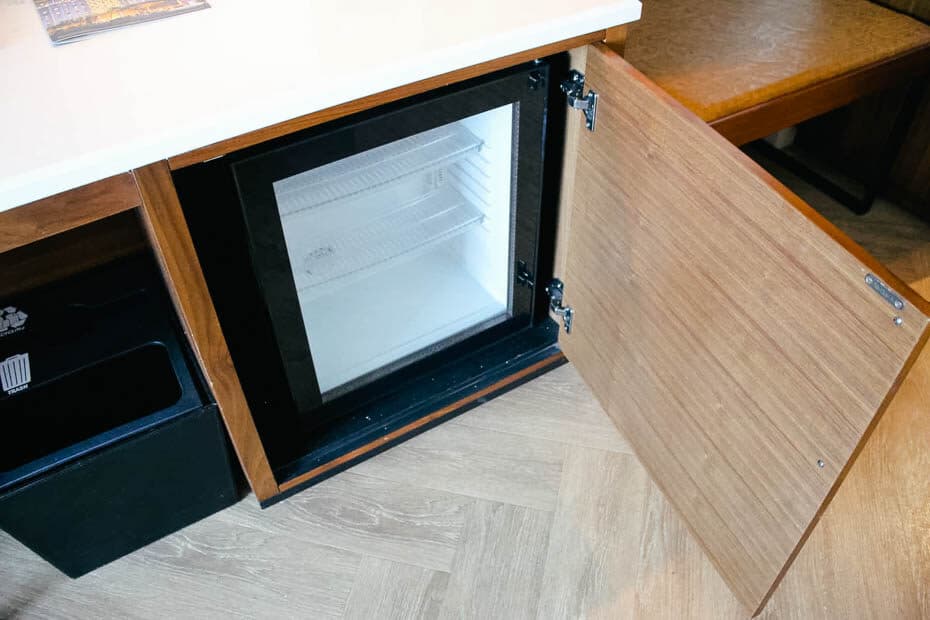 The stand-alone closet is standard. Inside there was a safe, iron, ironing board, and a full-length mirror in the door.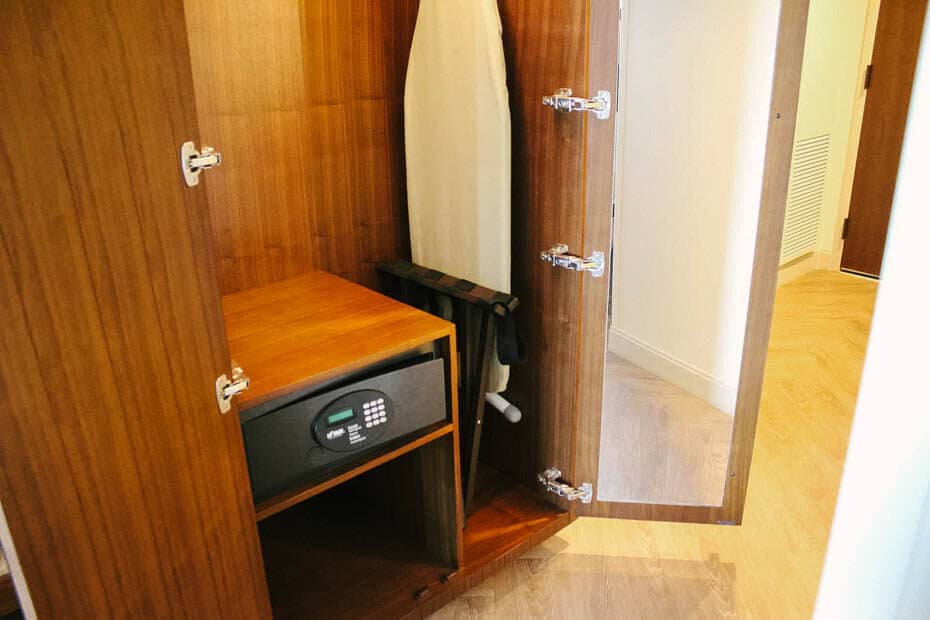 For some reason, I took a picture of the thermostat. There's one crucial thing to note about these hotel rooms.
If you turn the air down at night to say 65 degrees and then wake up feeling like you went to Iceland instead of Florida, do not turn the thermostat back up to say 72 degrees.
The heat will kick on, and you will be sweltering before you know it.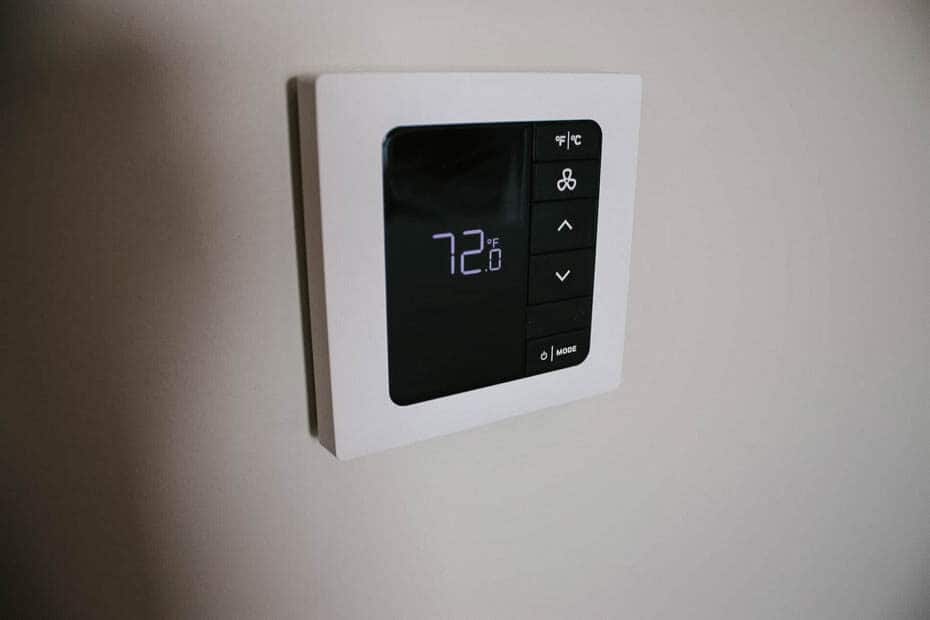 Just turn it to the off position and let the room adjust accordingly. Then, when you start feeling a bit stuffy, turn the air back on to a more reasonable temperature.
Pin lights were built into the bed's headboard.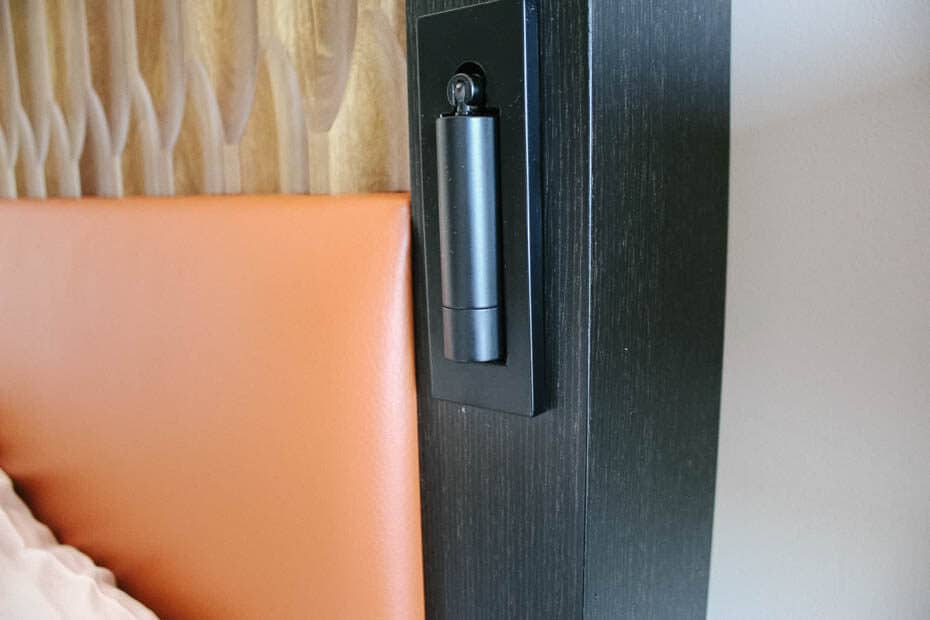 Lastly, Gran Destino does offer several different room categories. You can upgrade to a king bed, club-level room, or a deluxe suite. Room views are standard or a water view.
Now let's check out the lobby and other public spaces around the resort.
Amenities
When I first entered the lobby of Gran Destino Tower, I was taken aback. The white color palette with intense bursts of colors was shocking.
I guess this design is meant to shock, though. I feel like it's one of those things that you embrace or don't care for pretty instantaneously.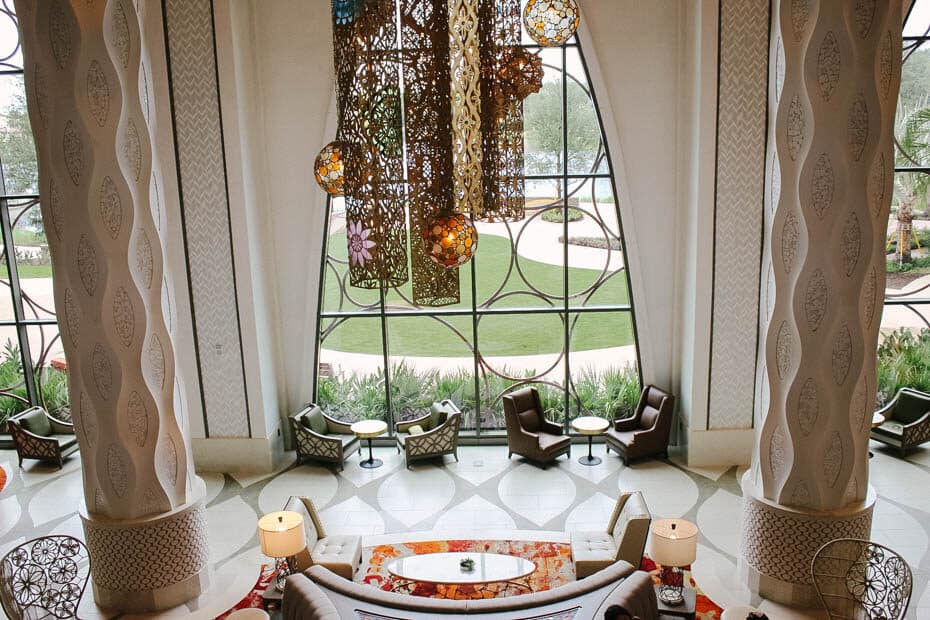 Does it feel as high-end as it looks? Yes, right now, it does, but we will have to see how this design holds up to traffic over time.
For the most part, I do like the design. However, there are some areas where the color comes on a little strong and feels off-putting.
Here is a picture of the check-in area.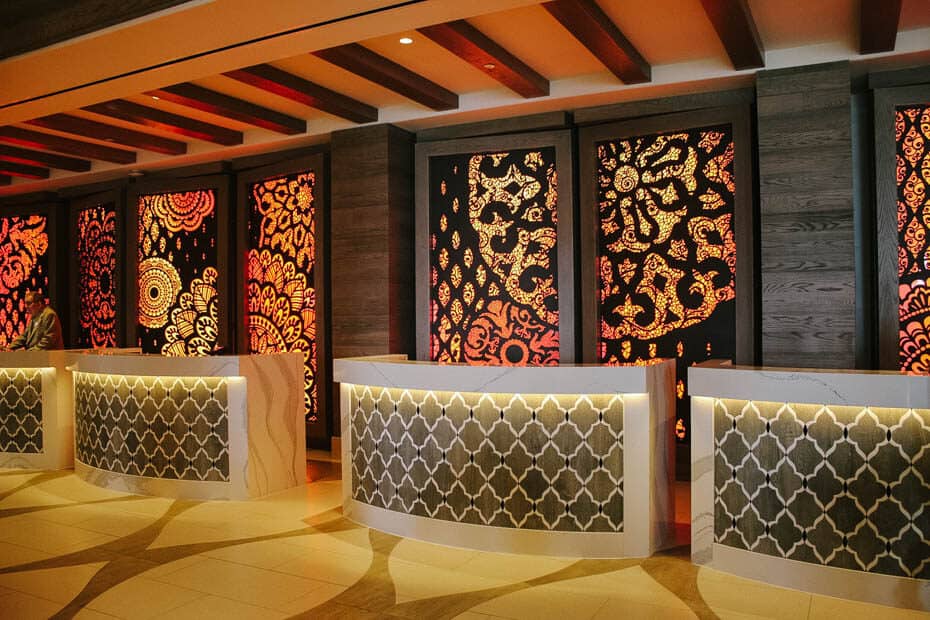 Gran Destino's lobby is located on the second floor of the resort. So when you enter through the front, you're on the second floor.
There are staircases and elevator options to venture down to the lower lobby.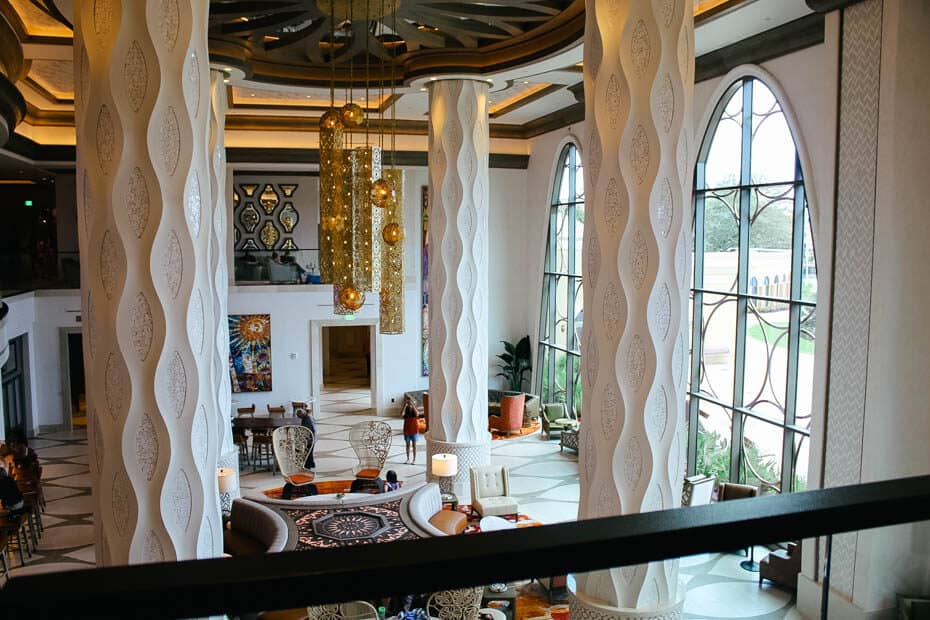 These large windows are a fun architectural element. I love the sculptured ironwork in them.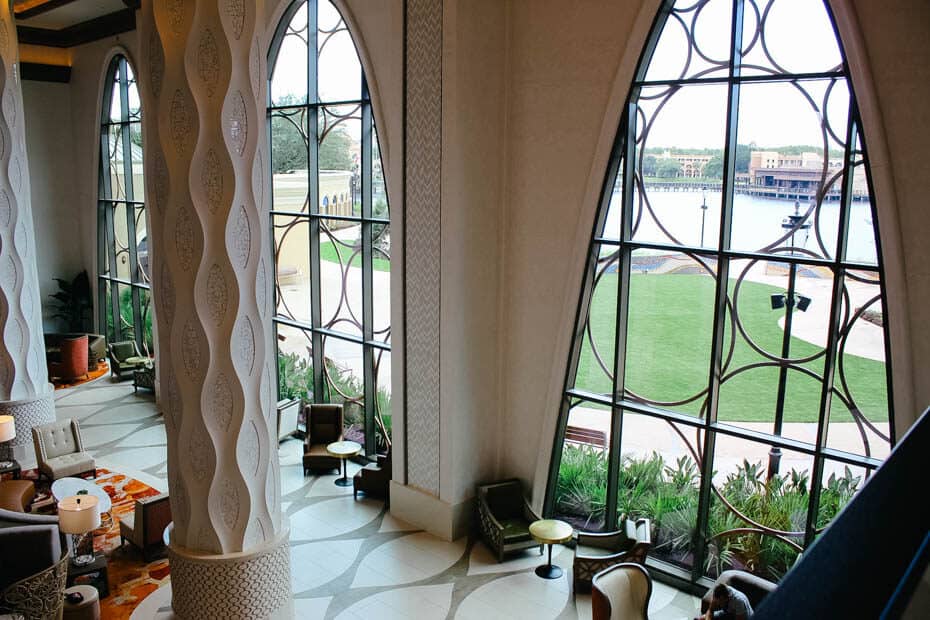 The lobby is home to several different workspaces.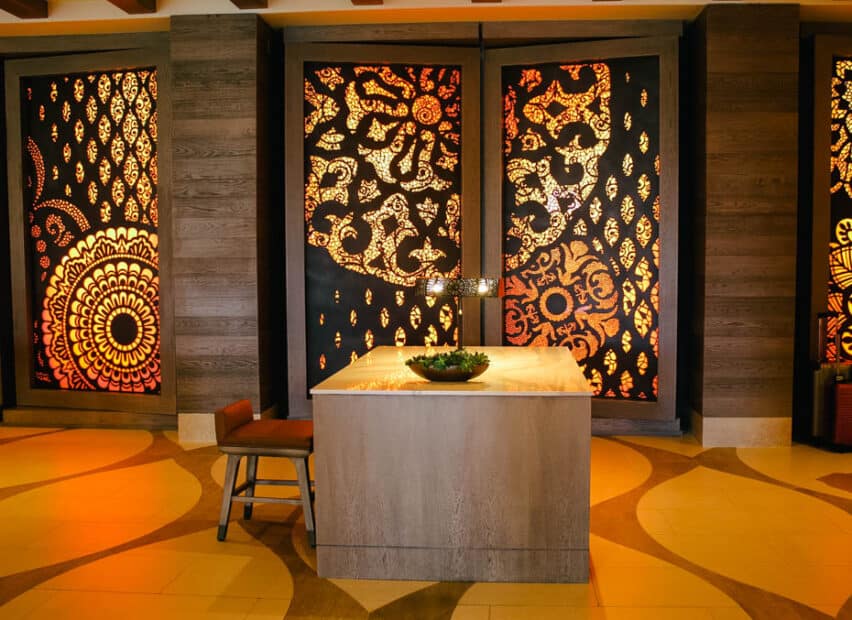 Below is another waiting area. Does it feel a little airport-y?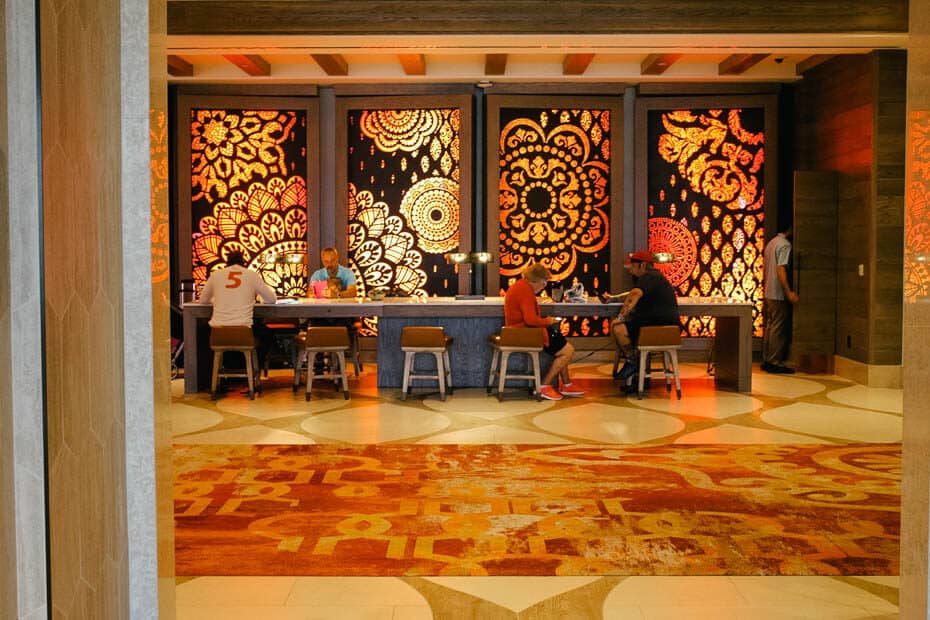 The ceiling work and fixtures are exquisite.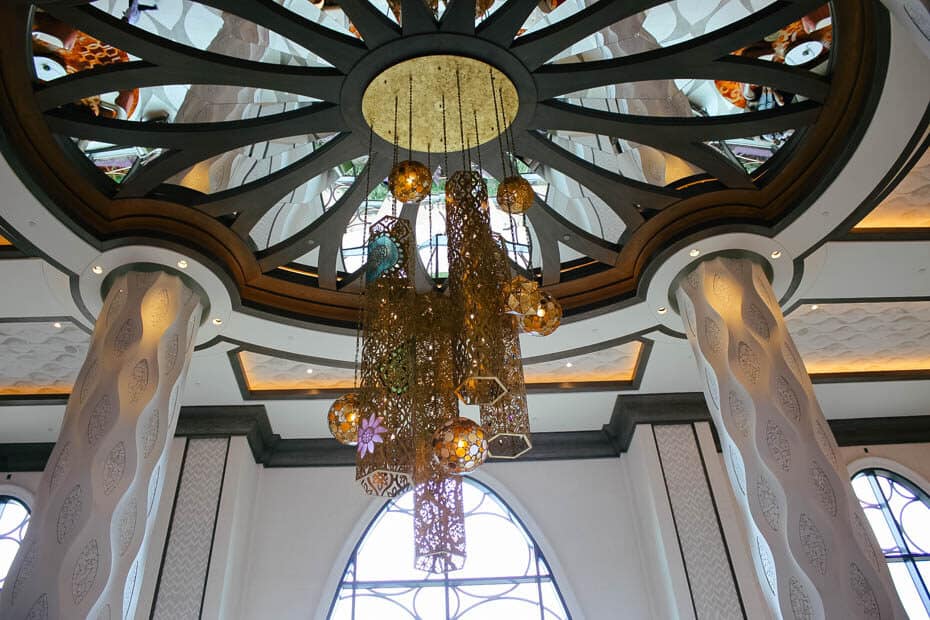 You can see how the upper floor of the lobby wraps itself around the lower floor. The see-through balcony is a nice touch.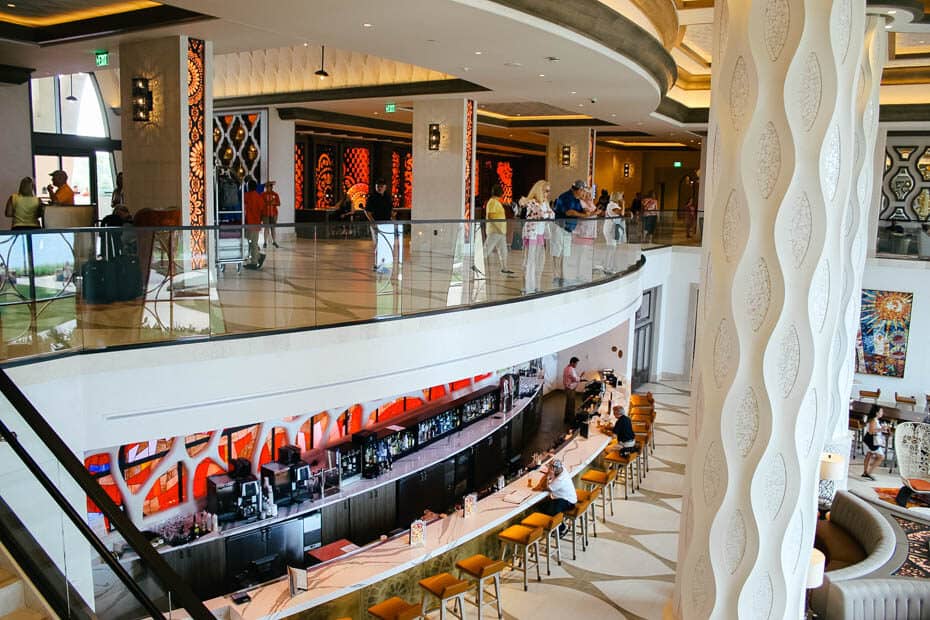 However, I don't think they anticipated too many kids smudging their noses and little cheeks up against it.
Below is the stained glass art featured under the ledge of the upper balcony. It's almost hidden from view until you reach the downstairs floor.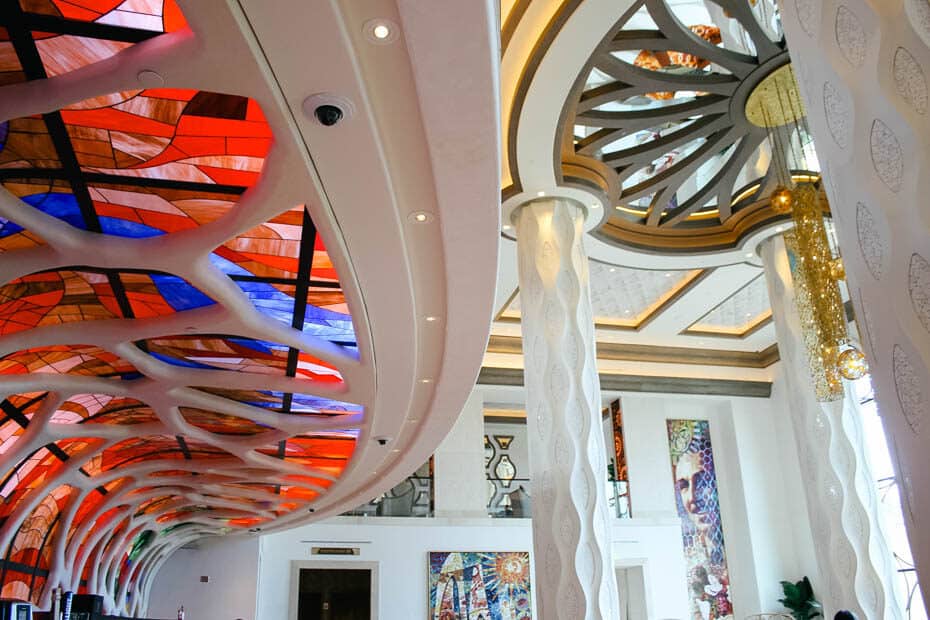 When I walked down the stairs the first time, I thought –oh, I didn't know you were here.
The elevator system is somewhat backward from what you are accustomed to using. You will order an elevator first by selecting the floor to which you are headed.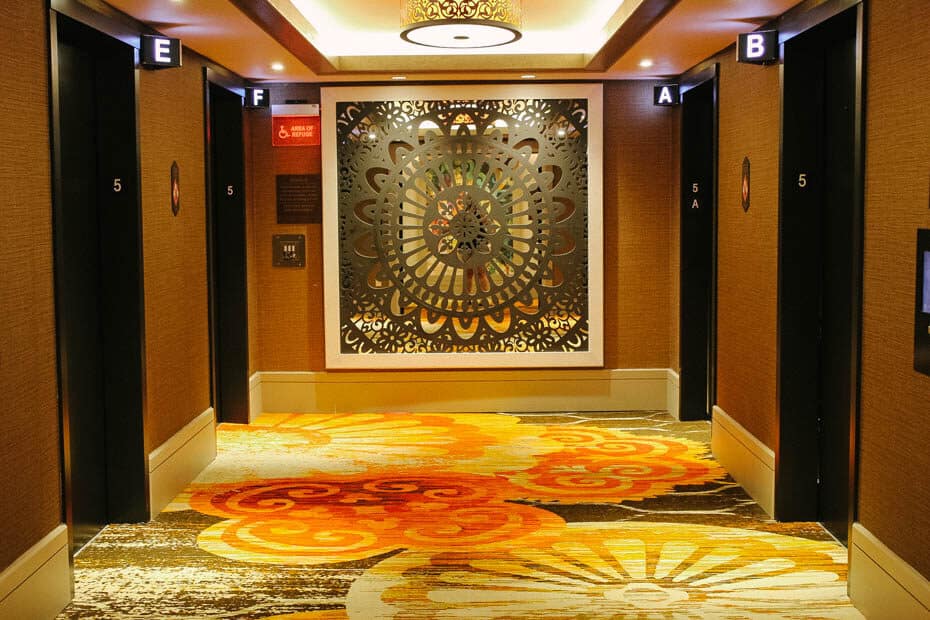 Below is the list of the floors. The Chronos Club is the club lounge for guests staying on the concierge floor. Those guests will have special access to that floor.

After selecting a floor, the screen changes and tells your elevator assignment. Arrows will point you in the direction of your elevator.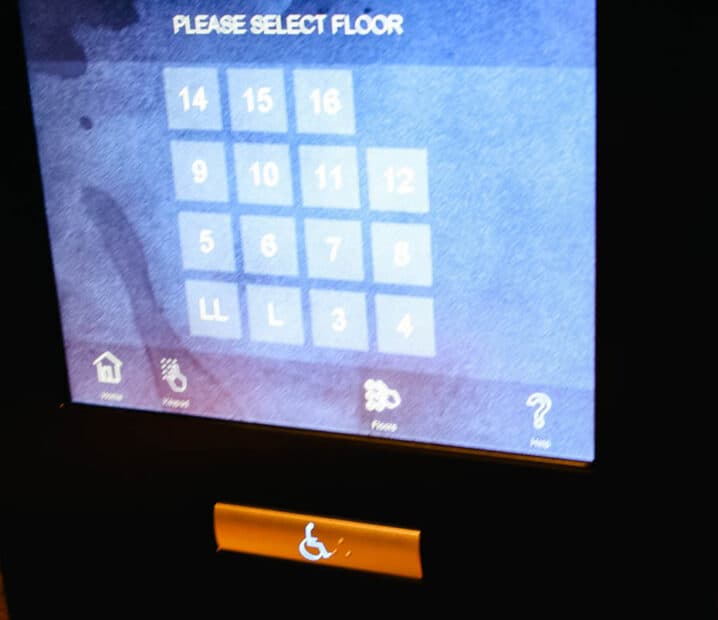 I'm telling you this because there are no options or buttons inside the elevator. During my stay here, multiple guests would run, trying to catch the same elevator I was boarding.
To their dismay, they had to exit the elevator at the next stop and make their selection. I imagine this cost them even more valuable time, especially since they broke their necks to get on the first available elevator.
Sometimes I wonder why so many people are in a hurry to stand in line? Oh, who am I kidding? There's been at least some point in my life where I've been guilty of the same.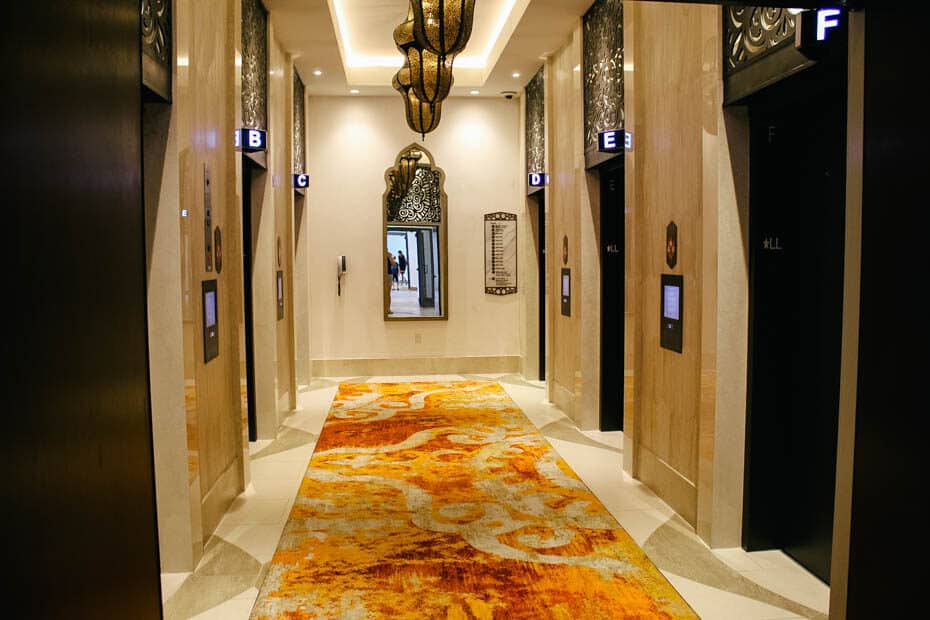 In case you forgot, we were reviewing a Disney hotel, here is that subtle nod to Walt Disney and Mickey Mouse. It was probably difficult for the designer to blend this into the theming. I'm sure Walt loved this kind of stuff.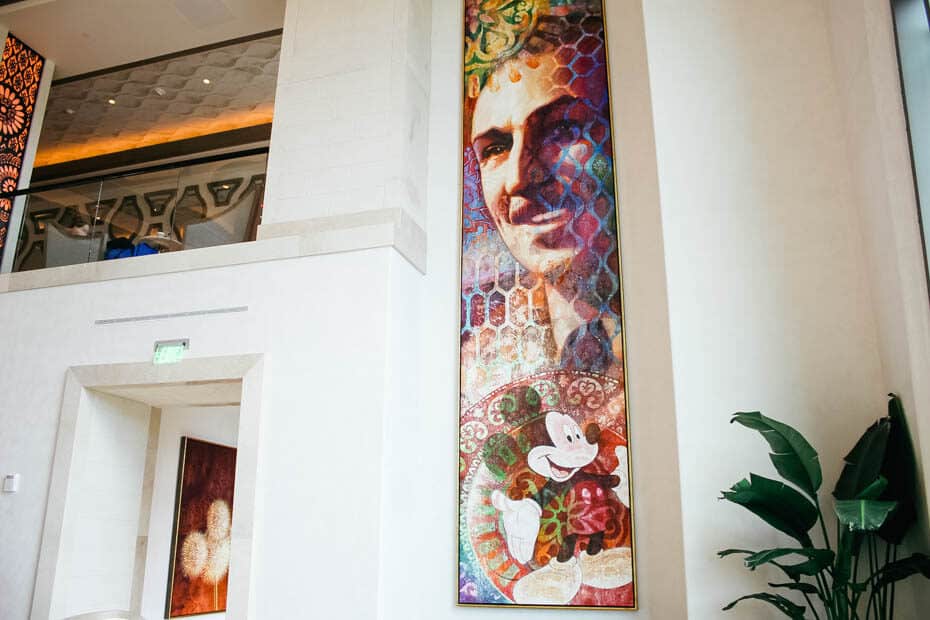 And there's a sunshine mural. I don't know about you, but I love anything sunshine.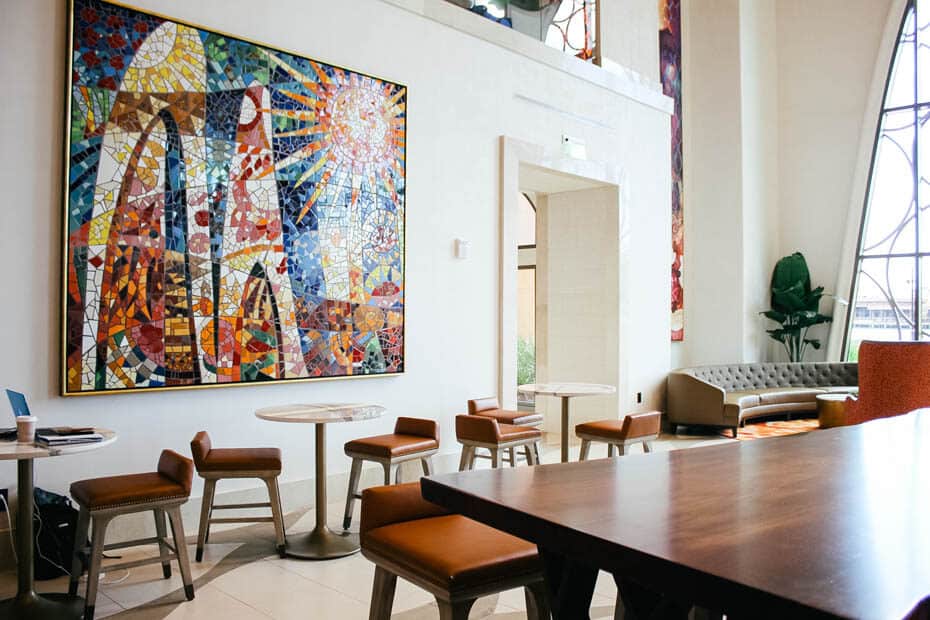 Oh, and you can see above where Walt and Mickey are tucked in the corner. It happens to the best of us. Speaking of Mickey, make sure to look for a hidden Mickey or two while visiting.
I found this room on the lower level of the lobby. It looked like a great space to hold blogger board meetings.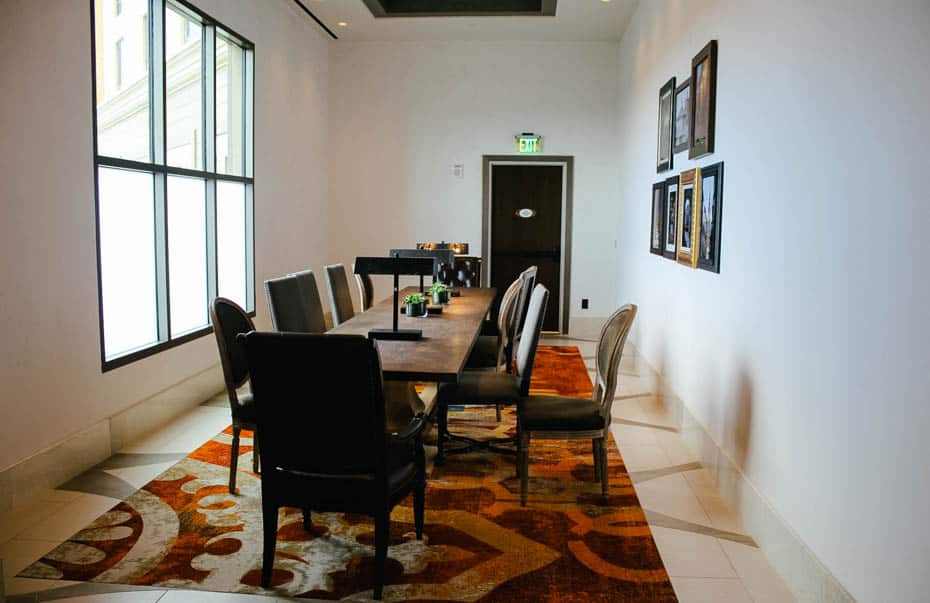 Outside we have a look at the backside of Gran Destino Tower. You can tell there are no rooms with balconies.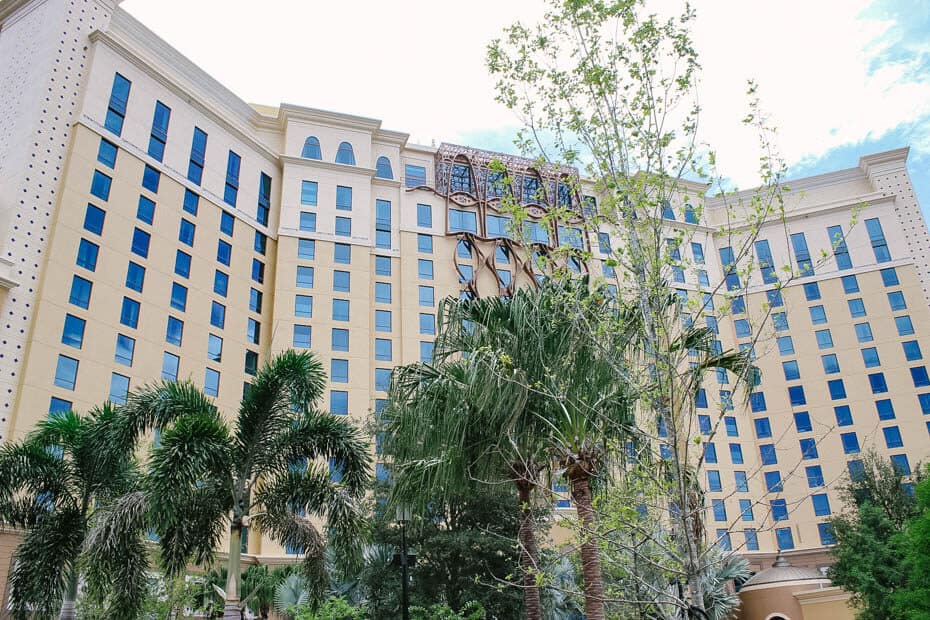 The back lawn of Gran Destino Tower has this unique bench-style seating that has a pretty mosaic tile work design.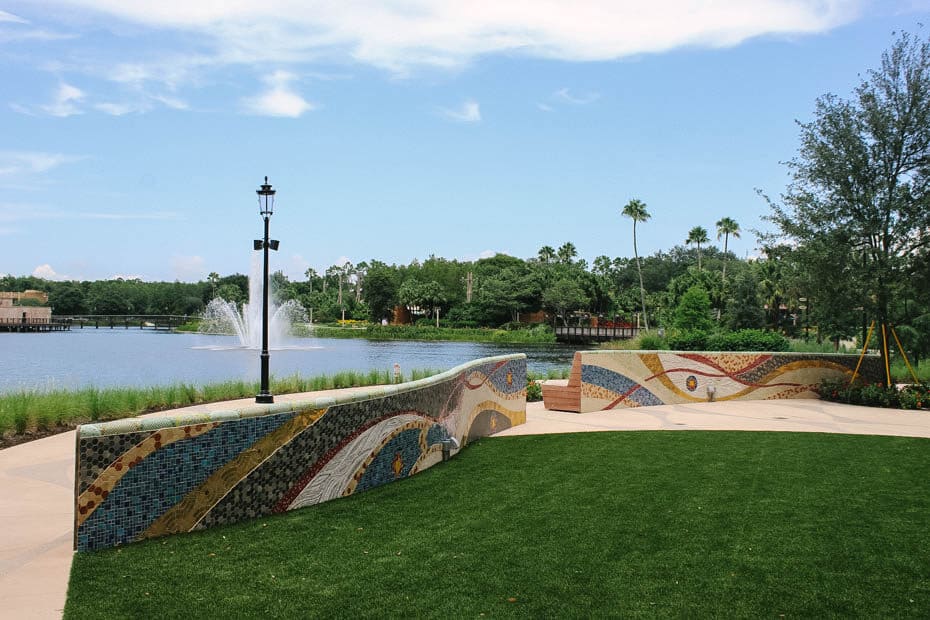 Here is the opposite side. It's an excellent spot to sit and enjoy the view.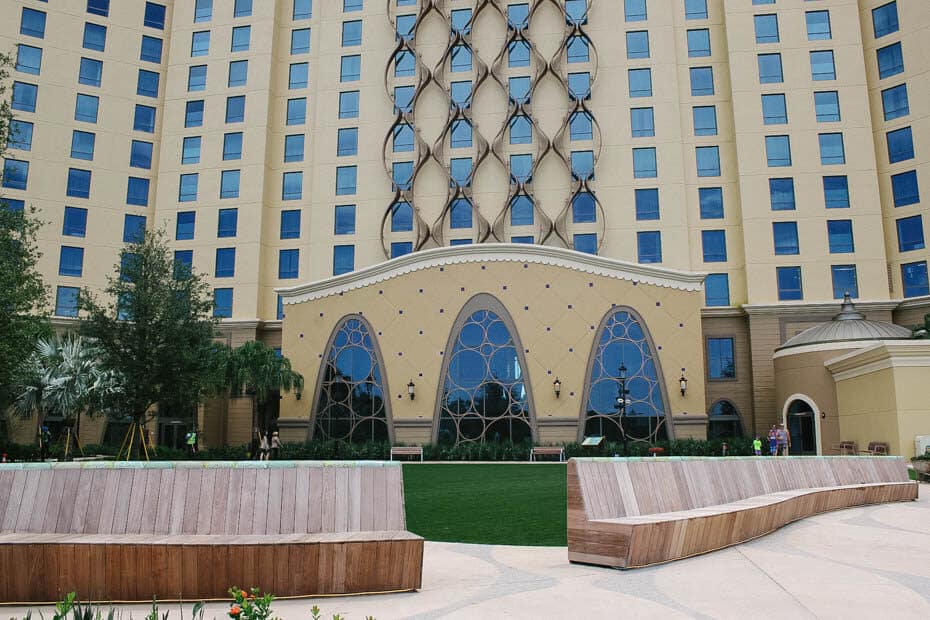 It is quite beautiful here.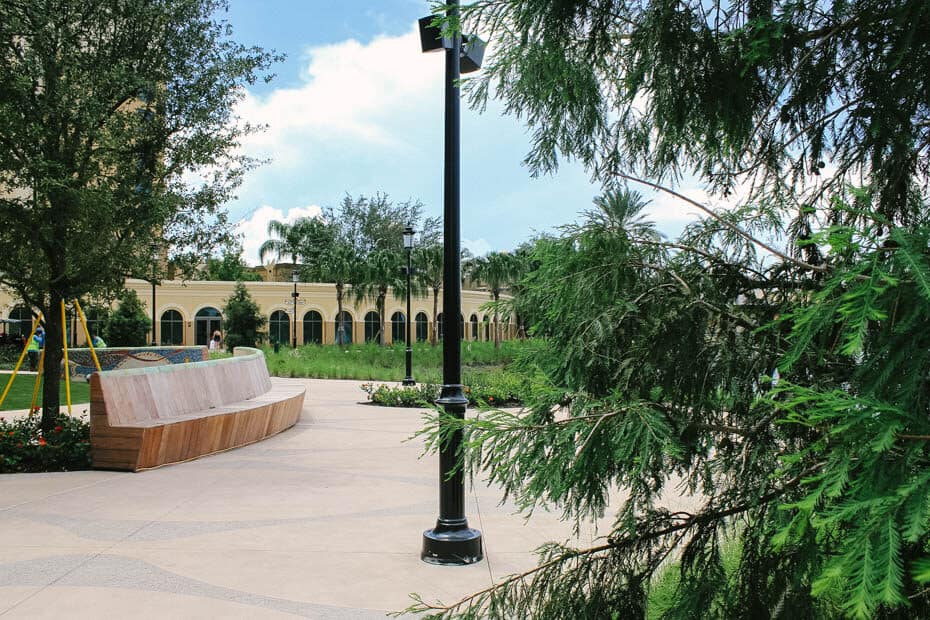 Amenity-wise, I wanted to mention that Gran Destino Tower has a long interior hallway that connects to El Centro. El Centro is the main lobby at Coronado Springs. It's also where dining and the gift shop are located.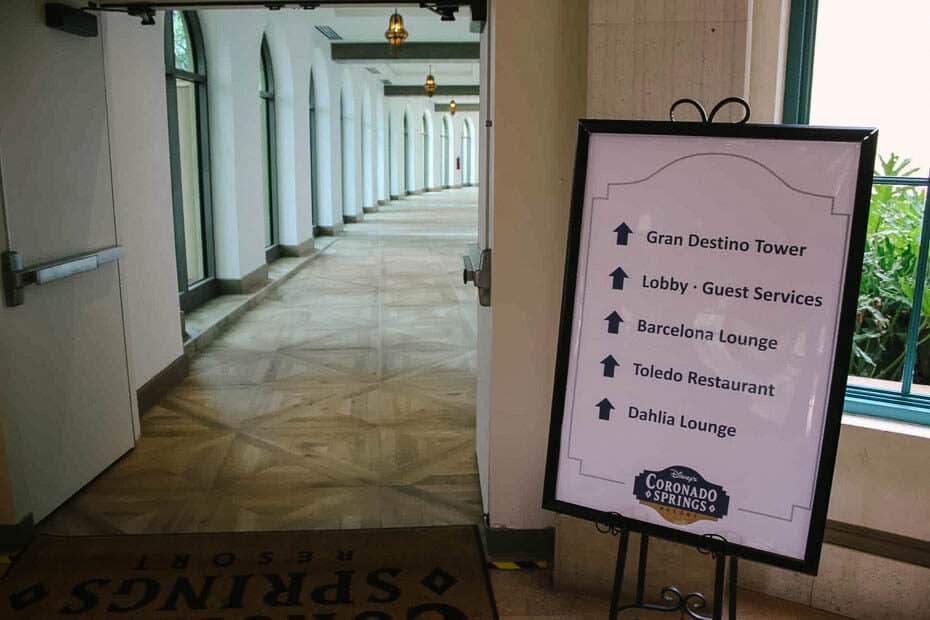 So if it's raining, you can easily walk over and access the other amenities available without having to venture outside.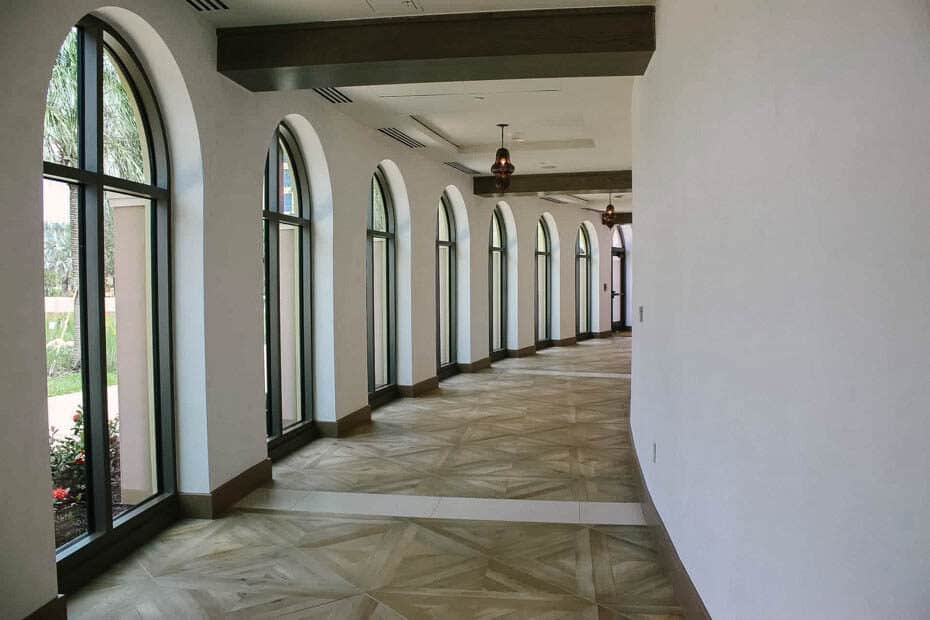 Next, let's look at the dining options specific to Gran Destino Tower.
Dining
Gran Destino has several different options for dining within the tower itself. Additionally, Coronado Springs adds even more dining options within walking distance.
For this review, we'll look specifically at the dining options located in Gran Destino Tower. There are two options located on the resort's top floor, a table service restaurant and a lounge.
The restaurant, Toledo, Tapas, Steak, and Seafood, is open for dinner and is a nod toward a more formal meal. However, it isn't considered signature dining.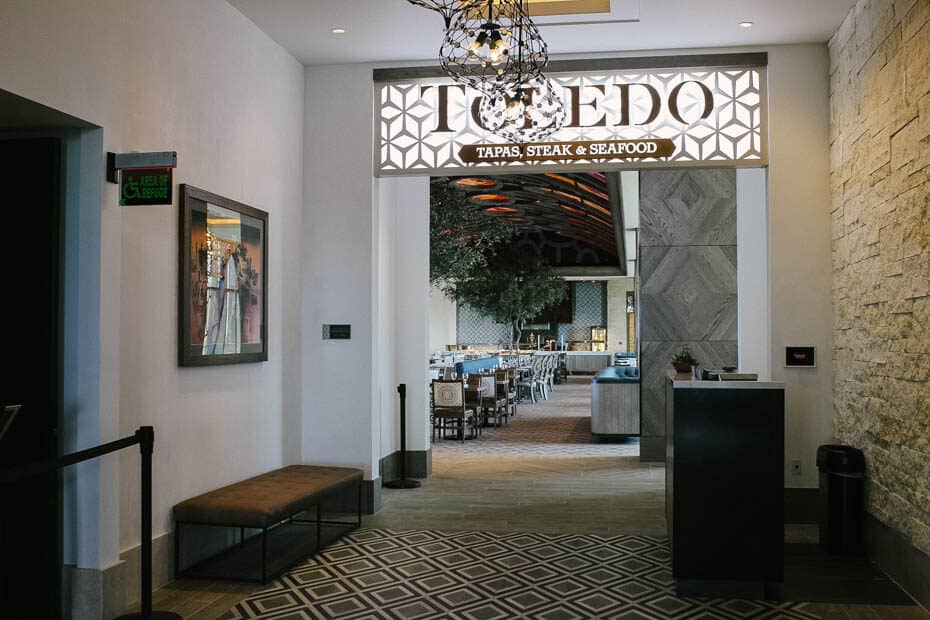 Here's a look at the interior of Toledo. It has a pretty ceiling fixture that runs the length of the dining room.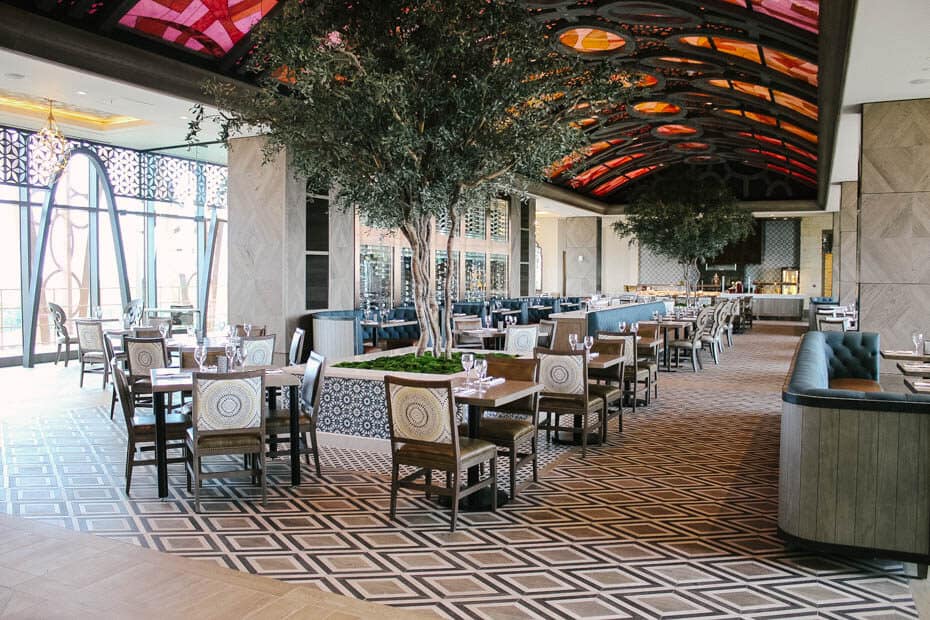 Expect items like tapas, entrees, and desserts. We enjoyed our initial meal at the restaurant.
Related: Toledo, Tapas, Steak, and Seafood Review
Dahlia Lounge is across the foyer from Toledo. This resort lounge looks more formal than it is. Expect the typical Disney vacation crowd.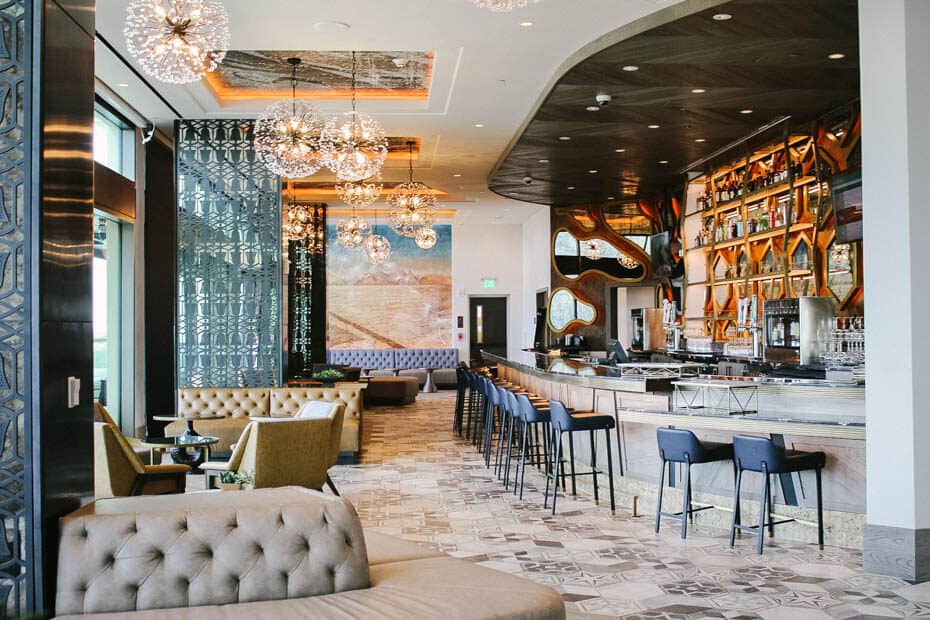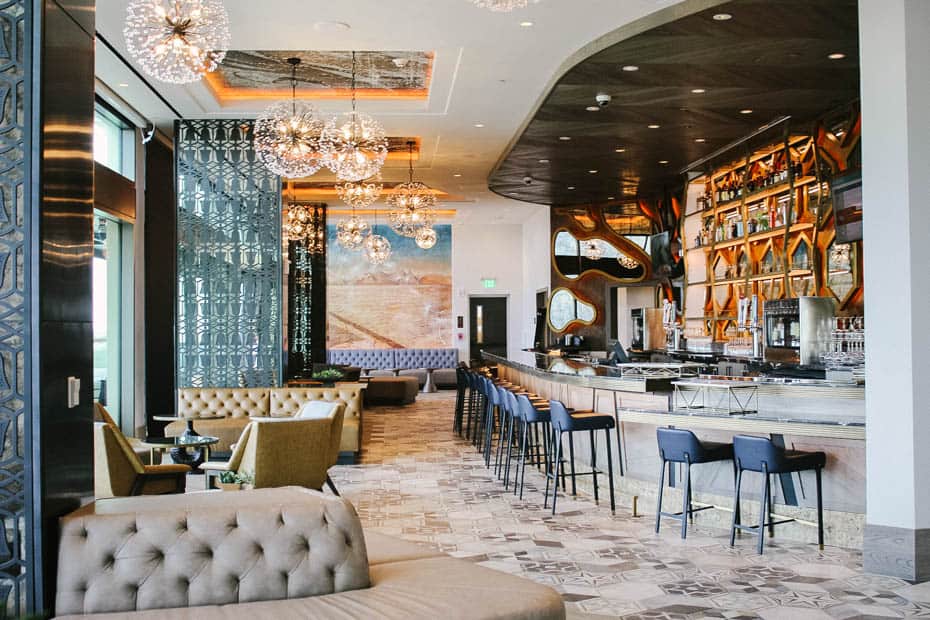 Additionally, Dahlia Lounge has an outdoor lounge area that offers stunning views of the surrounding Walt Disney World property.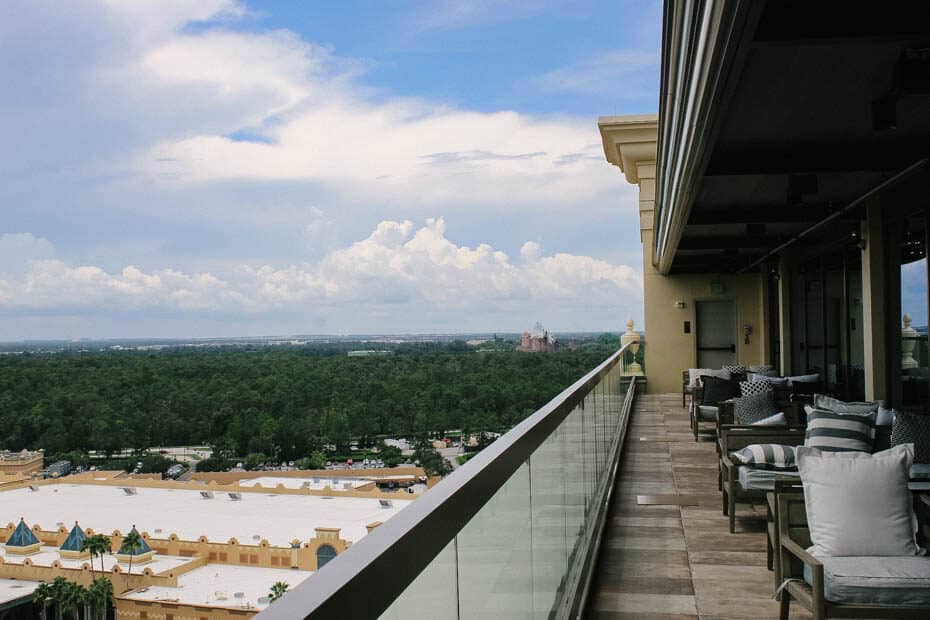 It's a nice place to relax when an outdoor table is available.
The lounge offers a variety of appetizers that could easily be considered a meal. You can preview those items and the cocktail menu here on Disney's site.
Lastly, Barcelona Lounge is located on the resort's lower level. This location offers pastries and various coffee drinks for breakfast.
Barcelona Lounge has several appetizers and a unique cocktail menu in the evenings. Preview the entire menu here on Disney's site.
For more information on dining options at Coronado Springs, check out our dining guide.
Related: Disney's Coronado Springs Restaurants Guide
Recreation
Most of the recreation at the resort is located on the grounds of Coronado Springs. Gran Destino does not have a separate pool or a quiet pool.
You'll need to walk out to the right of the resort to head to The Dig Site, which is the feature pool area at Coronado Springs. If you prefer a quiet pool, the one in the Cabanas section will be the closest.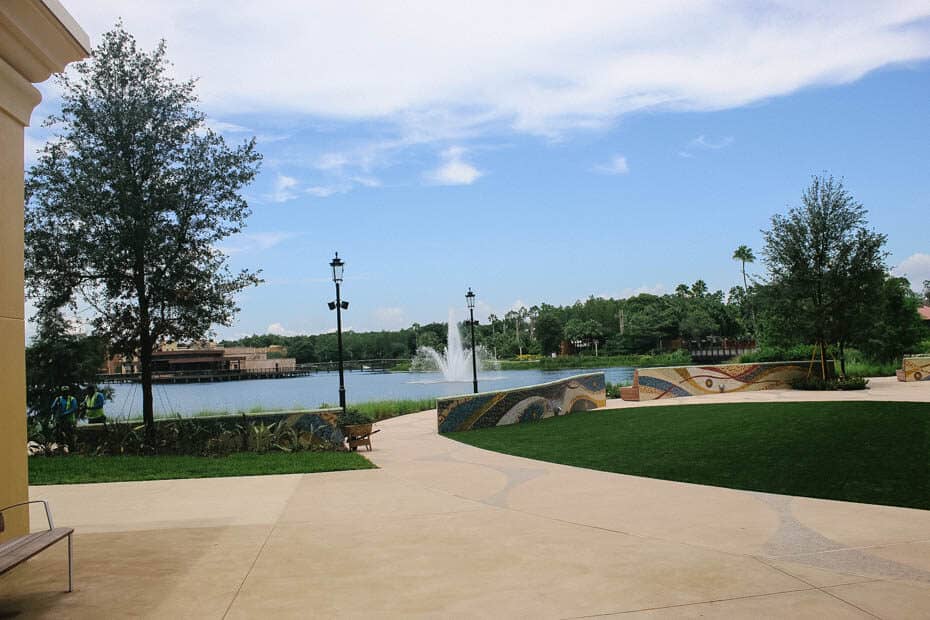 However, most will want to use the main pool at The Dig Site. The feature pool area is tremendous.
The backdrop is a faux Mayan pyramid with water rushing down the stairs into the pool.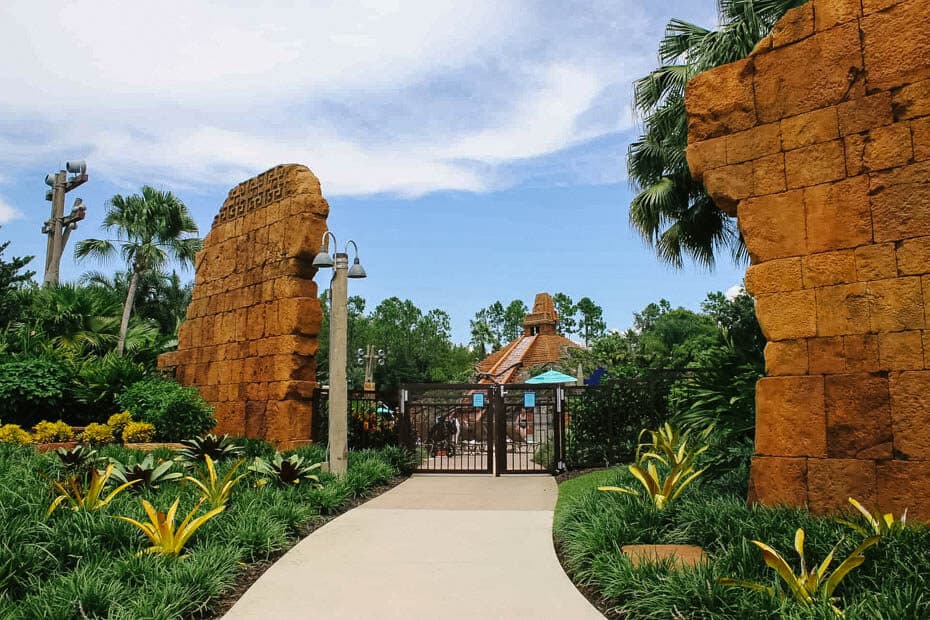 There is an entrance on both sides for guests to access the large recreation area. This pool area ranks high on our list of the best pools at Disney World.
Related: Best Pools at Disney World Resorts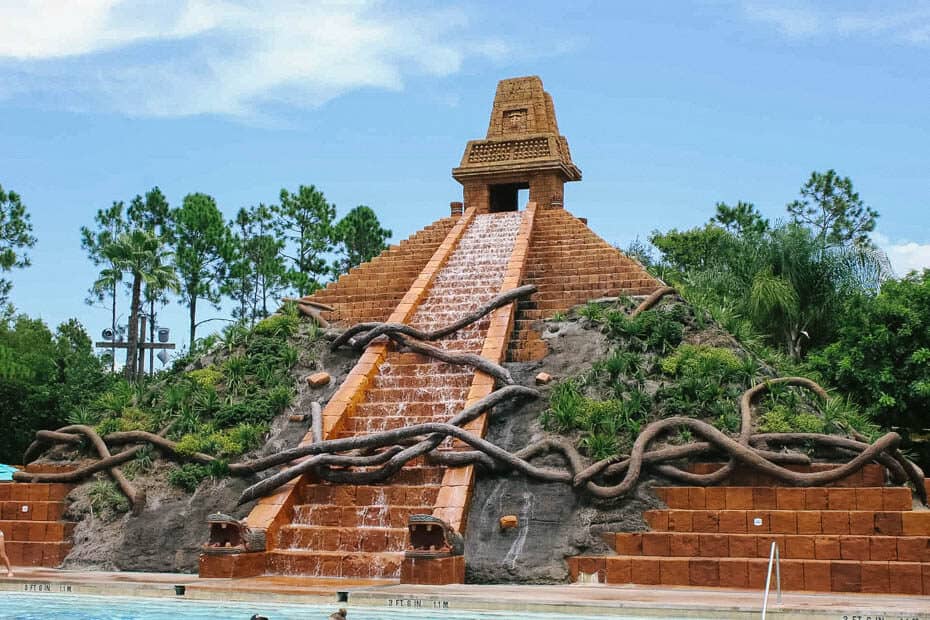 The resort has several white sand beach areas with lounge chairs and hammocks. I enjoy jogging around the lake.
Related: Best Jogging Trails at Disney World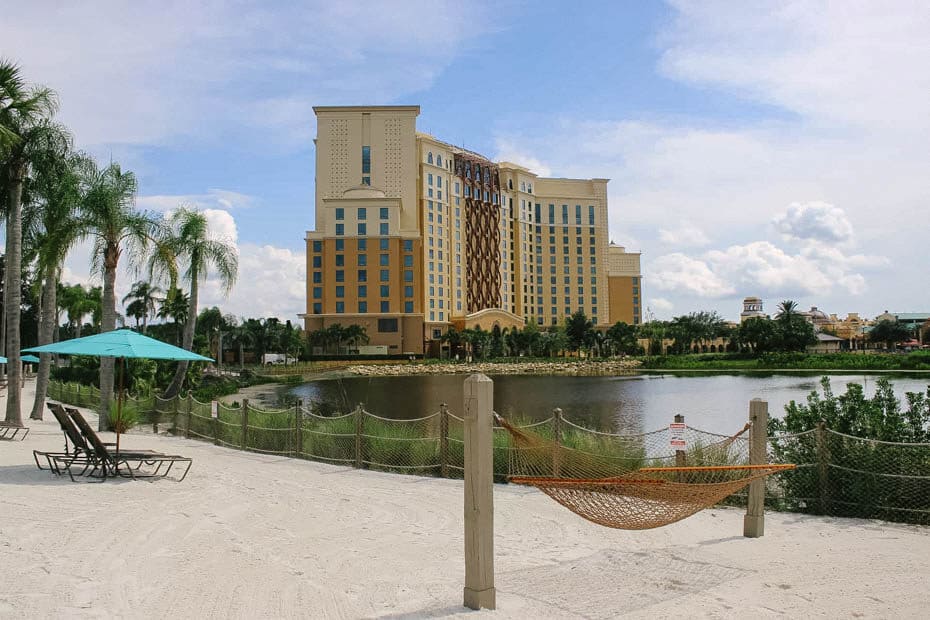 Back inside Gran Destino Tower, you'll find a fitness center. It's located on the main lobby level.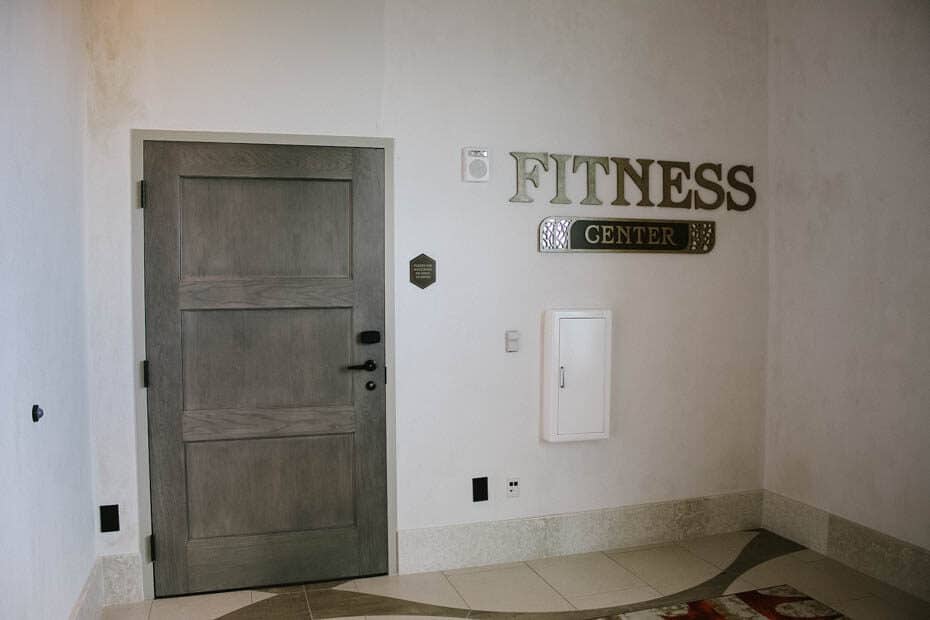 I found the fitness center to be high-end with plenty of equipment.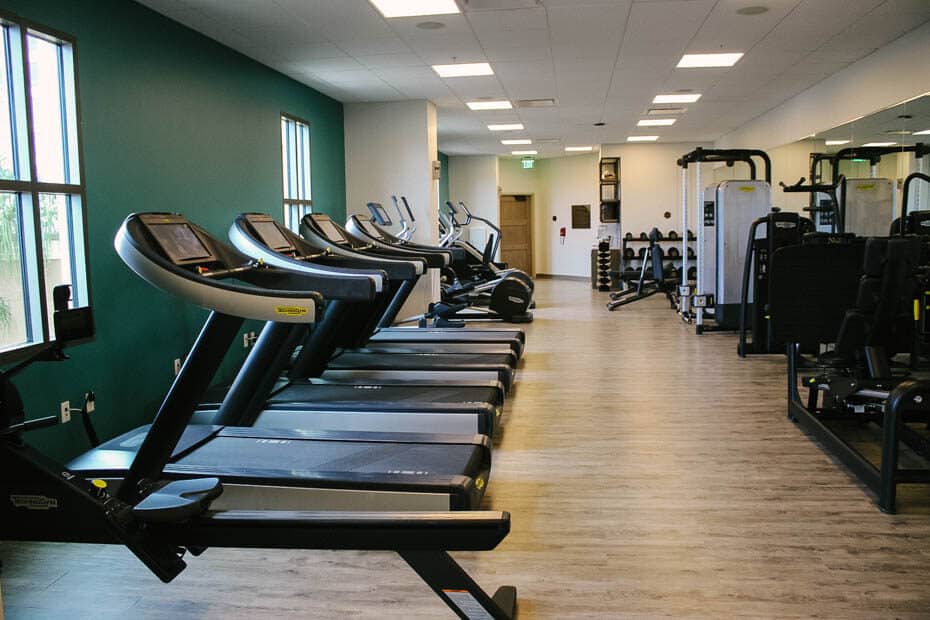 There are aerobic and strength-training machines.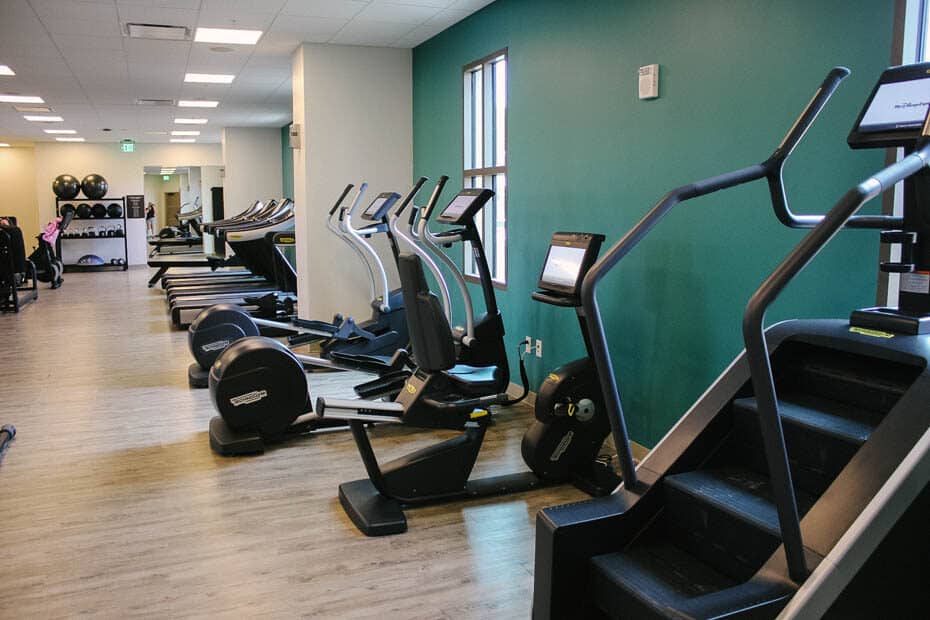 And there were plenty of free weights available.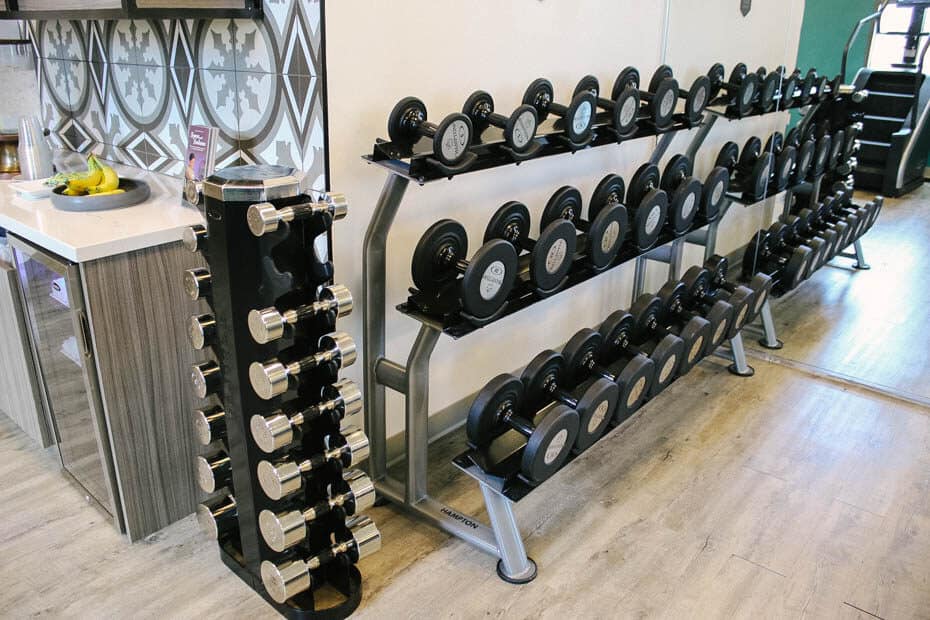 Related: Disney Hotels with Fitness Centers
Transportation
The only real downside to Disney's Coronado Springs is that there's only one form of transportation. The positive for Gran Destino is that the bus stop is located right outside the resort's entrance.
Gran Destino shares the main bus stop with El Centro. You walk out the front door, and it's a few steps down on the right.
The bus system from Coronado Springs will take you to and from the following locations:
Magic Kingdom
Epcot
Disney's Hollywood Studios
Animal Kingdom
Disney Springs
Blizzard Beach
Typhoon Lagoon
As you can see in the picture, the former El Centro bus stop was moved to the tower side. It's now centrally located between El Centro (the resort's main lobby) and Gran Destino.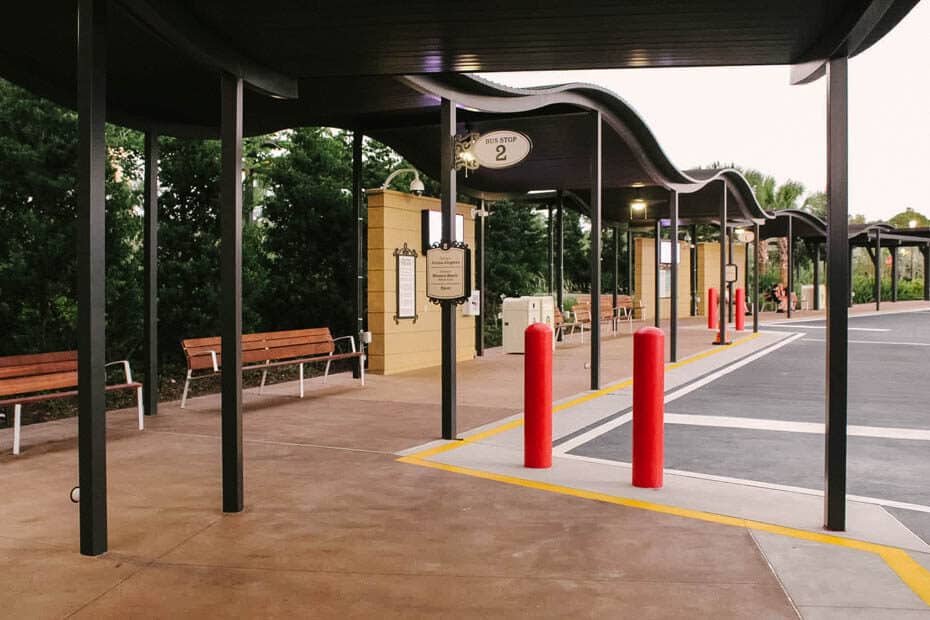 So if you're staying in the tower, you won't have a long walk to access the bus stop.
Pros and Cons for Gran Destino Tower
When considering staying at Gran Destino Tower, there are a few pros and cons. However, the positives tend to outweigh the negatives.
Unfortunately, Gran Destino doesn't offer many magical touches of Disney. As a result, it won't feel like you're staying at a Disney World Resort.
However, you probably won't get that feeling if you stay at another moderate resort like Disney's Caribbean Beach or maybe one of the Port Orleans Resorts.
Related: Disney's Caribbean Beach Review
You would have to stay at Disney's value resorts to get that true Disney World feeling. And Gran Destino is significantly nicer than all of the value resorts.
But Gran Destino Tower comes in relatively high when it comes to the value for the price. And it feels more like a deluxe resort than a moderate.
In fact, the most comparable resort to Gran Destino Tower for me is Kidani Village at Disney's Animal Kingdom Lodge. Often the prices at Kidani run close to Gran Destino.
It's the closest deluxe resort comparable to a moderate budget.
Related: Kidani Village Review
And there's a separate write-up that goes over the savanna view rooms. Those rooms are an upgrade. A standard view is part of the trade-off with a budget in mind.
Related: Deluxe Studio Jambo House
Overall, I enjoy Gran Destino Tower and think the pricing is within reason given the amenities offered at the resort. Most guests who tend to stay at the deluxe resorts are often impressed when they try a visit here.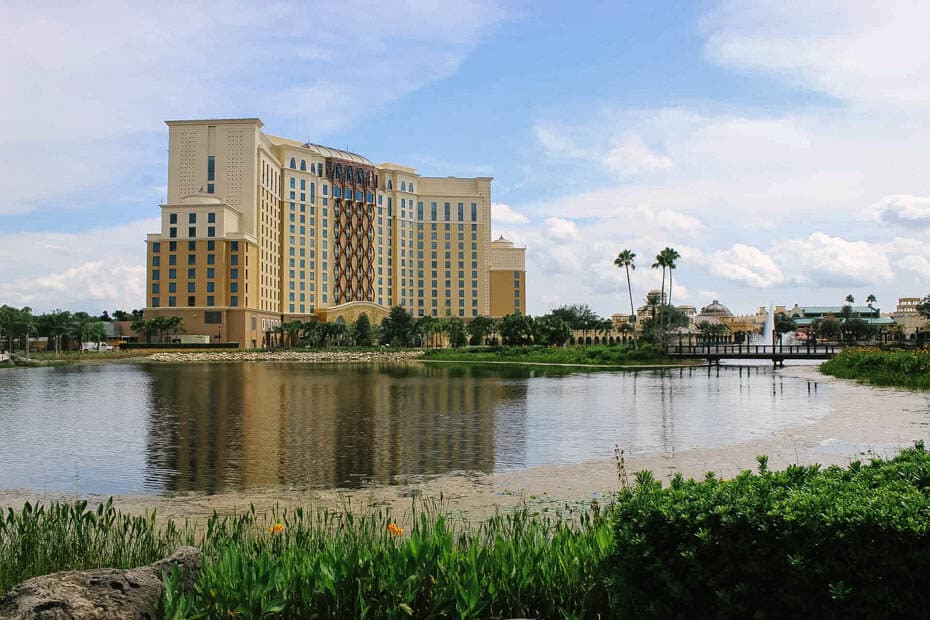 Final Thoughts on our Gran Destino Review
Gran Destino Tower may seem over the top in design to someone like me. But, ultimately, the tower addition works well for the greater good of the resort.
Disney does a great job of providing many different types of environments for guests to choose from on property.
If you are looking for the ease of staying in an interior access hotel without the deluxe pricing, Gran Destino is probably the right choice.
Before we close, here is one last look at the evening water view from my room. Usually, I wouldn't recommend an upgrade to a water view.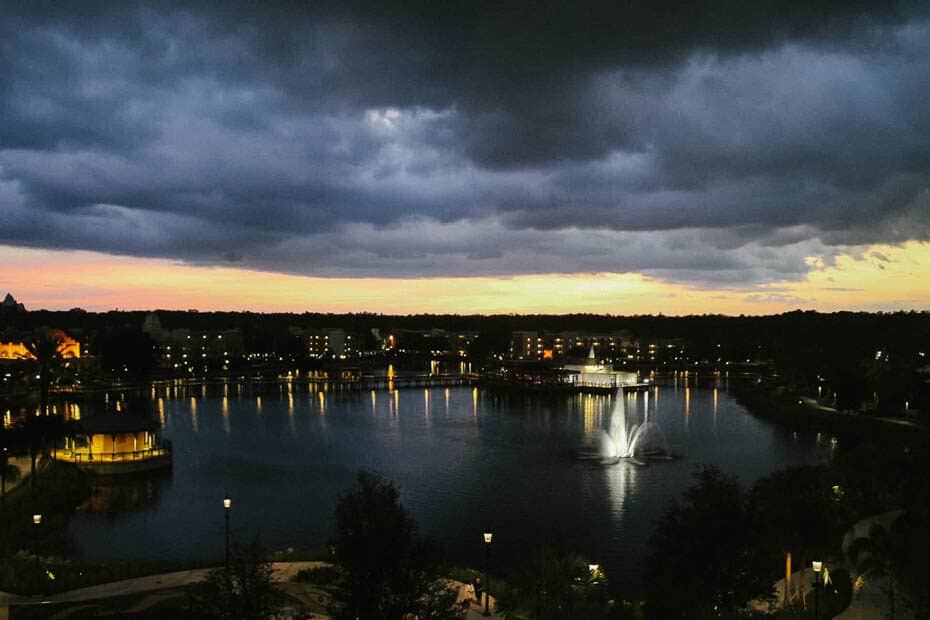 But I found myself quite pleased with this one. The sunset is always calming, and it reminds me of those that I love. Always.
And I almost forgot. I promised you a look at those bright, vibrant hallways you'll walk through going to your room. Here you go.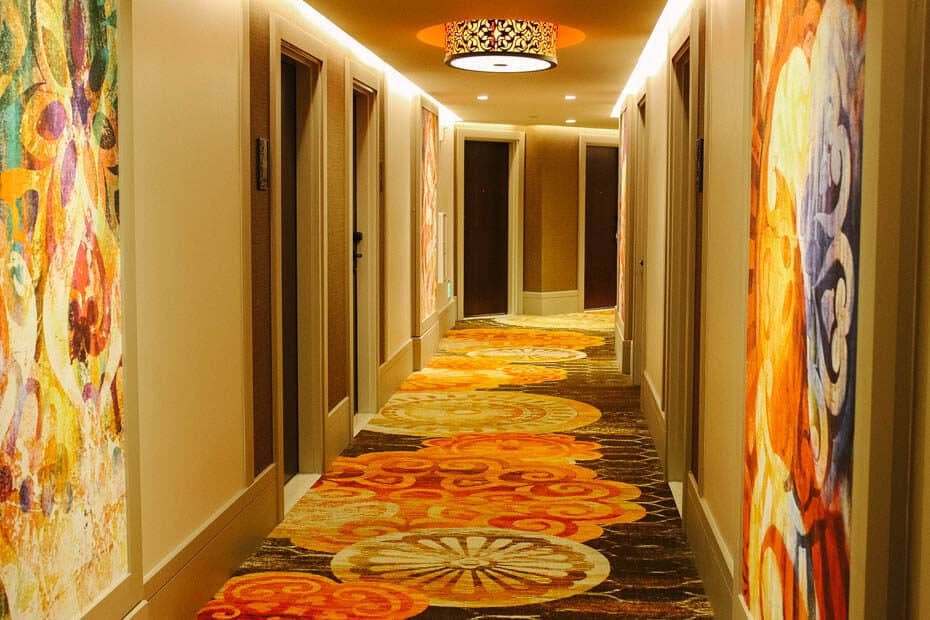 For more information on Coronado Springs Resort, all of our articles are listed here.
Additionally, you might enjoy browsing some of our other Disney World Resort Reviews. Here are a few favorites:
In the comments: What are your thoughts on Gran Destino Tower? Did you find this review helpful? Do you have any questions about planning a stay at the resort?
Leave me a comment below and let me know your thoughts on Disney's Gran Destino Tower. Have you stayed here yet or visited the resort for dining?