Gran Destino Tower Review at Disney World
In this article, we provide a review of Gran Destino Tower, the interior access hotel at Disney's Coronado Springs. We'll discuss our stay, amenities specific to Gran Destino Tower, and other aspects of planning a vacation at this hotel.
Disney's Gran Destino Tower is a Walt Disney World Resort that's part of Disney's Coronado Springs. As you may already know, Disney classifies their resorts based on amenities. Coronado Springs is categorized as a moderate resort.
However, Gran Destino Tower is slightly different from other moderate resorts at Disney. This tower, a relatively recent addition, was built toward the front of the resort. It's unique because it's a high-rise building offering interior access.
For comparison, Coronado Springs is grouped into villages. Each building has two to three stories with exterior room access.
Regarding theming, the hotel is based upon a collaboration between Walt Disney and Salvador Dali. In the 1940s, the pair worked together to create a short film called Destino.
Unfortunately, due to the circumstances of the time, the film was never completed. Later, in the early 2000s, Roy E. Disney took on the project of completing the film. It was well-received and nominated for an American Academy Award for best short film the year it was released.
Years later, the idea for a new resort hotel was conceived. A large plot of vacant land soon became Gran Destino Tower. Its design, influenced by Destino, fits appropriately with the American Southwest flair of Disney's Coronado Springs.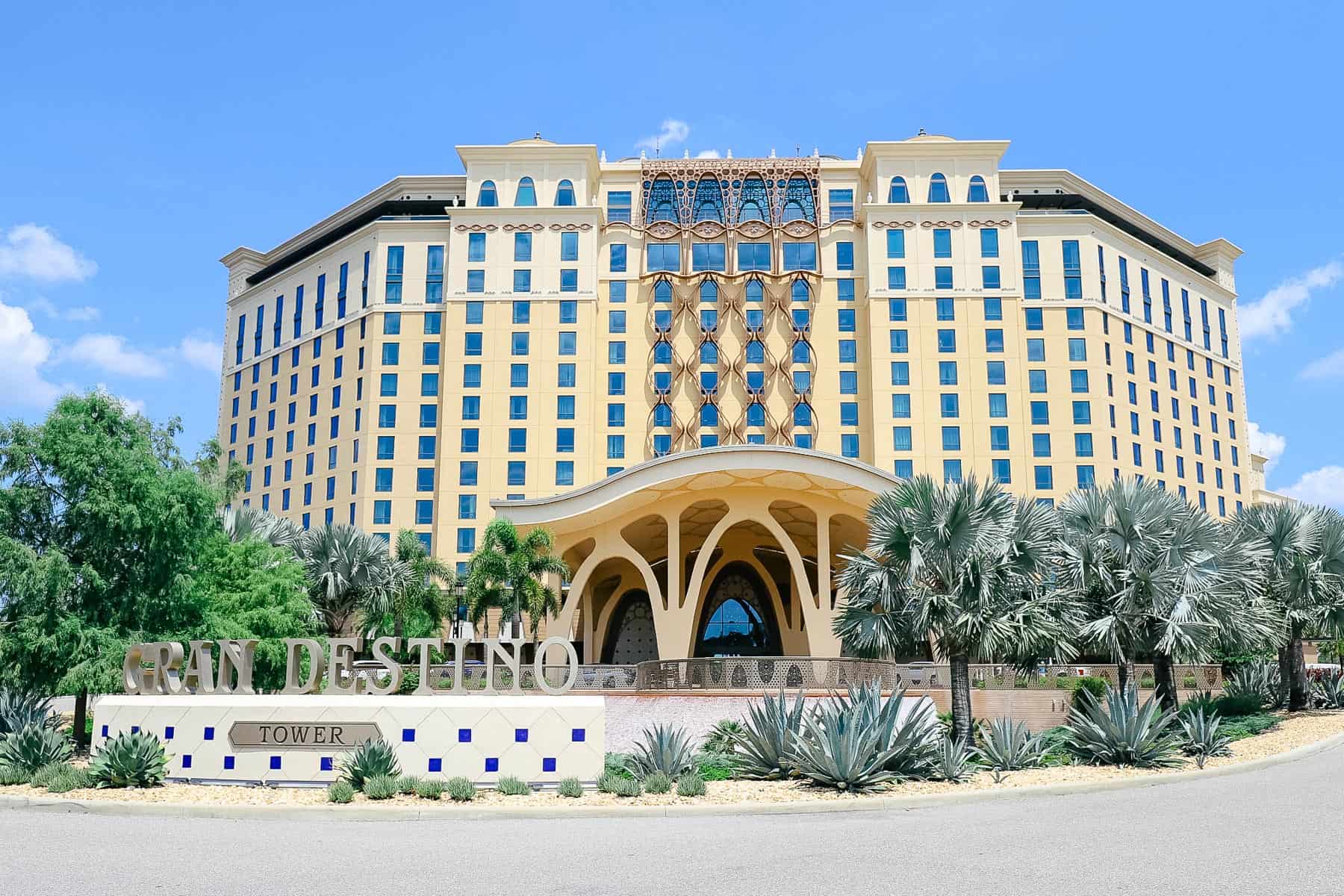 Disney's Gran Destino Tower Review
Gran Destino Tower is considered part of the Animal Kingdom Resorts area. It's only a short drive from the resort to Blizzard Beach and Disney's Animal Kingdom.
This was our second time staying at the tower hotel. We initially stayed at Gran Destino when it first opened in 2019. So it was interesting to return and compare the experiences.
For this stay, we reserved a room in the Chronos Club Level at Gran Destino. Club level rooms are located on the resort's 15th floor. Any club level at Disney is a pricy upgrade. However, the rooms are standard guest rooms like the majority of the hotel.
Club level guests have access to the lounge for various meal periods throughout the day. Additionally, concierge staff is available from 7:00 a.m. until 10:00 p.m. to assist guests with any extra needs or issues they encounter.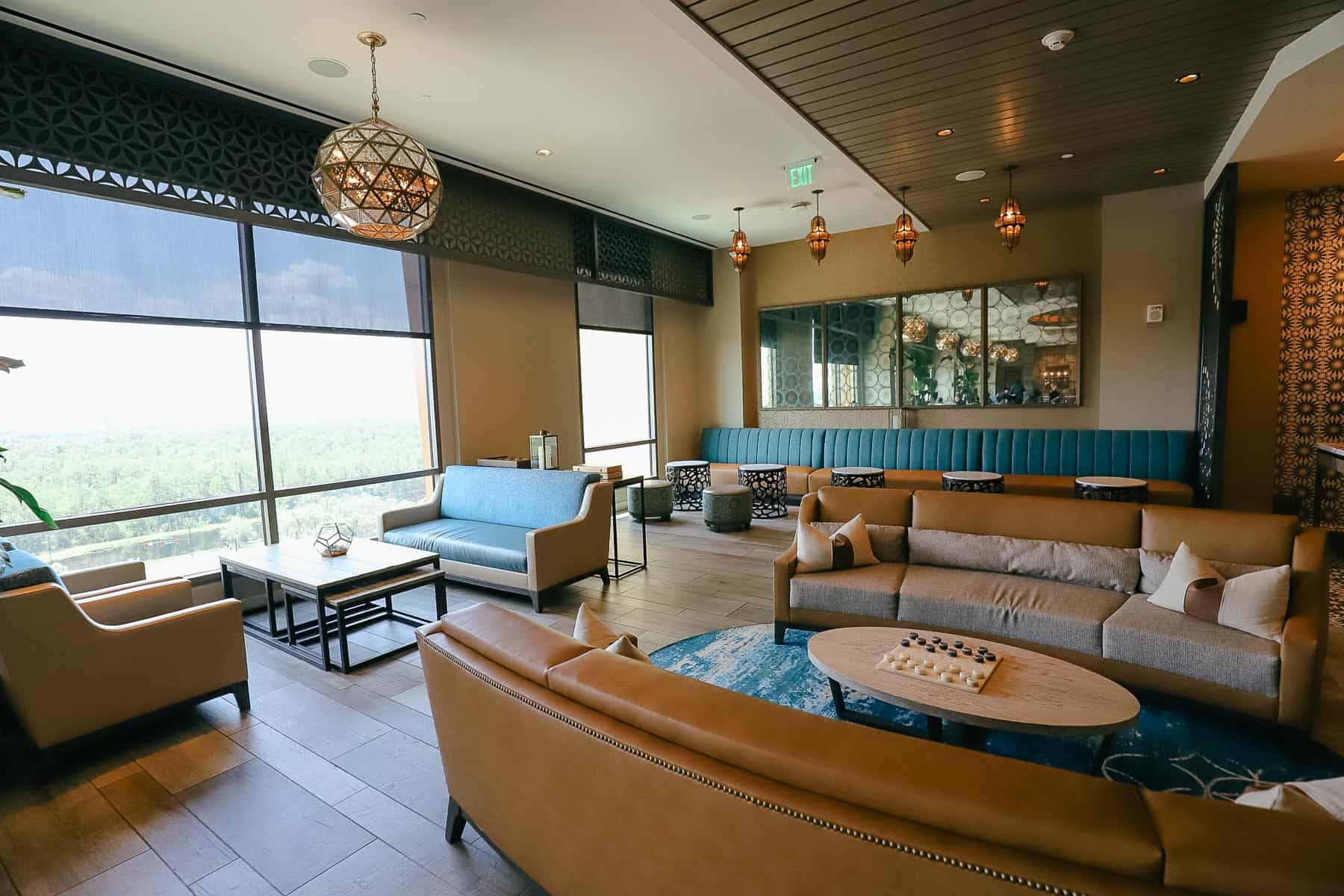 Before our arrival, we received a text that our room was ready. So when we got to the hotel, we dropped off our luggage with bell services and parked the car.
While the cast members at bell services were polite and eager to help, they were not fully equipped to handle several pieces of luggage at once. We left the bellman standing with 4-5 pieces of luggage and no cart to contain them.
Immediately, I was reminded of my first stay at Gran Destino Tower, where I had a similar experience. After inquiring about the issue, I was told that guests take the luggage carts to their room and abandon them in the hallways instead of returning them or calling bell services to pick them up.
When the carts start to dwindle, someone has to go to each floor to locate and retrieve them. So, while this is understandable, I find it odd that luggage assistance is still an issue years later.
Gran Destino has a parking lot to the immediate right of the tower. A covered walkway leads out to the parking area. Thankfully, Disney Resort Hotels no longer charge guests to park at their resorts.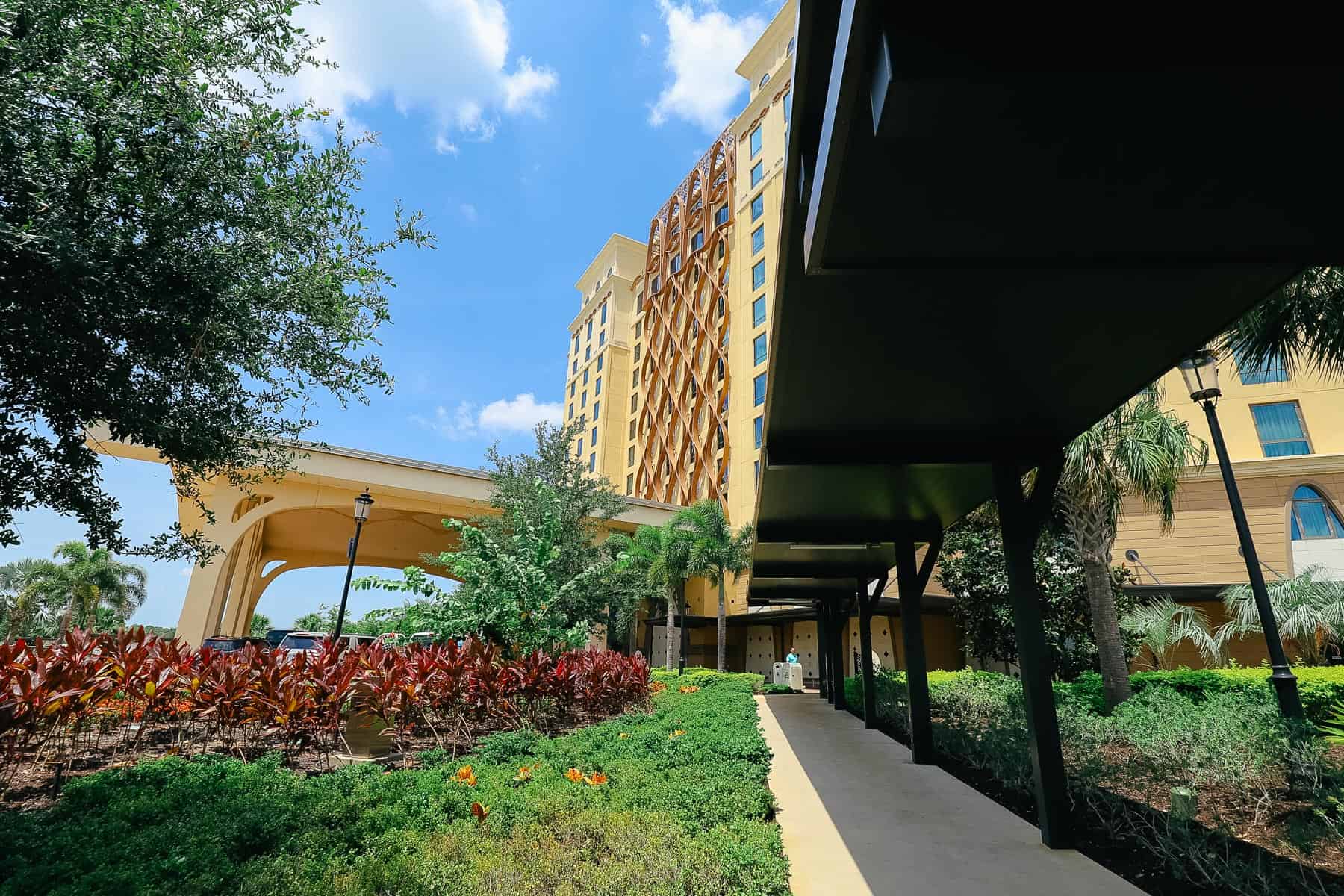 If you're driving, you can come and go from the resort using your MagicBand or room key to open the secondary gate at the main entrance. However, on your initial arrival, you'll need to go through the security gate. If you get to the resort early, the guard will alert the front desk that you've arrived, and you'll begin to receive text messages regarding the status of your room.
Once we parked the car, we headed to the 15th floor to check out our room. It was almost time for the 5:00 p.m. hors d'oeuvres service, and after an afternoon of retail therapy, we were both eager to see what the Chronos Club had to offer.
Our Room
In case you missed it, we provided a separate room tour of a standard guest room at Gran Destino Tower. This club level room was identical to the standard room we stayed in on our first visit to the hotel. So we'll look at a few photos, but if you want more specifics, try the room tour linked above.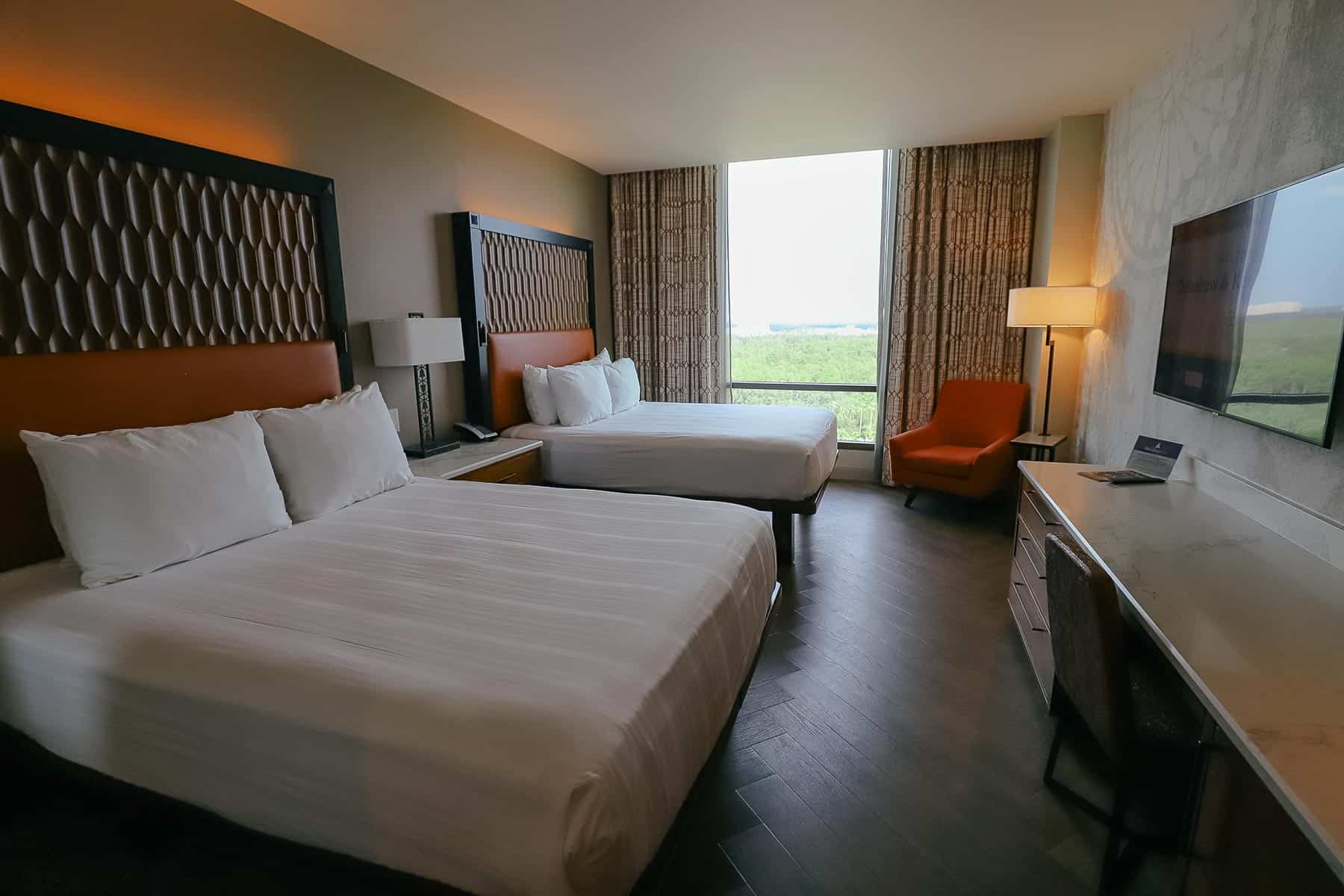 A standard guest room at Gran Destino Tower has two queen-size beds.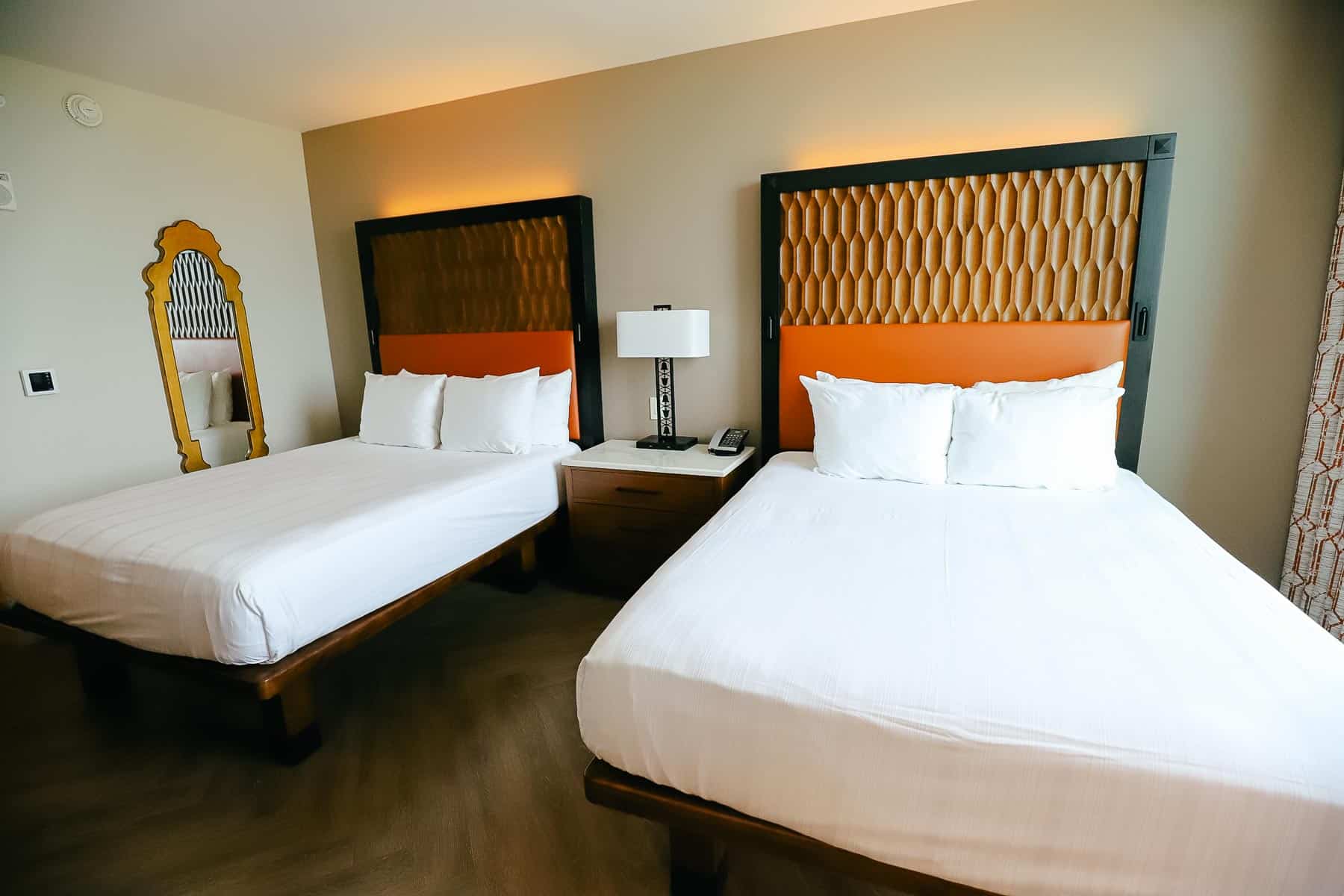 A long counter is positioned on the opposite wall. This area can be used as a tabletop or desk. Drawer storage space is available on one end.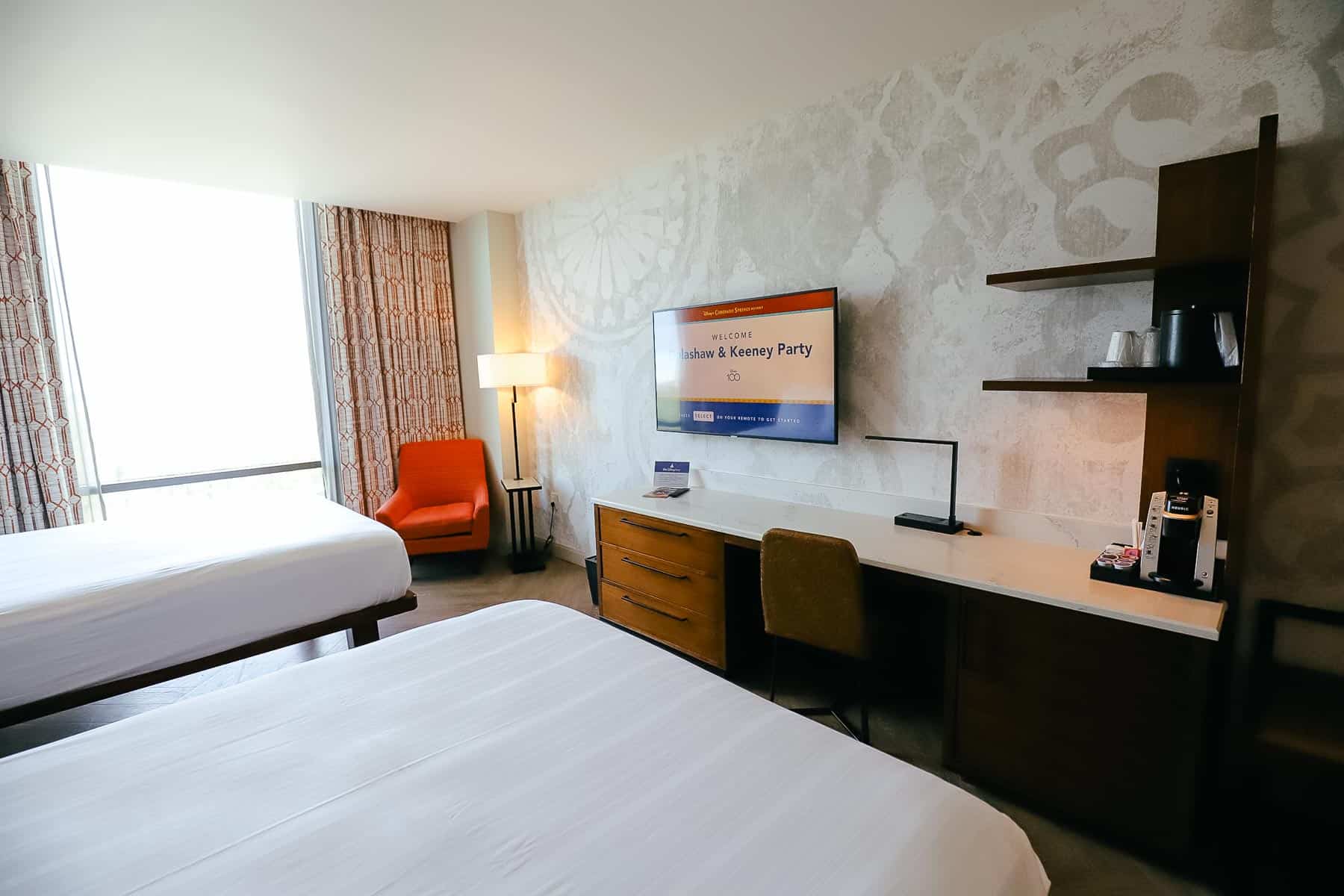 On the opposite end, a Keurig coffee maker with accompaniments was available.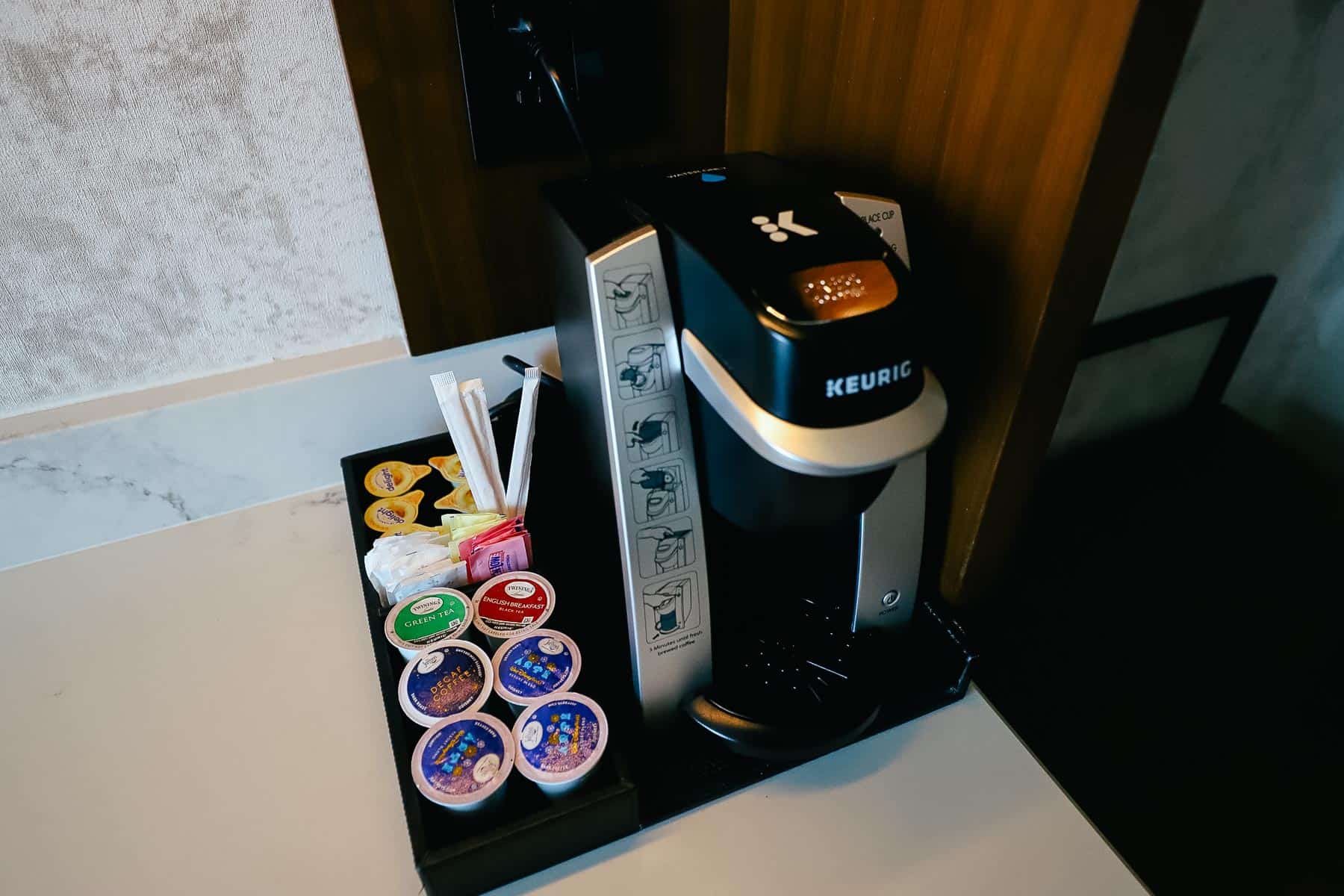 But perhaps the best part of the room was the view. We had a standard view which looked out to Epcot and Hollywood Studios in the distance. If you look closely, you can see Spaceship Earth on the left side of the photo. On the right, you might spot the Hollywood Studios Tower of Terror.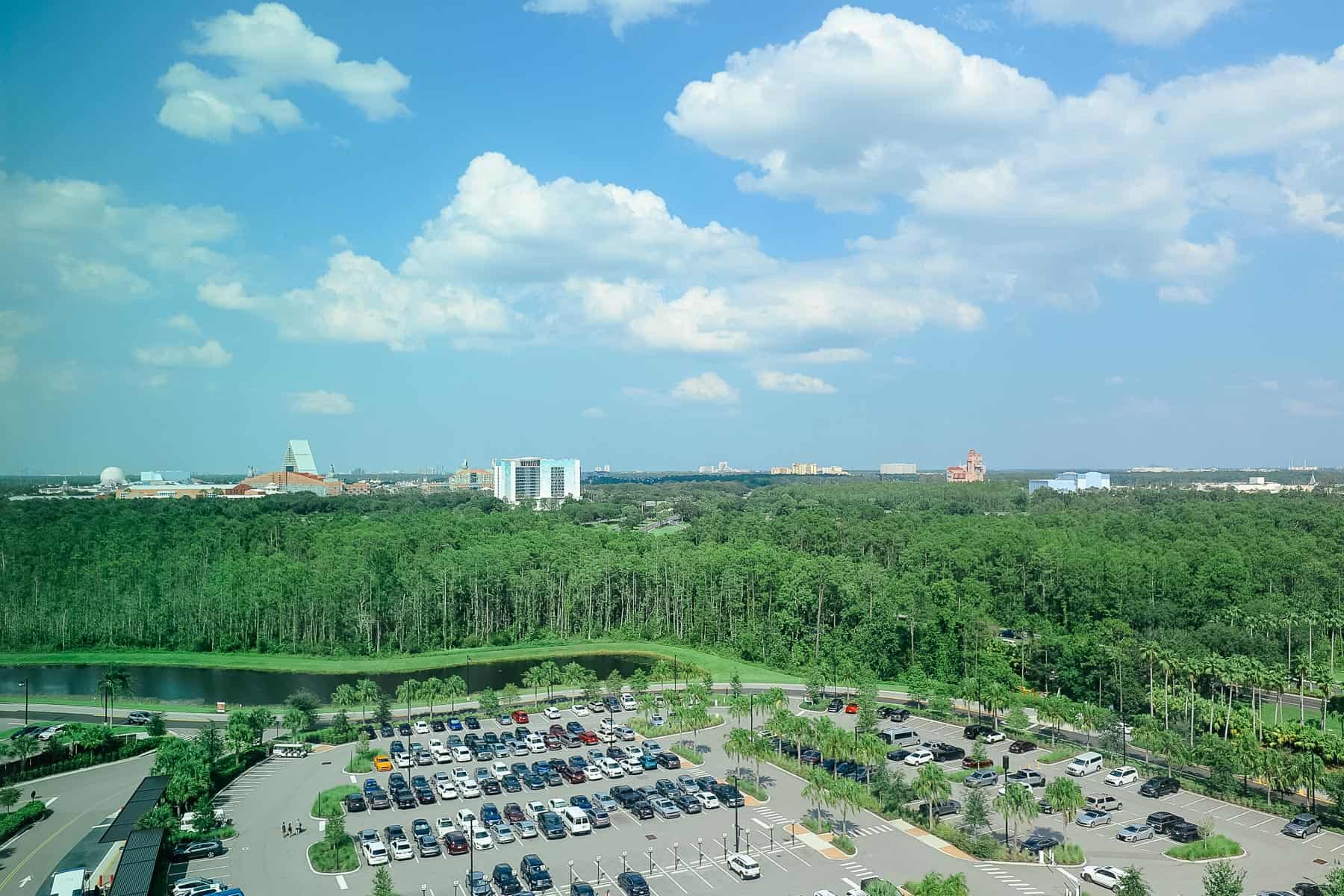 On my first visit, we had a water view. These rooms are on the opposite side of the tower. While I enjoyed both views immensely, I prefer the water view.
Expedition Everest sits on the far left of this photo. You might also see the green faux leaves from the Tree of Life as they stand out a bit to the right of Everest.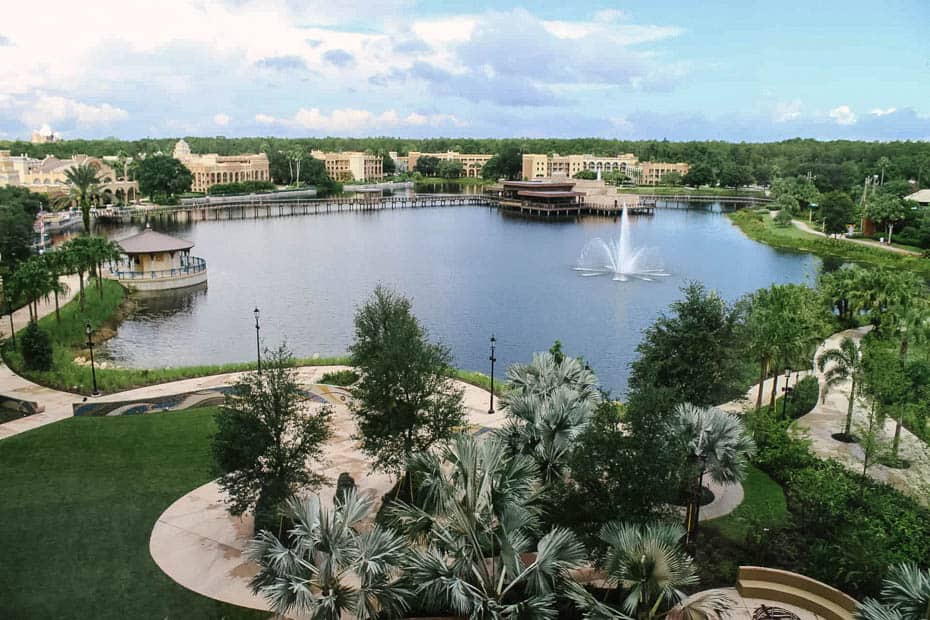 Back inside the room, we'll look at the guest bath. It has a vanity area with double sinks. A ledge sits above the sink, providing a nice place to store personal items.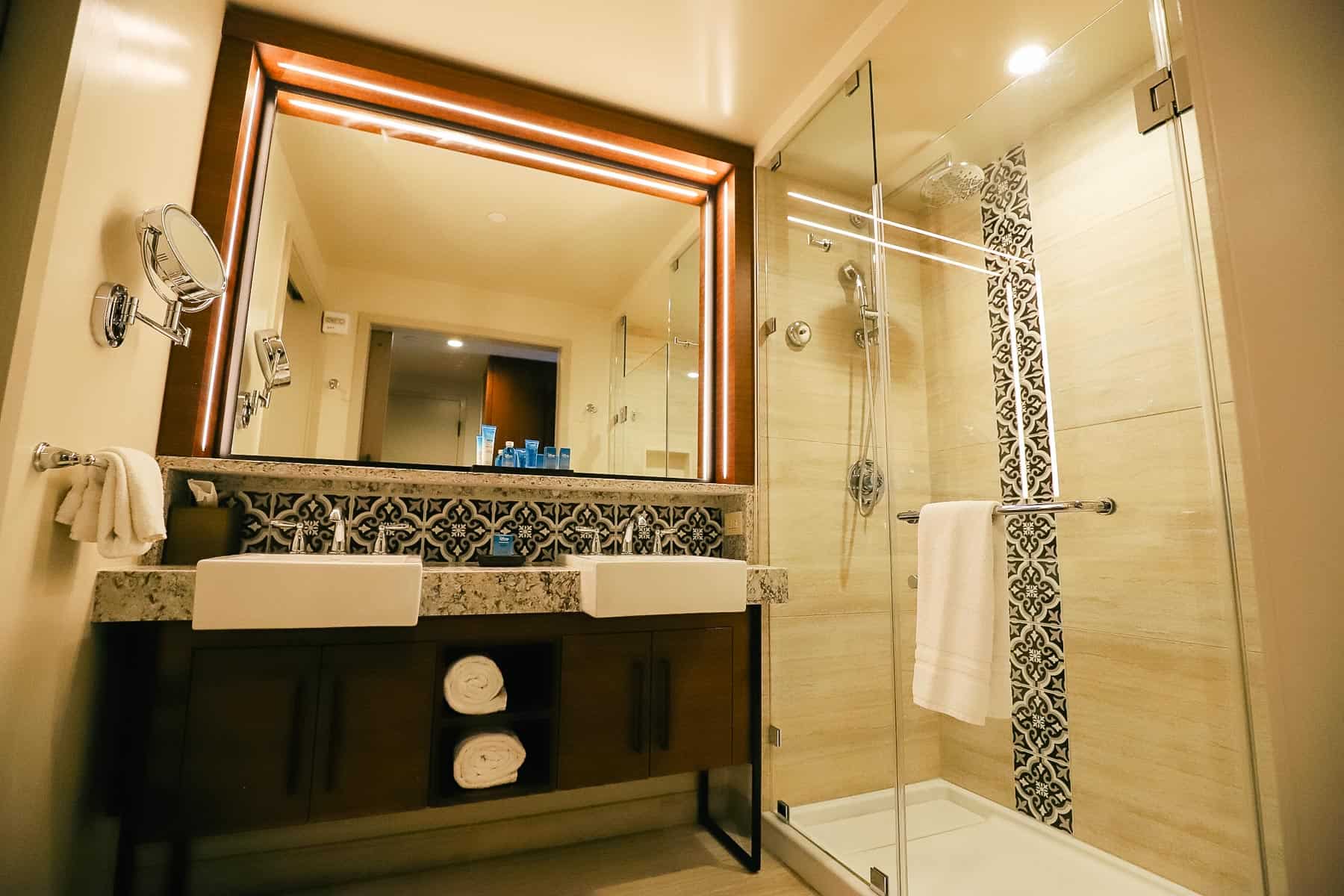 Additional storage space is available underneath the vanity. You'll want to remember if you place any items underneath. It's always easy to leave things in closed areas.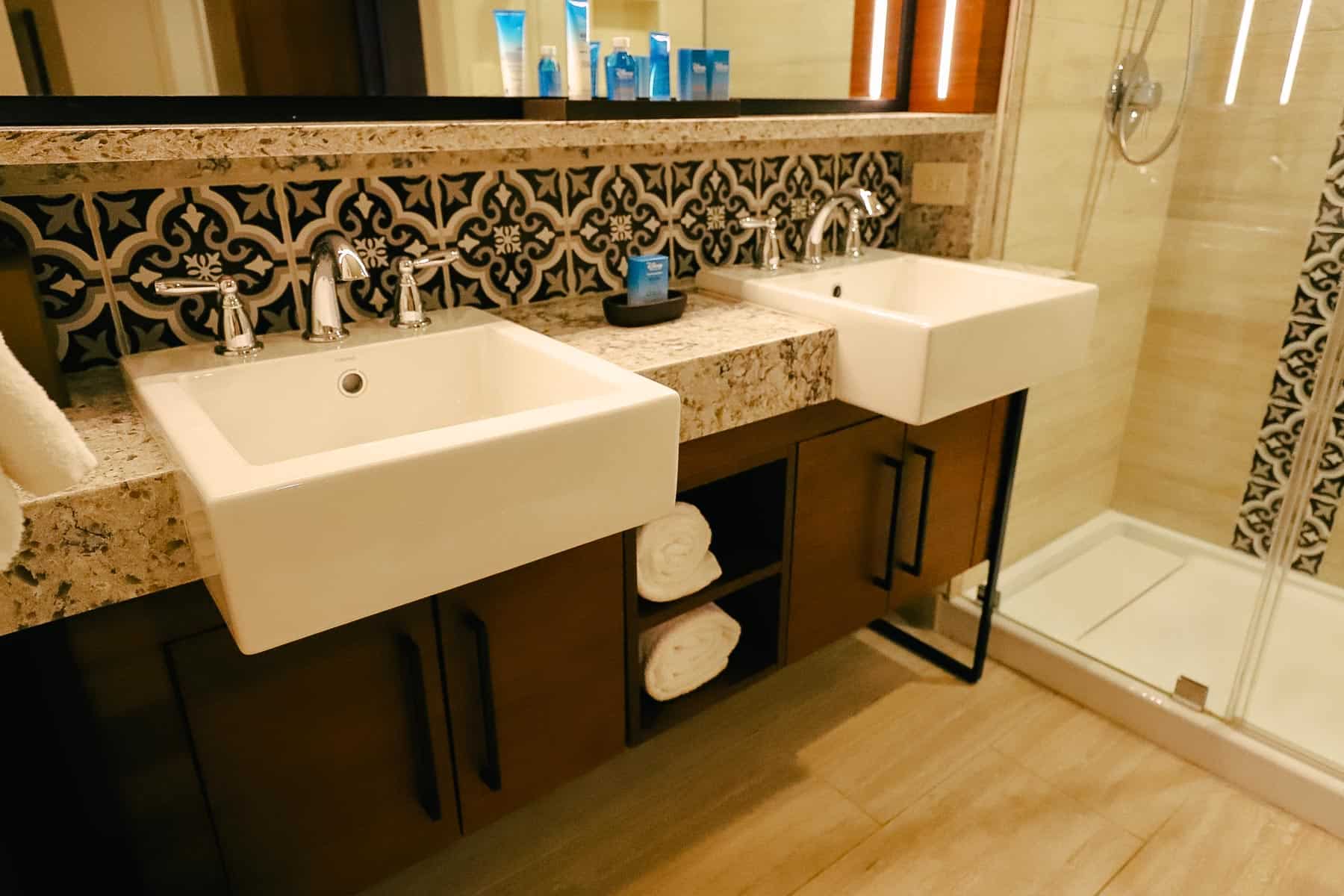 We've had a walk-in shower on both stays at Gran Destino Tower. I favor this layout over a traditional shower with a tub combination. However, those with small children might feel inconvenienced.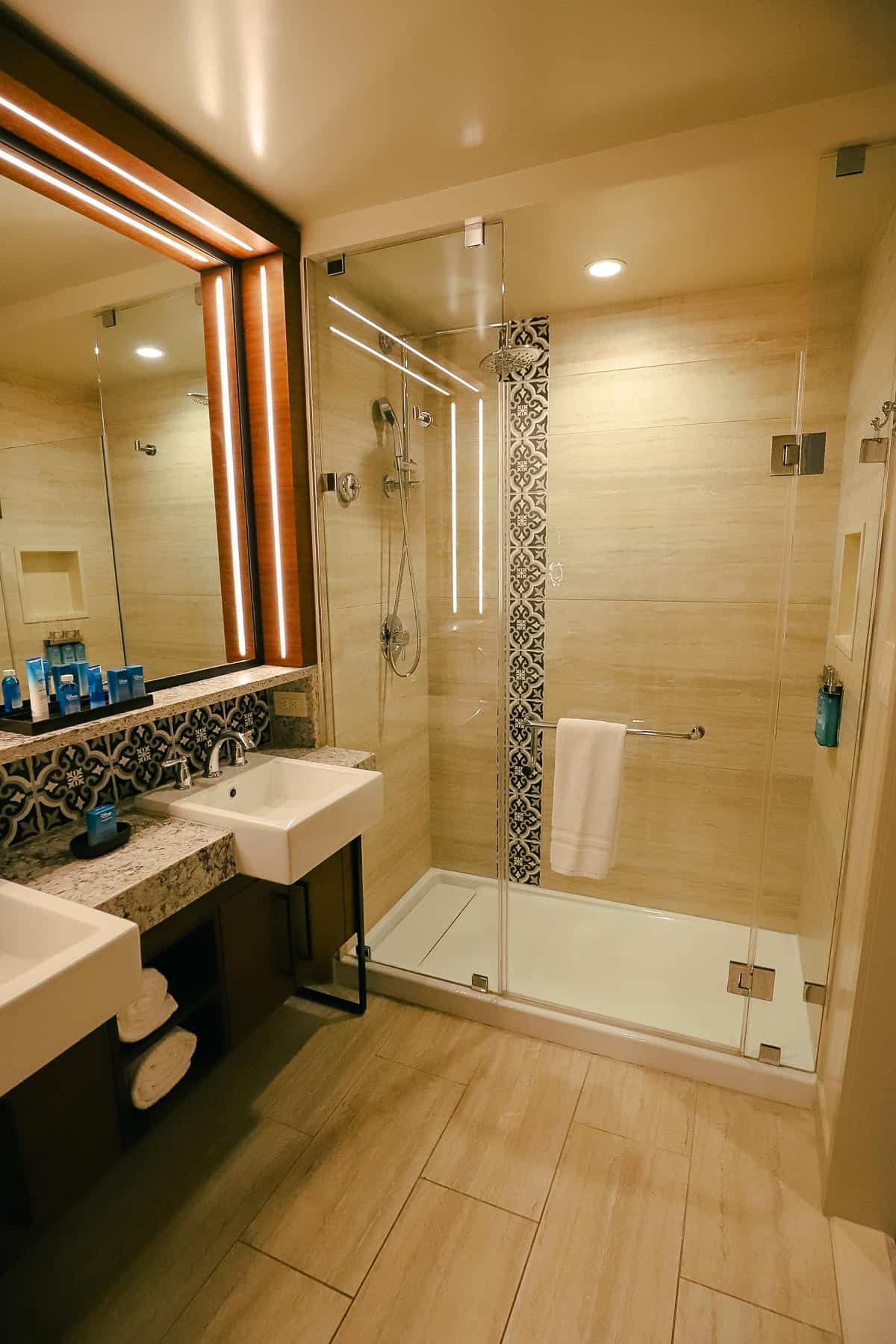 Here's a better look at the water closet. I thought the towel placement in this room was a little odd. When you get in the shower, you'll realize there's no wall space to hang standard towels near the shower. So don't forget to grab a bath towel before you step into the shower.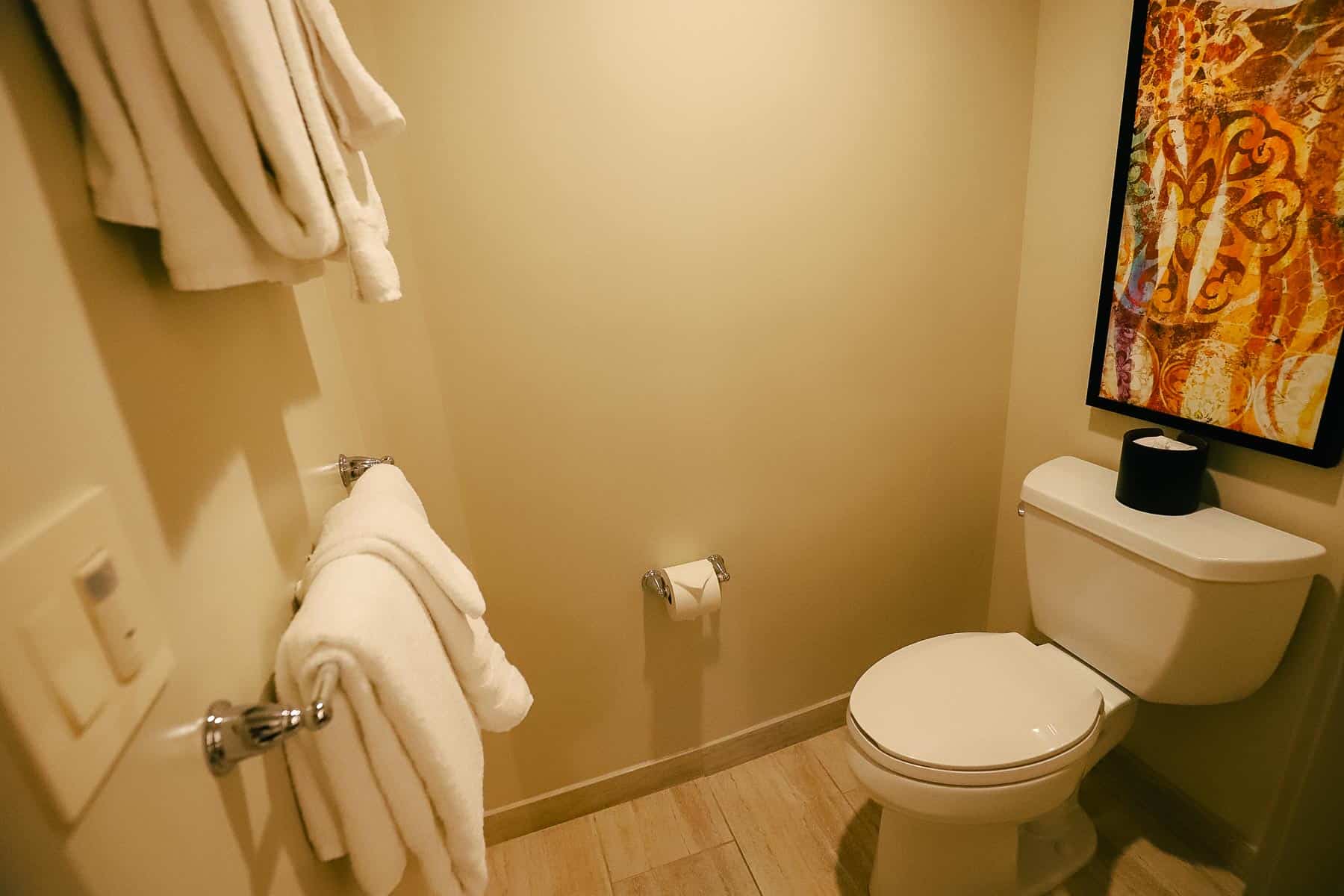 Below is a picture of the large barn-style door that slides over the entire bathroom area for privacy. I think this layout works well for a smaller party. However, since the water closet is within this area, it's difficult for multiple guests to use the space simultaneously.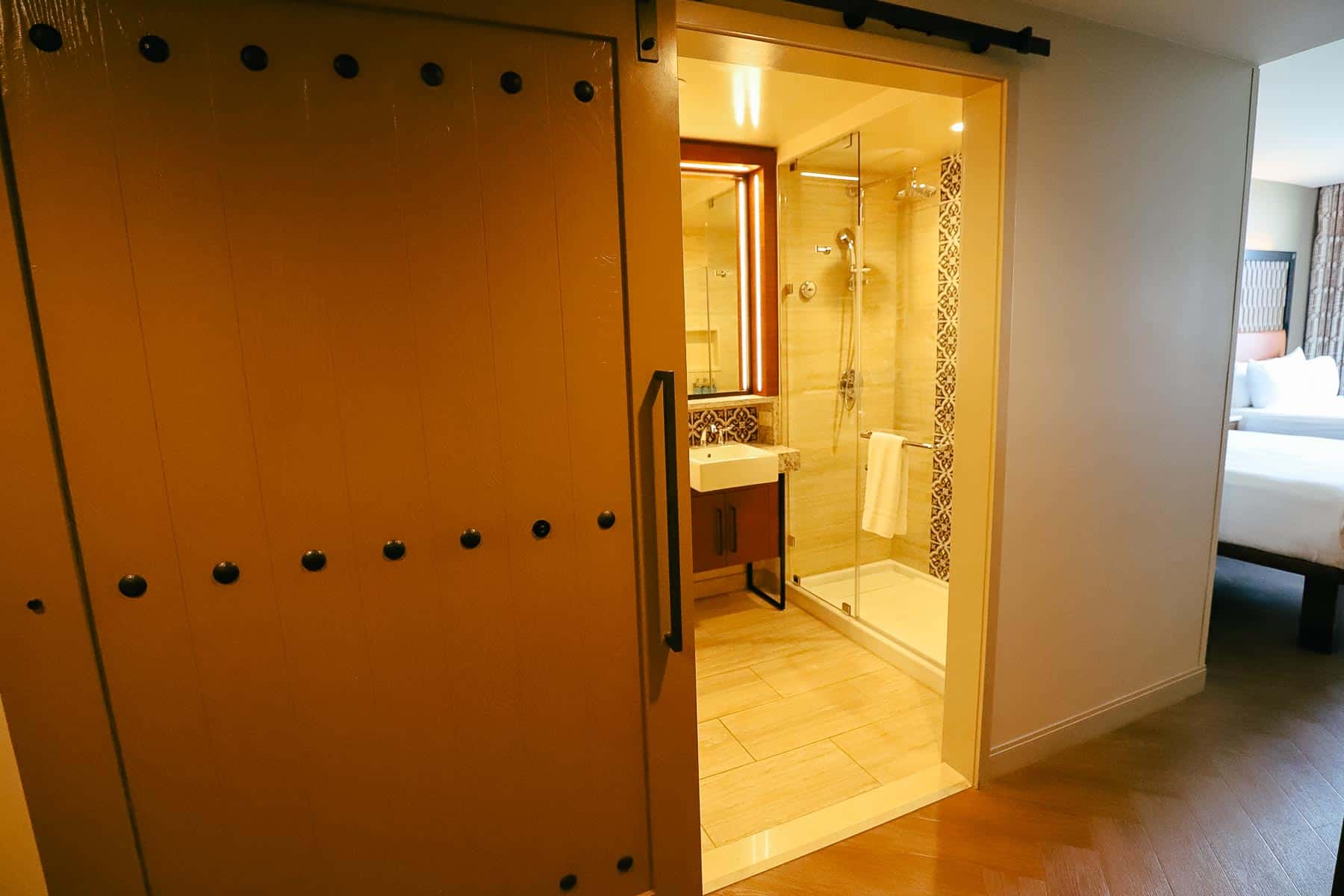 Aside from the standard room, Gran Destino has several room categories. Those options include a king bed, a deluxe suite, a one-bedroom suite, or a presidential suite. Room views are either standard or water views.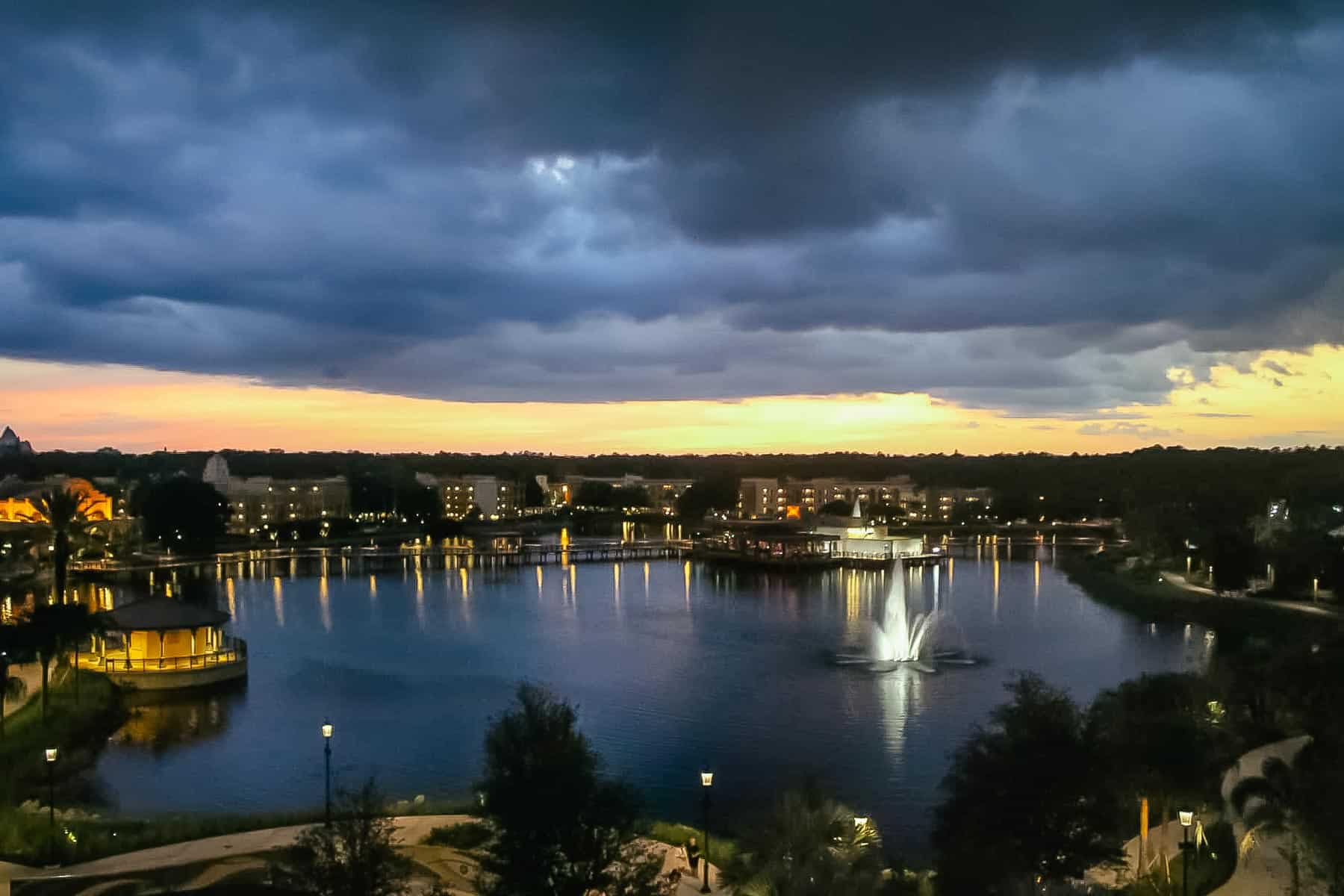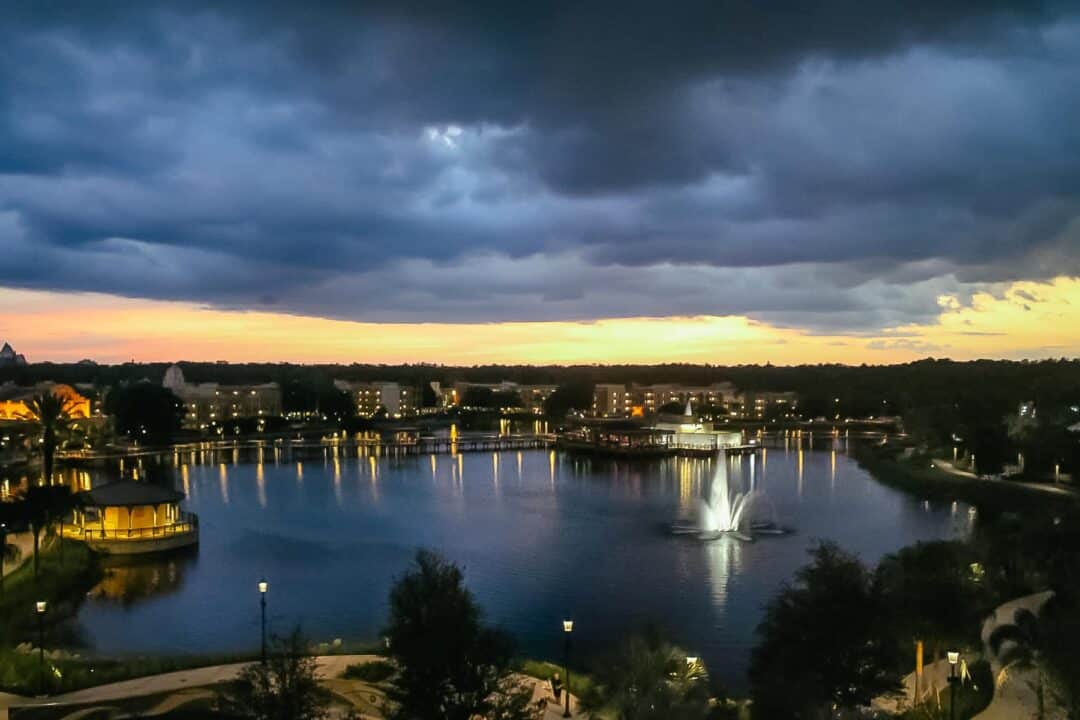 Around Gran Destino Tower
After we checked into the room, we enjoyed light appetizers in the lounge and were off to explore the resort. It had been several years since Kristen had stayed at Coronado Springs with her family. So I wanted to show her some things that had been added that make a stay here convenient.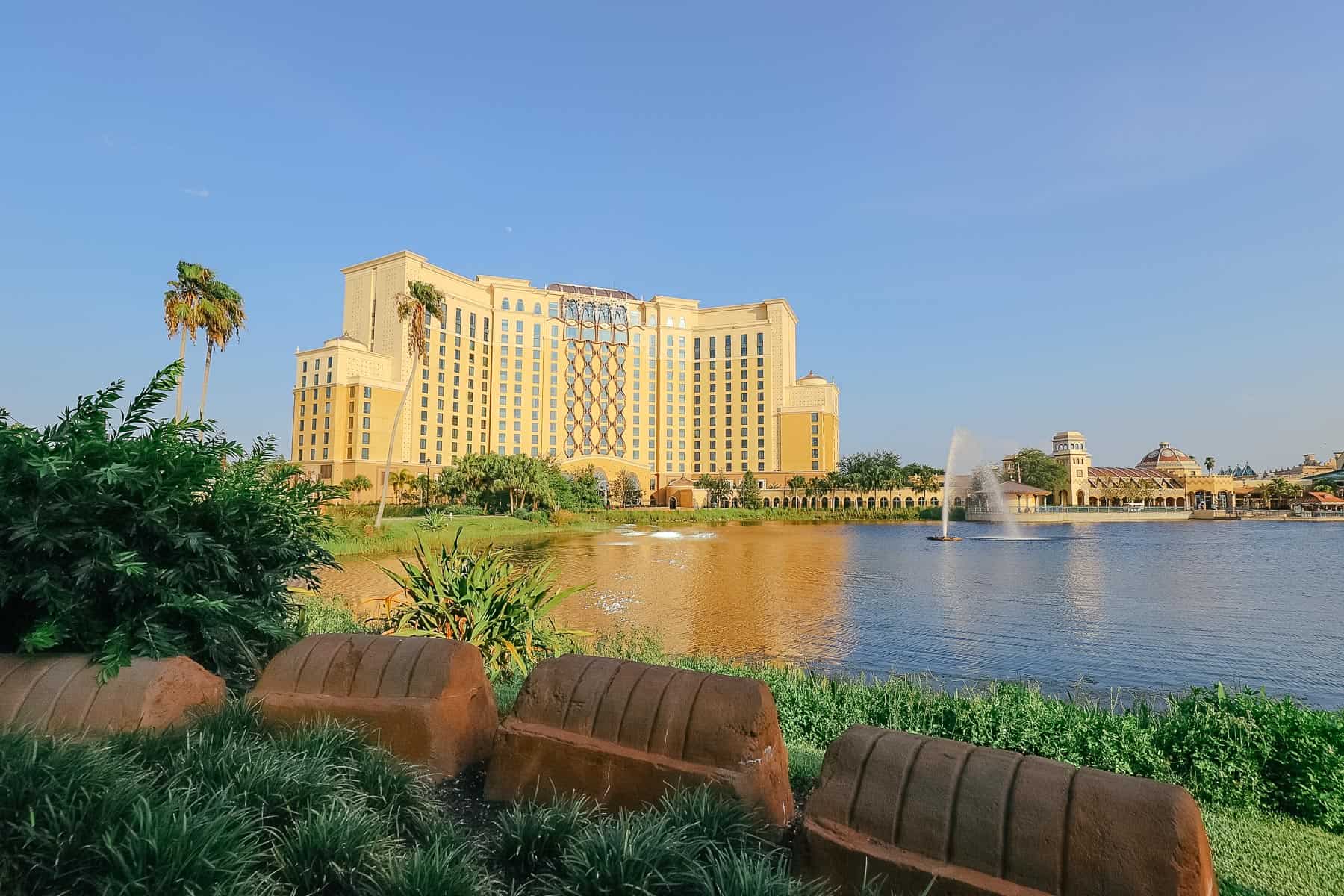 We started at the back of Gran Destino Tower in the resort's scenic backyard.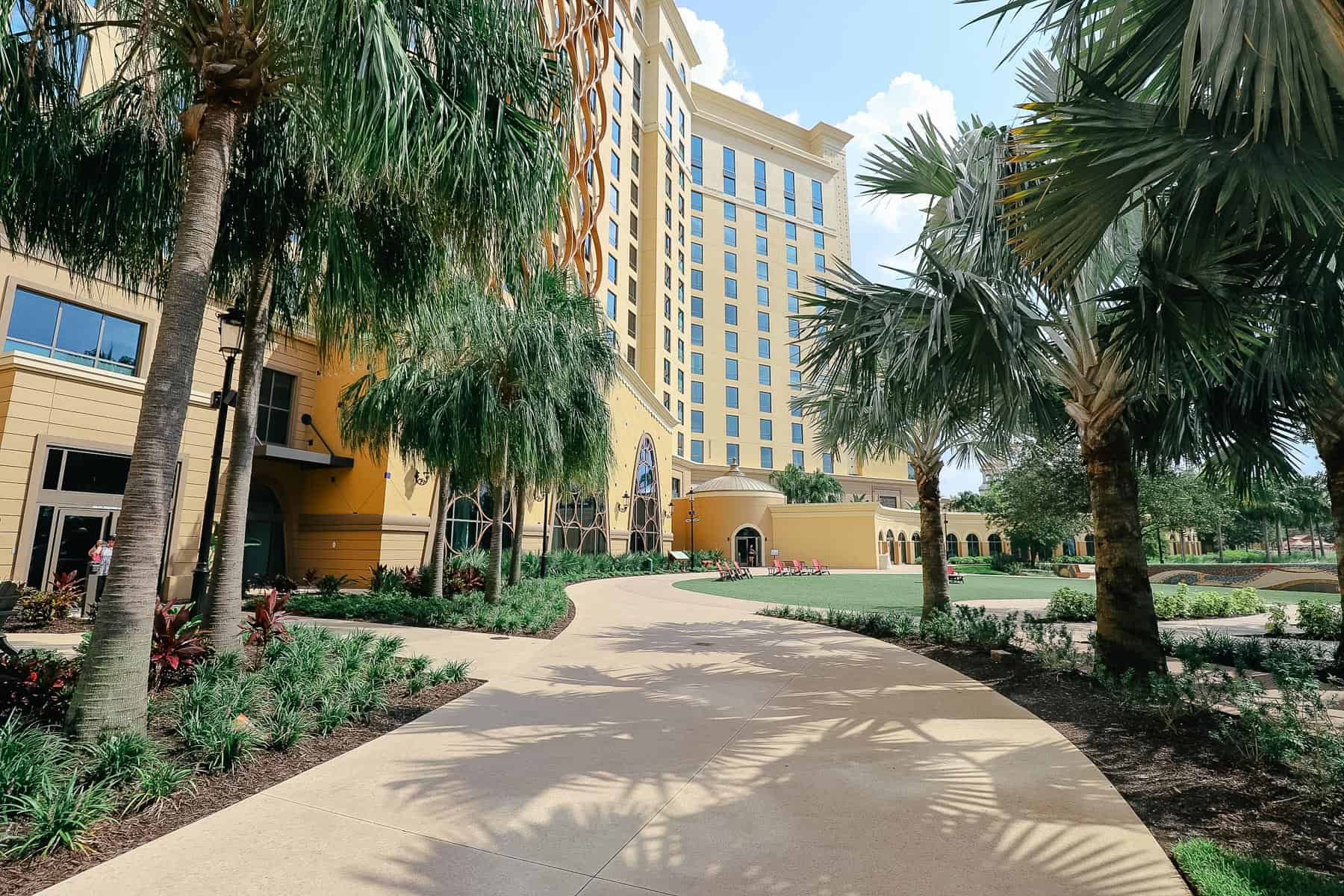 We then headed toward the bridge that leads to The Dig Site. To our immediate right, we could see the Cabanas section, which is my preferred location when we stay in the villages.
To our left, we could see El Centro (the main lobby) and the Casitas section of the resort. The Casitas are partially made up of preferred rooms, given their proximity to El Centro and the resort's convention center.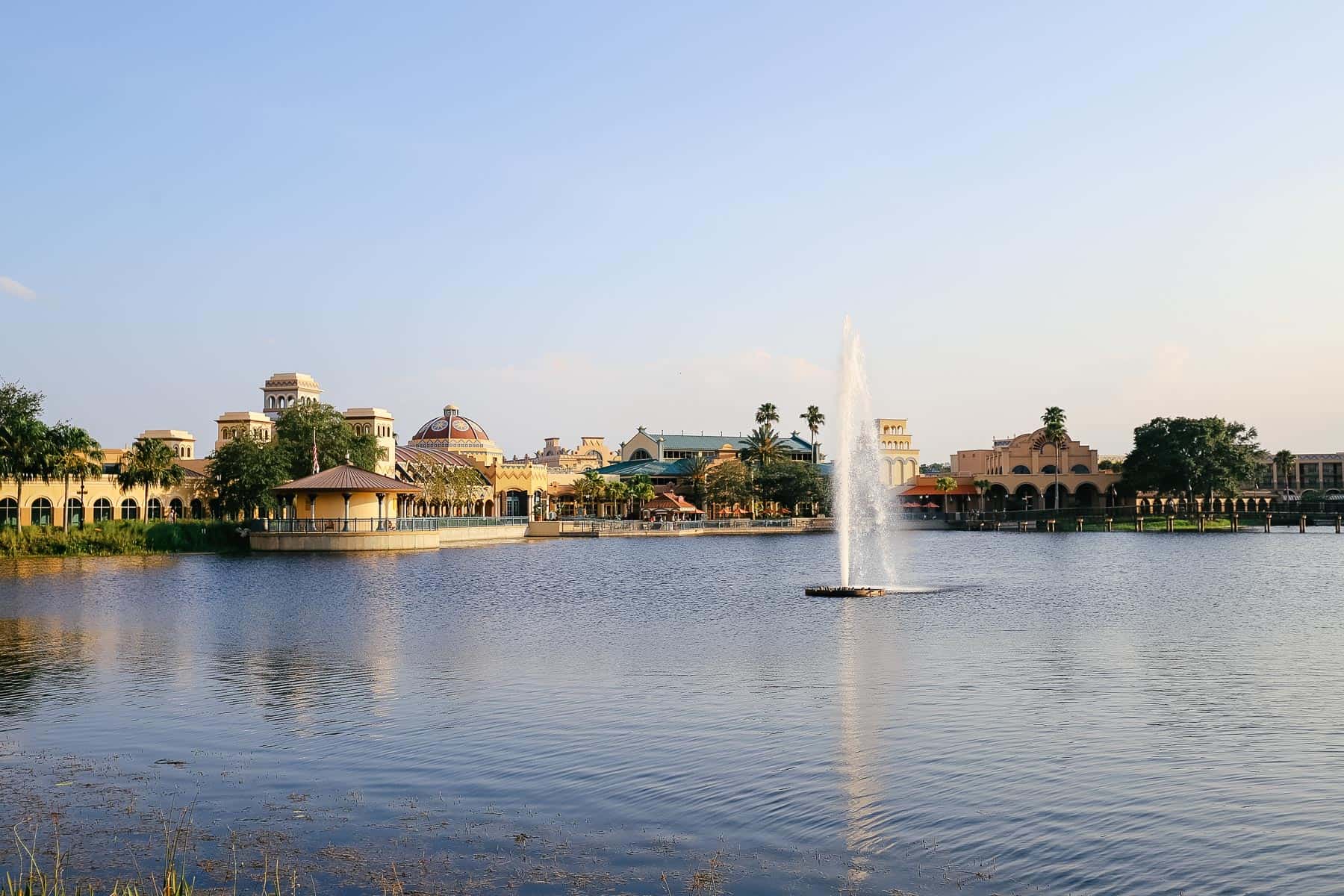 Gran Destino Tower does not have its own pool. So you will need to visit the main pool at the Dig Site. The Dig Site Pool has a faux Mayan pyramid, a water slide, a kiddie pool, an arcade, and more. It's a fantastic pool area that's also home to the largest whirlpool spa in Disney World.
Related: The Pools at Disney's Coronado Springs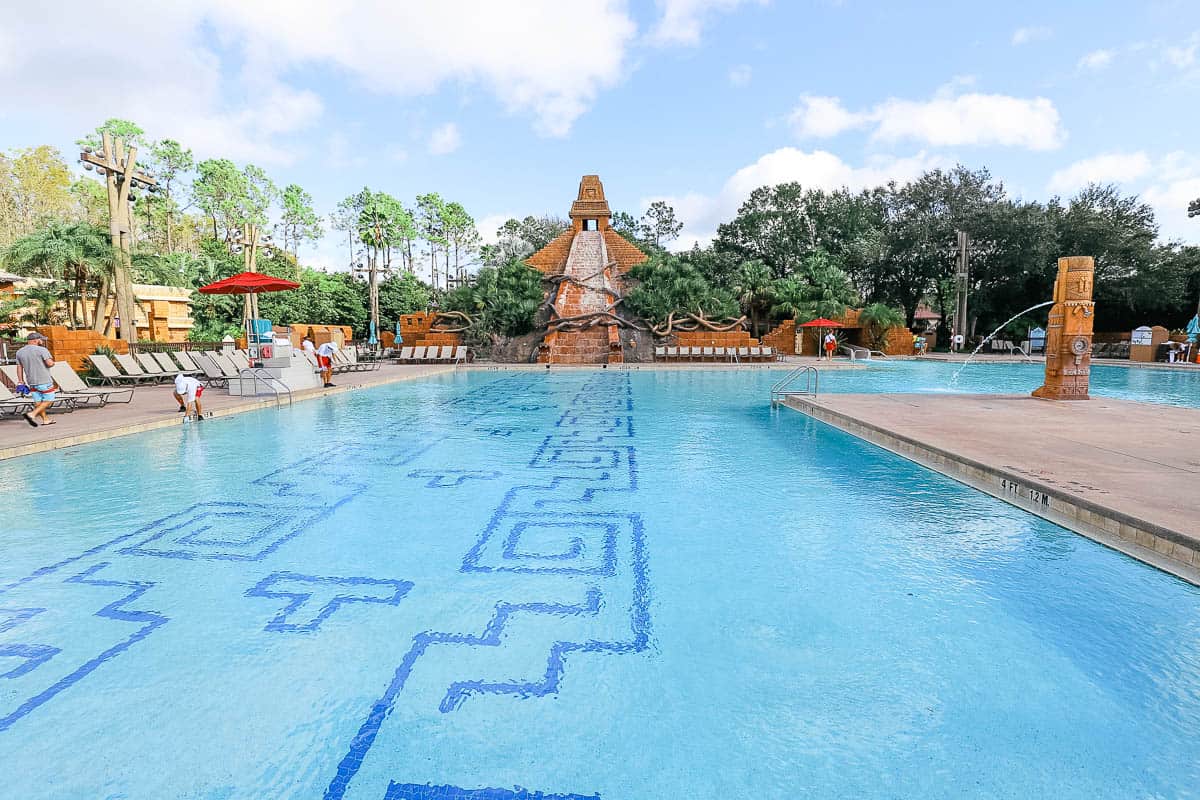 The Cabanas pool is nearby if you're staying at Gran Destino Tower and prefer to use one of the resort's quiet pools. The photo below shows a view of the pool with the tower sitting in the background.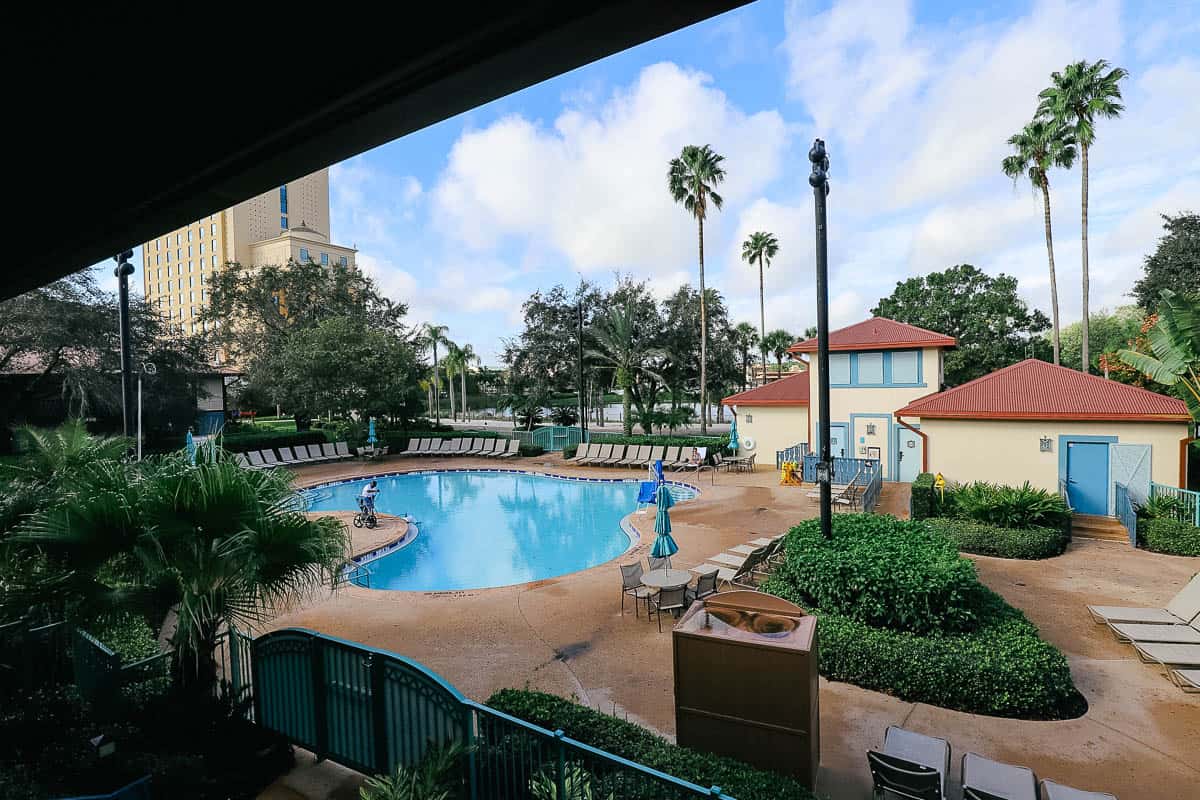 When we got to the pool area, it was time for the evening campfire.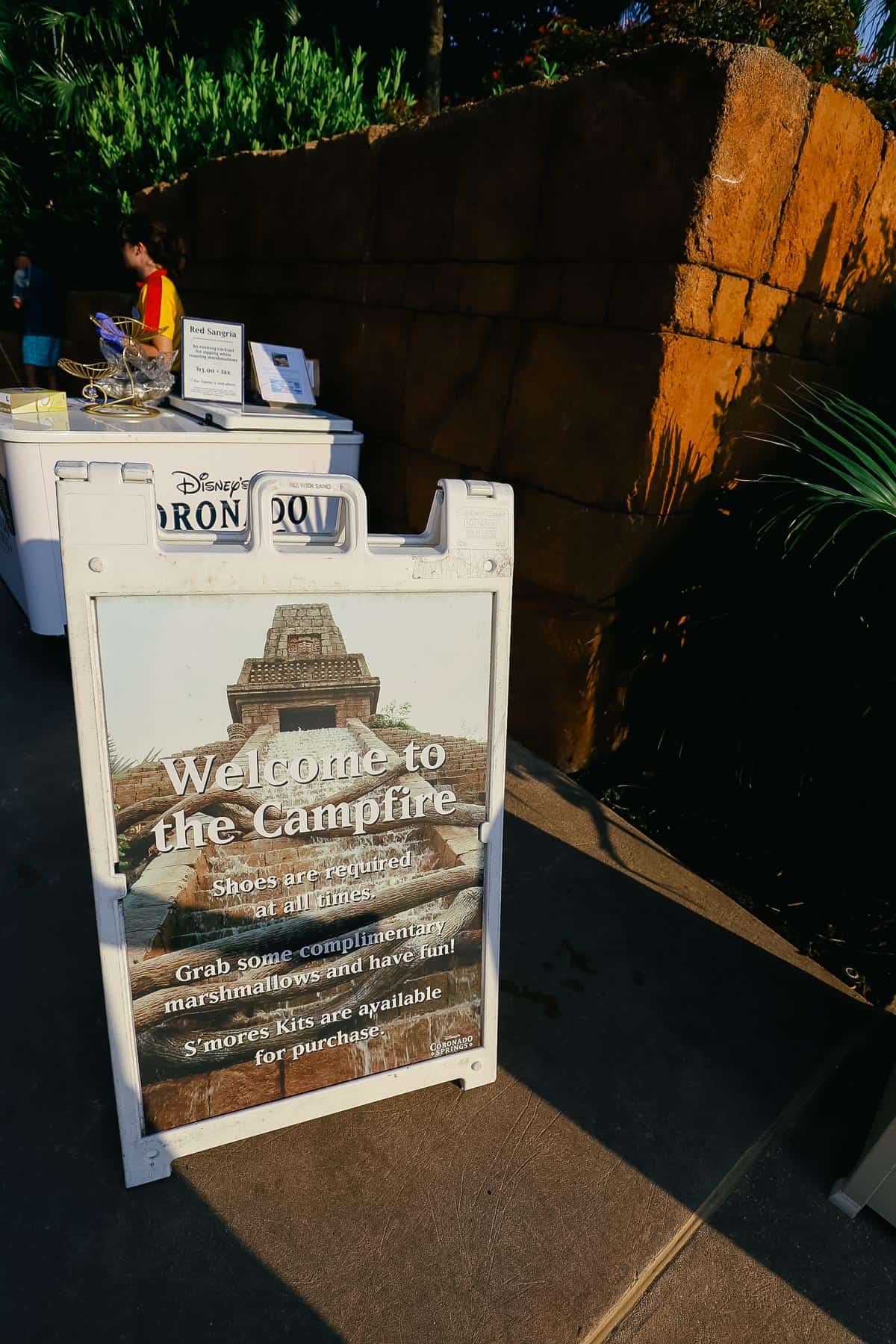 This is an activity that happens nightly at most Disney World Resorts. You can check the monthly recreation calendar for specifics. Each guest receives a package of marshmallows and a stick for roasting them.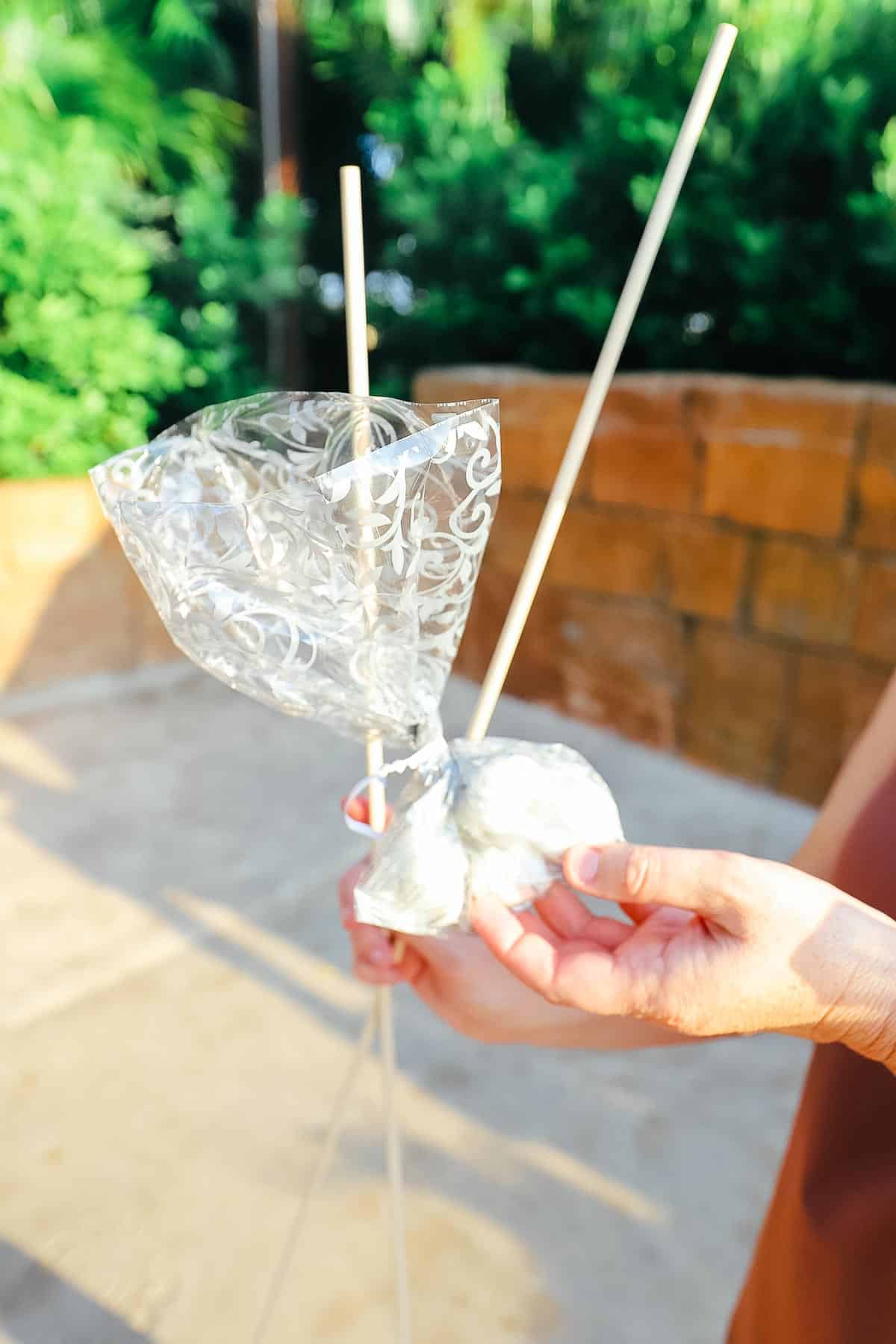 A small fire is built in a contained fire pit.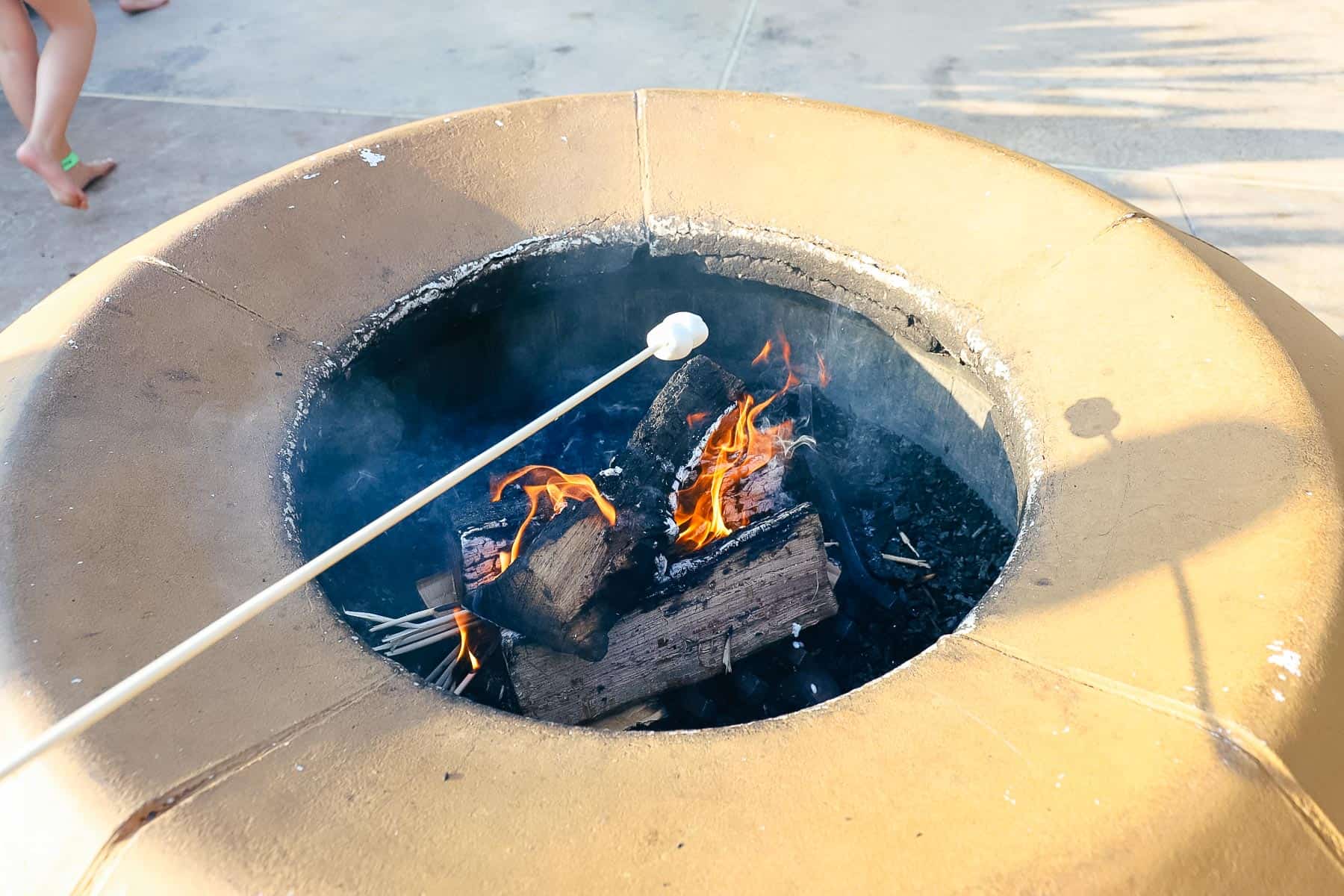 Guests can then roast their marshmallows and enjoy them. As simple as it sounds, these are the kinds of things that delight guests.
If you're spending a late afternoon at the pool or a day at the resort, it's such a pleasant surprise to participate in these fun activities. After the campfire, the resort holds its nightly Movies Under the Stars nearby.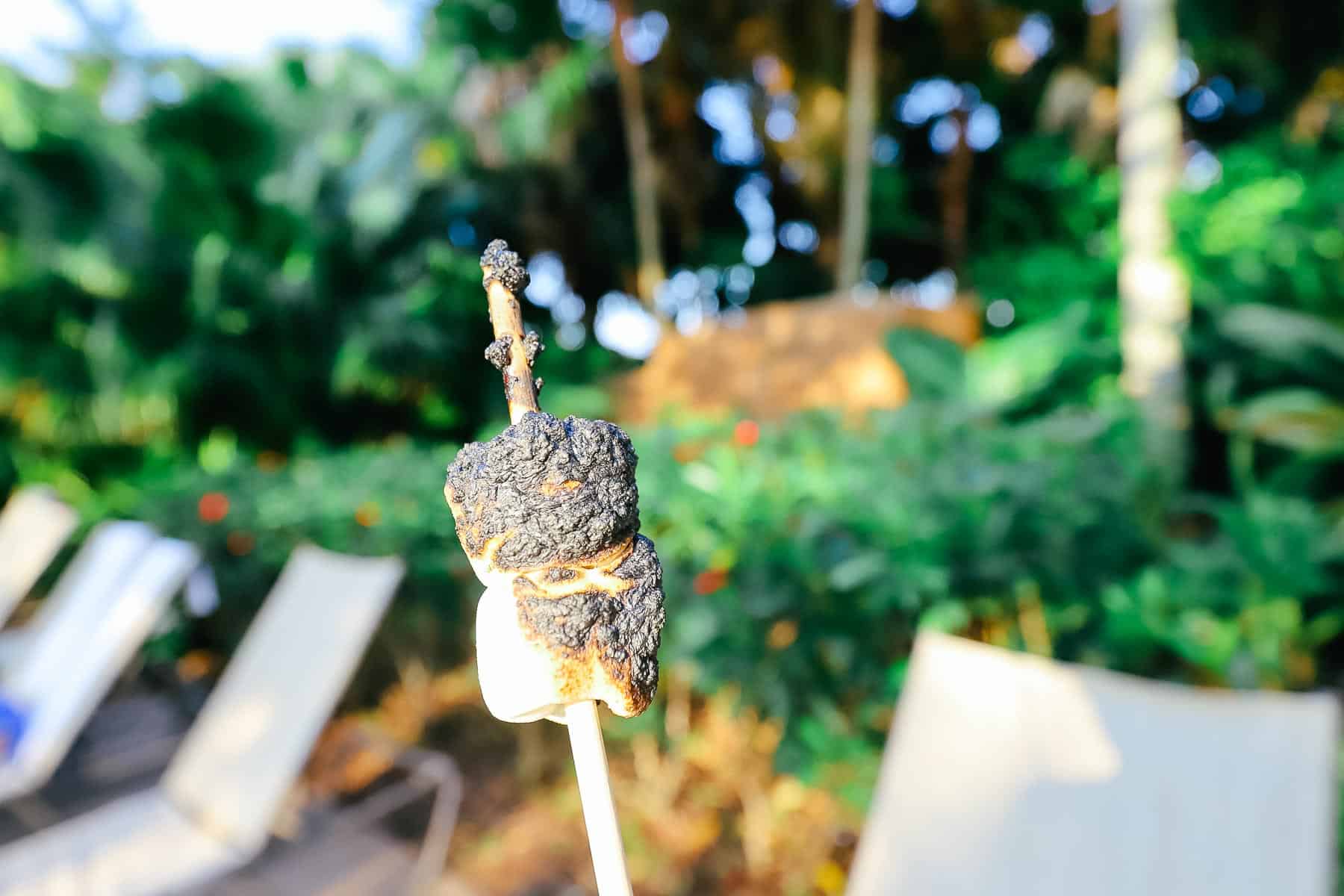 After we enjoyed our marshmallows, we decided to check out Three Bridges Bar and Grill. This restaurant sits in the middle of the lake at the center of the three bridges.
A few years ago, guests had to walk the parameter of the lake to get around the resort. However, since the bridges were added, guests can quickly get where they're headed by crossing them.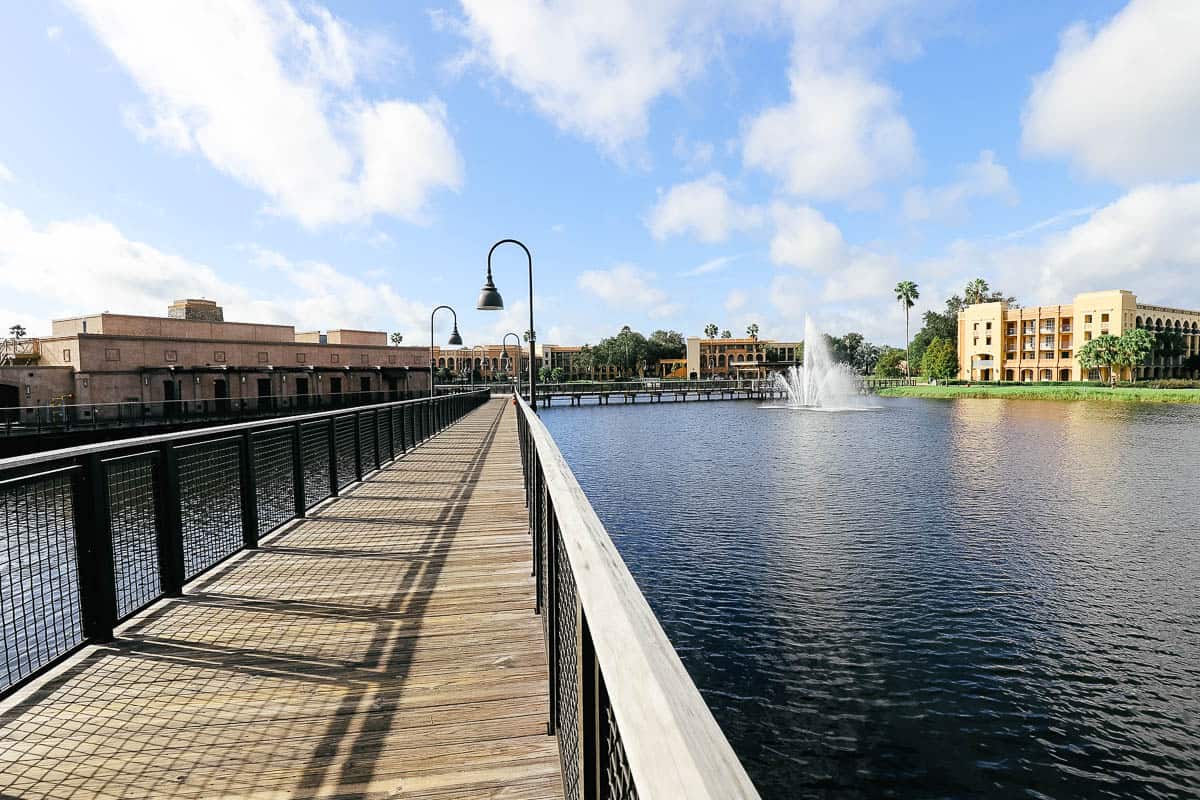 For whatever reason, Three Bridges Bar and Grill is also called Villa del Lago. This location offers tapas, salads, and entrees. Various cocktails, sangria, wine, and beer are also available.
At this point, we walked back across the bridge to El Centro and browsed the lobby gift shop, Panchito's. We then took the connecting hall from the Coronado Springs lobby to Gran Destino Tower.
This hallway allows guests to travel back and forth between the two lobbies. When I stayed at Coronado Springs last year during a hurricane, this hallway was a game-changer.
That stay was in the Cabanas section of the resort. So I had to brave the wind and rain to get to Gran Destino. But once I was inside Gran Destino, I could remain inside and still access the lobbies, multiple dining venues, and the convention center, where special entertainment options were available to guests riding out the storm.
Related: Disney's Coronado Springs Review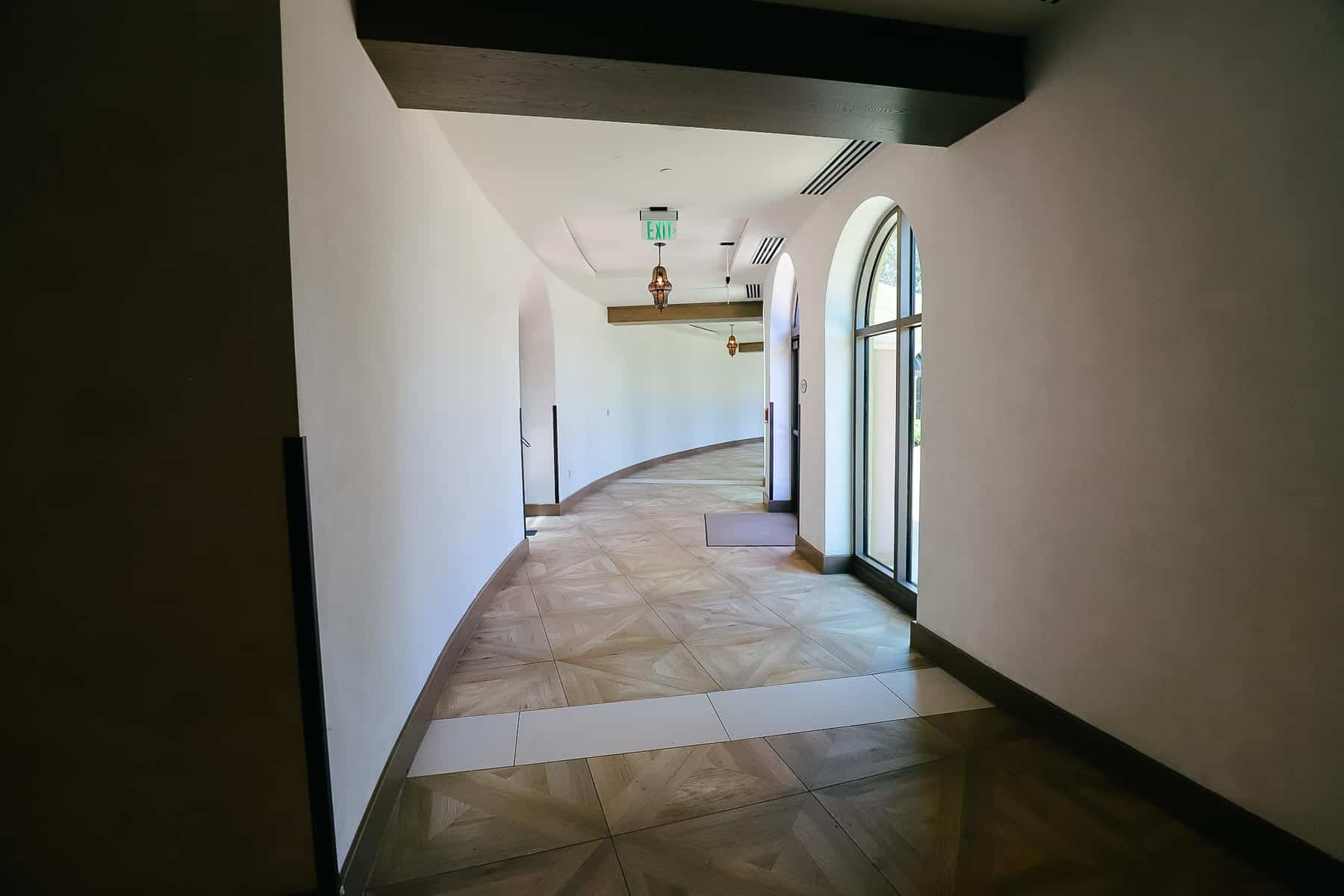 Back inside Gran Destino, we'll look at the resort's lobby areas comprising the first and second floors.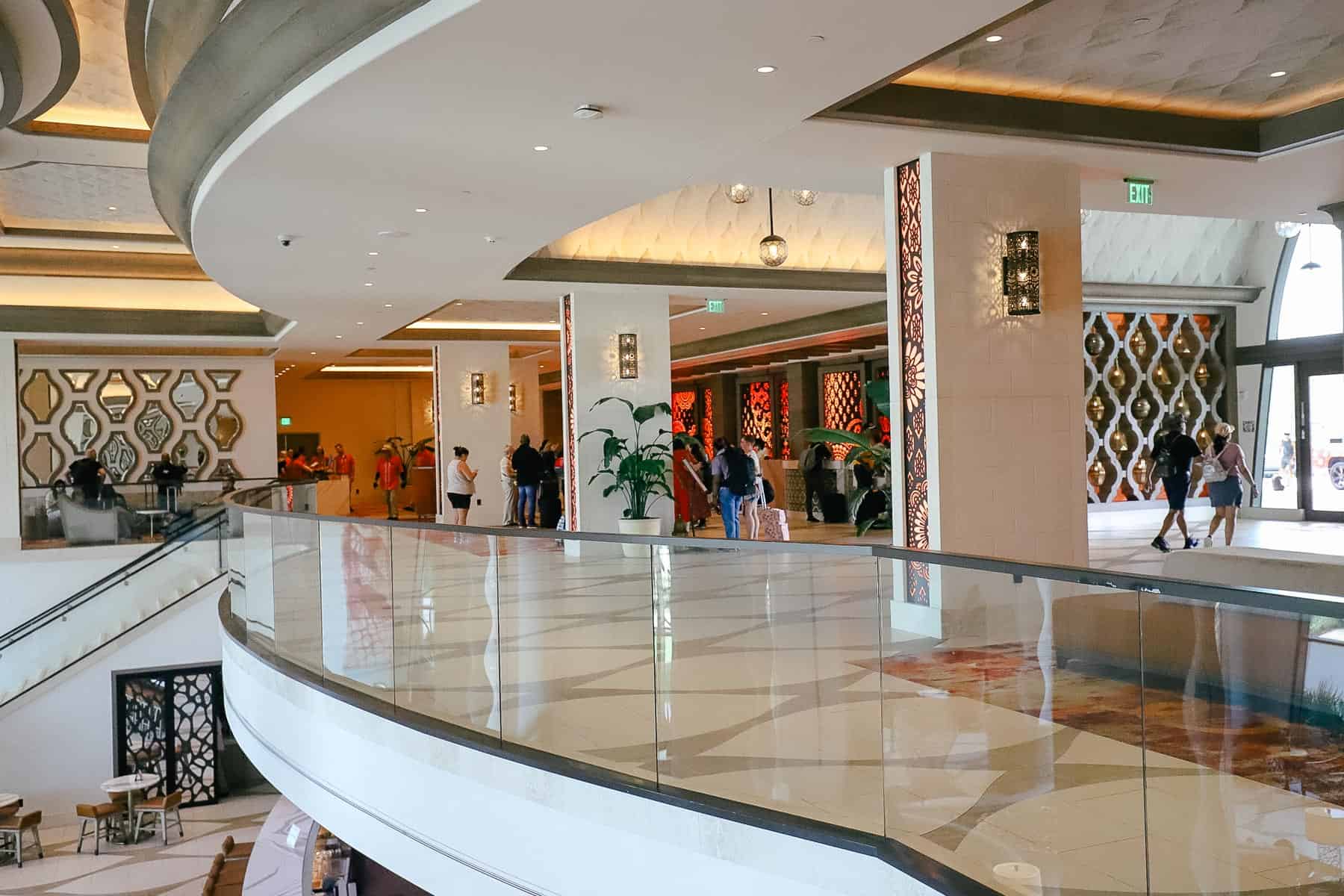 A large wall of windows offers a design element while allowing light to flood into the space. Sculptured ironwork adorns them.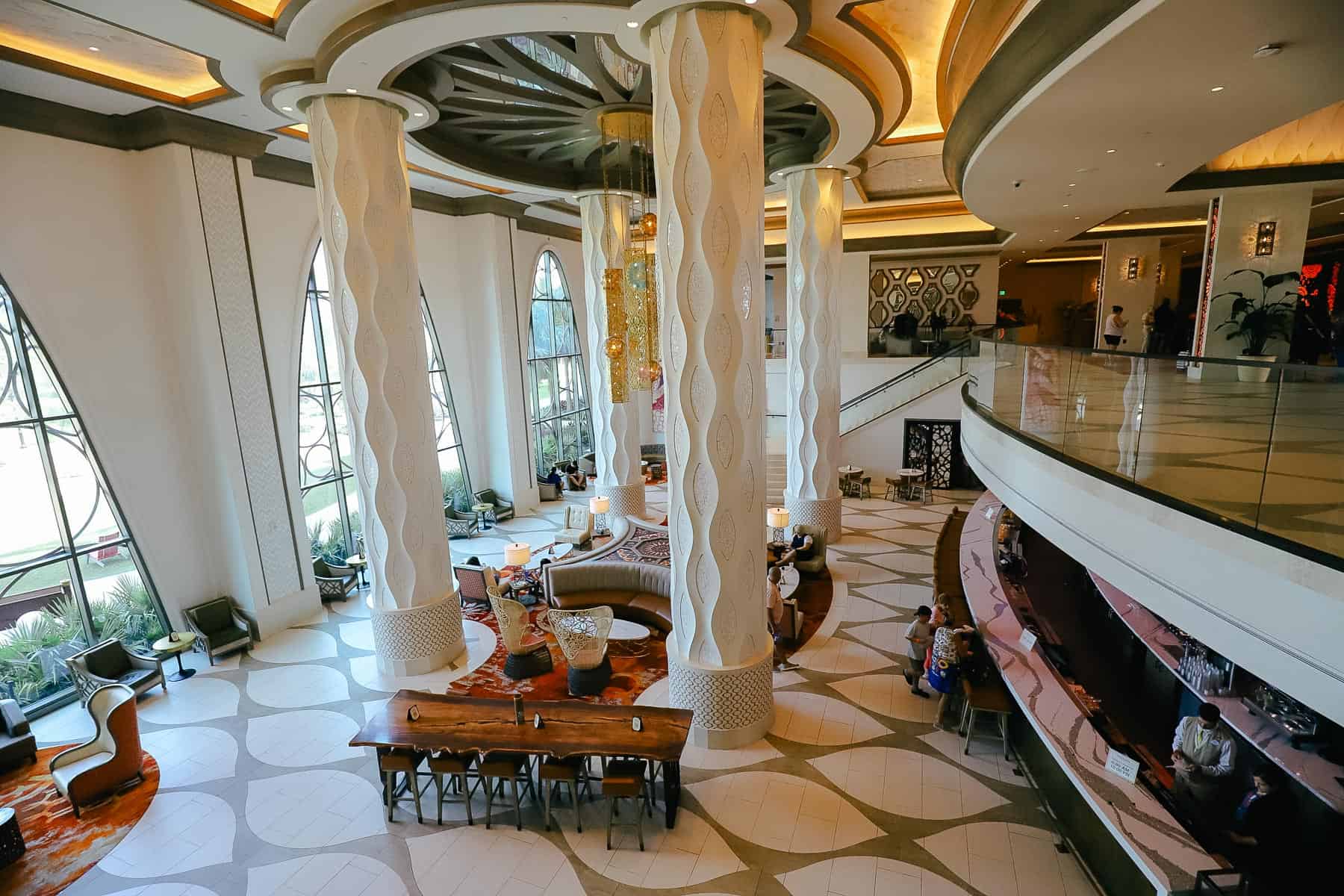 The lobby is home to several workspaces.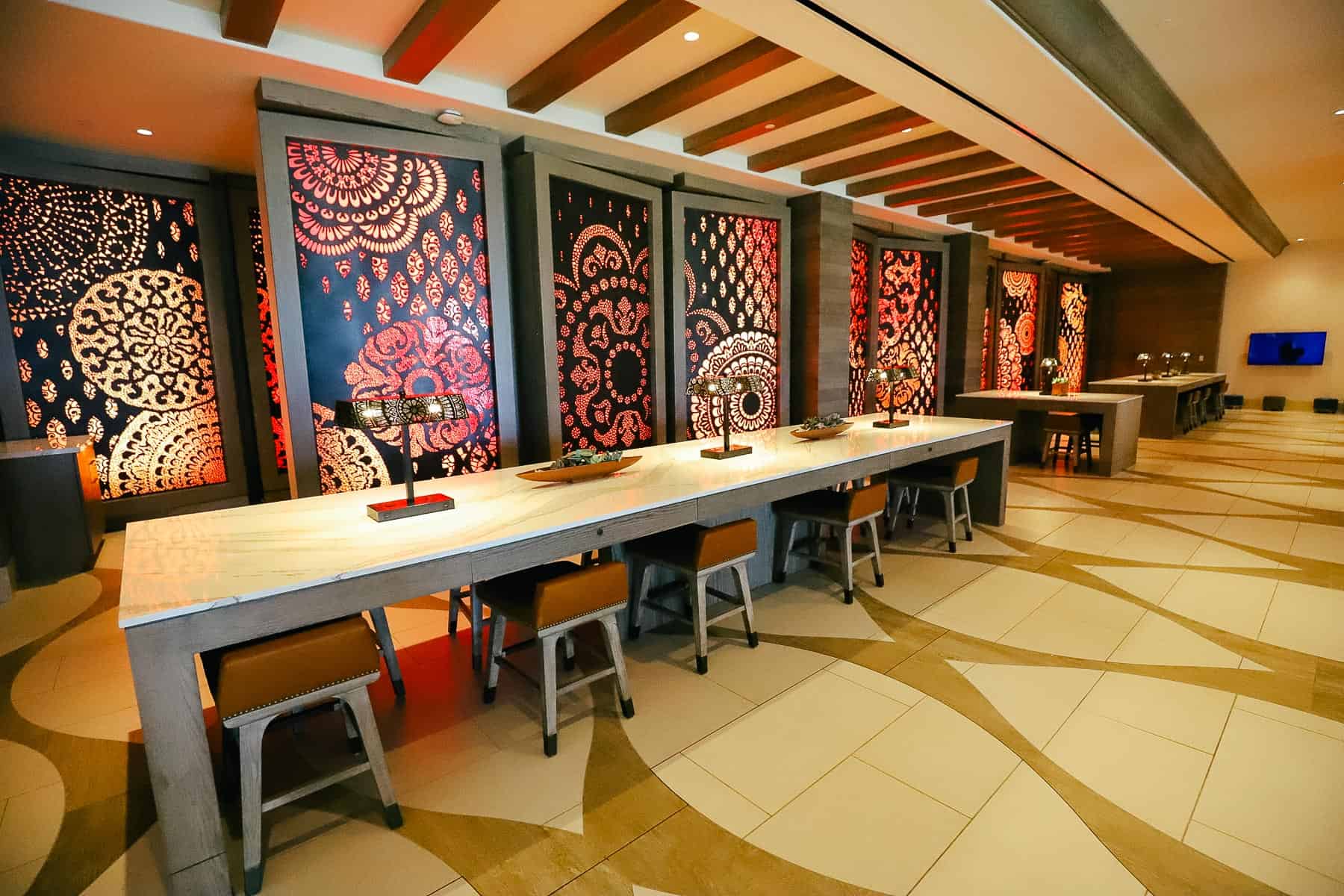 Many of these seating areas have outlets and USB ports.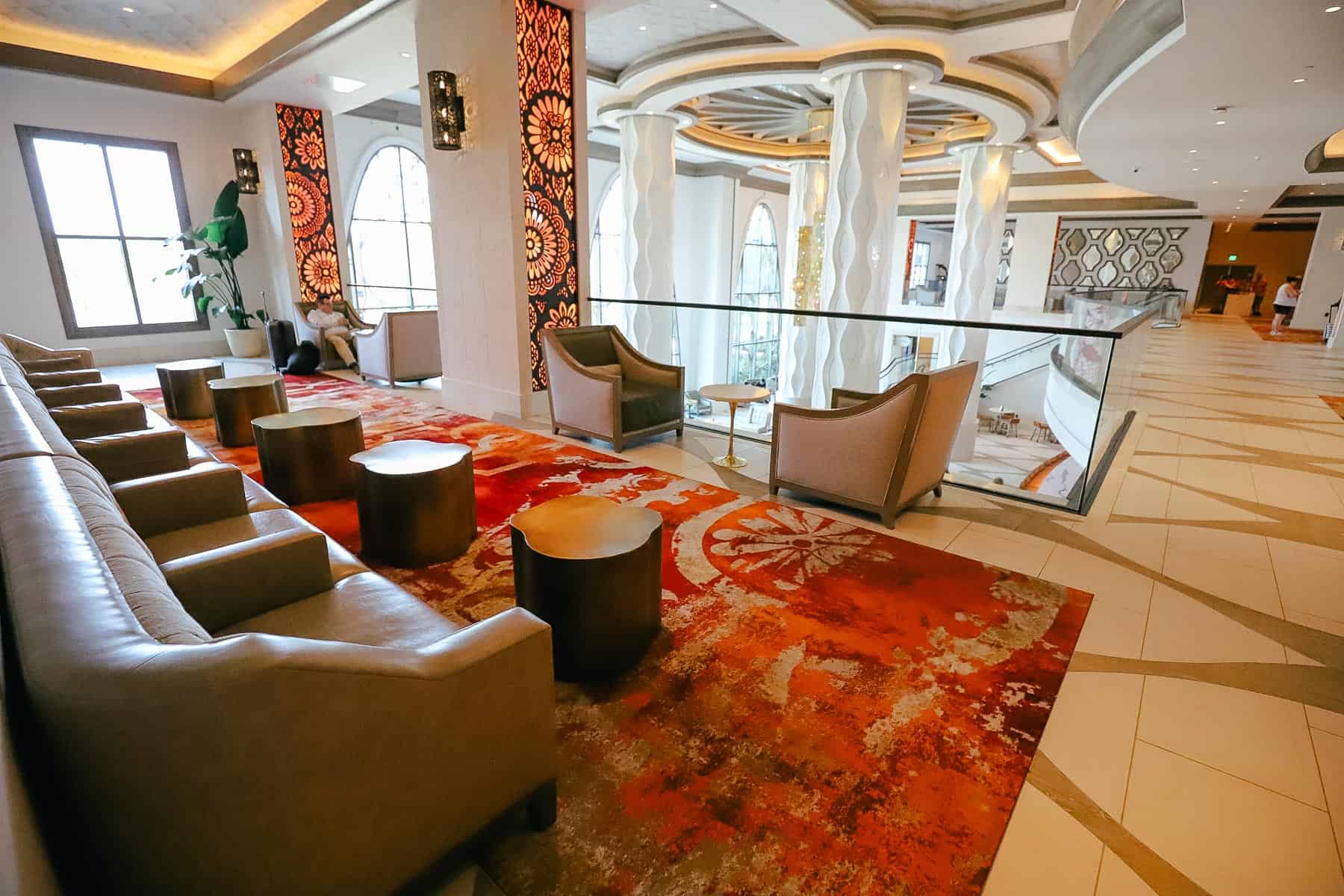 The ceiling work and fixtures are exquisite.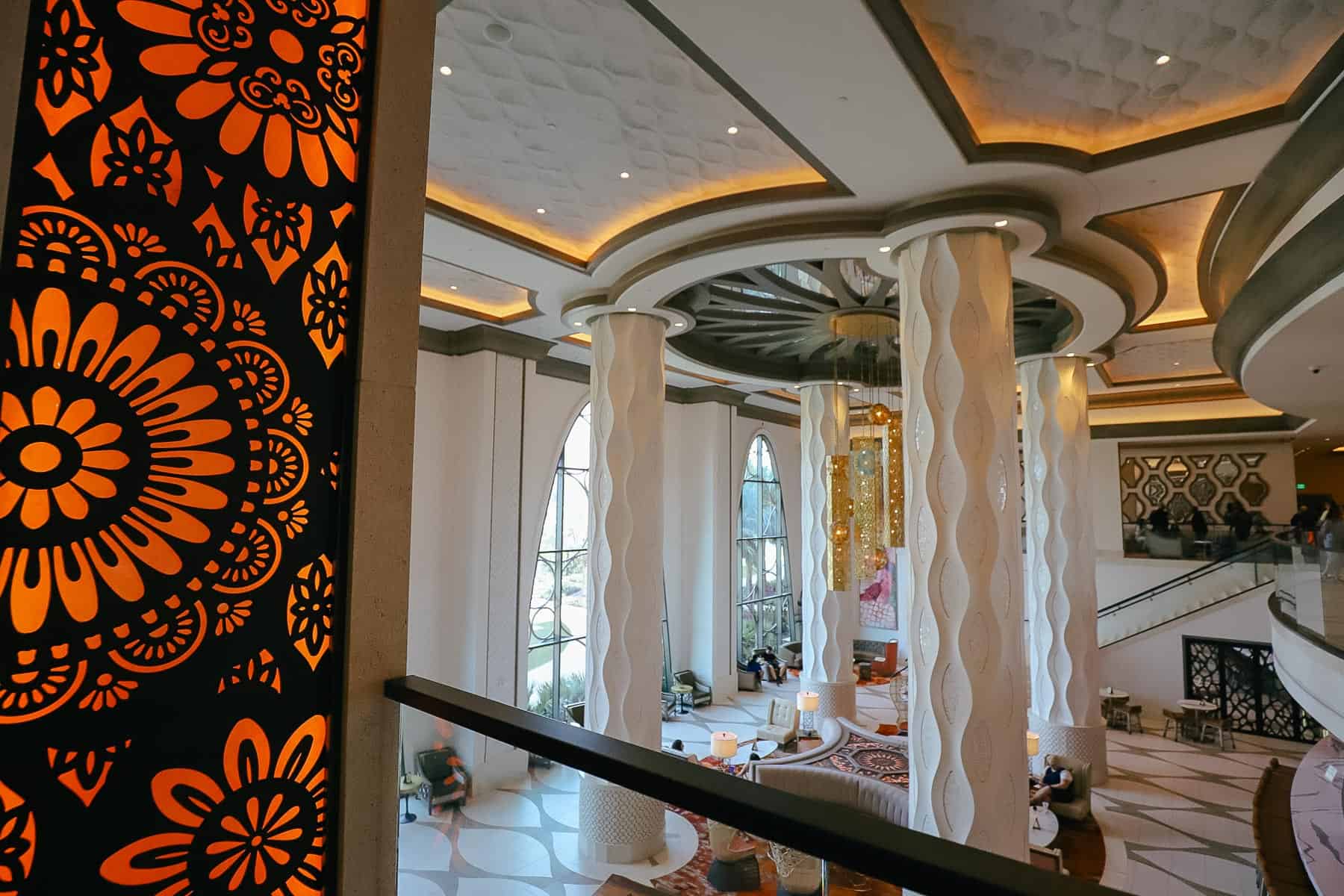 Elevators are on the far side of the lobby. This elevator system works differently from what most are accustomed to using. You order an elevator by selecting a floor. After choosing a floor, the screen indicates your elevator assignment. Arrows will point you in the direction of your elevator.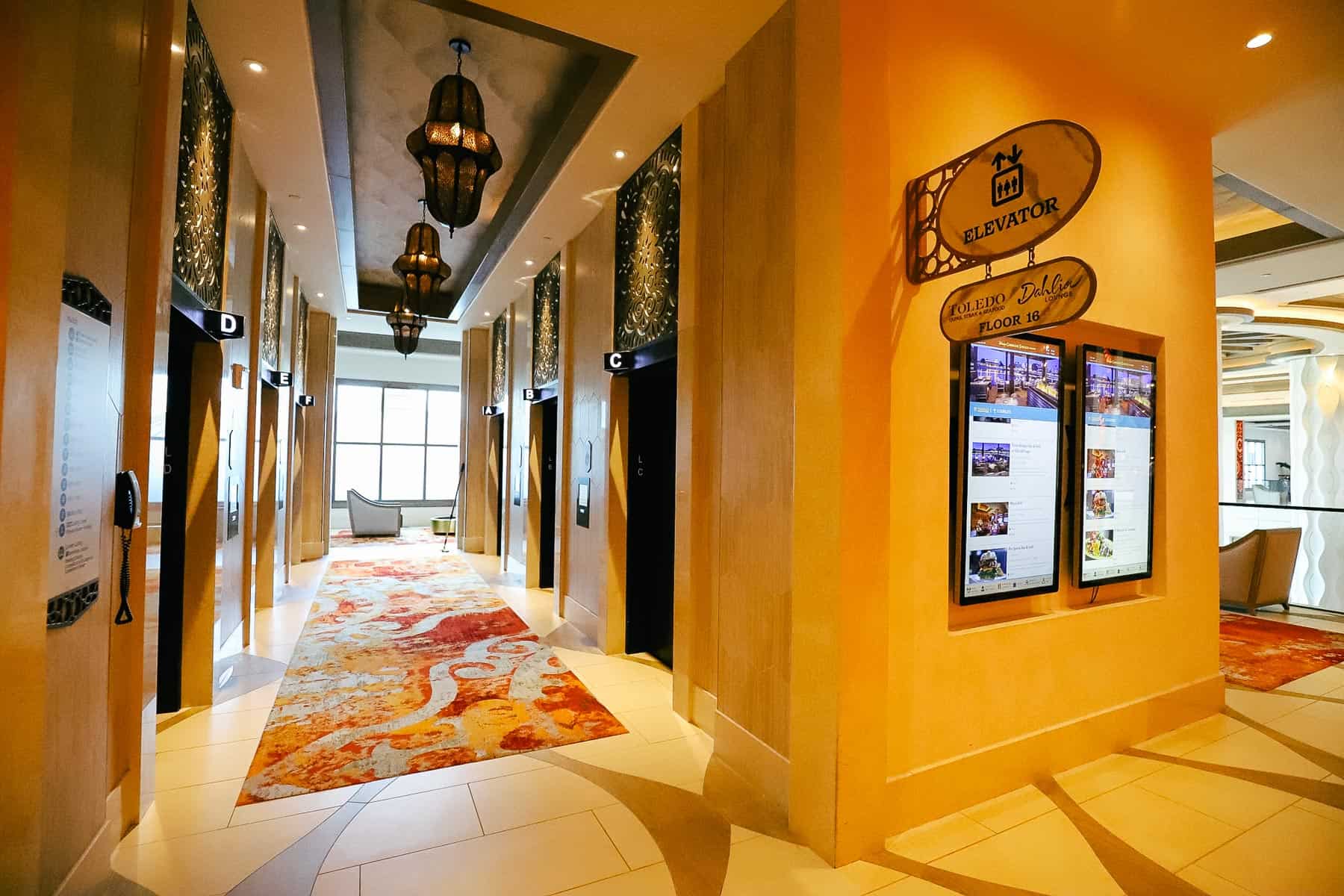 Here is a list of the floors.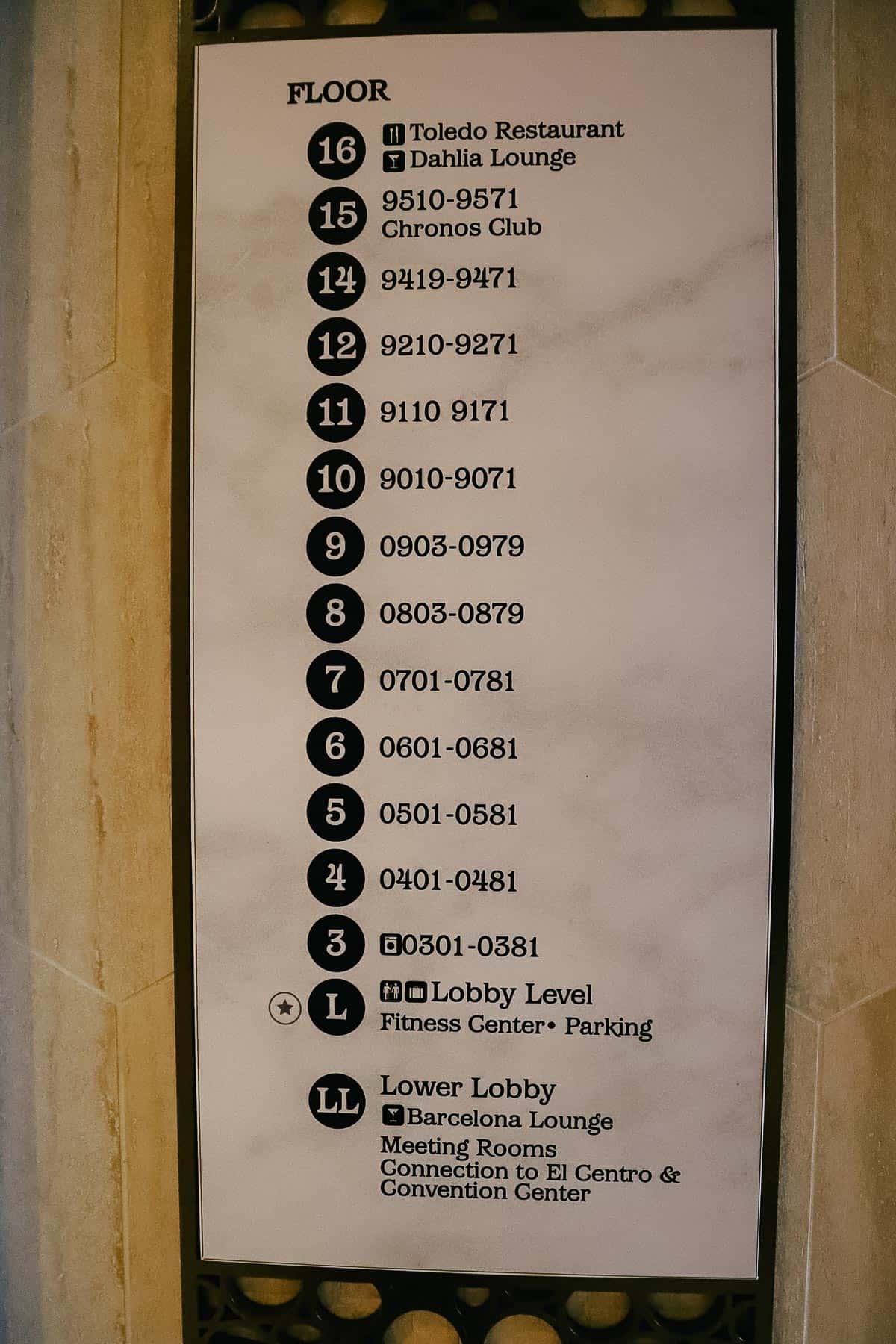 More seating areas are available on the lower level of the lobby.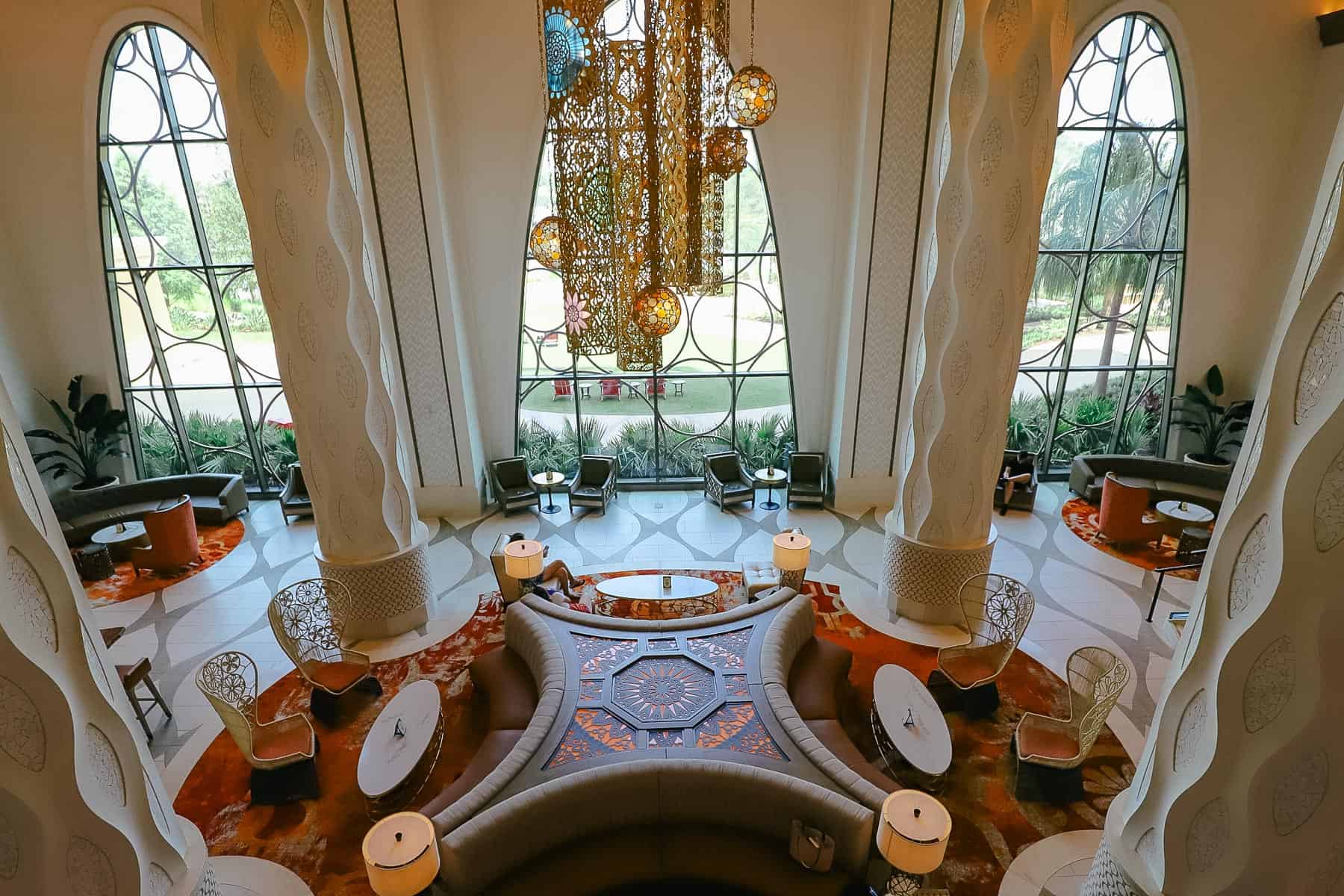 Here are a few more photos.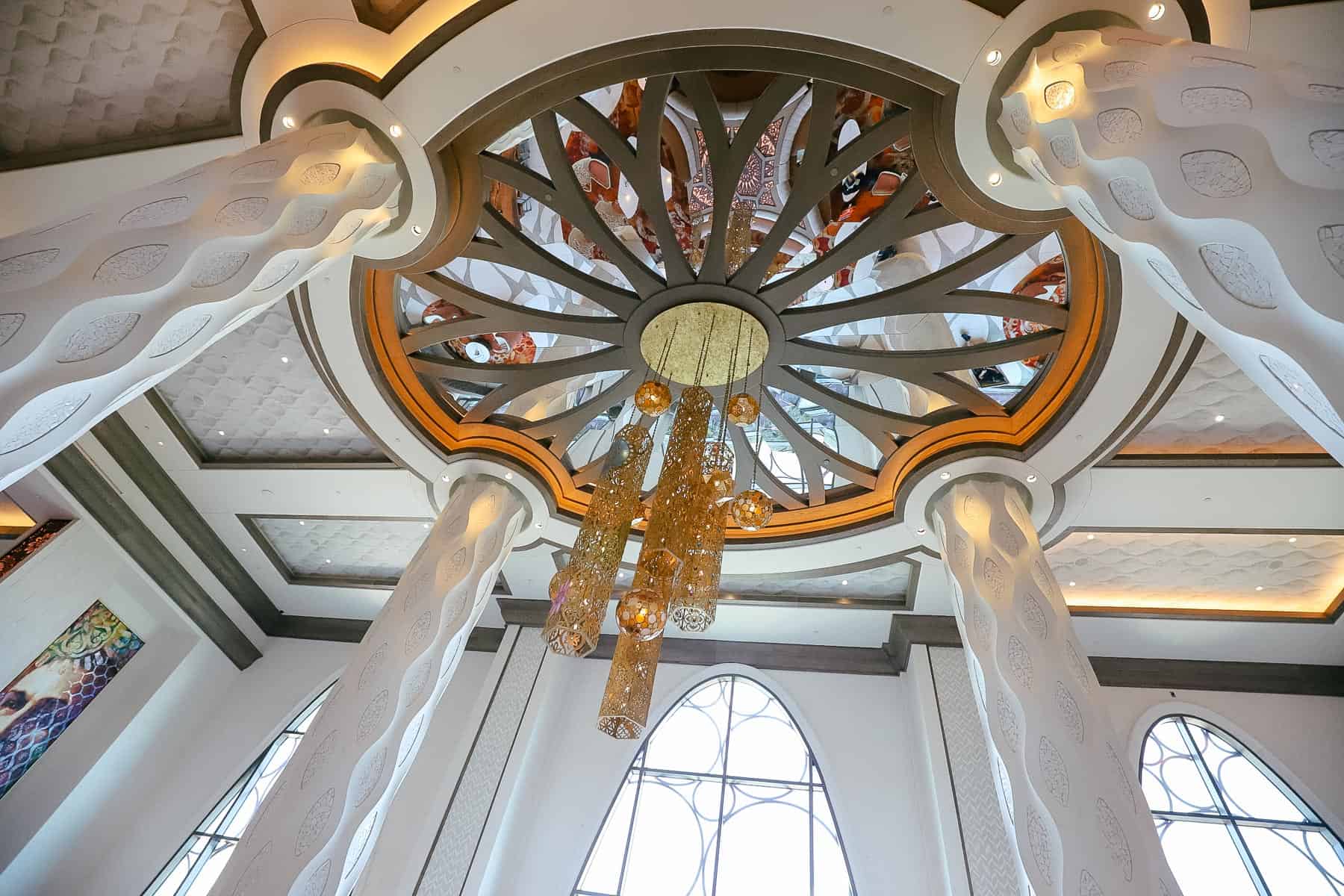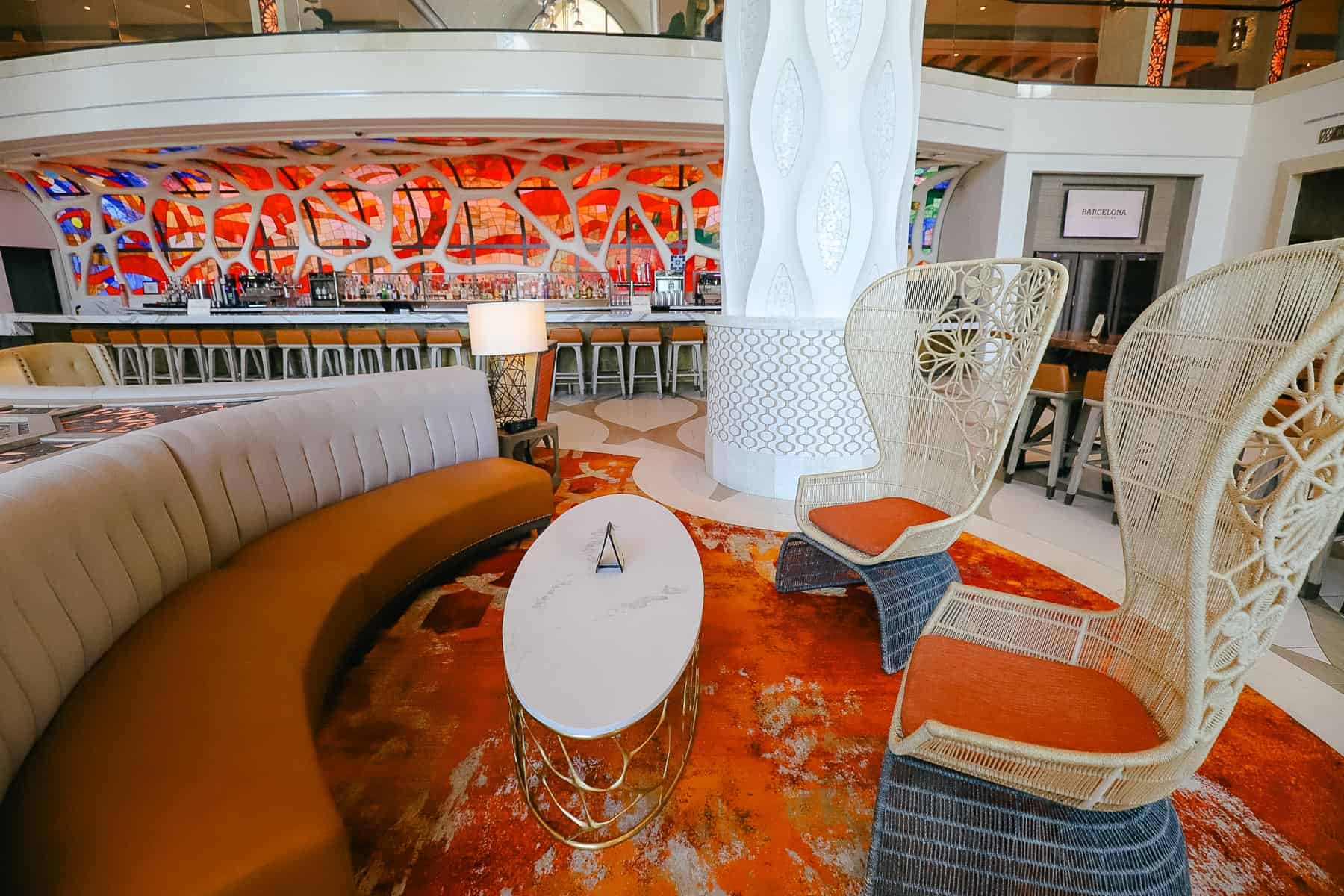 Barcelona Lounge is tucked underneath the lower level. It has a stunning stained glass backdrop. This location serves coffee in the morning. It then closes and reopens as a lounge in the evening.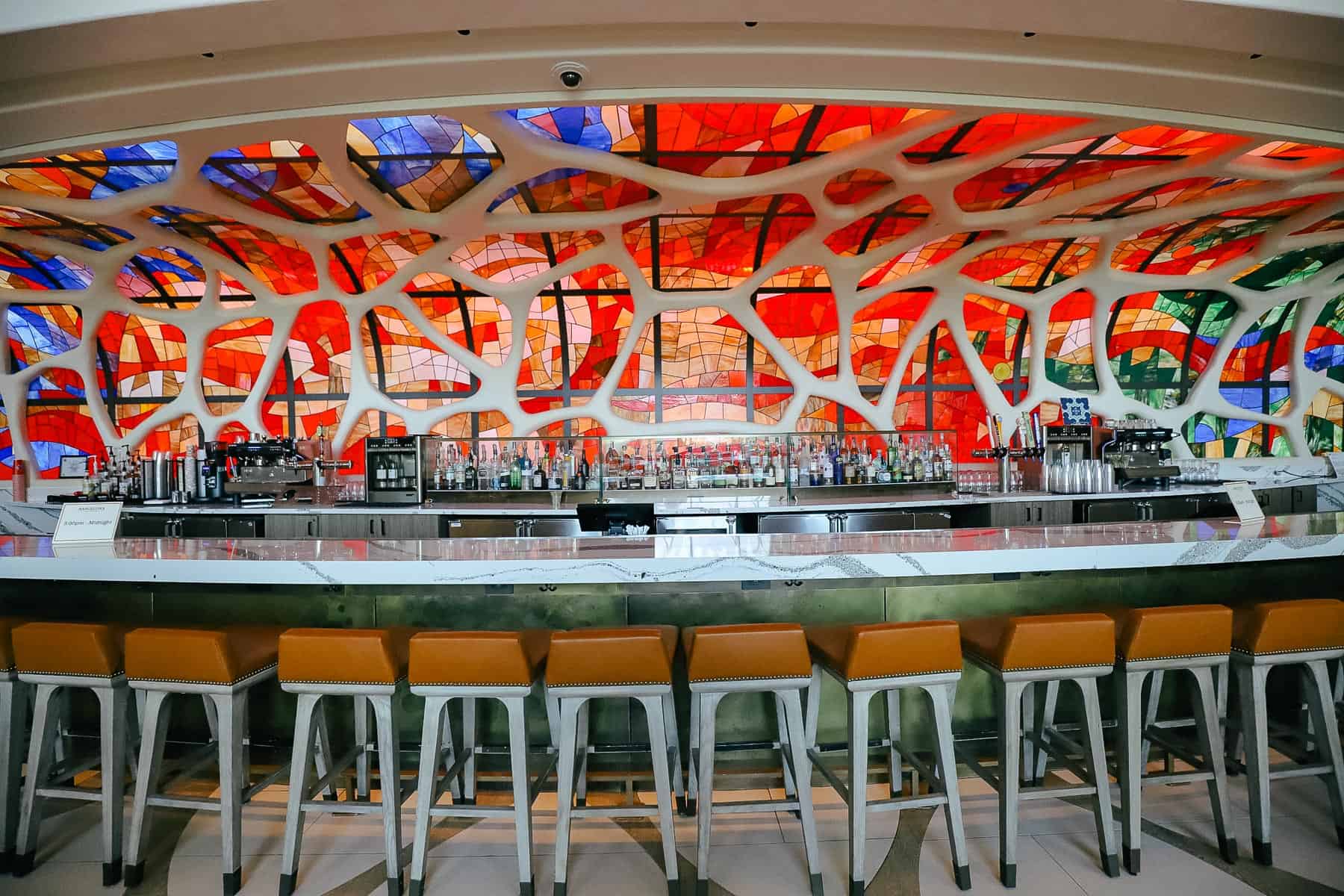 Barcelona Lounge serves bar food and cocktails in the evening. Guests can place mobile orders from the tables and chairs in the immediate area.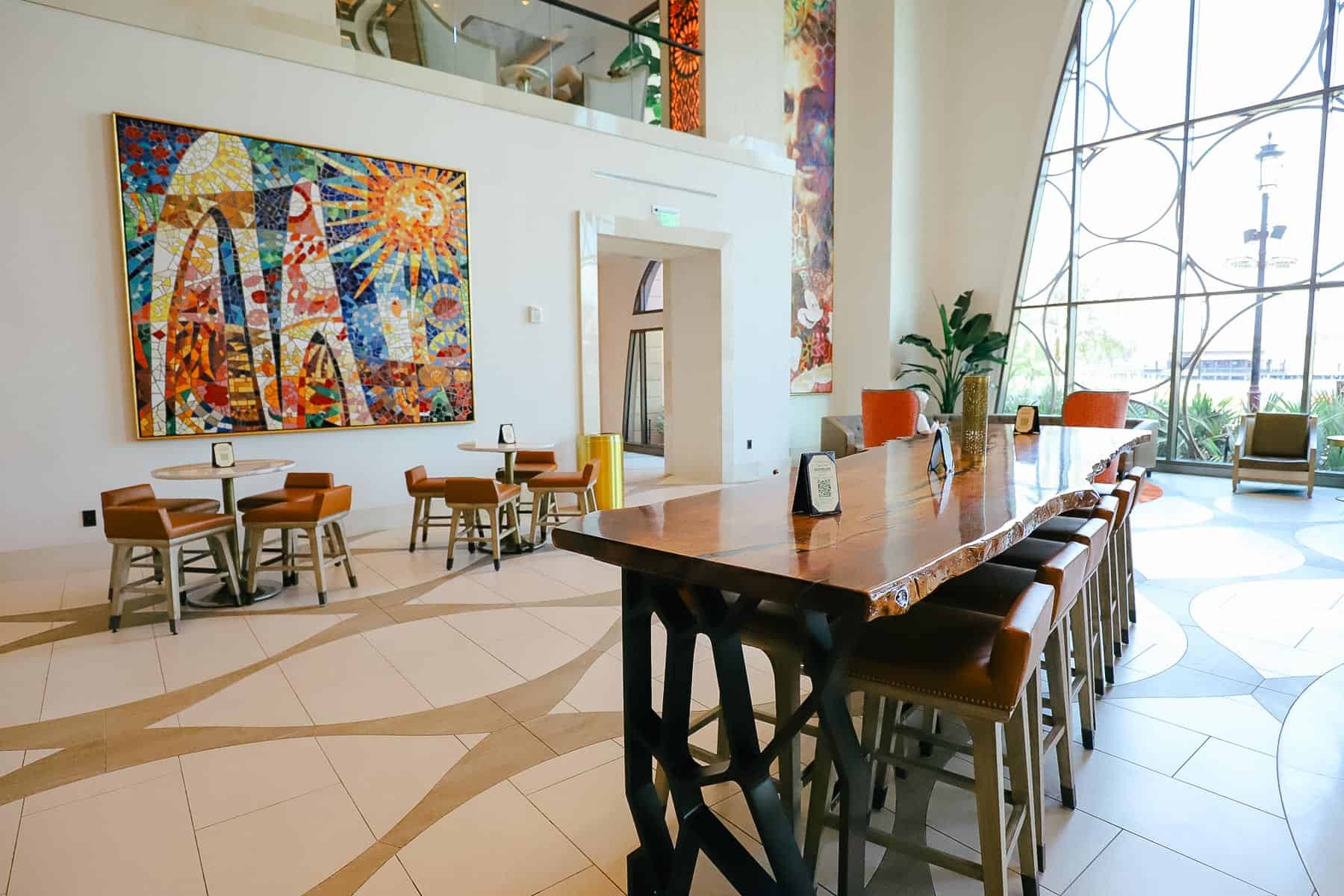 A subtle nod to Walt Disney and Mickey Mouse is displayed in the artwork.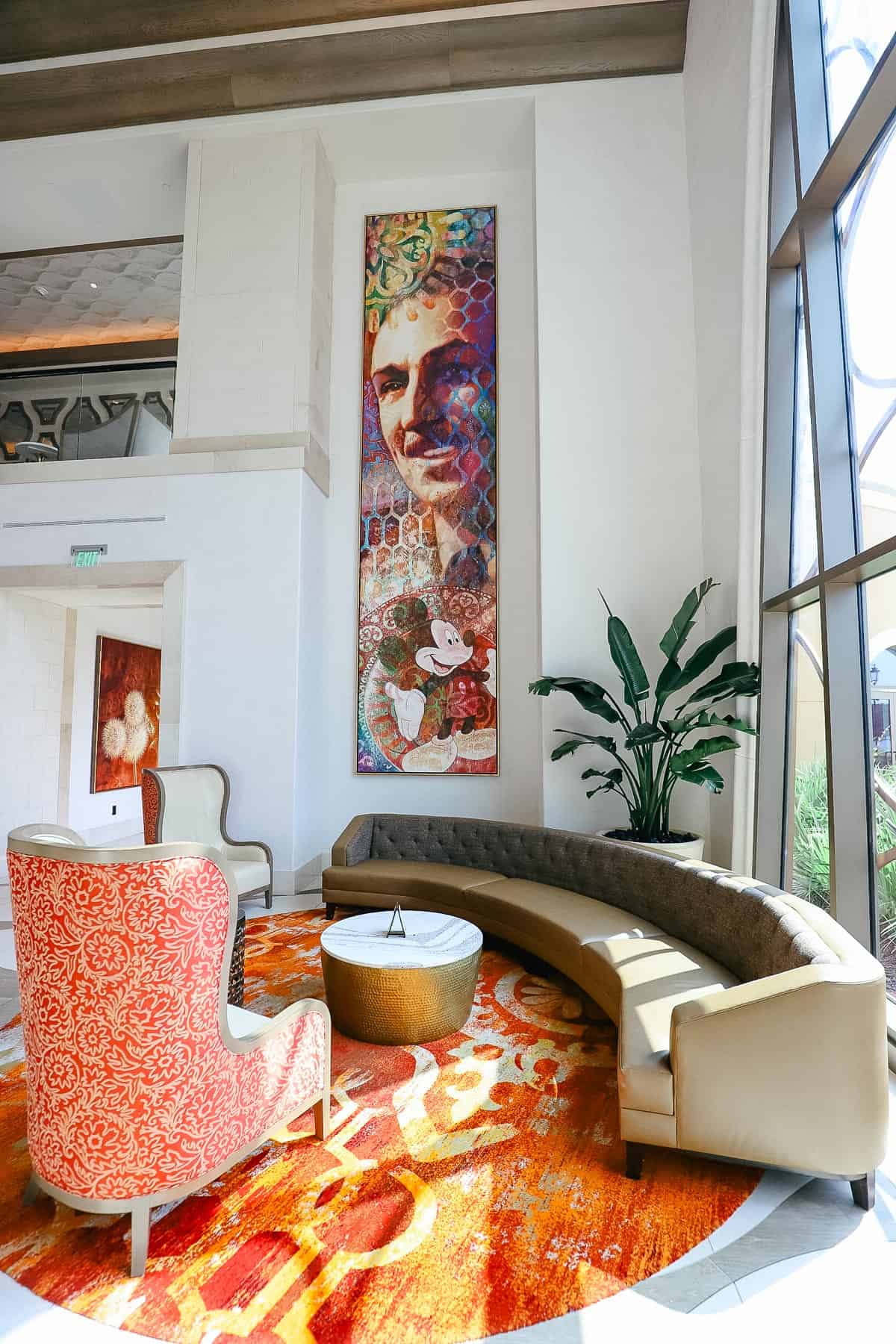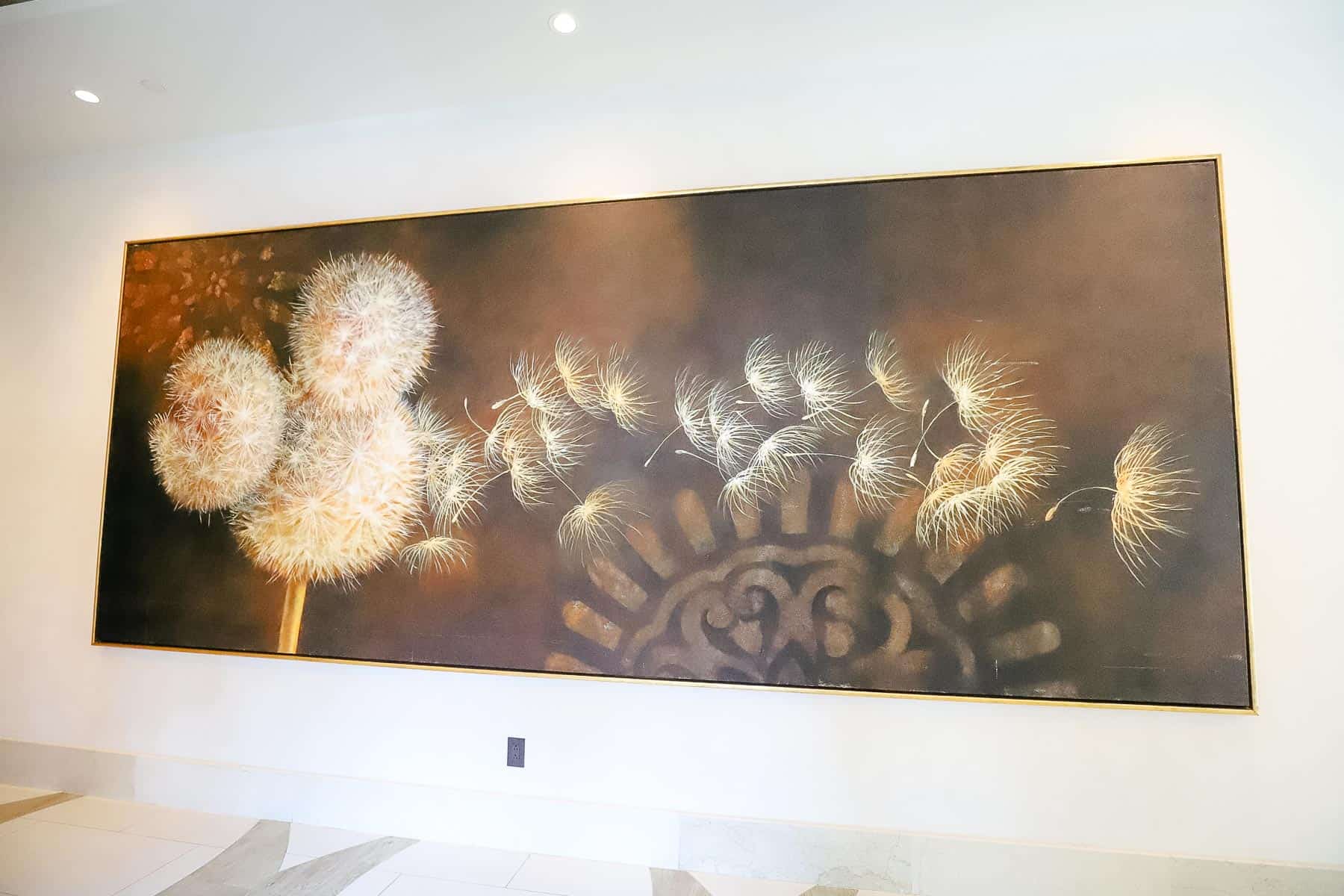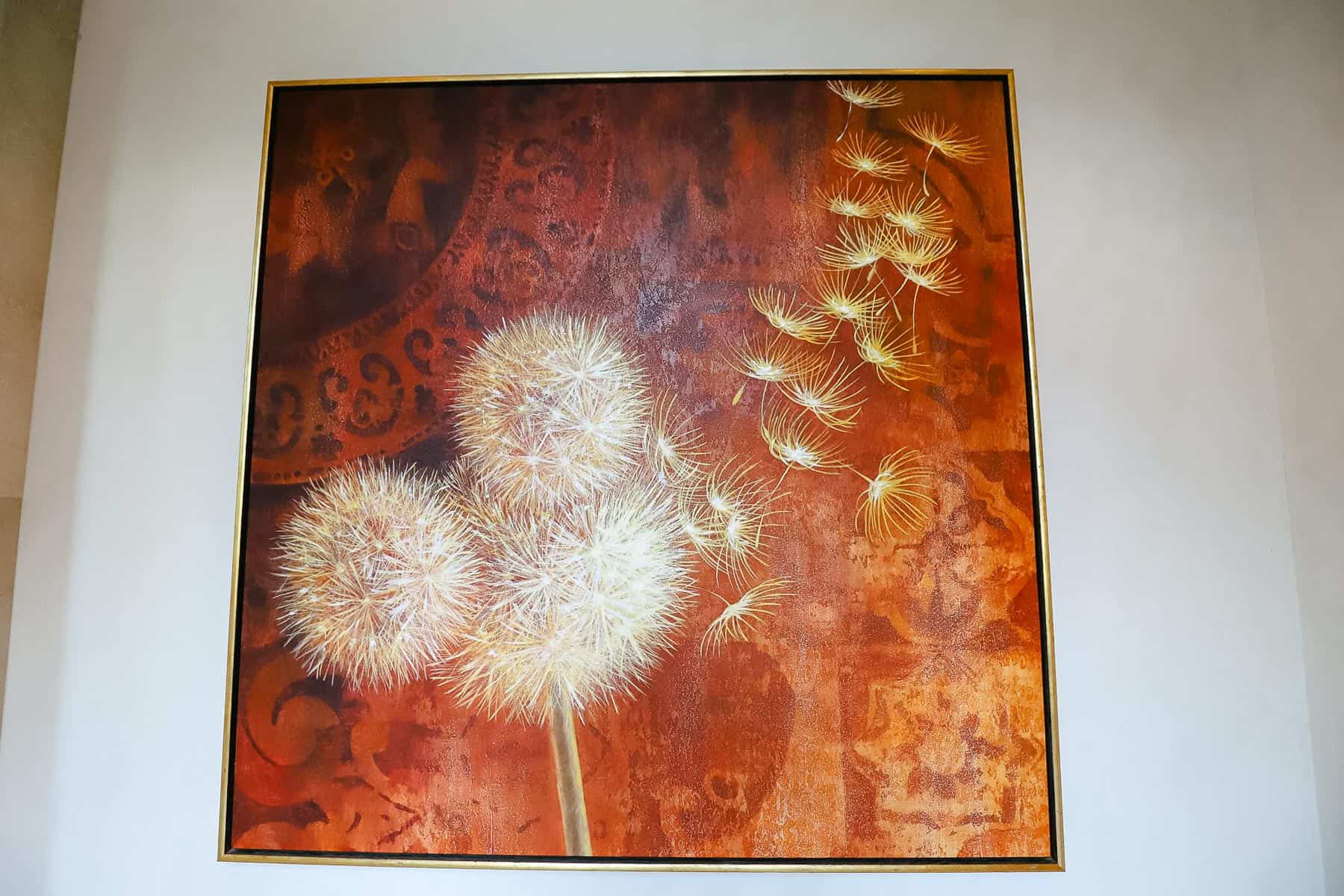 Gran Destino Tower has a fitness center located off the second-floor lobby. It's toward the back corner, past the elevators.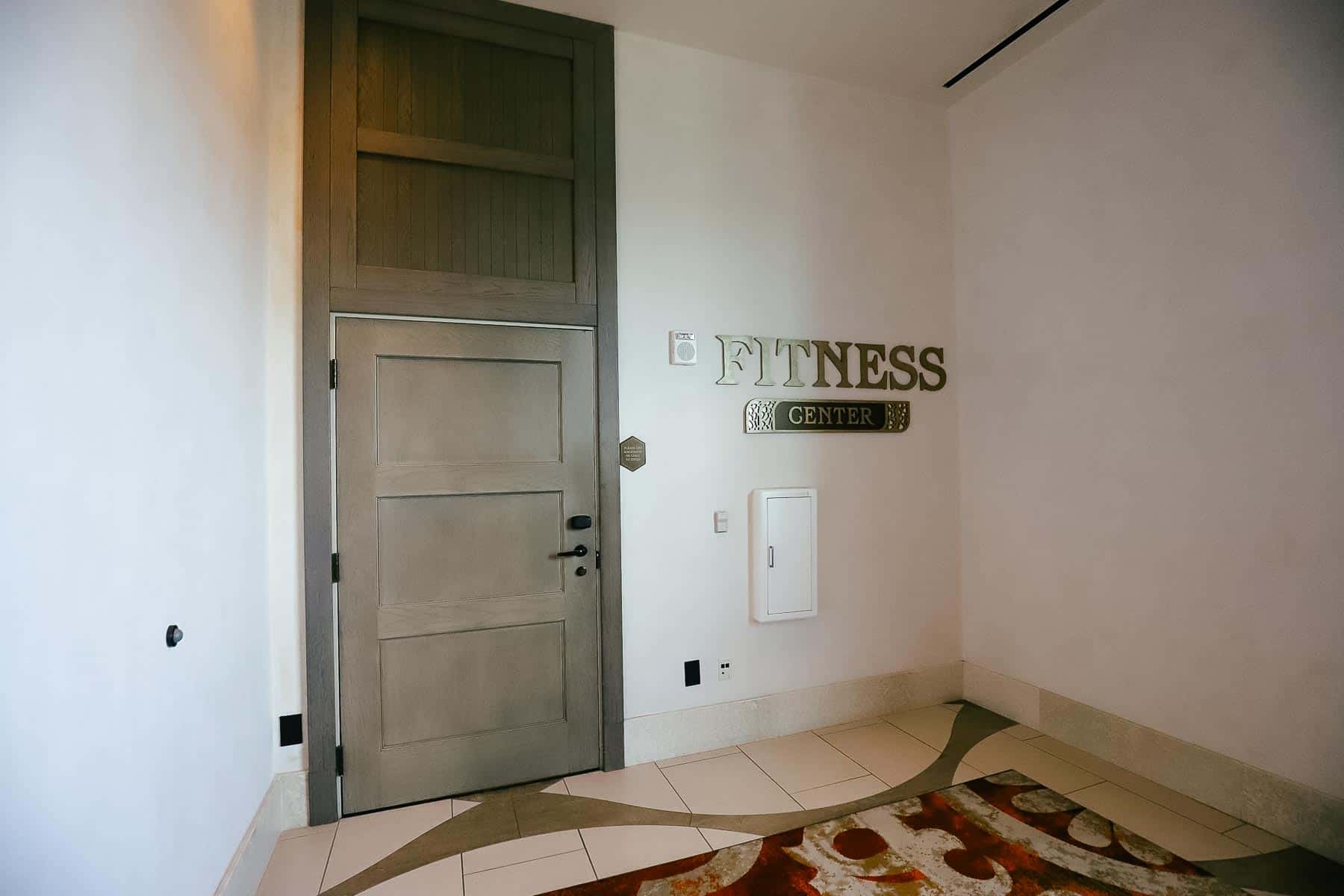 Here is a look inside.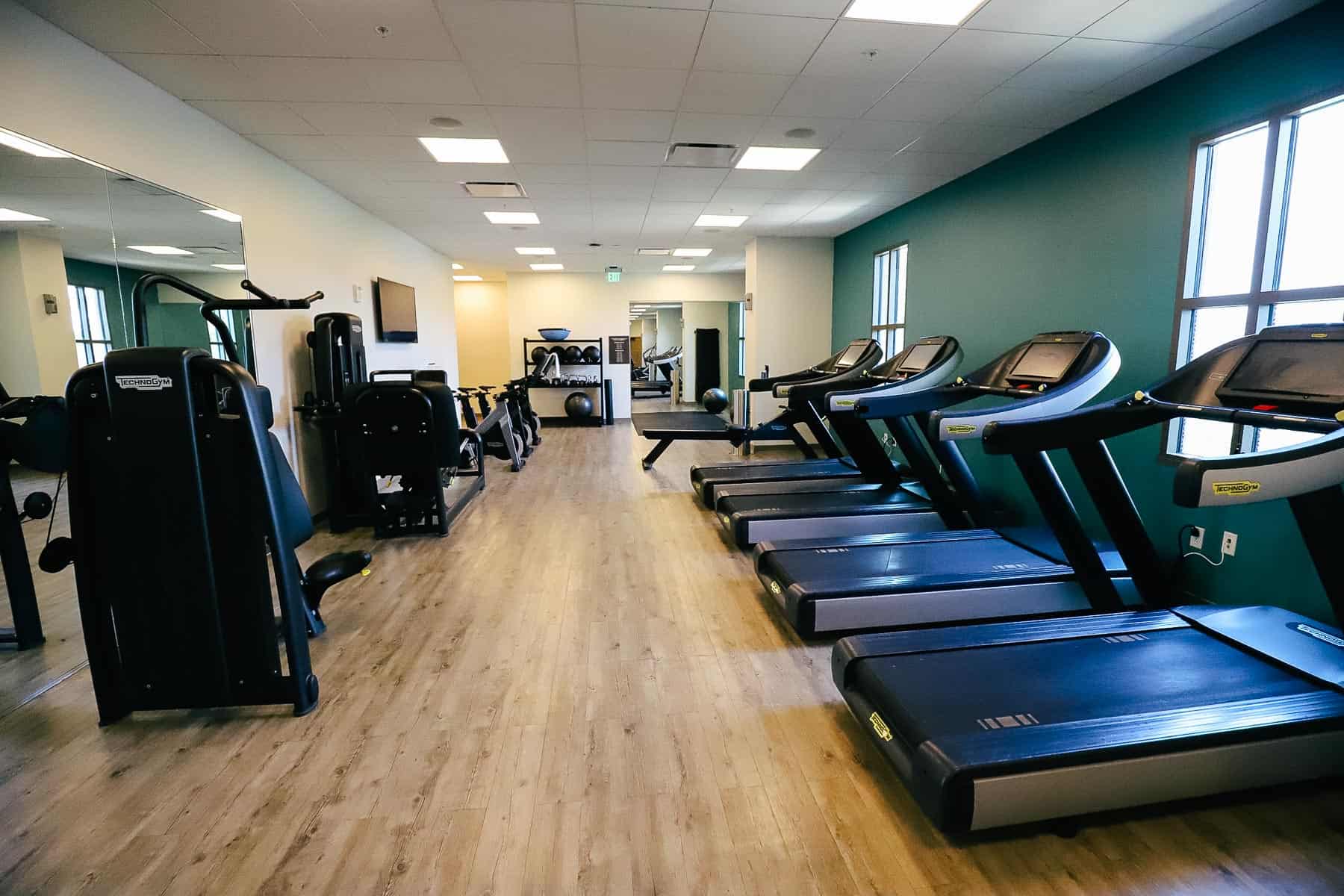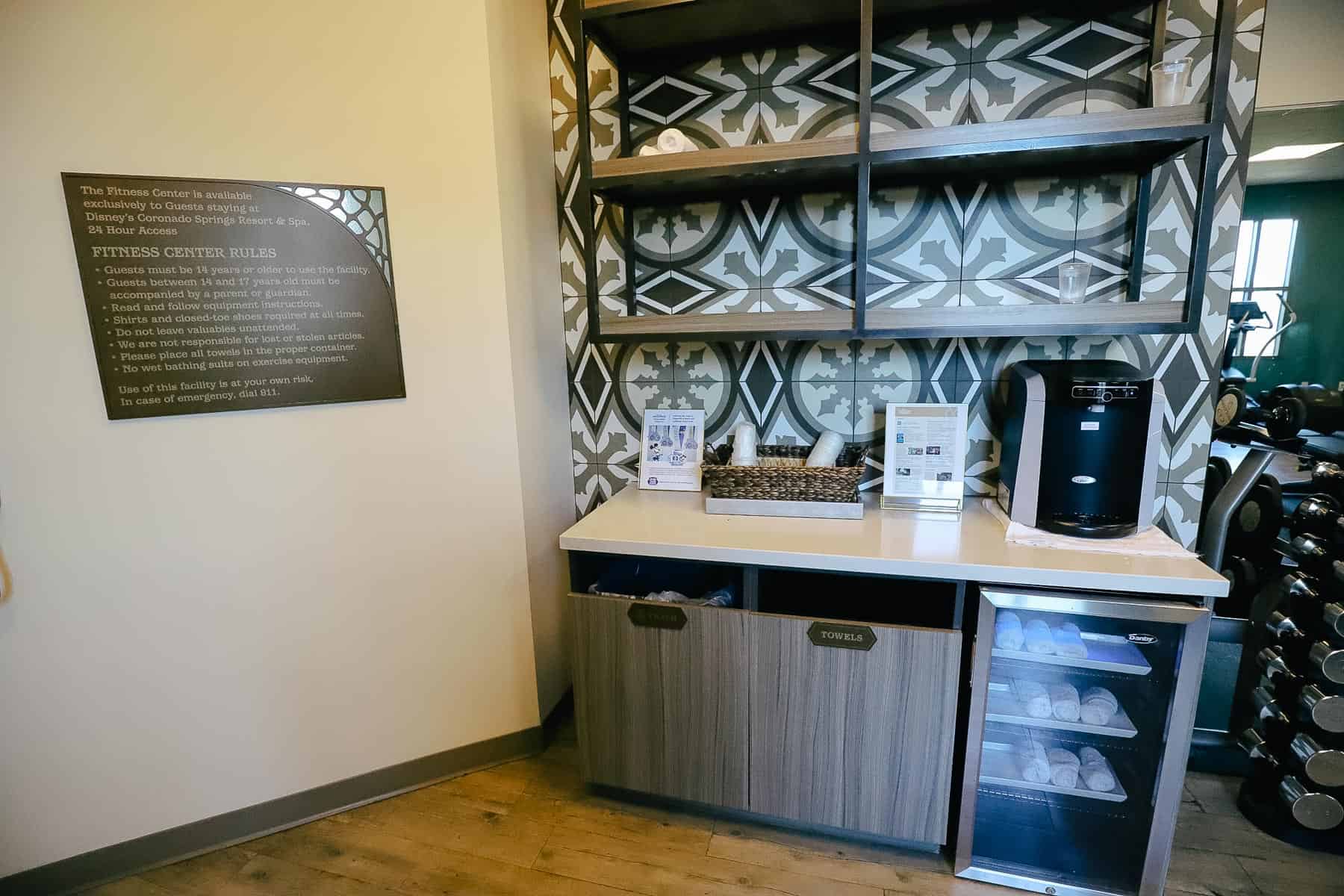 After touring the hotel, we ended up on the resort's top floor, where Toledo and Dahlia Lounge are located. It wasn't long until the dessert and cordial service at the Chronos Club started, but we both wanted something more substantial. So, our server suggested we split an order of chicken wings. They were delicious.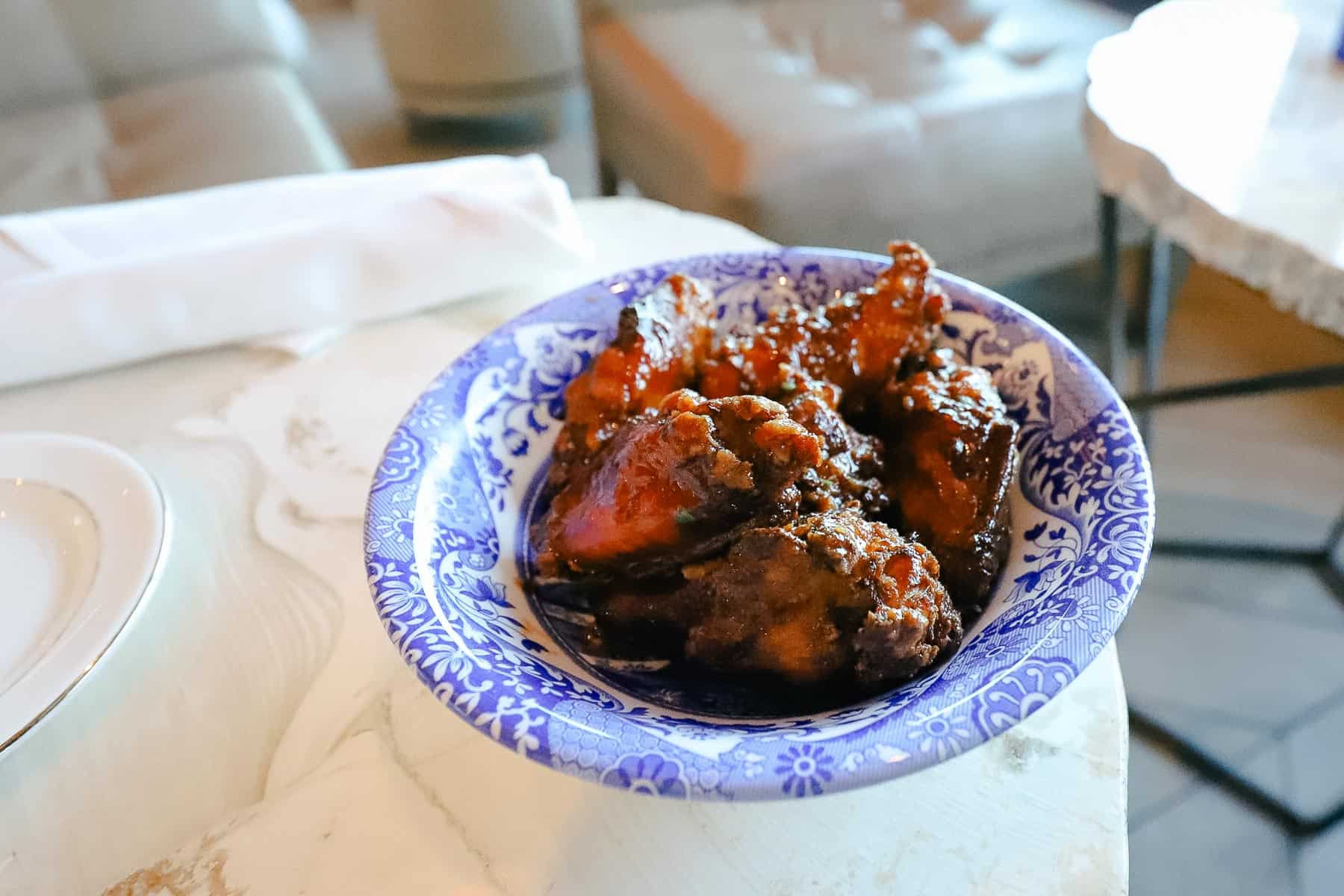 Dining at Gran Destino Tower
We ended up with mixed feelings about the dining options at Coronado Springs and Gran Destino Tower. Often, I see others raving about the number of options. But I've spent so much time at the resort that I see one glaring problem–a lack of decent quick service options.
Now I used to love El Mercado de Coronado. But they have changed how they do things over the past few years. Most days, you'll see burgers, chicken nuggets, fries, etc., sitting under heat lamps for guests to pick up. Nothing appears to be freshly prepared.
When we were touring the resort, we stopped and looked at the various menus and options. Kristen noted that her youngest son would struggle to find food items geared toward his age.
One good thing about the club level was that they had Uncrustables available throughout the day, and at night, they had at least one dedicated children's item. If you stay club-level and don't see this option, ask one of the concierge staff, and they will bring you one.
Here are the dining options between Gran Destino Tower and the resort:
El Mercado de Coronado
Maya Grill
Rix Sports Bar & Grill
Cafe Rix
Laguna Bar
Barcelona Lounge
Dahlia Lounge
Toledo, Tapas, Steak, and Seafood
Three Bridges Bar and Grill
Siestas Cantina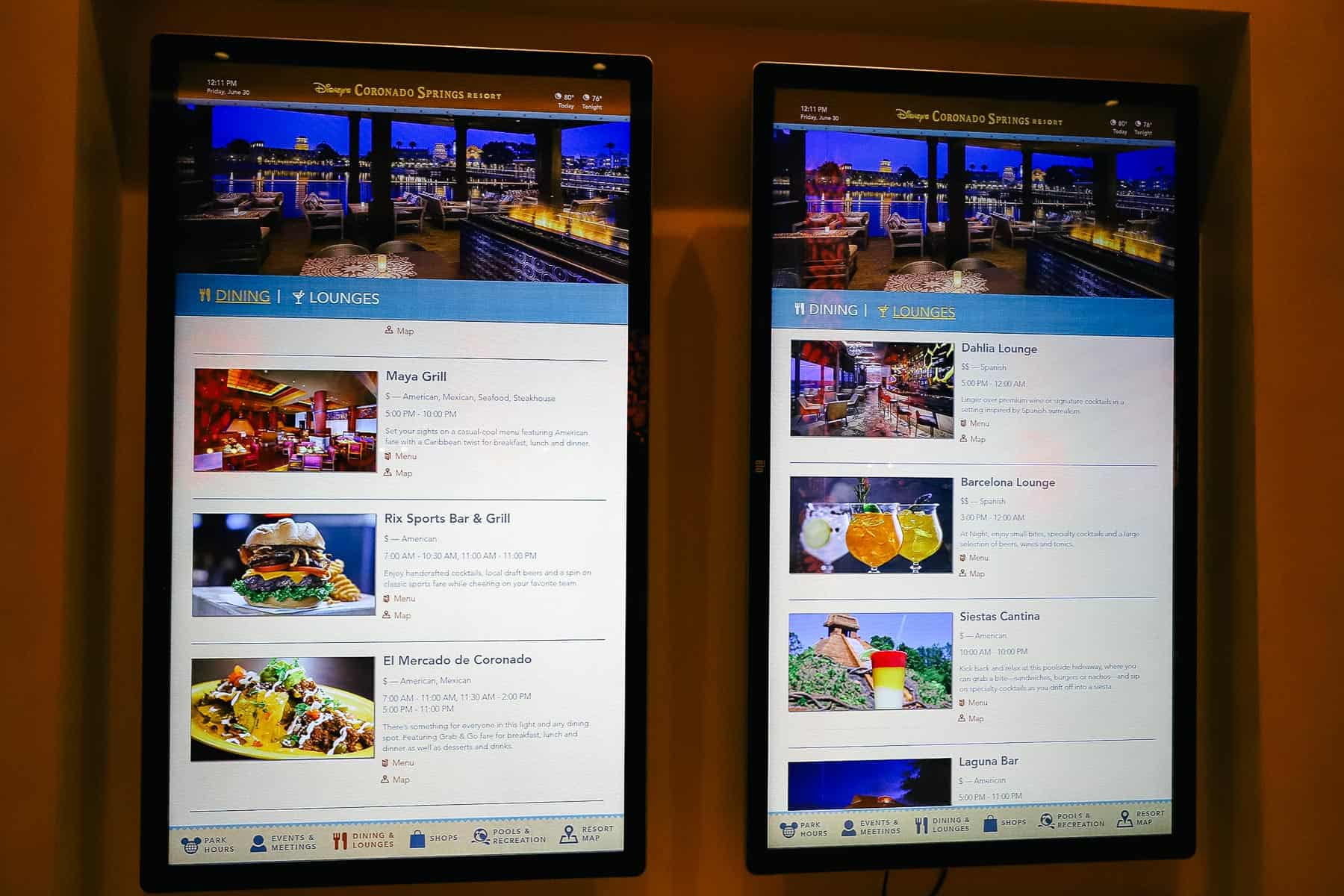 For this review, we'll look specifically at the options within Gran Destino Tower. But if you would like to learn more, you might enjoy our Coronado Springs Restaurant Guide. It includes an overview of every restaurant and some of our experiences.
Toledo: Tapas, Steak, and Seafood is open Wednesdays through Sundays from 5:00 p.m. until 10:00 p.m. This restaurant recently received a mention (not a star) in Florida's Michelin Guide.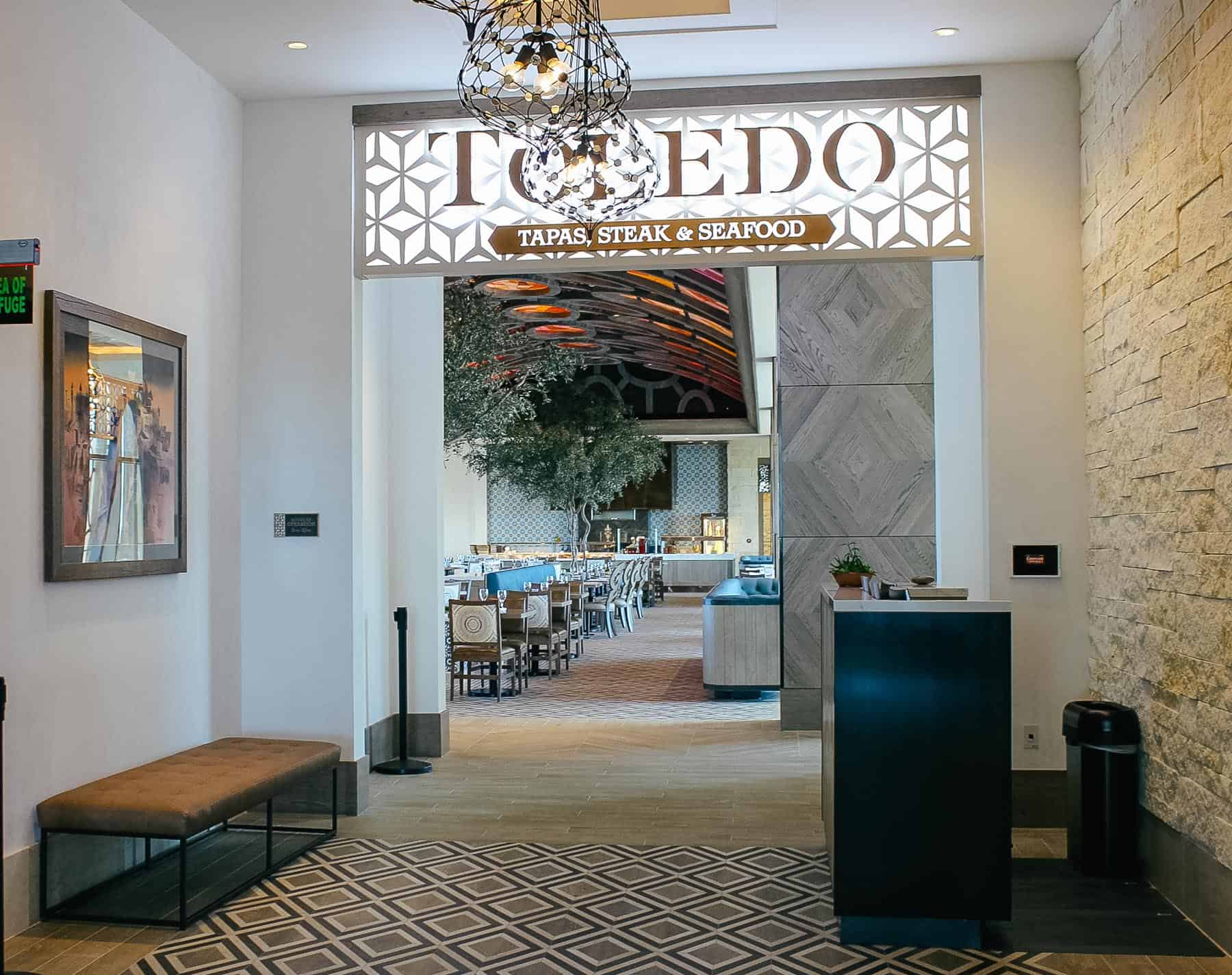 Here's a look at the interior of Toledo. It has a pretty ceiling fixture that runs the length of the dining room.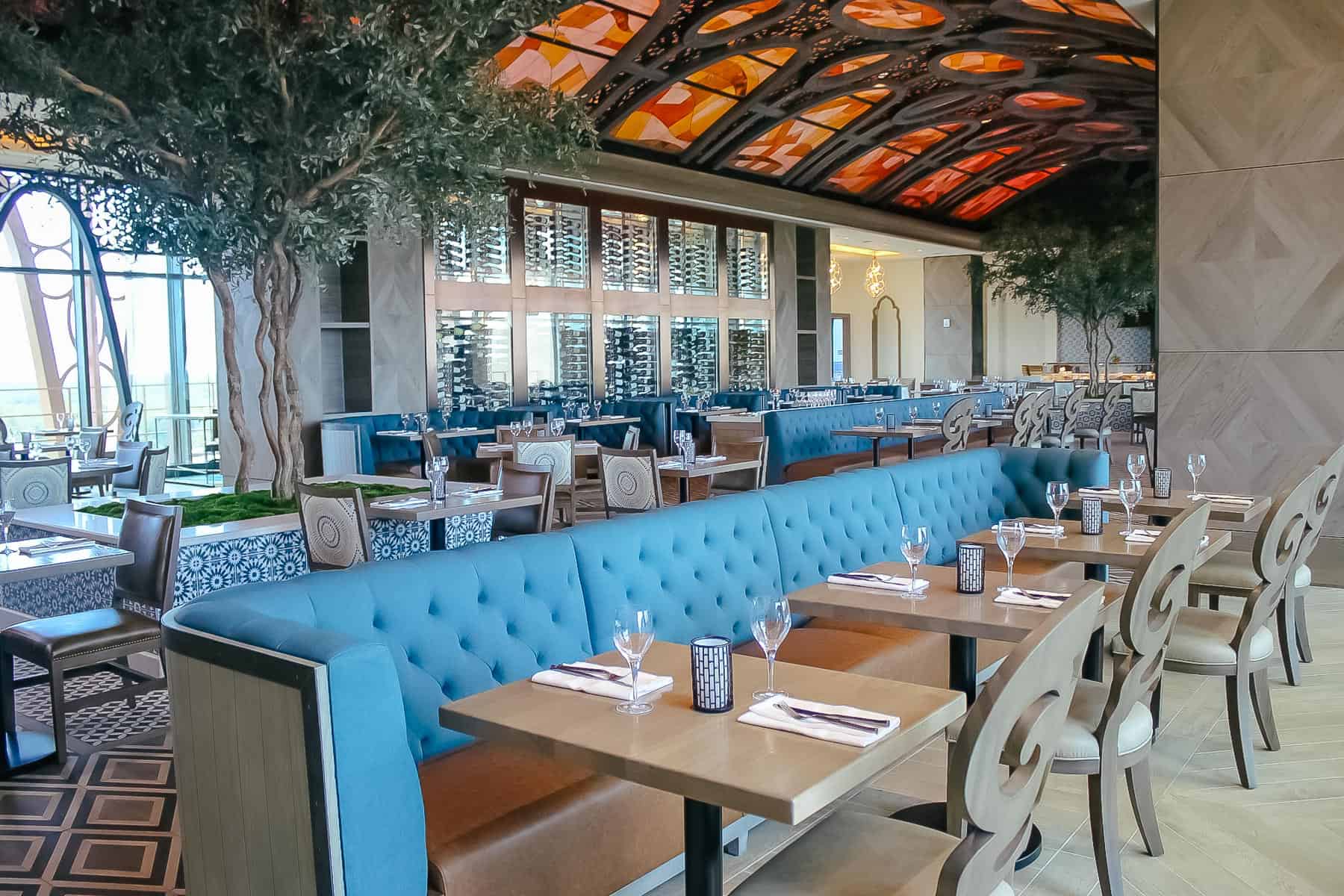 Expect items like tapas, entrees, and desserts. We enjoyed dining at the restaurant when it first opened.
Related: Toledo, Tapas, Steak, and Seafood Review
Dahlia Lounge is across the foyer from Toledo. While I enjoy this space, it looks more formal than it should. You can expect a mix of vacation and convention guests.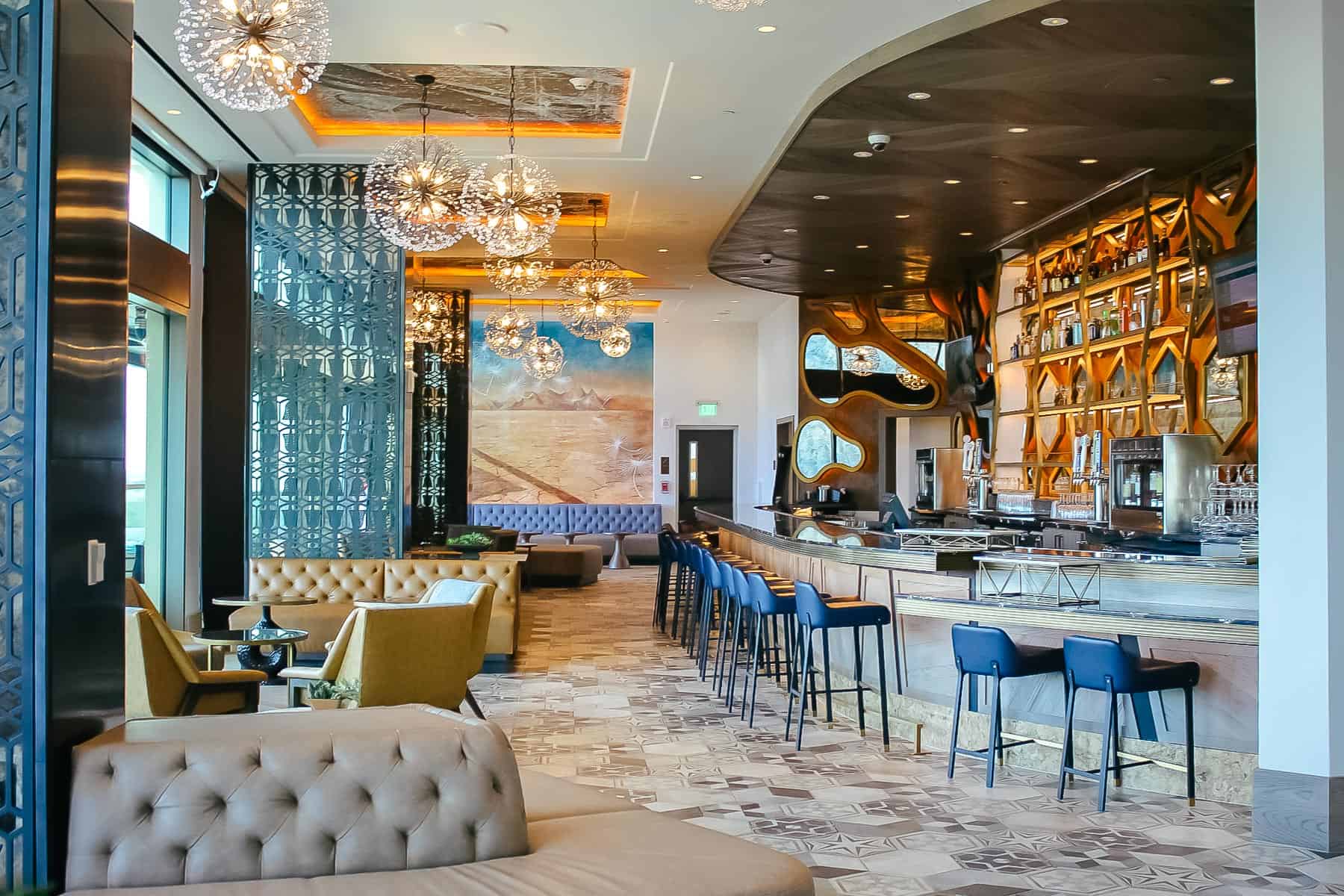 Dahlia Lounge has an outdoor area offering stunning views of the Walt Disney World property. However, it's become a popular hangout. So it's often difficult to find seating outside.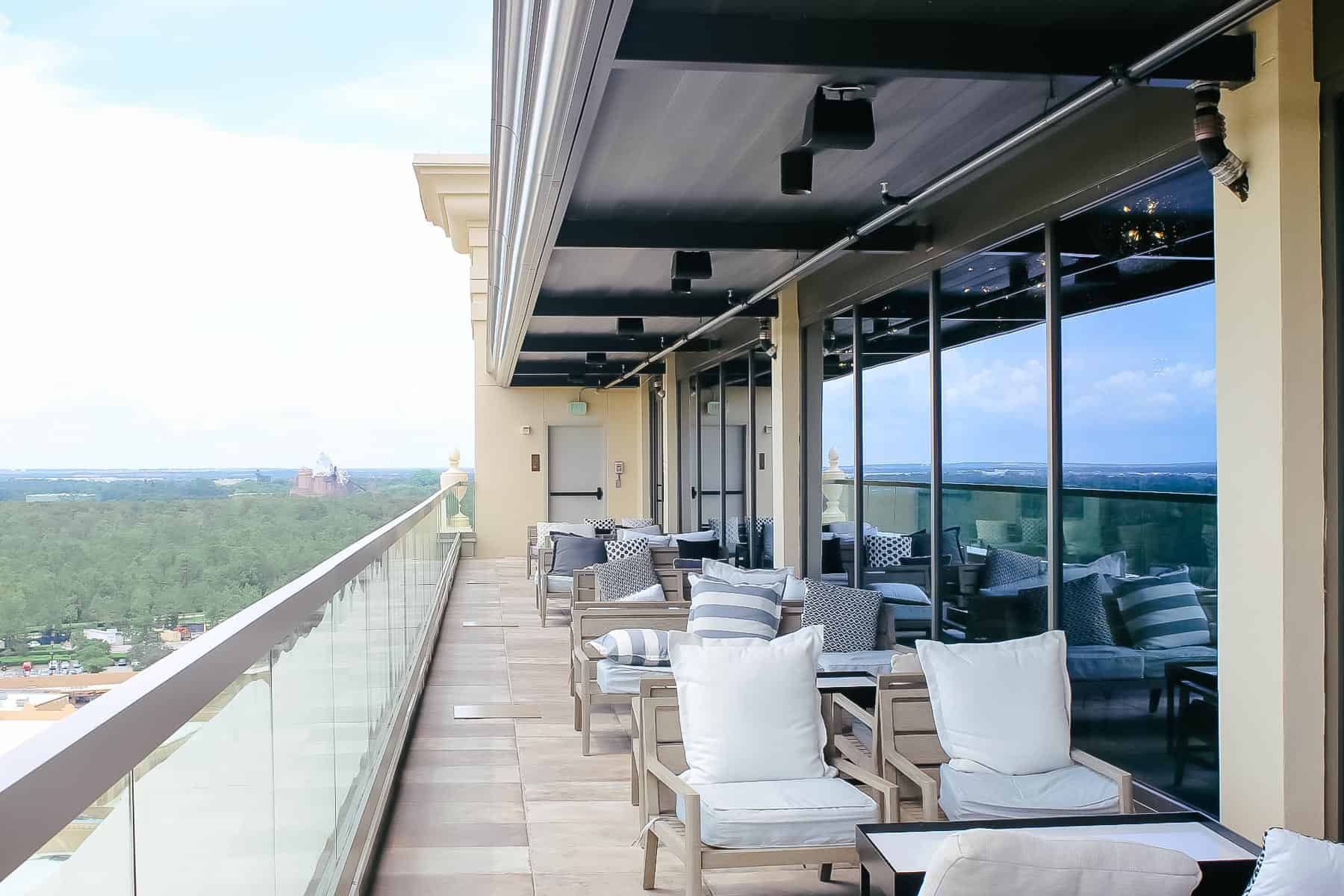 Lastly, the Barcelona Lounge is on the resort's lower level. As discussed, this location offers pastries, various coffee drinks for breakfast, and cocktails with tapas in the evening.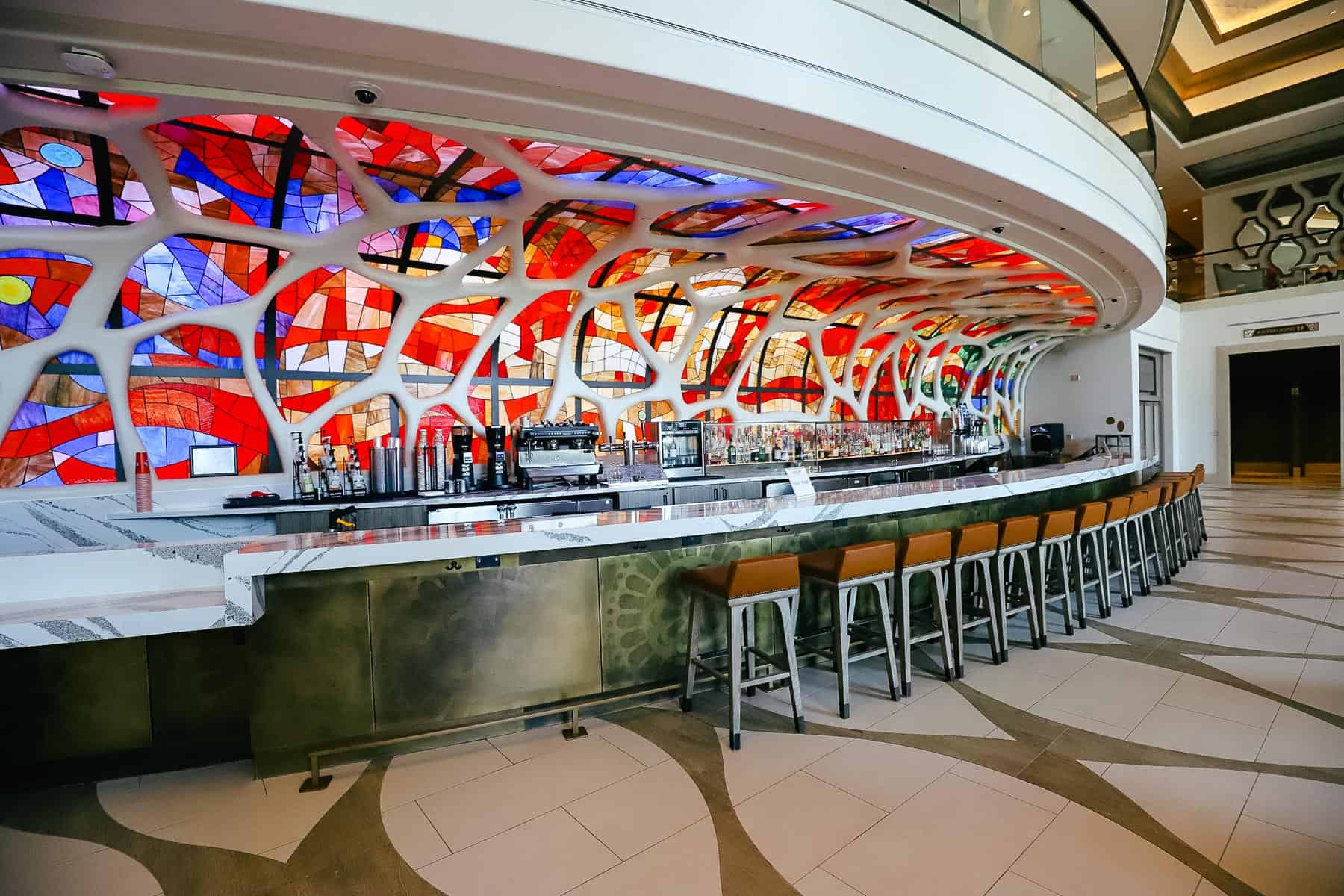 Transportation
Gran Destino Tower only offers one form of transportation–Disney buses. However, the bus station is a few feet from the hotel's entrance. Gran Destino shares the main bus stop with El Centro.
Buses from Disney's Coronado Springs Resort will take you to and from the following locations:
Magic Kingdom
Epcot
Disney's Hollywood Studios
Disney's Animal Kingdom
Disney Springs
Blizzard Beach
Typhoon Lagoon
*Often, water park buses require a transfer. Signage at the resort will indicate which bus route to take when traveling to and from the water parks.
Buses will pick up last at Gran Destino Tower. So when you board the bus, you'll immediately head to the parks. However, on return, Gran Destino Tower is the last stop on the bus route.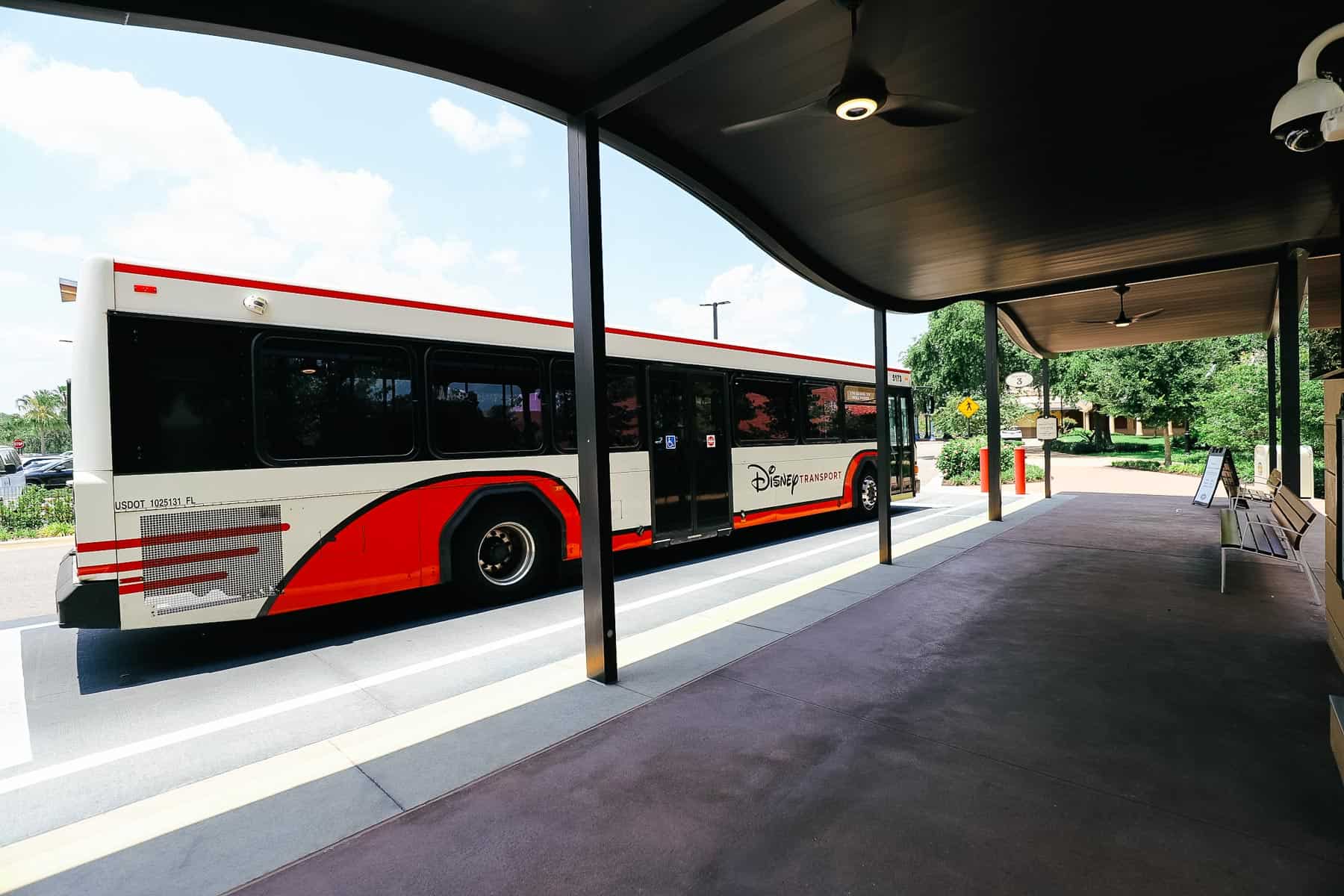 Pros and Cons of Gran Destino Tower
Gran Destino Tower has pros and cons, like every other resort. However, the positives tend to outweigh the negatives.
Unfortunately, Gran Destino doesn't necessarily scream you're at Disney. But neither do any of the other moderate resorts. For example, Disney's Caribbean Beach is themed to the Caribbean, and the Port Orleans Resorts highlight various aspects of New Orleans.
If you wanted to feel immersed in the magic, you would need to stay at one of Disney's Value Resorts. But I think we can all agree Gran Destino Tower is significantly nicer than a value hotel.
In fact, Gran Destino Tower leans more toward a Disney Deluxe Resort than a moderate one. Therefore, the value for the price hits the sweet spot when you're trying to get the best of both worlds.
After this stay, my only substantial issue at the resort was its quick service. But honestly, nearly every hotel at Disney has this problem. I hate to say it. But I've stayed at three Universal Studios Orlando hotels this last year, and the dining options at each hotel put Disney's to shame.
That said, if your budget meets that of a moderate, you won't find a more beautiful resort. It is gorgeous, and I have always enjoyed staying here. But if you would like to compare other moderates, these reviews might help:
*After Gran Destino Tower and Coronado Springs, those reviews are in order of our favorites.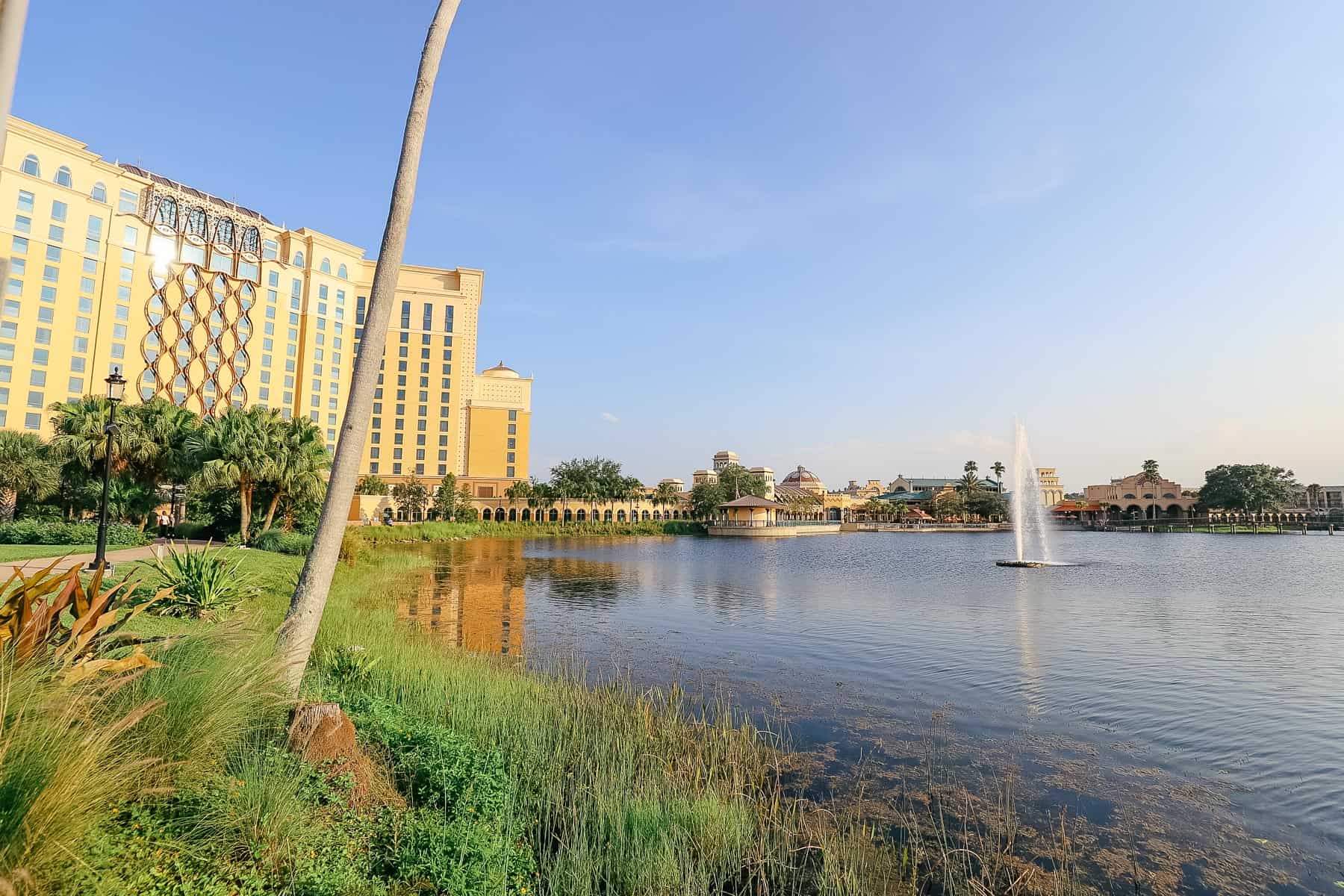 Gran Destino Tower Review (Final Thoughts)
Overall, I look forward to staying at Gran Destino Tower again. Hopefully, the quick-service dining options will improve in the meantime.
We used to love to eat at Pepper Market and were impressed with the initial transition and variety of items at El Mercado. So I know they can do considerably better with that aspect.
For those looking for a hotel that's a little more upscale and still costs less than a deluxe–Gran Destino is probably the right choice. Yes, you'll have to suffer through waiting on the buses. But that's generally not too terrible unless you're traveling at the busiest times of the day.
For more information about the resort in its entirety, try our resort guide:
Or you might like these individual articles:
In the comments:
What are your thoughts on Gran Destino Tower? Did you find this review helpful? Do you have any questions about planning a stay at the resort?