Disney's Toledo – Tapas, Steak, and Seafood Review
Disney's Toledo – Tapa's, Steak, and Seafood is a table service dining location at Disney's Gran Destino Tower. The restaurant is located on the top floor of the tower, which makes up part of Disney's Coronado Springs Resort.
In this Toledo review, we'll preview the restaurant in its entirety. Then, we'll look at the menu, tapas, entrees, and a few desserts to round things out.
Overall, Toledo has a lot of positives, and most anyone staying at the resort will enjoy a meal here. Additionally, some might like to visit the resort with the sole purpose of dining at Toledo.
Let's take a closer look to see what Toledo has going for it.
This article was updated on March 14, 2022.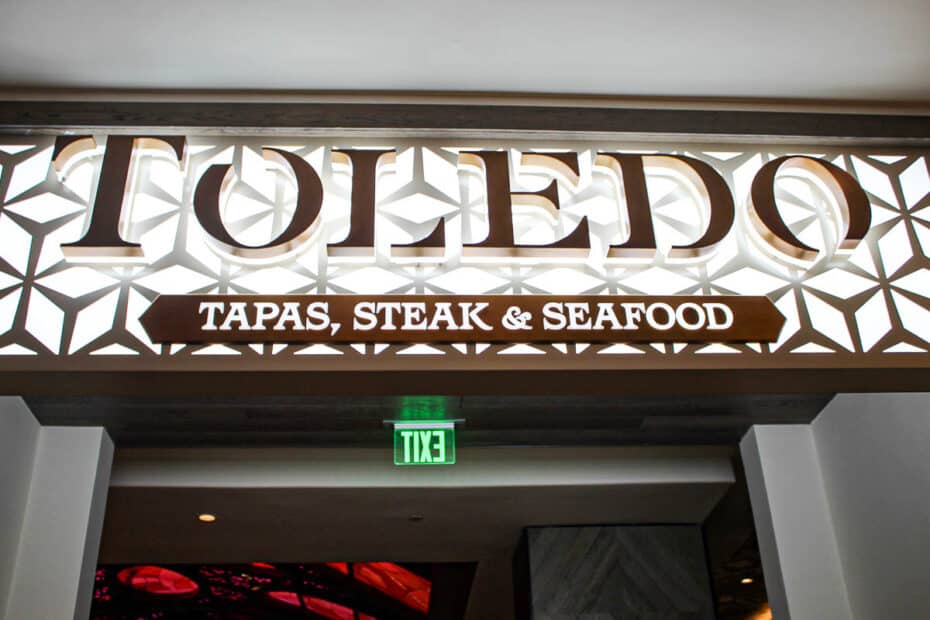 Toledo Review
Disney's Toledo is located on the top floor of Gran Destino Tower. The restaurant is one of nine dining locations spread out over the resort.
Related: Coronado Springs Restaurants Guide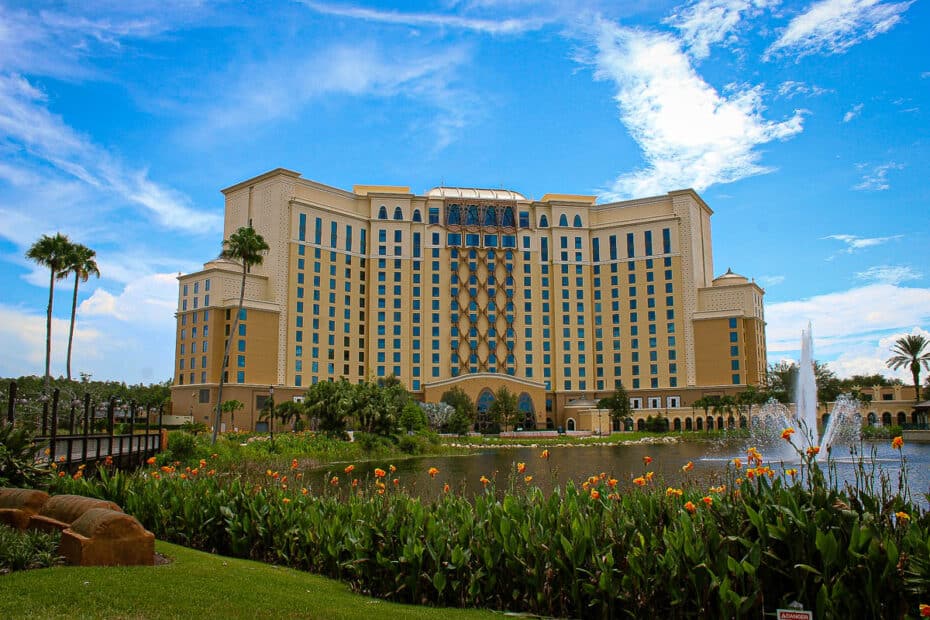 The tower is a beautiful addition, and Toledo fits right in with the modern elegance vibe of the building.
Since Toledo-Tapas, Steak, and Seafood is located on the top floor of the tower, you'll need to find the elevator in the lobby upon your arrival. Once you take the elevator to the top floor, you're greeted by a large foyer.
To the left of the exit, you'll see Toledo, and to your immediate right will be Dahlia Lounge.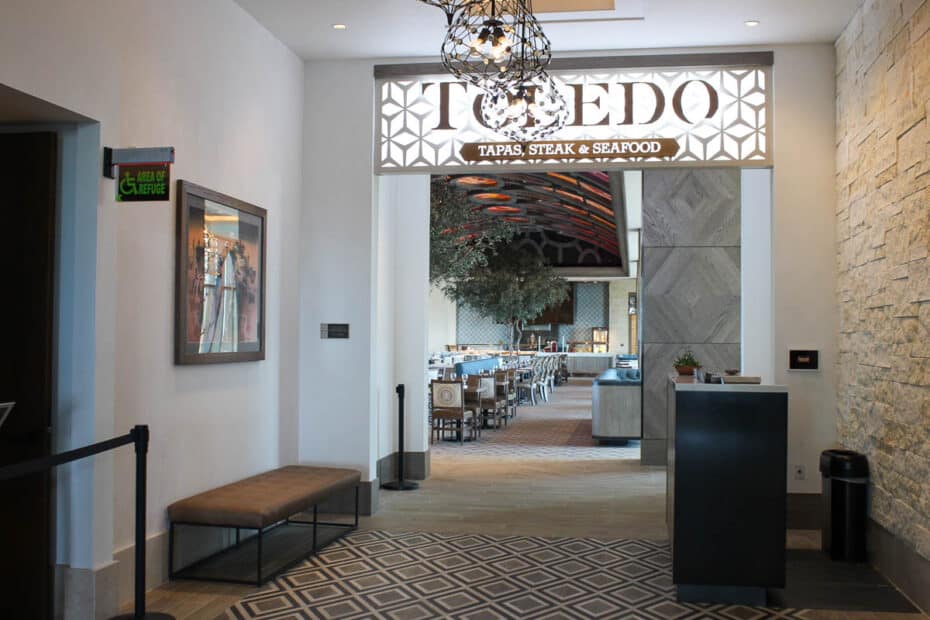 For reference, a restroom is also located in this breezeway to accommodate the dining establishments.
Additionally, you will find a door that leads to the exterior observation deck. Make sure to arrive a little early or stay later to enjoy the area. You might even do both.
The ambiance at Toledo will largely depend on where you are seated in the restaurant. When we arrived at the restaurant this evening, we were immediately seated.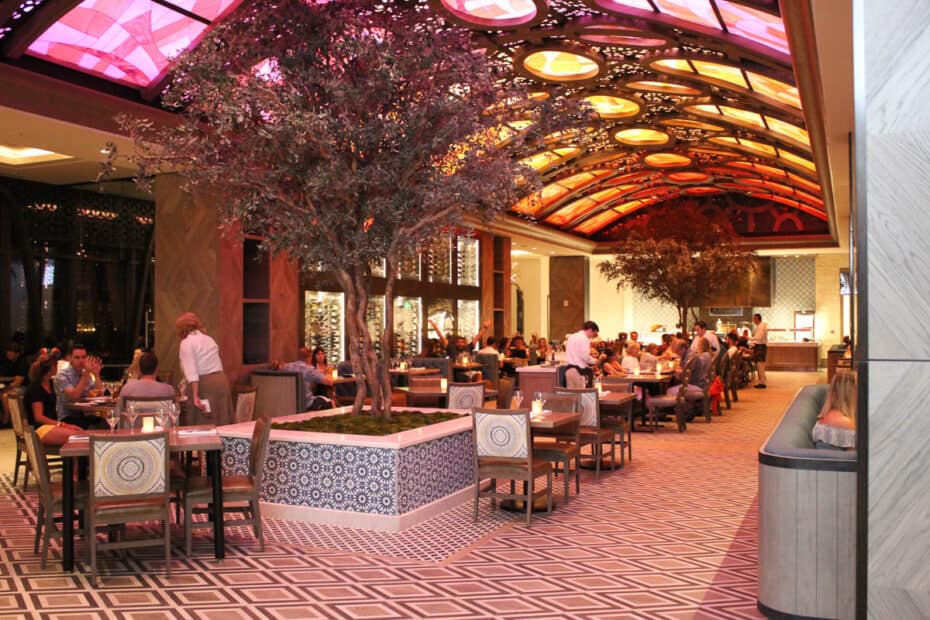 Due to the lower lighting, I went back one afternoon before the restaurant opened to get better photos.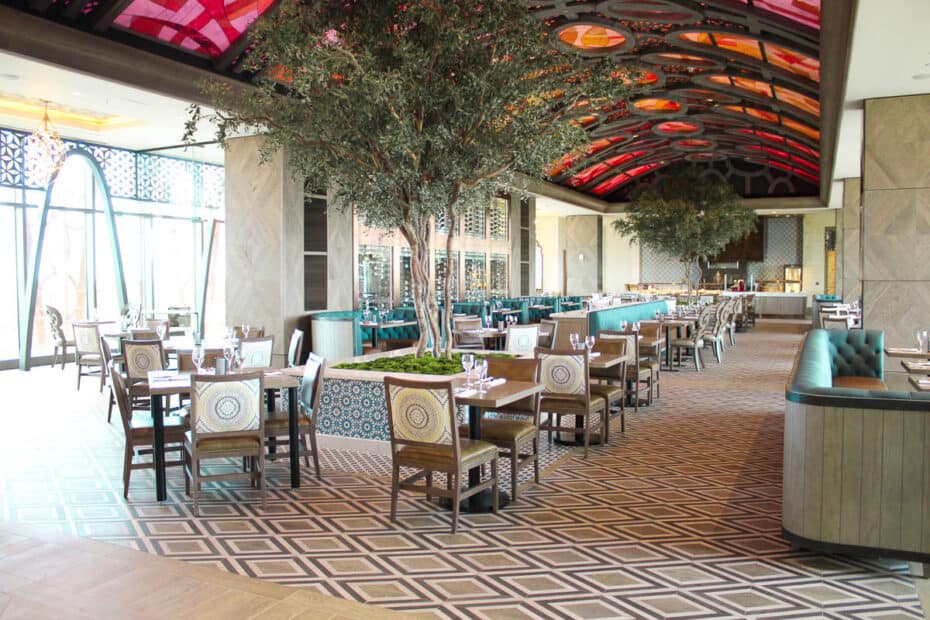 Disney's Toledo does have a bit of a dark undertone. However, the ceiling lights up pleasantly. It provides a bit of a romantic vibe with the red to orange shades that enhance as darkness falls outside.
On this particular evening, there was a significant lightning storm going on all around us. Needless to say, it felt a bit eerie. Each long side of the restaurant is an entire wall of windows.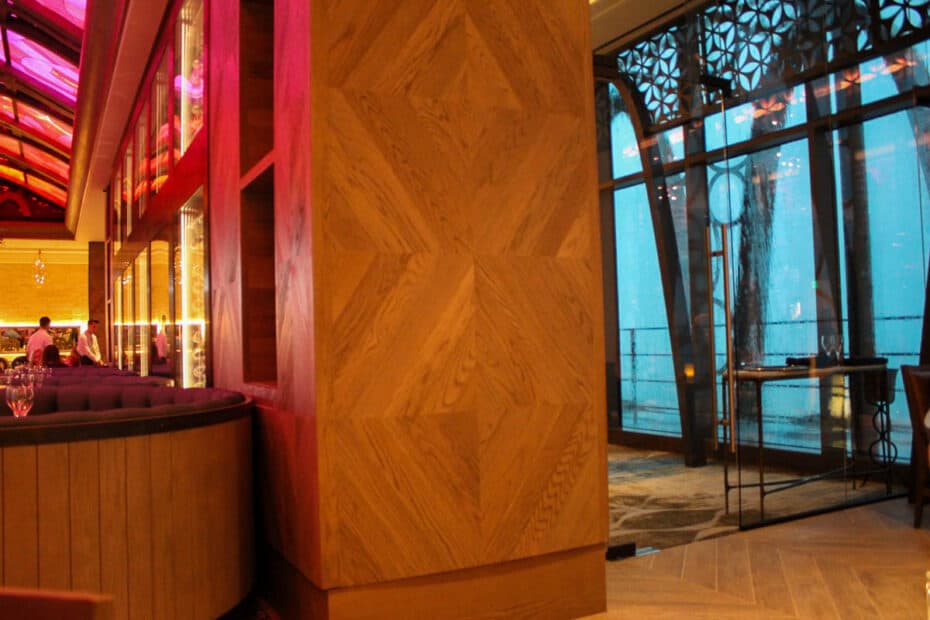 There is a variety of seating options in the restaurant.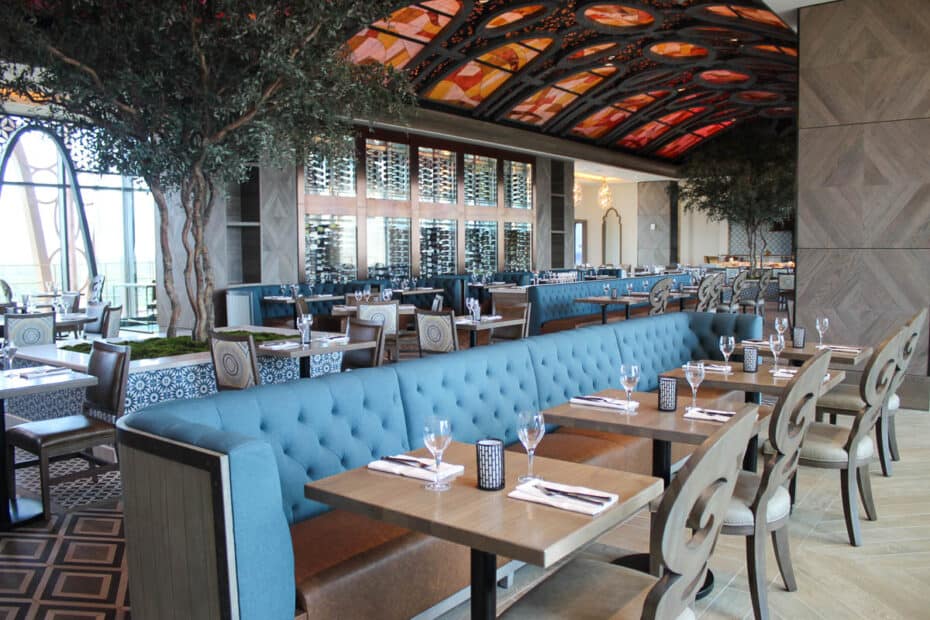 If you are lucky, you might even get a table with a view. If you are willing to wait, I'm sure you could make that request when checking in for your table.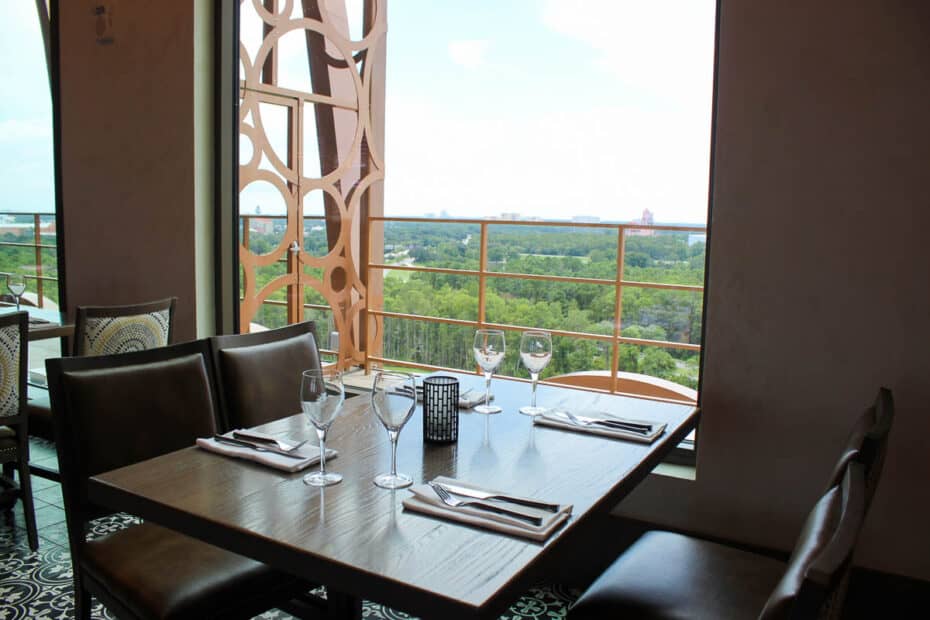 One of the things I wasn't crazy about at Disney's Toledo was the menu. Sure it looks pretty, and it's a bit unique. But after trying to decide what I wanted from each section, it felt awkward.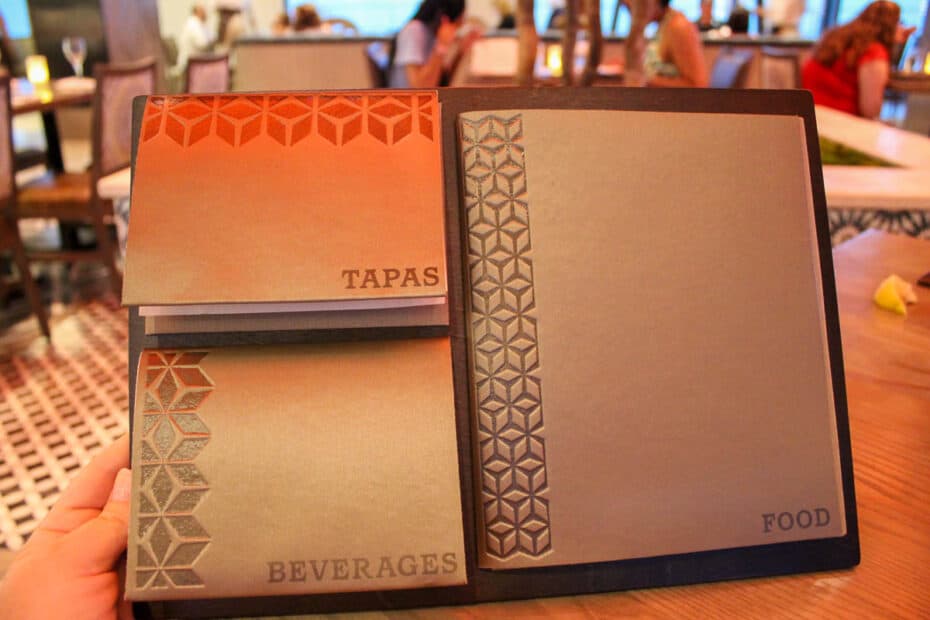 It seemed difficult not only to read but to remember what you had chosen.
The tapas section of the menu offers small bites that run around $3.00 per bite. Additionally, appetizer-style portions are shareable and average $15.00 per order.
Furthermore, there's a charcuterie section of the menu. These plates run up to $35.00 depending on what you order.
Flipping back and forth between the menu while discussing what to share with others was confusing. And sometimes, this type of confusion leads to an extended experience, which in turn creates longer waits for those with later dining reservations.
I mention this because a long unplanned dining experience could potentially cause you to miss late evening plans.
For a complete list of menu items, check Disney's site here.
Tapas and Appetizers at Toledo
To start our meal, we ordered a few tapas along with an appetizer. One thing to note, our tapas came out on one tray, which was fine.
However, since we had each ordered something different, we had no idea what was what when the runner dropped off the food.
Thankfully, our server was extremely knowledgeable. She named each one when she came back by the table.
However, we were still a little confused when she left and felt it would have been easier if we had received them on individual plates.
Below is how they came to the table.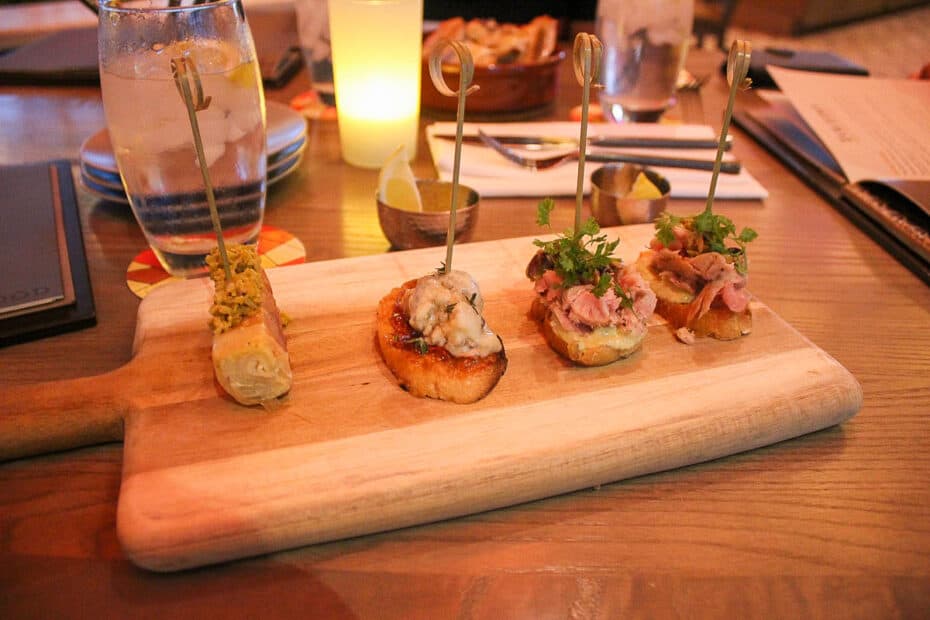 From left to right, we have the
Valdeon Blue Cheese
Spanish Potato Omelet
Olive Oil Poached Tuna with Lemon
(The last two were both the same menu item.)
I felt like these all made for a nice amuse-bouche. And we were all pleased with our choices for the reasonable price point. So this first bite was a positive start to the evening.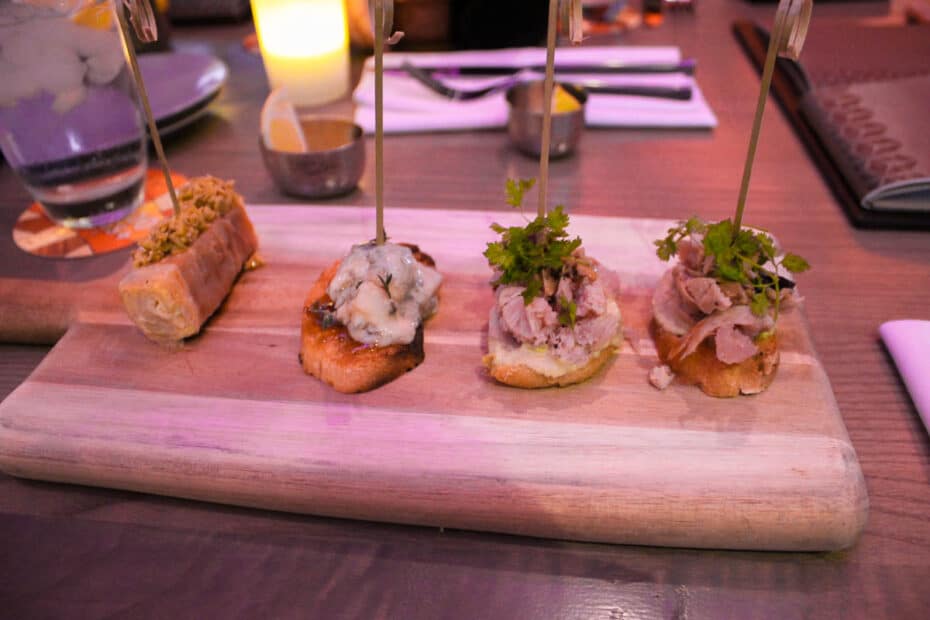 For our appetizer, we went with the Tronchon Cheese Gratinado. This dish was composed of three types of cheese melted over toasted bread. It was drizzled in honey and sprinkled with Marcona almonds.
On paper, this sounded like a home run. But, unfortunately, it was a disappointment.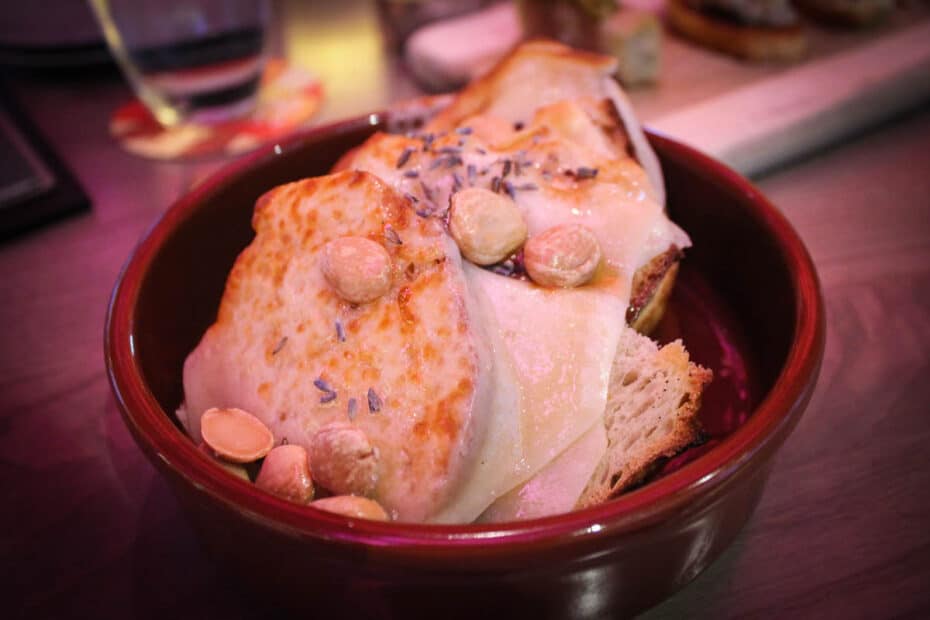 When this item was brought to the table, the server warned that the dish was extremely hot.
But after taking photos and then going in for a bite, it wasn't even warm. The cheese had hardened, and the dish just felt generic.
It was reminiscent of putting a Costco sampler of goat's milk cheese on a slice of bakery bread at home for a snack. Not what you would expect at a tapa restaurant.
Entrees at Disney's Toledo
Next, we'll look at a few of the entree options at Toledo. First up, we have the Hangar Steak. I have some thoughts about the presentation.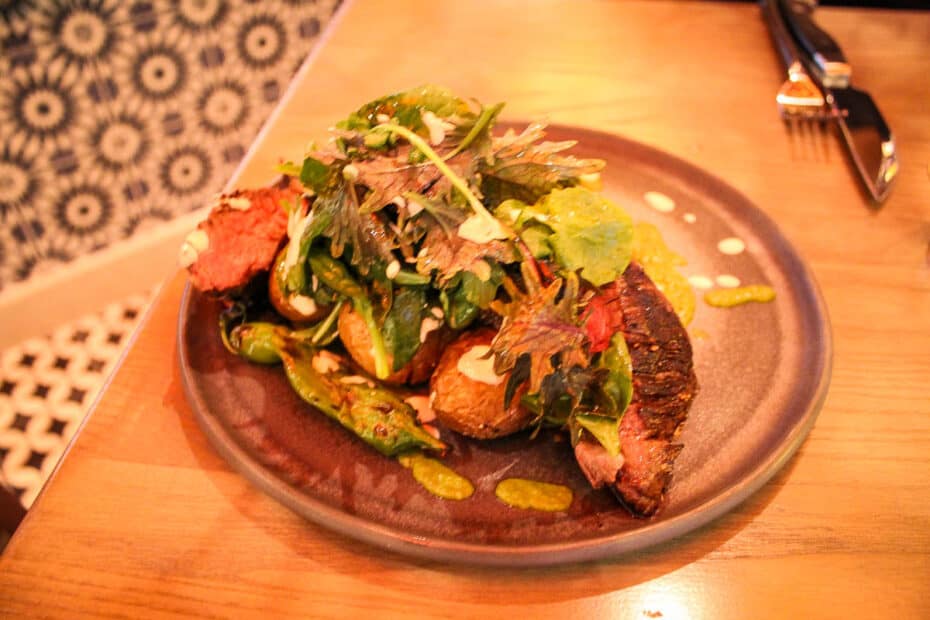 My first issue is that there were no side choices with any of the entrees. And each entree was presented on the far side of the plate in a strange way.
It appeared as though the chef had thrown everything on one side of the plate so they could make a bit of splatter art on the other side.
Having eaten at quite a few Disney restaurants, this is not what I was expecting presentation-wise. Unfortunately, all of our plates were presented in the same fashion.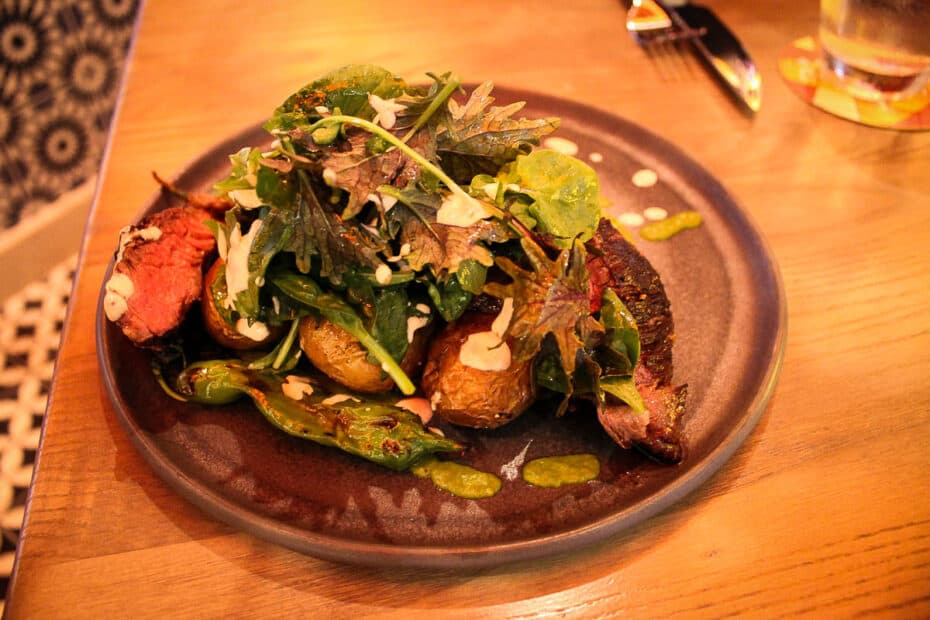 As far as the Hangar steak goes, it was a good option. The salsa verde added a nice kick. There is a bit of a salad garnish on top and a few tiny baby potatoes underneath.
Unfortunately, the way the food was plated to one side made the lack of actual side items even more glaring.
Don't get me wrong. Toledo has a side items menu. However, each side comes with an $8.00 price tag.
Between drinks, tapas, appetizers, entrees, side items, and desserts, the price of the meal could easily add up to more than you realize.
Kristen went with the Golden Tilefish. She let me sample a bite, and we both thought the dish was excellent.
I have never eaten Tilefish before this meal. It reminded me of Halibut, which I love.
The Tilefish was a lovely white fish complemented by cauliflower, fennel, and orange glaze.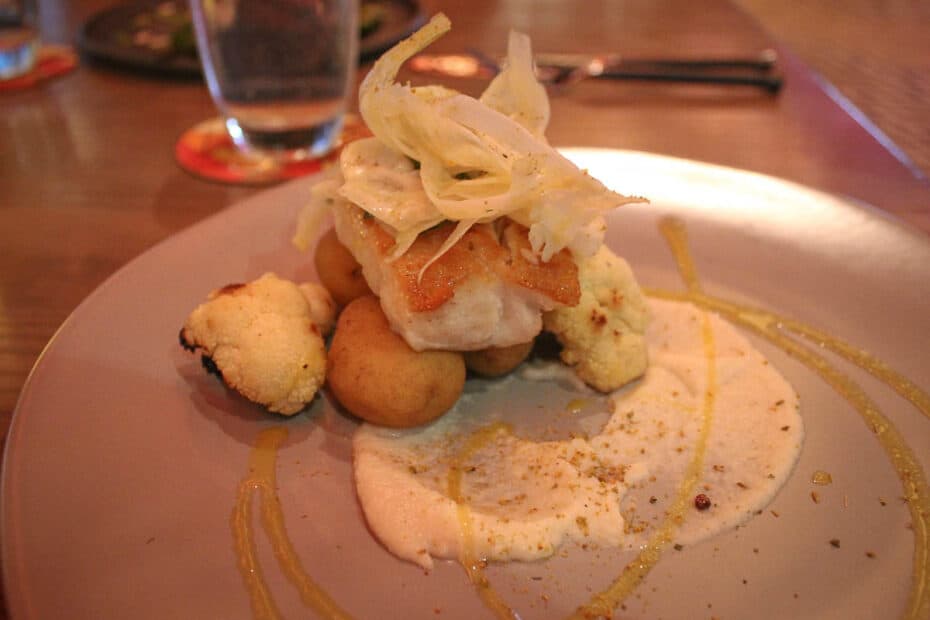 I would order this on a return trip. This dish came with a few potatoes and a piece of cauliflower. So you really don't need to order a side item with this entree.
But I do feel strongly that all the entrees could be presented better. Maybe it's just me, but it feels like they left something off the plate here.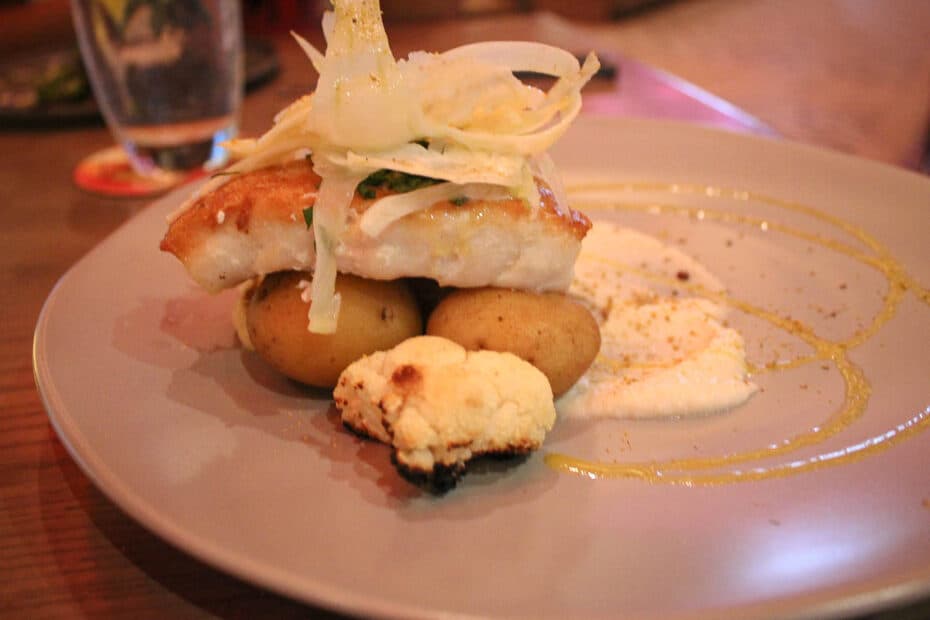 Because I apparently don't know what plant-based means and was craving seafood, I went with the "Plant-Based Seafood."
What a surprise! I've considered going vegan since I tried this dish.
The plant-based option was terrific, and you would have a hard time convincing me that it wasn't seafood I had for dinner that evening.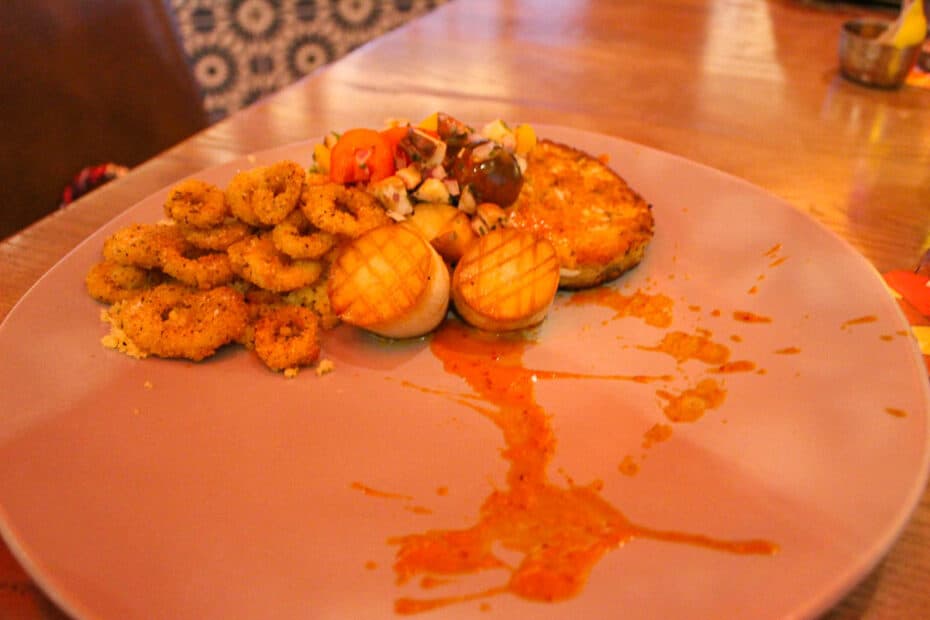 I was a bit annoyed by my plate splatter, though. It looked like the chef had murdered the veggies. And looking at the photo now, it just looks like a dirty plate.
Thankfully, this dish was extremely well executed. It was comprised of faux crab cake, scallops, and calamari.
Most of the items are constructed with mushrooms. Overall, I felt it was exceptionally well thought out and perfectly seasoned.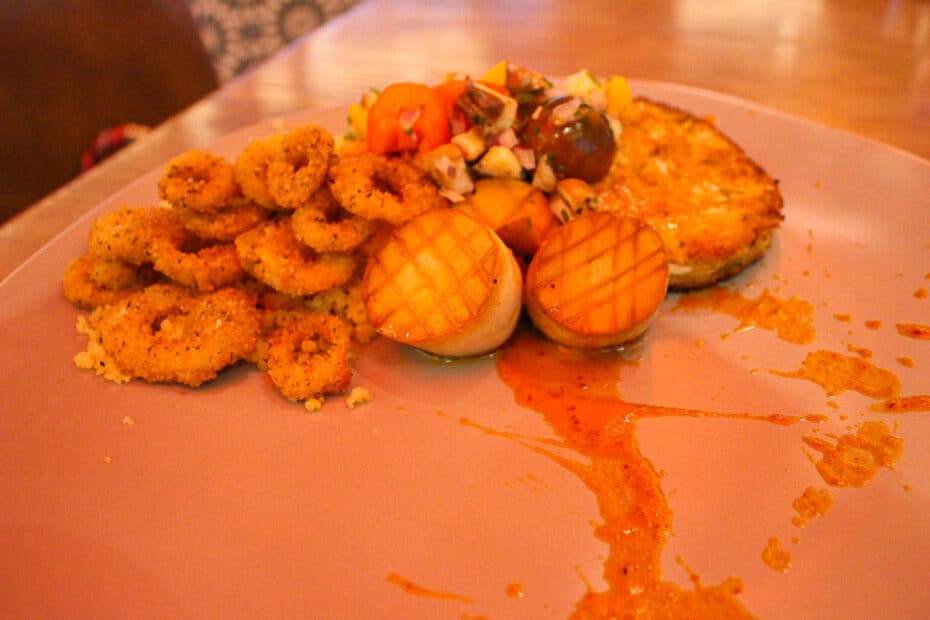 I've even caught myself thinking I need to go back and have this one again. There are hundreds of dining locations at Walt Disney World to try. I don't think that often.
Desserts at Toledo
The real star of the evening came unexpectedly with our desserts. Dessert is not always something I'm willing to try after a large meal. But I was delighted with the different desserts we tried.
I went with the chocolate avocado mousse. The menu promises bites of strawberry, basil, and coconut crumbles.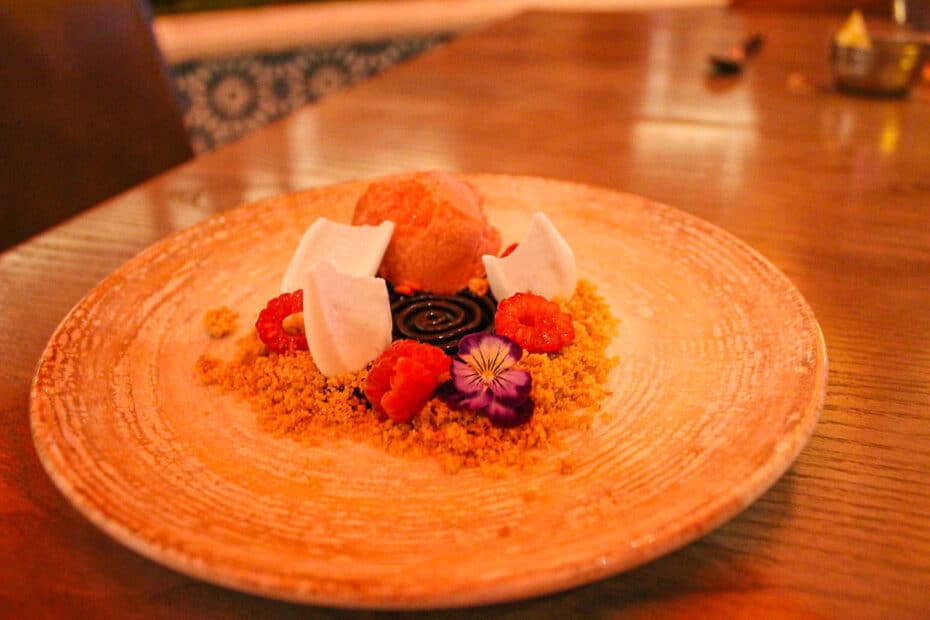 This dish delivers on all accounts. In fact, it's hard to remember a time when I was this pleasantly surprised by the combination of flavor and texture.
The center of the plate offers a swirl of chocolate avocado that has a smooth, creamy texture. That texture contrasts nicely with the cookie-like crumb sprinkles around it.
Unexpectedly, a note of basil comes through in the accompanying strawberry ice cream.
My dish was topped with raspberries and edible flowers, probably from Living with the Land, if I had my guess. Anyone with a sophisticated palate will likely be happy with this selection.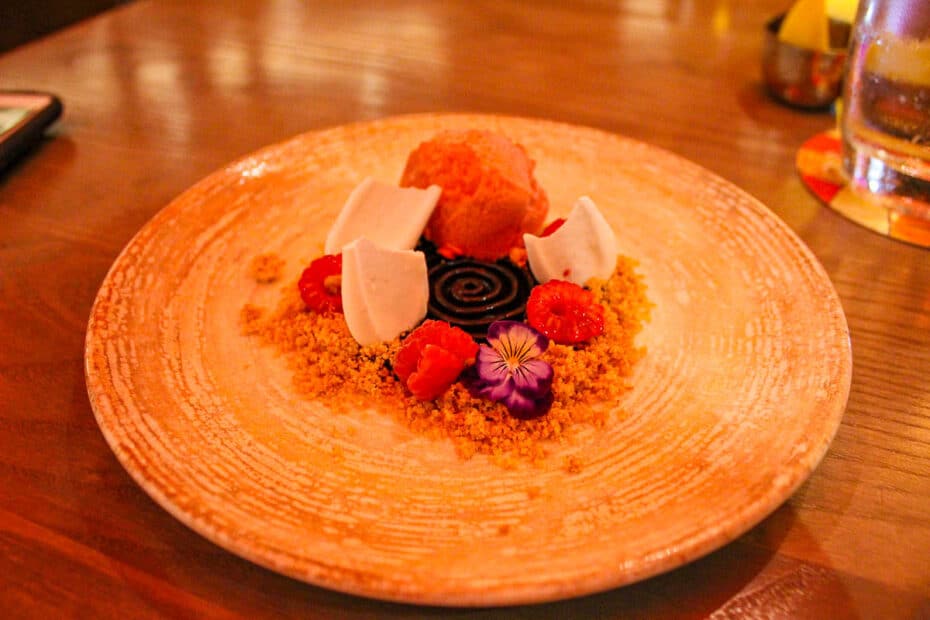 Our next dessert dish is the Classic Crema Catalana. This dish is a play on a creme brulee and another intriguing option for dessert.
Mark my word, the dessert game is strong at Toledo. The Catalana comes together with flavors of Valencia orange and chocolate tuile.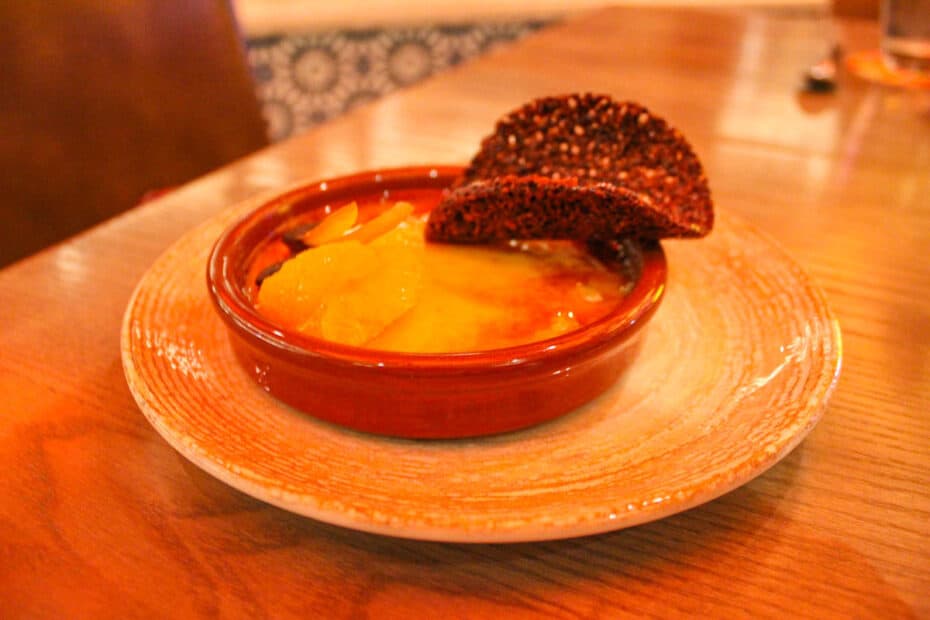 The flavors were simple yet extremely pleasing. I took a bite of this dish before trying my own and wondered if I had made the right choice.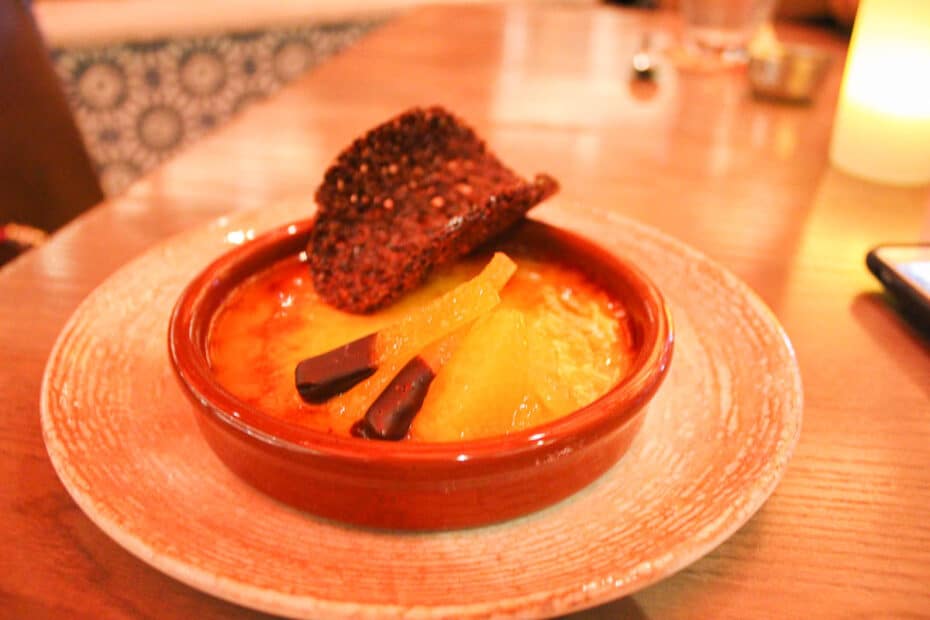 Our third dessert this evening was the Toledo Tapas Bar. If you are a chocolate lover, this might be the dish for you. It is full-on chocolate and reminded me of the ganache dish at Tiffins.
Related: Tiffins Restaurant Review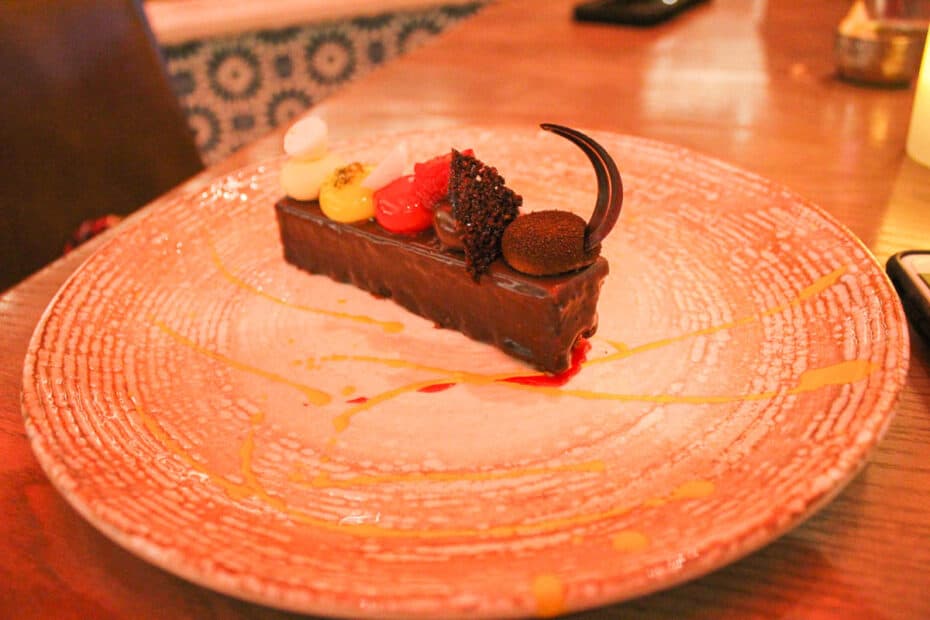 The menu describes this dish as "progressive," offering flavors of Spanish coffee, crunchy chocolate, raspberry mousse, and lemon curd. You can see in the photo how all the different bites come into play with the toppings on the chocolate bar.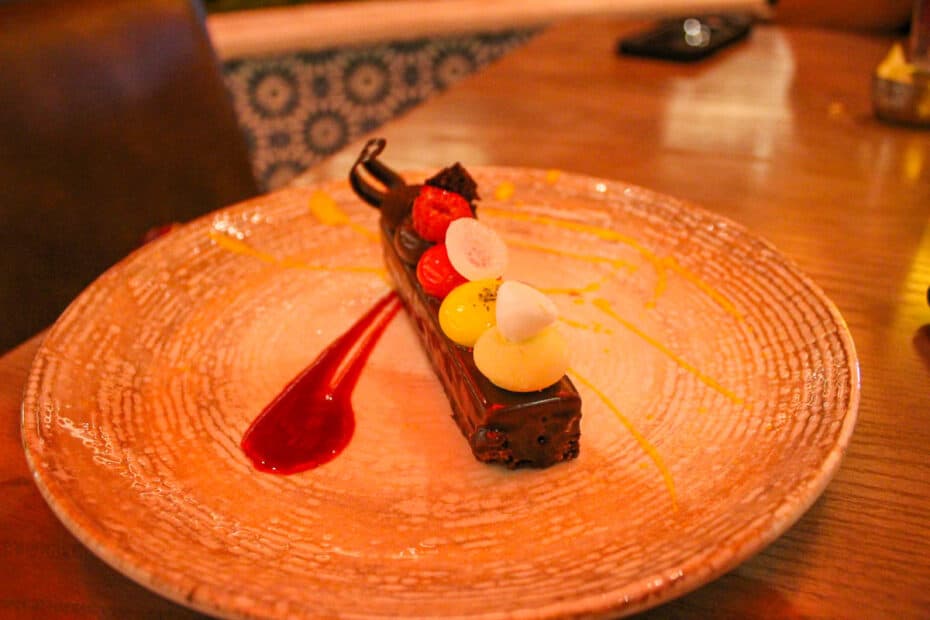 It was another extremely well-received dessert at our table. If you are a fan of chocolate in any way, you can't go wrong with this option.
Here are some of the views you can expect to see from Toledo with an early evening dining reservation. Additionally, you might see a few fireworks in the distance at night.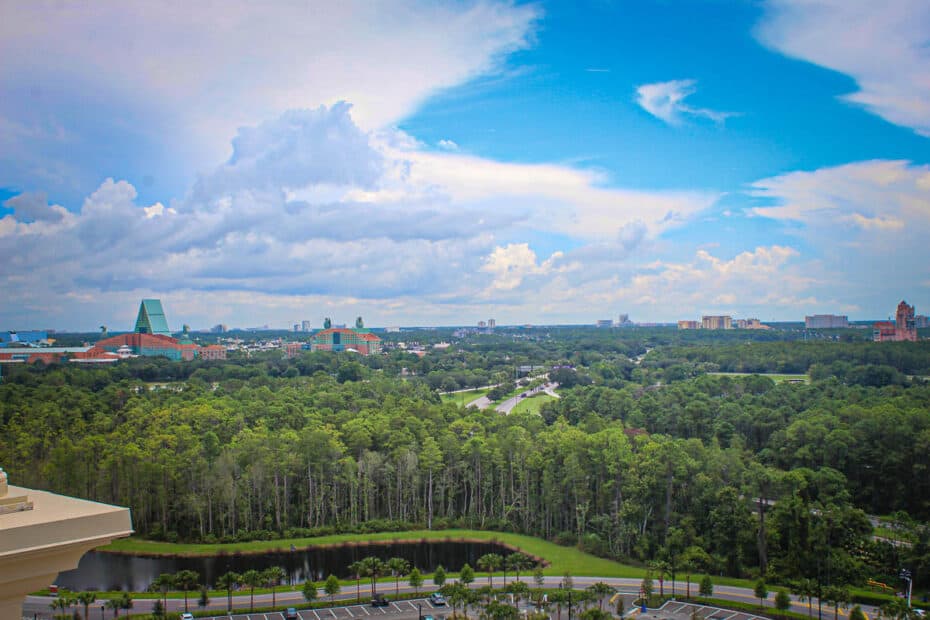 The Swan and Dolphin hotels are the large structures on the left-hand side of the photo above. In addition, you can also see Hollywood Studios Tower of Terror a little further to the right.
Blizzard Beach sits across the street.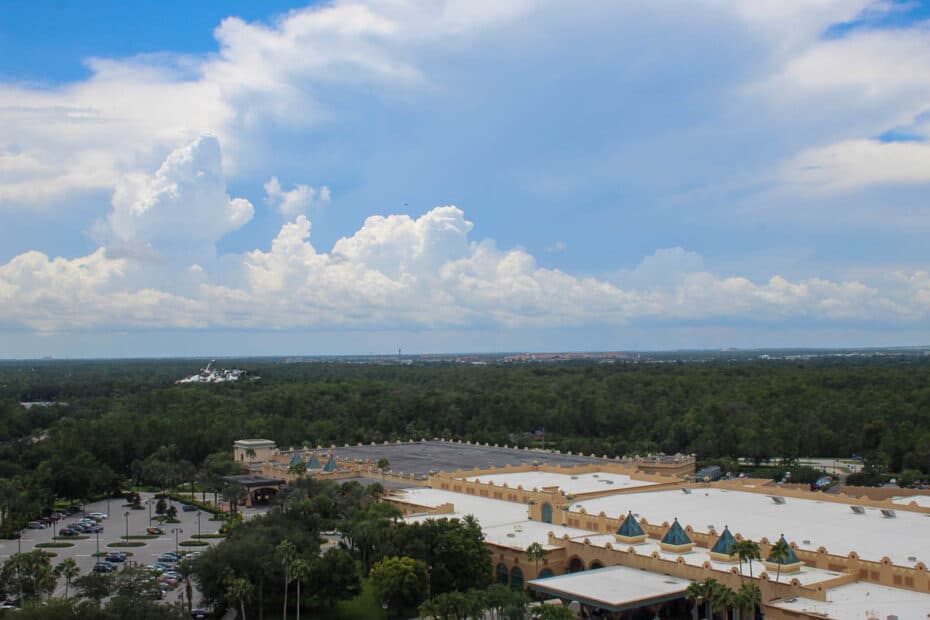 I haven't had the opportunity to try Dahlia Lounge yet, but I would feel remiss if I didn't mention the accompanying lounge for Toledo.
If you have some time to spare before or after dinner, you might want to pick up a cocktail here. Or, if you have no reservations, you can always dine here at Dahlia.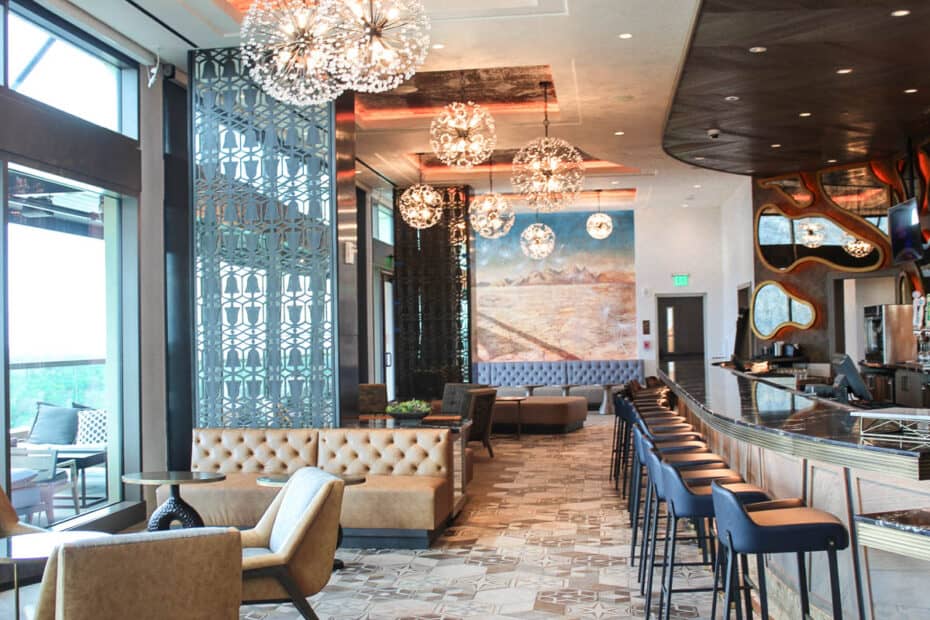 Here is a look inside the lounge. While it does look somewhat formal, you're not expected to dress up.
Since Coronado Springs has a convention center, you might run into a few suit-and-tie travelers. But for the most part, you are still at Disney, where the average person dresses in casual attire.
Dahlia's menu offers food and drinks. You can tell there's plenty of room at the bar for guests.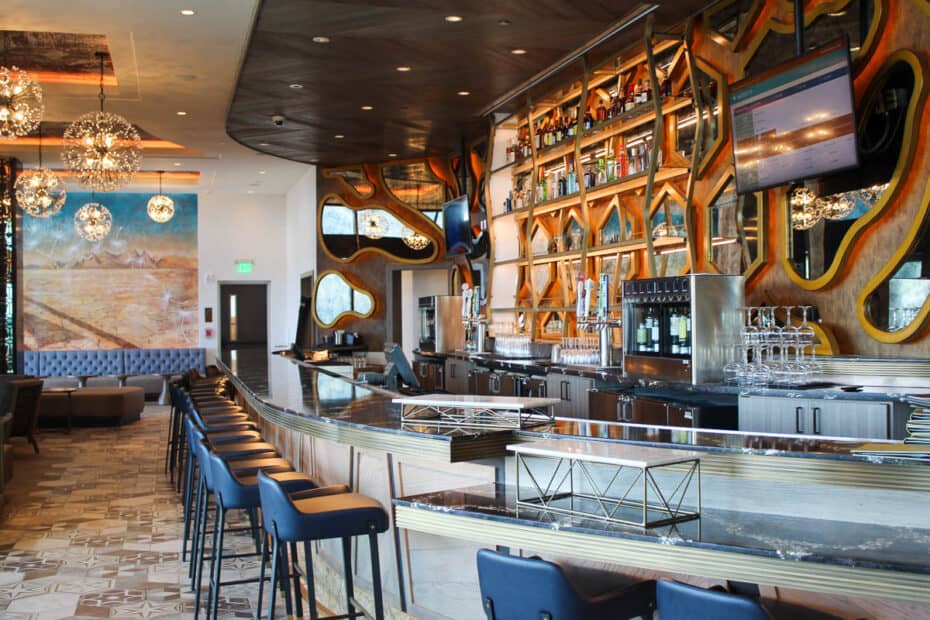 Different types of seating arrangements are available throughout the lounge.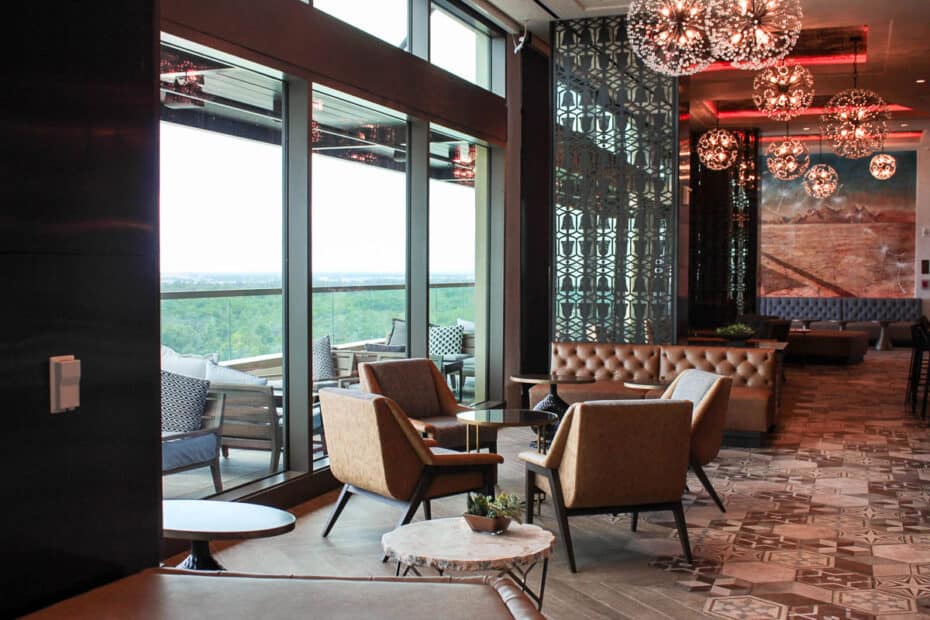 I would elect to sit outside if something is available.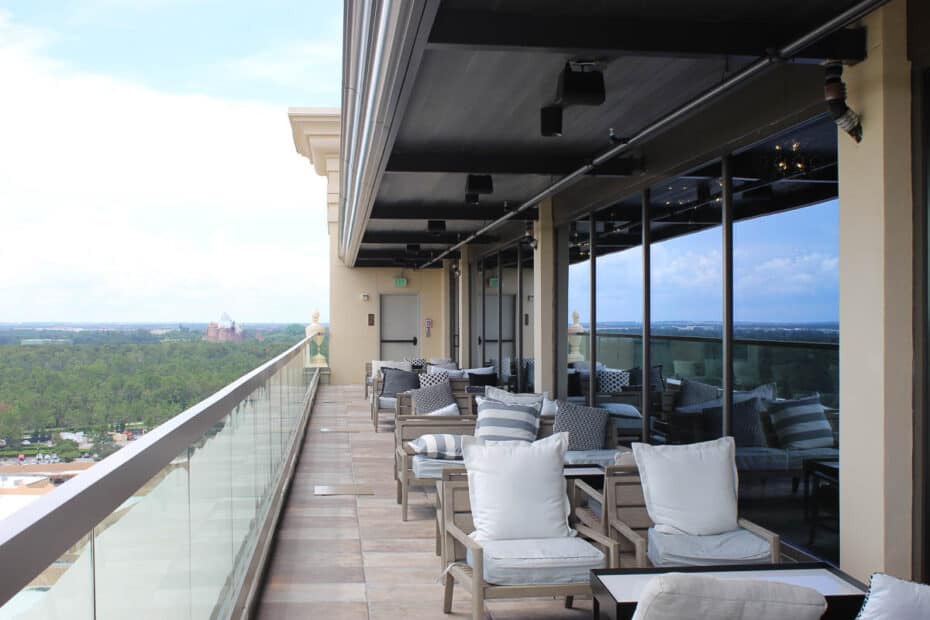 Final Thoughts on Disney's Toledo
Would I dine at Toledo again? Yes, by all means. After leaving a restaurant or dining experience, I like to dwell on it a bit before writing a review.
Overall, I believe the restaurant offers a lot of promise. There were some delicious dishes and a few that might need a little tweaking. But that is typical for most newer restaurants.
We walked away pleased with the experience overall. Hopefully, these observations can guide you in the right direction as far as the menu goes. I would have difficulty not ordering that vegan dish or the avocado mousse again.
On this dining adventure, I was joined by my friend Kristen who owns Firefly Travels, and one of her agents. Initially, I had plans to dine here the same week during my stay at Gran Destino Tower.
Related: Gran Destino Tower Review
Thankfully, I was able to cancel those plans and meet up with friends for dinner. Thank you, Kristen, for the invite!
If any of you need a travel agent, I am confident she will do an excellent job taking care of you. She helps arrange most of my travel. You can reach her or a member of her team here.
For more information about Disney's Coronado Springs, you can view all of our articles related to the resort here. Or you can try our full resort review.
Related: Coronado Springs Resort Review
You might also be interested in these other Disney Restaurant Reviews not previously mentioned in this article:
Or try these resort dining guides:
I hope you found this review of Toledo helpful for planning a meal. Did anything look appealing?
Planning a Walt Disney World or other Disney Destination vacation?
Our friends and travel partner, Firefly Travels, excels at doing Disney differently. You can fill out a plan your trip form on their website, and someone will reach out shortly to discuss the specifics.