List of Character Meet-and-Greets at Jollywood Nights at Disney's Hollywood Studios
Jollywood Nights at Disney's Hollywood Studios recently debuted, and we attended the first night primarily to check out the character meet-and-greets. Below, we'll preview the character lineup for this event with a few tips based on our experience. Unfortunately, due to guest demand, my entire evening was spent in line to meet only a handful of characters.
Upfront, I would caution that it's unlikely you could meet every character at a sold-out event like the one we attended. However, I do think the event had several unique character opportunities that some of you won't want to miss!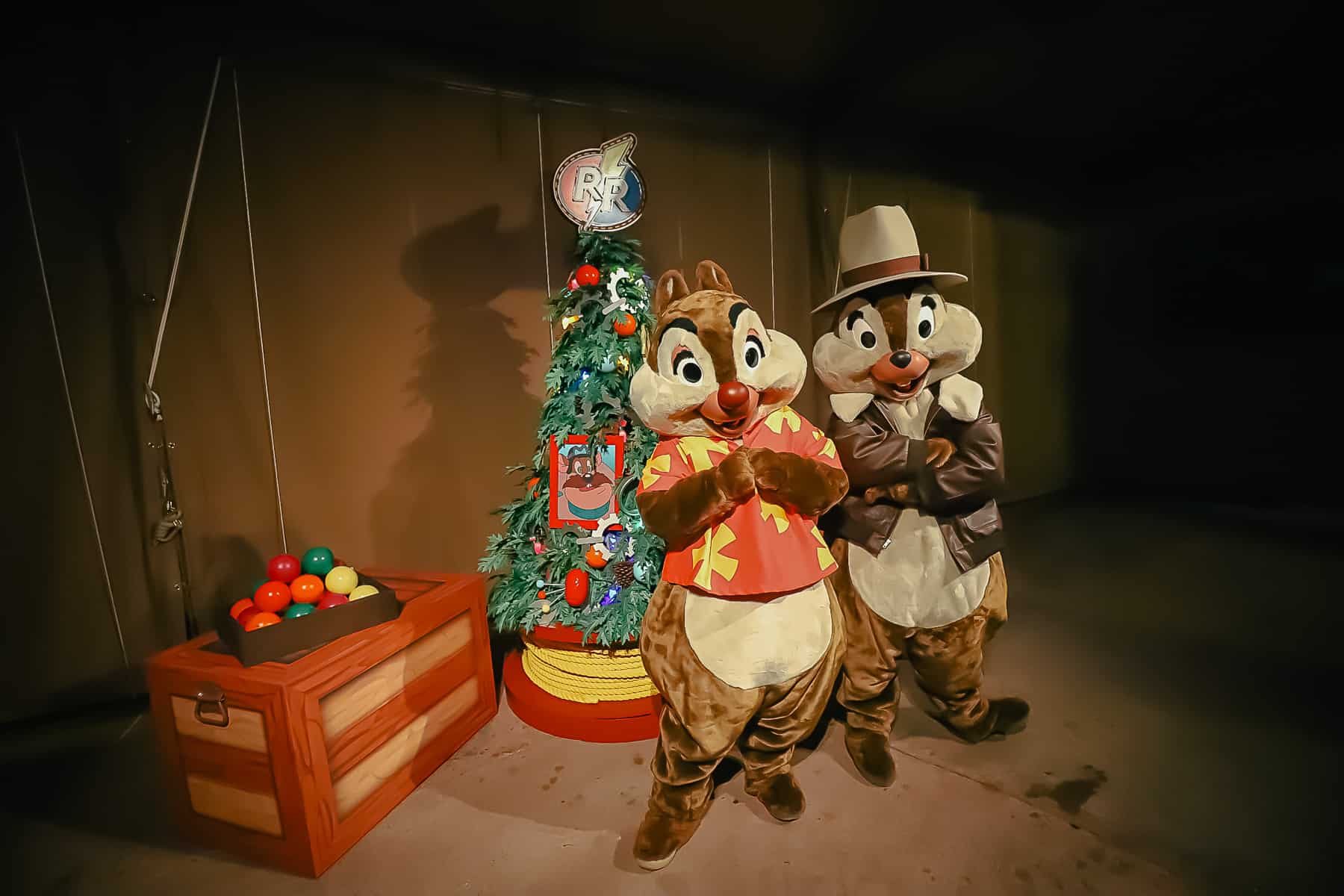 Jollywood Nights Characters List
Here is the list of characters that meet at Jollywood Nights. These characters are listed on the party map provided when you check in for the event. But with it being so dark, I found the map difficult to read.
Mickey Mouse
Minnie Mouse
Donald Duck
Daisy Duck
Goofy
Pluto
Powerline Max
Chip and Dale as Rescue Rangers
Phineas and Ferb
Edna Mode
Frozone
*Since this event premiered, several other characters have made appearances, including Santa Duffy, Santa Stitch, Snow White and Dopey, Mary Poppins and a Penguin, Jiminy Cricket and Pinocchio. From my understanding, these characters were not added to the event handout. So they may or may not be present at future Jollywood Nights.
Below, we'll preview each character we met, who we didn't get to meet, why, and how long we waited.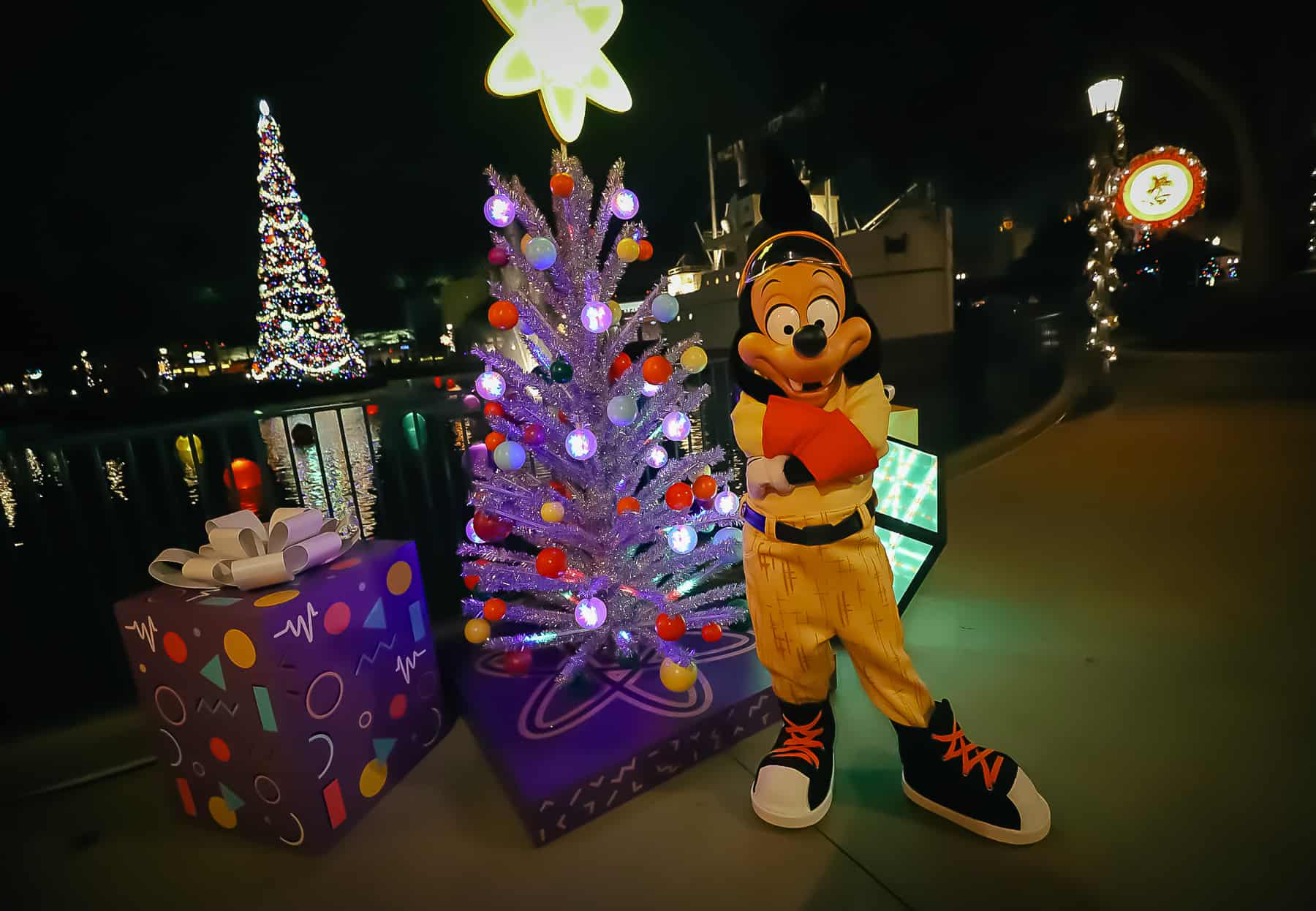 Phineas and Ferb
When I arrived at the event, my priority was to review the party map and make a loose plan of what order to try and meet the characters. Immediately, I knew that Phineas and Ferb would be the most popular character meet-and-greet. So, I took a few photos and headed to Echo Lake to find their line.
Oh boy! I arrived at their line at 7:58 p.m., and approximately 100 guests were waiting. The line was already out of control, and the cast member said guests had been lining up since 6:00 p.m. So, I made the difficult decision to join the line and wait it out. It had already rained once before the party, and I knew if I waited until later, I might not have the chance to meet them since the line was outdoors.
Since the party didn't officially start until 8:30 p.m., we still had a way to go before they appeared. Disney often brings some of these sought-after characters out early at private-ticketed events. Unfortunately, that was not the case on the night we attended. It would have made for a much better evening if they were already greeting guests. When I reached the front of the line, it was 9:39 p.m. So I waited a total of one hour and thirty-nine minutes. Yes, you read that right, 1 hour and 39 minutes!
While we waited, guests would send someone in their group to get food or drinks. Every single person came back empty-handed. This is when I first started hearing about how long the lines were everywhere. Part of the group next to me was able to ride a few rides while the parents waited. They didn't have to wait but commented on the length of the lines to purchase a drink.
As for Phineas and Ferb, they were adorable and fun. They took their time with every guest. They were signing autographs this evening, and a PhotoPass photographer was available at every character's meet. Photo downloads are included with your event ticket. Several of the cast members at this meet-and-greet did an excellent job of letting guests know that the photos were included.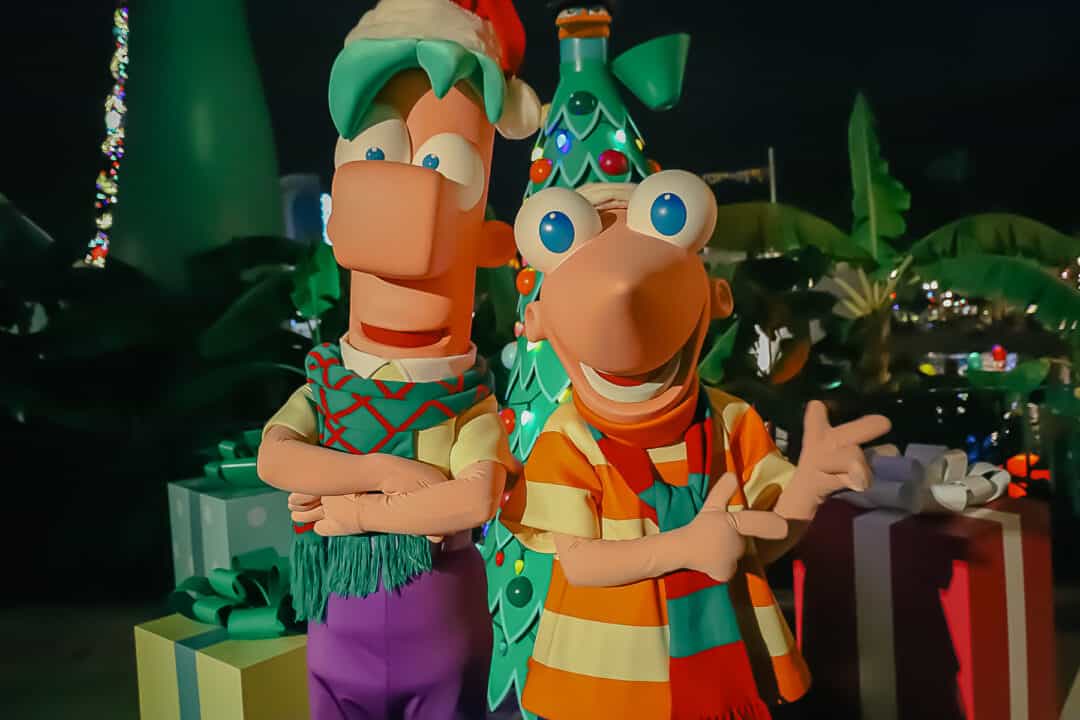 Mickey Mouse and Minnie Mouse
After meeting Phineas and Ferb, it was already starting to get late. Max and Chip n' Dale were also in the Echo Lake area. They had long lines, but not as long as Phineas and Ferb. So I walked over to the Animation Courtyard.
Walking back and forth between Animation Courtyard and Echo Lake was pretty much the extent of my evening. My priority was to check out the setup of the meets and see the character's outfits. Three meet-and-greets were available in the area. You could join a line for Mickey or Minnie Mouse, Donald or Daisy Duck, and Pluto or Goofy. You would meet one of the two depending on how long you waited.
So I got in line to meet Mickey Mouse at 9:44 p.m., and he left at 10:00 p.m. Unfortunately, I never got to meet Mickey because he went on break.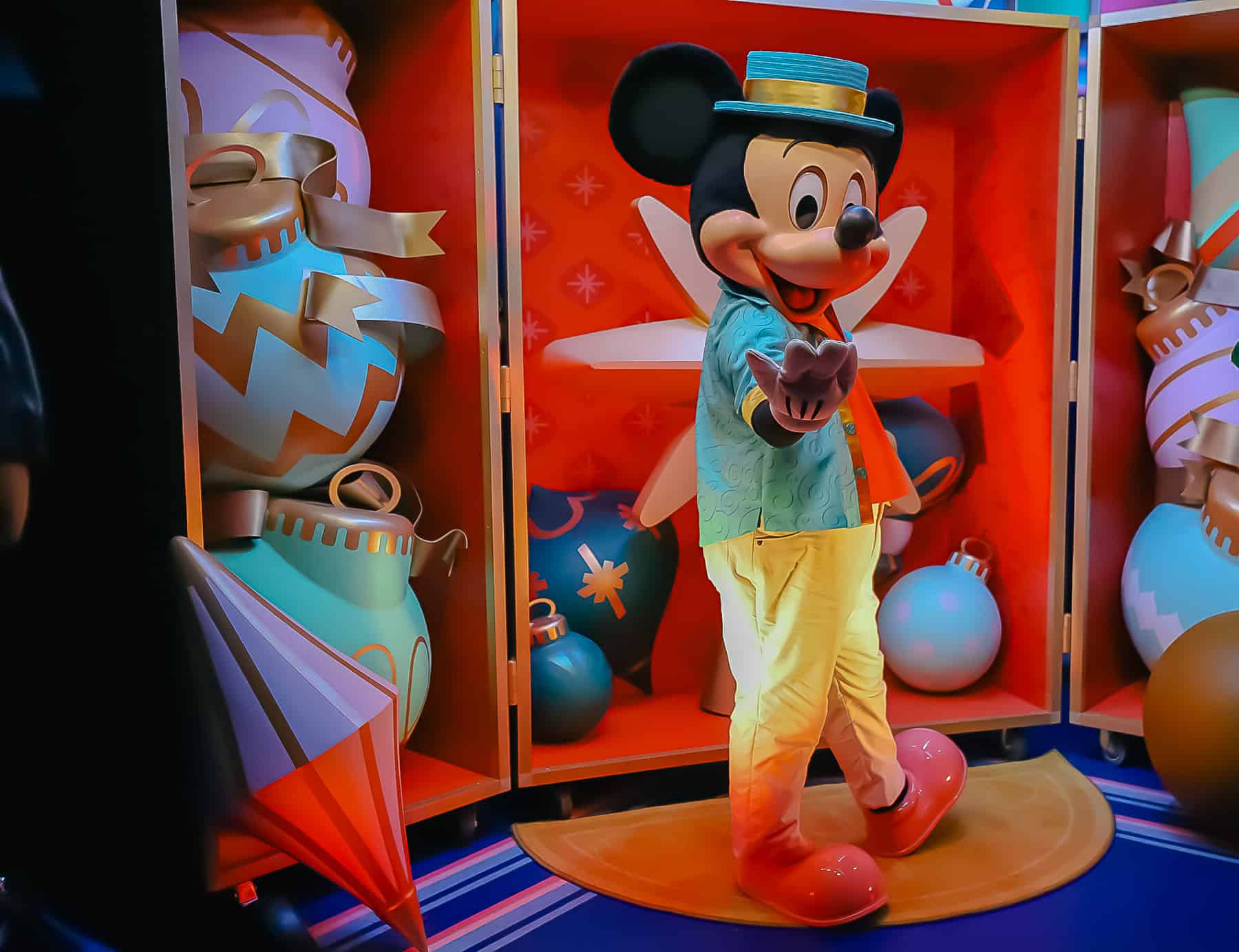 Minnie Mouse returned at 10:03 p.m. So I waited 19 minutes to meet Minnie Mouse. I thought the timing was reasonable, but I do not care for this idea of changing characters at all. It's misleading, and no one warned guests at this location about what would happen.
We do this a lot, and guests get so upset when we run into this kind of swap-a-roo. Nine times out of ten, they are hoping to meet one specific character–the character who was meeting when they got in line. It would have been nice if each character was meeting at a separate location or as a couple instead of rotating.
Minnie Mouse was as perfect as ever. And her outfit was stunning!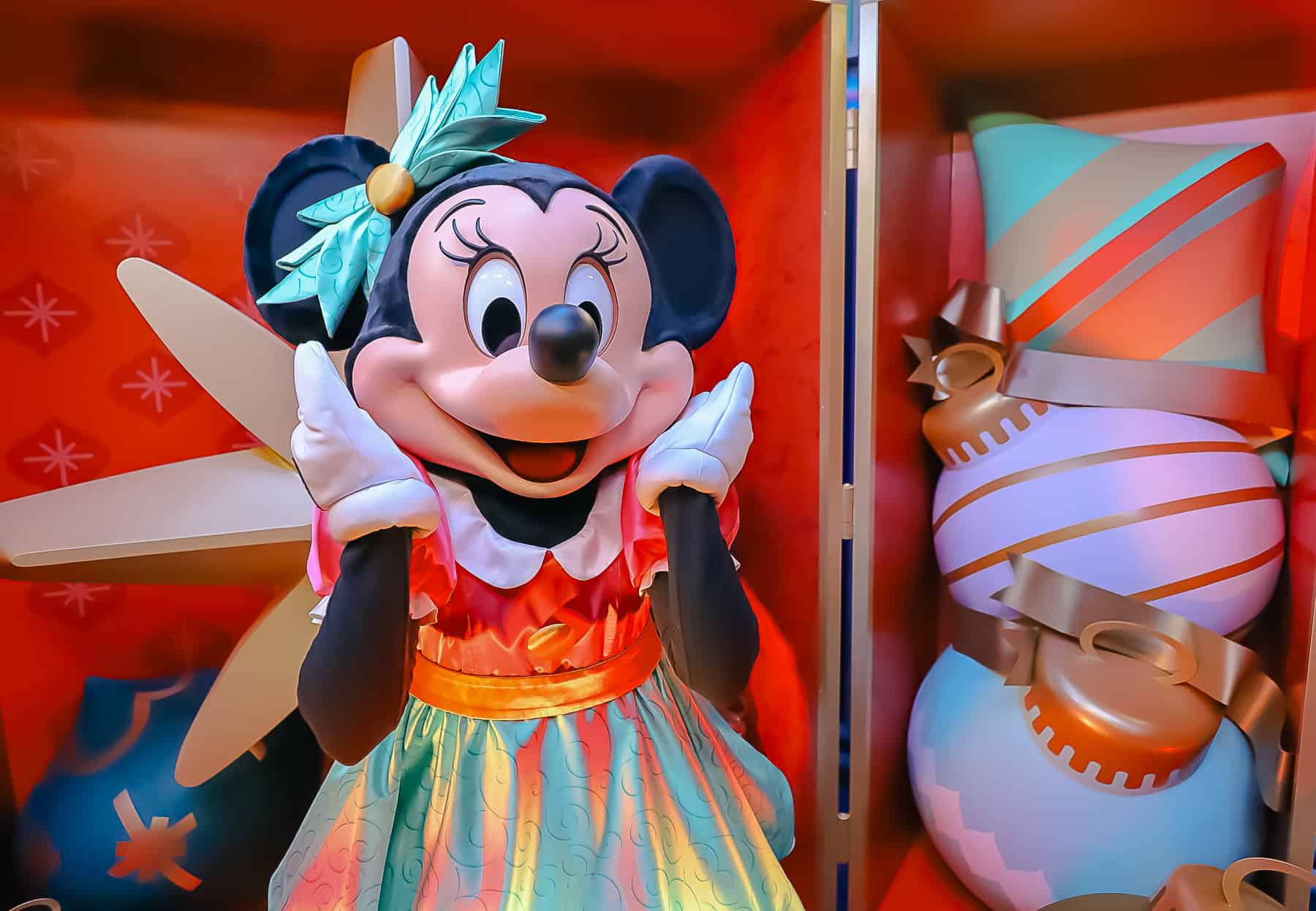 Donald Duck and Daisy Duck
After meeting Minnie Mouse, I got in line for Donald Duck. It was 10:05 p.m. when I joined the line. At 10:30 p.m., I was next in line to meet Donald, and he went on break. That wasn't a big deal, but Daisy didn't return until 10:38 p.m. All the other characters had swapped, but our area was empty. Meanwhile, a long line of guests patiently waited.
No one acknowledged us, and several people left the line. So we waited 33 minutes to meet Daisy. She was wonderful. But it was too long of a wait for characters who were rotating to have a nearly 10-minute gap between the rotations.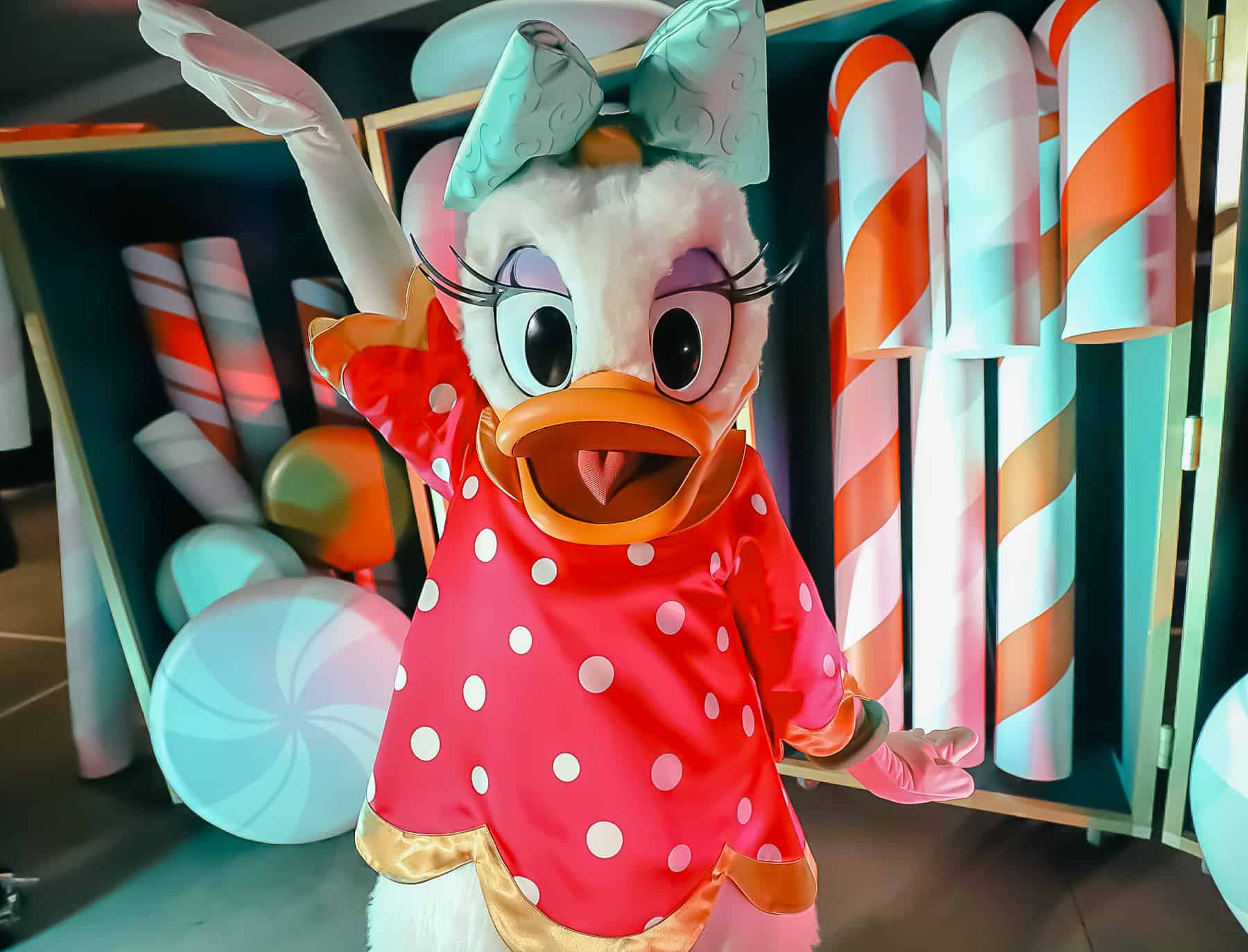 Goofy and Pluto
After Daisy, I got in line to meet Goofy, who was rotating with Pluto. Thankfully, we caught a bit of a break here, and the line wasn't so long. We got in Goofy's line at 10:40 p.m. and met him at 10:51 p.m. The cast member told everyone that Goofy was meeting at this location when they joined the line. She was also warning everyone when it got closer to the switch.
Pluto shared this location with Goofy. When I exited this line, it had gotten pretty long again. So, I decided to walk back to Echo Lake to see if I could meet Max, Chip, and Dale. Then, I would return and try to meet Pluto and Donald Duck before the night's end. Pluto was wearing his reindeer antlers, and I wanted his photo.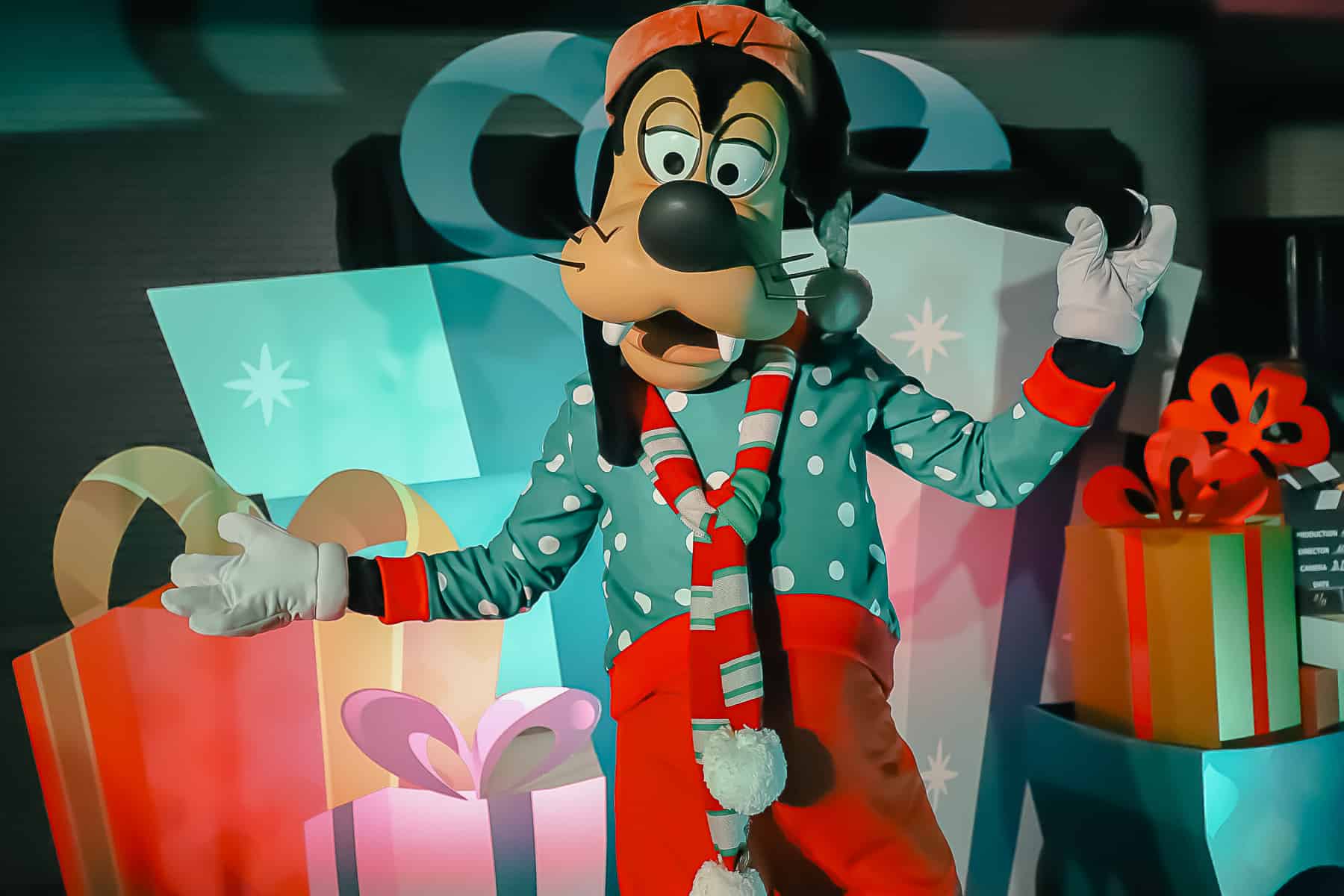 Chip and Dale Rescue Rangers
Chip and Dale were meeting near the entrance of the Indiana Jones Epic Stunt Spectacular. I got in line to meet them at 10:57 p.m. and met them at 11:23 p.m. So, the total wait was 26 minutes. They have a cute Christmas tree backdrop with a nod to the Rescue Rangers.
It was surprising that the character lines remained long throughout the evening. Jollywood Nights is a four-hour event, and this character meet-and-greet took up a half-hour.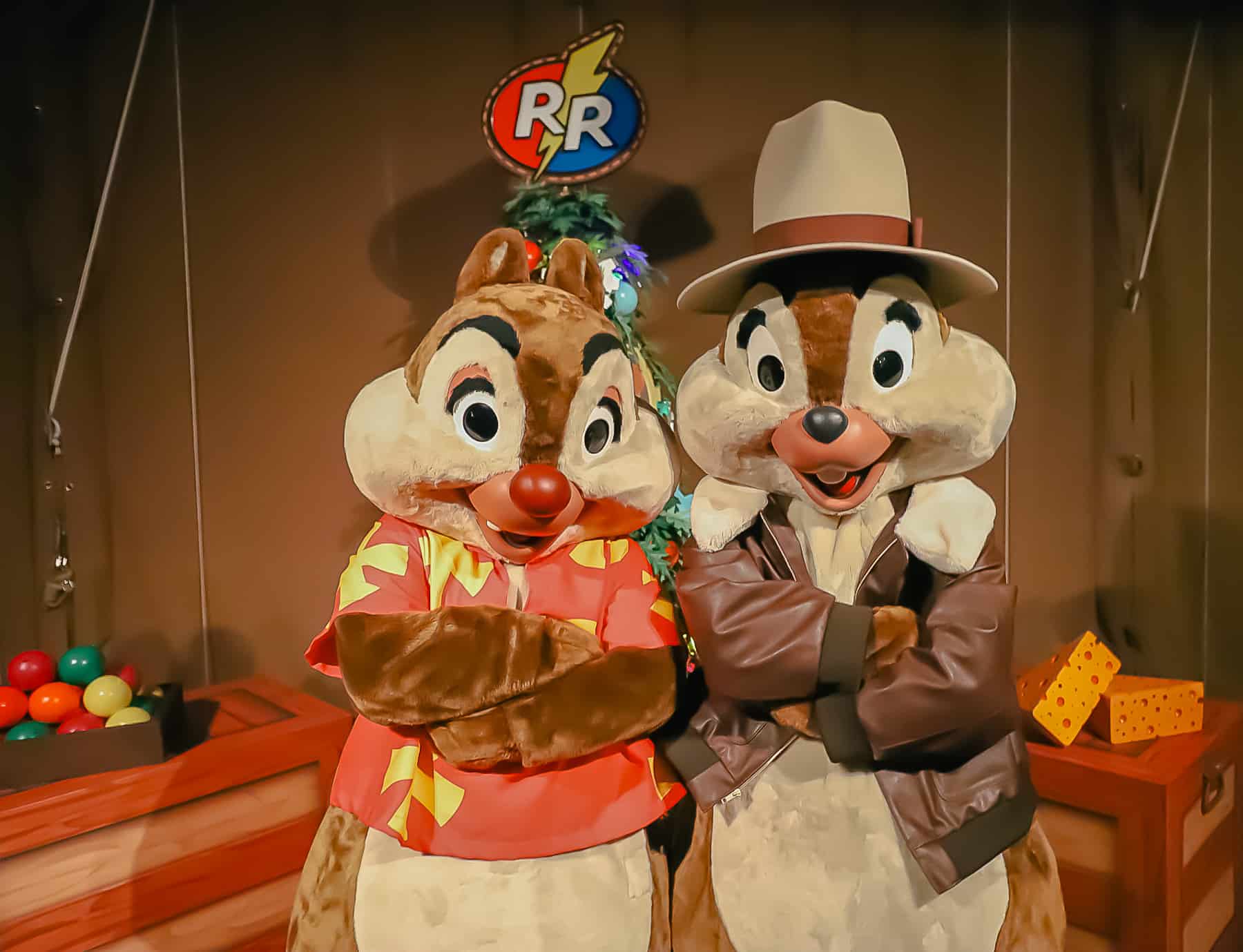 Powerline Max
After Chip and Dale, I walked to the other side of Echo Lake and joined the line for Max in his Powerline costume. It was 11:27 p.m. when I joined the line and 11:45 p.m. when I met Max. His tinsel tree backdrop was the cutest!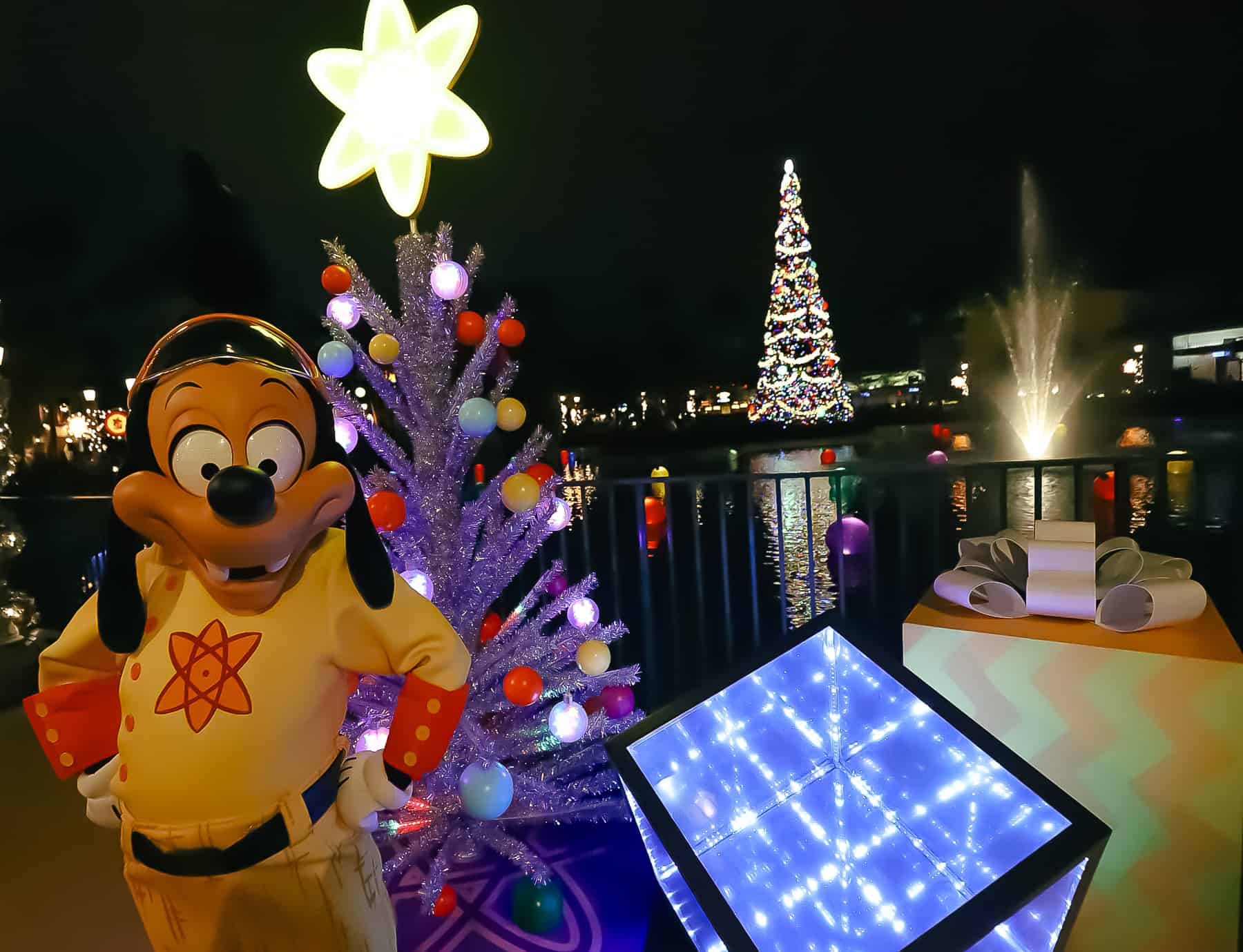 After Max, I returned to Animation Courtyard. I was hopeful to meet Pluto and Donald Duck before the event ended. I got in line to meet Pluto at 11:49 p.m. Goofy was meeting at the time, but the line was long, and the cast member was telling everyone joining that they would meet Pluto.
Unfortunately, Goofy left at midnight, and Pluto never returned because it started to rain. At this point, I did a rough count. Approximately 50 groups of guests were still waiting among the three meet-and-greets within this area.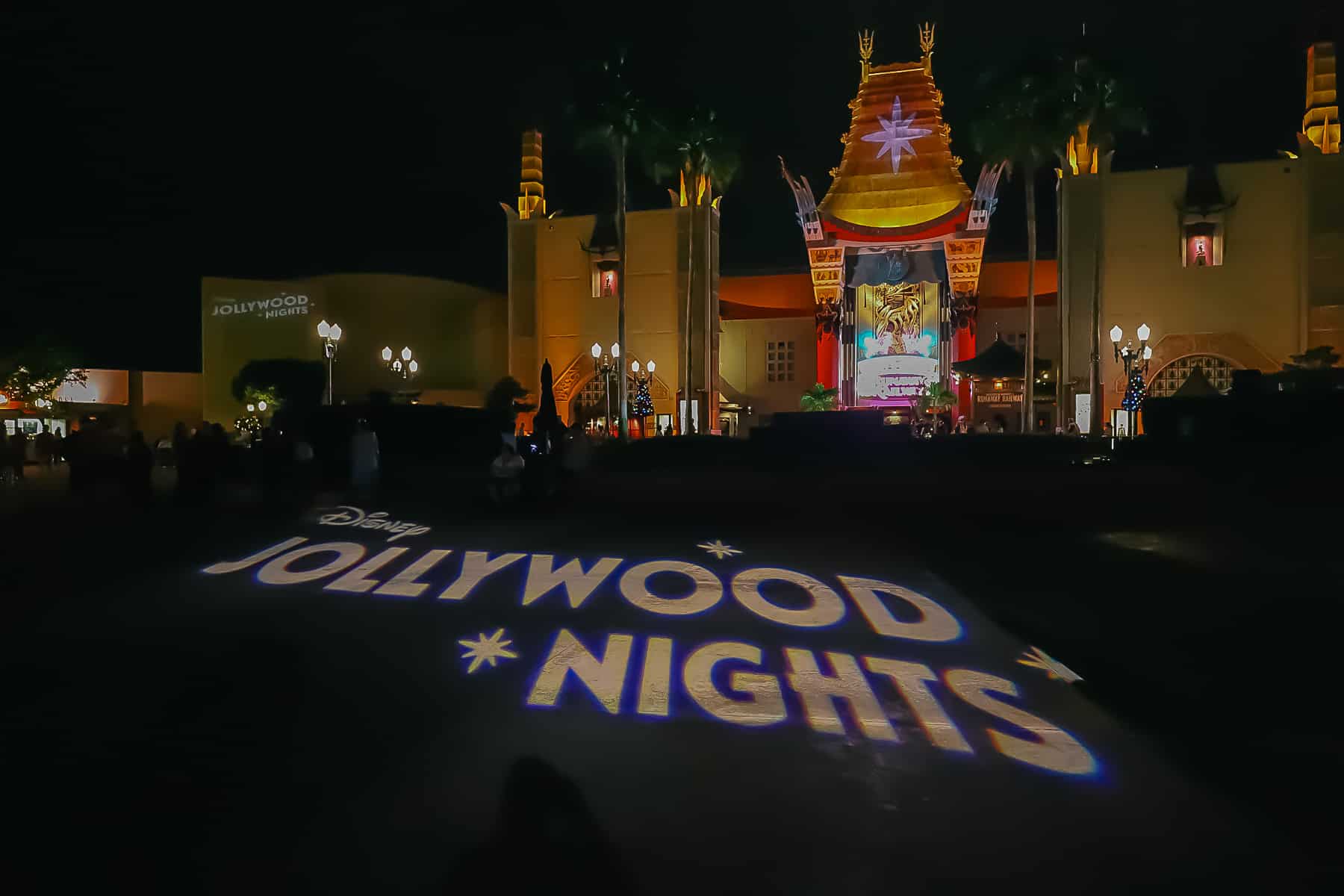 Edna Mode and Frozone
Unfortunately, we never got to see Edna Mode or Frozone. They were both at their usual locations in Pixar Plaza.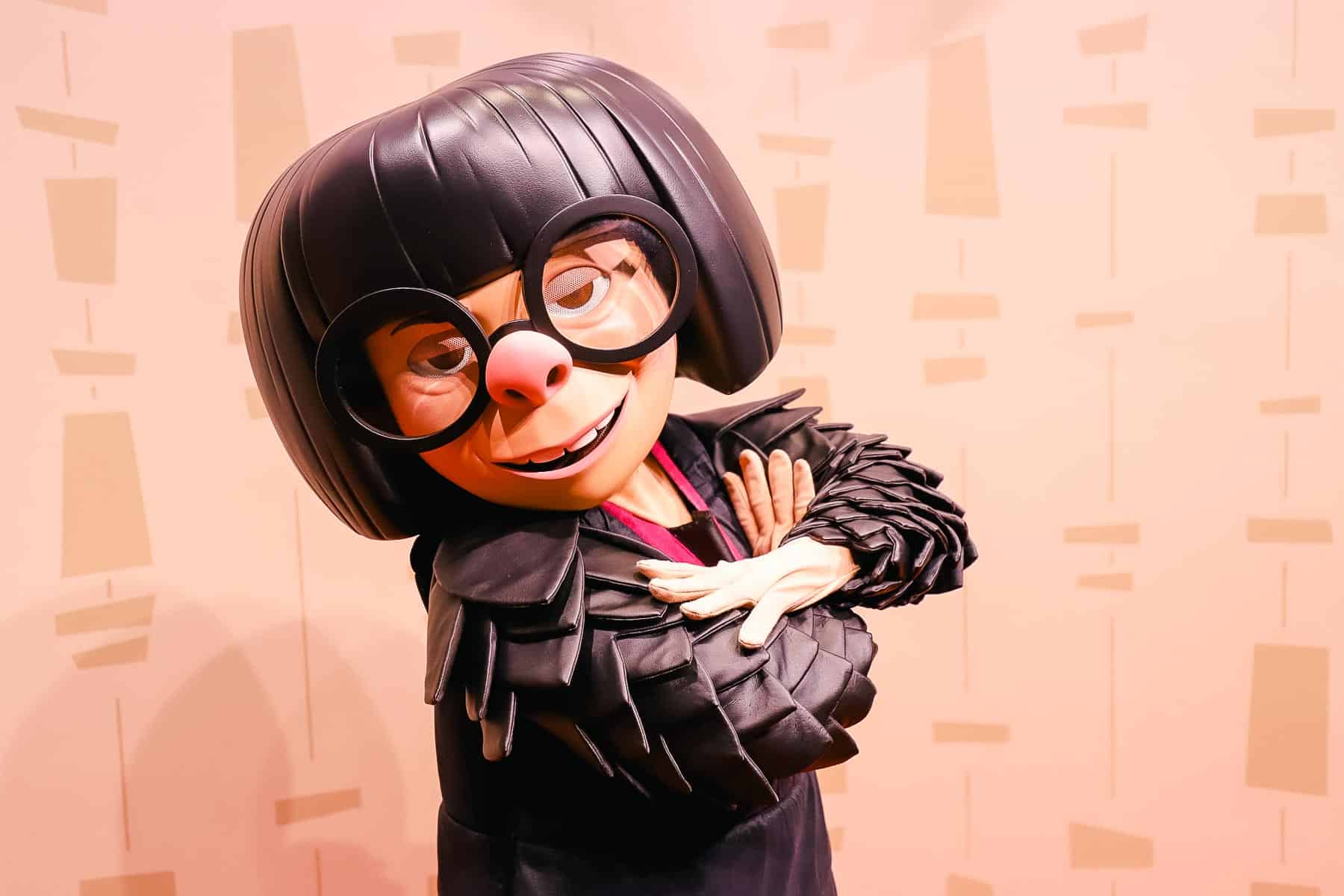 It was nice to have them as extra characters. But this area would have been an excellent location for another considerable character unique to the event.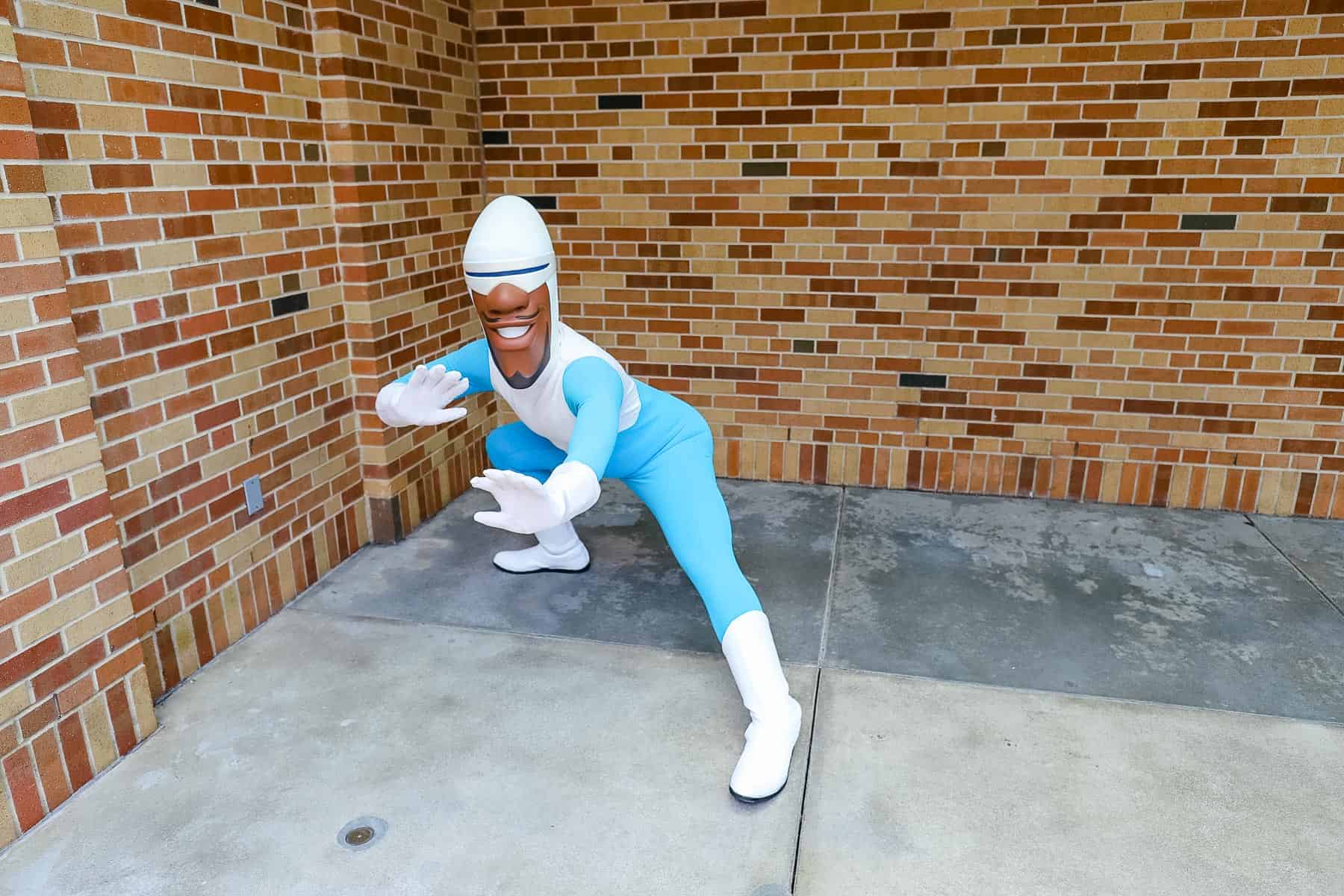 My Thoughts on Jollywood Nights at Disney's Hollywood Studios
Before we wrap up, I wanted to share my take on Jollywood Nights. Obviously, I spent the entire evening standing in line to meet characters. That's what we do for this blog. We try to provide the entire experience so you will know what to expect ahead of time.
I can't comment on the shows or other forms of entertainment because I didn't have enough time to experience anything else. When I go to these events, I try to set a benchmark. Going into this night, my goal was to get photos of the classic characters in their new outfits, meet the special characters at Echo Lake, get something to eat, see one of the shows, and watch the fireworks at the end of the night. Well, that didn't happen.
While I was standing in line, I met the most wonderful people. These are the kind of people who motivate me to cover character meets at Disney World. I chose to spend my time and the expense of the ticket meeting characters. My complaint is the lines are too long!
Many guests spent nearly 50% of their night waiting to meet one set of rare characters. That makes the cost to meet these characters half the price of a ticket to this event, which is around $75.00 or more, depending on which night you visit.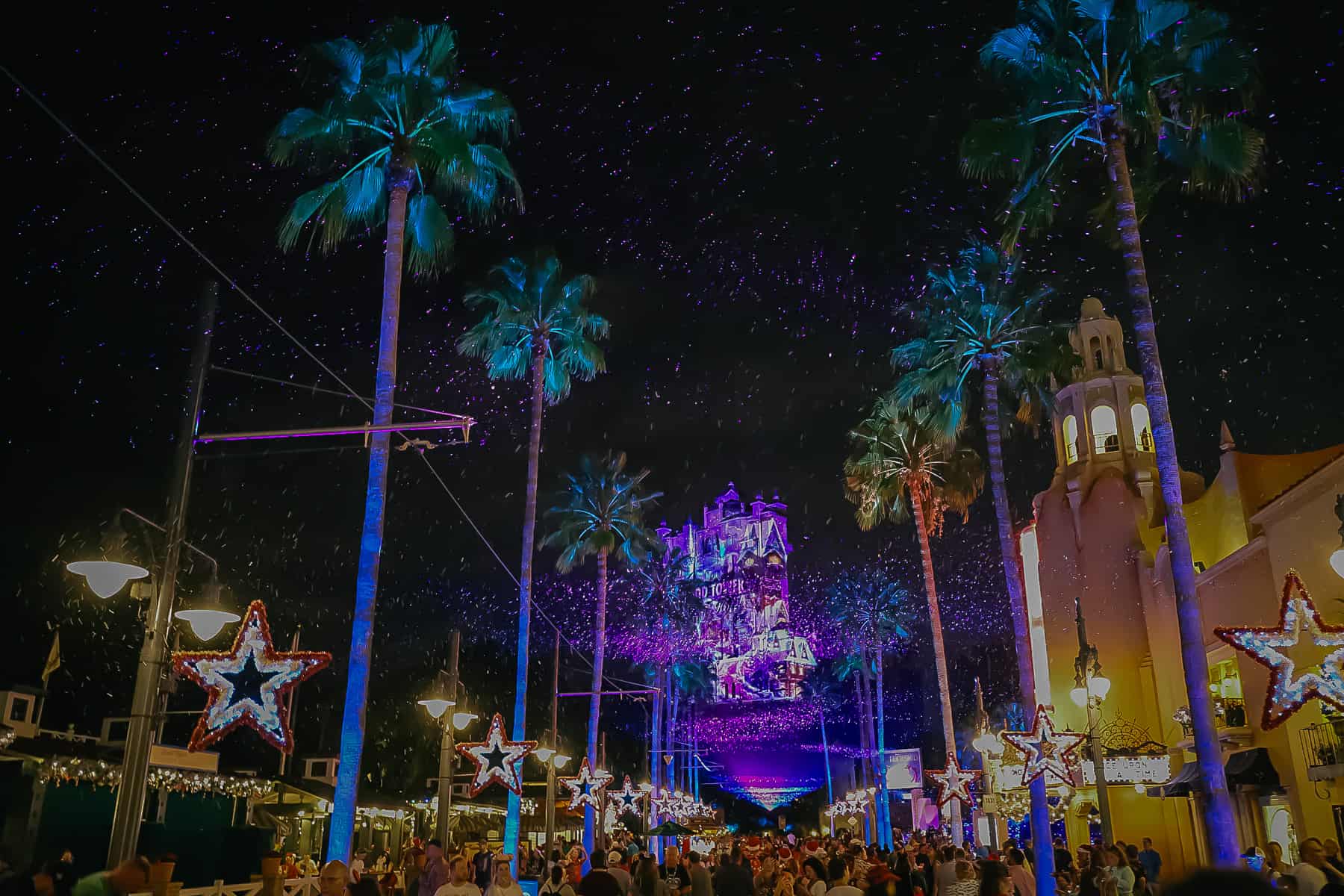 Other guests spent time waiting in line to buy things like food or a T-shirt. When it began to rain, I walked to Once Upon a Time to check out the event merchandise. They only had one rack of size small shirts available for guests to purchase. I was also starving!
So when I left in the pouring rain, I drove to White Castle because it was the only place I knew of that was open late. Then I drove home, exhausted and a little frustrated that I didn't see one of the shows. But at least I wasn't hungry.
Since this event was so expensive, I won't be able to return to another one this season. We did Mickey's Very Merry Christmas Party last week. So that will be it for extra-expense events for some time.
Hopefully, things will improve for Jollywood Nights. It has so much potential. But it needs to be more defined upfront. Hollywood Studios is a beautiful park, especially at night. So, I think most of us were excited to experience a "special evening" that was something more unique than everything else. For me, it was just another party with lengthy lines for characters.
If you attend Jollywood Nights to meet characters–be prepared for long lines. Maybe the situation will be improved between now and then. Other than that, enjoy the time in the park at night!
For more characters at Walt Disney World, you might enjoy:
What Do You Think?
Would you attend Jollywood Nights to meet characters? Have you ever met Phineas and Ferb? What's your take on character meets and long lines? Tell us in the comments. We'd love to hear your thoughts and perspective on long lines for characters or anything related to this event.