Disney World Resorts with Water Slides
Below we have a list of the Disney World Resorts that have water slides. There are 17 resorts at Walt Disney World with pools that have water slides!
These slides range from family-friendly to fast and thrilling or somewhere in between. Make sure to check out our complete reviews for more details on the pools at each resort!
Disney's Grand Floridian Resort
Disney's Polynesian Resort
Disney's Contemporary Resort
Disney's Wilderness Lodge
Disney's Animal Kingdom Lodge (Jambo House & Kidani Village)
Disney's Boardwalk Inn
Disney's Beach & Yacht Club Resort
Disney's Swan and Dolphin Resort
Disney's Caribbean Beach Resort
Disney's Riviera Resort
Disney's Coronado Springs Resort
Disney's Port Orleans Resort-French Quarter
Disney's Port Orleans Resort-Riverside
Disney's Fort Wilderness Resort & Campground
Disney's Saratoga Springs Resort
Disney's Old Key West Resort        
You may have noticed that all of the above resorts with water slides fall under Disney's moderate or deluxe resort category. Unfortunately, there are no value resorts included in our list. That's because the water slide feature is an upgrade that's only available at the deluxe and moderate resorts.
Below we'll take a look at a few of these resort water slides to give you a general idea of what to expect.
For starters, the Beach Pool at Disney's Grand Floridian features a 181′ long water slide. You'll climb a staircase to access the top of this slide that mimics a natural spring.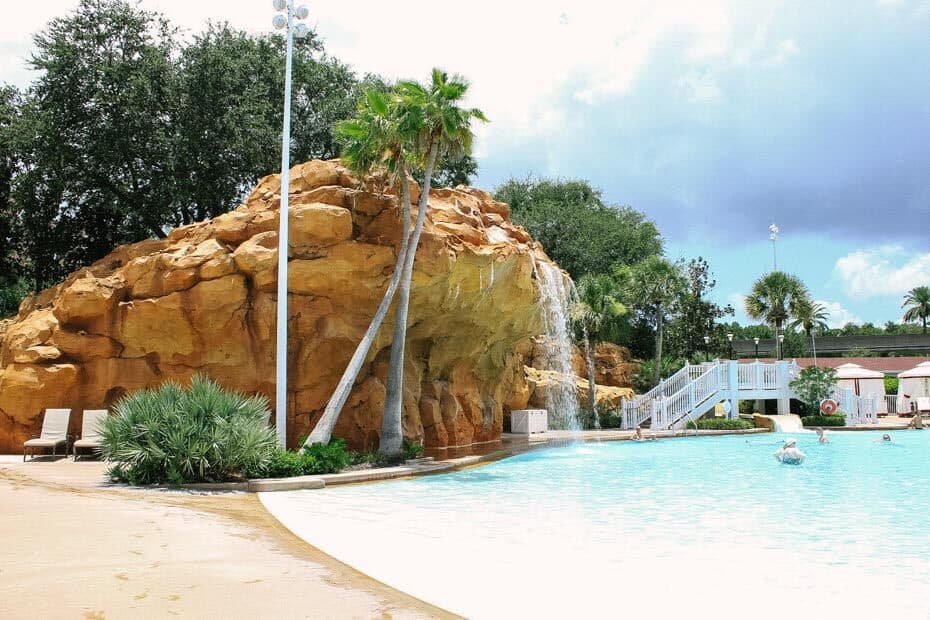 Related: Pools at Grand Floridian
Next, Disney's Polynesian has a fun slide at the Lava Pool. This waterslide is 142′ long, and you'll have to climb a staircase up the volcano to access it.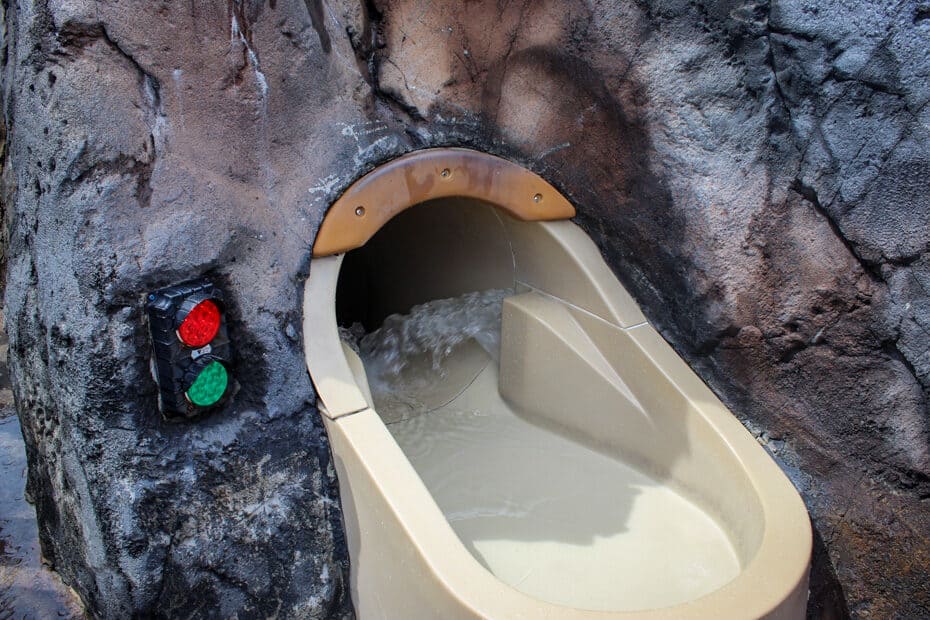 This slide is relatively popular and weaves its way around the rock formation before splashing into the pool. It even goes under this little footbridge.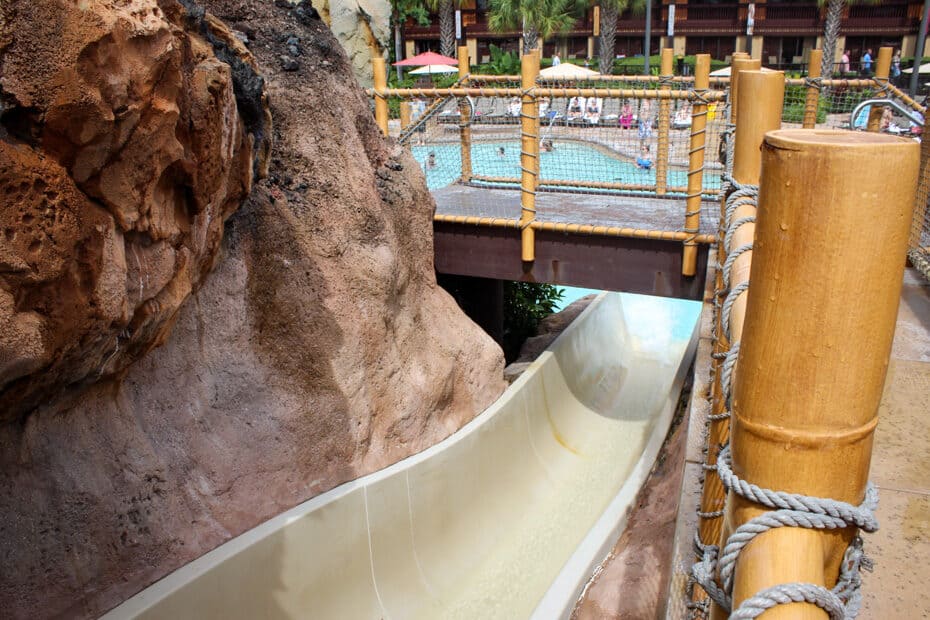 Related: Pools at Disney's Polynesian
The Feature Pool water slide at Disney's Contemporary Resort is relatively easy with minimal twists and turns. It's also perfect for younger children since it's only 17′ high.
Over at the Wilderness Lodge, the Copper Creek Springs pool has a mild 67′ water slide. This slide doesn't require climbing a large staircase to access, making it kid-friendly. You can tell from the picture below that this one is mild.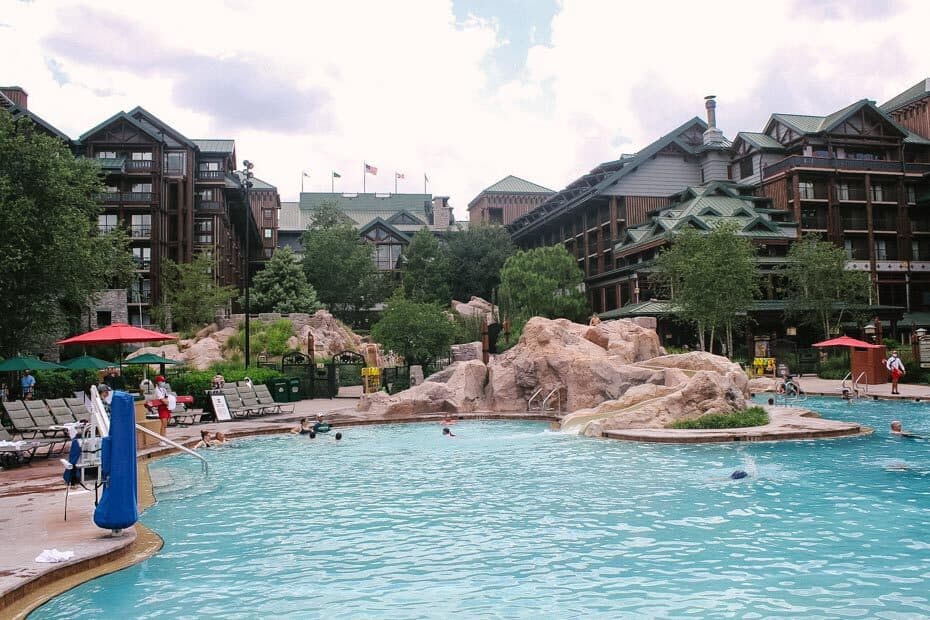 Additionally, Disney's Animal Kingdom Lodge has a similar water slide that's 67′ long at the Uzima Springs Pool.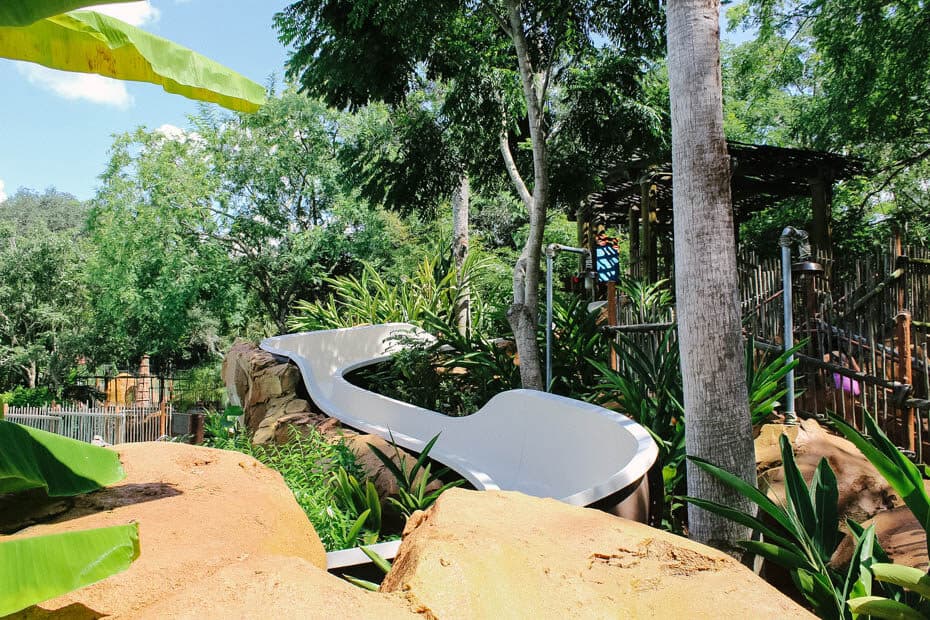 Then down at Kidani Village, the Samawatii Springs Pool has 128′ waterslide.
This slide is another one that's relatively mild and doesn't require climbing too many stairs.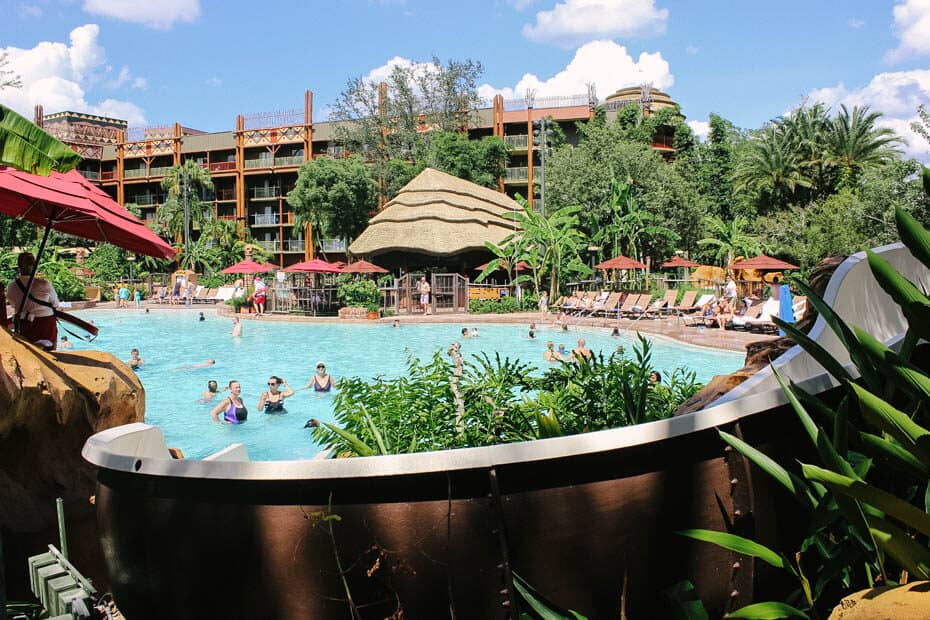 Disney's Boardwalk Inn has one of the most incredible water slides on the property, the Keister Coaster. That's right, this water slide at the Luna Park Pool is designed to look like a classic wooden roller coaster! It's 200′ in length!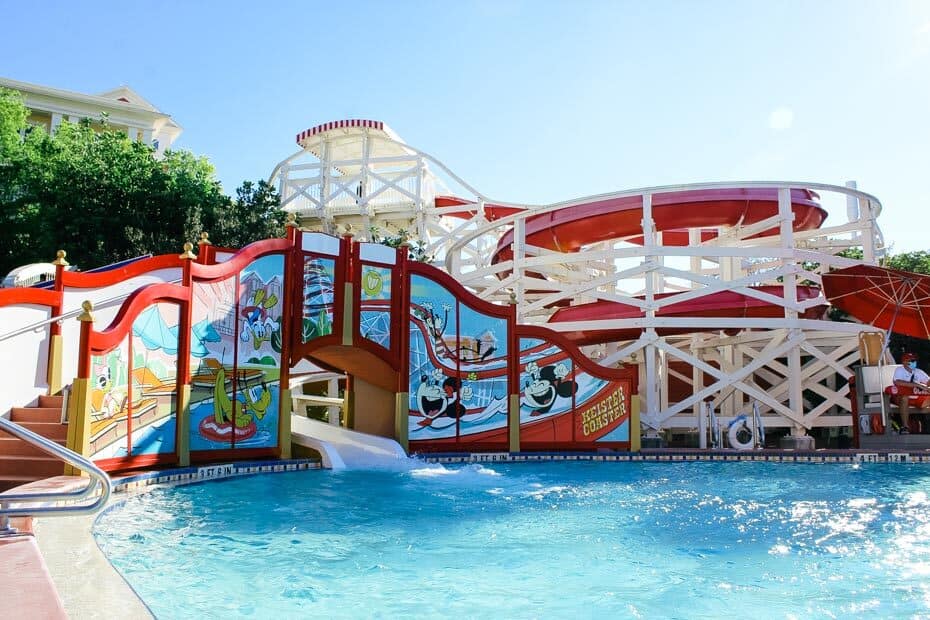 While the kids love this water slide, you'll want to know it has a pretty decent staircase to climb to access it.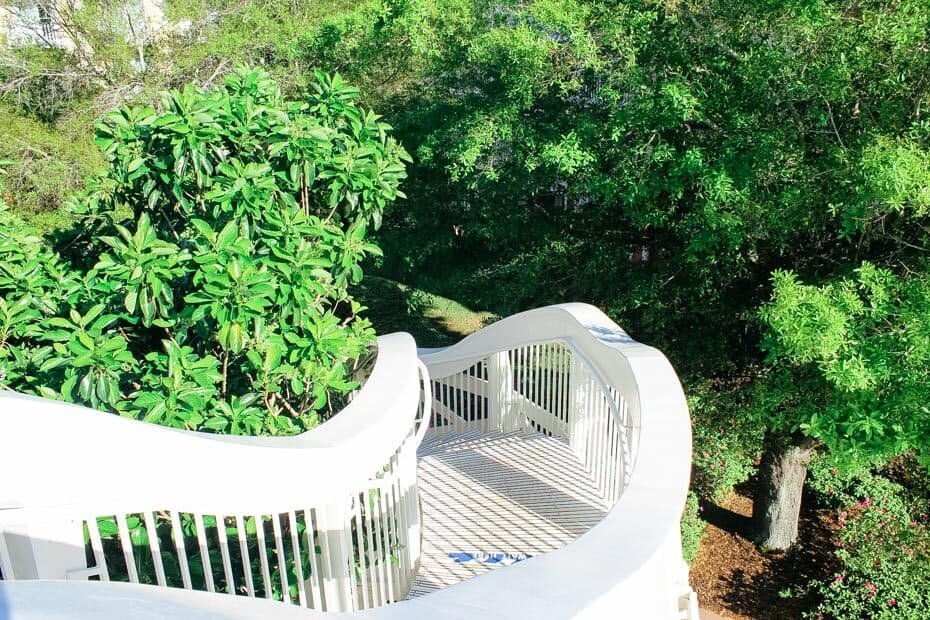 Related: Luna Park Pool at Boardwalk
And perhaps the best water slide in all Disney Resorts is the Flying Jib water slide at Disney's Beach Club. It comes in at a whopping 230′ long. This slide shoots out from the shipwreck at the Beach Club, goes over the walkway, and dumps guests back out in Stormalong Bay.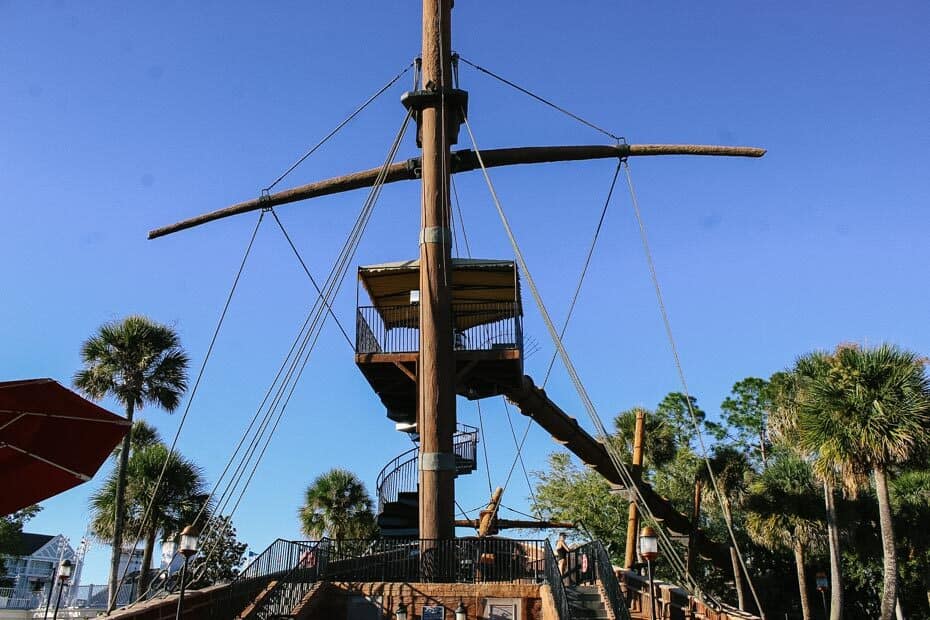 You'll exit the pool area and cross the walkway before stepping inside the ship. From there, you'll climb a spiral staircase up to the top.
Get ready for the ride of your life! Parents, it's a lot of fun, but it's much faster than you'll probably anticipate. Ask me how I know this.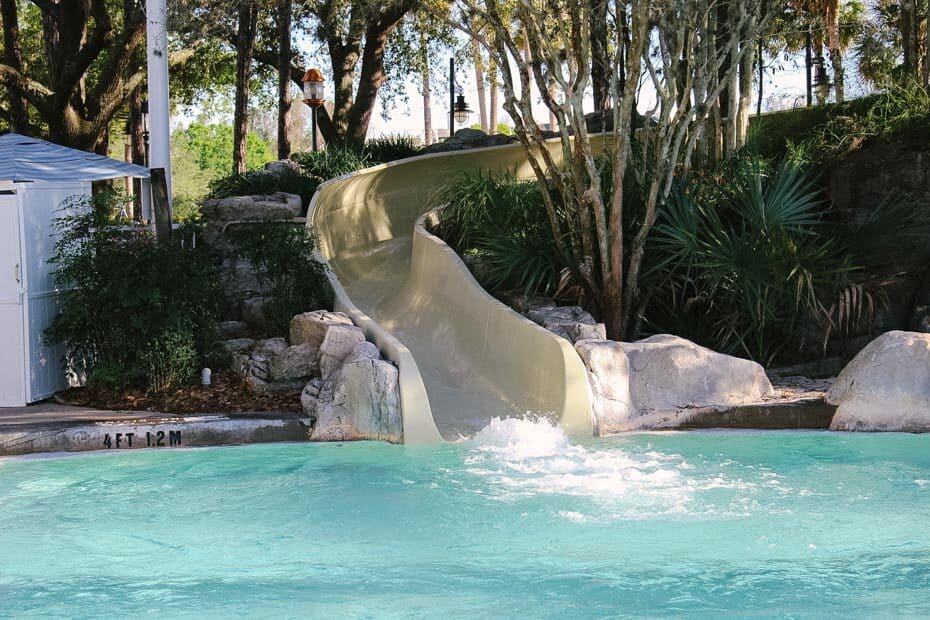 Related: Everything You Need to Know about Disney's Stormalong Bay
Next door to Beach and Yacht Club, you'll find Disney's Swan and Dolphin Resort. This resort pool comes in toward the top of our list of the best pools at Disney World. The only one that beats it is Stormalong Bay, which we just discussed.
As for the waterslide at Swan and Dolphin's Grotto Pool, it is fun and family-friendly. Parents, the setup at this pool makes it easy for you to stay in the water and wait for your children at the bottom of the slide.
Everything is in plain sight, except the very top of the slide entry.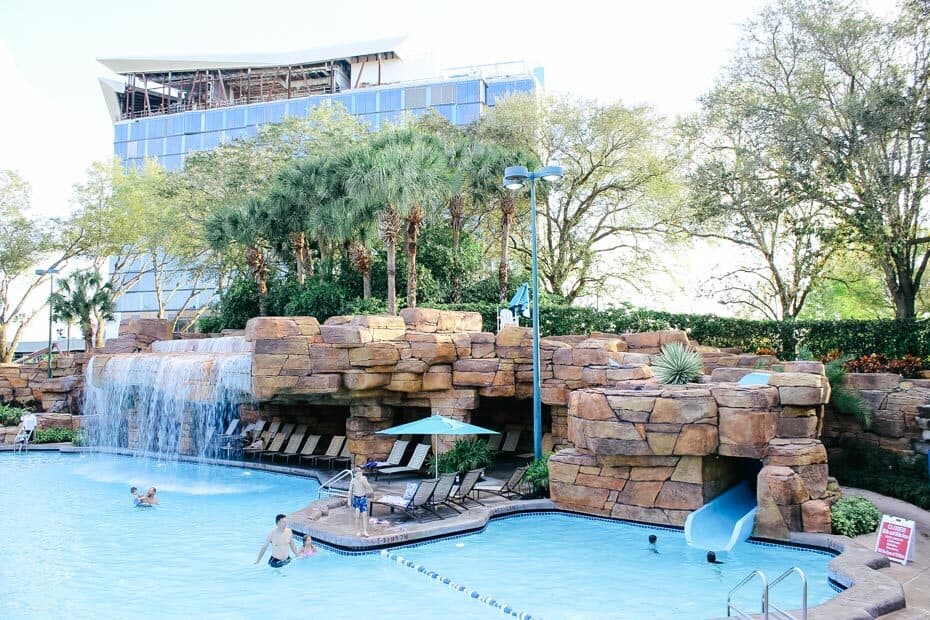 Moving on, we'll take a quick look at the waterslide at the Fuentes del Morro pool at Disney's Caribbean Beach. Actually, this pool has two water slides! One is 102 feet long and sits up in a lookout tower. You can't see the bottom from this one, so it has the traffic lights that indicate when the next person can go.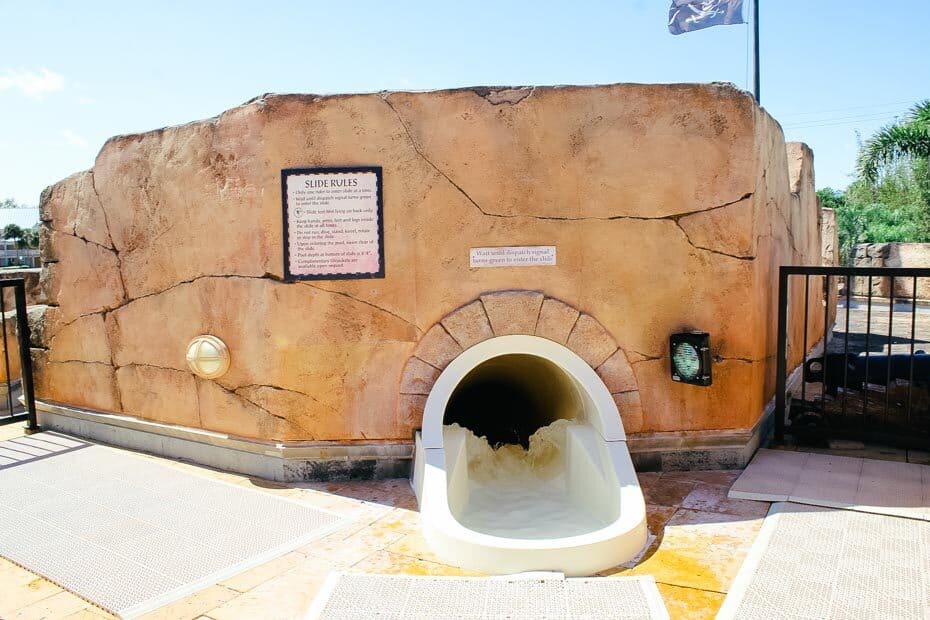 Most of this slide goes through a tunnel, so you can't see it.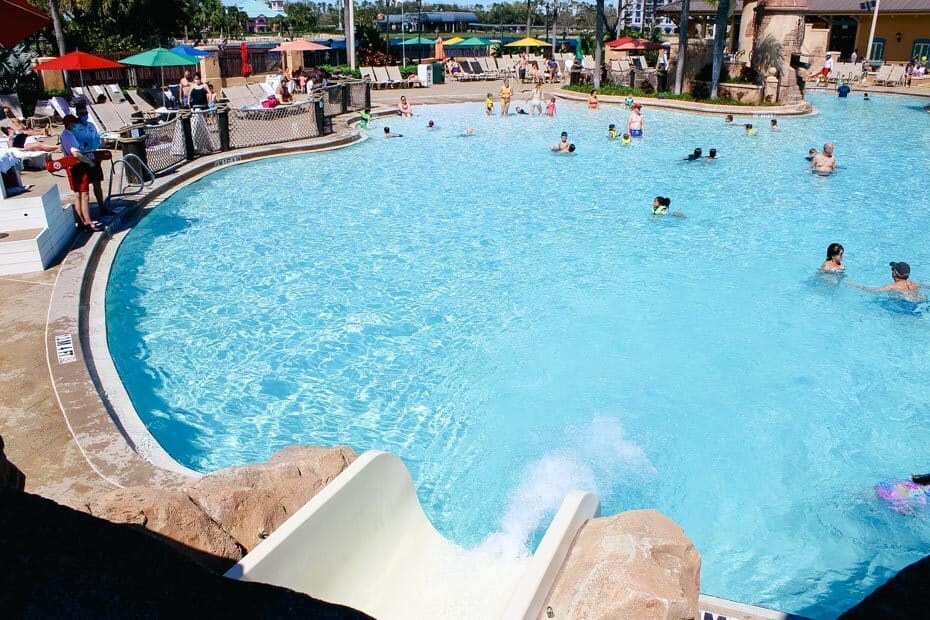 The second waterslide is much milder and is a good fit for younger children.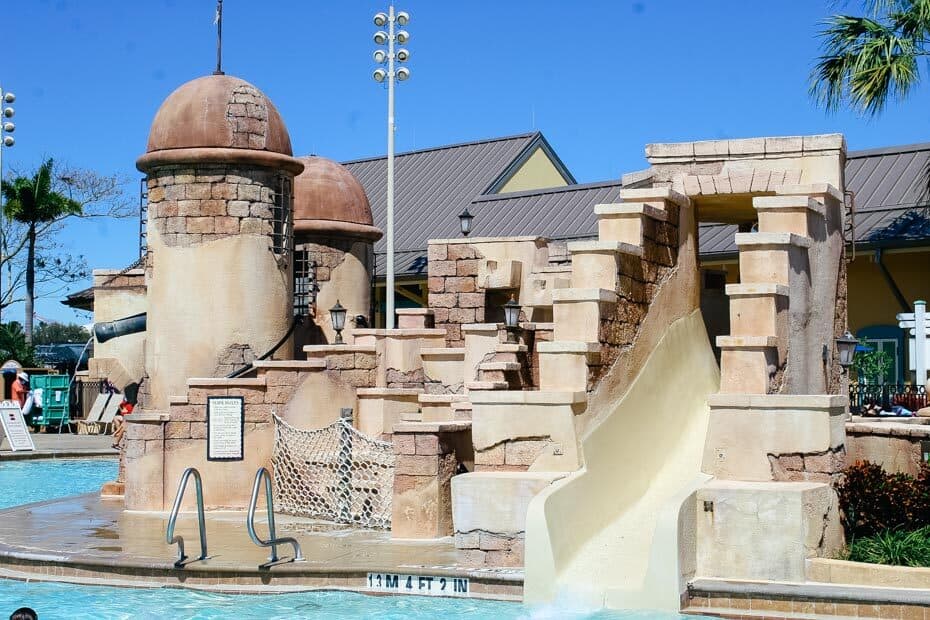 Related: Pools at Disney's Caribbean Beach
Residing next-door to Caribbean Beach is Disney's Riviera Resort. Riviera is one of the newer Disney Resorts and has a beautiful feature pool with an awesome waterslide.
The slide here is in a tower. You'll have to climb a spiral staircase inside the tower to reach the top of this slide. At the top, there is a platform with traffic light control. When the light turns green, you'll shoot back down the slide.
The cool thing about this water slide is that it wraps around the tower you just climbed. What kid doesn't love a twisty slide?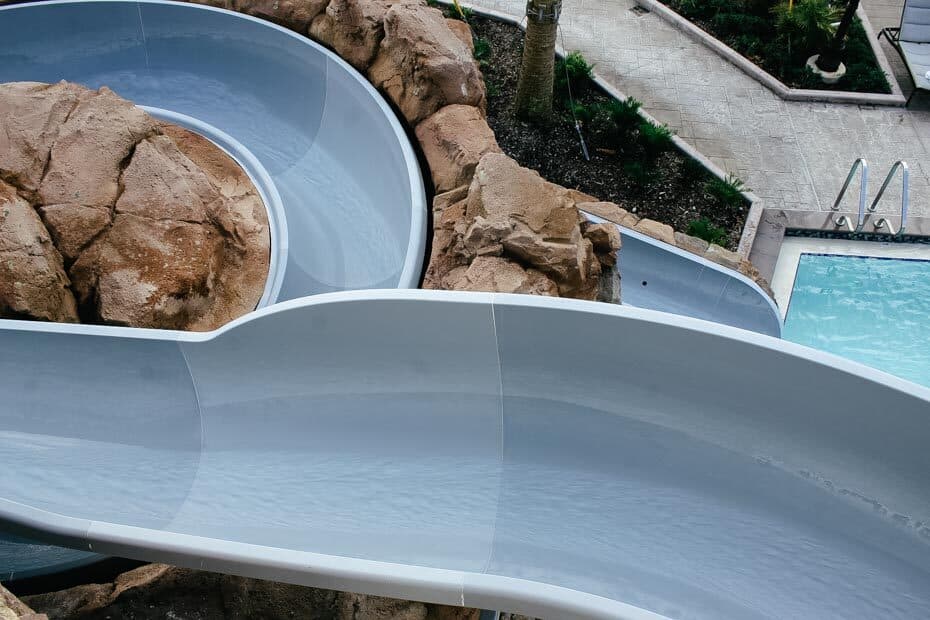 Related: The Pools at Disney's Riviera
Our last stop for this review is at Disney's Coronado Springs Resort to check out the Jaguar Slide! This is the slide located at The Lost City of Cibola pool, located at The Dig Site. The pool here is really cool. It sits at the foot of a giant Mayan pyramid!
As for the Jaguar slide, it comes in at 123 feet long! There is a staircase to access the slide on the far side of the pyramid!
Well, that's it for our list of Disney World with water slides. We hope you found this article helpful!
Are you planning a Walt Disney World vacation? Make sure to check with our friends at Firefly Travels. They are a full-service, authorized Disney vacation planning agency. And they provide concierge-level planning, which means you won't miss out on all the extras! Contact them here.
Okay, now that we've looked at the waterslides, what do you think? Which one of these resorts with water slides looks like the most fun for your family?