The Samawati Springs Pool at Kidani Village
This article previews the pool at Kidani Village, formally known as the Samawati Springs Pool. Kidani Village has one feature pool area, a waterslide, and a water playground for children of various ages.
Kidani Village flies a little under the radar when it comes to Walt Disney World Resorts. Even more so–its pool area seems to be a hidden secret among the resorts. We rarely hear mention of it!
For reference, Kidani Village is one of two resorts at Disney's Animal Kingdom Lodge. Jambo House, the main lodge, is home to the Uzima Springs Pool, which we cover in a separate article.
Guests of either resort can use whichever pool they prefer–and they are both extraordinary pool areas. But if you have children or prefer the shade, one resort's pool stands out a little more than the other–the Samawati Springs Pool!
Kidani Village is also a Disney Vacation Club Resort, similar to a timeshare. However, Disney allows all guests to stay at their DVC Resorts. So you don't have to be a member to stay here.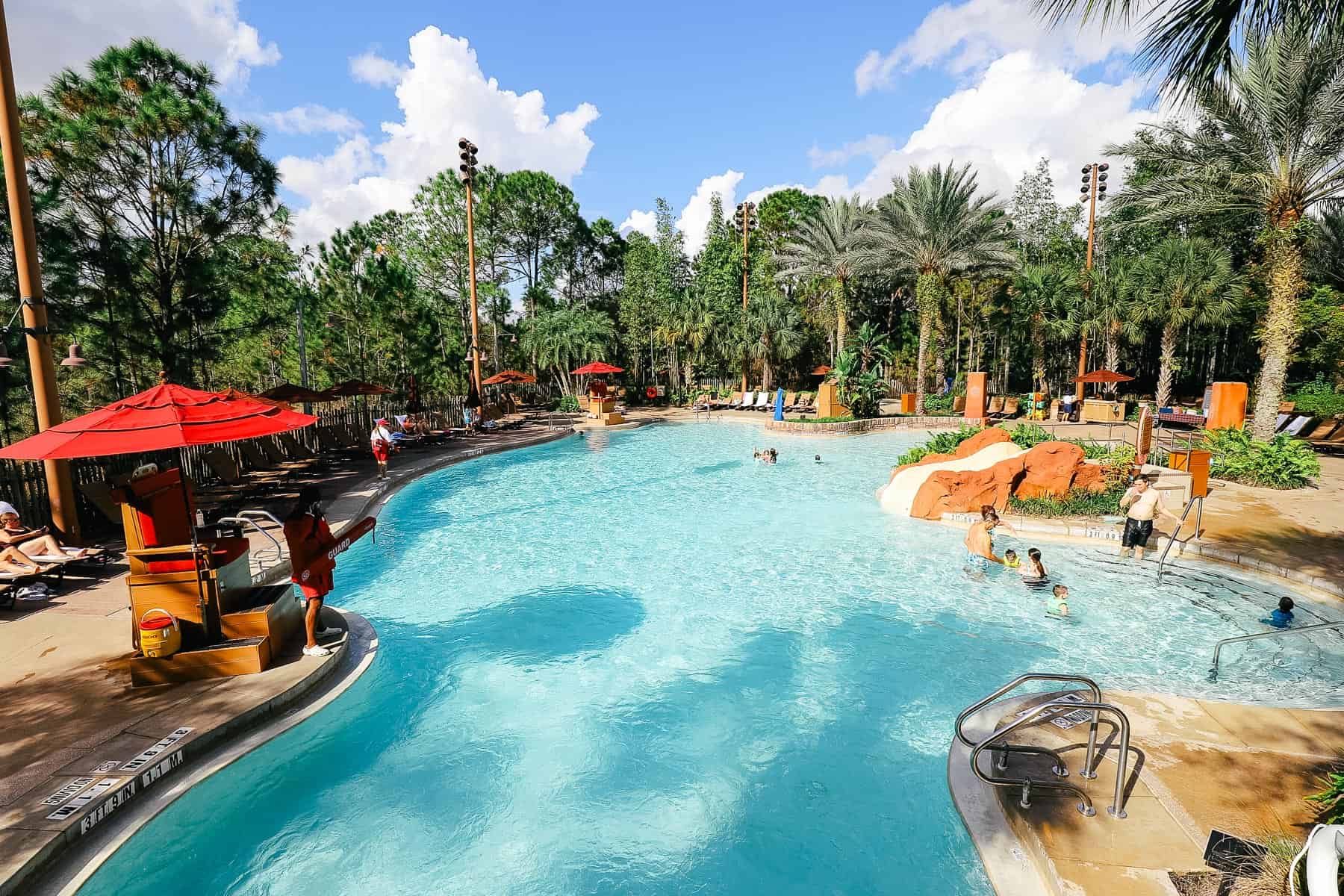 Kidani Village Pool Hours
Pool hours for Kidani Village are typically between 10:00 a.m. and 11:00 p.m. in the summer months. During the cooler months, pool hours usually run from 10:00 a.m. until 10:00 p.m.
It's important to note that Disney can adjust the pool hours at their discretion. Pool hours are posted at each pool's main entrance.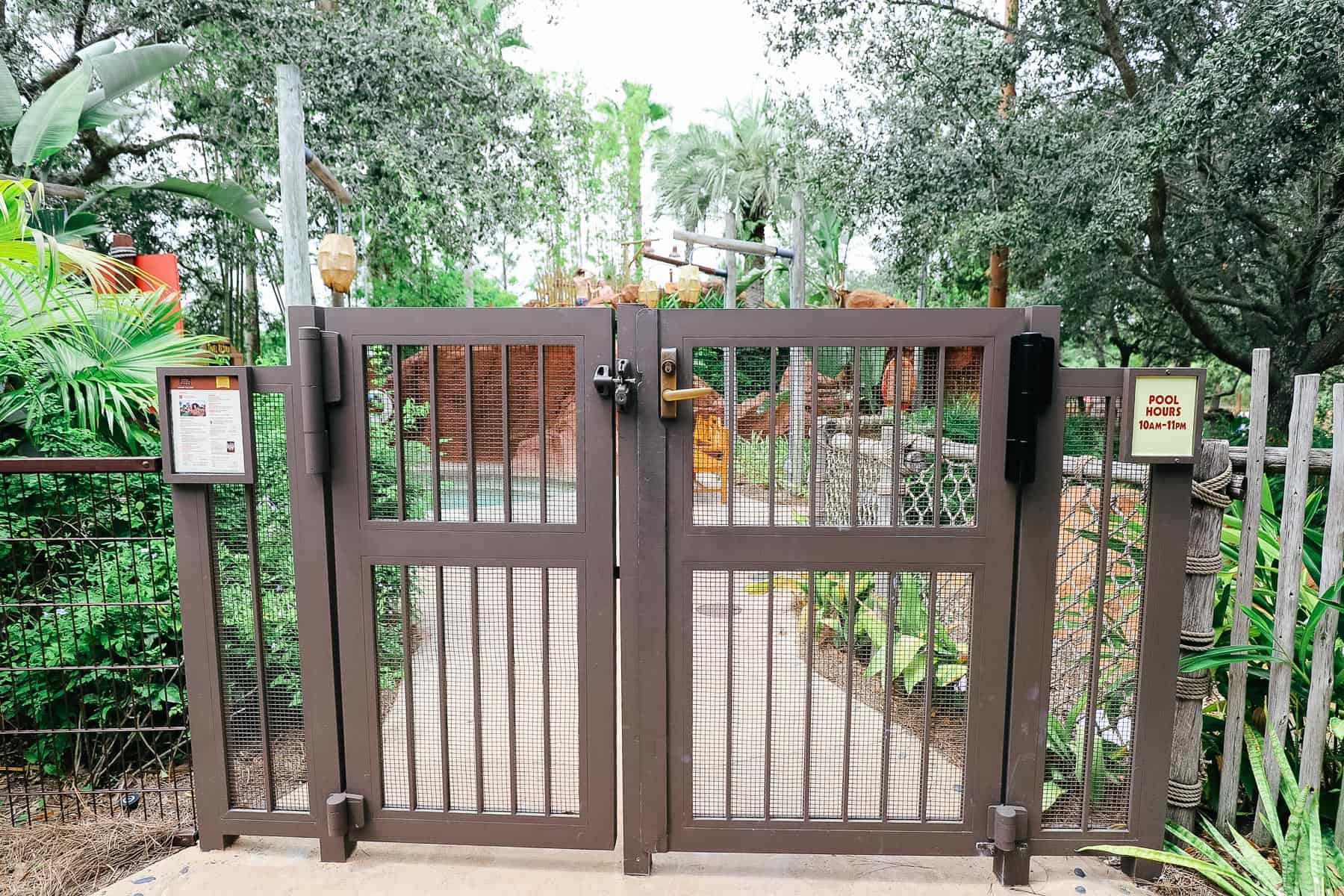 Kidani Village and Animal Kingdom Lodge do not have quiet pools. Each has a feature pool because most of the resort's grounds are comprised of savannas. These savannas are home to wild animals.
Kidani Village has a secondary savanna viewing area only a few steps from the Samawati Springs Pool. It sits behind the Maji Pool Bar. This is usually where you can find Cassanova, a well-known Abyssinian Ground Hornbill.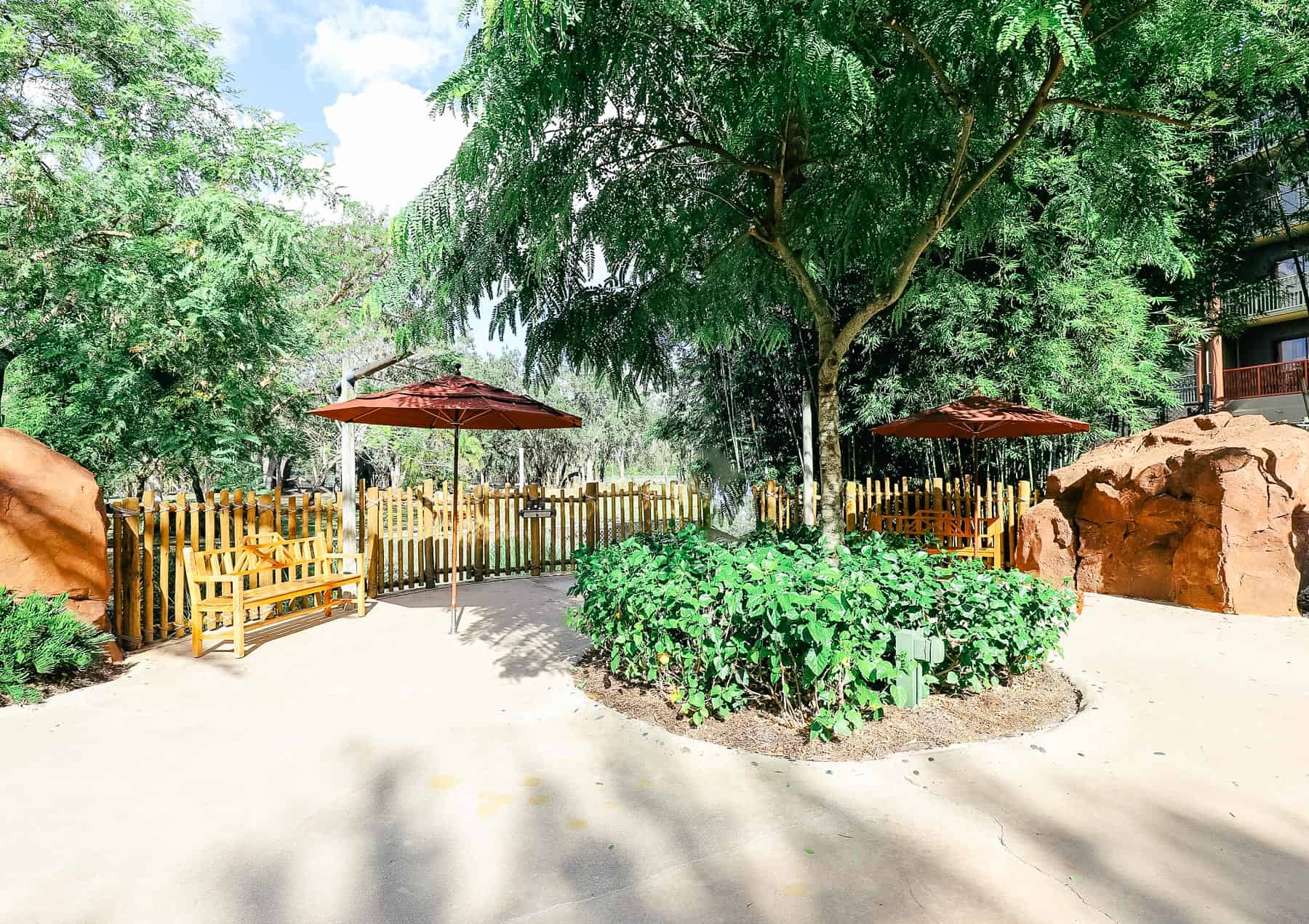 Samawati Springs Pool
At 4,700 square feet, the Samawati Springs Pool is massive. It holds up to 118,138 gallons of water. Other pool features include a 128-foot waterslide, a mini-slide for younger children, and a zero-depth entry.
Like other pools at Disney World, the Samawati Springs Pool is heated to 82 degrees. So if the weather dips into the 70s or so–the water temperature should remain reasonably comfortable. Additionally, lifeguards are present at this pool.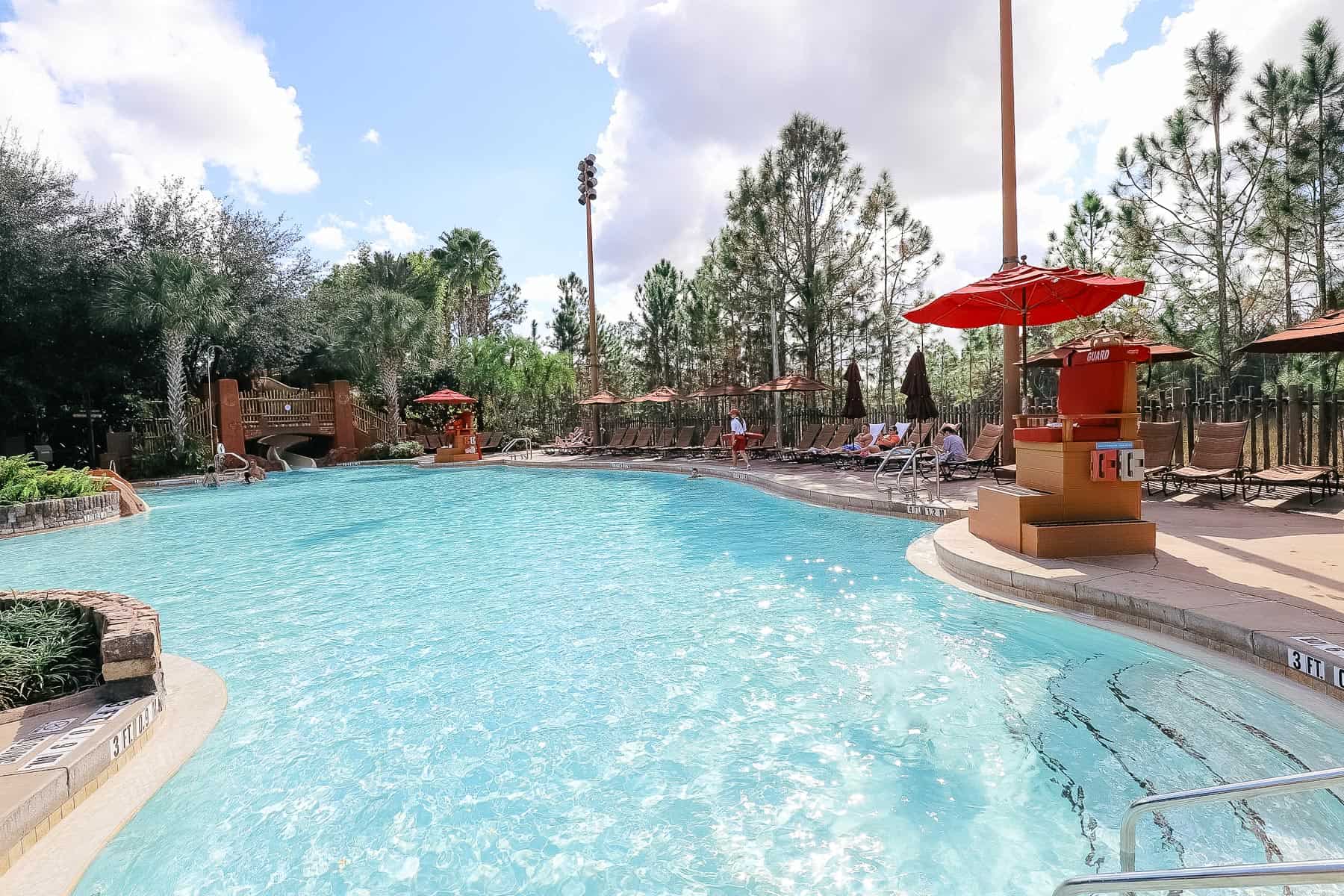 Below is a photo of the zero-depth entry area. This side of the pool is opposite the slide.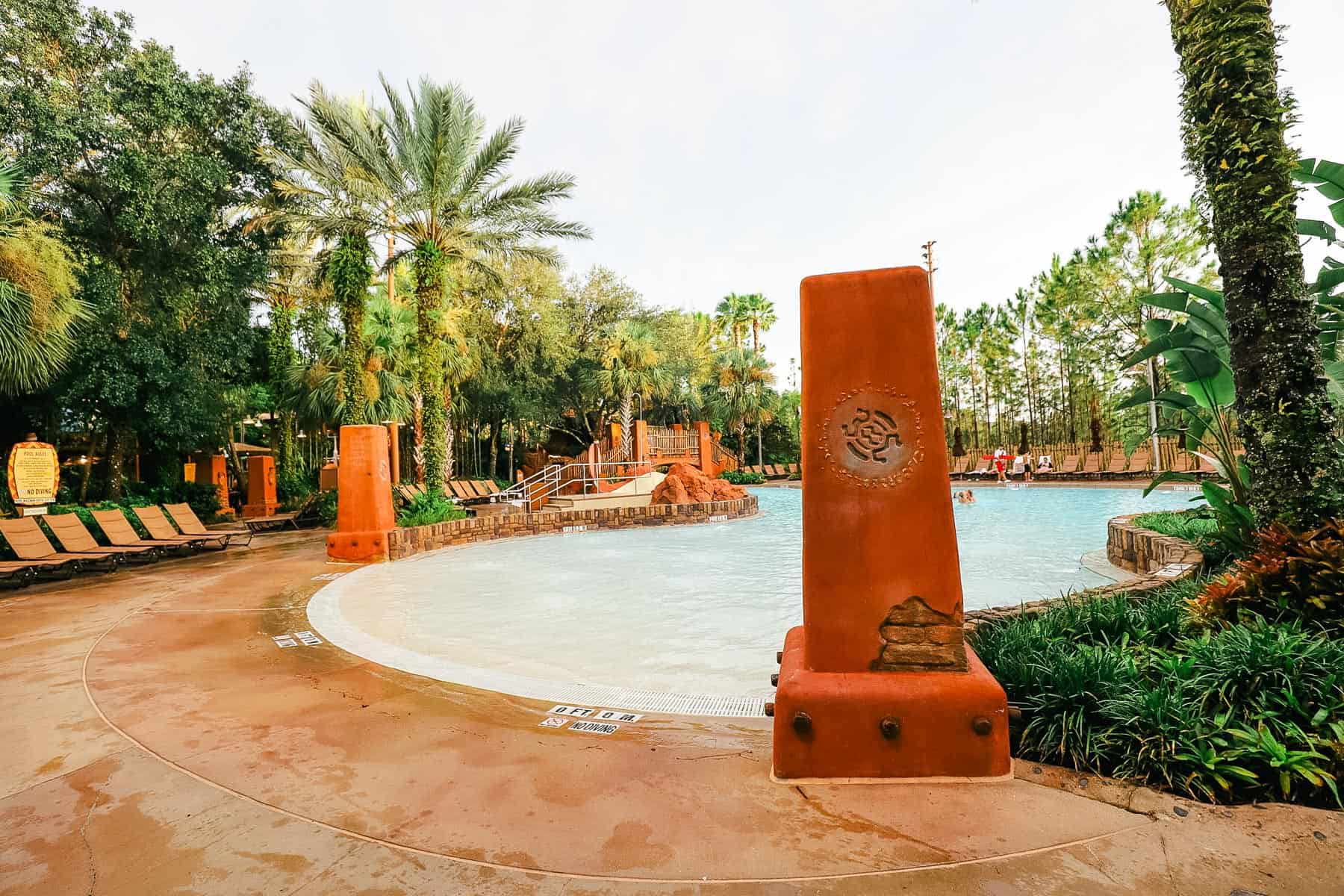 It's a circular area that gradually slopes into the central part of the pool.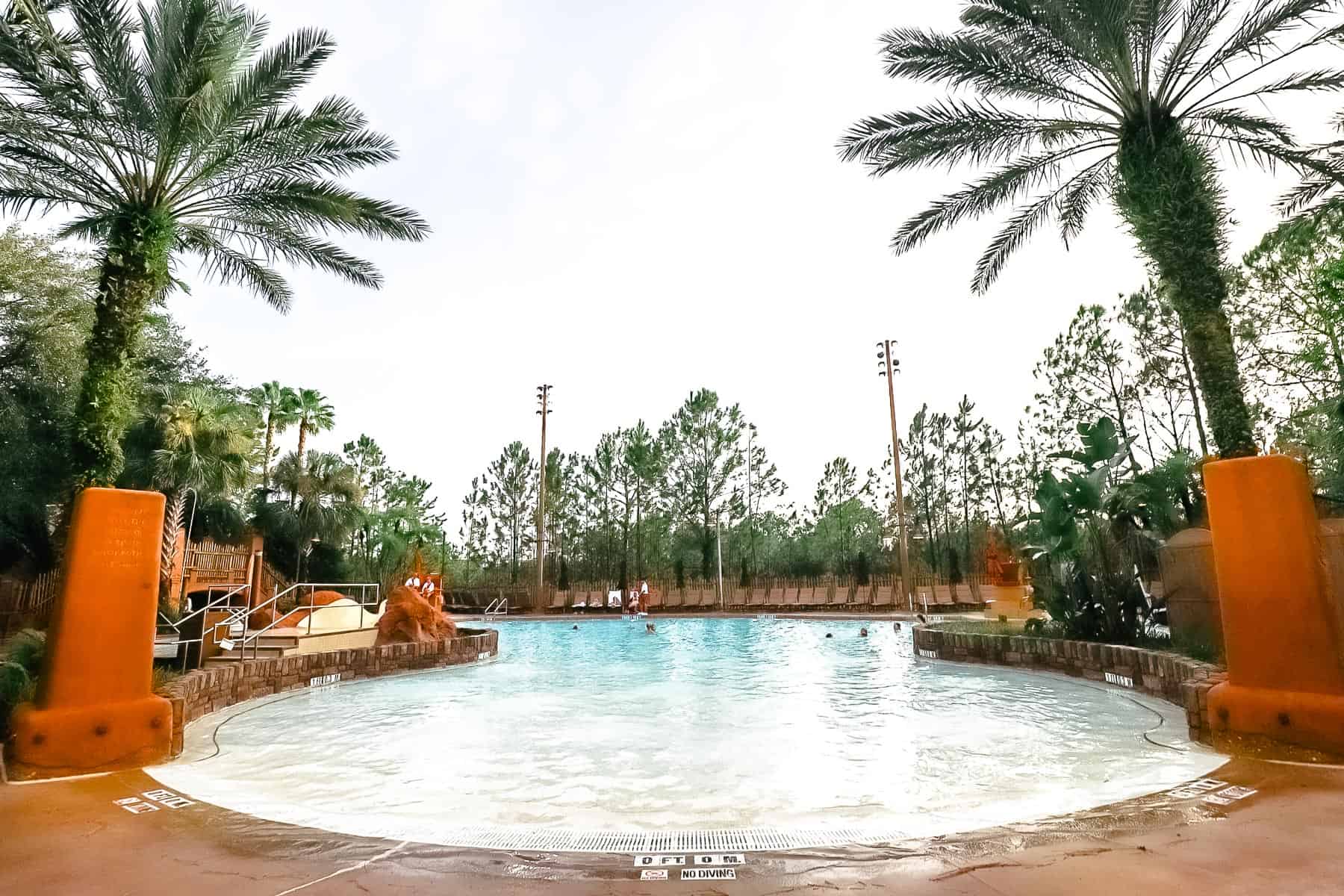 Like the rest of the resort, you might notice a few proverbs. This one says, "No one tests the depth of a river with both feet."–Asante.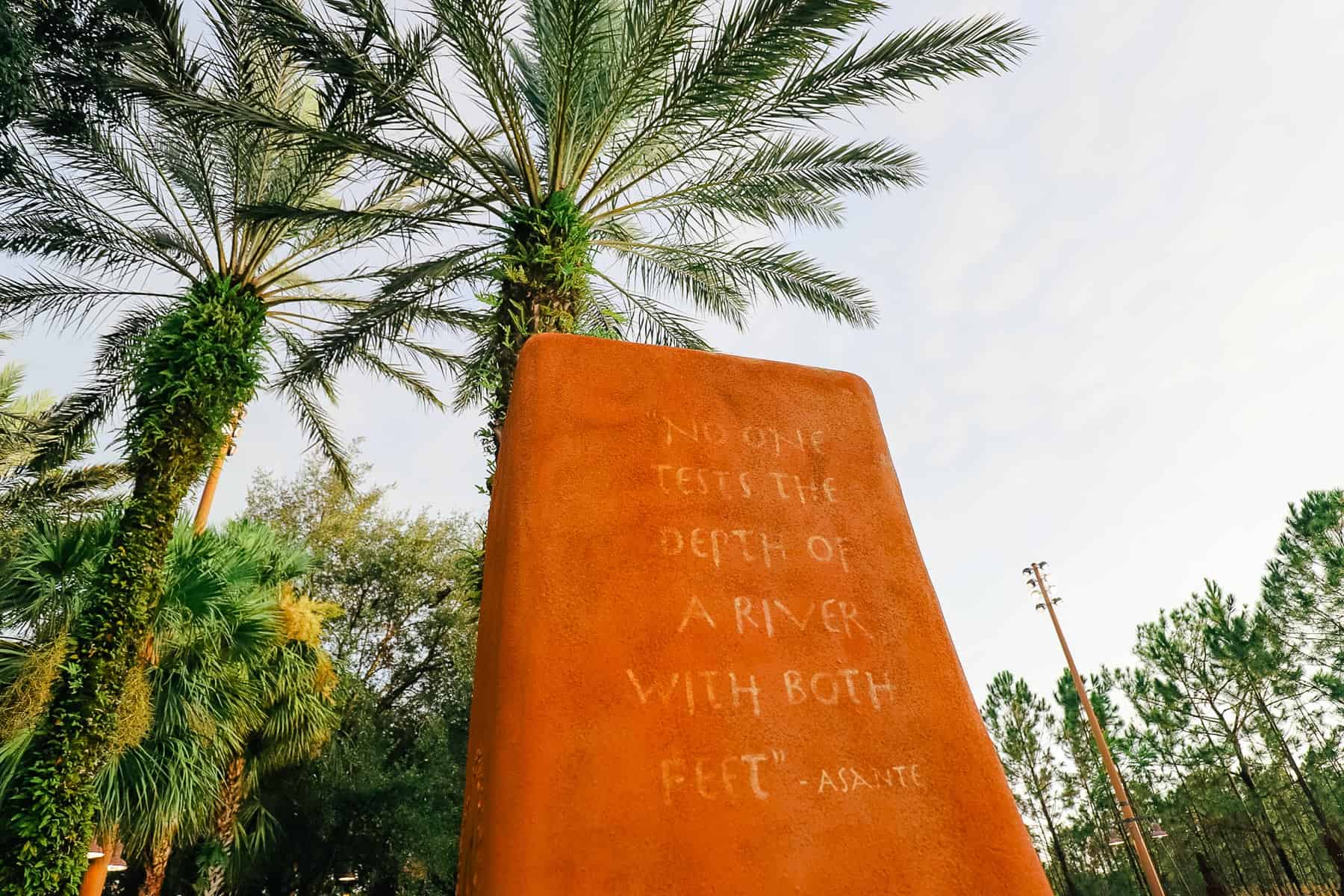 Regarding pool depth, the Kidani Village Pool has a maximum depth of 4'11" (4 feet and 11 inches).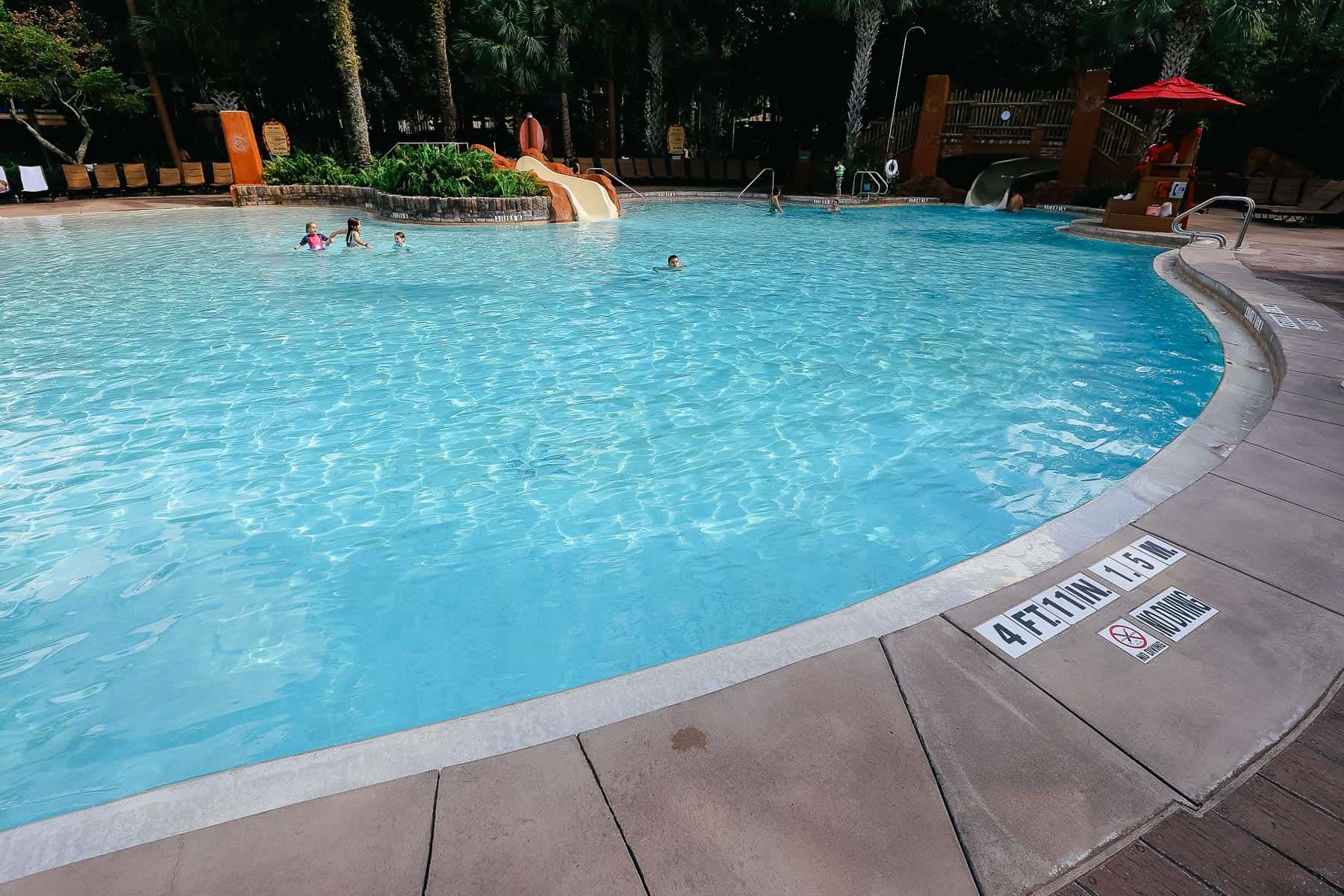 One of our favorite things about the pool area is that it's child-friendly. Samawati Springs has a giant twisty slide that might be intimidating for some little ones. So, a second, milder slide is available. It's perfect for those not big enough to take on the main slide. Here are a few photos.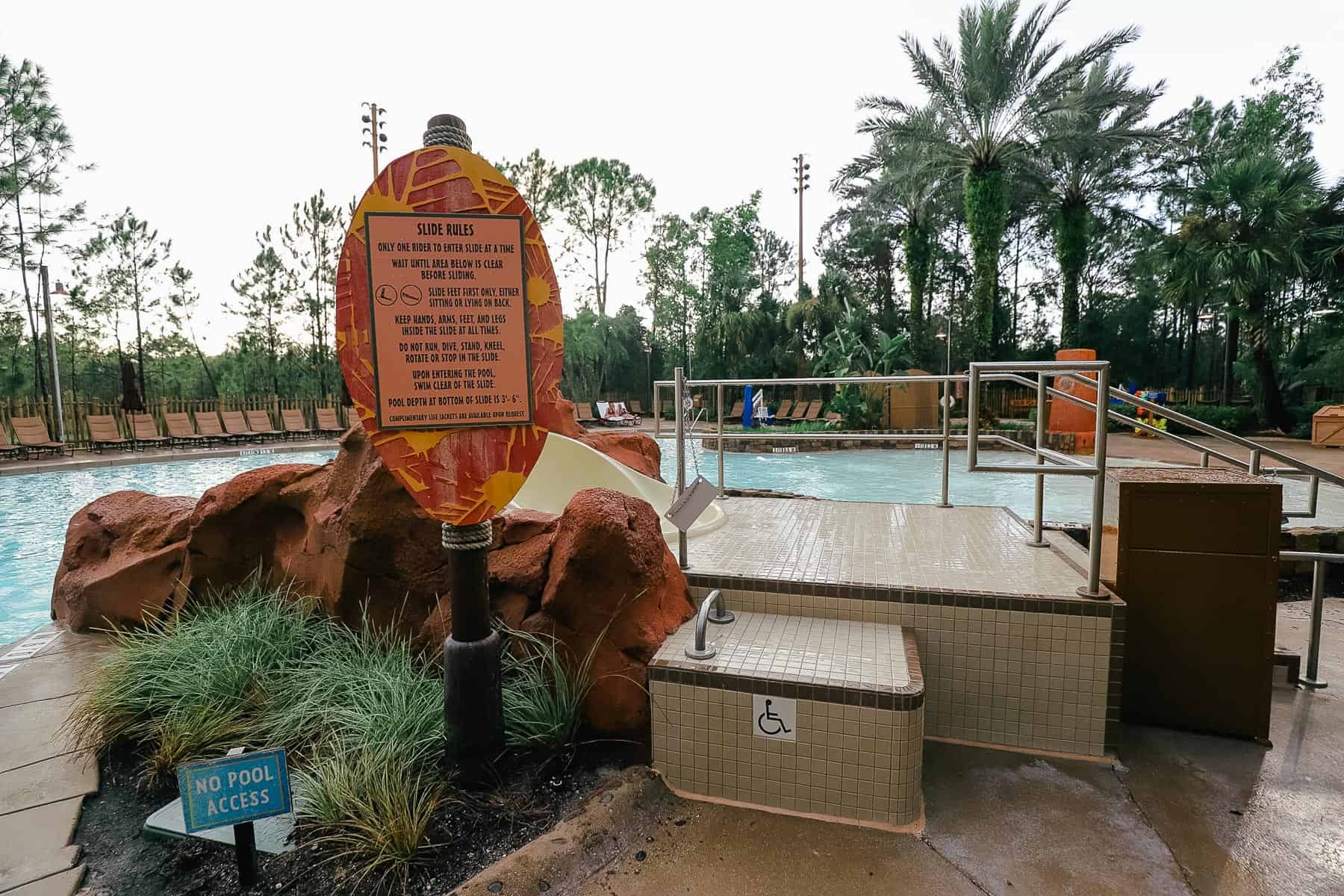 The pool depth at the bottom of the small slide is 3'6″ (3 feet and 6 inches).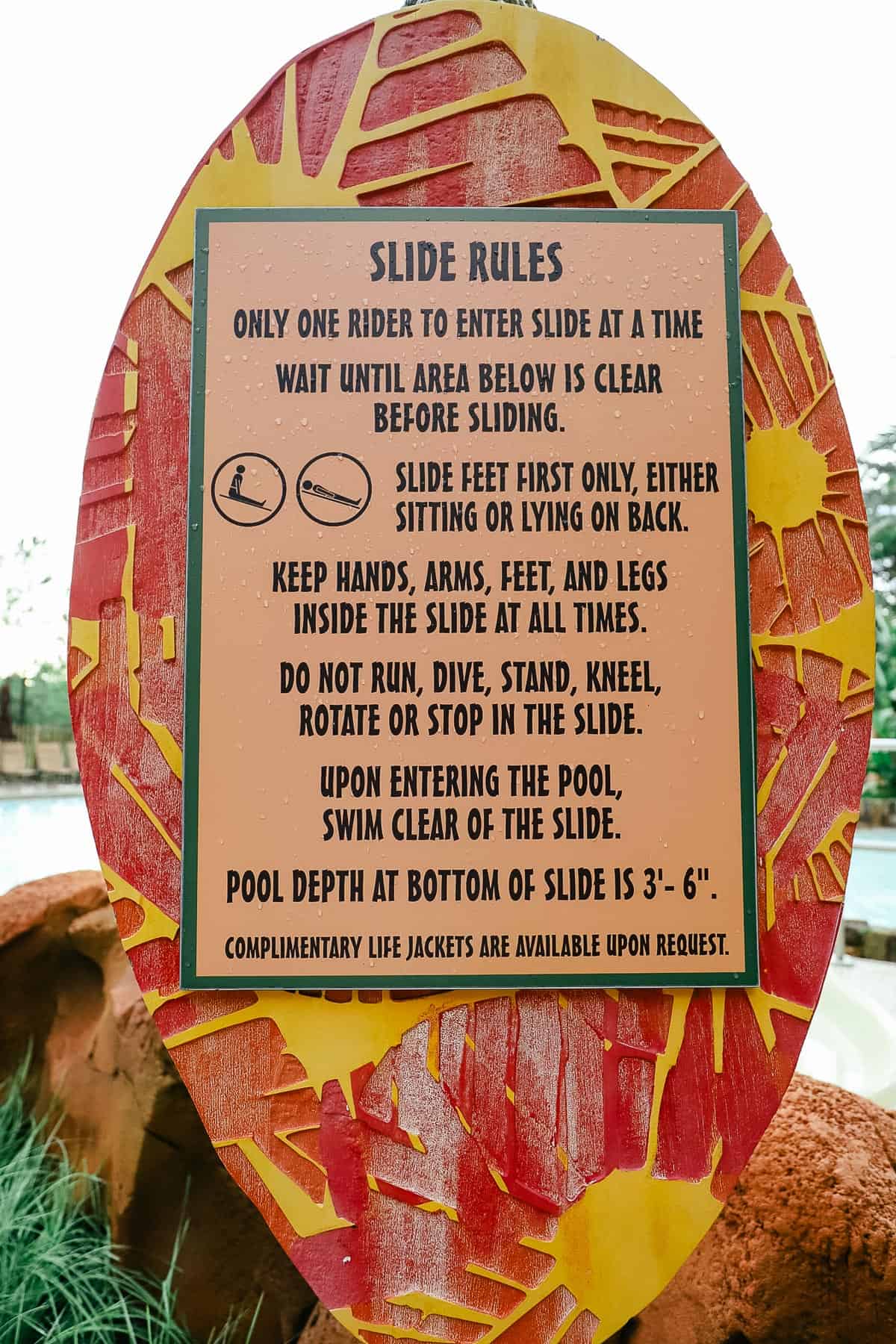 It's only a few steps up.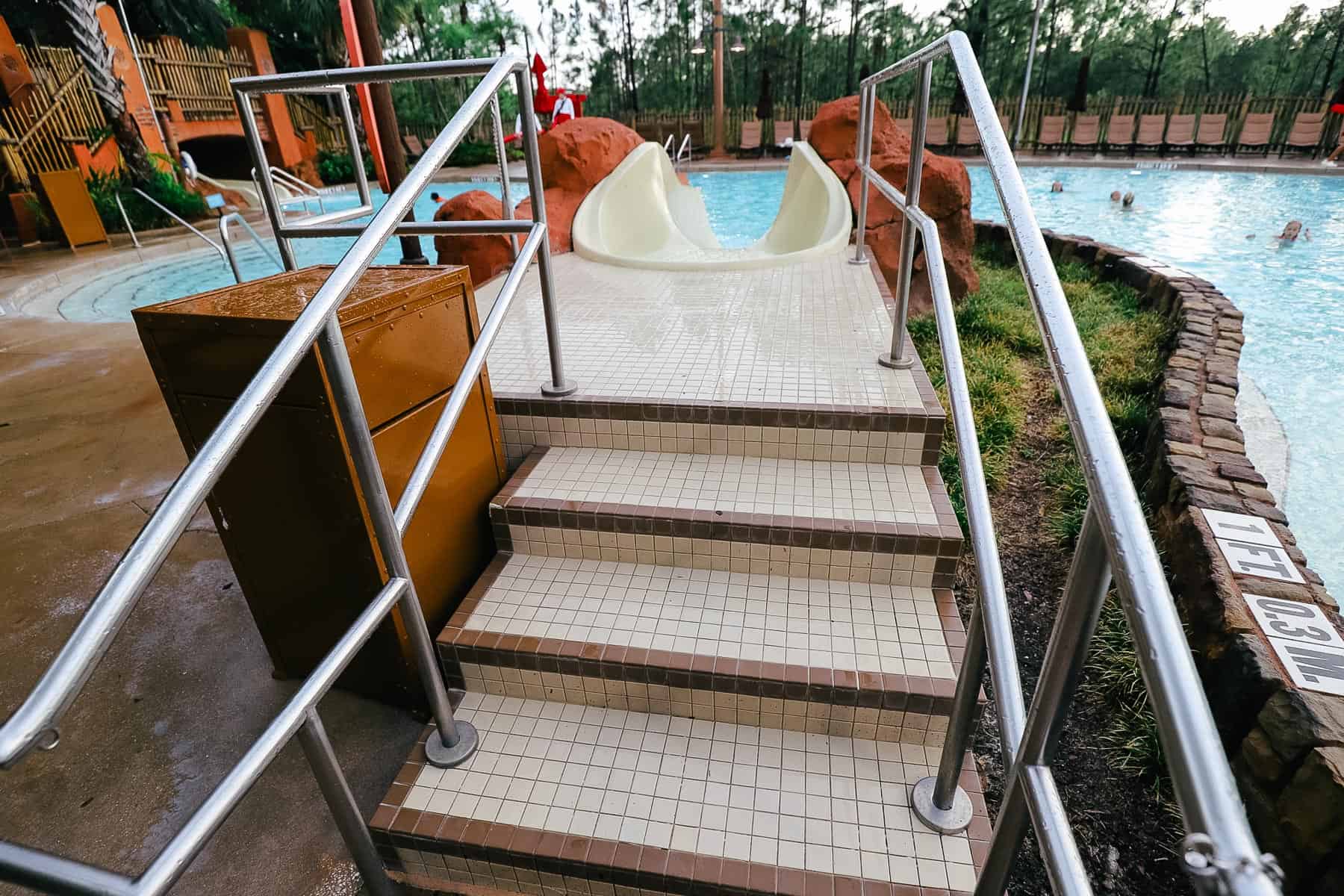 And a gentle slide back into the pool.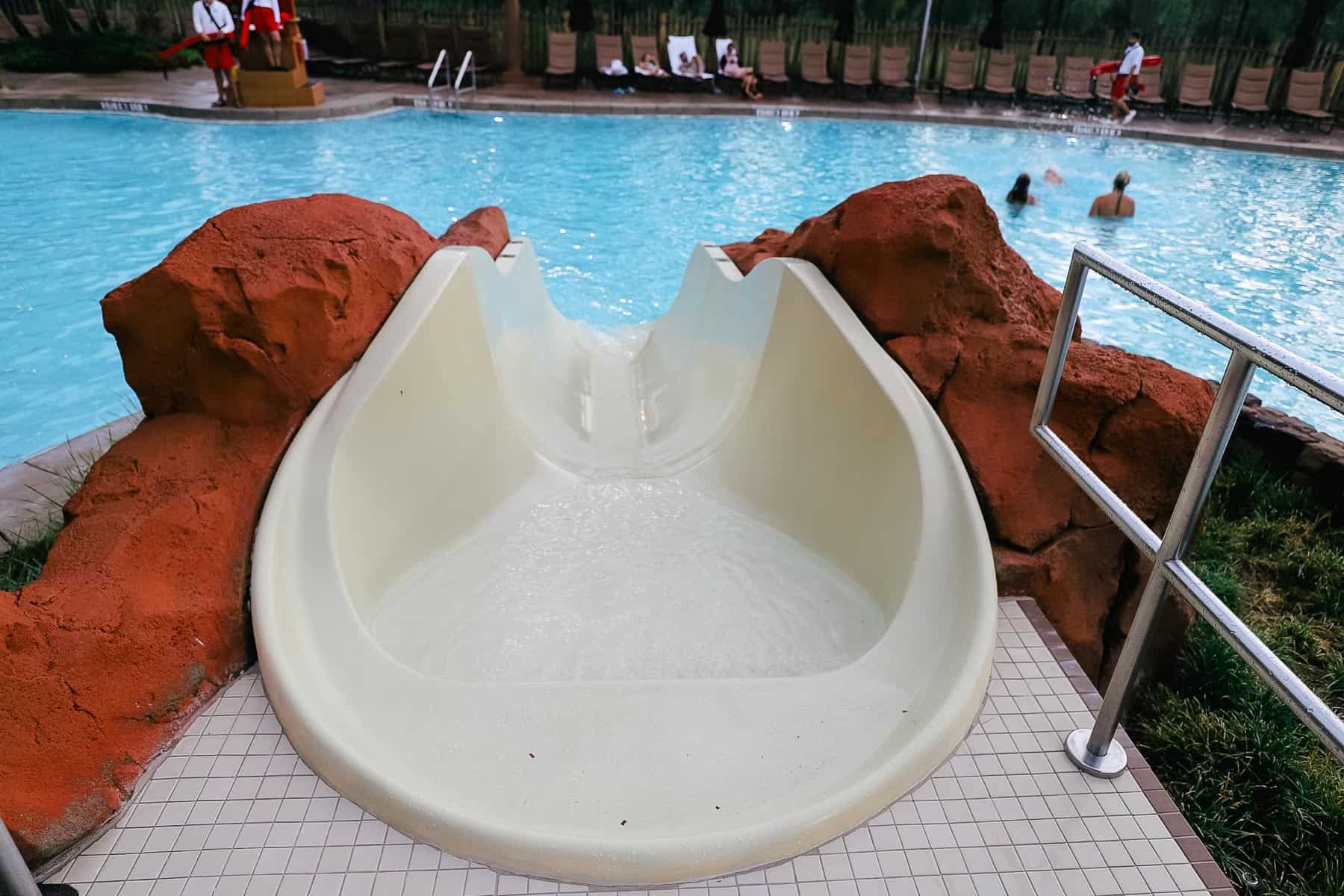 Complimentary lifejackets and towels are provided.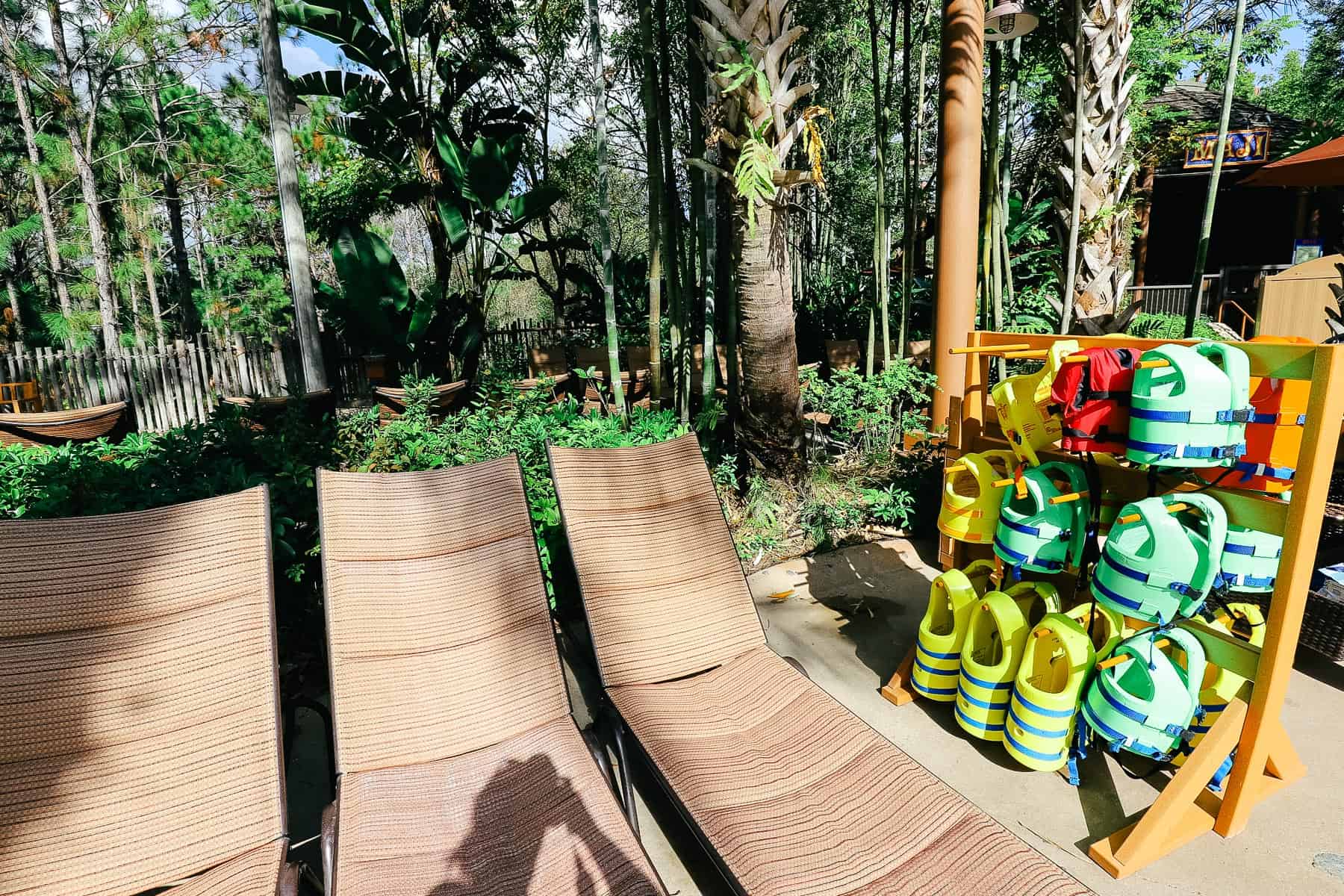 A bridge sits at one end of the pool near the feature slide's exit.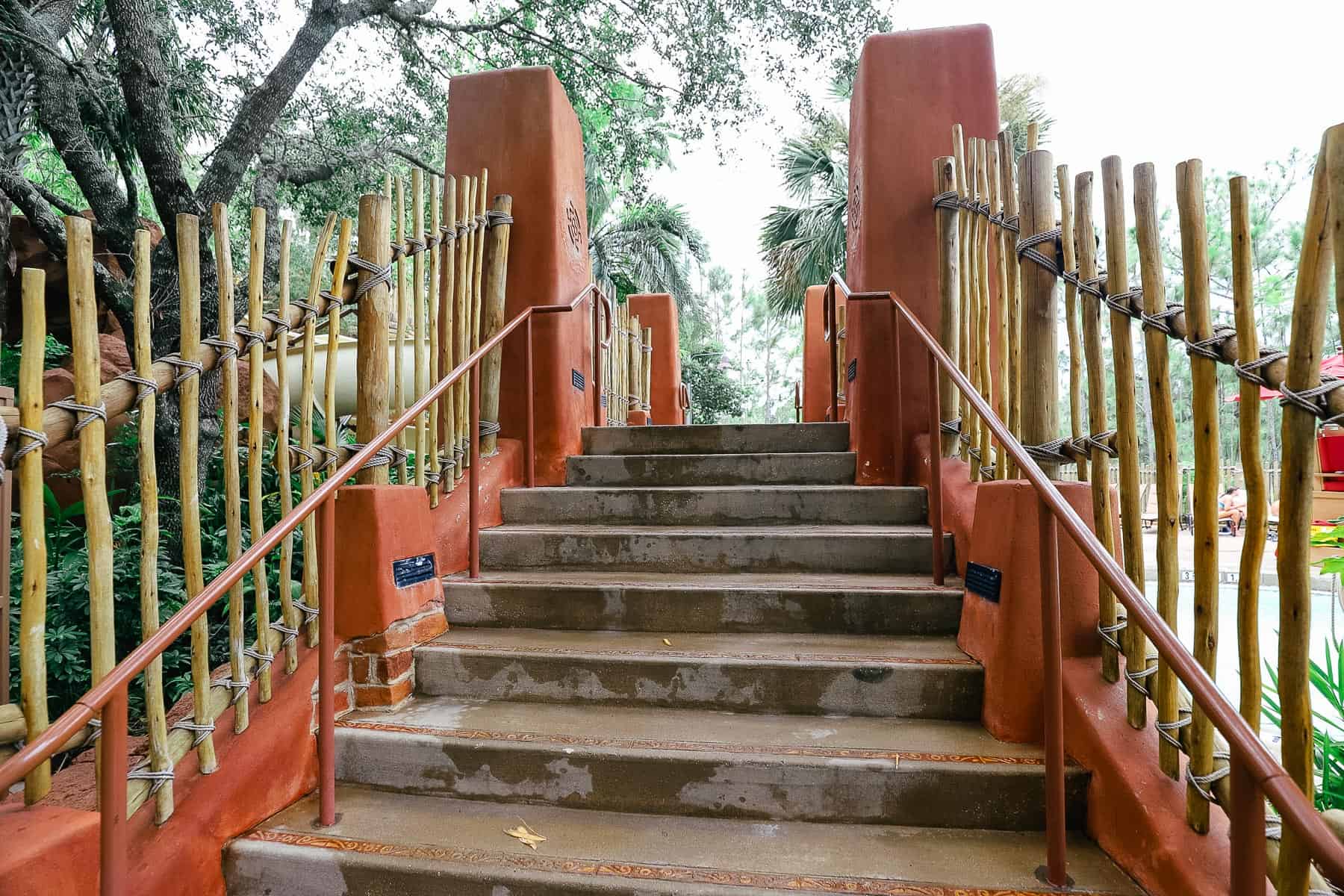 Here is a photo that was taken from the bridge.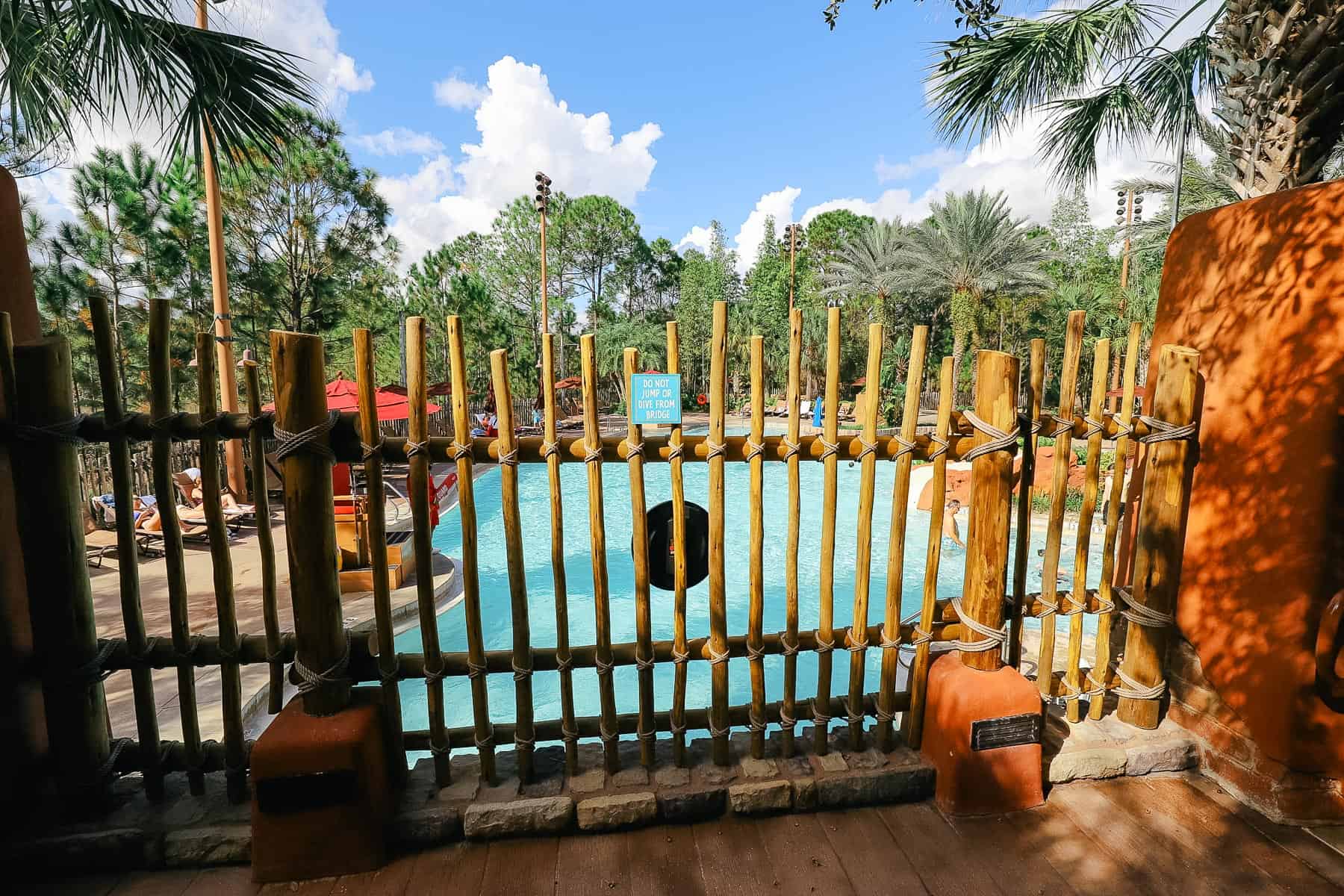 You can see the slide exits immediately underneath it.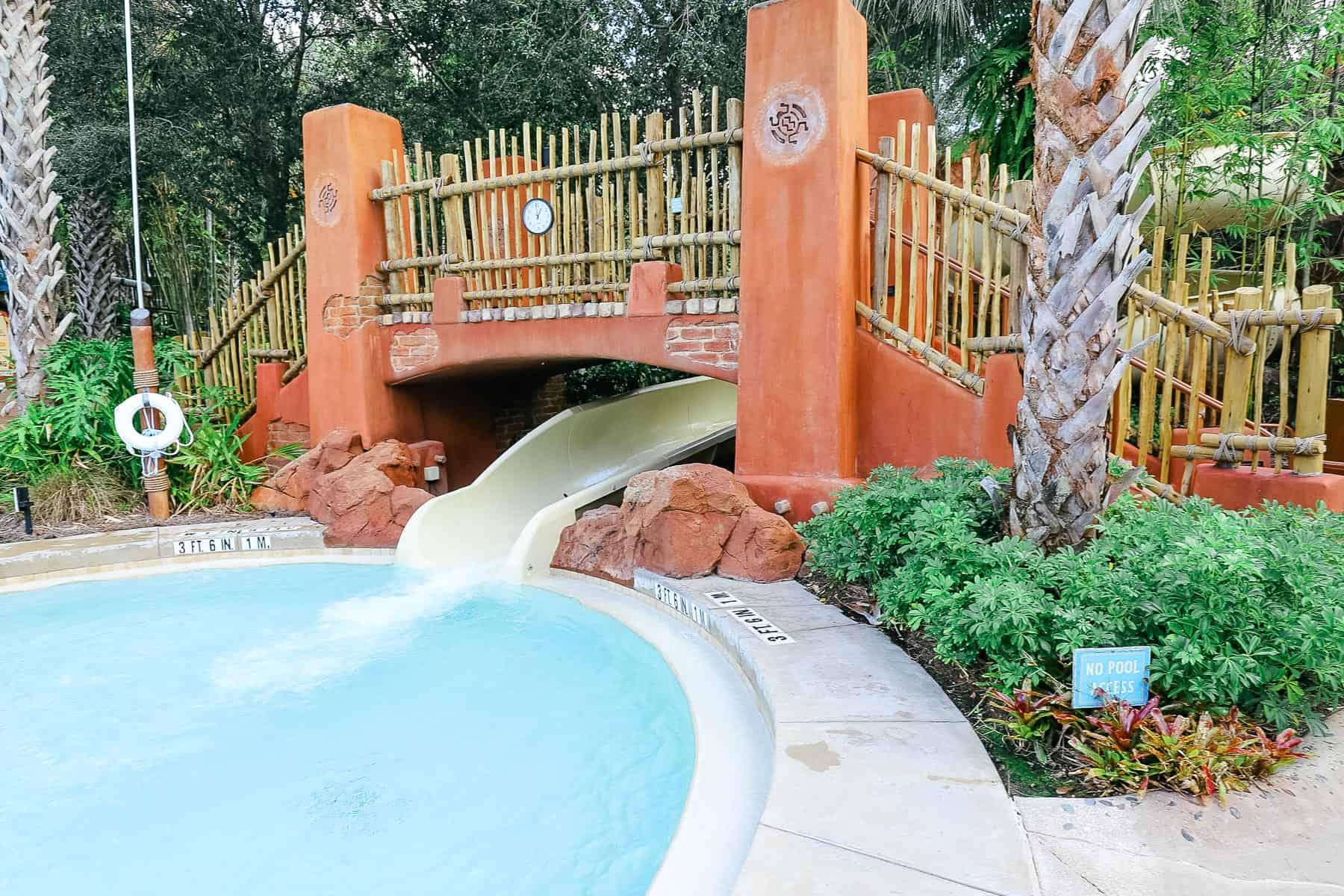 Kidani Village Pool Slide
We'll cross the bridge as we make our way up to the slide. It's 128′ (feet) long!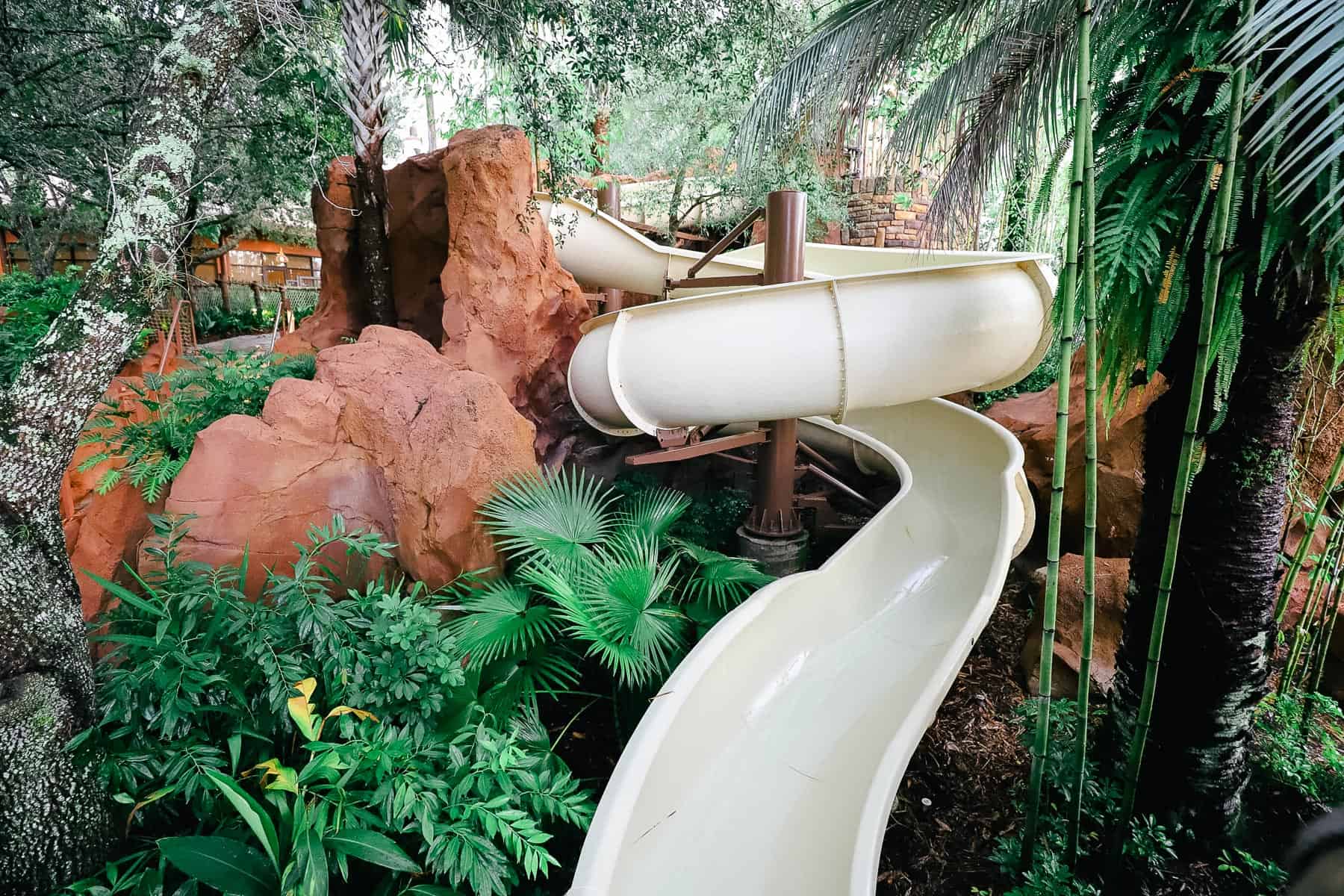 You'll have to climb several stairs to reach the top.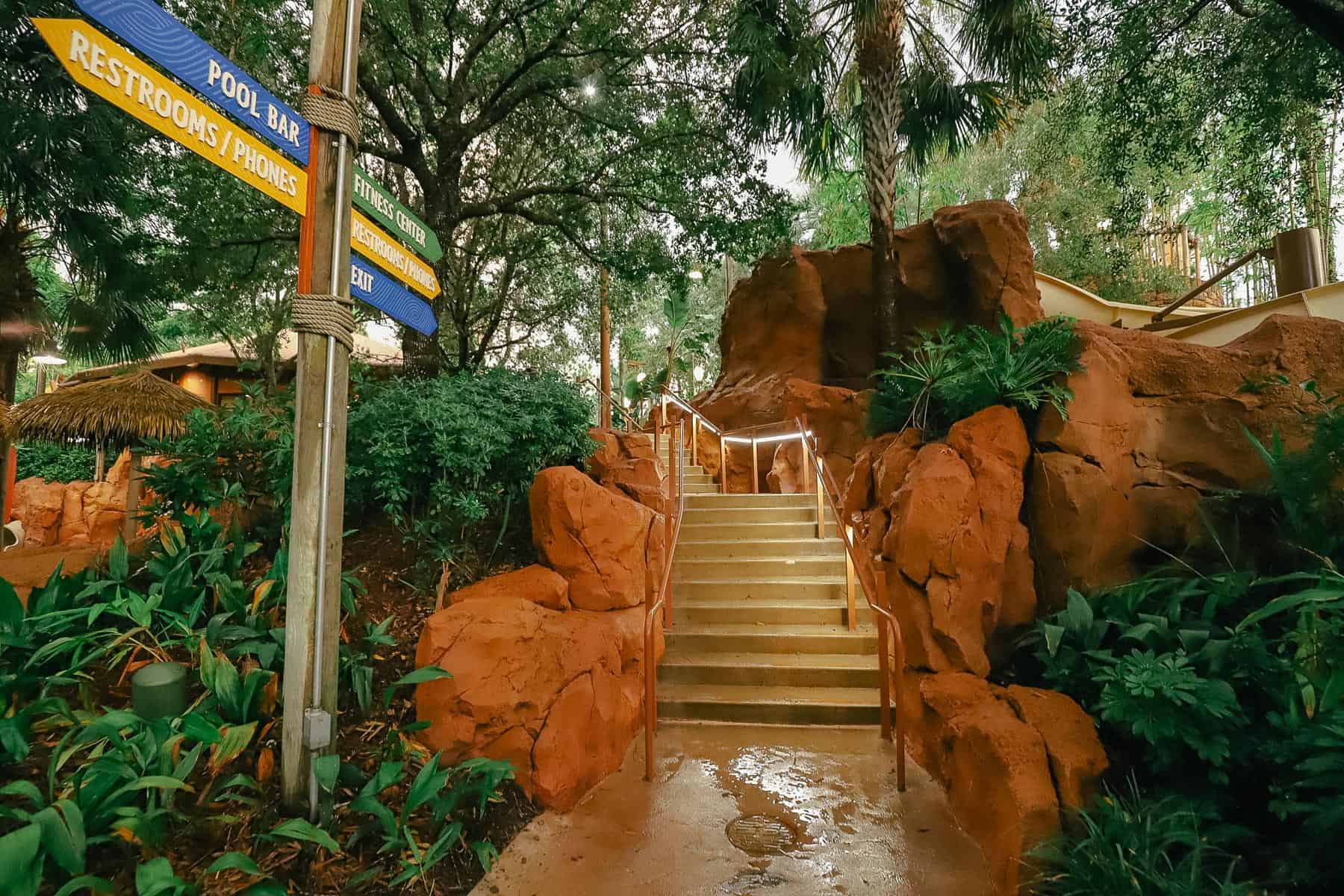 Once you reach the top, there's a waiting area. Usually, this area is packed. We experienced a lot of rain during our stay due to a hurricane. So, I got a few photos of the area when the rain finally passed. That's also why some of these photos look like they were taken in the rain.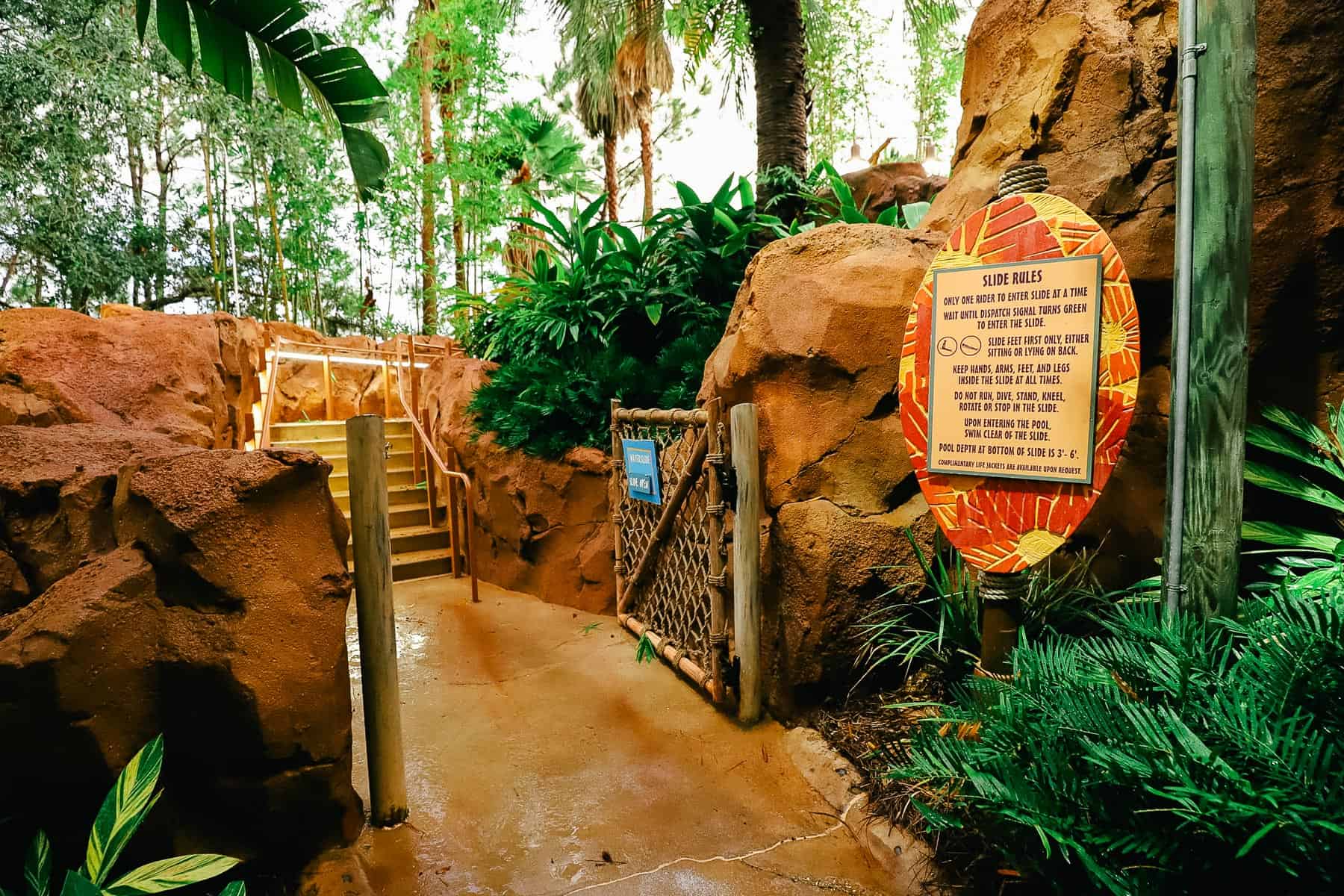 A few rules are posted near the slide. At the slide exit, the pool depth is 3'6″ (3 feet and 6 inches).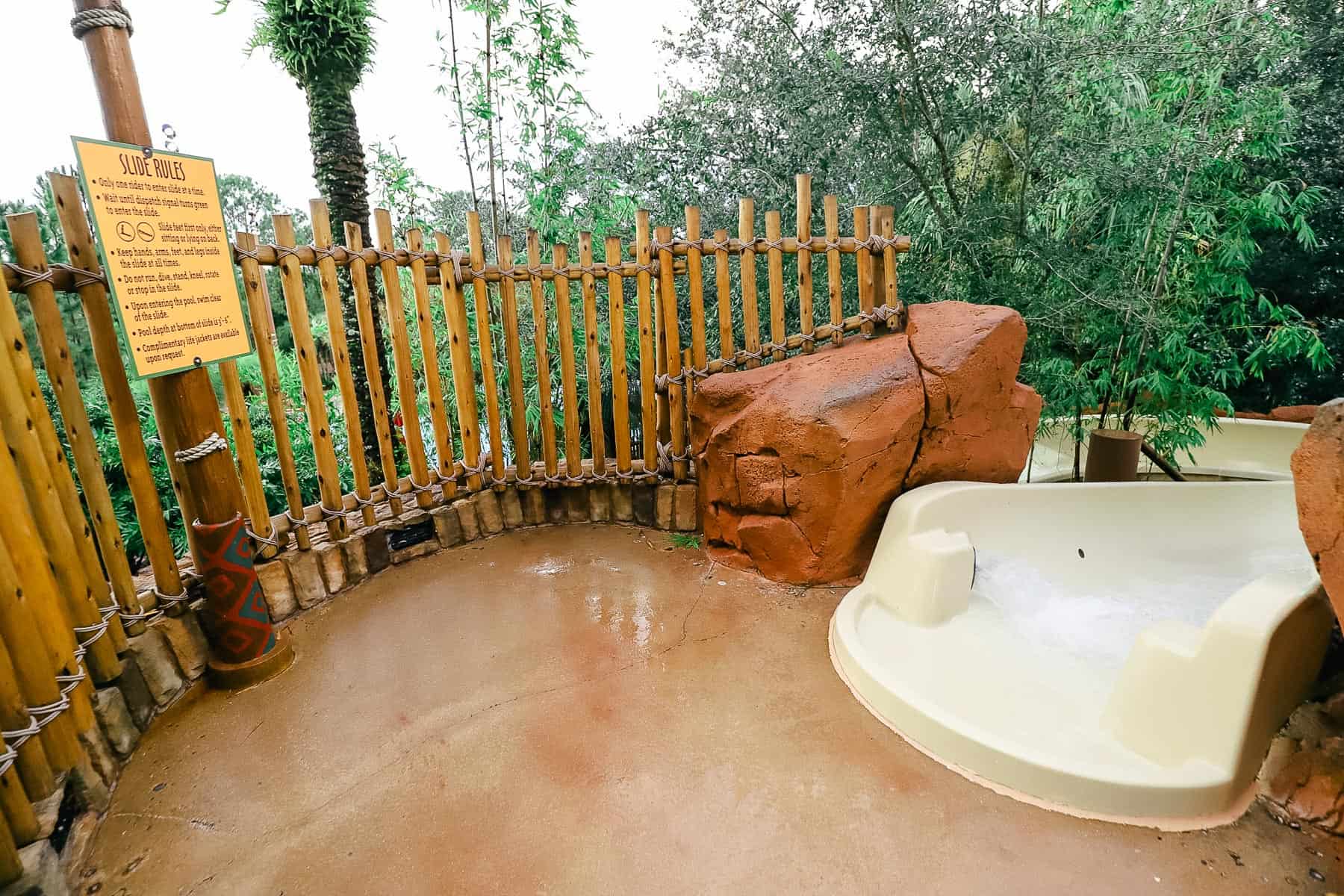 You're good to go once the light changes from red to green!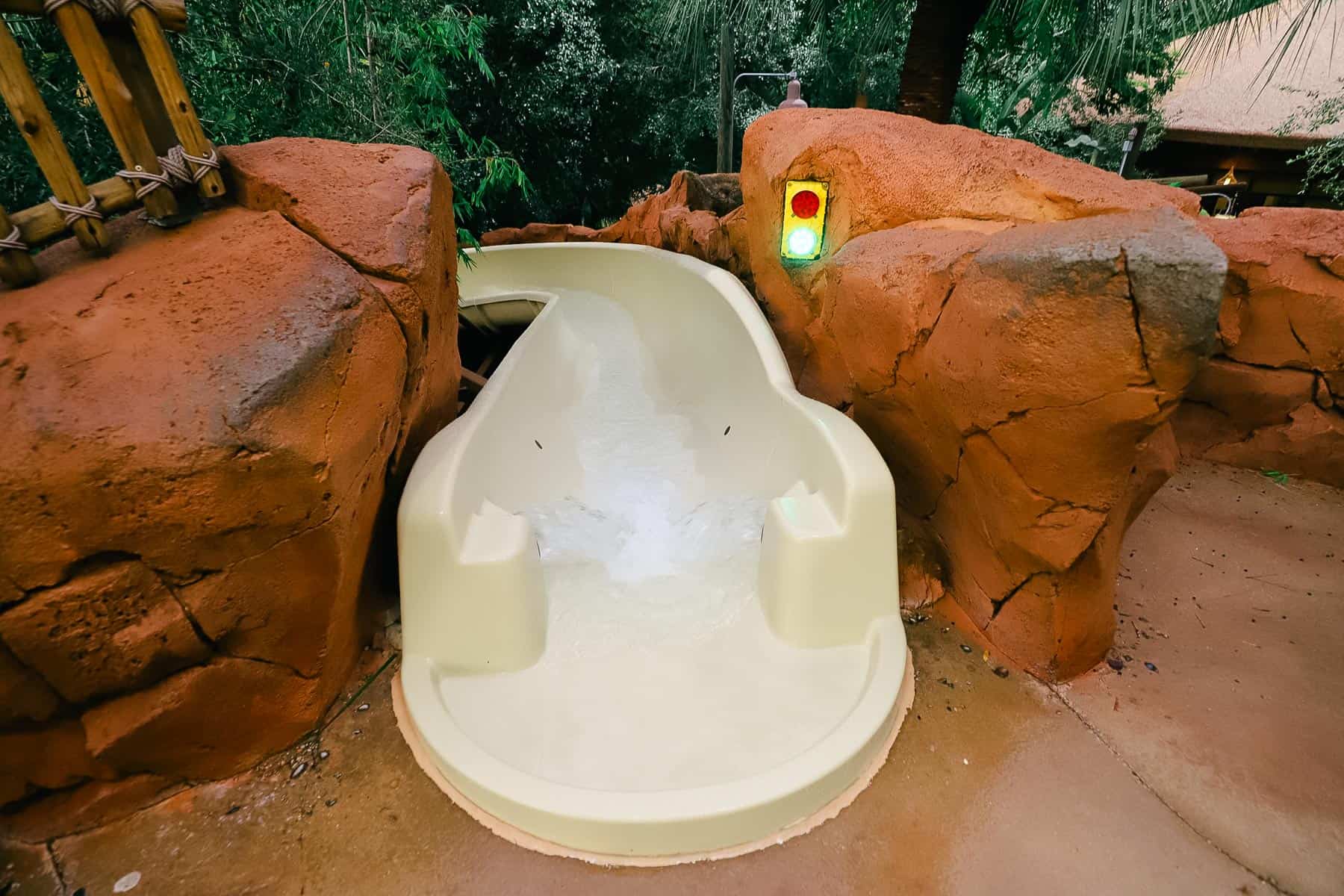 Other than the Flying Jib at Stormalong Bay, I think this is one of the best slides at Walt Disney World.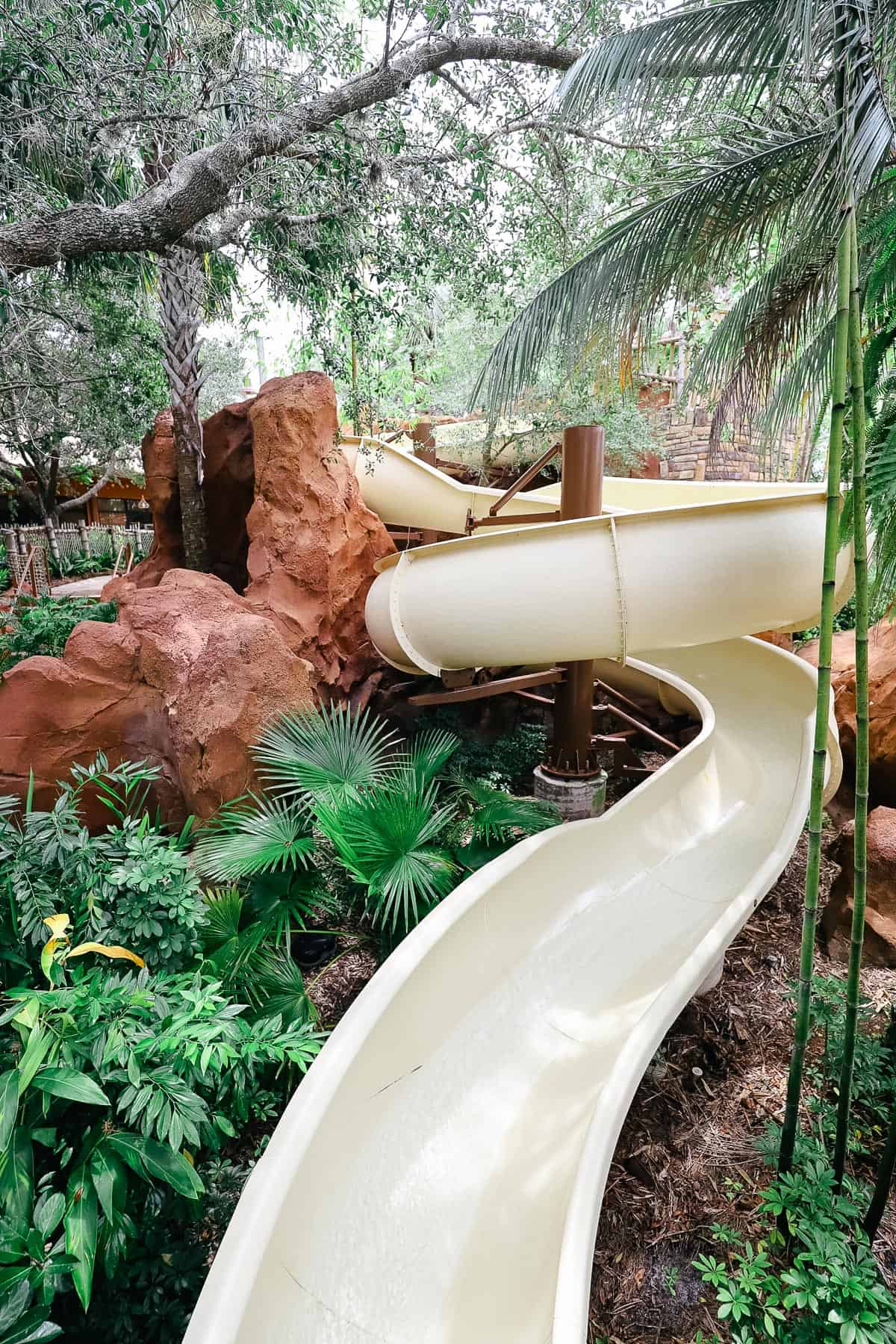 Hot Tubs at Kidani Village Pool
Samawati Springs has several entrances. So we recommend exploring the area to become familiar with everything. For instance, a gym outside the pool area overlooks Samawati Springs.
It's a beautiful area. But if you used another entrance to the pool, you might not know this area existed.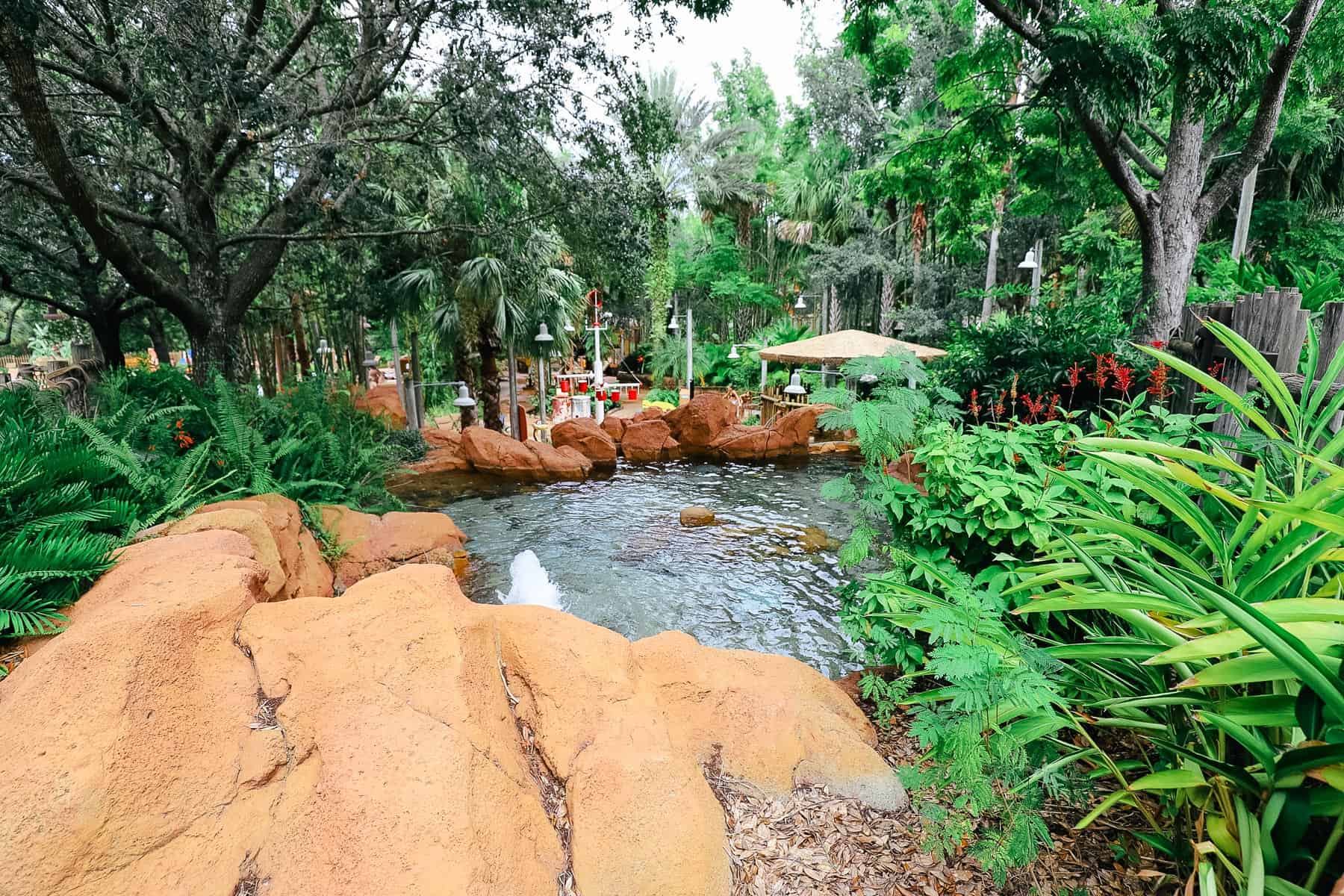 Once you enter the gate, a hot tub spa sits to the immediate left. This is also where you'll find the entrance to the slide.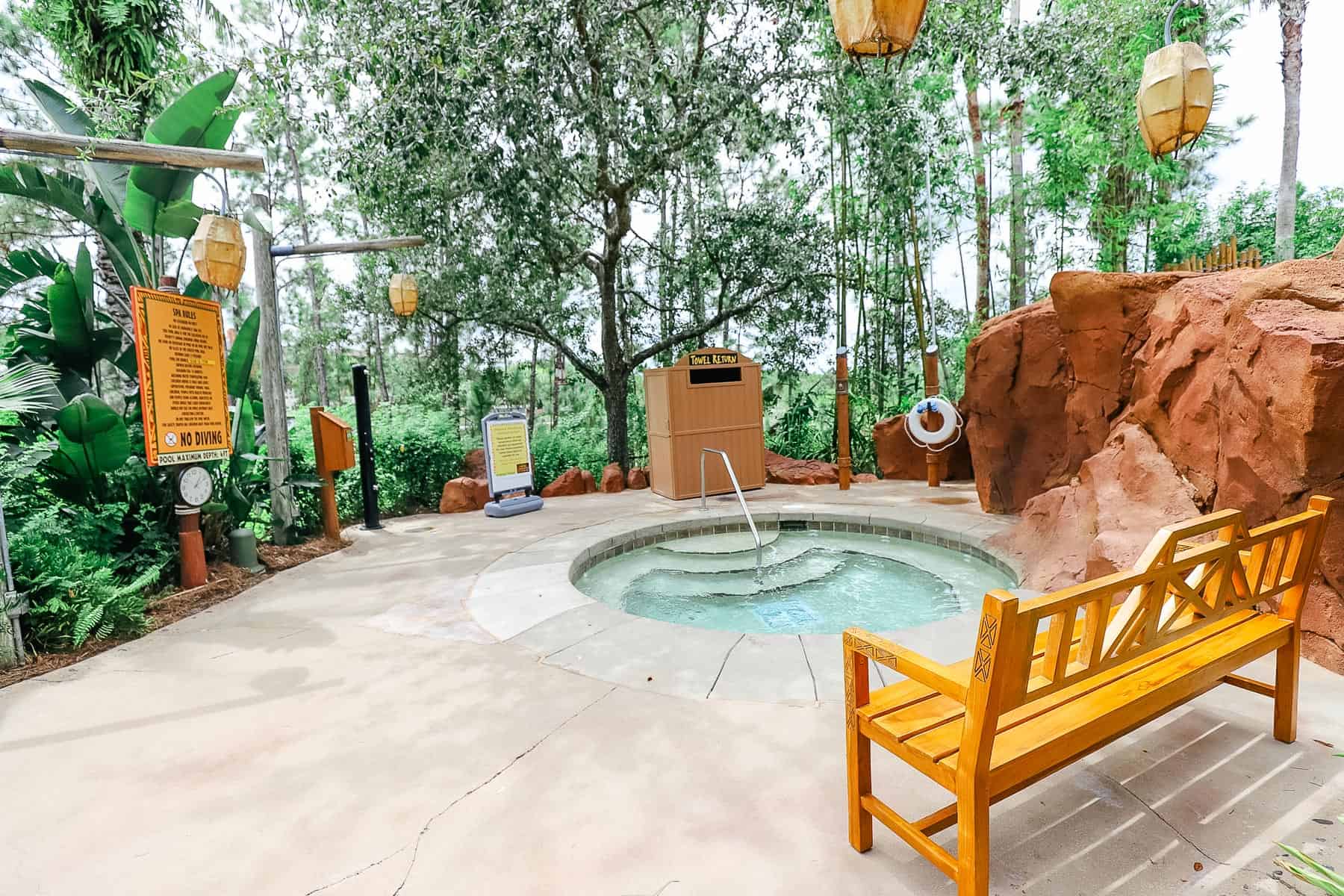 This is one of two hot tubs near the pool.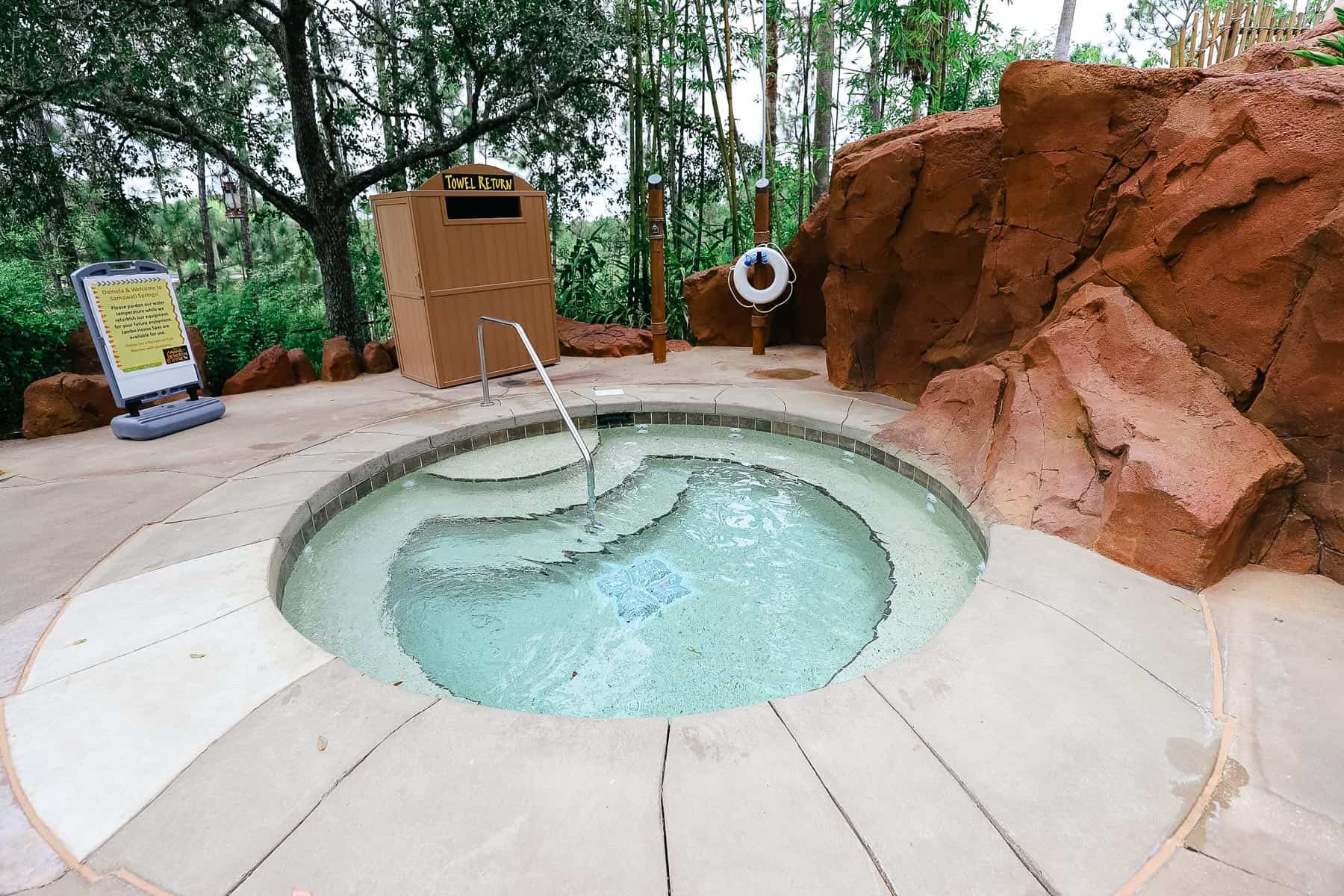 Here is a photo of the restrooms, changing area, and fitness center behind the hot tub area. So technically, if you wanted to work out and then relax in the hot tub, you could do so without ever having to walk down to the pool.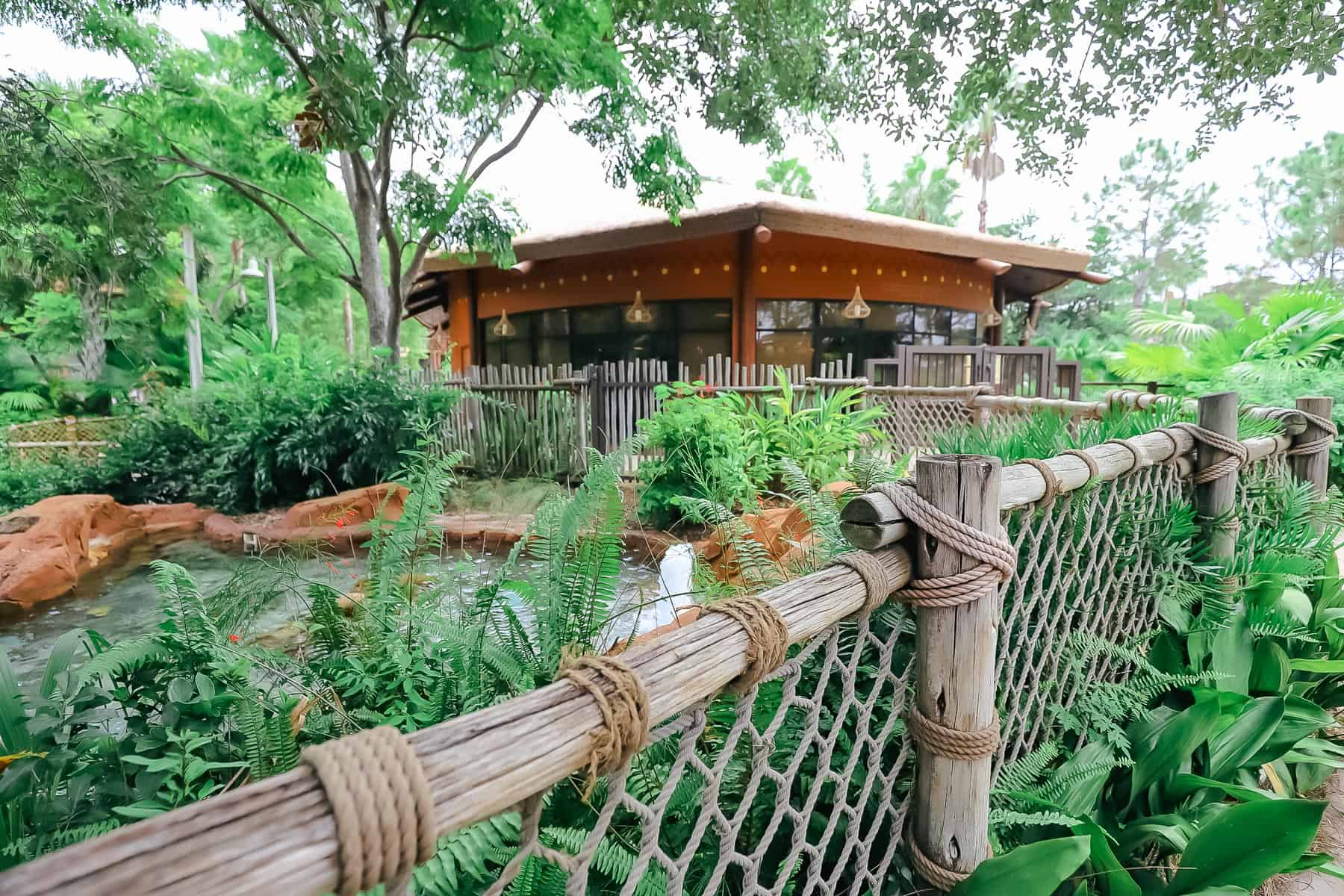 Another hot tub is available toward the back of the pool.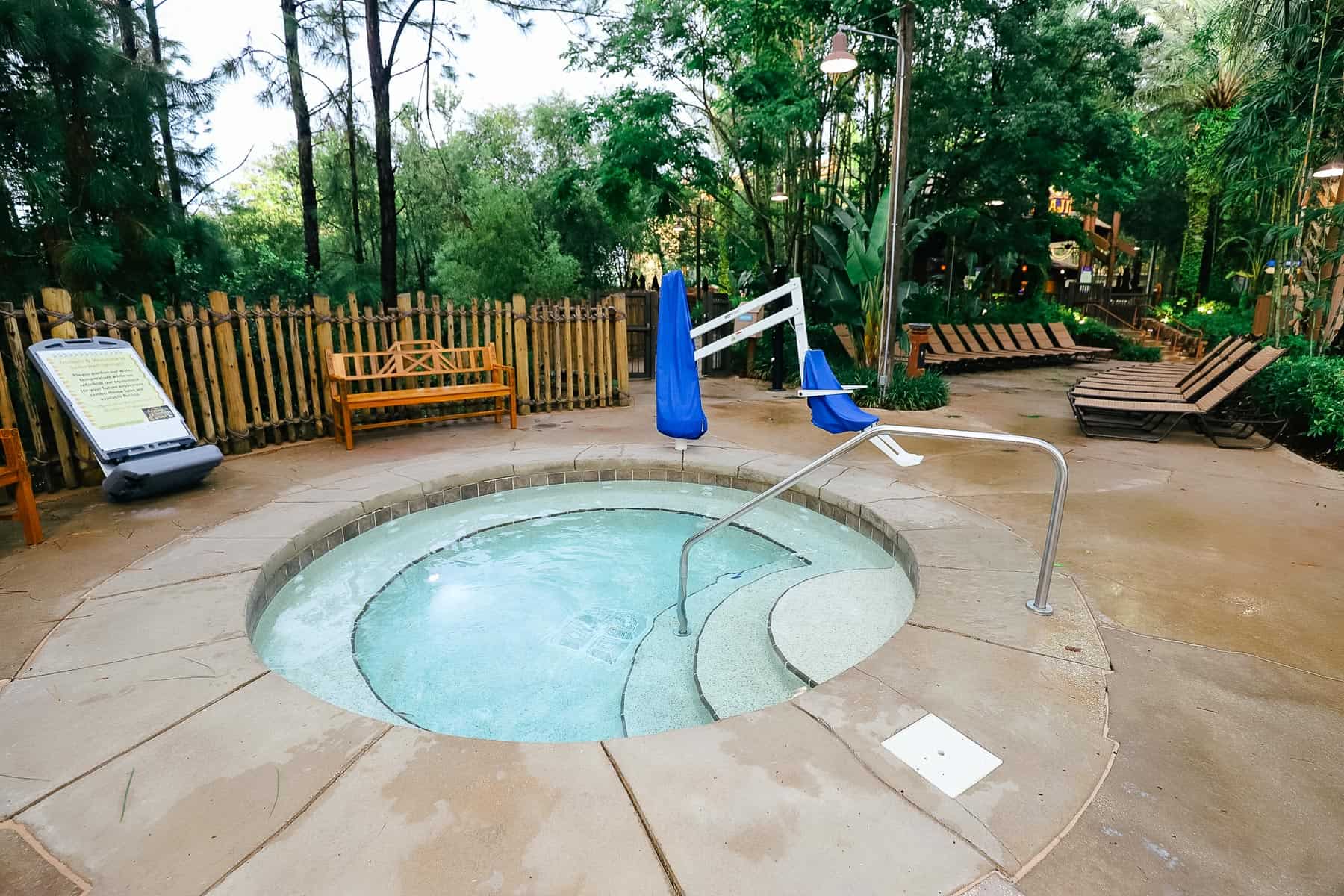 Uwanja Camp (Water Playground)
Call it a splash pad if you like. But Uwanja Camp is more of a water playground with three separate areas geared toward children of all ages. Notice all the trees? This means lots of shade, which is often difficult to find around most pool areas.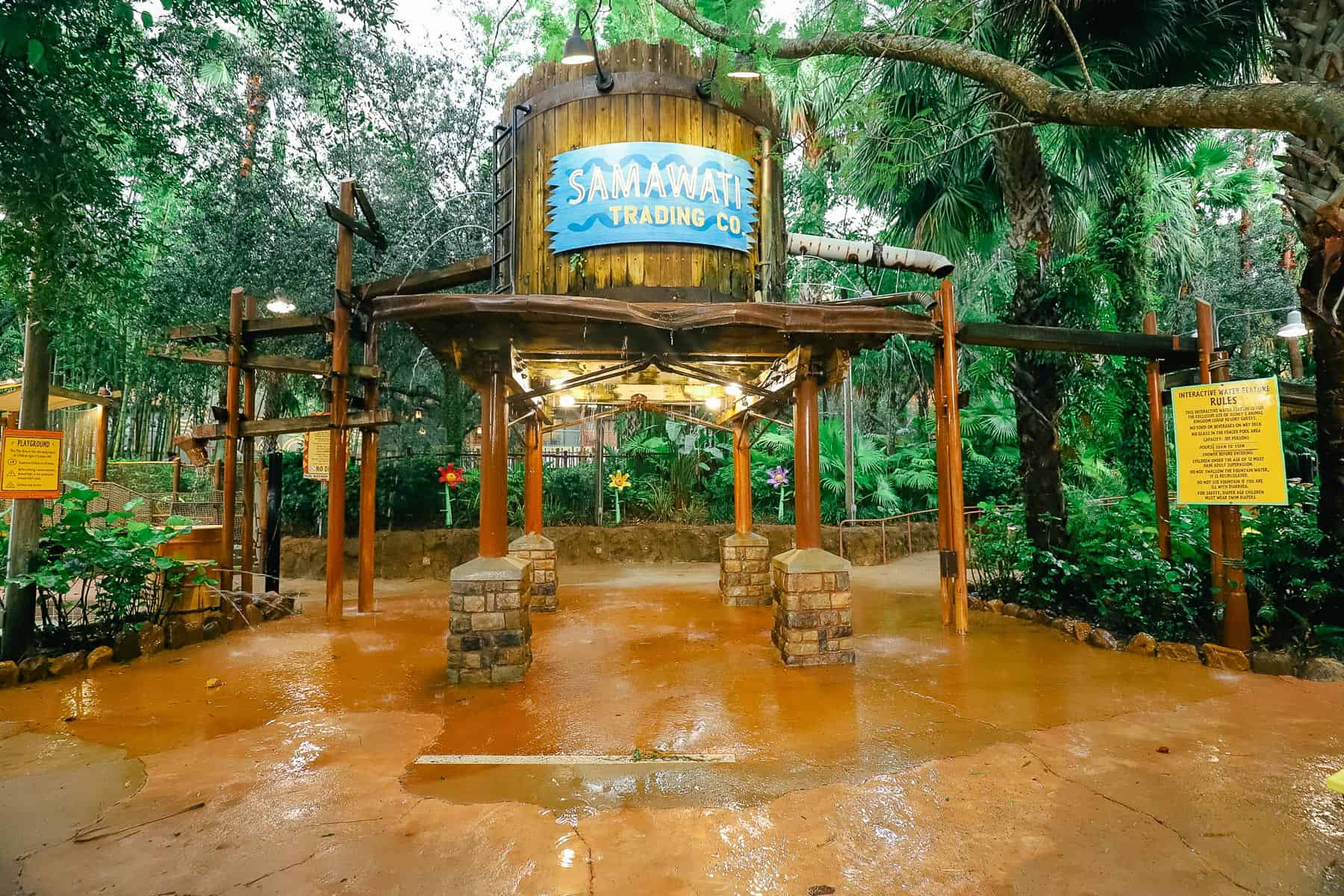 It's a themed area made up of an Observation Station, Departure Zone, and Base Camp.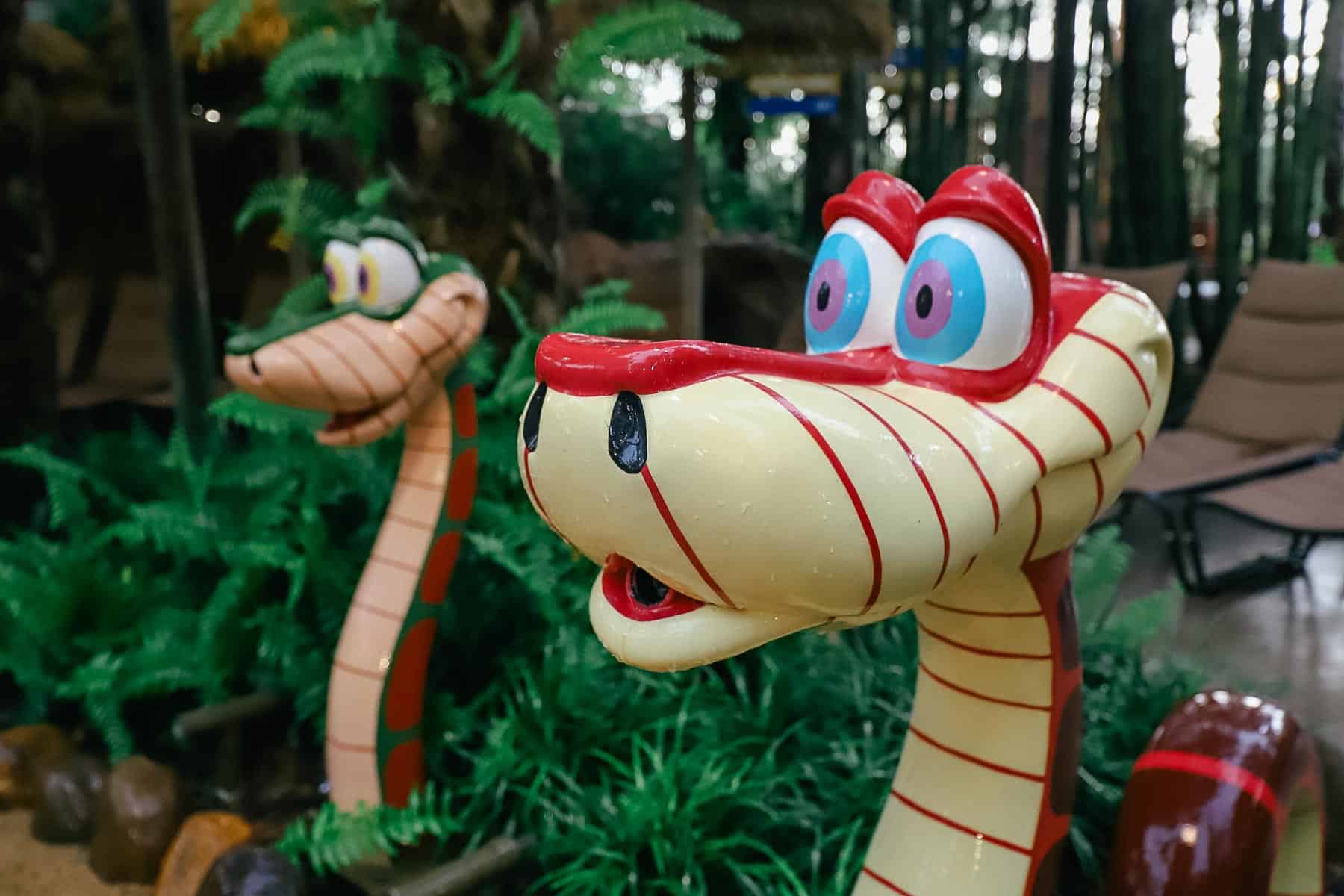 Below, this area is called Base Camp and is geared toward children ages 8 years and older. This area has a few spitting snakes, buckets that drop entire loads when they fill, and water cannons where children can soak each other.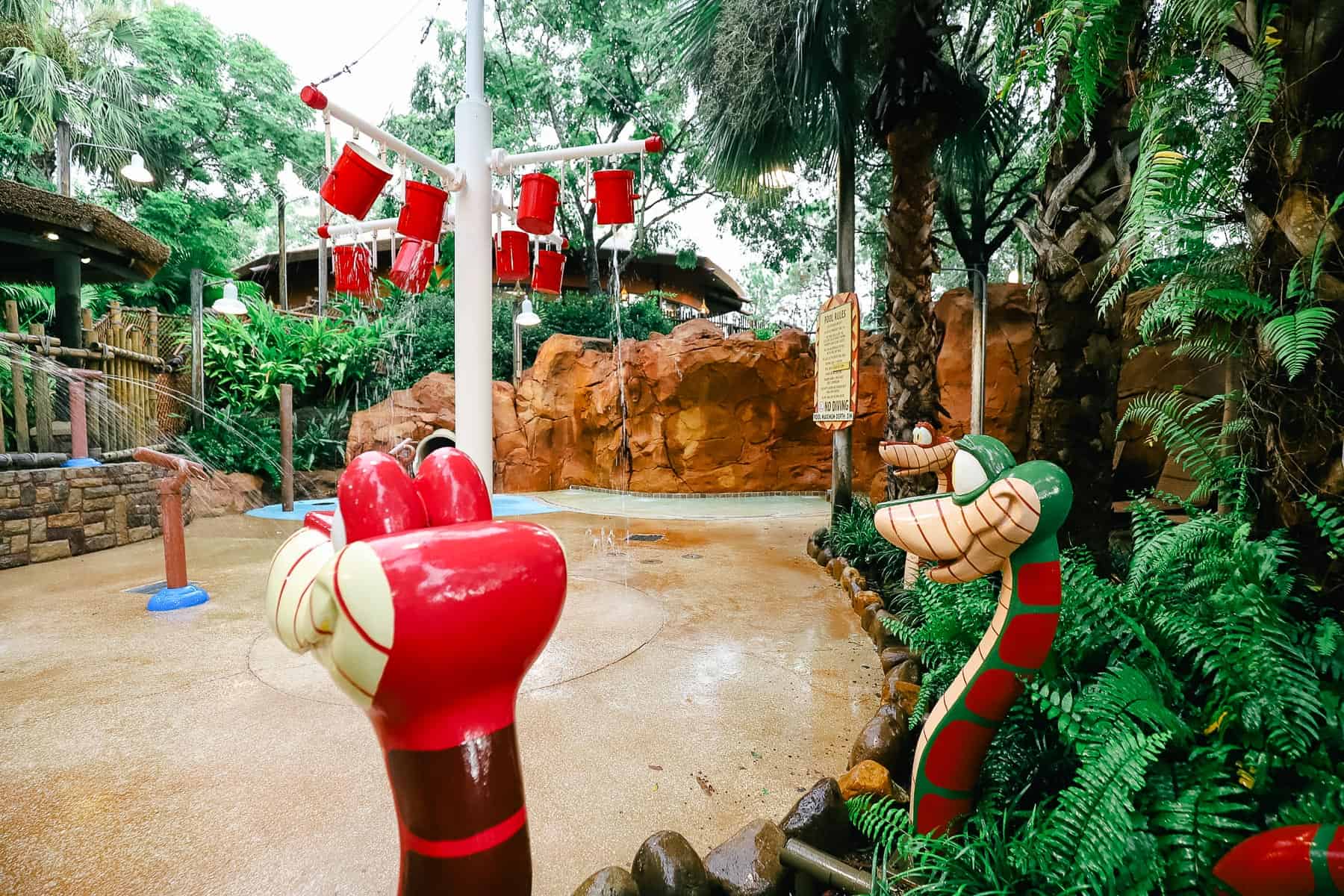 This is also where Samawati Springs runs over the rocks, rushing down to a small wading area at the bottom of the waterfall. A dry tunnel slide adds to the adventure.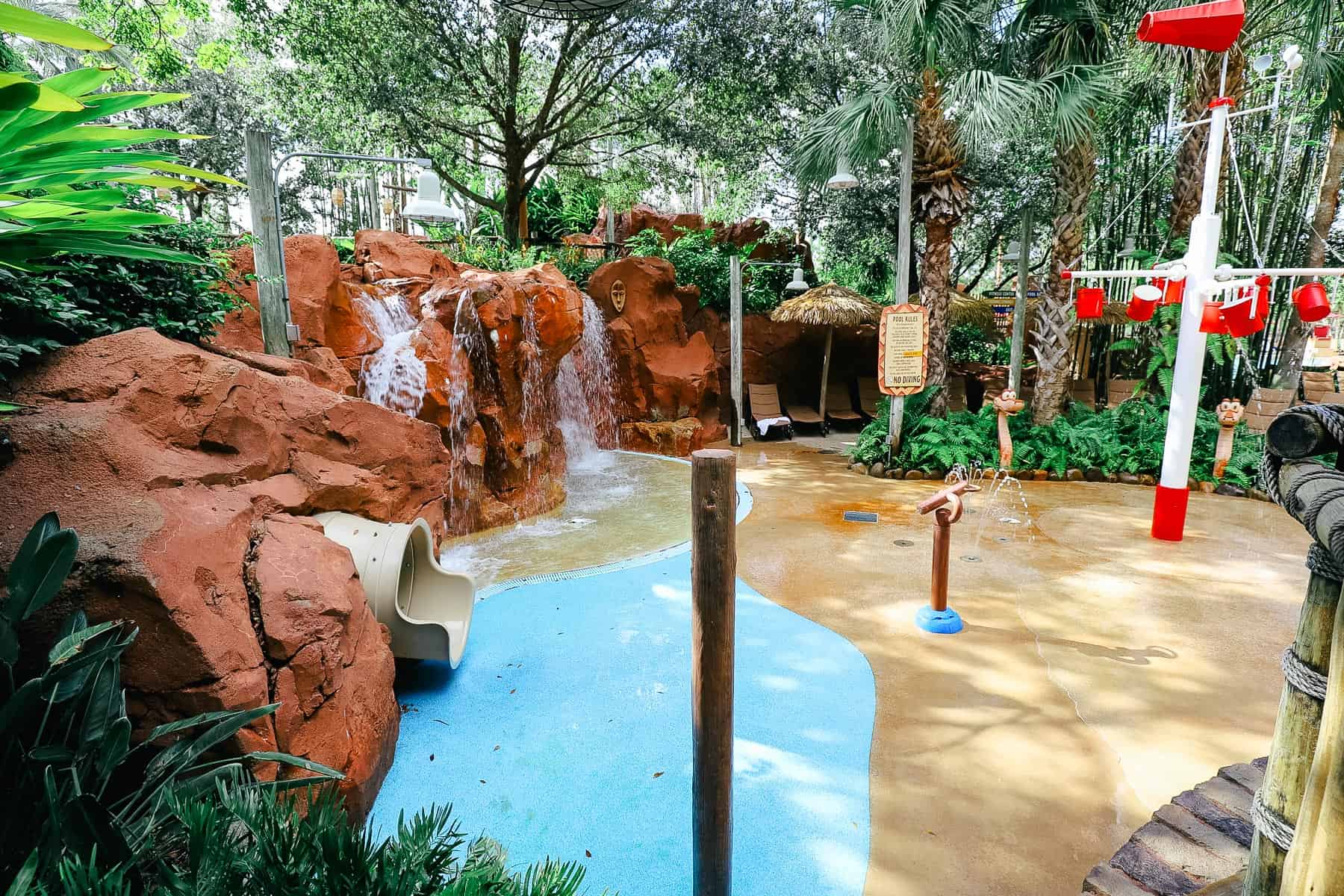 You'll have to climb to the top of the area for the slide's entrance. But it's an excellent way to enter the aquatic play area.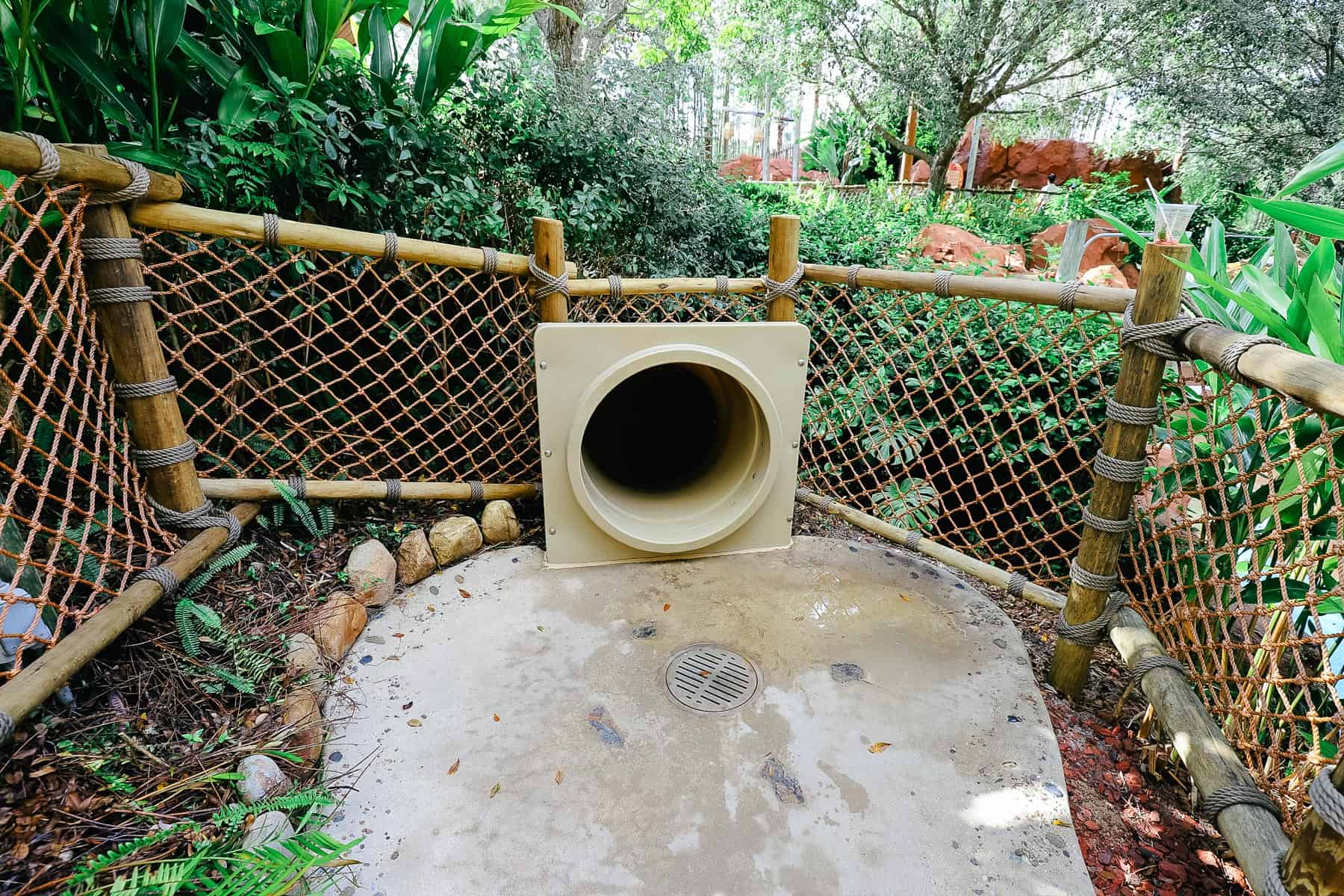 If you prefer, you might take the slide over the staircase. Here are a few more photos.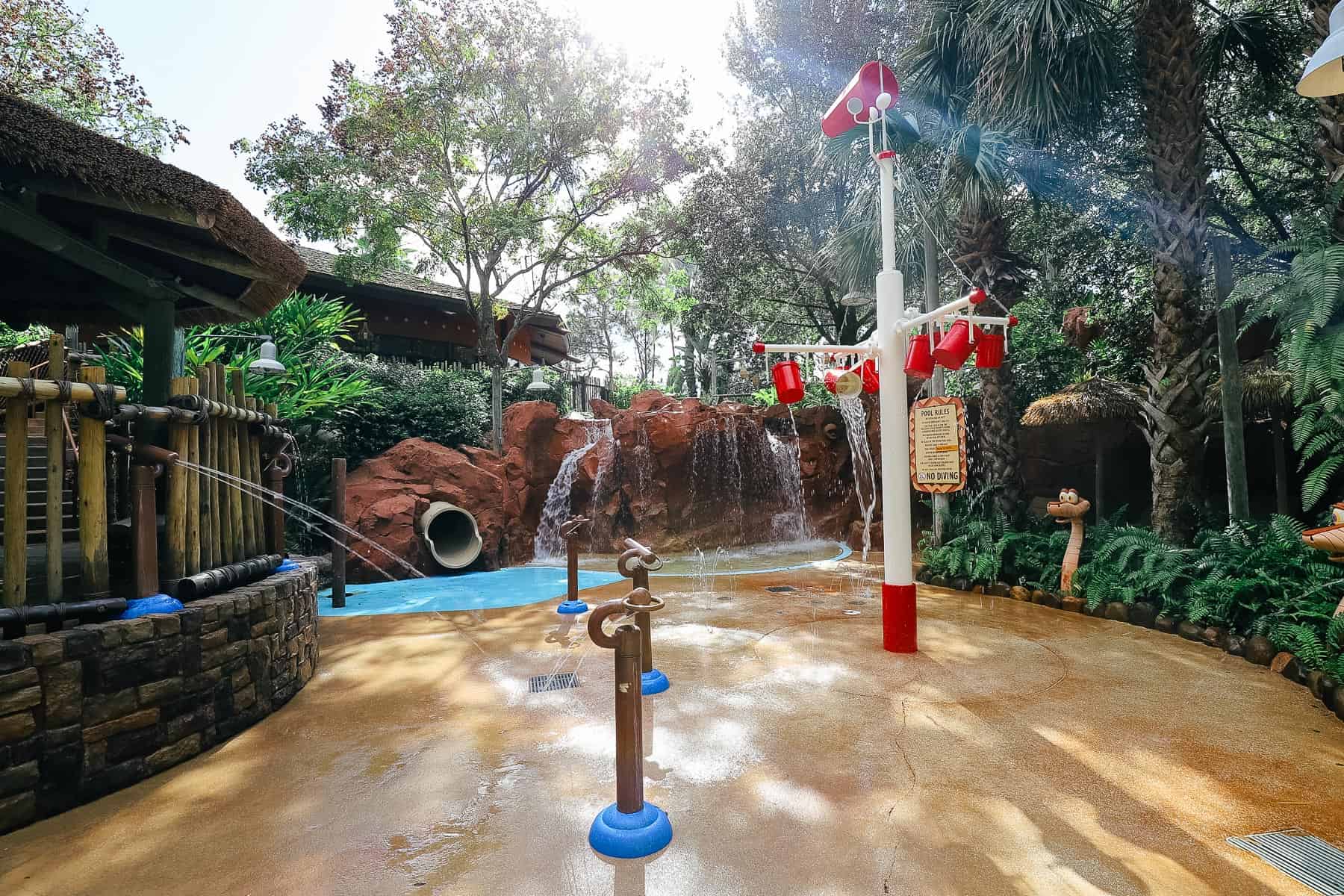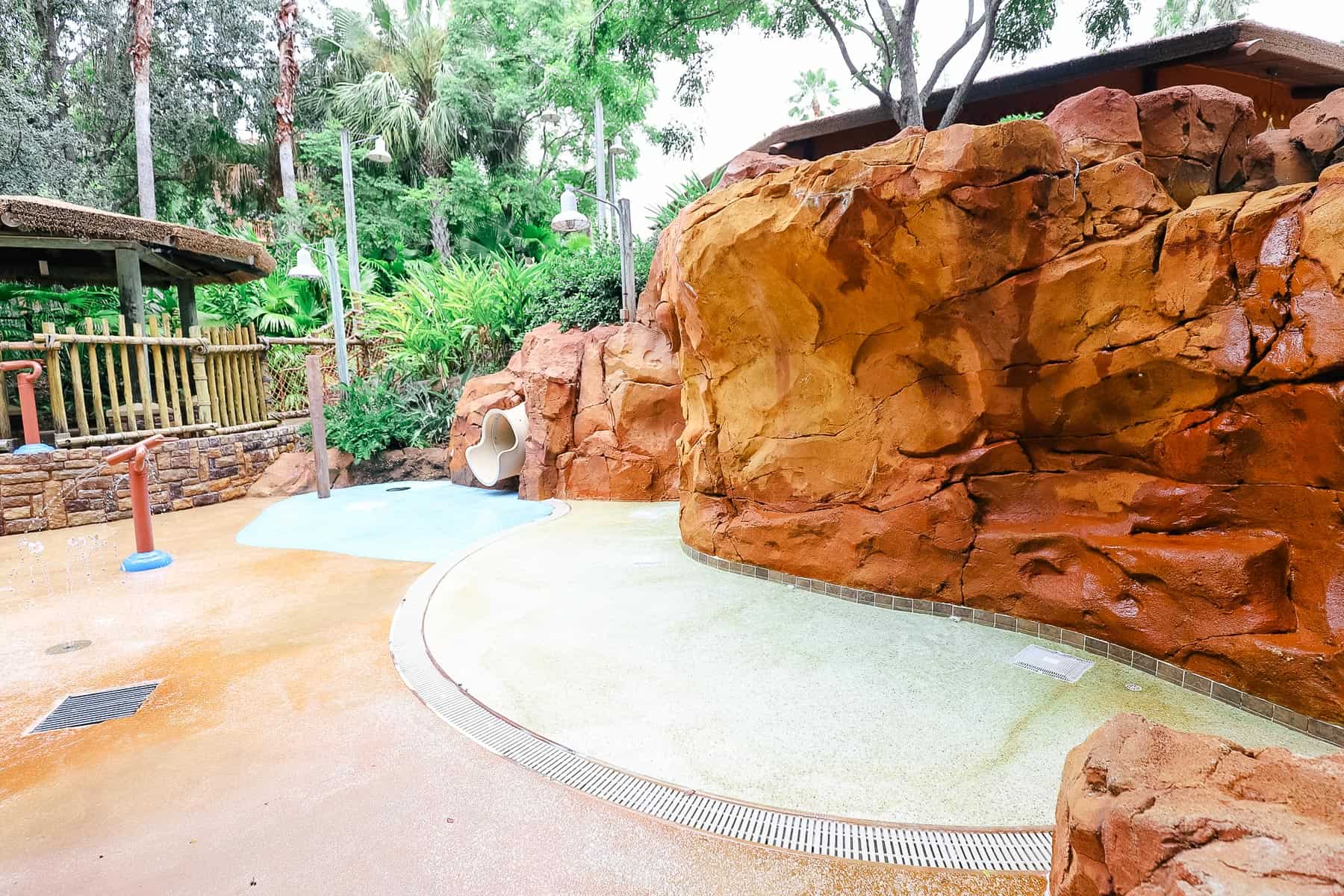 Toward the center of Uwanja Camp, you'll see the leaky water tower. This area is the Departure Zone and is ideal for children ages 5 to 7 years old. A few African Irises spit water as guests pass through.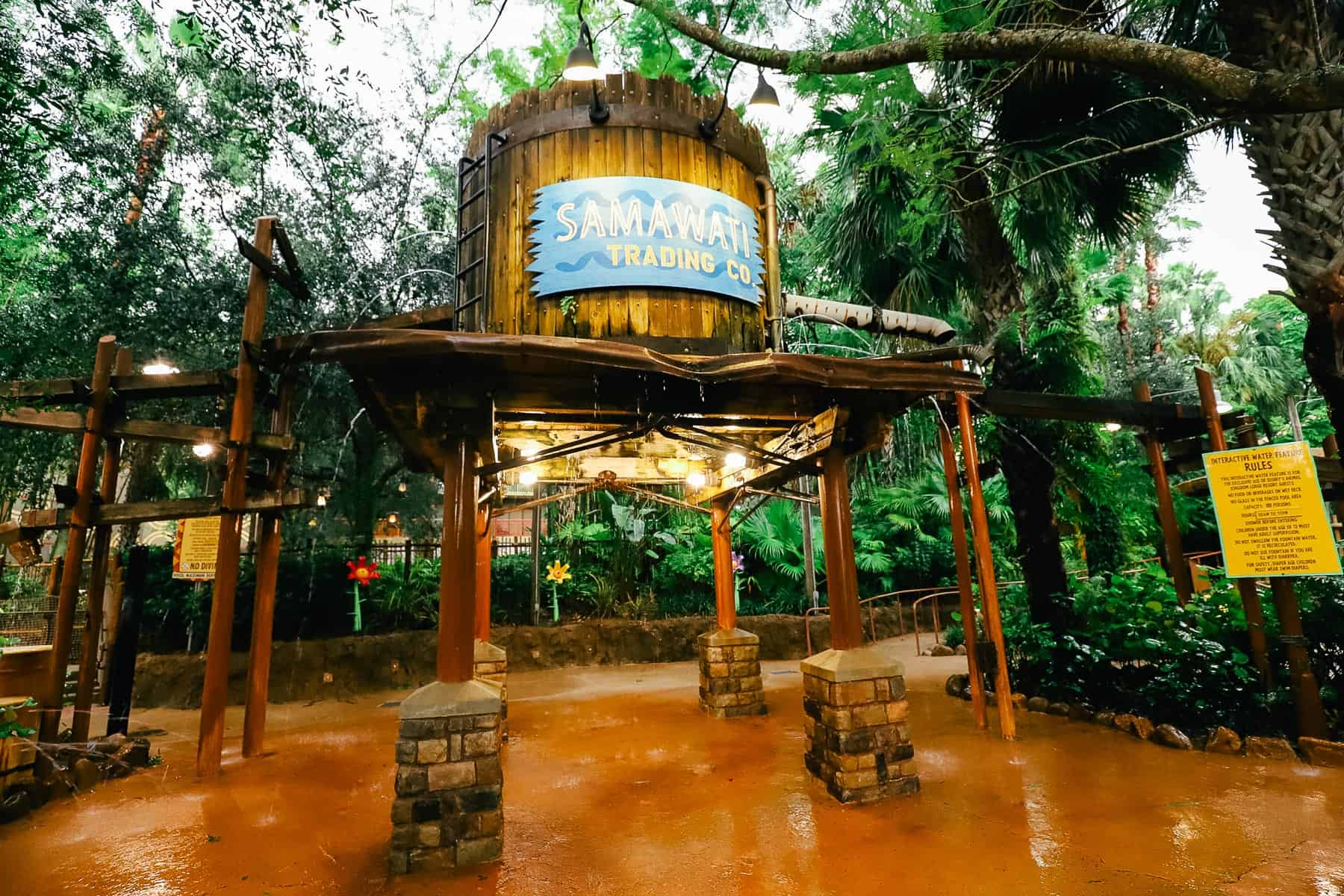 So do these large barrels.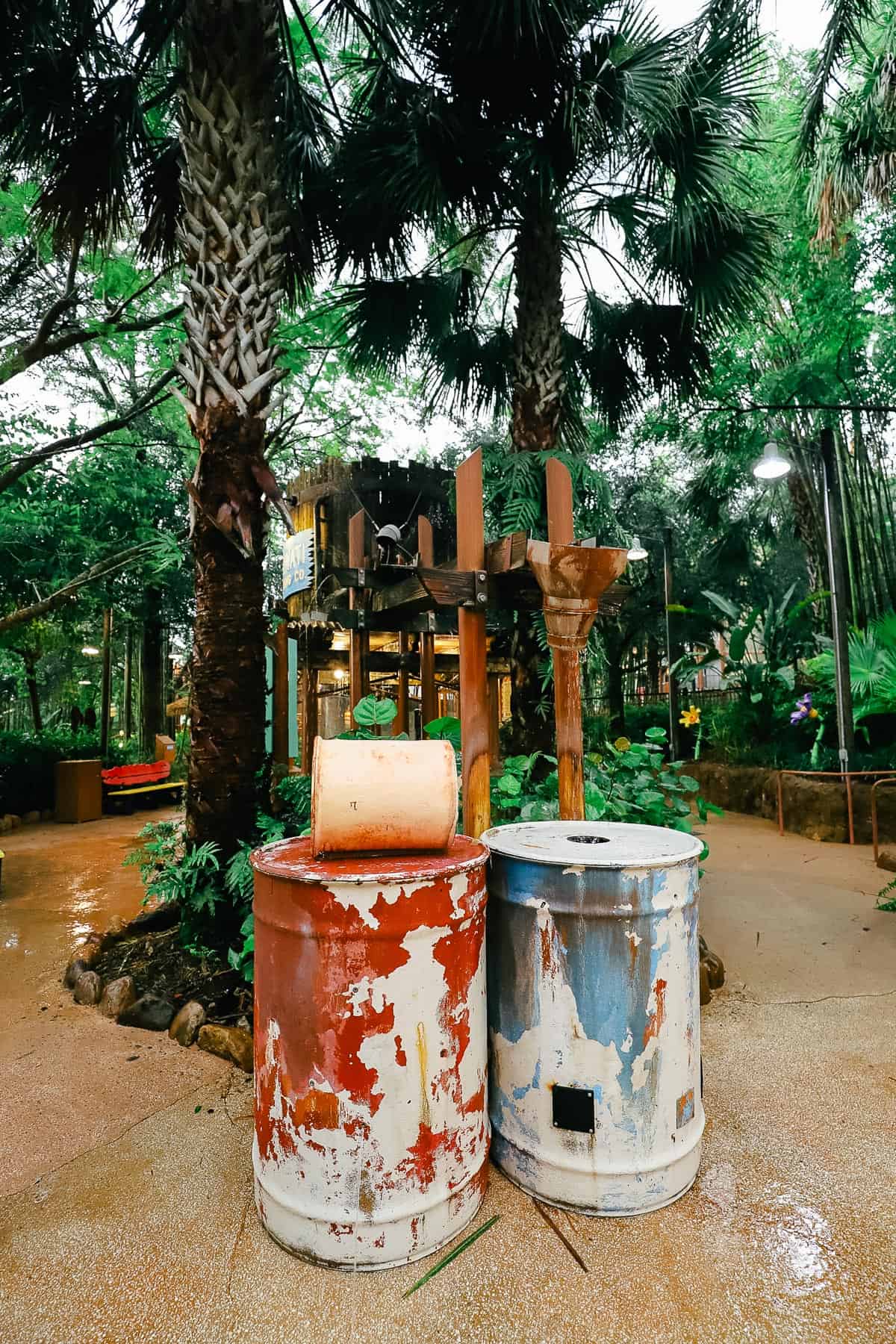 Lastly, an Observation Station is designed for ages 4 years and under.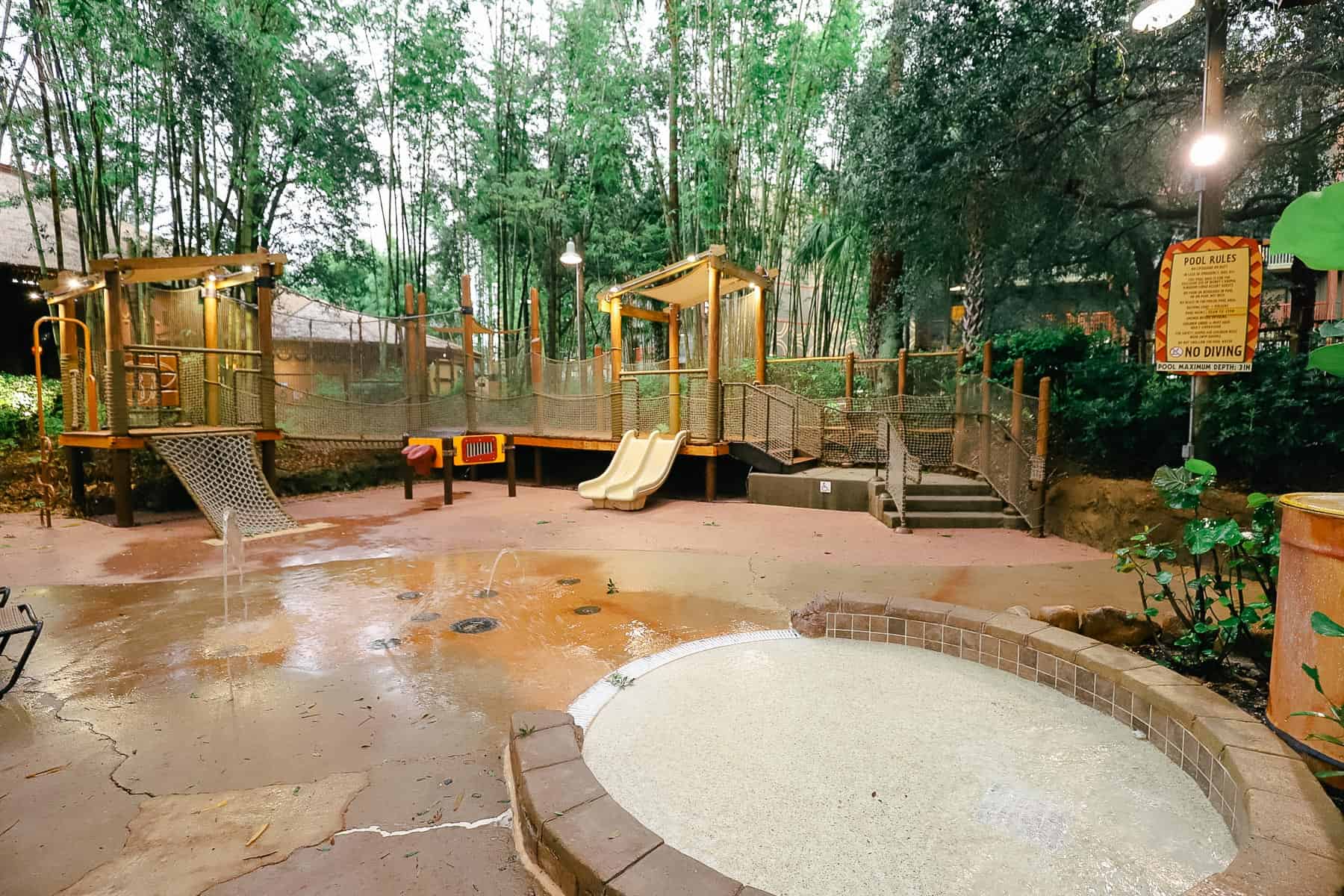 This area features a place for the little ones to climb and slide.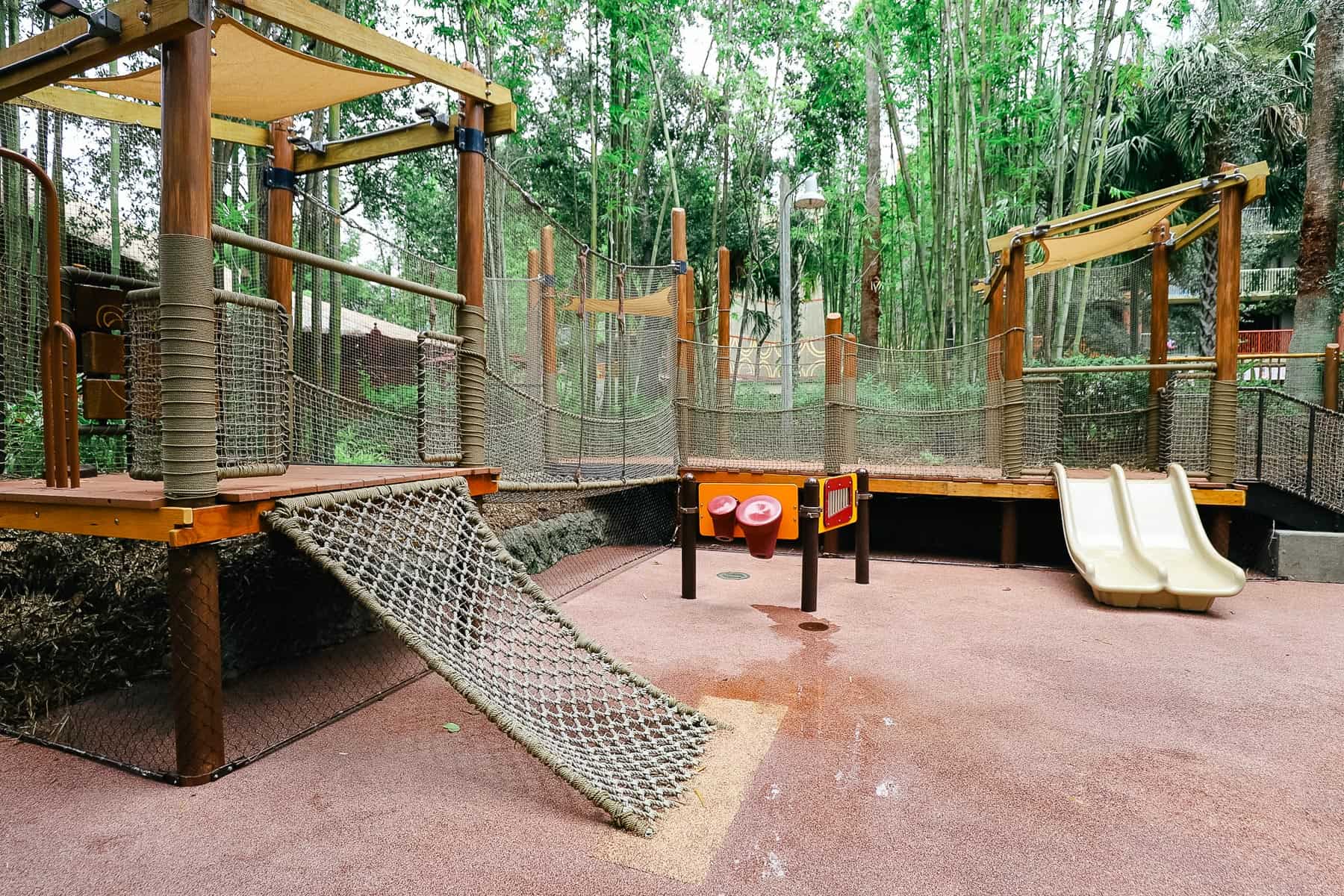 During the cooler months, I found this area used as a dry playground.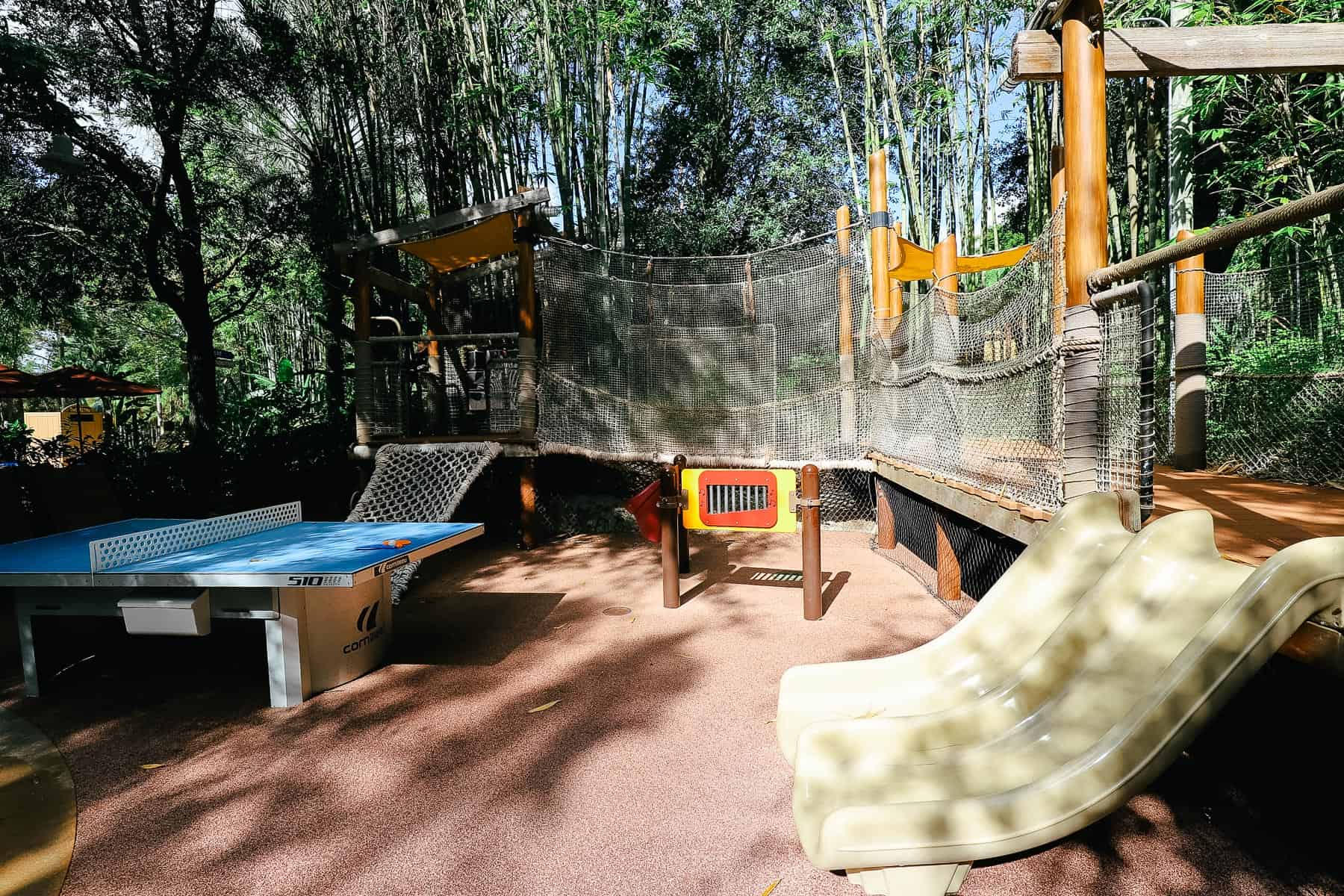 A tiny kiddie pool is also available. I guess you could say it has a zero-depth entry. But it's a fun place to splash if you have a toddler.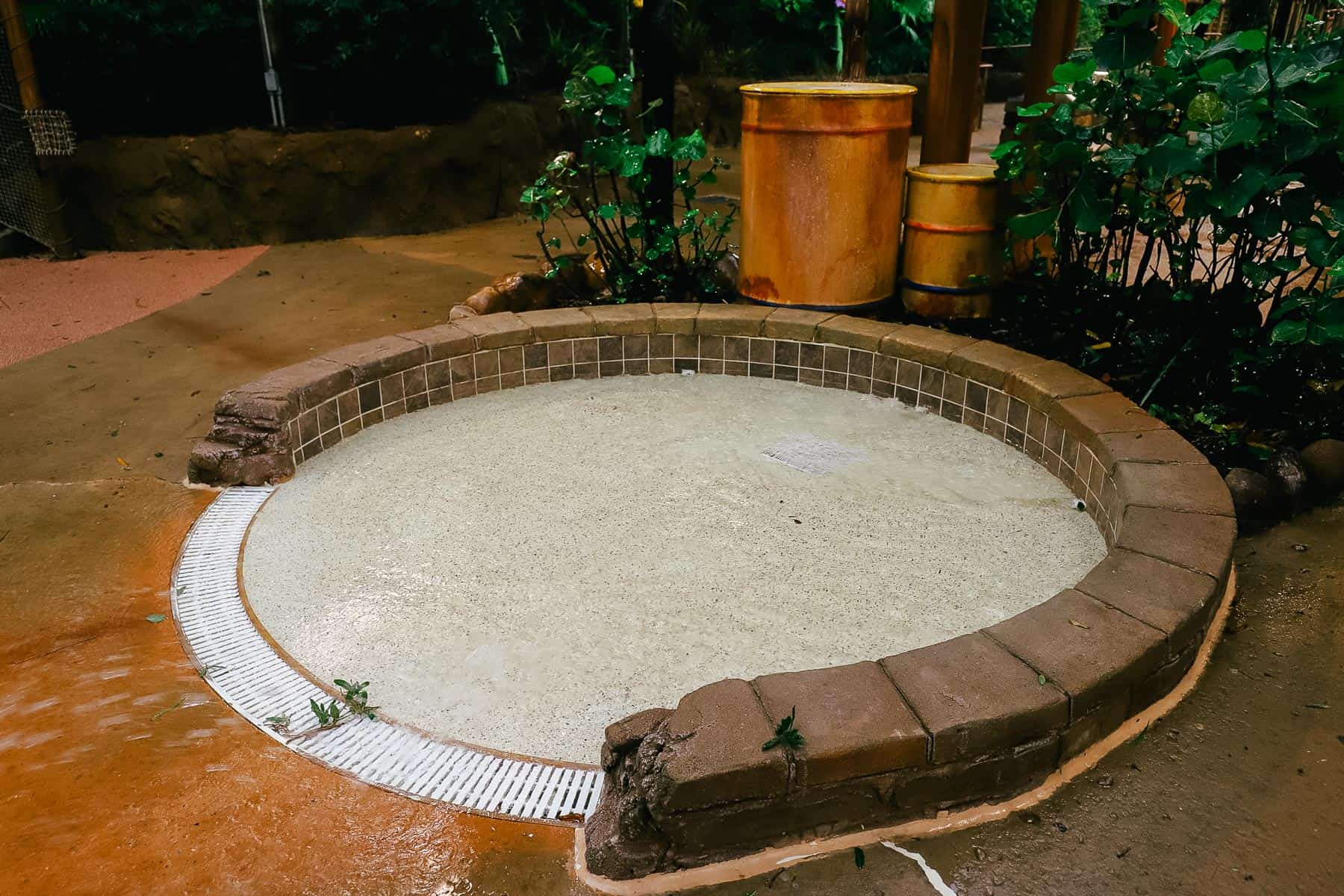 Several seating areas are available within the Uwanja Camp.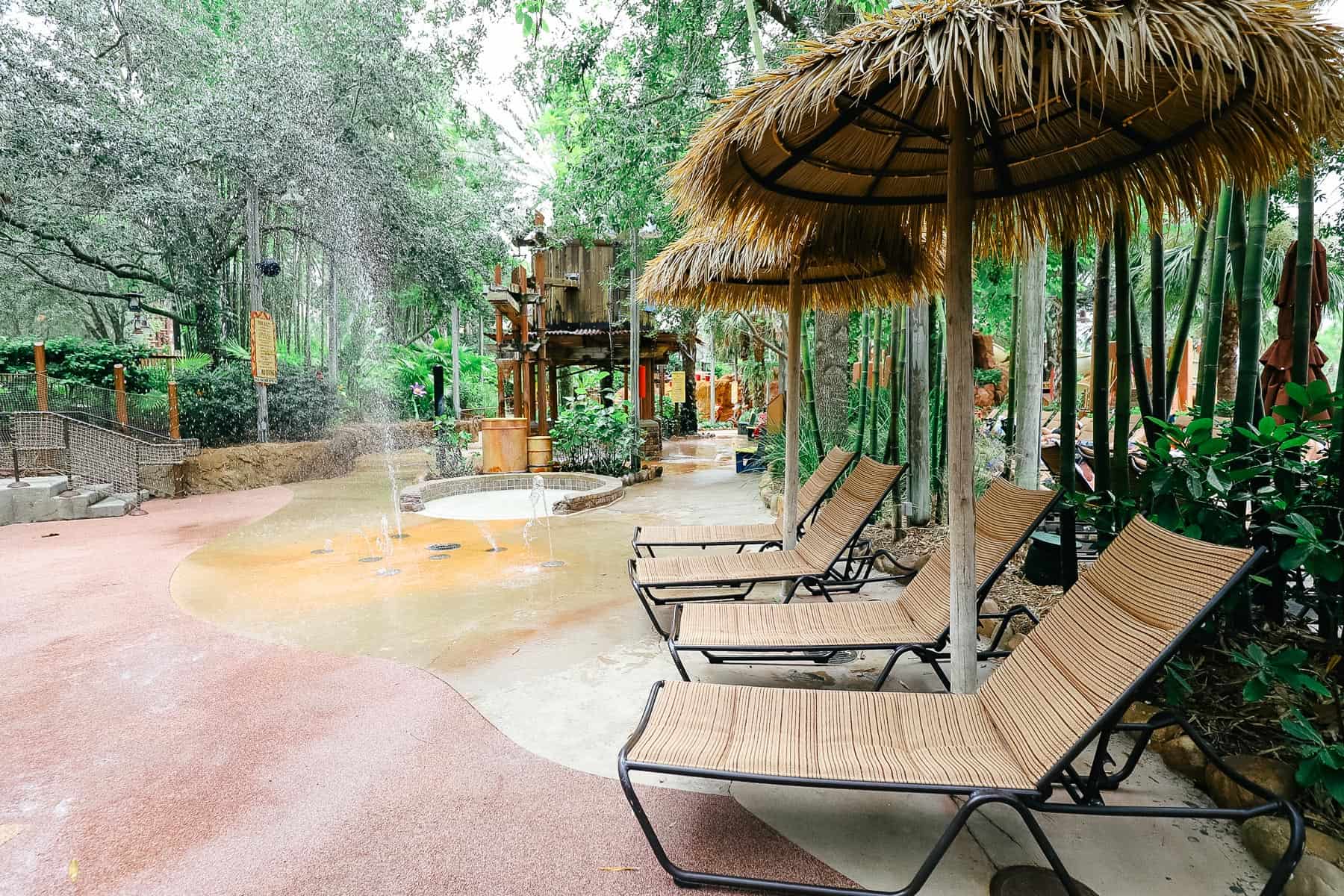 Changing Areas
If you plan to use the resort on an arrival or check-out day, you might be interested in the pool's changing area. The Kidani Village Pool has large restrooms with showers, toiletries, and a place to change.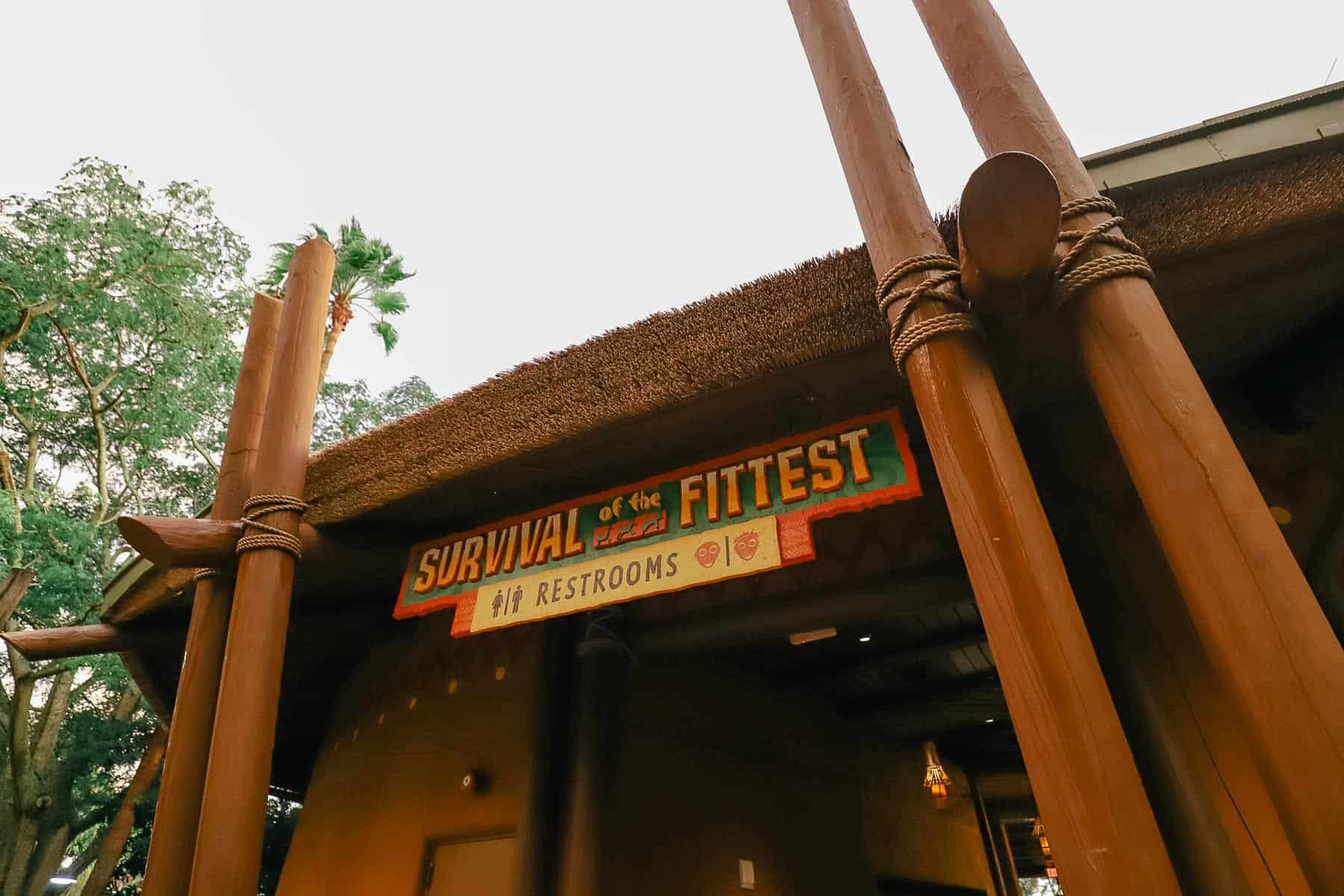 Here is a look inside the changing area and shower. Two showers are available in the lady's room.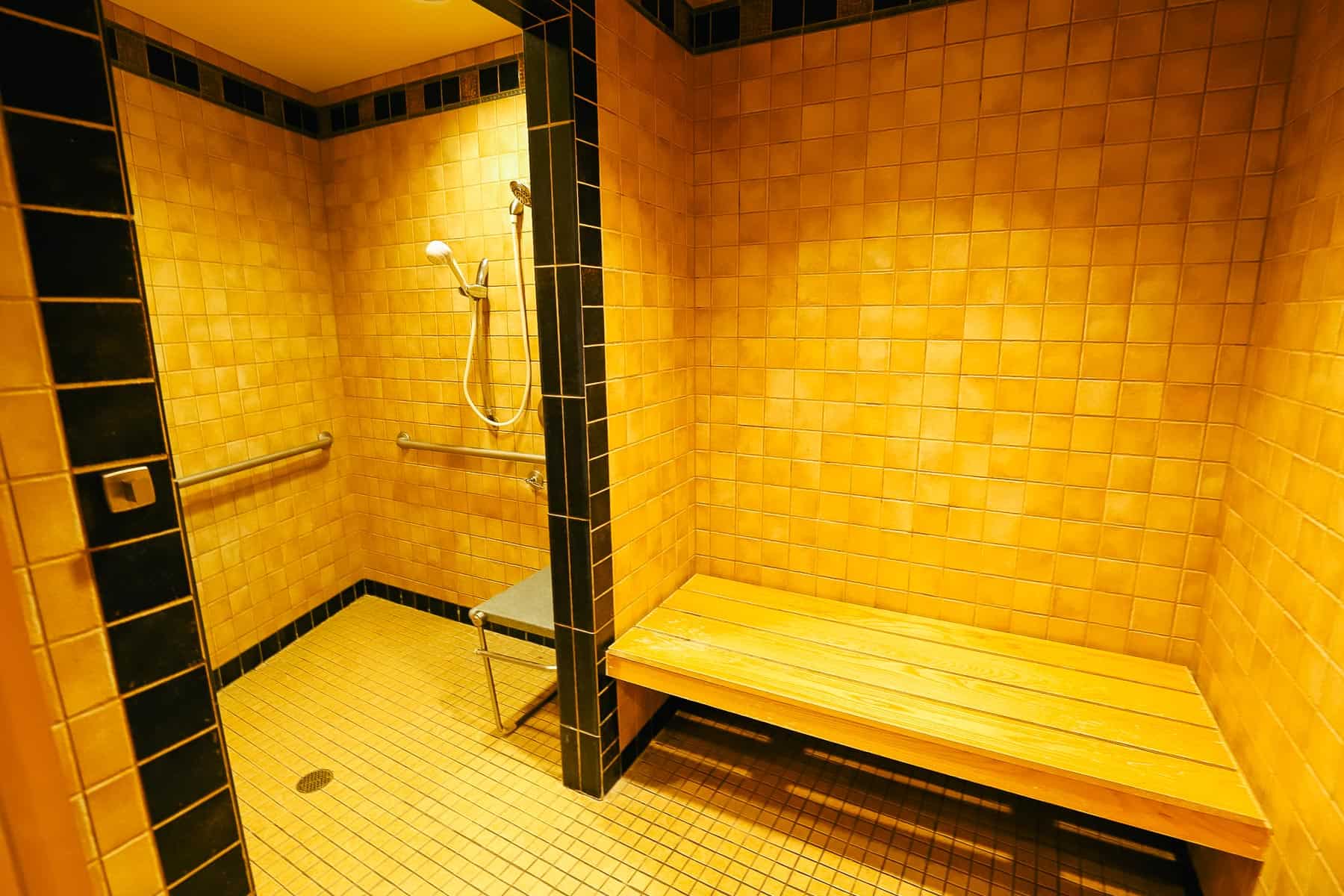 This one was handicap accessible. Notice that body wash, shampoo, and conditioner are mounted on the wall. So you don't have to worry about bringing anything extra.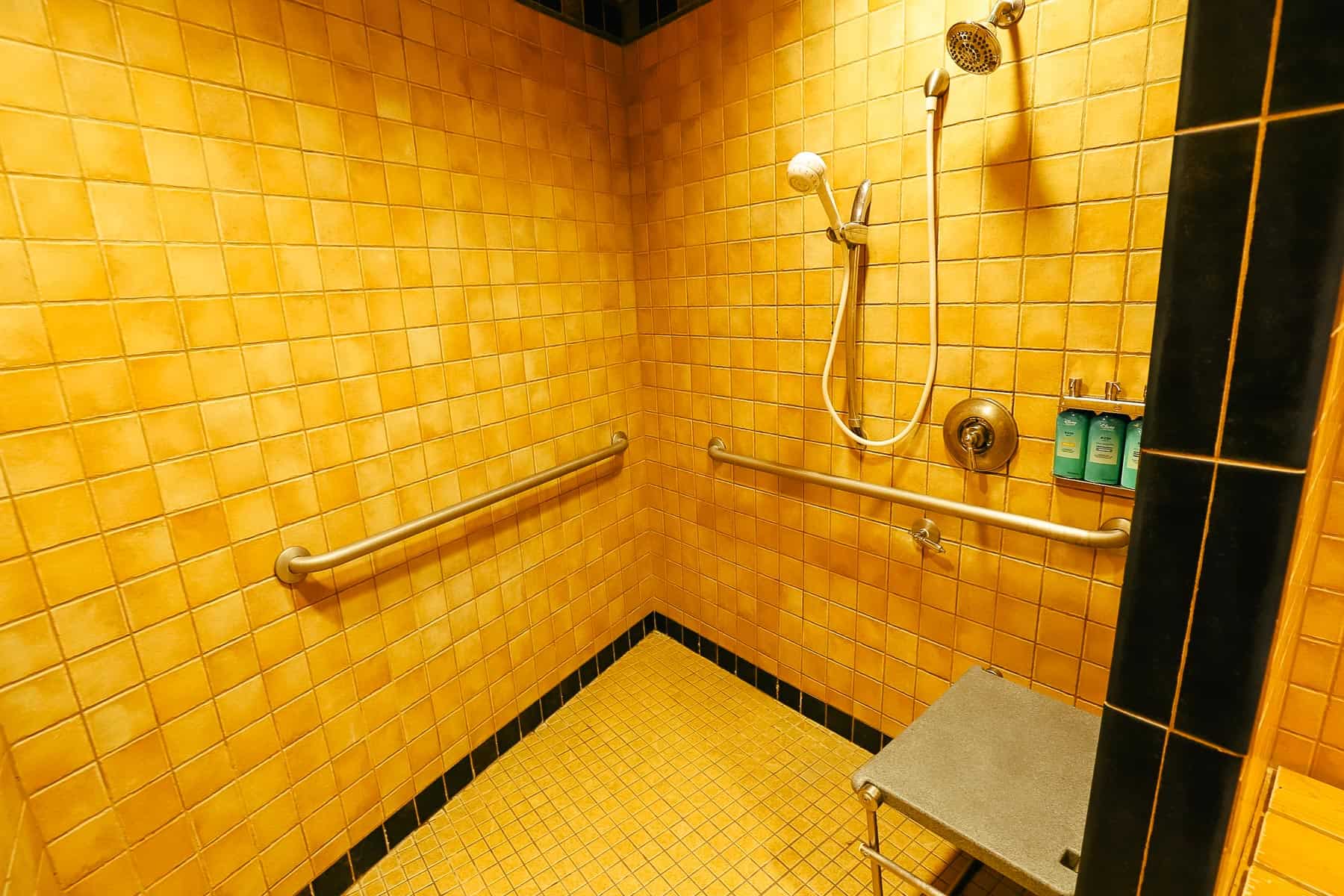 A hairdryer is mounted to the wall near the bathroom's sinks.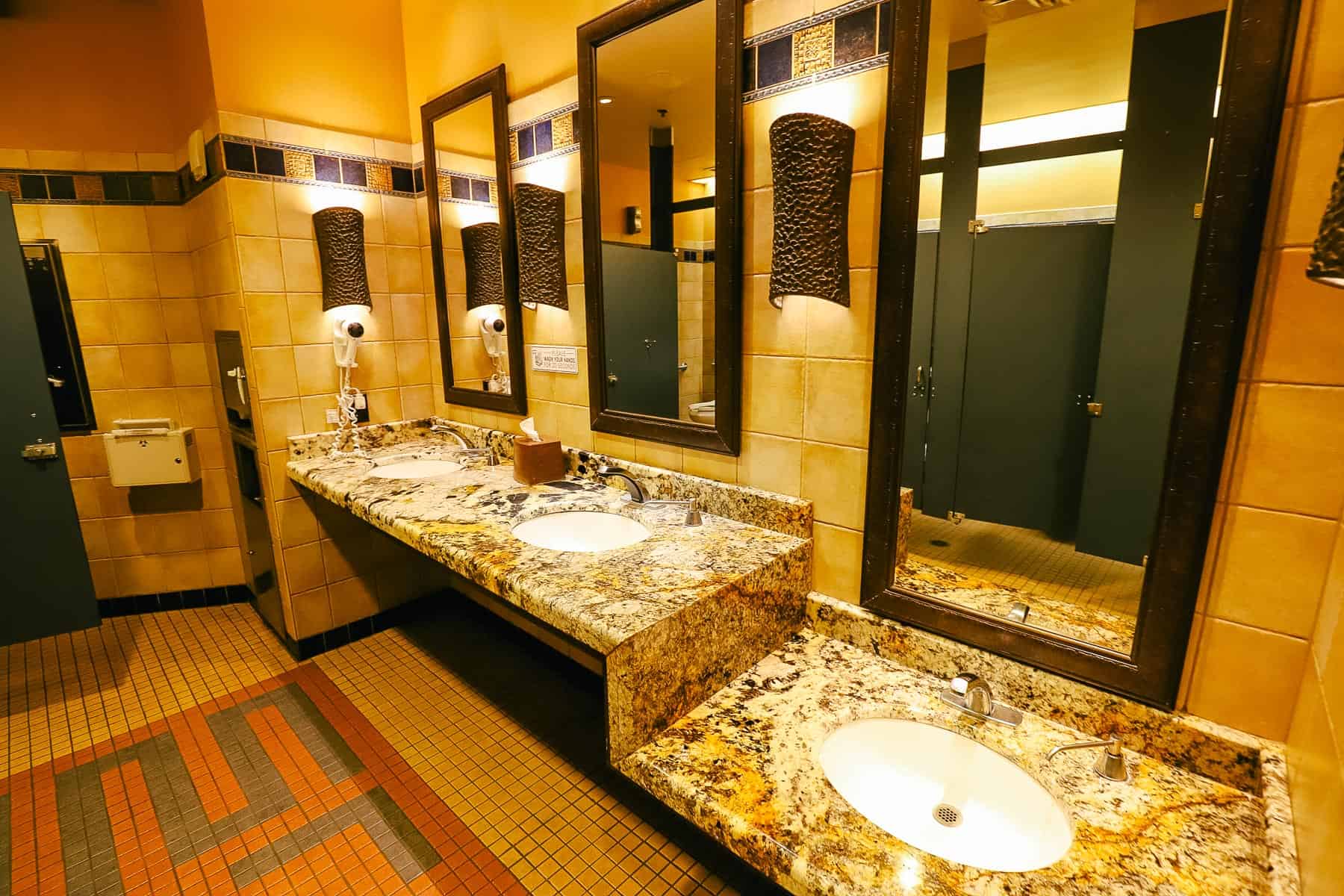 Towels are also available.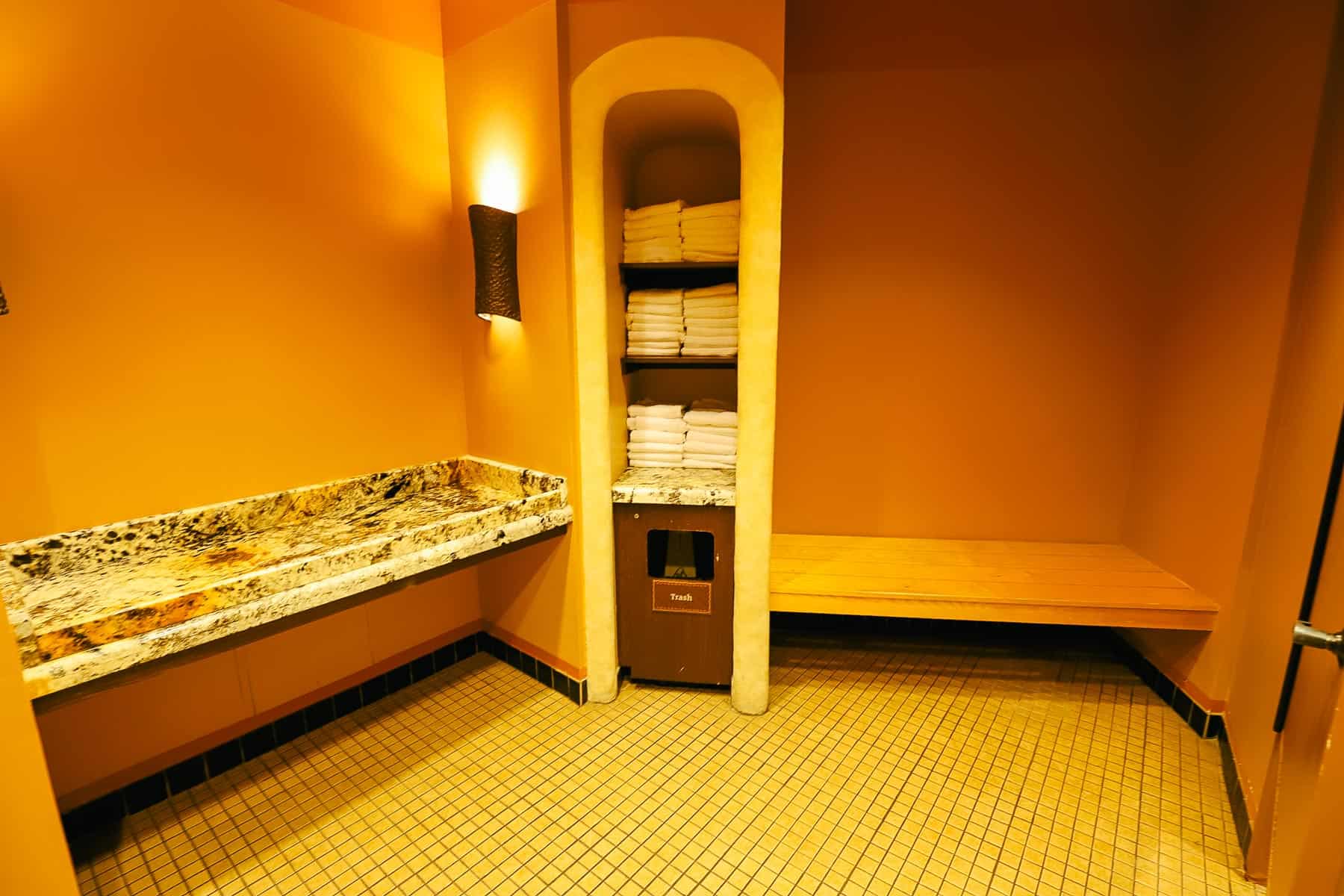 Kidani Village Pool Photos
Here are a few more photos of the pool area.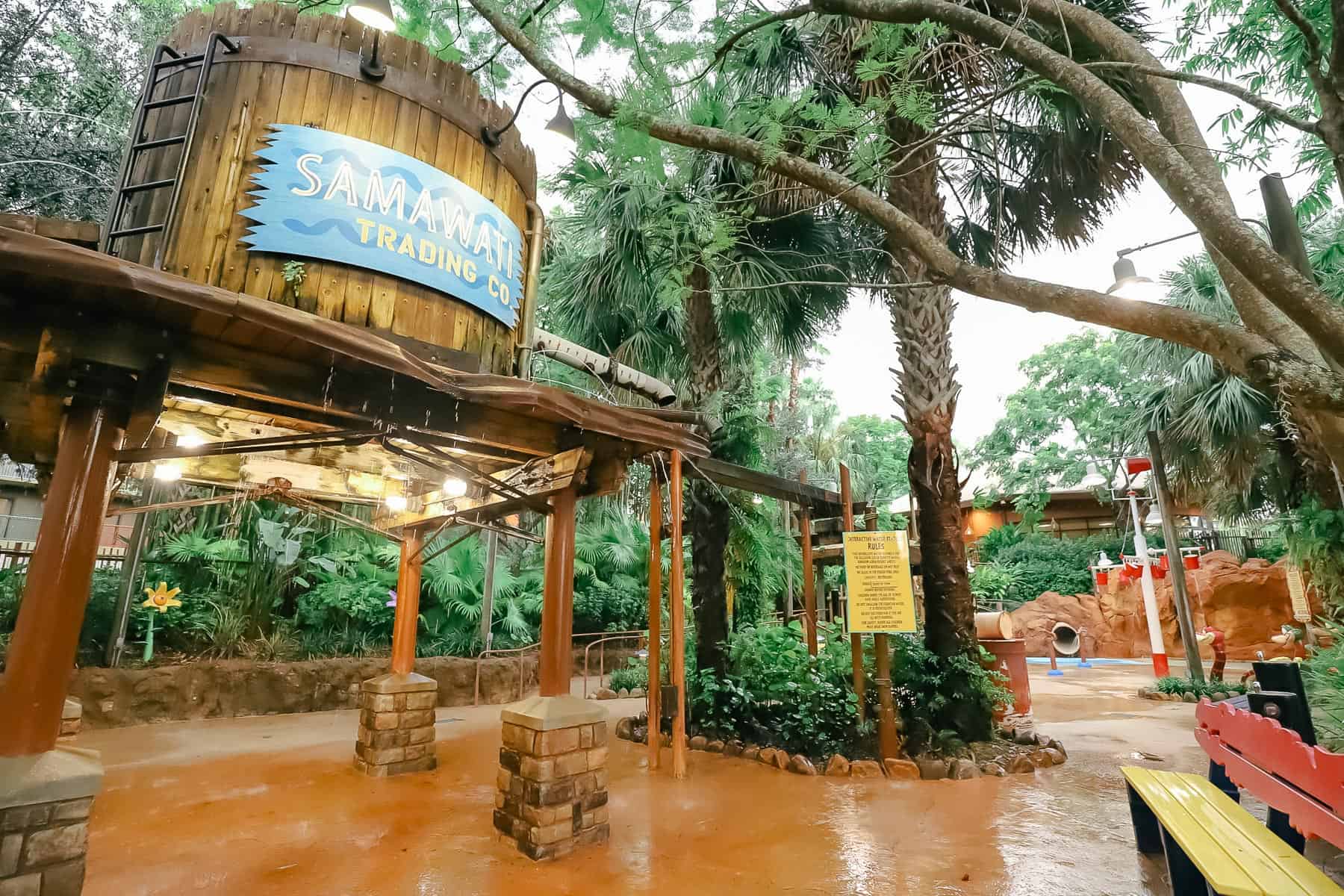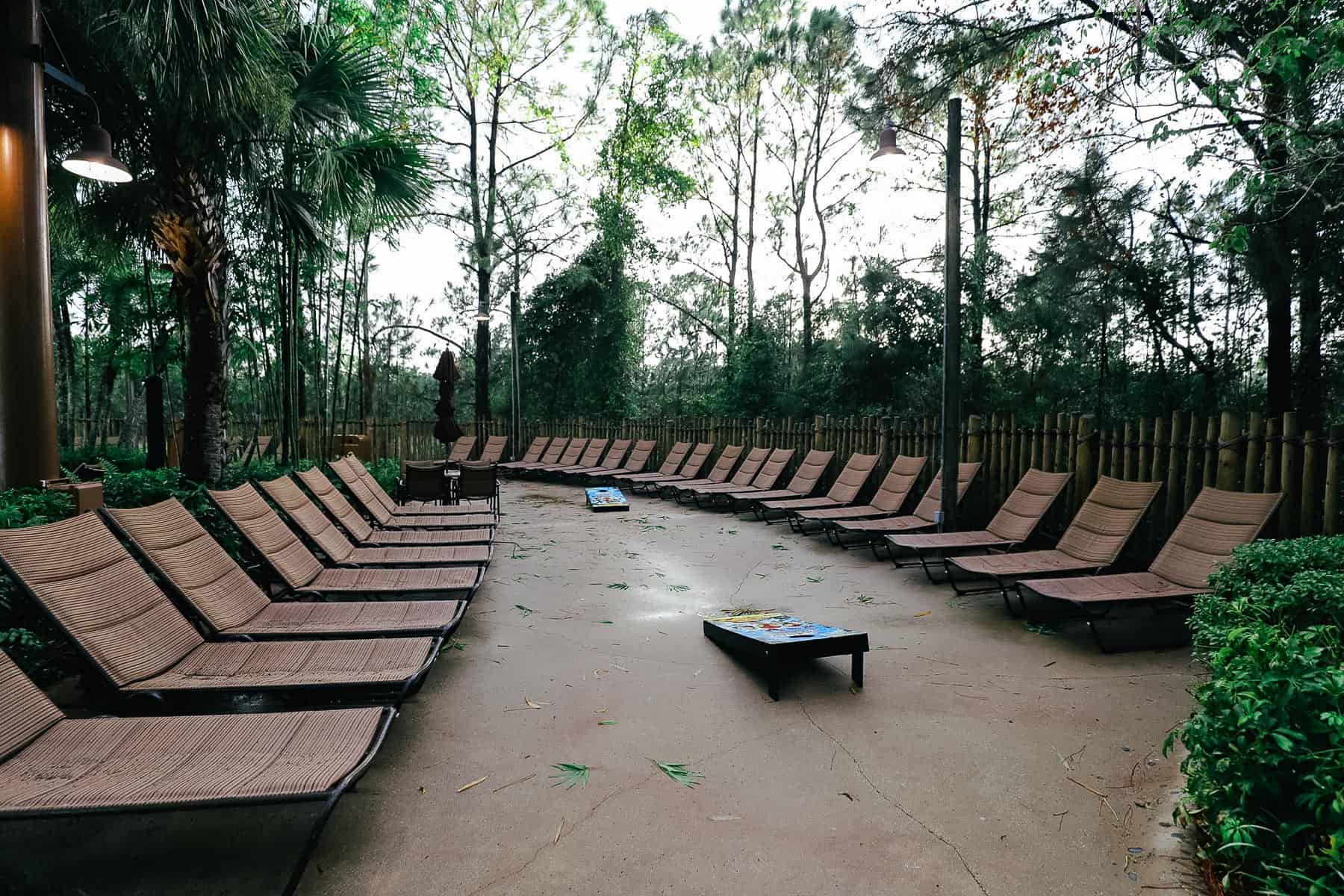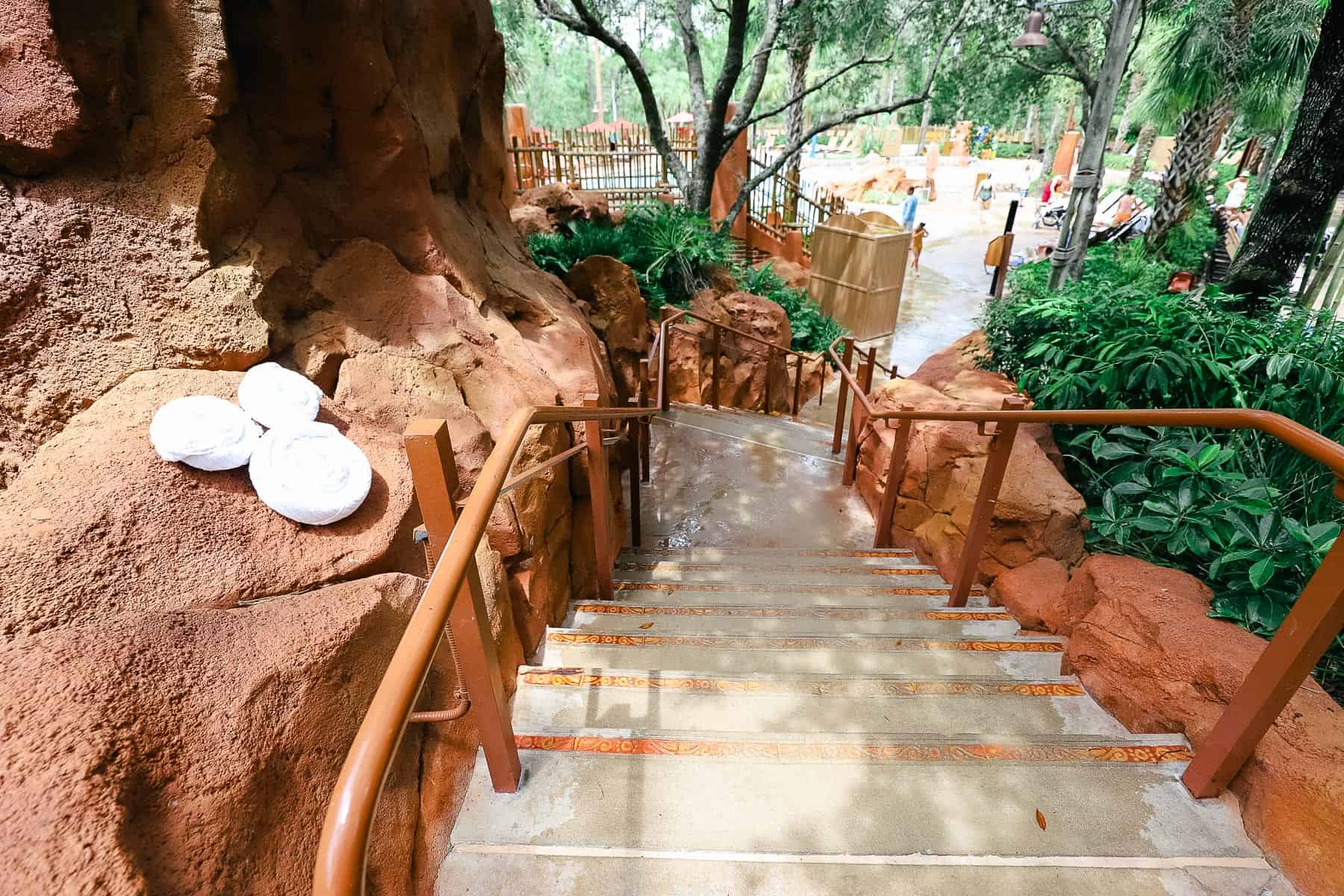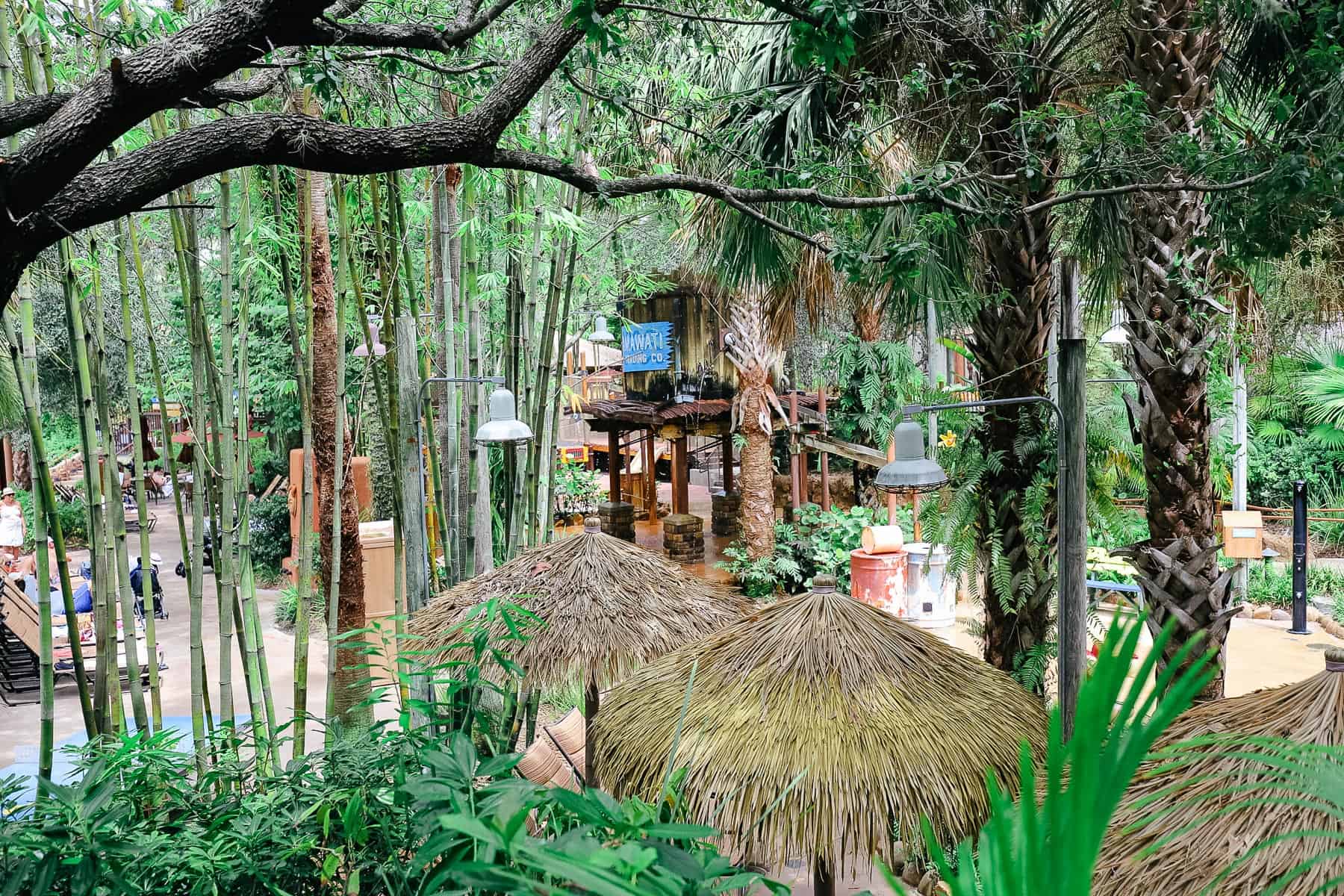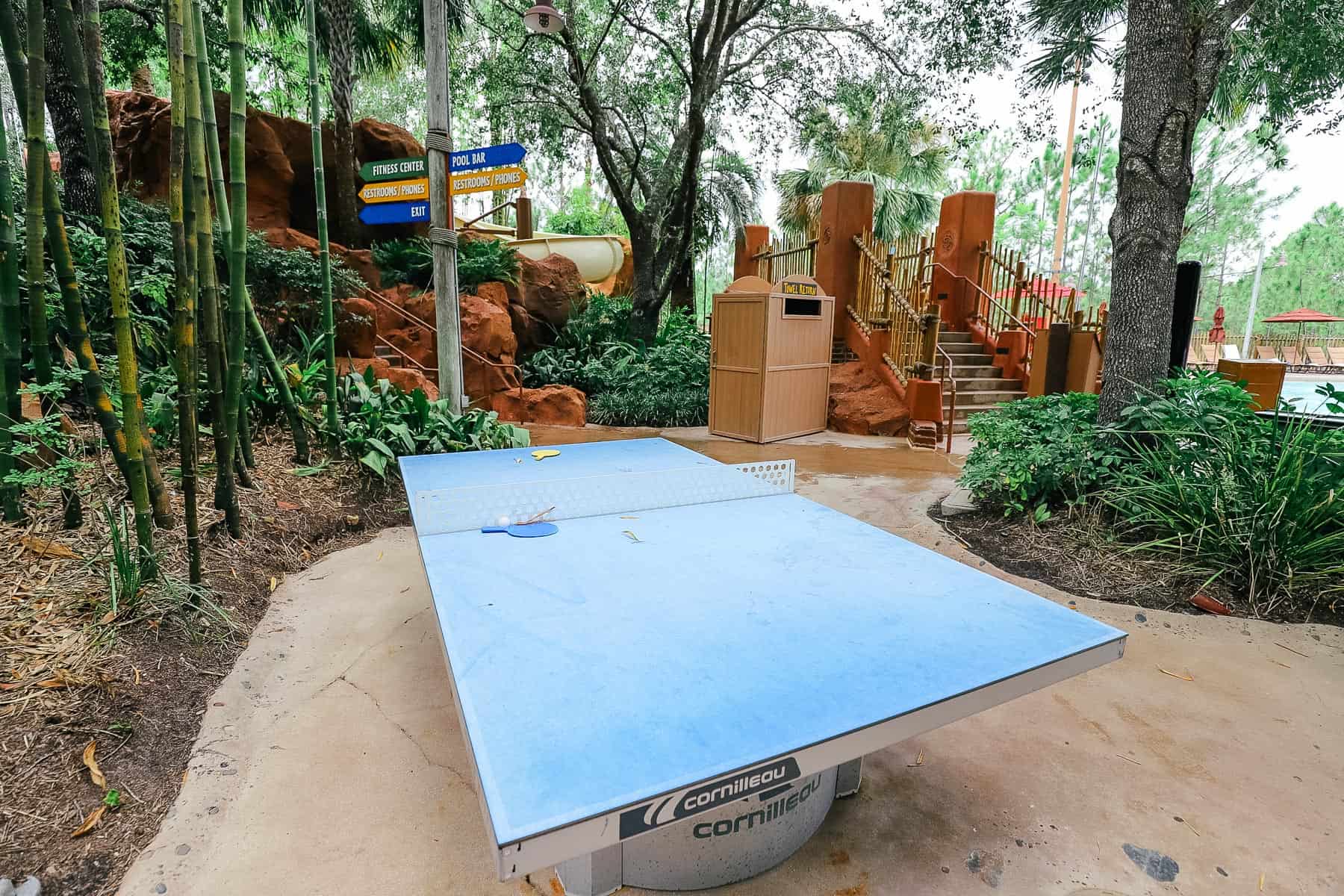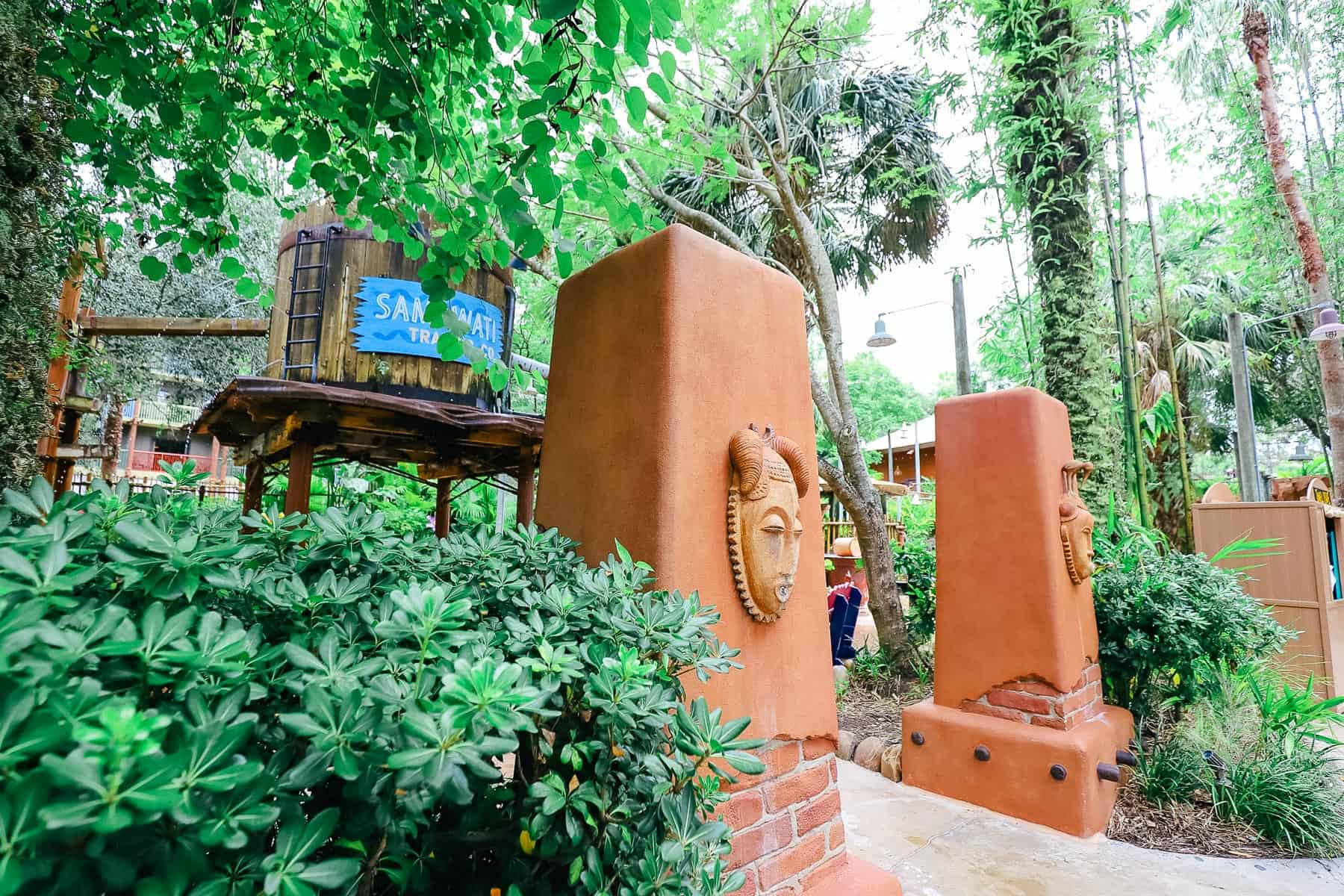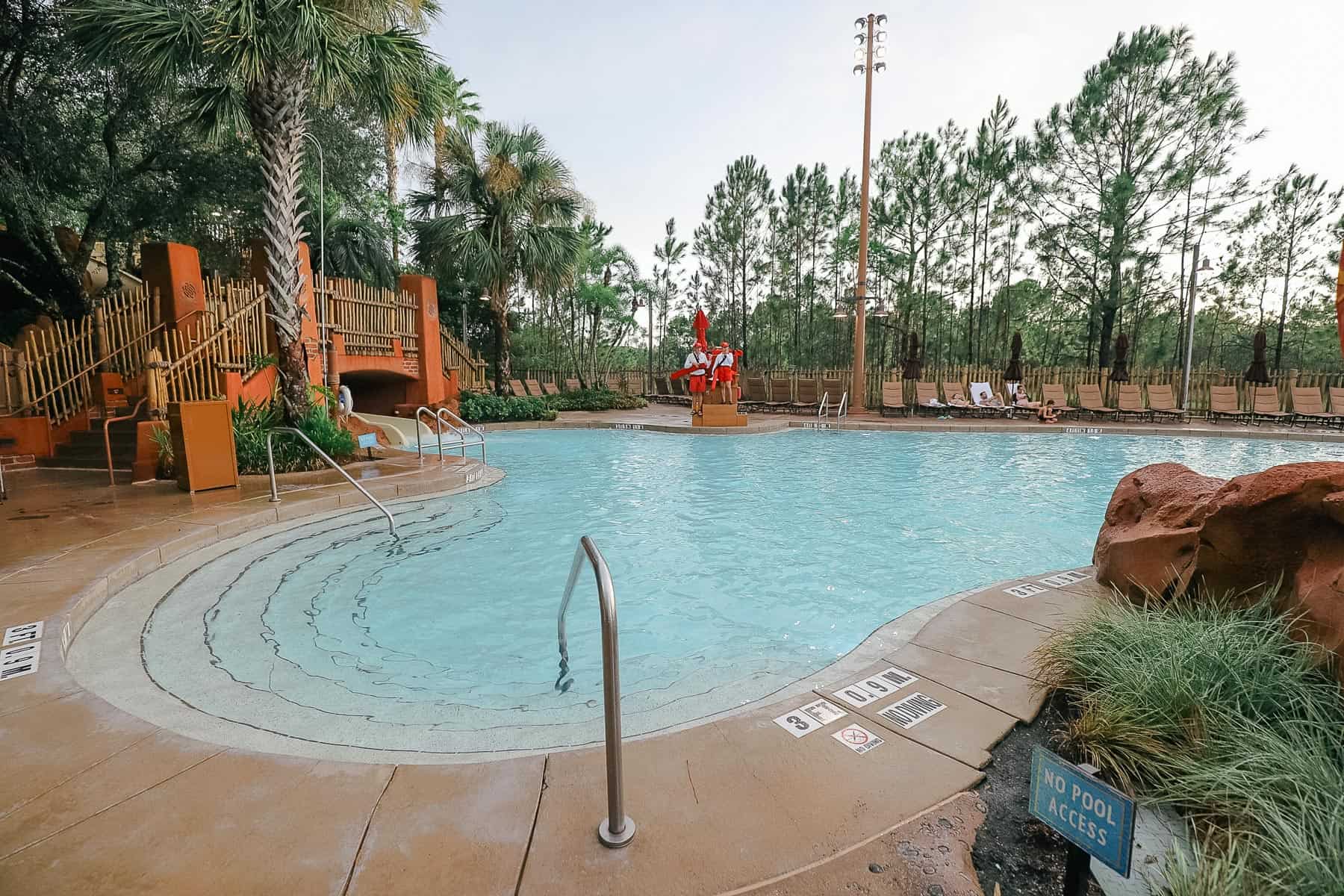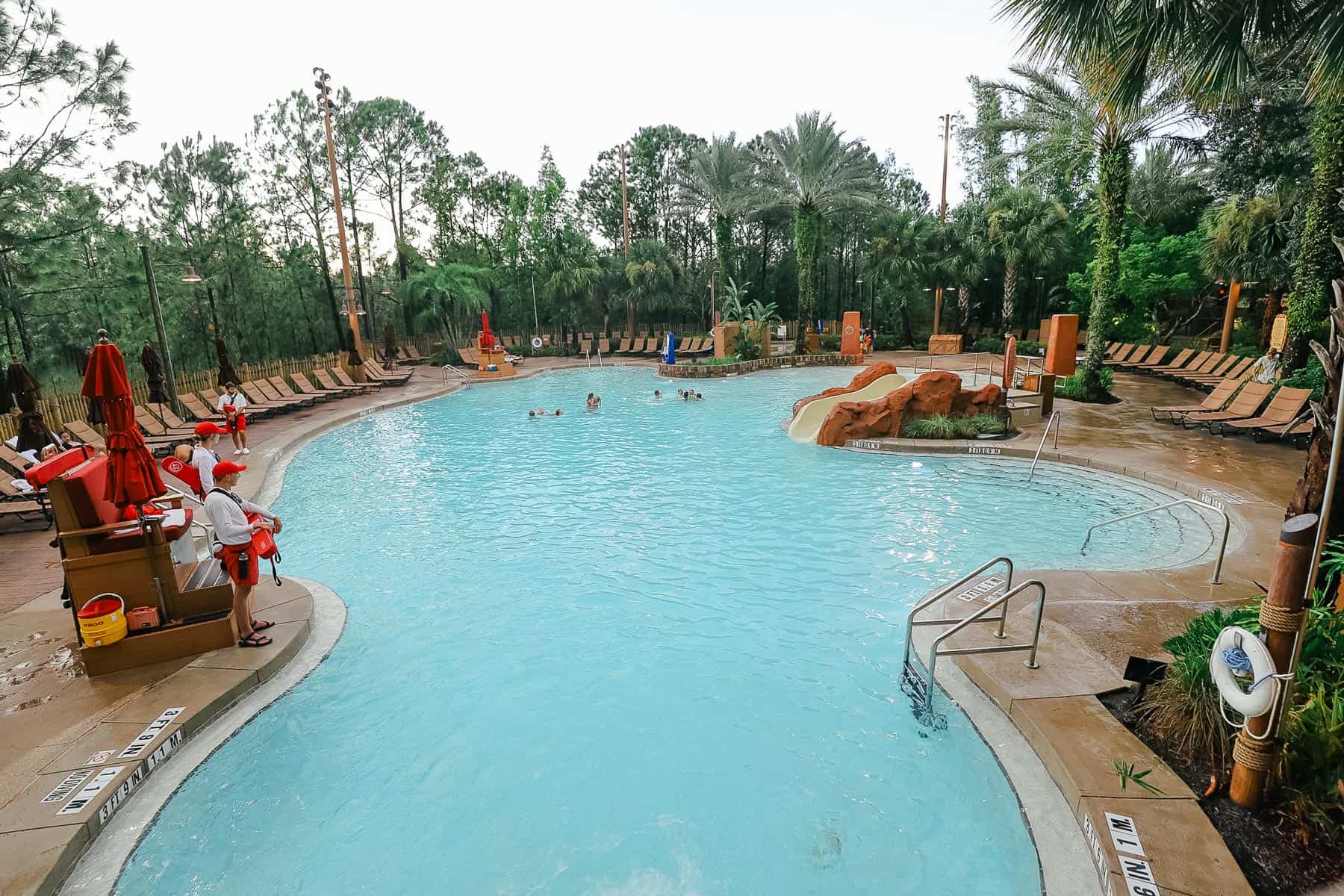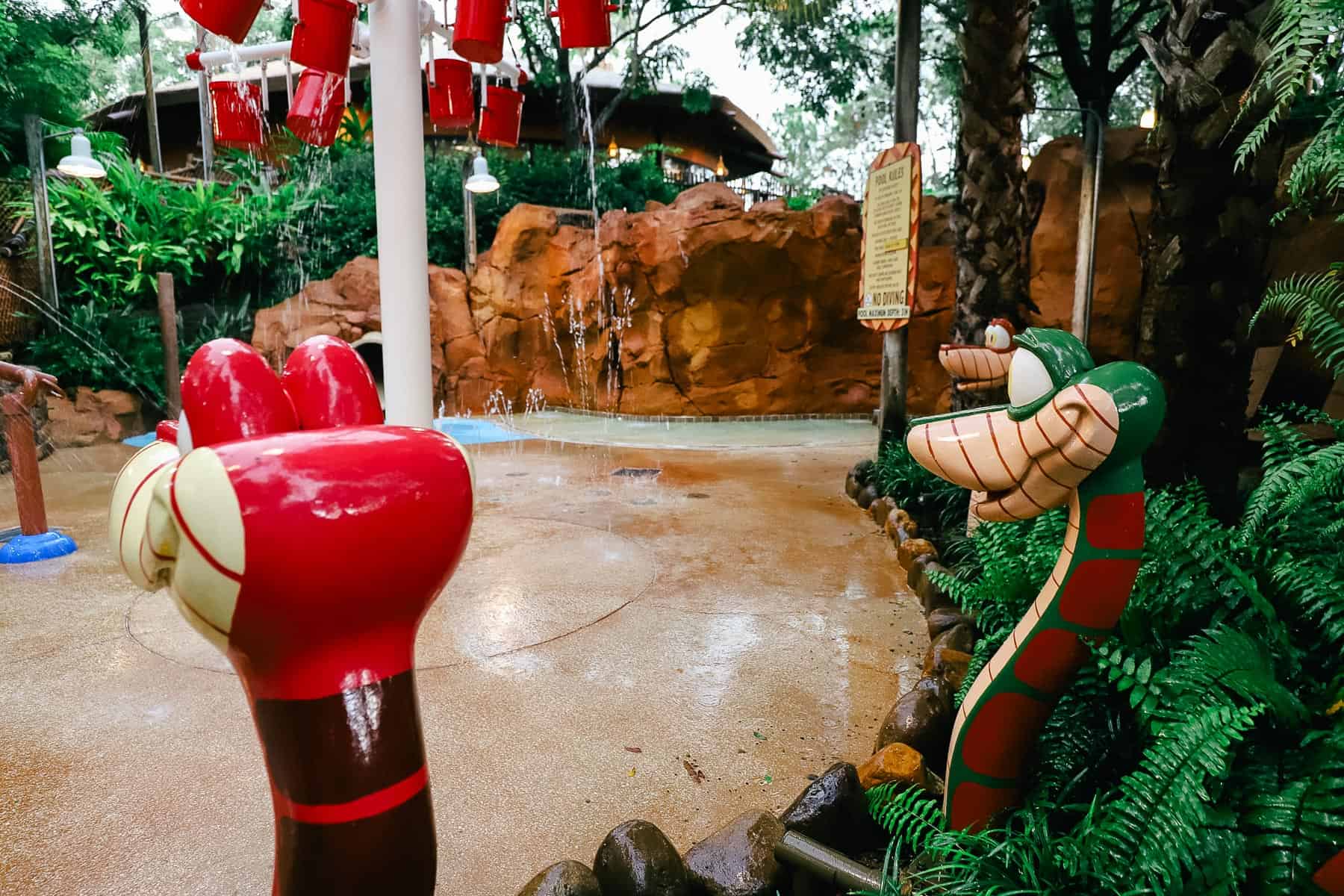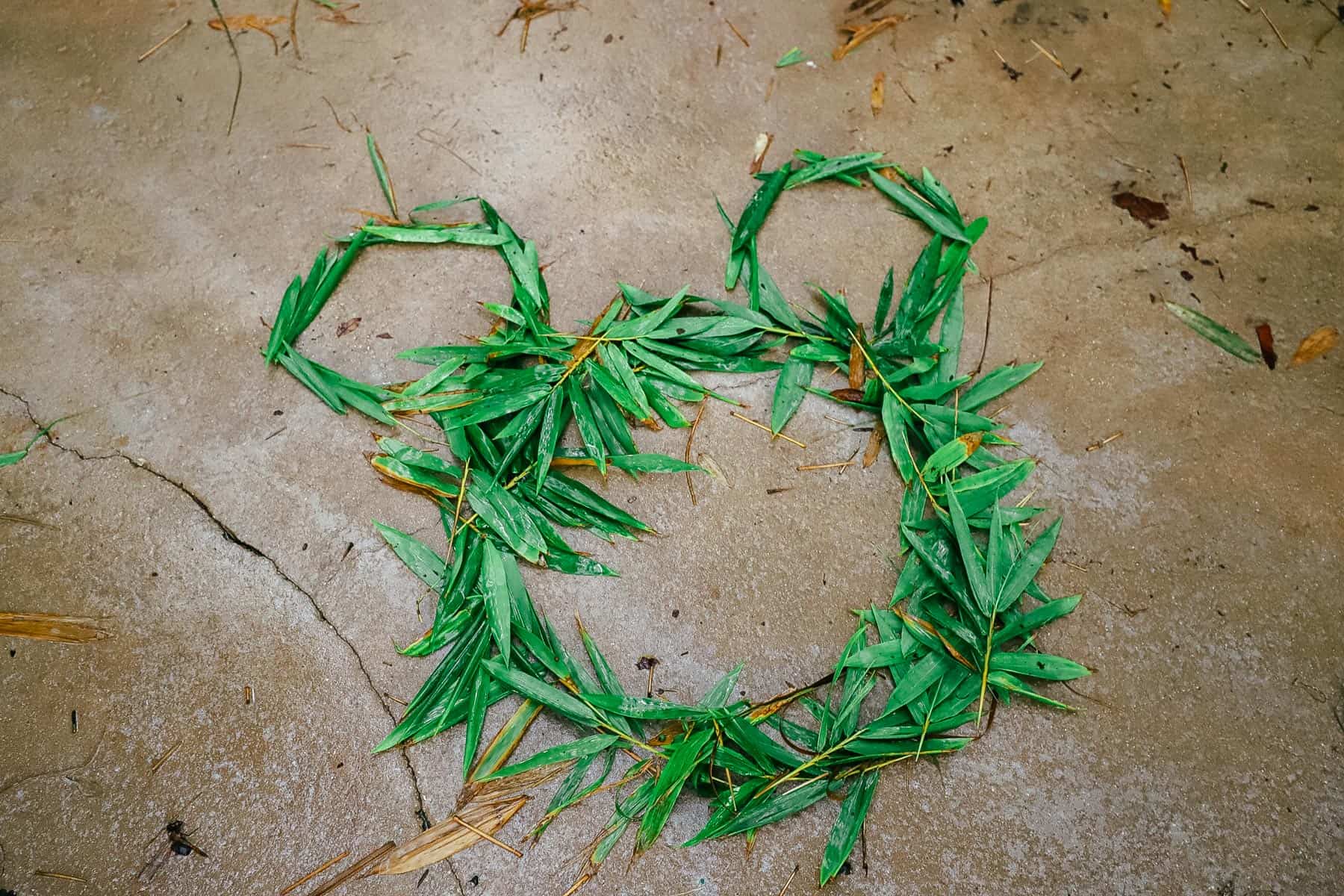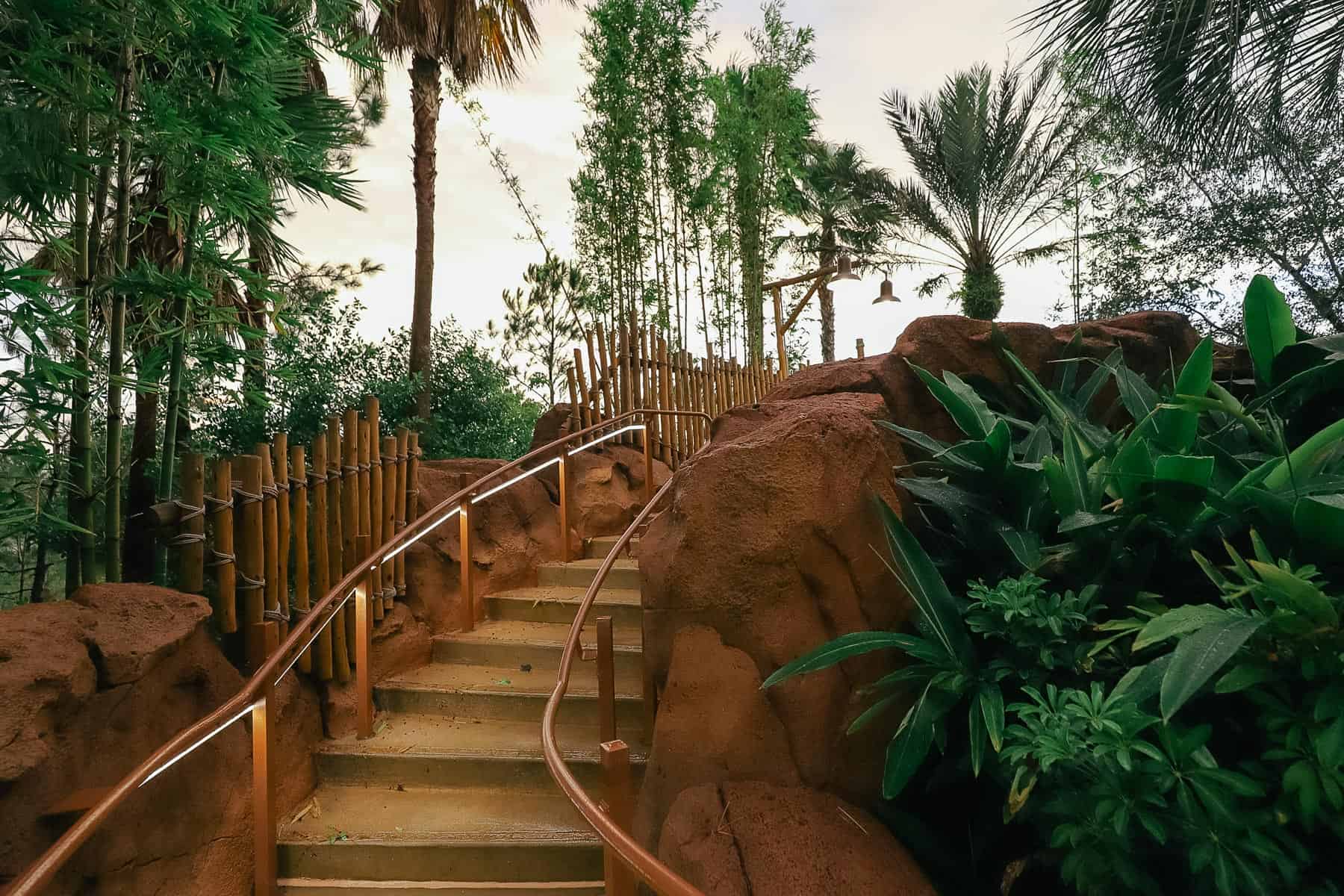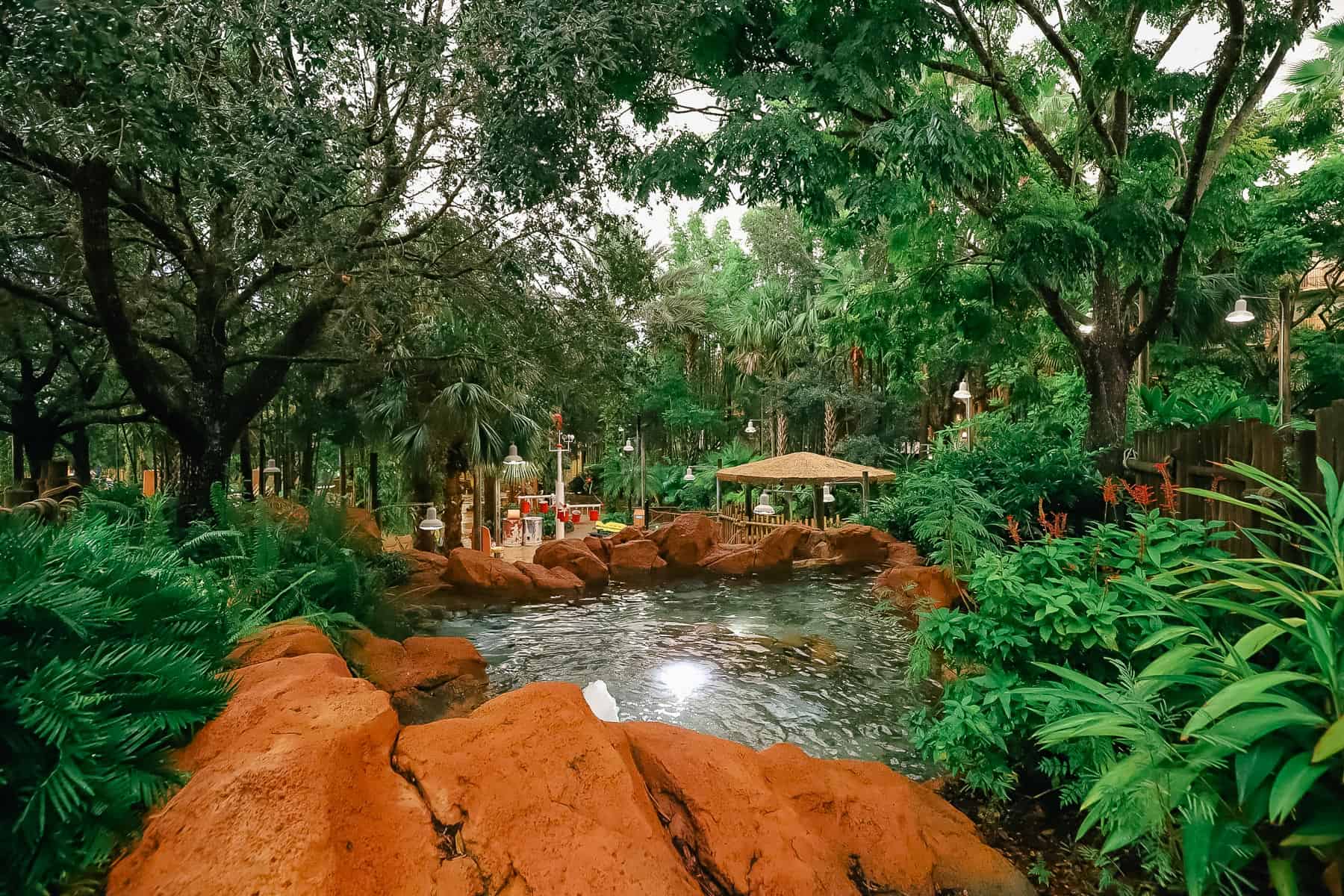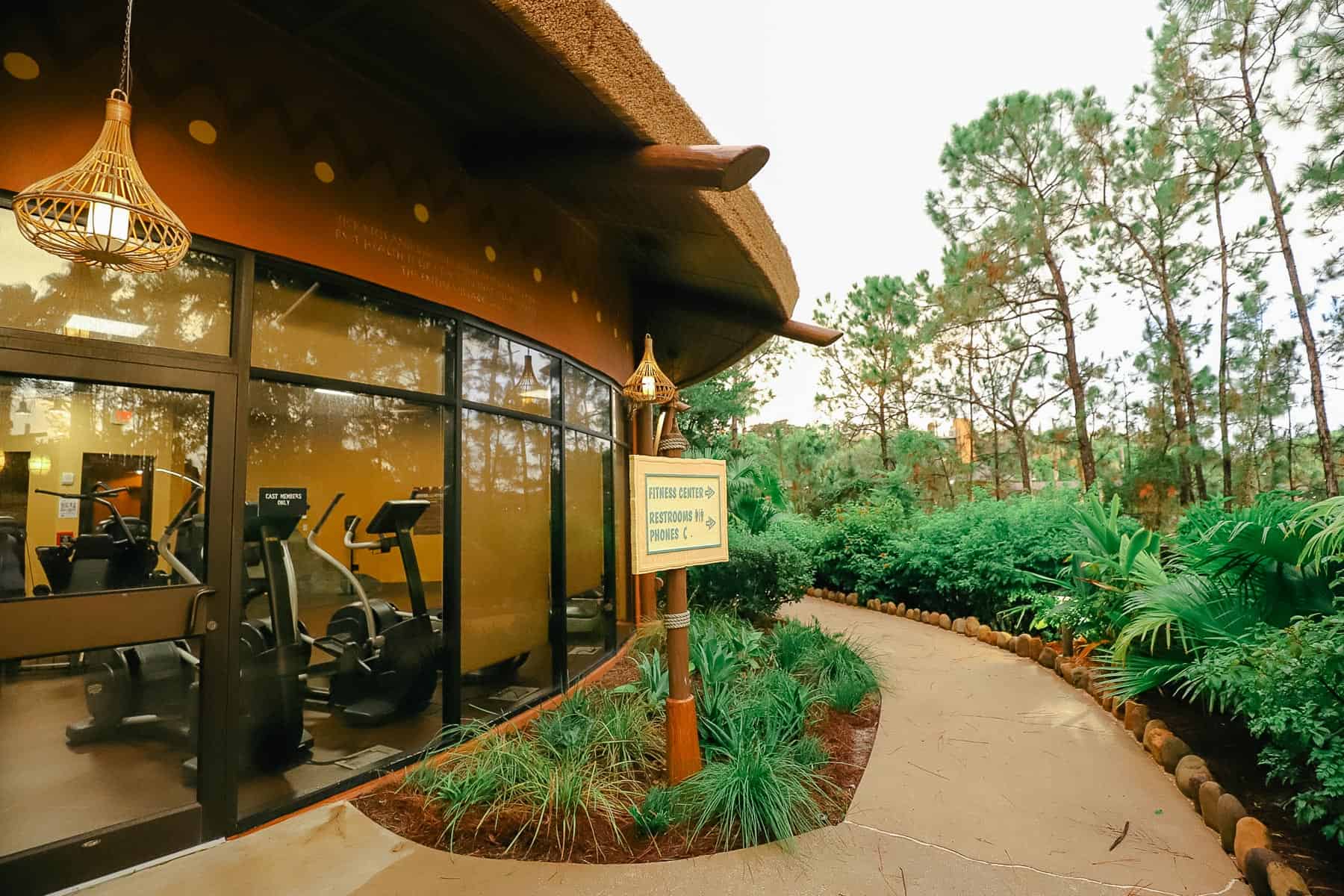 Poolside Bar at Kidani Village
Lastly, I wanted to mention the poolside bar and other recreational activities near the pool. The Maji Pool Bar sits toward the back of the pool area.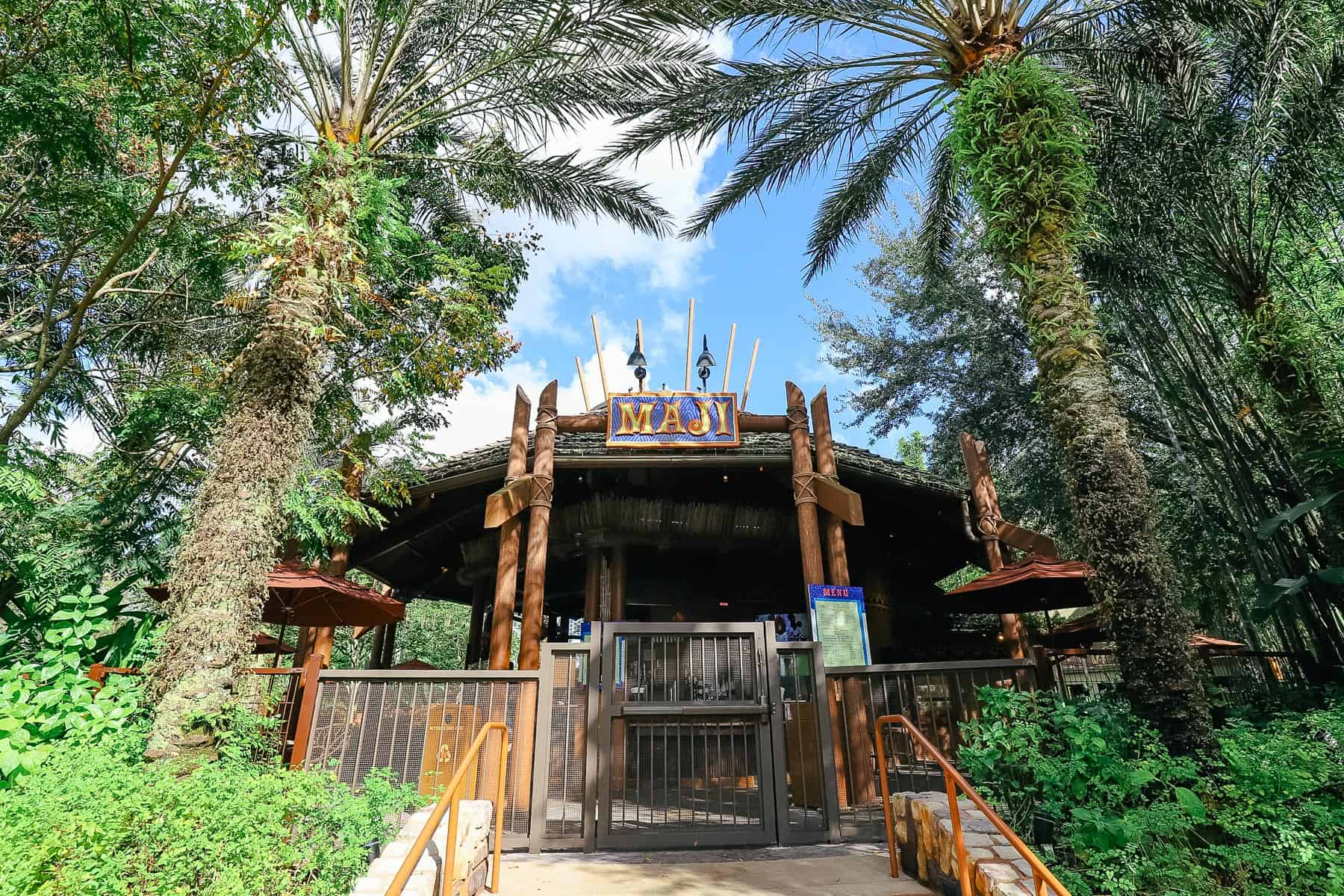 This is the primary quick-service location at the resort. However, their menu options are pretty limited. Most will want to walk or take the resort shuttle to Jambo House to pick up food at The Mara.
Related: Restaurants at Disney's Animal Kingdom Lodge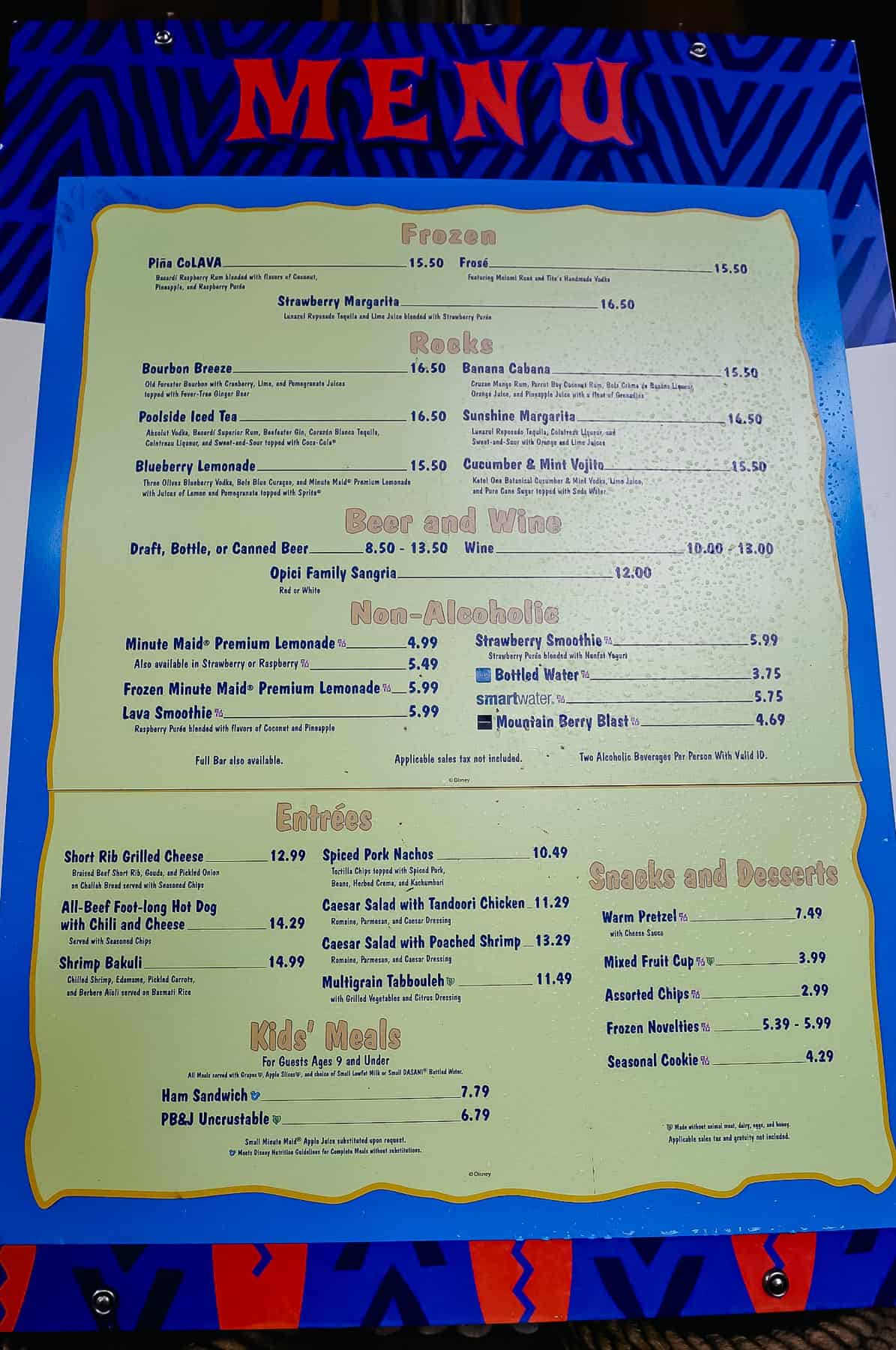 Maji Pool Bar has short rib grilled cheese, spiced pork nachos, hot dogs, a shrimp salad, Caesar salad, Mickey pretzels, fruit, and frozen novelties. Kids' meals were a choice of a ham sandwich or a peanut butter and jelly Uncrustable.
Preview the Maji Pool Bar Menu
If you purchase a Rapid Fill Mug, you can refill it at this location. The beverage station sits to the far right of the pool bar.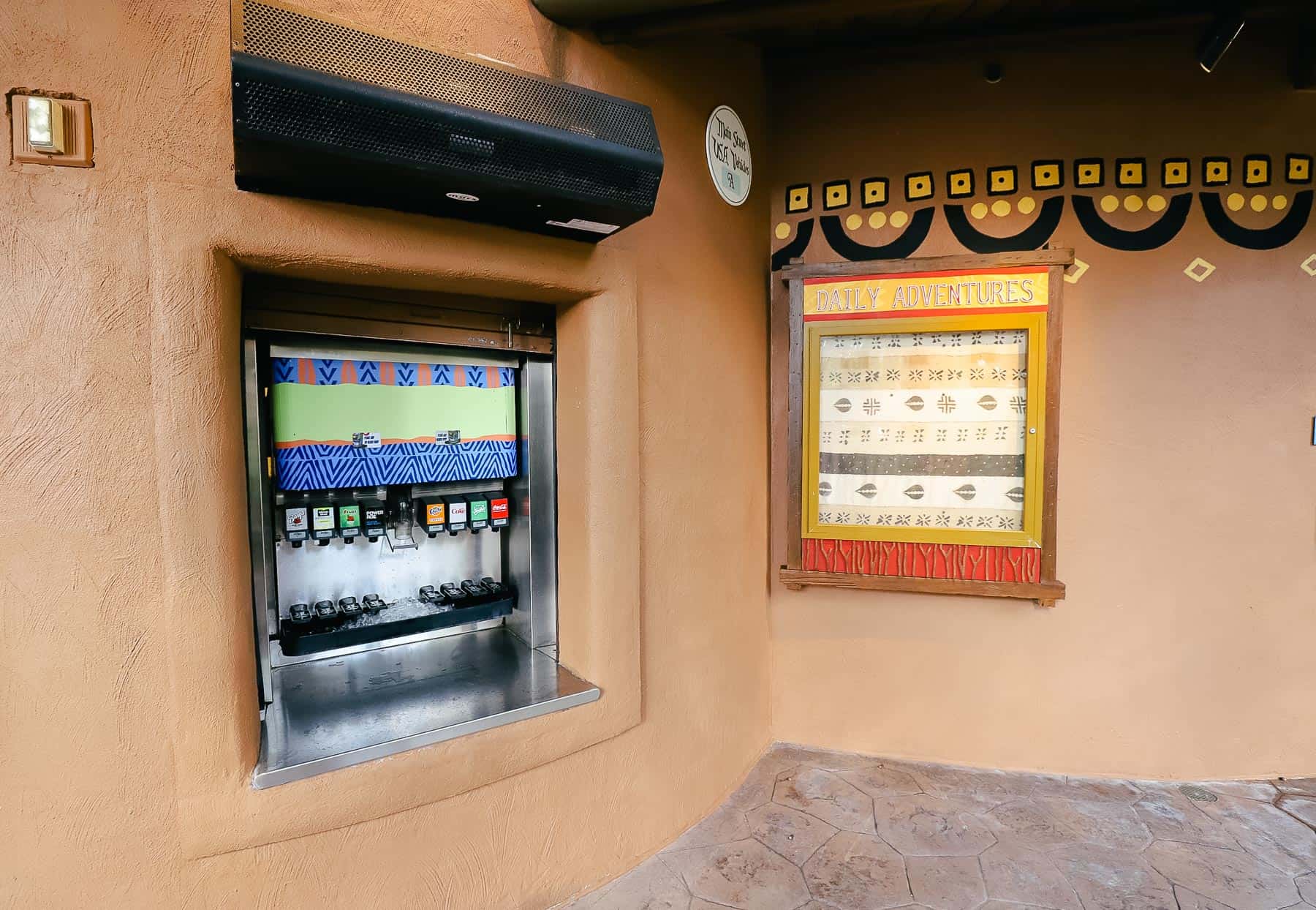 A few seats are available at the wrap-around bar. However, plenty of tables with chairs sit around the outskirts, offering a little more privacy.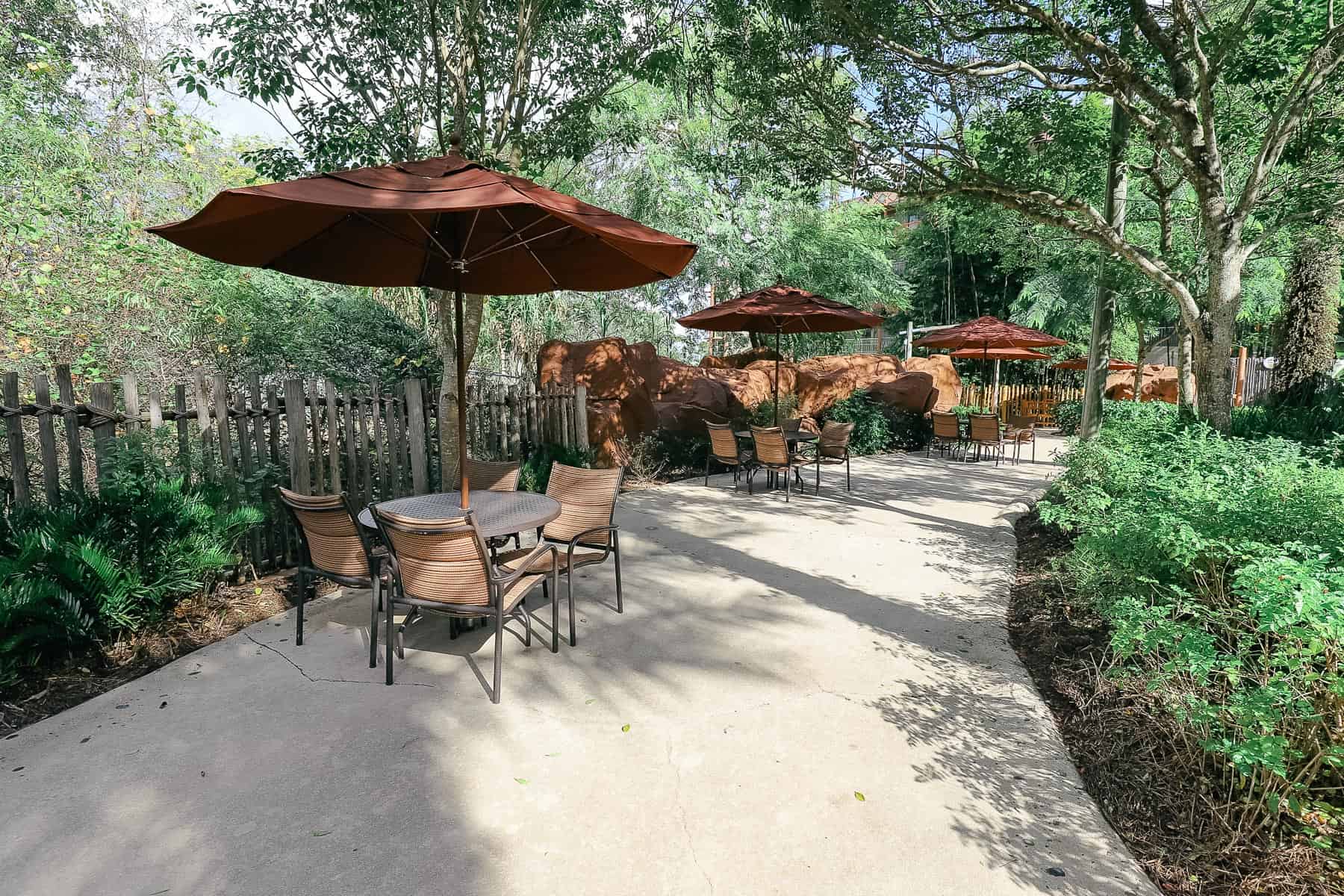 Several recreational activities are available near the pool. We try to post the Disney Resort recreation calendars each month when possible.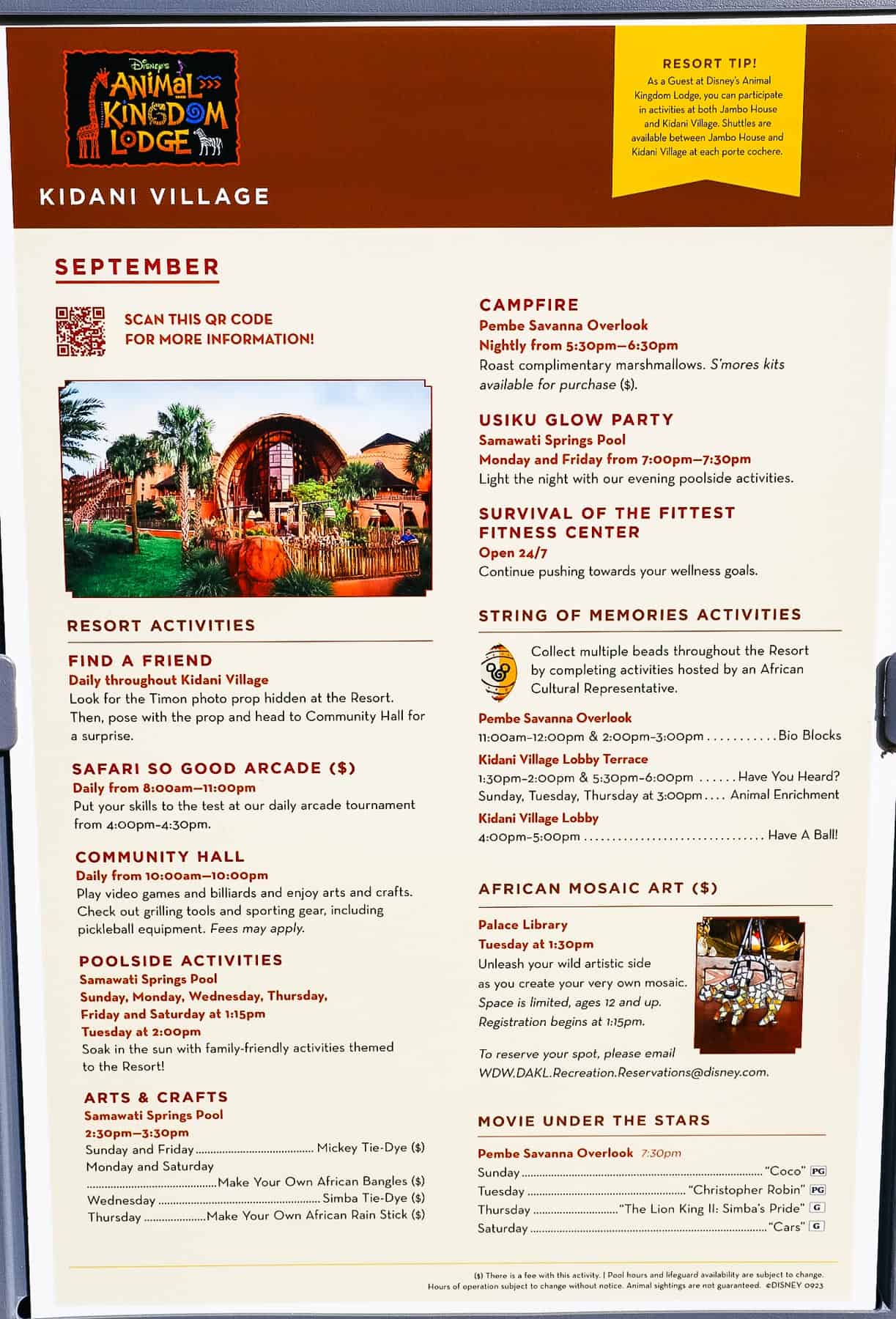 Each evening, a campfire is available at the Pembe Savanna Overlook. Guests can roast complimentary marshmallows or purchase a S'mores kit.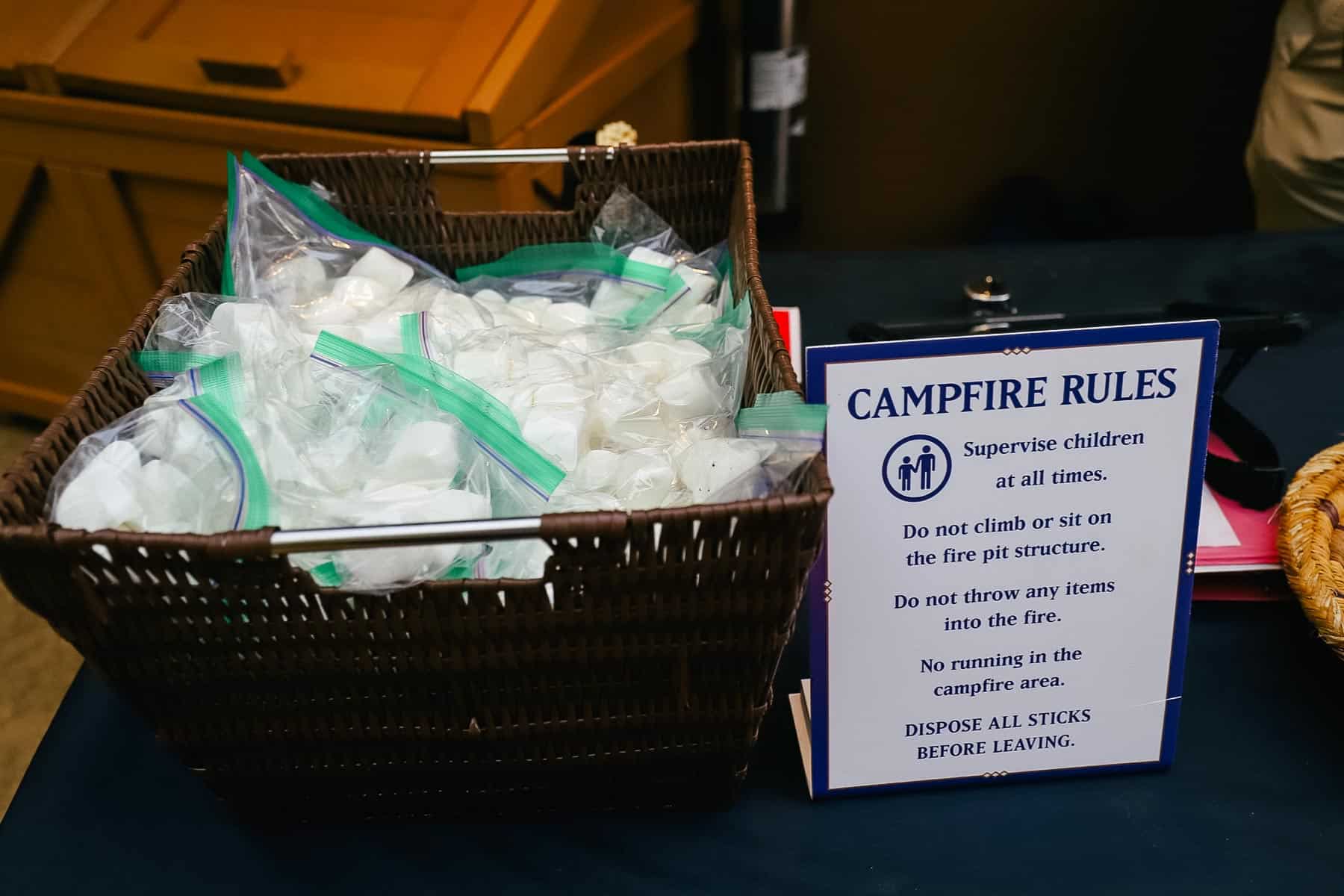 They make for the perfect poolside treat! I'll take two–burnt to a crisp!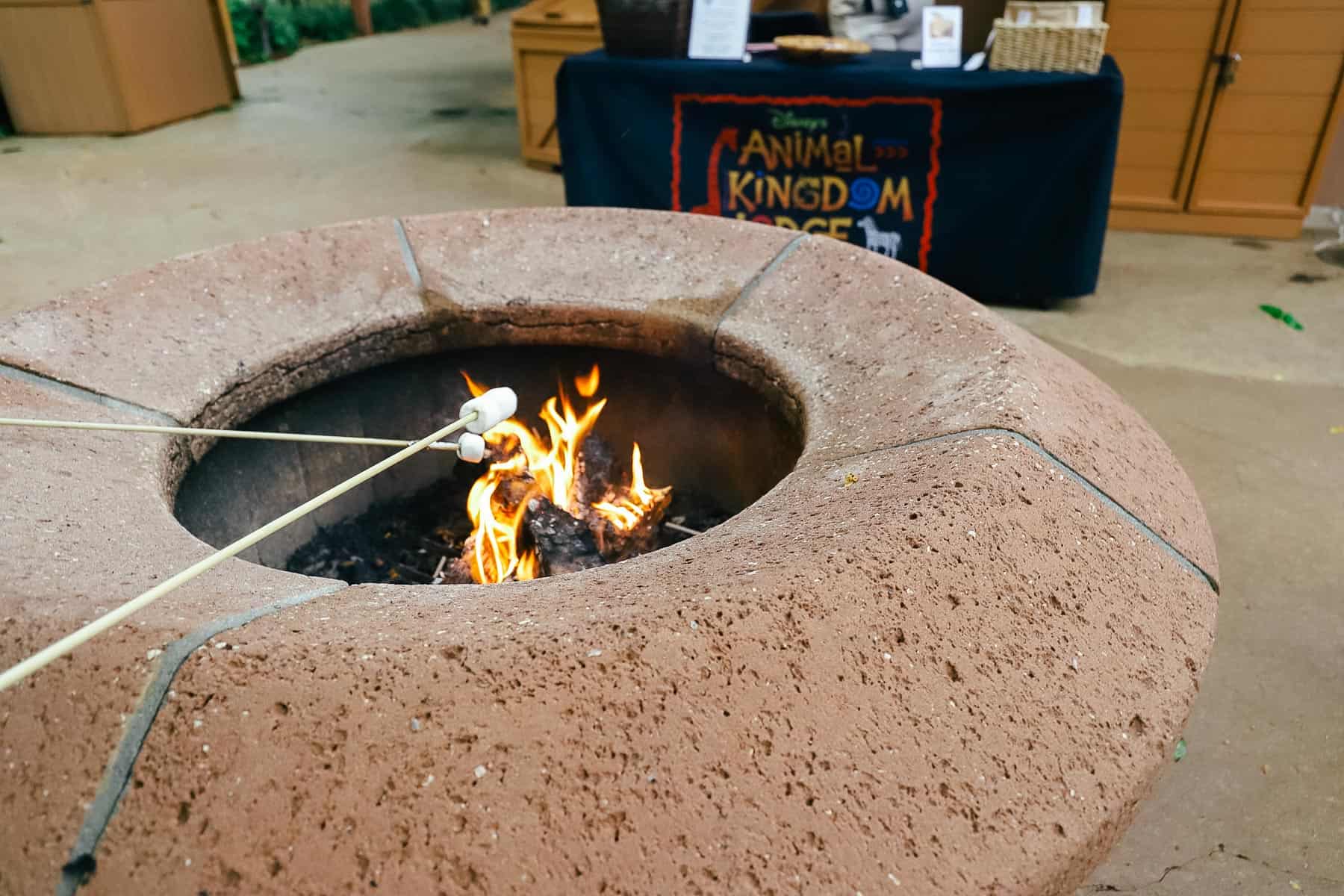 Final Thoughts
Hopefully, this article provided a comprehensive overview of the Samawati Springs Pool at Kidani Village. Even with all the photos, I feel I hardly did the space justice.
Overall, the pool at Kidani Village is a step above many others. We give it high marks for the child-friendly spaces at the pool and the expansive water play area.
For more information about the resort, you might enjoy our resort guide:
Or you might enjoy the following:
In the Comments
What do you think about the pool at Kidani Village? Did you know this area existed?
Planning a Walt Disney World or other Disney Destination vacation?
Our friends and travel partner, Firefly Travels, excels at doing Disney differently. You can fill out a plan your trip form on their website, and someone will reach out shortly to discuss the specifics.