ABC Commissary at Hollywood Studios (A Much Improved Counter Service)
ABC Commissary is a classic counter service dining location at Disney's Hollywood Studios. The restaurant is located down the walkway that sits to the immediate left of The Chinese Theater.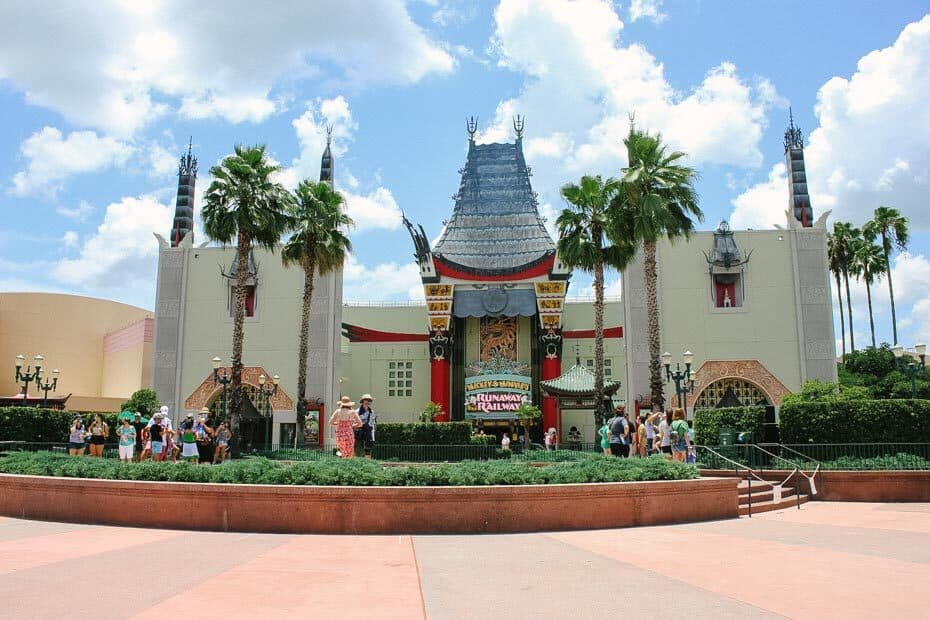 Since I've eaten with someone at ABC Commissary many, many times, I was hesitant to try lunch here. Formerly, this counter-service restaurant had a reputation for providing less than mediocre theme park food.
However, it was our go-to location at Hollywood Studios for ordering allergy-friendly chicken fingers. Hence, the reason I've "eaten with someone" here so many times. Usually, I would pick up a meal somewhere else and sit with my son while he ate here.
Thankfully, things have improved at ABC Commissary over the last year. That's because menu items have changed. In fact, a quick browse over the menu at ABC Commissary these days puts it in the running for places most guests will consider eating. The menu is available here on Disney's site.
On this day, we hadn't planned to have lunch in the park. But the weather had been unpredictable, and we needed an escape from the impending rain. The Commissary was our closest choice, and we were all a little curious to see if things had improved.
For this review, I'm joined by several of the travel agents at Firefly Travels. The owner is a good friend of mine and had invited me to tag along.
First up, Carmela ordered the Mediterranean salad. The menu describes this item as Mixed Greens with Tomatoes, Cucumber, Pepperoncini, Kalamata Olives, and Feta tossed in a Mediterranean Vinaigrette served with Hummus and Grilled Flatbread.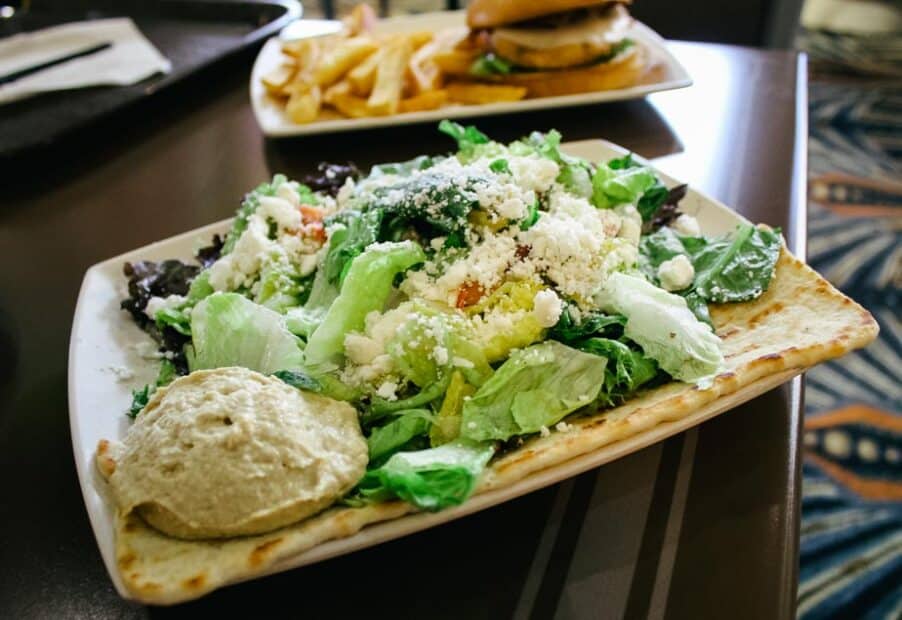 This was a colossal salad that came in at less than $10 with a substantial serving of hummus. Can you see that flatbread underneath?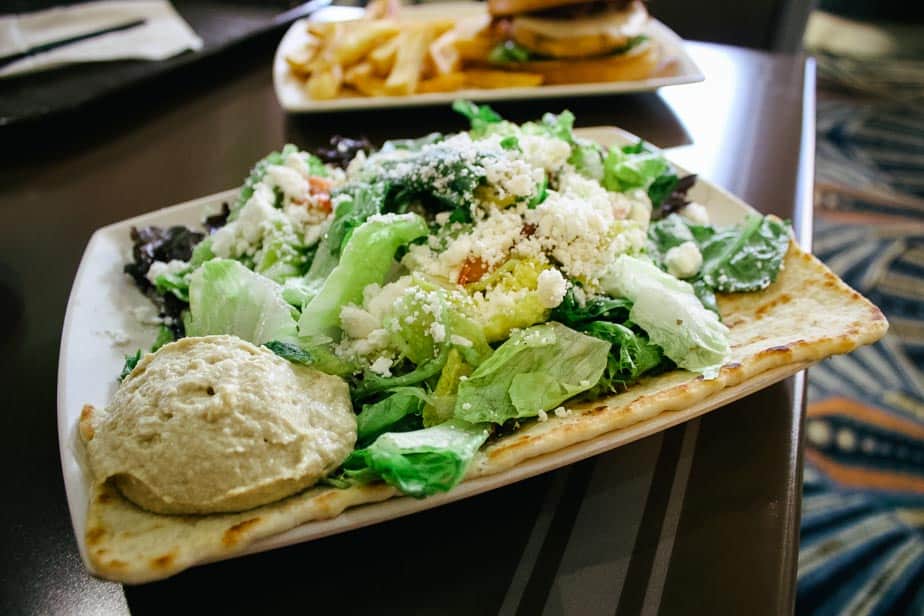 Carmela said the salad was tasty and filling. She mentioned that it wasn't anything out of the ordinary as far as salads go, but she would happily order it again. Additionally, there is an option to add chicken for a small upcharge.
Next up, Stacy ordered the Buffalo Chicken Grilled Cheese Sandwich. The menu describes this item as Grilled Sourdough toasted with Buffalo Chicken, Monterey, Provolone, Cheddar, and Cream Cheese served with a side of Buffalo Sauce and your choice of side.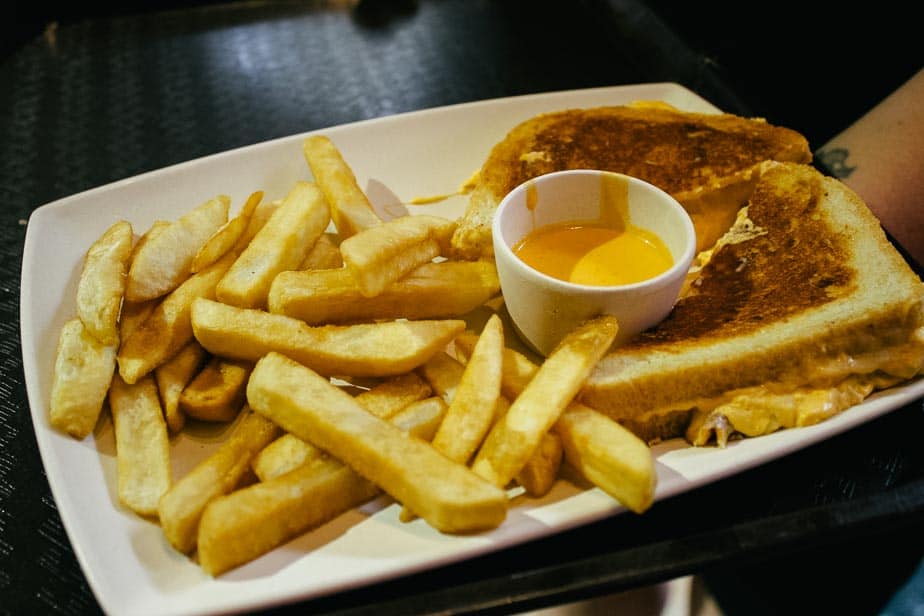 I think we all envied this one a little bit. The sandwich was oozing with cheese and had a delicious Buffalo sauce that came on the side. Pricing wasn't bad either at only $10.99.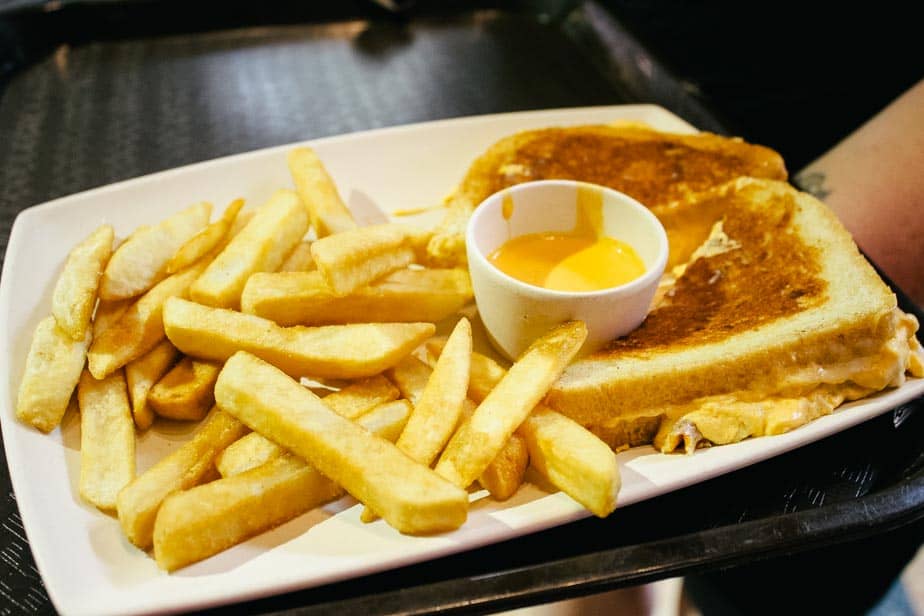 I would order this up-leveled grilled cheese on a return visit.
Kristen and Tammy decided to split the Chicken Club Sandwich. Per the menu, Marinated Chicken, Bacon, Provolone, Avocado Ranch, Lettuce, and Tomato served on a Toasted Brioche Bun with your choice of side.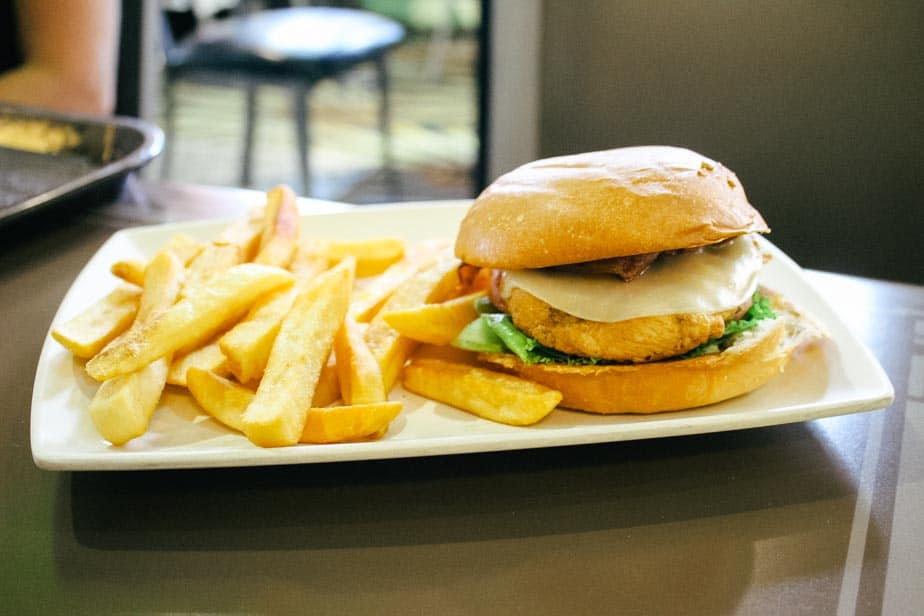 The club was another great option that they both enjoyed. Given the size of the sandwich, we all thought it was reasonable at $12.49.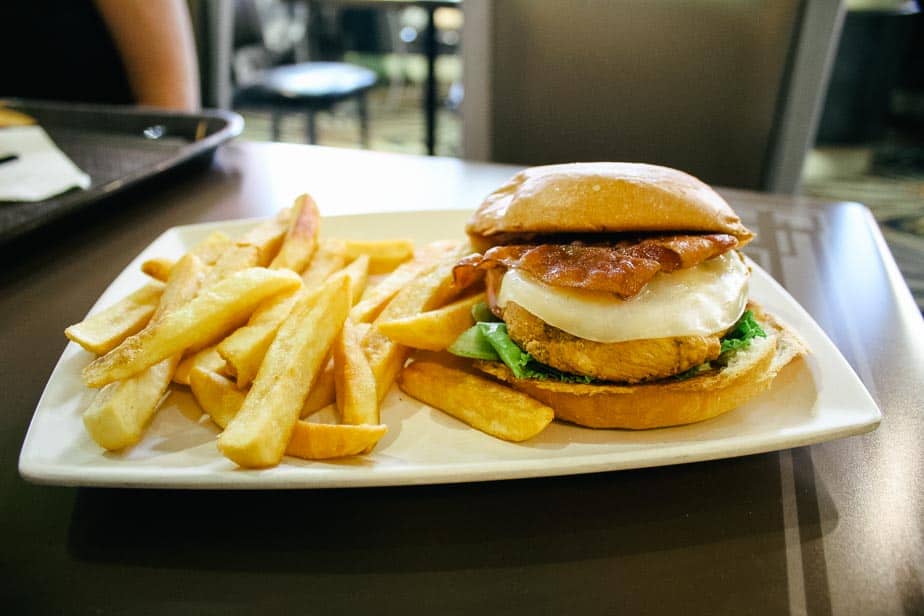 Lastly, I went with the Grilled Ham and Cheese Kids' Meal. Since I had eaten a mid-morning breakfast at Ale and Compass, I wasn't that hungry for lunch.
And if you have read any of my other reviews, you know that I love to order kids' meals at Disney World. It's one of my top tips for dining at counter service locations. One of these days, I will put together a list of all my go-to kids' meal counter service locations.
Anyway, per the menu, the grilled ham and cheese was described as Half-Sandwich with Grilled Ham and American Cheese on Sourdough served with Carrot Sticks, Apple Slices, and choice of Small Lowfat Milk or Small DASANI® Bottled Water.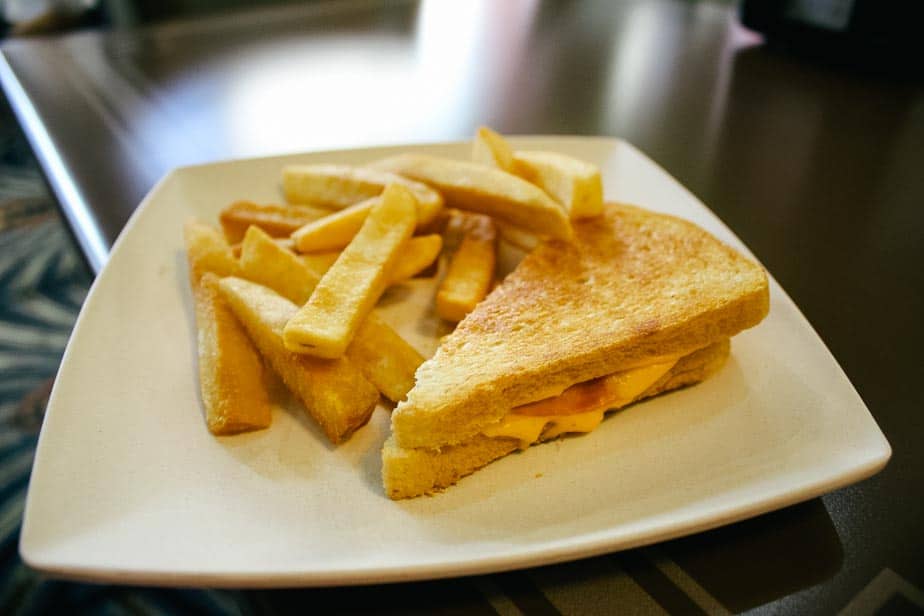 I got a package of carrot sticks and bottled water as my other two sides. However, you could order double fries instead of selecting apple slices or carrots. And fountain drinks are an option if you or your children prefer soda.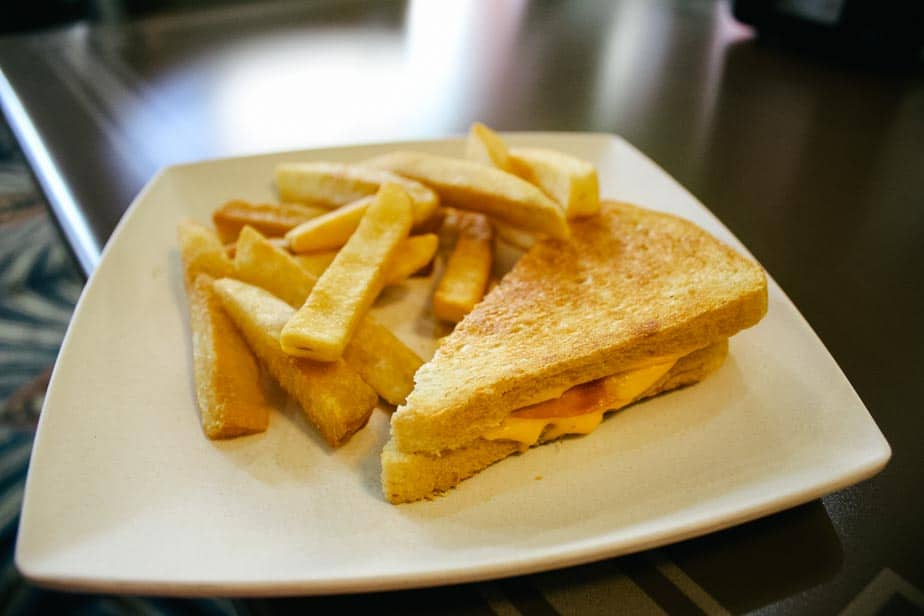 This ended up being just the right size. The fries were hot and as crips as steak fries should be. And the sandwich was, well, it was a sandwich. Overall, I was pleased with the $6.19 price point.
If you are a family of four, and everyone ordered a kids' meal, the cost would run you less than $30.00. You might think you want a much larger meal. However, if you are trying some treats around the park throughout the day and/or have a table service meal planned for later, a kids' meal might be just the right size.
There were three other kids' meal options that ran the same price. Those meals were pork tacos, a turkey sandwich, and Uncrustables.
A few of the newer regular menu items that we didn't try included:
Shrimp Tacos
Pork Carnitas Tacos
California Burger
The California Burger is a plant-based menu item. For more options, make sure to check out the list of vegan items I've tried at Disney World to date.
For other counter service options at Disney World, you might like these articles:
After enjoying this meal with friends, it's safe to say that the tide has turned at ABC Commissary. Who knows? I might even return sometime. Do you have any memories of eating here from past visits?