The Crystal Palace Breakfast Review (with Winnie the Pooh and Friends)
In this article, we visit The Crystal Palace at Disney's Magic Kingdom for a character breakfast with Winnie the Pooh and Friends. I hope you're hungry.
"'When you wake up in the morning, Pooh," said Piglet at last, "What's the first thing you say to yourself? "What's for breakfast?" said Pooh. (A.A. Milne)
Many of us can relate to that sentiment. After all, breakfast is one of the most important ways to start your day.
When it comes to a Walt Disney World vacation, there are tons of breakfast options. However, guests tend to enjoy a quick service breakfast most mornings so they can hit the parks bright and early.
If that sounds like your group, I don't blame you. But if you're interested in characters, specifically Winnie the Pooh and Friends, might I suggest breakfast inside a park on one of those mornings?
This review of breakfast at The Crystal Palace will detail the breakfast buffet and characters you can meet. Additionally, we'll discuss pricing for this character meal and whether or not it's worth the expense.
So come with me to one of the prettiest restaurants on Walt Disney World property, The Crystal Palace.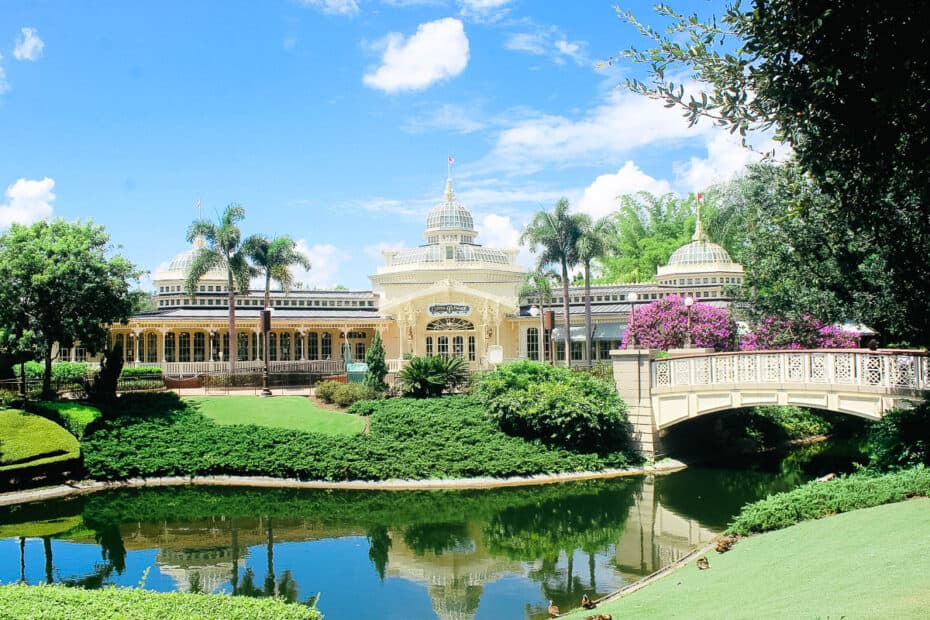 Crystal Palace Breakfast Review
The Crystal Palace is located inside Magic Kingdom Park. You'll find the restaurant off Main Street, U.S.A. before you cross the bridge near Adventureland.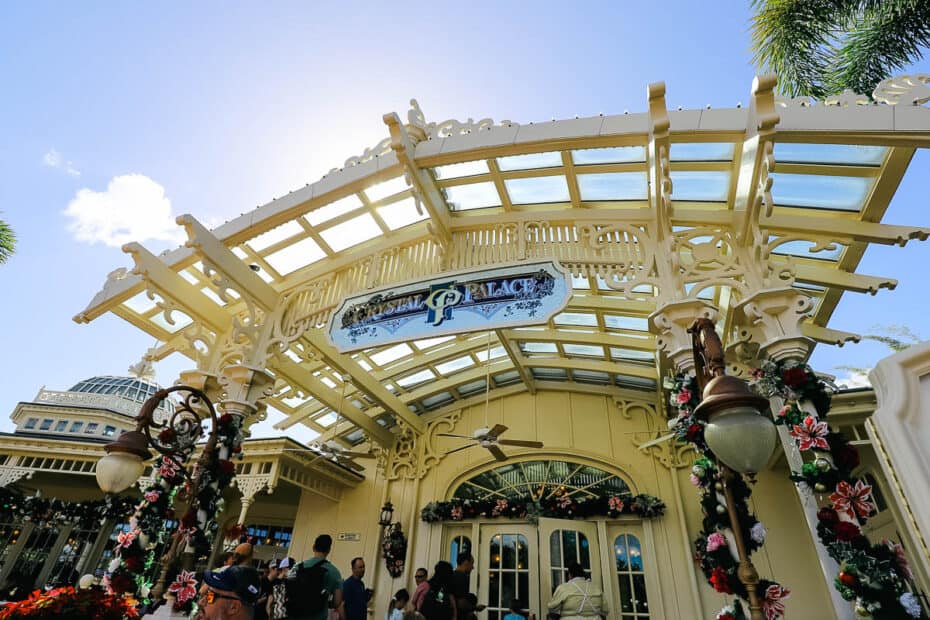 The Crystal Palace is designed to resemble a greenhouse from the Victorian era. When you enter the restaurant, you're greeted by a grand rotunda with a glass ceiling allowing light to flood through.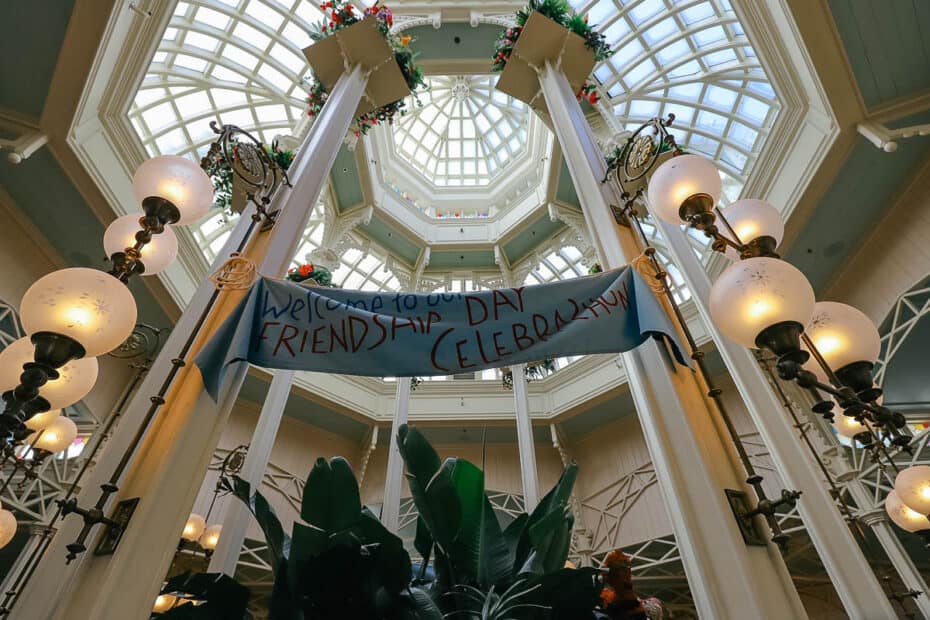 Several topiaries are mixed in the floral arrangements. On one side, we see Winnie the Pooh and Eeyore. Since this visit was during the holiday season, they were adorned with cheerful accessories.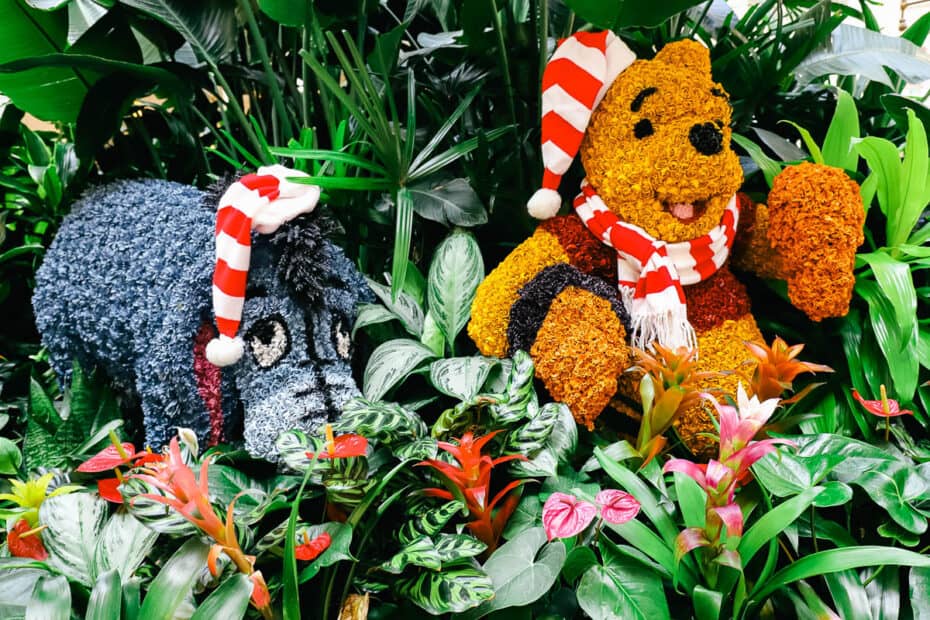 On the opposite side, we have Tigger and Piglet.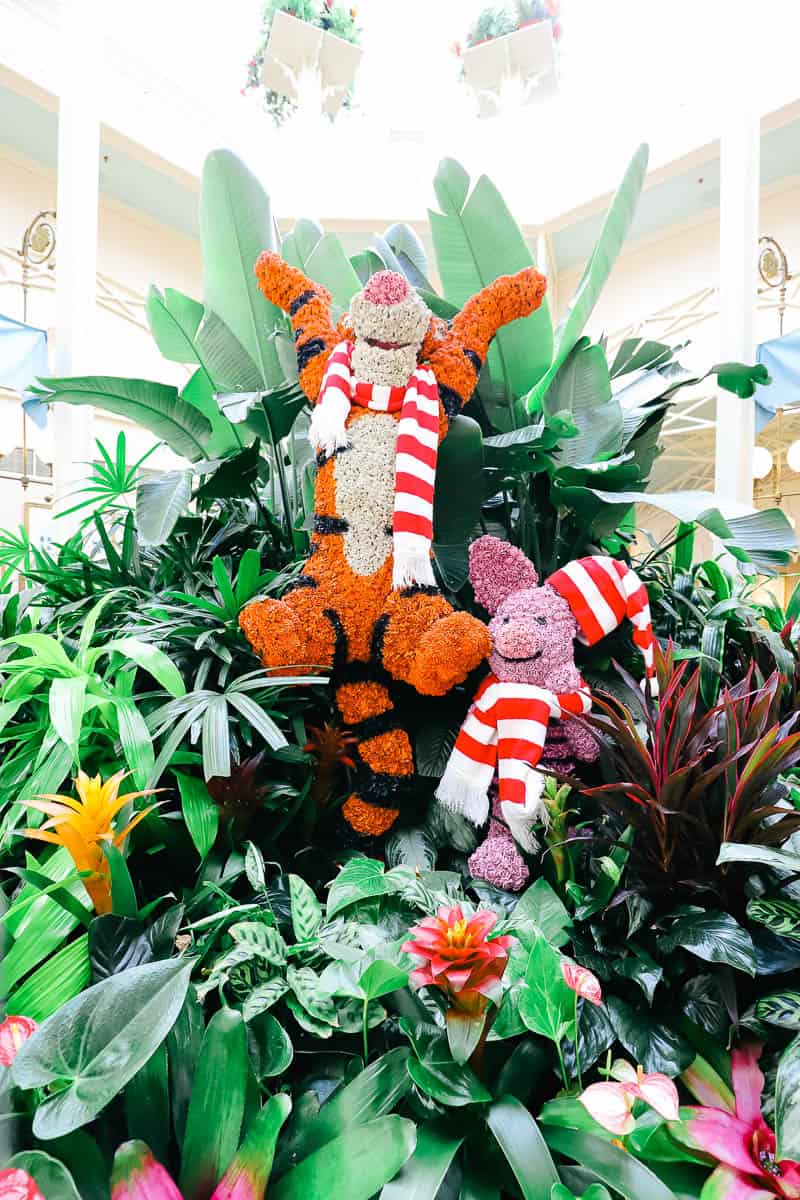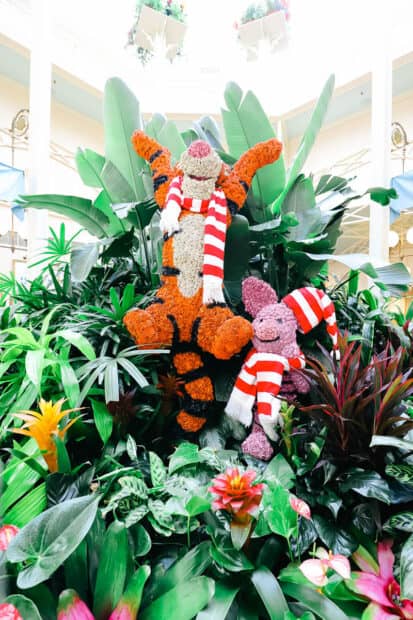 Crystal Palace has two sides that mirror each other, centered by the rotunda.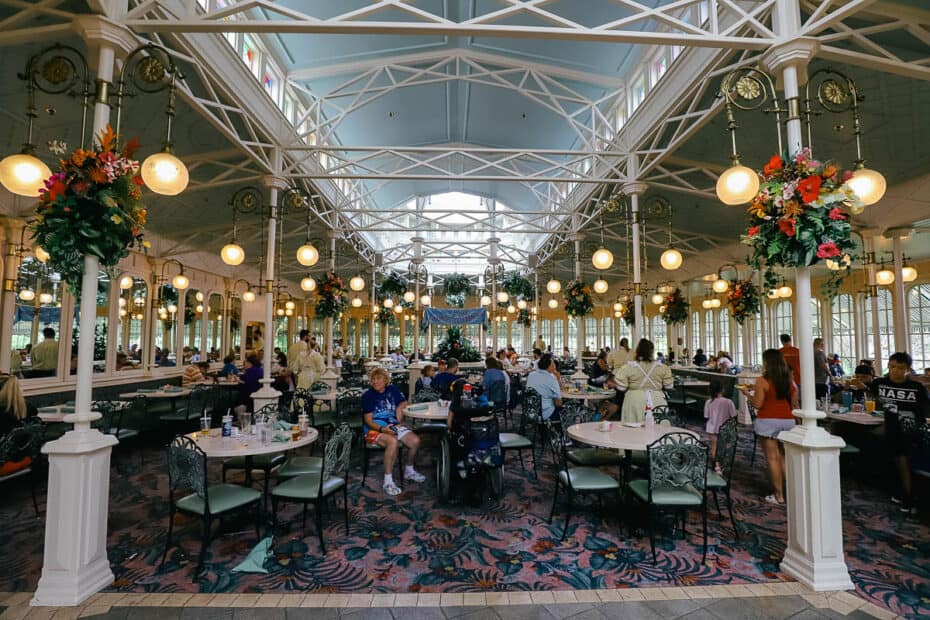 On the back side of the rotunda is where the buffet sits. There are two buffets, one for each side of the restaurant.
However, if you dine during the transition between breakfast and lunch, one side will become breakfast only, the other lunch.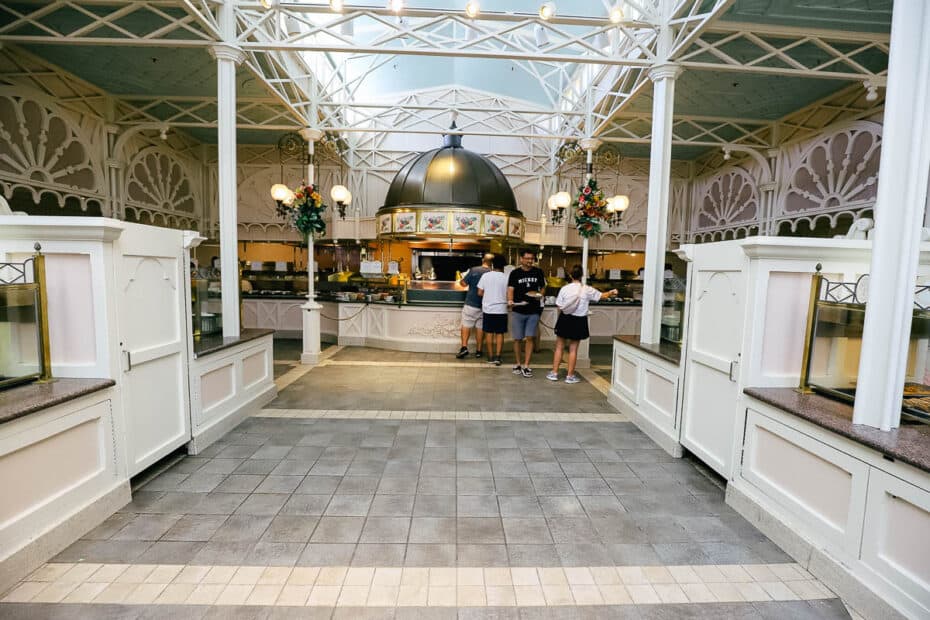 Upon arrival, I checked in on the My Disney Experience app. After waiting a few moments, I received a notification that my table was ready.
A hostess led me to the table and presented this laminated card, welcoming me to the Friendship Day Celebration.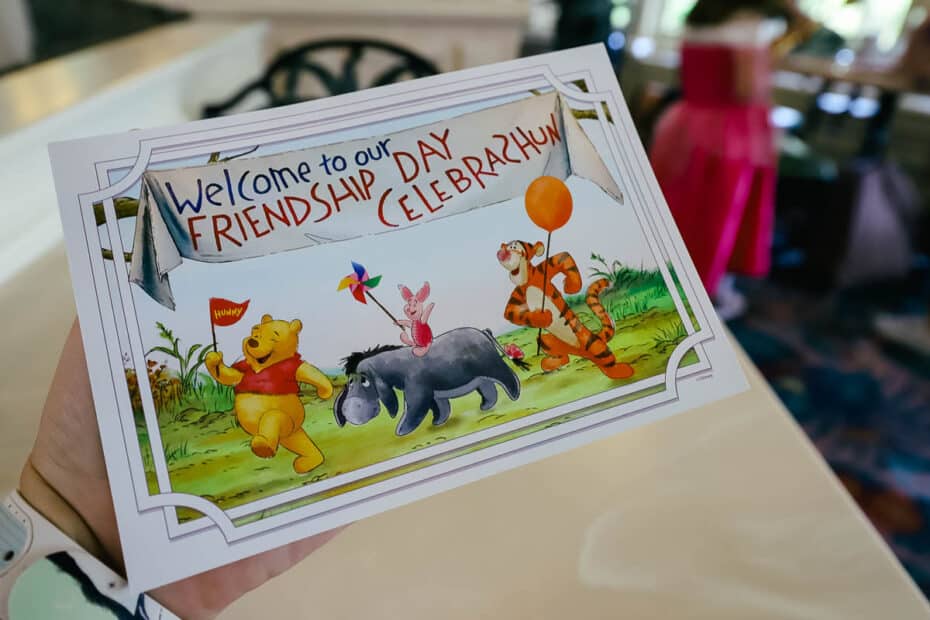 Each character's signature was listed on the opposite side of the card.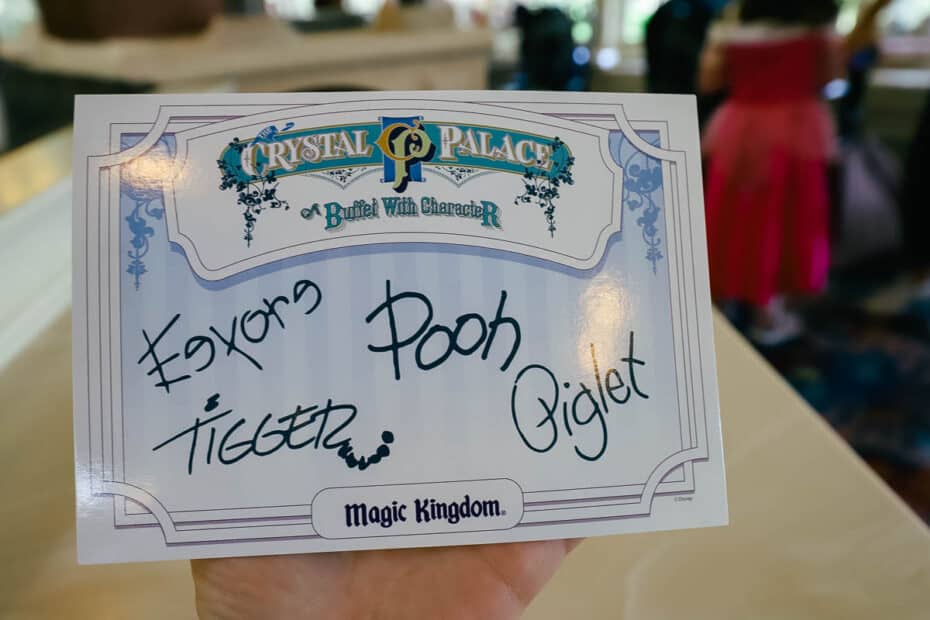 In addition to the signature card, I was given a list of available beverages for an extra cost. Soda, coffee, and tea are included in the price of the buffet.
But if you want, you can add a variety of beer, wine, or specialty cocktails. The table beside me had a bottle of champagne delivered, with an ice bucket, stand, and all.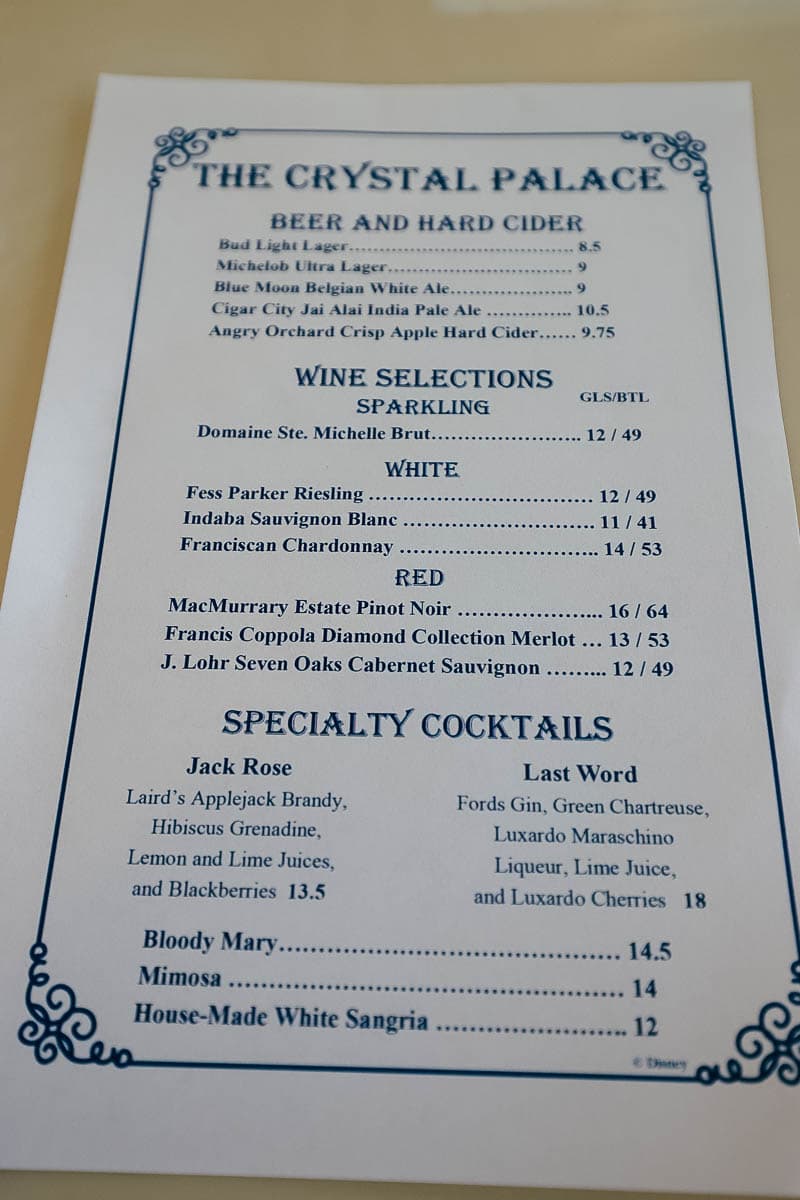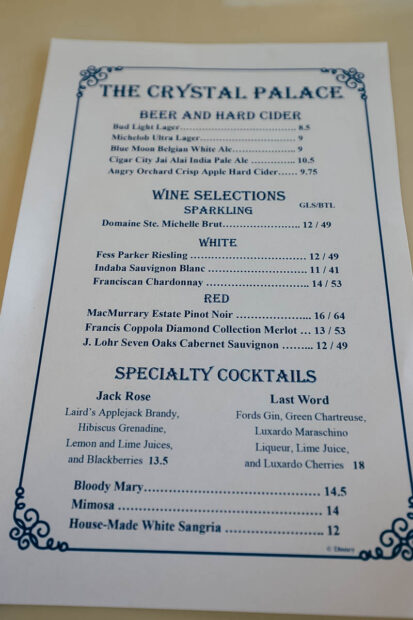 It was the last thing I expected to see at The Crystal Palace, and I found it a bit humorous considering where we were dining.
Breakfast Buffet at The Crystal Palace
When I arrived at Crystal Palace, it was on the tail end of breakfast. So one side of the buffet closed, and those breakfast items were moved over and combined with the remaining breakfast buffet.
Unfortunately, the buffet didn't look nearly as neat as in the picture below.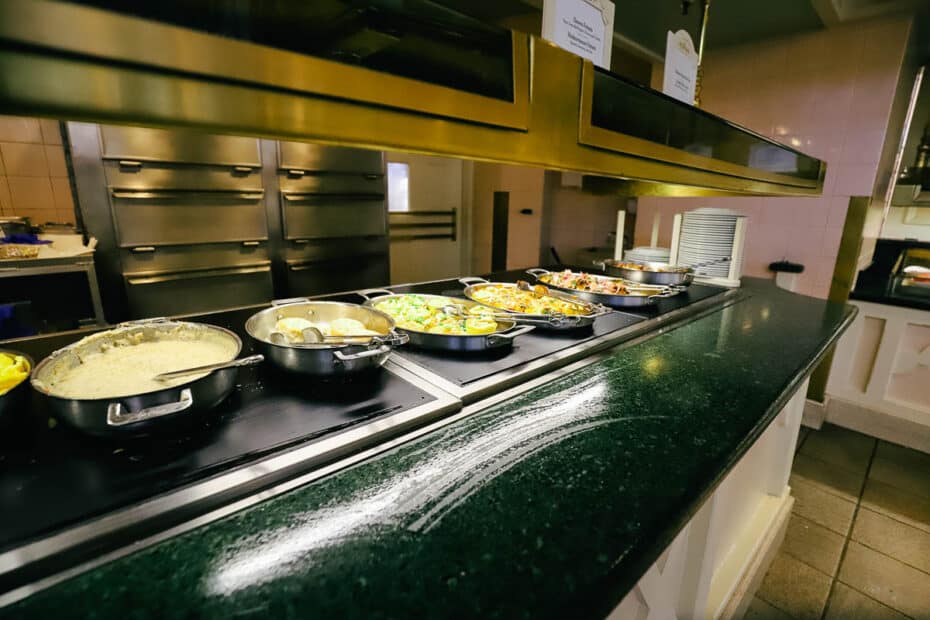 It was a bit of a disaster, more like this.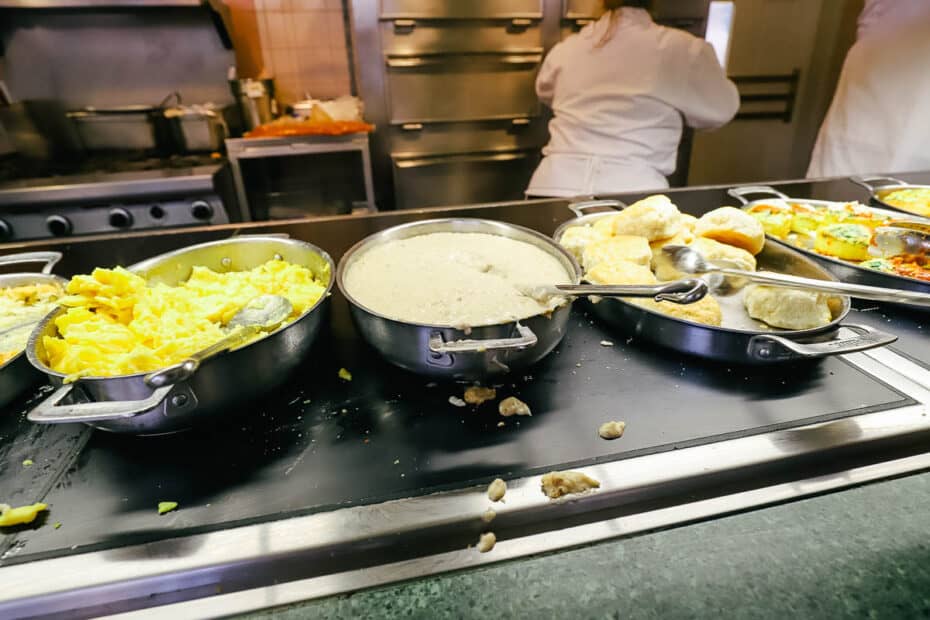 However, the buffet had been tidied when I returned for seconds.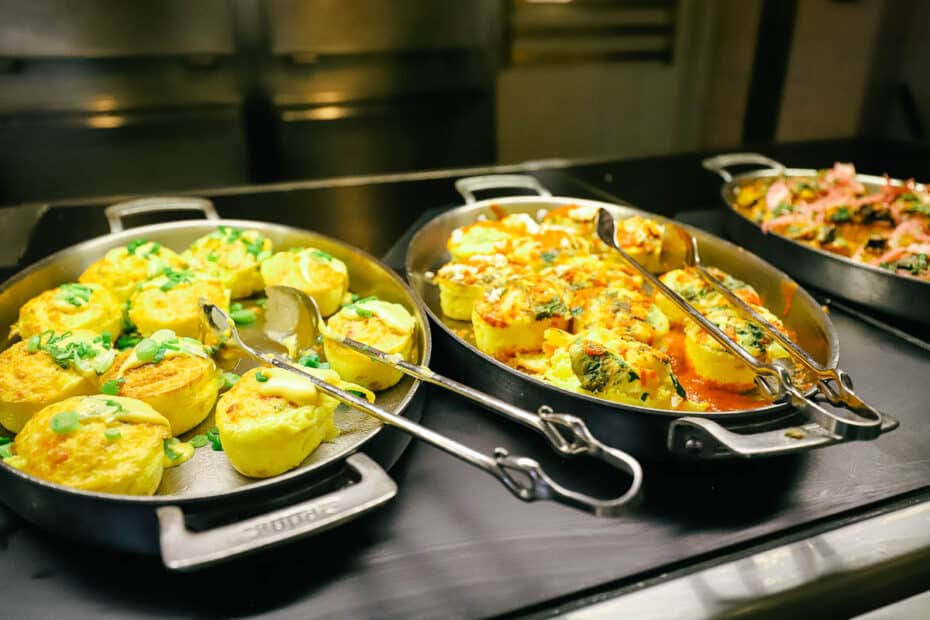 Below we have the Denver Frittata, a mix of ham, green peppers, onions, and cheddar.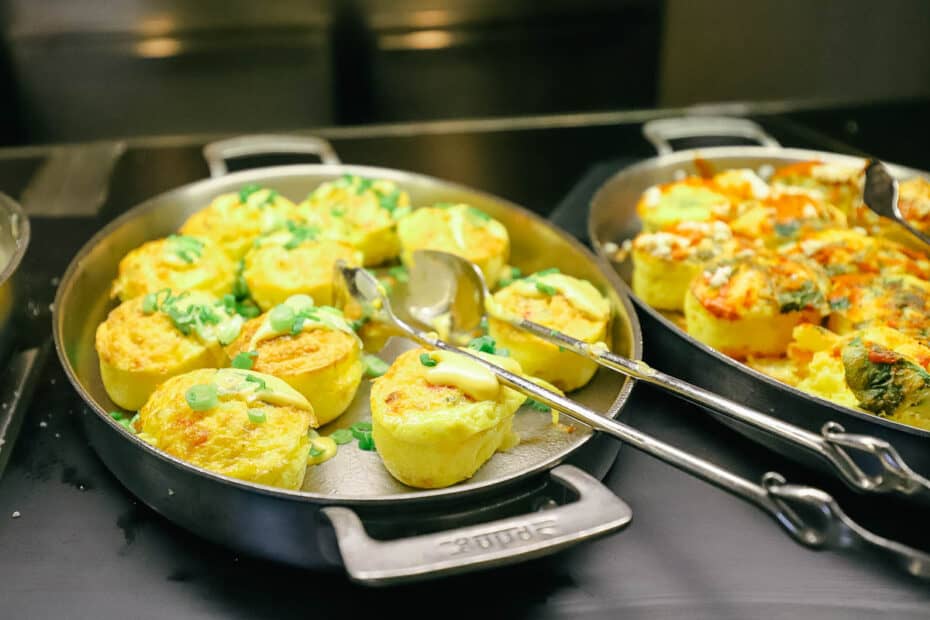 The Mediterranean Frittata includes spinach, tomatoes, and Feta cheese.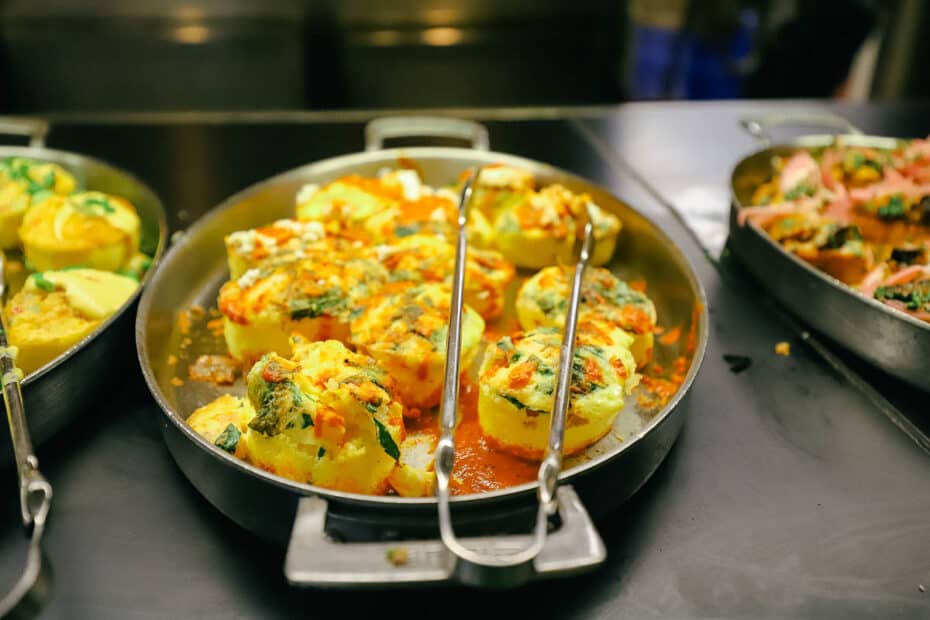 Next, we have the Keralan Tofu Curry, a plant-based item. This looked delicious to me. However, it was so spicy I couldn't eat more than a bite.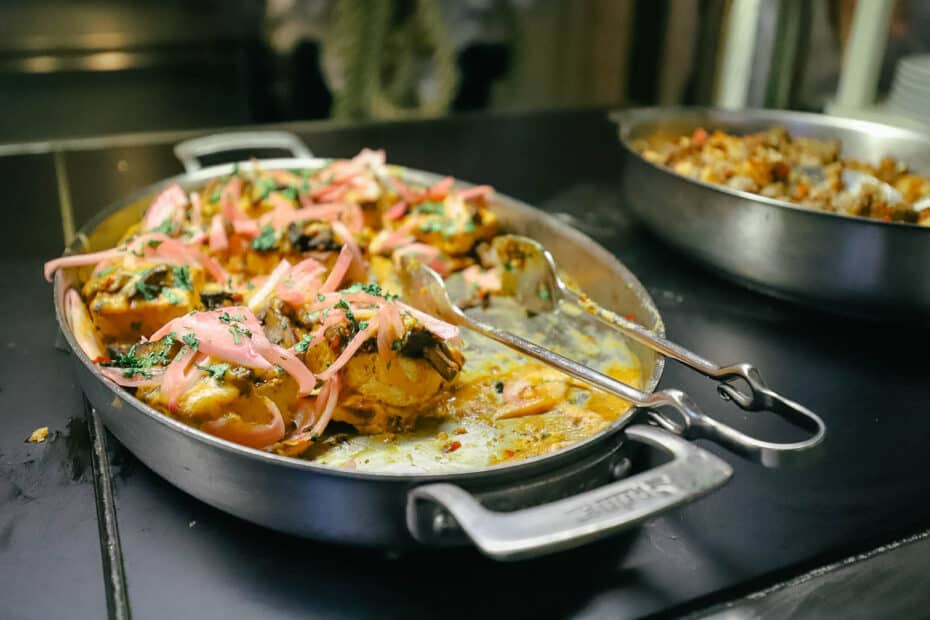 Next door to the tofu, we have a traditional roast beef hash. This was one of my favorite items on the buffet.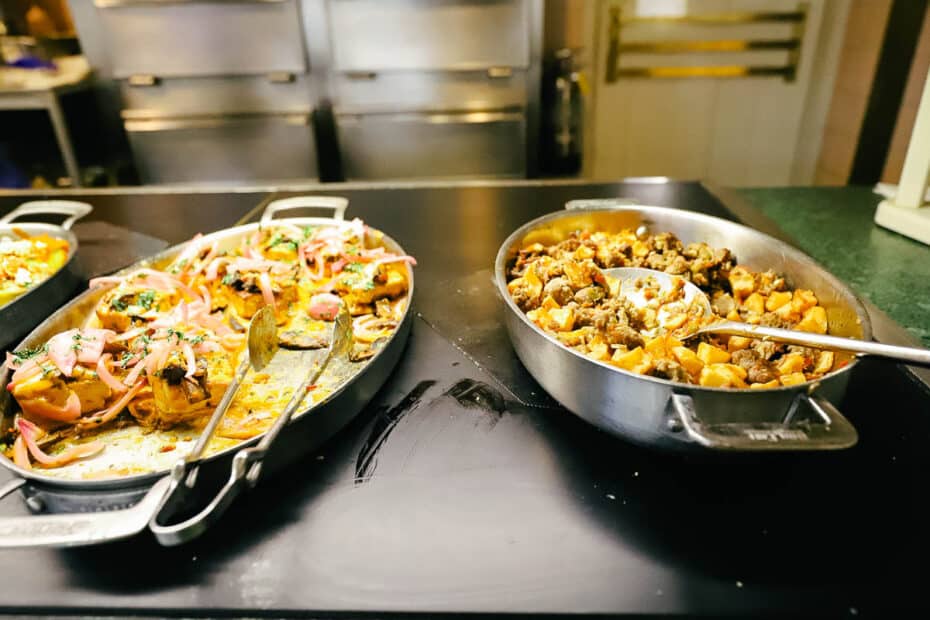 As breakfast traditionally goes, there were pork sausage links. It was disappointing not to see any chicken or turkey sausage options available.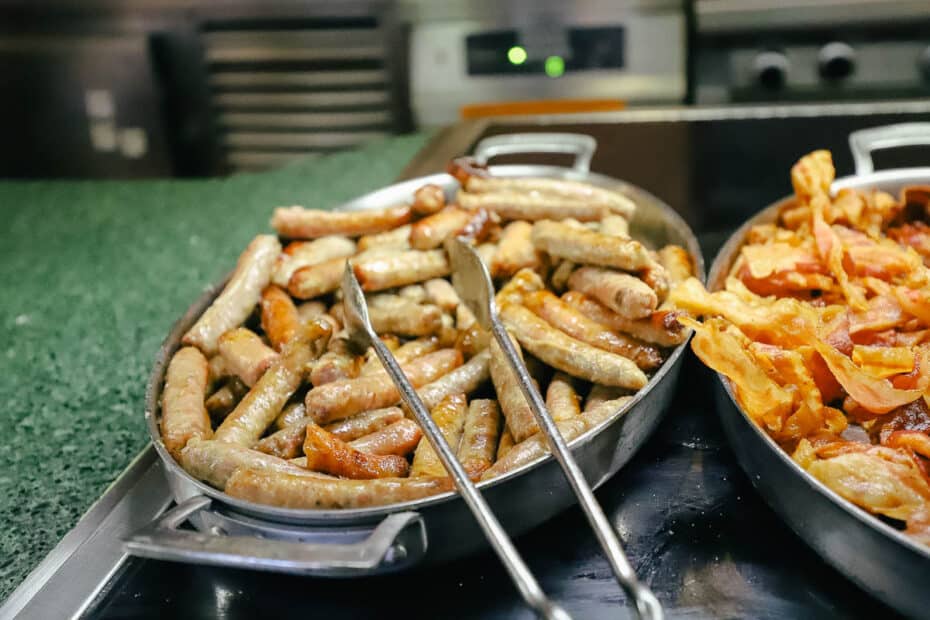 Here we have another breakfast staple, bacon.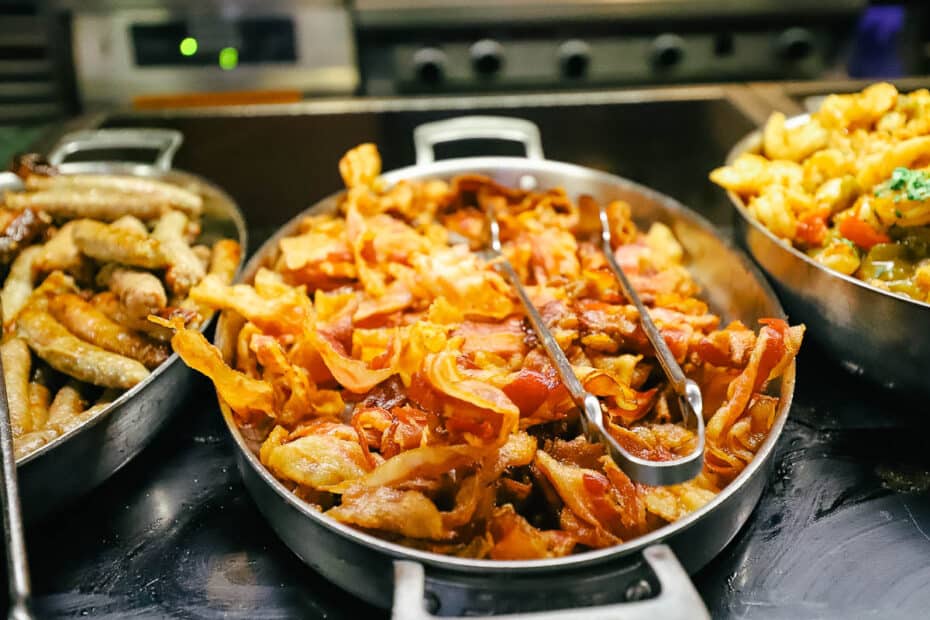 Then there was Creole Shrimp, another peppery item. I took photos of the signs above each menu item, in case you're wondering how I remembered everything.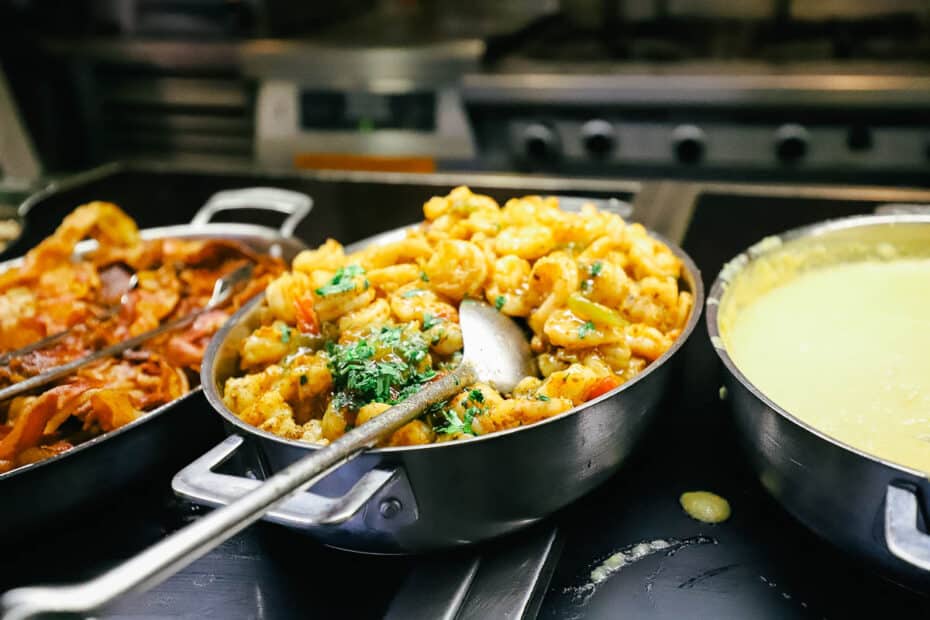 Cheddar grits were available to pair with the shrimp, or you can enjoy them alone if you prefer.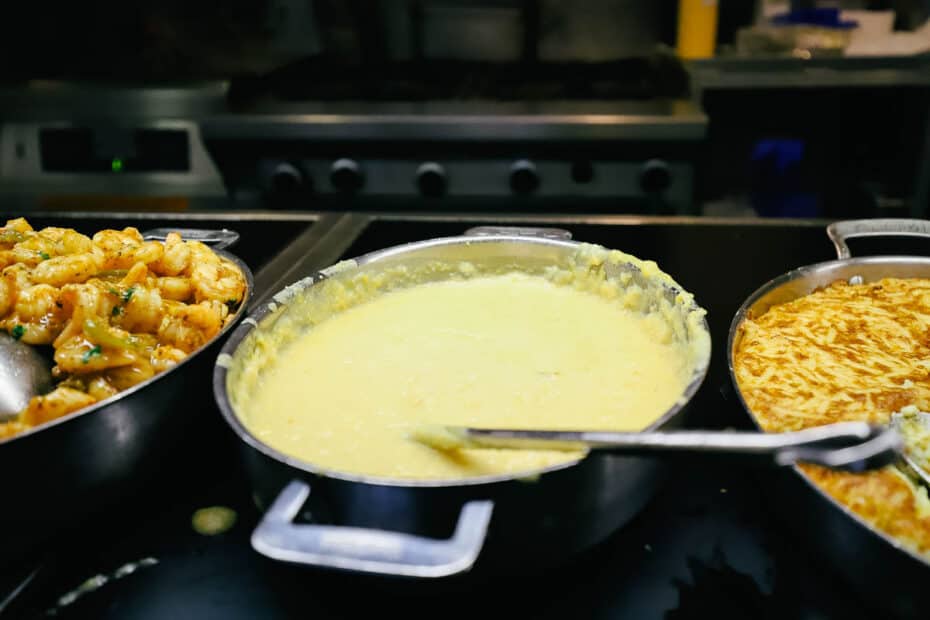 Here is a cheesy potato casserole.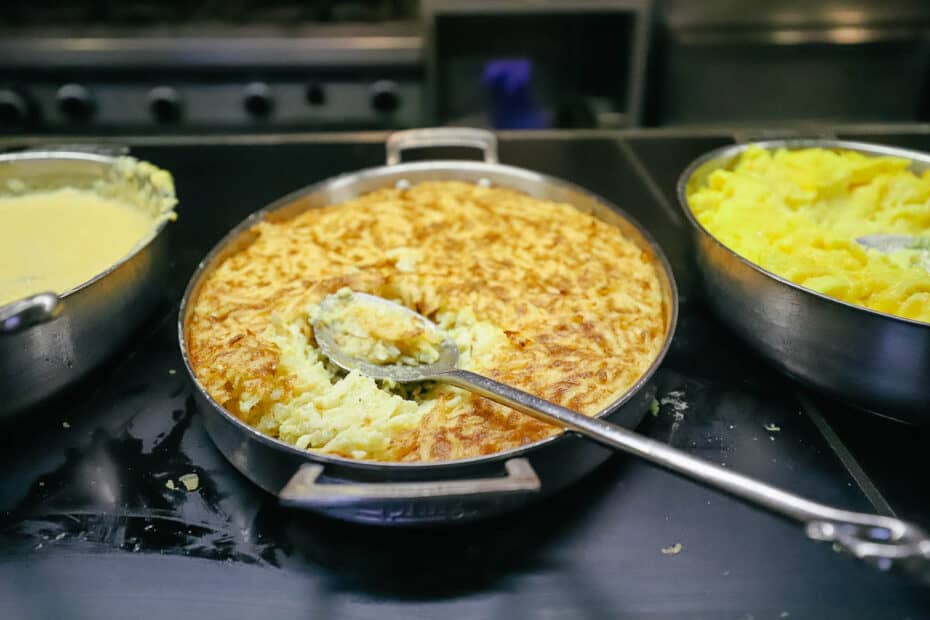 Then we have smoked salmon with accompaniments. This was one of the best smoked salmons I've ever tasted. It was so good that it left me wondering if they cured it in-house. I highly doubt it, but still.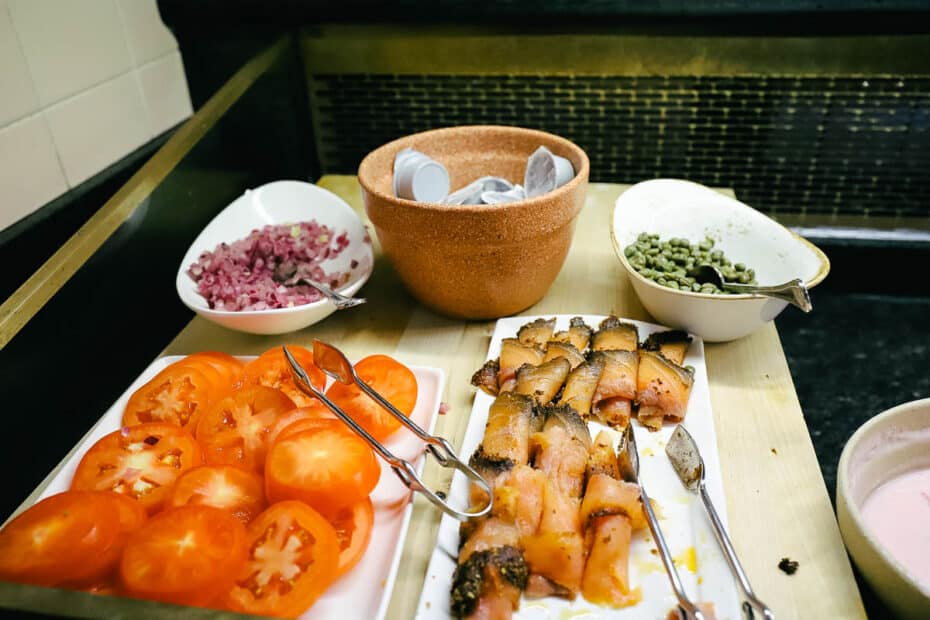 There were a few fruit and yogurt selections.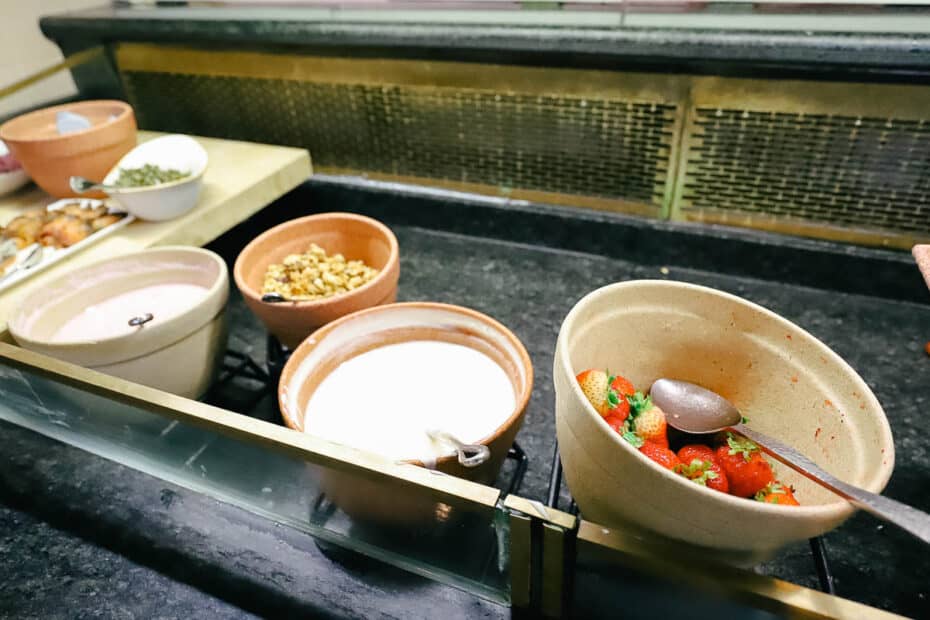 This is an autumn harvest grain salad with apple vinaigrette. I enjoyed the salad, but after tasting a few bites, I realized it had chickpeas. As much as I love them, my body has developed an intolerance to pea protein. So I am now pea protein-less, among a few other things.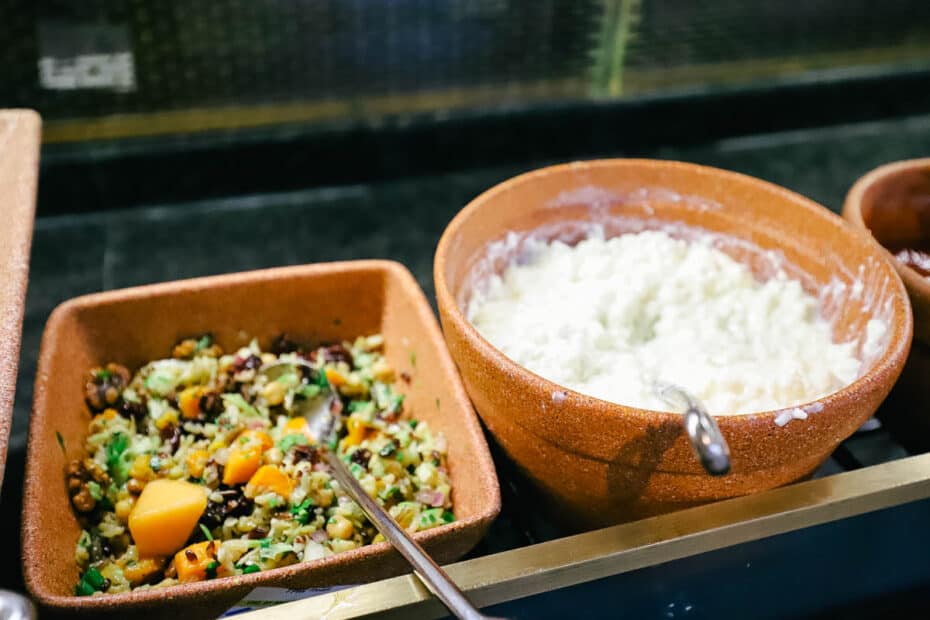 A fruit mix contained cantaloupe, honeydew melon, and grapes.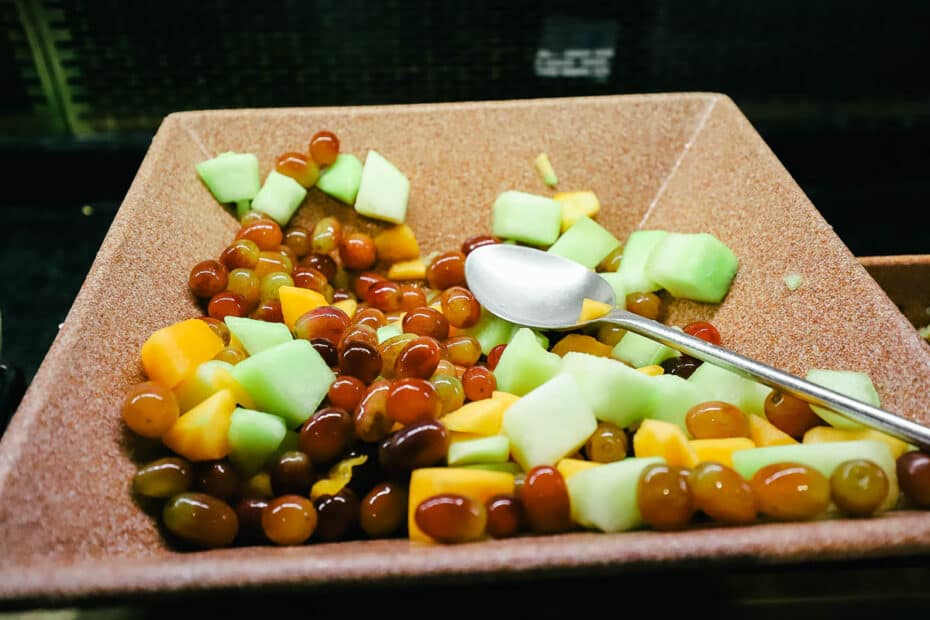 Other basic breakfast staples included oatmeal with toppings and regular grits.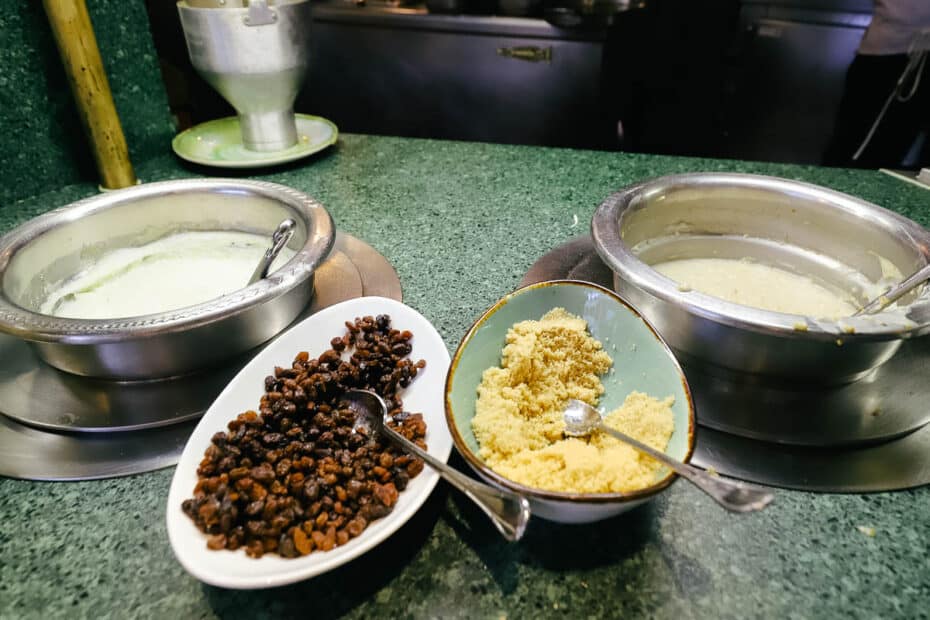 Moving on to carbohydrates, we see pancakes. There were pancakes, Mickey-shaped waffles, and French toast. Some of the pancakes had a 50th-anniversary celebration glaze.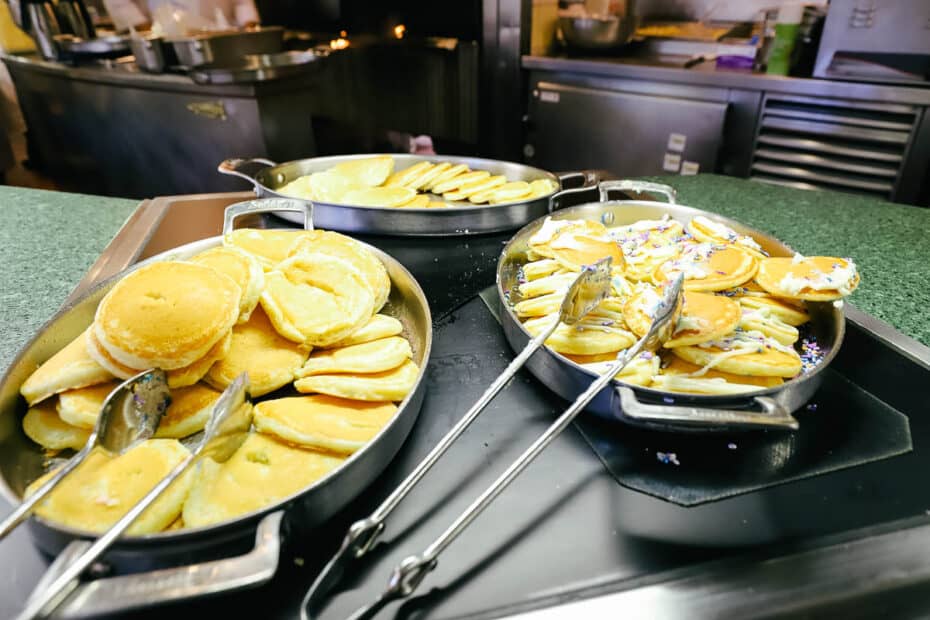 Assorted pastries and danishes were present.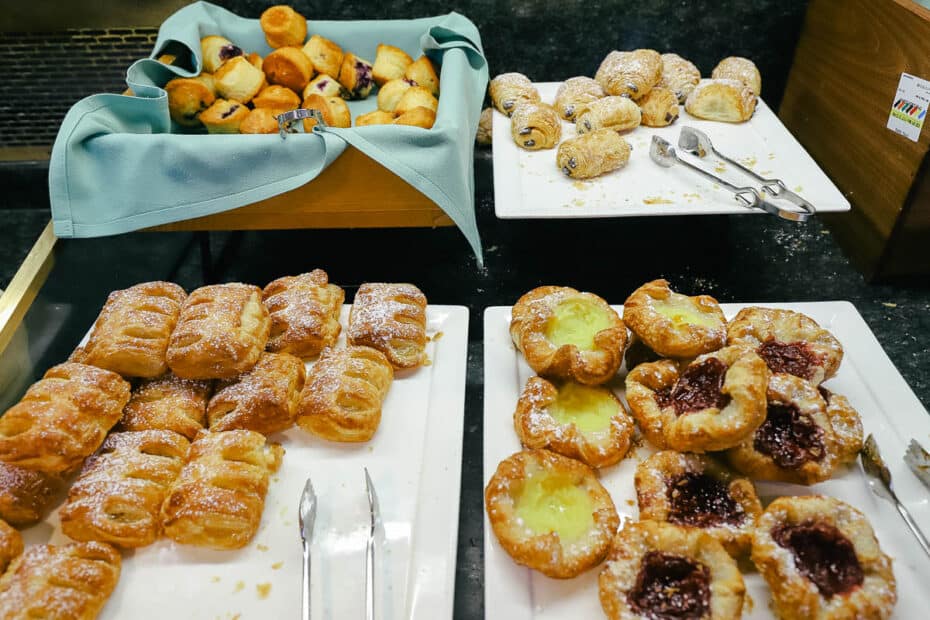 Here are those Mickey-shaped waffles, and that's puffy French toast on the far left.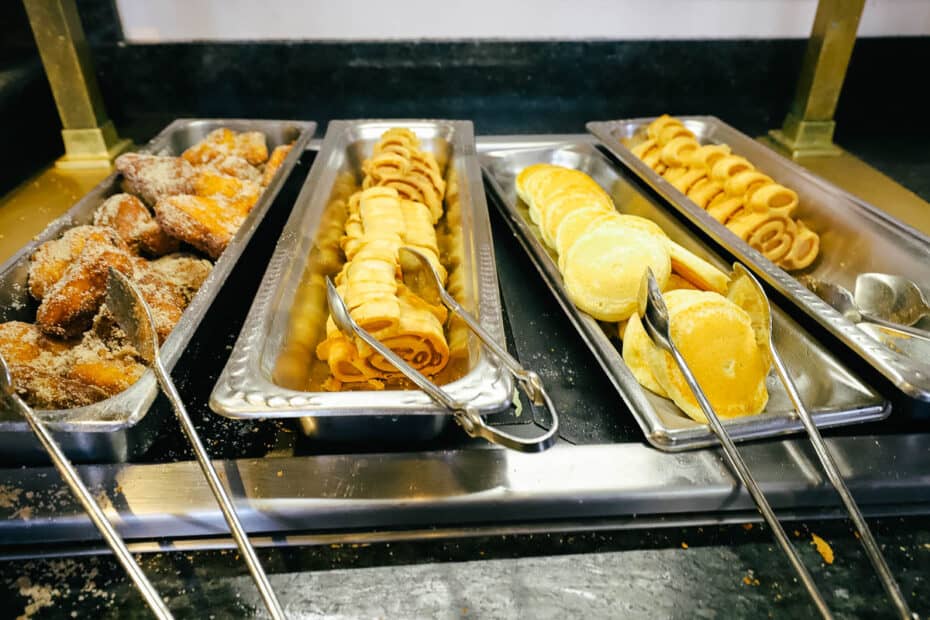 Bread selections included donuts, bagels, and toast. In addition, a toaster oven was available, along with cream cheese, various jellies, and spreads.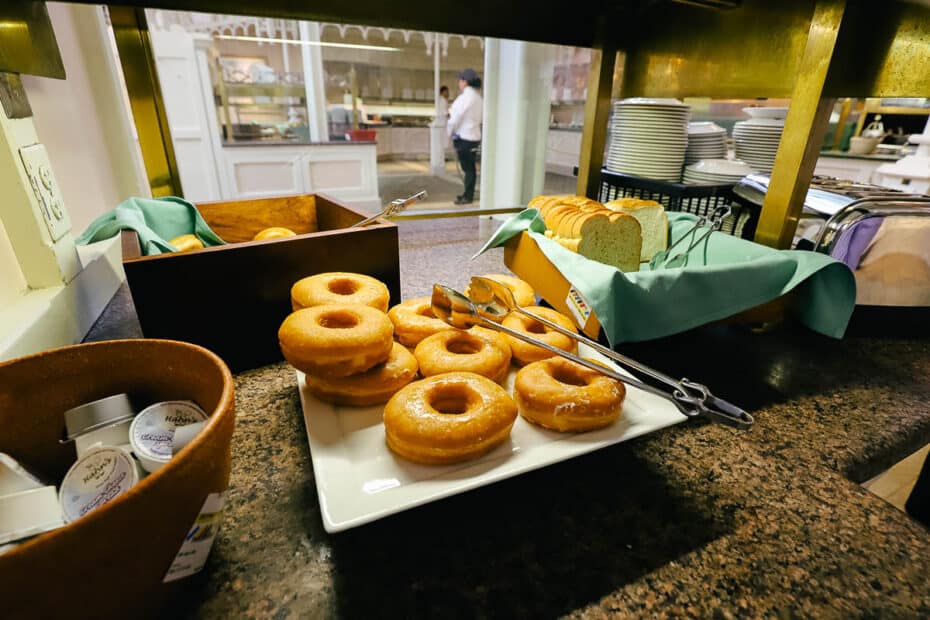 Picky eaters in your party might prefer one of the sugary cereal selections.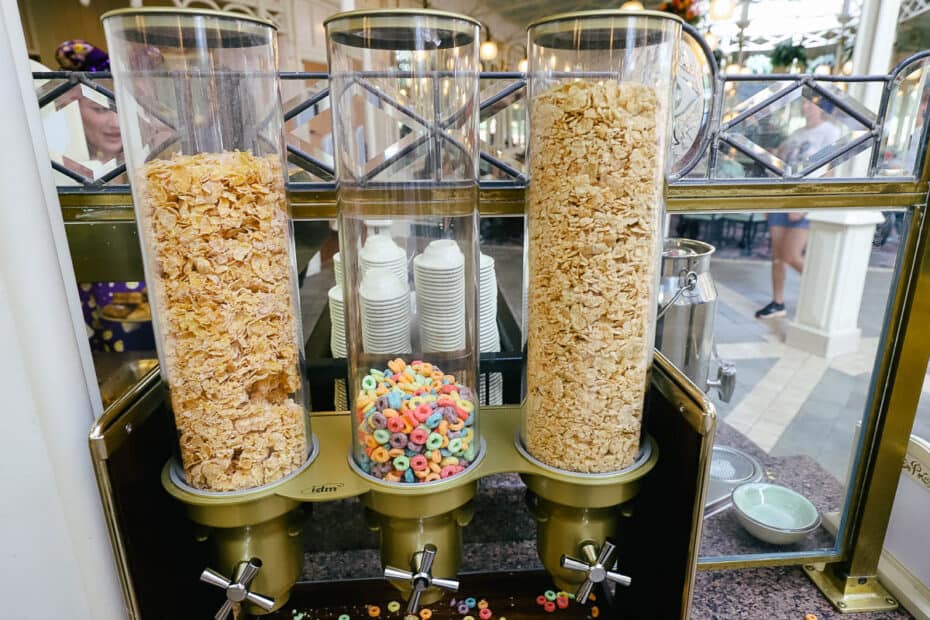 The Crystal Palace had a few specialty items. Here we have the blackberry streusel coffee cake, signature breakfast lasagna, and churro waffles.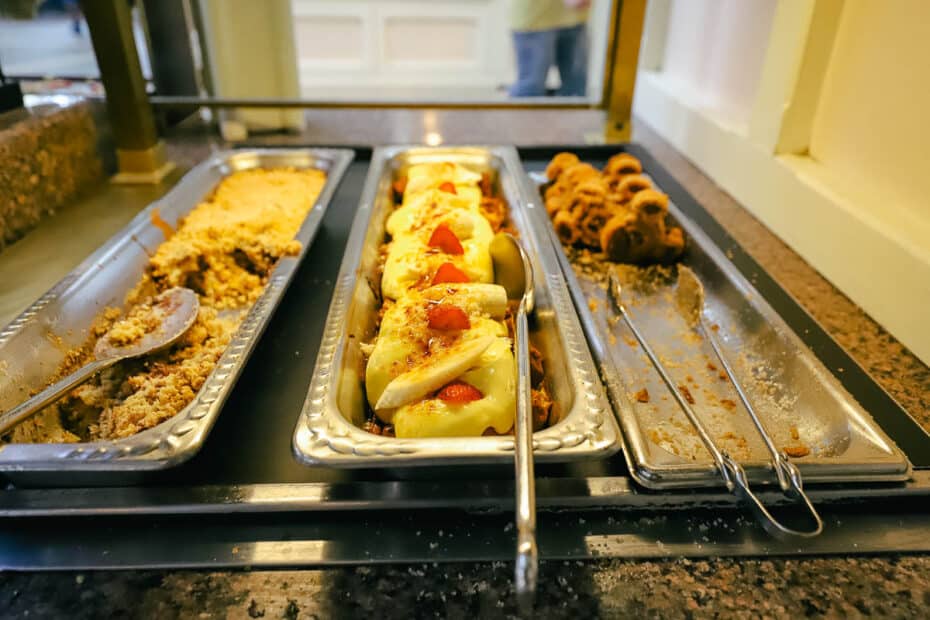 I'll be the first to admit I didn't expect much from these items. But, with that said, they were delicious. My favorite of the bunch was the signature breakfast lasagna.
It's sort of a bread pudding with a little mix of banana pudding, berries, and chocolate. Over the years of doing this, I've tried a good amount of food. But I can't say I've ever had anything like this.
So don't hesitate to try it. The only reason I got that photo above was that a cast member had just replenished the tray. I have a feeling that's one dish that disappears quickly.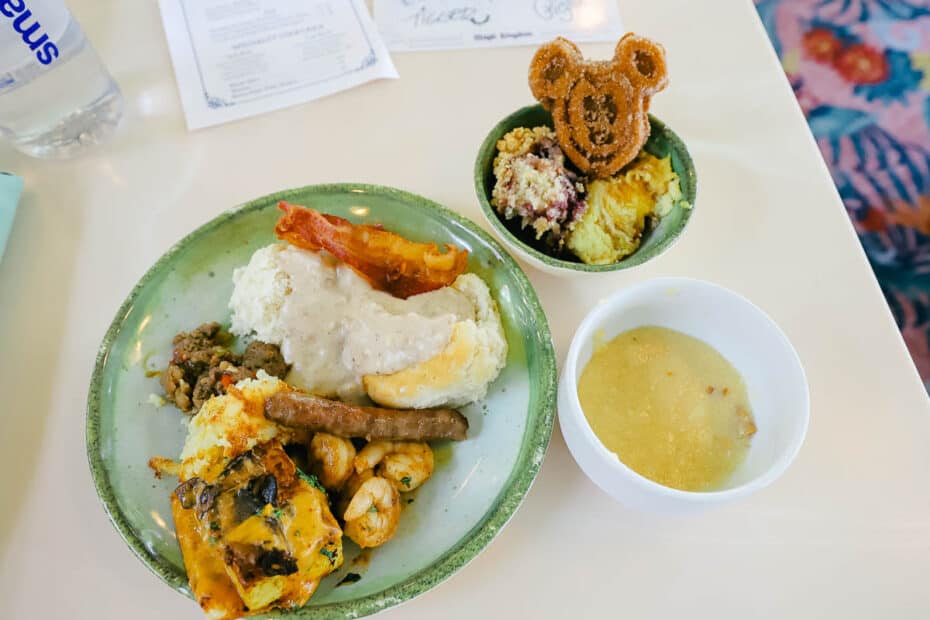 Characters at The Crystal Palace Breakfast
Now for the main event–the characters. After being seated, I waited for the server to come to the table so I could order a drink.
When he arrived, the server mentioned that the characters were taking a break and that one would start nearby my table upon return. He then indicated the path they would make around the restaurant.
Since the characters weren't out yet, I went on and photographed the buffet and prepared a plate. By the time I got back to the table, Winnie the Pooh was out, greeting guests a few tables away from me.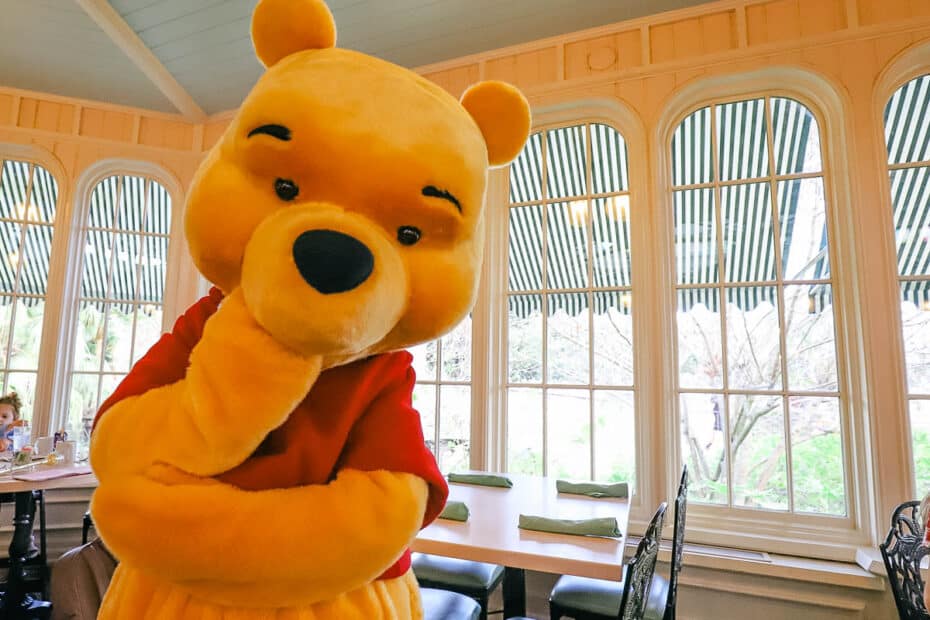 He is a friendly old bear.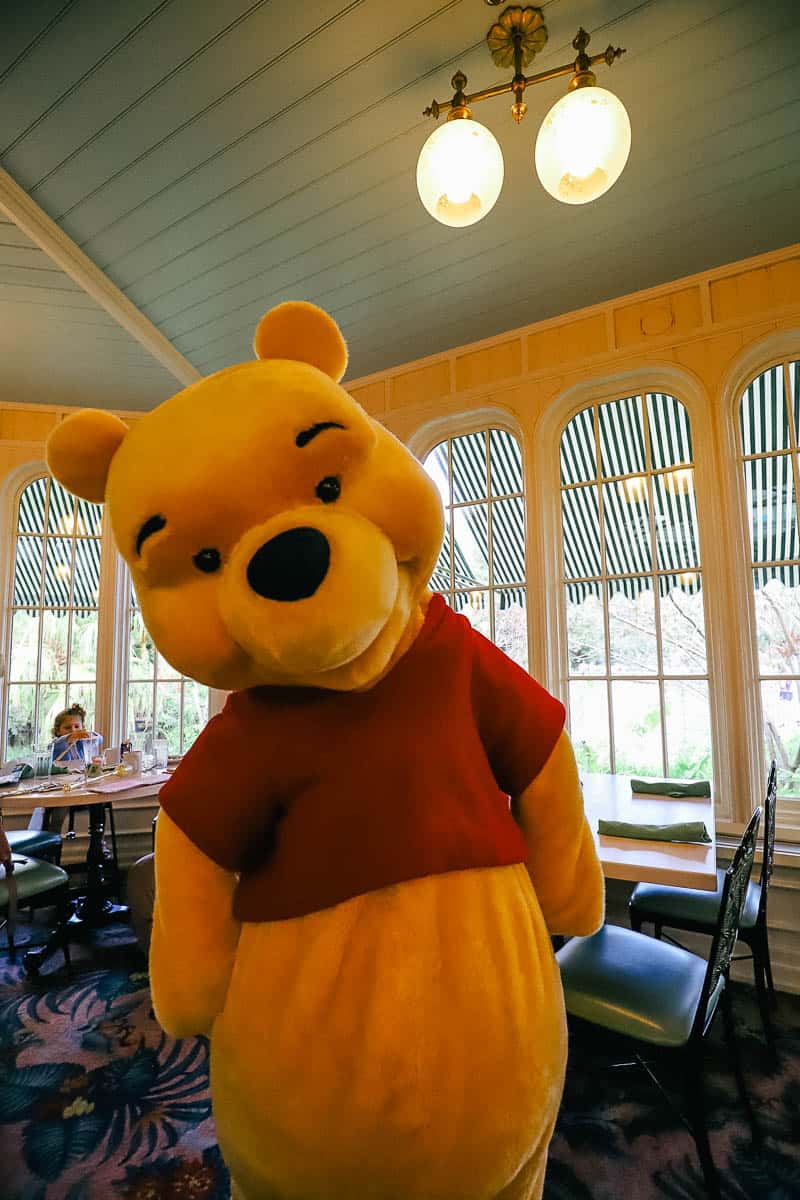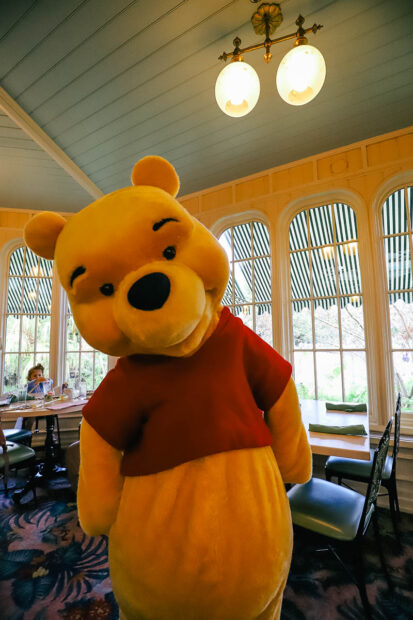 Before too long, Tigger came by.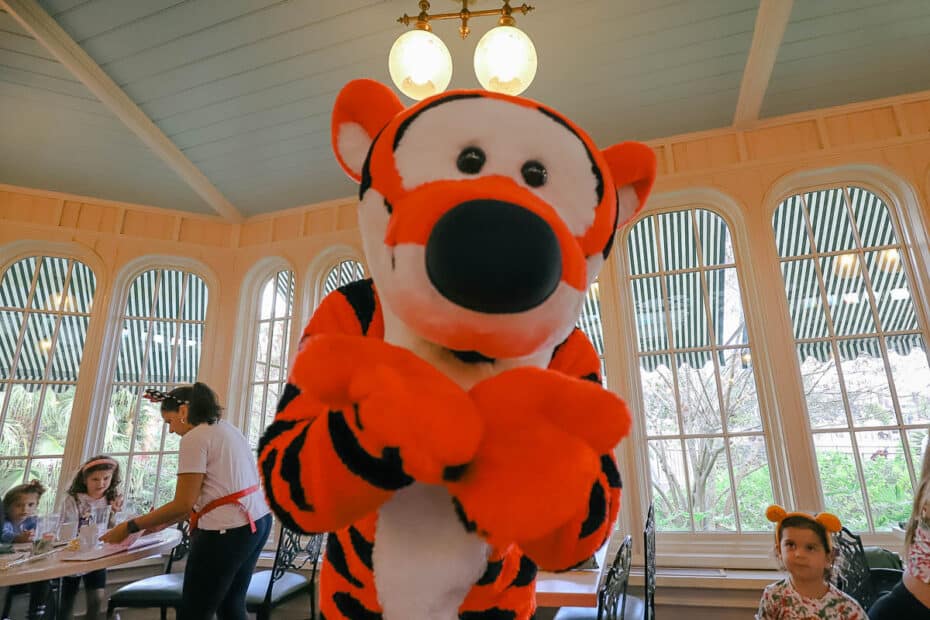 He wanted to show off his bounce. It's what Tiggers do best.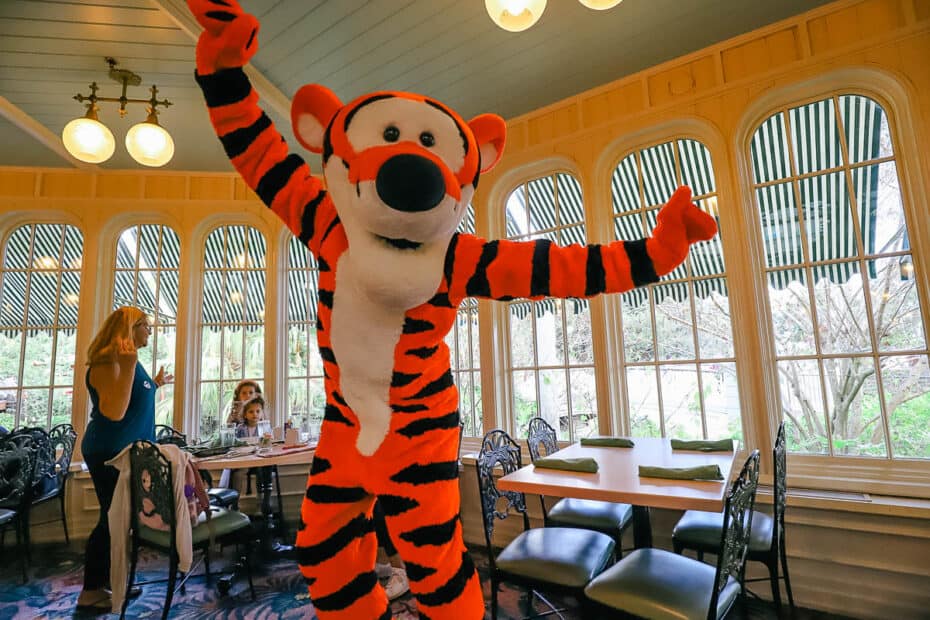 After that, I could tell it would be some time before Piglet got to the table. So I tried a few other things on the buffet.
You'll want to make sure that you wait for any characters nearby. My server indicated that if you missed one, it would take them a full hour to return to your table. I don't know about you, but I don't want to wait an extra hour after my meal for one character.
Here is dear Piglet.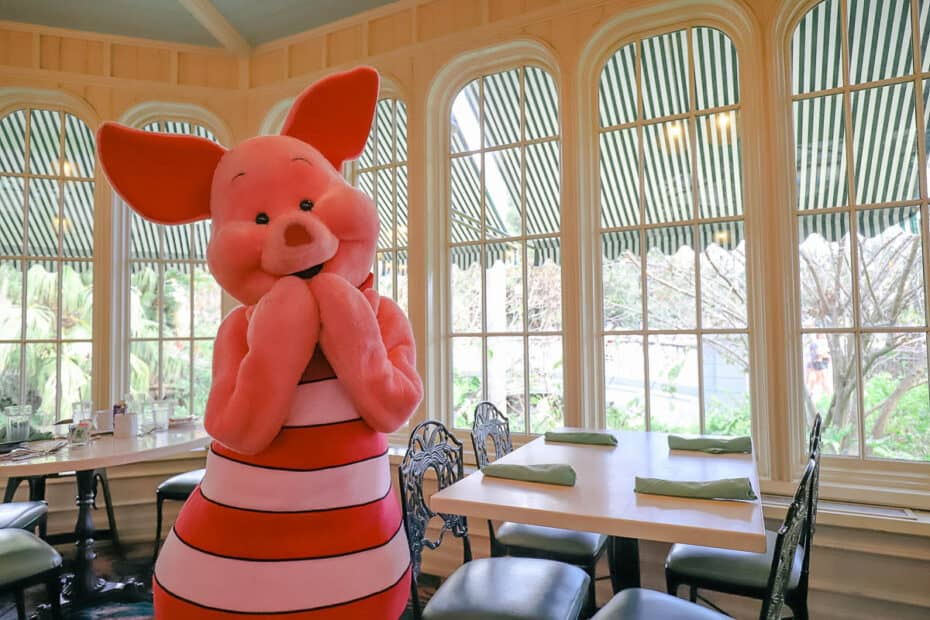 I can relate to his shyness.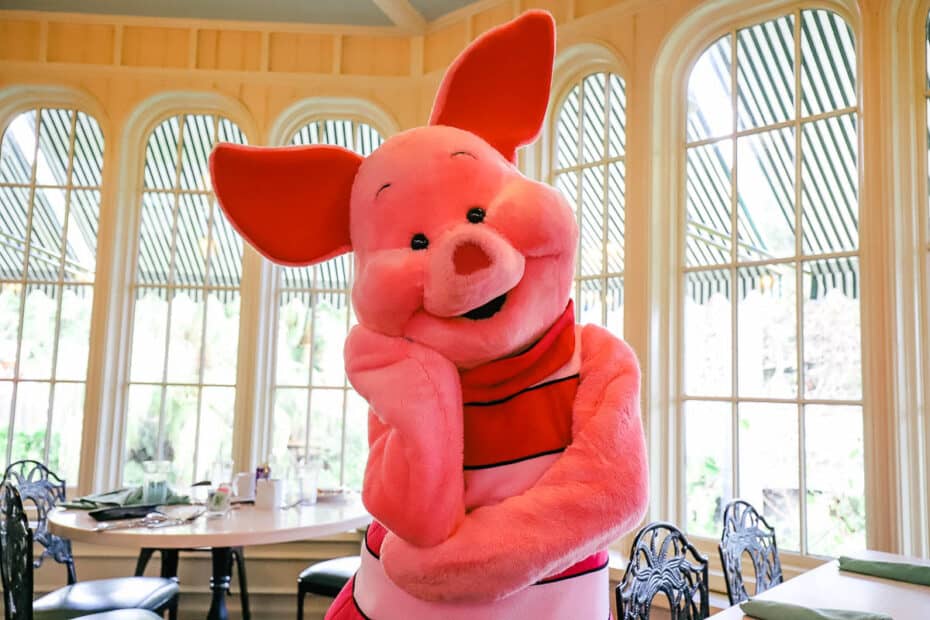 Lastly, Eeyore came by the table.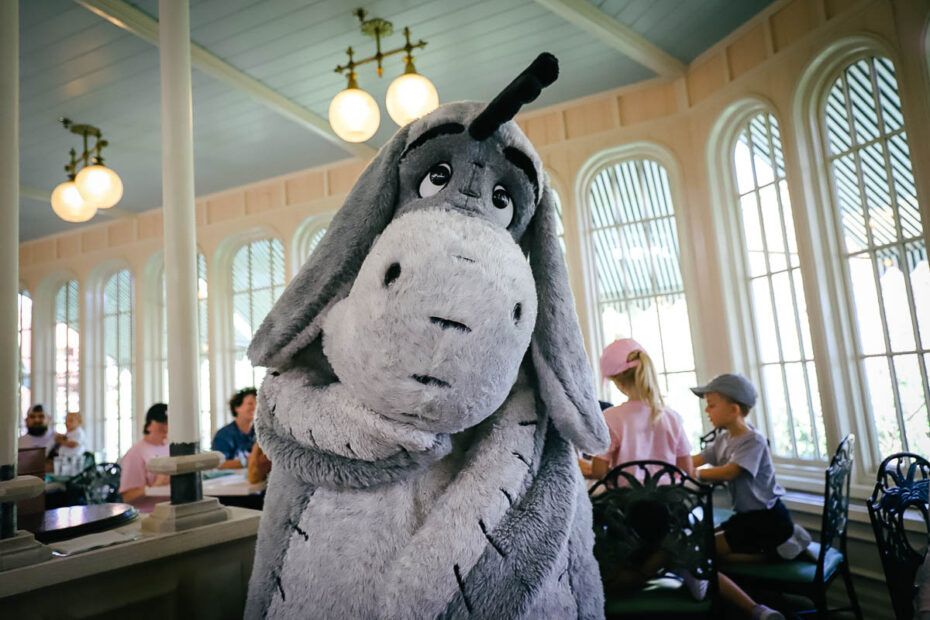 He was his usual gloomy self.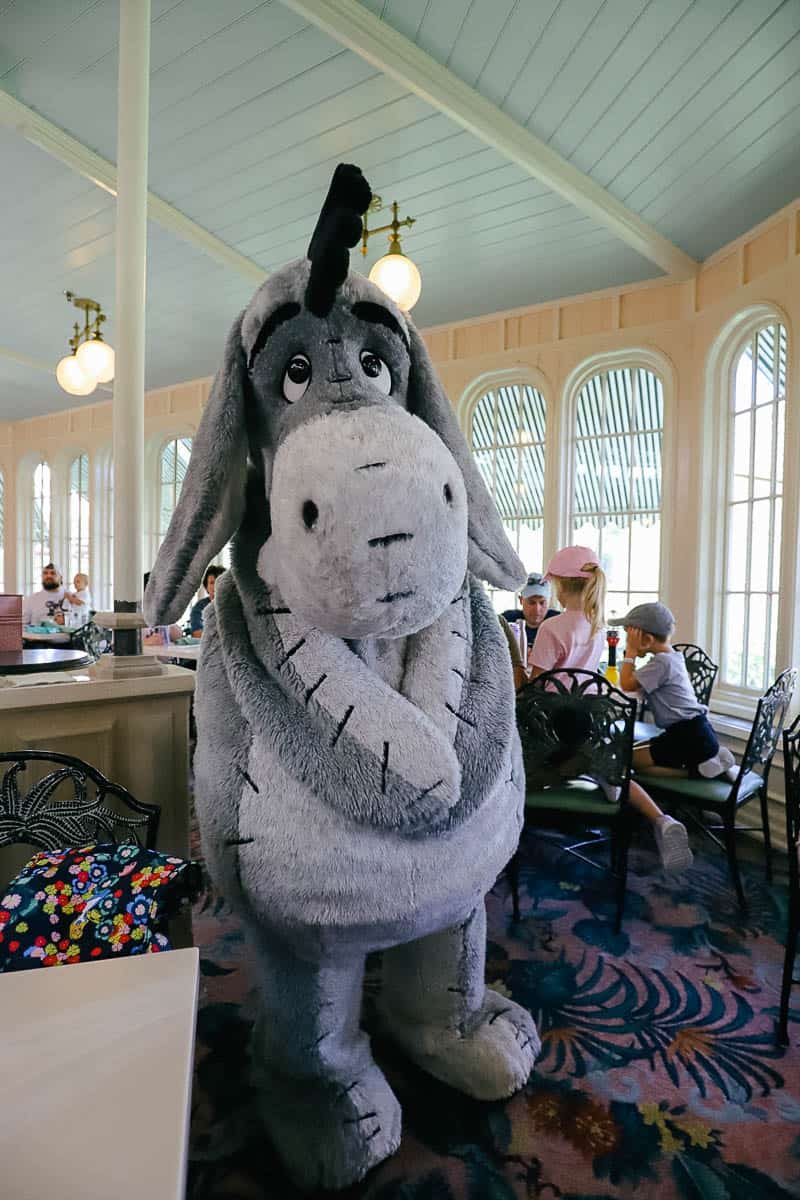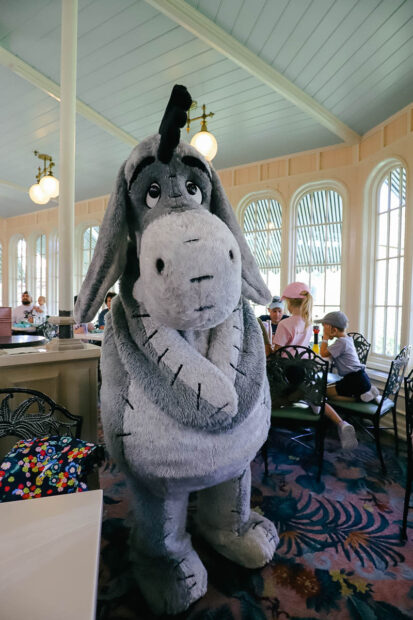 As far as autographs go, the characters did sign them. Almost all of the tables near me had children with autograph books.
Additionally, there are no PhotoPass photographers at this character meal. So you'll want to have your phone or camera out and ready for pictures when the character comes to the table.
Final Thoughts on Breakfast at The Crystal Palace
Anyone who regularly visits Resorts Gal knows that I'm not a fan of the food offerings at most character meals. I always try to stress that while the food is fine, it is basic.
Additionally, I'm not a fan of buffets because of the mess unless we're talking Boma, Flavors of Africa. Related: Breakfast at Boma, Flavors of Africa
When I arrived at The Crystal Palace, it was messy.
And I don't know if there was anything that could be done about it, given the volume of guests (with children) preparing their plates.
With all that said, I do enjoy the convenience of getting to meet characters while dining. As far as food goes, it's comparable to what you would receive at a counter-service dining location.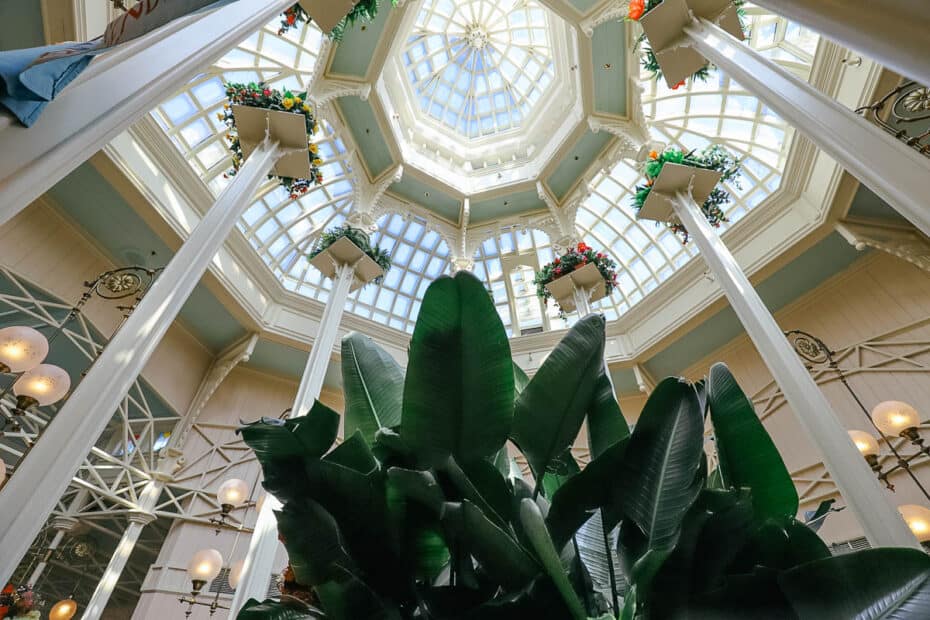 At the time of this article, breakfast at The Crystal Palace costs $45.00 per adult and $29.00 per child. Children are considered between the ages of 3-9 years old. You can check the current price here on Disney's site.
Ultimately, if someone in your group wants to meet Winnie the Pooh and Friends, this is the best place to do so. These characters are difficult to find in the parks and hold long lines when they are out.
Winnie the Pooh and Tigger meet daily in Magic Kingdom at The Thotful Spot. However, this is the only place to meet Eeyore and Piglet outside the extra-ticketed Halloween Party and Christmas Party.
As for me, I enjoyed breakfast at The Crystal Palace more than I anticipated. The characters were charming, and some of the food items were a pleasant surprise.
For more character dining experiences at Walt Disney World, you might enjoy the following articles:
In the Comments:
What do you think of this review of breakfast at The Crystal Palace? Are you a fan of Winnie the Pooh and Friends? Which character would you like to meet the most?