Geyser Point Bar and Grill Review
Geyser Point Bar and Grill is one of those dining locations that I wish there were more of at Walt Disney World. The restaurant is nestled along the shores of Bay Lake at Disney's Wilderness Lodge.
Geyser Point sits underneath a large covered pavilion that's open to the elements. The lounge-style restaurant has a rustic vibe similar to everything else at the resort. When you step inside the space, you'll find inviting casual seating areas, tables with chairs, and a large bar that anchors the center of the dining area.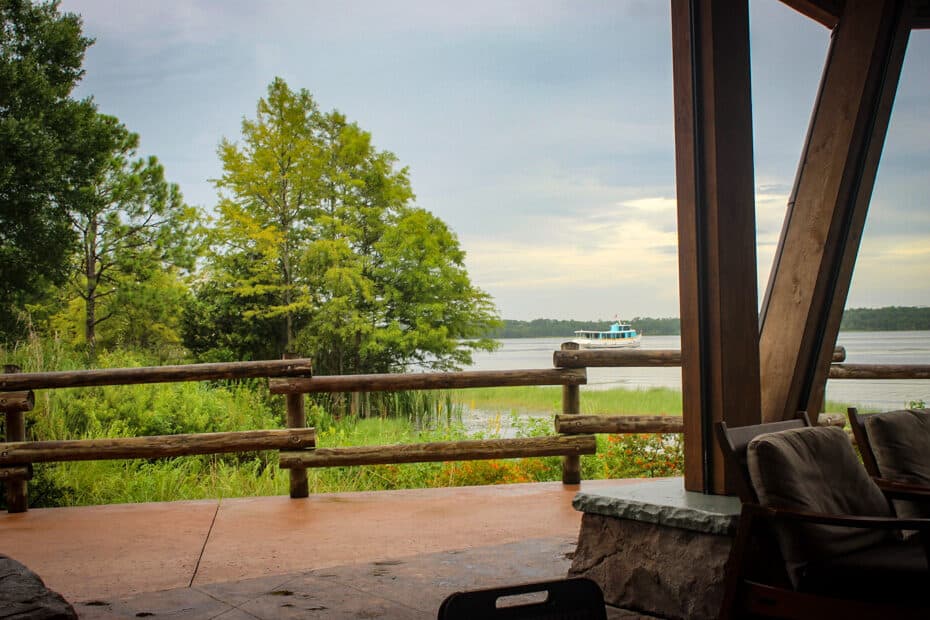 Elements like stacked stone, large beams, and a couple of flat-screen TVs all contribute to the restaurant's design. But the ever-changing views out toward the water are what makes Geyser Point such a desirable location for lunch or dinner at Disney.
Not only that, but Geyser Point doesn't take or require reservations. And the price of a meal here is nothing to complain about when dining at Walt Disney World.
In this Geyser Point Bar and Grill review, we'll preview the lounge menu and take a closer look at a few specific items we've tried to date. I'll also share with you a few tips for dining here throughout the various seasons of the year.
If you stay at the Lodge, you'll definitely want to plan a few meals at Geyser Point Bar. You might also consider reading the Disney's Wilderness Lodge Resort Review to familiarize yourself with the entire property.
Geyser Point Bar & Grill Review
Below we have a picture of the entrance area for Geyser Point Bar & Grill. The restaurant is located back behind the resort's feature pool area.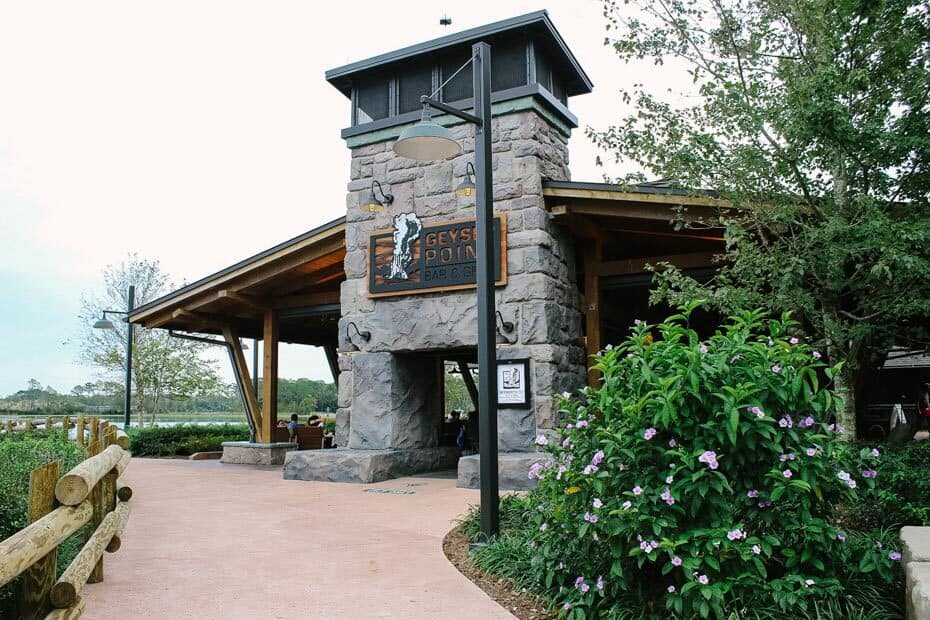 While Geyser Point does look like the kind of place you can walk in and grab a seat, that is not the case. Instead, guests will need to check-in at the host stand and wait for a table. Often, there is a minimal wait to be seated.
If there is a wait, the host will take your mobile number and text you when your table is ready. We've eaten here about four times, and the it's usually less than a 15 minute wait.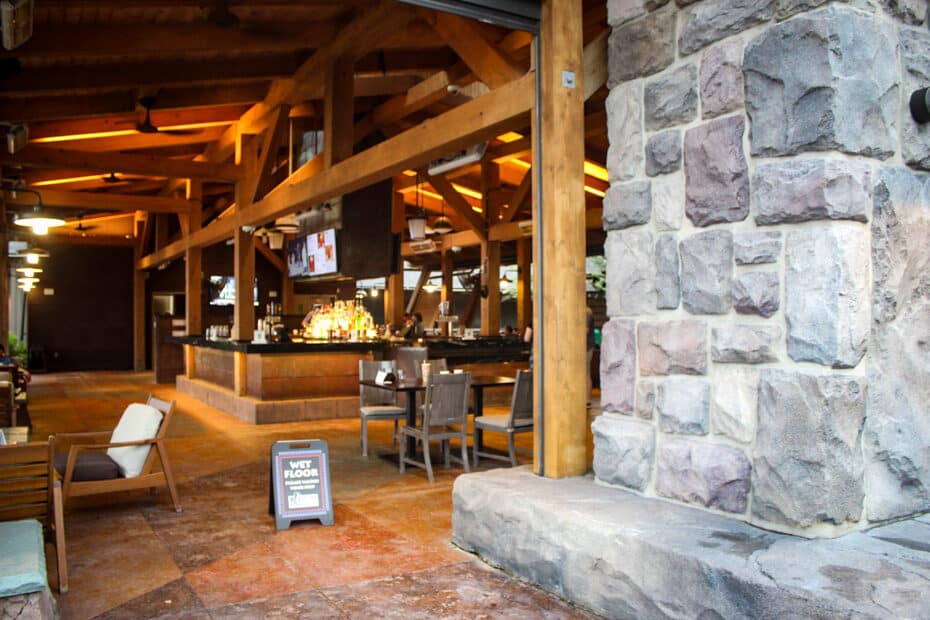 In the meantime, you might explore the pathways around the immediate area. There are a few benches facing out to the water behind the restaurant if you would like to wait nearby. Personally, I would go over and check out the Geyser; it's only a few steps away.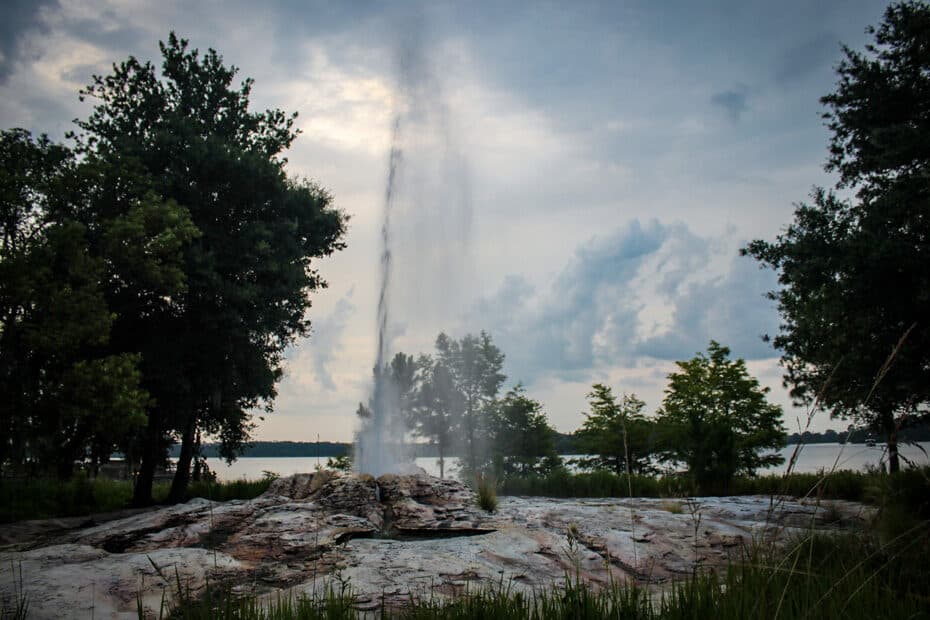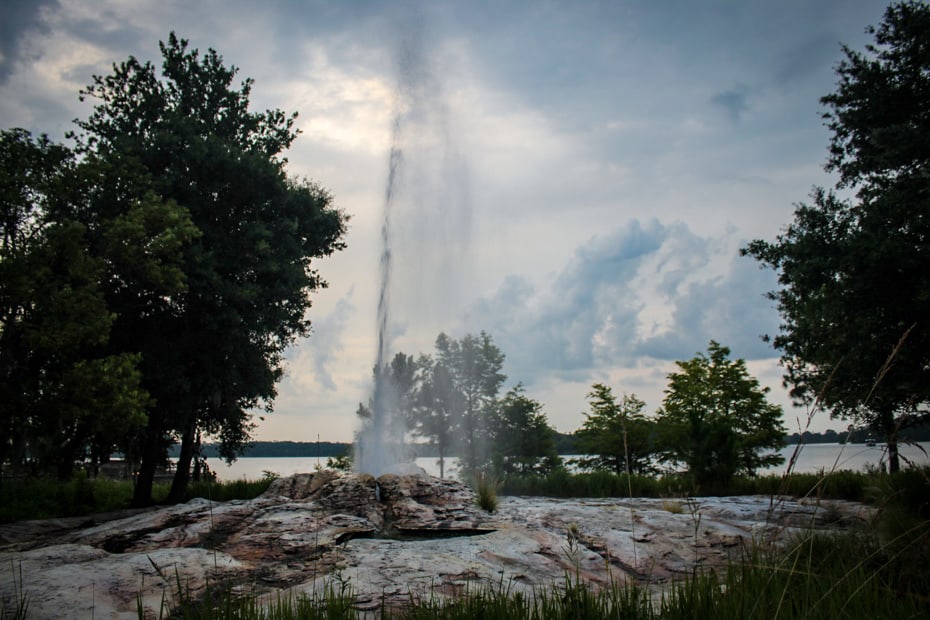 Geyser Point Bar and Grill is on a first-come, first-serve basis, meaning they don't accept advanced reservations. There's no rhyme or reason to whether or not you'll be seated at a standard table and chairs or one of the lounge spaces.
Hopefully, you'll have a nice view of the water, but the restaurant is pleasant no matter where you're seated.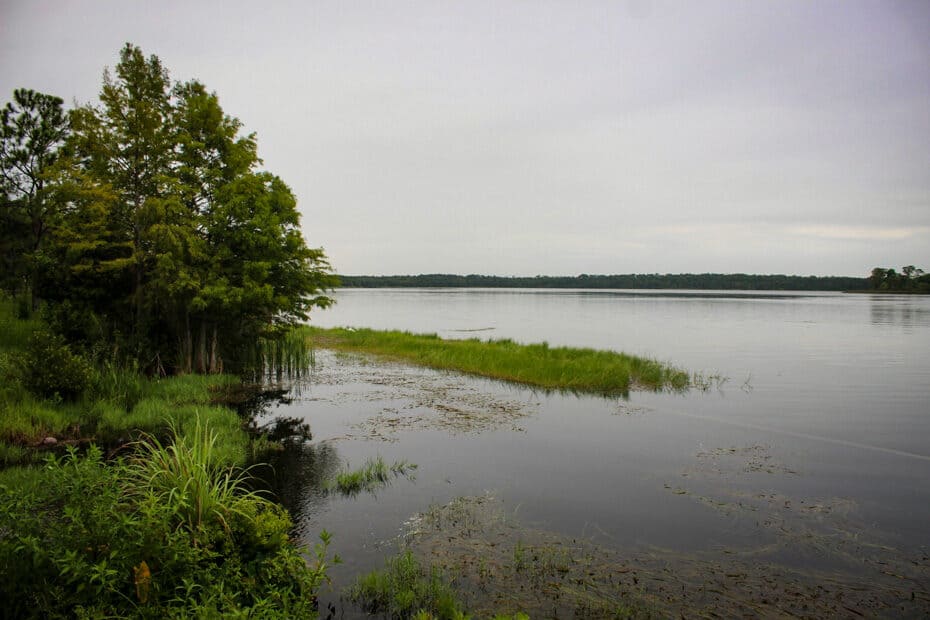 On our last visit this was the view from our table.
If you are seated on the opposite side of the water, your view looks out to this area below. There are a few trees and landscaping. The lodge sits right behind where I'm standing to take this photo.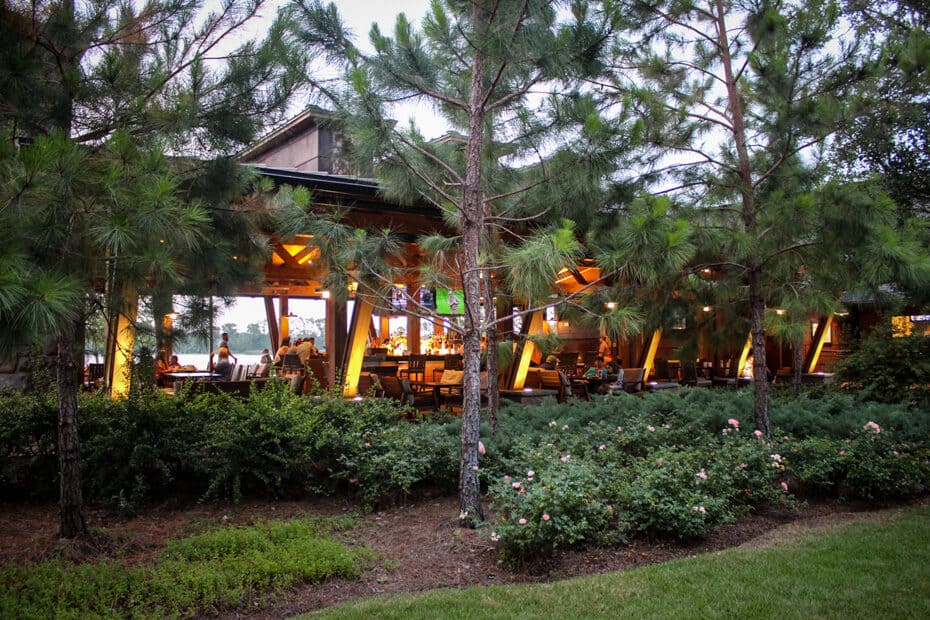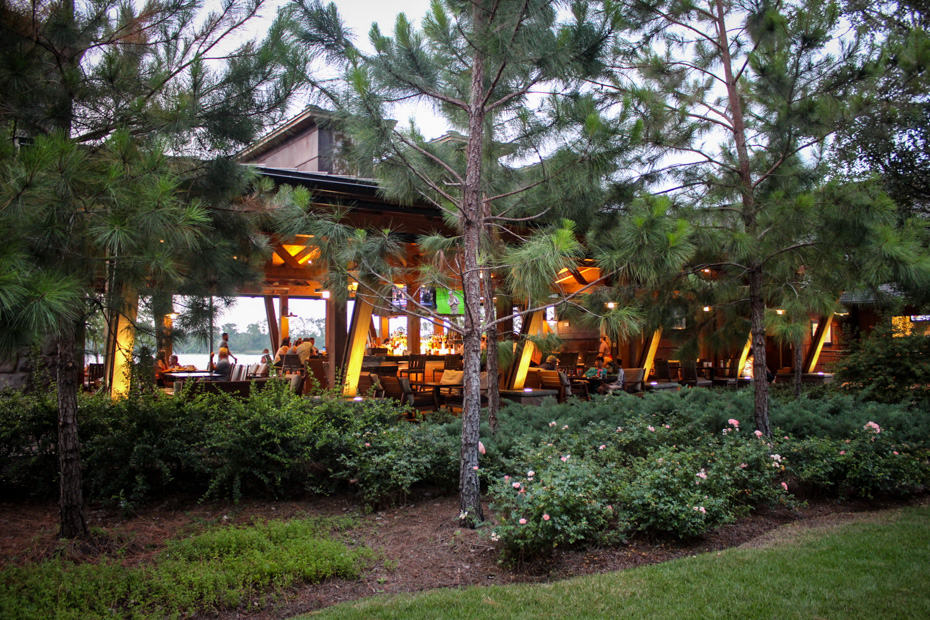 Late at night, the Geyser Point Bar becomes this warm, glowing light out toward the water. When you time things just right, there's the opportunity to see the Electrical Water Pageant and Happily Ever After fireworks (when available) in the distance.
Like the other Magic Kingdom resorts, the music to the performance is played over the speaker system. The fireworks view isn't the best, but it's still nice to experience the magic without a large crowd. That's Bay Lake Tower in the distance with adjoins the Contemporary. I have a full review of Bay Lake Tower if you'd like to learn more.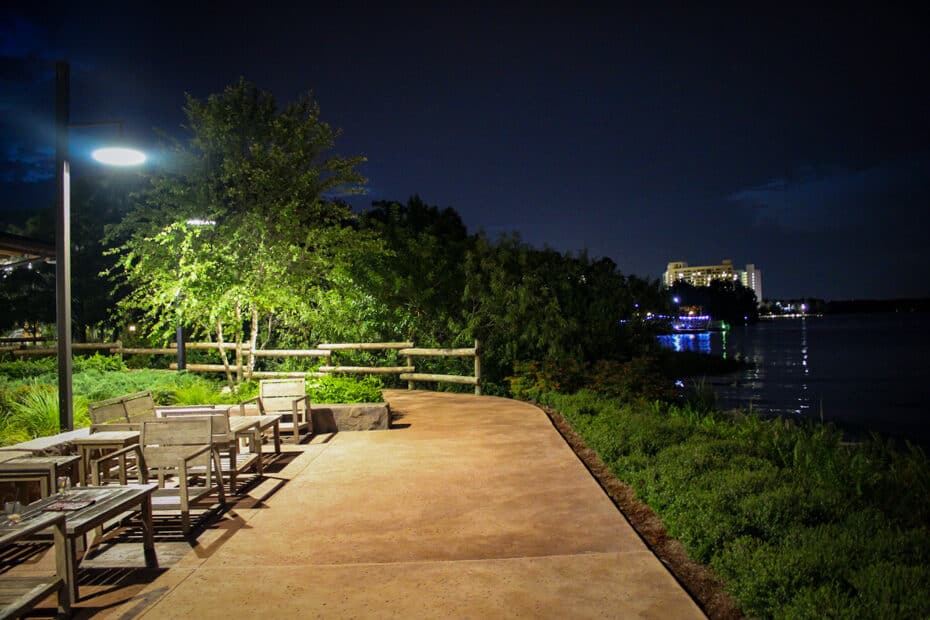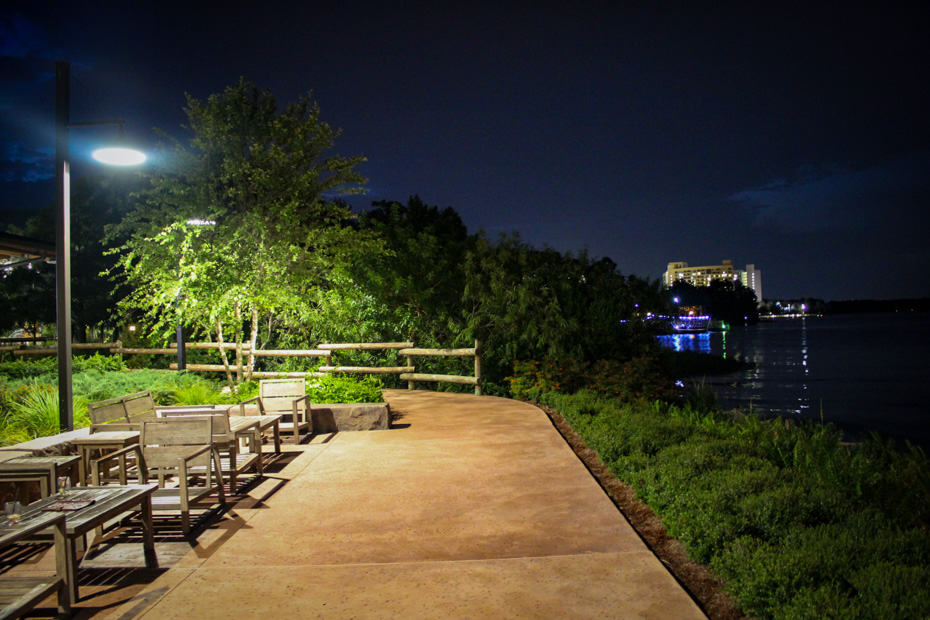 Guests can elect to sit at the bar. There are several TVs mounted over the space. I've been out here during football season before, and I can tell you it becomes quite the popular hangout.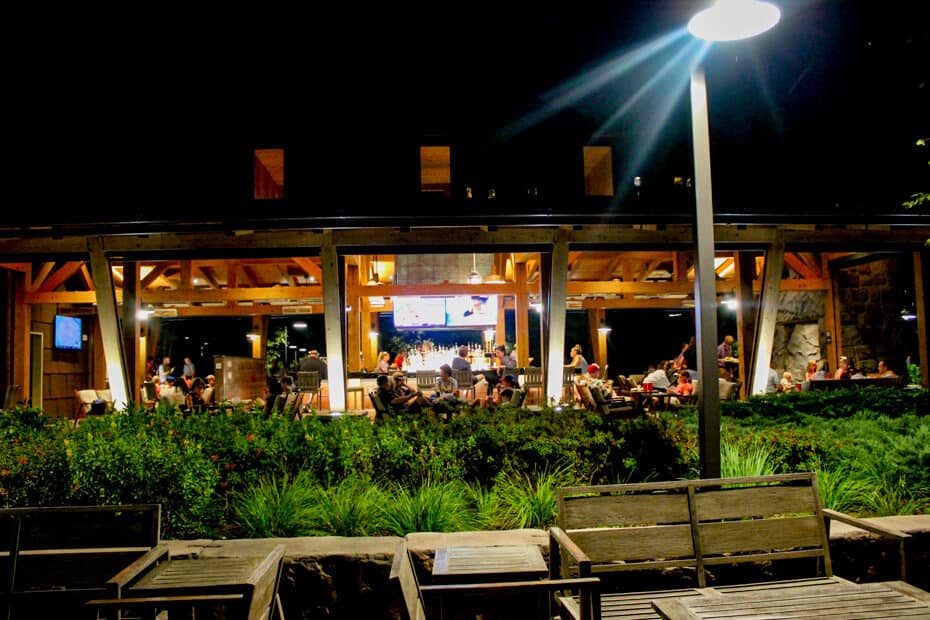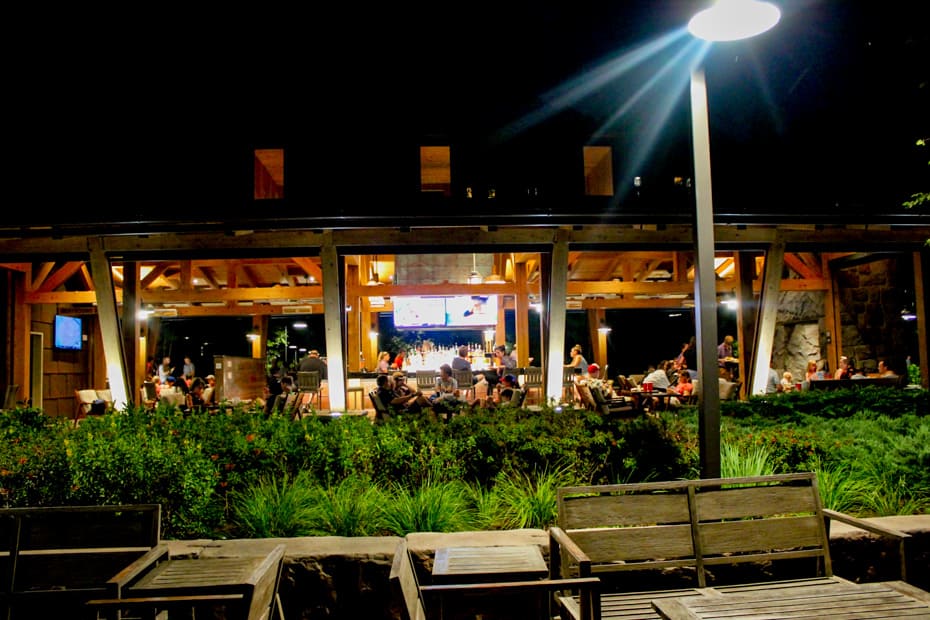 Speaking of that, I've been out here during December at night when the temperature was pretty chilly for Orlando. It was probably in the upper 40s. But we still had one of the most pleasant evenings.
Just remember to dress warmly on cooler evenings. They will have space heaters out to provide a little warmth and a variety of warm beverages as well. I love those kinds of evenings.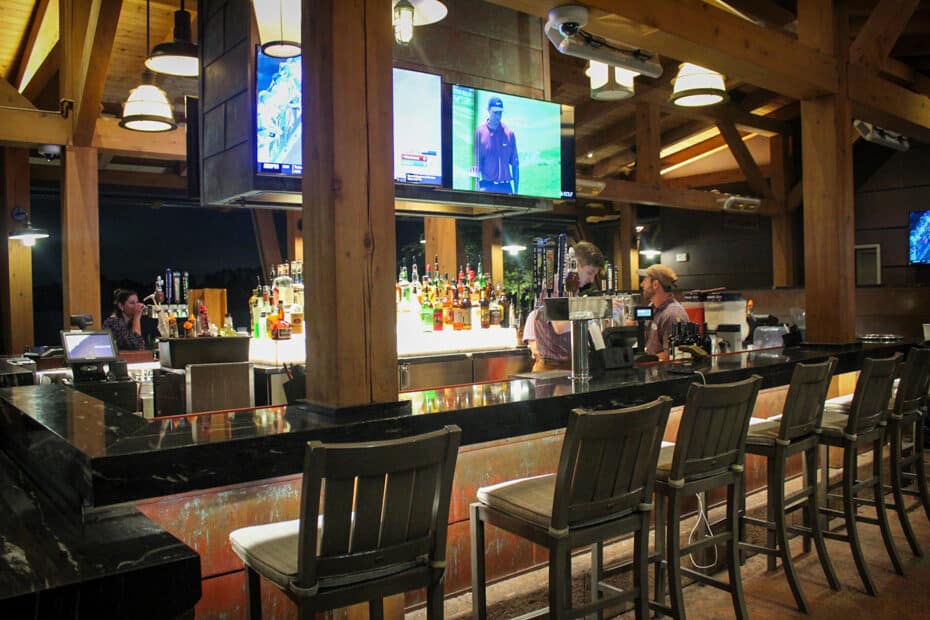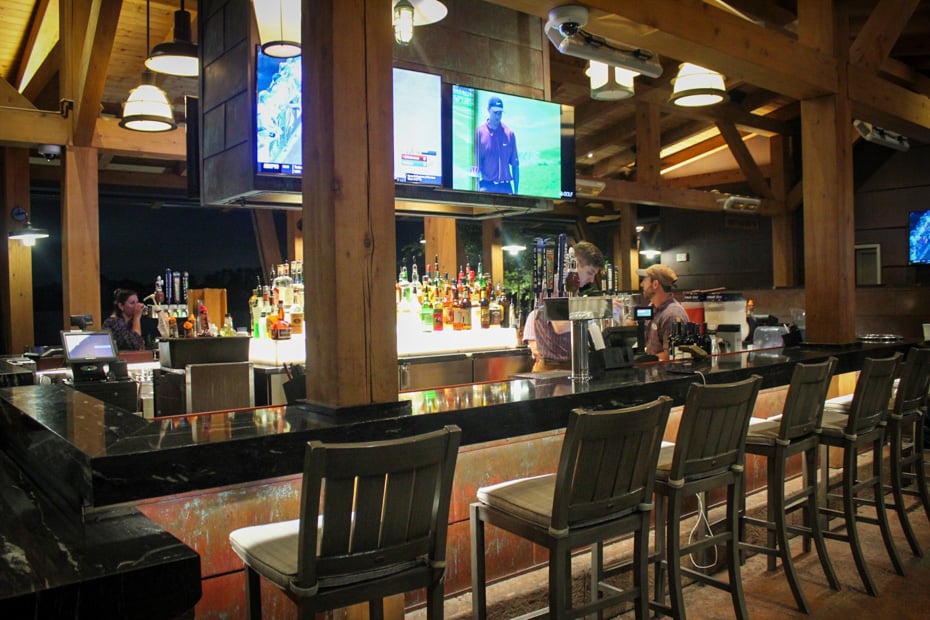 I'm sure you were beginning to wonder if I had actually ever eaten anything at Geyser Point Bar & Grill. Our most recent meal here consisted of ordering a few appetizers. Below we have the crispy fried oysters.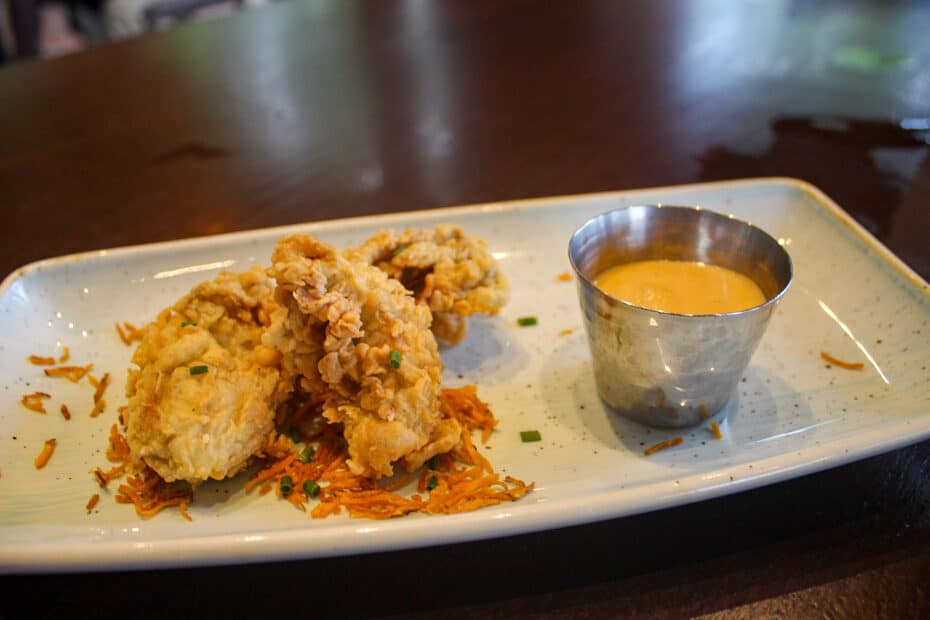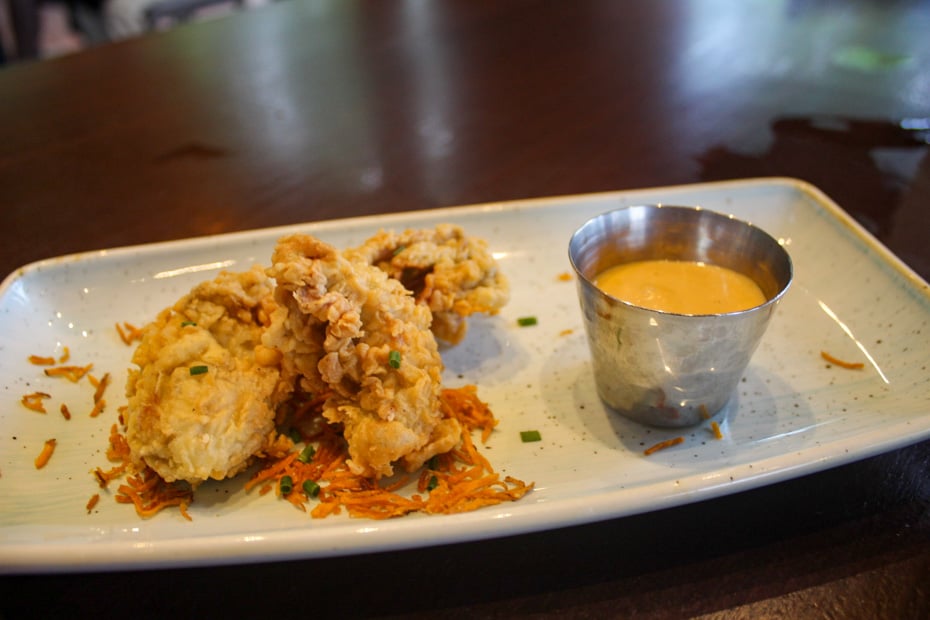 These were absolutely delicious and came with these fried peeled carrot bites. That's the orange stuff you see on the bottom of the plate.
They came with a tangy miso tartar sauce that complemented the beer-battered oysters. Anyone with an interest in oysters will probably enjoy this dish. Remember, though, that oysters are a seasonal item that are not always available on the regular menu. You might try the lump crab cake sandwich or the crispy salmon croquettes if the crispy fried oysters aren't in season.
Next is the charcuterie board that comes with an arugula salad and toasty sourdough crisps. I hate to admit that I have mixed feelings about this dish. However, it's a considerable portion and makes for a nice meal for one if you decide to go that route.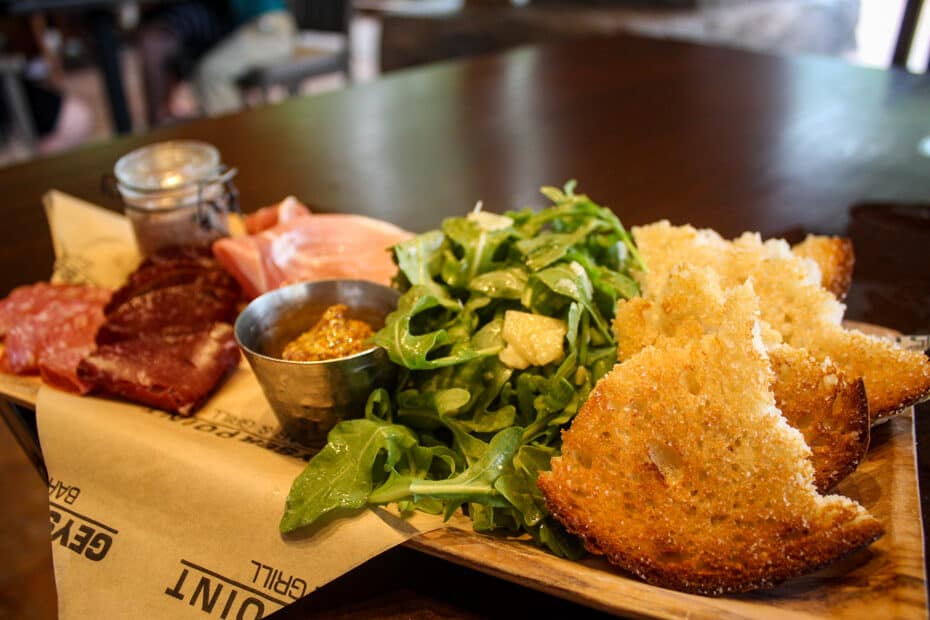 Charcuterie is one of those things that I always want to order. And the actual meats that were provided had unique flavors. One of these was even a cured venison. Also, the little container had a duck rillette. Rillettes are somewhat similar to confit, where the duck's fat is used to preserve shredded meat.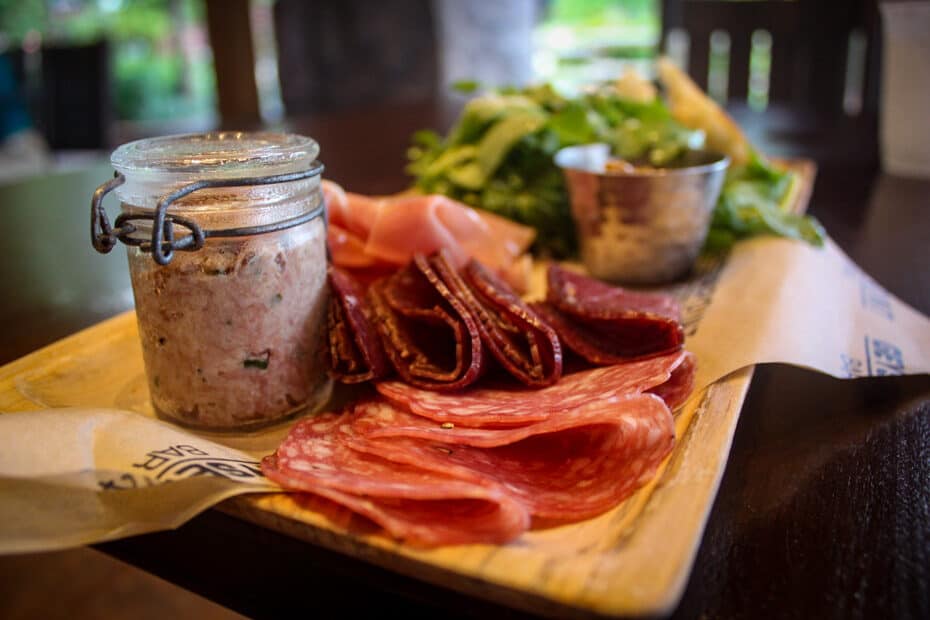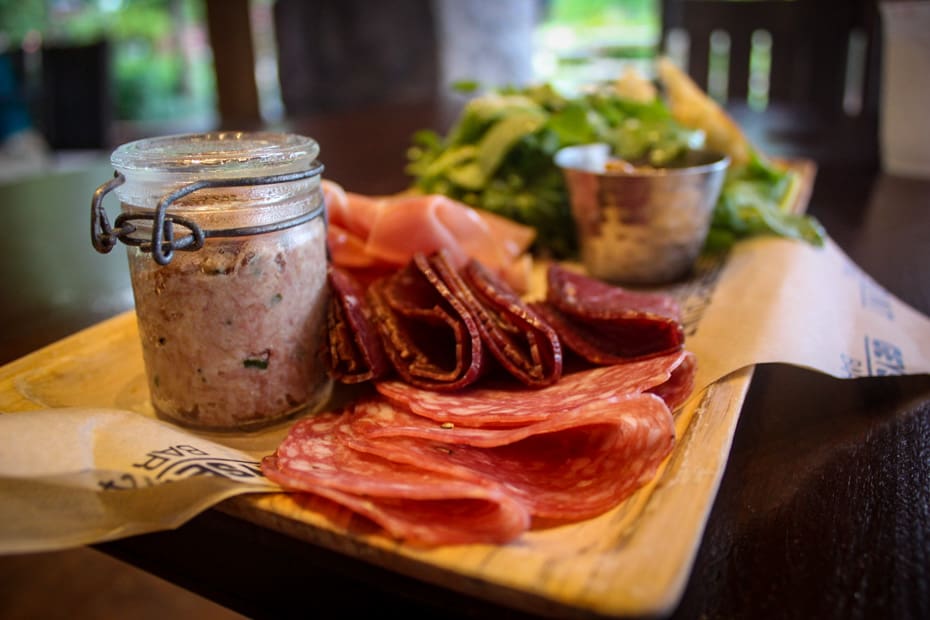 I've had rillettes in the past at both Tiffins Restaurant (review) and brunch at California Grill (review). Both times I enjoyed them, but I wasn't crazy about this one. It seemed a little too cold and almost soggy.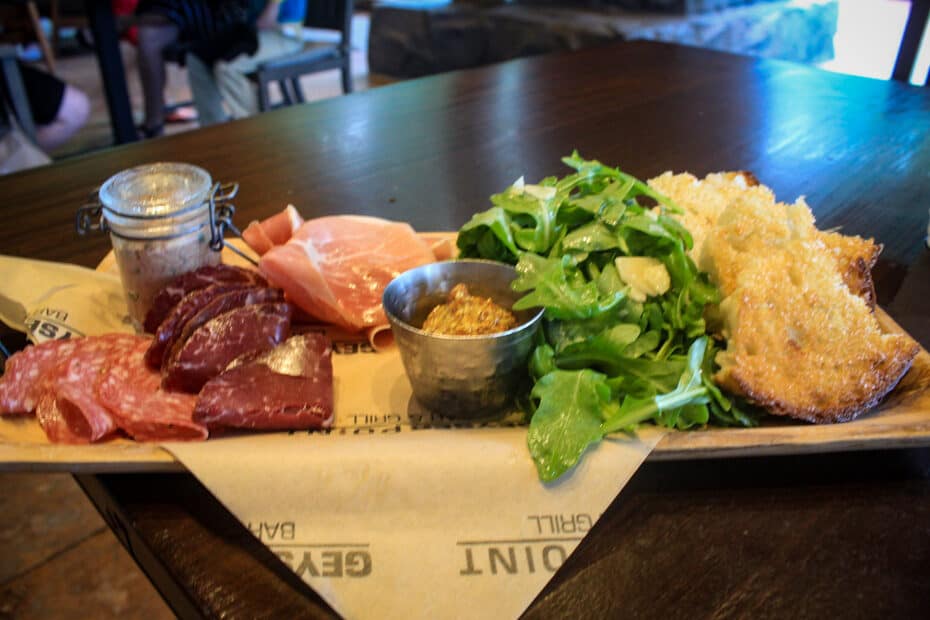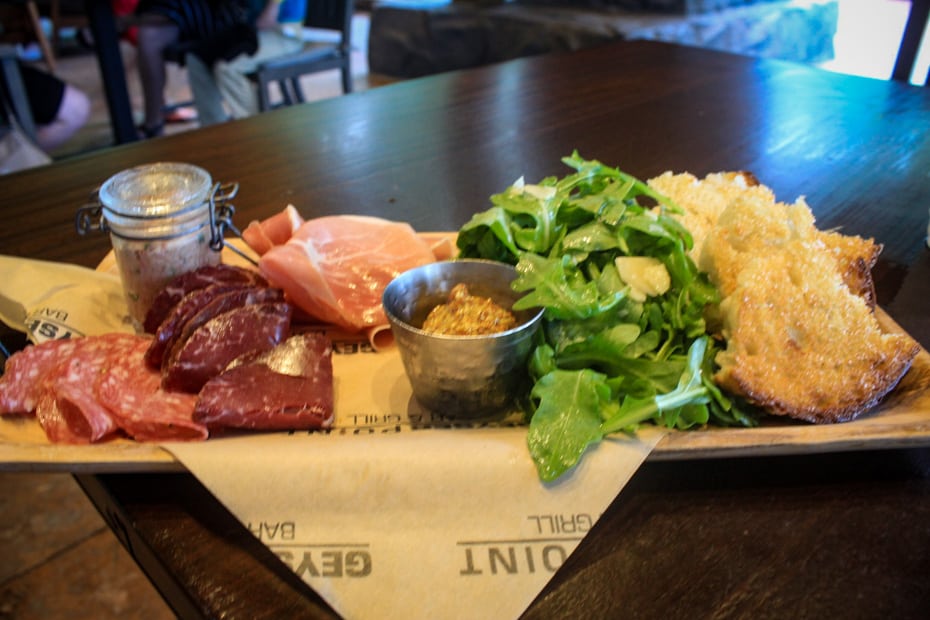 The other issue I had was with the bread. While it looked almost too good to eat, it tasted like pure salt. The server said that most guests requested extra when it was ordered.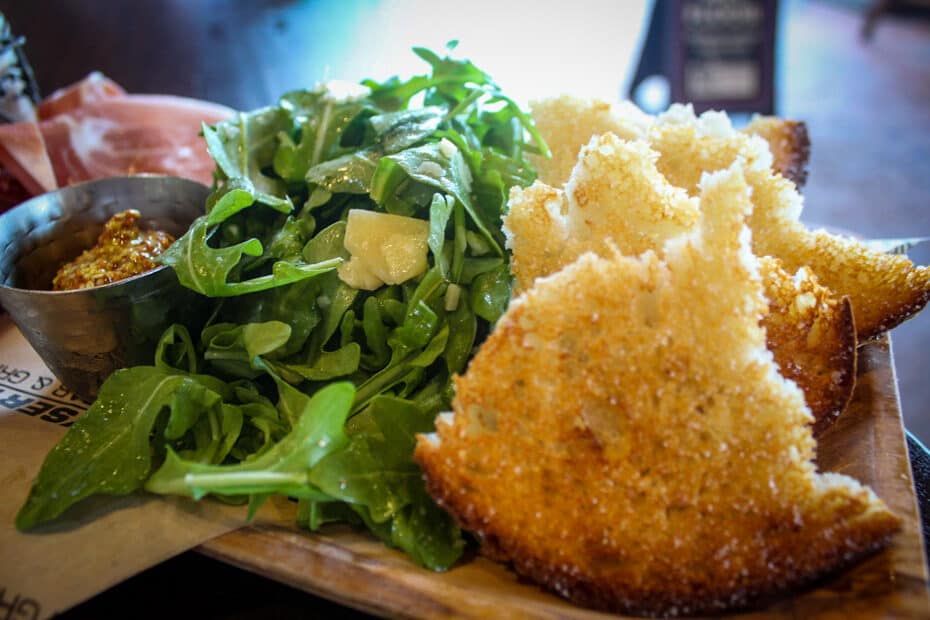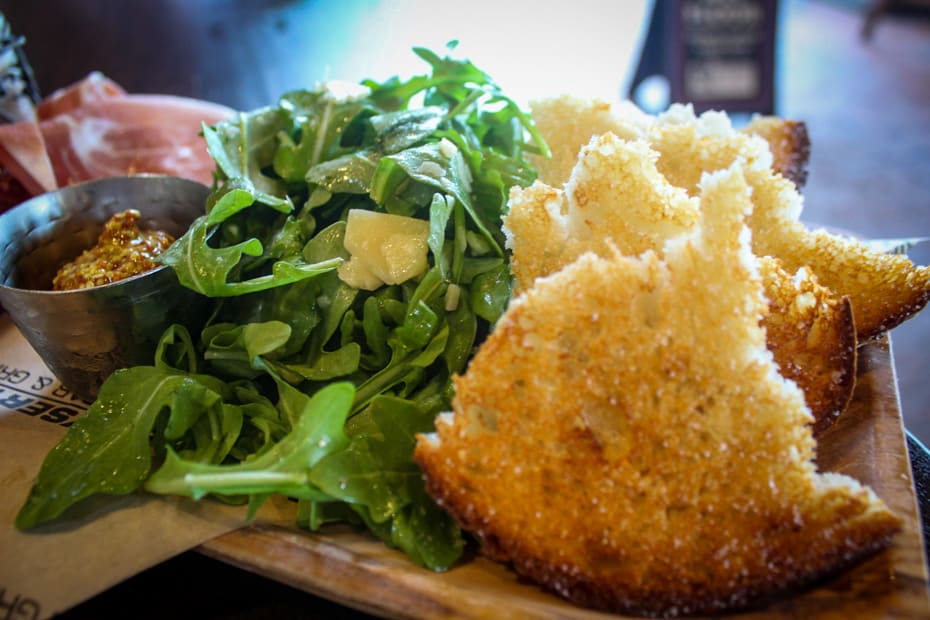 Again, I felt like this was probably a cooking error where maybe it was accidentally buttered and over-salted. If you look closely, you can almost see what appears to be salt coating the exterior.
The arugula salad was delicious, and I did enjoy that it was a not-so-usual addition to a charcuterie board. It was the component that made the dish feel more like a meal than an appetizer. There was also a side of whole-grain spicy mustard that worked well with the different items on the board.
On another visit, I had the chicken sandwich with waffle fries. This dish is a staple on the Geyser Point menu, and I highly recommend it. The sandwich makes for a nice meal, and the price is extremely reasonable given the location and overall atmosphere.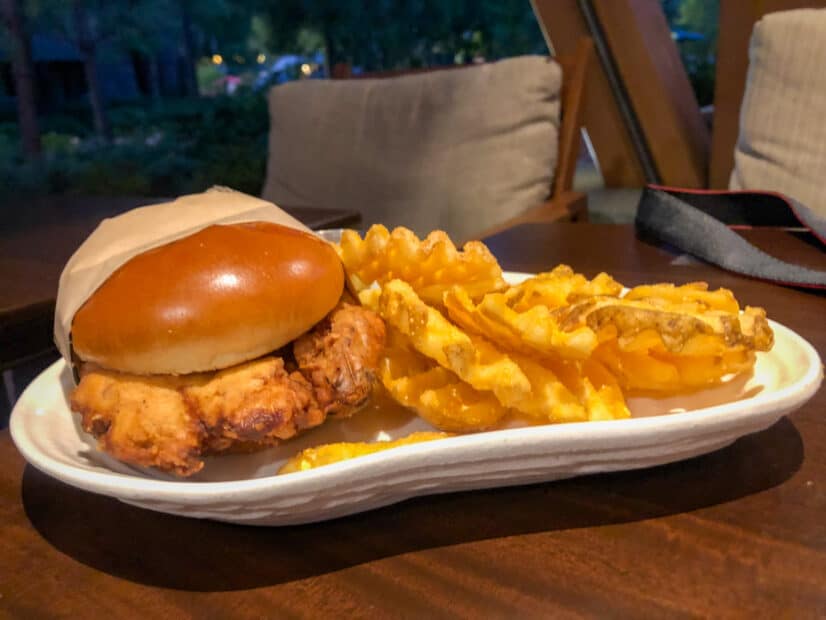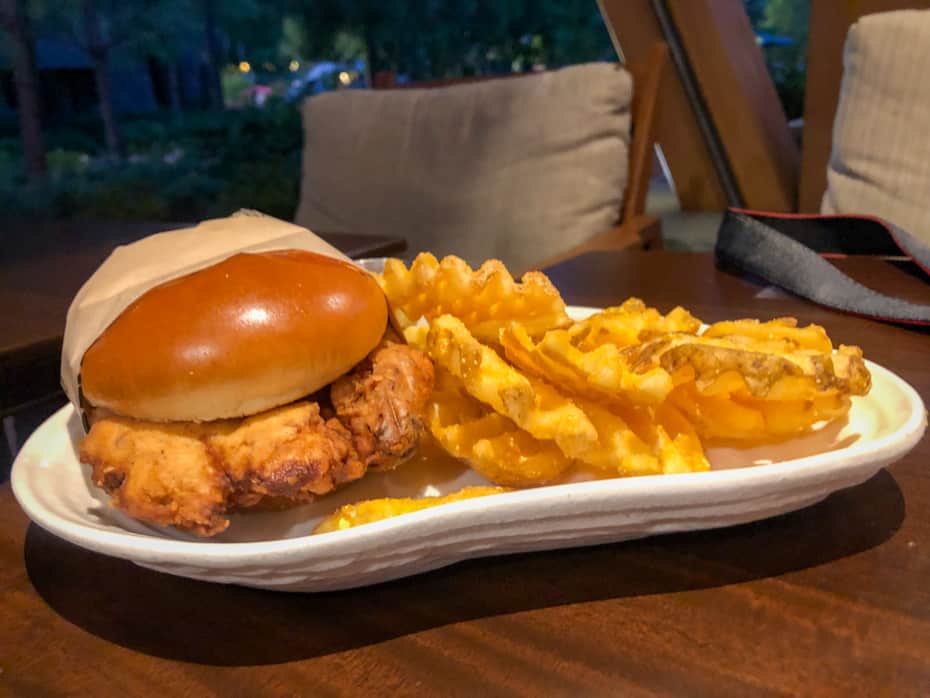 I found myself comparing this to a popular fast-food chain that's just up the road from Disney. But then, I remembered thinking I could have stopped on the way home that evening and picked up a comparable meal for about $4 less. But why, when I could have dinner with a view?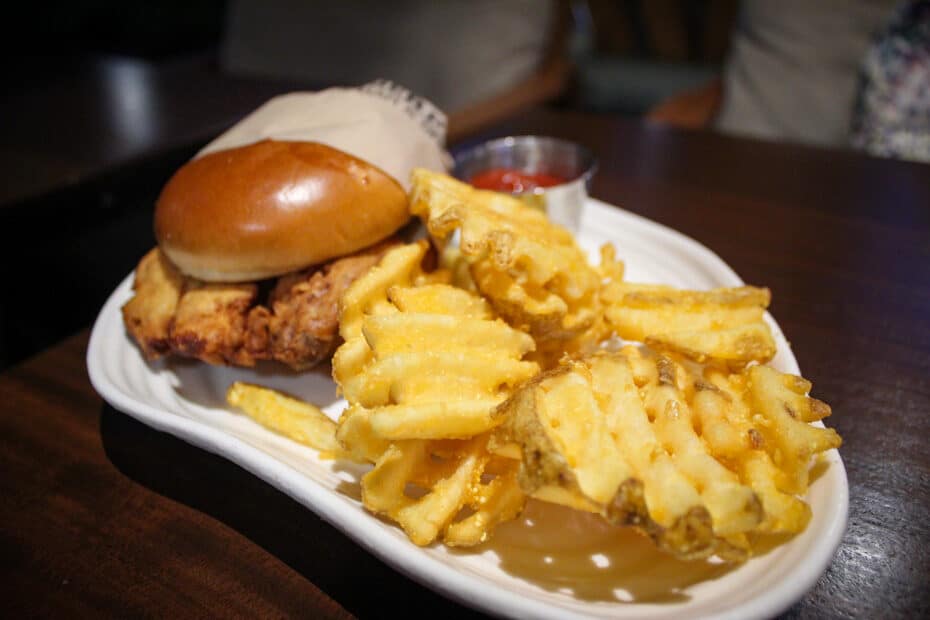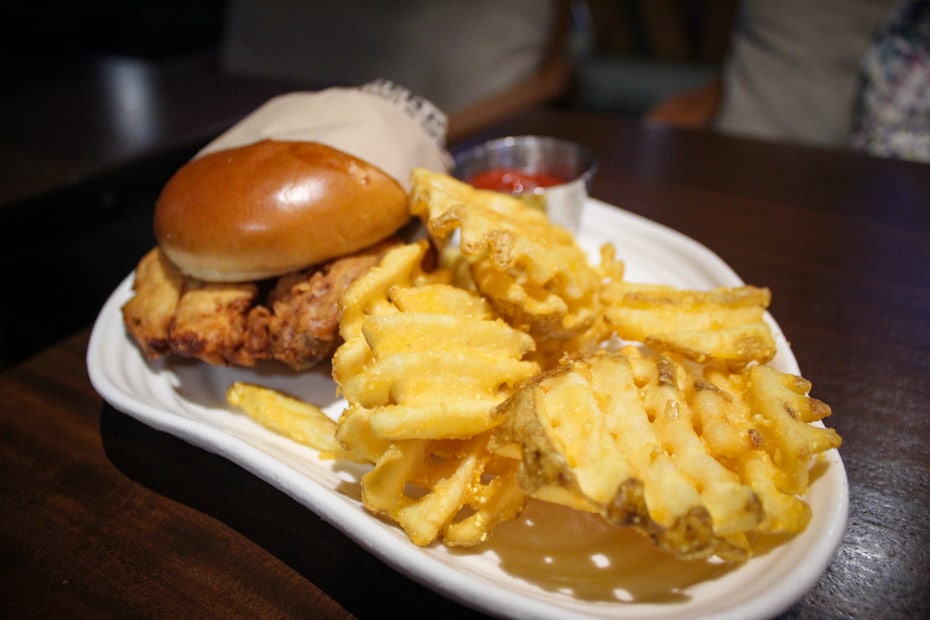 And while I don't have pictures available, I've enjoyed the roasted salmon dish here. That entree was probably the best thing I've eaten to date at Geyser Point, and it was nice to have a healthy option.
Speaking of healthy options, there are several on the menu. Vegans can enjoy the grilled portobello salad. One is not vegan because it comes with a goat cheese dressing, so make sure you order the plant-based grilled portobello salad. It will come with a citrus vinaigrette. I have a full review of vegan food at Disney World here and options I've tried to date. (The portobello salad comes with an opportunity to add grilled chicken, too, if you want more protein.)
If you are more of a person who likes a burger, you might enjoy the Bison cheeseburger. The Bison burger is one of the signature Geyser Point entree items. It comes with crispy onion straws, a Marionberry Barbecue sauce, and garlic aioli. I haven't tried the Bison Burger here, but the one I had over at STK Disney Springs (review) was one of the best I've ever had.
There's even a smoked turkey sandwich that comes with cranberry mayonnaise and apple slaw.
I would be remiss if I didn't mention a few popular appetizer items at Geyser Point Bar and Grill. There is shrimp on a wire, a plant-based edamame dish, and a cheesy barbecue brisket dip. I've heard good things about that brisket dip.
And you might care to inquire about the seasonal pie that's available when you visit.
Additionally, Geyser Point is a family-friendly dining location offering kids' meals that include cheeseburgers and chicken strips with dipping sauces.
You can view the entire Geyser Point Bar and Grill menu here on Disney's site. The lengthy drink menu is available as well. It includes their signature Huckleberry Punch Juice and Blueberry Lemonade.
As far as dining goes, I would recommend marching on over to Geyser Point and enjoying a meal with your loved ones.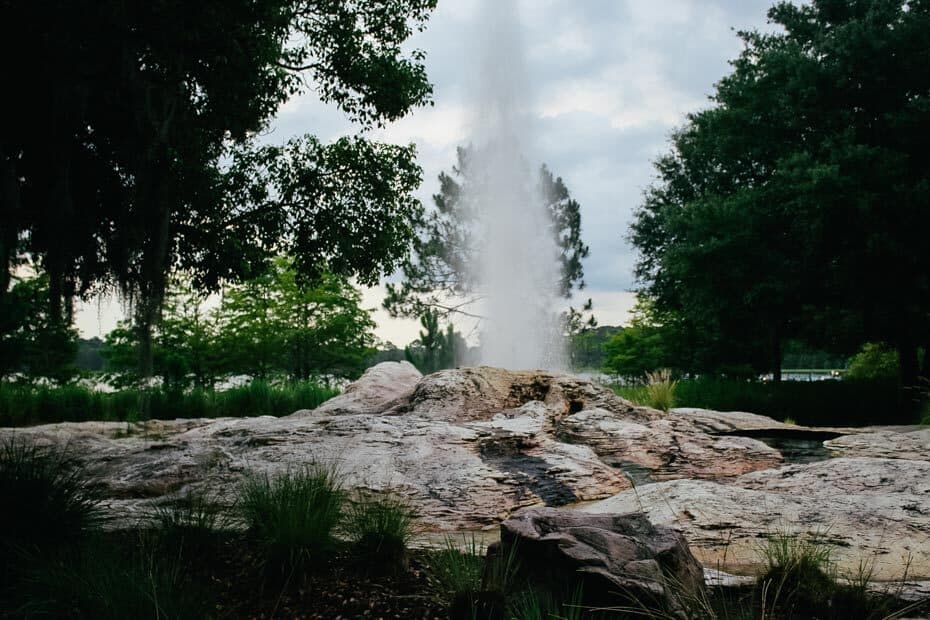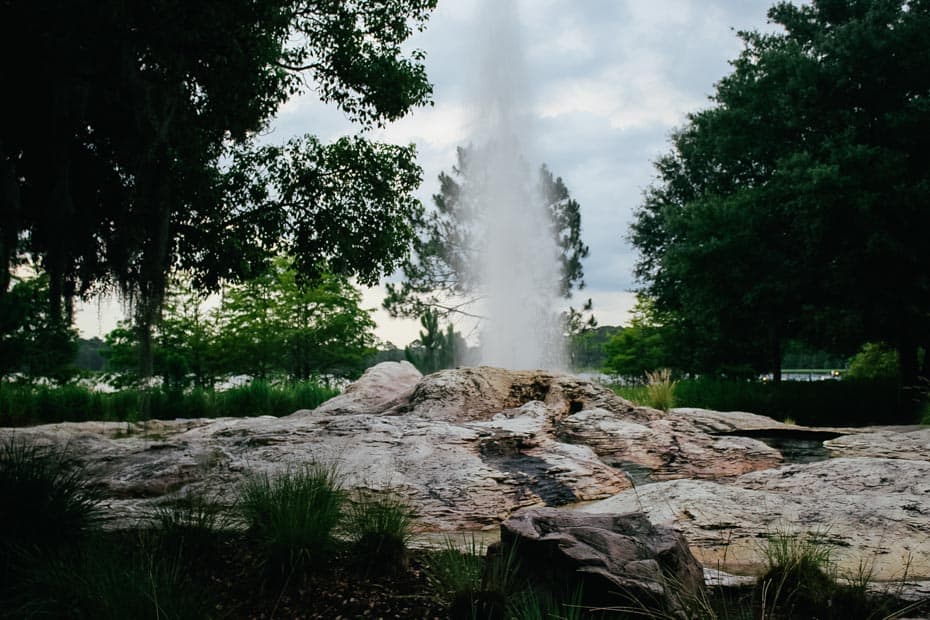 I don't think that you'll regret it, and it's nice to have those happy memories to look back on in the future. And if you're by yourself, it's a good place to dine also. I've had the privilege of eating here with family and by myself. Geyser Point is fairly private, and the service has always been great.
This restaurant normally participates in the Disney Dining Plan when it's available.
If you have more interest in the different dining options at this resort, make sure to check out these reviews:
You might also like these other Disney Hotel Restaurants Reviews:
And check out our Disney Character Dining page if you are looking to do a character meal on your next visit.
Resorts Gal specializes in providing information about the Walt Disney World Resort Hotels. Make sure to check out all of our deluxe Disney resort reviews when planning your vacation. Or you might enjoy browsing the list of Disney moderate resorts or our Disney value resorts reviews.
Leave a comment below and let me know if you have had a chance to try Geyser Point and what you had! I usually end up over this way about twice per year and am always looking to try something new.