Breakfast at Disney's Whispering Canyon Cafe
Having breakfast at Whispering Canyon Cafe is by no means the worst way to start your day at Disney World. In fact, it's a pretty good choice given the hearty entrees and robust entertainment the servers provide.
After you finish reading this breakfast review, I have a feeling you might want to add it to your list of places you want to dine during your Disney vacation.
Then again, you might cringe at the thought of being put in timeout jail when asking for a side of ketchup for your roasted potatoes. Or whatever shenanigans the breakfast cast at Whispering Canyon Cafe are trying to pull on any given day. If that's the case, you might add it to your "no, we ain't going there" list.
Normally, this type of Disney restaurant would not be my normal cup of tea. But it's hard to turn down a breakfast skillet at least once when I'm staying on property.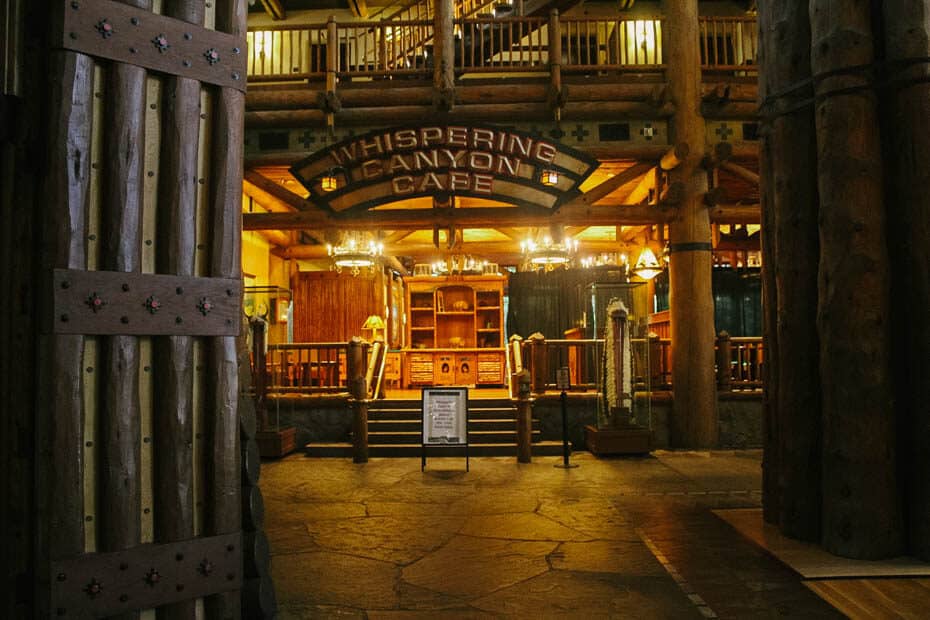 In addition, Whispering Canyon Cafe has become pretty well known for its plant-based menu items. And since I am on a partially vegan diet, I'm looking forward to returning and trying a few things.
One thing on my radar is the plant-based frittata that comes with vegan sausage, peppers, and onions. Typically, Disney chefs use a plant-based egg product to make these types of menu items. Additionally, they have an intriguing dinner menu item with jackfruit as the star of one of their infamous skillet entrees.
Anyway, this review will look at a few recent breakfasts we've had at Whispering Canyon Cafe. The restaurant is located at Disney's Wilderness Lodge and is included in our Wilderness Lodge Dining Guide.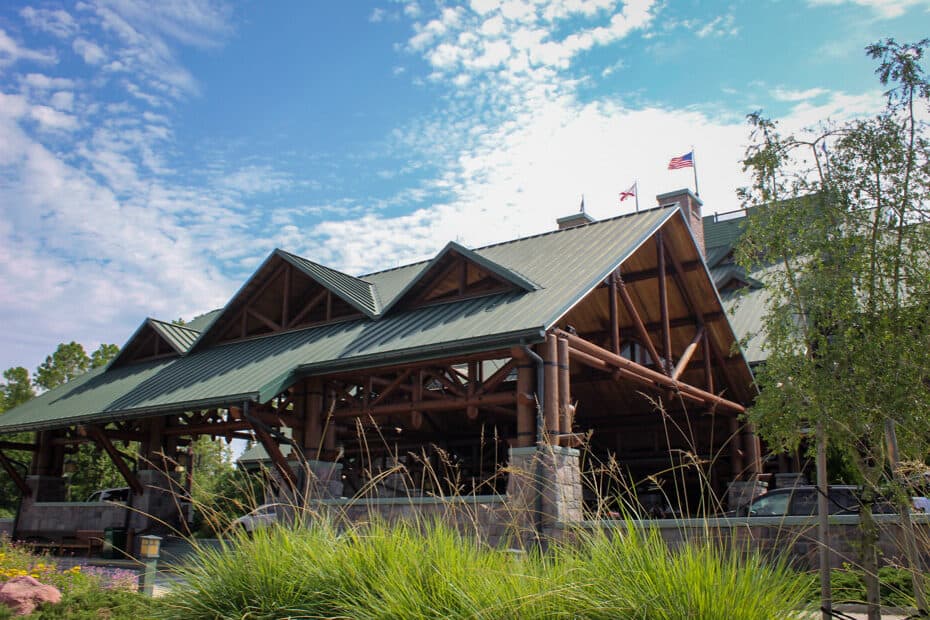 When you stay at Wilderness Lodge (review), having breakfast at Whispering Canyon Cafe is a no-brainer. But if you are visiting the restaurant from another resort or off-property, it might be a little more challenging to access. Your best bet will be to use a local transportation service like Uber, Lyft, or a taxi if your car is unavailable.
For me, I typically have my car. Therefore, I nearly always drive to my dining reservations at the resorts. It's kind of a "kill two birds with one stone" type of convenience.
For example, I often reserve breakfast, drive over, park at a resort, and leave my car there for the day. This leaves me with the flexibility to be able to use Disney transportation when I'm on property. While at the same time, I can also get back to my car fairly easily if needed.
To park at a resort, you either have to be a guest of that specific resort or have a dining reservation. When you arrive at the resort, a security guard will validate your reservation and direct you to park.
Back to Whispering Canyon Cafe, the restaurant offers breakfast, lunch, and dinner service. It sits open to the lobby of the Wilderness Lodge. However, you'll hardly notice anyone in the lobby while dining. And I doubt anyone in the lobby ever notices diners.
Unless they are having a little sing-song or something. You might notice the sign below states, "The goings-on can get a little loud, and that's just the way we like it."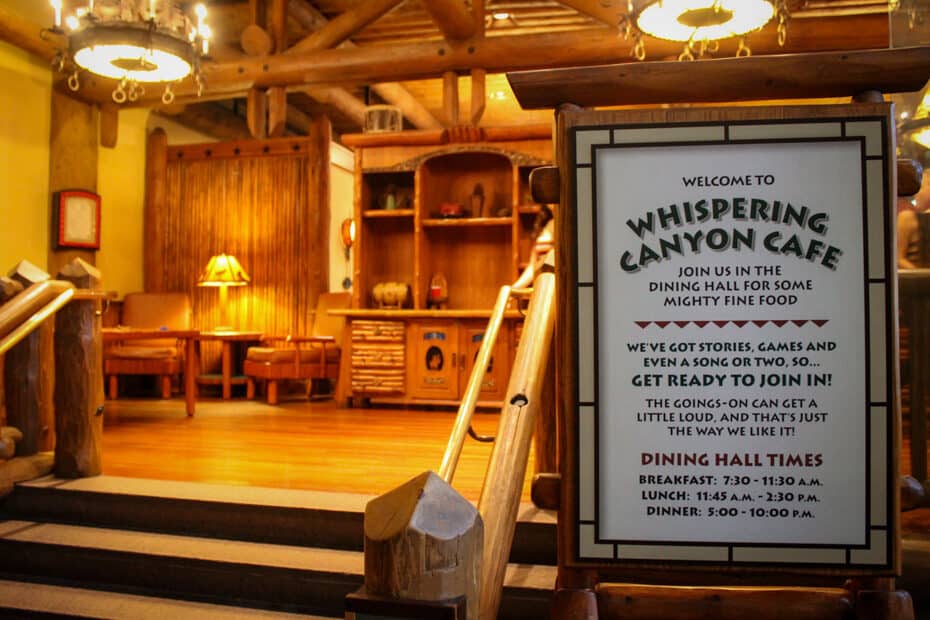 And that's the thing about having breakfast at Whispering Canyon Cafe. Not only do the cast members provide regular service, but entertainment in the form of jokes, tricks, and possibly even a little good-natured back talk.
Most of you might even consider the restaurant to be fun. And from our experiences, if you let your server know to keep it mild, they will respect your wishes. Now, if you do so, your kids might wonder why they aren't getting the royal treatment like everyone else around them. But I'll leave that up to you to explain along with everything else.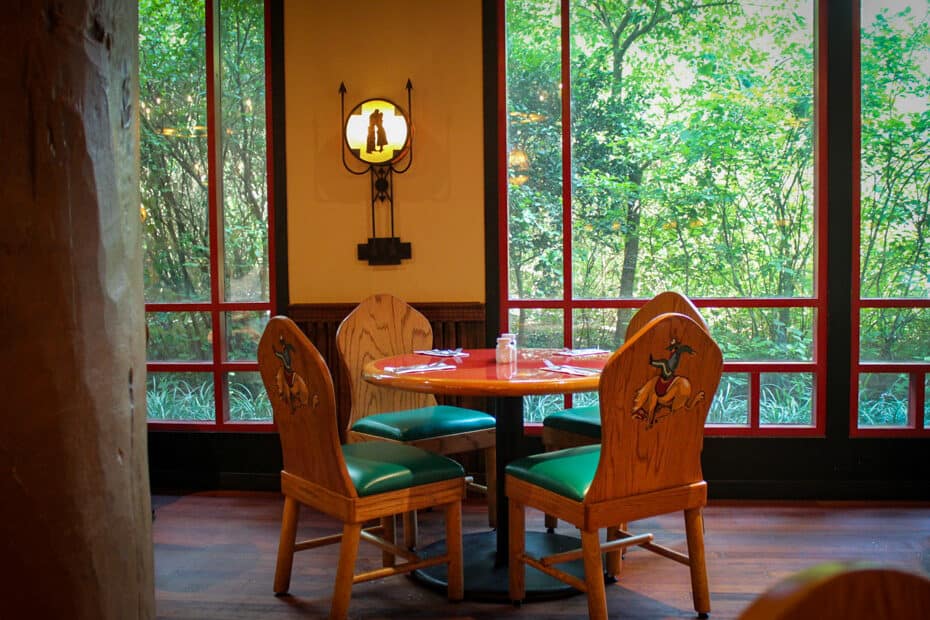 As far as seating goes, there are a few seats along the restaurant's back wall, offering a little more privacy. But most everything is out in the open like in the image below.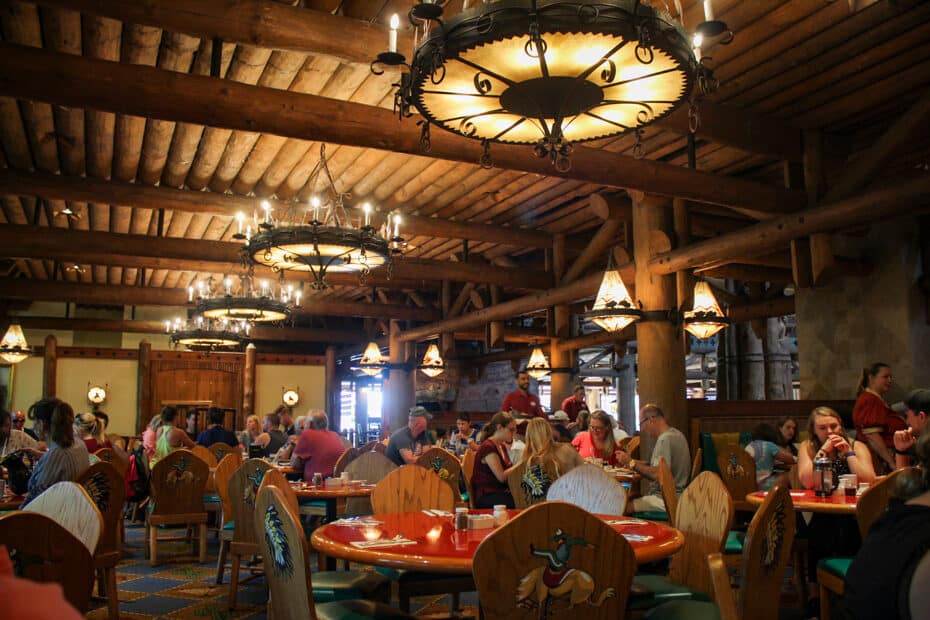 If you would like to preview Whispering Canyon Cafe's breakfast menu, you can do so here on Disney's site. The menu is basically made up of a variety of all-you-care-to-enjoy skillets, frittatas, and then a few al a carte items. The signature breakfast skillets are made up of meats, roasted potatoes, and a buttermilk cheddar biscuit.
The first skillet on the menu is the Heritage Skillet that includes sausage gravy with a Mickey waffle, eggs, country potatoes, hickory smoked bacon, and a pork sausage link.
Or you might opt for the Carnivore Skillet that includes house-smoked ham, oak-smoked beef brisket, hickory-smoked bacon, and pork.
Lastly, the lighter side skillet comes with Bircher Muesli, fresh fruit, yogurt, egg white spinach frittata, turkey bacon, turkey sausage, and a Mickey Waffle.
Every skillet comes with bottomless buttermilk biscuits.
For one meal, I elected to go with the salmon frittata. This came with a side of breakfast potatoes and a buttermilk cheddar biscuit.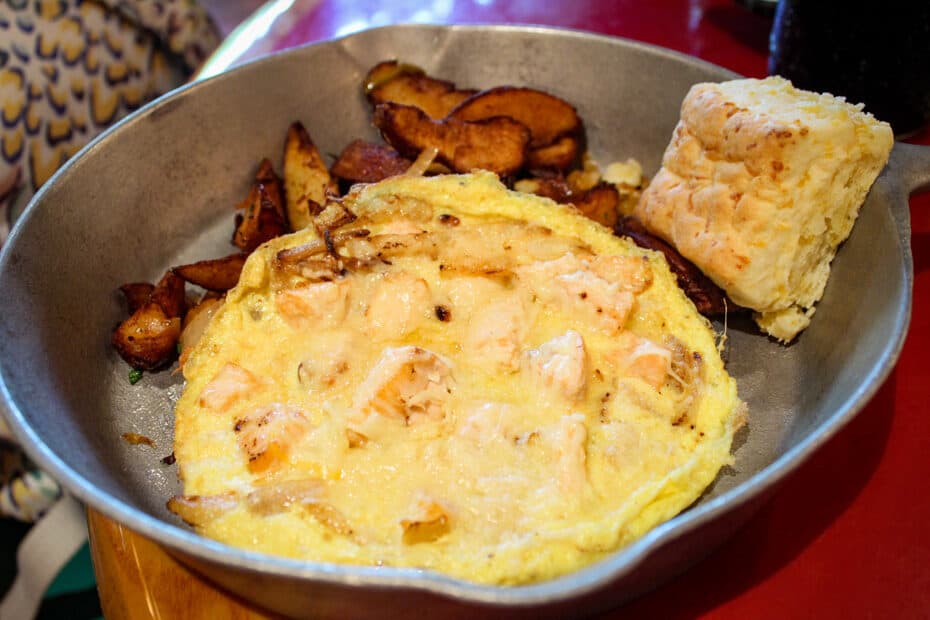 My salmon frittata was excellent. It had large chunks of house-smoked salmon blended into the soft frittata background with chives.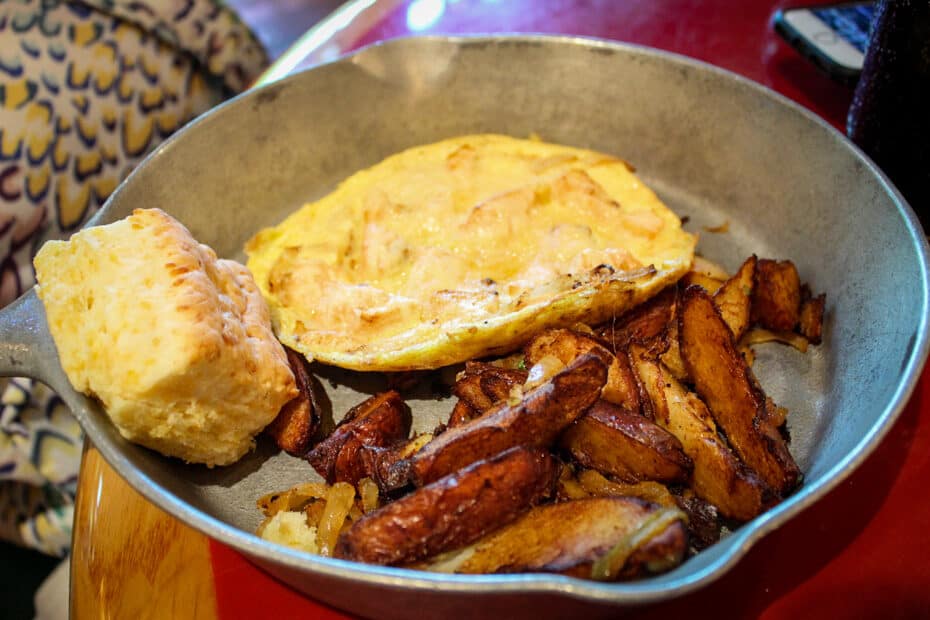 It was so good I considered ordering it again a few months back. However, I knew I needed to get this review out, so I went with a breakfast skillet for comparison.
Not only that, I went with the Carnivore Skillet.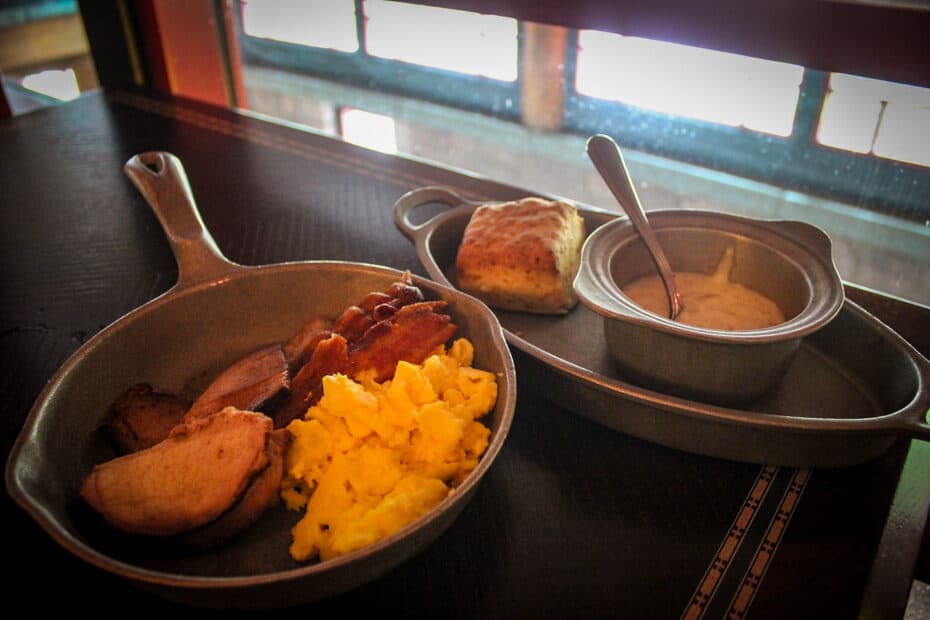 This was a nice option and I really enjoyed the biscuit with sausage gravy that came on the side.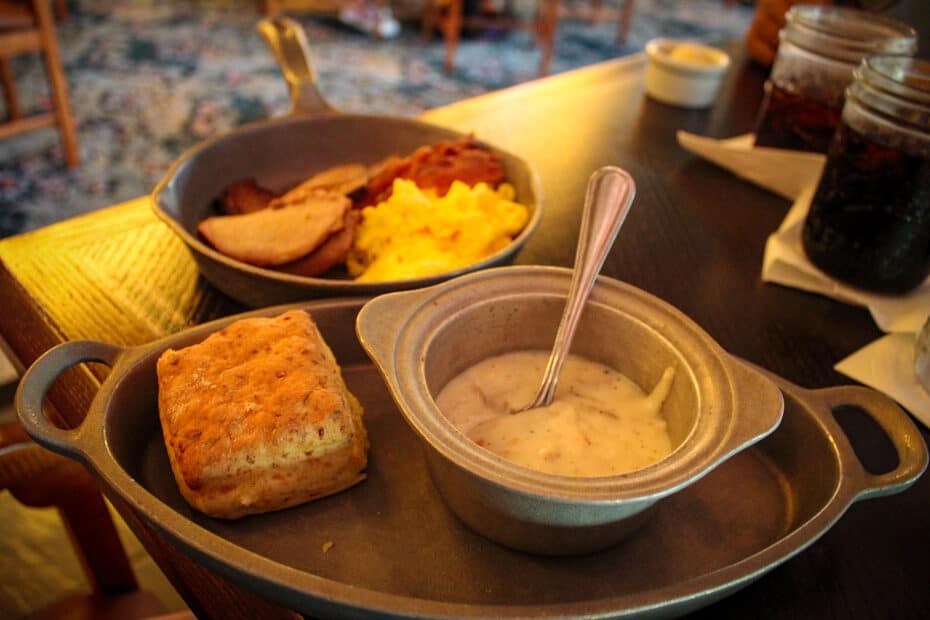 As mentioned above, the carnivore comes with house-smoked ham, brisket, sausage links, bacon, and eggs, in addition to the biscuit with gravy.
My only complaint was that the ham wasn't so great. That's it on the right-hand side of the plate. It looked and tasted like an overcooked slice of pork tenderloin.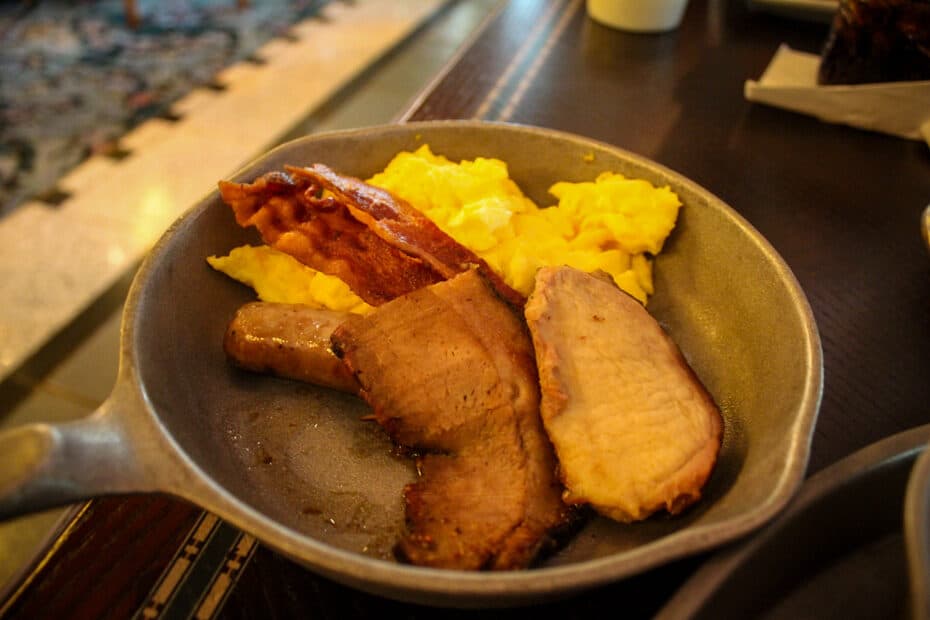 Everything else was delicious, and I was overall pleased with our meal.
But if I had to choose between the two again, I would go with the salmon frittata. Don't let that stop you from getting this skillet, though. It was too heavy of a meal for me.
And with the skillet being all you care to enjoy, your server will literally bring meat refills to the table. So there's definitely no question of value here.
My son, who has serious food allergies, opted to get the same meal on both of these visits. So, we'll have two different photos for consistency.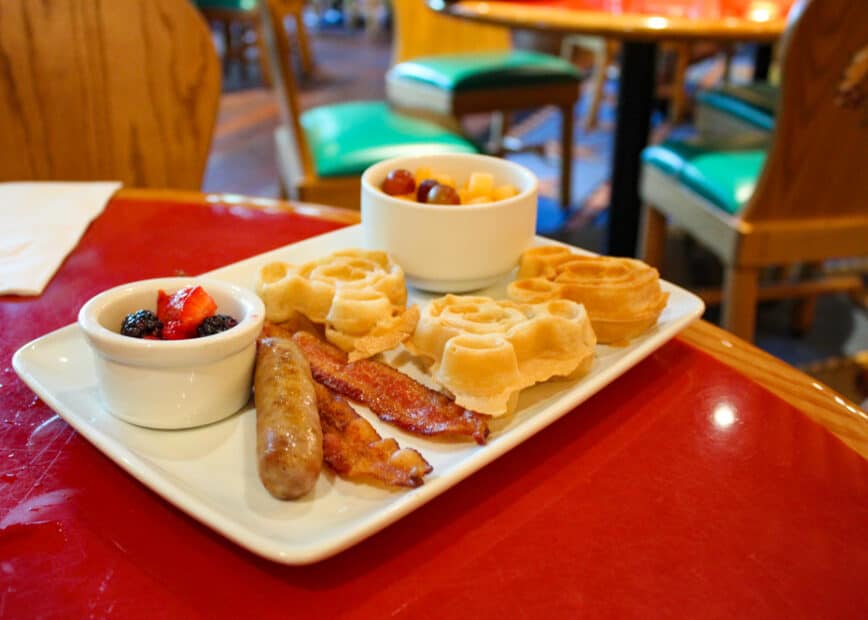 These are the allergy-friendly Mickey waffles with a side of bacon, fruit, and an allergy-friendly spread. One of the things at Disney I'm most thankful for is that they can accommodate food allergies. It can be challenging to eat out when you have to deal with so many dietary concerns.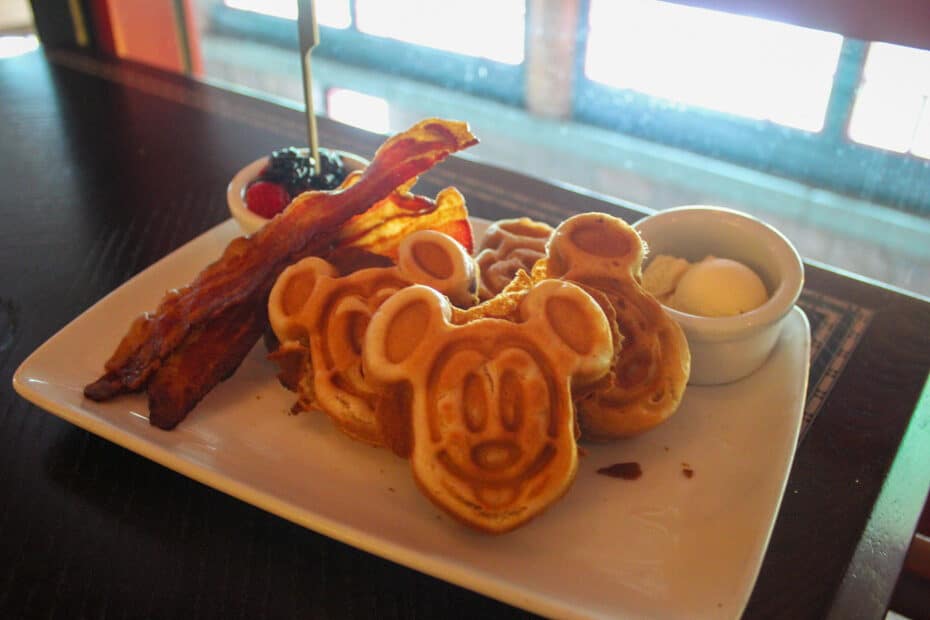 Make sure to alert your server if you have a dietary concern. In our case, we nearly always speak to the chef directly. There are some cast members, however, that are familiar enough with the menu to relay your food-allergy order to a chef confidently. I always recommend doing what you feel comfortable with, and if that's seeing a chef, insist upon it.
Lastly, the menu offers several smaller options if the breakfast skillets sound like too much. You might enjoy the Belgian waffle that comes with fresh berries and a choice of either hickory-smoked bacon or a smoked sausage link.
Whatever you decide, breakfast at Disney's Whispering Canyon Cafe has a lot to offer and a unique experience you won't find many places.
There are also some great options some of the other Disney Hotel Restaurants like these:
Additionally, I love the character breakfast at Topolino's Terrace, which is located at Disney's Riviera Resort. If you would like to know more about character meals, check out our full guide to Disney World Character Dining.
Or you can view all our entire list of Disney Restaurant Reviews here on the site.
Planning a Walt Disney World vacation? Resorts Gal specializes in providing Disney World Hotel Reviews. That list will help familiarize you with all the options for room accommodations available at Disney.
Lastly, we hope you found this review helpful in deciding on a meal. Feel free to leave a comment or any questions below. And definitely let us know if you have had the opportunity to try breakfast at Whispering Canyon Cafe.