8 Delightful Dining Options at Bonnet Creek's JW Marriott
When it comes to dining, the JW Marriott Orlando at Bonnet Creek has some delectable choices. For this article, we'll preview all your hotel dining options.
You might care to start your day with a tasty breakfast buffet that includes everything from smoked salmon to pancakes. Then, you might order something poolside for lunch while basking in the sunlight.
Come nightfall, let the elevator whisk you away to the rooftop bar and restaurant that serves Asian cuisine. Or, if you're in the know, you'll make advanced reservations for Sea + Sear.
And if you take pleasure indulging in the little things, you might care to order room service at 10:00 p.m. after a long soak in the tub. That's what I did.
Regardless of whether you want to get dressed to the nines for fine dining, enjoy a casual restaurant, or don your hotel robe for breakfast in bed, the JW Marriott at Bonnet Creek has you covered.
So slip on your best robe or try on that semi-formal you've been saving for a special occasion. We are going to savor the luxury of hotel dining.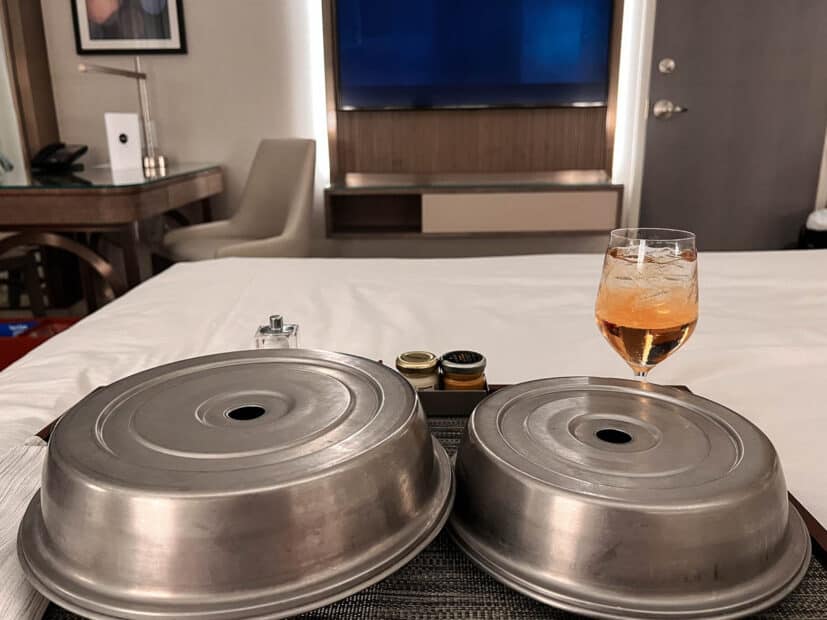 Restaurants at JW Marriott Orlando Bonnet Creek
Below we have a list of the dining options at the hotel.
Sea + Sear
Illume
Unreserved Food Bazaar
Palm Cove
JW Market
In-Room Dining
As we continue, I'll provide an overview of each restaurant and photos of my meals where applicable.
Sea + Sear
First, I want to acknowledge that Sea + Sear was recently named a recommended restaurant by Florida's 2022 Michelin Guide. This is the inaugural year for the Michelin Guide in Florida.
Unfortunately, no restaurants in the state were given the distinguished honor of receiving three stars. However, one restaurant received two stars and fourteen more picked up one star.
For those unfamiliar with the Michelin Guide, it's one of the most coveted awards in the restaurant industry. To even be considered, or in this case, recommended, is a big deal.
Here's a quote from the Guide's point of view for Sea + Sear:
"This surf and turf retreat lives in the JW Marriott Bonnet Creek. The drive up to the property is dramatic enough; valet services and a McLaren parked out front merely add to the luxury factor. Make your way through the sleek lobby and past the rowdy bar to arrive at this well-designed space, featuring white marble tables, nooks in neutral hues and an outdoor section with flaming heaters."
You can read the entire point of view here on the Michelin Guide's site.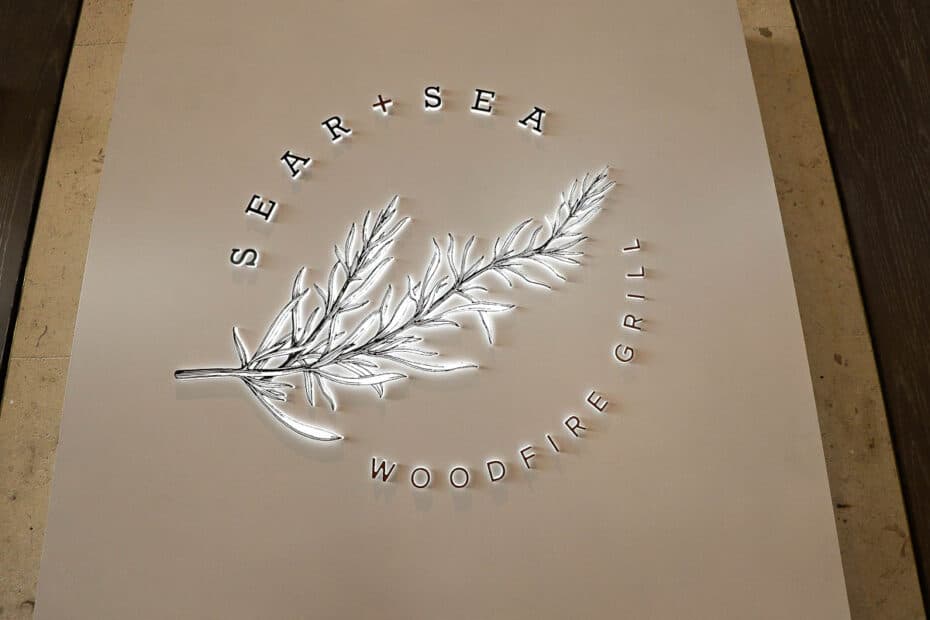 When I started writing about Walt Disney World, I never thought we'd have an opportunity to mention the Michelin Guide on the site. But between us, I am thrilled to incorporate such a subject.
I'm also remiss that I didn't get the opportunity to eat here during my stay. Can you imagine my dismay to see the news of this restaurant's Michelin mention only a few short weeks after I had checked out?
I simply must return. Here is a look inside.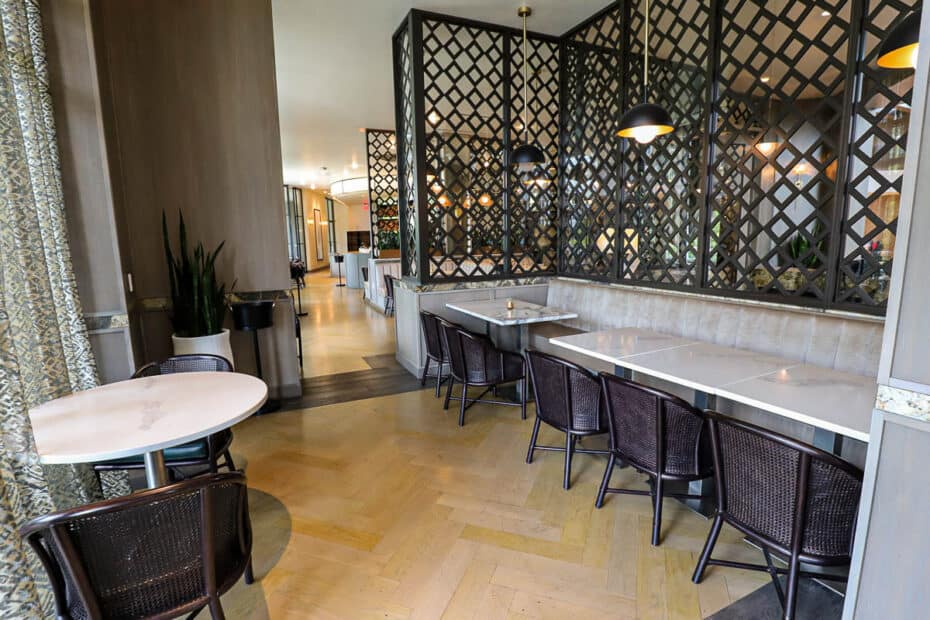 You can preview the menu here.
Additionally, Sea+ Sear has a lobby bar right outside the restaurant's entrance.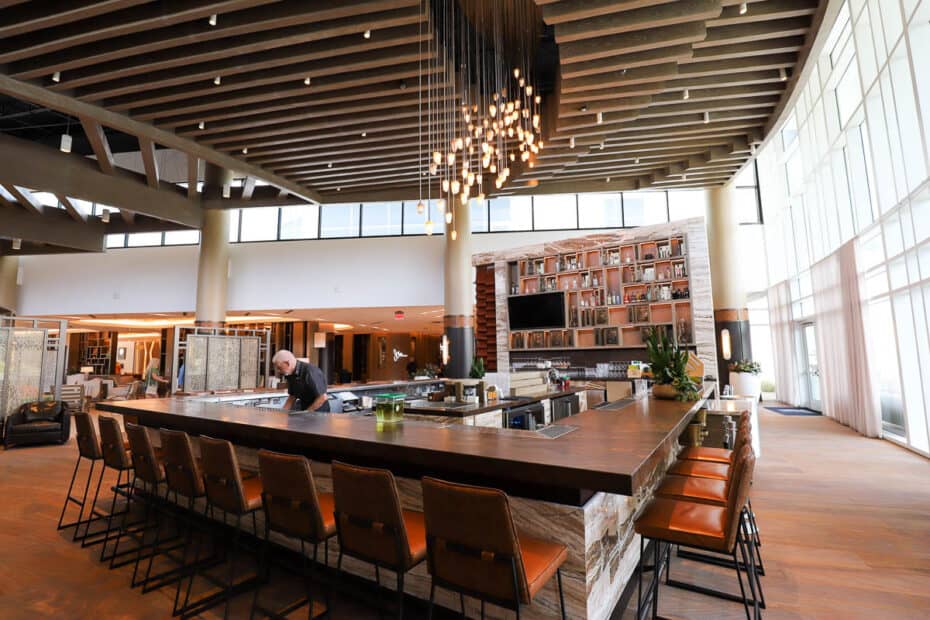 The lobby bar is open daily from 4:00 p.m. until 11:00 p.m. This location boasts the largest selection of gin in Orlando.
Illume
Illume is the hotel's rooftop restaurant. In my formal review of the hotel, I mentioned how upset I was that I forgot to go back after 4:00 p.m. and photograph the space.
Nearly everyone I talked to at the hotel during my stay said Illume was a must-do because of the rooftop views of the surrounding area.
Illume serves Asian cuisine and is said to be an excellent location to watch the nightly fireworks spectacular at Walt Disney World.
You can preview the menu here.
Unreserved Food Bazaar
Unreserved is located on the lower level of the hotel. The restaurant serves breakfast, lunch, and dinner daily.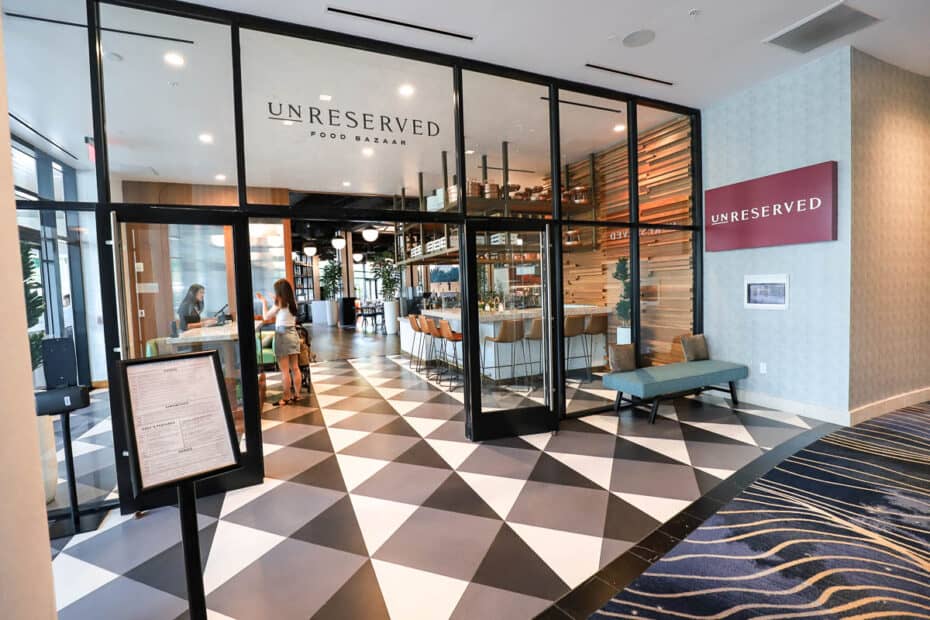 The restaurant is casual and inviting.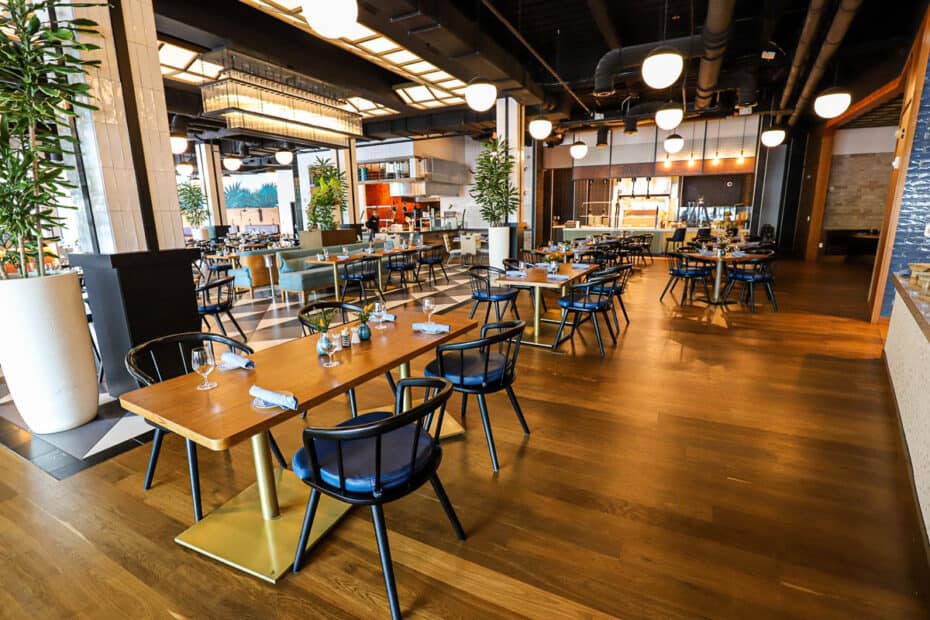 Here is a preview of the lunch and dinner menu.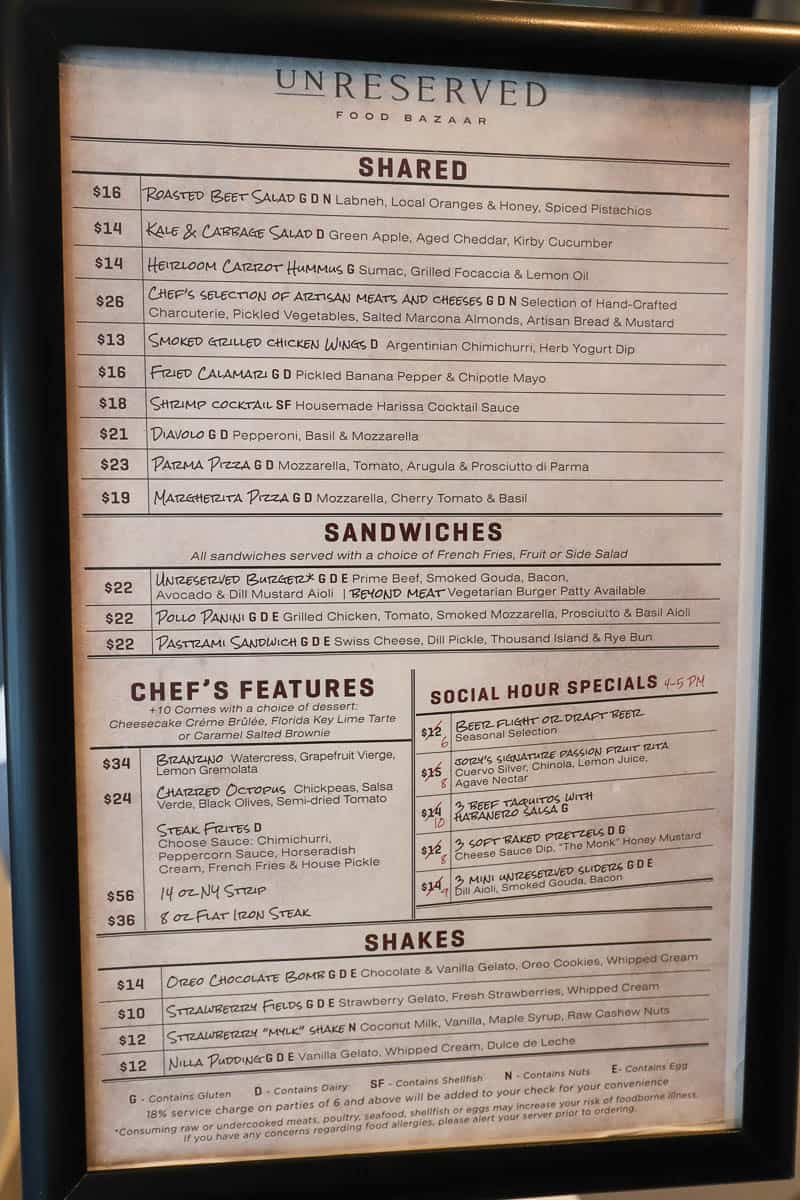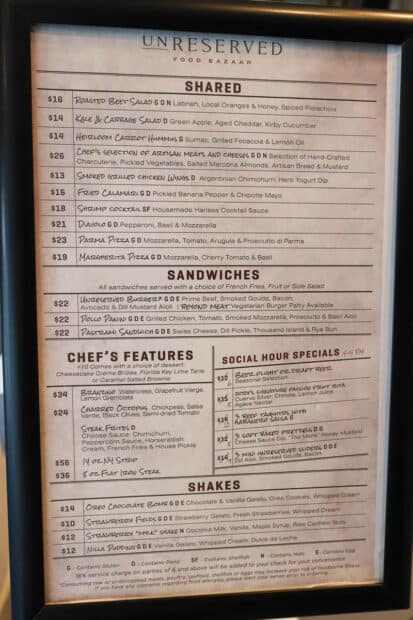 During my stay, I elected to have breakfast at Unreserved. Rarely do I order the breakfast buffet at most hotels. However, I always like to walk through and preview what's available before making my decision.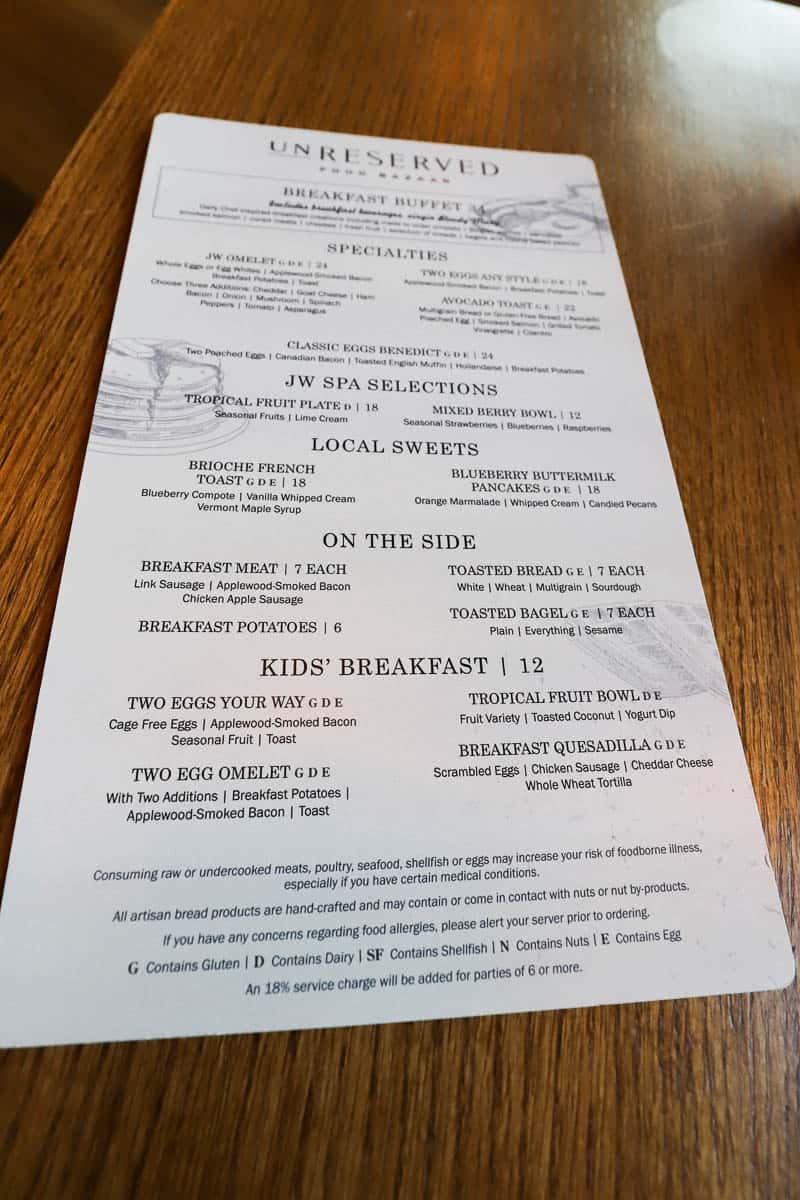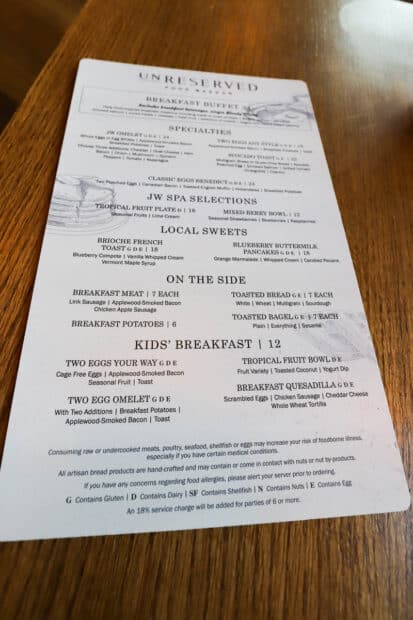 The breakfast buffet costs $34.00 and includes regular beverages like coffee and soft drinks. After walking through, I decided this was the best way to go.
It's been such a long time since I enjoyed such a brunch-y feast. We used to visit Disney's California Grill at the Contemporary Resort for brunch multiple times per year.
That brunch was only available on Sundays and ran upwards of $100.00 per person. But it included unlimited mimosas and an additional entree selection.
Anyway, that experience has not returned to date. But this hotel buffet gave me the same vibe without all the frou-frou and expense.
There were waffles, buttermilk pancakes, chicken sausages, bacon, and scrambled eggs.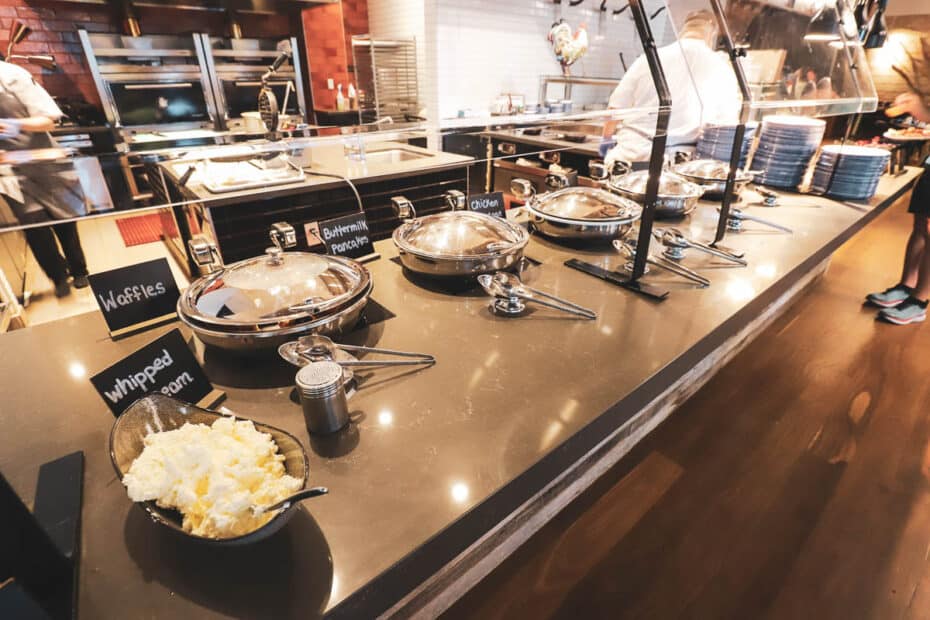 Or, if you prefer, you could get an omelet made to order. There was even the option to get an egg-white-only omelet.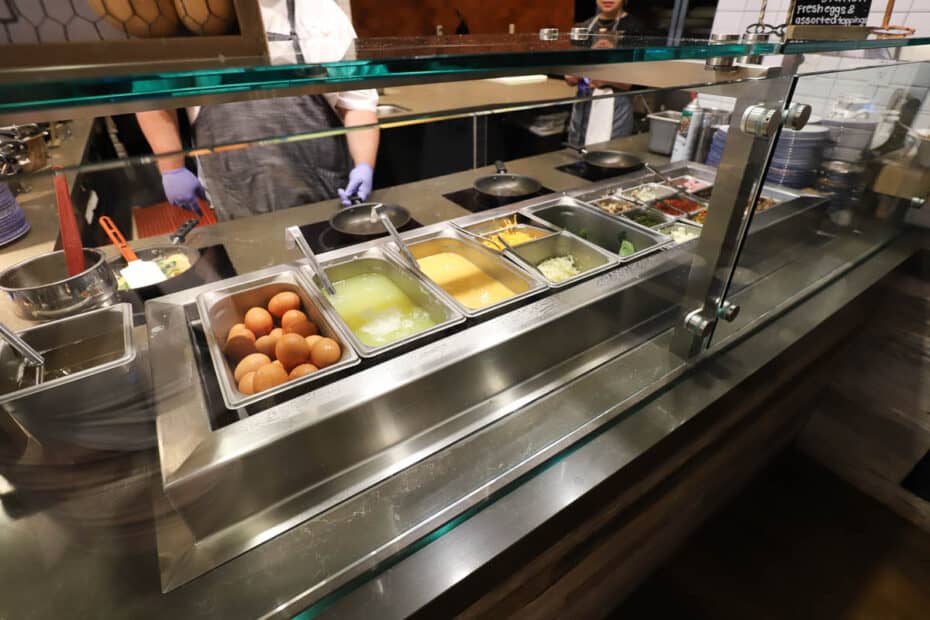 Here is the oatmeal bar with sugary toppings.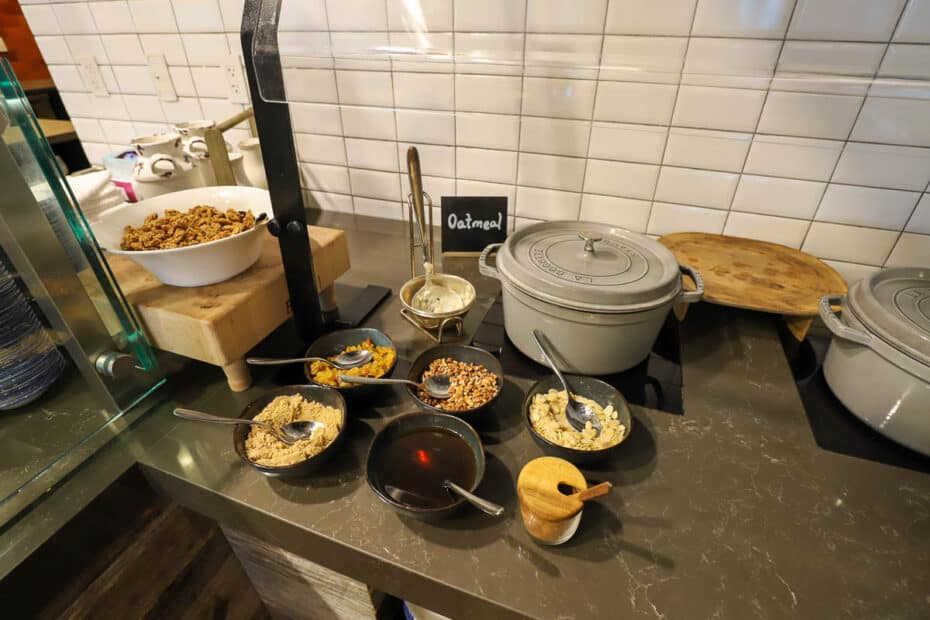 I was a bit skeptical when I first laid eyes on the biscuits and gravy. After all, I am from Alabama. If you give me a skillet, grease, scoop of flour, and milk, we'll have gravy in no time.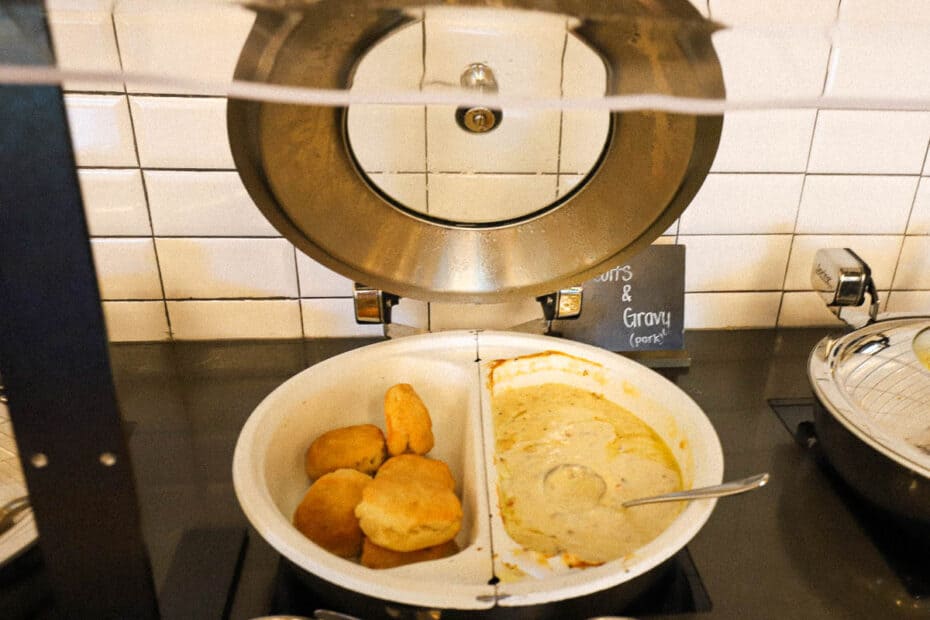 But the biscuits and the gravy here at the JW were tasty indeed. They were one of my favorite selections from the buffet.
In addition, there were a variety of different breads with spreads.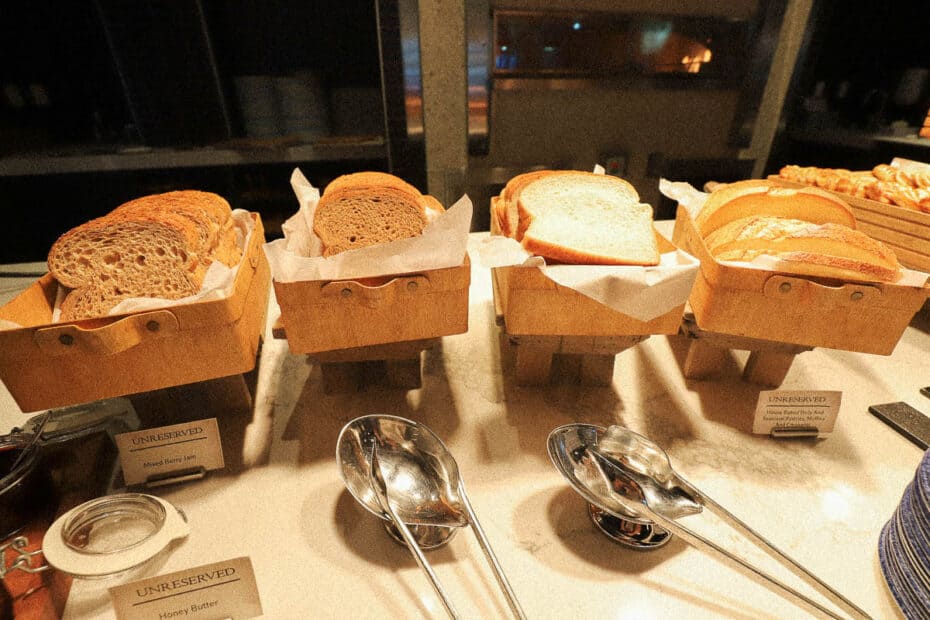 And here we have the pastries. You know what they say, "more carbs, more problems."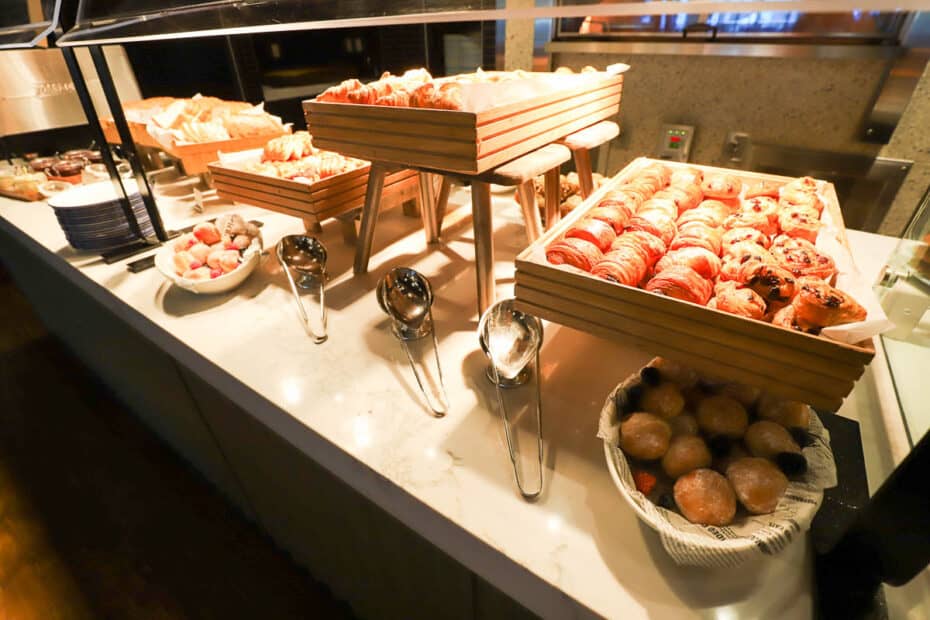 Speaking of favorite bites, those little round puffs on the bottom left-hand corner of the photo below were scrumptious. If only I had brought a plastic puppy bag in my backpack for leftovers.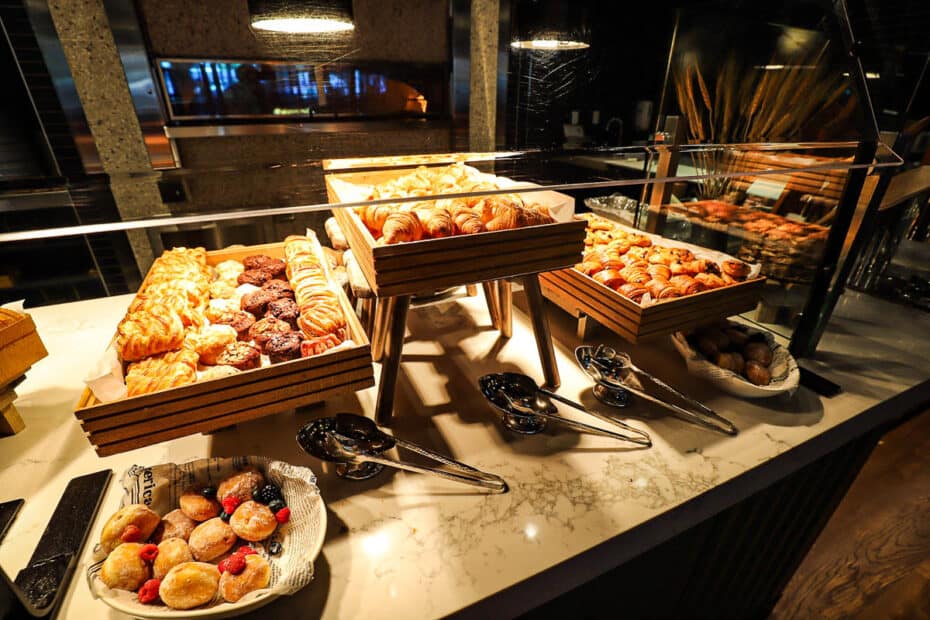 They were that good.
Here we have the charcuterie, cheese, and smoked salmon. I think you know that they had me at the smoked salmon.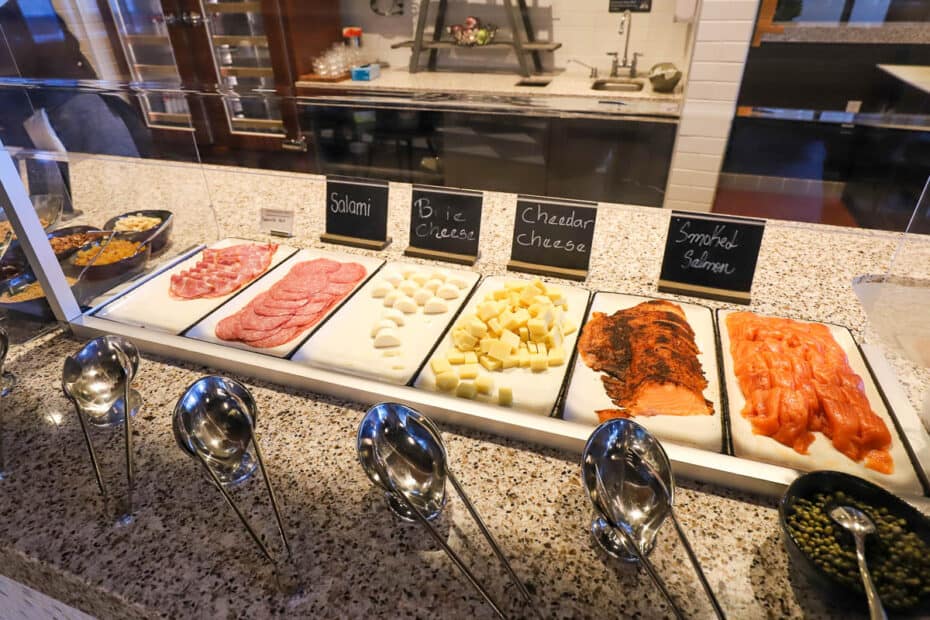 The fruit selection was impressive as well.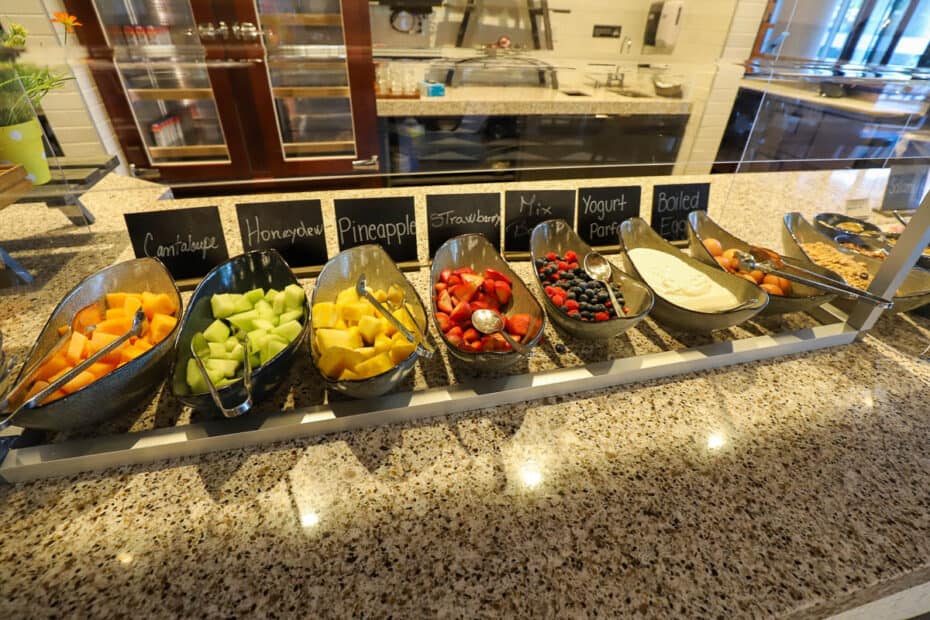 And if you have a picky eater, you could always pick up a box of cereal with milk.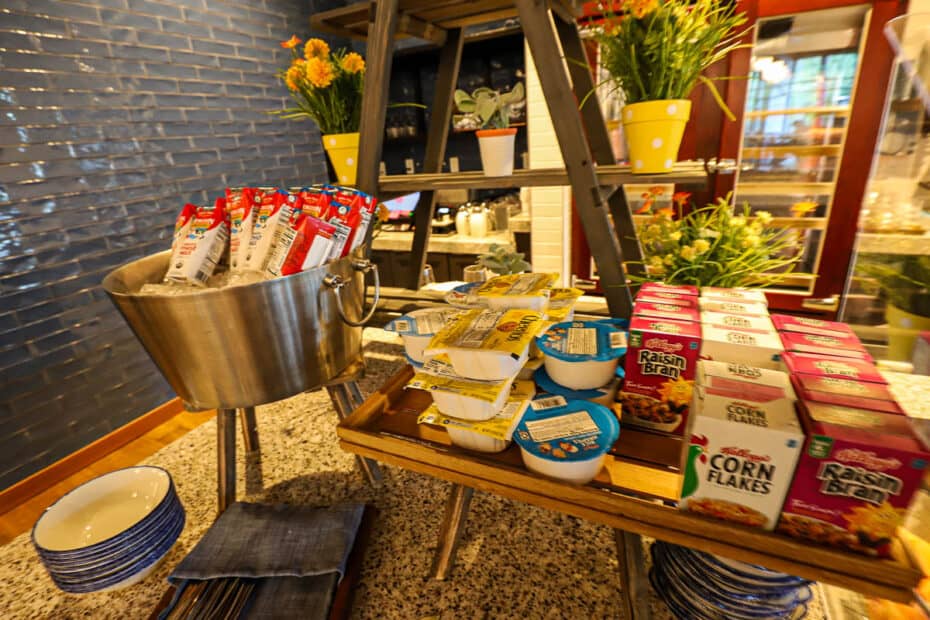 In addition, apple juice and orange juice were available on the buffet.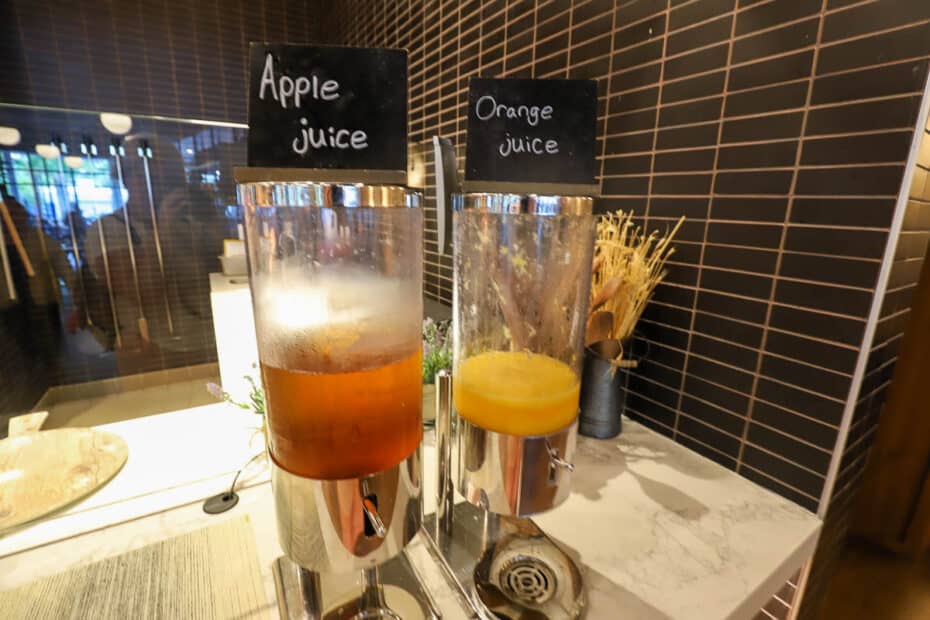 So here is a photo of round one. I felt the need to try as much as possible so that I could report back to you.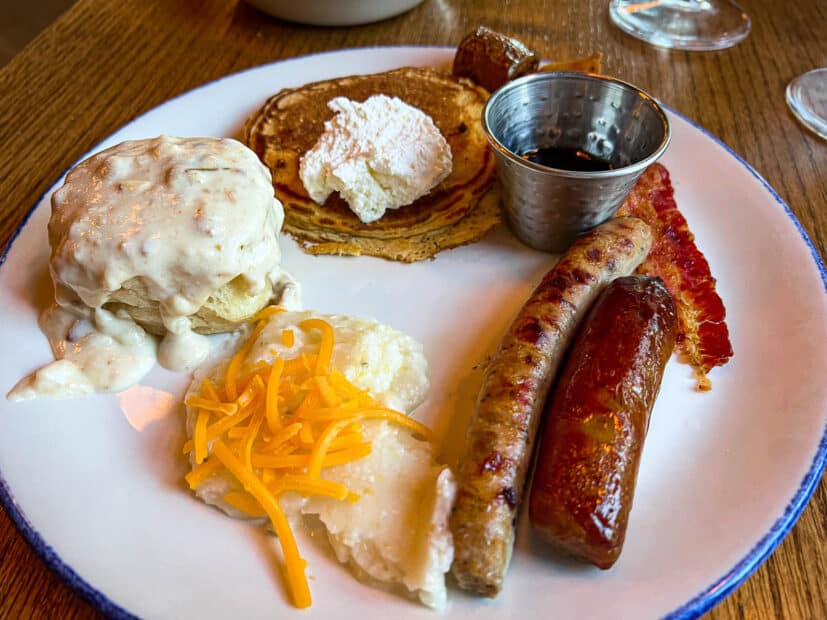 Those pancakes were thin and crispy. I don't know if this style is a trendy thing or not, but they reminded me of the ones from Steakhouse 71 at the Contemporary. So make sure to try them…at either restaurant.
Related: Steakhouse 71 Breakfast Review
We'll call this photo round two. By the time I got to my fruit, I was wondering what I was thinking getting all of this food. You might notice that sole puff of pastry toward the back of my slice of sourdough.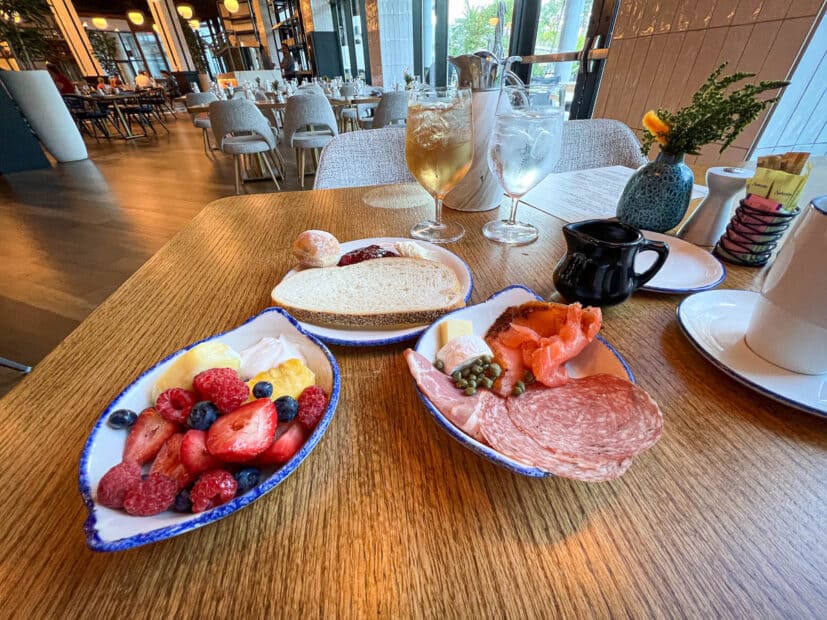 Overall, I thought the breakfast buffet was a great value, and I look forward to dining here again.
In addition to the regular restaurant, Unreserved has a beer garden on the restaurant's patio. This location is open daily from 11:00 a.m. until 9:00 p.m.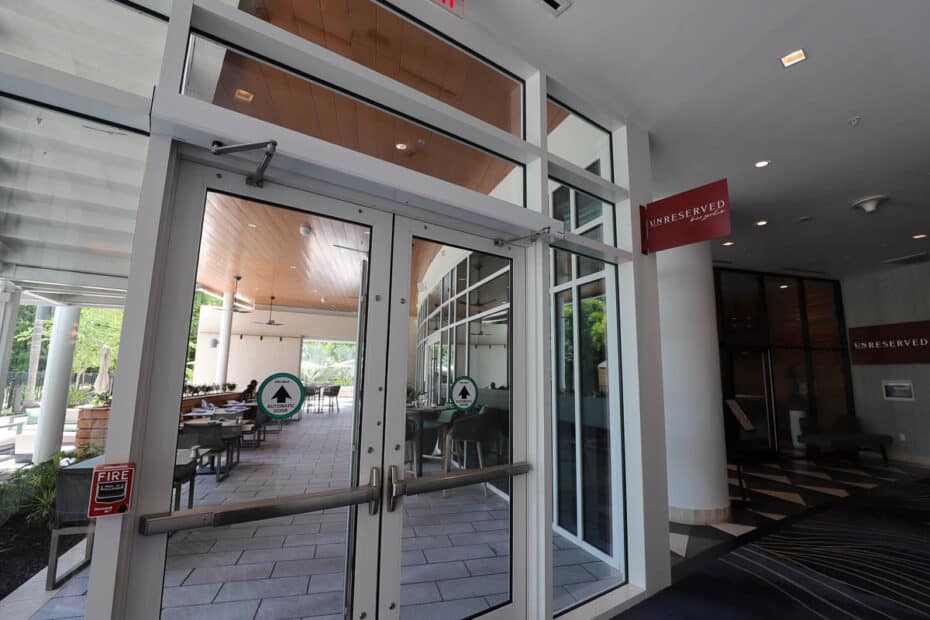 Palm Cove
When planning your trip to this JW Marriott, schedule time at the pool. I spent two afternoons out here in a row, which was lovely.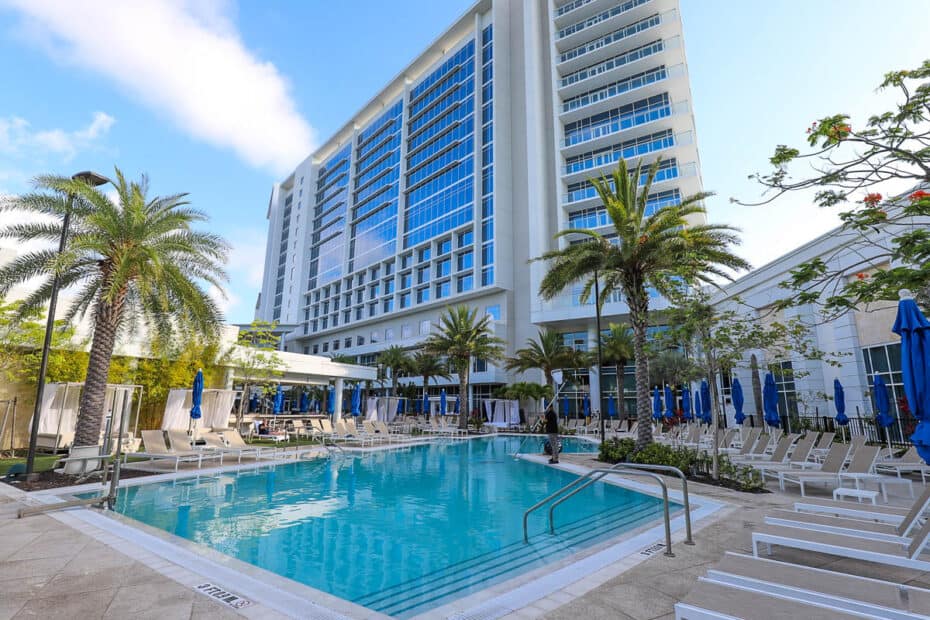 The first afternoon I ordered the Hisbiscus-Rita. This drink is supposed to be a fun play on a margarita. Unfortunately, mine was pretty watered down and didn't have much taste at all.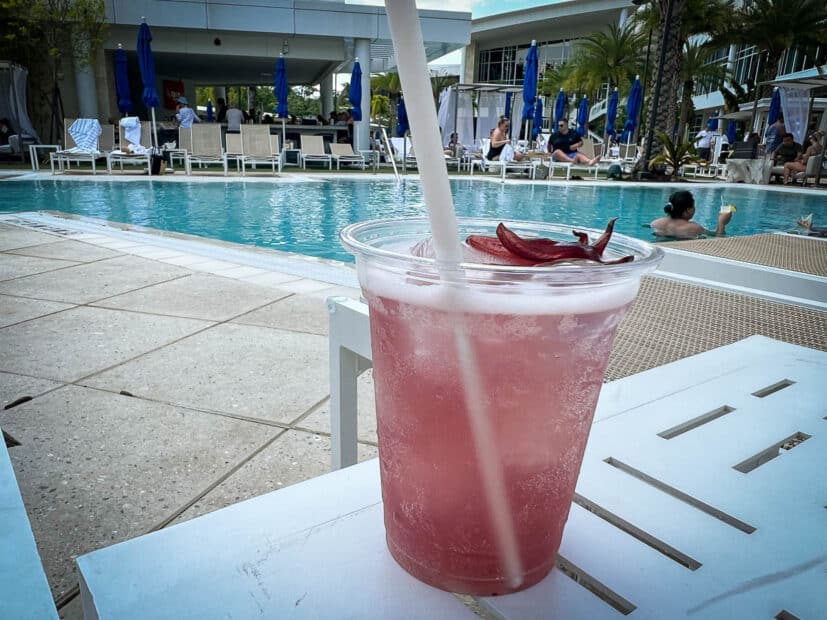 I rarely order this kind of thing, so it was a bit of a let-down given the $16.00 price point.
Later, I decided to try out the grilled fish tacos per my server's suggestion. She was right. The tacos were an excellent option to enjoy poolside.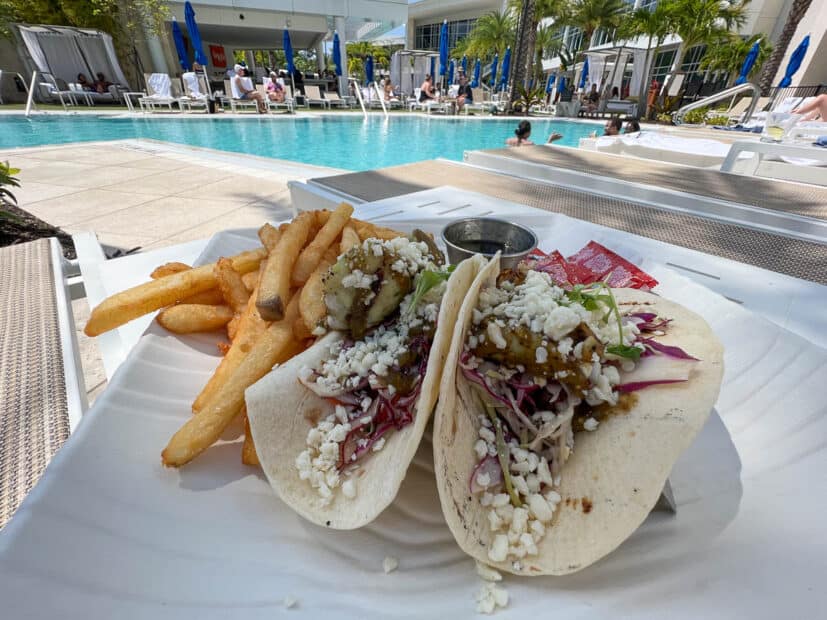 At the pool, there were attendants in addition to servers from Palm Cove. The attendants were good about coming by and refilling your water or bringing extra towels.
They even brought by a basket of suckers. I was a bit amused because they were handing them to guests in the pool and then taking the wrapper for them.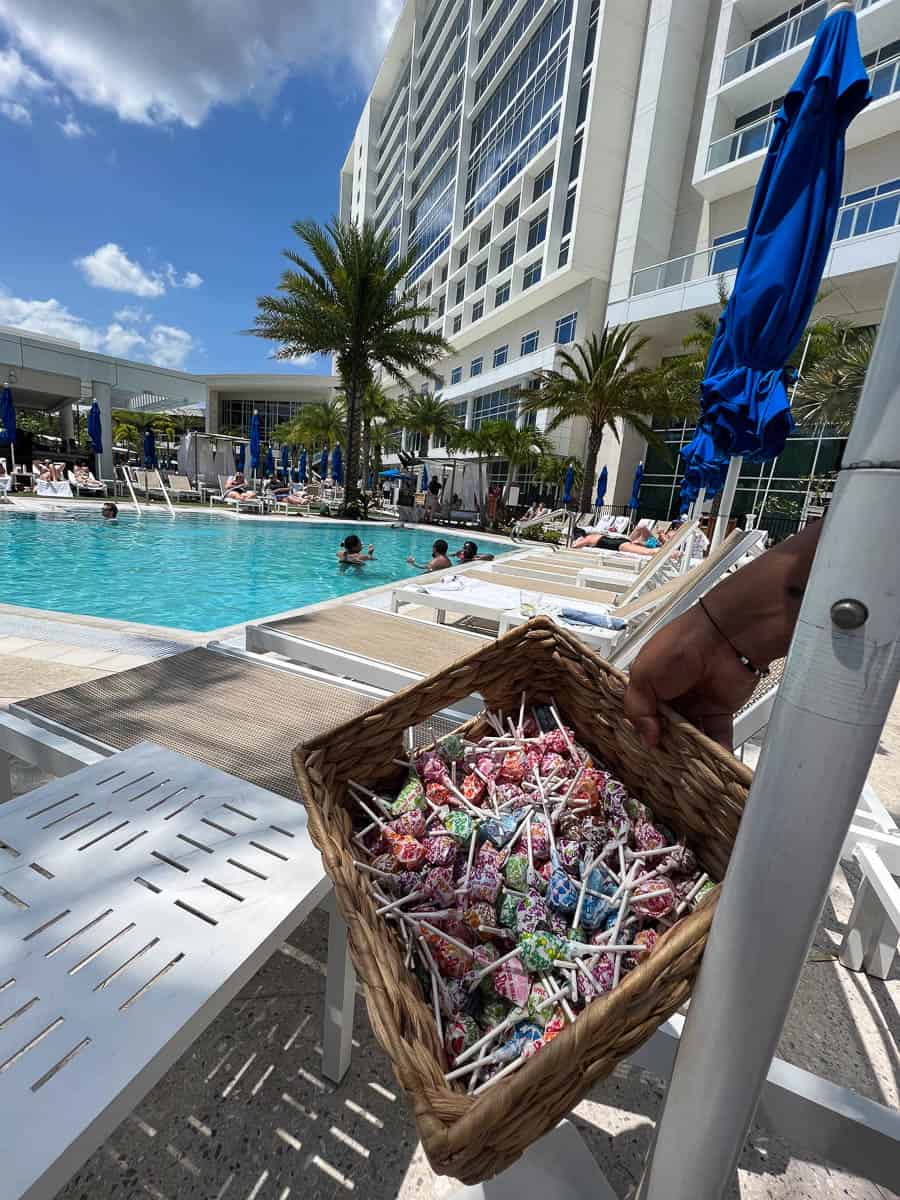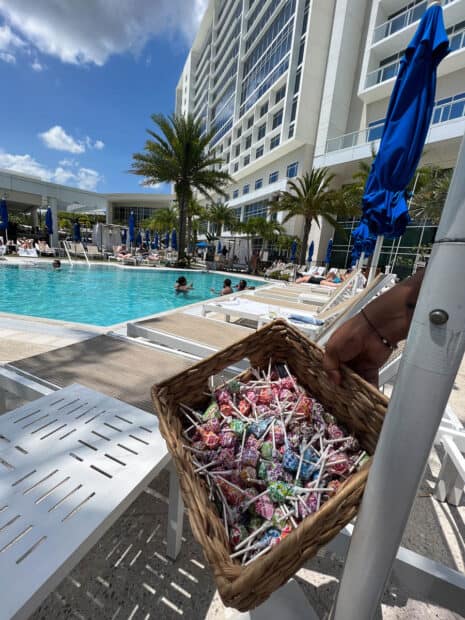 The next afternoon, I found myself back out at the pool doing a little work on the blog. Since I had enjoyed that extensive buffet for breakfast, I didn't intend to eat lunch.
However, by about 3:00 p.m., my stomach thought otherwise. So I decided to order something at the pool.
Only this time, I went with my go-to choice, a kids' meal. Here we have the child's cheeseburger with fries and ginger ale.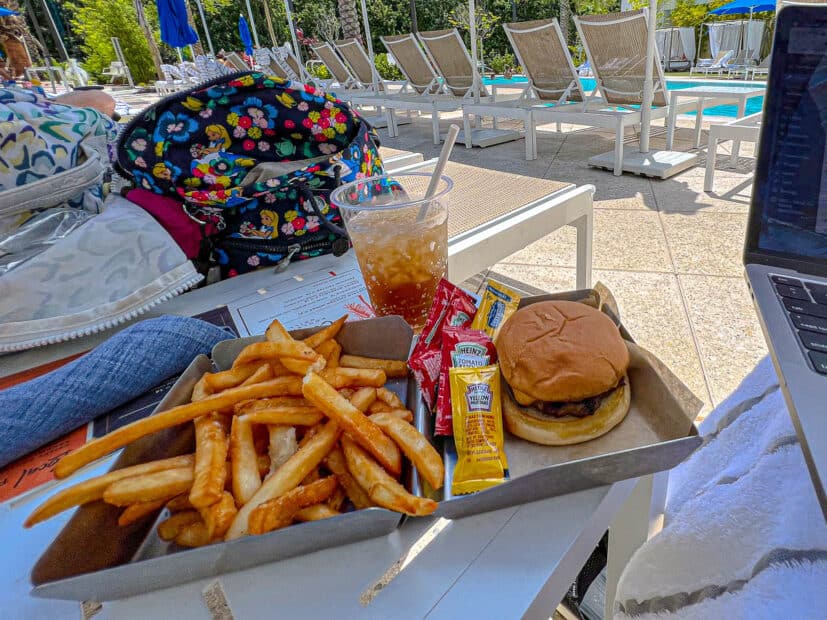 Before I forget, the ginger ale at the hotel was fabulous. I inquired what kind it was, but the server at the pool wasn't for sure.
For more options, you can preview the menu for Palm Cove here.
JW Market
Off the hotel's main lobby, you'll run into JW Market. This is a great place to pick up a quick bite for breakfast, a sandwich, or other grab-and-go items.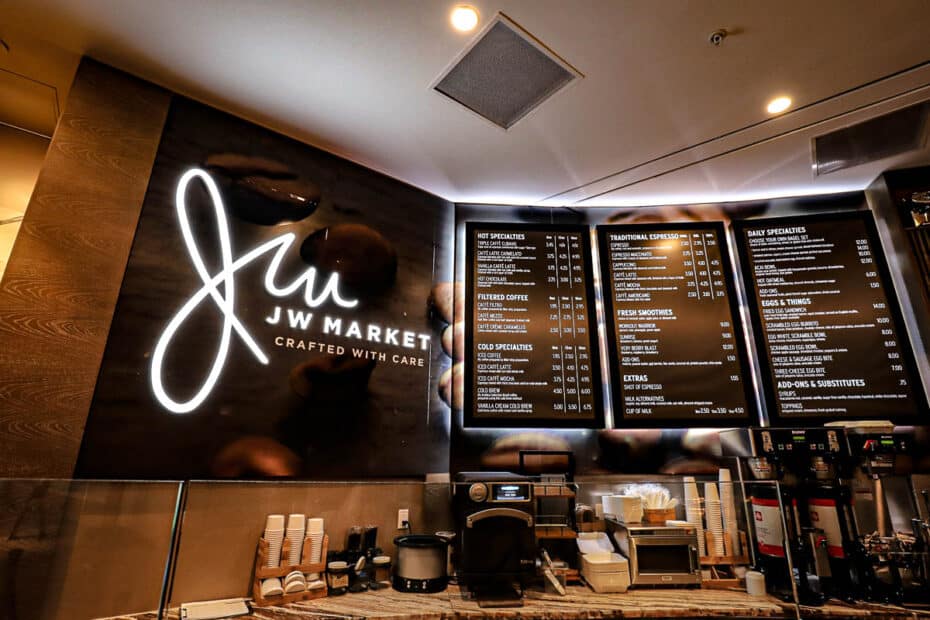 Here is a look at the menu. There were several coffee and smoothie drinks.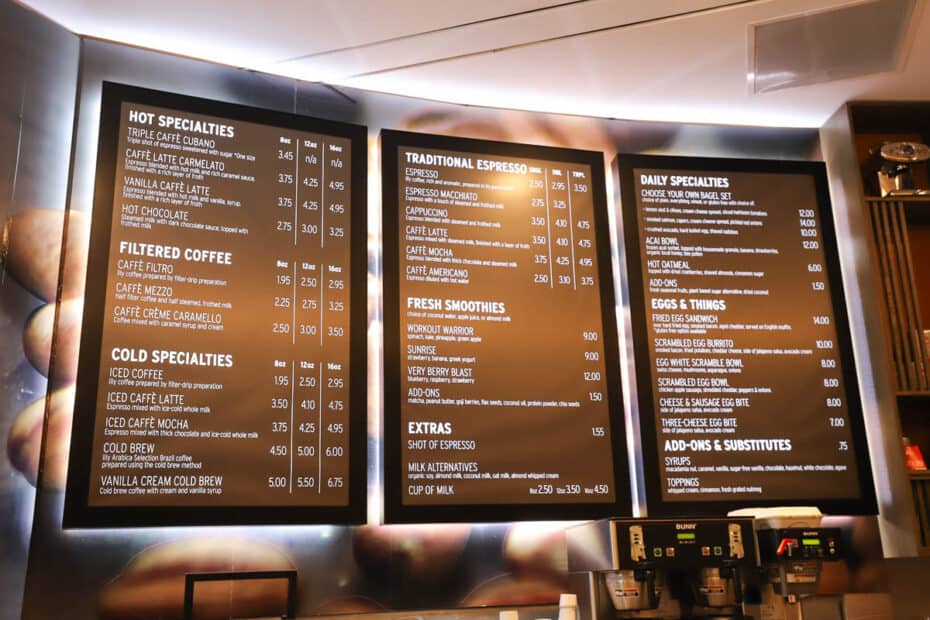 Here we have a few items like yogurt and fruit. Behind the healthier items, there was a display of pastries.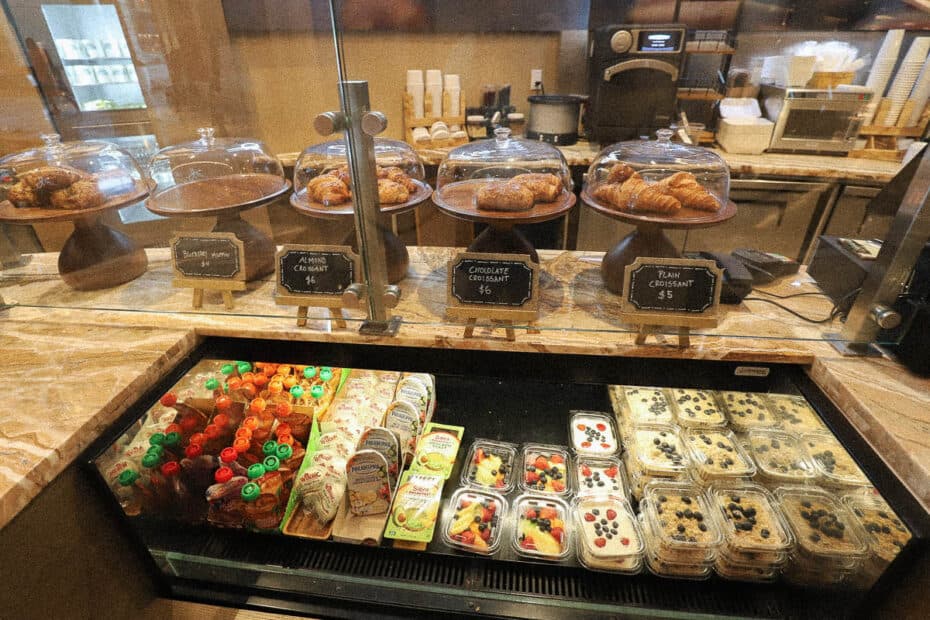 The hotel has its own branded ice cream.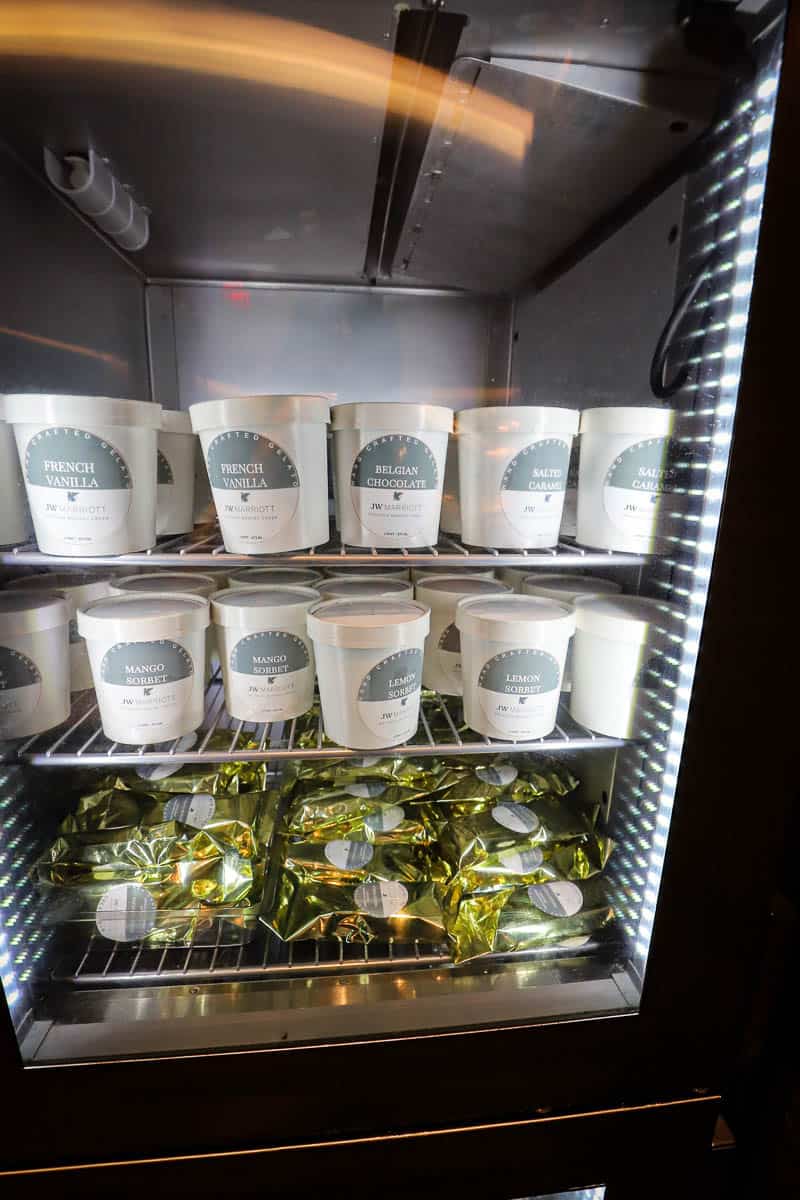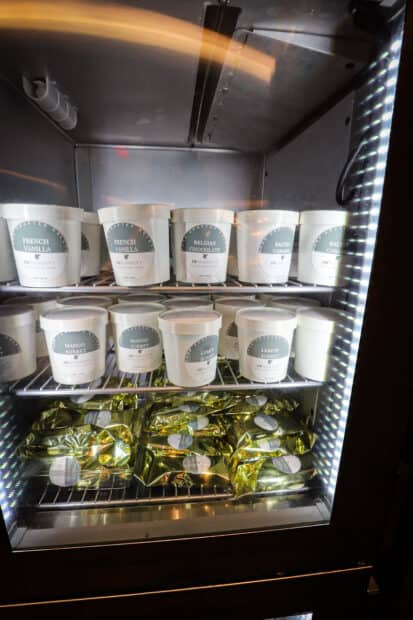 And here is the selection of sodas, juice, water, sports drinks, beer, wine, and champagne.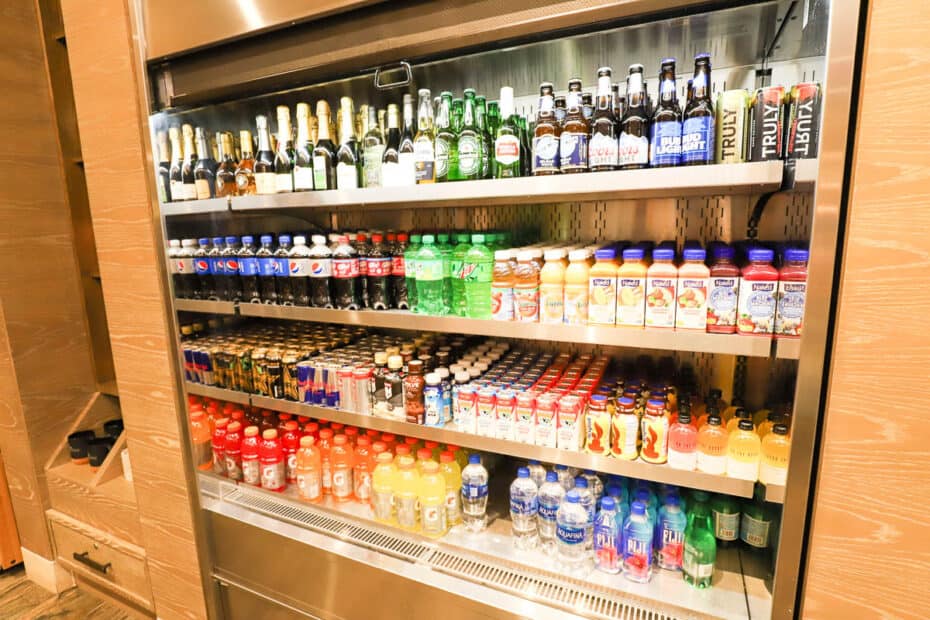 A few snack items were also scattered throughout the market.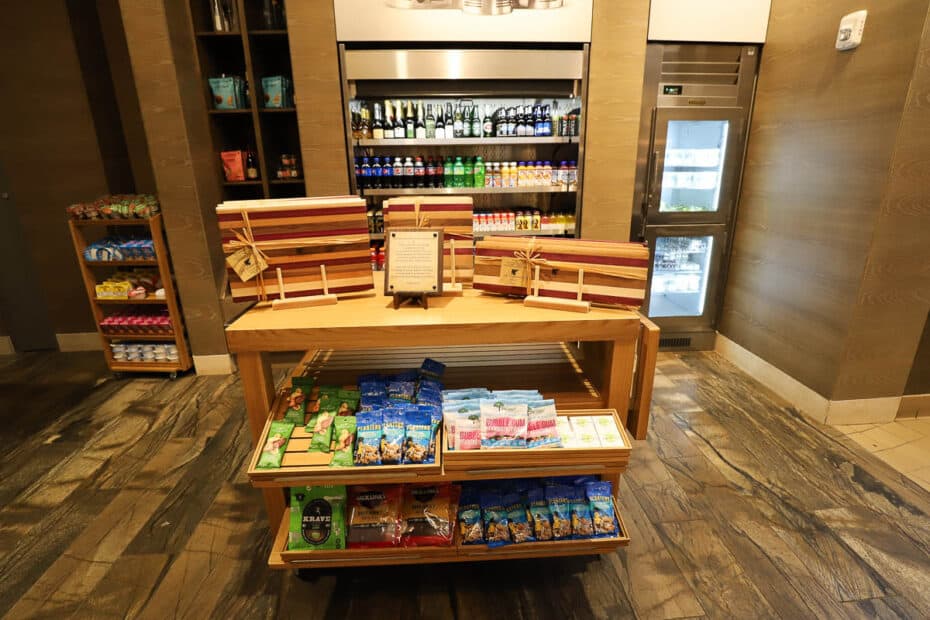 In-Room Dining at Bonnet Creek's JW Marriott
In usual form, I saved the best for last–room service. It has been so long since I ordered genuine, actual room service. It just hasn't been a thing over the past couple of years.
But when I saw room service was available, I knew I would order it at least once during my stay. And it was delightful.
I ordered the smoked turkey club minus tomatoes with a side of fries. Then for dessert, I added the flourless chocolate cake. That's another ginger ale on the side.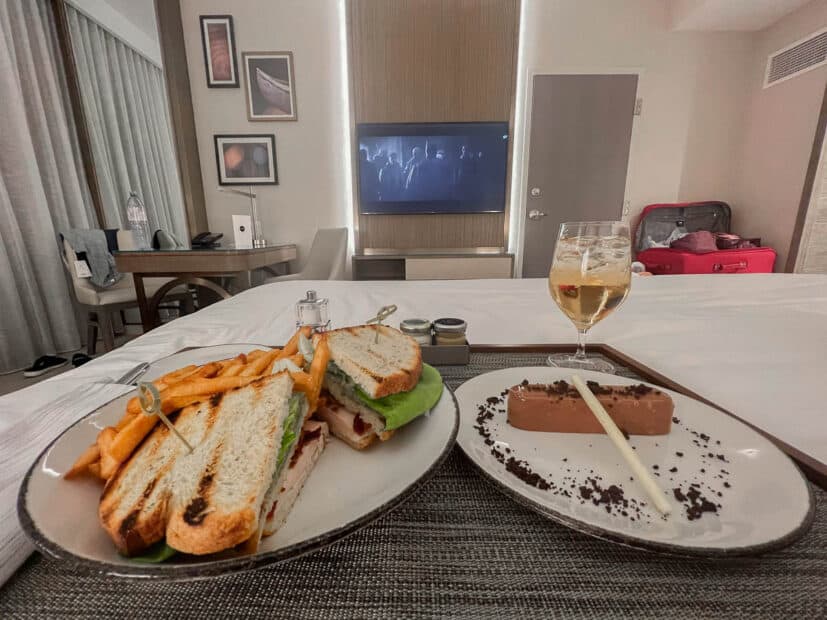 I had already noticed that HBO was available and knew that the new Batman movie was recently released. So I snuggled up in the bed with my sandwich and cake for a relaxing evening.
Looking back, I'm still smiling from the memories. Room service in a fancy hotel room with a good movie is a simple luxury that most of us probably don't get to take advantage of often enough.
You can preview the entire room service menu here.
Overall, the dining options at JW Marriott are stupendous. From the reasonably-priced poolside lounge to the Michelin-recommended fine dining option, there is something to enjoy no matter what kind of meal you desire.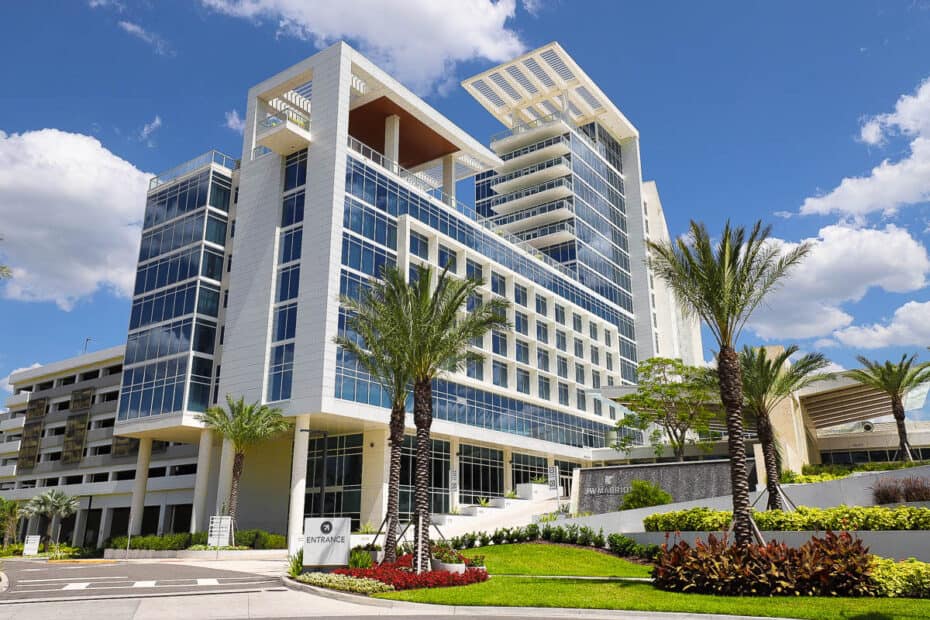 I, for one, can't wait to enjoy my next meal at the hotel.
For more information about this hotel, we have an entire review:
Additionally, we have reviews available of the other hotels at Bonnet Creek:
For more dining detail, all of our restaurant reviews are listed on our main page:
In the comments: Do any of these restaurants at the JW Marriott Bonnet Creek sound good to you? Are you a fan of room service? Leave a comment and share your thoughts below.