Review: Breakfast at Steakhouse 71
We're stopping in for a quick review of breakfast at Steakhouse 71. This was the website's preliminary visit to the Contemporary Resort's newest restaurant. Since the meal turned out good overall, I plan to return in the future for the sake of reviewing several other items.
On this visit, I was joined by my friend Kristen from Firefly Travels. We literally swooped in for a breakfast reservation at Steakhouse 71 one morning before flying out of Orlando for a week-long trip to Jamaica.
Normally, I would wait until we had a larger group or had dined here a handful of times before sharing a review. However, since the restaurant is so new and popular, I wanted to share what we had on our visit.
Additionally, there are a few important things to point out about the restaurant. For instance, if you don't eat eggs, you might find that the breakfast options are limited.
Plus, I thought this was a good opportunity to share a few photos of the newly refurbished lobby at the Contemporary. You see, Steakhouse 71 is just one of many new things at the resort.
Formerly, our subject restaurant was known as The Wave. Disney announced earlier this year that the restaurant would close to undergo an extensive refurbishment, including a name change to Steakhouse 71.
The "71" in the name references the 50th anniversary of Walt Disney World from when it opened in 1971. Disney's Contemporary Resort is one of the few original resorts that opened the same year as Magic Kingdom Park.
Anyway, before our arrival I had previewed the breakfast menu for Steakhouse 71 and was considering ordering Walt's Prime Rib Hash. The breakfast menu is available here on Disney's site if you would like to preview it for yourself.
However, upon arrival, I decided I might instead go with a dish that wasn't so egg-heavy. And that's where I began to notice nearly every breakfast item contained a lot of eggs, which surprised me a bit.
Kristen didn't want eggs either, so she ordered oatmeal with dried cranberries and a side of wheat toast.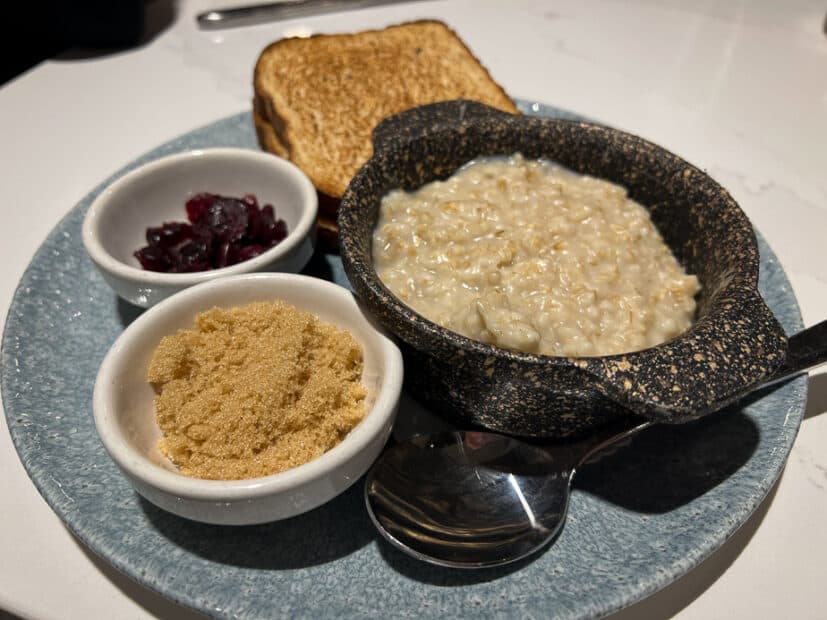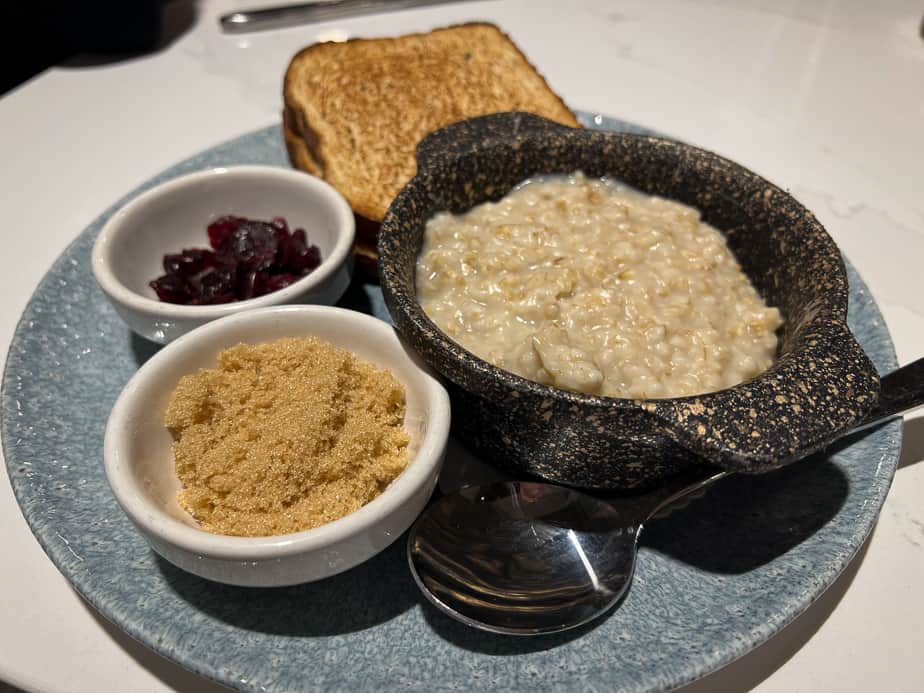 While oatmeal is a pretty generic breakfast item, it ended up being a good option. It's also important to note that if you want something like toast or a side that's not listed on the menu, generally, a restaurant can accommodate. So, don't hesitate to ask, if you would like something not listed.
Since I decided against ordering Walt's Prime Rib Hash, I went with the Steakhouse 71 seasonal pancakes that comes with a side of sausage or bacon. I chose sausage.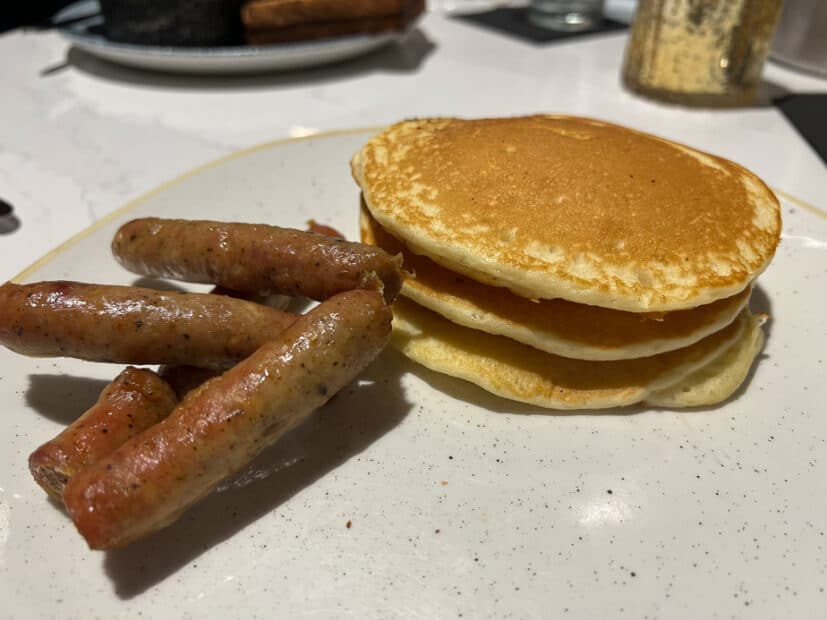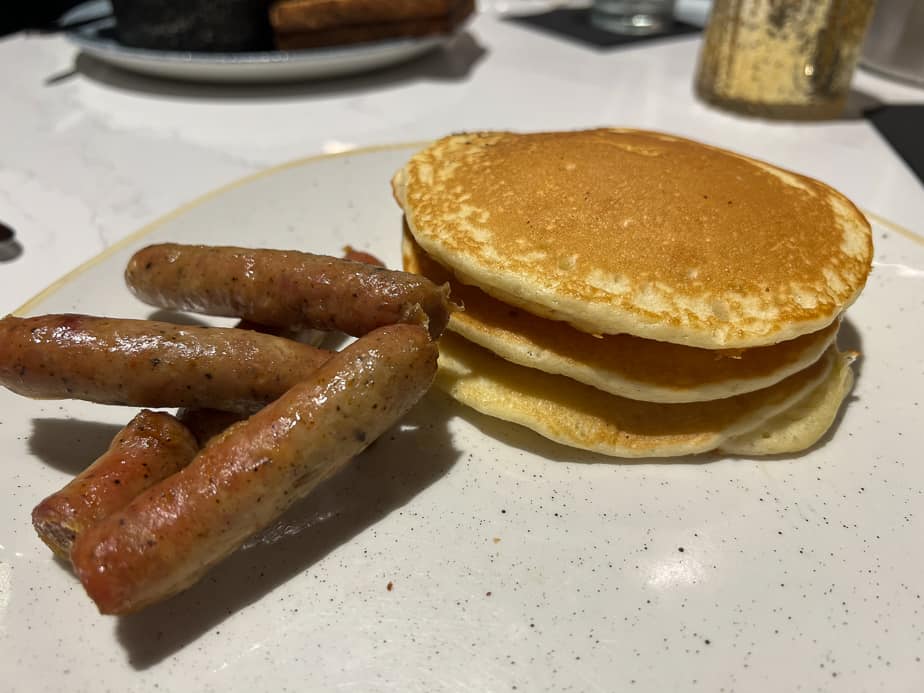 I anticipated receiving standard pancakes and was pleasantly surprised to find that they were above average. You might remember when I ordered the pancakes recently at Grand Floridian Cafe, I was a bit disappointed because they were so basic.
Related: Breakfast at Grand Floridian Cafe
Fortunately, Steakhouse 71's pancakes were by no means basic. They were thin with these buttery edges that were delicious. Divine is the word that comes to mind when I reflect on this meal. I would definitely order them again in the future.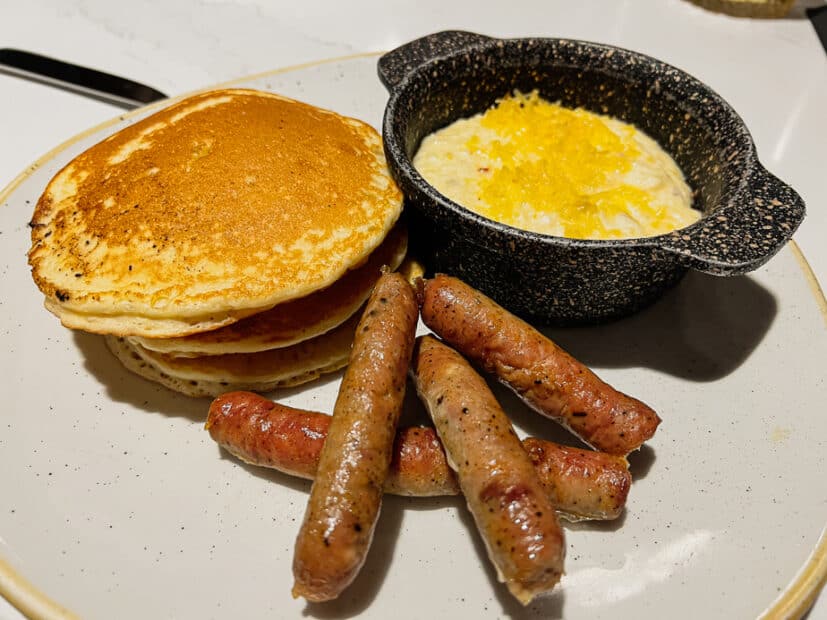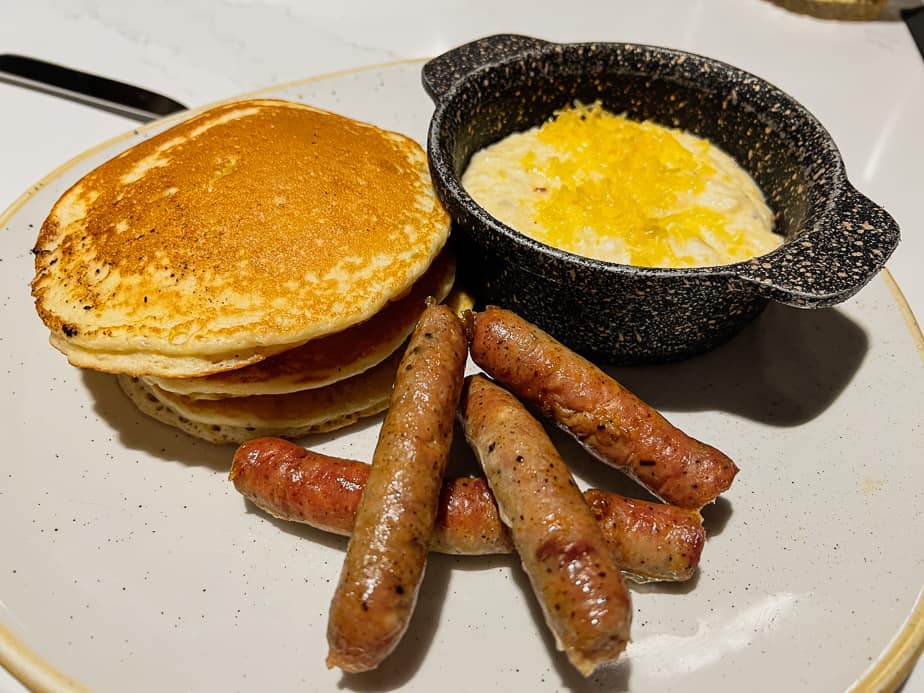 You might notice there is an additional dish on my platter in the picture above. That's because in fear of being too boring, I added on a side of bacon and cheddar grits to try.
The grits come with the Steakhouse 71 Feast or you can order them a la carte. No matter how you get them, GET THEM.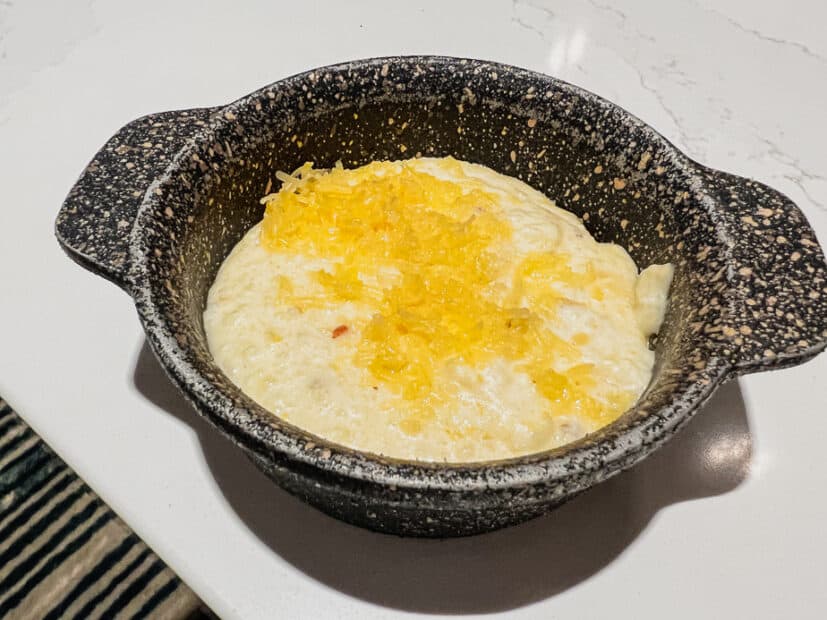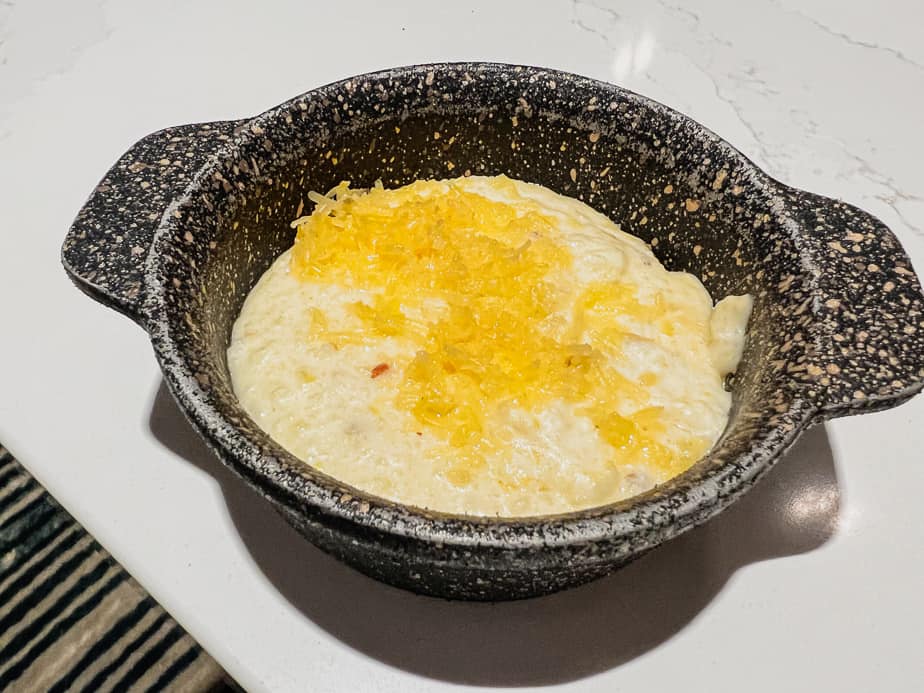 As soon as I tasted the first bite, I was greeted with rich heavy cream combined with cheese and crispy bacon chunks.
I don't know about you, but I always enjoy a simple dish that blows me away. These dishes are the things you'll think about as you reminisce on meals of vacations past.
And that's what I enjoyed most about Steakhouse 71. We ordered really simple food and ended up having a great breakfast.
There is, however, another thing that's important to consider when dining here. Similar to The Wave, Steakhouse 71 is extremely busy during prime breakfast hours.
Do not plan a meal here and expect it not to take long. On this visit, the restaurant was completely packed and guests were requesting walk-ups. This has always been the case when I've had breakfast at the restaurant's predecessor.
If you go in with the idea of enjoying a leisurely breakfast, you'll likely have a great time. Those in a hurry will probably end up frustrated. Like most popular table services at Disney World, it's probably going to take a while.
Before wrapping things up, we'll take a peek inside the Contemporary's new lobby. It is gorgeous!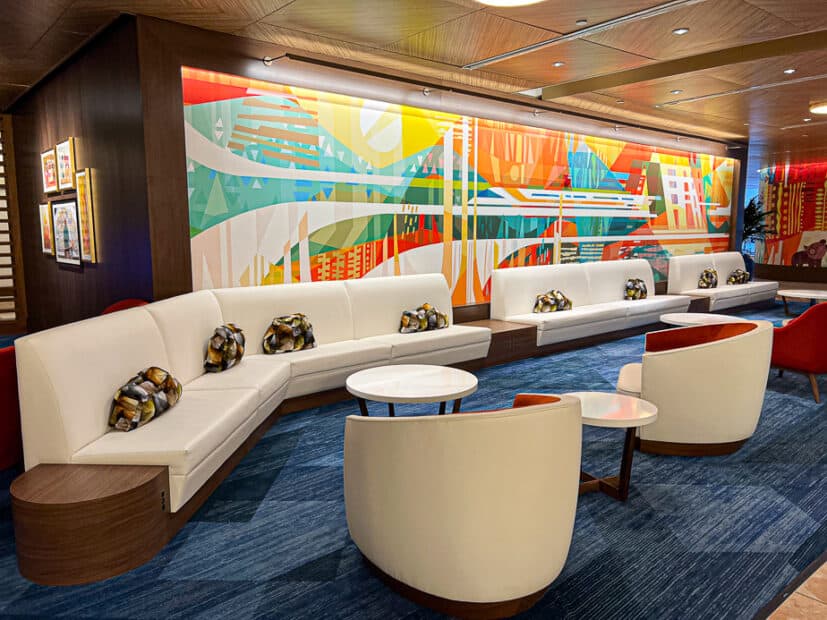 The lobby has this beau noveau feeling with rich carpets, pops of color, and leather finishes.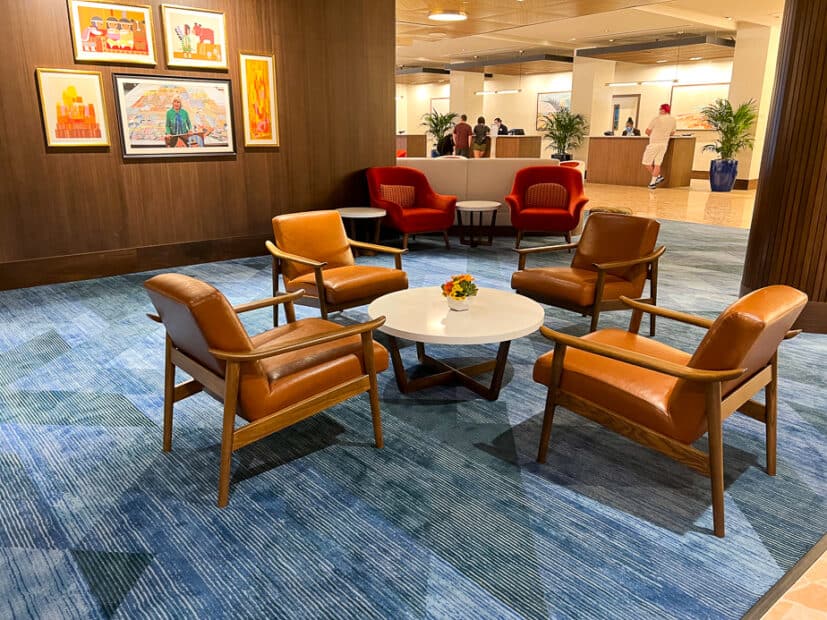 And that Mary Blair artwork is stunning!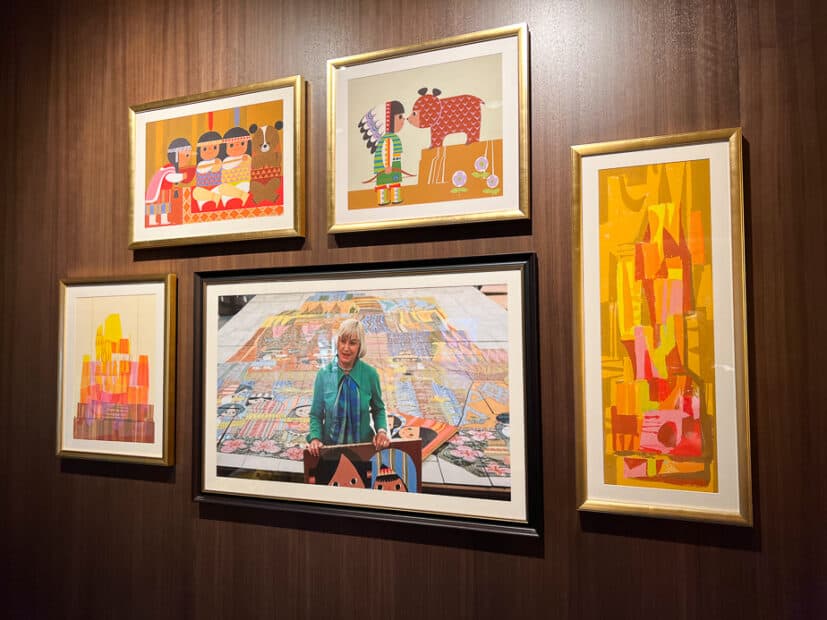 Not to mention the variety of other seating, light fixtures, and artwork that have been added to the space.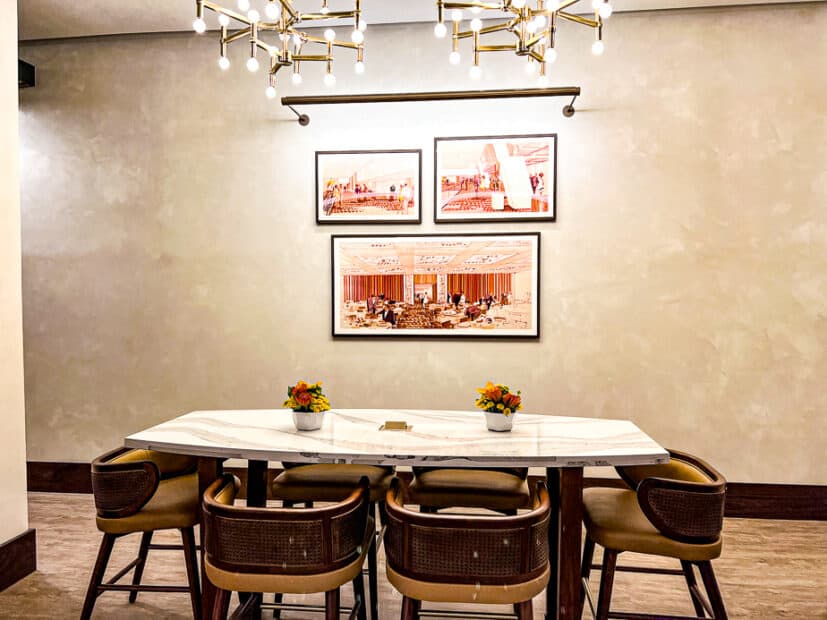 And if you don't have an upcoming stay planned at the Contemporary, make a breakfast reservation at Steakhouse 71. It will be the perfect chance to have a meal here and see the new lobby!
For more information about Disney's Contemporary Resort, you can view our full list of articles here. Or you might enjoy the following individual articles:
Additionally, I'll have a review of the 50th-anniversary dinner at California Grill out within the next week.
Related: Disney World Restaurant Reviews
Okay, so what are your thoughts on our breakfast at Steakhouse 71? Is this a restaurant you'll consider for your next vacation? Tell us what you think, down below in the comments!