Steakhouse 71 Breakfast Review (Start Your Day with a Meal at Disney's Contemporary)
In this Steakhouse 71 breakfast review, we visit the popular table service at Disney's Contemporary Resort. We'll preview what we've tried and discuss a few tips for dining at this location.
What better way to start your day at Disney World than breakfast at the Contemporary? Steakhouse 71, formerly The Wave, is almost always packed, especially at breakfast. This popular restaurant sits off the lobby of Disney's Contemporary Resort.
If you're staying at the Contemporary, you'll likely want to secure a breakfast reservation at Steakhouse 71 at least one morning of your stay. Other guests might like to secure reservations on a resort day or morning when they're not hurrying to a park.
Guests visiting from off-site or another resort can park at the Contemporary with a valid dining reservation. If you're coming from another resort (not on the monorail), you can take a bus to Magic Kingdom and then walk or monorail from there to the Contemporary.
You must go through the Magic Kingdom security to access the monorail or walkway. However, you won't have to walk through the turnstiles.
Steakhouse 71 is in the back corner of the Contemporary's first floor. If you're coming from the monorail, you must take the escalator or elevator to the lobby. Steakhouse 71 is directly across from the escalators.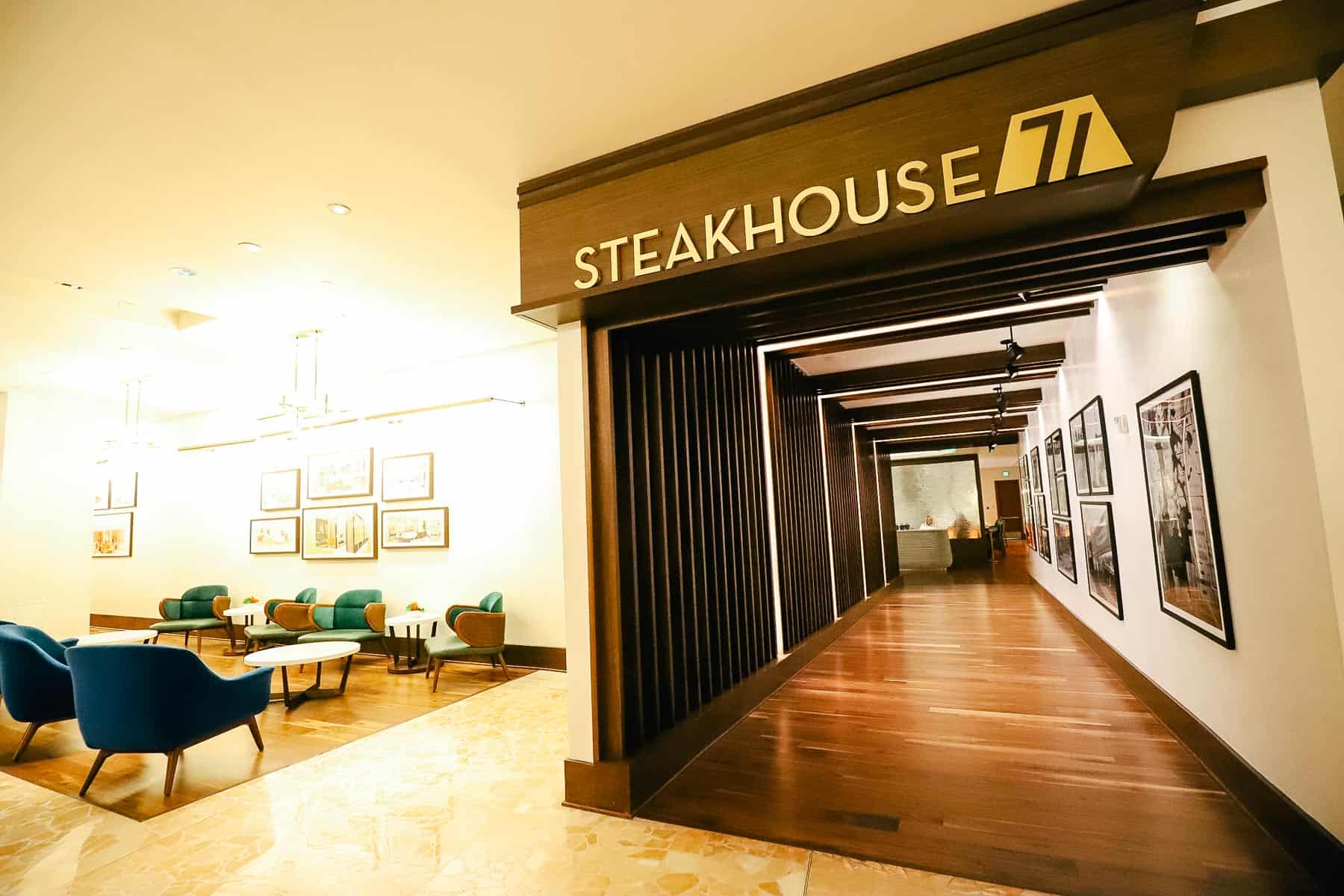 On this visit, I was joined by my friend Denise, her husband Jim, and a few of their family members. We had dining reservations at approximately 10:20 a.m. on a Sunday. Upon arrival, a cast member checked us in, and we were directed to wait in the lounge area.
Within about 10 minutes, we received a text that our table was ready. Thankfully, Denise had snagged these reservations in advance. While Steakhouse 71 takes walk-ups based on availability, it was so busy they were not accepting guests without reservations.
After getting seated, we took a few moments to peruse the menu. Jim and another member of our group ordered Walt's Prime Rib Hash. This menu item is described as seared prime rib, fried potatoes, caramelized onions, and peppers topped with a fried egg.
Per Jim, this dish was every bit as good as it looked. And it looked fantastic.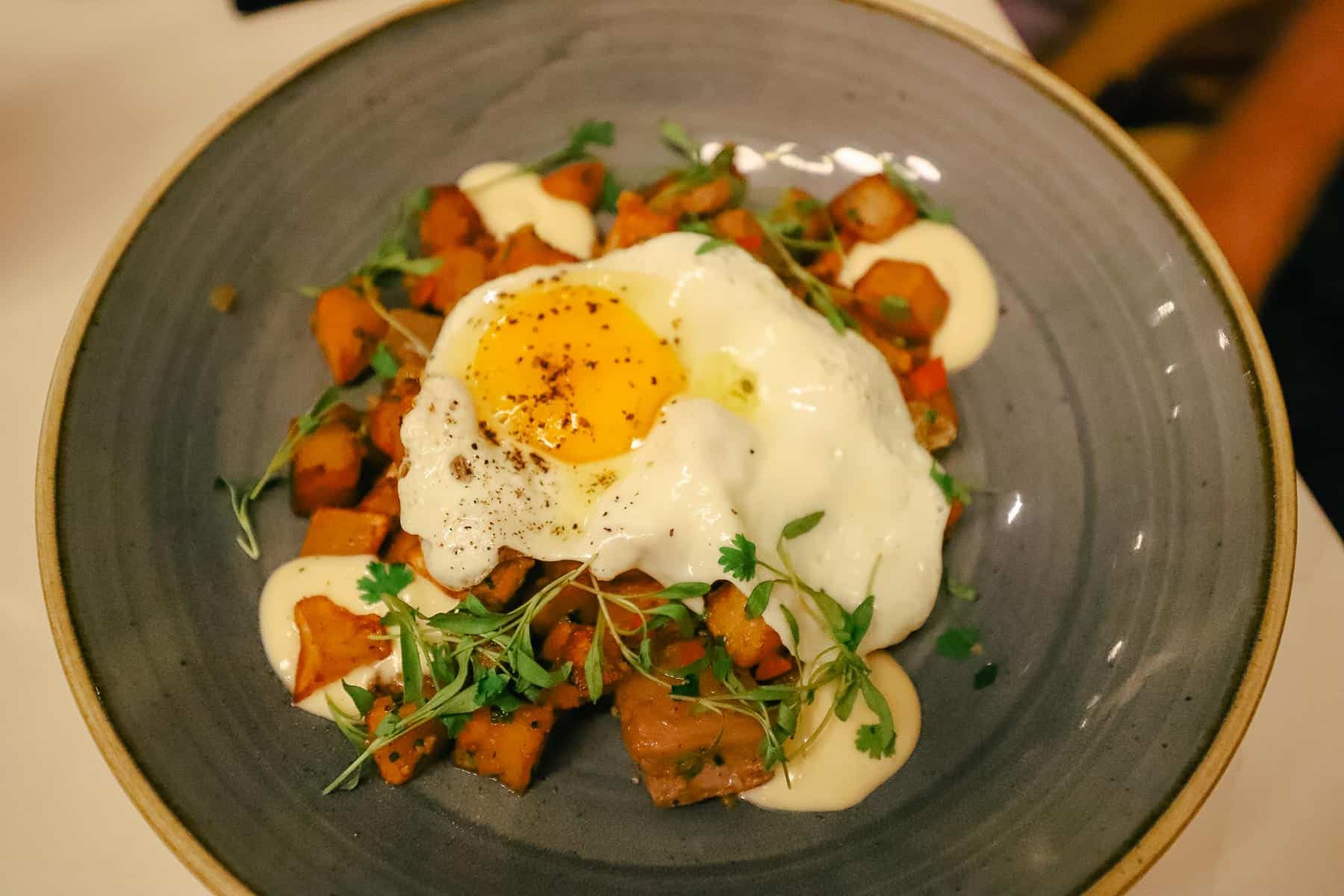 Another group member ordered the Steak and Eggs, described as a 4-oz filet mignon, two eggs any style, and breakfast potatoes with Béarnaise sauce. This was another excellent option.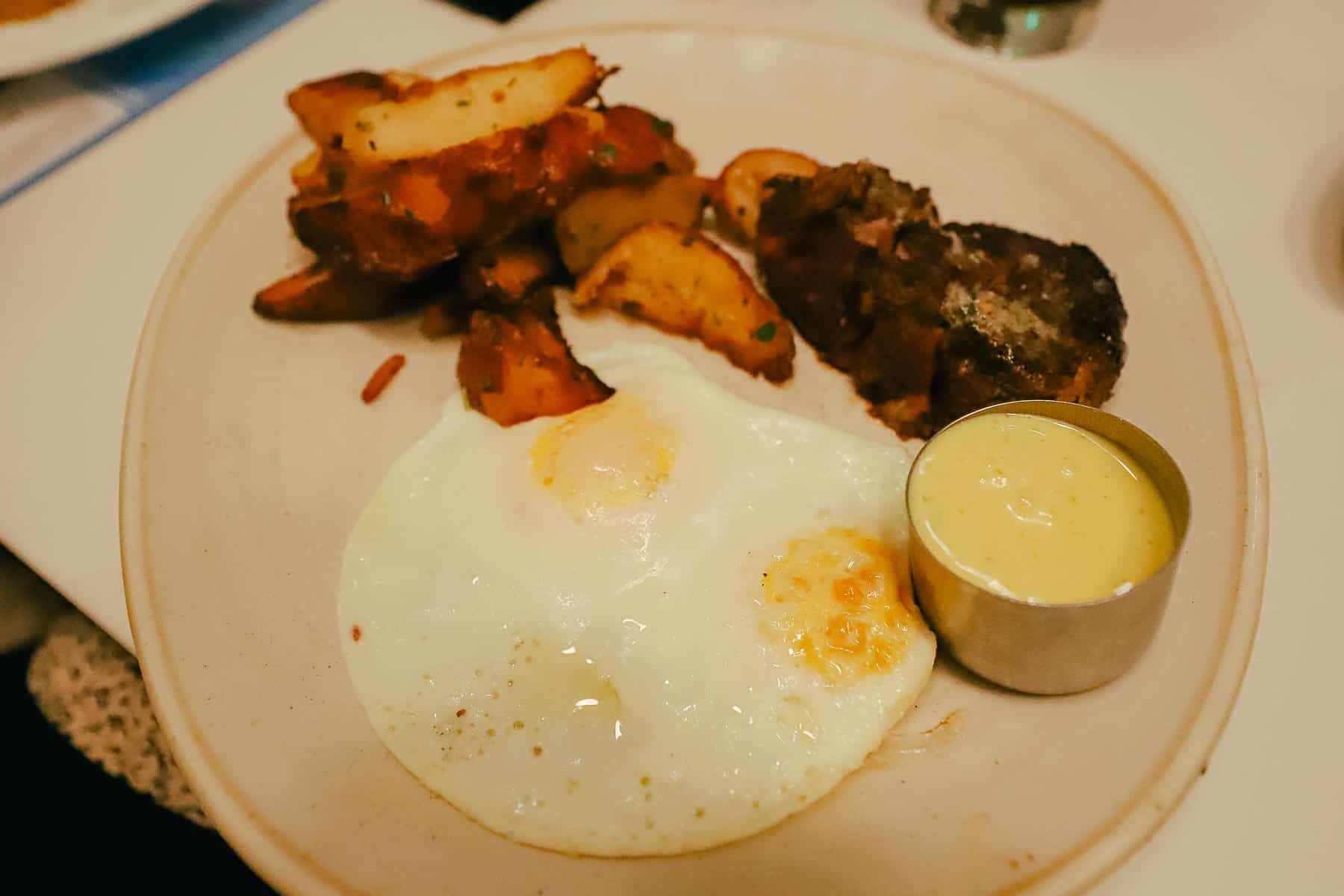 Denise ordered the Eggs Benedict. Unfortunately, I didn't get a good photo of the dish. However, it received rave reviews.
On a previous visit, I ordered the Steakhouse 71 pancakes, and they were delicious. So this time around, I decided to try the seasonal pancakes, which were blueberry.
Depending on when you visit, a selection of seasonal pancakes is available. From my understanding, the pancake selection changes every couple of months. Ultimately, my pancakes were terrific.
However, this was an exceptionally sweet option. It was so sweet that I didn't add syrup. So you might consider trying your pancakes before drowning them in syrup.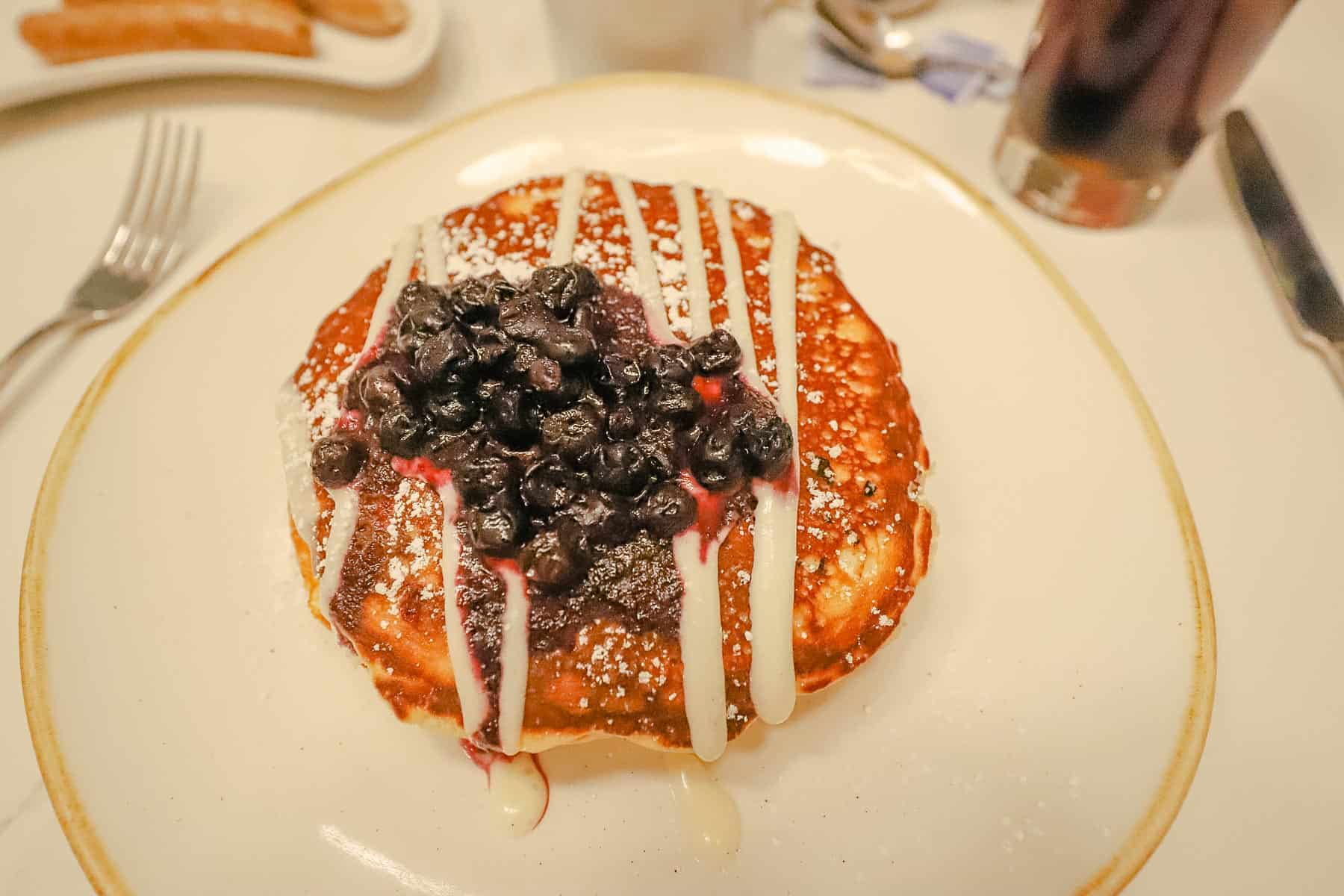 Additionally, this item came with a choice of bacon, pork sausage, or chicken sausage. I went with the chicken sausage, which I enjoyed as much as the pancakes.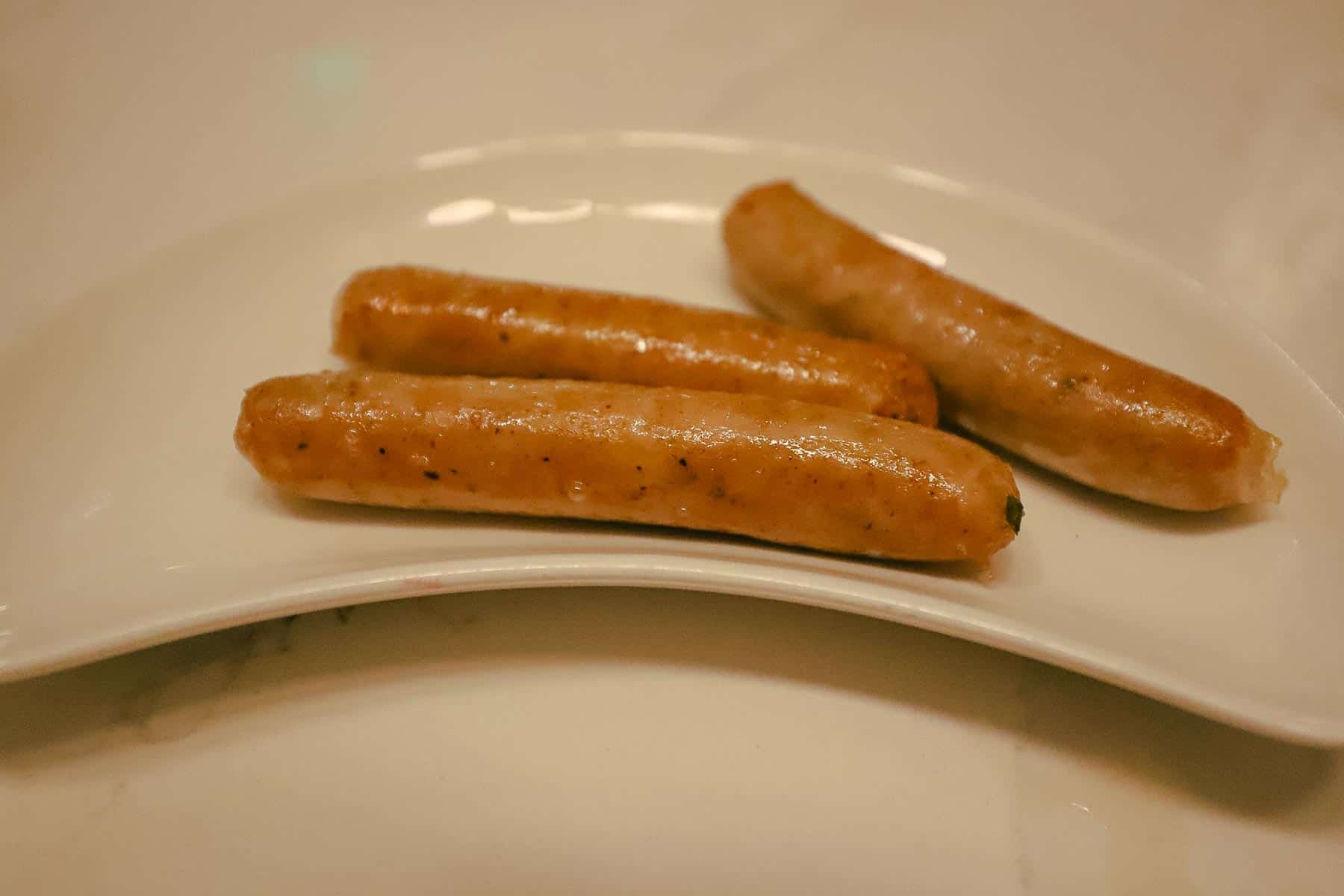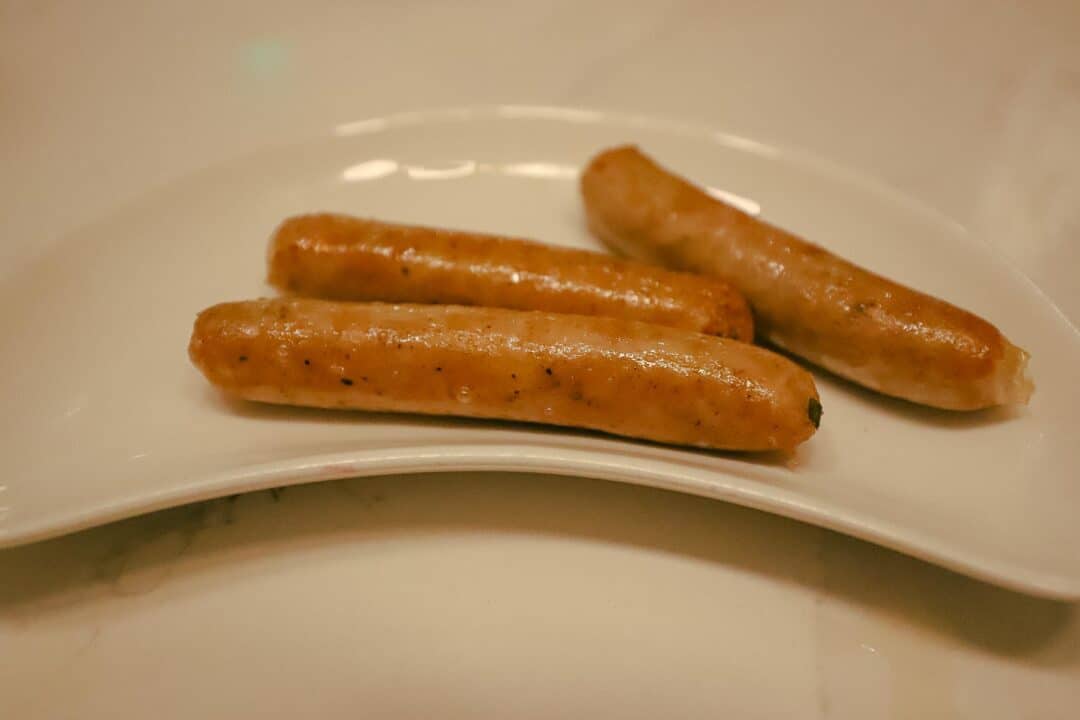 When the restaurant first opened, my friend Kristen and I had breakfast at Steakhouse 71. On that visit, we tried a few other items.
Kristen went with an order of oatmeal with dried cranberries and a side of wheat toast. This was a pretty basic breakfast, but it's nice to know that this type of option is available. One of my only complaints about Steakhouse 71 is that the menu is egg-heavy. Nearly all of the menu items contain eggs.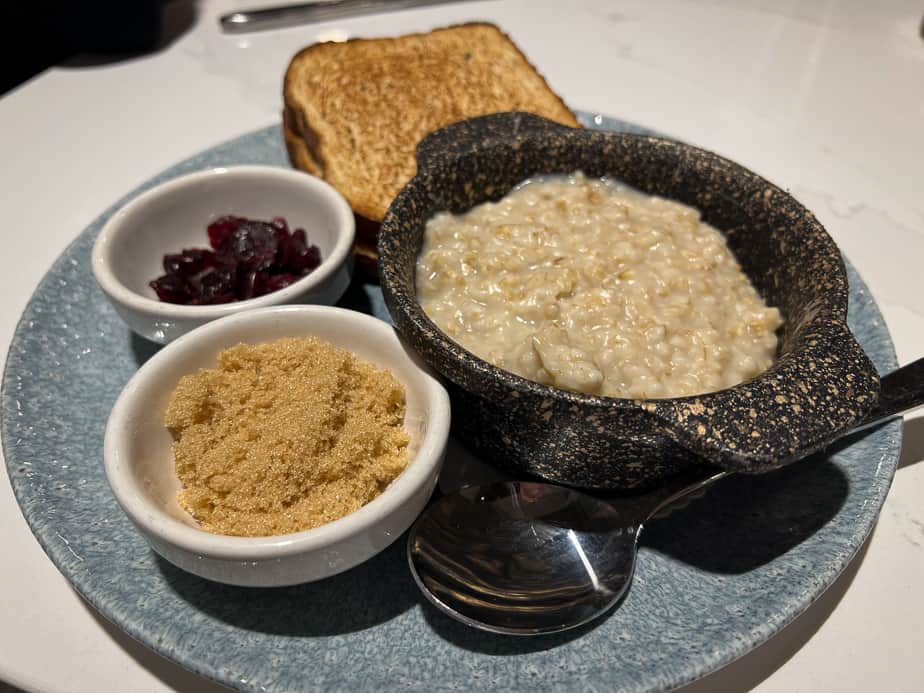 This same visit was when I had the original Steakhouse 71 pancakes with sausage.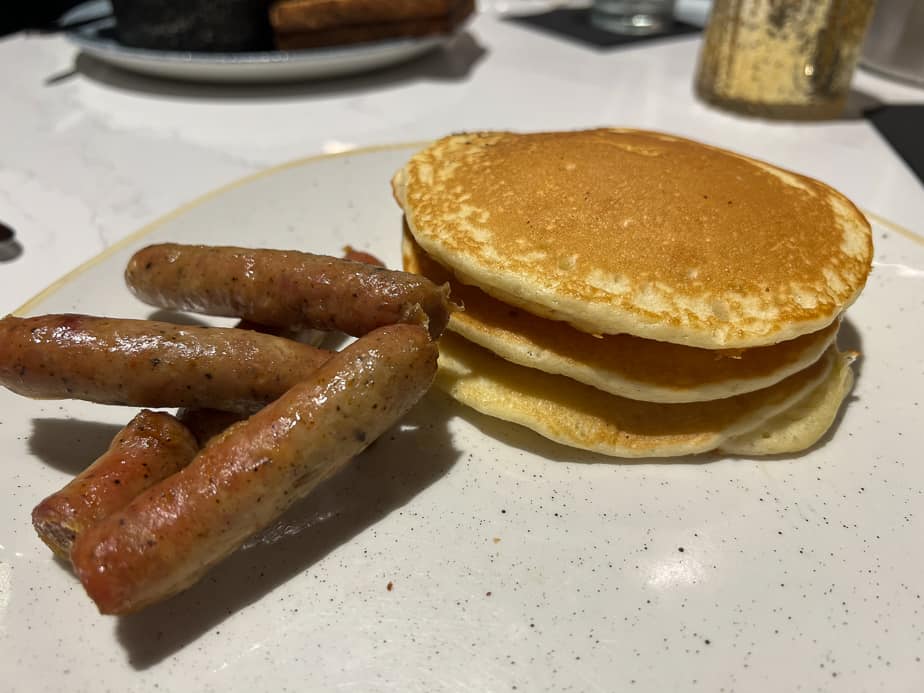 I anticipated receiving standard pancakes when I ordered these and was pleasantly surprised. They were far better than the pancakes I'd recently tried at Grand Floridian Cafe. Those pancakes were disappointing because they were pretty generic.
Related: Grand Floridian Cafe Breakfast Review
Steakhouse 71's pancakes were by no means generic. They were thin with delicious buttery edges. Divine is the word that comes to mind when I reflect on this meal. I would order them again. I'll even give them an edge over the seasonal blueberry ones.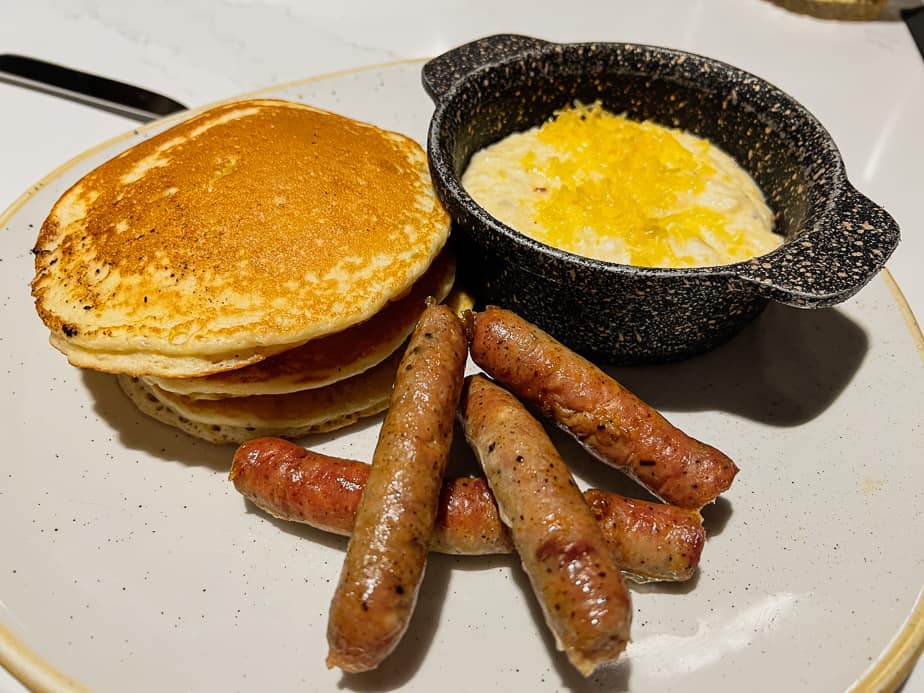 Lastly, I couldn't visit Steakhouse 71 without trying their bacon and cheddar grits. If you enjoy grits, this dish is available as a side item. They are every bit as rich and buttery as you can imagine. Initially, they were part of the Steakhouse 71 Feast. However, that item is no longer on the menu.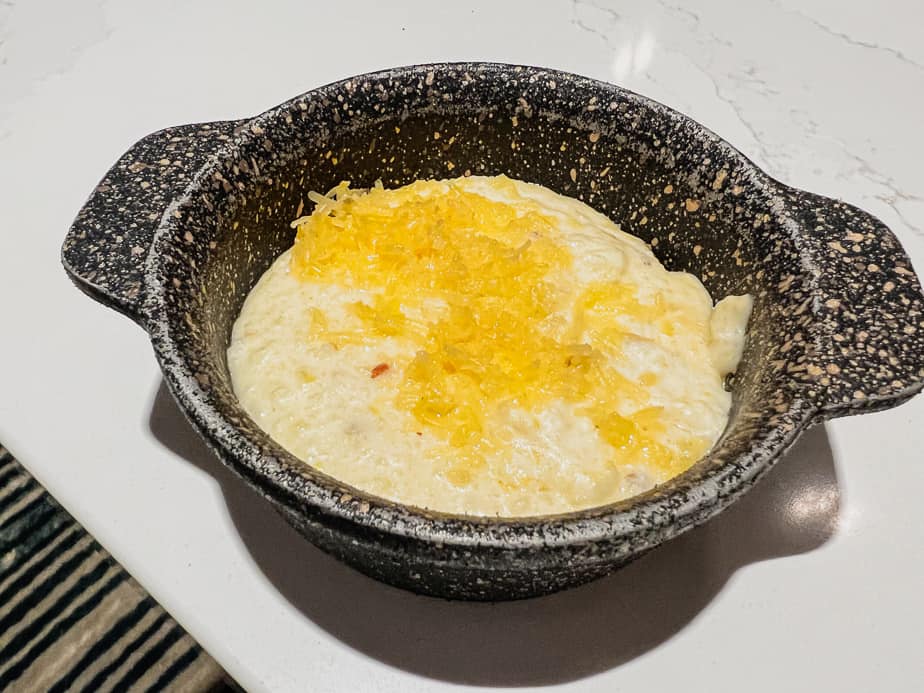 As soon as I tasted the first bite, I was greeted with the flavor of rich, heavy cream combined with cheese and crispy bacon chunks. I don't know about you, but I always enjoy a simple dish that blows me away.
And that's what I enjoy most about Steakhouse 71. It's a restaurant offering simple food that tastes great.
However, it's important to remember that Steakhouse 71 is often busy during prime breakfast hours. If you go in with the idea of enjoying a leisurely breakfast, you'll have a great time. However, those in a hurry will probably end up frustrated. Like most popular table services at Disney World, it could take a while.
So make sure to allow plenty of time to enjoy your breakfast. In the meantime, we have a complete guide that lists our coverage of the resort:
Or you might enjoy the following individual articles:
Browse our entire list of Disney World Restaurant Reviews.
In the Comments
What are your thoughts on this review of breakfast at Steakhouse 71? Is this a restaurant you'll consider for your next vacation?