The BOATHOUSE Review at Disney Springs
There's no question The BOATHOUSE is one of the most popular restaurants at Disney Springs. Guests flock to this location to enjoy a number of seafood classics. At the same time, others visit for the deliciously tender filet mignon sliders.
In this review of The Boathouse at Disney Springs, we'll look at meals we've enjoyed at the restaurant to date. While this restaurant has been open for quite some time, it consistently delivers memorable meals and a charming atmosphere.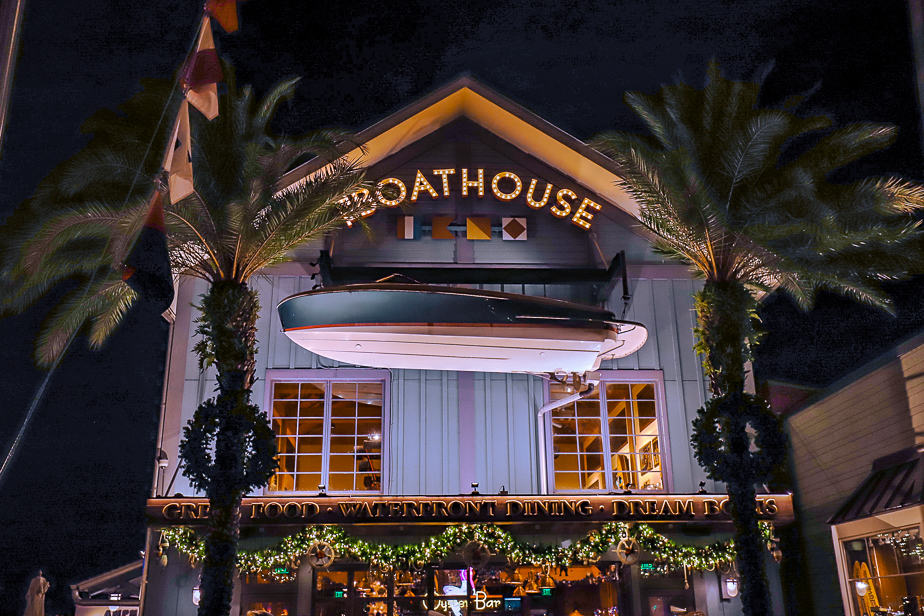 Adjacent to the restaurant, there's a boutique called the Boatique. Inside Boatique, you'll find nautical-themed merchandise, including higher-end clothing items.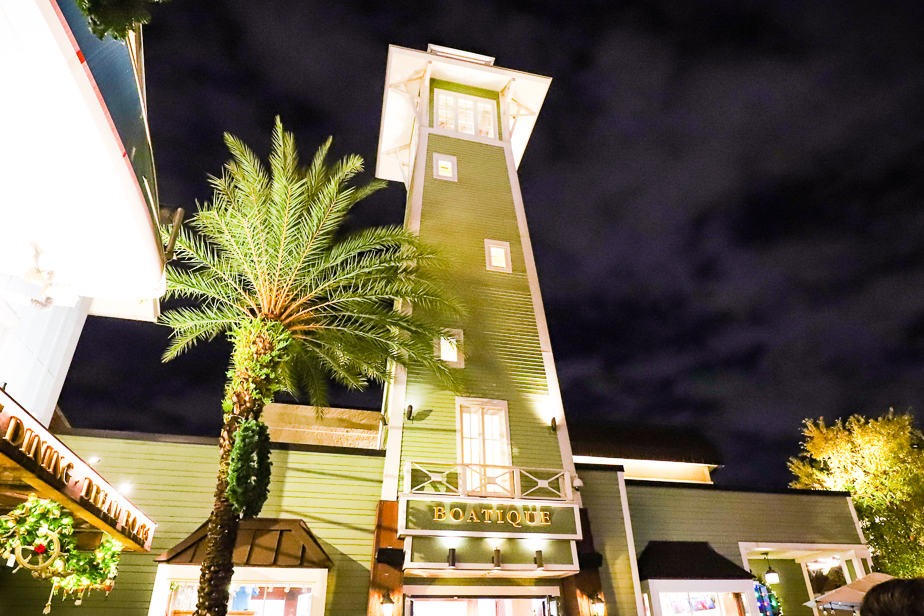 Once you step inside The Boathouse, the first thing you'll see is a raw bar with a sign hanging overhead that says, Oyster Bar.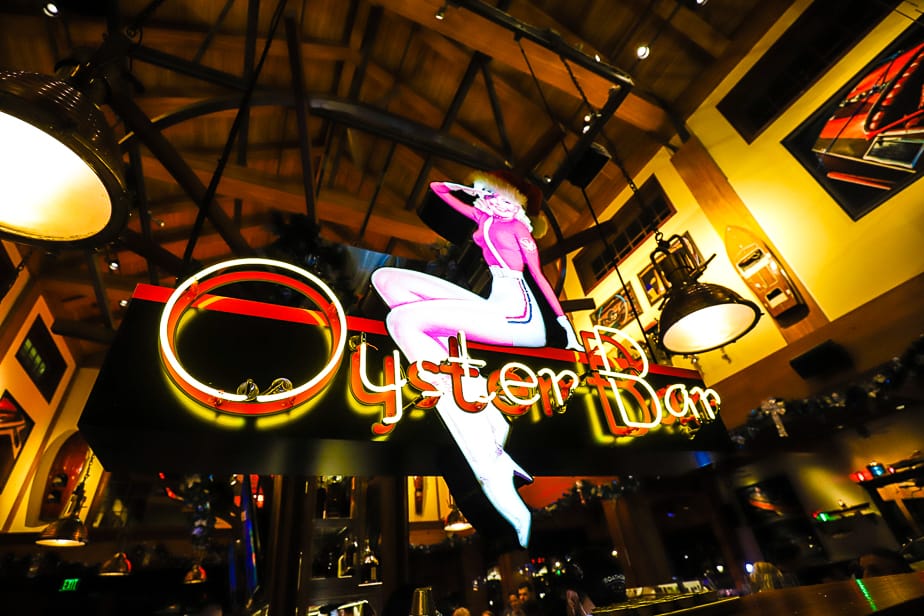 Underneath the signage, there's a large case of seafood on ice.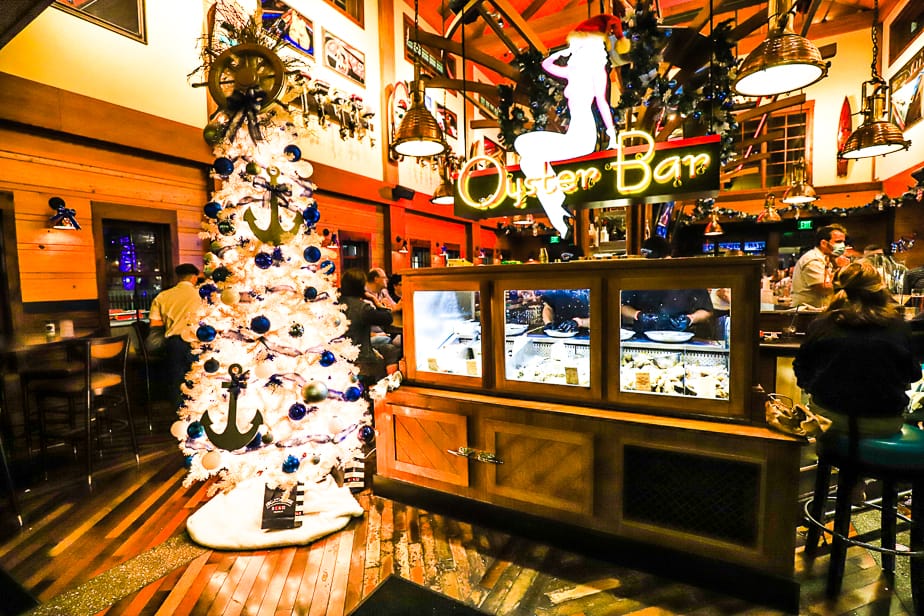 Everything looks good.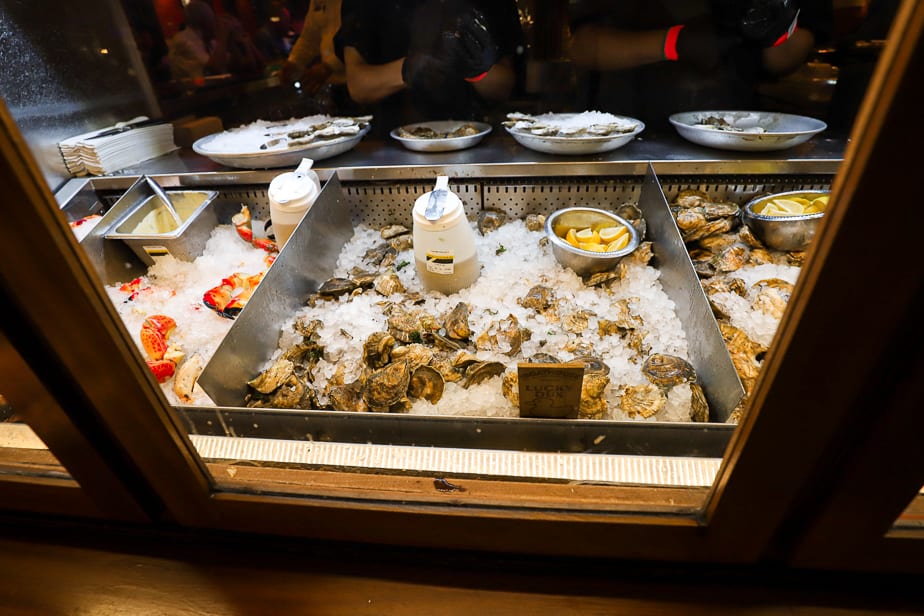 To the right, there's a walk-up bar with a few barstools. It seems that many guests check-in for their reservation and then pick up a drink at the bar to enjoy while waiting.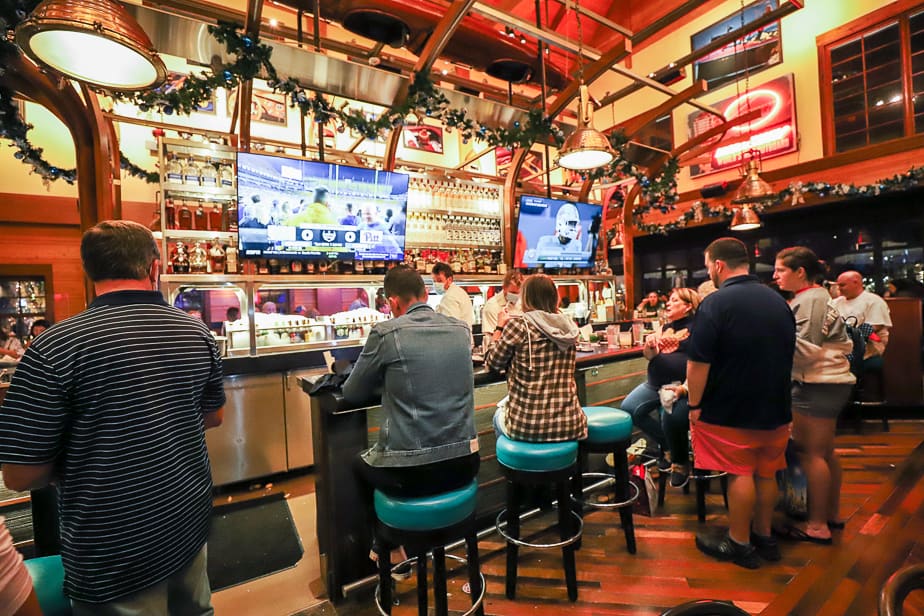 The Boathouse Restaurant has a variety of seating, including this fantastic boat that's been converted to a booth.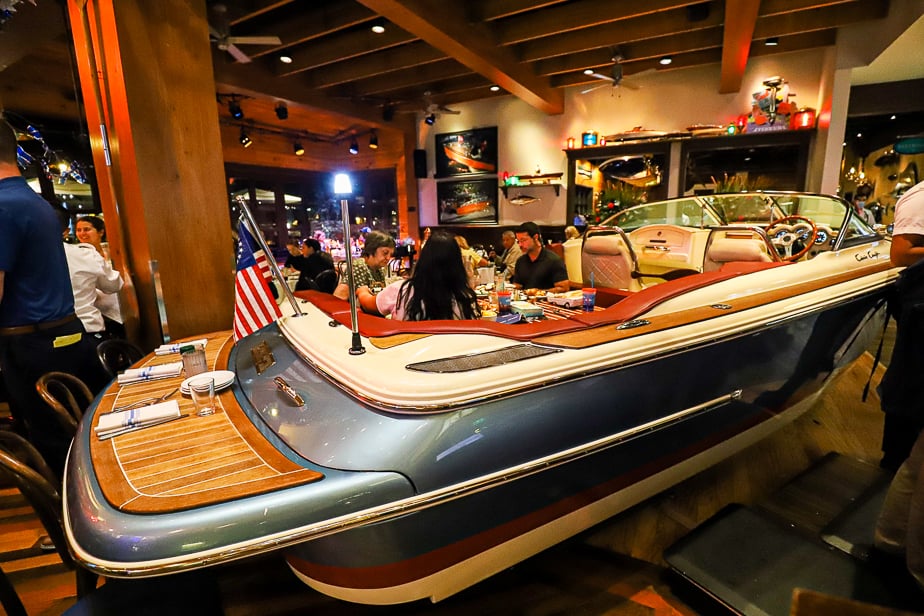 On the backend, there is a small bar that could seat a couple of guests.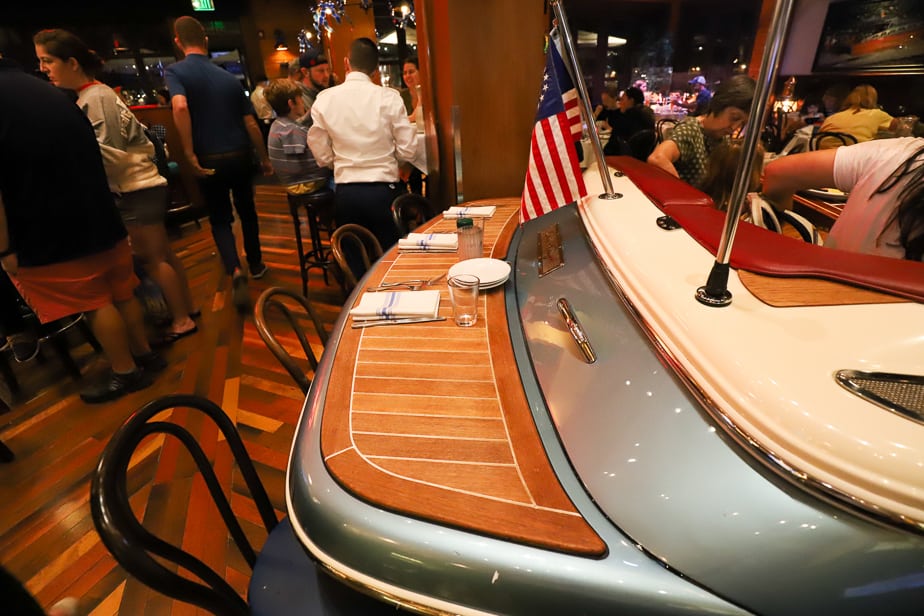 We ended up sitting on the covered porch toward the back of the restaurant. Thankfully, the temperature was nice enough this evening. However, the lighting was not so great for photos. I guess we'll have to make do.
After getting settled at our table, the server brought out the infamous Boathouse rolls. You don't have to ask for these or anything. Well, you might have to ask for a second round shortly. The rolls are amazing and will likely disappear within seconds of arriving at the table.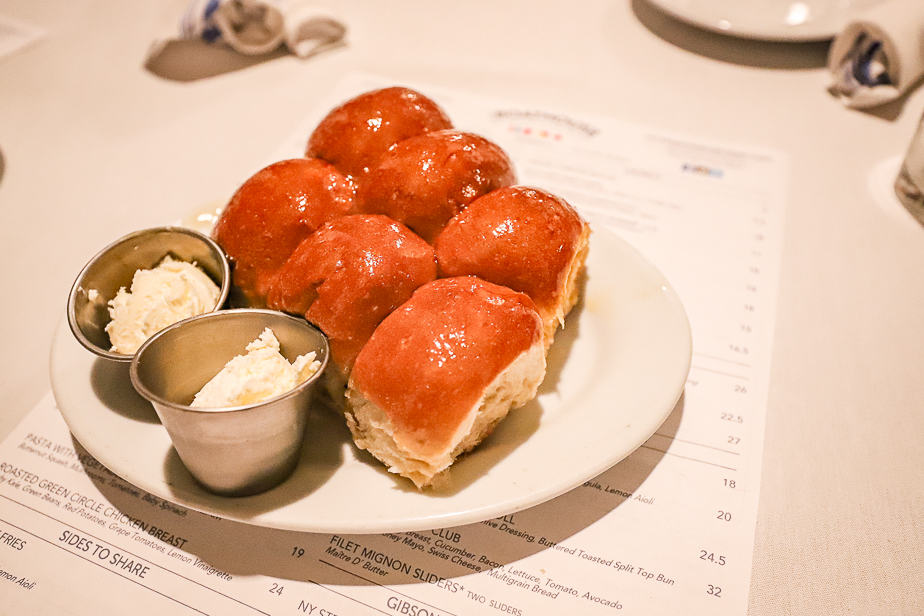 Someone in our group ordered a Bloody Mary. It came topped with a tremendous snack of shrimp and olives. I'm not a tomato person, so you're on your own with this one.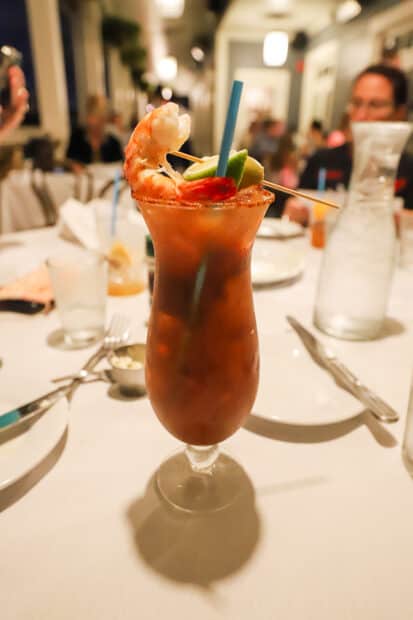 Several in our group ordered the Duck Duck Razz. That's the drink that comes with the tiny rubber ducky floating on top. The menu describes this item as Stoli Razz, Peach Schnapps, Blue Curacao, lemon juice, and simple syrup.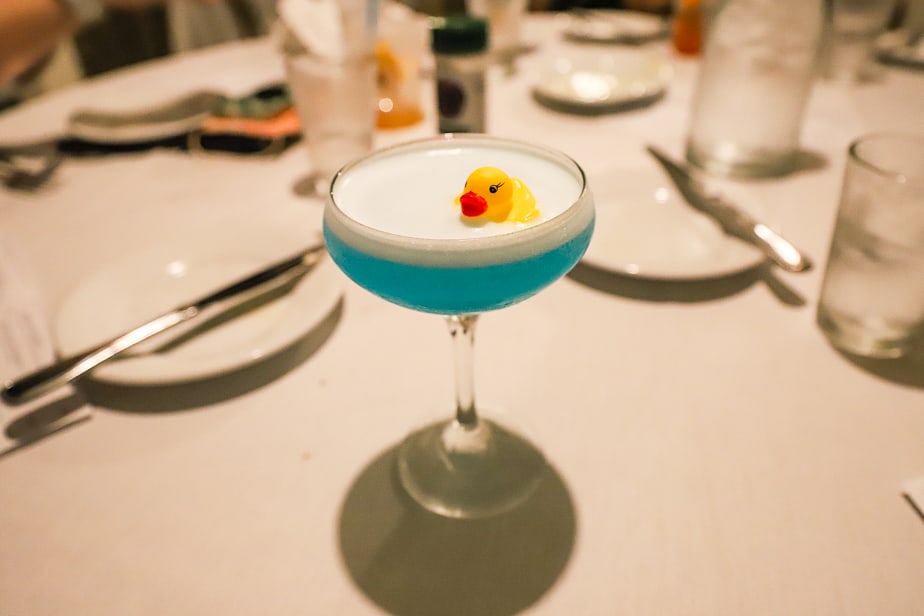 Unfortunately, I didn't try this one either. However, our group gave them rave reviews. From my understanding, the Duck Duck Razz is usually a reasonably strong cocktail.
Carmela ordered the Duo Dips and Chips on this visit. The menu describes this item as Pimento Cheese, Fresh Salsa Roja, White Corn Tortilla Chips. The dip was a huge order, and there was more than enough to go around among the six of us.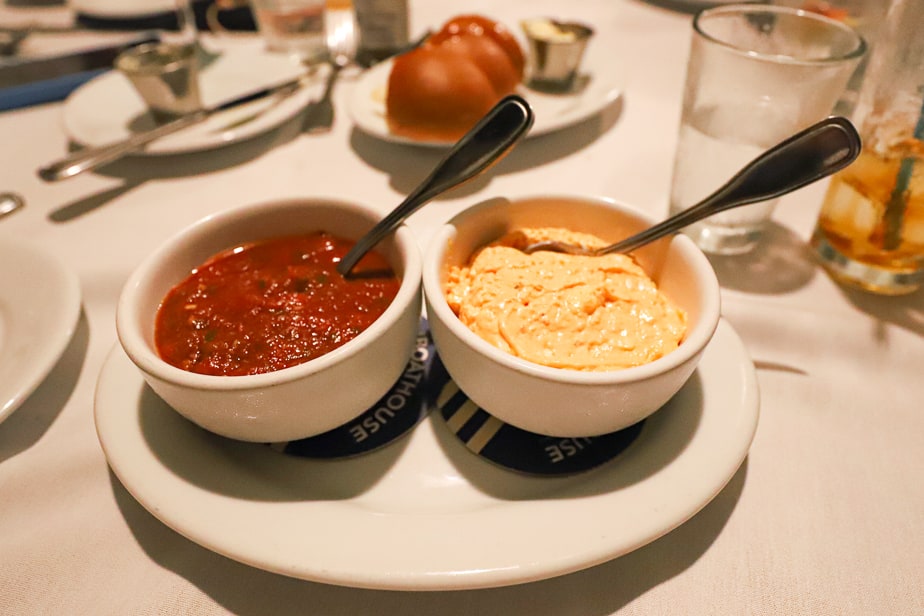 We did have to request more chips. The proportion of chips to dip was not even, but the server brought out a large basket that was sufficient.
As far as taste goes, I was impressed. The salsa works really well when mixed with the pimento cheese. Overall, the duo makes for an excellent appetizer when you need something shareable for a large group.
Since I had taken pictures of the raw bar before we were seated, I knew I had to try a few oysters. Oysters run around $4 each at The Boathouse, so I ordered two as an appetizer.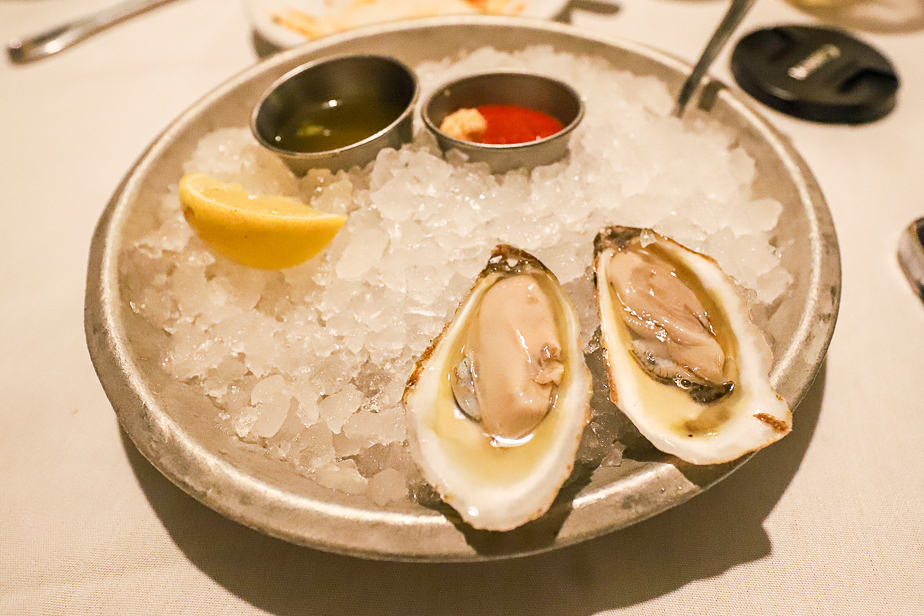 The fresh oysters came with Gibsons Bombay Cocktail Sauce and a cucumber Mignonette. And they were delicious if you enjoy oysters. I do. Being able to order just a few is a nice option. However, they are a bit pricey.
Sam ordered the Maine Lobster Bisque, and this was definitely a home run. She was kind enough to share a few bites with me, and now I plan to order this on my next visit.
The bisque has a nice creamy consistency with a rich, buttery flavor. A few chives were sprinkled on top of the bisque.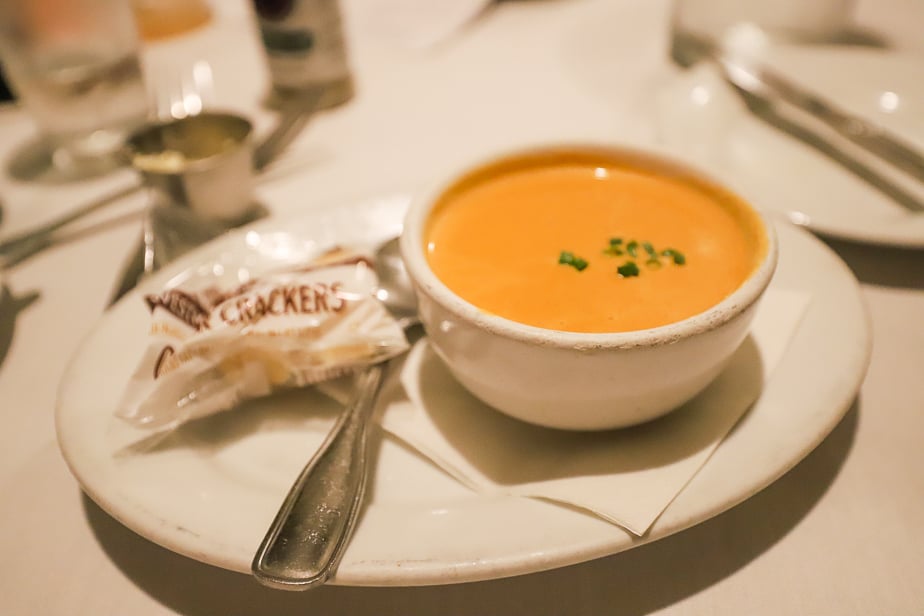 Kristen ordered a round of truffle fries. You may remember we recently had truffle fries for dinner at Ale and Compass and the Enchanted Rose Lounge. These were yummy, but those at the Grand Floridian were the best I've had to date.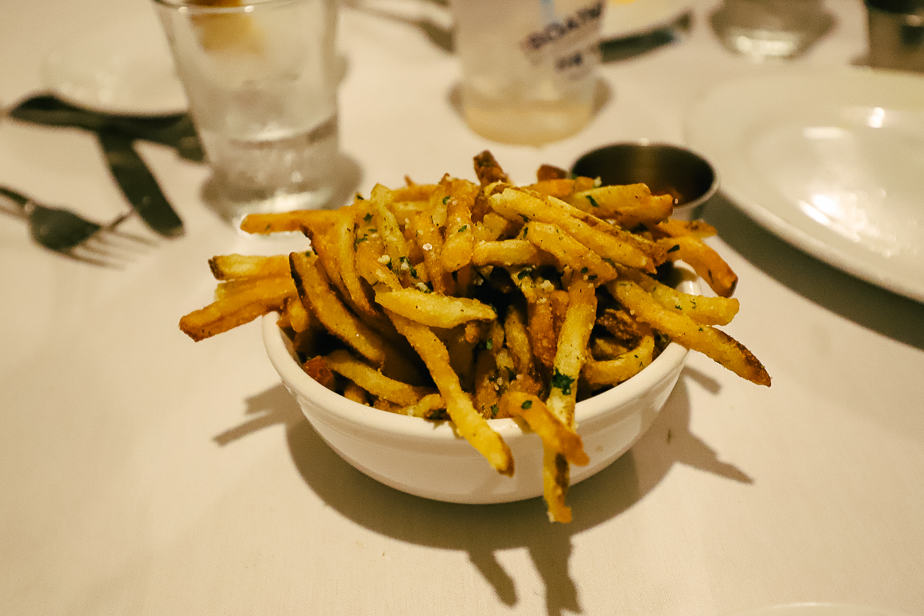 JoAnne ordered the Grilled Mahi Tacos that come with shaved cabbage, salsa Roja, and Mexican crema. These were so tasty!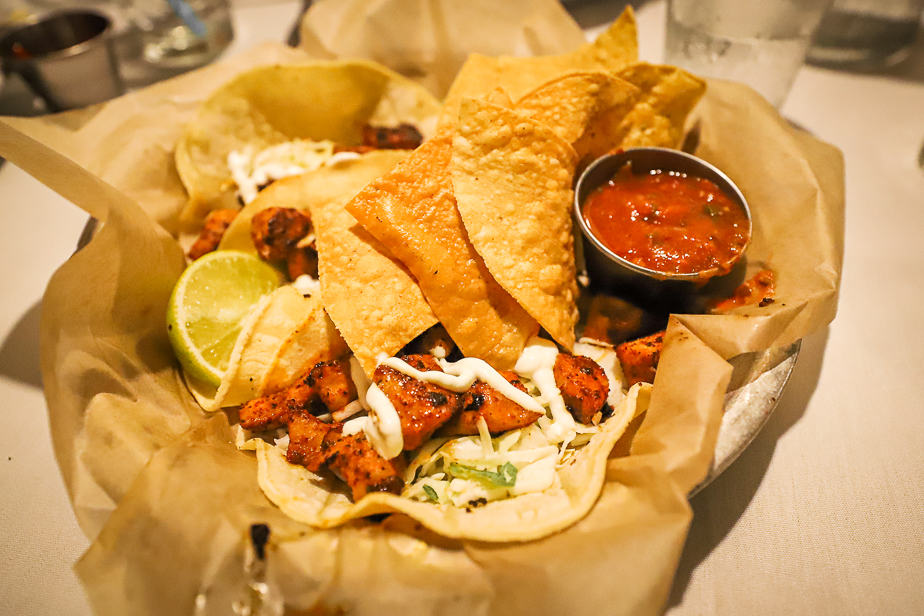 The fish was grilled to perfection. I found it a simple dish that packed a lot of flavor while leaning toward the healthy side of things.
Lastly, the majority of us ordered the filet mignon sliders. Ask anyone, and they'll likely tell you these sliders are a must-order when you visit The Boathouse.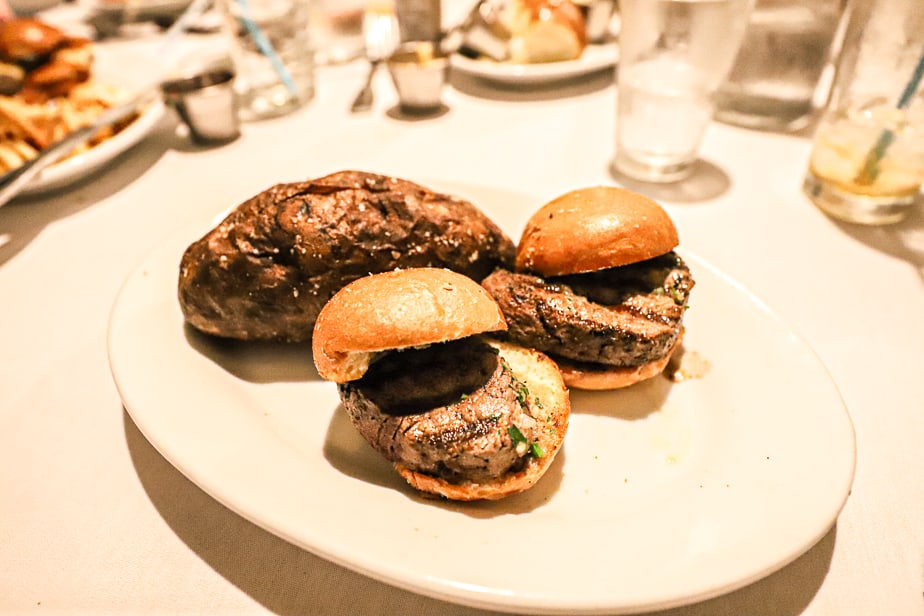 Honestly, I didn't think they could be "that good," given they consisted of beef on a bun. However, it was the most tender bite of filet mignon ever. There was no struggle to bite into the sandwich or anything.
Additionally, the sliders come with a maitre d'butter. This compound butter usually consists of softened butter, lemon juice, dijon mustard, and herbs. It added the perfect amount of balance to the dish.
The sliders are a simple dish. And sometimes simple, done correctly, equates to the perfect execution.
Typically, the filet sliders come with a side of fries, but I ordered mine with a baked potato. I enjoyed the preparation of the potato with the salted exterior and crispy skin.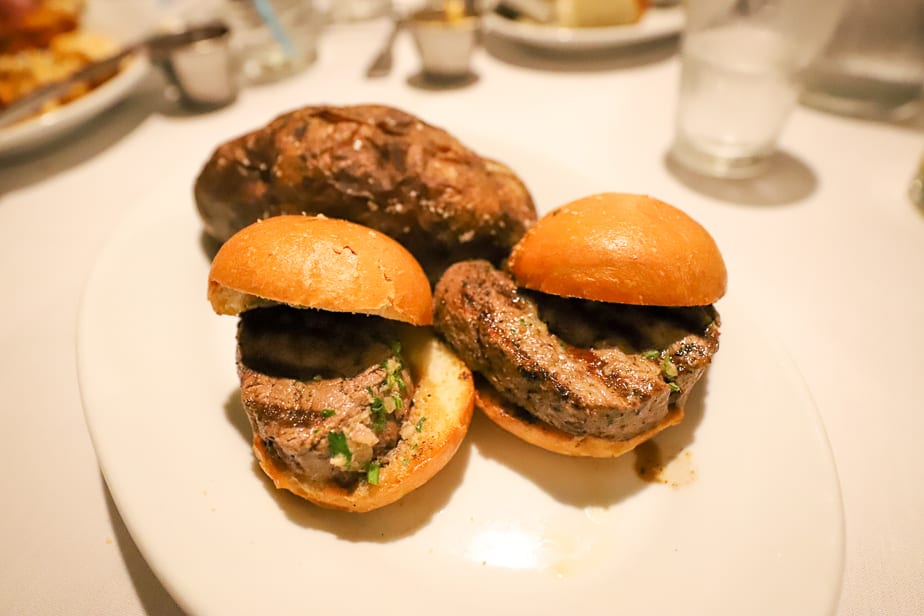 I would order anything we had on this evening for a second visit. However, The Boathouse has a long menu with tons of options, making it difficult to choose.
Below is a photo of the restaurant in the daytime. You can see it has a fun look with the palm trees sitting out front.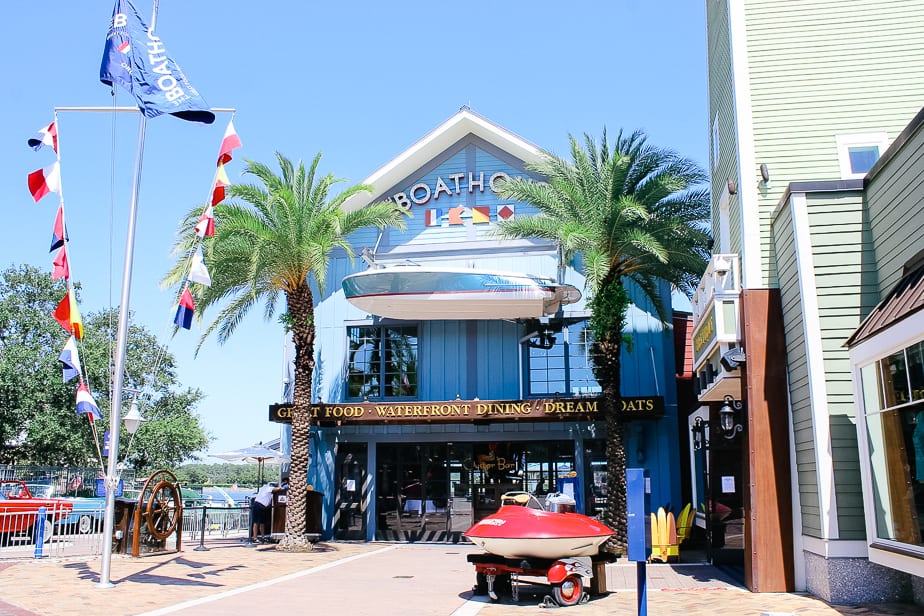 There's even a large boat suspended over the entrance.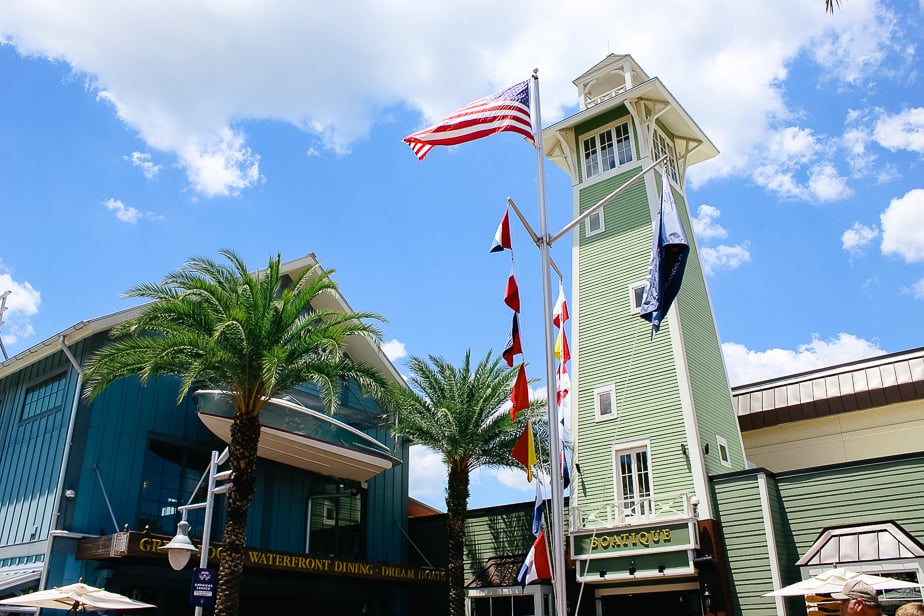 To the left of The Boathouse sits the Amphicar Launch.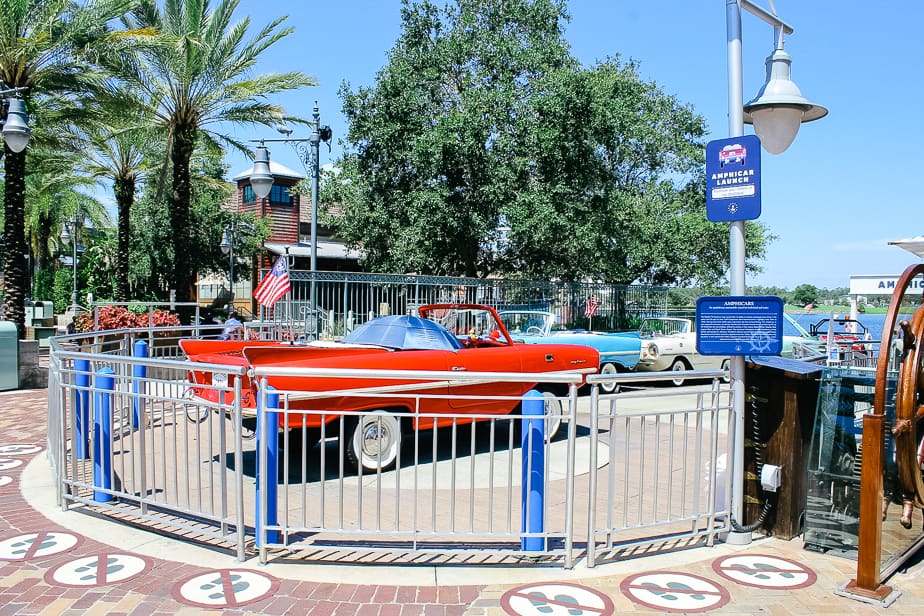 Amphicar's or boats that look like cars that drive right out onto the lake. They run from 10:00 a.m. until 10:00 p.m., weather permitting.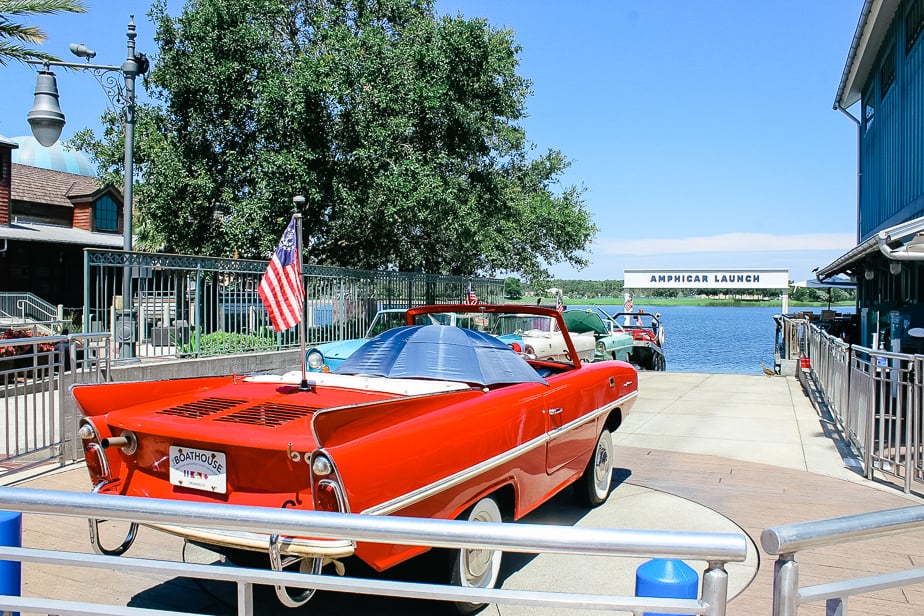 Usually, they cost around $125 per car and sit about 3-4 guests. Each tour lasts approximately 20 minutes.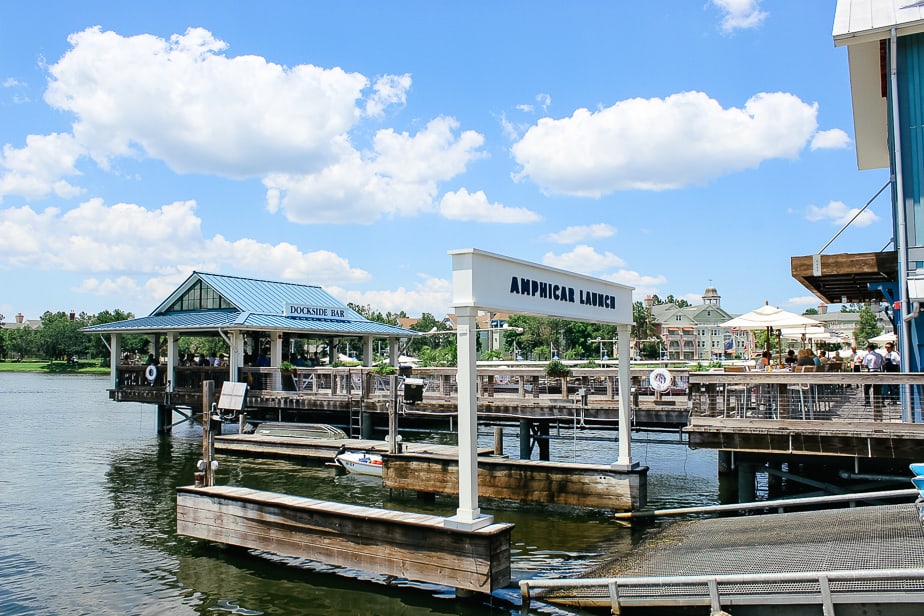 Behind The Boathouse is a secondary option for drinks or dining called the Dockside Bar. This location takes walk-ups, and it's where you'll want to head if the main dining room is packed and you can't get a reservation. Dockside Bar offers the full restaurant menu. And it's a pleasant place to enjoy a meal when temperatures are comfortable.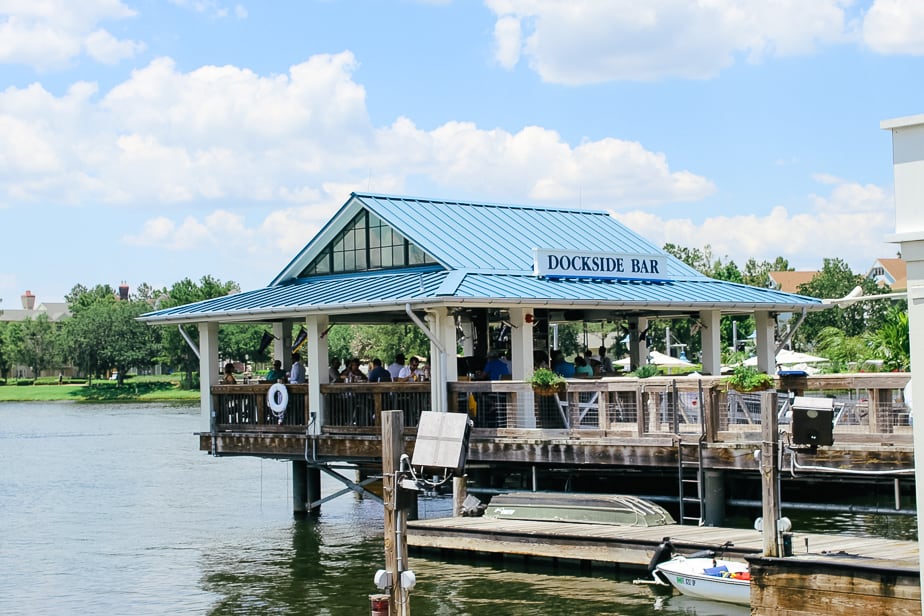 Reservations for The Boathouse are available on the My Disney Experience App or OpenTable. I prefer to make all of my reservations for restaurants at Disney Springs on OpenTable.
As for The Boathouse, I don't think you can go wrong with planning a meal here. The restaurant has received favorable reviews since it opened, the atmosphere is unique, and the service is top-notch.
For more Disney restaurant reviews, you might enjoy these other recommendations:
Or check out the list of the best restaurants at Disney Springs.
So, have you had the opportunity to eat at The Boathouse? Did anything in this review look appealing? Share your thoughts below in the comments.