Enchanted Rose Lounge Review
Enchanted Rose Lounge is located on the second floor of the lobby at Disney's Grand Floridian Resort. This Beauty and the Beast-themed lounge features an array of cocktails and appetizers.
In this review of the Enchanted Rose Lounge, we'll preview a couple of menu items, including drinks and their infamous truffle fries. If you've never visited the lounge before, rest assured it's the perfect place to unwind and escape from the busyness that is Disney.
The atmosphere at the lounge is elegant yet relaxed, offering a cocktail menu that reads a bit higher-end than most other deluxe resorts. However, we are talking about the Grand Floridian, which commands a higher everything.
After all, it is the most expensive resort at Disney World.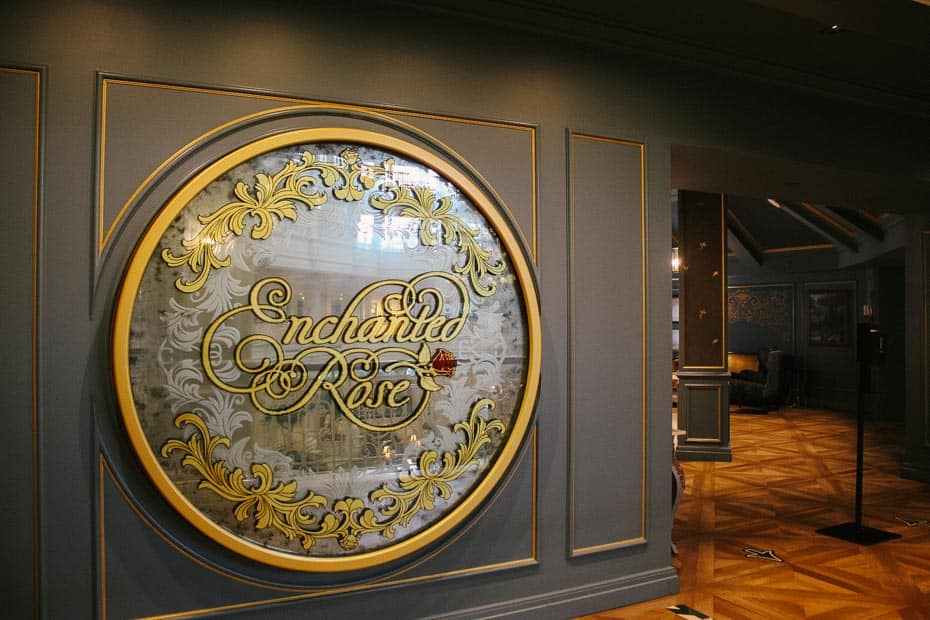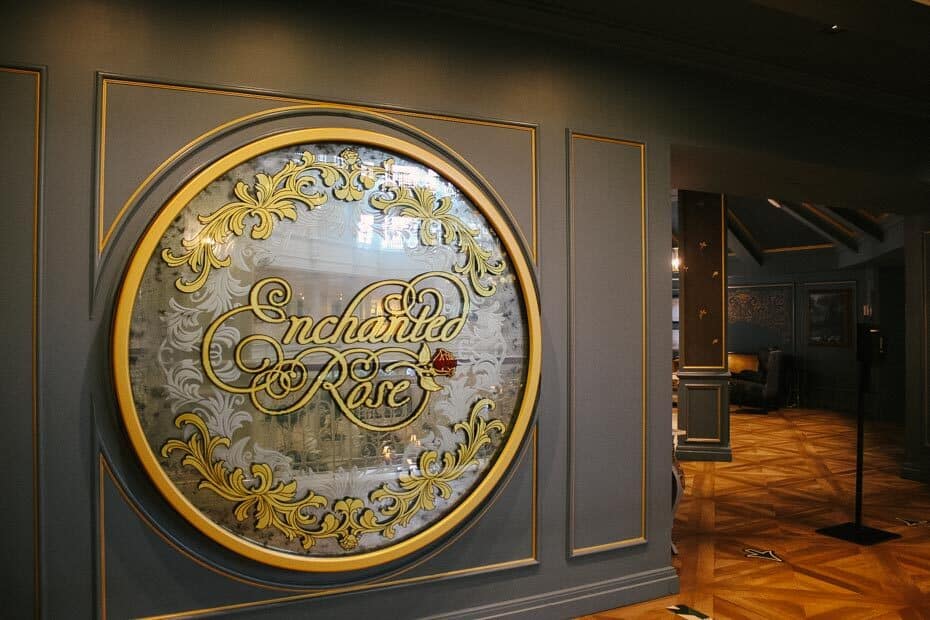 The lounge opened a few years back and is inspired by a tale as old as time, Beauty and the Beast.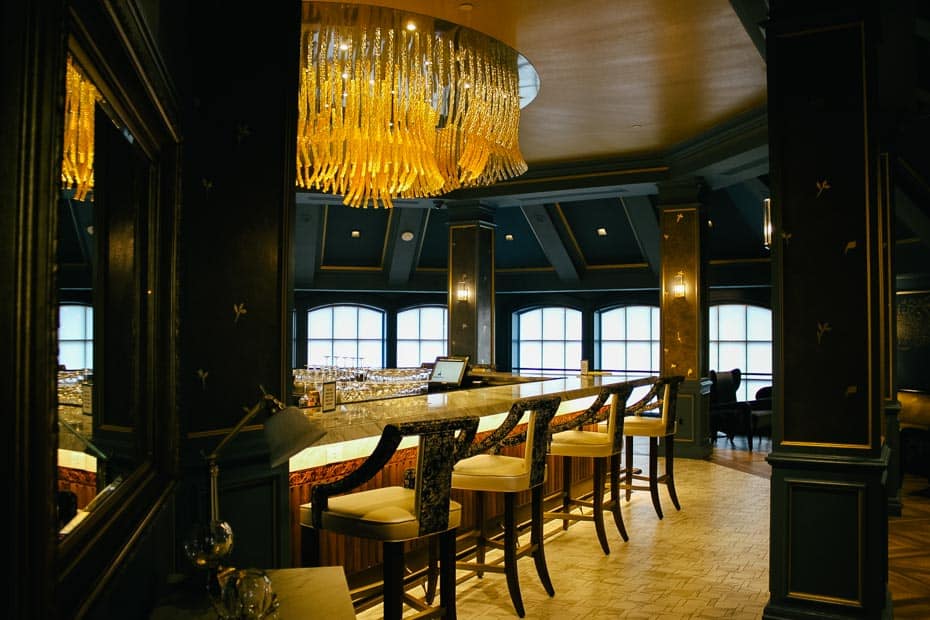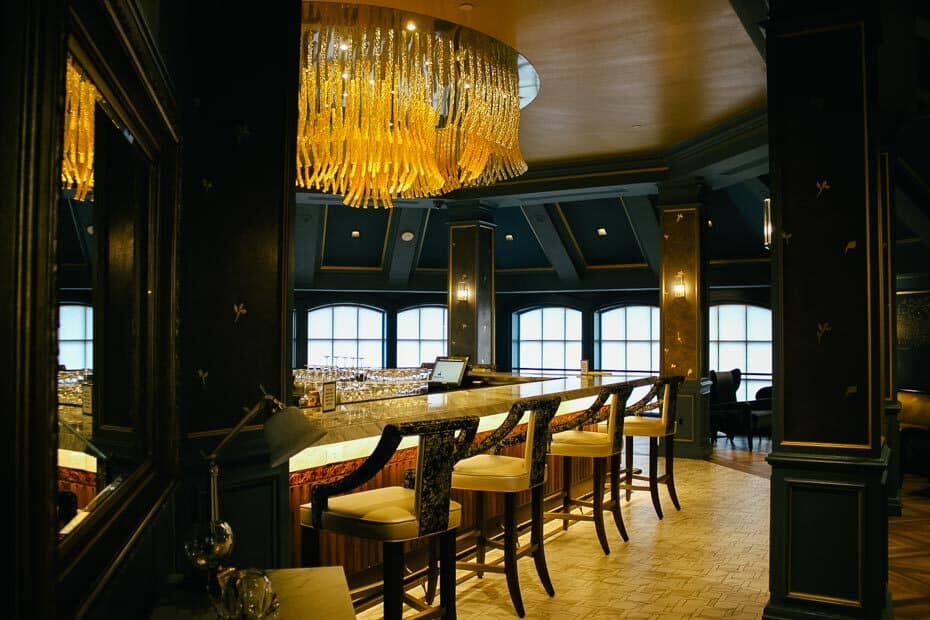 Enchanted Rose has a chandelier centered above the bar area reminiscent of Belle's yellow ball gown.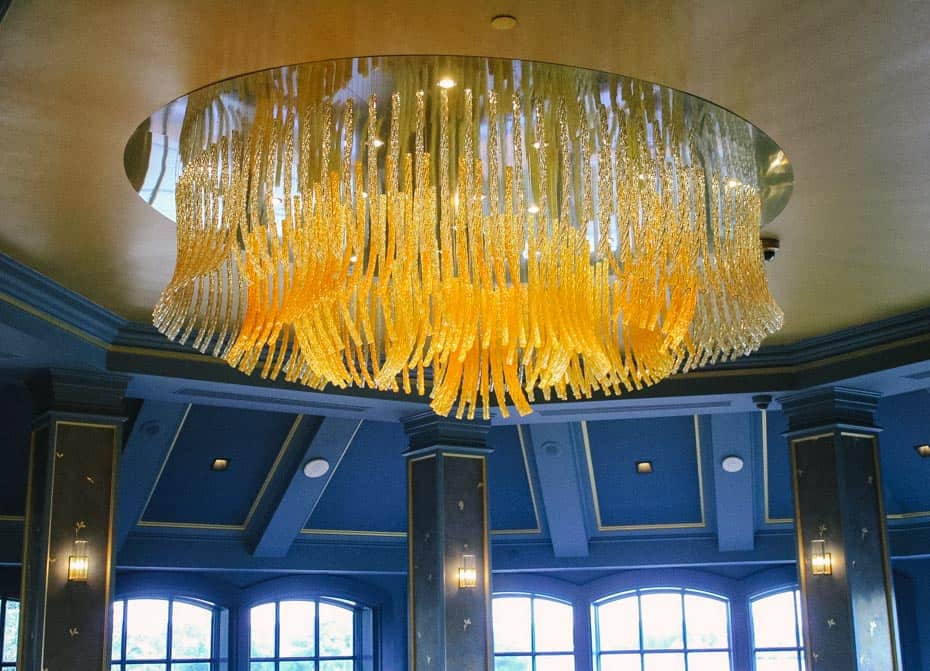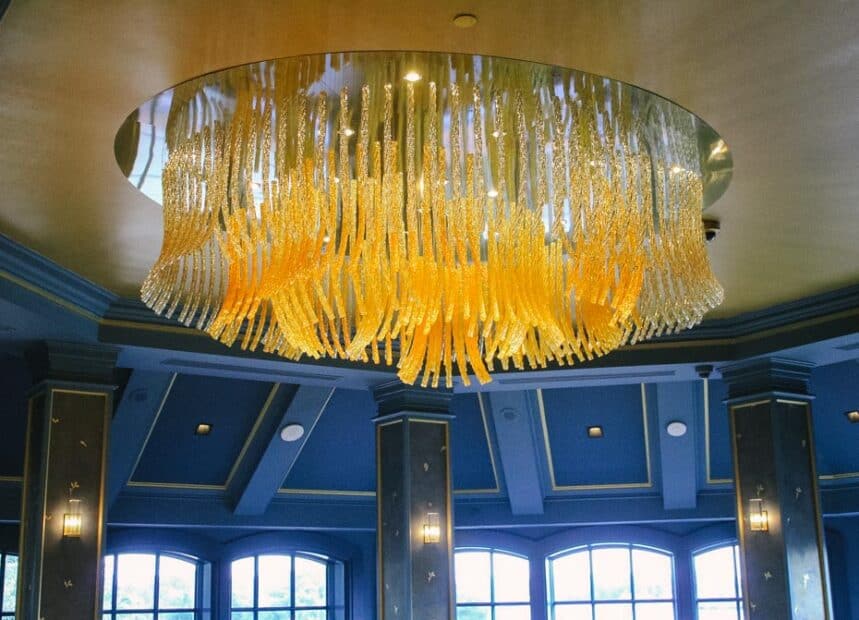 In addition to the stunning bar area, several additional rooms within the lounge offer various seating arrangements.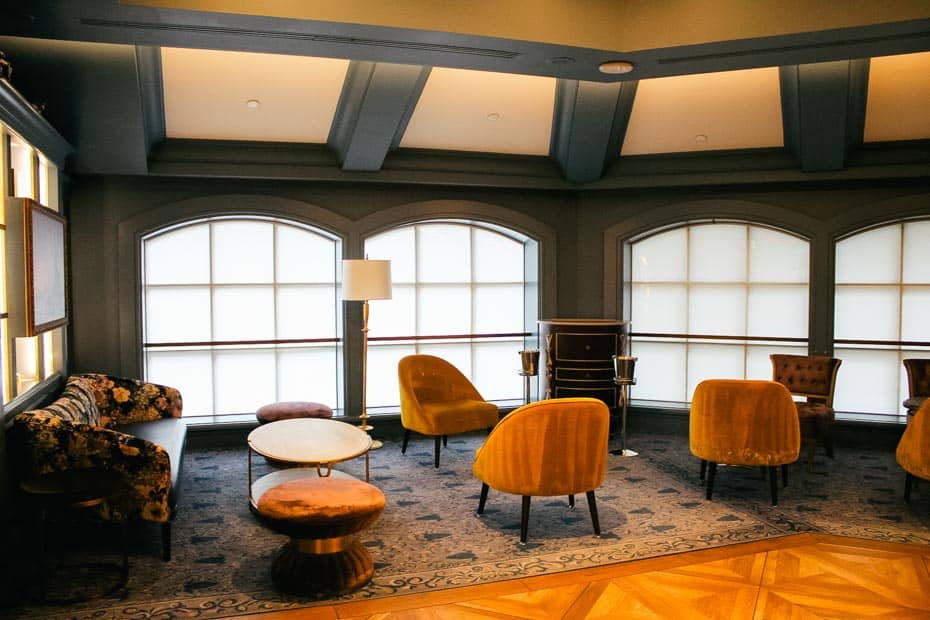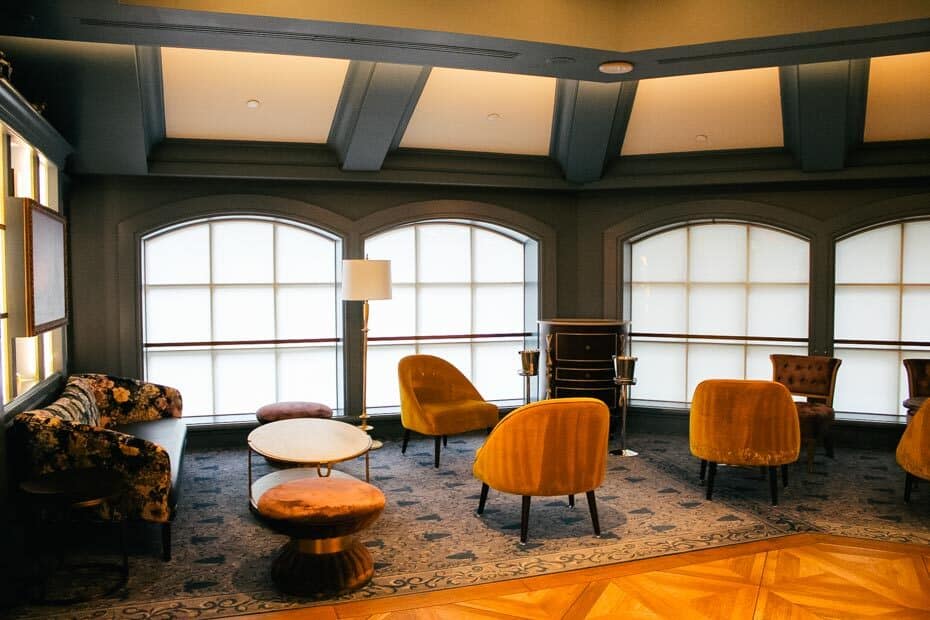 After visiting with friends, I appreciated the setup of the lounge. The furniture was placed in a way that enhanced our visit. While the lounge was bustling, we never felt like anyone was too close. Our conversation among friends remained intimate.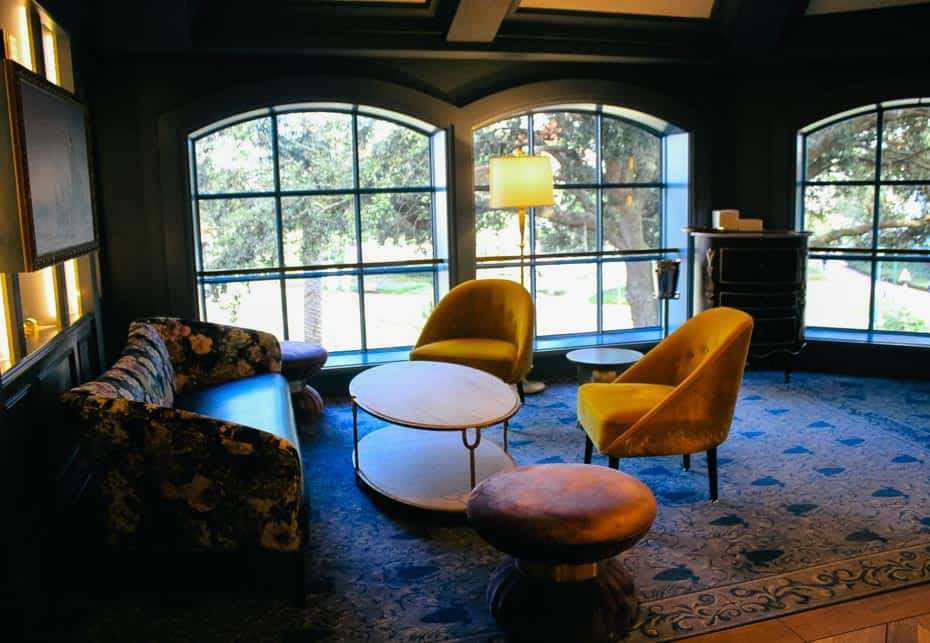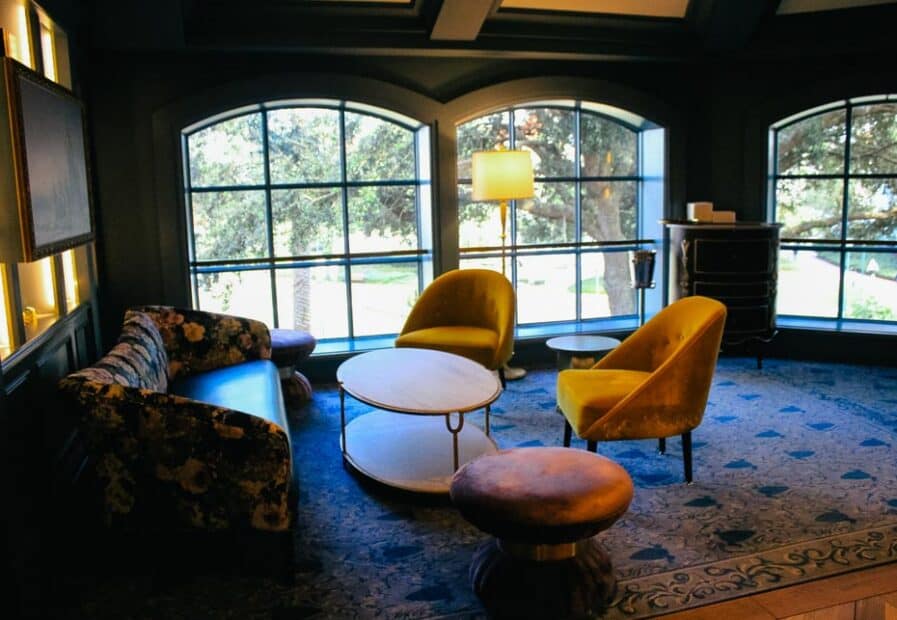 Additionally, there are several spaces with long tables and chairs. Or, if you prefer to enjoy the weather, there is an outdoor patio off the lounge.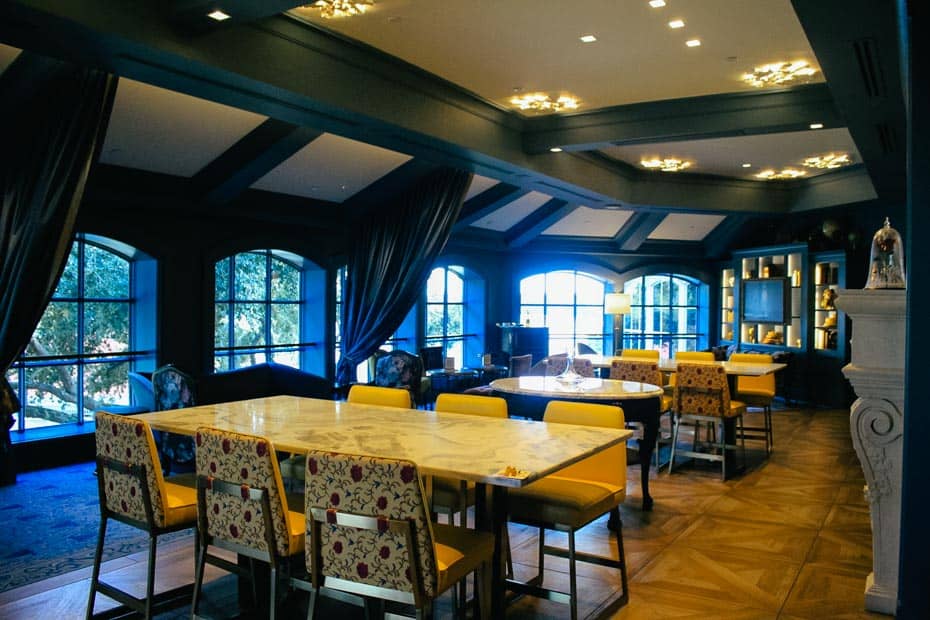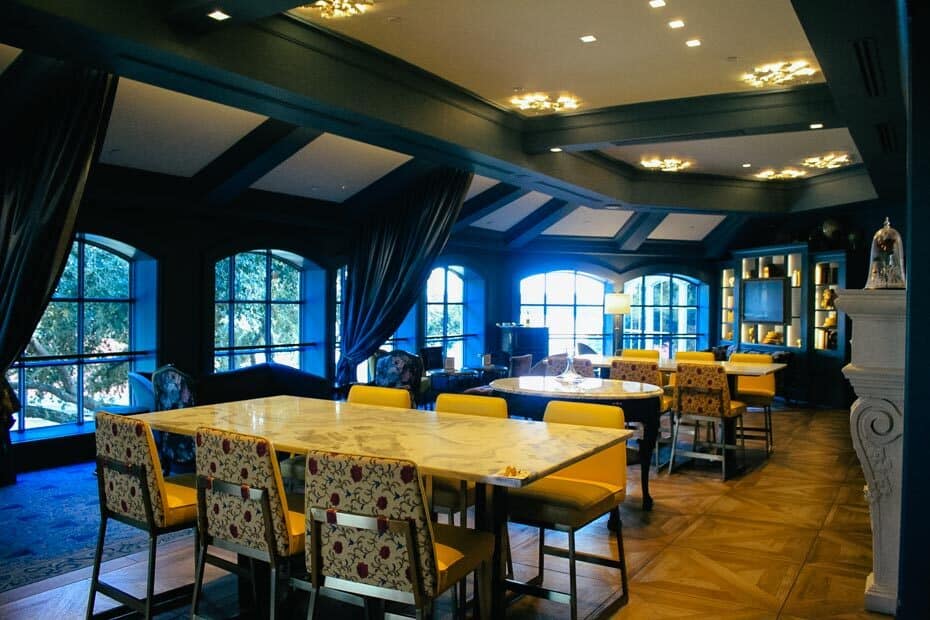 If, for some reason, seating is limited, or you want to enjoy the lobby atmosphere, there is additional seating outside the entrance. Often, a piano player performs on the first floor during the early evening.
Those visiting over the holidays might want to enjoy the Grand Floridian at Christmas. All of the decorations are up, and the decor is stunning, as always.
Of course, you'll want to make sure to check out the gingerbread house while you're here.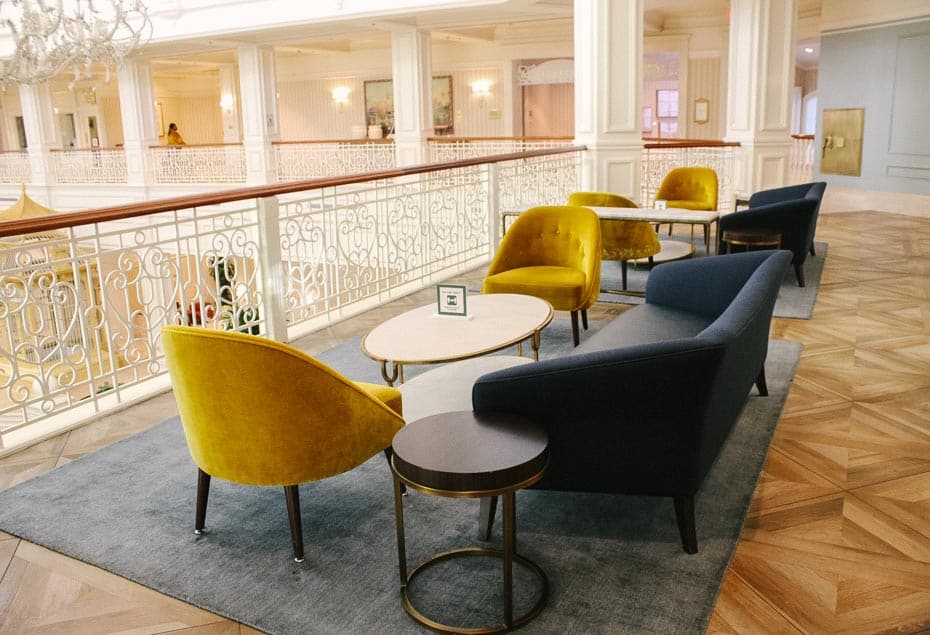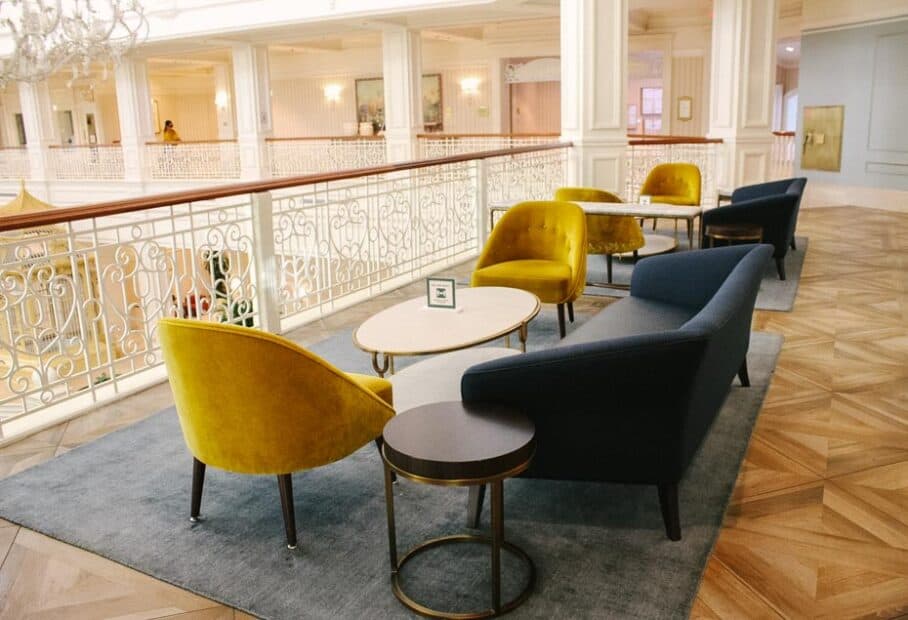 For this visit, we tried a few different cocktails on the menu. Heather ordered the Espresso Martini, described as Stoli Vanil Vodka, Espresso, Crème de Cacao. She enjoyed the drink but noted that it probably wasn't much different from the average espresso martini.
This martini was, however, a pretty cocktail. Although, come to think of it, all of our drinks were good-looking and presented in a high fashion compared to other lounges at Disney World.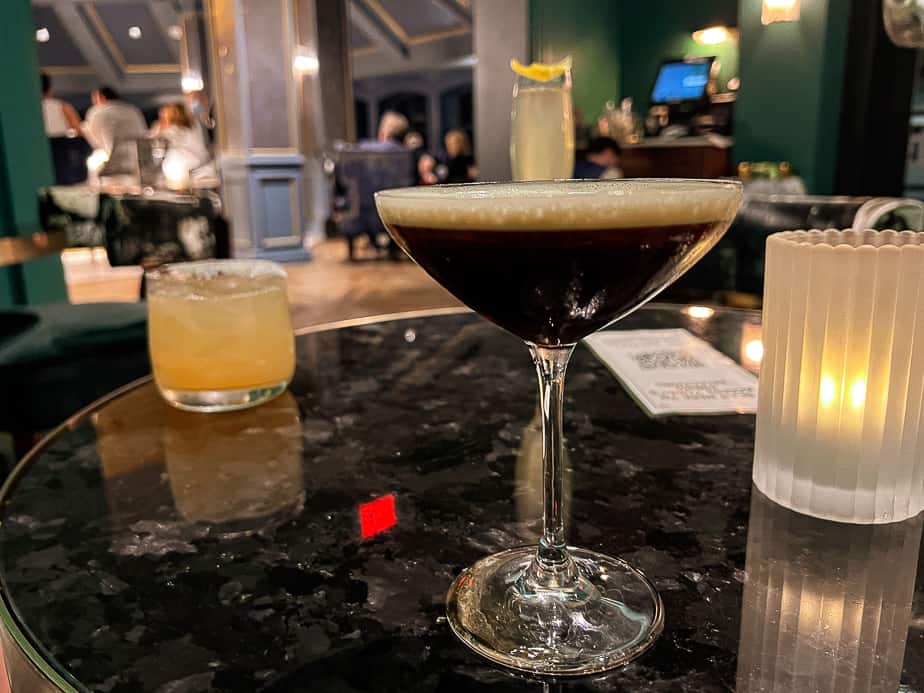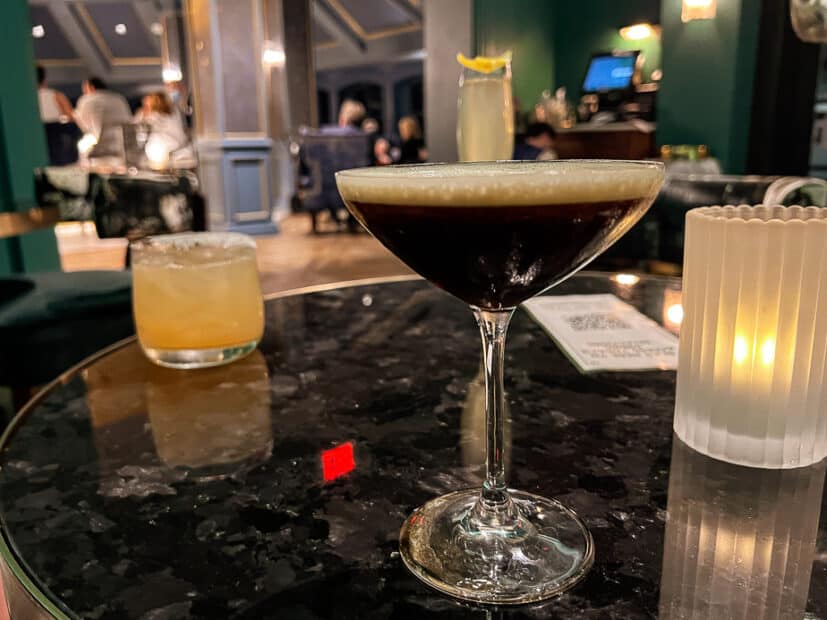 Chris went with the Salty Dog, described as Grey Goose Vodka, Grapefruit, and Salt. I think he ended up very pleased with this drink, and we all commented on the pretty color when it was brought to the table.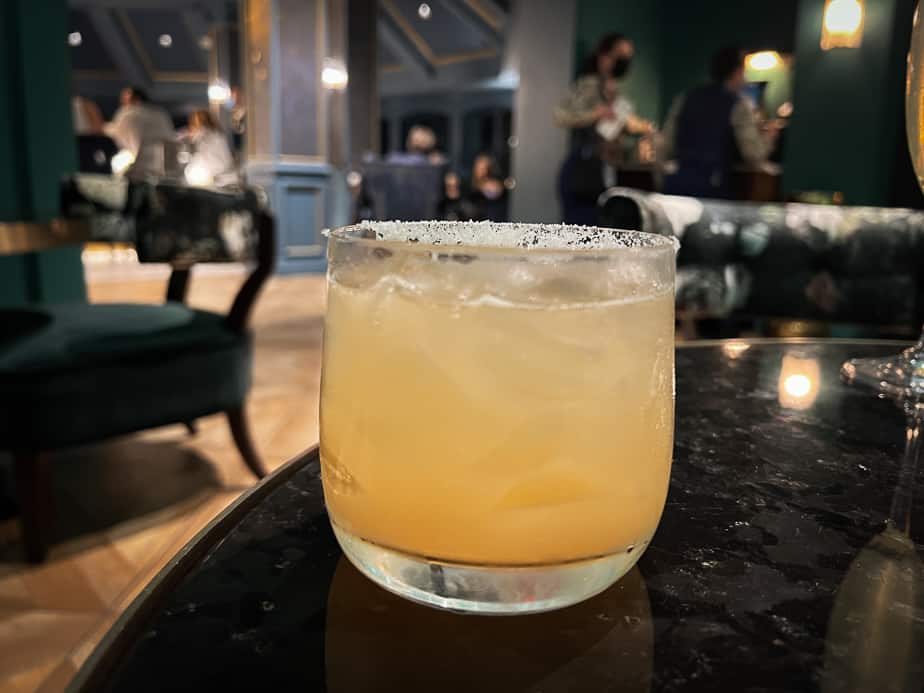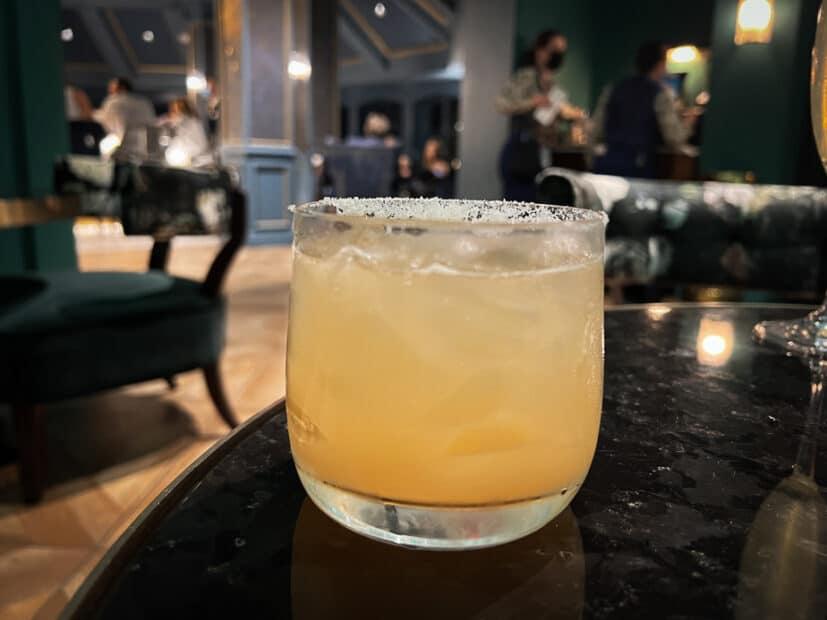 Paul and I ordered The French 75 described as Laurent Perrier Brut Champagne, Hendrick's Gin, Lemon, and Agave. The drink came topped with a burnt lemon rind that added a nice hint of citrus flavor.
It is rare for me to order a cocktail, but I have to admit I enjoyed this drink. The French 75 was a fairly strong cocktail, but the champagne made it feel light. Nevertheless, I could sip on this for a while, and that made it feel reasonable for the $20 price tag.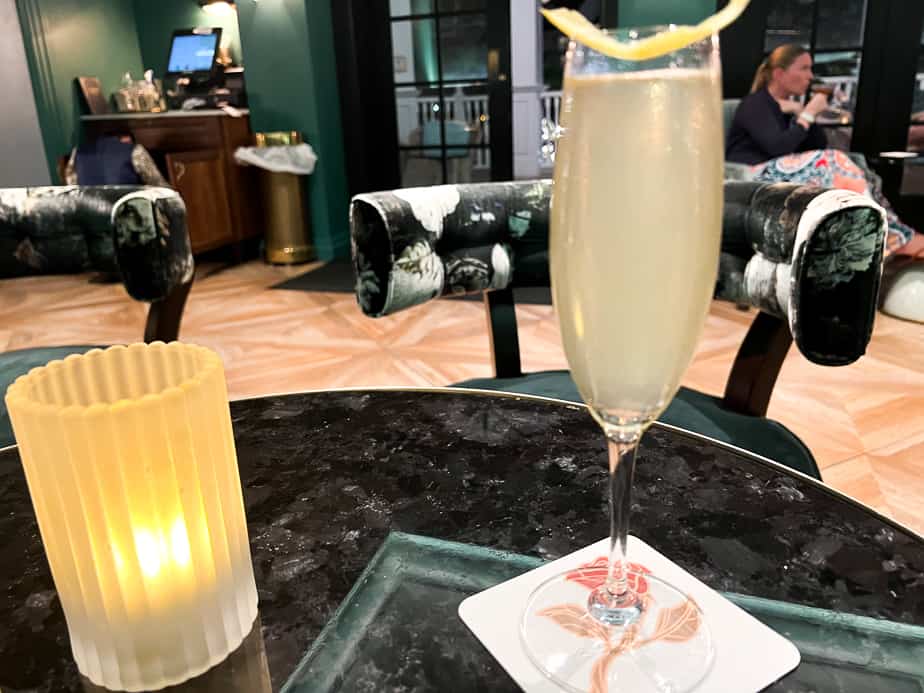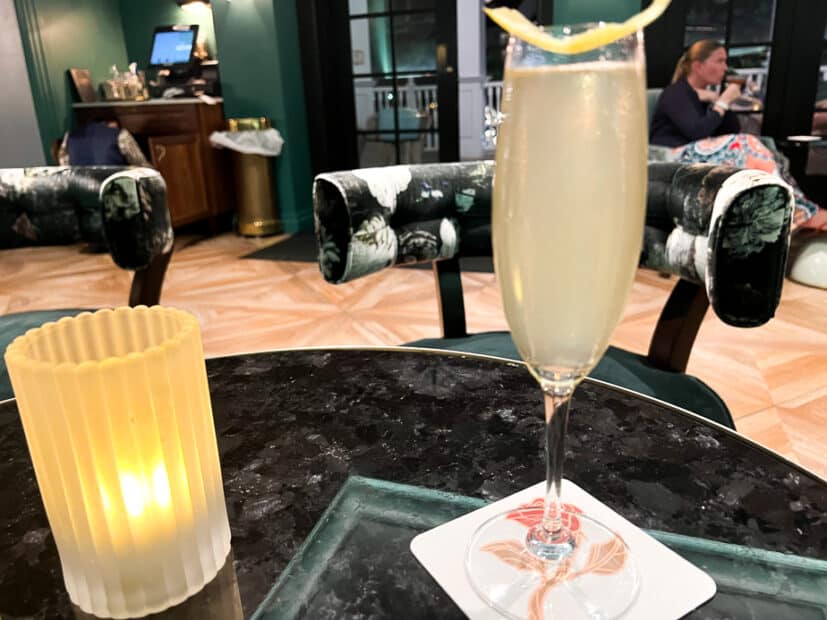 Unfortunately, our last guest ordered a vodka soda, and I neglected to take a photo because I mistook it for water. Sorry!
However, we did order the truffle fries. Everyone in the Disney community seems to rave over these fries. And they were exceptional!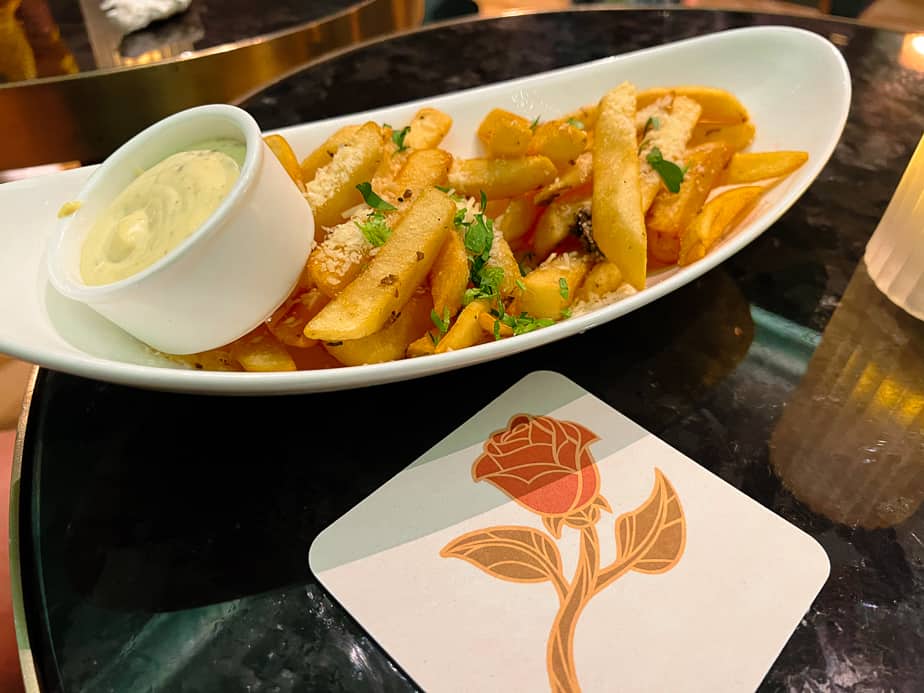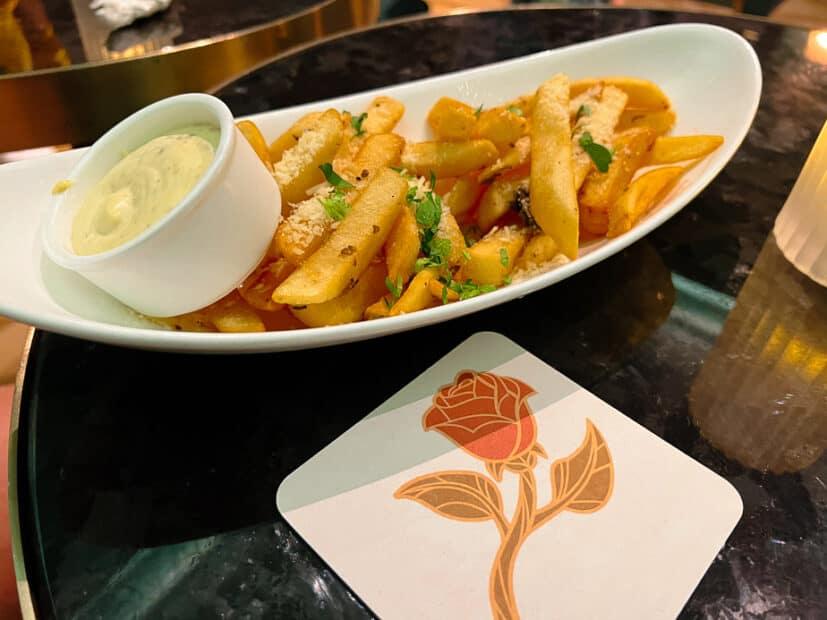 These fries were a substantial portion considering they were $14. The menu describes the fries as Shaved Black Truffles and 18-Month Aged Parmesan.
I had recently enjoyed another order of truffles fries at dinner at Ale and Compass. While those were good, the fries at the Enchanted Rose Lounge take the cake.
These were hearty steak fries that came out piping hot. The dusting of parmesan and truffle oil gave them a wonderful flavor.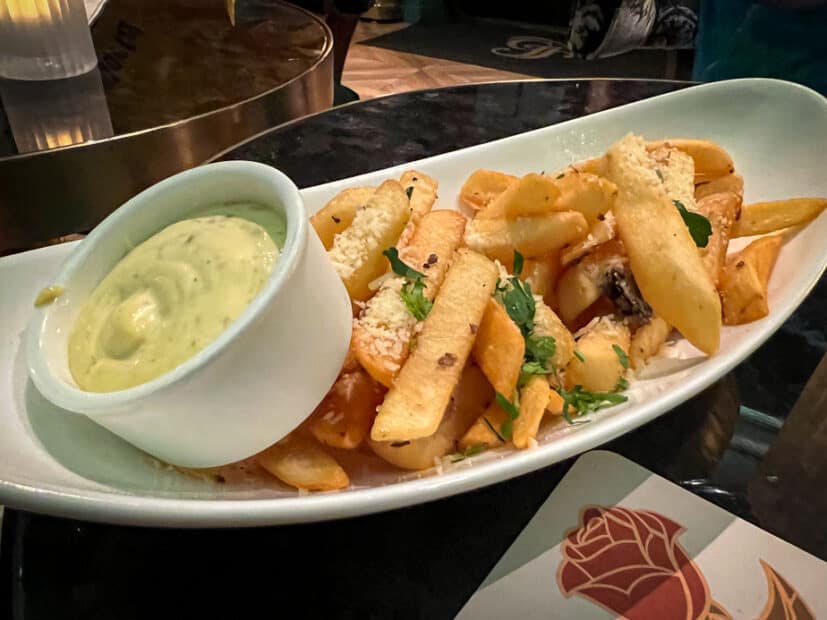 Unfortunately, the fries were the only menu items we tried this evening. However, I'm looking forward to returning in the future. The menu at Enchanted Rose Lounge boasts several appetizers like smoked brisket sliders, crab macaroni and cheese, and a house-made flatbread.
There are several signature cocktails at Enchanted Rose, like the Island Rose, Floral Bitter Beauty, and the Garden Daisy, to name a few. Our server mentioned later on that the Garden Daisy was probably their most popular drink.
To give you an idea, the menu describes the Garden Daisy as Don Julio Reposado Tequila, Midori, Lime, and Cucumber. *Contains pasteurized egg whites.
To learn more about these menu items and cocktails, you can preview the menu for the Enchanted Rose Lounge on Disney's site.
Wrapping things up, I hope this review gave you a little insight as to whether or not this would be a good stop during your vacation. I look forward to returning in the future.
For more information, you might care to preview all of our articles related to the Grand Floridian Resort and Spa. Or you might like these individual reviews:
Additionally, you can check out our complete list of Disney Restaurant Reviews. Some of our most popular include our guide to character dining at Disney World and our list of the best signature dining restaurants at Disney.
Have you had the chance to stop in at the Enchanted Rose Lounge before? Does this seem like a place you might enjoy during your vacation? Leave a comment below and share your thoughts.