Review of Dinner at Disney's Ale & Compass
Dinner at Ale and Compass is one of the most reasonable and enjoyable meals you can have during your Walt Disney World vacation. The food is excellent, the prices are within reason, and the cast members are always welcoming.
But perhaps, the thing that makes the restaurant such a hit is that it's unexpected. By this, I mean, Ale and Compass is just a regular table service restaurant located at one of the many Disney World Resorts.
It's a place people dine when they can't find a reservation anywhere else. No one really anticipates enjoying their meal here so much. And I'm willing to bet that people who eat here early on in their trip end up returning before their vacation is over. It's such a hidden gem.
In this review of dinner at Ale and Compass, we'll look at several menu items and our latest meal. However, this review is not to be confused with our breakfast review found here.
If you are a regular reader of the site (and I hope you are!), you know we recently included Ale and Compass in our list of the best breakfast restaurants at Disney World. So it's safe to say that whichever meal period you choose here, you're in for a treat.
Our subject is located off the lobby of Disney's Yacht Club Resort. It was formerly known as the Captain's Grille. However, the resort underwent a refurbishment a few years back and completely rebranded the restaurant.
Related: Disney's Yacht Club Review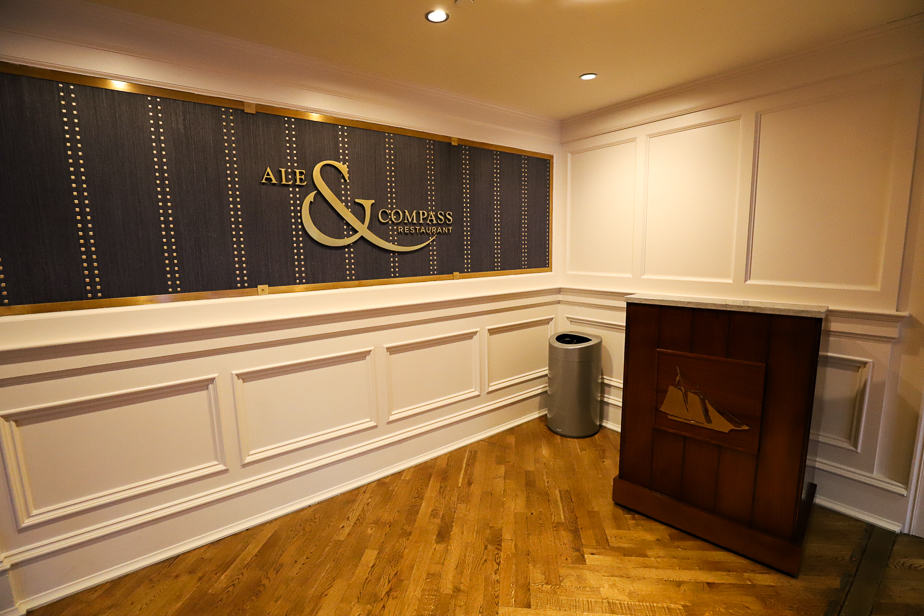 Now, if you visit the Yacht Club, the names of things can be a little confusing. For instance, the store and counter service at the resort is called The Market at Ale and Compass. And the lounge is called the Ale and Compass Lounge; review here. And then there's the restaurant.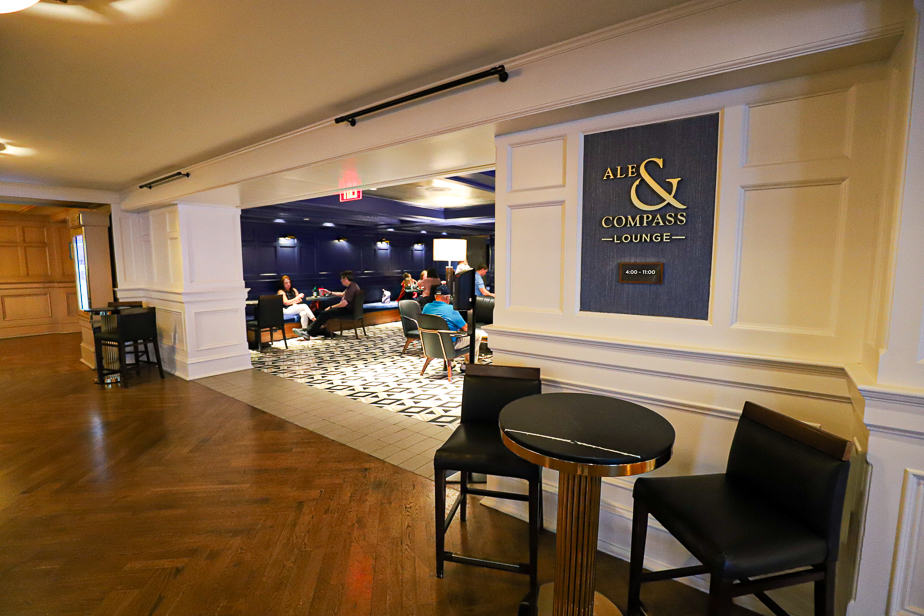 Anyway, for this meal, I was joined by my friend Kristen from Firefly Travels. We were staying at the Waldorf Astoria and decided to grab a meal somewhere near Epcot, so we could easily walk in to see the fireworks.
Since Disney's Yacht Club is located in the Epcot Resorts Area, you can easily park at the resort when you have a dining reservation. Then you can walk over to Epcot or the Boardwalk to enjoy a little nightlife.
Unfortunately, we were both pretty worn out after our meal and never made it over to Epcot. However, we were able to see a bit of Harmonious from our room at the Waldorf.
I'll have a review in the coming weeks of what it was like to stay there. In the meantime, I can say it's definitely worth a stay if it meets your budget.
Related: Waldorf Astoria Orlando Review
When we got to Ale and Compass, we were both pretty hungry. I had been all over the parks and a few resorts since early that morning.
And Kristen had a long travel day coming all the way from Ohio! We were meeting up and heading to Jamaica the next day to attend a travel conference.
Needless to say, we were both ready for a warm meal by the time we arrived. For starters, Kristen ordered lobster and corn chowder.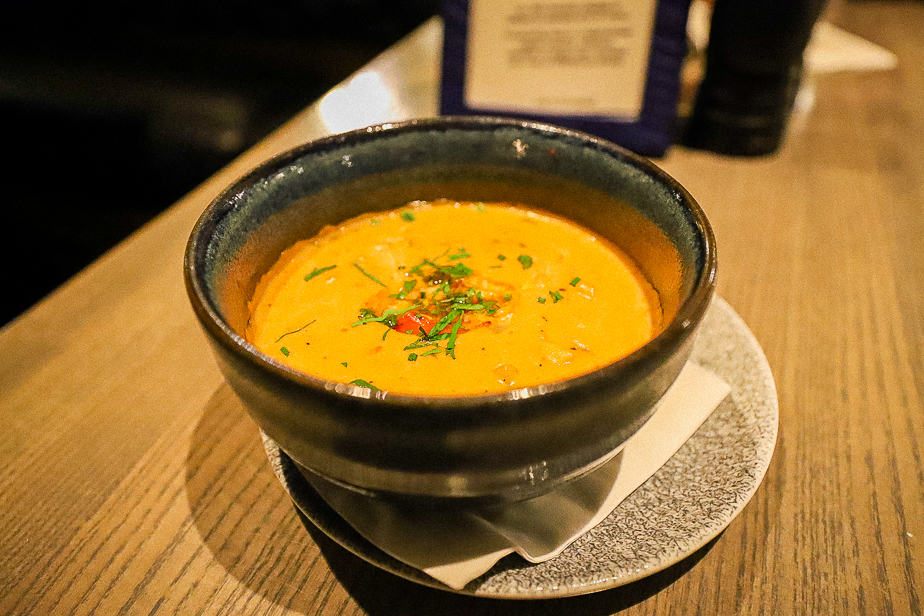 The chowder was rich and creamy, with luscious bites of lobster alongside crisp corn kernels. You may remember that I ordered this myself back last winter when I placed a to-go order at Ale and Compass and took it back to my room at Caribbean Beach.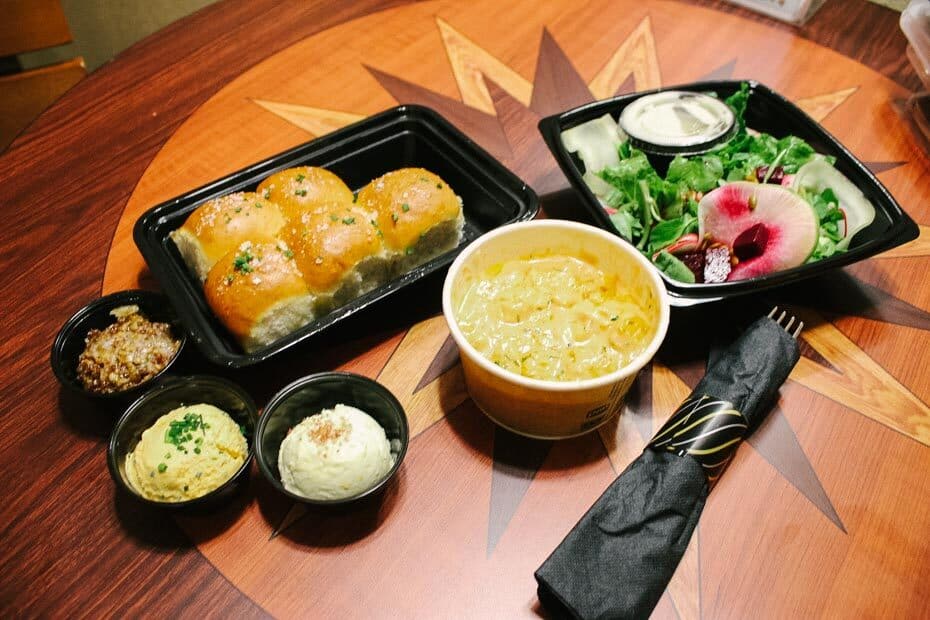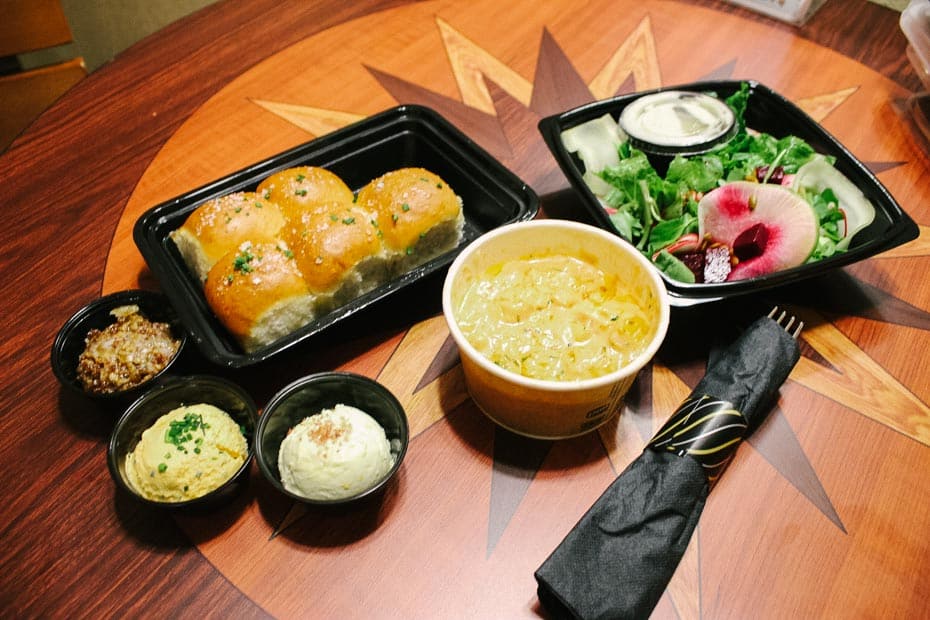 That photo includes the Parker House Rolls, which are a must-order for anyone who enjoys bread. Additionally, that is the Ale and Compass Salad.
Together, these three items made for an excellent meal. I also think this is a good example that shows you don't have to order an entree if there are several menu items you would like to try. You can preview the Ale and Compass dinner menu here on Disney's site.
Back to this present meal, I went with an appetizer that I had not tried to date, the roasted buffalo-style cauliflower. The dish comes with hearts of Romaine and herbed ranch sauce.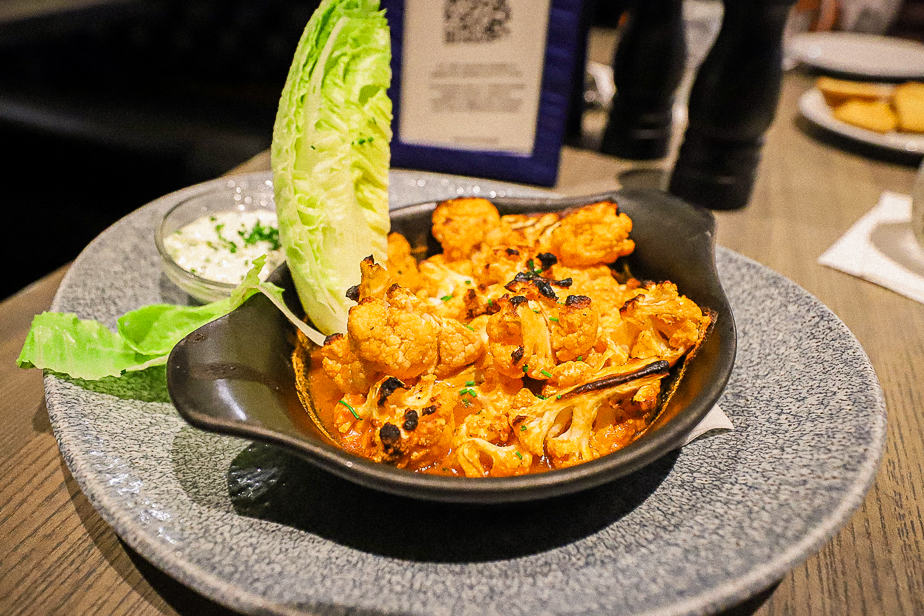 Okay, where do I start with this dish? When I went vegan at Disney for eight months last year, this was the kind of thing I looked forward to eating. But, unfortunately, I developed food allergies and had to revert to a balanced diet.
For me, I liked the cauliflower, but it was entirely too spicy. Kristen tried some, and she thought it was delicious but way too hot. So, possibly, we received an over-seasoned dish.
As someone who loves spicy food, I can usually force myself to enjoy it with the heat. However, that was not the case with this dish. You might have better luck.
Next, Kristen added an order of truffle fries with roasted shallot mayonnaise.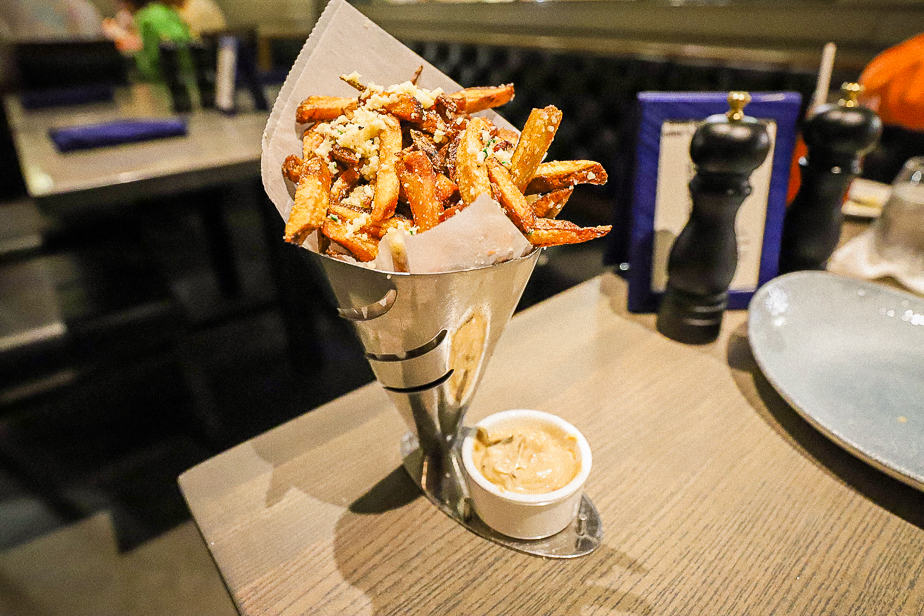 Oh my goodness! Thankfully, she was happy to share them. They were SO GOOD. In fact, I was over at the Yacht Club again recently and was seriously tempted to mobile order them again.
The fries were perfectly cooked as fries should be. They were the kind that still had bits and pieces of the skins left on them. Our order was perfectly doused with the right amount of truffle oil and dusted with parmesan cheese.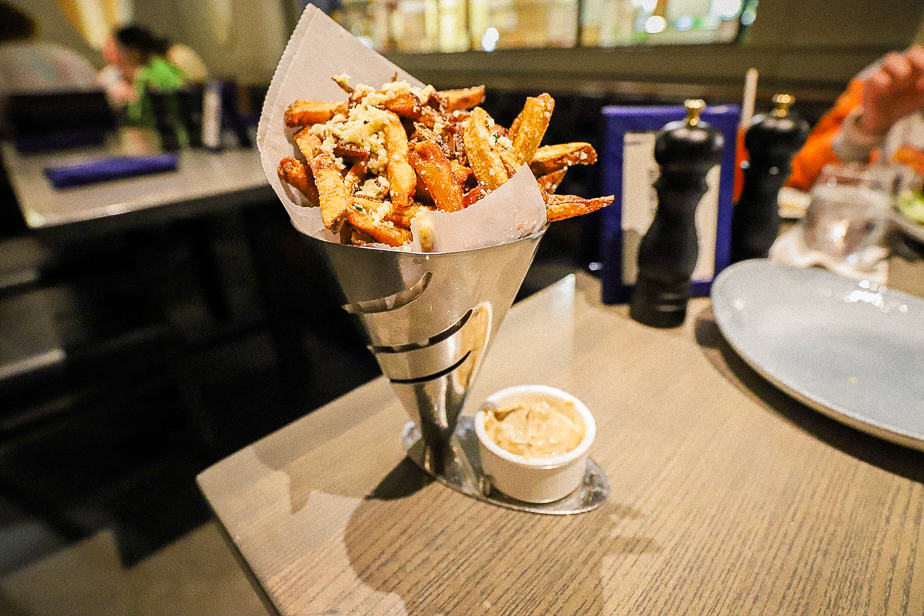 Aside from all of that goodness, there was a special dipping sauce. You know I don't do mayonnaise, so I didn't try it. Lucky for me, and possibly you, the fries were perfect without the sauce. Five Stars!
Since I initially wrote this review, I've found an even better location to order truffles fries at Disney World. The Enchanted Rose Lounge at Grand Floridian has them, and they are excellent!
Lastly, I ordered the bacon and Vermont cheddar burger. Our server brought a knife and an extra plate so we could share.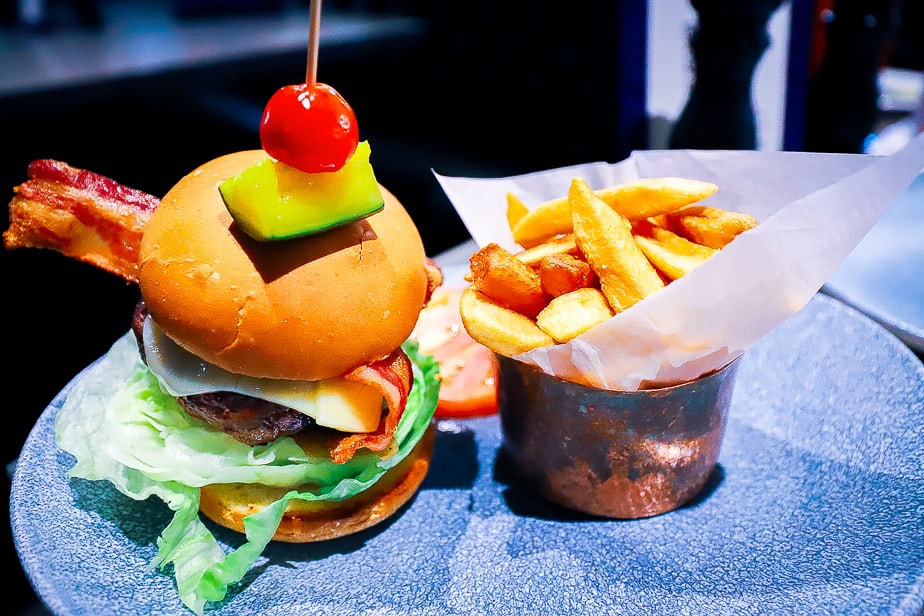 This example shows how you can order something to share and mix things up a bit. Sometimes, when you peruse the menu, you'll find it tough to make a decision.
So instead, get together and see what other people in your group might want. Then combine those items to make a meal.
Often, each item is more than large enough to share between multiple people, like this huge, juicy burger. Unfortunately, the picture doesn't do the size justice.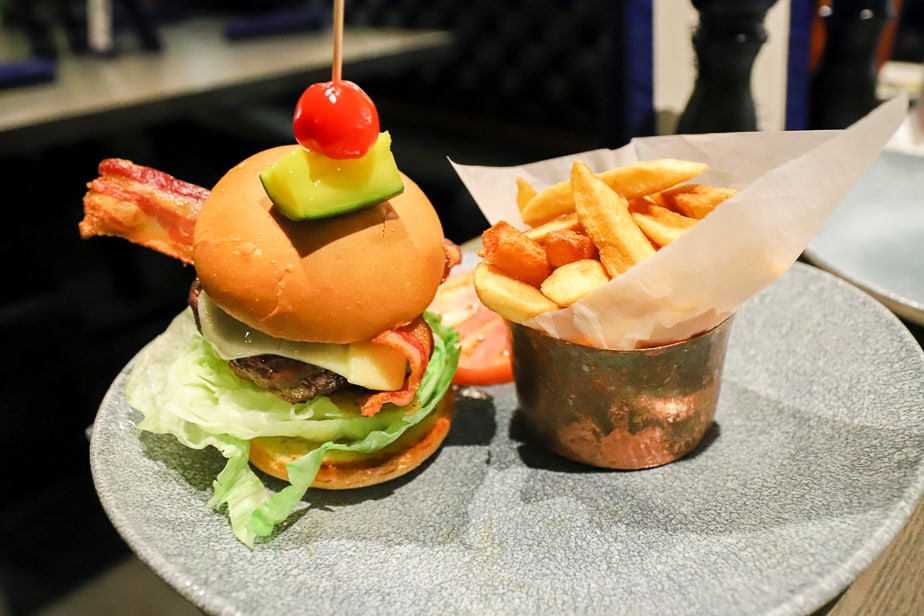 Ale and Compass's signature burger comes with caramelized onion on a Parker House bun. The burger features Applewood smoked bacon, lettuce, tomato, cheese, and herb mayonnaise.
We ordered ours sans the mayo. Oh, and that's a sweet pickle (not dill) on top.
Our burger came out a perfect medium-well and full of flavor. We both enjoyed it and felt like it was an excellent option for anyone wanting a traditional menu item.
Other than the cauliflower dish, I would order everything again in the future. However, next time, I'll probably go with the New England Seafood Pot Pie.
I had considered ordering the pot pie on this evening but was a little concerned it might be too wintery feeling, given I had been out in the heat all day. Someone next to us ordered it, and it looked amazing.
Other menu items you might consider are the plant-based protein bowl, Pappardelle pasta, the sustainable catch of the day, or the lemon-herb "brick" chicken. There are plenty of options for everyone.
In addition, kids' meals include grilled chicken, pasta, cheeseburgers, and fish.
As for Ale and Compass, I'm sure I will return soon. Okay, I have reservations for later this week. I eat here more than I do at any other restaurant at Disney World. If you decide to have dinner here, or any other meal, I hope you'll enjoy it as much as I do.
For other dining reviews at Disney World, you might enjoy these recommendations:
Side Note: I'm in the parks throughout the next week. We'll have a look at the gingerbread carousel at Beach Club and the gingerbread house at the Grand Floridian in the next few days. Then we'll try to get back on a more regular schedule next week.
Have you had the opportunity to enjoy dinner at Ale and Compass? If so, I would love to hear about it. Leave a comment below and share your experience.