Ale and Compass Review (Dinner and Lunch at Disney's Yacht Club)
It's no secret that Ale and Compass at Disney's Yacht Club is one of our favorite hidden gems at Walt Disney World. We enjoy it so much that we dine here multiple times a year.
In this review of Ale and Compass Restaurant, we'll preview a recent lunch and several dinners past. Since we've dined here for each meal period, there's a separate review of breakfast at Ale and Compass that covers most of the menu items.
Ale and Compass is located off the lobby of Disney's Yacht Club Resort. The restaurant serves breakfast, lunch, and dinner daily.
For lunch, the restaurant is open between 11:45 p.m. and 2:00 p.m. They then reopen from 5:00 p.m. to 9:00 p.m. for dinner.
We began dining at Ale and Compass many years ago when the restaurant went by another name, The Captain's Grille. Back then, we usually stayed at the Yacht or Beach Club for vacation. Over the course of our vacation, we would eat at the restaurant several times.
So when we heard the former restaurant was closing, there might have been a few tears shed. Thankfully, the new location somehow manages to have the same charm while offering a wide array of menu items.
Let's take a look at a few of those items.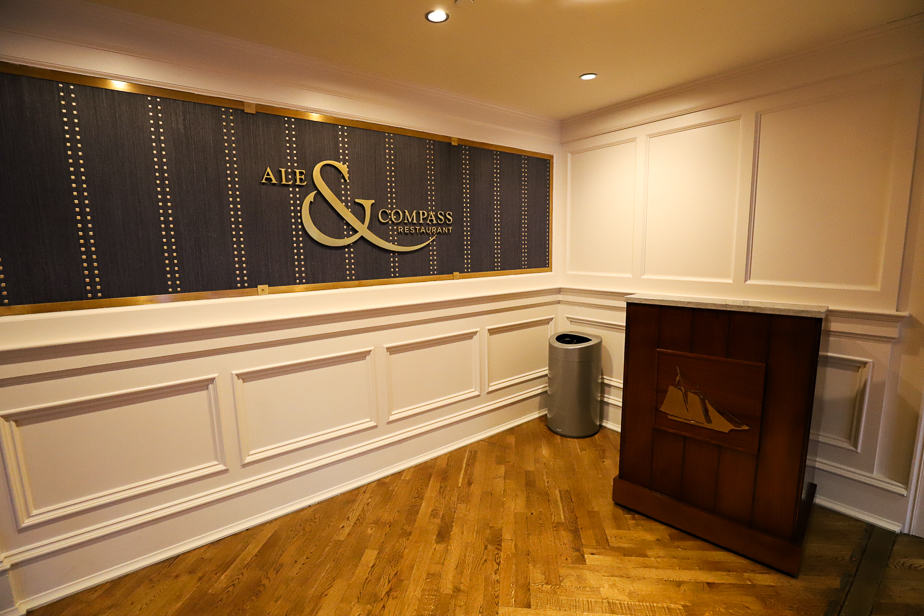 Ale and Compass Review (Lunch)
Over the summer, when my sister was visiting, we went to Magic Kingdom to see the Festival of the Fantasy Parade. At that time, the parade was offered twice daily.
After the parade, we didn't have any plans other than to park hop to Epcot. Of course, we had to wait until 2:00 p.m. because of the silly park-hopping rule Disney has been enforcing.
So I suggested we take a bus to Disney's Yacht Club from Magic Kingdom and have lunch at Ale and Compass. Of course, we didn't have a reservation, but I was fairly certain we could score one or at least join the walk-up list.
After checking the My Disney Experience app, I found a reservation. One of the best things about Ale and Compass is that there's almost always availability.
But if there's no availability, they often offer the option to join a walk-up list. If you join the walk-up, they'll send a notification when your table is ready.
For starters, we ordered an appetizer to share, the Parker House Rolls with spreads. Three spreads come with the rolls. We have citrus butter, bacon jam, and pub cheese from left to right.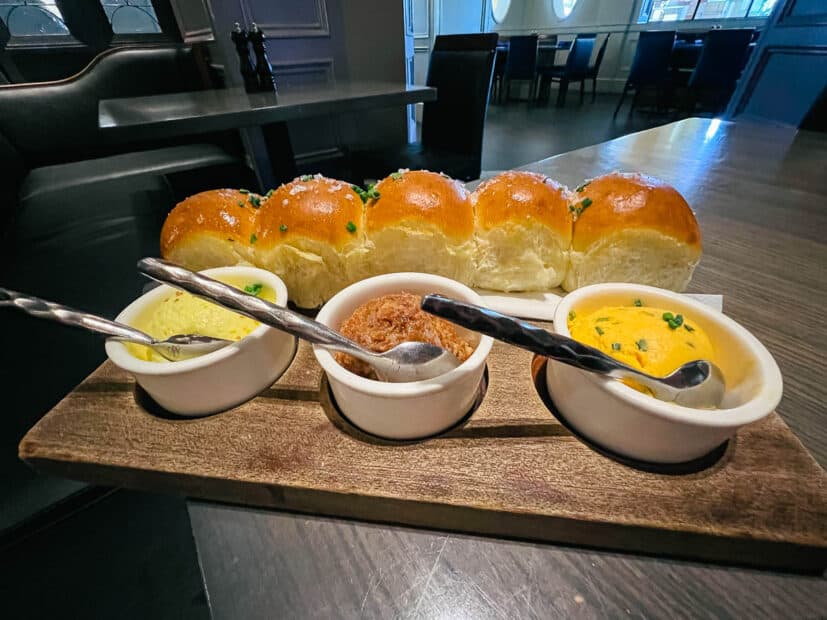 Our rolls were served warm, fresh out of the oven. They were sprinkled with sea salt and a touch of herbs.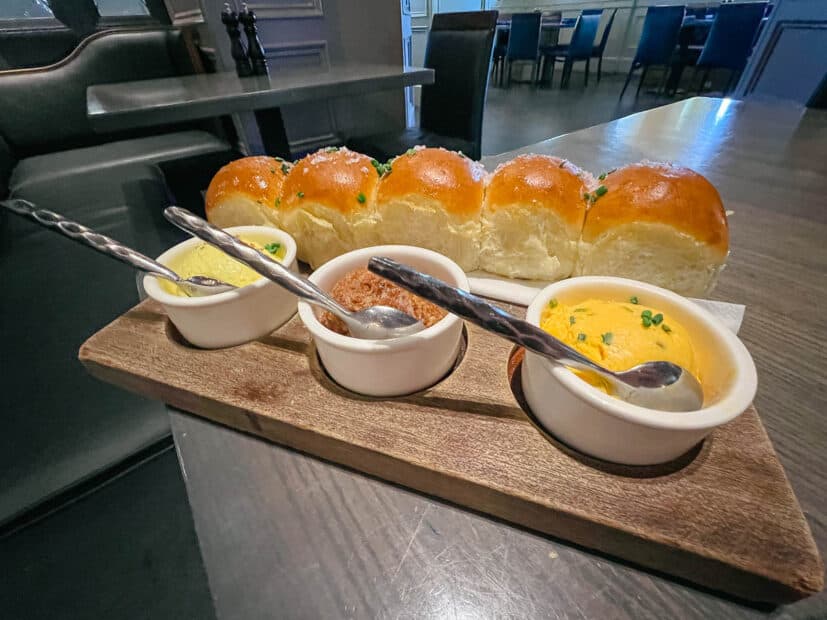 My favorite of the spreads was the pub cheese. But the bacon jam and citrus butter were also delicious.
These rolls are an excellent way to start your meal. I wouldn't hesitate to order them again.
Instead of ordering an entree, I decided to order another appetizer. For my main course, I had the jumbo lump crab cake, which turned out to be two crab cakes.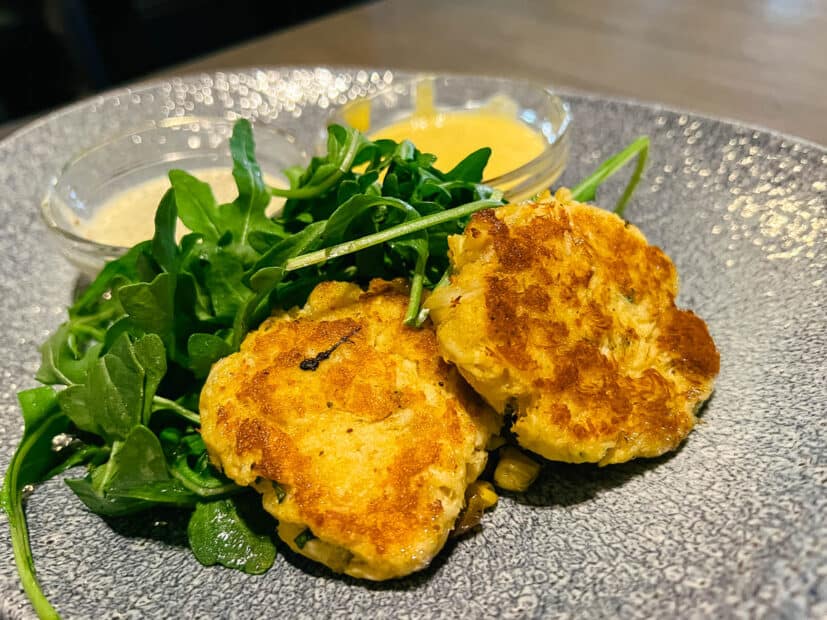 As you can see, I had more than enough food between the crab cakes and a few rolls. My order of crab cakes came with stone ground mustard cream, lemon emulsion, succotash, and greens.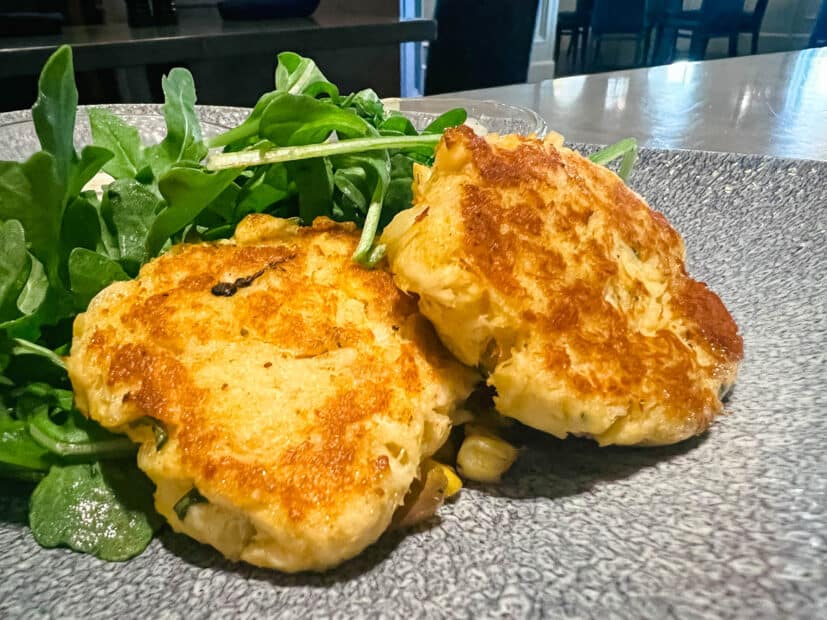 If you enjoy crab cakes, consider ordering this dish as a meal. They are only available on the lunch menu at Ale and Compass.
My sister went with an entree, Ale and Compass's Fish and Chips. Like my crab cakes, this dish is only available on the lunch menu.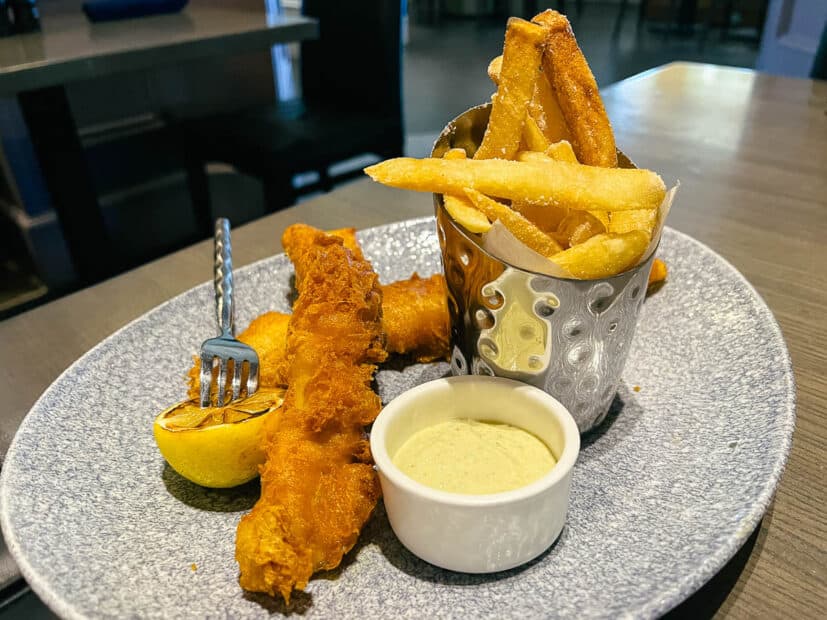 She received two pieces of fish and a substantial serving of fries. A lemon caper tarter sauce comes on the side.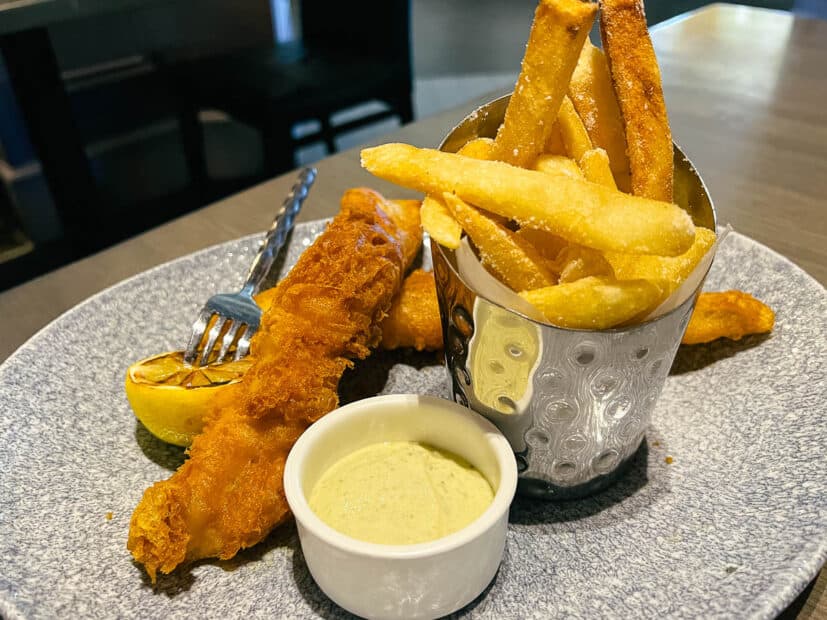 I might have to order these on my next visit. That crispy batter was finger-licking good.
By the end of our meal, we were completely full and ready to head to Epcot. Since Yacht Club is in the Epcot Resorts Area, we were able to walk from the hotel to Epcot's International Gateway entrance.
Overall we had an excellent meal that didn't break the budget, and we couldn't have asked for a more convenient location.
To preview the entire lunch menu for Ale and Compass, you can do so here on Disney's site.
Ale and Compass Review (Dinner)
On our last visit to Ale and Compass for dinner, I was joined by my friend Kristen from Firefly Travels. We were staying at the Waldorf Astoria and decided to grab a meal somewhere near Epcot.
Our plan was to have dinner and then walk into Epcot to see the fireworks. Unfortunately, we were both pretty worn out after our meal and never made it over to Epcot.
However, we were able to see a bit of Harmonious from our room at the Waldorf. More about that experience is available in our resort review.
Related: Waldorf Astoria Orlando Review
Anyway, when we arrived at Ale and Compass, we were both pretty hungry. Kristen had just flown in from Ohio, and I had been all over the theme parks that day updating character meets.
We were meeting and heading to Jamaica the next day to attend a travel conference. Needless to say, we were both ready for a warm meal when we got to Ale and Compass for dinner.
For starters, Kristen ordered the lobster and corn chowder.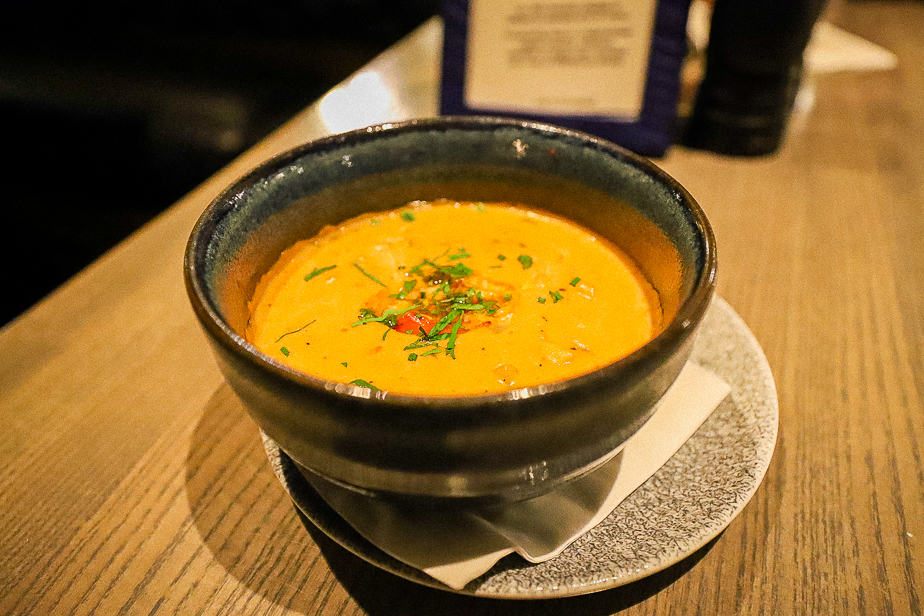 This order of chowder was rich and creamy with luscious bites of lobster alongside crisp corn kernels.
I went with an appetizer, the roasted buffalo-style cauliflower. This dish comes with hearts of Romaine and herbed ranch sauce.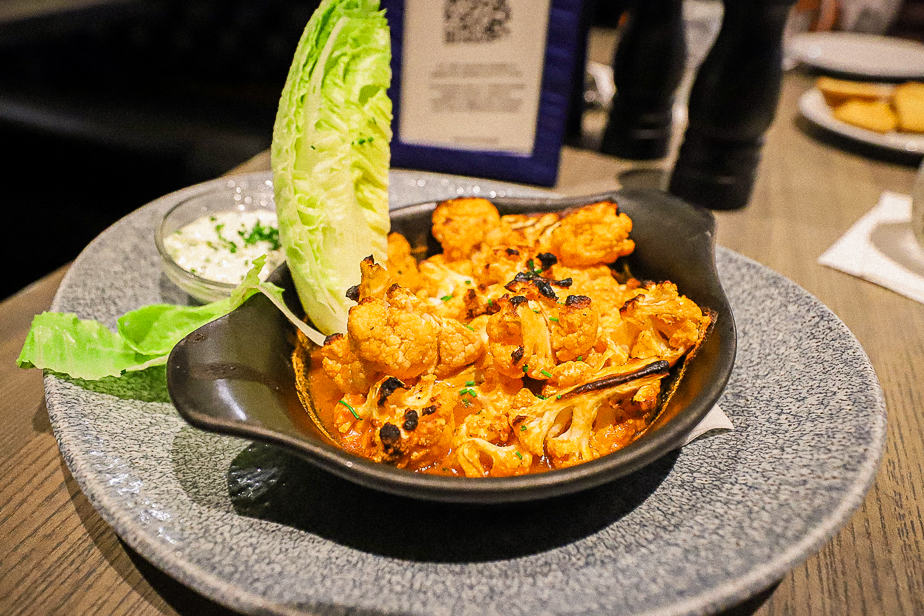 Overall, I liked the cauliflower but felt it was too spicy. Kristen tried some, and she thought it was delicious but way too hot. Perhaps, we received an over-seasoned dish?
As someone who loves spicy food, I can usually force myself to enjoy it with the heat. However, that was not the case with this dish. You might have better luck.
Next, Kristen ordered truffle fries that came with roasted shallot mayonnaise.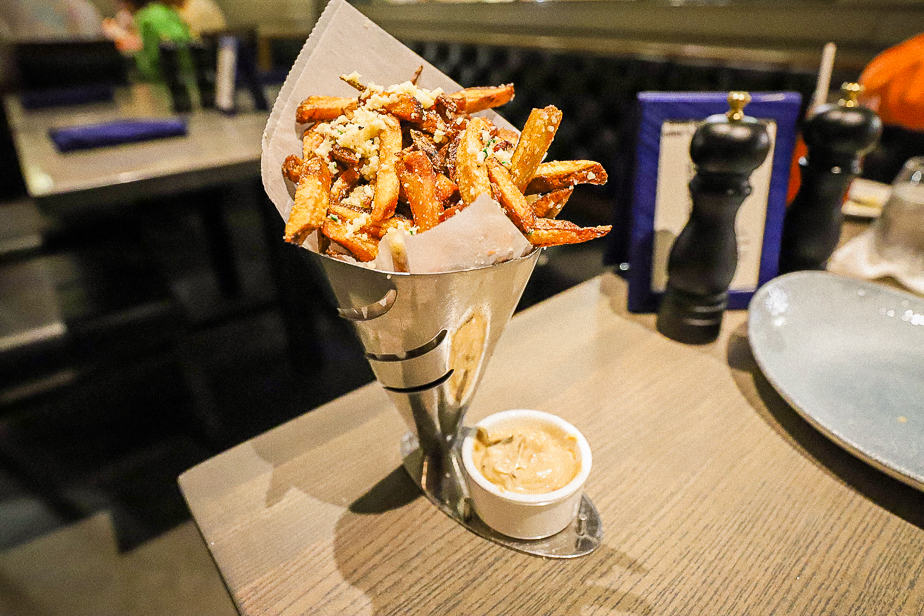 Oh my goodness! Thankfully, she was happy to share them. They were SO GOOD.
Our order of fries was perfectly cooked and seasoned with the right amount of herbs. They were the kind of fries with bits and pieces of skin left on them.
Additionally, the fries were perfectly doused with the right amount of truffle oil and dusted with parmesan cheese. Again, they were SO GOOD.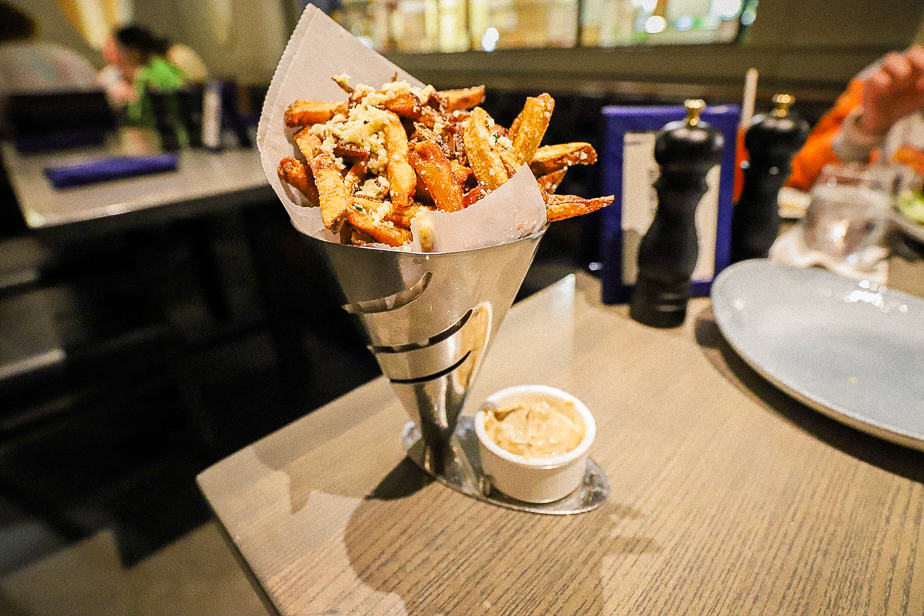 Aside from all of that goodness, there was a special dipping sauce. You know I don't do mayonnaise, so I didn't try it.
Since I initially wrote this review, I've found another location to order truffles fries at Disney World, the Enchanted Rose Lounge at Grand Floridian. Okay, these are probably my favorite because they're steak fries, but you can't go wrong with either option.
Lastly, we ordered the bacon and Vermont cheddar burger to share. Our server brought a knife and an extra plate so we could share.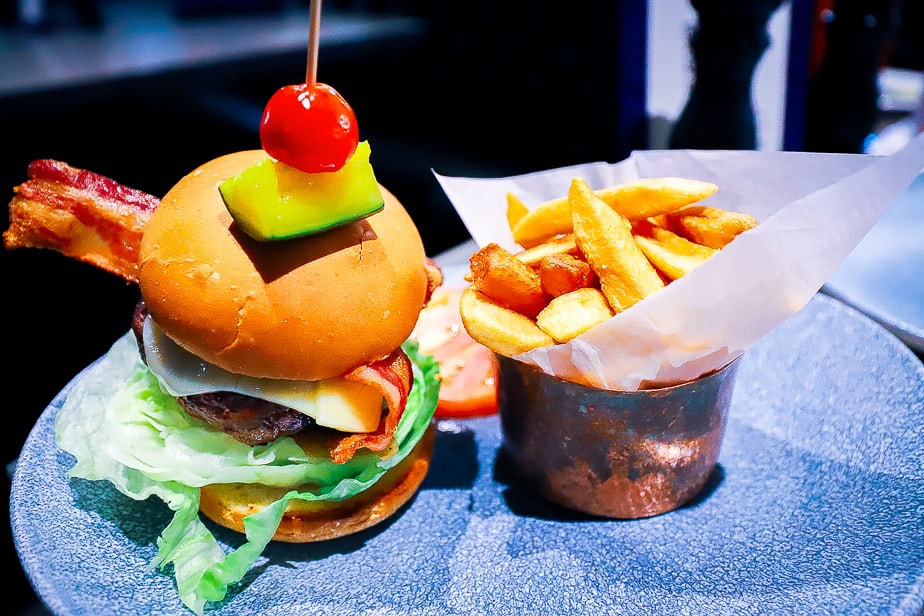 I think our meal provides a nice example of how you can order several menu items and split things up between friends or family. Sometimes, when perusing the menu, it becomes tough to narrow it down to one thing.
So instead, get together and see what other people in your group might want. Then combine those items to make a meal.
Often, each item is more than large enough to share between multiple people, like this huge, juicy burger. Unfortunately, the picture doesn't do the size justice.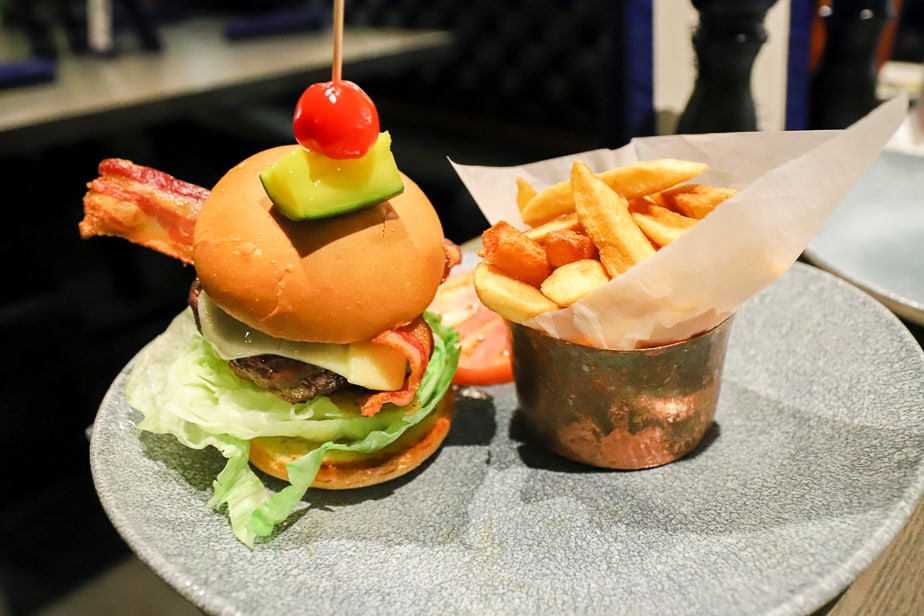 Ale and Compass's signature burger comes with caramelized onion on a Parker House bun. The burger features Applewood smoked bacon, lettuce, tomato, cheese, and herb mayonnaise.
We ordered ours sans the mayo. Oh, and that's a sweet pickle (not dill) on top.
Our burger came out a perfect medium-well and full of flavor. We both enjoyed it and felt like it was an excellent option for anyone wanting a traditional menu item.
Other than the cauliflower dish, I would order everything again in the future. However, next time, I want to try the New England Seafood Pot Pie.
I had considered ordering the pot pie this evening but was a little concerned it might be too wintery feeling, given I had been out in the heat all day. Someone next to us ordered it, and it looked amazing.
A few other dinner menu items include:
10 oz New York Angus Strip
Pappardelle Pasta with Chicken
'Brick' Lemon-Herb Half Chicken
Plant-based Protein Bowl
Cabernet-braised Short Ribs
Sustainable Catch of the Day
In addition, kids' meals include grilled chicken, pasta, cheeseburgers, and fish.
You can preview the entire dinner menu here on Disney's site.
As for Ale and Compass, I'm sure it won't be long until my next visit. We eat here more than any other restaurant at Walt Disney World.
If you decide to try a meal here, I hope you'll enjoy it as much as we do.
For other dining reviews at Disney World, you might enjoy these recommendations:
In the Comments:
What are your thoughts about this lunch and dinner review of Ale and Compass? Have you ever had a meal here? Share your thoughts below–good or bad.